Introduction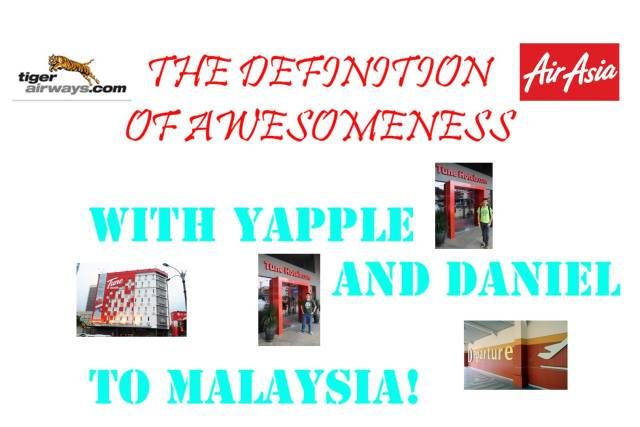 D - Daniel | Y - yapple
D: "Shall we go to Kuala Lumpur to spot for a day before you start school?"
Y: "I don't see why not!"
D: "Sure, what airline shall we fly?"
Y: "I'd say Tiger and AirAsia. We can fly out of the budget terminal for the last time and I want to try AirAsia's famous Nasi Lemak!"
D: "Ok, it's a deal!"
A few days later...
D: "Why not we make it a weekend trip? We can take a morning flight there then a night flight back the next day. I'd suggest we stay at Tune Hotels too!"
Y: "I don't see why not!"
It took just a short conversation for a fellow Singaporean a.netter,
yapple
and myself to organise a short trip to Kuala Lumpur over the weekends for spotting and sightseeing. We decided to make everything budget, from the flights to the hotels and ground transportation. Unfortunately, we could not book the air tickets immediately as my passport had less than 6 months of validity left. This meant that I had to make a new passport. Thankfully, it took less than a week to do so and soon our air tickets and hotel was booked and all that was left was to wait for the day to approach.
Both of us could not wait for the trip to come. Flying with a fellow a.netter? Anyday! Besides, it would be our first trip together but unfortunately, our first and last time departing out of the Budget Terminal in SIN as it is slated to be torn down in September to make way for a bigger (and hopefully better) future Terminal 4.
Having flown on the Airbus A320-200 which both TR and AK utilises numerous times, the flights were nothing more than a mode of transportation for me. However, for yapple, it would mean that he will be logging 2 new airlines and his first time at KUL's LCCT.
Welcome onboard the
Adventure of yapple and Initious to Malaysia
, proudly brought to you by (obviously) yapple and Initious!
Pre-Flight
We have set a meeting time of 7am at the airport. Since my flat is more than an hour's train ride away, I decided to wake up at 5am to shower and prepare to go out. Being sick the previous few days did not help. I was down with sore throat, flu and cough and was feeling pretty weak up till the evening before we fly. Somehow or rather, I managed to recover just after dinner time, probably due to my determination and the incredible amount of water I drank (yes, it does help!). However, I was still having runny nose and such when I went to bed so I had a hard time trying to fall asleep. Being the person to give the morning call to my travel companion for the day, I had to ensure that I wake up on time but I somehow managed to oversleep and got a morning call from yapple instead! It also consisted of a check from him if I was sure I was fit to fly and if I was having any fever.
On yapple's side, he managed to fall back asleep after the morning call and woke up at 6.20am. He can be considered to be pretty lucky to be living only 15 minutes away from the airport, no need to wake up at an ungodly hour like me! This trip proved to be pretty eventful when I suddenly received a Whatsapp message from him while on the way to the airport that someone had stolen 3 pairs of shoes that he left outside his apartment. Not the best way to start a trip, I suppose.
We finally met up at the airport at around 7.35am and did some simple spotting at our usual place, the viewing mall before heading off to Terminal 2 then taking the transfer bus to the Budget Terminal. Upon reaching, it was time to go shutter-crazy! This is our first and last visit here so we ensured that we had our fill of photos before heading inside to check-in for our flight.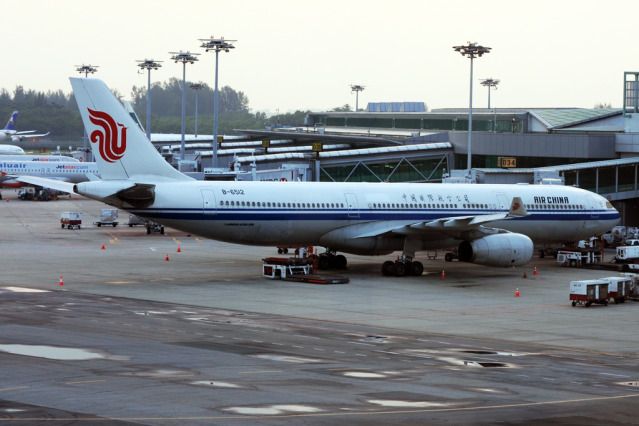 Air China's Airbus A330-300 parked at Terminal 1



Jetstar's beautiful Airbus A320-200 pushing back



My favourite airline and their most beautiful airplane, the Boeing 777
Check-in queues were very long for TR 2454 to KUL and it made us wonder if it was a full flight. It took at least 20 - 30 minutes in the line for us to be served. As we were queuing, yapple checked the registration of the aircraft and found out that we'll be on 9V-TAQ, incoming from BLR. It was less than a minute from when we went to the counter and got our boarding passes. After which, we settled our breakfast at a nearby cafe and proceeded airside for some more photo session.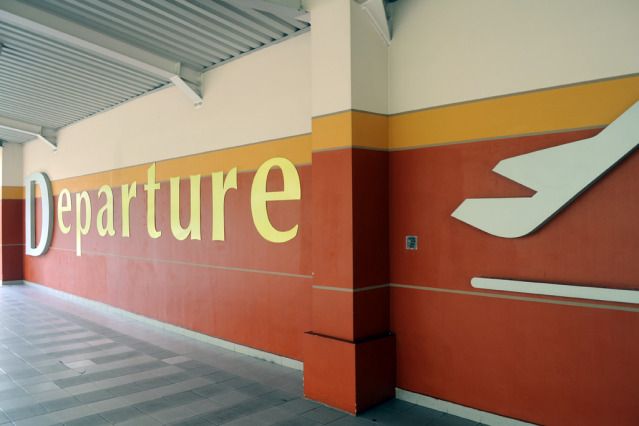 The departures sign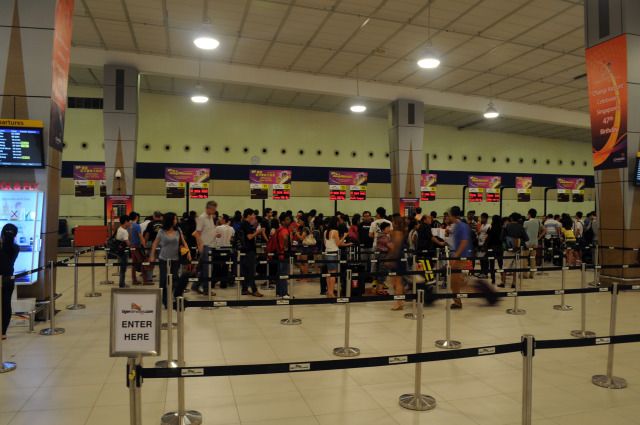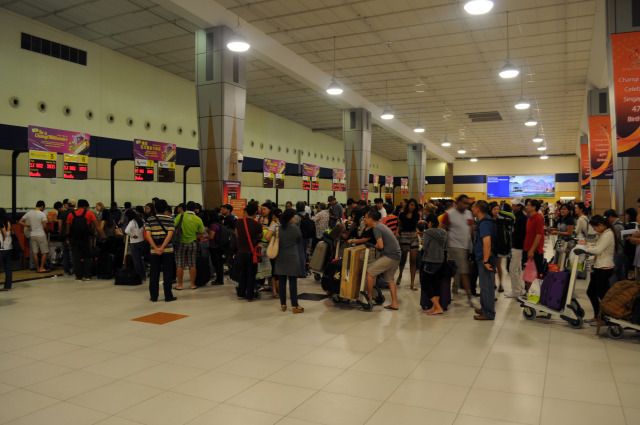 Lots of people checking in!



Good and simple FIDS



Information signage
Immigration was very fast as usual seeing we used the automated lanes. We were pretty surprised at the facilities the Budget Terminal had to offer airside. The facilities here are simply similar to the other 3 main terminals with duty free shops, food and beverages outlet and free internet stations with an open lounge for passengers to relax before their flight. It is certainly beats the LCCT at both KUL and BKI hands down!
Passengers flying out of the Budget Terminal on this day would certainly be surprised by 2 weirdos holding large cameras and taking pictures of everything they see. We have surely attracted some attention around the area! Sadly, it was time to head to our departure gate after a short photo session.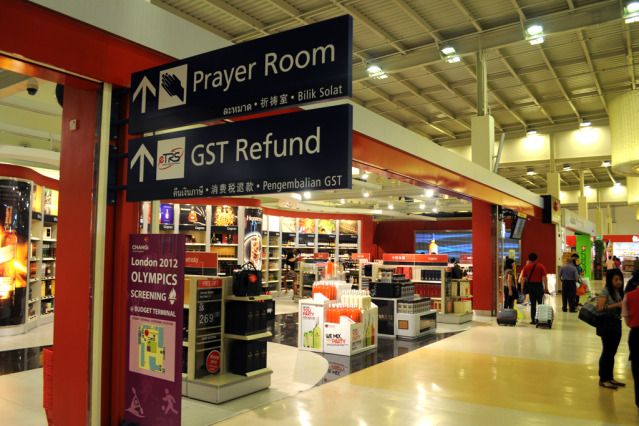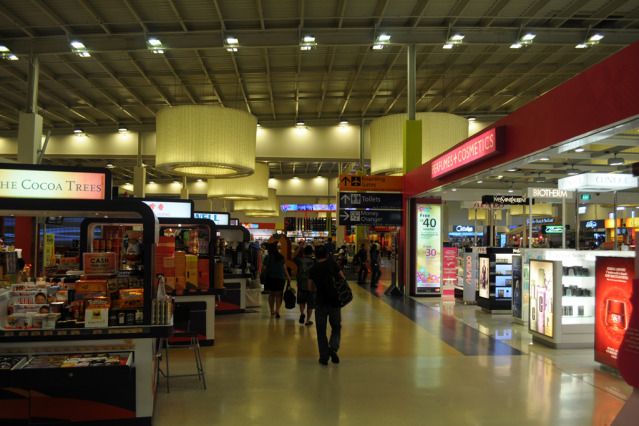 Some airside pictures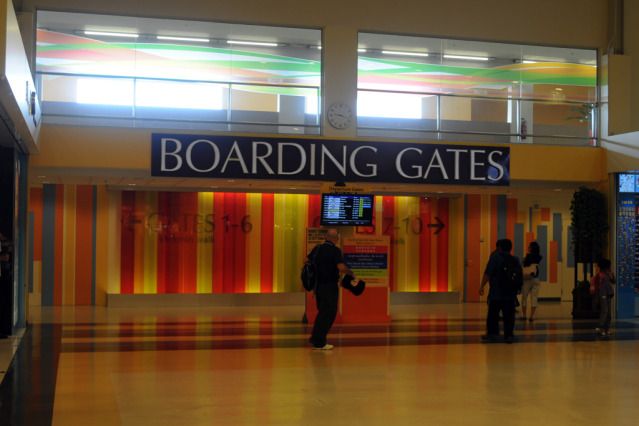 Time for boarding!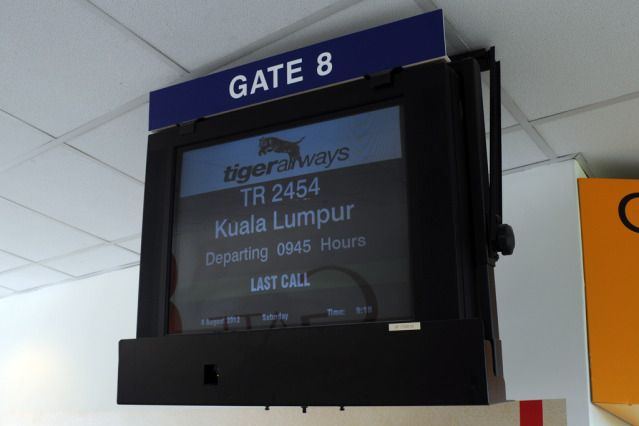 Doesn't look very classy...
The Flight
Tiger Airways Flight TR 2454 - 04 AUG 12
Origin
: Singapore Changi Airport (SIN/WSSS)
Destination
: Kuala Lumpur International Airport (KUL/WMKK)
Registration
: 9V-TAQ
Aircraft
: Airbus A320-200
Scheduled Time of Departure
: 09:45am
Actual Time of Departure
: 09:57am
Scheduled Time of Arrival
: 10:40am
Actual Time of Arrival
: 10:32am
Airborne Time
: 35 minutes
Class of Travel
: Economy
Seat
: 8A (yapple), 8B (Initious)
"BEEP!" The whistle sounded as a man in front of us tries to take a picture of the beautiful Airbus A320-200 parked right in front of us. Scheduled for our flight today was 9V-TAQ, a 1.8 years old baby delivered just late last year. We stepped onboard the mobile airstairs attached and thus our venture into Malaysia begins.
"Good morning". A very cold greeting from a f/a stationed at door 1L made the first impression of Tiger Airways to yapple, and my second flight with them. We made a quick walk to row 8 where our seats are located. To our disappointment, the aisle seat was already occupied by another man who, similarly, did not seem very happy to need to get out of the seat to let us out. As we sat down, I couldn't help but to notice the inconsiderable amount of legroom available at the standard seats. Oh well, I'll survive! Legroom did not seem much of a matter to yapple though. Loads looked pretty healthy, around 90-95% for this mid morning flight.

Out of the window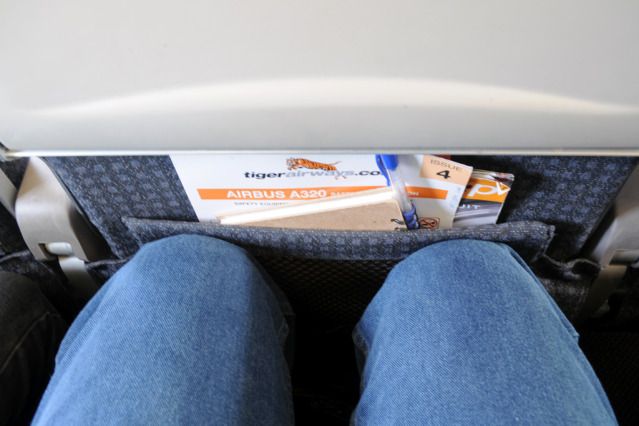 Tight legroom!
Our captain came onto the microphone shortly. She introduced herself as Wendy (yes, female captain!) and advised that the estimated flight time for today would be a good 45 minutes which I'm sure will be much shorter than that. As we were about to pushback, a Mandala Airlines aircraft decided to make an appearance at the gate beside ours. A welcome sight although it comes in daily!
Pushback occurred at 9.38am and we made a long taxi to runway 20C for takeoff. The nice and long taxi included lots of nice views along the way and I sort of regretted letting yapple have the window seat. Well, thankfully this is just in SIN and not somewhere else! It seem like we have joined in the morning rush as it was a 8-10 min wait at the runway due to heavy traffic.
As we were waiting, my seatmate at 8C decided to snore loudly, much to our surprise. Thankfully, he woke up several minutes later just before takeoff. I wouldn't want the wonderful engine sounds to be mixed with snores! After what seemed like an eternity, we finally rolled onto runway 20C for takeoff at 9.57am.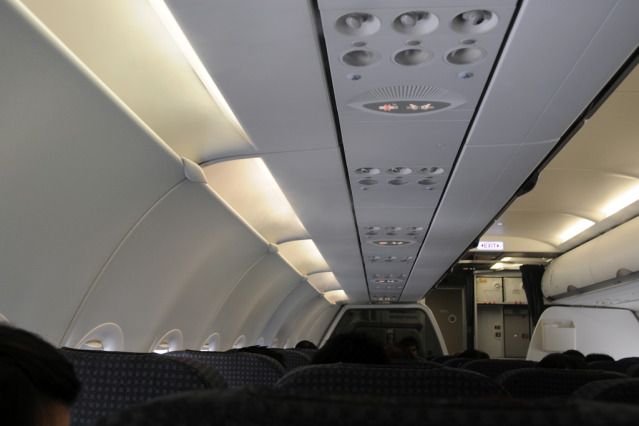 Cabin view from my seat
The takeoff did not feel powerful at all; There was no feeling getting pushed onto your seat or the adrenaline rush of being on the runway. I would guess that this is most probably a derated takeoff. We made a sharp left turn to set our course to KUL right after takeoff. Beautiful views of the landscape below never cease to amaze aviation geeks like us! Sadly, we were unable to catch a view of SIN as it was sort of cloudy that day.
As we finished our turn, we levelled off and awaited clearance from ATC to climb to a higher altitude. The thrusts decided to die down to maintain the speed for levelling off but we could see the epic looks on our fellow passenger's faces. Not only them, it also became a little worrying for us as the thrust reduction was pretty great. However, it was nothing much to worry about since people like us know the ins and outs of planes. I was even joking to yapple that it would be interesting if we had an engine failure instead!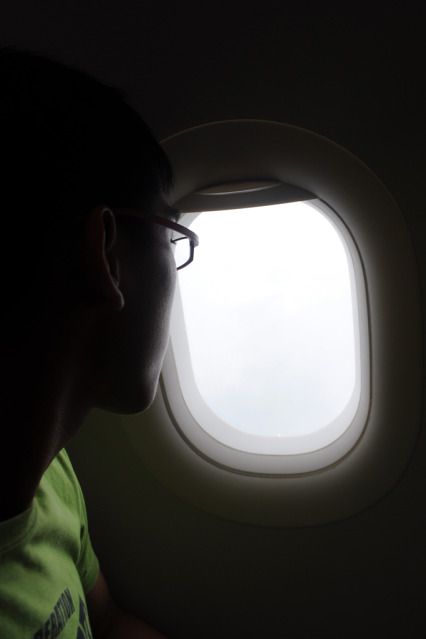 Hmm, are we there yet?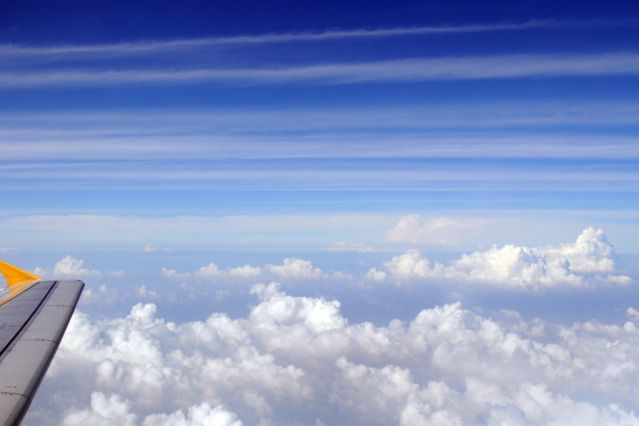 Beautiful weather along the way
Seatbelt signs were off just a few minutes later and the crew rolled down the aisle trying to sell some snacks and drinks as part of the BOB programme. Sadly, it seemed like none of the passengers were interested in anything. Well, at least they were trying! Next was the duty free in which both of us decided to buy some playing cards. I decided to flag down a passing air steward.
D: Daniel | A: Air Steward
D: "Excuse me, may I get some poker cards?"
A: (looking very confident, with a smile) "Sir, I am glad to inform you that you no longer require immigration cards to enter Malaysia due to the change of regulations."
D: "I'm sorry, I meant to say I wanted to buy some playing cards."
A: "Sorry, sure you may."
D: "May I have 2 packs please?"
A: "Yes sir, I'll deliver it to you right away."
Less than a minute later...
A: "Sir, here are your playing cards. That would be $12 please."
D: (hands over 2 x $10 notes)
A: "I'm sorry sir, may I know if you have $2 with you? We do not have spare change at the moment. So sorry for troubling you!"
D: (turns to yapple and asked if he had any spare change) "There you go."
A: "Thank you sir! (upon seeing our cameras...) May I know if you guys are going for a photoshoot?"
D: "Nah, we're just on a normal tour."
A: "I see, thanks and enjoy your tour!"
If there was a reward for the most engaging air steward, I would certainly nominate him for that! On top of that, he seem to be around our age which I assume he's on a Diploma internship from a certain course in Singapore. Yes, you get to do internship as a cabin crew!
"Good morning ladies and gentlemen, this is the captain speaking. We have started our descent to Kuala Lumpur International Airport and we are bound for runway 32. Weather in Kuala Lumpur is sunny and clear. Thank you for choosing Tiger Airways, we hope to see you again!"
Right after the announcement, I turned over to yapple and said, "What, which runway are we landing on? 32L or 32R?"
It turned out that we will be landing on runway 32L, as usual for my KUL flights. It seem like landings on runway 32R are less seen since 32R is usually used for takeoffs. Or could it be that runway 32L is nearer to the LCCT anyway?
It did not take long from our commencement of descent at 10.15am to grasp our first views of the Malaysian landscape and make a smooth touchdown on runway 32L at 10.32am. We were both glad that we made pretty accurate estimations of our touchdown time!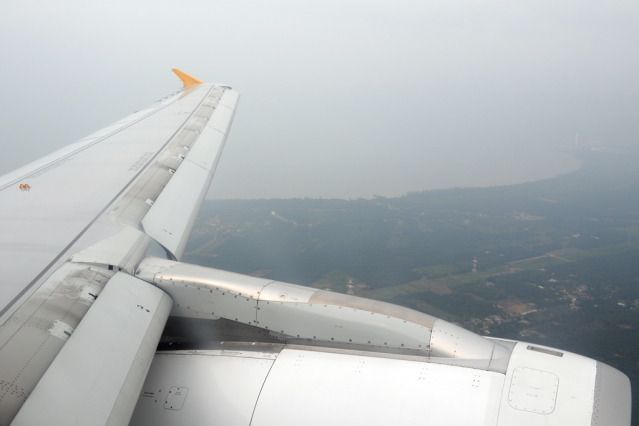 Reaching soon!
It was not a long touchdown roll as we made a very high speed exit from the runway. I estimated the speed at around 50 knots seeing it's much faster than normal (30 knots). We both joked that it might due to us having a female captain (no offence!), but who knows?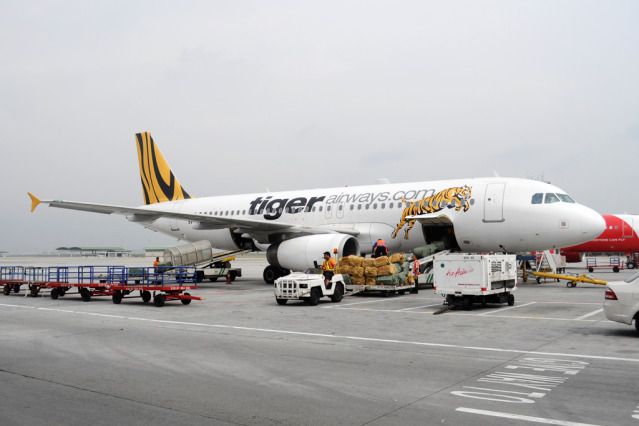 Our aircraft docked at the gate
We docked at stand F52 and decided to wait for all the passengers to disembark before letting yapple take some cabin shots (I was too tired to do so). As a few clicks went off, the nearby stewardess decided to say, "Sorry gentlemen, I think you guys have to disembark now." Ah, the dreaded words for an a.netter! As we disembarked, we did not give up on taking photos and shutter crazy we went once again!
Soon it was time for us to enter the terminal and as we were going up the escalator, yapple decided to drop a question which I'd mention it as "Question of the Trip".
D: Daniel | Y: yapple
Y: "Hey, do we need our passports here?"
D: "What? Are you kidding me? I'm sure this is not your first trip overseas!"
Y: "Oops, I guess I was too sleepy!"
Sure enough, he remained pretty sleepy throughout the day probably due to the 3-day long camp he had just before the trip so he can pretty much be forgiven for his epic-ness. That marked a pretty good start to the trip, actually!
After a pretty efficient immigration process, we decided to do more phototaking from the walkway to the exit of the terminal since it faces the apron. Honestly, this is my 4th time using the LCCT but I had never had an international arrival into here before. My previous times were domestic departure/arrival and international departure only.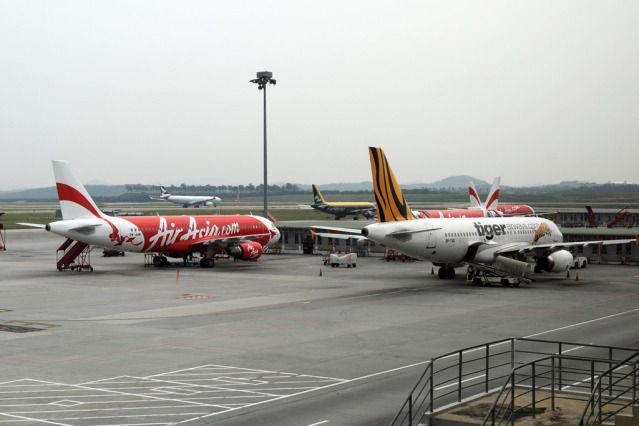 Tiger vs AirAsia
On a tight budget, we decided to get the AirAsia SkyBus to KL Sentral at a price of RM 9. Feeling hungry next, we headed to the Marrybrown fast food restaurant to have a relaxed lunch (which turned out not to be as there were flies all around) and boarded the SkyBus to KL Sentral. The legroom was pretty sufficient and loads were just around 20% so the whole bus was pretty empty. As my fellow passengers decided to indulge in some sleep, I powered up my laptop and wrote this TR.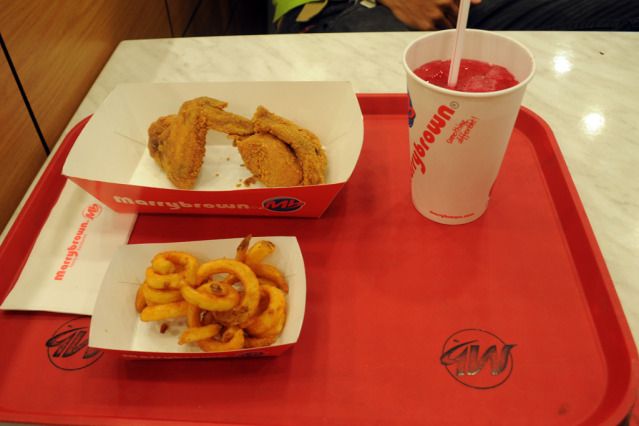 Meals in Marrybrown



Interior of the AirAsia bus
It was just around an hour from the LCCT to KL Sentral to which we switched to a taxi to our hotel for 13 RM. It did not take long for us to reach our hotel and at 1.40pm we were greeted by a stylish and modern looking hotel operated by Tune Groups who also manage AirAsia.

Posing outside the hotel
Official check-in time was 2pm and they follow it pretty strictly. The receptionist even offered us early check-in which was available for 15 RM. Seriously, we would have taken it if we arrived at 1pm or something. While waiting, we went to the 7-11 convenience store nearby to stock up on some snacks and drinks for our enjoyment at night. Our planned drinking session was sort of spoilt when we could not find any Bacardi Breezer.
Finally, 2pm came and we went on to check in. Interestingly enough, we were allocated room 320 for today. We were also flying on the Airbus A320 for both flights! This also meant that we walk past some Airbus aircraft types like the A300-600 (306), A310, A312, A313, A318 and A319 on the way to our room! We were given our wifi password and comfort kit which we pre-booked online. To our amusement, we were only given a person's share of comfort kit and we were told that we had to purchase another if both of us wanted one.
As we stepped into our room, we were surprised by how clean and sleek it looks. Sure it is smaller than usual and has less facilities compared to the full service counterparts but the price (S$60 per night) is pretty much worth it. Of course, you can get it much cheaper if you did not book it last minute like we did!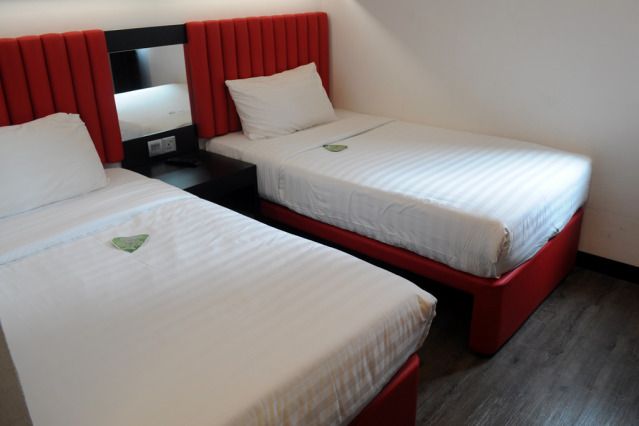 Our room for the night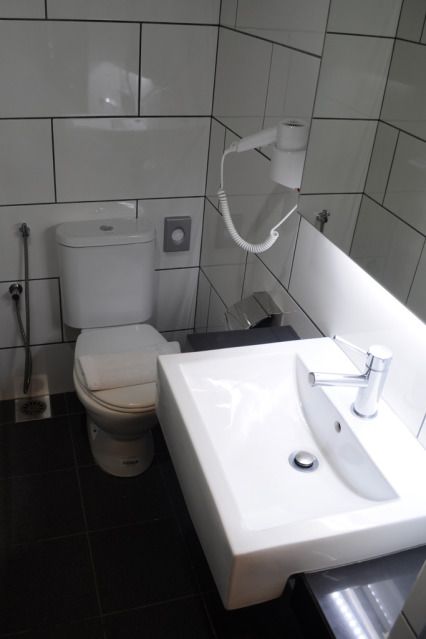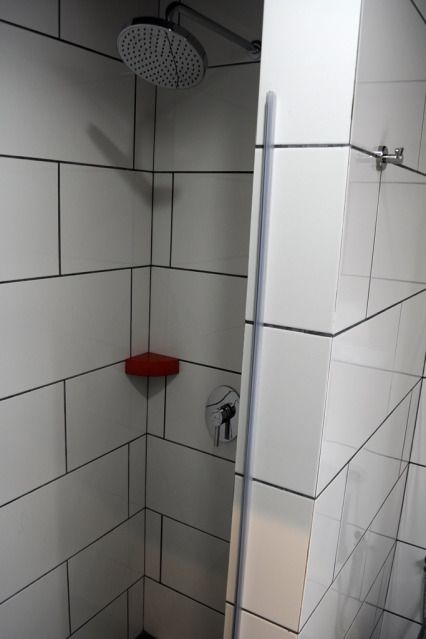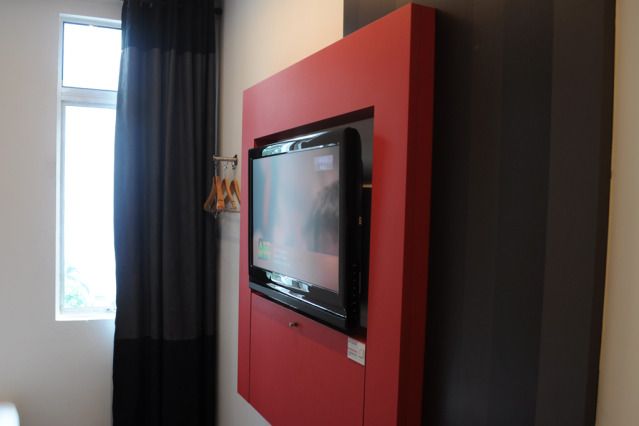 Interior of the room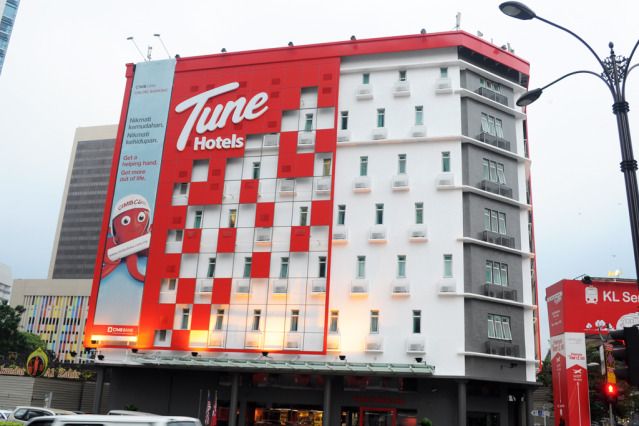 Exterior view
We did some unpacking of stuffs and took a little rest before preparing for our next event of the day, meeting the legendary
airpearl
from our very own airliners.net trip report forums! We were both very excited to meet him and the meeting certainly did not disappoint. The 3-hour long chat we had at a nearby eatery (I wouldn't be surprised if the owner thought we were some freak!) consisted of yapple's obsession with Air Zimbabwe, the interesting island hopper route from CO (now UA) and how airpearl's name came about.
Time seem to pass pretty fast and soon it was already dinner time. Seeing more and more Muslims coming in to break their fast for the day, we decided to end the meet and proceeded back to the hotel to have a picture taken to remember this special occasion -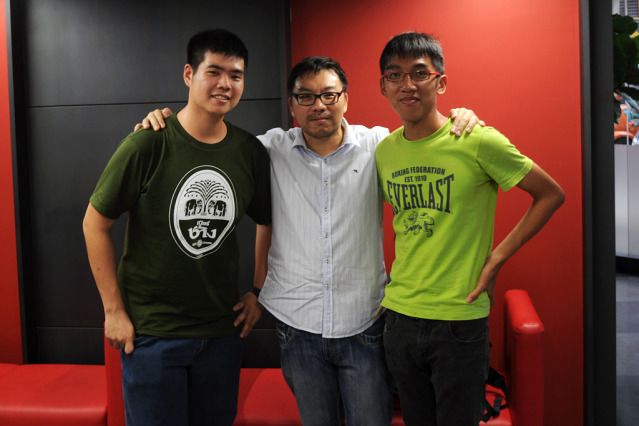 A meet to remember!
Having some time left, we went back to the room to take a little rest and proceeded to our last stop for the day -
Pavilion Kuala Lumpur
. It was here that we spent most of our ringgits to purchase stuffs like a pair of Havainas flip flops which we got pretty cheap for 70 RM.
As the saying goes, "time flies when you're having fun". It was already 10pm before we realised and it was time to take the monorail back to our hotel. The monorail was pretty crowded at night and we had to wait for the second train before we could (forcefully) get on. Rest of the night did not involve much of aviation but more of a chatting session with some snacks and drinks. Sadly, we were not able to find Bacardi Breezer so we settled for Jolly Shandy instead. There has got to be the breezer somewhere! Soon, we found ourselves drifting into dreamland...

The comfort kit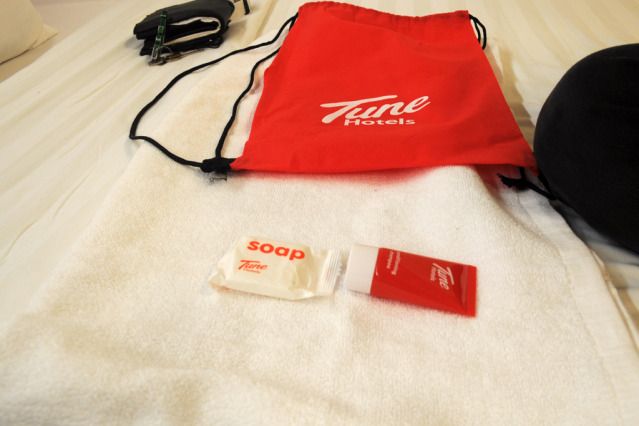 The contents - Pretty simple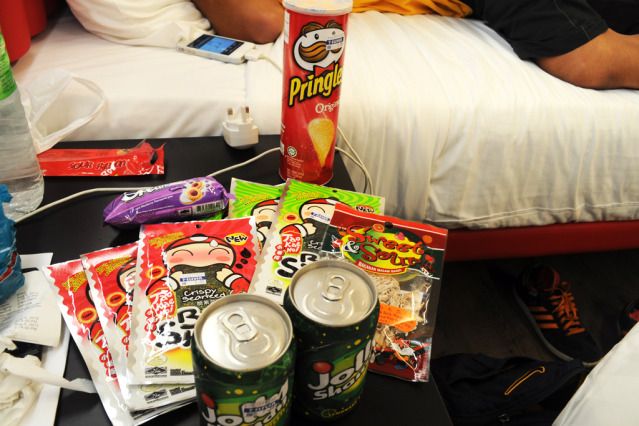 Snacks for the night
*RINGGGGG* Before we knew it, the alarm rang the next morning which meant that we have reached the second (and last) day of our trip. As I woke up, I felt pretty dejected that the trip was going to be over. It simply felt too fast. Probably as the saying goes, "Good times don't last". It took some effort to try and get yapple out of bed though. 32 minutes and 46 seconds to be exact!
Since the hotel does not provide breakfast, we decided to get a sandwich from Subway which is readily available just at the hotel lobby. Another reason to love this hotel! Surprisingly, this was yapple's first encounter with Subway and I guess he had a good experience. Having a flight at 7pm, we did what an aviation geek would normally do at an airport - spotting!
Certainly enough, we had some goals to achieve for that day. One of the main goals would be spotting Air Koryo's TU-204 departing for FNJ at 11am. It certainly took some rushing to achieve this. Firstly, we checked out of our hotel at 10.15am and decided to take a taxi to KL Sentral and catch the KLIA Express to the airport. Somehow or rather, we found out that by taking the Tune Hotel's taxi to the airport we not only save time but it costs just the same as taking the taxi plus the train so we decided to go all the way to the airport instead. We reached the kerbside at 11am sharp and after a thank you to the wonderful taxi driver, we walked in the fastest speed possible to
Anjung Tinjau
, KUL's spotting terrace.
Upon reaching, we started spotting for Air Koryo but could not see anything around. After taking some random shots around, yapple told me that Air Koryo is parked in the distance so we were not able to take very good shots of it. However, I still managed to capture this (very low quality) shot of P-632 on its takeoff roll to the hermit kingdom.

Shot of P-632
The spotting session yielded pretty good results when we found out that the spot we were at is pretty good for panning, seeing the taxiway is just a short distance away and the arrivals taxi past us. Here are some of the results of the day.

Firefly's decommissioned Boeing 737-400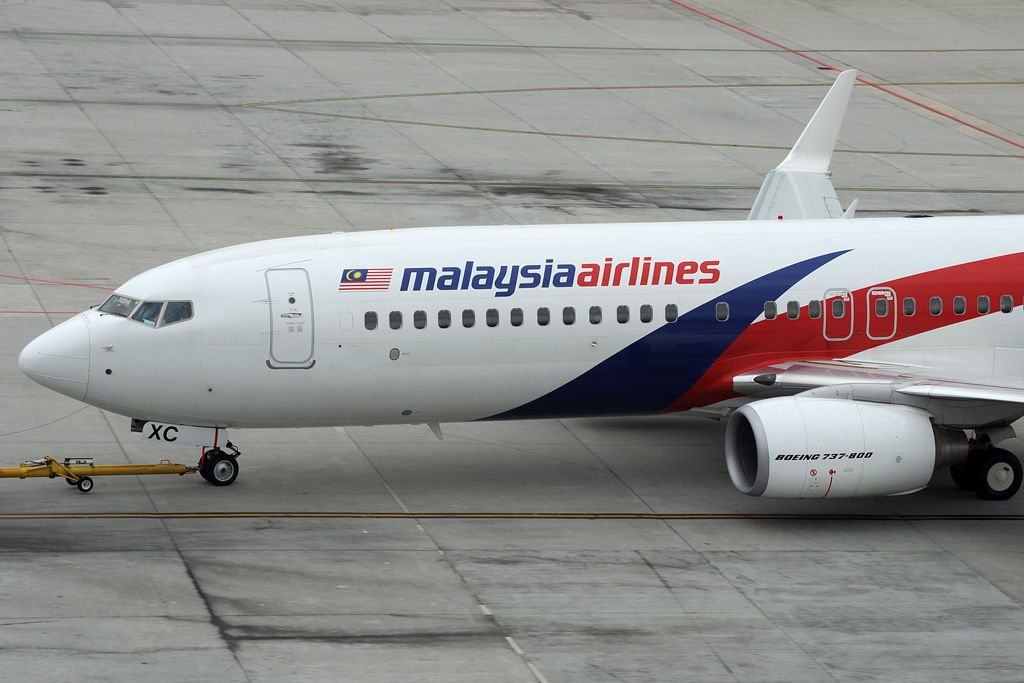 Malaysia Airlines' Boeing 737-800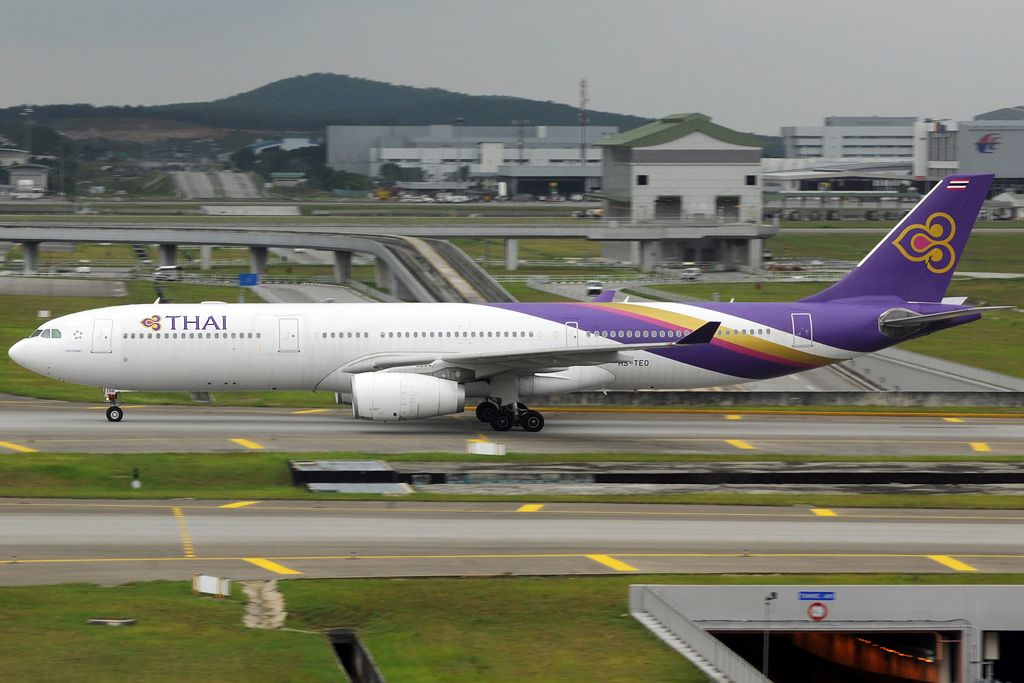 Thai arrives royally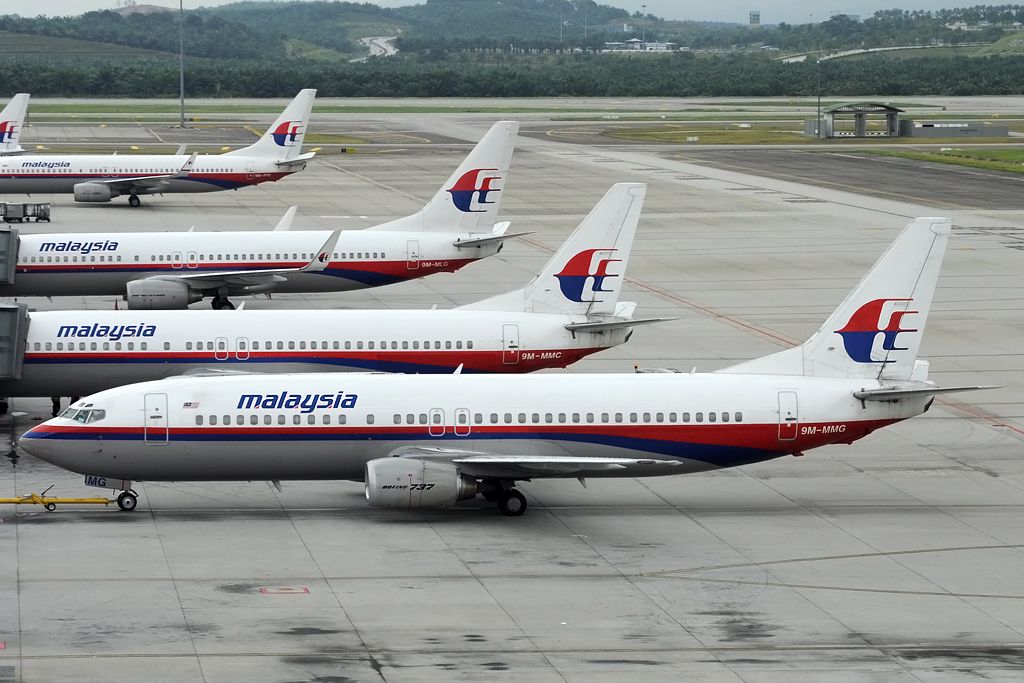 Lots of Boeing 737s!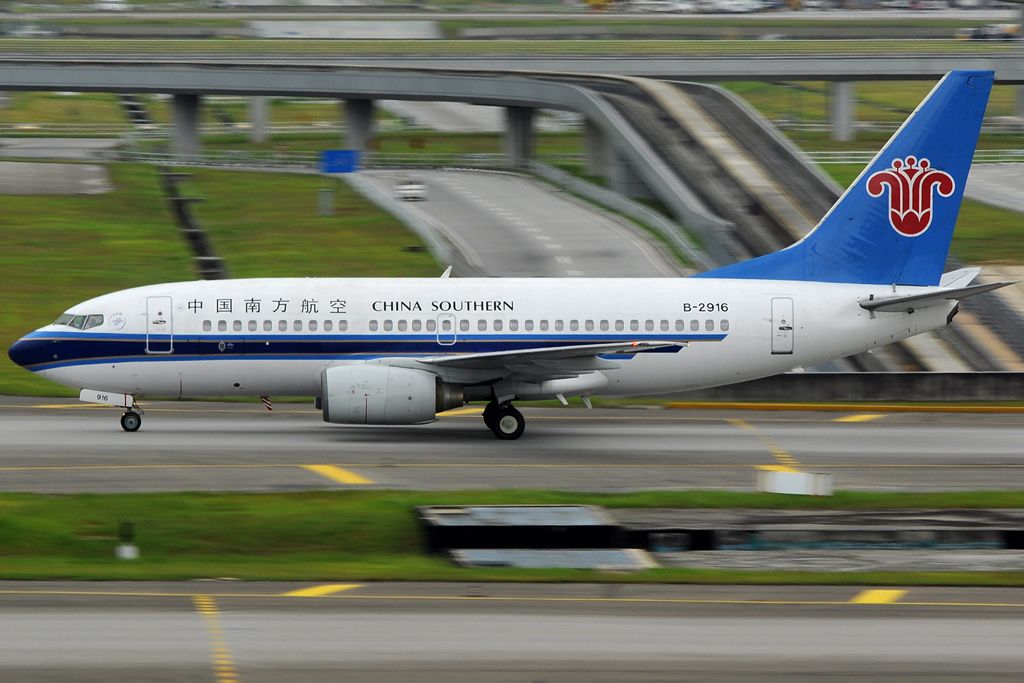 China Southern Airlines from CAN



Malaysia Airlines' 2nd oldest Boeing 737-400



A visitor from Brunei



Another Malaysia Airlines' Boeing 737-800 but in old livery
Being a Sunday, it also meant that we would be able to catch a rare breed, the Virgin Australia Boeing 777-300ER operating on behalf of Etihad Airways on the AUH-KUL route. It was a real treat to our eyes! They also decided to send VH-VPH, currently the only Boeing 777 in full Virgin Australia livery to us today.

The special weekly guest!
After a satisfactory spotting session, we had lunch at
Old Town White Coffee
where we also had a long chat of at least 3 hours (yes, we do have lots to talk about) which involved me editing some photos on the spot and yapple falling asleep.
Back to
Anjung Tinjau
, we snapped more shots before packing our bags and heading to the bus terminal to catch the bus to the LCCT. At this juncture, it seemed like something has hit me hard on the head. Yes, the trip is going to be over. It just seemed too short. Well, there's always a next time and a huge trip is (possibly) in the planning which might be happening in 2013 or 2014.
The fare of 2.50 RM was collected at the entrance of the bus which arrived around 10 minutes after we reached the bus bay. We had to keep the ticket issued to us or there would be a fine of 10 RM for those without a ticket, as a sign on the front of the bus said. It was a 30 minute drive from the KLIA main terminal to the LCCT which we thought was pretty ridiculous. It was like going from one end of Singapore to another!
We finally saw the familiar LCCT kerbside, about to embark on our final part of our vacation. Before that, we decided to purchase the AirAsia X Airbus A340-300 model from the AirAsia MegaStore just at the entrance. Deal was pretty good, 109 RM for a 1:200 model! Next up, we headed straight to the check-in kiosks to get our boarding passes and headed on to immigration and security check. As we reached our gate, our flight was already boarding.
AirAsia Flight AK 719 - 05 AUG 12
Origin
: Kuala Lumpur International Airport (KUL/WMKK)
Destination
: Singapore Changi Airport (SIN/WSSS)
Registration
: 9M-AHH
Aircraft
: Airbus A320-200
Scheduled Time of Departure
: 07:50pm
Actual Time of Departure
: 07:59pm
Scheduled Time of Arrival
: 08:50pm
Actual Time of Arrival
: 08:40pm
Airborne Time
: 41 minutes
Class of Travel
: Economy
Seat
: 10A (Initious), 10B (yapple)
We were to enter from gate T5 and walk to stand F52 where our plane for today, 9M-AHH was waiting for us. We were pretty disheartened that we did not get a special livery plane seeing that we had a 27% chance. However, we found out that our plane for today had a pretty interesting history.
9M-AHH was operating as AK 5218 (KUL-KCH) on 10 January 2011 and while landing at KCH, the plane skidded off the runway. Thankfully, there were no fatalities and 4 passengers were injured. The plane has now been repaired and put back into revenue service, as we see. We only found out about this incident with the plane after the flight to which I told yapple, "Well, at least we stayed on the runway today!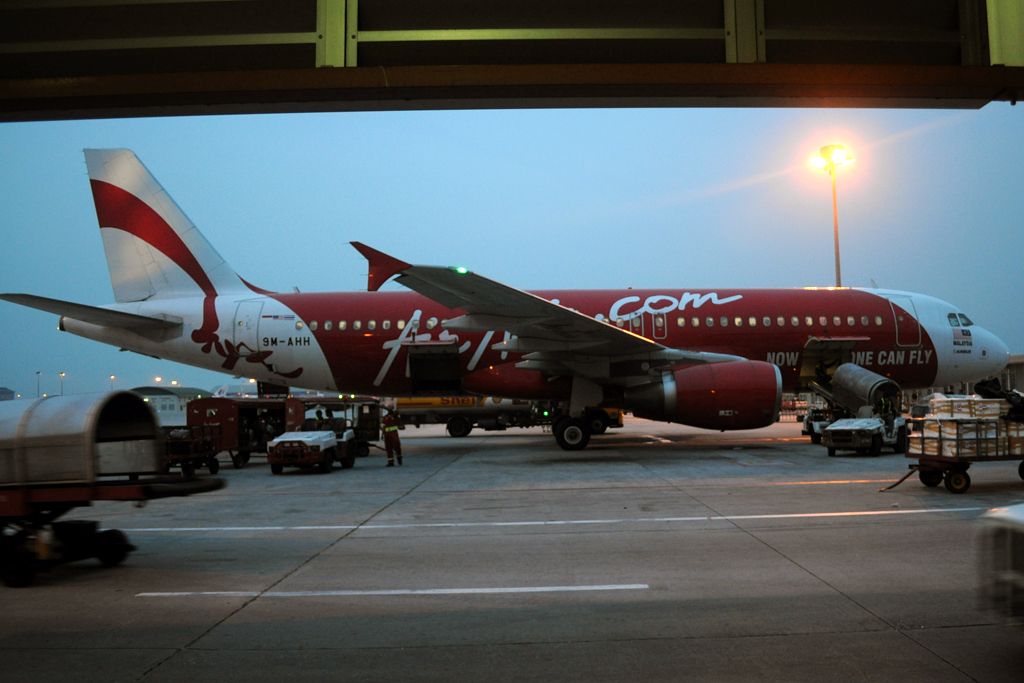 Our plane for today
The usual cam-whoring with the plane started and we wanted have our individual shots in front of the plane. As I finished yapple's picture, several of us who were taking pictures in front of the plane were screamed by the security guard "NO PICTURES! NO PICTURES! NO CAMERA!". Definitely not the best thing to hear for an a.netter!

The model posing for a shot
As we stepped onboard, we were greeted warmly by the cabin crew who checked our boarding passes and directed us in the direction of our seats. The seats were much comfortable than that of Tiger's as the seats are covered in leather instead of fabric. However, legroom was still pretty insufficient but good enough for a short flight. The welcome address was given by the leading stewardess in both English and Malay followed by an address by our pilot that the flight time today would be 1 hour which I thought was way exaggerating since my longest flight on the route was only 43 minutes. He could have meant from block-to-block time though, although I only calculate according to airborne time.

Tight legroom



Tiger aircraft beside us, with my surname!
It was soon time for my 18th time, and 4th for yapple, watching the safety demonstration for the Airbus A320-200. However, we did not really pay attention to it as we were watching the fleet of AirAsia X's Airbus A330-300s basking in the wonderful night lights. We even spotted the "City Skyline" livery (9M-XAA) which looks pretty neat!
The taxi to runway 32R felt very short and soon we were on our takeoff roll at 7.59pm. Once again, it did not feel powerful at all and we once again feel that it is a derated takeoff. The beautiful lights of Kuala Lumpur sparkled brightly under us as our plane flew us above the city. Sadly, taking a photo of it was very hard. In true AirAsia efficiency style, the seatbelt sign was switched off 4 minutes after takeoff and the cabin crew started the trolley for meal service. In around 15 minutes after takeoff, the meal was already on our tray tables. This was all done as we were still climbing to our cruising altitude of FL250, which we would stay for less than 10 minutes.

Cabin view



Takeoff!
I had ordered the Ramadhan special promotion meal (Ayam Masak Merah) while yapple has ordered AirAsia's most famous Pak Nasser Nasi Lemak. While the normal meal came with just a 100ml mineral water, the promotion meal came with a can of Grass Jelly drink and 2 dates together with a very generous main dish, on top of the 100ml mineral water. I'd definitely recommend the meal to anyone flying AirAsia recently!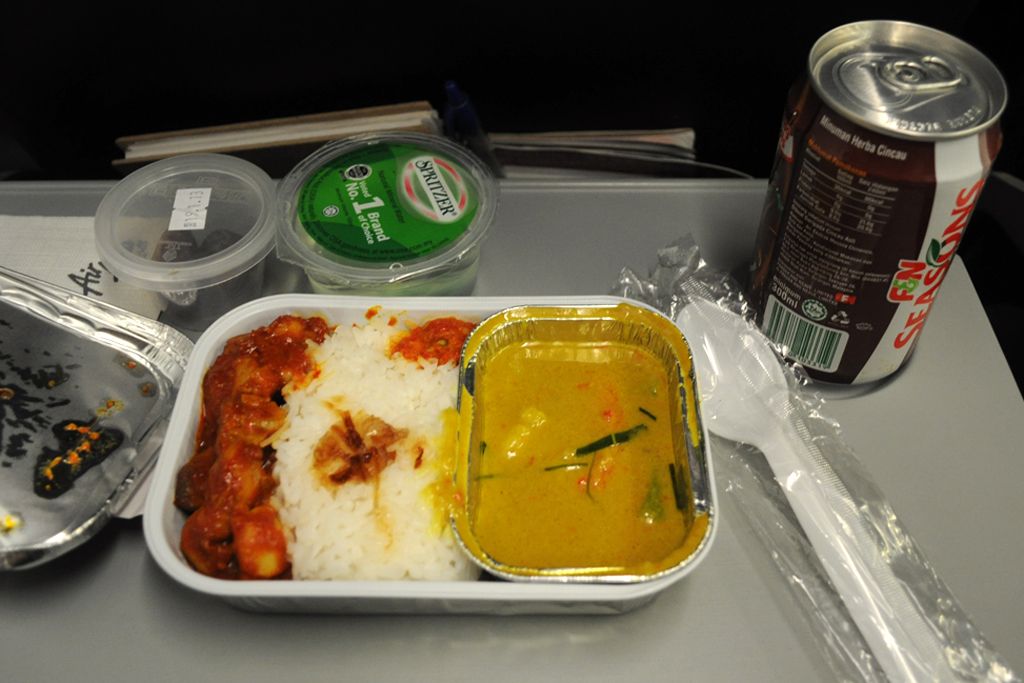 My meal
Just as we finished our meal, the rubbish was cleared and we got ourselves a pack of AirAsia playing cards each. It felt almost like an instant when we found ourselves already on final approach to runway 20R of SIN which also indicates the last few moments of this wonderful trip. The f/a came onto the microphone and welcomed us to "Changi International Airport" to which I was flabbergasted. It has always been one of my pet peeves that people mention SIN with the word "international" instead of the official names like "Changi Airport" or "Singapore Changi Airport". Sure people would go on like how the airport serves only international flights but I am sure we seldom hear names like "Heathrow International Airport" too.
As we taxied to our gate, we started making guesses on what gate we'll be docked as. The plane made its way onto NC3 and we hoped that we will be docked at the central apron and even more specifically at gate C11, the gate closest to the terminal and mostly used by AirAsia, sometimes Jetstar Asia. Our hopes remained high as we taxied into the central apron and headed straight to the end, making a right turn. We were indeed docked at gate C11! It was also a pretty interesting sight that we were looking at the viewing gallery where we always do our spotting sessions. Certainly, it felt pretty special!

Looking to the viewing gallery from C11
It was soon time to disembark and head for immigration. Before that, we headed off to look for the new restrooms at Terminal 1 which overlooks the apron. In fact, we saw the restrooms while our plane was still taxiing! It was certainly a pretty interesting view where you can do your business (small ones only, unfortunately) and look at planes at the same time!
Immigration at SIN was fast as usual, using the automated gates for Singaporeans and shortly after we bade farewell to each other, bringing the trip to a wonderful end.
Conclusion
Tiger and AirAsia both performed averagely on the flights. Service wise, they are almost similar with both airlines having some flight attendants who stand out among the crowd. However, it would be difficult to judge by having such a short flight. Despite all that, I would still not hesitate to try out both airlines for longer flights and see how they perform in terms of medium haul flights.
To end it off, I would like to thank
yapple
for being a great travel companion on this trip which made a boring KL trip much more interesting. Sometimes, the company matters more than the destination / flights / hotels / whatever!
Previous Trip Reports
Flying 5 Star - SQ SIN-CAN-SIN (2009)
(by
Initious
Mar 26 2010 in Trip Reports)
Sardines In A Can - Jetstar Asia SIN-HKG-SIN
(by
Initious
Mar 29 2010 in Trip Reports)
Away We Go - China Southern SIN-CAN-WUH Vv (1/2)
(by
initious
Apr 2 2010 in Trip Reports)
Away We Go - China Southern WUH-CAN-SIN (2/2)
(by
initious
Apr 14 2010 in Trip Reports)
Oldest Vs Newest: Royal Silk Class On Thai
(by
Initious
Jun 13 2010 in Trip Reports)
First On Airliners.net - CZ Shanghai To Shantou
(by
Initious
Jun 27 2010 in Trip Reports)
18 Hours Of Royal Orchid Service: Thai PVG-BKK-SIN
(by
initious
Jul 27 2010 in Trip Reports)
Good Morning Borneo! - Where Silkair Unwinds...
(by
initious
Oct 17 2010 in Trip Reports)
Irama AirAsia! - Kota Kinabalu To Singapore
(by
initious
Oct 24 2010 in Trip Reports)
Great Asia Trip Part 1 - Propping To Luxury
(by
Initious
Mar 23 2011 in Trip Reports)
Great Asia Trip Part 2 - In Love With Emirates
(by
initious
Mar 27 2011 in Trip Reports)
Great Asia Trip Part 3 - The Arabian Adventure
(by
initious
Apr 15 2011 in Trip Reports)
Great Asia Trip Finale - Brothers In Bangkok
(by
initious
May 9 2011 in Trip Reports)
Flying The Orange Star Monopoly - SIN-SWA On 3K
(by
initious
May 18 2011 in Trip Reports)
China Southern SWA-CAN - Do They Deserve 4 Star?
(by
initious
May 21 2011 in Trip Reports)
A Dream Come True - SQ Business Class CAN-SIN
(by
initious
Jun 13 2011 in Trip Reports)
Malaysia Boleh! - To Malaysia With 3K And AK
(by
initious
Jun 30 2011 in Trip Reports)
Flying On My Birthday - The Triangle In SEA
(by
initious
Jul 18 2011 in Trip Reports)
Happy Beyond Words - SIN-PEN-SIN On MH & TR
(by
initious
Nov 6 2011 in Trip Reports)
People: They Make An Airline. Cathay SIN-HKG
(by
Initious
Jan 28 2012 in Trip Reports)
Cathay, Make Up Your Mind! HKG-SIN On The A333
(by
initious
Mar 26 2012 in Trip Reports)
1 New Airport, 10 Steps Forward. Jetstar SIN-SWA
(by
initious
Apr 22 2012 in Trip Reports)
China "Sudden" Airlines SWA-HKG - 4 Star? Really?
(by
initious
Apr 27 2012 in Trip Reports)
Celebrities In Asia's World City - Jetstar HKG-SIN
(by
Initious
May 13 2012 in Trip Reports)
Get Outta Here! With SCOOTitude - Down Under!
(by
Initious
Jun 28 2012 in Trip Reports)
Flying In OZ On A Virgin Kangaroo - SYD-MEL-ADL
(by
initious
Jul 2 2012 in Trip Reports)
Exploring Unknown Lands - Wonders Of South Aussie
(by
Initious
Jul 11 2012 in Trip Reports)
Scoot - Where's The SCOOTitude?
(by
Initious
Aug 2 2012 in Trip Reports)
[Edited 2012-10-16 06:39:37]