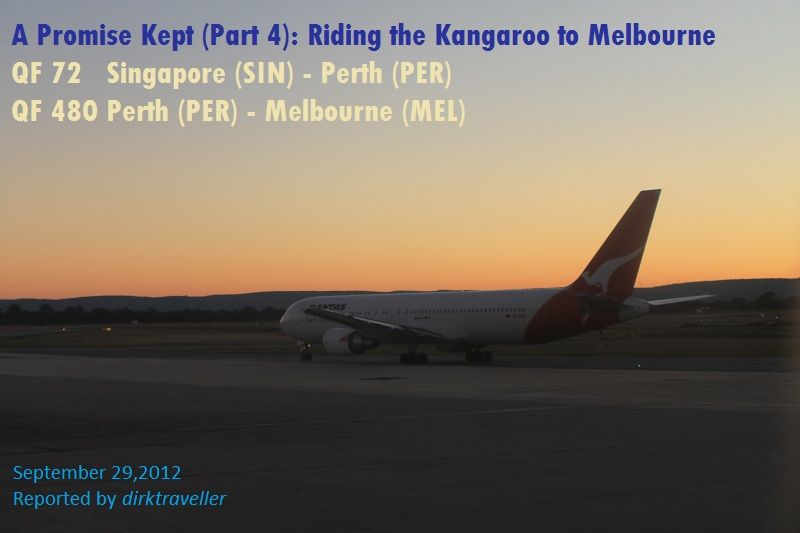 Welcome to the last part of the trip report!
These are the previous installments of the trip report series, in case you may have missed it!
A Promise Kept (Part 1): RBA Carry You Home
(by
dirktraveller
Sep 25 2012 in Trip Reports)
A Promise Kept (Part 2): On GA's Busiest Route
(by
dirktraveller
Oct 2 2012 in Trip Reports)
A Promise Kept (Part 3): 11Hrs In Singapore On VF
(by
dirktraveller
Oct 15 2012 in Trip Reports)
The 11 hours Singapore stopover passed faster than I expected, with every moment of it enjoyable. Time check shown it was already 2030hrs, and it was time for me to get back to Changi Airport, after spending half a day with all my former colleagues back in Singapore. They were extremely surprised that I was in SIN for only 11 hours stopover, as they were assuming I was staying for few days, which I did not.
Background
The convenient Singapore Mass Rapid Transit (MRT) system brought me on a 35-minutes trip from Bugis MRT station to Changi Airport. As soon as I reach the airport, I headed straight to collect my luggage in the 'Left baggage' section.
I made it to the extremely full check-in counter at around 2115, just before 2 hours prior to scheduled departure of 2330hrs. Qantas and British Airways shared their check-in counters at Changi Airport Terminal 1. Being it the hub for both airlines' Kangaroo-route, the counters were busy most times, and that night was no difference.
The recent Qantas-Emirates partnership agreement would sadly made SIN no longer the hub for the kangaroo-route. Personally, I'm interested to see Singapore's role in both Qantas/British Airways flight network in the future.
Check-in
Long queues at Economy counter for the shared BA/QF counter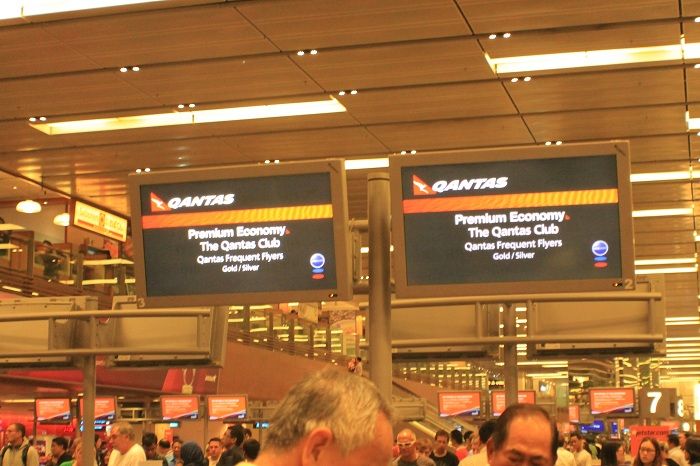 Then, frequent-flyer members are invited to the specific counter which made cut my queuing time.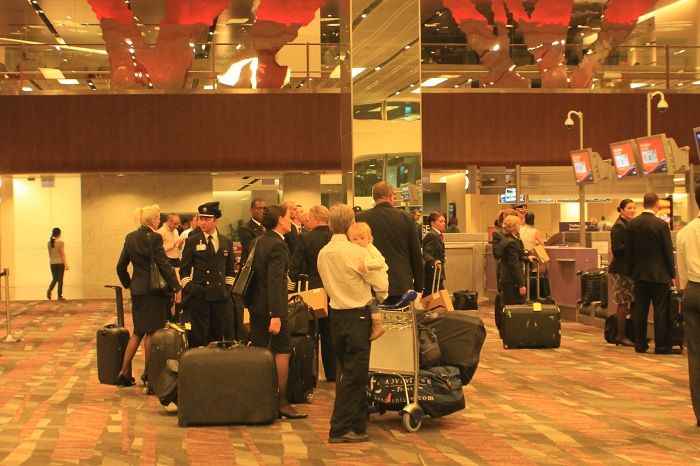 A set of QF crew reporting for flight. Hmm.. would they be flying us to PER tonight?
Post-Immigration - The newly renovated Changi Airport Terminal 1.
The immigration process has been efficient as usual in this airport, while I spent the rest of my time waiting for the flight wandering around departure area of Terminal 1. This is my first visit to terminal 1 after it has been renovated, and I must say I love the design of Terminal 1.
Right after immigration, a 'garden' is waiting for you.
The beautifully decorated departure area garden.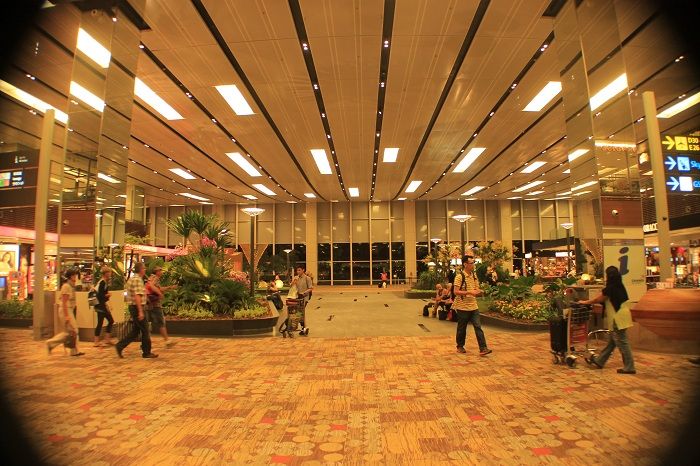 There is a large window enabling you to see flights taxing towards the gates.
FLIGHT DETAILS:
Flight Number : QF 72
Type of Aircraft: A330-303
Registration: VH-QPJ (msn 712, delivered 20/12/2005)
Seat Number: 41D
ETD: 2330
ETA: 0440
Boarding
The boarding gate C13 was full of passengers at that time. The secondary security check, which was just before the gate formed a line of queue. The boarding call was made at around 2245, which was at the order of Business Class, passengers with assistance, tail-end row Economy Class, then my section, the middle section economy.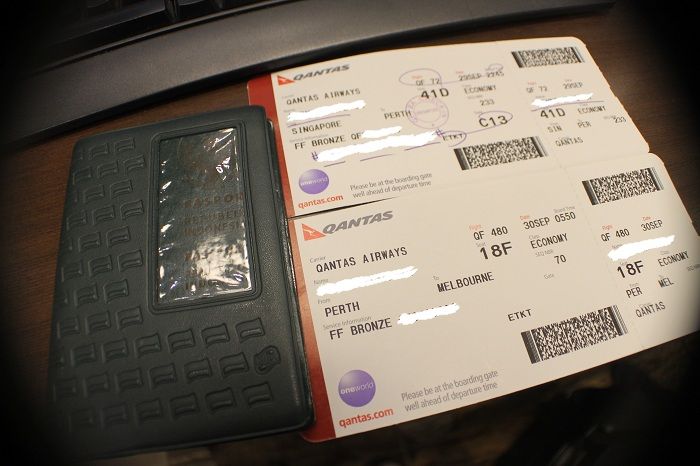 My passport and boarding passes, printed all the way until the PER-MEL sector.
Side view of the Airbus A330 flying us tonight, VH-QPJ.
The 7 years airframe is nicknamed "Port Stephens"
Further view of the aircraft, took from gate C13 prior to boarding call.
Upon boarding, I found myself that 41D was actually located just behind the center toilet, which I was worried that it may provide limited recline throughout the red-eye flight, but fortunately I still found the seat comfortable.
There was a pillow, blanket, and an amenity kit provided in every seat.
After the doors were closed, the crew distributed few items which includes the Australian landing cards, and then, menu for tonight. Yes, MENU for the one-time meal service on this five hours flight to PER. I was totally impressed that QF provides menu in Economy Class! Well done QF.
Passengers settling in to their seats.
The row of seats I am going to be seated. I was seated on the aisle side, which is 41D.
Amenity kits and its content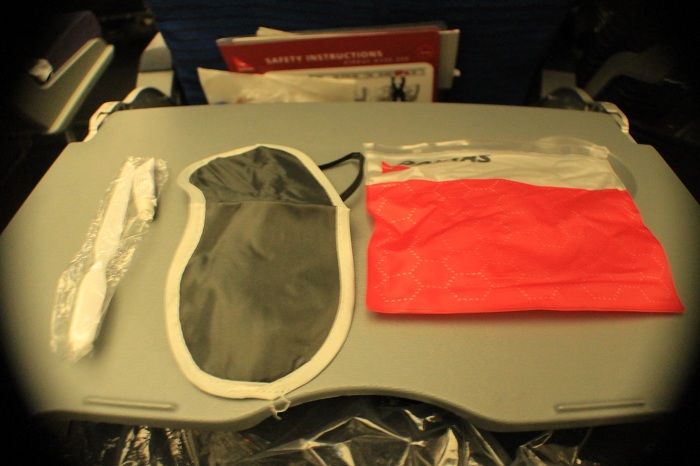 Pillow and Blanket
Terminal 1 exterior view from the window on 41A
QF Inflight magazine, A330 Safety Cards, Duty free magazine, and 'Q' Inflight Entertainment Guide
The front cover of the Economy Class menu.
Choices of meals for tonight's flight
Choice of beverages served on this flight.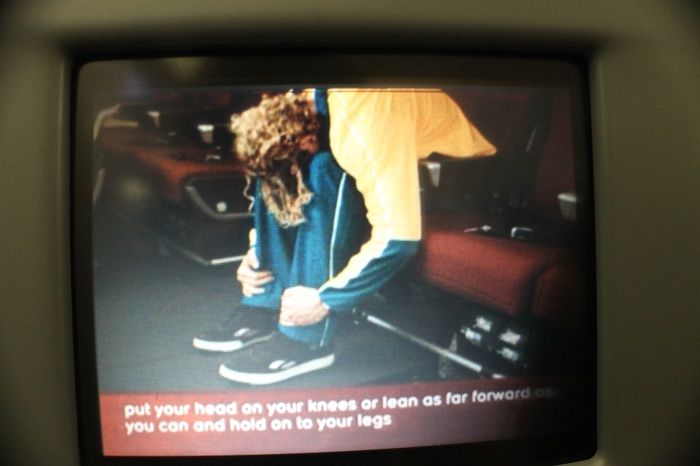 Safety videos featuring the Australian Olympic athletes. While the safety videos were played, the QF cabin crews were also demonstrating the safety briefing in person.
Anyone know why the video and live briefing were done in the same time? I was just curious why did they not just use the video, or doing it manually without the video?
The flight took off from Singapore at around 2345hrs, flying over the Sumatran Islands and passing Jakarta before entering Australian airspace.
IN-FLIGHT:
Cabin view after take-off.
My meal tray
Meal tray with my choice of meal : Chicken curry and steamed rice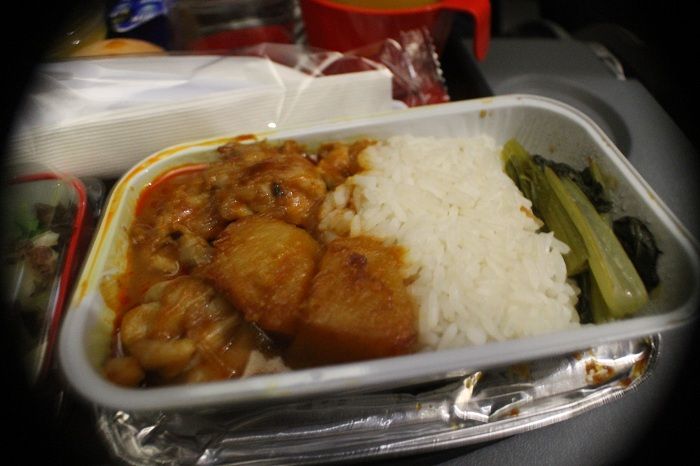 Closer look at the chicken curry meal.
Qantas Economy Class seats on the A330s :
While some ( or maybe most) of us are familiar with the Qantas Economy Class on the Airbus A330, I would include some pictures of the seats on QF A330s to those who are wondering what it looks like.
My seat 41D. Although this seat located at the end row, I found it pretty comfortable for the flight.
The economy class seating with decent legroom for medium built person like me.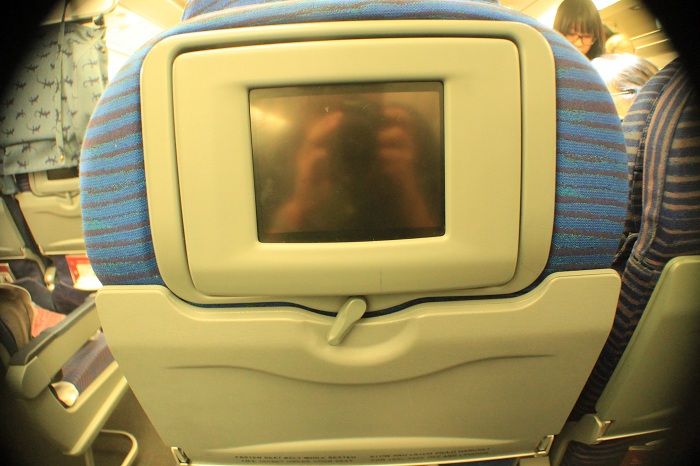 Seatback PTV on Economy Class
Remote control on the A330s
The 'Crew rest' area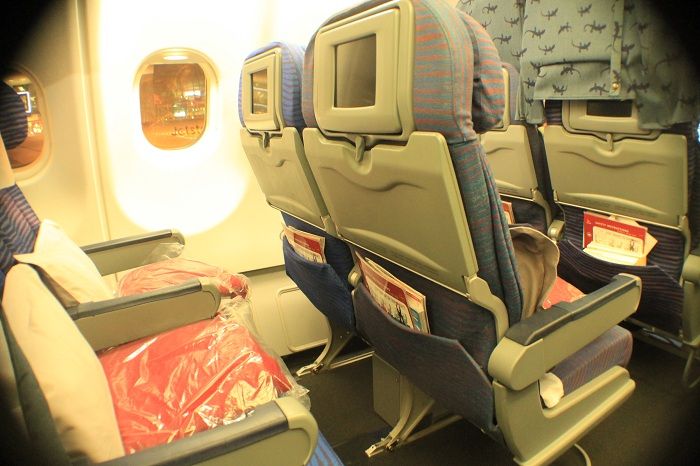 Crew seats are equipped with red blankets instead of normal Y Class blankets.
After the meal service, the crew seats were closed with curtains, where some of the crew were resting until the approach to PER.
The 'Q' IFE System menu
After all the trays were cleared, I choose to tune into the QF Inflight Entertainment system called 'Q'. While the system is AVOD, but I would have to say, that the system is quite outdated, and it sometimes take really long time to load. As there is still around 3 more hours before arrival into Perth, I decided to have some sleep, while the cabin light also switched off to allow passengers to rest.
QF crews would normally attend to passenger calls with a mini-flashlight, to navigate themselves on the dark cabin.
Landing into Perth
With less than an hour remaining to the flight, the cabin lights were switched on. The captain came on the PA announcing our descent into Perth Airport.
Moving map shown that we're approaching PER
A 3D image of our aircraft in the moving map feature.
Parked beside an AirAsia A320.
The flight landed in PER at around 0435hrs, around 5 minutes earlier than schedule. Perth Airport immigration queues were empty during this early hours. As required by the Australian customs regulation, I must took my baggage from the international baggage claim and went through customs check before dropping my baggage again at the QF domestic transfer desk. Customs check went smoothly, so did the customs check this time. However, I was concerned with the tight connecting time between my QF 72 and the domestic connection QF 480.