Dear all, welcome to my newest trip report!
This time a hardcore MilagePlus award ex CCS on the newest Star members TA and CM in a crazy routing consisting of CCS-LIM-MDE-PTY-TGU-SAP-PTY-BOG-CCS in only 3 days!
Around 2 months ago I found out that the 12th of October (a national holiday in most Latam countries) was on a Friday, hence I thought it would be good opportunity to plan a trip on this long weekend, specially as my family was visiting during starting of October Colombia (mostly driven due to the presidential elections that were held the past 7th of October, and in order to prevent any complicate situation).
On my agenda was a trip to TGU – an airport I was looking forward to visit since a long time due to the stunning approach.
As I traveled this year a lot with COPA and had some miles to burn, and specially the normal ticket prices to TGU ex CCS are quite expensive I started to search on UA.com the possibilities, after some research I found finally for 20.000 miles a really nice combo – with a lot of flying. Tried to book only but my (German) credit card went not true, most probably due to the restrictions we have here with foreign exchange control, at least I was able to get an booking code and called immediately the Premier Phone line – and within 10 minutes everything was sorted out and they accepted my German credit card. Shortly I received the booking confirmation to my e-mail and I was really delighted.
Time passed shortly over and finally the day was in.
The exact schedule.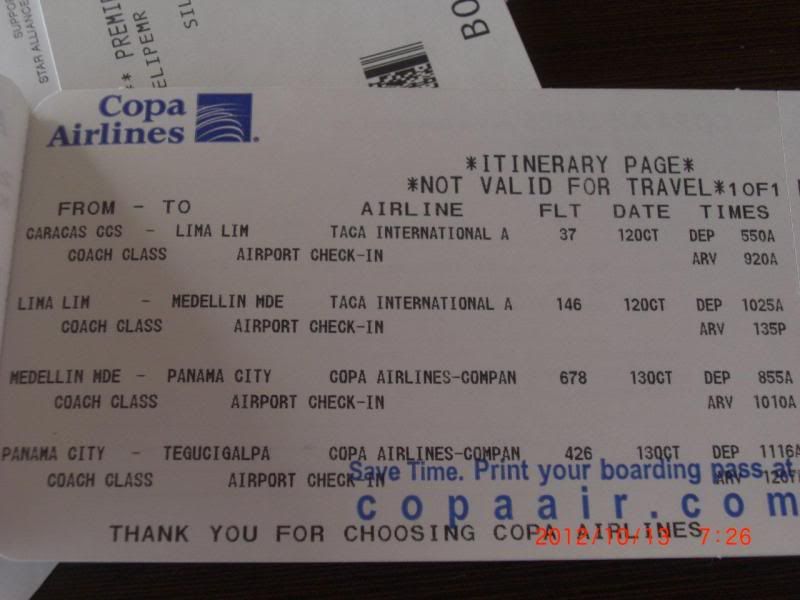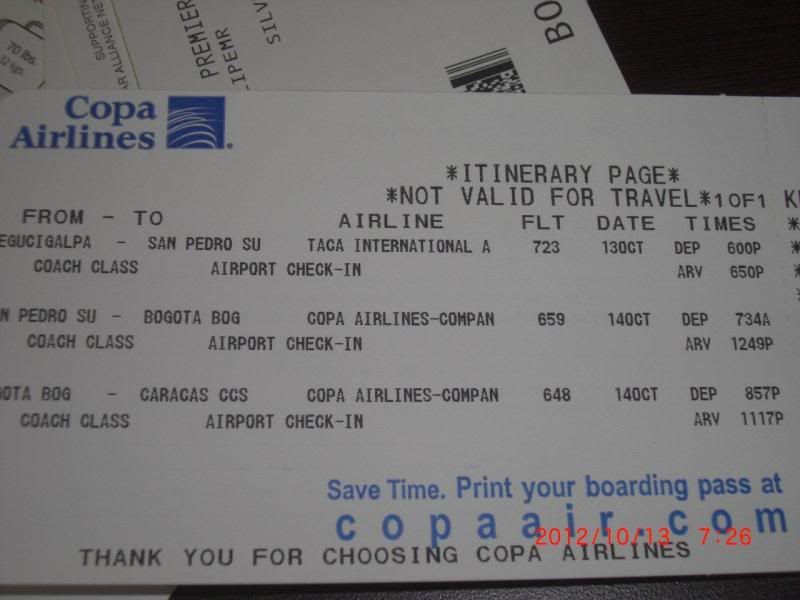 As the first leg was leaving CCS at 05:50am, the night before was quite short, better to say – instead of sleeping I diced to work the night and at 02:30am I took a nice shower and made my way from Caracas to Maiquetia were the Airport serving Caracas is located. This time as travelling with no luggage etc at all I diced to take my own car and use the airport parking, leaving at 03:00am honestly is not nice in Caracas as security is mayor concern. Anyhow I made my way through the deserted neighborhood and was within 5 minutes at the highway… ufff a little bit more relaxed know I made my way down to Maiquetia within 25 minutes, of course the traffic was non existing, quite the opposite of day time were without a problem I can take 2 to 3 hours from my apartment to the airport.
Went to the parking lot and straight my way to the check-in on the East side of the international terminal which was already quite busy and with long lines, at the same time TACA had 2 check in counters Avianca next door already proceeded also with the check in of the 06:55am departure to BOG. Made my way to the business class counters thanks to my LifeMiles Silver status… I was quite happy as only 1 family were in front of me, but looks like they had a problem with their tickets… and the lady on the eco counter just ignored me hence I had to wait around 40 minutes for the check-in. In my opinion a absolutely no go!
My today's luggage.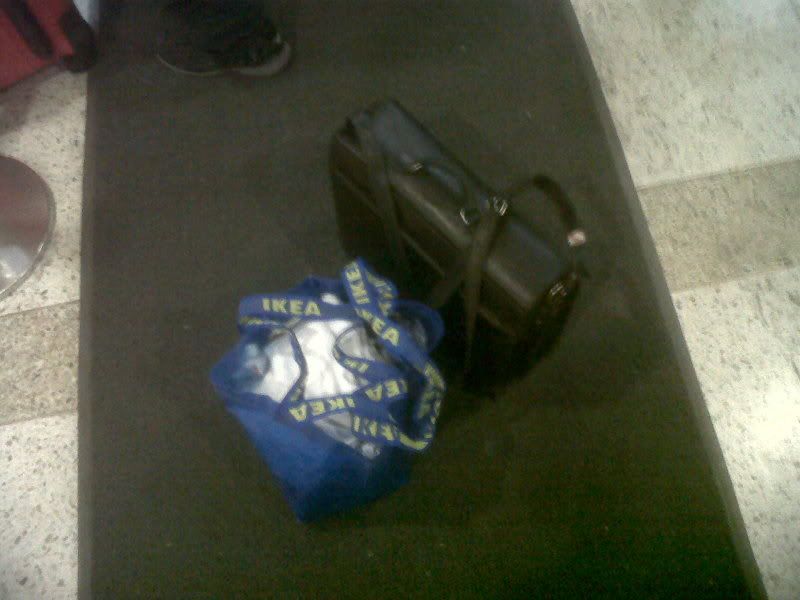 That's the difference a man travelling alone – when I am travelling with my beloved Colombian Mother or Wife, it's quite the opposite, they never ever travel with less than 100kgs of luggage… I think it's a Colombian habit…
Finally I was on turn, and the lady on the check-in was friendly and said good morning Sir, I hand over my ticket and passport and she started to type… her face started to be a little bit confused and then she asked me if the itinerary is correct? My response was just with a big smile, YES!!! Also I asked her to type in my LifeMiles number as I was ticketed on UA ticket stock and was not able to put in my data… She put it in and asked me a Mr. Avianca you are Silver flyer? Yes I am – and I asked – its correct that with Milage Tickets you are not enabled to get upgrades correct? She told me – no, also Award tickets are open for upgrades – bingo! Well for me LifeMiles and MilagePlus are really the best mileage programs for South America as you get Silver status (also on STAR) with just 22000 on LifeMiles and 25000 on Milage Plus which means you get unlimited upgrades for IntraAmerican flights in case of positive space availability – a great perk! She gave me my boarding pass – today 9D Economy but she told me you are waiting listed for the upgrade and she will inform me at the gate…
Well the scheduled aircraft was today the type I most love – yes the Embraer 190 – quite a long flight CCS-LIM (around 4 hours) for that aircraft, but as before mentioned I love this airplane and on TA and on CM the aircraft is really comfortable also in ECO!
Well had outside the terminal some cigarettes and made my way to security, as typically for CCS a totally mess with long lanes and only 2 security counters working, beside the early TA departure you have before 7am also a A320 of AV to BOG, A CM 737-700 to BOG, a ACM 737-800 to PTY, Santa Barbara B.757-200 to MIA and followed by some other early departures on AA to MIA, UA to IAH, DL to ATL, AC to YYZ etc.
Had to queue for around 40 minutes and finally I passed the security and went straight to Immigration. This was a blast and within 2 minutes I was cleared. So I had still 60 minutes to boarding – should I go to the lounge or straight to the gate? Well I really don't like the Lounge that Priority Pass is using in CCS (the Premier Club) and as it was too early for booze, the only thing that is ok in that Lounge) I decided to go straight to the gate, it was today 25 or 26, can remember well, but it was at least one of the gates that are quite new – a part of the airport terminal I never used and I was really surprised about all the new shops etc they installed there.
So I relaxed at the gate and just let pass through the time. The gate area was quite busy, and my hope to get an upgrade was quite small, as all smelled like a full flight… TA announced the boarding – starting with Business, Star Gold and LifeMiles Gold and Silver members… I jumped up, and went to gate, the lady checked my passport and boarding ticket and told…aaa one second please, went to the counter and Bingo – Mr. Avianca you are upgraded, have a nice and safe flight! Wow I was really happy as I had no sleep all the night I would be now at least to rest a little bit more comfortable after having a nice breakfast in this sexy aircraft.
I was the second to board and the Purser welcomed me, I went straight to my seat at 2D
Seconds after, the Purser asked me if I would like to have as welcome drink some Water or Orange Juice, well no champagne at this hour of the day J hence I decided to go for some water.
The rest of the passengers boarded step by step and the captain gave some words including that the departure will be minimal delayed by 15 minutes… Finally door was closed and today only 2 passengers including me in Business – hence I switched seat to a window! Eco load was around 95% - totally capacity of 97 passengers on TA Emb190.
Very comfortable seats including personal TV, not only in Business also in ECO.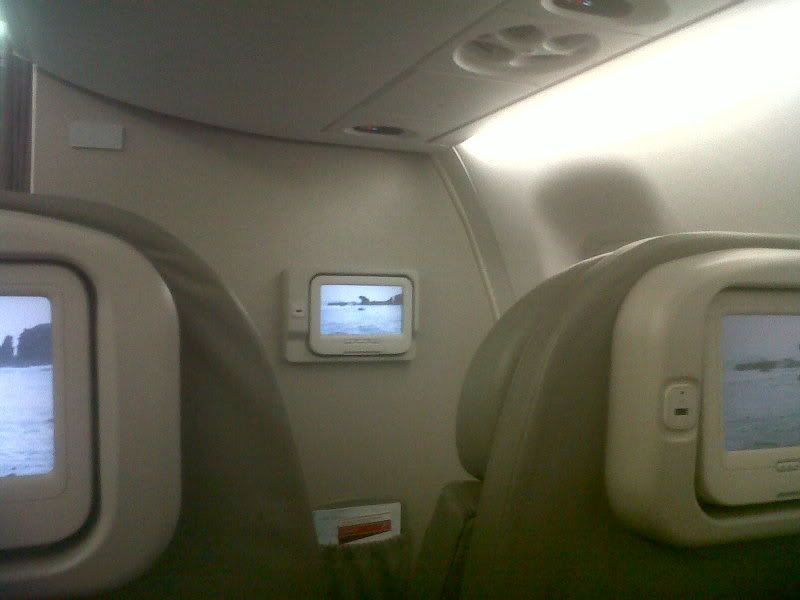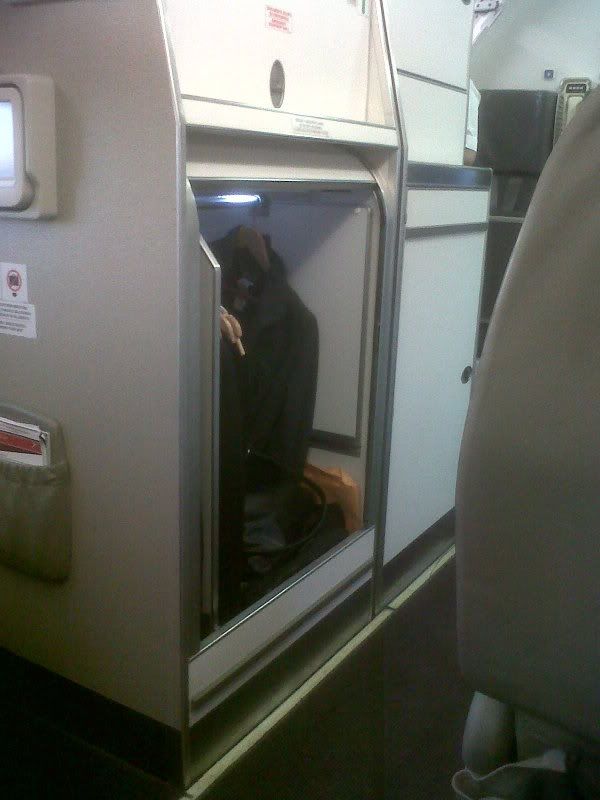 Good old B727F of DHL Aviation – to be exact Vensecar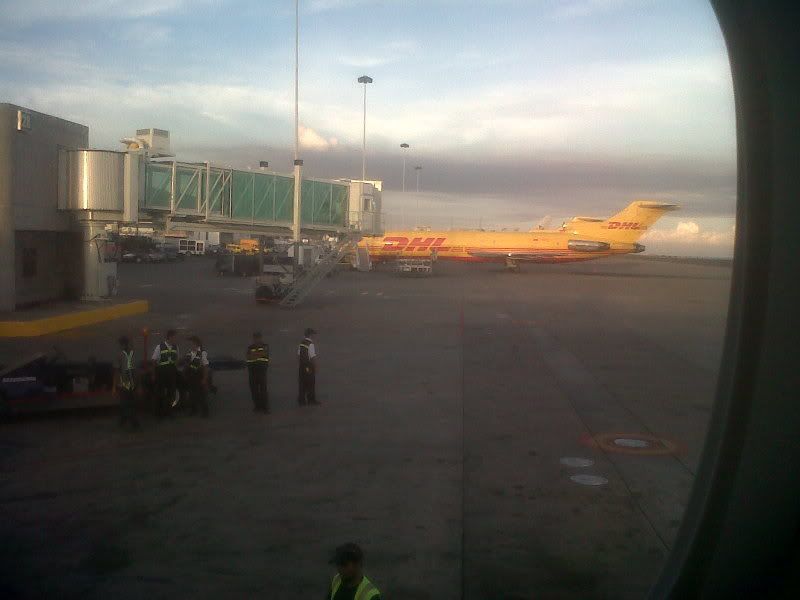 We were pushed backed and we made our way to the runway followed by a very powerful take off – which was quite long the run due to the heavy load for the long flight to LIM.
I stared to rest a little bit and enjoy the views from the window, soon around 30 minutes after take of the Purser came to me and asked if I would like to have breakfast, my answer was of course Yes and she asked me if I would like to have a ham and cheese sandwich or some French toast, I diced for the sandwich, and asked also for some orange juice and coffee with milk.
Breakfast arrived including some very nice fresh fruits to start with to refresh up.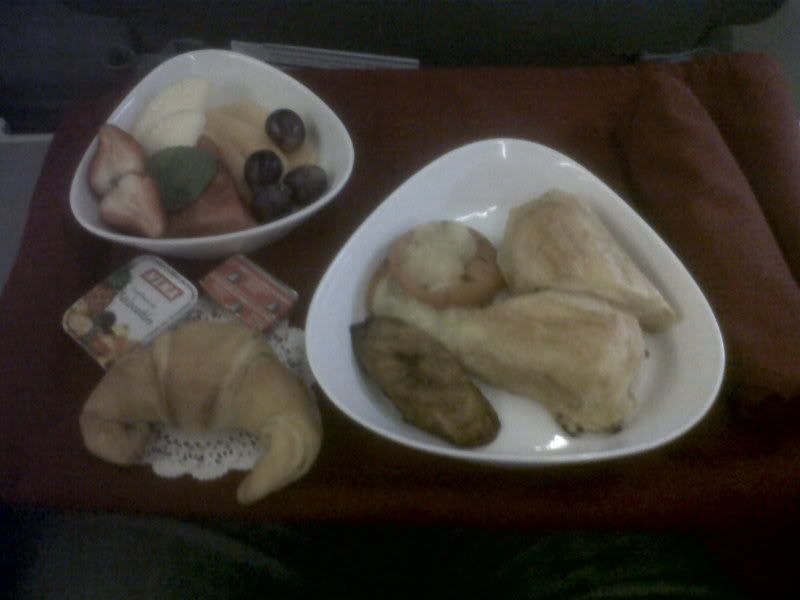 All in all a very nice affair – also I have to complain that I never understood why SouthAmerican carrier gave in business such cheap Orange Juice, better to say sugar water… is it really to complicate to serve some fresh squeezed juice?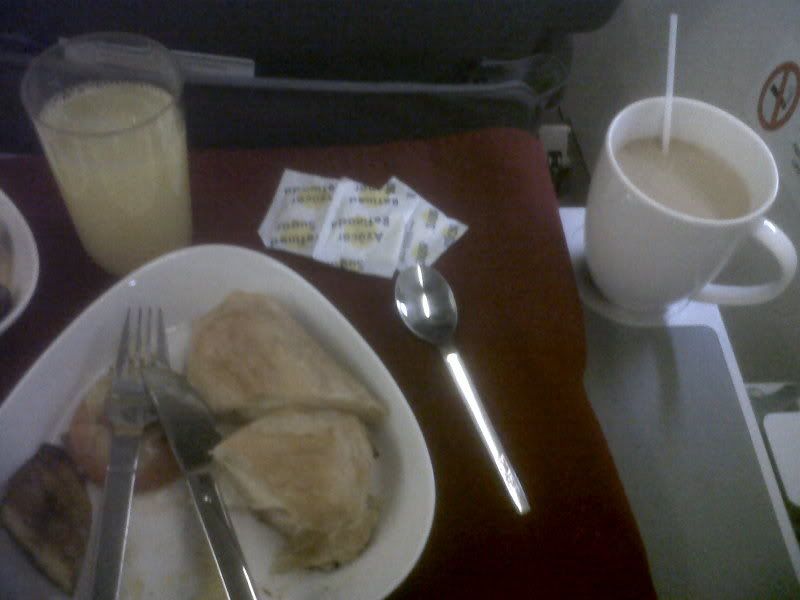 After my breakfast it was time to sleep a little bit, the time passed quite fast by, and I woke up around 40 minutes before the approach to Lima – quite some turbulences north of Lima, a nice bumpy ride! I love it.
The Andes northwest of Lima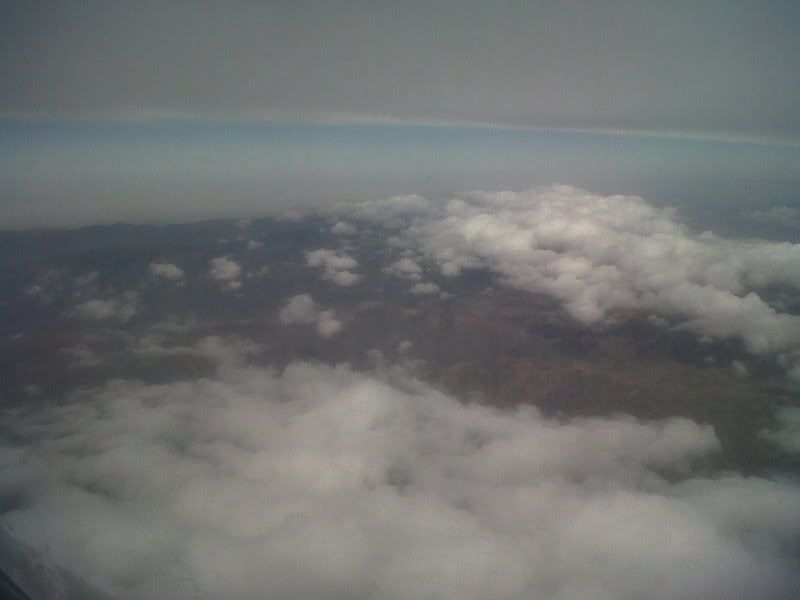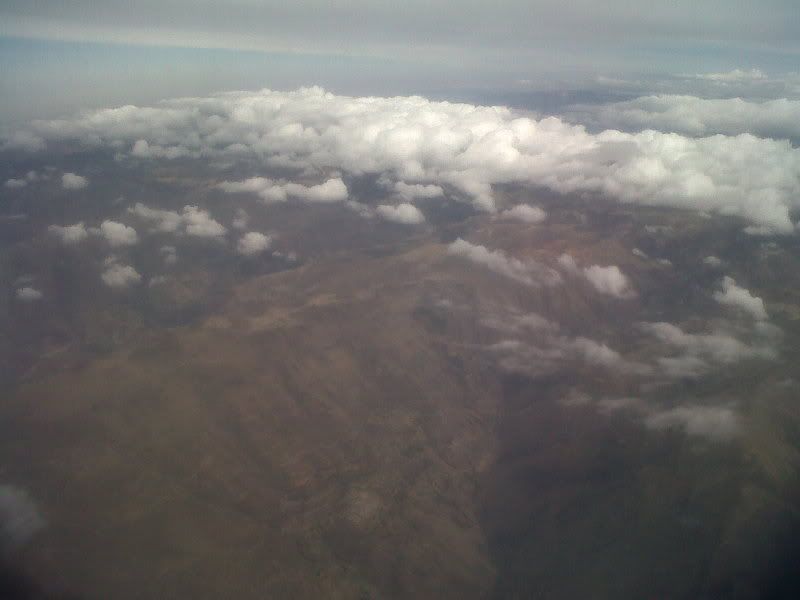 I made this approach many many times in the last years, as till end of 2011 I was living for some years in Lima due to work.
I started to get a little bit nervous as my connection was quite quick – but on the other hand TA has a great hub system in Lima.
We made straight into LIM and finally after nearly 9 months I was back in Lima… hands down the best airport in South America!
I deplaned made my way to the connecting flight securities which was deserted, what means that all incoming flights already arrived – I made it through in 1 minute and searched for my leaving gate, bingo the same aircraft that brought me in from CCS would bring me today to MDE. I went to the gate counter and asked if my upgrade was approved, and unfortunately the answer was Sir we are totally full today – ok no problem – as TA Eco service at least is not bad either, the aircraft was prepared and some 20 minutes later the boarding was announced, made my way to the gate, and within minutes I arrived to my seat.
9D today, unfortunately no window seat today, and as before mentioned fully flight today. I traveled many times in the past LIM-MDE but always with a stop in UIO, TA just started with 4 weekly nonstop flights LIM-MDE + 3 weekly AeroGal LIM-UIO-MDE instead of 7 – 1 stop flights they had in the past. Also the other carrier on the route LA is still flying via UIO.
The boarding in general took some time and after 20 minutes the doors finally were closed and the last luggage was stored.
The aircraft was pushed baked and we made again straight our way to the runway, passing by many LA A319, Peruvian Airlines 737 and some Star Peru aircrafts. Also I noticed that it looks finally LA/LP installed an own hanger at LIM. Always a nice sight in LIM are all the older aircrafts that are there for maintenance, in this case including 2 Conviasa 737-200, but their shape was so bad that I doubt the will fly again.
Powerful take off – passing a part of the city of LIM heading east over the Pacific followed by a sharp turn to the right, meaning heading north. I used this time a little bit my personal TV, looking a Simpson episode and then slept for a while till the service of Lunch started. Today's choice Pasta or Chicken (will the standard offer on Eco class these days). I decided for the Chicken, in this case it was Sweet Sour with rice and a small salad.
The beverage service on TA including domestic flights is really great, including soft drinks, juices, beer, wine and some hard liquor like Scotch, Vodka, Rum etc.. much better than LAN on short or medium range flights!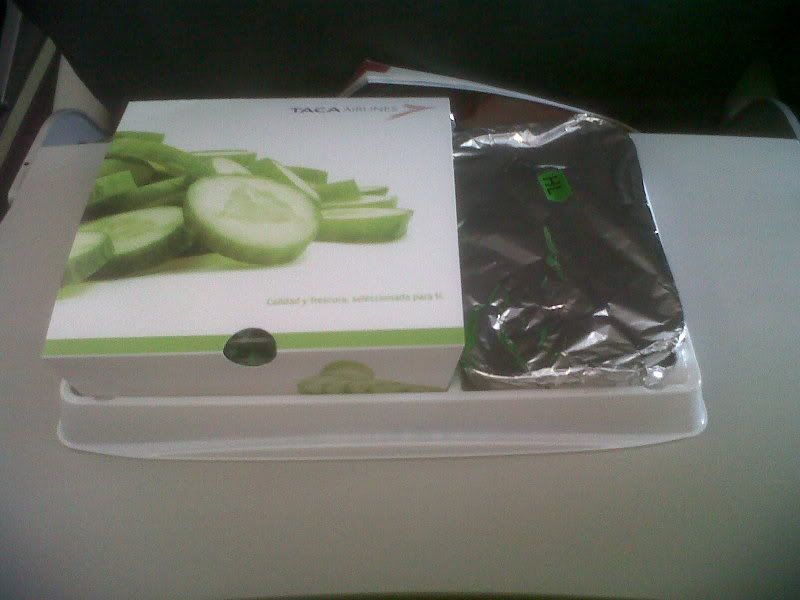 And some beer to go with it. Interesting they serve TECATE, a Mexican beer that is not sold at all in the Peruvian market, but from my many visits in the US I know the brand of from time to time for sure it's not a bad brew!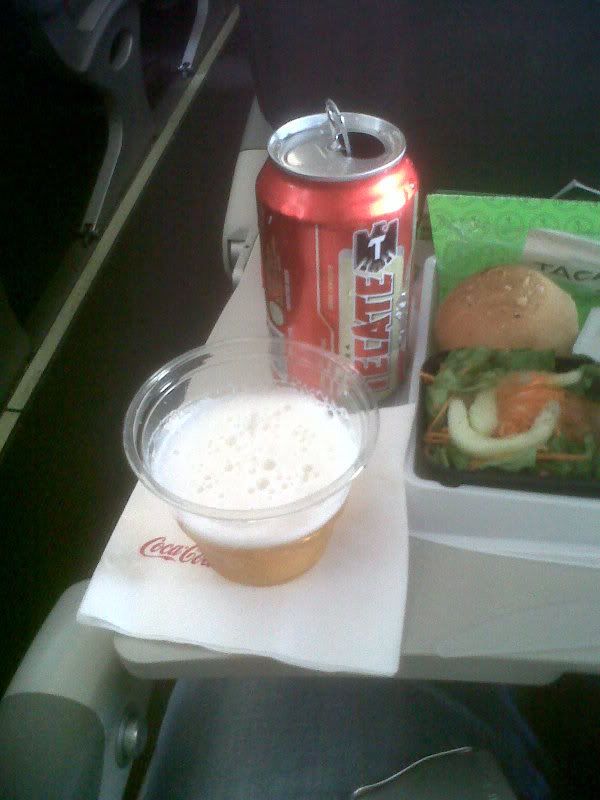 Oh really, the hot options should be on all carriers in eco a little bit bigger, after the food a second drink service was offered and I opted for a Cuba Libre and know it was time for some more TV, Man in Black 3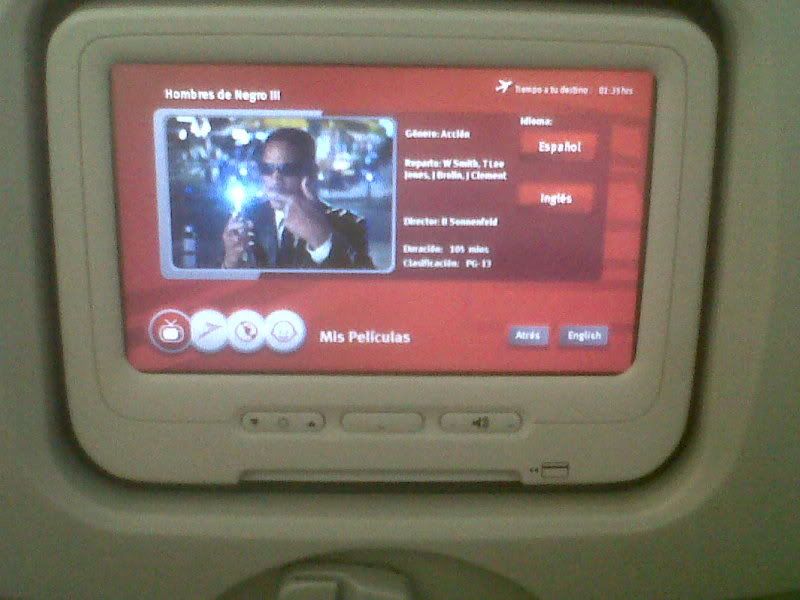 The time passed by and soon we started our decent into beautiful MDE – arrival was a bit bumpy but it least our aircraft arrived ahead of the other international flights – in this case CM ex PTY and CCS, meaning that immigration should be quick. I was asked how long I will stay and my answer was unfortunately 1 night!
As I had no luggage I went through customs – and this time the channel system showed red, meaning x ray of my 2 mini bags, also this was done within seconds and went straight to take a taxi in order to start with the journey down to Medellin City, without luggage I normally take the bus, but today the airport was very busy and as my stay was already short I had no intention to lose more time. Anyhow what a hell how expensive these days are the taxis from the airport to the city, it's around 35 USD well yes maybe still cheap comparing to most other cities, but I remember still the prices from MDE in the past.
The journey is around 1 hour from the airport and I arrived at the home of my mother in law, were already my wife and my little sunshine daughter were waiting.
The weather was quite bad in MDE today so no other choice than to see the great soccer game between Colombia and Paraguay, Colombia of course won it – and it's in a good way to qualify finally and after 16 years again for a WorldCup!
I played with my little daughter and it was already time to go to bet, as my next flight CM MDE-PTY was leaving at 08:55am next morning. I also preordered a Taxi for the next day and after a long and resting sleep I woke up at 05:30am had a shower and waited the taxi. As mentioned before the Colombians love to travel with heavy luggage and my wife prepared for me 2 big bags each with 35 kilos … in order to bring stuff from our house in Medellin back home to Caracas…. The taxi arrived and we made our way through foggy Medellin up to the airport located in RioNegro. Arrived at around 7am I made my way to CM Business Class counter were the check in agent again was confused do to the strange schedule… he was able to check me in for all pending legs beside of my TACA flight from TGU to SAP this same night. I received a window seat for the MDE-PTY leg, no upgrade today as CM is using their all economy Emb190 on the routing. Also he told me that the PTY-TGU was overbooked and no chance for window, what was really a bad news, as I was finally doing this trip only due to get the approach in TGU.
MDE Terminal from outside.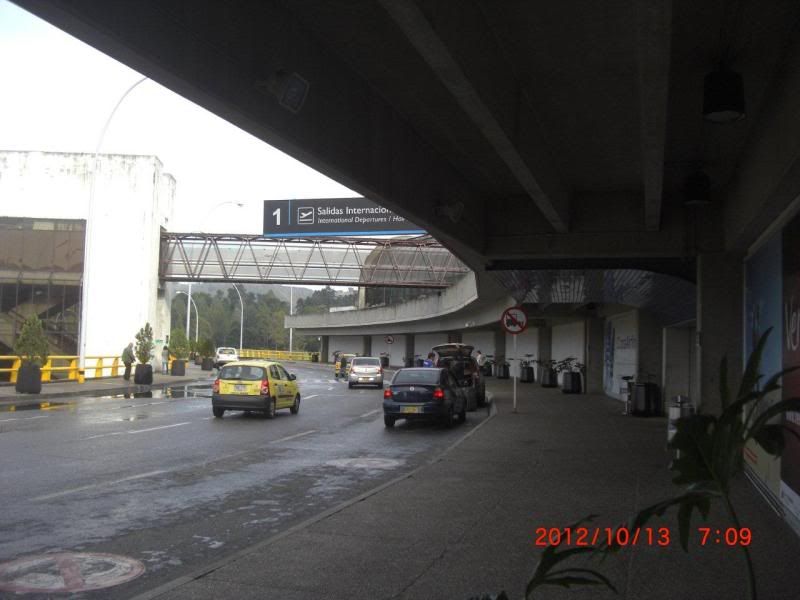 Went through security and immigration and as I still had around 1 hour till boarding I decided to have some breakfast. But first I went to the gate to register myself ( looks like this has to be done for all international departures ex MDE) and asked again for a window seat for the PTY-TGU leg, which was again denied as there was no availability.
My number 1 soda in Colombia, Postobon Manzana, this time and for the first time in the diet version, honestly the true stuff is much much better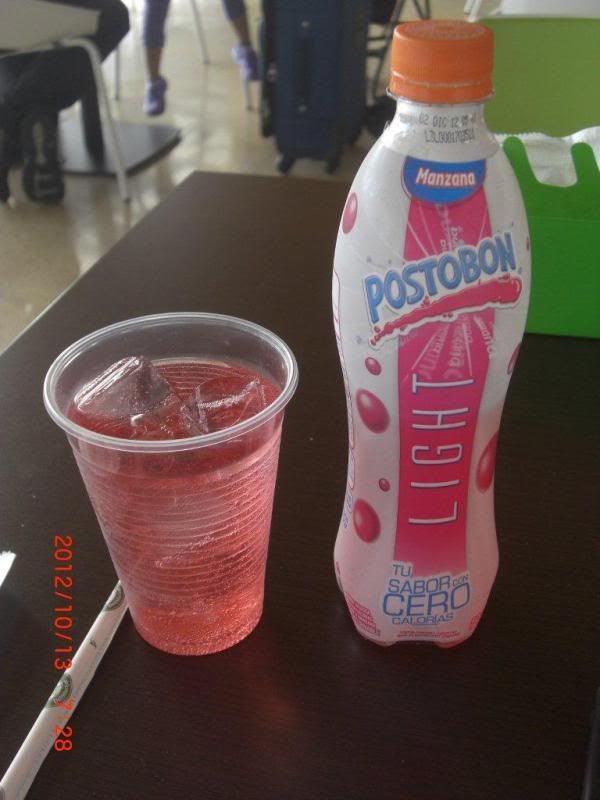 A nice gourmet sandwich – including the drink for 11 USD.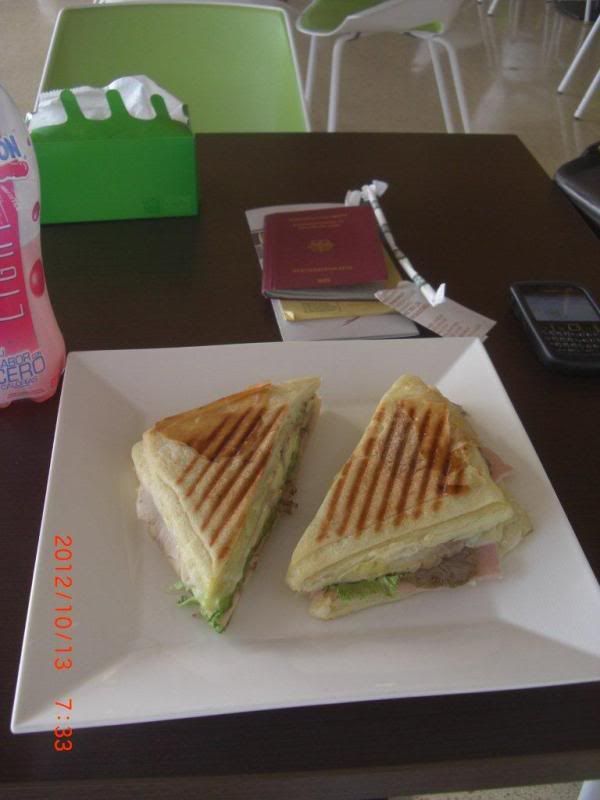 Now it was time for some spotting.
VivaColombia at the Cargo tarmac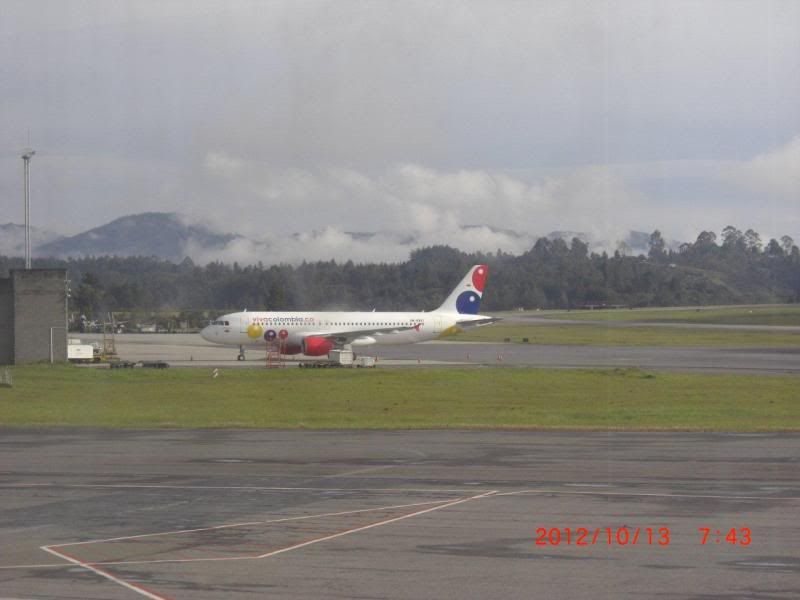 The Embraer for today's MDE-PTY flight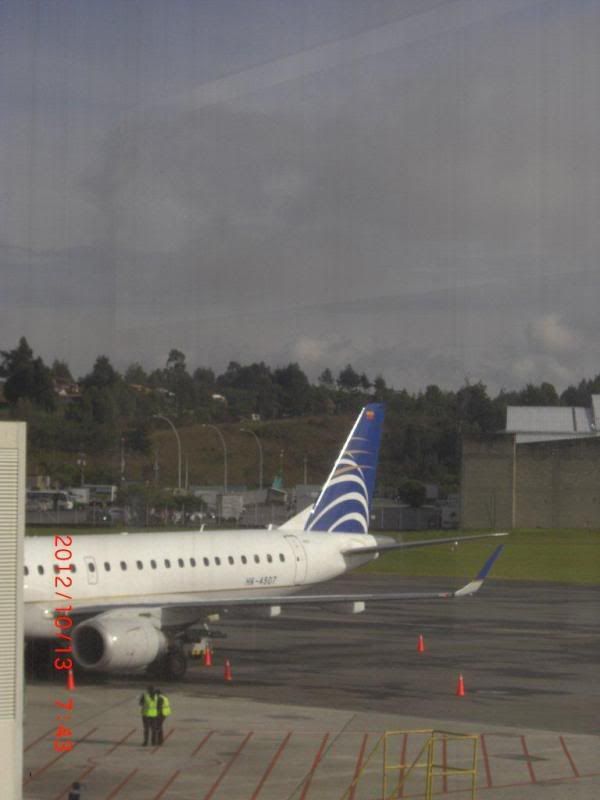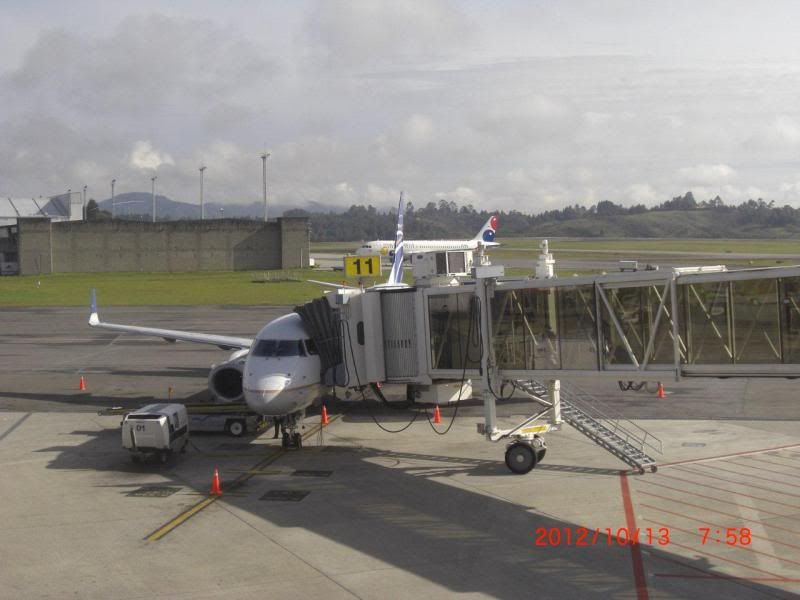 AA – prepared for the daily MDE-MIA flight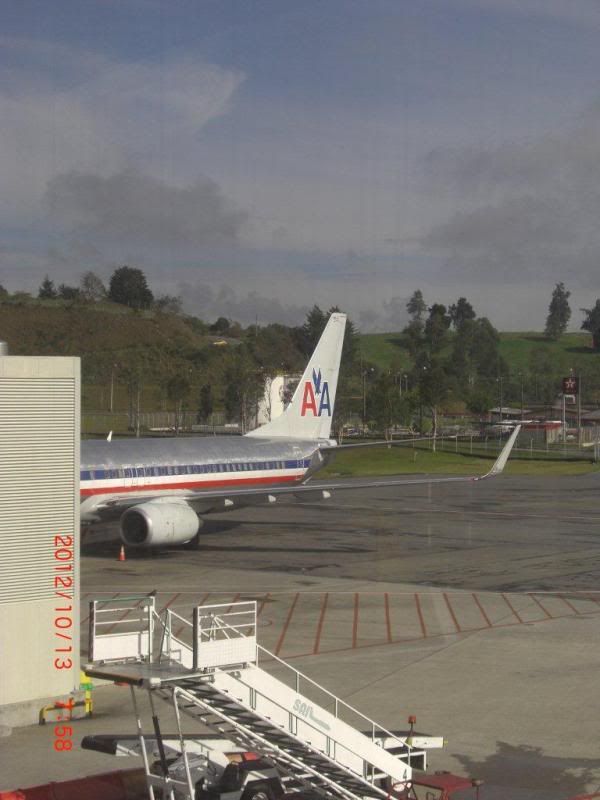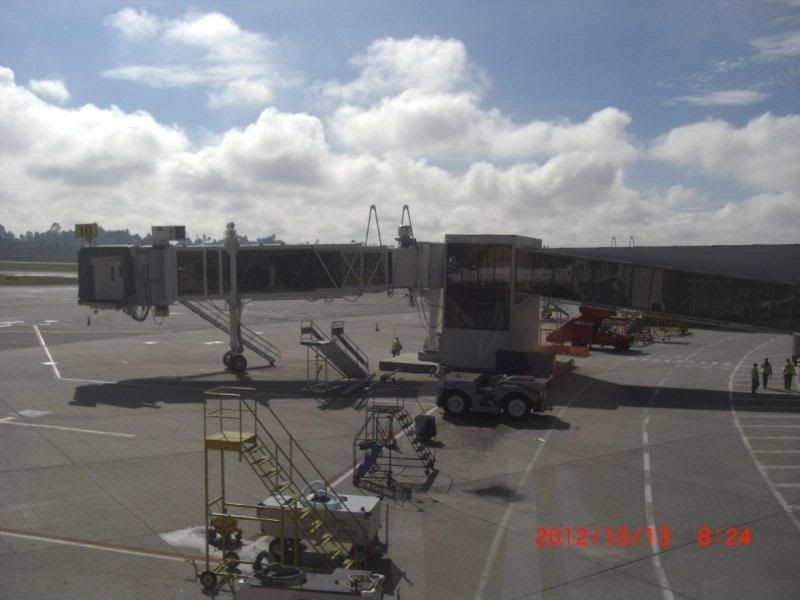 Boarding was called and again a smooth boarding process.
The leg room on CM EMB190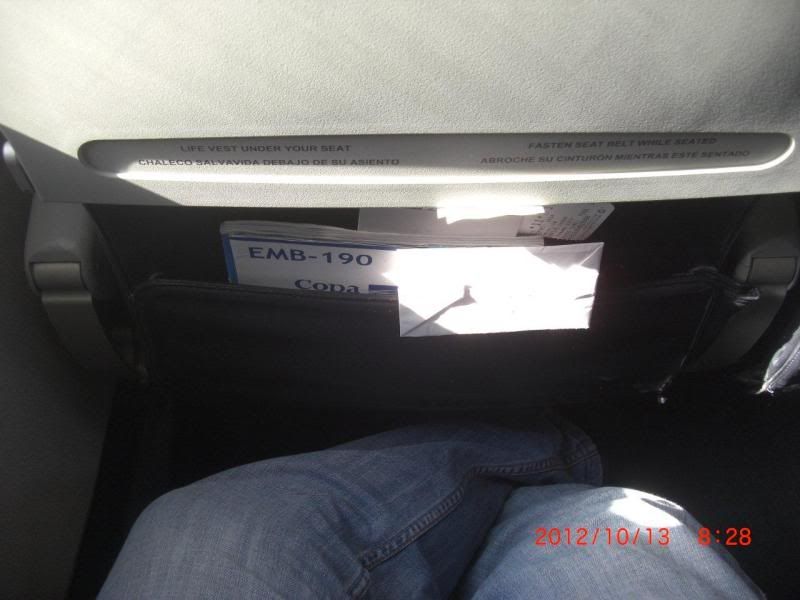 Bye Bye MDE, hope to see you soon.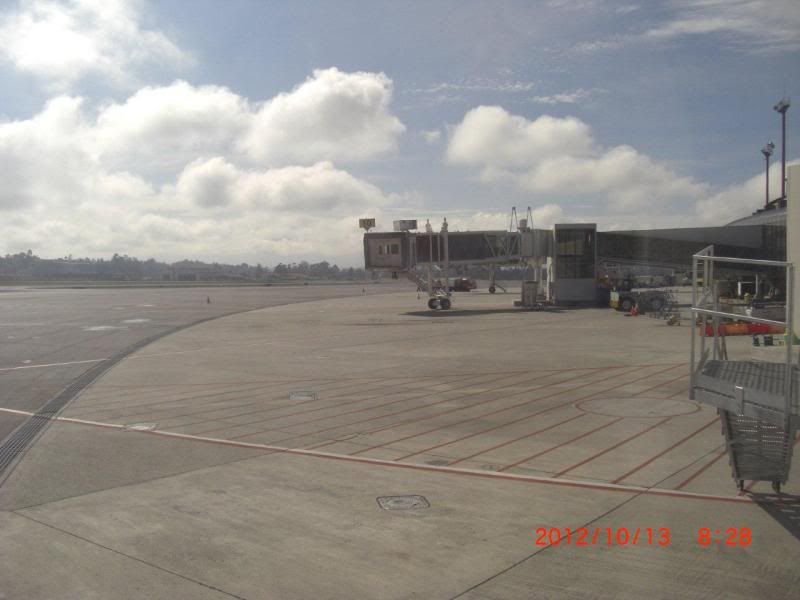 Push-back and powerful take off for the short 1 hour hop to Panama City.
Already in flight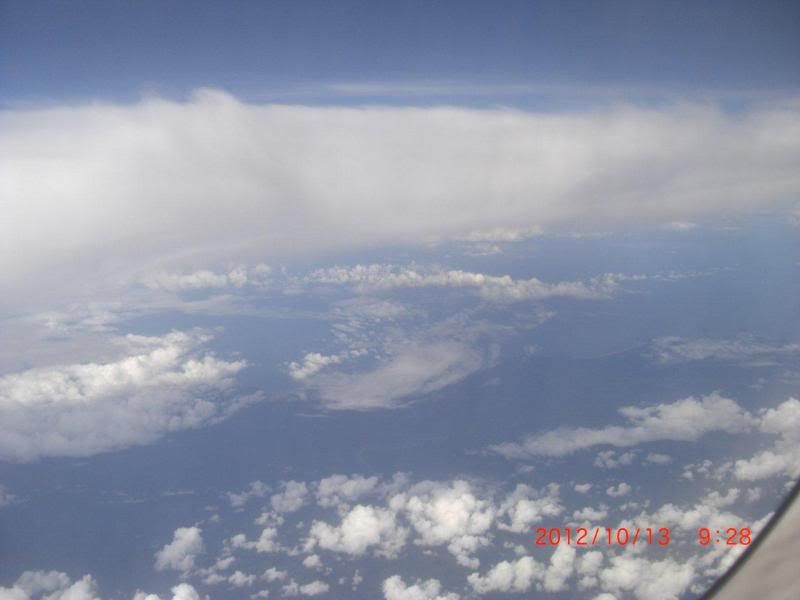 Service started and for breakfast today on offer Chicken or Ham and Cheese sandwich, I think CM is also known as the "sandwich" airline in eco.
Had some great Colombian coffee and some blackberry juice – which is very popular in Colombia. Also some grapes were served.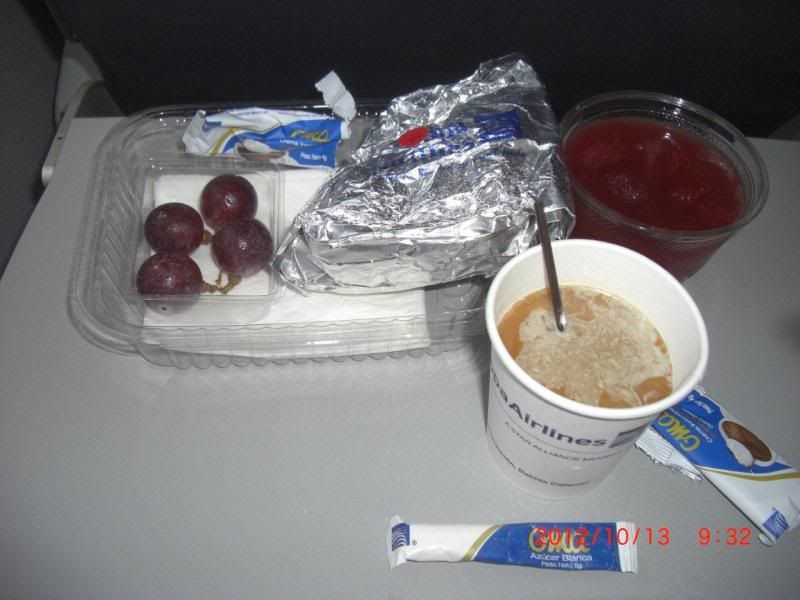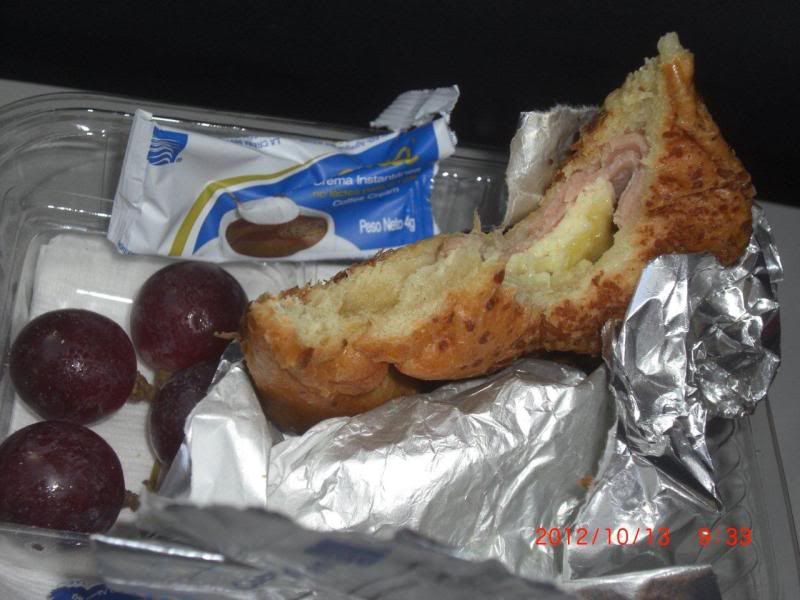 The food was ok – and soon we started our decent into PTY – what I really love are the descents into PTY, always stunning views!
Ships waiting the enter into the channel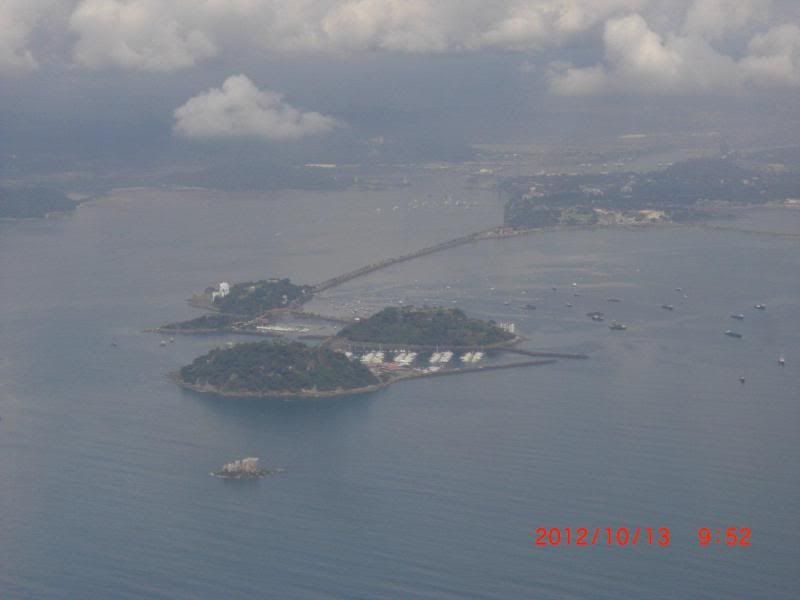 Now it's not Miami. Impressive how Panama developed in the last years.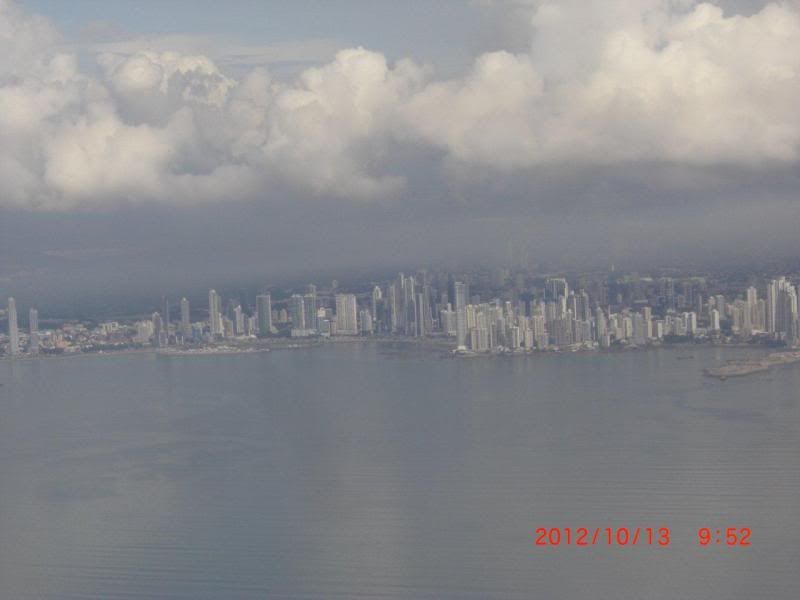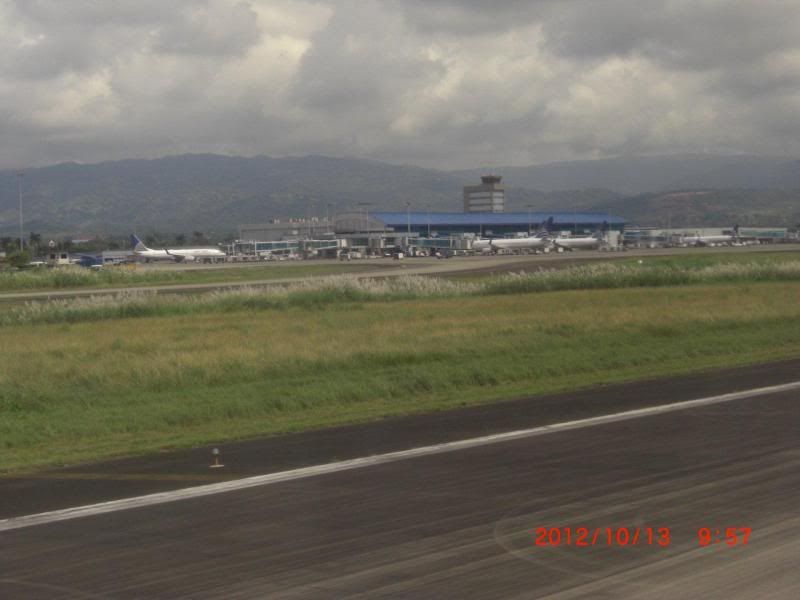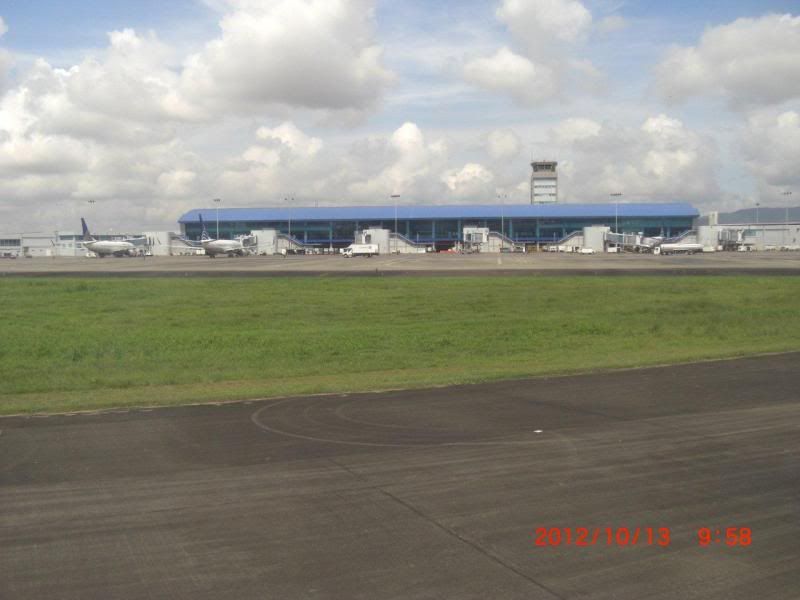 As I had still 1 hour for the next flights, I decided to stop shortly by at the ex Presidential Club in PTY and know Copa Club.
Well it was already 10:30am so time for a nice Scotch Soda in the lounge. They serve black label, could be of course worse 
Also I had a bagel witch cream cheese to go along with the Scotch, I know maybe a strange combo and I also took an Apple for later today.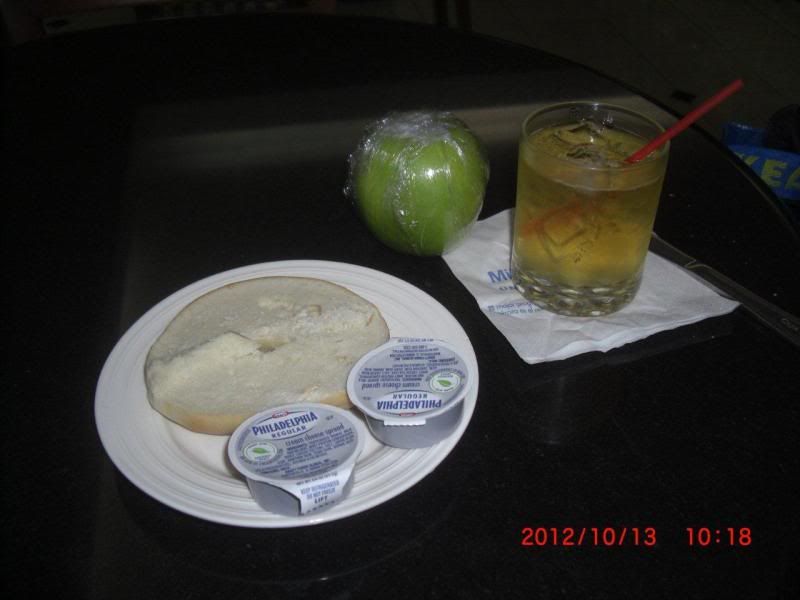 At the lounge entrance I asked again if maybe a window seat was popped up but unfortunately the answer was no – even the flight is overbooked – so no chance Sir, know I was starting to get really pissed of… but well there is nothing to do. Made my way to the gate, made a short stop at the Duty Free, bought some stuff, and arriving at the gate they already started with the boarding process. Anyhow I asked again and for the 4 time for a window seat, but again no positive answer. So I made my way to the aircraft – oh God, I was so pissed off.
A new special color scheme of CM?
Today aircraft was a CM 737-700 PTY-TGU, CM is operating 2 times a day into TGU, the first flight of the day is a EMB190 PTY-SJO-TGU and the second of the day a B.737-700 PTY-TGU nonstop, even I love the Emb I booked the B737 flight as a bigger aircraft should mean even a better approach into crazy TGU 
At least I was at row 5 – the bulkhead.
Also I asked the purser if he see any chance to get me a window seat, as I told him clearly that I am traveling to TGU only to make the approach. He was really friendly I told me he will see what he can do, the boarding took around 30 minutes and full flight today 100% load – so again no business upgrade on this segment. The pushback started and to my surprise the purser came to my row and asked the passenger on the window seat if he see a chance to switch with me at least during the approach, nice gesture and bingo the passenger told no problem  well I was still not totally happy as it was a window on the right side of the aircraft and the "perfect" place is to sit on TGU approach on the left… but hey better than nothing and really very nice of the Purser!
Flight was slightly delayed and we made our take off, of one of the last aircrafts of the mid-morning hub bank out of PTY.
The flight was uneventful – and for service I had a Panamanian Beer (Atlas) and YES sandwich again, Chicken for me this time. Sorry no picture of it.
Around 30 minutes before the approach the decent started and the passenger told me to switch the seats!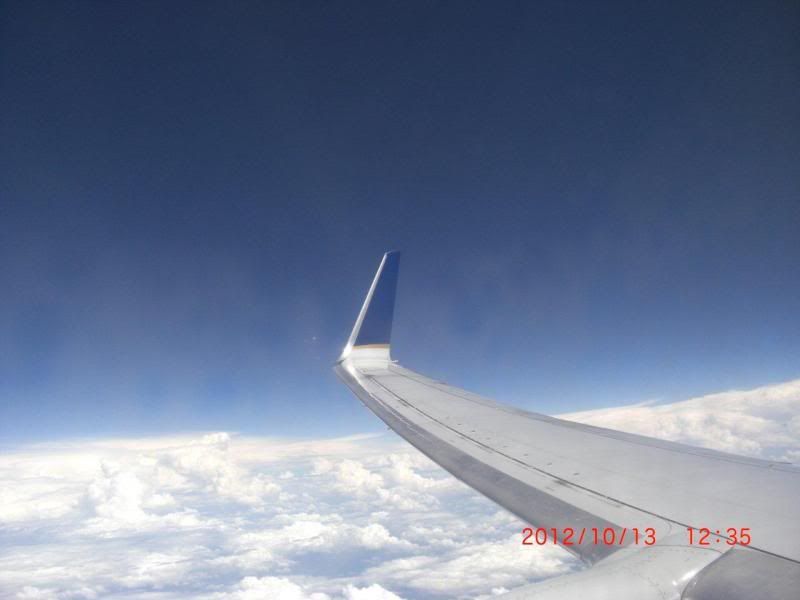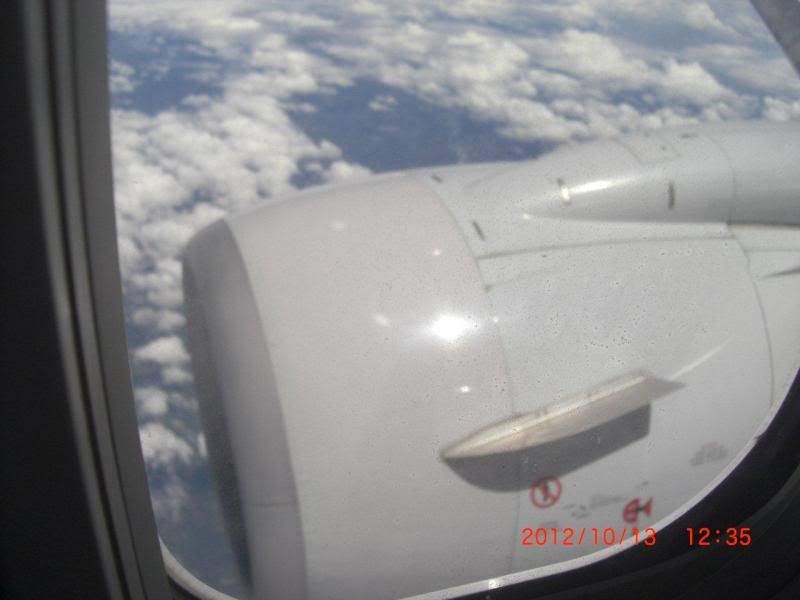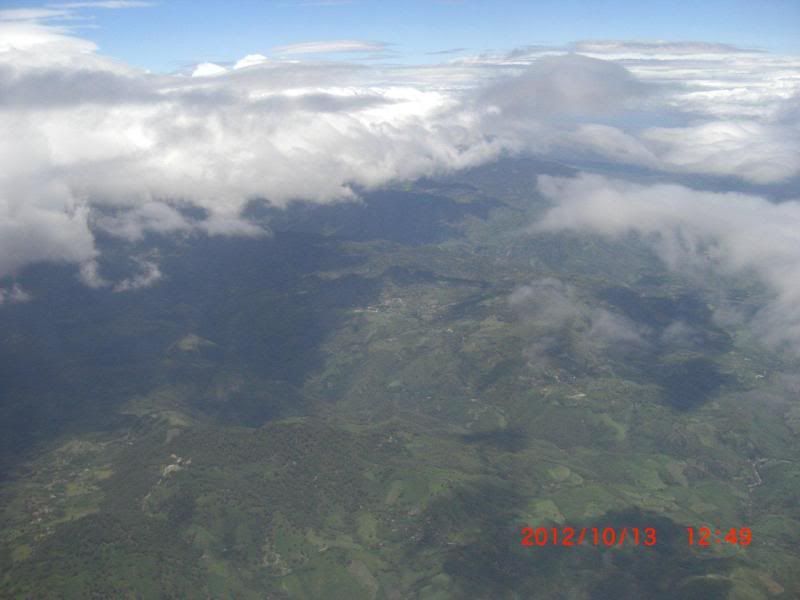 Looks like not only Spain is Don Quijote land 
Finally the stunning approach started. Just can say wow, the aircraft made long long turns… over TGU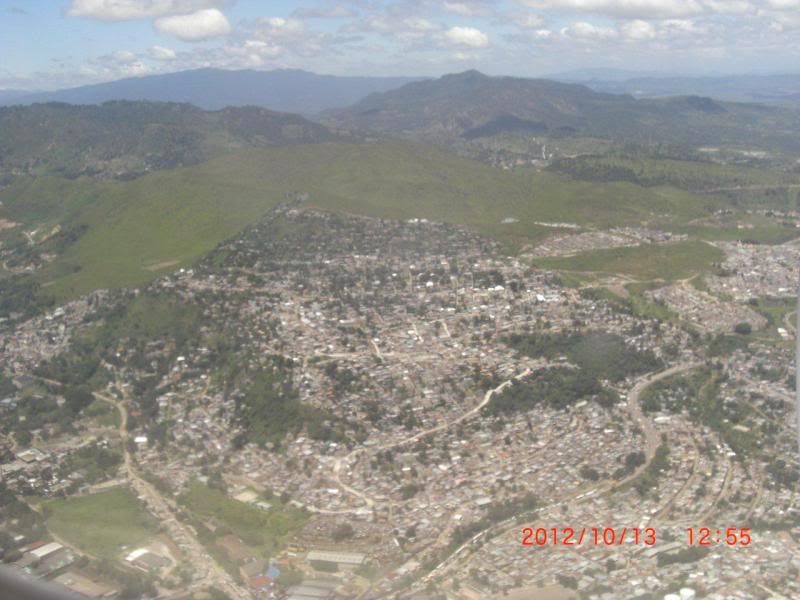 The final approach is a long left turn – you are feeling that the turn will take forever and in some sort its creazy as on the left side you are passing by very near houses and on the right side basically nearly hitting already the mountains.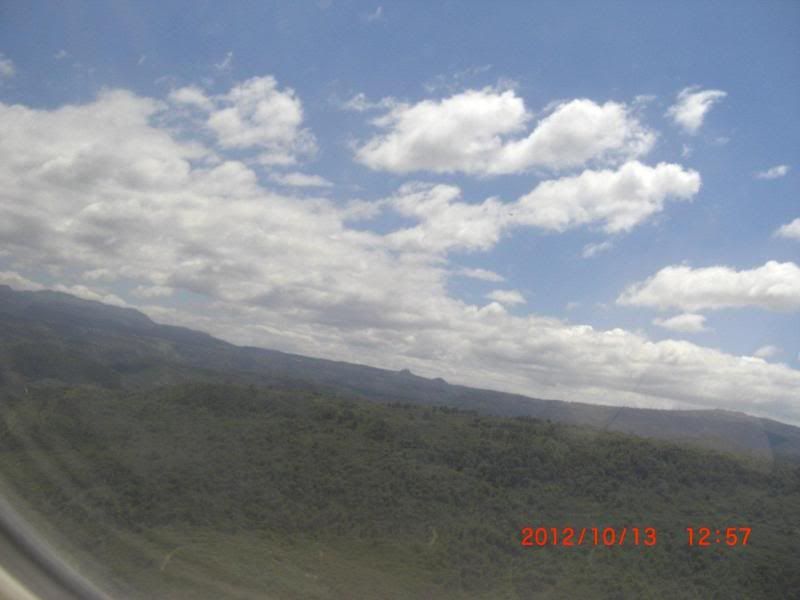 And here we go!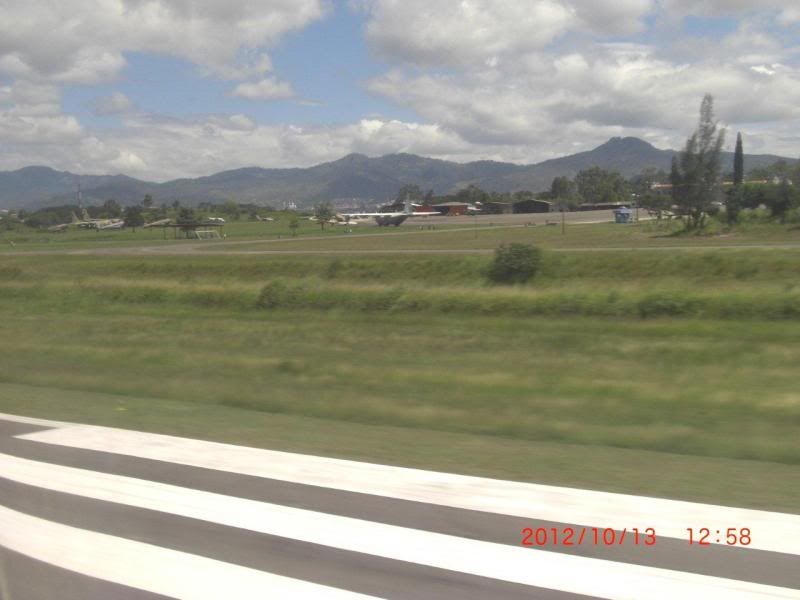 Unbelievable how short the runway is, never felt such a heavy breaking of an aircraft! WOW finally I made my way to TGU, a very special approach – I would say my personal top 3 of approaches so far are TGU, CUZ and UIO!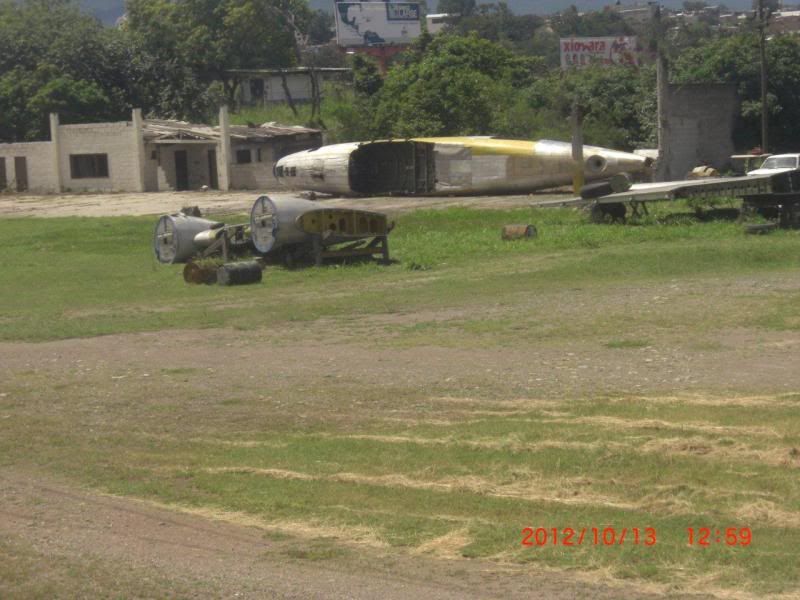 The noon US traffic at TGU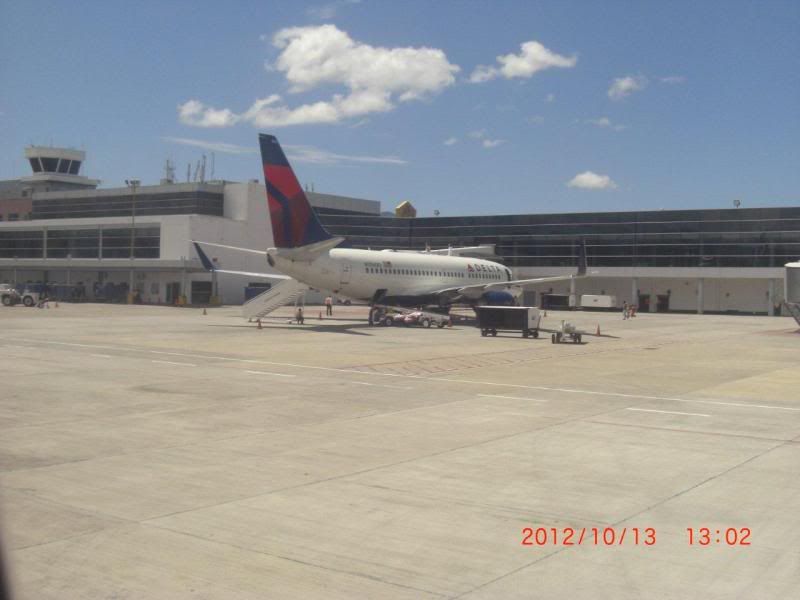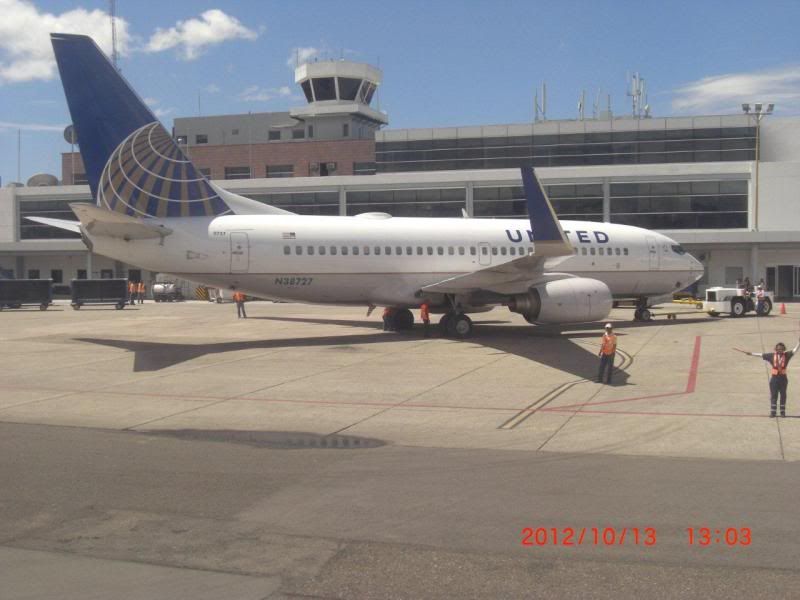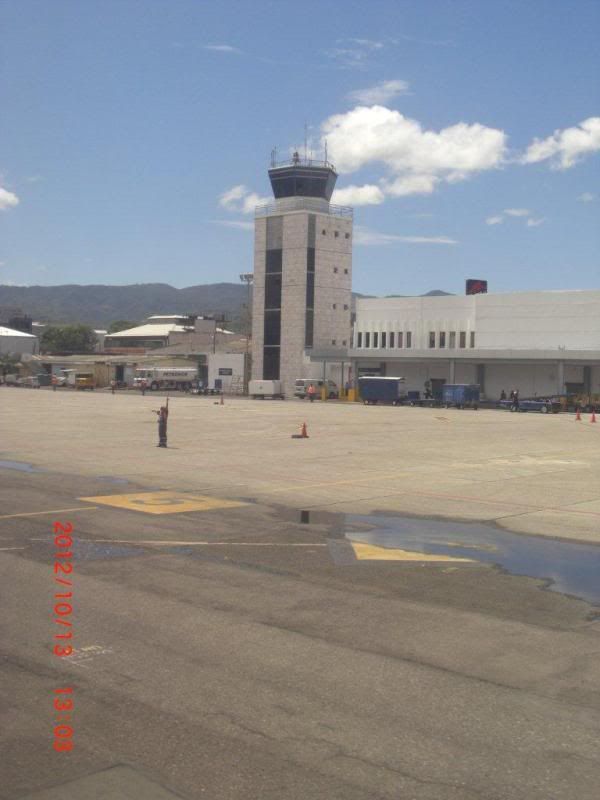 A Taca Regional ATR42 one of the aircrafts that I was booked for later today on TGU-SAP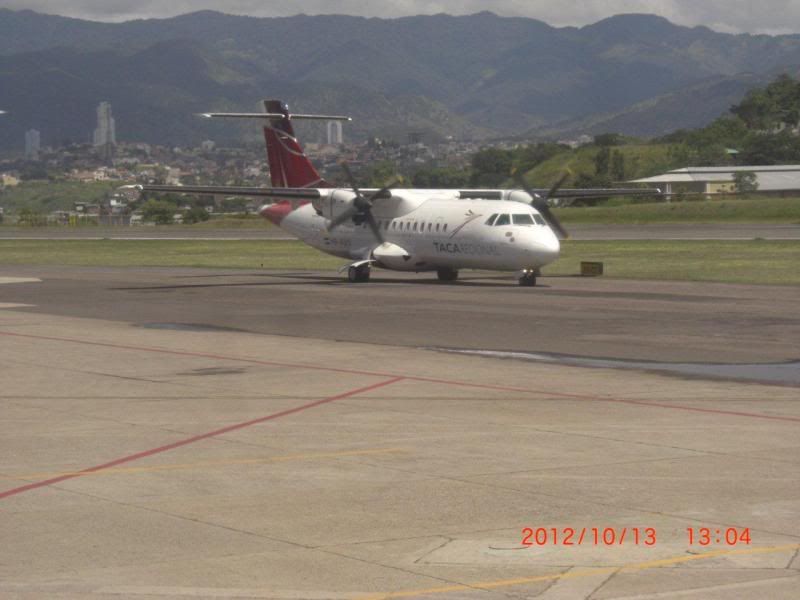 UA bound to IAH.
Good bye and thanks Copa!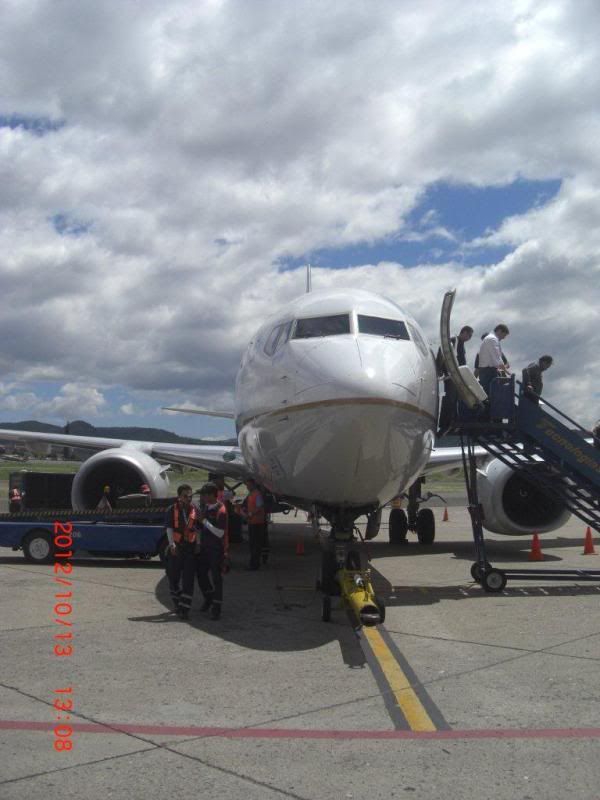 Deboarding was quite fast – using stairs as TGU has only limited gangways – in order to reach the immigration you have to pass all the departure area, and honestly the airport is small but the terminal very modern!
The immigration was a mess, took over 1 hour, honestly bad publicity for an airport and an country – saying that way hello to their gusts.
Hope you enjoyed the first part of the report of my most recent trip – part 2 covering TGU-SAP-PTY-BOG-CCS on TA/CM will coming soon.
Thanks for your feedback
Cheers
Avianca