"The airport with its own vineyard/BOD"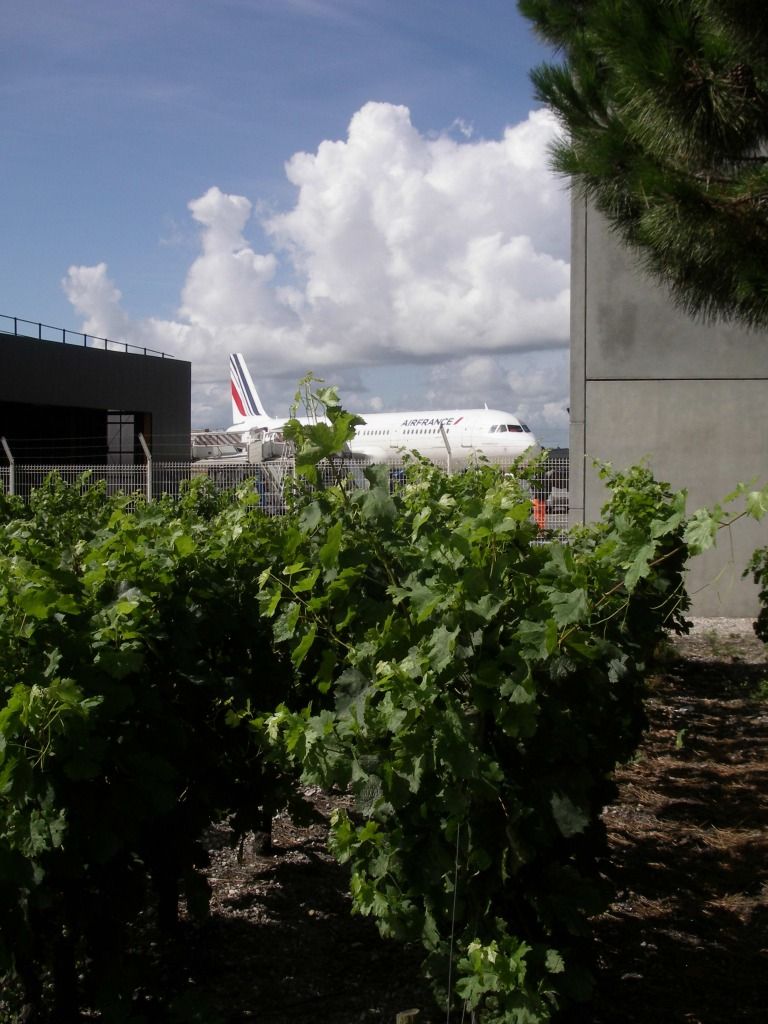 Bonne journée, dear readers,
I´am back on track to present you a new story.
From the last ride in northeastern direction:
Exploring The Baltic Sea, German Style/RLG
(by
FLIEGER67
Oct 13 2012 in Trip Reports)
the game is now more heading southwestern side.
I´ve failed last year, due to personal reasons, with a visit to this place.
Hopefully more luck this time!.
The routemap looks like this:
Thanx to, as usual:
http://www.gcmap.com/
And as usual again, there is a new departure airport to show, counted as no. 224:
Departure Airports II
auf einer größeren Karte anzeigen
These are the latest done routes:
Tripreporters Flüge II
auf einer größeren Karte anzeigen
And the previous 200 departure airports:
Departure airports
auf einer größeren Karte anzeigen
No SXB visit this year till now.
So something to change immediatelly.
Saturday, 11.08.2012
.
.
.
.
Service Air France AF 5781 operated by Airlinair
Scheduled: 13.25 // 14.40
09.00 am to start the trip. Is this really me?.
Well it is, but I promise only this time!.
Looking forward to one of these tiny ATR 42´s like on schedule, hopefully.
OLCI works hassle free this time, no printout, I should catch the paper at the airport self service kiosks, what works also well in the end.
The fare is 60.00 Euro´s booked together with the second leg today by Wideroe.
Some time on the road this Saturday morning. Not to talk about all these vacationeers from Denmark, Sweden, ah, these yellow license plates from the Netherlands here and there, Belgium, sure and also, no caution, well experienced right hand drivers from England, beside thousands and thousands of Germans, anyone forget?.
And me, the lonely guy with the as simple as possible mission to be at the airport ontime. Side by side, car after car, heading on the Rhine valley motorway southbound.
But well, anyway arrived at the airport more or less as expected. By now to the car at P3, see you tomorrow, hopefully and further on for a view to the screen.
No inbound here fitting to my flight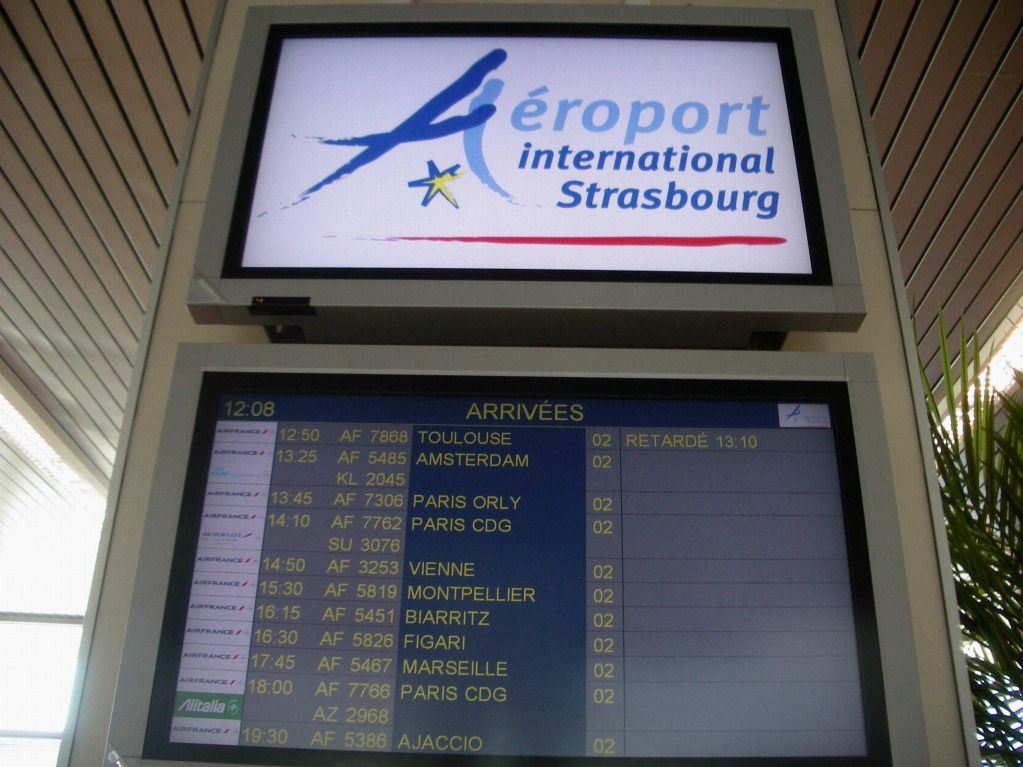 But good to see something on the departure board like the service from gate 3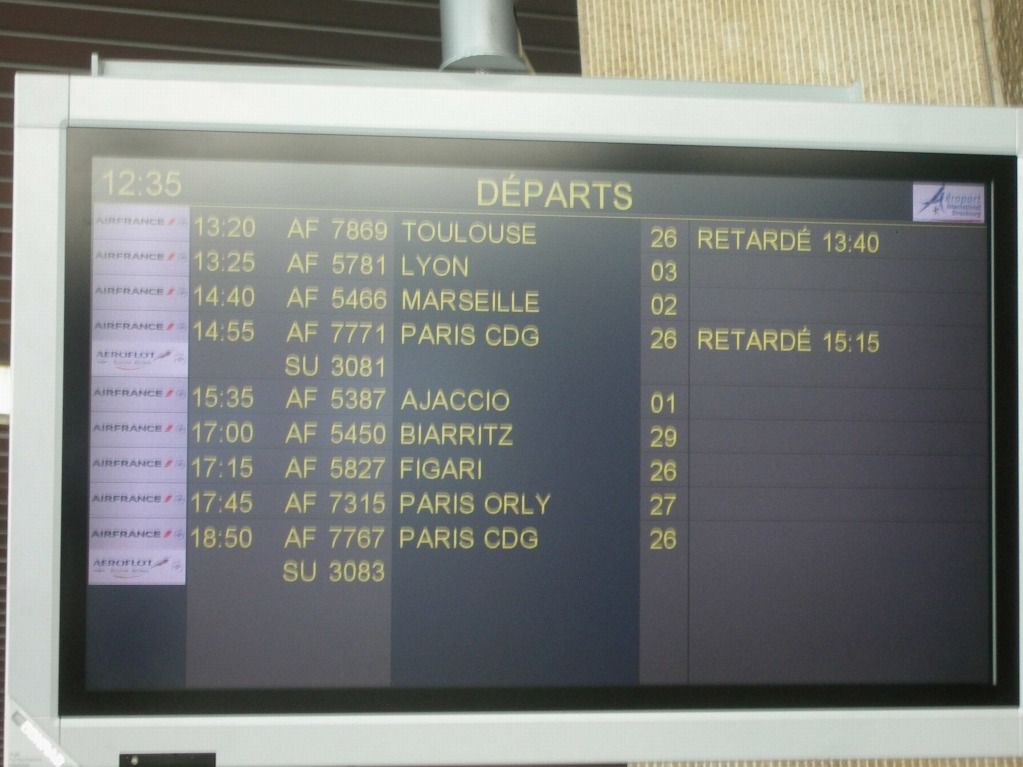 There is still no lounge at SXB and there is also no time to wait at security.
The weather is nice here. No, stop, it´s super nice,
that´s the way it should be during August.
23 degrees, sunny, no clouds all around.
And also the plane fits perfectly to my needs
An under the wing shot, sure a real exception for me!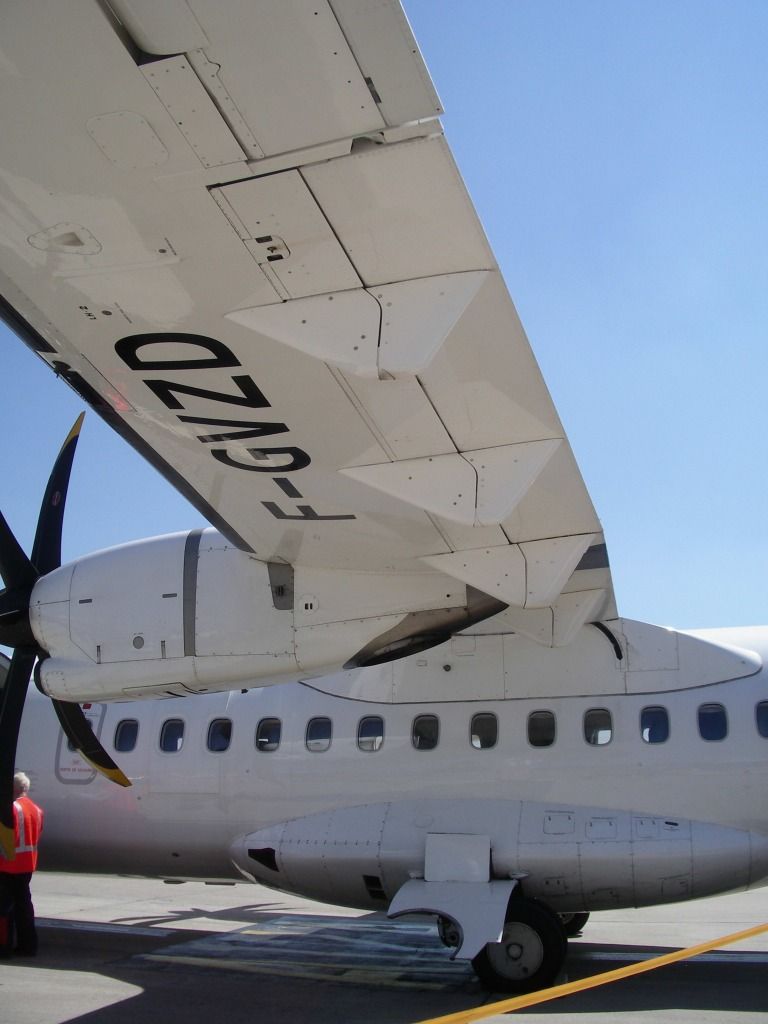 The undercarriage ATR style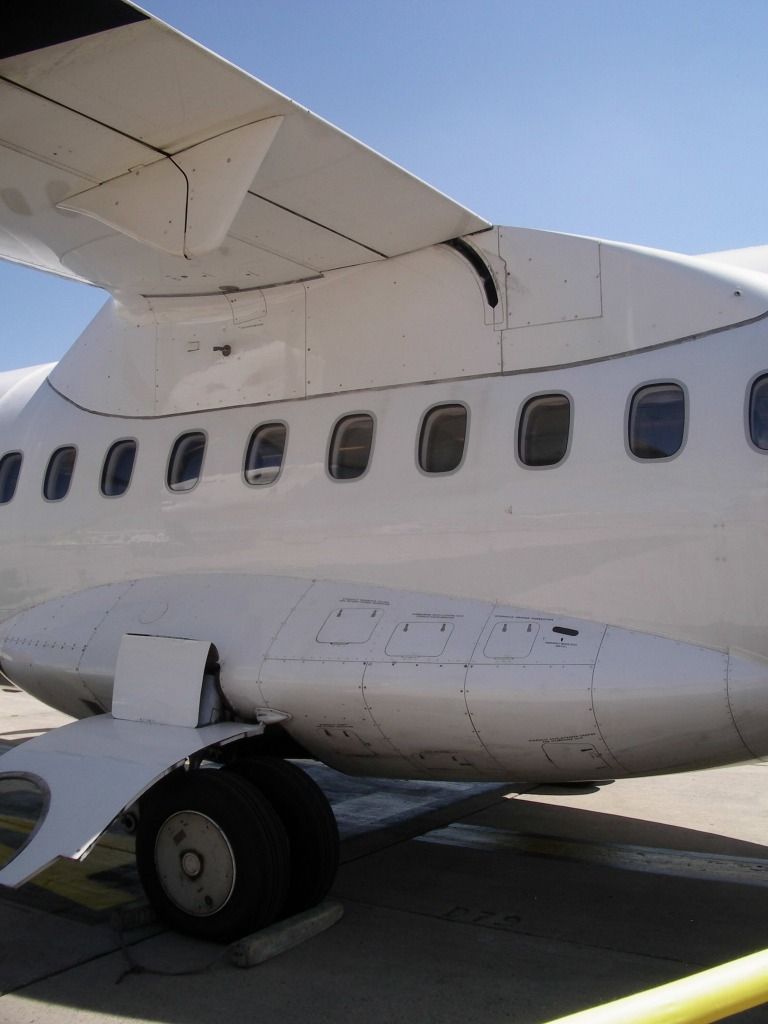 Well, what about some red or blue colours?.
No, that is not really that expensive!.
Now boarding for F-GVZD.
And yes, this is the scheduled ATR 42-500, leg no. 11 here. Definitely something new to me.
On the way since 16.03.1997 with Air Litorral twice, Air Botswana, Eurolot und finally Airlinair.
16 planes on type are in the fleet actually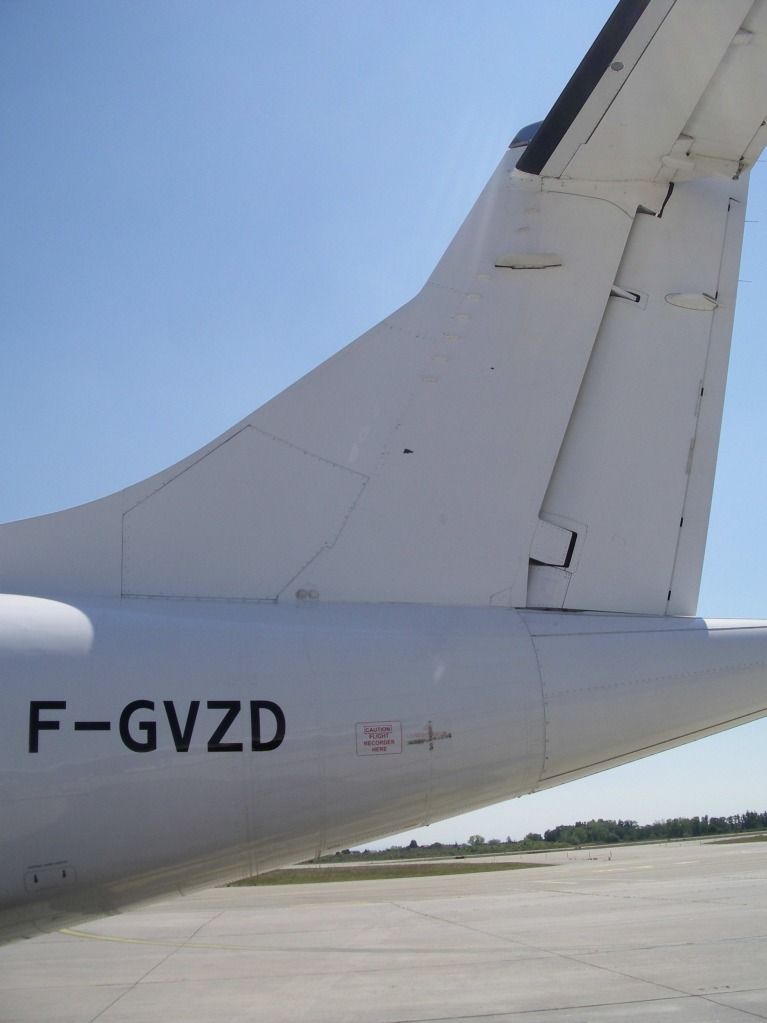 1.20 pm, short ahead to schedule. 1.00 hour to go for "Airlinair" southbound now from the 2400 meters runway "Zero-Five".
Cockpit crew is from France, the captain with a nice and detailed welcome after boarding is completed.
He´s once more short to hear during approach later on.
Legroom is acceptable, 11F and two seats for me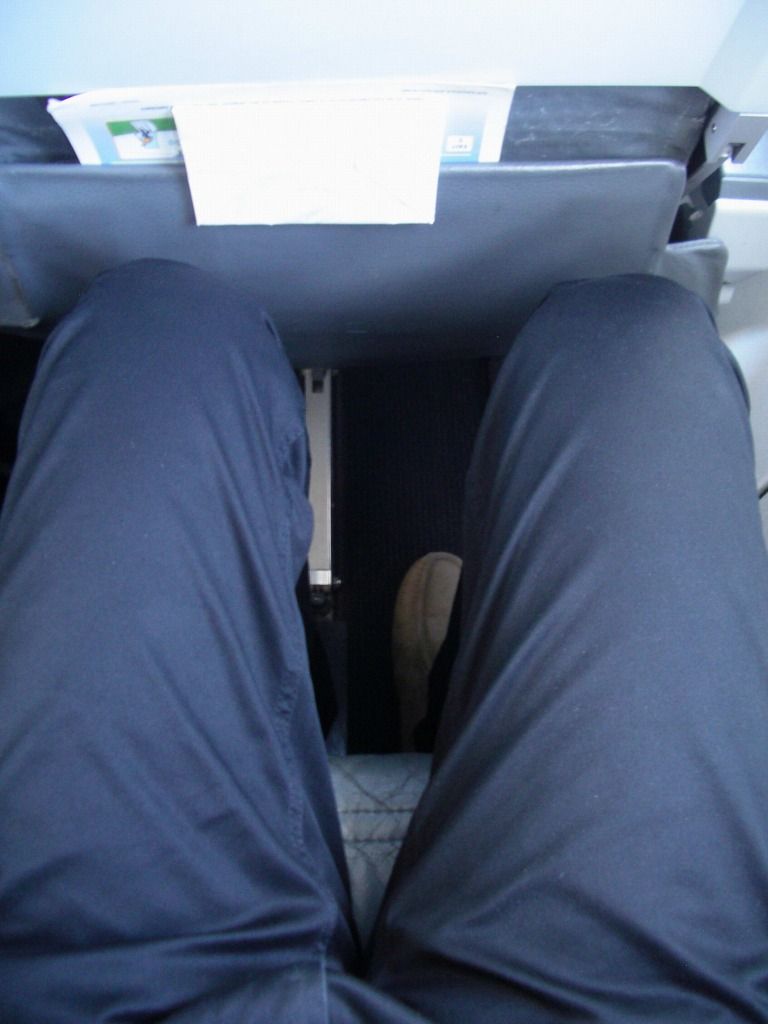 The load is 80%, no suits to see, but three of the guys who usually sit more upfront, also on the plane.
Ah, yes, "Consignes de securite"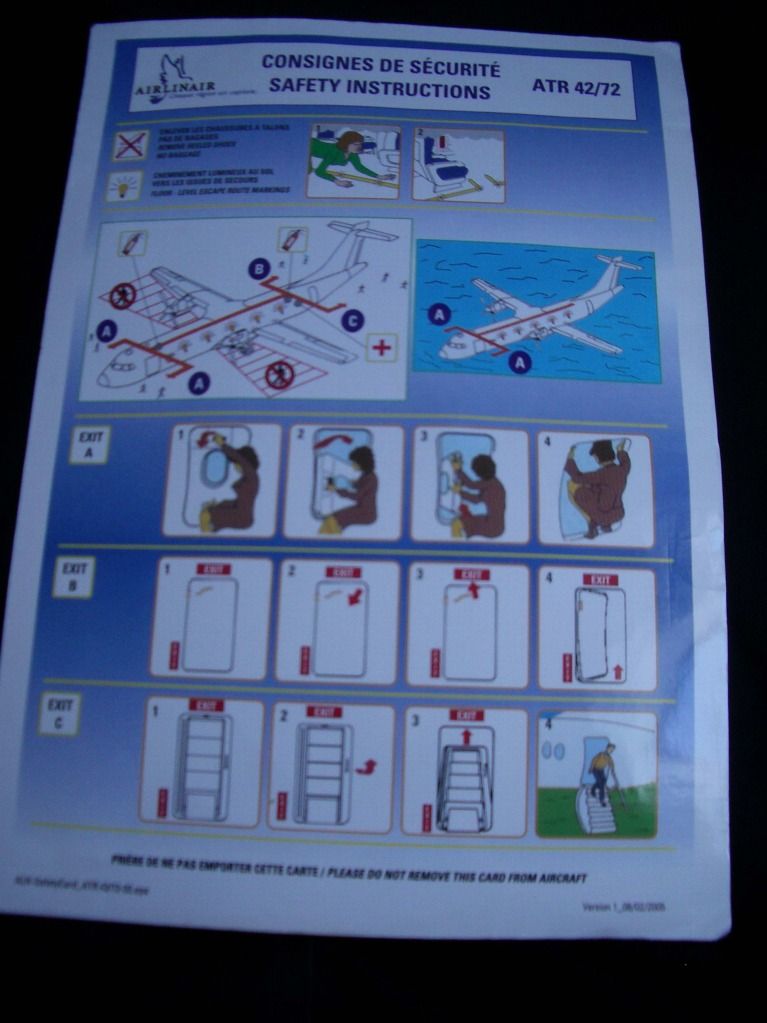 Cabin crew is one young and cute female FA, brown hair, well, sure I like France!.
This is an interior view with the dark grey leather seats. Well used to say the least, but clean so far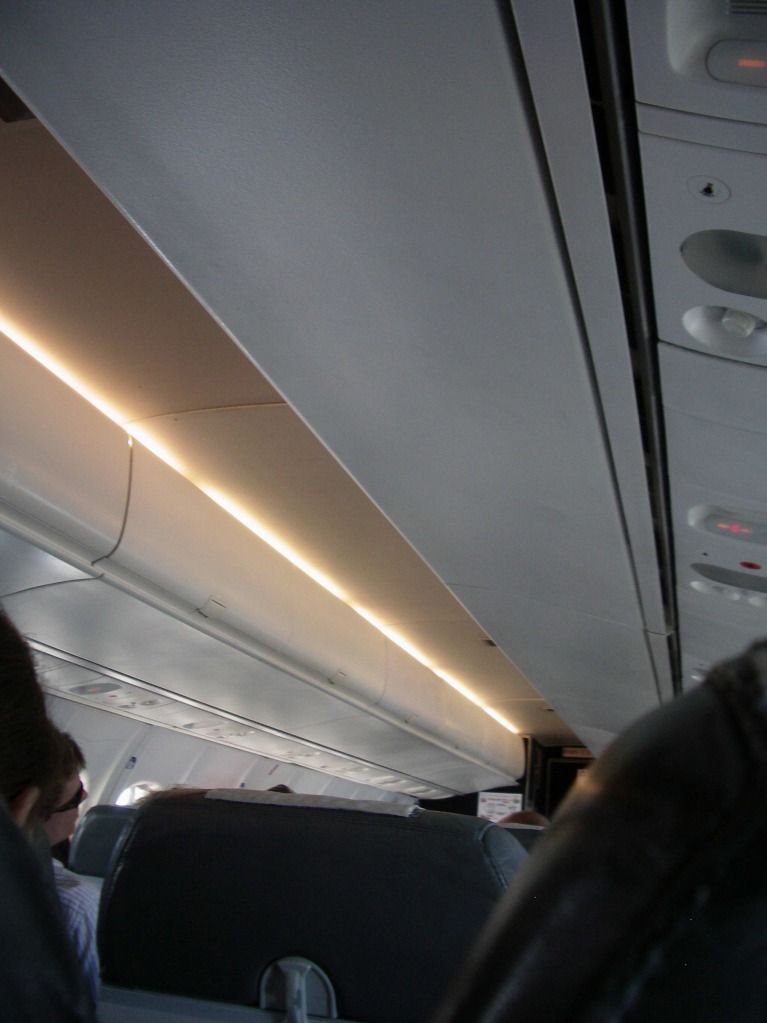 Service is a towelette, free drinks and snacks twice, really good on such a shorty flight.
Montana, sure I will go this way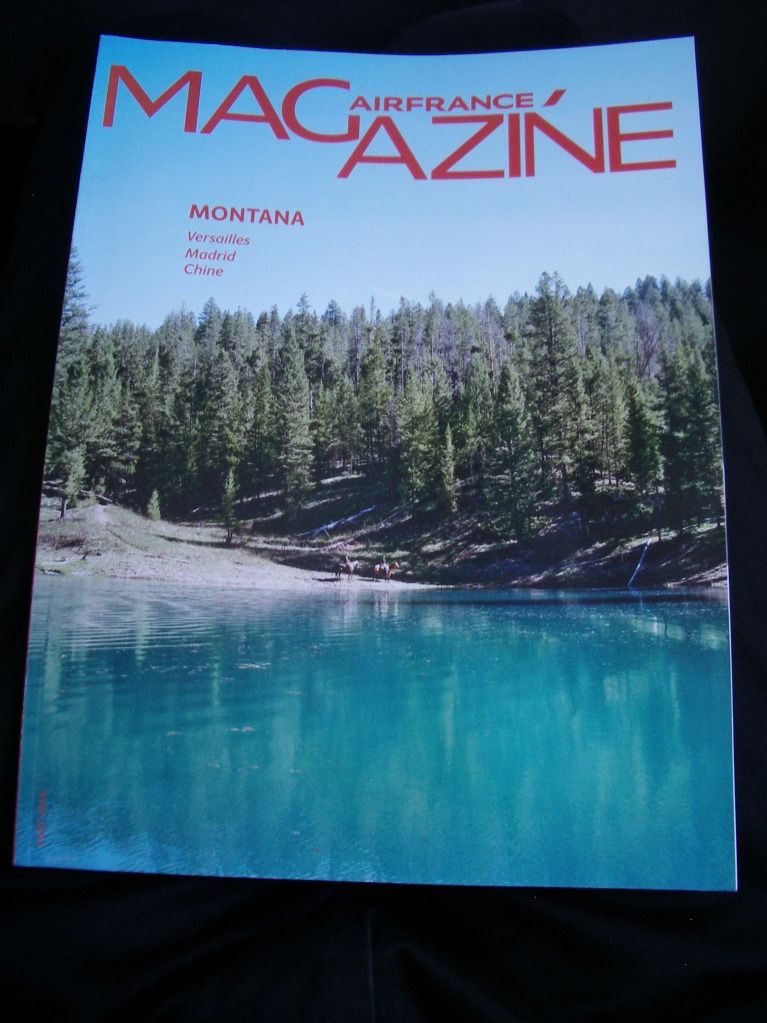 Superb weather to fly on today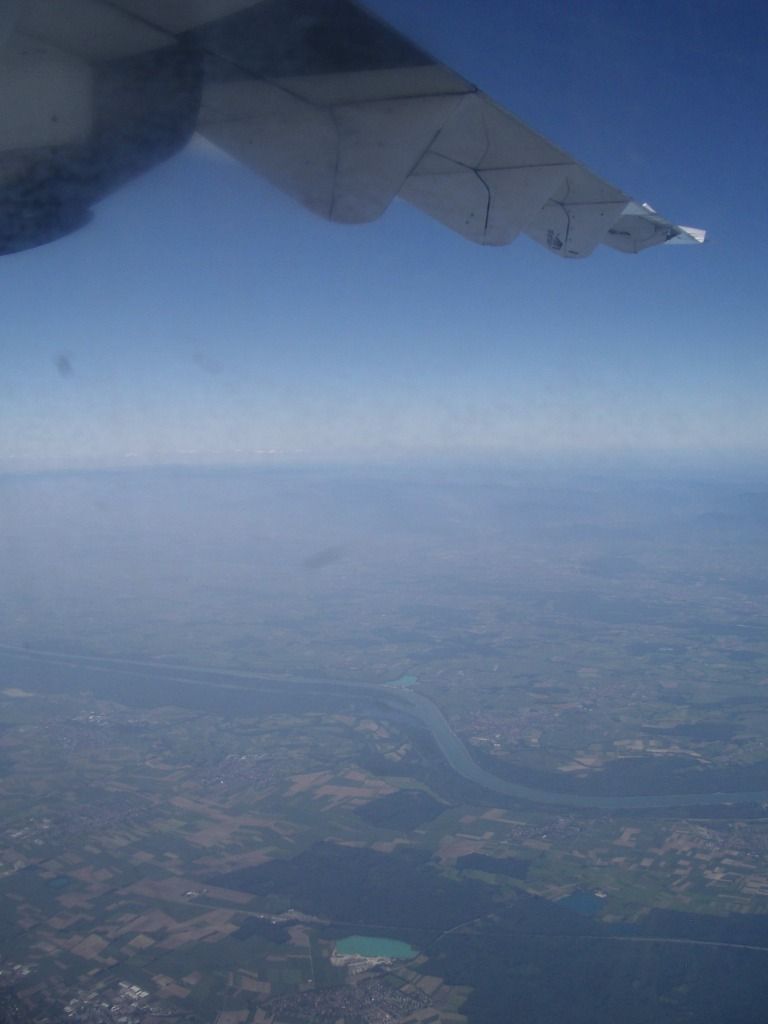 A right hand turn directly above BSL/MLH/EAP, no flightlevel info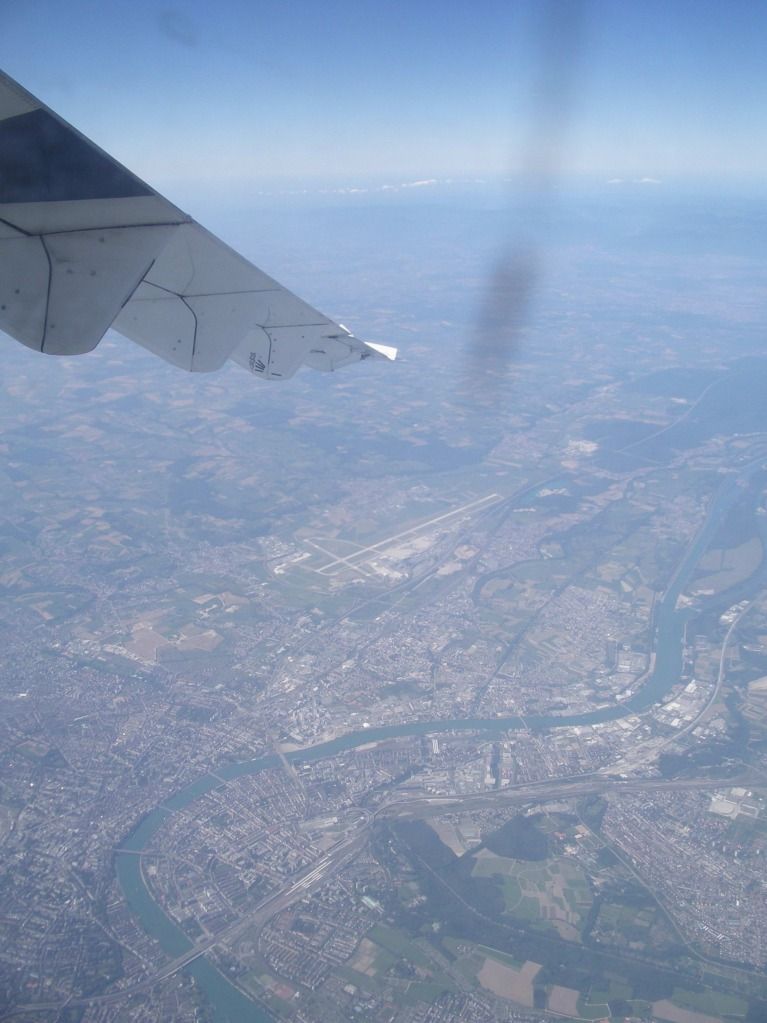 And an airport in the distance, LYS of course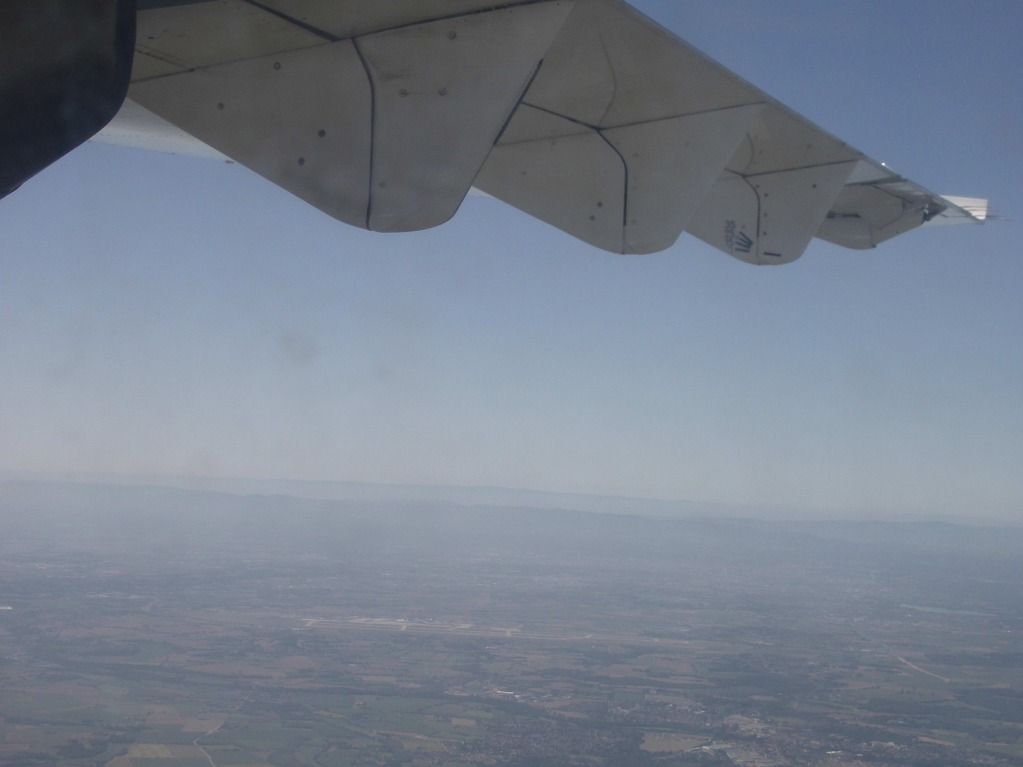 Touchdown at the 4000 meters "Three-Six-Left". 2.30 pm, ten minutes ahead to schedule, 25 degrees, the sunny theme continuous, lucky me, no clouds to see at all!.
This is an CRJ100, something for me, too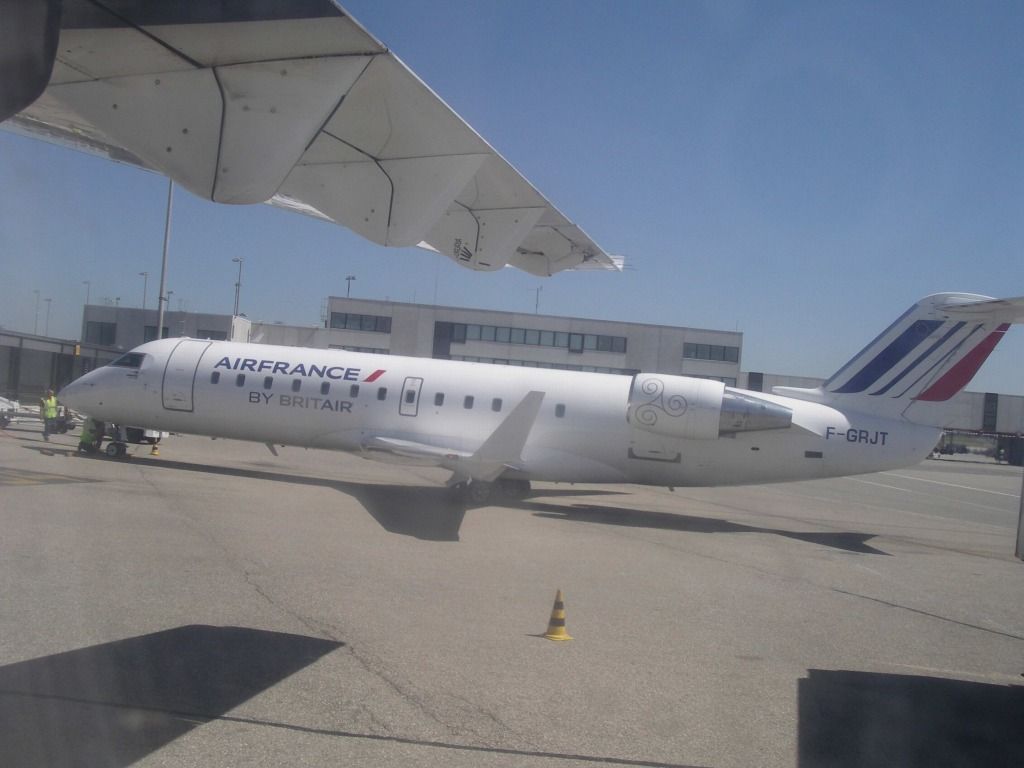 Me and always these under the wing shots.
Headshaking!
Bye now for F-GVZD, sure nice to meet you with these weather conditions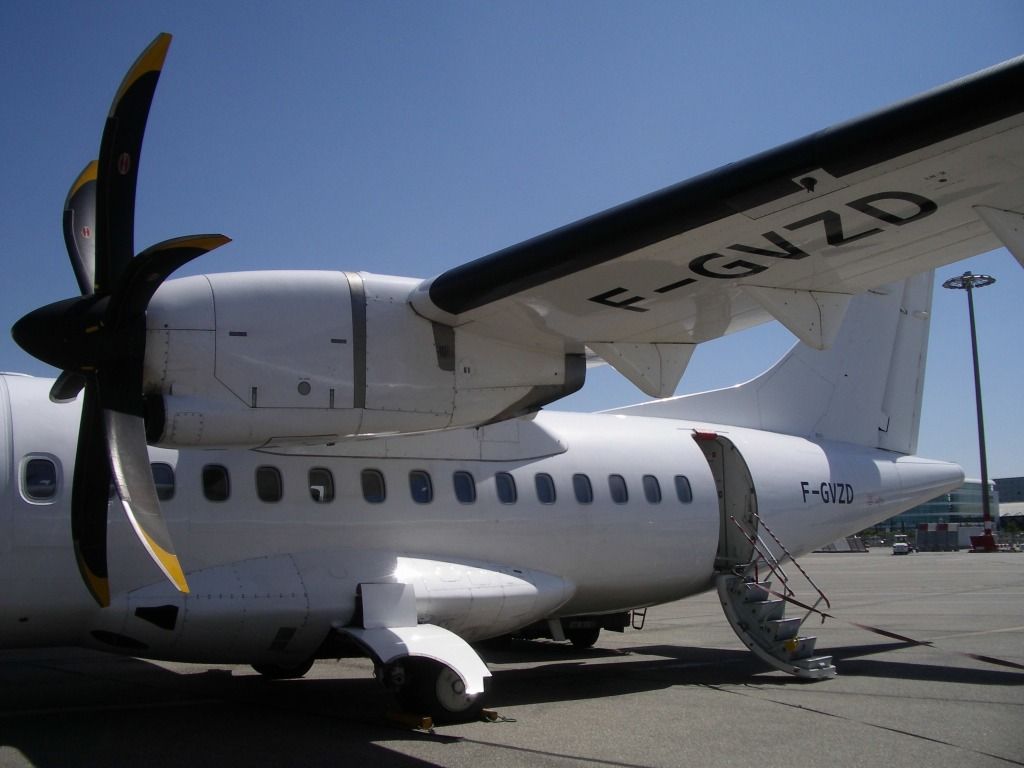 35 minutes connecting time only now. Is this really enough?.
Saturday, 11.08.2012
.
.
.
.
Service AF 5781 operated by Air France
Scheduled: 15.15 // 16.20
Up the stairs for a view to the screen,
Gate 21B for Bordeaux, no remarks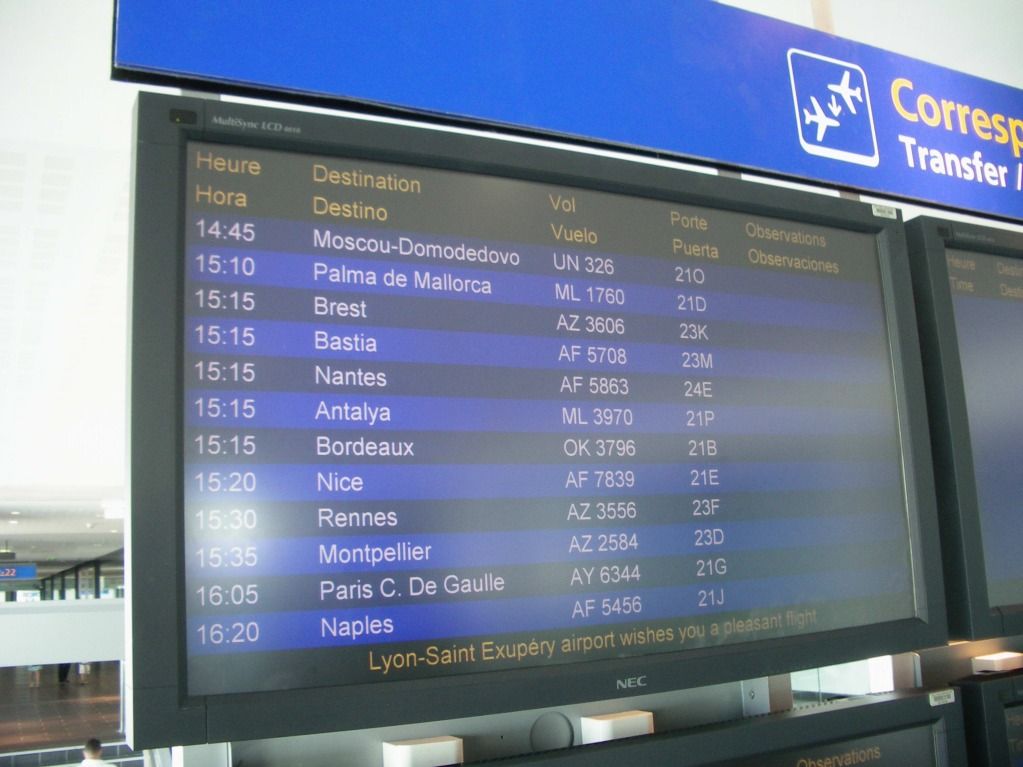 Well, the A318 is on schedule here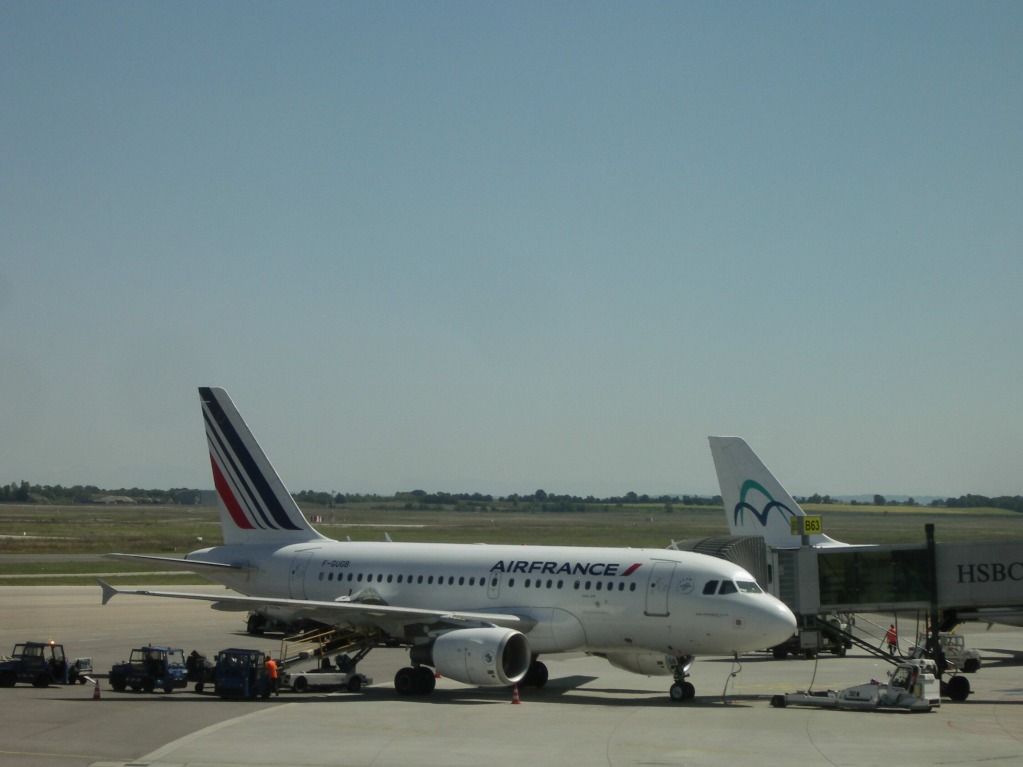 Leg no. 14 on type.
Something new?. Not at all. Done on CDG-TRN and also STR-CDG.
18 examples are in the fleet and this one is in the air since 07.11.2003.
And this looks like my gate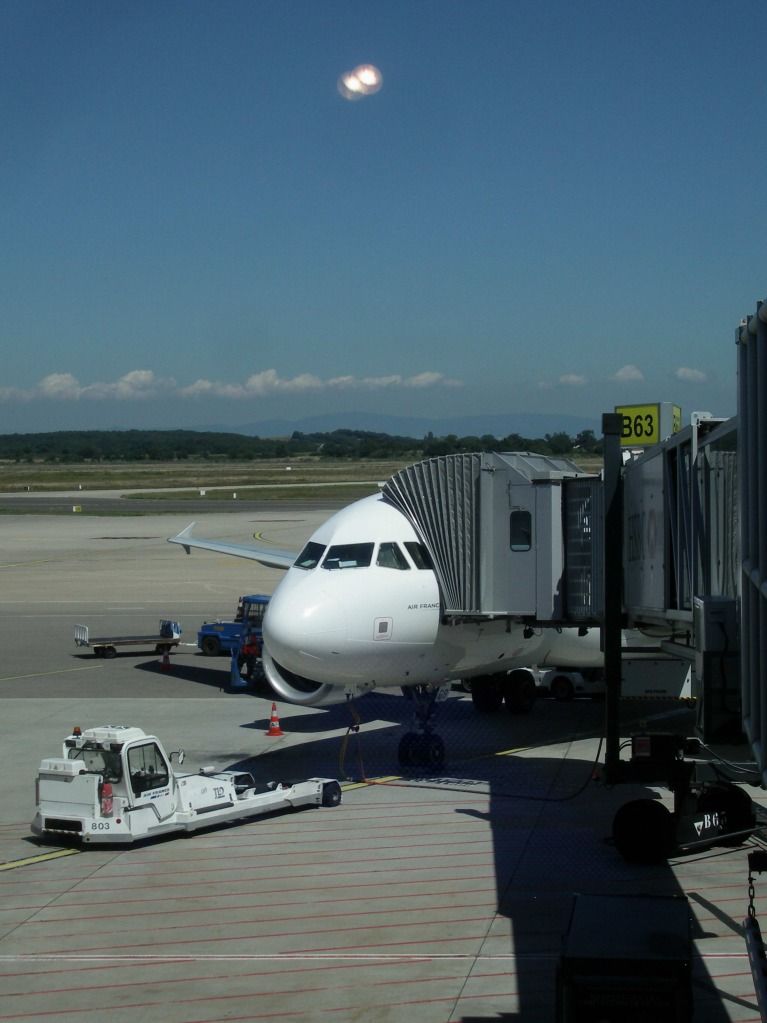 A very shorty visit for the lounge opposite the gate seems possible. Done, just for fun and feels good when they call for boarding at the same time.
The fare is again 60.00 Euro´s.
Let´s go now with these nice AirMed plane at the gate beside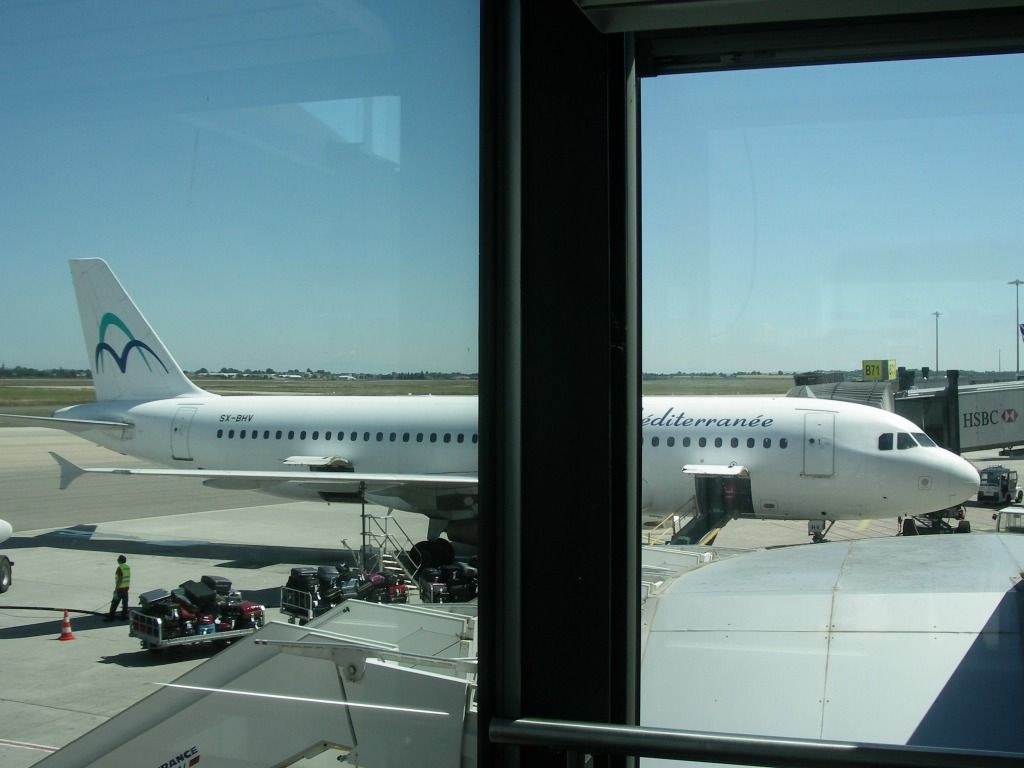 Cockpit crew is from France. The captain with a nice short welcome after boarding is completed.
No route or flightlevel info.
3.20 pm, short after schedule, "Airfrance" on the go for the 50 minutes Atlantic bound. Departure from "Three-Six-Left" like arrivals.
"Consignes de Securite", sure once more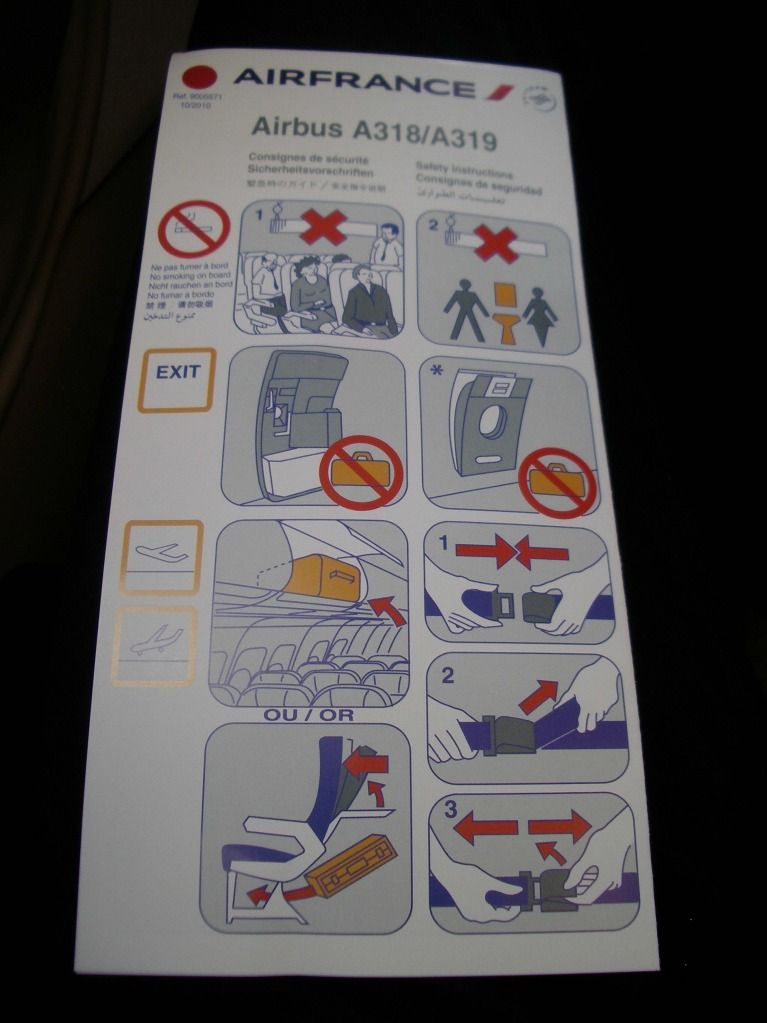 Nice weather to fly, isn´t it?. 25 degrees, sunny no clouds, perfect
10A, the exit row for me, legroom is sufficient here.
Dark blue fabric seats, clean so far.
Well, there are all three seats open when I´am boarded as one of the last pax.
I do not change seats without contact to the FA´s. And as long as I´am in a conversation with these supernice, looking like from the French Carribean Islands, female FA, there is an elder woman deciding self service for the exit row window.
Well, the FA forced here to leave the seat again and secured it for me.
Not that the woman is really amused about it.
The middle seat remains open in the end with the woman in the aisle and some angry looks to me.
Life is like that, or not?.
The load is very close to 100%, mostly vacationeers on the way for the Atlantic coast this Saturday afternoon
Cabin crew is one ok style senior male FA and one elder and nice female beside the earlier mentioned really nice one!.
Service is snacks and free drinks.
Touchdown at the 3100 meters "Two-Three", 4.20 pm, ontime and partly cloudy.
Partly cloudy, hey, where is the sun gone?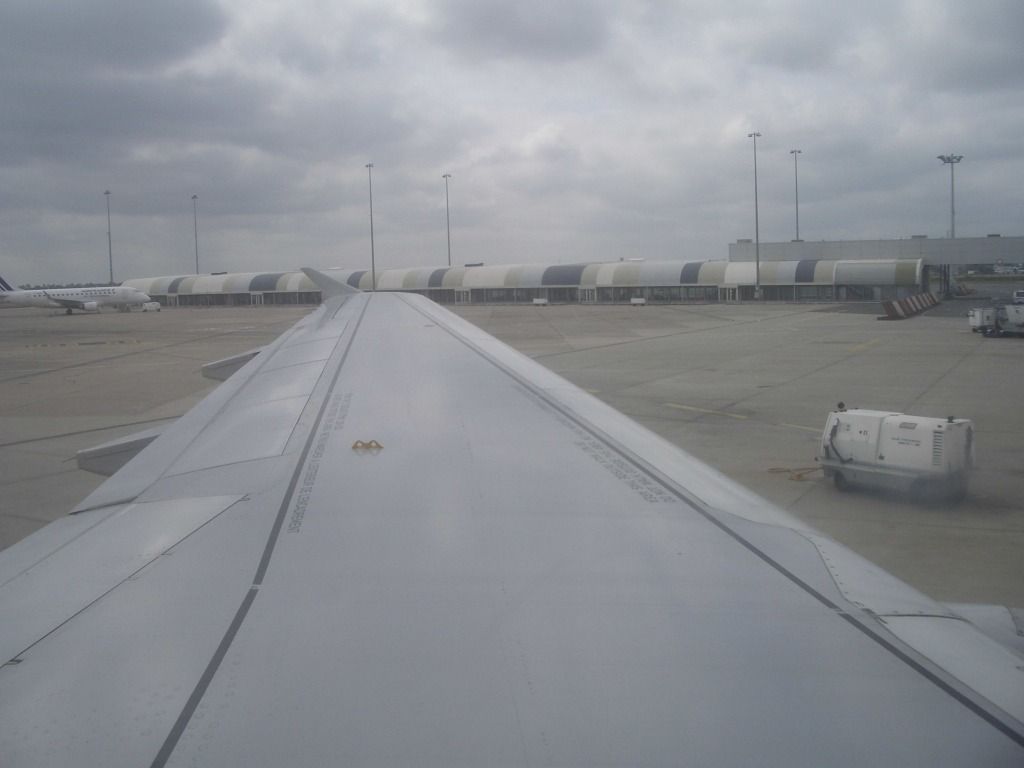 Leaving my seat
And by now for F-GUGB
Well, heading for the city now.
There is a bus service called "Jetbus". The fare is 12.00 Euro´s return. Somewhat steep from my point of view.
The way to go now for me with the main train station as target.
And some meters only to walk later on till the Campanile Bordeaux Centre Gare Saint Jean.
This is for sure an expensive city, the fare seems ok here with 89.60 Euro´s B&B, free Wifi included.
Functional to say the least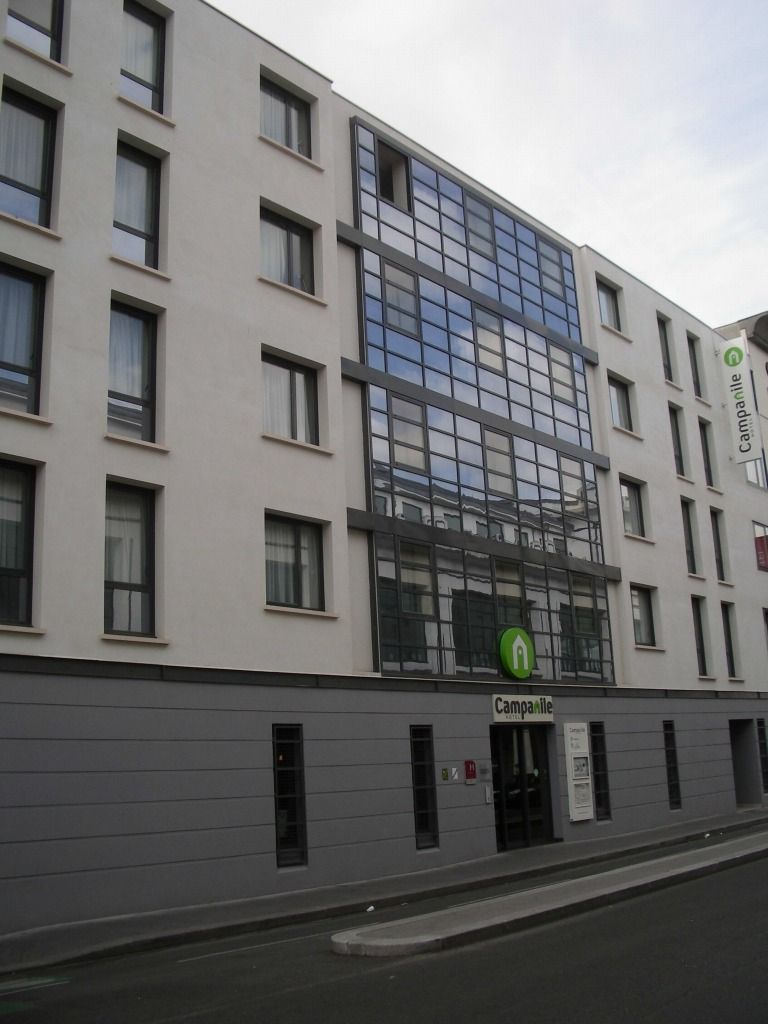 Room first view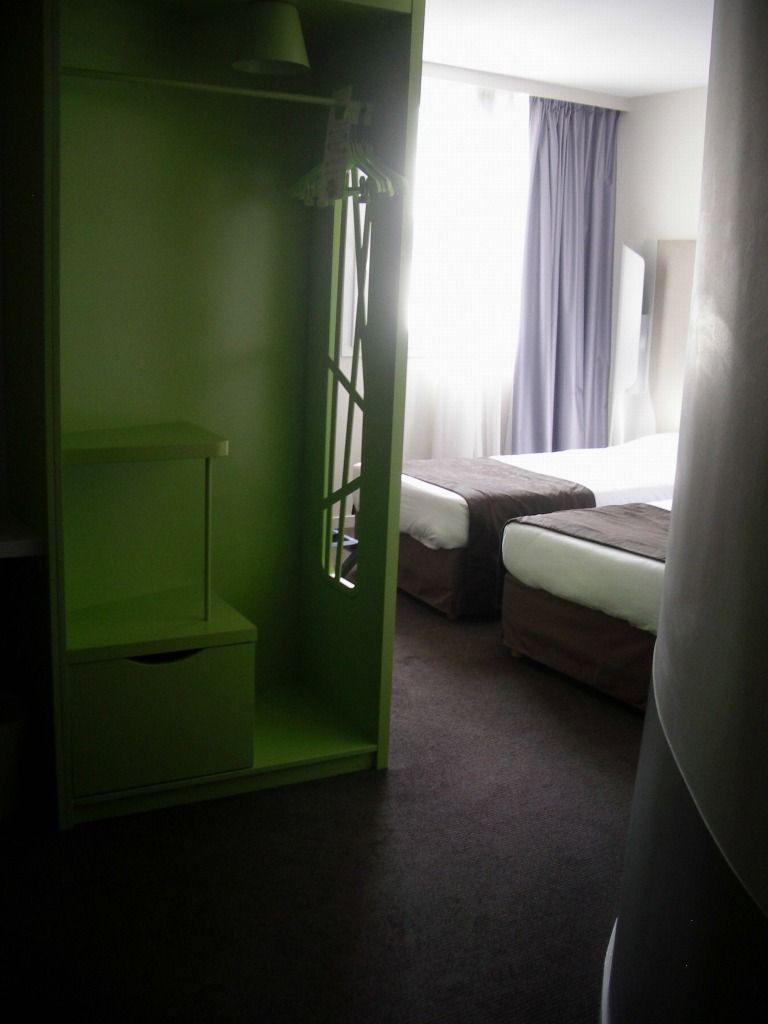 The bathroom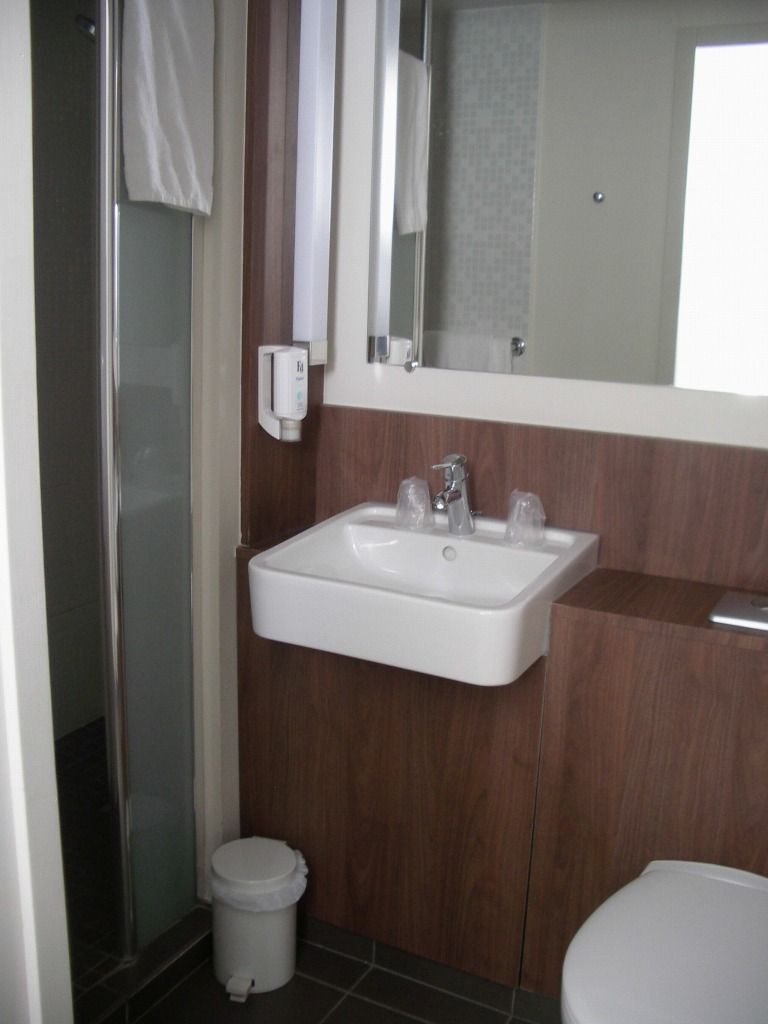 Let´s go for a tour. This is the Gare Saint Jean
Ahem, should I ride a bike the next time?
Continued with reply 1
..................................................................................................