Introduction
Fuel surcharges - those nasty little (or these days not so little actually) fees airlines like to add on top of their advertised base fares in an attempt to lure poor customers with promises of really cheap flights. Once upon a time they served a purpose (I won't go into the history, but they were introduced as a response to the oil prices skyrocketing during the first Gulf War) but in these days of unlimited computing power available at ridiculously low cost they have long ago stopped serving their intended purpose (which was to avoid manual fare hikes when the fuel price suddenly changed) as refaring the thousands of fares offered by any large airline is a nowadays trivial. But the industry seems to love them - mainly because they present a way to mess up the customer's thinking and hide who collects which money - the airlines absolutely love to bundle the fuel surcharges into the "taxes and fees" bucket which to the average Joe sounds like something imposed by the nasty, greedy socialist government instead of the airline.
Anyway this cloud also has a silver lining - due to the way those fuel surcharges are calculated and applied on top of the base fare they present an excellent way for "fare optimization" via various orthodox and unorthodox ways, which of course is a whole art in itself, but let's not go into details of that here either.
But what does this all have to do with a report about a trip to the Land of the Rising Sun? Well - one day I got tipped off about some really low fares on Aeroflot (of all carriers) to Tokyo. The catch? One had to book an open jaw ticket with very limited availability. The departure and arrival points in Europe would be CDG, LHR and FCO. After a bit of searching I found something which would work for me and booked FCO-SVO-NRT-SVO-LHR in a jiffy. This was booked for September, over 7 months in advance. And what did it cost? A grand total of 256 EUR.
Q&A Session:
Q: But isn't that an incredibly low fare?
A: Yes, it is.
Q: Care to elaborate?
A: Not really.
Q: Please, pretty please with sugar on top?
A: Ahh, okay, but only because I like the idea of people pleading on the floor in front of me. See Aeroflot decided to try the game US airlines used to be good at - namely using the same flight number (known as a "through flight number") for multiple flights with a change of gauges somewhere along the way. Thus both the FCO-SVO and SVO-NRT segment had the flight number SU264 and likewise coming back NRT-SVO and SVO-LHR were both flight SU263. This may sound like a very pointless thing to do, but the point here is to trick reservation systems showing it as a single flight, thus SU264 could be purchased as a FCO-NRT flight and would show up in the systems as a more favorable one than other flights with a connection.
Now when you try to add the fuel surcharge madness into this equation you come up with a very interesting outcome: the system gets confused by the two segments with the same flight number and basically does this:
"Ahh, SU264 - which flight is this?"
"Oh, it's a short haul flight from Rome to Moscow. Let's use the short haul fuel surcharge."
"Ahh, SU264 again?!"
"Oh, it's a short haul flight from Rome to Moscow. Let's use the short haul fuel surcharge."
"But what about the long haul fuel surcharge which is much more than the short haul one?"
"Sorry, SU264 is a short haul flight from Rome to Moscow. I do not know any better."
Repeat this for the return sectors and there you have it - the anatomy of a cheap fare to Tokyo.
Note that there's nothing dubious about it, booking such a fare is not illegal in any way nor is the customer trying to work the system. The system simply is flawed and someone at the SU fare department needs to have a chat with their flight planning department in the case the latter is planning on introducing more through flight numbers in the future.
As a.net's resident Swedish mascot Jonas aka LH4116 cannot resist a good bargain he ended up booking the same Aeroflot flights as me for the same price. Later it turned out that also Bulgarian member Eco had booked the same flights. The more the merrier I guess!
So here's the first part of my trip to Japan which of course isn't just a simple roundtrip to Tokyo and back - where's the fun in that? This first part will cover the following route: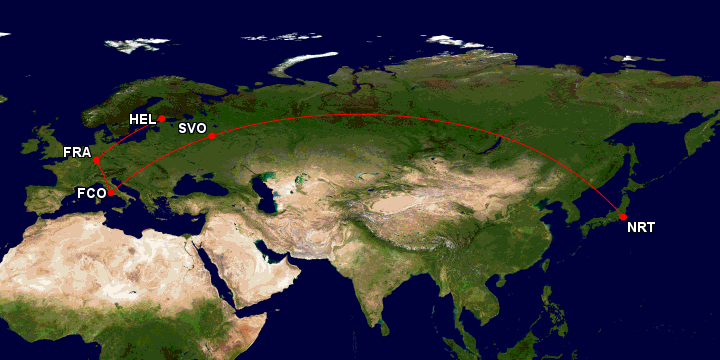 All Flights Lead to Rome
To get myself into Rome I had a pair of flights with LH via FRA - the return segment of an open jaw MRS-HEL-FCO ticket from May.
Not much to say about these flights - two very standard LH shorthaul flights both with A319s. Both flights close to full, and on both flights I had an empty seat next to me. While boarding the FRA-FCO flight I thought I was boarding an Air China flight as some 75% of the passengers were Chinese.
A couple of pictures. Here's D-AILI, a 15 year old A319 waiting at the gate at HEL: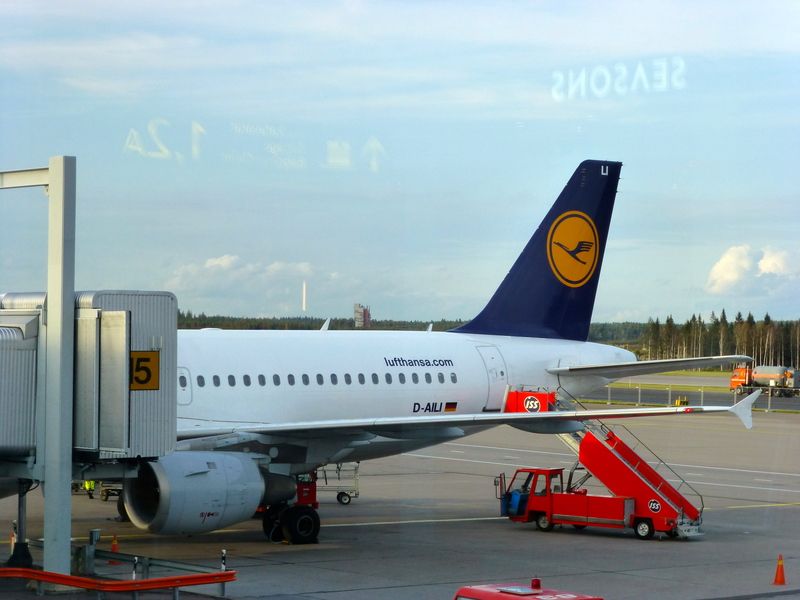 LH's European catering keeps surprising you. Wonder what culinary delights lie inside this non suspicious cardboard box: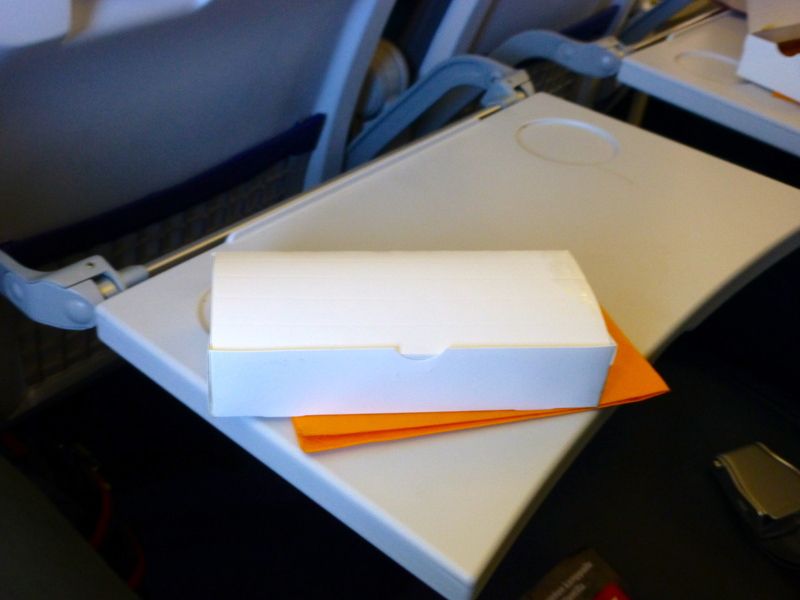 Oh dear: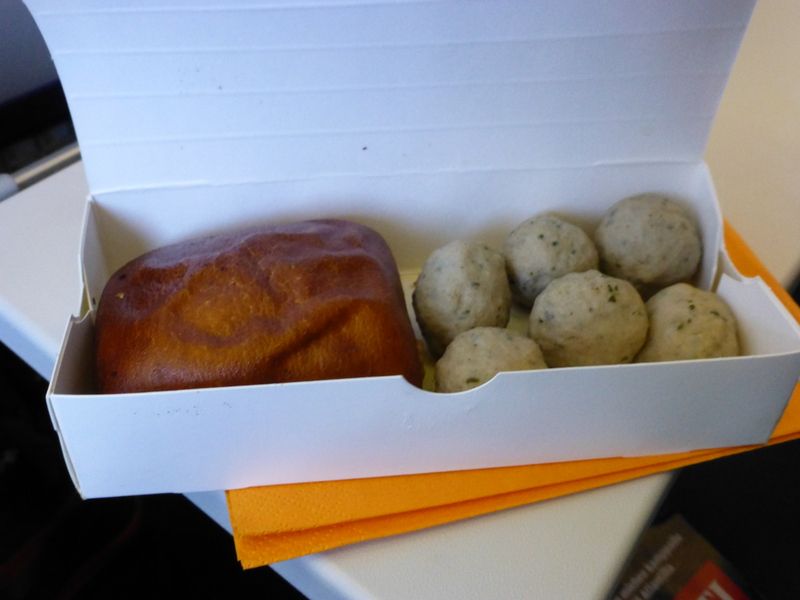 This snack was really, really odd. First of all the thing on the left is NOT a Finnish-style meat pie, instead it is a bun made out of pretzel dough. Secondly the balls on the right are NOT fish balls (which their bear an uncannily resemblance to) but instead they are made out of Bratwurst (from now on BB = Bratwurst Balls). Yes, you got that one right, the gray, delicious German sausage with the best examples coming from Nürnberg. Yes, very odd.
The whole snack was served warm which meant that all the fat from the BBs had been absorbed by the bun, making it one sticky fatty bun. Yuck. The BBs themselves weren't too bad actually, some sweet Bavarian mustard would've worked wonders with them though. But the bun was disgusting, I took one bite out of it and almost threw up, much to the amusement of my German seatmate on the aisle seat. He also found it funny that I ordered two beers (well, Warsteiners) at once - weirdo.
Frankfurt was experiencing some thunderstorms and heavy rain - our descent through rather apocalyptic skies took forever and was very bumpy: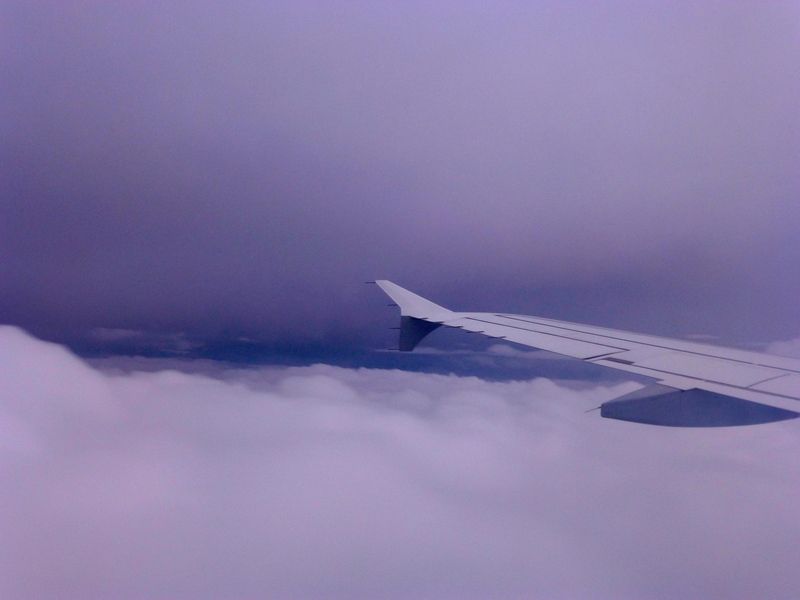 A quick stop at the Schengen A Senator lounge (which was packed as always - hopefully the A+ pier has relieved the pressure a bit by now) - I guess this is the German version of Mac & Cheese: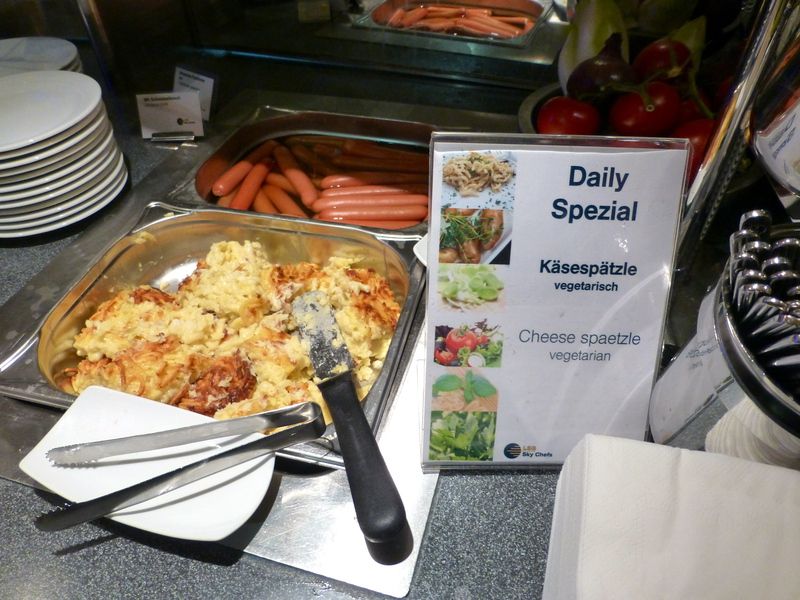 The FCO flight was operated by D-AILK, another 15 years old bird: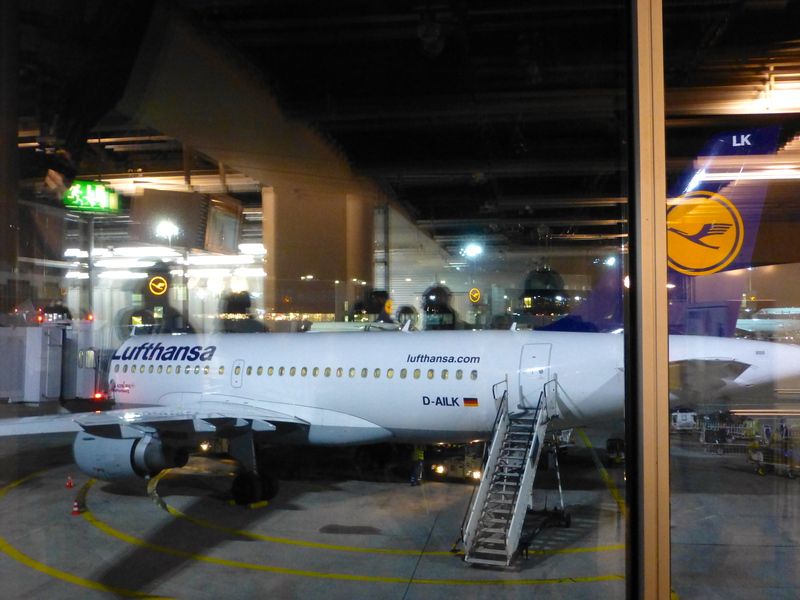 Yes, they're all Chinese: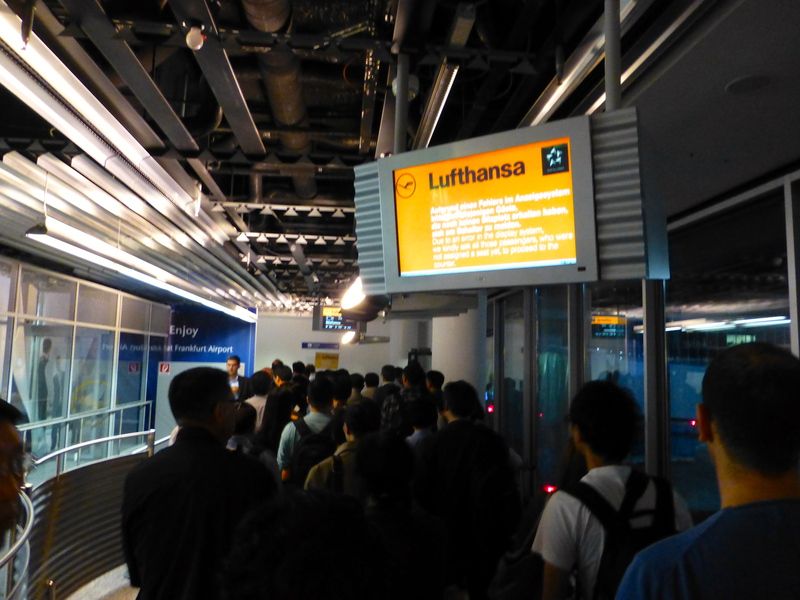 The snack on the FRA-FCO flight - the traditional thick cheese sandwich. I only had one bite which was more than enough: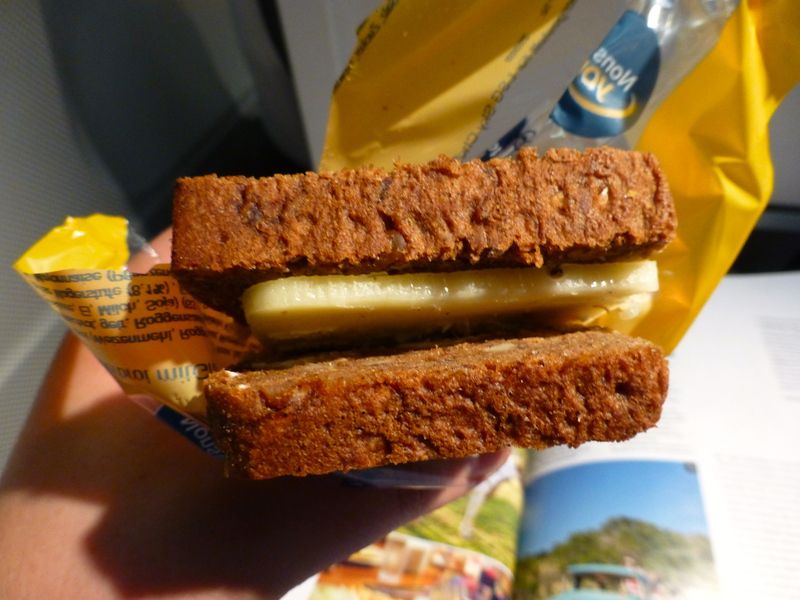 Landing at FCO around 23.30: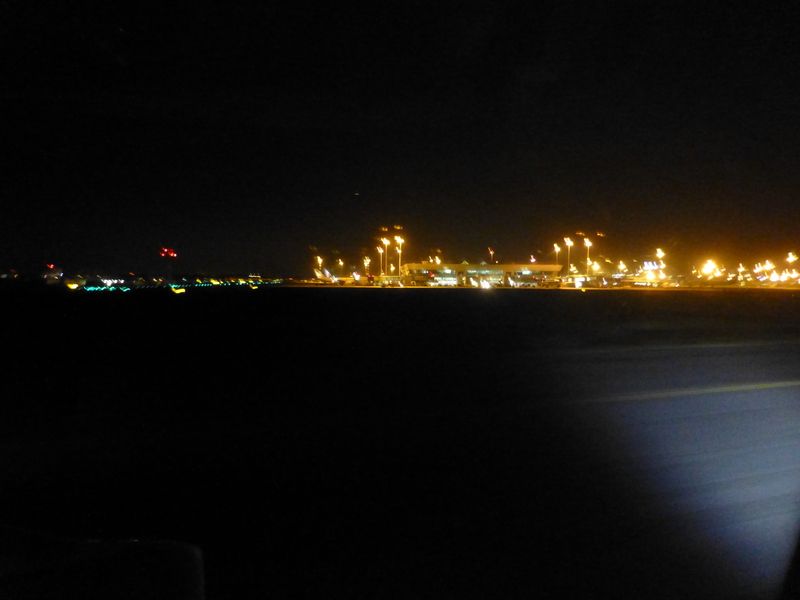 A Hard Night's Fiumicino
With the LH flight arriving close to midnight options for hotels to spend the night in were really miserable. Sure, there's the Hilton right opposite the terminal and another Hilton Garden Inn with a free shuttle (where I've stayed once previously). But they certainly know that they are the only convenient options and certainly charge a hefty premium for it! I wasn't in the mood of paying several hundred euros for a hotel room where I'd spend less than ten hours in, mostly asleep so no dice.
But certainly there are other alternatives? Oh yes, there are dozens of hotel that call themselves "airport hotels", some even with free airport shuttles. But now comes the catch - none of the hotels I looked at had shuttles running this late at night. And apparently all public transport, including trains and buses shuts down way before my arrival hour, leaving a taxi ride the only viable option for getting anywhere from the airport. Now Italy sits right at the top of my personal "number of times getting ripped off by taxi drivers" list (Poland is a close second) so this option was the last thing I was going to do.
So what then? Oh yes, just rough it at the airport - it's free, it's nearby and it's not too bad. Besides the Alitalia lounges open already at six so it's only six hours and then I can have another nap and a shower in the lounge. Oh and a short night could also help with adjusting to the upcoming time difference.
So after arriving from FRA I took the escalator marked as "transfers" up to airside instead of following the Chinese Tourist Horde to arrivals. There were plenty of security folks around who saw me doing it but nobody questioned me and my motives which was good. As expected airside was completely deserted so I found a decent place near one of the Alitalia lounges and set up camp. Unfortunately the benches had armrests and thus could not be used as beds so it was the hard cold floor for me, which wasn't too bad actually as I had enough beer to drink on the way over to make me sleepy.... Good night!
Deserted airside: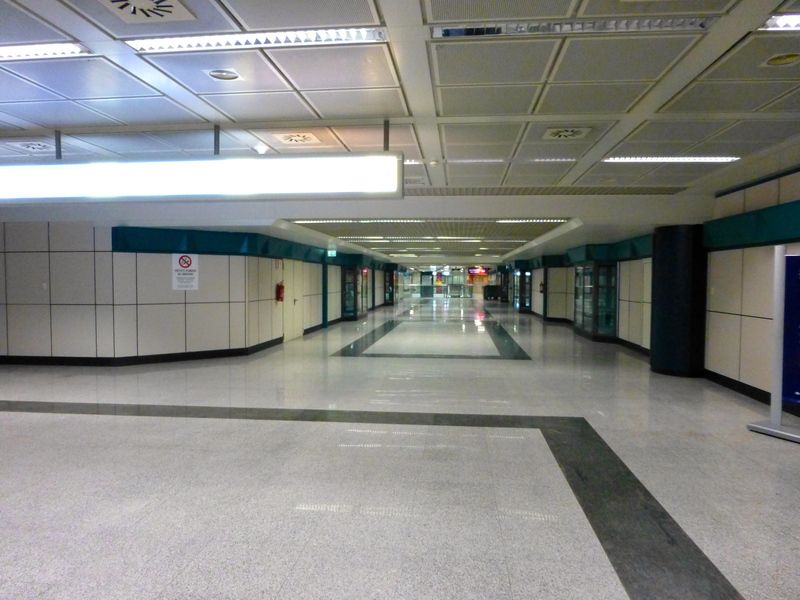 My chosen corner for the night: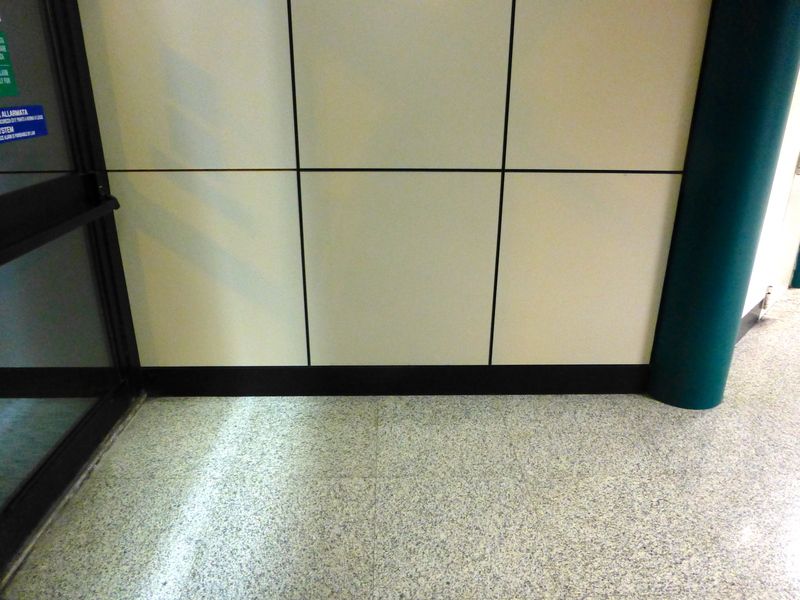 Wednesday 19.9.2012
After a rough night I am woken up around 5 AM with the sounds of the airport coming to life. It appears that the dressing room for the cleaners is near my chosen place for crashing and thus various cleaning ladies mosey past me. Nobody bats an eyelid at the sight of someone sleeping on the floor, in fact several of them wish me a cheery
Buon giorno
!
Good morning - fresh batch of sandwiches (which unfortunately turned out to be rather disgusting) waiting for the lounge to open: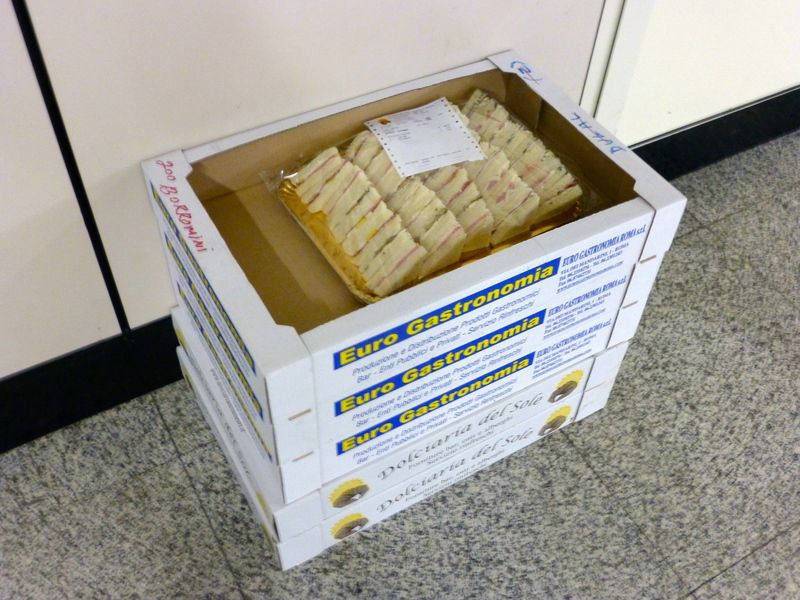 With more sleep unlikely I get up, gather my trash and head to the toilet to freshen up a bit. Afterwards I just hang around until the lounge opens and then head inside where the cheery attendant has a hard time figuring out why I'm here instead of the non-Schengen lounge, but eventually admits me in after mentioning a few times that I should leave plenty of time for getting to the non-Schengen satellite terminal. Yes ma'am, I will!
Looks like they've tried hard to make this lounge look a bit snazzier than the tired old terminal it sits in - and I think they've actually managed just fine with these transparent red dividers: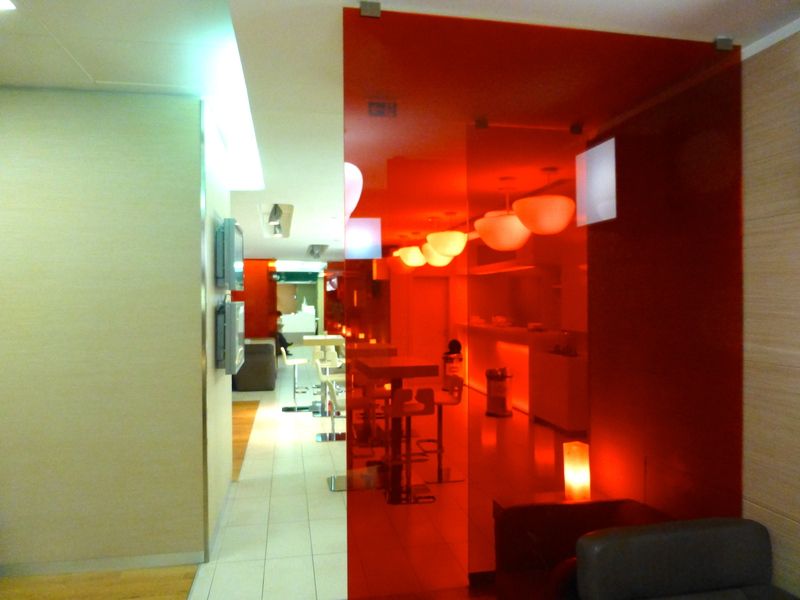 I find a comfortable reclining chair in the corner where I drift off for some more sleep: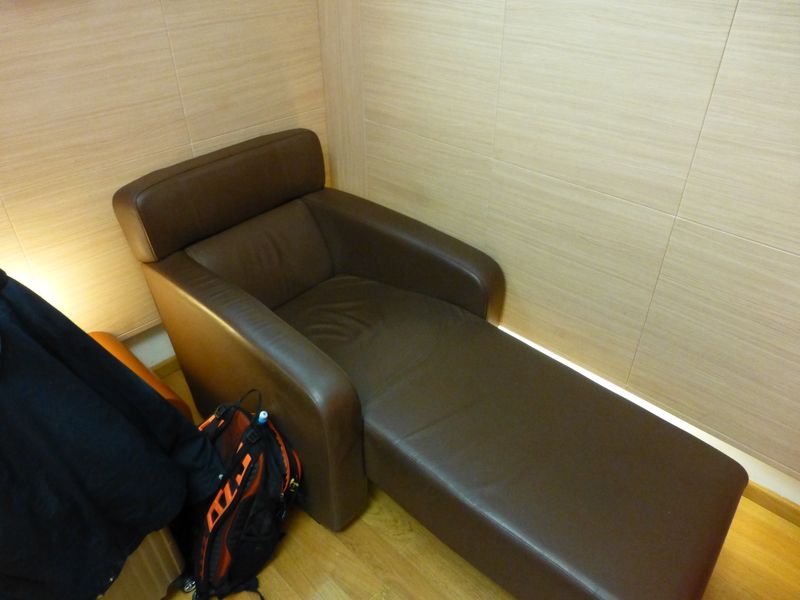 Eventually it is time for breakfast, so let's check out the offerings: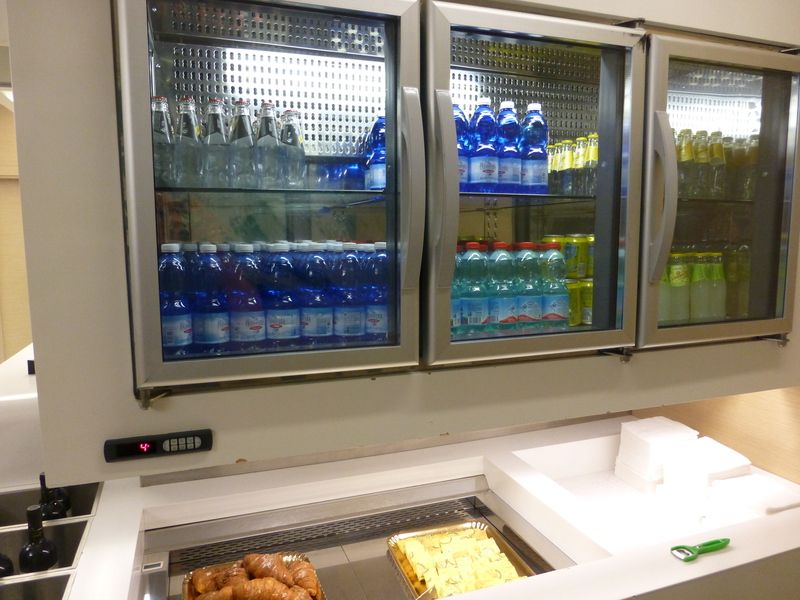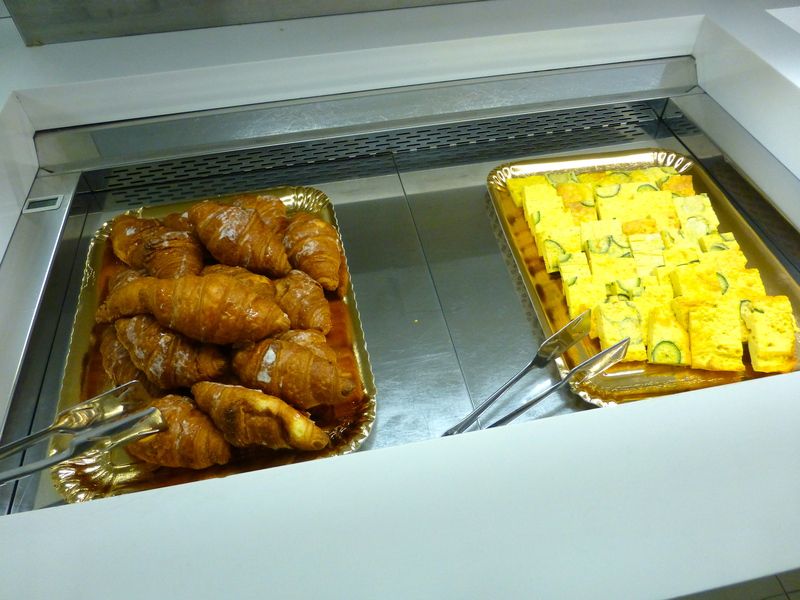 And this is where it all starts going downhill. First of all the weird egg-cucumber thingies (which look just like the Spanish
tortilla de patatas
) are disgusting. Secondly those sugar glazed croissants look sinful, but upon taking a closer look you realize a nasty swarm of flies (of the type we would call "shite flies" in Finnish) has taken a particular liking towards these - yuck!
At least the (staffed) bar provides a couple of nice espressos - something which the Italians certainly know how to do:
By the way speaking of vermin, there's also a sparrow flying around the lounge. Yes, very premium. Come to think of it the generic airline lounge opposite which remains one of the worst lounges I've ever visited suffered from the very same problem so maybe it is something about the design and architecture of this old pier...
Outside there's a beautiful sunrise: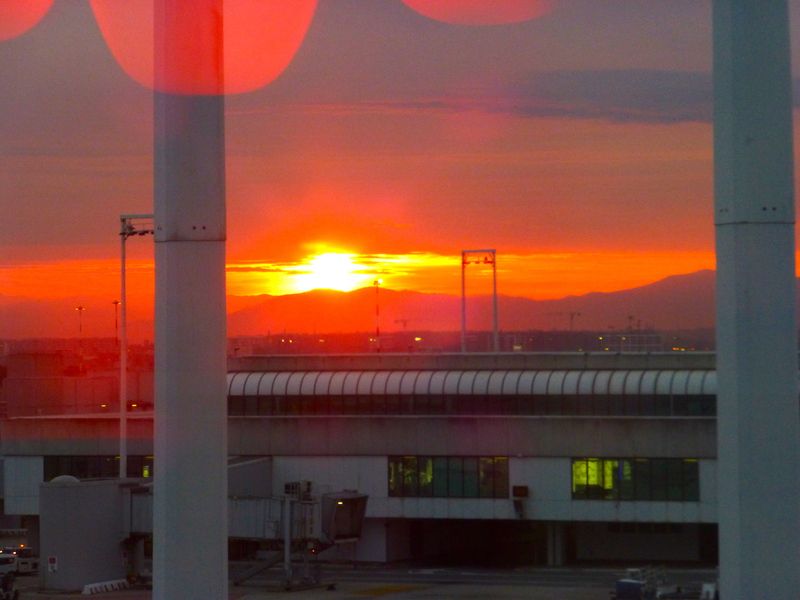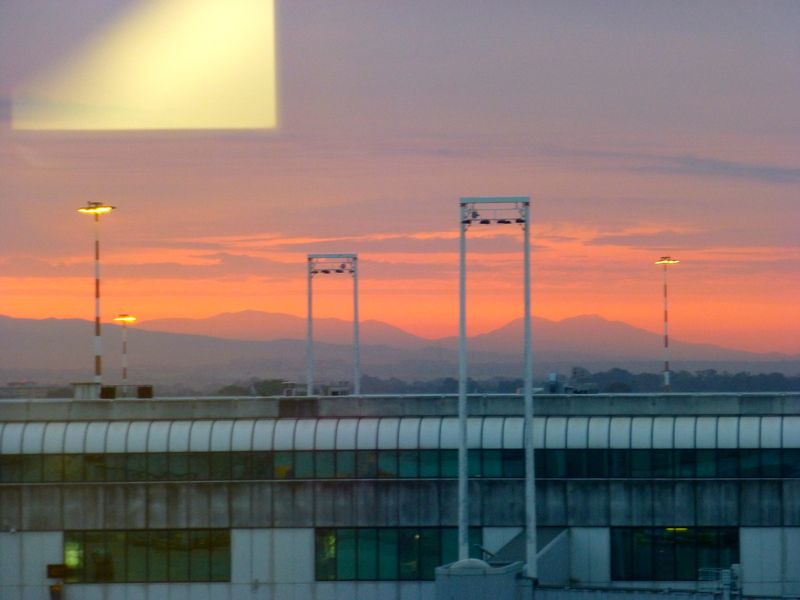 I watch a movie on my Ipad on the comfortable chair and after finishing it decide that it is time for a shower. The lady at the reception answers that they are still waiting for the cleaning lady to come and clean the two shower cubicles and thus I cannot go in. She says it shouldn't take too long, but in the end it ends up taking 45 minutes or so. Eventually the business is finished and I get a very nice big box from the attendant: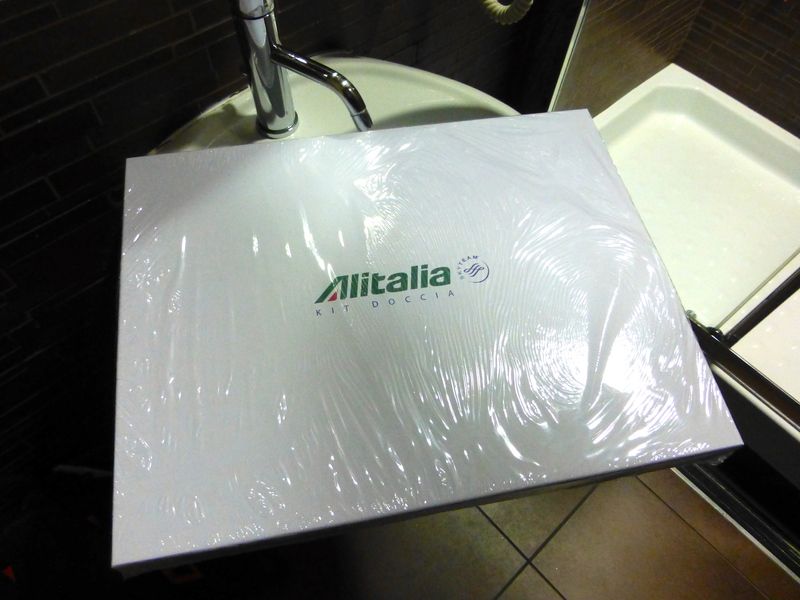 Let's see what's inside, shall we: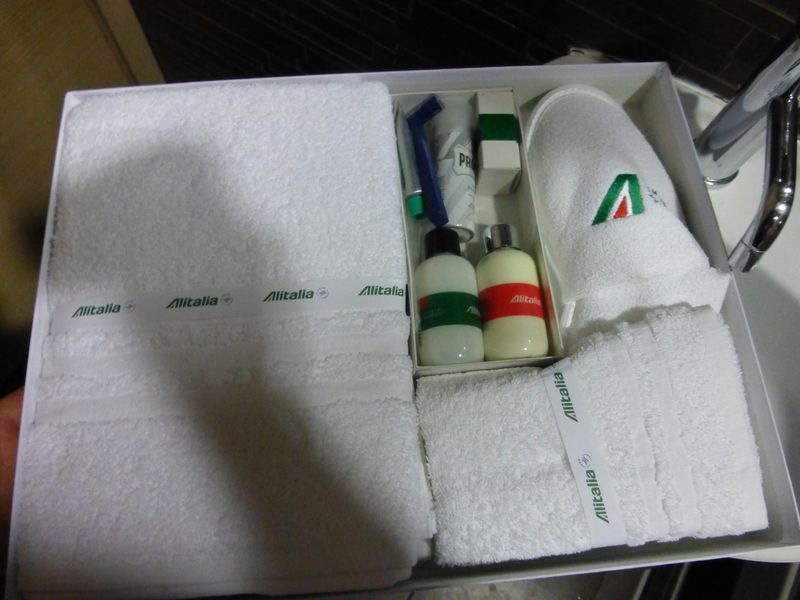 Wow, quite impressed with Alitalia this time - this is a very nice shower kit. I actually took the box with the shampoo, toothpaste etc. with me on this trip as those things are handy to have with you.
And here's the shower - quite small but functional and with good air conditioning (so you don't get uncomfortably sweaty right away like that shower in the BCN lounge...):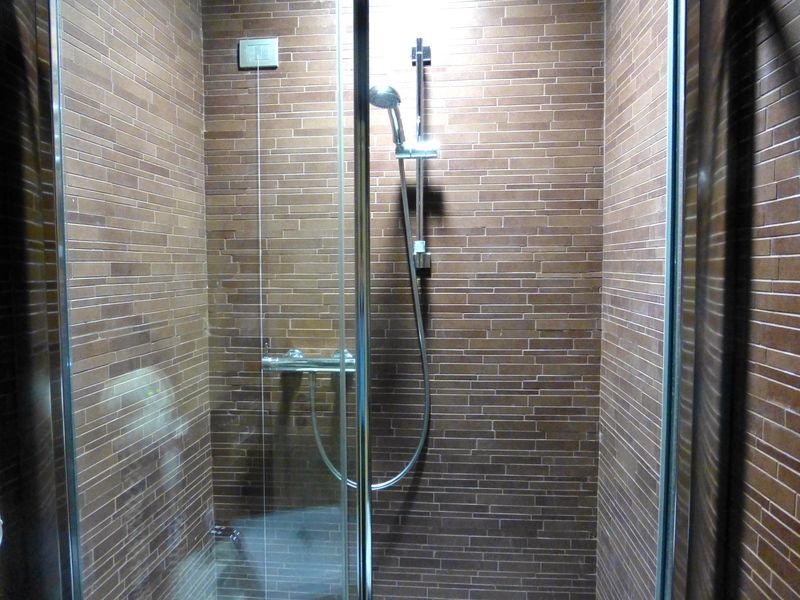 Perfect timing as always - I'm drying myself when
gospodin
Jonas (who has spent a couple of days in Rome) lets know of himself and the fact that he is already waiting just after the main security checkpoint. Oh well, let waiting guys wait for a little longer - I finish my business, thank the lounge attendant and head outside.
Greetings are exchanged, a lot of crap is talked and somehow we even manage to make our way to the non-Schengen satellite via passport control (gotta love my Finnish passport, never ever does it arouse any suspicion anywhere in the world!) and the automated train thingy.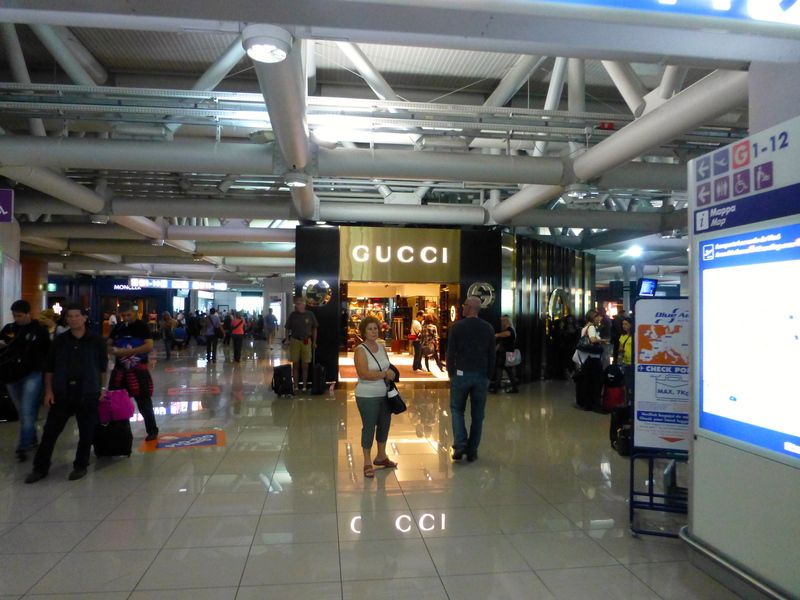 In the satellite Jonas gets admitted into his heaven since I guest him into the Alitalia lounge (not that any thank yous are ever said).
Giotto - more like grotto as it is located on the basement with no windows whatsoever (and thus no natural light either!):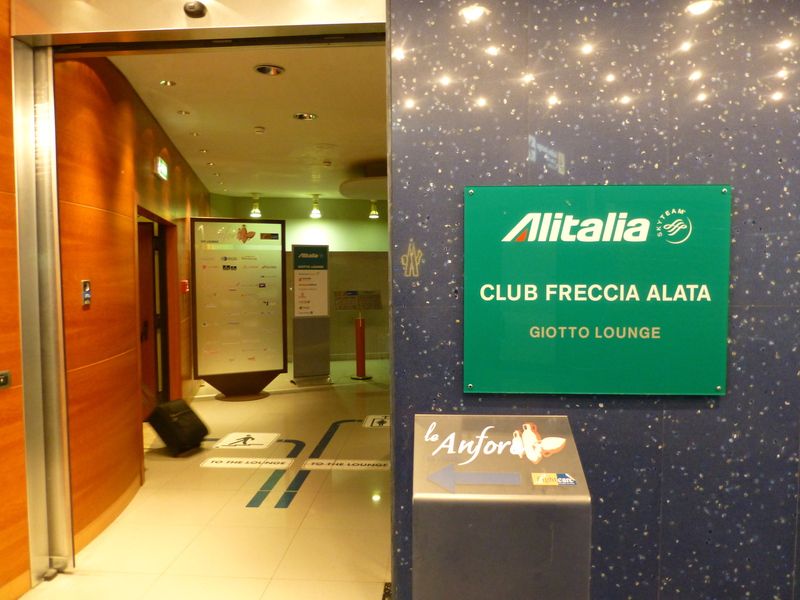 We are happily admitted in, and Jonas gets his bliss. Me, well, I've spent half my life (seemingly) at airport lounges so for me it's not really nothing new. Well, it still looks quite nice and stylish and far, far better than the Schengen one: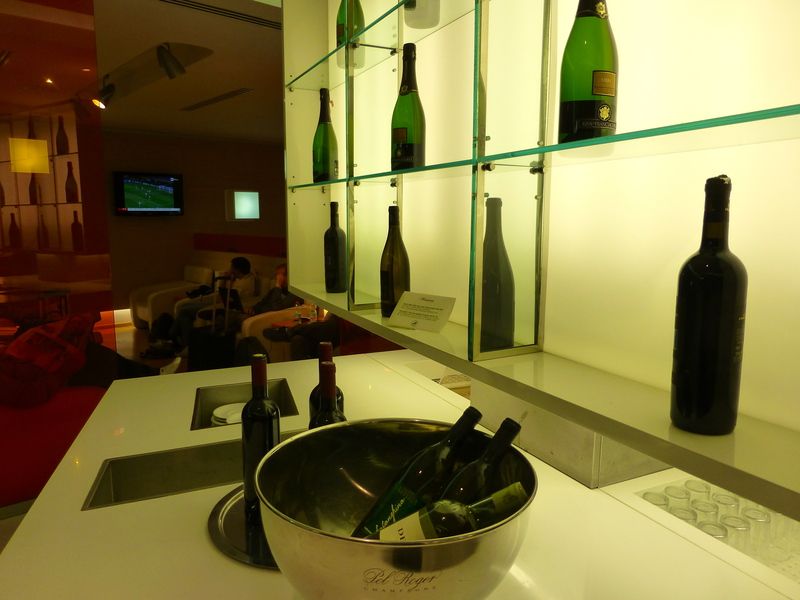 See what a huge difference a small plastic cover makes - no flies, no sparrows: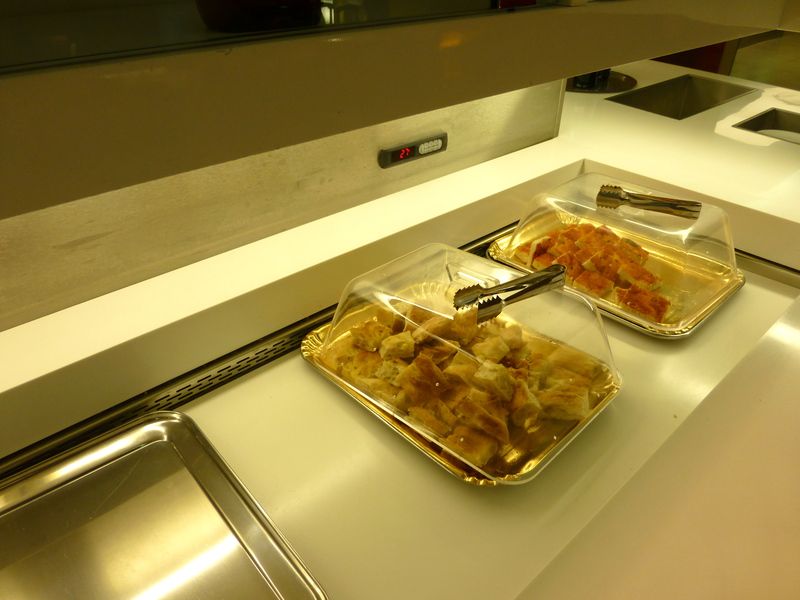 Staffed bar here as well, unfortunately no champagne, heck they don't even have any prosecco - not very good for Alitalia's flagship lounge! The bartender suggests some sweet white wine instead and who am I to argue:
So SU264 goes to Tokyo: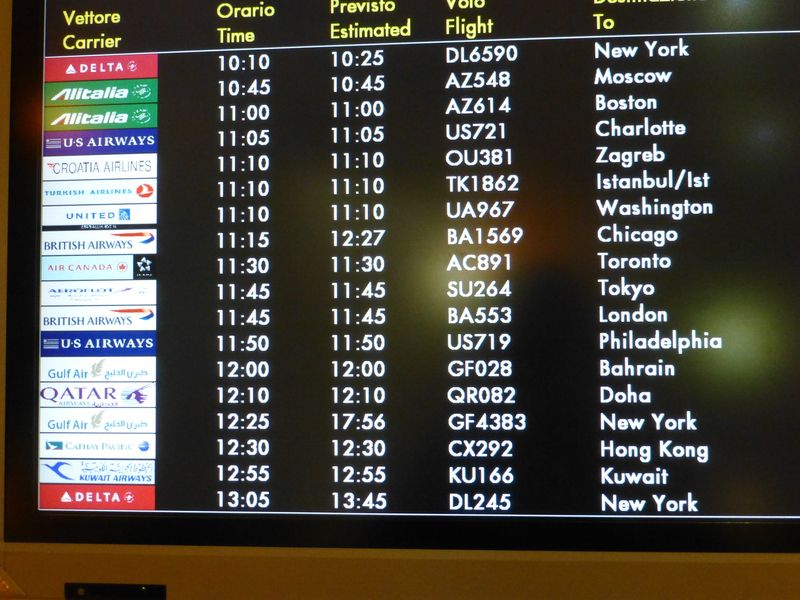 …or Moscow?!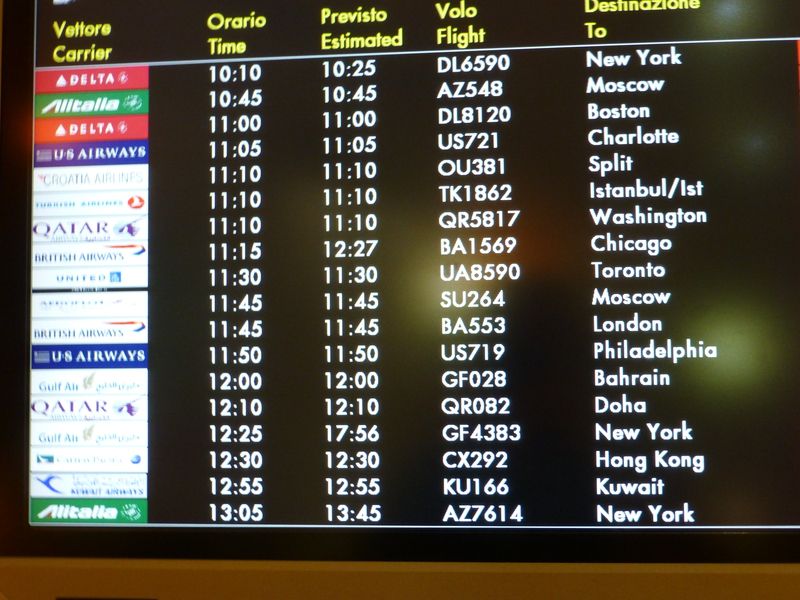 Plenty of Americanos in the lounge which is to be expected since quite a few flights to North America are leaving within the next two hours. It is actually a bit difficult to find a place to sit down - this lounge is quite a maze but eventually we manage.
Some more chat, some more wifi, some more drinks and some more time later it is time to head back upstairs to the gate, but not before stopping to take a photo of our ride-to-be: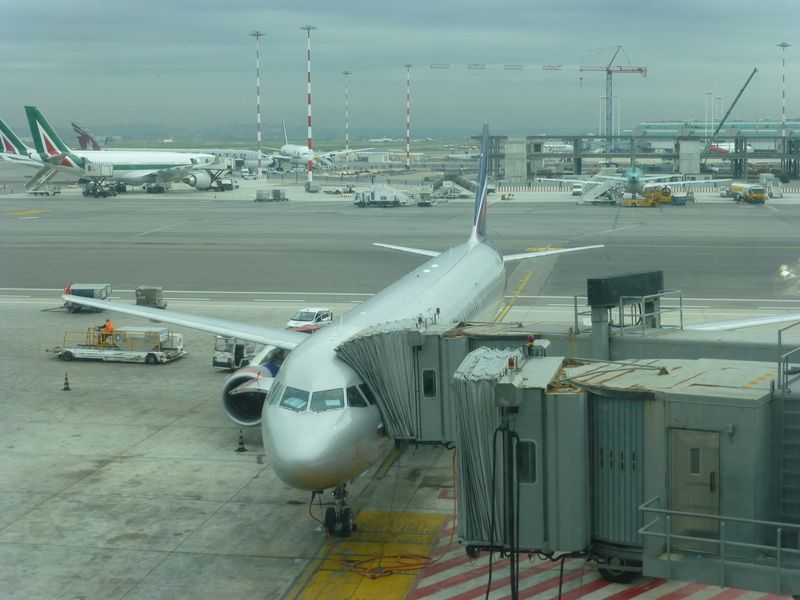 Yes, it is the expected A321 "Sergey Korolev", named after the Soviet rocket engineer.
Heading over to the gate G13 a familiar face is to be found - Eco is there, traveling with a bunch of his mates. More pleasantries are exchanged while seemingly nothing is happening at the gate.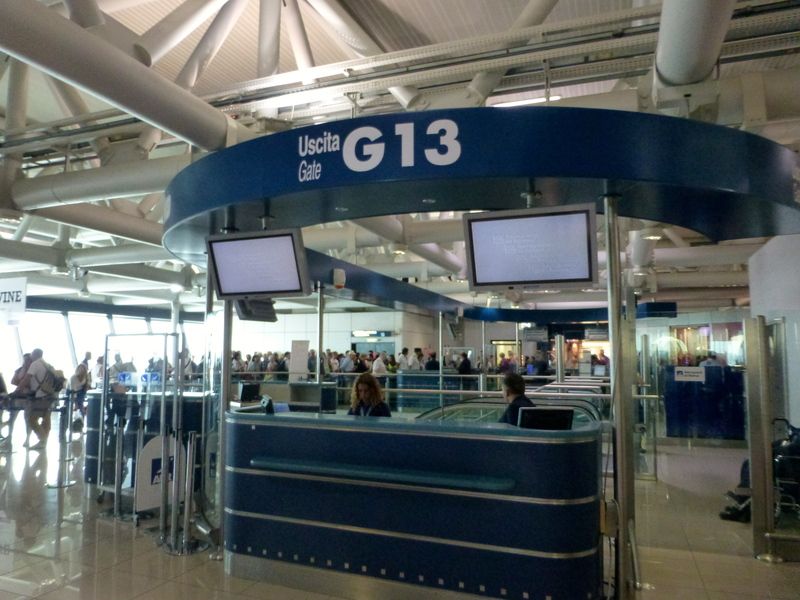 Finally, very near to our SDT boarding is called. They even enforce priority boarding and seeing the scrum at the gate I decide to take advantage of this and fight my way to the head of the queue where the gate agent even speaks a few words of Finnish to me, way to go!
Passing a BA heavy while walking down the jetway:
FCO - SVO
SU264
A321 VQ-BEI "Sergey Korolev"
Seat 29F
12.15 - 17.50
I step onboard what should become my 1300th logged flight and get greeted by a business friendly purser. I had forgotten all about the gorgeous orange uniforms of the SU cabin crew - they look quite nice and refreshing and heck, I'm not even Dutch!
Passing the proper business class cabin: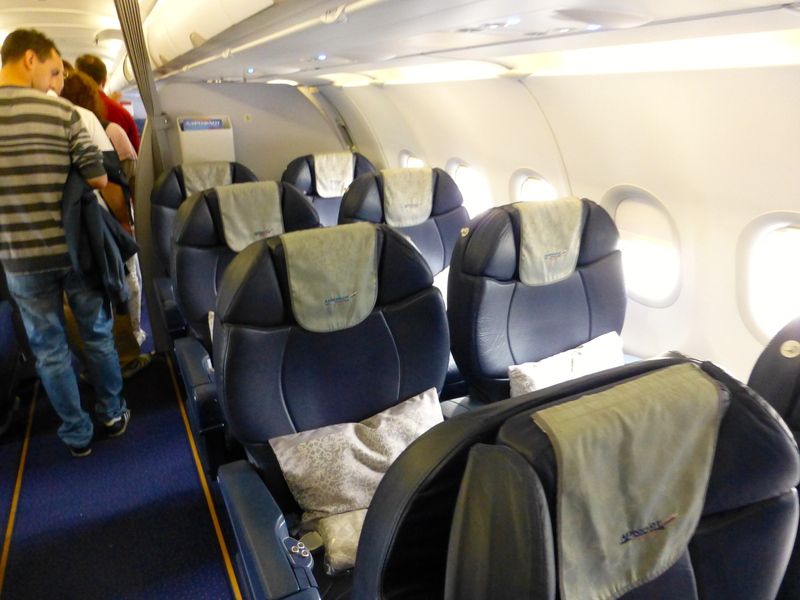 Onwards to economy:
My seat is in the back cabin of the A321 (unlike LH SU still has a proper two cabin layout in economy on their A321s with the cabins divided by toilets - something which is a bit of a pain on the LH planes as there are too few toilets these days). On the other side of the aisle I spot this: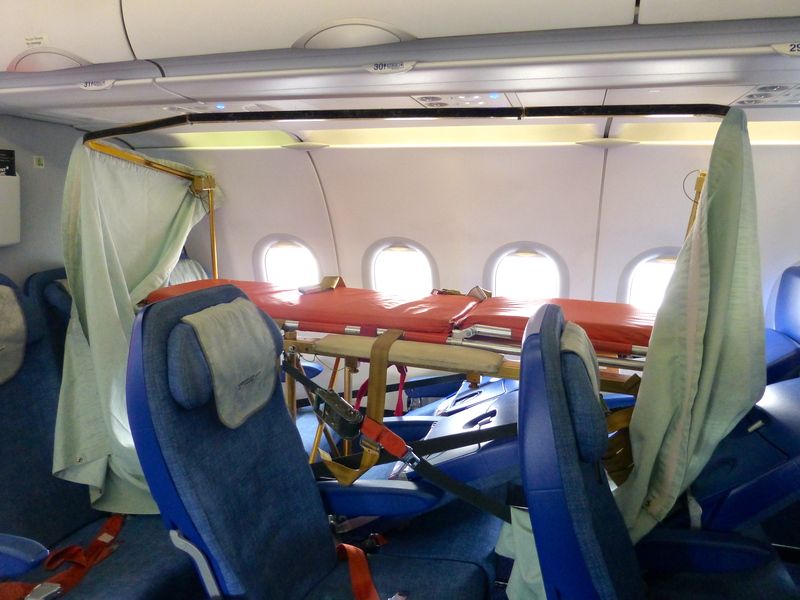 Looks like we are doing a bit of a medevac role on this flight as well.
Legroom is okay: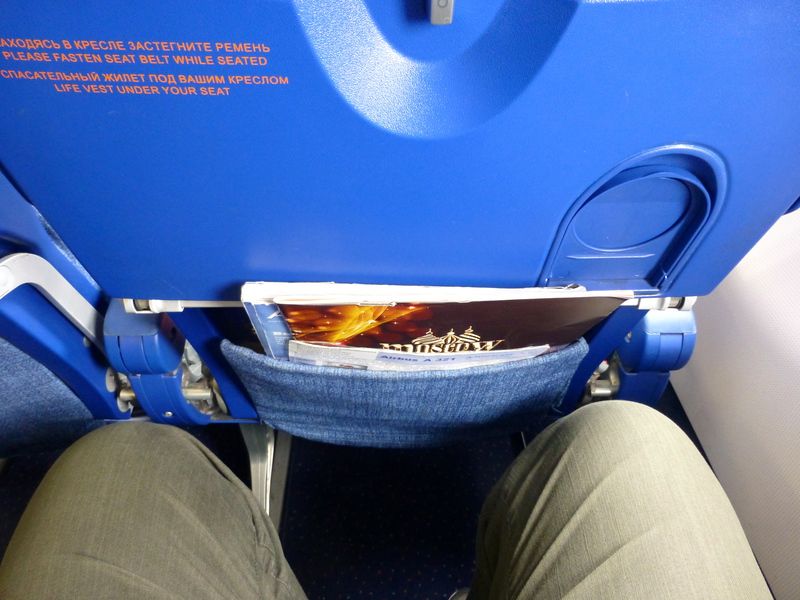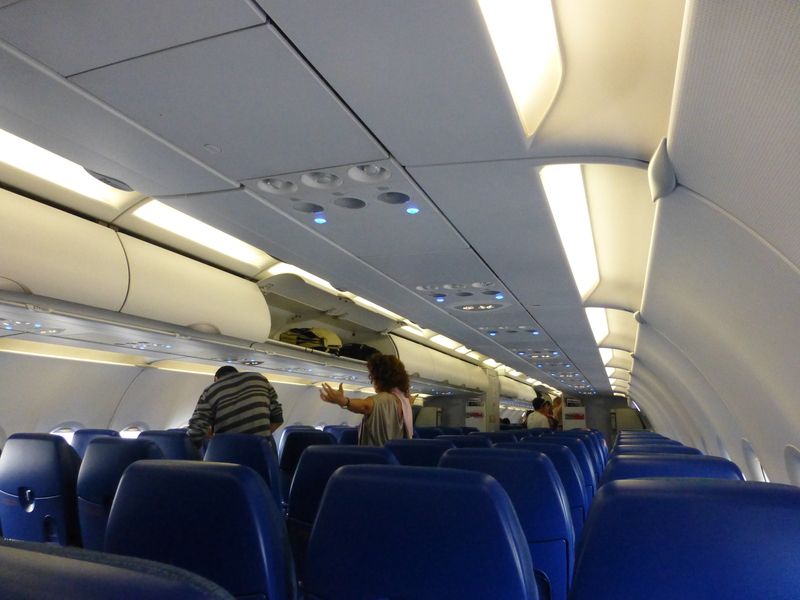 New style air vents and cabin lights - this bird was delivered new to Aeroflot in 2009: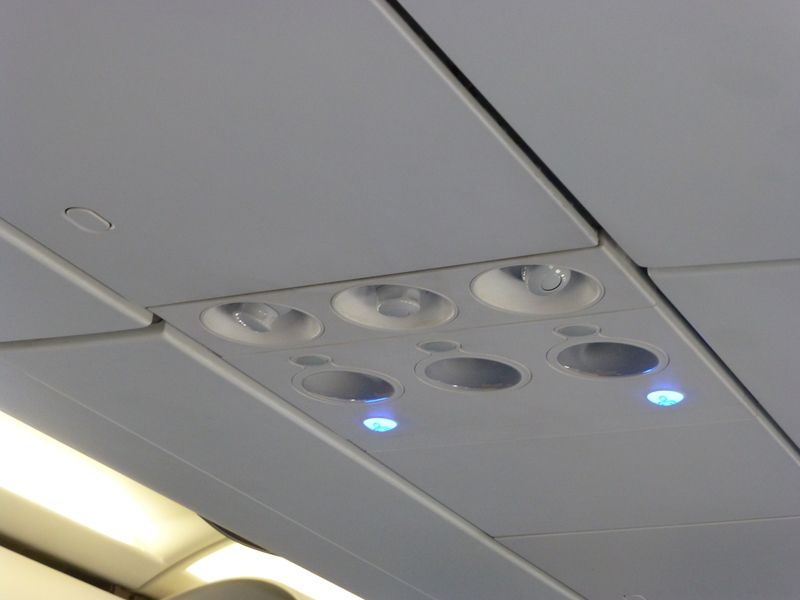 En detail like Marcus would say: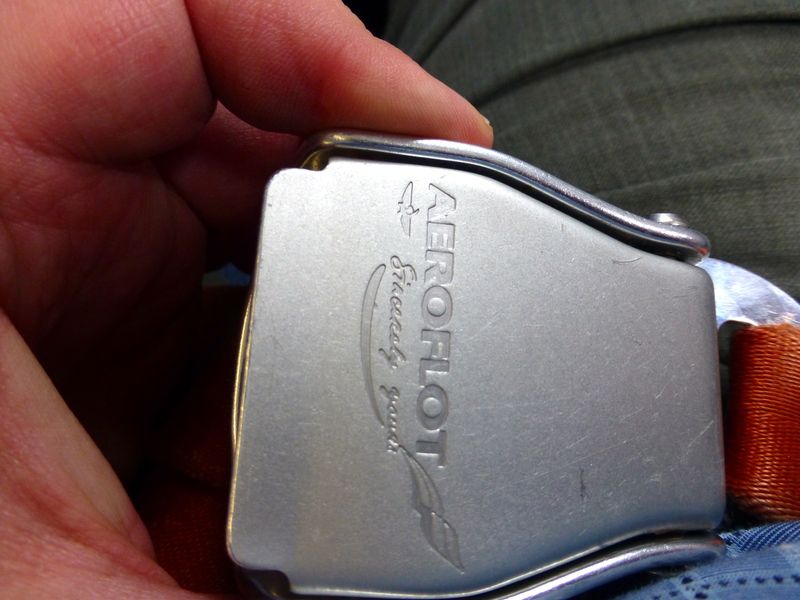 Eventually Jonas arrives and sits down on the window seat in front of me, having requested that seat during check in. OLCI did not work for him although it worked for me so I simply told him my seat number and he tried to get nearby.
Soon a bunch of paramedics appear with the patient on a stretcher and spend quite some time trying get him (or her, not sure actually whether it is a woman or a man) moved over to the other stretcher and strapped in. After managing to do so a privacy curtain is drawn: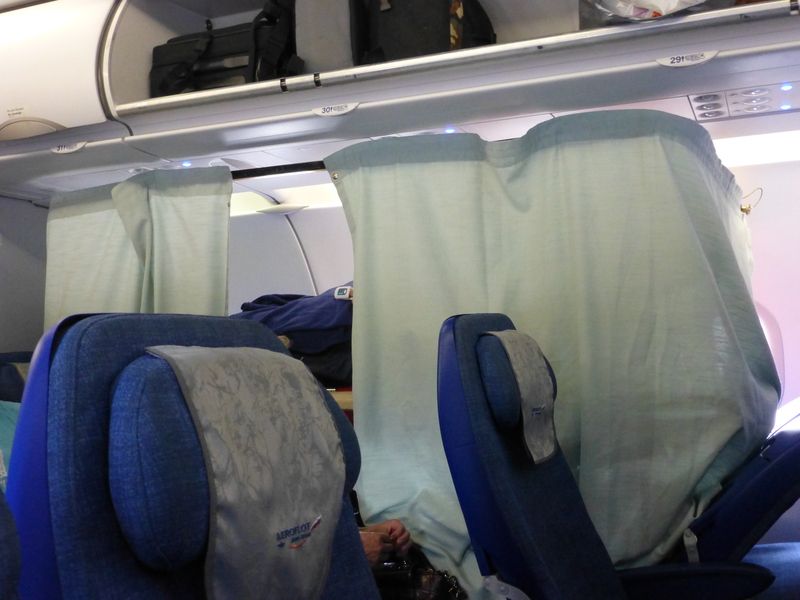 The captain is soon on the horn with a short welcome speech, explaining that we will be somewhat late "because we arrived late" which I refuse to believe, I'm pretty sure most of the time was eaten up by the setting up of that stretcher arrangement. Anyway once under way a flight time of 3h10mins is to be expected.
Load in the back cabin is maybe 50%, with both seats next to me staying empty. Jonas decides to move there after take off. While waiting for pushback I entertain myself by watching the never ending stream of arrivals and departures: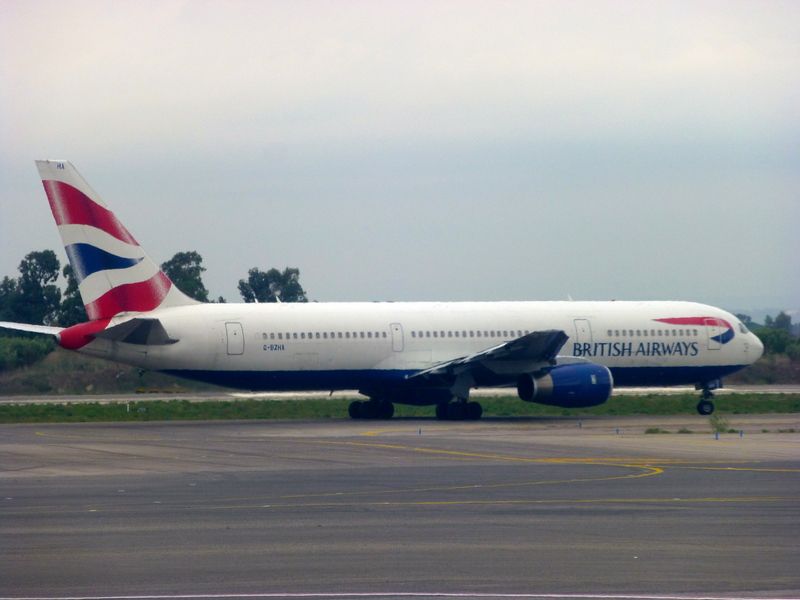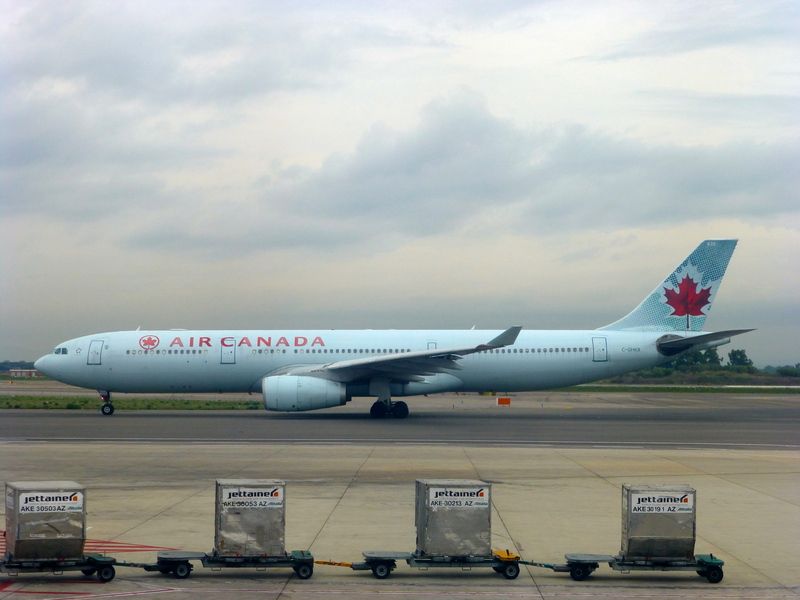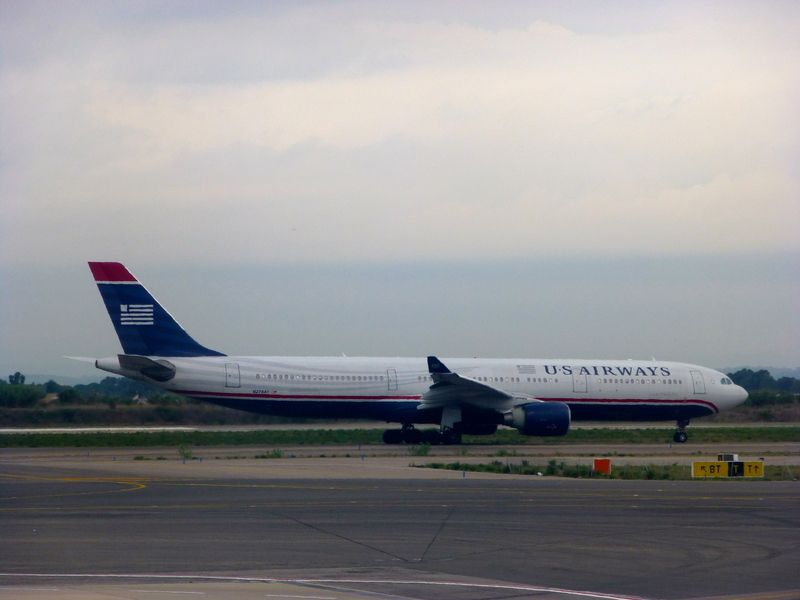 An Airbus 330 in Delta colors still feels so wrong to me, just like an A32x series: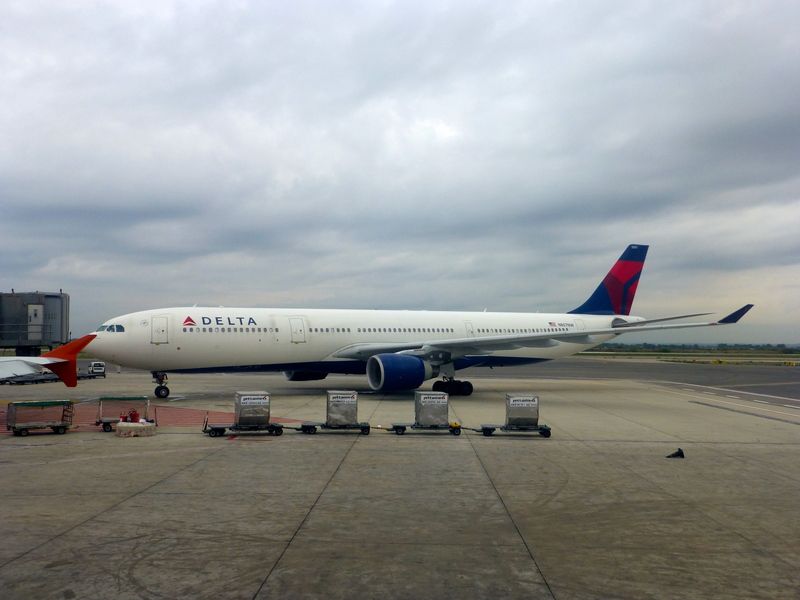 "The no legroom airline" taking off from 25: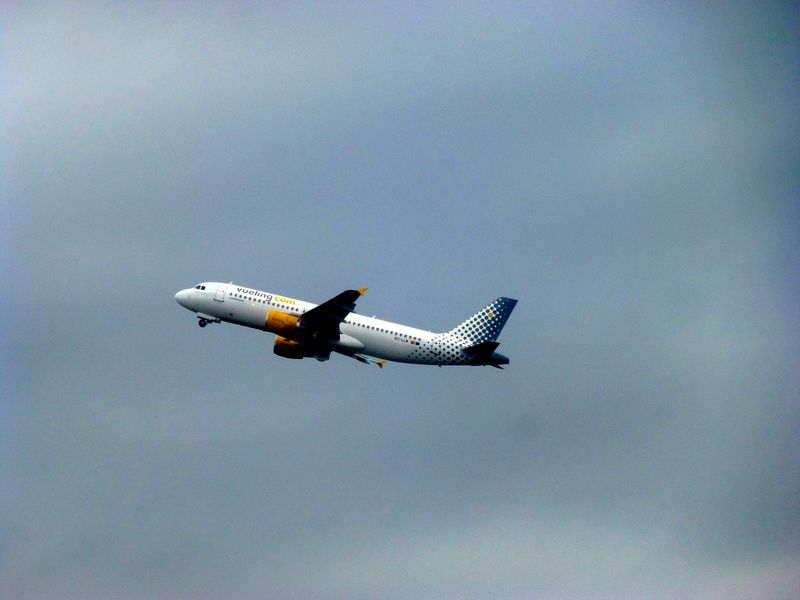 Eventually everybody's buckled in and we proceed with our pushback, half an hour late.
This new non-Schengen pier appears to be in exactly the same condition as the last time I saw it back in July 2011 - maybe the financial woes mean they run out of money:
For all our Irish friends: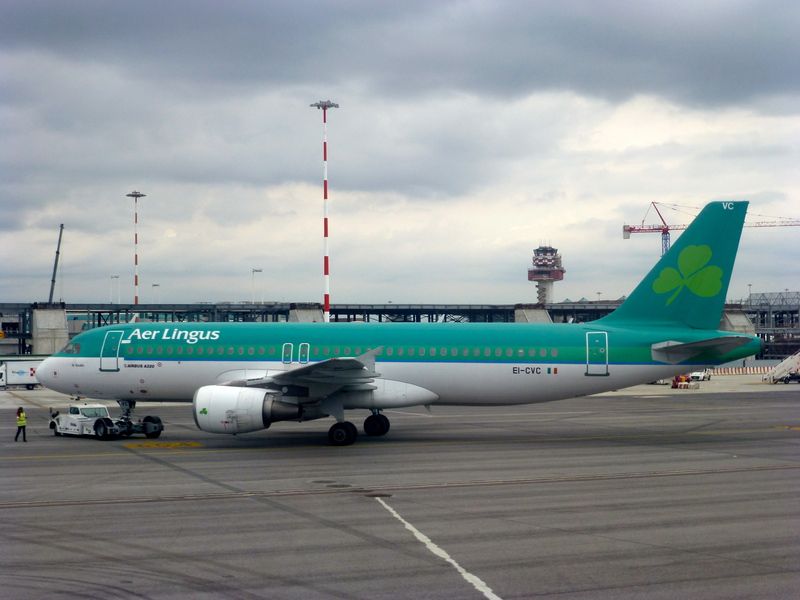 Runway 25 is in use for take offs with a rather long queue, so we spend our sweet time creeping towards the threshold.
Something from LED: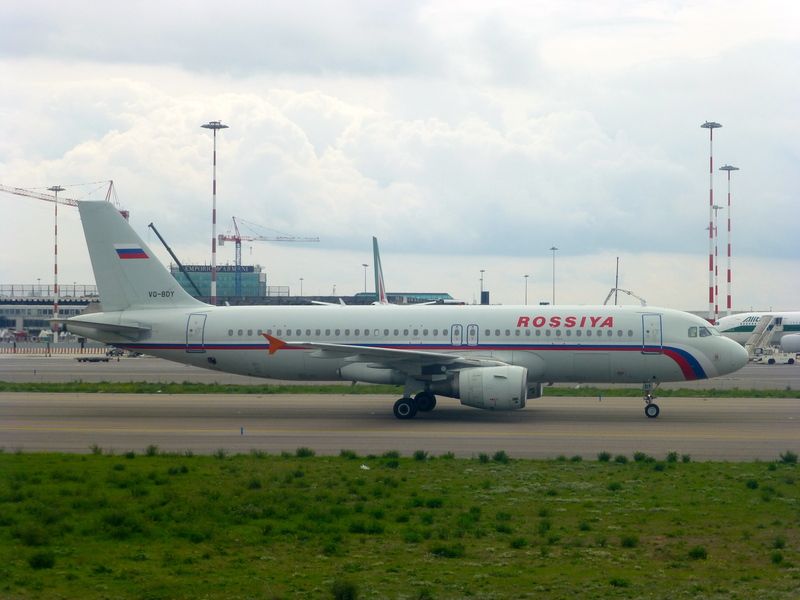 And KBP: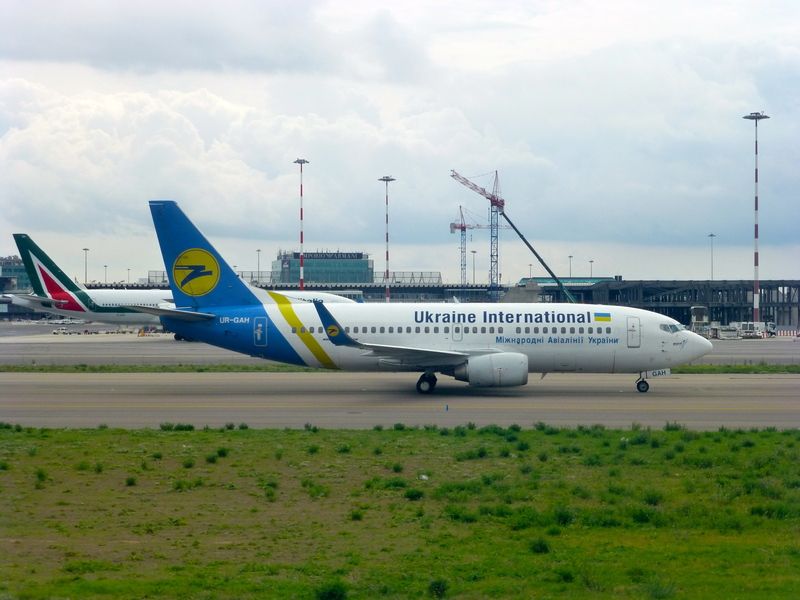 They sure need the new pier, quite a few AZ widebodies are parked at remote stands: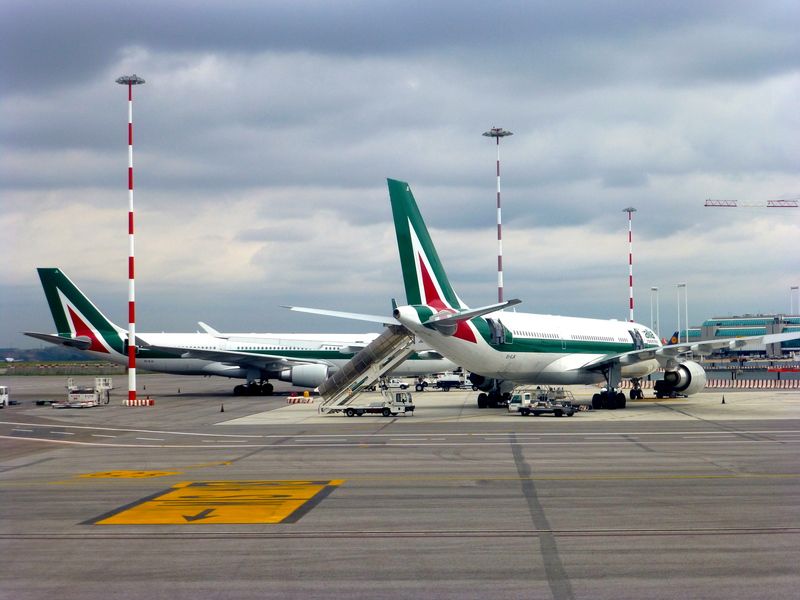 Here's an interesting subcharter operating for Blu-Express - certain members of this board might find this very familiar: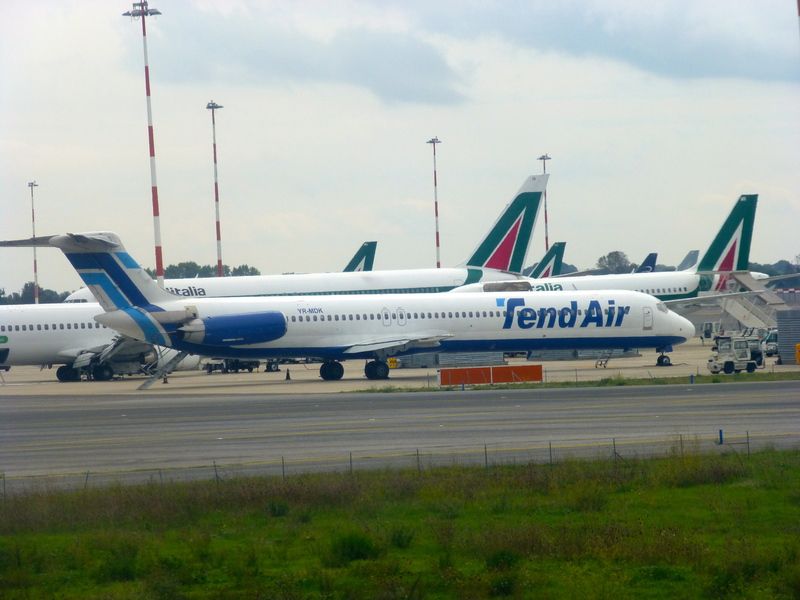 Arriving from Tunis: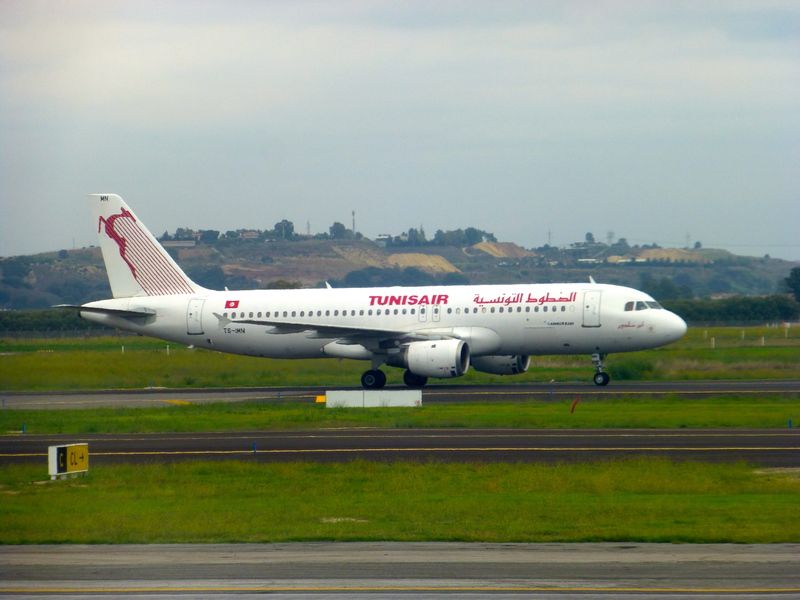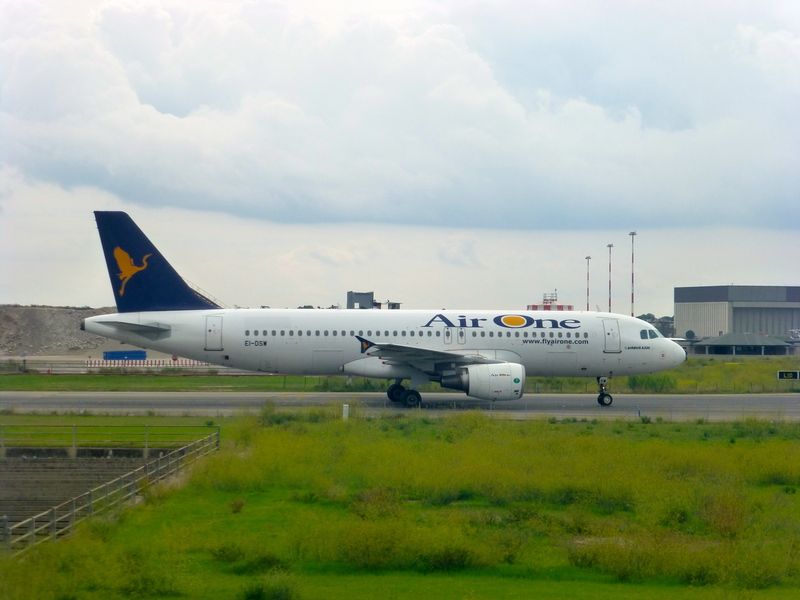 Almost there: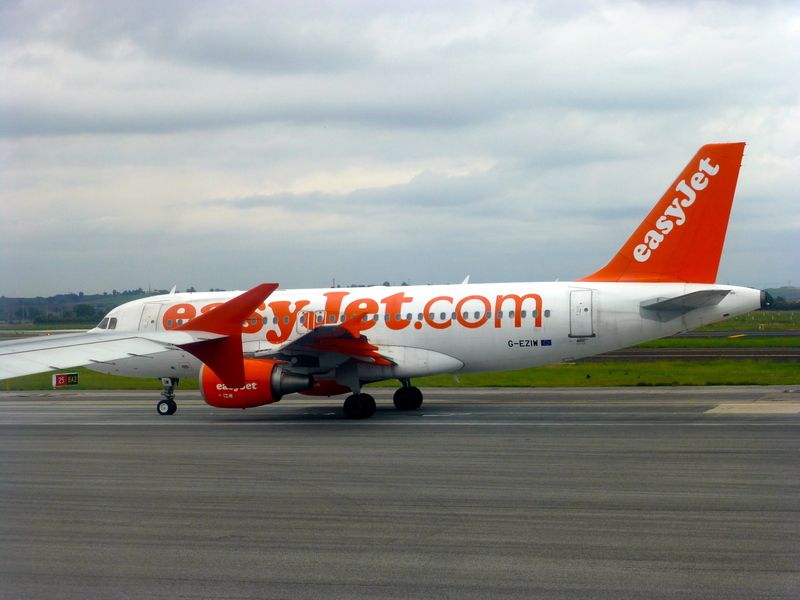 Finally, 25 minutes after pushing back we enter the active and commence a powerful take off run towards the Tyrrhenian Sea.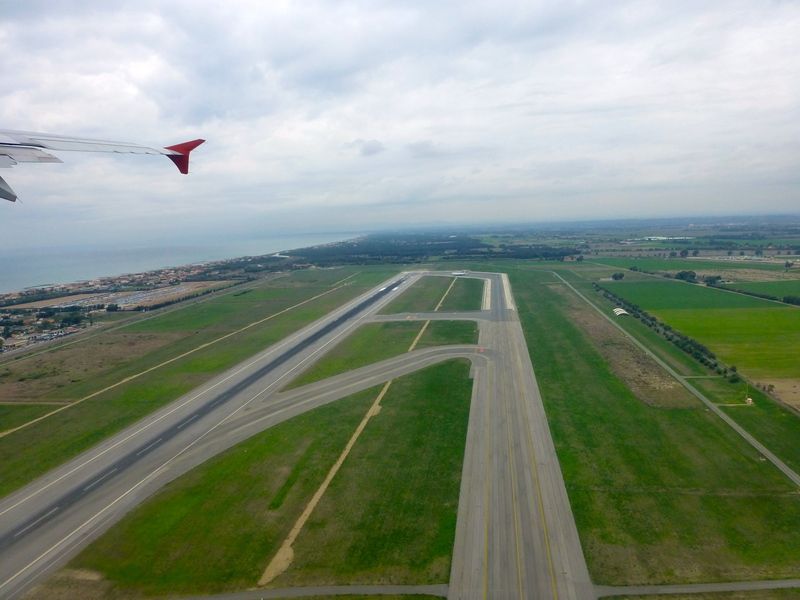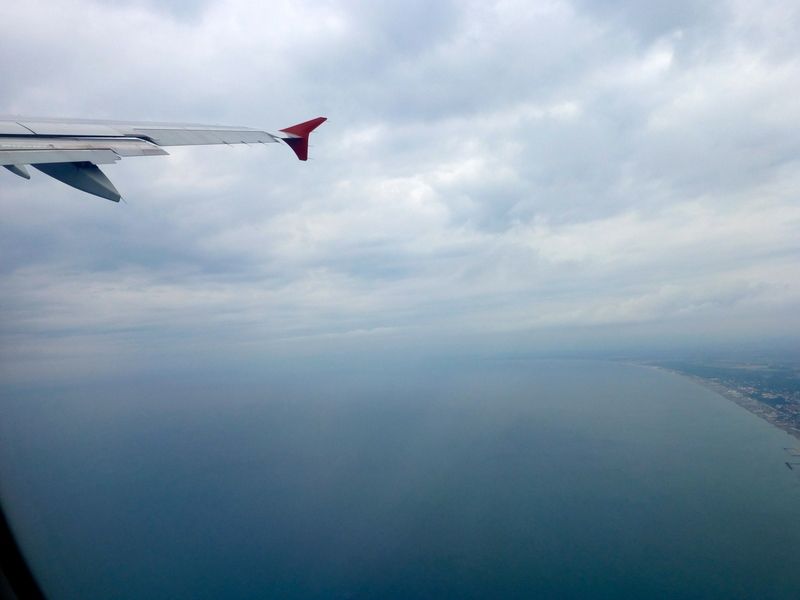 Over the sea a sharp and long left hand turn follows to point us towards the northeast.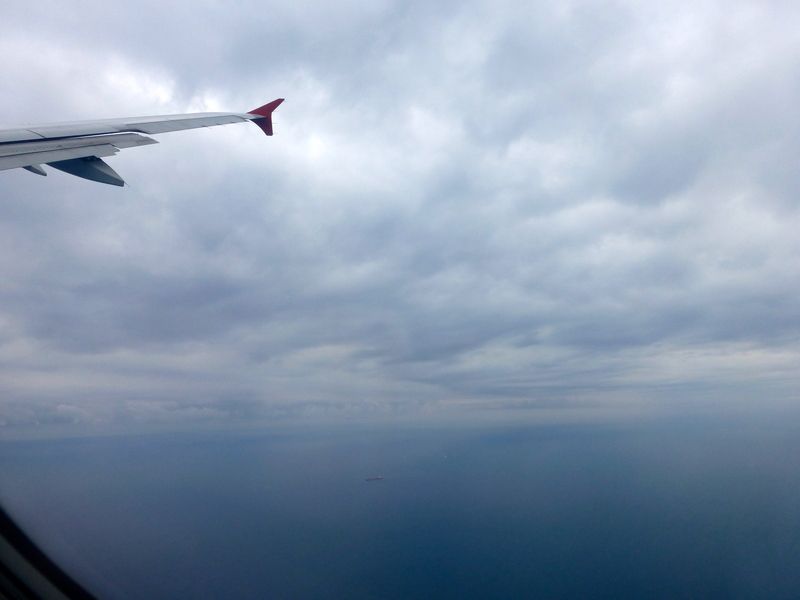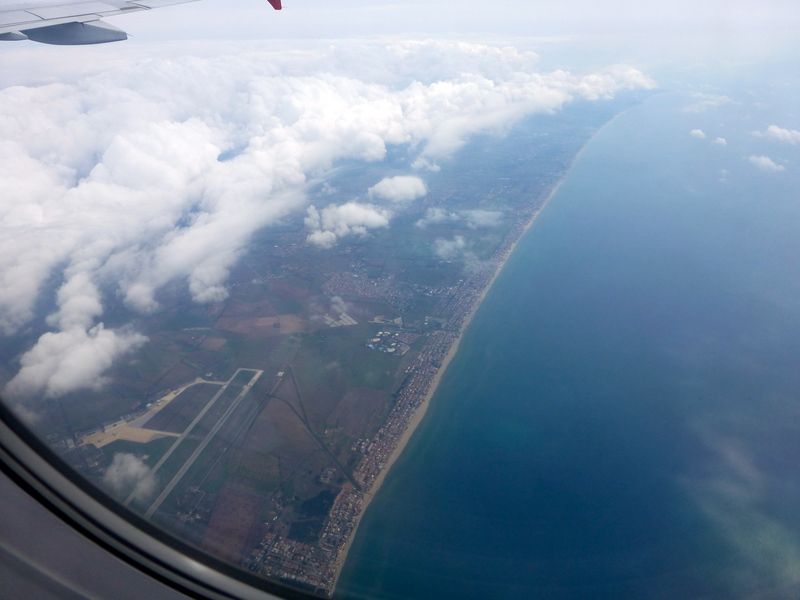 Traffic above Italy - actually it looks just like an AA missile: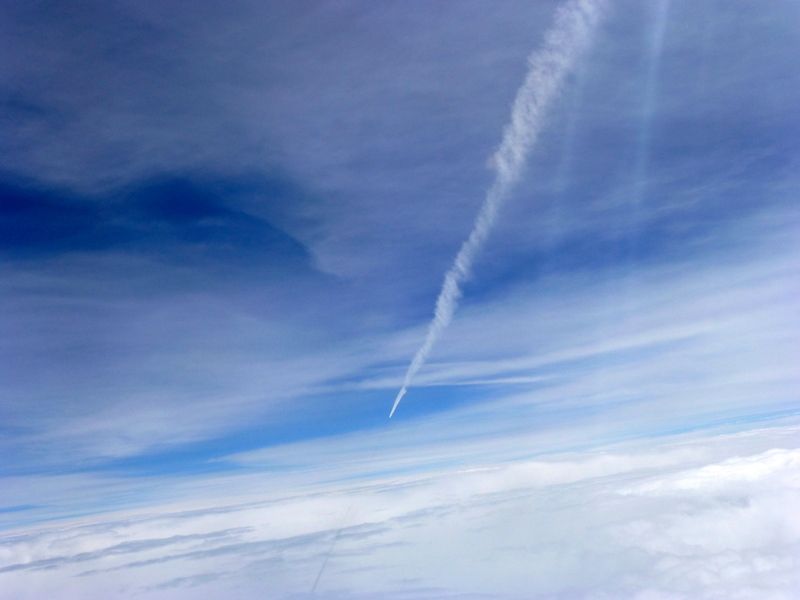 The first two plus hours of the flight are completely overcast:
The captain is soon on the horn again, explaining our routing as FCO-ZAG-BUD-MSQ-SVO and not much else, at least in the English version. Soon after that one of the FAs, the cutest of the bunch with short faux red hair and eyes that could kill walks through the cabin with the passenger manifest on her hand, stops at me and welcomes me personally onboard this "Aeroflot flight to Moscow Sheremetyevo". I mutter my thanks in Russian which seems to delight her. Great elite status recognition here with Aeroflot - I've heard this happening before as well!
Soon Jonas moves to the aisle seat on my row, but not before taking some lavatorial (of course) shots and more cabin shots which arouse the suspicion of another FA and he gets grilled by the girl, I think she is upset by the fact that he might be taking shots of the cabin crew. Things get sorted out though.
In the meantime the service starts with a drinks round - I decide to splurge 6 EUR at two beers which wasn't actually terribly good value for money as they are lukewarm at best: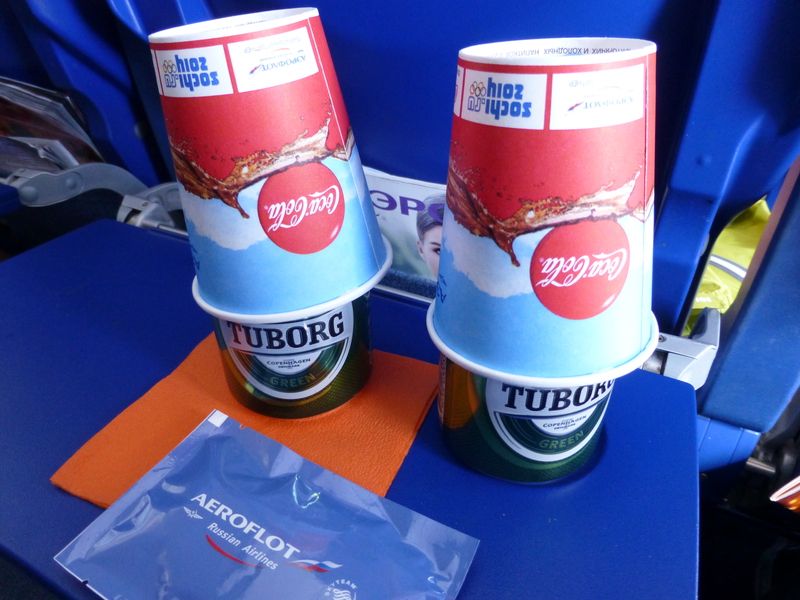 After quite a long time during which I manage to down the first beer the meal service follows. Little did I know that this would set the standard for all the following Aeroflot flights on this trip. Apparently they used to have a choice between meat (veal!) and fish but have long ago run out of choices so fish it is for us. Well, I'd preferred the fish anyway. Quite a lot of variety on the tray:
Let's see - there's a lot of stuff here. The appetizer salad comes with various greens (a few days past their prime) and two pieces of salmon, one raw (salted) and one cooked. I let Jonas have the raw piece and eat the cooked one which is quite good actually. Additionally there's a white bread roll (okay if a bit hard), half (!) a slice of rye bread (didn't touch), butter, a couple of chocolate pralines (delicious) and mayo: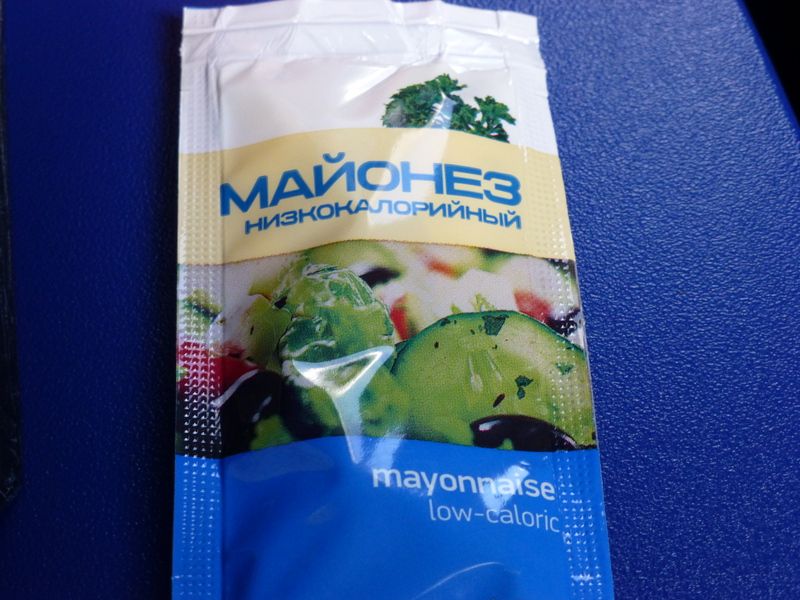 I have no idea what I'm supposed to use the mayo on so it is left unused.
But let's not forget about the main course: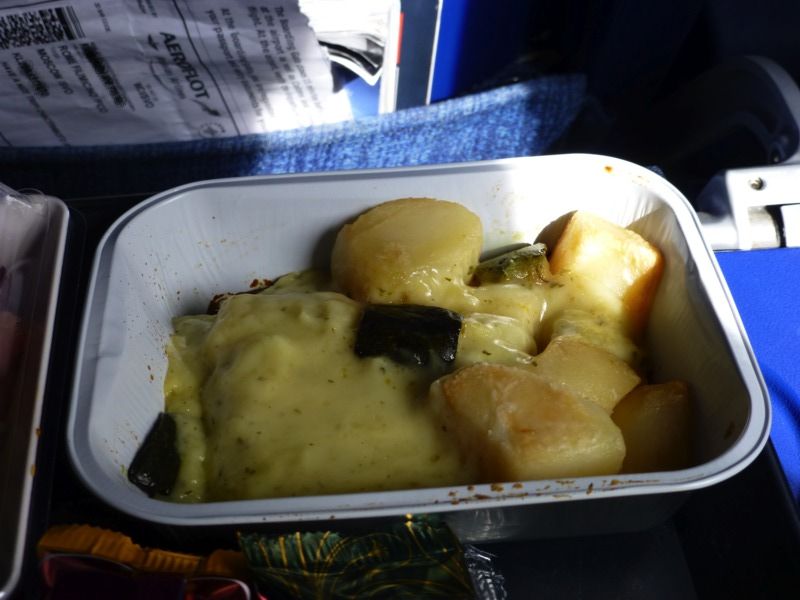 Underneath that slob of cheesy sauce there are pieces of white fish, pollock methinks. Comes with fried potatoes. Nothing earth shattering in the culinary sense but surprisingly tasty when you are hungry and goes down well. Even Jonas seems to like his. The chocolates go down well with coffee. All in all an okay meal, if a little fishy considering both the appetizer and the main course had fish (stay tuned, this is setting a trend here...).
Somewhere over Eastern Europe the weather starts clearing up: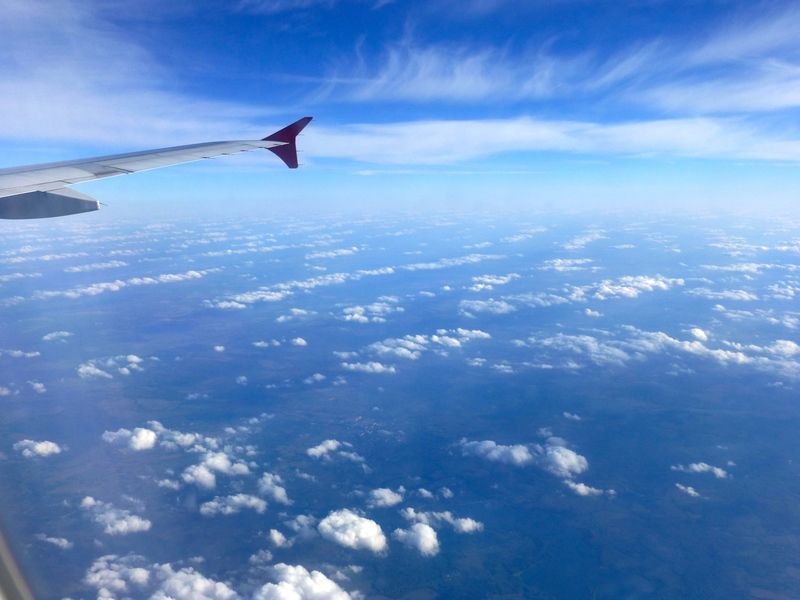 Cabin view from a lavatorial visit: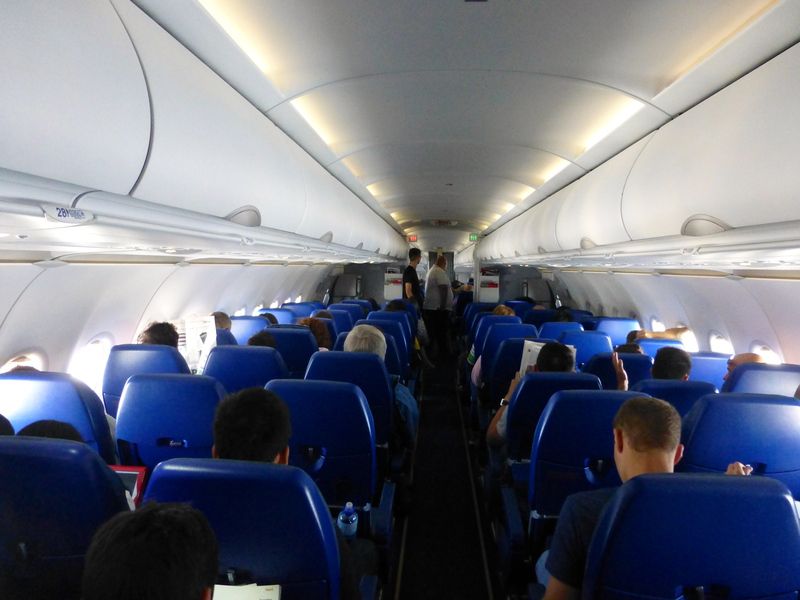 Lviv airport (LWO) in Ukraine - can't believe it's been over three years since I was there:
Chatting with Herr Jonas and catching up on some of my reading makes this flight just fly past (pun very much intended) and surprisingly soon it is time to commence our descent for SVO. Jonas moves back to his place to get some views from the window.
First sight of the megacity that Moscow is: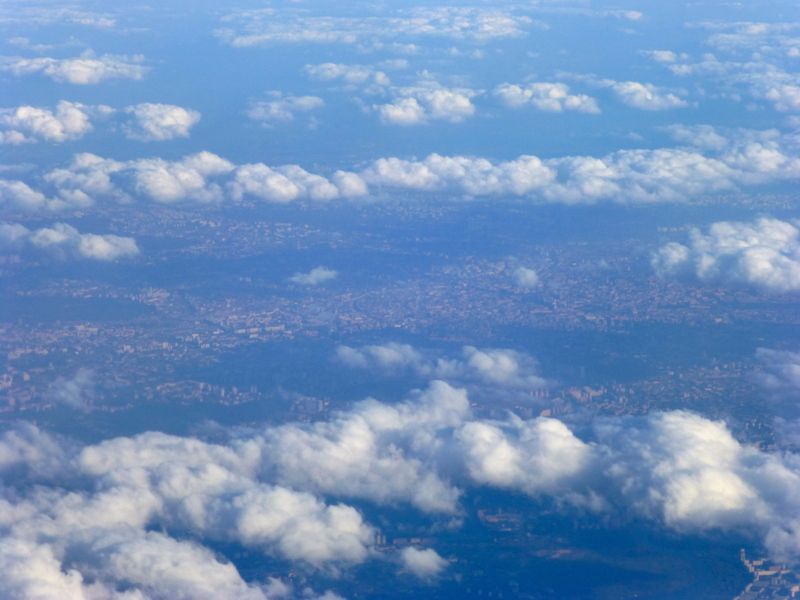 Our approach is quite long winded, initially we fly past SVO at a lagom altitude towards the northeast, quite far away. Some traffic below us: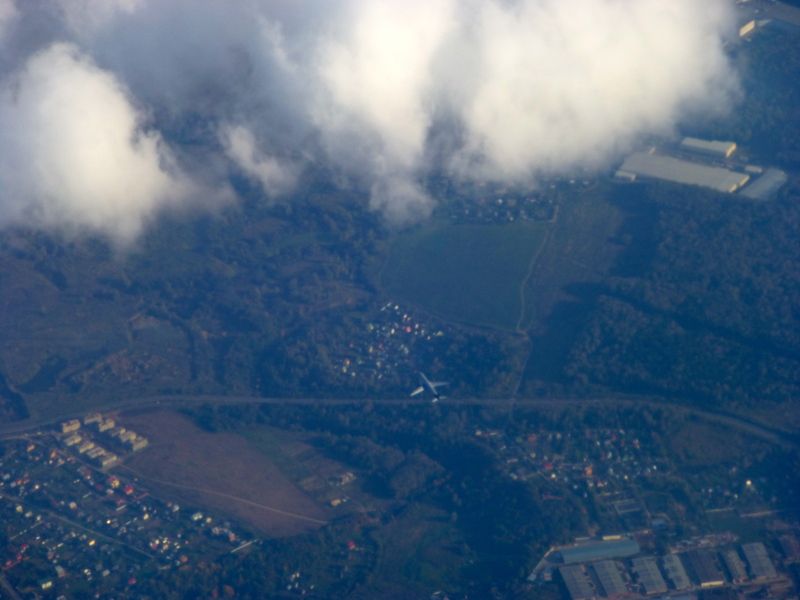 And here's SVO: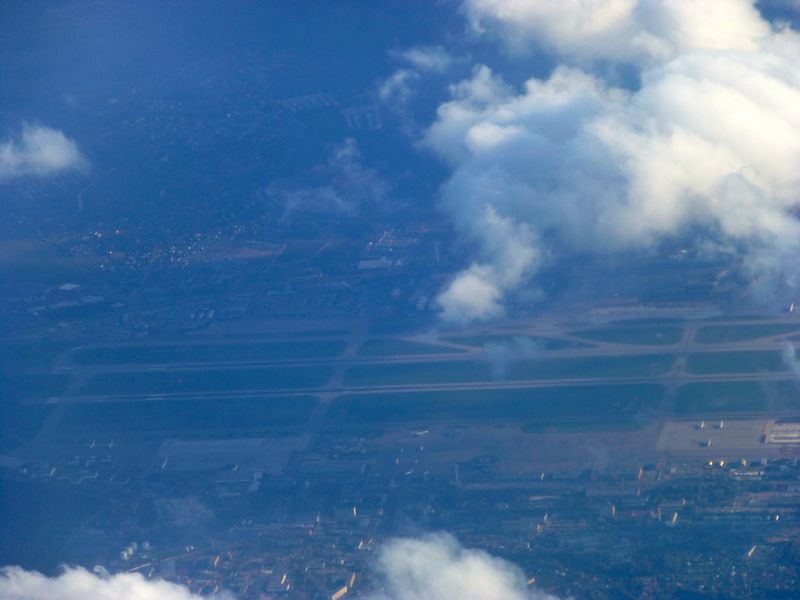 Plenty of lakes and rivers north of Moscow: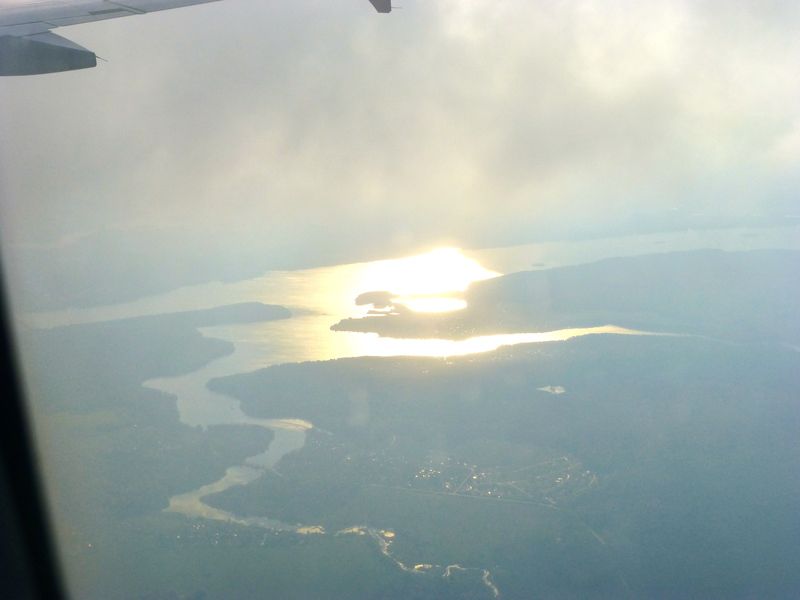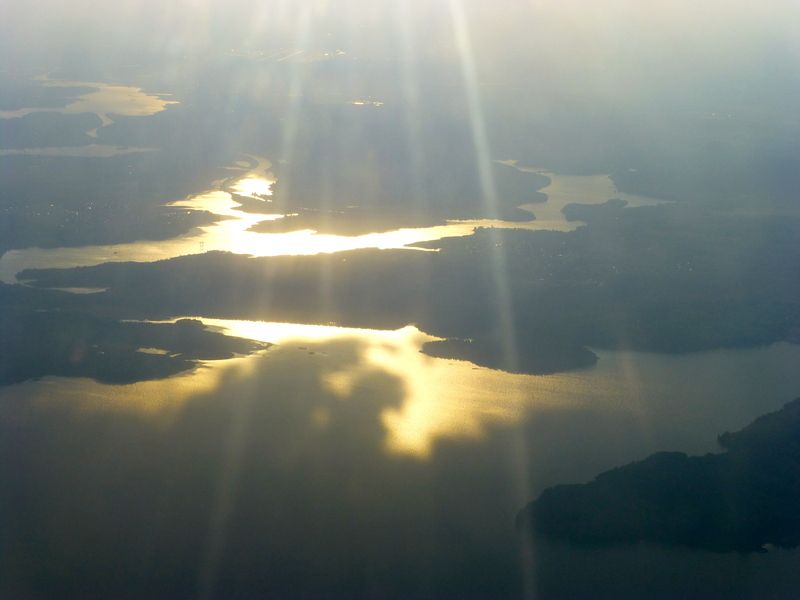 Plenty of
dachas
: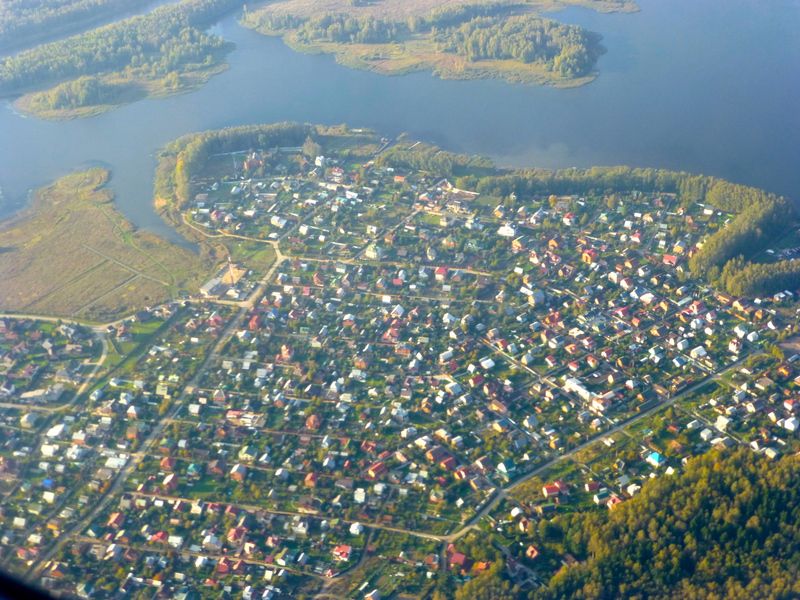 Eventually a 180 degree turn towards the right follows and we line up on the 25s.
Yes, this is a man made waterway: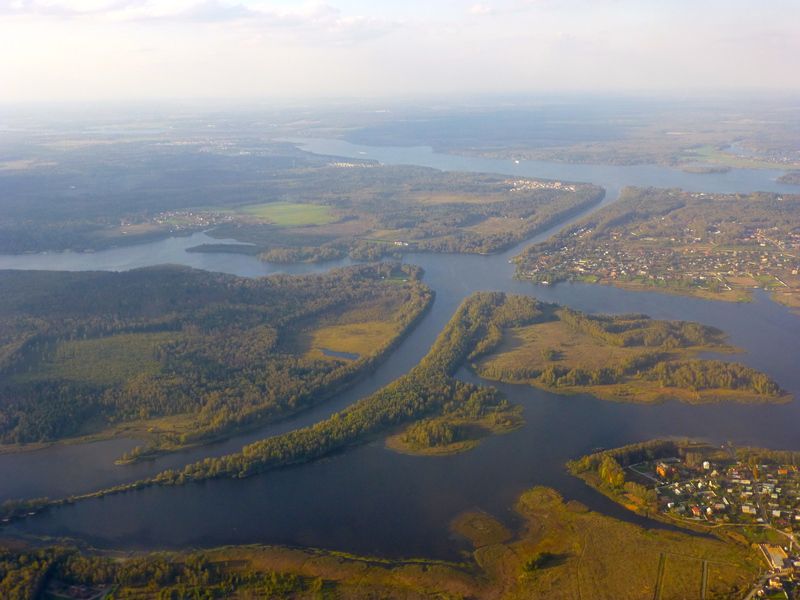 Almost there:
Landing on 25R is very hard 3h10mins after take off, somewhat late.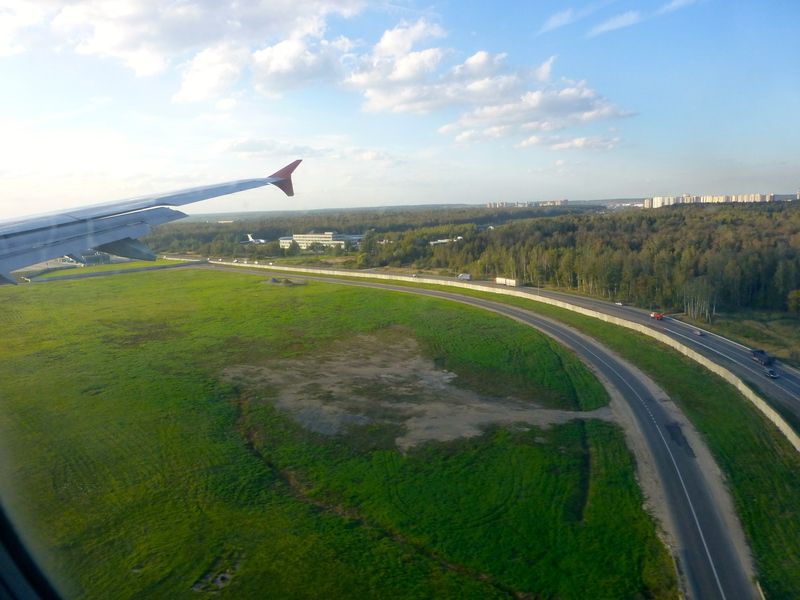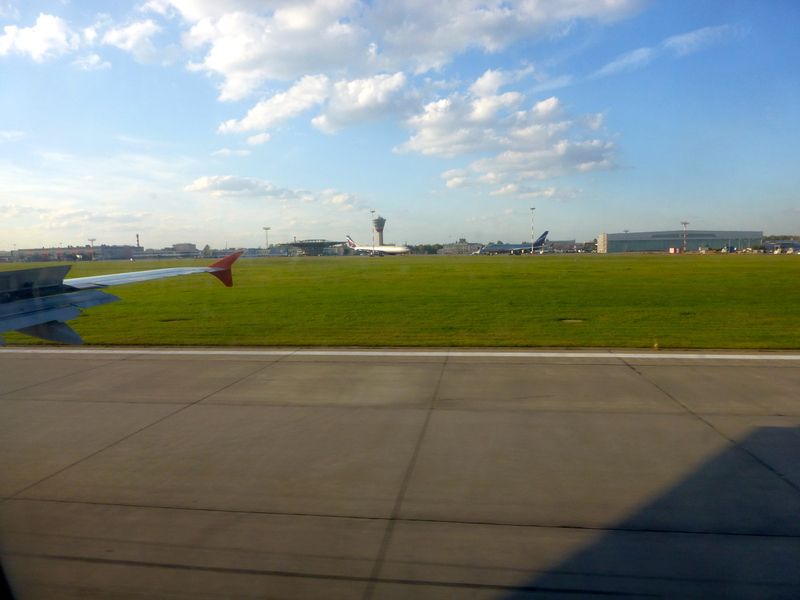 Right after landing some hand clapping follows (as is customary here) plus a number of people getting up while we are still on the taxiway (as is customary here). The FAs manage to get them down though.
A very short taxi from the runway to Terminal D which is good. I had no idea Orenair had any triple sevens - apparently this one is operated for mama Aeroflot:
[Edited 2012-10-21 04:31:11]