B A C K G R O U N D
I first flew on an Air China 777 in June 2001 and wrote a trip report but with no pictures. Now that I was planning to go back, it would be a great way to end the trip by flying a CA 777 again and write a much better report. Even better is that CA recently took delivery of Boeing 777-300/ERs. I also think it's the first report on those new 77W of CA.
Booking was easy thru their website and I originally booked an earlier flight on a Boeing 777-200 but decided to change to a later flight with a 777-300/ER even though the connecting time would be a bit close. There was no problem to change it and it took less than five minutes over the phone and the agent also assigned me a seat.
T H E T R I P
Date : 18 October 2012
Route : Bejing PEK – Shanghai SHA
Distance : 668 miles
Flight : CA 1517
Flight Time : 1:34h
Dep. Time : 13:47
Aircraft : Boeing 777-39L/ER
Registration ; B-2033
Dep. Gate : C 02
Seat : 56A
207th flight on a Boeing 777; 15th on a 777-300/ER
Flown on 118 different 777 aircraft (frames)
I had arrived at the airport five hours early and did some spotting for a few hours before checking in for the flight. I went to check in about two hours before my flight. I tried a kiosk with the confirmation number but the scan of my passport didn't work so I had to go and someone in person. It seems the kiosk only took Chinese IDs/passports. I had a 10 minute wait before an agent check me in less than a minute. I went straight to security and it was about a 10 minute wait as well.
I first went to the gate to see what the registration was and was very happy to see B-2033 there, which was about three weeks old.
I then walked around and did some more spotting before heading to the gate about an hour before departure. Boarding started only 30 minutes before departure and I was surprised to only see one gate agent there.
Boarding started a few minutes before the scheduled time and used only one of the two lanes. First and Business class passengers boarded first and the boarding continued by boarding group. I was in boarding group one so I was one of the first to board.
I was greeted by a nice flight attendant at the door and headed down the aisle to my seat. There were very few people there, which made it easier to take pictures and to explore the seat and cabin.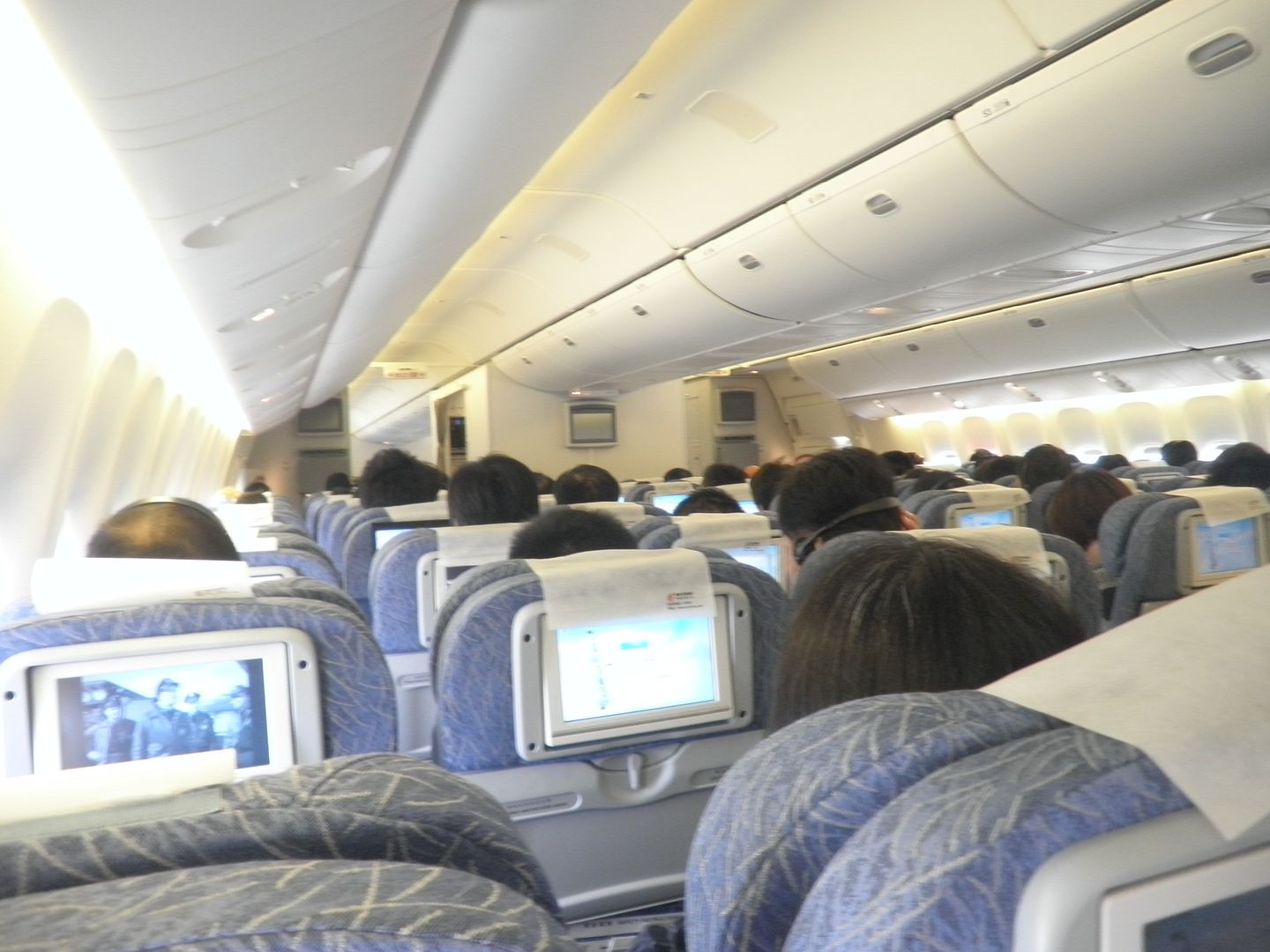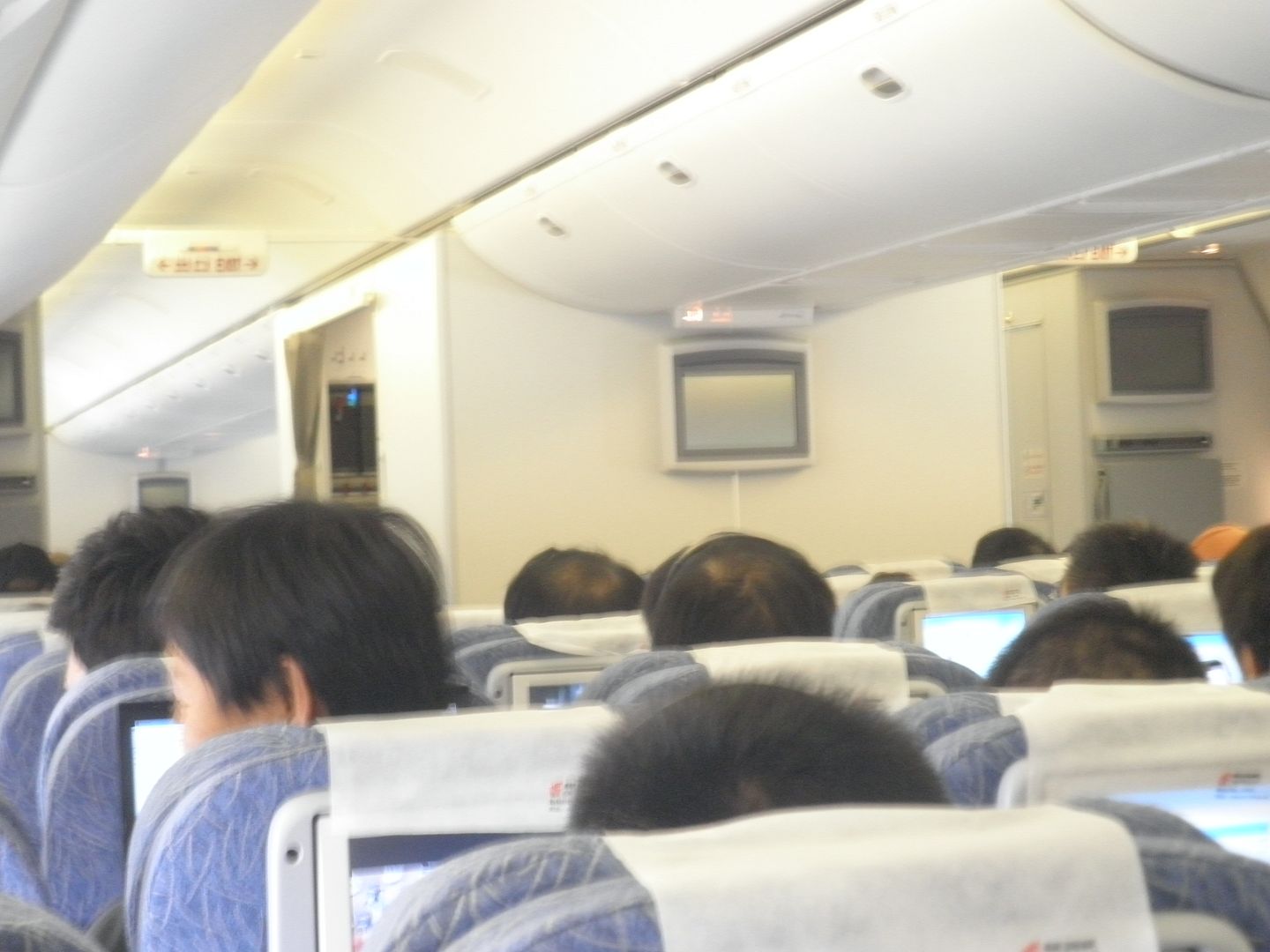 There was a nice big screen in front of me and the seat felt comfortable. It was also great to get a footrest and the winged headrest that makes sleeping easier on a night flight. There were no individual air vents which seem to be standard these days. Also note the no smoking sign rather than the no electronic devices sign that have started to appear on some aircraft.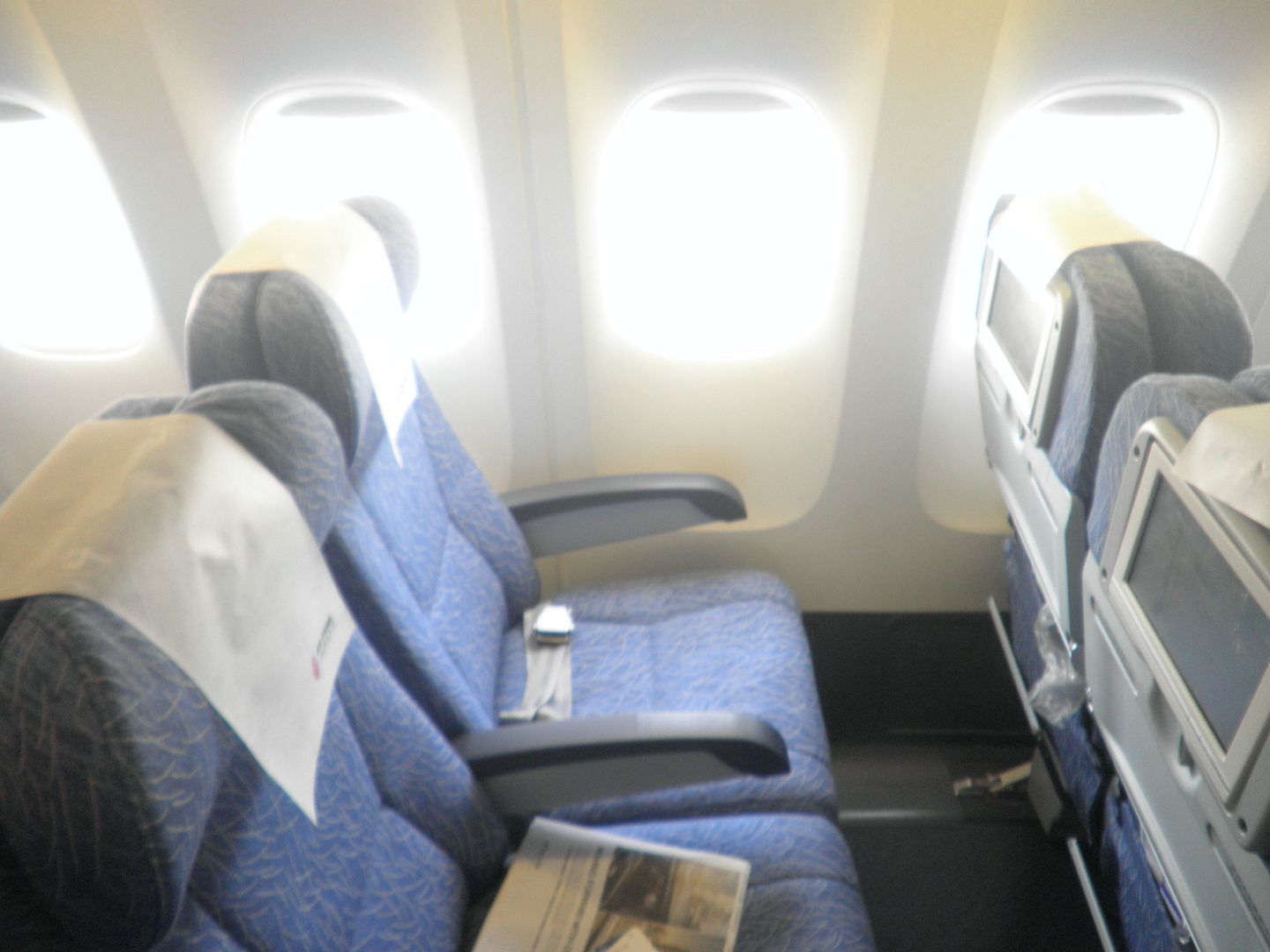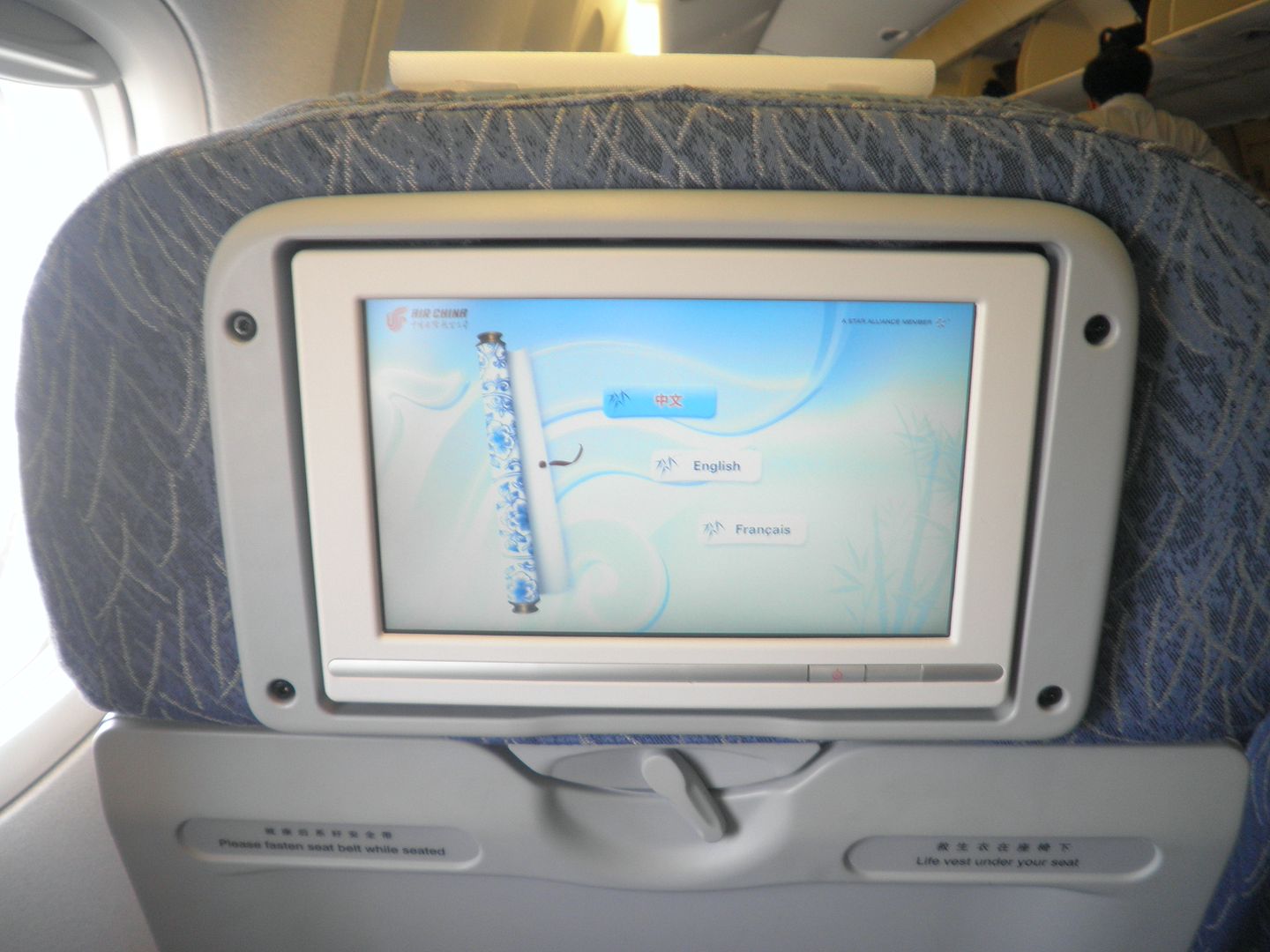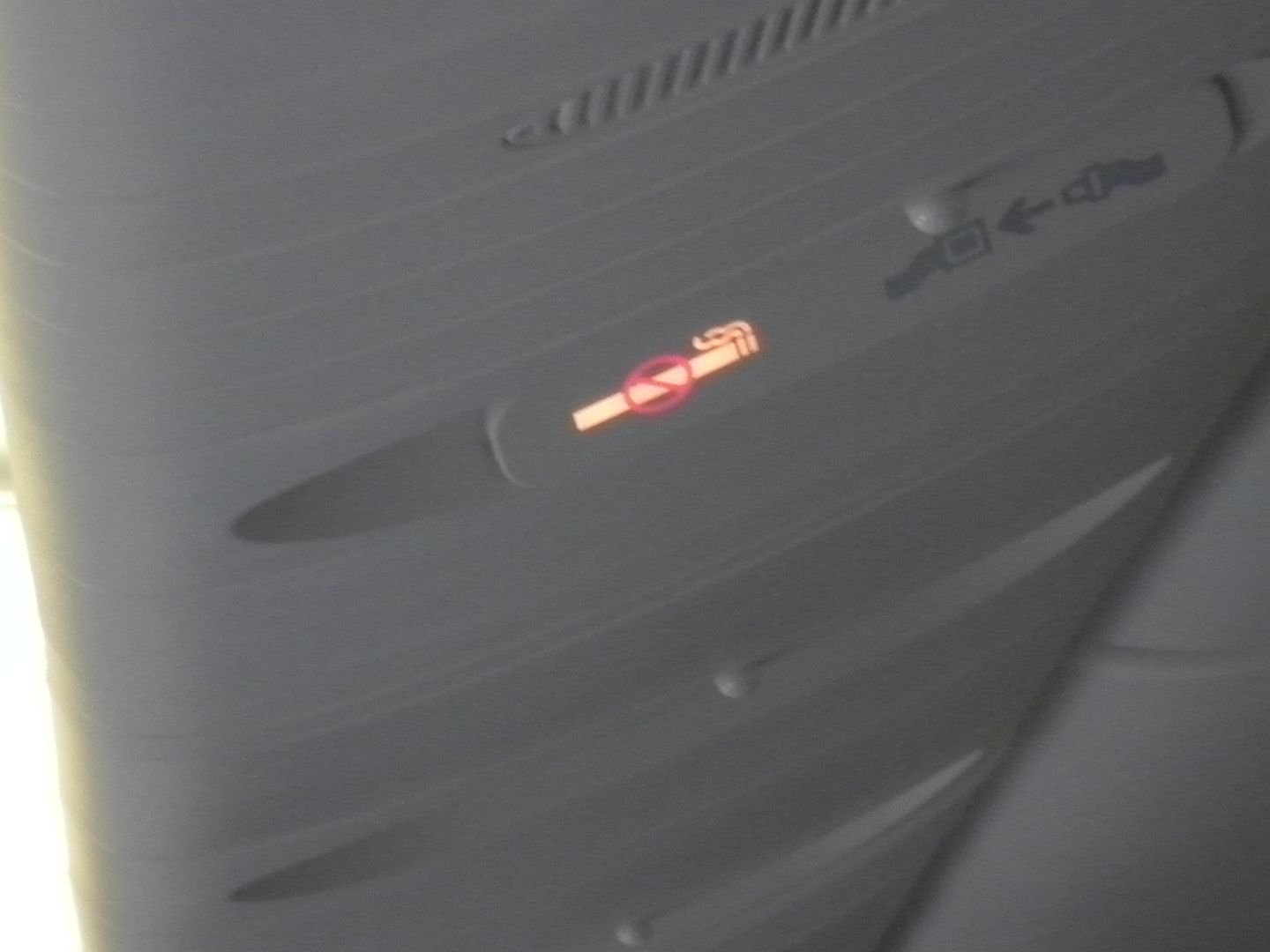 The legroom was very generous, probably the best I ever had in a seat that's not an exit or bulkhead. One reason for this was that this was the first row where the fuselage curves slightly at the back. My seat was in a slight angle to the ones in front and the helped to increase the legroom.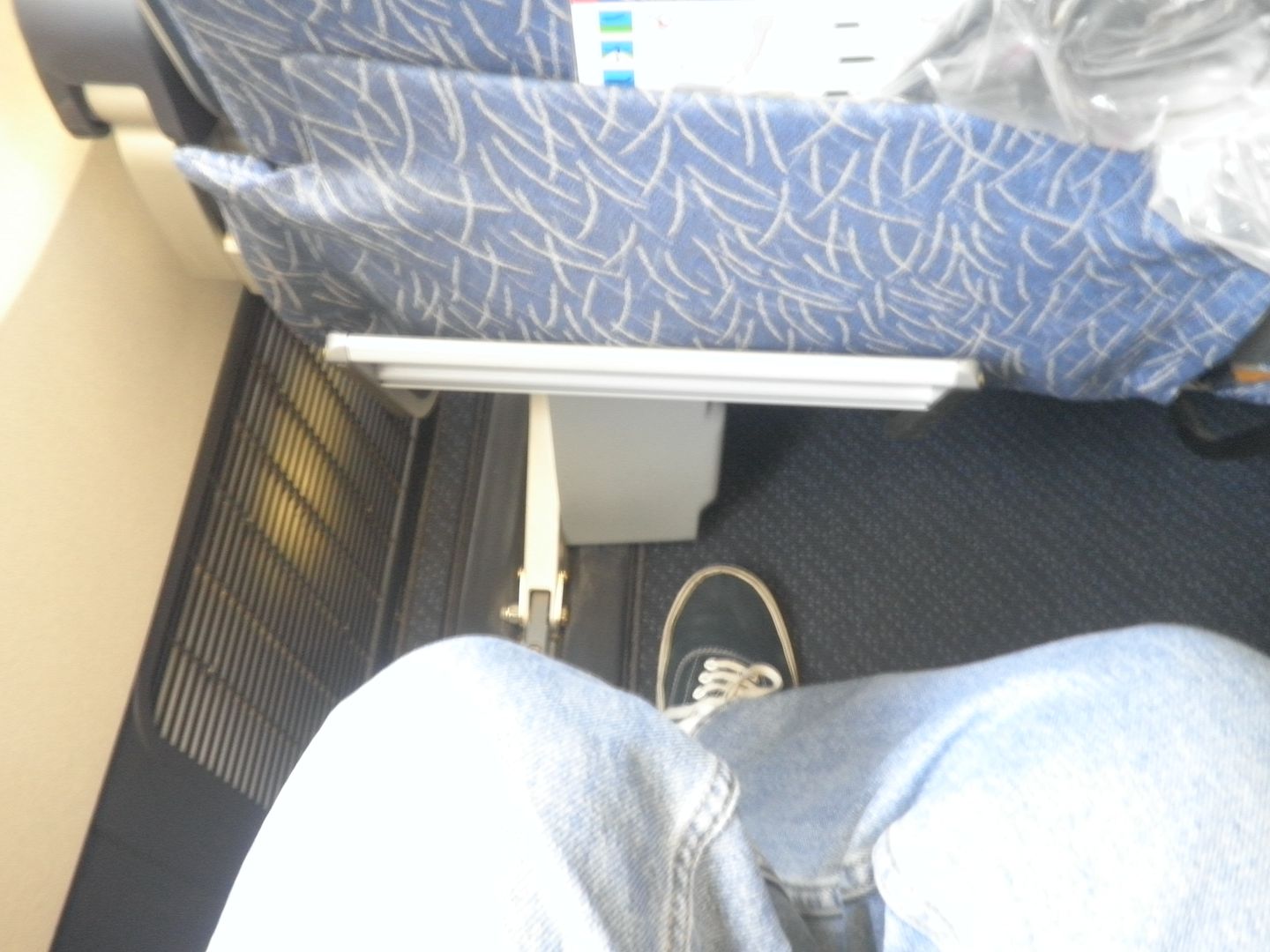 I was also very happy to see my previous Air China 777 parked at the gate next door, leaving for Shenzhen at the same time as my flight.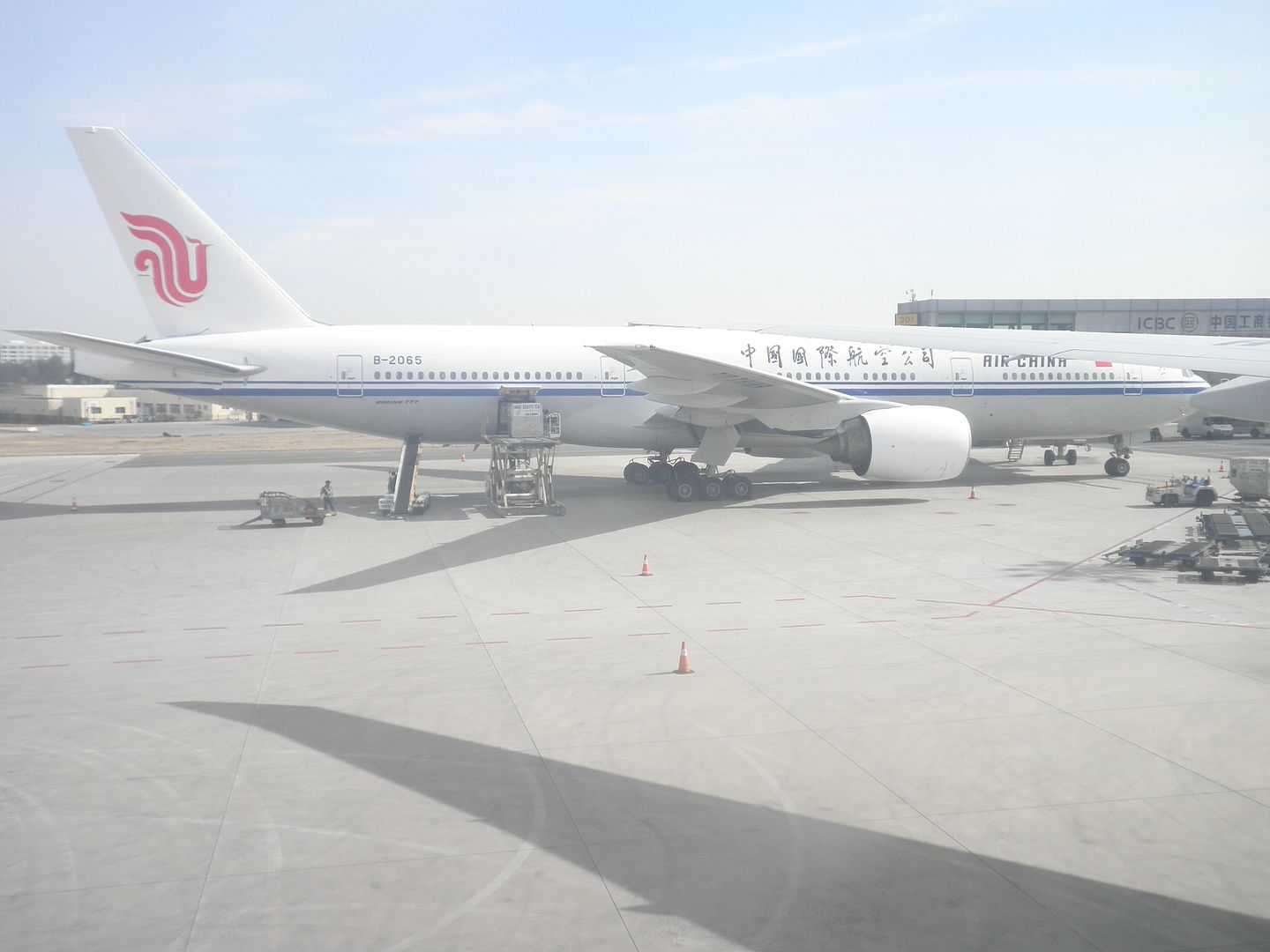 More and more people came on board and the cabin filled up. I don't think there was an empty seat. We were ready to go at departure time but there seemed to be a delay. After a few minutes, the captain made an announcement but only on Chinese so no idea what was said. I think it was probably ATC related as I had noted while spotting that a lot of flights had to wait a long time to take off.
I started to explore the IFE system. The control and screen looked exactly the same that ET has on their 77Ls but with a much better touch screen capability. You could page thru the different options just like on an iPhone which was very nice. It was also possible to scroll thru with the IFE controller. Music and movies were very mixed with some new US movies, some very old Hollywood classics, a lot of French and Italian movies and some Chinese as well. Music was had a nice selection as well. I tried the Airshow map but the response thru out the whole flight was "feature disabled by crew"
The flight attendants came around with pillows and blankets but I didn't need those for this short flight.
The Shenzhen flight pushed about five minutes before us and we finally left the gate about 17 minutes late. I was worried that we had to wait for take off for a long time but we were very close to the threshold of the runway and didn't wait for more than five minutes. We even took off before the Shenzhen flight.
Take off was quick and powerful on this short flight. Once we were up at a safe altitude, the flight attendants started the service.
Each section of the aircraft had a flight attendant in each aisle to expedite the process and it worked well and did not feel rushed. Lunch came with some mystery vegetables, bread, yoghurt (!) and cantaloupe for dessert. There was also a tea/coffee cup but neither tea nor coffee was offered. I had beef with rice and a glass of coke.
The trash was collected fairly quickly and I listened to music for the rest of the flight. We had a smooth landing and a quick taxi to the gate where we arrived only five minutes late despite the late departure.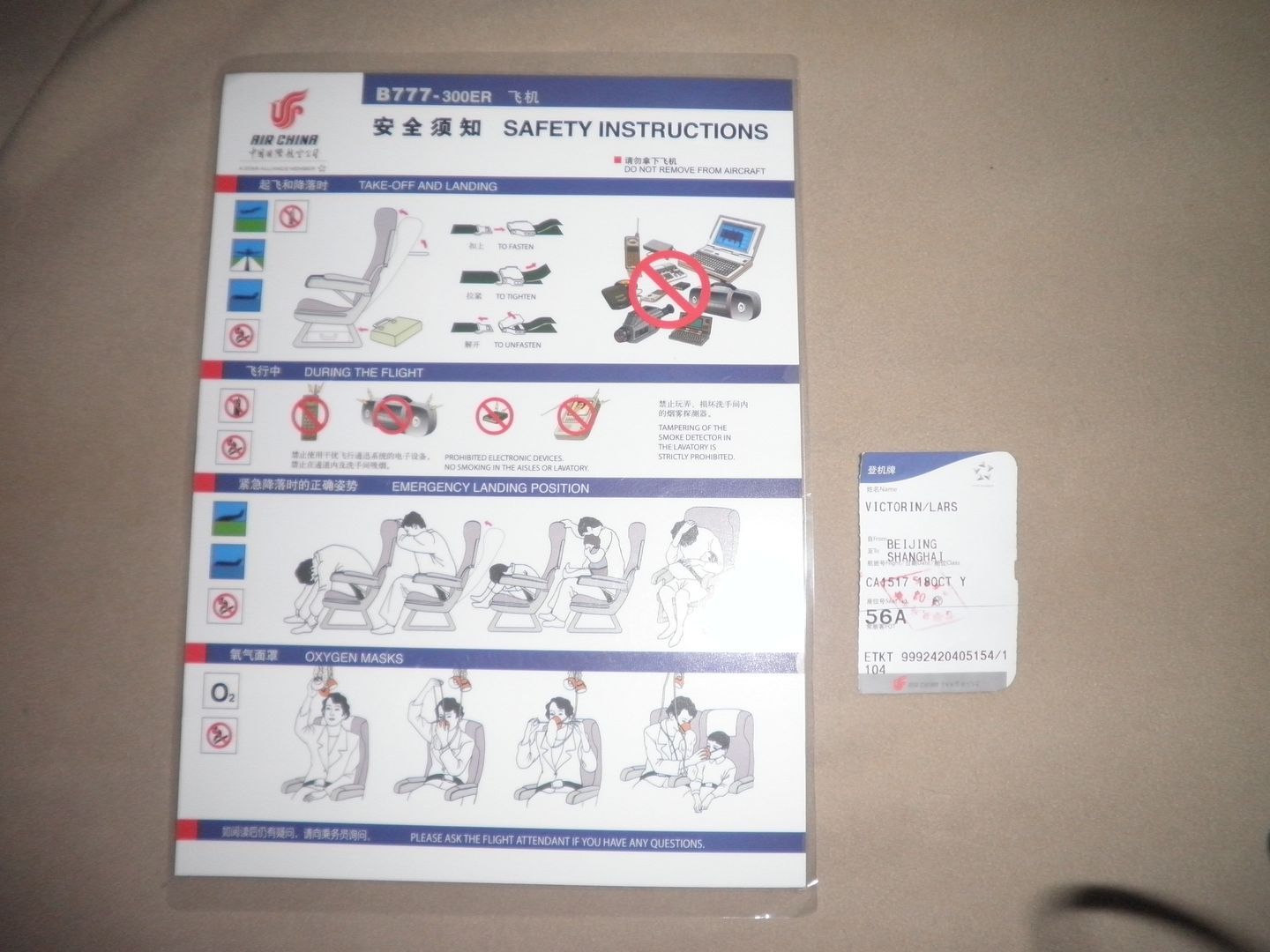 All in all, a great flight on Air China and a big improvement since my last flight with them 11 years ago. The crew was a bit reserved like a lot of Asian flight attendants are but not unfriendly. I would have no problem to fly with them on a long haul flight.
Thanks for reading and looking forward to any comments
The777Man