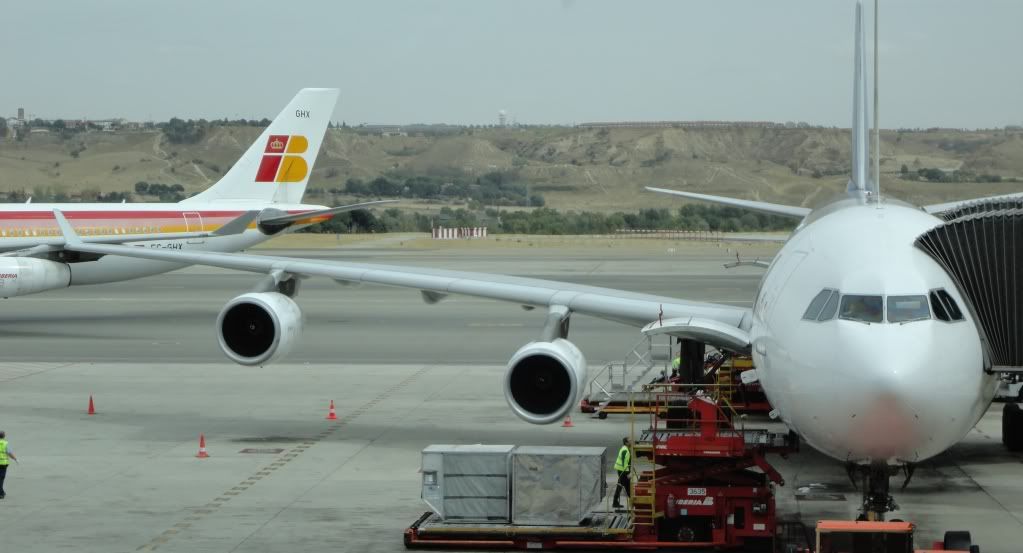 Introduction
As most of you know, LAN has fifth freedom rights on their SCL-MAD-FRA-MAD-SCL route between MAD and FRA. Most of you have also read many great reports on this fifth freedom route as it is (obviously) quite popular under us enthusiasts.
I have been wanting to fly this route for quite some time now but never got to booking it until after my summer vacation. The plan was to fly this route on the weekend of 22/23 September. Initially I wanted to book a one-way FRA-MAD, but after looking up flights between MAD-AMS all of them were quite expensive for this weekend.
The other option would be a round trip FRA-MAD-FRA, both with LAN. I actually liked this idea as it gave me the opportunity to fly 2 different LAN A340s in 1 weekend. The price for a round trip wasn't all too bad so I booked it.
The next step in the booking process was to look for flights between AMS and FRA. As a round trip during this weekend was also quite expensive I started to think of other ways to get to FRA. I quickly made the decision to take the ICE International train from Amsterdam Centraal to Frankfurt Flughafen. All I needed now was to find a reasonable Sunday evening FRA-AMS flight. Of course one-ways were far too expensive so I booked a round trip FRA-AMS-FRA with good old Lufthansa. The return flight was fixed for a couple months later (report to follow).
Spending the night in Madrid of course meant booking an hotel. After a bit of searching around and checking different reviews I opted for the täCH Madrid Airport hotel which was obviously close to the airport at a good price.
Map
The map for this weekend trip thanks to the oh so Great Circle Mapper!:
Getting To FRA
22/09/2012
Amsterdam Centraal – Frankfurt Flughafen
ICE International 1st Class
08:04-11:51
As already mentioned in the introduction, transportation to FRA will be with the ICE International train. I booked a 1st class ticket 1 week prior to this trip at a nice price. When booking I chose for the second train of the day, leaving at 08:04 and arriving just under 4 hours later at 11:51. Despite the LAN flight not leaving until 19:30, this would give me the opportunity to get some spotting done from FRAs observation deck.
It is Saturday the 22nd of September at 06:45 when my alarm clock goes off. As always I had trouble sleeping the night before so feeling quite tired I made my way to get the usual morning rituals done. With that all done I finished packing my carry-on and headed to Amsterdam Lelylaan station, which is just a 10minutes walk away, to catch the 07:31 train to Amsterdam Centraal.
07:31 came… and passed with no train to be seen, no information was given either. That meant I had to wait for the next train which will be coming 15 minutes later at 07:46. This also meant a tighter connection time at Amsterdam Centraal then I wanted.
The train arrived a few minutes late and 12 minutes later I was at Amsterdam C. I headed straight to platform 1 (arrived at platform 12) where my train was just about to depart. The doors closed right after I got in, phew that was close! Luckily enough 1st class was situated at the back of the train so I was in the right carriage and found my assigned seat immediately.
A nice and relaxing journey followed while I listened to some music and watched a DVD on my laptop. Time flied and exactly 3 hours and 47 minutes later I was at FRAs train station, bang on time!
Spotting @ FRA
I made it to Terminal 2 (where the observation deck is located) using my legs and the Sky Line. After a quick and unhealthy bite to eat at McDs, I paid the 5EUR entrance fee, cleared security and was now at the observation deck. A 4 hour spotting session followed while enjoying the nice and sunny weather:
Ah of course, the daily ANA 787: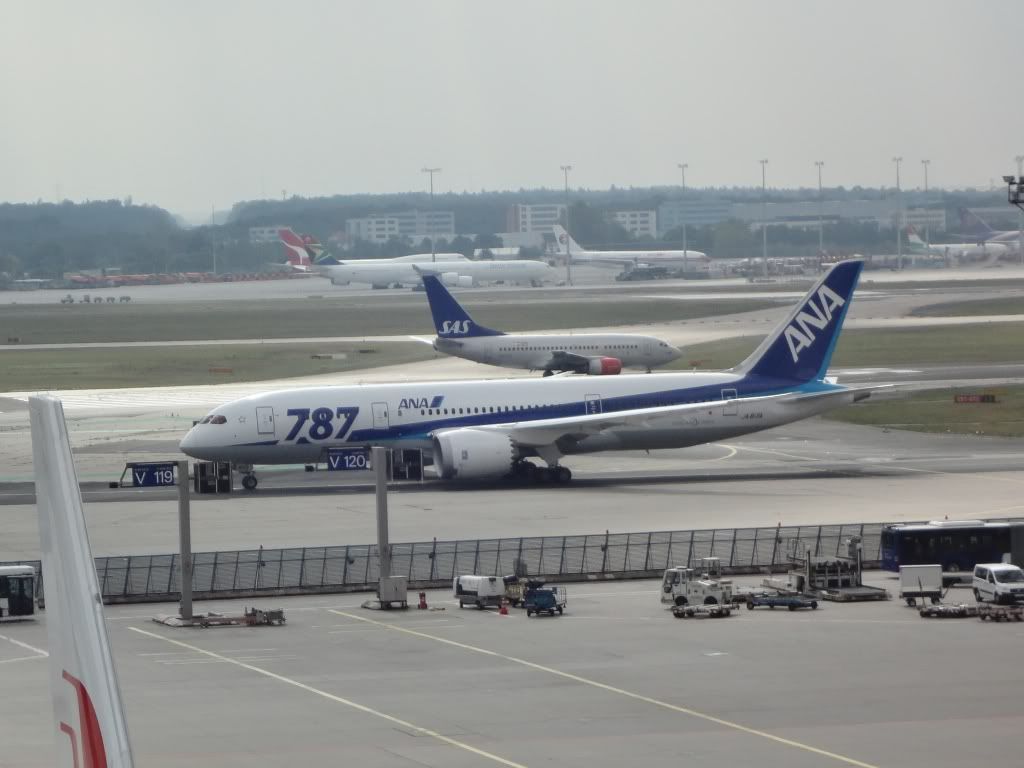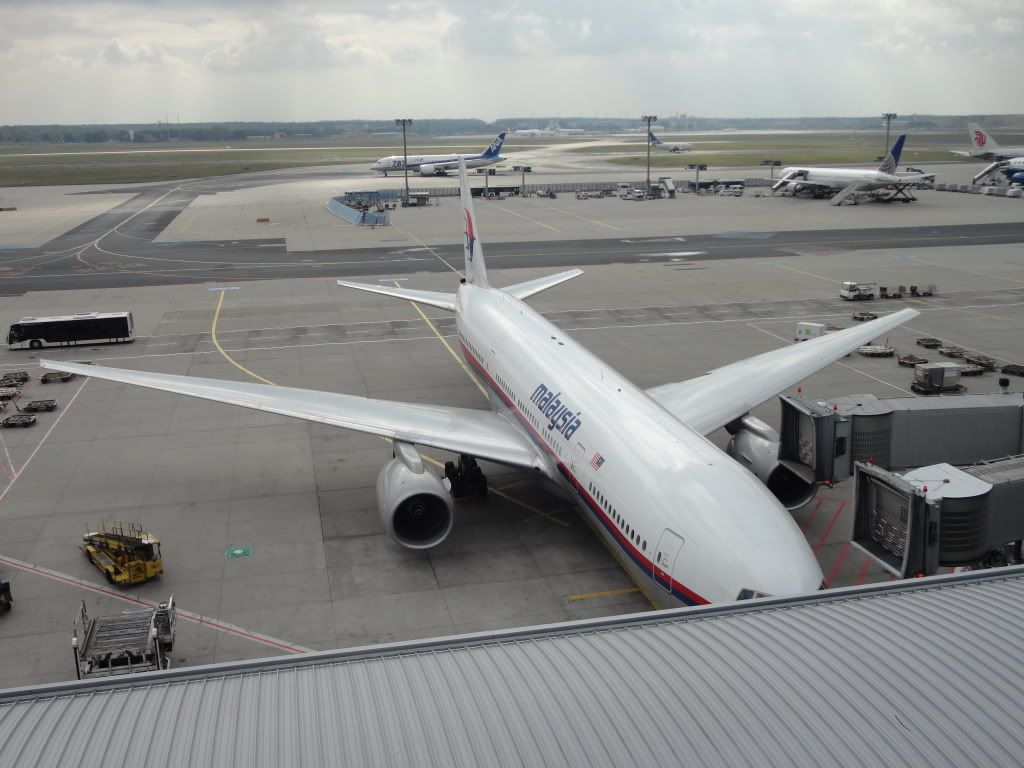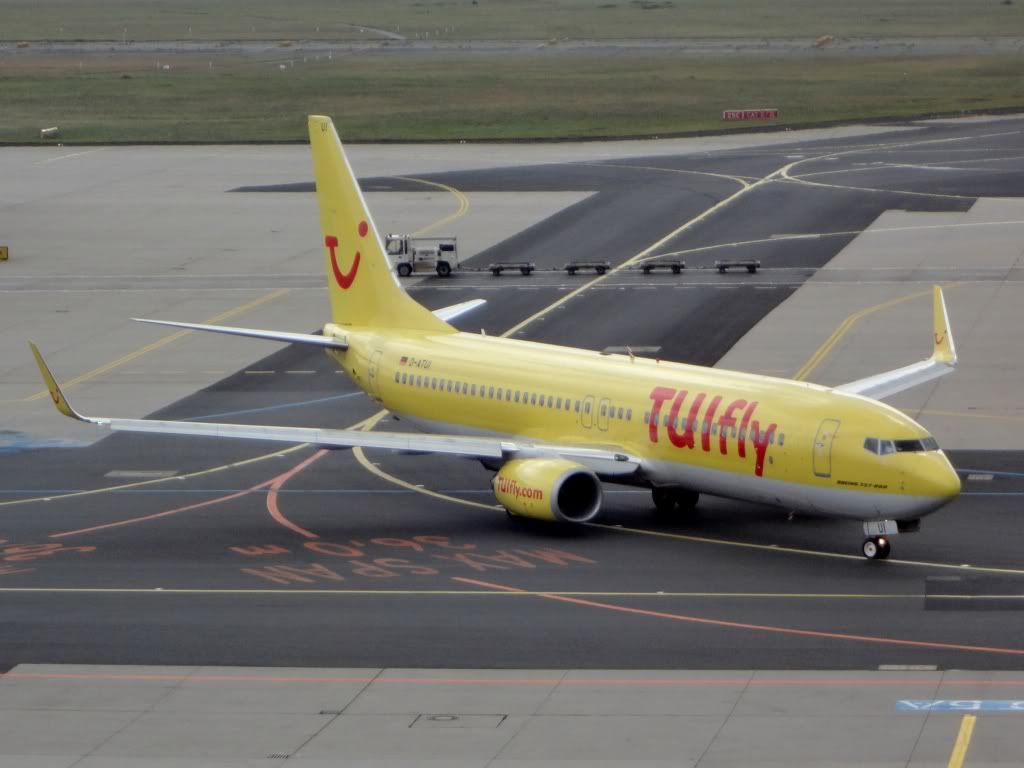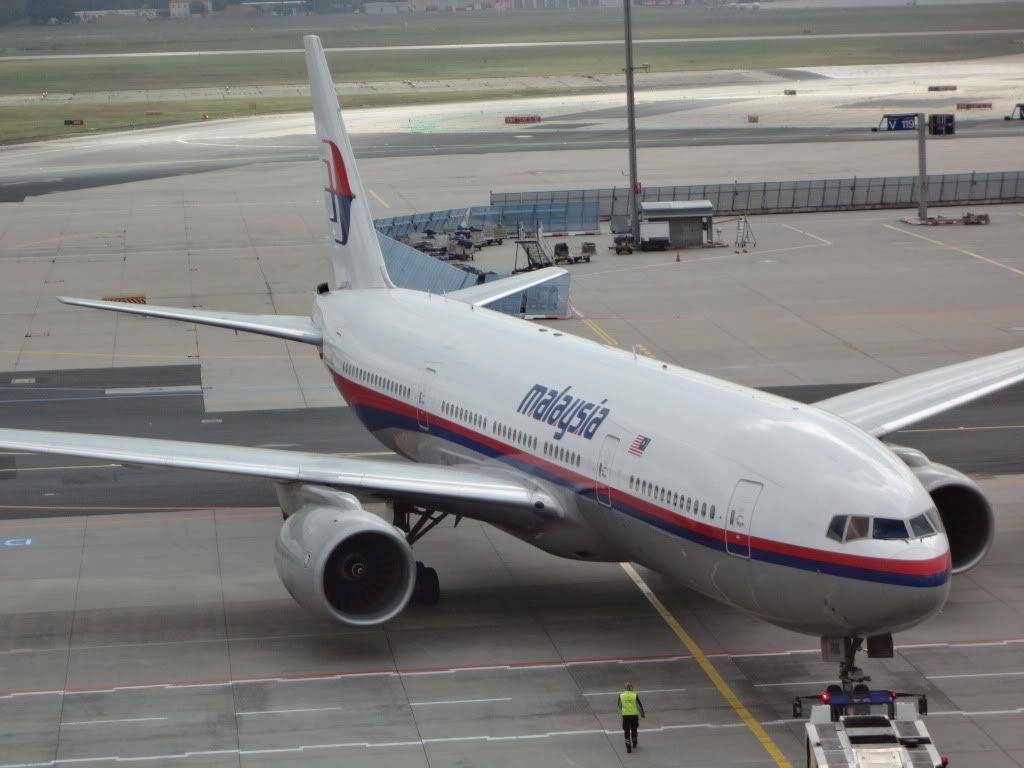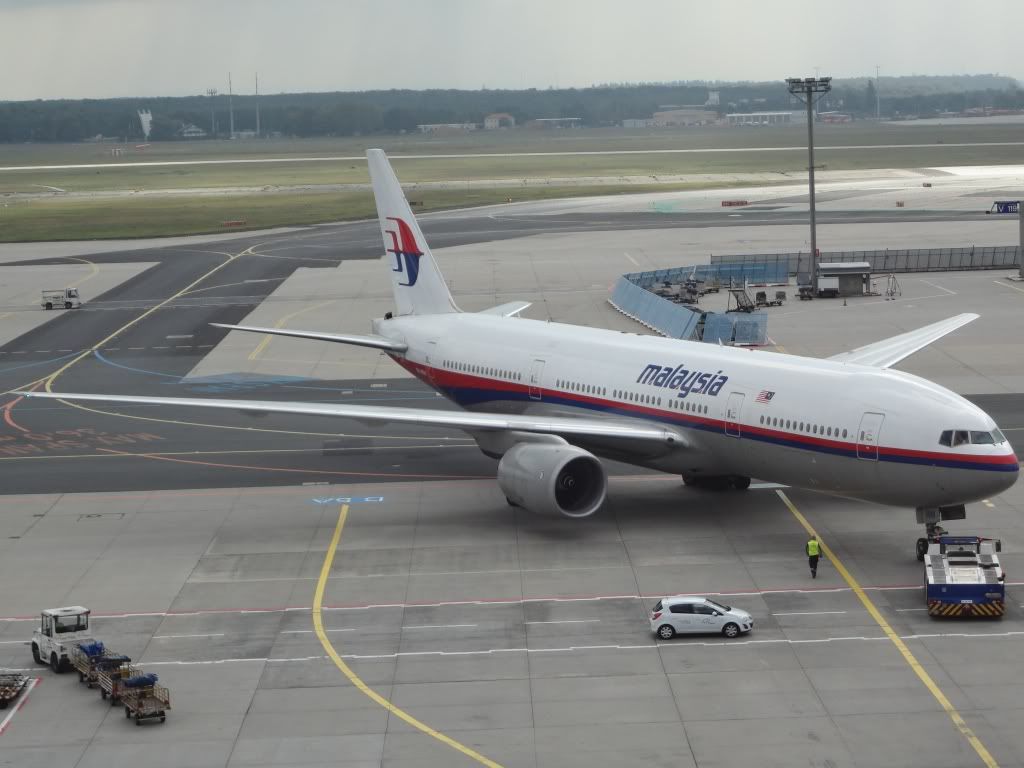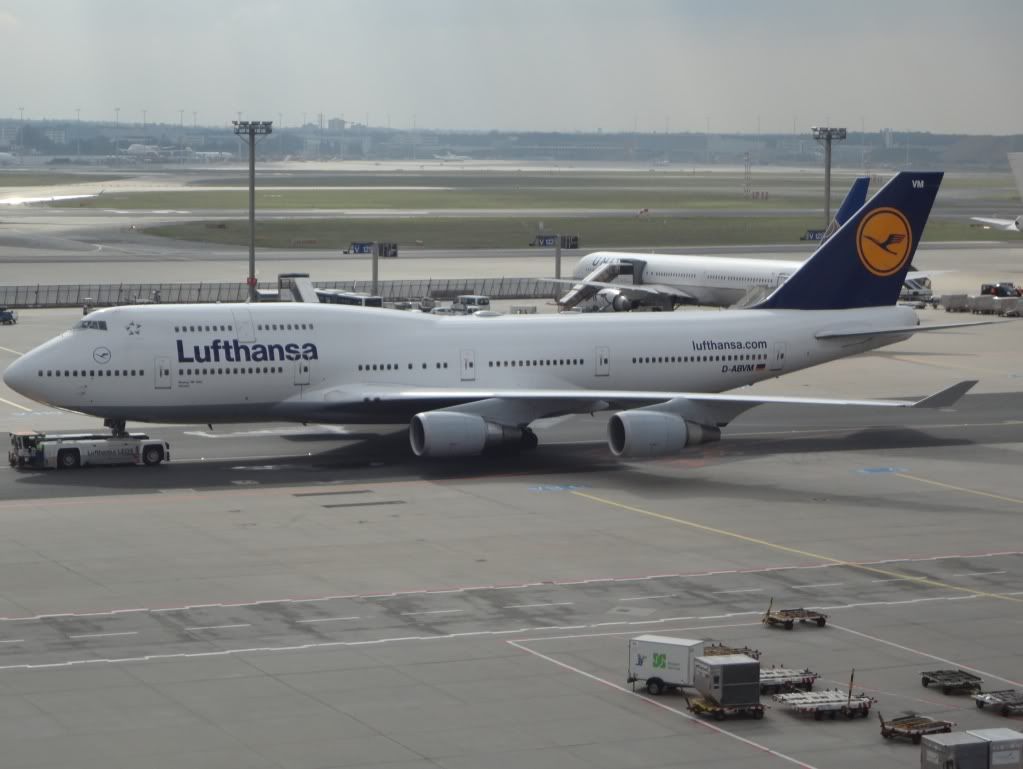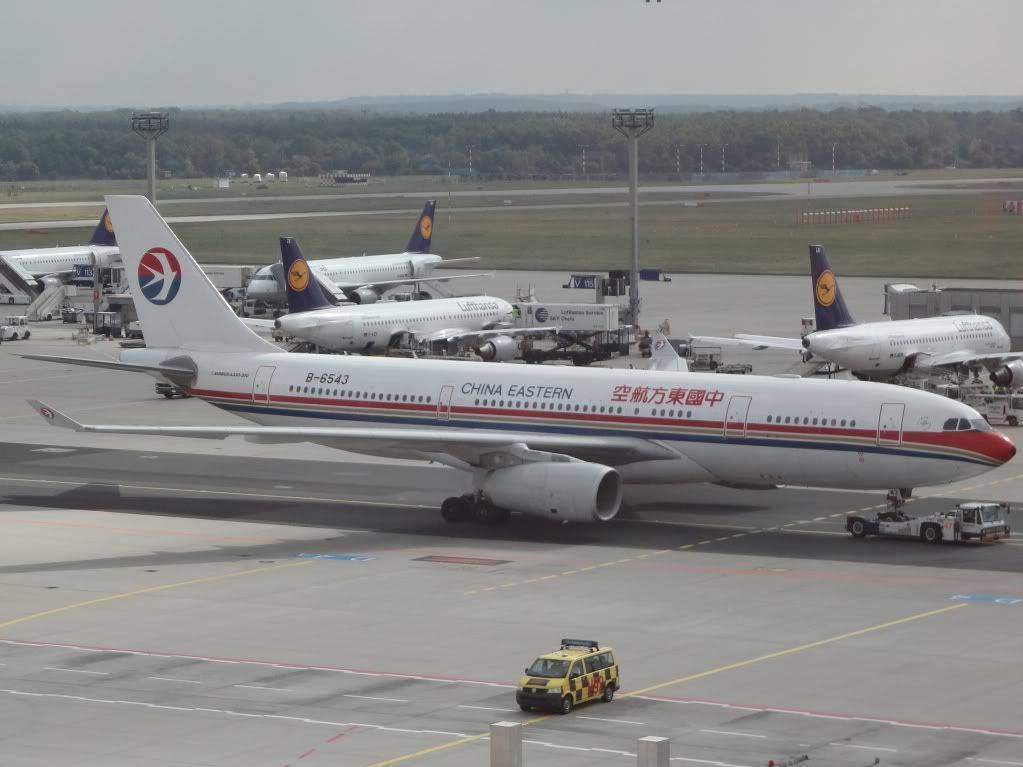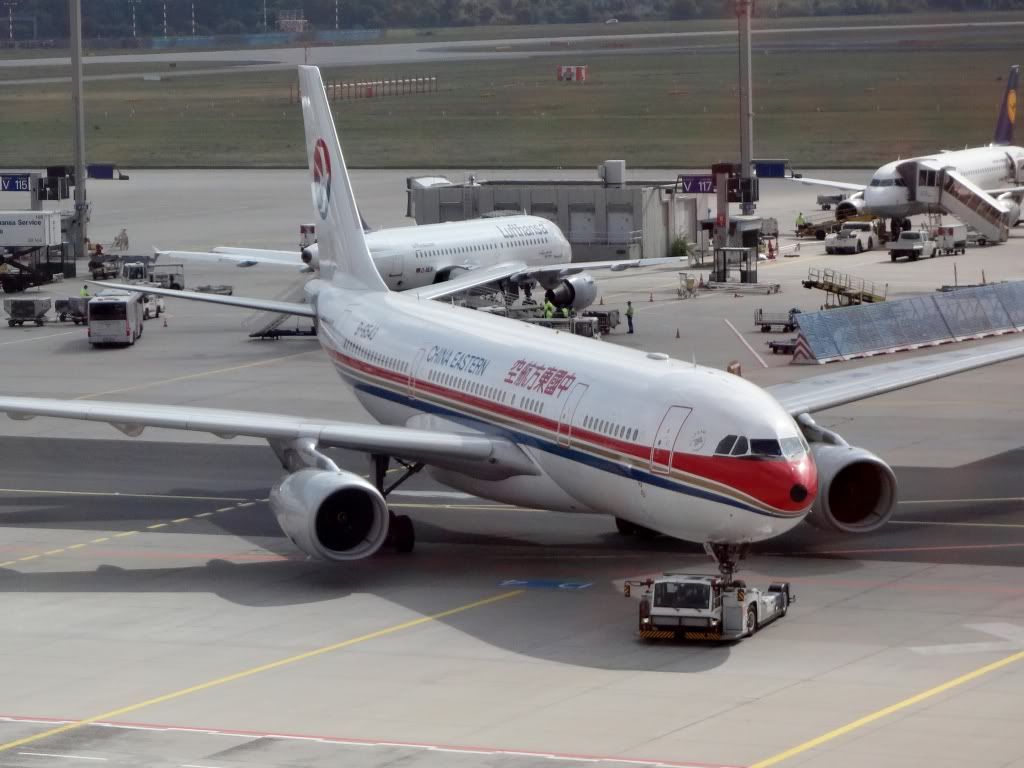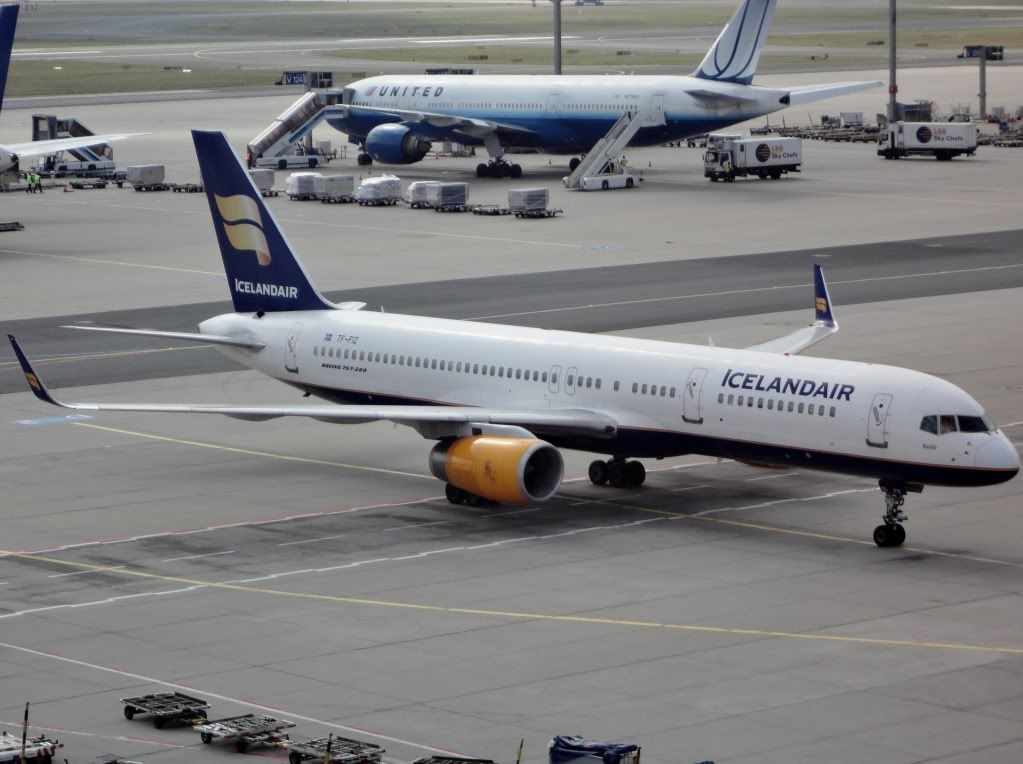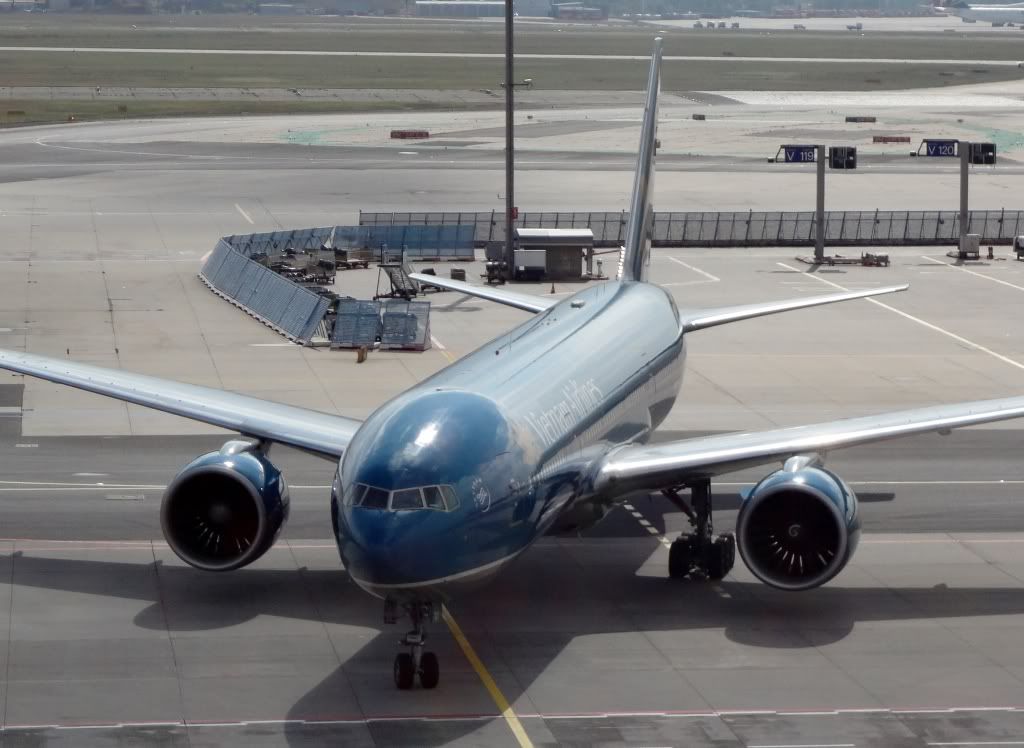 Saw my first 747-8 today too, not the best quality pictures though: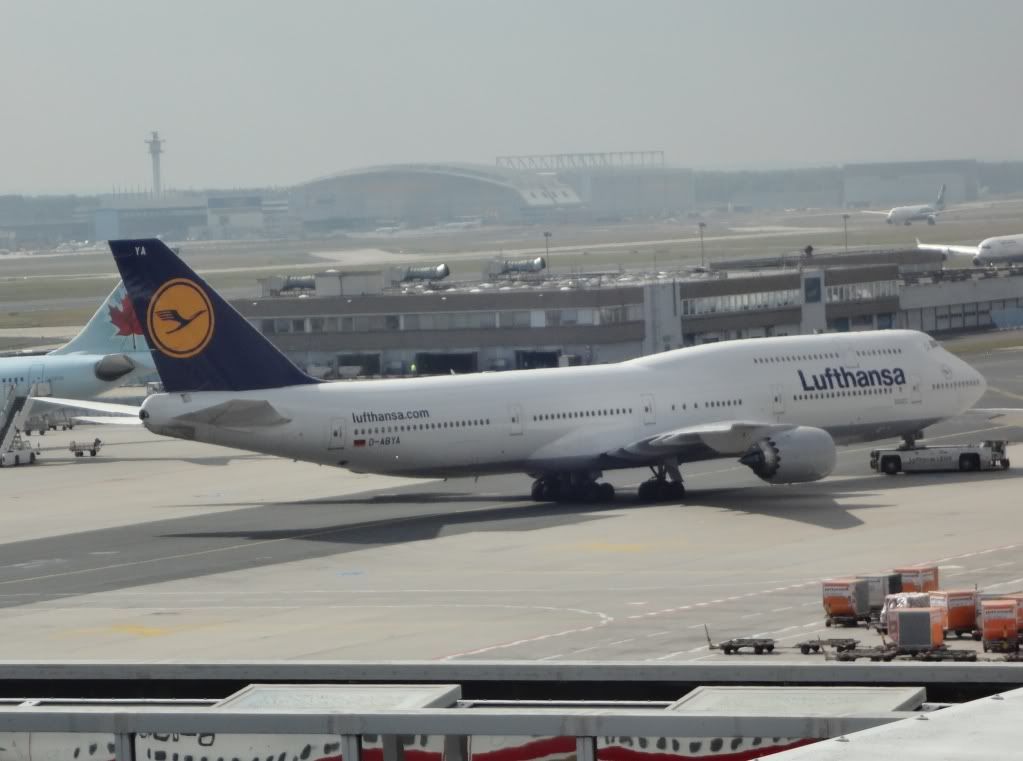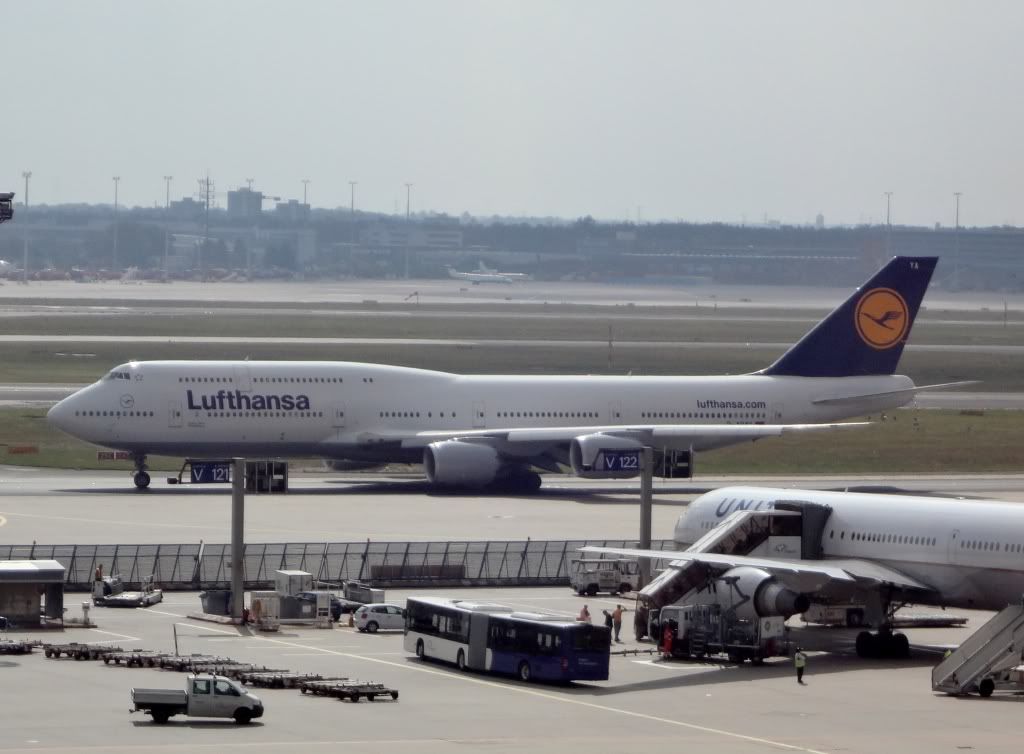 Taking a picture of the observation deck: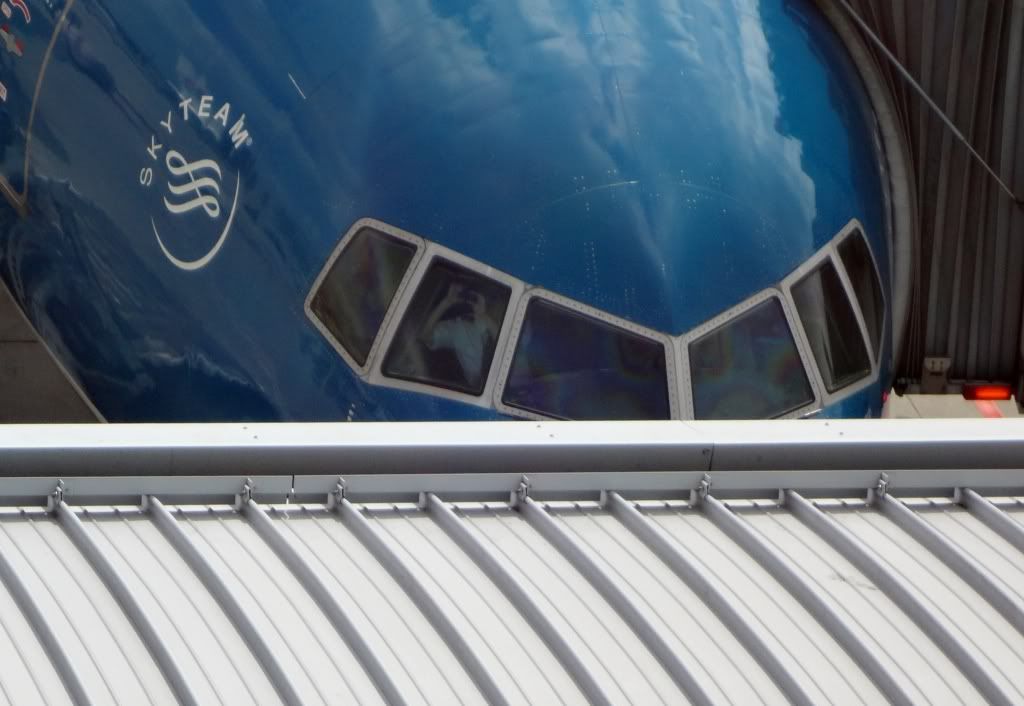 What a beast..: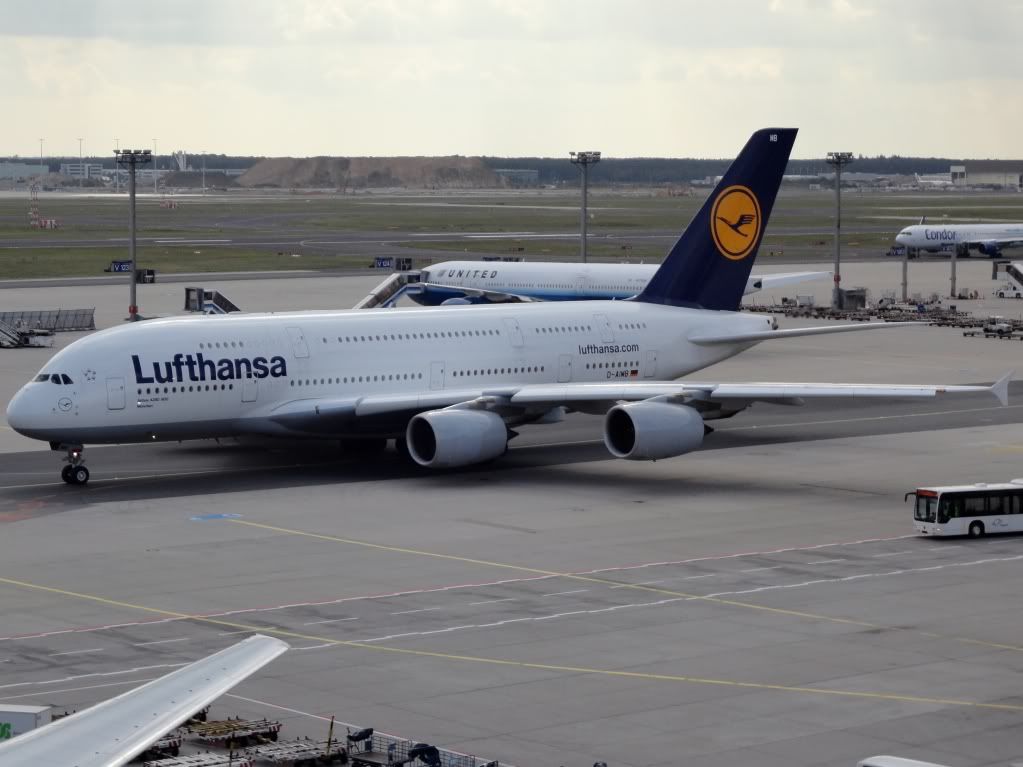 With one sexy behind!: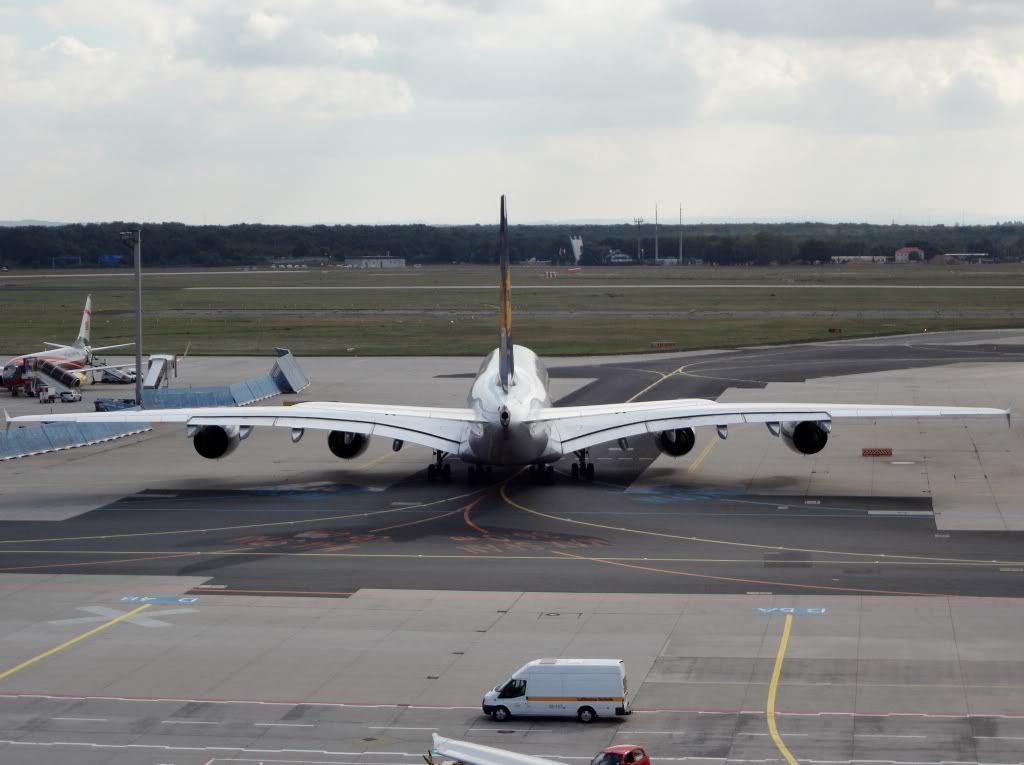 B-HOP, hopping back to HKG: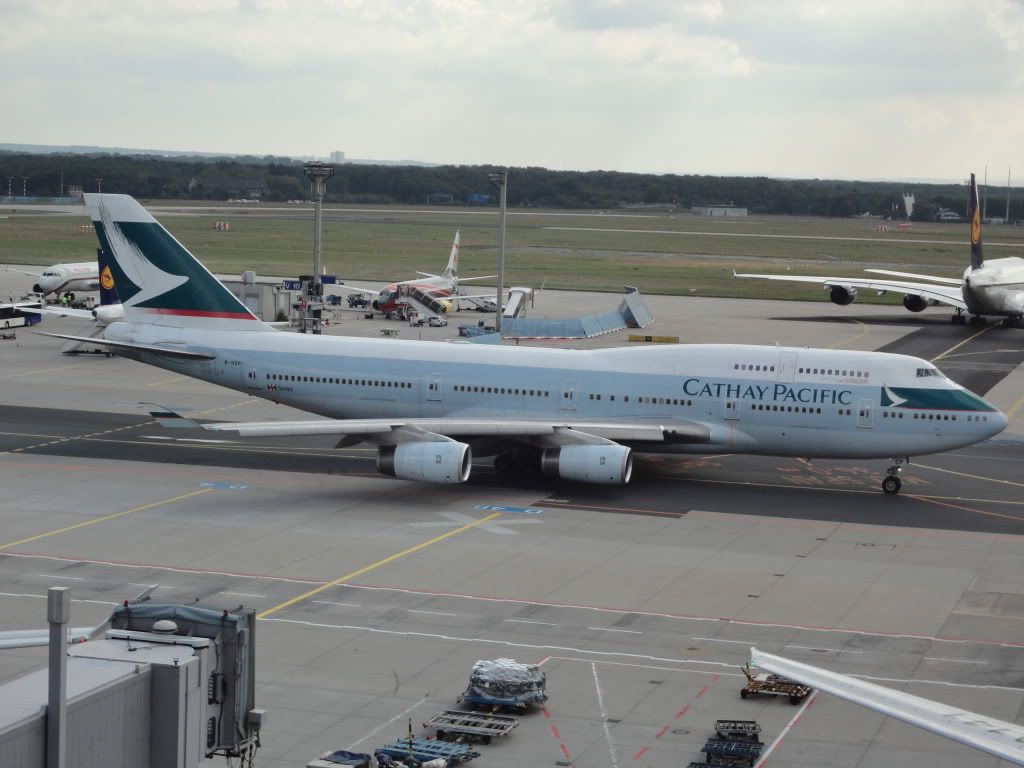 Operating for Condor: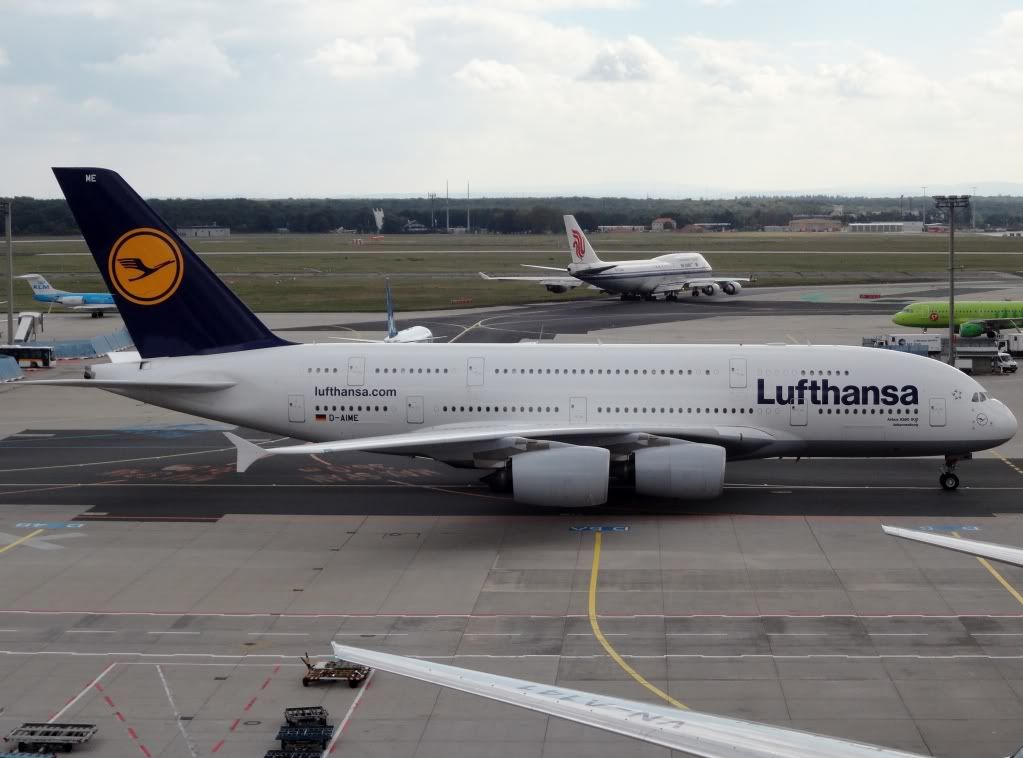 Heard many good things about this airline: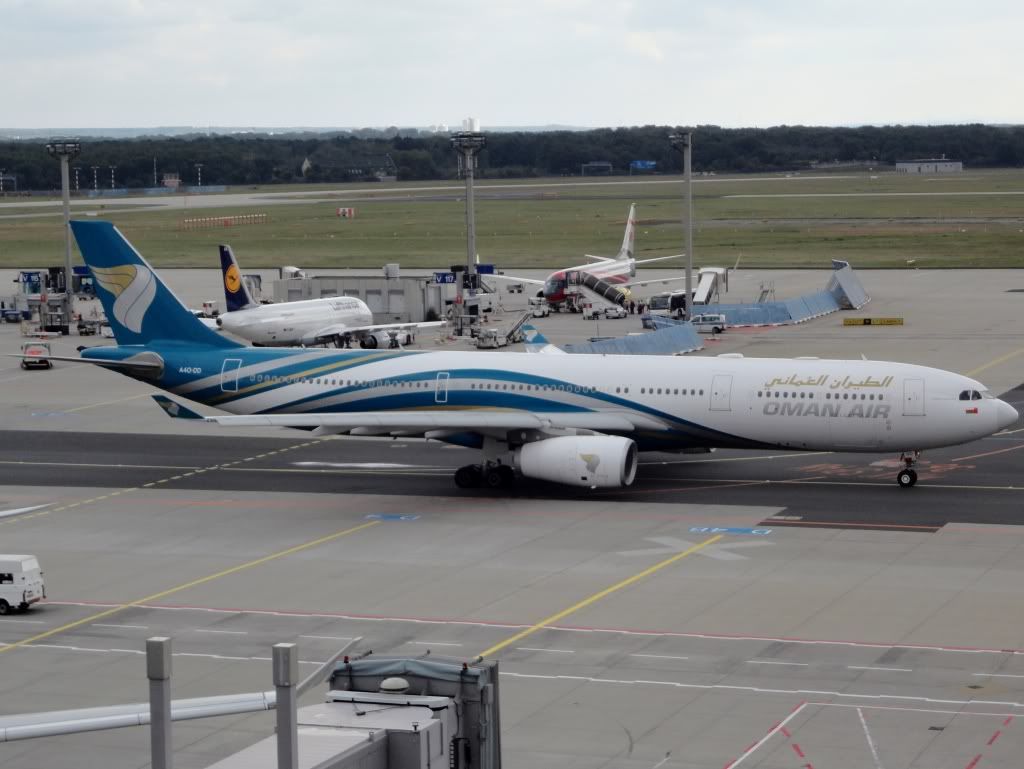 Turkmenistan Airlines anyone?: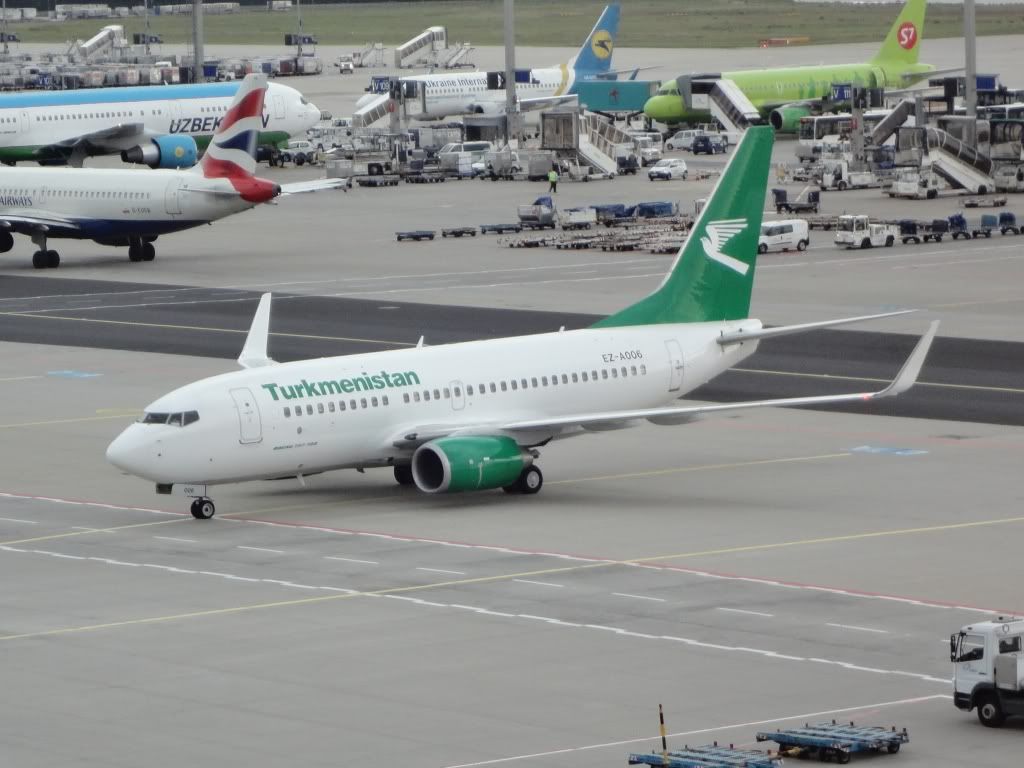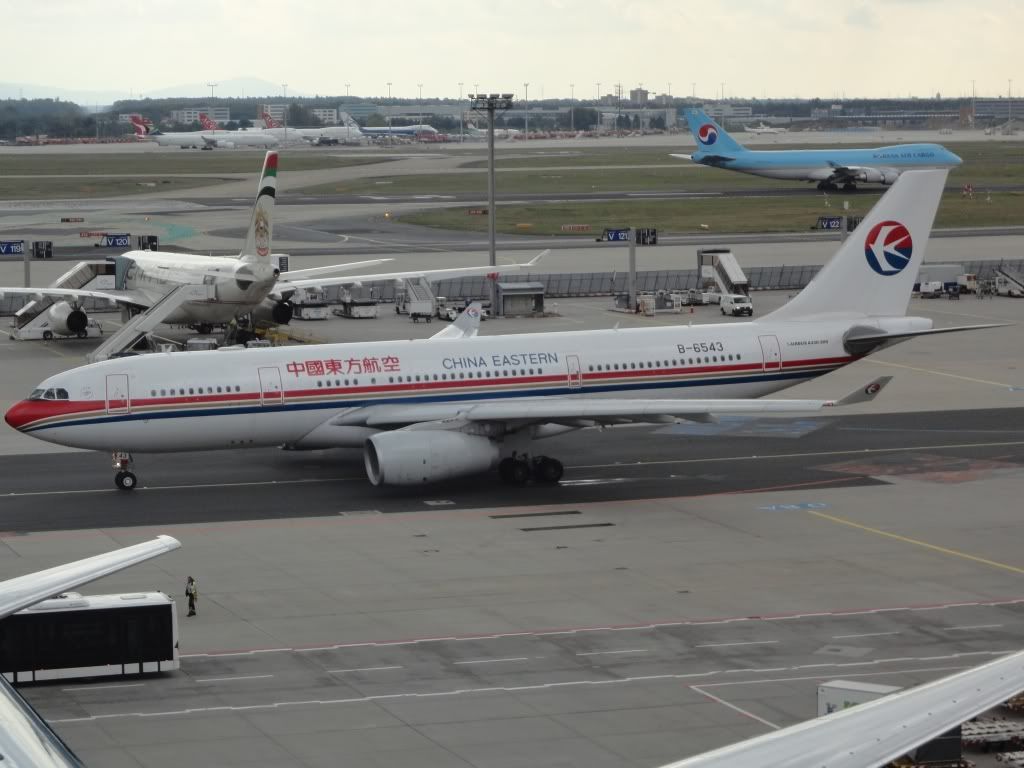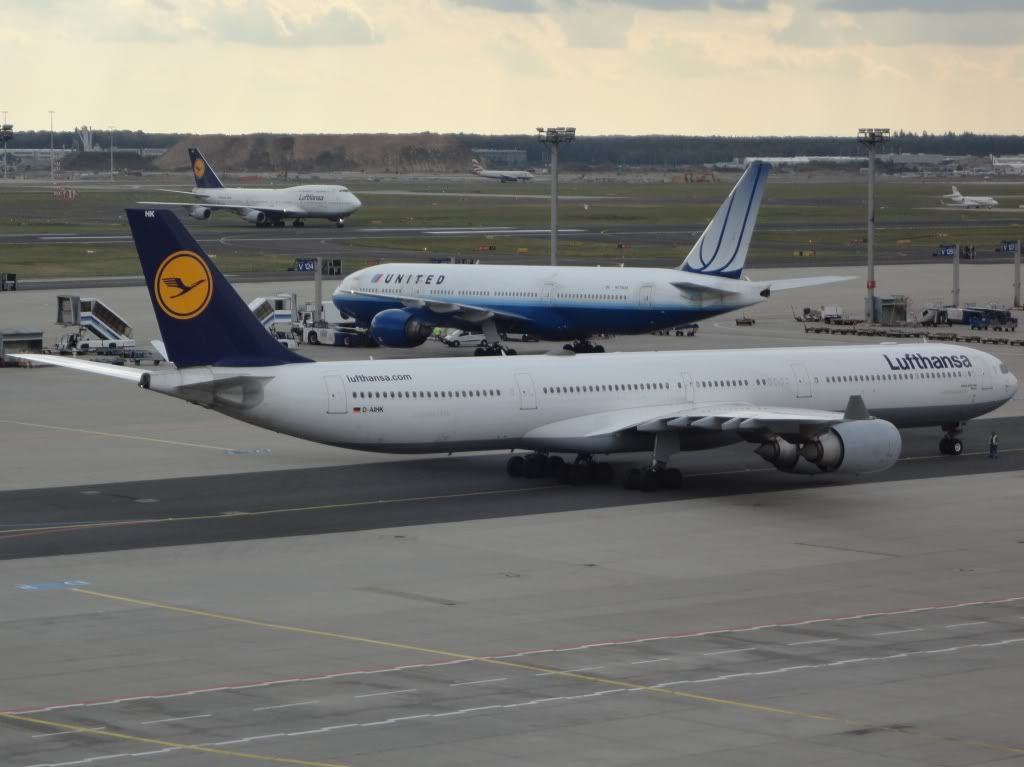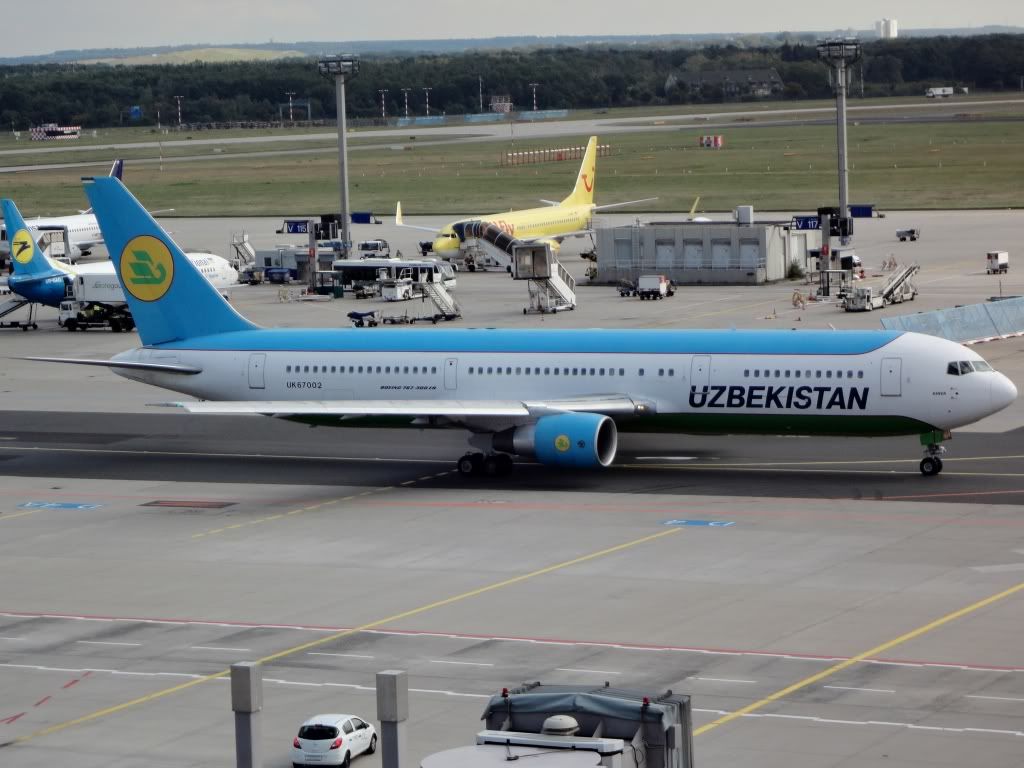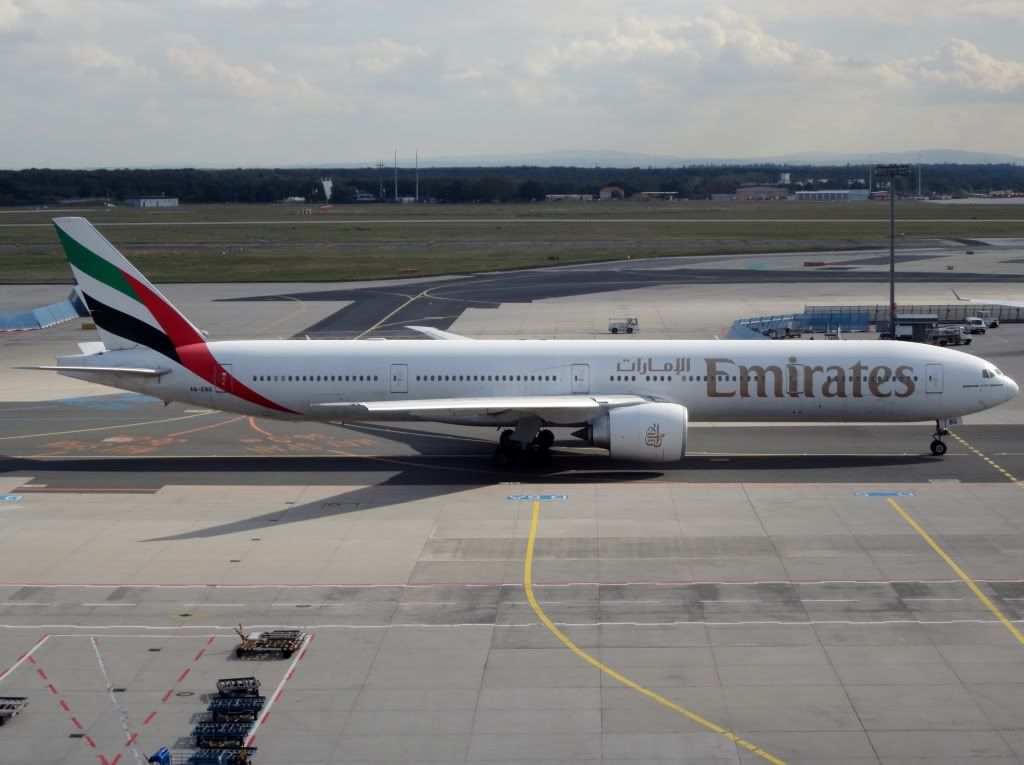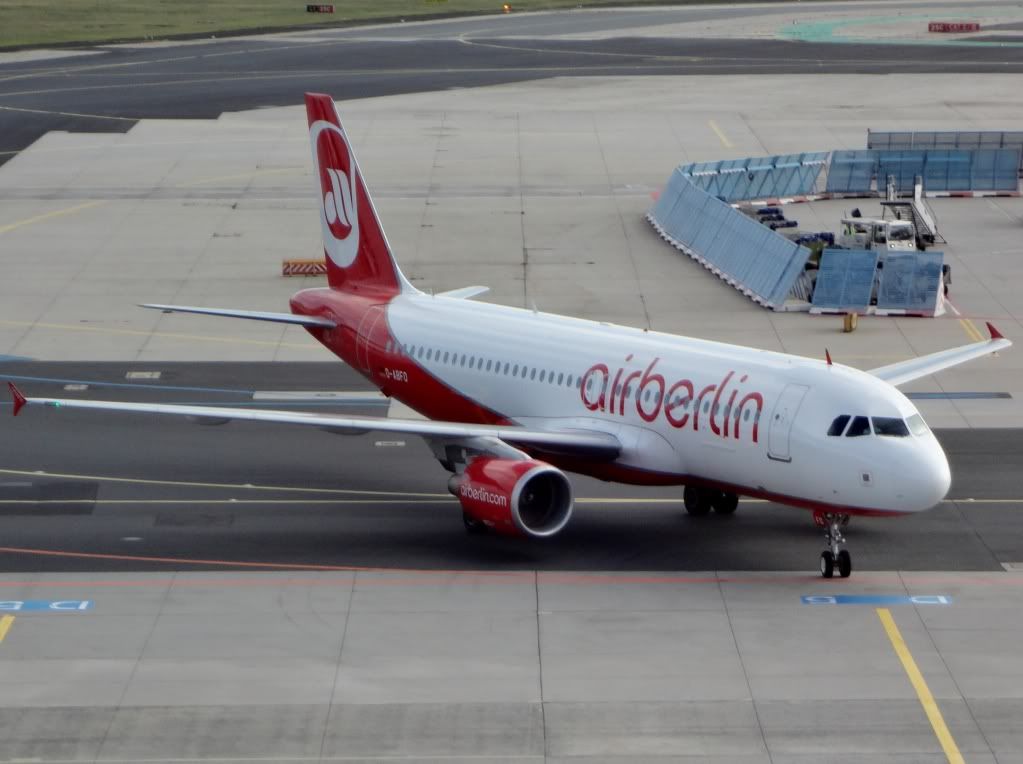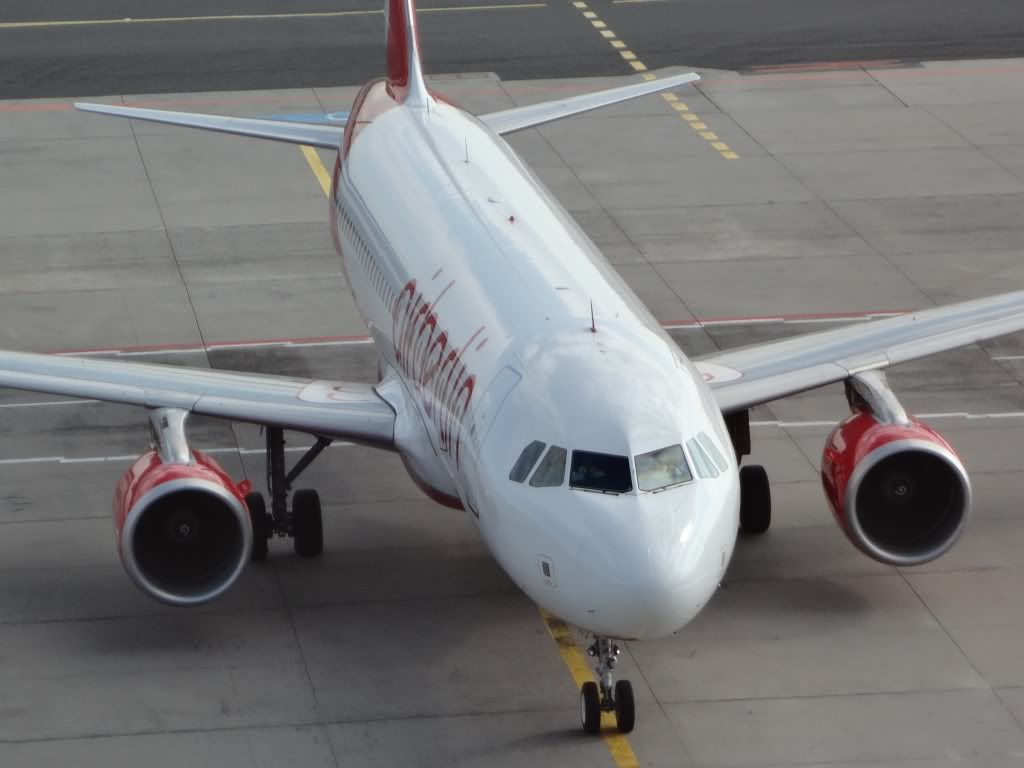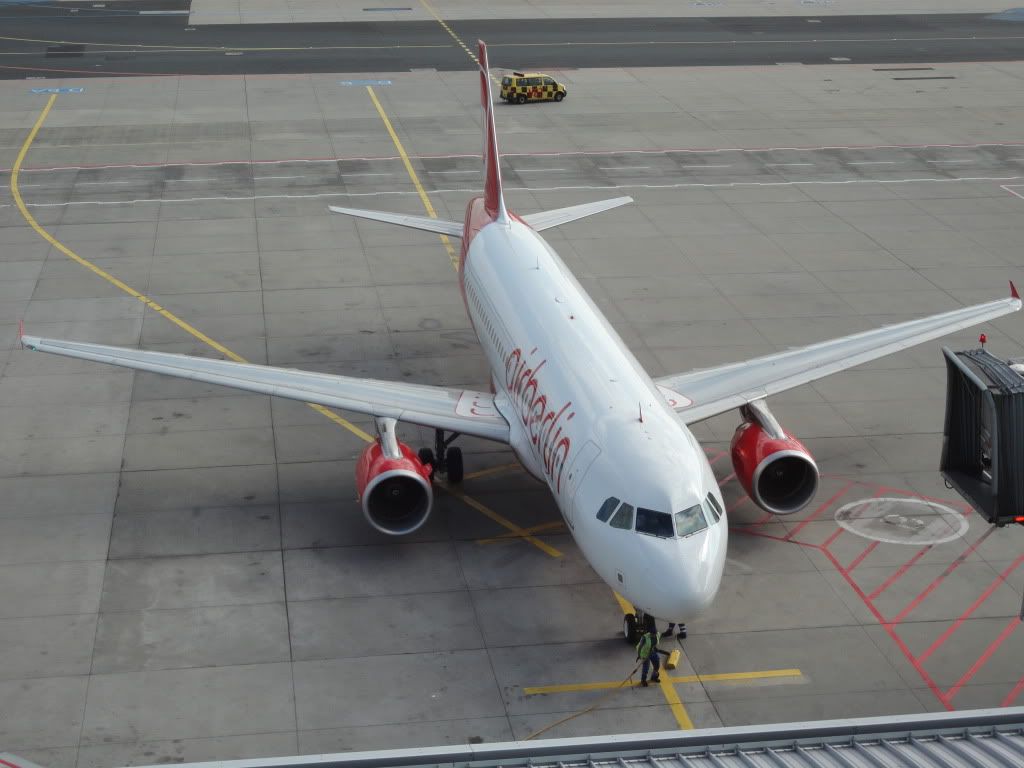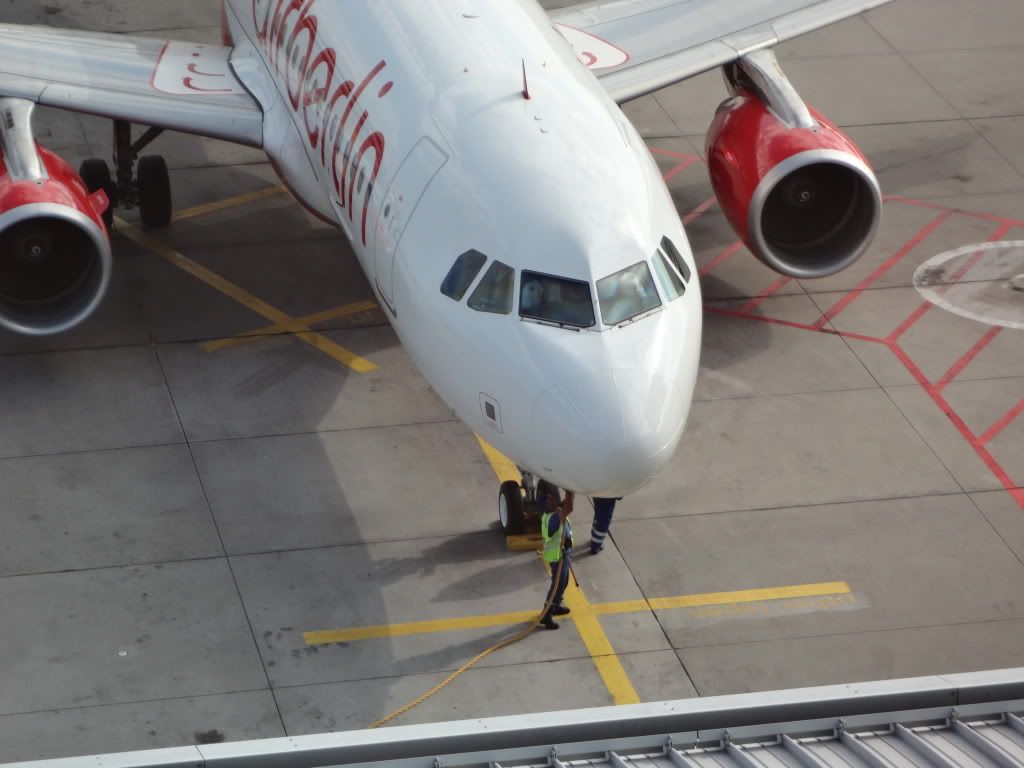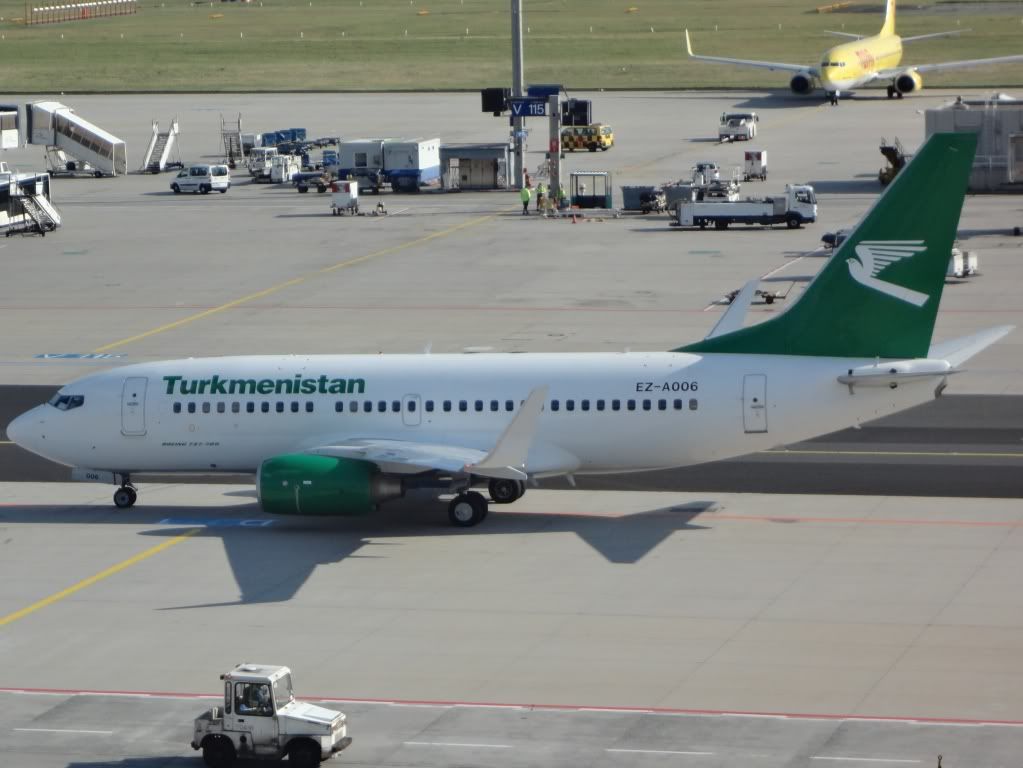 Here is an airline you don't see every day, Somon Air of Tajikistan: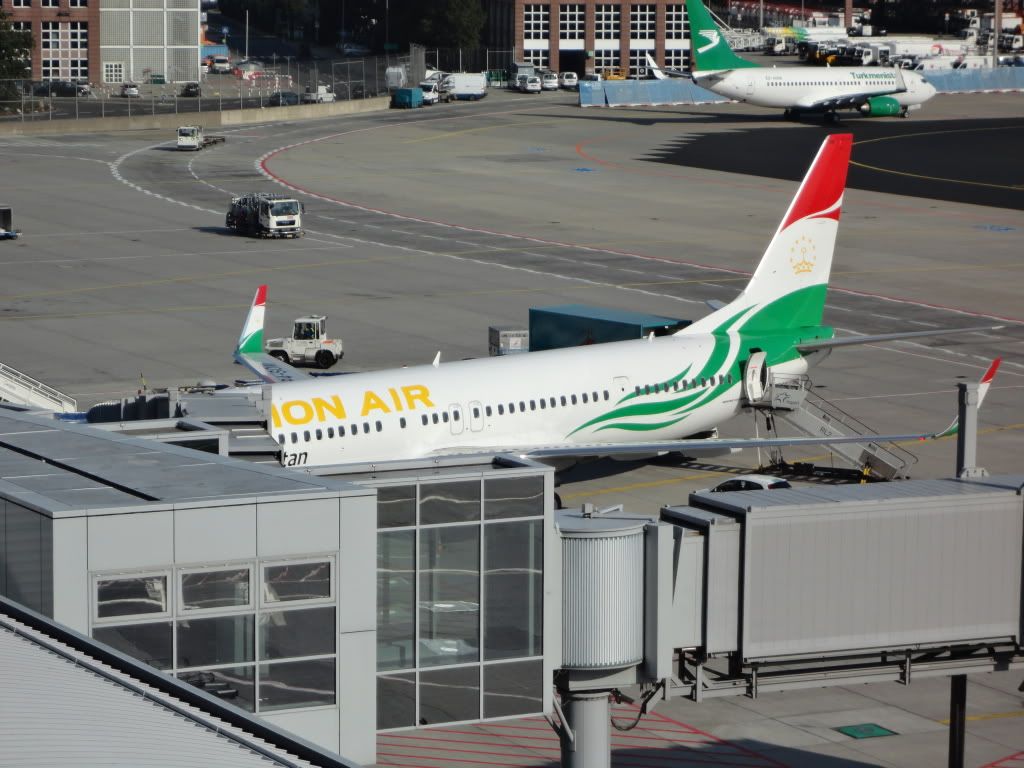 Check-In
At 16:45 I headed back inside to LANs designated check-in area. LAN operates from Terminal 2 so there was no need in using the Sky Line back to T1. I had checked in online the night before so all I needed now was my BP.
Once heading down the escalator there was a huge line in front of the LAN check-in area. There were no SSKs available for LAN so instead of joining the long queue I headed to the baggage drop off lane where there was 1 person in front of me. 5 minutes later I had my BP and was ready to go, so I headed towards passport control as this flight (obviously) flies on towards SCL.
Only a small line at passport control and 5 minutes later I was through without a problem. This was my first time flying from FRA T2, so after looking around for a bit I found a place to sit and charge my laptop while making use of the provided WIFI.
An hour passed and at 18:15, 30 minutes before boarding time, I decided to head through security and wait at the gate area. No line at security and I was through without any troubles. I joined the quite long queue of people getting there BP scanned before being let through into the gate area.
After about 10 minutes it was my turn so the friendly gate agent scanned and tore my BP while wishing me a pleasant flight. The gate area was already quite busy but I found a nice spot in the corner where I also had some views.
Boarding
BP for this flight: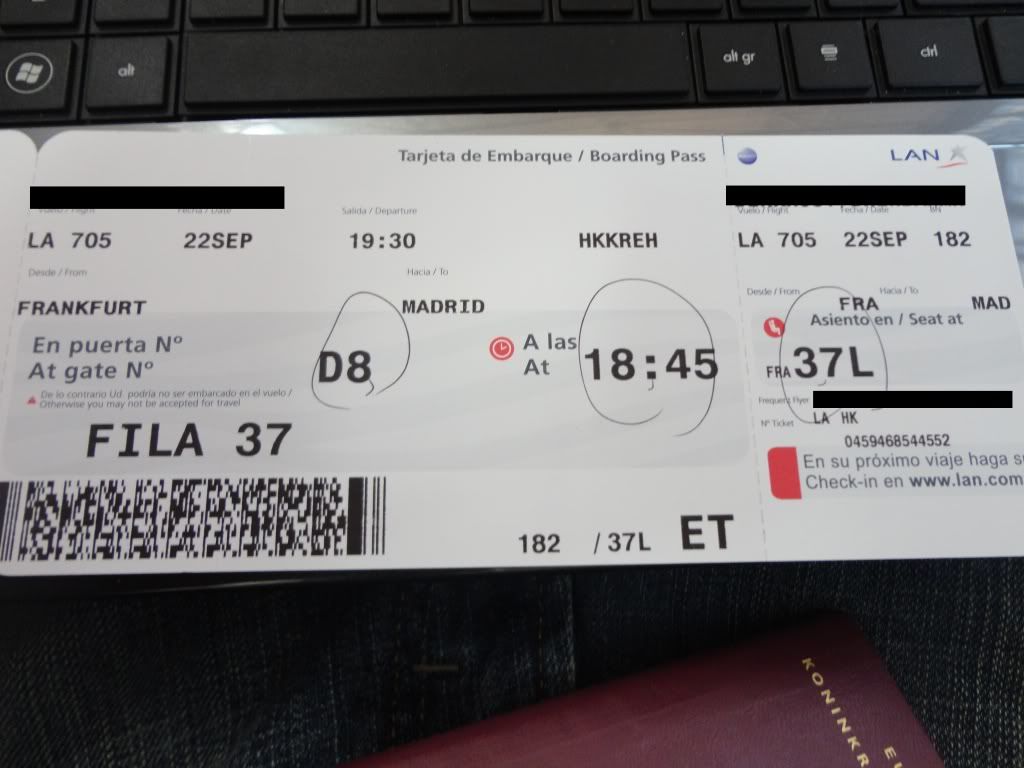 I played a game on my laptop until 10 minutes later boarding was called for flight LA705 with destination to Madrid and on to Santiago de Chile at 18:45, bang on time. As my fellow passengers were busy boarding I took a quick picture of my plane, or half of my plane. CC-CQF will be doing the honors on this leg, an almost 11 year old plane delivered factory fresh to LAN Chile on 14/12/2001: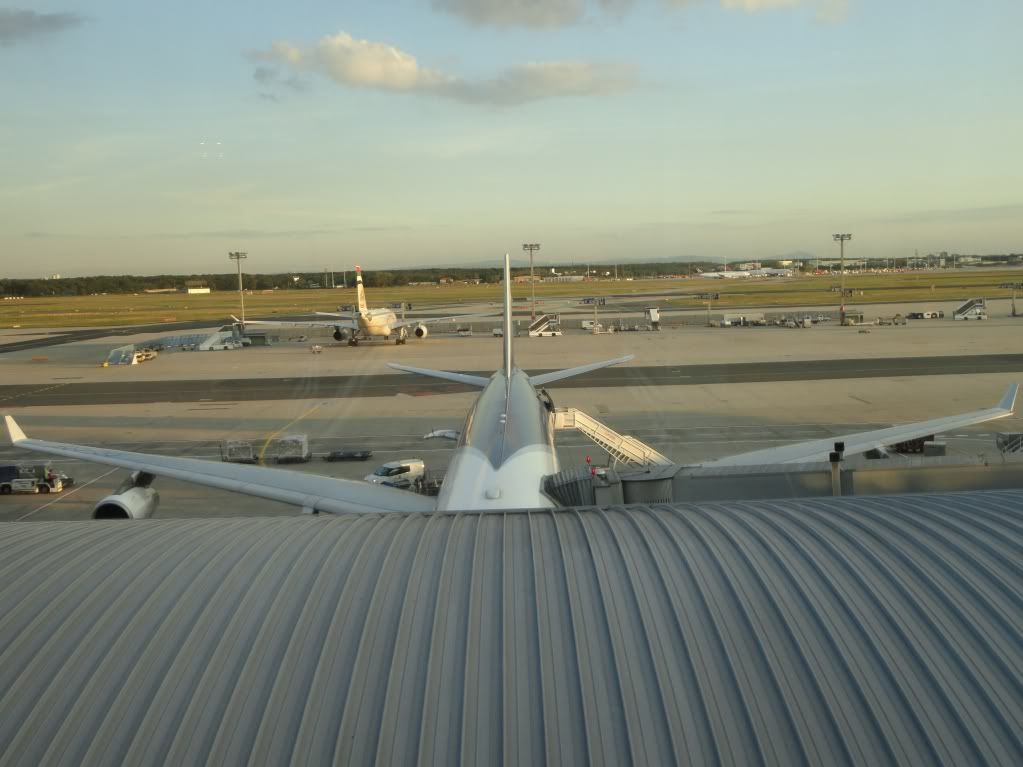 By now the queue at the gate had gotten smaller so I grabbed my belongings and headed into the jetway after a gate agent checked my BP.
On Board
22/09/2012
FRA-MAD
LA705 // 37L
Airbus A340-313X LAN Airlines // CC-CQF
19:30-22:06
Continued Below