View Large
View Medium


Photo © Taylor Wood
View Large
View Medium


Photo © Kevin Gutt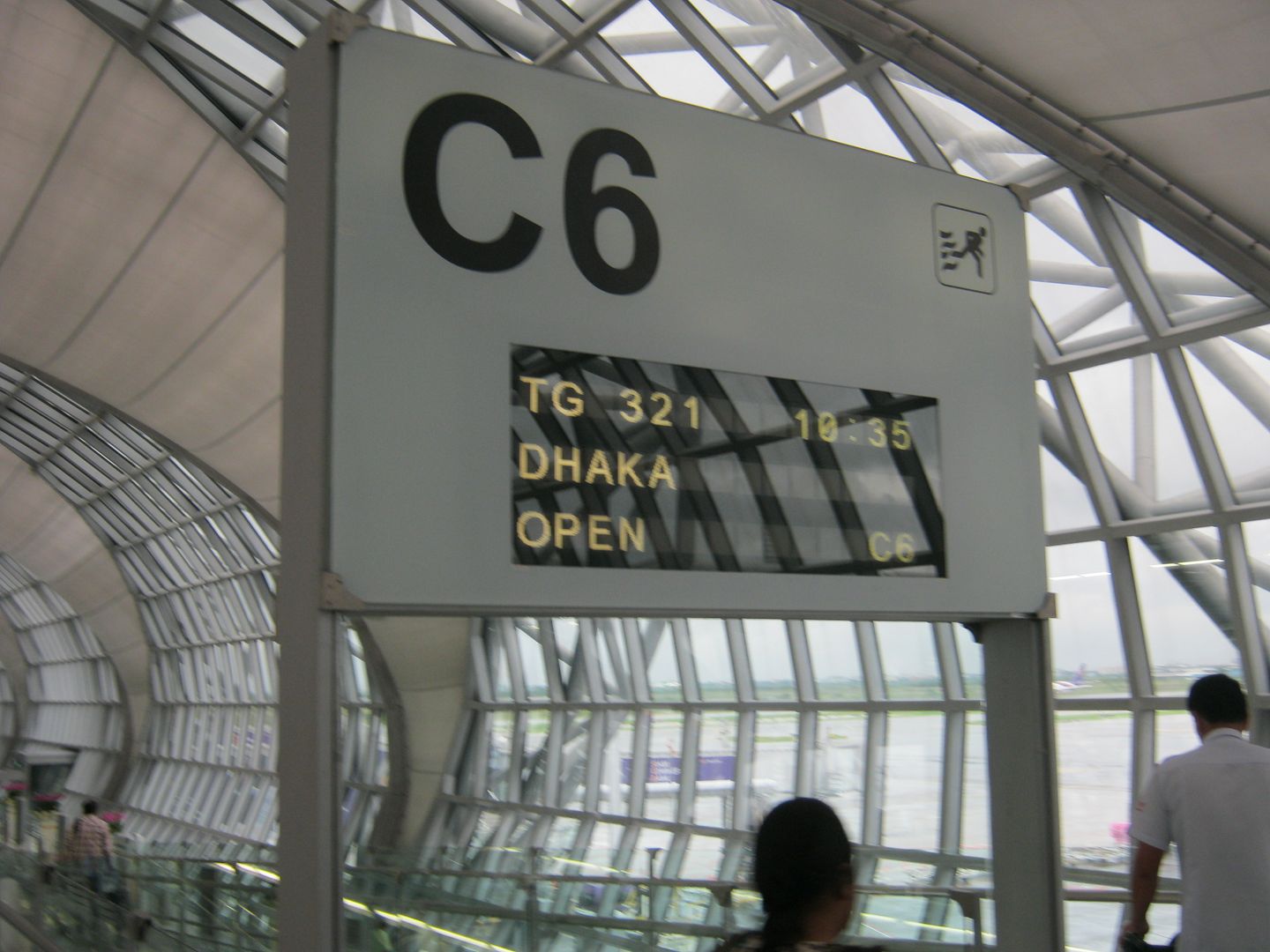 Last week I had to visit Bangladesh for work. Me and two co-workers had to do a site inspection/evaluation for a project in the northeast part of Bangladesh. This was my first time visiting Bangladesh and I knew I would end up here for one reason or another. If for no other reason, a chance to fly on their DC-10 but that didn't happen on this trip.
This time the company put us on Thai Airways. This was my first time on their 777. Everything went flawless in terms of boarding and departure time. Despite the rain from typhoon, the flight left on time and boarding was swift. Once again, my seat karma came through as I had a window seat and no one next to me. Thai Airways 777 has gone to the 3-3-3 seating which was originally started by on Aeroflot on their IL-86 and 96.
My colleague had the aisle seat and we used the middle seat to place our cameras, android phones and to put our extra drinks on the middle tray table.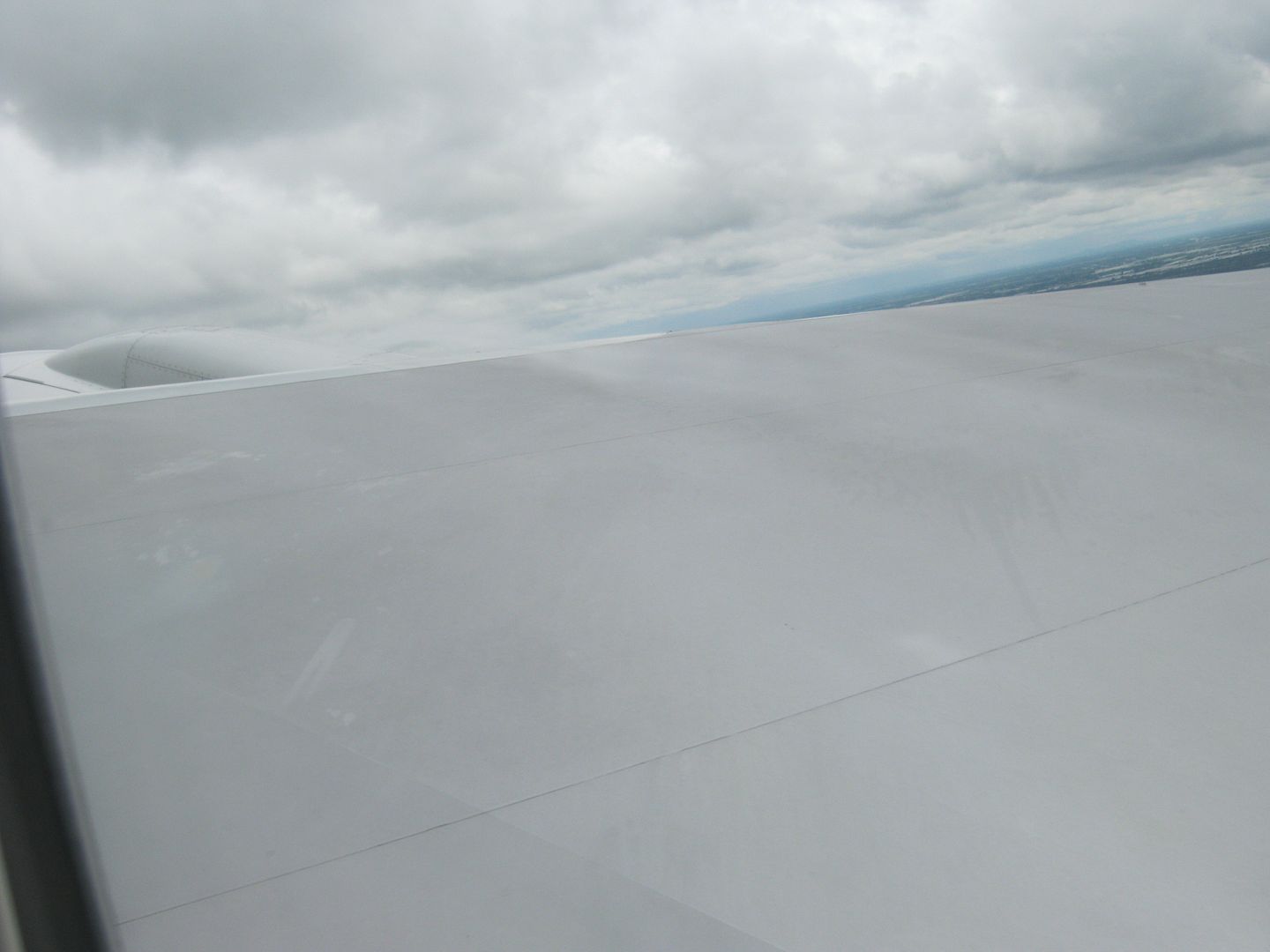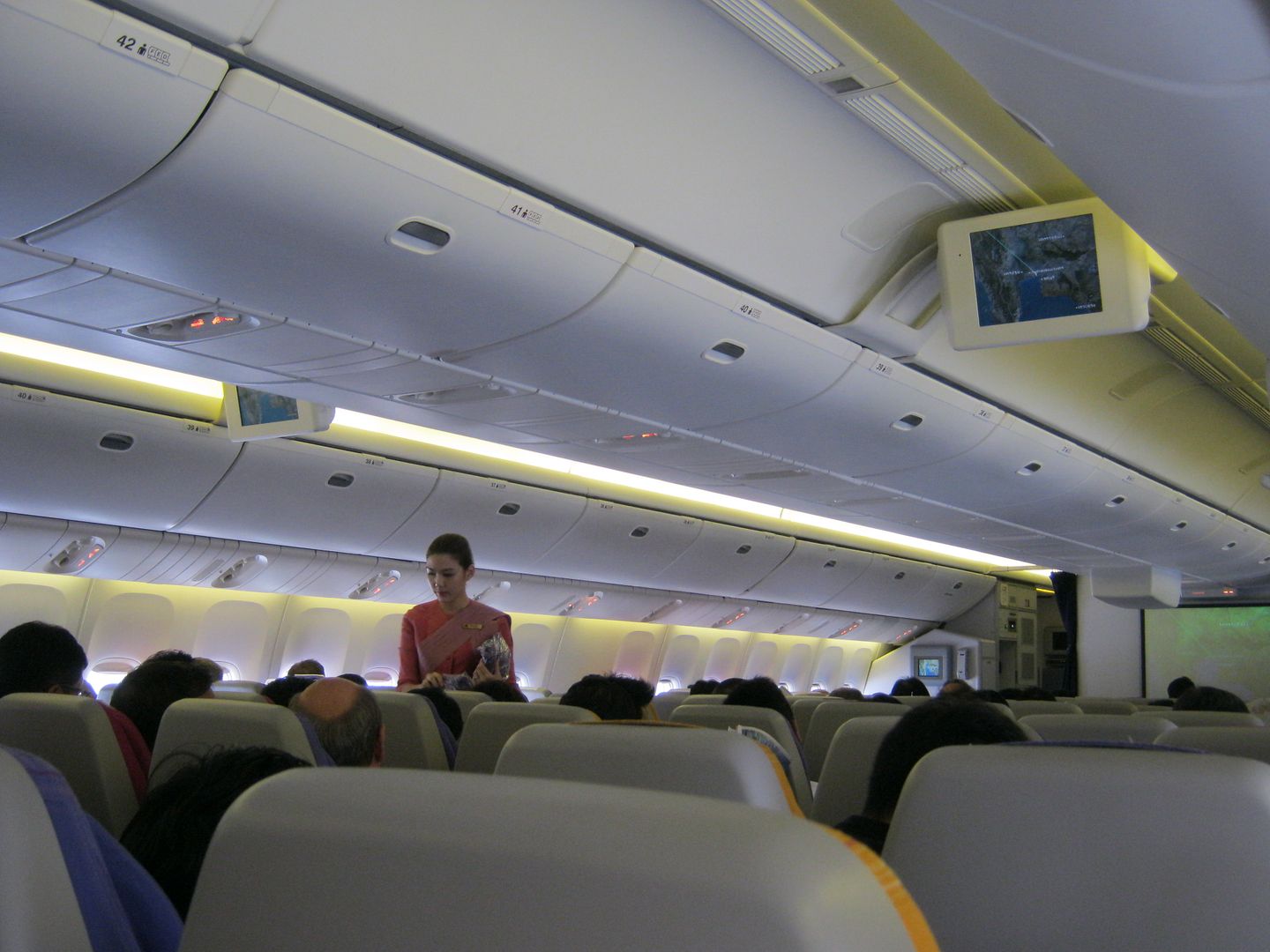 This was a full flight with the only empty seat being between me and my colleague.
We takeoff on time and in-flight service began. The crew was friendly, professional and beautiful as always. Hot towels comes first before our meals. The in-flight meal this time was hot buns with butter, chicken curry with rice & shrimp salad, peas and some other sweet pastry thingy that I had no idea what it was. I gave it to my colleague because he liked his. I don't like sweets. As much as I love Asian food, I'm not in to the desserts. They're too sweet.
Meal was chased down with 2 Singha beers and capped off with Cognac as my dessert.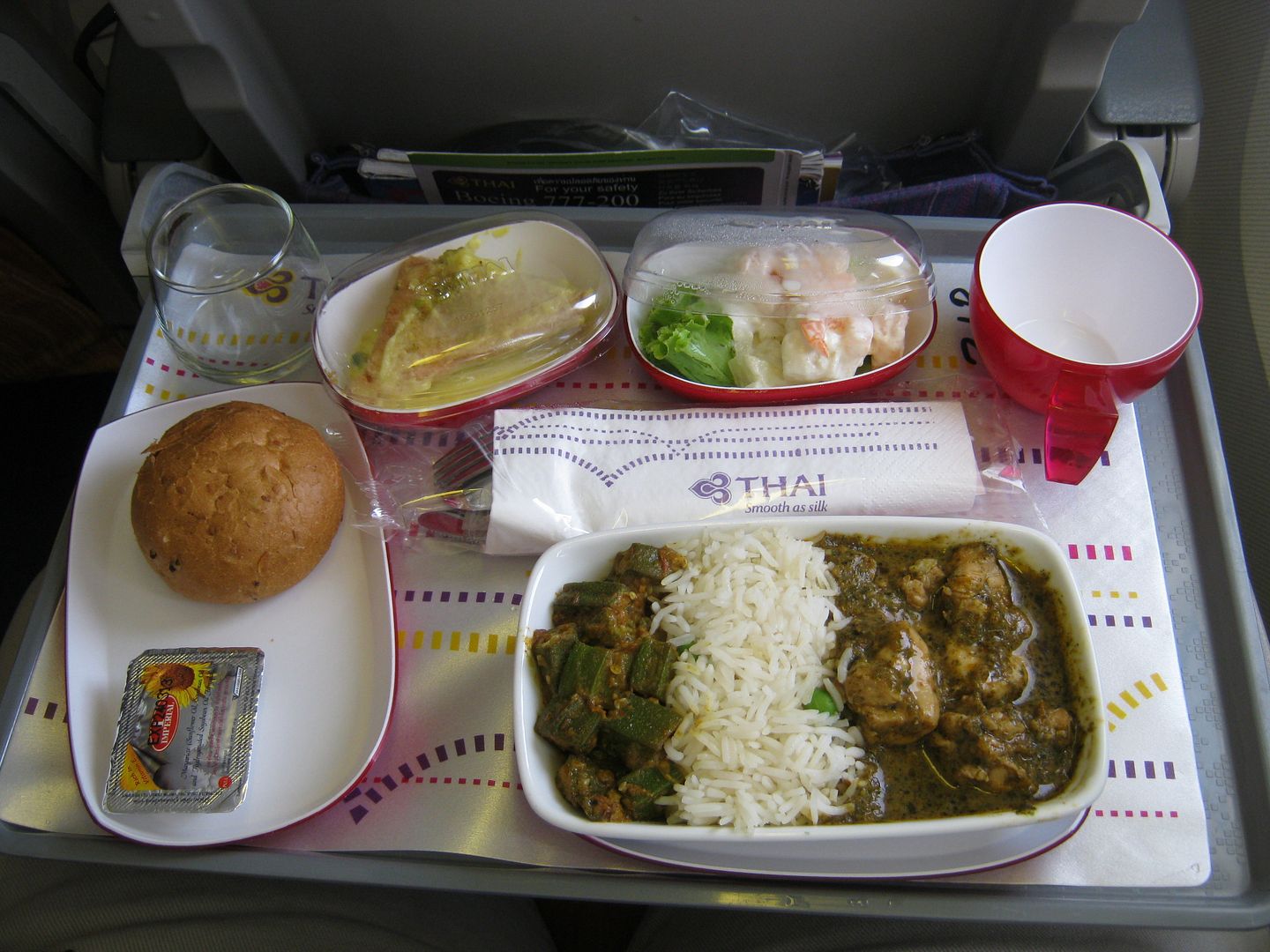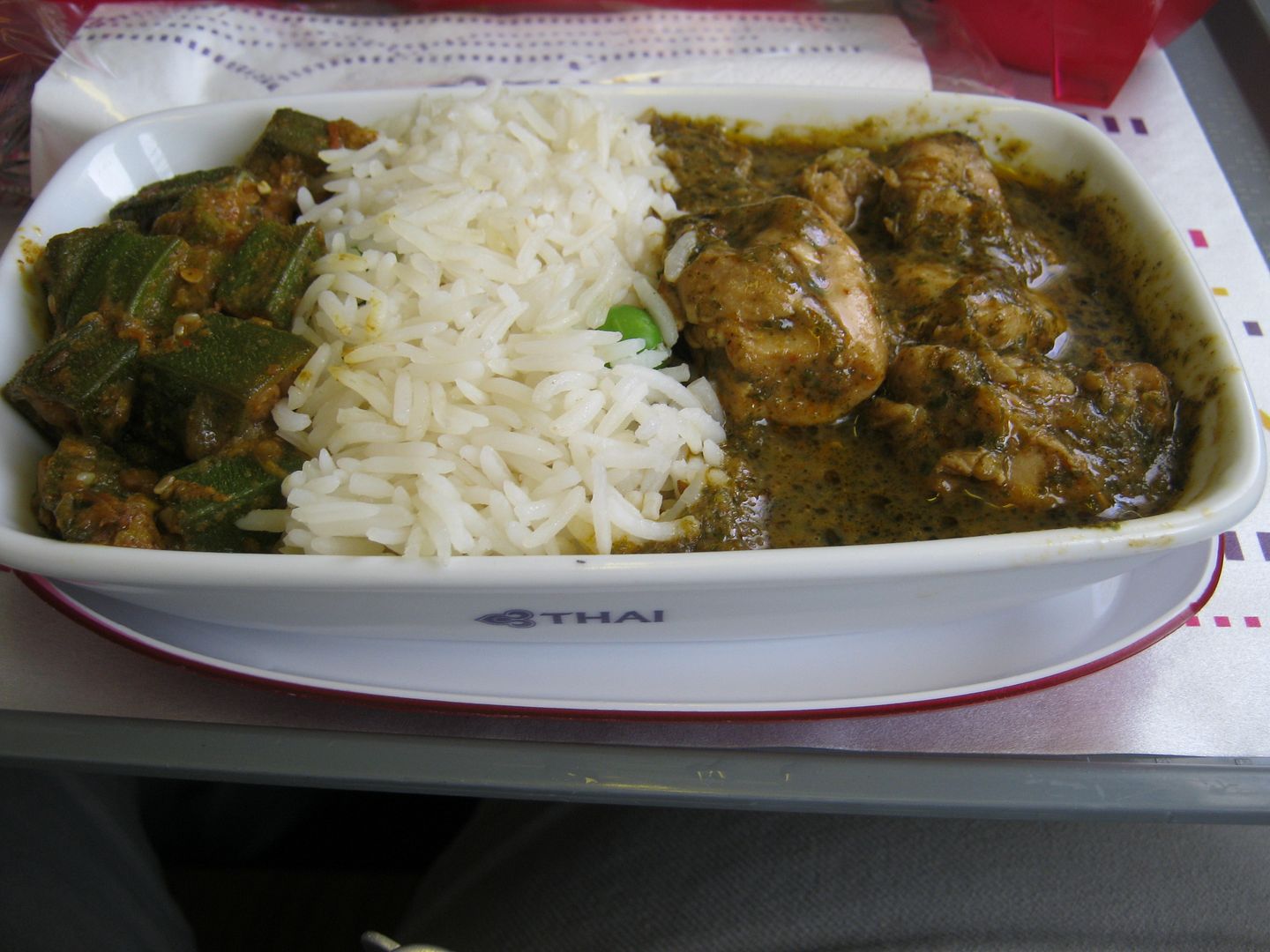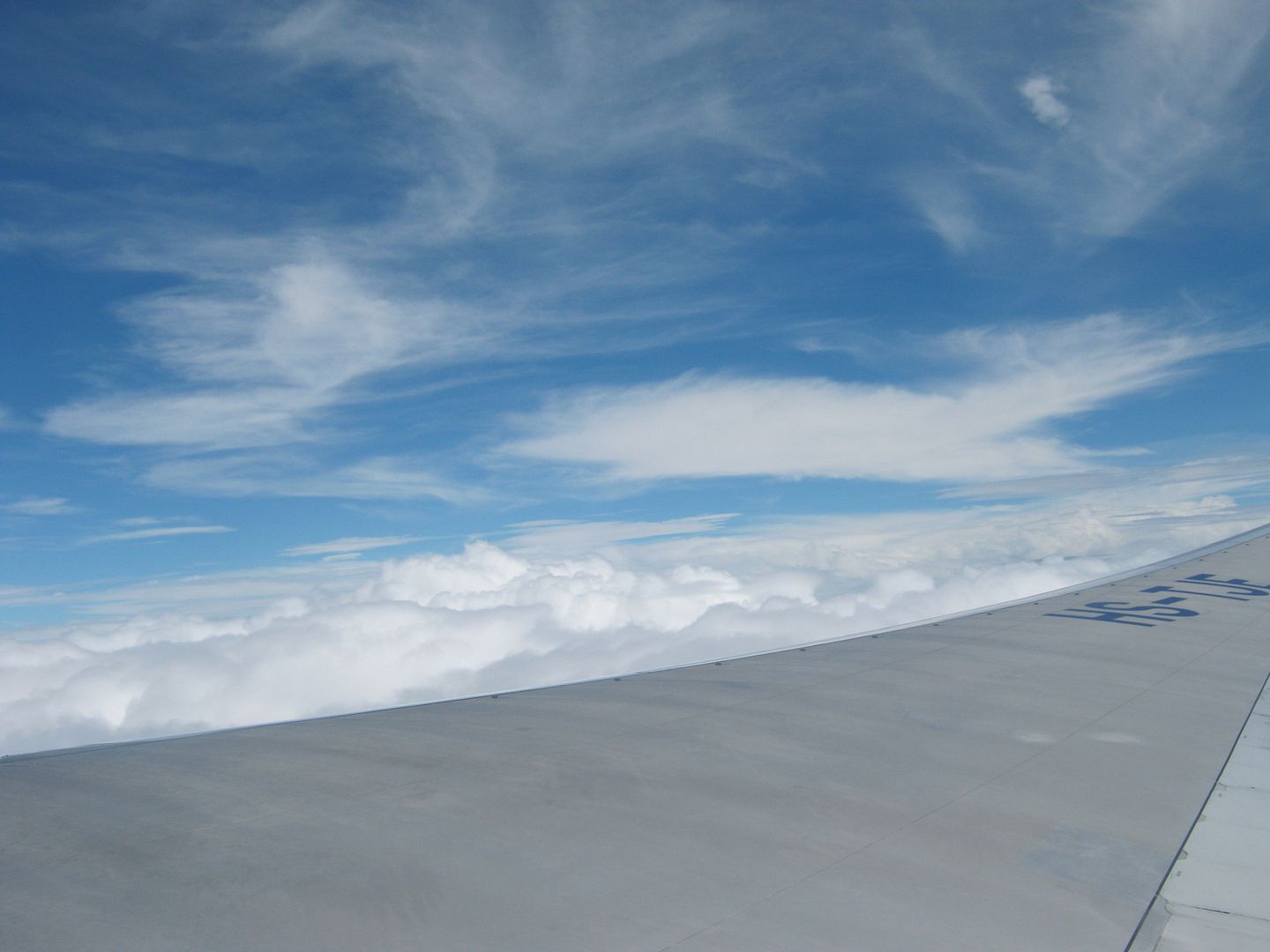 Due to the storm it was a white blanket of clouds throughout the flight so I couldn't see Burma (Myanmar). Didn't see ground until we were descending in to Dhaka. Once we broke beneath the clouds, I could see the flooded delta of Bangladesh.
Quite shocking to see electrical power-lines sitting in water.
We touchdown in Dhaka and taxi to the gate.
Very impressive VIP terminals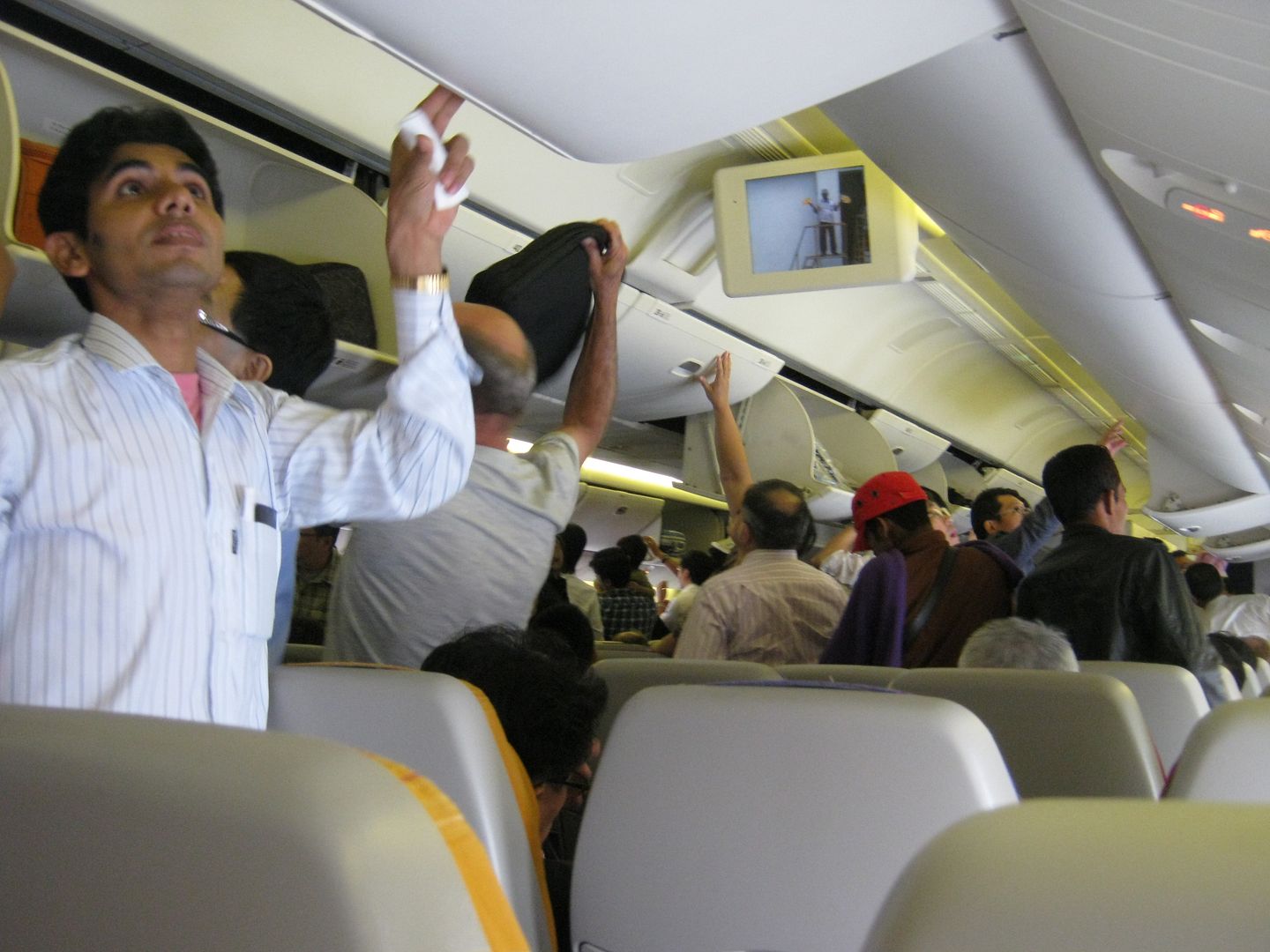 The local Bengals on the aircraft all were getting up getting their suitcases while we were still taxiing. The flight crew had to tell them to sit down but they wouldn't listen. Even the captain made an announcement telling them to sit but they refused.
Me and my colleagues were really concerned about our connecting flight to Syhlet on Regent Airways. We couldn't understand why they booked us with a 30 minute connection time.
As soon as we walked off the plane, we're greeted by an extremely foul stench in the air. We would smell that odor throughout our visit in Bangladesh. Going through customs was slow and we knew at that point that there was no way that we were going to make that flight. After going through customs, we saw a driver holding a sign with our names. He rushed us off in to a van and he gets on the mobile phone and tells the agent at Regent to hold the flight for us at the request of the name of our client. Apparently he is a very powerful and influential person in Bangladesh.
The van takes us out of the airport to do a U-turn back to the airport to the domestic terminal.
Dhaka has a beautiful airport terminal! I really like this era of architecture. I think this a gorgeous building and probably the most beautiful airport terminal and very suitable for this climate. I hope they never change this building.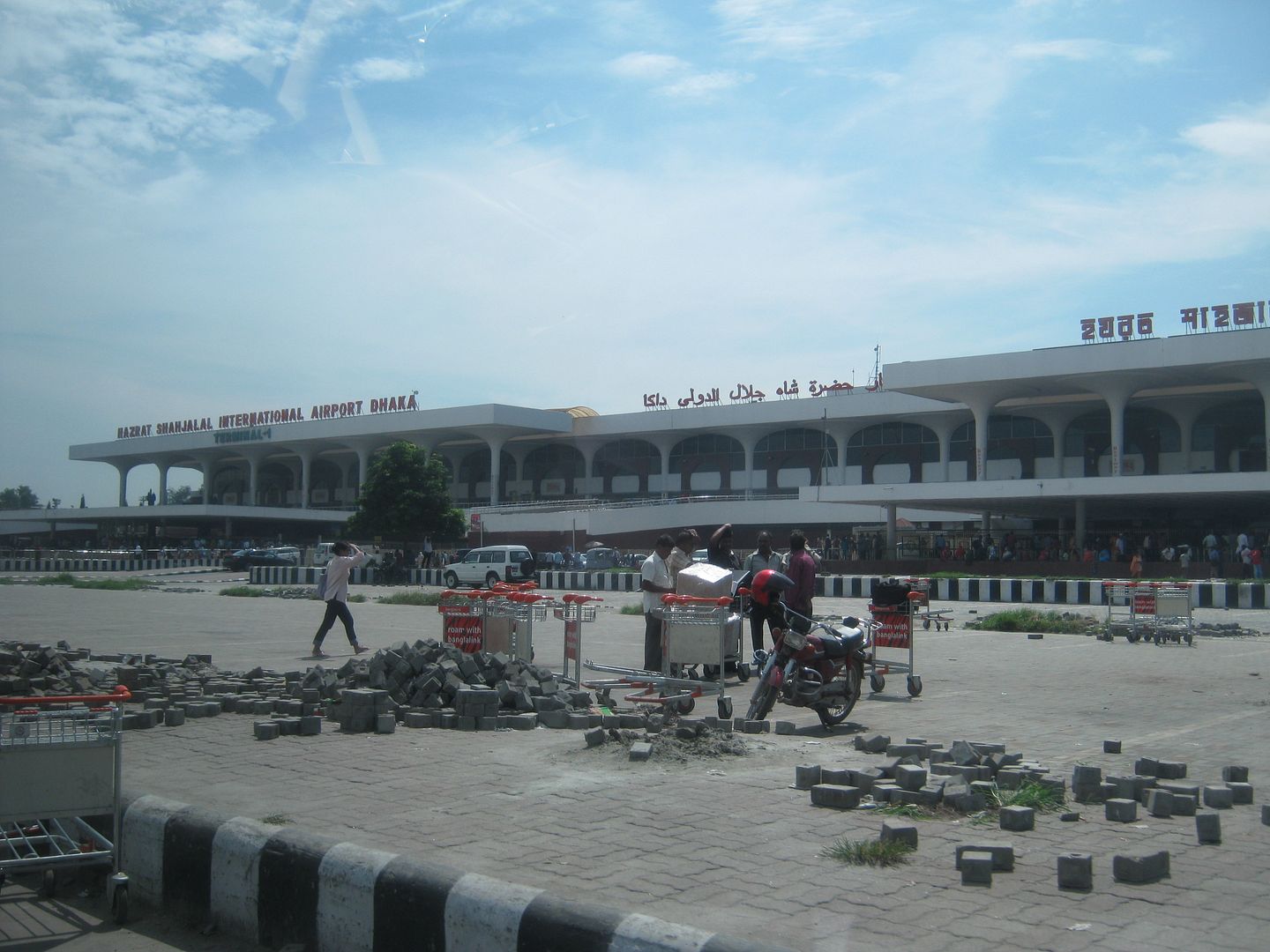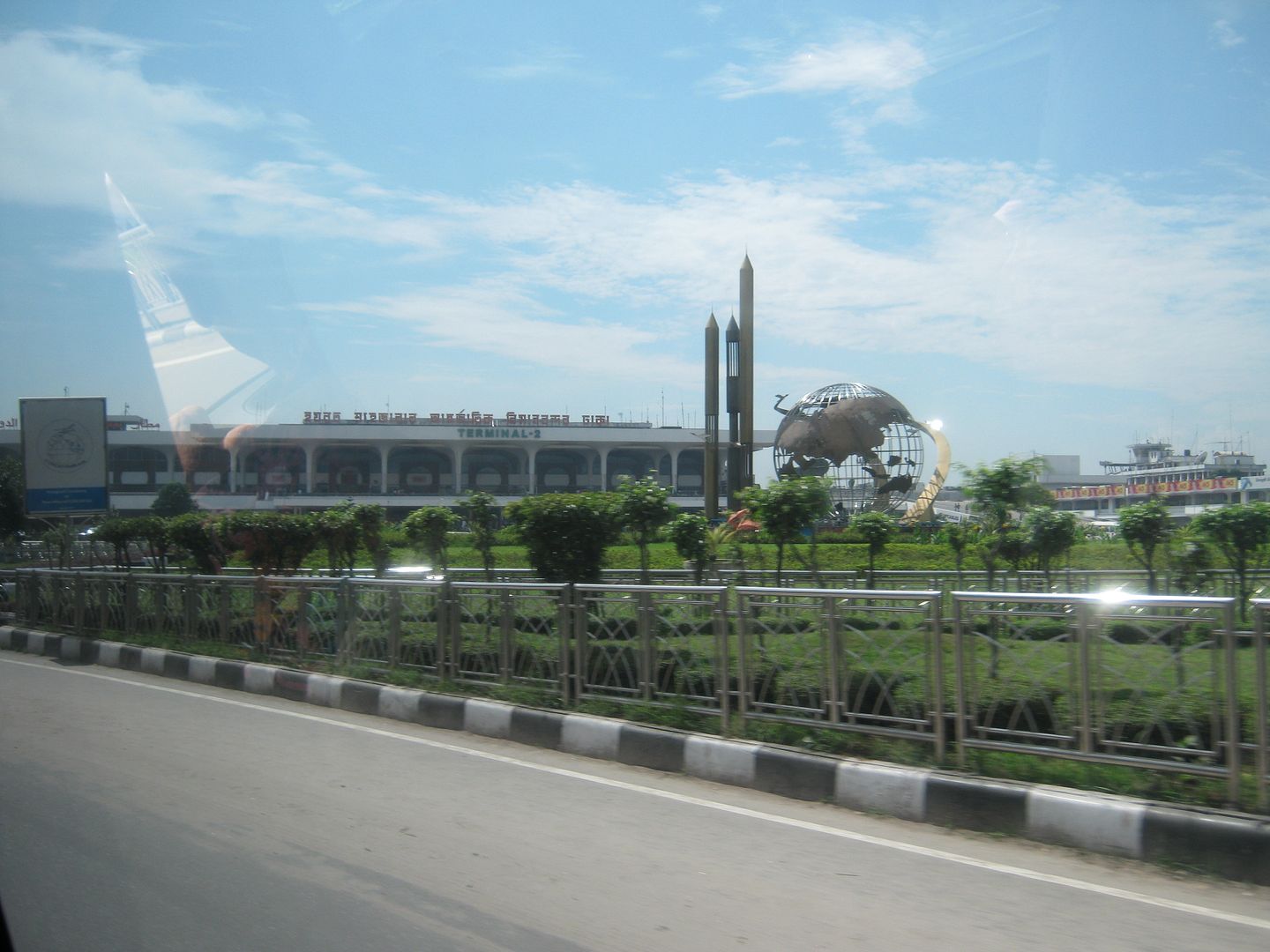 Our tickets are handed to us as we get out the van and then we're rushed out back and thrown in to a Volvo sedan with VIP markings and we're driven across the tarmac to our Regent Dash 8 that would take us to Syhlet. An excellent way to get some great aircraft close-up photos.
Once we get out, I see the car has Regent Airways marking on it.
We board the plane and the last 3 open seats were waiting for us. We had exit row up front. As soon as we got on and buckled our seats, the door was shut and off we went.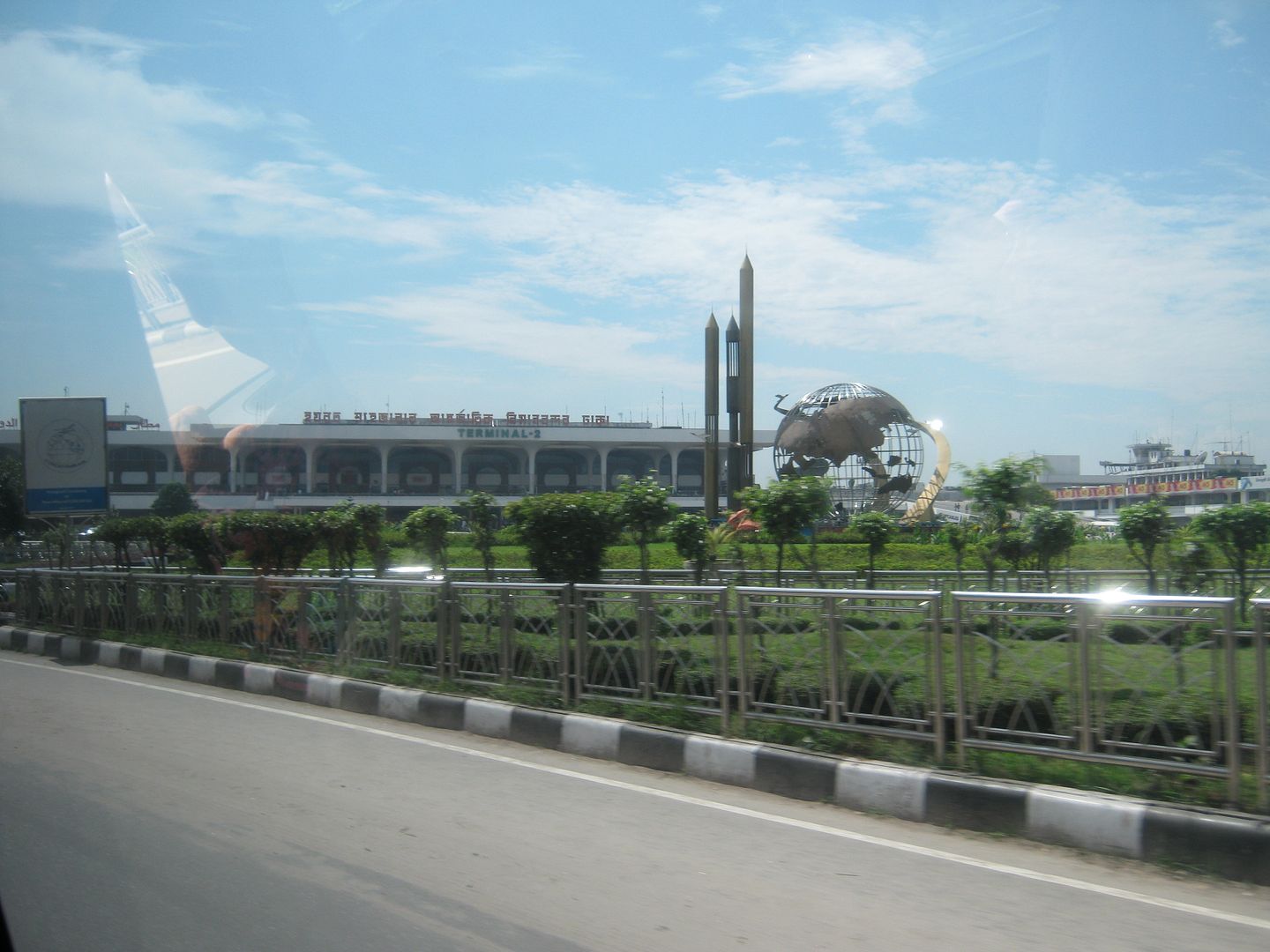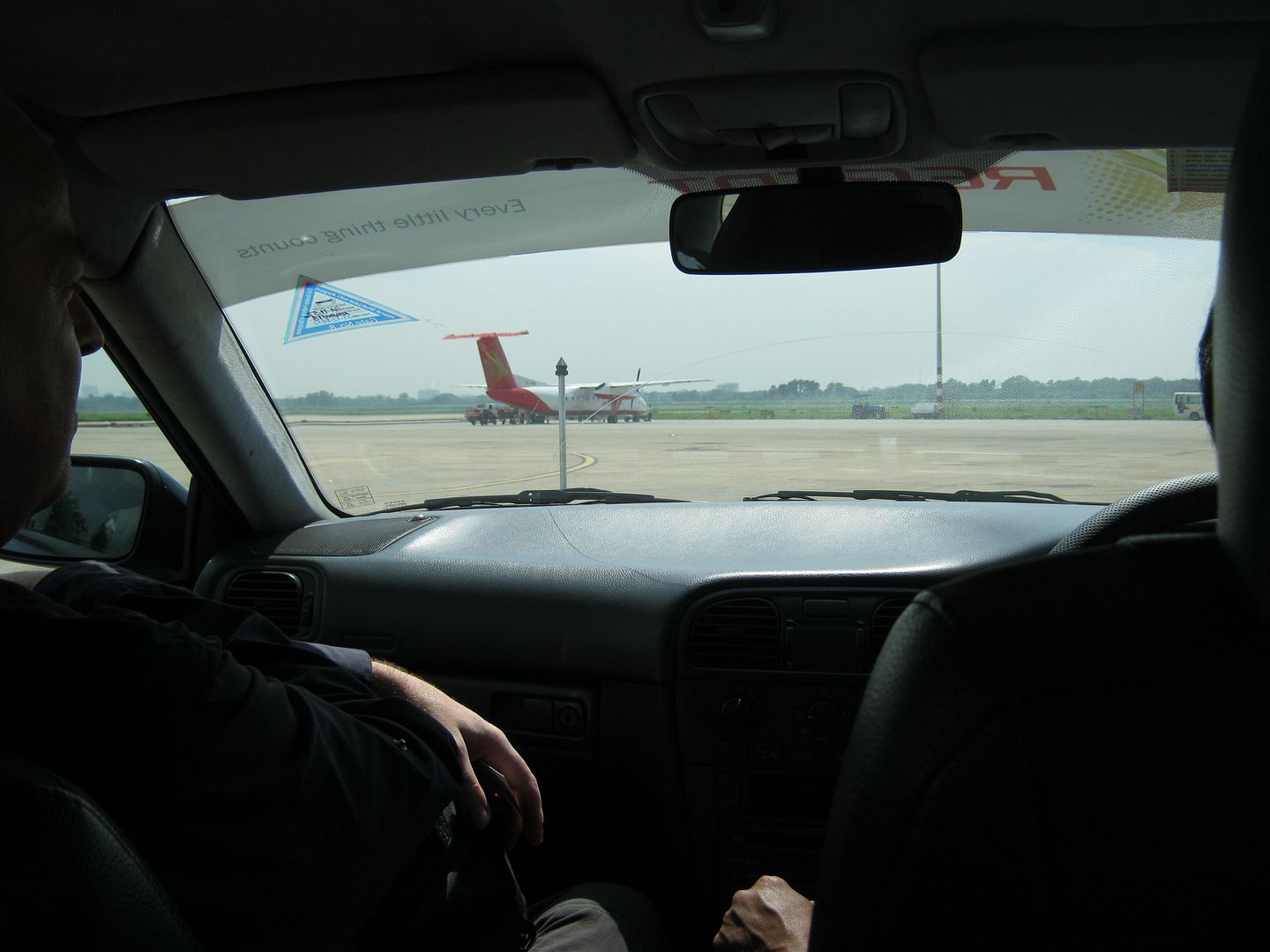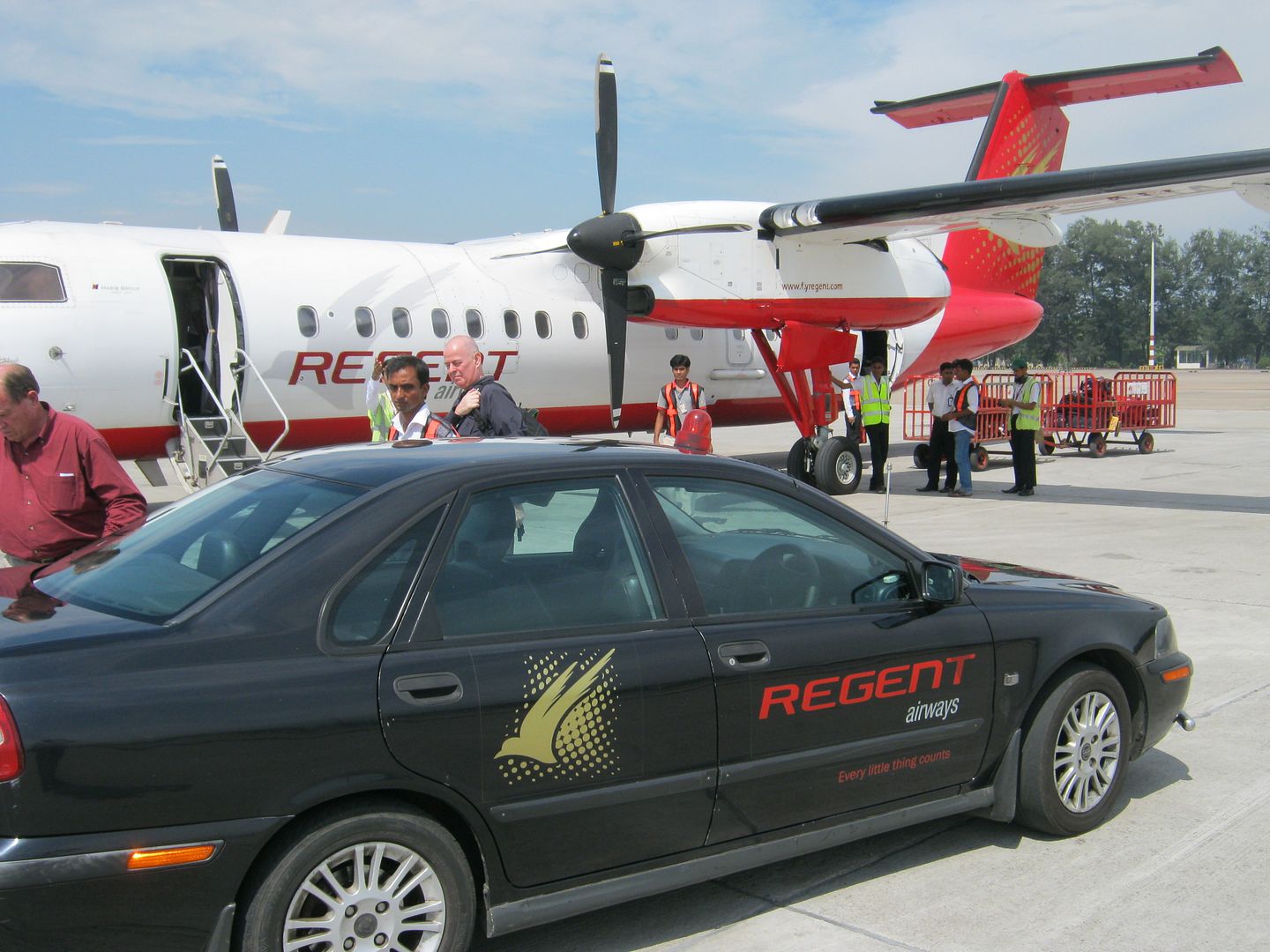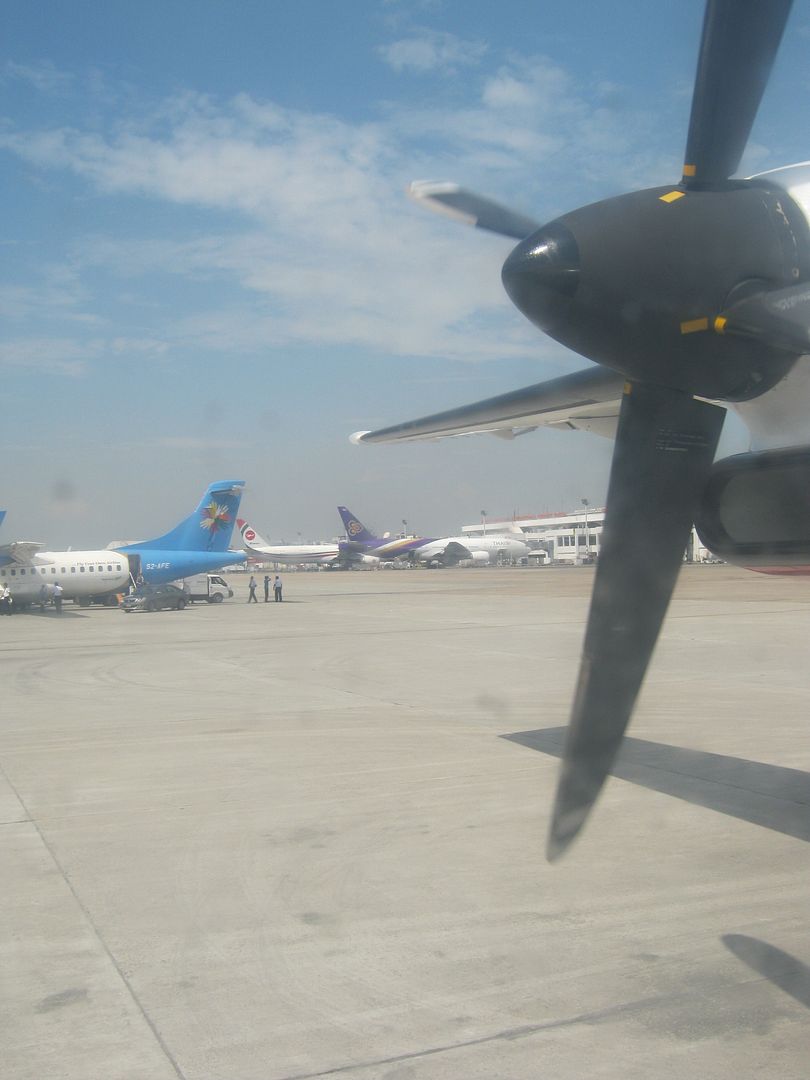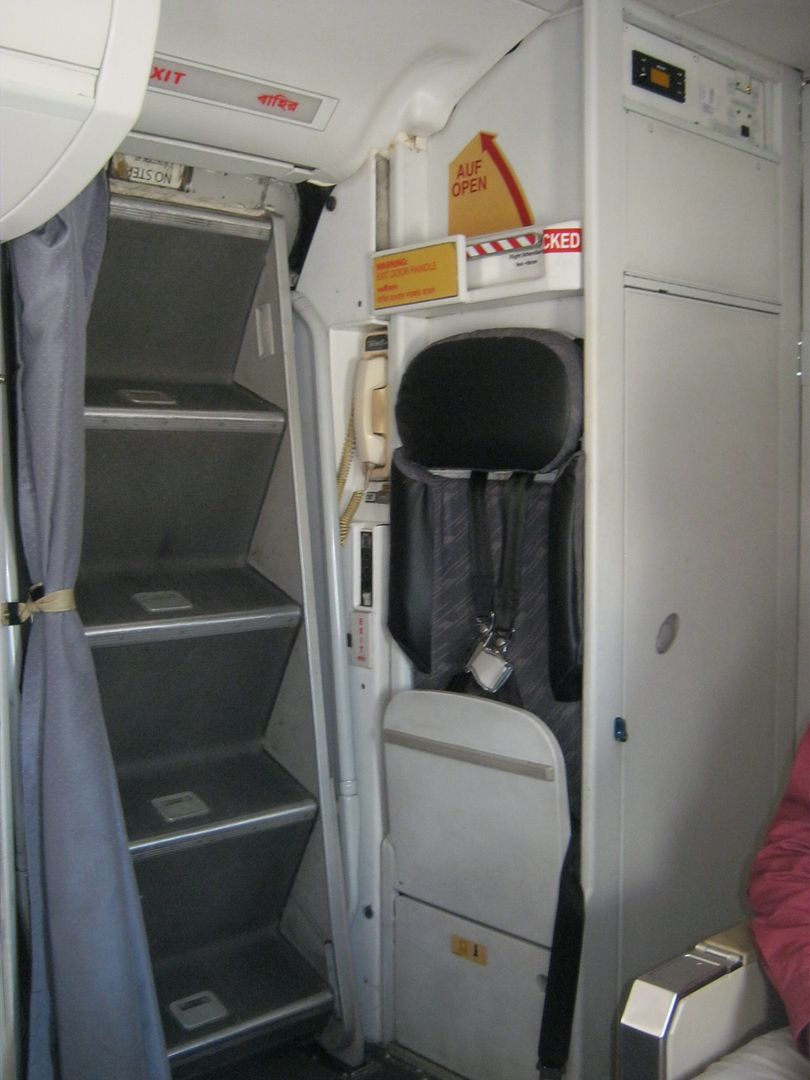 The last time I was on a Dash 8 was on Island Air (Aloha Air) in Hawaii back in 2000. This time, the take-off roll was long for a Dash-8. We were fully-loaded and it's also hotter and very humid compared to Moloka'i.
As you can see, this is an ex-Lufthansa Dash-8 as the galley cart still has the Lufthansa logo. The single flight attendant was friendly and rather curious as to whom we were. We were the only non-Bangladeshis on the flight.
I was able to get a lot of aerial photos of Dhaka and the Bangladesh countryside.
Lots, and lots of floods, rivers, puddles with roads snaking through the puddles. Our Dash-8 was literally a puddle-jumper since the Syhlet airport is surrounded by a large puddle. The flight time was about 40 minutes.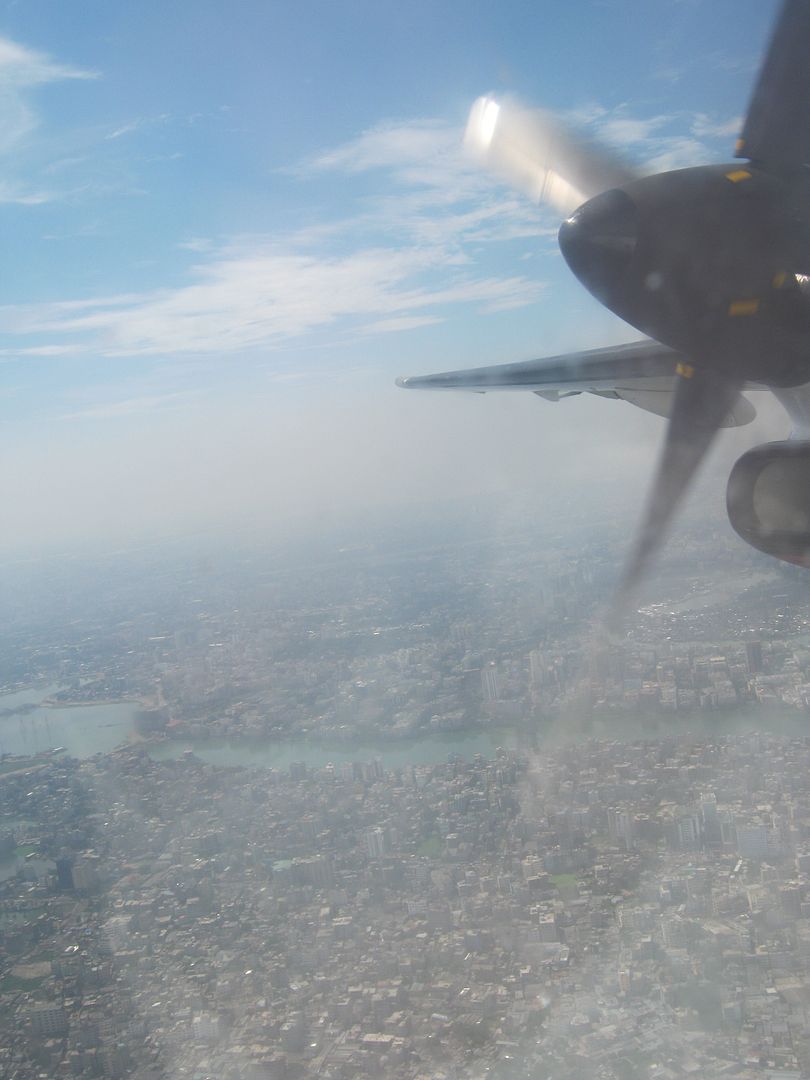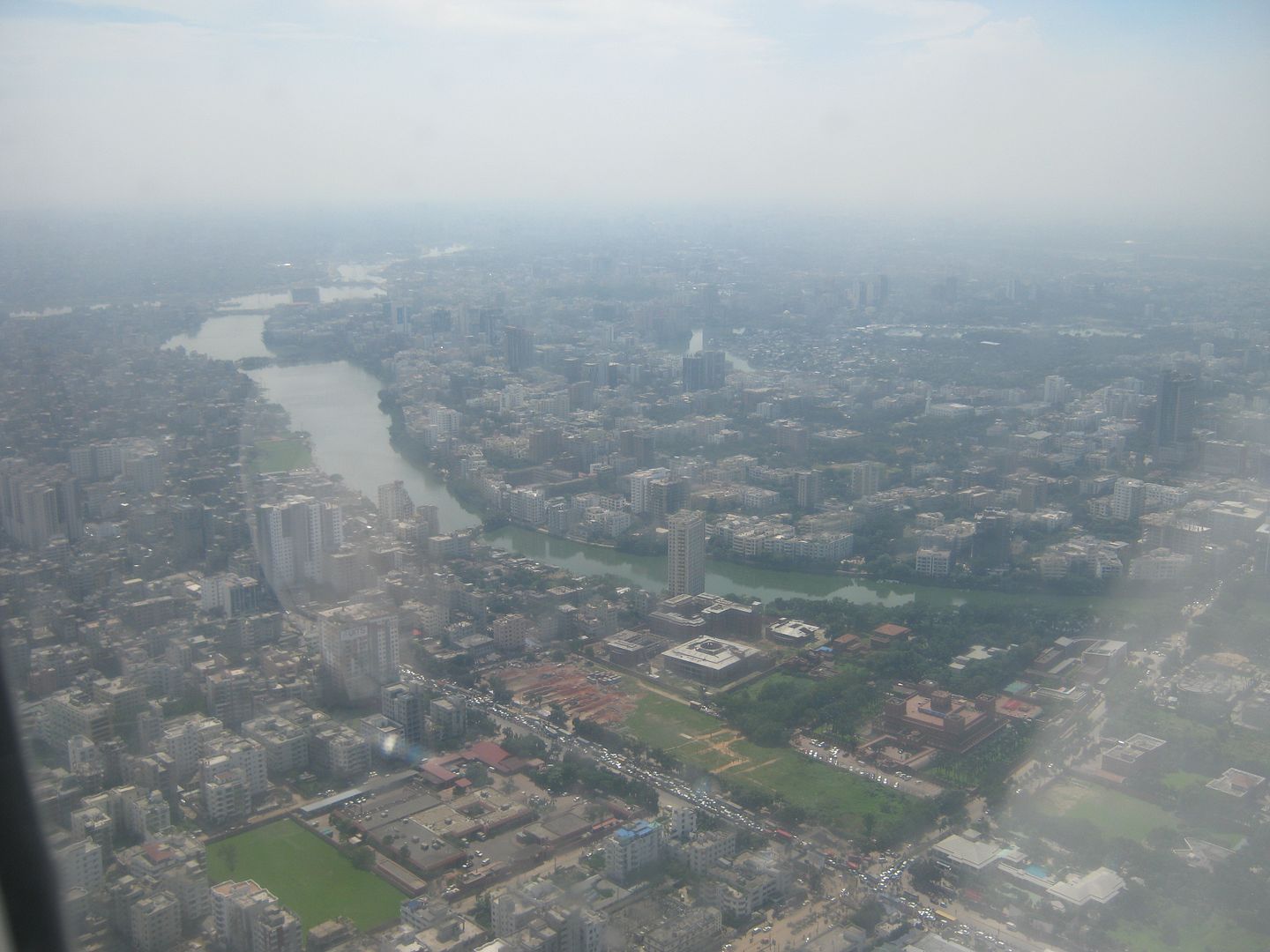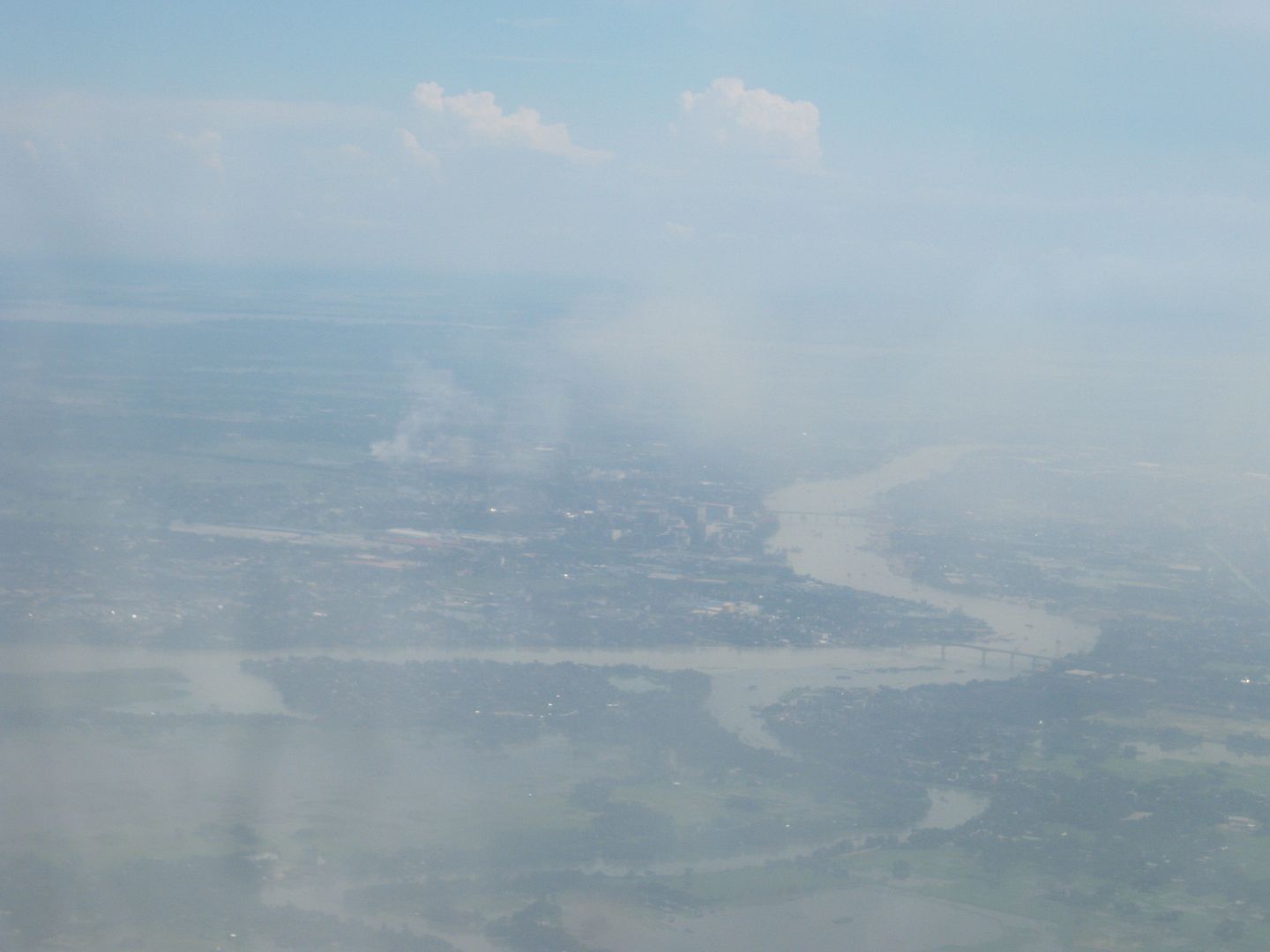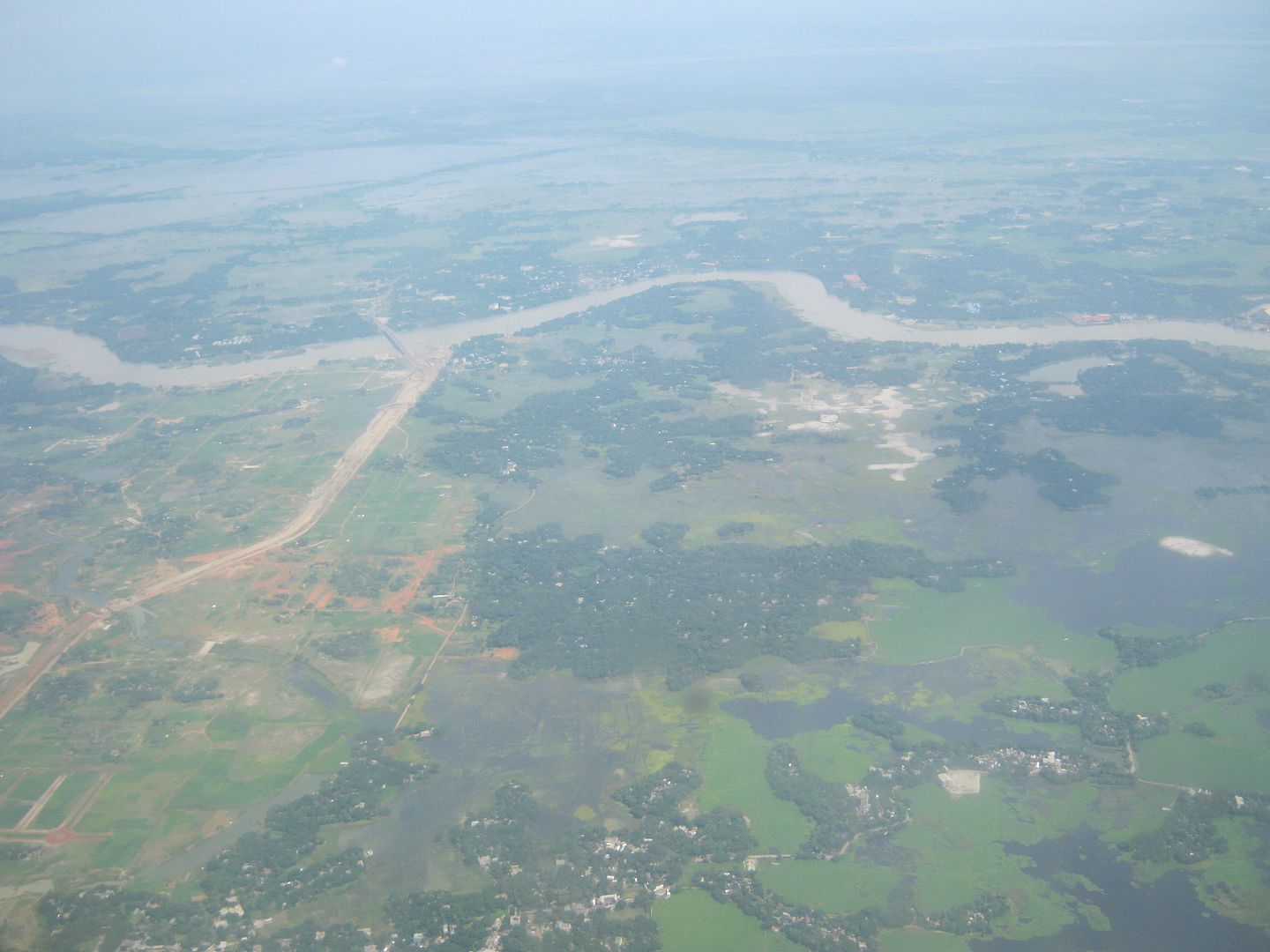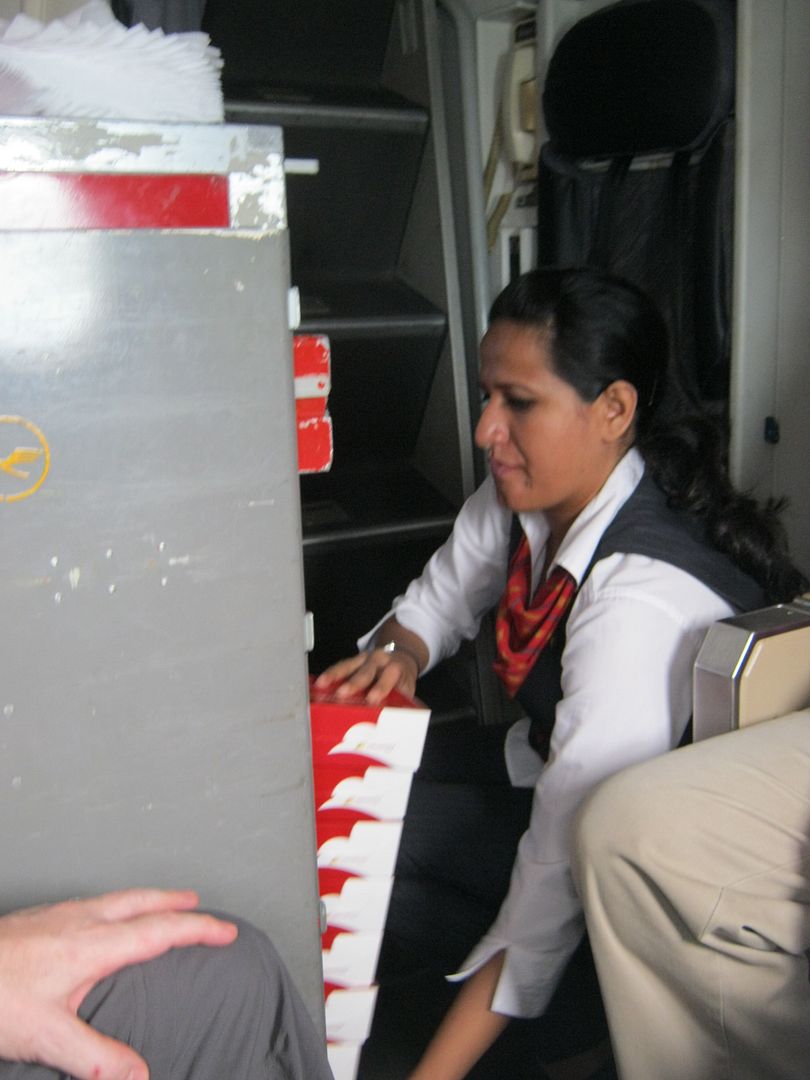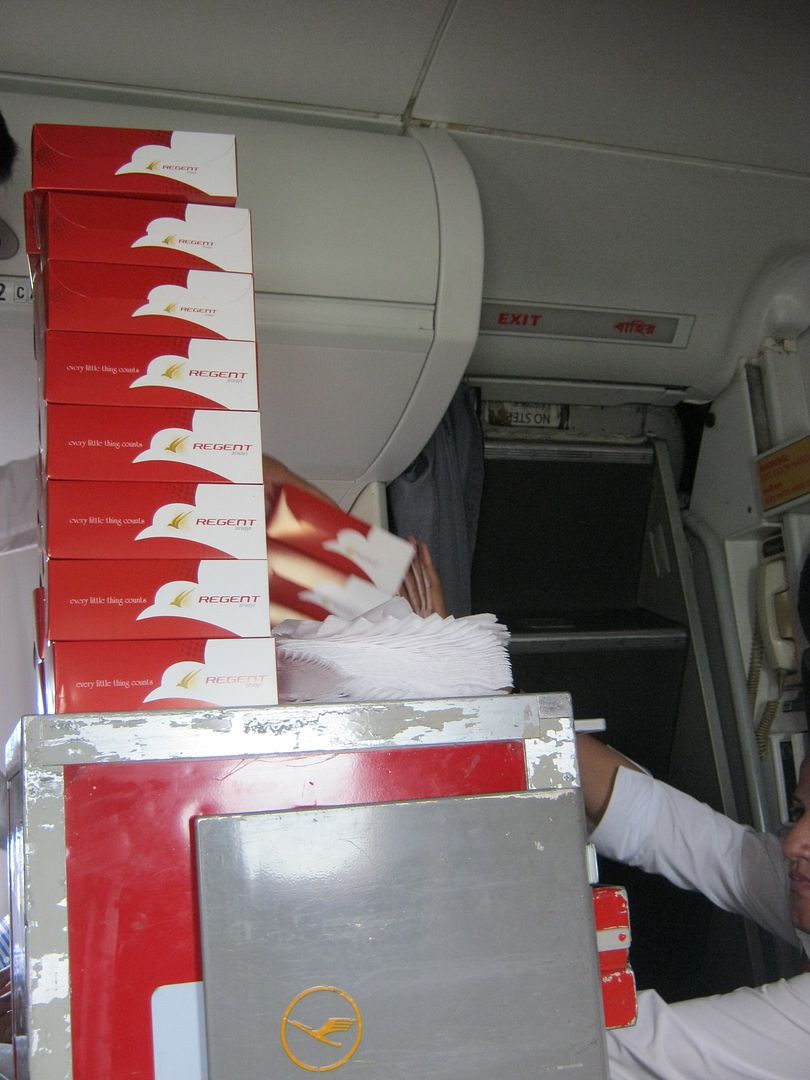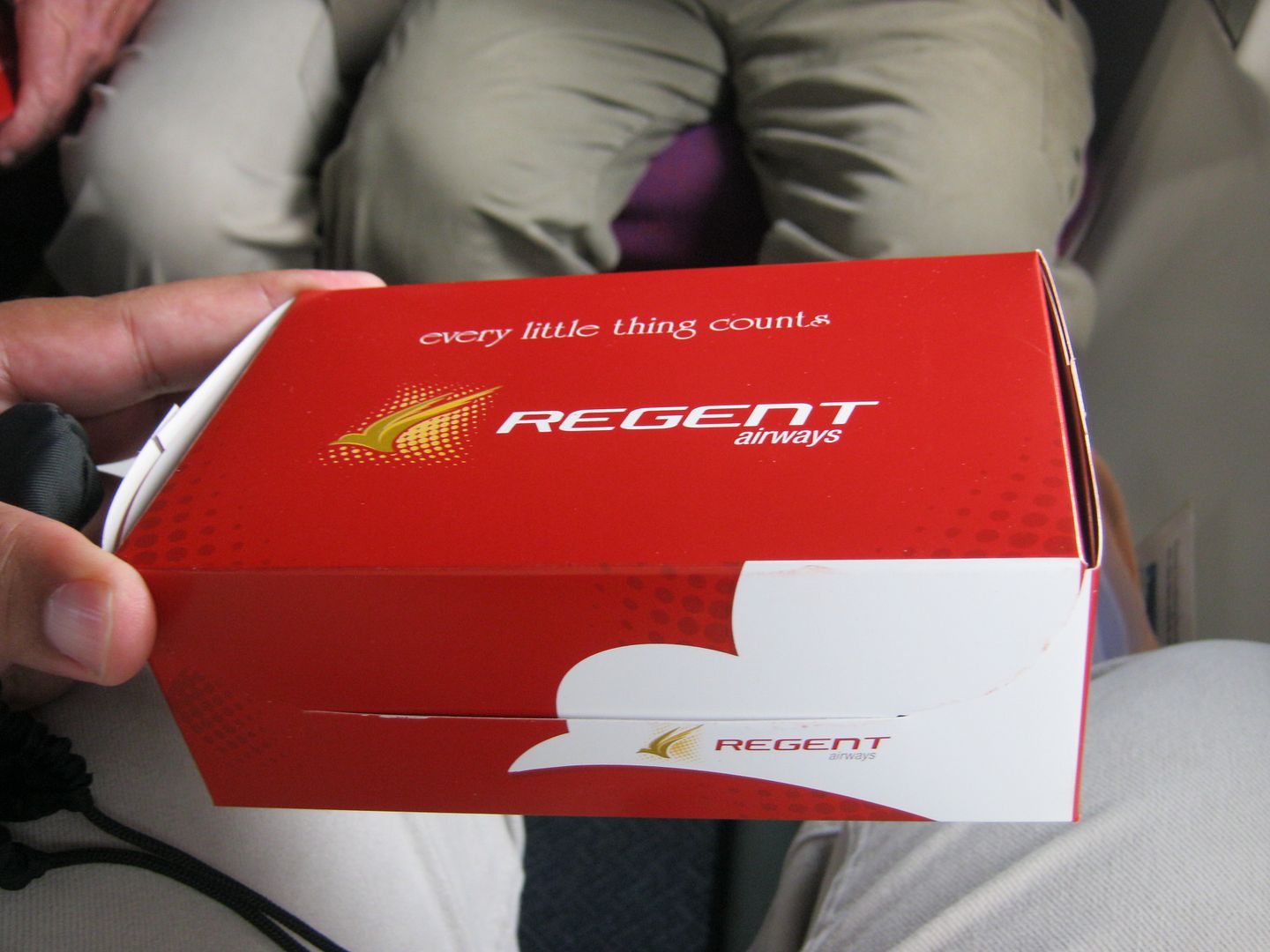 As we got closer to Syhlet, the landscape became greener but there were still puddles surrounded buy patches if green and roads snaking through the puddles as far as the eye could see.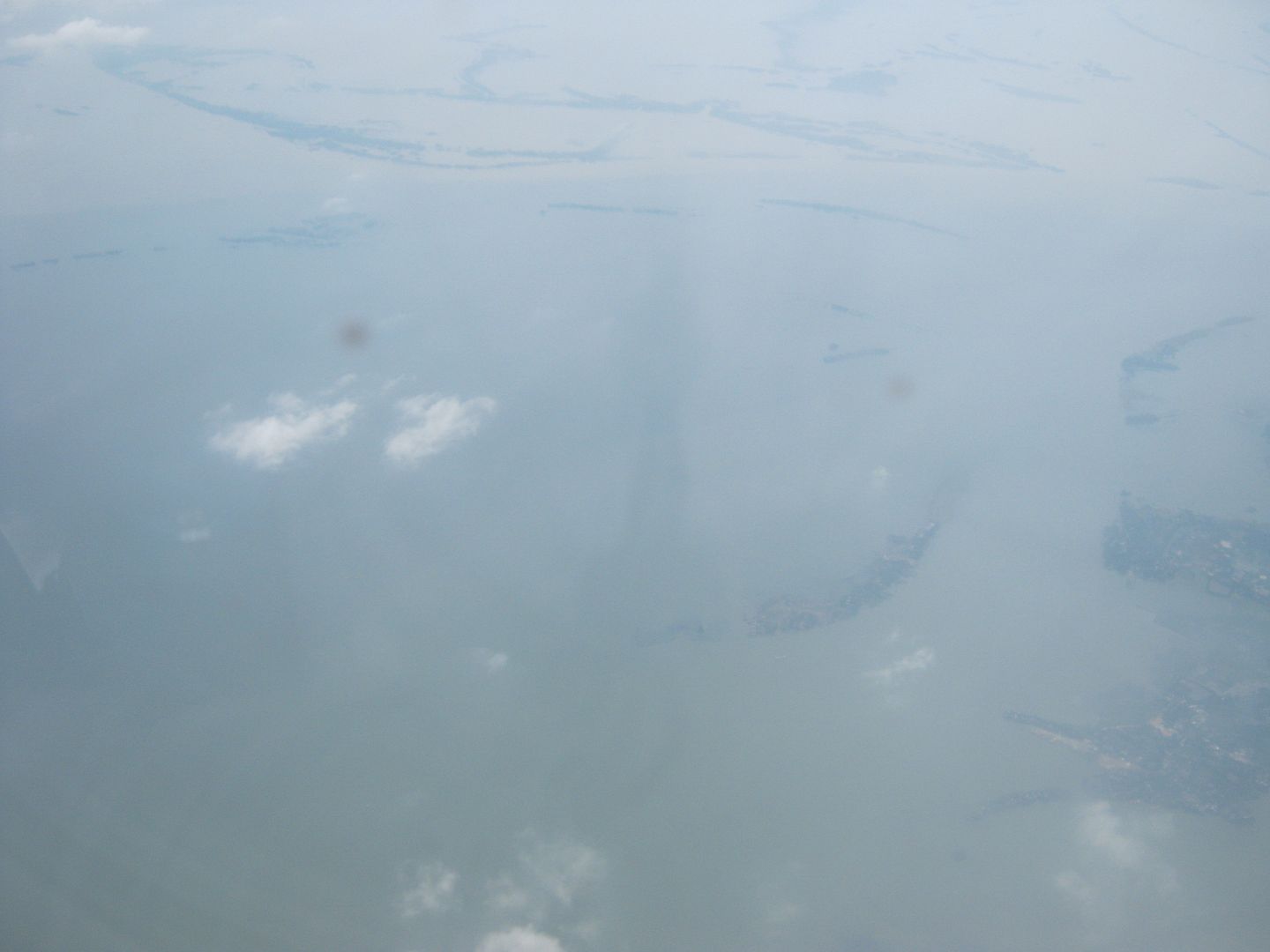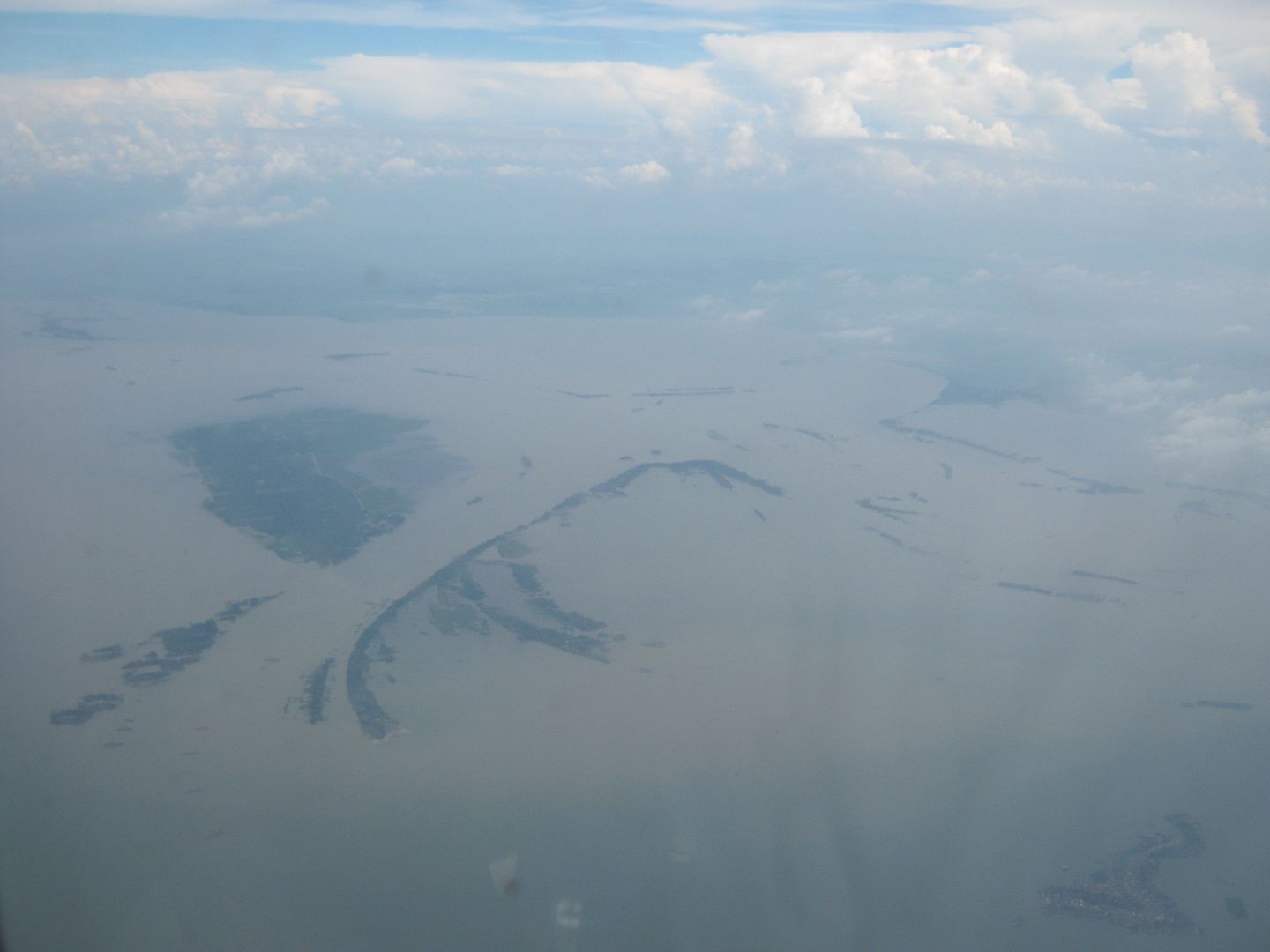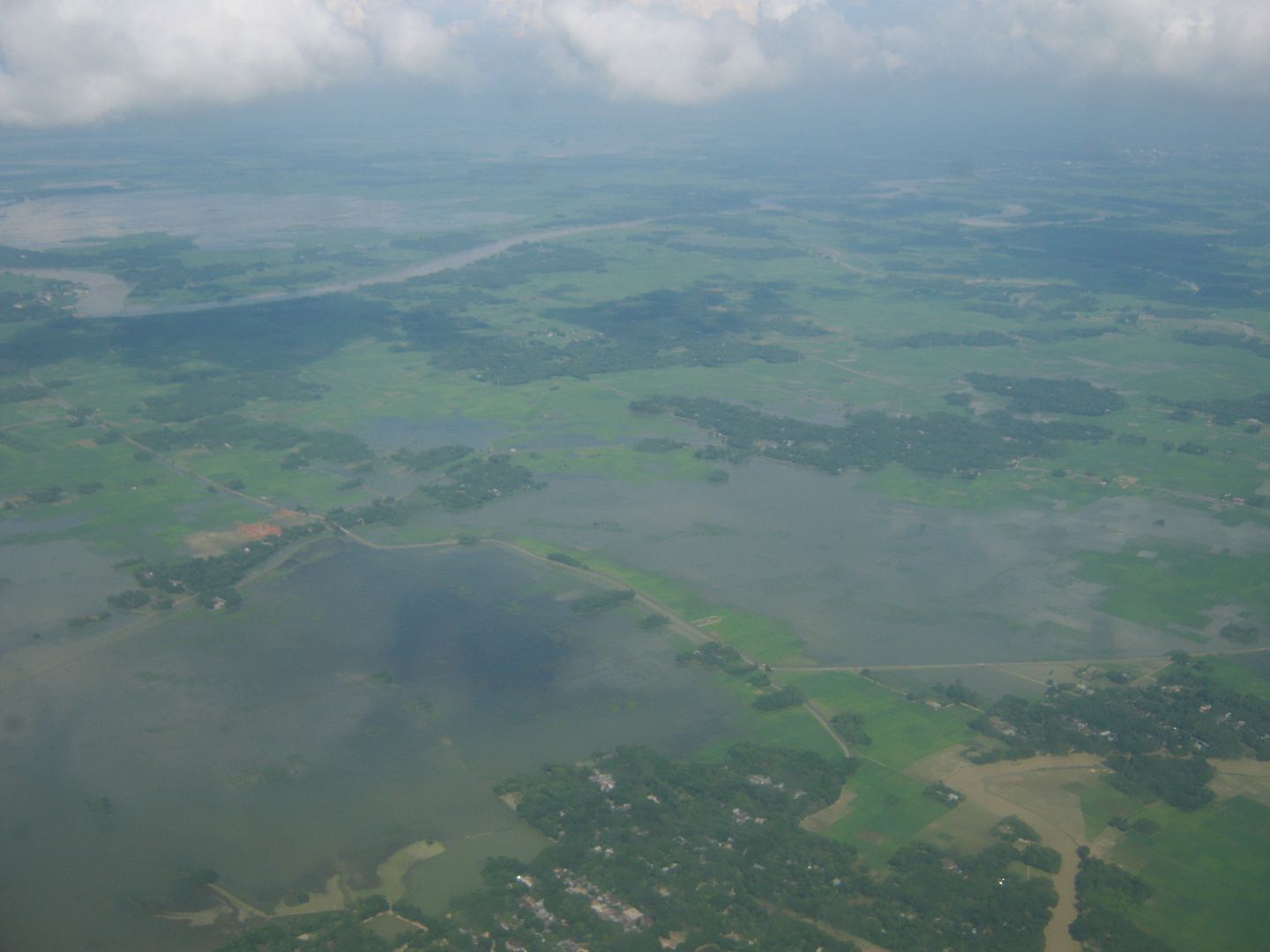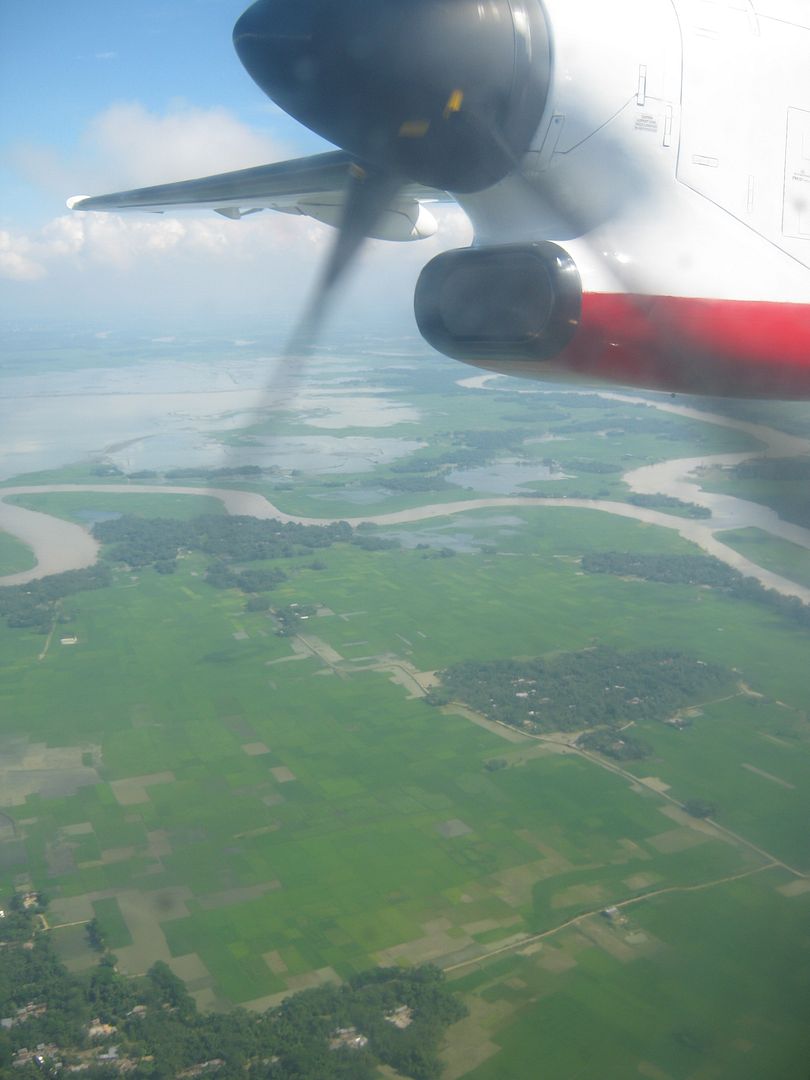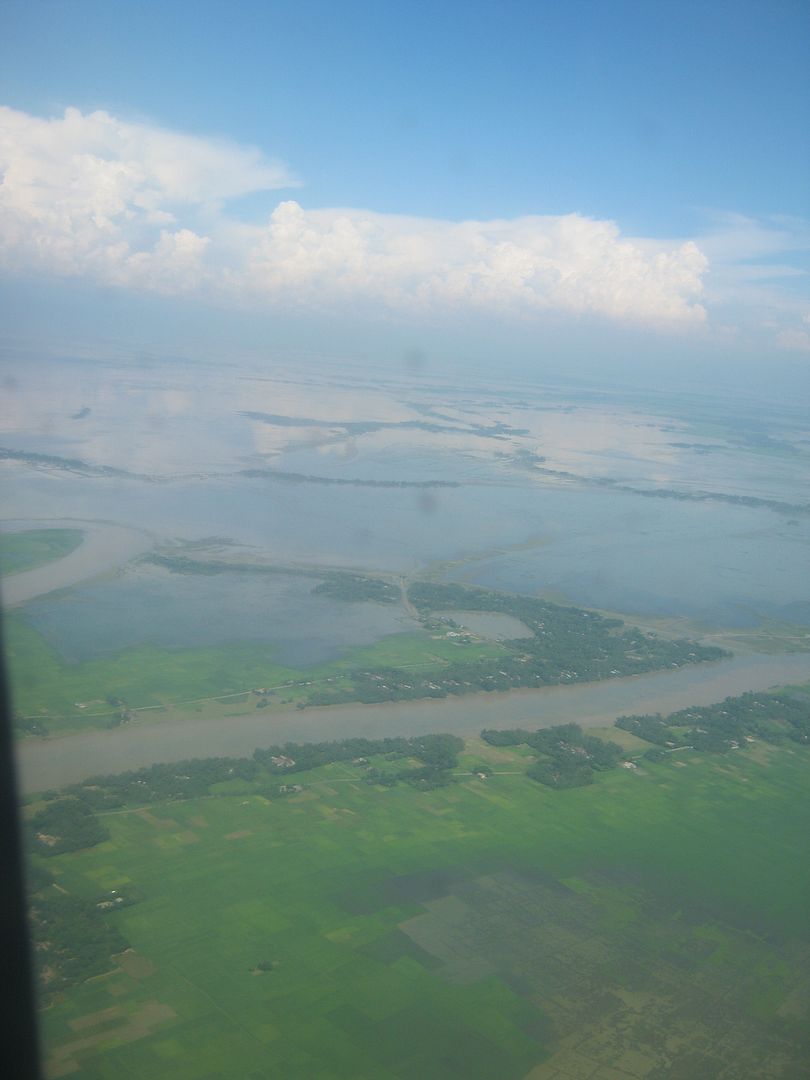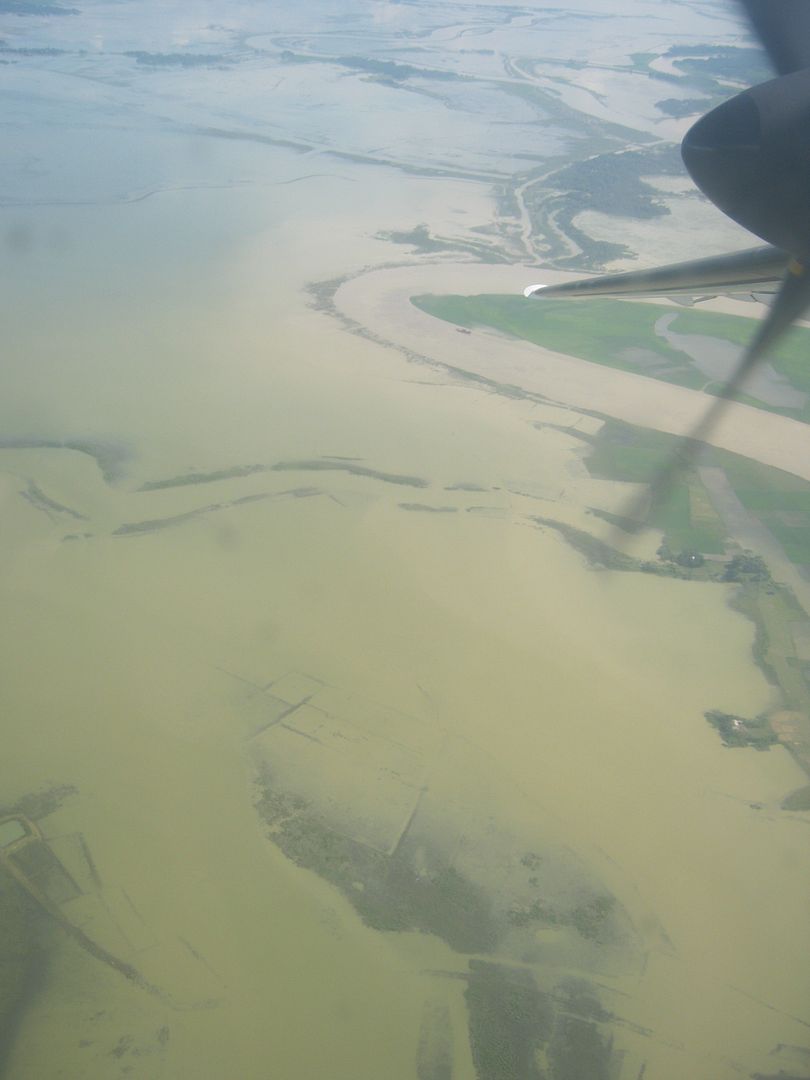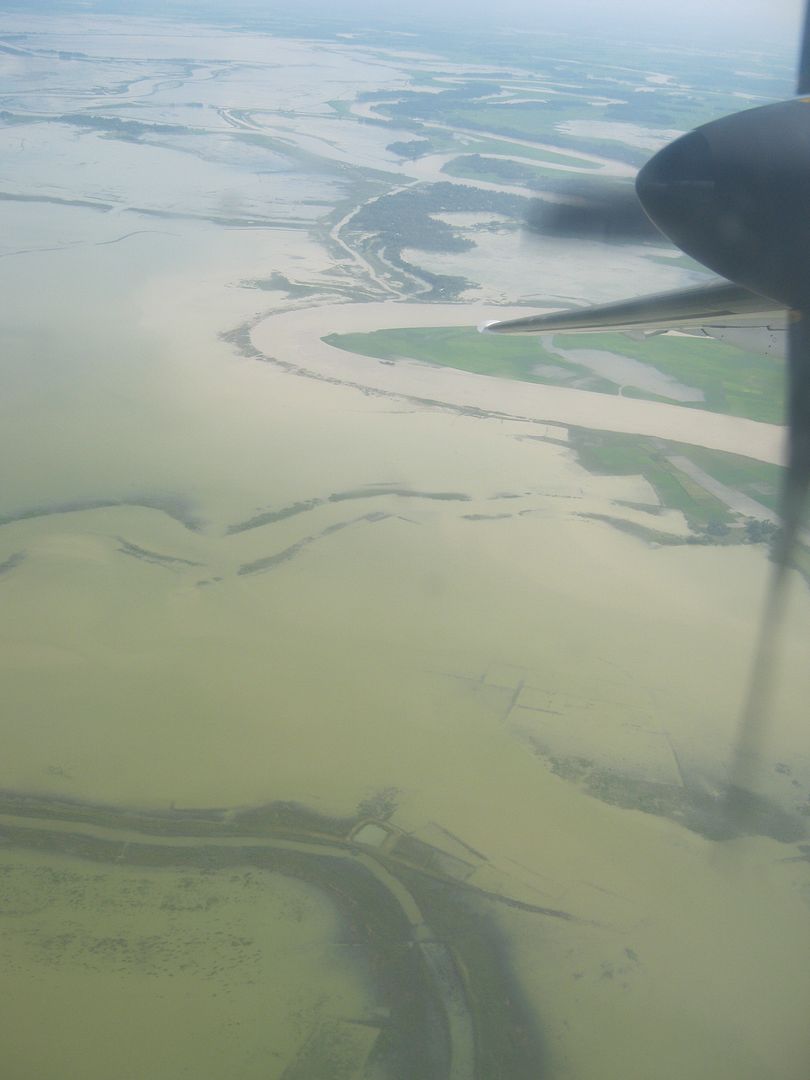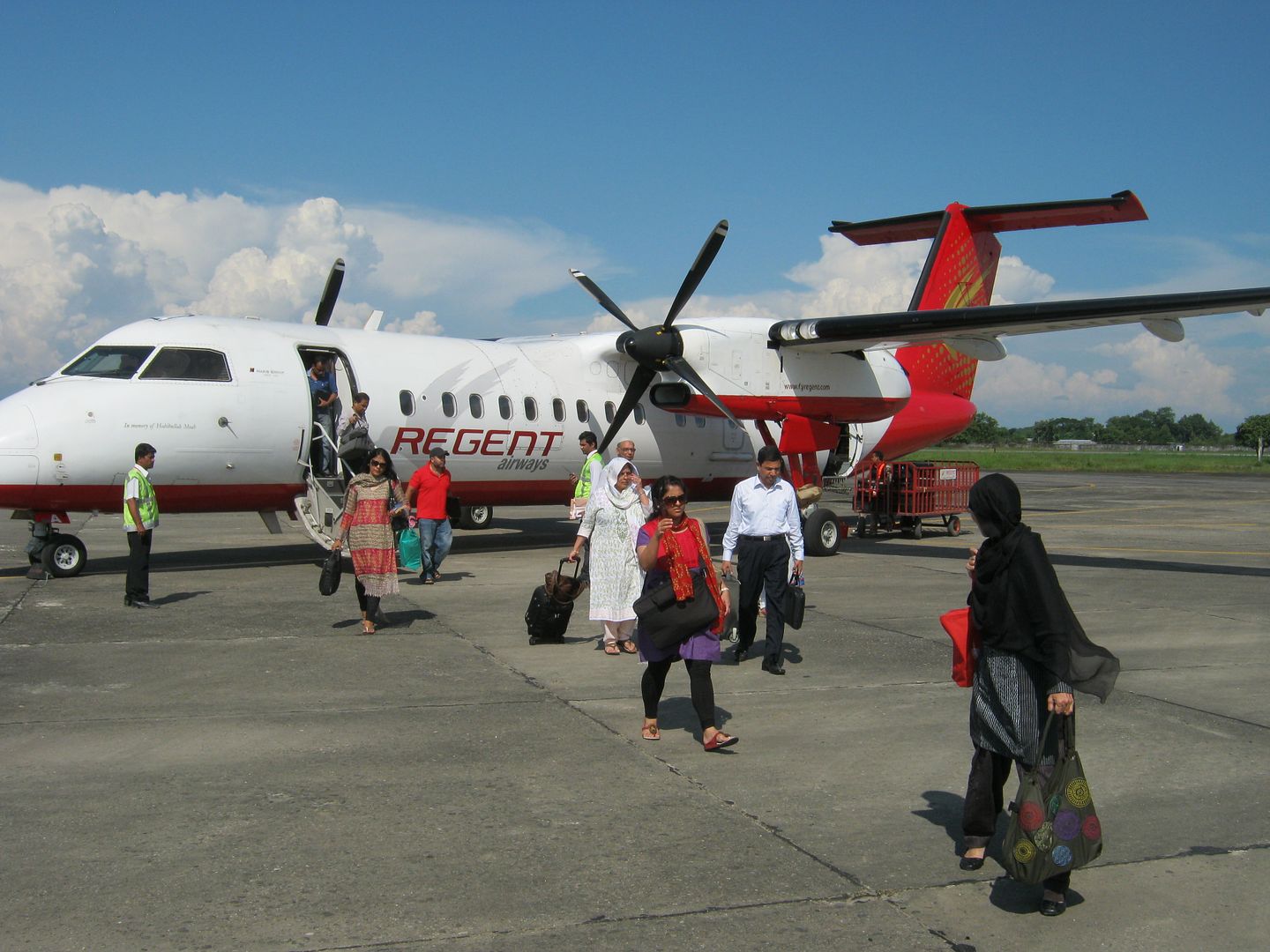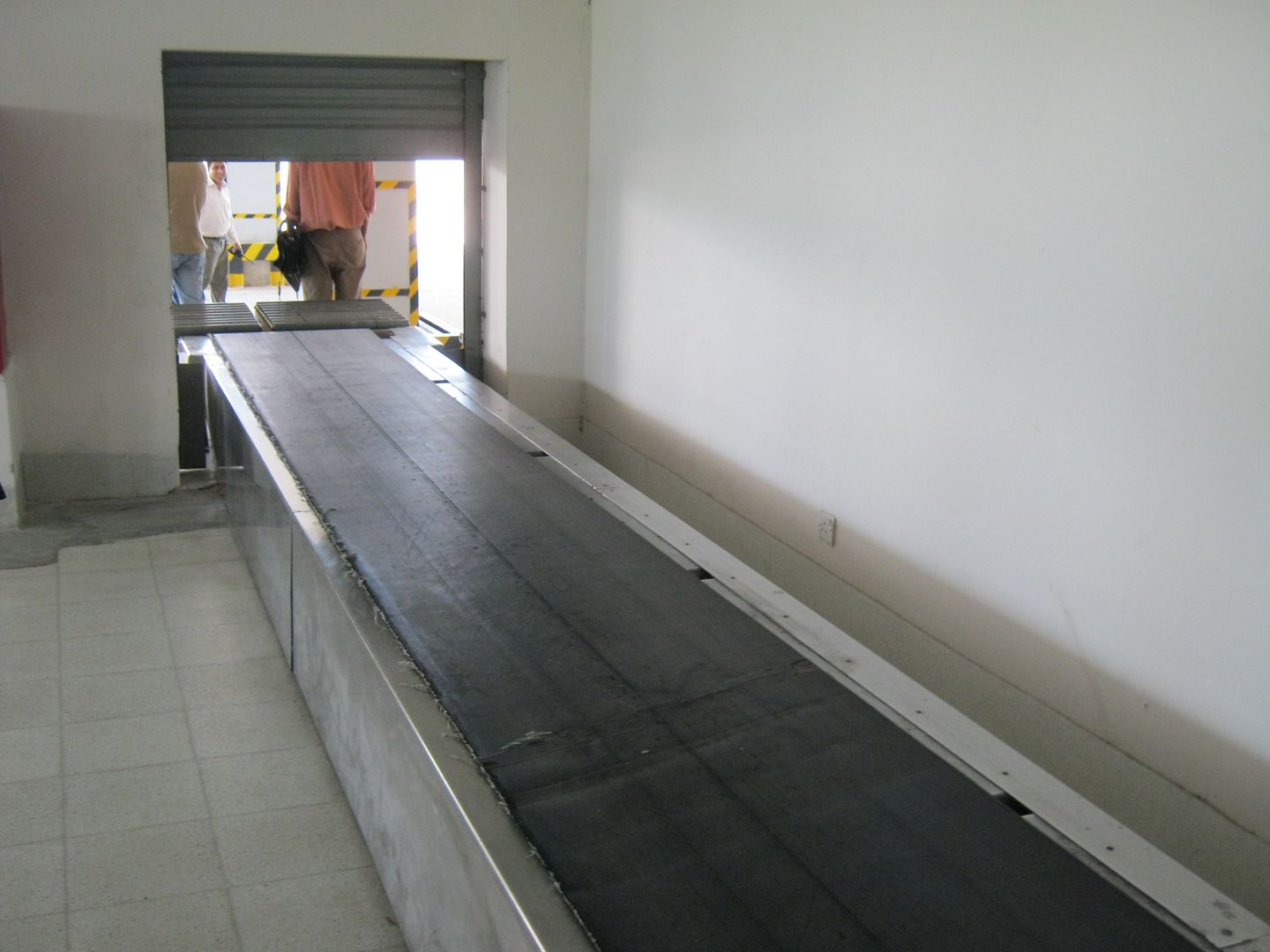 We touchdown in Syhlet and the weather was sunny, still very hot & humid.
We're picked up by our client's driver. The beggars were very aggressive and our client's driver had to shout at them and push them away. Already it felt as though we were in a semi-hostile environment. The journey to the work site was a 2 hour ride of near head-on collisions, honking horns, dodging roaming cows, lambs, chickens as well as people crossing the road, people pedaling their rickshaws and avoiding other cars.
I really wanted to get a photo but the ride was extremely bouncy and difficult to get a focused shot of the scenery.
After about 2 hours of that adventure, we arrive at the guesthouse our client put us up at in the Moulvibazar region of Bangladesh.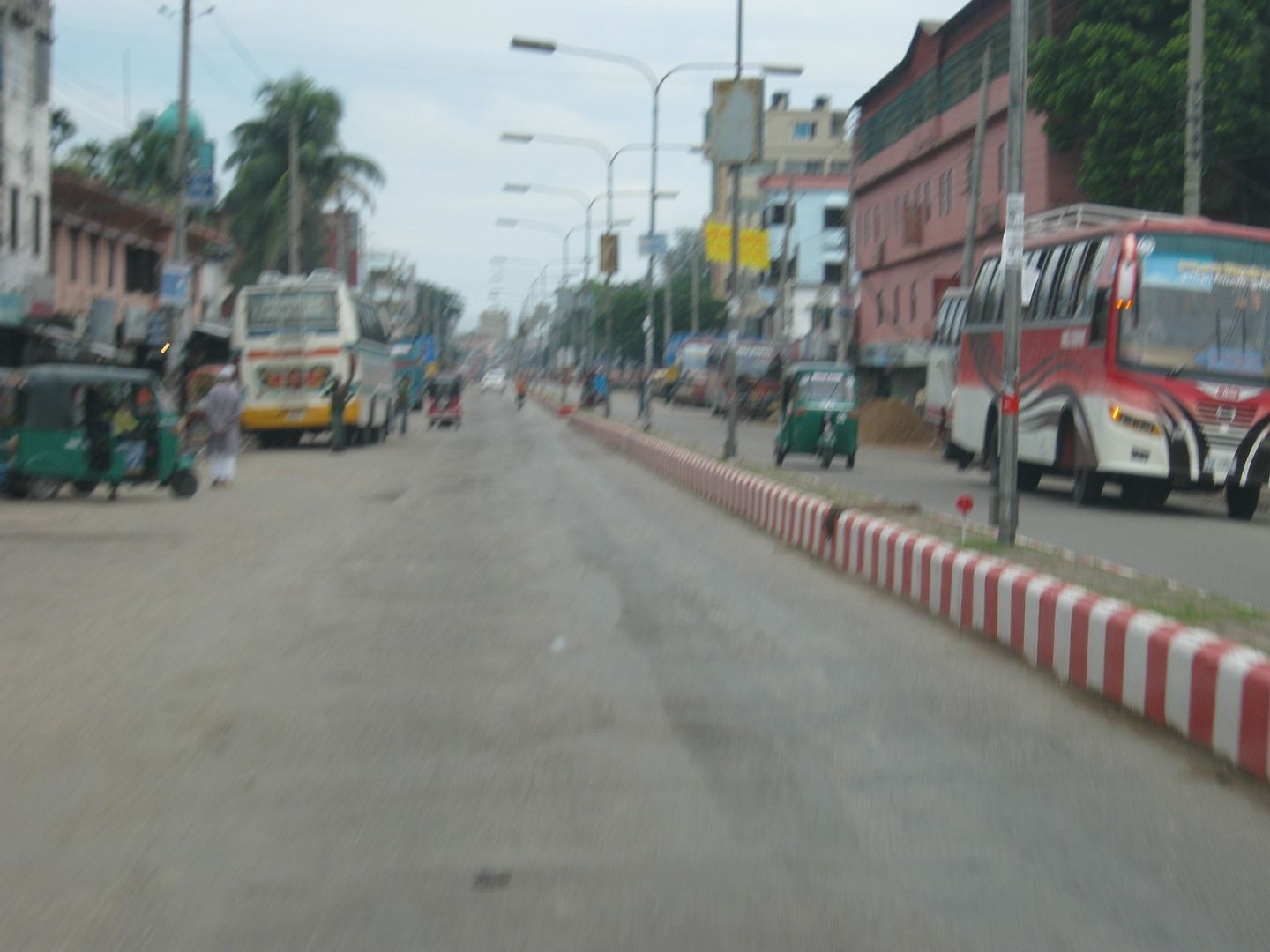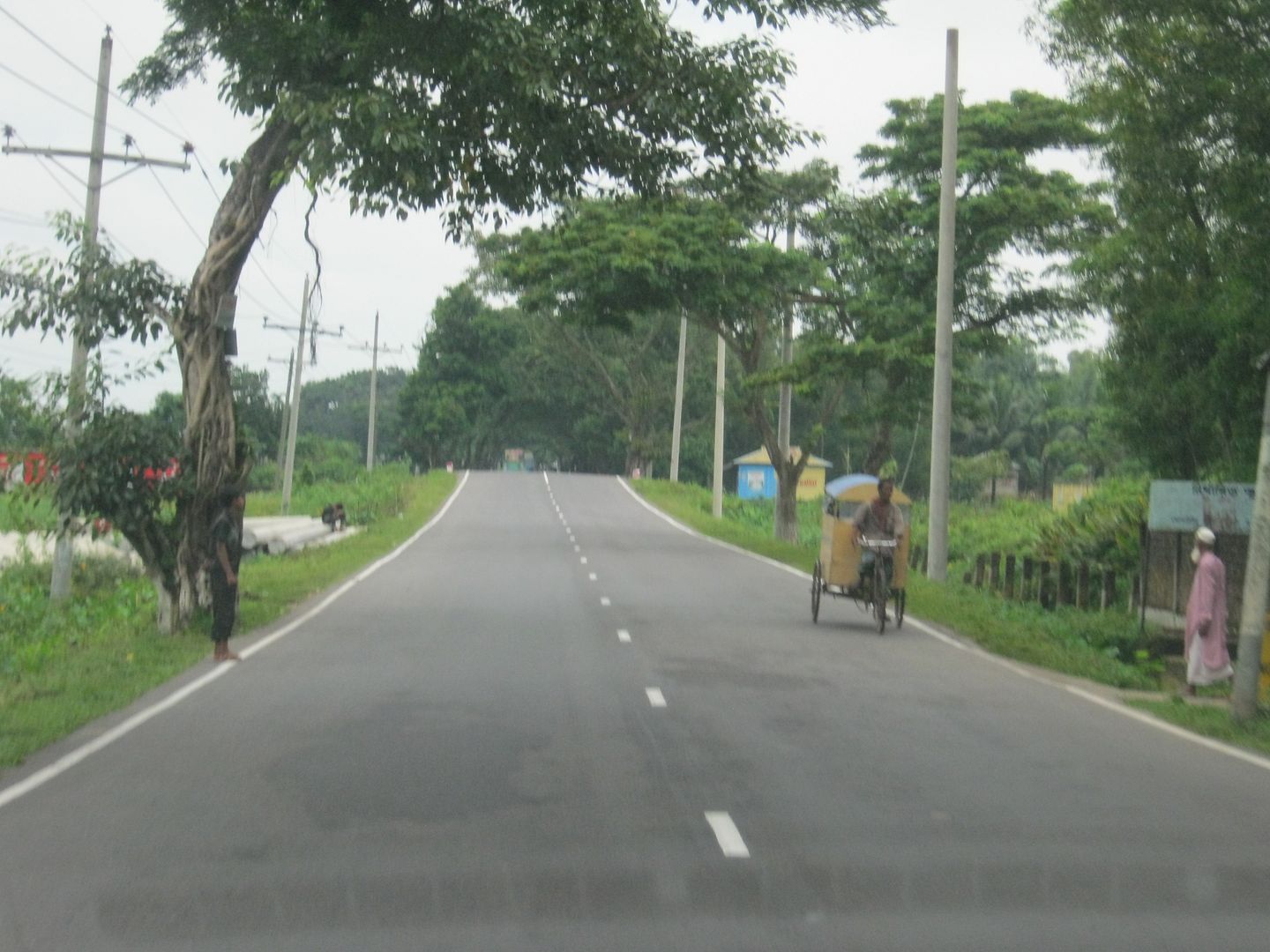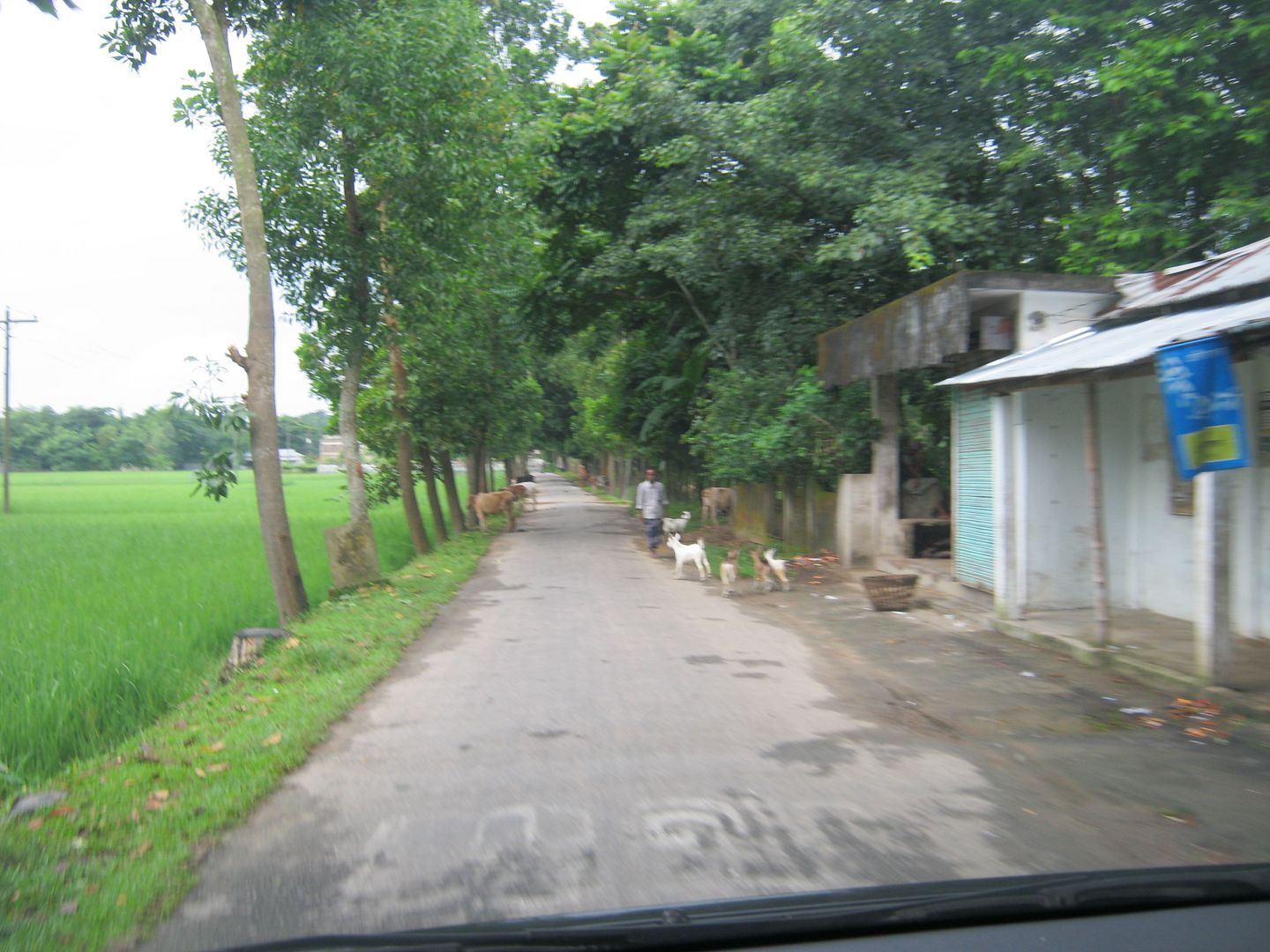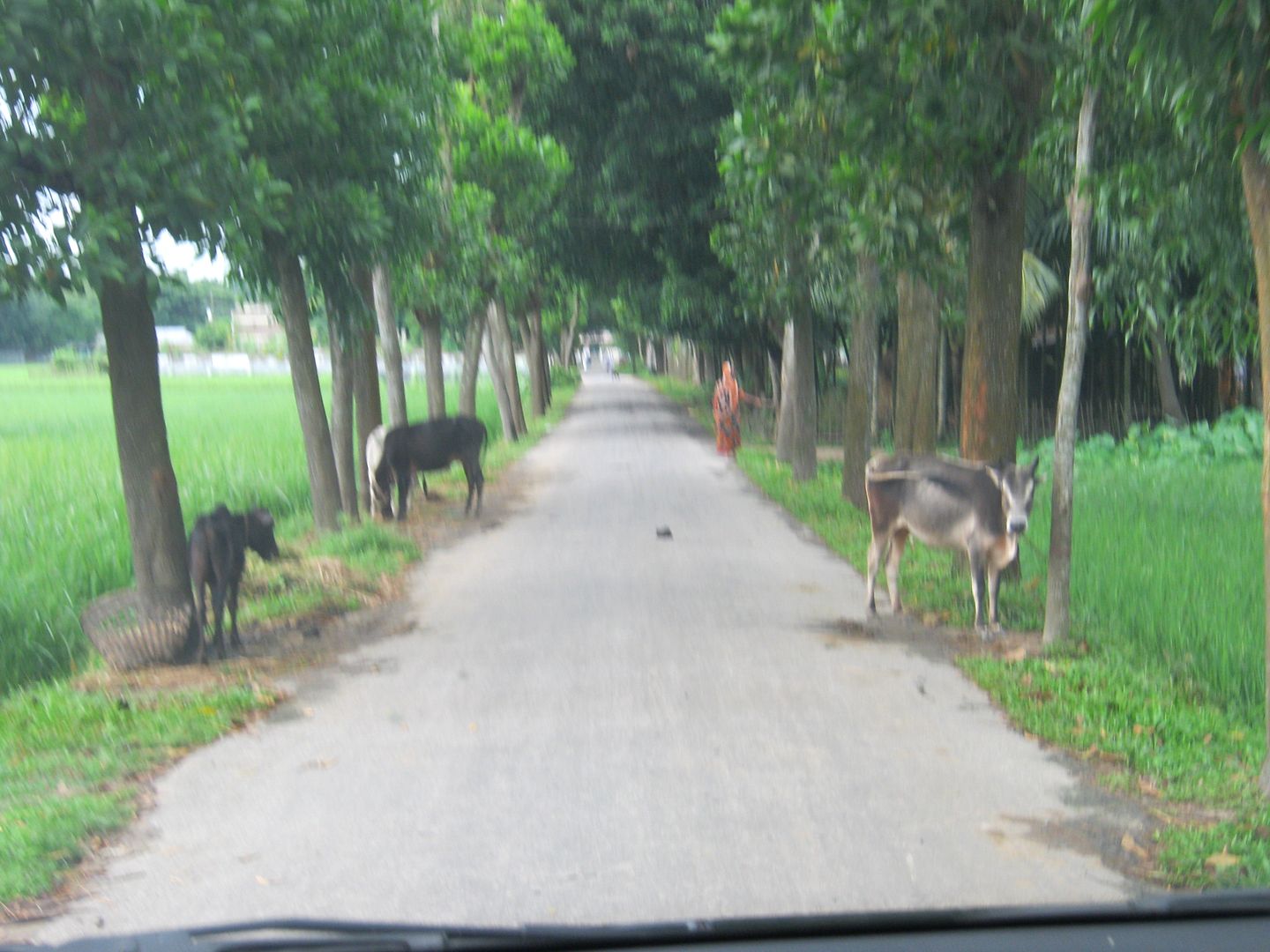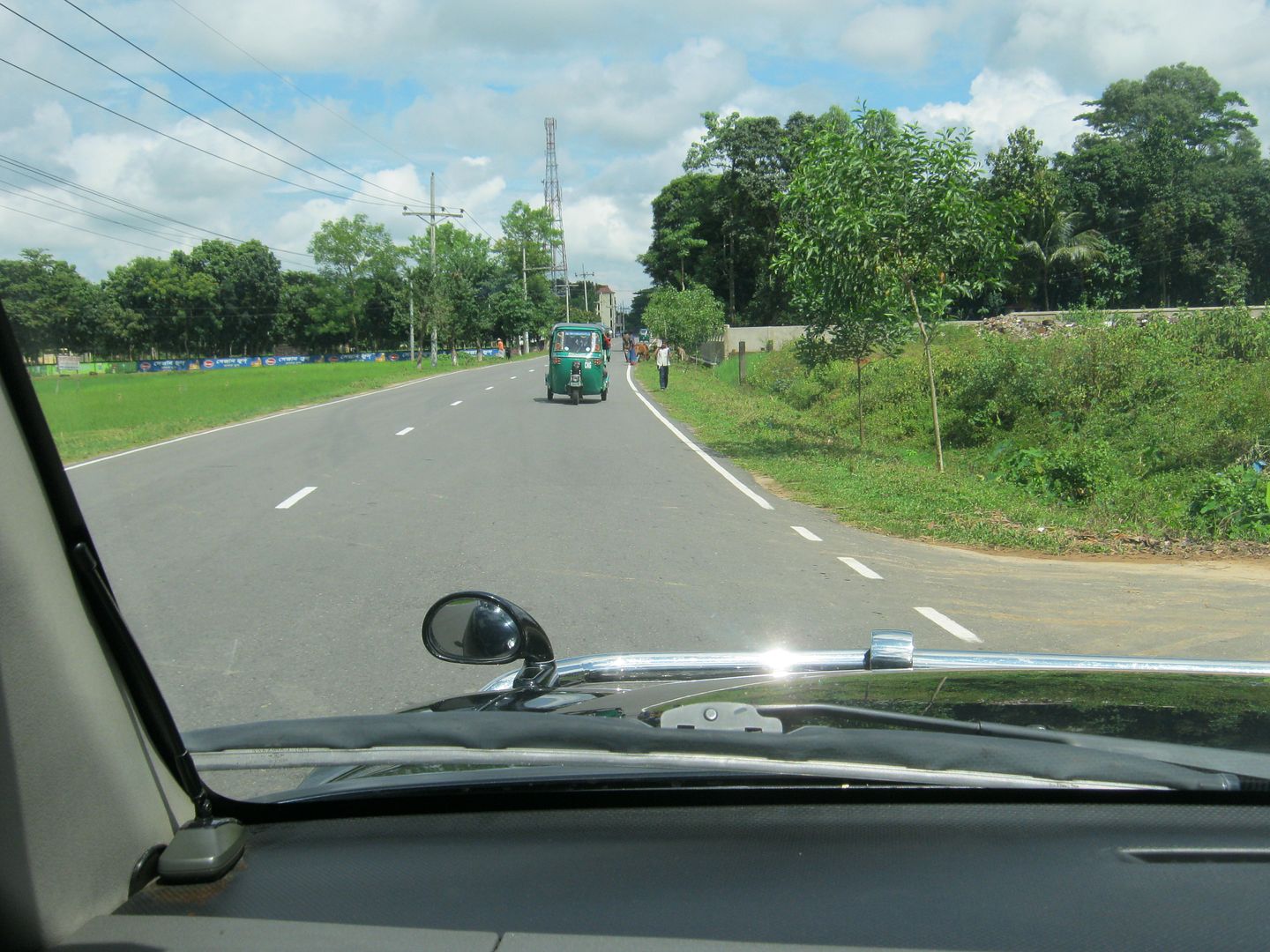 The guesthouse looked very impressive. It was a 1920s era British colonial era home surrounded by tea plantations. It was beautiful scenery but the place still had a strange odor. As impressive as the place was, it looked like the place hadn't had any guest in over 20 years. No water pressure and the water that came from the faucets was brown initially and had an extremely foul stench. This guesthouse could be an amazing place if properly maintained.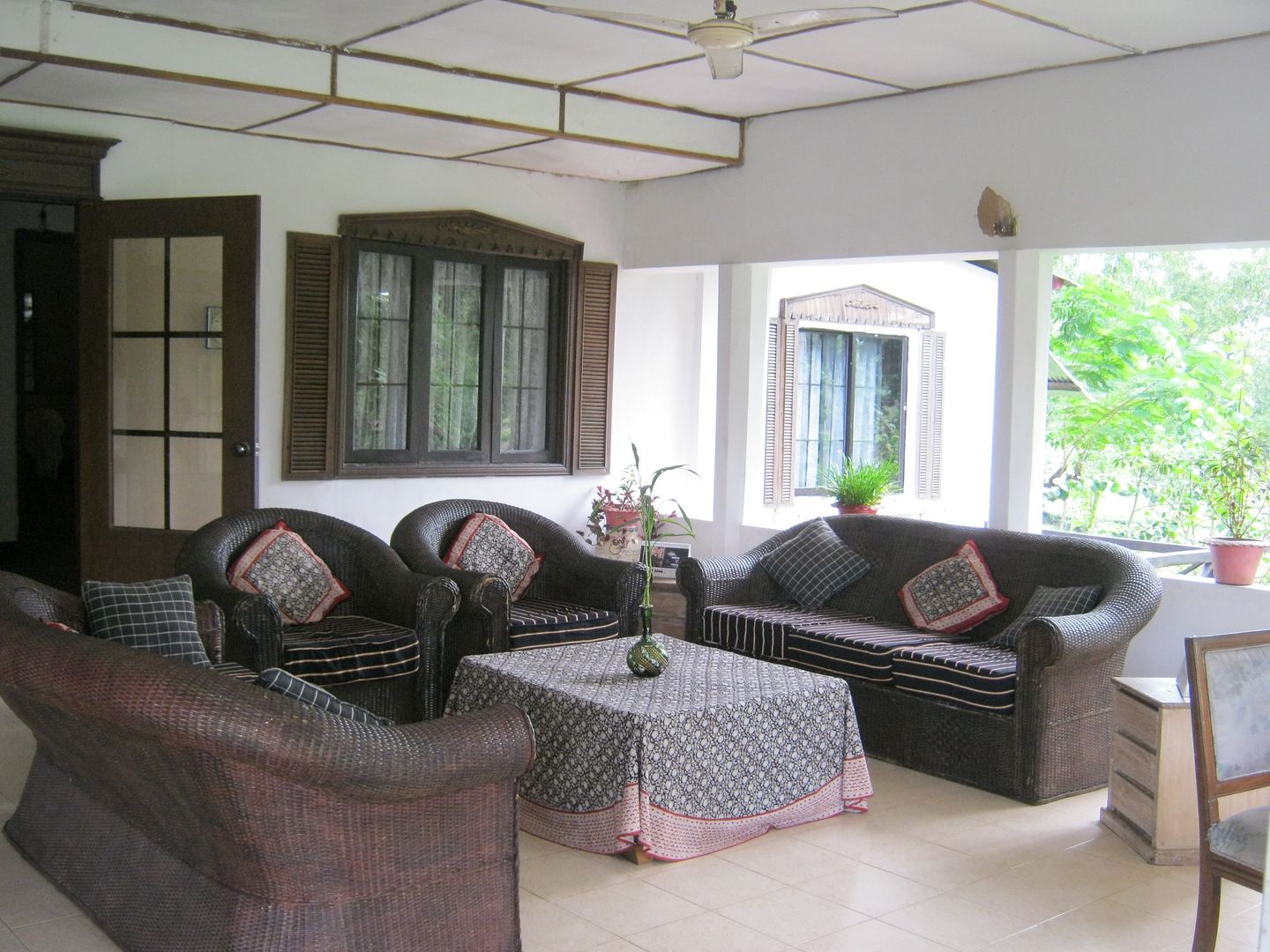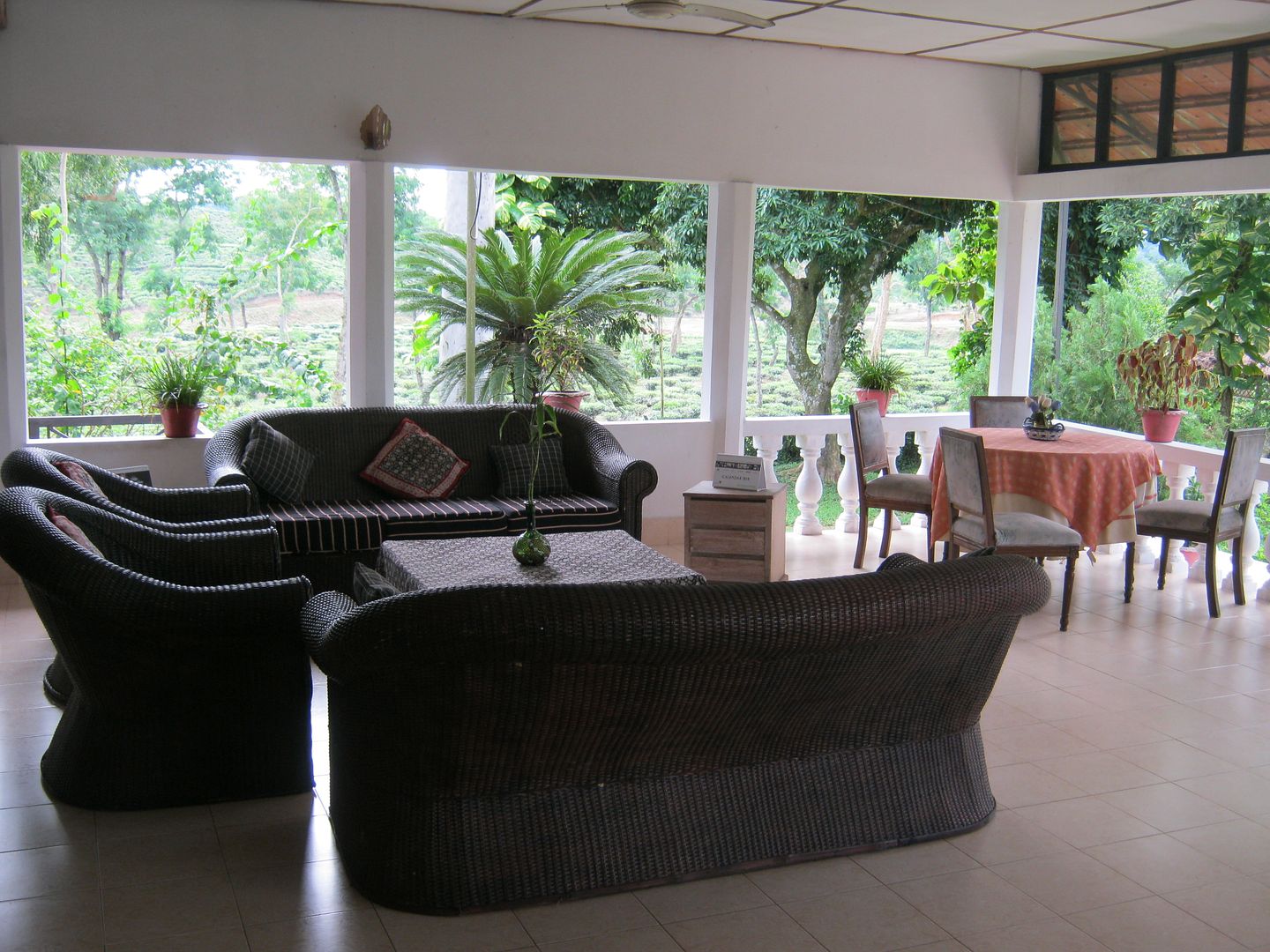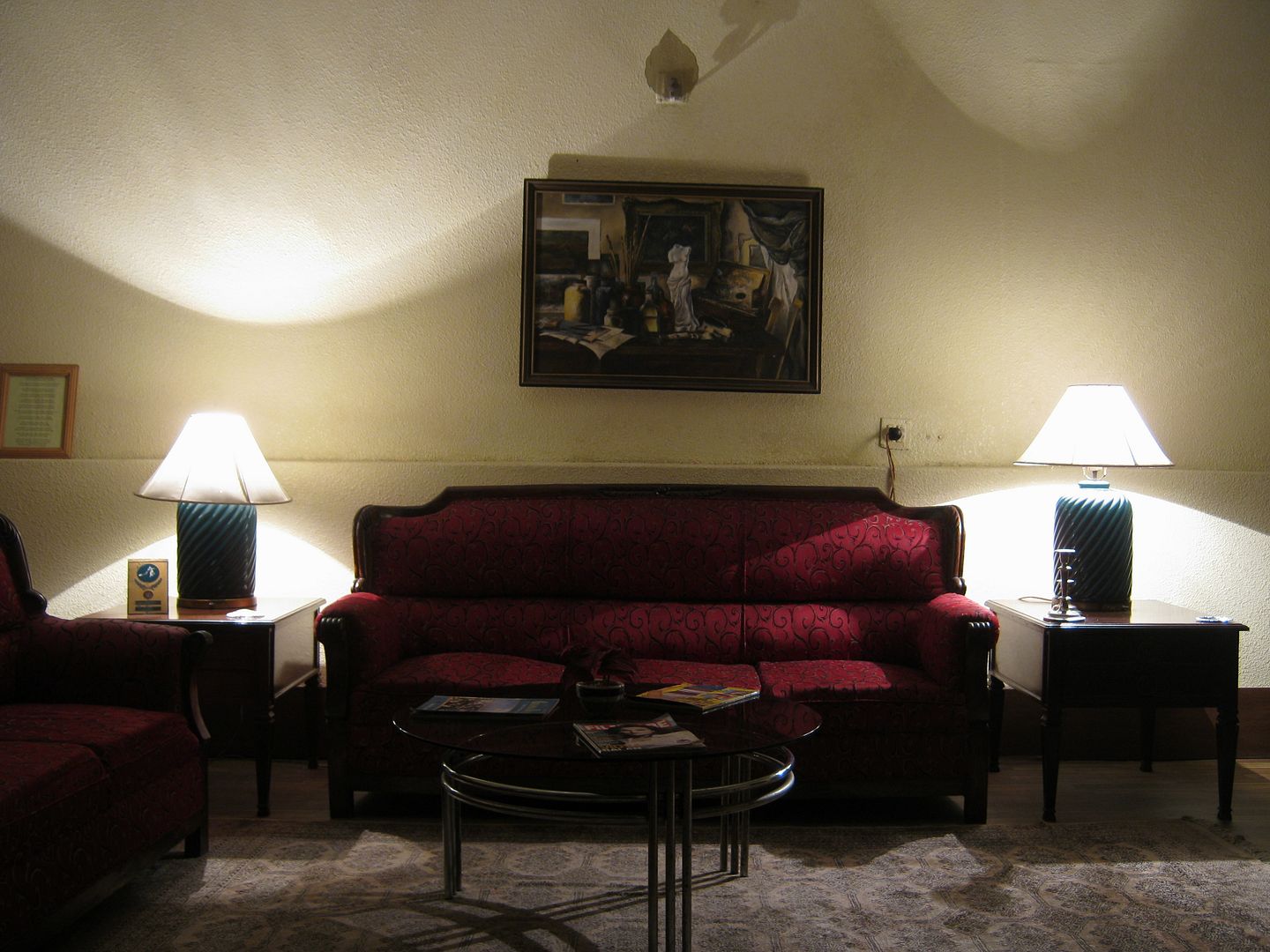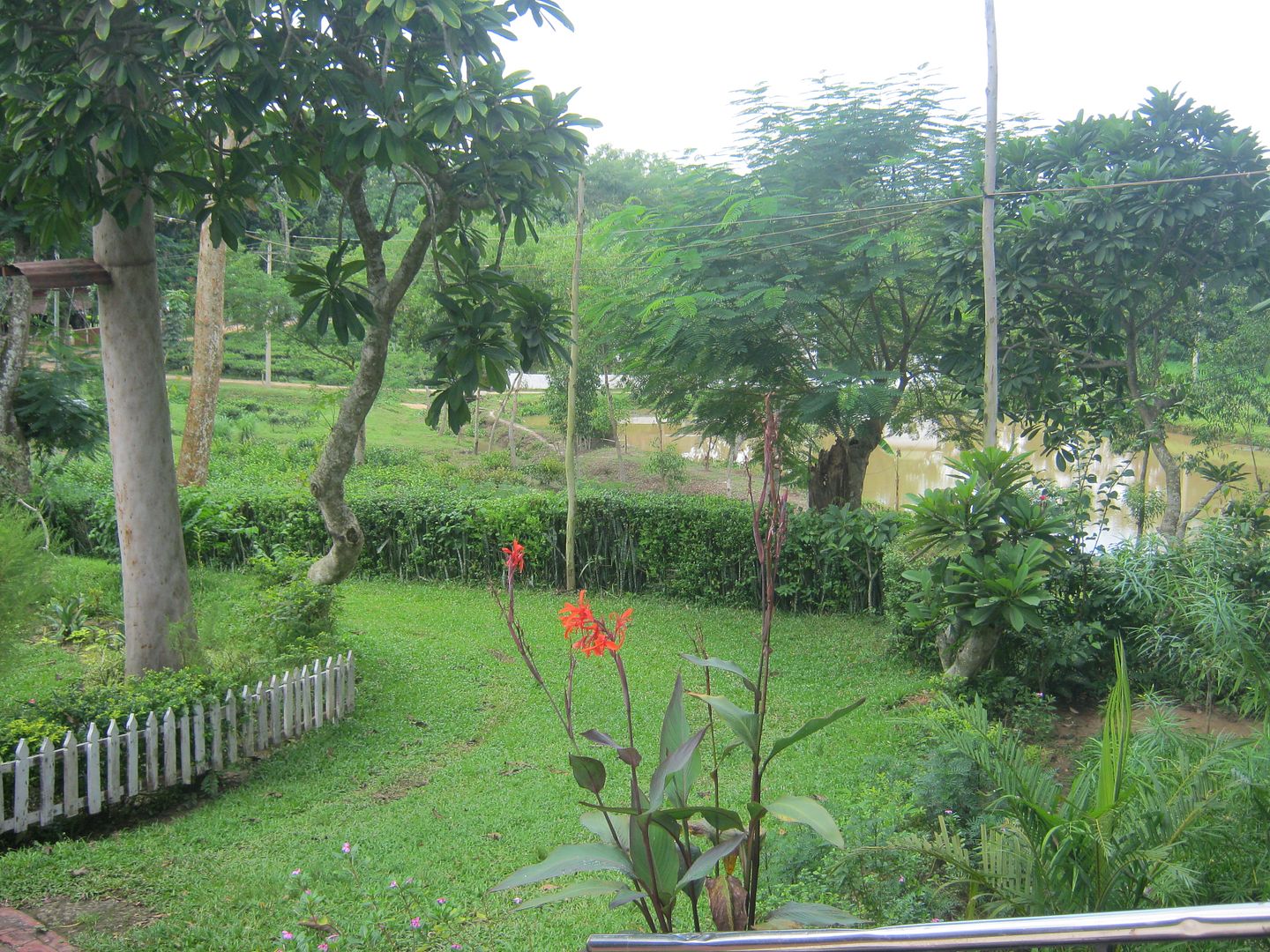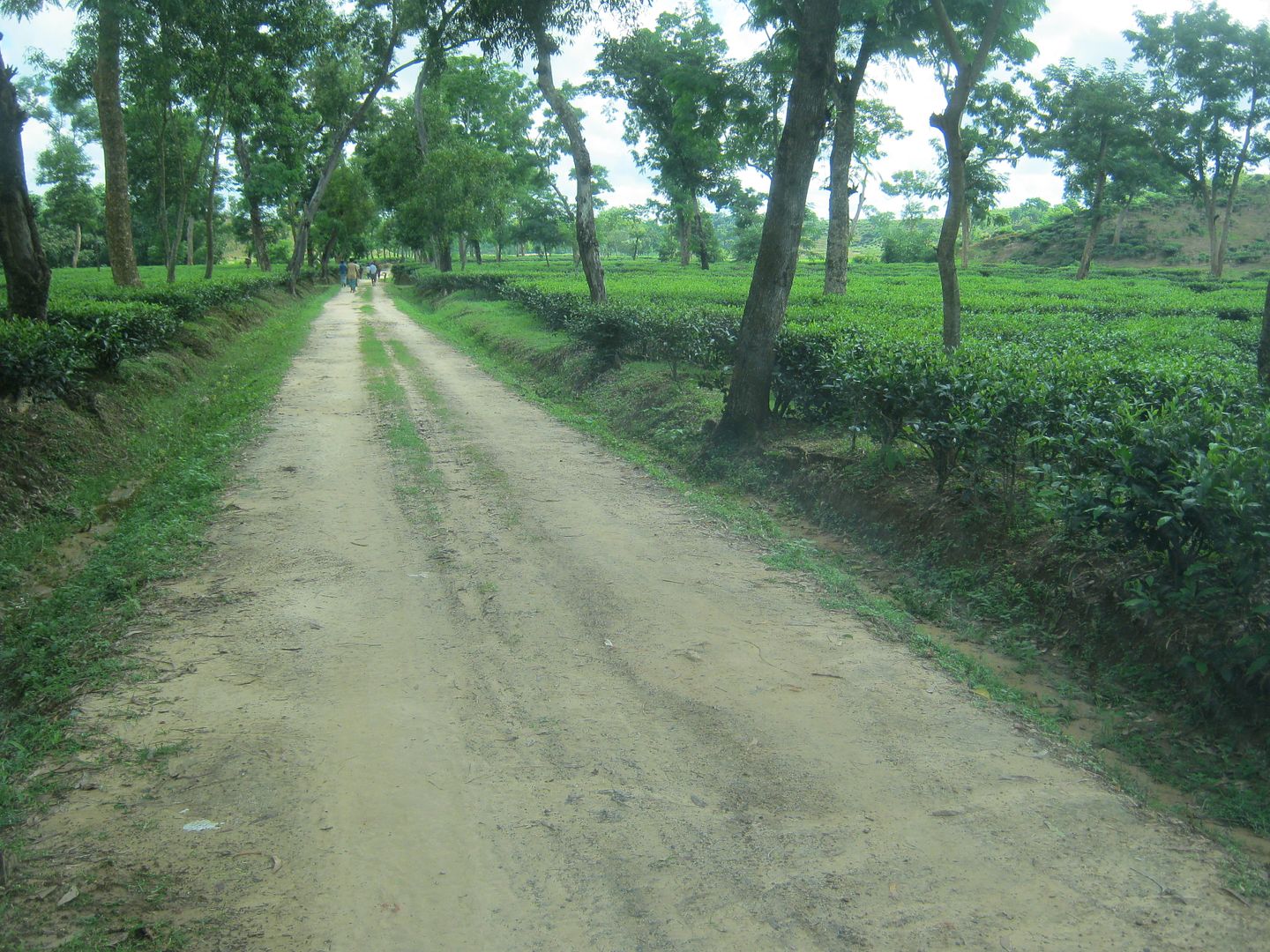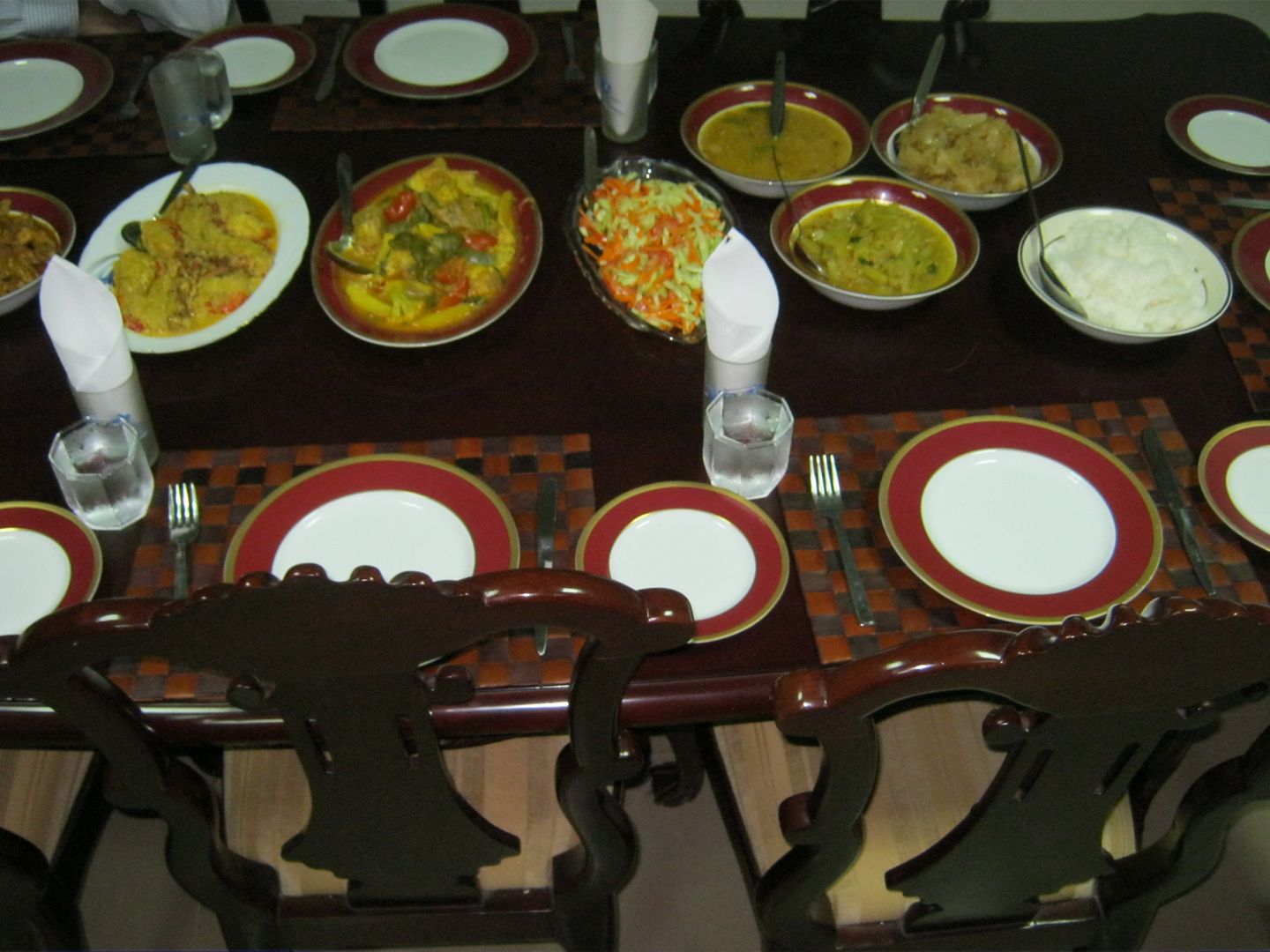 I wont go in to the details of the site visit but one thing I couldn't help notice was the presence of spiders. Although I'm not afraid of spiders, there were a lot of some really strange looking ones that I'm sure can deliver a painful bite. The site inspection went on for several days and we did what we needed to do.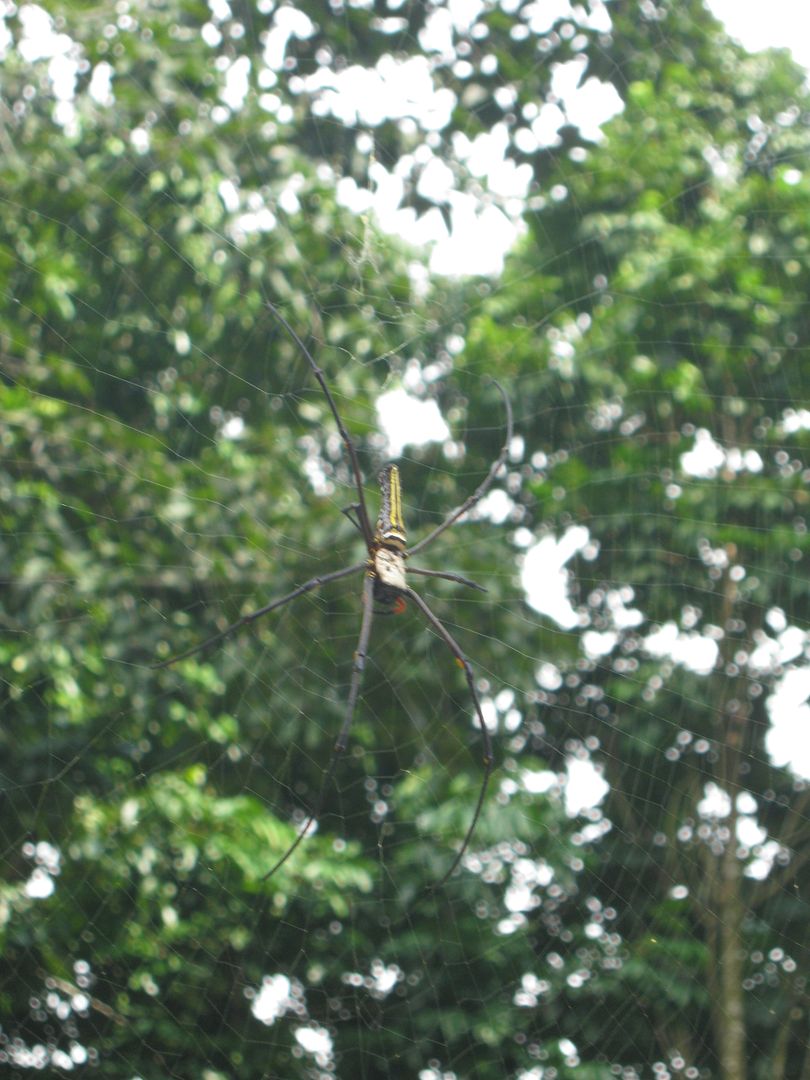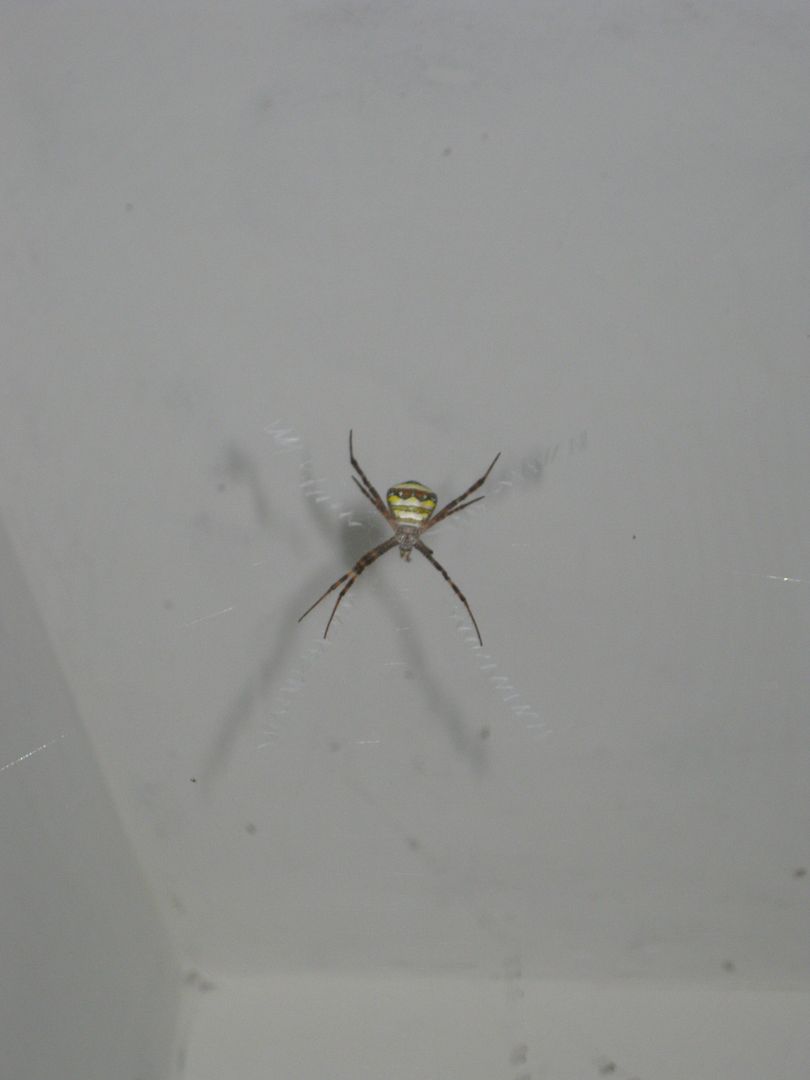 Bangladesh was not a pleasant place to visit. In my trip reports, I don't like to say bad things about the countries I visit but it's hard to find good things to say about Bangladesh. I know it's a poor country and all but the poverty is only a part of the problems there. I've been to other poor countries too that were far more pleasant and interesting and I'm not speaking from a tourist point of view.
Our client was very nice and polite to us and did everything to make our in stay a pleasant one. Even had food imported in from England so we wouldn't get sick from the local food. Unfortunately he was very rude, nasty and downright mean towards his staff and the local people in the village. We were taken back by all of this. Because of his wealth and power, he treats those beneath him worse than the dirt on the bottom of shoe. I've seen this behavior by a few of his associates that are also wealthy Bangladeshi. I've never seen this sort of lack of respect due to their rank in society. It was very uncomfortable to see this face to face. Is this normal in Bangladesh? I certianly hope not.
Every minute spend in Bangladesh felt like an hour. We speed up our workload and left 3 days earlier than planned.
He did take us to a tea house up in the hills. That would have been neat to see in the day time but it was already dark when we got there.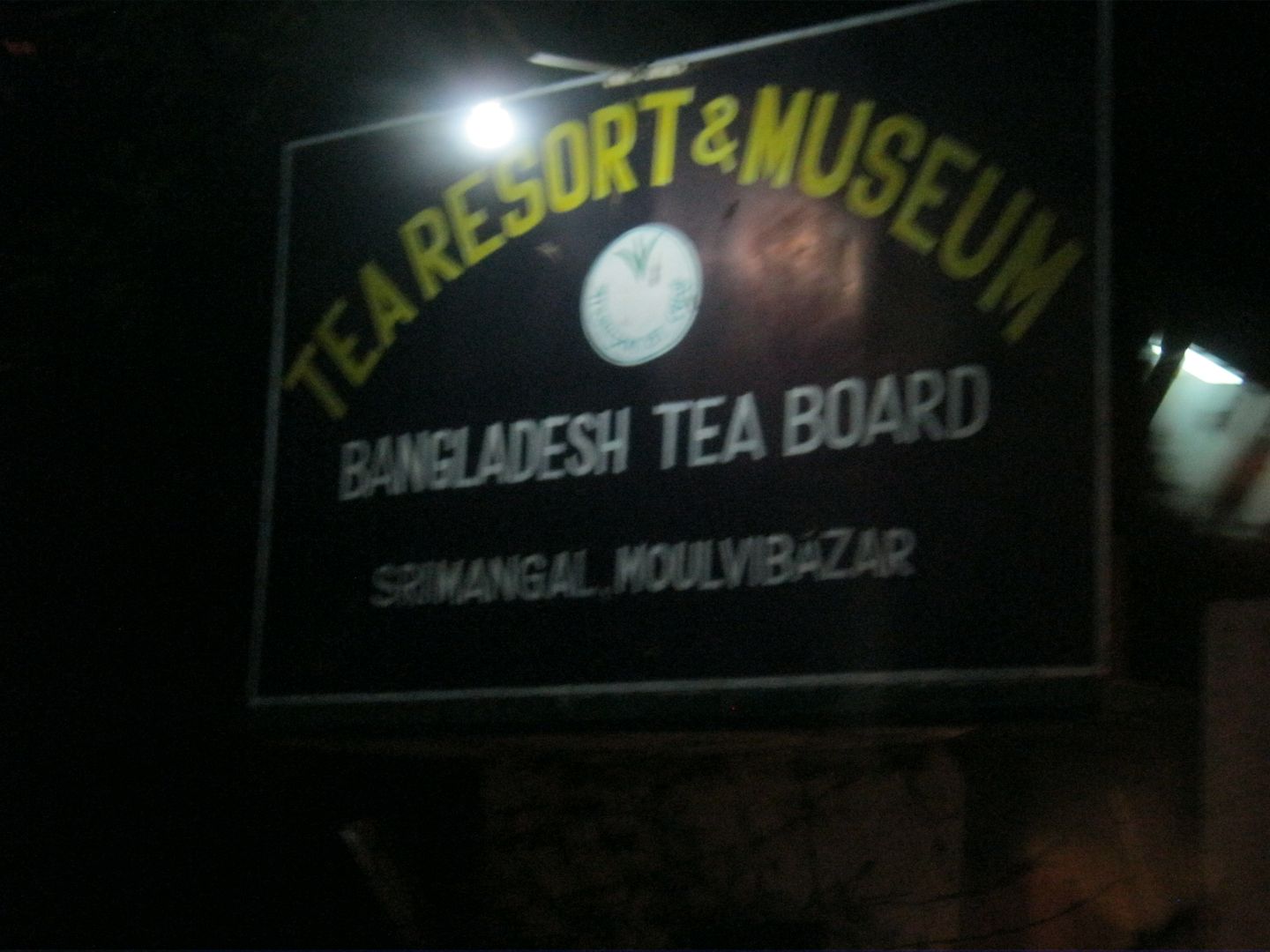 I had asked our client why we were booked with such a short connection time from Dhaka to Syhlet. He said that the later flight was on Biman and he was afraid to put us on Biman. I would find out that the flight would have been on a DC-10! ! ! ! !
I was livid knowing that I could have got a DC-10 flight on this trip. The last time I flew on a DC-10 was an American Airlines DC-10 from Chicago to Los Angeles in 1992.
I was trying to get the DC-10 flight from Syhlet to Dhaka but it was in 3 days. I really didn't want to spend another minute in Bangladesh so an extra 3 days was out of the picture.
The ride from Moulvibazar back to Dhaka was 4 hours of speeding, avoiding near head-on collisions, abrupt lane changes, braking, speeding up, honking, avoiding hitting cows, lambs, people, other cars and other random objects that would cross the road. As we got closer to Dhaka, the traffic build up got more intense. That is where I saw the intensity and mayhem of Bangladesh. Extreme poverty, muddy streets, dirty rivers, desperation and just all around miserable conditions. On two occasions, our van was pounded on by a local village people that just didn't like our client/host. My guess is that he and his circle of elites are lot liked very much.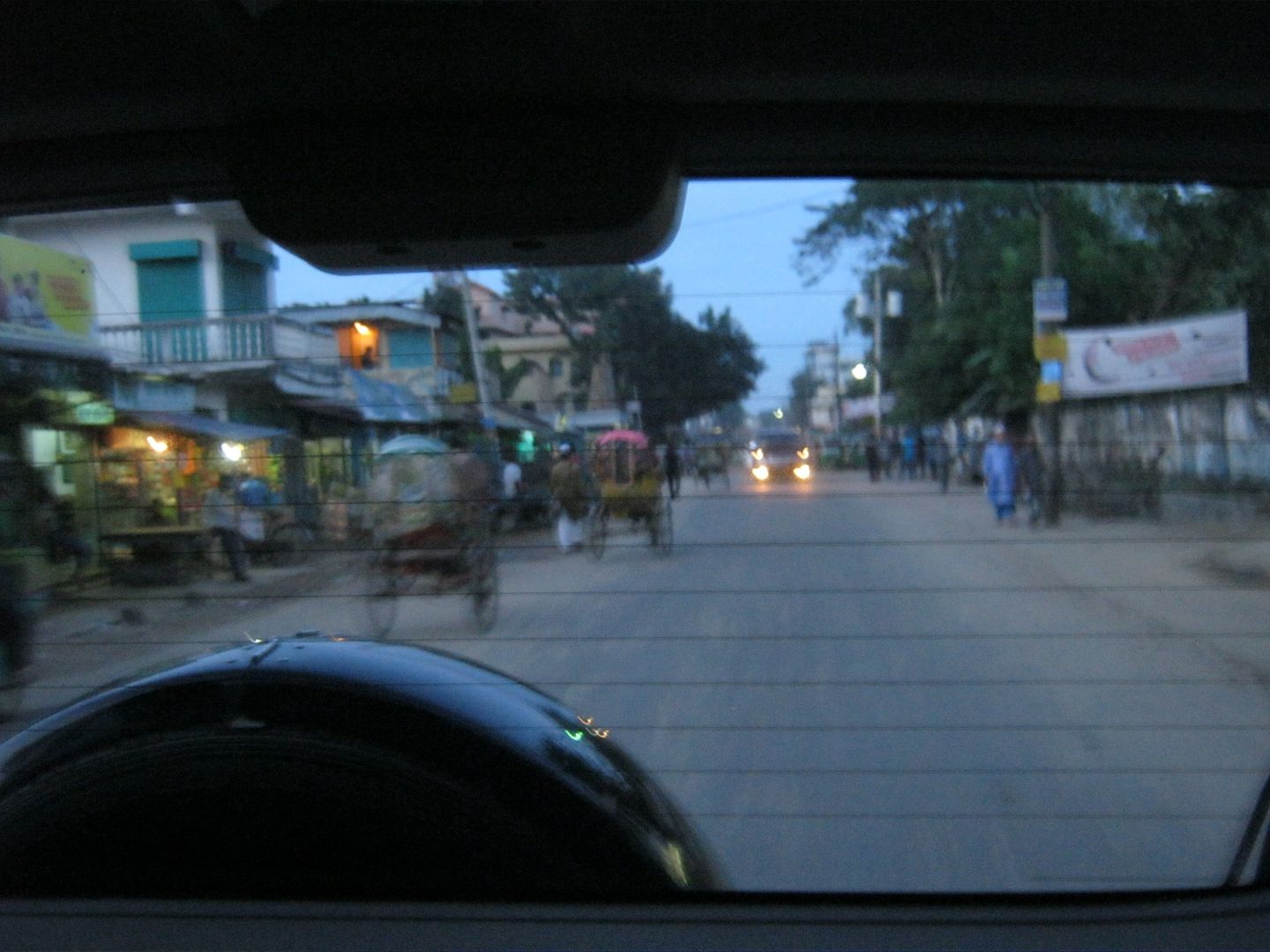 Although not entirely related to the trip report, there was an inncodent that underscores the hostility and intense mood of Bangladesh. While we were en-route to the airport, we would find out that one our client's staff members was attacked by an angry mob of 200 people when he borrowed his bosses SUV to buy a few items at the store. While trying to make a U-turn to get away from the angry mob, his SUV fell in to a ditch and that's when the mob jumped on his SUV and busted out the windshield. Then the angry mob realized that they were attacking the wrong guy. They helped him out of the SUV and called the paramedics for him.
As bizarre as this all sounds, I am not surprised at all by this. I got a sense that the local village people do not like this particular person that is in charge of this construction project. Finishing up our work quick and getting out of there was the best thing we could have done.
I really hope that we just had a bad client and not a repesentative sample of Bangladesh.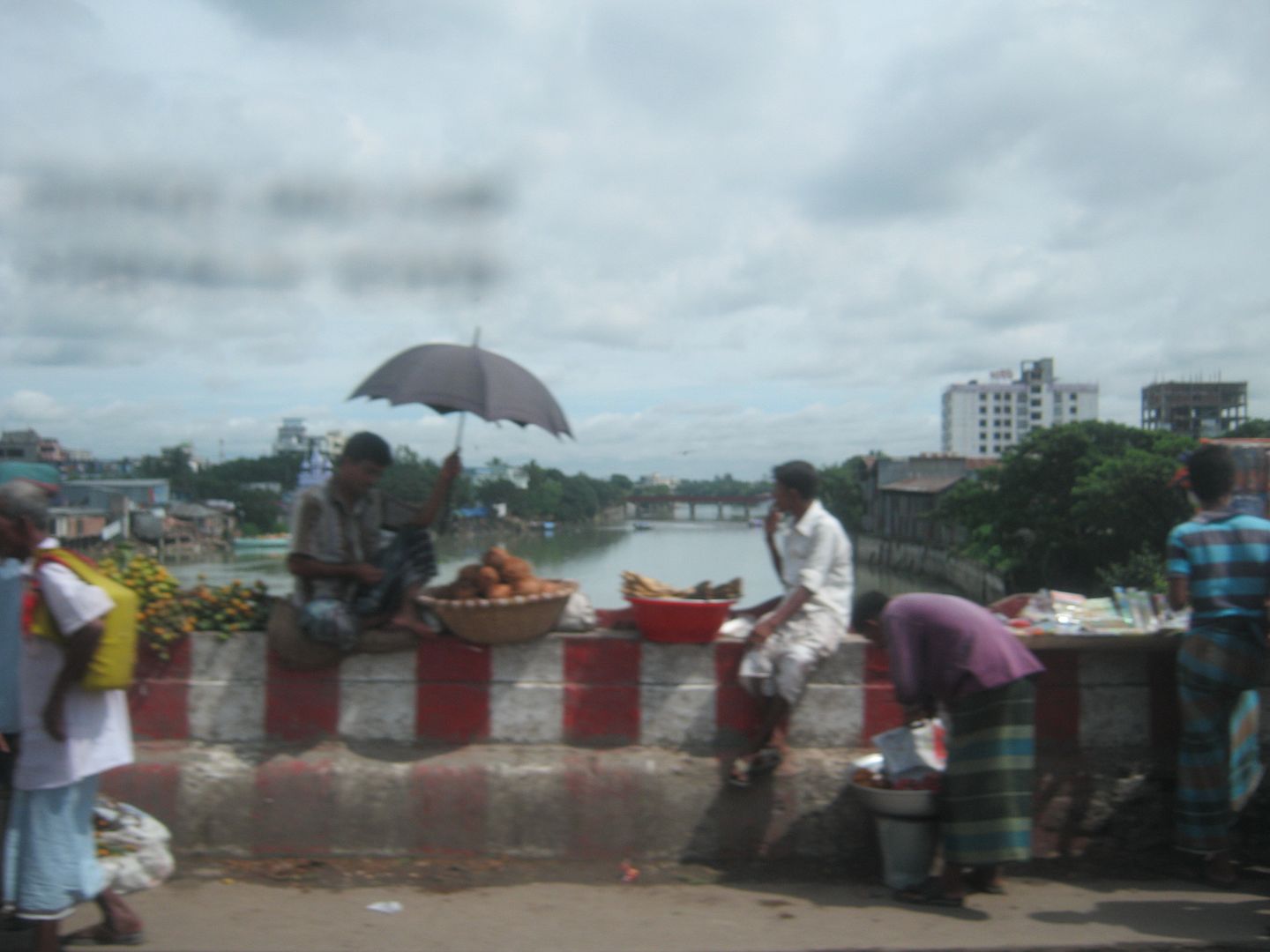 We arrive in to Dhaka and get to the airport in a knick of time. It was a 4 hour drive to go 190KM.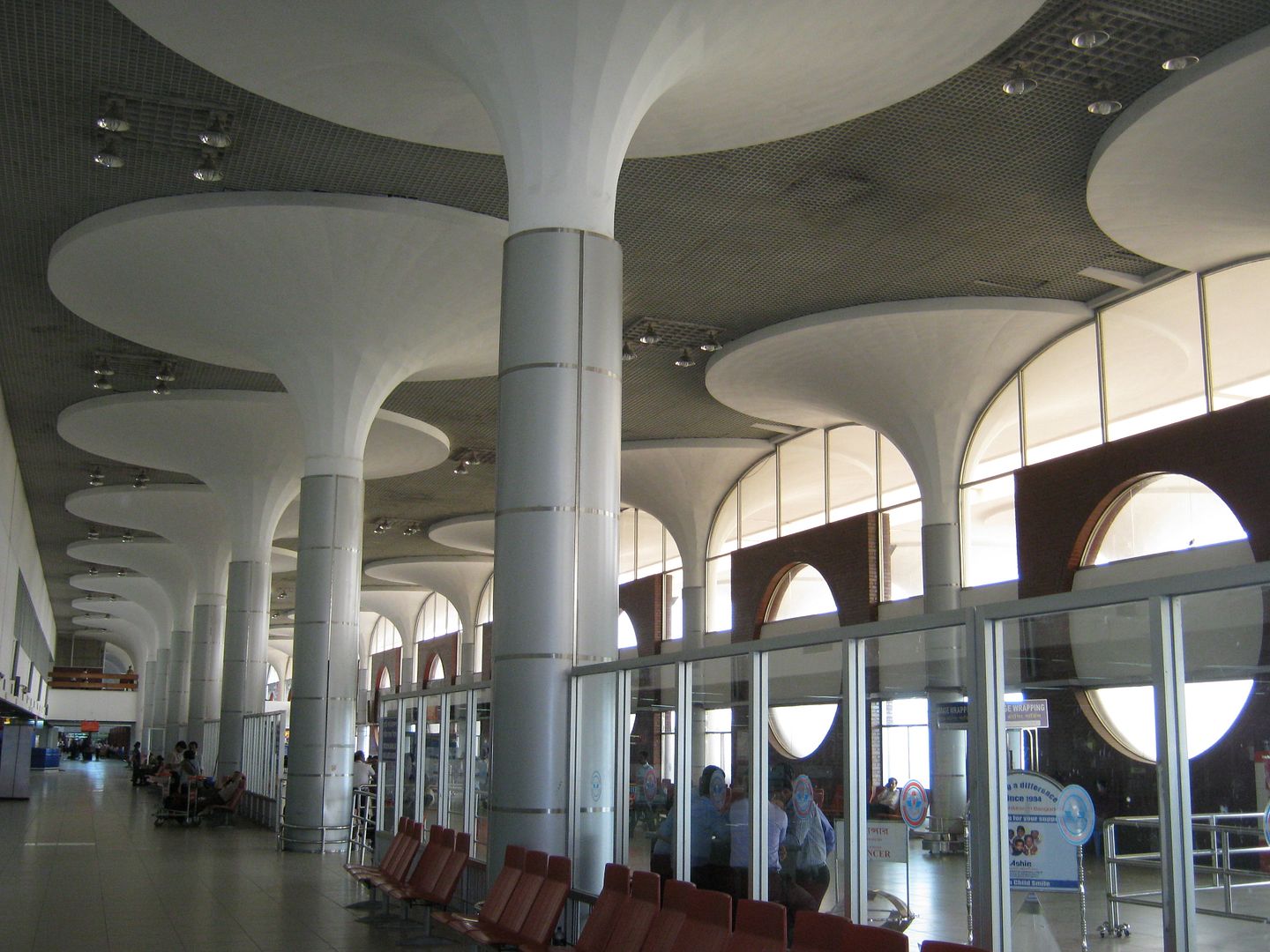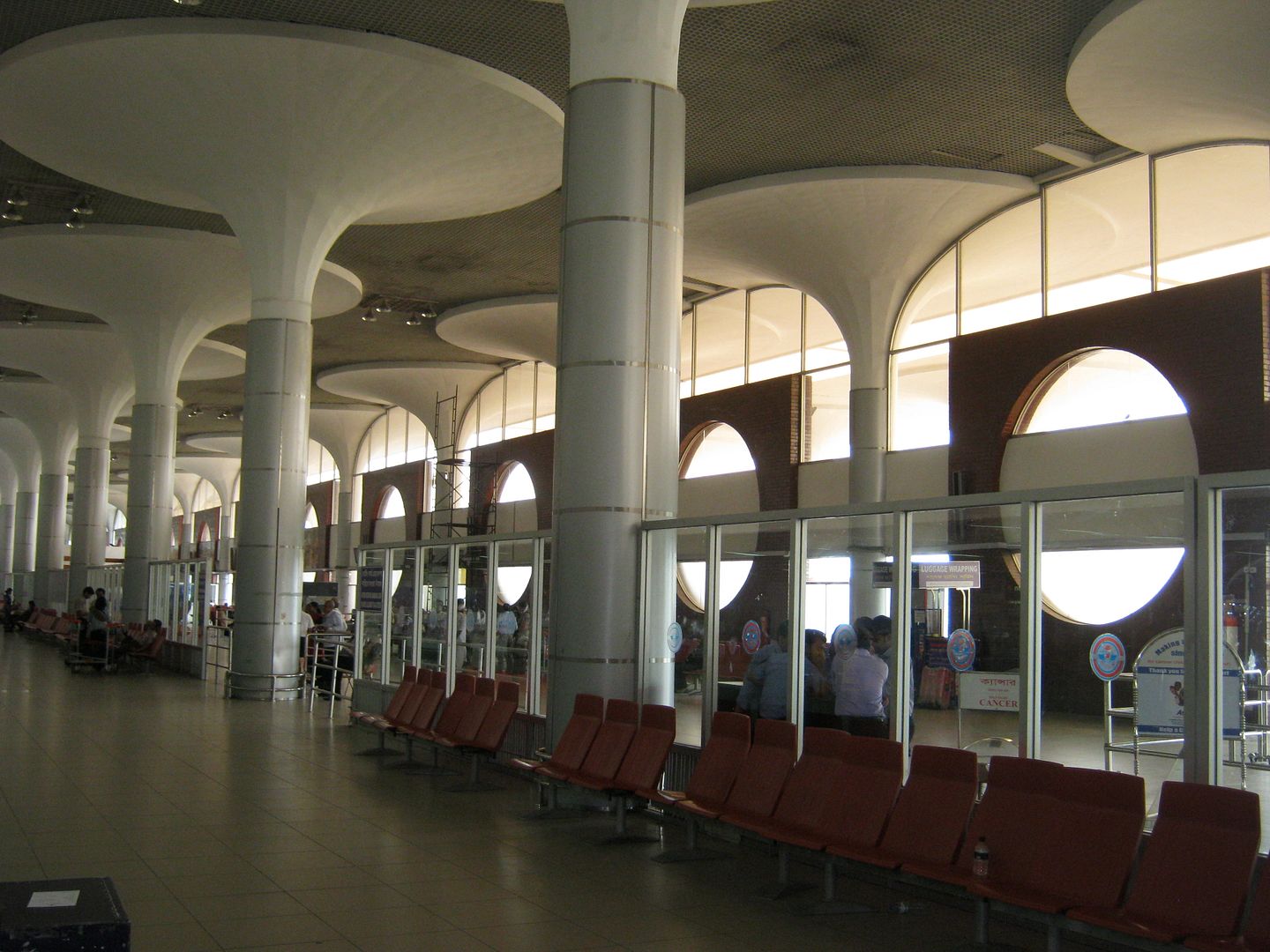 If there is any redeeming value about Bangladesh is their airport terminal. Hazrat Shahjalal is an absolutely beautiful building and probably my favorite airport terminal world wide.
We check in at the Thai Airways check in counter, there was no line. Got a window seat once again, my seat karma strikes again. Window seat with no one next to me.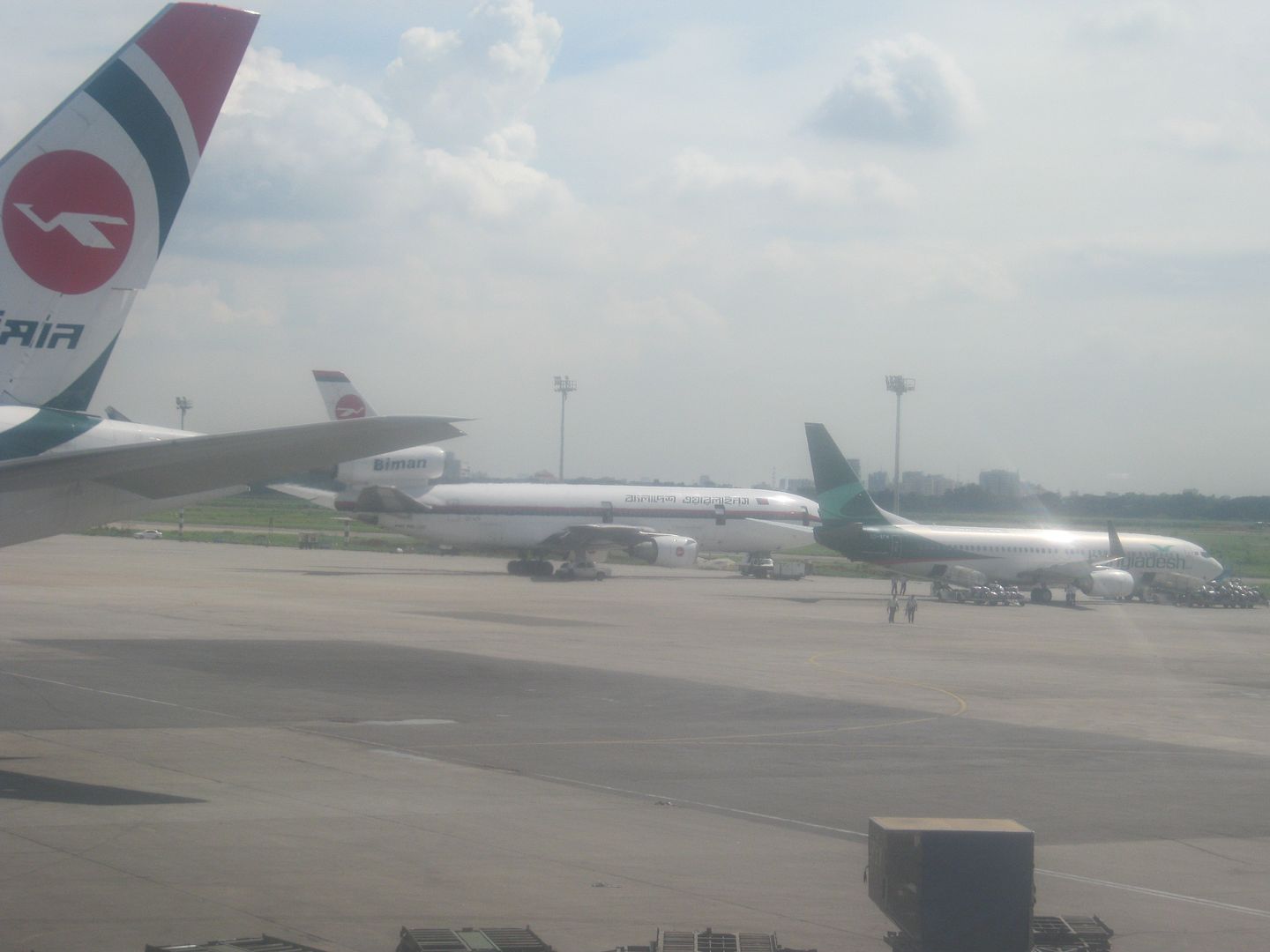 Beautiful Biman DC-10.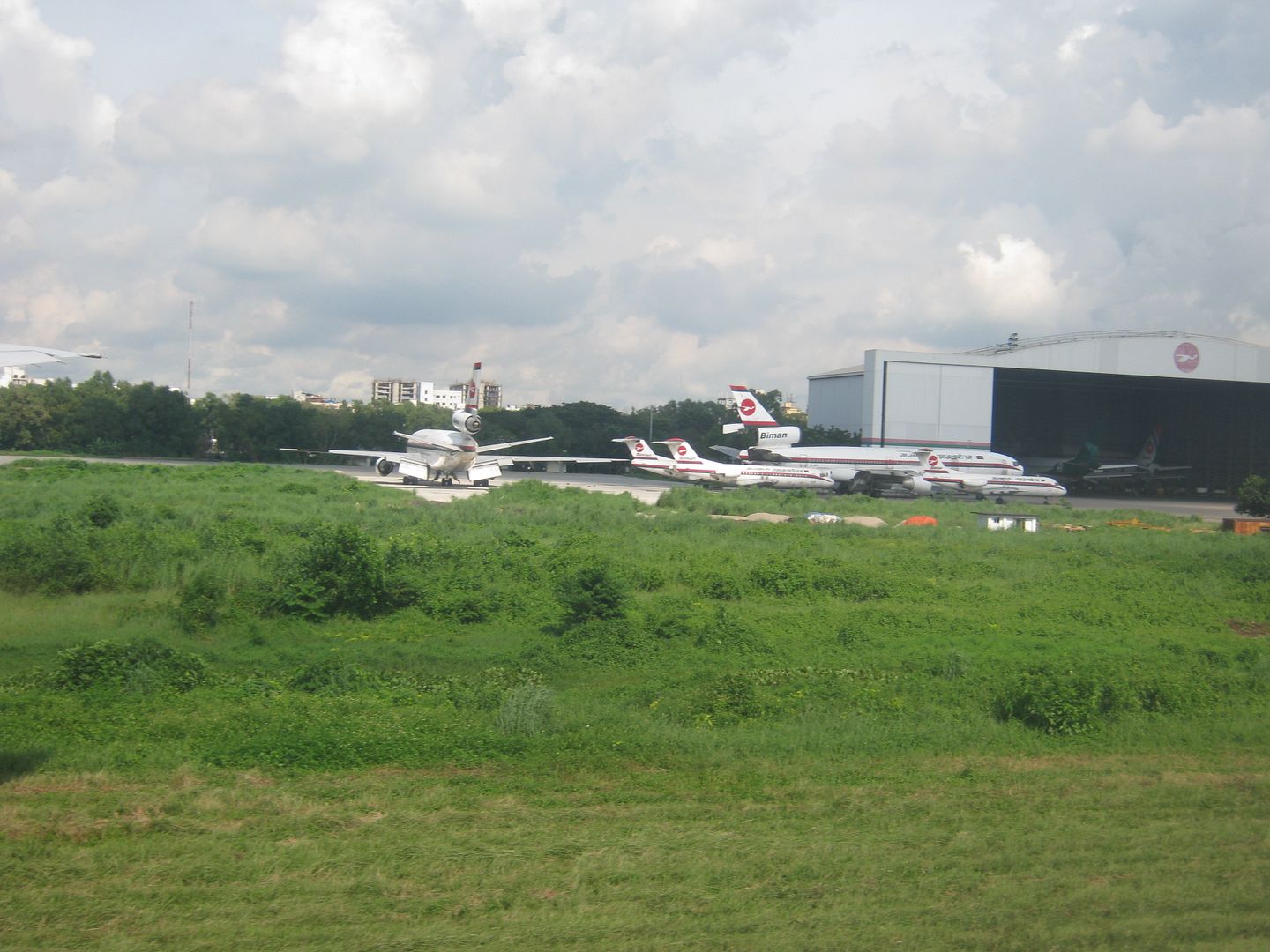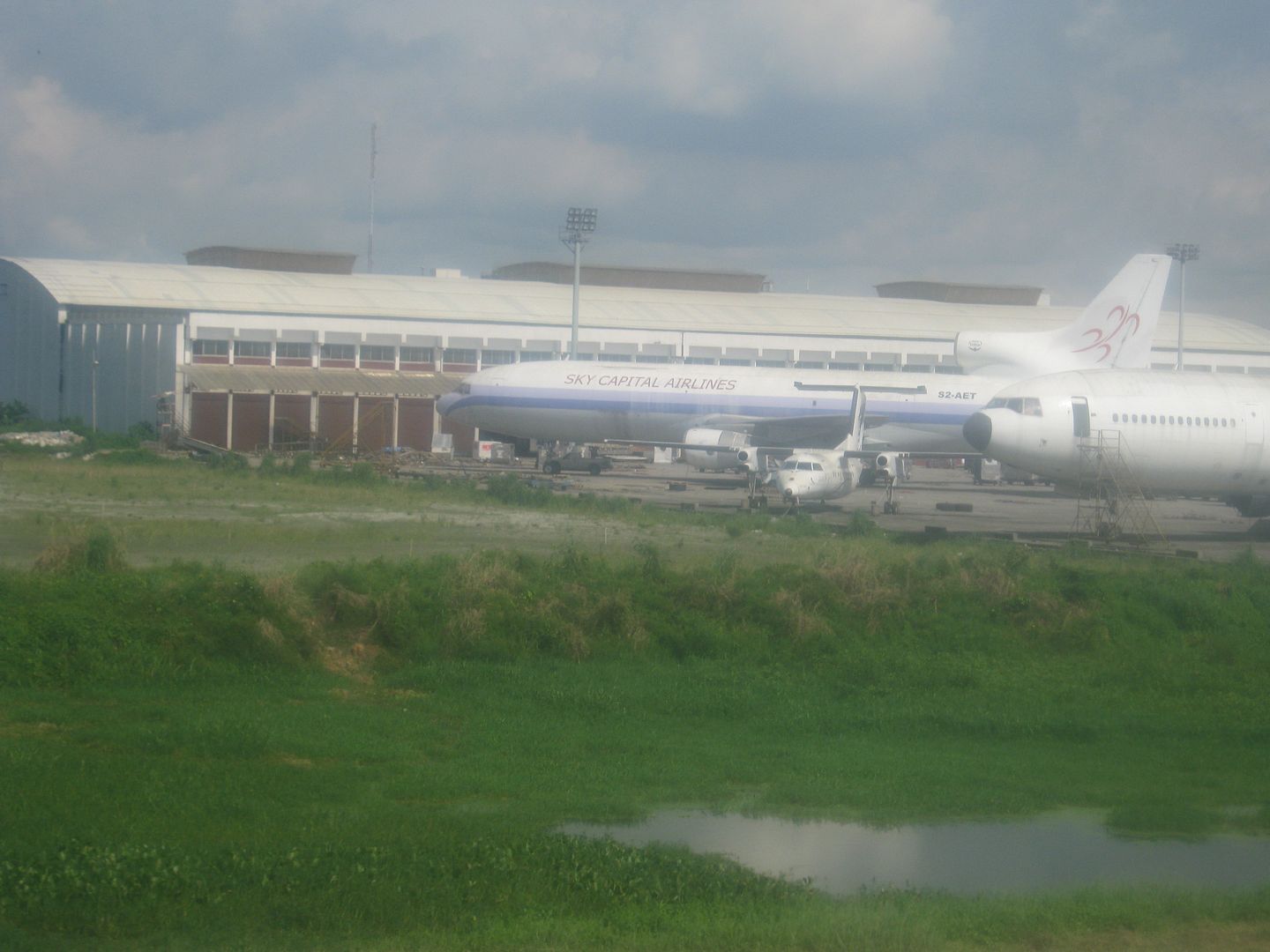 Our flight boards on-time and off we go. Got some more aeriel views of Dhaka before flying through the storm clouds.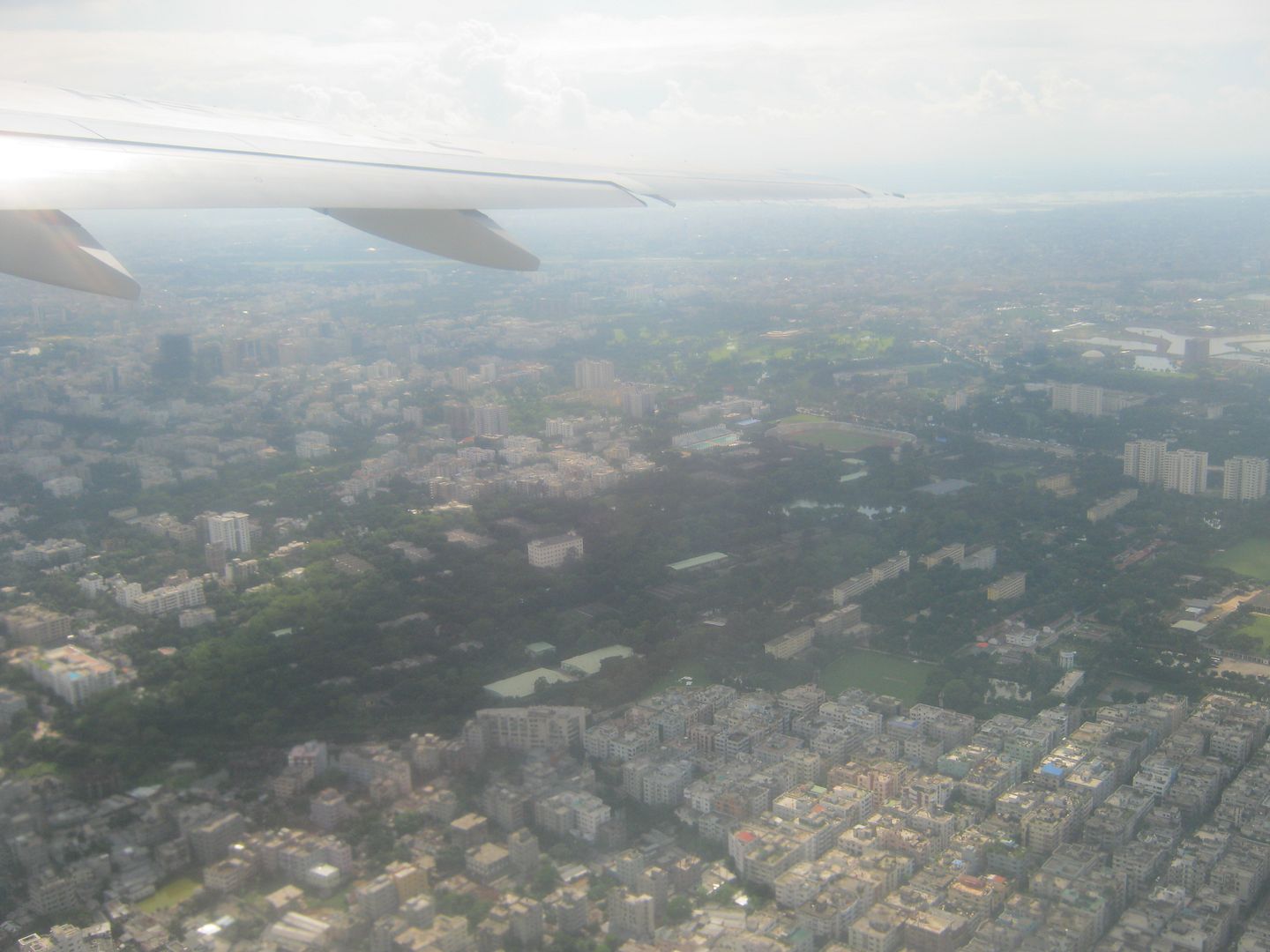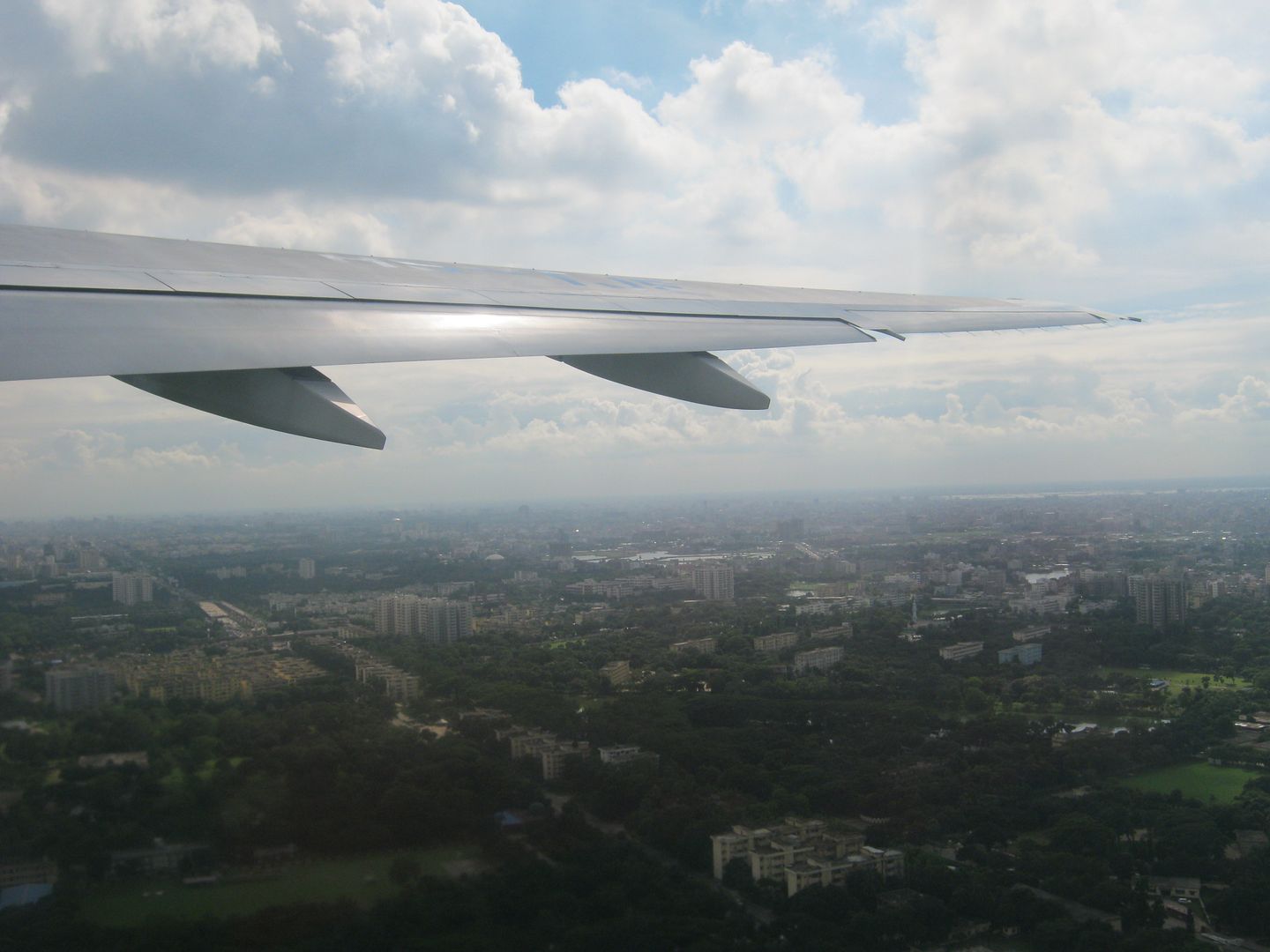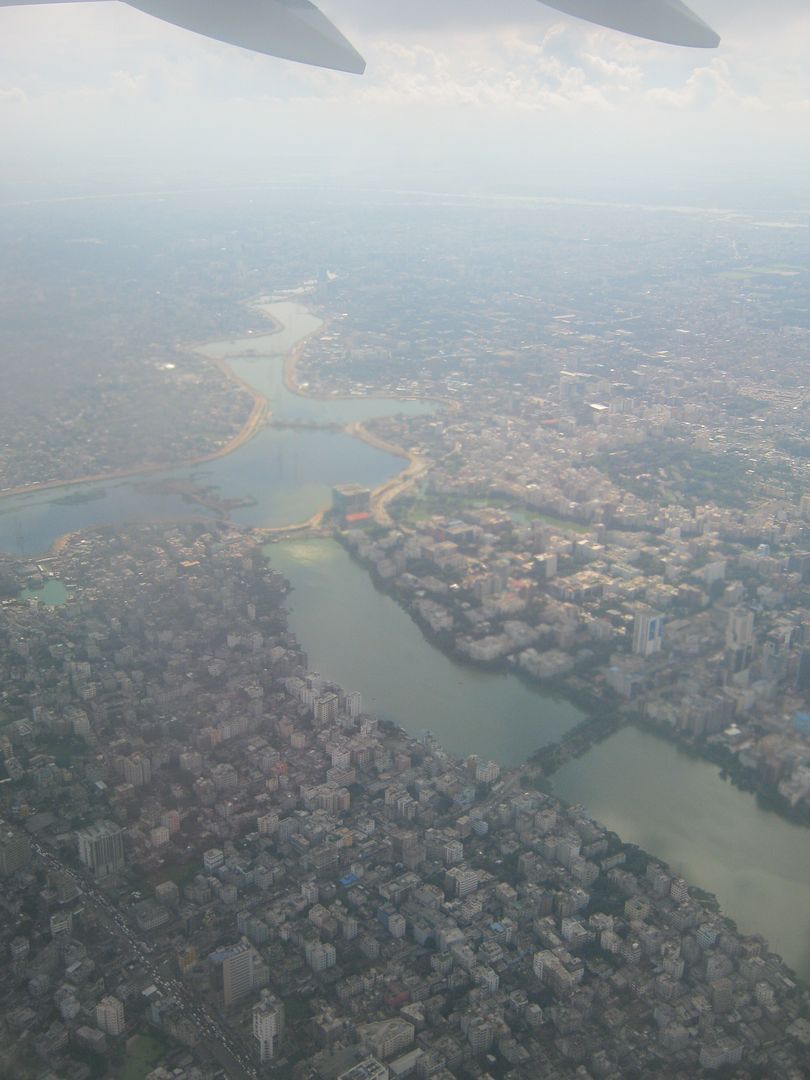 I was SO happy to see the Thai Airways flight attendant pushing the liquor cart up the aisle. Bangladesh for the most part doesn't permit alcohol unless you have a doctor's permit. This time around I had gin & tonic as my in-flight drink. The meal was chicken curry but it tasted different than on the previous flight.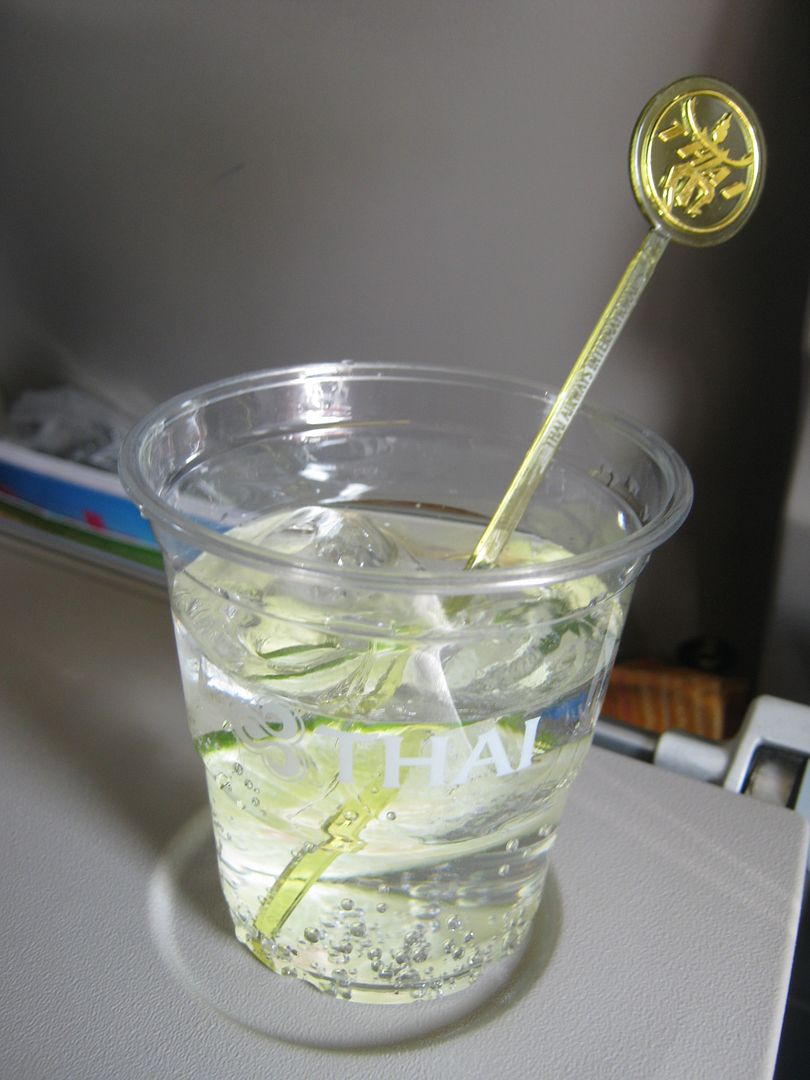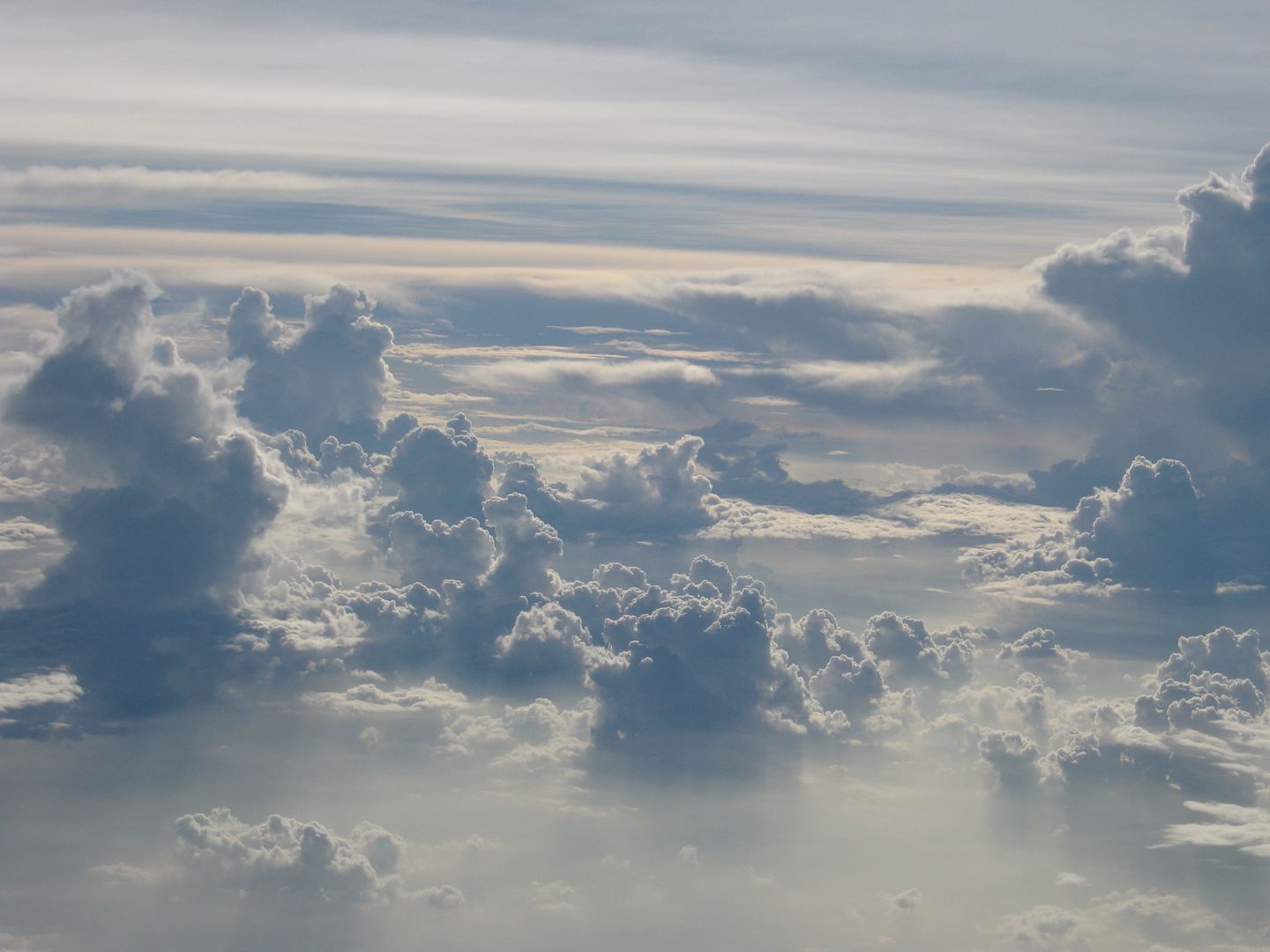 Somewhere over Burma.
We land on time in Bangkok. As the aircraft was taxiing, the passengers from Bangladesh kept getting out of their seats and wanting to walk the aisle while the TG staff had to repeatedly tell them to stay in their seats. This went on all the way until we get to the gate.
Once we arrived, I wanted to kiss the ground because I was so glad to be out of Bangladesh. That is a rather unpleasant but learning experience of a trip that did at least have great time flying and enjoying Thai Airways.
I really wish I could have got the Biman DC-10.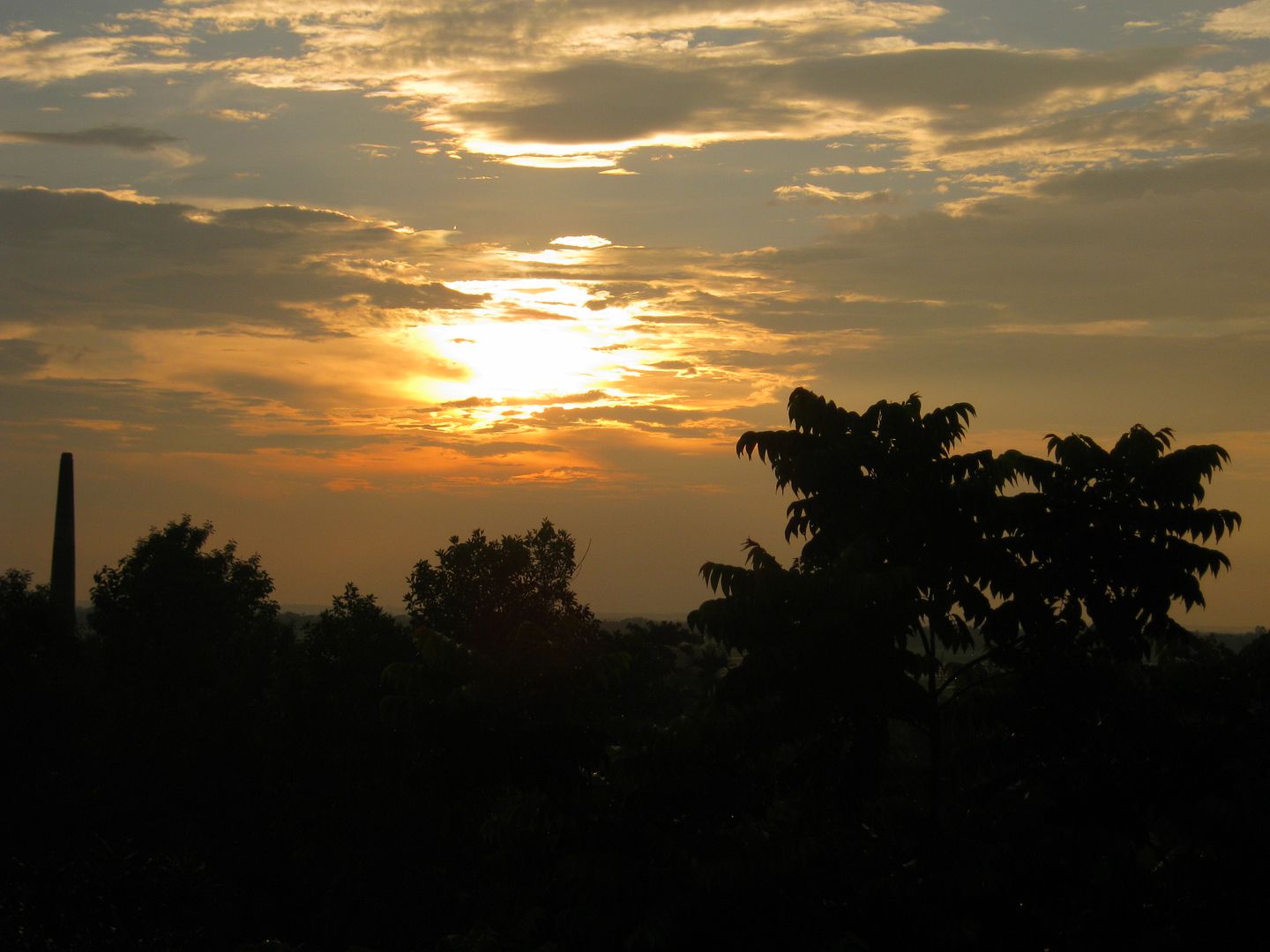 Sunset over the tea plantations of the Moulvibazar region