Hi everyone!
since this is my first post here, let me introduce myself quickly. My name is Tis, and I am a 24-year old aviation enthusiast and -photographer from Zurich, Switzerland. My fascination for travelling on rare and old planes to places off the beaten track has taken me to many interesting parts of the world already. I love writing trip reports about those travels, but usually only publish them in a large german-speaking discussion board as well as on my personal website (see my profile).
However, Nicholas (NZ107), who's a good friend of mine, has kept pushing me to start publishing the reports here, too, for quite some time. I was always a bit hesitant, since translating my long texts from german to english is a tedious job, and quite some of the humour from writing in my mother tongue gets lost in translation, too.
Anyway. After spending an amazing week in North Korea in September joining one of the popular "Juche Travel Services" tours, I realized that there hasn't been a coherent report about a complete week in North Korea here so far (I think). Eager to fill this void, I finally decided to publish my first report in these forums...please be kind!
)
I think I will have to split it up in several parts. After the flight to Pyongyang, there's an extensive section of sightseeing photos from the capital and the country first, before I start with the proper flight reports.
Hope you enjoy the read, and I'm looking to your feedback or any questions you may have!
Introduction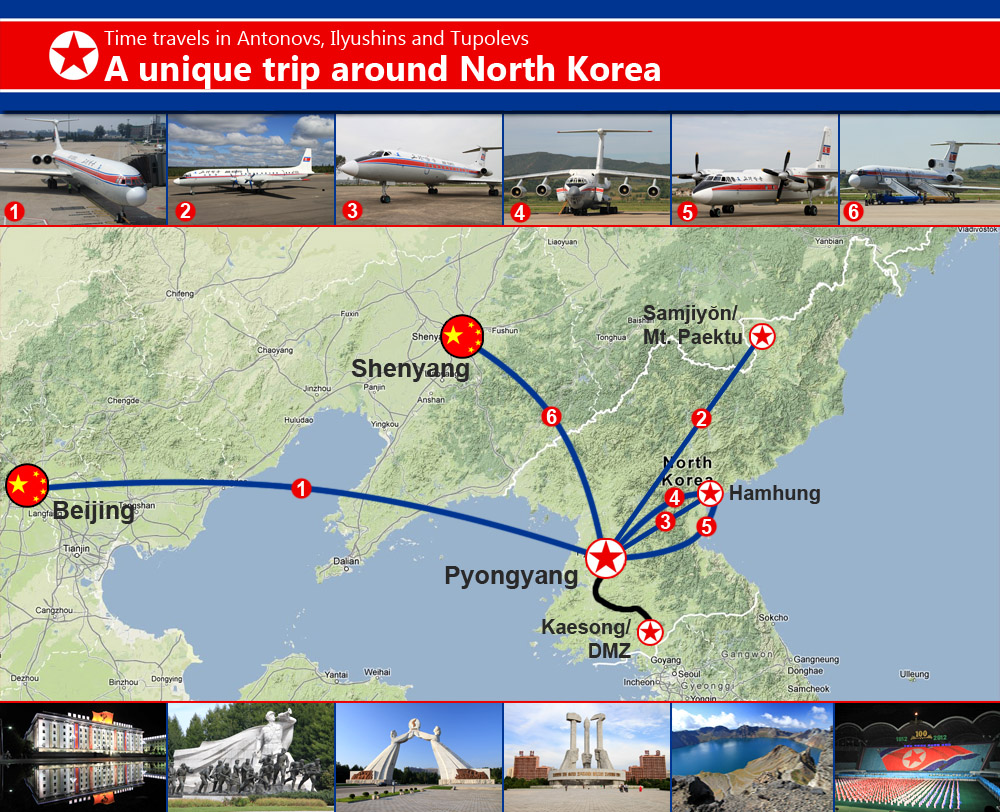 Following the invitation from a German aviation enthusiast late last year, I convinced myself to join a one-week tour through North Korea, despite many concerns brought forward by family and friends. The relatively new English tour operator "Juche Travel Services" offered a one-week tour around the country, focusing on flights on the popular Soviet airplanes, but also on sightseeing in Pyongyang and beyond.
On September 8, the big day had finally come: 40 aviation enthusiasts from around the world, almost bursting with sheer anticipation, gathered in a hard to find North Korean restaurant in Beijing for a pre-tour "welcome dinner". By that time I'd already spent two packed weeks travelling through Japan and might have been a bit tired; but the outlook of the adventures lying ahead didn't take long to get me all excited again!
After some small talk, and the handover of our North Korean visa, we were invited to take our seats on the huge round table and enjoy a wide range of Asian and Korean dishes.
But that wasn't all! No sooner had we finished eating, some gracious North Korean musicians in evening gowns stormed the stage. Whoever thought that just one of the usual tedious folk music presentations would follow was immediately proved wrong. The petite girls put on their electric guitar, jumped behind the drums and keyboard and started rocking the room with unbelievable energy. The first, but not nearly the last surreal experience this trip!
After that night we were all even more excited about the week that was to follow. All ready? Almost. Before I start with the report, I want to include a very brief summary of the recent North Korean history, which might conduce to a better understanding here and there later on.
The entire Korean Peninsula was occupied by the Japanese since 1910 and suffered badly from their suppression of the local culture. On August 15, 1945, Japan had finally capitulated under pressure from the Allies, and handed over the northern region of Korea to the USSR, and the southern region to the United States. The Soviet Union had a great interest in North Korea as a buffer to Japan, which quickly became an ally of the United States. Accordingly, the USSR was eager to shape "their" North Korea after their communist ideals.
Following a UN resolution, the USSR withdrew its army from North Korea in 1948, while the U.S. remained present in the South to this day – one of the main points of conflict from the North's point of view. When elections were held in the south and the business of government was transferred from the Americans to the South Koreans, the North responded to this with the establishment of the Democratic People's Republic of Korea (DPRK) on 9 September 1948, with Kim Il-sung to become its first president. Both governments have ever since seen themselves as the legitimate rulers of (whole) Korea.
Following his proclaimed "Juche" ideology, according to which it is the central task of every state to ensure the political, economic and military independence of the country, Kim drove North Korea into an ever greater isolation. This worked out pretty well in the beginning and the North overtook the South in economic terms (especially thanks to its heavy industry), which helped Kim gain a godlike popularity among his people. However, the growth eventually stagnated more and more. Because of the little arable land, it became increasingly difficult to grow enough food to support the whole population, culminating in a catastrophic famine in the 1990s. Lack of food is still a huge problem even today, but at least the international aid that had been refused for a long time is now being accepted.
Kim il-sung was followed by his son Kim Jong-il in 1994, who replaced the "Juche" ideology by the slogan "Army First". While the isolation slightly degraded and made way for small beginnings of a free economy, a huge part of the resources were spent on military power and development, preparing the army for the war the country still sees itself taking part in.
2011, after Kim Jong-il's death, his son Kim Jong-un came to power, which brings a lot of uncertainty with it. While it is expected that the new ruler follows the old line of the dynasty and will need to mark his presence in the first few years, observers and experts of the country have started to report of unprecedented openness and optimism in the past one to two years.
Flying the IL-62 from Beijing to Pyongyang
In the midst of this uncertain situation, our group assembled early at Beijing's huge airport the next morning, to make its way to the hermit kingdom. And we weren't the only ones! The Arirang Mass Gymnastics Festival, which will be featured later on in this report, drew large crowds of tourists to North Korea. In total, Air Koryo sent two IL-62, one Tu-154 and one Tu-204 to Beijing on that day alone. Even the lengthy 2-hour check-in process this resulted in, couldn't take away any of the excitement!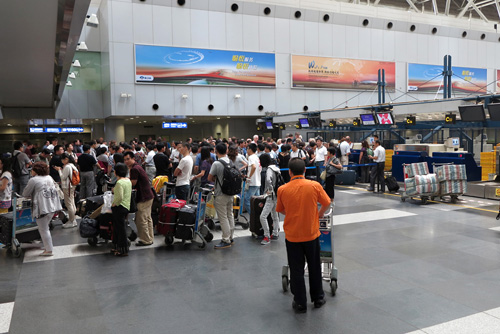 It took until 30 minutes before departure until finally every member of our group was checked in. A quick run through security followed, and then we were good to go!

The fact that half the Air Koryo fleet was in Beijing had us fearing we wouldn't get the planned IL-62 for the past three hours, but here she was, at our gate! The 33-year-old beauty with the registration P-885!
With a delay of about 20 minutes the aircraft was pushed back, we listened enthusiastically to the start-up of the four Soloviev D-30 engines, and after a brief taxi and a very short wait at the runway (for Beijing standards), the IL-62 finally took to the hazy Beijing skies!
For an adequate background noise, open this great video of our take-off made by my colleague Simon de Rudder, sitting a few rows behind me!
http://www.youtube.com/watch?v=X-bb2MXtmhQ&hd=1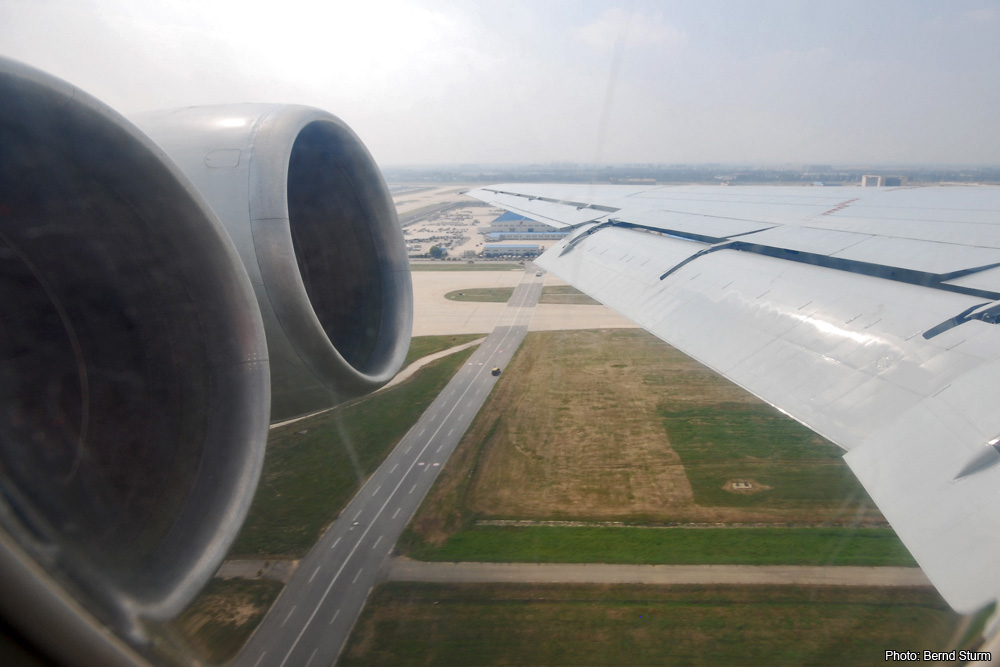 View from my seat in the rear cabin (separated business class in front). The aircraft was filled to the last seat!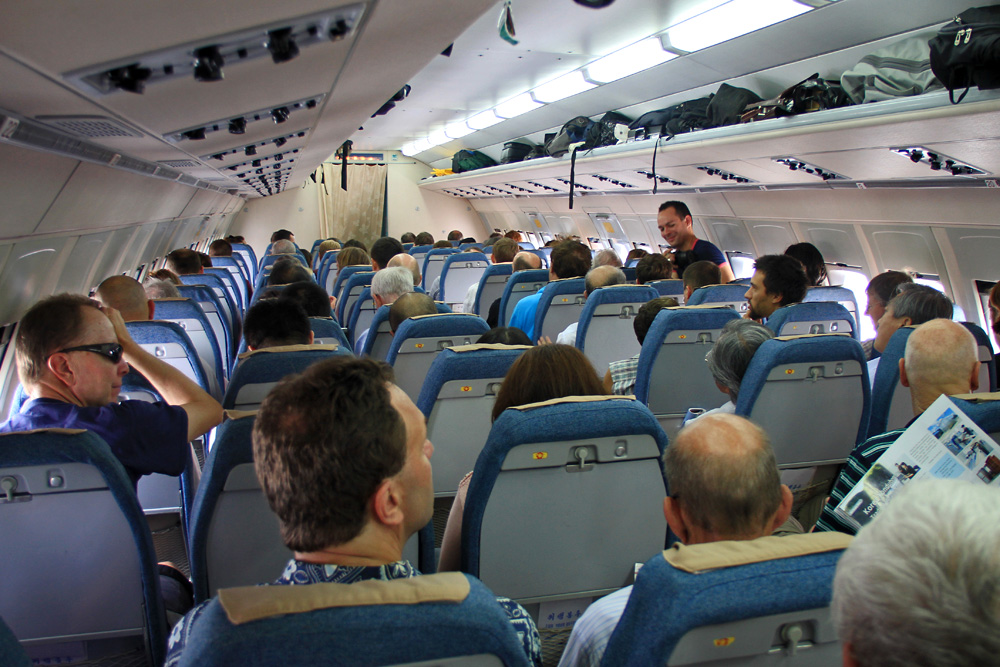 Who thought darkened windows were a novelty of the B787 hasn't thought of Russian ingenuity! In addition, a look at the business class...
More impressions of the cabin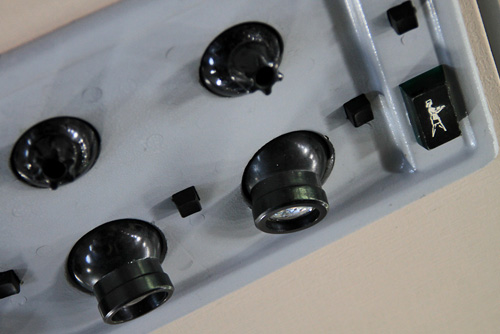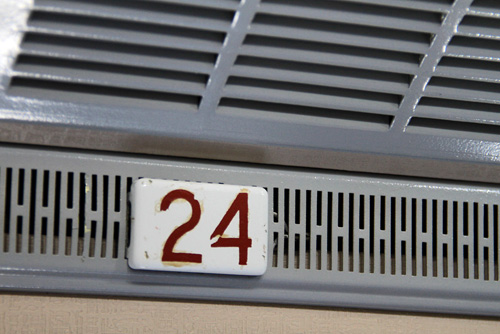 The flight time of 80 minutes left barely enough time to serve all 180 passengers, and the food was distributed very quickly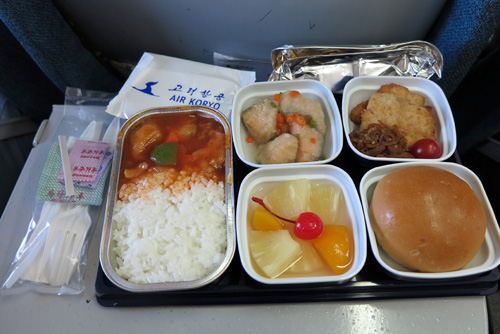 Mmmhm, now how do I make an appropriate bridge to the next picture! Nooo, the food really wasn't all that bad!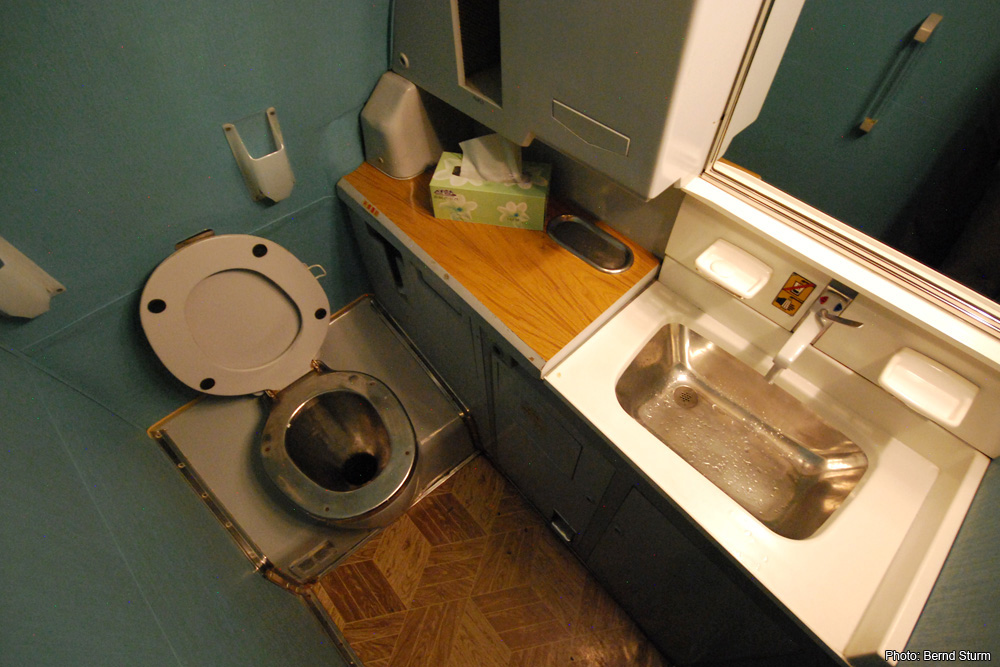 We had barely swallowed out last bite when the nose of our all-metal aircraft was lowered, speedbrakes extended, and we set course for Pyongyang's airport. Previously, when crossing the border, an announcement in honor of the "great leader" was made and the national anthem played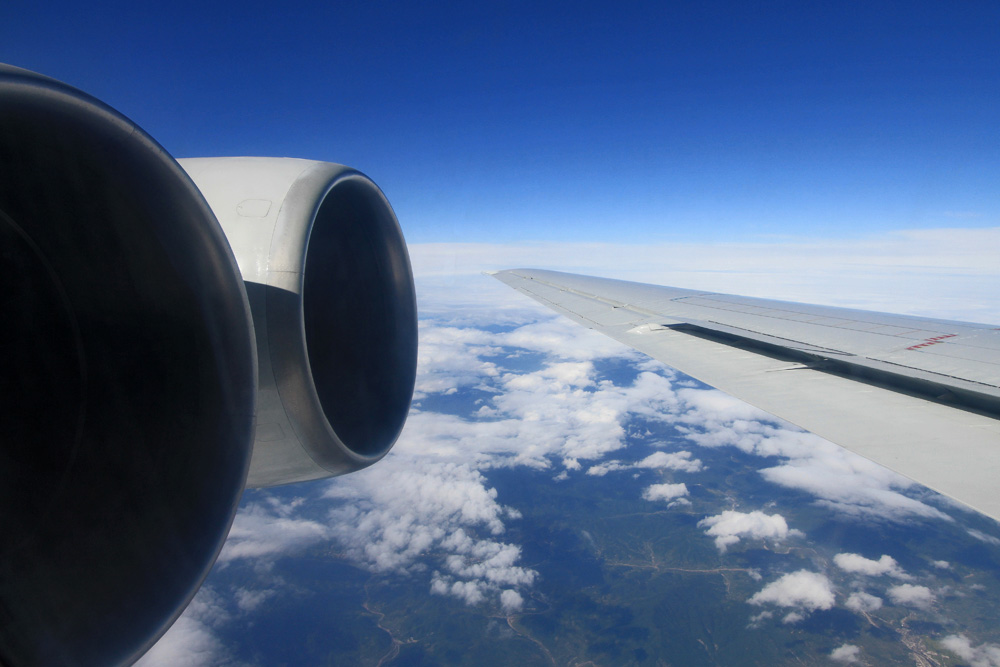 A quarter of an hour before landing a loud *clunk* sound was heard, and the landing gear was extended (a practice that was repeated on later flights). Eventually, we turned over attractive landscapes onto the final approach to the 4,000 meter-long runway 19 of Sunan International Airport in Pyongyang. Here we are on finals, my colleague hitting the jackpot with this photo!
After landing and an eternally long taxi (those interested, look up Pyongyang's airport layout on Google Maps – only the far runway remains in use) we finally arrived at the main apron. Now we were allowed, one after the other, into the cockpit to take a photo – something which takes quite a lot of time with 40 enthusiasts! Just when it was about my turn, the session was terminated, as the fourth airplane from Beijing was about to land and they wanted us crazy guys to leave the apron. It obviously wasn't really my day, and so another outside photo will have to do.
Welcome to Pyongyang! Unfortunately, the old "Soviet-style" terminal was demolished a few weeks earlier, and had to make way for a modern-looking temporary building. Behind the blue planks on the left, construction work for the new terminal is starting.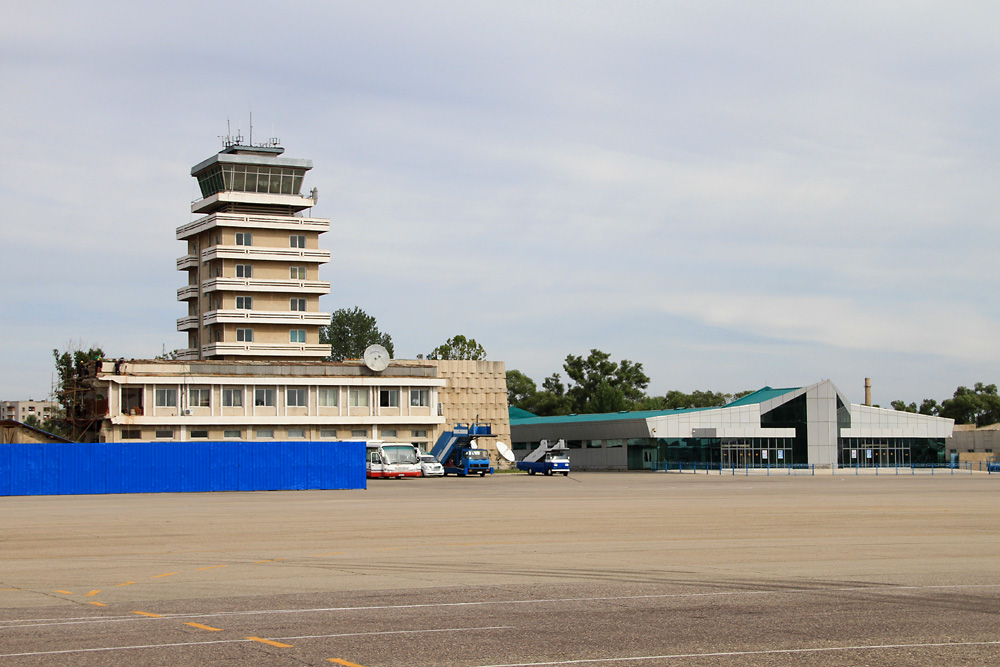 Yummy yummy, a look at the static display! From front to back: Tu-204-300 P-632 (built 94, with Air Koryo since 2007) , the Tu-154B P-561 (delivered to Air Koryo directly in 1976), then the Tu-154A P-552 I in which should fly a week later (delivered directly to Air Koryo in 1983), followed by the IL-62M P-885 (1979). Knowing observers have of course already spotted the stranger in the background: The IL-62M P-886P, which was transferred from Cubana (ex CU-T1280) to Air Koryo only some weeks before. Whether it will fly for the airline or just be used for parts couldn't be determined. But it is rumoured that Air Koryo will soon announce the purchase of new aircraft, and the IL-62 might be withdrawn from international service starting next year.
Currently, the Air Koryo fleet looks about as follows:
- 5x An-24 (2x -24B active, 2x -24RV active, 1x -24B stored)
- 2x IL-18 (1x pax, 1x cargo)
- 5x IL-62 (2x pax, 2x VIP, 1x ex Cubana)
- 3x IL-76 (at least two active)
- 2 Tu-134B (only one seen)
- 2x Tu-154 (1x-154B, 1-154B-2)
- 2x Tu-204 (1x -100, 1x -300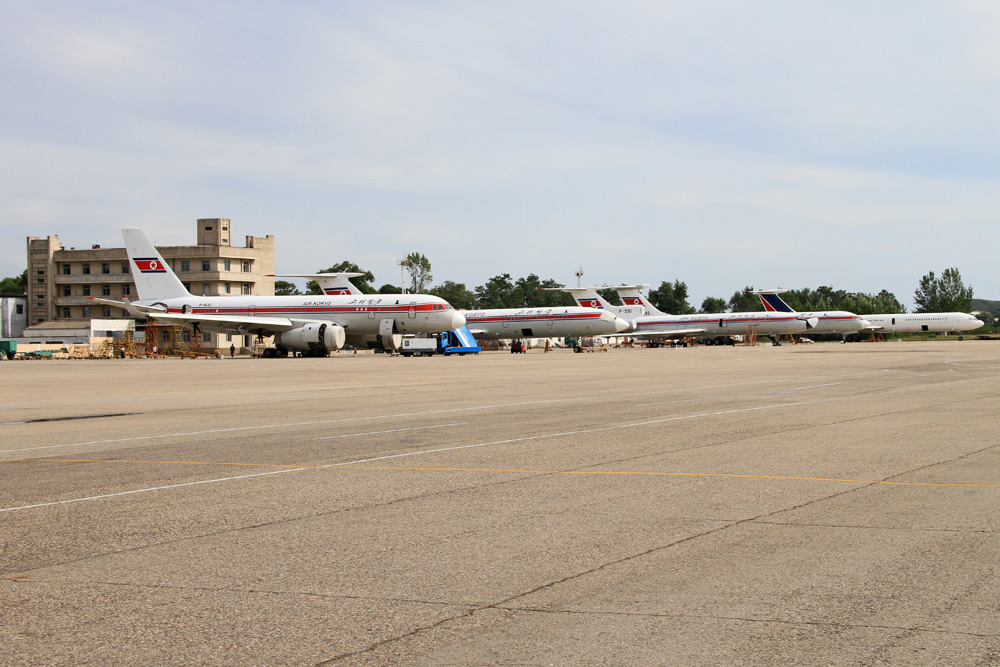 A look at the small temporary terminal of Pyongyang (pictured on a different day, on Saturday it was brimming with people). Immigration itself was quick and easy - for the subsequent security check however, we had queue for about 30 minutes.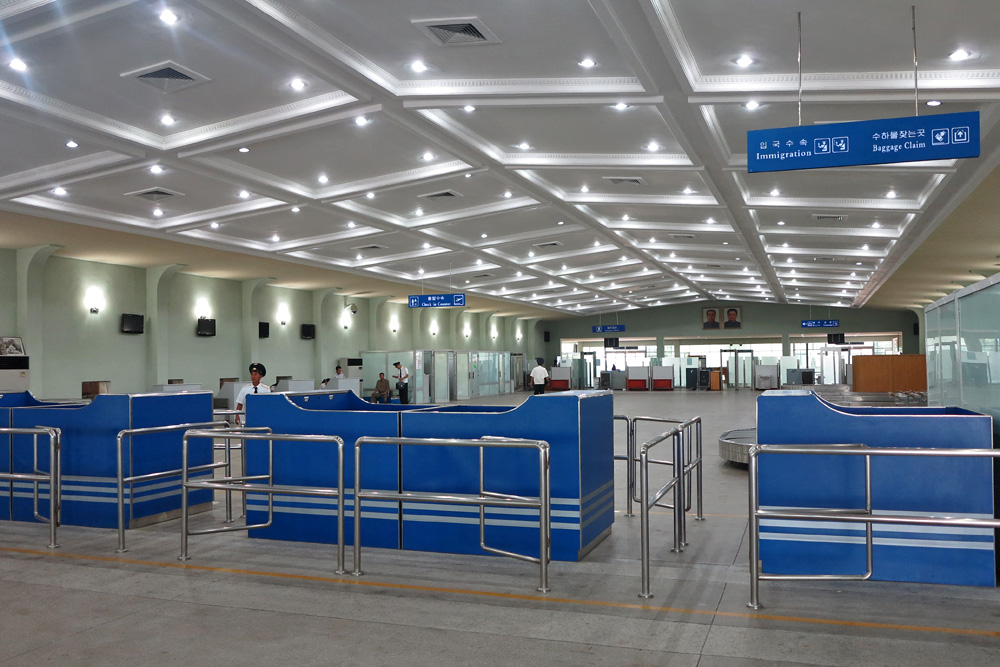 Here our mobile phones were collected and stored at the airport for a week. Apart from those, the only thing else that bothers the North Koreans, are GPS. Therefore I left my beloved GPS watch in Beijing, and could truthfully answer "no" even the fourth time an official asked me if I had any GPS device. After critically eyeing my laptop and my camera for a few seconds, I finally entered this strange country without any further losses.
In front of the terminal, we were greeted by our four guides who doubled as our companions, tour guides and observers for the next week. These were two men and women from 21 to 35, who had been trained for four years at the University of Tourism, had profound knowledge of their country and spoke pretty decent English. Dealing with them was really enjoyable and warm, marked by a lot of laughing, and after a few days we had become friends. They also answered all our questions about the construction of their country, their lifestyles, etc. – just our cynical remarks about some of those things weren't really appreciated.
They never really interfered with our photography plans either – they just prohibited taking pictures of military installations or personnel, but apart from that, we were pretty free about what to shoot.
Two buses were waiting for us. A group of 20 people each was assigned to a bus, and joined by two guides each, we set out for the city center about 30 minutes away. On the side of the road, the "great leader" already welcomed us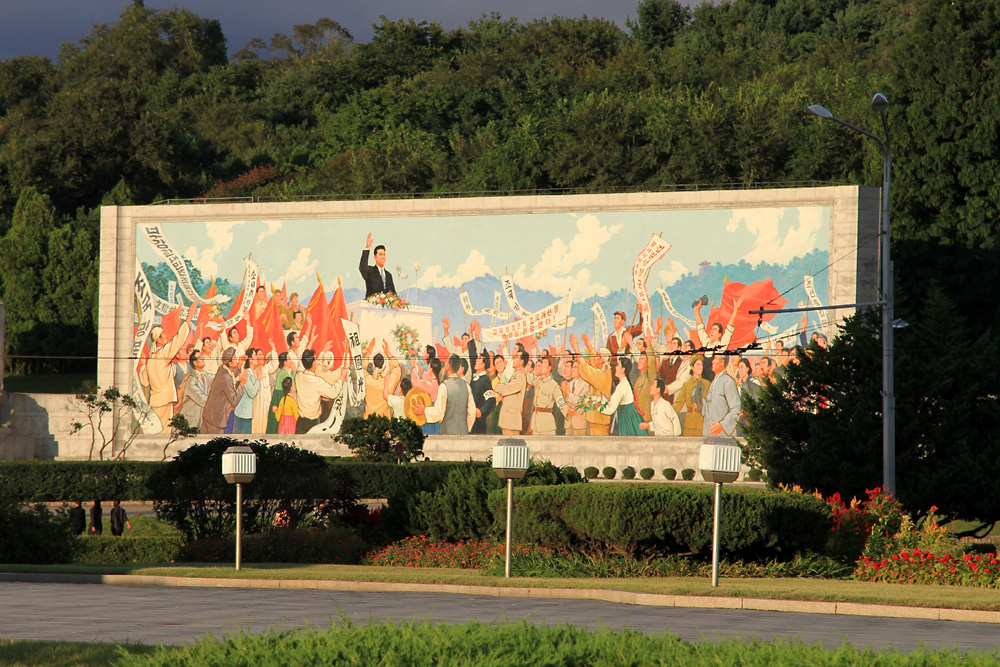 The road is lined with several monuments. Here the Immortality Monument, which is actually dedicated to Kim Il-sung and located on the road to his mausoleum, but now carries Kim Jong-il's name as well.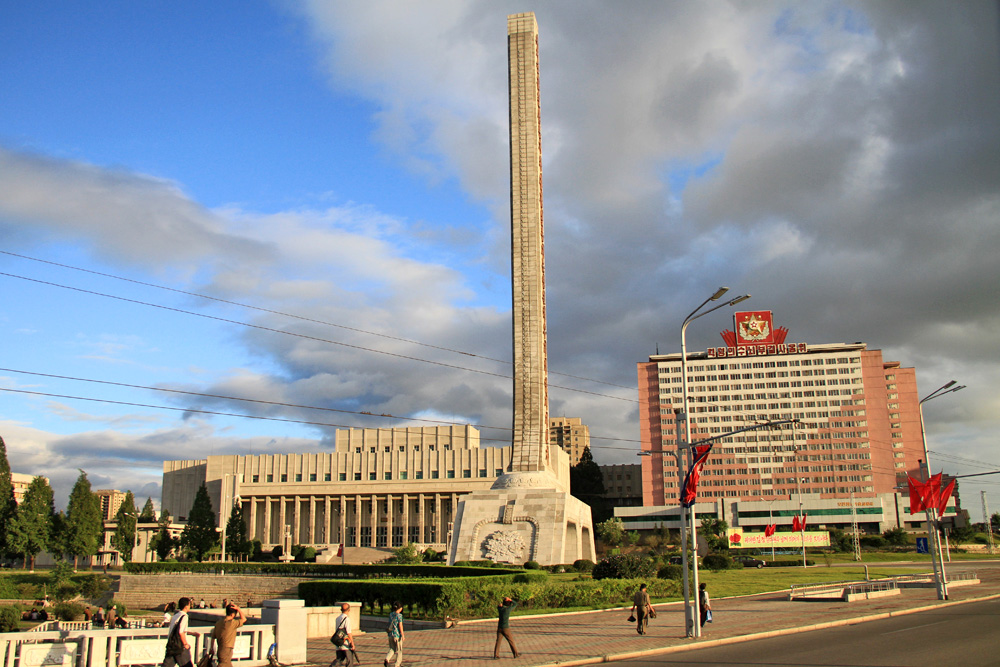 Just ahead is the next impressive sight: the North Korean triumphal arch, which is modelled after Paris' version but tops it by three meters. It was inaugurated in 1982, commemorating the 70th Birthday of the "Great Leader". The number 1925 represents the propagated year when Kim Il-sung started the resistance against the Japanese, and 1945 the year when the Japanese surrendered.
In the background, Pyongyang's TV Tower can be seen.
After these impressions we continued to the hotel - but even this was quite striking! The Koryo Hotel with its two 143-meter high twin towers was built in 1985, as a status symbol for the country.
While the hotel is considered to be 5-star in North Korea, I would personally rate it somewhere between a 3 and 4-star. The suite rooms had a separate living room plus a bathroom, which was up to Western standards. Oh, and we got a great view of Pyongyang from the 20th floor for free too!
(The photo's also busting the myth that Pyongyang is completely dark at night due to power shortages)
By the way, here's a little room tour video of my room
http://www.youtube.com/watch?v=Pz4MhhWPtPE&hd=1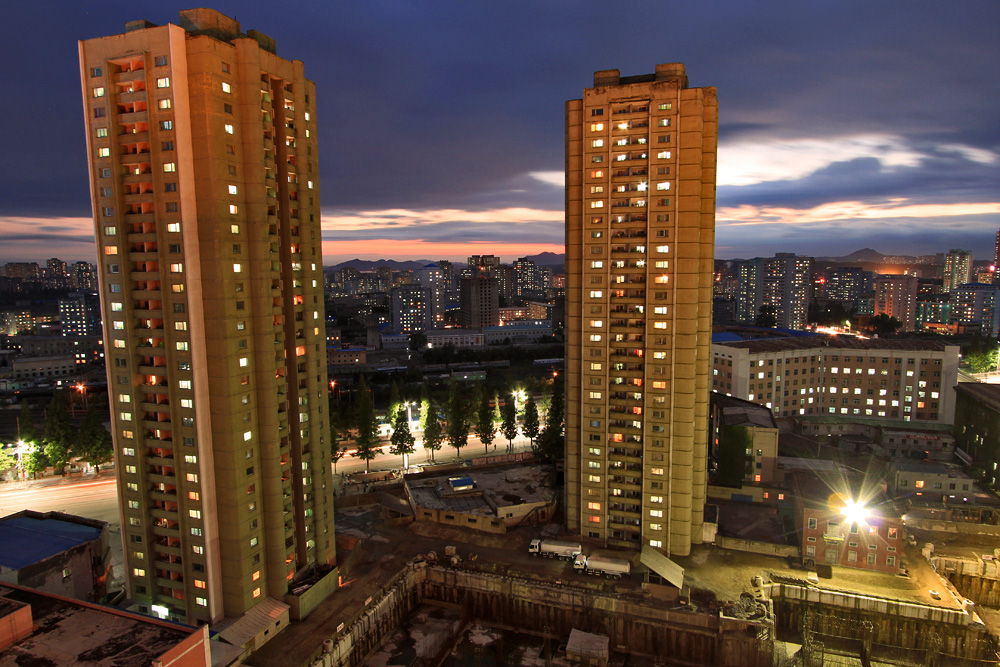 [Edited 2012-10-28 10:27:49]
[Edited 2012-10-28 10:30:57]