Asia 4: First with Cathay. HKG-TPE in F on the B744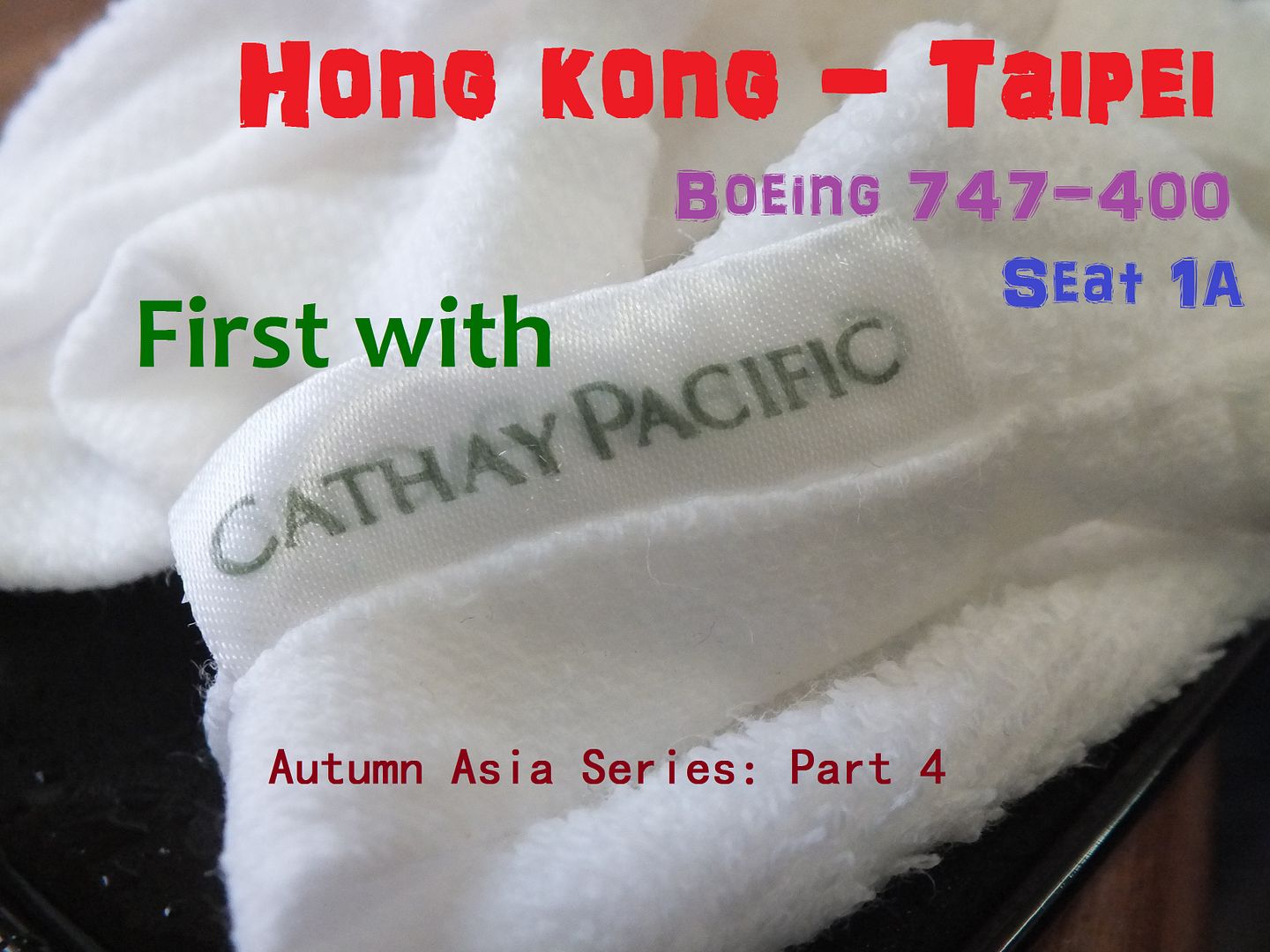 The map, courtesy of GC Mapper, of this report:
And zoomed out a bit
The map, courtesy of GC Mapper, of what is currently booked for this series:
Previous Reports in this series:
Part 1:
Limoncello with Alitalia. BA/AZ LHR-MXP-FCO-NRT
Part 2:
JALing it to Beijing. JL HND-PEK 772 Business
Part 3:
Around China with China United, China Eastern & Grand China
Hi!
Thanks for clicking on Part 4 of my Autumn Asia series. Picking up where I left off in Nanning…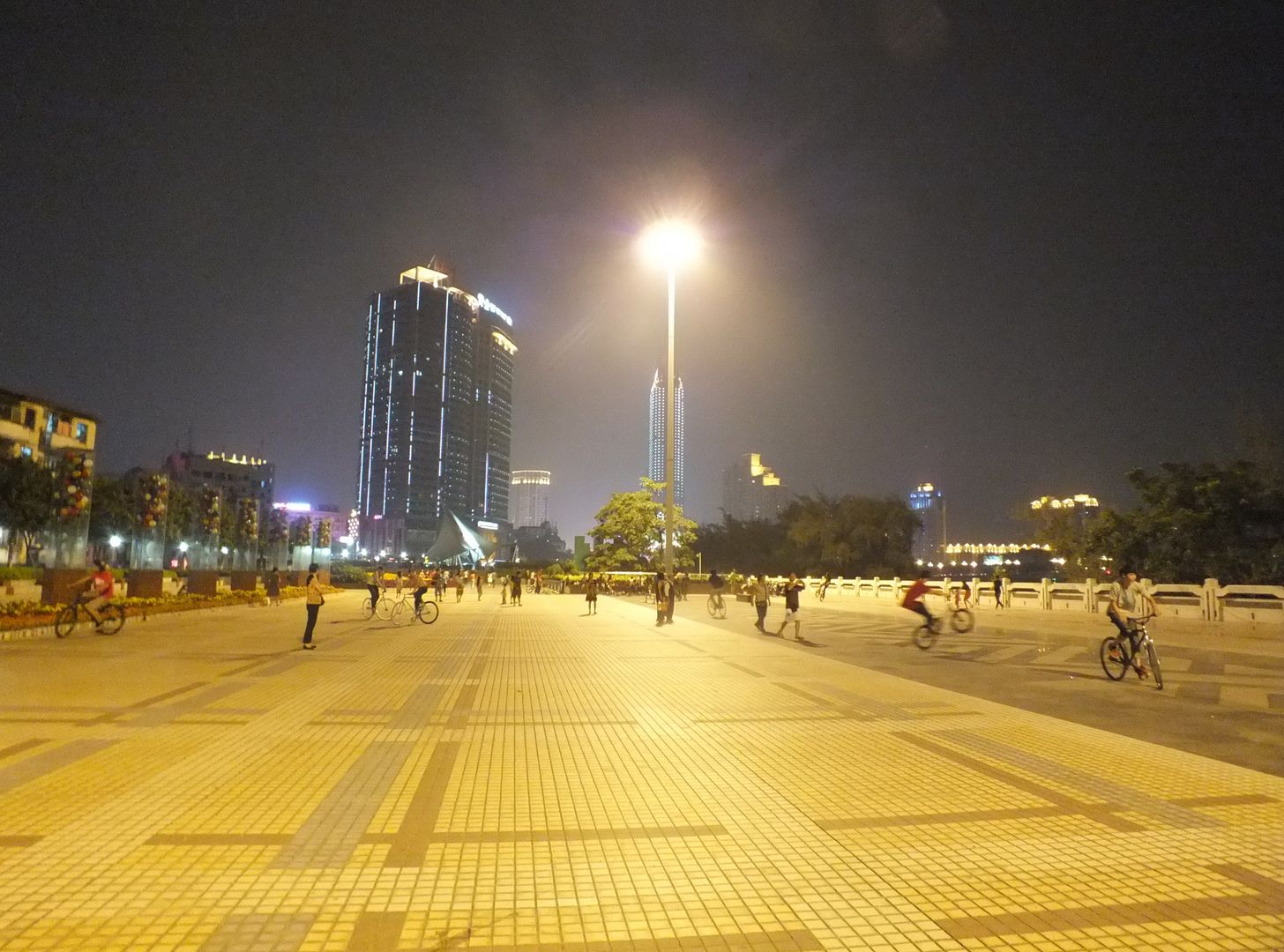 China's largest Medicinal Herb Garden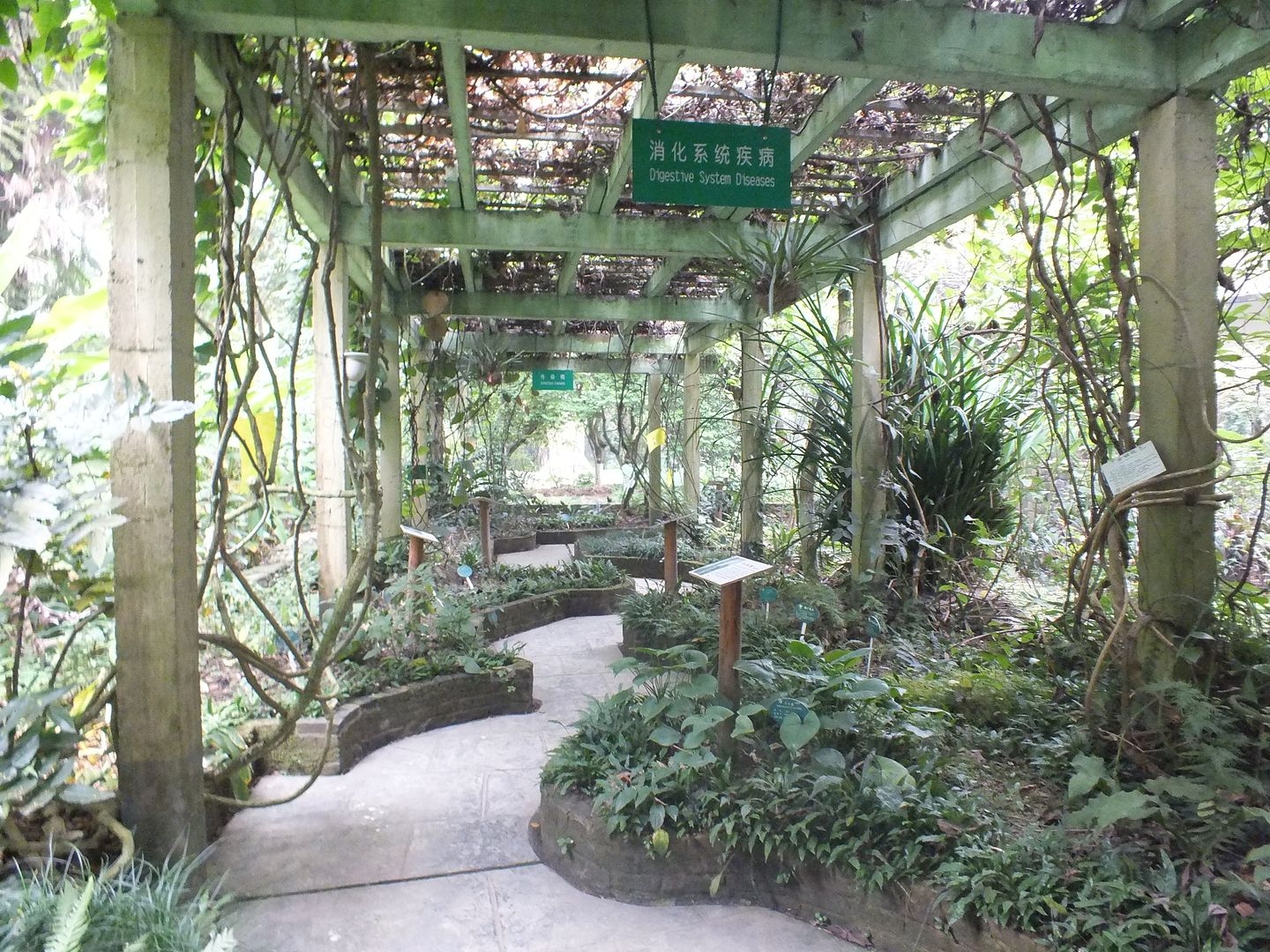 A common sight around China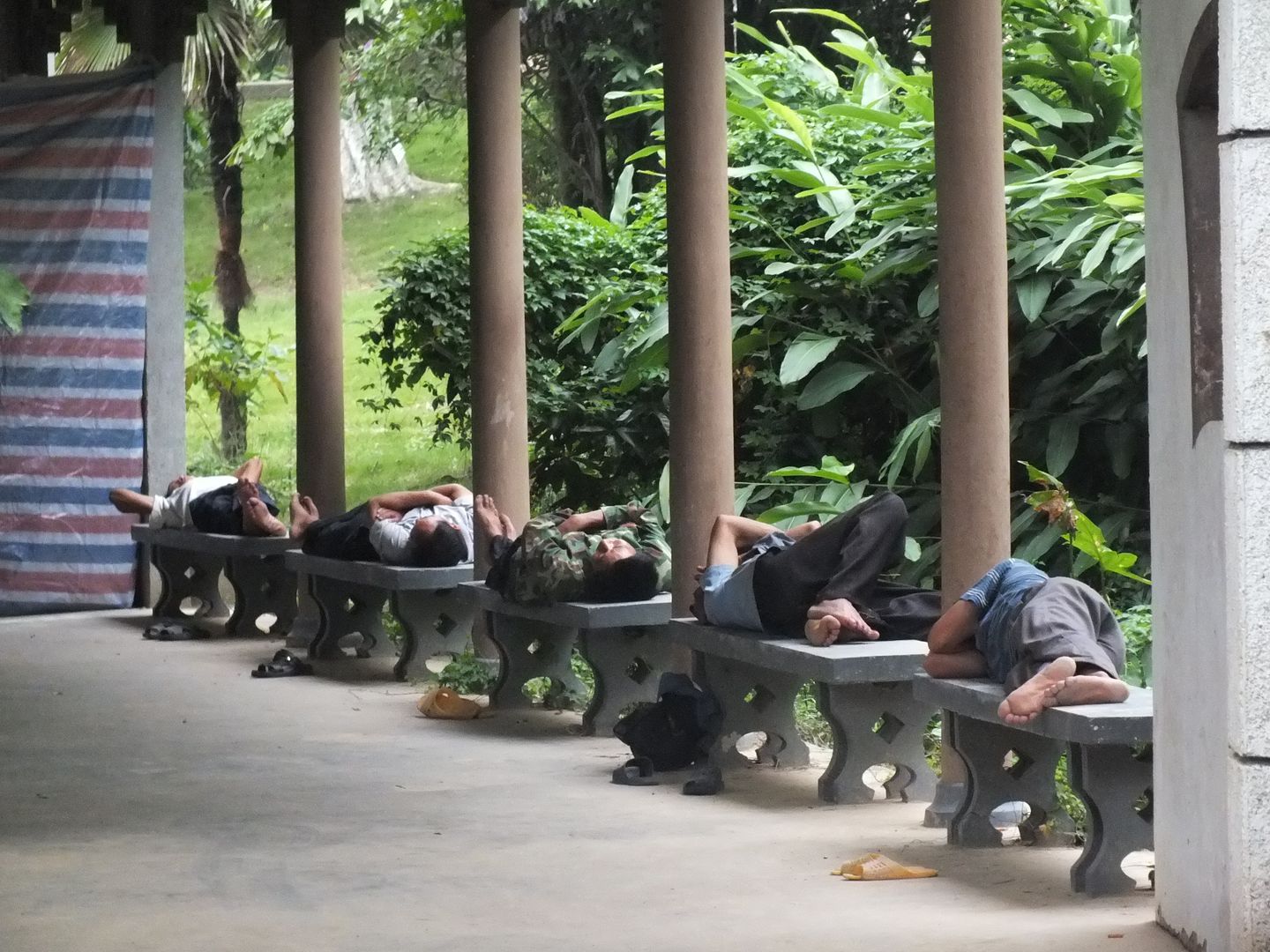 At the Provincial Museum
Nanningers love to shop!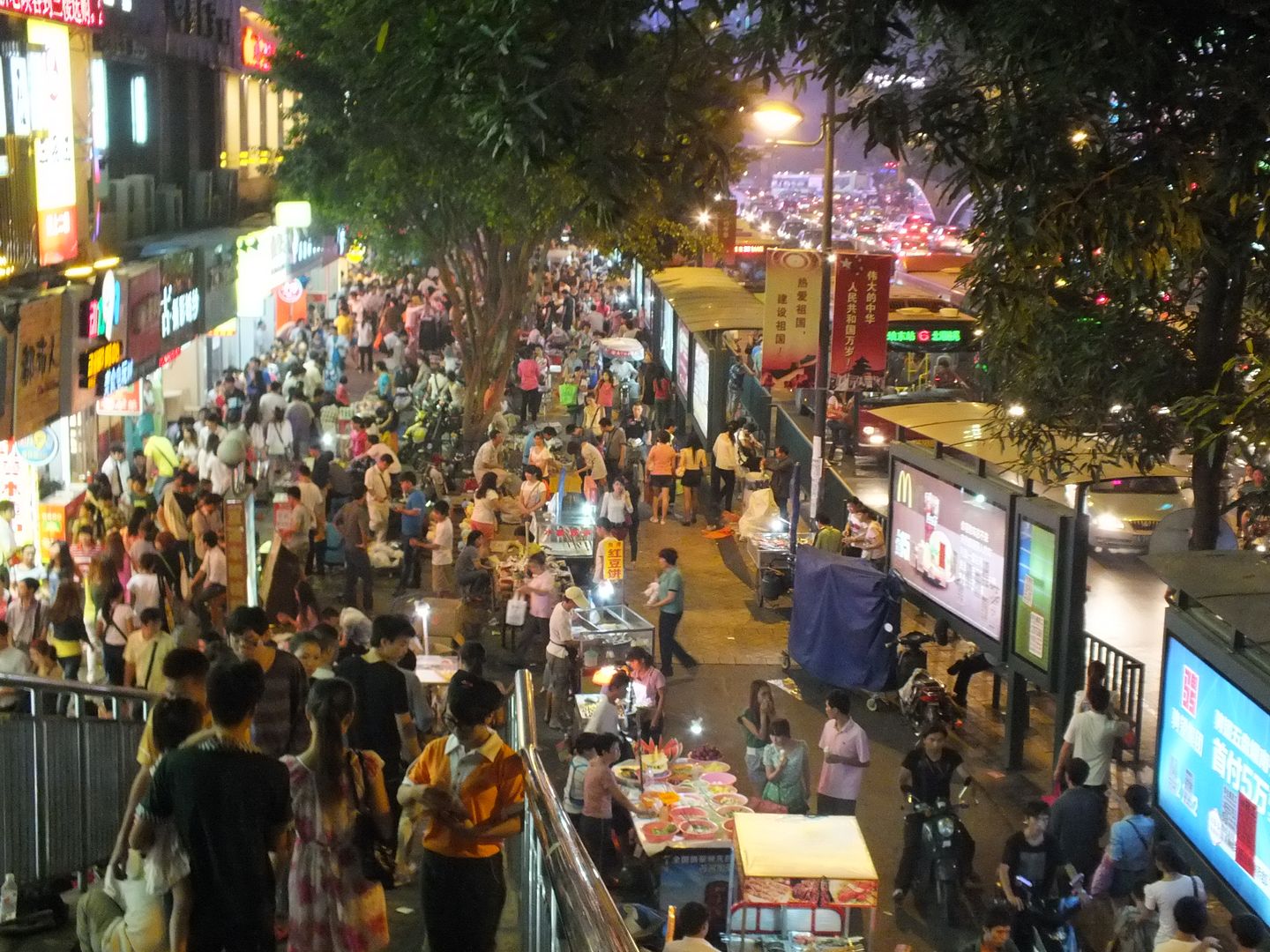 After 2 nights in Nanning, I headed over to Yangshuo to meet up with some old colleagues.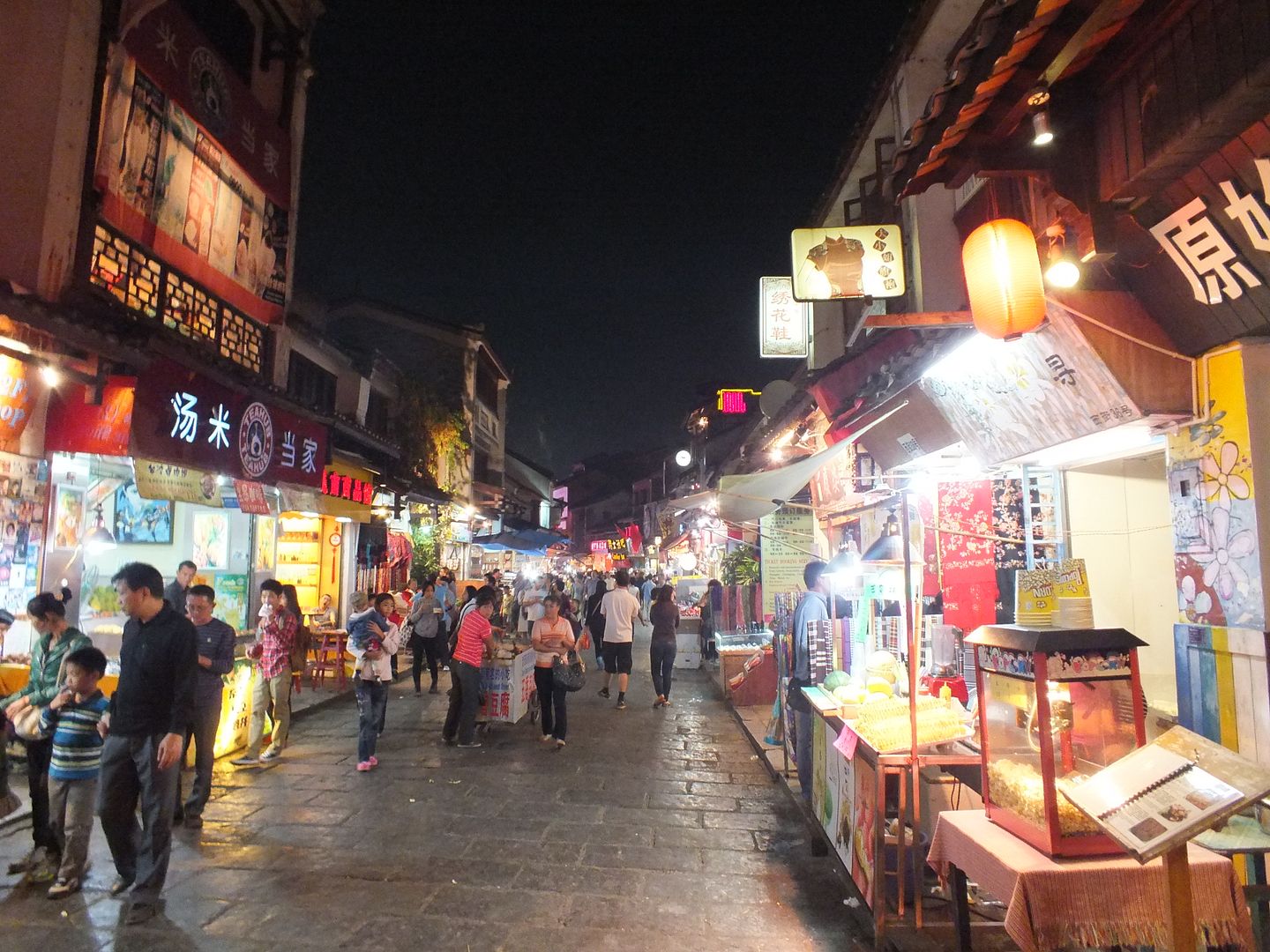 Kebabed and spiced broccoli – delicious.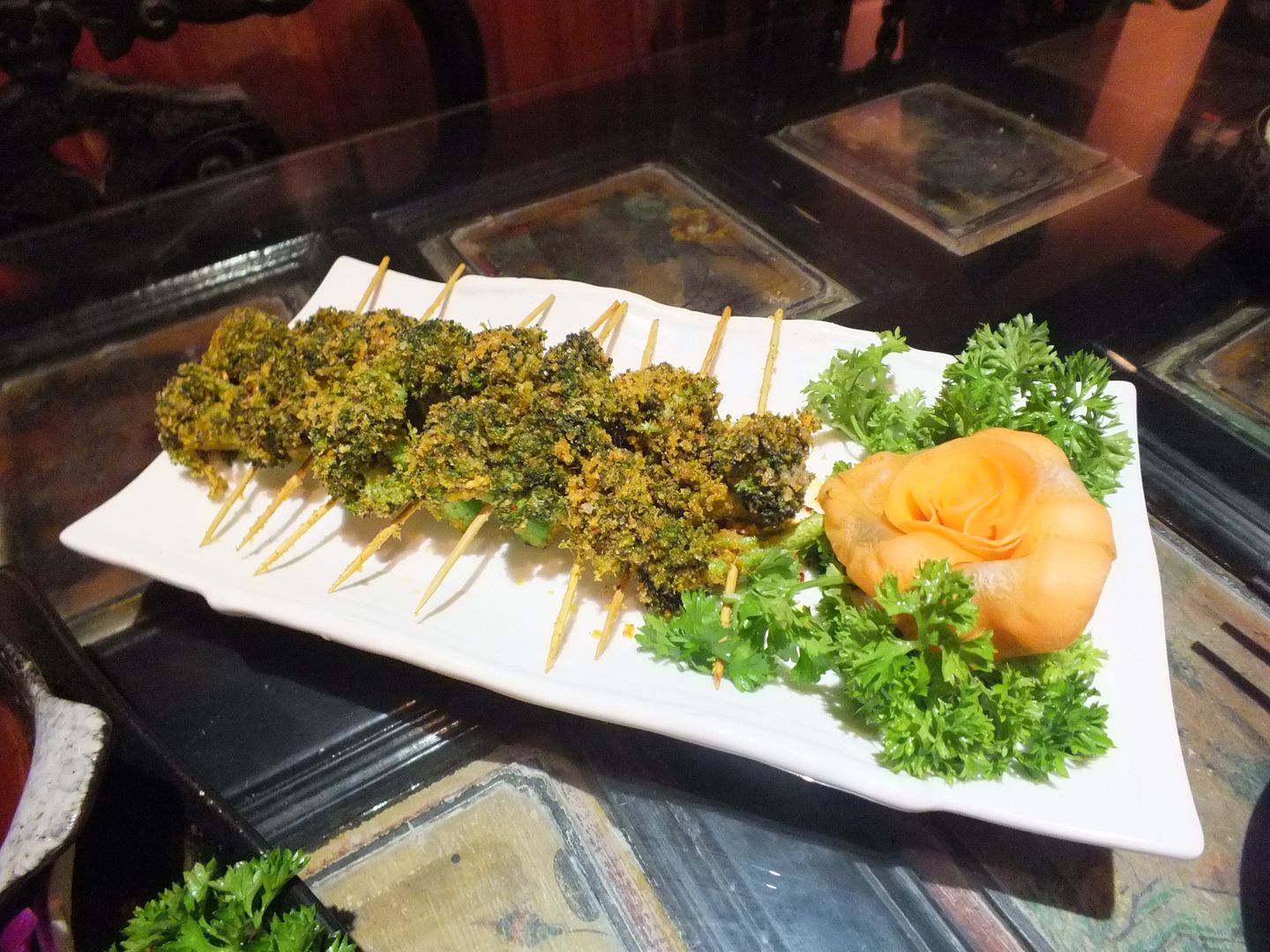 Some sights from the surrounding countryside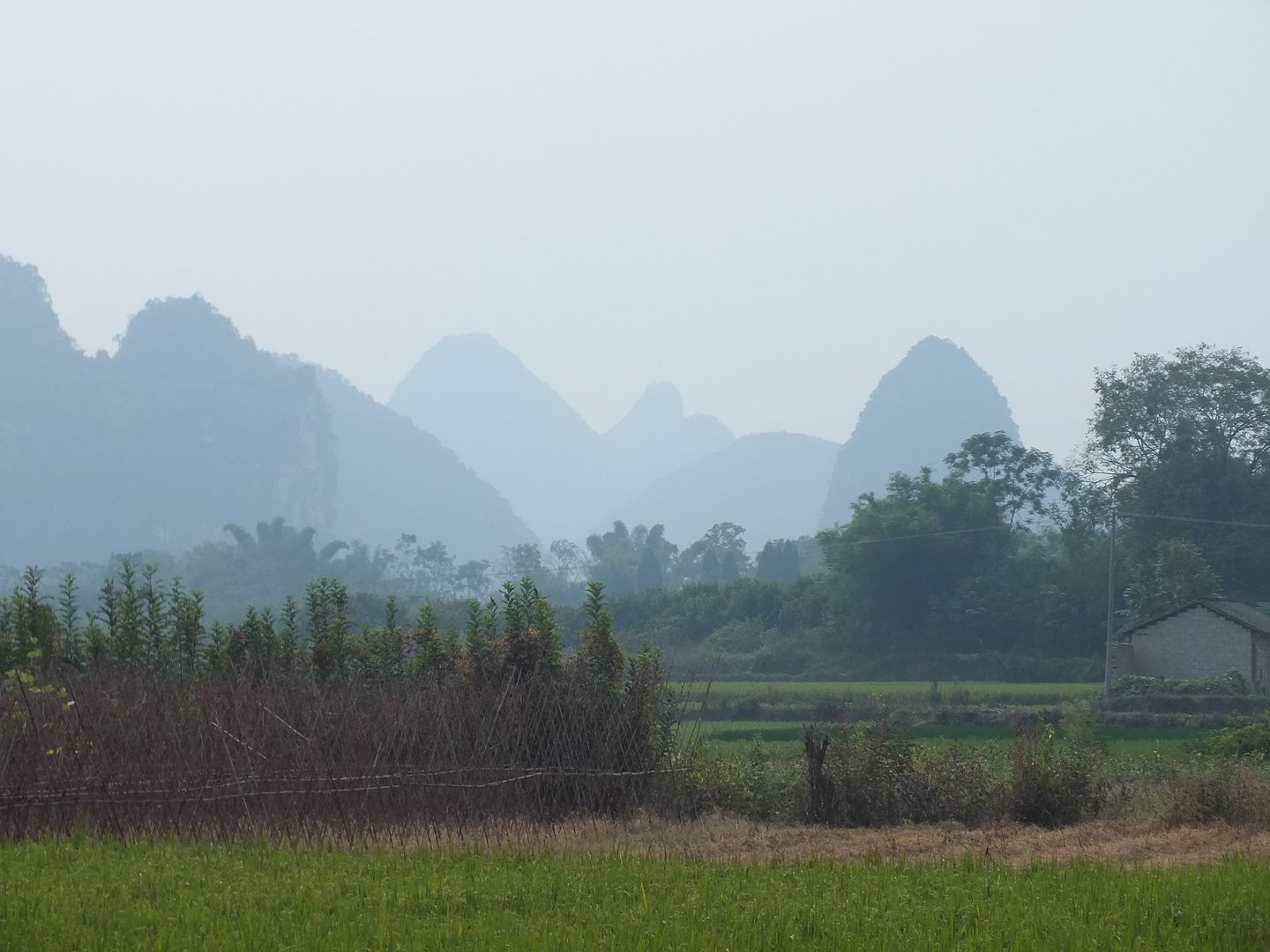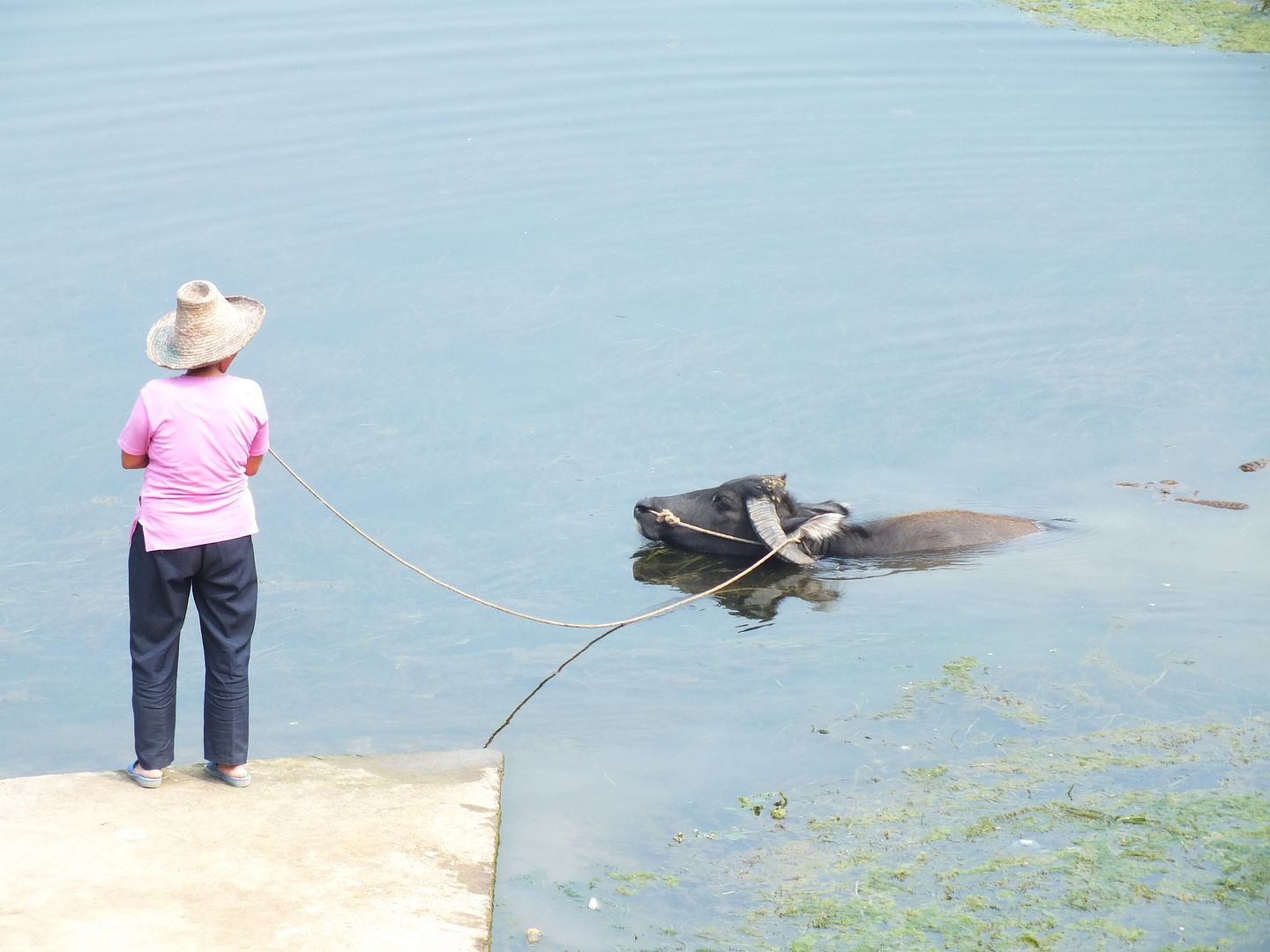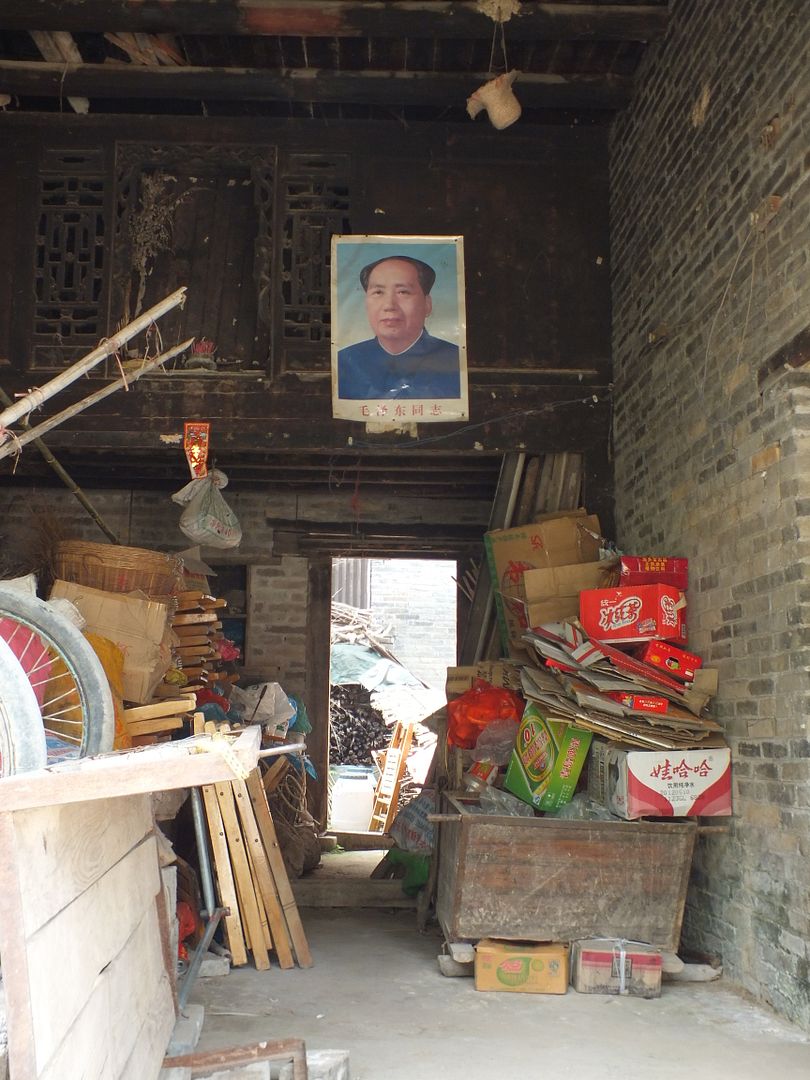 After 4 days in Yangshuo, I caught the sleeper bus over to Shenzhen before hopping over the border.
I found a great deal at the Ramada Hong Kong Island for a (semi) harbour view suite for just GBP 40 night…not bad!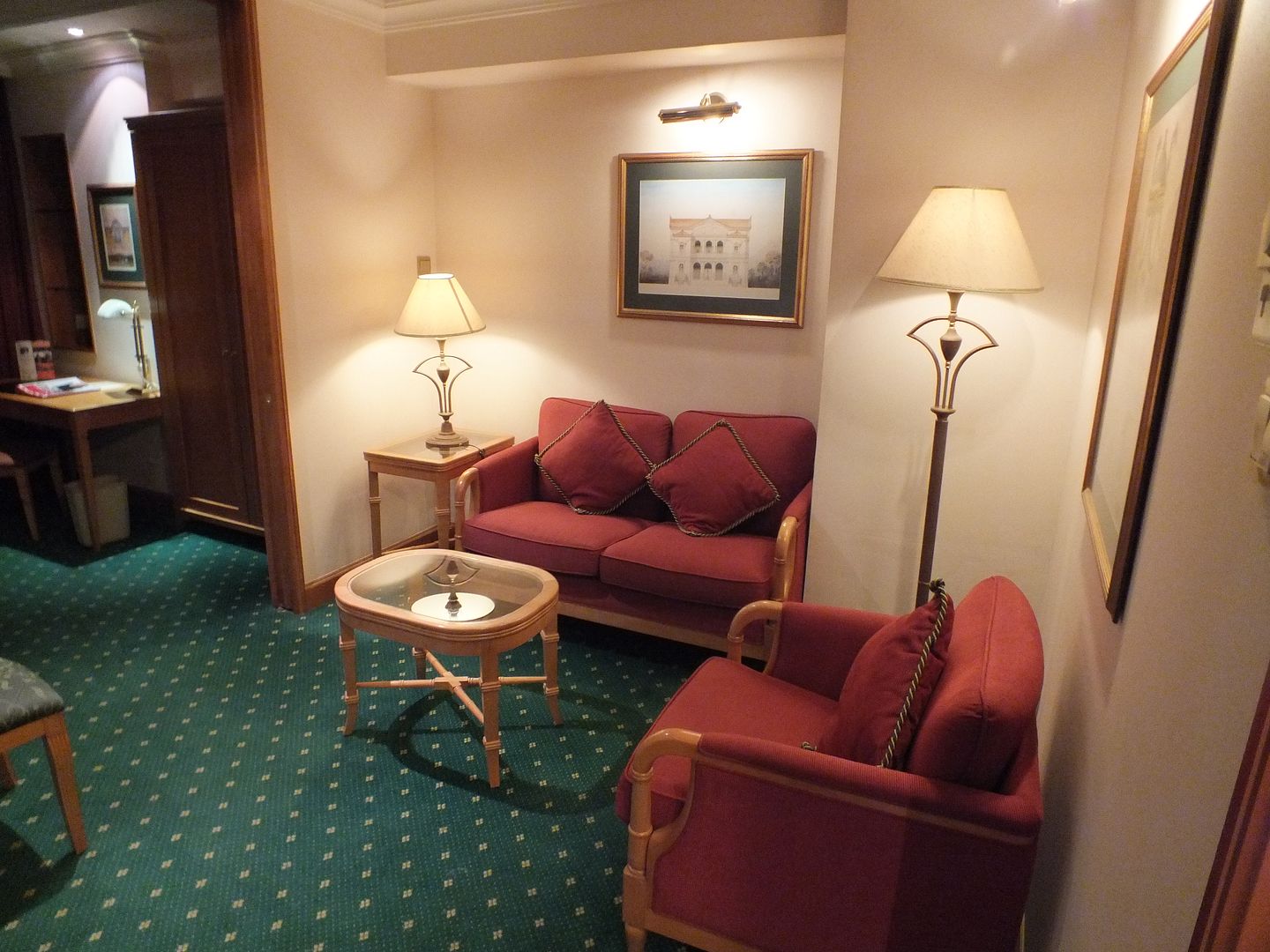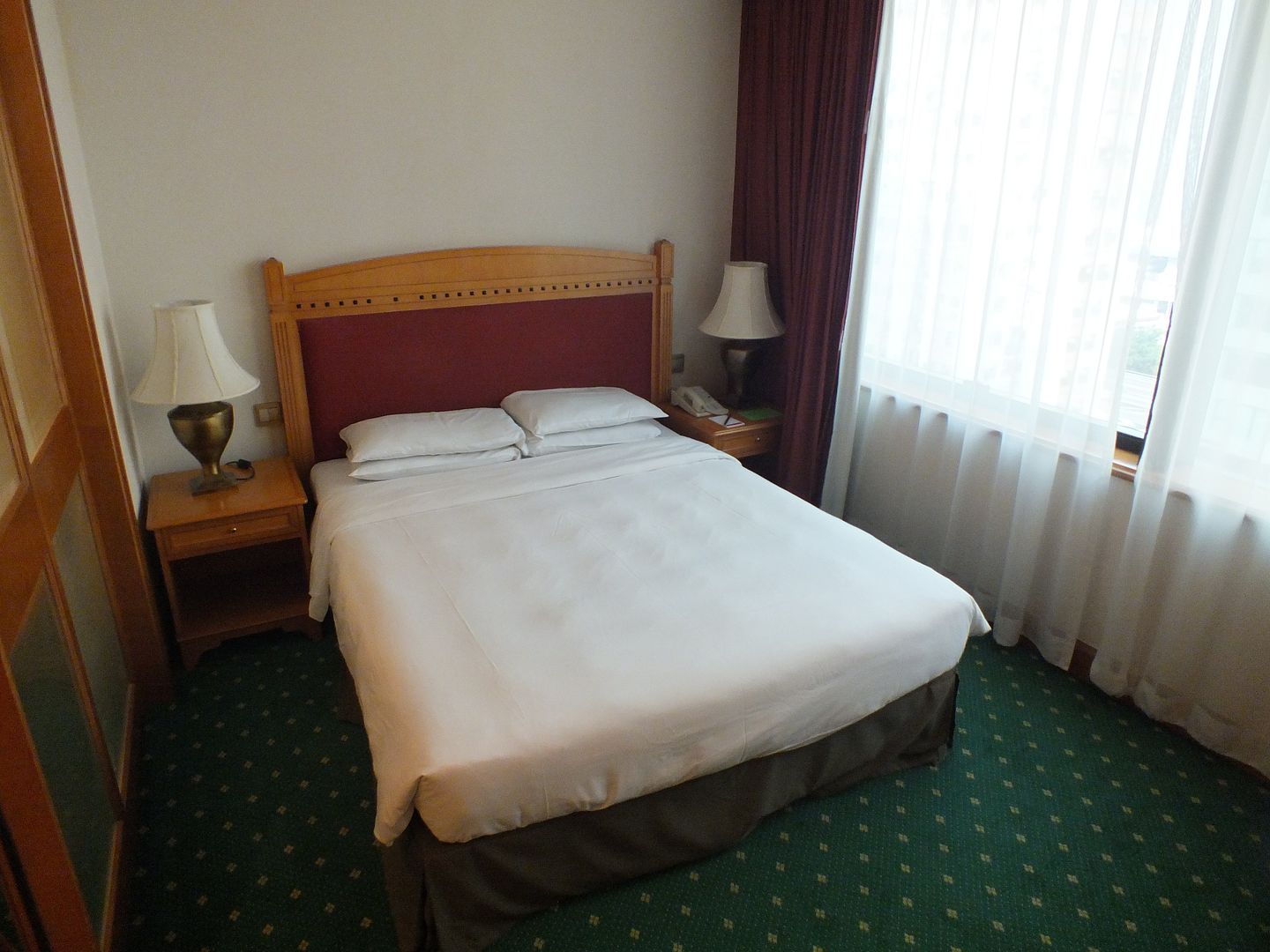 As nearly always, I took bus #15 up to the Peak…bit smoggy today
But a nice sunset later on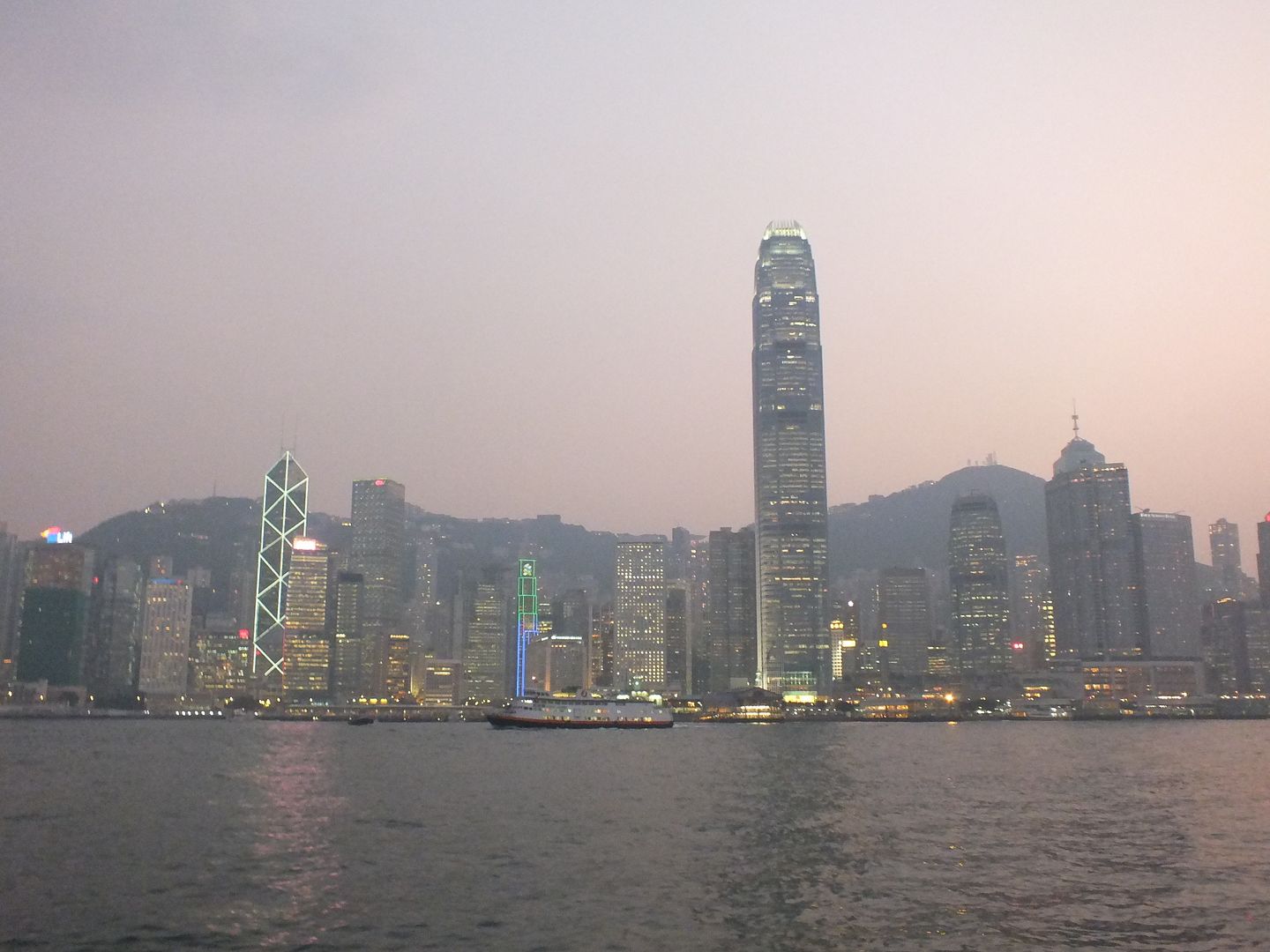 And after nightfall
As I'd been to HK so many times before, I thought I should do something I'd never really done…visit the New Territories. First stop was a cultural trail out in Tin Shui Wai
The next day would be quite a lot more strenuous. My aim, HK's best beach, Ham Tin beach. Why is it the best? Because it's empty (and the scenery is gorgeous). Why is empty? Because, save for a long boat ride, the only way to get there is by a rather long and winding path, the MacLehose Trail. I decided to do Parts 1 and 2 (of 10), a nice 24km walk.
And here's the beach. Doesn't look like HK does it? By the time I got there, some 2 hours in, I was ready for a dip…wonderful.
After lunch and my swim, it was time for the next 20km….boy, it was hot and hard. Luckily the scenery was still fantastic.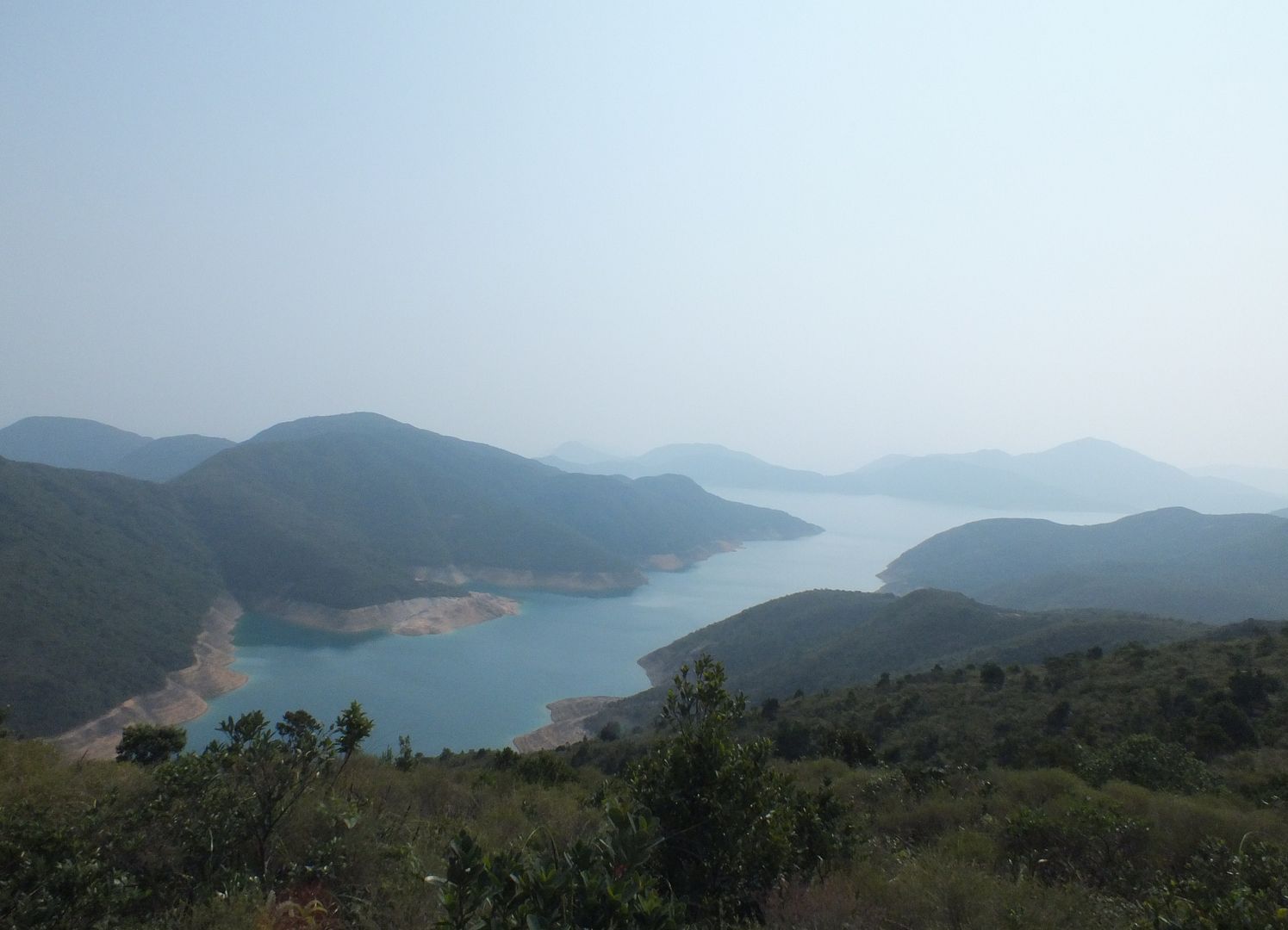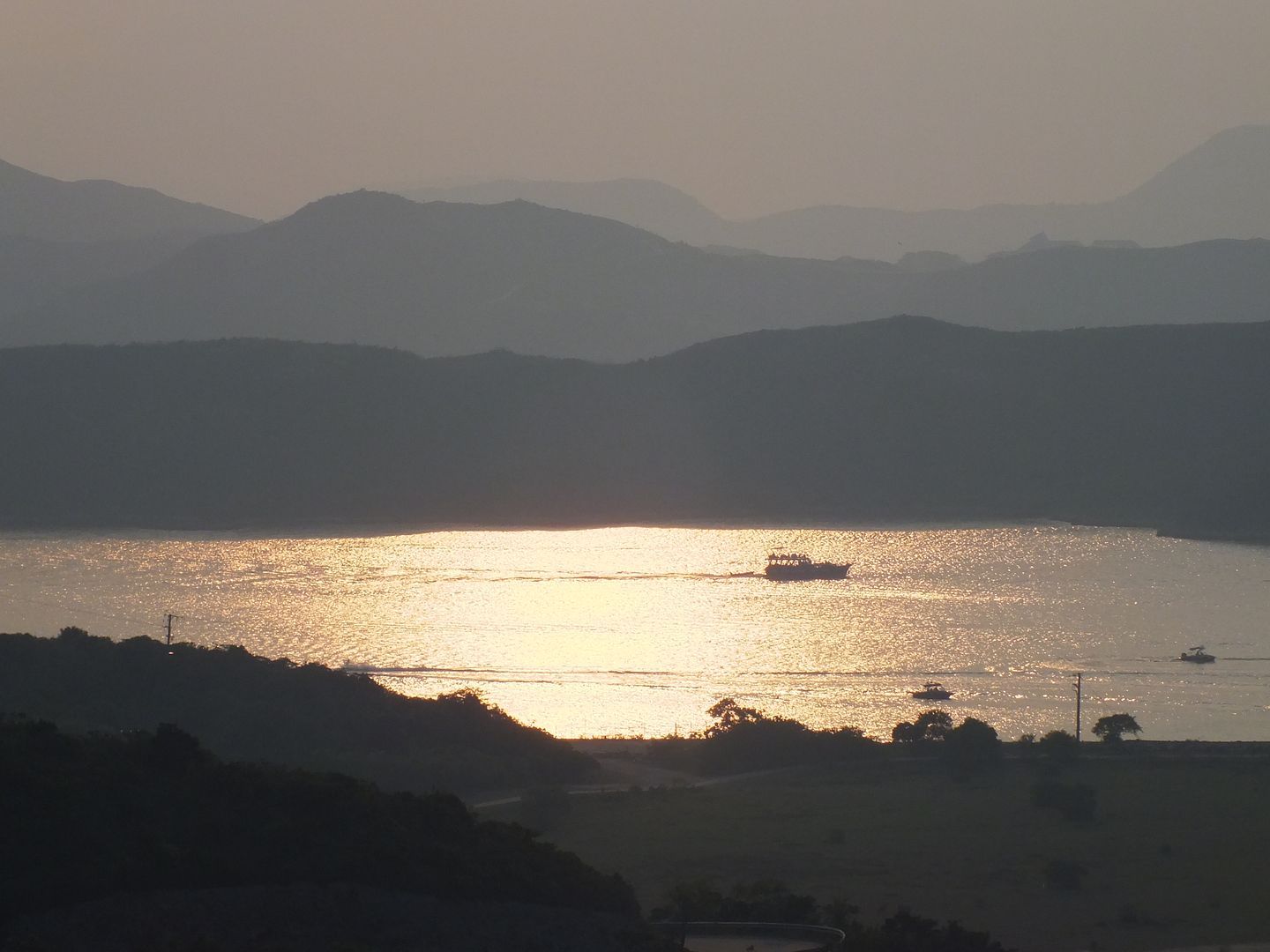 It took me 6 hours in total (although, thank God, I hitched the final 2-3 kms)…exhausting stuff, but very nice. Don't even think about trying this in the summer or without loads of water.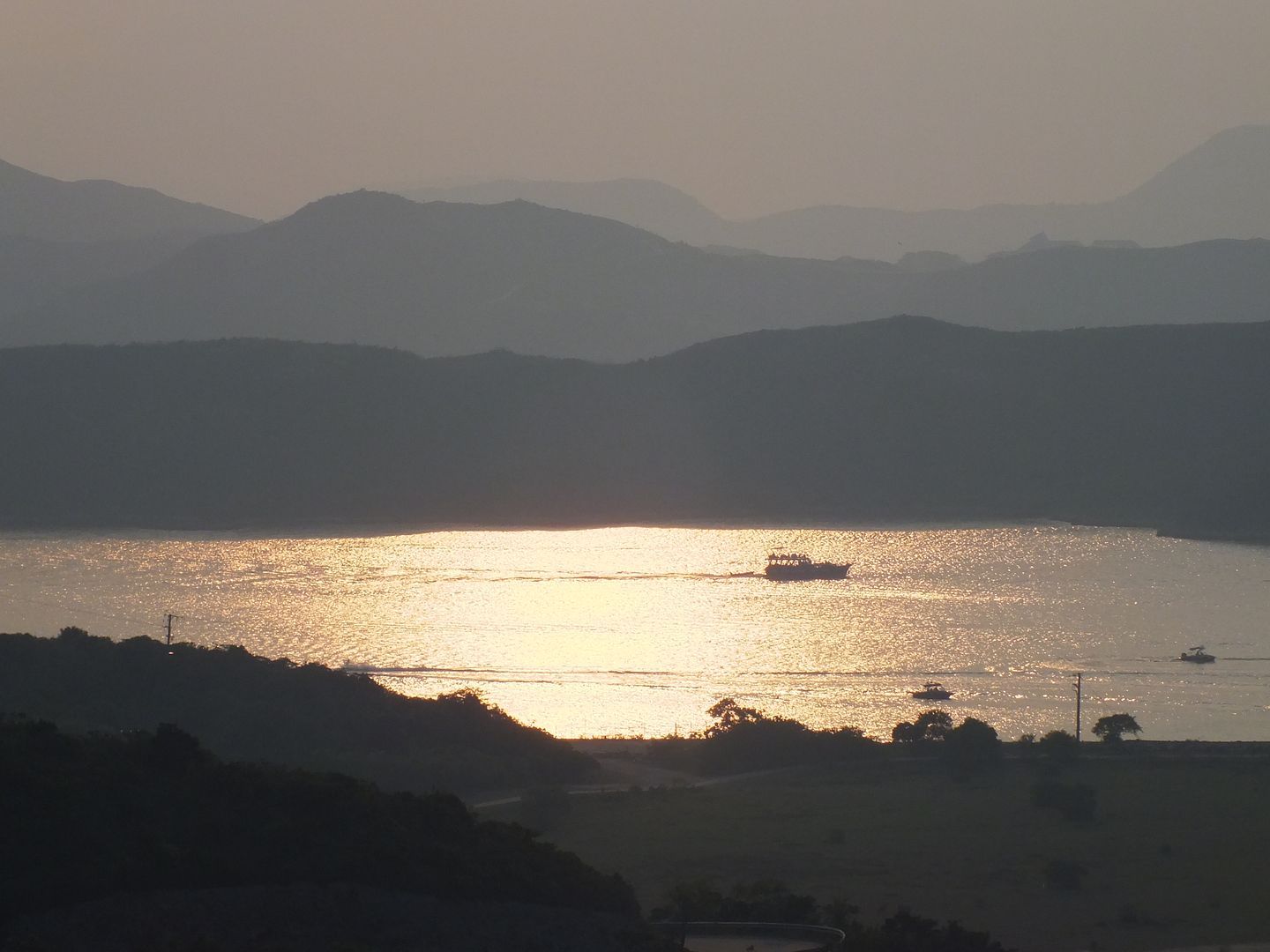 My final tourist activity was a visit to the free viewing gallery in the Bank Of China buidling
With all the touristy stuff out of my system, I checked out, and hopped on the bus to the airport.
Passing the Ngong Ping cable car (great day out)
Today's flight would be in the comfort of Cathay Pacific's First Class cabin. CX (and KA) operate up to 20 flights a day on the route. Together with China Airlines, EVA Air, HK Express and a few others, this route is possibly the world's busiest in terms of daily seat numbers (most, if not all, flight are widebodies). Only a handful of CX flights offer F, and of those, roughly (it changes daily) 2 are operated by the Queen of the Skies. Thankfully, I found a flight to suit my schedule.
Checking in online, the cabin doesn't look too busy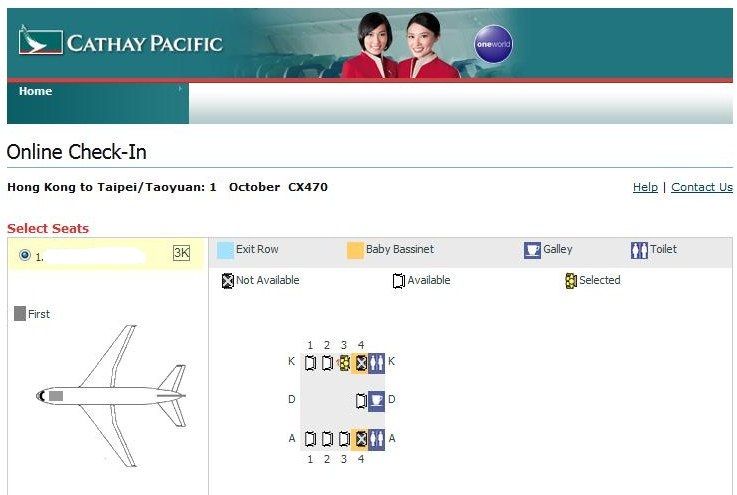 Whilst the rest of the airport sports large queues, the F check in area, whilst nowhere near as comfortable as the TG one in BKK, presents no wait time. My bag is whisked away, and my boarding card is printed, but only after the agent has noted down ALL the details on my onward flight. You'll notice the long skirt worn by F staff – looks very chic and professional.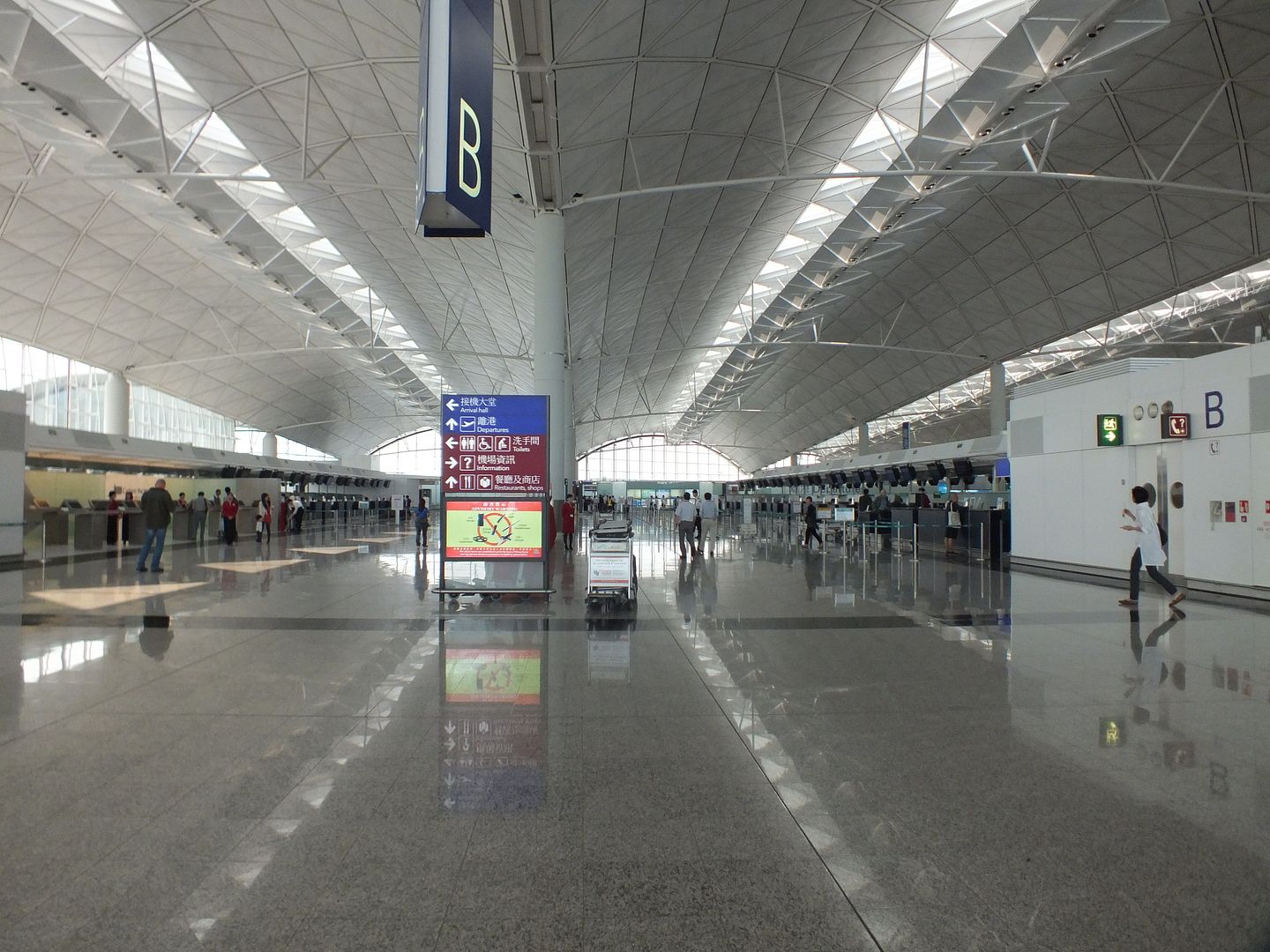 With check in completed, and plenty of time before my flight, I head over to Terminal 2 to check out the Observation deck
I love the T2 roof. Under the check in area are buses to the mainland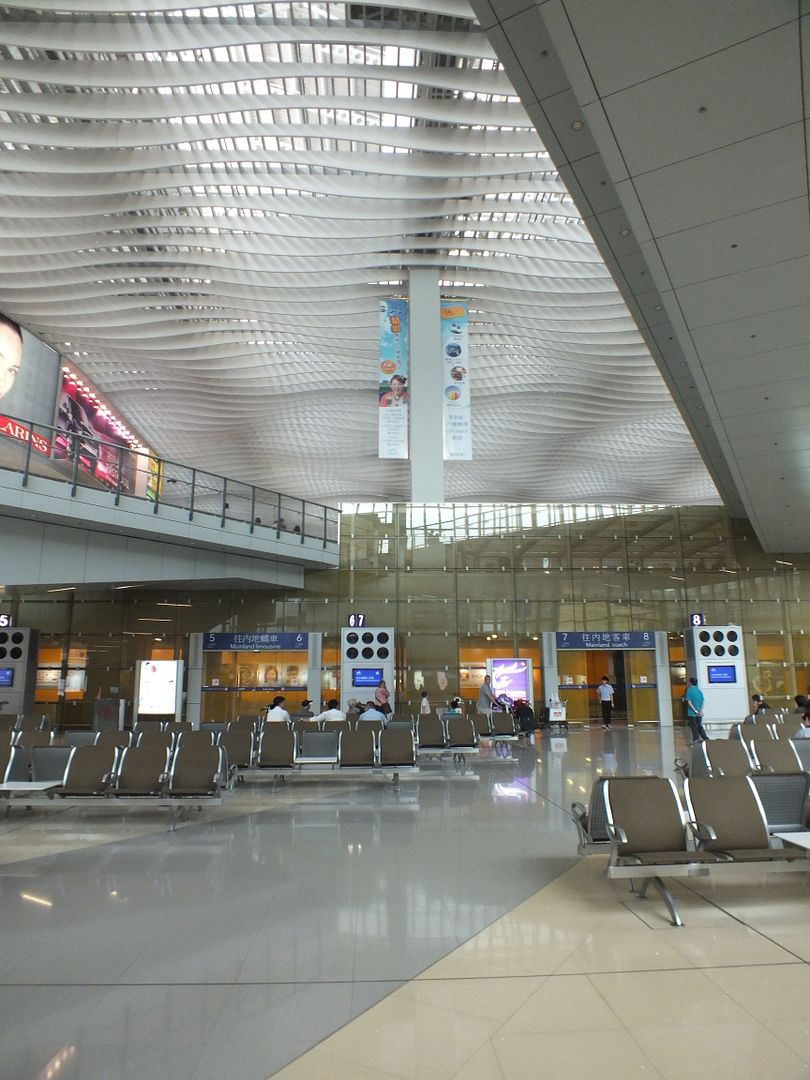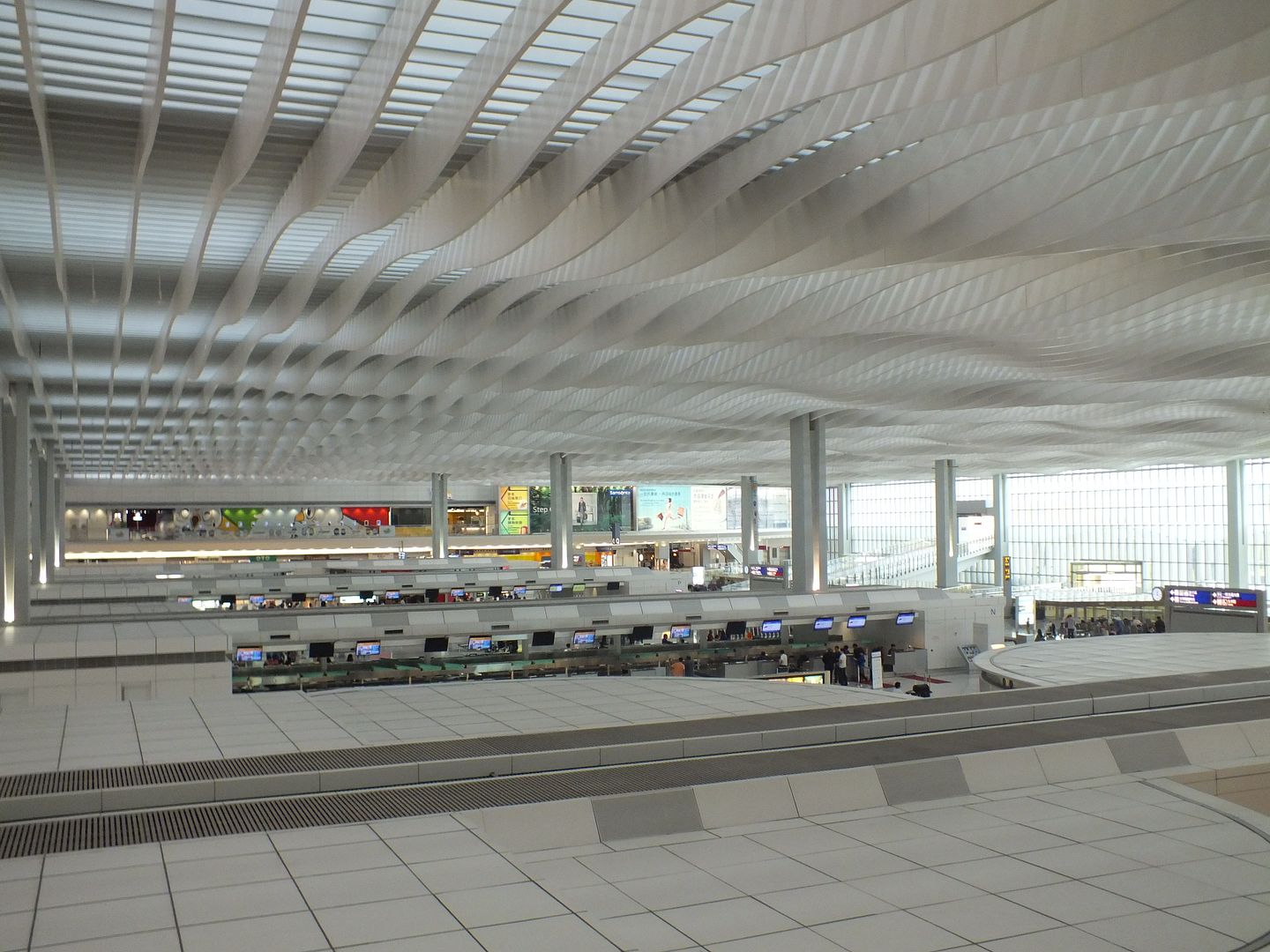 Entrance to the "Entertainment Zone". There's a proper IMAX here, but I don't indulge today. The viewing deck has attracted a HK$15 charge since I was last here. I'm not in the mood particularly today, so just have a quick look at the plane info area.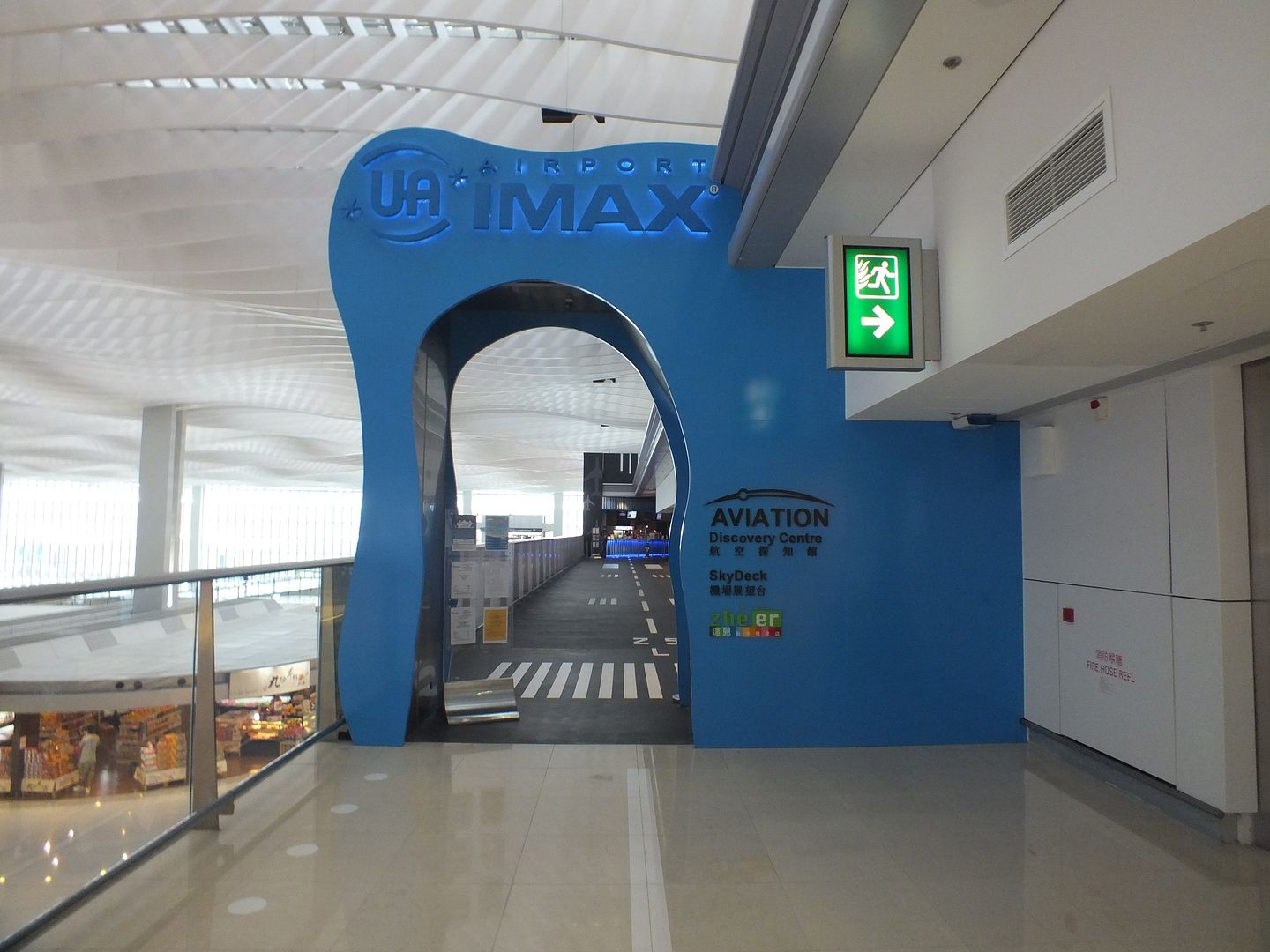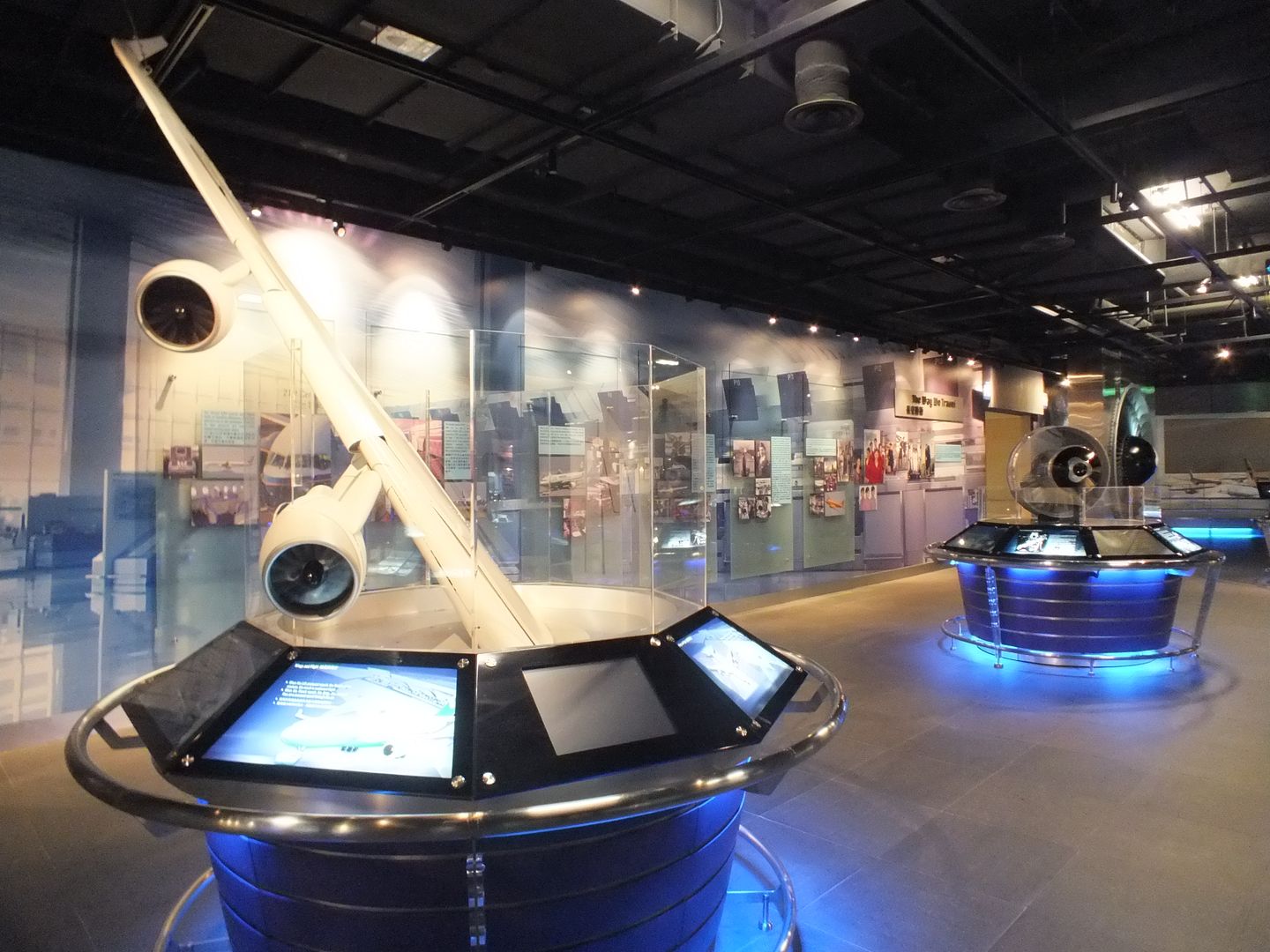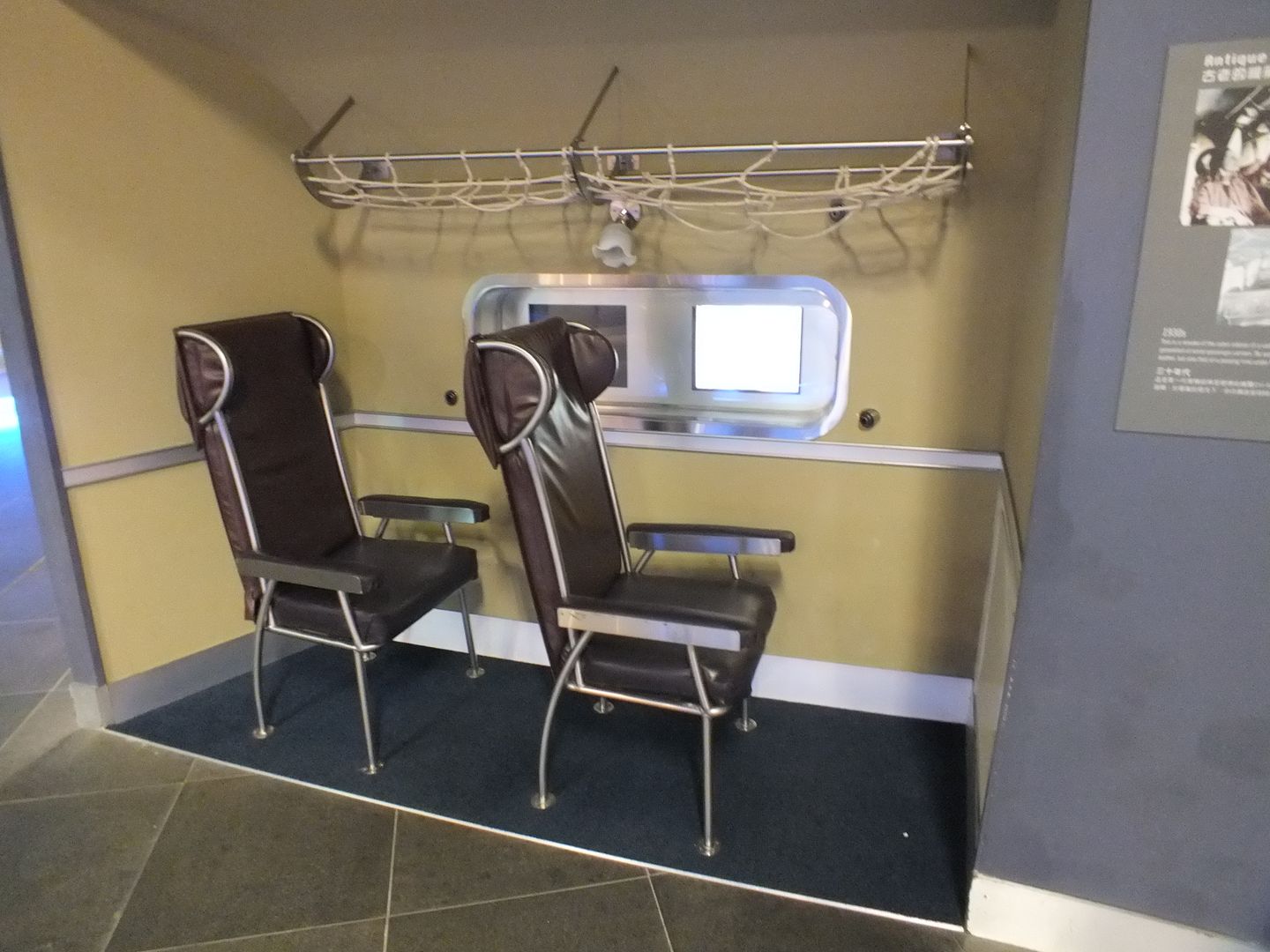 Thankfully, today's version of the F seat is a bit better than the one of show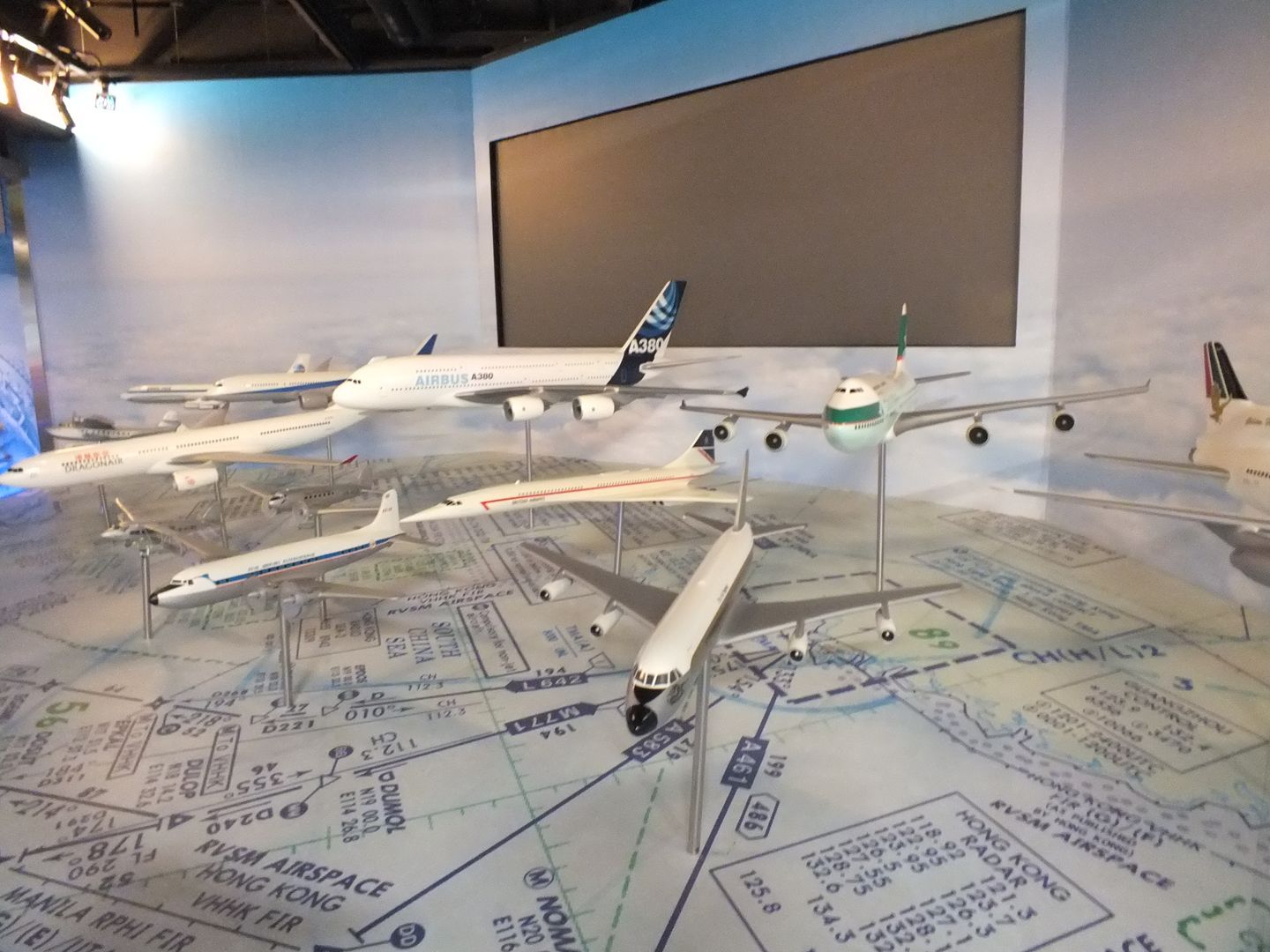 I decide to try out security and immigration in T2 rather than going back to T1…it doesn't take long. You have to catch a shuttle to the main terminal. From there, I caught another shuttle to the end of the pier.
The last time I went to
Taiwan was on EVA
Some interesting Korean types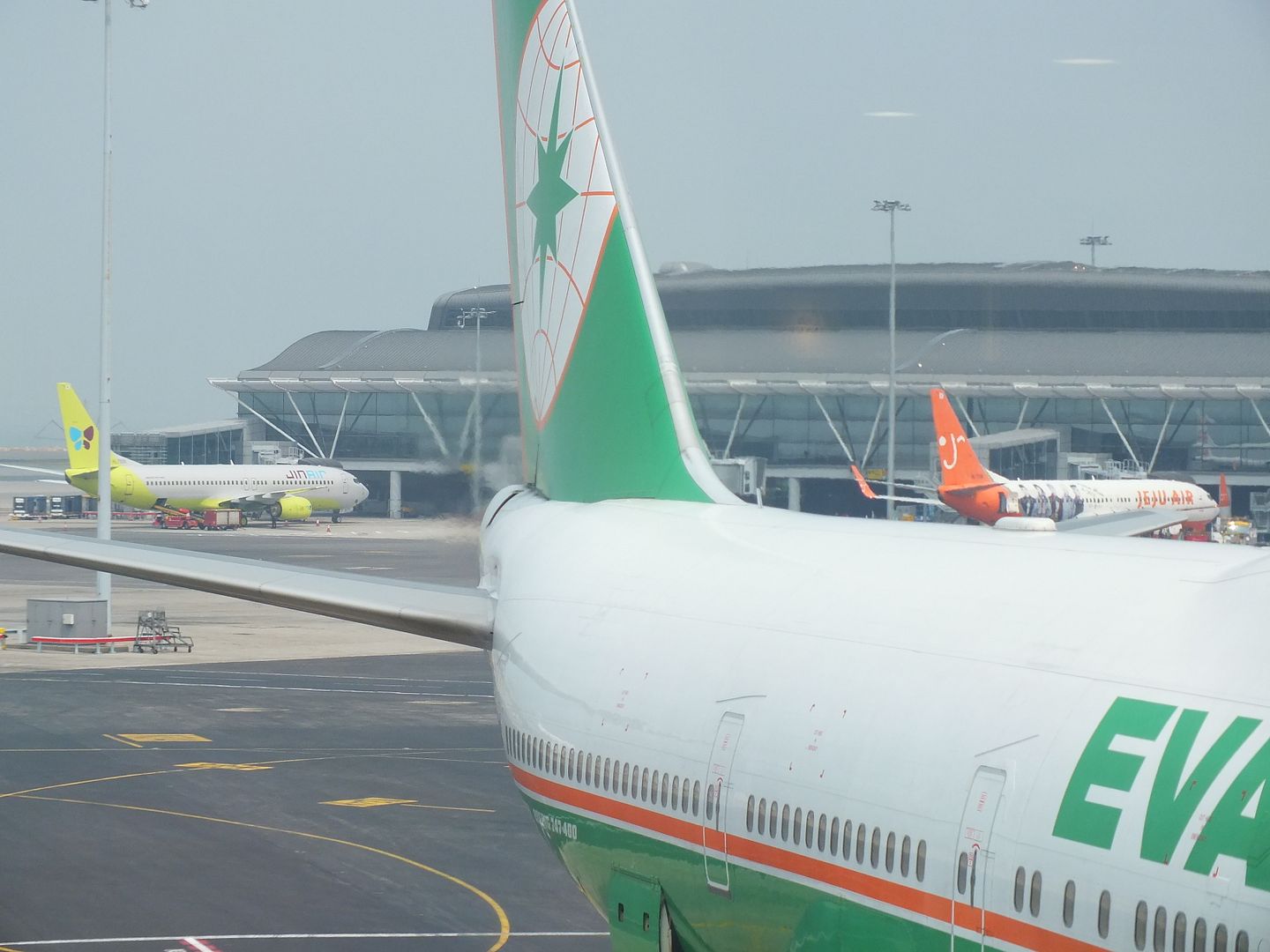 And an international lineup
Nice airy terminal
I'm lucky enough to catch the CZ A380 on it's daily PEK run just days before it's swapped for an A330 (the A380 is now plying the LAX route, no doubt with a nice low l/f)
And I also catch the brand new TG 380
With my spotting over, I head downstairs to the First lounge
I'm quite disappointed to find that the pre-flight dining is just a buffet with a waiter service for drinks…no restaurant? To be fair to CX, the food is very nice, but this is not what I expect of a carrier like CX. CX are currently rejuvenating their F lounge in the main Wing complex. Hopefully when it reopens, it will be more First Classesque, as today's offering are not really up to scratch.
As you can see, I'm a fan of salmon, dim sum and sushi
The main lounge area. Nice, but nothing special. And no views.
I ask a waiter for a drinks list. He's obviously stumped by the question as he looks very confused. I ask what champagnes he has on offer. "Um, only one". Er, righty, I'll go with whatever that is then! I hope the crew on the plane are more on the ball!
So, what else is there in this F lounge? How about the Day Rooms? Very nice, although the TV only has 2 channels.
Better than the TV!
As long as the flight is better than the lounge!
Time for another champers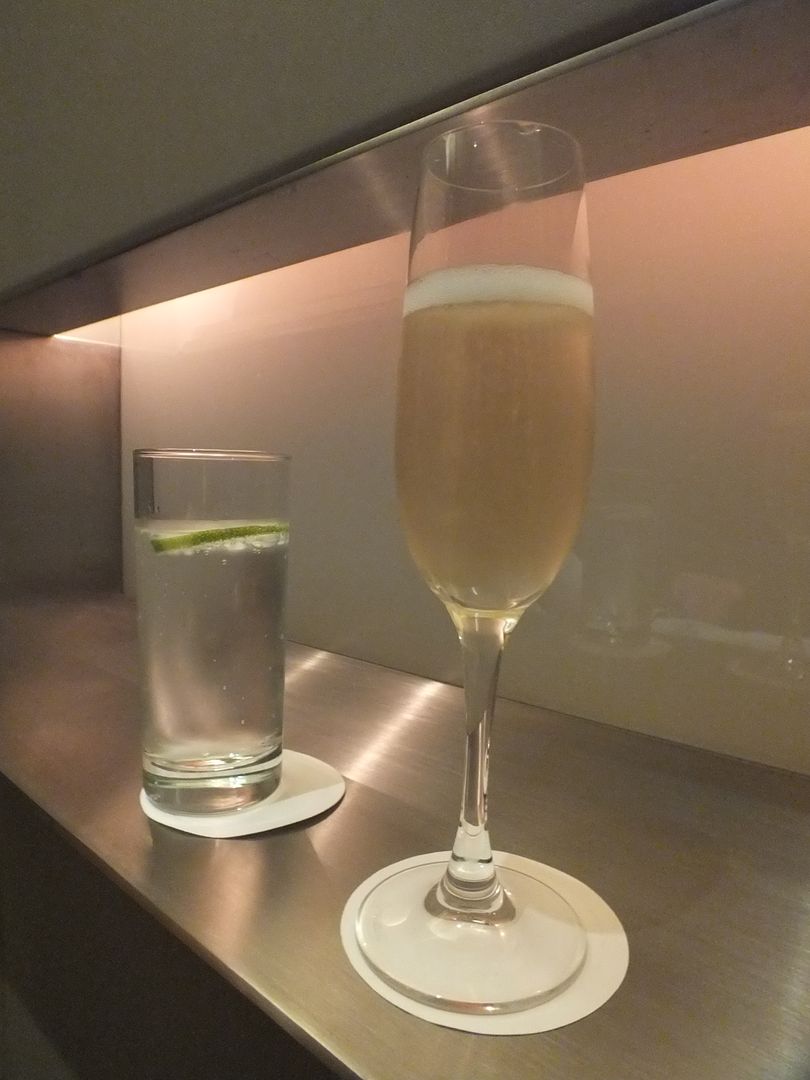 Last stop in this lounge in a shower…nice room
Well, other than a nice lunch, I'm left very underwhelmed by this lounge. I take a walk down the length of the Pier to try out the Wing. On the way out, I pick up a paper timetable from the lounge desk…how many airlines still publish them? This is a nice old-style thick thing, full of maps, diagrams and times…wonderful!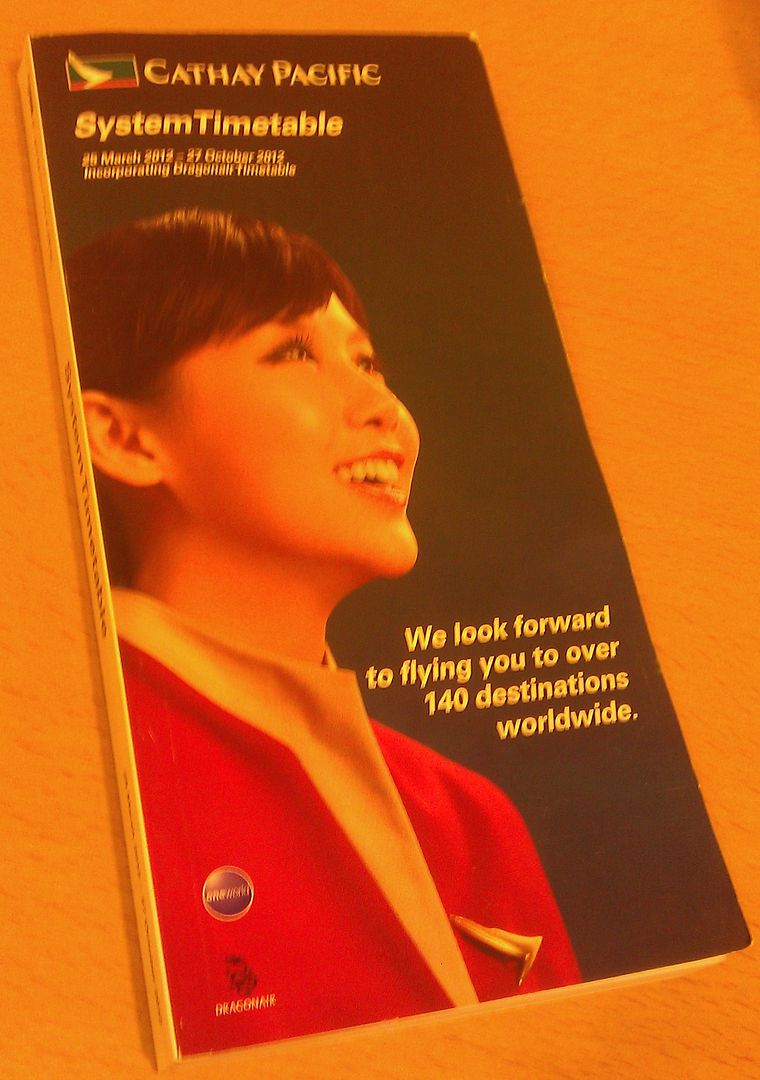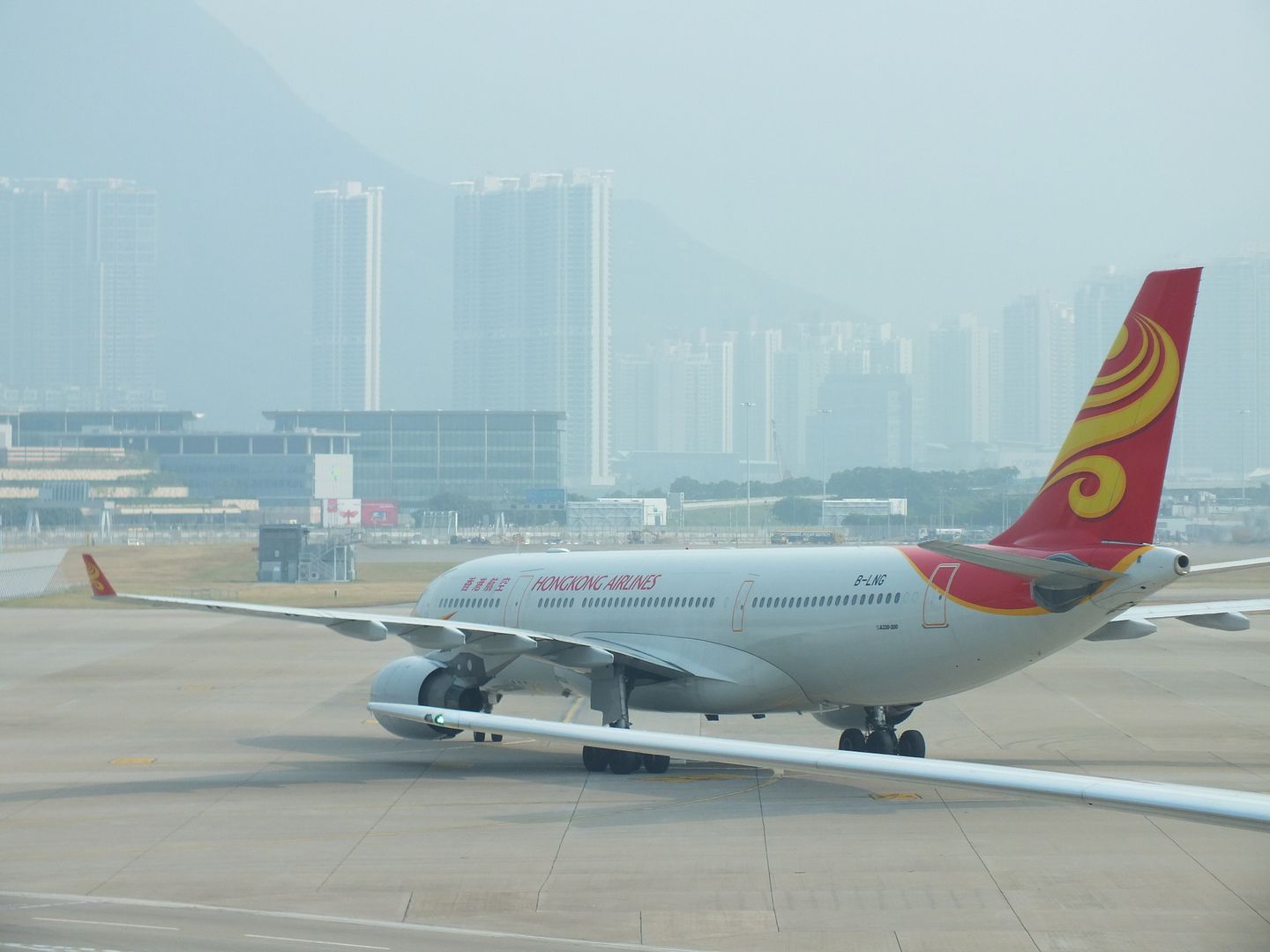 Today we get the exalted Gate 1…nothing happening for another few hours yet though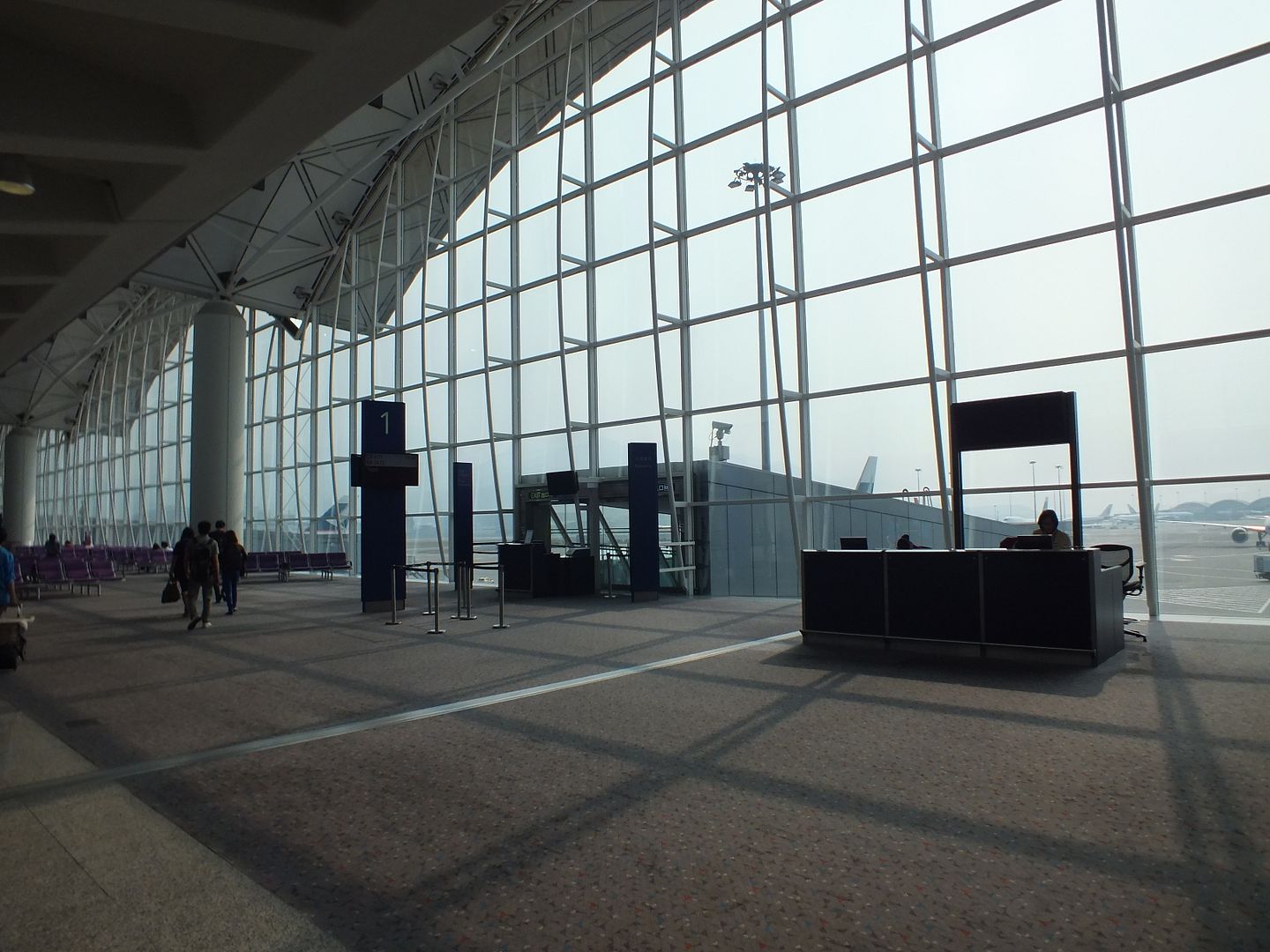 Nearby is the Wing lounge area. Ironically, when I was in HKG last year flying
to Tokyo in Business
, the C area was being redone. Now I'm flying F, the F is being redone! As such, there is a small cordoned off area in the new C lounge for F eligible pax.
Nice view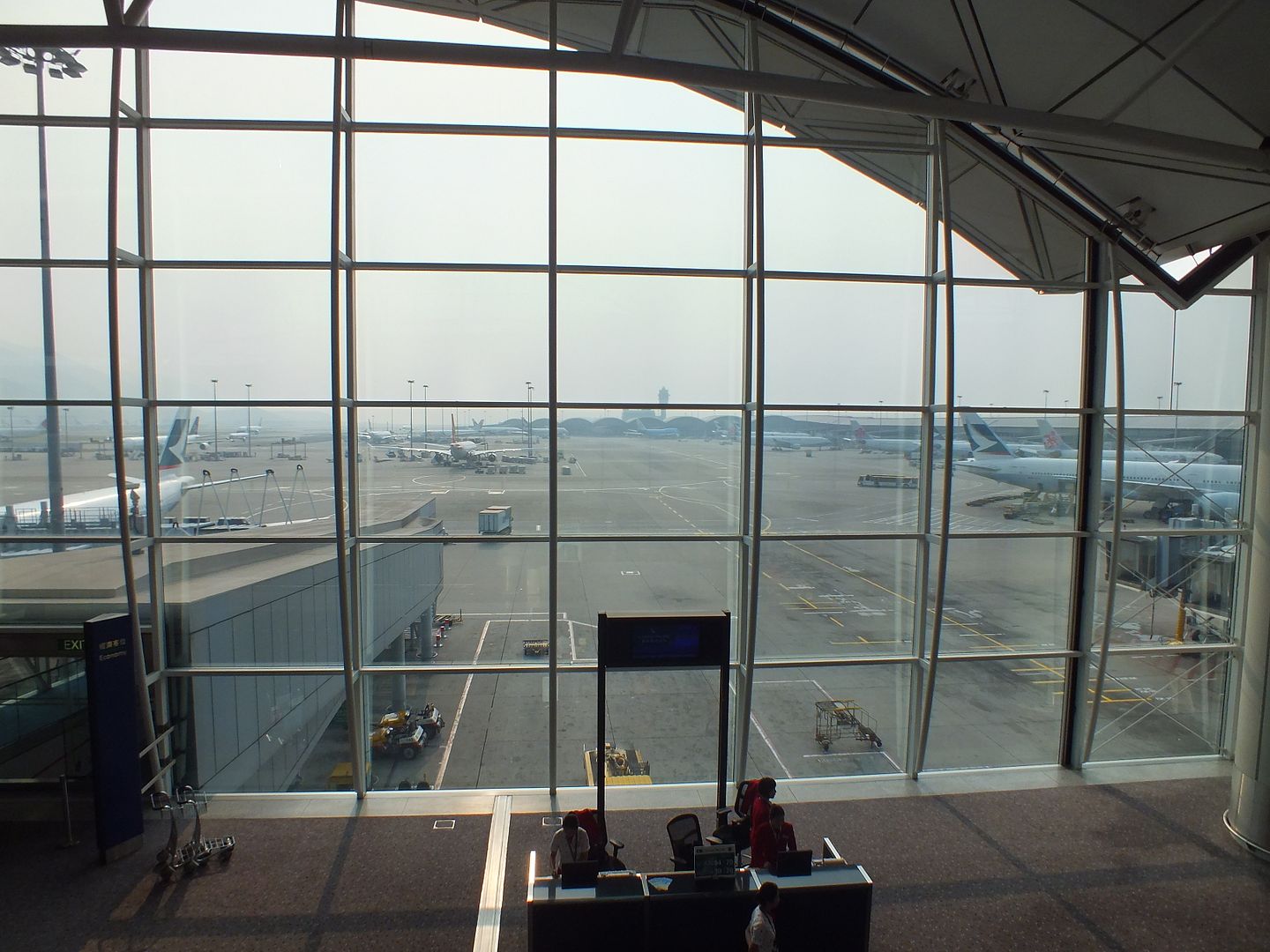 Just a champagne and some fruit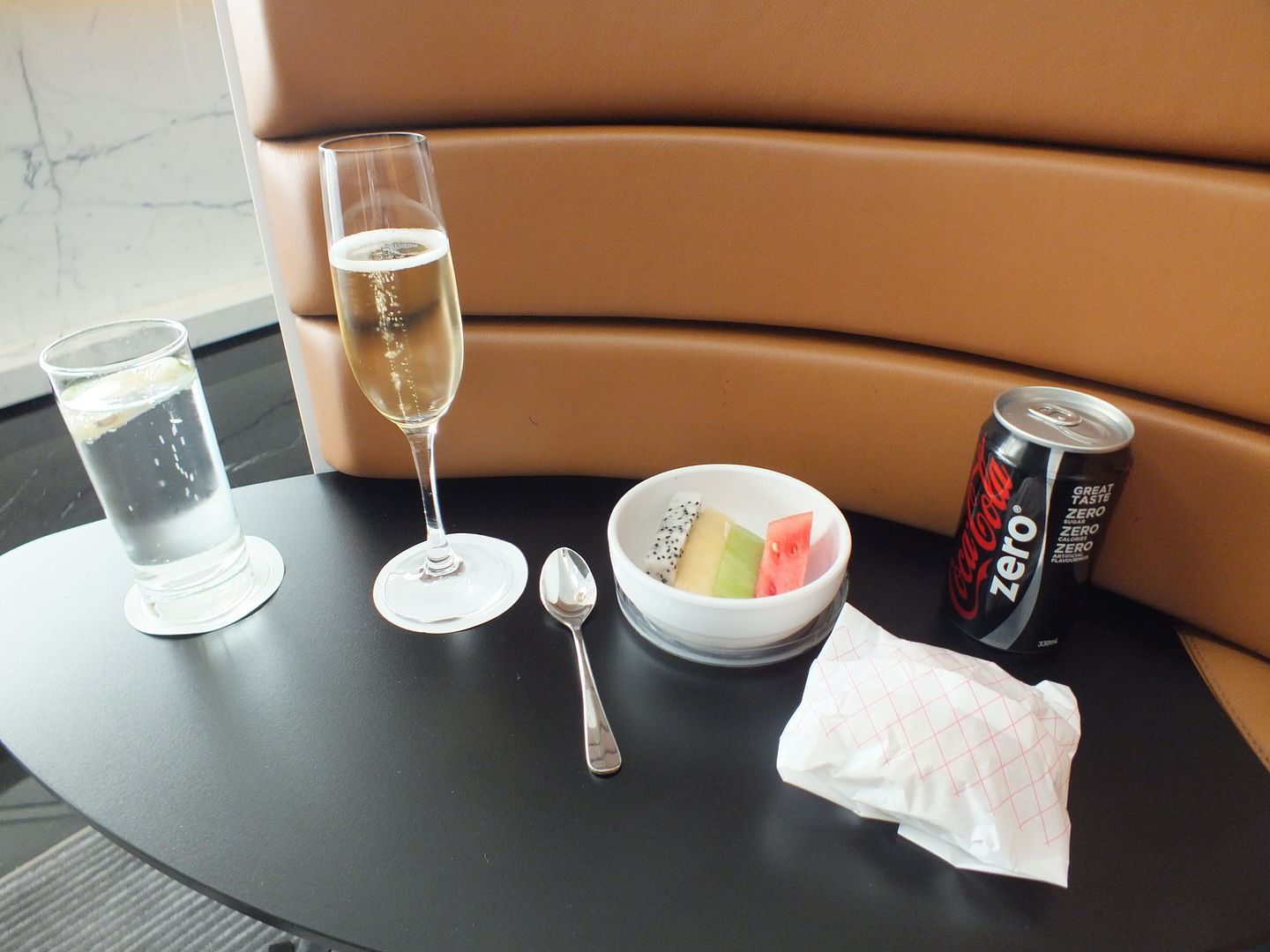 At a quarter to four, I head out. The QF F lounge opens at 4, and I want to check it out. I pass the very nice looking noodle bar on the way out.
Time for a look at the FIDS? How about that…a delay to "sometime tomorrow". Good old RA!
And in Chinese
En route to QF F
The C lounge is in the basement, F is upstairs