This will be the first of a 2 part series covering my trip to Milan. This part will cover my outbound flights between London Heathrow, Brussels and on to Milan Malpensa. The following part will cover my return sectors between Milan Malpensa and London Heathrow, stopping in Zurich and Dusseldorf along the way.
Overall route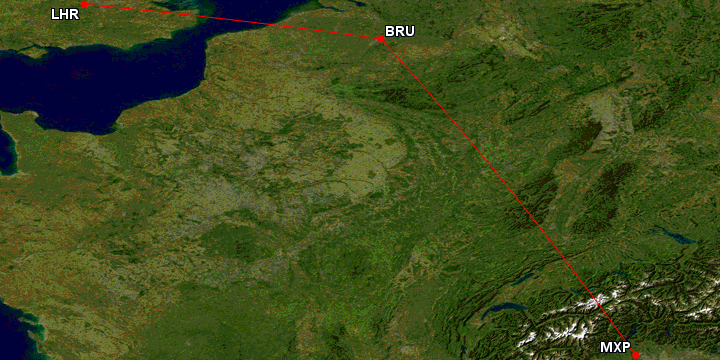 Sectors covered in this part
Before I'd managed to get over my trip to Madrid the previous weekend, it was time to set off again. This time on a much more interesting routing down to Milan. As I mentioned in my Madrid trip report, I had initially wanted to go to Rome that weekend but it proved a bit on the expensive side. However I still wanted to go to Italy as I'd never been. Initially I had looked at AZ, and they had a pretty attractive fare - £128, with the outbound flight from LGW on an Air One A320 and returning on one of their new E-Jets to LCY. Admittedly I wasn't too bothered about the Air One A320 but I did want the opportunity to fly into LCY again. While studying my options I decided to take a look at what LH had to offer. I'd managed to get a good deal to
Brussels in March
, so wondered if I could get a similar deal again. I typed in the route I was after, plus a couple of stops and in the end came up with going out via BRU and back via ZRH for a reasonable £148. Then I tried another option I saw: there was a route back that made a stop in DUS on a pair of LH 737's. I selected this option instead of the ZRH-LHR leg and only bumped up the price another £14! So that was the flight options sorted - I had wanted to try Swiss mainline, but the opportunity to squeeze an extra flight in on a pair of rapidly disappearing 737 classic's and taking in another new airport proved too much to ignore! Incidentally the first leg of this trip would also be my 100th flight, and my 20th of the year. Shame it was on yet another A32x, but my 101st flight later in the day would be on the RJ100 - a new type for me.
As usual it was then time to look for a hotel. Most seemed pretty pricey and didn't seem too great. Eventually I settled on a Best Western - it got so-so reviews on trip advisor and was around the price I was willing to pay without having to pay stupid money.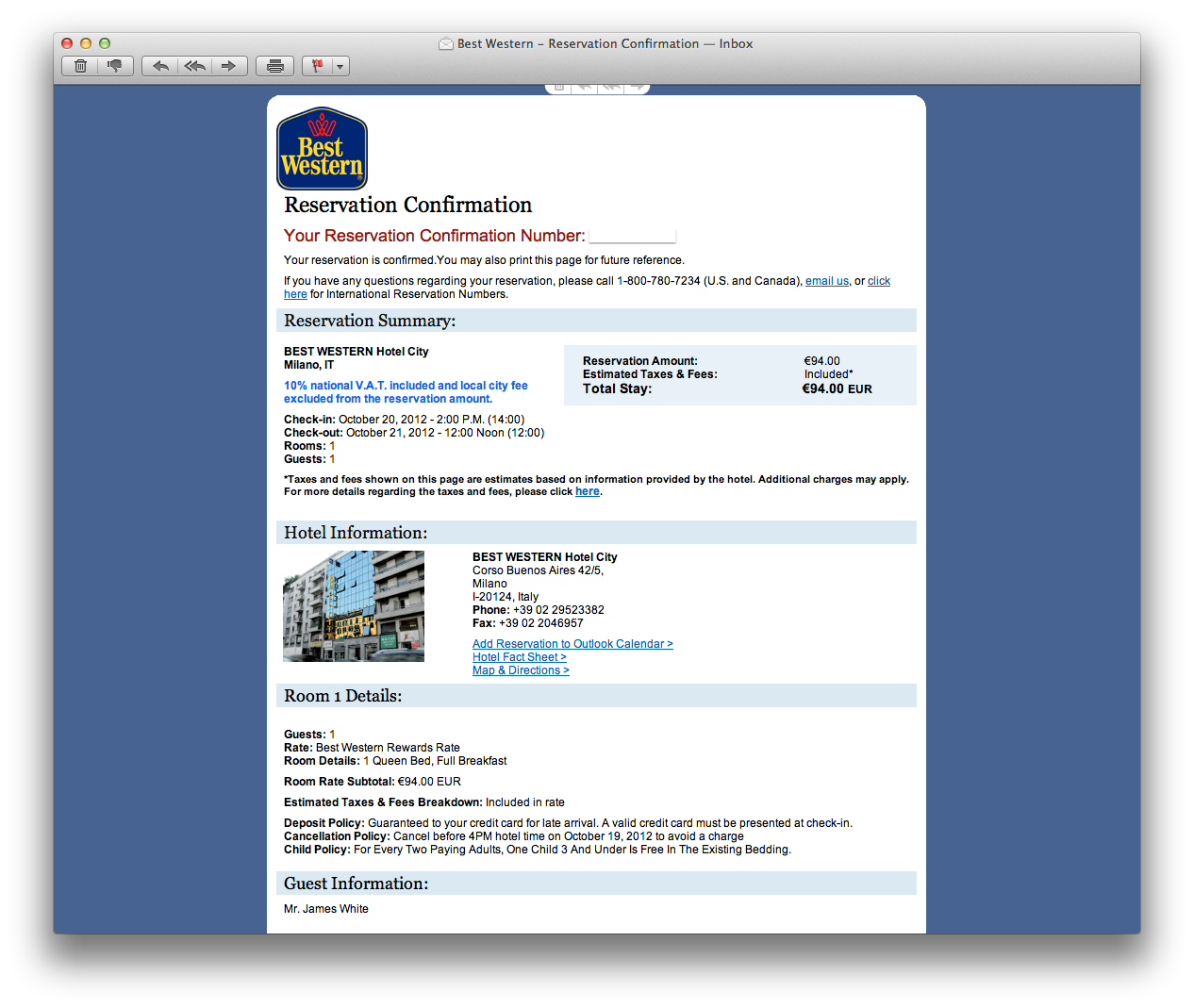 A couple of days before departure, I received the following reminder.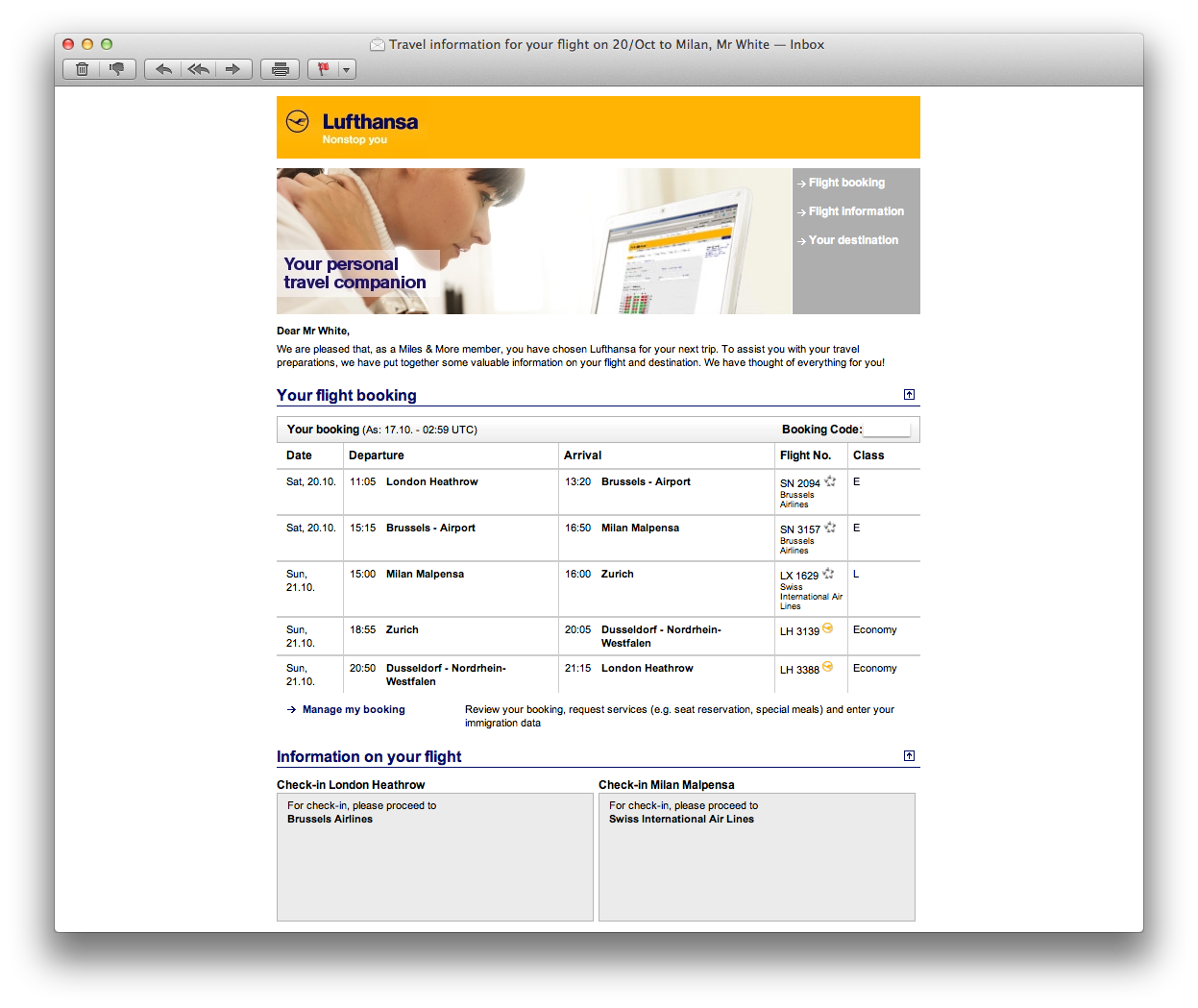 The morning before my flight, I remembered that by using the Lufthansa app back in March, I was able to check in before the 24 hour mark. The same applied to this flight too.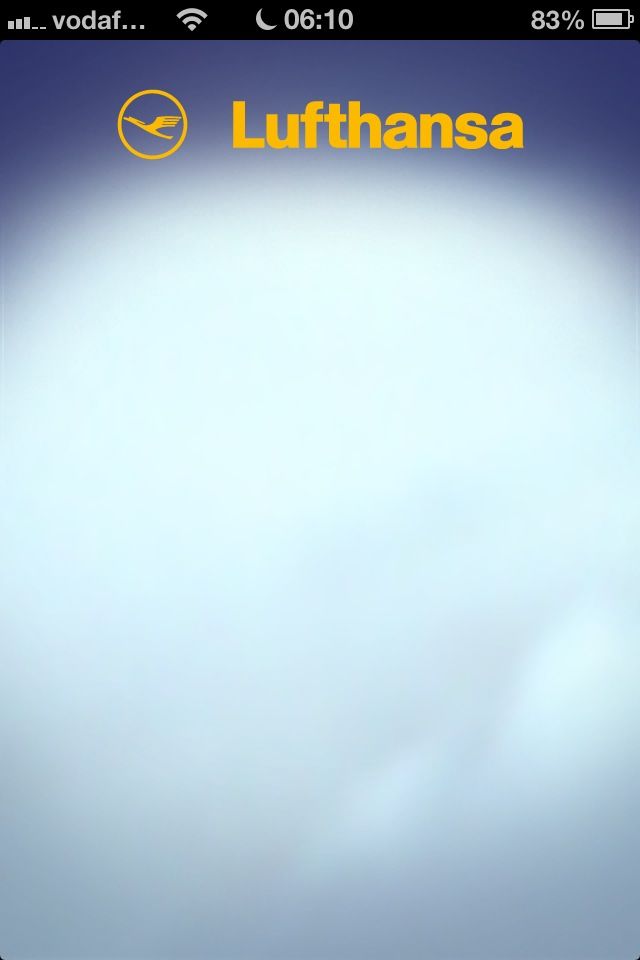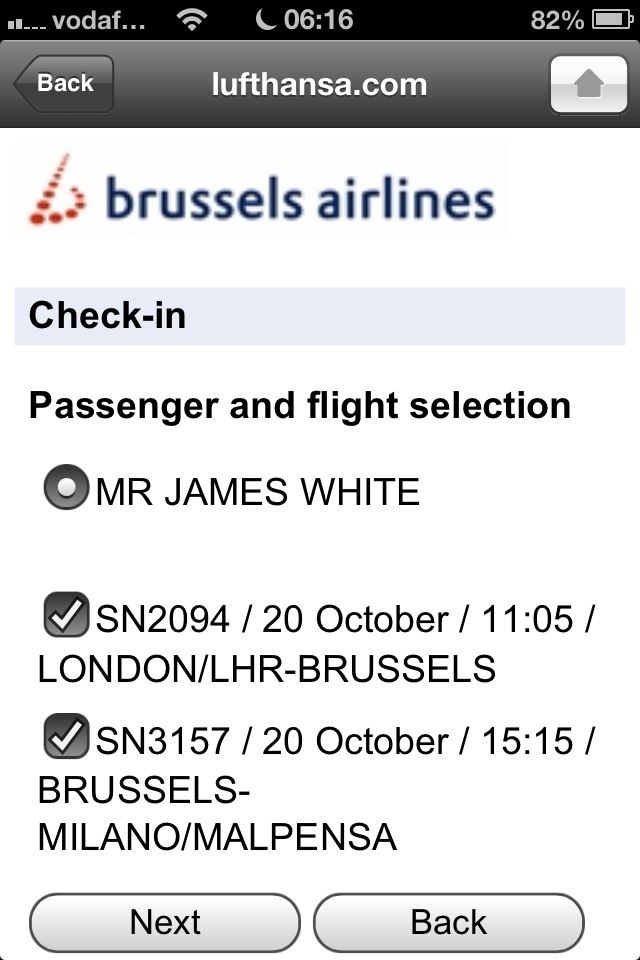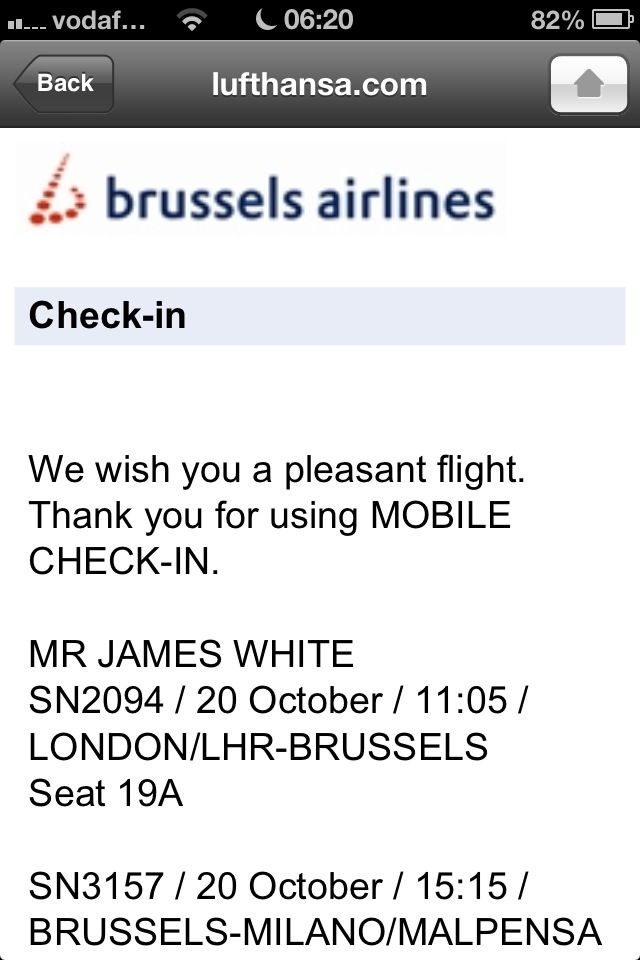 Then my boarding passes were issued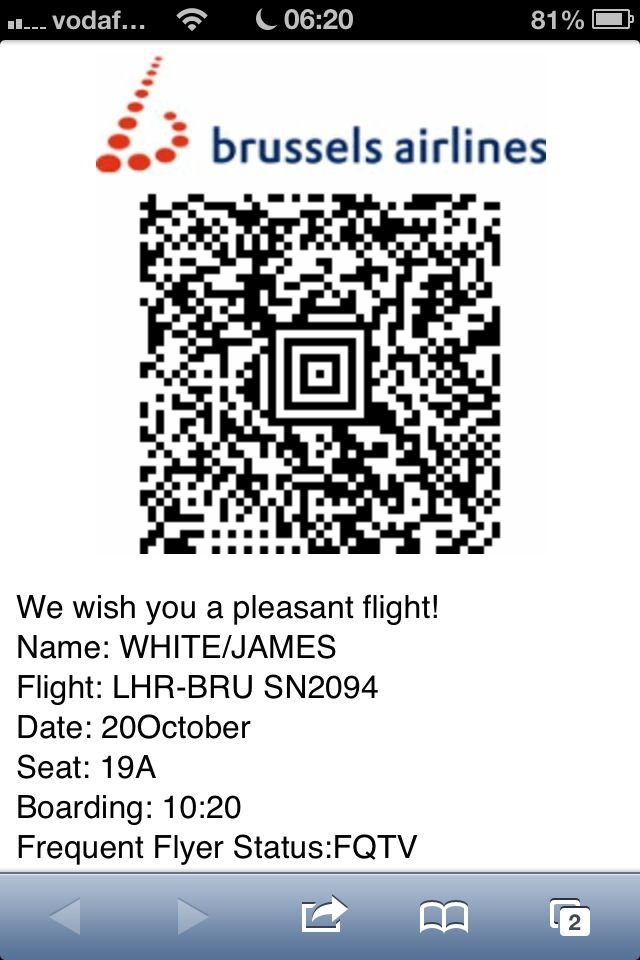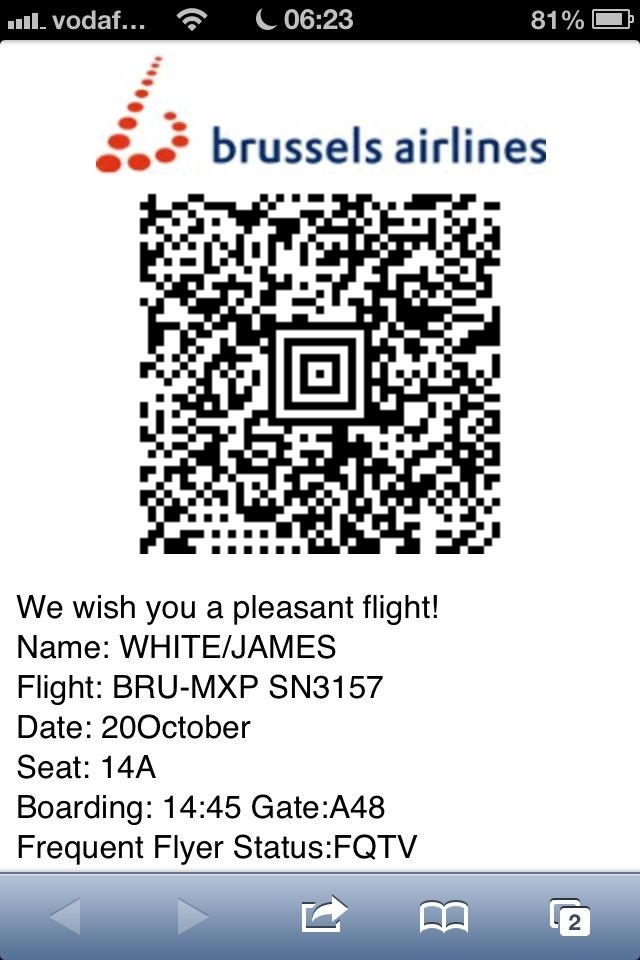 Once again the Woking Railair coach would get me to Heathrow
Not the best conditions to fly in.
It was still no better the nearer to LHR we got.
The coach arrived at 09:00, and I headed off to Terminal 1.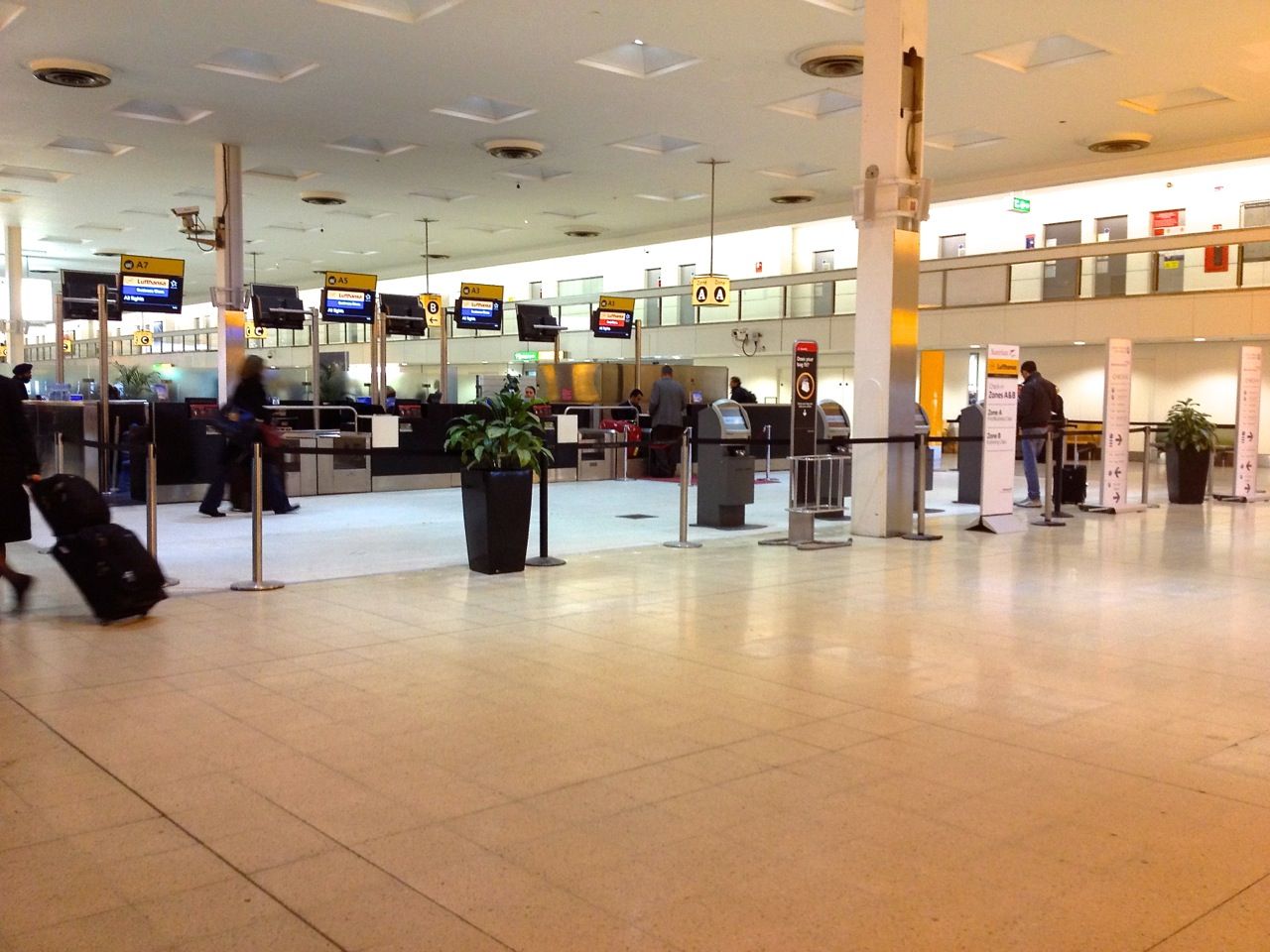 Looks like LH have taken over the old BMI premium check in.
I then made my way down to get my souvenir boarding passes.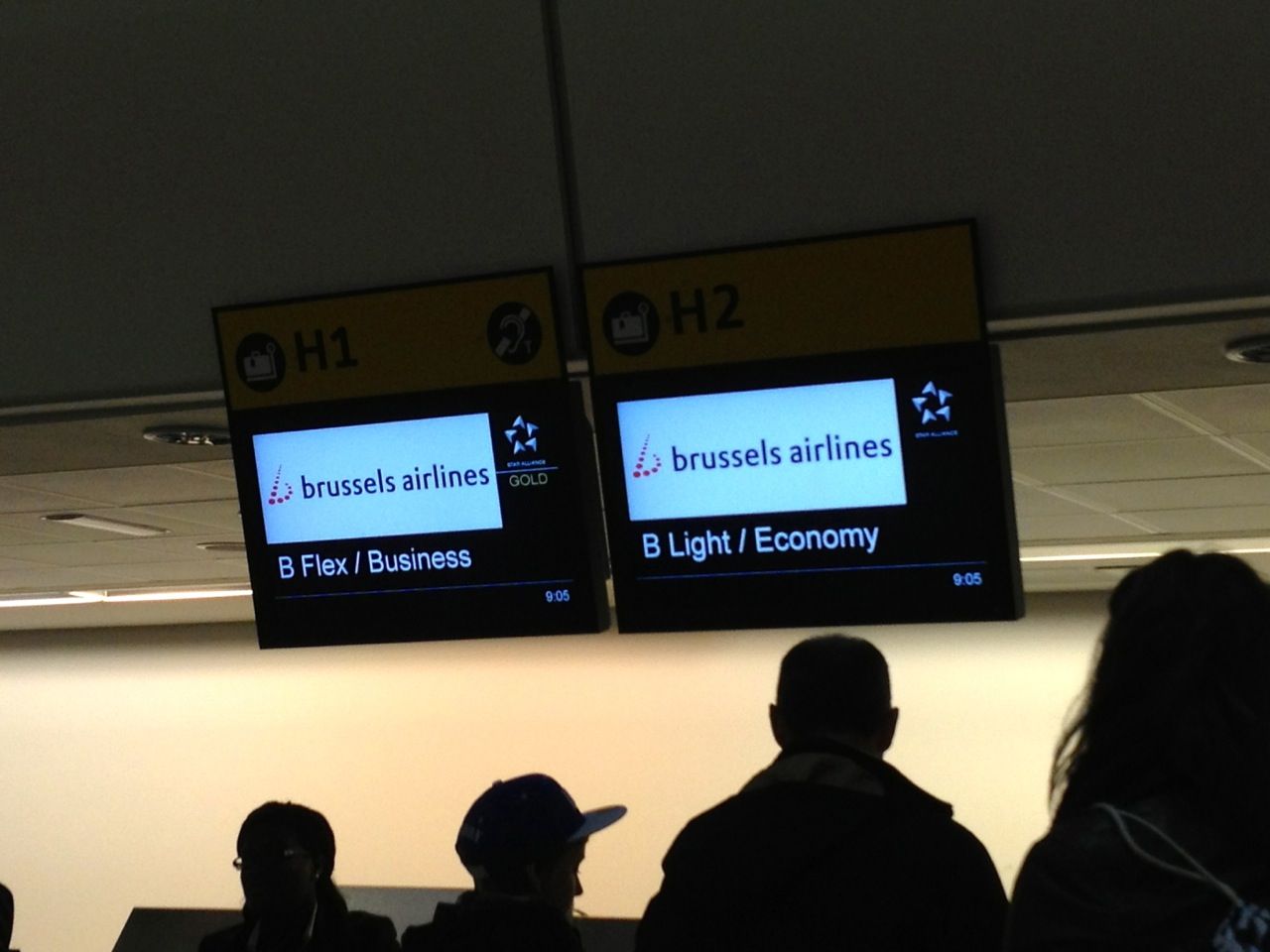 When the check in agent got my details up on the screen, she sat there wide-eyed and mouth wide open. She then says "So, you're going London to Brussels... Brussels to Milan, Milan to Zurich, Zurich to Dusseldorf and Dusseldorf back to here". Yes - que a rather confused look from her!
And after a brief wonder around departures, it was through security, which was a little busy but faster than the BA fast track I went through last week at T5. Also, it was everybody else holding proceedings up this week rather than slow security staff.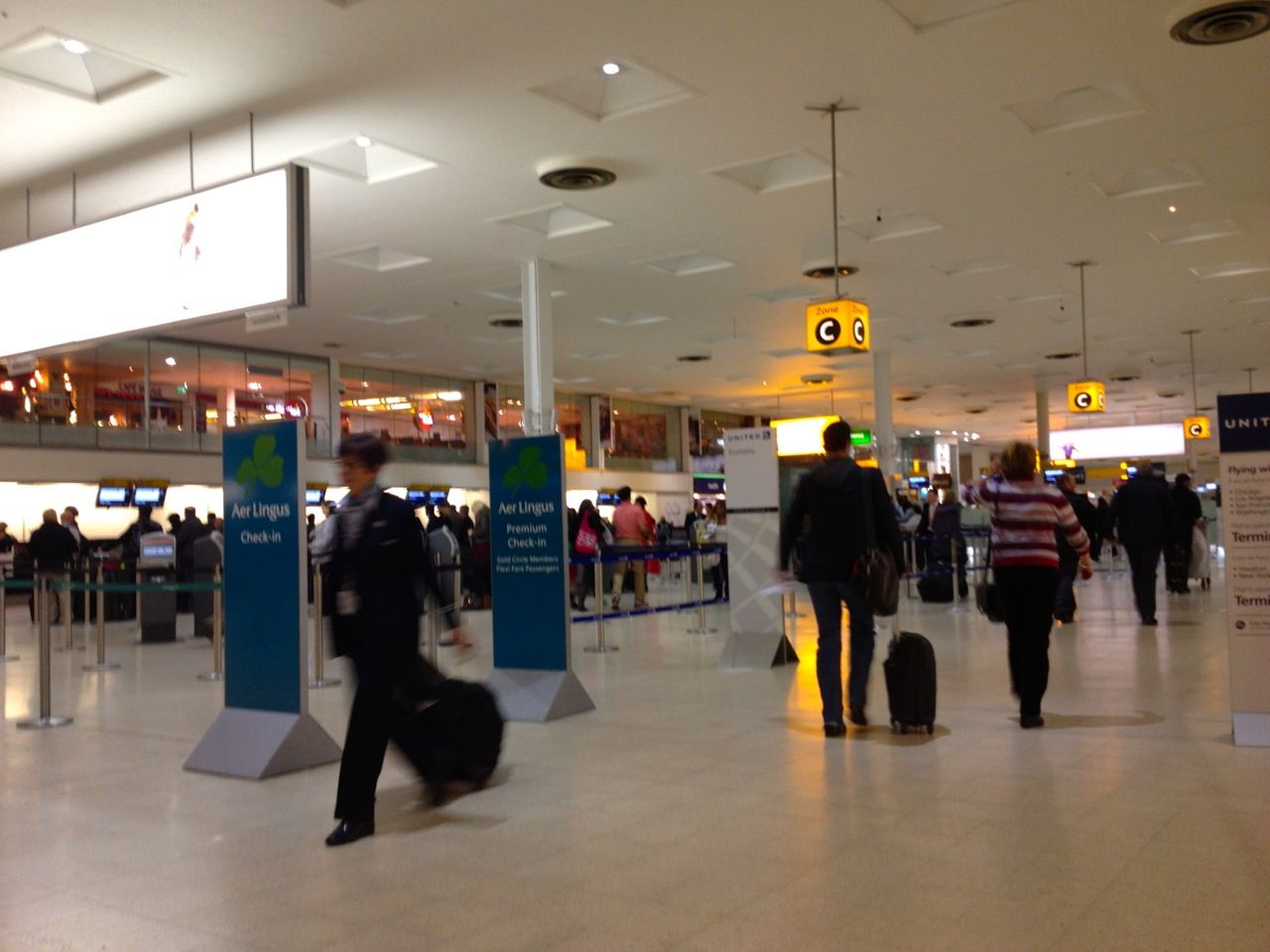 Feeling hungry, the first stop was to get some breakfast.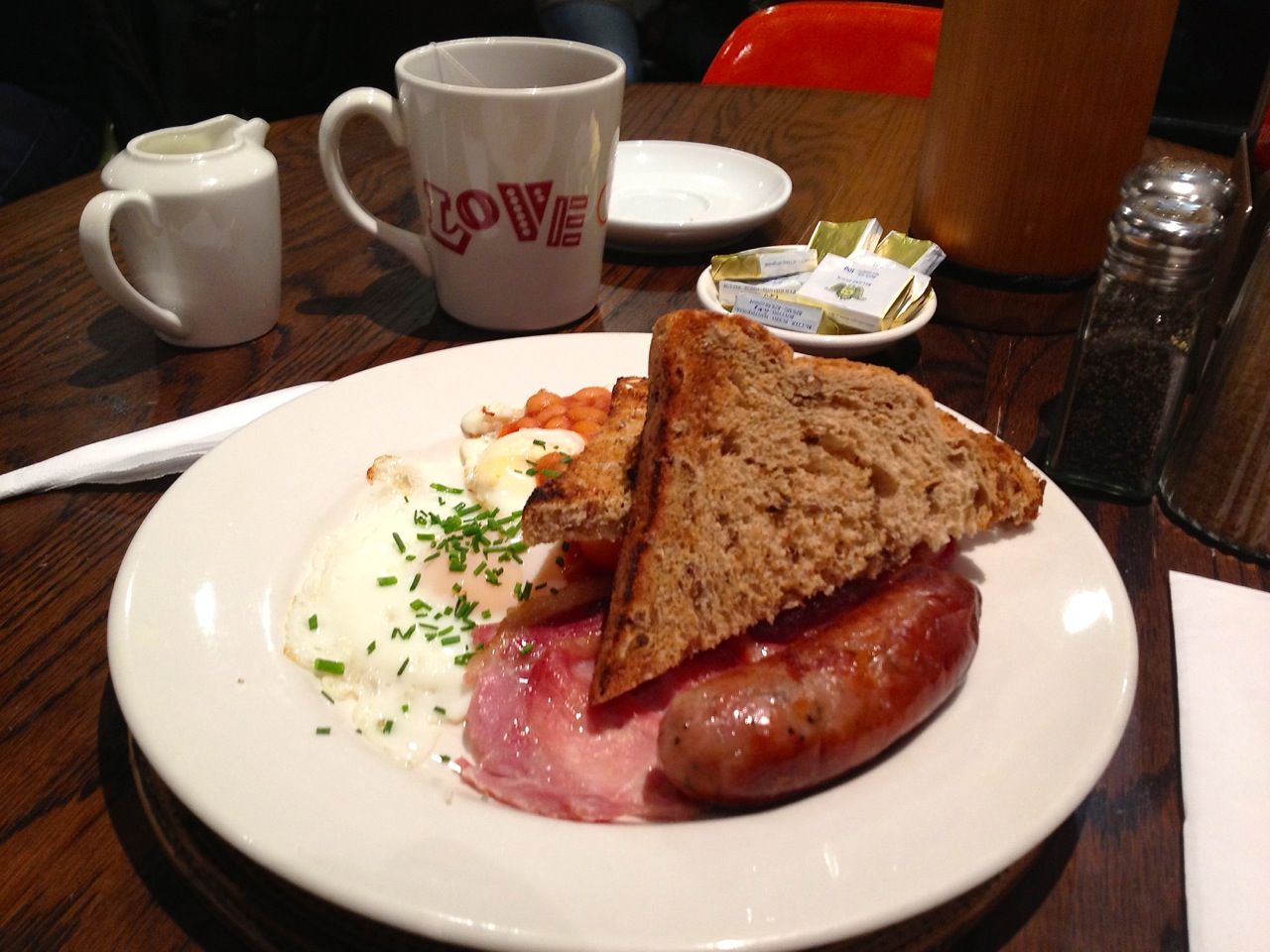 Breakfast - one of the better ones I've had in an airport.
The next 45 min was spent wondering around T1, as on my previous visit I had access to the BMI Great British lounge.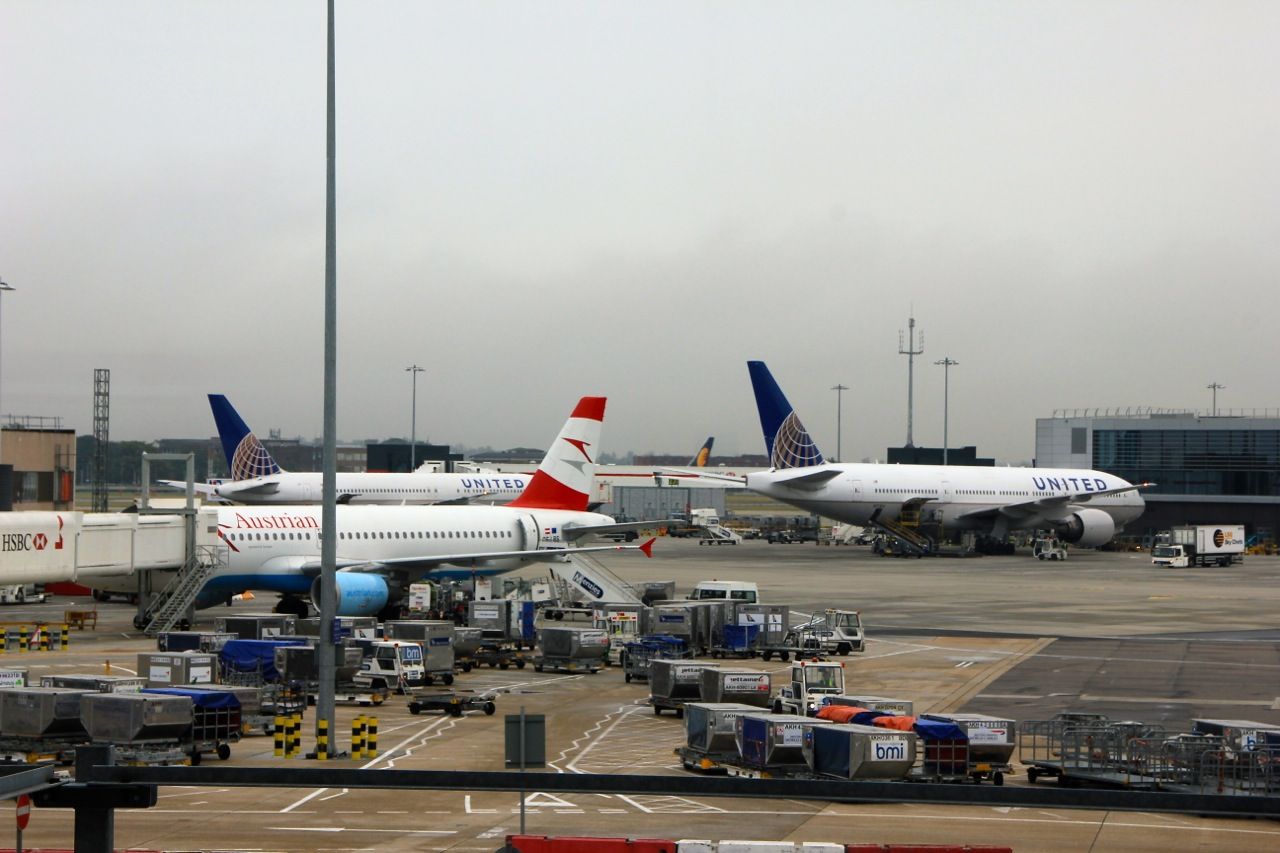 My flight's gate was due to be announced at 10:15, so around this time I was keeping an eye on the FID's.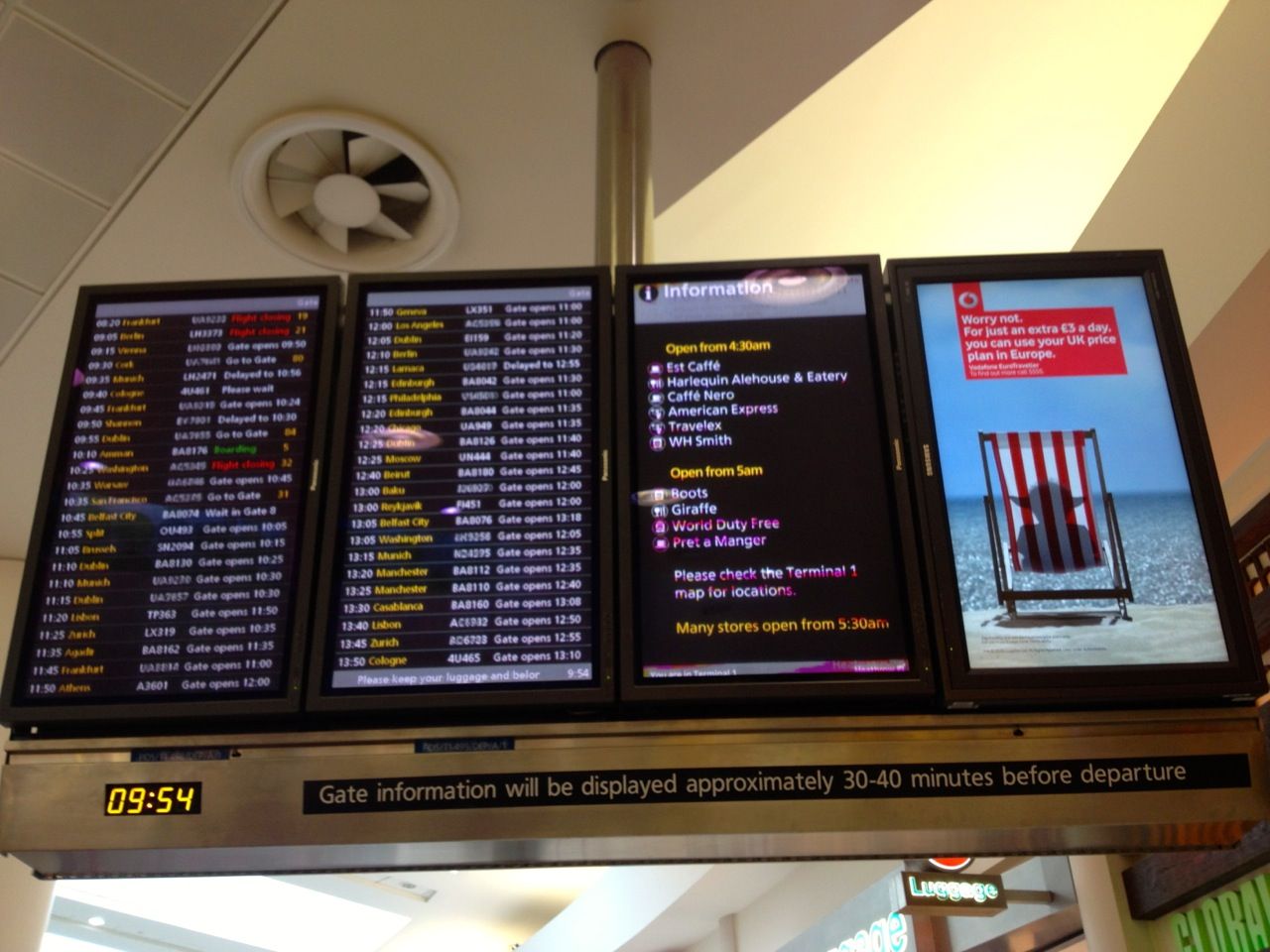 Then at around 10:20 I heard my name called out over the PA telling me to go to the Brussels Airlines service desk. I headed over to the SN service desk, told the slightly uninterested girl who I was, handed over my passport and without saying much she got on the phone. Her next move was to give my passport to the other uninterested girl sat next to her and say, "Can you offload him". Erm did I just hear that right??? Offload? Excuse me? She carried on her phone call, pulled out a scrap piece of paper and started scribbling down LH flight numbers and times. During this a few people started hassling the other girl as to when the SN flight would be boarding but all she really had to say was she didn't know as the plane hadn't left Brussels yet and that she's off on her tea break. This unsurprisingly caused a bit of annoyance to the other passengers, who were mostly Belgian. To be honest I've come to expect that sort of customer service (or lack of) from most 16-20 year olds in this country so wasn't overly surprised. Although they were still just abut a step up from the IB ground staff from my previous trip. When the girl who was dealing with me had finally got off the phone, she basically said the SN flight is late and I've been booked on to LH via Munich, as I'll miss my connection. She handed my passport back, along with the bit of scrap bit of paper and sent me off to the LH transfer desk, as I was now their problem. Well, LH is an upgrade over SN, and MUC is a new airport... But I will have a five hour layover there and I won't get into Milan until 22:30 now. At the LH transfer desk, an older and friendlier looking BMI agent greeted me and rebooked me on to the Lufthansa flight with no problem. I asked if there was any way I could get a food voucher of some sort to use due to my now unexpected layover but she said I'd have to ask once I get to Munich, but not to get my hopes up unless the MUC-MXP leg is delayed as Lufthansa had got me to my destination on time. Little did I know at the time, I was on full price tickets for both rebooked sectors so I ended up with a decent haul of miles in my miles and more account. Not that they're ever likely to see any use before they expire.
A few moments later, the change was confirmed by being able to download my new boarding passes into the passbook app on my phone.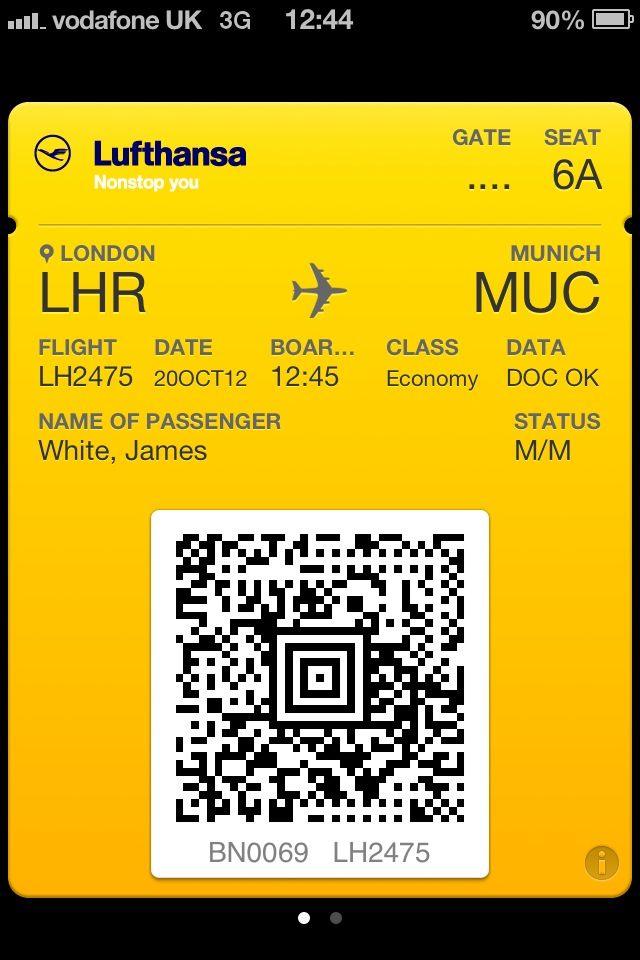 Flight number 100 in the log
SN2094
LHR-BRU
20th October 2012
A319-100/OO-SSW
Seat: 19A/Economy
Scheduled: 11:05/13:20
Off Stand: 13:06
On Stand: 14:45
The revised maps: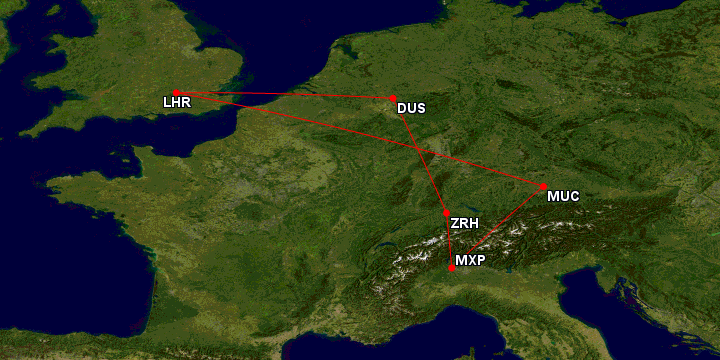 So I found my self a window with a view away from the masses and set about trying to cancel my original hotel for something nearer the airport, as taking an hour long train ride to the city late at night didn't really appeal. The Sheraton was the only airport hotel I could think of that was connected to MXP so I investigated prices there. It came in at €115 – around €20 more than my original hotel, but it was worth paying the extra for in my opinion to avoid travelling across the city for around an hour late at night to Milan Central station. The only issue was that I had passed the cancellation point for my original hotel in the city. I tried to phone, but they told me to email as the manager was away and they would have to check with him to see if I could cancel without penalty. Only once the phone call had ended I realized I didn't actually have their email on any documentation… so another phone call to Italy it was.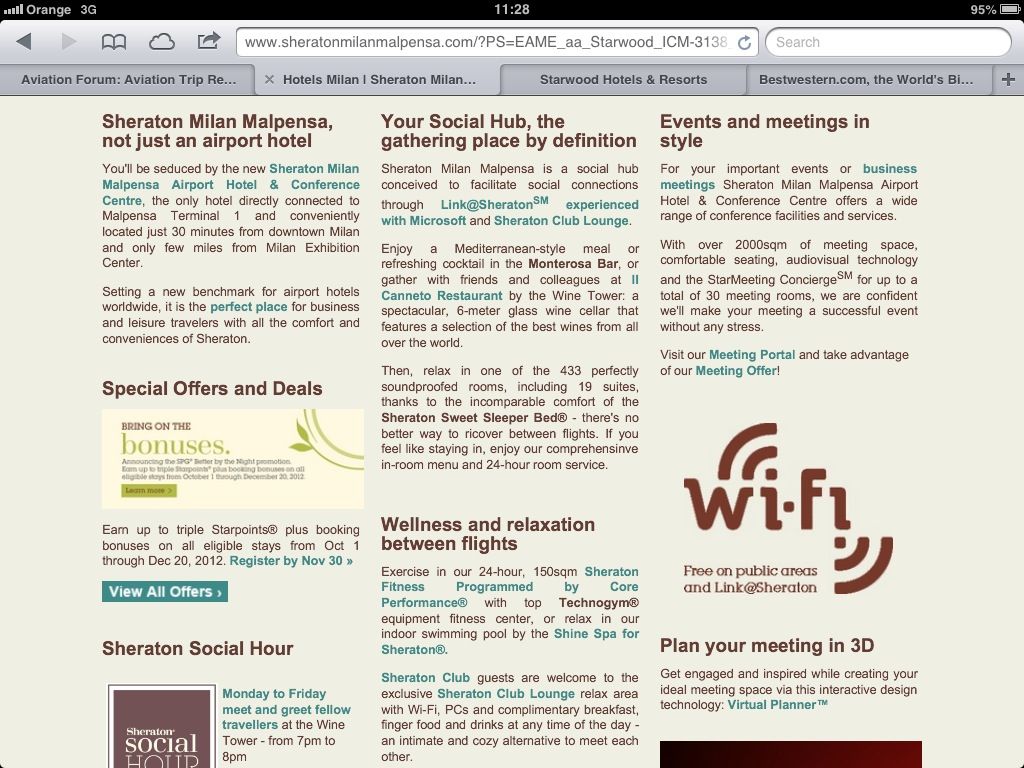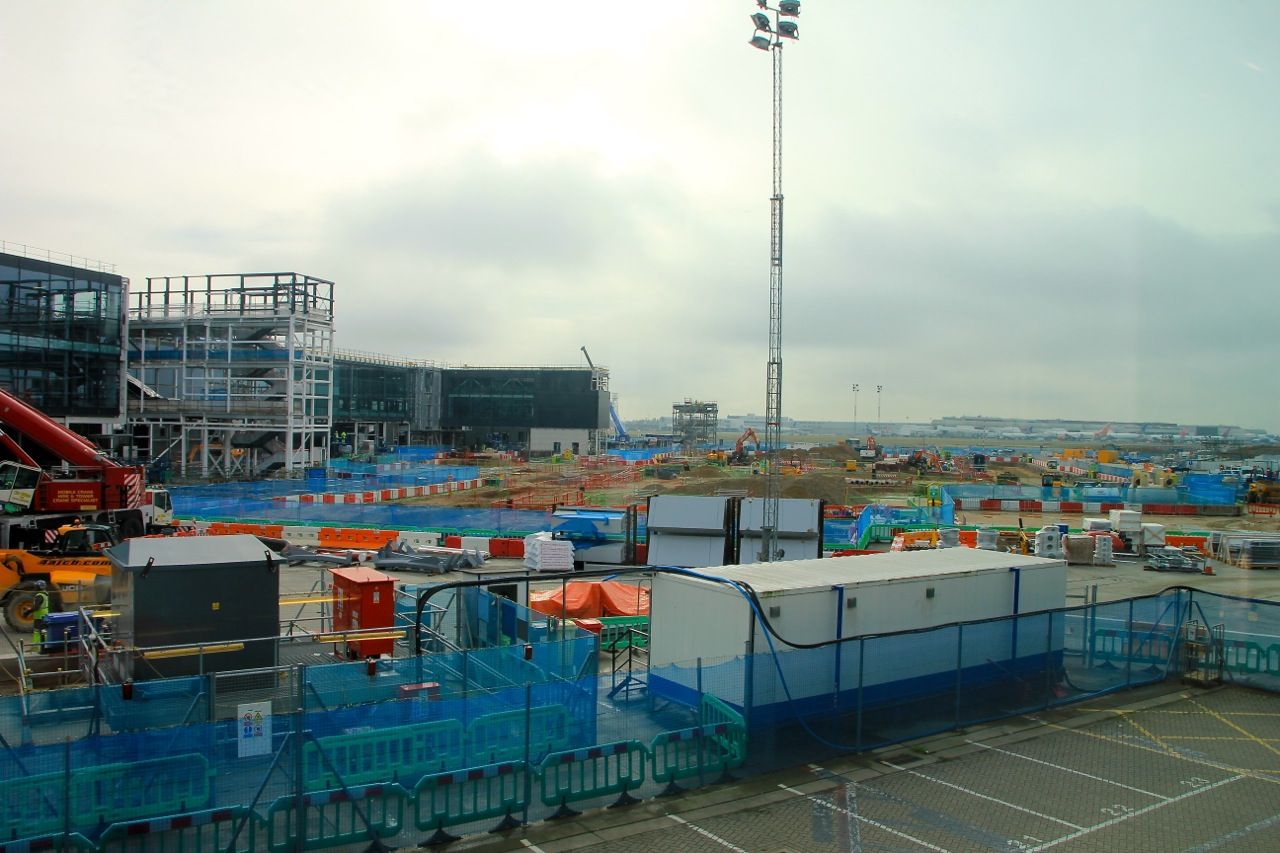 T2/Heathrow East progressing
By the time I had phoned and emailed the hotels in Milan I figured it was about time to head to the departure gate – so I left my quiet haven feeling a little stressed and back into the hustle of the main T1 area. I waited around for a bit, checking the FID's until a 30 minute delay flashed up. Will I ever get on board my 100th flight?! Annoyingly, my original flight to Brussels was now boarding.
A couple of seconds later a text confirmed that my flight was indeed delayed.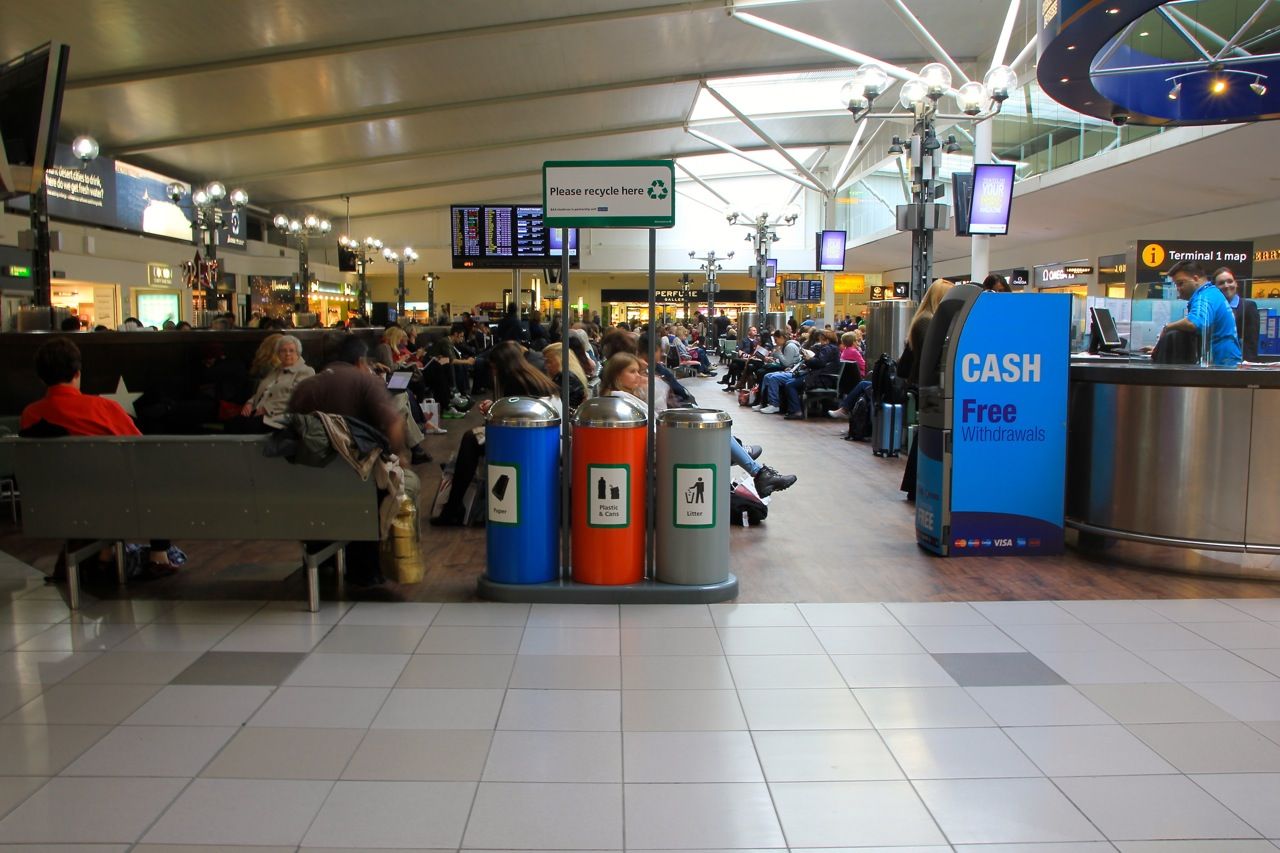 Might have done this if I'd seen it earlier just for a change of scenery
The remaining time was spent sitting and waiting, until I got another text.
Although the FID's didn't confirm this, I thought I'd take my chances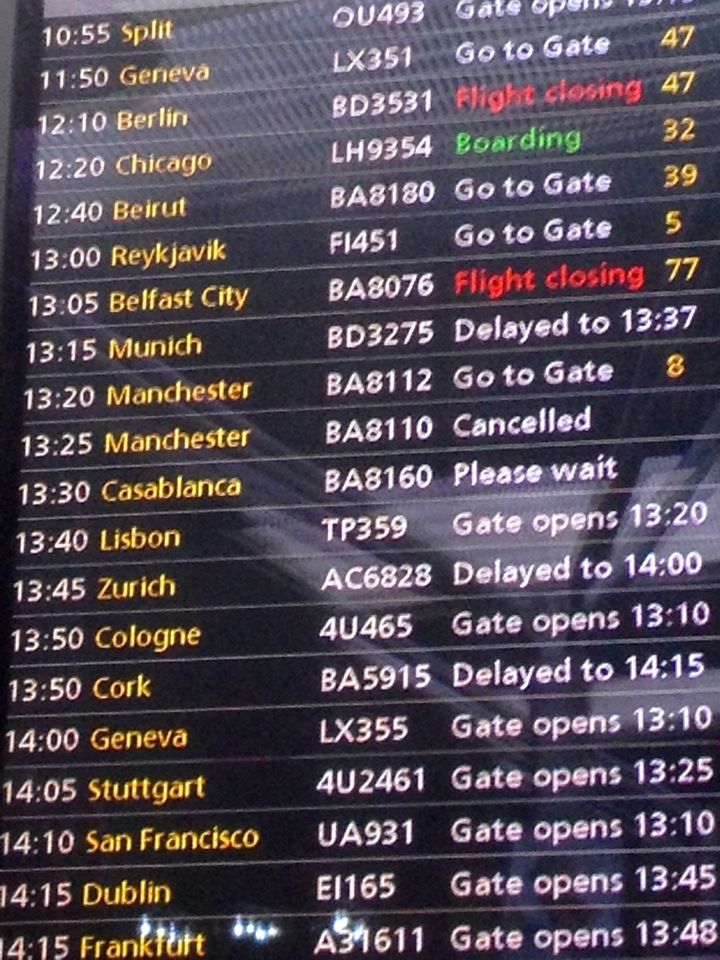 Why 13:37? Seen this in the US, but not in Europe before.
So I made my way down to gate 19. As expected, there was no mention of my flight although a few more people turned up shortly after so I'm assuming they received the same message I did.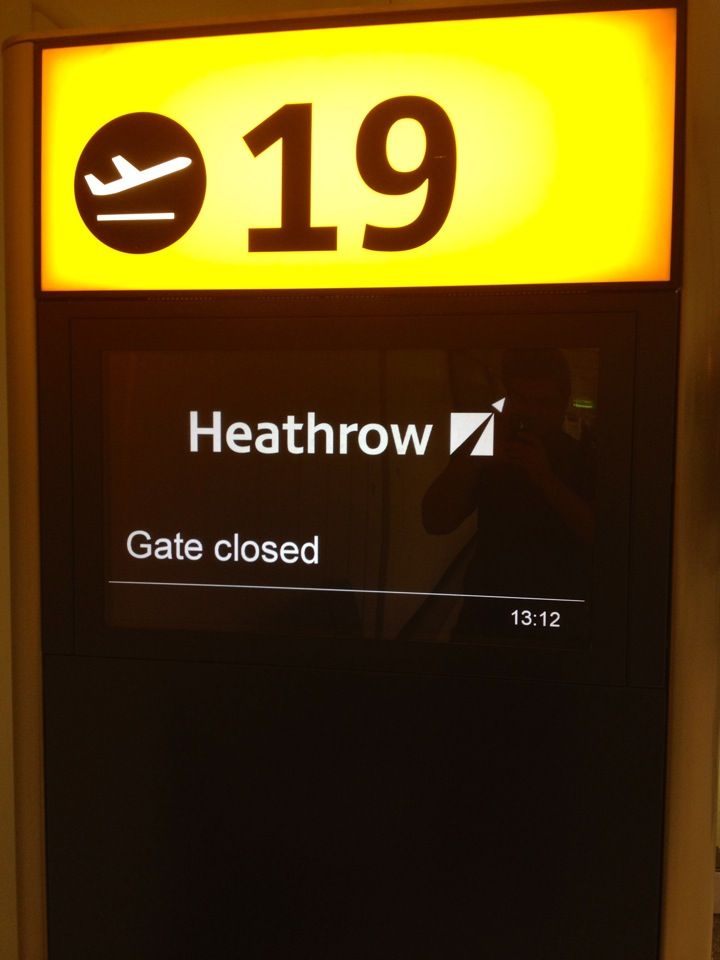 There was a nice mural to look at though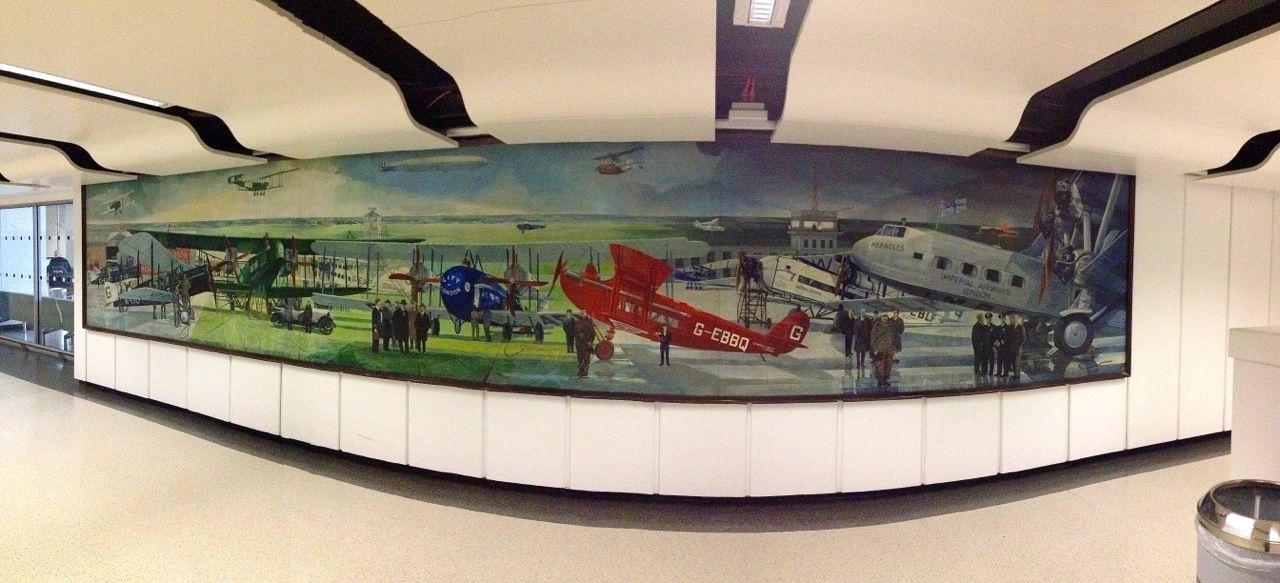 Around 10/15 minutes later we were let into the holding pen.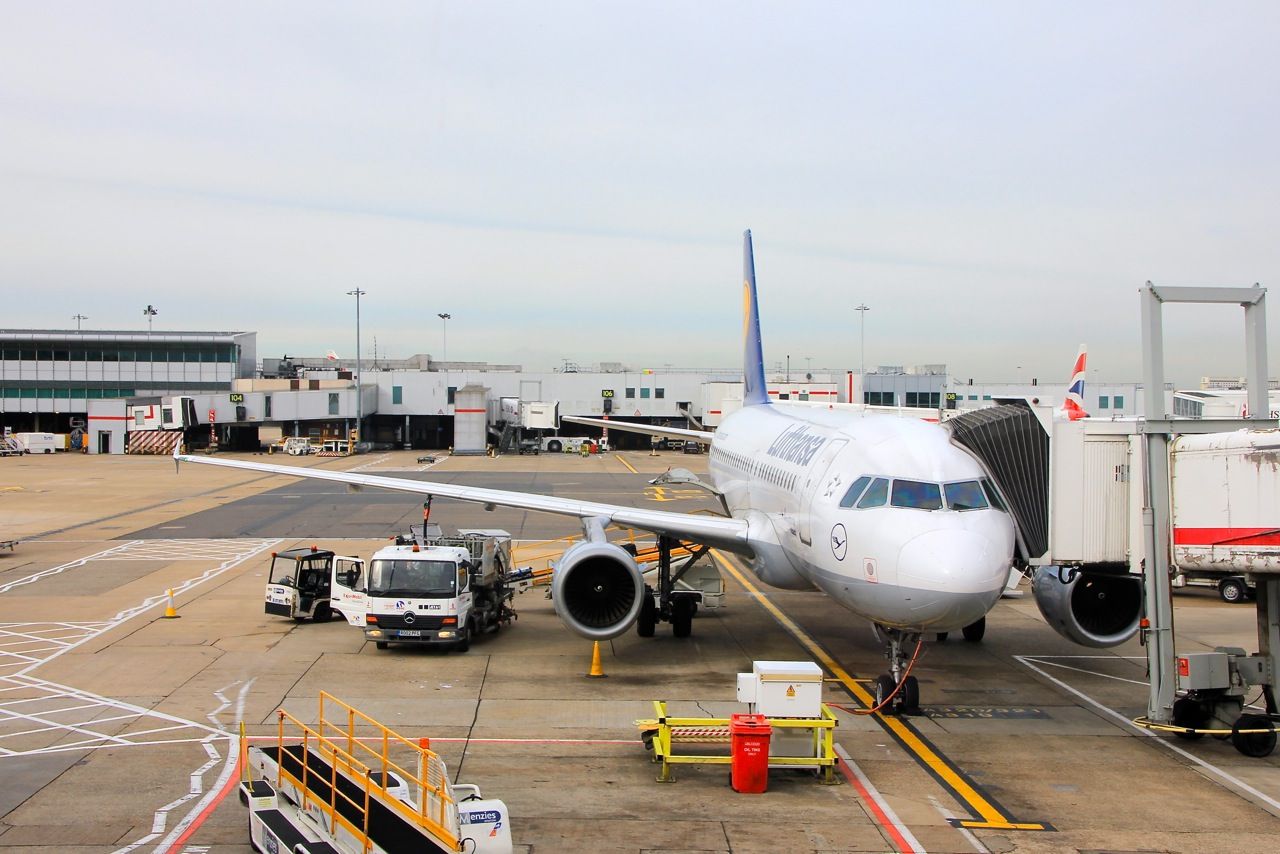 Eventually at around 13:45 boarding started.