All Star Asian Peach – Peach Japan's Int'l Inaugural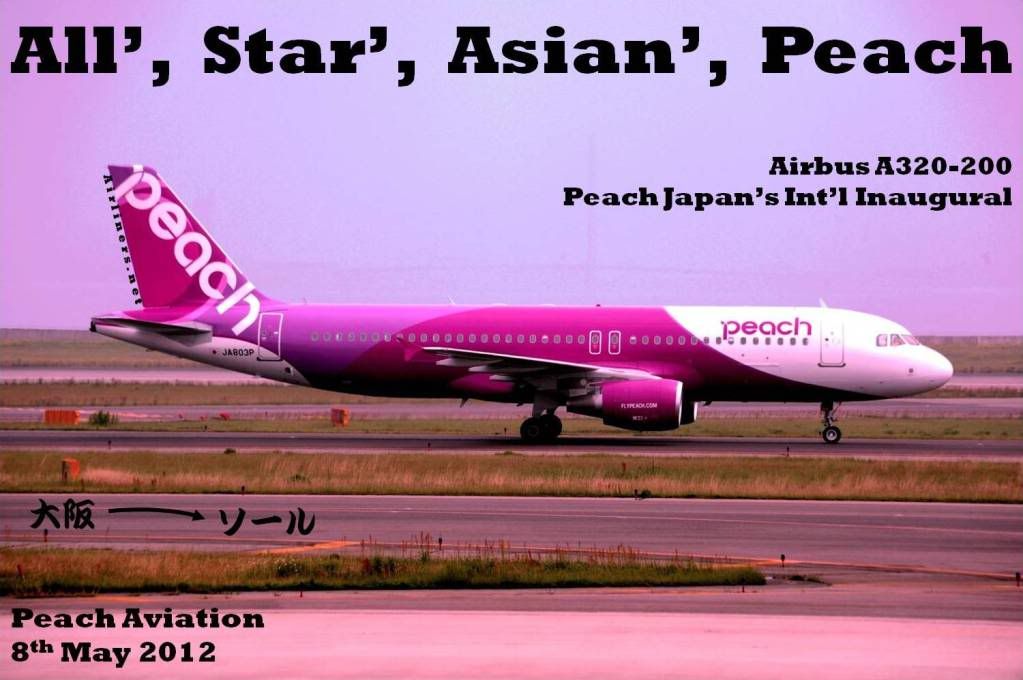 INTRODUCTION
Greetings!
The main focus of this report is the inaugural international service flown by new Japanese LCC Peach Aviation. Though along the way I also hitched rides with All Nippon Airways (ANA), Starflyer & Asiana.
BACKGROUND
Peach Aviation is the so called first LCC in Japan. It was launched last year and began scheduled passenger flights on 1st March this year.

The build up to the launch of Peach had been long and well publicised and I had decided to make sure I was on the inaugural flight. Somehow or other I massively took my eye off the ball and before I knew it, Peach had already been flying domestic services from their new KIX base for a couple of weeks. How the hell did that happen??!
So I decided to make the best the situation and settle for the next best thing; to fly on their inaugural international service to Seoul, Incheon. The flight was scheduled for a regular Tuesday and so would mean time off work. Sadly I couldn't find anyone else daft enough to take time off work for no reason other than to take a flight to somewhere they have no need to go to! So this was going to be a solo trip. But what the hell I thought, I had just secured a new job (started in August – Hoorah!) and this would be a little present to myself. So as soon as tickets became available I booked two days off work, and a seat to ICN for the first flight.
THE TRIP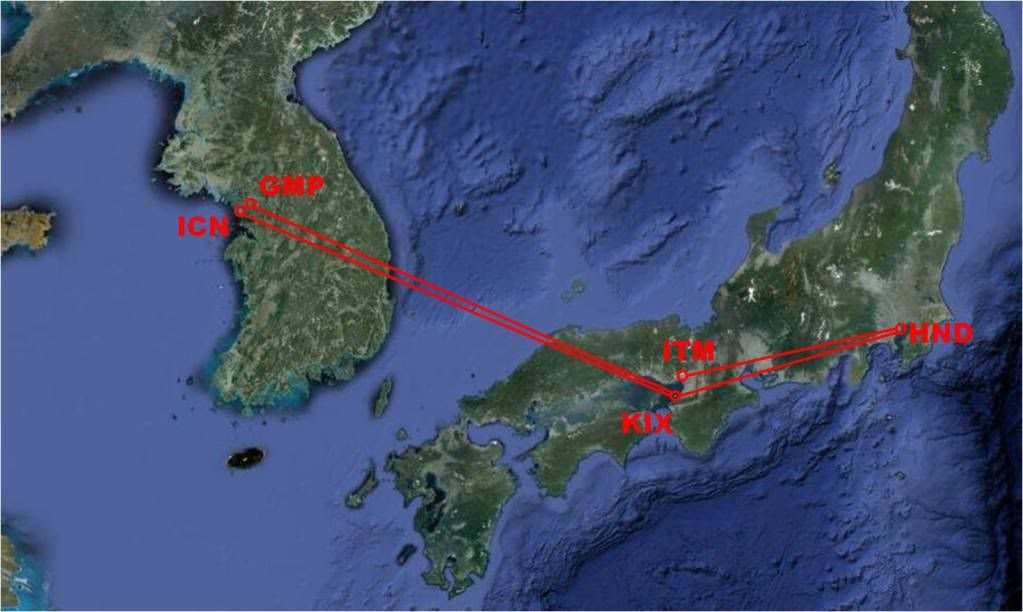 Stage One
Carrier: ANA
Flight: NH25
Aircraft: Boeing 787-8
Depart: Tokyo Haneda – HND/RJTT
Arrive: Osaka Itami Airport – ITM/RJOO
Departure time: 13:00
Firstly I needed to get from HND down to KIX. You can fly direct but I had almost all day to make the journey so thought I might as well use the opportunity to fly the 787. So my initial leg would be to Osaka, Itami. I set off from home mid-morning and two trains, a subway ride and a monorail later I was arriving at HND. I do like the ANA check-in system, and less than ten minutes after stepping off the monorail I was sitting at the gate.
The gate area looked like a gathering of extras from Men in Black just without the shades. I can't mock though; on any regular weekday I would've been amongst the ranks of the dark suit brigade.
HND is not the best airport for taking shots from the gate.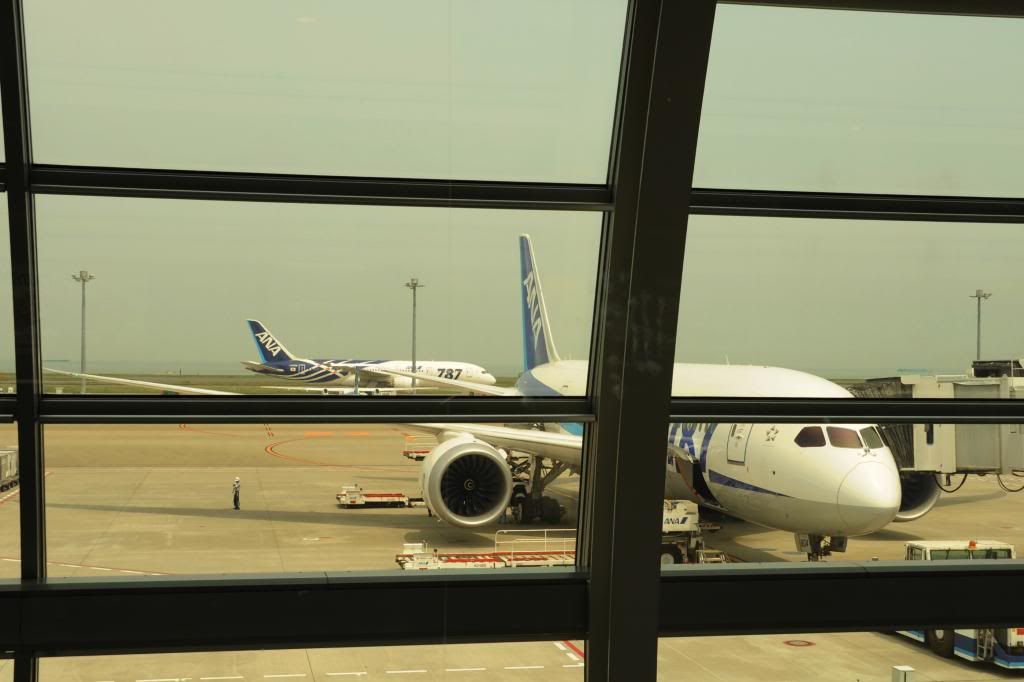 You just can't beat a pair of these.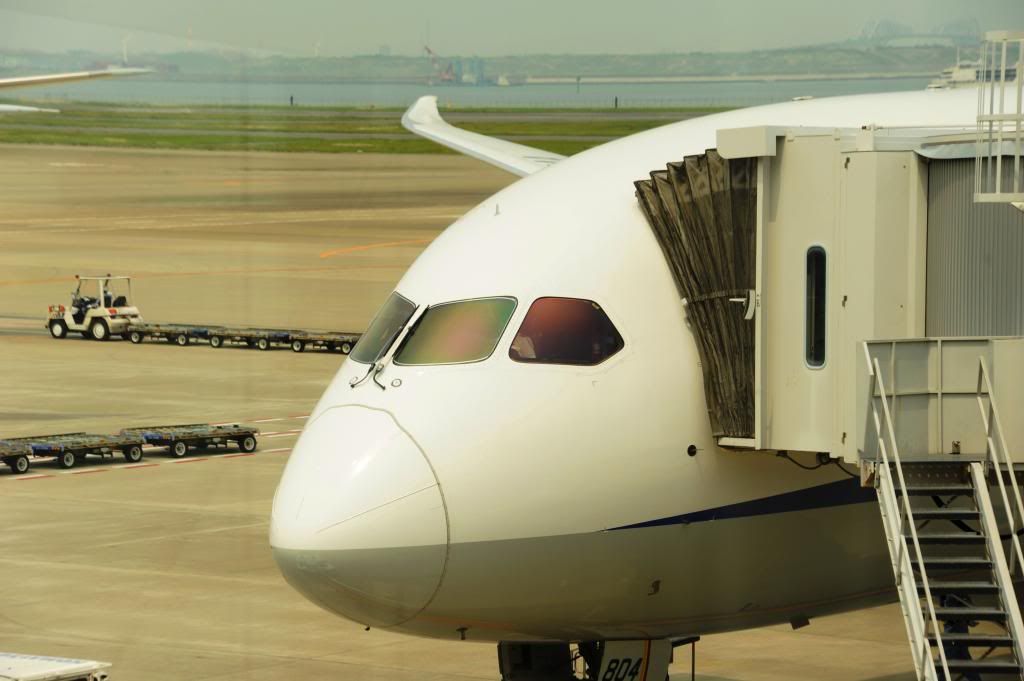 Stepping onto the 787 I was pleasantly surprised to find that it still had the lingering remains of that new plane smell, and though I was only flying domestic, this 787 had the international seating configuration. Seems I lucked out. My good mood quickly turned to dismay however as I passed through the forward cabins and arrived at my seat. For anyone out there planning to have their first 787 experience on ANA – DO NOT FLY IN ROW 30!!!
Bugger, Bugger,…. Bugger! I looked around to see whether another window seat might be available but this flight was quite full with only a smattering of empty seats between the aisles. Feeling rather grumpy and sorry for myself I resignedly sat down.
I did have partial access to the window, so though the position really hampered photo taking, at least I could still play about with the famous dimming function.
Three renditions of ANA's livery.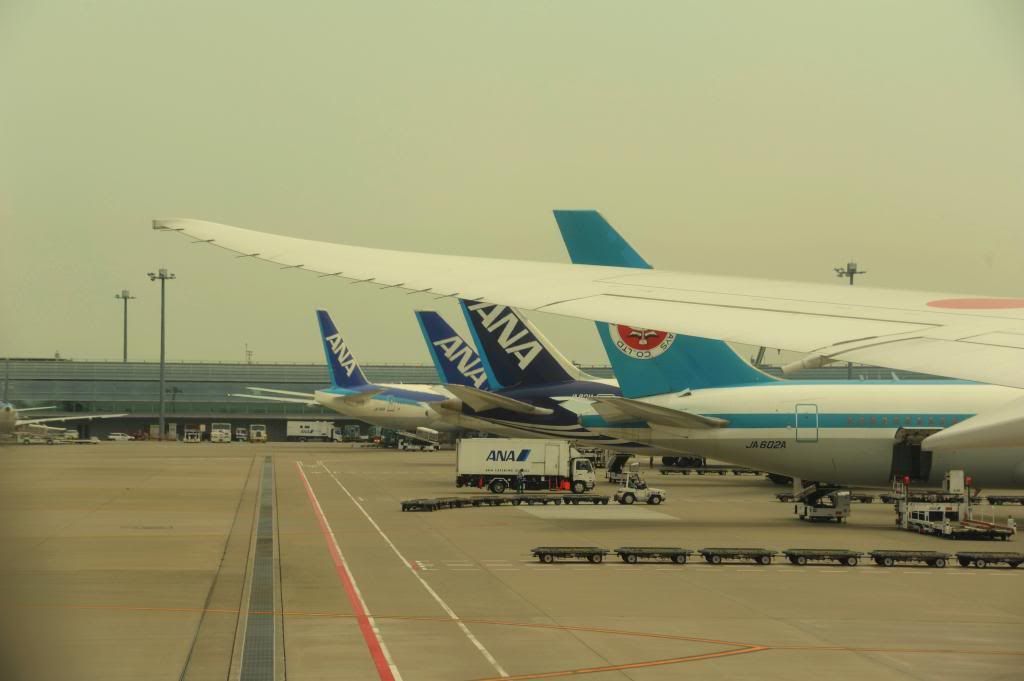 These wings really are gorgeous.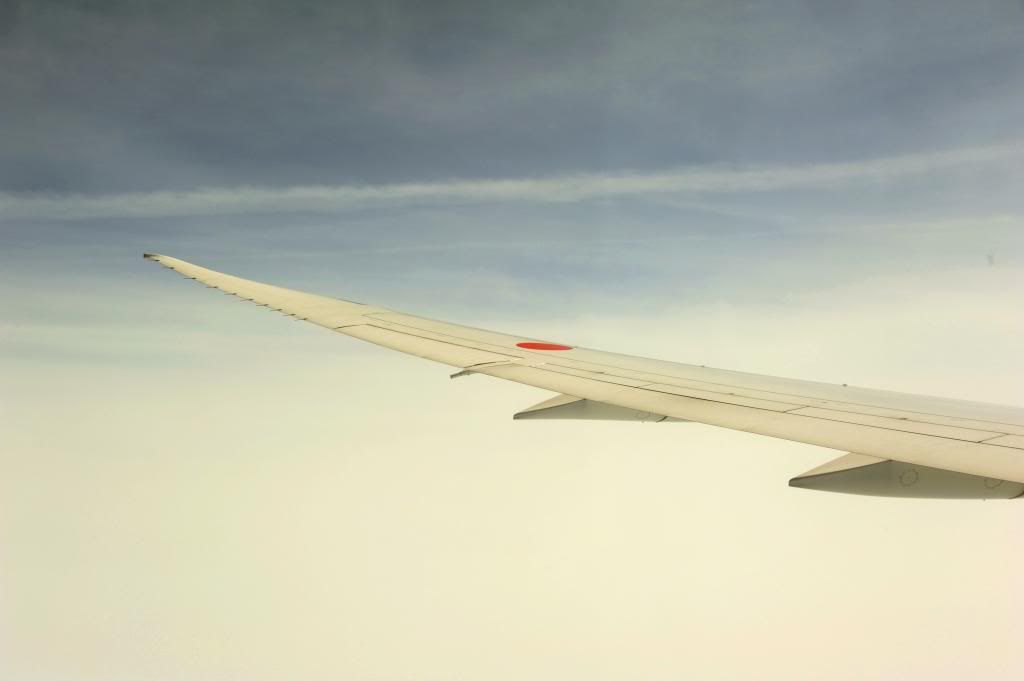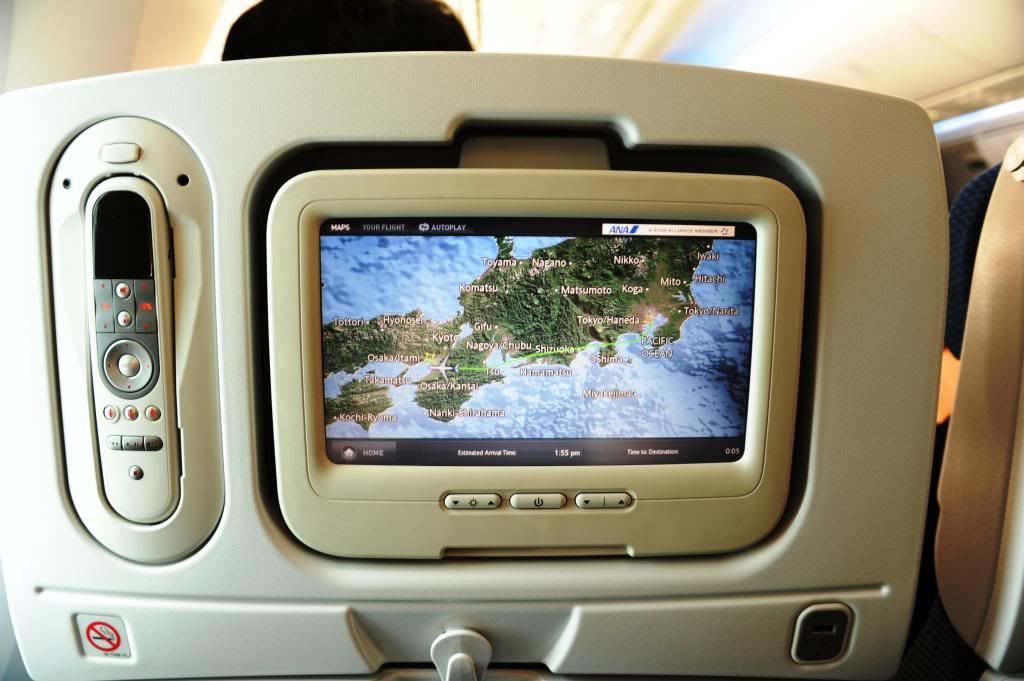 On approach to Itami, looking down on Osaka. You can see the Umeda Sky Tower and if you know where to look you can just about make out the big wheel on the roof of HEP5.
The new ANA Y-class seats which do not recline really are just awesome. I honestly wish IATA would make seats with this design mandatory amongst all its members.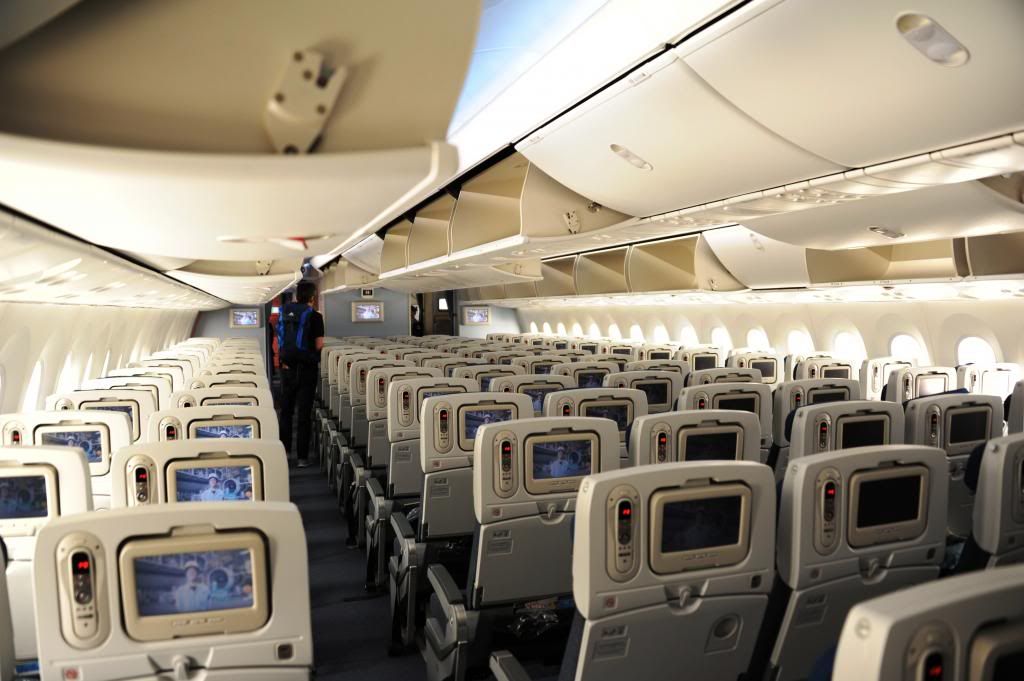 The 787 was a really nice aircraft. Apologies for the lack of detail on it here which may disappoint some.
Airside at Itami. It's been more than twenty years since I was last here.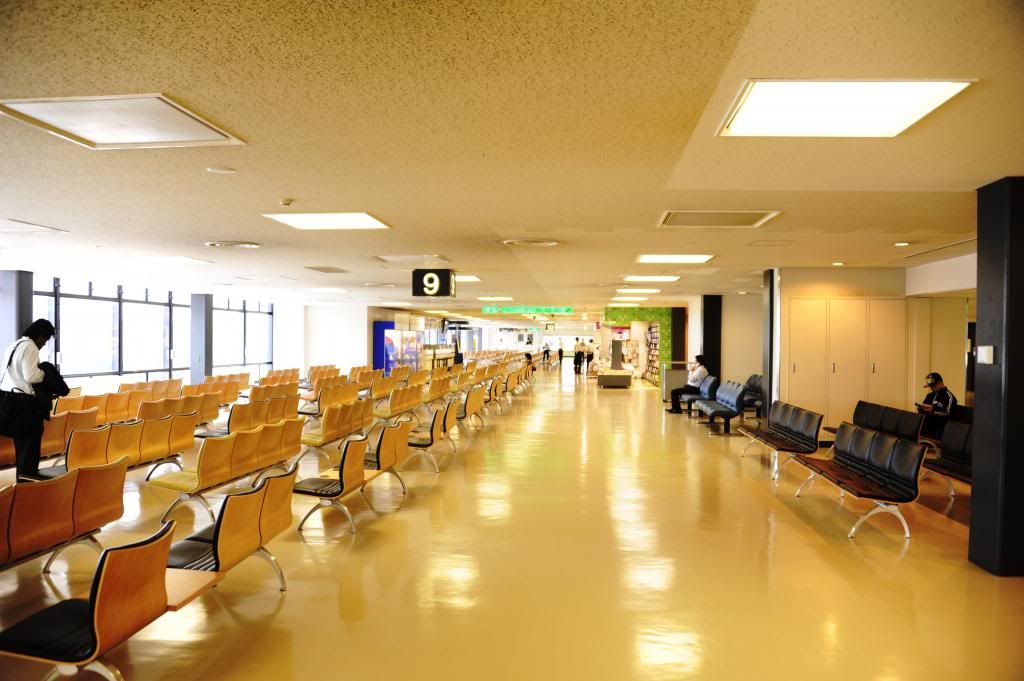 My next task was to get to Kansai Airport KIX. I could of course get the train, and I think there is a bus that goes direct from ITM. But just for the hell of it I thought I would take the ferry across Osaka bay from Kobe Airport. Immediately outside the arrivals area is the bus terminal so I bought a ticket to Kobe and luckily, within a minute the bus arrived.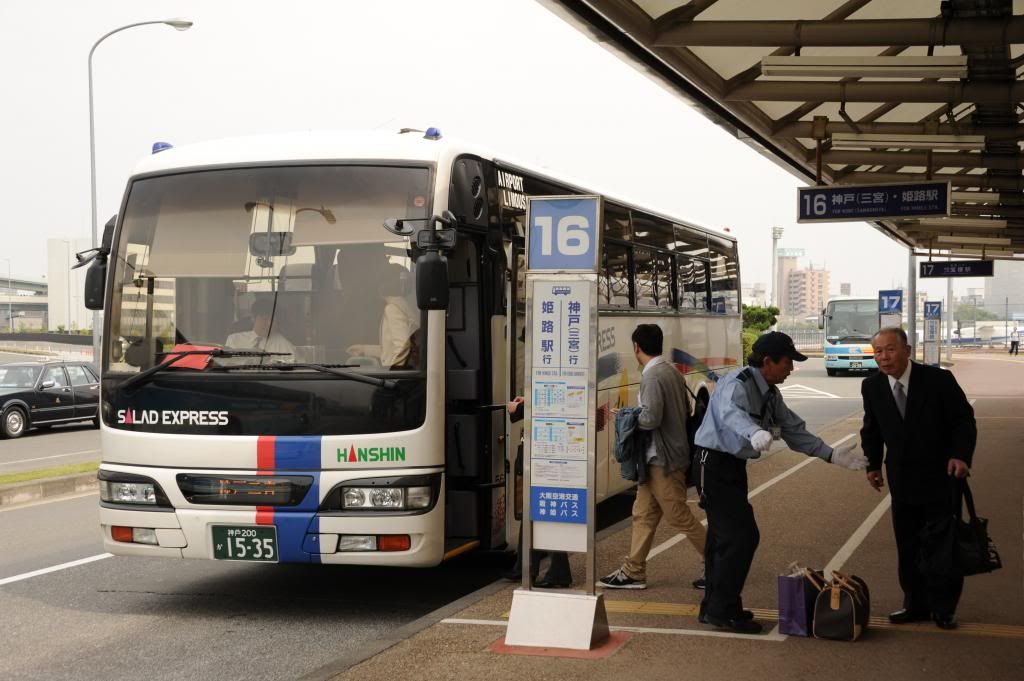 Heading down the last stretch of the Meishin Expressway en-route to Kobe. The tower in the distance brought back memories. I spent a year living very near to it back in about 2005/6 whilst working for Japan's primary landing gear company which is based in the area.
Arriving in front of Sannomiya station in Kobe I headed straight to the Kobe Portliner Terminal area. From this ticket office you can buy a combined Portliner and Bay Shuttle ticket.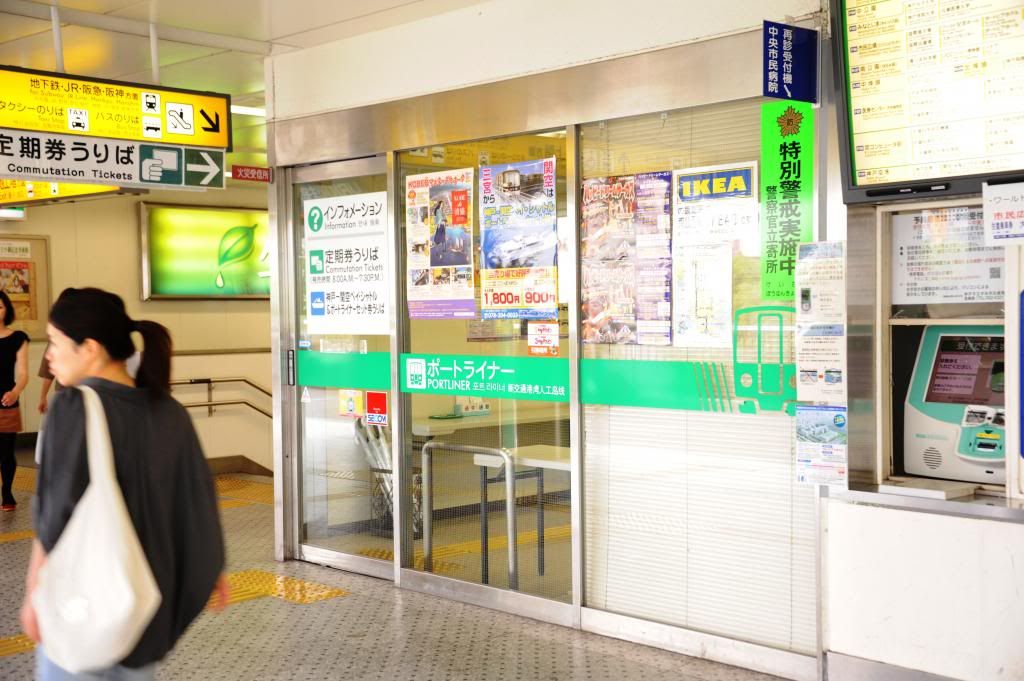 The Kobe Portliner is neither a monorail nor a train. I'm not really sure what is should be called….But either way, it takes you all the way to Kobe Airport (UKB).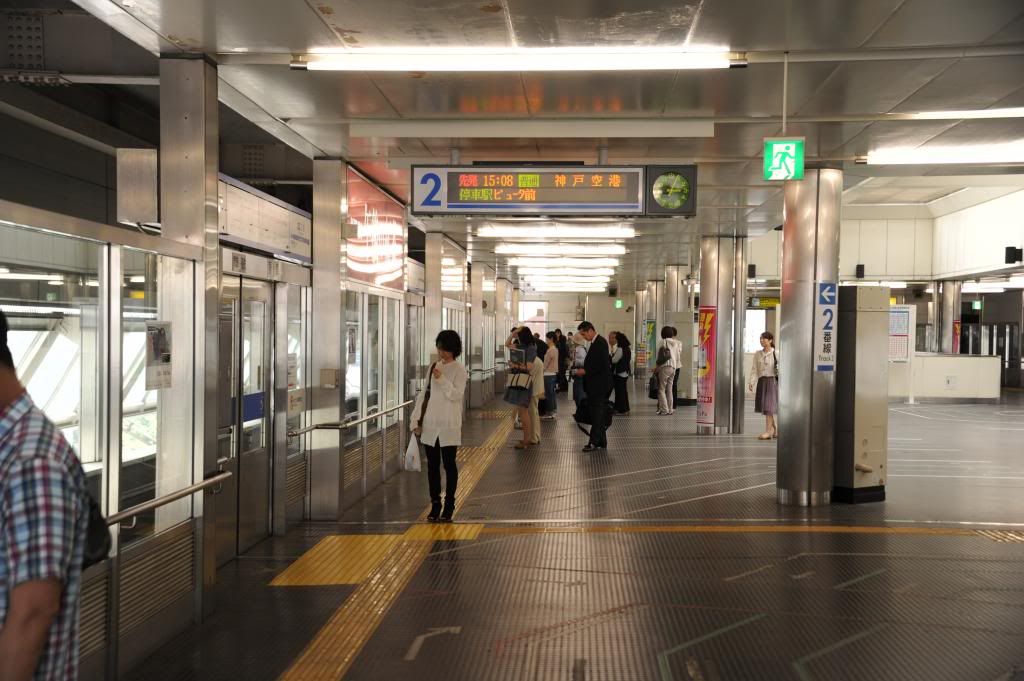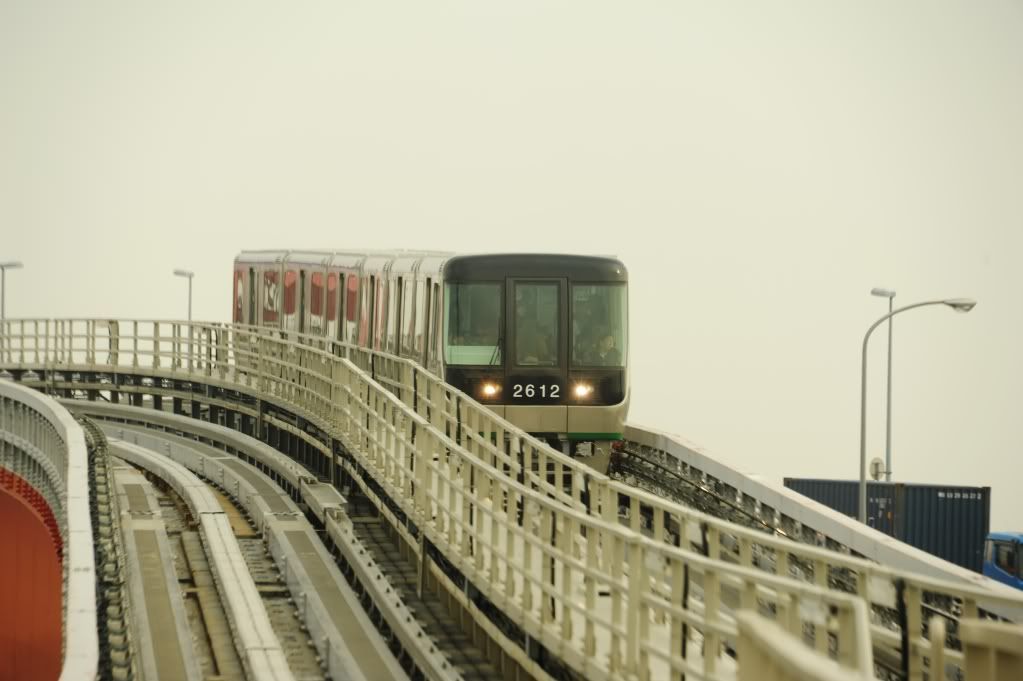 The exit from the station leads directly into the check-in area.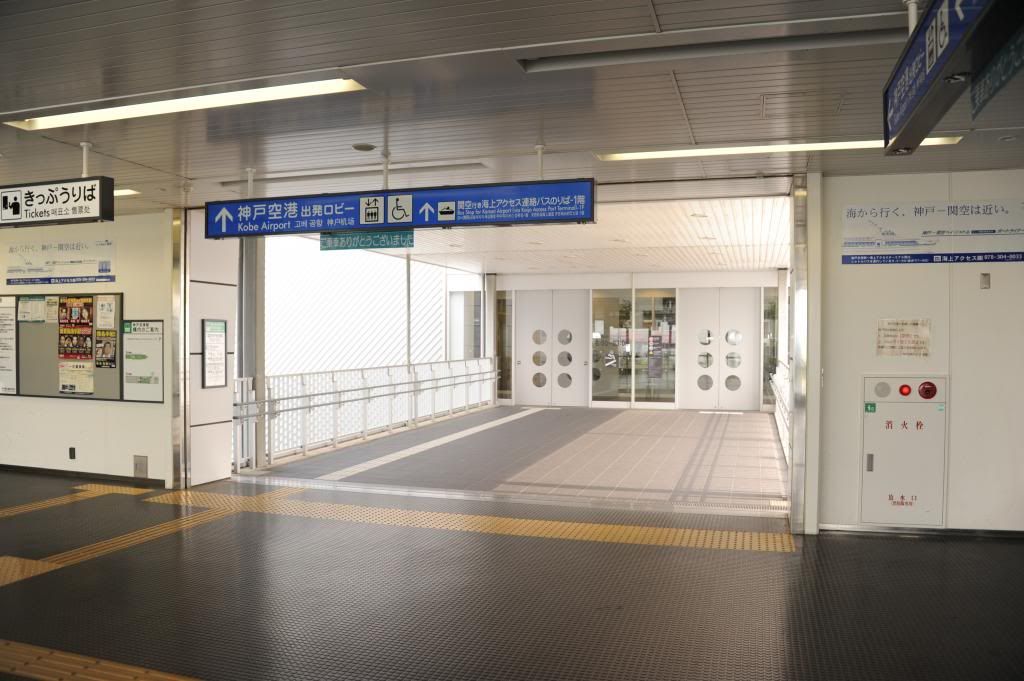 But about a five minute walk from the Portliner station in the other direction from the Airport terminal is the building for the Osaka Bay Shuttle.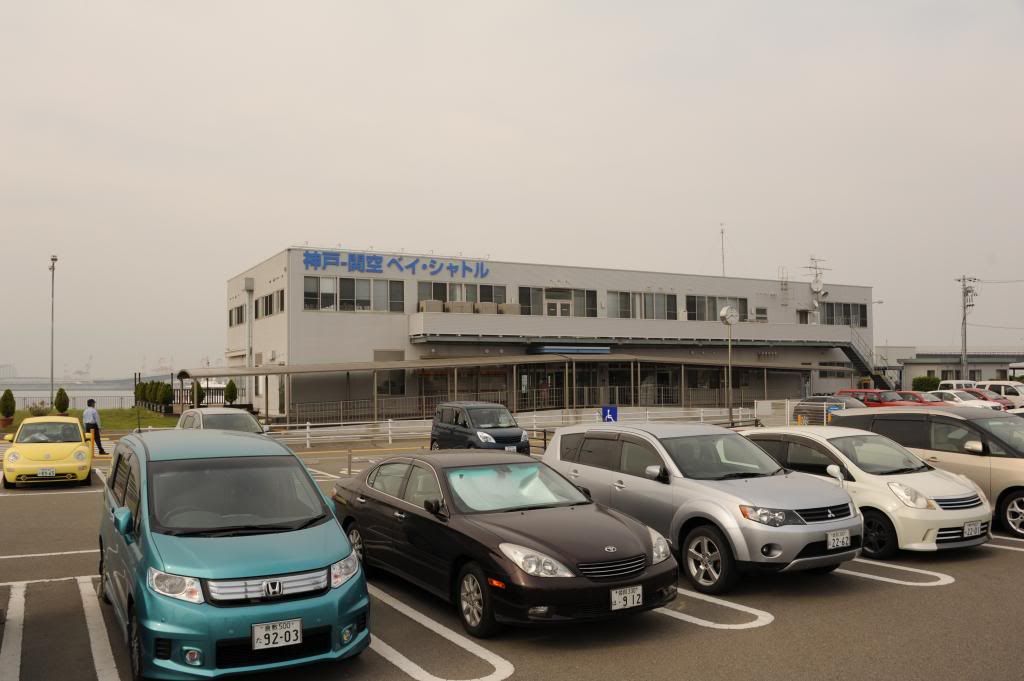 After about a ten minute wait the ferry arrived and we all jumped on. The front of the ferry has airline like seating. The back seemed far more comfortable so I settled down for the 30 min journey. There were probably only about a dozen other people on there with me.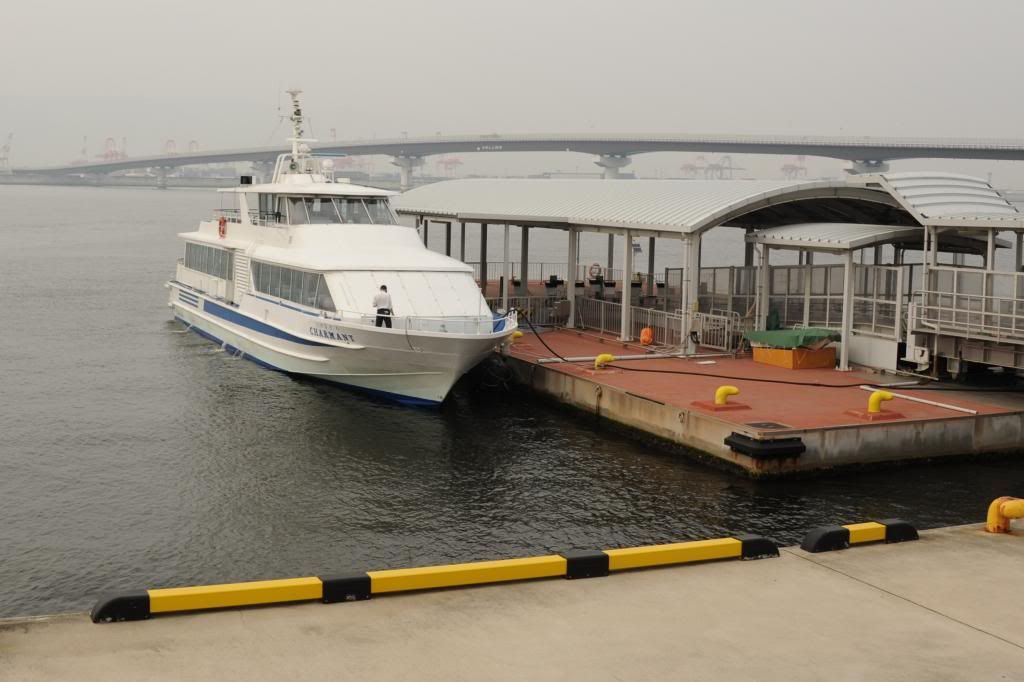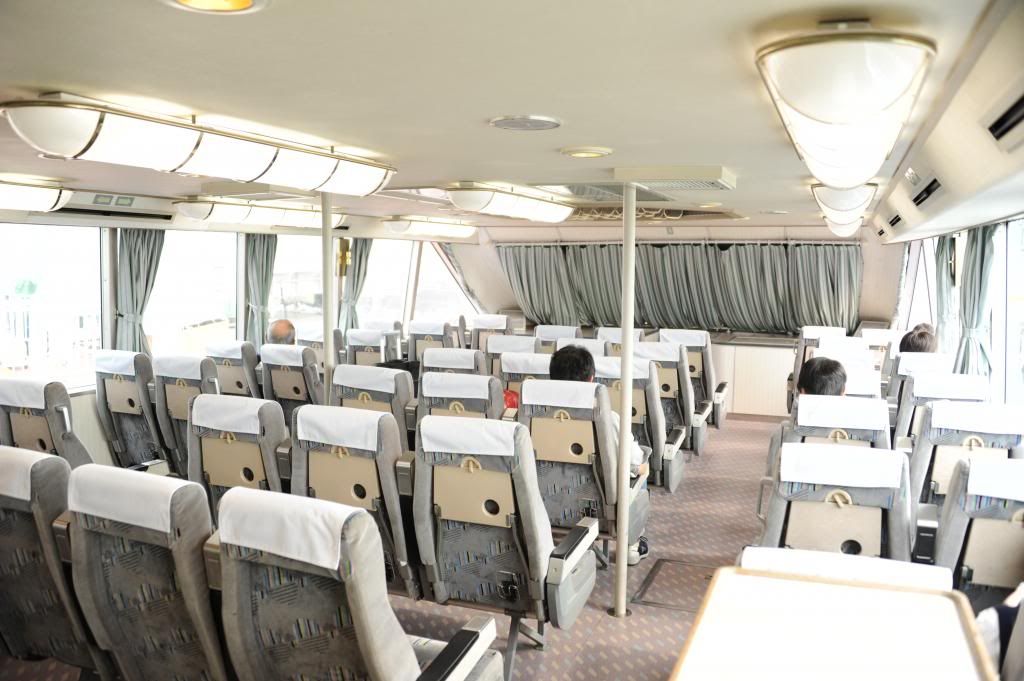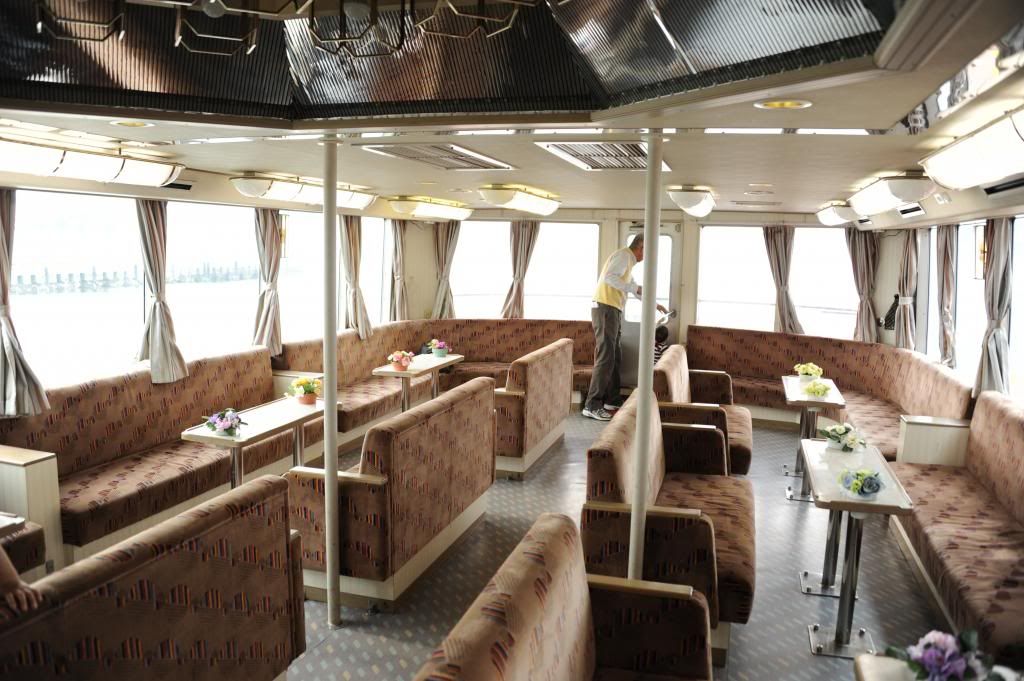 If you were lucky enough with the timing, and are in possession of some actual photography skills (ie. Not me!) you could probably get some good shots from this vantage point although there is no outside deck so you have to shoot through glass.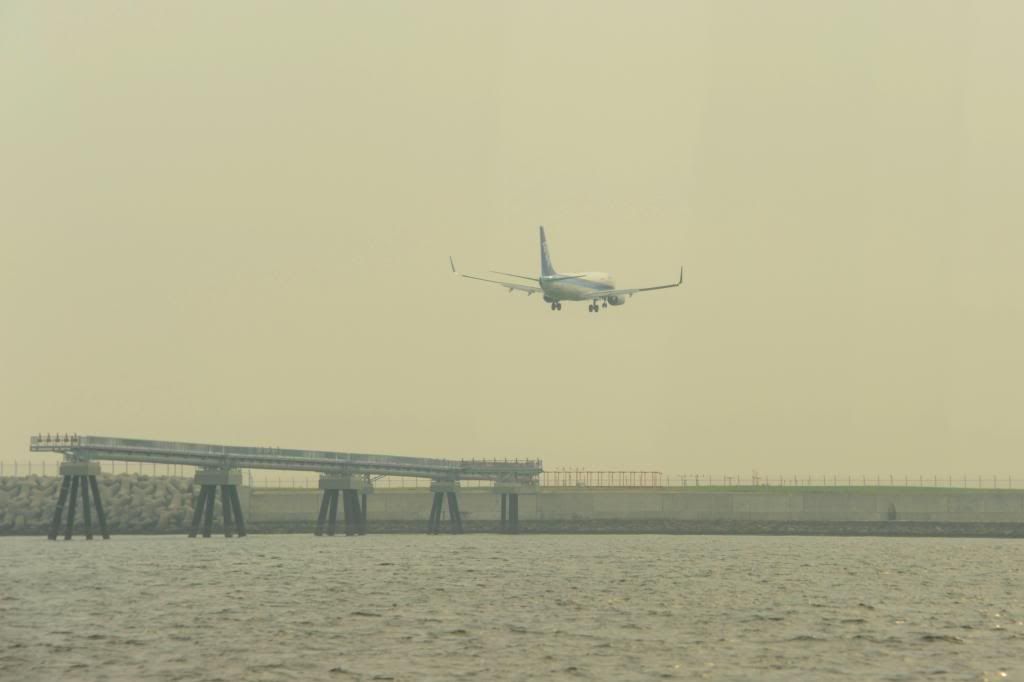 The air seemed to clear a little as we head out across Osaka Bay.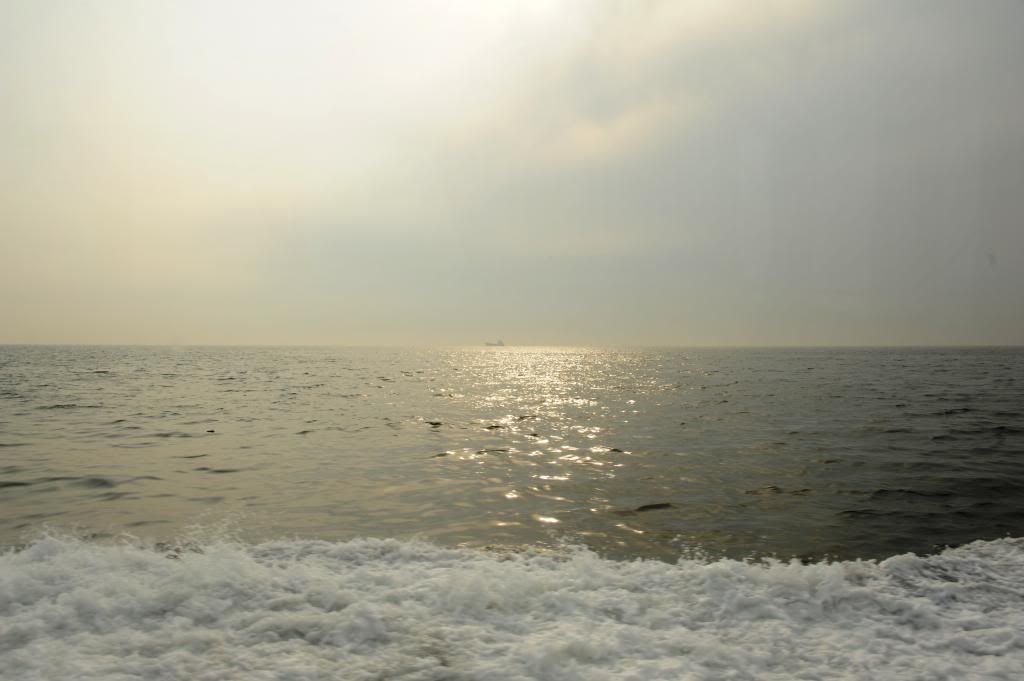 But on arrival at KIX, any attempt to capture incoming aircraft meant shooting through half a mile of filth and it was impossible to get anything. Perhaps another trip that would best be done in winter? A bus was waiting for us at the ferry port on KIX which took us straight to the terminal.
Stage Two
Carrier: Peach Aviation
Flight: MM009
Aircraft: Airbus A320-200
Depart: Osaka, Kansai Int'l – KIX/RJBB
Arrive: Seoul, Incheon – ICN/RKSI
Departure time: 18:40
Having spent the past three years in Tokyo, it'd been a while since I had used KIX and it was nice to be back again. Stepping into the terminal I noticed some commotion to the far right hand side of the building near the H counters, and sure enough, moving closer there were the tell tale signs of an inaugural.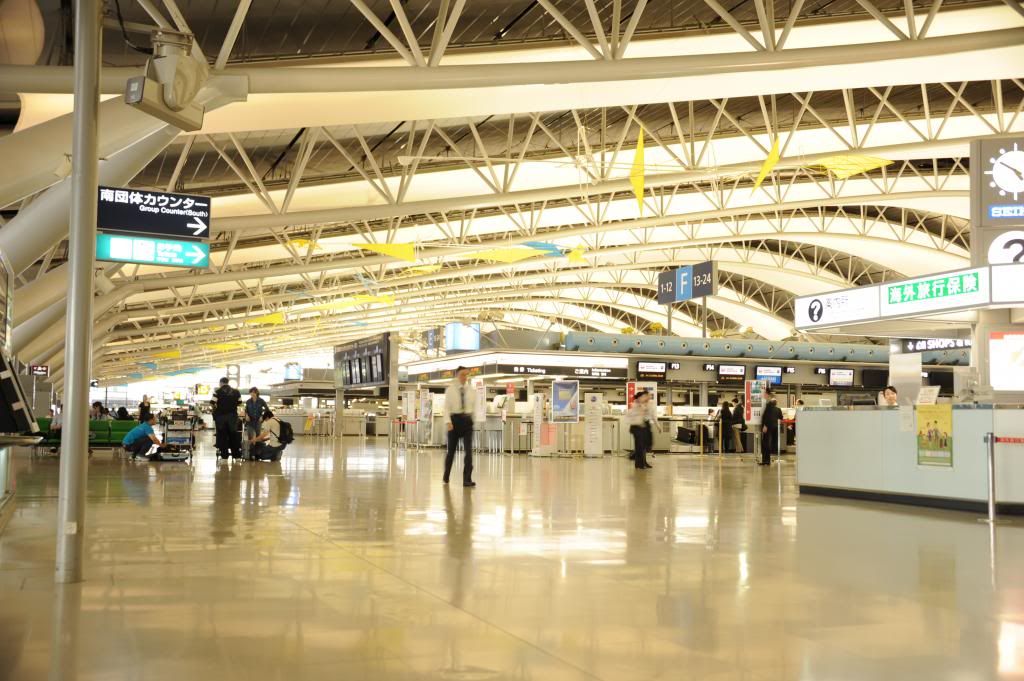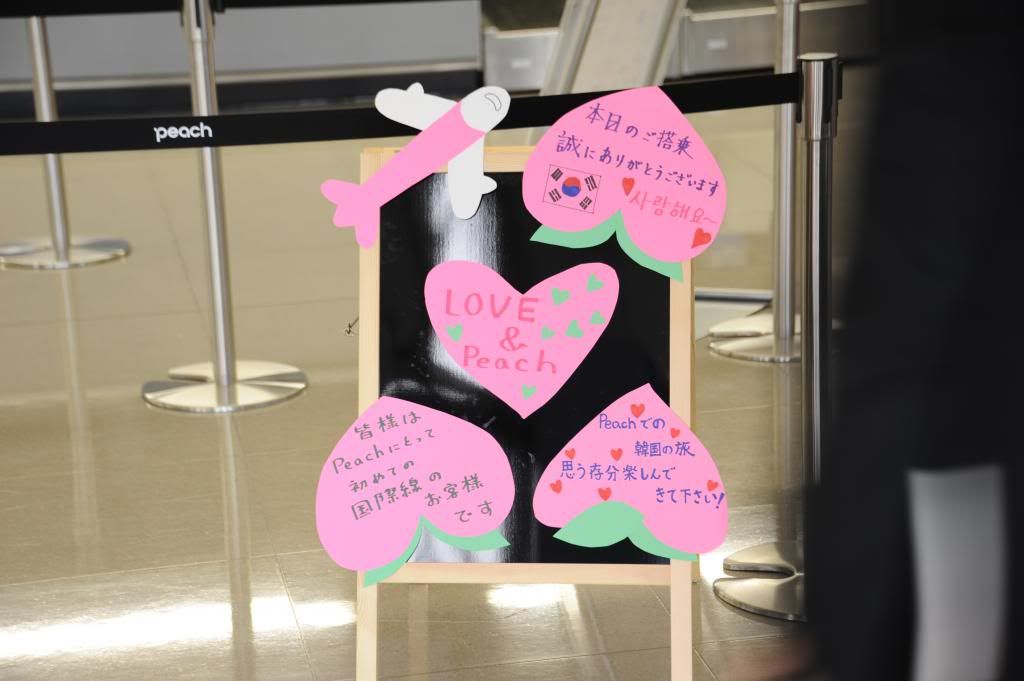 The new Peach self check-in counters. This was an extremely simple and quick process. Indeed it probably took all of about four seconds. Hold the barcode on your ticket (which you need to print beforehand) under the scanner, and out comes your boarding pass. Done! Not quite sure what would happen if you hadn't already selected your seat online when you booked though. The boarding pass itself is printed on flimsy paper like a shopping receipt.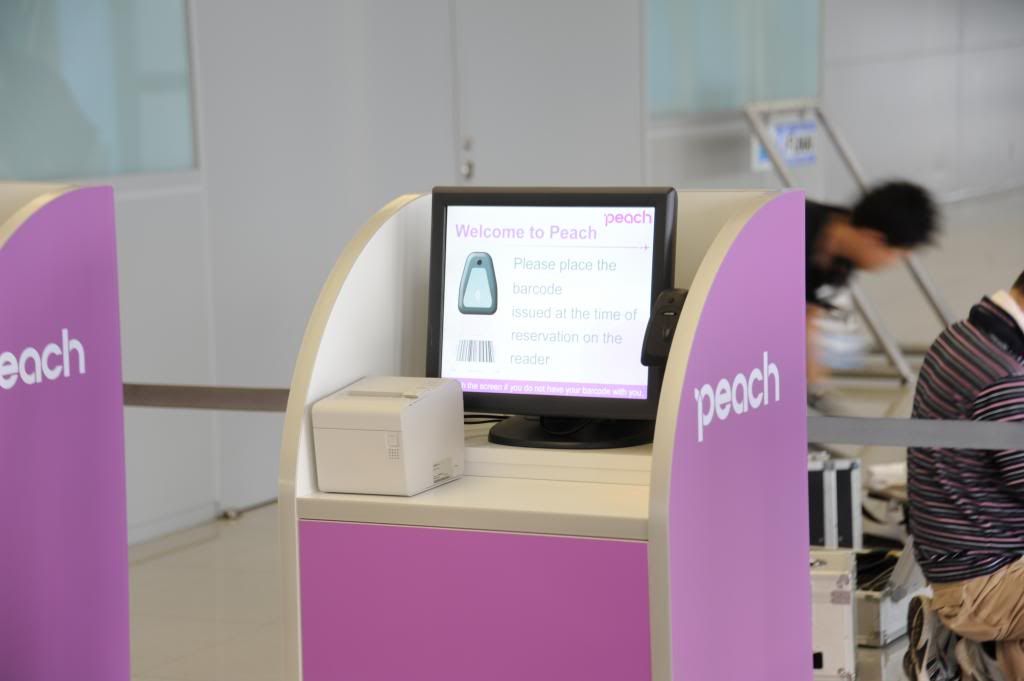 Heading through security and immigration control didn't take long and soon I was heading to the gate.
Turning the corner I was a little taken aback to see dozens of Peach staff lining the walk way welcoming passengers. I strolled past feeling a little awkward but grinning ear to ear. I only stopped to take a photo after I had passed almost to the end.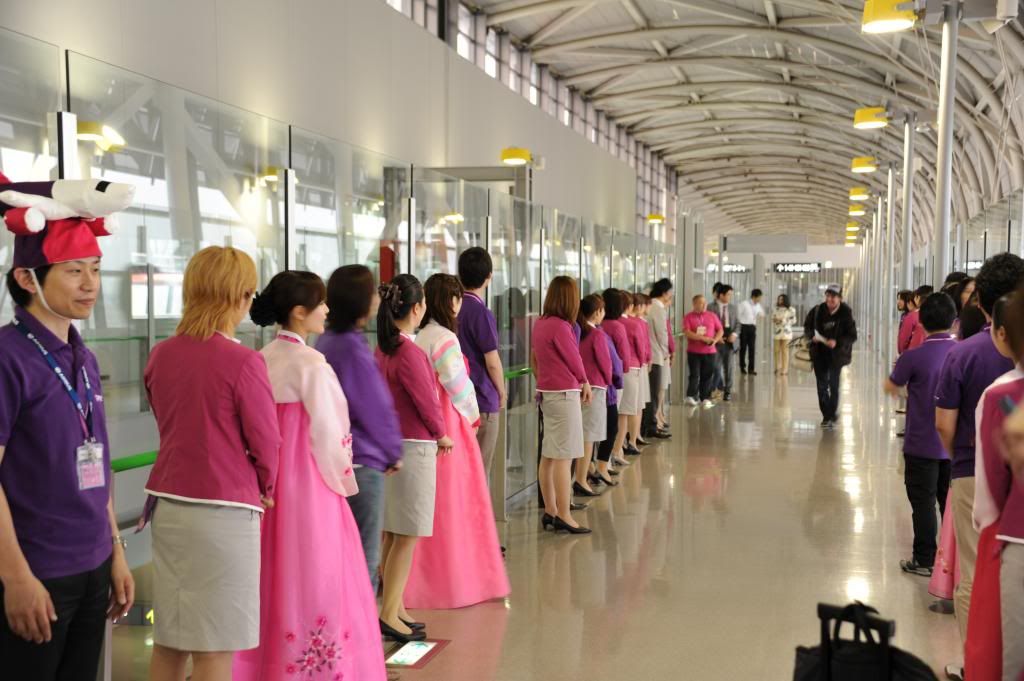 This guy deserves a promotion or at least a pay rise for that hat!
Finally I made my way downstairs to the gate. I had never been to a remote stand at KIX so this was the first time I had ever been to this area of the terminal.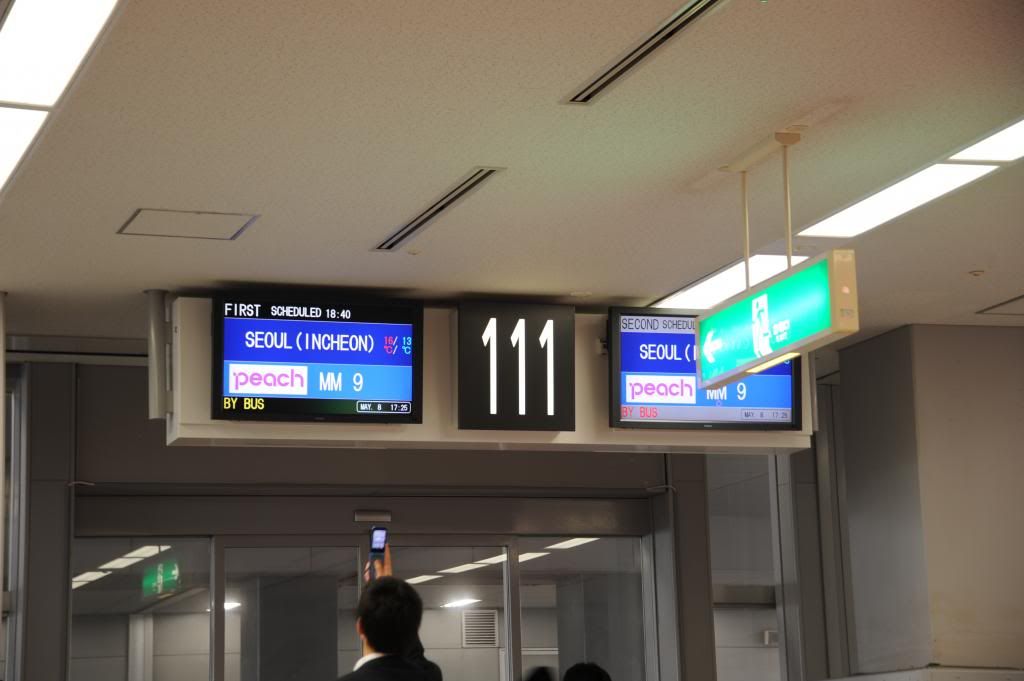 Just one of the many pro-photographers who were milling around the gate area.
A short while later the Peach Crew bus pulled up outside. It wasn't long before the Cabin Crew came downstairs heading for the bus with the camera crews in hot pursuit.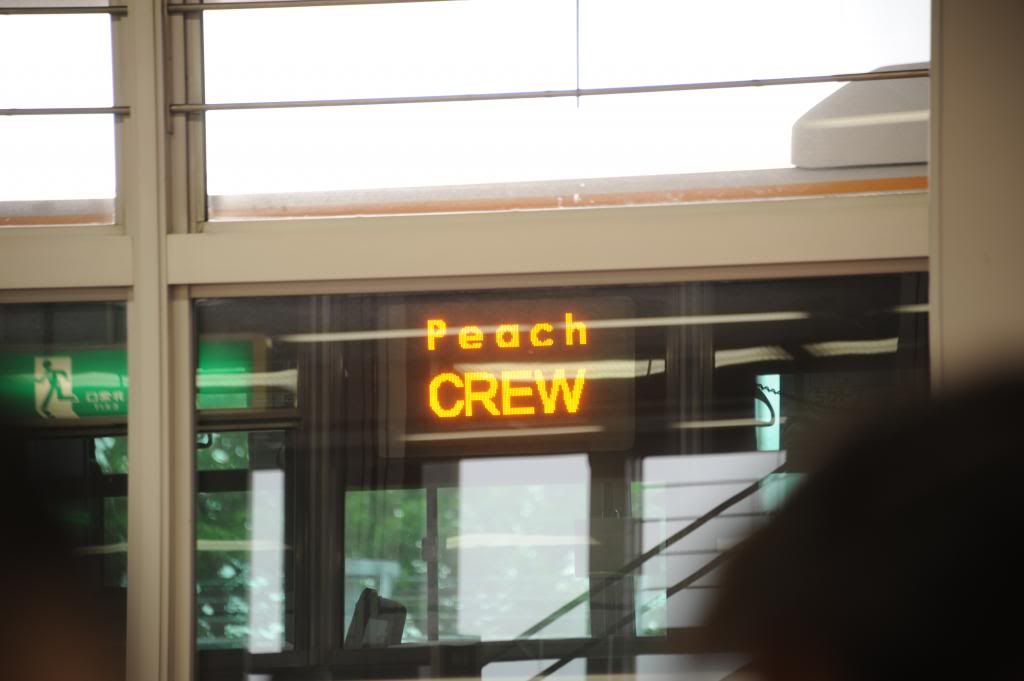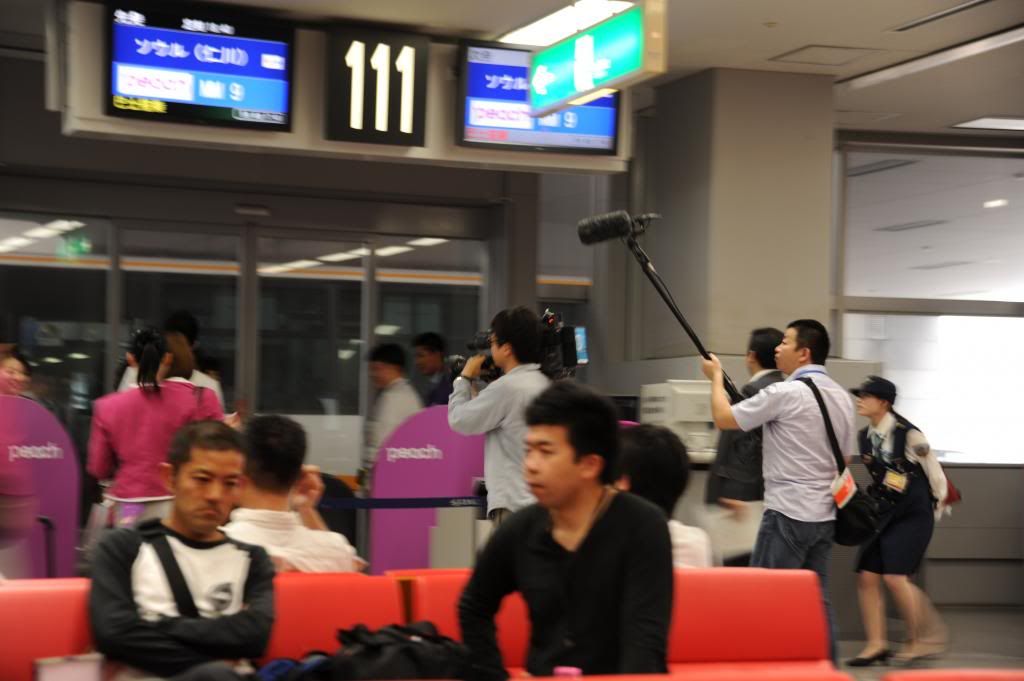 It was the strangest scene I had seen in a departure lounge. It was the first time I had ever been on an inaugural such as this and it was quite surreal indeed.
Presently the passenger buses pulled up outside and the tension rose a few notches as the media people began their final preparations.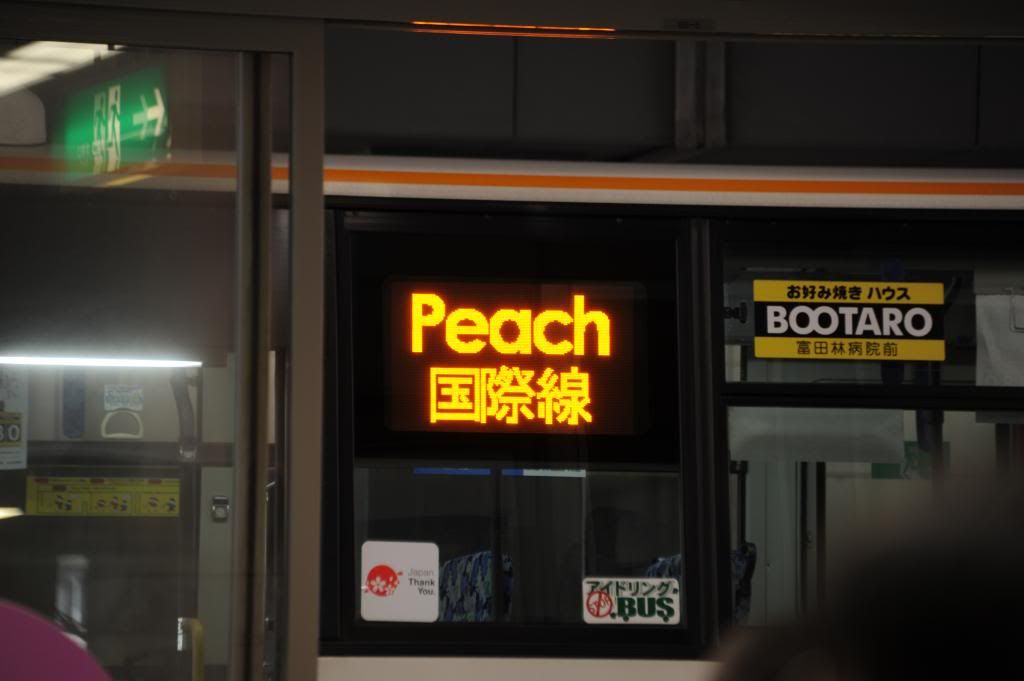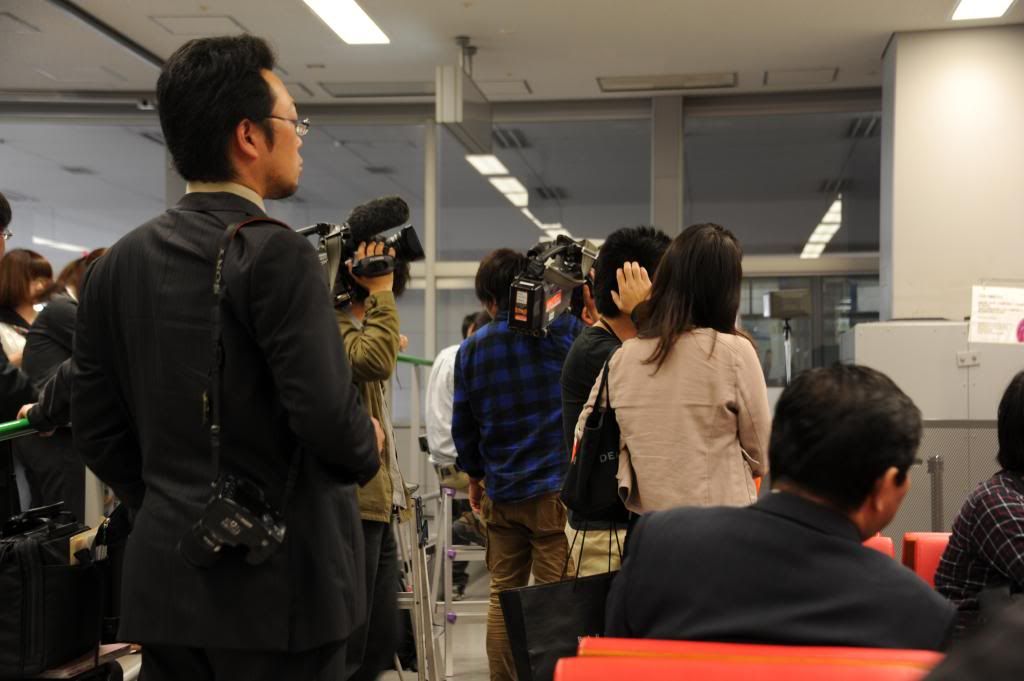 Even the other regular passengers were caught up waiting for something interesting to happen.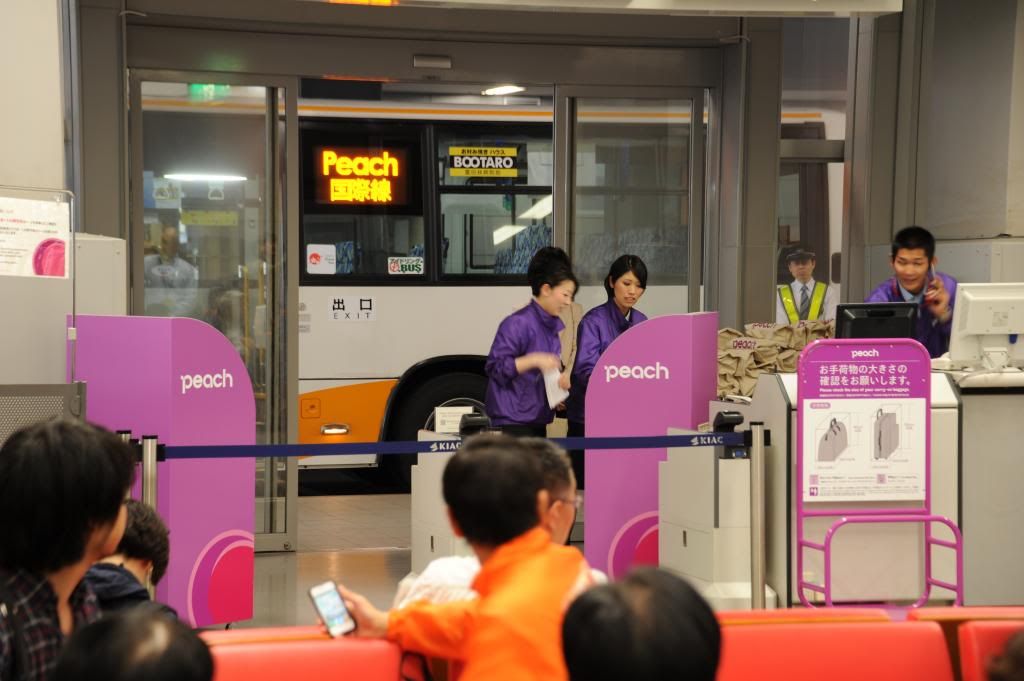 Final camera checks…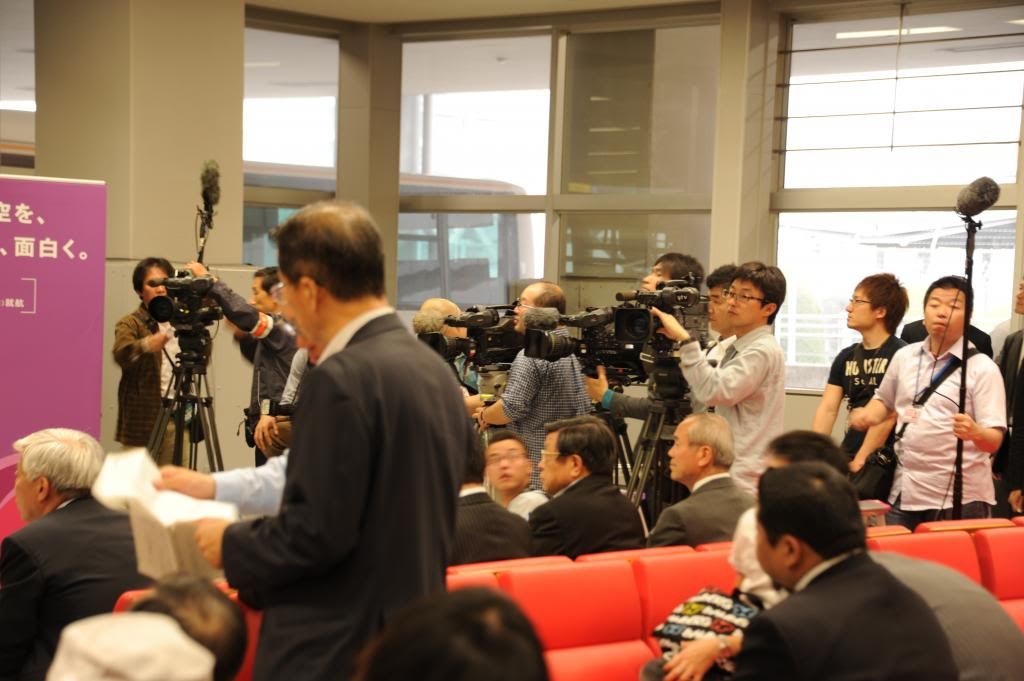 Dozens of Peach staff started to fill the gate area.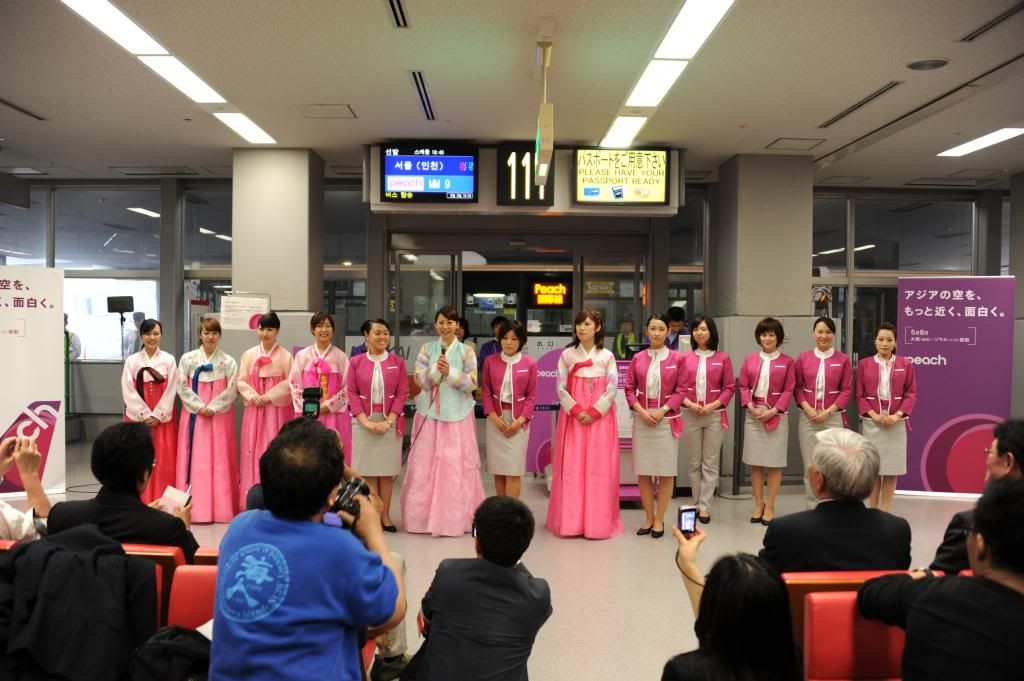 Some short speeches were made culminating in the group "Peach Pose".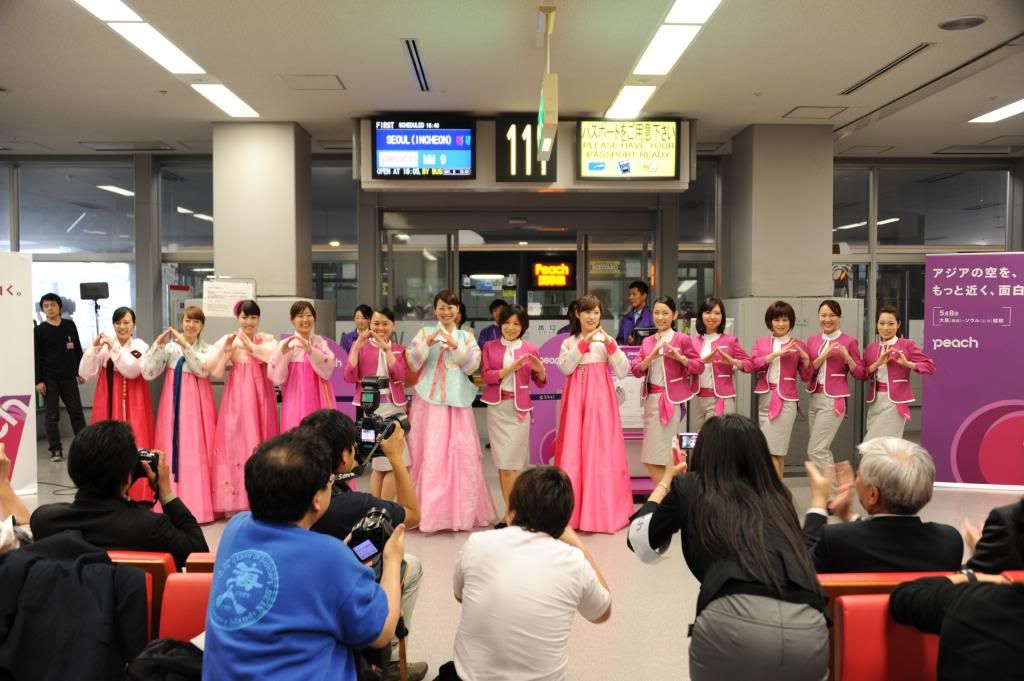 This was the signal the photographers had been waiting for, and with that, the media maelstrom began. Well if you can't beat 'em, join 'em... so I threw myself into the scrummage of photographers and started snapping.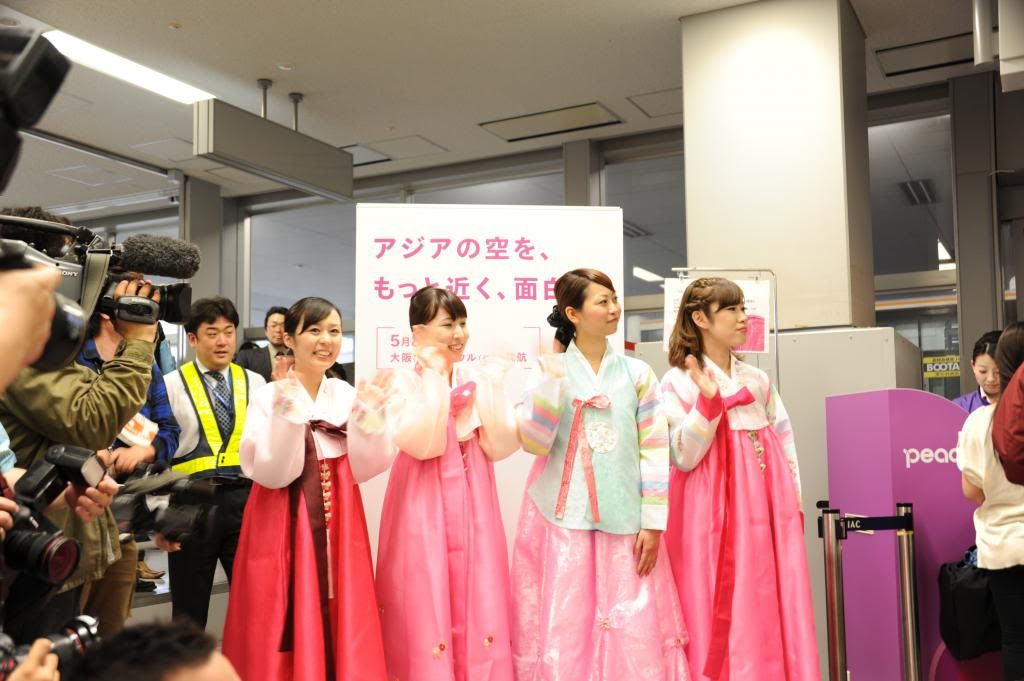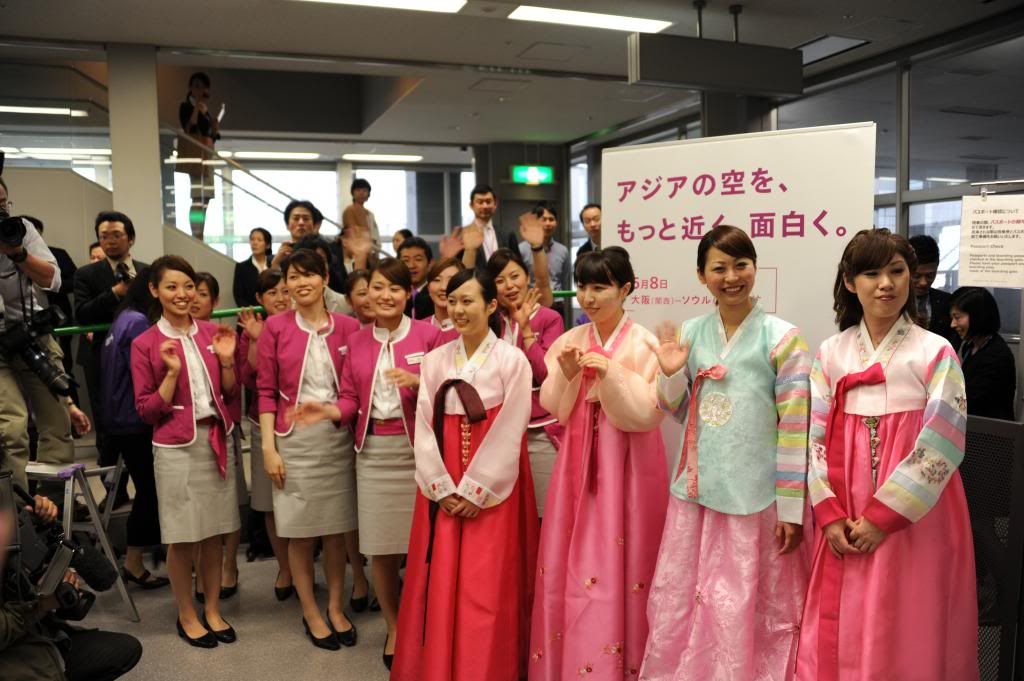 At some point I found myself right in front of the crowd at the gate so I showed my boarding receipt to the gate staff and stepped out and onto the waiting bus, though not before being handed a small Peach goodie bag. The send off from the gate was full of smiles and waves as we began the drive up to the remote stands at KIX. The drive takes you south along two thirds of the long straight terminal so all of the aircraft parked at the gates pass along on your left so make sure you sit on the left hand side of the bus. Unfortunately I found myself stuck on the right, so nooo photos for me!
Eventually the bus pulled up next to the covered airstairs that led up to the waiting open entrance of the Peach A320. The bus doors opened to reveal that the driver had pulled up so close to the bottom step, that it was like stepping through an airlock off the bus and directly onto the stairs. This was a bit annoying as it spoiled my only chance to get a shot of the whole aircraft. I did my best to get one shot from the ground before heading up the stairs.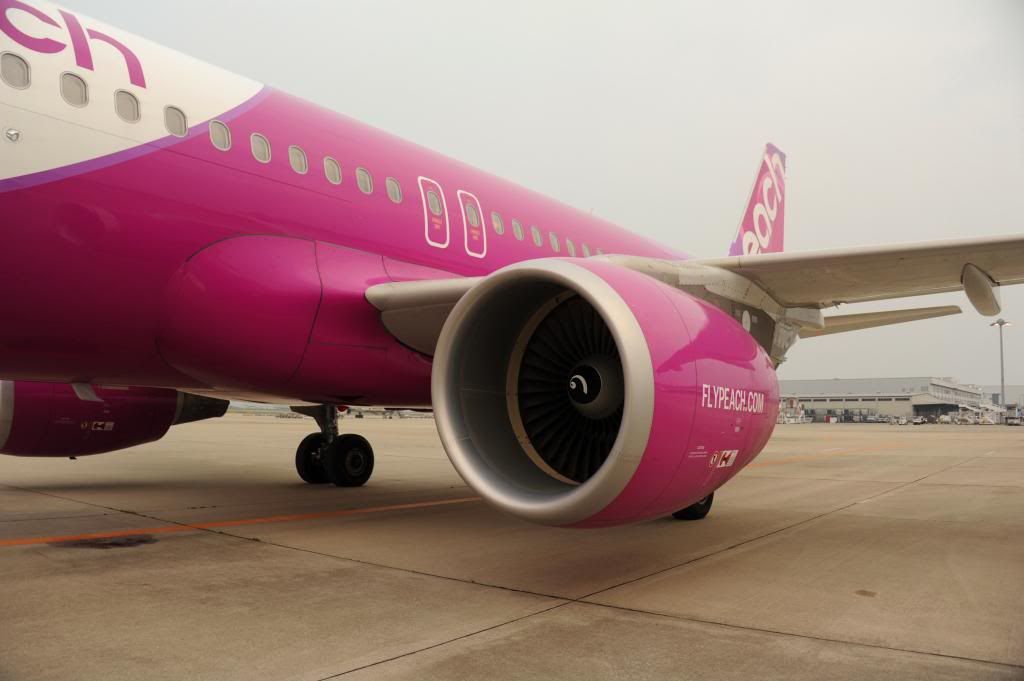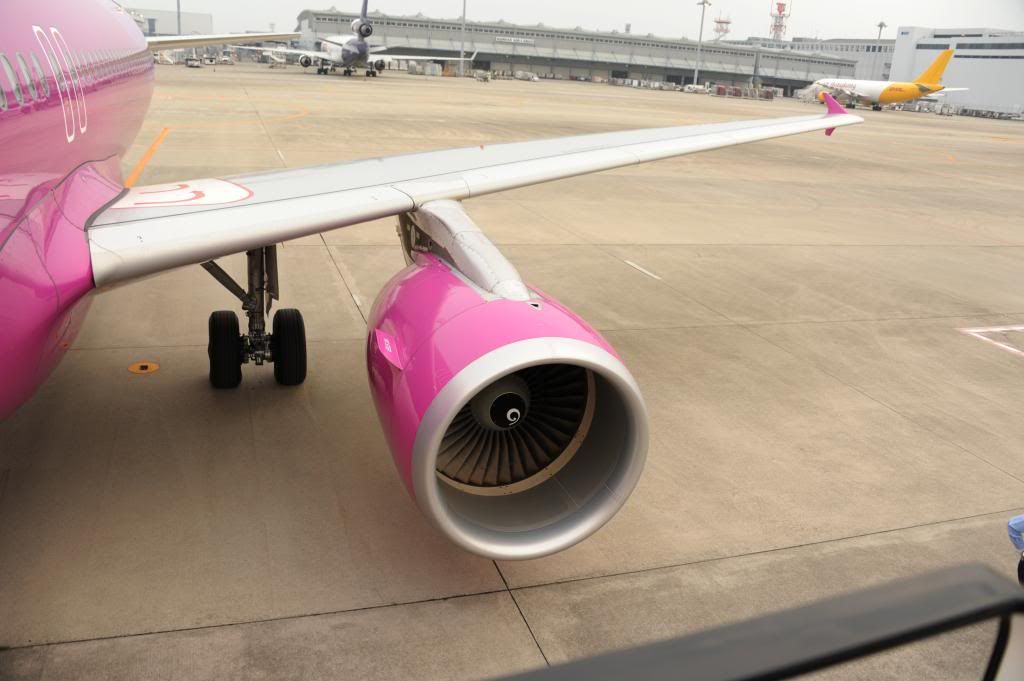 PEACHY!!!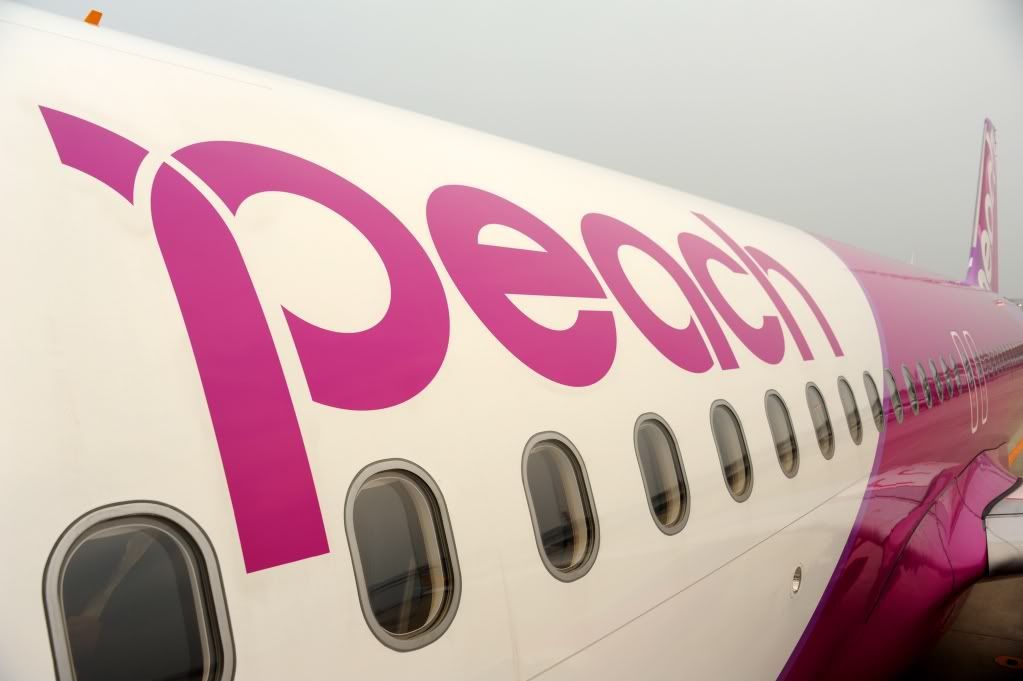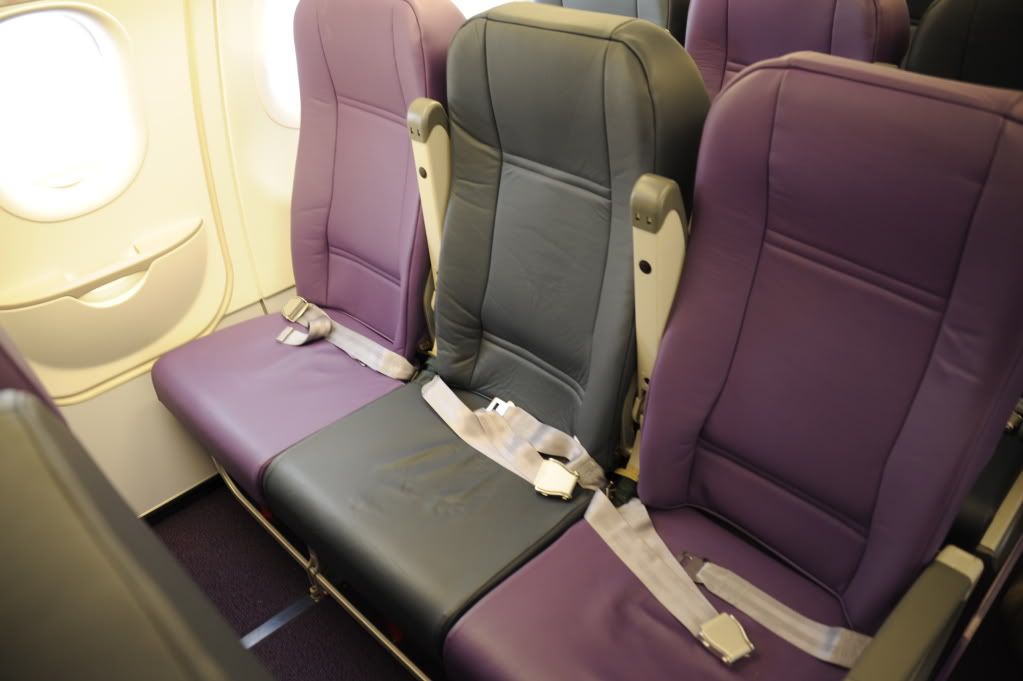 I took my seat a few rows from the back. By now the flight was running about 20mins late but shortly everyone was aboard and we began to taxi out and a few minutes later we were up in the overcast sky chasing the last rays of the sun westward.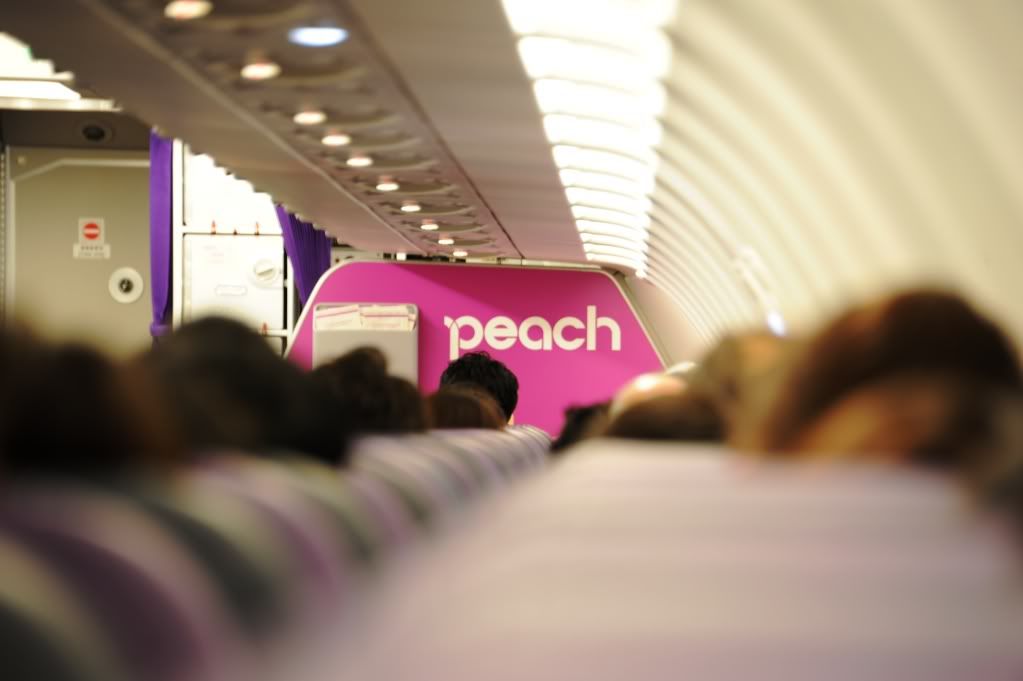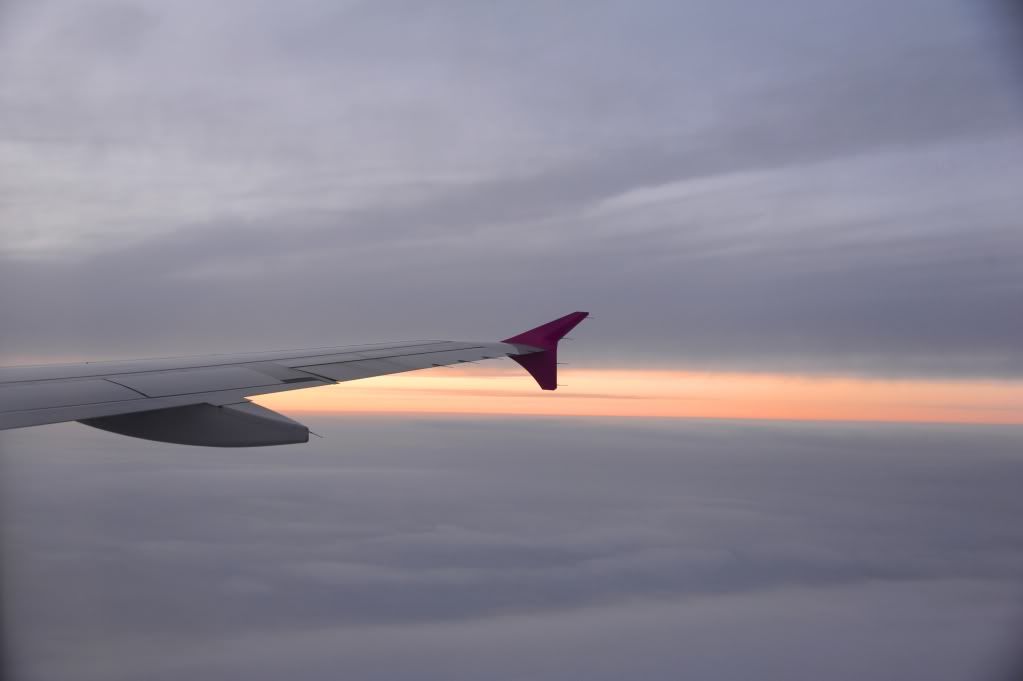 The flight was pretty full, but somehow I had managed to wind up in the only row with nobody sat in it. I remained the sole occupant of this row for almost the entire flight.
Soon enough the food service got going. I decided to buy a simple sandwich. Nothing spectacular but tasted nice enough.
As we flew over the Sea of Japan, we started to get thrown around a bit by turbulence. The food service had to be interrupted twice for the FAs to return to their seats, and what with all the photographers still moving around progress was quite slow. I was hoping to buy some Peach branded merchandise as a souvenir, but unfortunately, whilst they were shown in the catalogue, their actual items hadn't been released for sale yet. That was a little disappointing.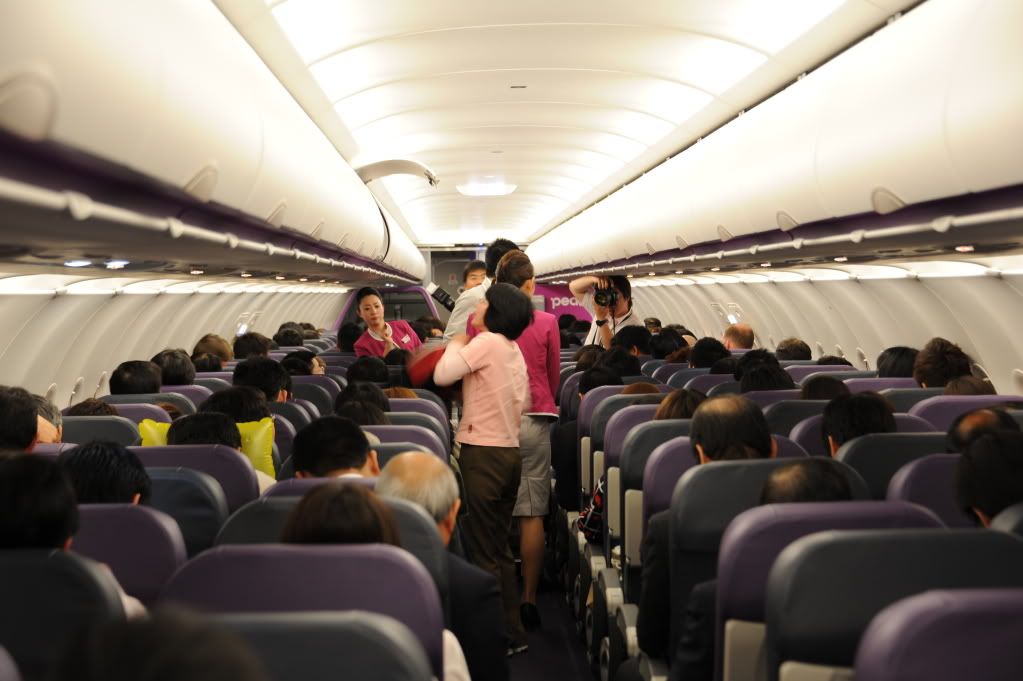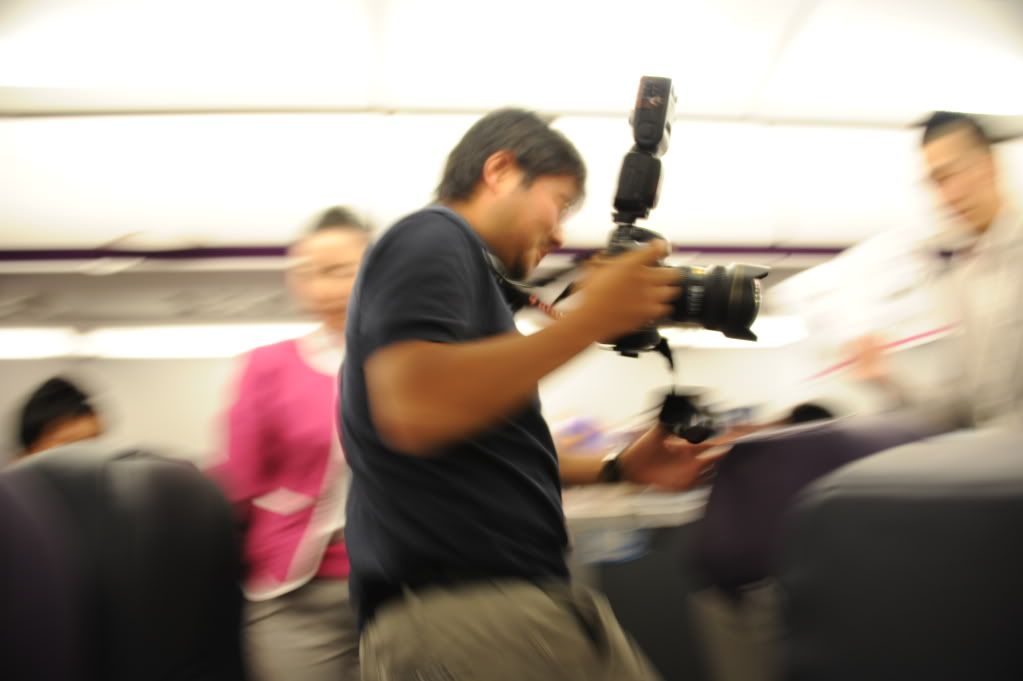 We began drawing closer to our destination.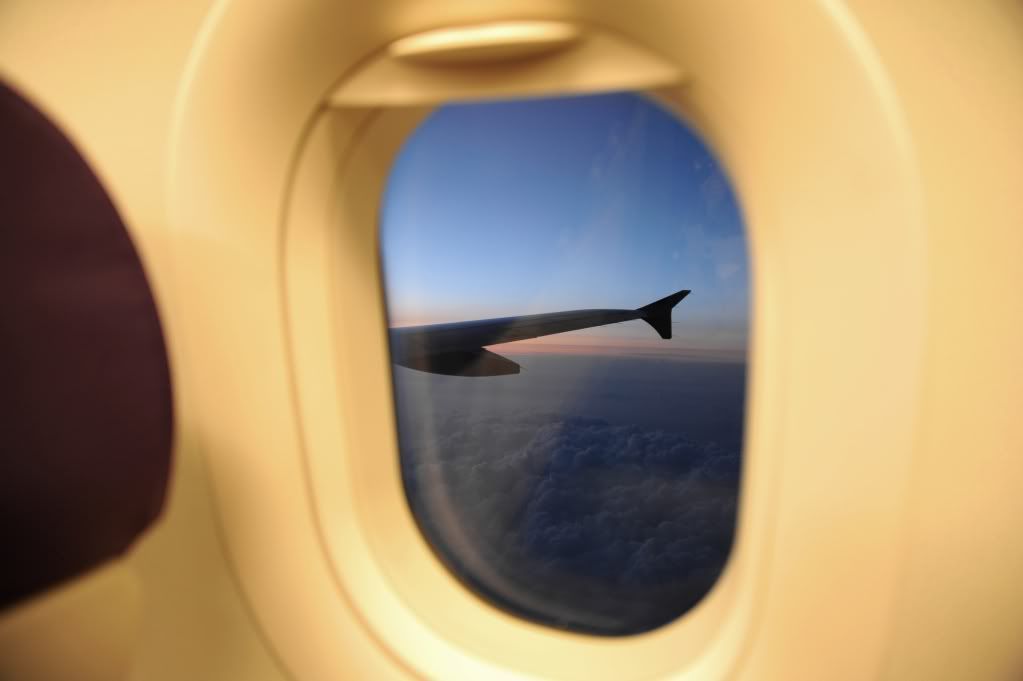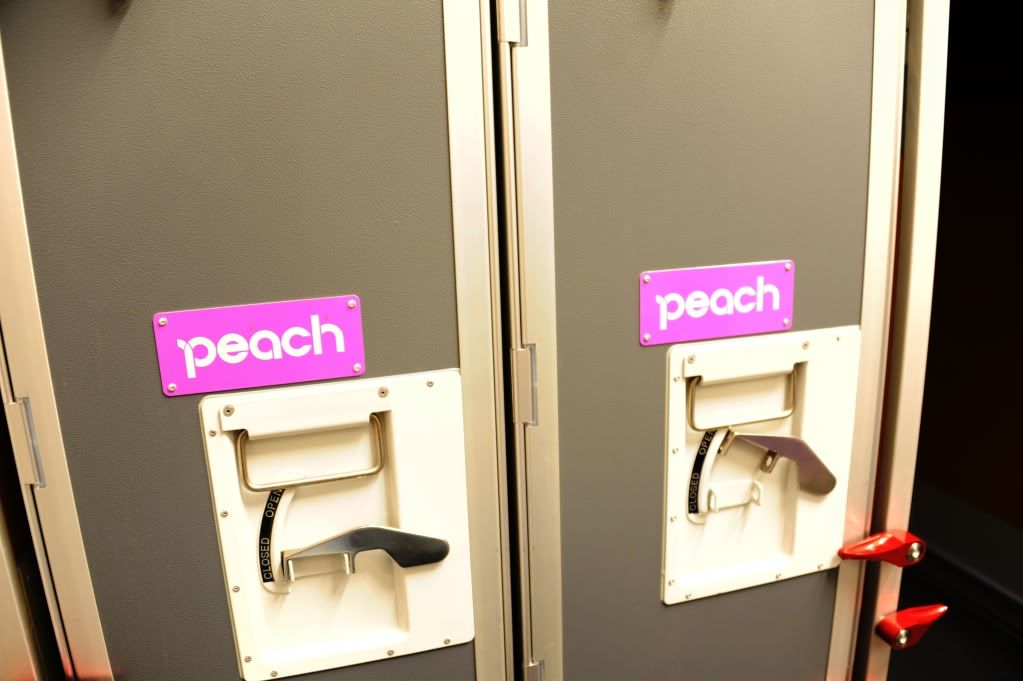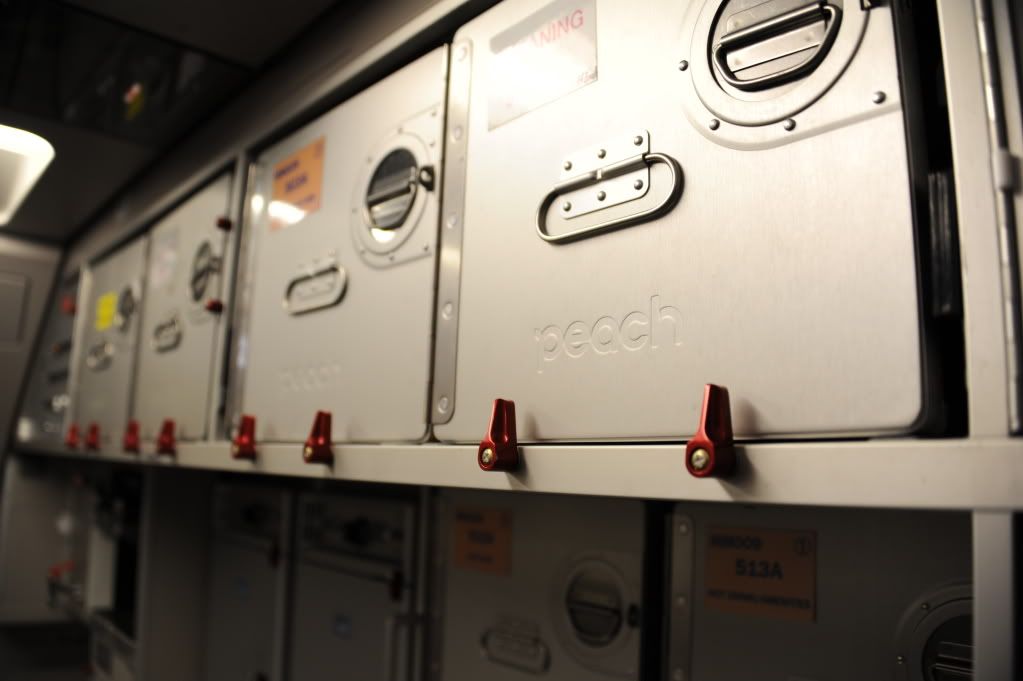 By the time were on approach to ICN it was dark outside and in typical ANA fashion (I guess it's been passed down??) the cabin lights remained on throughout approach preventing any outside photos. Following a faultless landing at ICN though I got my camera ready to get shots of the water canon salute that I was hoping would take place… After a short taxi we pulled up at the gate. Wait,.. What??! Where was my water canon salute dammit?! I guess this is something that only happens during the hours of daylight??
As the seatbelt signs switched off the usual melee of people grabbing their bags was added to by many scrambling to get their final shots of the cabin. And yes, I was as guilty as any in that regard.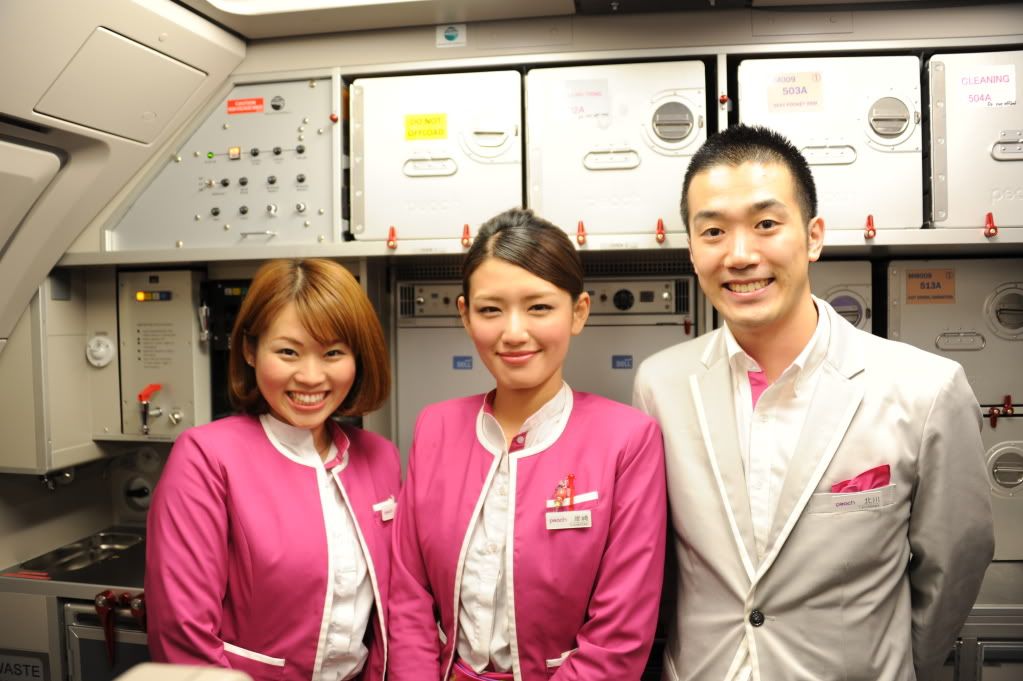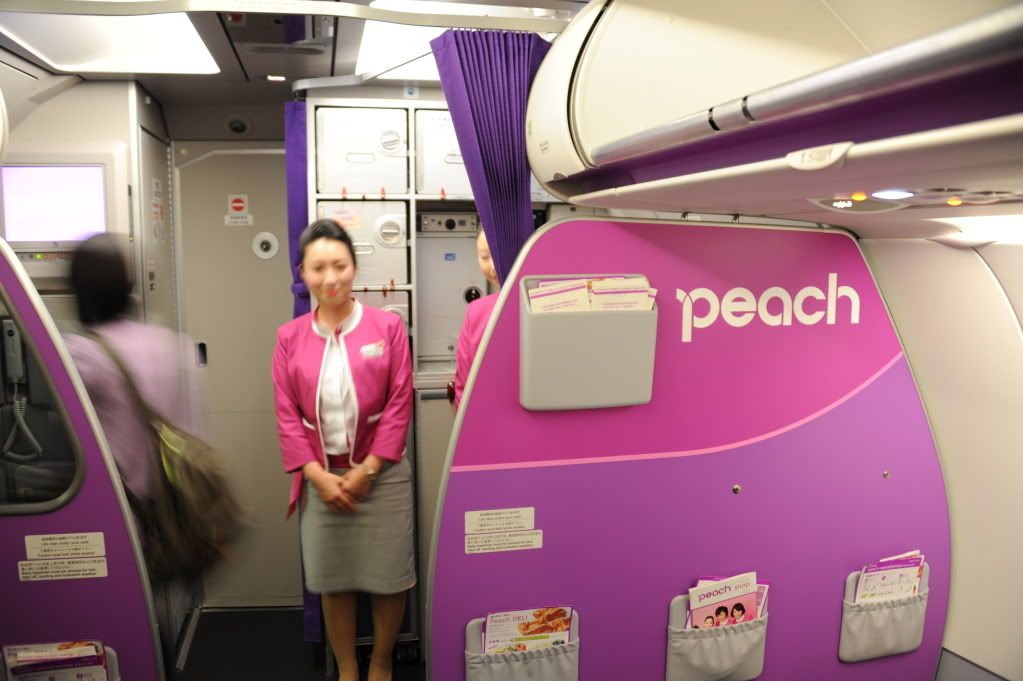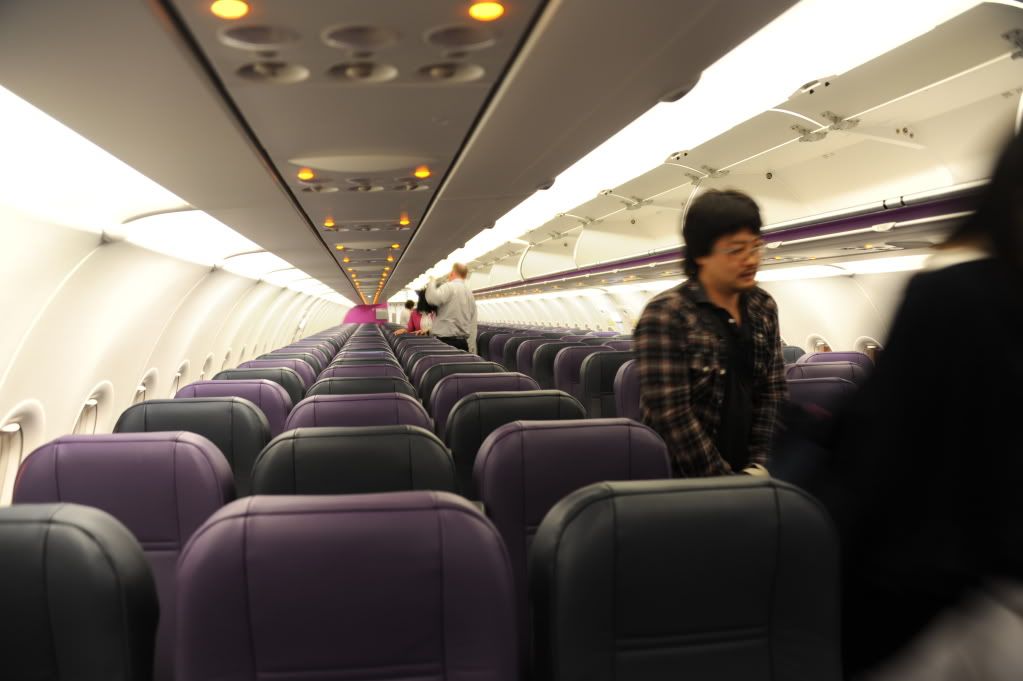 So finally I had set foot in the ROK. I had decided that instead of returning directly from ICN I would head over to Gimpo and fly back from there. A couple of really cold individuals at the airline information desk and the currency exchange had left me feeling like I was rather unwelcome. Fortunately that changed when I spoke to a very warm and friendly lady at the bus ticketing counter who pointed me in the right direction for buses to GMP.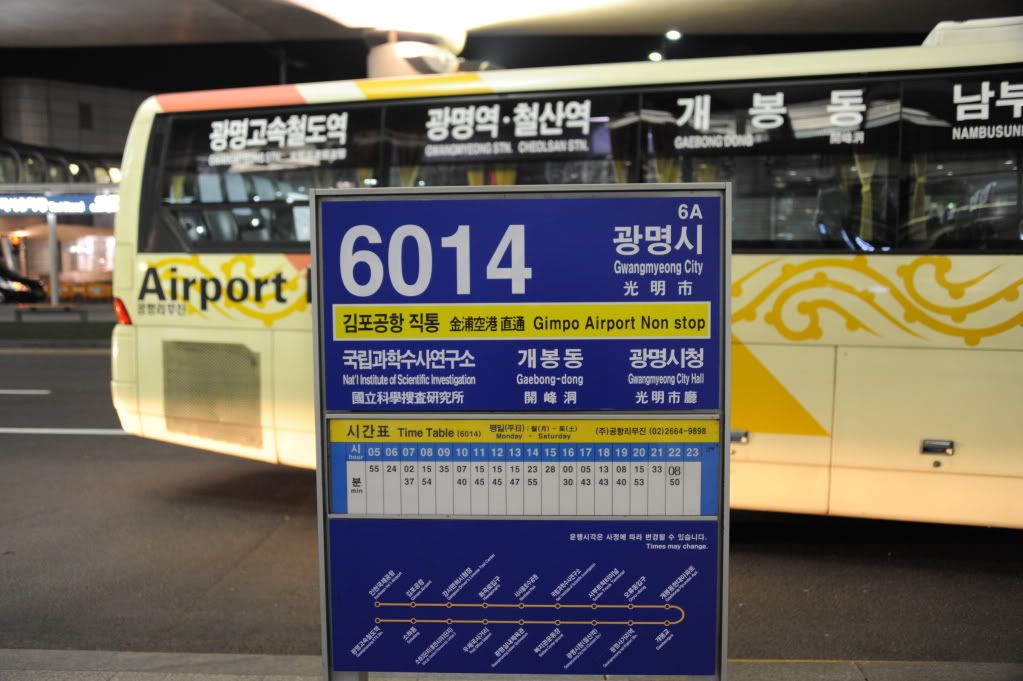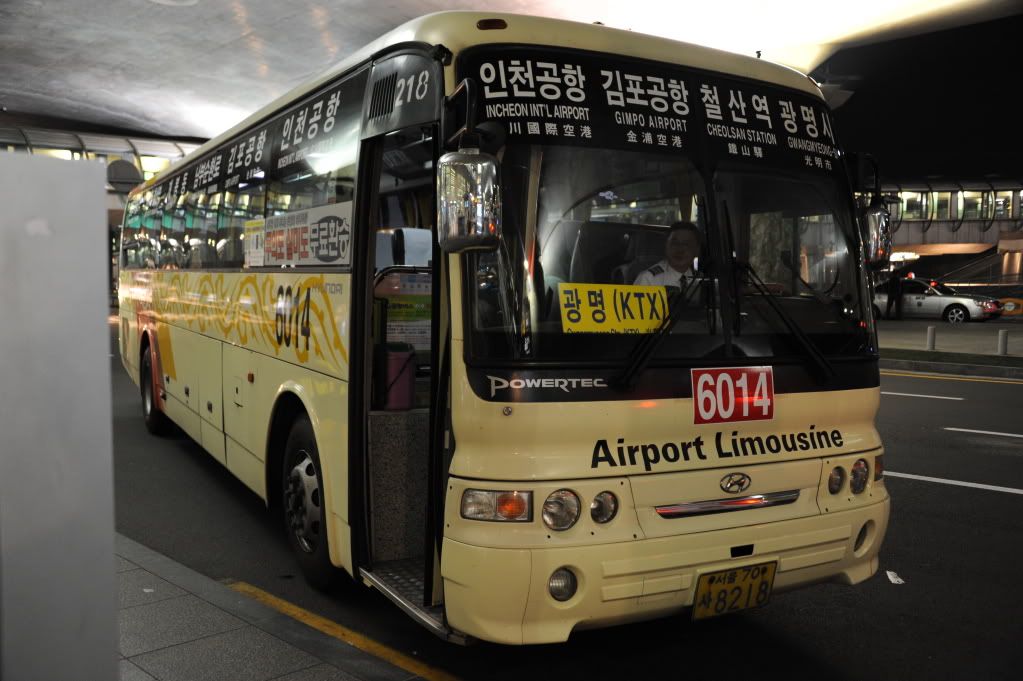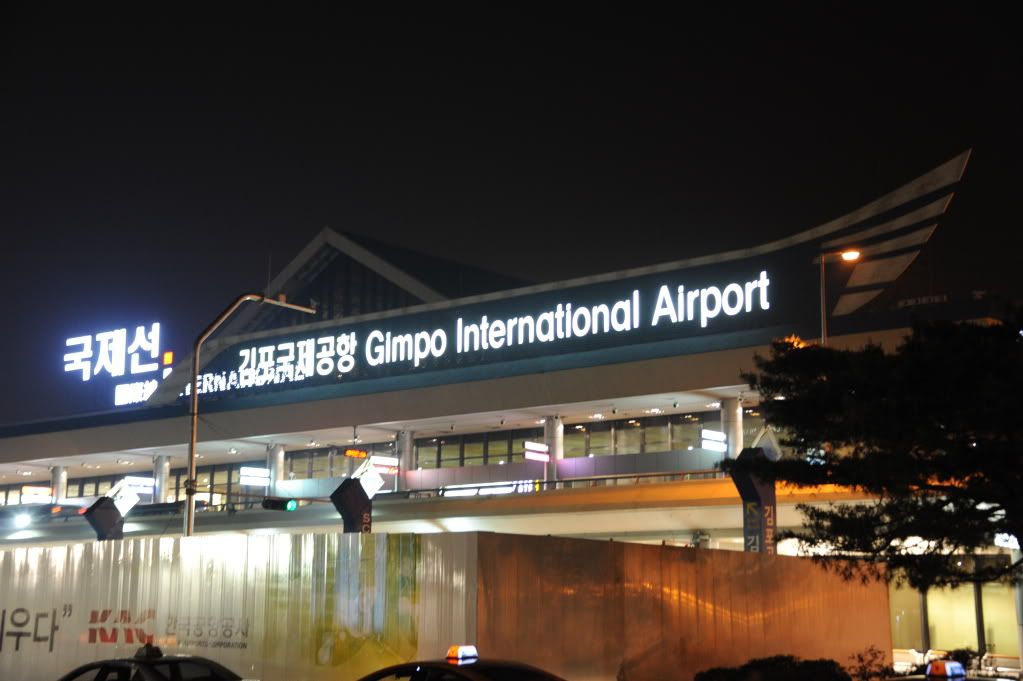 Stepping off the bus at Gimpo I noticed that the moon was blood red. I am not sure if this was a natural phenomenon or a result of pollution but the effect was quite something.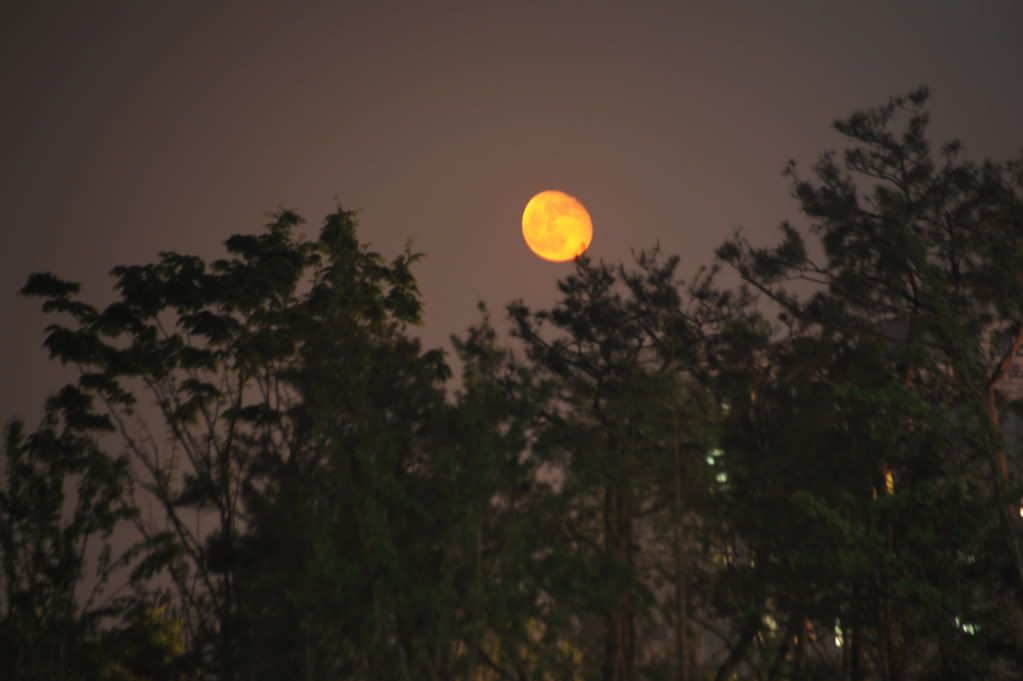 I made my way inside the terminal building to have a look around. The whole place was almost deserted. What with the moon outside it was quite an eerie feeling to be in there all alone.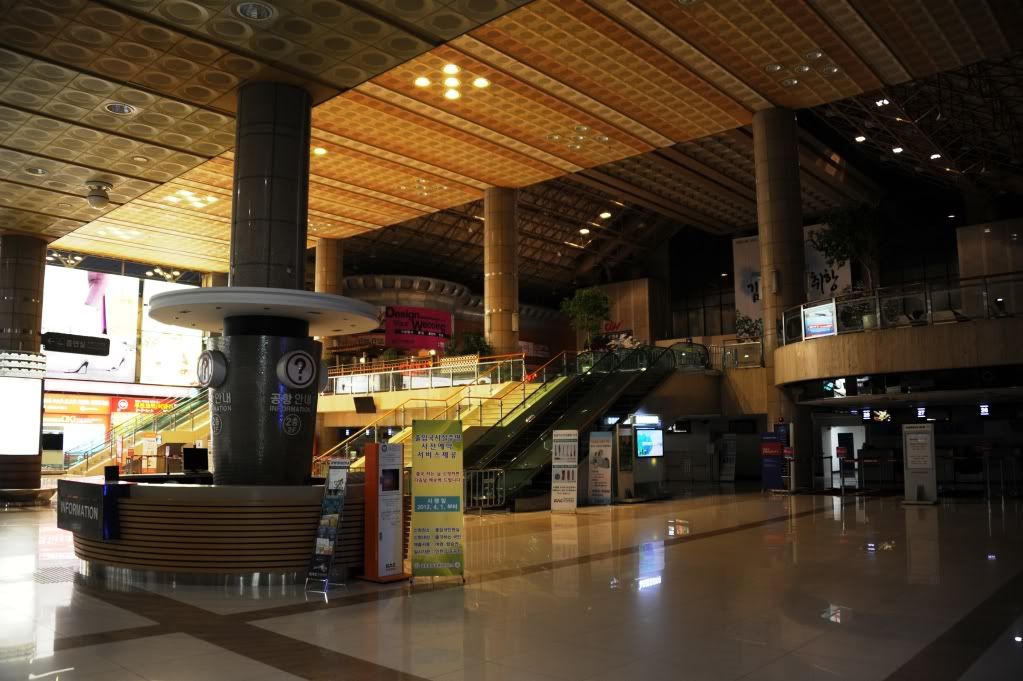 By this point it was already pushing midnight so I headed back out to the hotel across the road. Upon arriving at my room I finally got the chance to have a look at the gifts that Peach had been giving out. The bag itself was probably the nicest item. The cup reads: "I flew 1st, I fly Peach" along with the route and date of the earlier flight.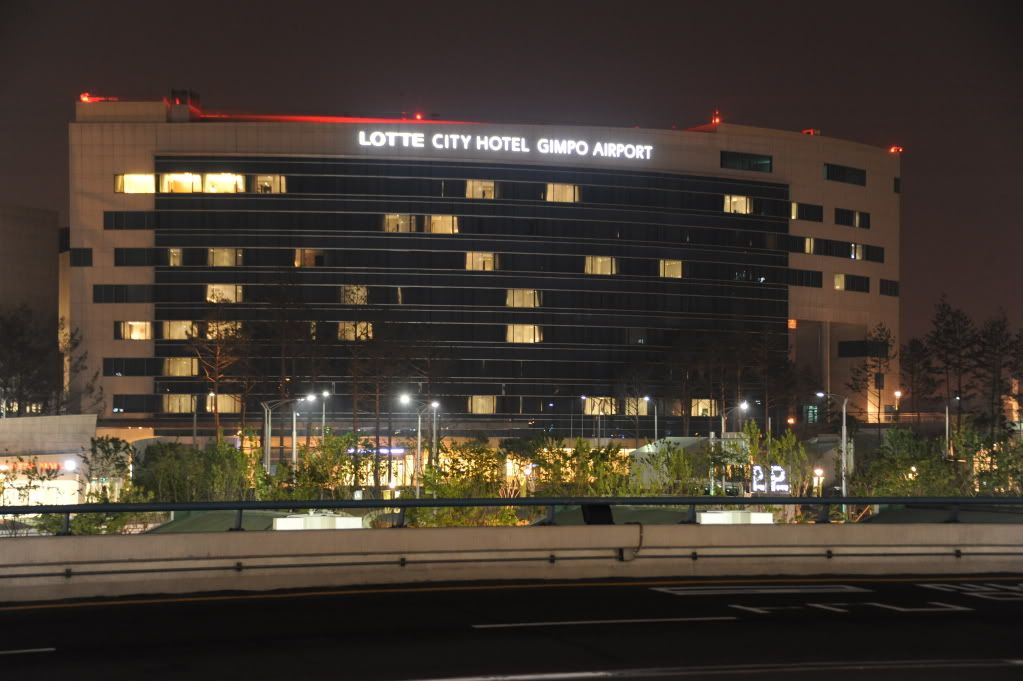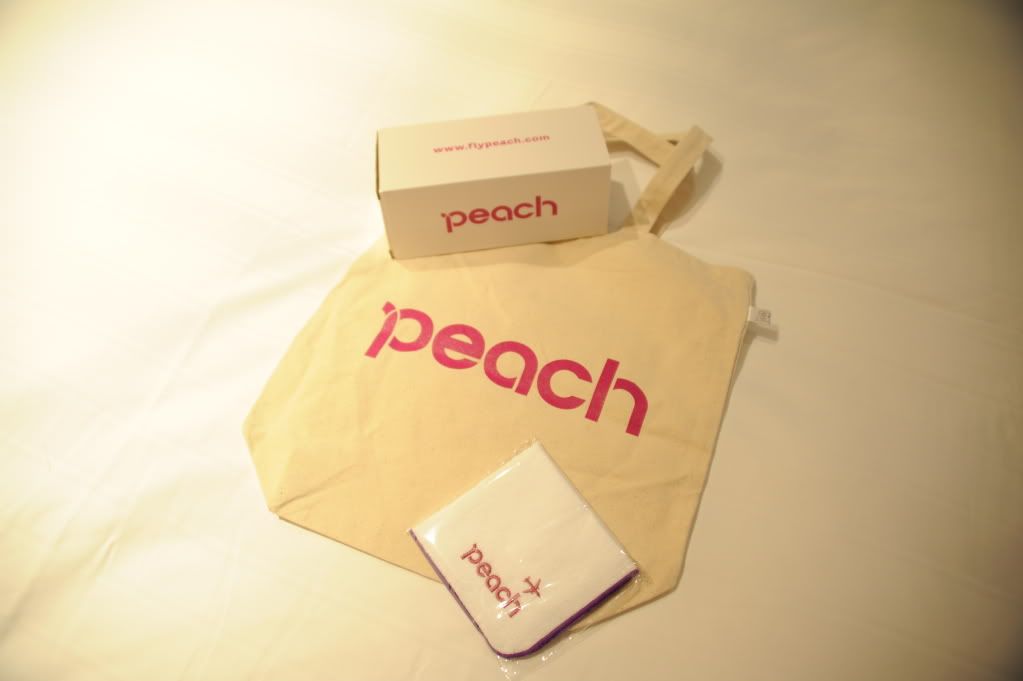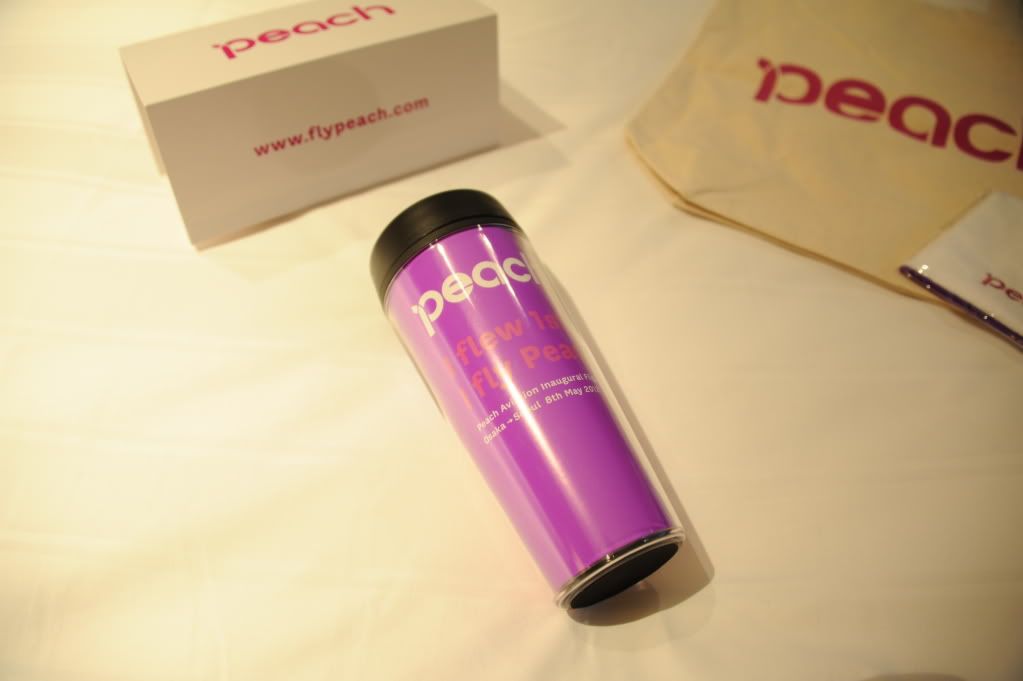 Stage Three
Carrier: Asiana Airlines
Flight: OZ1125
Aircraft: Airbus A320-200
Depart: Seoul, Gimpo – GMP/RKSS
Arrive: Osaka, Kansai Int'l – KIX/RJBB
Departure time: 08:30
Gimpo in the morning felt far more alive than it had done the previous night and soon with new ticket in hand I was making my way through security towards the gate.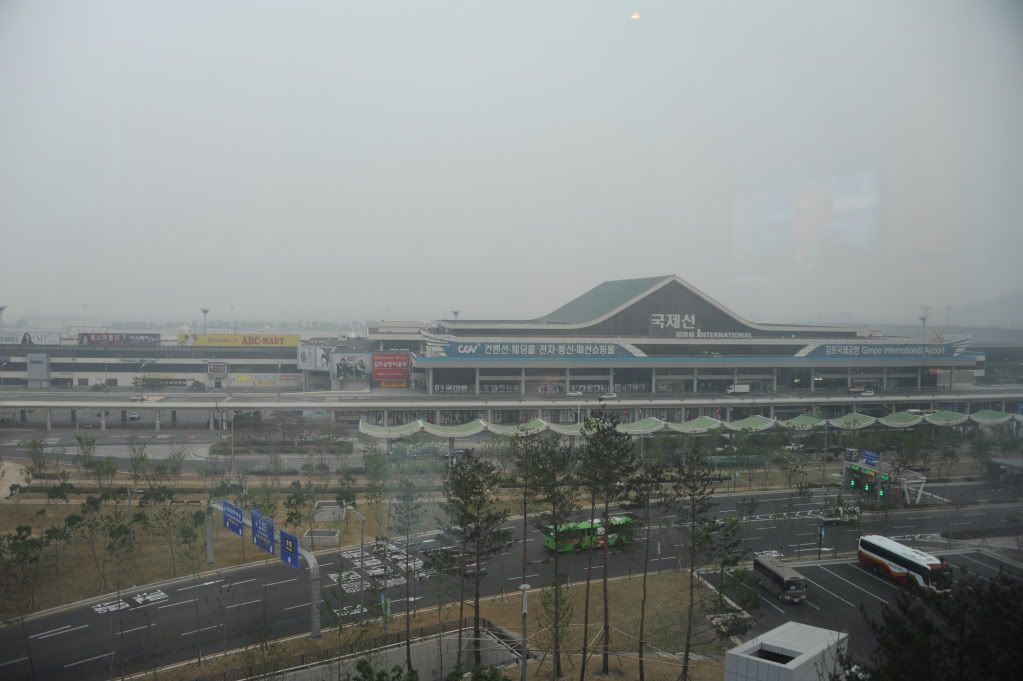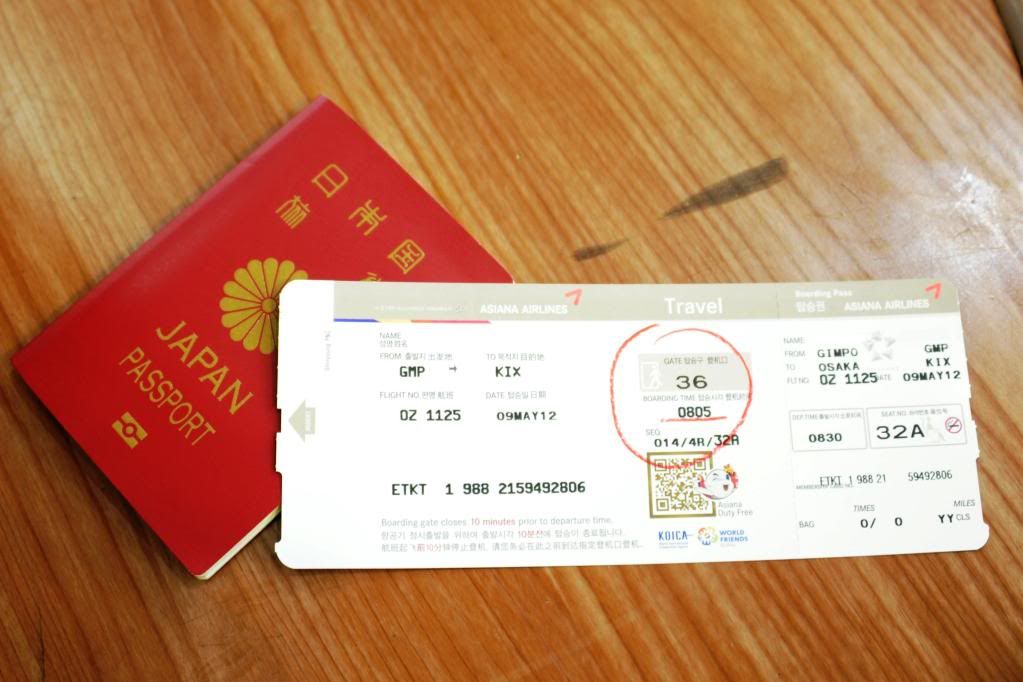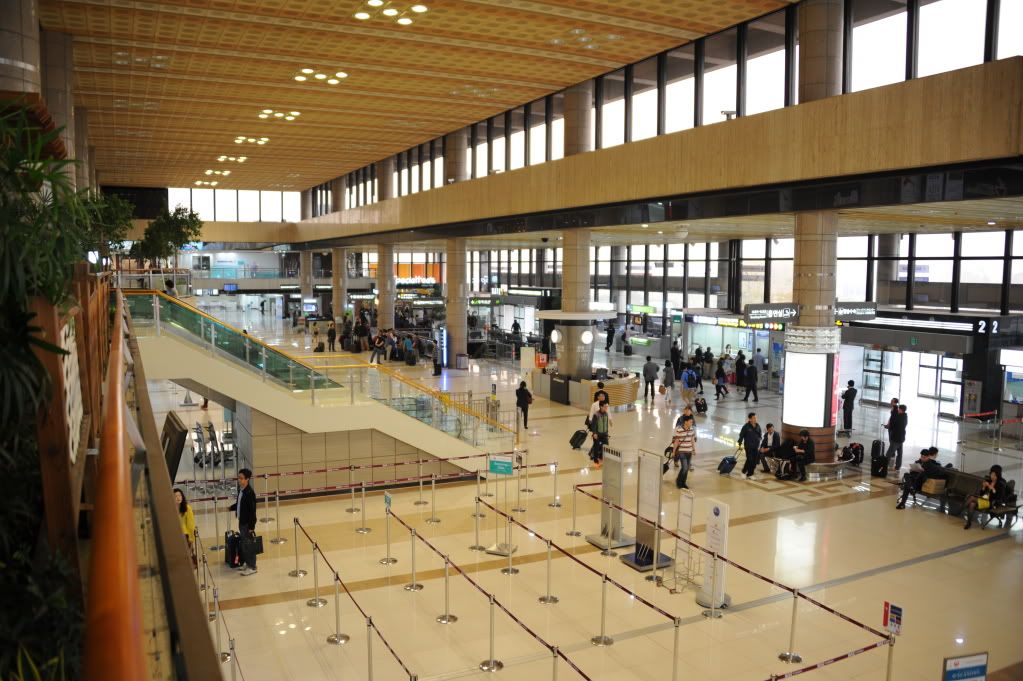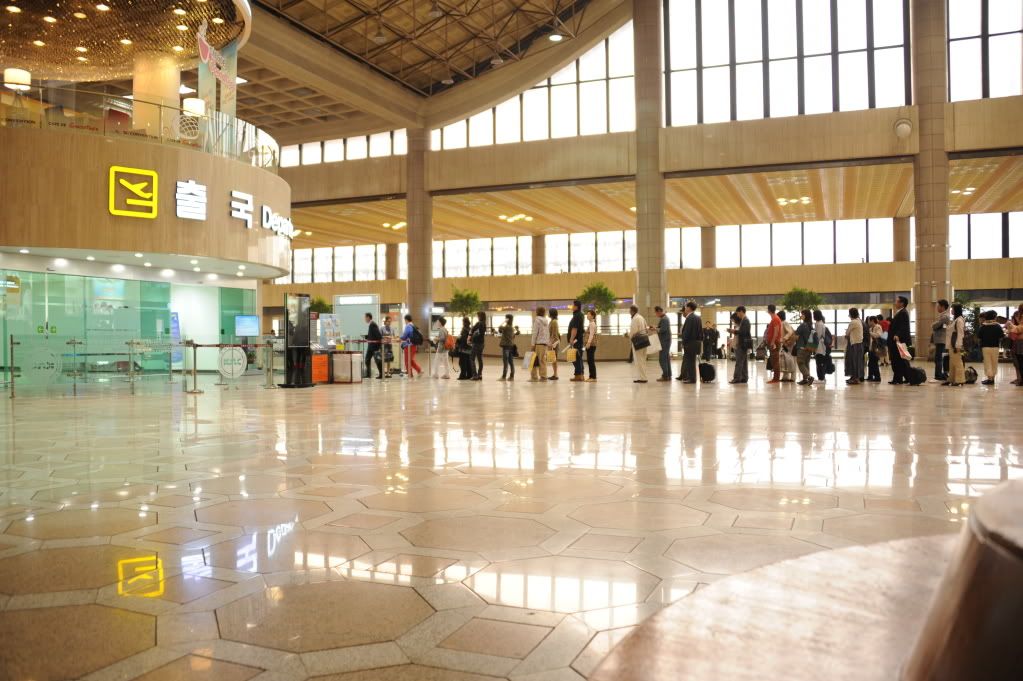 The Asiana aircraft felt a lot warmer than Peach's with lots of brown and beige. The most striking difference was the sheer number of FAs on this flight, all of them smiling and positive. Asiana cabin service really is excellent.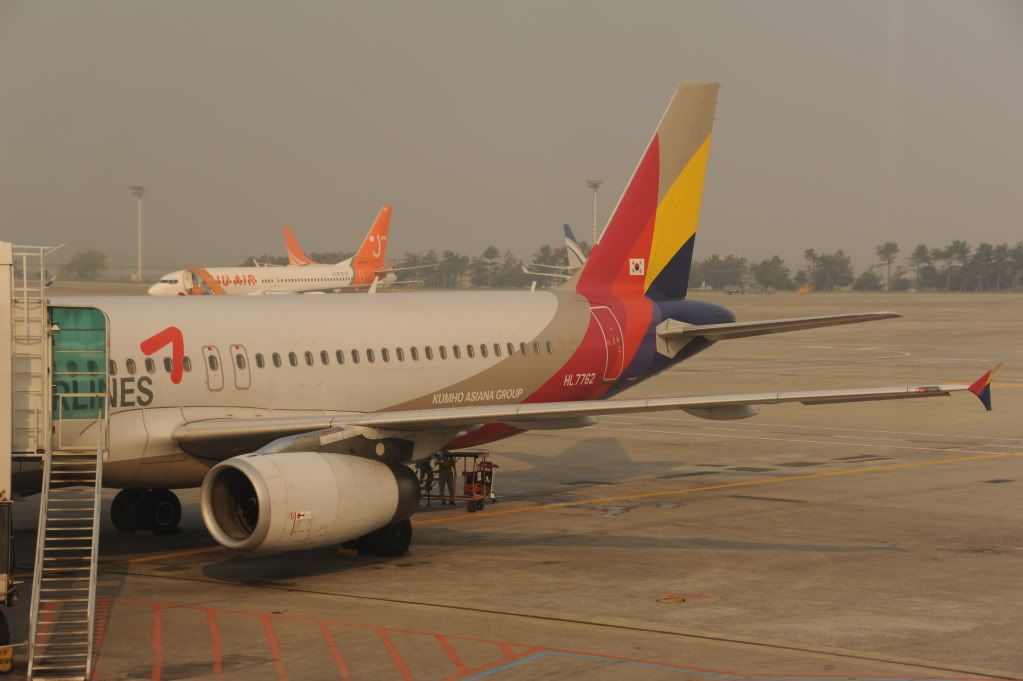 Anyone lost an engine?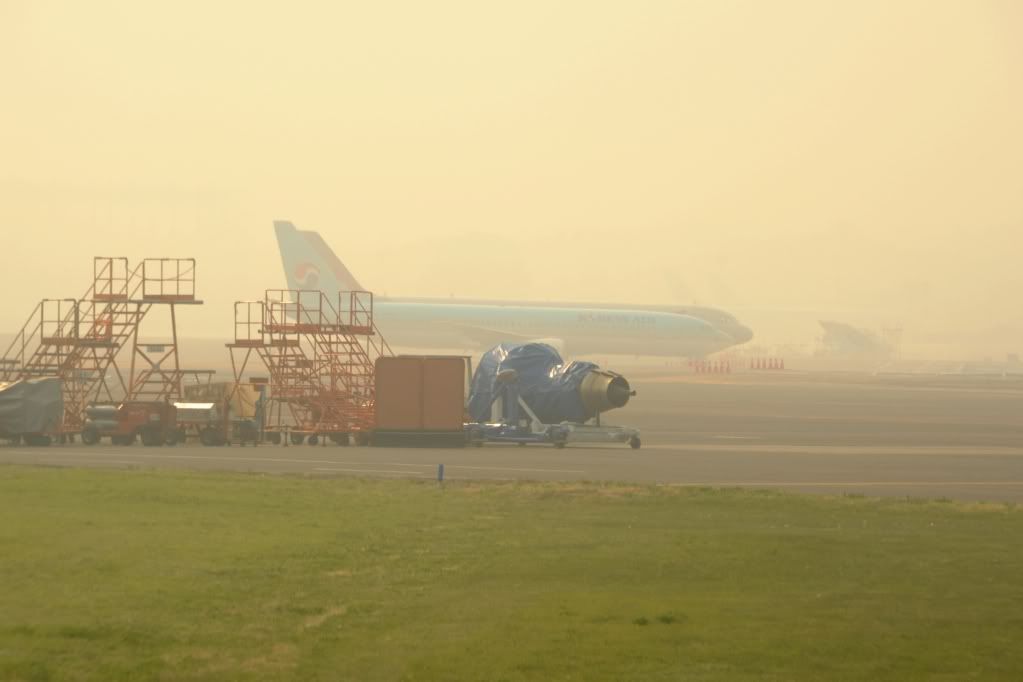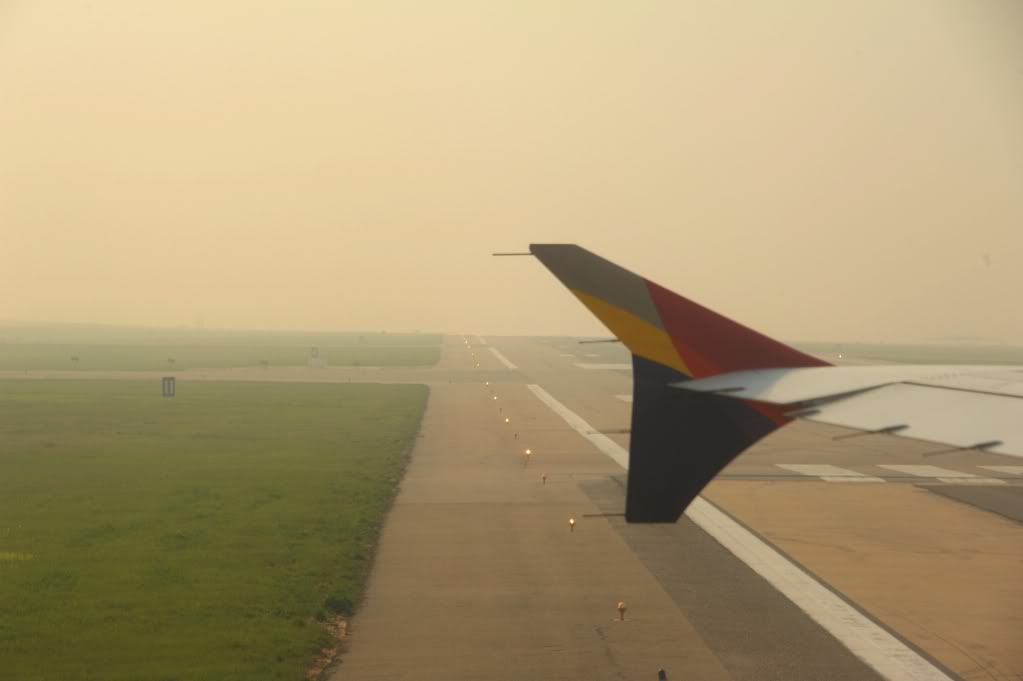 Breakfast! Always best served at 35,000ft! Simple, but just what I needed in the morning.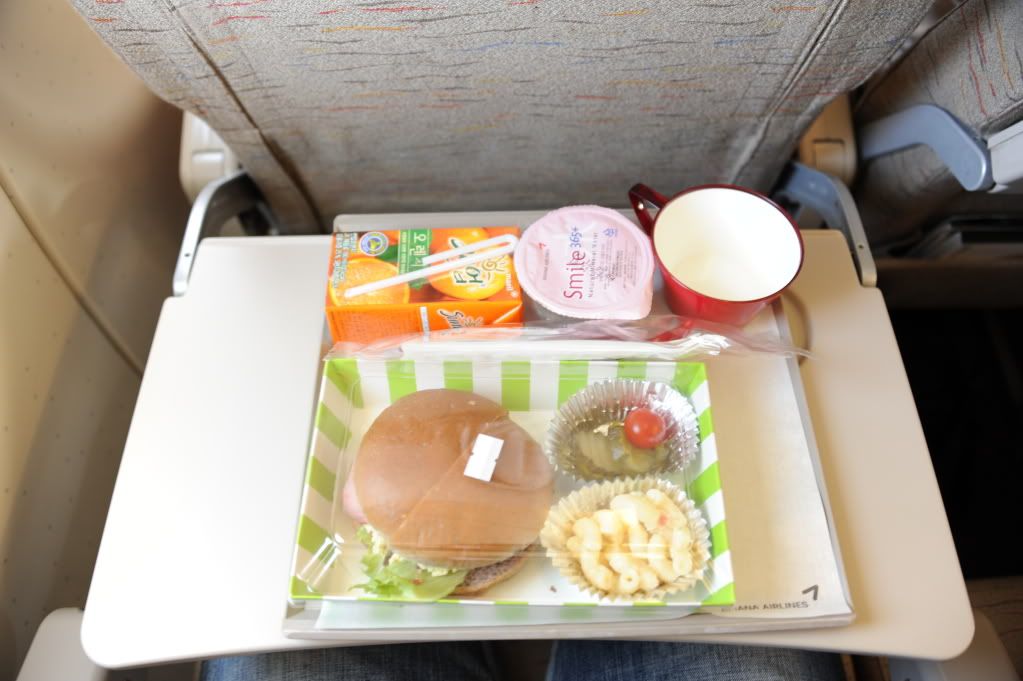 Landing back at KIX on the second runway meant a good view of the new LCC terminal during the taxi in, which was then, very much still under construction. Hopefully this terminal will help to develop new routes/links out of KIX when it opens its doors for business in the very near future (In fact I think it opened yesterday [28/10/2012]). I believe that Peach will become the exclusive occupier of this terminal but KIX has recently announced that they are planning a new third terminal which will be for LCC carriers other than Peach.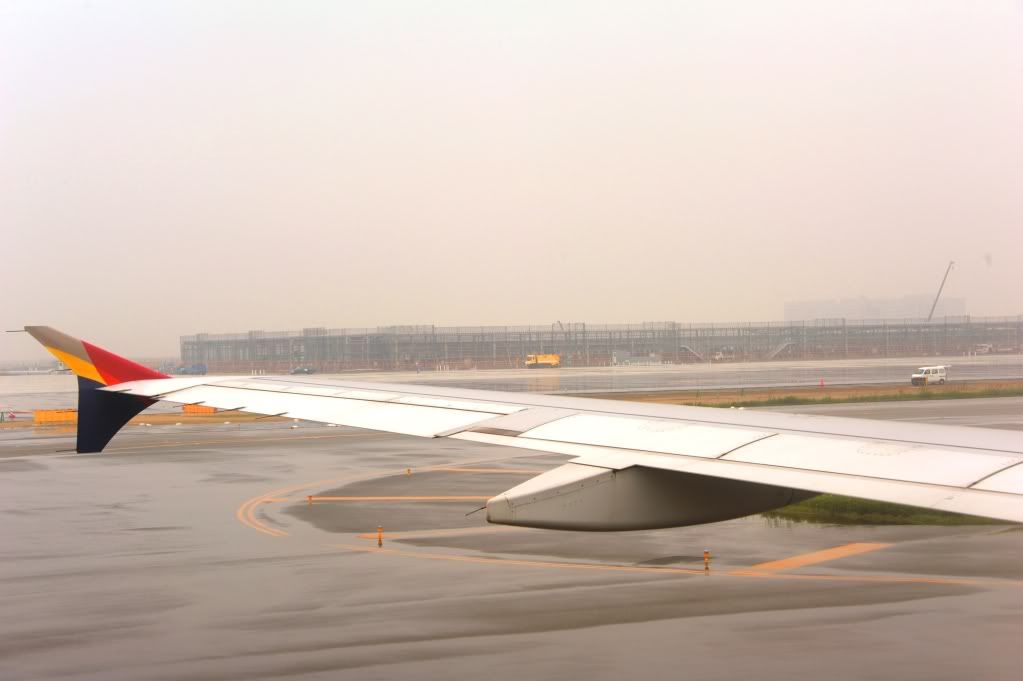 Taxiing around past the lower end of the main terminal on our way to the gate. The Peach remote stands won't be here for much longer.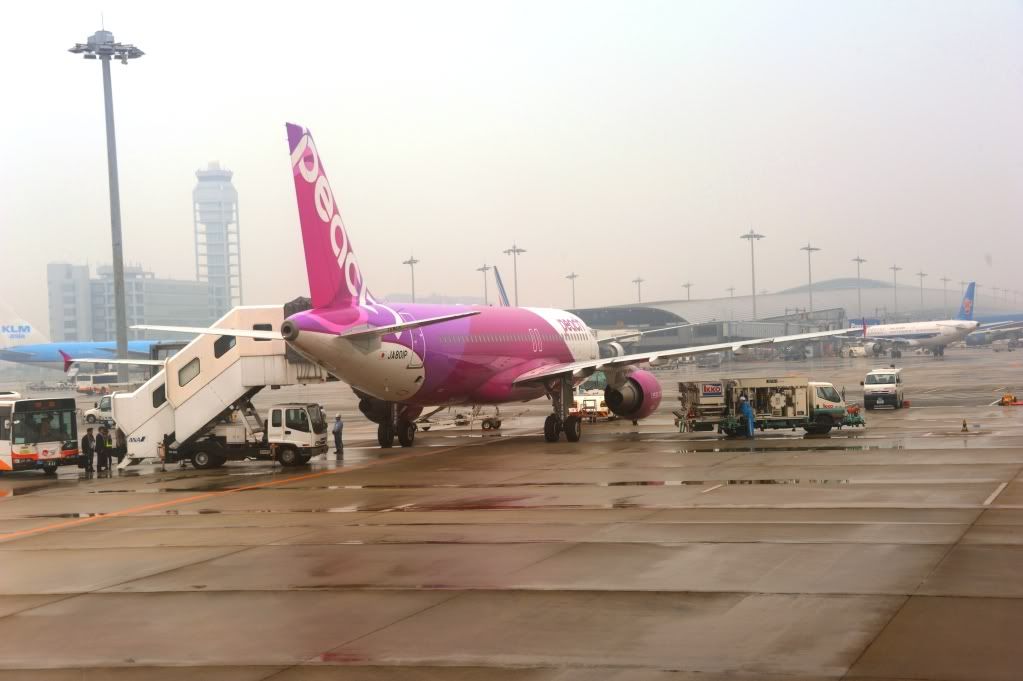 Stage Four
Carrier: Starflyer
Flight: SFJ024
Aircraft: Airbus A320-200
Depart: Osaka, Kansai Int'l – KIX/RJBB
Arrive: Tokyo Haneda – HND/RJTT
Departure time: 14:20
Finally back at KIX, there was only one thing left to do… Fly back home. I chose to make the return trip to HND on a carrier that I had wanted to try for years. Starflyer is something of an "up-market" domestic carrier based out of Kitakyushu in the south of Japan. Its network is still only quite limited but they operate KIX-HND flights which it codeshares with ANA, allowing you to book them through the ANA website and so gain miles for doing so. Earlier this year Starflyer also launched its first international service from Kitakyushu to Pusan. (I had intended to be on that flight, but luck was against me and I couldn't get a hold of a ticket!)
Starflyer's ground services at KIX are handled by ANA so it was off the domestic ANA counters on the second floor.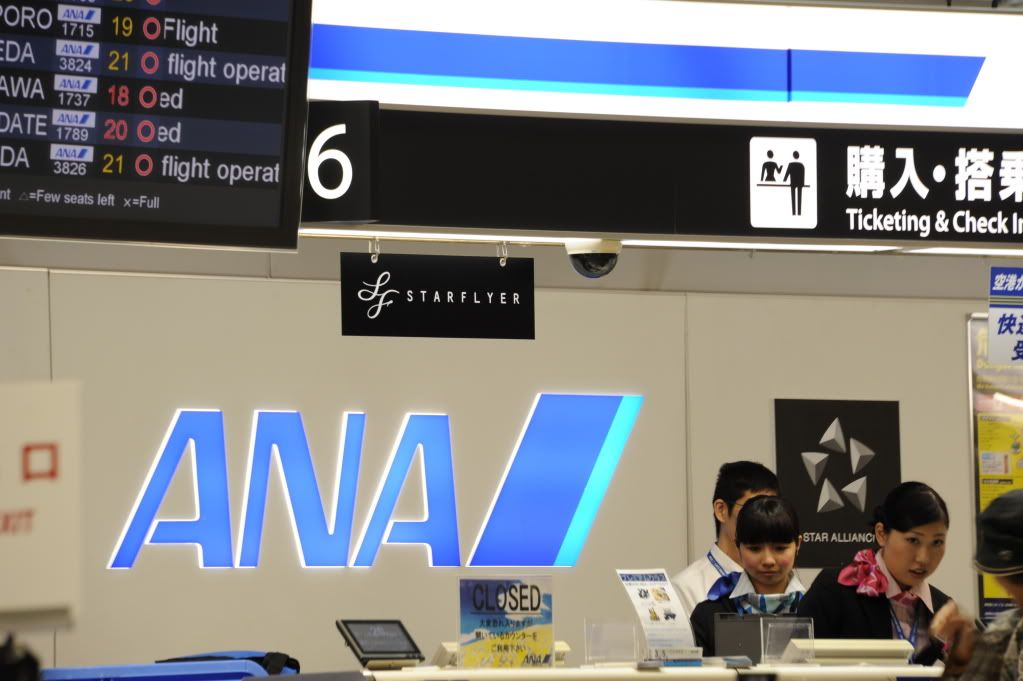 Oshikiri Moe – You're welcome on board my flight any time!!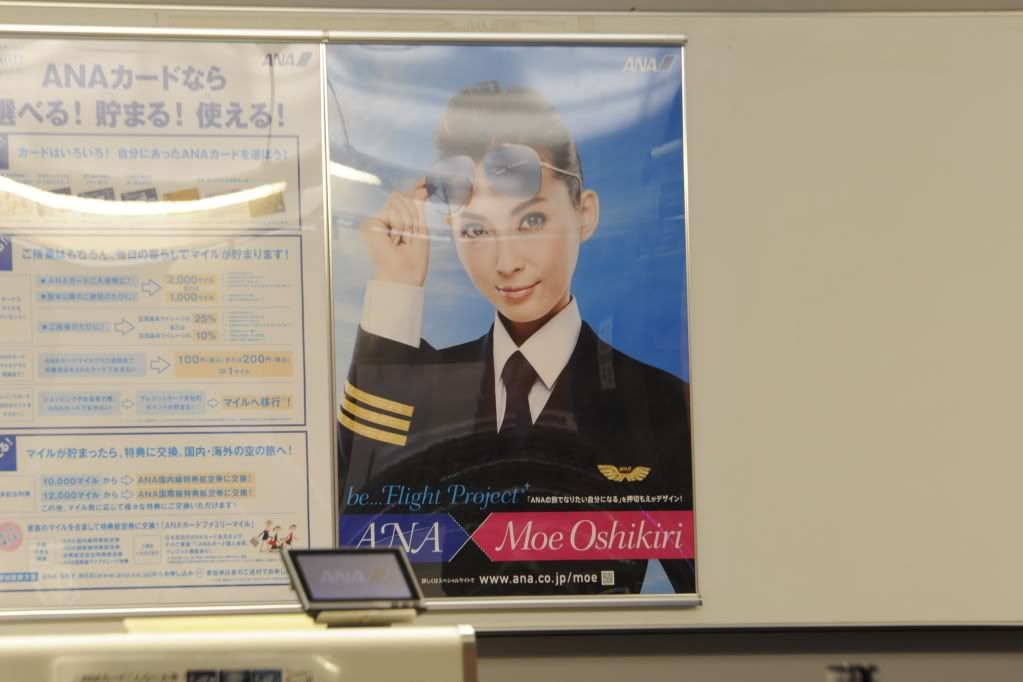 After check-in I still had a couple of hours before the flight home. I had intended to go and visit the KIX viewing deck which is in a separate building a short bus trip away from the terminal as I had never been there before. But at this point I was feeling a bit tired and decided not to bother. I made my way airside at a leisurely pace to sit down and relax whilst waiting for my flight. I have never seen the KIX domestic area busy and today was no exception. It's a nice place to just sit and relax whilst watching baseball on the TV screens that are dotted about, all of course whilst seeing the planes coming and going just outside.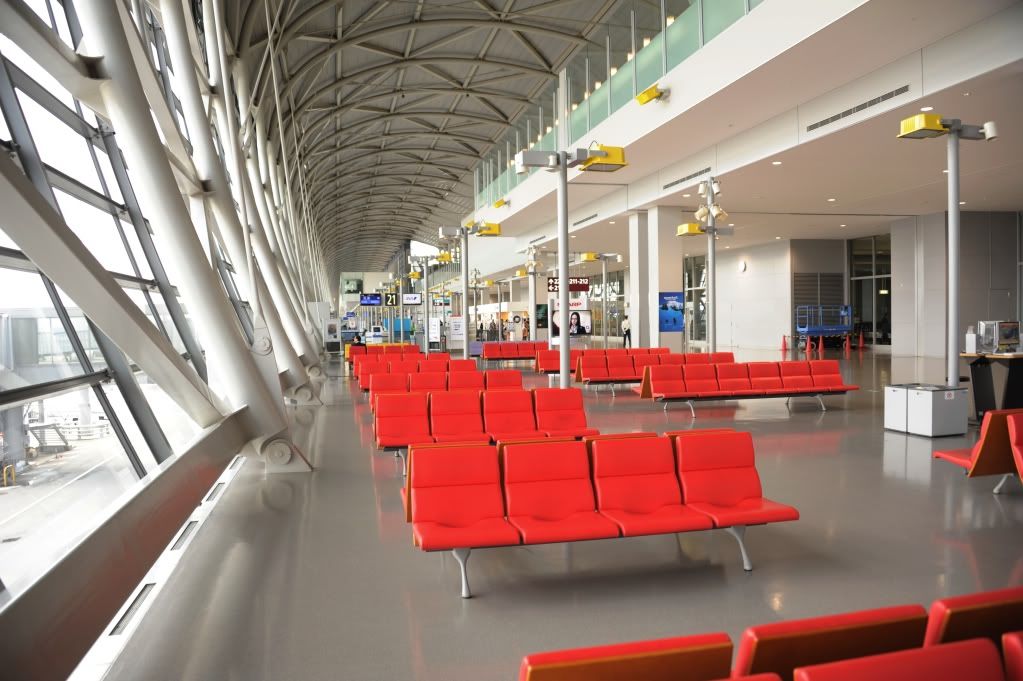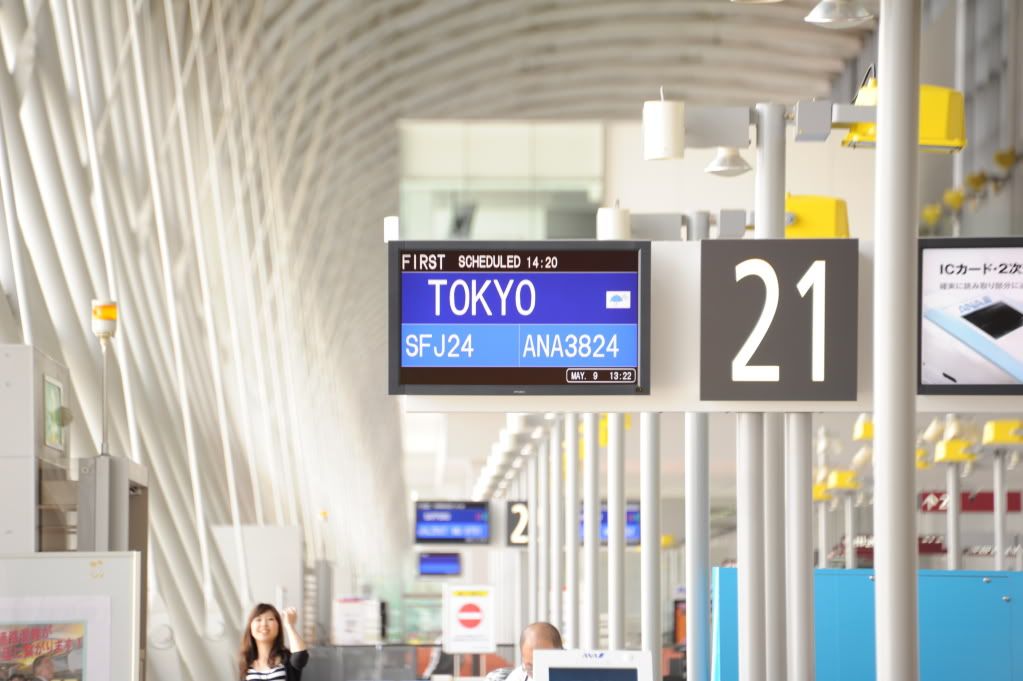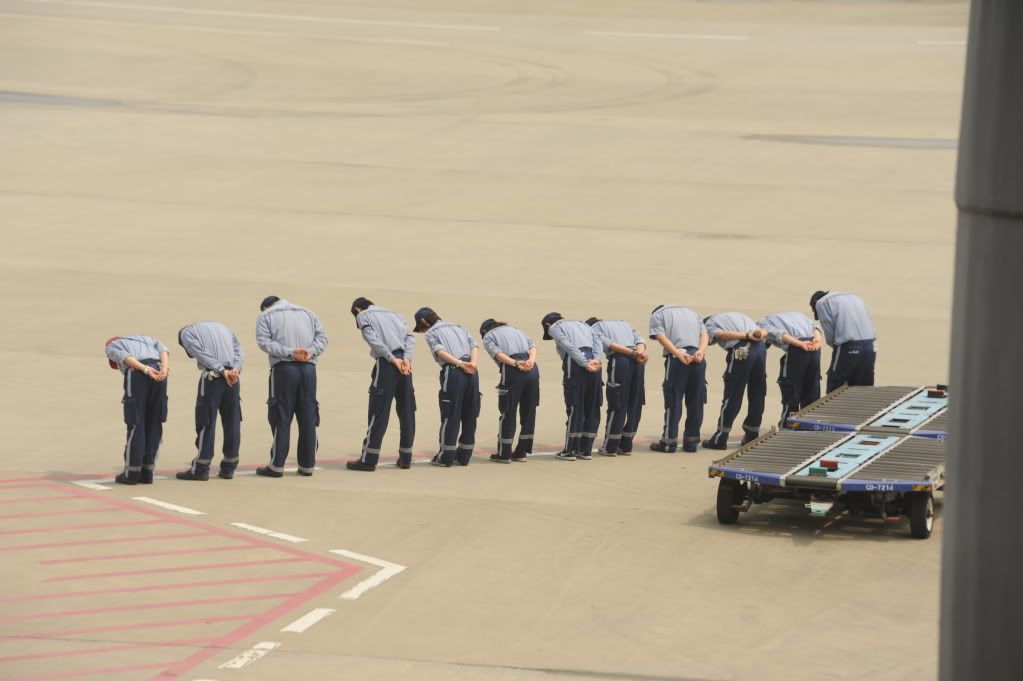 JA803P – The same aircraft that took me to ICN the previous day, just returning to KIX from another flight.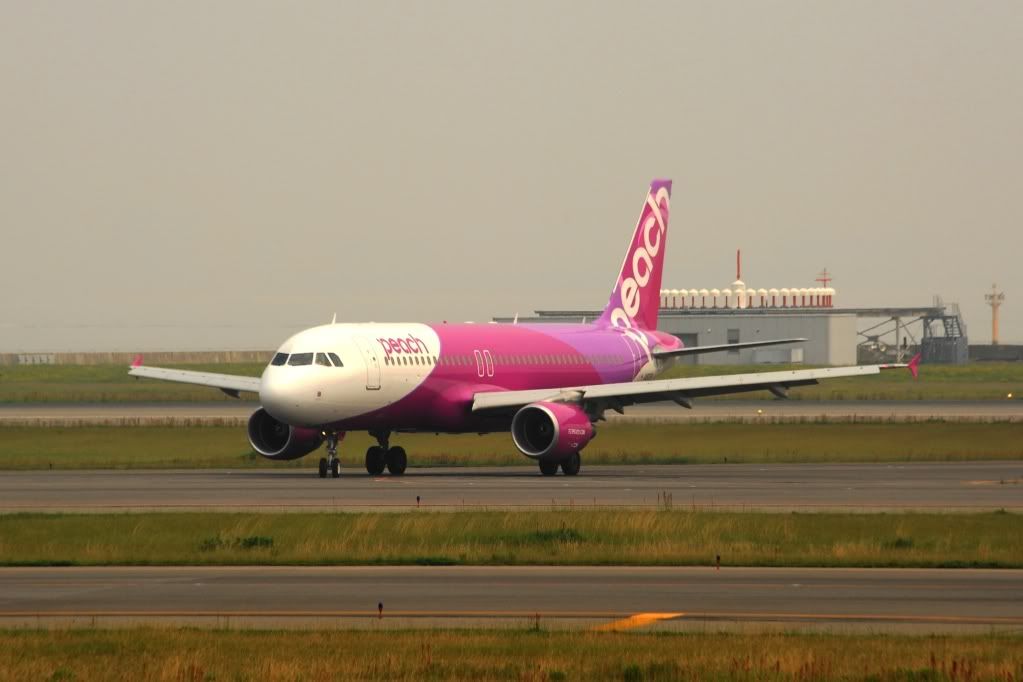 After a while watching the Seattle Mariners taking a beating on TV, my transport home arrived at the gate.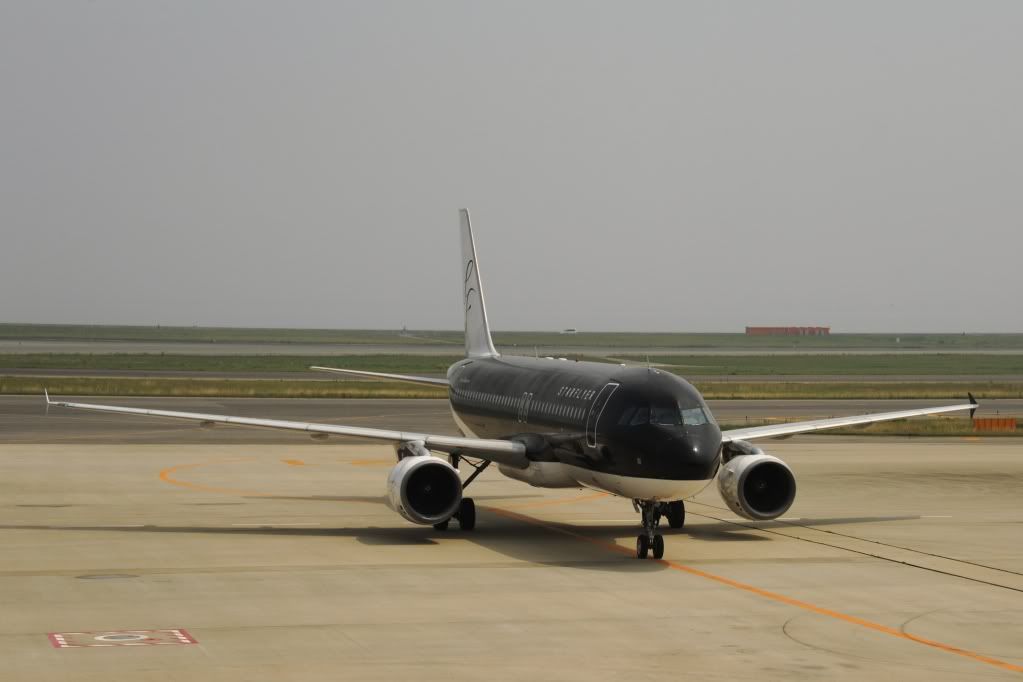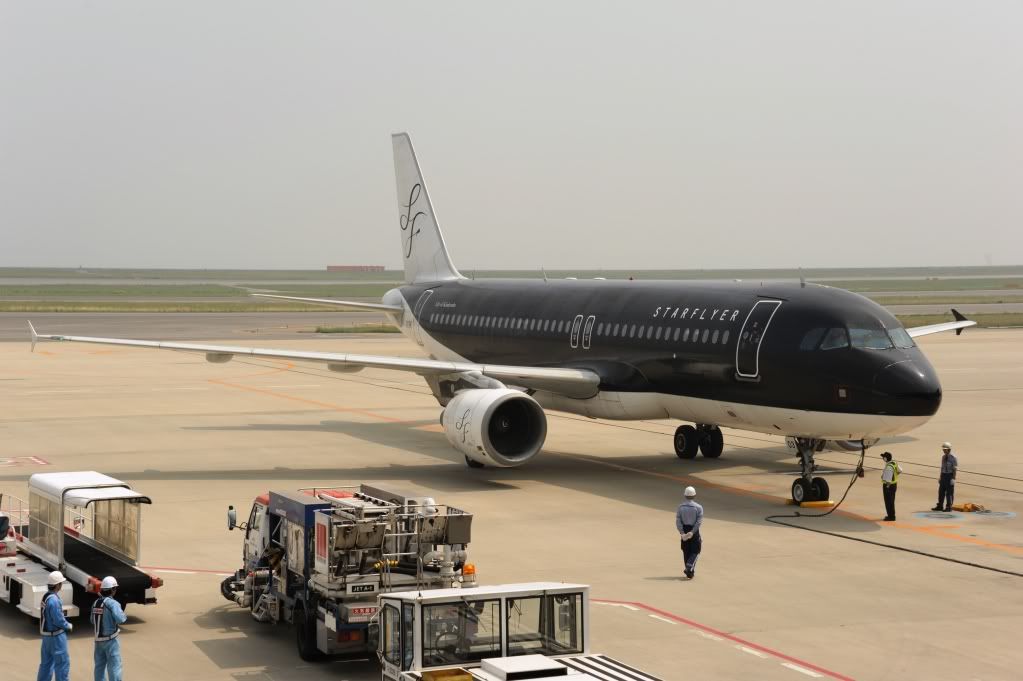 Now let me just get this out of the way right now…If you come over to Japan and fly domestic… my recommendation is… FLY STARFLYER!!! This is must be the best domestic product I have seen flying in Japan by a country mile.
The seating is all styled in real black leather to match the livery. The seats themselves feel big, bulky and comfortable like a cabin full of lazy boy chairs. But before I show you that, take a look at the safety video.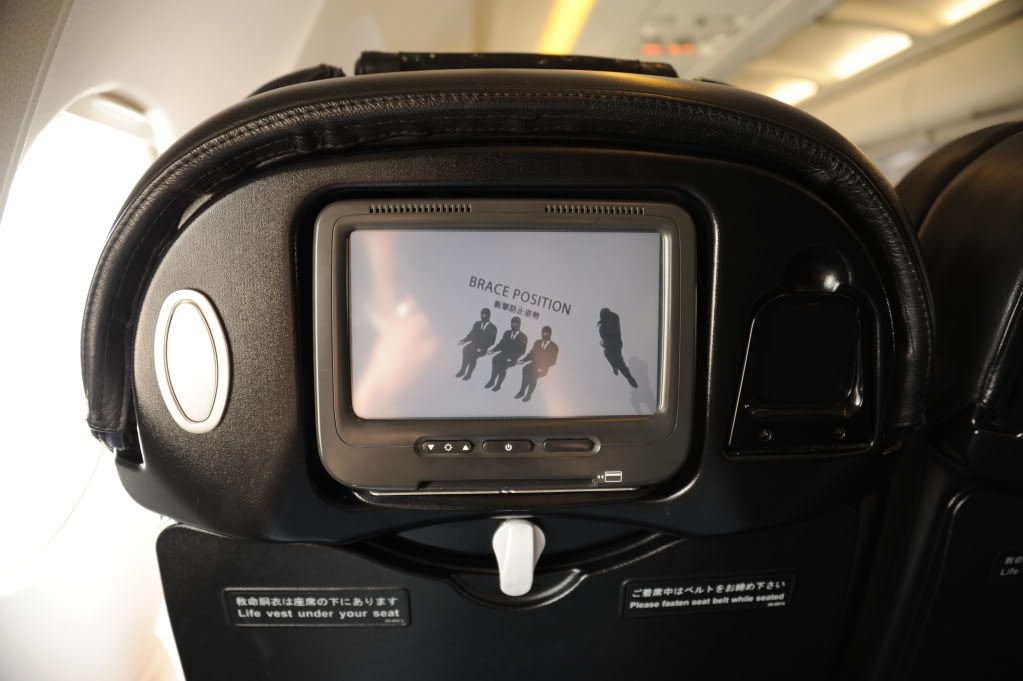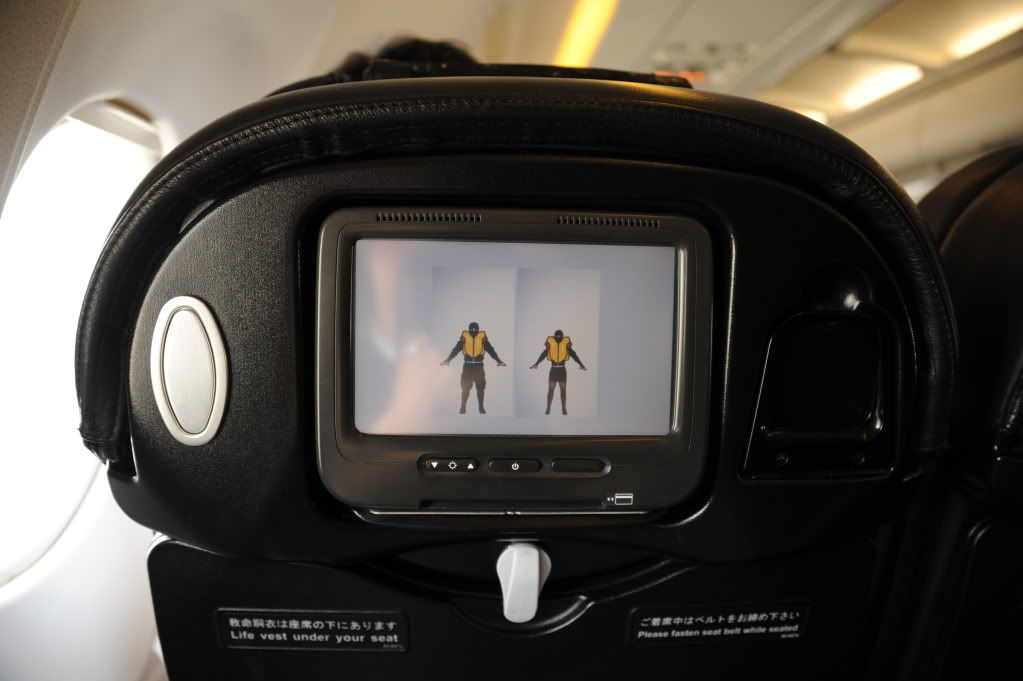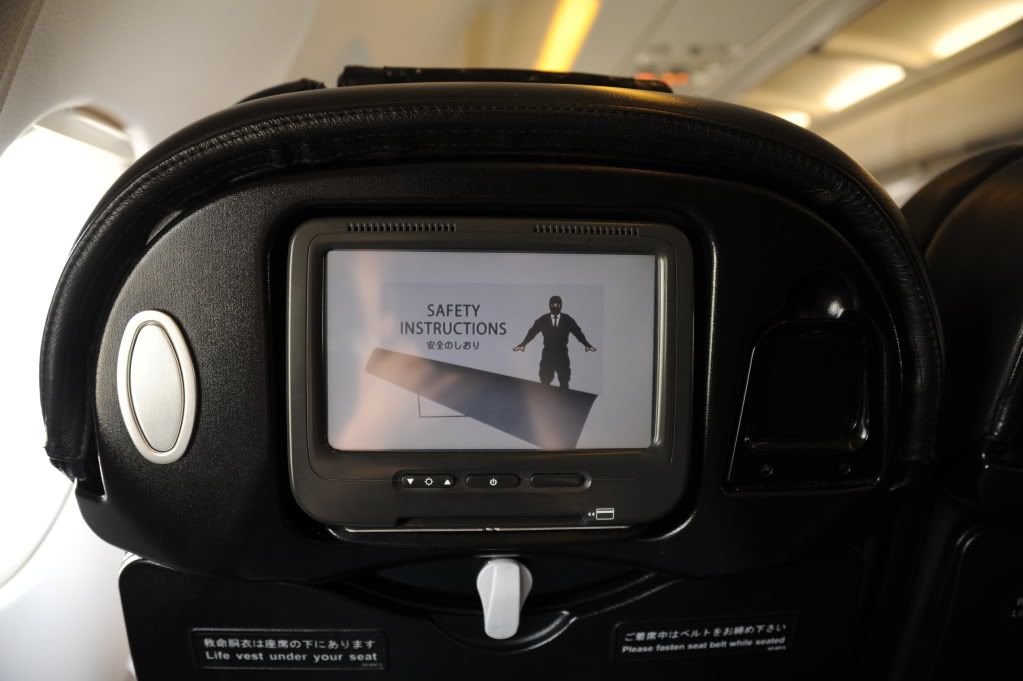 …How to deal with in-flight emergencies ninja style! You will still be asked to put your swords, throwing stars and other accessories in your checked luggage!!
I'm not particularly tall, but the legroom is, well just take a look. The seat pitch almost gives enough room to get up and start doing floor exercises in the space between the rows.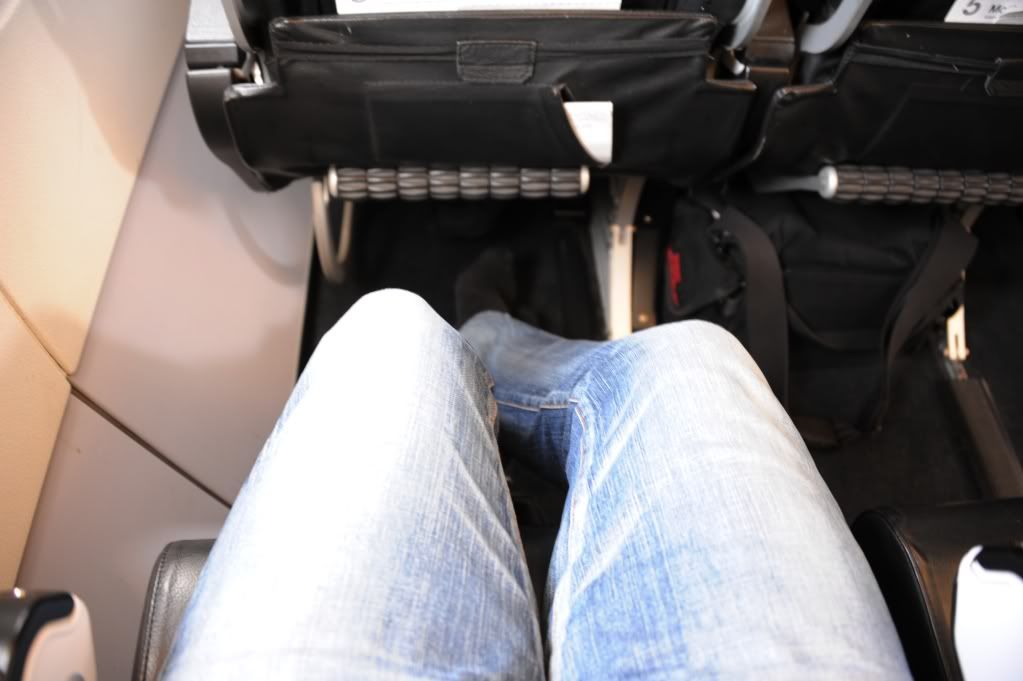 That small folded white paper tucked into the seatback is the safety instructions though they look more like a high quality menu.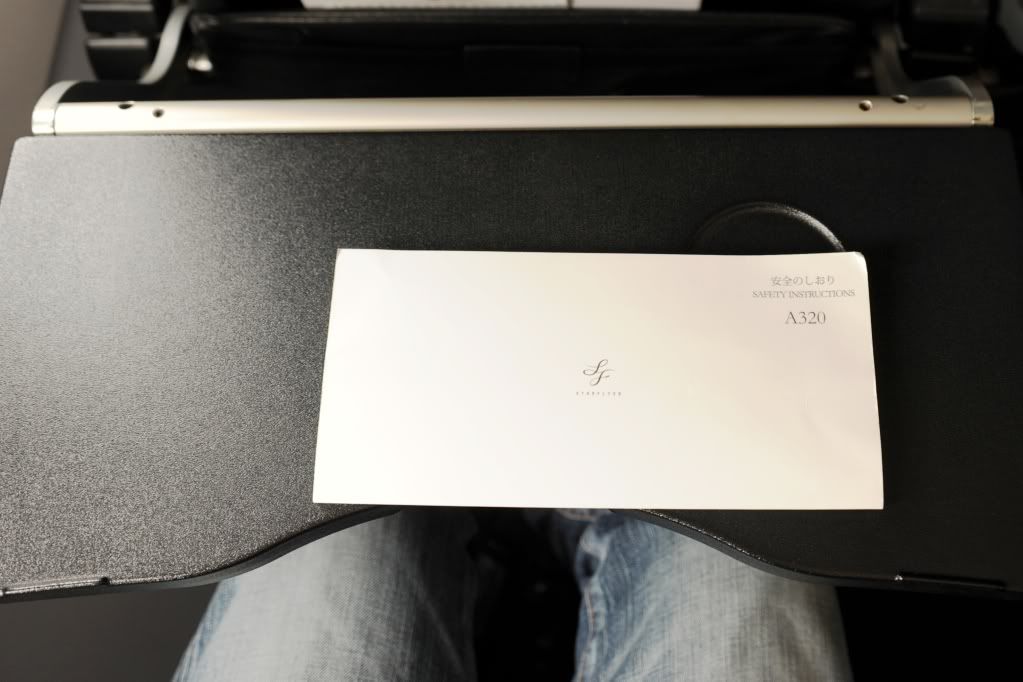 Every seat has its own in seat multi power socket.
Probably the most interesting feature is the ability to fold down the seat back of the middle seat (when there is nobody seated there of course) to make a cocktail stand. Neat.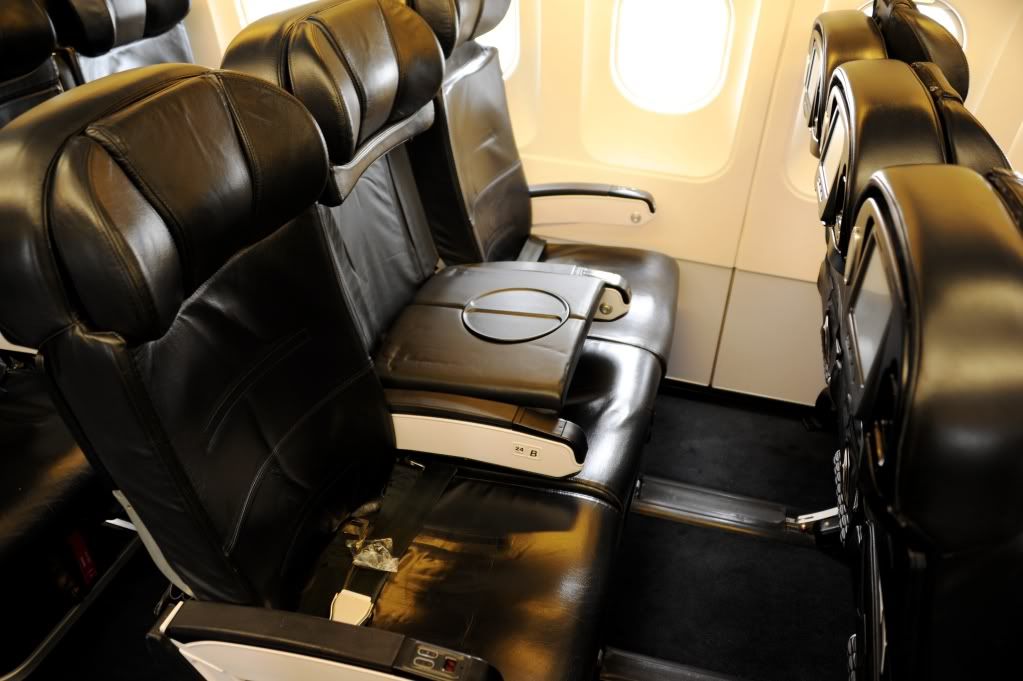 Another A320 wing fence.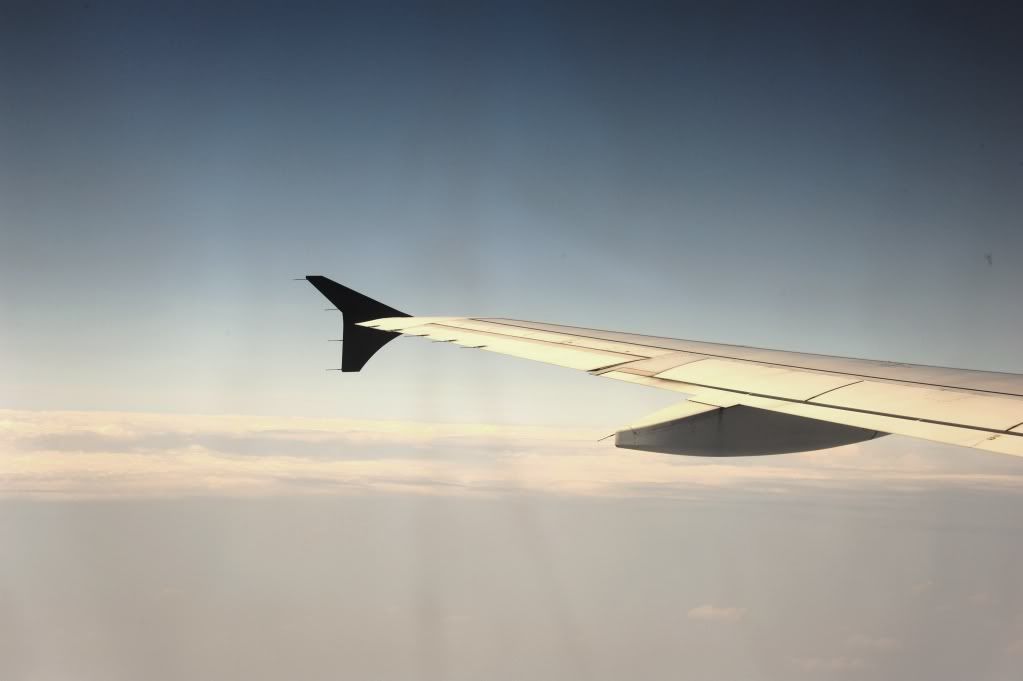 Bogies back at HND… Red tail, red tail!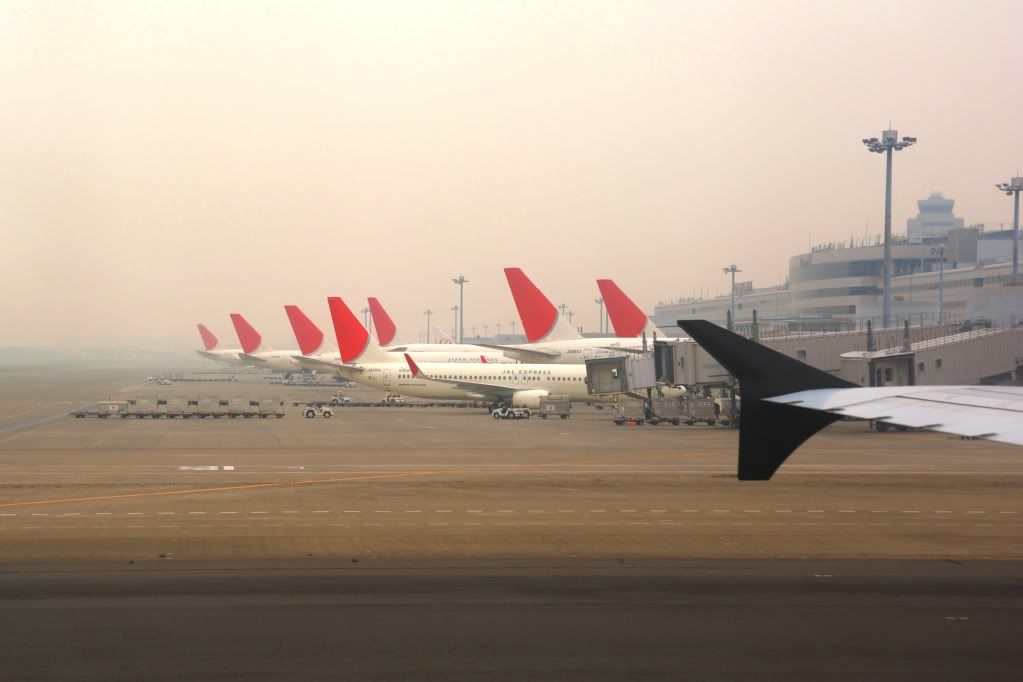 We pulled up to a remote stand. The load on this flight had been very low (less than 50%) and it didn't take long before everyone had piled off and into the waiting busses. I was the last off and holding everyone up, but I still grabbed the chance for a few last pics. One of the FAs saw me taking photos and asked if I liked aircraft. When I replied that I did (what else could I say?) she handed me a postcard featuring a Starflyer A320. Simple gestures really do make lasting impressions, and I will be using this airline again whenever I get a chance. I asked if I could take a final photo before leaving. She is on the right below.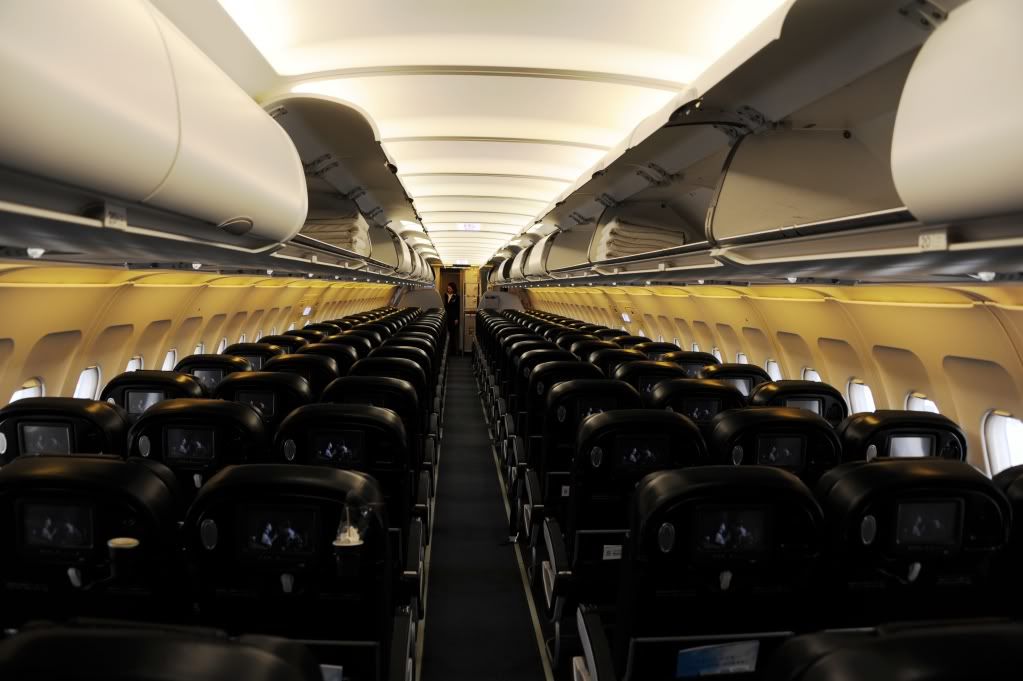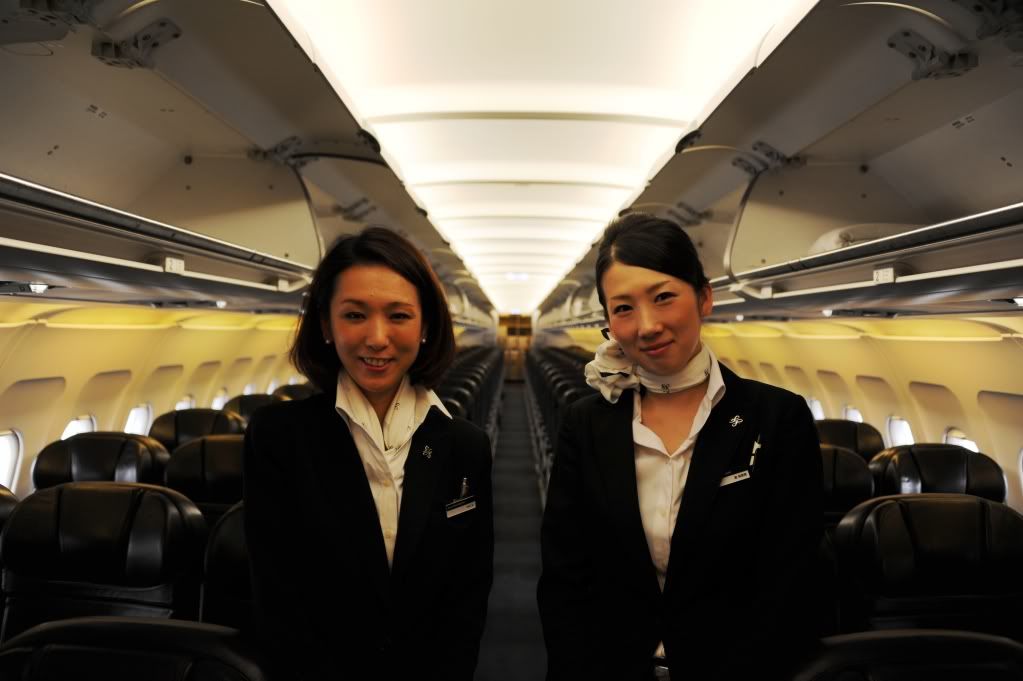 CONCLUSION
This was the first time I had been on an inaugural like this and it left me keen for more. The start-up of Pe