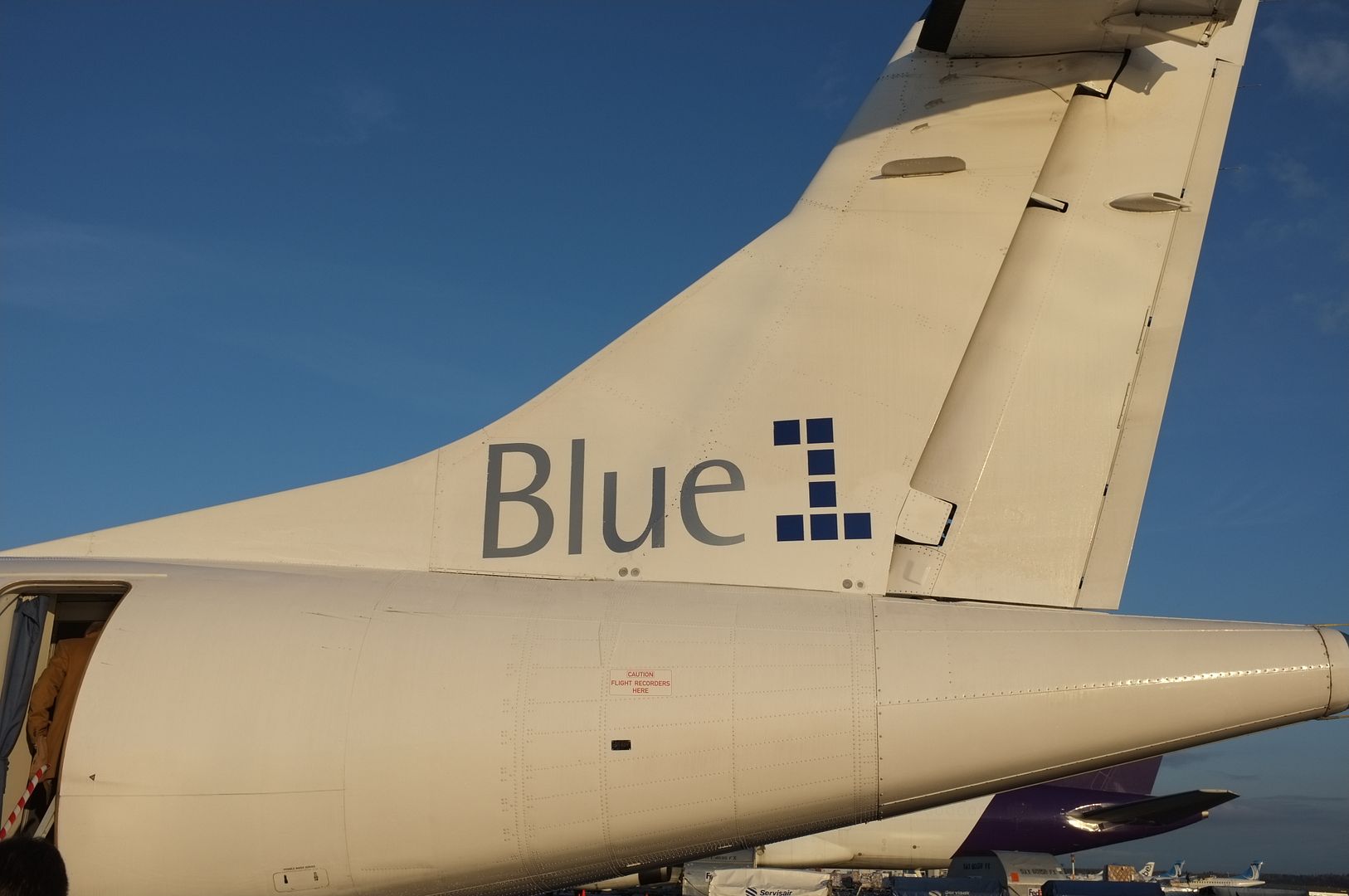 Hello and welcome to the second part of my trip report to Europe and Russia. This part will cover two flights with Blue1 from Oslo to Helsinki and from Helsinki to Stockholm. I will also include some photos taken during the visit to Helsinki. I hope you enjoy reading.
Flight details of this trip:
Part one: Thai Airways 777-200ER BKK-OSL
Part two: Blue1 Boeing 717 OSL-HEL, Blue1 ATR72-500 HEL-ARN
Part three: SAS MD82 ARN-CPH, SAS (turned out to be LH) CRJ700 CPH-MUC
Part four: Air Berlin 737-700 MUC-DME, Niki A320 DME-VIE-HAJ
Part five: Thai Airways 777-300ER FRA-BKK
Details of the second leg:
Date: 12 October 2012
Airline: Blue1
Flight: KF664
Route: OSL-HEL
Aircraft: Boeing 717-200
Registration: OH-BLH
Class: Economy
The flight departure time was 8:30am, we planned to get to the airport two hours before the flight. At 5am, we had early breakfast at the hotel. From our hotel in Karl Johan street, we took a short walk to the National Theatre station and took an airport express train departing the station at just before 6am, arriving Oslo airport 30 minutes later.
National Theatre Station, this is actually not our train to the airport.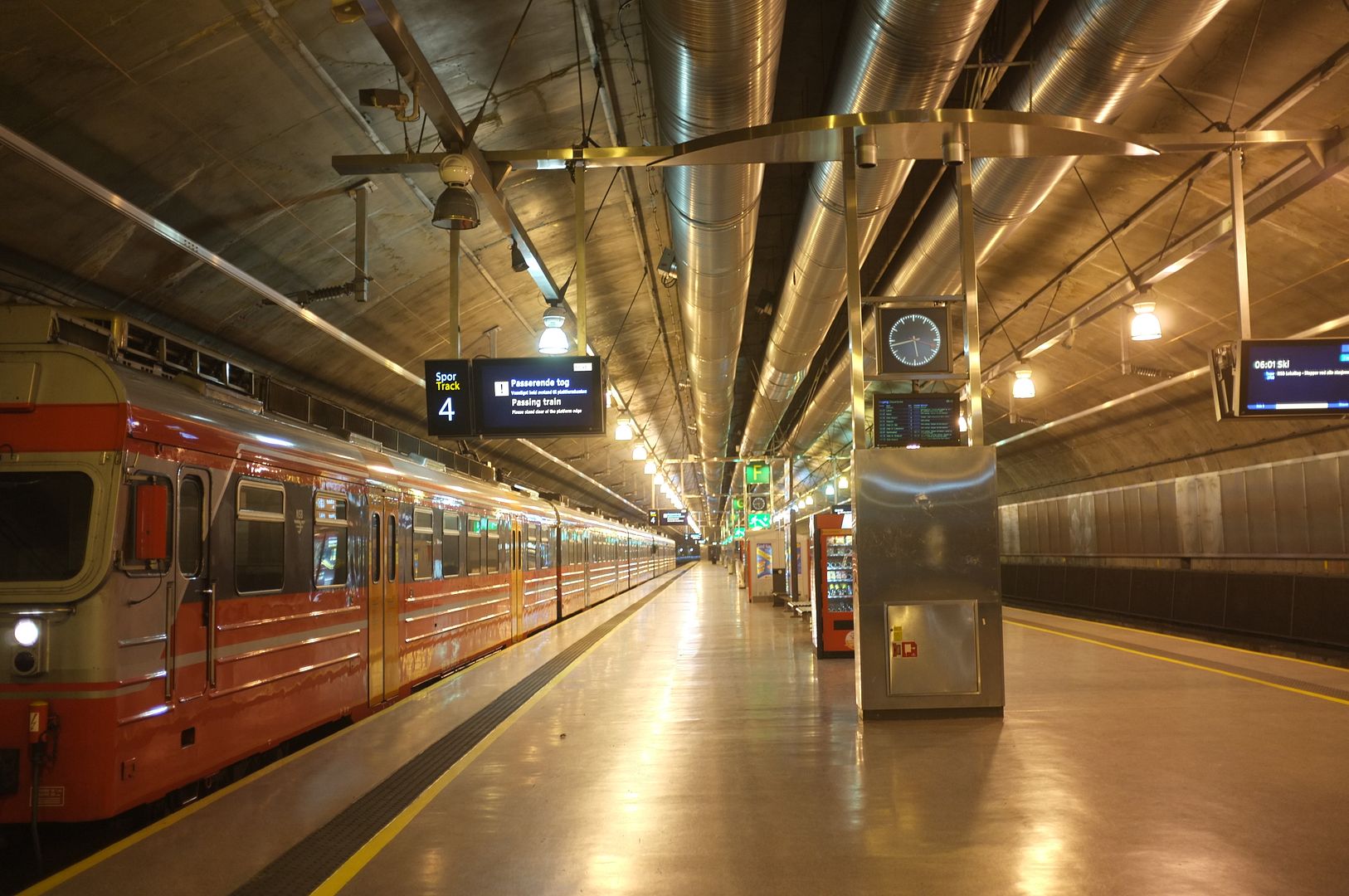 Departure area, there were many people queuing for the self service check-in machines. But before we proceeded to check our baggage, we went to the VAT Refund for Tourists counter and claimed the VAT which was done pretty quick.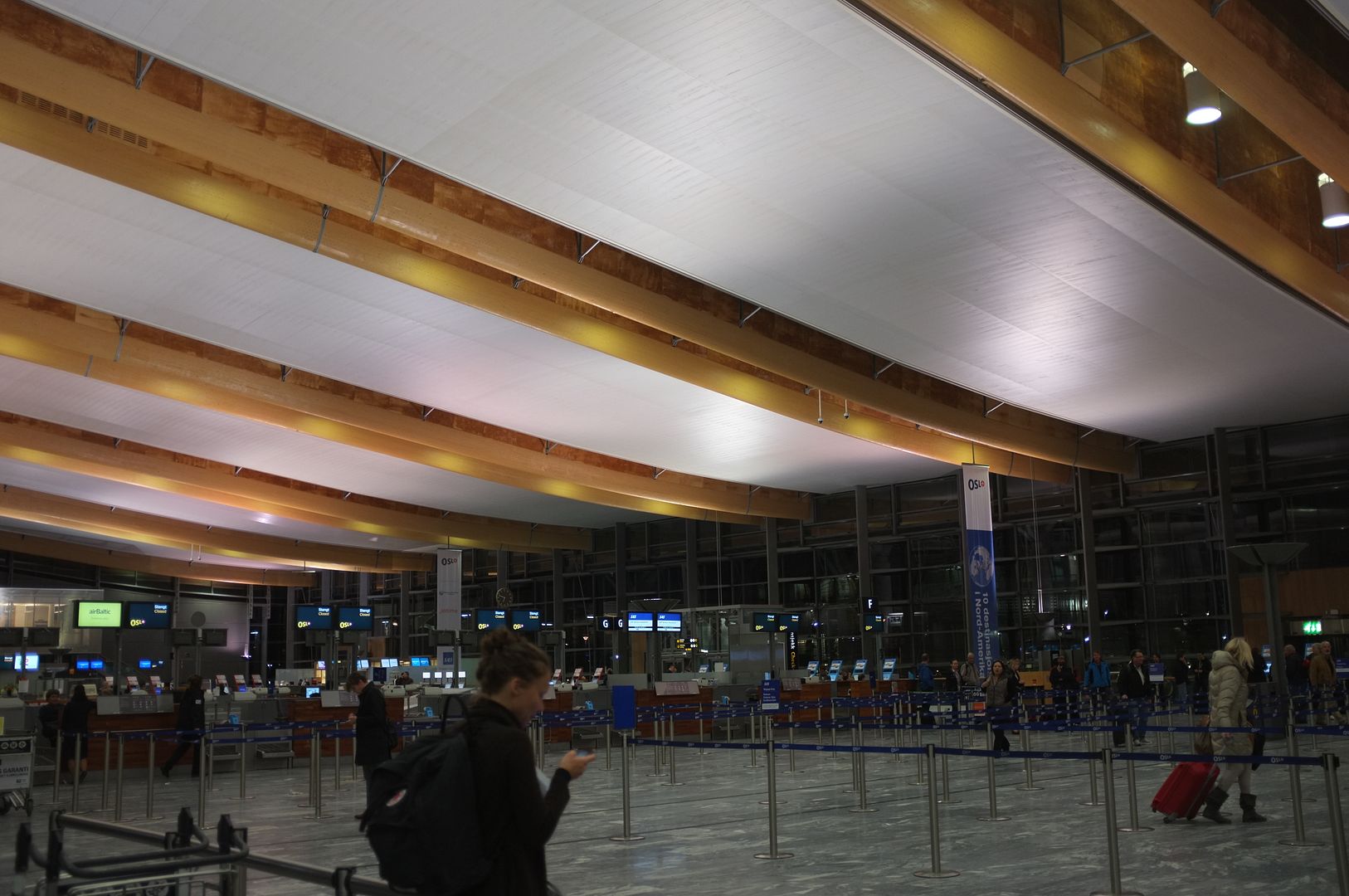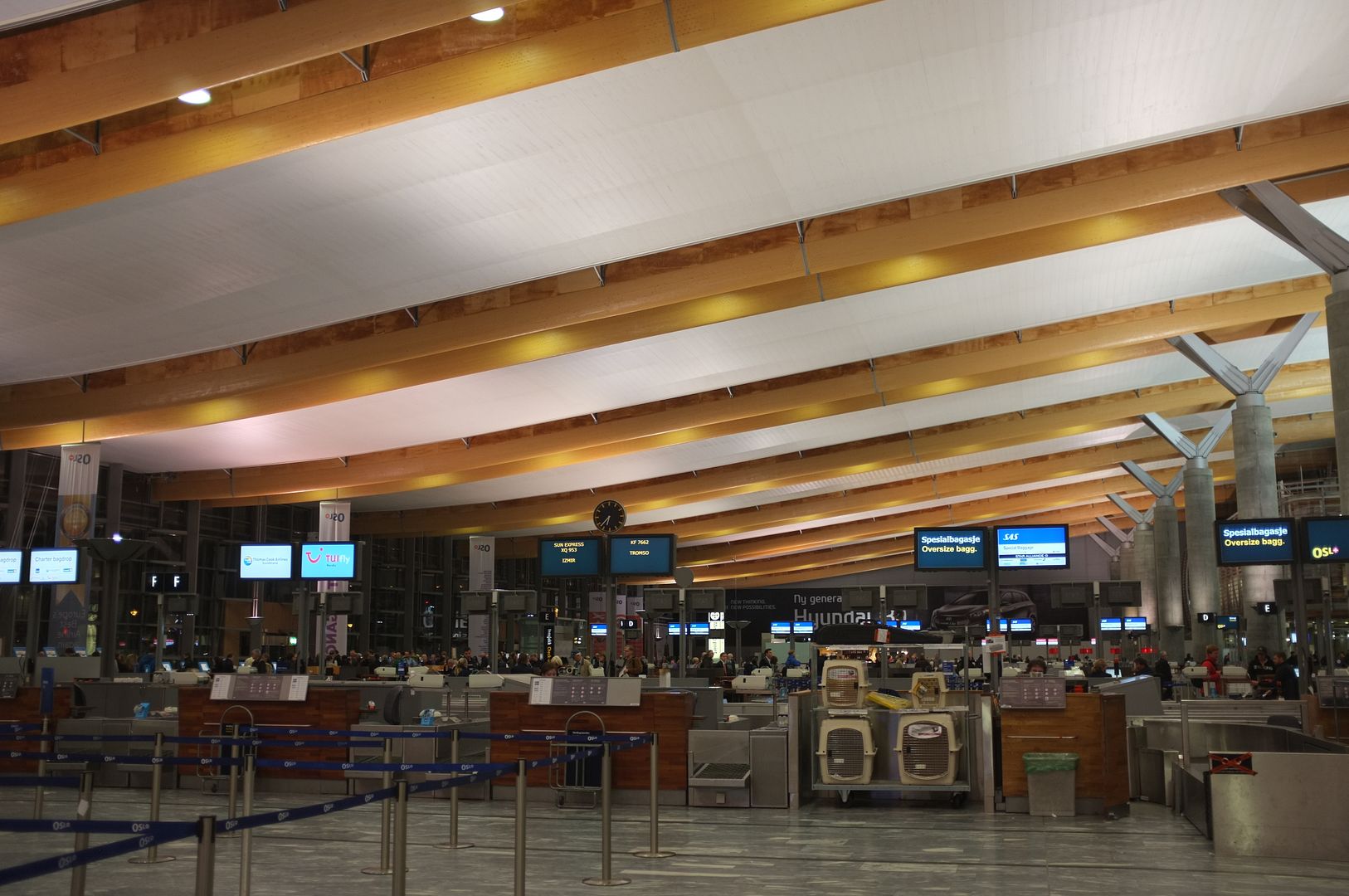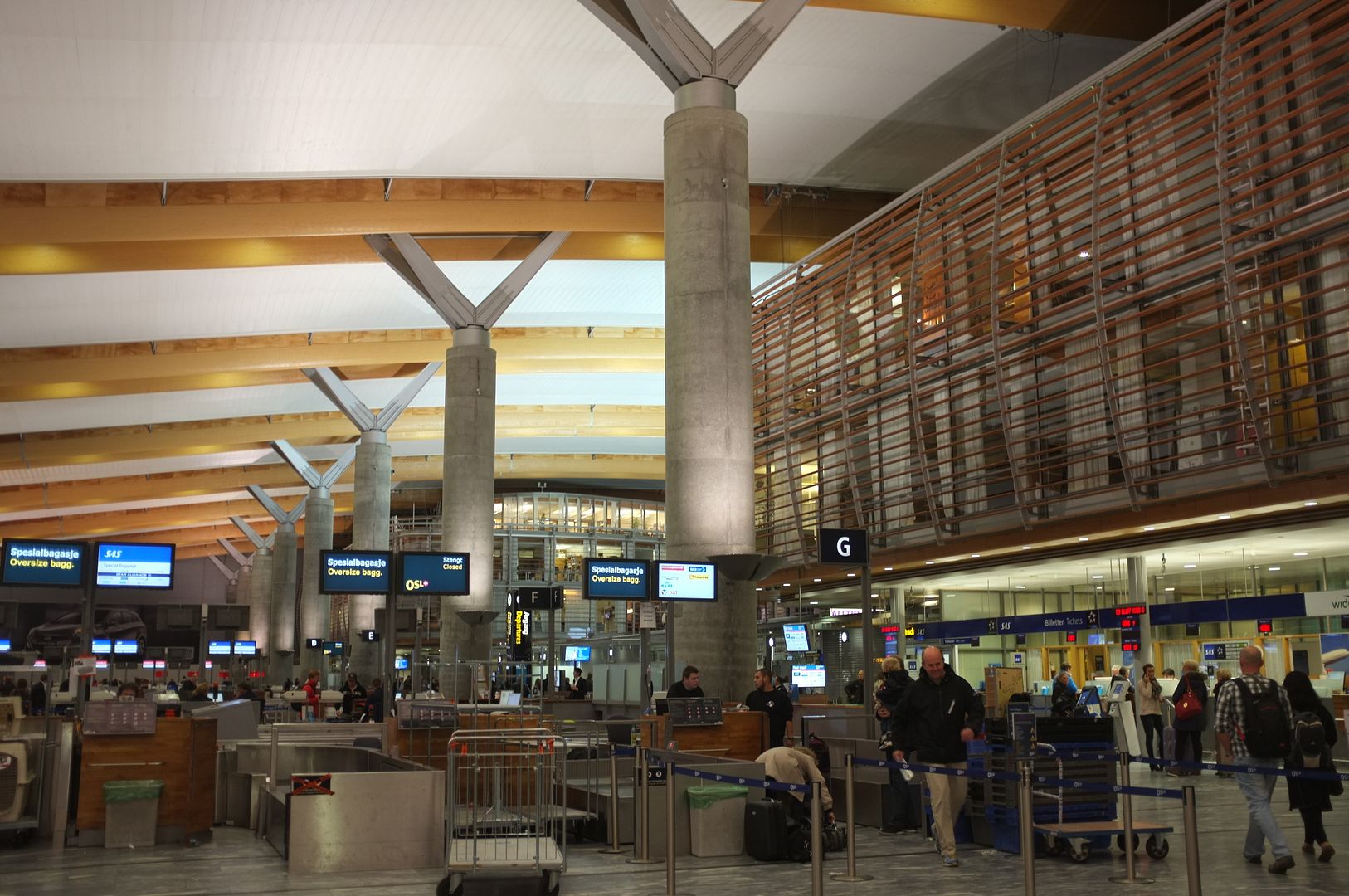 As Star Alliance elite card holders, we went to the empty Eurobonus Gold counter. We have online-checked-in the night before and have selected to have the seats in the emergency exit row. Our bags got checked to Helsinki and we received our print-out boarding passes, but no information was mentioned about lounge access.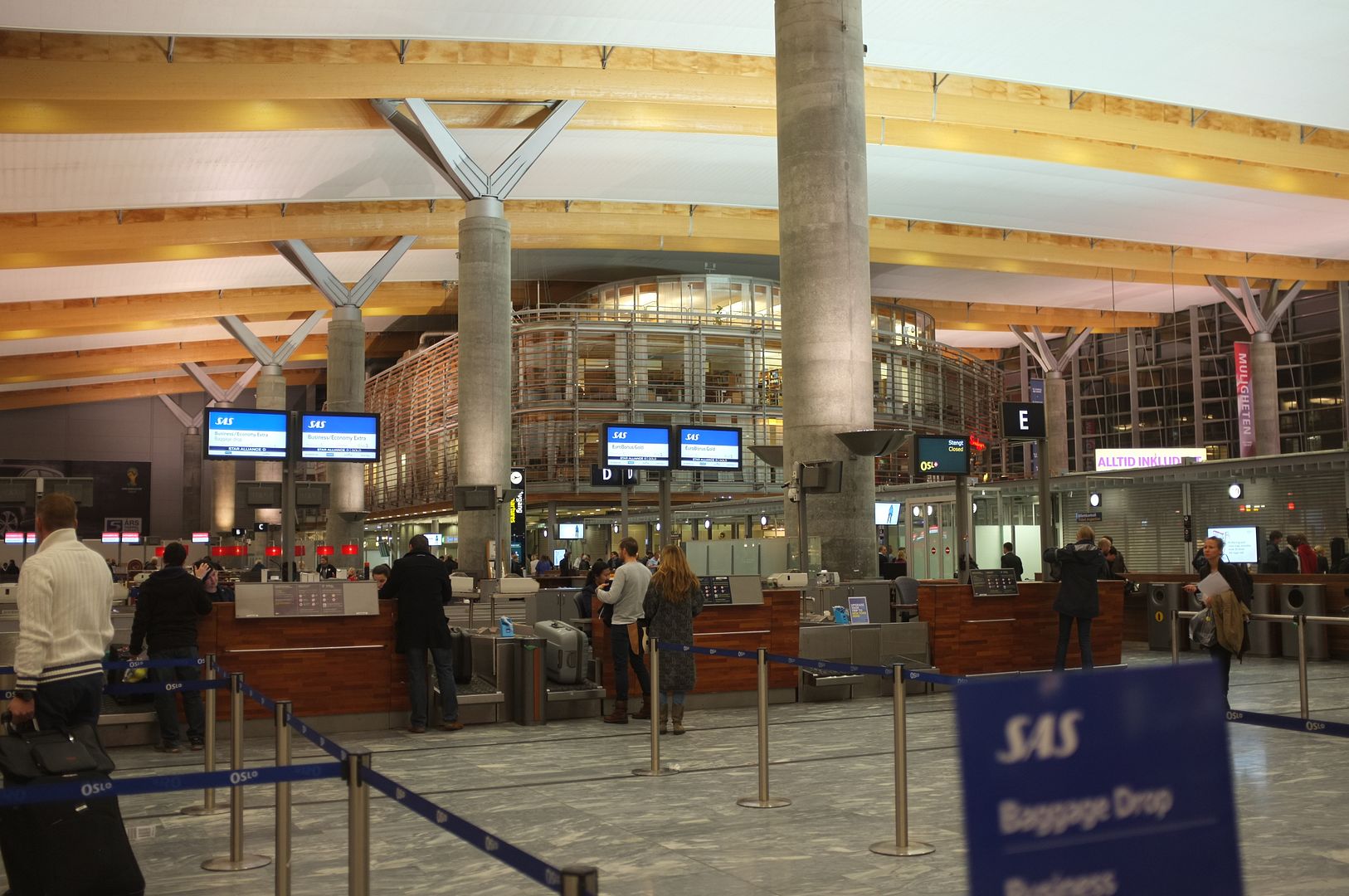 Proceeding to security check, Eurobonus gold cardholder and Business class passengers were entitled to use the fast track lane. We use an Economy line, which got us through in a couple of minutes.
After security check: left turn for Domestic flights and right turn for International departure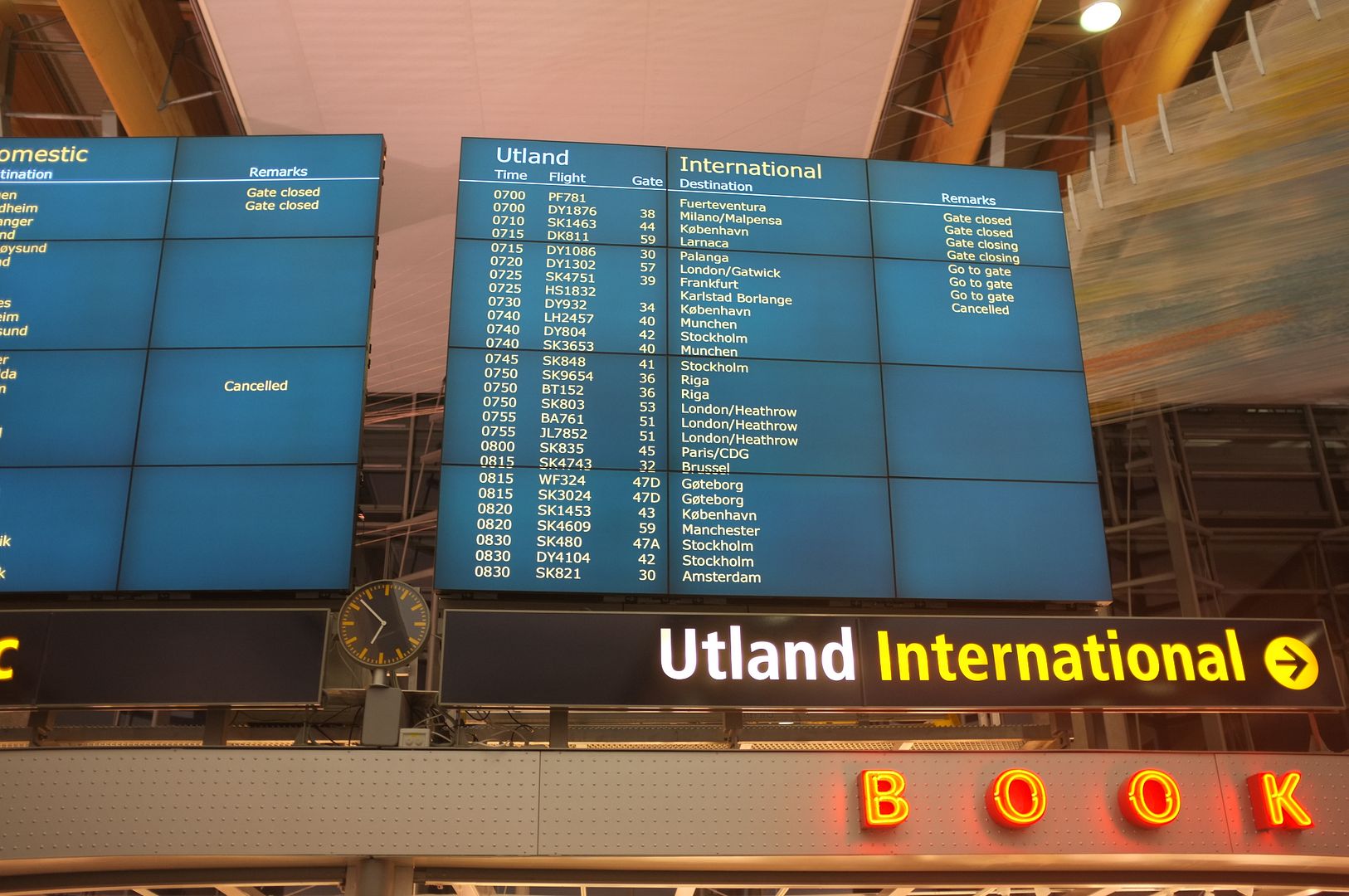 Looking left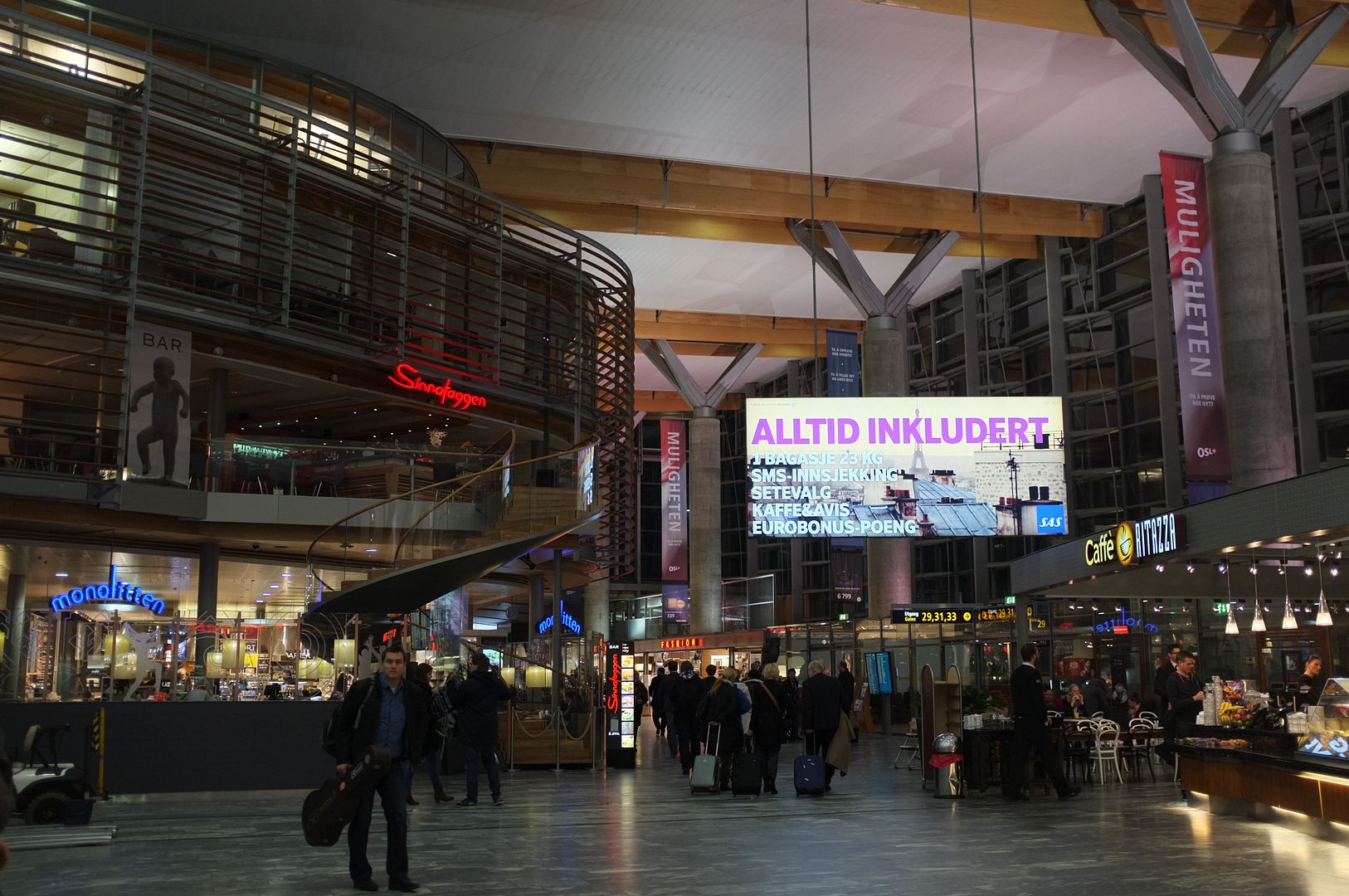 Looking right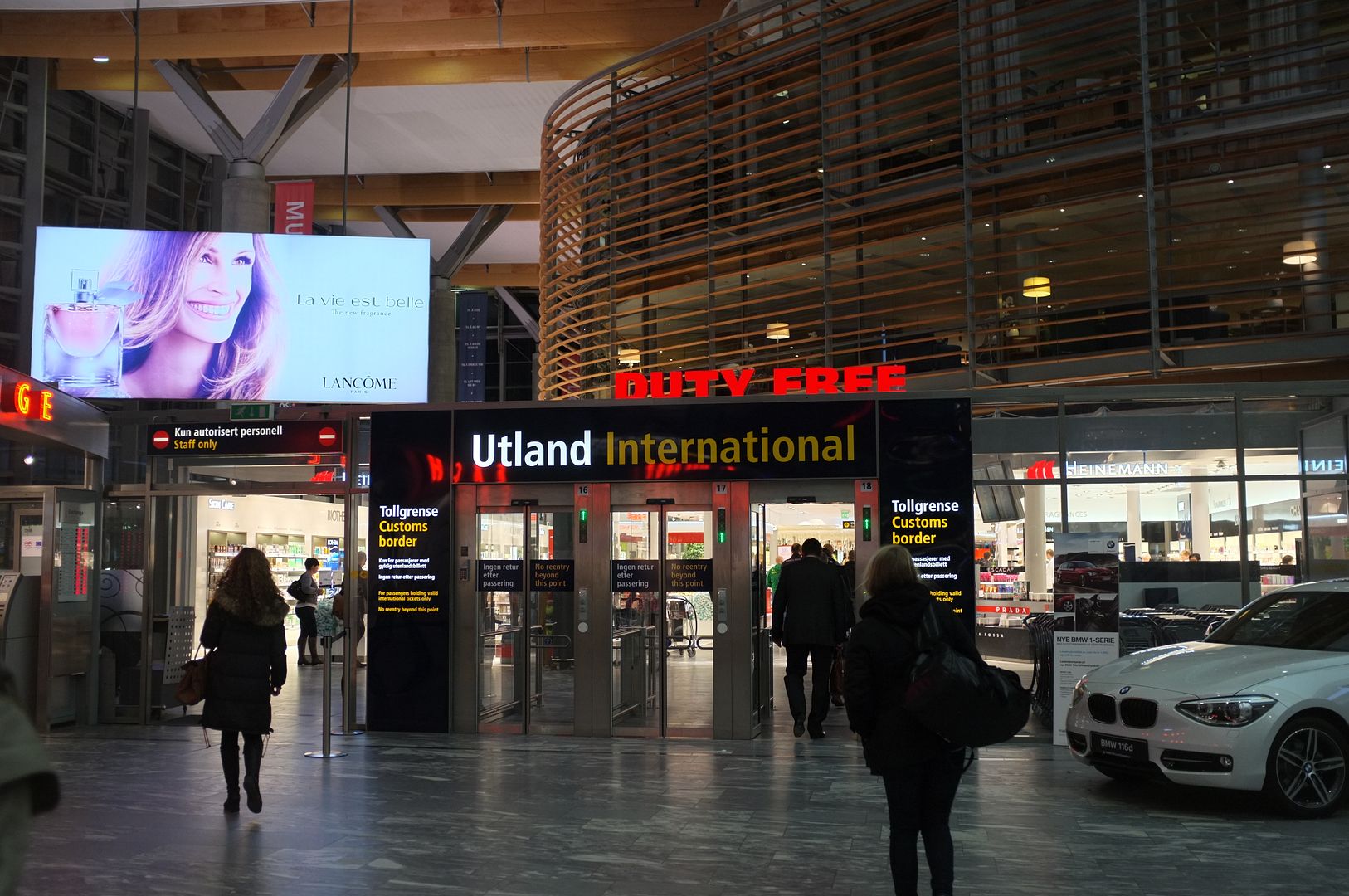 Passing duty free shops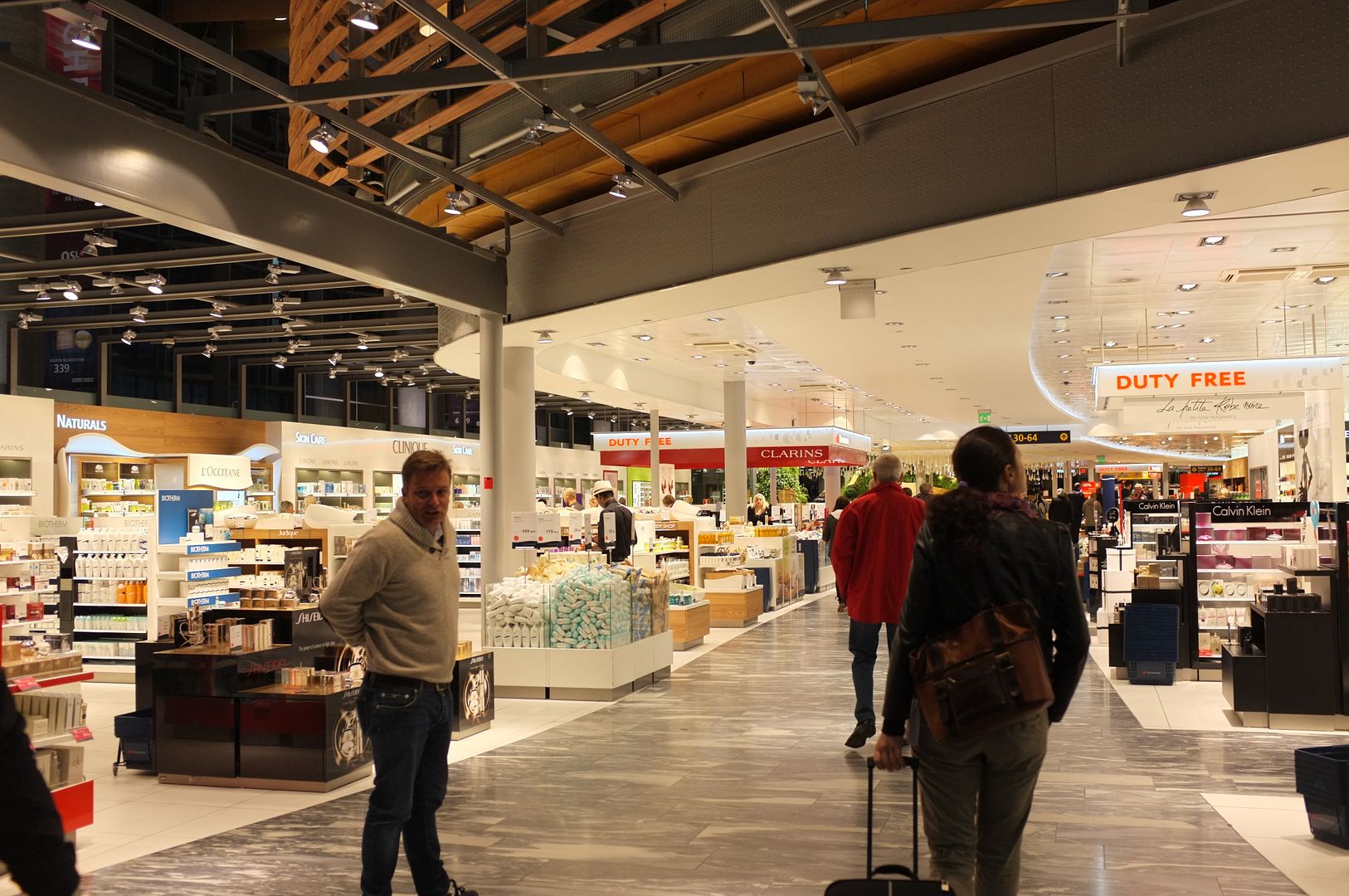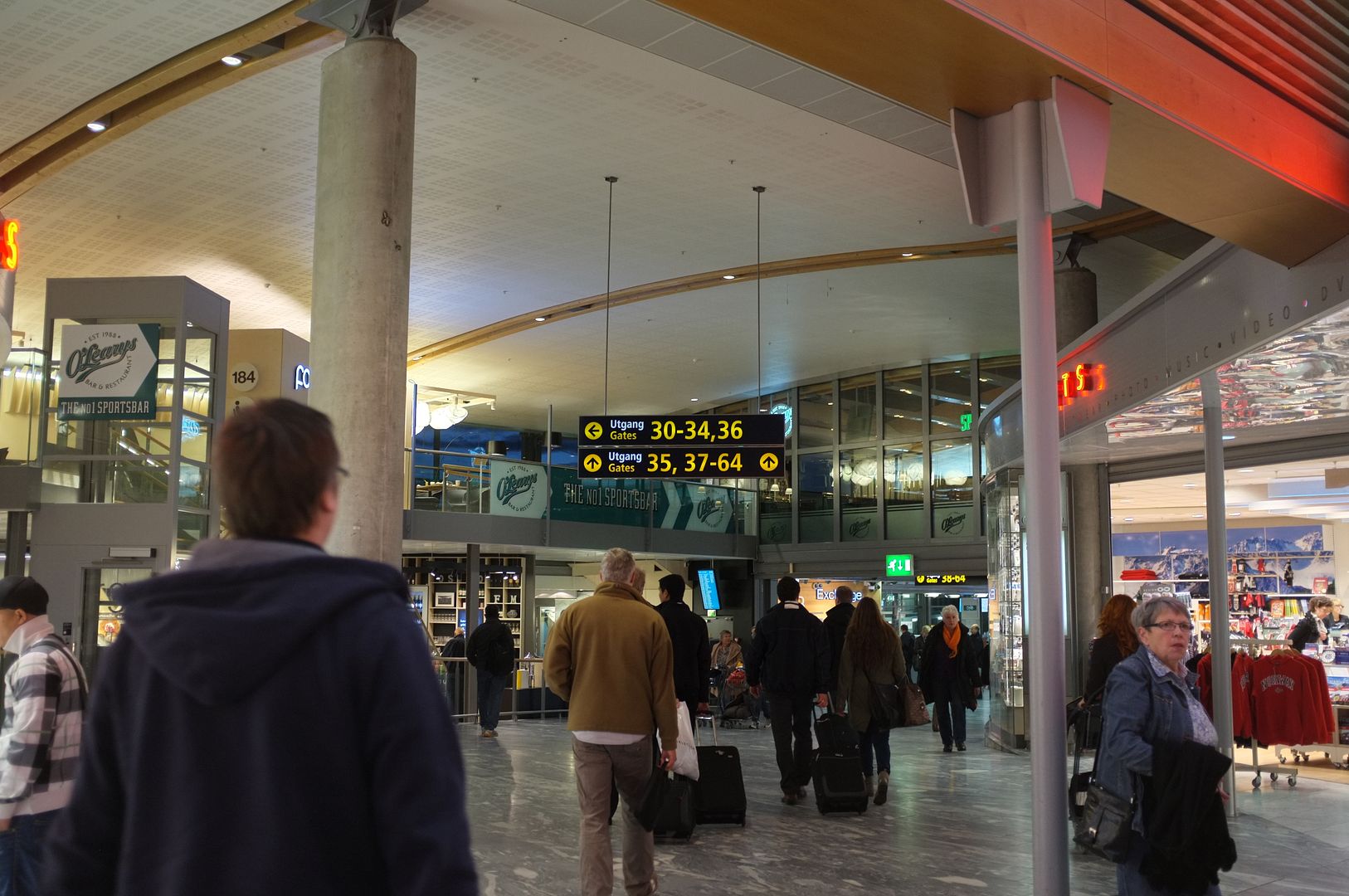 Flight information display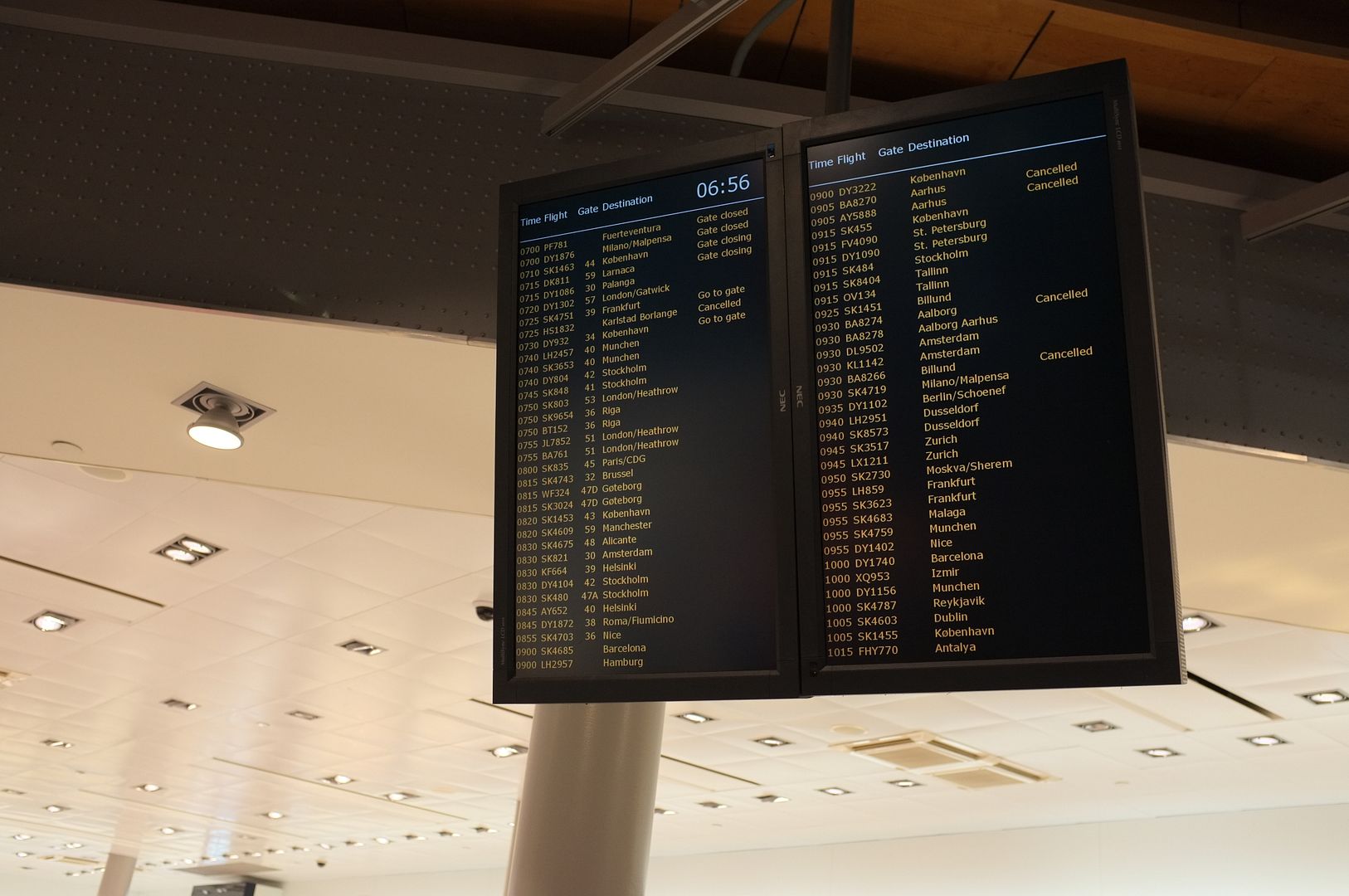 While my brother was looking around duty free shops, I decided to make a visit to the SAS Business lounge.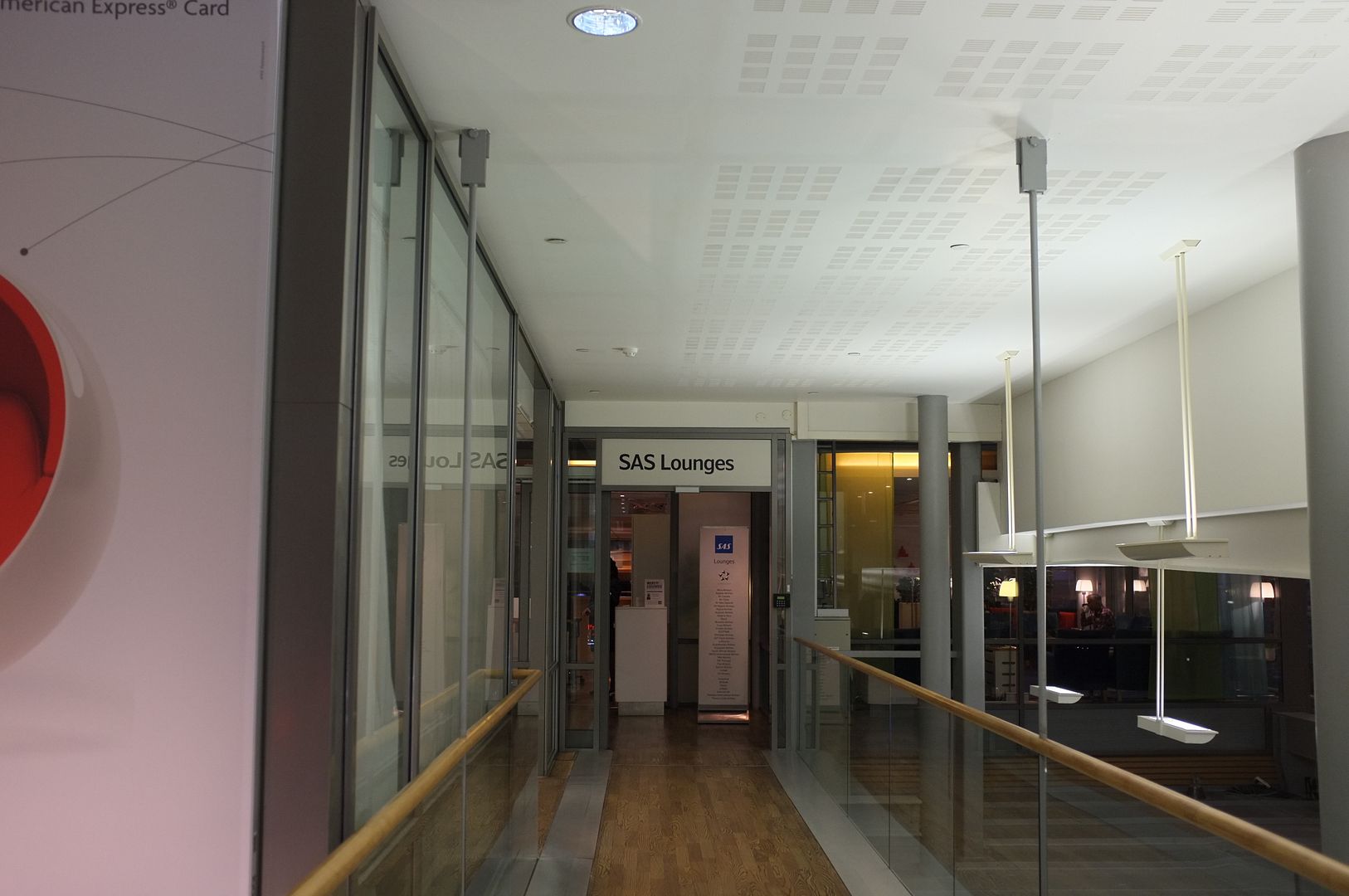 Just before the entrance of the lounge to the left was this model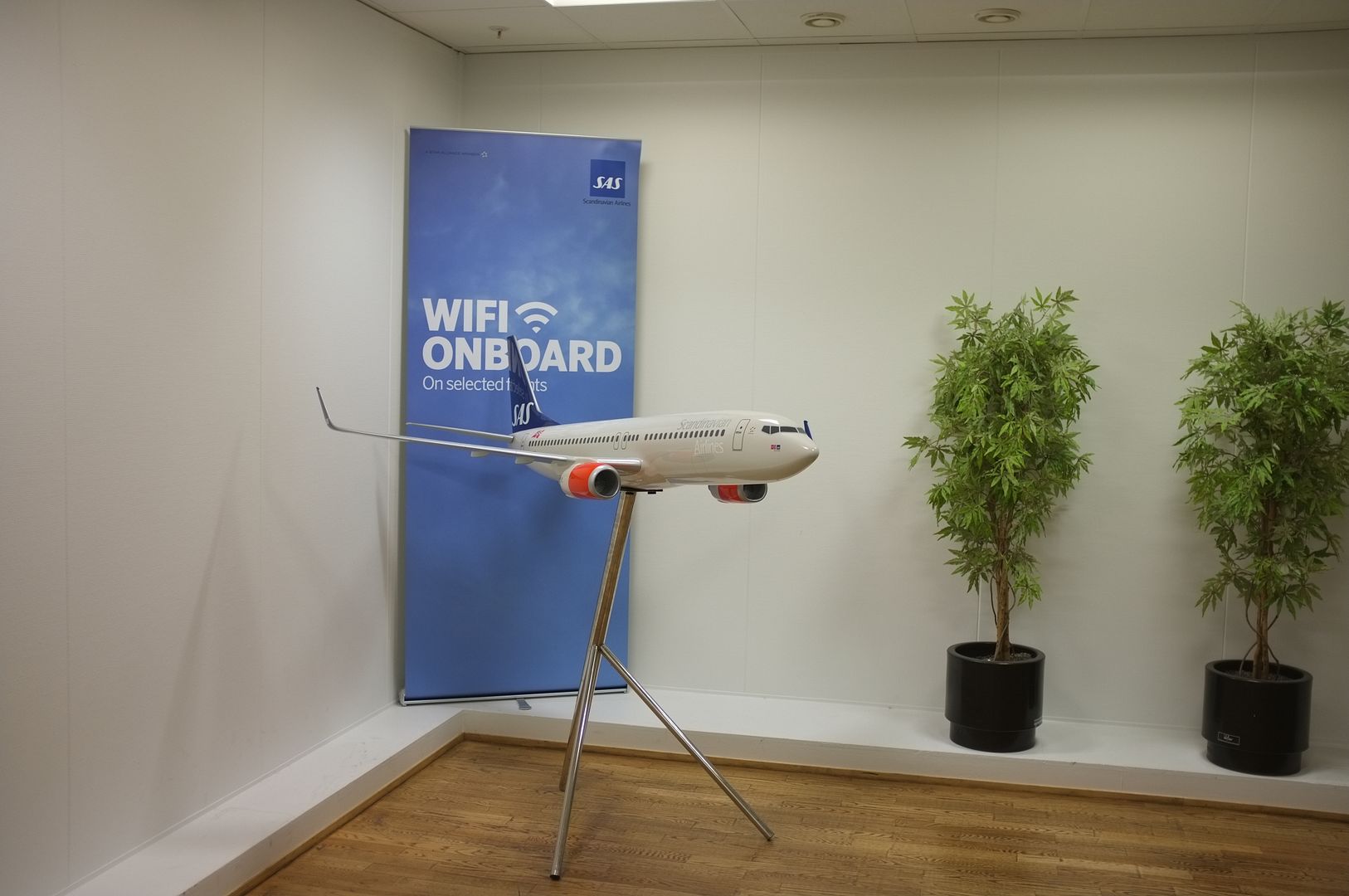 Upon entering the lounge, the lounge lady greeted me with a big smile on her face, and immediately offered to take a photo of me with the SAS plane model. After that, I showed my boarding pass together with my Thai Airways Frequent flyer card, and she welcomed me to the lounge. Her colleague probably saw my TG card, and then said 'Sawatdee krup' which is Hello in Thai language, and also welcomed me to the lounge.
Lounge is pretty quiet at this time, but it later got quite busy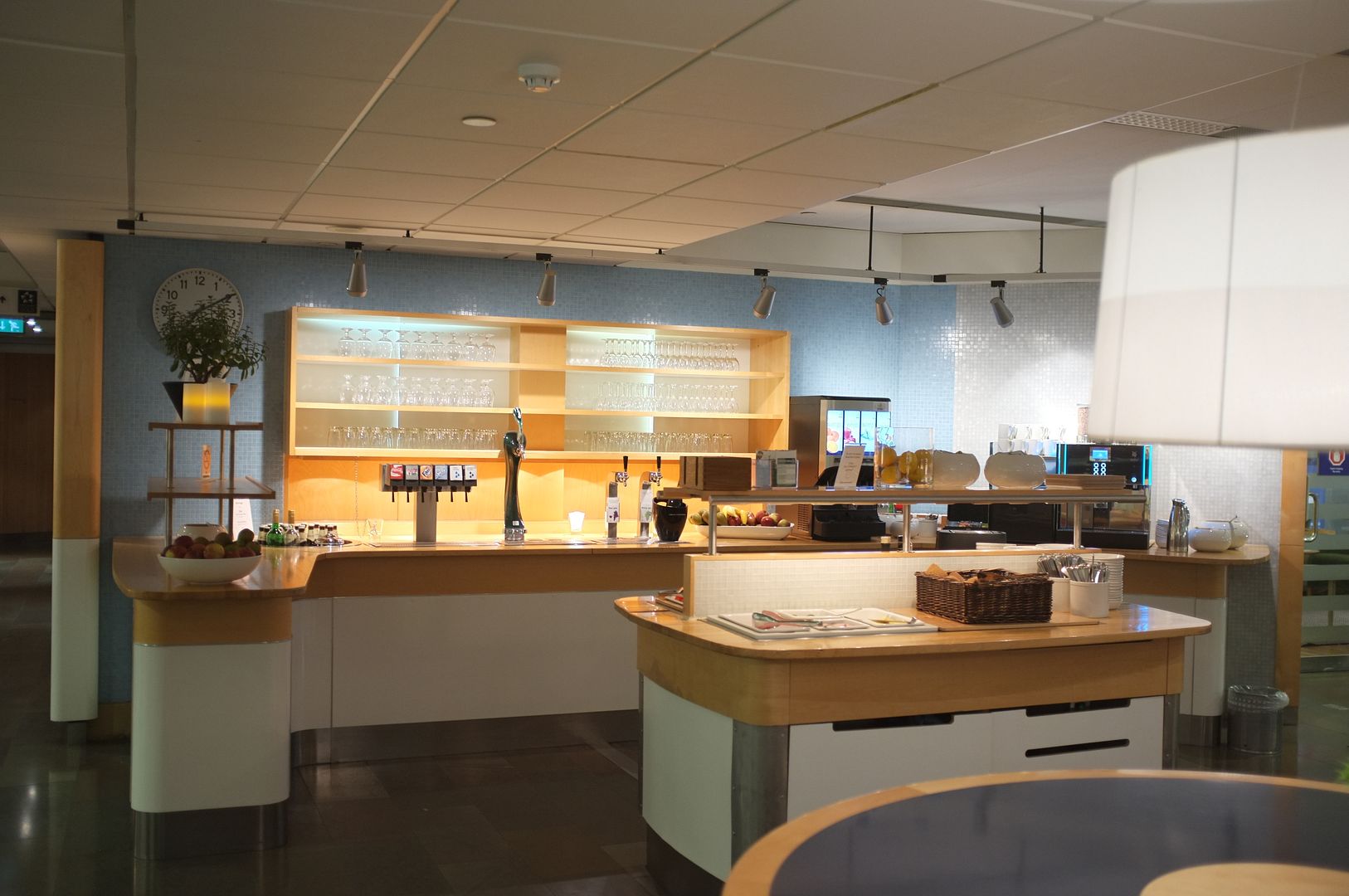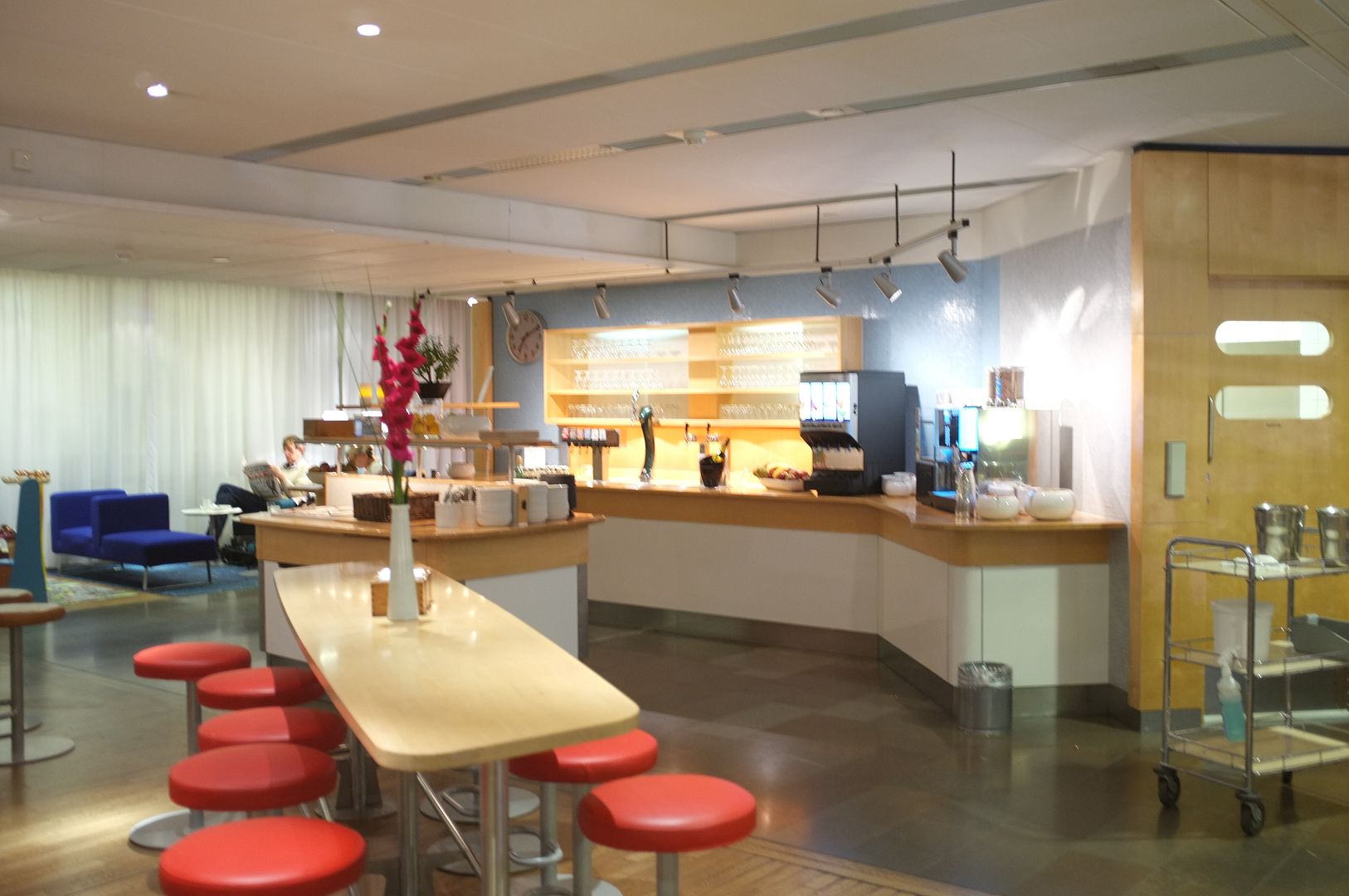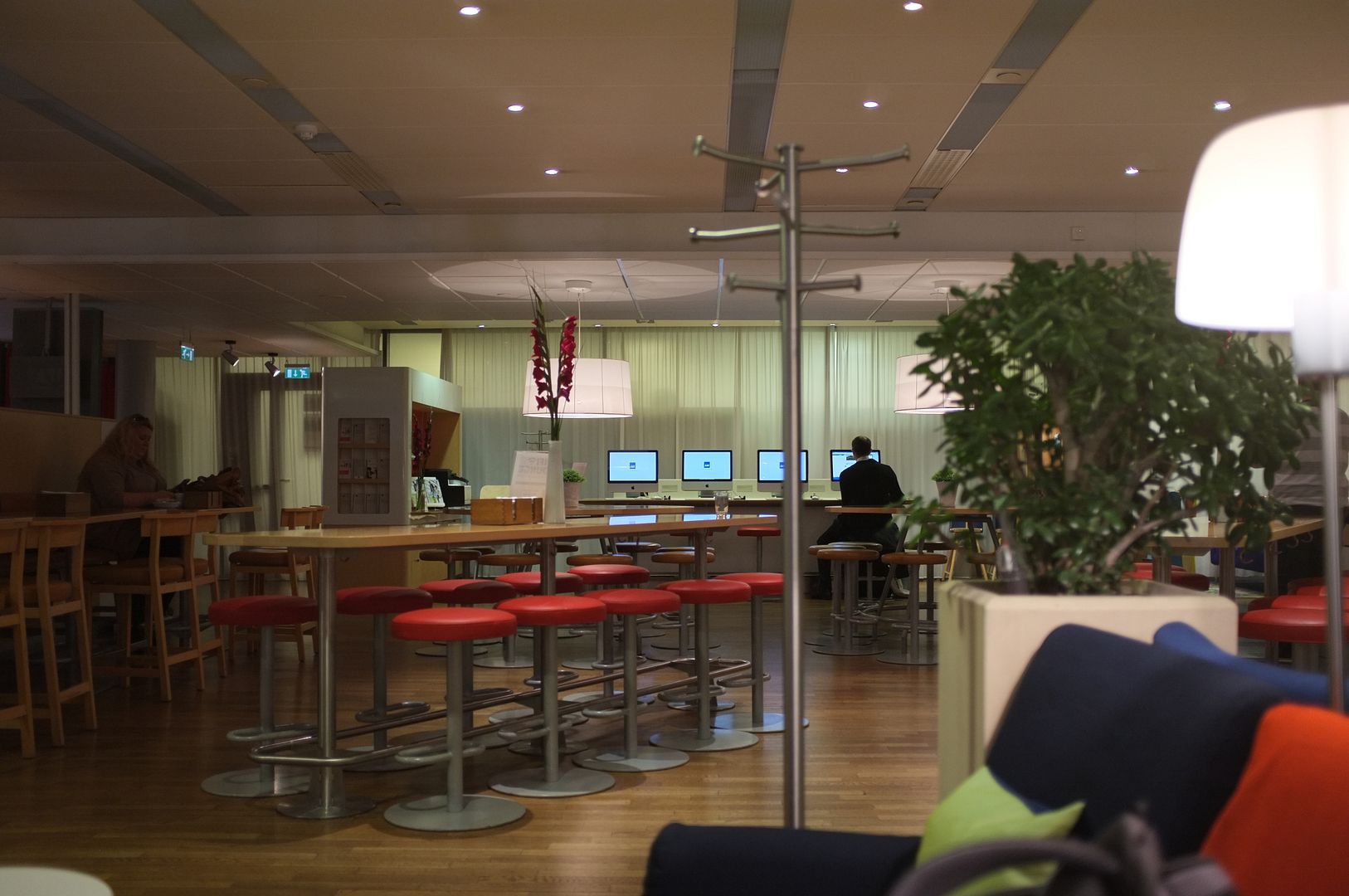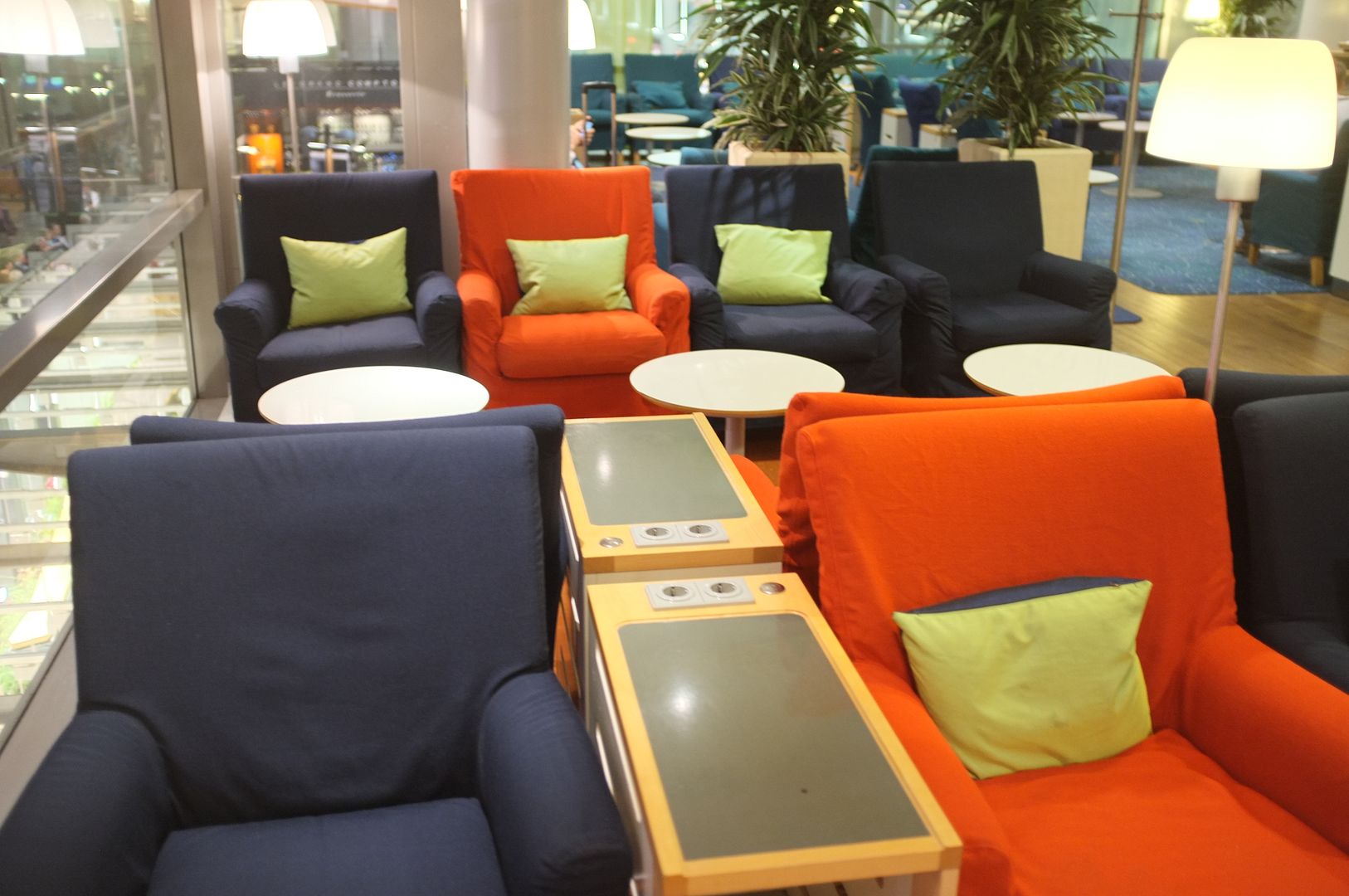 Breakfast offerings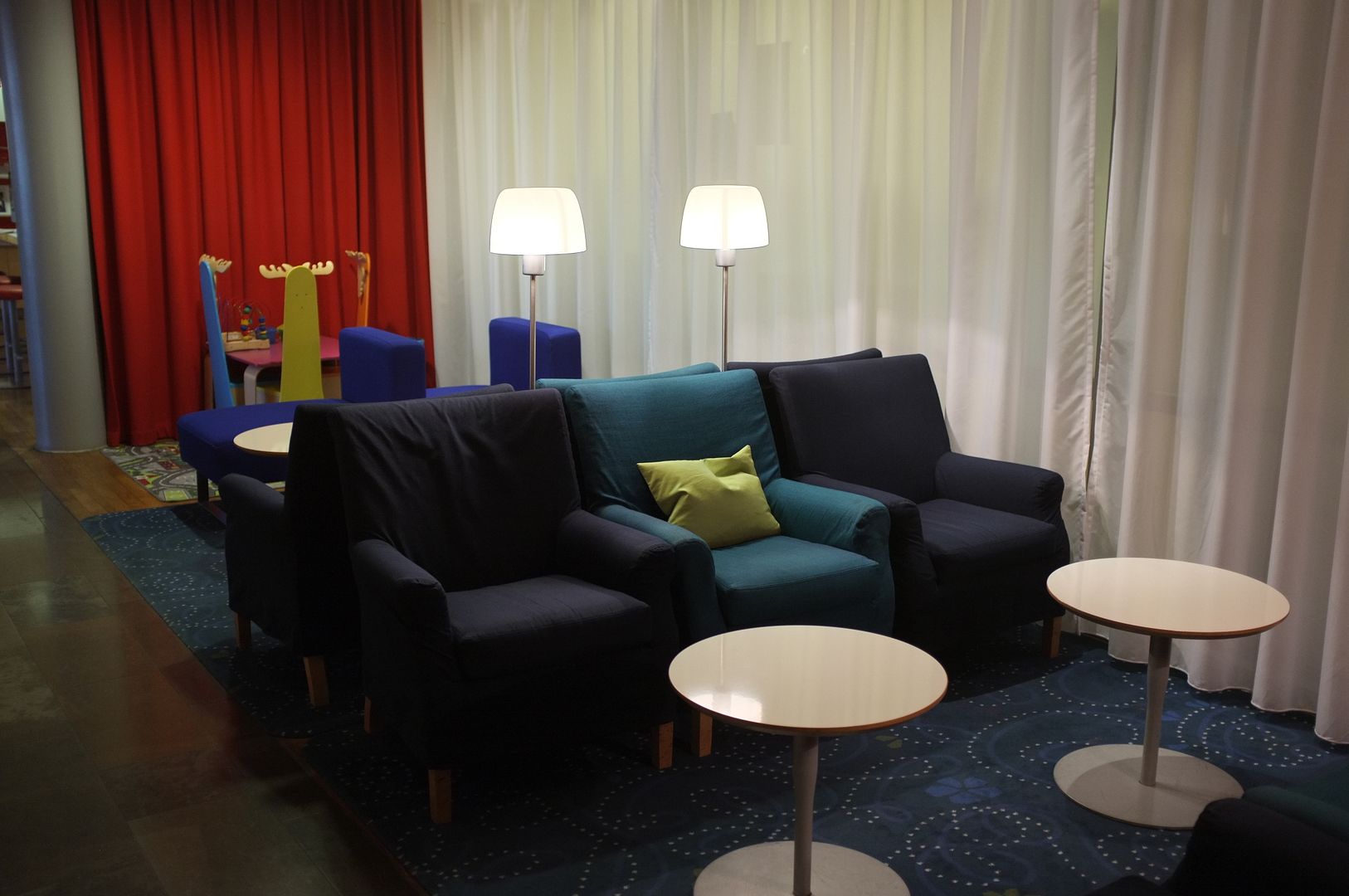 A few minutes later, my brother joined me. After his quick walk-around, he told me that there is an area for Gold card holder. So we decided to go and see.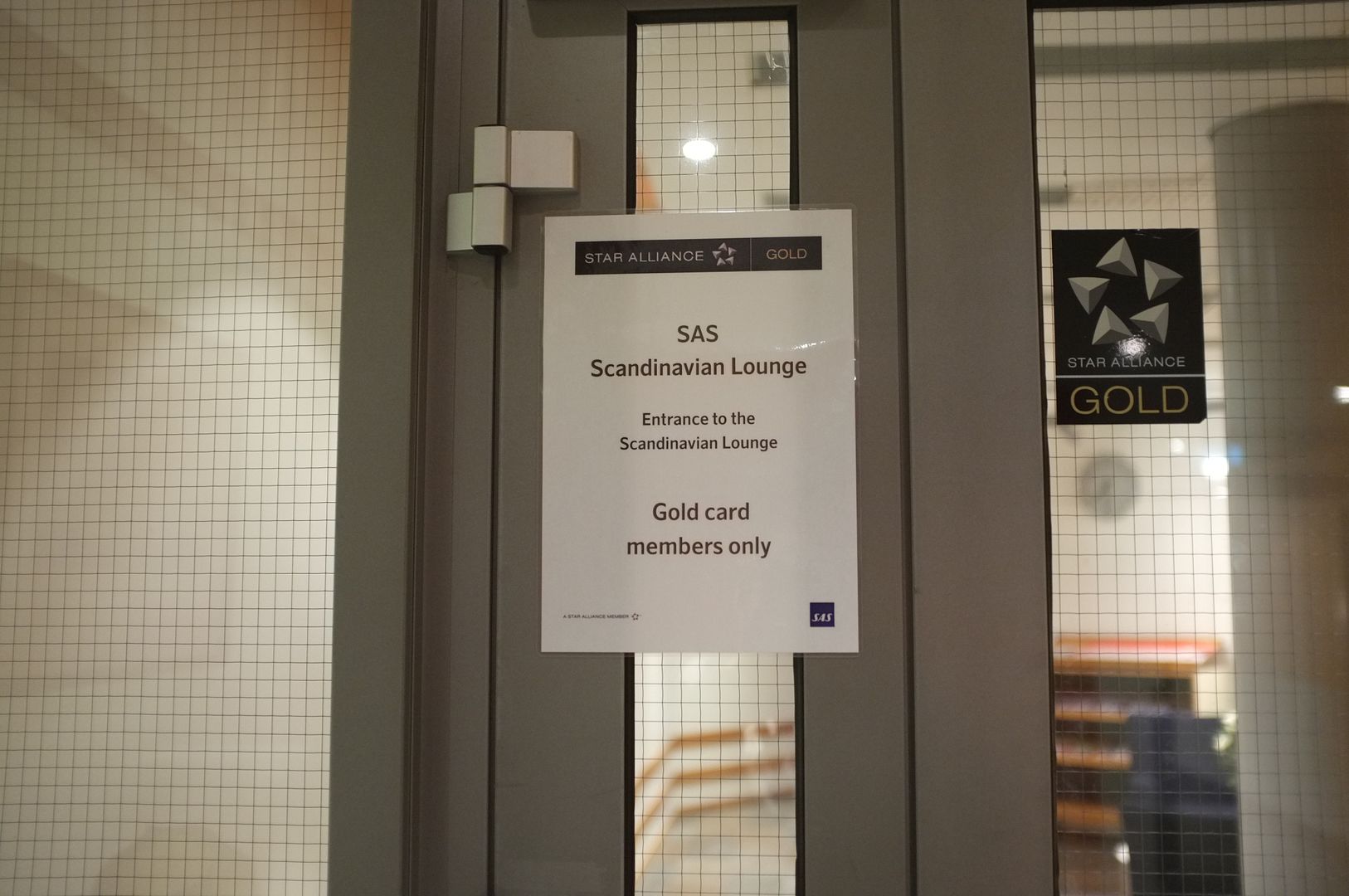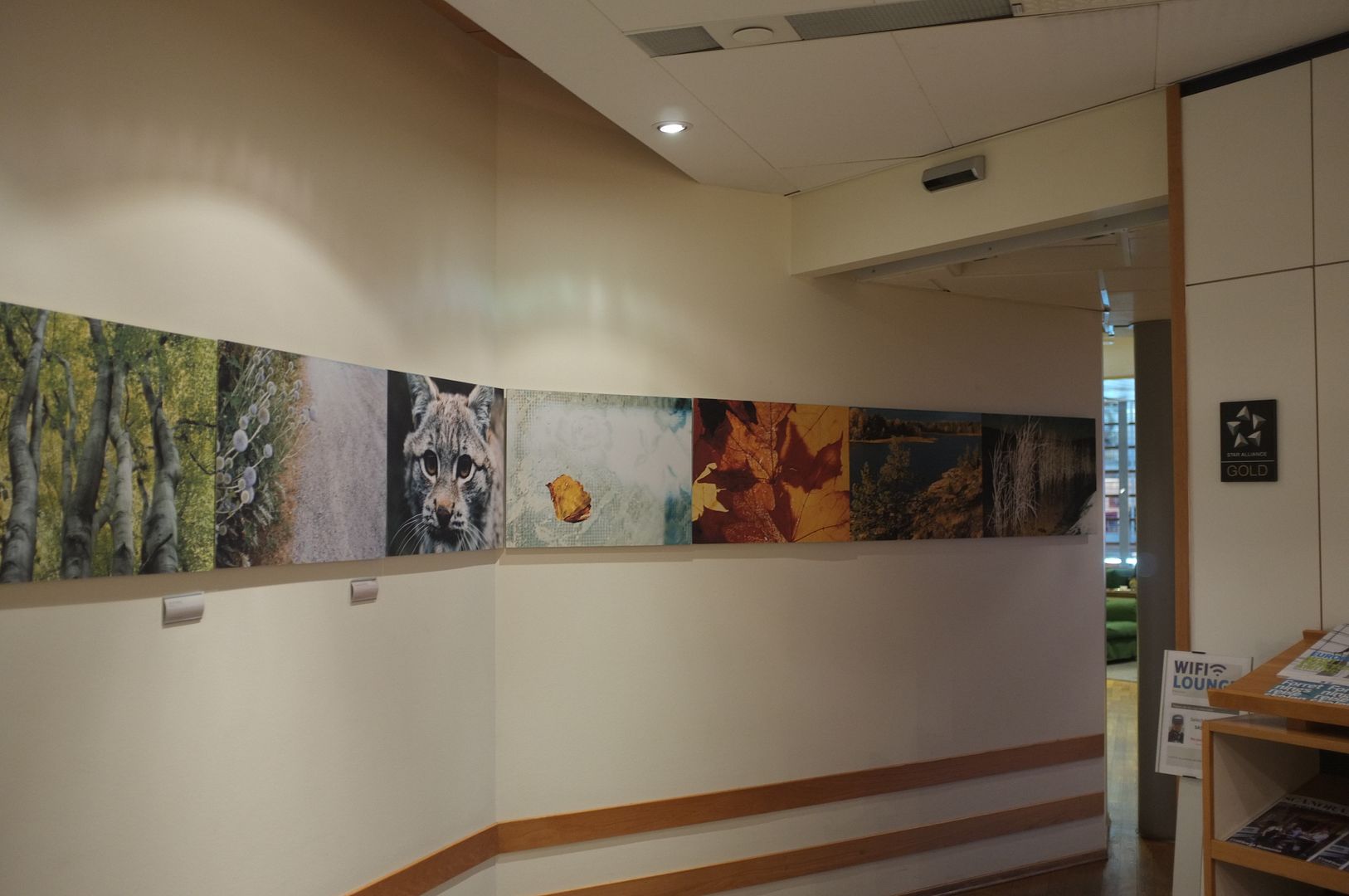 The zone is pretty much the same with the Business class zone.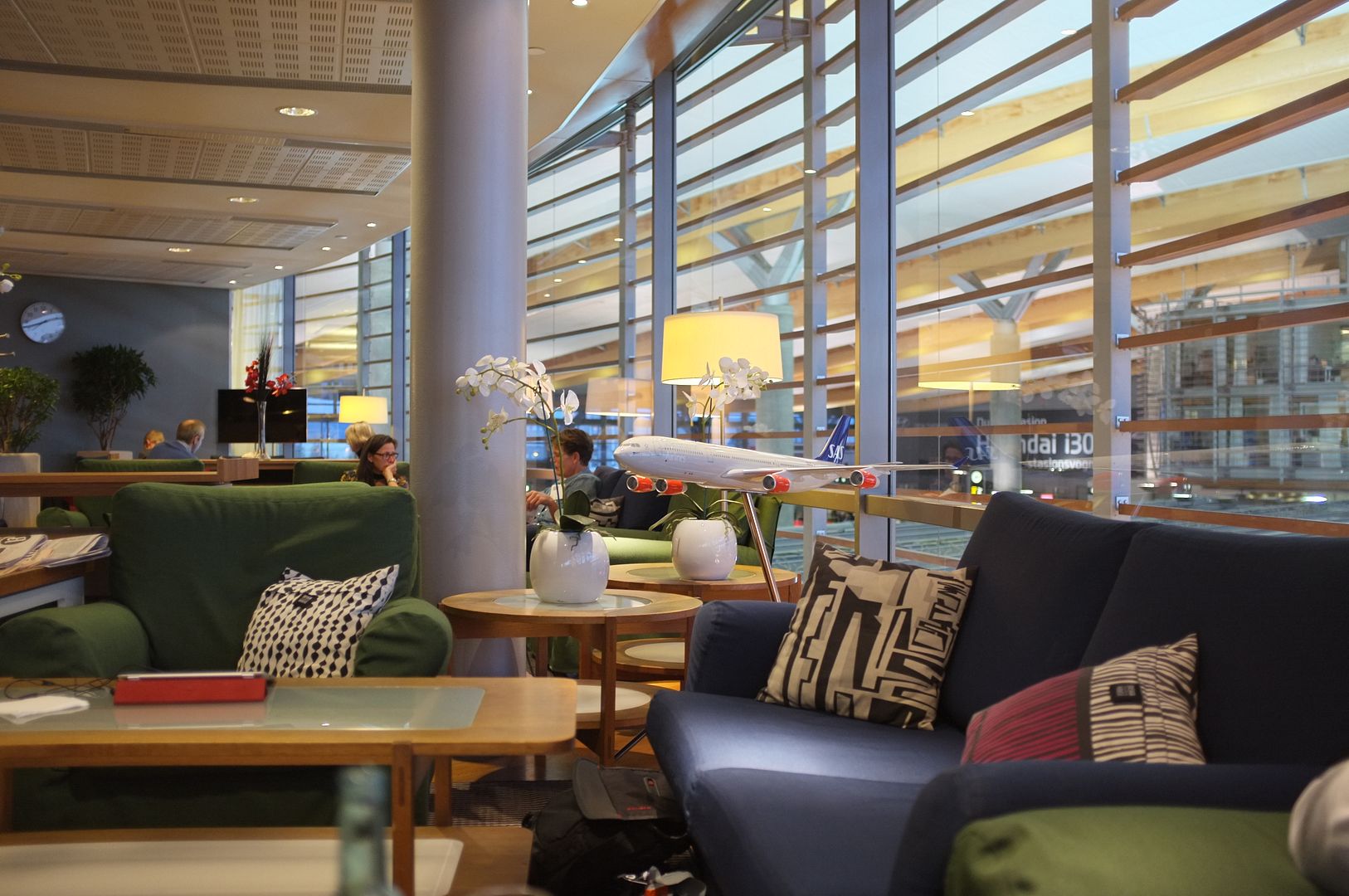 Leaving the lounge for our departure gate, passing another SAS plane model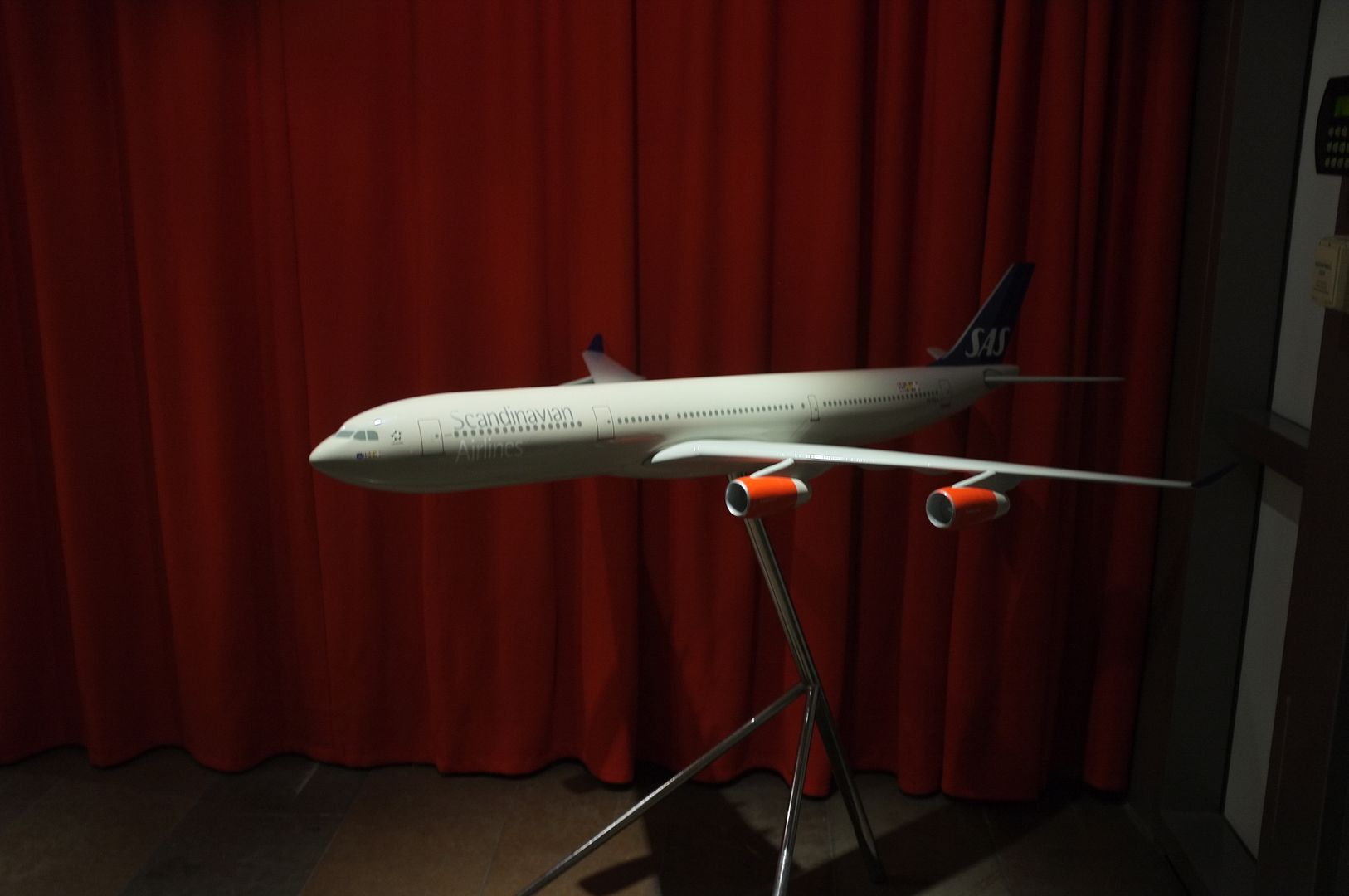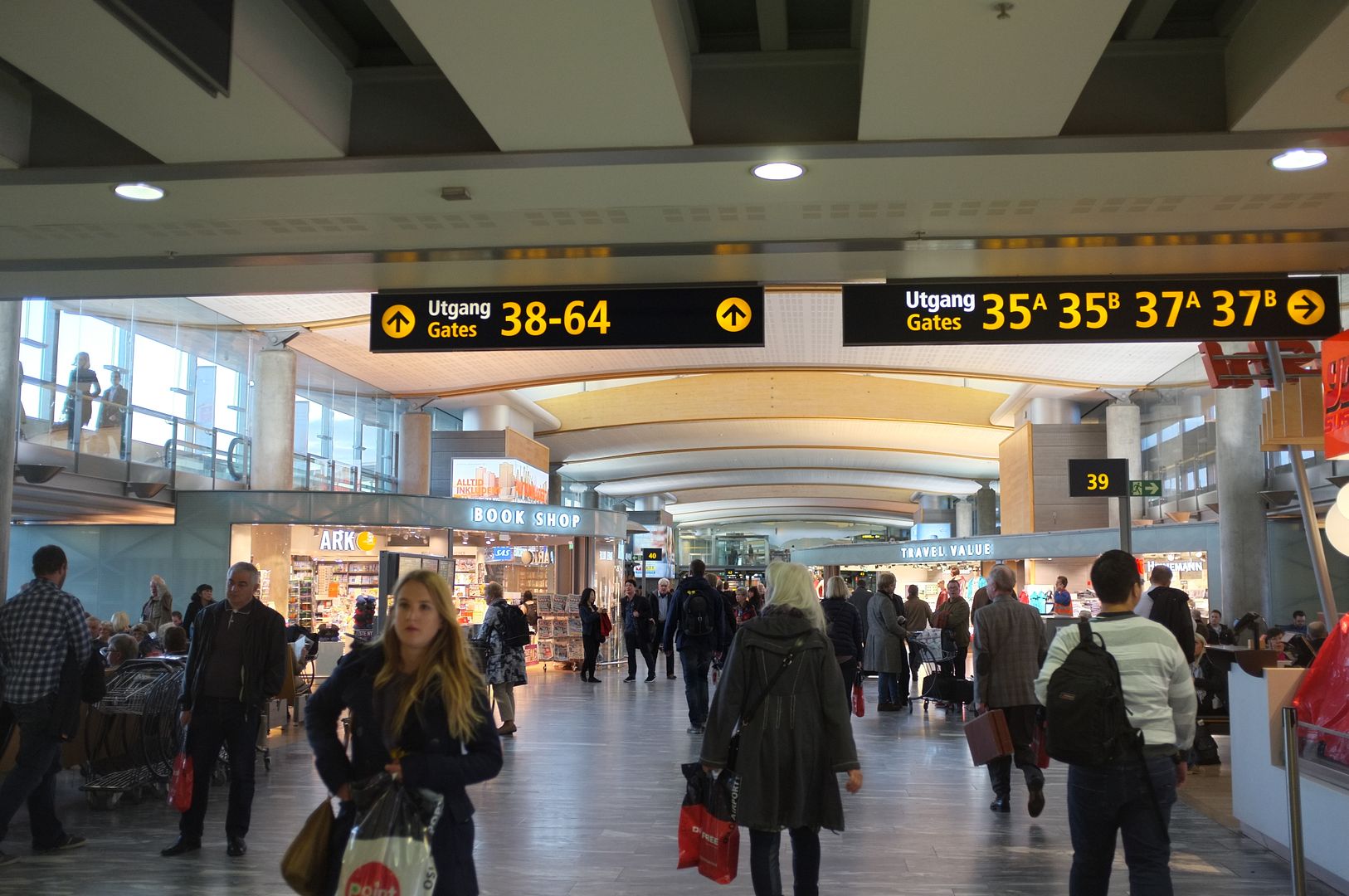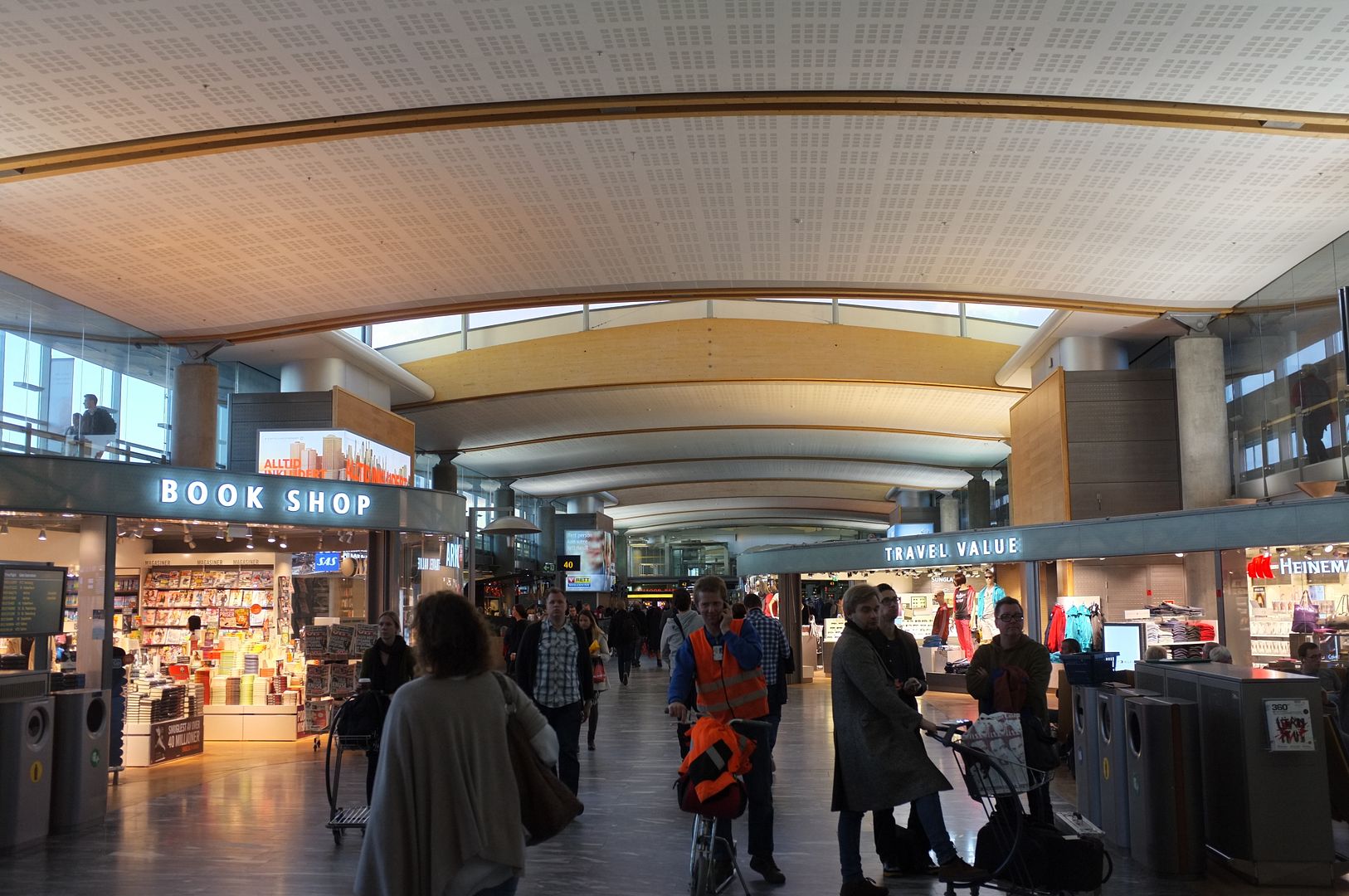 Departure information
Finnair Embraer 190 to Helsinki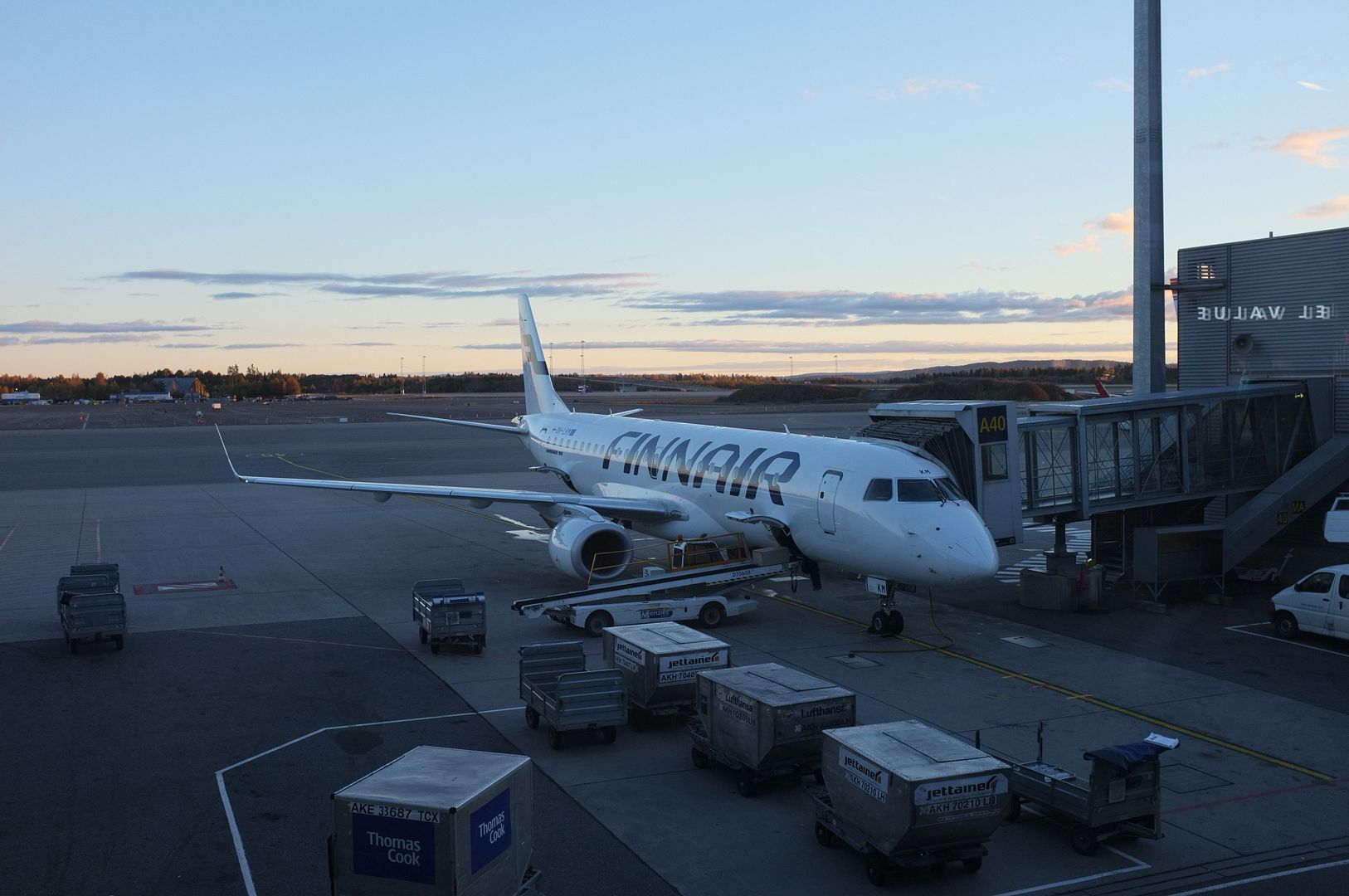 Our gate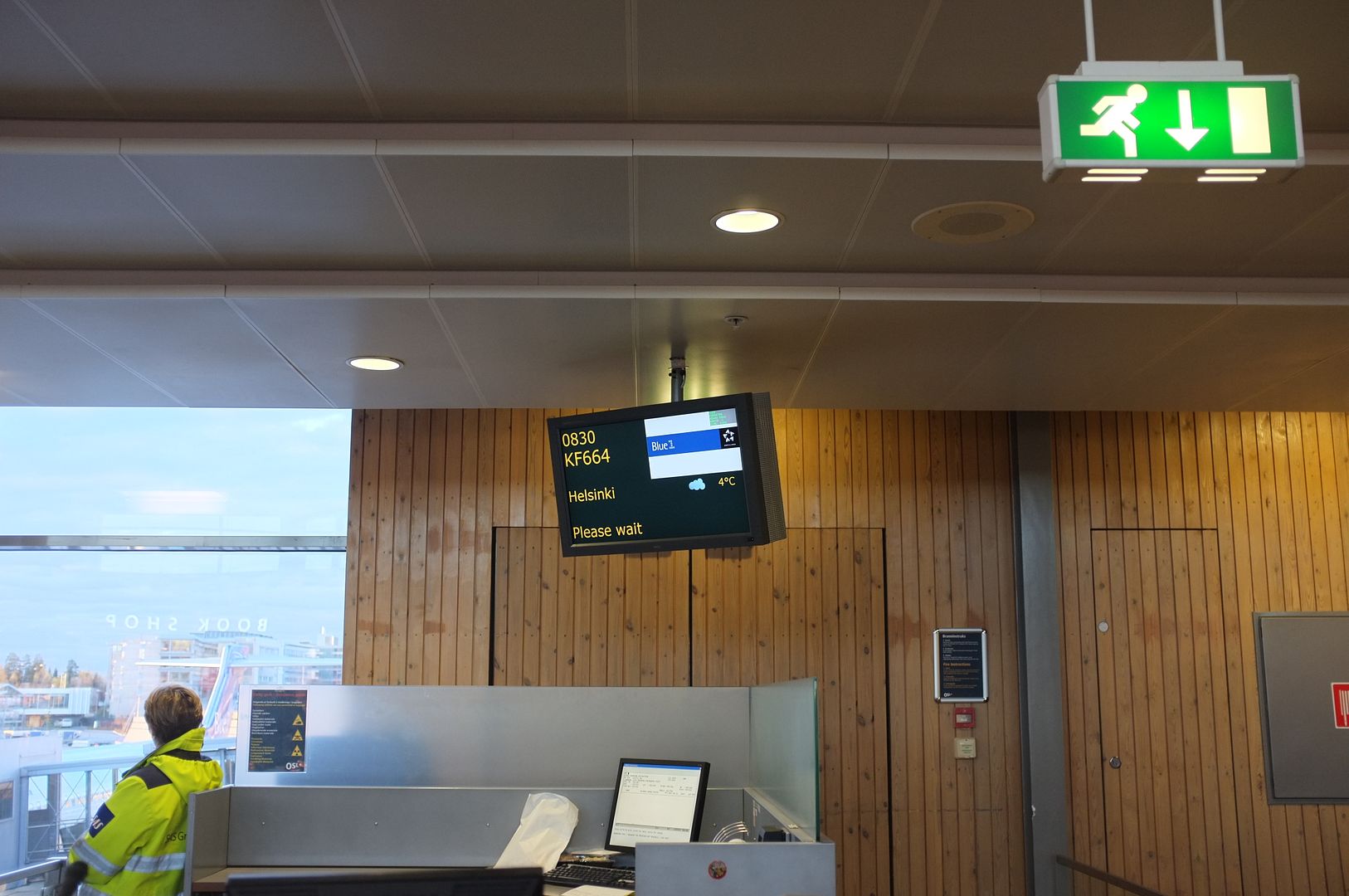 The aircraft that would take us to Helsinki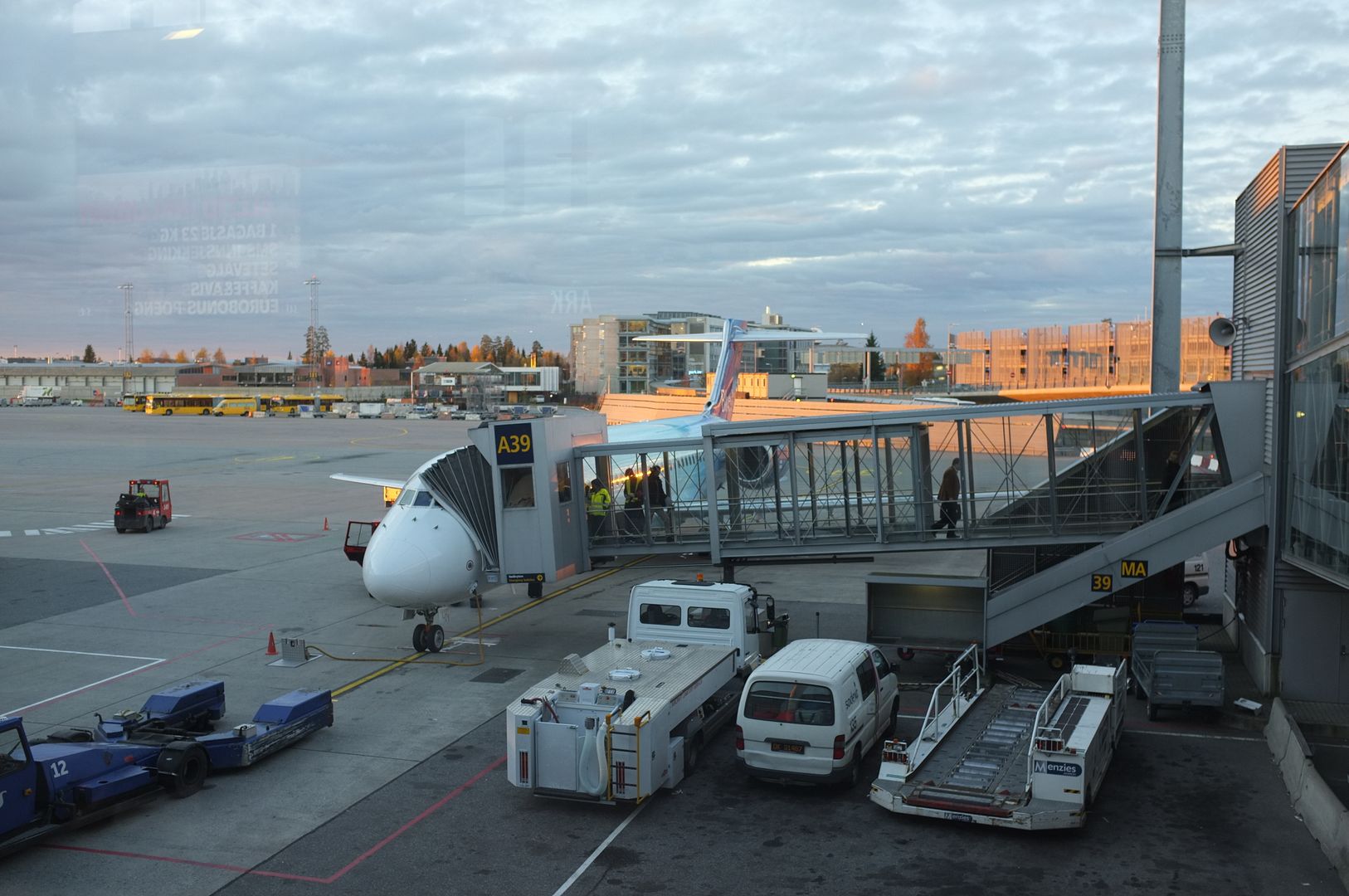 When boarding was called, passengers started to form a line. No priority boarding was called for Premium passengers or *A elite passengers.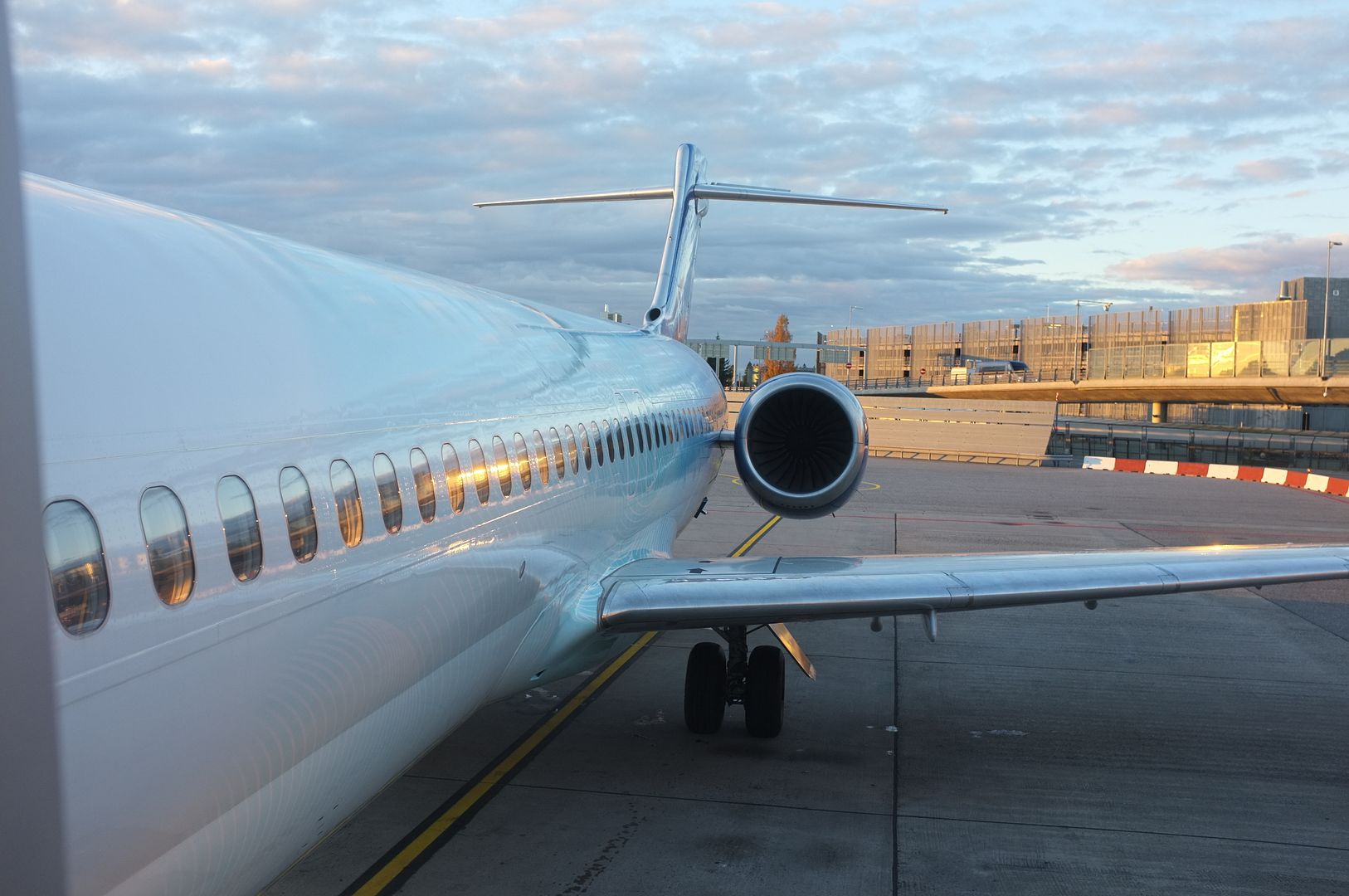 At the aircraft door, a female FM welcomed us on board. The seat configuration on this aircraft is 2-3.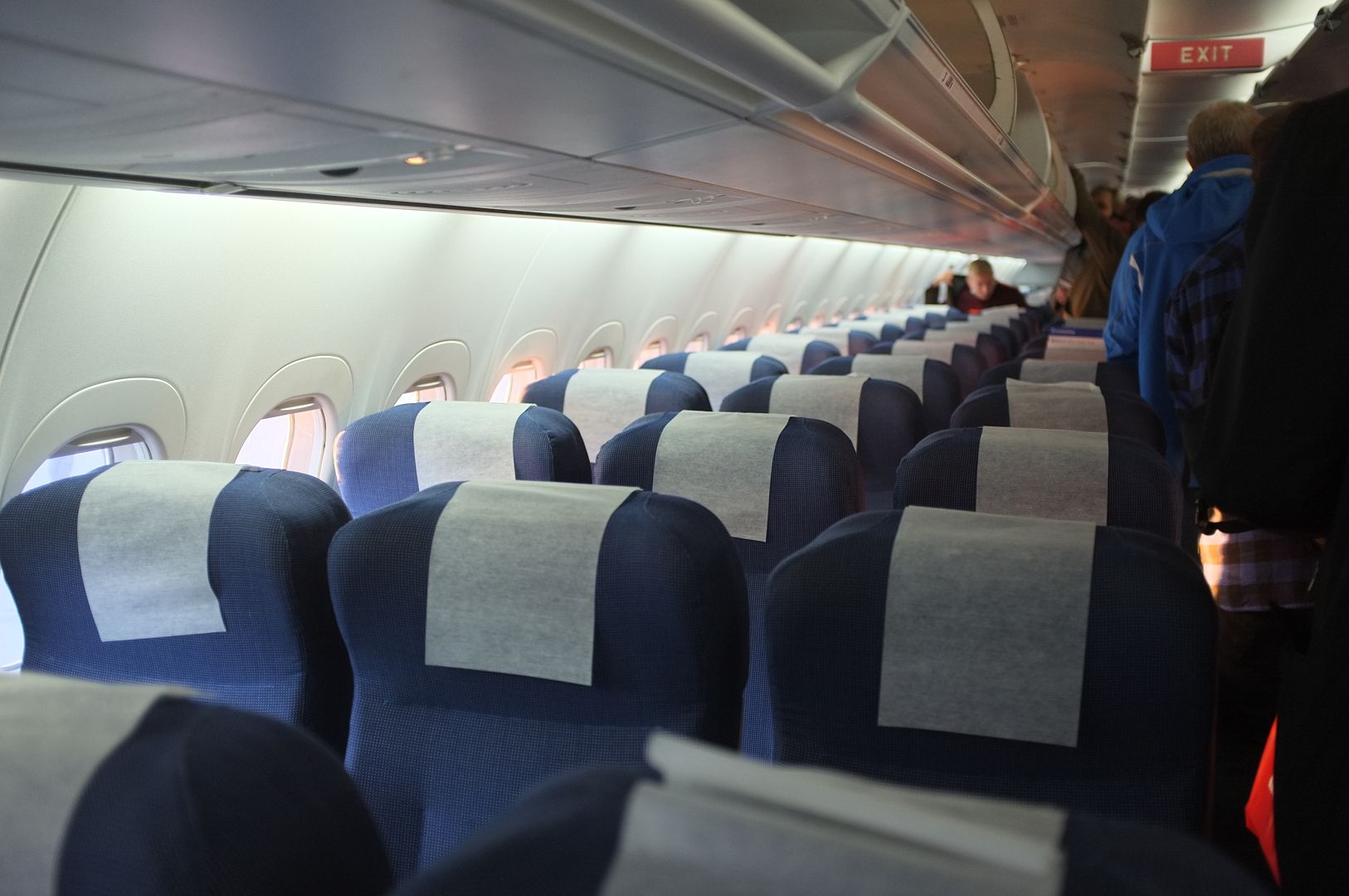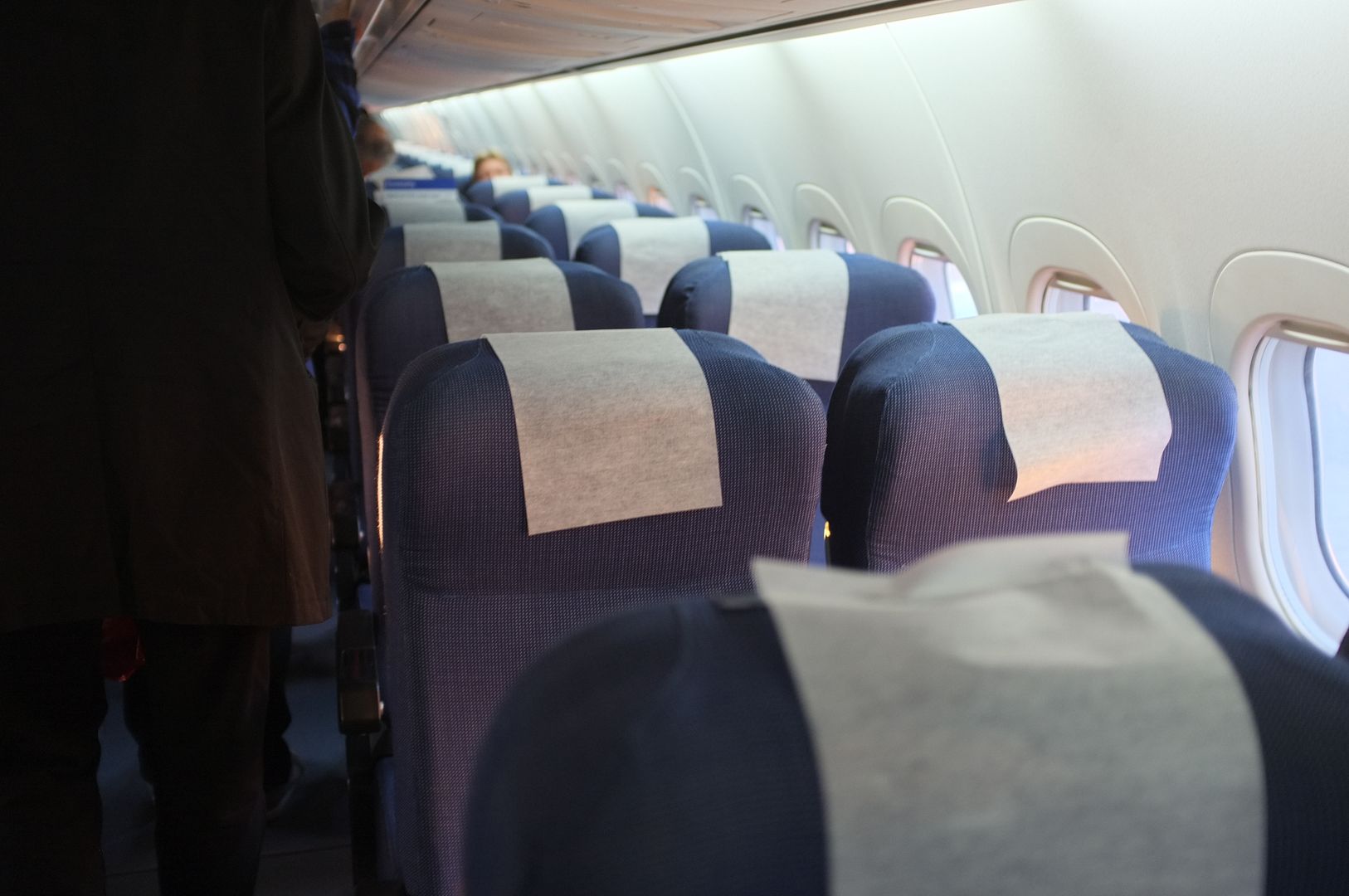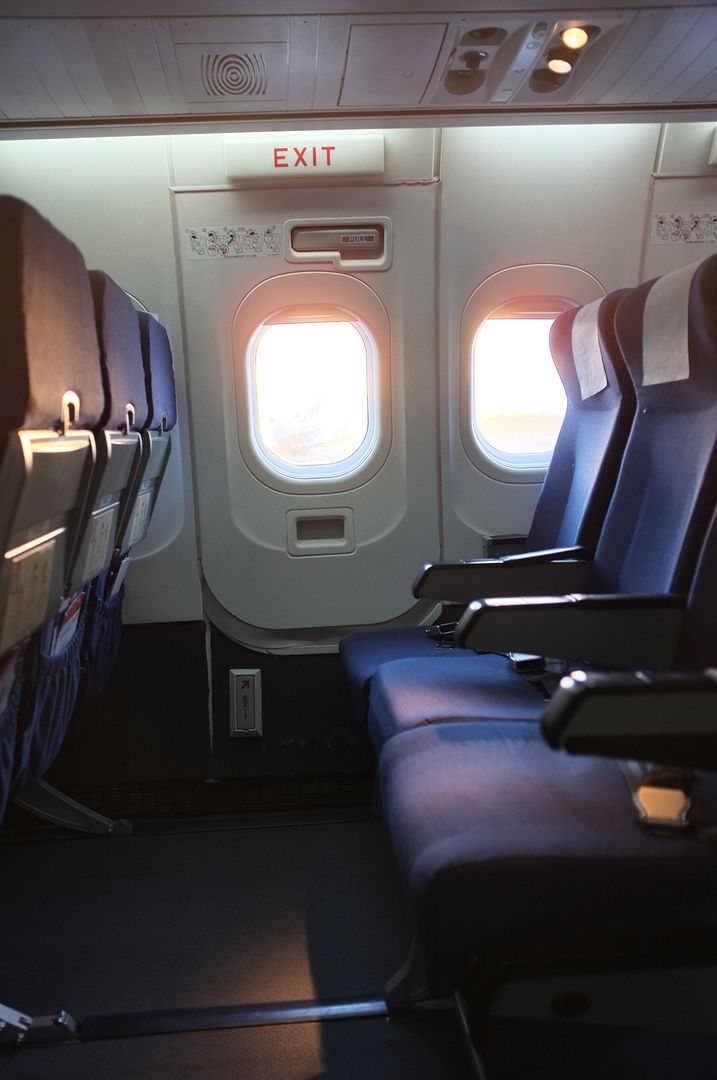 When boarding was completed, I noticed the load on this flight was around 50%, with one person in Premium. One of the FAs then came to our row and asked us to familiarise ourselves with the emergency procedures. Then manual safety demonstration was performed
View from the parking position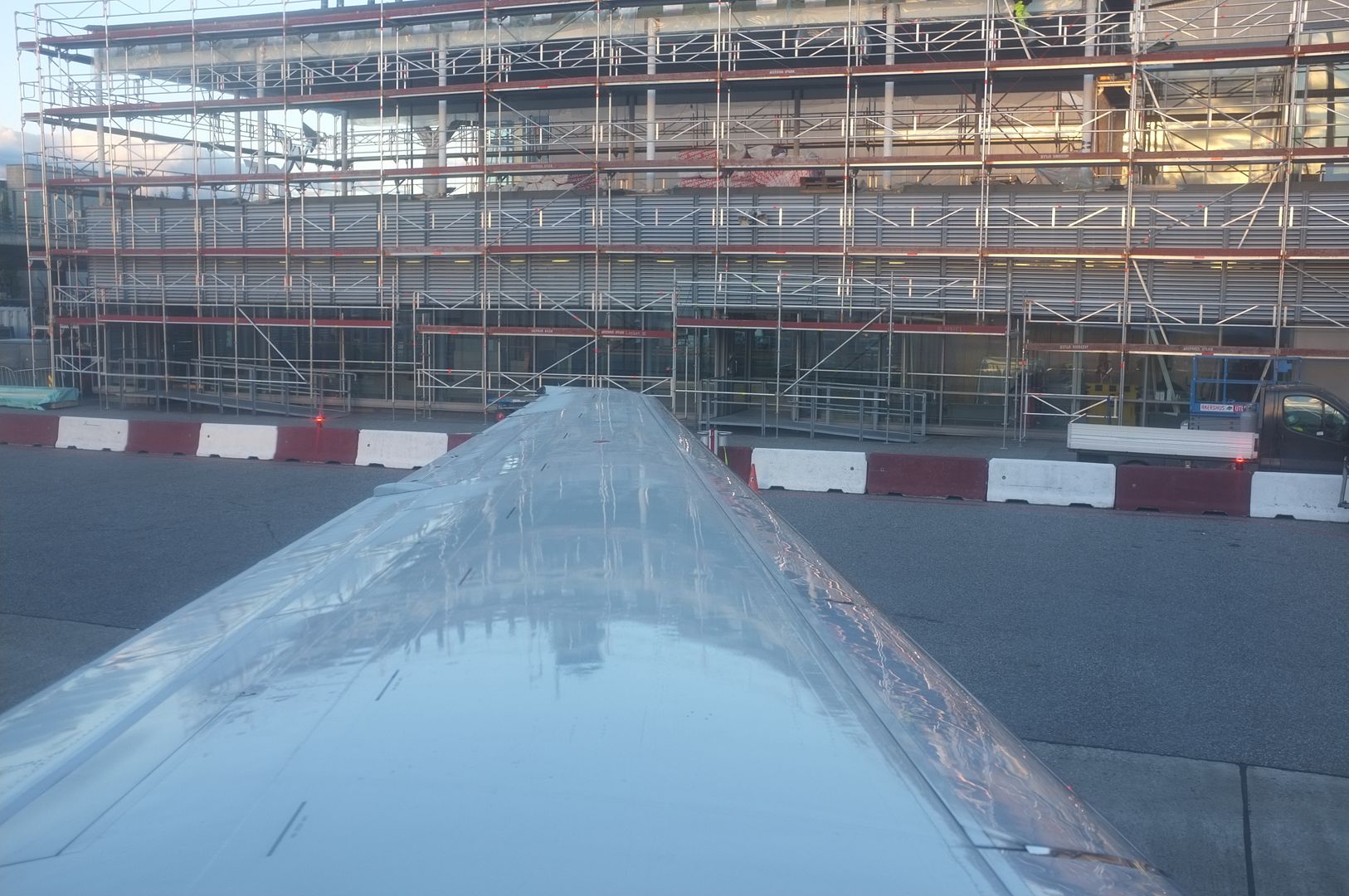 Pushed back and taxied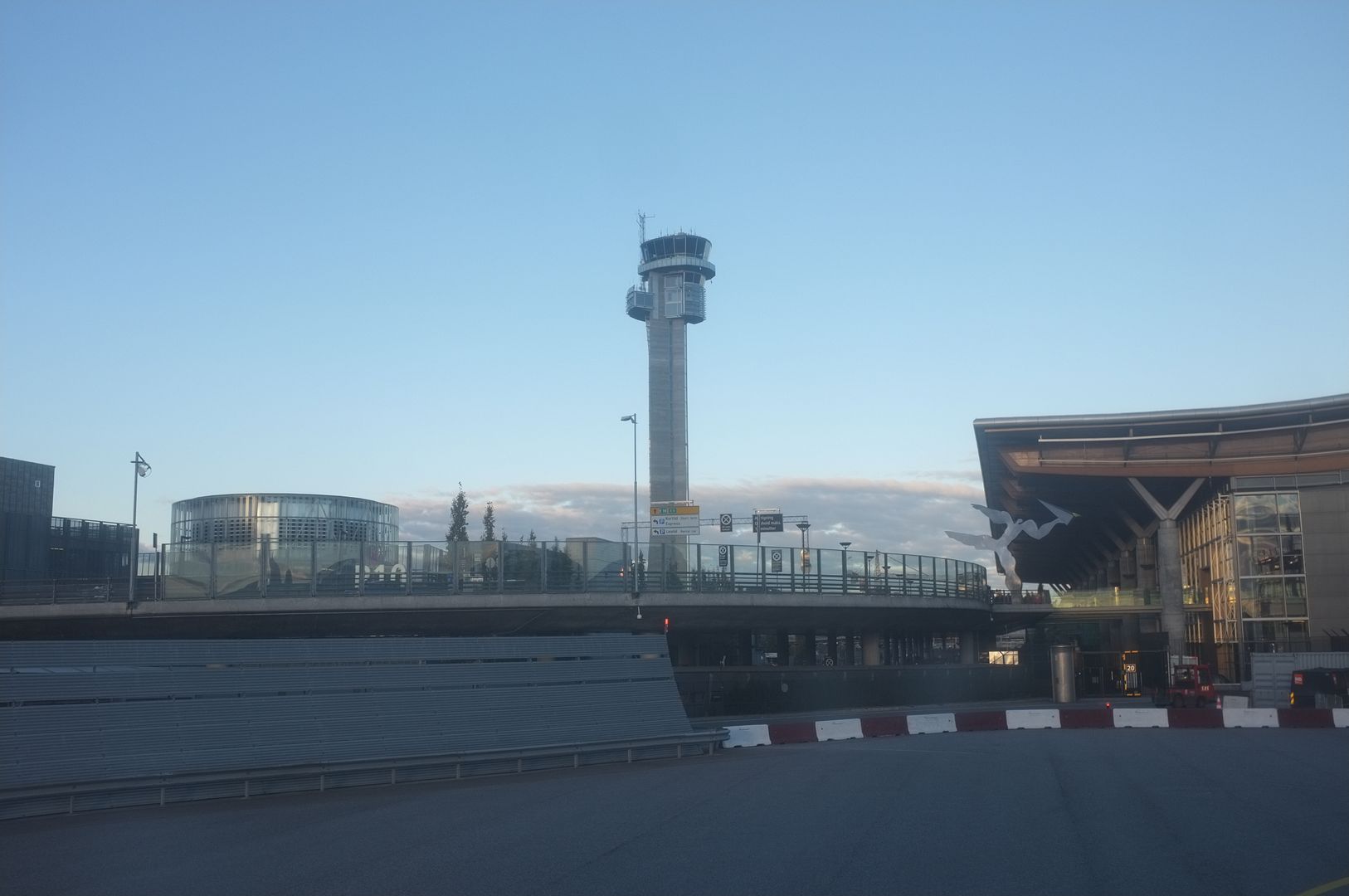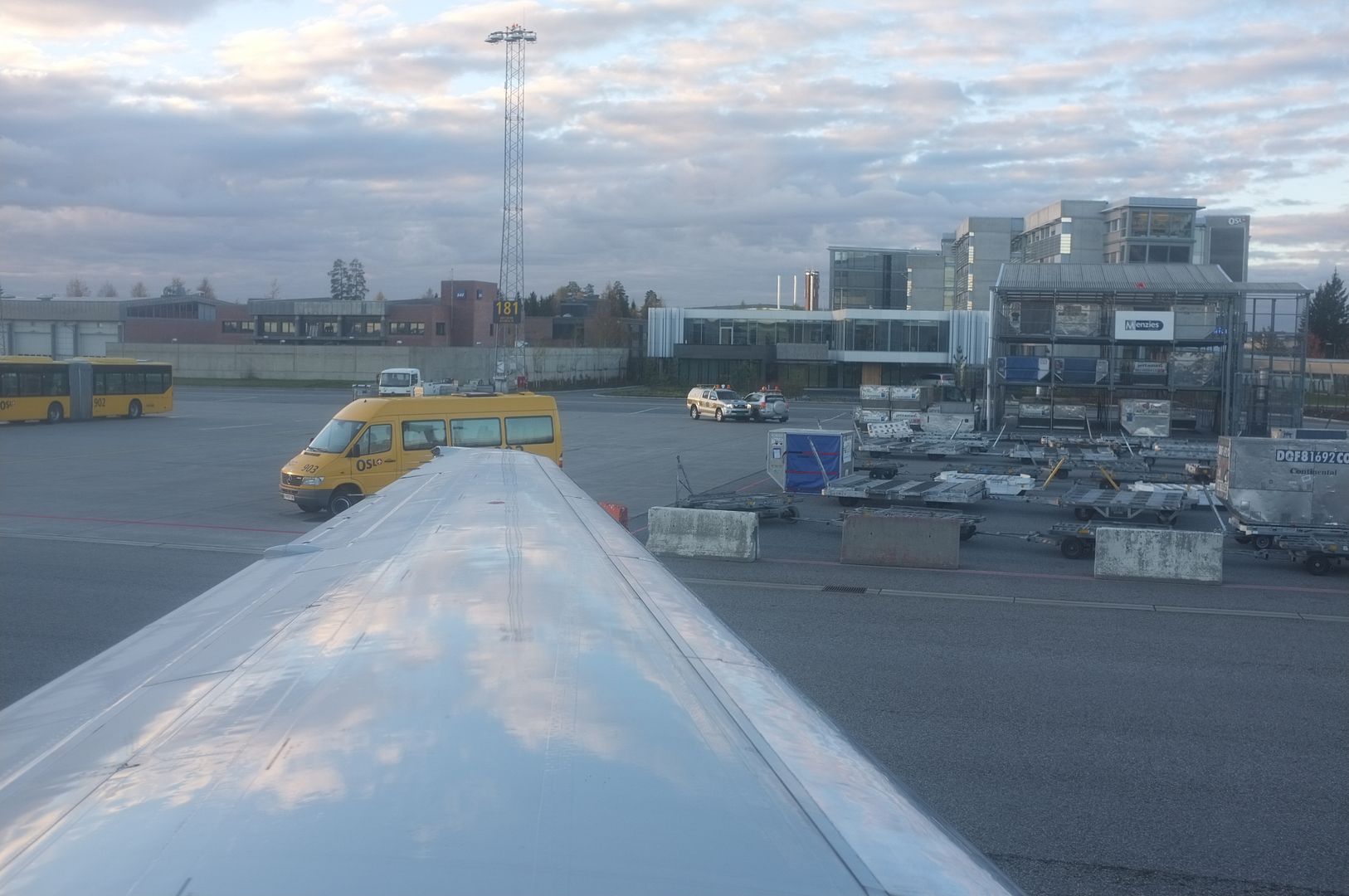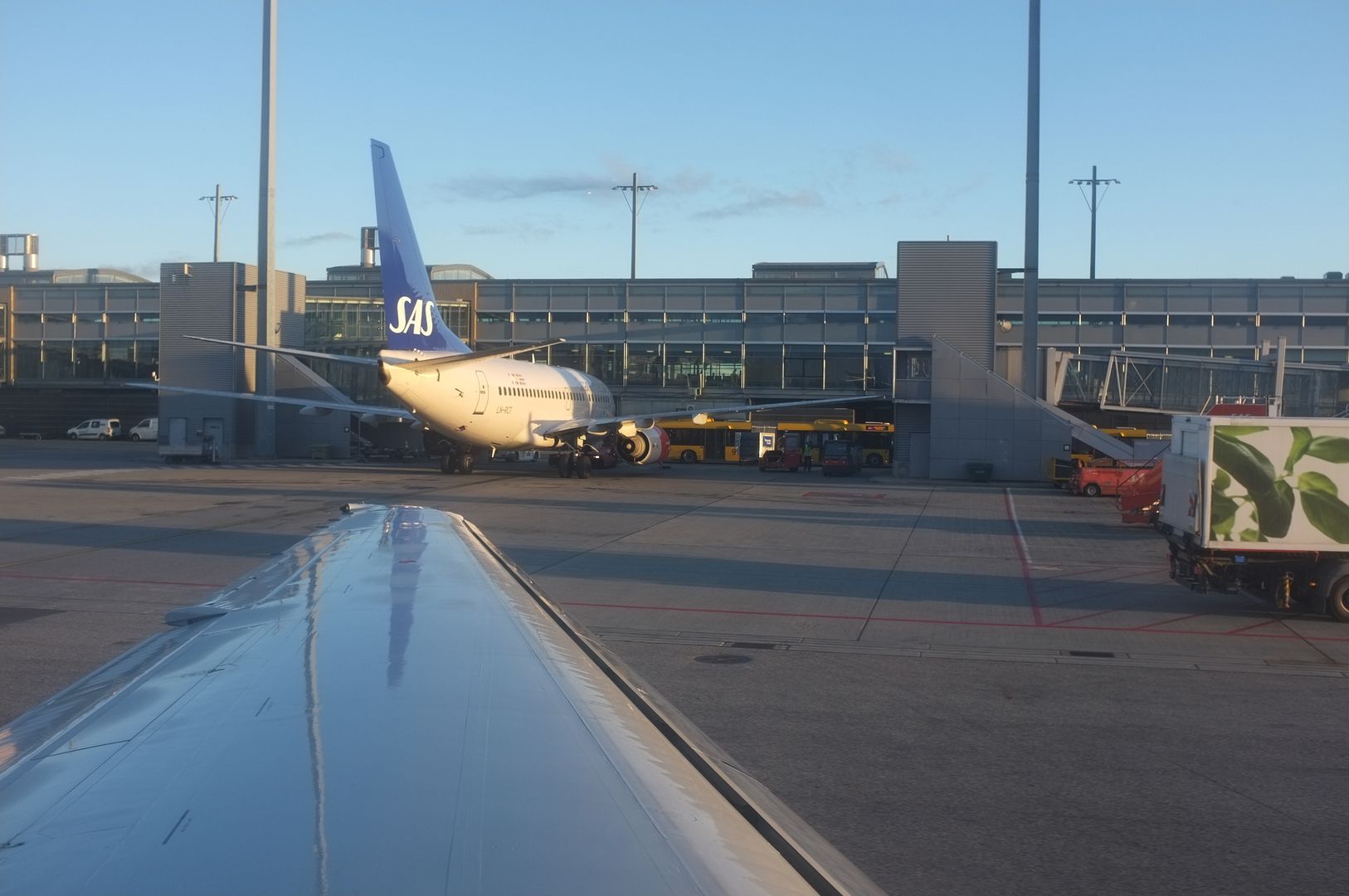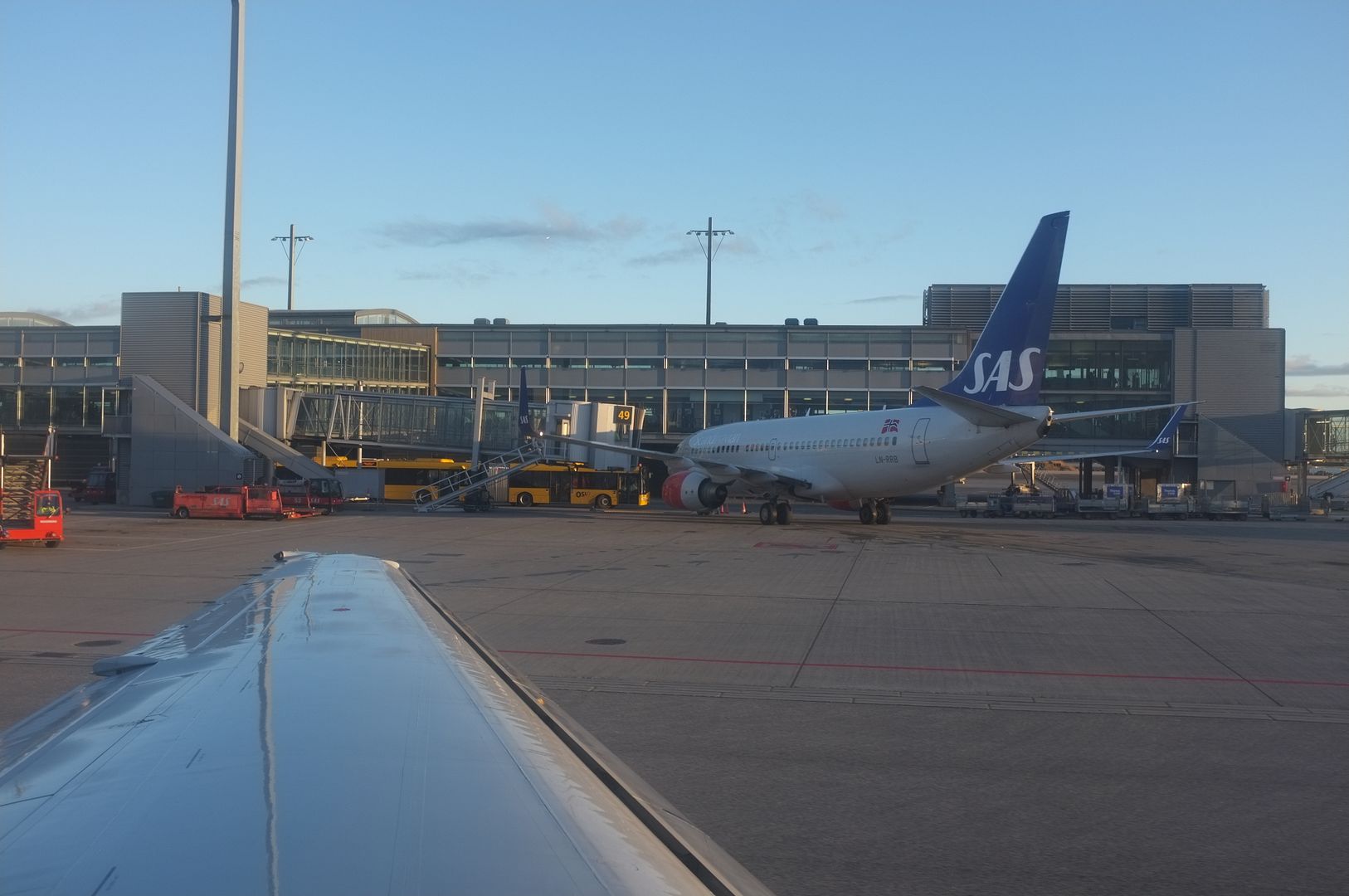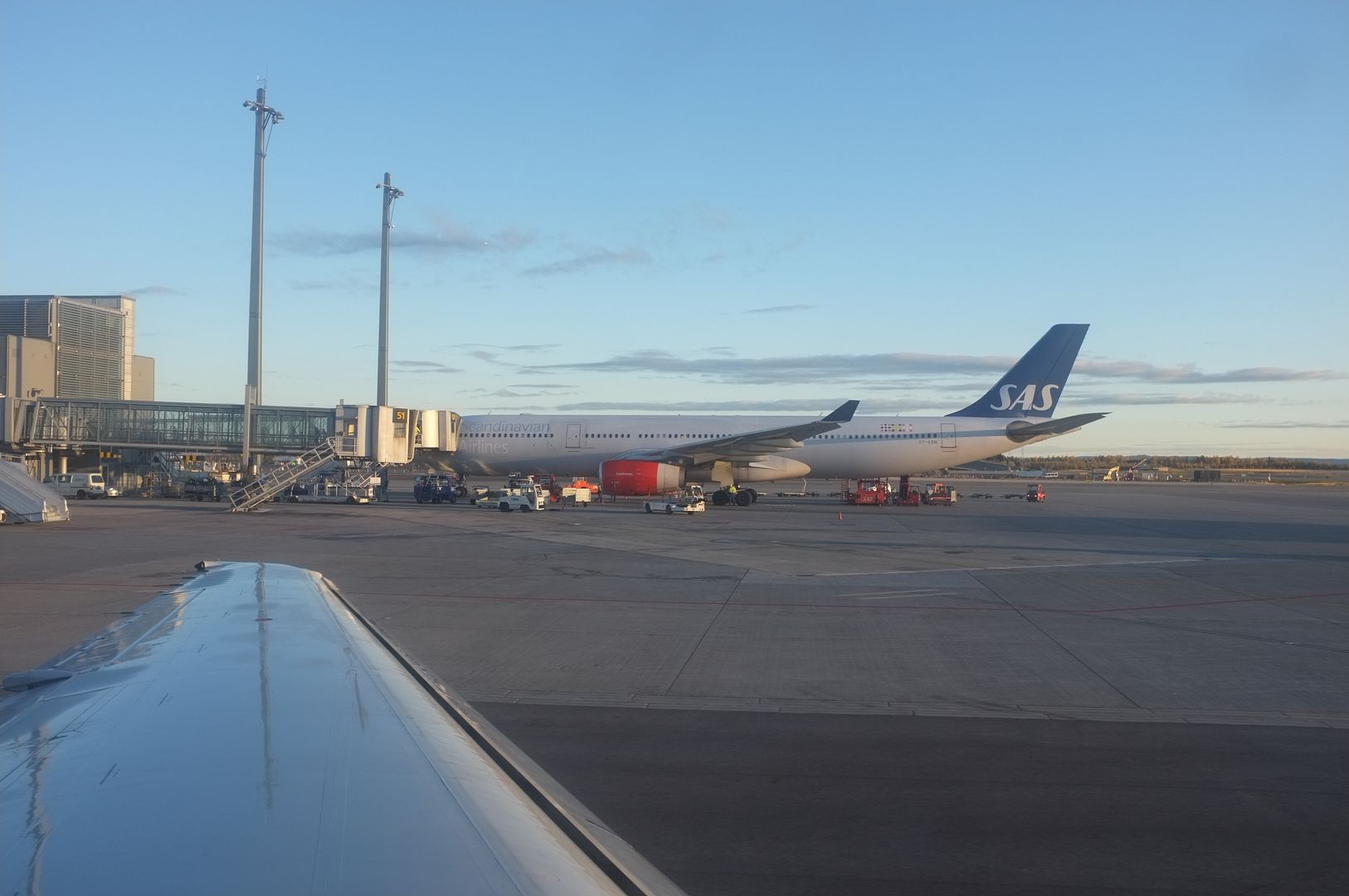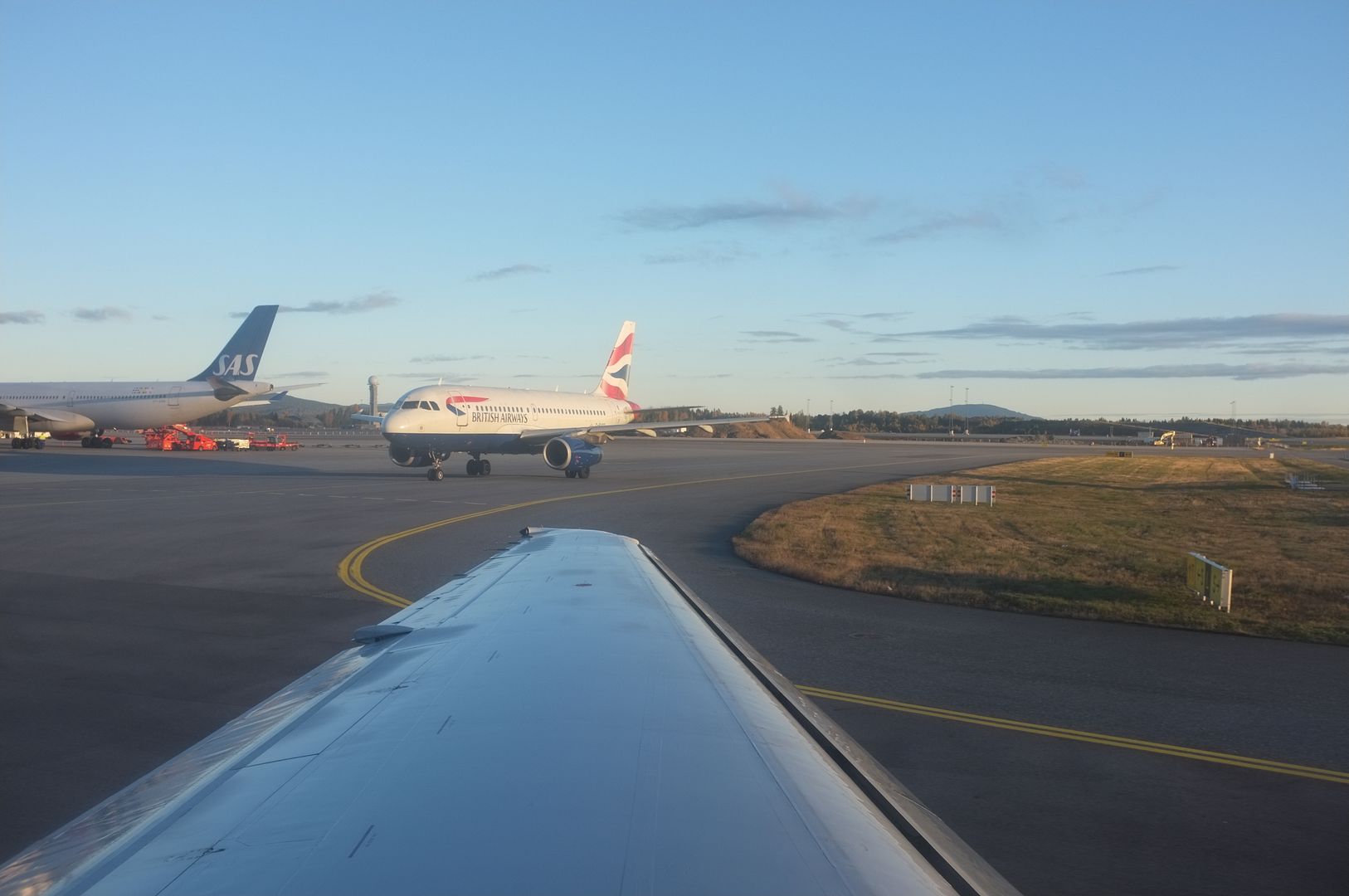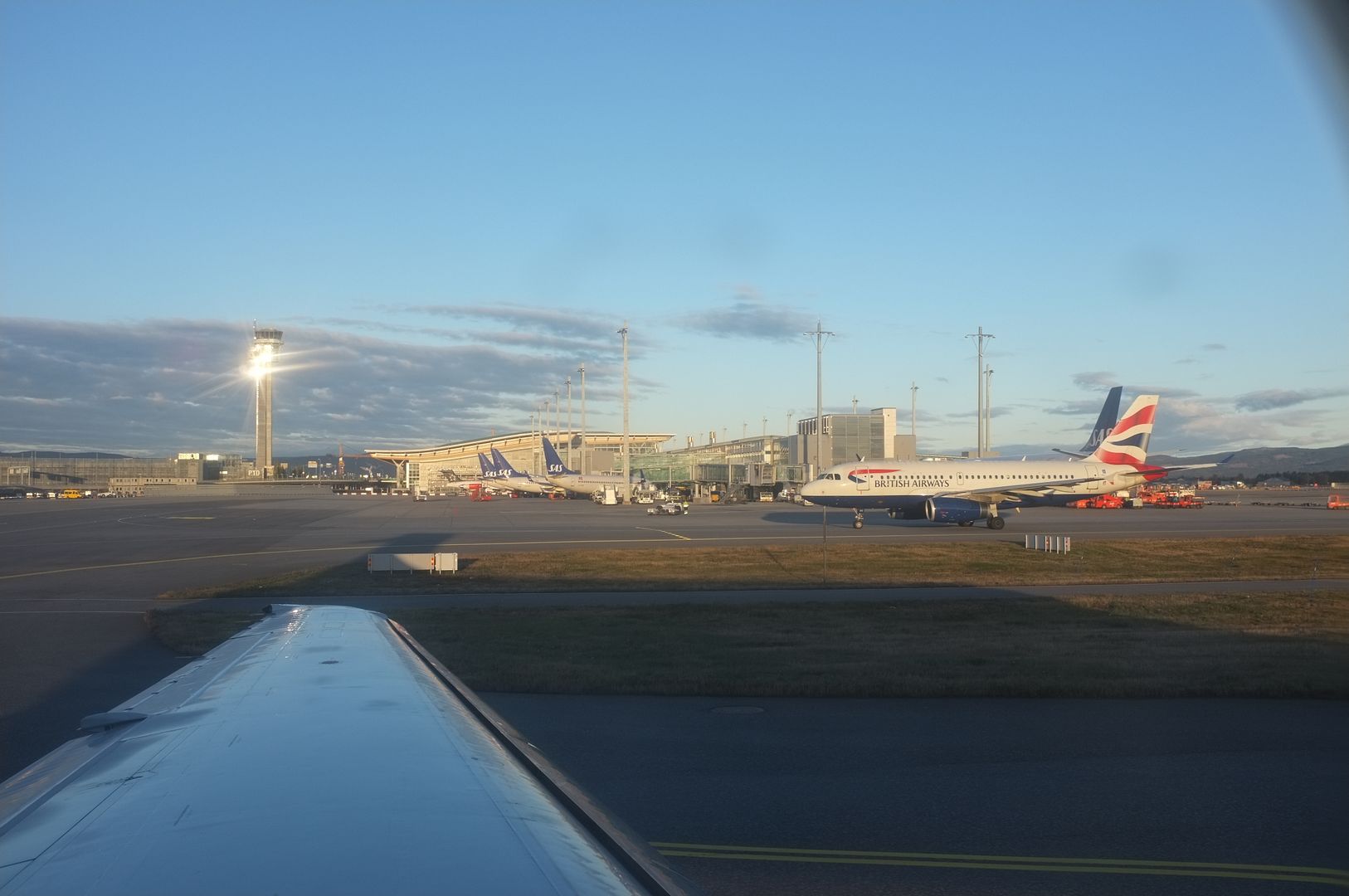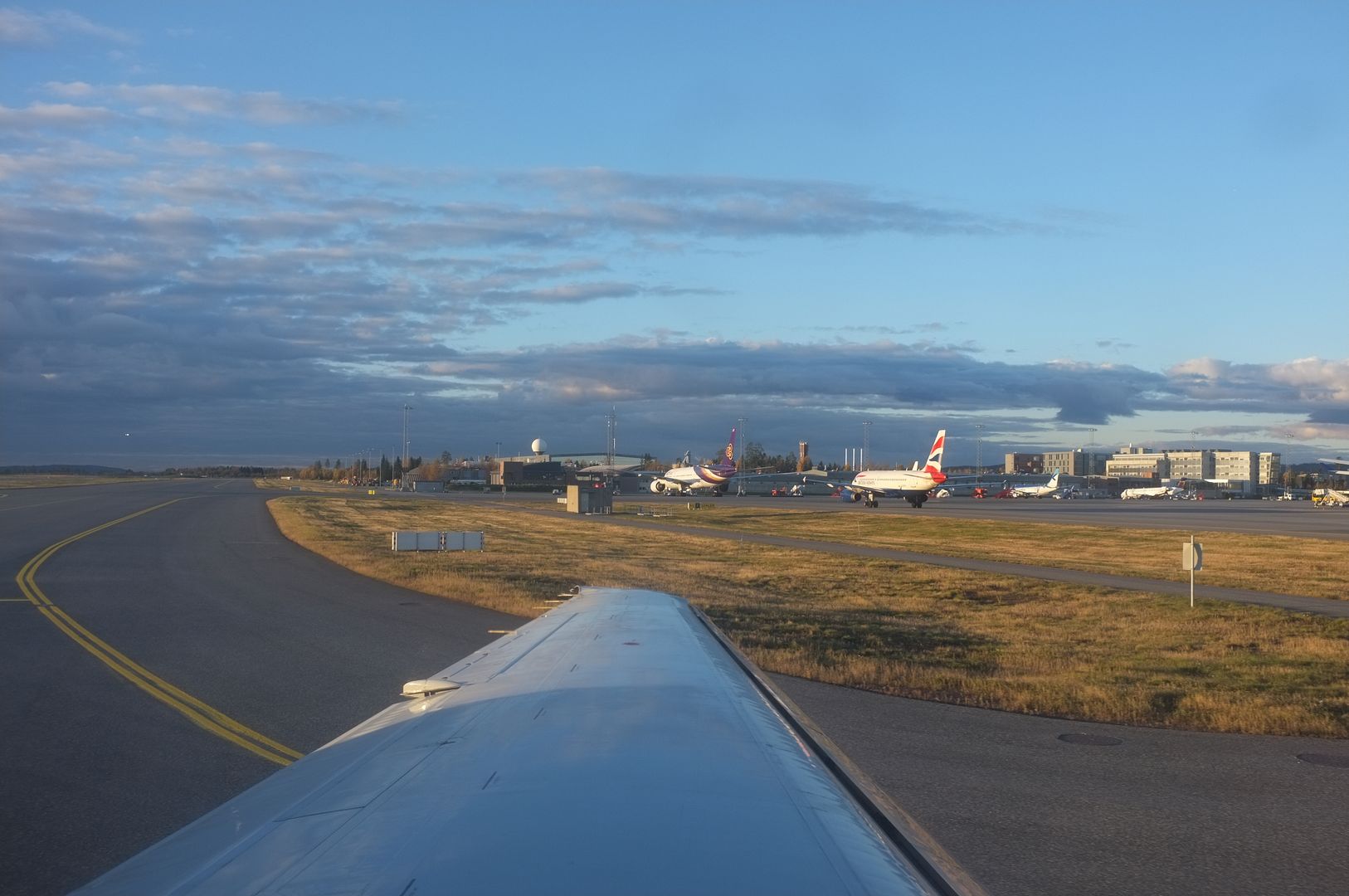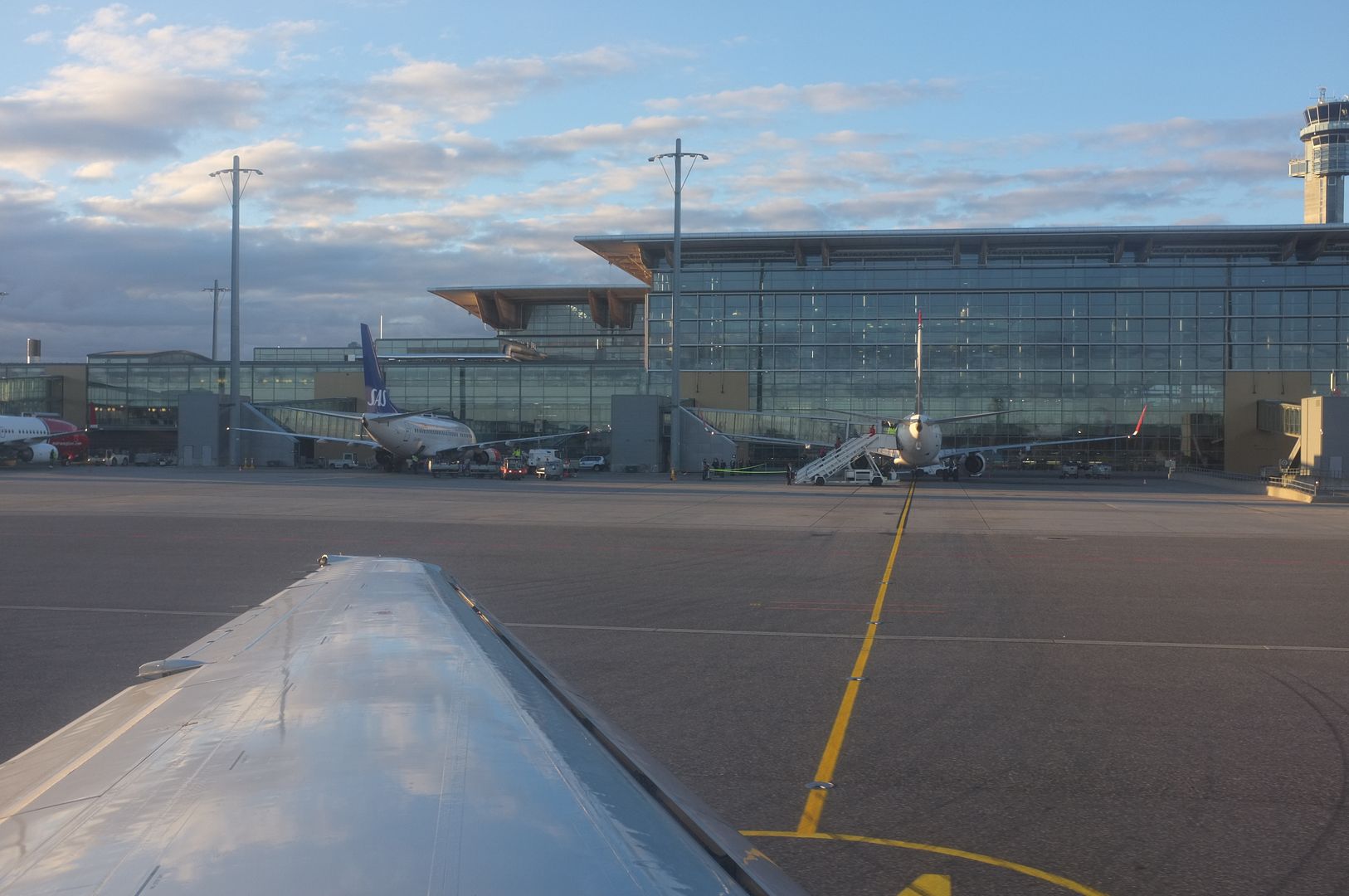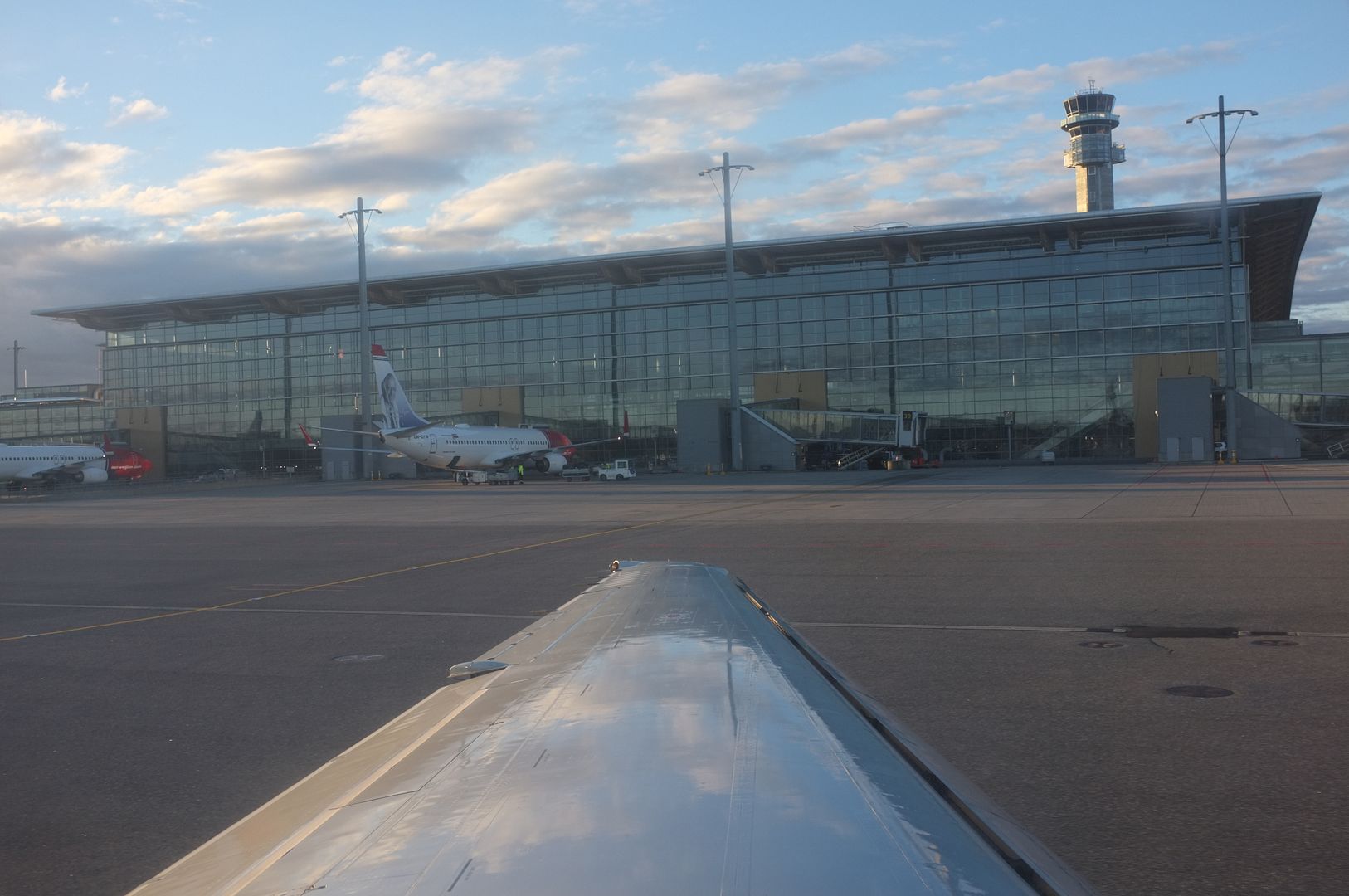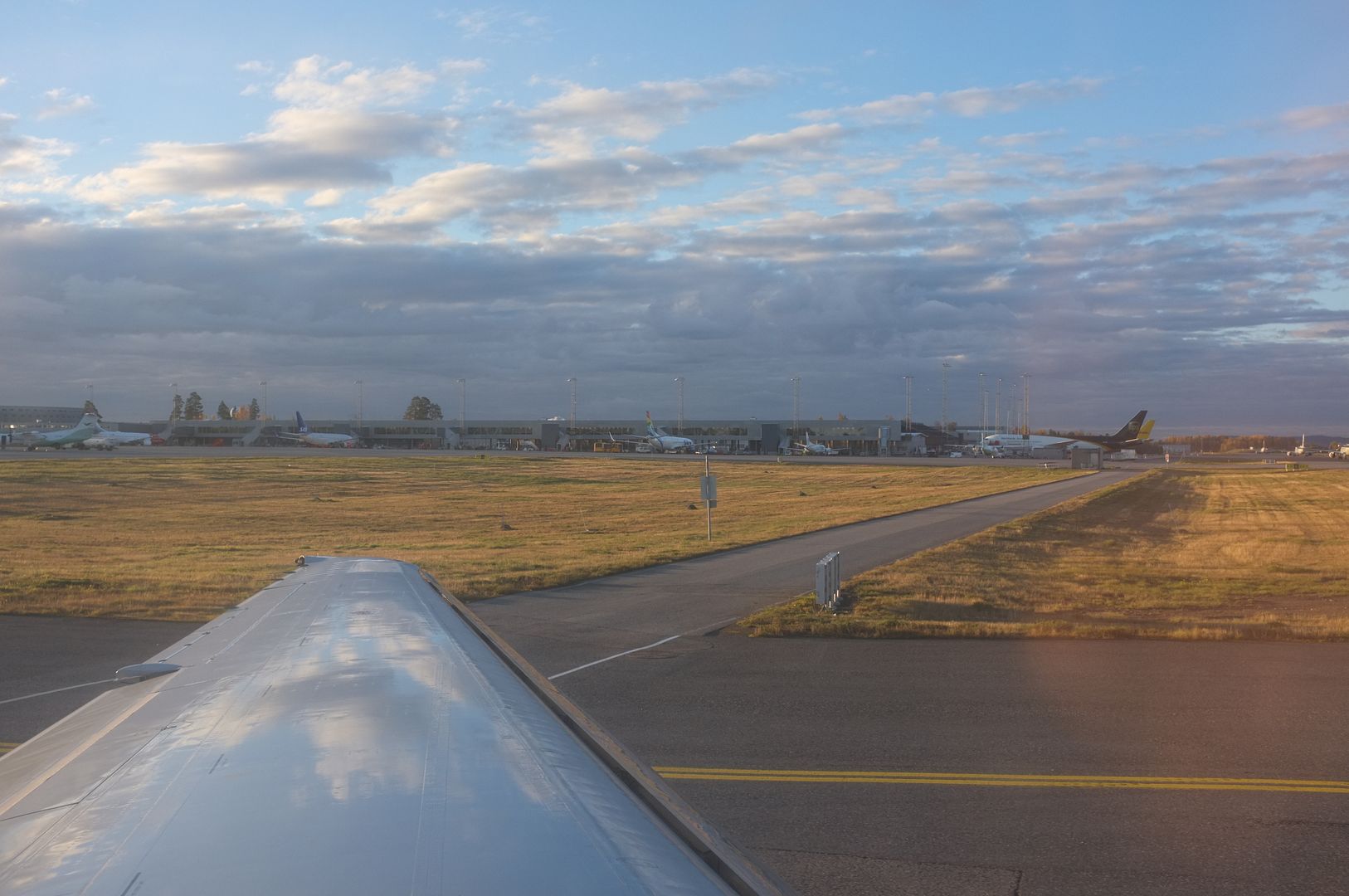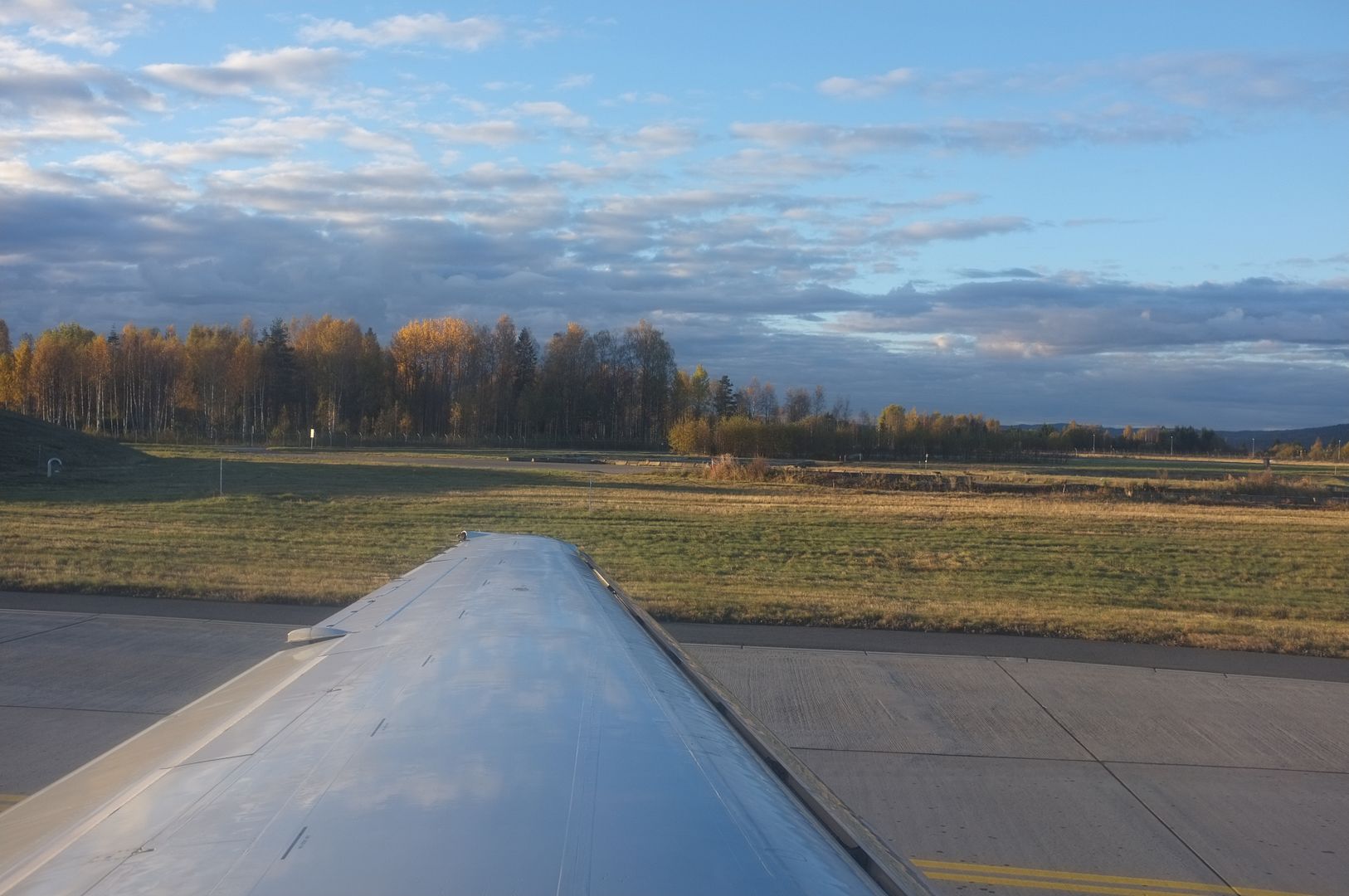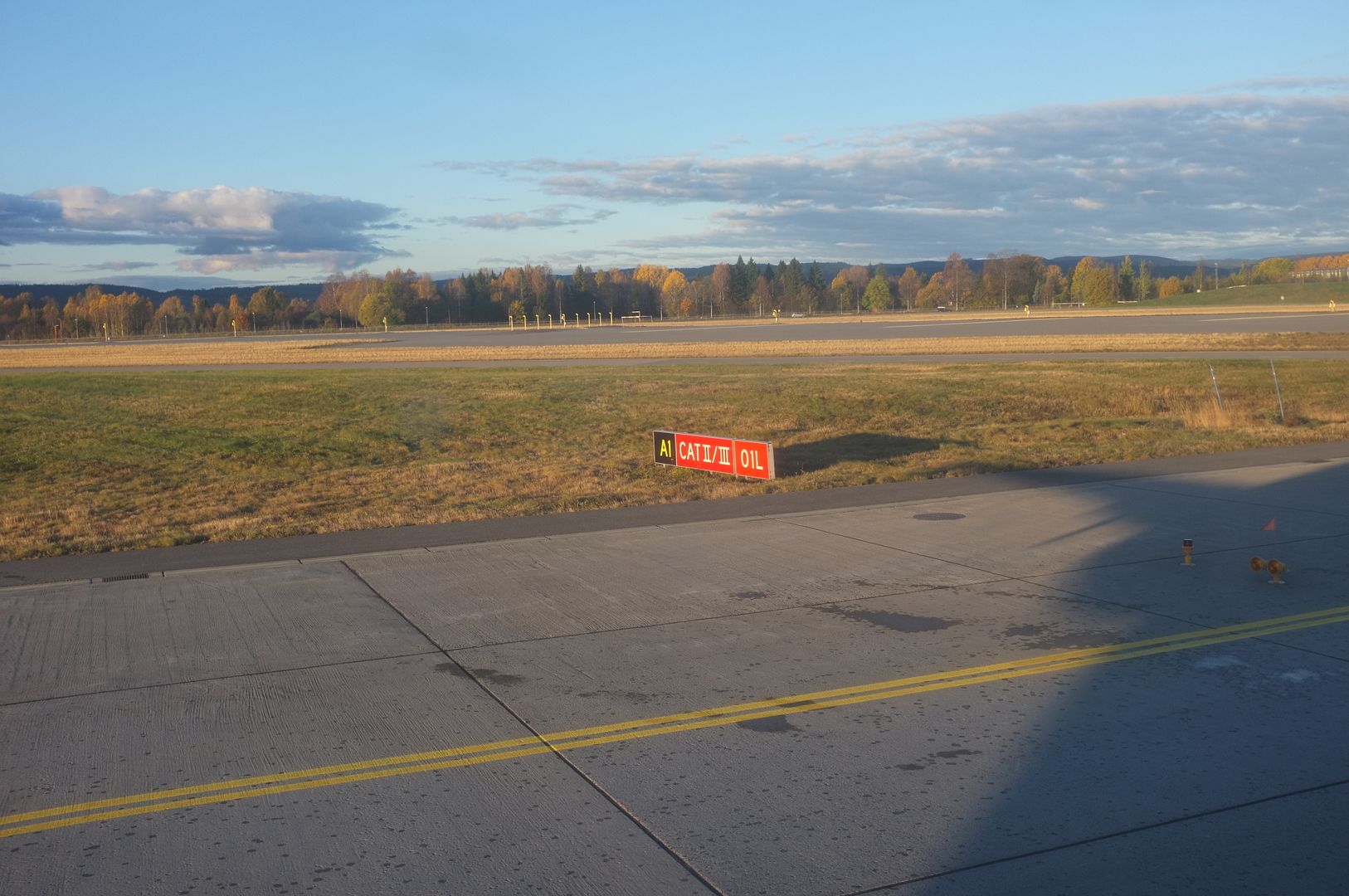 Turning for the runway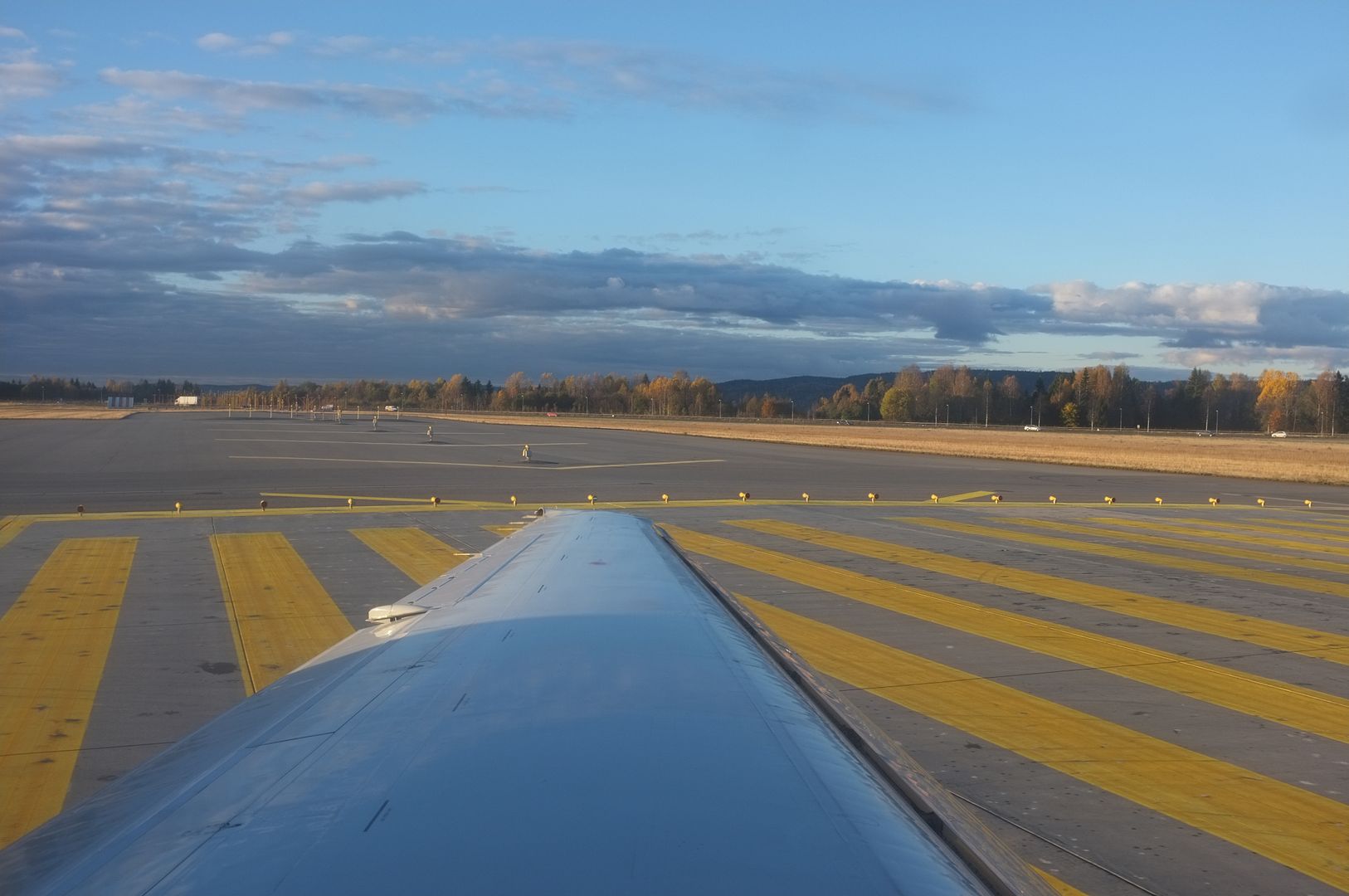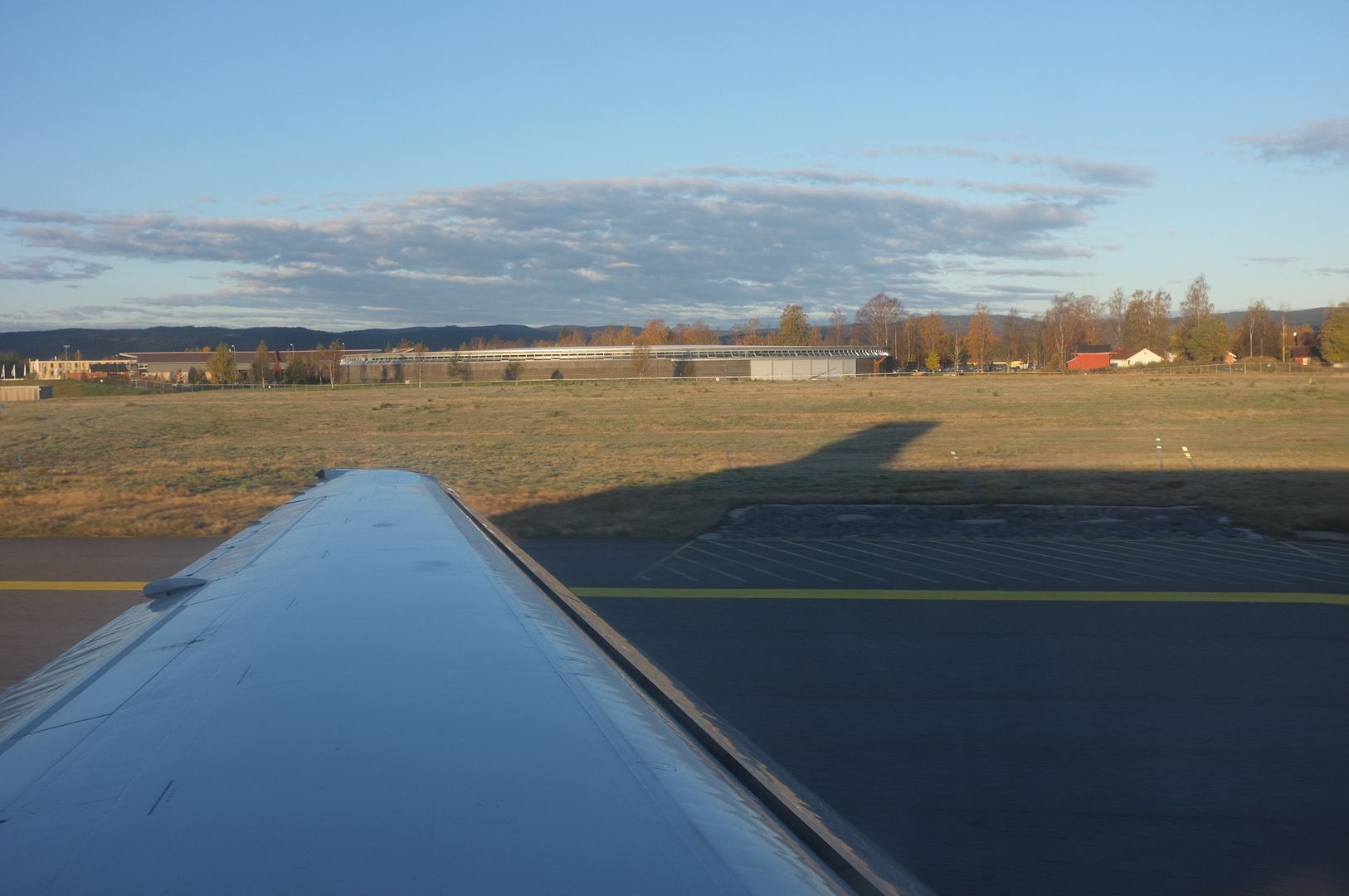 Took off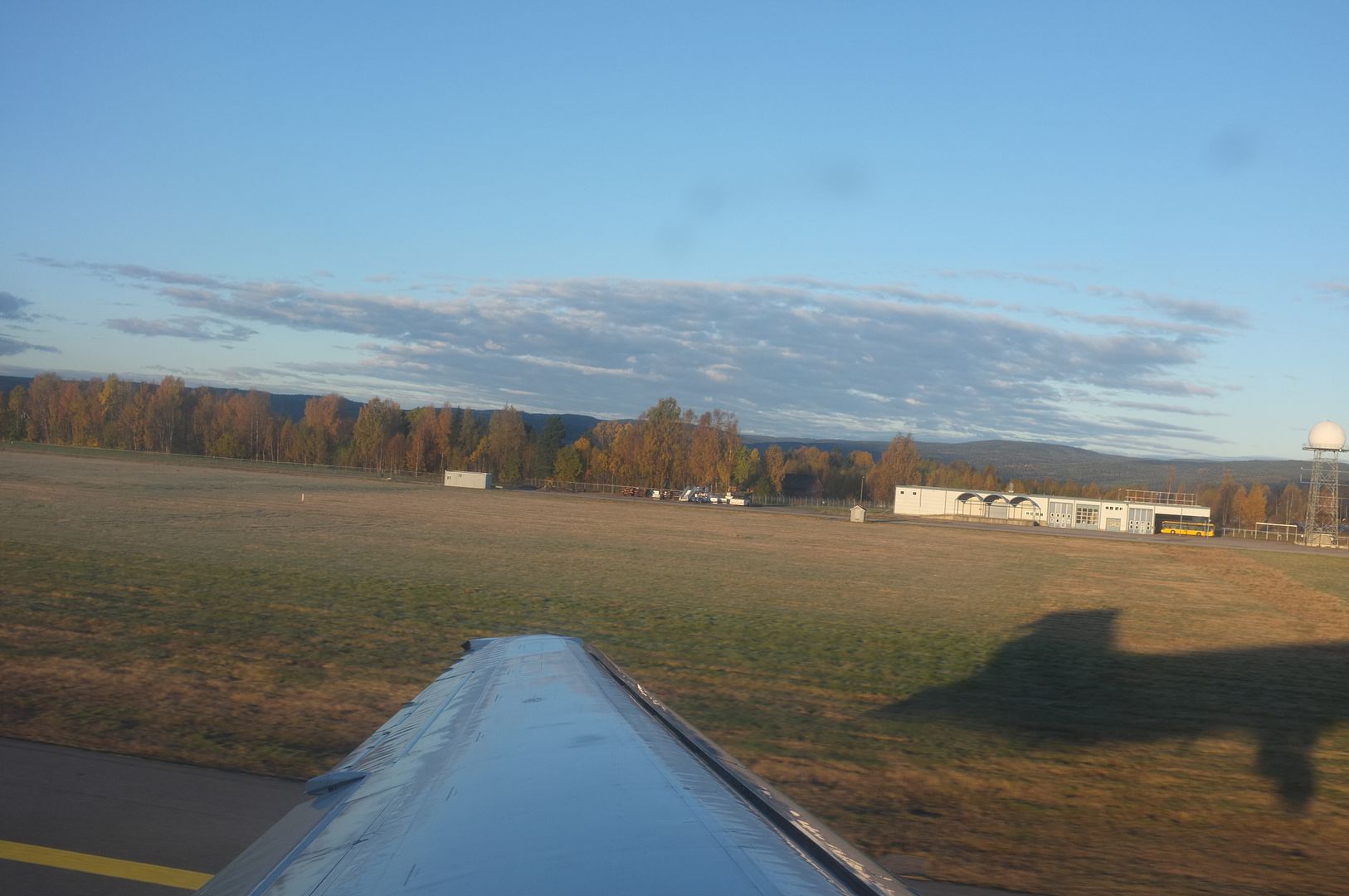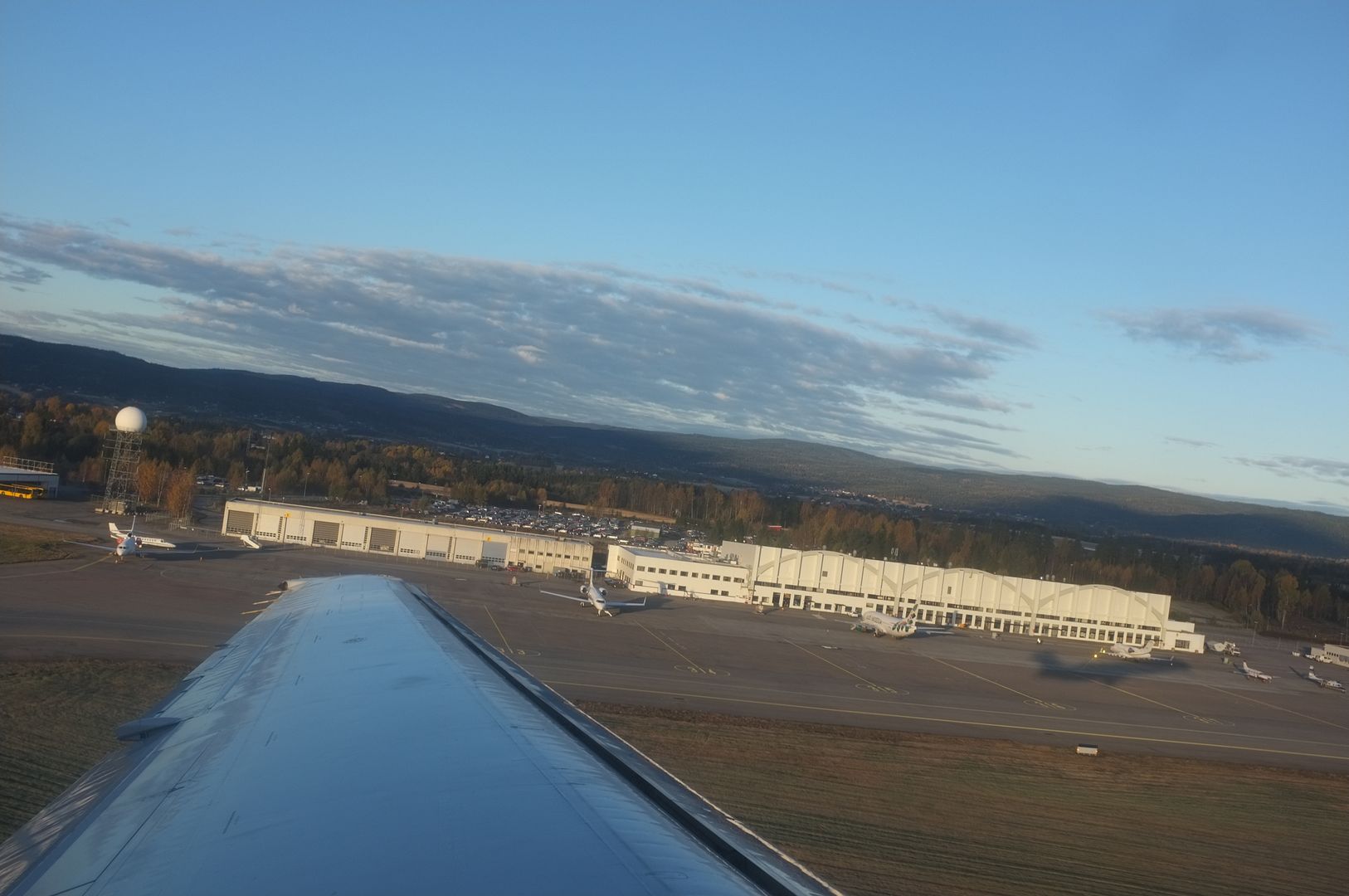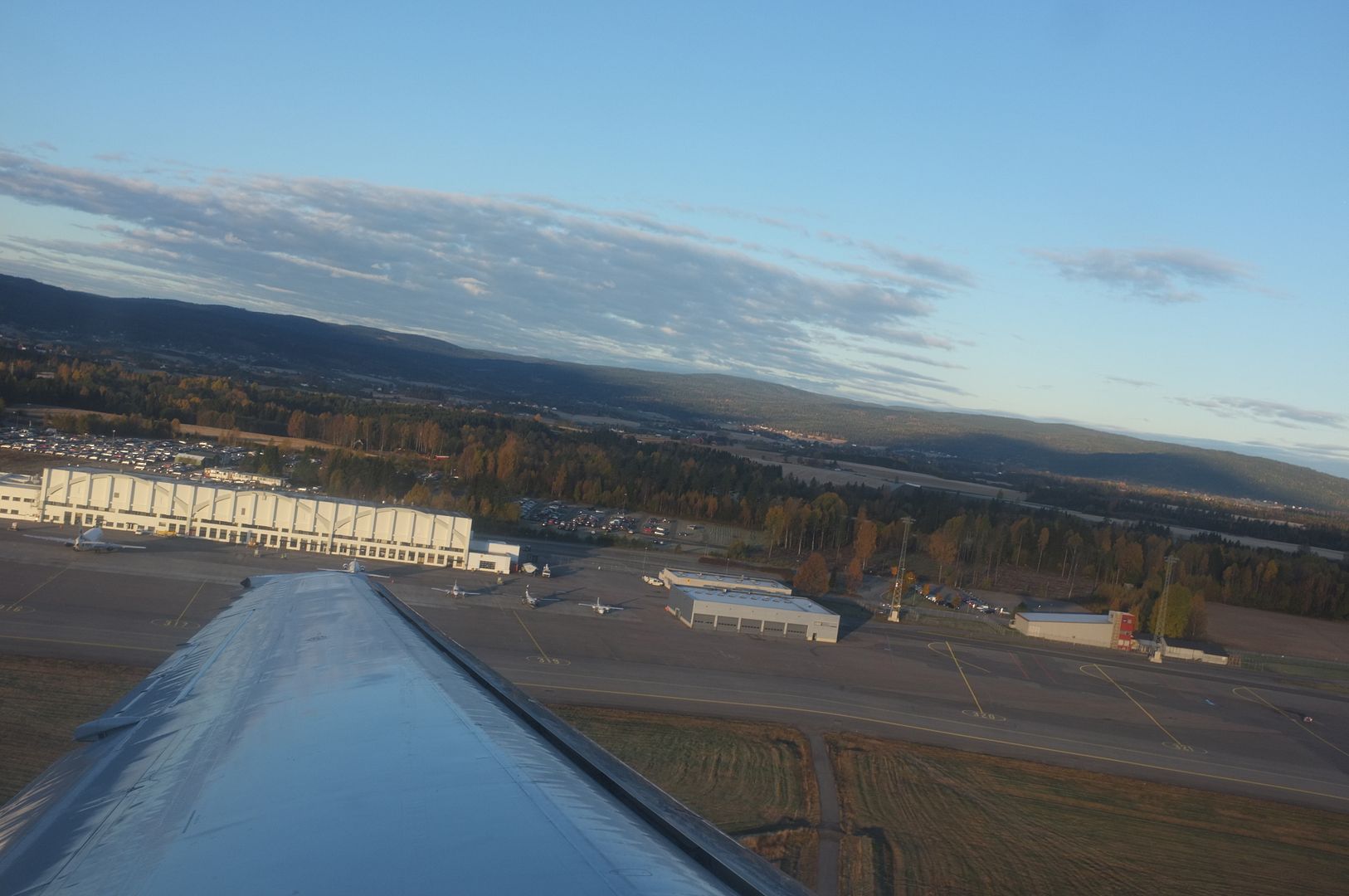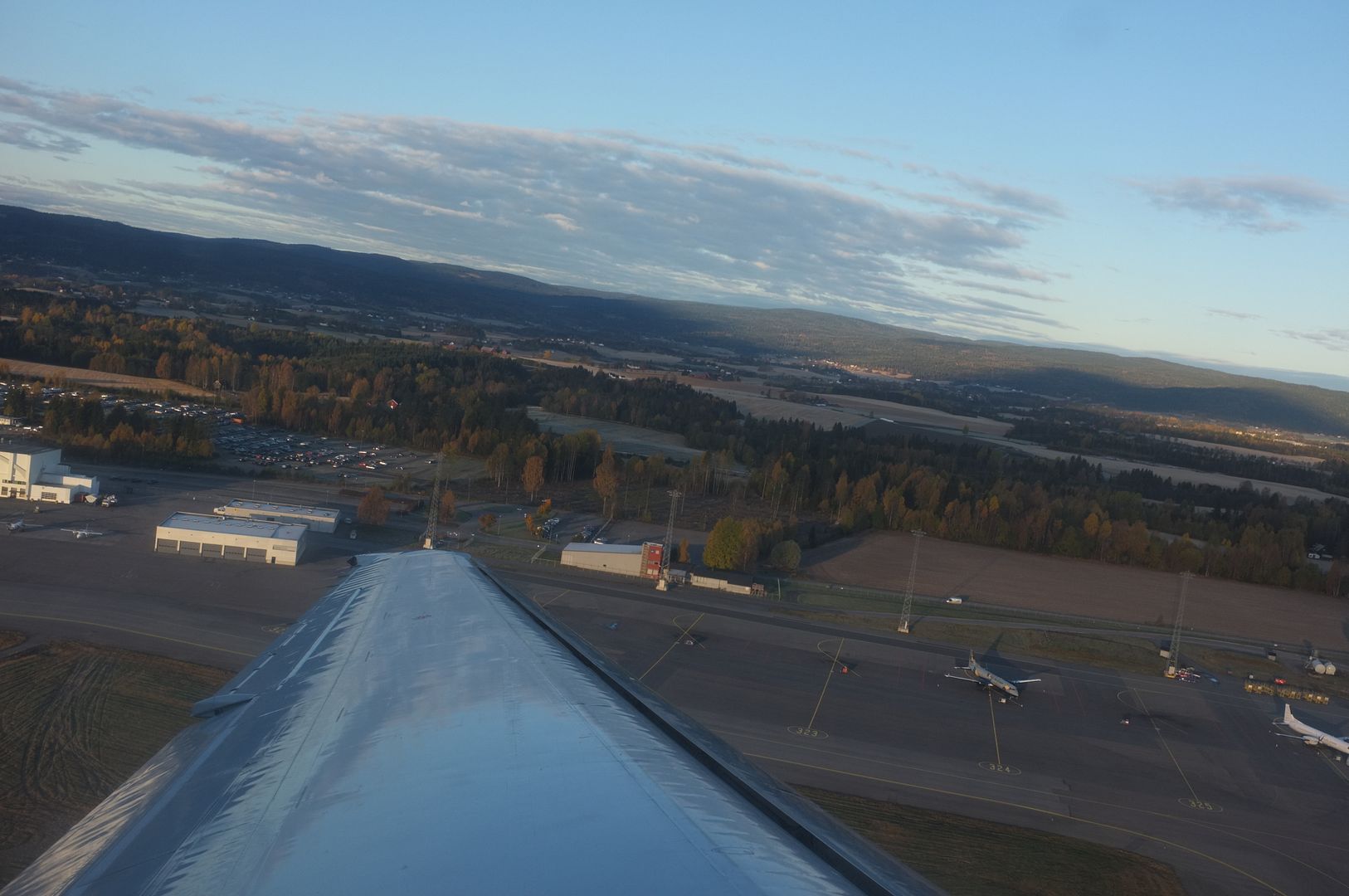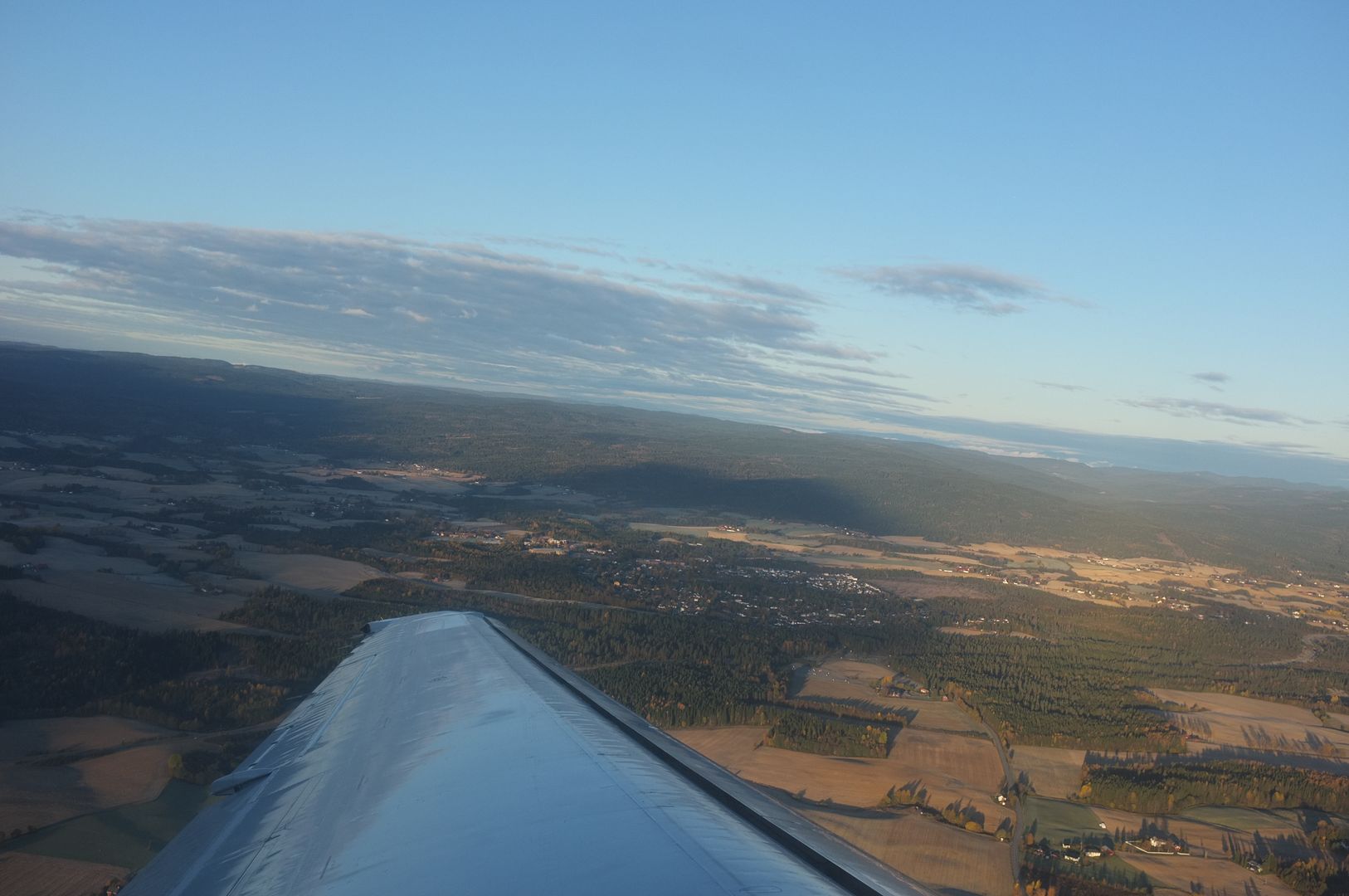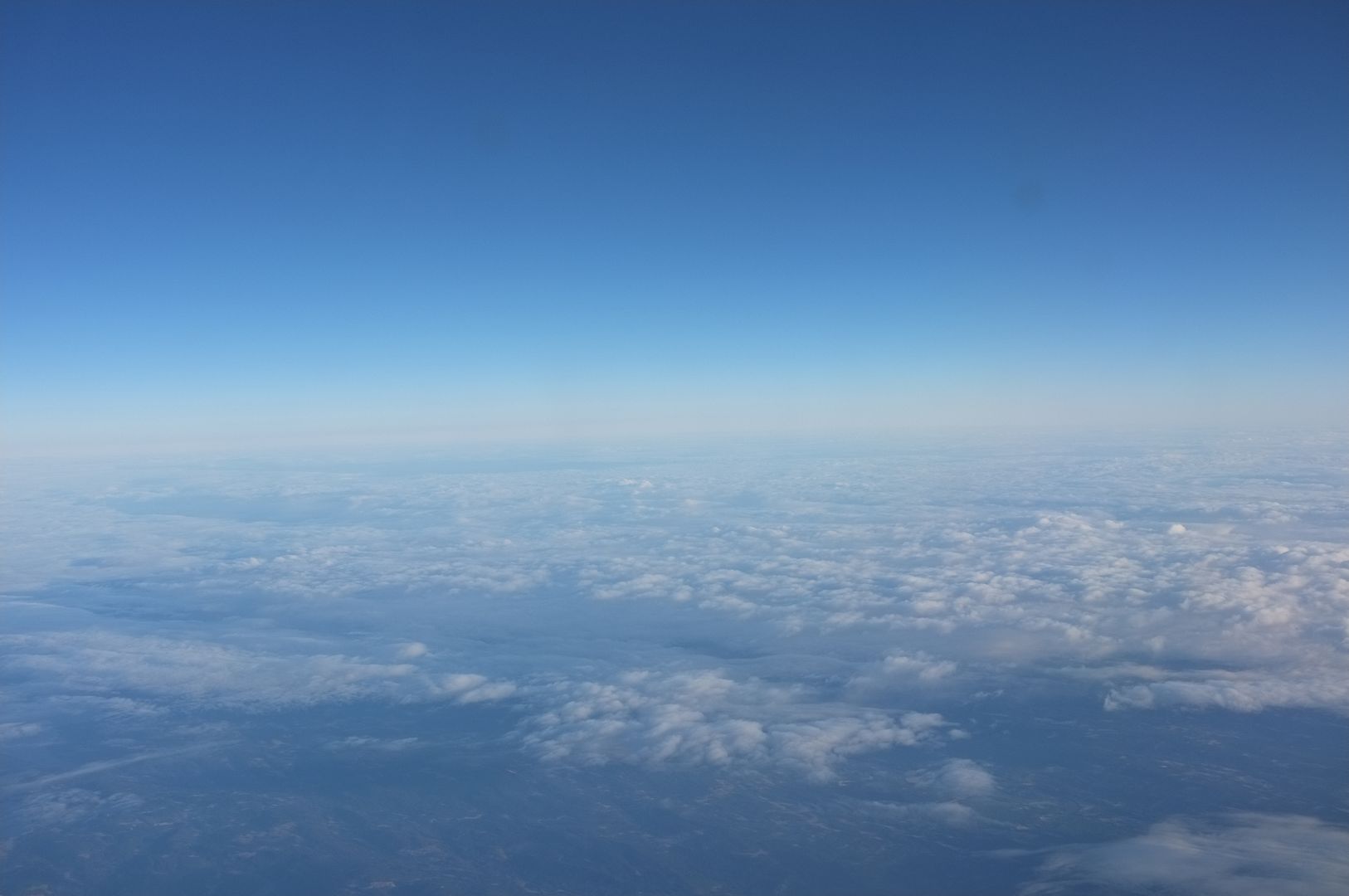 When seatbelt sign got switched off, the crew made another announcement saying that complimentary tea and coffee will be served soon as well as the sales of refreshments onboard.
Plenty of space at the exit row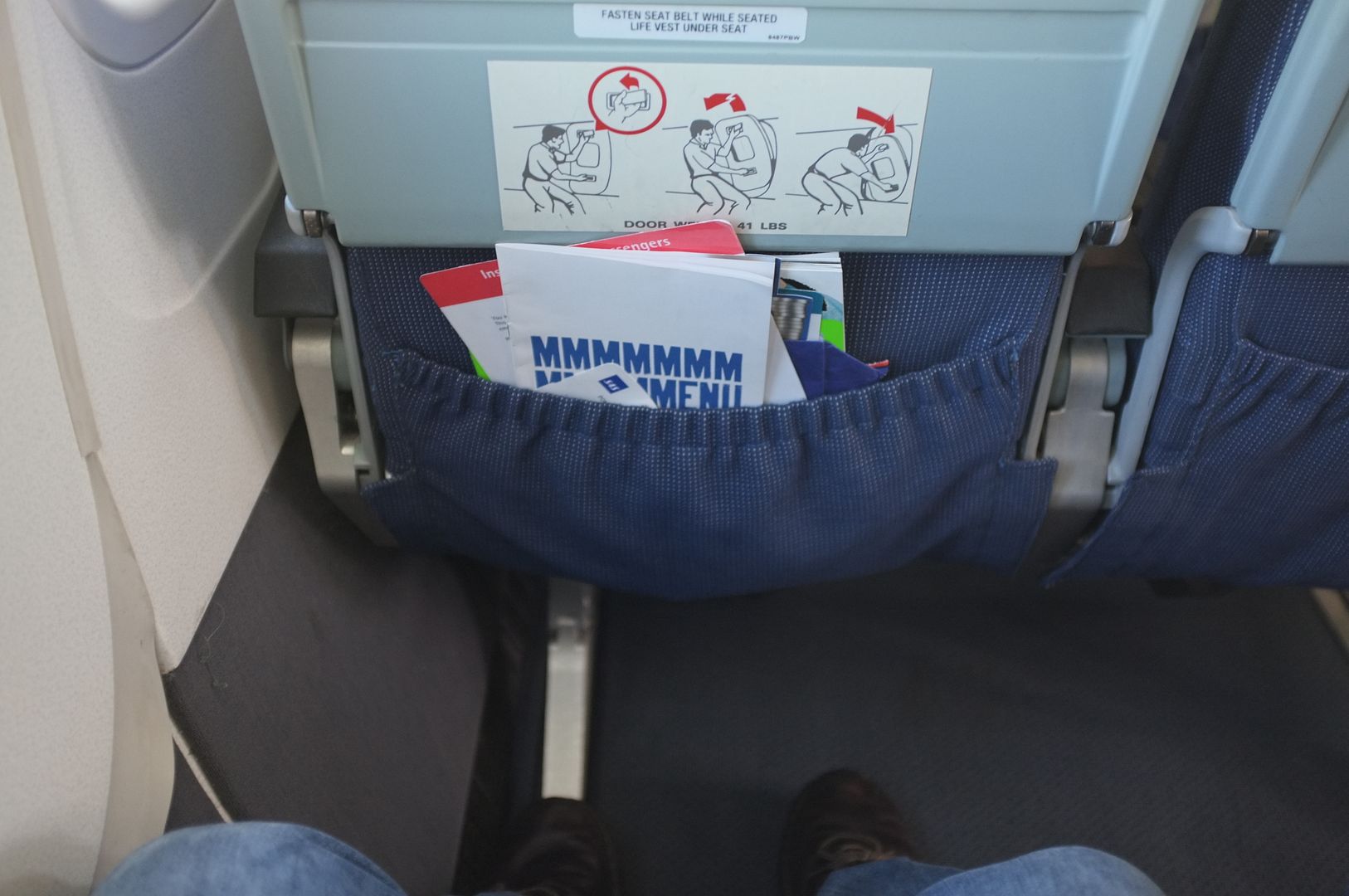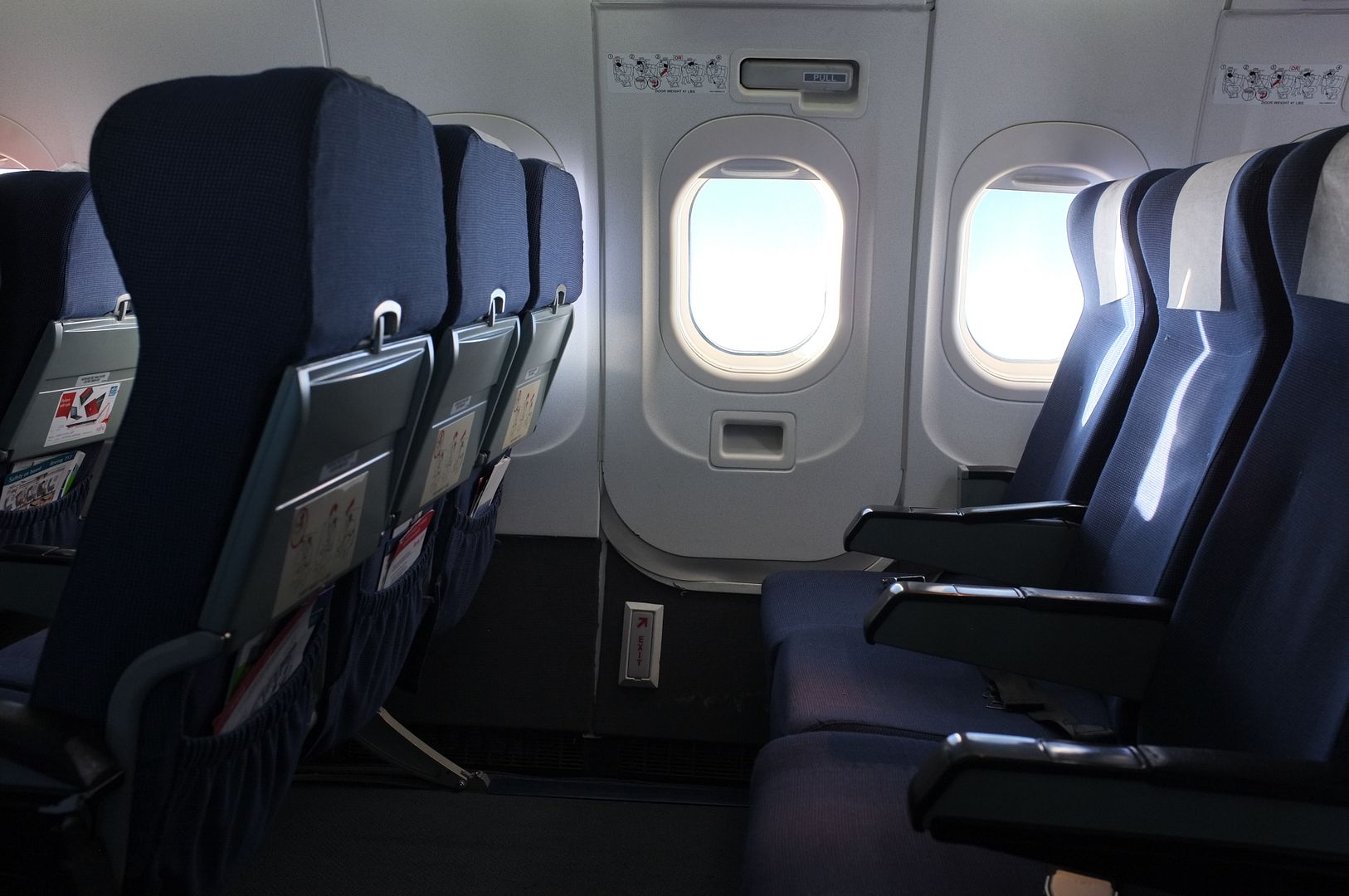 MMMMMMMMenu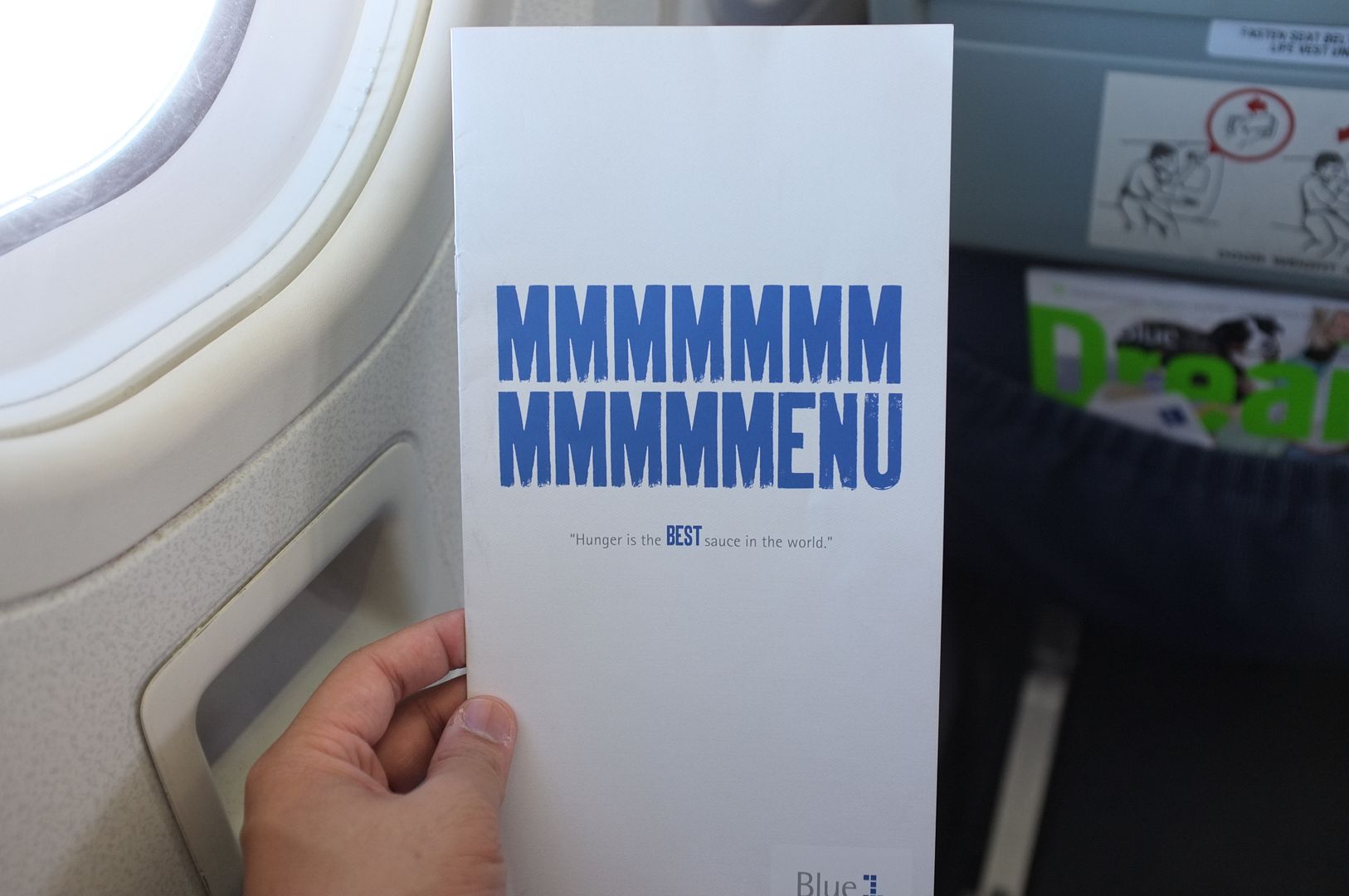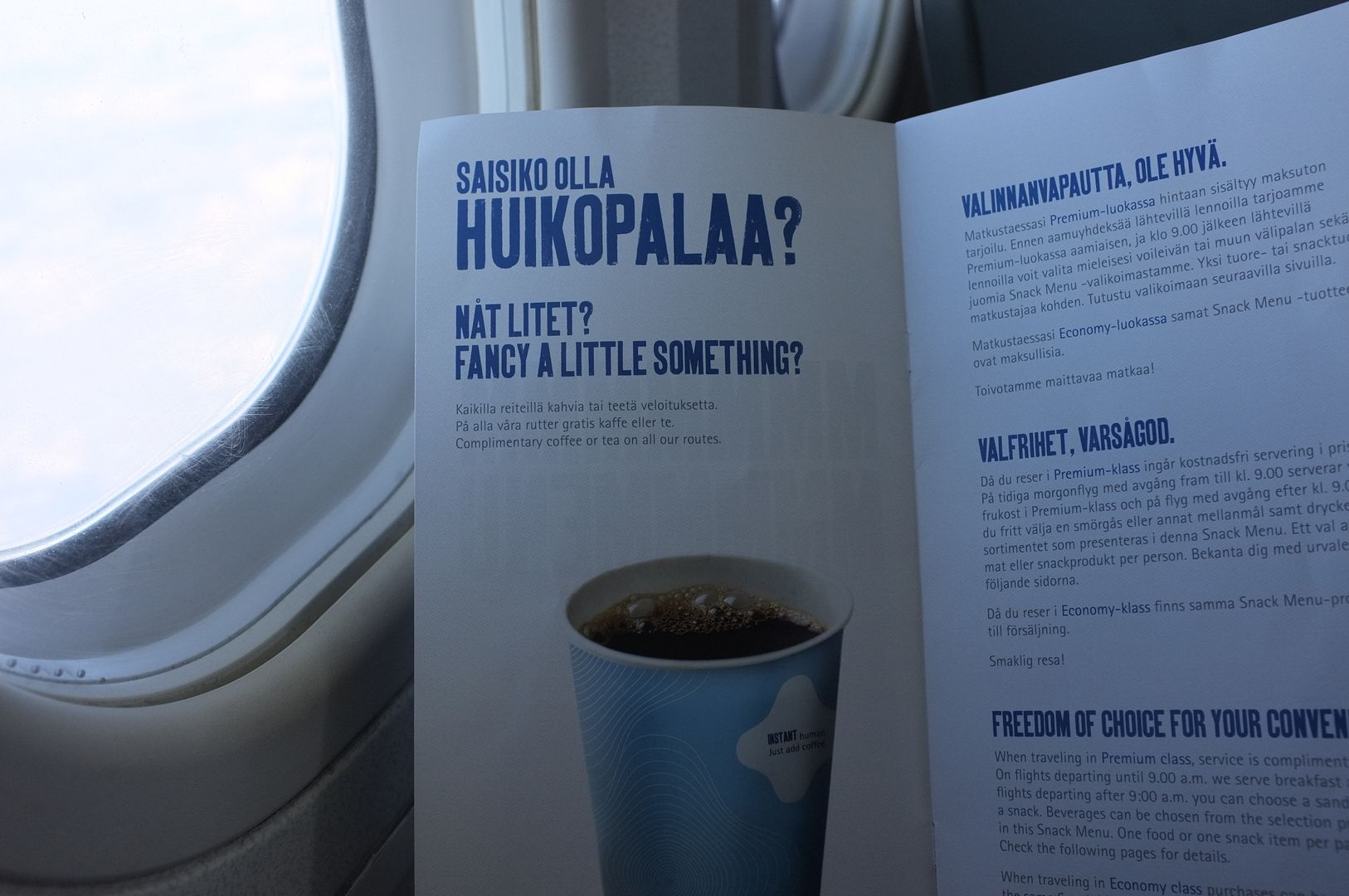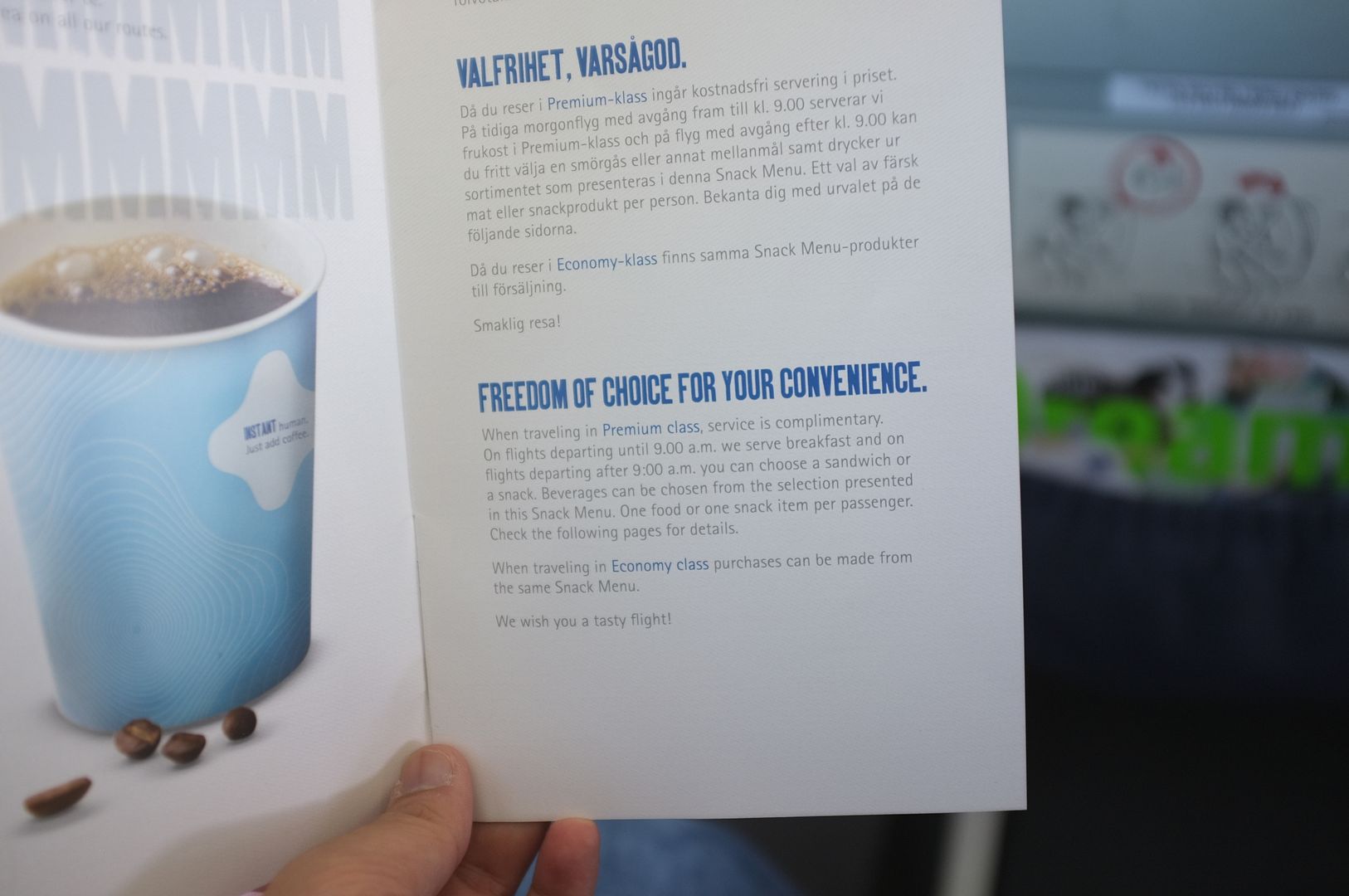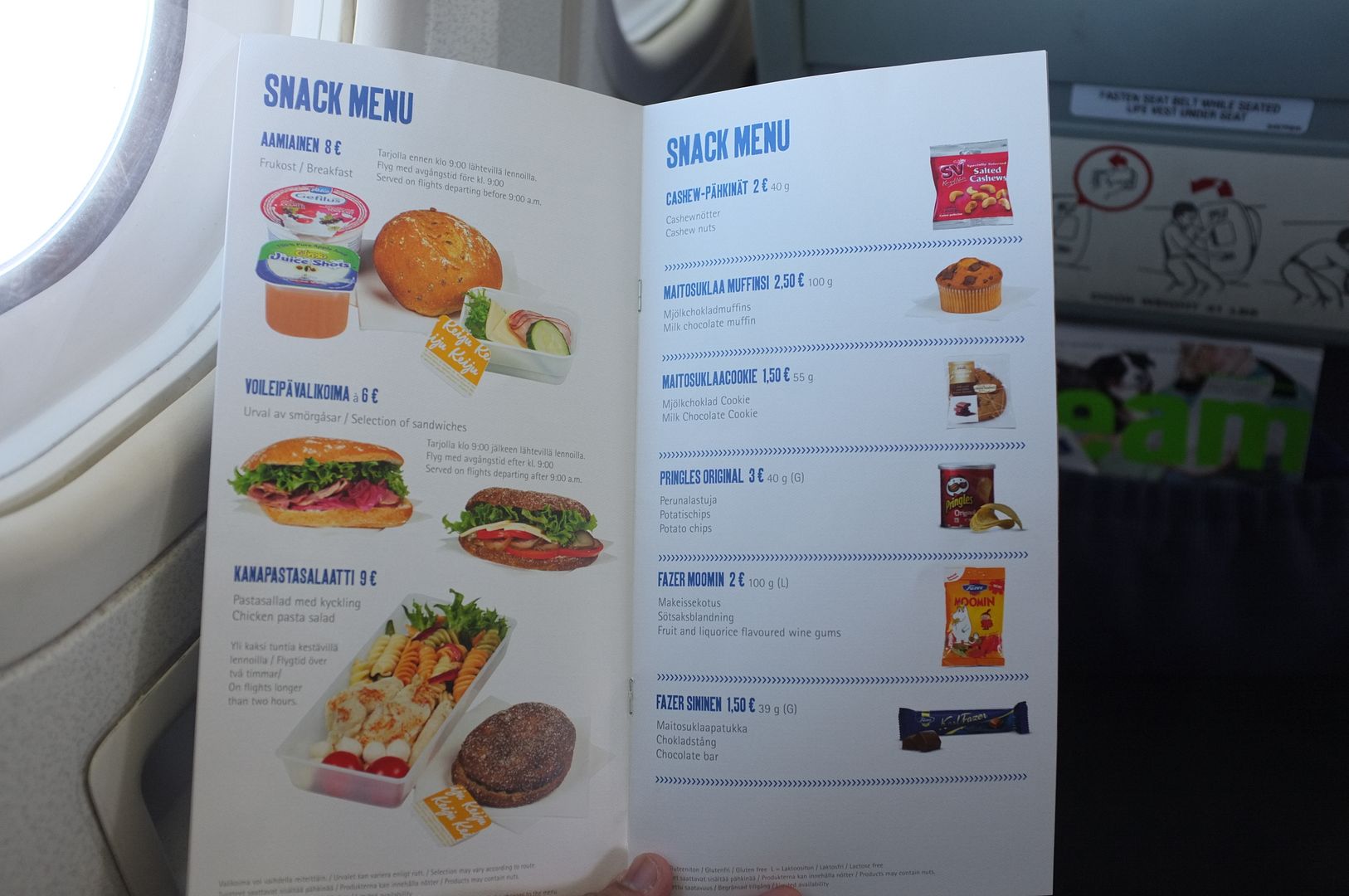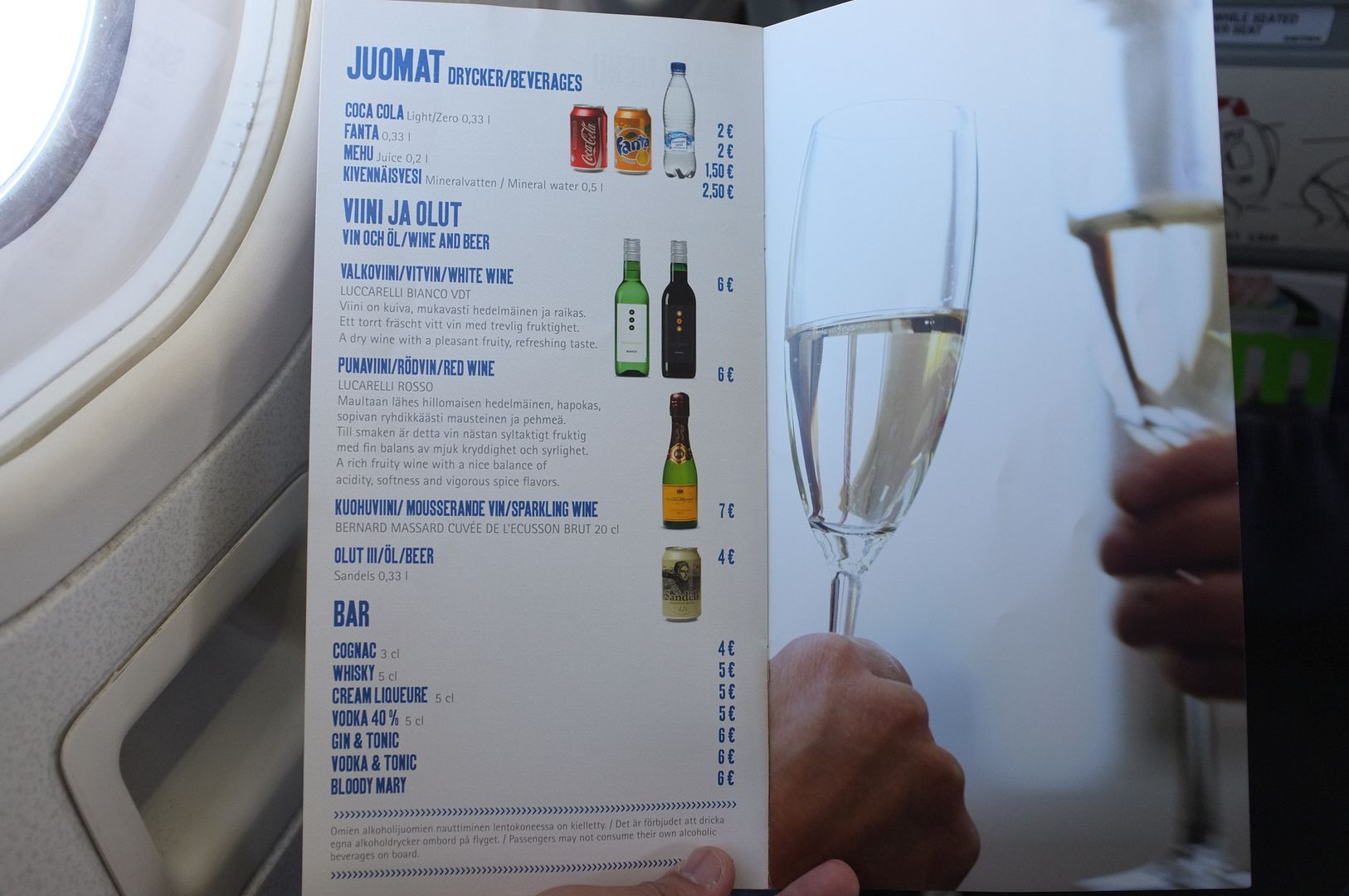 Looking outside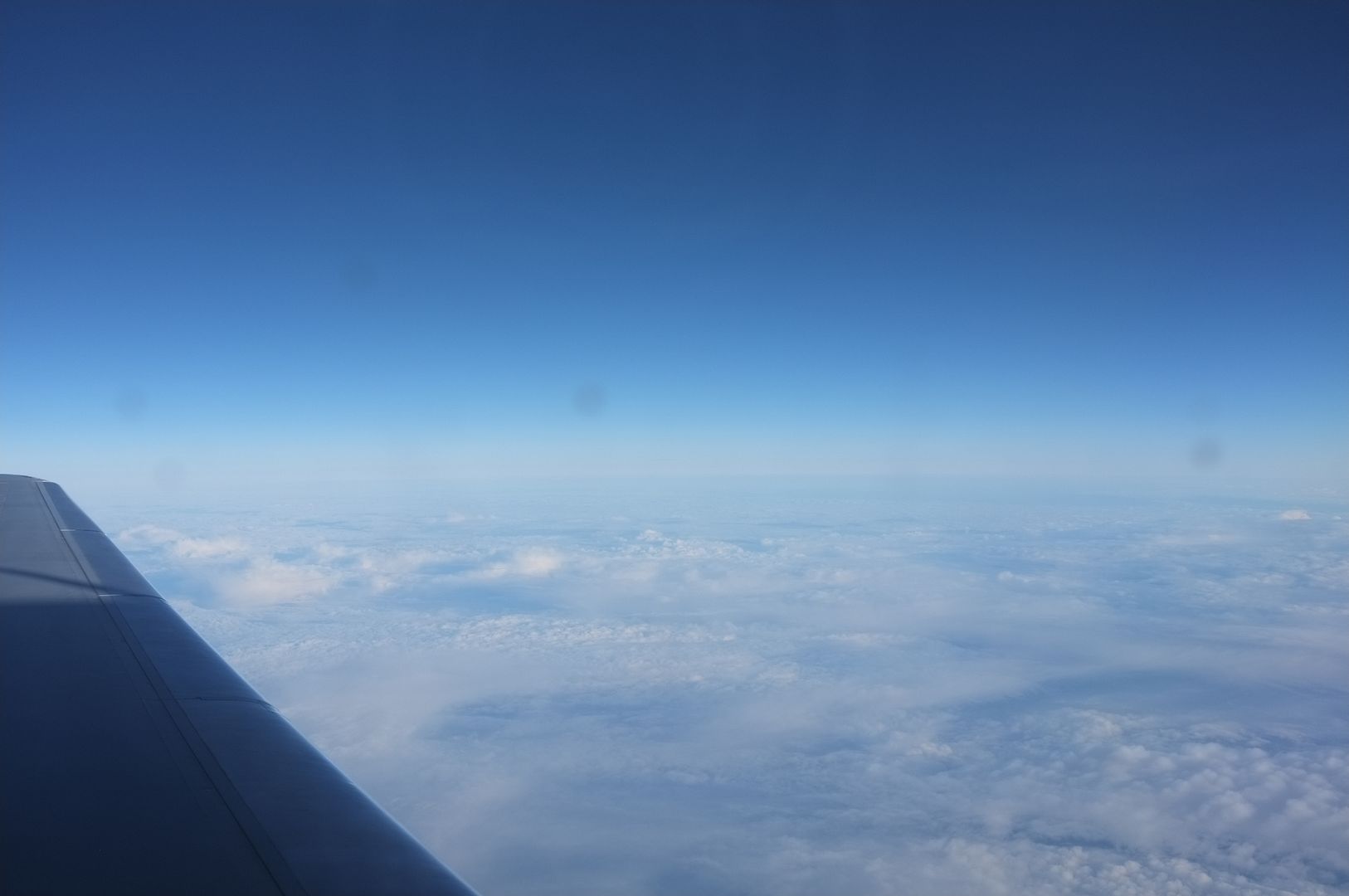 When the FA got to my row, I asked for a coffee together with a muffin for 2.50EUR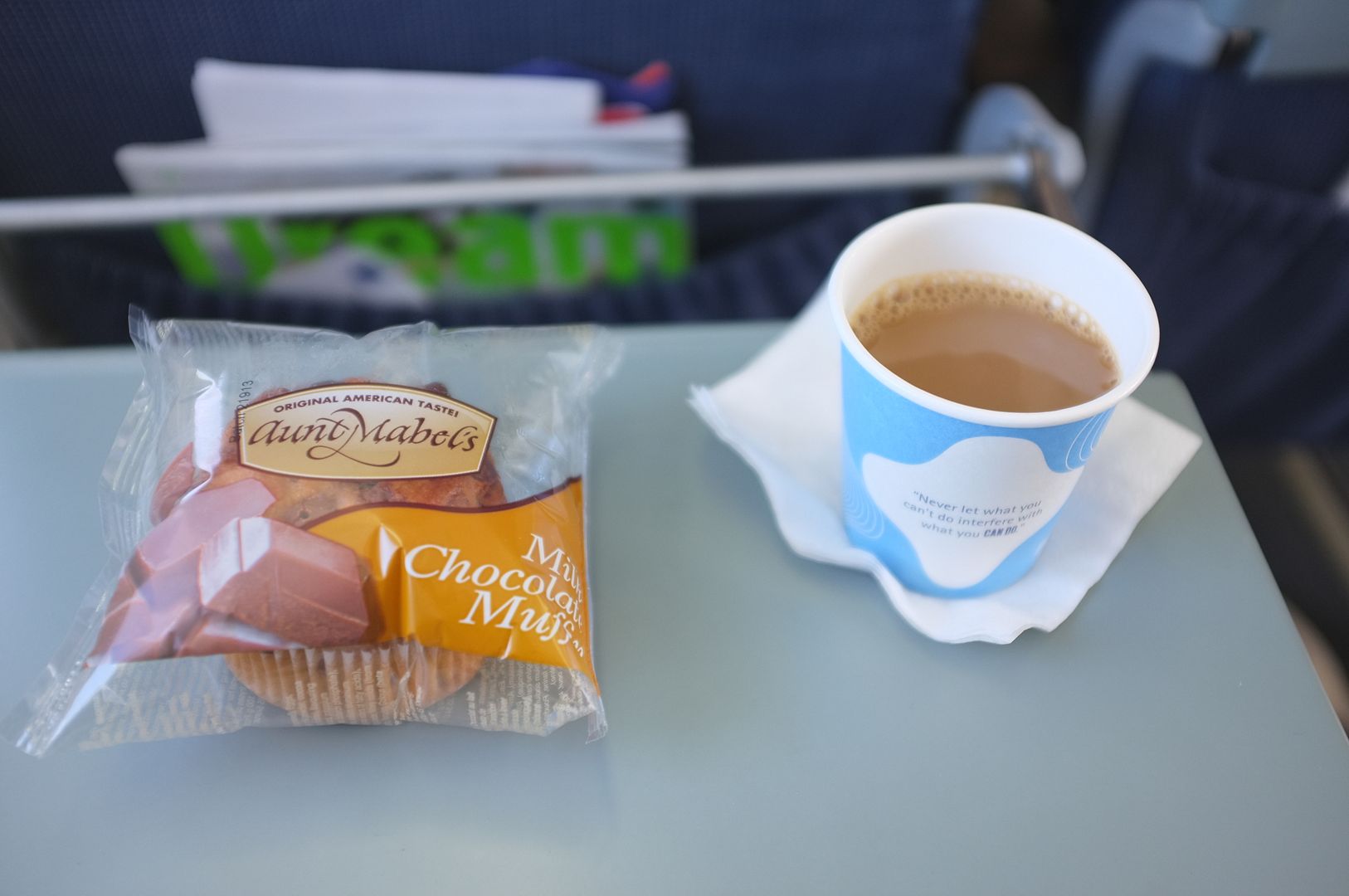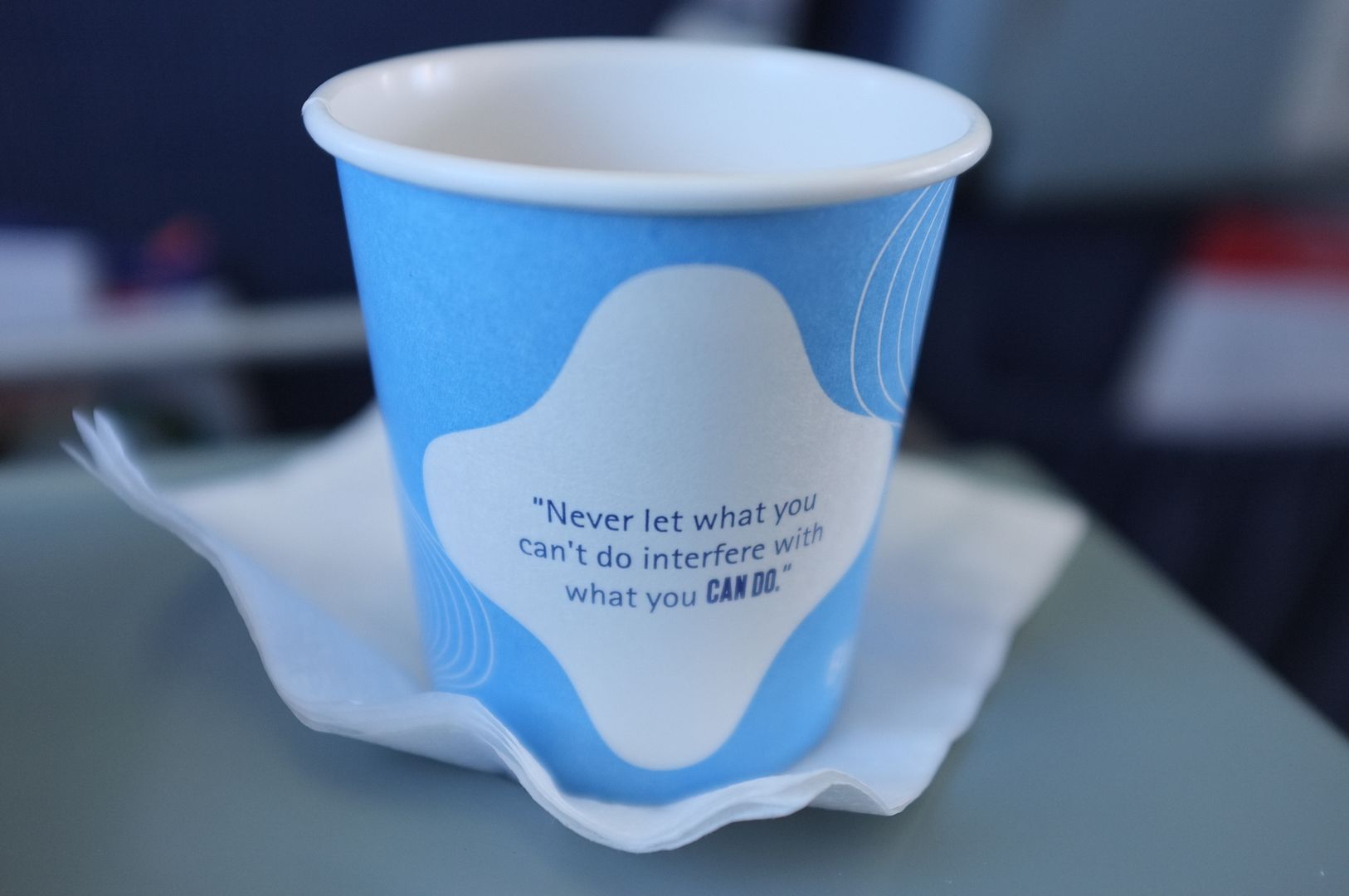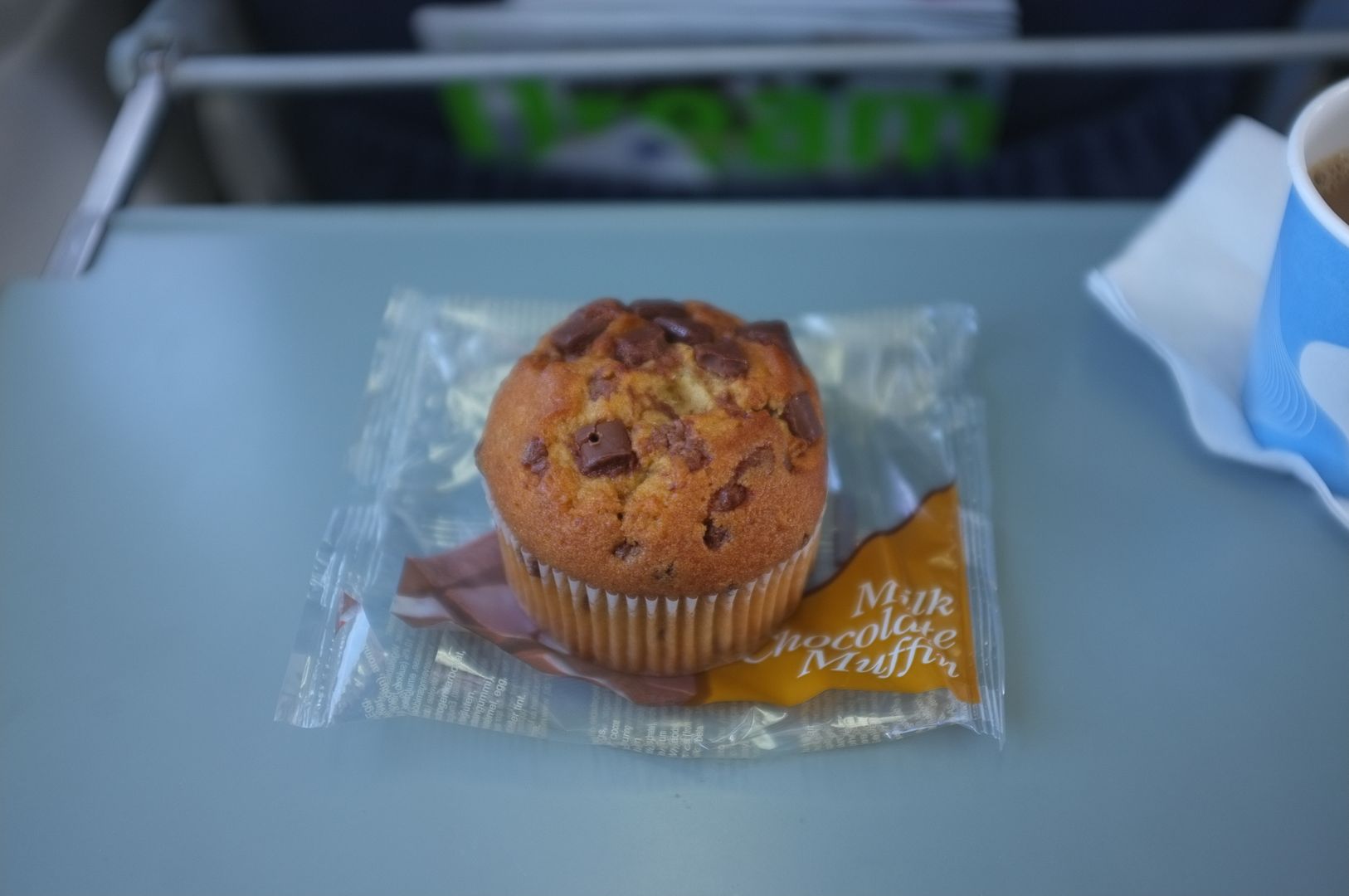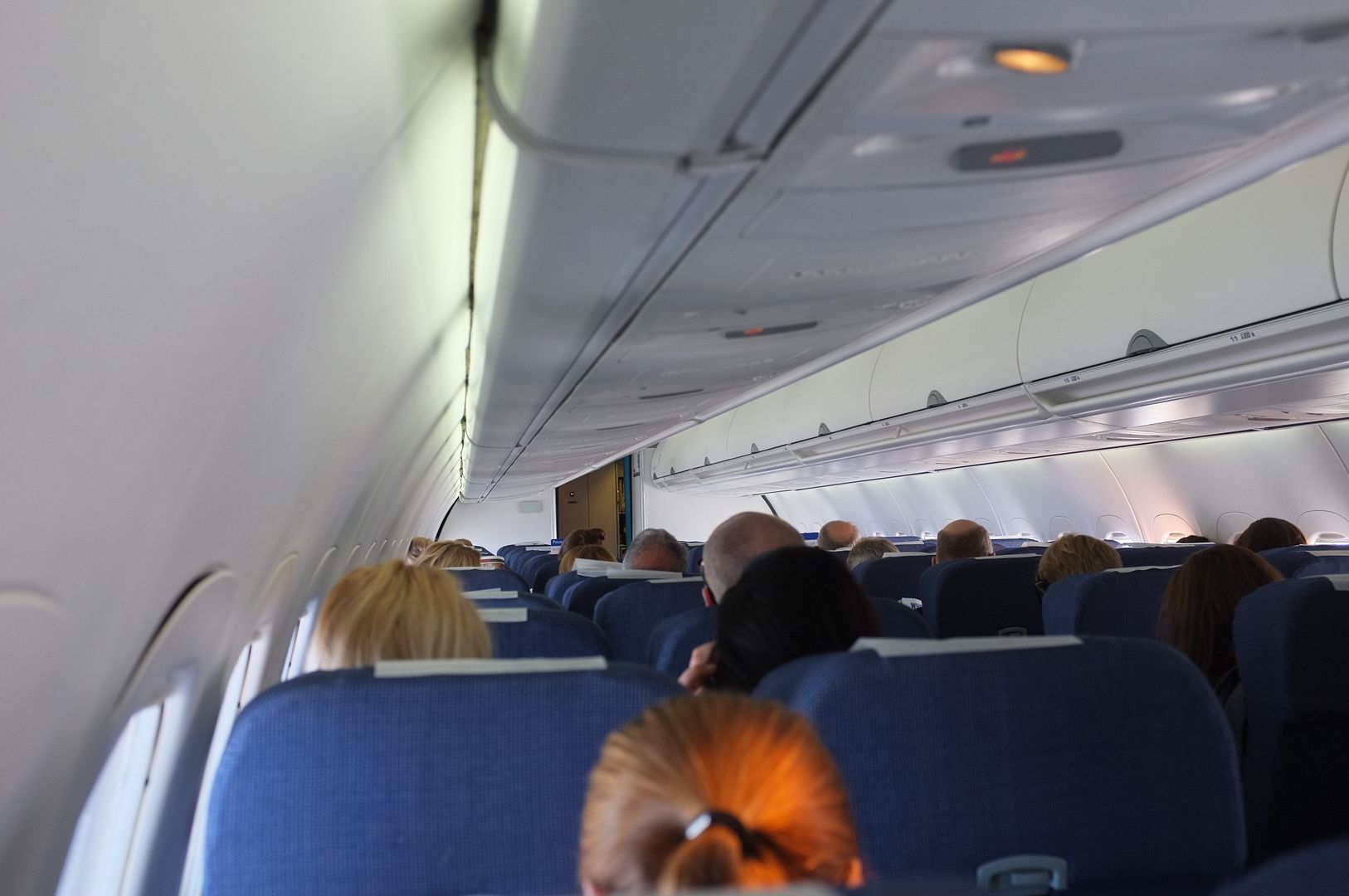 Looking at the safety card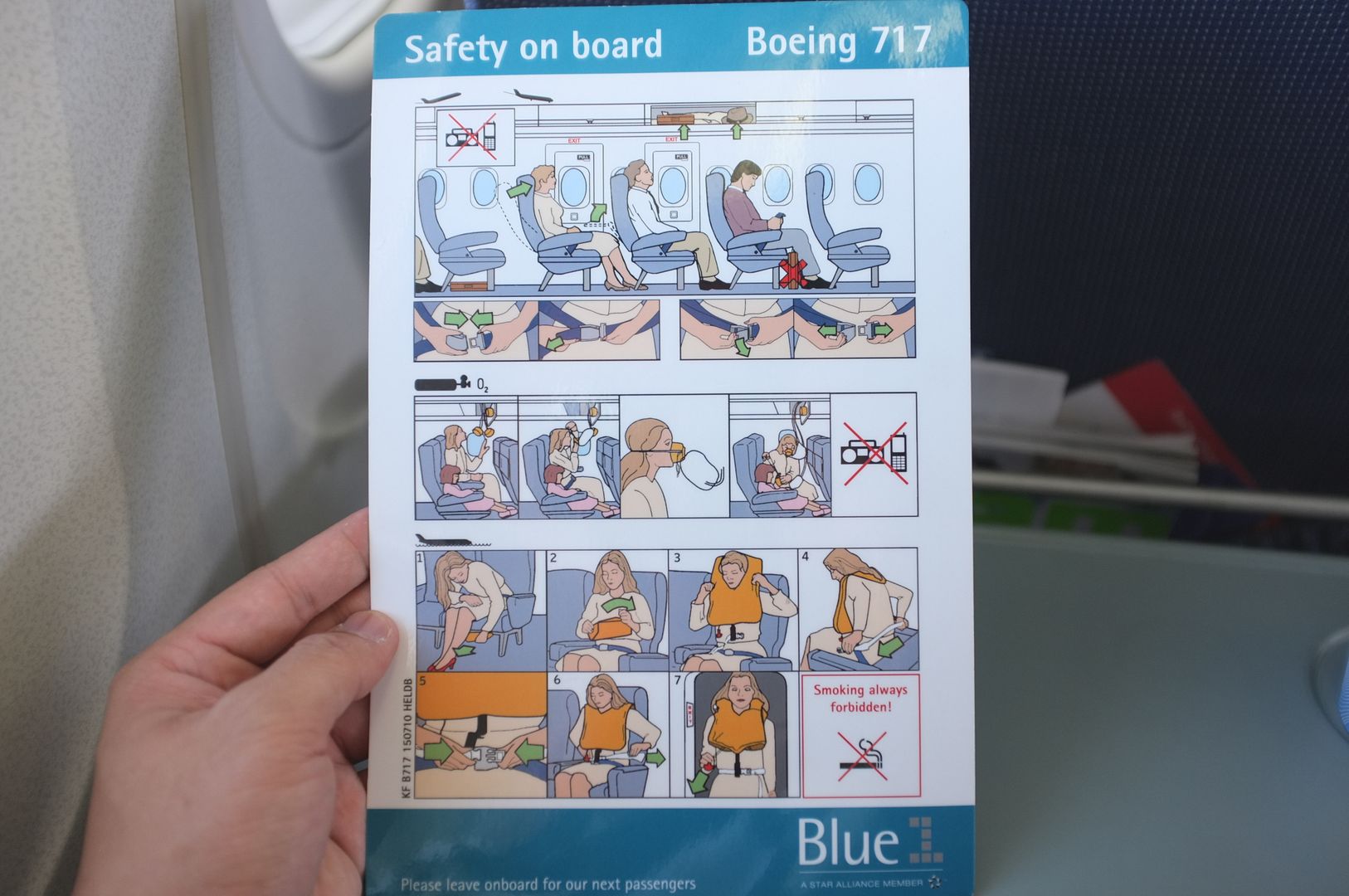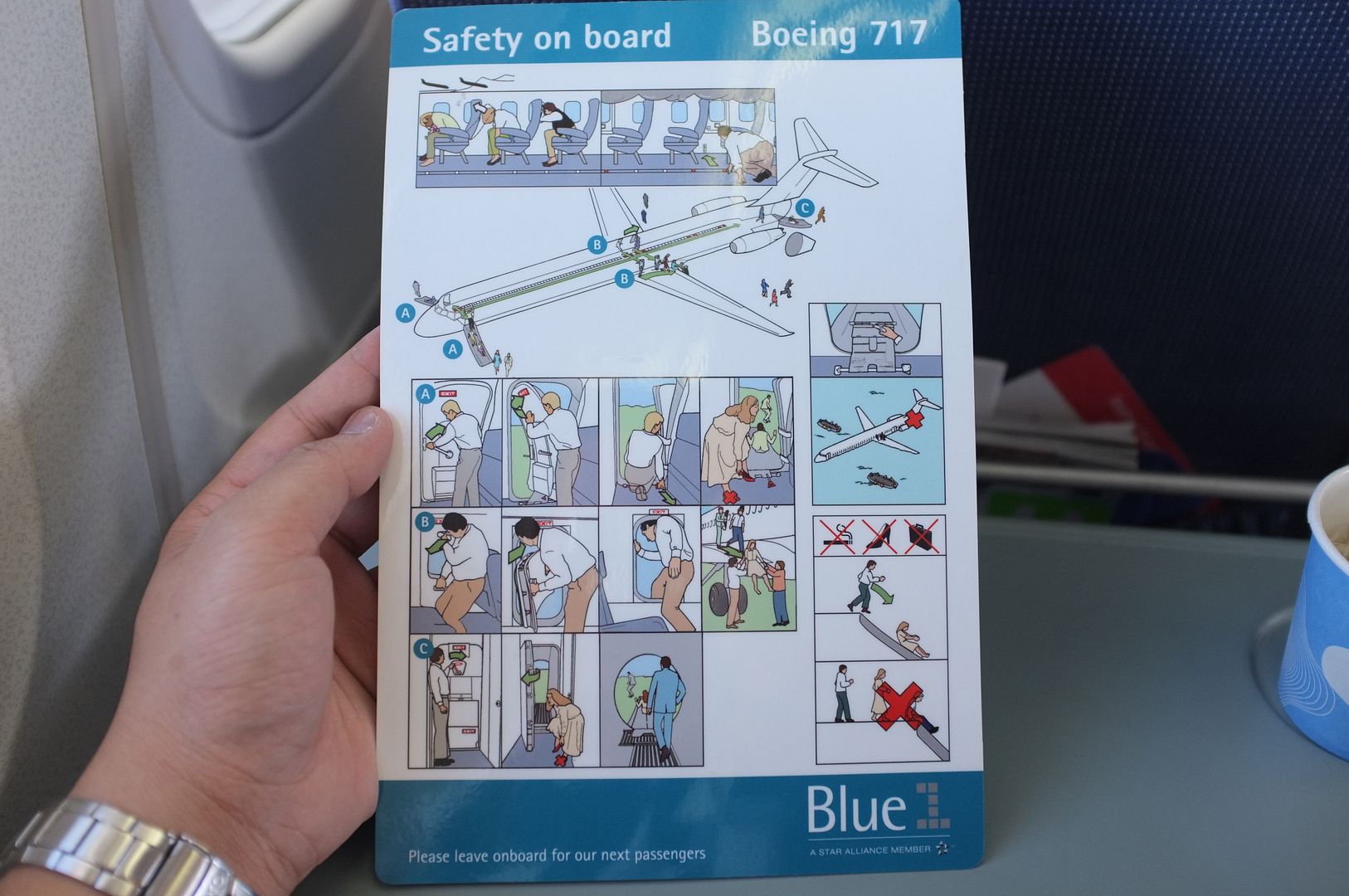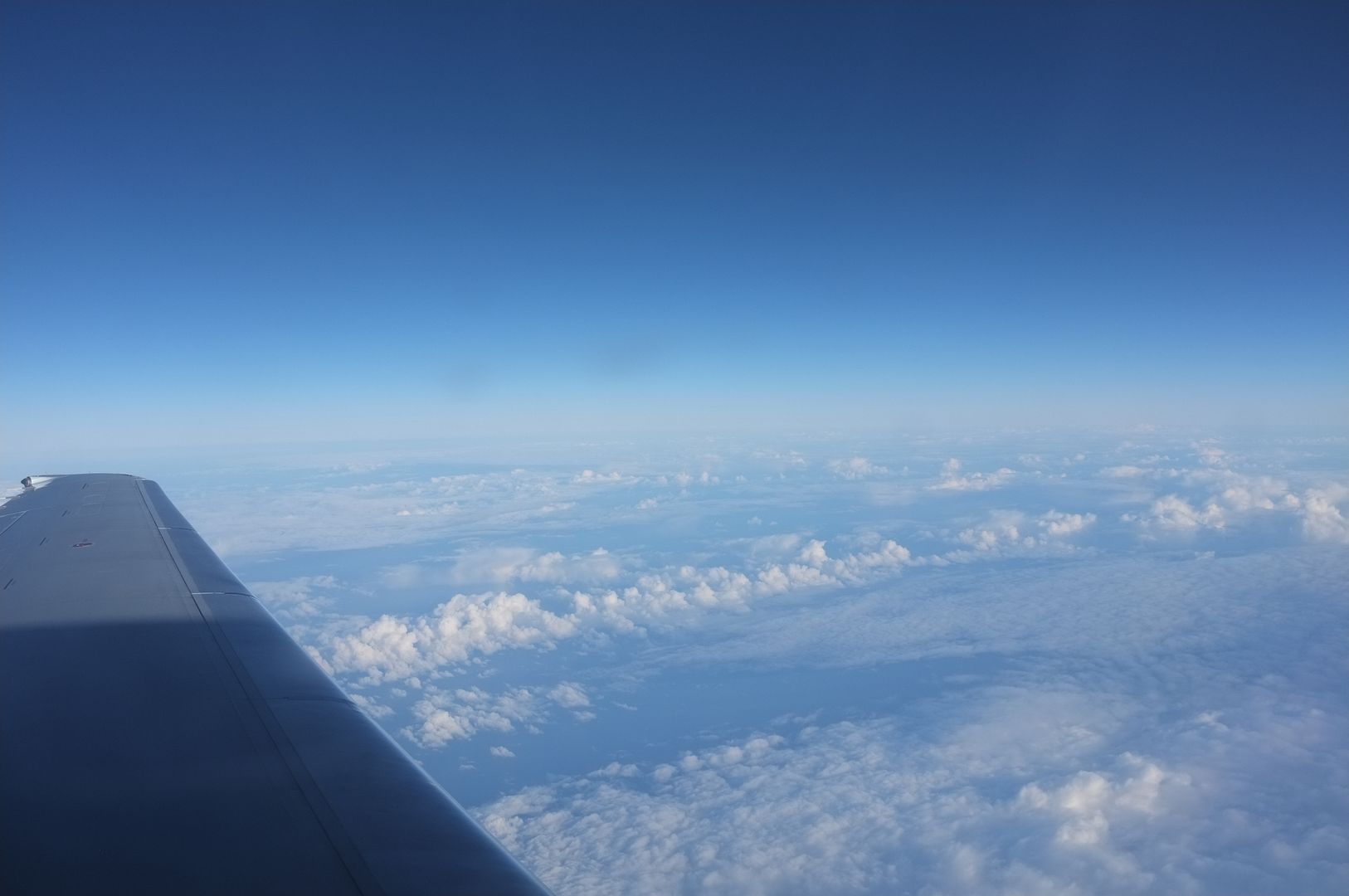 Cabin view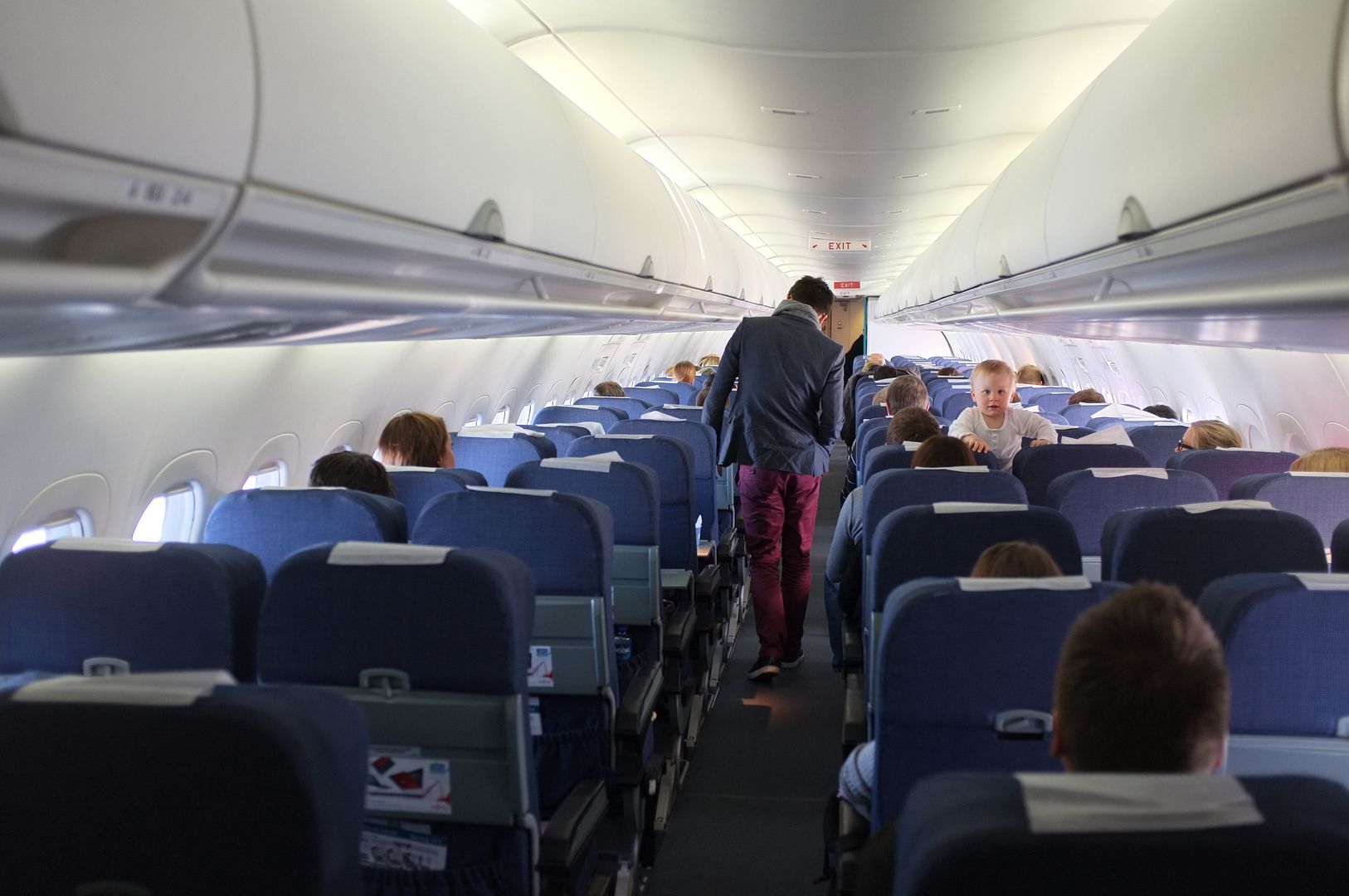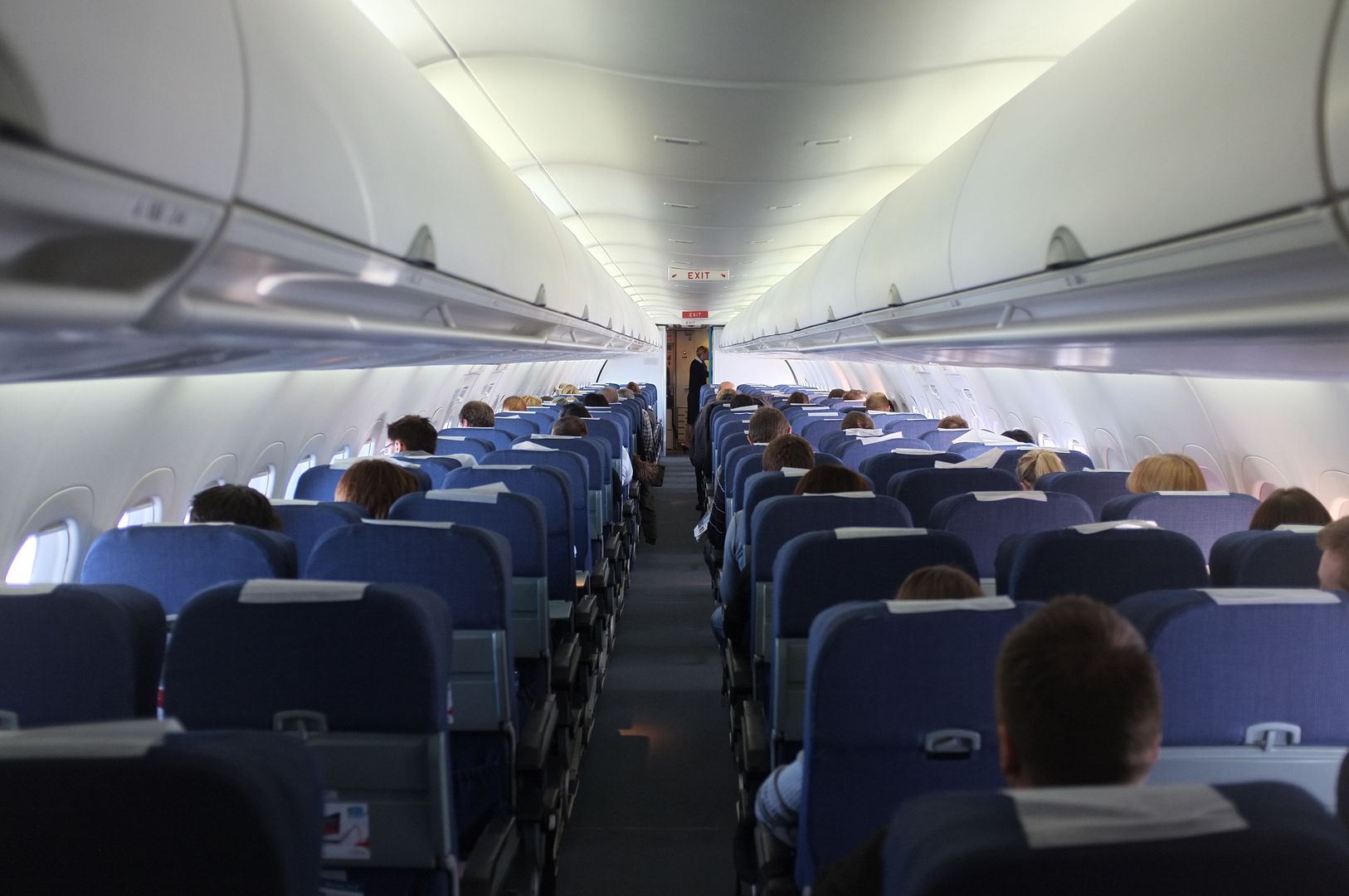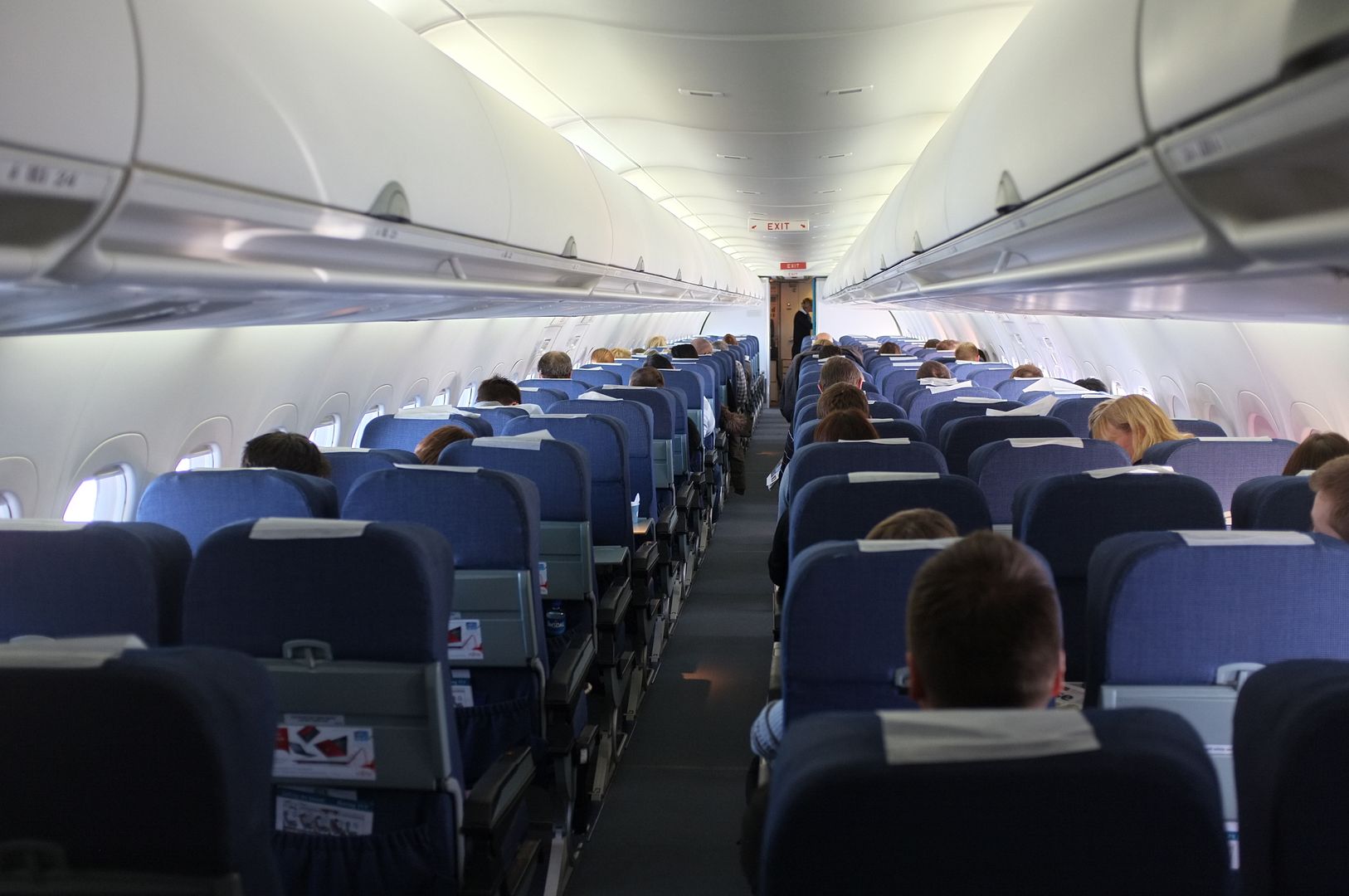 Before descending to Helsinki, there was a welcome announcement from the flight deck, giving information about the approximate landing time as well as the on-ground temperature.
Descending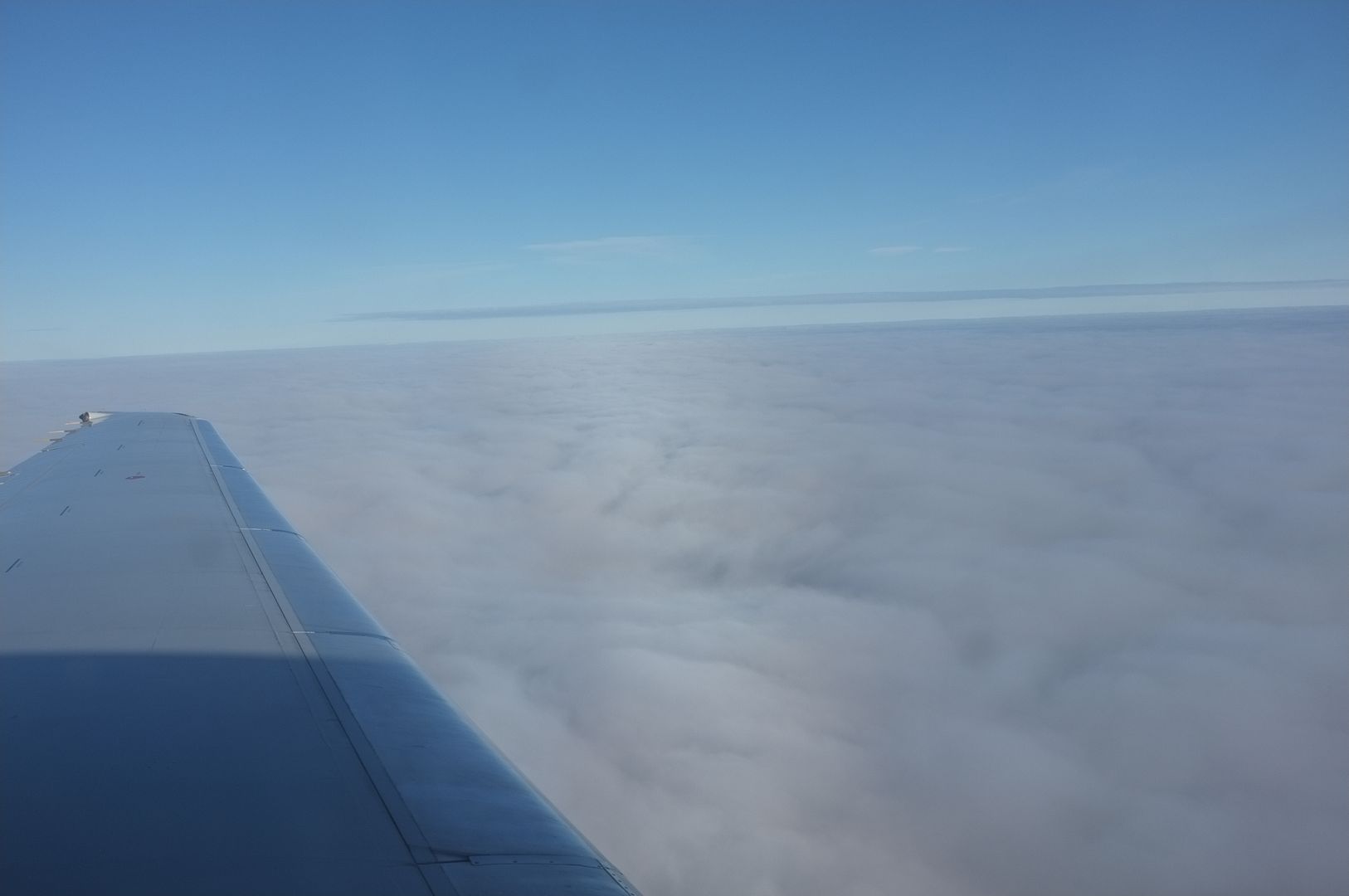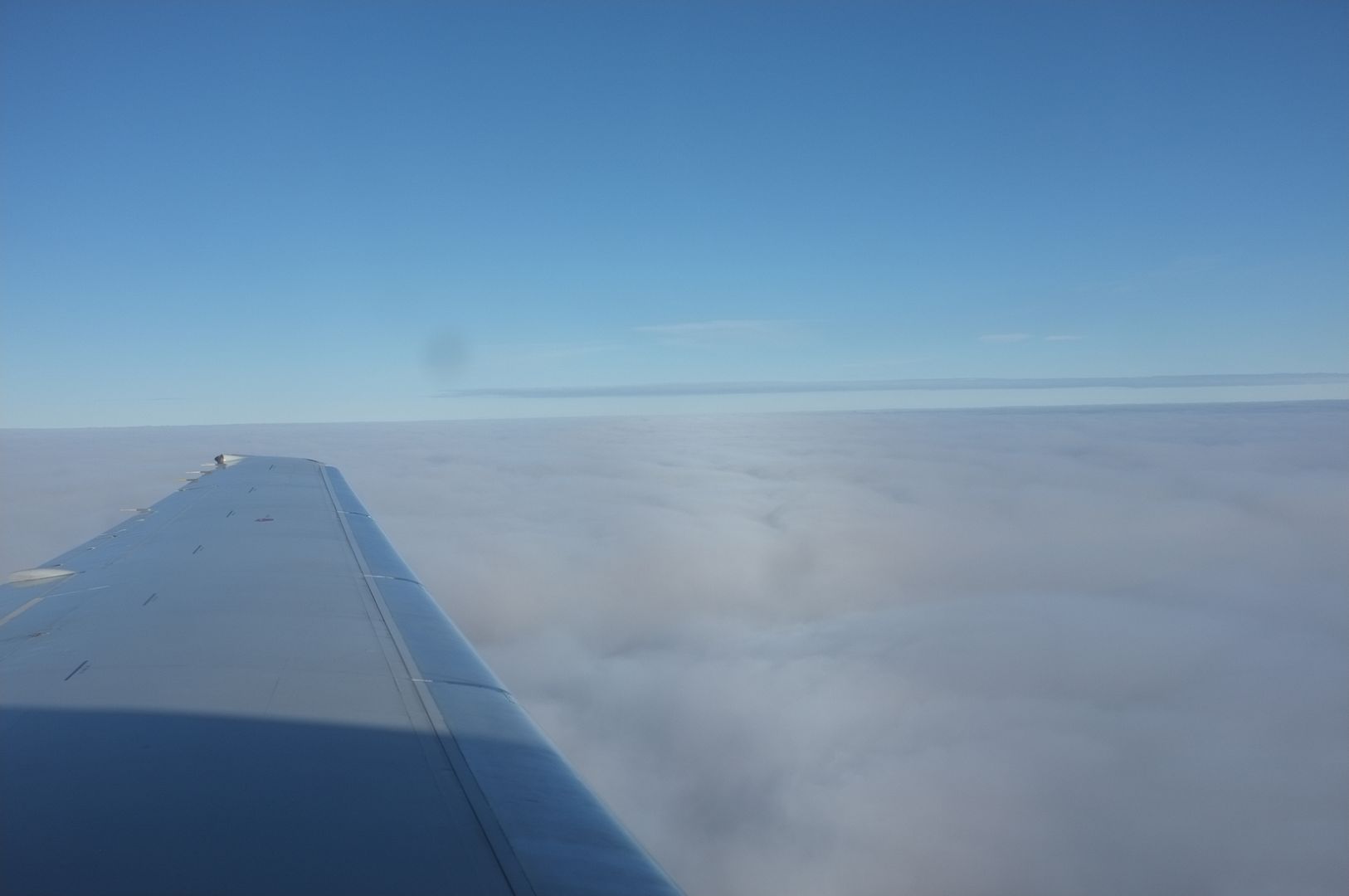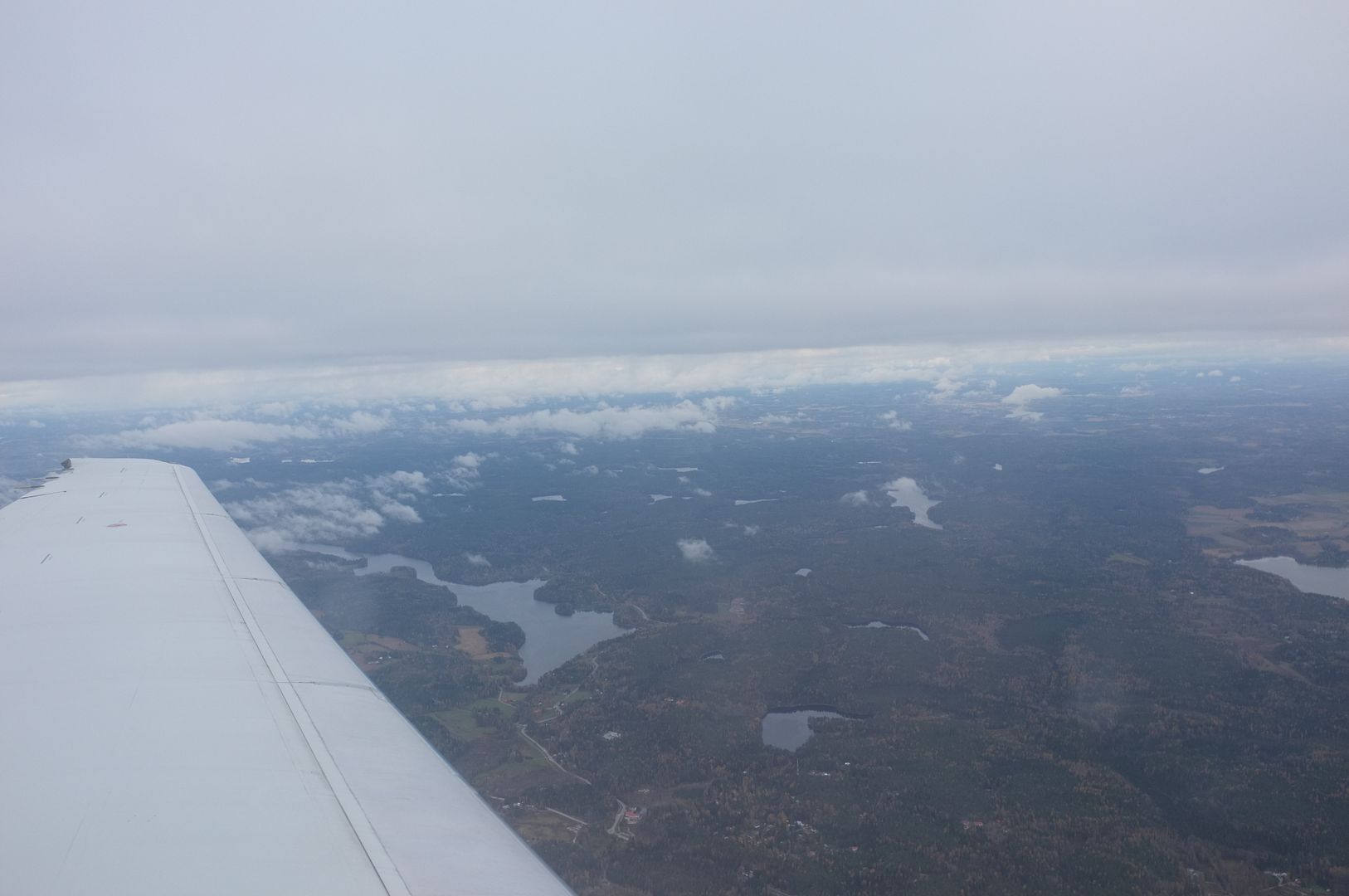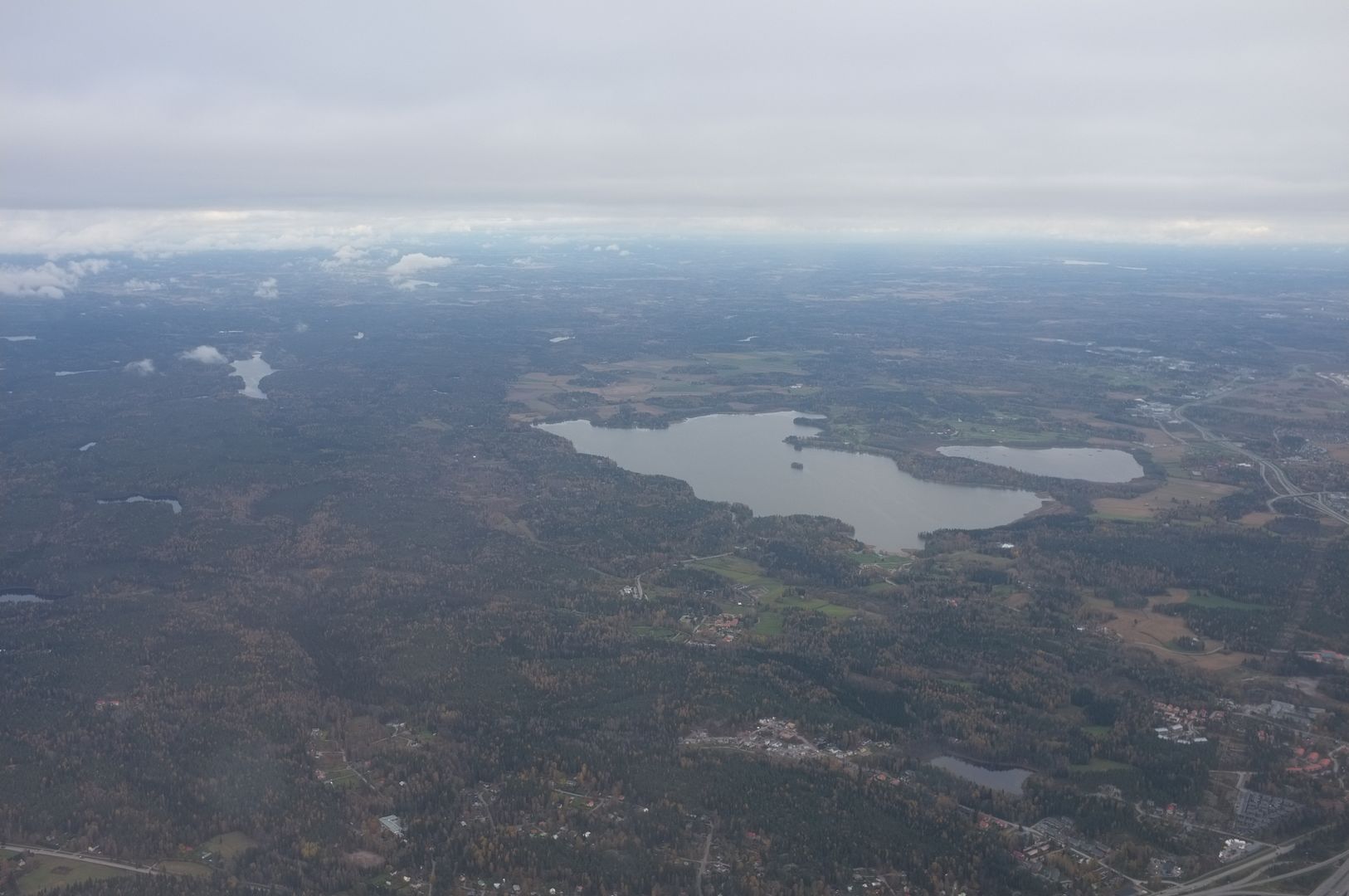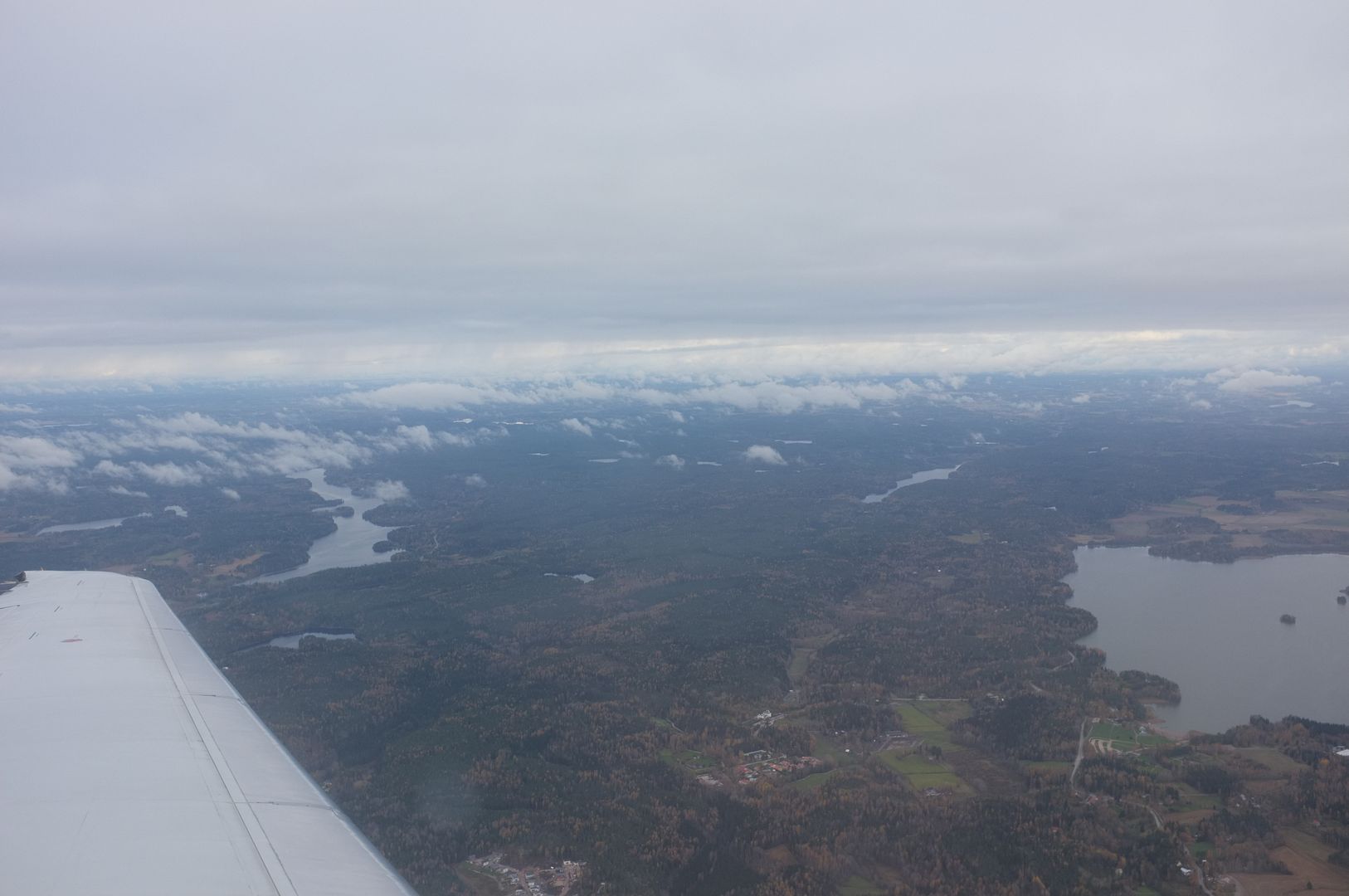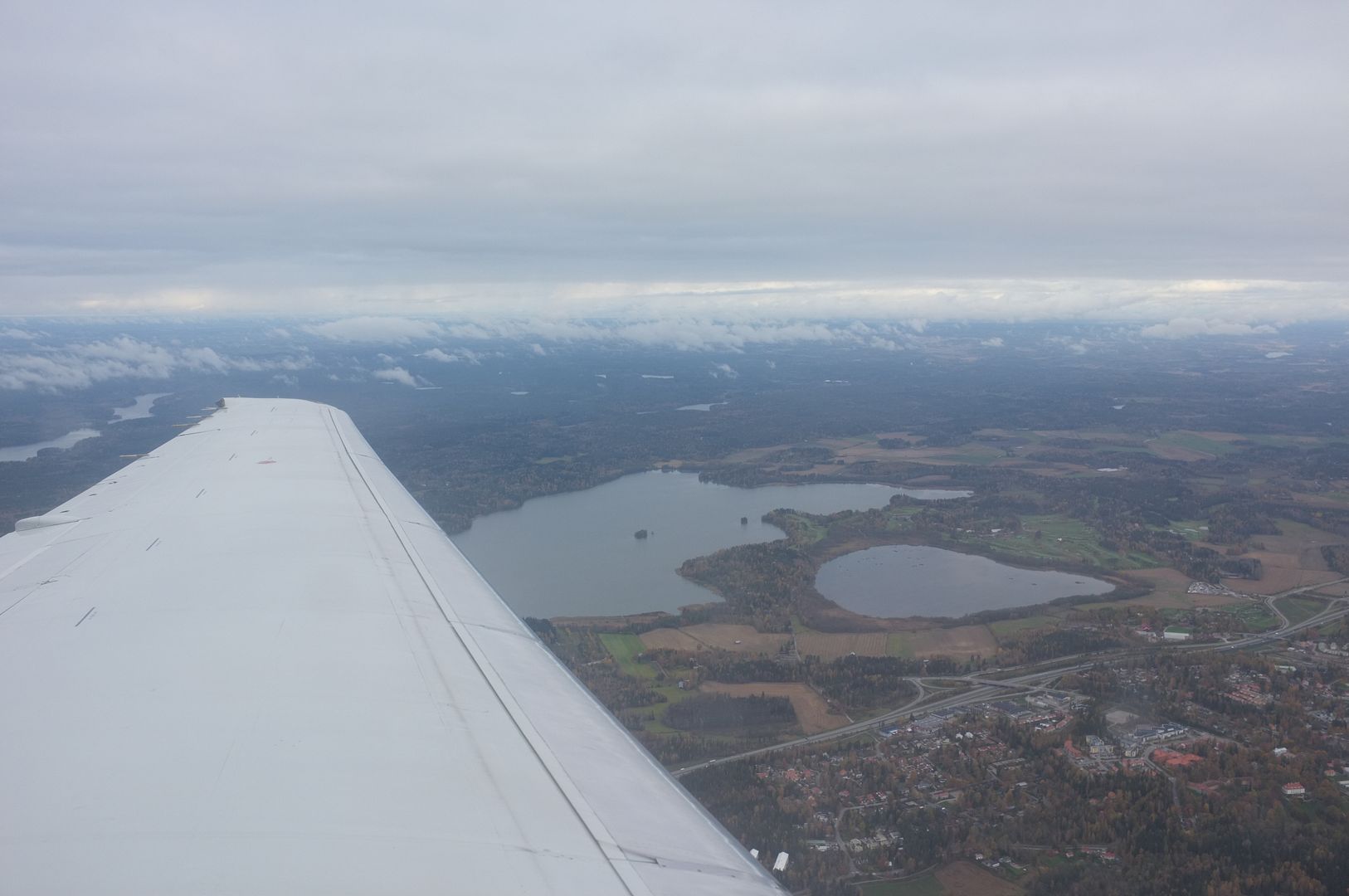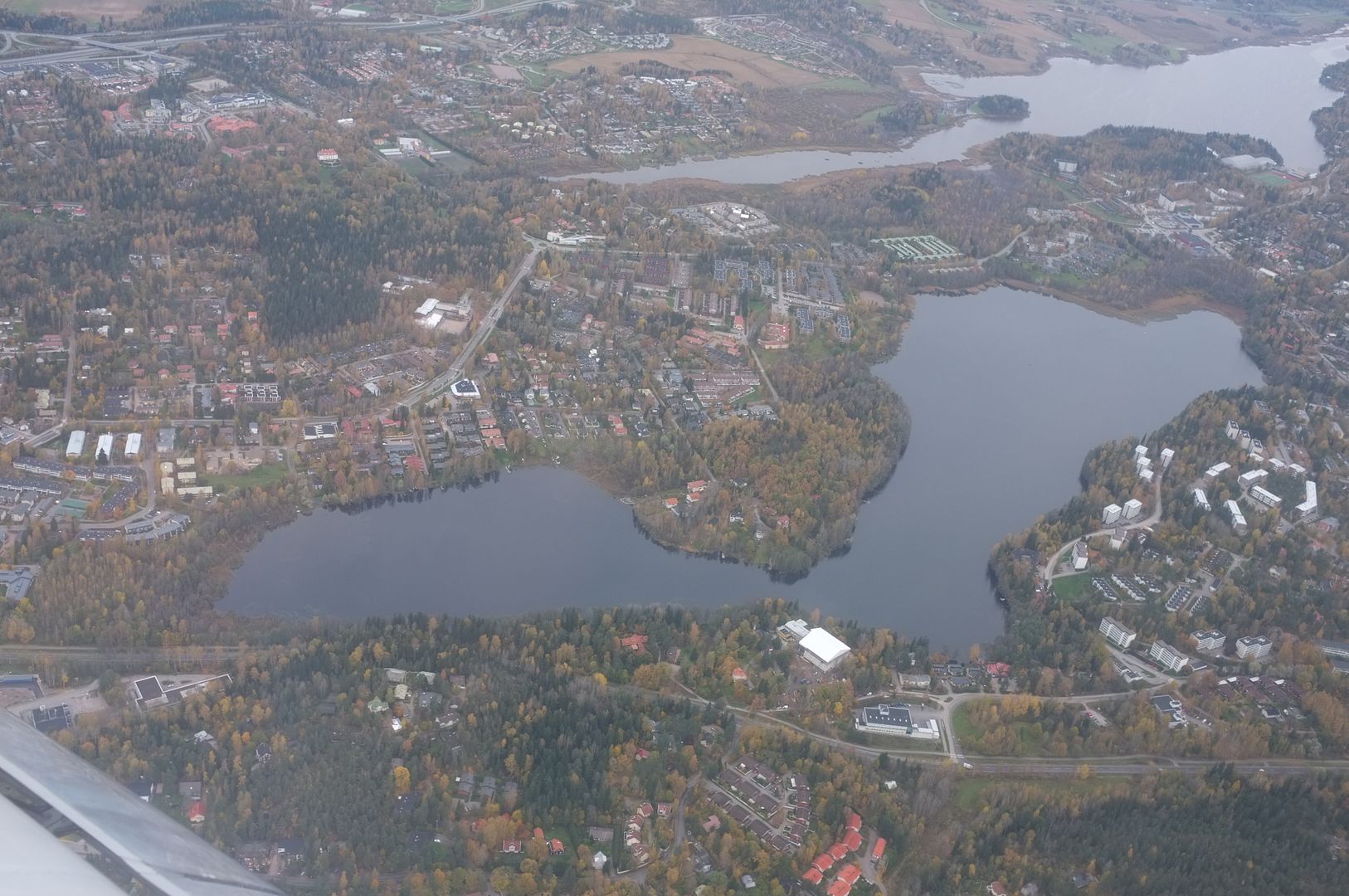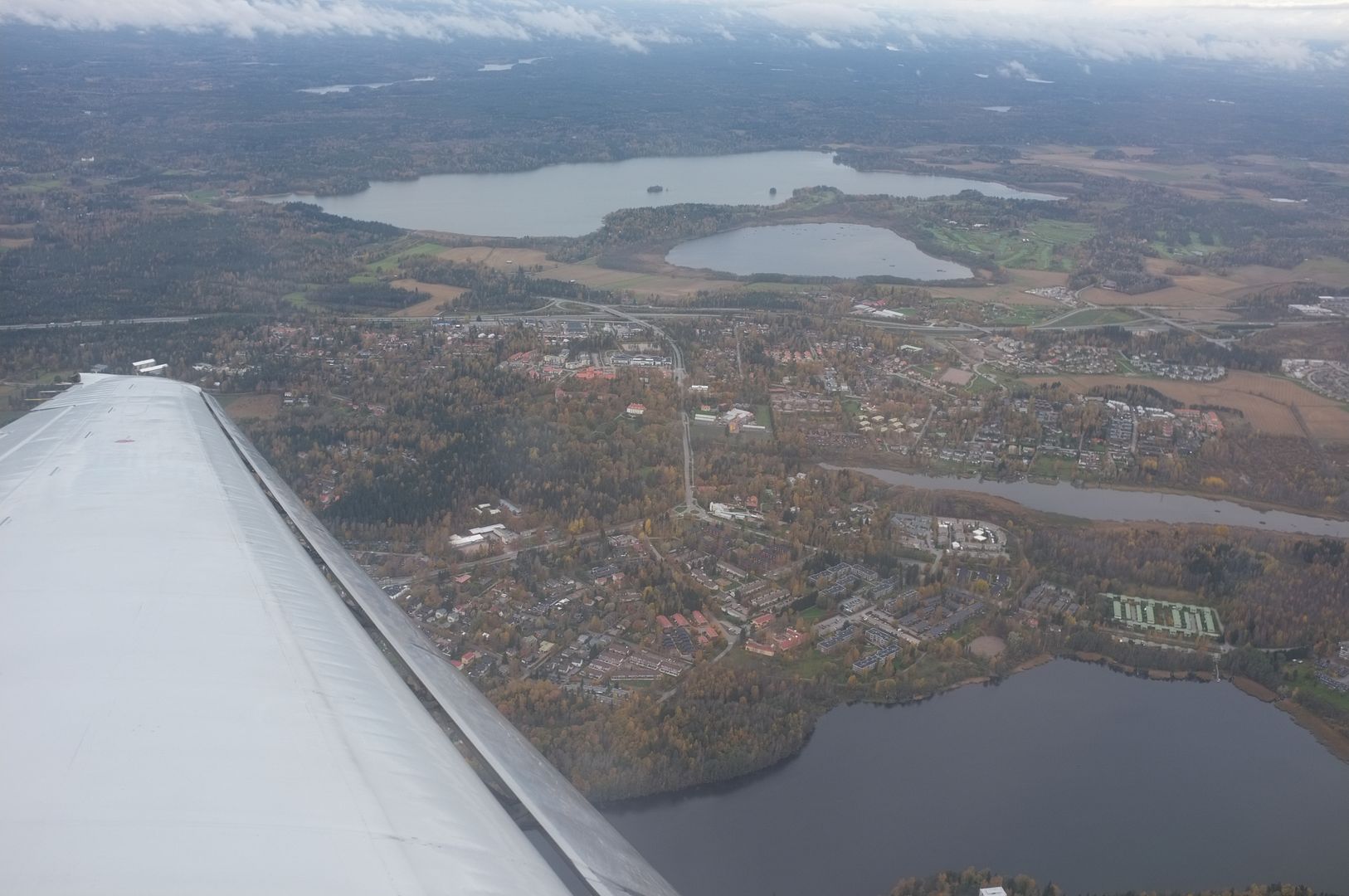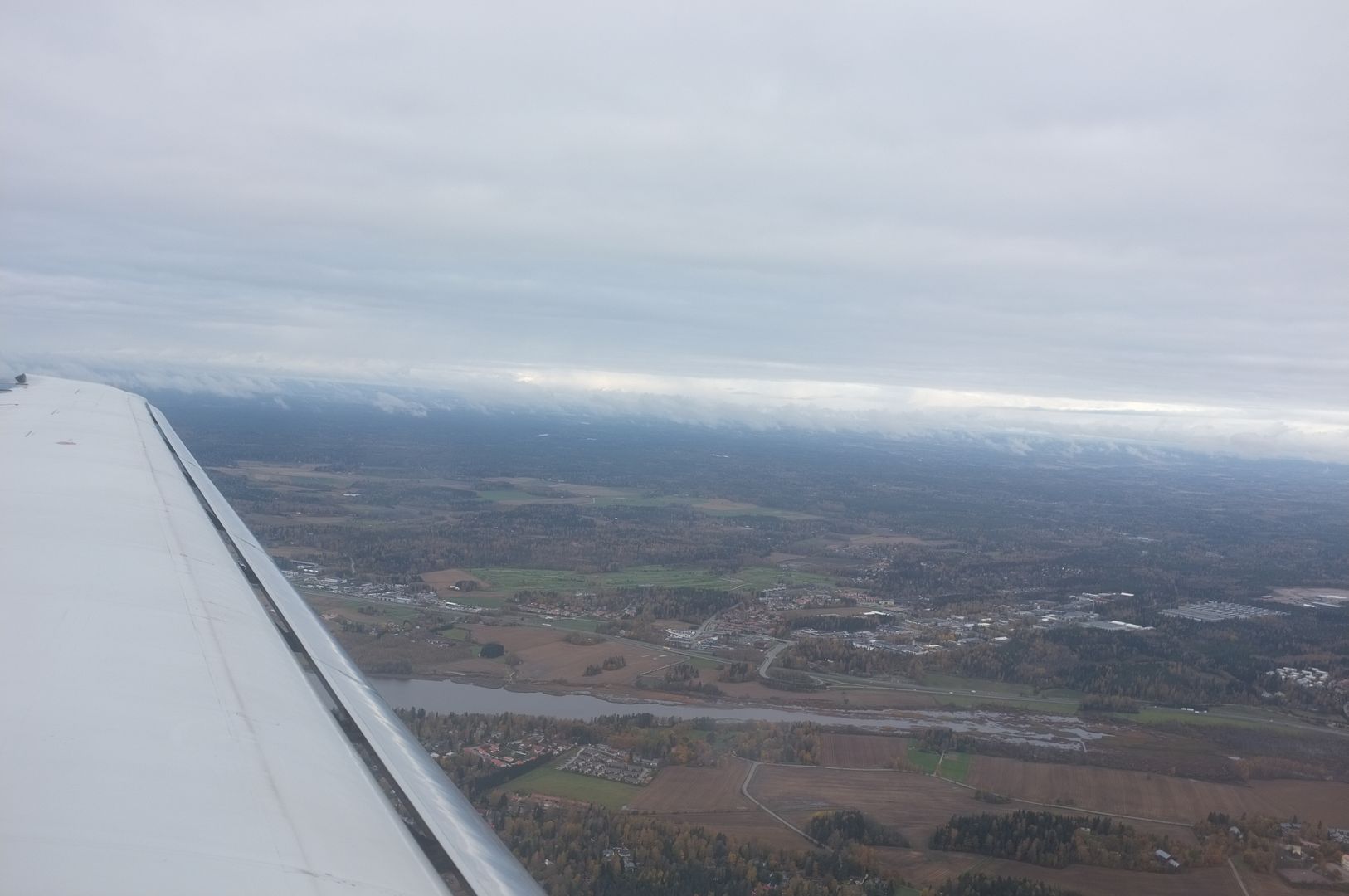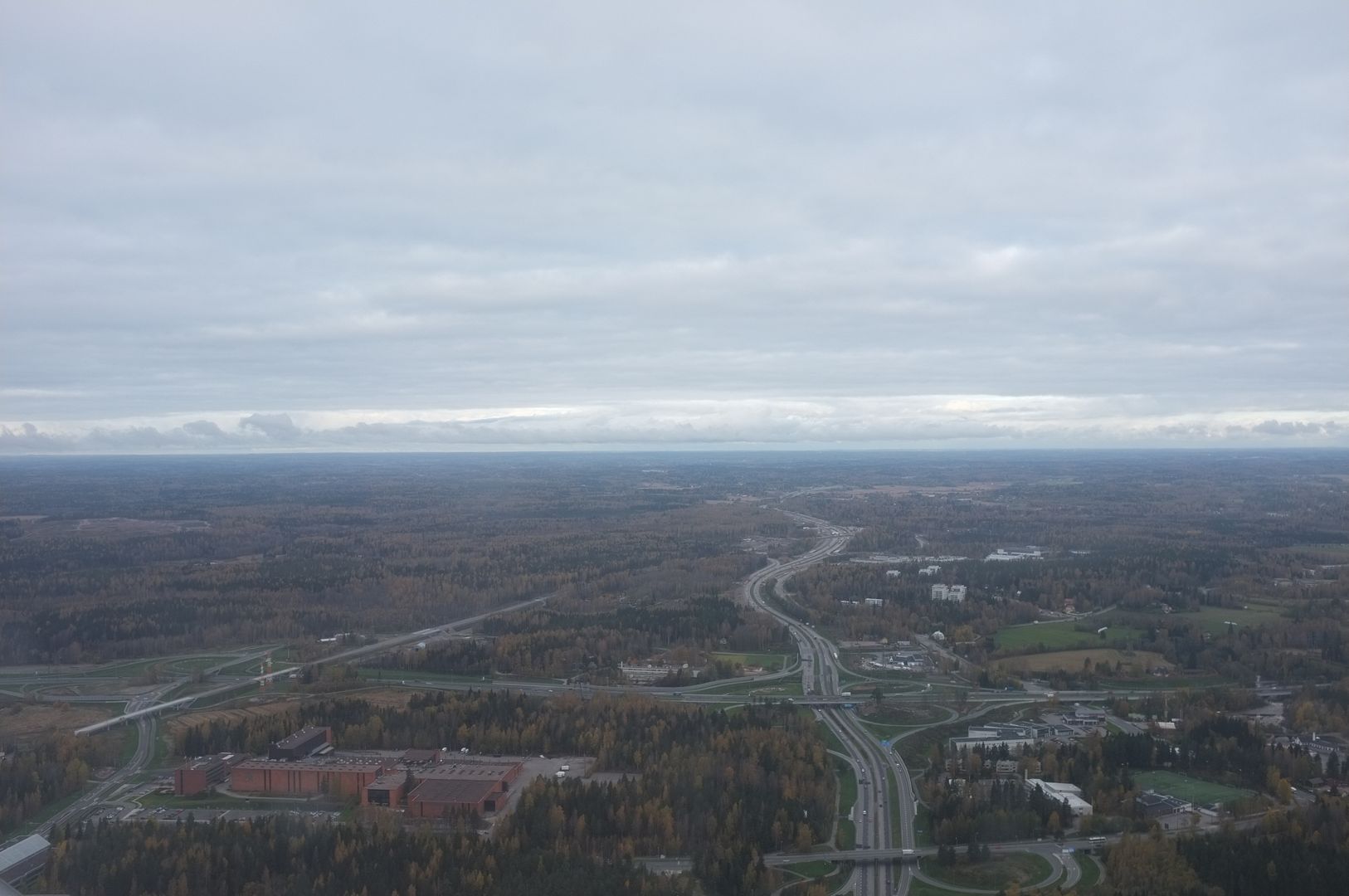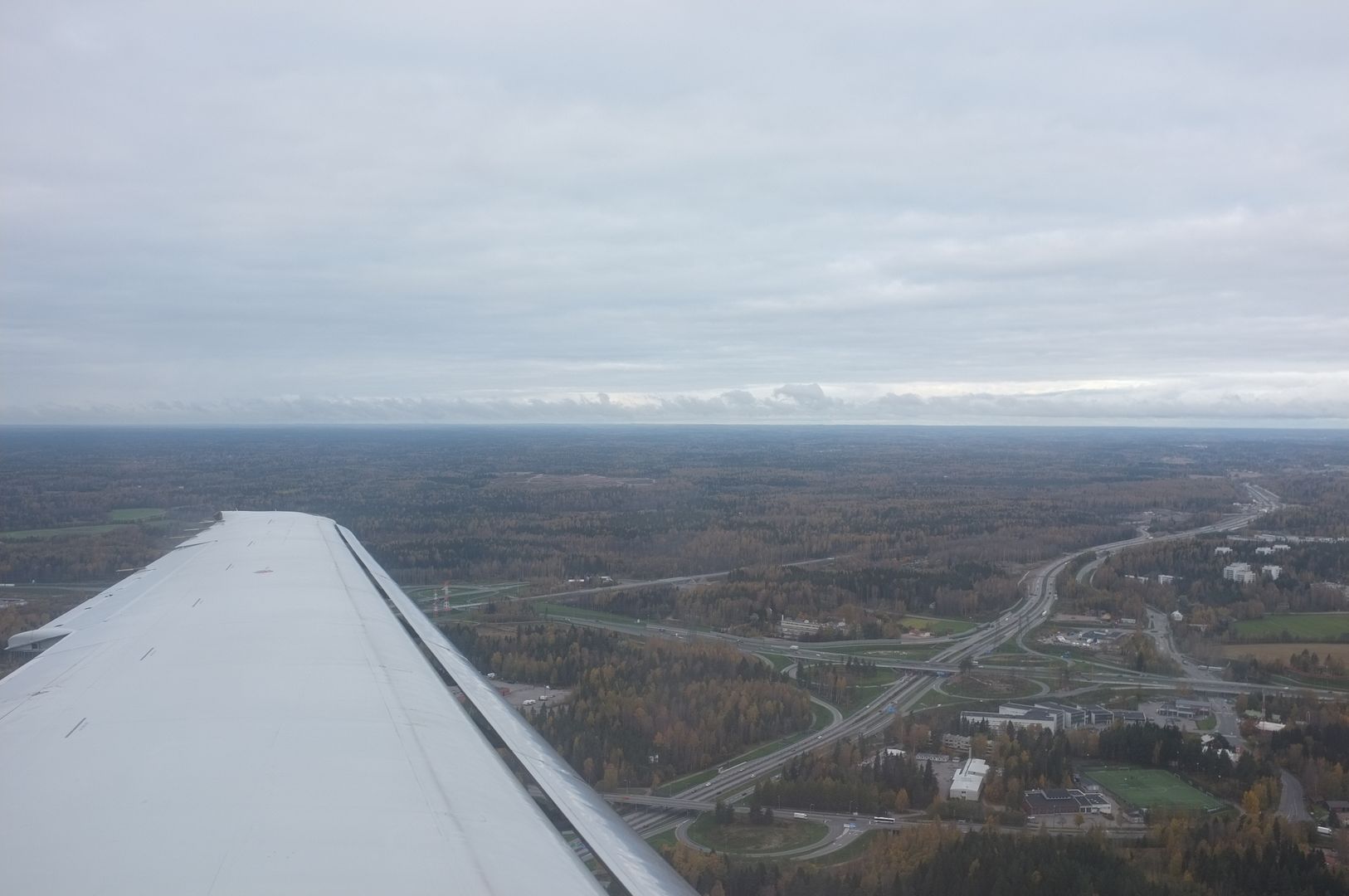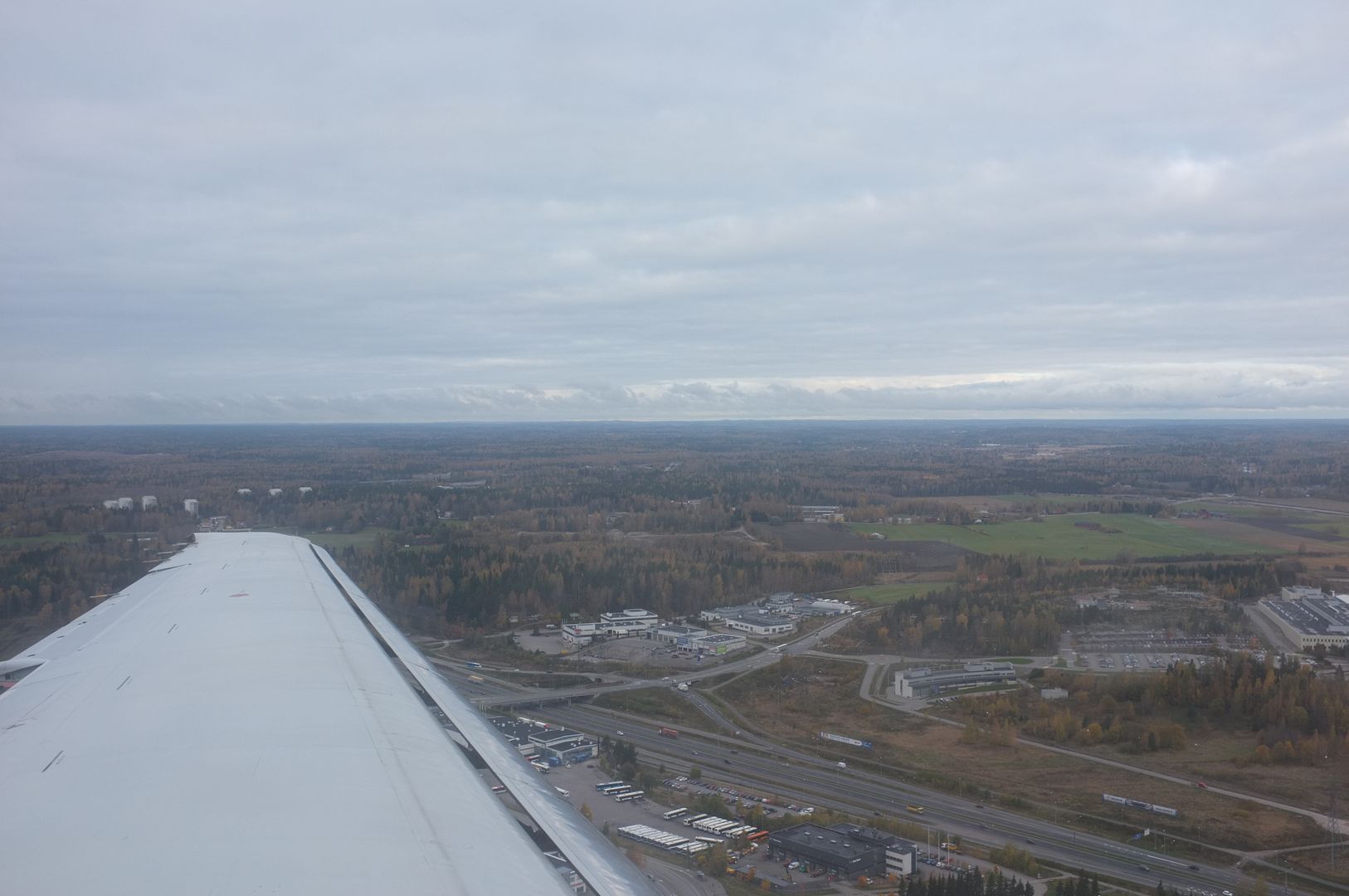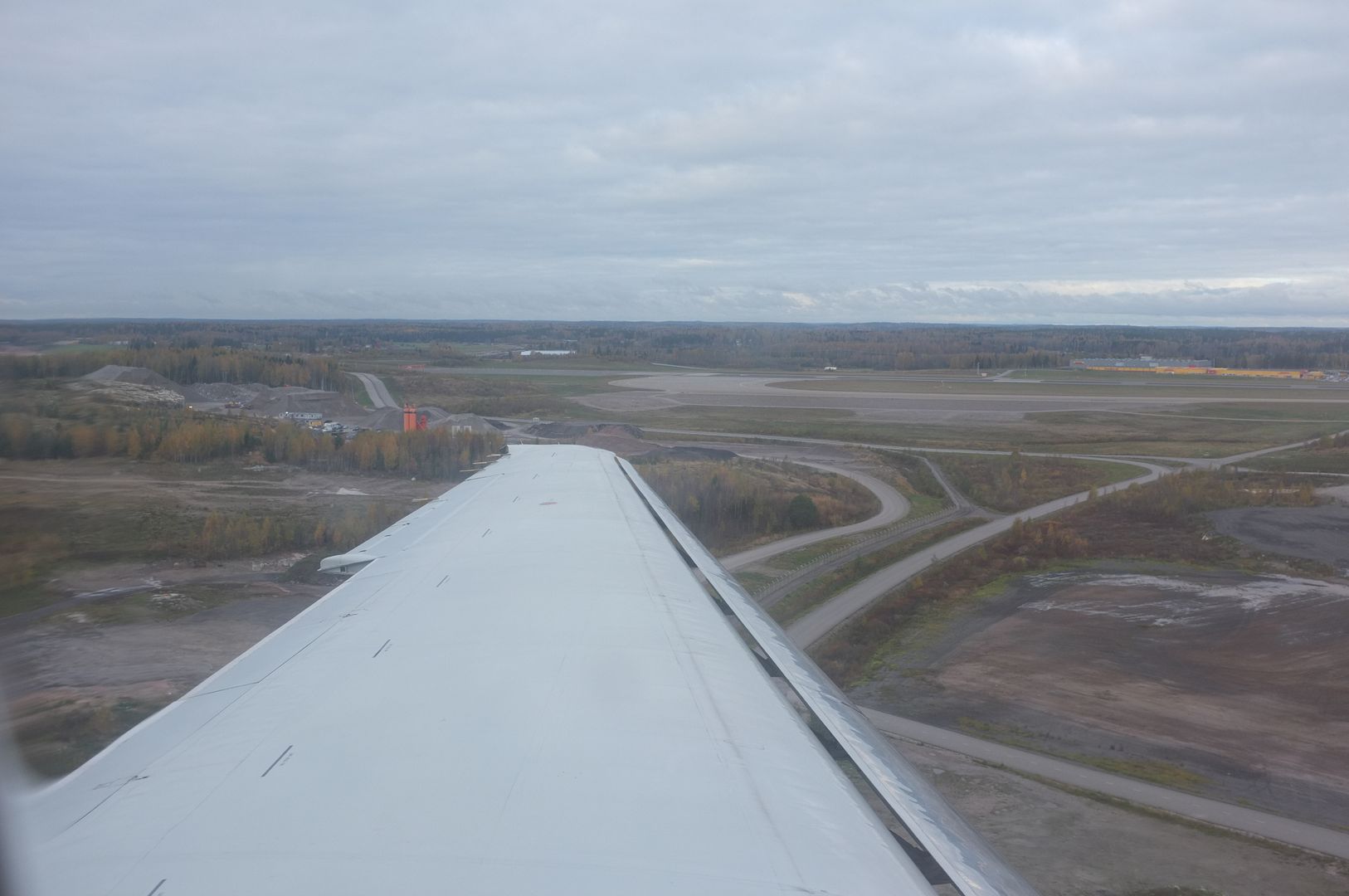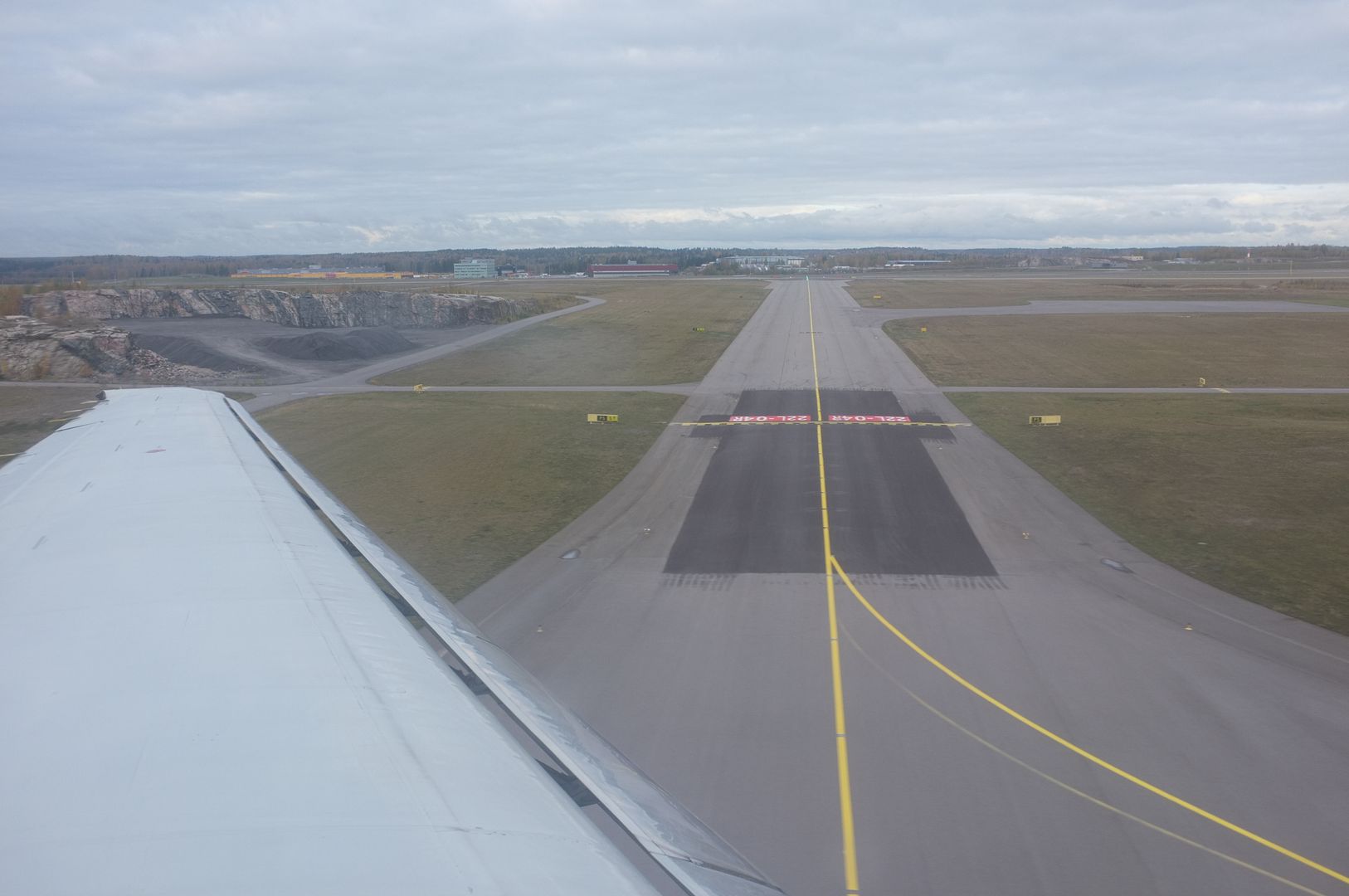 Touched down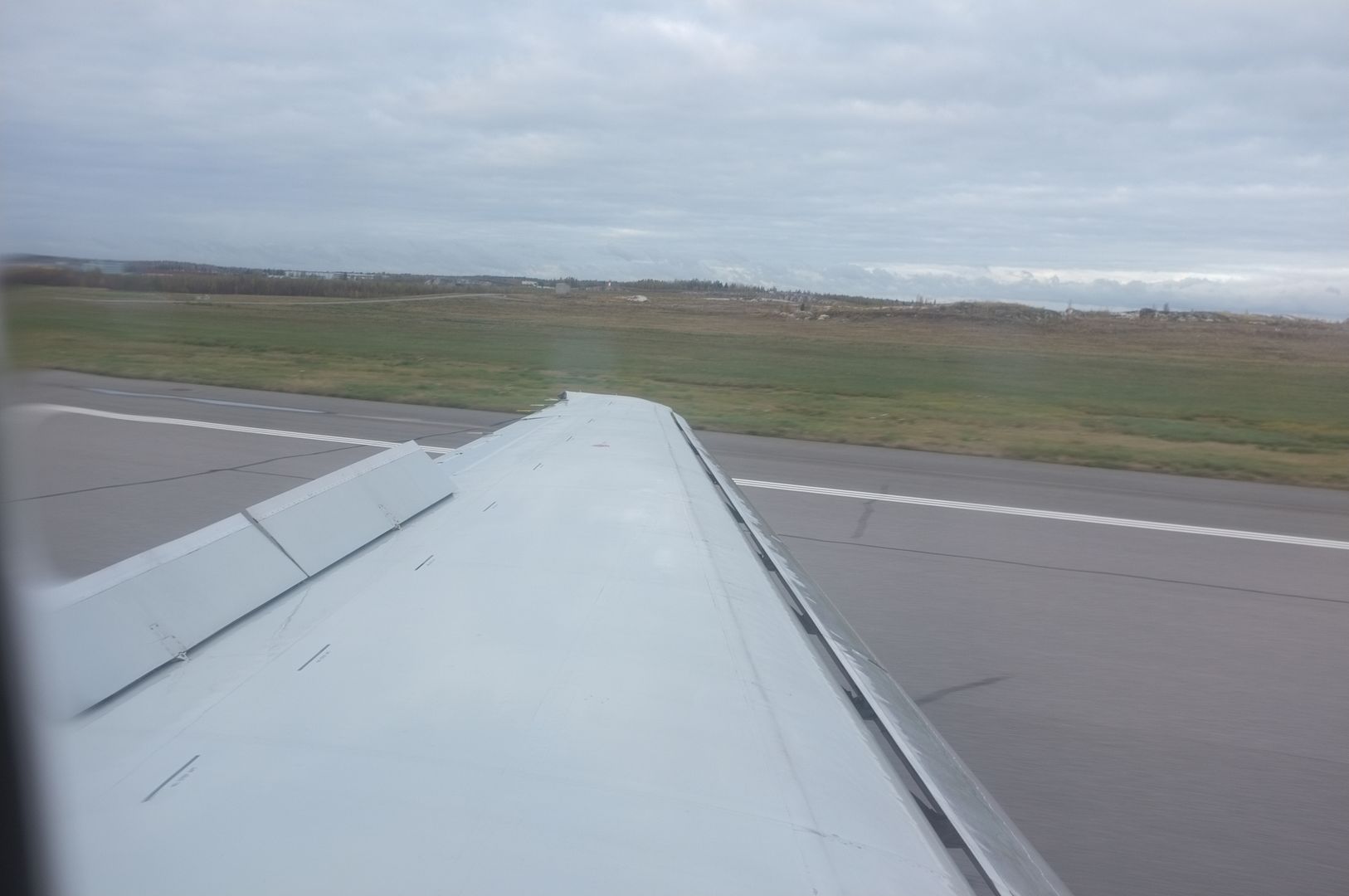 A short taxi to our parking position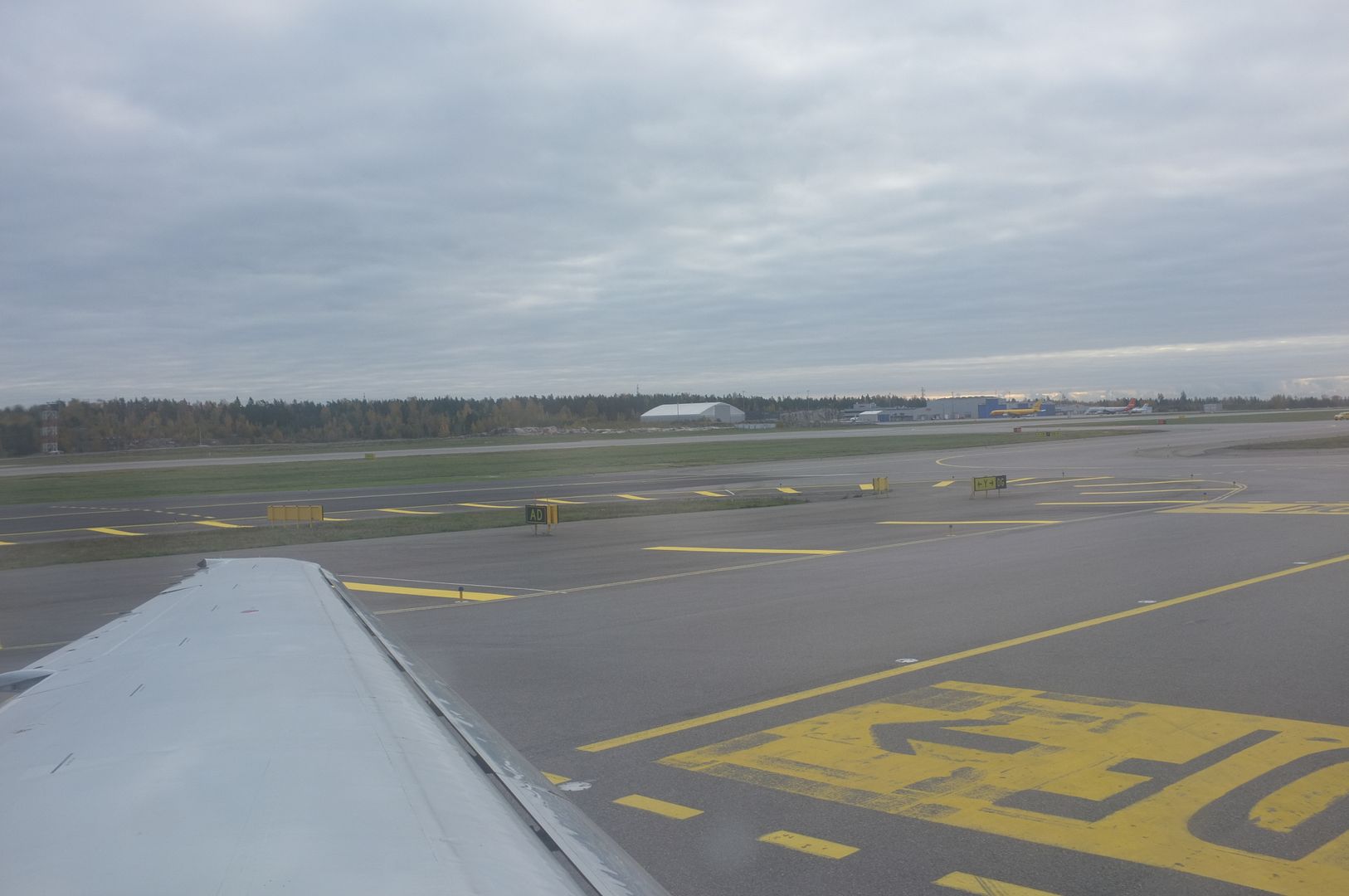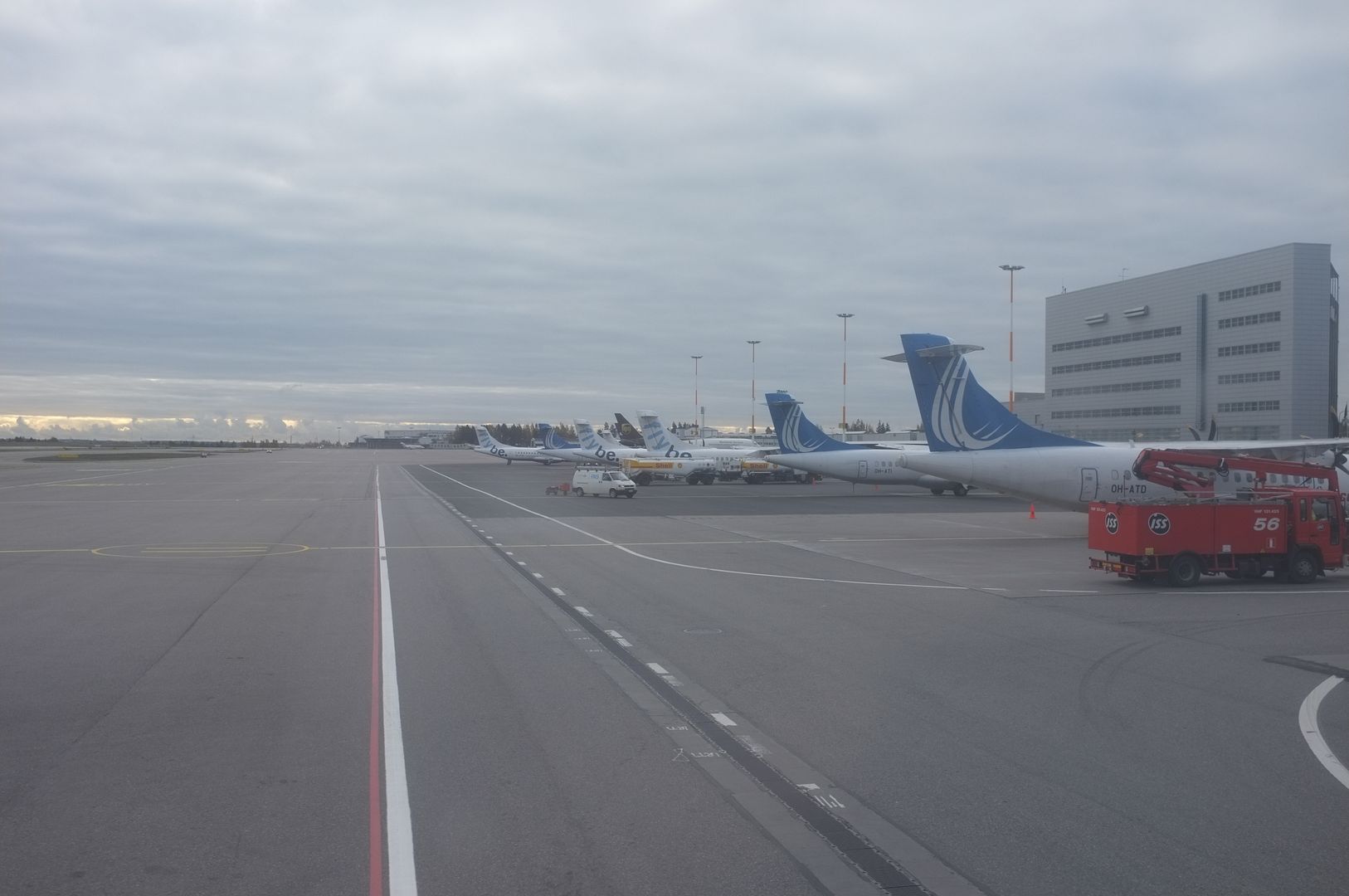 Exiting the plane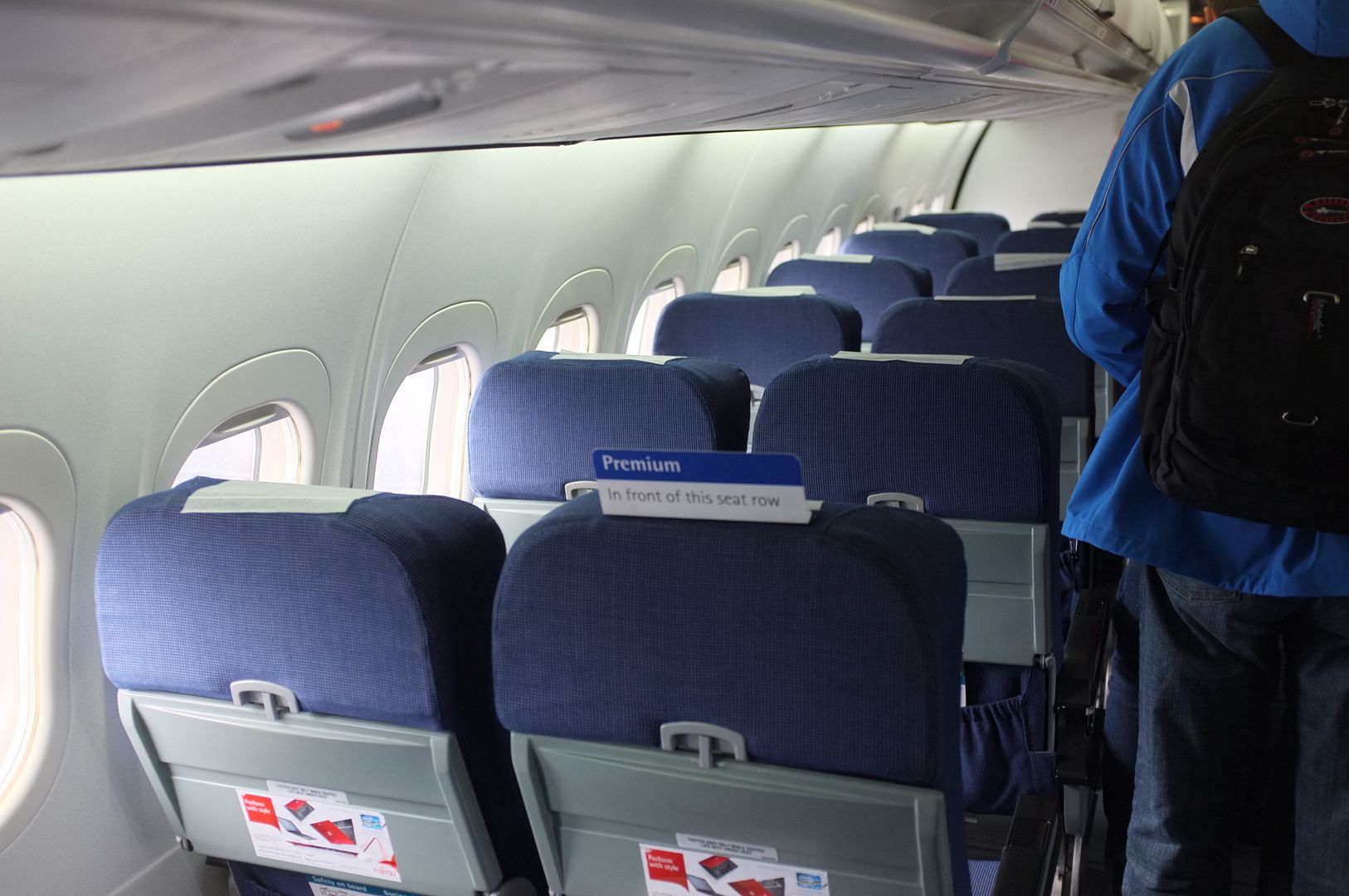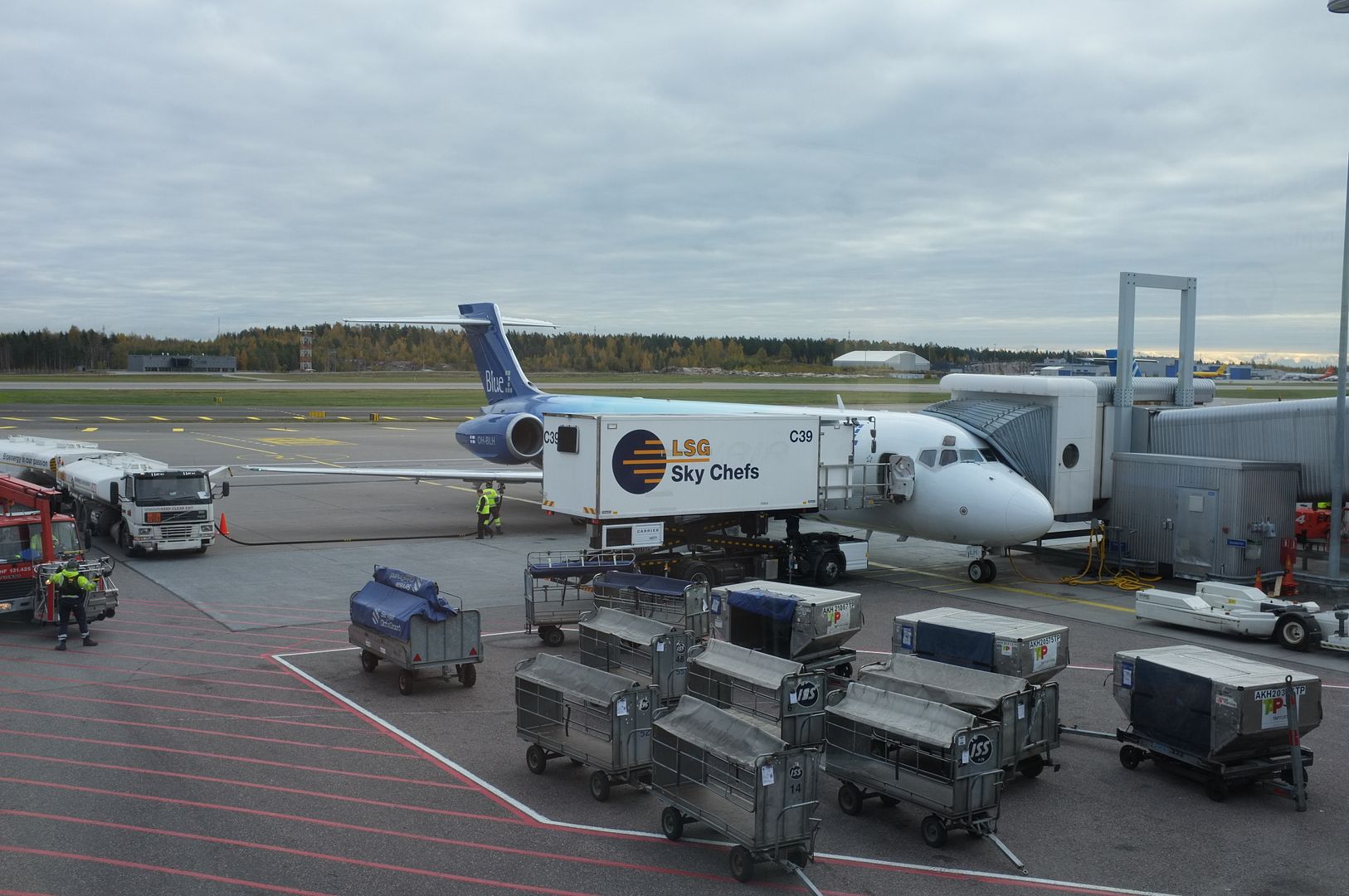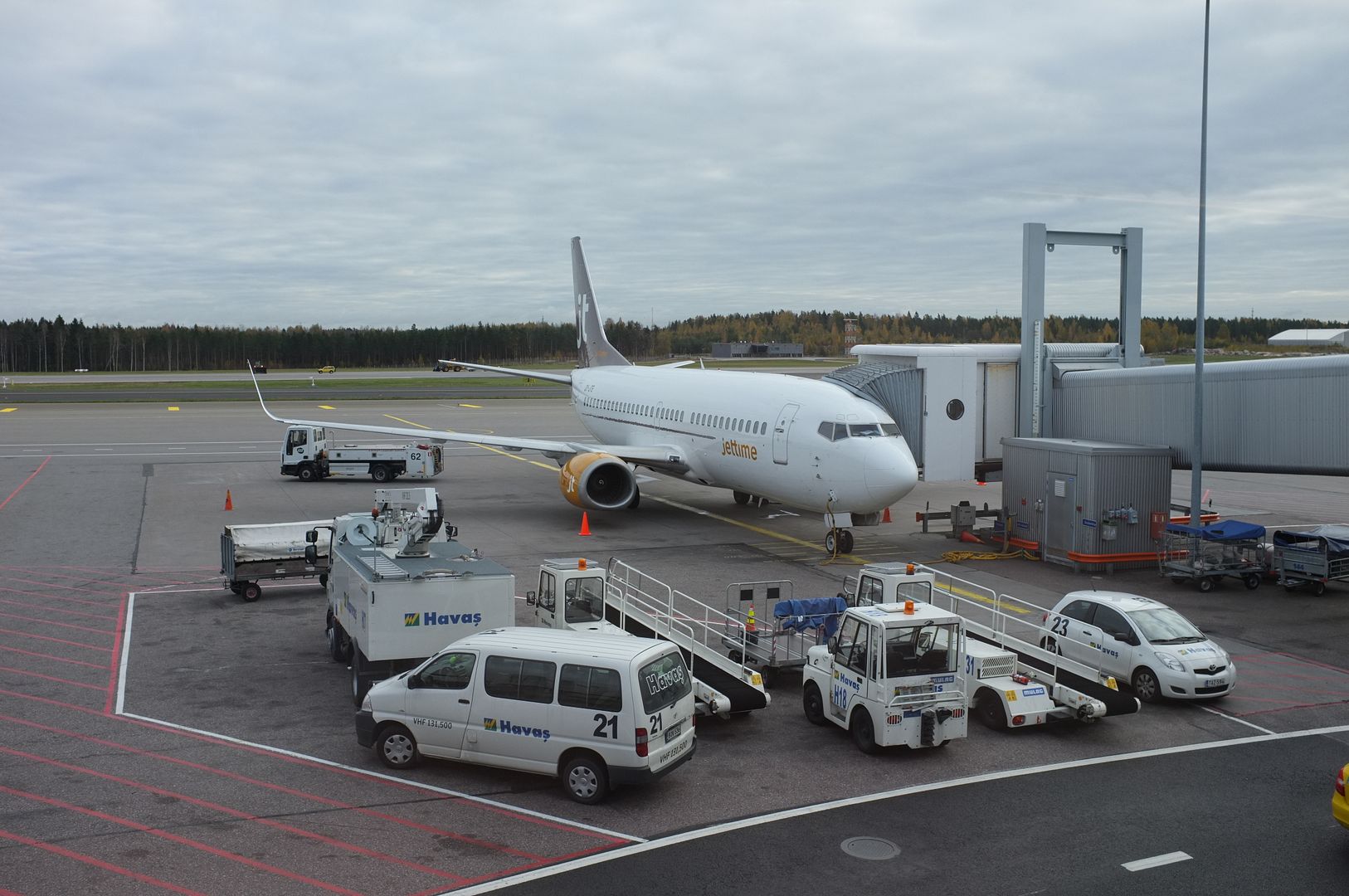 Following the baggage claim sign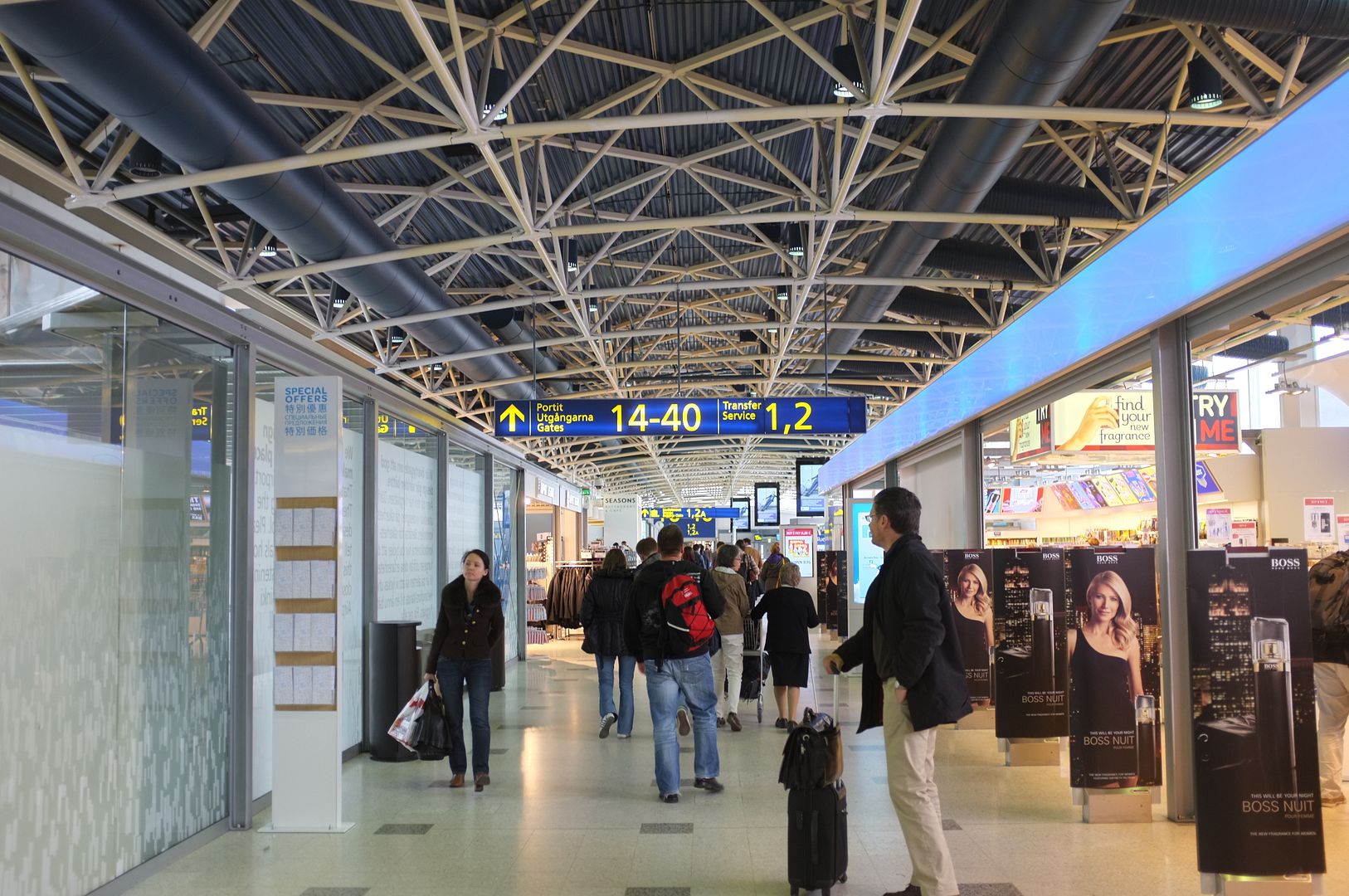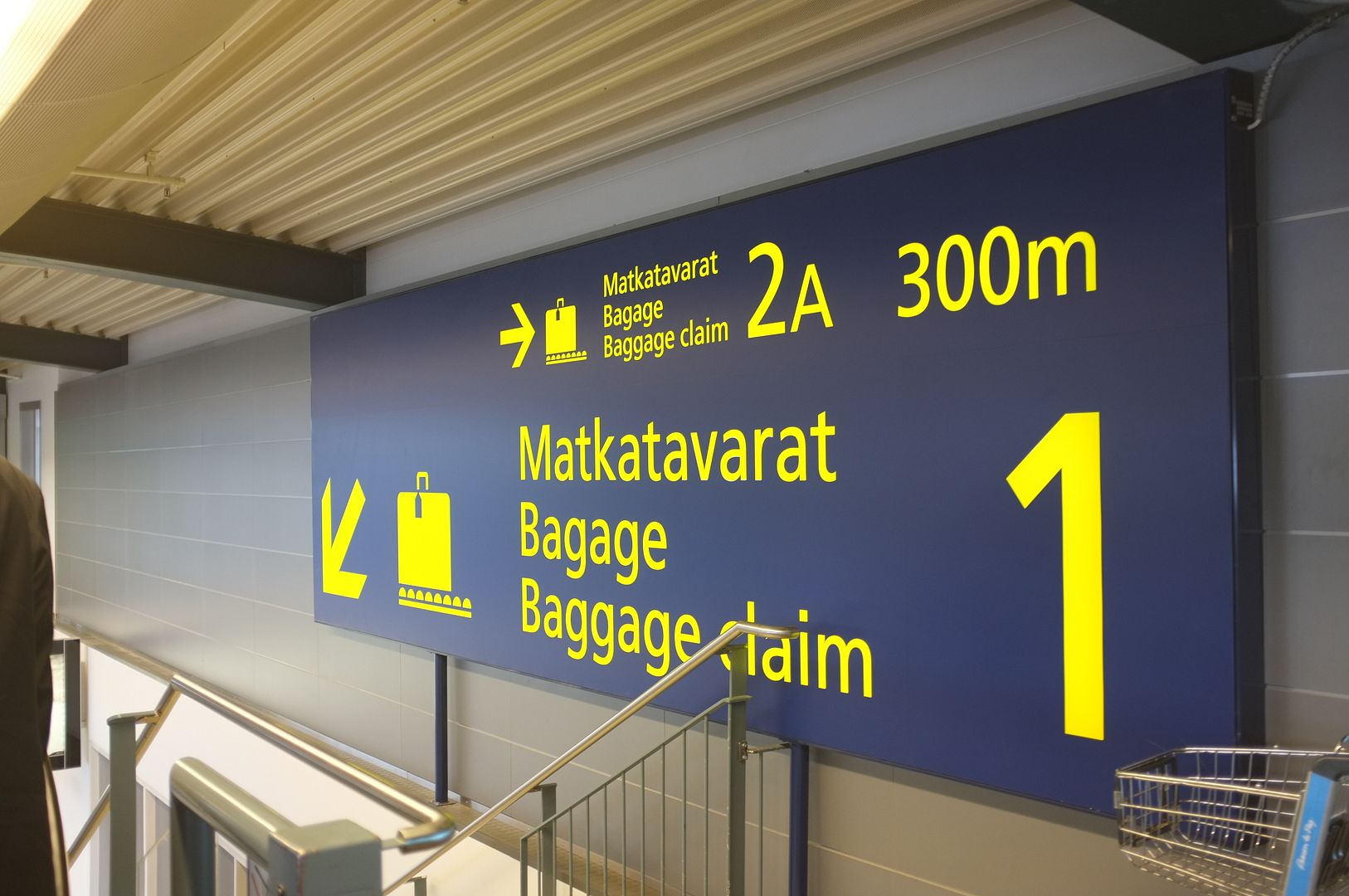 Baggage claim area, our bags were already on the belt when we arrived.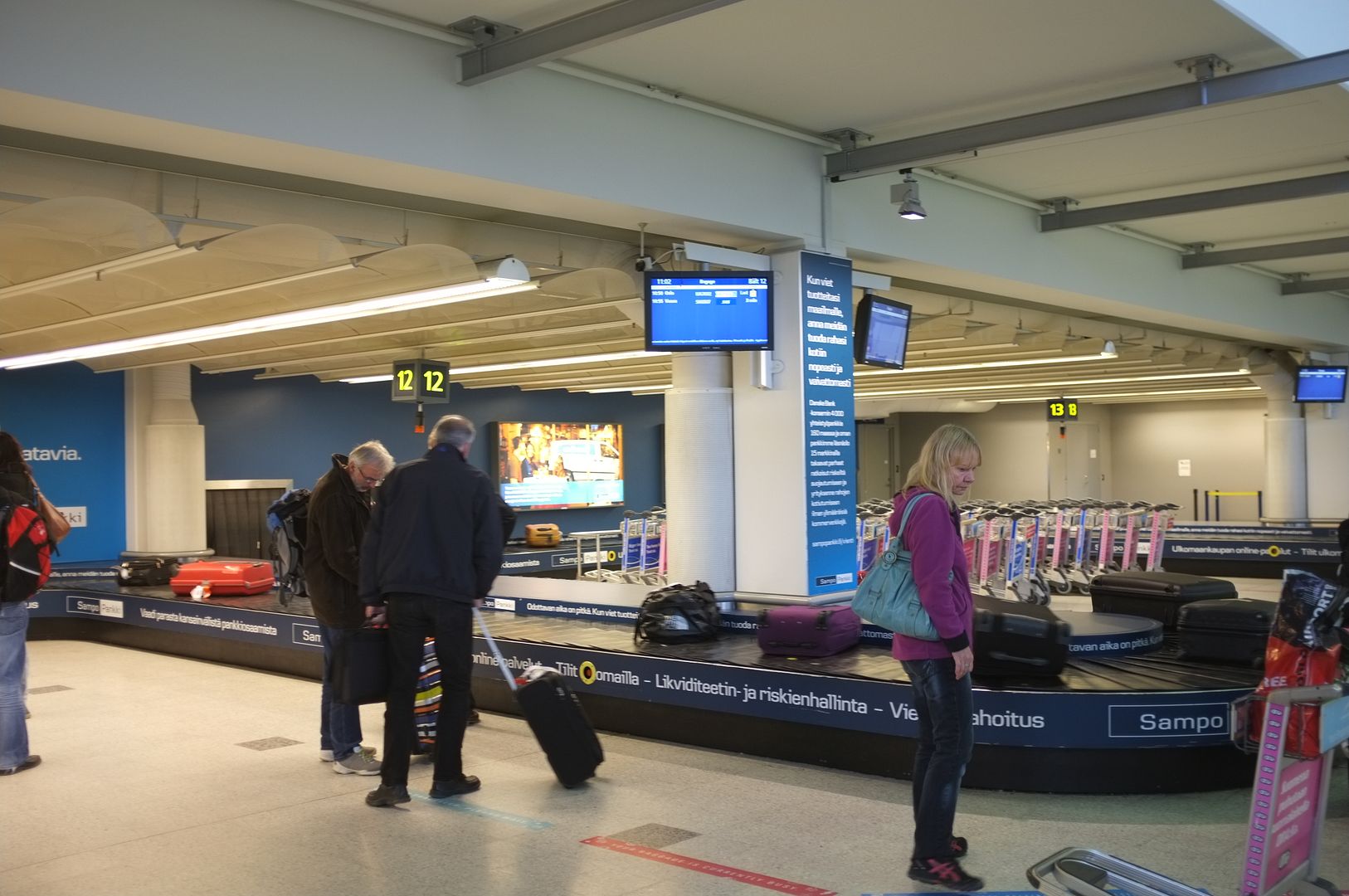 Exiting Terminal 1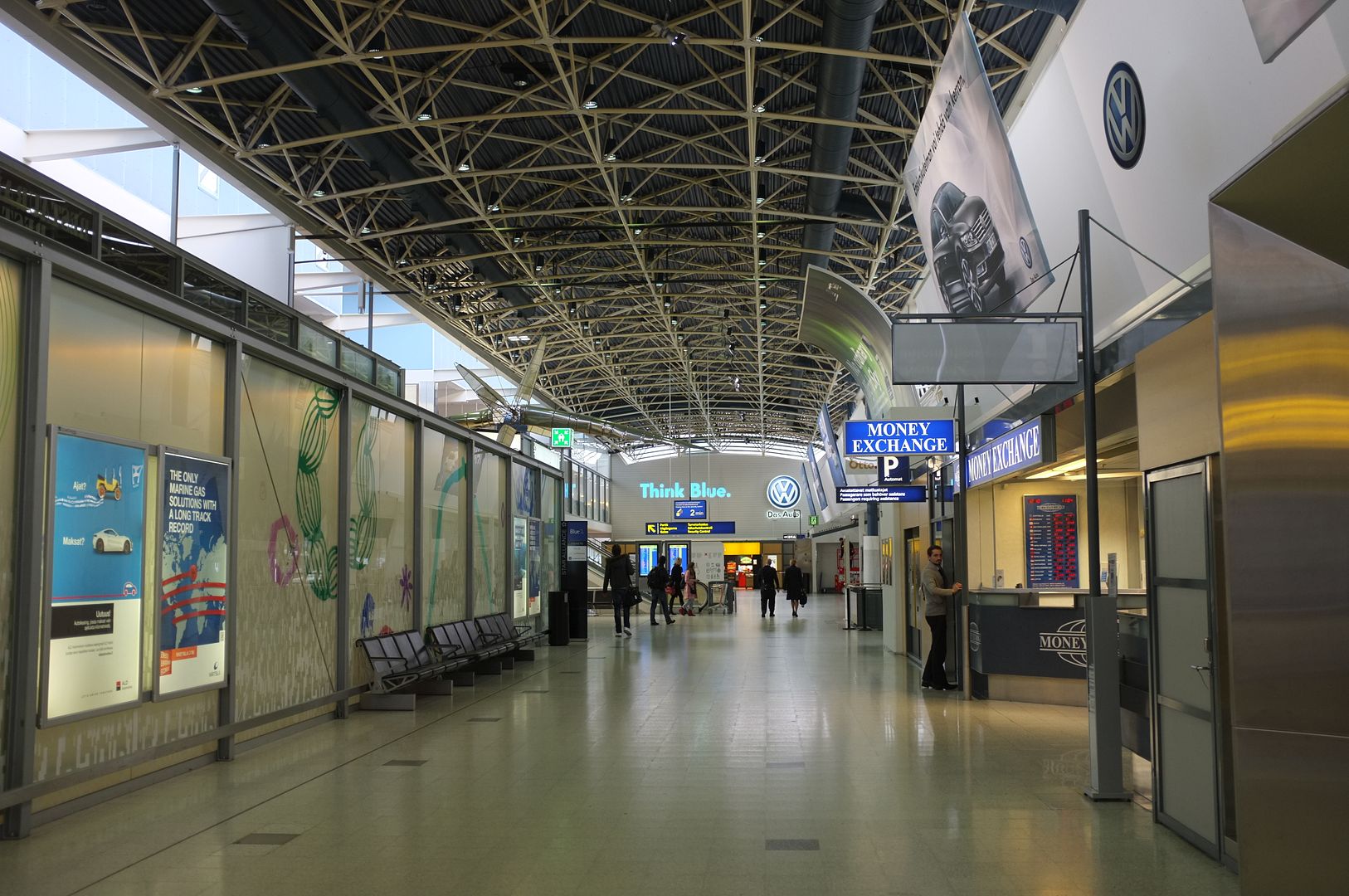 I have arranged an airport-hotel transfer in advance with my hotel. It's all very convenient to be picked up straight from the arrival hall and dropped off in the hotel front door. But I think the 100EUR price is a little bit too much for a 25-minute drive.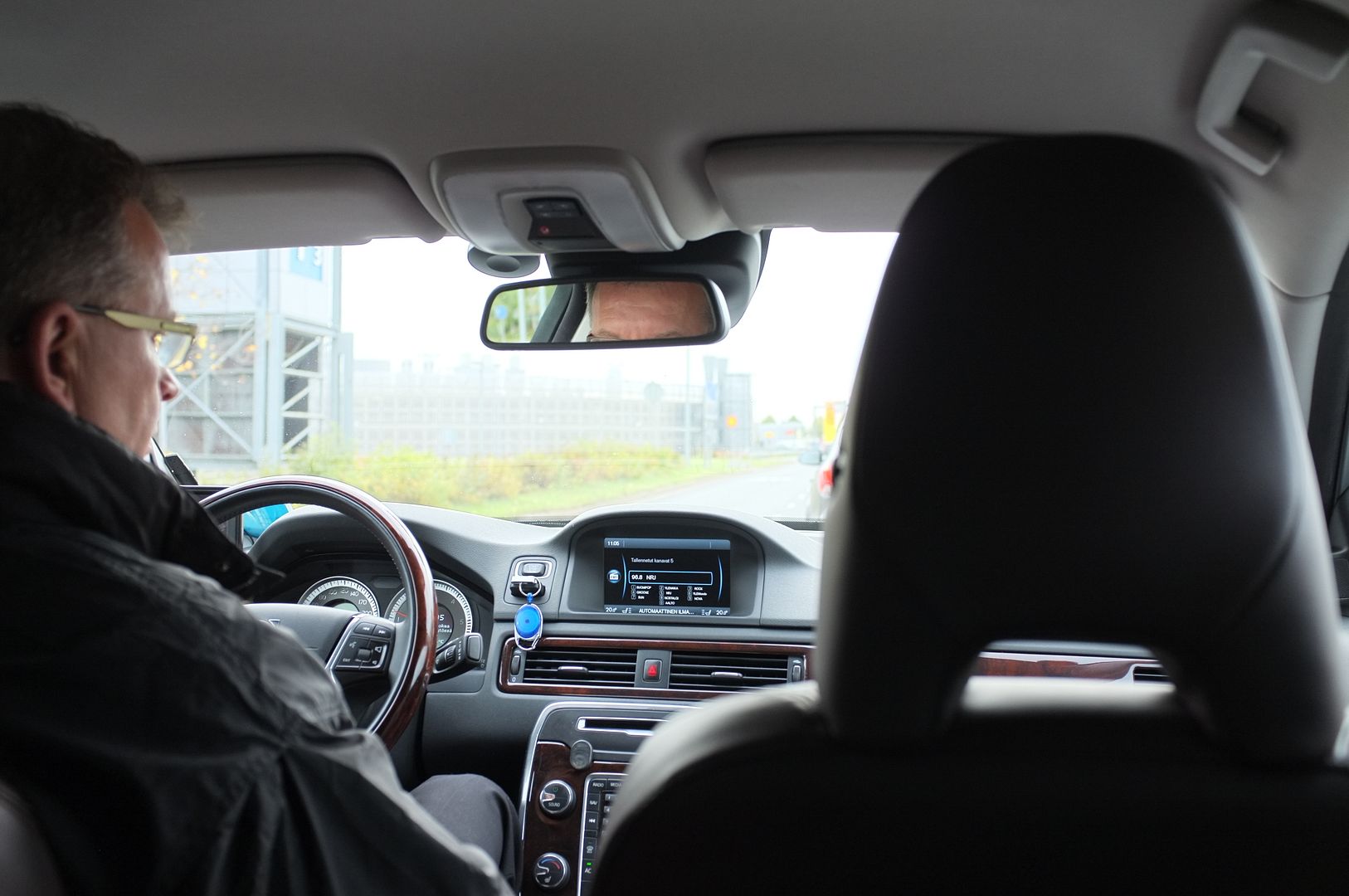 Arrived at our hotel: Hotel Kamp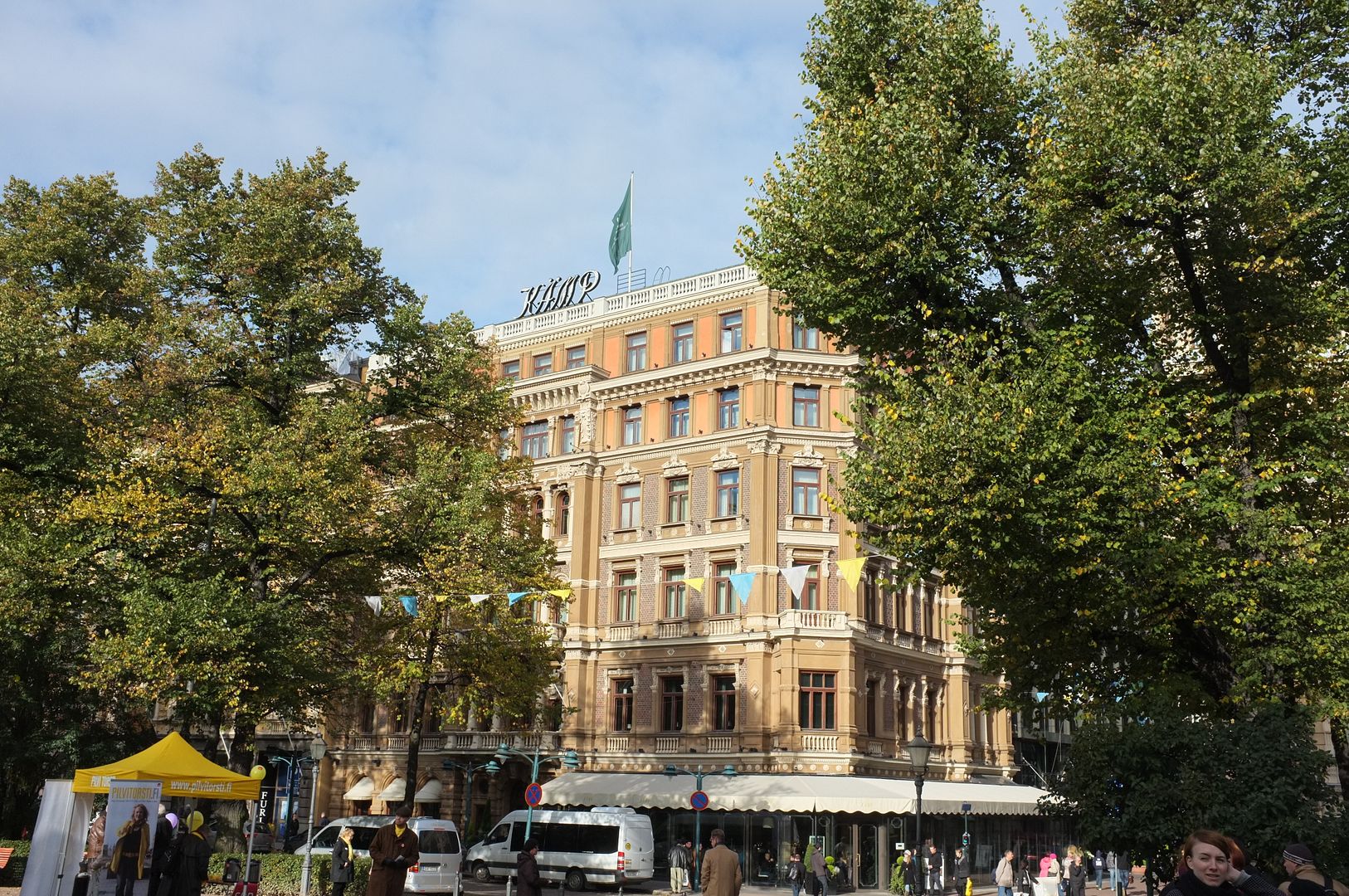 Our room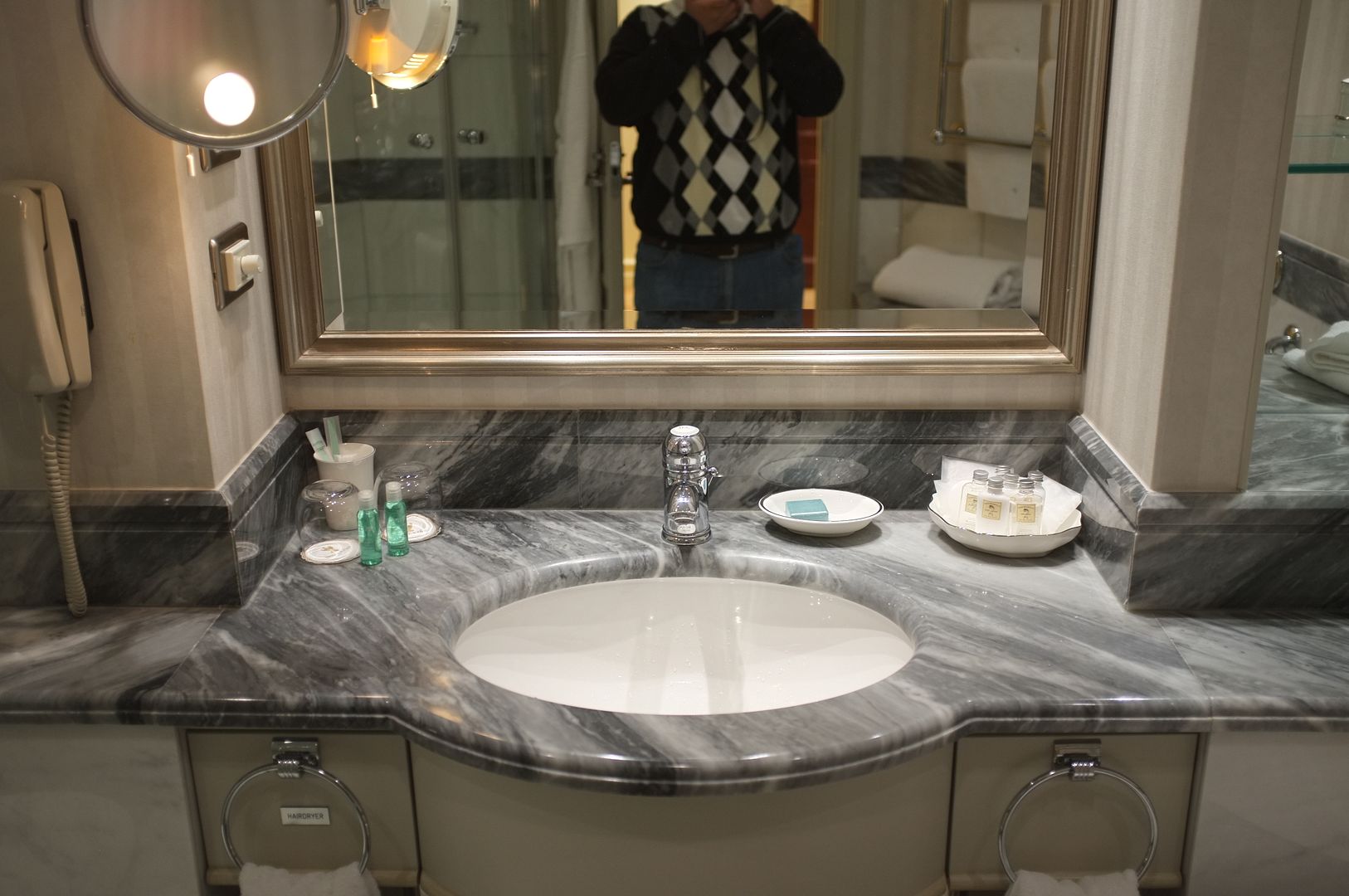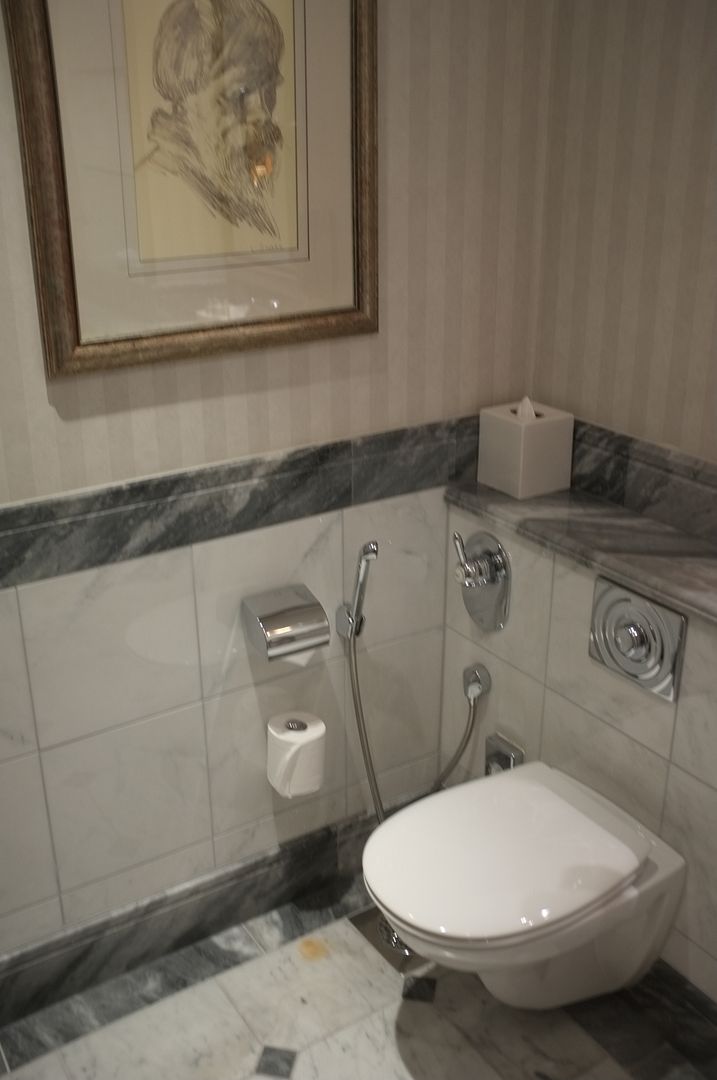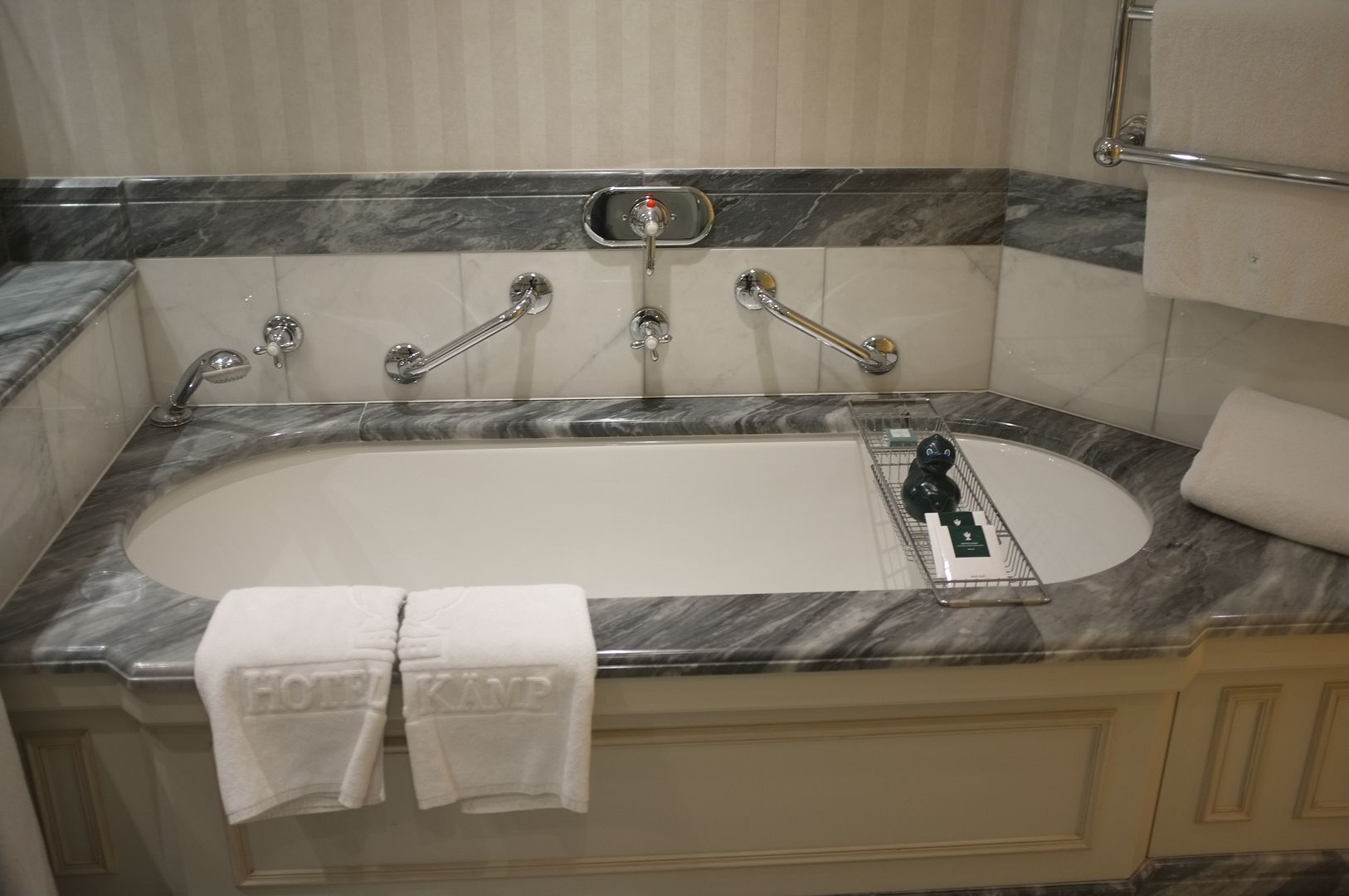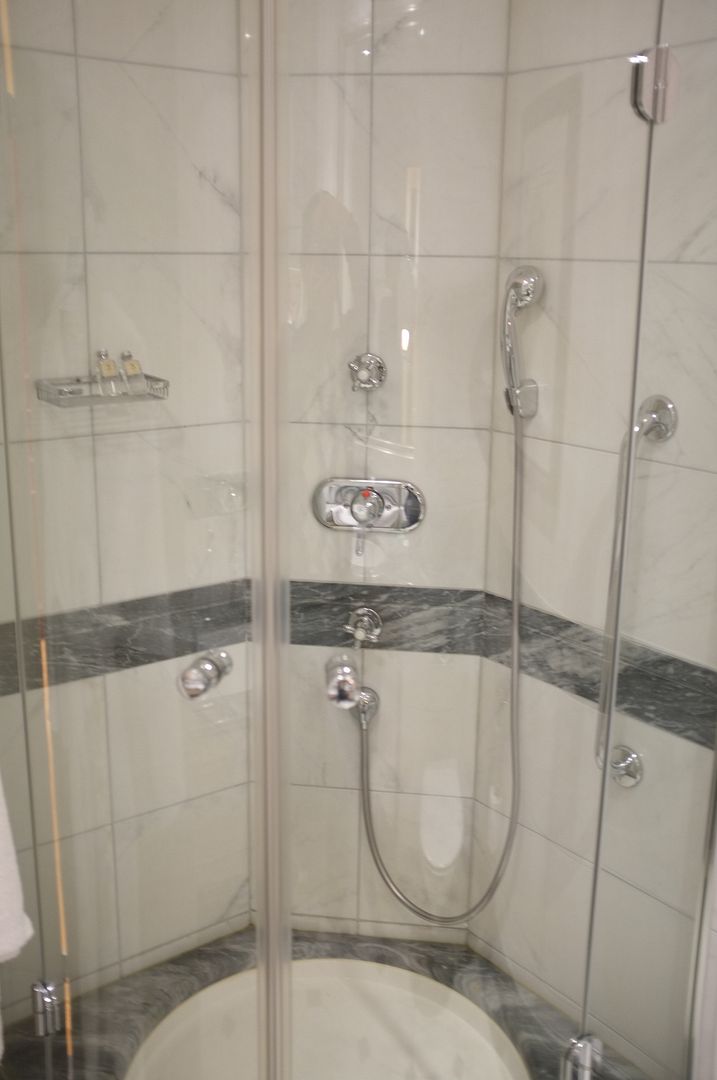 Then I received this message from Blue1
Some photos taken during our stay in Helsinki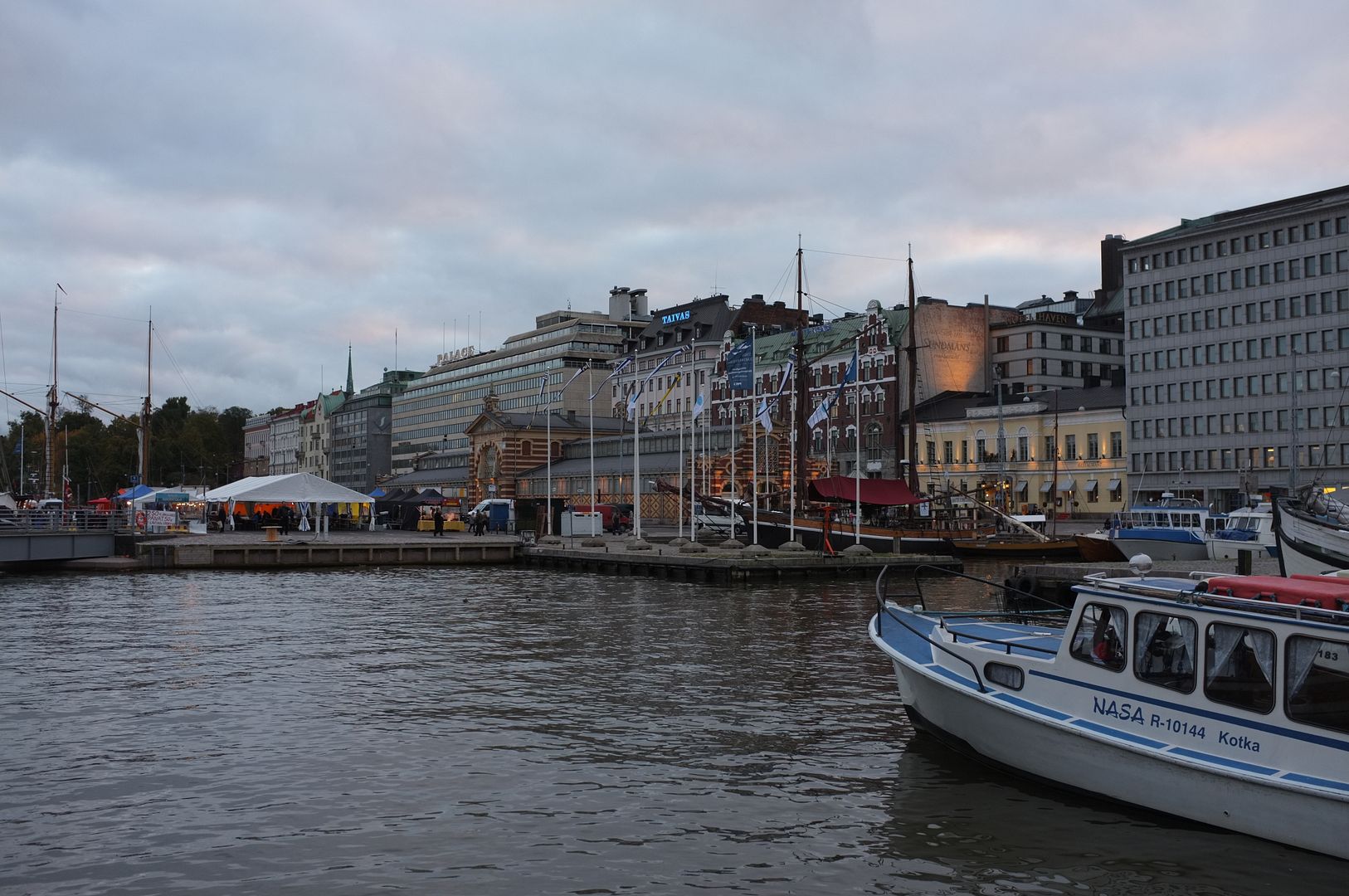 Helsinki Cathedral & Senate Square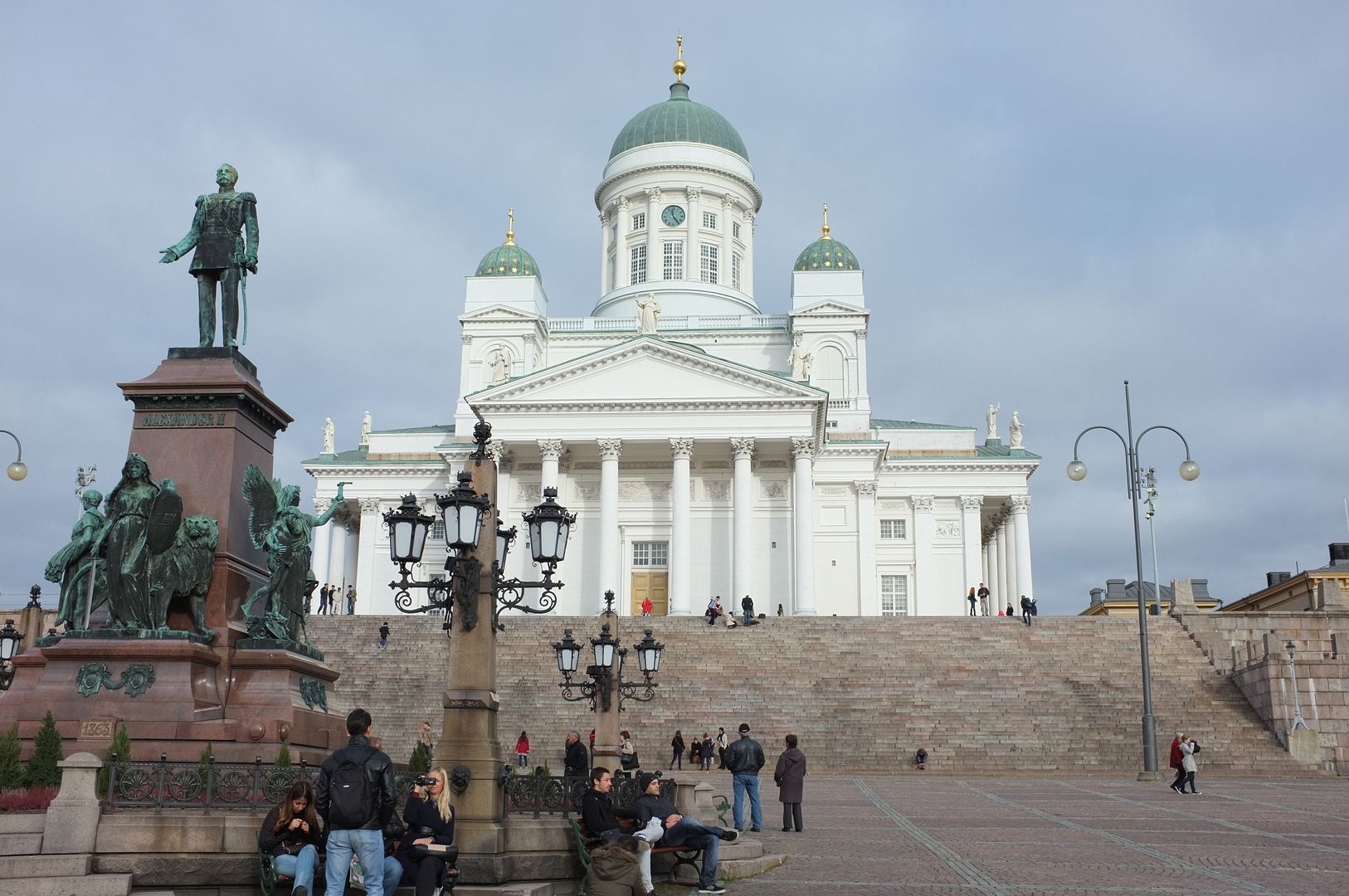 Esplanadi Park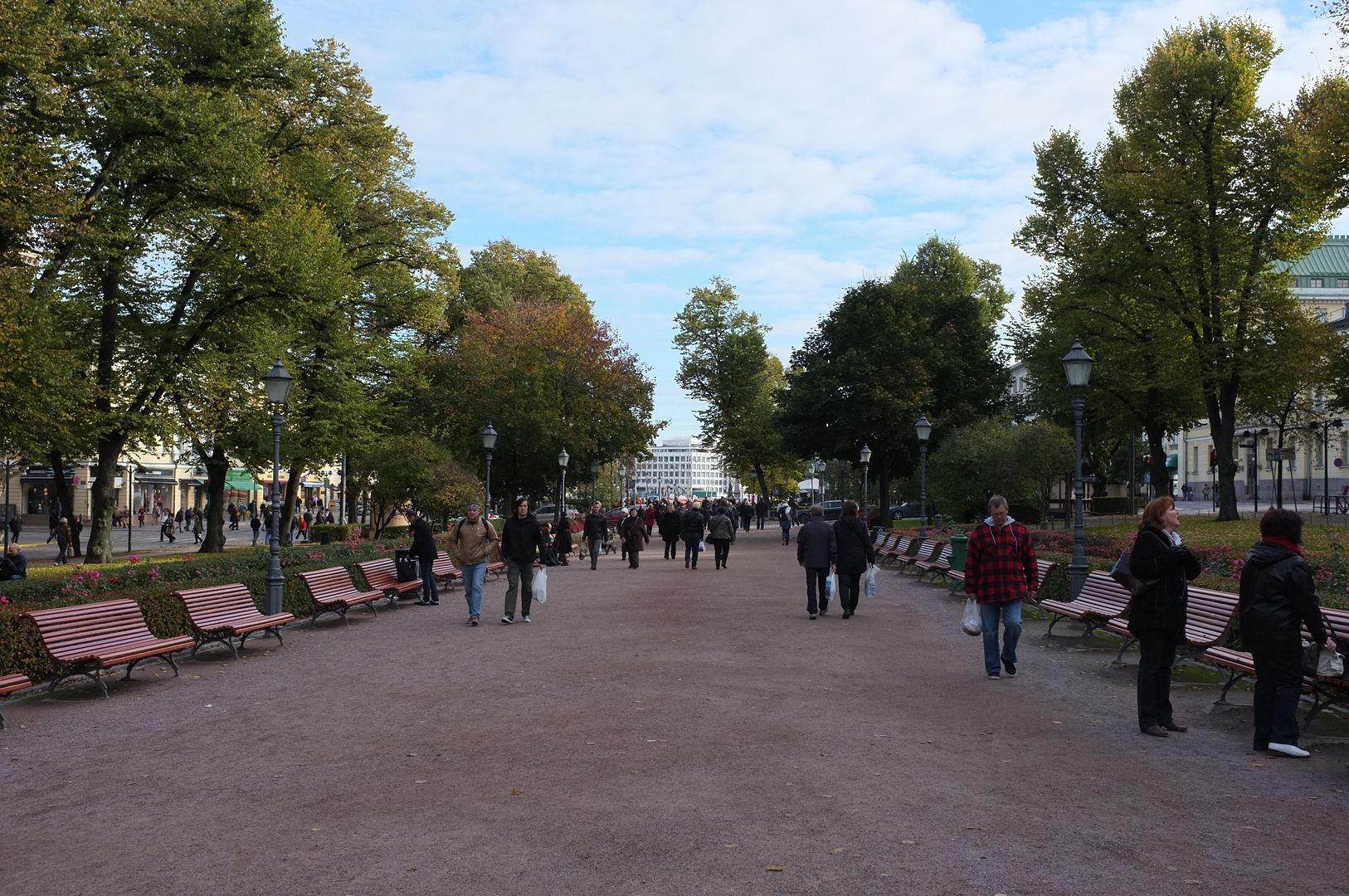 Suomenlinna