To YYC again, the ORD way today!
LX:BCN-ZRH-ORD // UA: ORD-AC: YYC on C.
Hola nois!
Back to the writing station, many flights flown in the last times and not so many writings... I was pretty busy and then my father's final months had settled me away from the mood of writing Trip Reports, not from flying though.
This trip occurred last summer when I went to visit my aunt for her 89th birthday, she is the only sister of my father's and she has lived in Canada more than 50 years now; she is quite responsible for my flying interest as she used to bring me all the memorabilia of her flights to BCN on the days flying was a total different experience, back in the 70s, 80s... and so on. On her last trip to BCN, back in 2006 she complained about how low the quality of airlines had gone.
Let's get down to the issues.
On my last trips to YYC, I have used a variety of airlines: KL in 2010 to use up my FlyingBlue miles, IB to LAX, then AC, in winter 2011 to use up my Avios, followed by the great experience of flying LX F last summer to SFO, so now it was time to pay some good money to LX, where else is your money being to be safer than in Switzerland?, for a flight to ORD and then AC to YYC. This combined with the possibility of earning a bunch of miles before the new M&M scheme came into effect on September 1st for LX flights. That was 200% miles earned even with the less pricey C tickets. LX was the chosen one, bought my ticket and then decided to stay overnight at ORD, despite the early scheduled arrival at ORD I decided not to take any risks when paying for the tickets so I looked for a hotel nearby and found a good deal at the Hyatt Regency O'Hare. The next day I will board an UA flight to AC to YYC, which was the same price as the direct flights but you could add up more miles; so all settled.
August 19th, 2012.
LX1951
BCN-ZRH
A321-111
HB-IOF 'Winthertur'
In service with SR from 1995, then LX in 2002, to TK in 2004 and back to LX in 2007.
SDT: 6.30 // 6.35
SAT: 8.15 // 8.20
Gate: B24
Seat 3A
All packed and settled by 5.00 when my nephew drives me to the airport. He drops me off at the main entrance of T1 and I go inside to the LX counter nicely staffed at this early hour. Crowded airport as it is in the middle of holiday season and a long line ahead is visible at security. No more than 10 minutes spent on line, pretty good for such a big amount of people. But let's go back to check-in; I had done my OLCI the day before, as a good a.netter, to select my window seats. I almost started crying when I saw there was none left for the ZRH-ORD flight, I tried my luck at BCN counter, no luck either... so I would fly across the Atlantic on an aisle seat for the first time in many years, I remember a flight back in 1997 where I flew YYC-FRA on AC on an aisle, since then, all of them have been window seats... let's keep reading and see what it has to offer.
My plane waiting for my ride to ZRH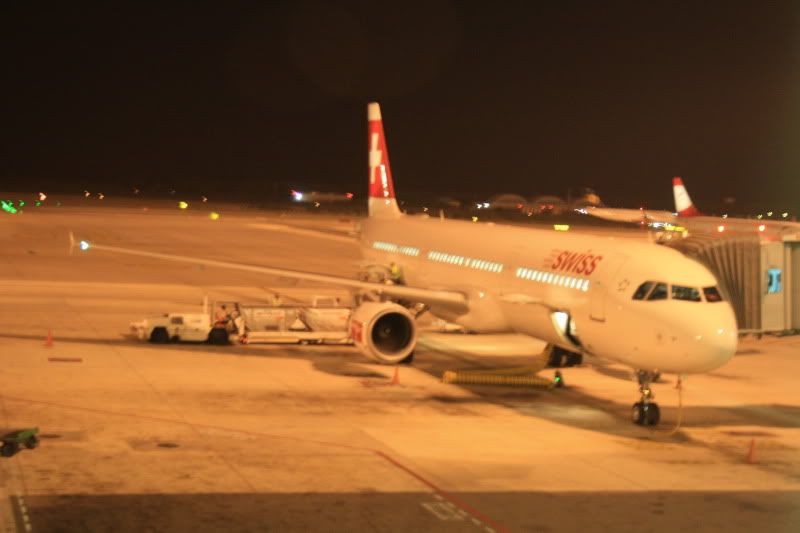 After all the strict check-in had been done I went through security and off to the lounge to enjoy some well deserved morning coffee and some pastries getting ready for the boarding that starts right on time and by 6.30 we are ready to go.
As we push back we go over something, a hose maybe, and we stop for maybe a minute and then we continue to the usual morning runaway, 7R, leading North which saves a good time when flying to Europe (except for Portugal, of course!)
A view of T1 from the runaway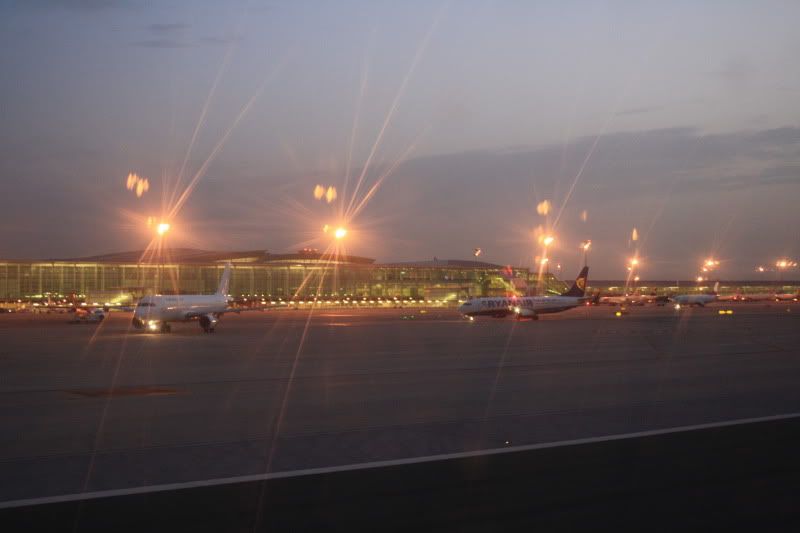 The maître-de-cabin welcomes us on board with a Spanish safety recording and then greets us personally in German and English. The bottles of water and the wipes have already been distributed. As we approach the runaway, the captain informs us of the weather conditions and the expected on time arrival onto ZRH, as the map shows the 857 km. must be completed in 1h20min.
Barcelona lights in the early morning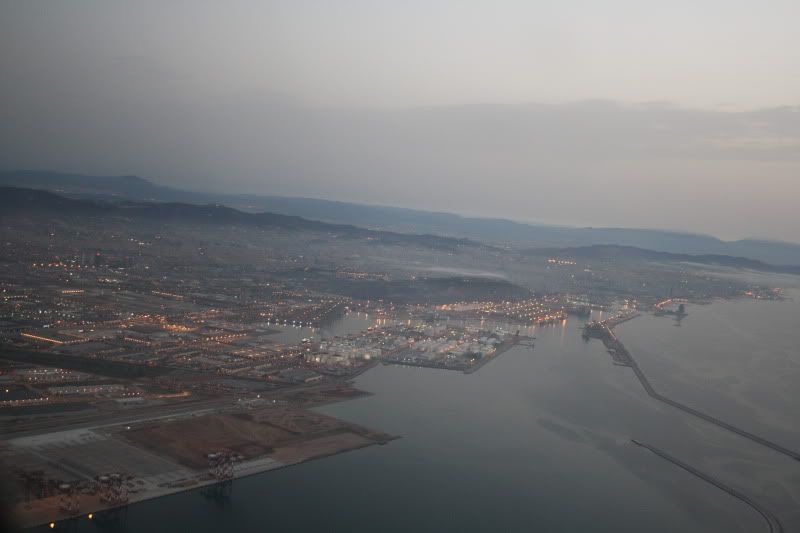 They are waiting to go into the city as well, so many people, so few space in Europe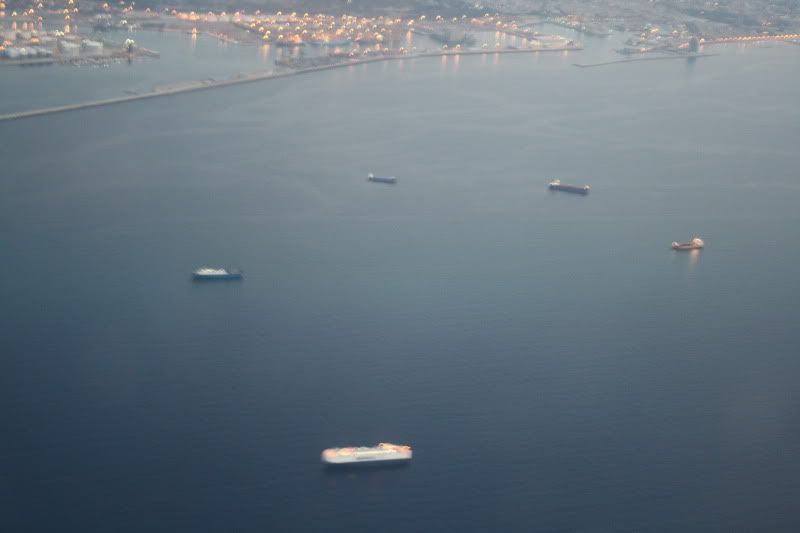 We start climbing next to Barcelona which offers great views at this time of the early morning, when we reach 10FL the guys in front switch off the belt sign and the crew is free to move and prepare fro breakfast,as the plane is full they have quite a lot of work to do.
The coast slowly fades away as there are some minimal clouds due to the heat of the last days.
Seat pocket contents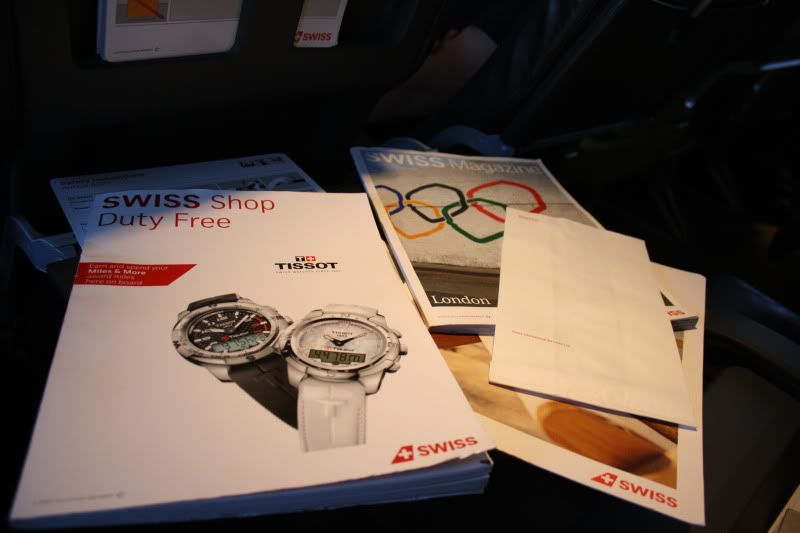 My humble breakfast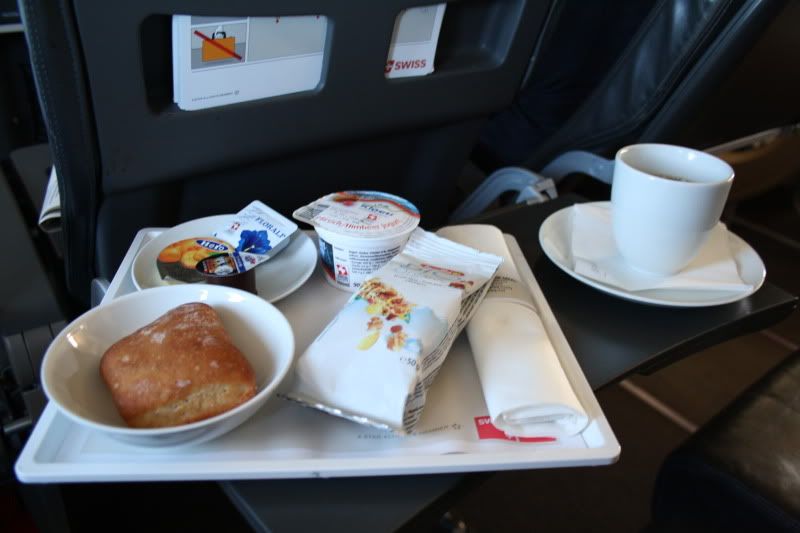 They quickly switch off the inflight map and start the LX info together with some Mövenpick commercials. As we climb some moderate turbulence appears, I guess heat and pressure layers play its part here. We enter mainland France above Marseille.
Marseille from 34,000 feet waking up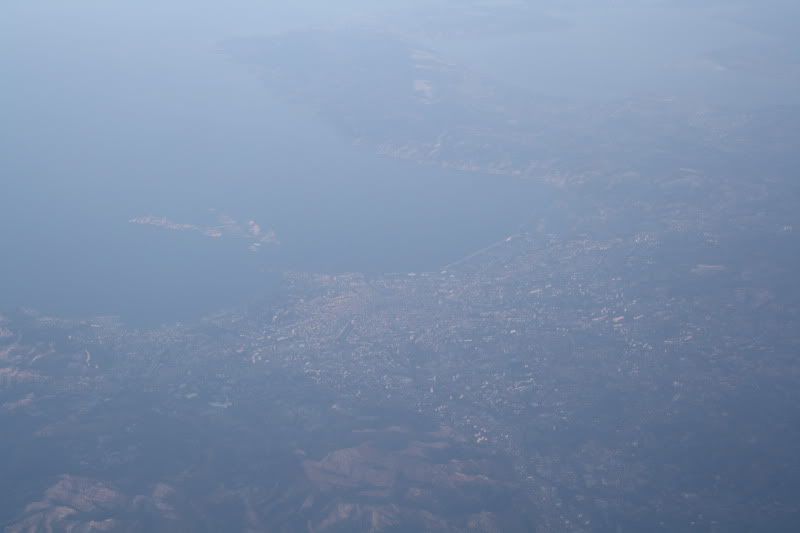 The first Alps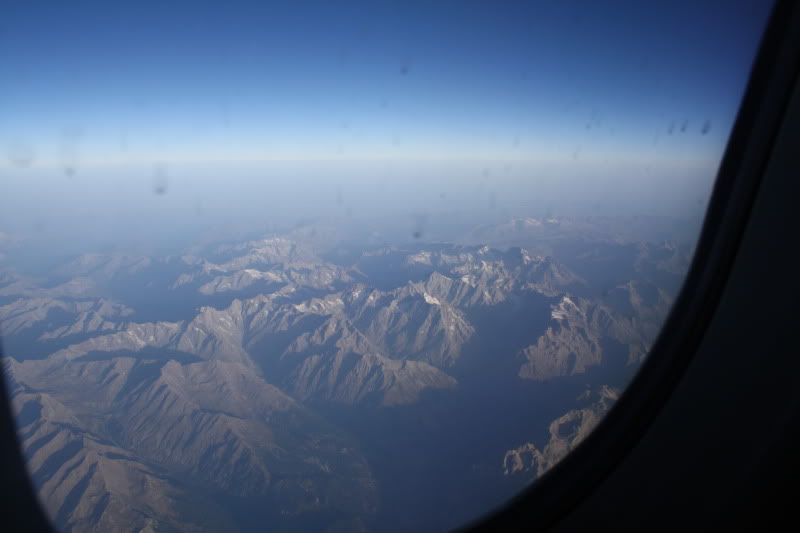 As we approach the Alps some clouds can be seen ahead, so we must be approaching Switzerland, luckily they are just across the mountains, as we approach ZRH and go around the airport to land from the South we are greeted by great views of the airport, we go around Zürich lake and start our descend to land bang on time on runaway 34.
Clouds, we must be approaching Switzerland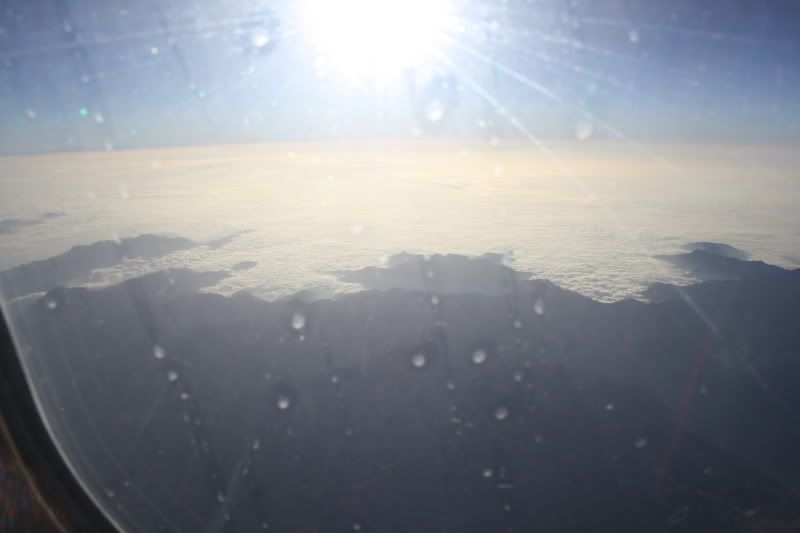 What a ski resort looks like in summer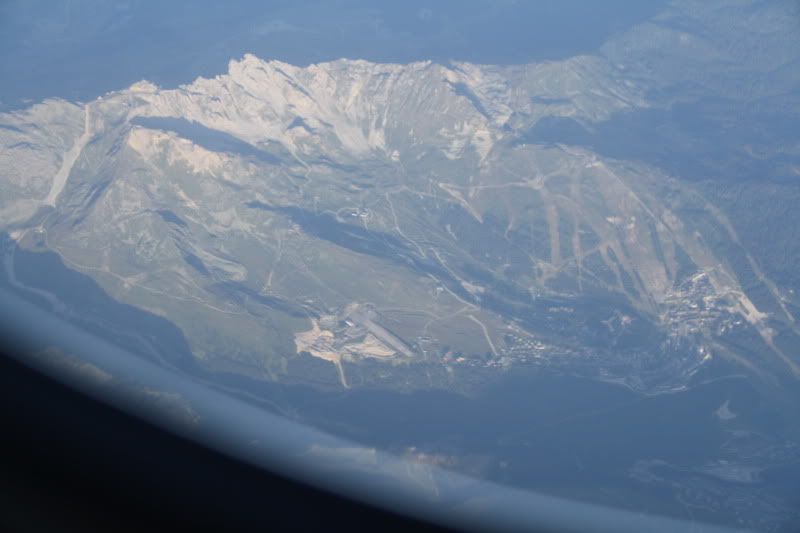 Some chocolate to sweeten bitter economy news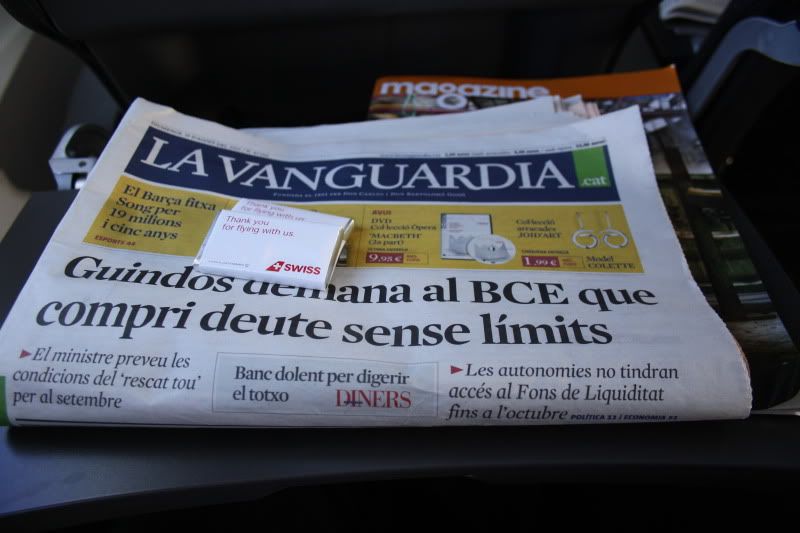 A view of ZRH airport. Pity the sun was facing me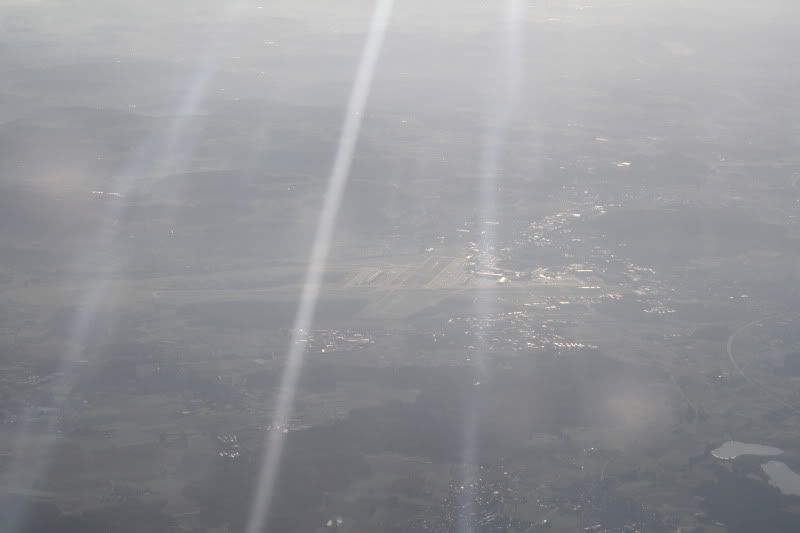 Going round Zürich lake, a scenic approach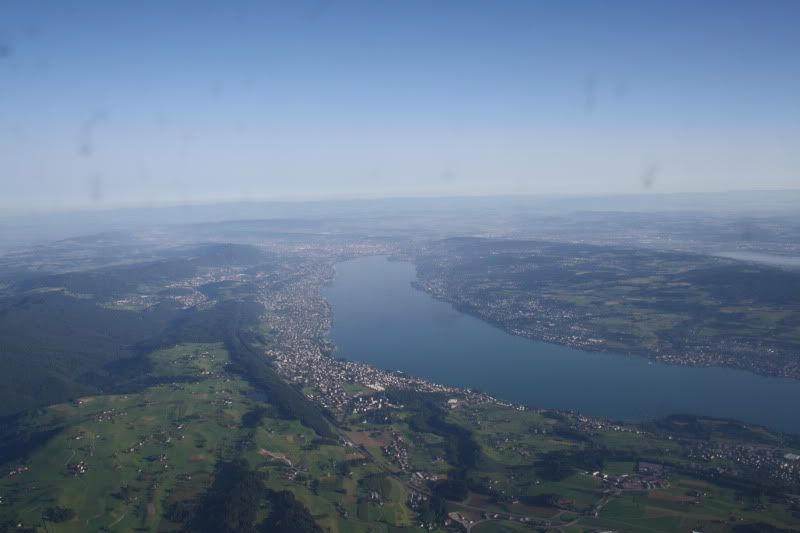 Big cousin from SQ was already waiting for us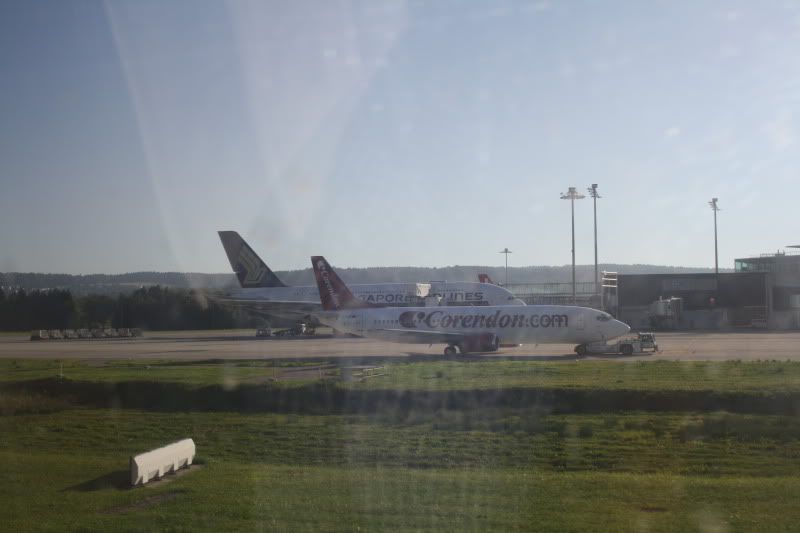 I greet the crew, thank them for the nice flight and rush to meet Infodesk, aka Hannah, who is working today at the best office in the house, as she sits at the entrance of the observation desk she has a wonderful view from her seat of all the planes landing on runaway 34, all heavies march in front of her offering a great show. As we chat we look forward to meeting Flieger67, aka Markus, who is supposed to join us for this Sunday morning mini-A.netter meeting. Unfortunately he is delayed by traffic and I say my goodbye to Hannah thanking her for this enjoyable morning talk before boarding my flight to ORD.
August 19th, 2012.
LX2608
ZRH-ORD
A330-343X
HB-JHK 'Herisau'
In service with LX since Jan. 2012
Gate E43
Seat 8G
SDT: 9.55 // 10.05
SAT: 12.35 // 12.40
When I leave Hannah's terrific office I walk down to security and after two layers of escalators I get to the mini-train transferring to the E gates, showing my passport before boarding is all the procedures I have to go through, then up again to the E-gates where there is another passport check set up by American authorities, the area is quite packed and I go up and down the terminal until I stop in front of one of the most beautiful liveries out there, Oman Air has recently started flights to ZRH and they send this beauty, some a.netter reported that it is not only beautiful on the outside but it seems inside it is a great airline as well, so keep this in mind while the final call for boarding my flight to ORD is made.
Beautiful livery for this gorgeous plane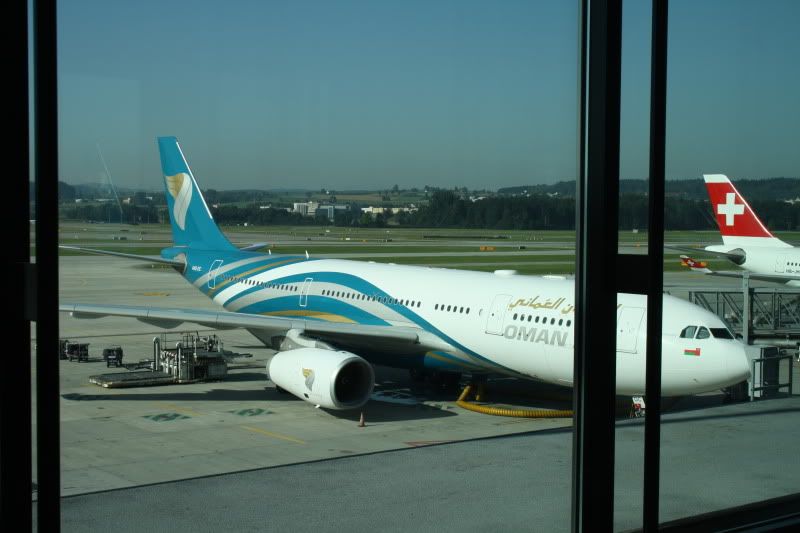 My ride to ORD, a brand new plane for my brand new route: ZRH-ORD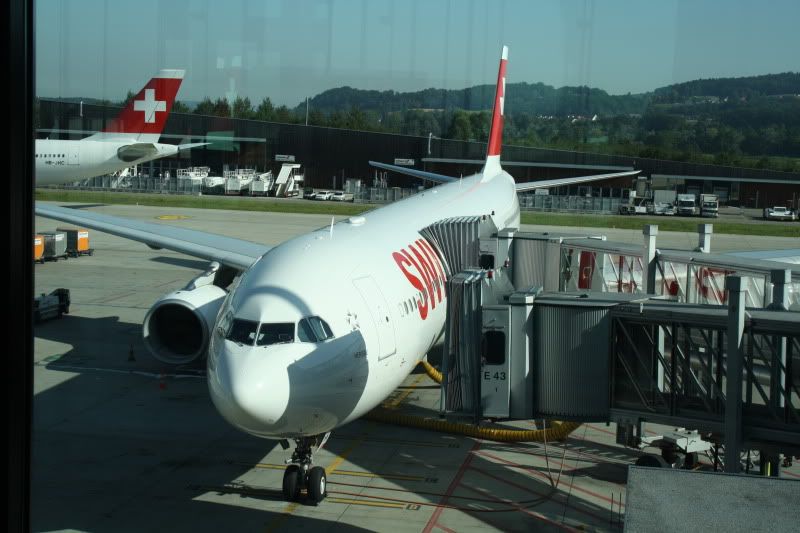 A sister plane to India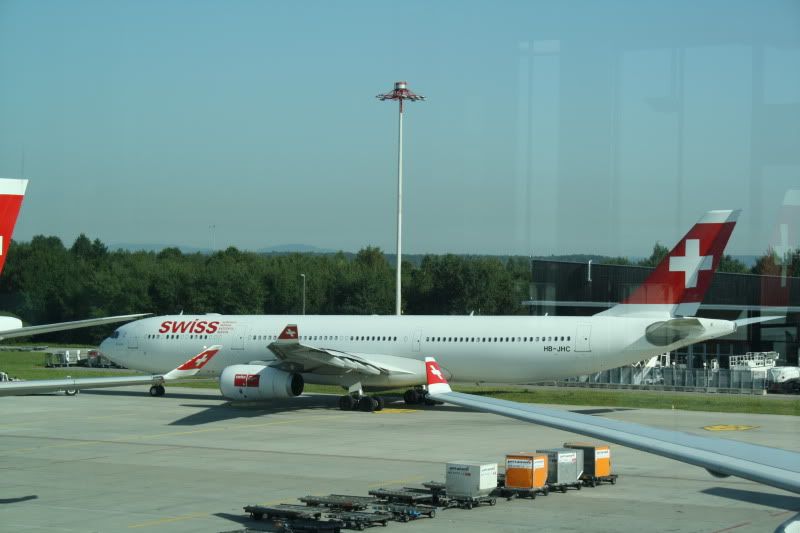 A great relief, a true LX winglet
As I enter the aircraft, greeted by the crew at the gate I realize that this is a new plane, it looks pristine clean and I am the last C passenger on board, there is only one seat left, my 8G is there unoccupied, no way of moving next to a window one... snifff! Some guys seating by the windows have their blinds down already, why on earth do you ask for a window seat if you already have the blind down even before the push back has started? Be aware that seat 9K has only one window so no place for a.netters.
The cabin feels very roomy , the non-aligned seats look great and comfortable as I try them for the first time, enough room to move on it, plenty of room for your feet and enough places where to place everything you may need during the flight.
View from the seat: enough legroom and the corridor on my right side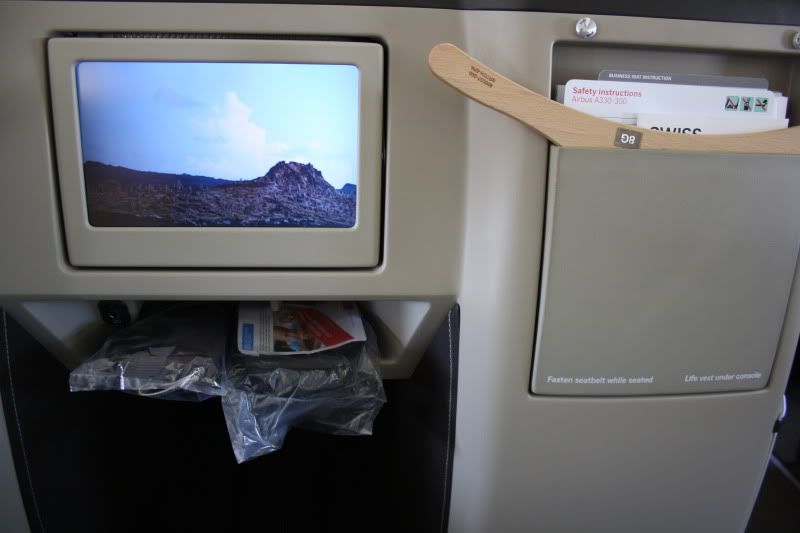 Our routing for today's flight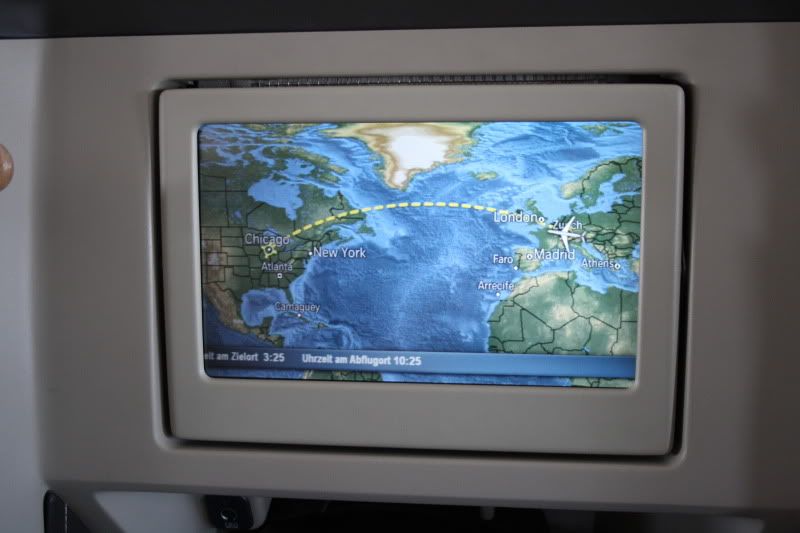 Push-back is delayed by ten minutes as we are waiting for some connecting passengers, they are soon on board and the maître-de-cabin introduces us to this flying experience. Meanwhile some water, juice and champagne are offered by the crew to passengers. I go for the water , quite early for some bubbling.
As we taxi the captain informs us of the flying route and perfect timing for an on-time arrival onto ORD. We soon get to our runaway threshold, 16, exactly the same one I have landed before but just the opposite side. Hannah and Markus wave goodbye from her office as the plane starts slowly climbing on to the European skies.
View from the seat: enough legroom and the corridor on my right side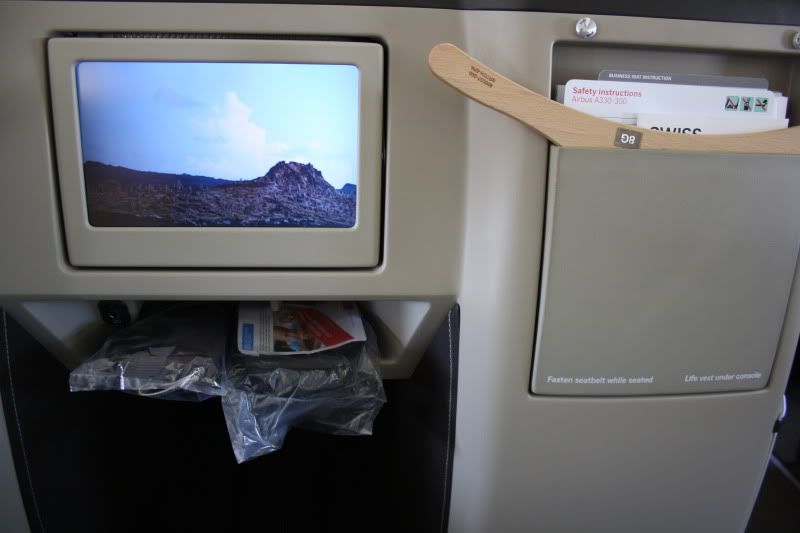 Our routing for today's flight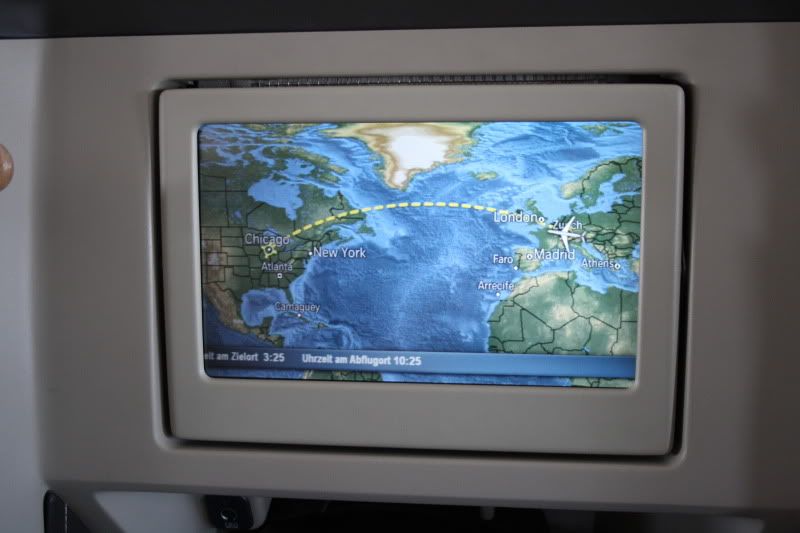 Right before the English Channel they start service with a nice glass of champagne, a glass of water and some salty snacks. As I am about to open the snack bag, a lady on 7A jumps out of her seat, over 7B lady to get a crew member. Ms. 7B seems not to feel very well, she is still and seems to have problems breathing, rapidly the crew assists her and the maître-de-cabin takes control of the situation, brings an oxygen bottle and applies the mask to her and immediately grabs the microphone to say the magic words: 'Is there a doctor on board? Please come forward to the crew' A minute later a gentleman from Y-class comes forward and starts his medical duties, a whole medical set is presented to him; among other things there is a defibrillator and a stethoscope, which he grabs, puts around his neck and uses it as any doctor would do in his/her office; the cabin has turned into a medical room over 30,000 feet above sea level. Ms 7B seems to recover and answers the doctor questions without problem, Ms 7A, who seems to me her daughter, is relieved... we all are, the crew keeps performing their lunch time duties and keeps distributing meals. The maître-de-cabin has been all this time next to the doctor and the 7A&B passengers performing as a trained nurse assisting the doctor in all his needs. Once the episode is over, the paper work starts, all the medical instruments are locked again into the emergency kit and the doctor fills up a record form. Both ladies and the maître-de-cabin thank him profusely and he adds to his thanks in the name of LX a bag with a couple of wine bottles and some other stuff. The doctor comes back a couple of times during the flight to see how Ms. 7B is doing, a nice gesture of him.
Back to the flight, we left it at the snack moment, then the starters come along, a nice tray with chicken terrine wrapped in cured ham and blueberry chutney, a small side salad with grapefruit is on it, too. The warm bread is presented on a tray and drinks served right after, I go for the red French wine from Bordeaux, really nice Château Pontet Fumet, St. Emilion Grand Cru AOC, 2006 (lot older than the plane itself). Then the main comes in: I go for the chef, Alexander Kroll from Widder Hotel Zürich, signature dish: Zurich Geschnetzeltes (sliced veal with mushroom cream sauce, potato rösti and broccoli with flaked almonds). Nothing special in my opinion, plus the quantity is quite scarce, it may be OK for a shorter flight but for Trans-Atlantic trips I'd think a larger portion should be available. Once done with all this and trays are taken away the dessert trolley appears on the corridor, I go for the vanilla mousse with Bourbon butter peaches. Really nice, ready for an espresso and some Bailey's which leads me to a nice nap once I put the seat down, which is down, very down... almost to the floor, It is flat and wide enough to allow you to have a nice rest. I enjoy my time lying down and watching some movies on the IFE which offers more than enough entertainment for an 9/10 hours flight.
IFE control and commercial for the House of Switzerland in London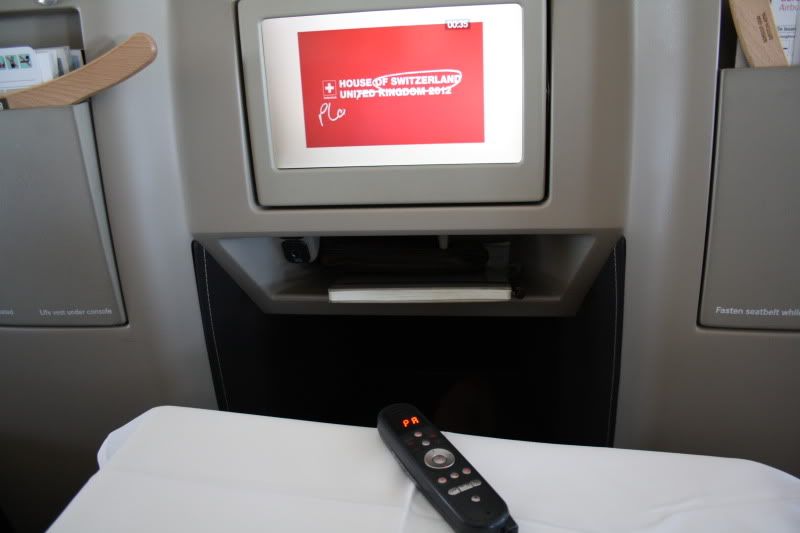 My first drink and snack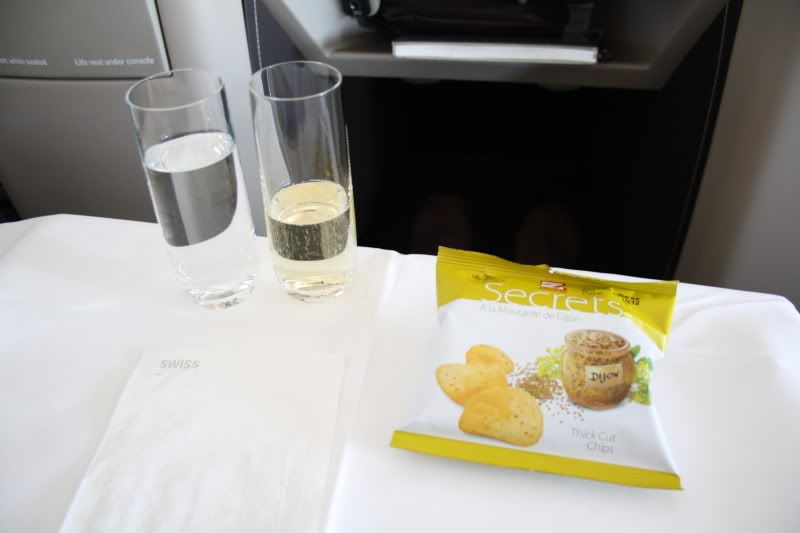 My entree. Love the little bowl for olive oil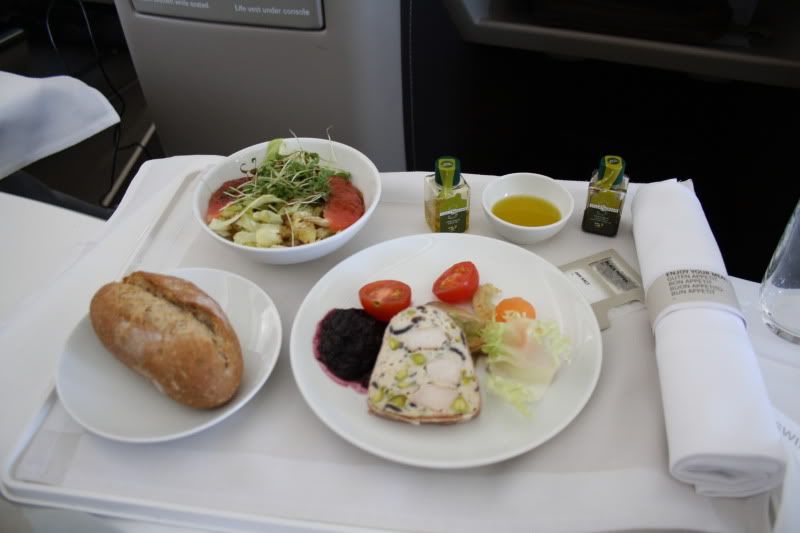 Drinks anyone?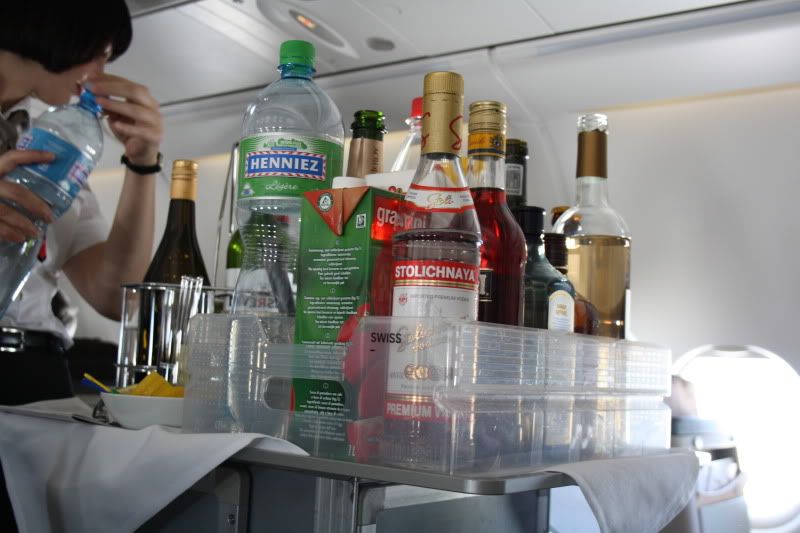 My main dish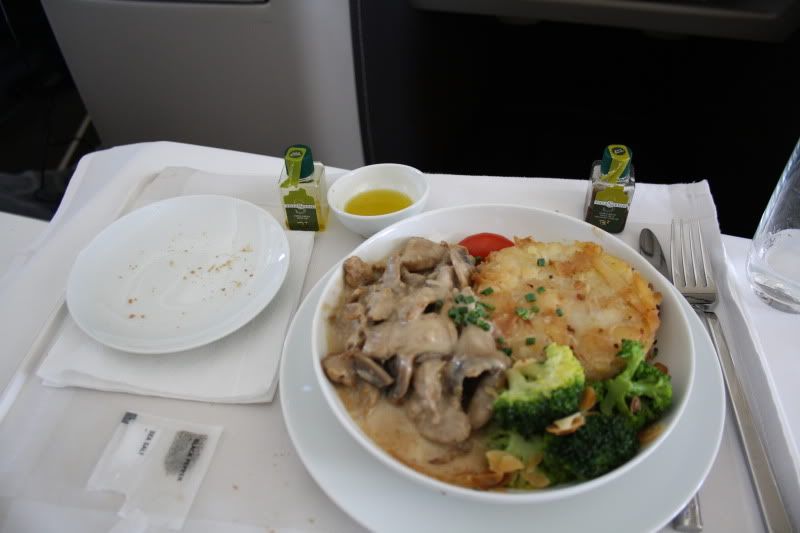 For the ones with a sweet tooth: Dessert trolley
My choice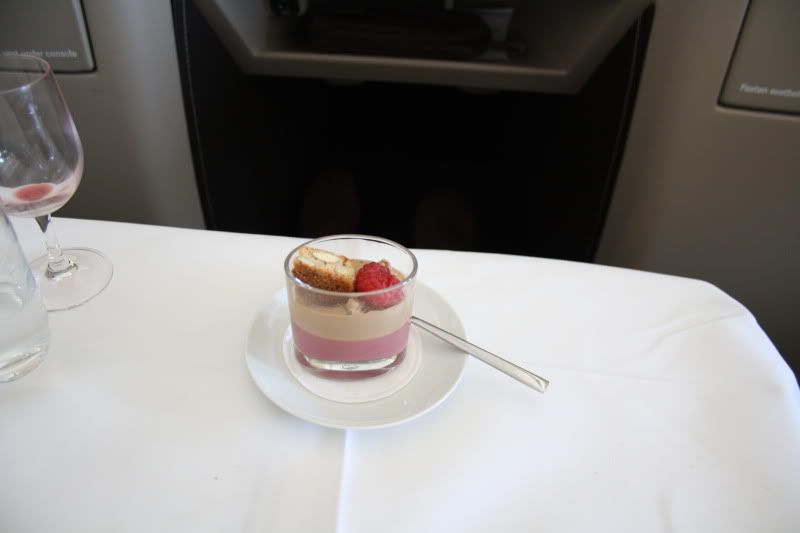 Espresso and Bailey's perfect end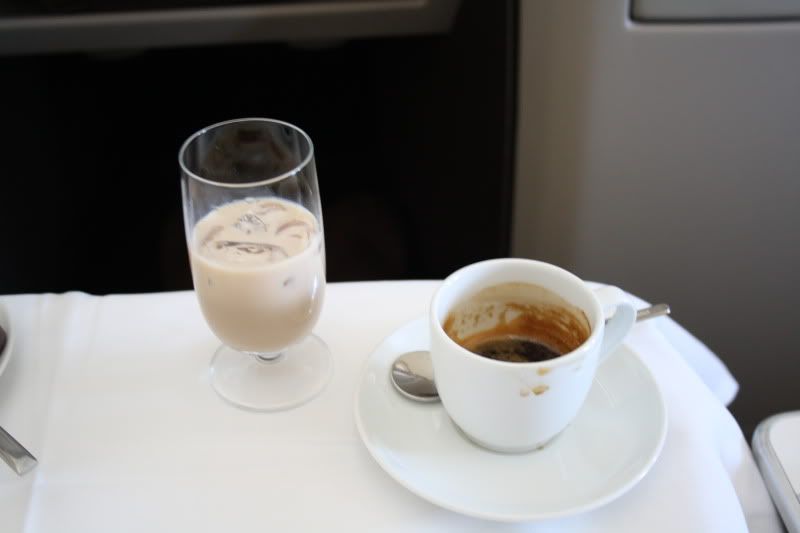 When I get up again, I go round the cabins, except for First class, to see a full plane. On my seat again I really miss a window now but keep myself entertained with the inflight map, we are over Northern Canada now and the service is ready to start again.
General view of C main cabin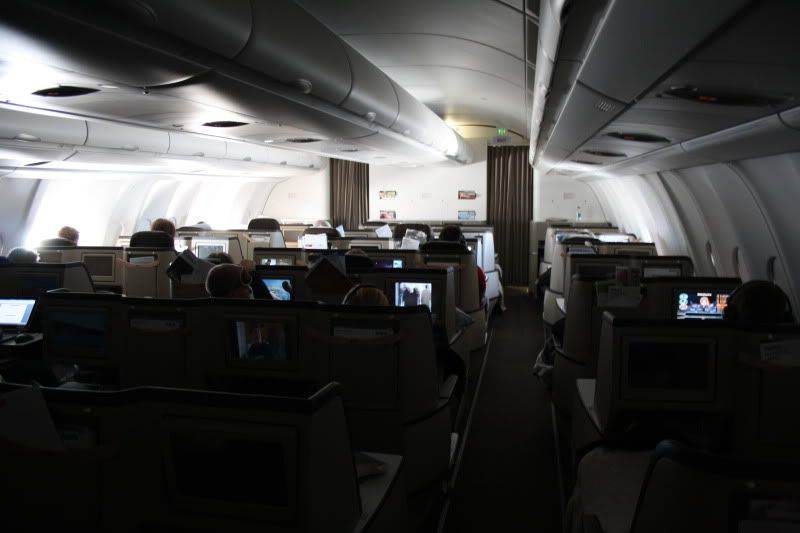 The nice linen are placed on the tray again, by the way, a tricky tray especially to store it, many people need the crew help for that matter, not myself (a.netters have to be able to do it in their own) but I have to try several times until I am able to store the folded tray on its original place. The light meal consists of a small bowl in which four small, not one more, not one less, beef meatballs, orechiette and a vegetable salad are served to you, all swinging in red pesto-mayonnaise... nothing else; quite sad in my opinion, LX has seen better times.
The crew has been very nice assisting passengers in all their needs, they have interacted well and performed their duties with enthusiasm and kindness, not a fault here, very consistent.
As we approach ORD runaways, the cabin is set for landing and we land without incidents on time. It seems everyone is happy and for the first time I exchange some words with my fellow passenger, a middle-aged man from Chicago who travels quite often this route to visit his family in Israel. As I disembark I greet Ms. 7 A&B, the crew and off to the American border, no problems here today as I explain my plans of leaving tomorrow for Canada.
Once outside I opt to go around the different terminals at ORD, none better than a bus terminal, no cafeterias or shops around just check-in counters so I go to the main area for hotel transfers, after long corridors under the roads I appear in front of the Hilton Hotel where all the coaches stop. Mine is already there and I step in for a 10 min. ride to my hotel. I am alone, it is early, ca. 2.00 pm, but the room, offering nice views onto the runaways, with 7 runaways it is difficult not to have one insight. From my room and wrapped around a towel after a refreshing shower I am able to take some pictures of the planes taking off in the area.
I decide to go around the area for a walk, as usual in the US I am the only one walking in an area filled with hotels, offices and a huge conference center. I spend the rest of the afternoon reading, loading pictures into my computer and transferring them to the web using the free wifi connection at the hotel.
View from my hotel room
I call for an early sleep....
Bona nit!
[Edited 2012-11-04 11:02:20]
[Edited 2012-11-04 11:06:20]
[Edited 2012-11-04 11:08:01]