Dear readers,
After my last report:
MLH-LYS-PUF-LCY-BSL Or The Flying Sauna
(by
infodesk
Oct 11 2012 in Trip Reports)
….I did a fair bit of flying. There was the TXL meet, then 2 trips to MAN on LX, a week near Alicante also with flights on LX, a day in DUS with AB and another trip to MAN. All pretty standard flights so no need to cover them here.
It was time to plan something a bit more exciting, but where to go? I realised that silver status with Flying Blue was in reach, so thought some Skyteam legs would fit the bill nicely. Fellow a.netter Markus/Flieger67 also needed some flights to keep his gold status so we decided to have another day out to France. Yes, believe or not, there are still a few places unvisited on the map! There's a wide choice of routes available out of MLH and as they are classed as domestic flights then some reasonable fares can be found. We settled on Biarritz. AF gave us a bit of a headache though when they decided to up the prices whilst we were in the middle of the booking process but we still managed to go ahead with things. We booked MLH-LYS-BIQ-ORY-MLH.
The routing looked like this, as always courtesy of gcmap: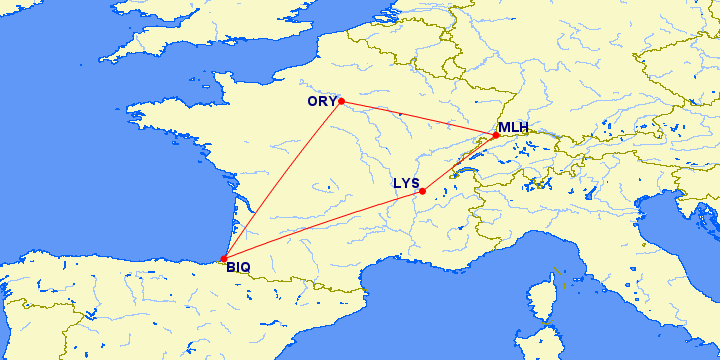 The usual lottery ensued during OLCI, where we could check-in for some legs but not others, no surprises here!
13.9.12
Another early morning alarm call at 4am. After the usual 45minute run over to Basel, this time I park on the French side of the airport. 7E cheaper just for crossing the border, not bad. It's a 5 minute walk from where I leave my car to the terminal.
Lyon is pünktlich, very good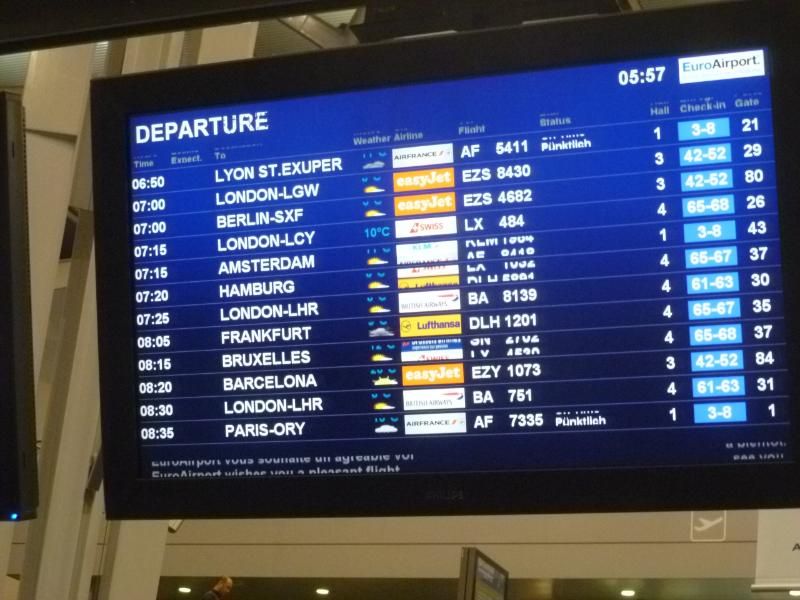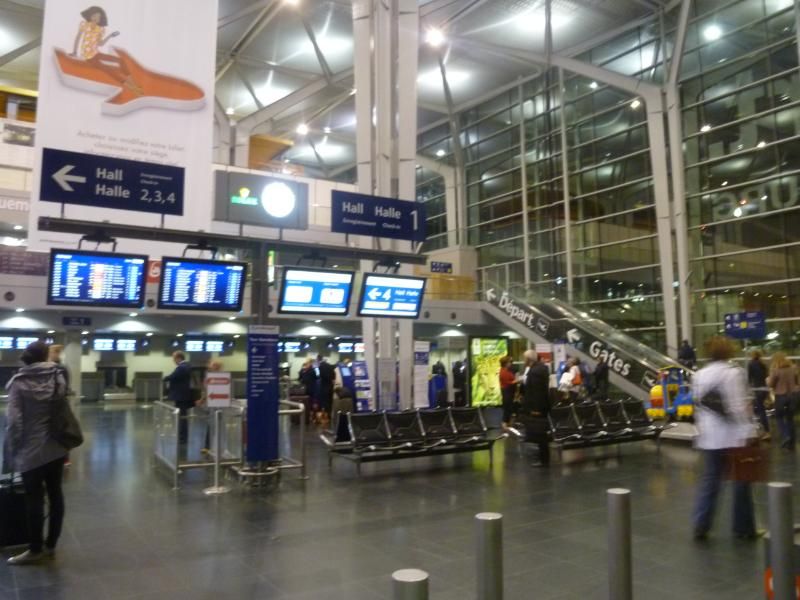 As I reach check-in I see someone at the AF machines in the process of selecting the last row on the seatmap. Excellent choice, I do the same myself!
We proceed through security, again a certain gold card helps speed this up. I have to take my shoes off, despite there being no metal or buckles or anything of the like attached and get given a very fetching pair of blue plastic things to put on my feet, something new here.
We settle down near the gate, I borrow a newspaper courtesy of Swiss and we catch up on our news.
MLH-LYS
AF5411
STD 06.50 / STA 07.40
ATD 06.56 / ATA 07.32
F-GRGH, Embraer 145 operated by Regional
Seat 19A
Load: 50%
1st leg on the E145 & this aircraft
There aren't many people at the gate so it looks like a light load for today's flight to Lyon. Boarding is called at 06.30 and we head down to the tarmac.
Neighbour ready for CDG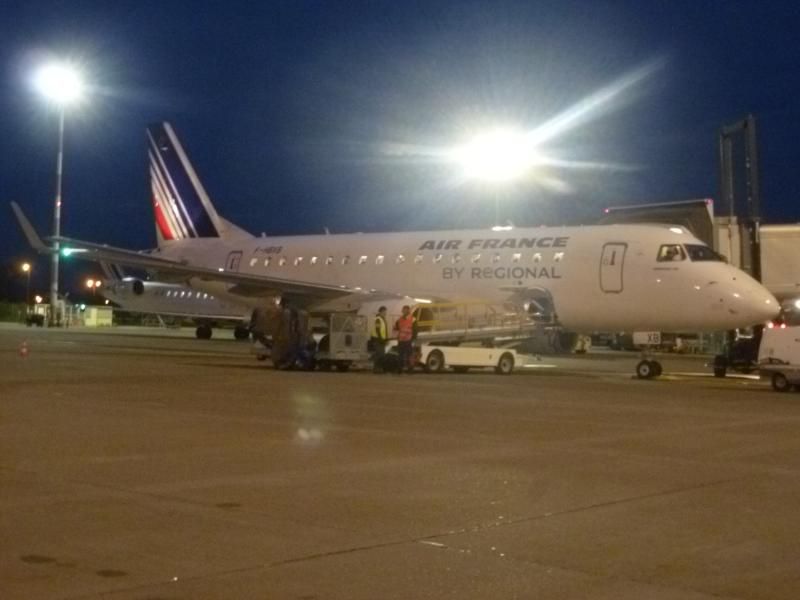 Our first ride of the day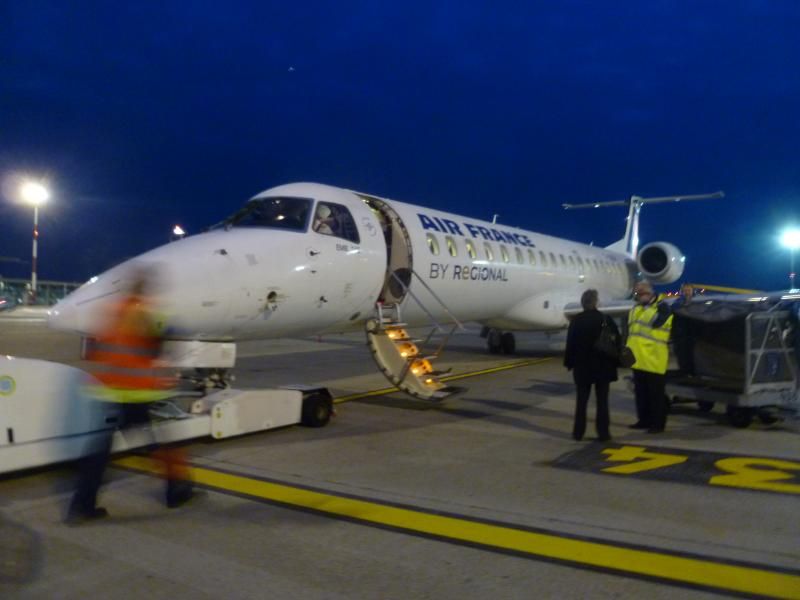 There's one female FA on this flight. The pilot gives us some information about the short hop to Lyon this morning, estimated flying time of 40mins with a temperature of 11C at our destination.
We pushback early at 06.45, taxi along to runway 15 and take off at 06.56.
Turning
Au revoir Basel! The golden BA is just visible in the centre.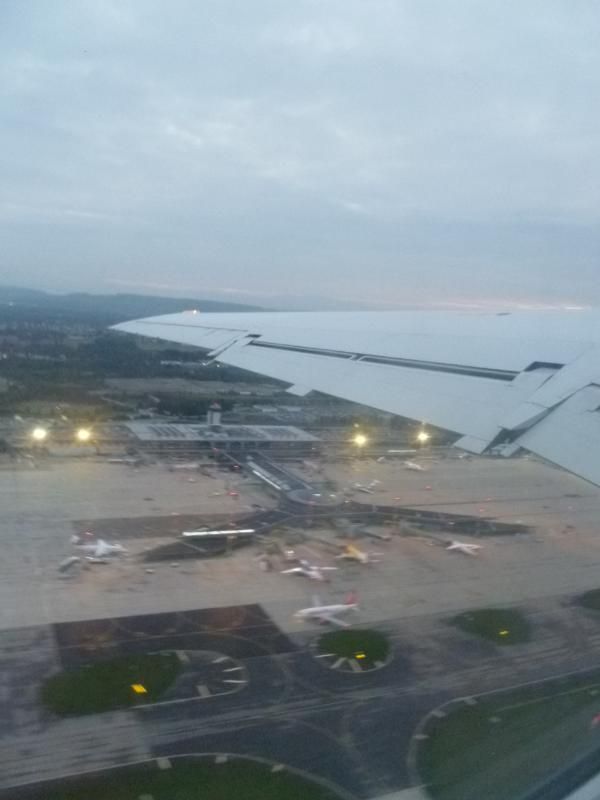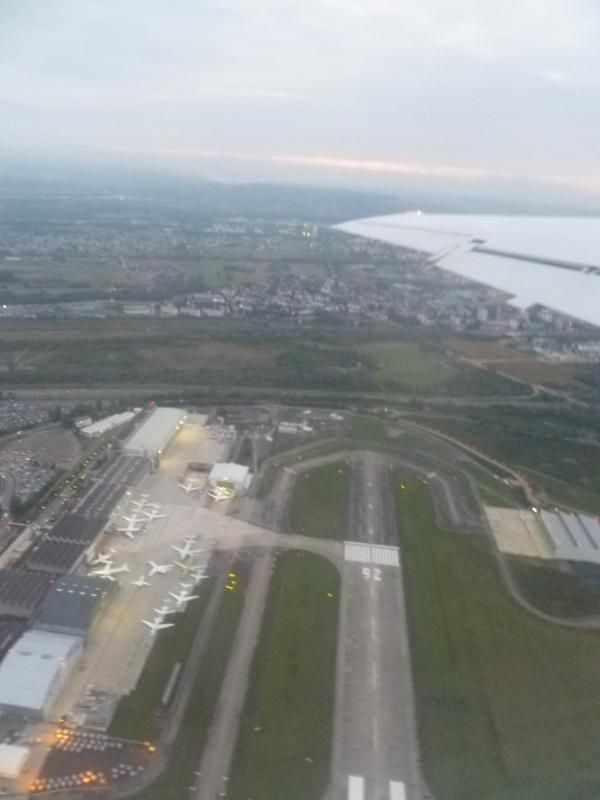 I was treated to some nice views of Basel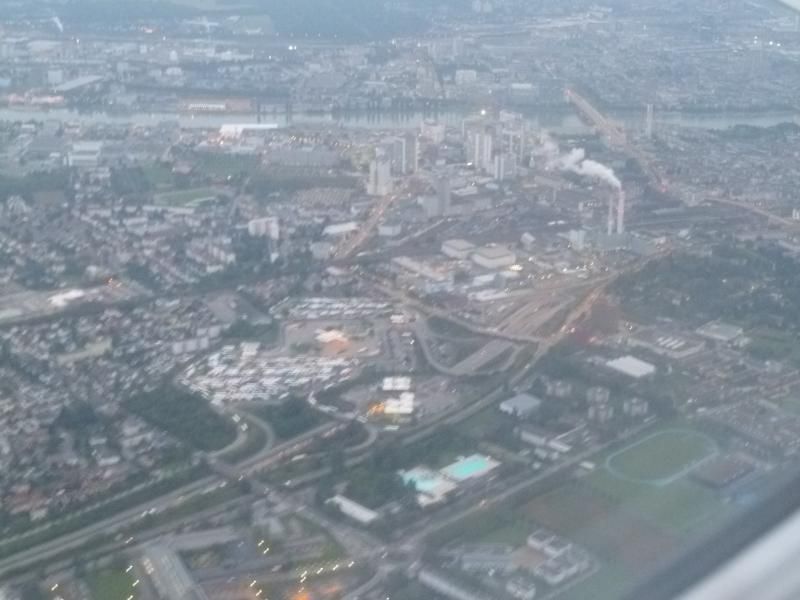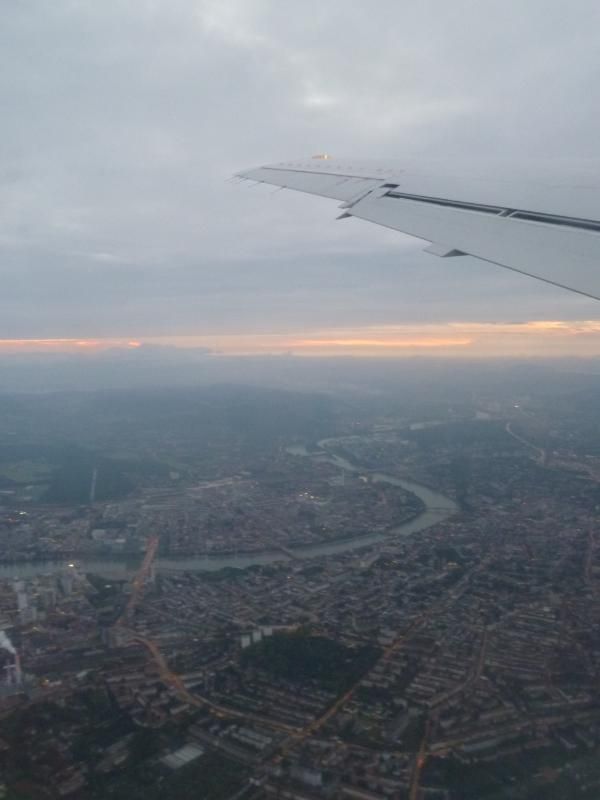 Legroom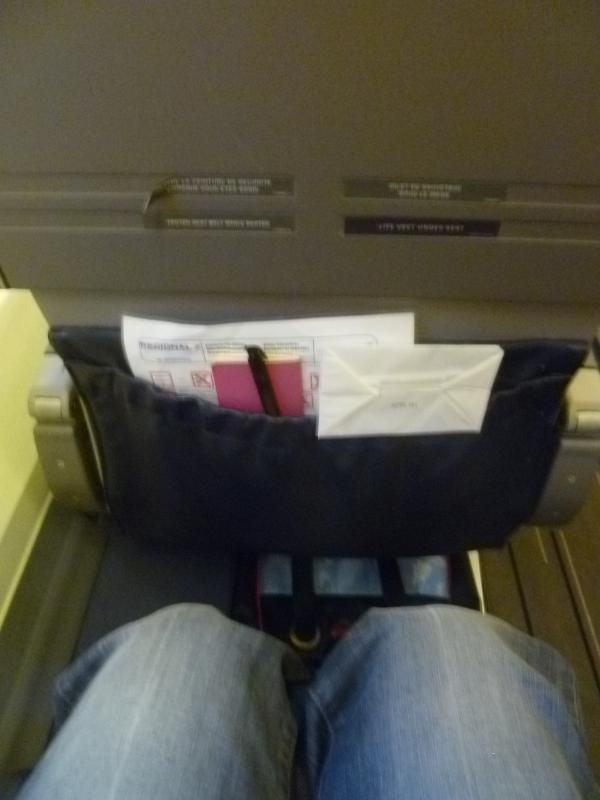 Cabin shot
Between the cloud layers
Petit déjuner
Sunrise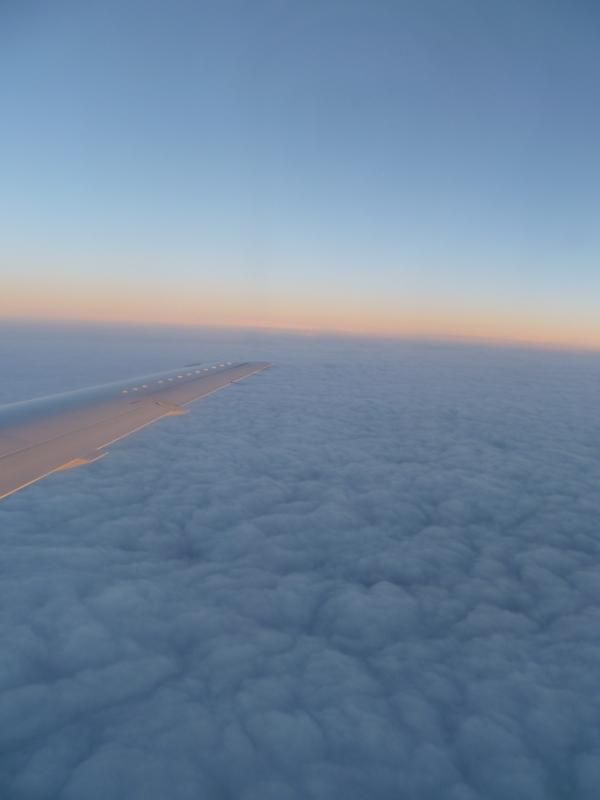 Nice lighting on approach into LYS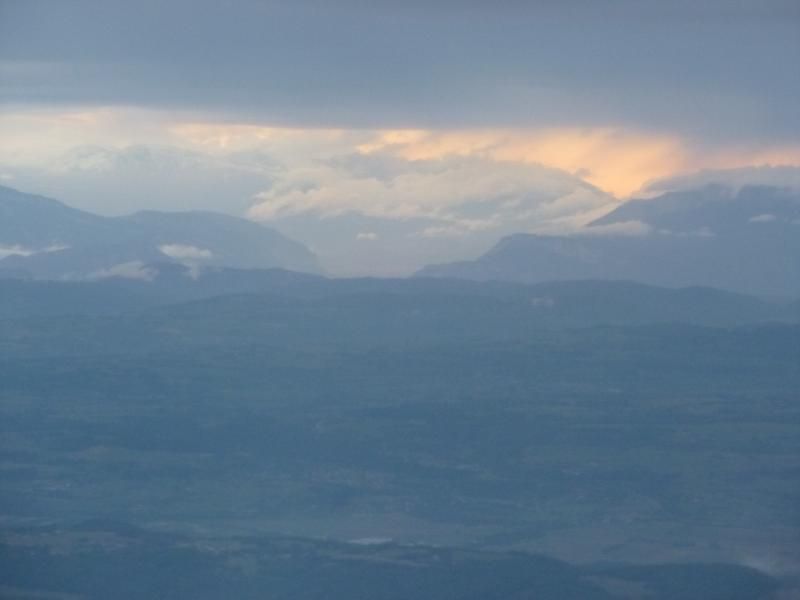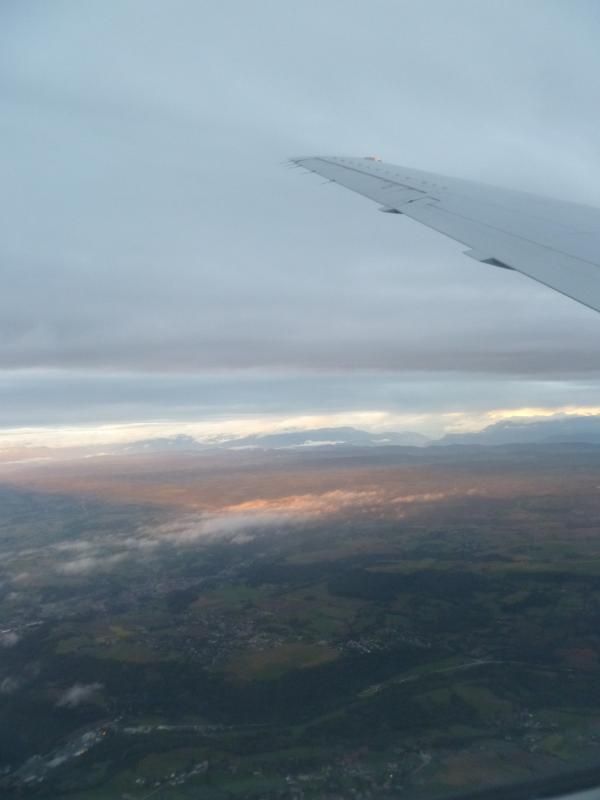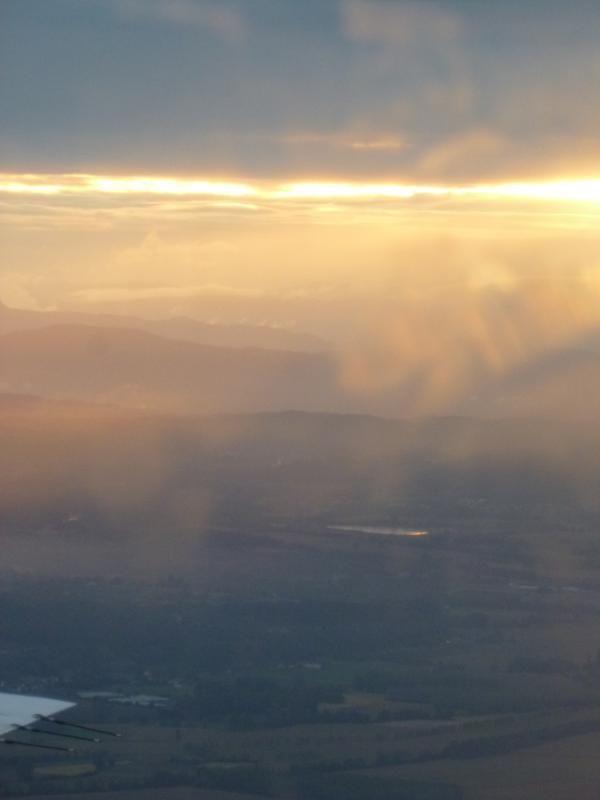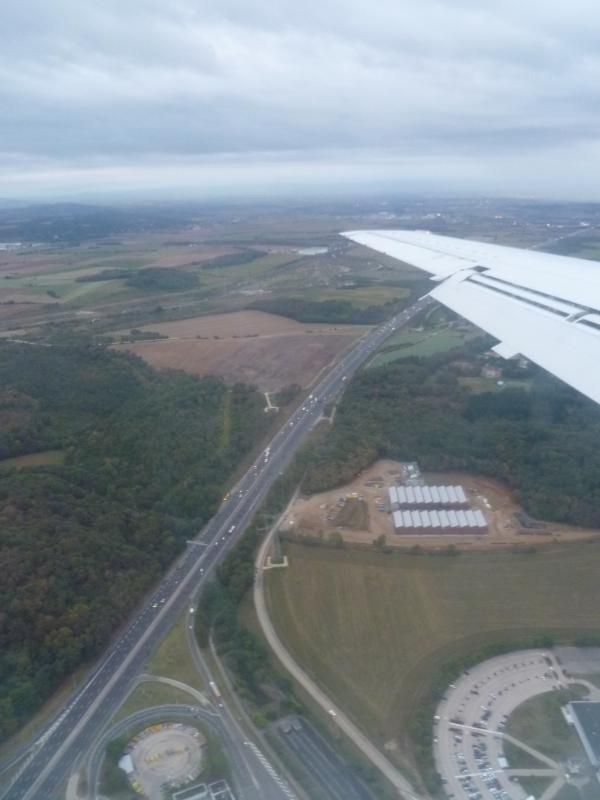 We land at 07.32, 8 minutes ahead of schedule.
Thanks!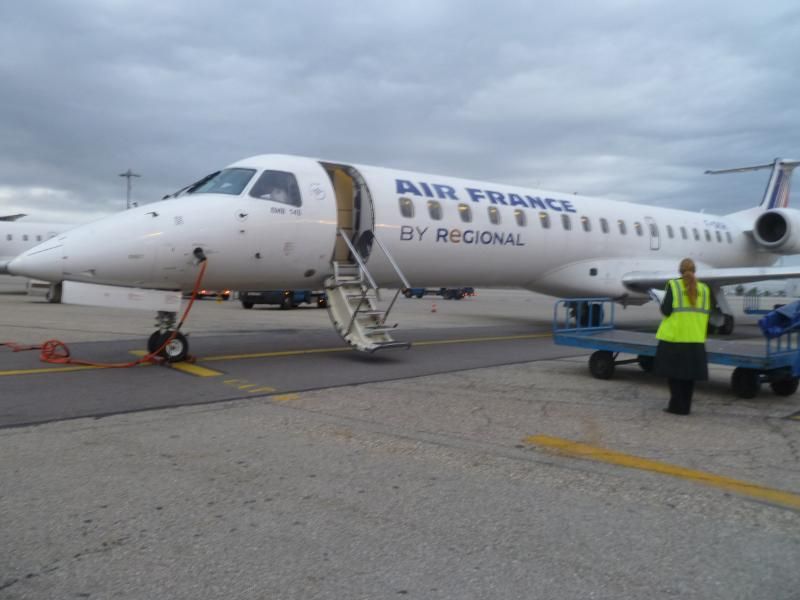 Lyon
There is certainly a sense of déja-vu here at Lyon. The procedure is the same as 4 months previously on our trip to Pau. We head to the lounge only this time nobody responds to the knocking at the door. The transfer desk is closed, despite a huge number of flights departing in the next hour. So we loiter by the lounge entrance until a local appears, enters the PIN and the door opens. We follow him, nobody asks to see our boarding pass or anything, so anyone could just sneak in here.
After stocking up on some nibbles we leave the lounge and find a seat near the gate, where it's actually less crowded.
AF wherever you look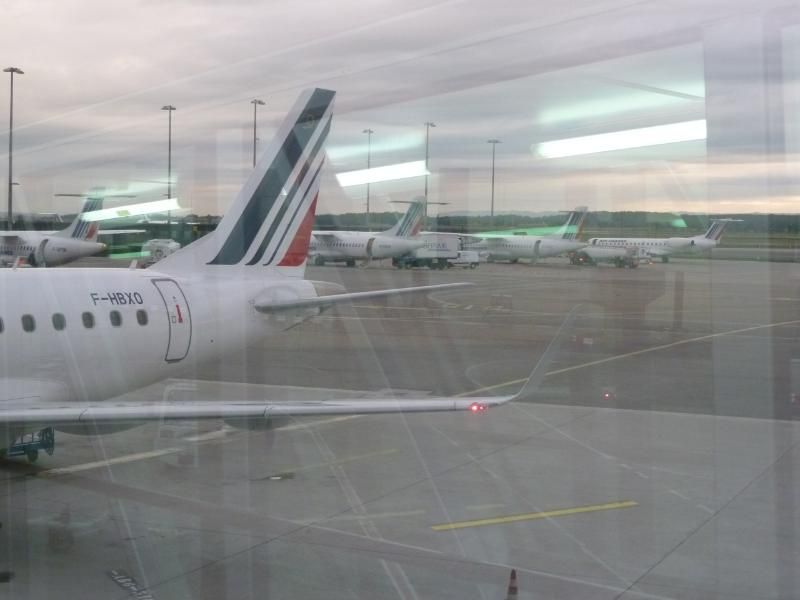 ATR-72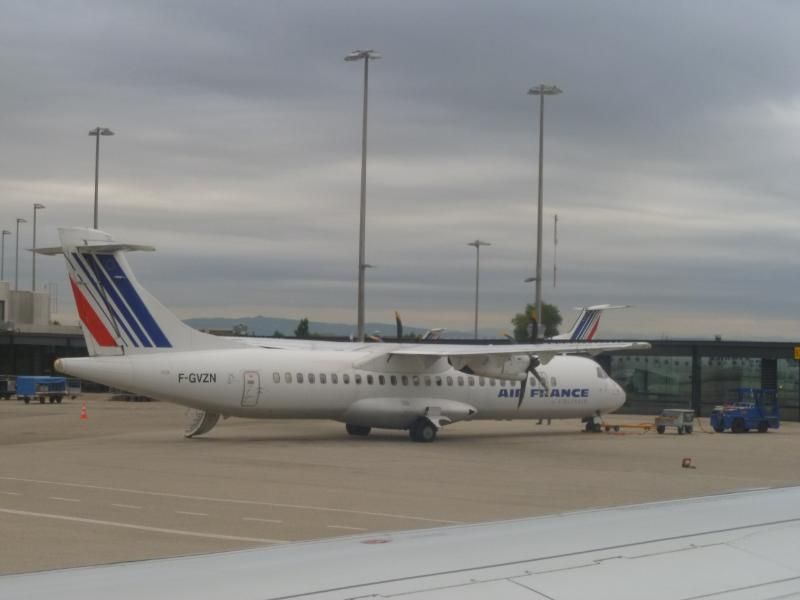 LYS-BIQ
AF5432
STD 0845 / STA 1000
ATD 0855 / ATA 0950
F-HBXO, Embraer 170 operated by Regional
Seat 19F
Load:70-80%
3rd leg on the E170 & 1st on this aircraft
Our aircraft arriving at the gate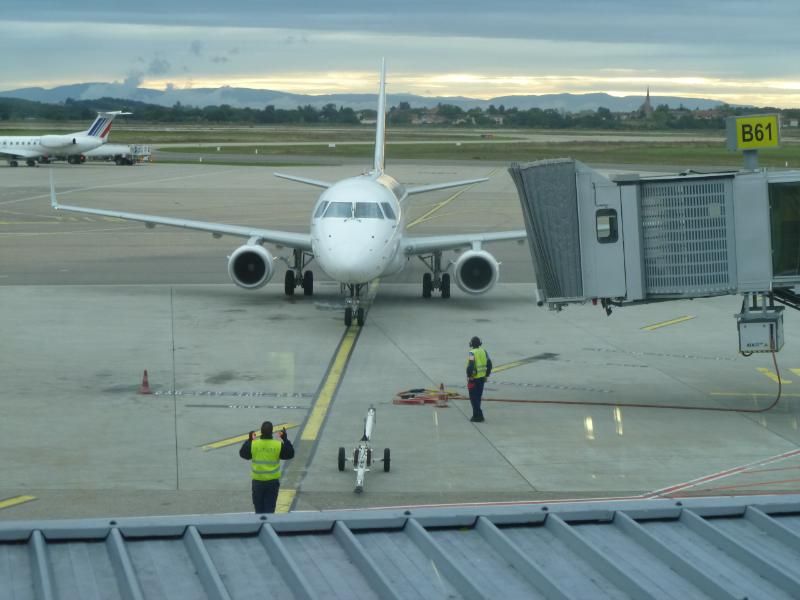 Departures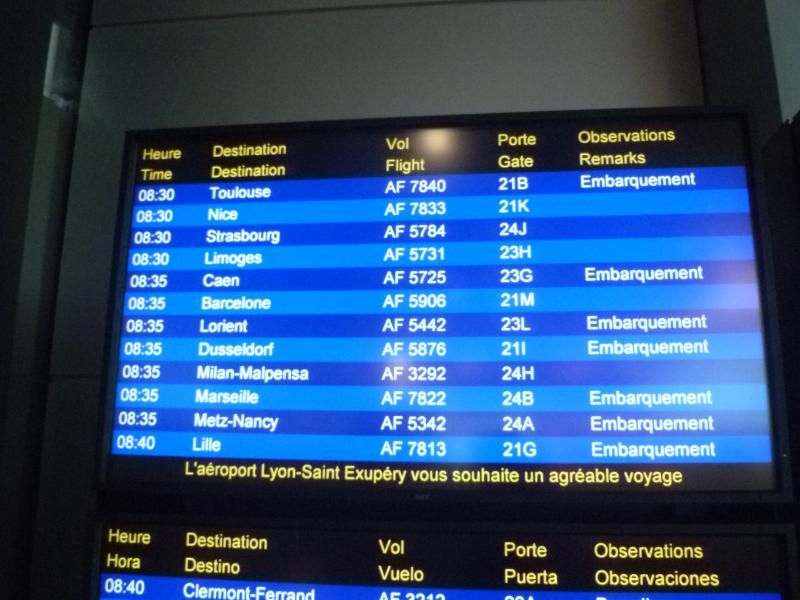 Boarding starts at 08.30 and as usual we are among the last to enter the aircraft. I was hoping that one of us could change to an A seat so that we'd have some different pictures (we both have F), but every single A seat is taken. So we take our original places.
The seats on this Embraer are possibly the comfiest I've ever sat in on an aeroplane. I'm a little puzzled, as they're definitely different to the ones I remember from my last AF Embraer flights 2 years ago. The seatbelt buckle helps to solve to mystery.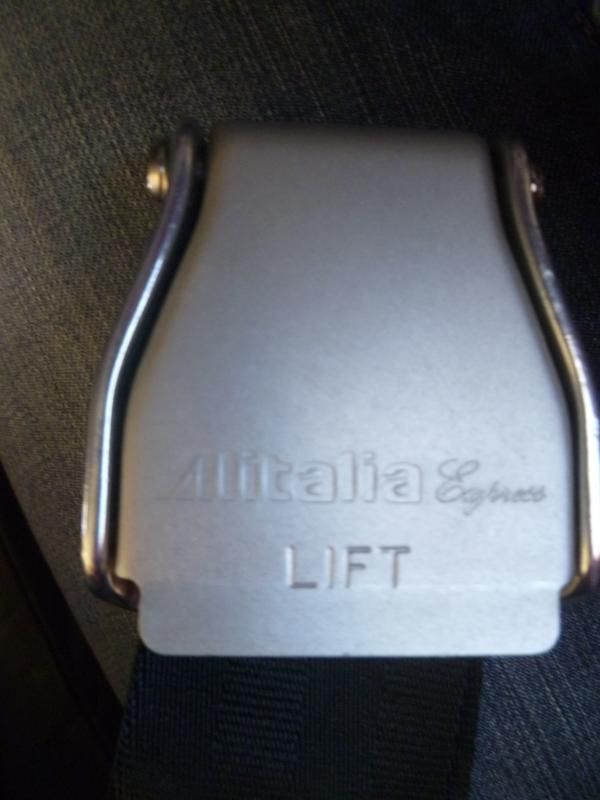 They are like sitting in your favourite armchair, I could happily stay in this seat for hours.
Legroom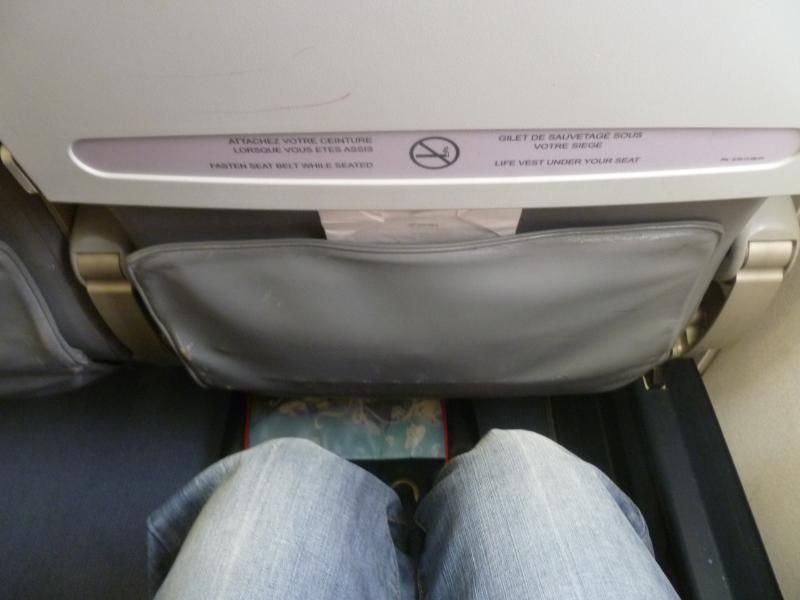 There's one female & one male FA on this flight, flying time should be 1hr5 and the temperature in Biarritz is a bit warmer at 16C.
Pushback is at 08.44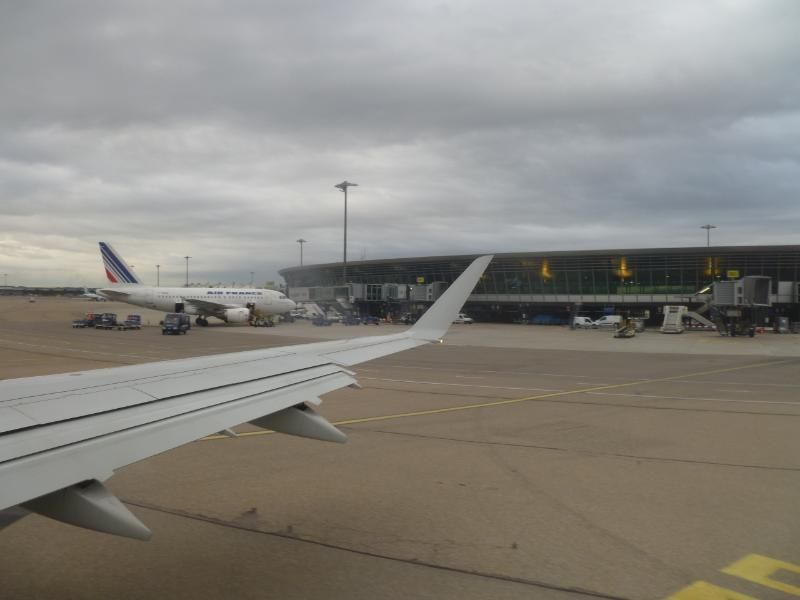 Queue for the runway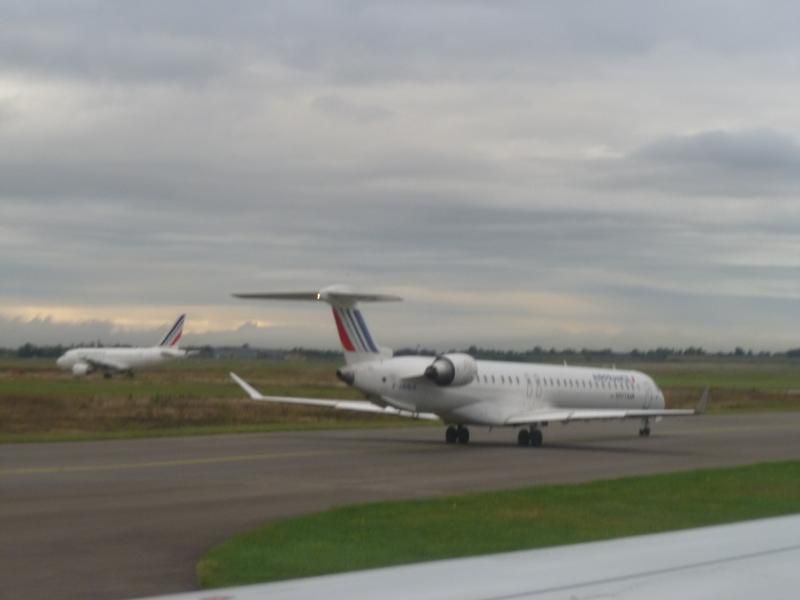 Some more exotic visitors!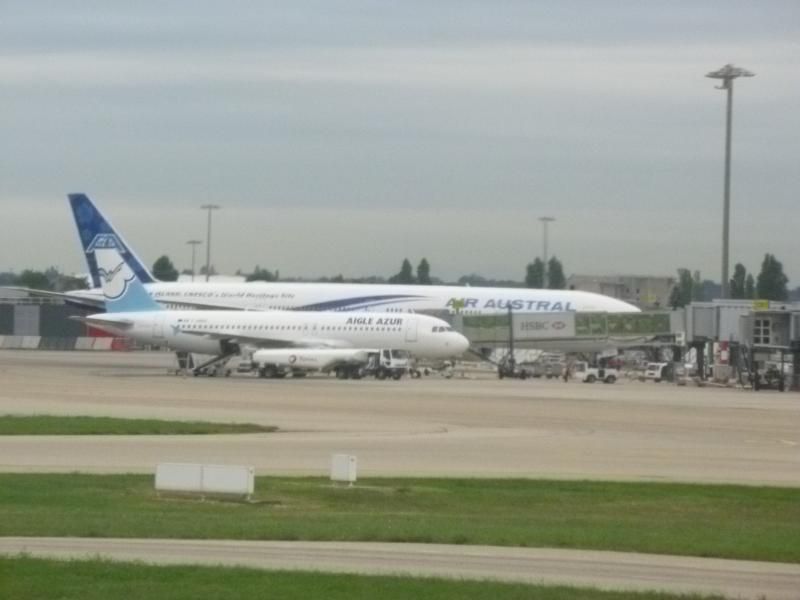 At 08.55 we start the take off roll and soon ascend into the grey sky
Leaving LYS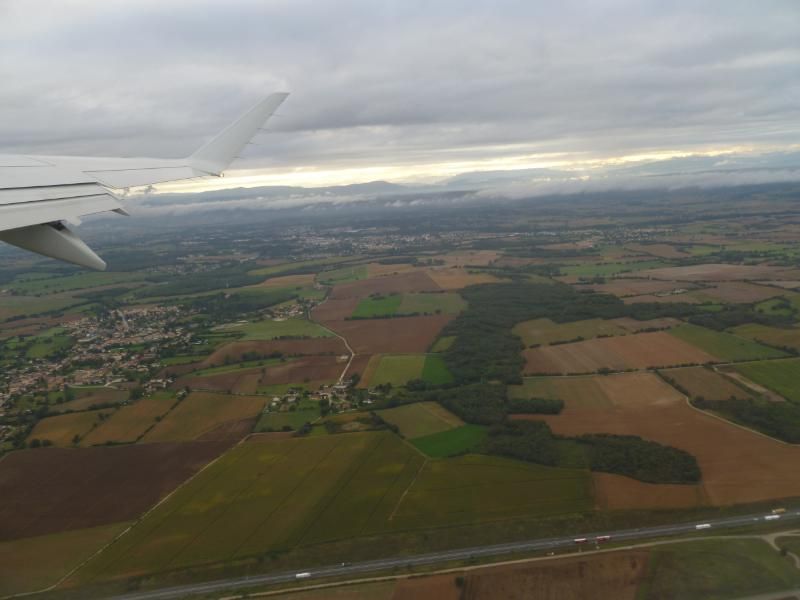 Nice lighting again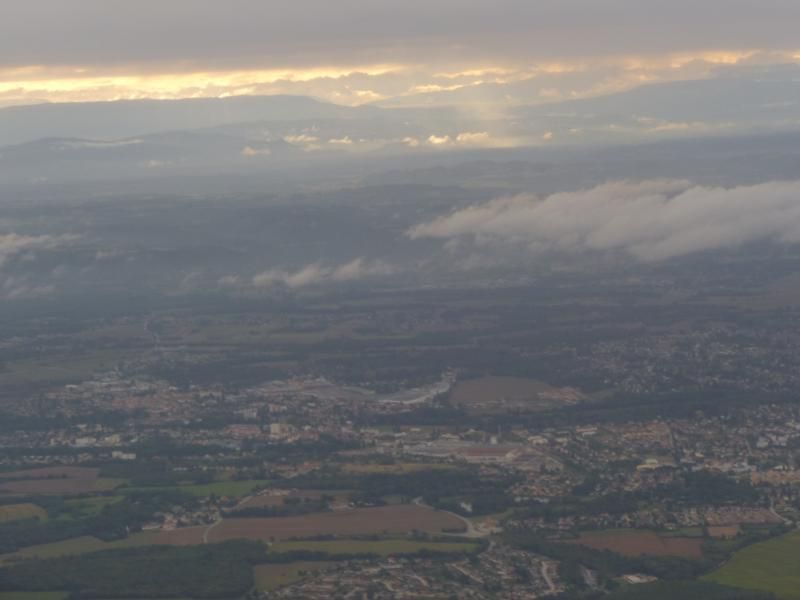 Finally, some sun!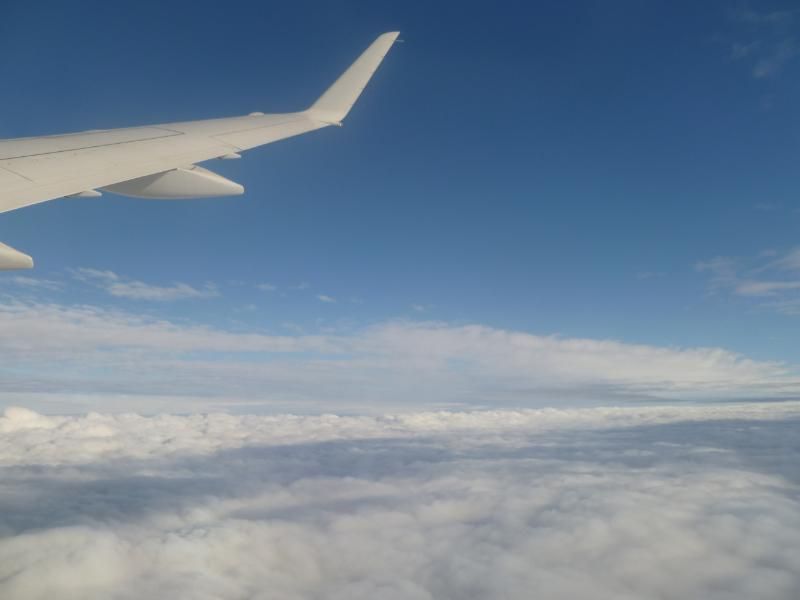 The male FA starts service from the back of the cabin and we are among the first to be served. I ask for an orange juice, but he says they only have limited drinks on this flight, so I opt for a tea. This will prove to be a mistake.
Anyway, I take a mini Danish pastry and add the milk (well, coffee cream) to my tea. I haven't even taken the teabag out when the fun starts: turbulence. There are 3 or 4 big bumps and my tea begins to slosh over the tray table. Then it really starts to get bad. The pilot is on the pa immediately and tells the crew to suspend service and return to their seats. I don't see the FA for dust -there is no messing here. My tea is now a big problem. Leave it on the table and it will run all over my clothes, hold it in my hand and I scald myself. I go for option two. Markus rescues my camera from death by tea (thanks!). I hold the cup as far towards the window as I can and watch the liquid splash onto the walls of the plane.
After a couple of minutes things calm down and air is smooth again. The table is covered in tea & my jeans are wet down one side. Some extra serviettes help to clear the mess up. Still, I'm lucky compared to the woman in 19A who chose coffee. It seems the whole cup spilt as not only does she need about 30 serviettes to clean up with, but the crew hand her a damage form to fill out, so I guess some of her clothes were ruined.
The aftermath after I cleared up. You can see how much tea there is still left in the cup, hard to believe such a small amount of spilt liquid can cause so much mess.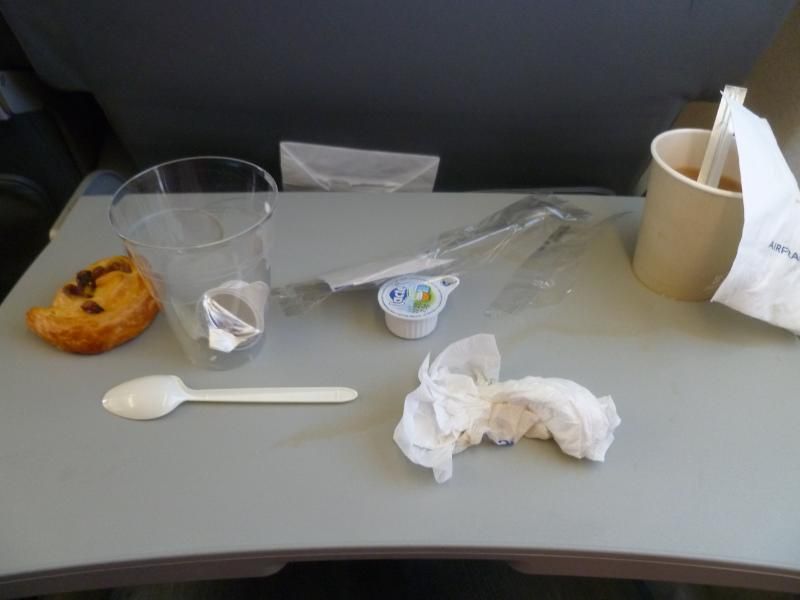 Thankfully the rest of the flight is uneventful, that was certainly enough excitement for one day!
Cabin shot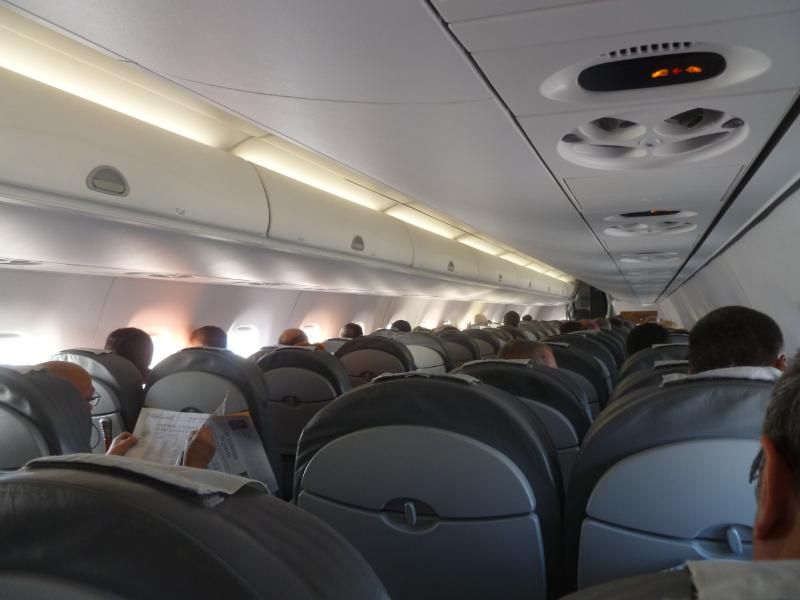 On descent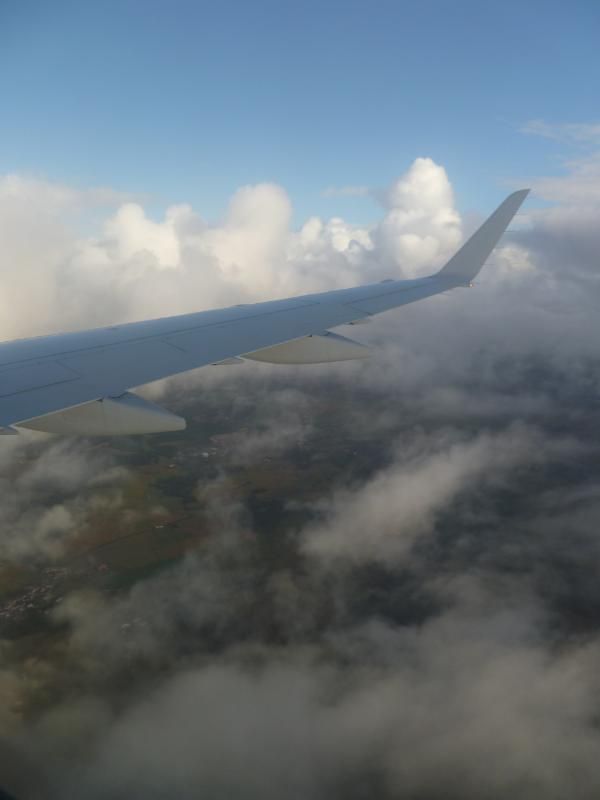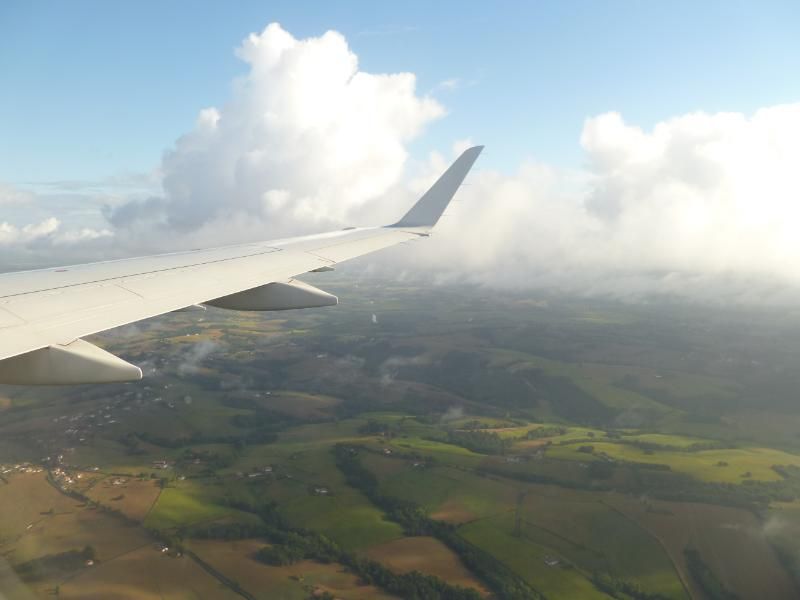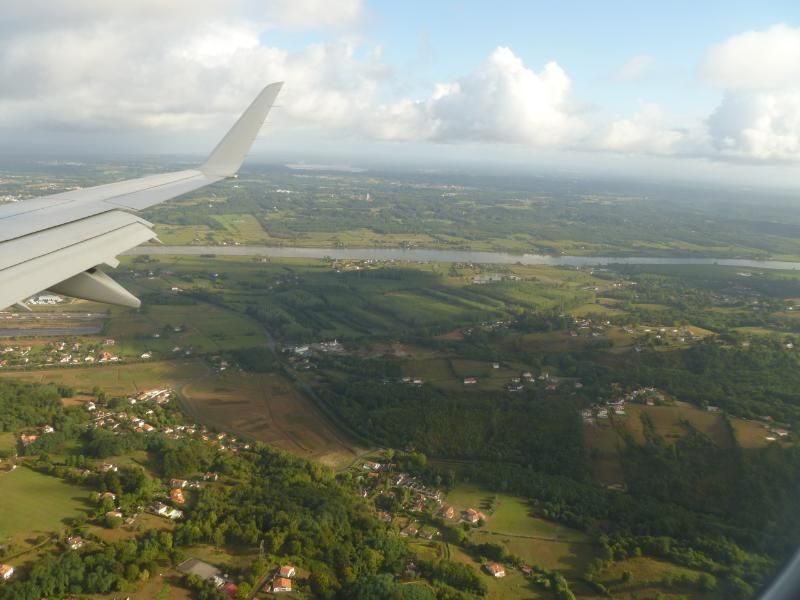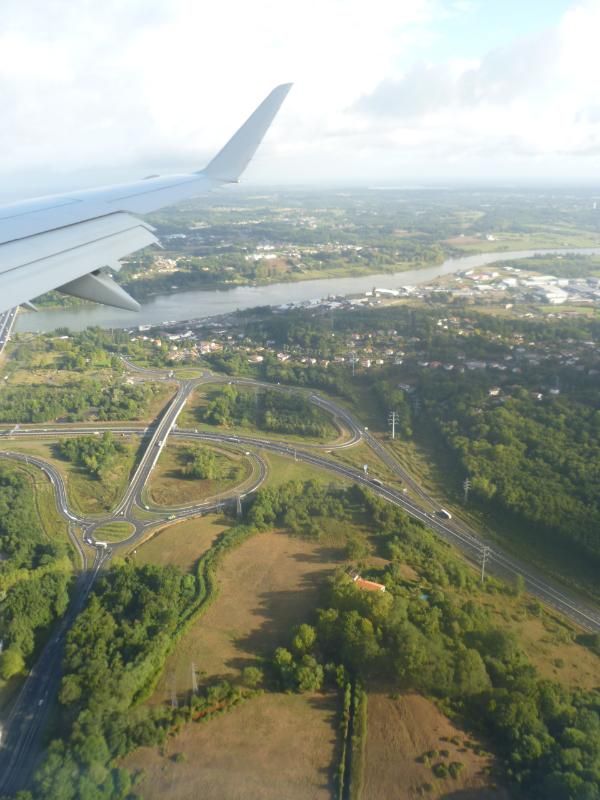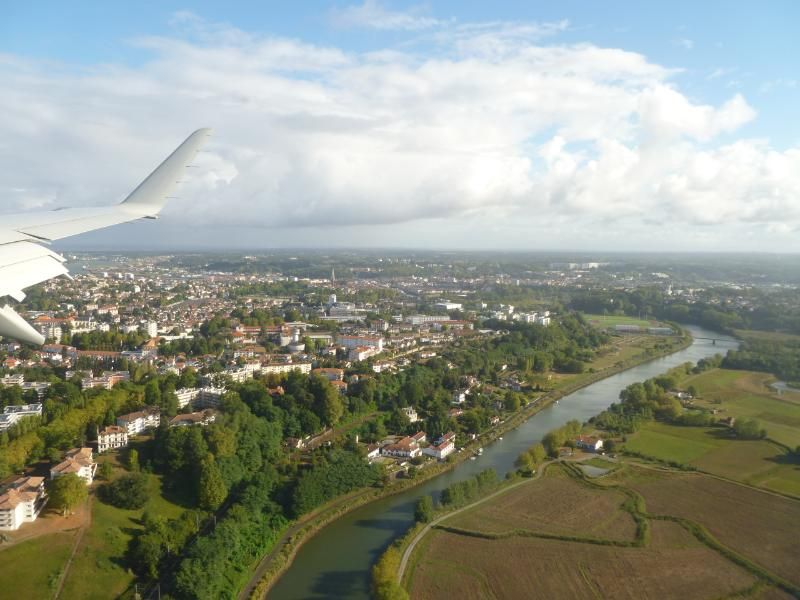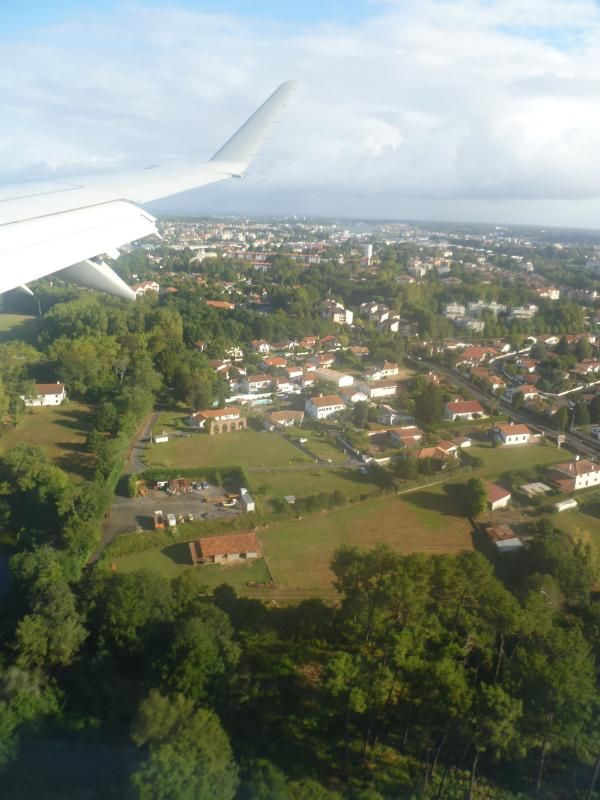 Arrival at BIQ at 09.50 after a 55minute flight, where it's now a pleasant 18C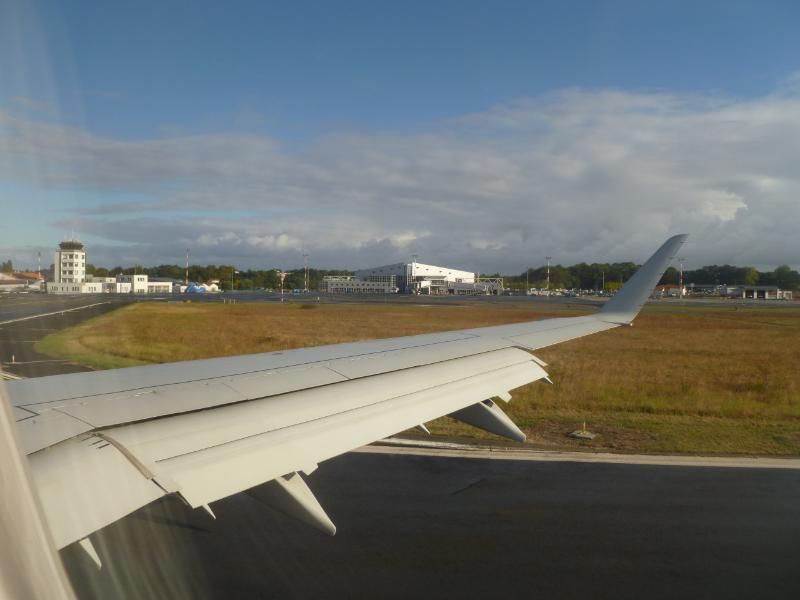 The nice, comfy seats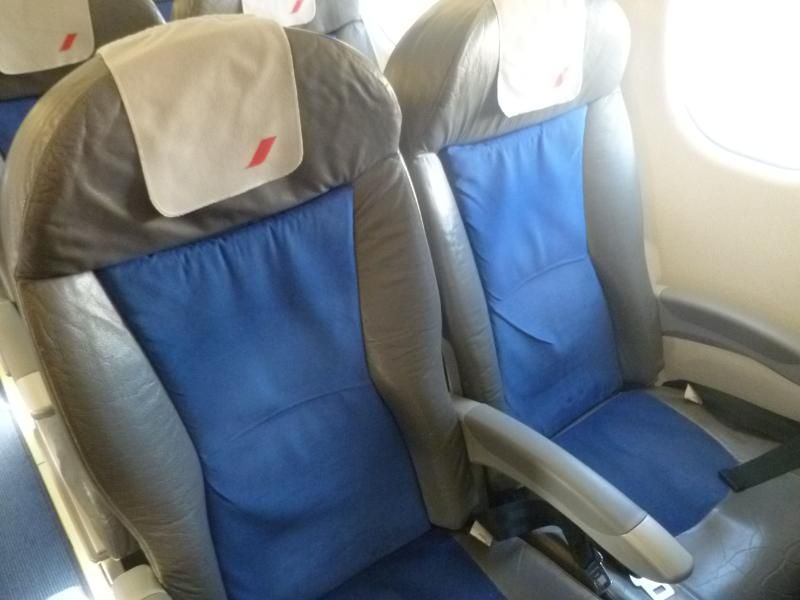 Deboarding at BIQ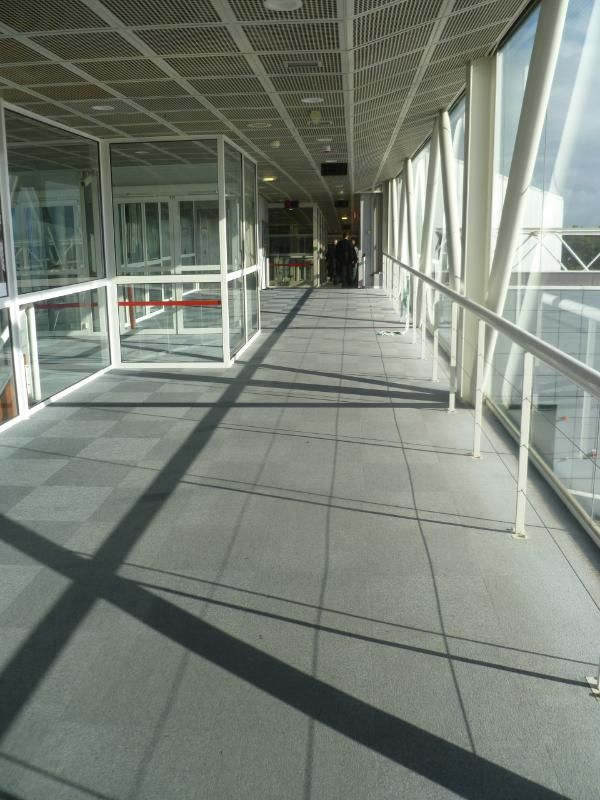 Arrivals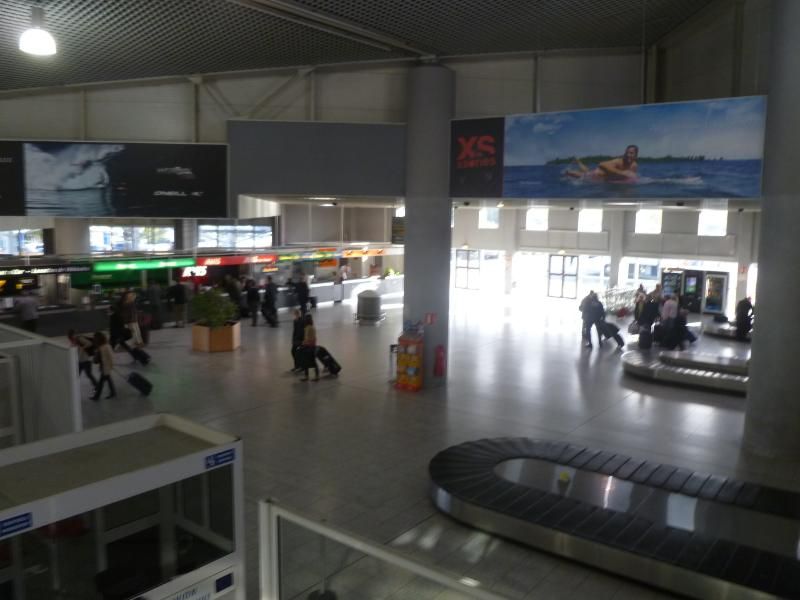 Biarritz
We see a bus about to depart outside the terminal so make a run for it, but in fact it's the wrong one. The timetable is quite confusing, it takes a while to work out which service goes into the centre of Biarritz and we have a good 20 minutes or so to wait. In the meantime an FR flight from Sweden has landed and we watch some of the passengers have the same long discussion in front of the timetable trying to work out which bus is the one they need.
A day pass costs just 2E and the ride into town takes about 15minutes. Just as we get off the bus it starts to rain. It stops again shortly after, but the judging by the weather you'd think it was April, rain one minute, sun the next.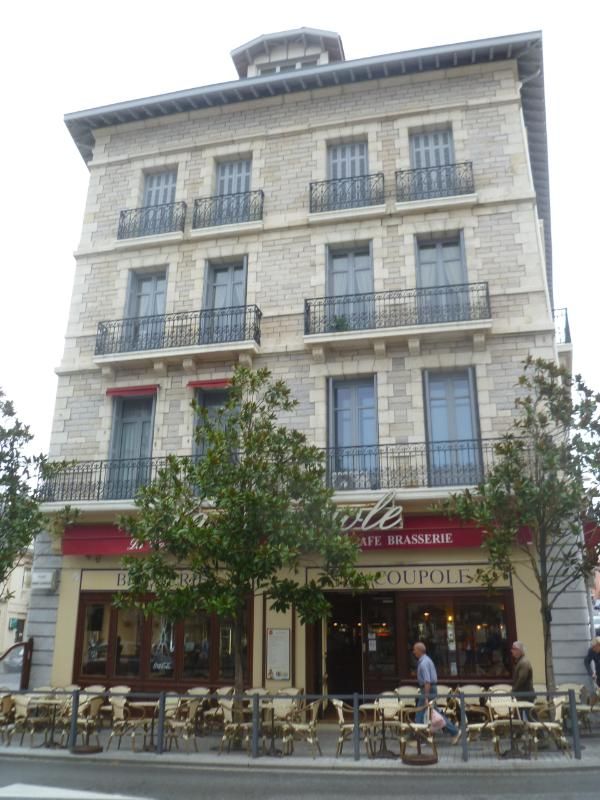 Then we find the sea. Beautiful. It's times like this when you realise what a great hobby we have. We stroll along the promenade, soaking up the sun when it appears from behind the clouds, sheltering from the rain when the next downpour comes along.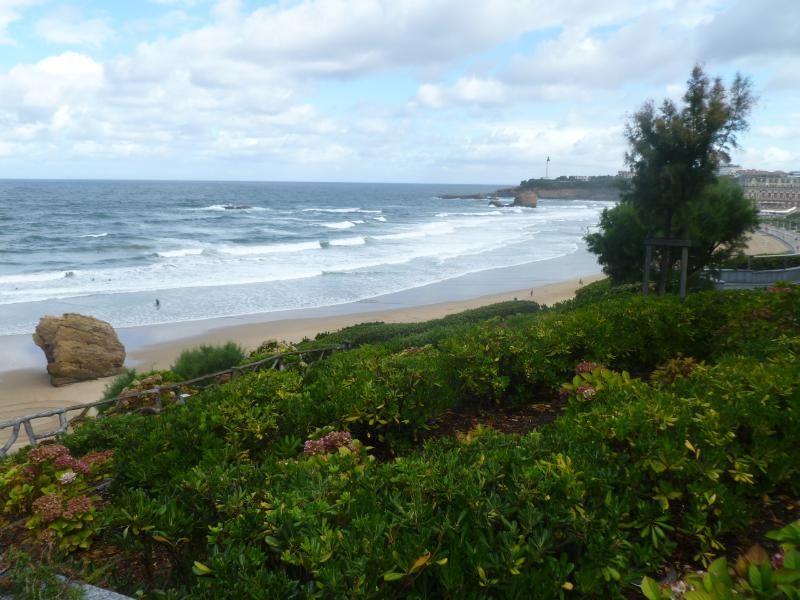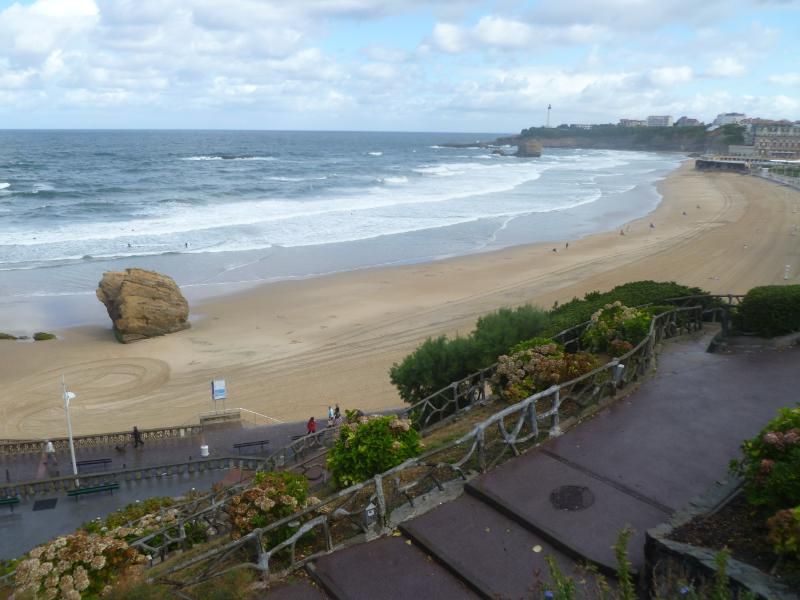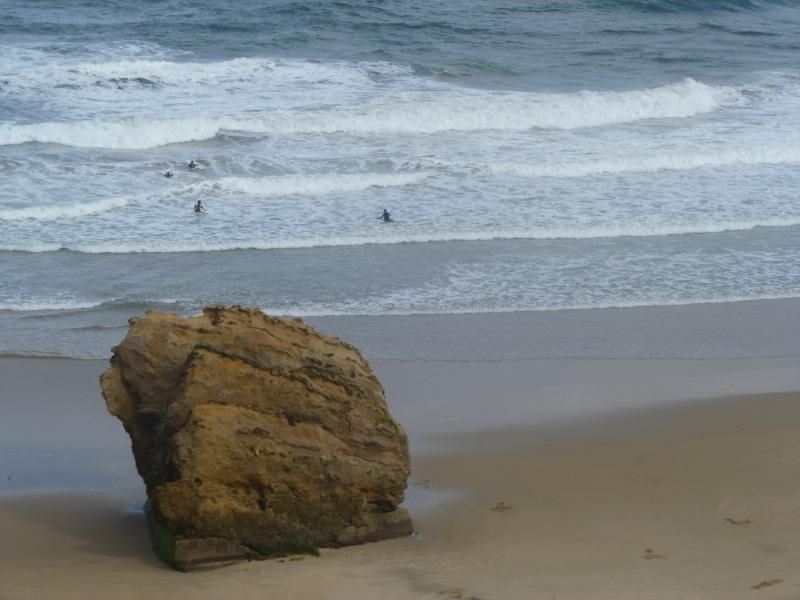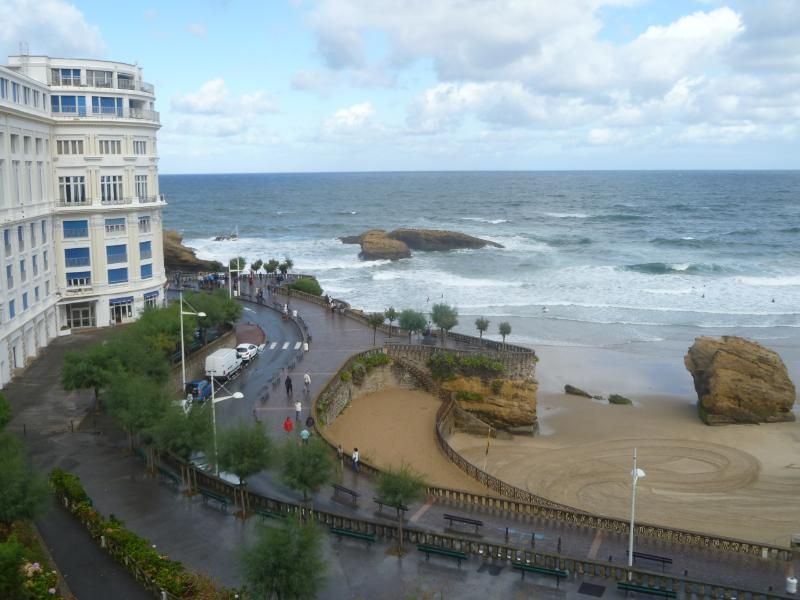 Tidy beach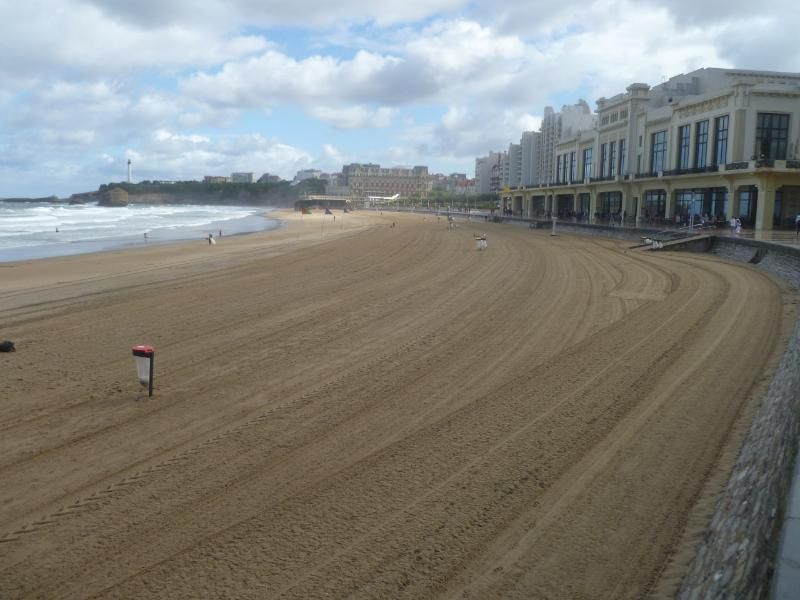 Further down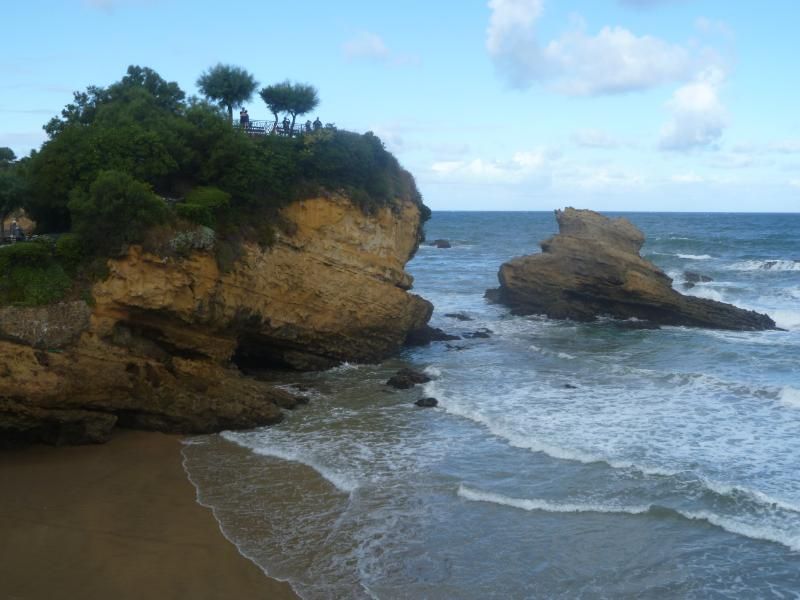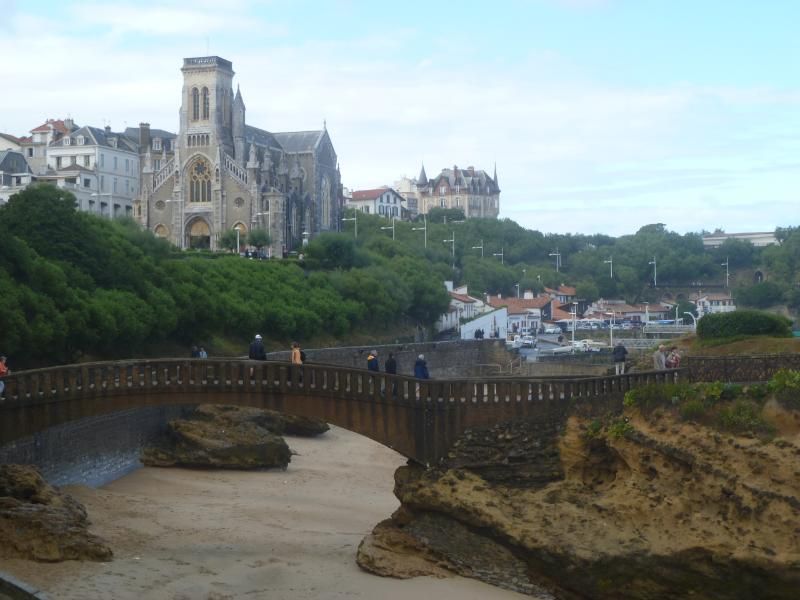 Sun vs dark clouds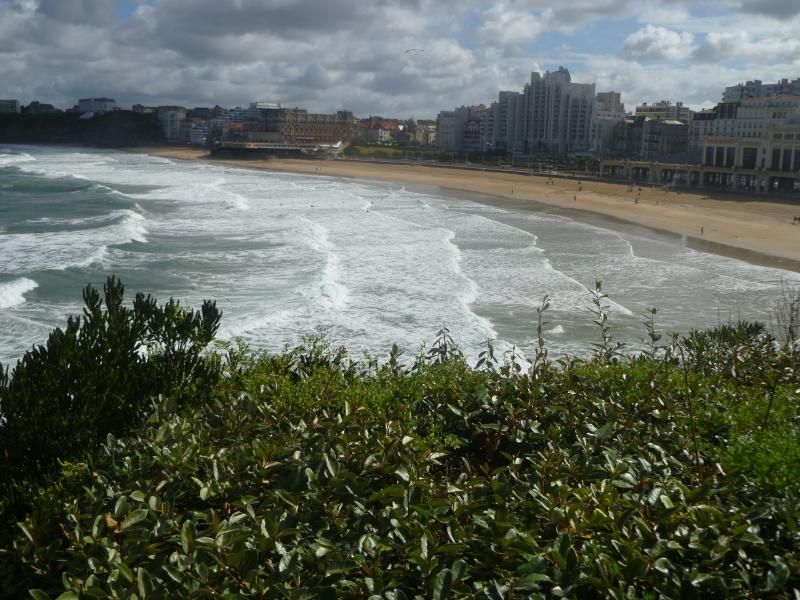 Maritime decoration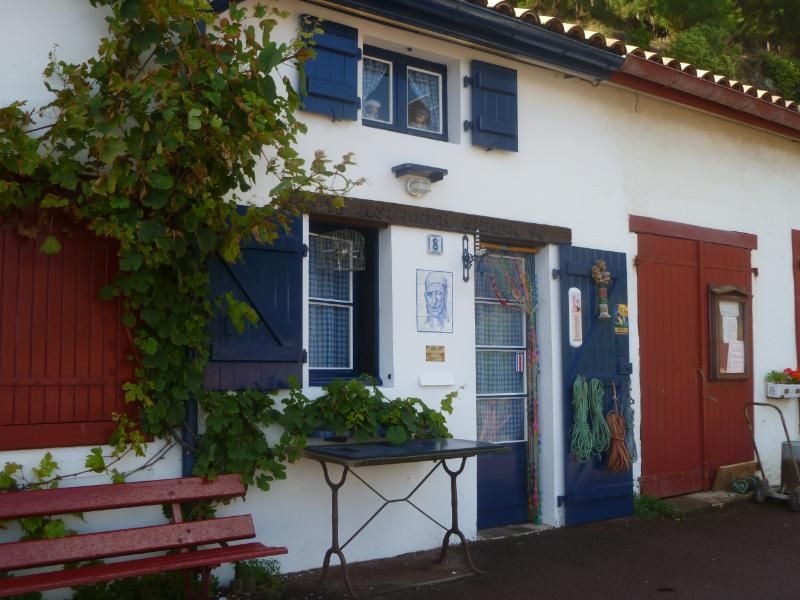 Mini harbour
More walking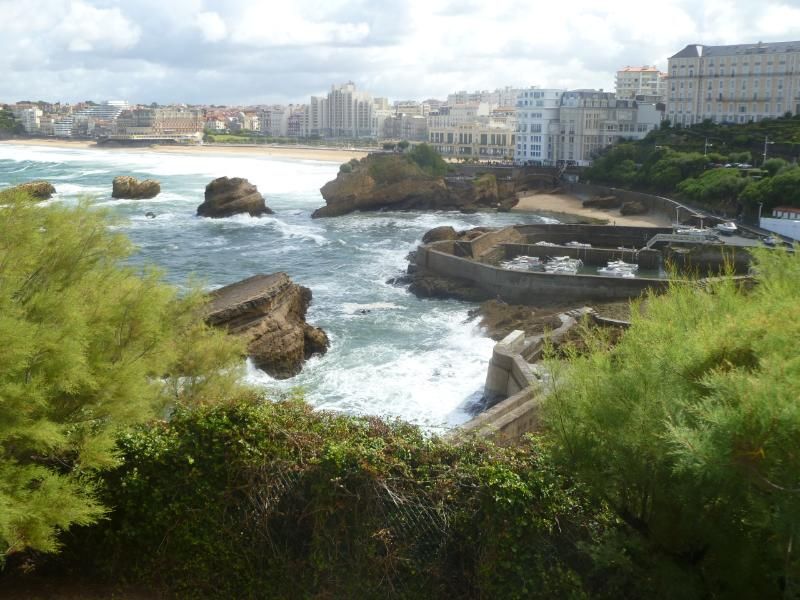 Gozo or France?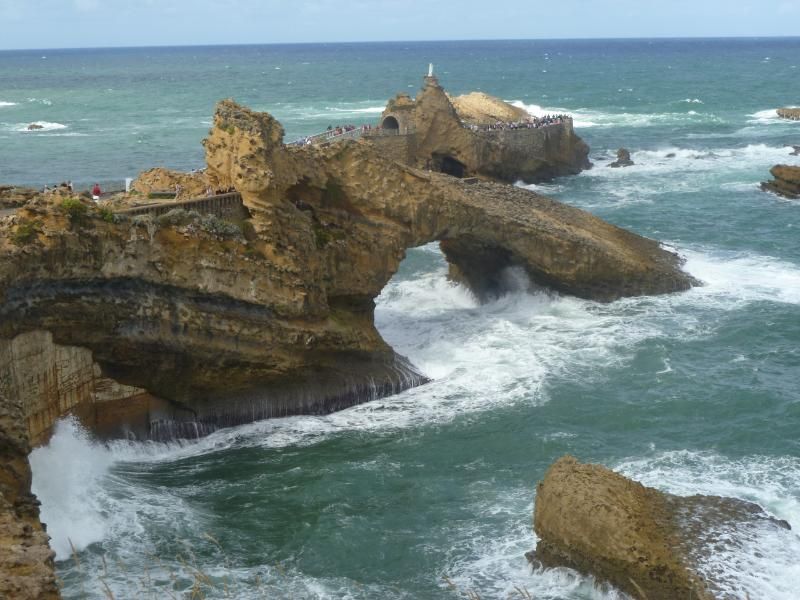 New house?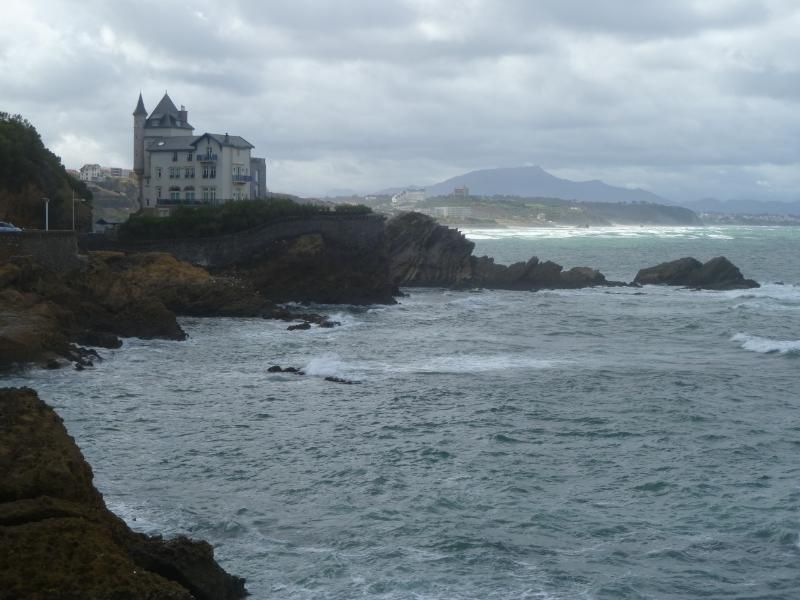 Museum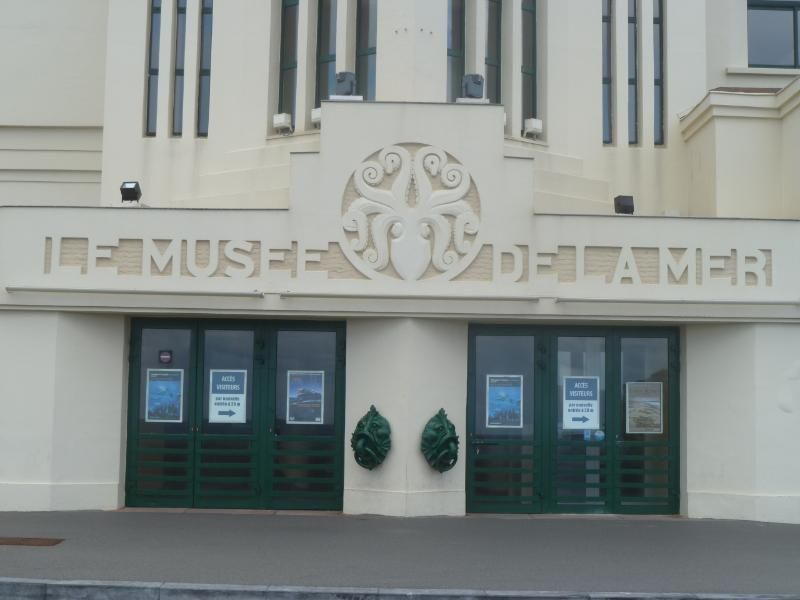 Along the walkway
Solitude on the beach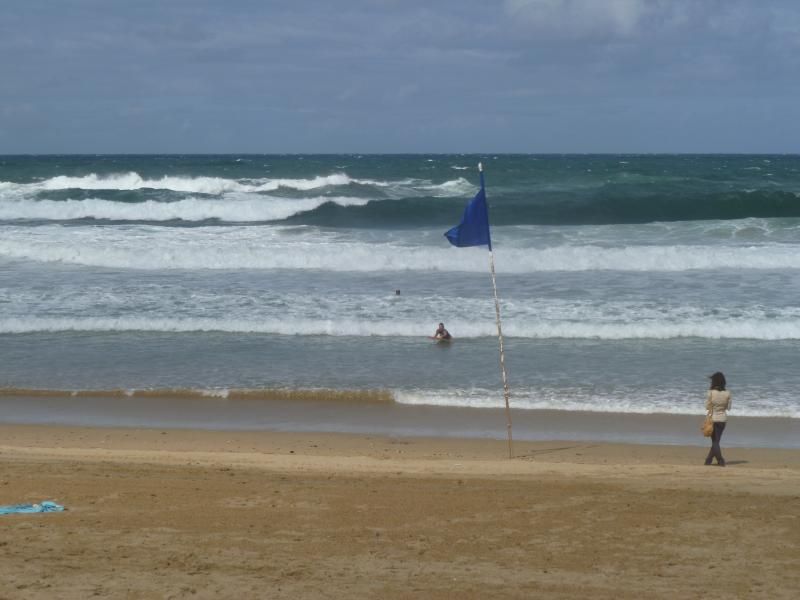 Grand plage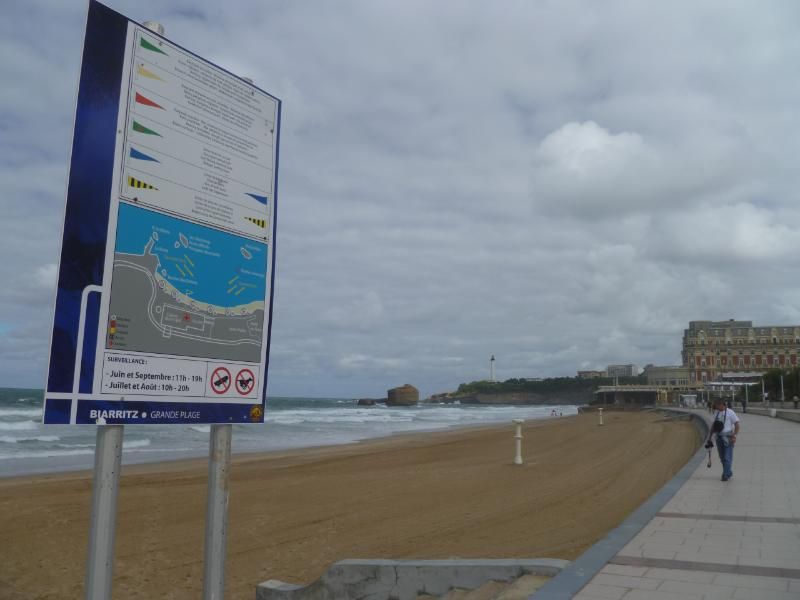 Strange to find this in such a residential area