Introduction
On the 26th of April 2012 Lufthansa announced a new 2x daily (1x daily in the weekend) route from one of their home bases Munich to the Dutch city of Rotterdam starting the 1st of October.
This (obviously) caught my attention and I immediately started looking for fares trying to catch the inaugural RTM-MUC flight. I eventually booked a round trip leaving on the inaugural RTM-MUC flight and coming back the next day on the evening flight for 99EUR.
As I booked these flights back in April I decided not to book an hotel until after the summer which I later came to regret.
Stupid me forgot that the Oktoberfest was going on during my stay there, so once I started looking for hotels all prices were sky high by now. I eventually settled for a rather pricy stay at the Novotel Munchen Airport, an hotel I have been to before and close to the airport.
Map
The boring looking map for this trip thanks to the Great Circle Mapper:
Sunday September 30
Getting To RTM
With the inaugural flight leaving on Monday morning I decided to head towards Rotterdam on Sunday night and stay at an hotel near the airport. After a bit of searching on the internet I booked a room at the Van der Valk hotel in Rotterdam-Blijdorp which is a 10 minute bus drive from Rotterdam-The Hague airport.
Transportation to Rotterdam will be by train. I decided to take the 30 minute Fyra high speed train from Schiphol to Rotterdam Centraal. I booked a ticket a couple of days in advance for the good price of 7.50EUR.
As always this trip report will start at Amsterdam Lelylaan station in the west side of Amsterdam where the usual 7 minute train ride to Schiphol followed. Once arriving at Schiphol a 15 minute wait followed for the next Fyra train to Rotterdam. Unfortunately the Fyra train wasn't operating so I ended up with taking the domestic train. About an hour later I finally arrived at Rotterdam Central Station from where I took a quick taxi ride to my hotel.
After paying and thanking the driver I headed inside to the reception desk and 5 minutes later headed upstairs to my room: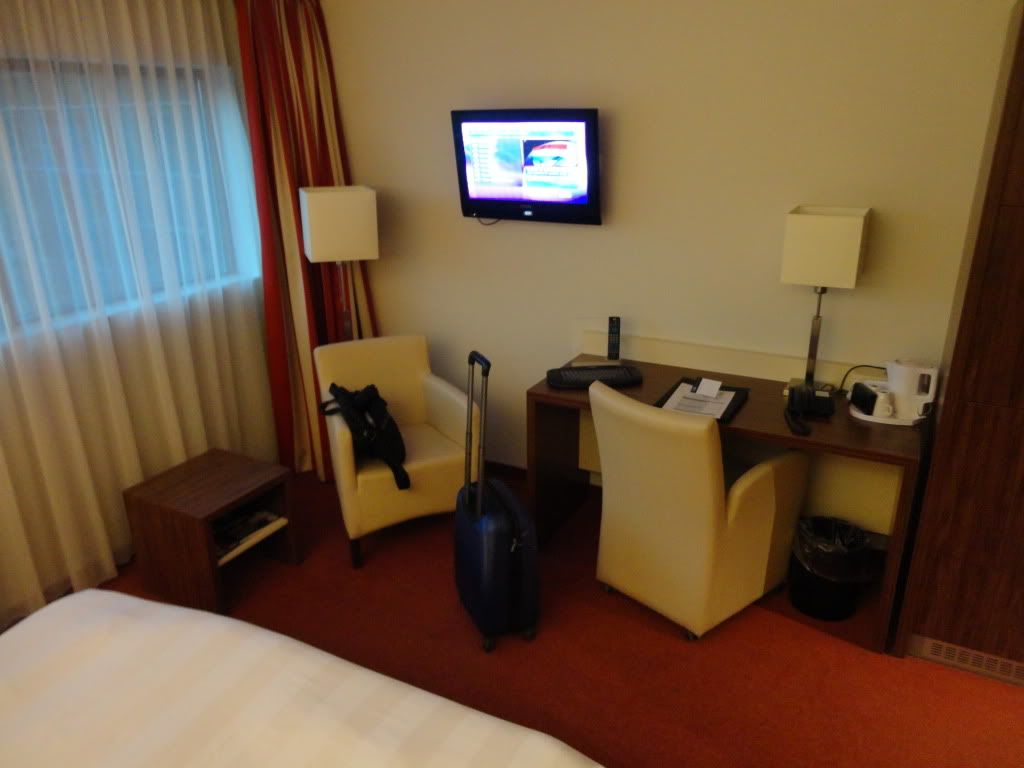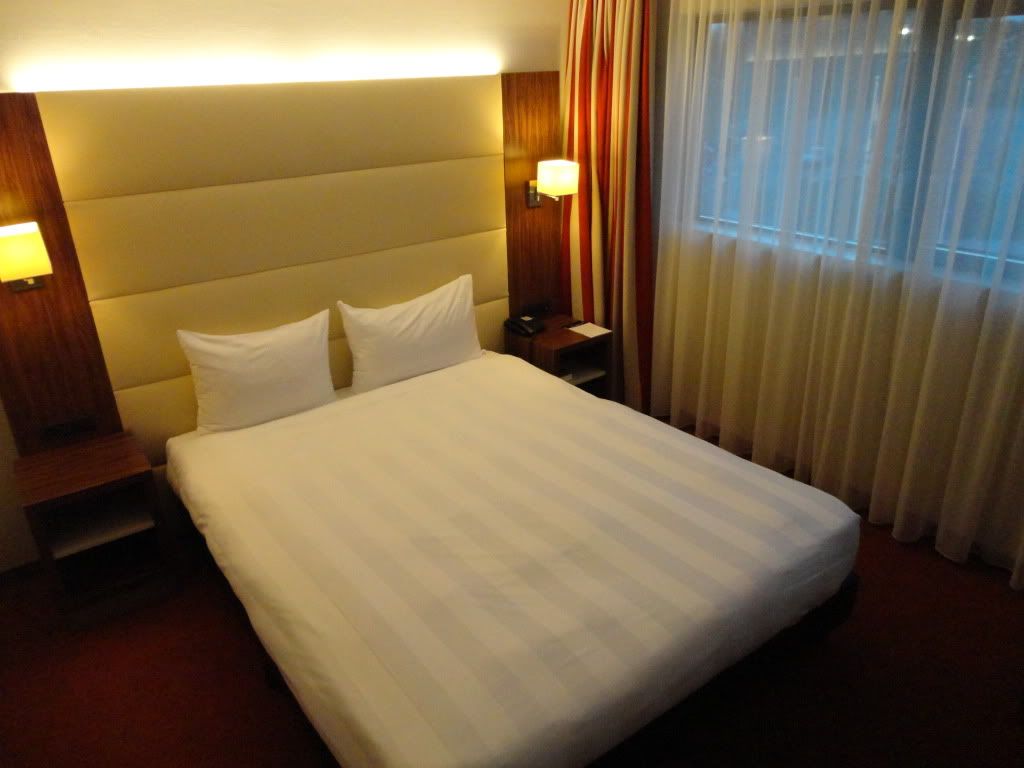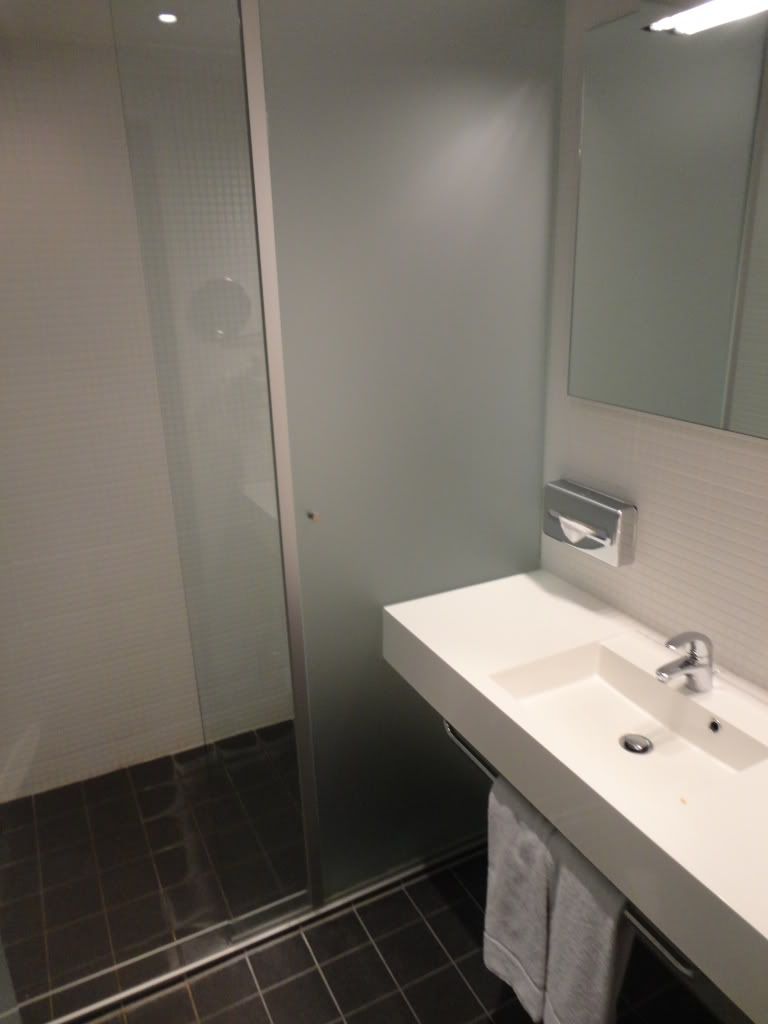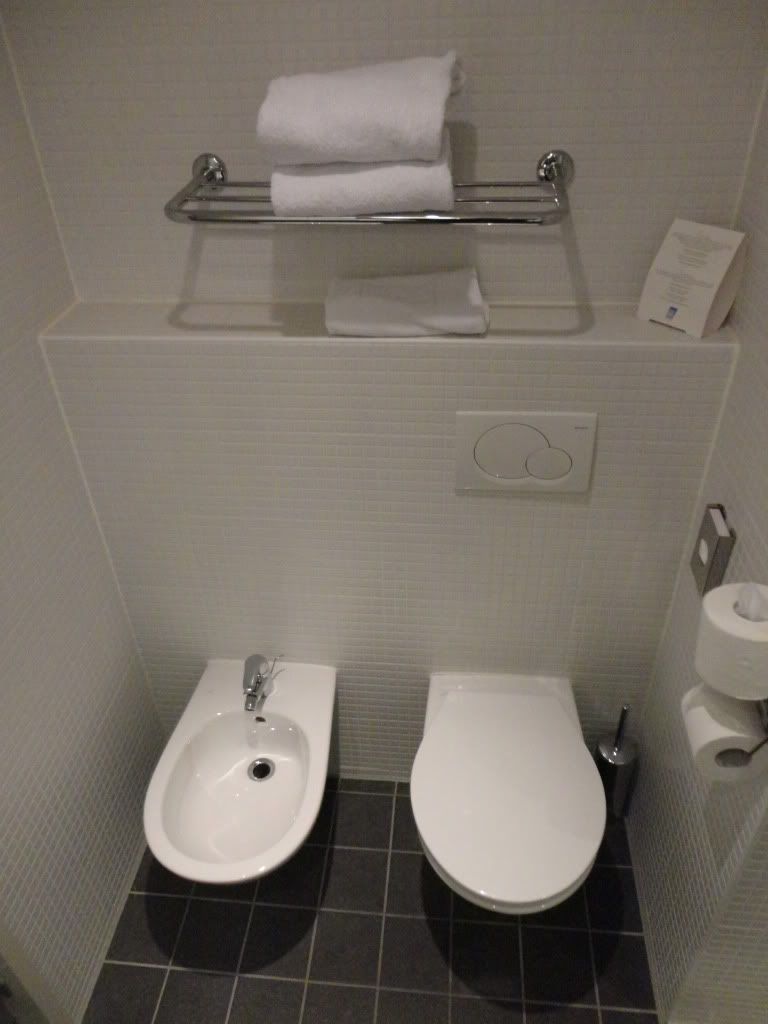 The view from my room: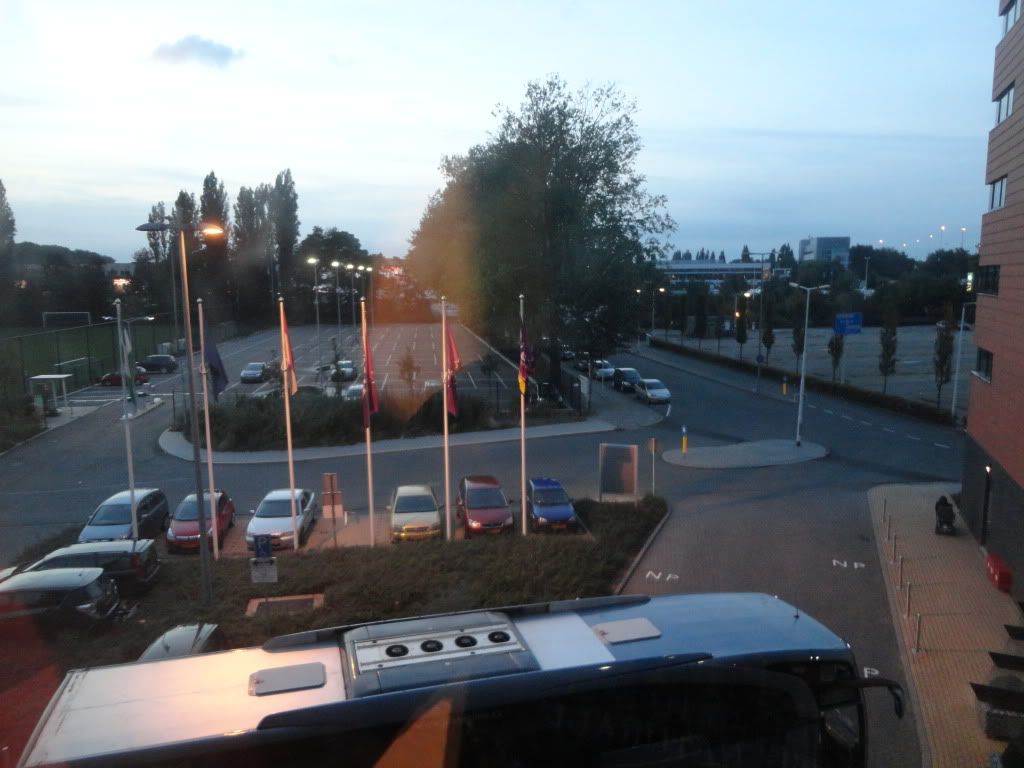 For the remainder of the night I relaxed, watched some TV and tried connecting to the free WIFI (which was very slow so I gave up after an hour).
Monday October 1
After a nice 7 hours of sleep it was time to wake up again and get my usual morning rituals done. With that all done I headed downstairs to check out and head towards RTM.
Transportation to RTM will be by bus, number 33. The designated bus stop was about a 10 minute walk from my hotel. On the way I took a quick picture of the hotel: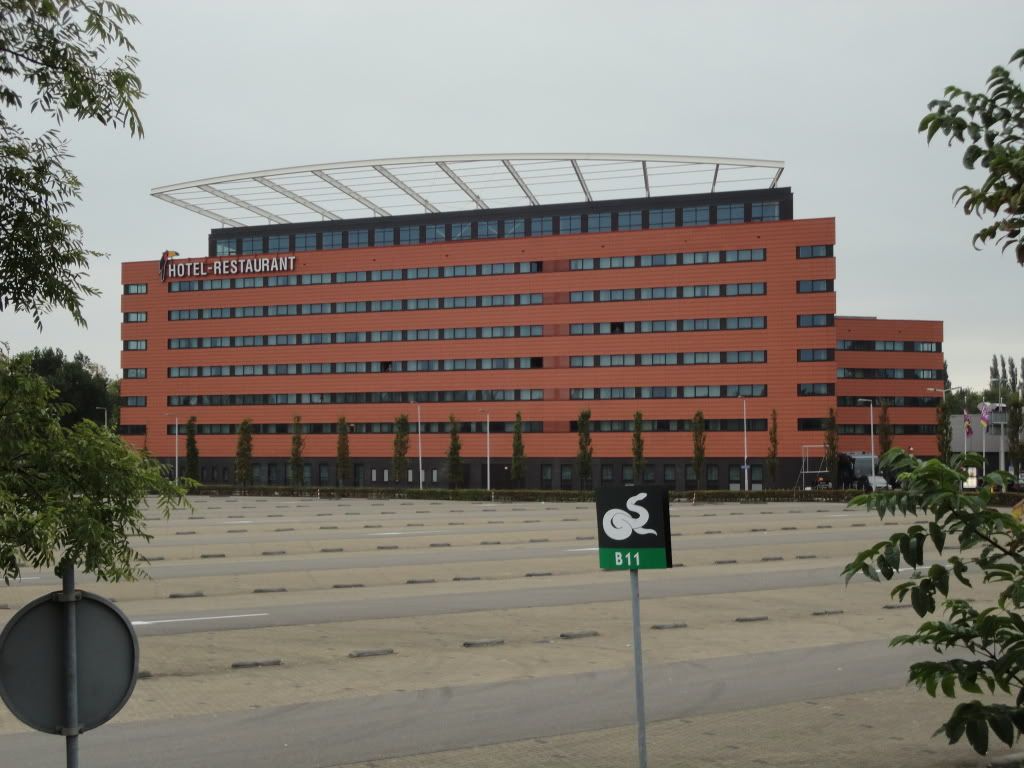 A 7 minute wait followed for the bus: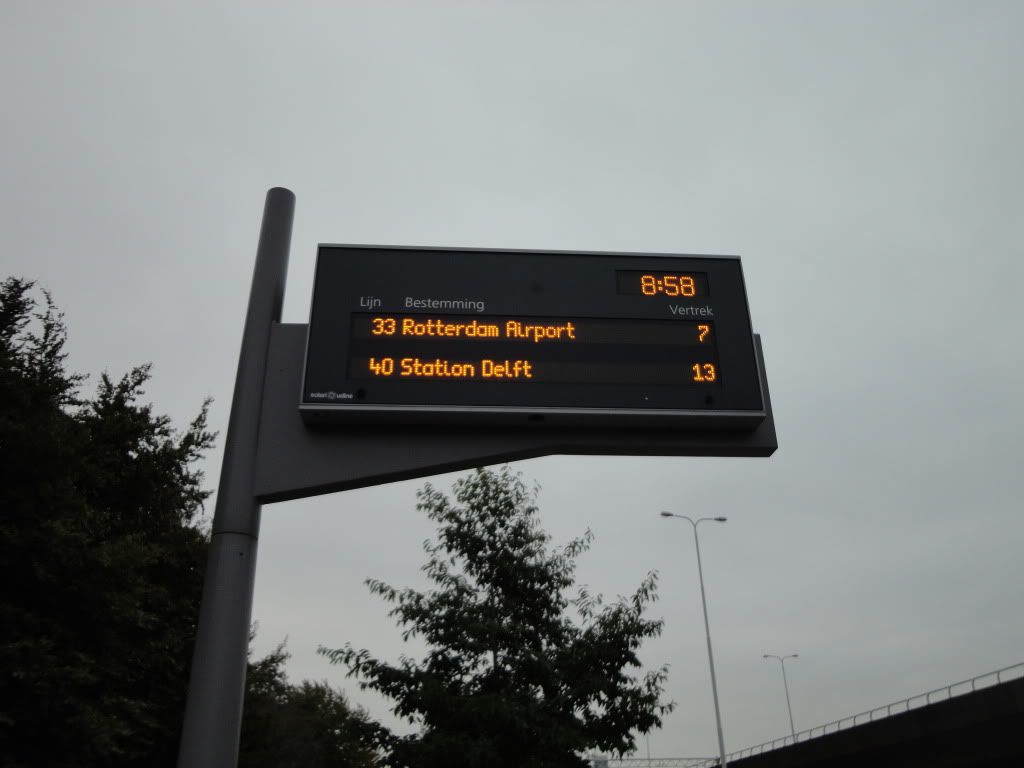 After a 10 minute bus drive I arrived at RTM at 09:15 and headed straight inside.
Check-In
Once inside I headed straight to the LH check-in where there was no line. I had already checked in online the night before in my hotel so all I needed now was my BP. However, the check-in agent had no idea what she was doing and apologized for it explaining that I was the very first passenger to be checking in. Behind her was a LH employee helping and guiding her through every step. After about 10 minutes I (finally) got my BP, so I thanked her and headed straight towards security where the next "fun" experience was about to happen.
After putting all my belongings on the belt I handed my BP over to the agent. He gave it a weird look and handed it over to his supervisor who also gave it a weird look. Apparently they had never seen a LH BP before and weren't sure if it was the real deal. While I headed through the x ray machine without any problems the supervisor headed over to the LH check-in desk to double check.
After waiting for about 10 minutes she finally came back and handed it back to me, but not before showing it to the other 8 agents that were there. For a second I thought I was a celebrity or I had a lot of gold with me but no, it was just simple Lufthansa boarding pass.
With that all taken care of I found a place to sit and connected to the free WIFI. A quick look at the FIDS, my flight looks good at 11:05 from gate 8. At 10:00 it is showing a special welcome to Lufthansa: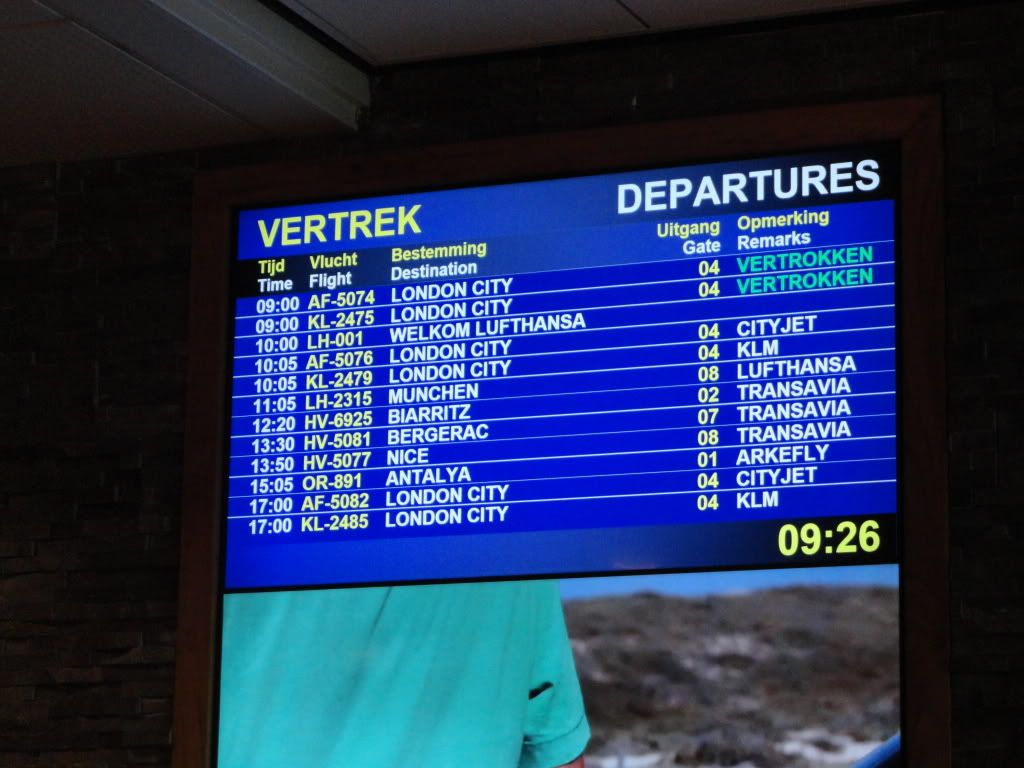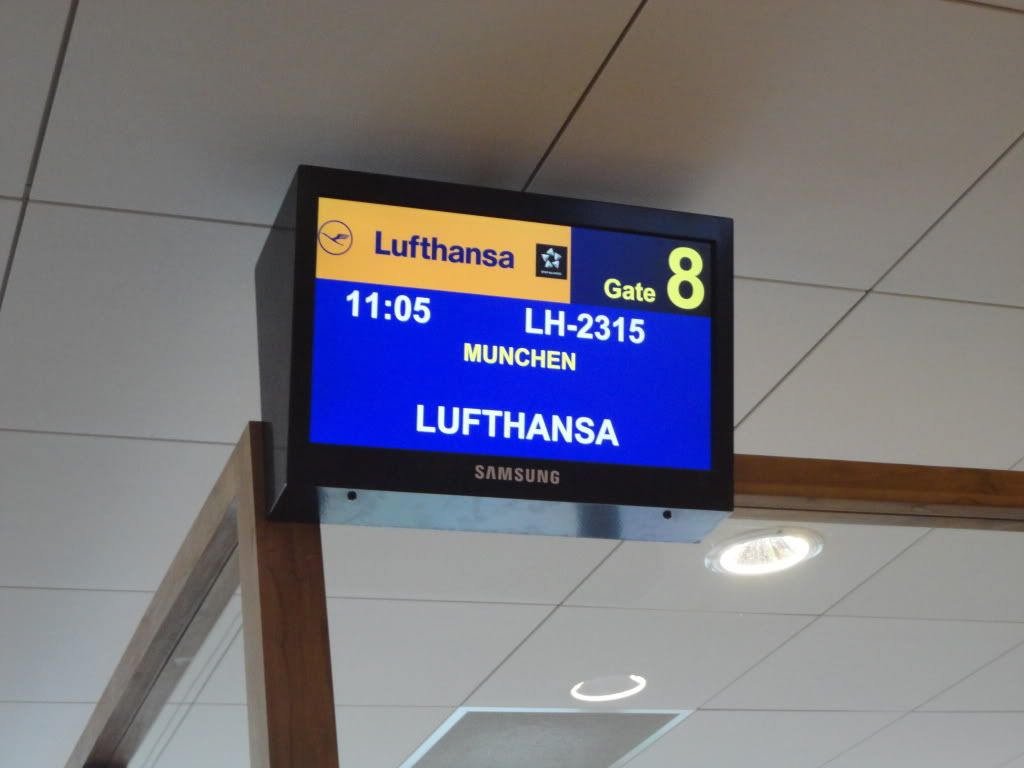 After surfing the net for about 15 minutes I decided to check the airports website to look at the scheduled arrival time for the inbound inaugural flight. It was about 10 minutes away so I headed upstairs to the observation deck/restaurant/bar to catch a glimpse of any celebrations/water salute.
This Cityjet Fokker 50 was headed to LCY: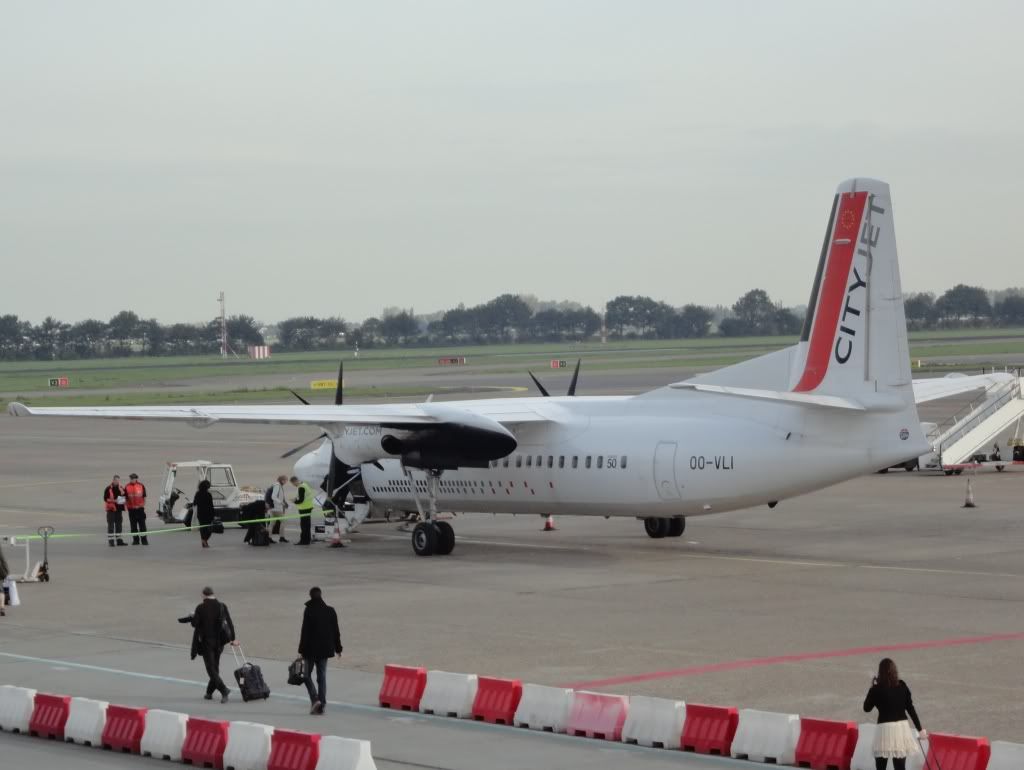 This group of press and I'm guessing important people of Lufthansa and RTM airport were drinking some champagne up here next to me at the bar and were now headed down which meant the aircraft was almost here: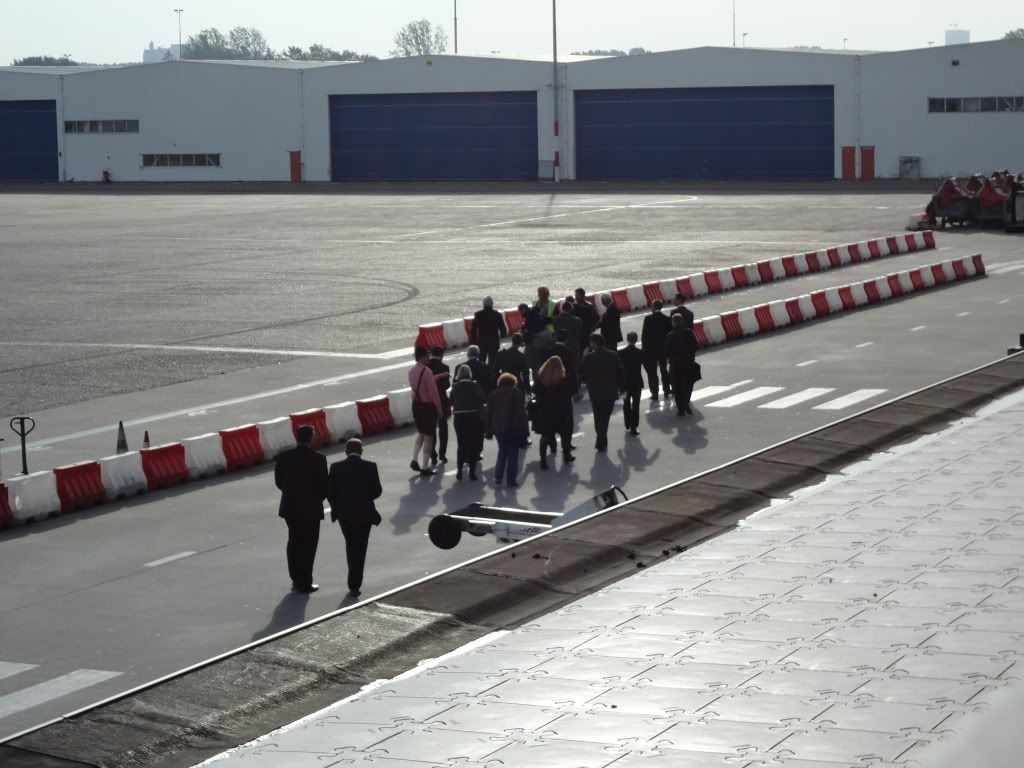 The red carpet was already laid down for me later on, how nice: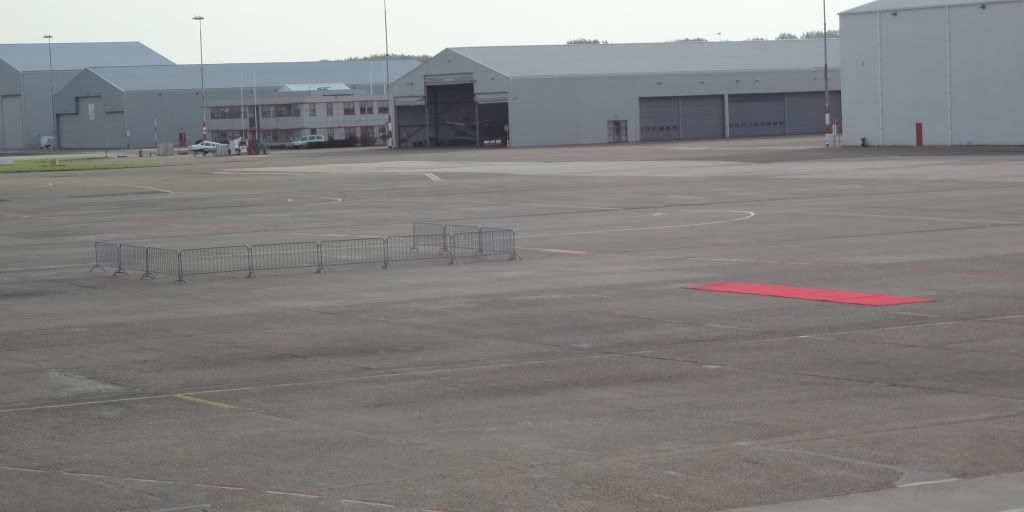 The fire trucks had also arrived by now: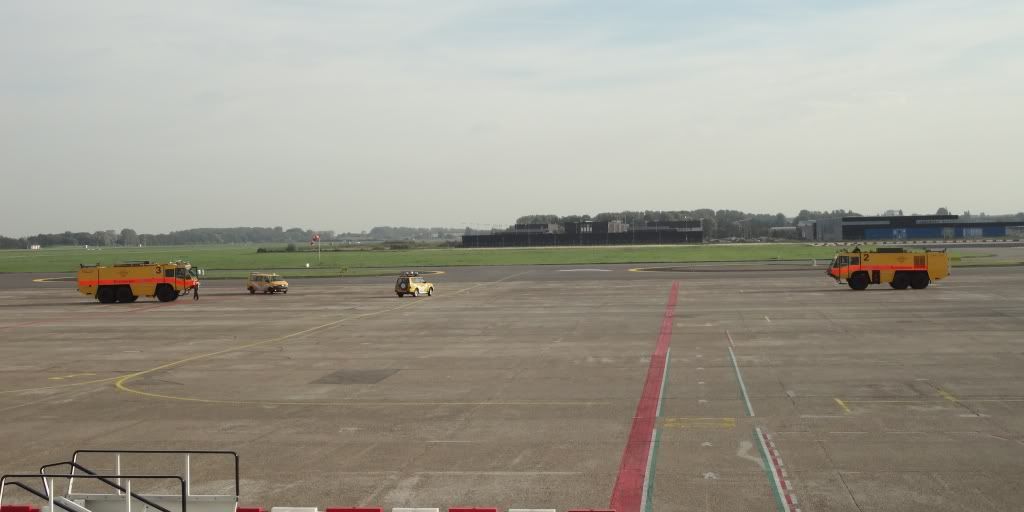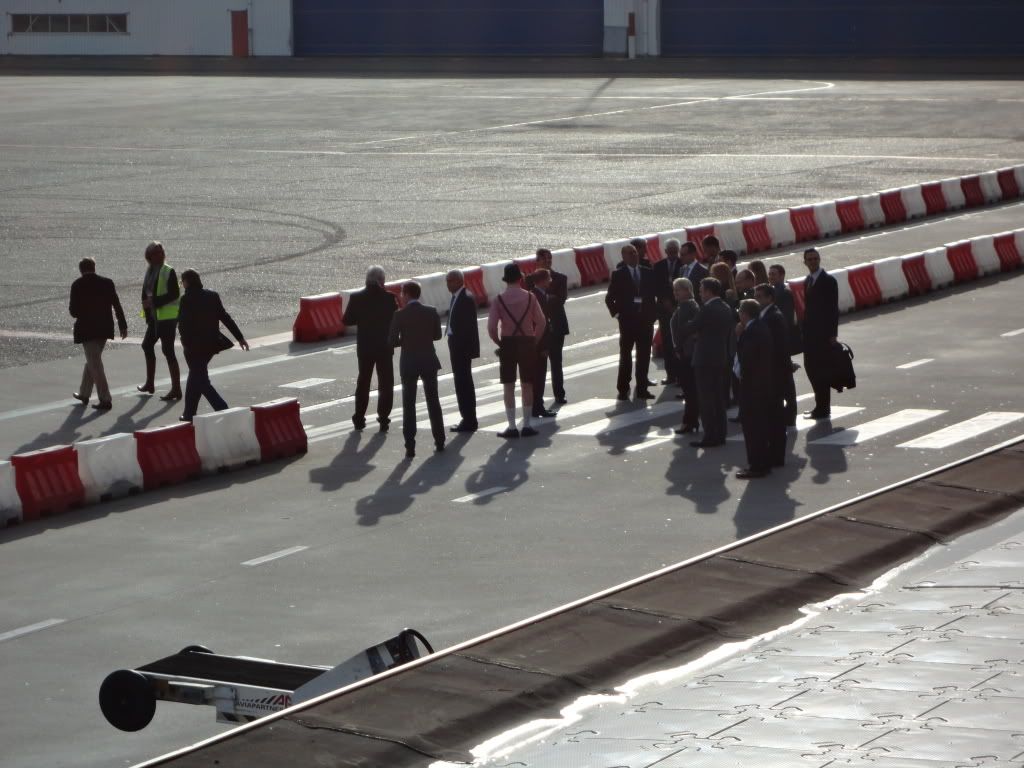 Cityjet all ready to go now: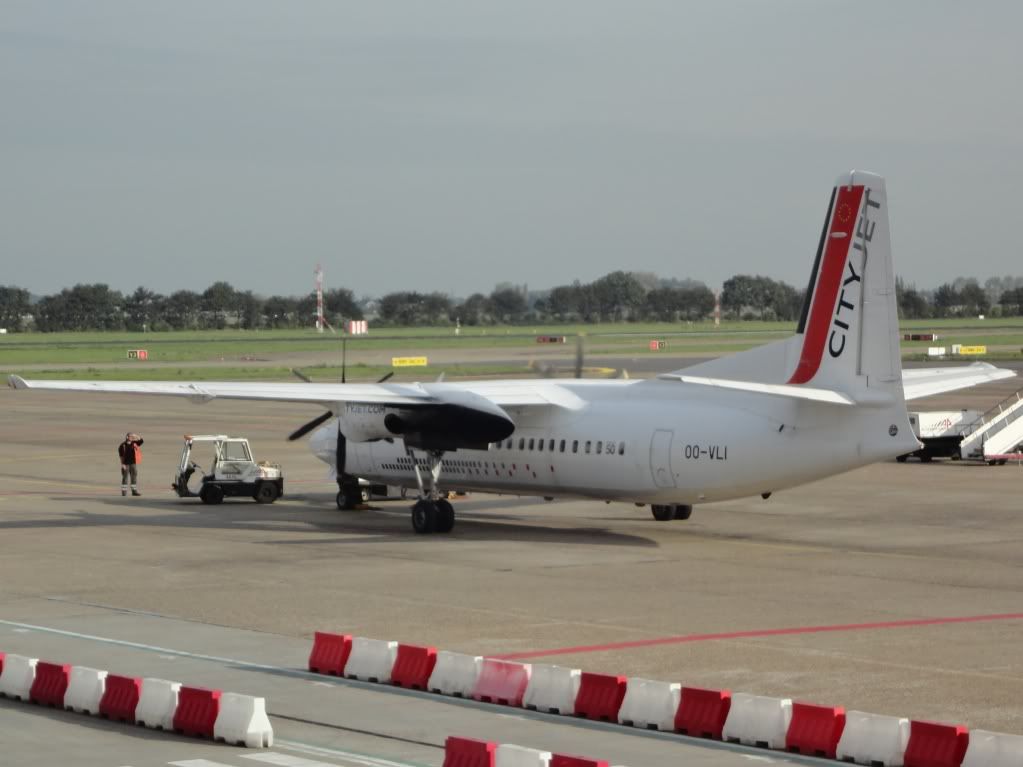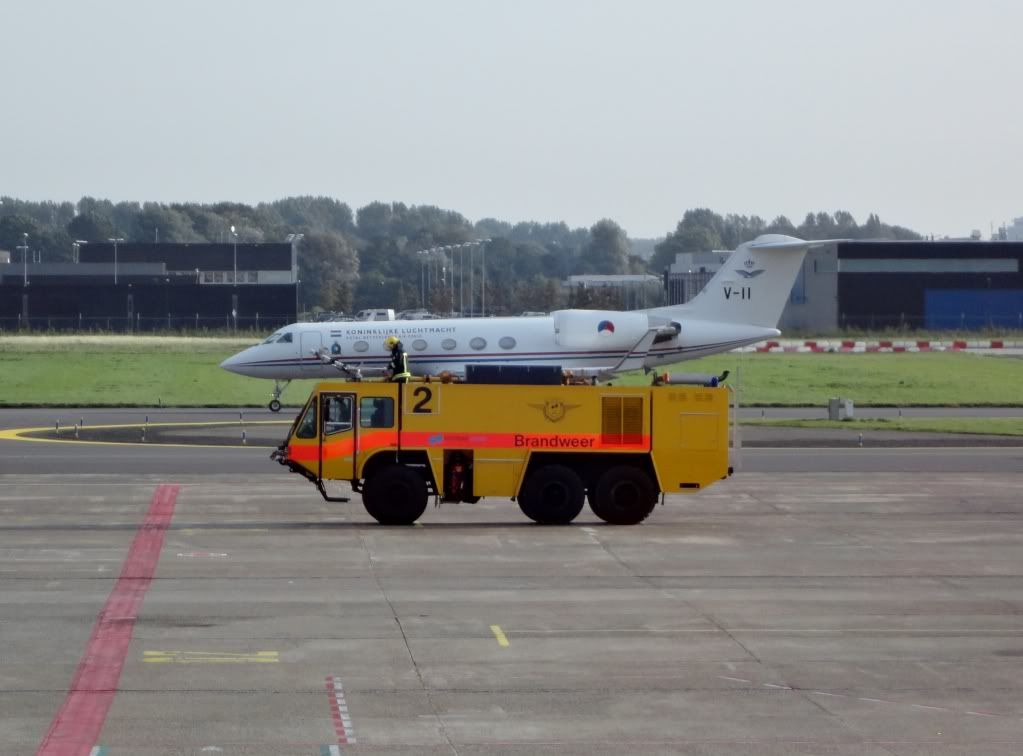 Testing 1,2,3: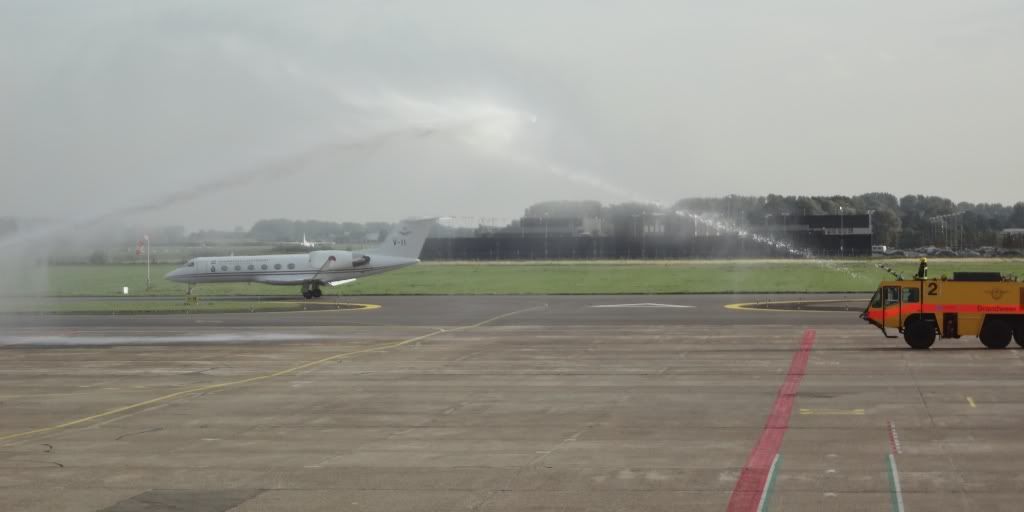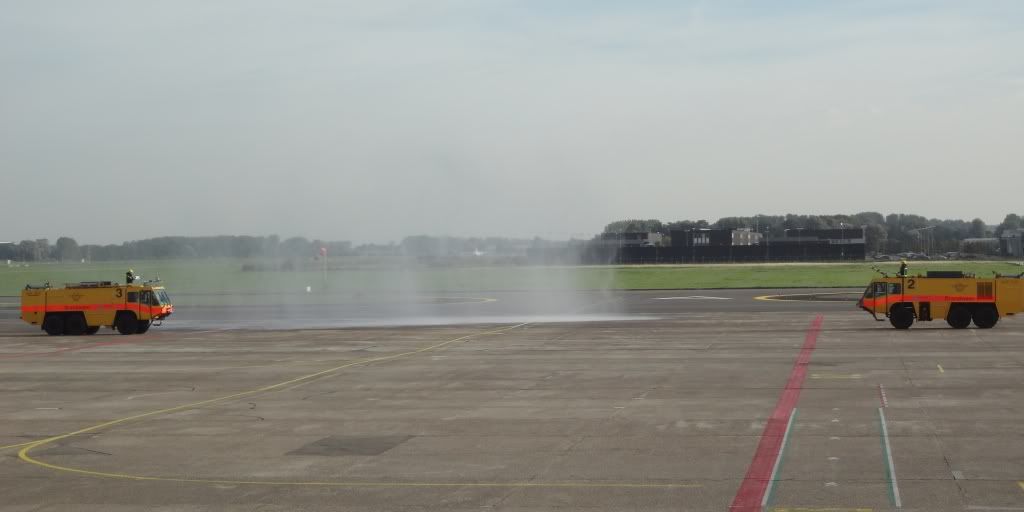 Soon enough I saw an aircraft on final approach in the distance, so I grabbed my binoculars and saw LH2314 make a smooth landing on runway 24: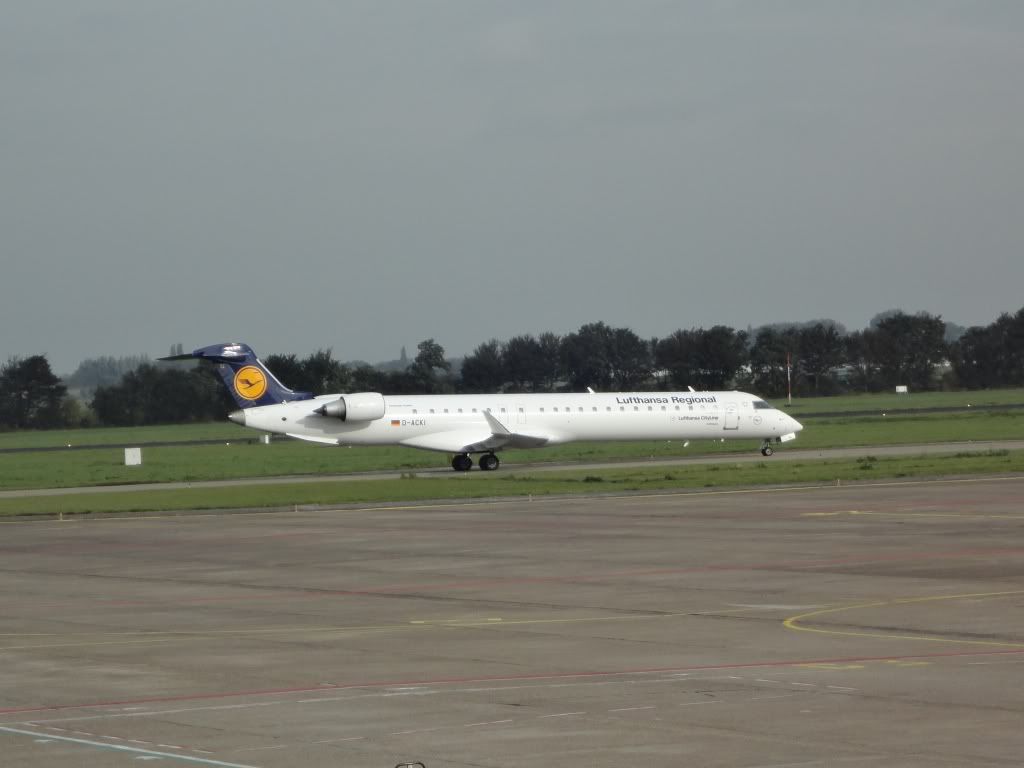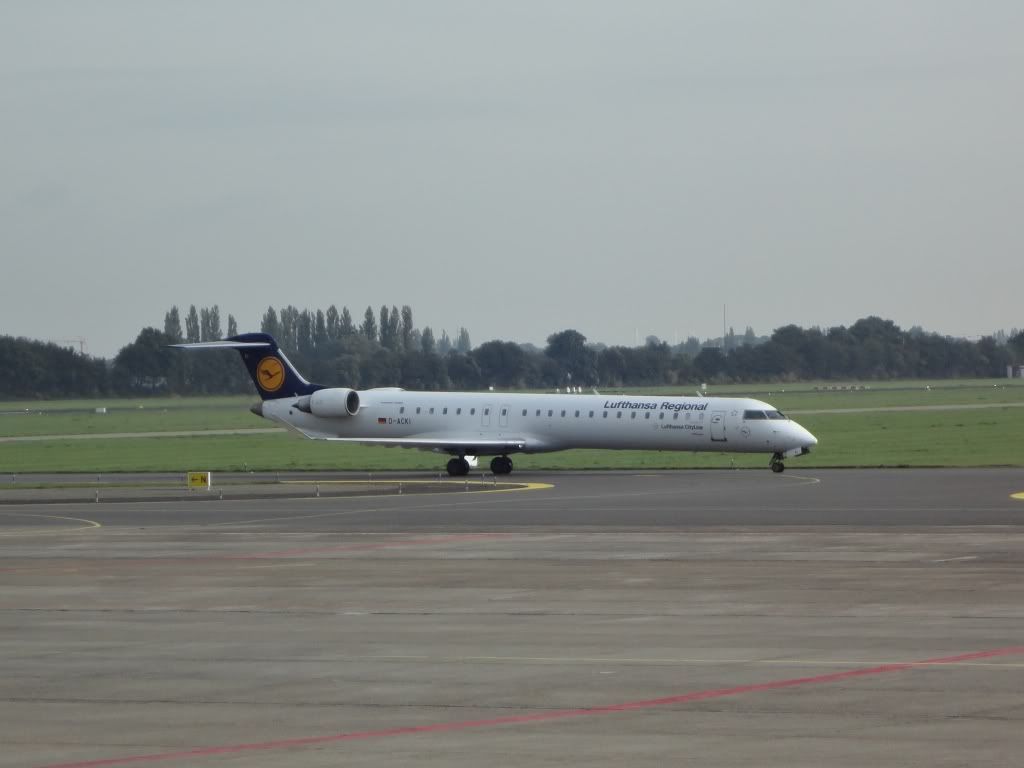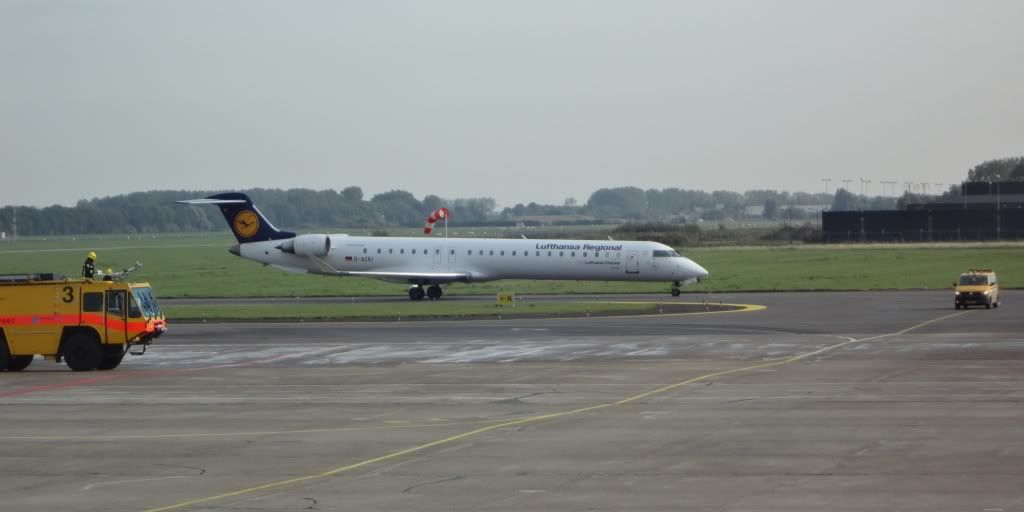 Turning onto the tarmac for a short shower: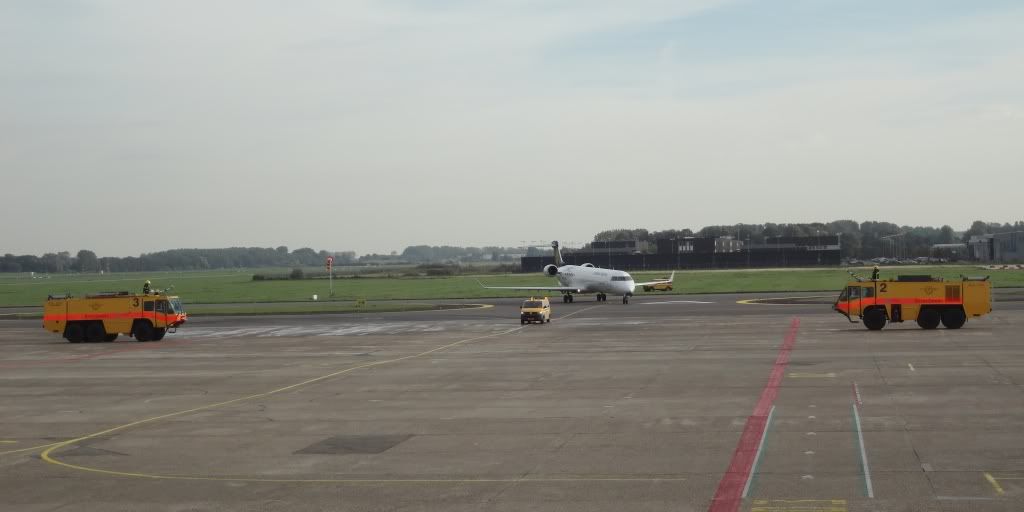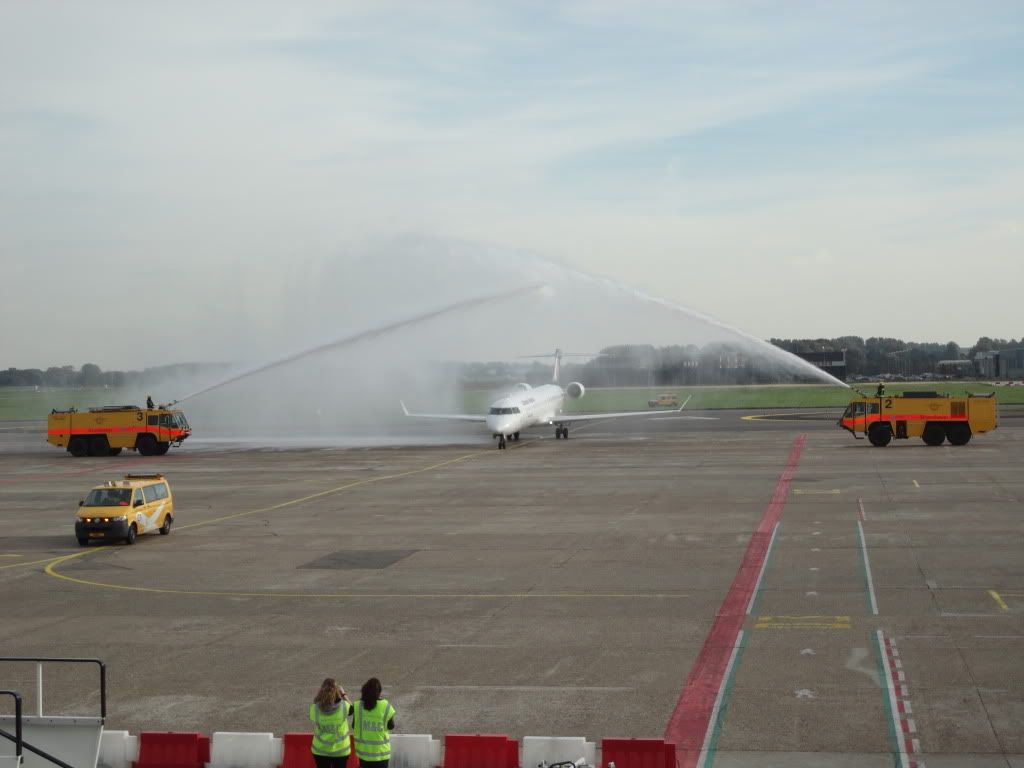 Nice and close: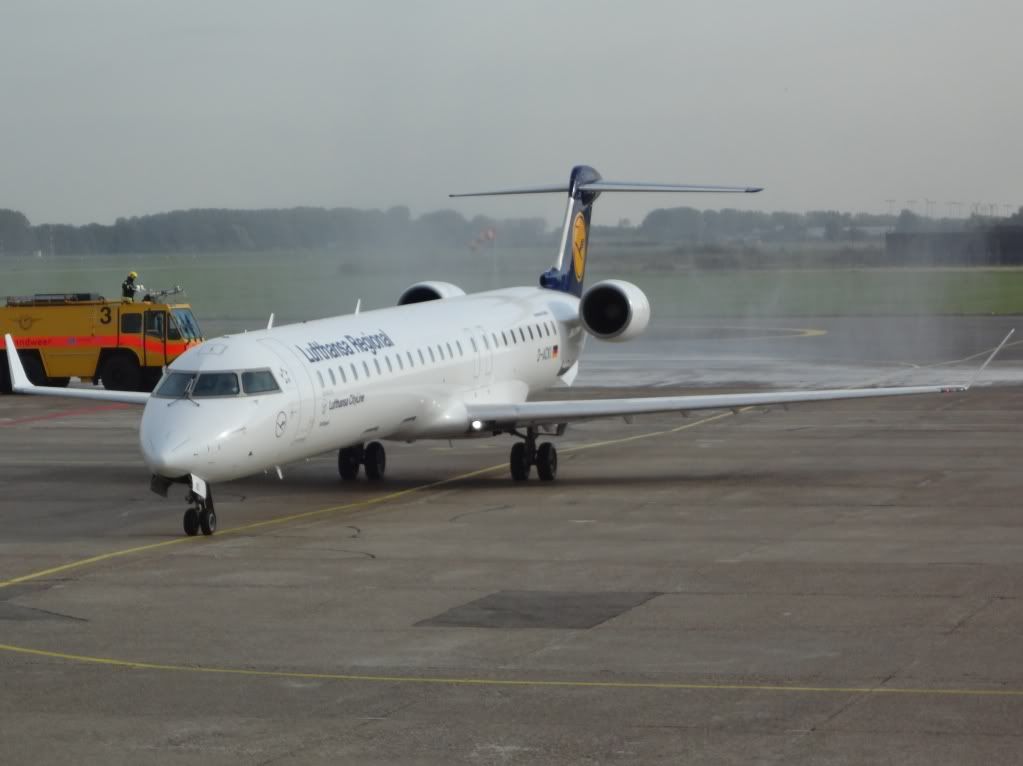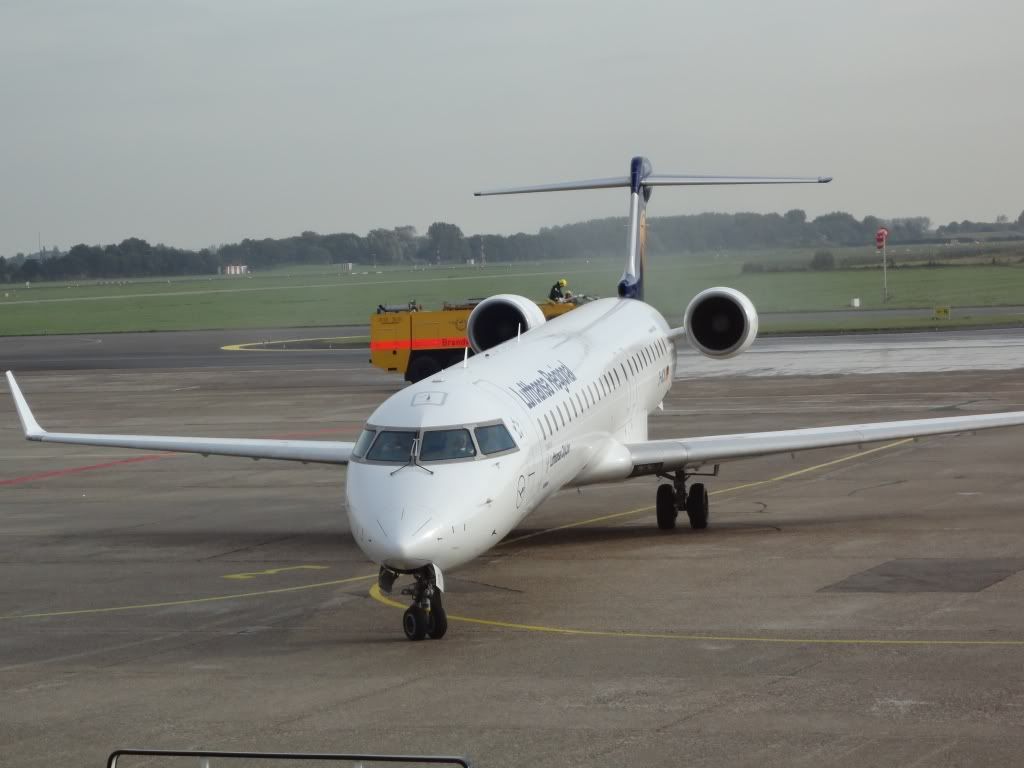 D-ACKI got the honors to fly this inaugural flight. Delivered factory fresh to Lufthansa Cityline on 29/09/2006: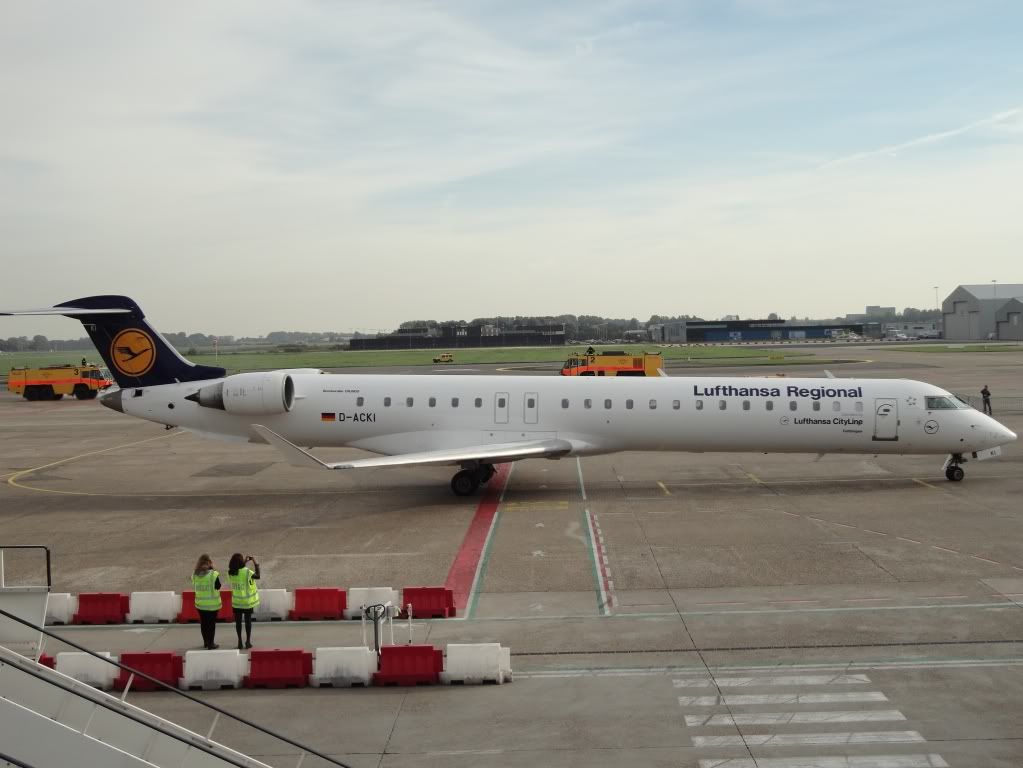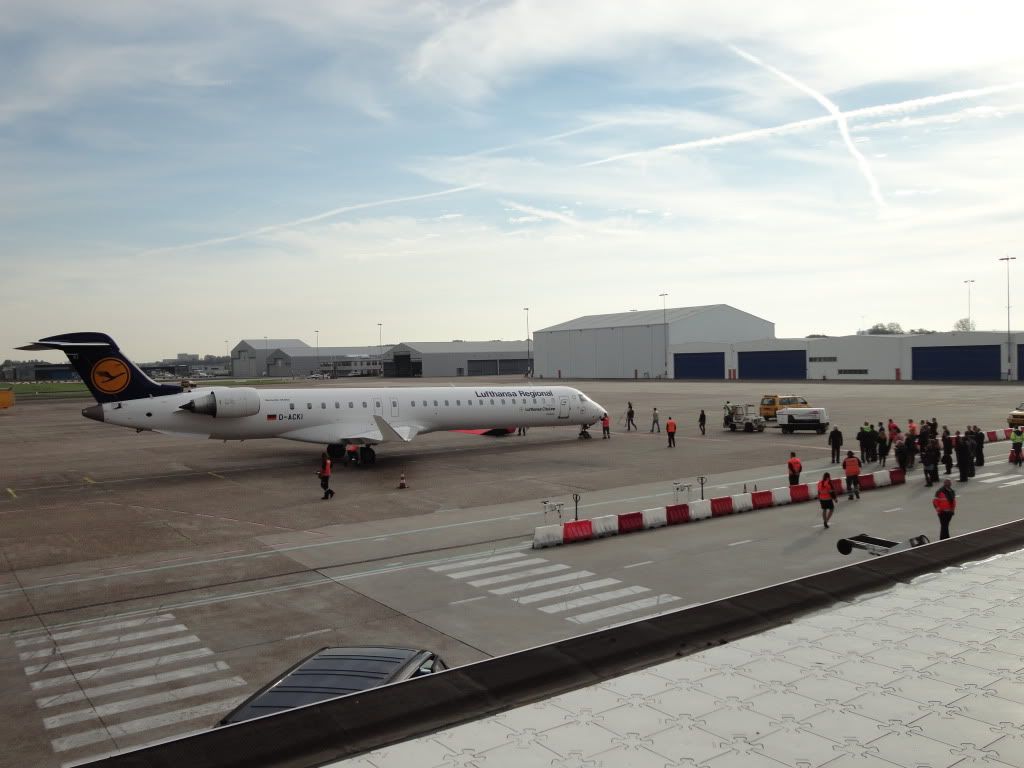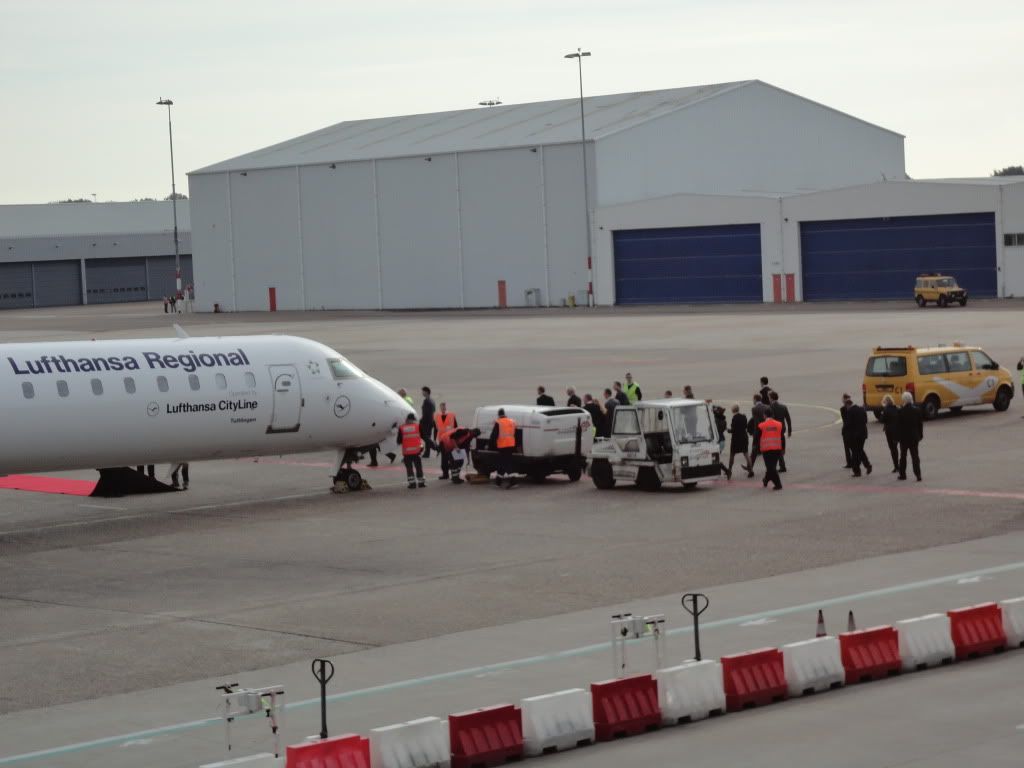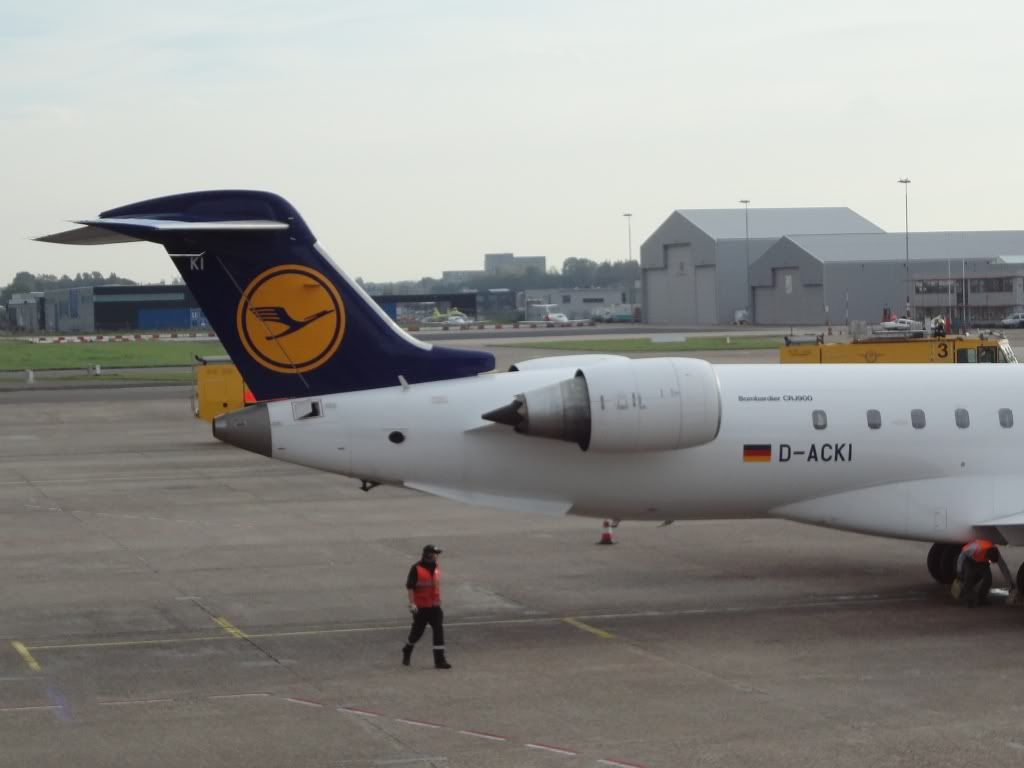 Enough picture taking for now, so I headed back downstairs to wait for boarding to begin.
Boarding
BP for this flight: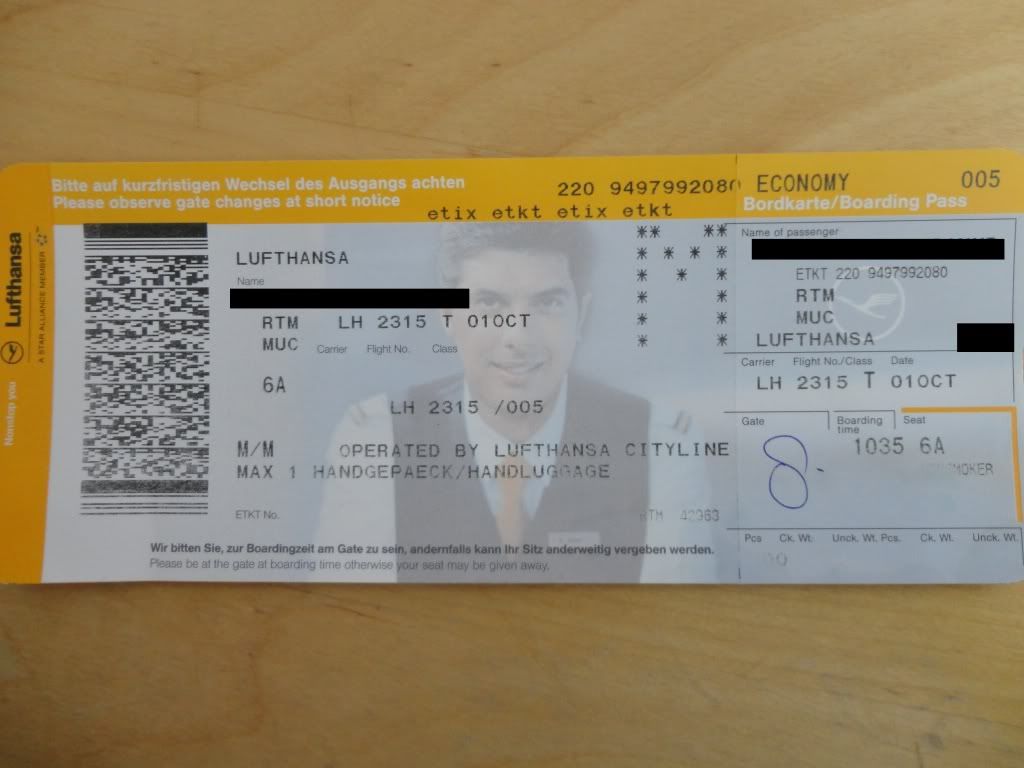 Boarding was called at 10:45, 10 minutes after original boarding time. There was no special mention about this being the first/inaugural flight, although I'm thinking most of the people already knew. The gate agent scanned my BP with a smile and handed this gingerbread out which was quite tasty: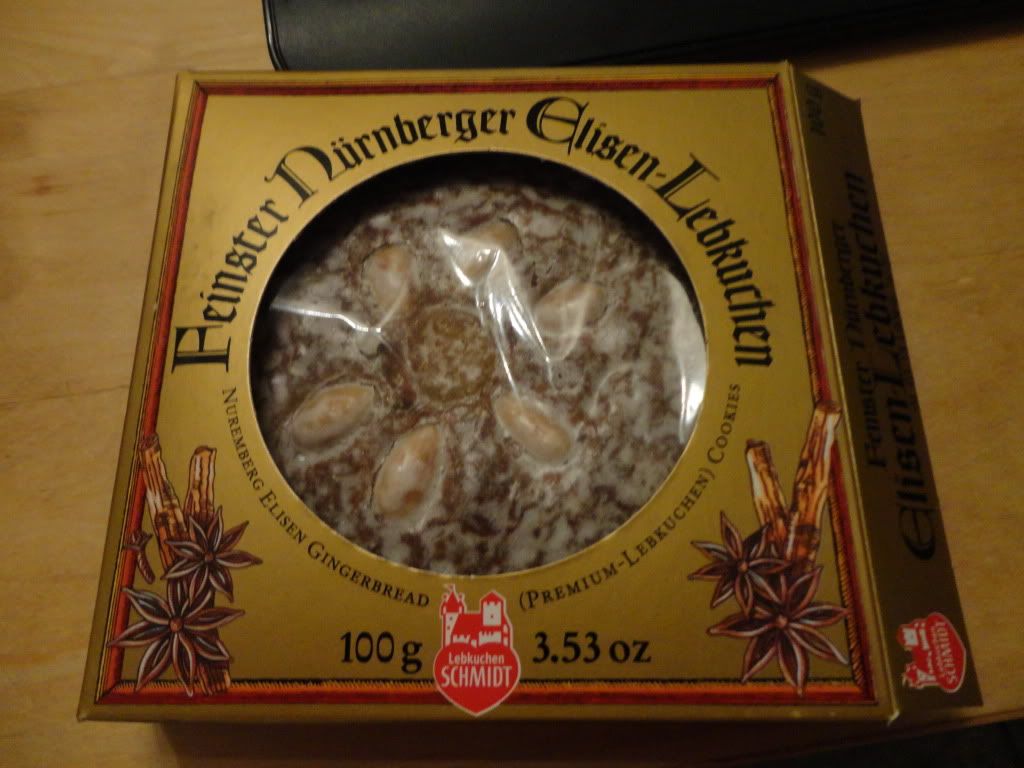 I walked towards the aircraft, left my carry-on on the cart and walked up the stairs.
On Board
01/10/2012
RTM-MUC
LH2315 // 6A
CRJ-900 operated by Lufthansa Cityline // D-ACKI
11:02-12:22
Waiting inside the aircraft was a female FA wearing a traditional Bavarian dress who greeted me with a big smile. At the back of the aircraft was a colleague of hers also wearing a traditional Bavarian dress. Both of them got their job done with lots of smiles.
A short walk followed to my assigned seat 6A and I got settled in. The windows were still a bit wet from the water salute: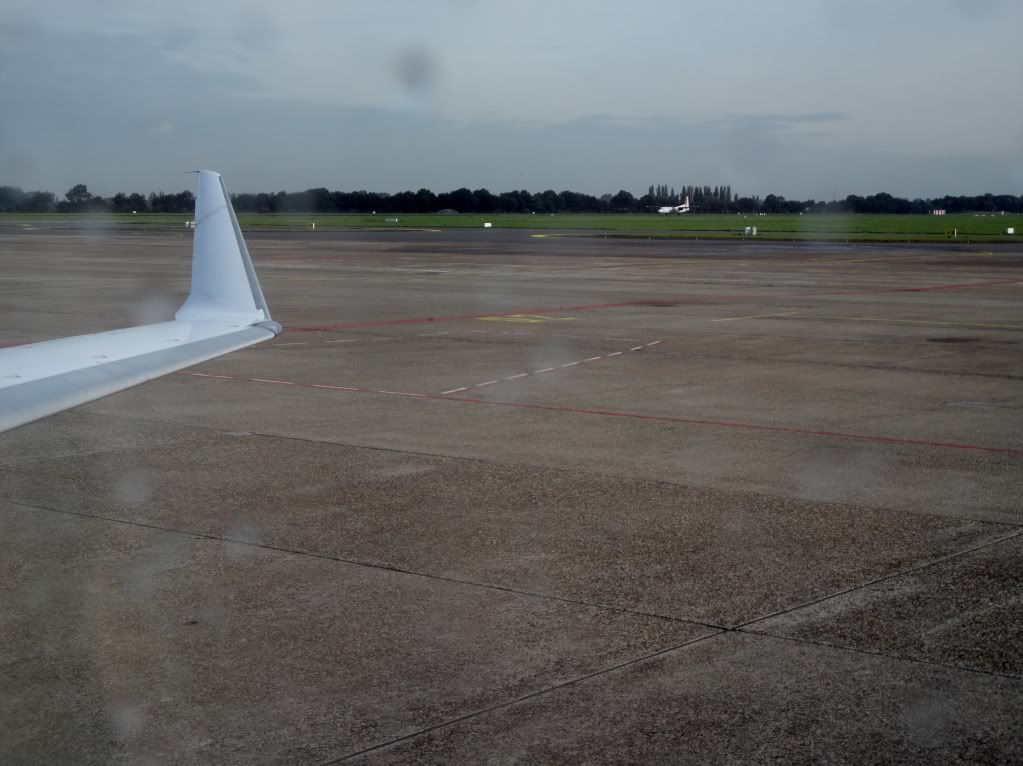 The doors were closed 8 minutes ahead of schedule, at 10:57. Flight load was around 60% with the seat next to me empty. One of the female FAs came on the PA with the usual announcements and an announced flying time of 1 hour and 5 minutes. After her came the flight deck with another nice welcome on this inaugural Rotterdam-Munich flight and some announcements.. Cruising level will be FL360 and the routing: Rotterdam-The Hague-Dusseldorf-Frankfurt-Munich.
Continued Below