Hello and welcome to my first report. After reading so many great reports for many years, I've decided to start one on my own.
A little background of myself, I am in my early 30s and having my passion towards aviation since the age of 11. At that time, Kai Tak was still a very active place. My cousin at that time was living on the 5th floor of an apartment building only few hundreds meter from runway 13 threshold, and with a splendid view of the airport terminal and the whole apron of Kai Tak from the window of his room. He was working at Jardine Aviation Serveries, a ground handler for some cargo and passenger airlines that serve Hong Kong. And with his knowledge in this industry, he started to educate me to identify the differences on each airplane type. And since then, the aviation bug inside me starting to grow bigger and bigger!
Some random images taken from my cousin's room.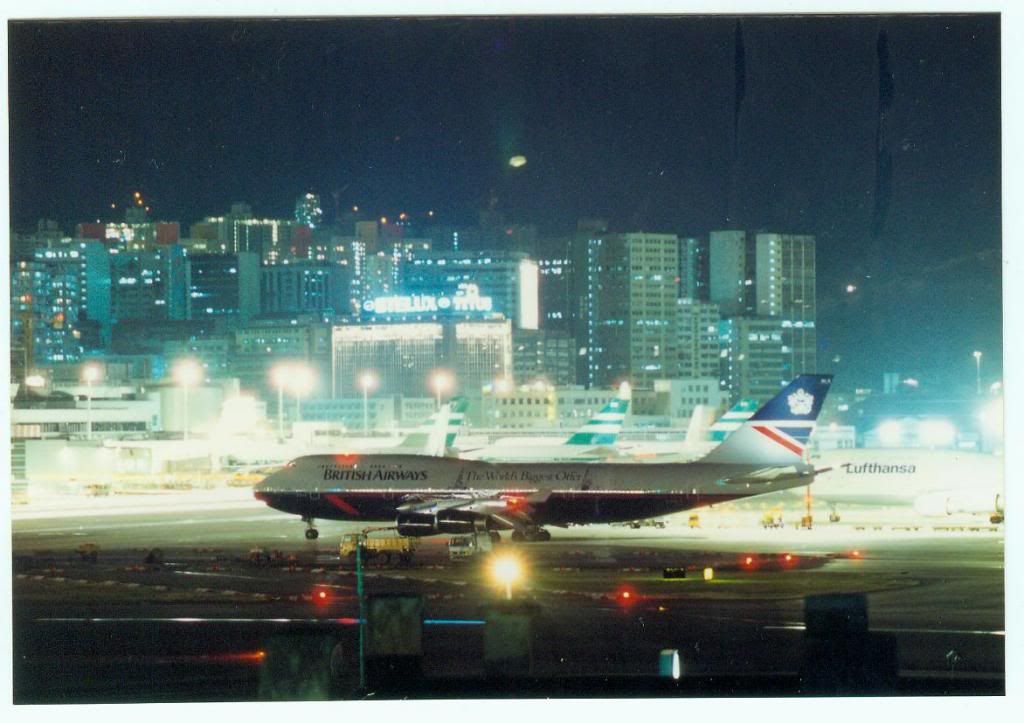 After many years of studying in Canada, now I am back to Hong Kong and working at a manufacturing plant in Dongguan, China. Like many others, staying for work on weekdays and going back to HK for the weekends, around 150km apart. For those of you are not so familiar with this place, it is a city with around 8 to 10 million people sandwiched between Shenzhen to the south and Guangzhou to the north. And I believe it is one of the biggest manufacturing areas in the world with lots of different kind of factories located in here.
OK, enough about me. Let's talk about this trip.
At the beginning of October, I was looking through the China Southern website, and saw that they have some promotional fares for the Chinese National Day holiday for the whole month of October. They offered some good prices from Guangzhou to Shanghai on some selective flights, even on their Business classes. The cheapest option was to depart Guangzhou on the 8am flight on one of their 777 to Shanghai Hongqiao airport, and return at Saturday evening with their A380 from Pudong airport! My last experience flying domestically in China was 6 years ago also with China Southern. So I am really looking forward to see what they had become, and to see what they are offering on their J product in their 777 and the A380.
The day begin at 5:15 in the morning with my driver picking me up at my home in Dongguan, traffic was light at this hour, and it took around 1hour and 20 mins to arrive at the Baiyun airport terminal. An SMS was received at around 2 hours before the flight with the gate number provided.
Sorry for the pictures quality, all images are taken by my phone.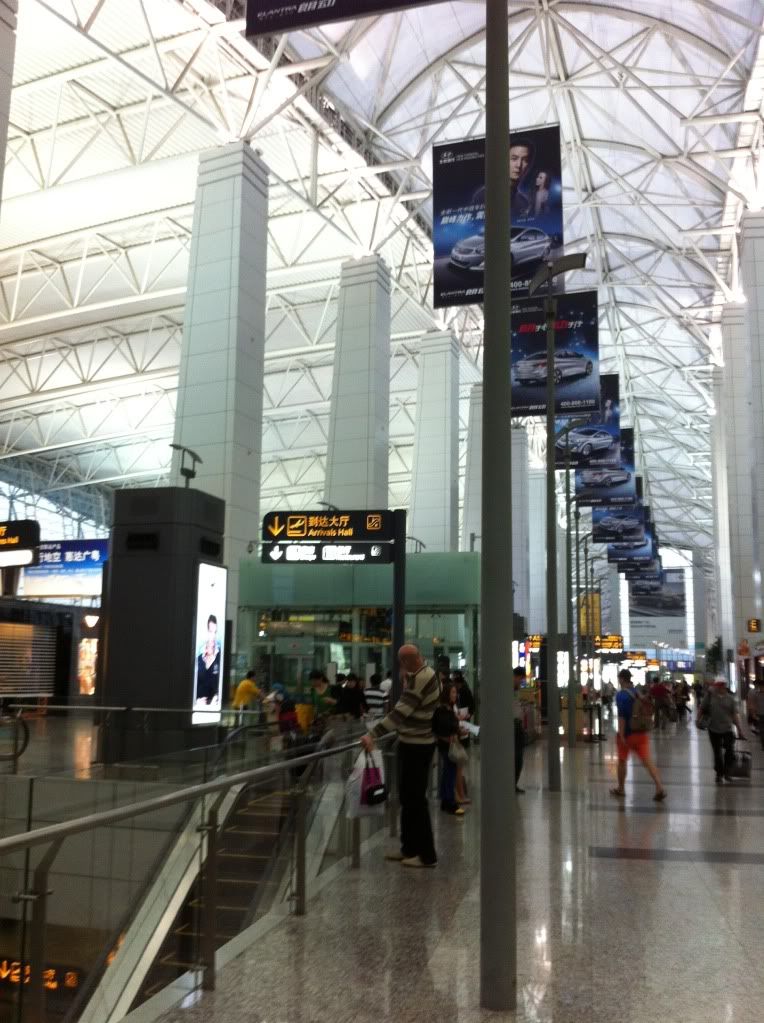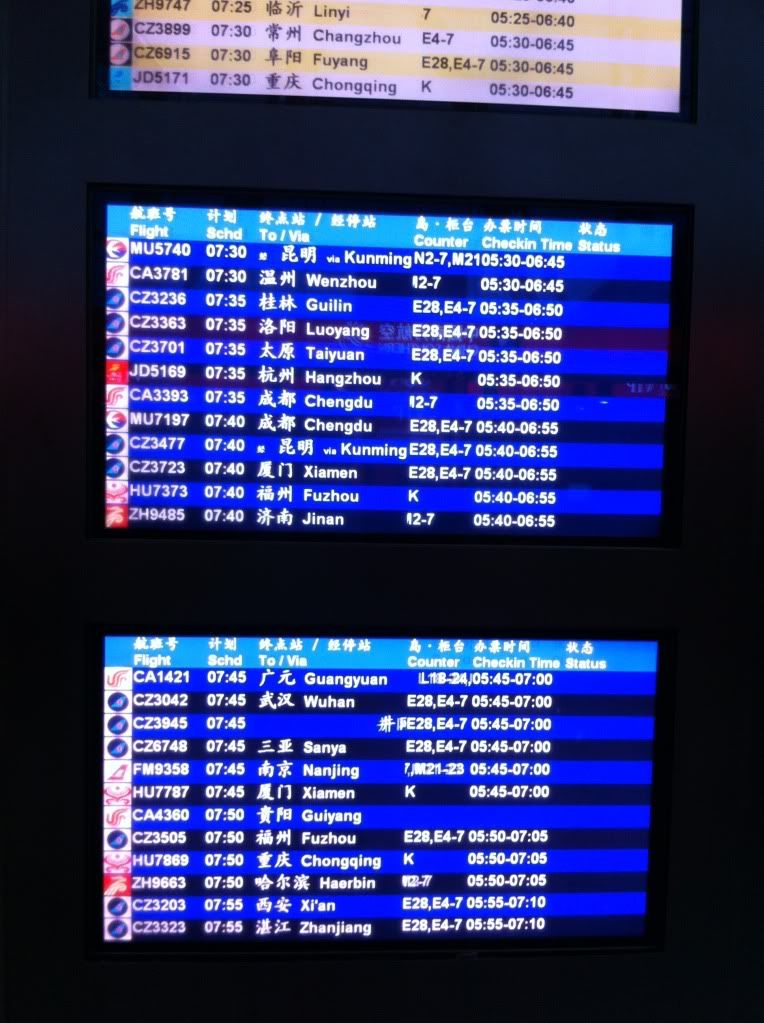 There were big crowds all over the airport since there were many departures at this early hour. I don't know that China Southern has a separate area for their first and business class passengers. There is a sitting area inside with some beverages and snacks while you are waiting for your turn. I have checked-in online the previous day and have my boarding pass printed ready, so it only took less than a minute for me to drop my checked luggage.
Going through the checkpoint with the BP stamped and security took more than 15 mins.
China Southern has few different lounges located in different area at the airport. I went to the one just opposite to the walkway of the contact pier leading to my gate. Upon entering the lounge, there were few (at least 5) attendants standing near the entrance to greet you, one of them checked your BP, addressed your last name, and lead you inside the lounge. Although they were not particular cheerful or warmth, but it gives you a feeling that you are walking into a fancy Chinese restaurant in China. The young lady who greeted me also offer a tour of the lounge, which I kindly accepted. But after few steps forward, we were just standing while she pointing with her hand to different sections (food area, sitting area, sleeping/relax area with those massage arm chair, washroom…etc.) Well, the lounge itself is not that big, which I can easily find my way. Food offering were few hot dishes, dumplings, porridges, and some buns with meat inside, typical Chinese selections. And there were also some sandwiches in the fridges, again, normal standard you can find in China, plain white bread with either some eggs or hams or cheese inside. The lounge itself is actually better than what I have expected, it is not CX or QF lounges, but it is actually cozier than what I have expected for a domestic lounge. And they would also come to you individually while it is your time for boarding.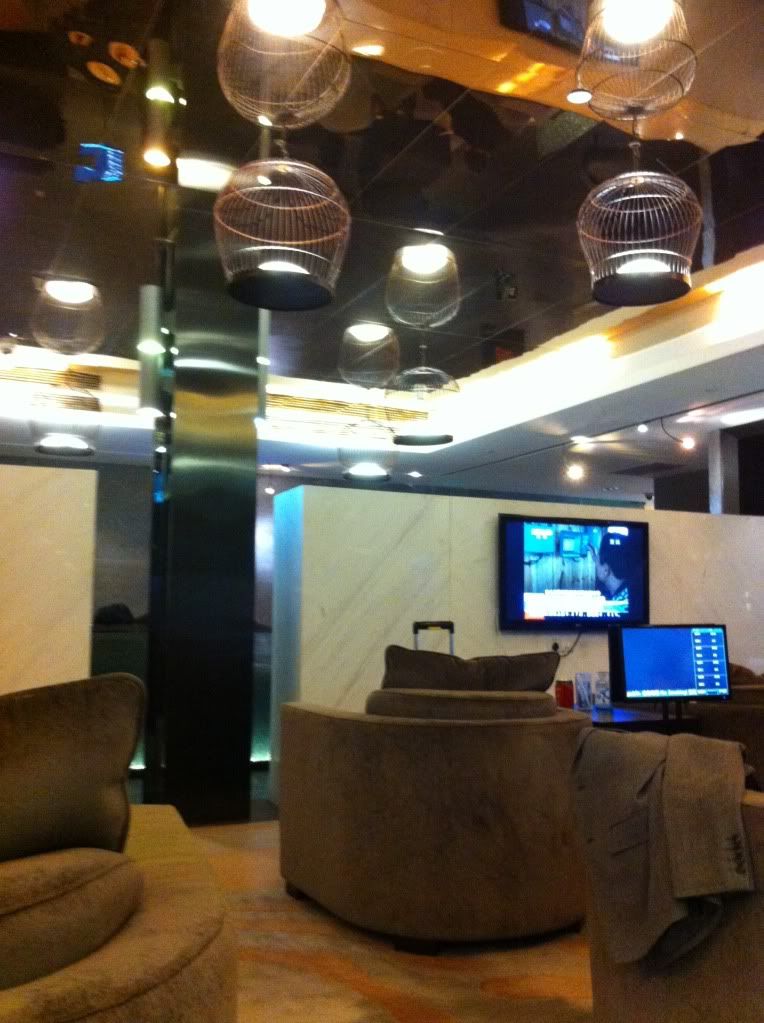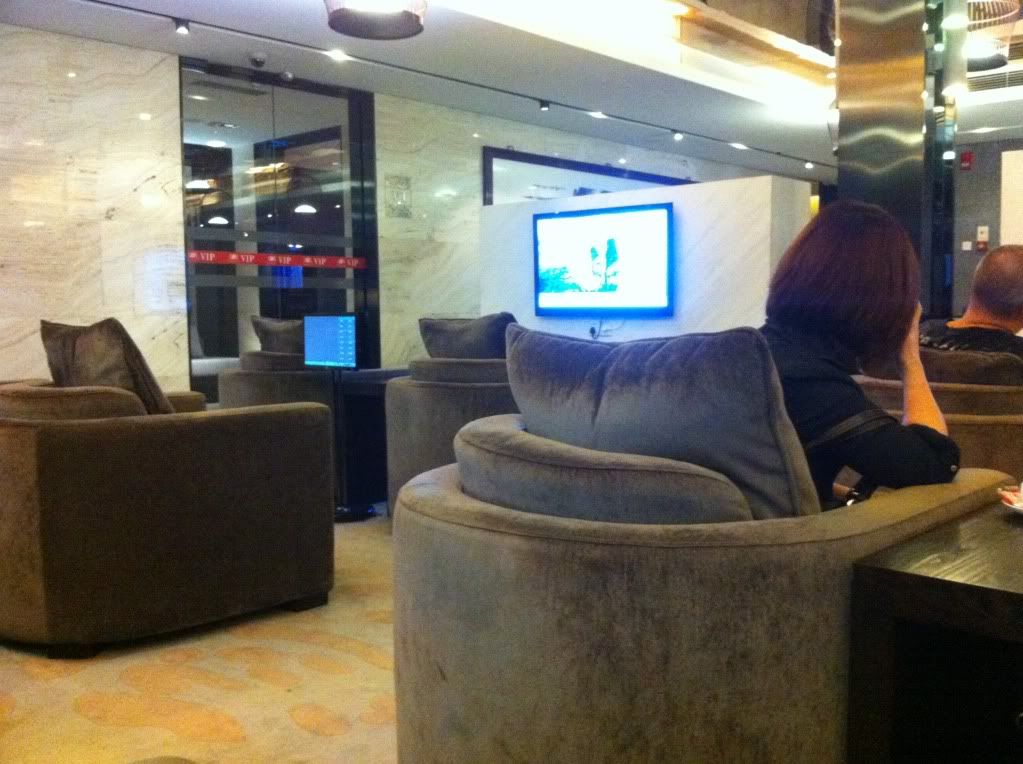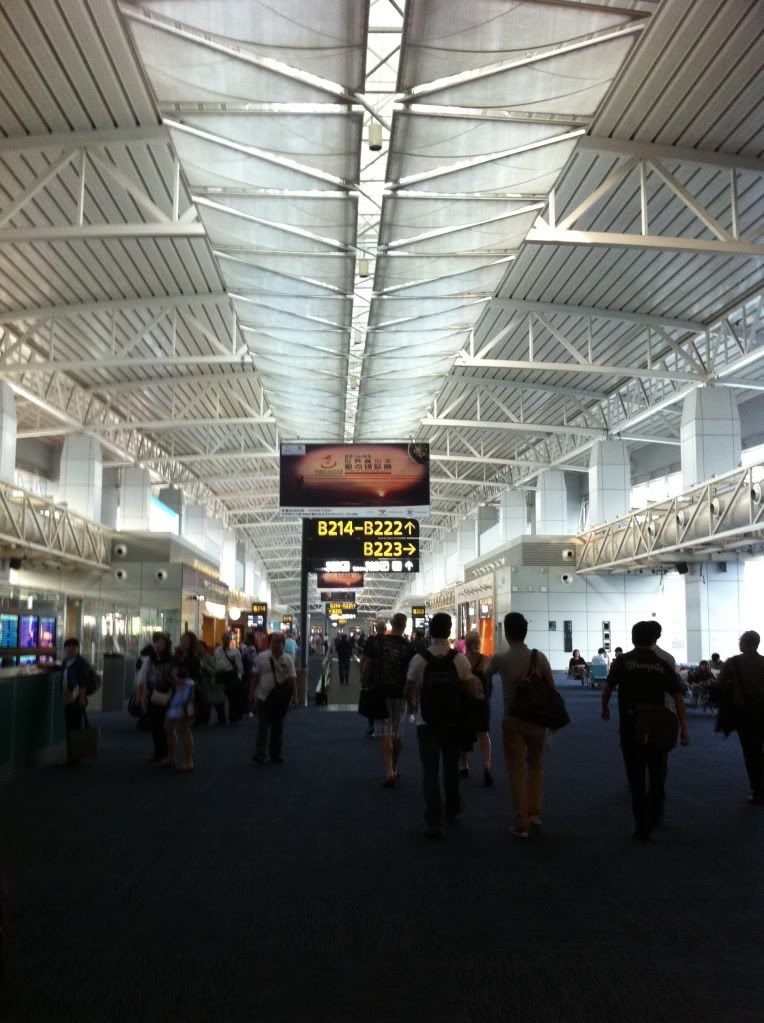 Today's gate: 218
Another company 777
October 2012
CZ 3523
Boeing 777-2B1 (B-2053)
Guangzhou(CAN) – Shanghai HongQiao(SHA)
0800-1020
Boarding already started when I was at the gate, there was separate line for Business (or First class for domestic) and Sky Priority. Scanning my self printed BP had some problems, after few attempts, the guy just tear half of my paper, and handed me back the other half. While in the jet way, there was another guy checking your BP and instructed you to use which of the two air bridges.
There were two FAs greeted passengers at the door, and one of them lead me to my seat 3A. The aircraft is fitted with those old style Business class seat, seating arrangements is 3 rows of 2-2-2. Pillow, duvet, headsets were all there already. The FA serving my aisle came and asked for what I wanted to drink along with a hot towel by my last name. Later, newspaper and slippers were offered from a trolley. At some point, they also came to take your breakfast order, no menus were given, and I picked the dim sum selection. Load in J was very good for this first morning flight, 17 out of 18 seats were taken. There was a welcome message from the Captain in both Chinese and English. Soon followed were by the purser and then a recorded message with welcome and thank you for the participants of the Canton Fair. Doors closed on time, but we were sitting at the gate for another 15 mins without any reason given.
The only picture I able to capture my plane.
Legroom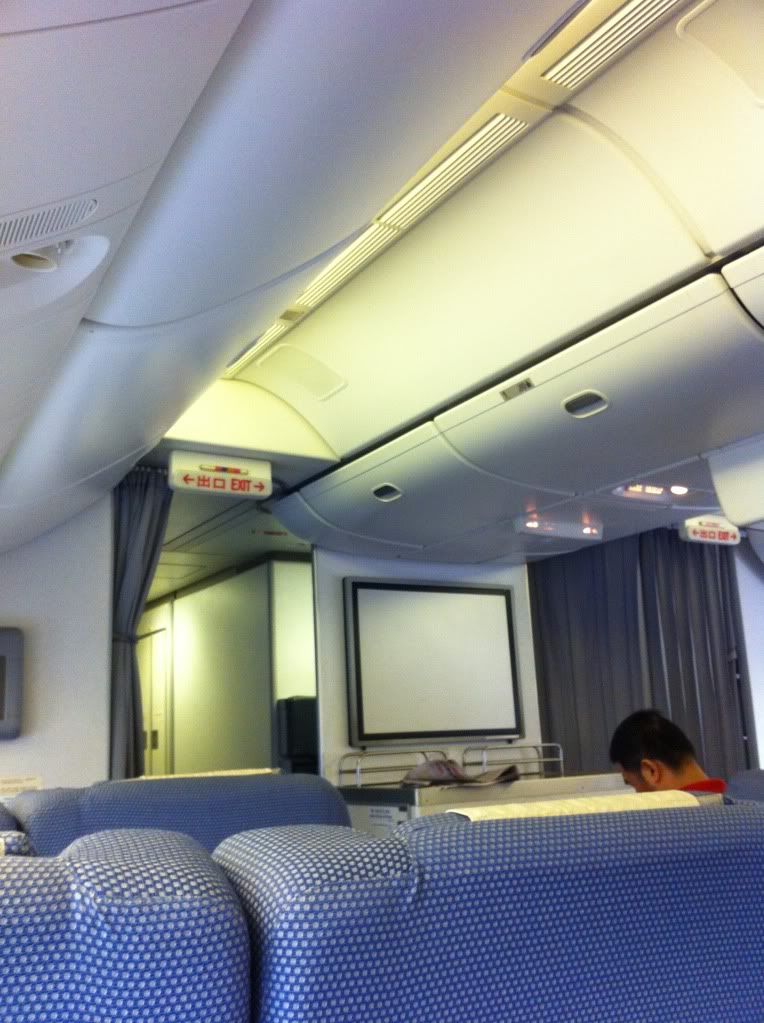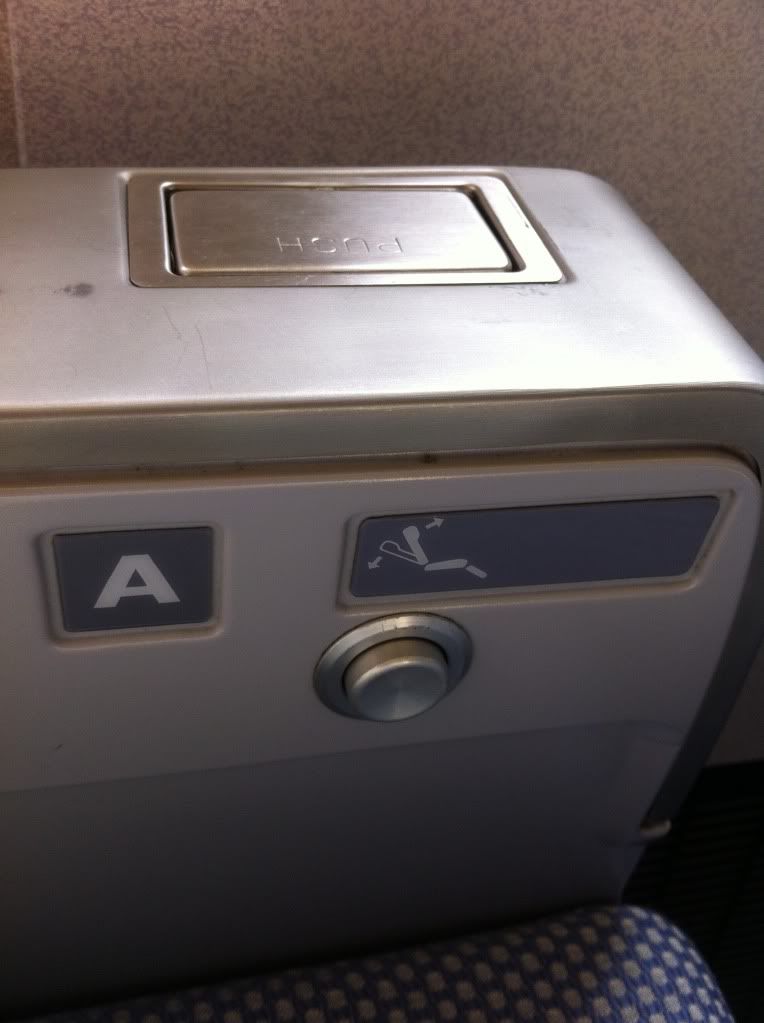 Duvet
Headset
Welcome drink
Push back with a lonesome guy waving to us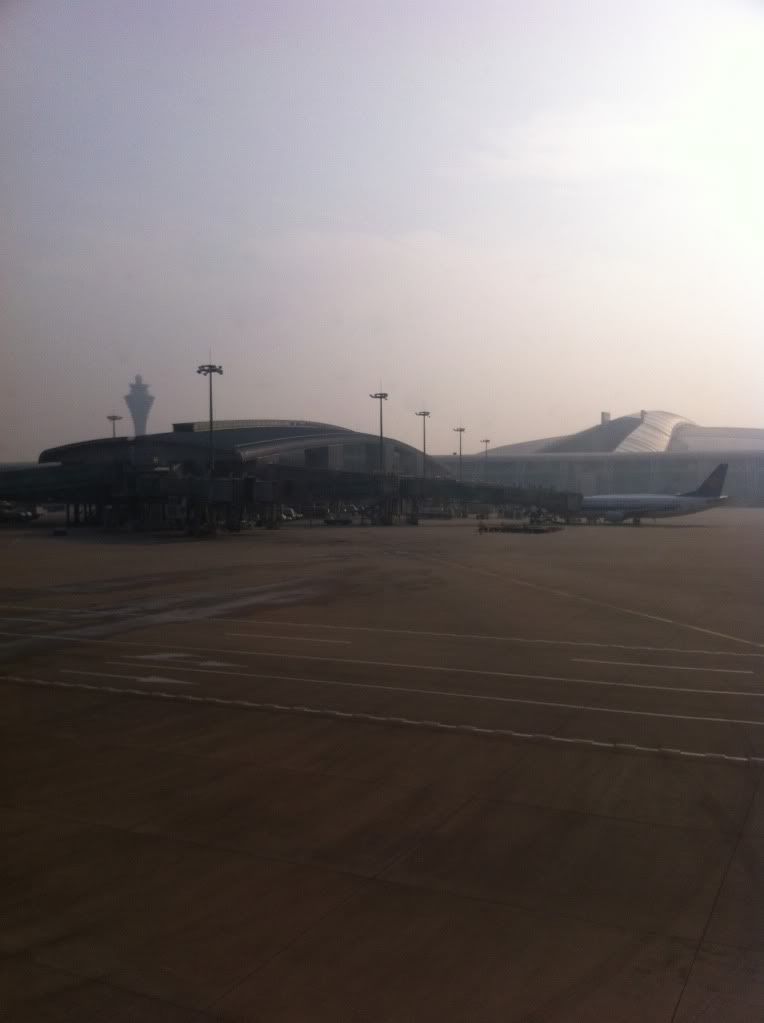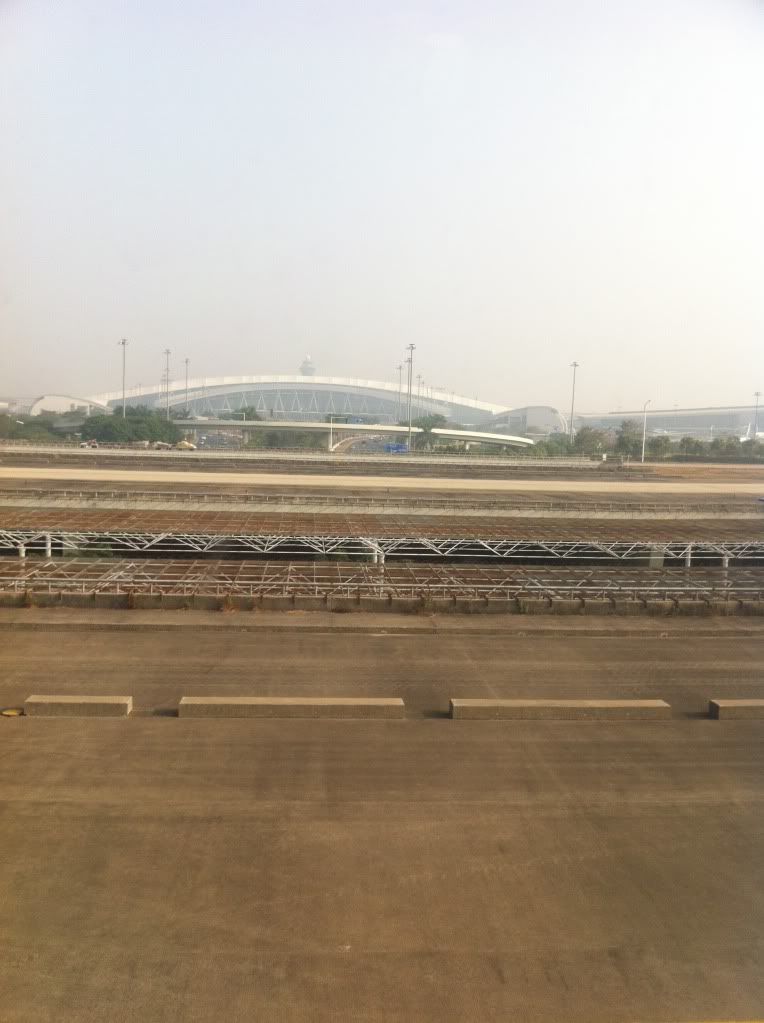 The main terminal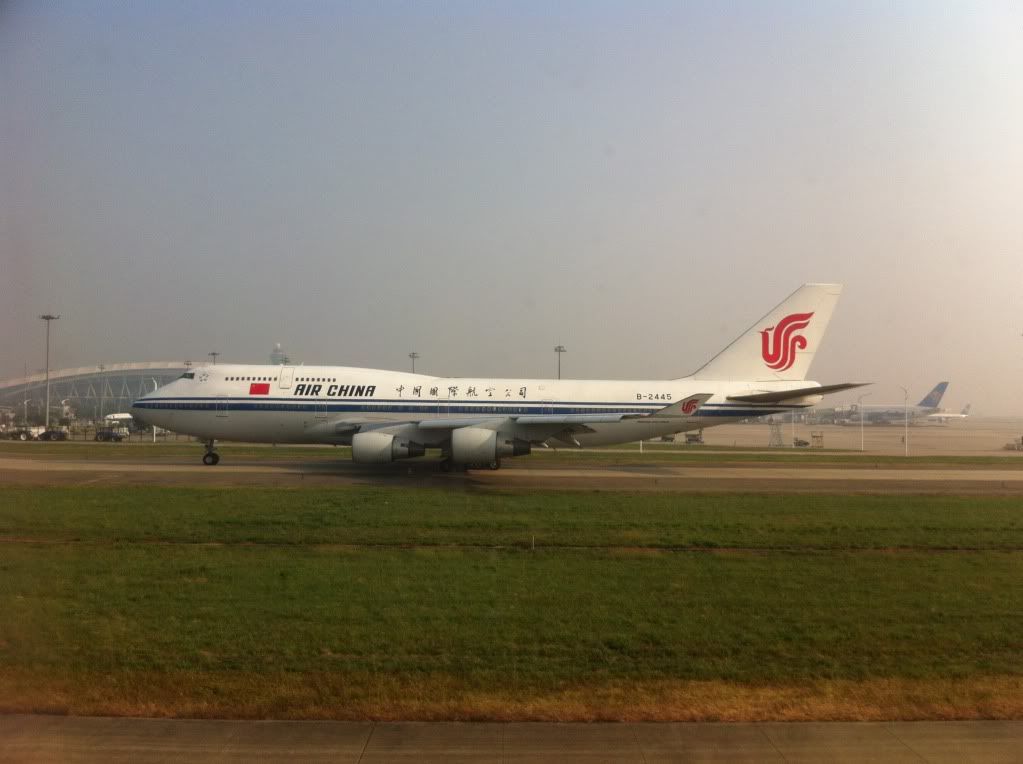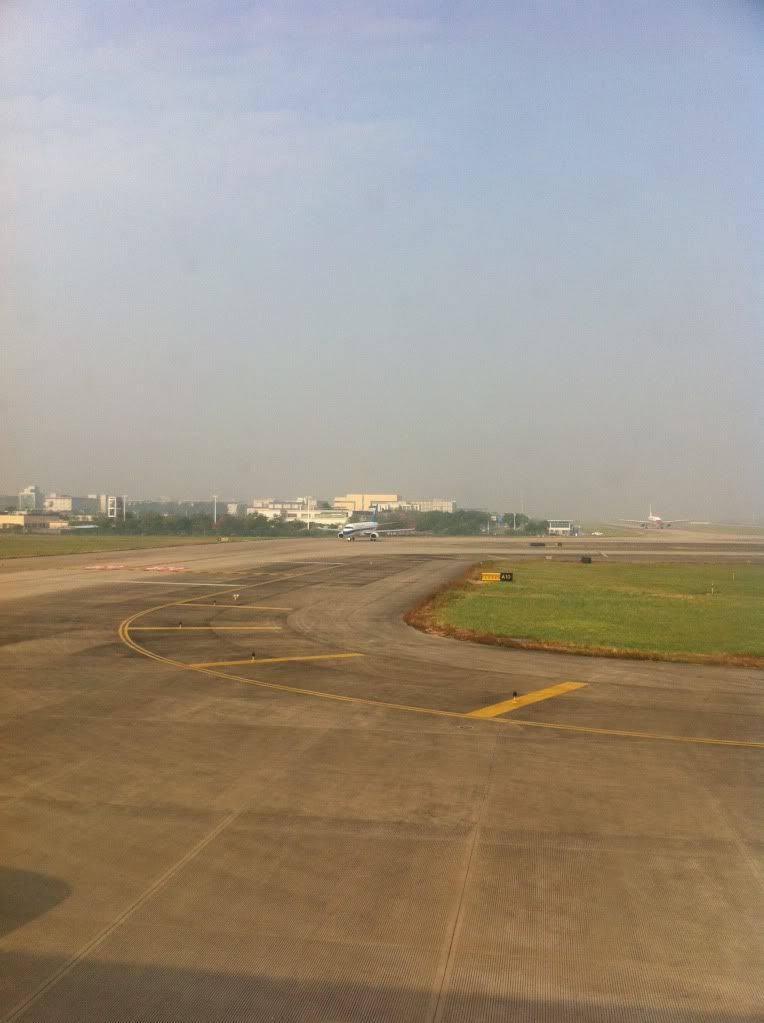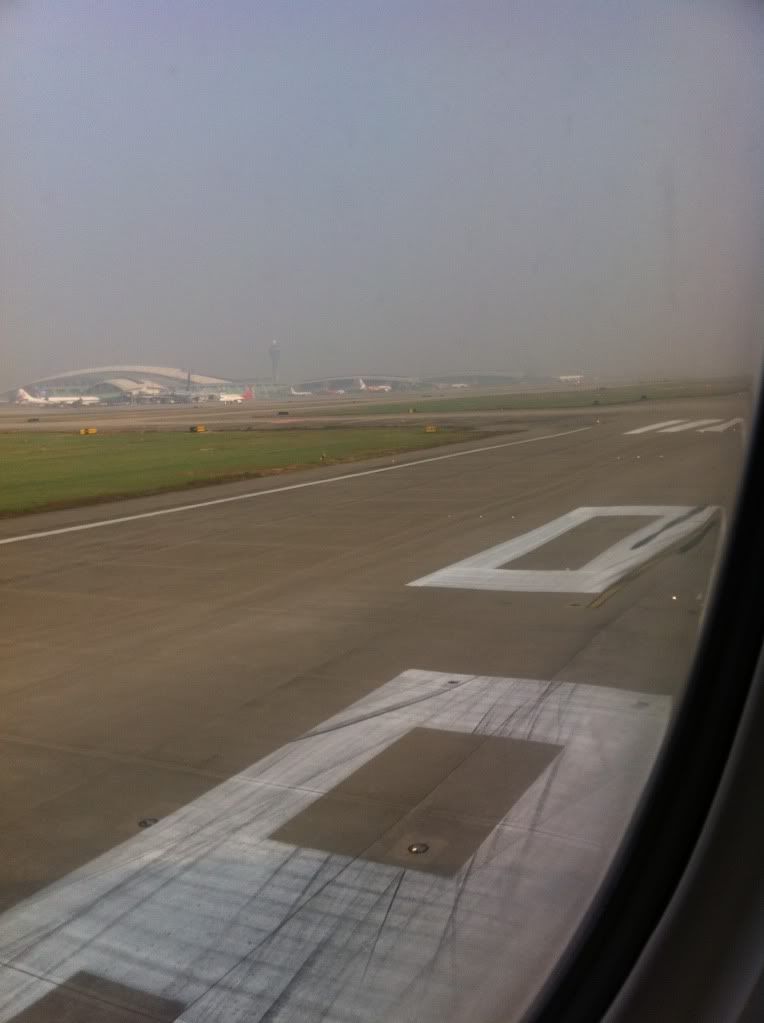 Crew came into action with the individual entertainment system being handed out. This was the first time I received one of those portable devices, so I was curious to find out what's inside. At one point, when I was using my phone to take pictures of this IFE, the friendly FA came and told me that devices with airplane mode was not allowed to use inflight, and kindly asked me to stop using it, as it would interfere with the aircraft.
This is my first time hearing this, and there was a couple using their Ipad in the center aisle without being addressed with the same question. But alright, not a problem, I will not use it when you were around.
The content of the IFE was similar to those you can find on other airplanes, with some movie, TV and music selections, but without any inflight map or information. It also included a survey and you could fill out your comments. However, the touchscreen was not fully functional, and I gave up after few attempts.
Next the crew brought the hot towel, then followed by a drink and nuts services. When the FA handed the plate with nuts to me, the big plate with the small quantities makes me think that someone had already eaten half of it. Breakfast was brought individually with a tray. Quality of the food was more like from those microwaved food, edible but nothing more.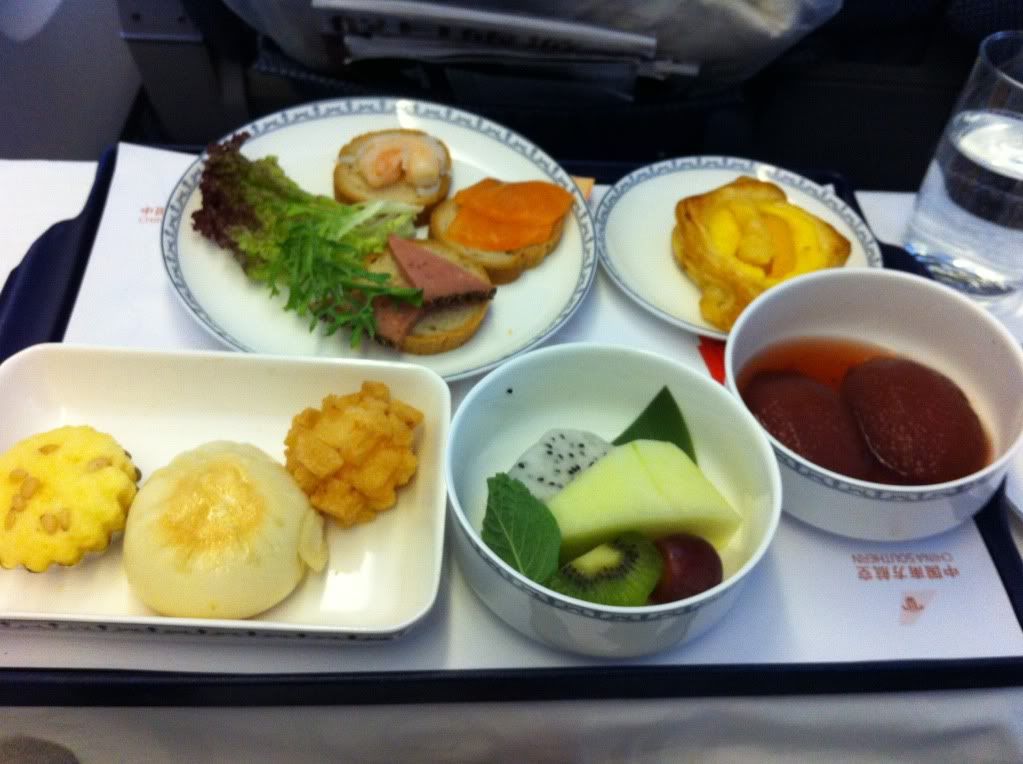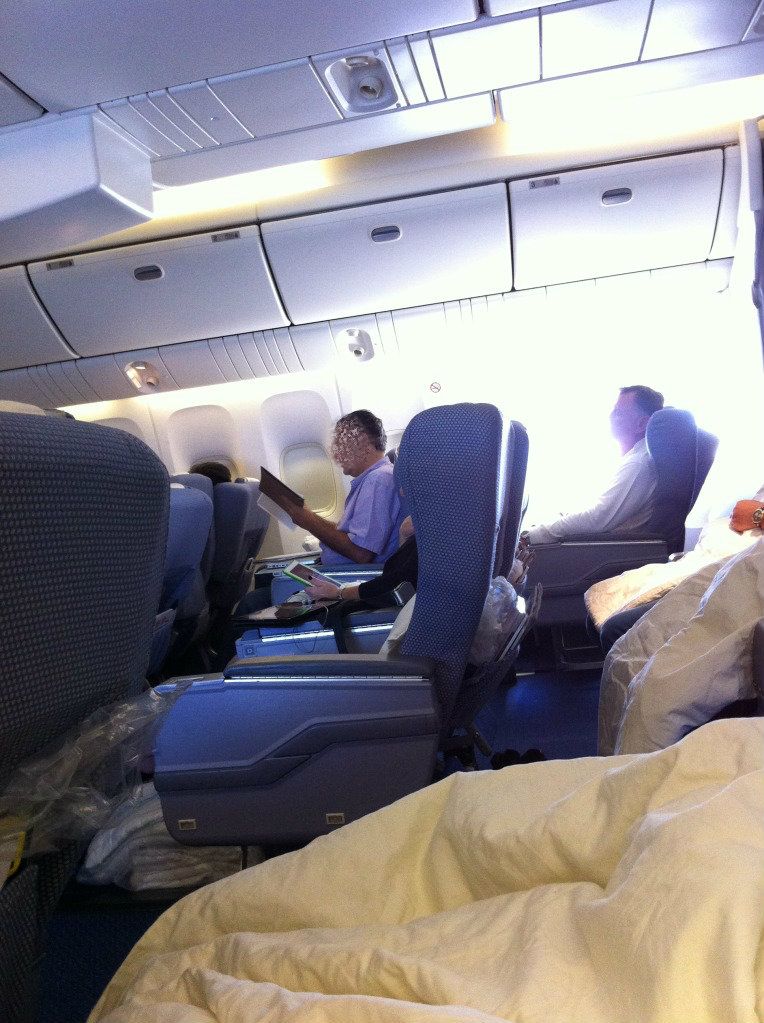 There was an announcement 30 mins before landing from the cockpit. Crews preformed the usual landing preparations, and soon we were on the ground, with some 20 mins delay. Again, no apology or any reason given.
The old terminal one
Terminal two
Last shot of the cabin.
The purser and the 2 FA serving the J cabin were at the door saying goodbye. Walking to the baggage claim took around 5 mins, and it took another 10 mins for the baggage started to come out. Traffic was very bad that day and the taxi ride took around an hour from the airport to my hotel in Huangpu District.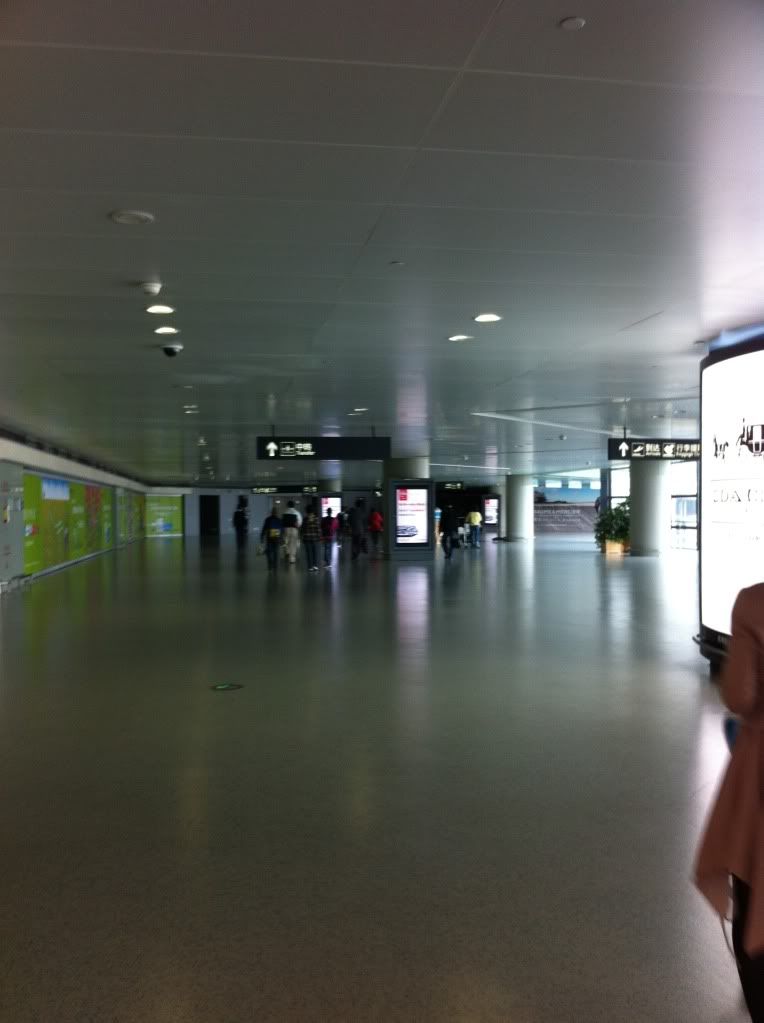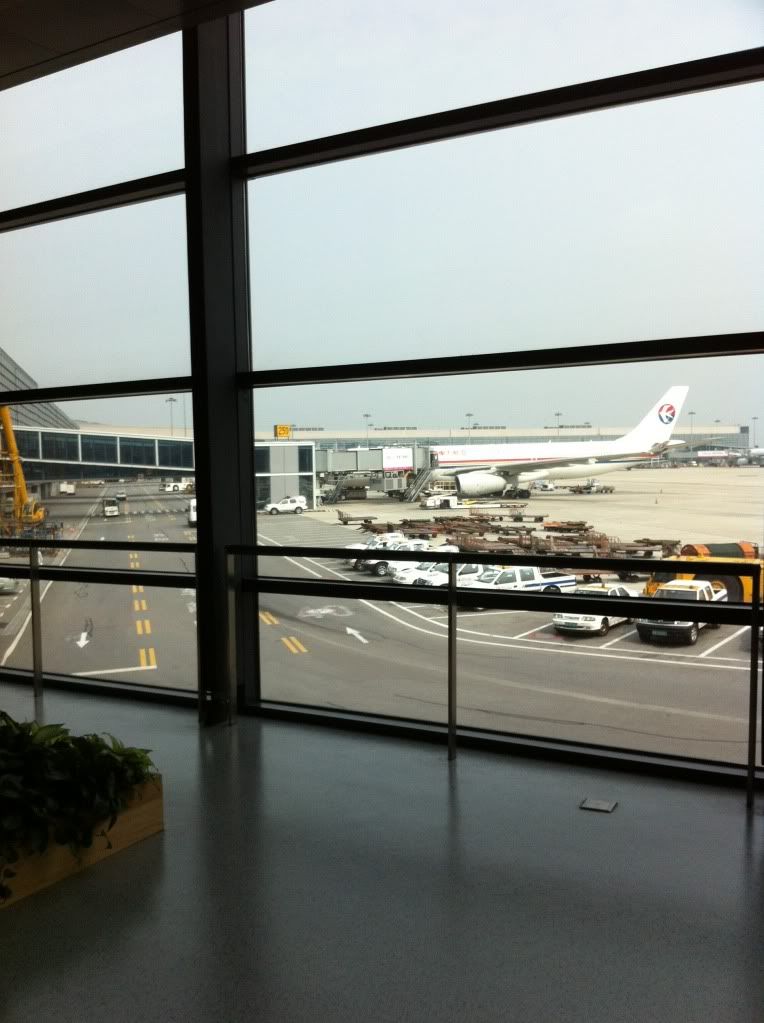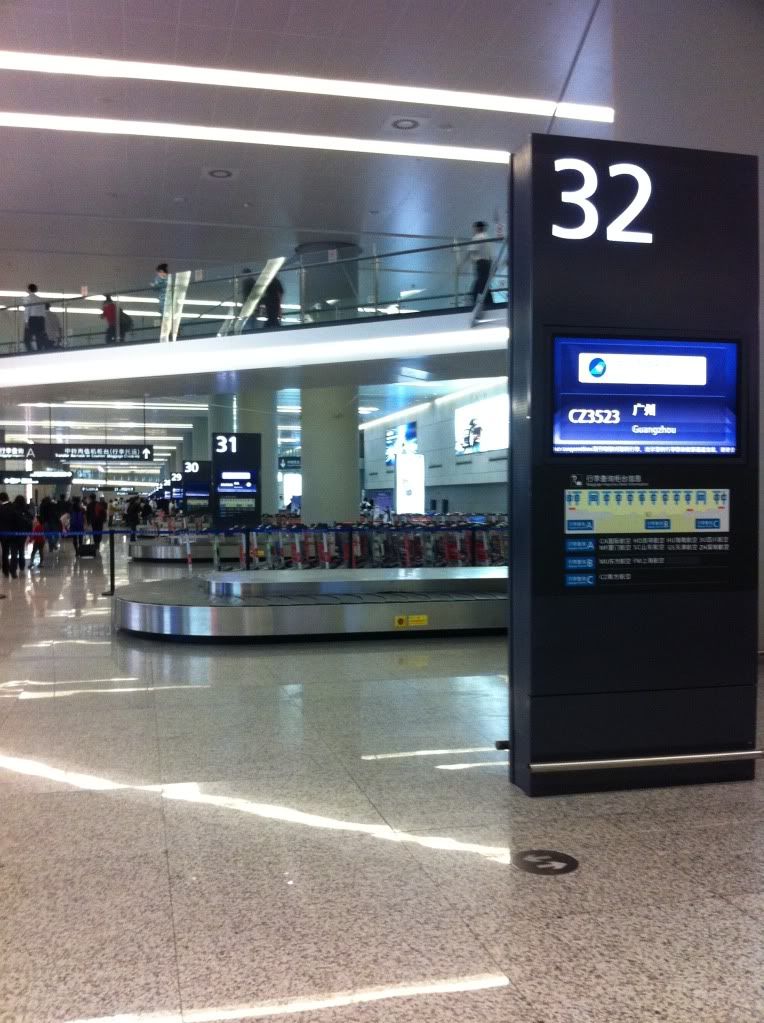 October 2012
CZ 3572
Airbus 380-841
Shanghai Pudong(PVG) – Guangzhou(CAN)
1920-2140
Taxi from the hotel to Shanghai Pudong terminal 2 took around 45 mins. Domestic check-in is at the L aisle. There were separate counters for premium passengers. A ground agent directed me to one of the counter, and the lady behind the counter was talking on a phone with someone with a ticket issue, so I have to wait for a few minutes. Once she finished with the issue over the phone, the friendly lady apologizes for the wait and checked me in. She handed me one of the seat map of the A380, explained that because it is an A380, boarding would commence one hour before departure, and she also handed me the lounge invitation card, saying that the Shanghai airlines lounge would be used today since it is closer to gate 75.
T2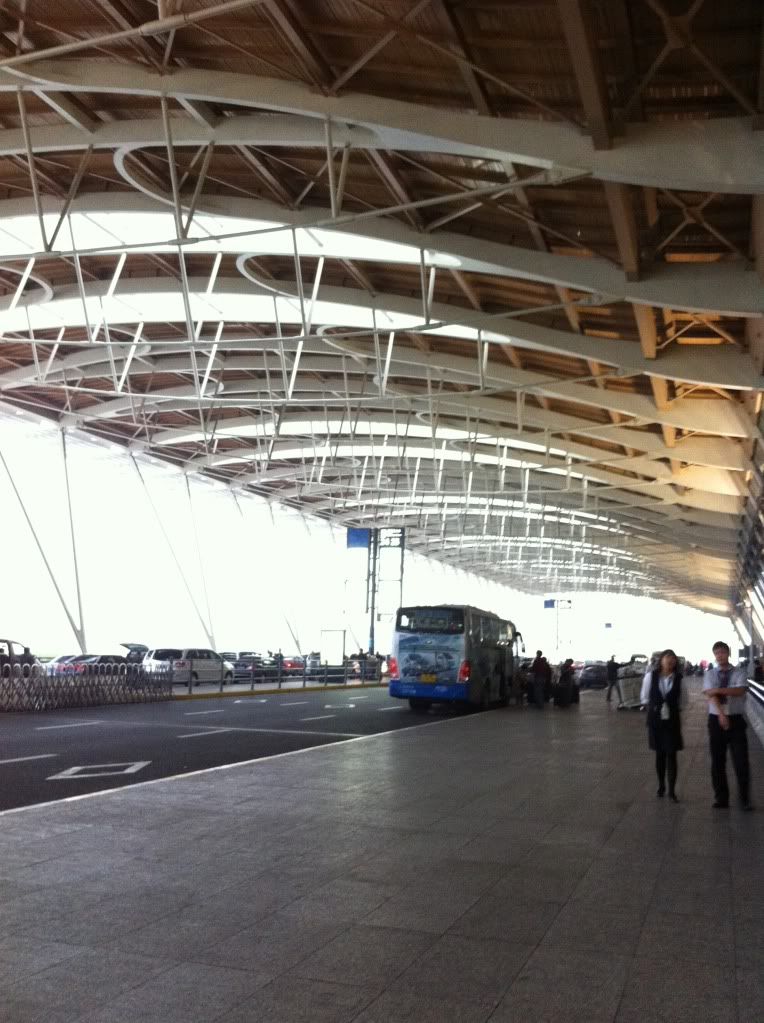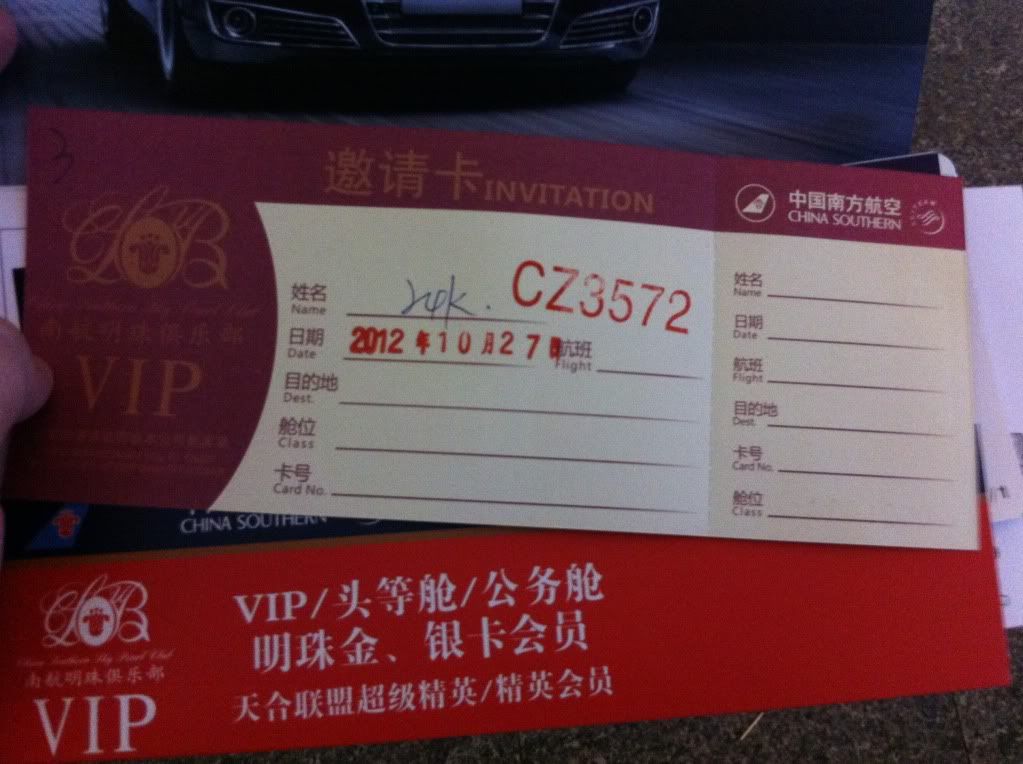 Passing through the No.73 First Class Lounge after security, I saw there was a view of my aircraft today from the lounge, so I decided to go inside using the Priority Pass. Lounge is small with a few selections of hot dishes.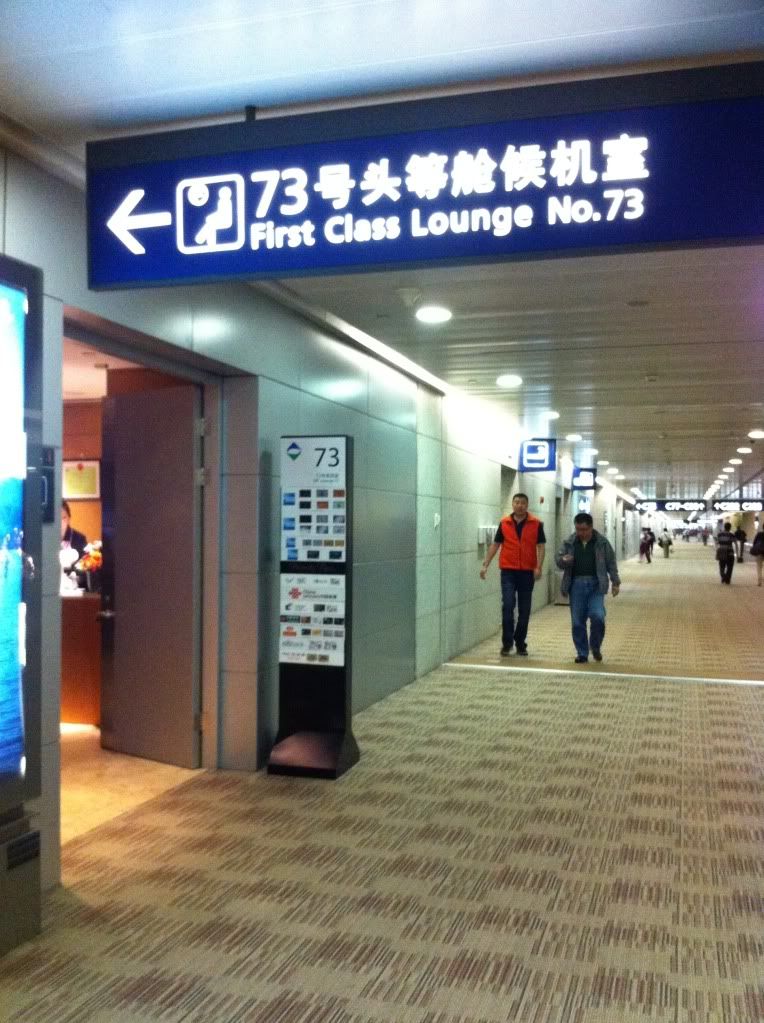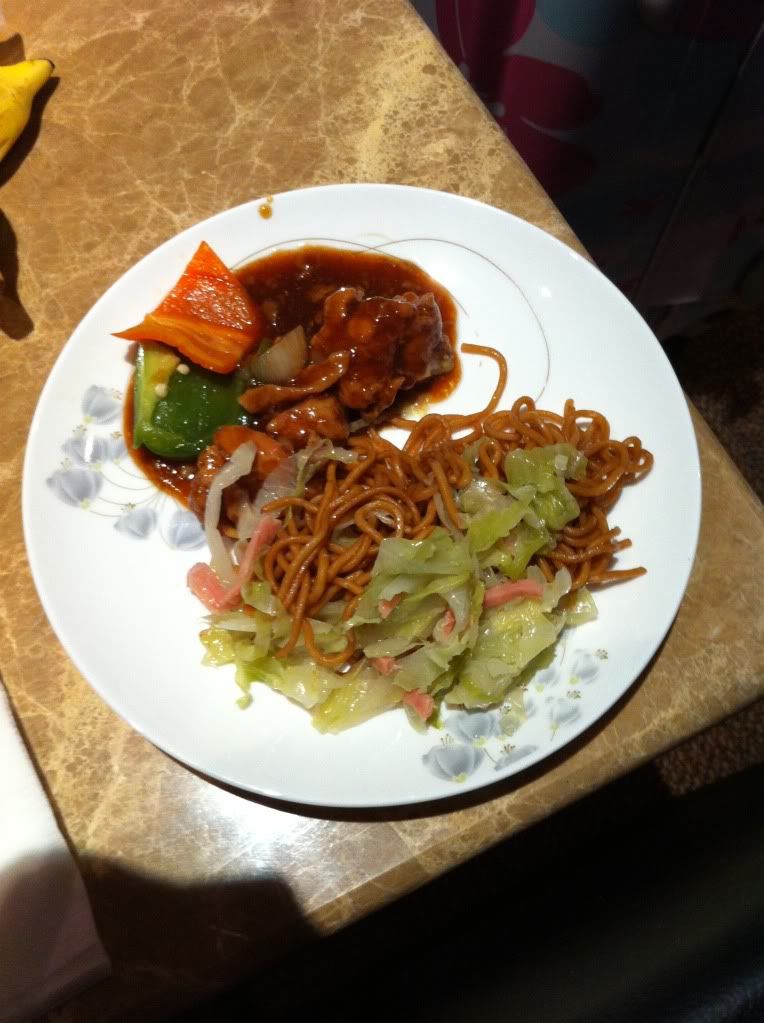 My plane today!
After a short stay, I decided to head to the Shanghai Airlines lounge. On my way there, got some more shot of the plane.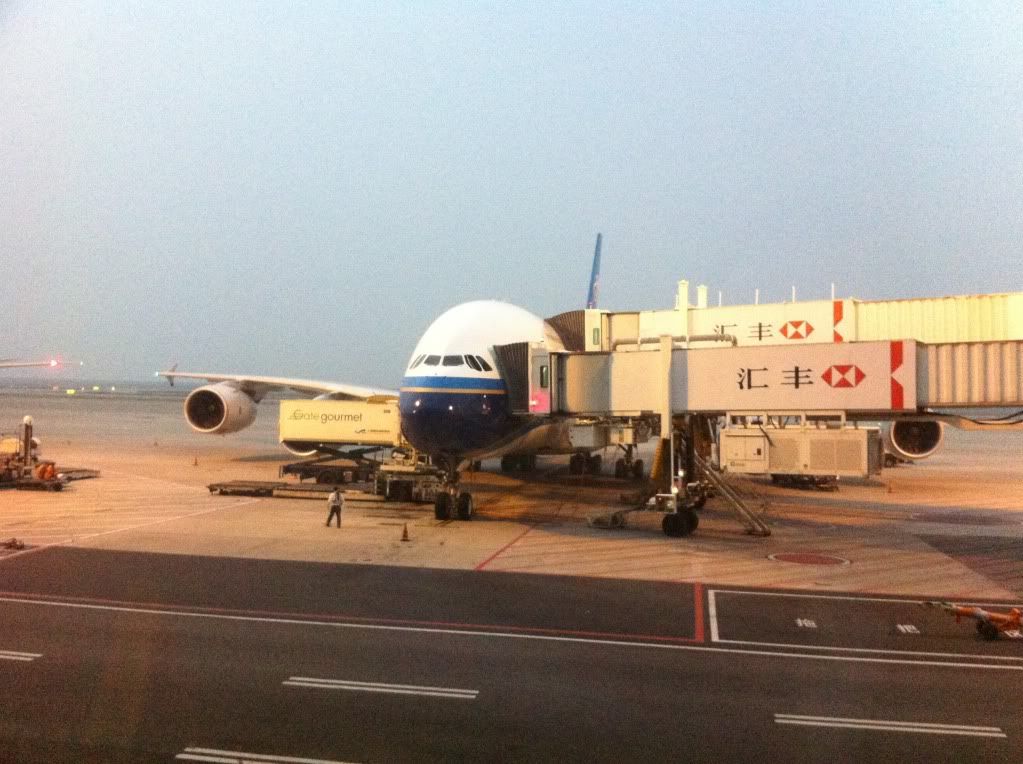 The lounge was pretty empty and basic, again with some hot food selections (mostly Chinese again). Viewing is to the other side of the terminal, gates for the smaller aircraft.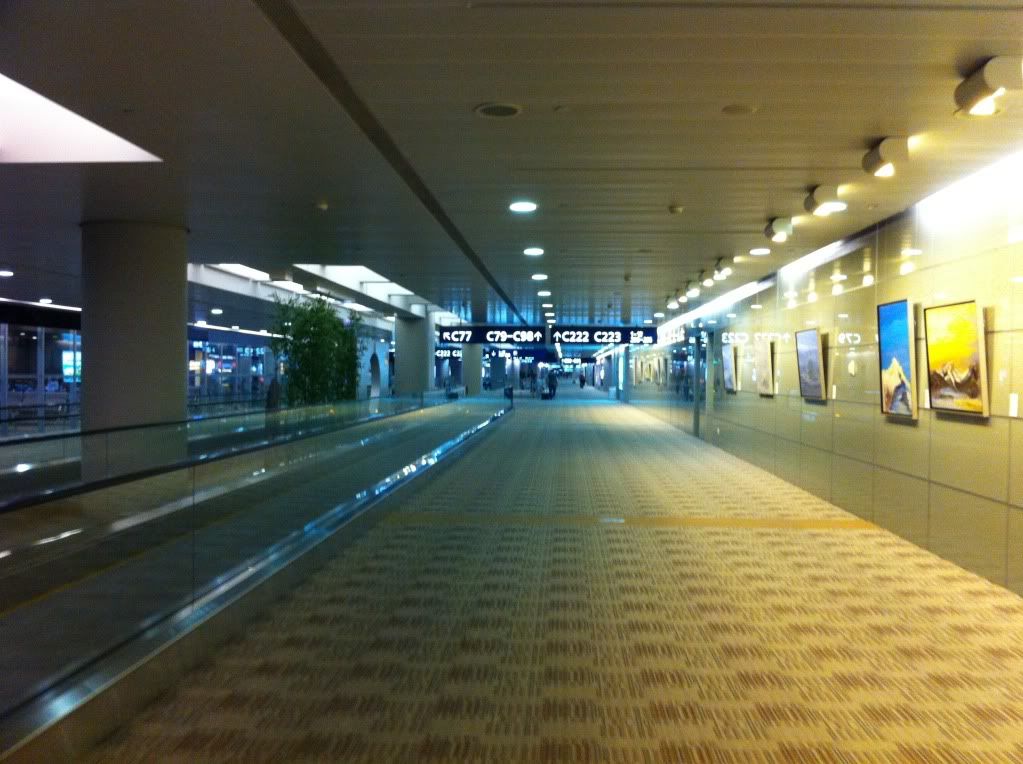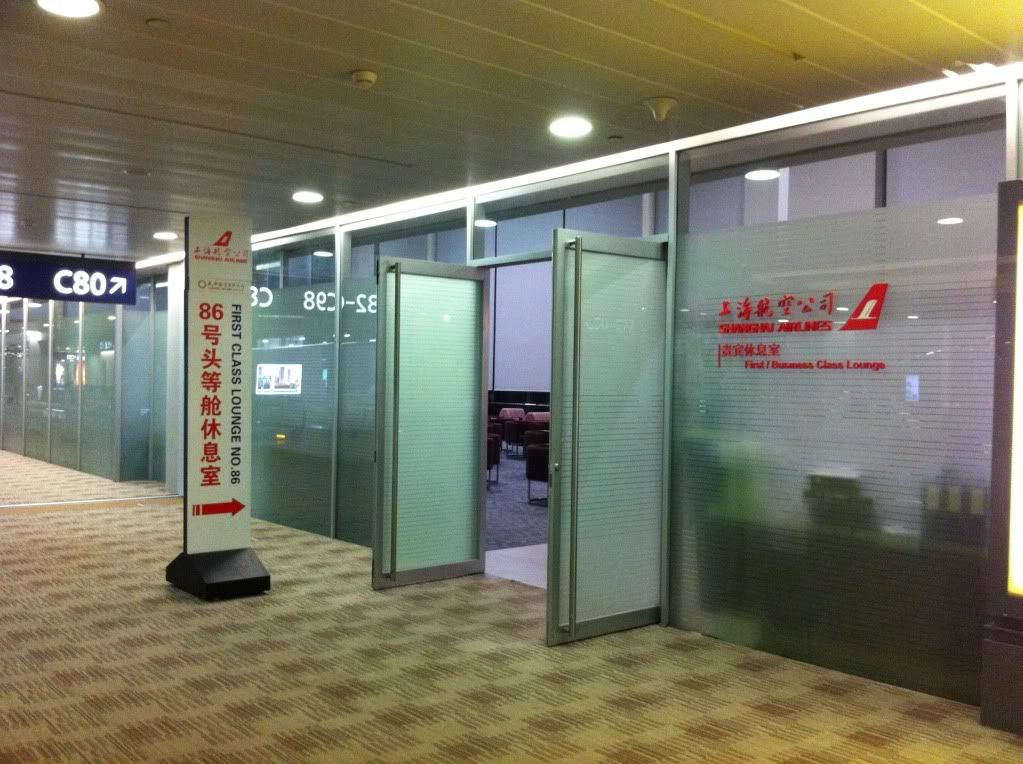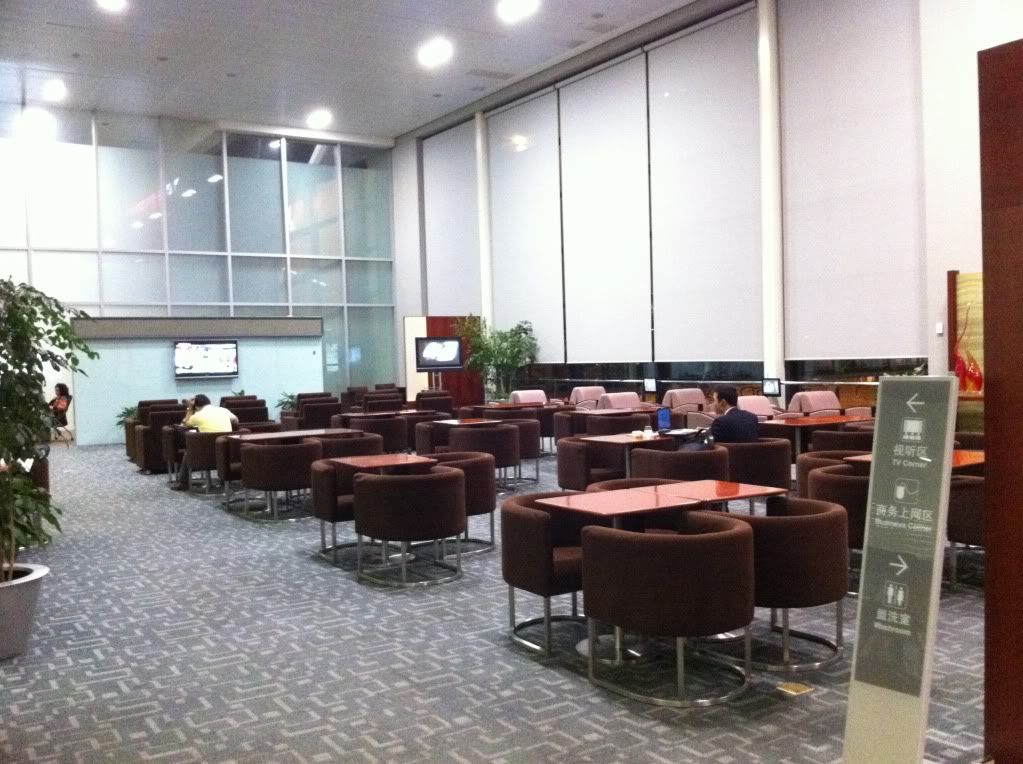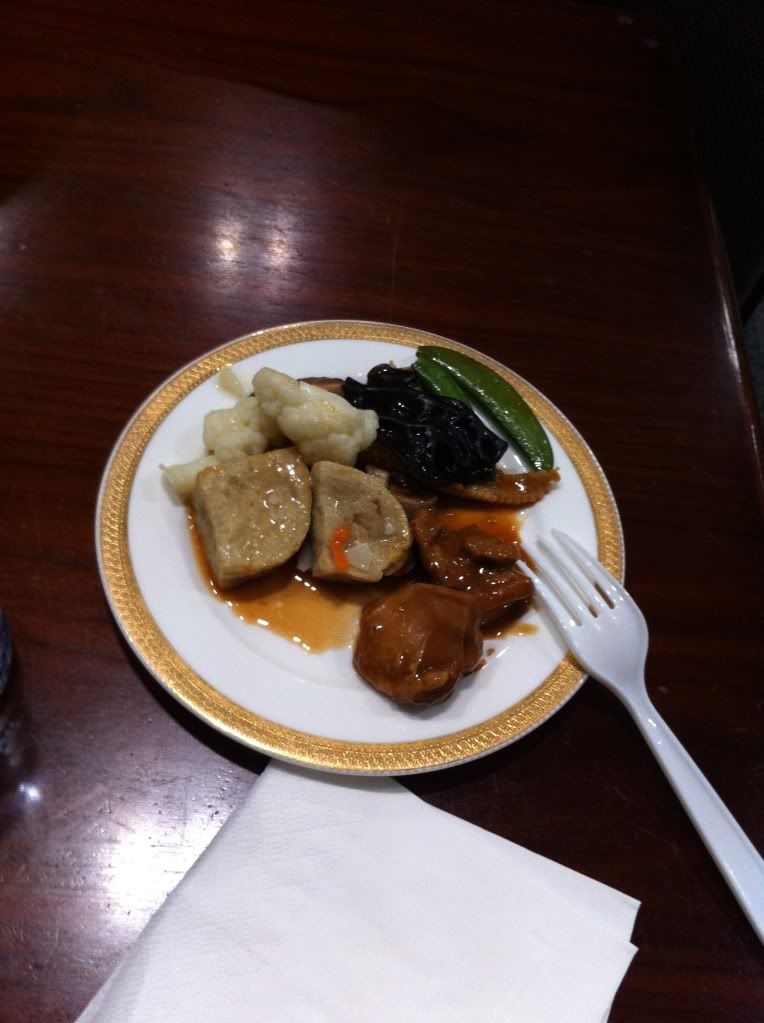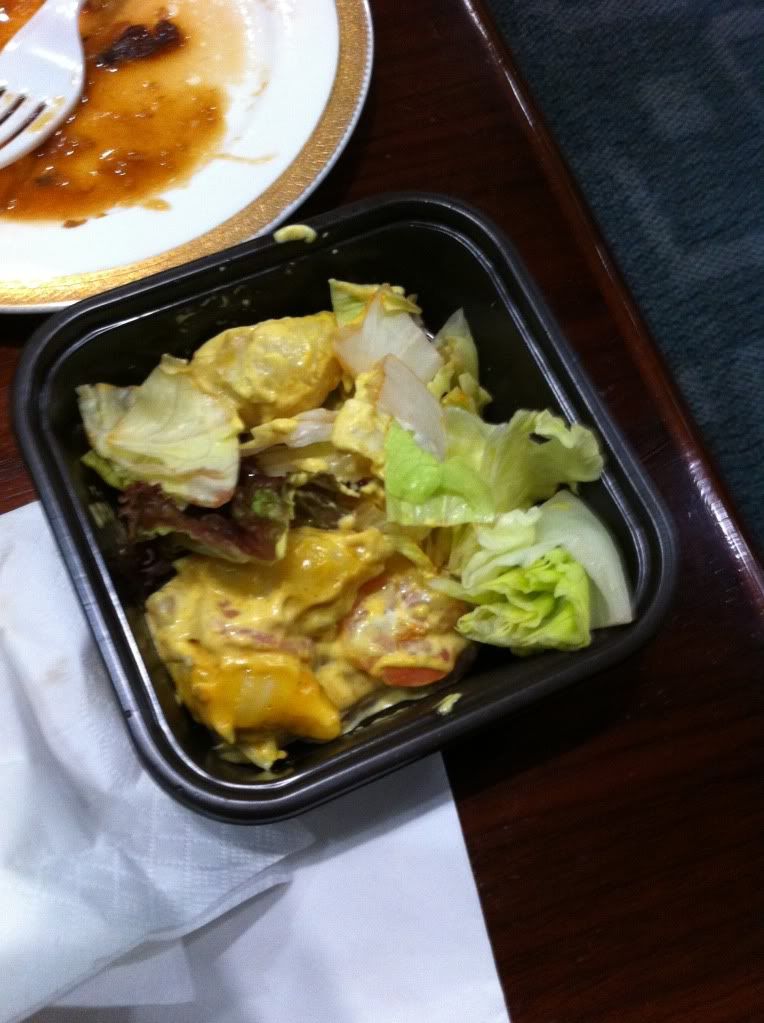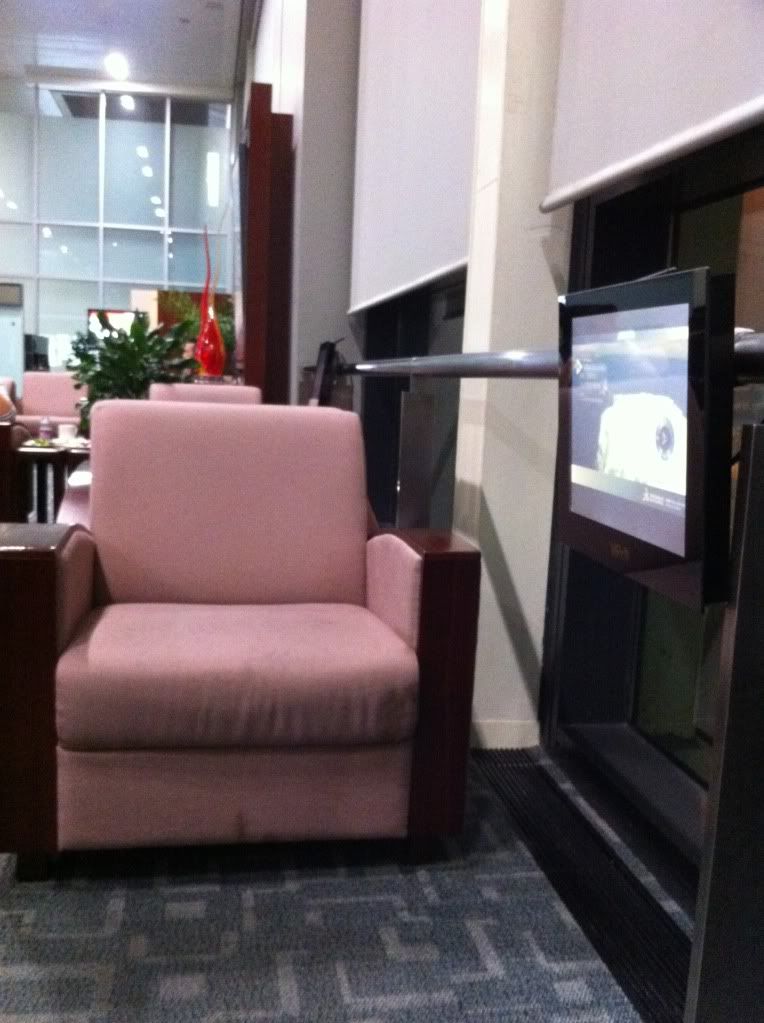 After a short stay, decided to head to the gate earlier, there was a quiet a crowd around the gate area, and some display of the seat maps around the gate area. Boarding was announced exactly one hour before departure time, and crowds started to build up. There is separate line for premium passengers, and again, there was a guy standing inside the jet way to instruct people which air bridges shall be used. It was a long walk inside the jet way building, probably two floors up to use the air bridge connecting to the upper deck.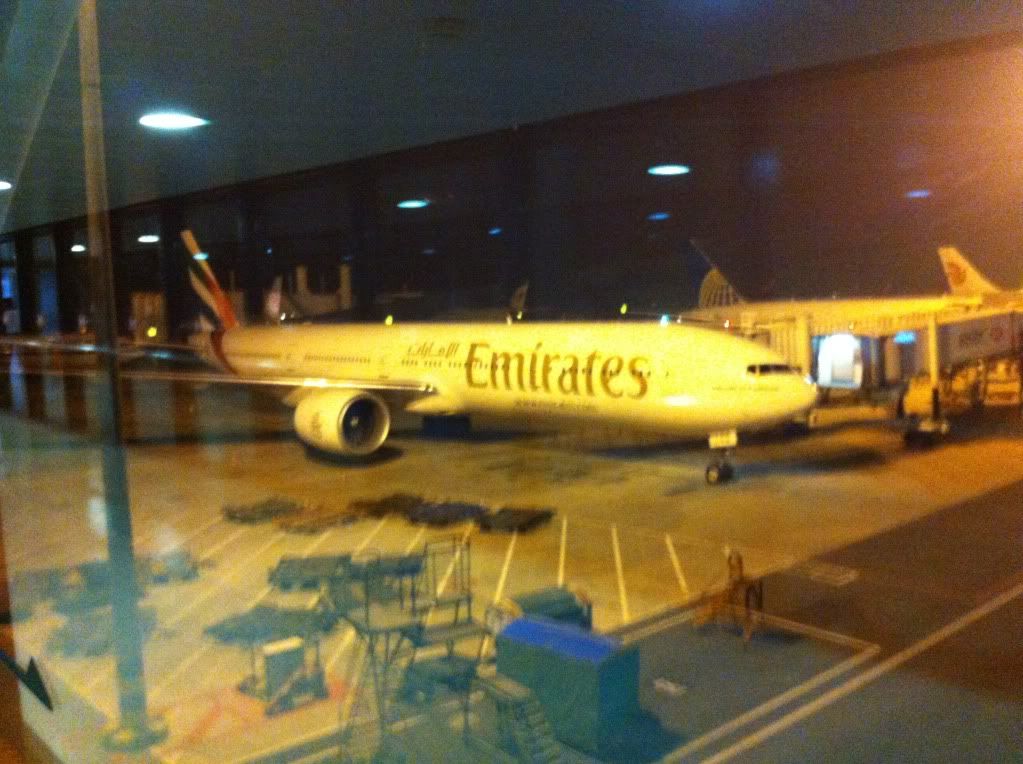 Once at the door, purser and FAs were greeting everyone, handed my BP to the one of them, the young lady pointed to my direction without a word or any expression on her face. She was also the one who served my aisle (24K) later. Throughout the whole flight, I did not see any smile from her, to me or to anyone else, and she kept her coolest looking face for the whole flight, without any eye contact or lack of any basic interactions to anyone.
The same FA handed out towels, and later came with a tray with welcome drinks. And with her coolest looking face, "WHAT do you want?"… Newspapers were handed by putting (or slapping) it down on the table beside your seat without asking. She really looks like a robot rather than a human being. Menu and a bottle of water were already placed at every seat. Orders were taken before pushback. During the boarding process, there were many people taking pictures of the cabin, some of them even asked the FA to take pictures at their seat. It made me feel better that I was not the only one who kept snapping pictures of the cabin. Load was very light tonight in J, probably less than 40%, there were many empty seats.
I really don't need that many sickness bags.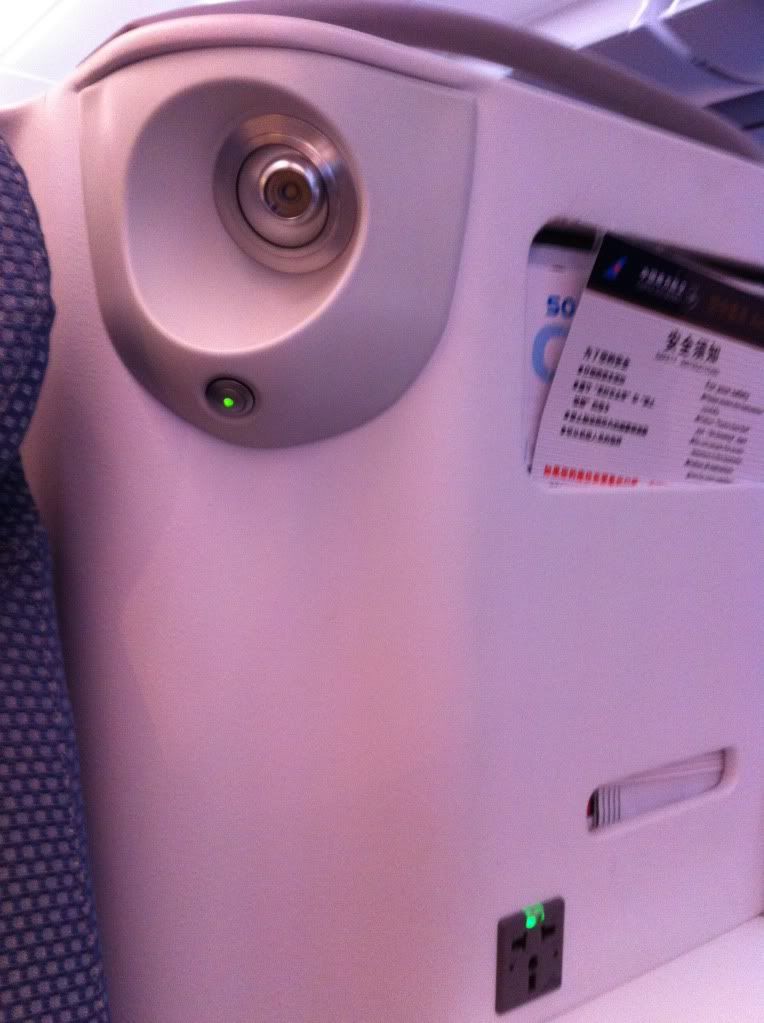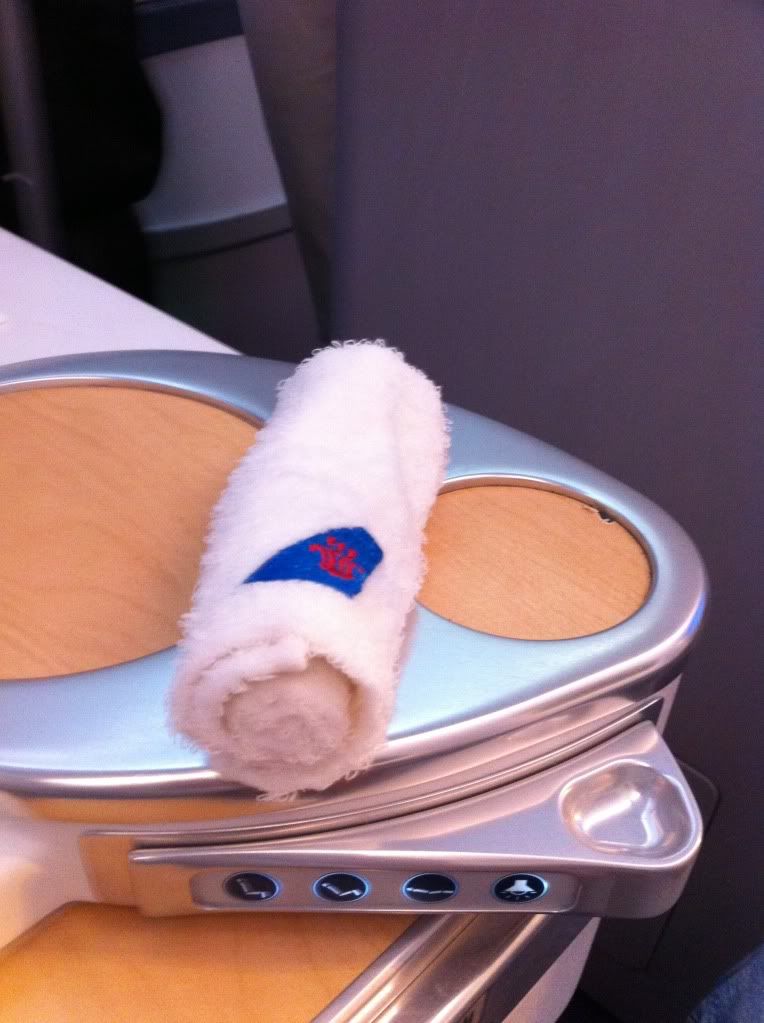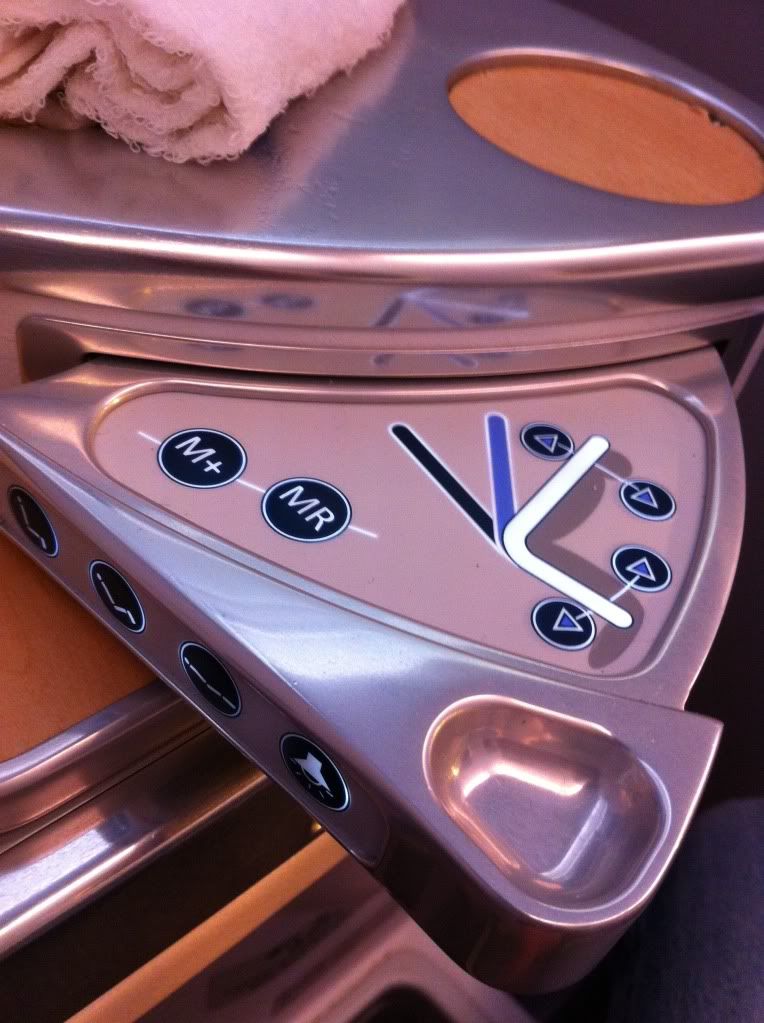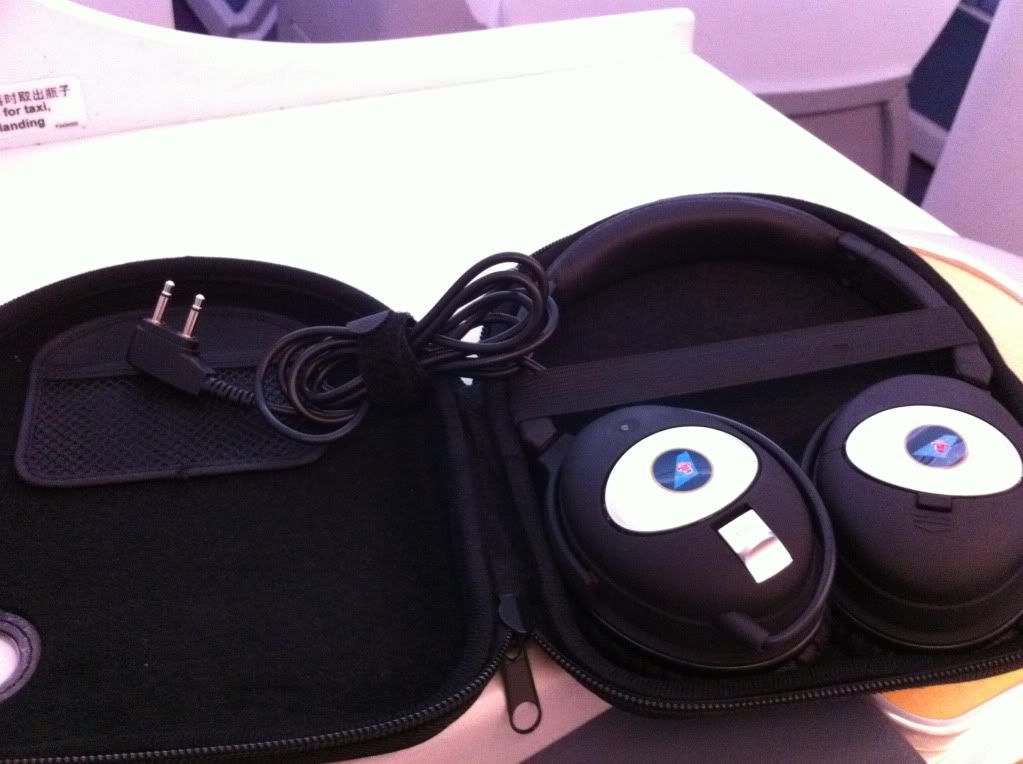 Slippers and shoe bags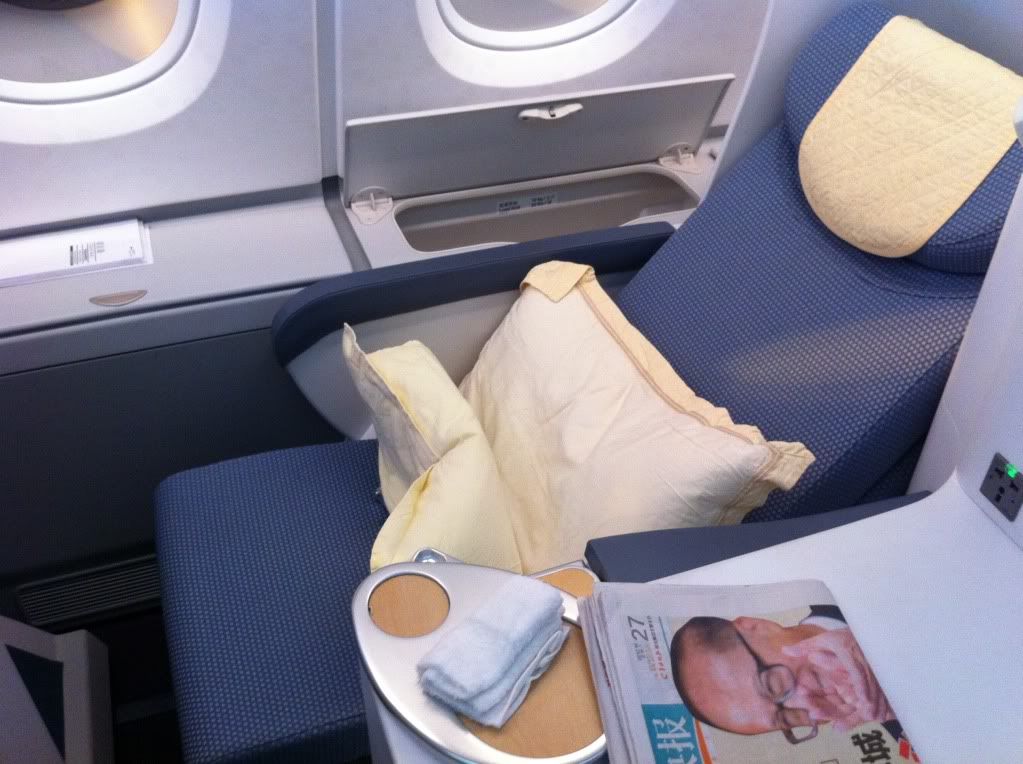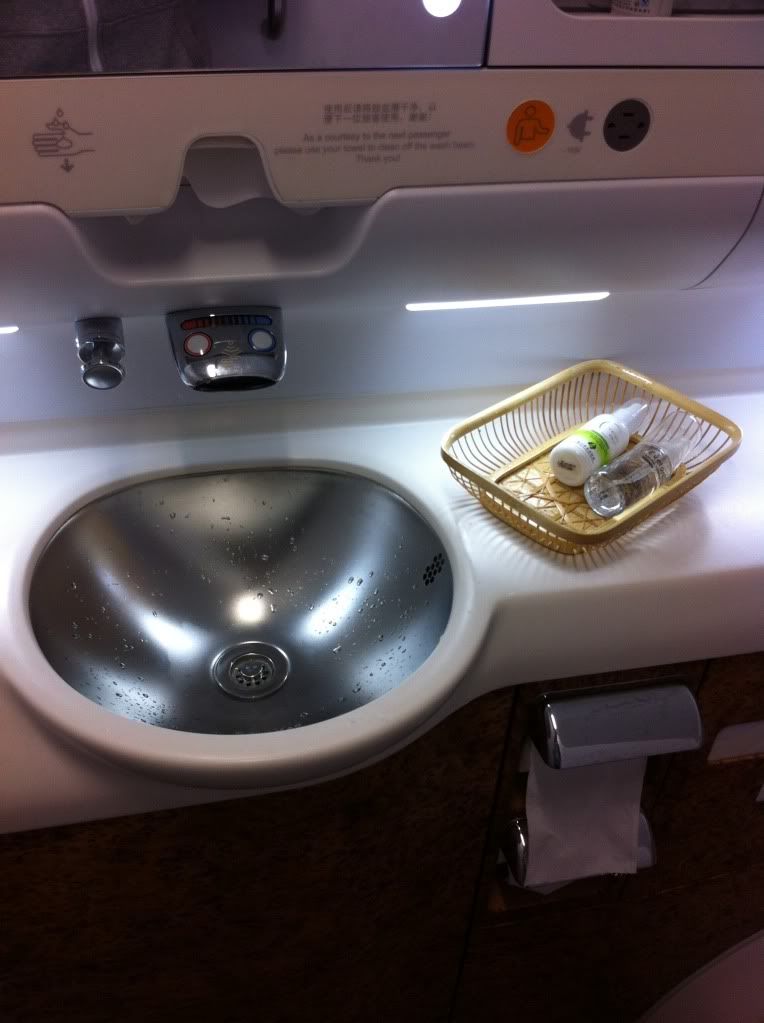 Toilet pic…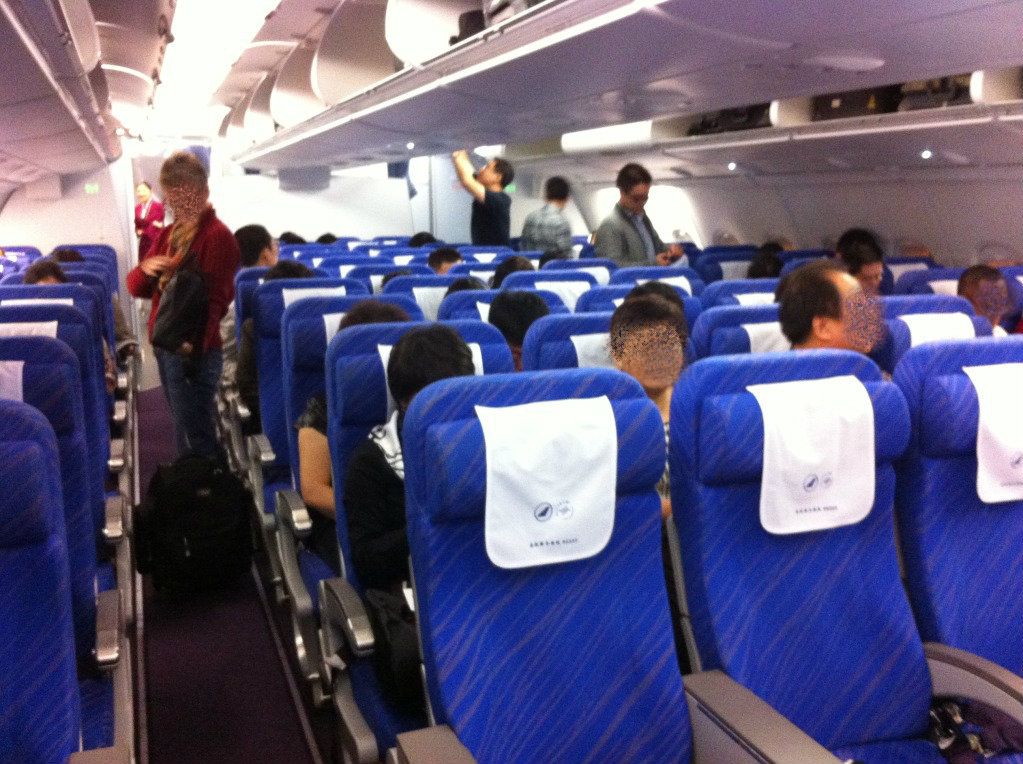 Upper deck economy cabin.
Push back was on time. However, after the aircraft left the gate, we were sitting at the same position for around 15 mins. You can hear that at one time, engines were shut down and got restarted. Upper deck on the A380 is really quiet even during cruise. Again, there was no announcement or any reason given by the crew.
Dinner service started while we reached cruise attitude, the same FA brought my meal with individual tray. Catering was much better than the outbound from Guangzhou, the meal was much more like restaurant quality.
I strongly suggested that they should use a smaller plate for the nuts.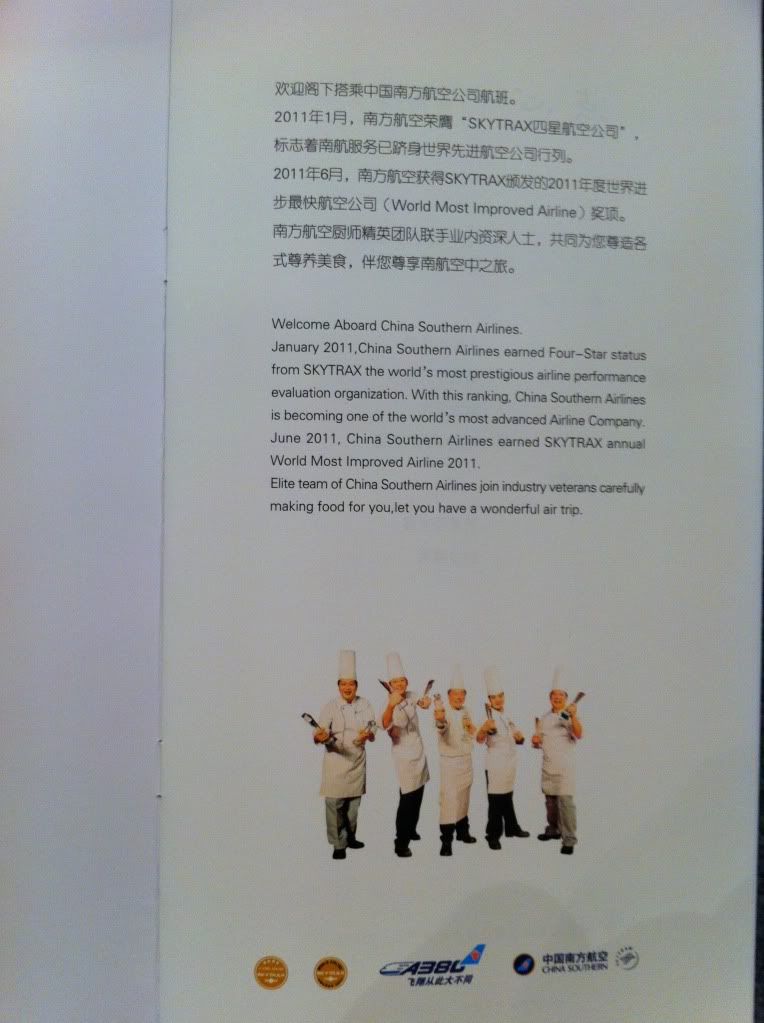 The menu is only for the A380 flight?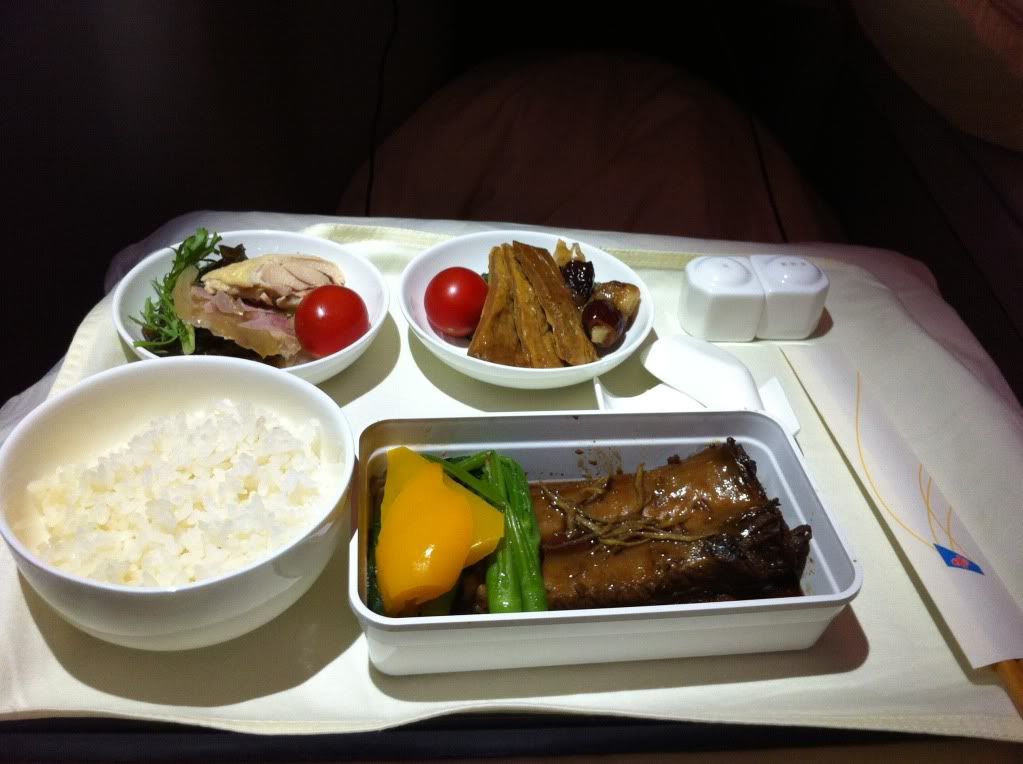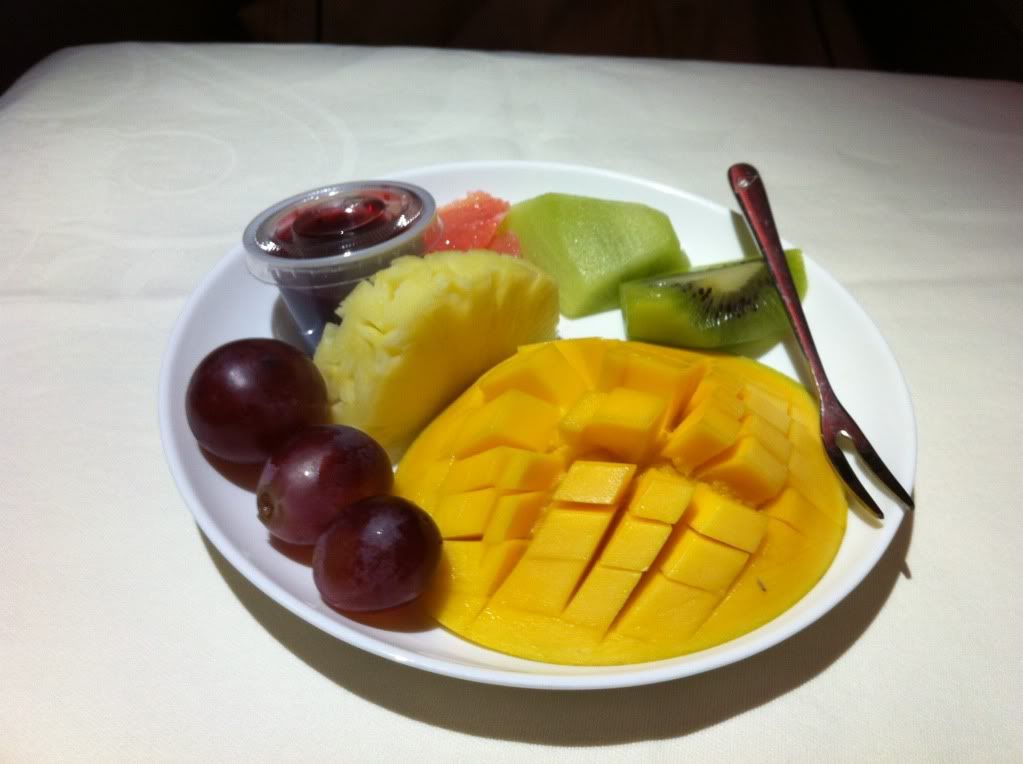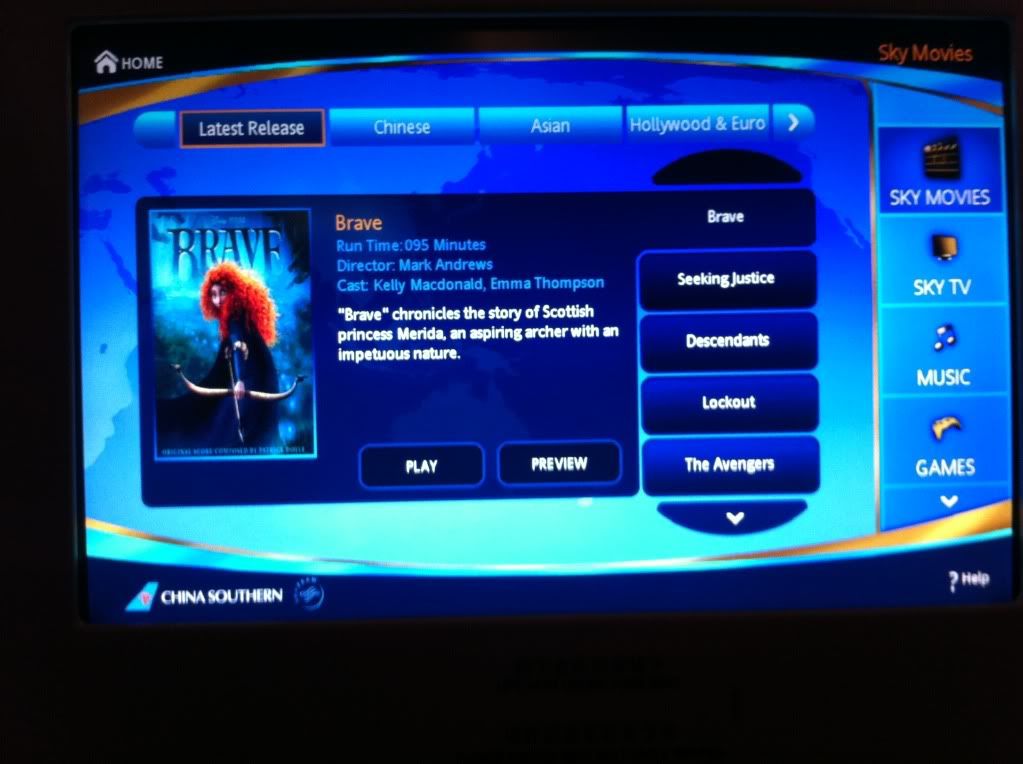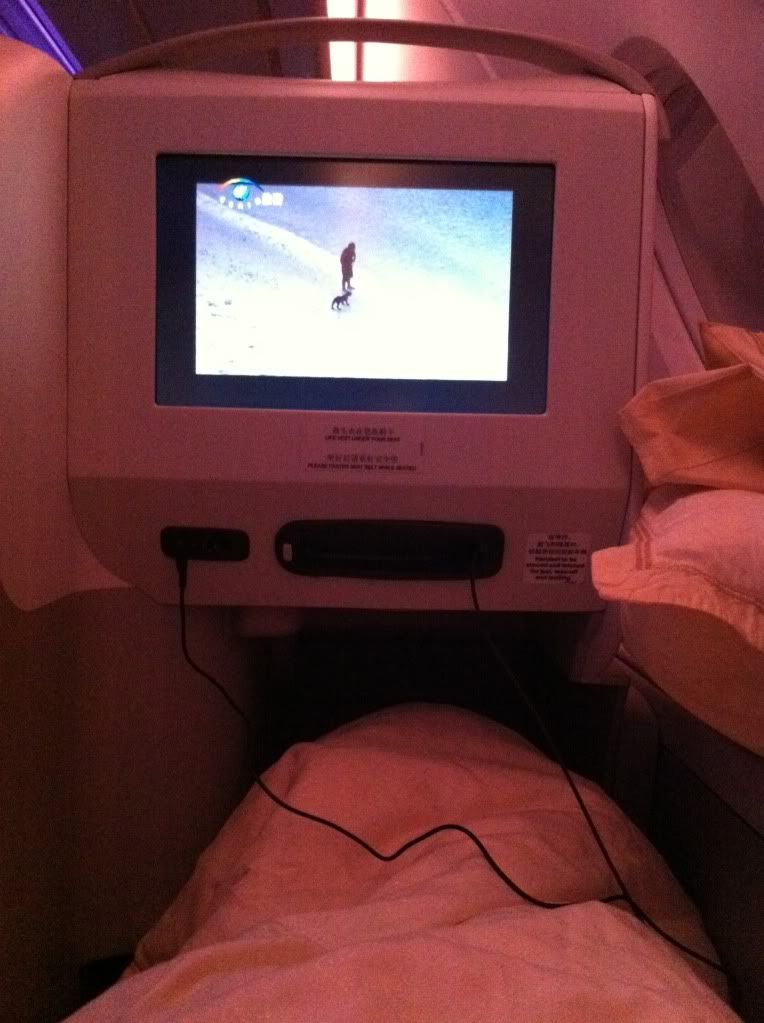 Announcement was made 30mins before landing. We were turning over Guangzhou CBD while on approach, with some landmarks below.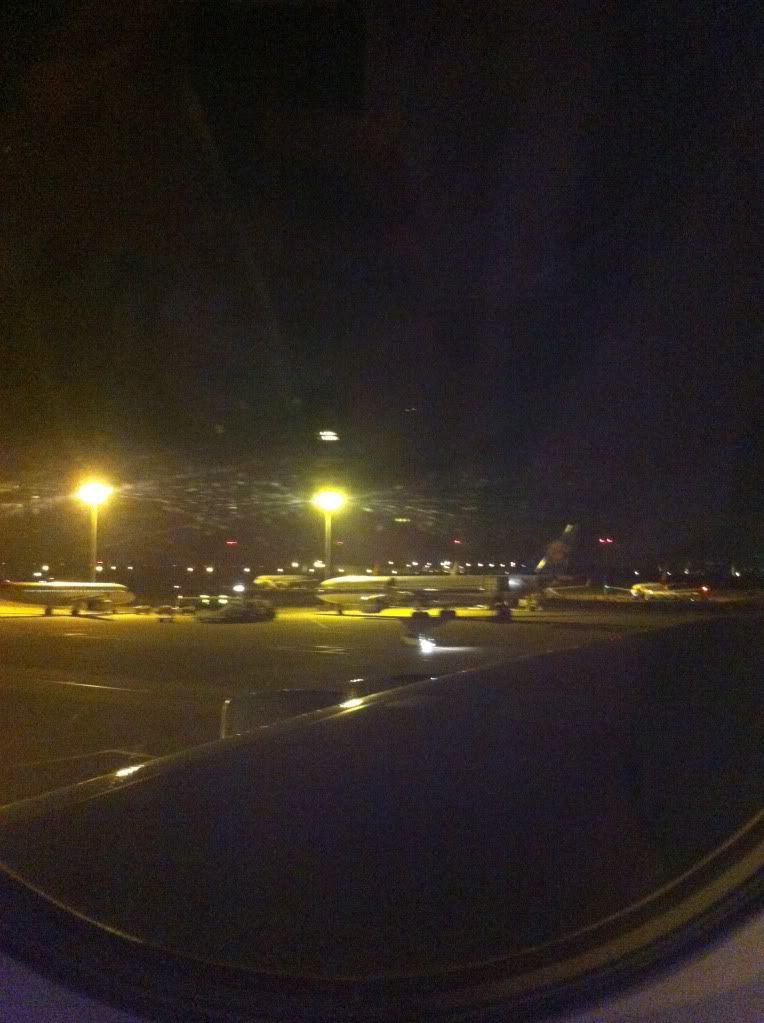 During taxi, there was a short document showing on every IFE promoting some of Guangzhou famous scenes. Volume was way too loud. Taxi was short and soon we were docking at a gate on one of the A side pier. Again, no one mentioned something about the delay.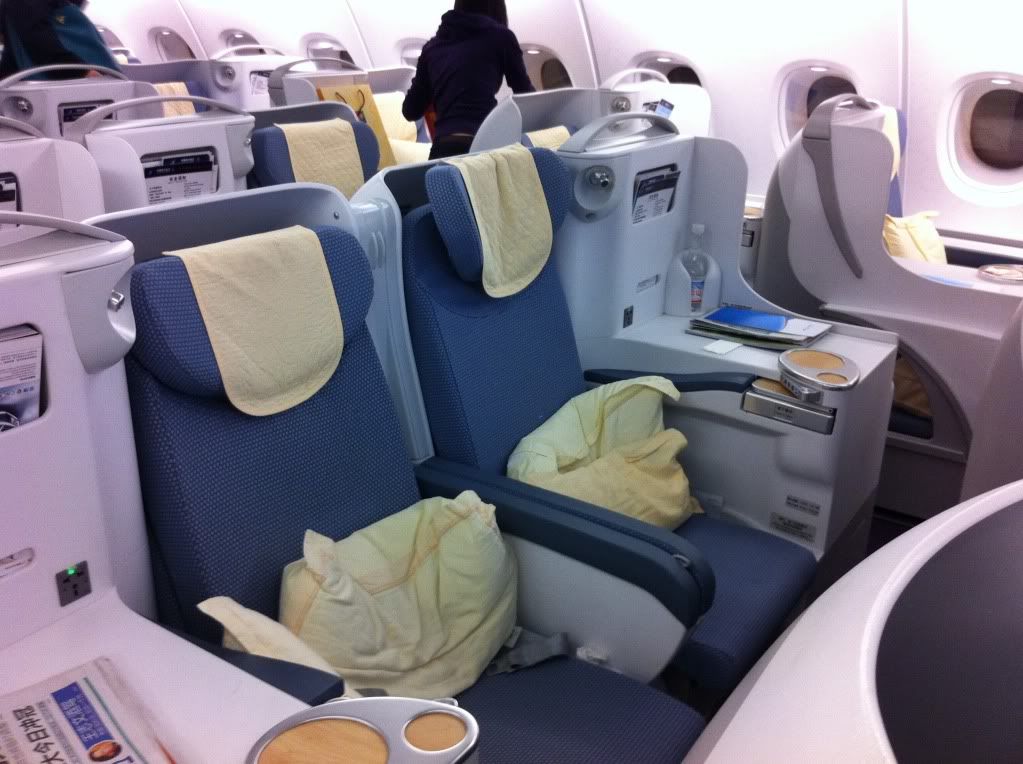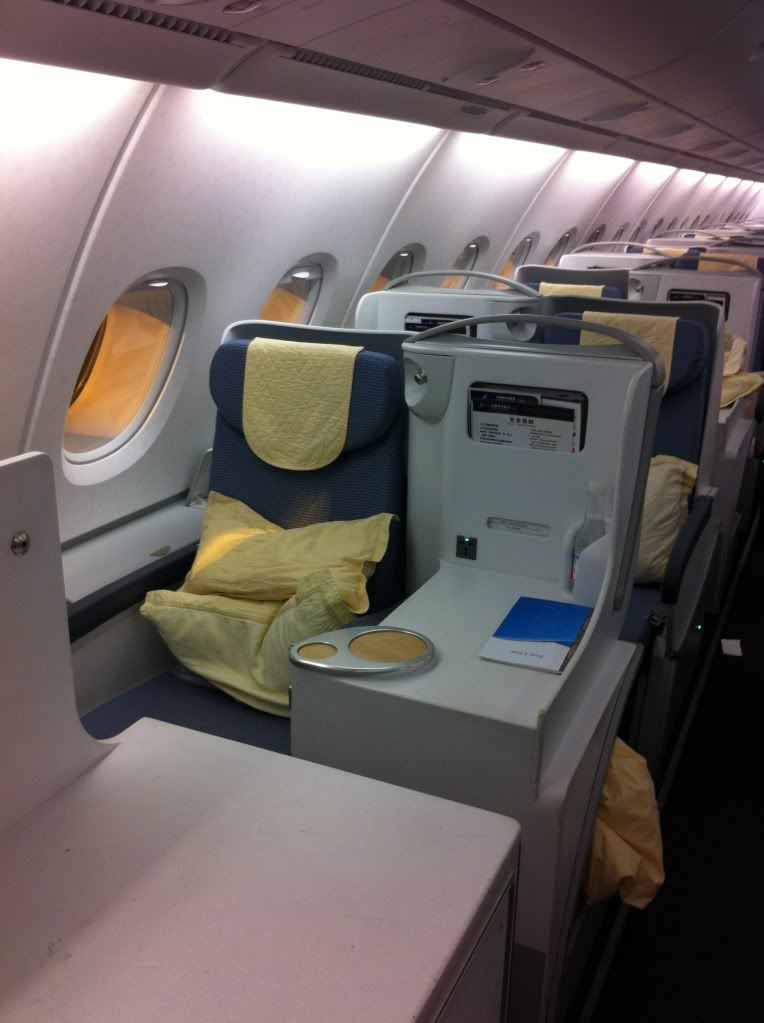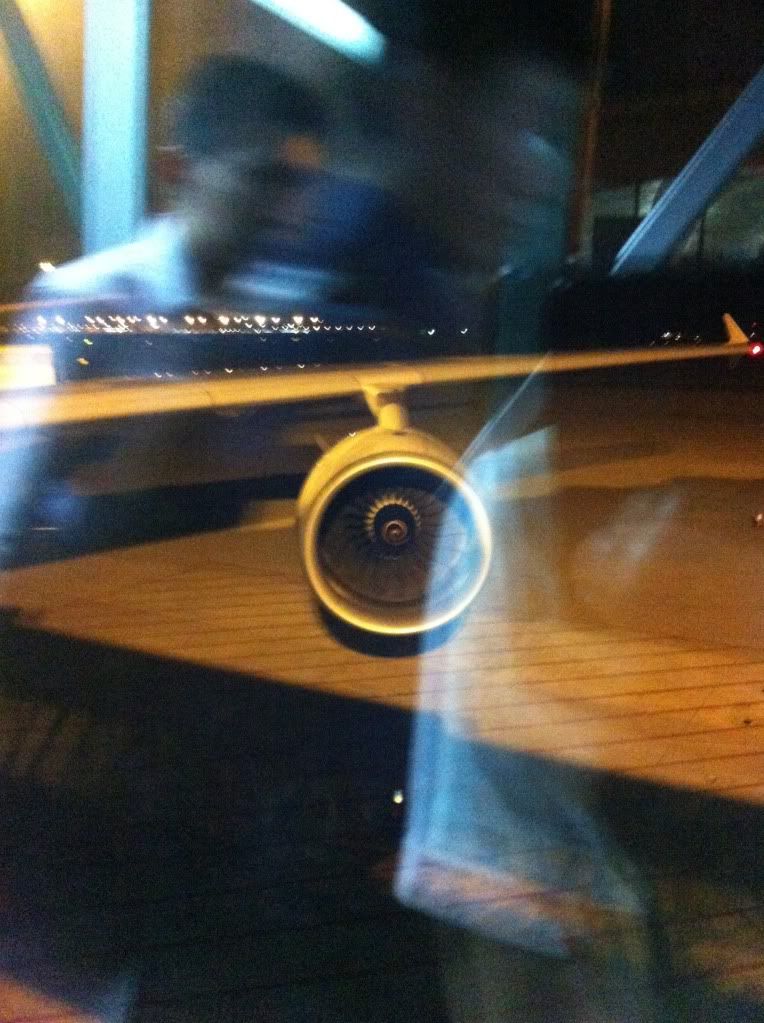 [Edited 2012-11-19 06:53:33]