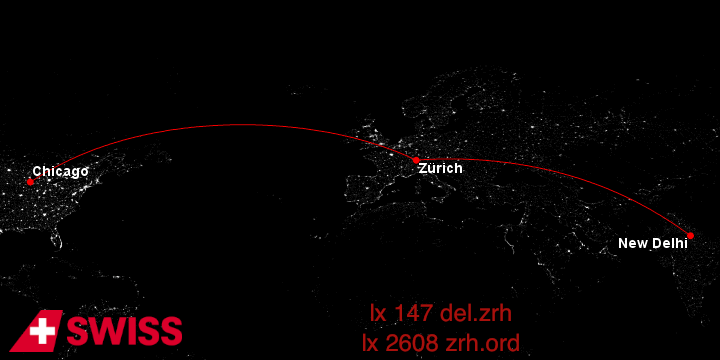 EDITOR'S NOTE:
This is the third and final installment of my visit to India and Thailand this past summer, highlighting my return journey back to Chicago on SWISS in longhaul Business class and Economy Class.
To view my first trip report documenting United (formerly Continental's) nonstop service from Chicago to Delhi (via Newark), click
here.
To read my second TR detailing Thai Airways and Bangkok Airways services in Thailand, click
here.
Background
As noted in my first trip report, my sister and I had booked a "nested" itinerary to Thailand from India, but we were scheduled to fly Star Alliance between the US and India. On the outbound journey, we flew United nonstop from Newark to Delhi. On the return sector, she was headed back to New York, and myself to Chicago, so we opted to take SWISS from Delhi to each of these cities via Zurich. We would separate at ZRH and fly into O'Hare and JFK, respectively.
At this juncture, we had just disembarked from TG flight 315 from BKK, arriving just close to 21:00 local Delhi time.
Delhi airport was in its usual state at the pre-morning hours before the European and USA nonstop departures. Lots of interesting spotting opportunities abounded, heading to destinations across Asia, Europe, Africa, North America and the Middle East.
Pre-departure
We had to clear immigration at DEL, re-claim luggage and re-check our bags to our final destinations, since we were on separate reservations ex-Thailand and onward to the USA. Our TG flight landed in Delhi around 8:42 PM local time, and we were cleared of formalities around 10:10 PM thereafter exiting in the arrivals area on the lower level.
After showing our onward travel documents to the non-English speaking man guarding the elevators back up to the Departures level (which took approximately 5 mins to scan through 2 printed pages between both my sister and I) we were permitted to take the lift up, but were subsequently "held" in the waiting zone before being granted access to proceed to the check-in counters. The "hold" zone is literally encompassed by see-through glass walls designed to minimize congestion in the MASSIVE check-In hall at T3. The utter usefulness of this quarantining is questionable at best.
The uniformed airport personnel at Delhi IGI continue to make me cringe; I think the place is run by a bunch of monkeys. At any given point, whether you're trying to re-enter the Departures level, pass through security screening, move through immigration, or even try and exchange your foreign currency, you're likely to come across an airport employee displaying minimal intelligence. People are arbitrarily stopped and told to wait in places without further instruction nor explanation. There is never any consistency when it comes to moving passenger flows.
Back to the situation at hand, the hair-brain manning the exit, for some reason, did not think that 2.5 hours before the LX 147 Departure to Zurich was soon enough for us to make it over to the counter. The sadness/irony of the whole situation was that you could see the LX counters directly from the HOLD area, and there were several marked counters, fully-staffed, with a small-sized queue of passengers lining up to be checked in.
Fortunately for me, I know how to handle these obnoxious situations in India: all it takes is moving to someone else and ignoring the lead of one "staff" individual. Particularly a non-uniformed personnel with a walkie talkie. Problem solved in seconds.
You'd think that with this complete lack of transparency, I'd be moving through a system designed entirely by United Airlines.
The ground staff at the LX check-in counters were phenomenal people. I made sure to send a thank-you e-mail note to them after my journey concluded. They were the one bright spot in an otherwise poor airport experience from an HR perspective.
Seat selection was unfortunately not available online (as we booked through Orbitz). This was handled by calling the regional sales office in Chicago, and I was able to secure window seats for both the Princess and myself for both segments. These were re-confirmed upon check-in at the gate, and we headed towards immigration and security.
I'll spare you separate rants about the awful/inefficient security screening situation at DEL. Painful memories not worth recalling.
Here are the FIDs for the evening: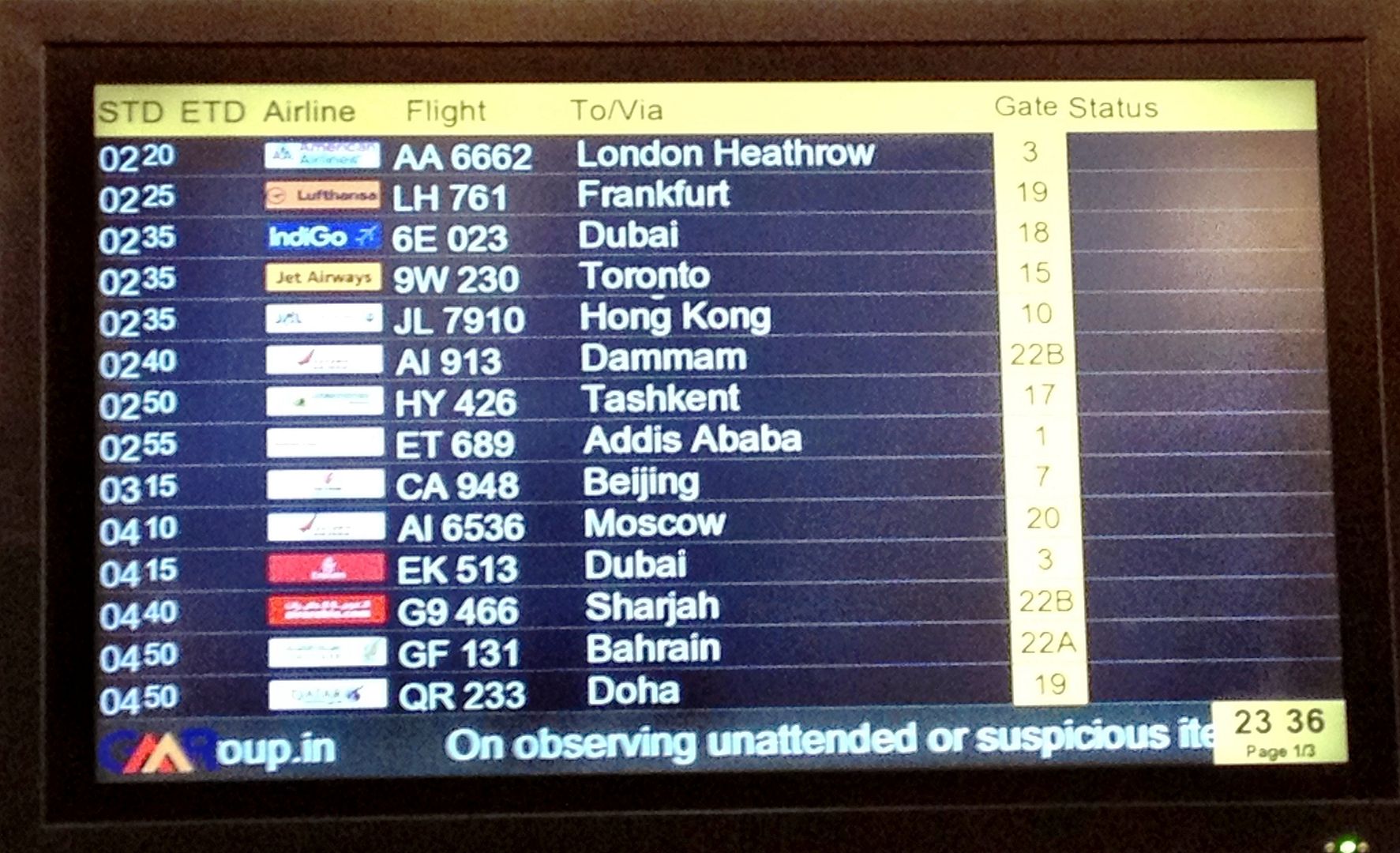 Once airside, we snacked on some Dominoes Pizza (after 10 days of eating nothing but curry, we were ready to re-adjust to our western stomachs). The hours were slowly trickling down before we'd finally be back home in our respective US cities. At this juncture, we were killing time. We moved to the gate space to chit-chat and reflect on our trip thus far.
KQ has recently started nonstop services to DEL, as part of an African "push" recently by both it and ET. Note the KL MD-11 in the background. I was originally supposed to fly on that plane, but the Princess mandated that I accompany her during all segments if possible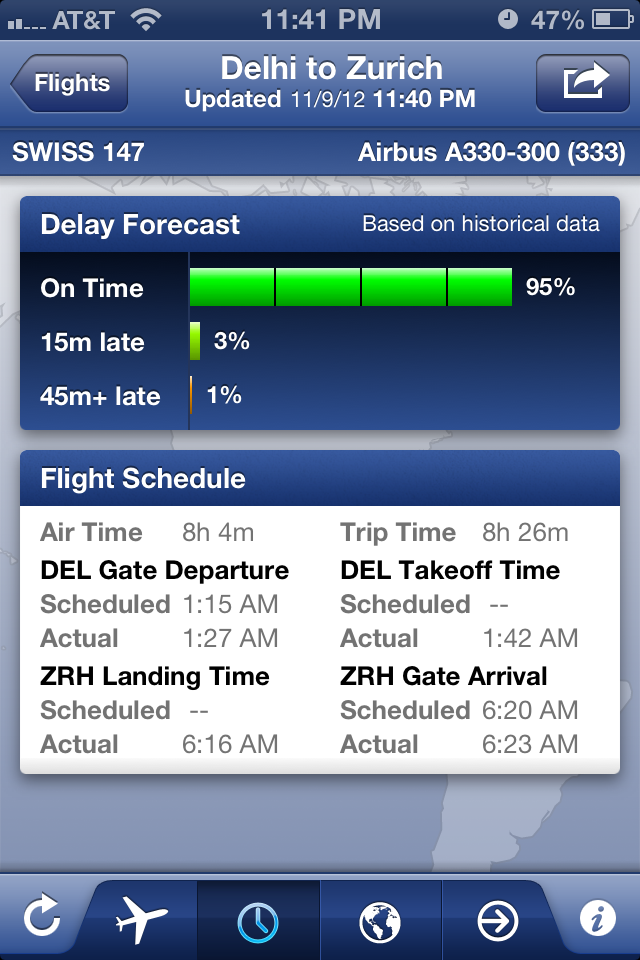 One thing that Delhi airport has managed to retain despite the terminal "upgrades" from the old T2 to the new T3 is the adrenaline "rush" surrounding boarding the long-haul flights.