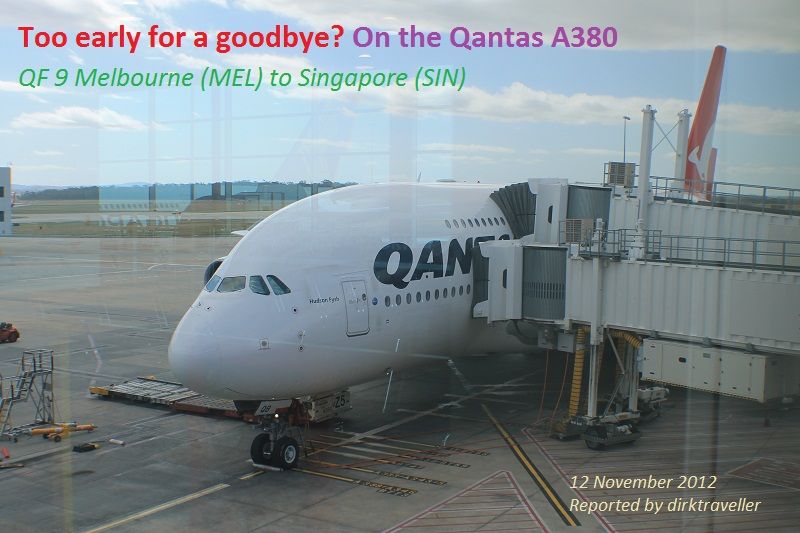 Dear readers,
As the end of year holiday season is coming soon, I decided to spend it home. While there are several options of getting
home, announcement of the recently announced Qantas and Emirates partnership reached my email.
The partnership means QF will be re-routing its 'Kangaroo Route' flights into Dubai, and Singapore will no longer serve as
the stopover point. The partnership is expected to commence in March 2013, will see the MEL-SIN route served by daily 744, with the superjumbo being pulled out of the city-state.
----
Background
----
As I have no further plan to fly the SIN-MEL route until early 2013, I am certain that the Qantas A380 will be my ride home. While it may be too early to say goodbye, this might be my first and last chance to fly on board the QF A380.
My journey began with a tram ride to Southern Cross Station, where the shuttle bus will take me on a 20-minutes ride to Melbourne Airport.
----
Check-in
----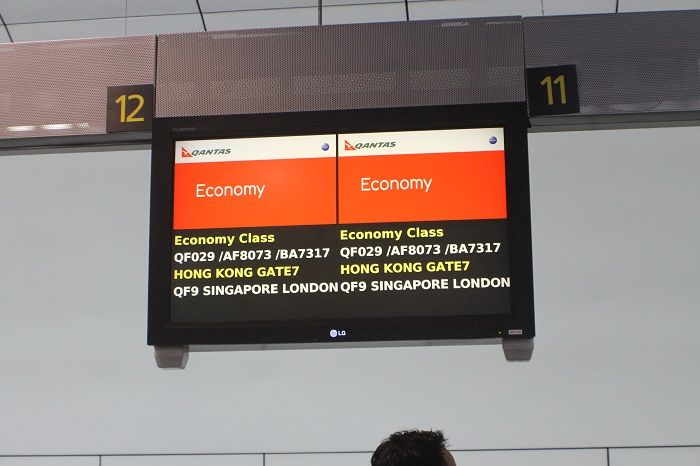 Economy Class check-in desk for my QF 9 flight
I reached Melbourne Airport T2 around 2.5 hours prior to departure time. The Qantas Check-in desks were serving both Singapore and Hong Kong departures, resulting in long queues forming for desks serving economy section. The staff serving my desk was friendly and efficient, and check-in process were completed in just 10 minutes.
After check-in and a security screening, it was time for passport control. As expected, a snaking queue formed in the immigration area, with only less than half of the immigration counters were available. It took more than an hour to get my passport stamped. Melbourne Airport seriously need to learn from some other airports to improve their efficiency. It is just inappropriate to have this situation continues with the increase of tourists into Australia.
CX A333 ready for departure to HKG
Coffee, boarding pass, passport and its background of CX A333
My boarding pass to SIN
With one more hour to kill, I decided to pay a visit to the coffee shop with the good view into the airside, the Hudsons. I stayed for around 45 minutes watching a CX A333 flight departing for HKG.
----
Boarding
----
(Flight Details)
Flight Number : Qantas Airways 9
Type of Aircraft: Airbus A380-842
Registration : VH-OQB (msn 15, del. 25/06/2008)
ETD/ETA : 1640/2125
Seat Number : 57C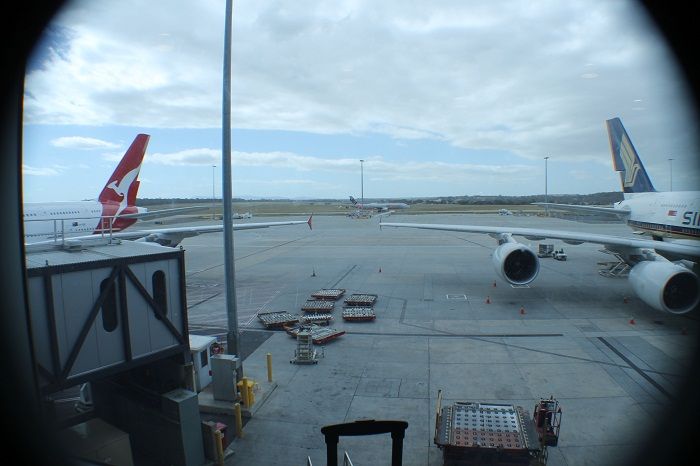 SQ and QF superjumbos will race to Singapore, who will win?
The SIN-bound SQ flight was operated by 9V-SKB, the first A380 I've flown
On the assigned gate 11A, there were two flights waiting for departure, which consists of my QF flight and an SQ flight, both departing for Singapore. Boarding call were made just on-time at 1605, and passengers started to board the superjumbo.
Our aircraft today, VH-OQB, named "Hudson Fysh"
There were three lanes used for boarding. One for Business & Premium Economy (in upper deck), one for first class, and another one for Economy.
The Economy class seats on QF A380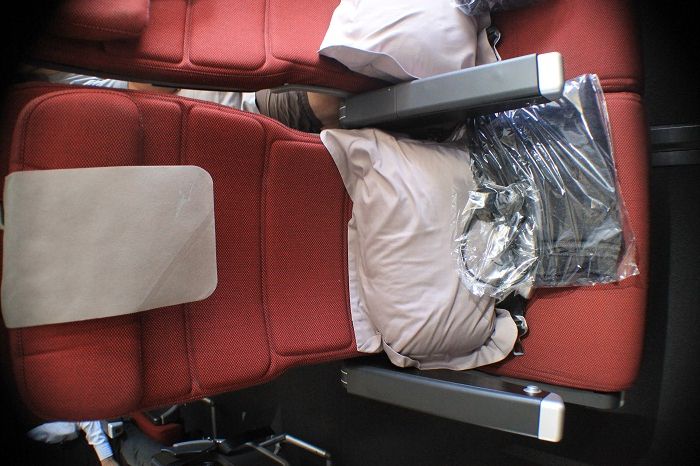 My seat with pillow, blanket, and headsets ready.
Within the next 45 minutes, passengers filled the superjumbo that is bound for both SIN and LHR. There was an Australian businessman sitting on 57A, while the middle seat was empty on this left side of the A380.
"Welcome" from the Q In-flight Entertainment system.
Decent legroom for Economy class
Pillow and Blanket for the 7 hours 30 minutes flight.
After boarding process was completed, the plane were on a standstill for another 30 minutes. This made me and other passengers puzzled why are the plane did not started its push-back process yet.
Later on, the Captain announced on the PA that they apparently sent the wrong flight plan and they had to wait for another one to be sent from the QF operations centre. Despite my disappointment over the delay, I was surprised how this mistake could even happen.
I always thought that flight-plans were checked and approved before even the crews sit on the cockpit. Maybe some readers who are familiar with flight operations could explain further on my doubts.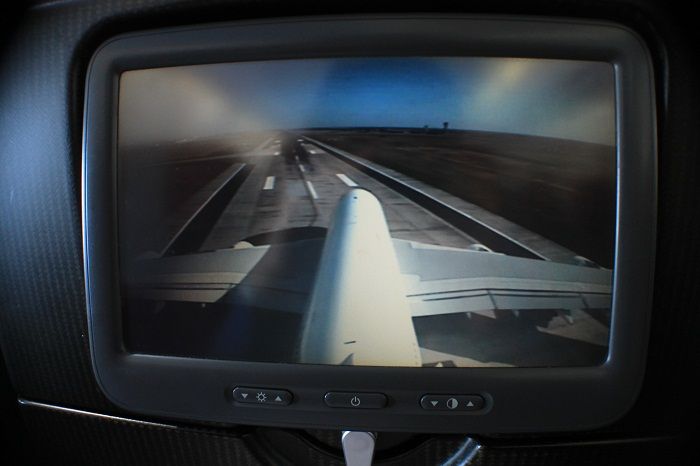 Lining up with the runway for take-off (from the skycam)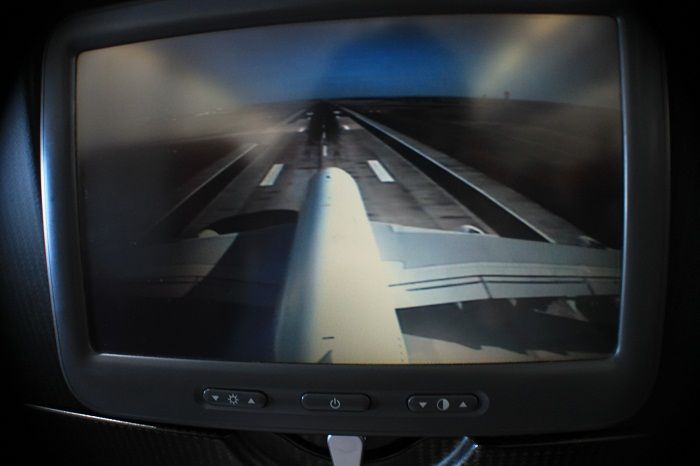 Powerful take-off run (from the skycam)
The clearance to push-back was given 50 minutes late, and we taxied on to the runway while the safety demonstration was done in both video and life demonstration by the QF cabin crews. The flight took off at around 1745, an hour later than scheduled departure of 1640.
----
In-flight
----
Shortly after take-off as seen in the skycam.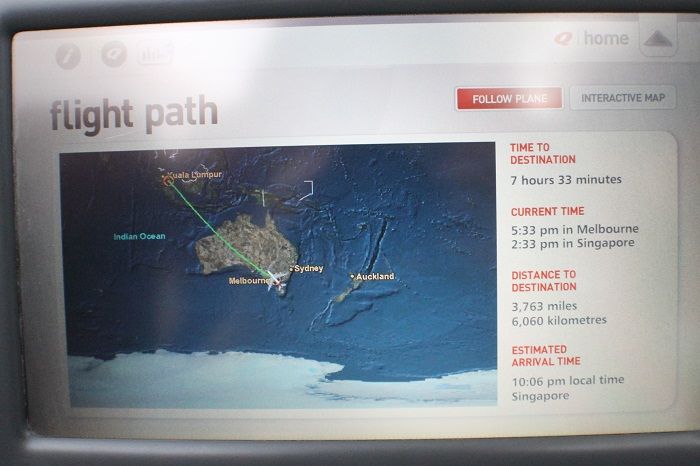 Our flight path to Singapore today.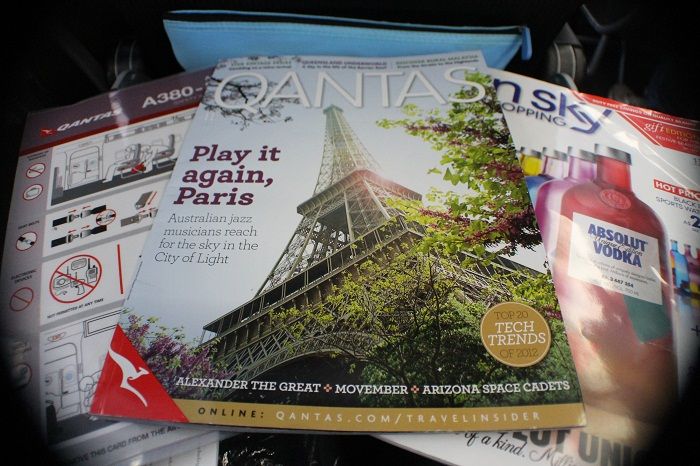 A380 safety instructions, QF 'The Australian Way' Magazine, Duty-free catalog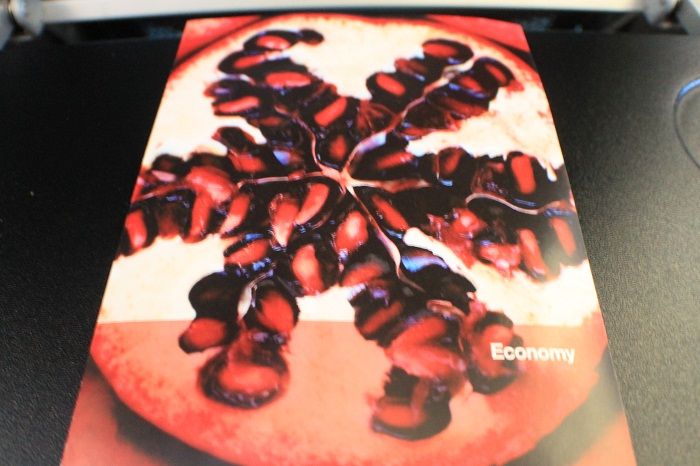 Friendly crew members distribute menus and mineral water after take-off.
Meal service guide on the Melbourne - Singapore leg.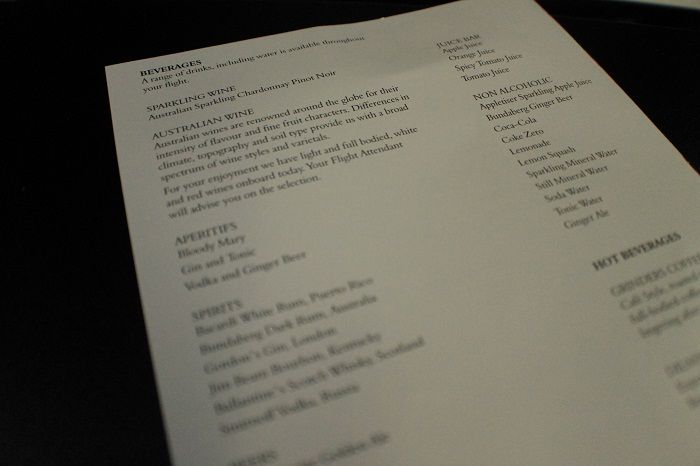 Beverage options for the flight.
First meal service around 2.5 hours after take-off.
My meal : Wok fried chicken with shallot sauce in steamed rice. Tasty.
As the middle seat is unoccupied, the cabin crew opened the middle table to allow more space for us.
Looks more like the European premium economy seats on my medium-haul flight.
The main menu on 'Q' inflight entertainment system.
Controls are hidden under the armrest. Stylish and convenient for me.
Watched 'In-time' after the meal service.
Passengers were either asleep or watching movies after the meals.
Lavatory visit : Well maintained, but lacks in amenities for long-haul flights
Rear stairs which I assumed is off-limits for Economy passengers.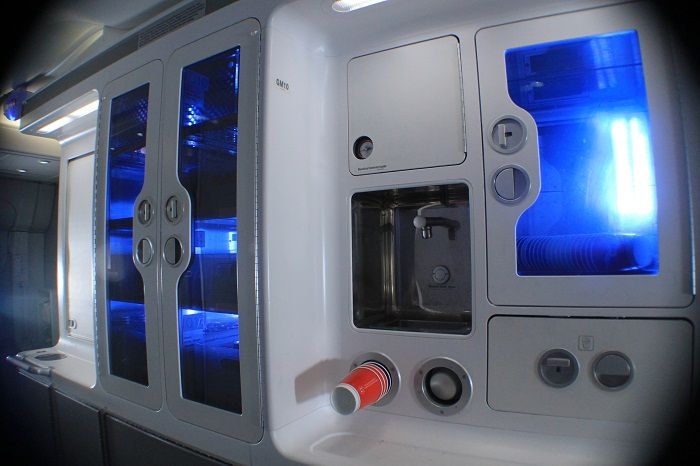 Well stocked snack bar at the rear of the aircraft.
Cookies and soft-drinks are available throughout the flight.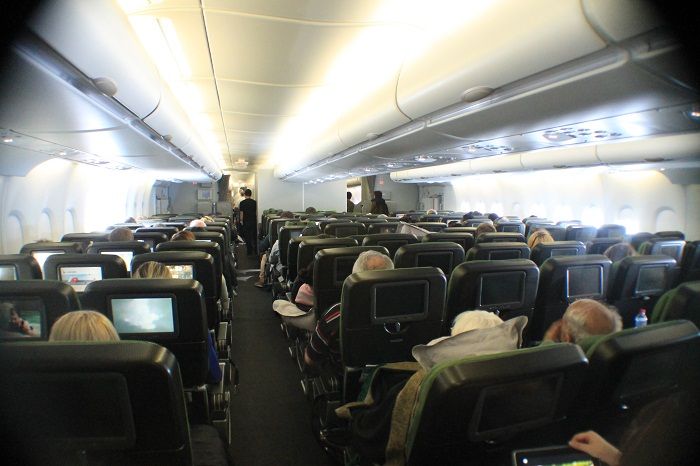 The rear economy class cabin. Seats were green in this section.
Hot chocolate were served around 4 hours into the flight. It tastes great.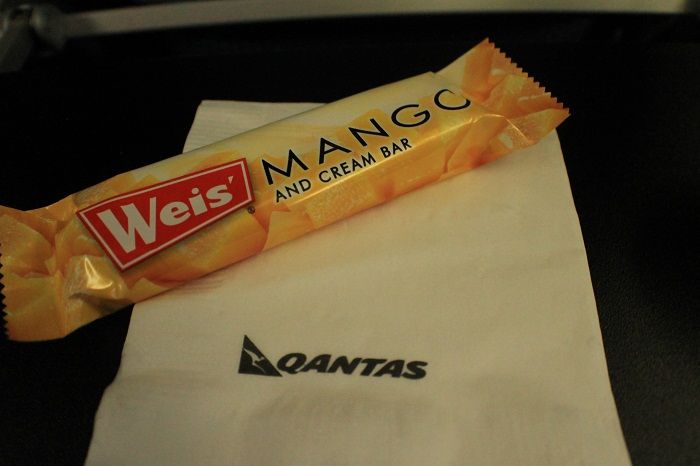 Not long after hot chocolates, the crew were going around with ice creams.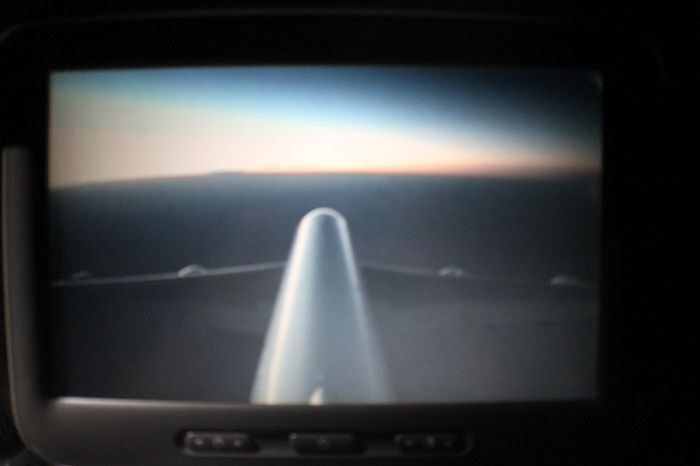 Sunset while flying over Northern Australia.
As sun was setting outside, the mood lighting was activated.
After it was completely dark outside, the cabin lights were switched off to allow passengers to rest. Before I decided to take a sleep, I did some duty-free shopping, which includes the QF Airbus A380 scaled 1:400 model. The duty-free was processed efficiently, and I fell asleep for the rest of the flight.
Throughout this period, the cabin crews regularly going around the cabin with offers of hot beverages, water, and a bucket of apple for passengers.
I was awaken when the light was switched back on, around 1.5 hours away from SIN. They announced a refreshment service will be done prior to arrival into Singapore.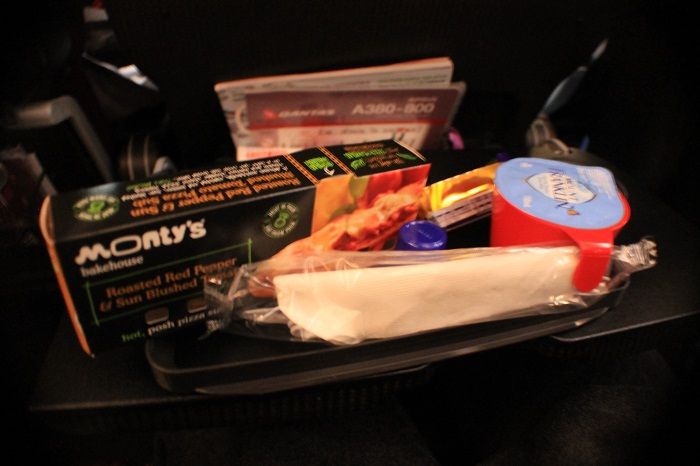 Refreshment service distributed before descent into SIN.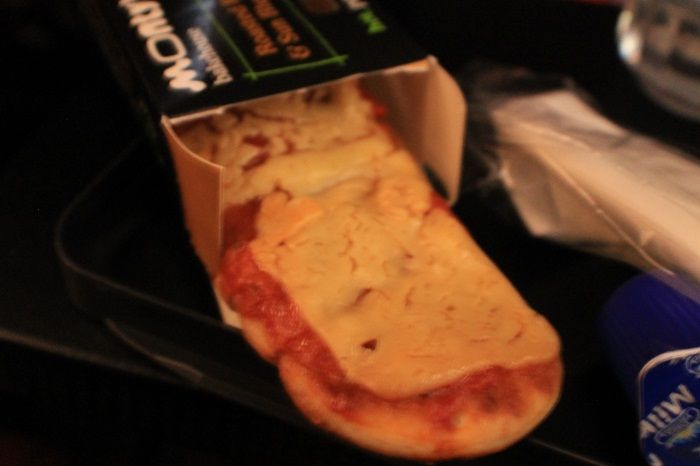 A slice of pizza for pre-arrival refreshment
----
Arrival into Singapore
----
Around 45 minutes before landing into Singapore, the second officer announced that we had started our descent. This was followed by the announcement made by the purser in preparation for landing. He also give detailed instructions to passengers who had missed their connections on other QF, AY, and BA flights to LHR, HEL, and FRA, due to the delay in MEL.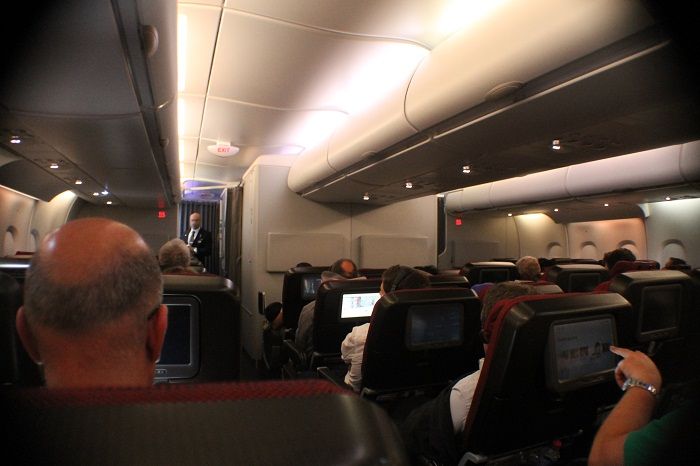 The cabin view on approach to SIN.
Approaching the runway (seen from the skycam)
Touchdown : 2234hrs.
Reaching the assigned gate C23.
As the plane is docked at gate C23, it marked the end of our flight. Passengers in Economy main deck had to wait for a few minutes as the upper deck and First Class passengers were deplaning to avoid 'bottleneck' on the aerobridge.
I bid farewell and thanking the crew before disembarking, for their friendly and warm service throughout the flights. Changi Airport were always impressive and efficient. It takes less than 20 minutes to deplane and complete passport control.
After the baggage claim, I was reunited with my family who were waiting at the arrival hall.
----
Final thoughts after the flight
----
On my first ever experience on board a Qantas A380, I found that they are really beyond my expectations. Their in-flight entertainment system in the A380s, the 'Q' were one of the best I've ever tried.
Having flown several other carriers on this route, I found that QF meal service on the Asia - Australia flights were impressive. From a meal service, hot chocolates, ice creams, regular drink and fruit services, and Self-service snack bar. It is more than enough for passengers on a 7.5 hours flight. As always, Qantas International crews are always warm and friendly.
I would like to congratulate QF for their wonderful service on the A380. With their planned partnership with Emirates, it is sad to see the A380 leaving the MEL-SIN service.
While it may be too early, but personally..
Goodbye QF A380s. Its been a pleasure to fly to be on board one of you.
Do post comments if you have any thoughts or questions.
Thanks for reading.
Regards,
Dirktraveller.