Asia 9: Air India 787. Calcutta - Delhi
Previous Reports in this series:
Part 1:
Limoncello with Alitalia. BA/AZ LHR-MXP-FCO-NRT
Part 2:
JALing it to Beijing. JL HND-PEK 772 Business
Part 3:
Around China with China United, China Eastern & Grand China
Part 4:
First with Cathay Pacific: HKG-TPE F on the B744
Part 5:
Fine Dining on Scoot. TPE-SIN on the 777
Part 6:
Silk Air and Firefly around the Malay Peninsula. SIN-LGK-SZB
Part 7:
Going Beyond Expectations. MH KUL-DAC on the A330
Part 8:
United Airways DAC-ZYL, Jet Airways DAC-CCU
Hi!
Thanks for clicking on
Part 9
of my Autumn Asia series.
This report will cover my long awaited first 787 flight. You may recall from
Part 2
that I was scheduled to fly the Japan Airlines 787 from Tokyo to Beijing? Sadly, she was removed from the flight a few weeks before departure, and the flight operated by the 777 instead. Bummer.
Luckily, I found a second opportunity to fly the Dreamliner (what an awful moniker…I shall not use this name again). When researching options to get from Bangladesh to Delhi, I realised that Air India was operating the 787 on one of their daily Calcutta-Delhi flights. I didn't even realise AI
had
787s. Bangalore and Chennai (I believe) also got a few weeks of training flights. I was delighted to also find that as opposed to paying a premium for the 787, AI was offering them at a lower promotional price. Booked, and actually at a lower price than the no-frills airlines. Fingers crossed now there'll be no substitution like with JAL.
This is the 3rd AI 787 report on a.net, with the others written by
justbala
and
vivekman2006
.
The map, courtesy of GC Mapper, of this report:
The map, courtesy of GC Mapper, of what is currently booked for this series: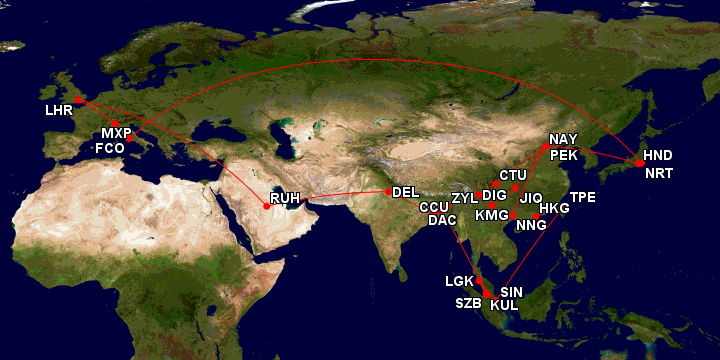 Despite having already spent three nights in Calcutta this year, I'd seen surprisingly little of the city, bar the inside of a few hotels and restaurants, plus the slums on the streets. With 24 hours between arriving from Dhaka and leaving for Delhi, I thought I'd tick off a few of the sights. First stop was Mother House, home of Mother Teresa for many years.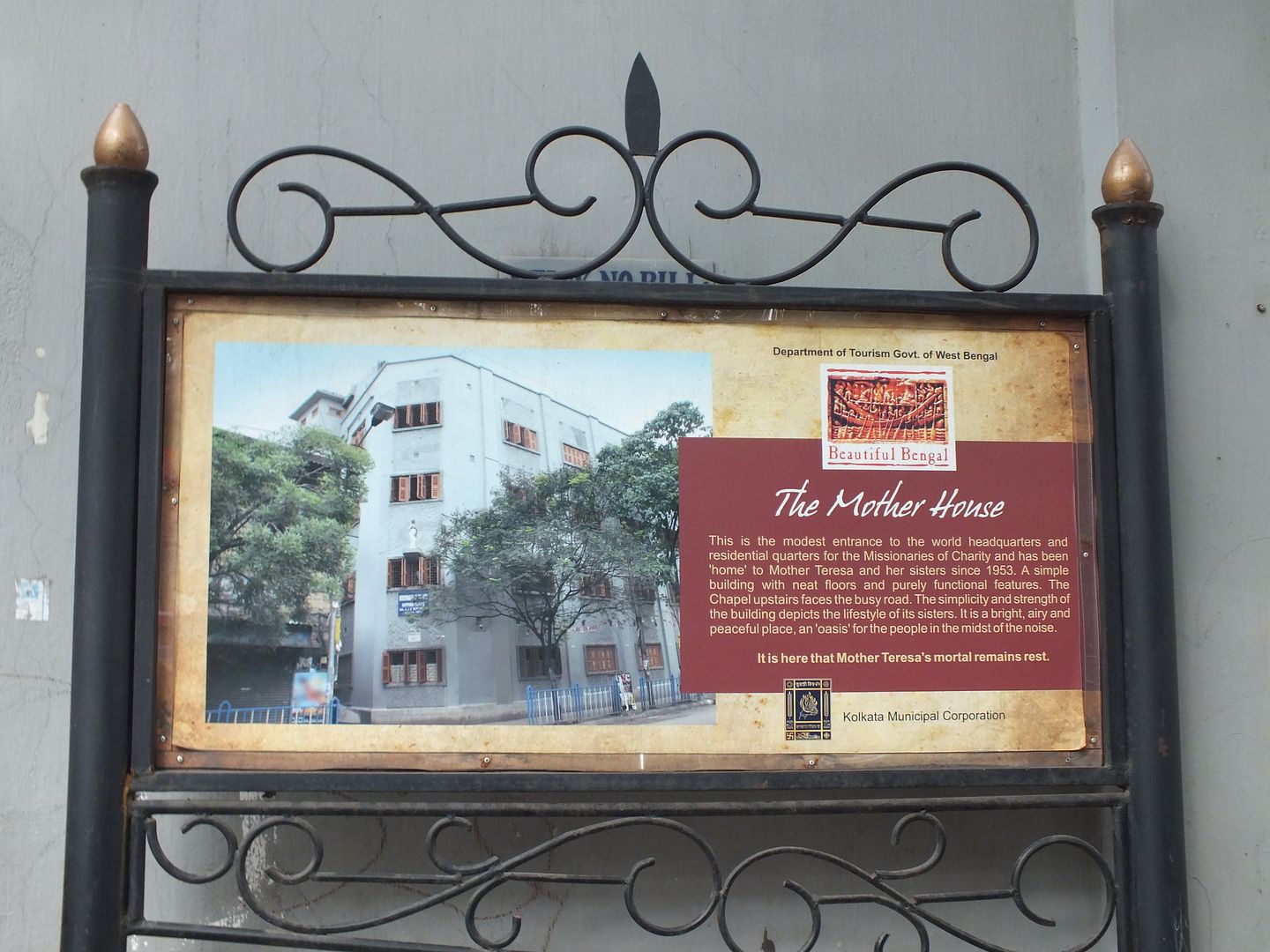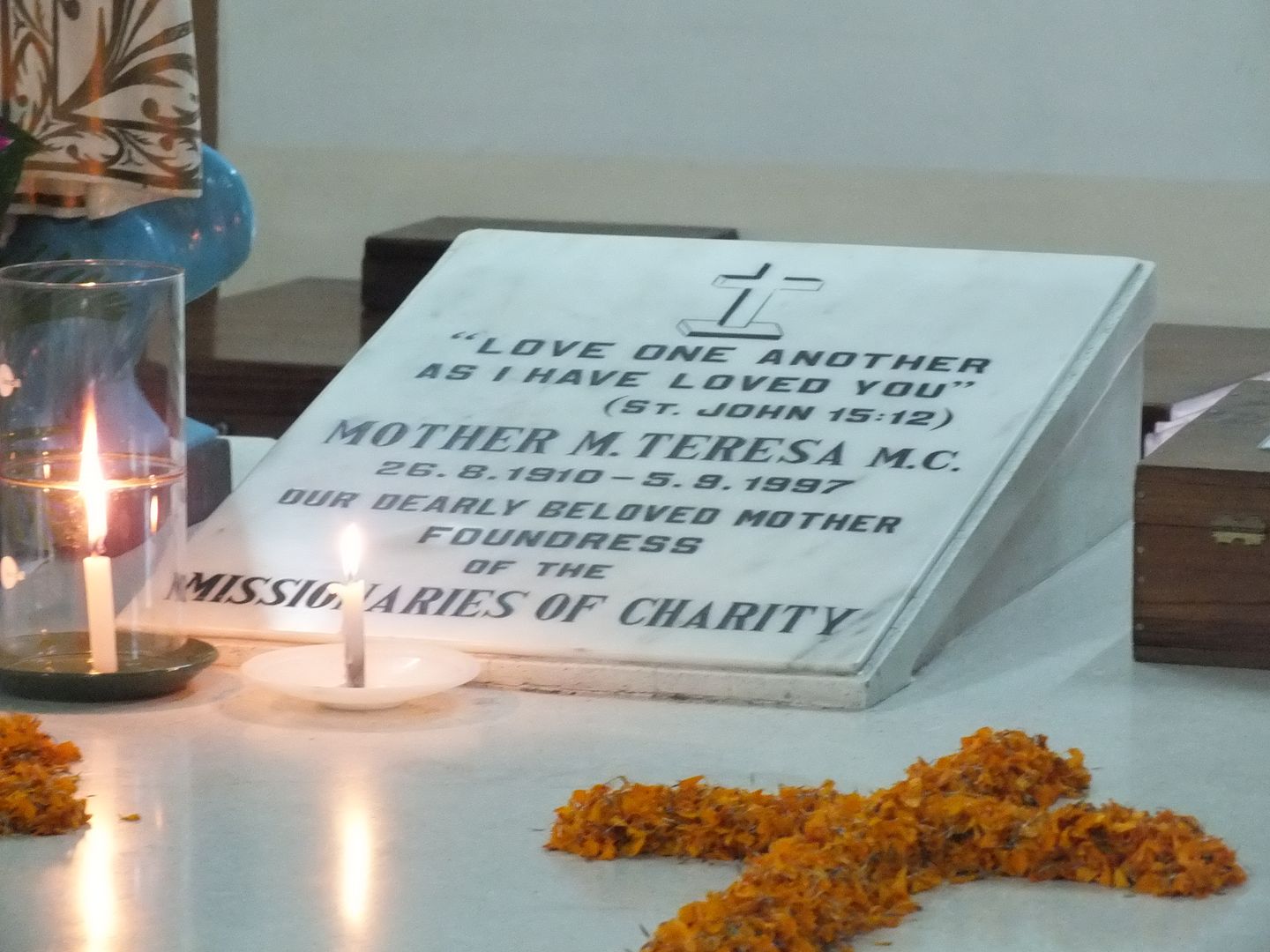 For some reason Eden Park was rated top on Trip Advisor. Eden Park is the name of both the cricket stadium, and the neighbouring park, neither of which I through were terribly interesting.
Next stop was the beautiful Victoria Memorial Hall. Sadly, photography is strictly forbidden inside, although I have no idea why. There were some interesting exhibitions
inside, mostly art and history.
And just outside is the Maidan, Calcutta's answer to Central Park.
Once again, I stayed in the Bawa Walson hotel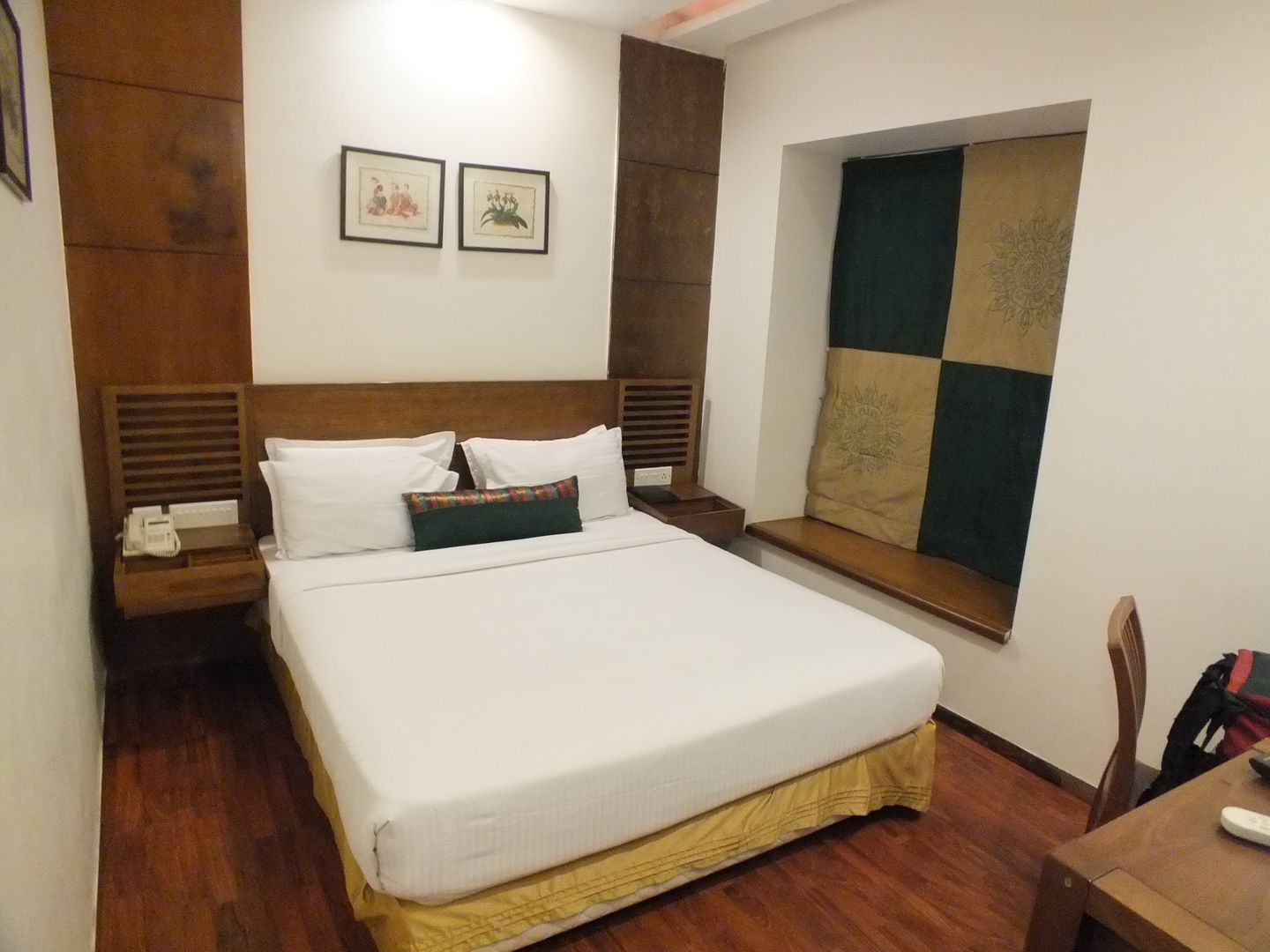 On the streets
After a fairly agreeable day around town, I hopped in one of those delightful yellow cabs, and was soon at the domestic terminal.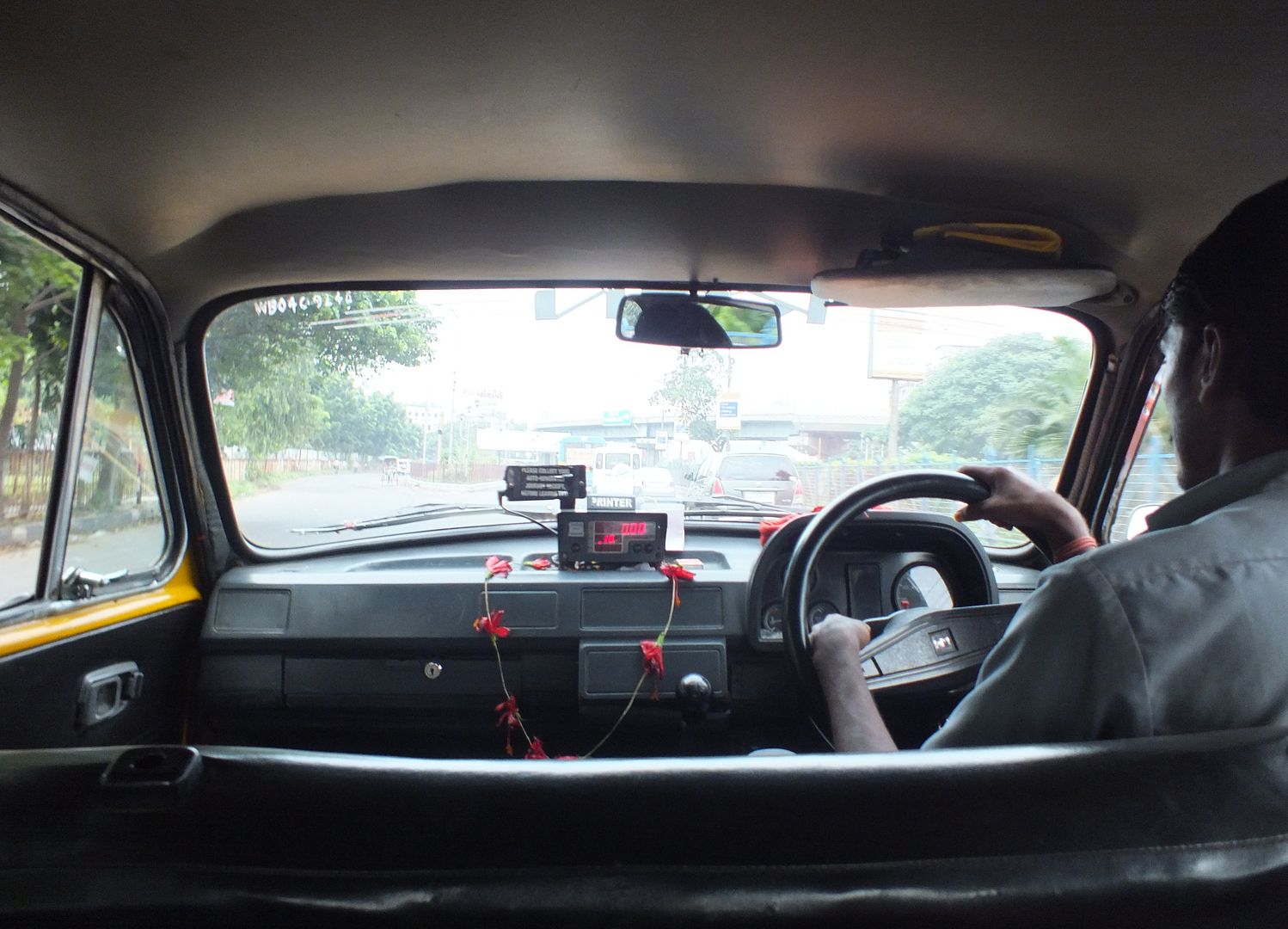 After showing my documents to about five policemen/soldiers, I was allowed to check in (once my bag had been x-rayed of course). I had been able to reserve a seat online when I booked, and this was honoured on my boarding pass.
Next stop was the security search….ugh, what a hassle. There were some 5 queues for people, but just 2 for bags. So many people seemed to be travelling without any hand luggage at all. The set up meant that I had to leave my bag on the x-ray counter, then leave it and queue a few metres away for the body scanner. Of course, once I was through the scanner, I realised that I was supposed to have kept hold of my boarding pass so it could be stamped. However, the security staff were already in a tizzy as there was a bottle opener in my bag, so they had to go through it and re-scan it before the boarding pass stamping guy could do his thing, which really annoyed him. The whole experience was highly unenjoyable.
With security done and dusted, I went to find somewhere to sit…not as easy as one might imagine. The place was packed.
Still the crap old boarding "systems"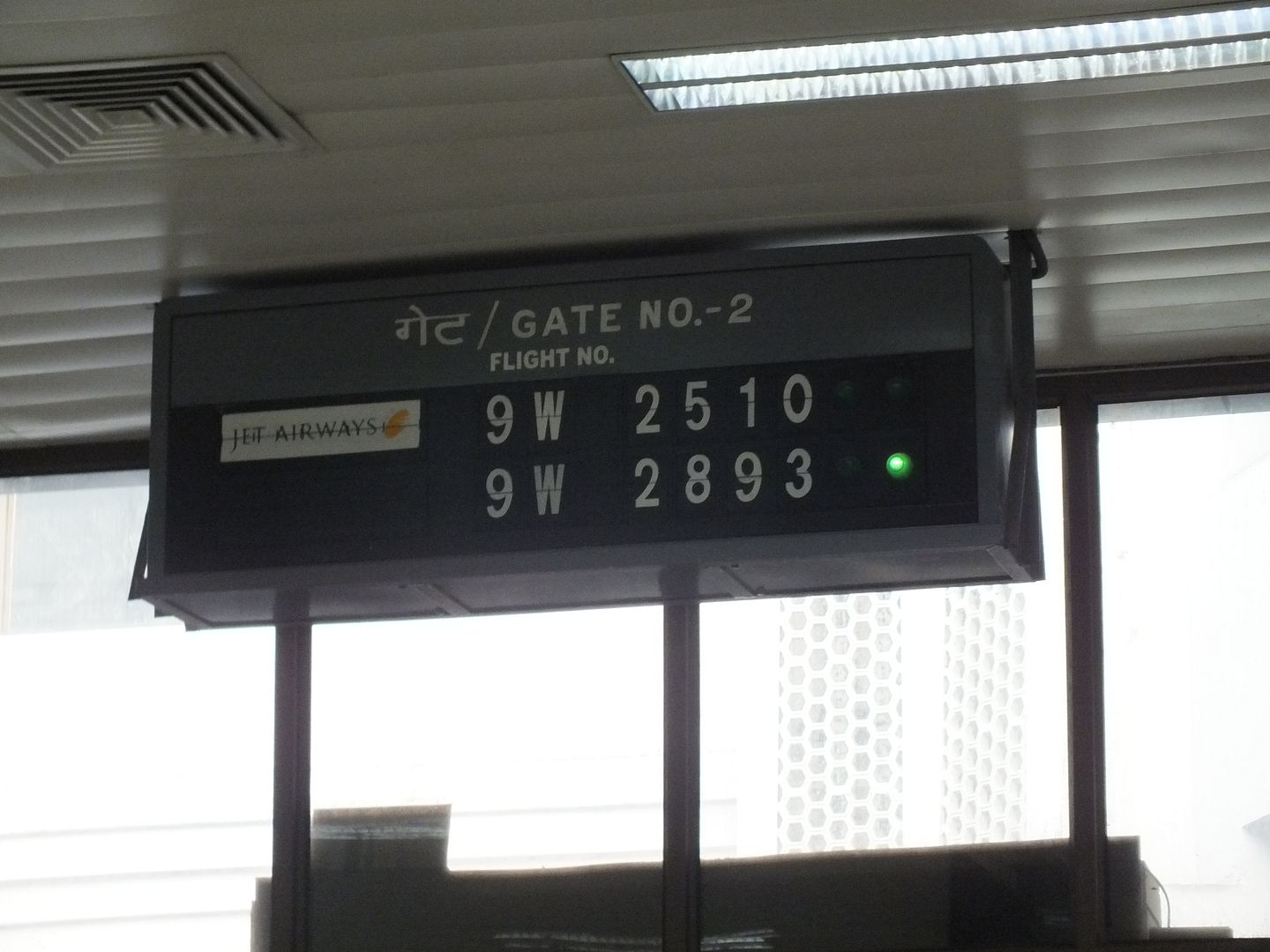 "FIDS"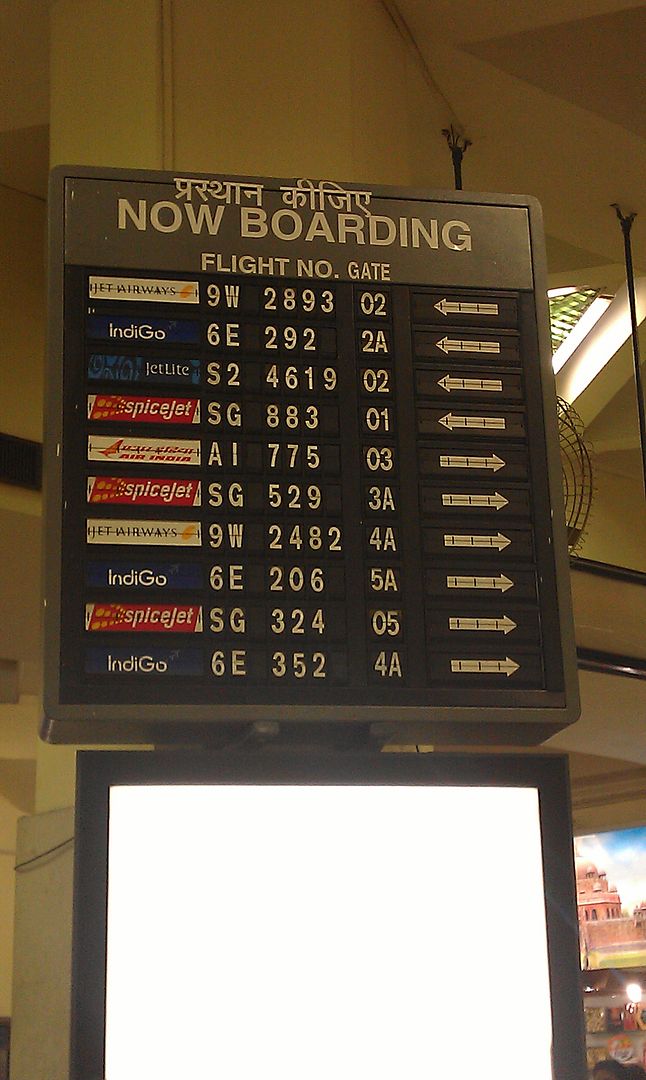 With no lounge to go to, or shops to look around, I bought a brownie and radioactive looking drink, and found a seat upstairs.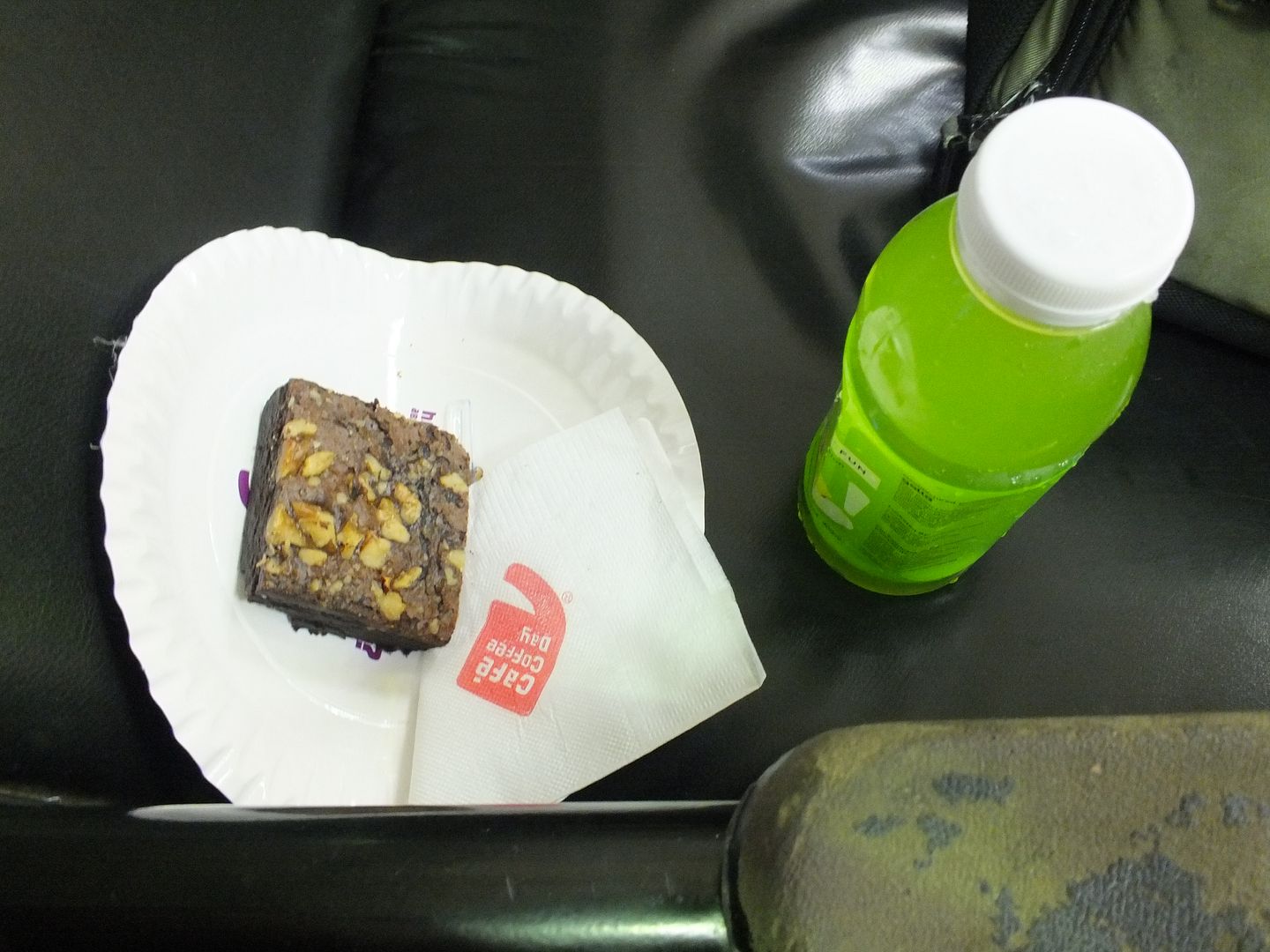 Much less busy here
After a terribly unexciting hour upstairs, I headed down to the main level again. There was already a substantial queue at our gate, so I thought I may as well join in.
After twenty minutes, it started moving.
We were packed onto busses, and we headed out across the tarmac. Finally, here she is, my first 787!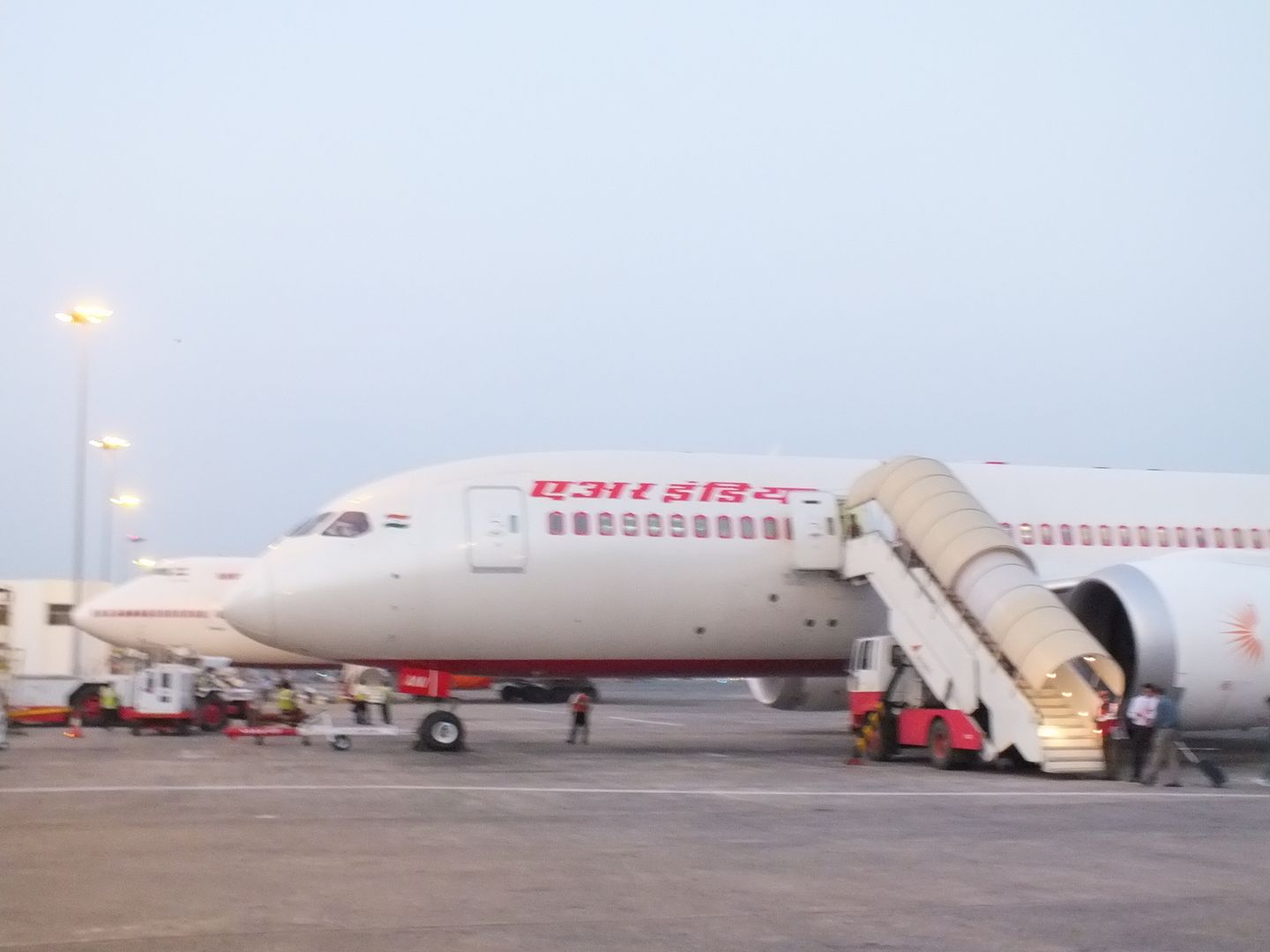 As I was sat at the back of the plane, I was directed to use the rear door. Very unusually, the steps were attached to door 4R, rather than 4L. When I saw her here yesterday, they did the same thing. Any reason for it?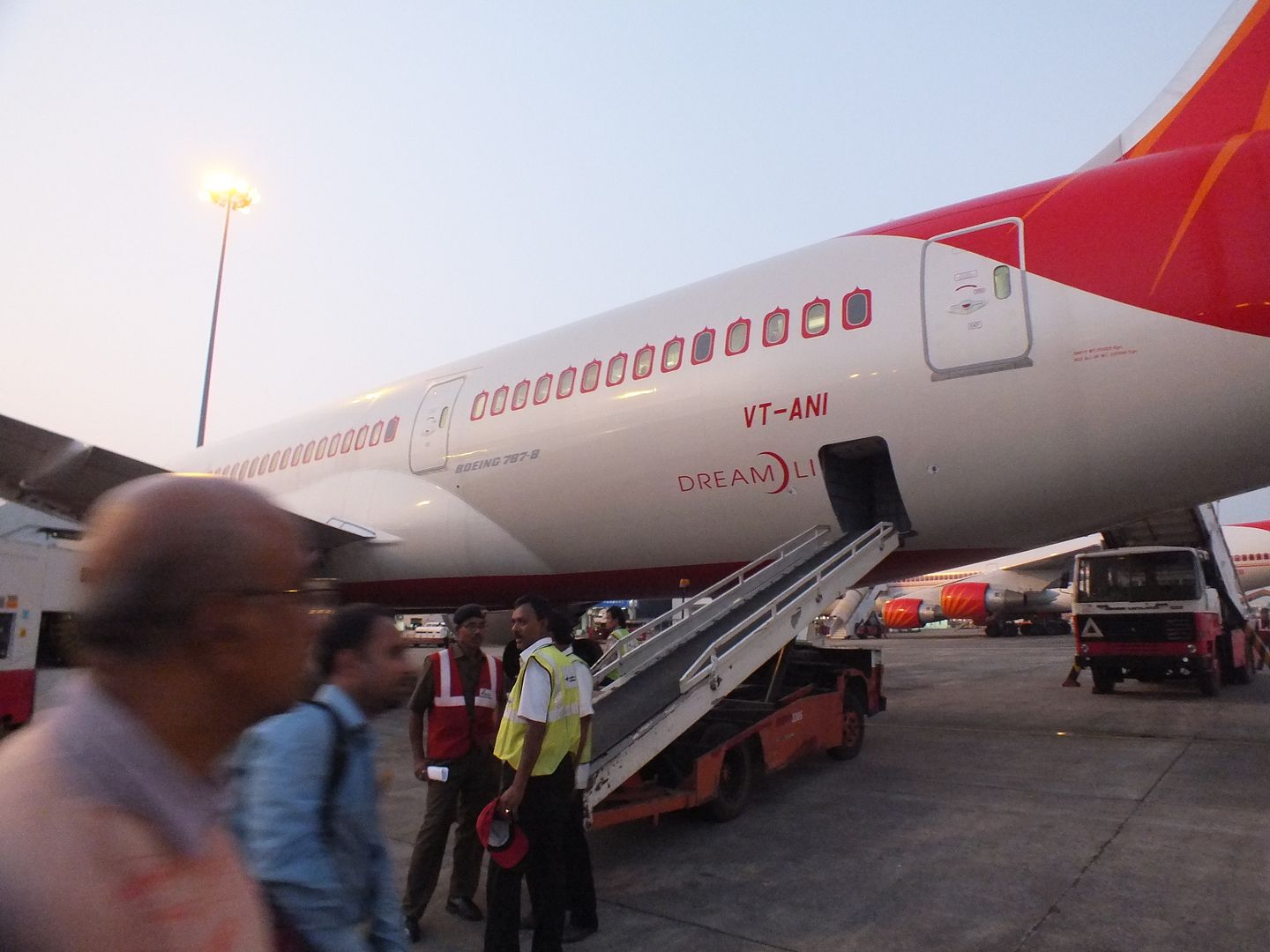 I decided to throw caution to the wind, and asked a member of ground staff if I could take some photos…to my astonishment, he said yes. Sadly, I was in a bit of a hurry, so they photos aren't great.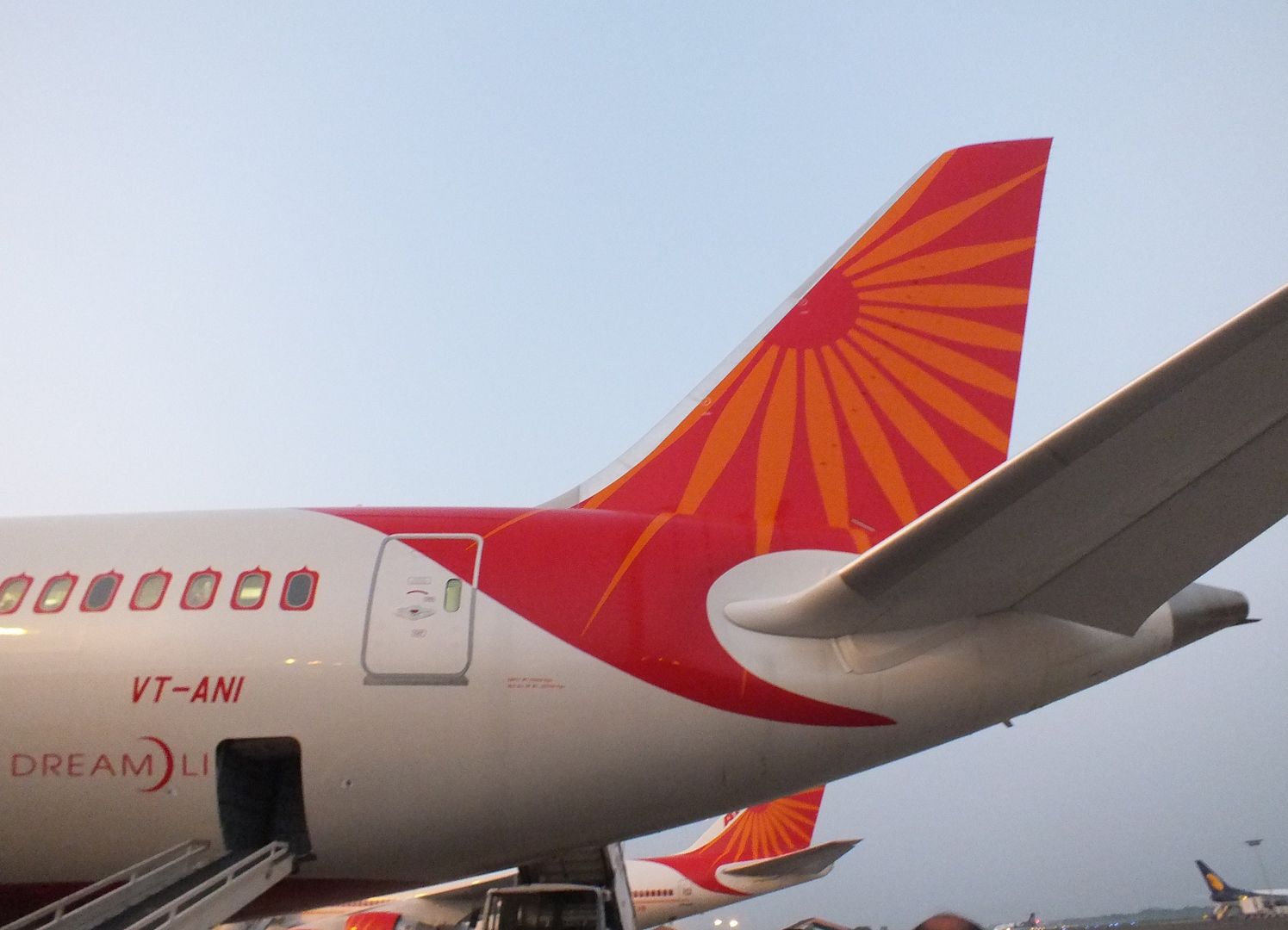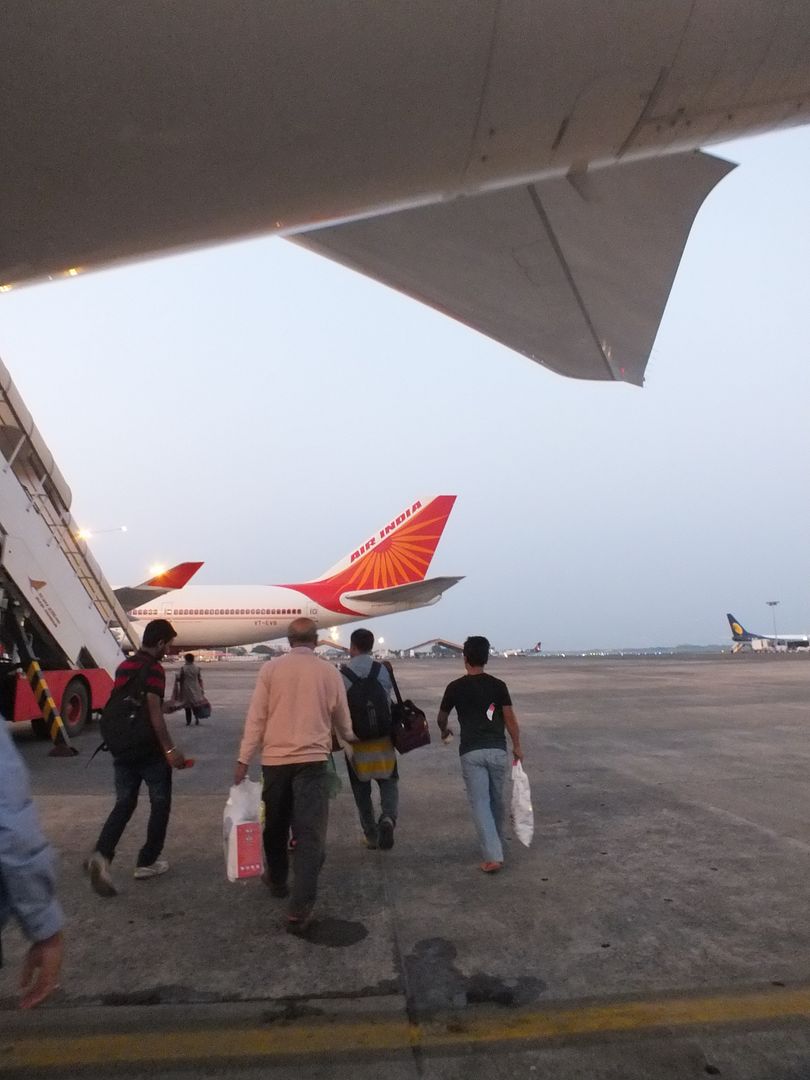 Interesting view
This gorgeous 744 had just arrived from JED.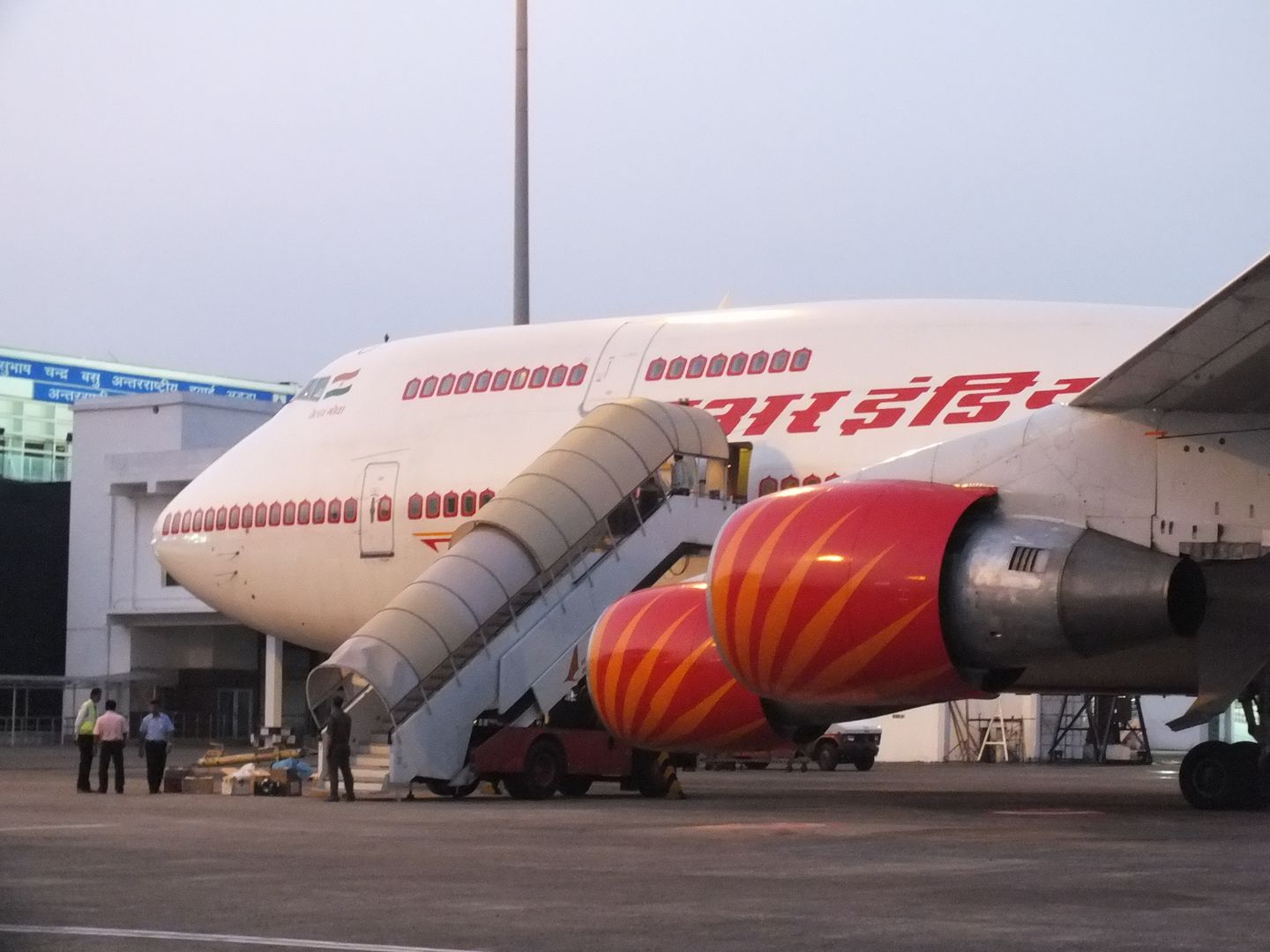 You'll notice that "Air India" wording is now missing from the tail.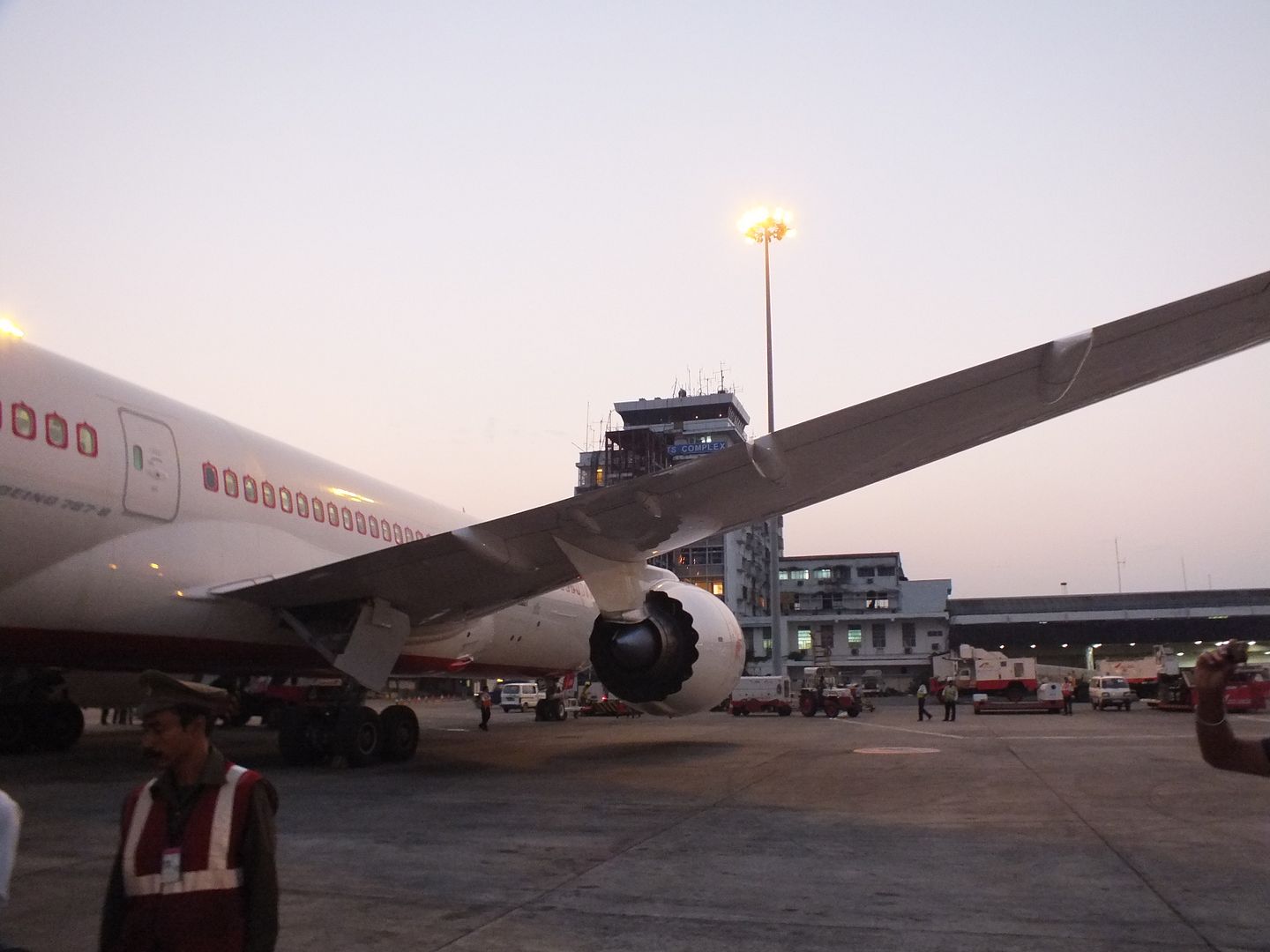 Yes, this is the right one!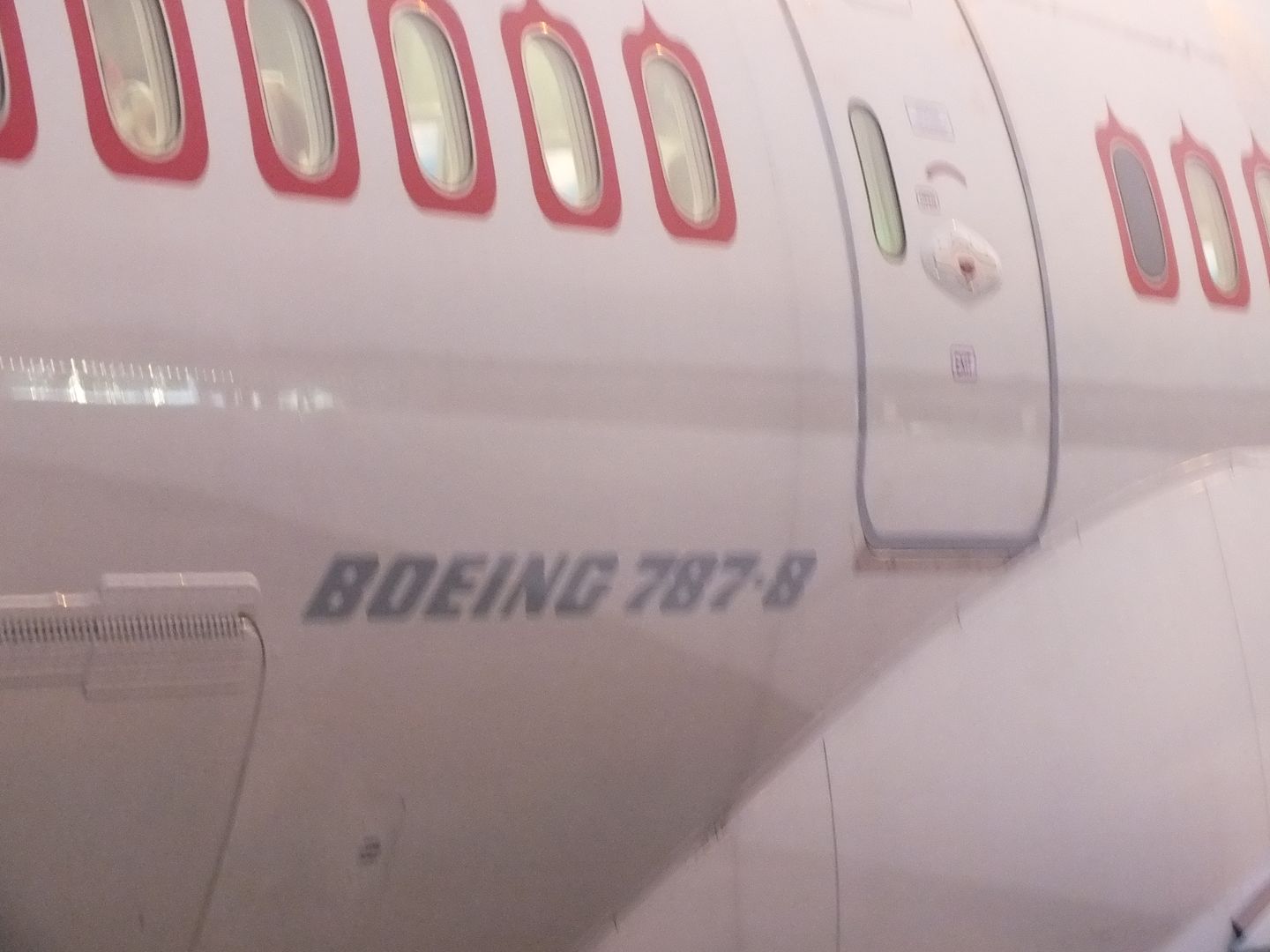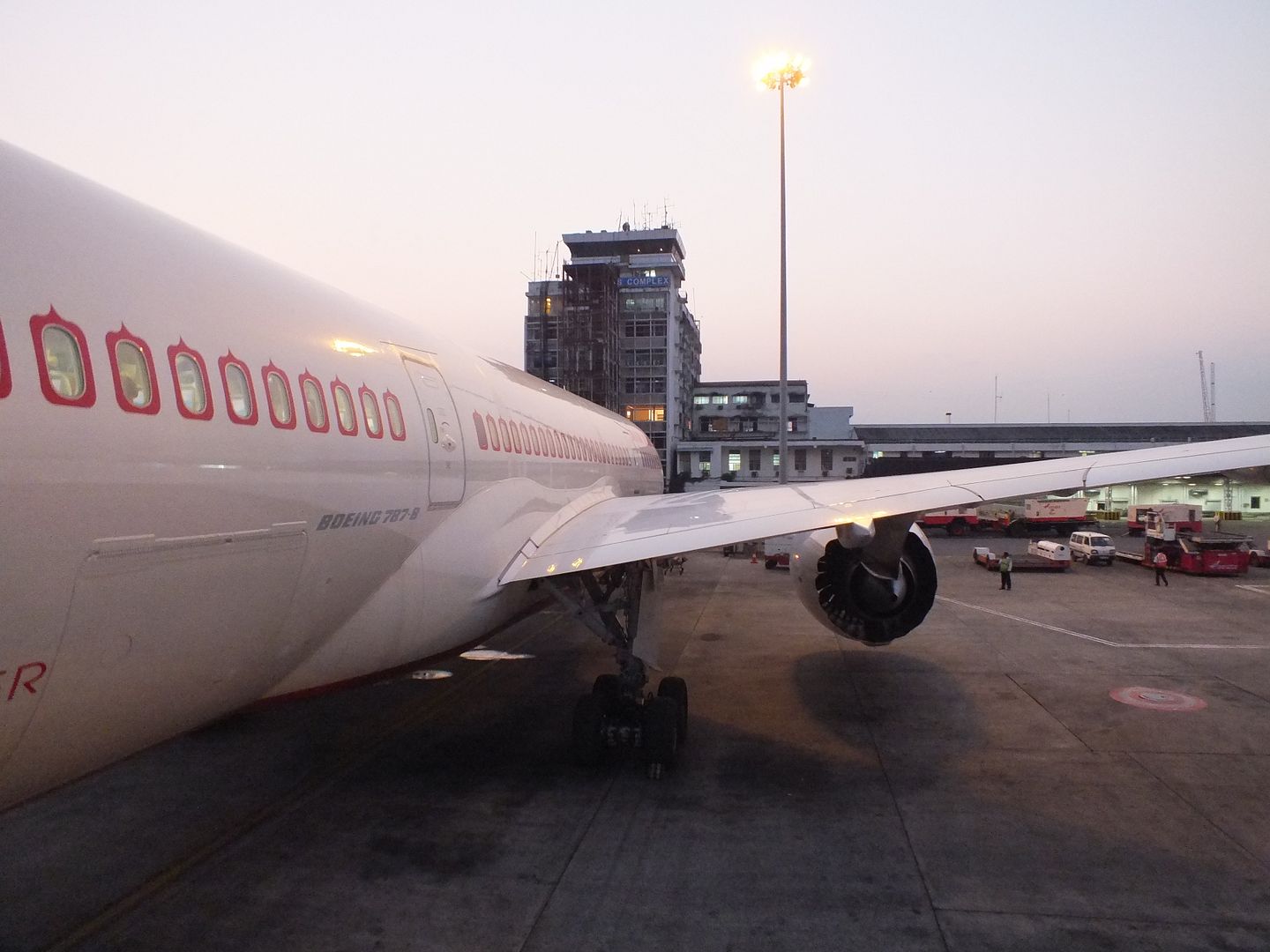 November 2012
Calcutta (CCU) – Delhi (DEL)
Air India AI 701
Scheduled: 1715-1915 (2h00m)
Actual: 1736-1930 (1h54m)
Boeing 787-800 VT-ANI
Economy Class

Copyright J.R.Heilig
I was greeted at the door by a smiling FA. She saw my camera and smiled, pointing me up the aisle.
The cabin looks nice, although not terribly different to any other modern aircraft. AI have gone with 3x3x3 seating, which I found perfectly reasonable.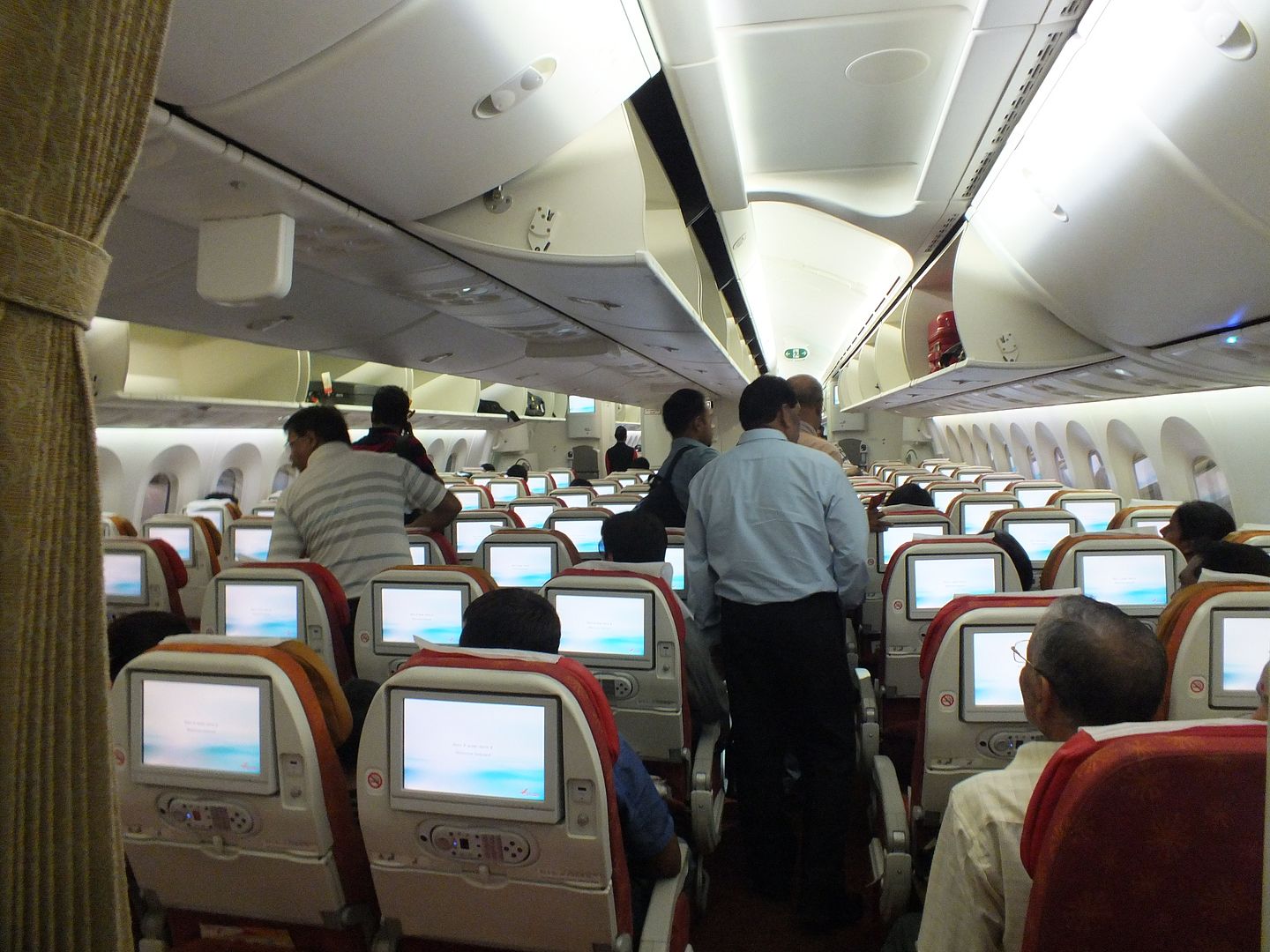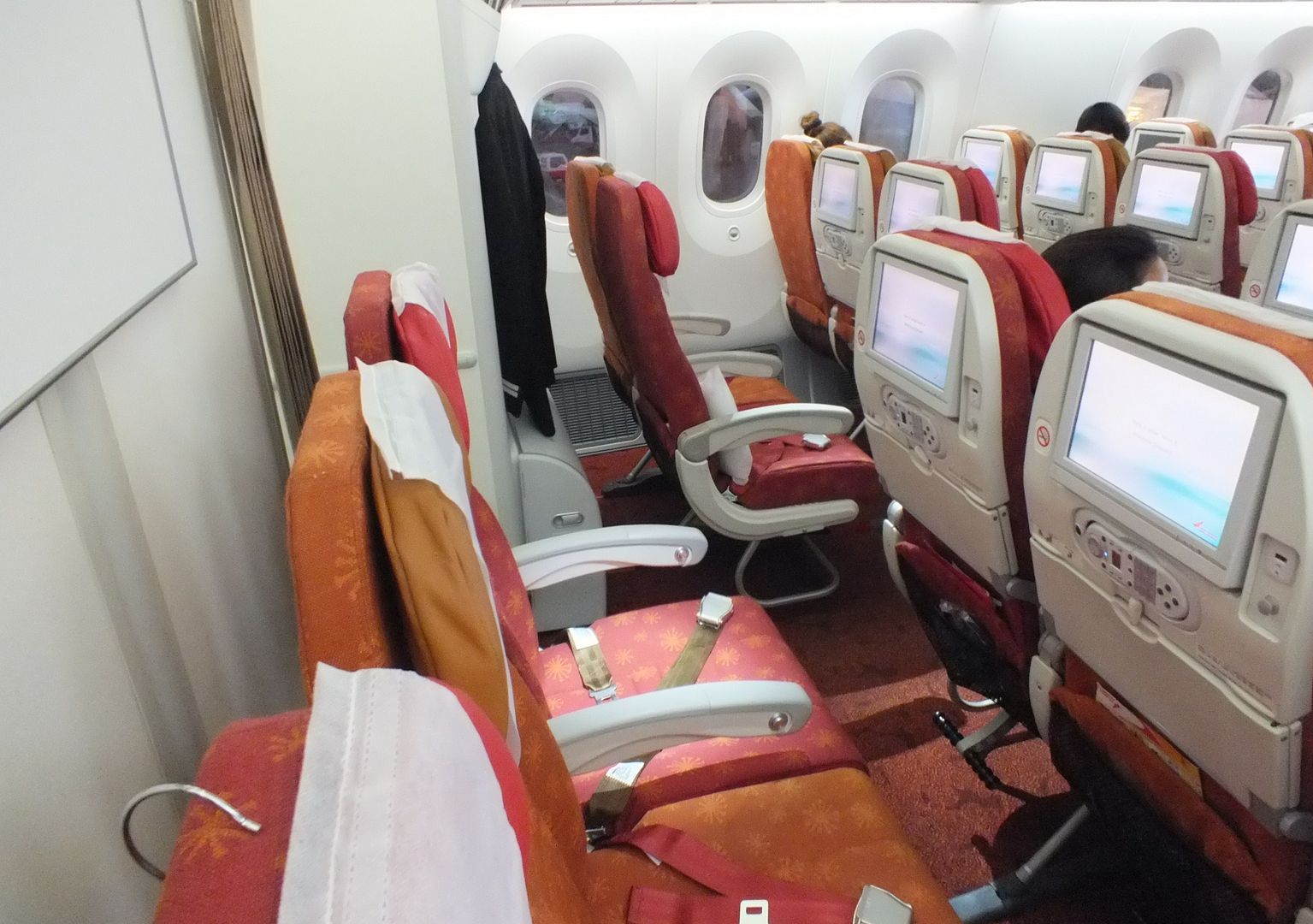 My seat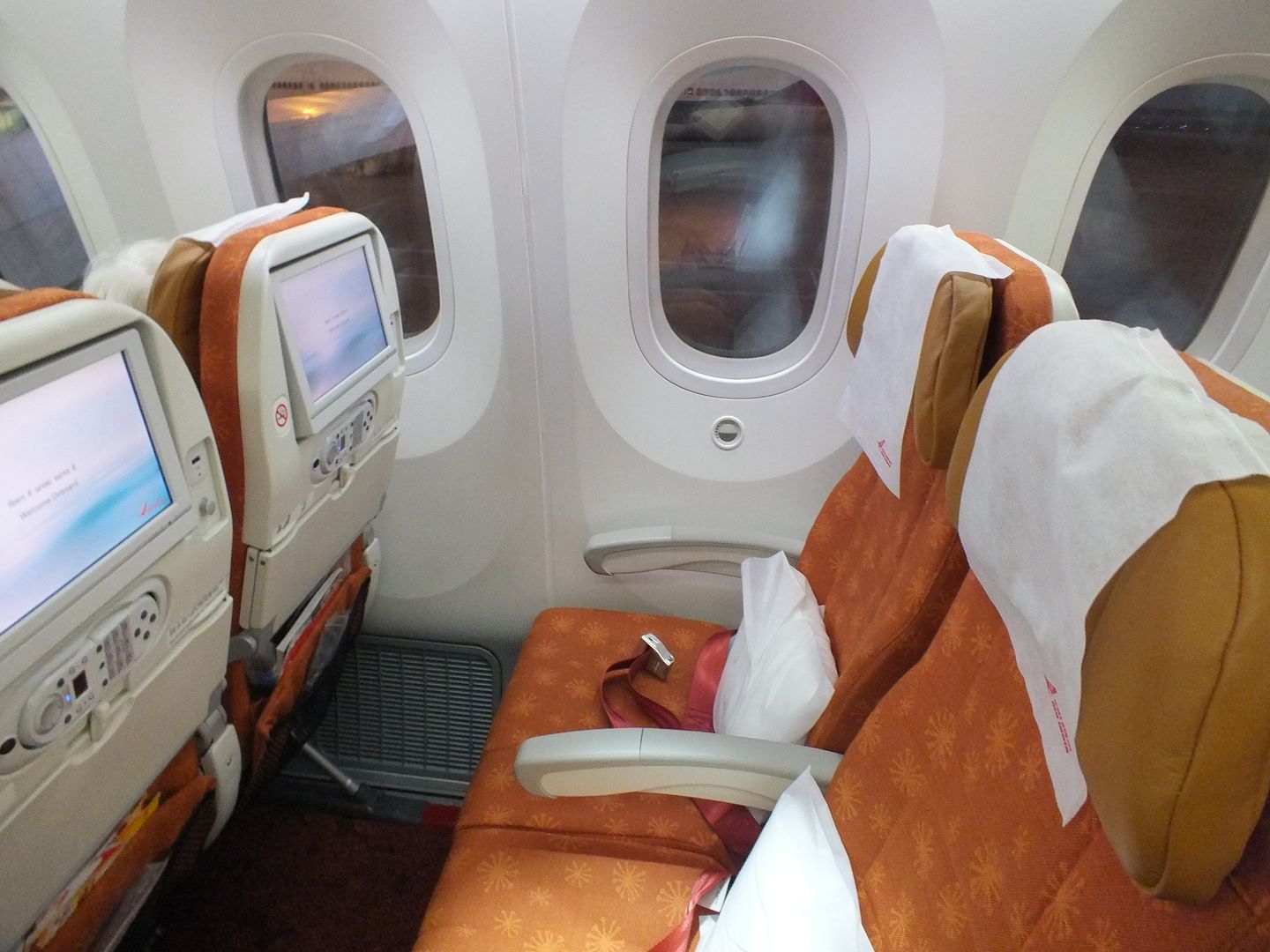 Reasonable legroom. The bottle wasn't mine…sloppy cleaners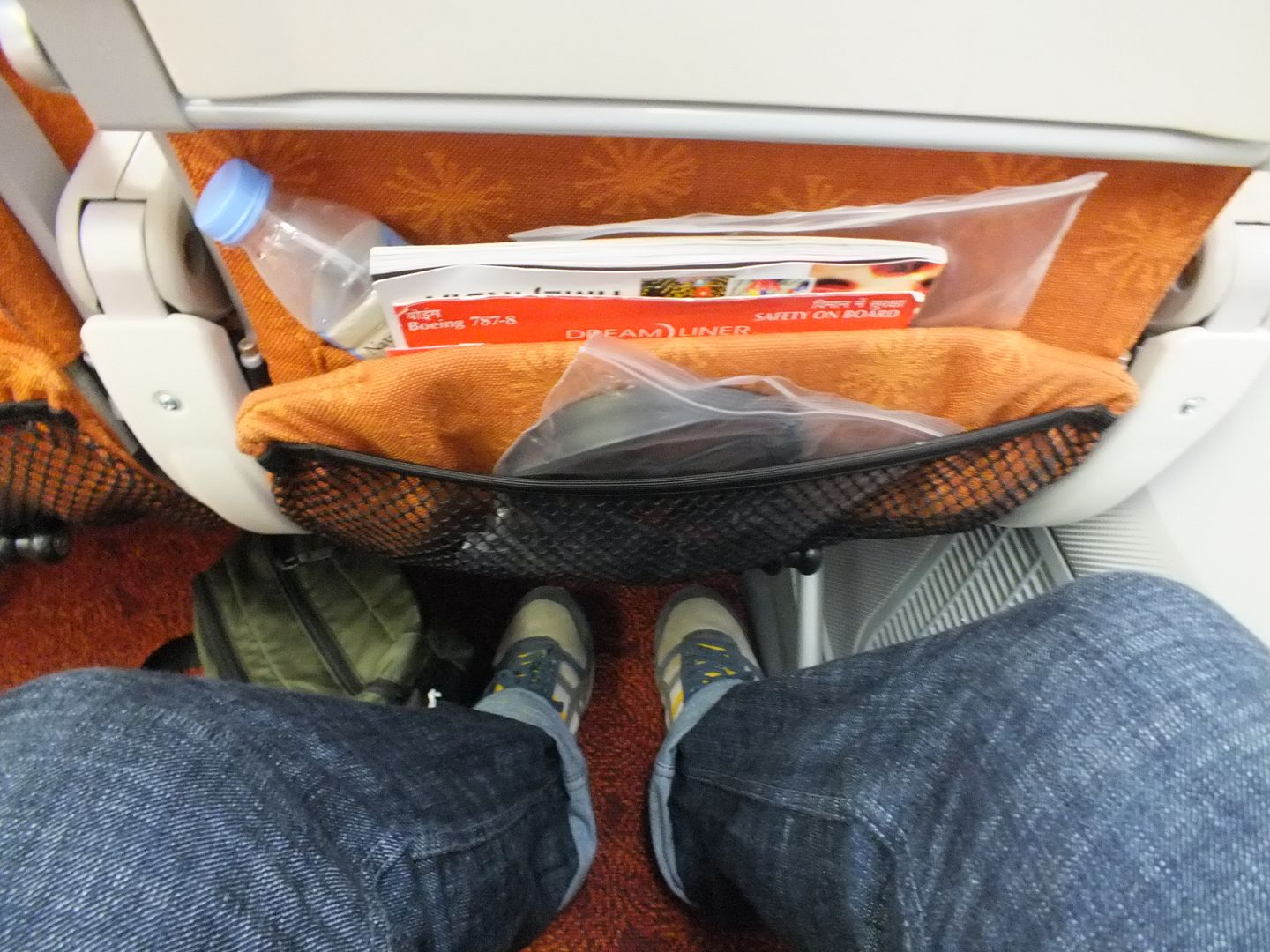 The switch
And my window tinting demonstration!
Nice big PTV
Safety card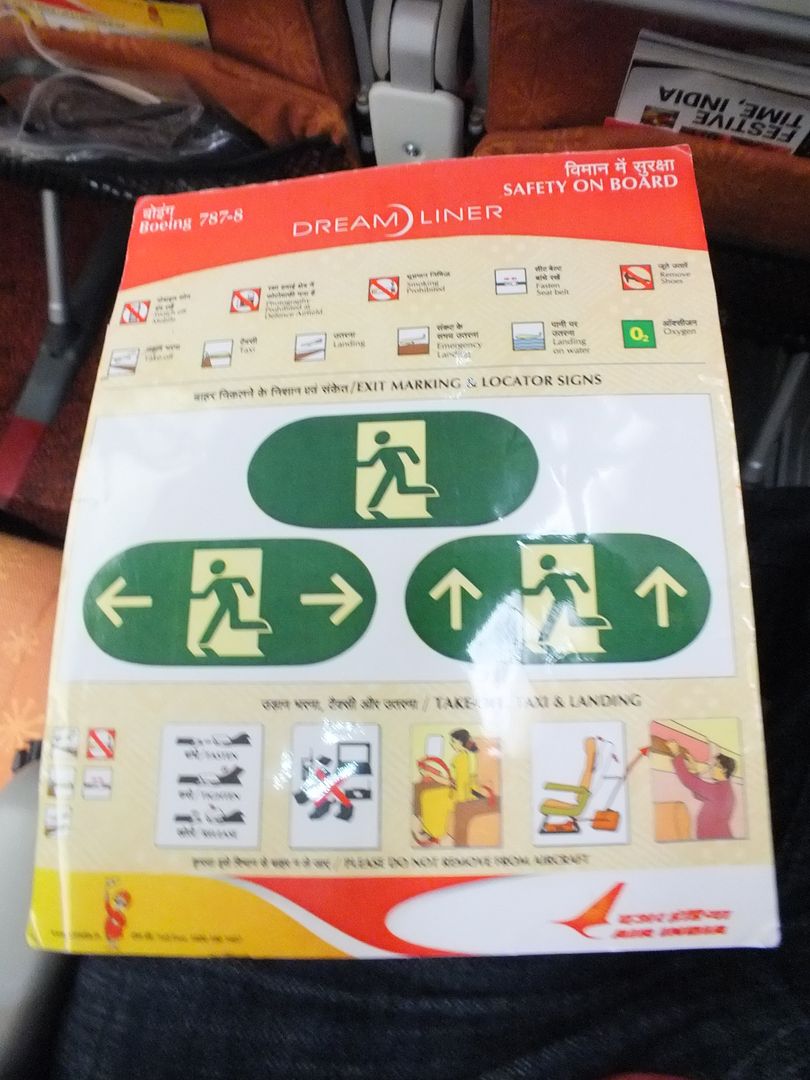 Out the window…already getting dark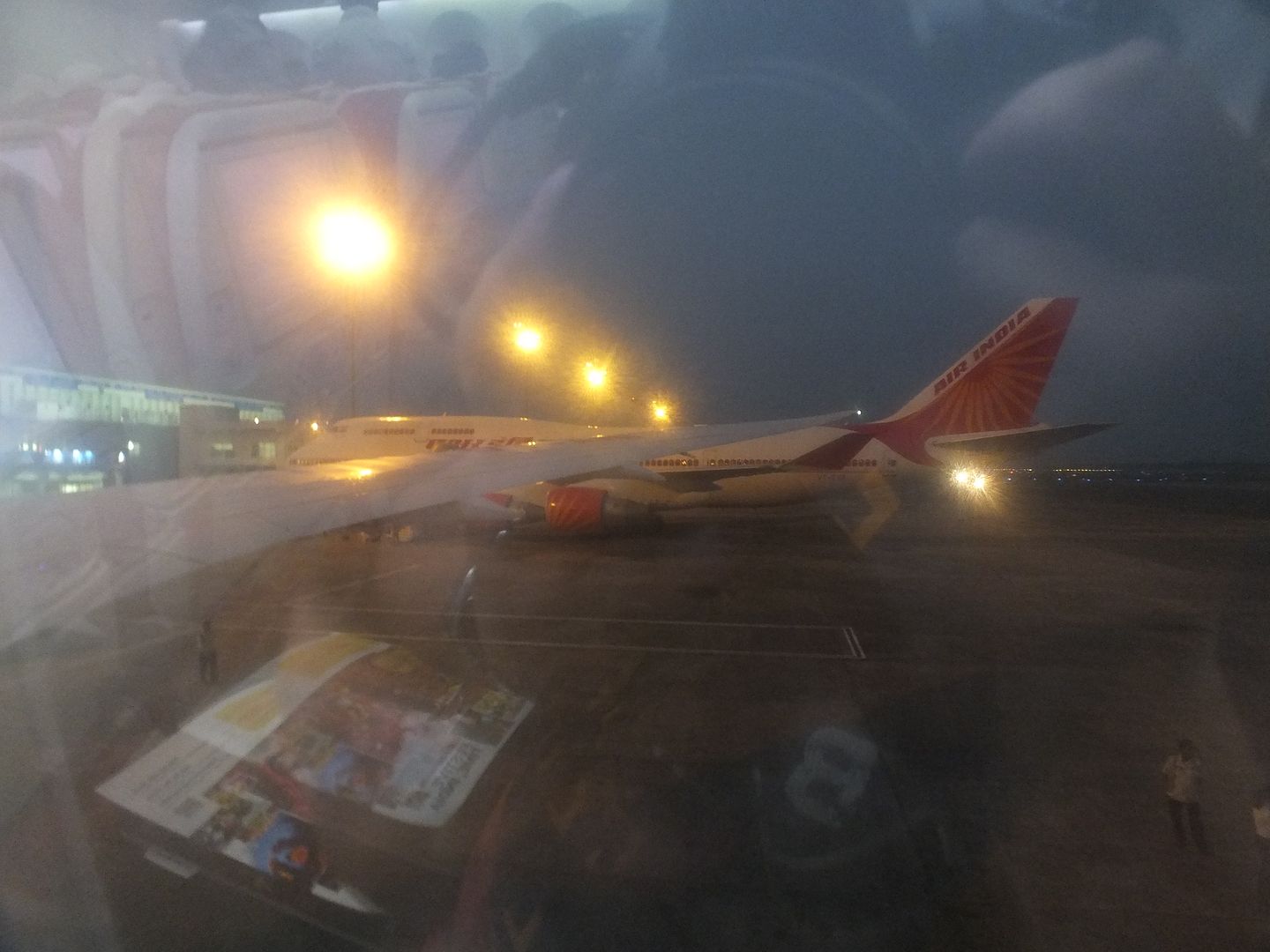 AI Magazine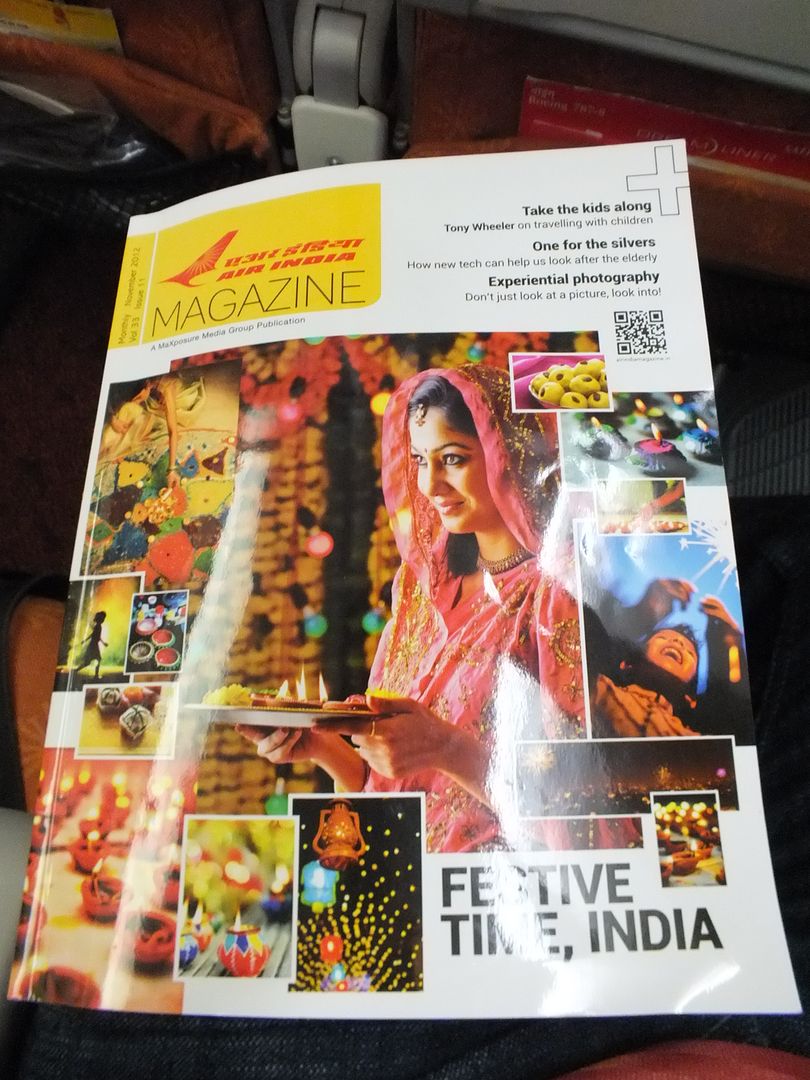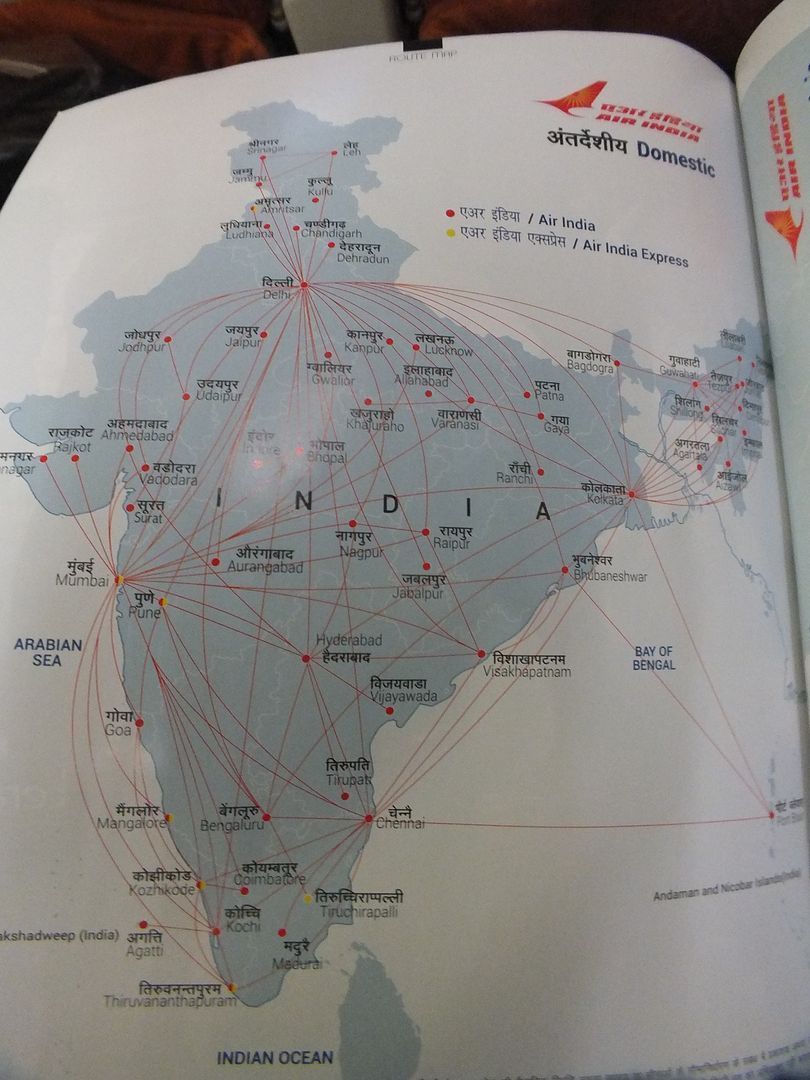 Gradually, more buses arrived. As far as I could see, Y was fully booked.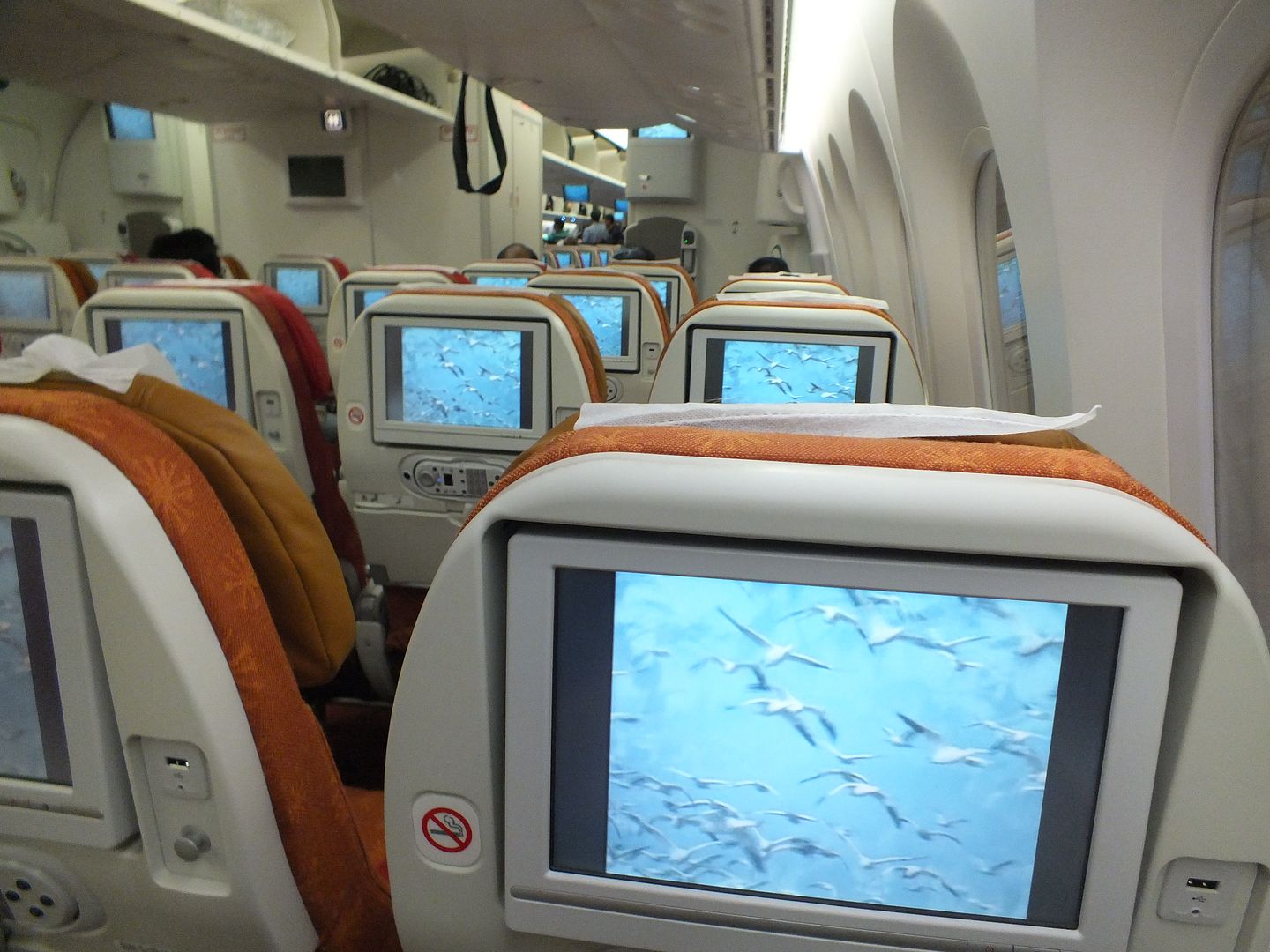 Nice blue mood lighting
Push back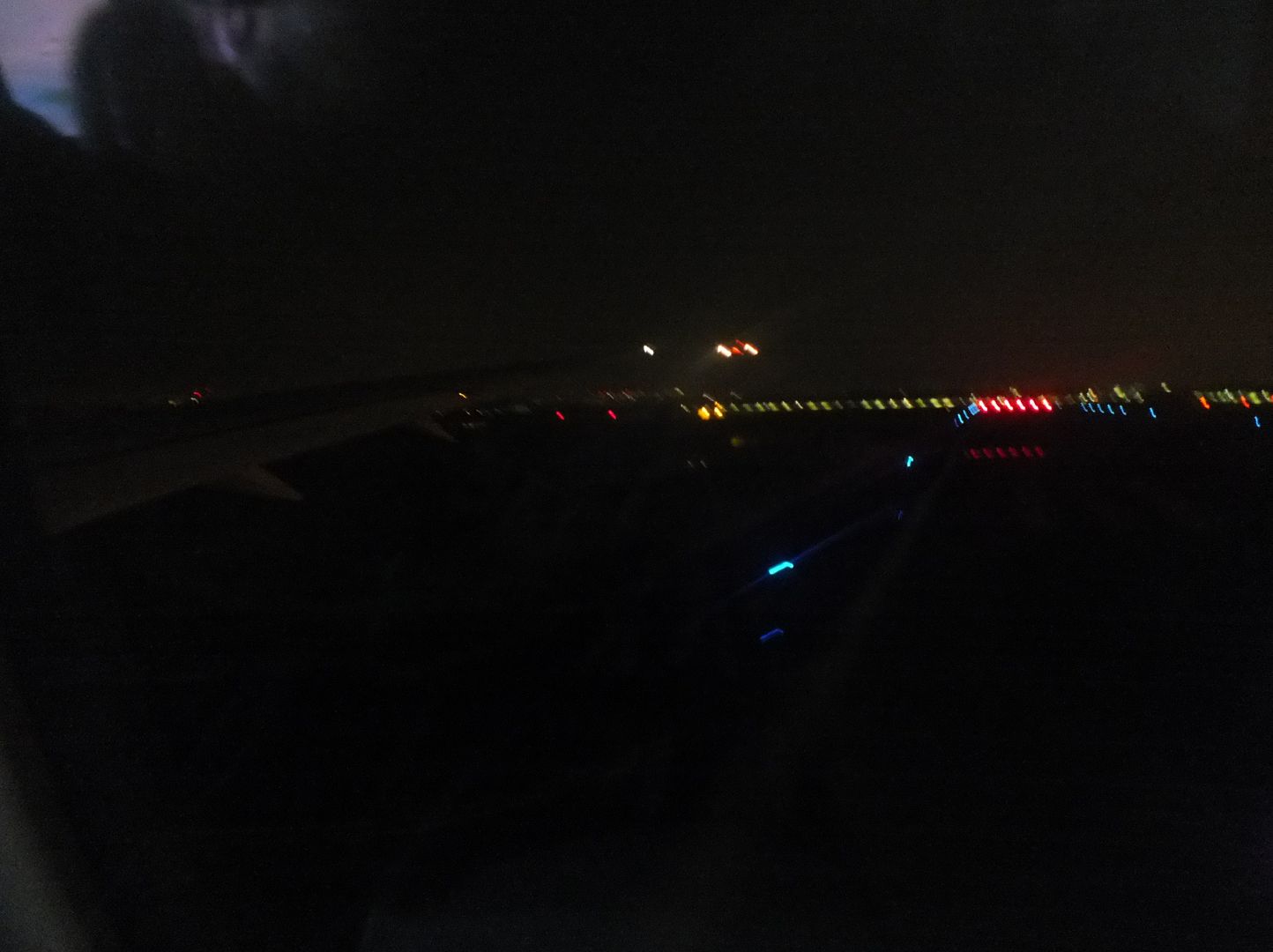 A safety demo was performed. The new style green exit signs were mentioned no less than 5 times in the demo…I think people get it, the exit signs are green!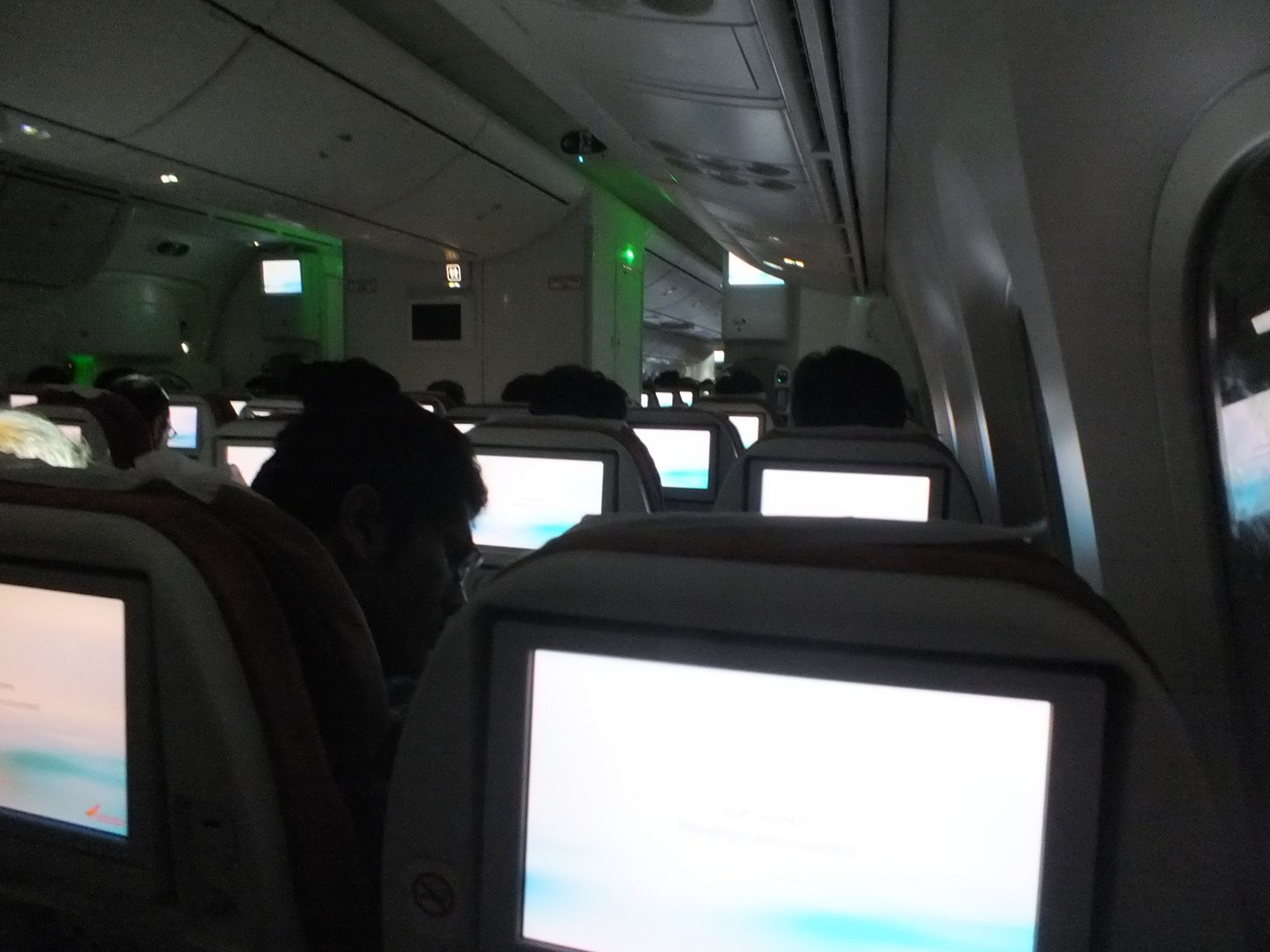 And take off!
The IFE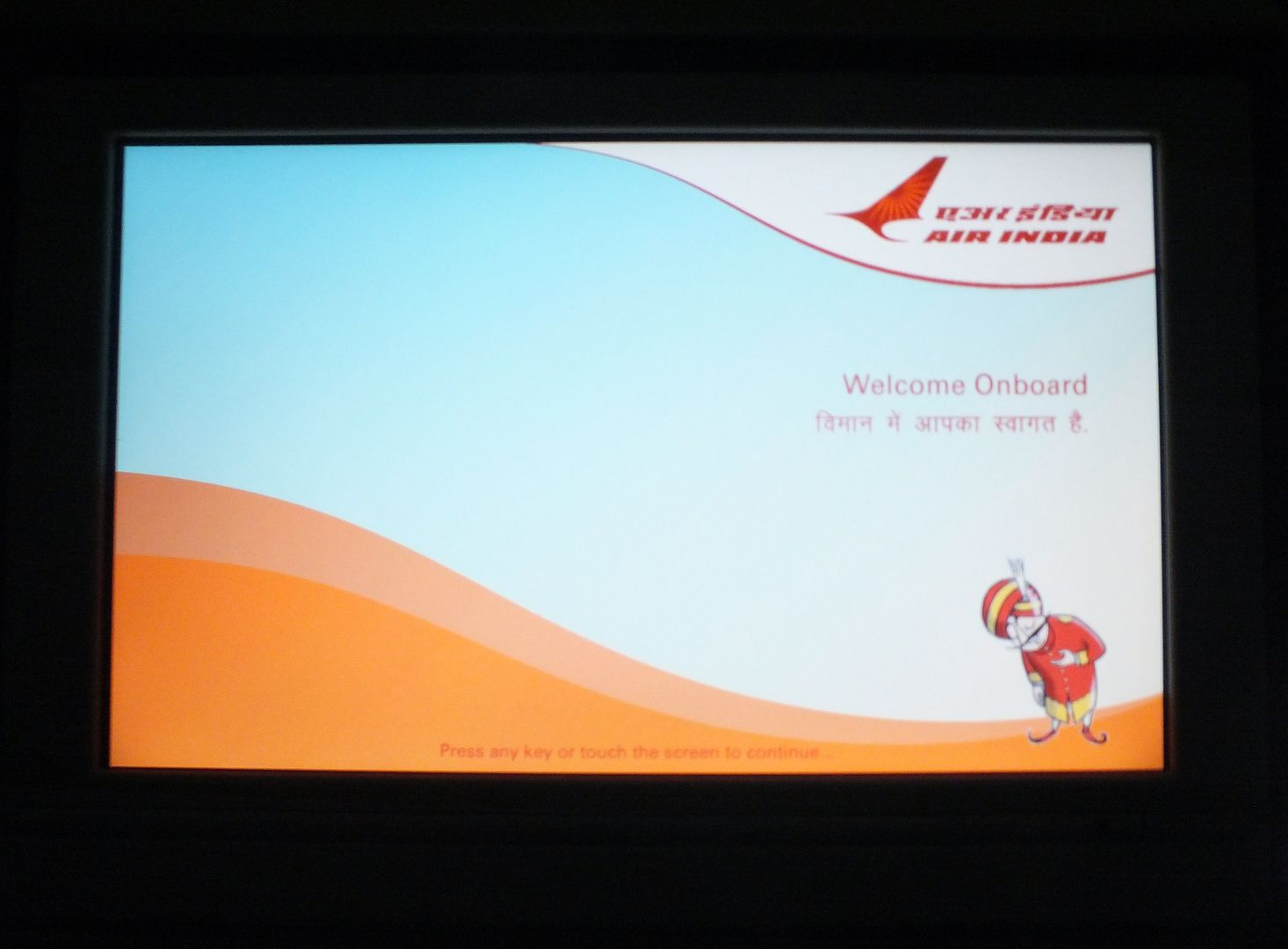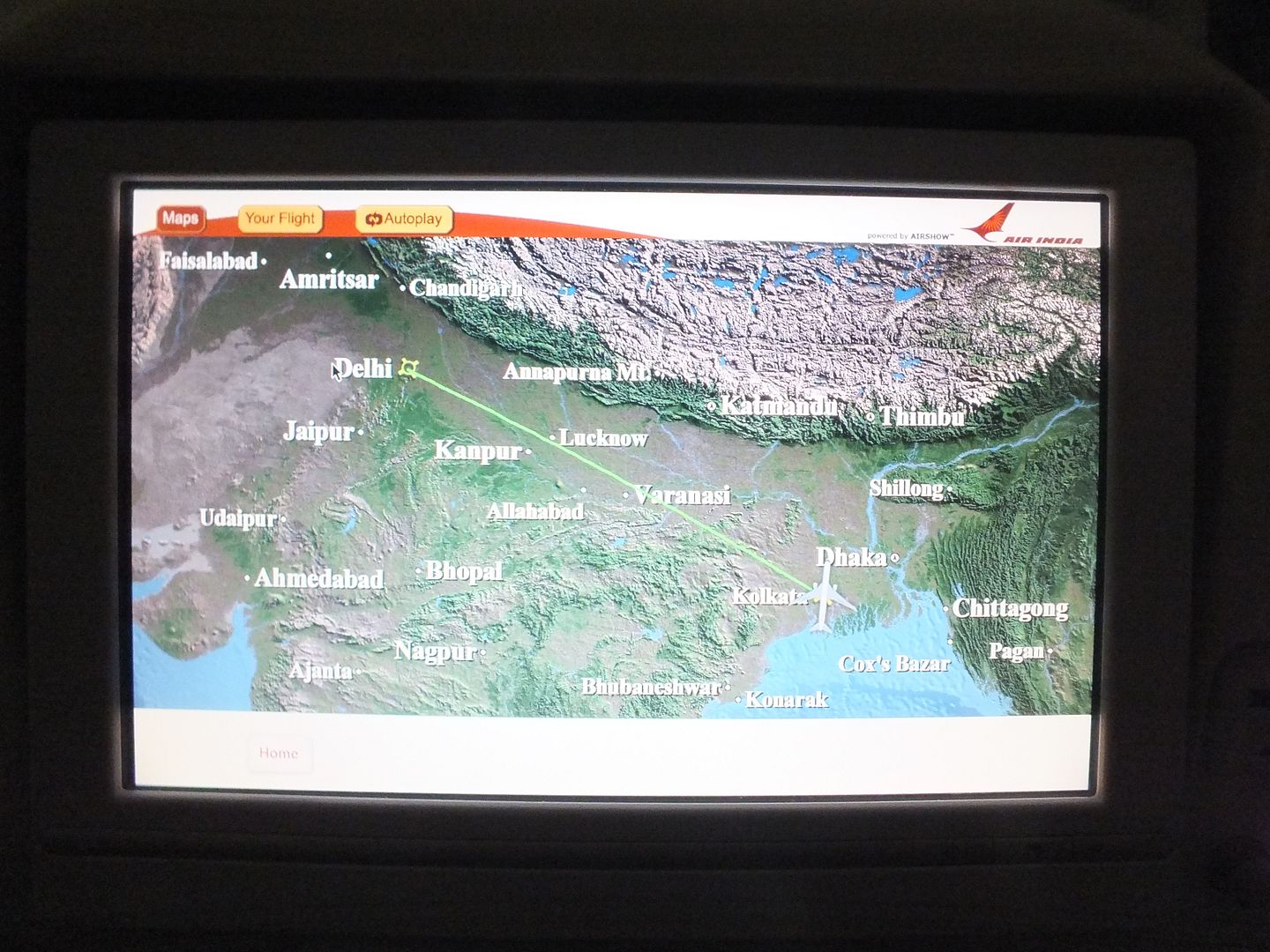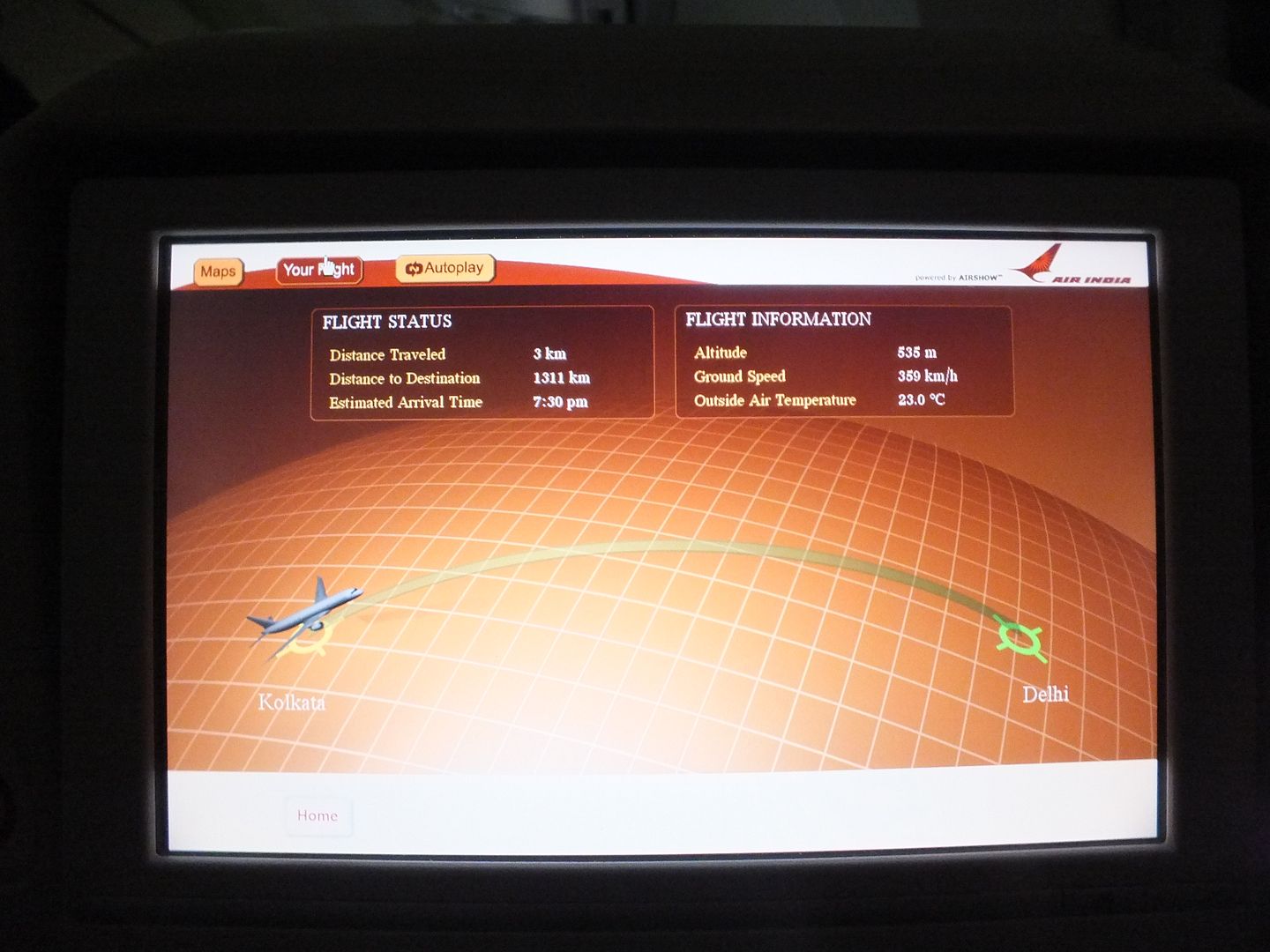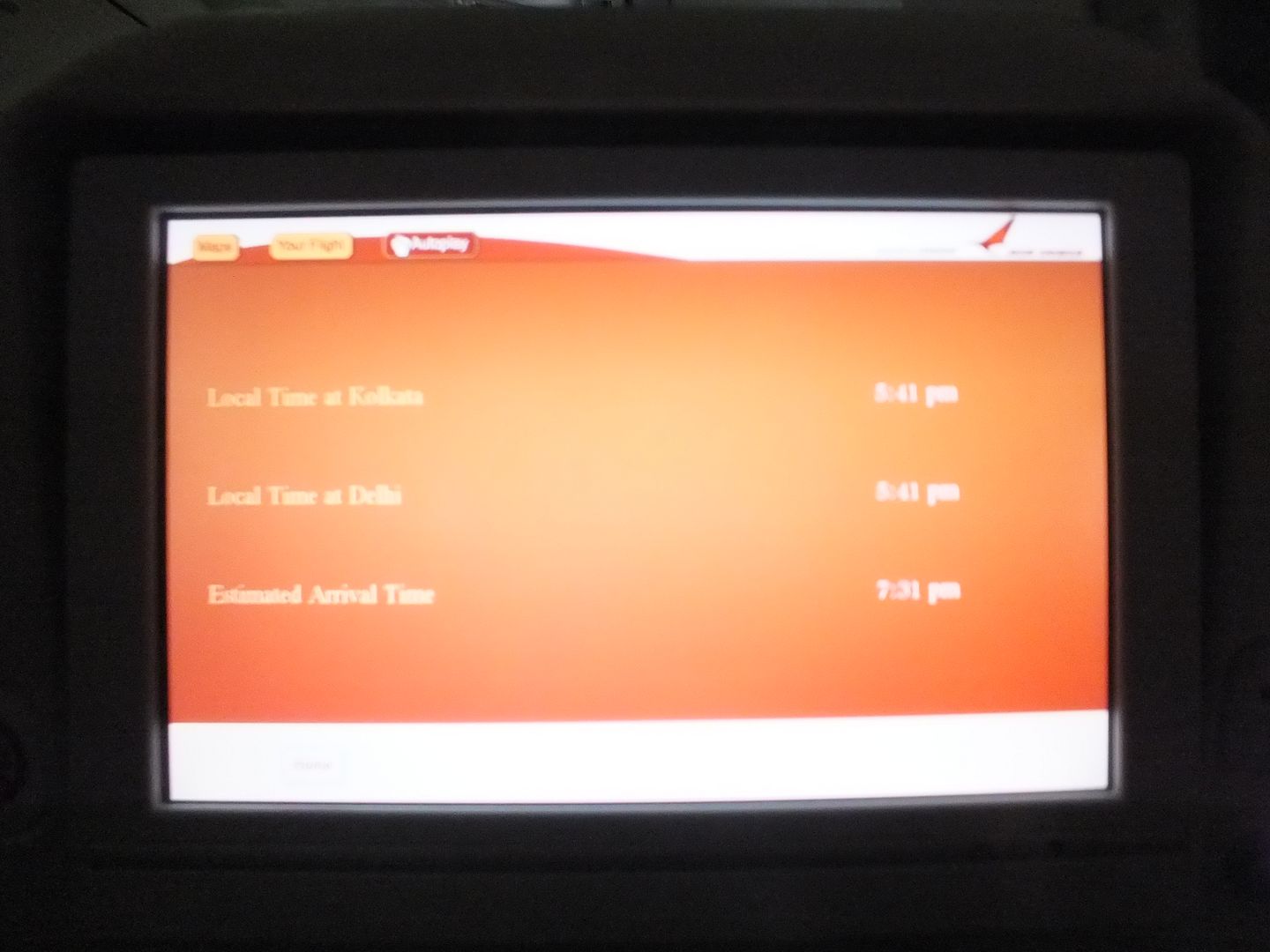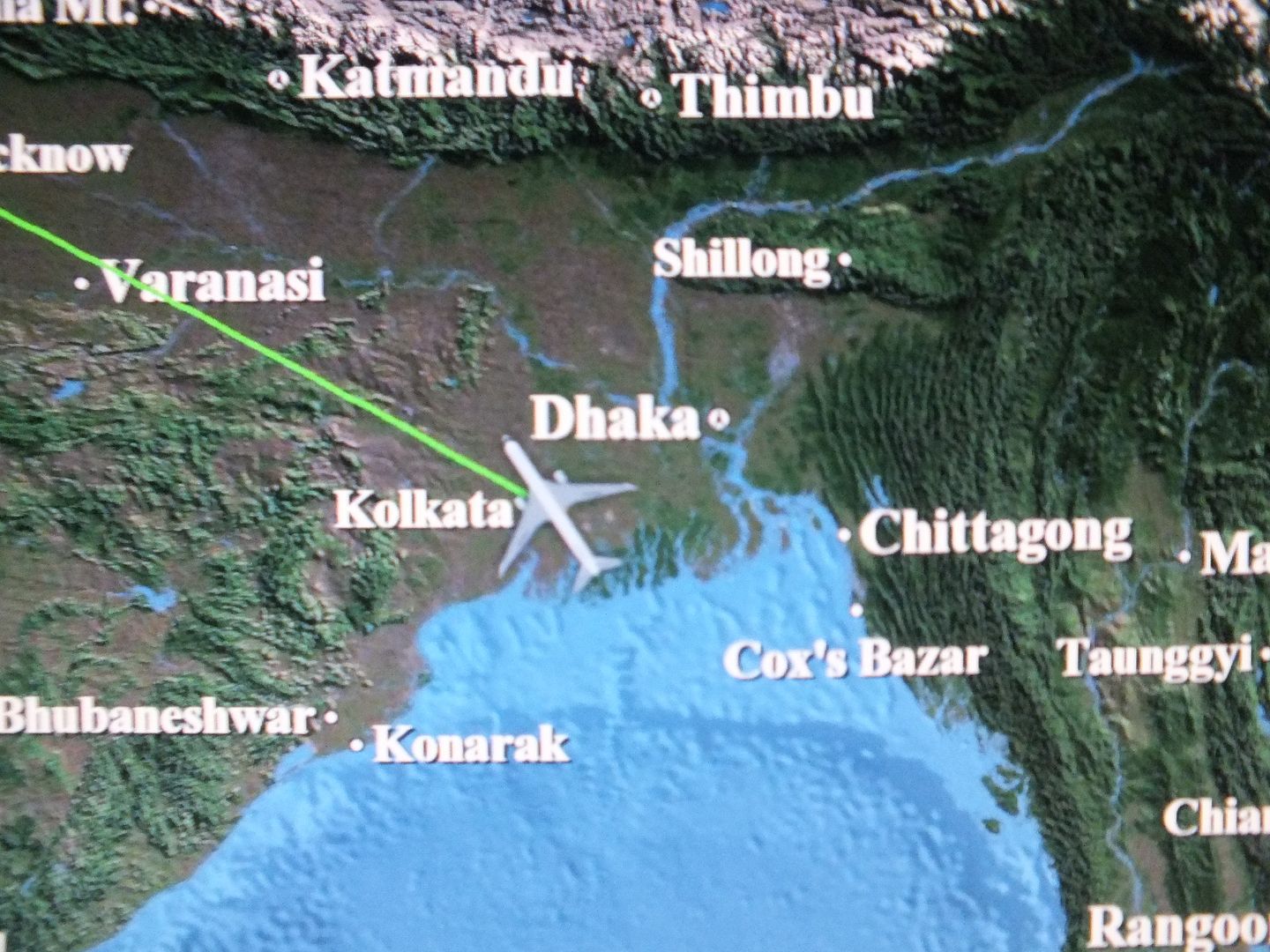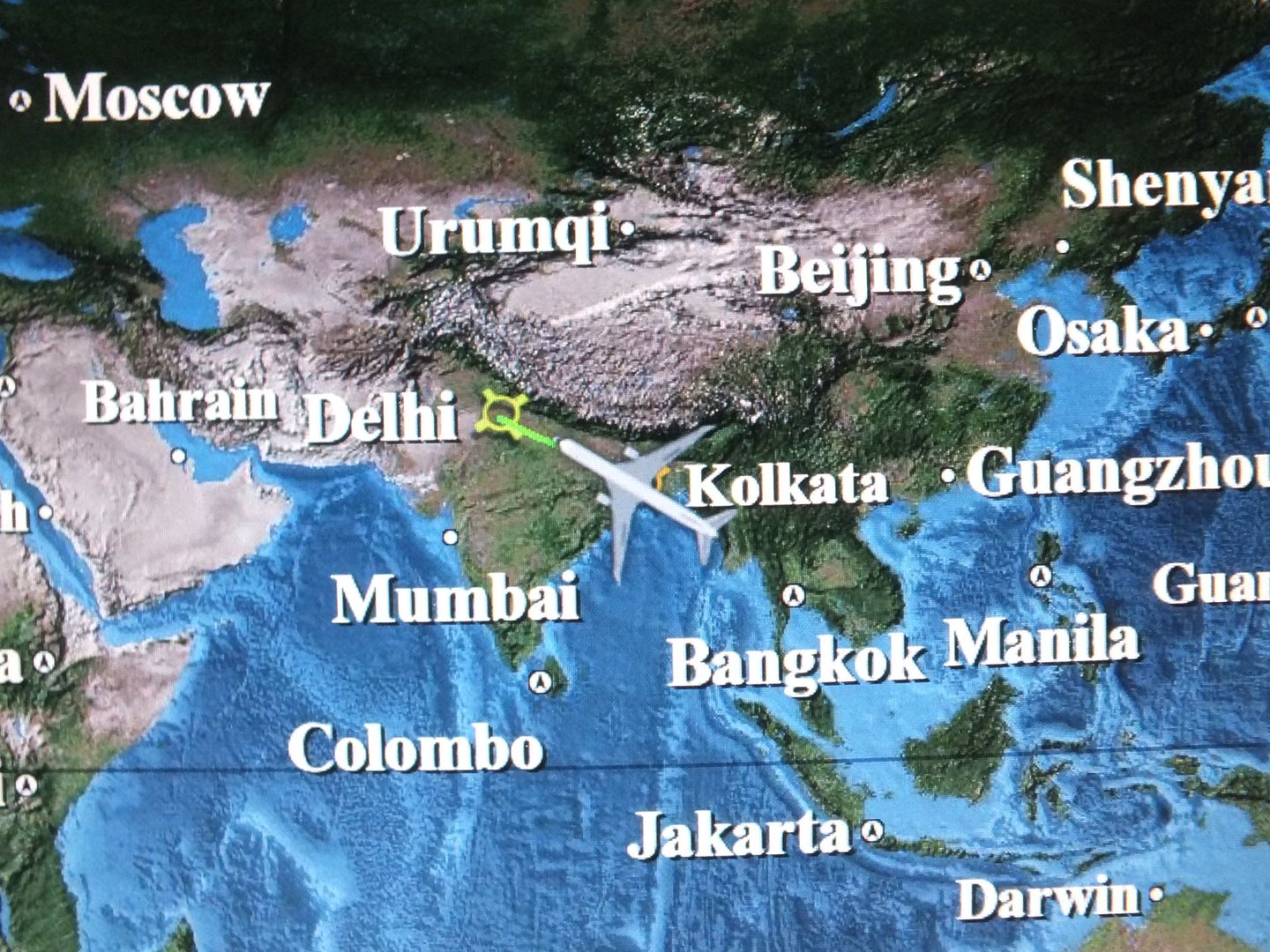 I through the IFE was reasonable, although I found it strange that there was no short programming available…no cartoons or sitcoms.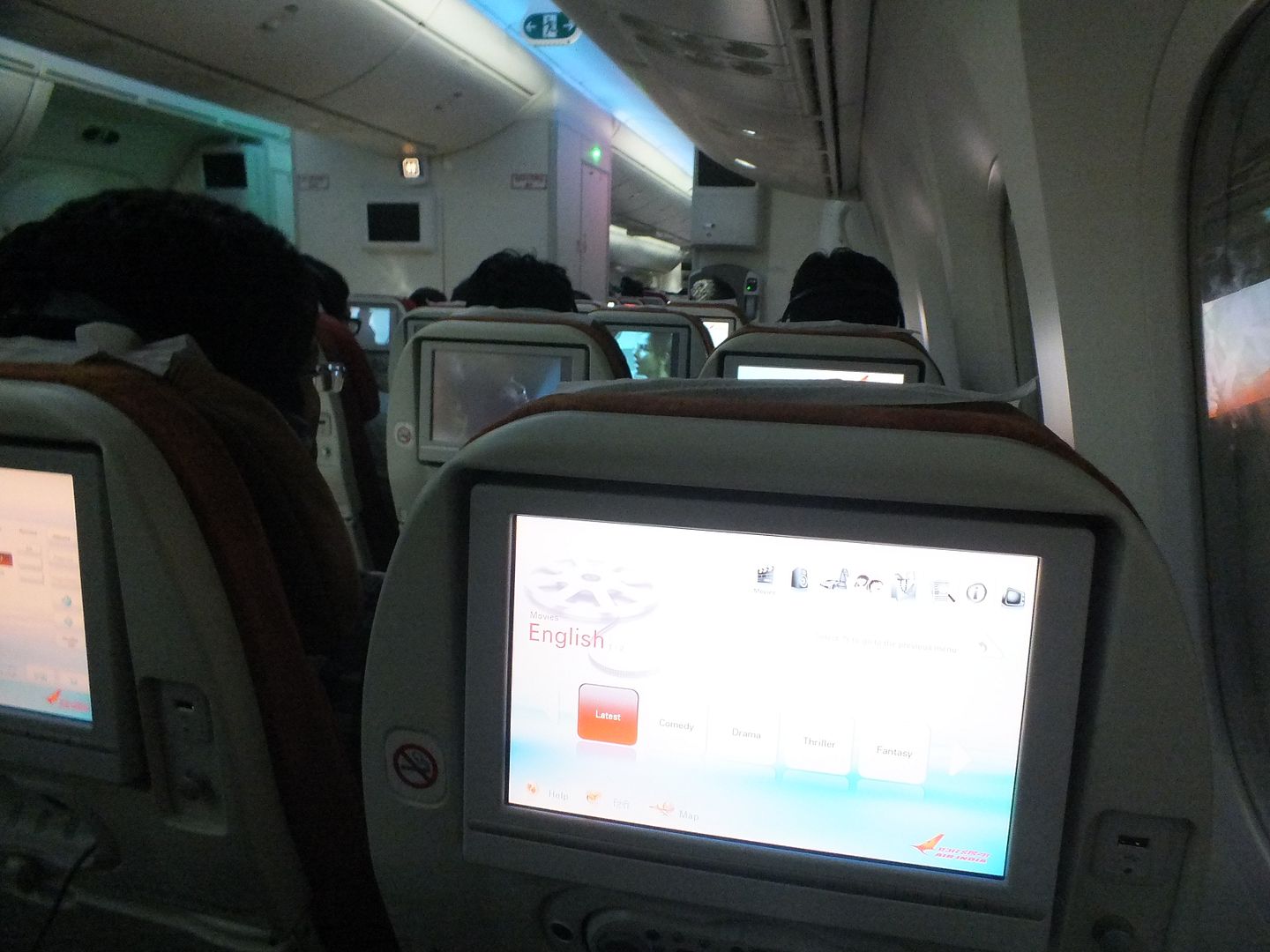 With a 2 hour flight time, there was nothing suitable to watch. In the end I went for Minority Report, the most appealing of their small selection of English language films. Of course, there wasn't time to finish it.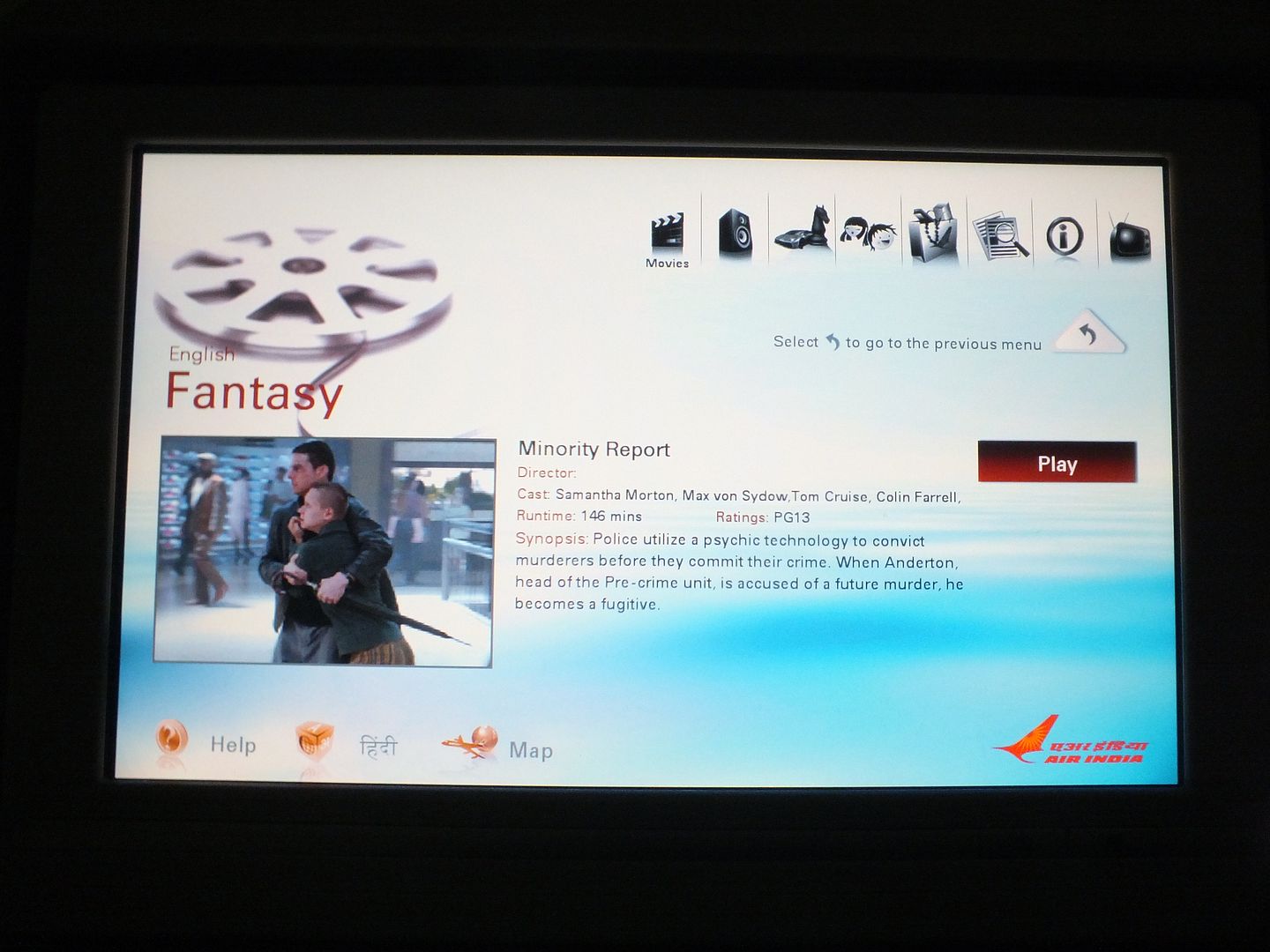 Half an hour after take off, the meal service began. The choice was uninspiring…veg or non-veg. I went with the non-veg.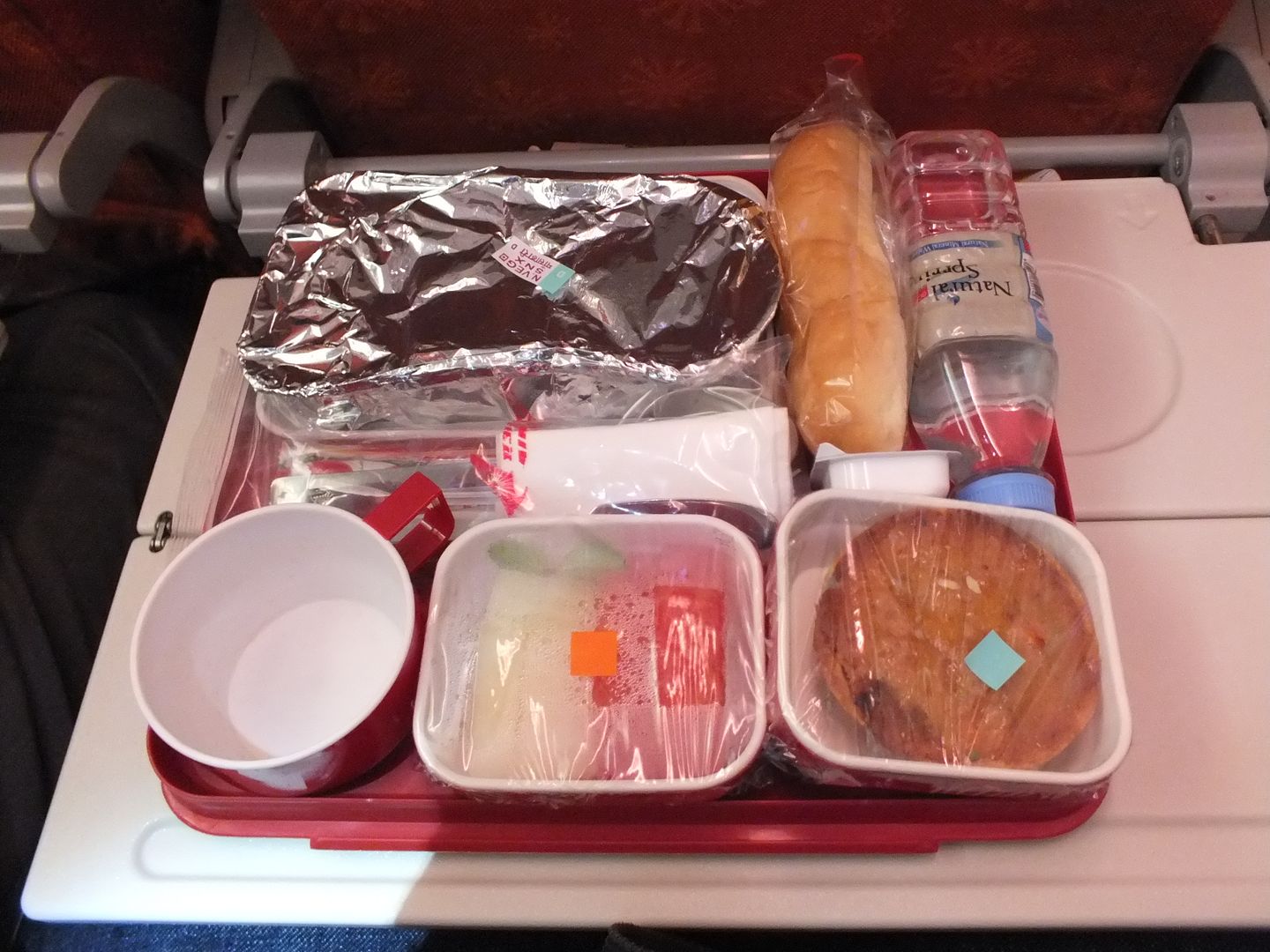 What are they? No idea. All I can say is that one was tastyish, and one was revolting, and all three tasted very calorific.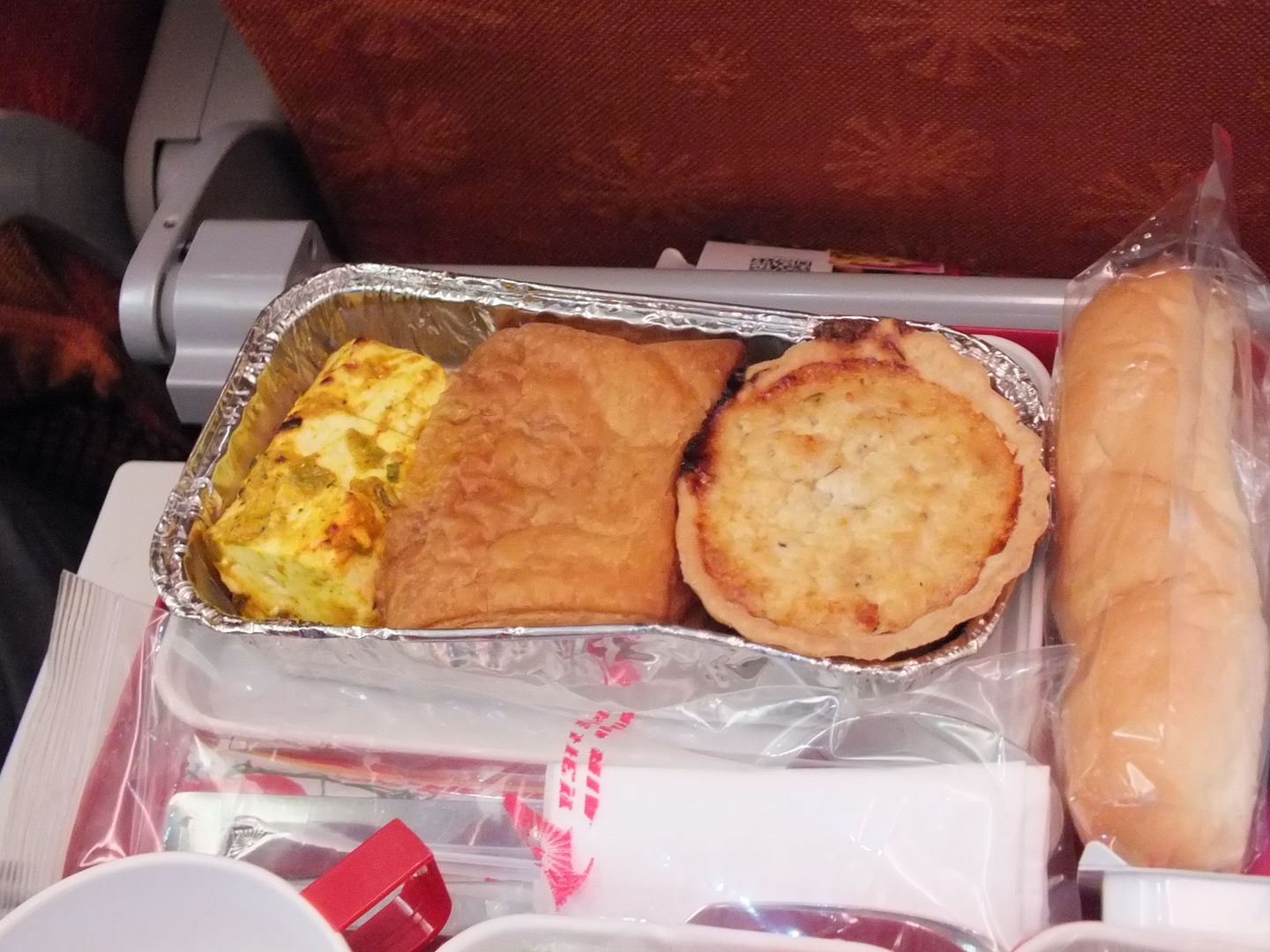 Thank goodness for the fruit and tea with lemon. I asked about getting another drinks…any beer? "Sorry, we only have coke or Fanta" (neither of which were proactively offered to anyone).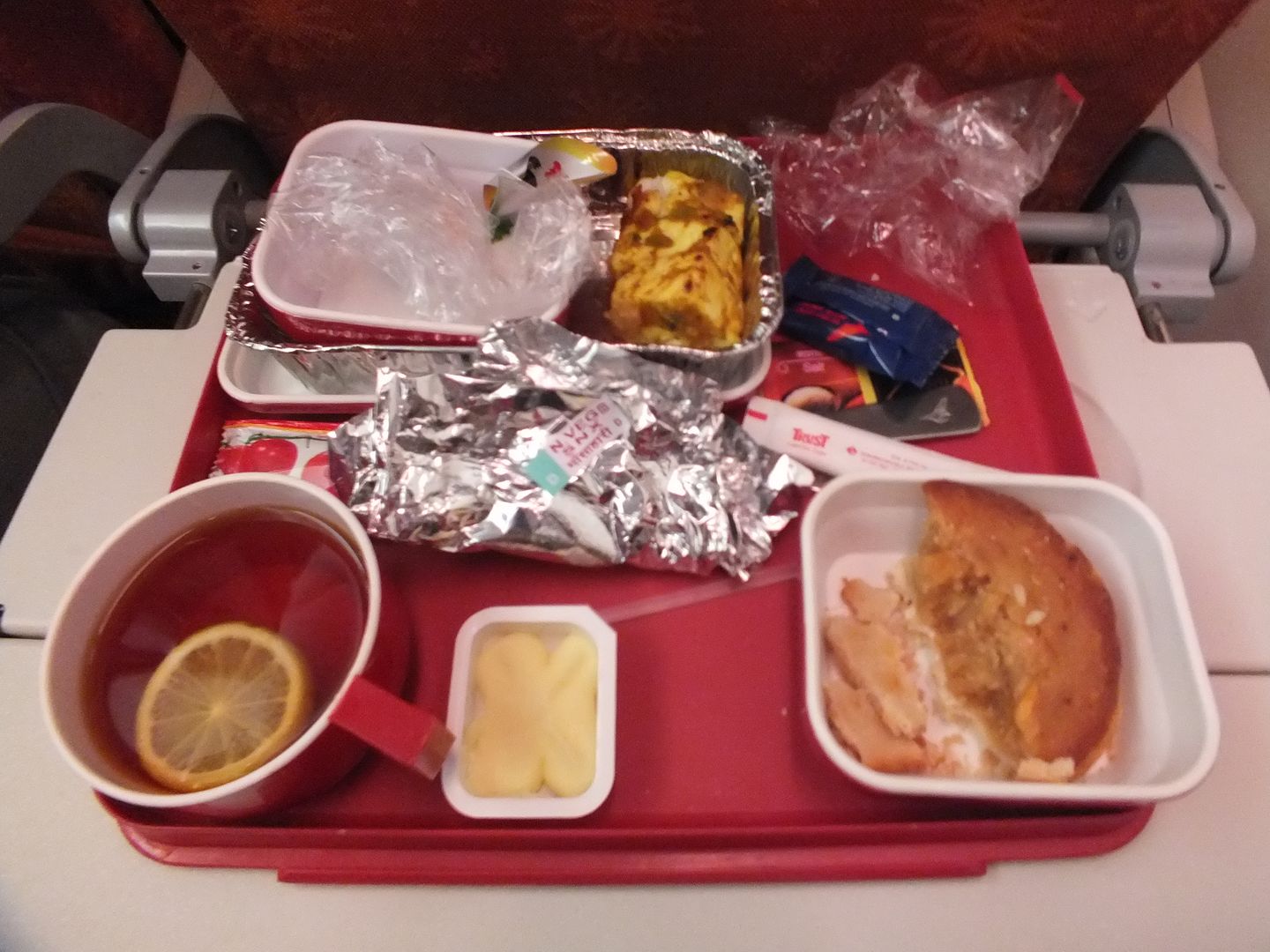 [Edited 2012-11-25 12:35:38]