Qatar Airways Business Class Service from Brussels to Doha to Melbourne
Company : Qatar Airways
Plane: Brussels - Doha Airbus A330-200, Doha - Melbourne Boeing 777-300 LR
Class: Business Class
Seat: Brussels - Doha 3A, Doha - Melbourne 4J
Flight number: Brussels - Doha QR 942, Doha - Melbourne QR30
Flight Time : 21 hours and 10 minutes
Date: 10 September 2012
The last time I flew Qatar Airways was back in 2005.
In 2005 there service was great, but since 2005 Qatar Airways has become a really big player in the airline industry.
They seems to keep on growing bigger and bigger.
With more than 250 aircraft on order including Boeing's 777 & 787, Airbus' A380 & A350, you have to say that they have grown since 2005.
People from all over the world say, Qatar Airways is the best Airline in the world, but is this true?
Time to find out, so we flew Qatar Airways from Brussels to Doha onboard the Airbus 330-200 and from Doha to Melbourne onboard the Boeing 777-300 ER.
Two different aircrafts to see and to explore.
Lucky for me the departure time from 16.00 hours is excellent departure time for me.
Most flights to Australia leave very early in the morning, you arrive sleepy at the airport and you don't start your flight like you want to.
After a goodnight sleep and waking up at a normal time, it was time to head to Brussels Zaventem Airport.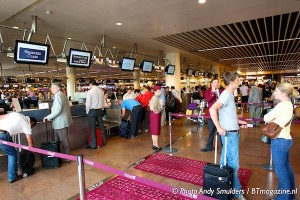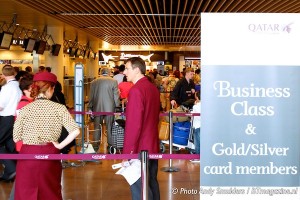 There was no line at the Business Class desk and the priority check-in worked great.
Our luggage did not exceed 30 kg of weight for the both of us, so we where invited to relax in the British Airways Business Lounge at Brussels airport..
Qatar Airways is using the best Business Lounge at Brussels for the Business travelers.
As I have stayed in all the lounges at Brussels, the British Airways lounge is the best option available here.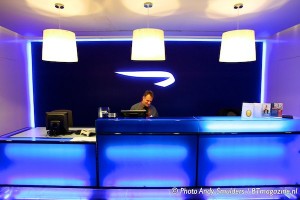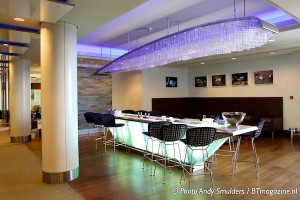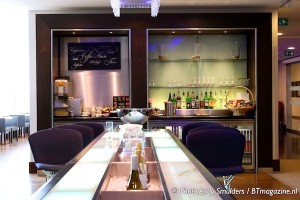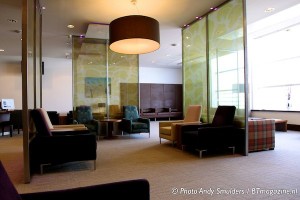 You are welcomed by the friendly service employee and there is enough to do to relax, before your flight will depart.
You will have enough space here, about 150 people can sit in the lounge and relax and enjoy all kinds of drinks and food.
Or you can check your e-mails and make prints if necessary or just surf the web.
For me it was time to get a nice bottle of water and some lights snacks to start this long journey to Australia.
There was the call: "Dear passengers, Qatar Airways flight QR 942 is ready for boarding".
It was time to head down to the gate, where the Business Class passengers are welcomed and have there priority boarding to go aboard this airbus.
Qatar Airways is using a two class configuration (Business- and Economy Class) on this Airbus 330-200 for the flight from Brussels to Doha.
As soon as you arrive onboard, the excellent service from Qatar Airways will start.
Can I help you with your jacket, and they store your jacket.
As soon as you sit down, you are welcomed by a welcome drink and your first amenity kit is there, socks, toothbrush and earplugs.
Soon after this you receive the second amenity kit with all kinds of perfume, lip balsam and cremes.
You can see all details in this You Tube movie we made about this flight:
http://www.youtube.com/watch?v=fh3Qogb7TVQ&feature=plcp
http://www.youtube.com/watch?v=fh3Qogb7TVQ&feature=plcp
The Business Class seats are great, they are fully Lie-flat seats and they are very comfortable.
There is enough space, and all features you wish are available.
It was time for the take-off and we where quickly airborne and on our way to Doha.
6 hours and 20 minutes to go.
The fasten seatbelt sign was turned off and the meal service started soon after this.
Before take off they had asked us what we would like to eat, so no time to waste, dinner time was there.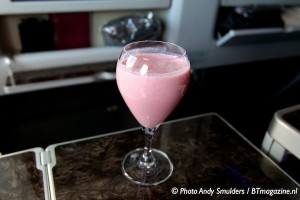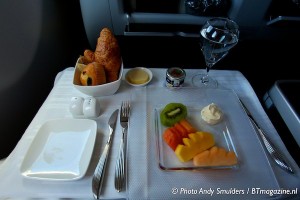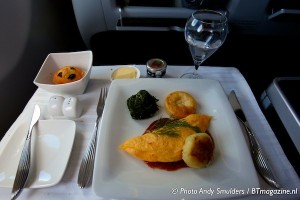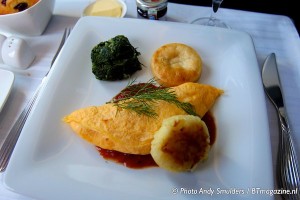 The Smoothy is one of a kind that you don't want to miss.
The meal service is excellent, well prepared and served like in a Michelin restaurant and the taste is suburb.
I did not finish it all, as the flight is still very long and I want to enjoy all other meals as well.
After the meal service it was time for me to leave the finish my work on my Macbook.
Lucky there was a power point connection, so I would be able to work until we would land in Doha.
After touch down, the Business travelers are welcomed by a Business Class bus, who brings you directly to the Premium Terminal, located at the new airport to be opened this year.
There was no delay when we arrived in Doha, so the transit time from 1 hours and 20 minutes was no problem.
It was time to unwind, stretch your legs and to see what the Business Lounge in the Premium Terminal will offer to there guests.
The bus will park in front of the Premium Lounge and your boarding pass and hand luggage is checked at the terminal.
On level 0 you will find the shops and the check-in desks and on level 1 your will find the First- and Business lounge.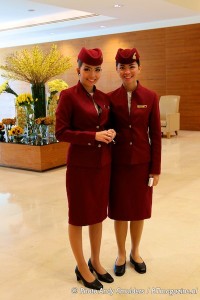 Friendly Stewardesses welcome you and direct you to either the First Class lounge on the left or the Business Class lounge to the right.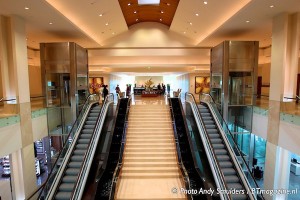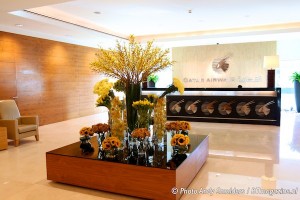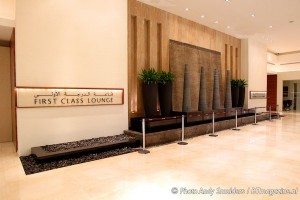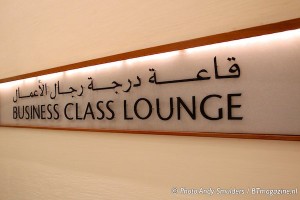 Qatar is still serving a First - and Business Class on some flights, but on flights from Brussels to Melbourne there is only a Business Class configuration.
The only difference between the First - and Business Lounge is that there is a Spa in the First Lounge and a hotel to sleep.
This Premium Terminal is only used by Qatar Airways and it will seat about 1.000 people.
This luxurious world class facility, based on 10.000 square meters, will offer a comfortable and relaxing environment.
Not only as Transit lounge a great lounge but also to refresh and revitalize on arrival, this is the lounge that you will have to use.
Build in 2006 at a cost of 90 million US Dollars, this is the number one lounge in the World in 2012.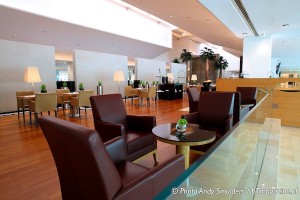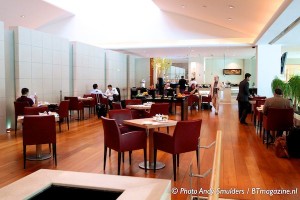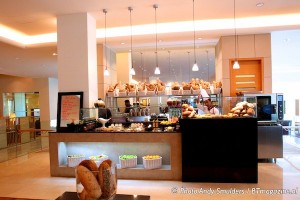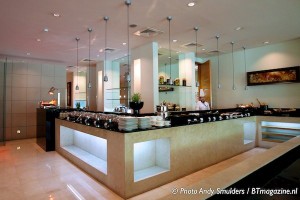 With out a doubt, the best Business lounge in the world at this moment.
There are so many things to do, from a playroom to a Business centre, from a a la carte restaurant to a buffet restaurant, from a hotel to a spa centre.
It was time to start on our second journey from Doha to Melbourne, as the plane was ready to board.
It was hard to say goodbye to the lounge as I wanted to experience much more, but the airplane was waiting for us.
This time the plane is one of my favorite aircrafts to fly with, a Boeing 777-300 ER.
Quickly we took the stairs to level 0, where the bus was waiting for the Business Class passengers.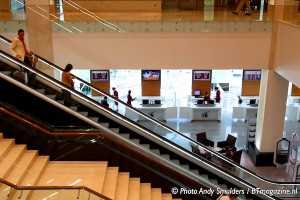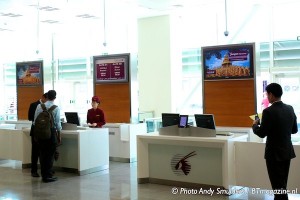 The Boeing 777-300 is an airplane for very long flights over 12 hours, so Qatar Airways is offering an even bigger Business Class seat.
They say that this is a Business Class seat, but they better could name it a First Class seat, that good is this seat.
There is so much room around you and also this seat is a Full Lie-Flat Seat, but bigger than onboard the Airbus 330-200 which are used for shorter flights.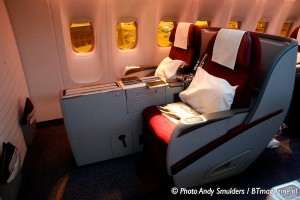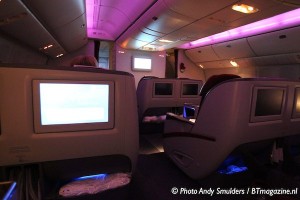 As soon as you sit you are welcomed by a welcome drink and your first amenity kit is there, socks, toothbrush and earplugs.
Soon after this you receive the second amenity kit with all kinds of perfume, lip balsam and cremes and your night suite.
The lights warm you with a friendly color switching colors in different colors every minute.
The Inflight Entertainment system is named Oryx and is equipped with a touch screen.
There is so much entertainement onboard that it will take more than 100 trips around the world, to watch all the entertainment features on this system.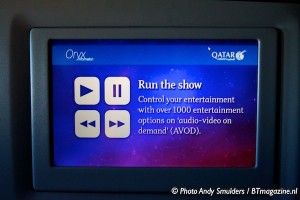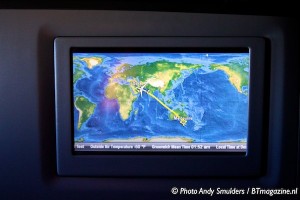 This flight is a Red Eye flight, what means that you fly mostly at night.
You will depart at night time and arrive at night time as well, with a few hours day time in between.
So it's dinner time again and of course you start off with the fresh smoothy again.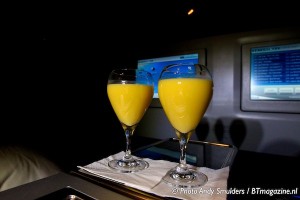 It was again like having dinner in a fancy Restaurant, It looked great, it tasted even better.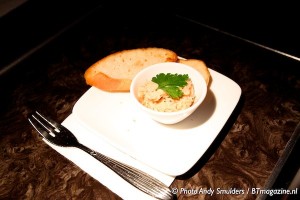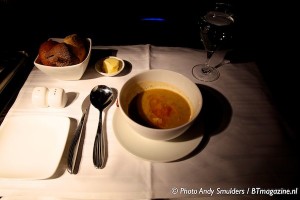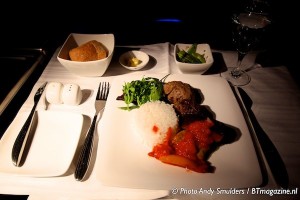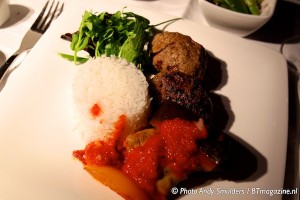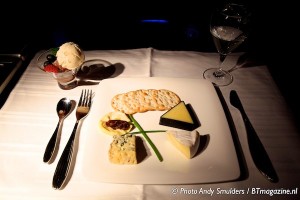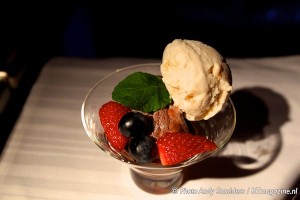 The sun came up for a few hours inflight and it was time to get dressed in the night suite provided by Qatar Airways.
But first of all the stewardess will make up your bed.
Comfortable for a good night sleep.
Now it was time to close the blinds and sleep for 8 hours.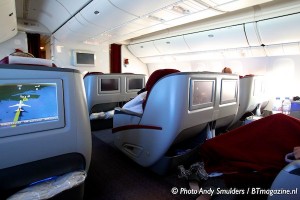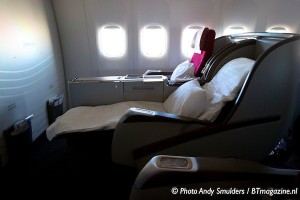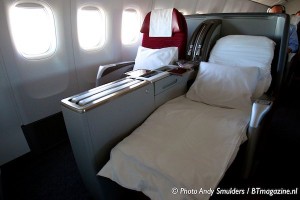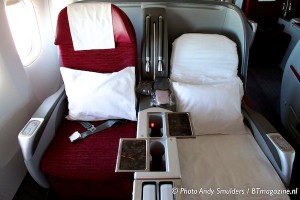 The stewardess had to wake me up two hours before we would land in Melbourne.
It was time for some light snacks or lunch, but I was not hungry at all, so just a nice wine and coffee to wake me up all the way.
It was time to refresh myself, 40 minutes before landing and to fill out all the paper work for immigration in Australia.
You also receive a fast track voucher to speed up the immigration at Melbourne Airport.
There was the signal for fasten your seatbelt: "as you noticed we have started our descend into Melbourne".
The 21 hours past away so fast, that I was not even a bit restless at arrival.
Was it the great service from Qatar Airways or the excellent seats or maybe the time of departure and arrival.
I am not sure, but for me is Qatar Airways an
EXCELLENT
airline, with very high ratings.
I have not flown a better airline this year, so yes we can see they are the best airline in the world.
They became even better since 2005 and for sure I will fly with them again.
I can't wait until the new airport opens in 2013 and the new Airbus 380 will enter into service with Qatar Airways.
More photo's on
www.persfoto.com
For more information please check
Qatar Airways
Full report including photo's and video online on
http://www.btmagazine.nl/?os_airline=qatar-business-class-review