Introduction
Low cost carriers (LCCs for short) - love them or loathe them, but you have to admit they've changed the airline industry more than any other phenomenon within the last ten or so years. Their new, streamlined business models, flexibility and the lure of low fares (plus surcharges for everything) have broken the rigid old ways the airline business has worked for decades. Big, wasteful lumbering state owned carriers that could rely on protectionism and government support to guarantee profitability have been forced to either adapt to the agile ways of their new nimble competitors or die a slow death, as several big name airline bankruptcies have shown.
Japan's domestic air transport market has been quite a bit different for a long time now - the main carriers fly a lot of routes using widebodies, often in high density configurations of 500 and more passengers. These flights are mainly used by business travellers (and almost always by business
men
!) - for the leisure travelers the excellent rail network on the Home Islands has been the main form of travel - and nothing bad at that but even the latest
Shinkansen
can take quite a few hours to traverse all the way from the north island of Hokkaido to the southern Kyushu.
Japan resisted the LCC phenomenon for a long time, only in March 2012 did the first real low cost carrier start its operations. This was Peach Aviation, a carrier in which All Nippon Airlines (ANA) had a stake, based at Kansai International Airport (KIX), the artificial island airport in Osaka Bay serving the vast Kansai region.
Not long after this it was announced that also two other well known Asian LCC brands, Air Asia and Jetstar were looking to start their own Japanese operations. Jetstar Japan was the first to commence scheduled flights in July 2012. As seems to be the norm in Japan, an established carrier was also backing this newcomer in the form or JAL (plus Australian Qantas like with all the Jetstar companies). Not to be left to play second fiddle Air Asia Japan launched their own flights just a month later in August 2012, surprisingly also backed by ANA.
Both Jetstar and Air Asia would be based at Tokyo's Narita Airport (NRT) - I'm sure they would've loved to operate from the much, much more accessible Haneda Airport but as the big players (ANA, JAL) there want to keep all those high-Yen business passengers to themselves they were unable to acquire any slots. And ANA obviously wants to keep Air Asia operating ex-NRT and Peach ex-KIX to avoid them becoming competitors.
All three carriers fly boring new Airbus A320s on mainly trunk domestic routes, although some international routes (ICN, HKG, TPE) are on the cards too.
For me these all were good news as I'd be in Japan in September 2012 and was looking to do some domestic flying. My main objective for these flights was catching the 787 and pretty soon I narrowed my route choices to either Fukuoka (FUK) or Osaka Itami (ITM) to Haneda (HND) on ANA. Thus I needed to get down to either Kansai or Fukuoka and well - what do you know, both Air Asia Japan and Jetstar Japan just happen to operate the NRT-KIX route! Jetstar was the first one to get its booking website up and running so they won my business, especially since they had a perfectly timed flight too. The flight fare with a seat assignment cost a bit over 50 EUR - very reasonable. And most importantly I was able to book this flight 5 months in advance - normal Japanese domestic flights only open for sale exactly two months in advance (as was the case with my ITM-HND flight too, but that's another story).
I tried to look into flying Peach ex-KIX somewhere, but couldn't really find anything that I liked - either the flight timings were bad or the fares a bit too high. I had already almost given up hope on flying with them, but around three months later in July I checked the Peach website again and what do you know - they were running a sale with some really nice fares available. I had a choice of flying to either to ICN for a few hours for around 100 EUR or down to FUK for a half-day trip for less than 70 EUR for the roundtrip. As much as a daytrip to Korea sounded inviting I decided to pass - I didn't want to have funny questions asked by Japanese immigration why I left the country for a few hours plus Korea deserves a longer trip sometime in the future anyway. So Fukuoka it was - booked!
Air Asia Japan will have to wait until the next time, I guess!
And here's the simple itinerary for these three flights: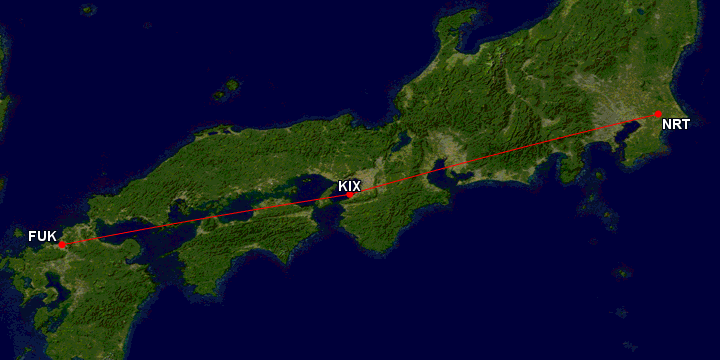 Thursday 20.9.2012
For events leading up to this point, please see the first part:
To Japan On A Shoestring: FCO-SVO-NRT And Some
(by
FlyingFinn76
Oct 21 2012 in Trip Reports)
So here I am, at the arrivals area of T1. Deathst... err sorry, Jetstar lives at T2 so that's where I have to go next. Luckily there's a shuttle bus running between the terminals and the stop is right outside: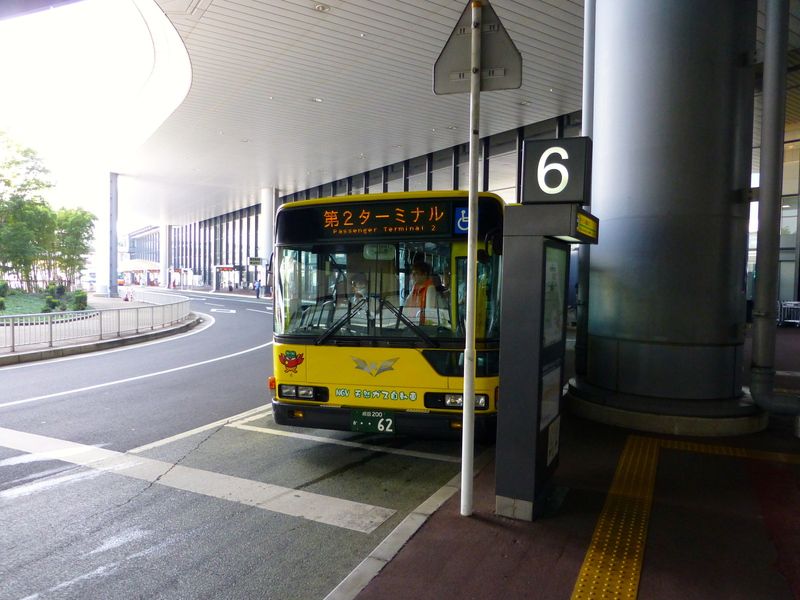 Ten minutes later I step off at T1, head inside and quickly locate the shining new Jetstar check in area with the entrance to the domestic gates right next to it: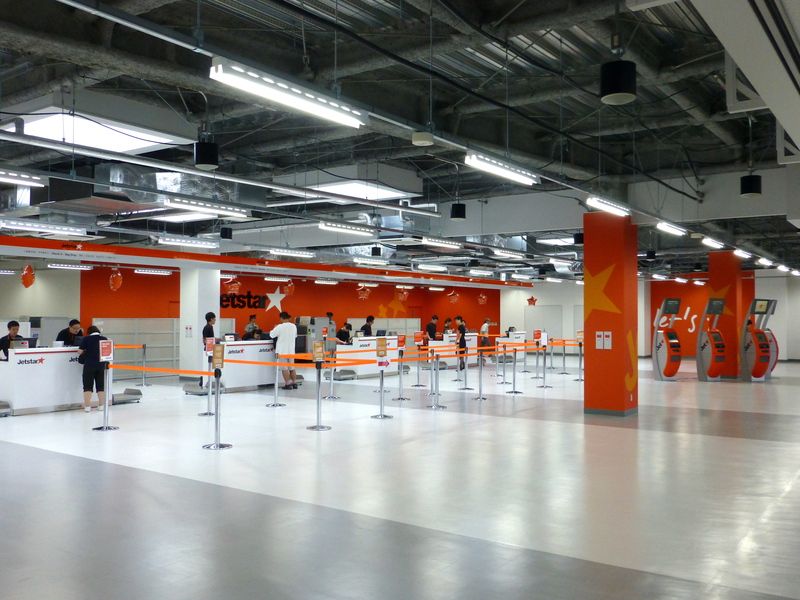 Having done OLCI already at home there's no need to go there. Well I'm actually over the allowed luggage limit by having my cabin sized roller bag plus my rather full and heavy (but compactly sized) backbag with me. Never a problem with traditional airlines, but definitely a problem with Ryanair and easyJet. Well, I'm trusting the Japanese are so new to this low cost phenomenon so that they won't care if I bring them both onboard and besides they are so polite anyway they wouldn't want to upset a
gaijin
by being tough with the rules...
The domestic departures:
Ahh, my first experience with the ubiquitous vending machines - in Japan these are
everywhere
(and sell just about
anything
too!):
Well, I still have quite some time before my flight and as it is lunchtime I decide to find someplace to eat. The signs for shopping and restaurant area point towards the international part of the terminal (which is about a million and half times as large as the tiny domestic corner):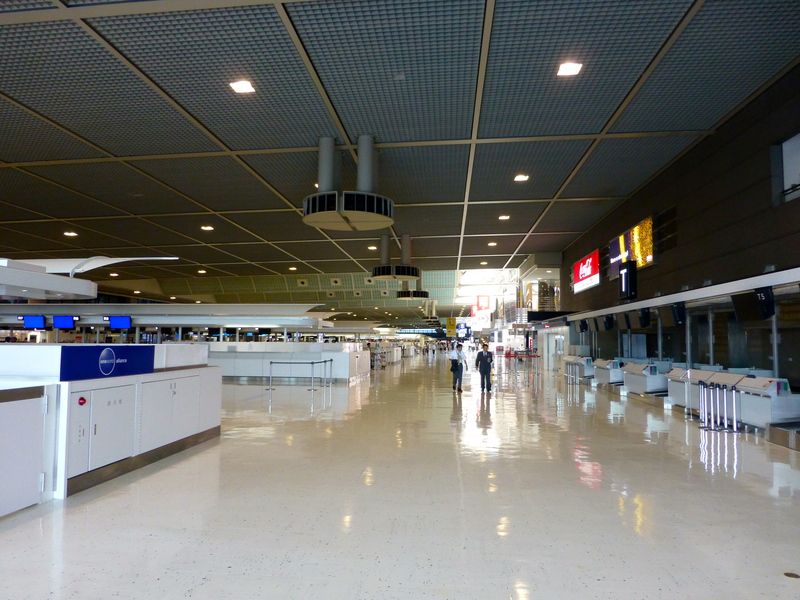 View of the vast check in hall from upstairs: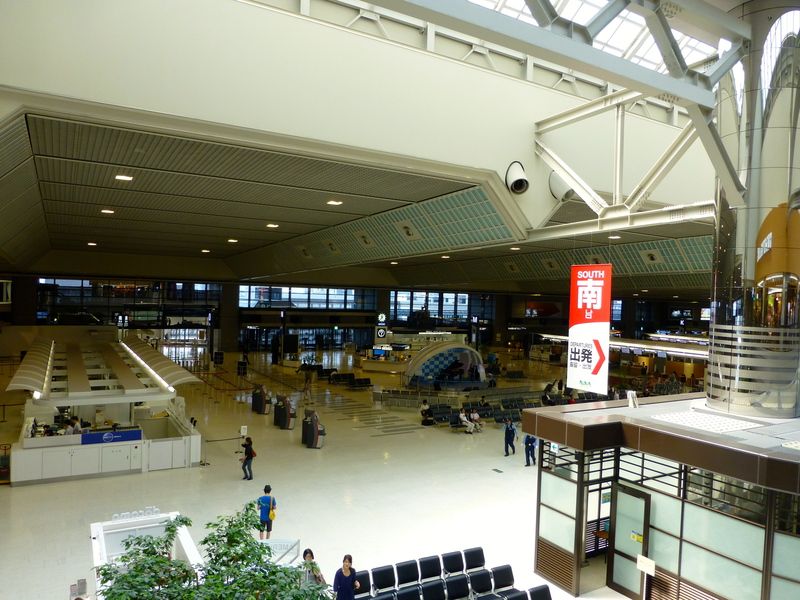 On the way to the food and shopping area I pass a few of these - I can think of a certain lounge-obsessed a.netter who would just
love
to rent out a lounge here and pig out, all by himself: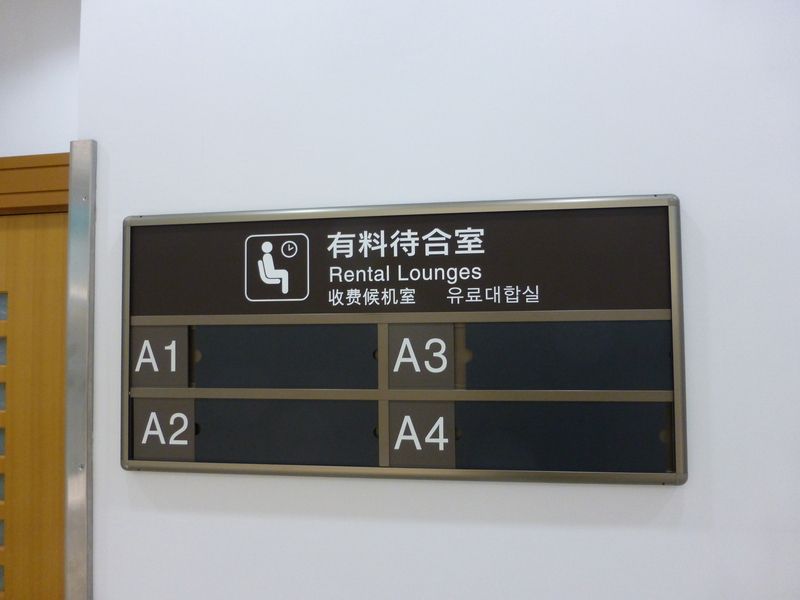 Oh, my first encounter with this Japanese habit for restaurants to display plastic models of their dishes - very handy if you are seriously
kanji
-limited like me: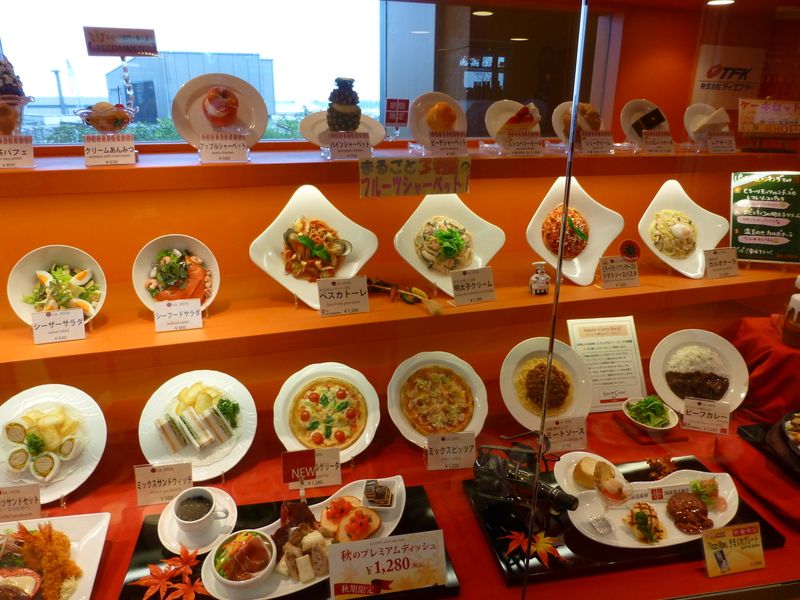 After a tasty lunch I decide to pay the nearby (yes, it's landside) generic lounge a visit, courtesy of Diners Club: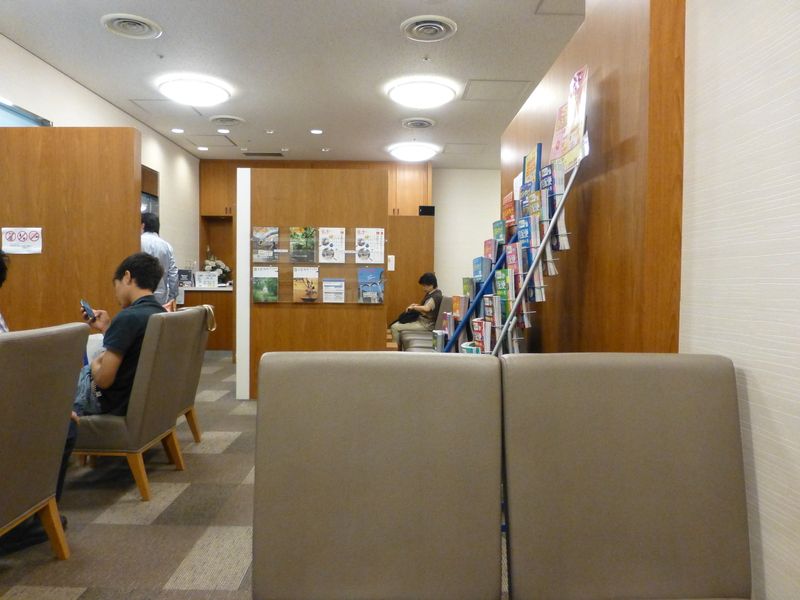 Nothing much in this tiny place but it offers me power sockets for charging my various gadgets, wifi and even one free and very nicely chilled beer, delivered by the übercourteous and supernice reception girl:
Half an hour later I decide to head to the gate area. Security is lovely as ever - the agents there are again extremely polite, there are no queues and there's none of this "no liquids" nonsense (international flights ex-Japan do, domestics don't). TSA could learn a lesson or twenty three here, starting with "how to talk to people without being a complete jerk"...
The domestic gate area is tiny: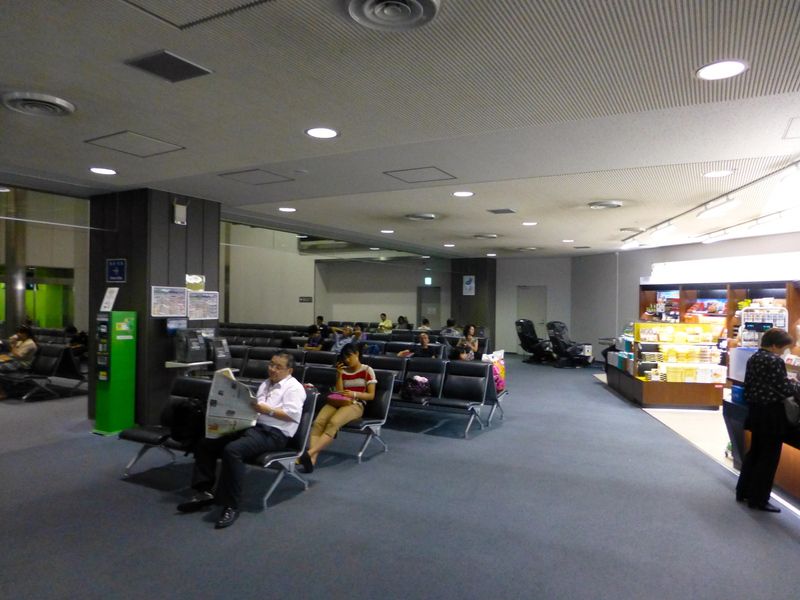 Upstairs there are some jetway equipped gates - and shock horror - NO SHOPPING! Quick, turn back: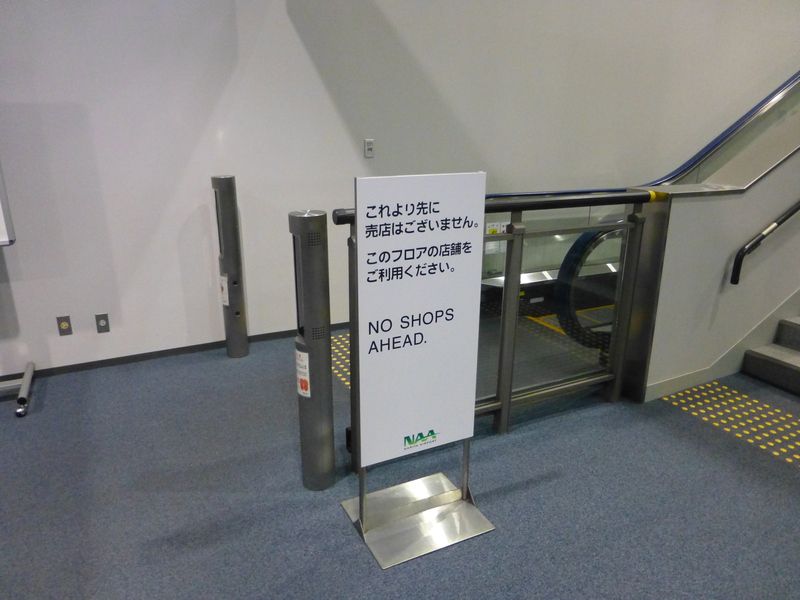 Well down here there's actually a single shop which like I'll soon learn all shops in all Japanese airports sells an amazing array of stuff, including weird foods and all kinds of sweets in very nice packaging, must be a tradition to bring gifts when traveling or coming back home.
Nils would love this - dried small shrimp: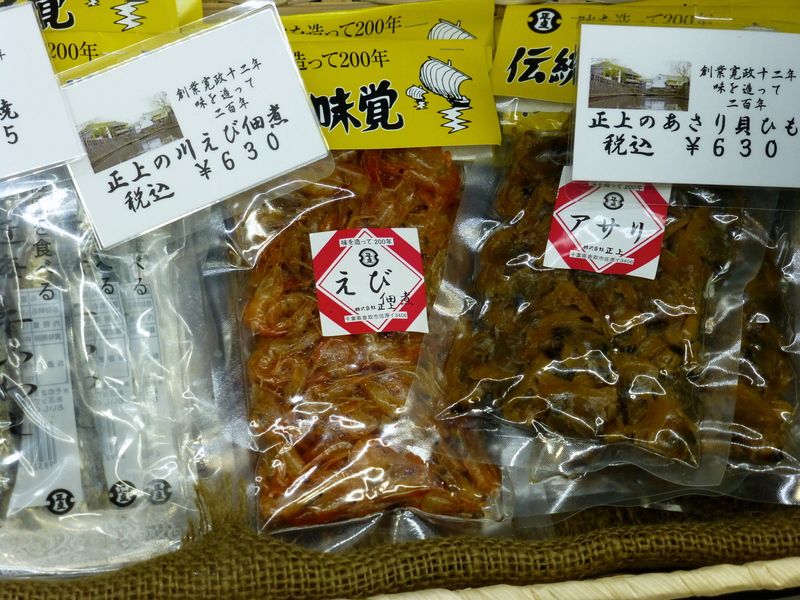 Another first encounter with something very Japanese - an iconic soft drink with a very weird name: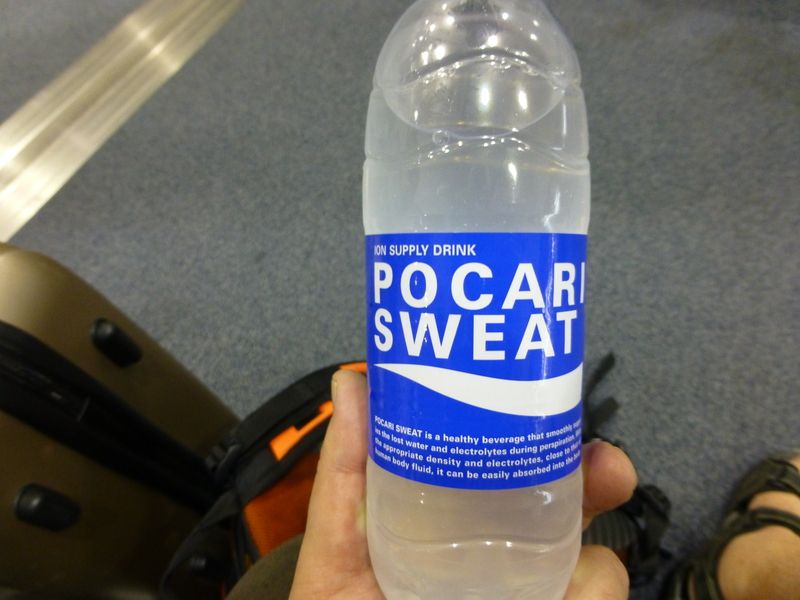 The lack of sleep in the plane over starts to get to me right here so I doze off while sitting in the waiting area. Initially they post a 30 minute delay for my flight which soon reduces to 15 or so and eventually boarding is called fifteen minutes before the SDT.
Boarding is from a bus gate area one level below, refreshingly there are no other flights boarding at the same time and "boarding" really means boarding here instead of "we'll say it's boarding to get you all in a scrum in front of the gate to make sure you are here when we'll board for real in 15 minutes" like at many other airports.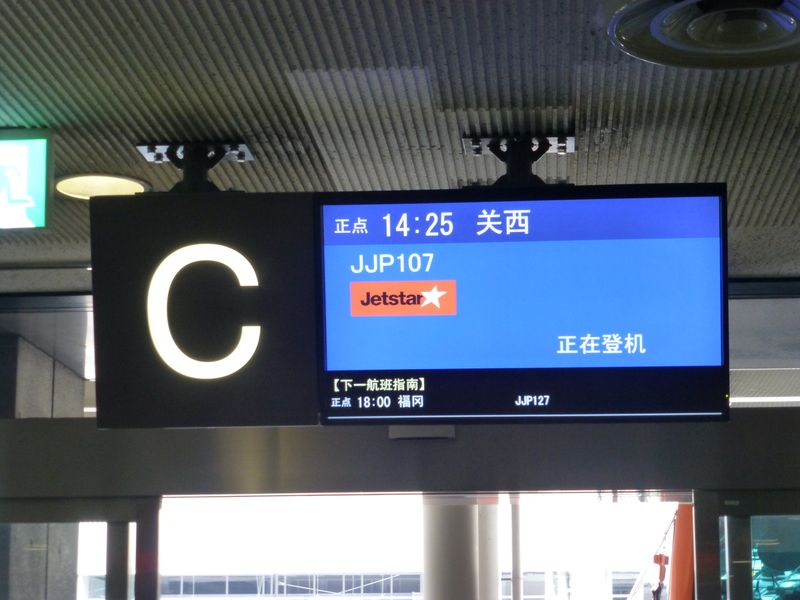 Nobody mentions anything about my two carry ons, it's all smiles and politeness and then into one of the waiting buses... errr sorry, "Airport Limousines":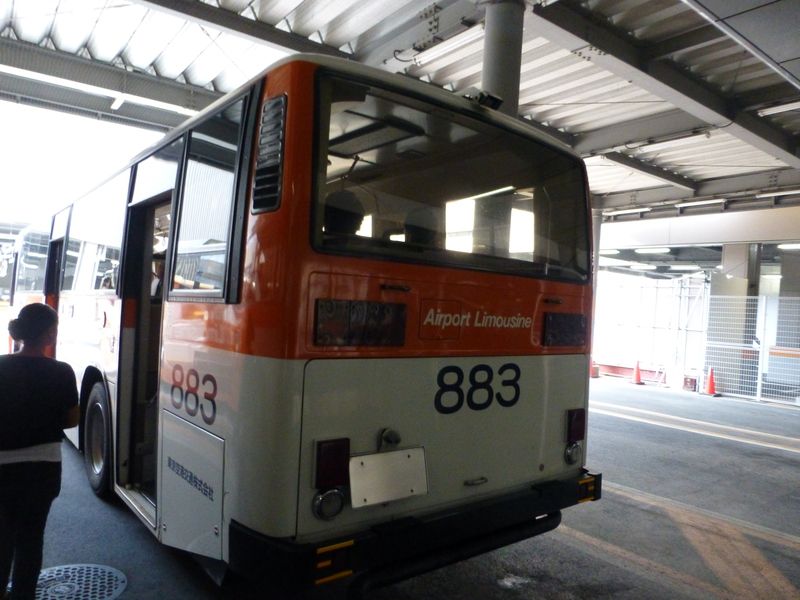 In the bus I take a look at my fellow passengers - quite a few westeners around - definitely the most of my four domestic flights that I did during this trip.
The plane is parked quite some distance away, at the same apron area near runway 16L where I saw one of their planes when landing several hours earlier. The plane isn't quite ready yet so we wait for some time in the bus (luckily air conditioned, the sun is scorching and it is
hot
outside!). They have two airstairs, so I decide to use the back ones, my seat being in row 29. Well, by the time were are given the thumbs up to board the back stairs are gone... I'd expected a somewhat more efficient approach!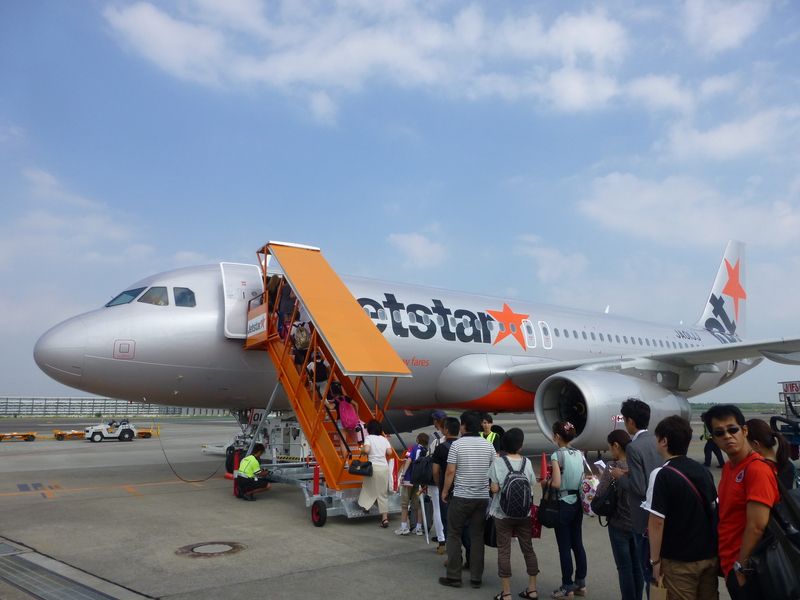 Yes, it's a low cost carrier: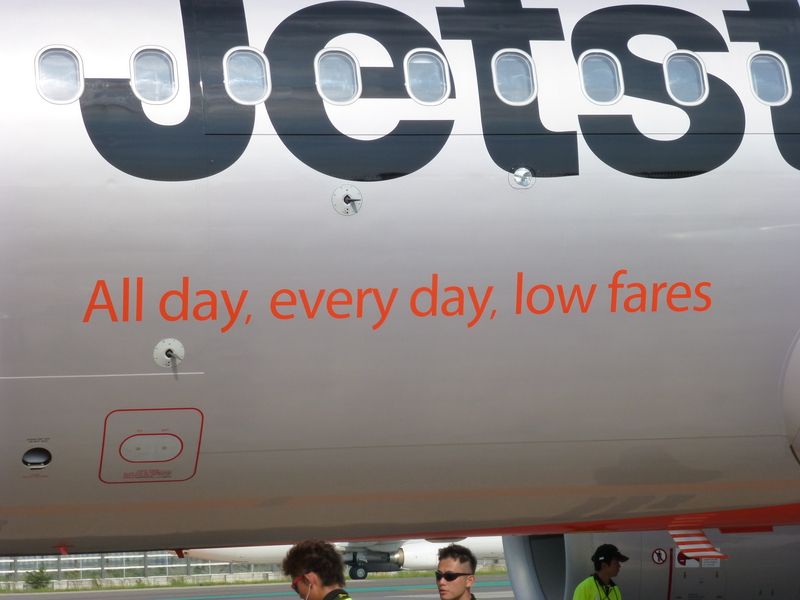 NRT - KIX
GK107
A320 JA01JJ
Seat 29F
14.47 - 16.10
Inside a very young and cheery all-female cabin crew is beaming from head to toe and greeting everyone. Definitely a VERY different welcome that you are used to getting on Ryanair flights.
This is the first Death... errr Jetstar flight I've ever taken so I cannot say how the cabin interior compares to the other country franchises, but the dark gray faux leather seats and orange ("retail orange" my old boss would've called them!) highlights do look quite stylish actually.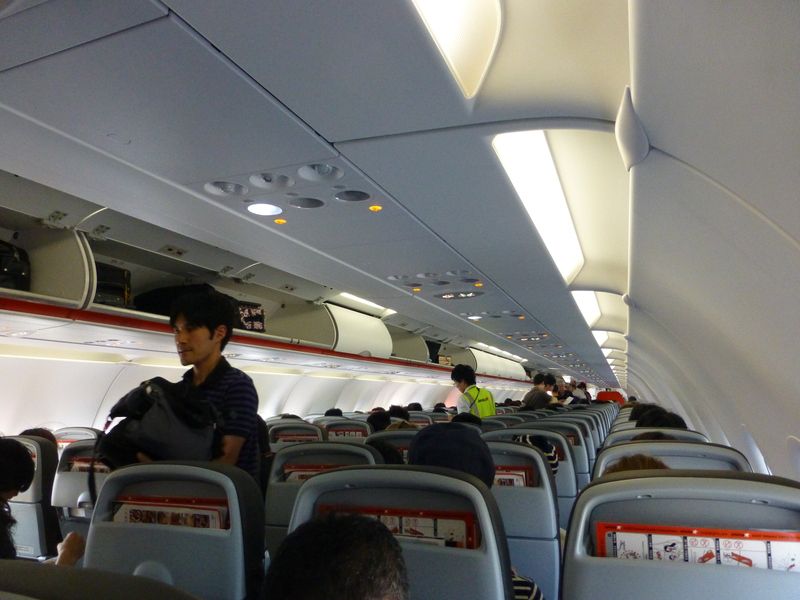 As expected the legroom is very limited: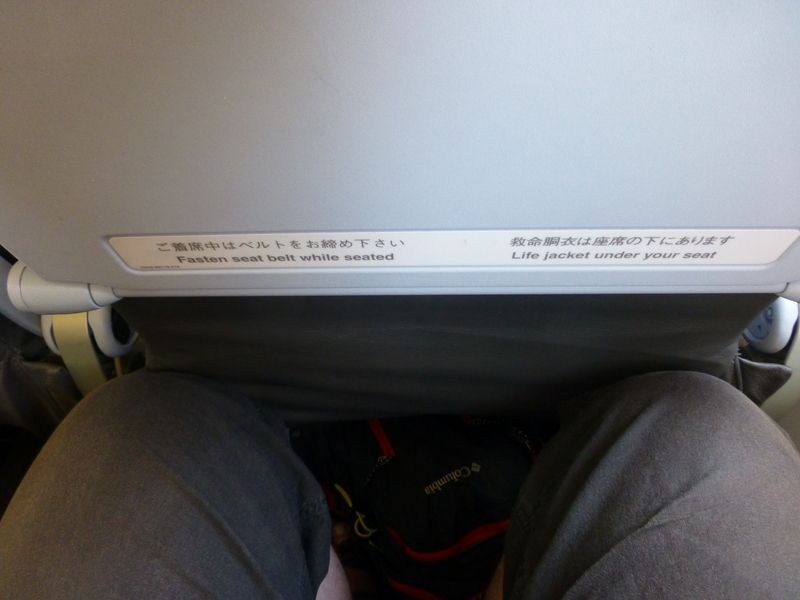 Luckily the middle seat stays empty (so I can stow my back bag underneath it without ruining the rest of my legroom) with a Japanese laddie on the aisle one. The overall load is around three quarters full.
While we wait for the departure, let's take a look at the seat pocket contents. There's a magazine: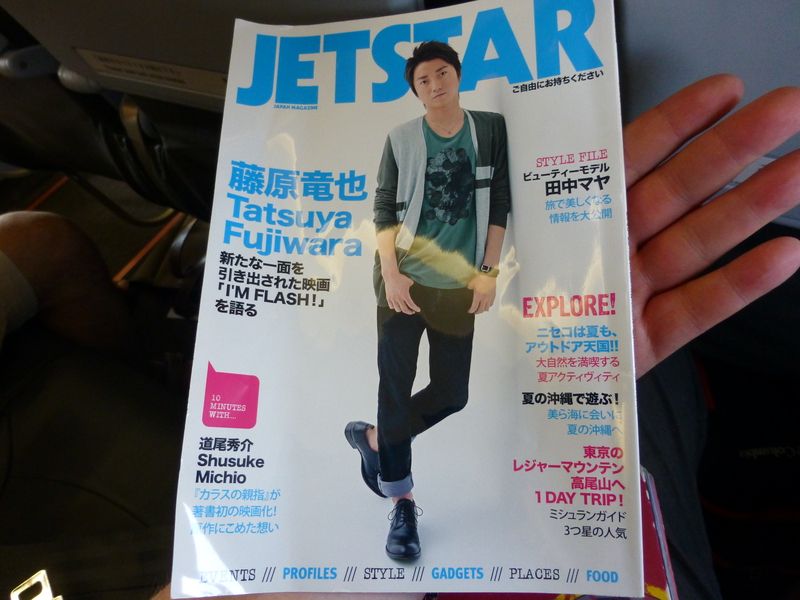 And the obligatory menu card:
Quite decent prices here actually:
Plus a shopping catalogue - after all the Japanese are crazy about shopping: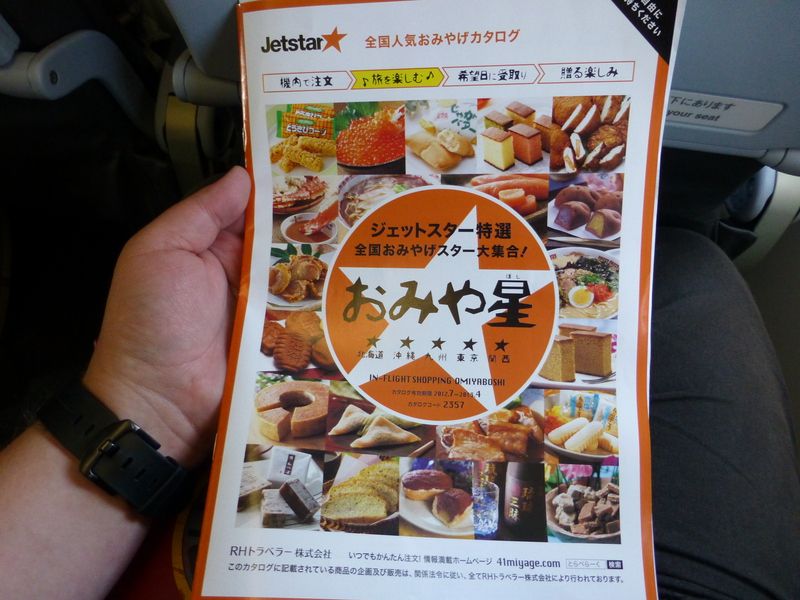 No, don't ask - especially the picture of the crab looks interesting: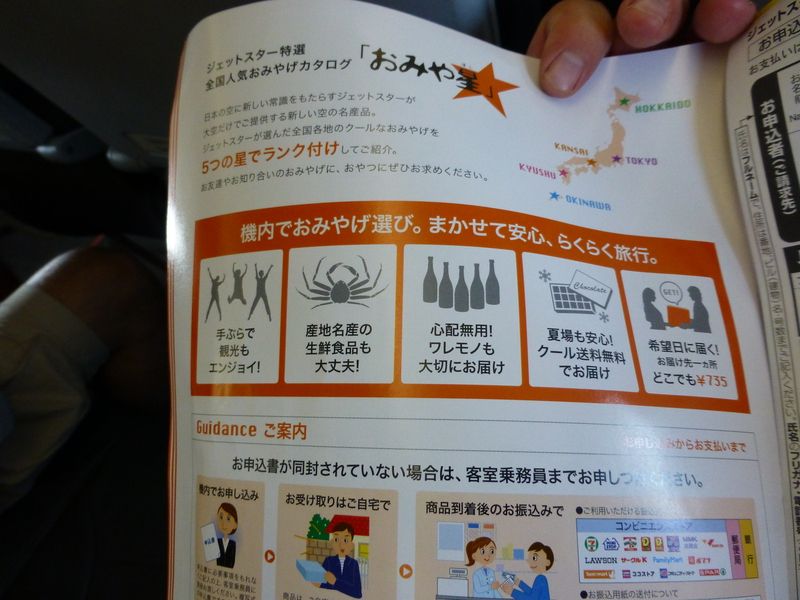 Most announcements are made only in Japanese. Well, I'm getting very tired by the lack of sleep anyway so I keep nodding off and honestly can't really remember whether they made any announcements about flight time etc.
Just landed on 16L - image dedicated to The777Man: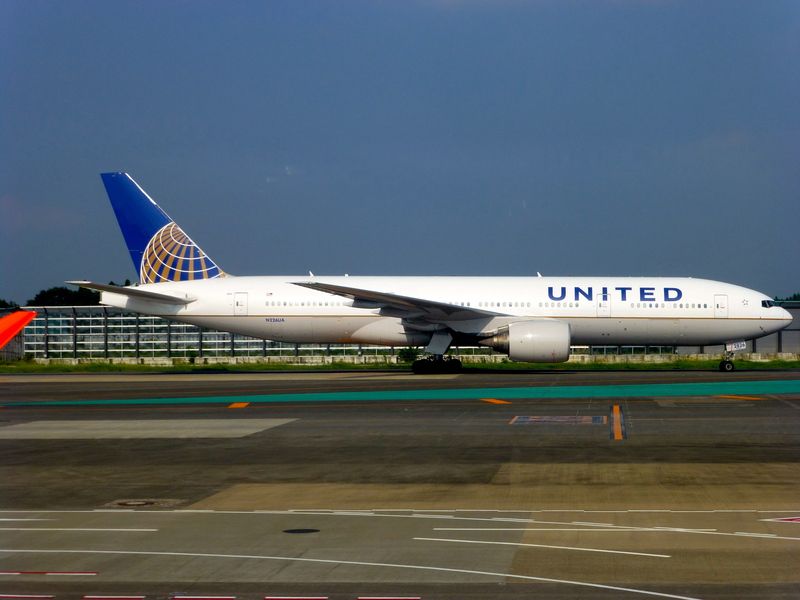 Pushback is just 22 minutes late, very efficient. However we are assigned runway 16R for take off which is a
looooooong
taxi from our apron position.
At least the lengthy taxi time allows another great look upon the nice spread of various carriers parked at the airport: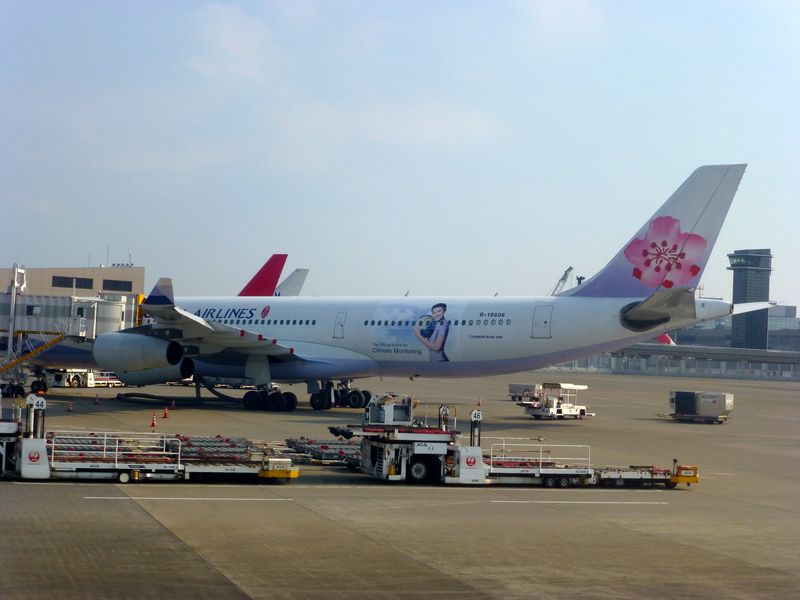 "The Official Airline for Climate Monitoring" - what the heck is that supposed to mean: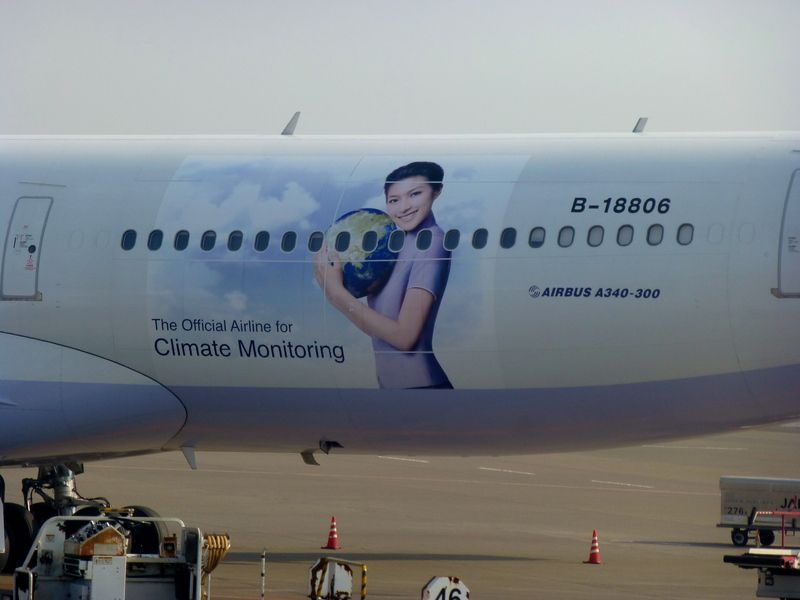 Hmm, maybe this is then Narita's climate monitoring station: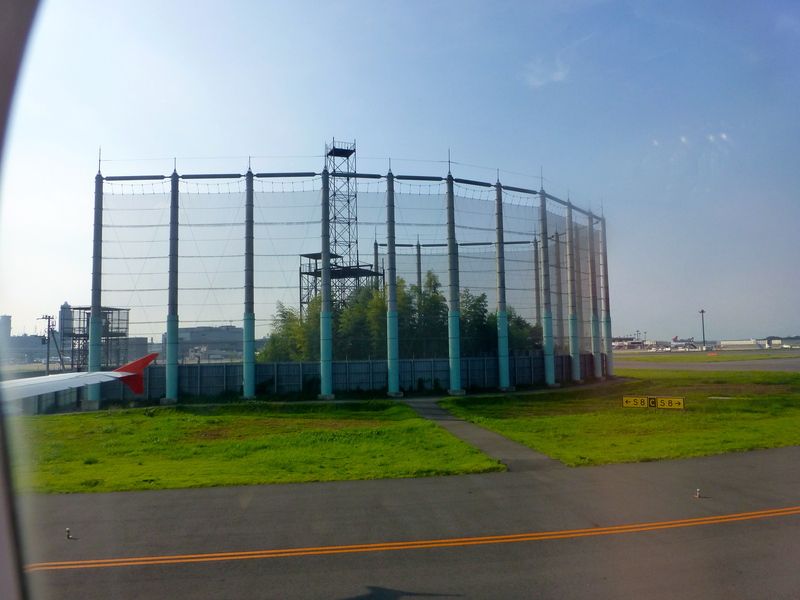 You could almost think you were in SFO, ORD or some other Unitental fortress hub: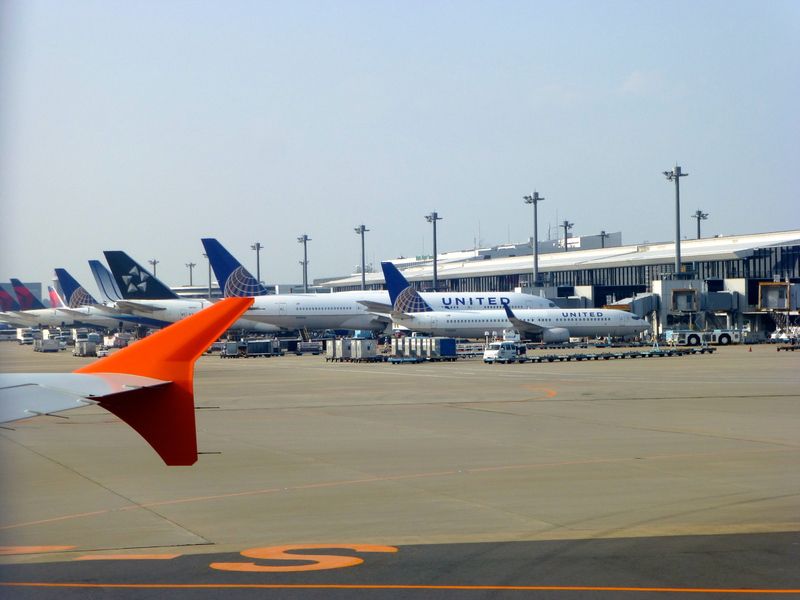 Or even ATL: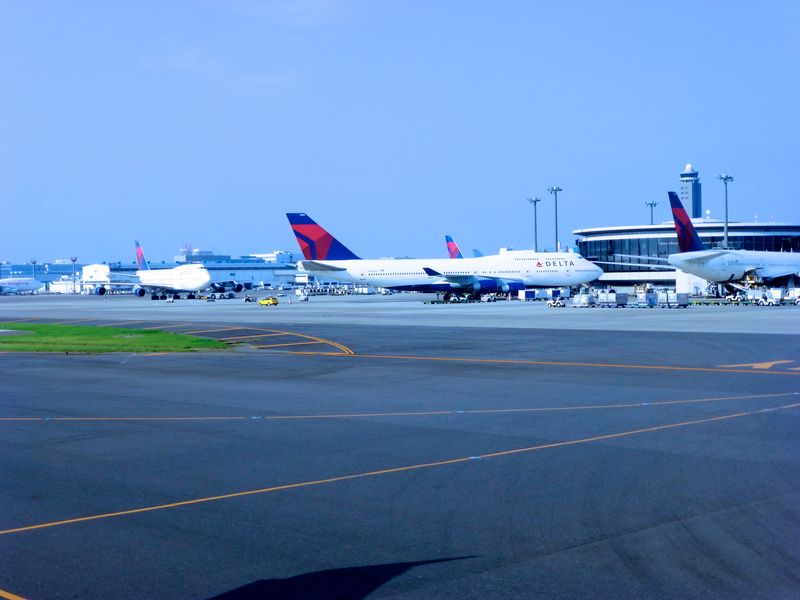 Finally lifting off past the fuel farm: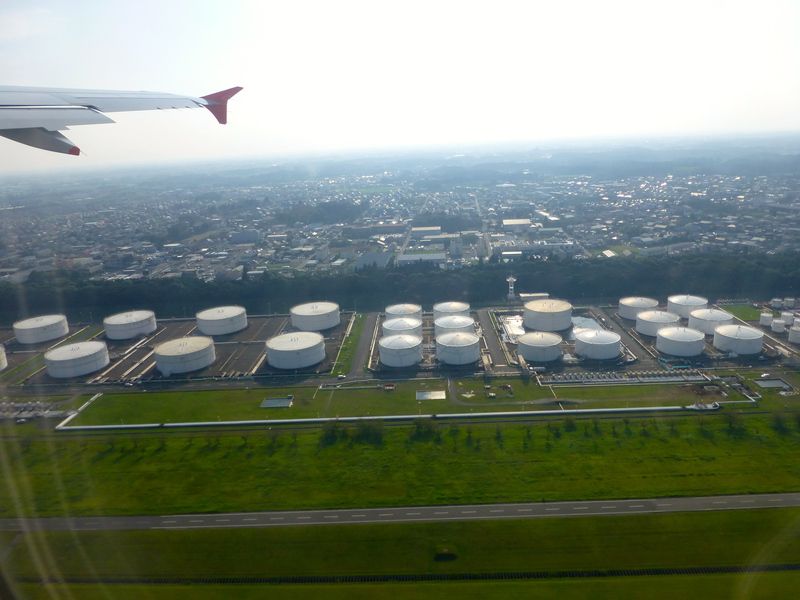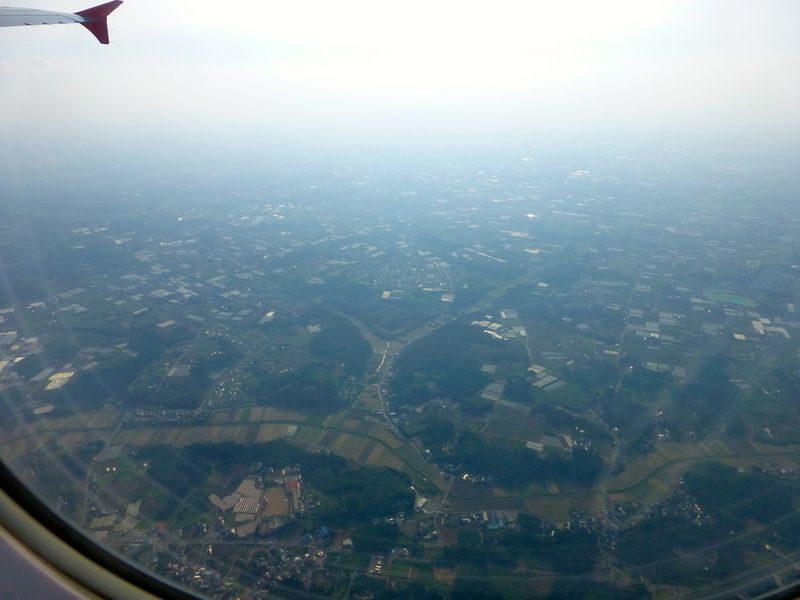 Upon reaching the Pacific Ocean we turn towards the southeast: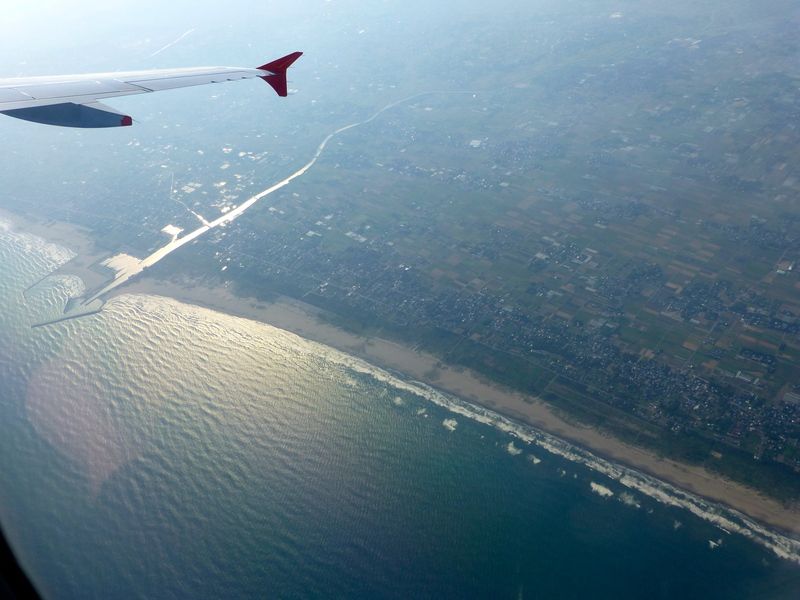 Looks like I'm not the only one snapping photos:
Soon we reach the Tokyo Bay and get an amazing view of the Tokyo-Yokohama urban agglomeration, the largest metropolitan area in the world with more than 35 million inhabitants: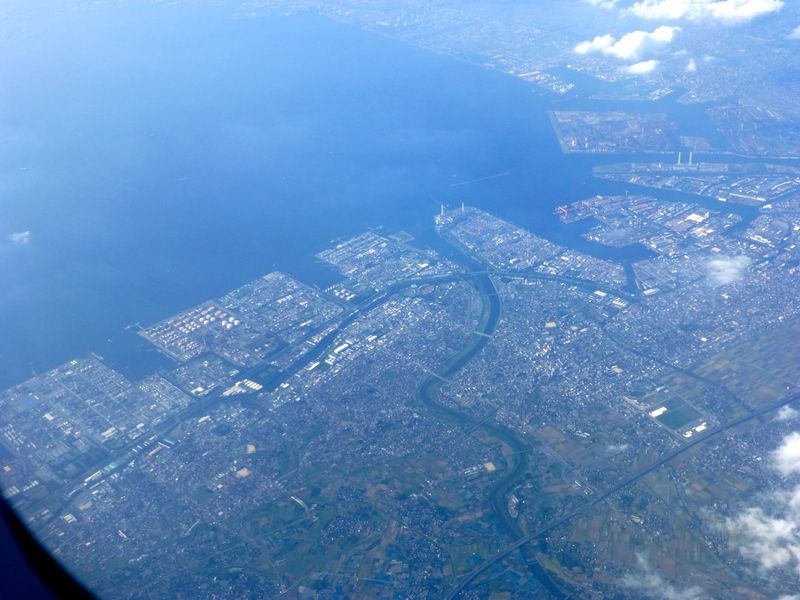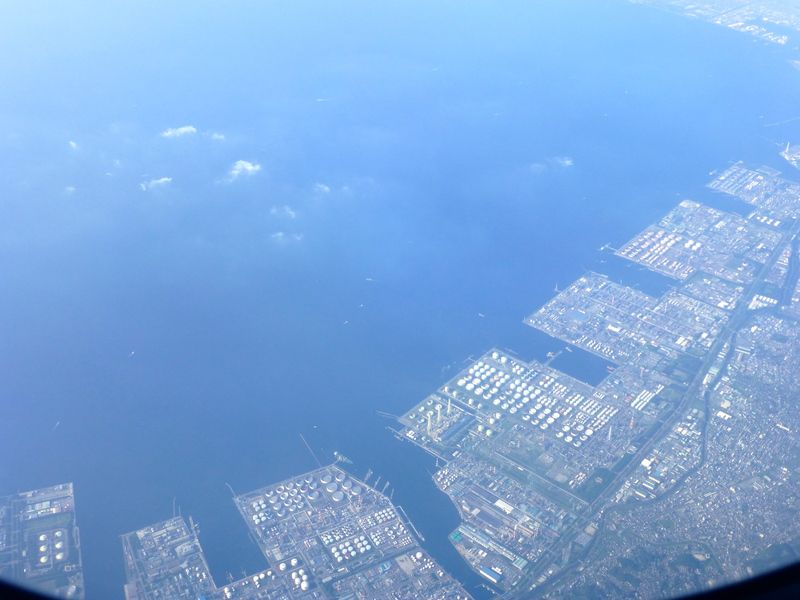 On the other side of Tokyo Bay there are nice views of Tokyo Haneda airport, where I'll be flying in two days time, hopefully aboard my first 787: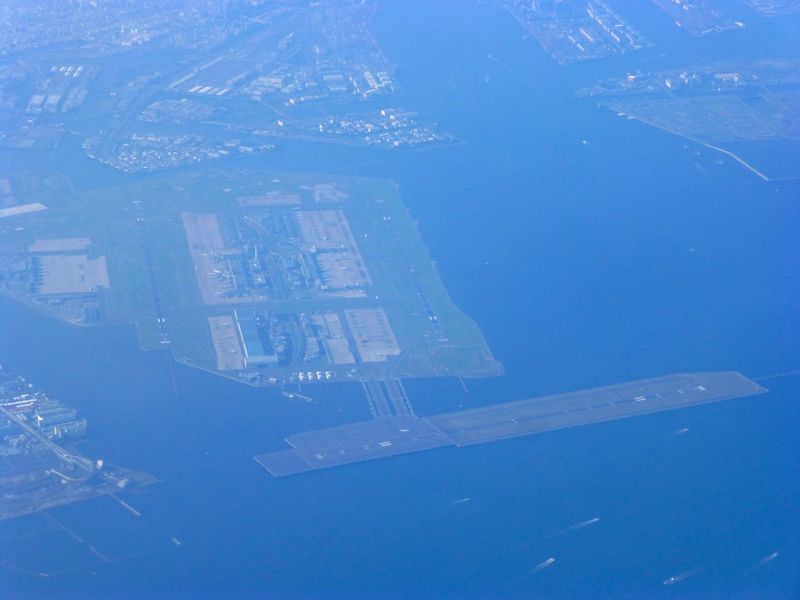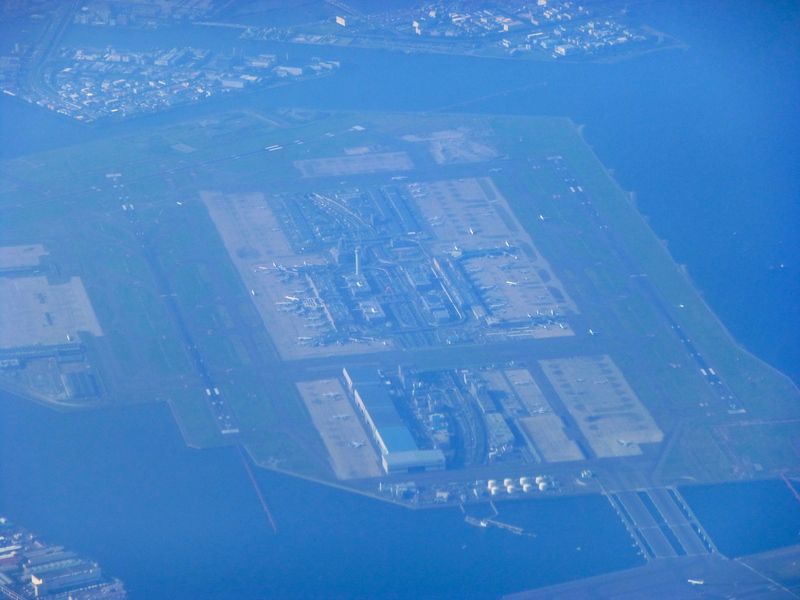 Yokohama and the Yokohama Bay Bridge: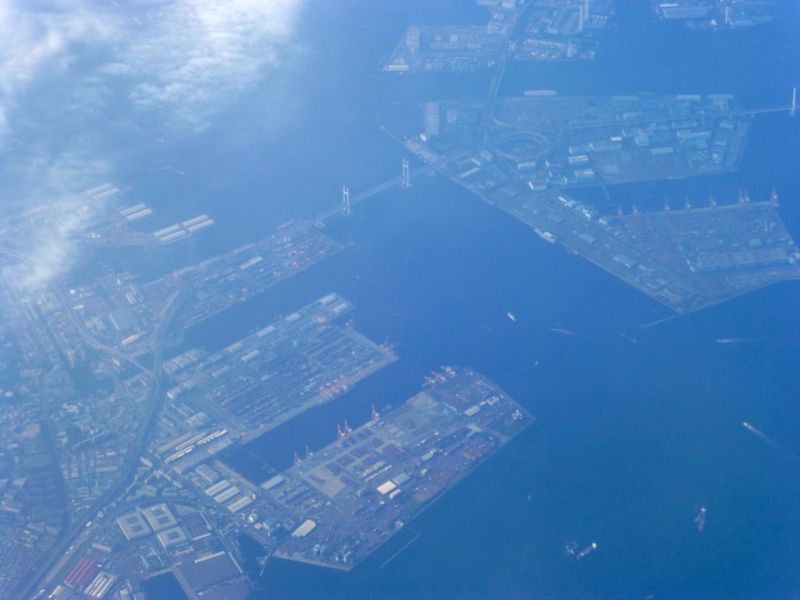 A closer look at the 460-metre bridge: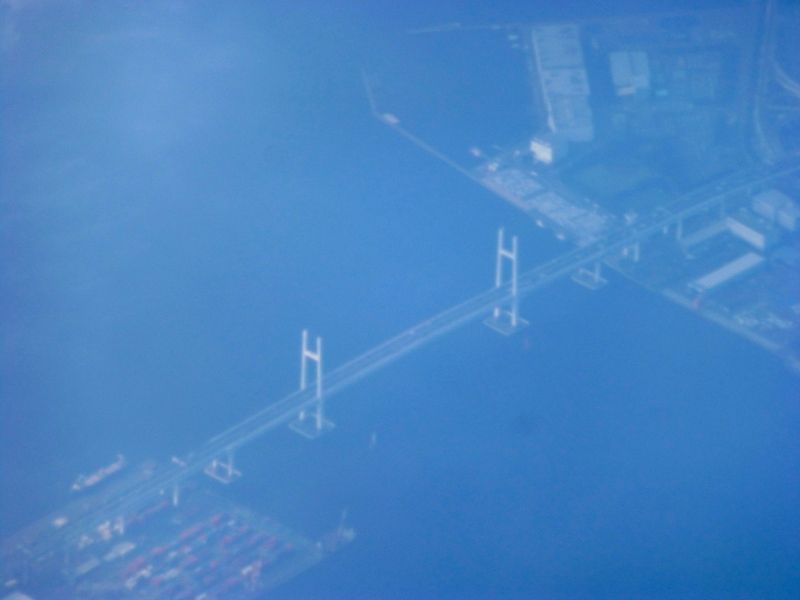 The urban sprawl just keeps going and going: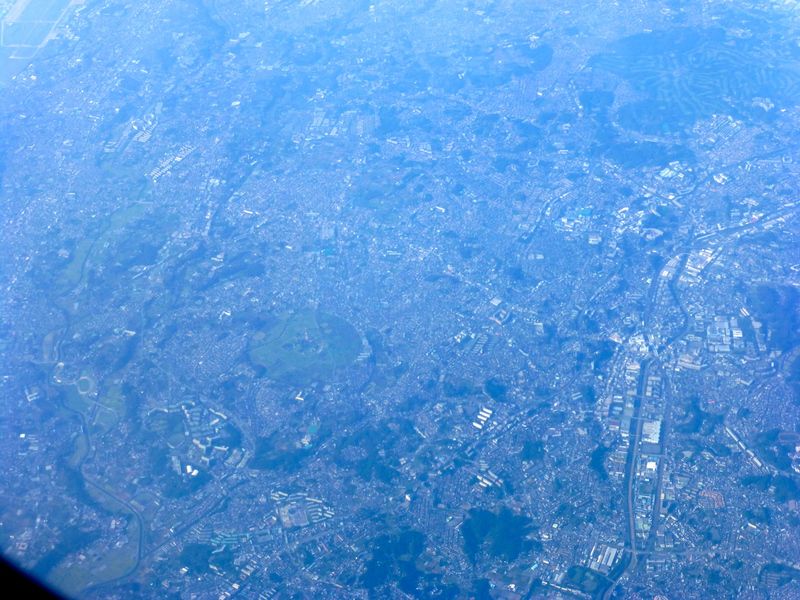 This is Naval Air Facility Atsugi, actually the largest United States Navy airbase in the whole of Pacific:
Right after this I nod off for a while, coming back to my senses by the captain's excited announcement (also in English!) that we have a clear view of Mt. Fuji on our right (lucky me!). So here is the highest mountain in Japan, an active volcano and a holy place for the Japanese:
Just a few traces of snow here in mid-September:
I keep nodding on and off. The crew performs a quick BOB round, not much takers as far as I can see.
A city near Nagoya: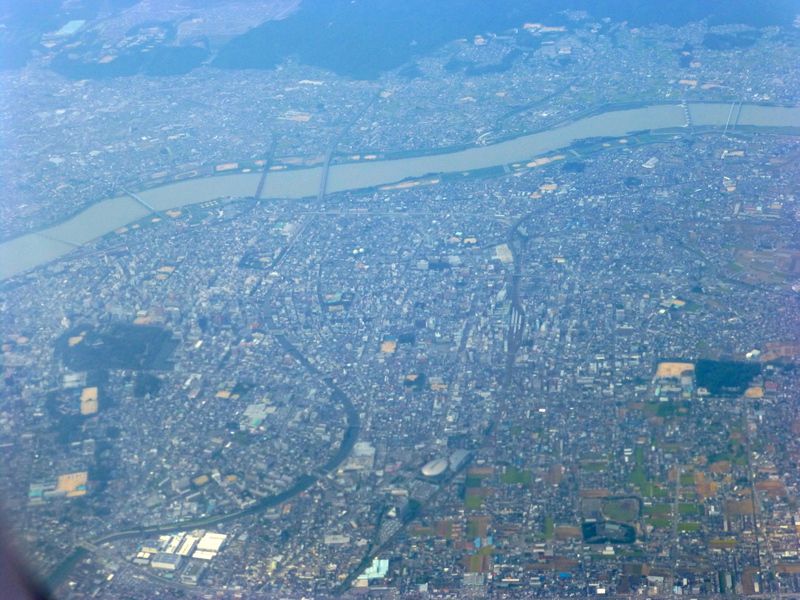 Station: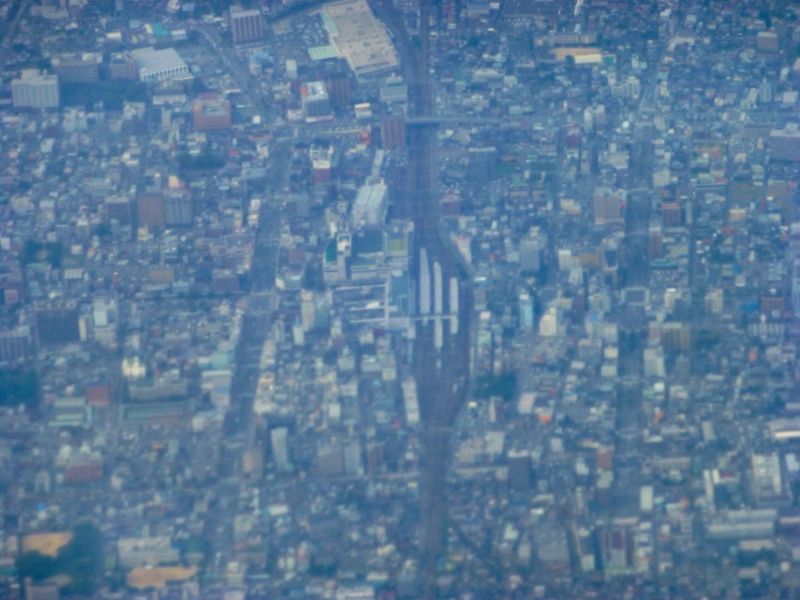 At some point I notice an airport in the distance located on an artificial island. Now that sounds just like our destination, KIX to me! At least in my groggy state it does. Only later I realized that it must've been Chubu Centrair airport (NGO) since we just kept flying past it.
What seems to be very soon (but in fact was 40 minutes or so) the captain announces our descent for Osaka Kansai International Airport.
Leaving Honshu over the city of Wakayama: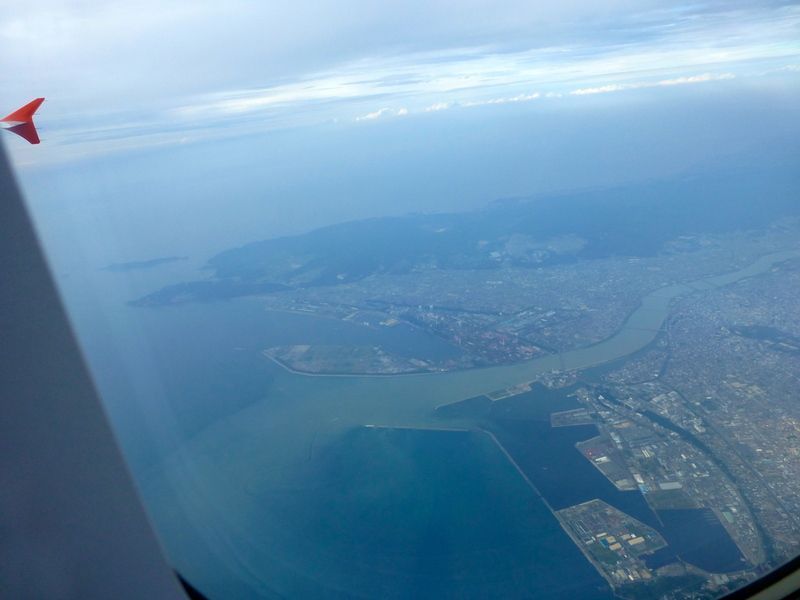 Over Osaka Bay: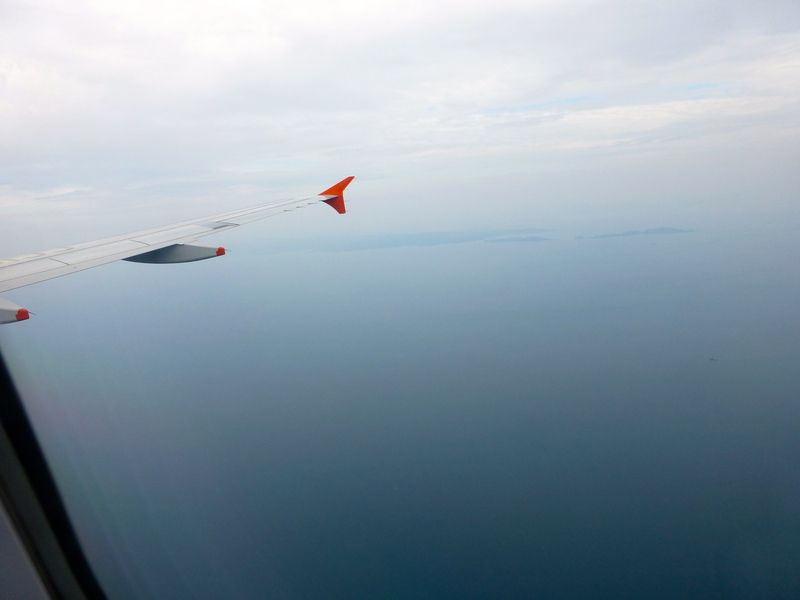 The bay is amazingly busy with shipping traffic: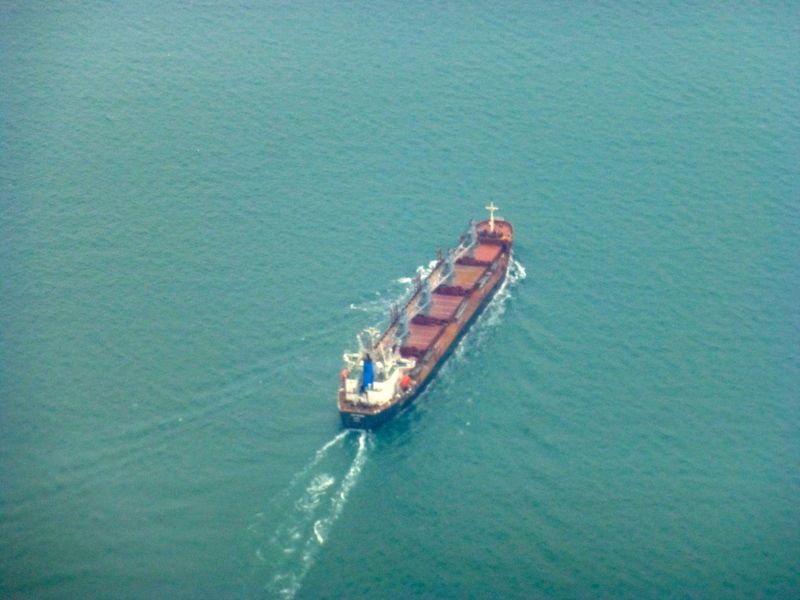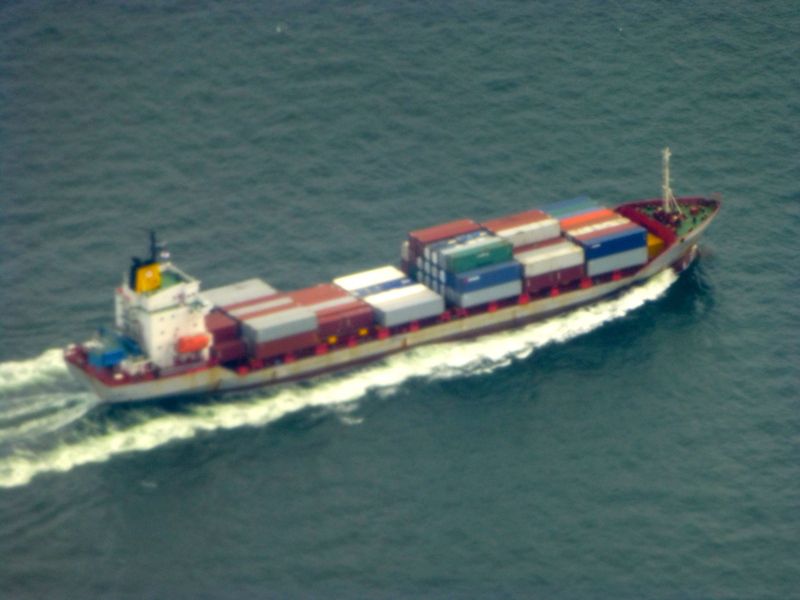 Flying parallel to KIX: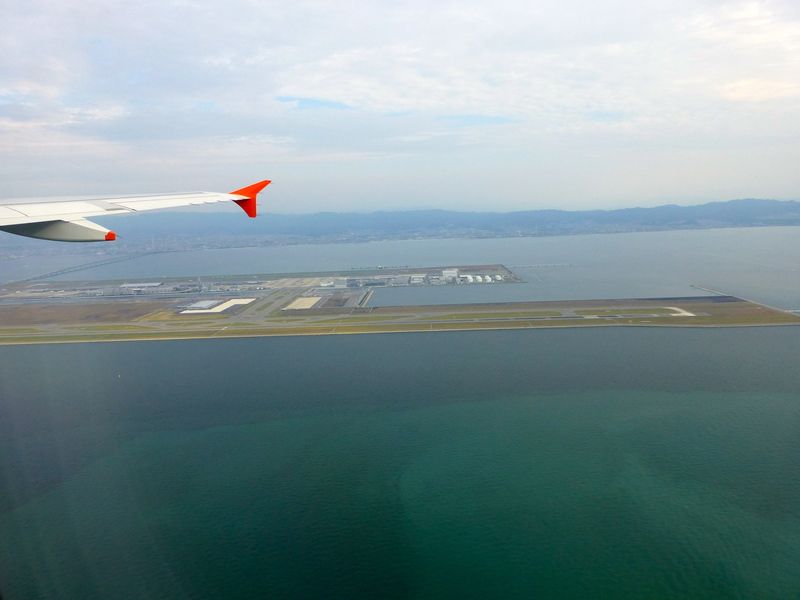 The approach is indeed quite interesting, we fly a downwind leg at a low altitude past the whole artificial island where KIX is located before making a tight 180 degree turn towards the right and landing smoothly on runway 24L.
The bridge connecting KIX to Honshu island: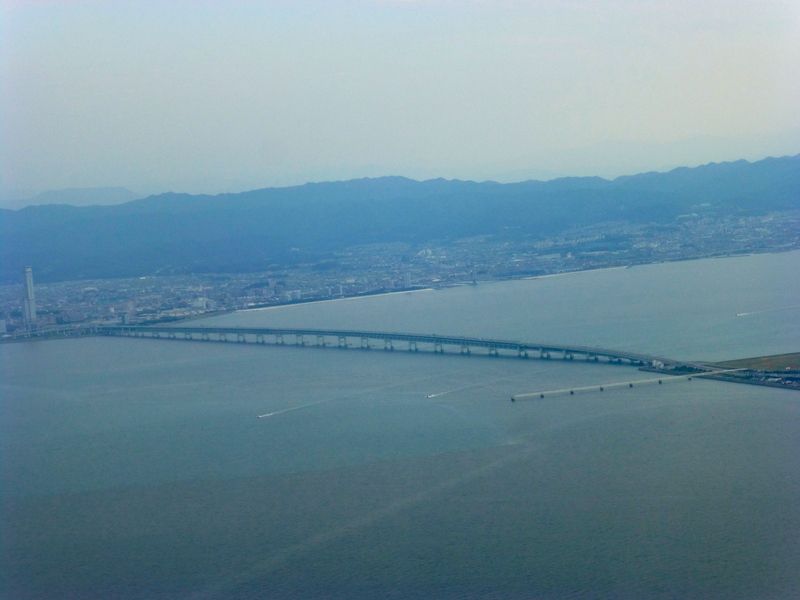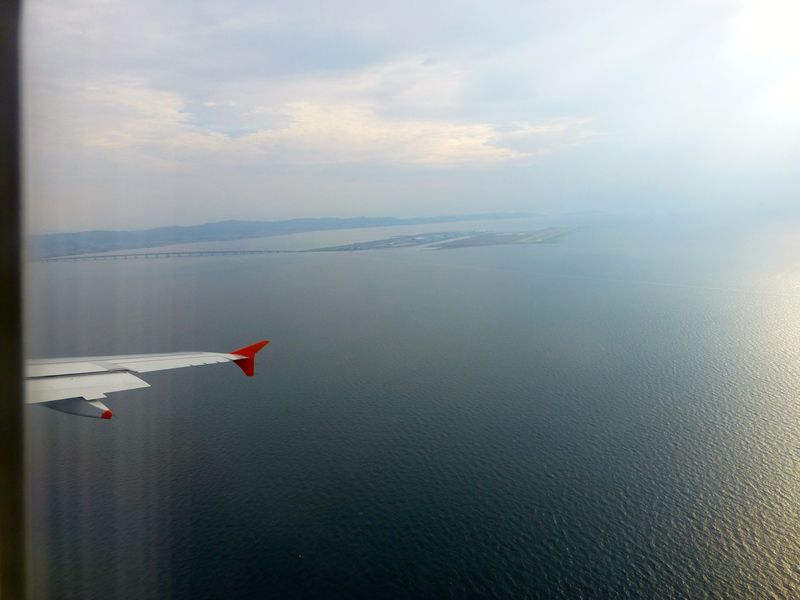 Nice weather here: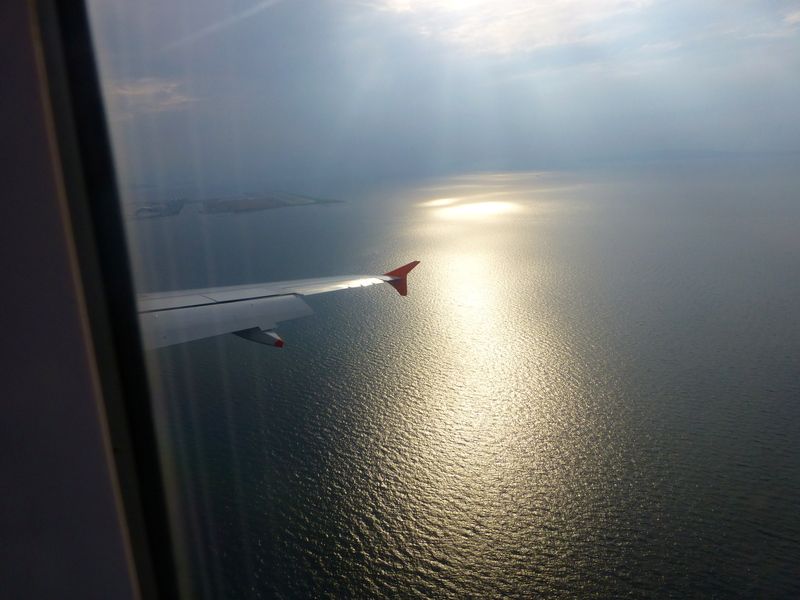 Almost there: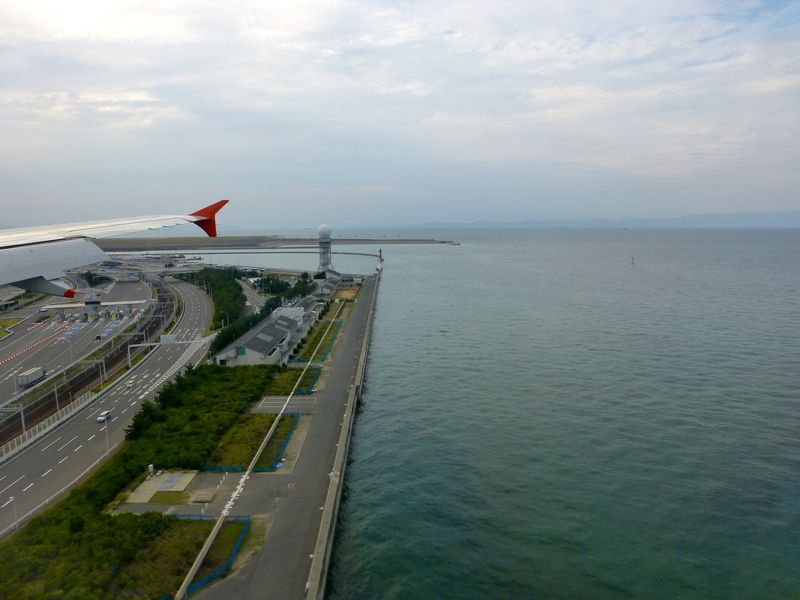 Apparently that terminal building in the background is the longest airport concourse in the world: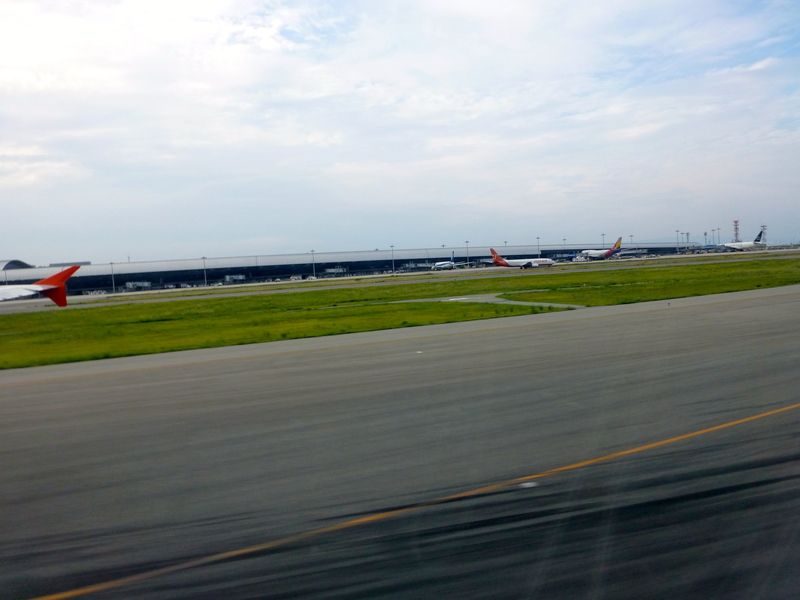 It sure is long: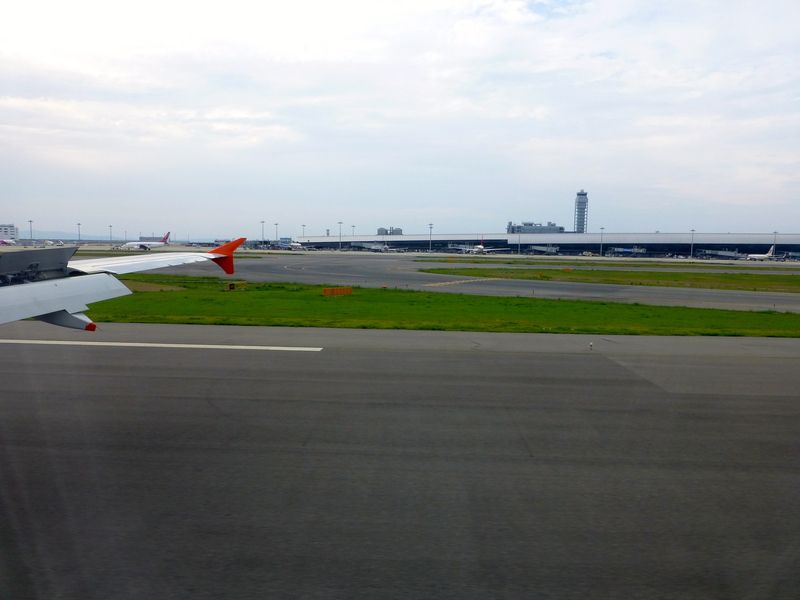 Long or not, the terminal is eerily quiet with just a handful of planes parked there. Jetway for us, yay: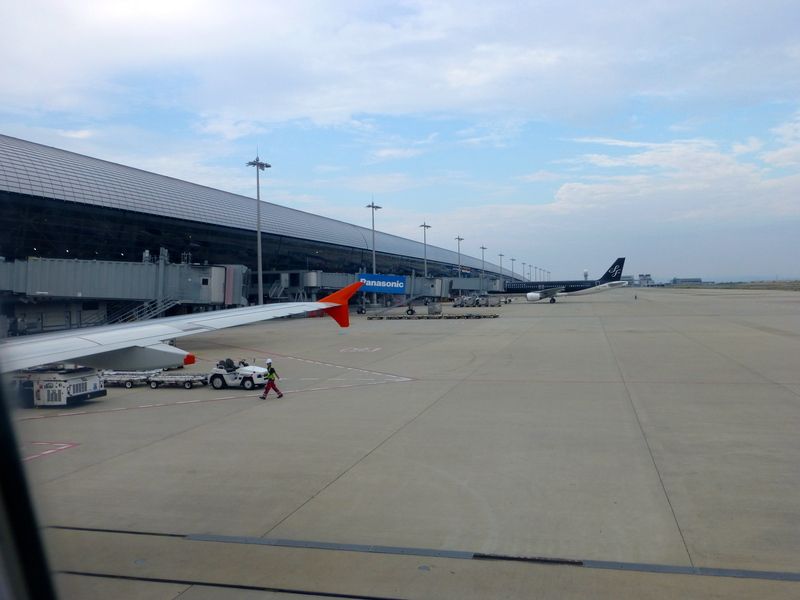 A closer look at our (distant) neighbour: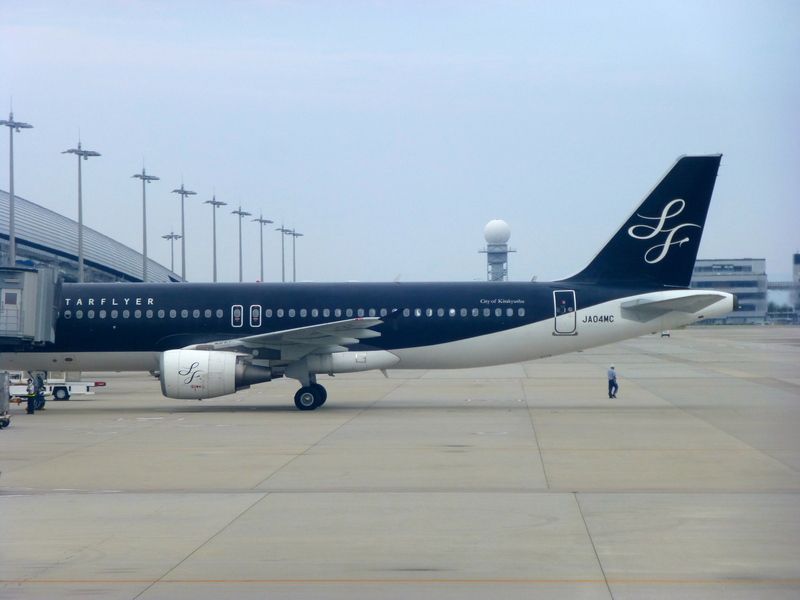 Disembarking is fast, another testimony to Japanese efficiency and something which I will soon learn is evident everywhere in this lovely country. I bid the crew thanks and farewell and step into the bright, airy and quiet terminal:
Another one of these "What were they thinking" moments you get a lot in Japan when reading English signs: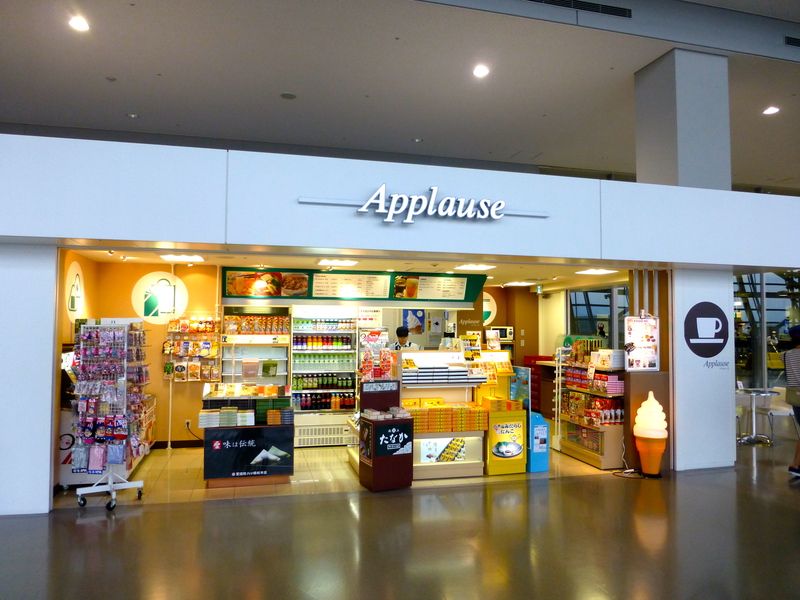 Osaka
In no time at all I'm out of the airside area and in the very impressive landside area of the airport: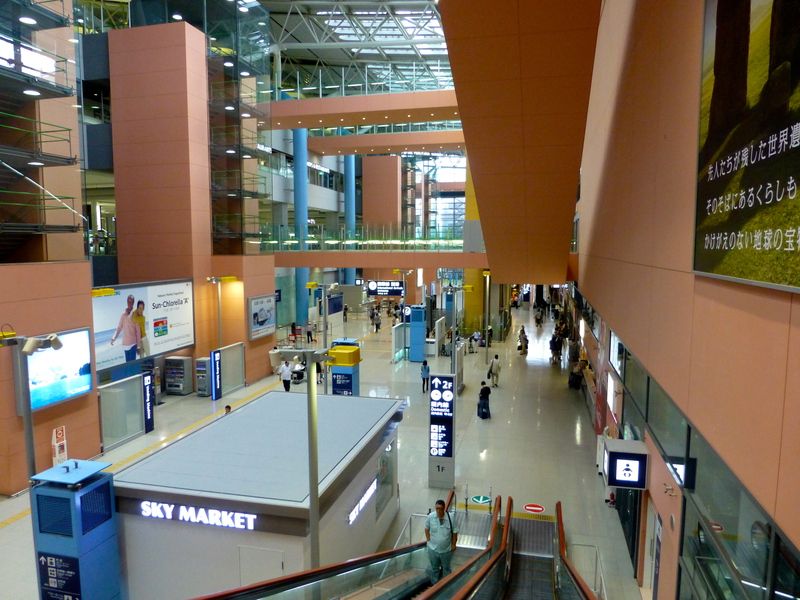 After a short search I locate the tourist info counter selling all kinds of rail passes. Here I make a stupid mistake and buy the Kansai Thru Pass which is supposed to offer free rail (including subway and bus) travel within the whole Kansai area. My mistake is the fact that I shell out 38 EUR for the two day version assuming that two days means 48 hours. Unfortunately one and half days later it turned out that this wasn't the case and it only covered the two calendar days. Thus I only used it for three trips between KIX airport and Namba and had to buy separate tickets for my subway rides later on, meaning that I would've been better off just buying single tickets... oh well, live and learn.
Anyway eventually I catch the Limited Express train into Namba station near the Dotonbori area of Osaka where my hotel is located. The ride takes about 50 minutes, and as expected I sleep through most of it.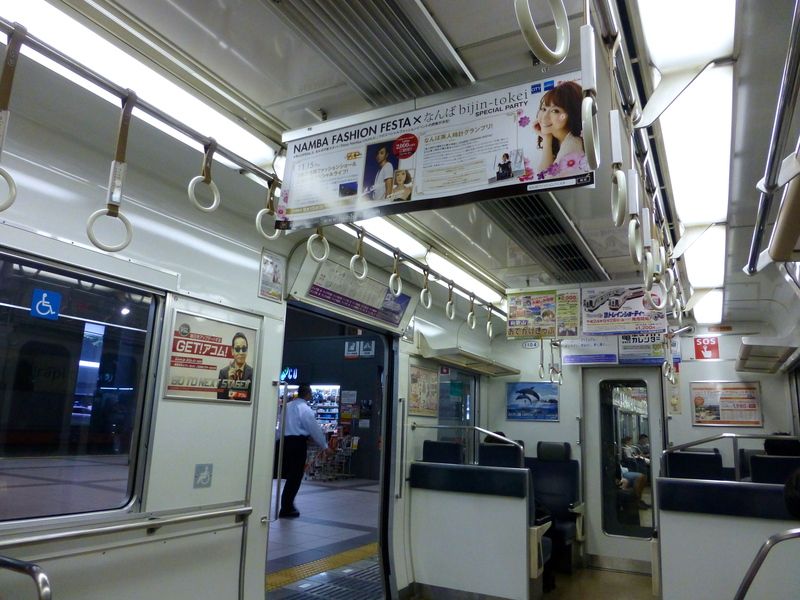 It takes a while to find my hotel since the map I printed off Google Maps doesn't look anything like the somewhat chaotic scene that unfolds around me. Eventually I manage to find it after walking past the entrance a couple of times.
Capsule Hotel New Aldebaran
One of the quintessential Japanese things I wanted to try on this trip was sleeping in a capsule hotel. These Japanese inventions serve the unfortunate
salarymen
who miss their last train home and have to find a cheap place to crash for the night. They are also very handy for anyone looking for a cheap overnight stay, often very nicely located near the nightlife areas and commuter hubs. So for my first night in Osaka I decided to book one - and after finding the Capsule Hotel New Aldebaran for 19 EUR per night I knew this was it.
Here are the capsules on my (male) floor: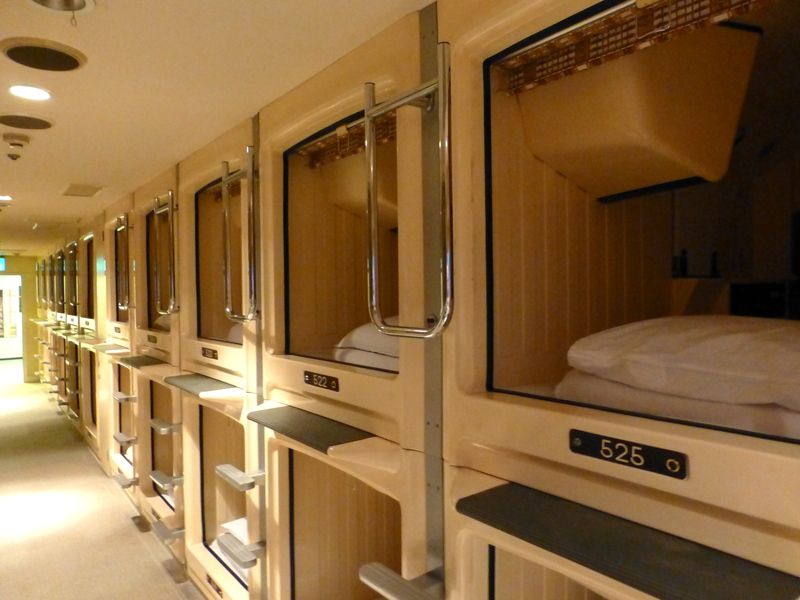 And this is my capsule - at first I was afraid it would be very small, cramped and claustrophobic but no, it was perfectly fine (and I regretted I didn't stay for the second night too):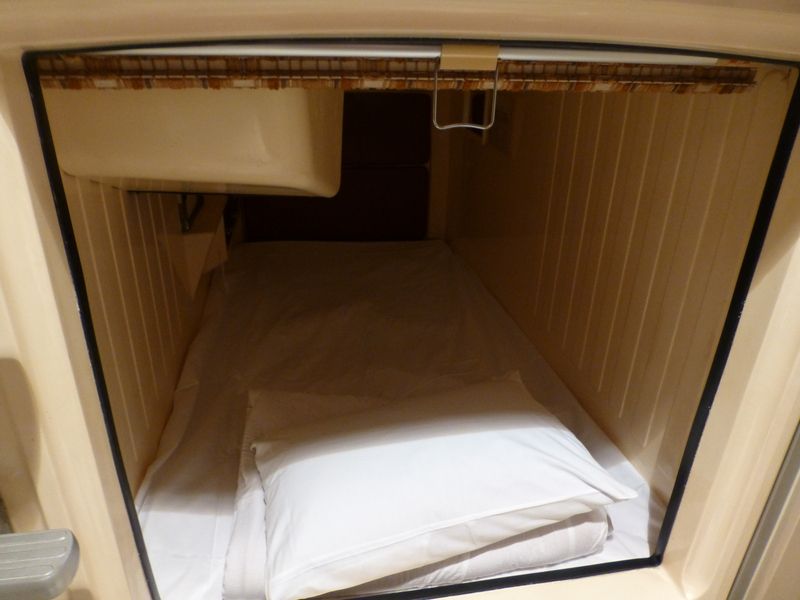 All tucked in - there is a radio and TV inside the capsule plus wifi available all throughout the hotel: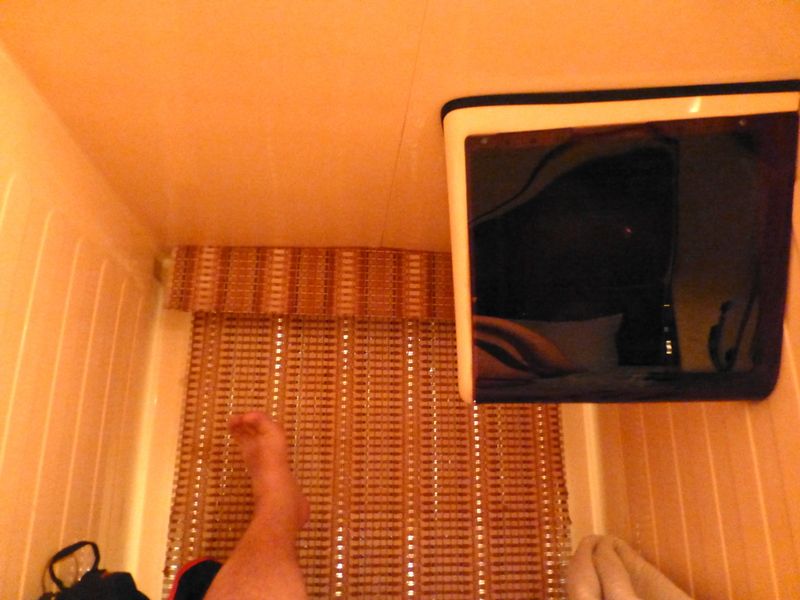 On the top floor there is a traditional
onsen
, a hot bath free for the hotel guests to use. This is very nice, the only problem is the supplied terry cloth bath robe that is designed for Japanese-sized people and looks quite ridiculous on me.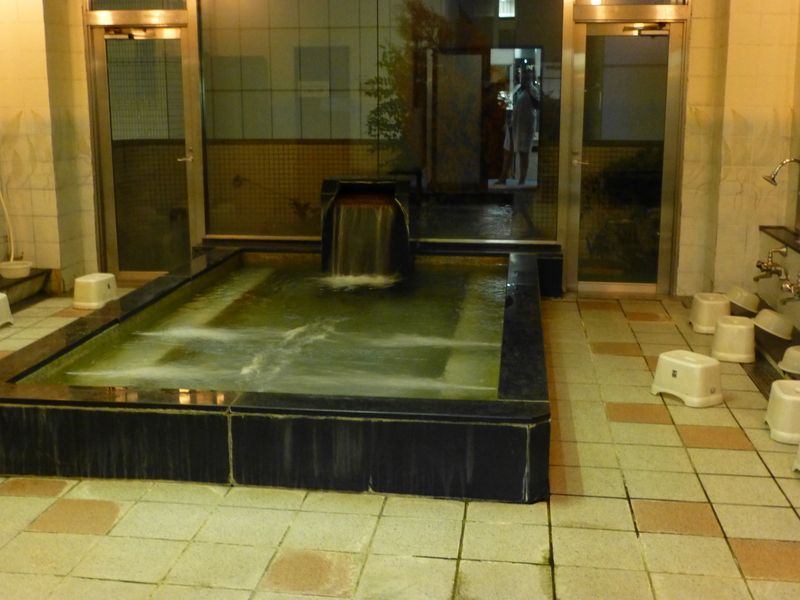 After settling in I head outside for a wee walk and supper in the form of some of the spiciest curry I've ever eaten anywhere. Eventually I return to the hotel, take a quick bath in the
onsen
(heavenly!) and call it a night.
I'll post some impressions of Osaka on the next part of this report.
Friday 21.9.2012
With KIX located far away from the city and a departure time of seven thirty I decided to take the 5.15 (ugh) train from Namba station. This called for a wake up at 4.30 which left me with not nearly enough sleep. Anyway thanks to good preparations the previous night I'm dressed up and packed in no time at all, feel a little pity for the poor reception girl who I have to wake up to check out, leave my bag there for the day and am soon out walking through the streets of Amerikamura ("American Village") where the hotel is located.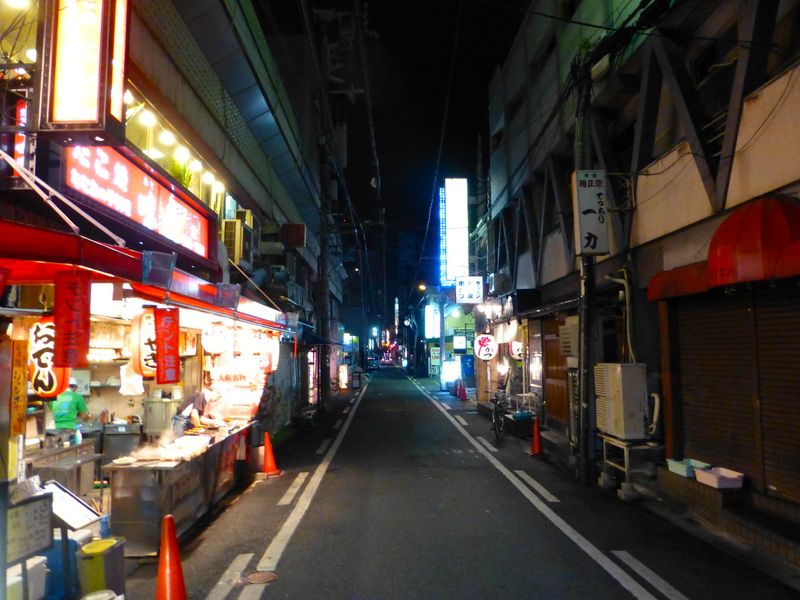 The streets are surprisingly busy for 5 AM on a Friday morning, it looks like most of the bars (of which there are a lot in this area!) are just closing and all the street kitchens, food vendors etc. are still open to cater for people returning from the bars.
I make it to Namba station with some time to spare: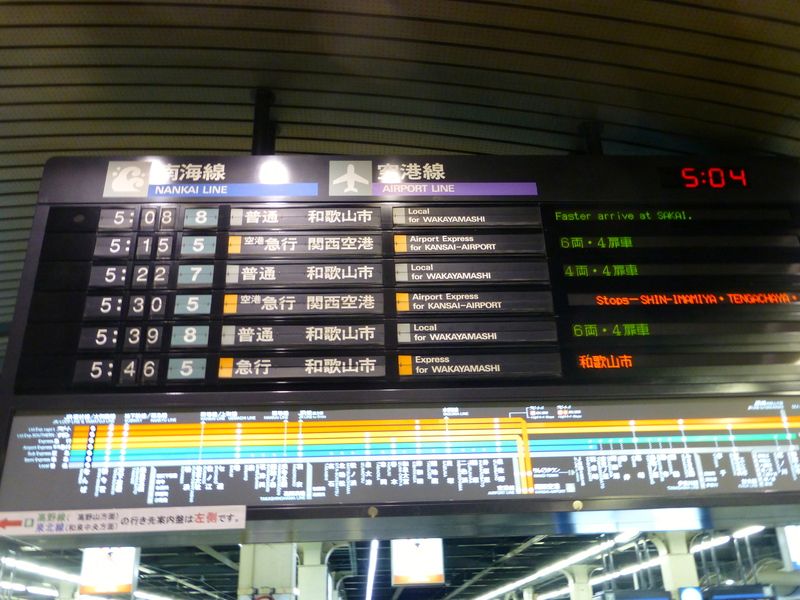 Time to sample another one of Japan's many weird drinks from one of the ubiquitous vending machines: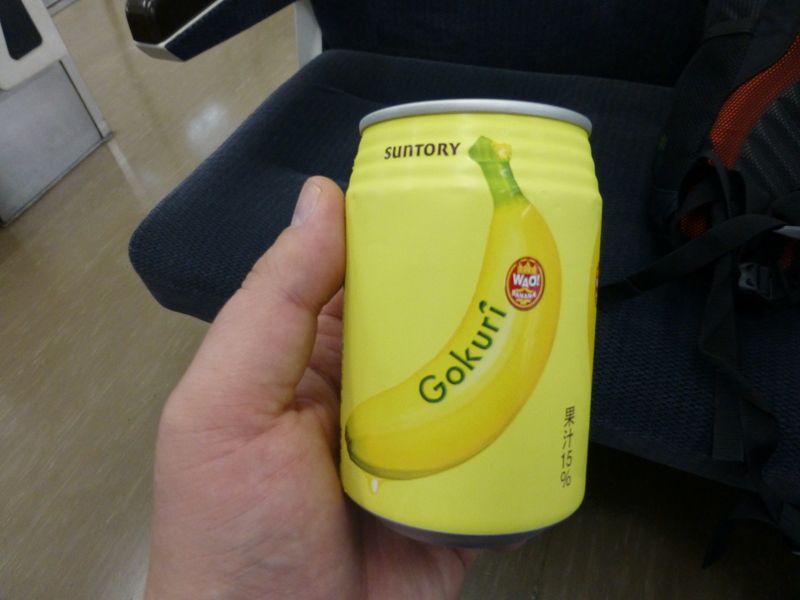 I doze through another 50 minute ride to Kansai airport, something which most of my fellow passengers also see fit to do.
Kansai International Airport
Peach doesn't use the main terminal at KIX, apart from its international flights. Instead they have their own corner at the "Aeroplaza", a building opposite the terminal which also houses the Nikko airport hotel (quite why they chose to name a hotel chain after a brand of radio controlled cars is quite beyond me but hey, if it makes you happy), some shops and restaurants. The way there is very clearly signposted (just look for the peach color):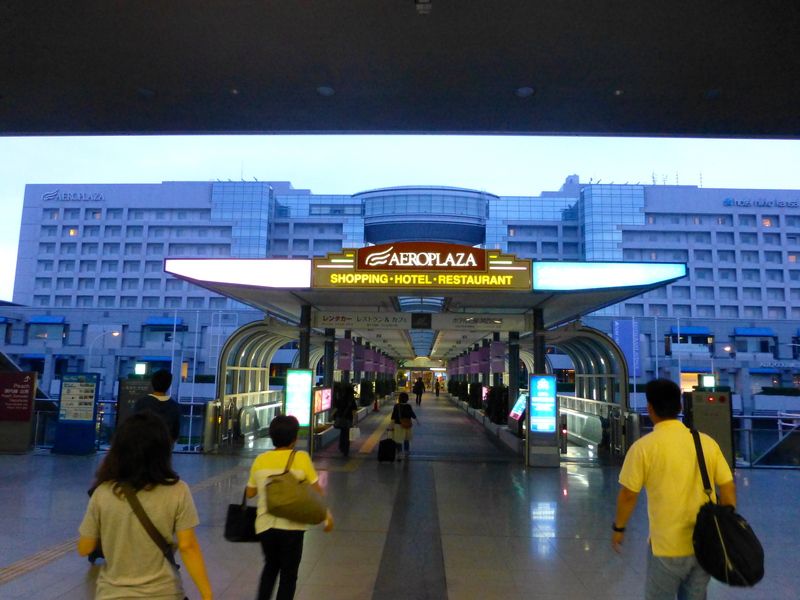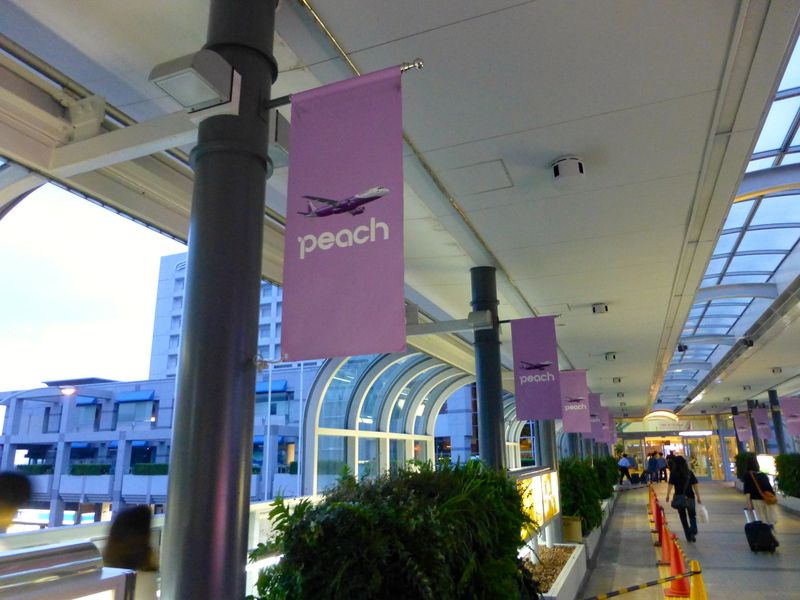 Yes, they are already six months old:
Unlike Jetstar Japan there's no OLCI for Peach. Instead there are a number of self service kiosks inside, plus some regular counters for dropping ones bags off (including a huge X-ray machine before the desks). I make a beeline for one of the kiosks, where the process is the simplest I've yet to encounter:
1) Scan the barcode on your booking confirmation printout using the scanner on the kiosk (or optionally key in the booking code).
2) Out spits a supermarket receipt -like boarding pass.
Yes, this is all there is to it. No chance to pick seats (you have to do so in advance, and good seats are charged for) or make any other choices. Luckily the system has seen it fit to give me a window seat so I'm happy as a drunken clam.
Entrance to the gate area, busy with the 7.00 flight to Sapporo: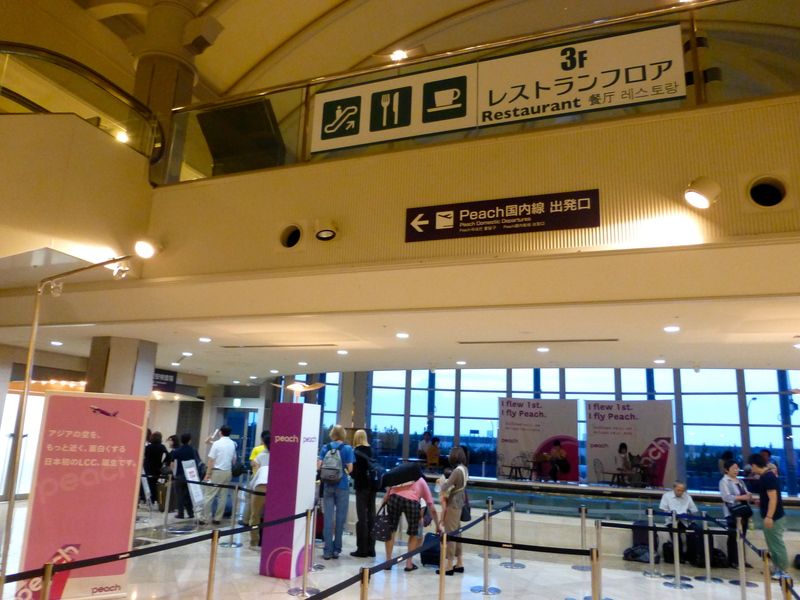 Flights schedule: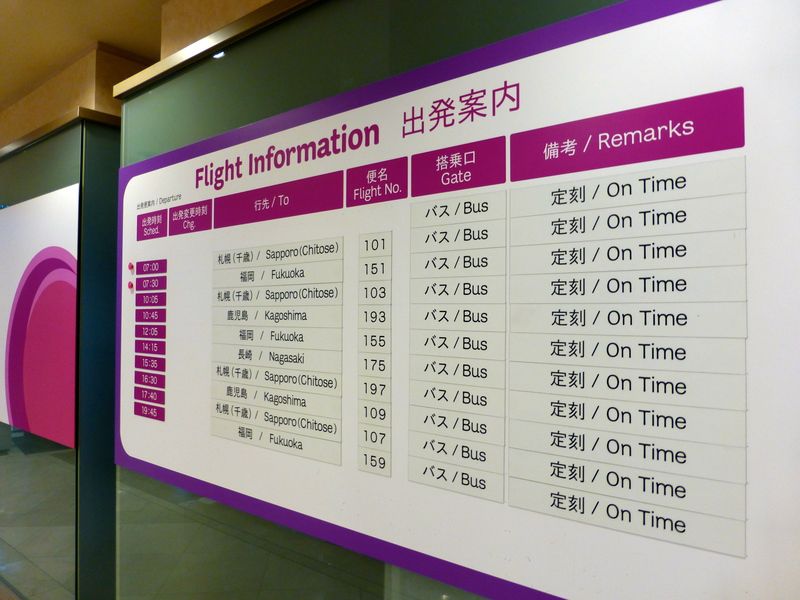 With the check in being this simple I've got tons of time on my hands (damn, could've slept another 45 minutes or so in my cosy cubicle...!) so I applause myself a sandwich for breakfast from the convenience store next to the check in area: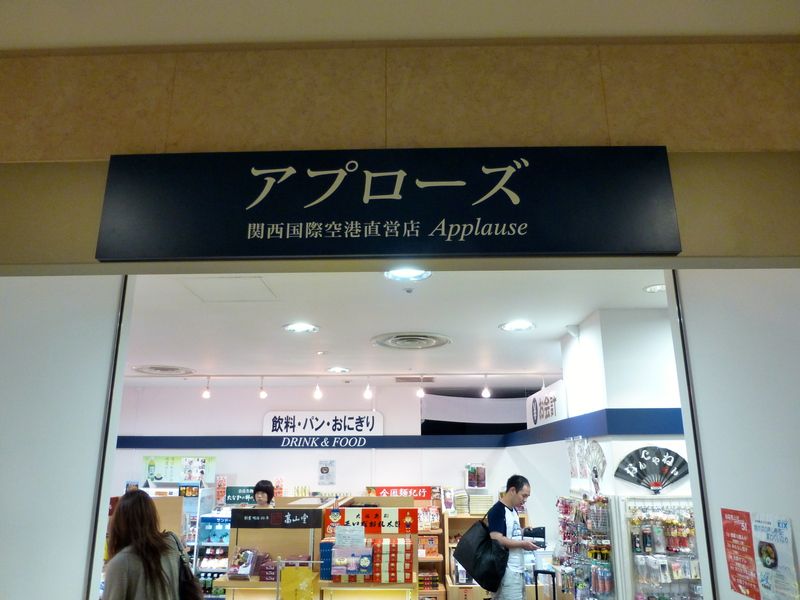 ...and head out to a small outdoor patio to enjoy it and the early morning sights and smells: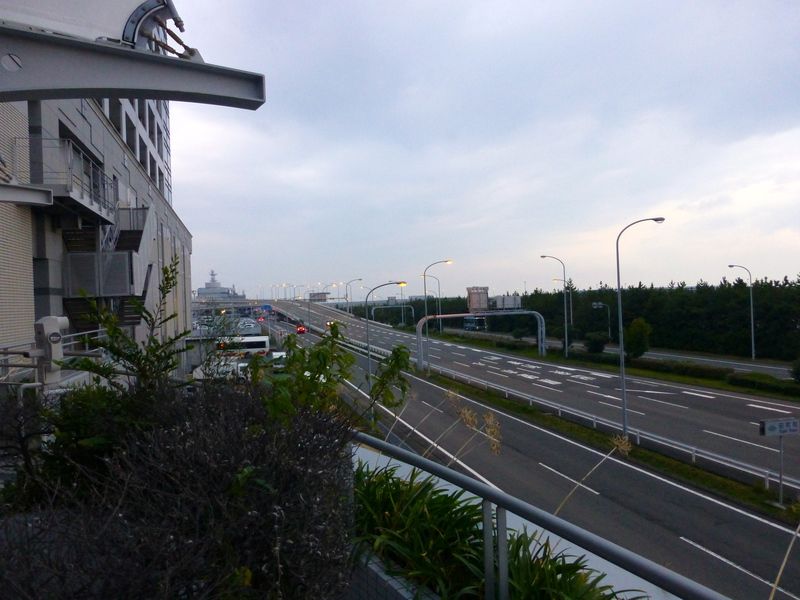 Runway 06R/24L on the distance: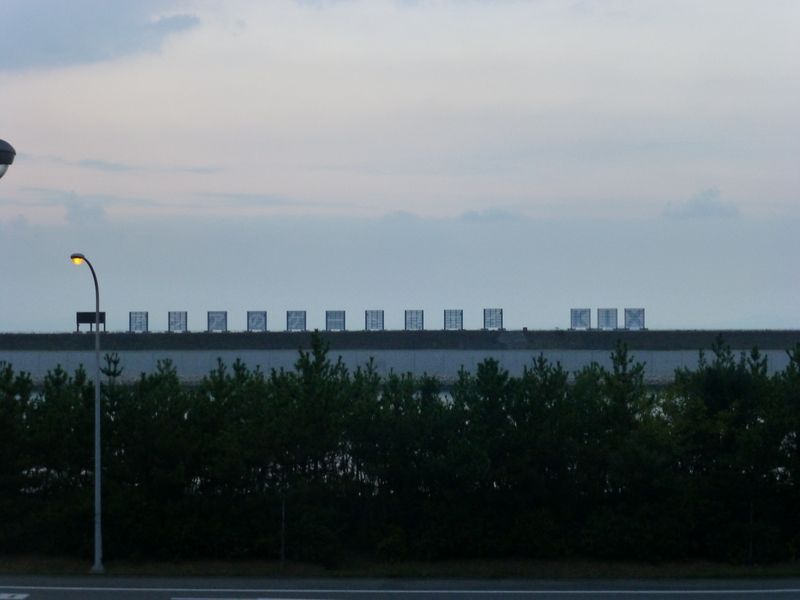 Japan of course is a very spotter-friendly country: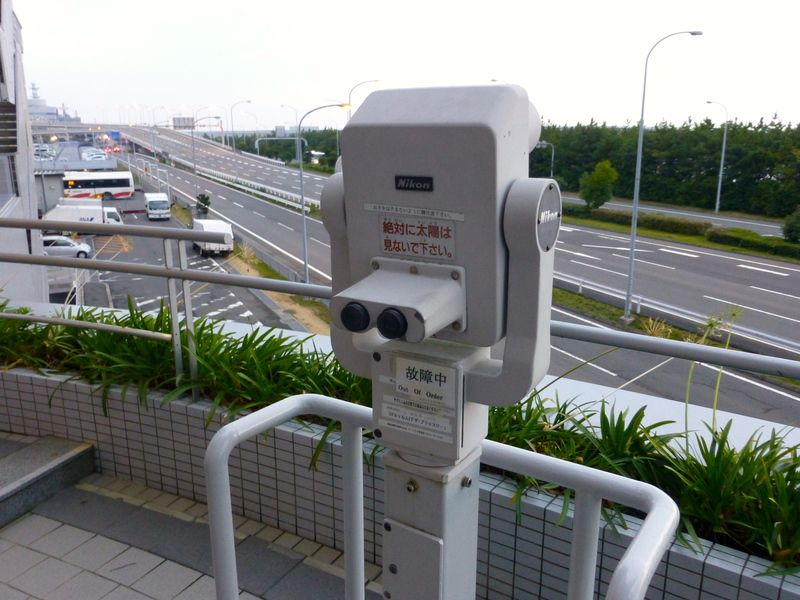 Next I decide to head airside - well at least try. I manage to put all the stuff including my belt etc. on the trays before the s