I think this is my first ever trip report, despite the fact that I've been an a.net member for years. Anyway, just wanted to give a very brief trip report on a very positive experience:
Date: December 1, 2012
Flight: AA 1520 LAX-MIA
Aircraft: 777-200
Class of Service: First
Seat: 1J
I travel MIA-LAX-MIA about twice a year and always book on the 777 they have running on this route. This trip was no different. For the flight out to LAX, we sat on the plane at the gate in MIA for about 2 hours before finally getting on our way (this was at the height of the "unusual amount of maintenance delays event" back at the end of September). So, with that in the back of my mind I was a bit worried that we'd have the same problem on this flight.
Worry not - the flight was delayed about an hour, but this was because the plane arrived late from NRT into LAX and once on board, the nice man in the yellow "maintenance" jacket did NOT make an appearance, so we fortunately were off the ground soon after everyone boarded.
Now, I want to say, in my hundreds of flights with AA over the years, I have NEVER had a bad experience with ANY AA flight attendant. Oh, I'm sure there must be a few bad ones out there, but I want to stress (as a 1.5 million miler at the moment) that overall AA's cabin crew are top notch. Yes, they aren't all formal and stodgy, but I don't like formal and stodgy, I like friendly and someone I wouldn't mind just having a chat with over lunch one day. As is my usual experience, this cabin crew was just what I like: friendly!
For anyone who hasn't flown the AA 777 in F on a "premium" flight, this one (and at the moment its "sister" flight that leaves LAX in the early afternoon) are the only chances you've got without having to fly internationally (where the price for F will be MUCH higher).
Anyway, now to my other reason for posting this, besides praising the cabin crew... the food! It tasted as good as it looks.
To start: Warm mixed nuts and marinated cheese antipasto: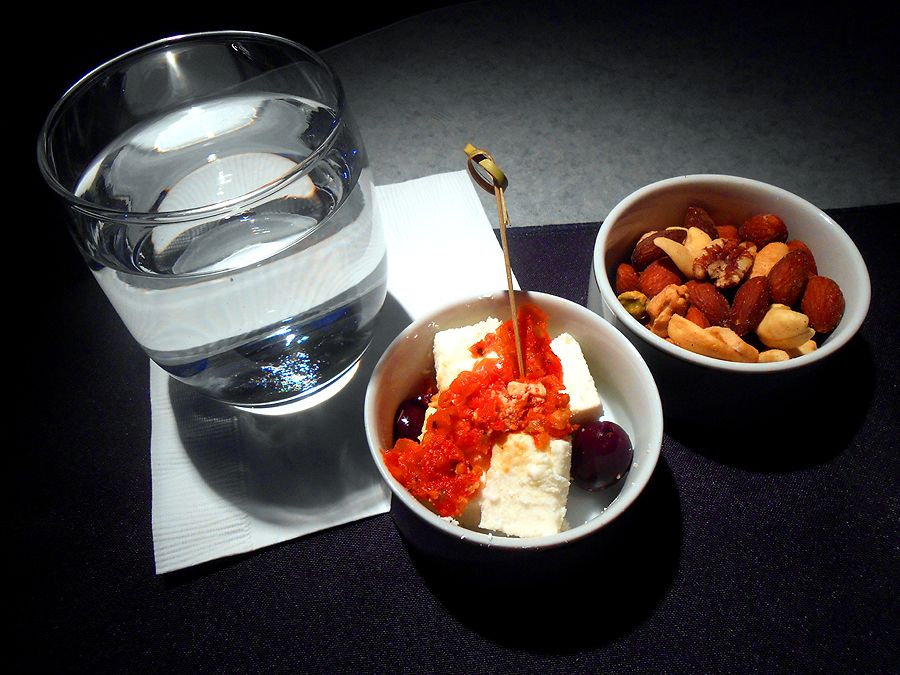 A huge salad that included mixed greens, sliced tomato, sliced cucumber, asparagus and chipotle chicken breast:
The main course: Chicken pot pie:
Choice of desert: Fruit cup, cheese and cracker plate, ice cream sundae:
Sparkling water and freshly baked on board double chocolate chip cookie: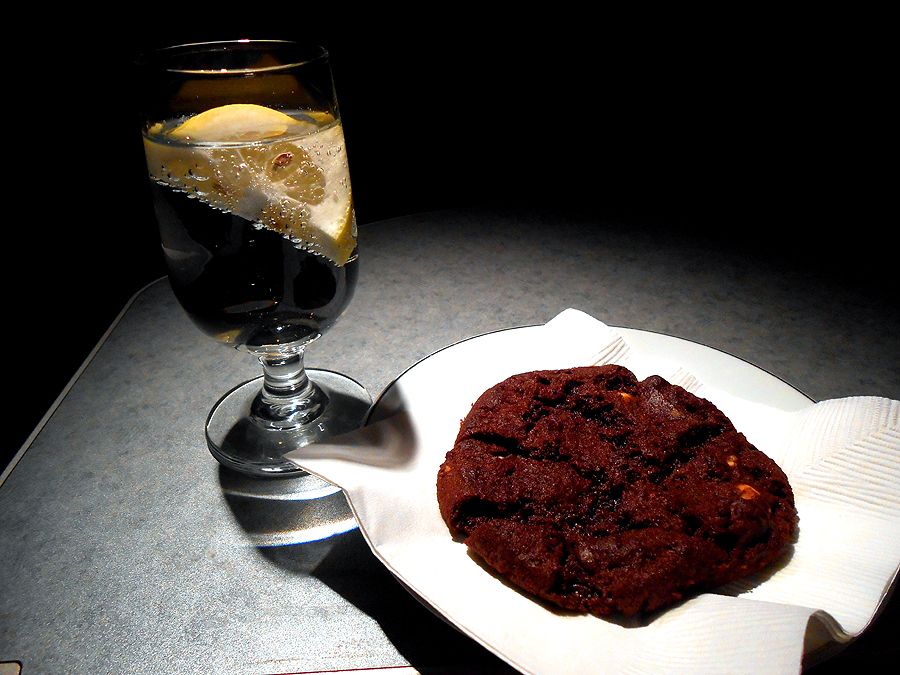 Cabin Crew Attitude: A+
Cabin Crew Service: A+
Food: A+
Seat: A (missed the + only because it's starting to show its age, but still an awesome suite)
To conclude, anyone wanting to have a fantastic "international grade" experience without having to fly internationally, give one of these two AA 777 flights on MIA-LAX-MIA a shot in F class!