I rarely write trip reports these days as work requires me to be on a plane at least once a week. This year, I have been on so many flights, most on SIA. Same routes – DXB-SIN, SIN-China, HKG-SIN, to the point where flying doesn't really excite me anymore.
According to flightmemory.com whjch I do kind of religiously track, Till 5 Dec 2012, I have flown 165.236 miles on 109 flights, and have spent 394 hours or 16.4 days of this year on a plane. But I rarely take Qantas, with most of my medium to longhaul travel on SQ. So I decided to do a trip report.....
I had to go to Christchurch to attend a wedding of a very good friend, and compared SQ and QF prices
SQ was trying to charge S$2500 in YCL for SINCHC (and they were almost booked out for November anyway) while QF charged S$1400 SIN-MEL-Wellington-Christchurch-Sydney-Singapore. There was the option for Jetstar MEL-Christchurch, but that involved a 2300 departure from MEL and a 0400 arrival into Christchurch which would have been horrific for not just me, but the people who have to pick me up in CHC.
So I went with QF (saved S$1100 in the process) and decided to stop over in MEL to see some friends. Also it would be the last time I could take the QF A380 ex SIN, and I can't say I'm tempted to try their ancient 747s once the A380s move to Dubai next April.
I also decided to do a standby upgrade using 45,000 miles for SINMEL. QF does not do firm upgrades even if using miles, and at best you know the day before, and the worst is you find out at check in.
11 Nov QF10 SINMEL
I arrived at SIN T1 90mins before departure, thinking my upgrade had not cleared because qf.com still showed me as taking economy. However at check in I was pleasantly surprised to be handed a Business Class boarding pass. KVS and qf.com had shown at least 9 empty seats in business class, but all seats were taken that evening.
It seems the SYD and BNE flights were 100%, so I suspect staff were put on QF10 which still had some empty seats.
I headed to the "QF-BA joint First Class Lounge", which was in fact supposed to have been shut some months back for renovations. However, as QF and BA decided to part ways, the renovations were put on hold, they re-opened the lounge and it now holds all First and Plat pax, while JCL and QF Club pax are sent to the renovated QF JCL lounge.
The lounge itself is nothing to write home about. It hasn't changed in years, and has a selection of mostly Western food, with the odd hot Asian choice. There is also ice cream on offer.
Half an hour before STD, I proceeded to the boarding gate, which was quite a walk at the end of the C Pier at Gate C26. After clearing security, they were already doing priority boarding for First and Business Class pax so I went through the boarding gate.
I stupidly walked down the lower aerobridge (as signage was quite poor) and as I got to the door, I was told to turn around to head back to the second aerobridge. So I had to go against a swarmp of pax who had now started to board. Silly me.
As I entered the aeroplane I was greeted by my sirname, but was not escorted to my seat. I took my seat where the menu choices for dinner and breakfast were already laid there.
Cabin crew did not come round to offer newspapers or magazines, though one did come round to offer either orange juice, water or champagne. I asked for sparkling water and was firmly told that they only had orange juice, water or champagne on offer. Great.
2110 (our STD) came and went, and before long it was 2120. The Captain came on the PA system to say that due to "paperwork" they had a slight delay, but due to favourable tailwinds they would more than make up for the delay en route.
So I asked one of the stewards for a copy of a Singaporean newspaper. He looked very perturbed and said he'd check. He came back with a copy of The Sunday Times, and said he had no idea where The Straits Times was, as he firmly recalls the main Singaporean paper is called The Straits Times. I thanked him and said it was great, as on Sunday they just call themselves the Sunday Times.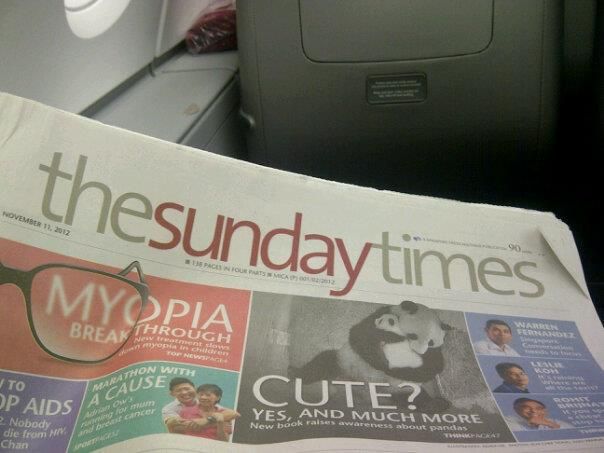 At 2135 we finally pushbacked.
They played the QF safety video, the cricket one which even my Aussie friends cringe when they watch. It starts something like 'Like most Australians…….."
The whole QF marketing thing seems directed at Australians, and as a non Australian I almost felt as if I was an outsider looking on at the service experience. After all, the safety video wasn't directed at me. Neither was most of the marketing speak on the IFE and so on. I understand that QF mainly sees its role as taking Australians out of Australia, and not really foreigners into Australia, so perhaps it is a deliberate marketing attempt on their part.
Although our gate was at the runway parallel to Terminal 3, we taxied all the way to the Runway at the Terminal end. It involved going down the entire length of T1 and T3, then turning left and crossing the East Coast Parkway, then turning right past what used to be the Budget Terminal…… SIN ATC really has problems and despite pax numbers approaching 50 mil, they still seem to run Changi as if it is a 25mi pax airport, dedicating one runway solely for takeoff and one solely for landing. This is highly inefficient as it results in an uneven distribution of traffic, and unnecessarily long taxi times.
At 2200, we finally took off, 50min after our scheduled time of departure.
After takeoff, the cabin crew first came round with amenity kits, bottles of water, then amenity kits.
Another steward came down with a trolley which had Pyjamas and a same day copy of the Sydney Morning Herald printed in Singapore. I thought this was a very nice touch by QF, instead of giving pax 3 or 4 day old copies of the local paper when the plane left MEL some days back.
The Pyjamas are also a very nice touch especially for J. I can't think of many airlines that offer this in J.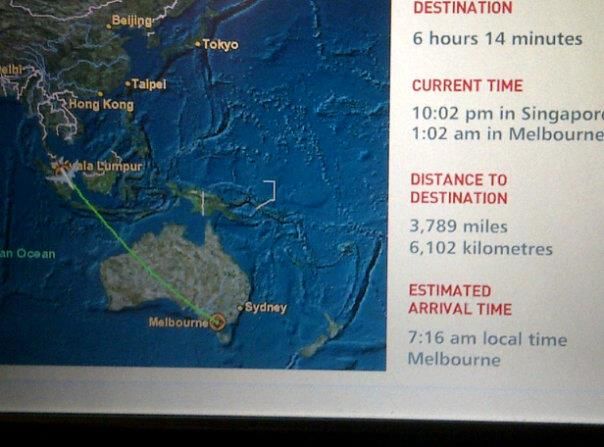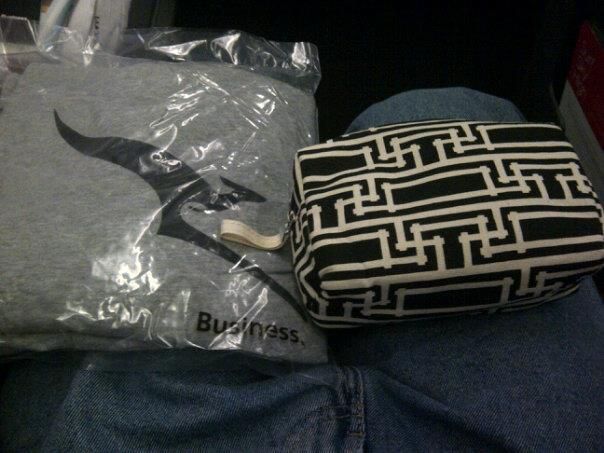 Let us look at the dinner menu today: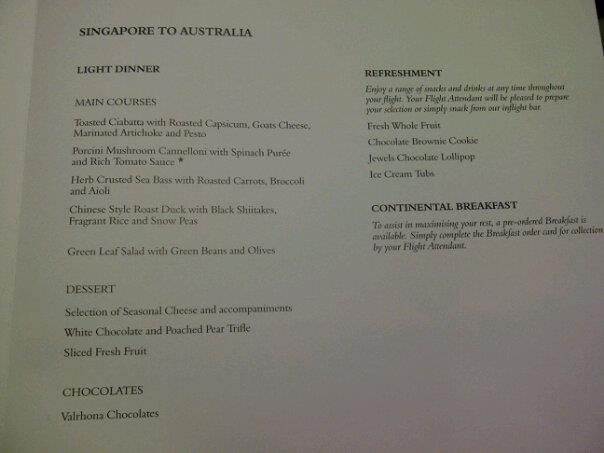 I must say I wasn't terribly impressed. I didn't have dinner in Singapore and was expecting to something more substantial, instead of what they termed a "light dinner". It was even worse that one of the choices was a toasted sandwich.
I understand that most of the pax would have originated in London and would have had 2 full meals prior to landing in SIN so perhaps this is why QF decided to do an abridged meal service. Well, no complaints I guess.
Meal Service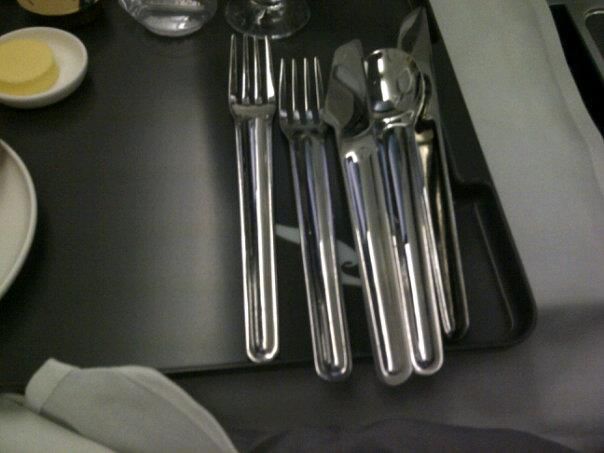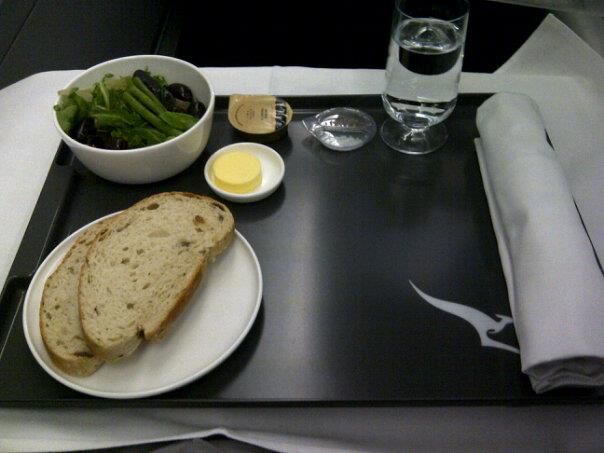 Not a great choice of breads
Appetiser and Main Together
The fish was quite cold when I received it. I asked for it to be reheated, and about 20mins later I received it and it was still quite cold, well, more like lukewarm. This was quite disappointing but I didn't want to make a fuss a second time.
Dessert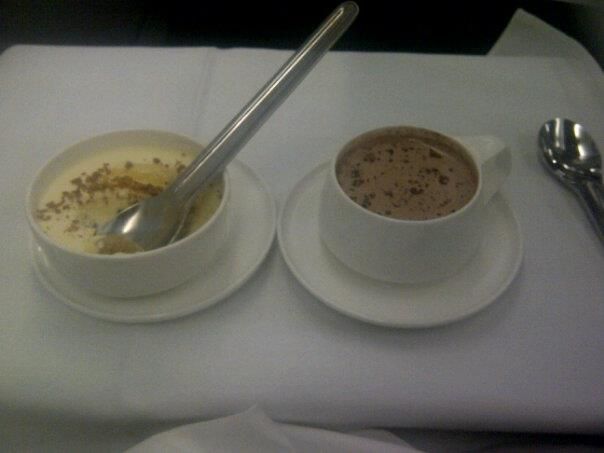 Hot Chocolate – I really like the large cups QF uses, compared to the miniature ones on SQ which belong more to a doll house
IFE
The IFE comes out of the armrest (how 1990s) but the screen and sound quality were excellent. I settled into watching The Dark Knight Rises which was really good.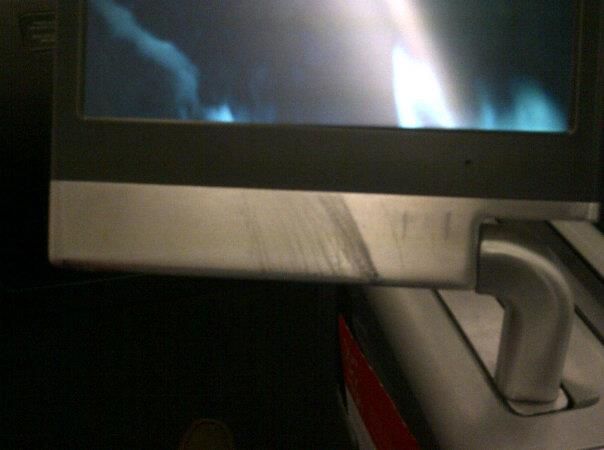 Have you realized Batman is the only superhero without any superhuman powers? He just has amazing gadgets to help him move around and kill people, but no jumping 90 floors and surviving that…..
At the end of the movie, which was nearly 3 hours after takeoff for a 6h30min flight, I decided to put the Skybed into its flat position.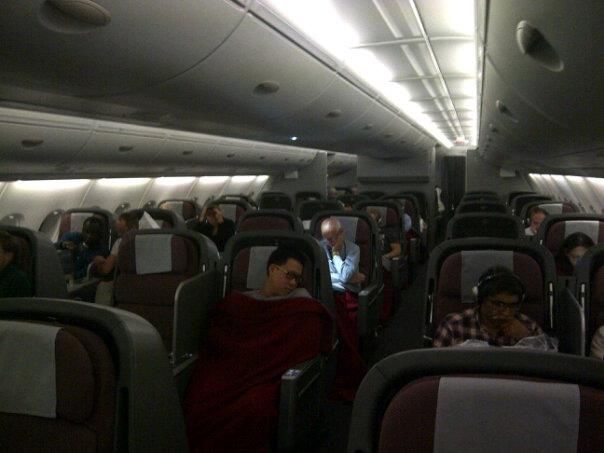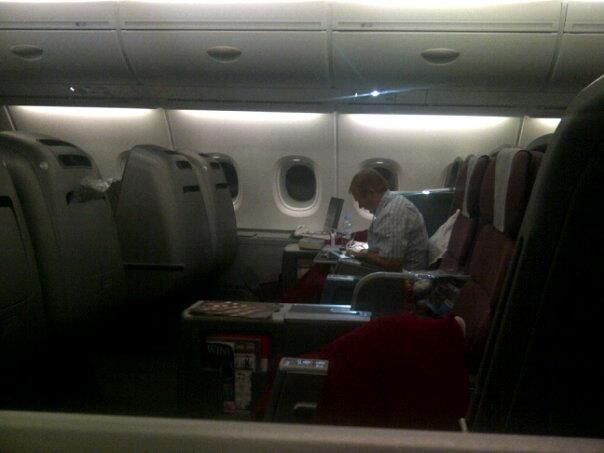 I had a very comfortable sleep for nearly 3 hours. The skybed has a very wide seat pitch, and although it is not 1 metre wide like the SQ New J seat, you can sleep straight and not in an angle. Further as you can fully recline the seat, and not fold it down into 2 separate sections like the SQ seat, the bed feels more complete, without a slant and break in between. So despite looking like it was fresh out of the late 1990s, the Skybed was indeed a surprise
About 80min before landing, the sun was just rising over South Australia, and the cabin crew started waking pax up for breakfast.
I had earlier filled up my breakfast card, and here came the fruit salad, muesli and croissant. This is more substantial than the continental breakfast served in SQ J on the same sector…. QF also serves plunger coffee and not a proper selection of 4-5 A Grade Coffees and Cappucinno. They really should improve on this aspect.
Breakfast
The continental breakfast card is filled up prior to take off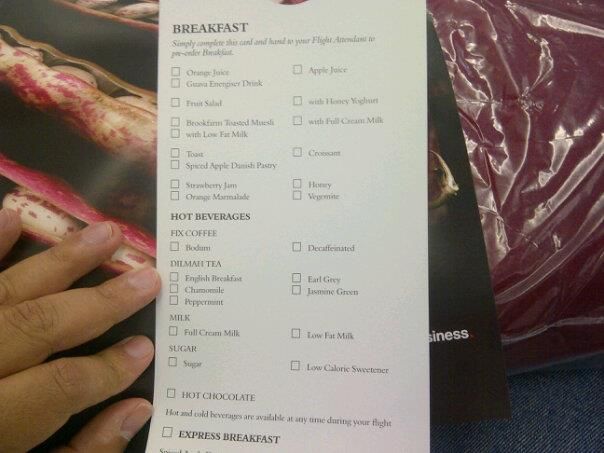 Sun Rising over Southern Australia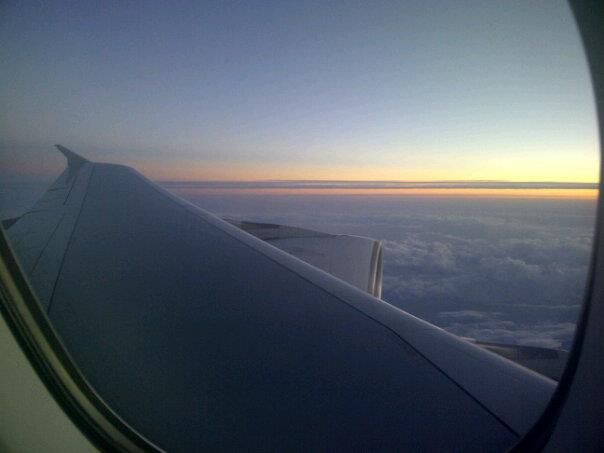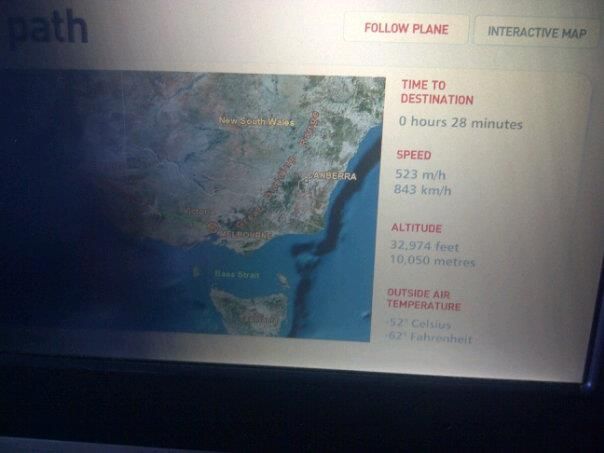 Soon, it was time to land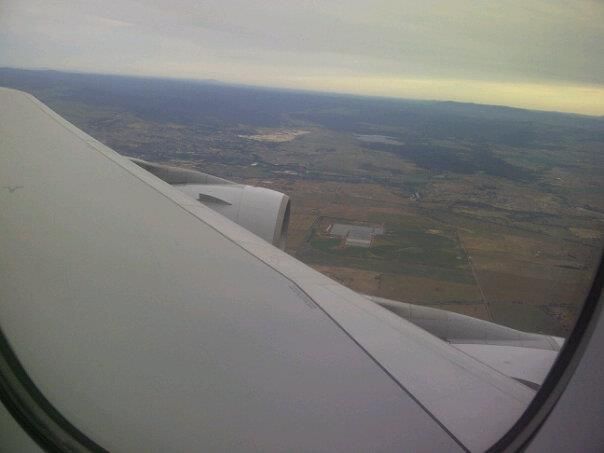 We landed on time at 0725, and I was feeling quite groggy because these 6h30min overnight flights are quite a pain. Not really short but not long enough to get a good sleep.
Headed to the terminal, and there was a massive immigration queue. Luckily I had an APEC card and could use the fast APEC lane.
Melbourne immigration officials were their usual rude self. There was a Korean gentleman who was in the APEC lane by mistake (instead of the adjacent Business Class lane) and the immigration official, Andrea said "YOU ARE IN THE WRONG QUEUE. I WOULD HAVE TO SEND YOU BACK." The Korean mumbled something and Andrea responded "I WORK HERE I KNOW WHAT I AM TALKING ABOUT".
They were also generally rude to most people, though not to me.
My bags were among the first off the belt, and I headed to catch the express bus into the city.
I spent a good few days in Melbourne, which I have visited numerous times since my first visit as a kid in 1994. Nothing really much has changed in the past 20 years and the city still looks the same. For the huge boom Australia has experienced, on a superficial level there's really nothing to show for it. Nothing's flashy, no big and tall buildings, even the cars are not flashy. So where do the truck drivers on mines earning $150,000 a year put their money?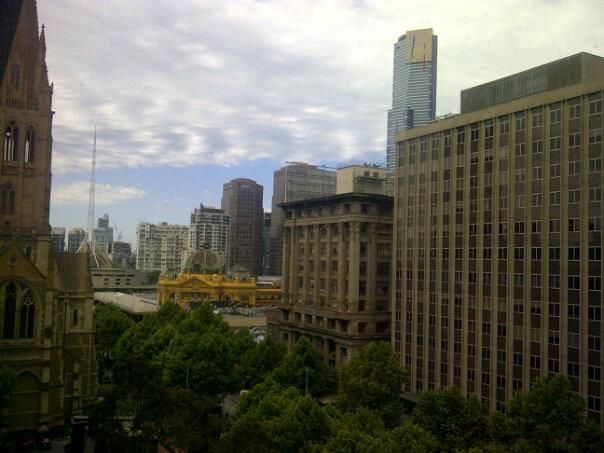 Some views from my Melbourne hotel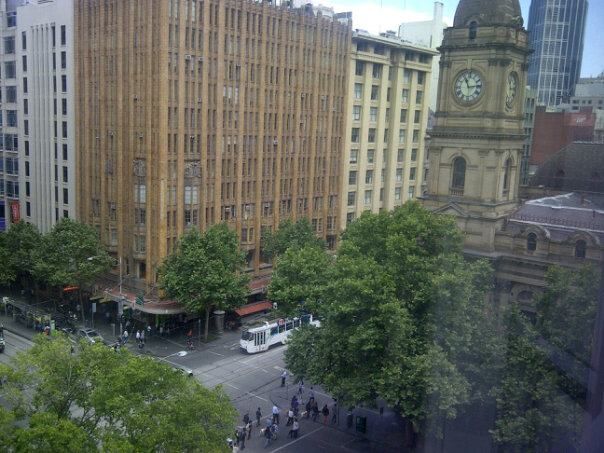 After 4 days it was time to depart for Christchurch.
I headed to MEL Airport (Gosh, $50 for a 20min taxi ride) and got there at 0700, for my 0845 flight to Wellington.
After check in, I headed to the famed QF First Class Lounge. WOW, was that a treat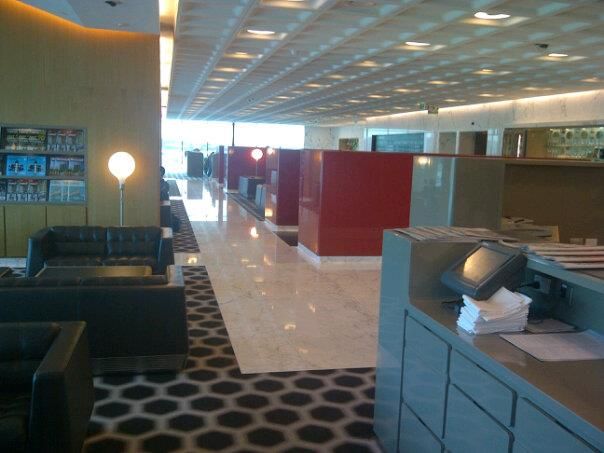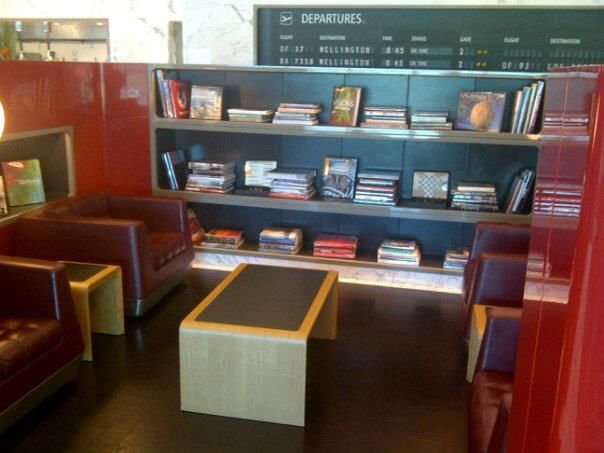 There was a separate restaurant with a very extensive breakfast menu. I ordered the poached eggs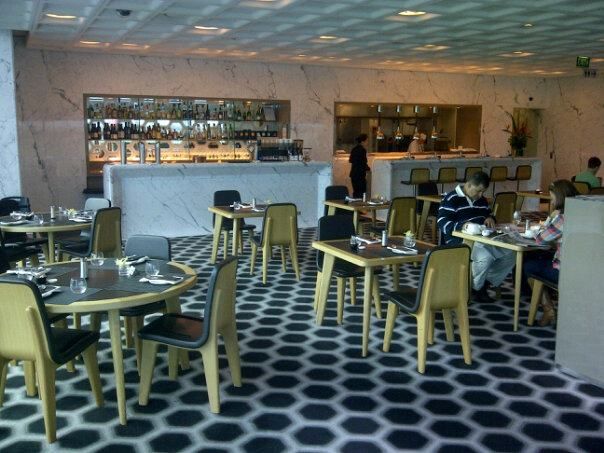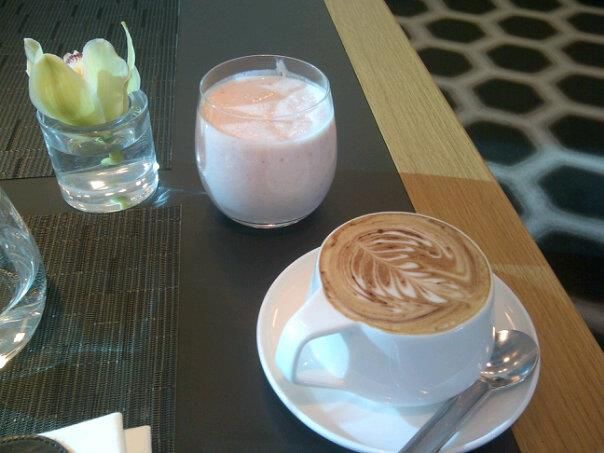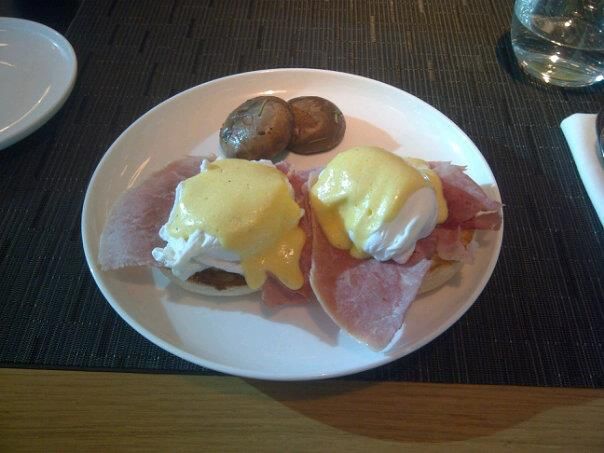 Poached Eggs!
I didn't quite manage to locate the Spa, but so early in the morning and stuffed with all that food I wasn't in the mood for a massage anyway.
Some plane shots from the lounge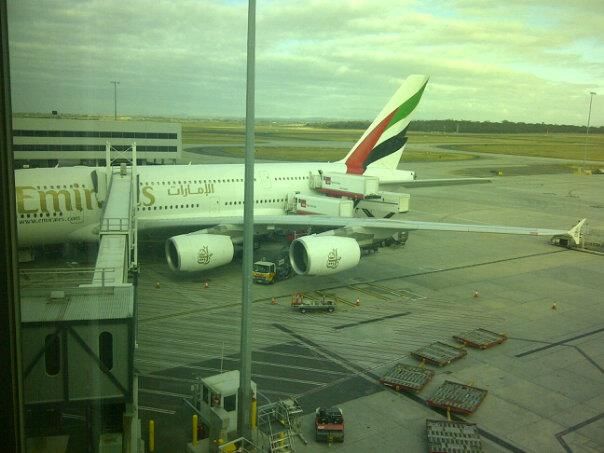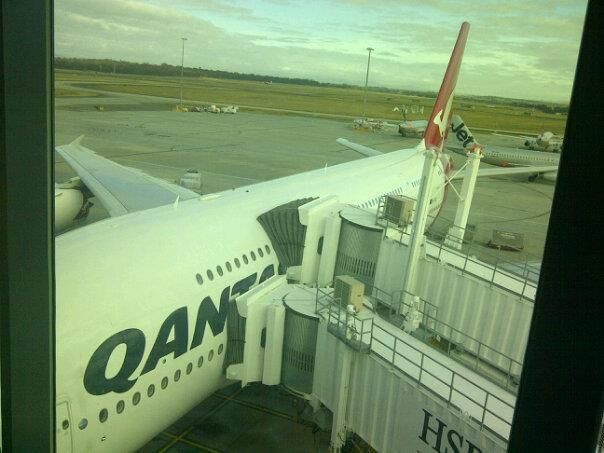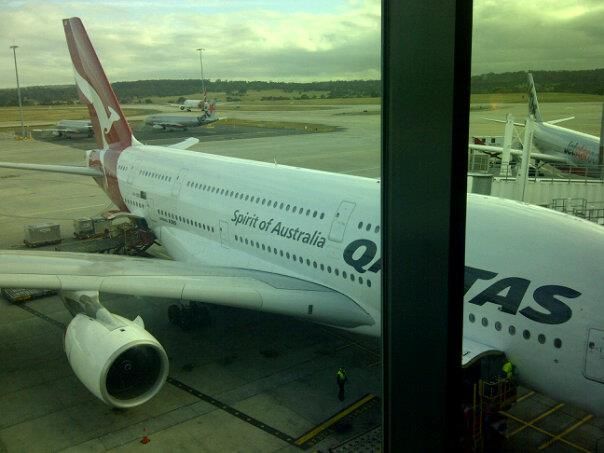 At 0820 I headed to the boarding gate, and there was a QF 737-800 operated by Jet Connect, their NZ subsidiary.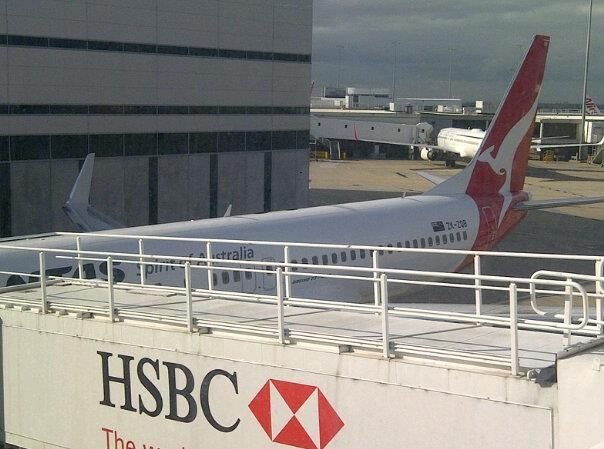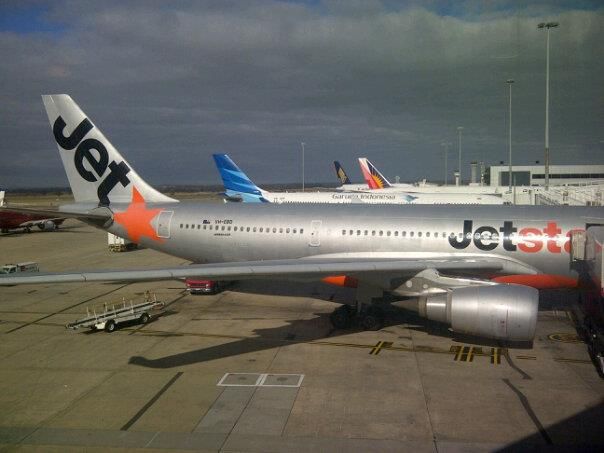 Jetstar next to us
Upon boarding, I was greeted by a very friendly and cheery purser. (All the staff are from New Zealand)
I took my seat in the first row of economy, and the purser served my area of the flight. She, together with all her crew were exceptionally friendly and cheerful, a far cry from what I experienced on QF10. I was addressed by name (possibly due to my QF status) all times during the flight despite being in Y, while on QF10 in J I was only addressed by name once.
After takeoff I used the IFE system, which is an abridged version of the AVOD ones on the A380 – perfectly adequate for a shorthaul flight.
The cabin crew came round to offer breakfast, which was a choice between a hot breakfast (some bacon, egg thing) or continental breakfast of muesli. As I already stuffed myself with an enormous breakfast in the lounge, I opted for the muesli. What can I say, it was adequate.
2h30min after takeoff, we started our descent into Wellington, and we landed on time 3 hours later.
I had a very long transit in Wellington to Christchurch – about 3 hours. I had to collect my luggage and proceed to the departure hall to re check in for my Jetstar flight. There was a flight leaving in an hour, but the agent said that:
1. You cannot take the earlier flight
2. I cannot check you in for the later flight till 2 hours before departure
So I had to lug my luggage around Wellington Airport and park myself at the corner of a foodcourt for an hour.
It is a pleasant enough airport, and they were big on the Middle Earth Theme, in preparation for the premier of the Hobbit.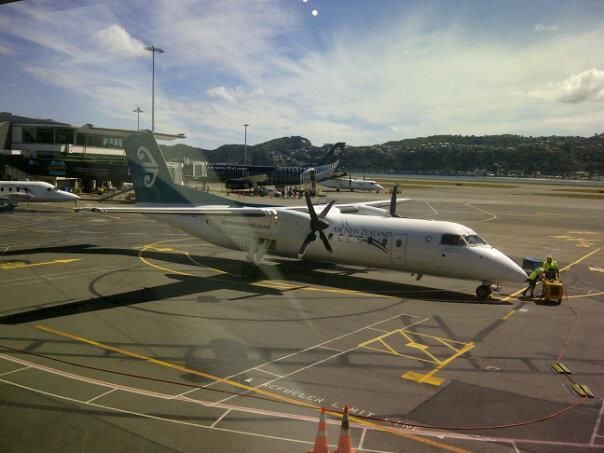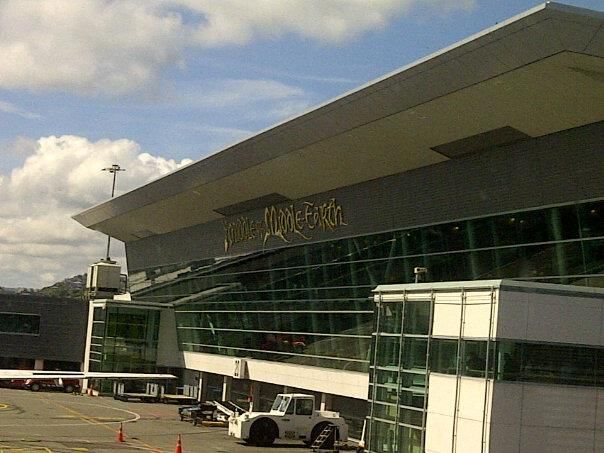 Middle of Middle Earth!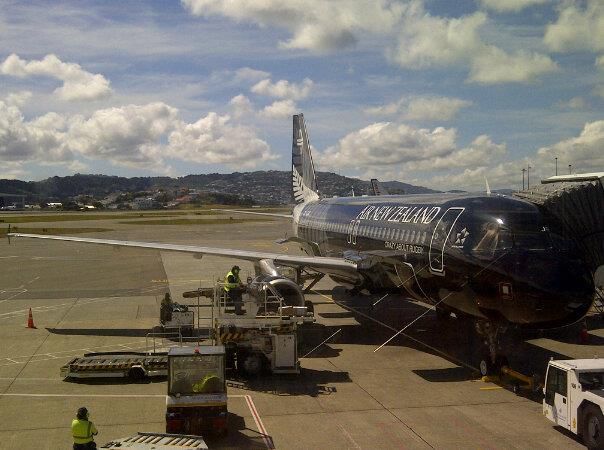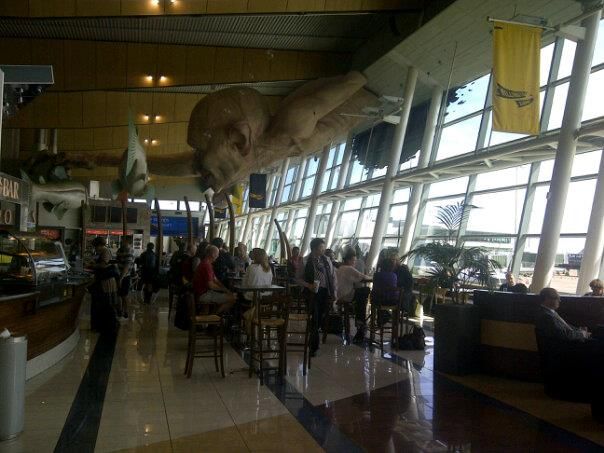 30min before STD of JQ289, I proceeded to the boarding gate. Jetstar NZ has a weird system of boarding. Those in the front half of the plane board using the front aerobridge and those in the back half of the plane take the stairs down the aerobridge, walk along the tarmac and take mobile stairs up to the back of the plane.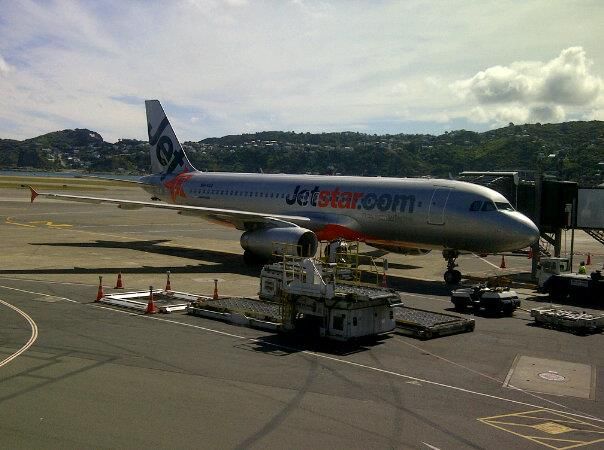 I found my seat – 1A – which is First Class on Jetstar isn't it!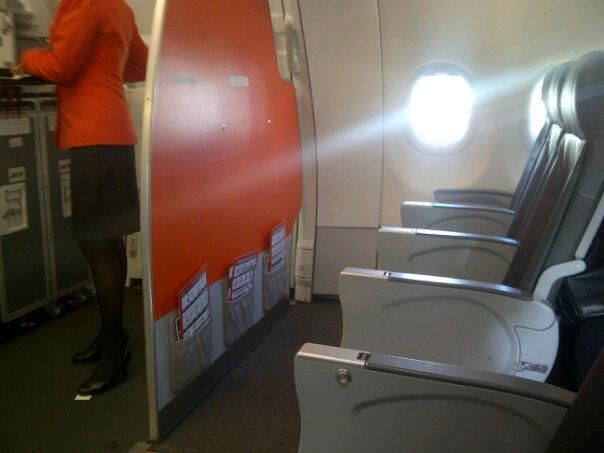 Nothing much to report on the flight – It was 40min so here are some photos of the cabin and Wellington after take off
Photos of Wellington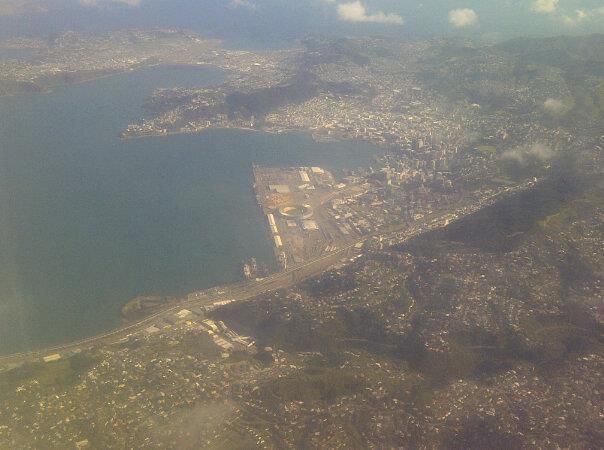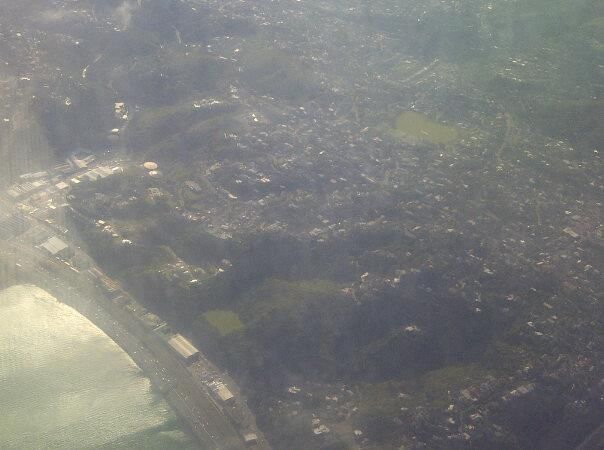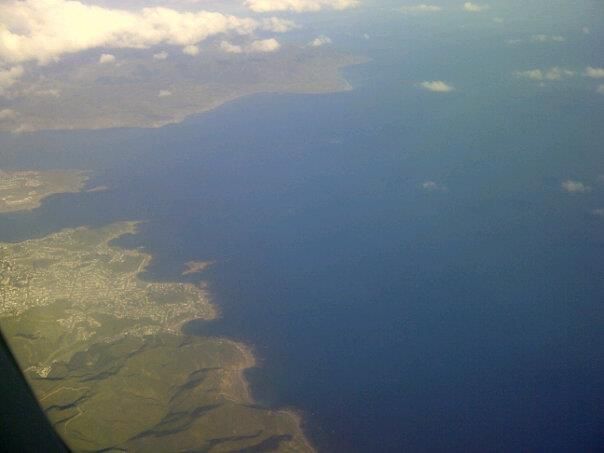 Landed in Christchurch on time at 1820, where my friends were waiting for me
Christchurch
Christchurch is a city I have visited at least a dozen times before. My father studied there, and made some very good friends whom he has kept in contact with since he returned to Singapore after graduating in the early 1970s. I also became good friends with the children of his friends, and was there to attend the wedding of one of the children.
Many of you would have heard about the 2 earthquakes that struck the city in 2010 and 2011. I new the damage was extensive, but had no idea that the entire CBD was literally gone.
However the people of Christchurch have a remarkable spirit, and to get people into the CBD, they built a container city, housing shops and cafes in these containers!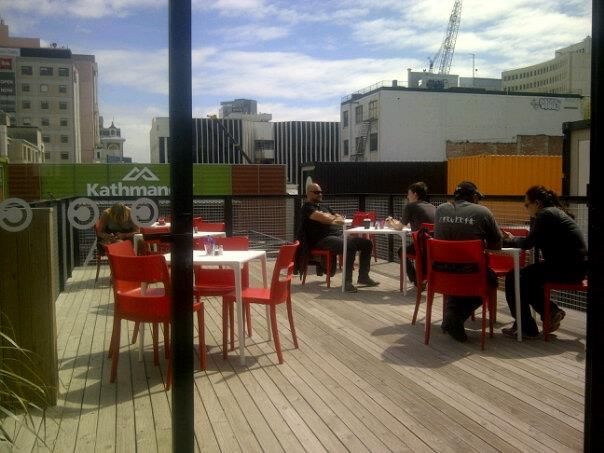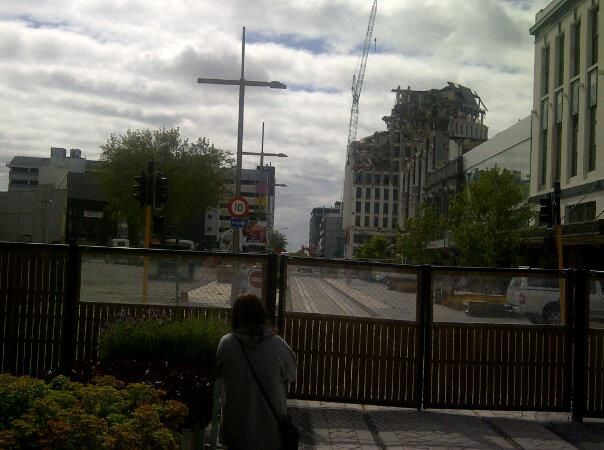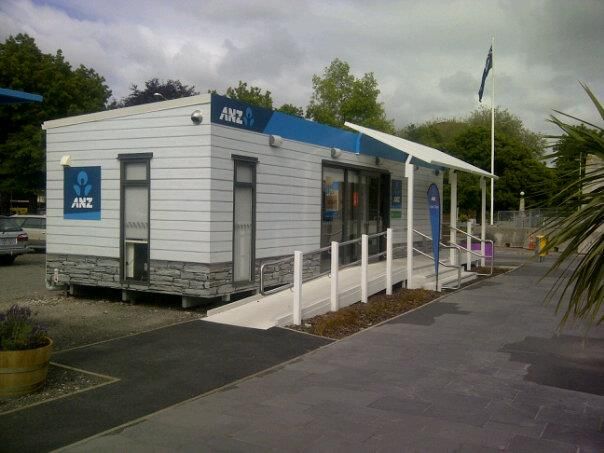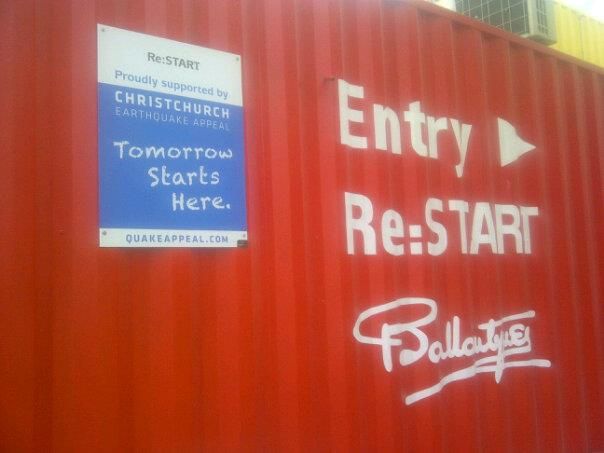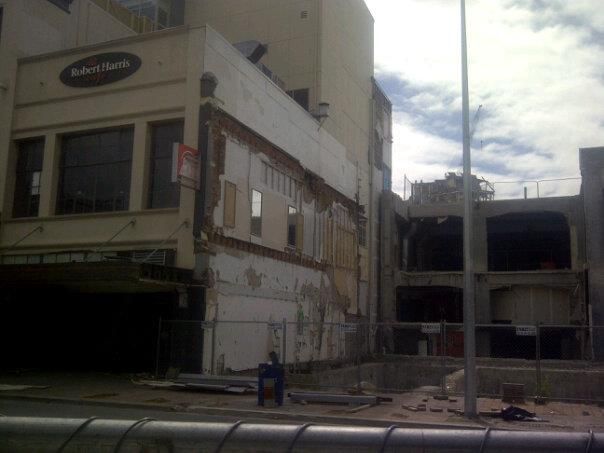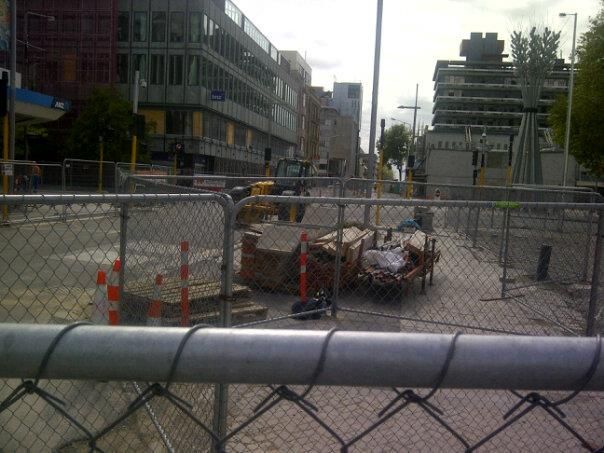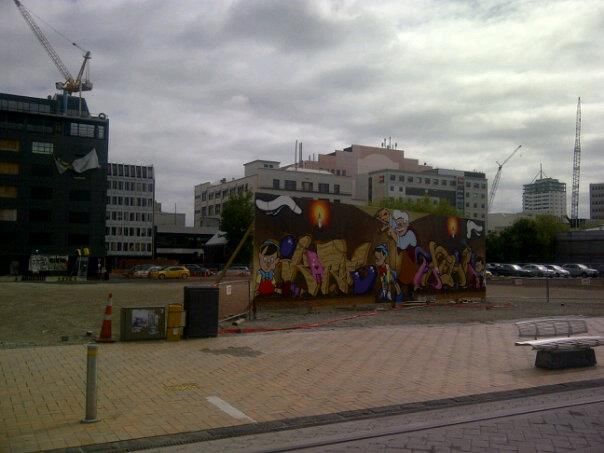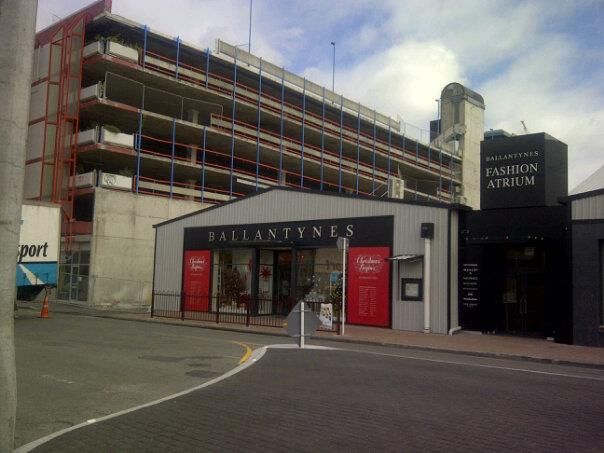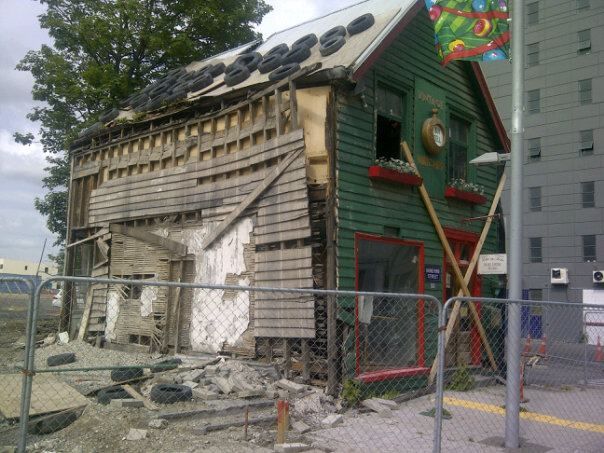 New Brighton Pier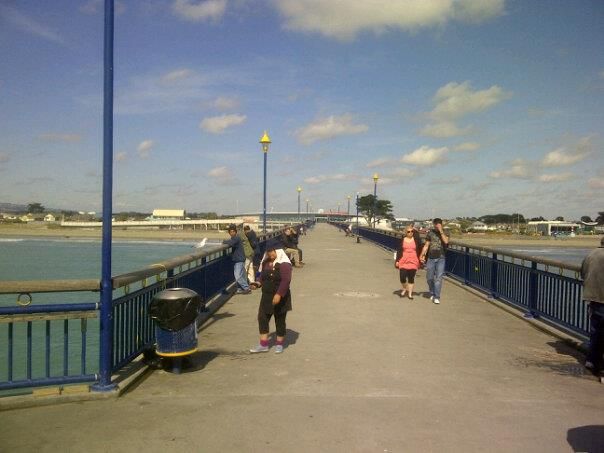 Besides that, Christchurch doesn't seem to have changed at all since my first visit to the city which was when I was 4 years old!
After 5 days in Christchurch, it was time to depart for Singapore
21 Nov
Well, my upgrade on QF1 SYDSIN cleared the night before, so that was a treat!
Arrived at CHC Airport 2 hours before departure, proceeded to check in.
The check in staff were really really anal about luggage allowance. I had 3 bags which totaled 60kg (as I was helping my parents bring back stuff) and they were almost gleeful at the thought of having to charge me, until they saw my QF status. However, a manager had to be called in to override the system manually as the system would otherwise not issue my boarding passes! Wow. Talk about cost control and revenue management, it felt a bit more like Jetstar.
Headed to a third party lounge also used by Emirates. Nothing to write home about.
The flight was 20min late arriving from SYD, so our ETD was also pushed back 20 mins.
All the international departures from CHC in the next 24 hours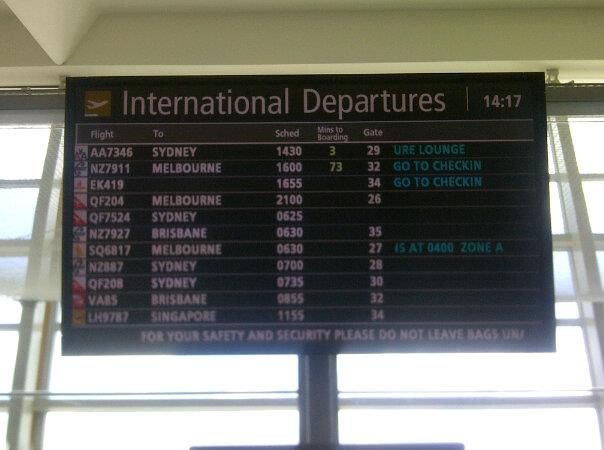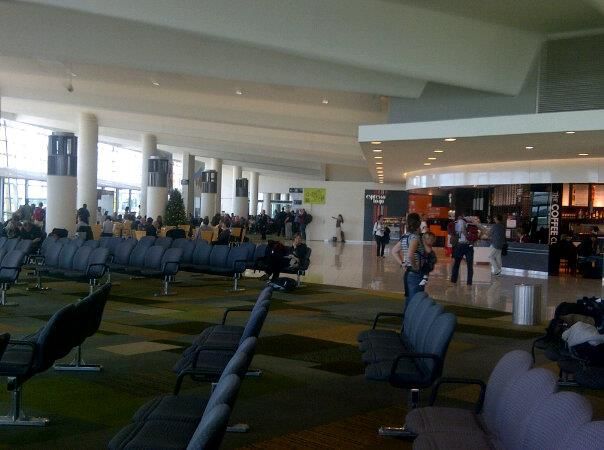 Boarded using the priority boarding queue, and again got to a window seat on the first row of economy.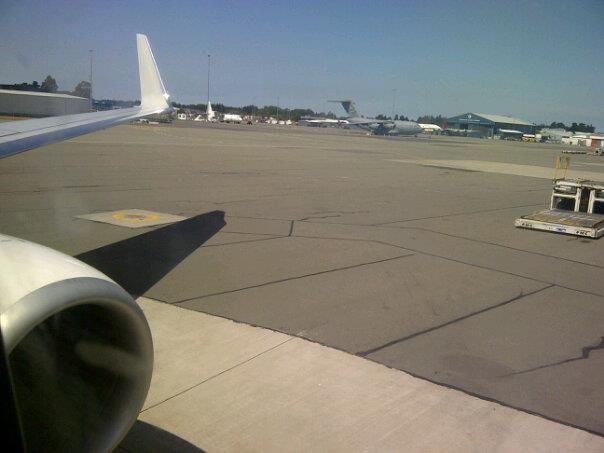 Staff were from QF Mainline (Australia) and no where half as friendly as the NZ ones on Jet Connect. They were also substantially older, though that really shouldn't matter. The best crew on SQ are the older ones, and not the young girls.
We pushbacked 20min late, but the Captain said we would make up for the lost time en route.
After takeoff, we had spectacular views of the Canterbury Plains and the Southern Alps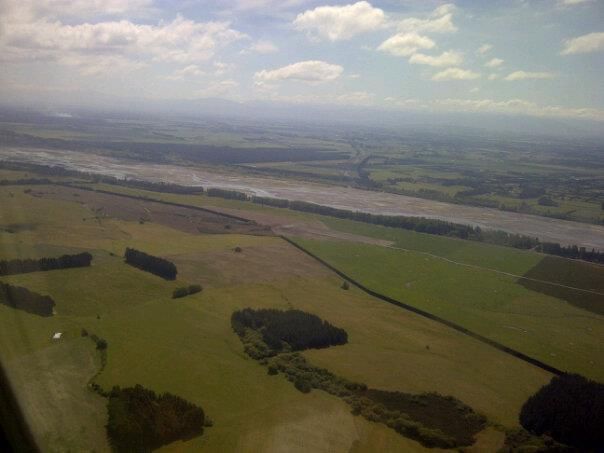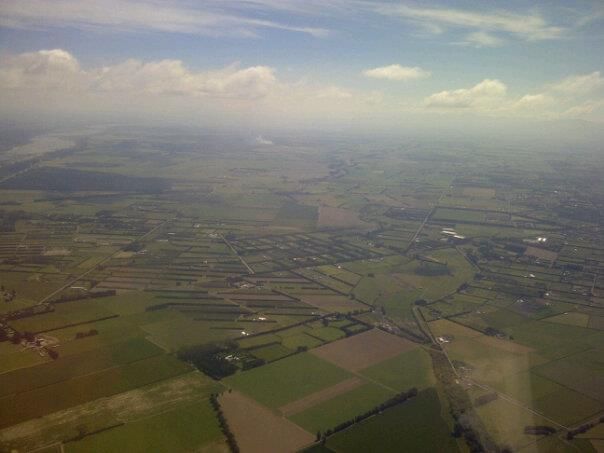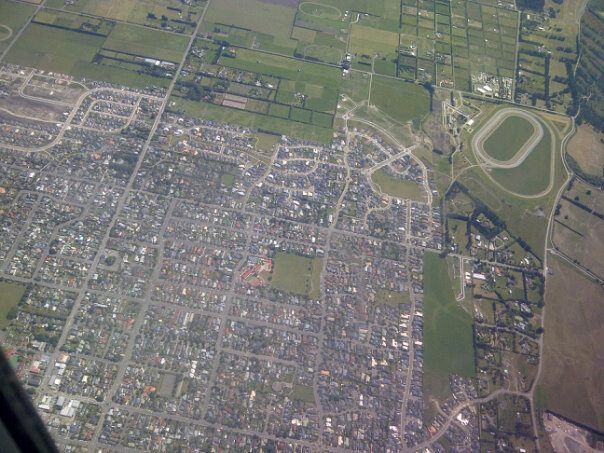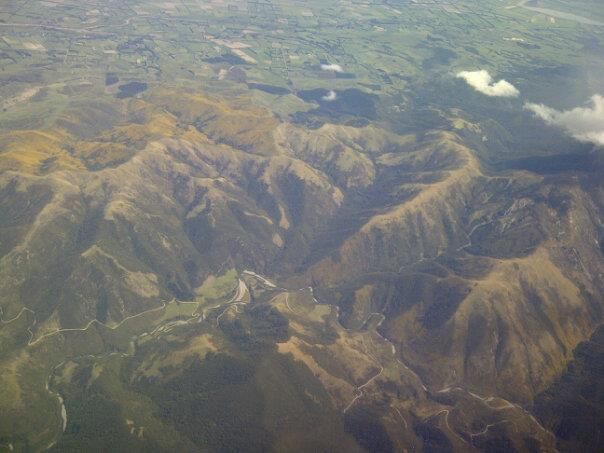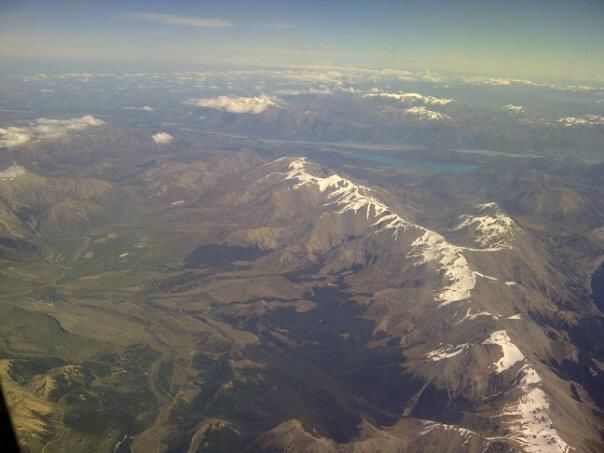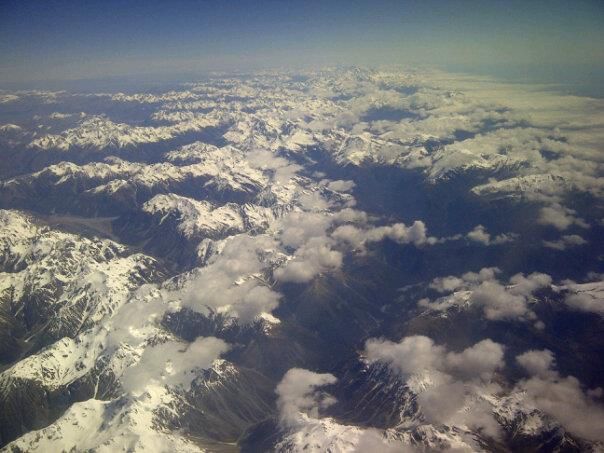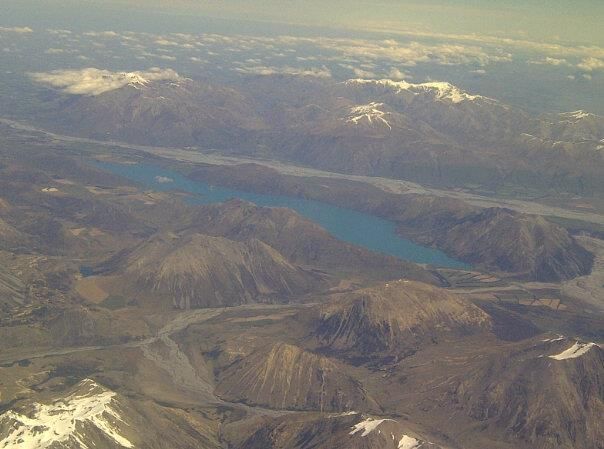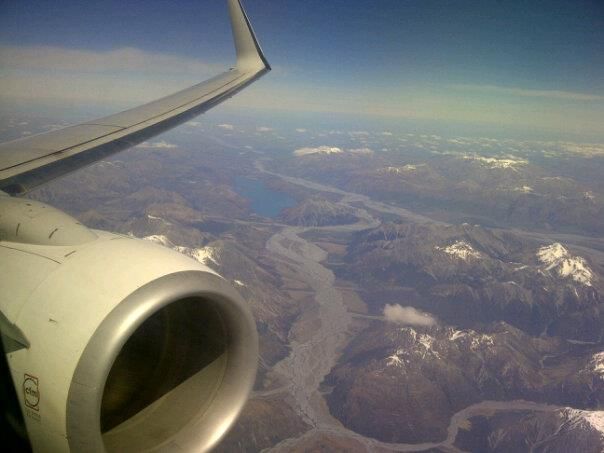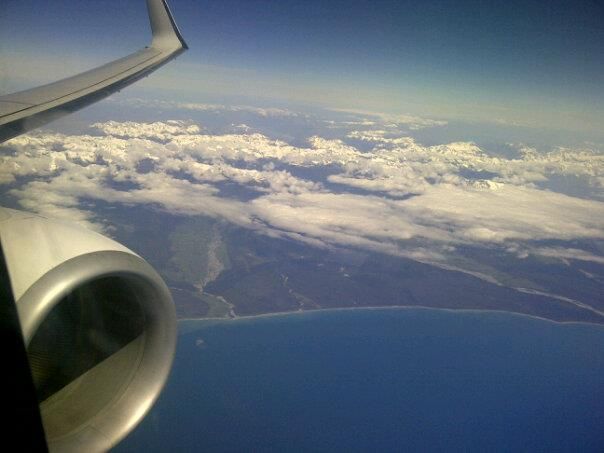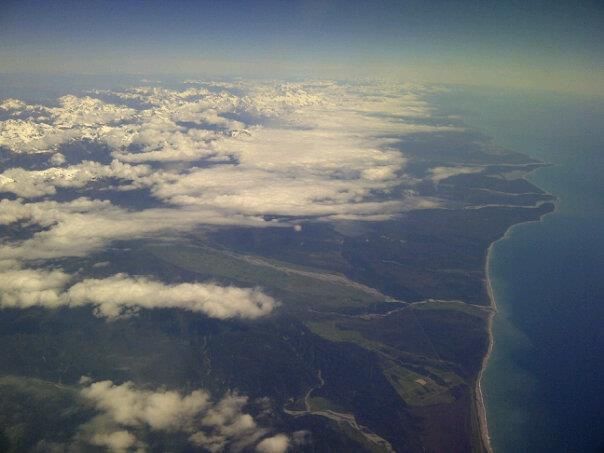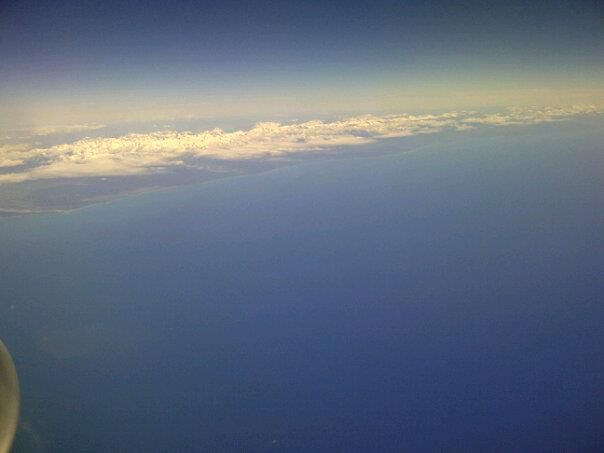 Goodbye NZ!! Let's take one last peek at the South Island
Lunch was served shortly after, and there was a choice of Beef Curry or some Western Choice. I went for the beef curry. It was adequate, but probably made for more Western palates.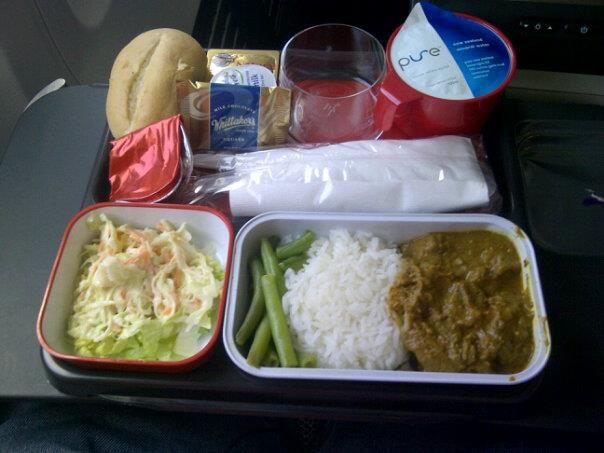 Tip Top Ice Cream was also served for dessert! Some of the best ice cream in the world – I wish Fonterra exported this overseas.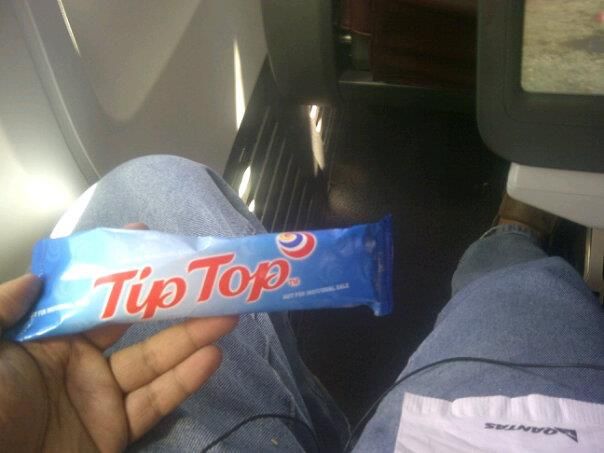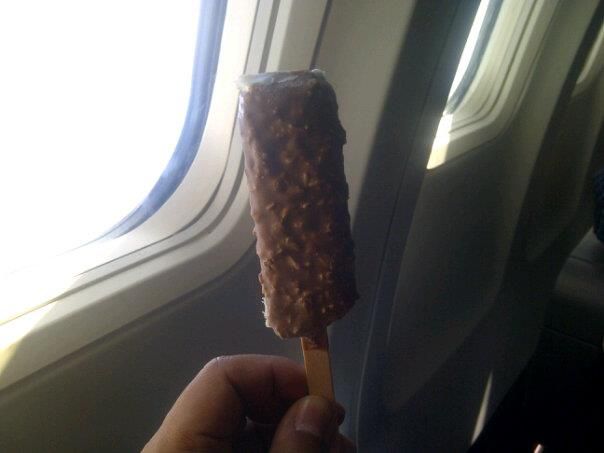 About 2h30min after takeoff, we began our descent into Sydney.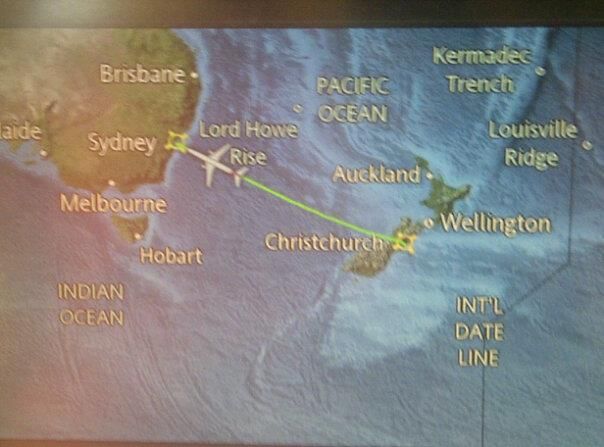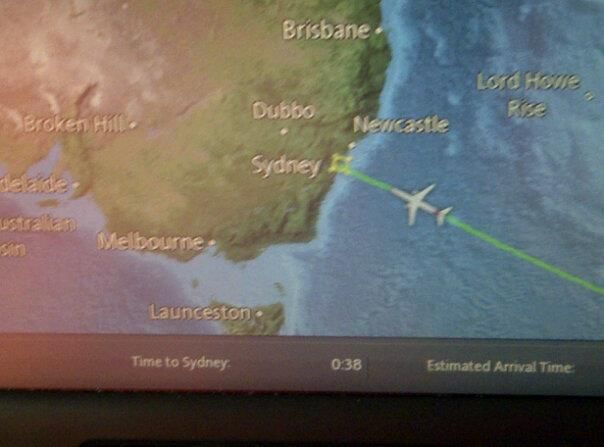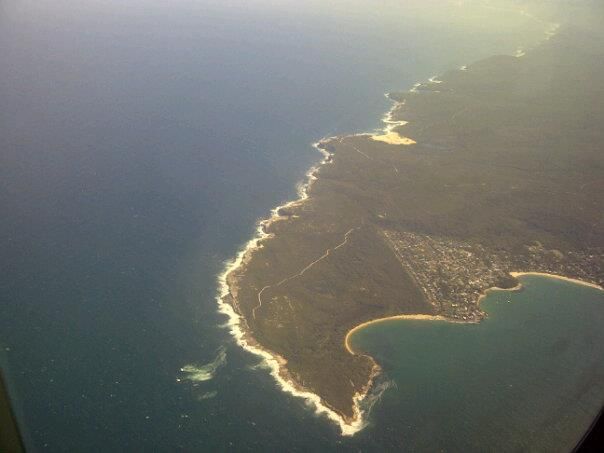 Over the Tasman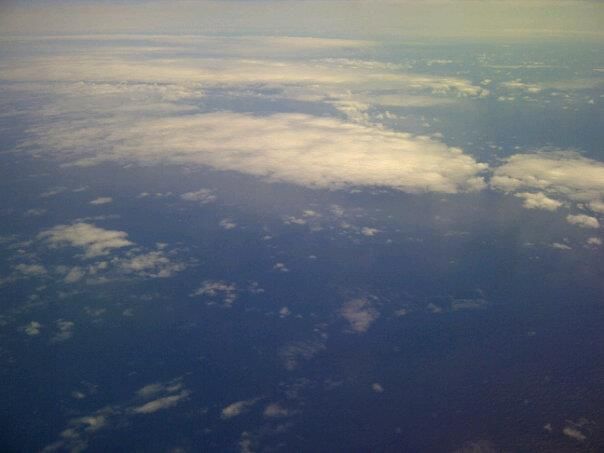 Hello Australia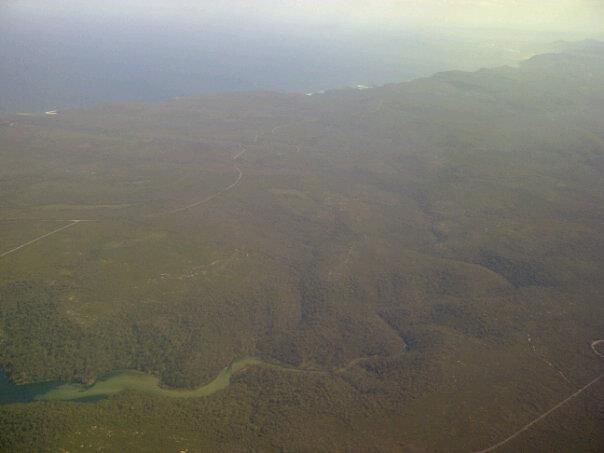 A vast reserve near Sydney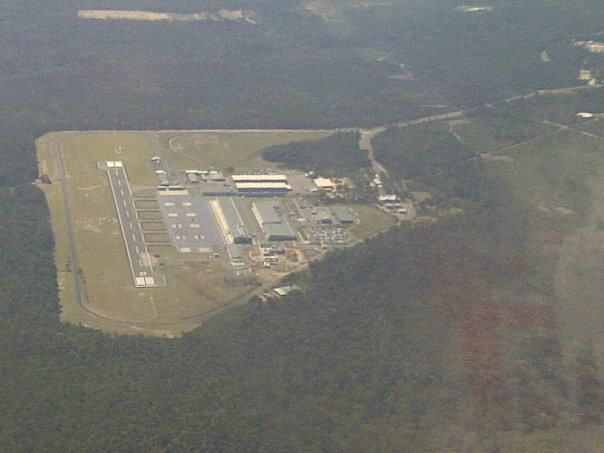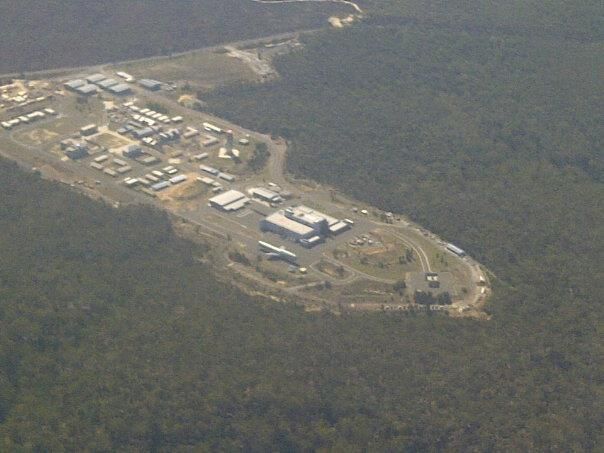 What's this airfield near Sydney?
We're nearly there: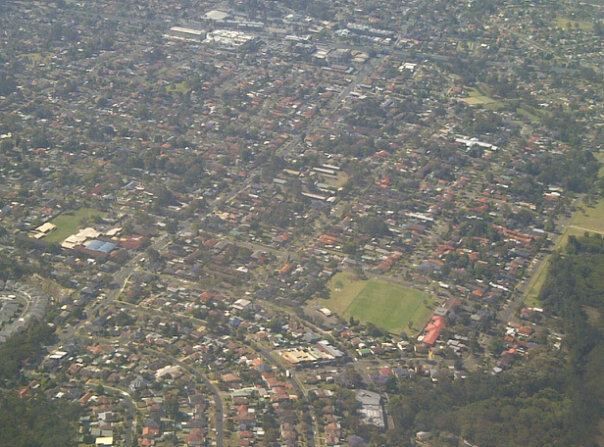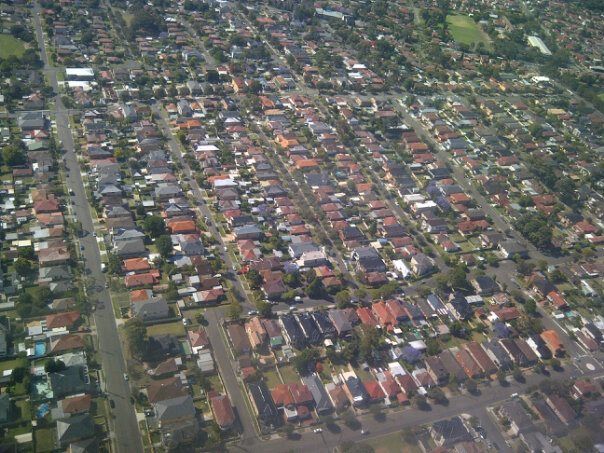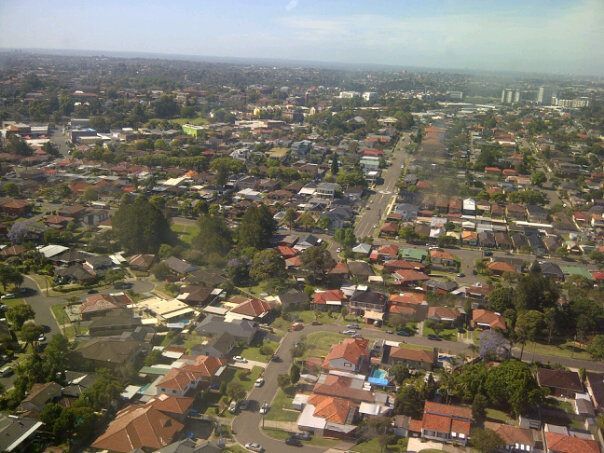 Landing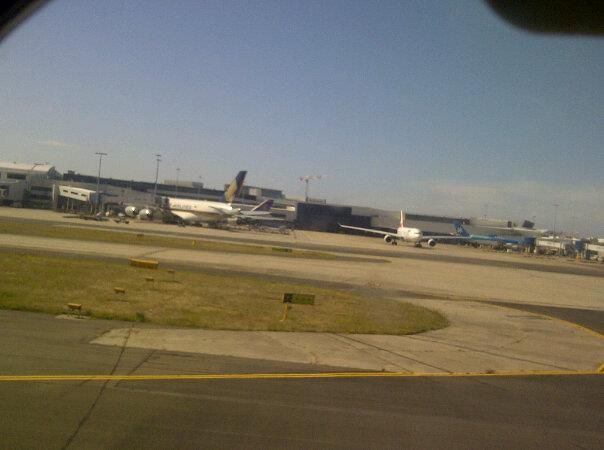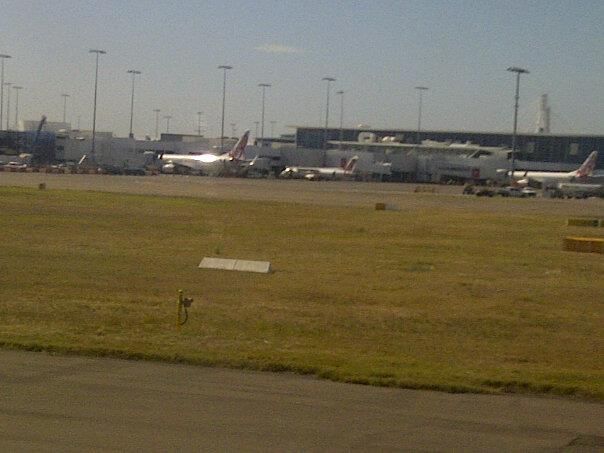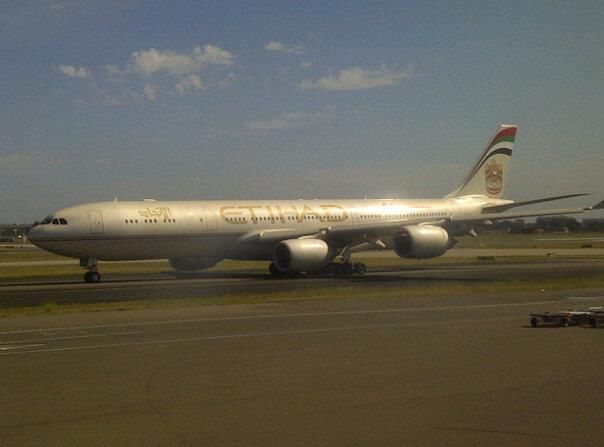 Landed at 1445, on time and taxied to our gate. I had about 90min before QF1 departed, and headed towards the QF First Class Lounge.
Photos of Entrance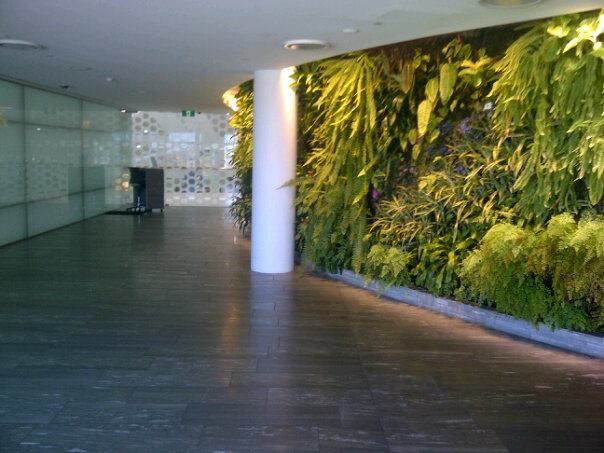 Photos of Lounge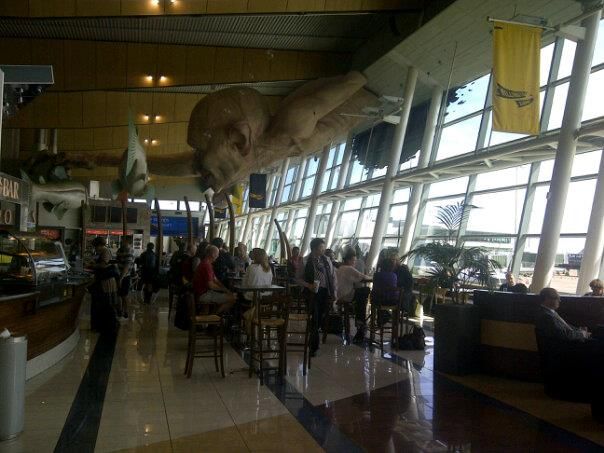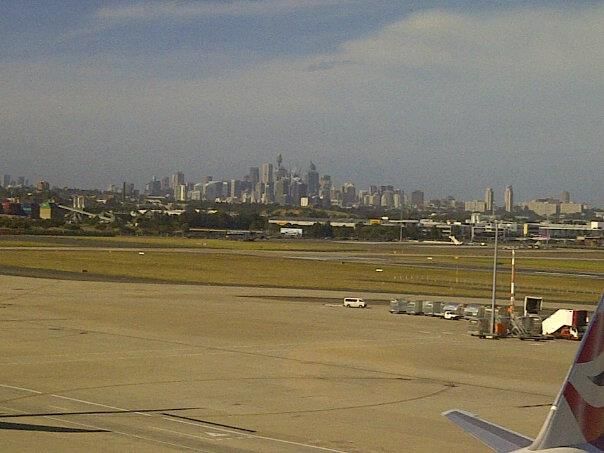 SQ222 departing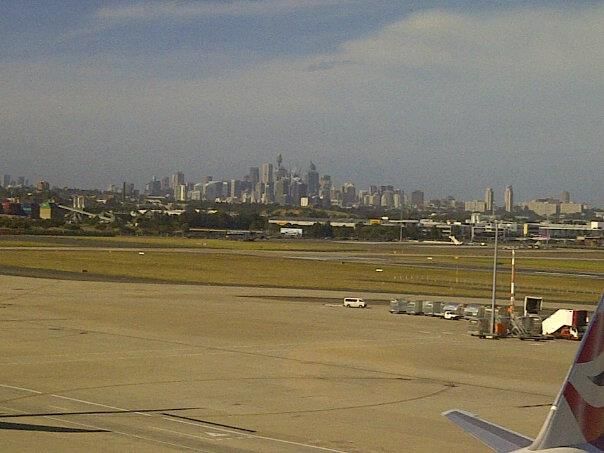 Sydney in the distance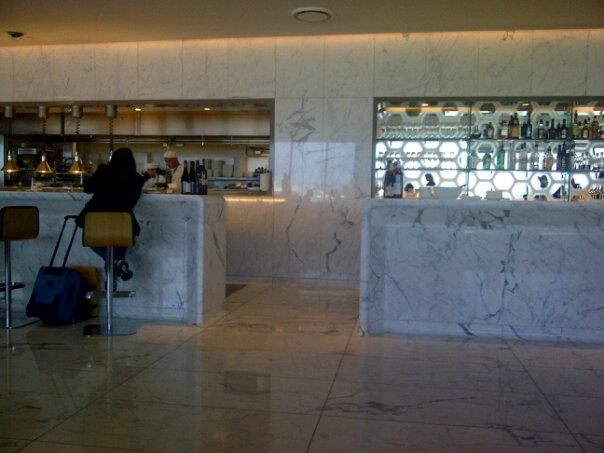 Bar Area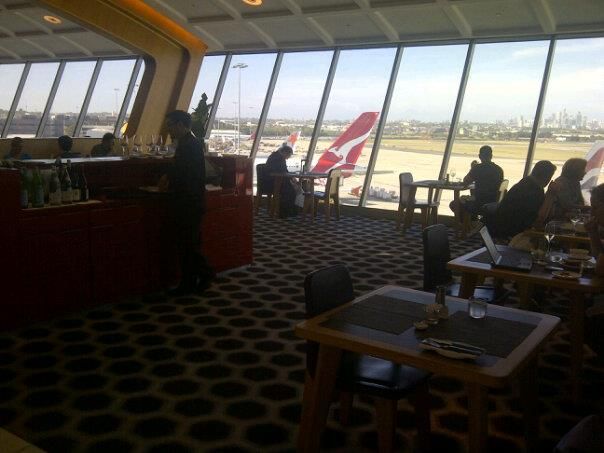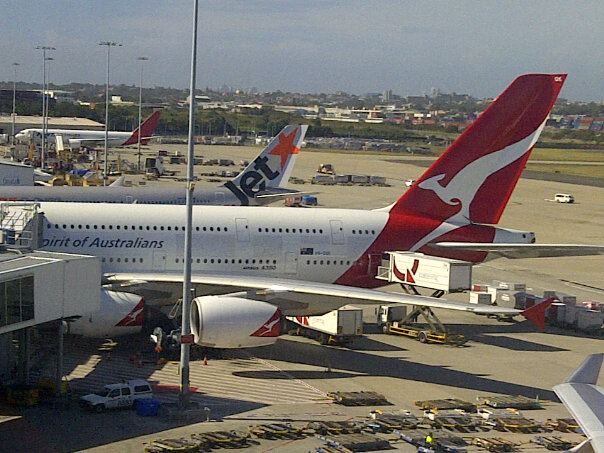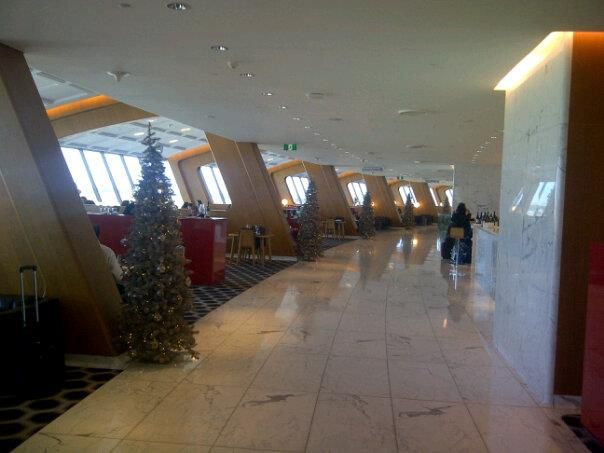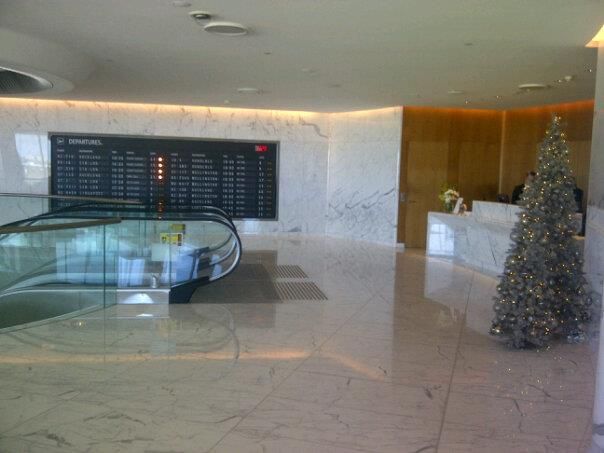 What can I say? This has to be the best lounge in the world
Menu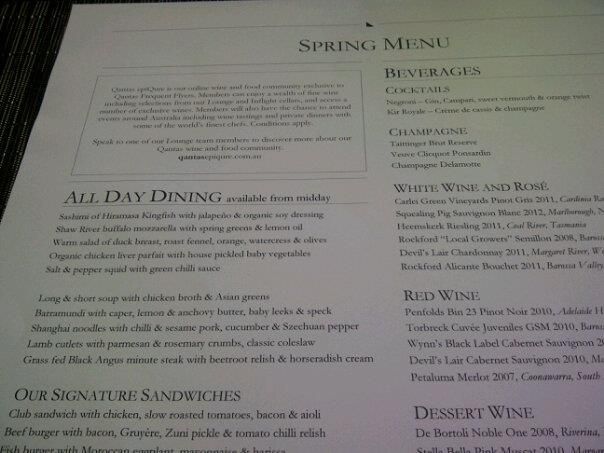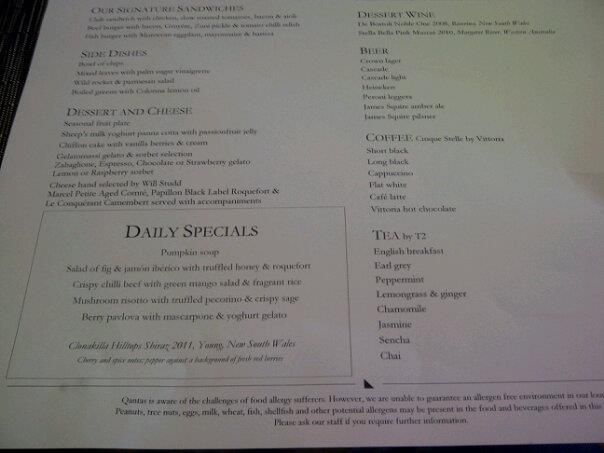 Outstanding menu, décor and view
I ordered a duck salad, pumpkin soup and some very sinful dessert – the Chiffon Cake with Vanilla Berries and Cream. Doesn't look like it, but it was simply outstanding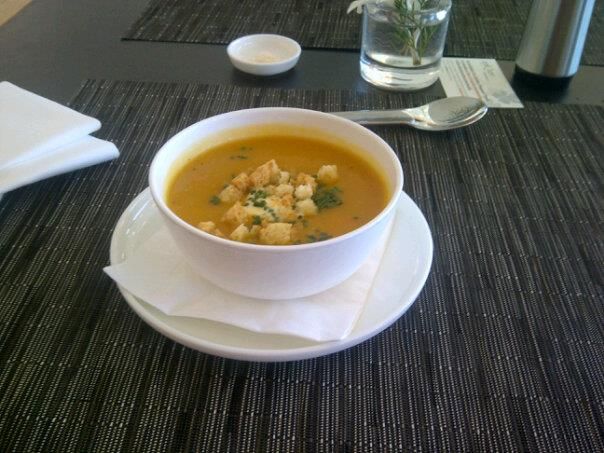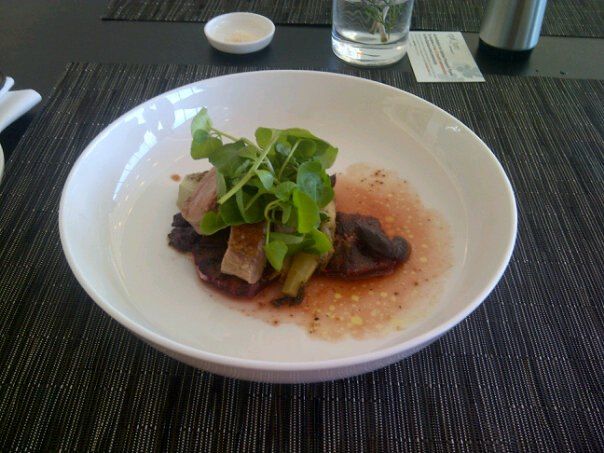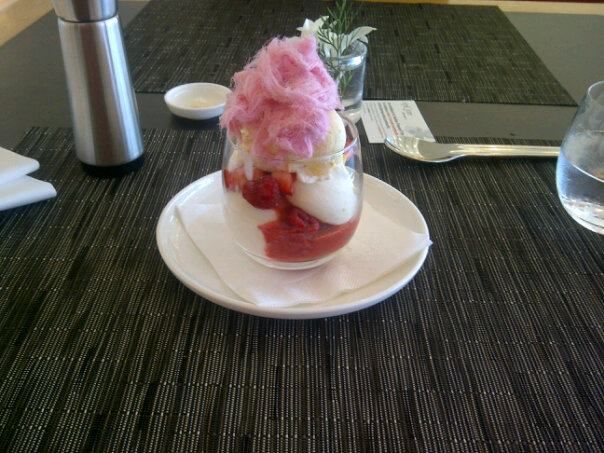 By now I was stuffed and really wished I had more time in this superb lounge. Couldn't my transit be 8 hours? I could have breakfast and lunch here, together with a massage!!
QF's management may not know how to run a proper airline with a real network beyond Singapore, Sydney , London and LAX, but hey they really do know how to run great flagship lounges!
Boarded QF1 at 1700 (1720 ETD) and it was VH-OQK the "Spirit of Australians" aircraft. Upon boarding I was directed to my seat (though not escorted)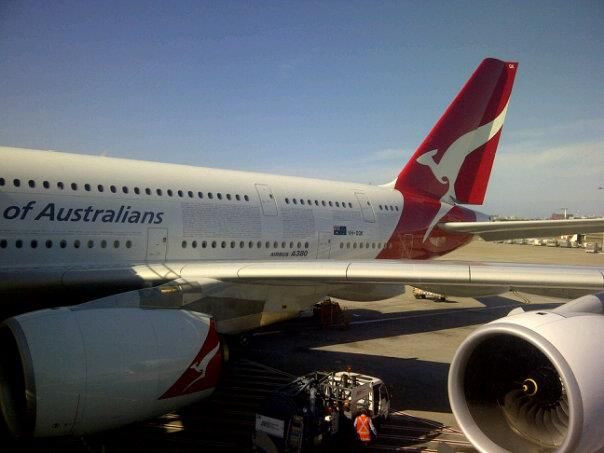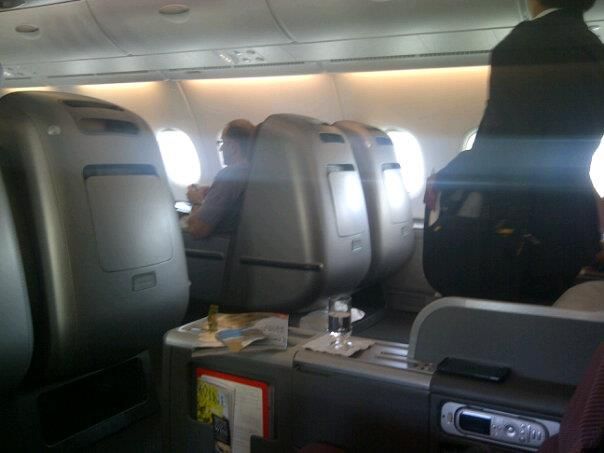 I took my seat, and was offered a welcome drink soon after, together with some Australian newspapers. They did not have The Straits Times stocked on today's flight.
They did have the Australian Financial Review which had this ad!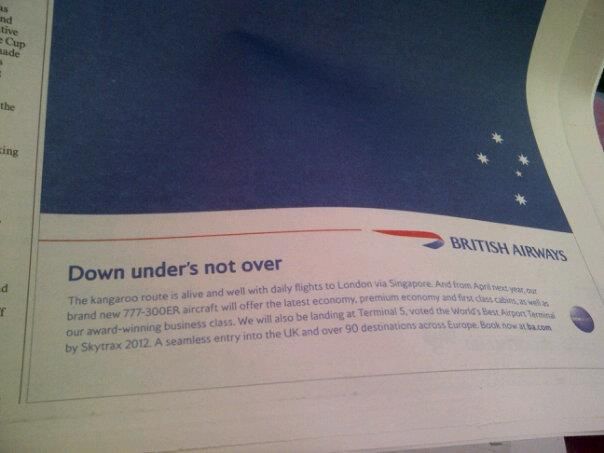 The service style was pretty much the same as QF10, so I won't elaborate much on that. They did hand out amenity kits but no pyjamas as this was a day flight.
Menu
Australia to Asia – Do they serve like the same 4 dishes on nearly all their flights??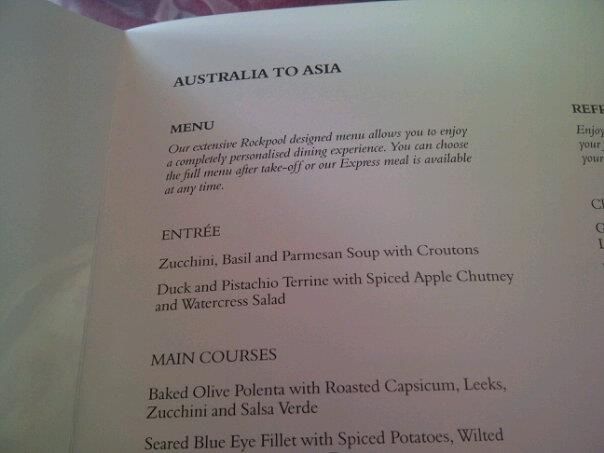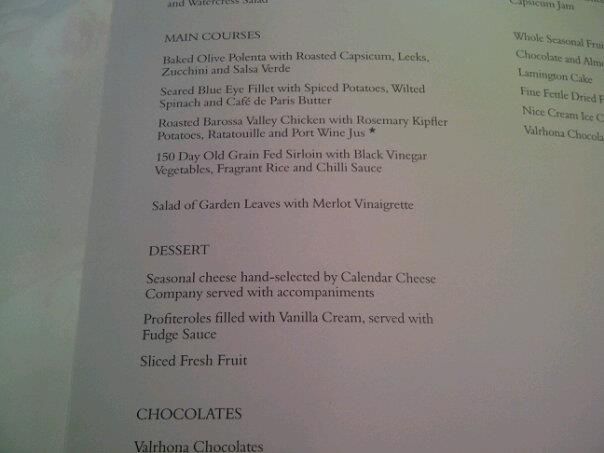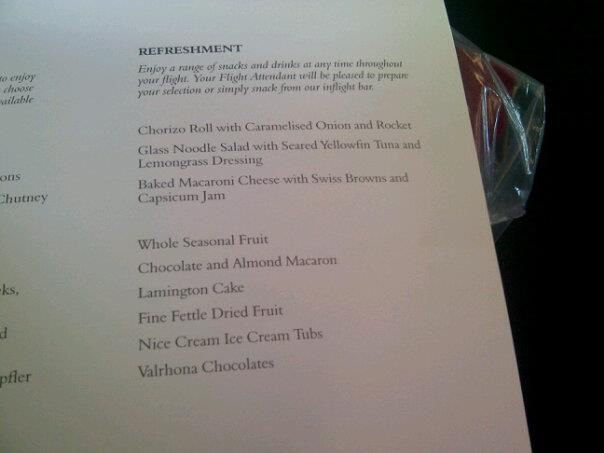 The menu was much more substantial than SIN-MEL, with a choice of two starters, a side salad, and 4 mains.
Appetiser – Duck Terrine
Quite nice, though QF does not do a large choice of breads eg garlic bread unlike SQ
Main – The menu termed it "150 Day Old Grain Fed Sirloin with Black Vinegar Vegetables, Fragrant Rice and Chilli Sauce"
Well this is what appeared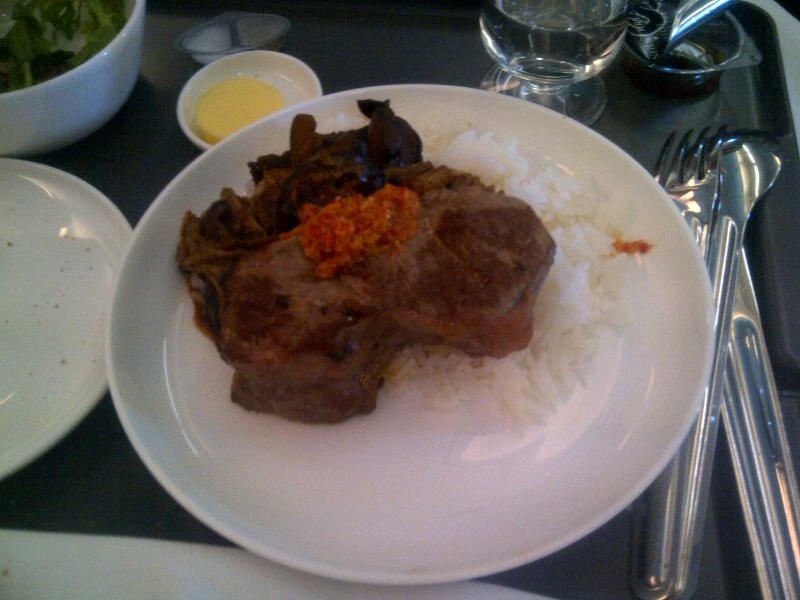 It was a slab of a pretty good cut of meat, but slathered with sambal chilli on the top! The combination was truly gross. If this was QF's version of Fusion food, or Asian food, seriously they've gotten it all wrong.
Thankfully I wasn't even hungry anyway (hadn't I been eating non stop since 5 hours ago?) so I left most of it alone, and went straight to dessert
Dessert – 3 Profiteroles. They were quite dry and rather disappointing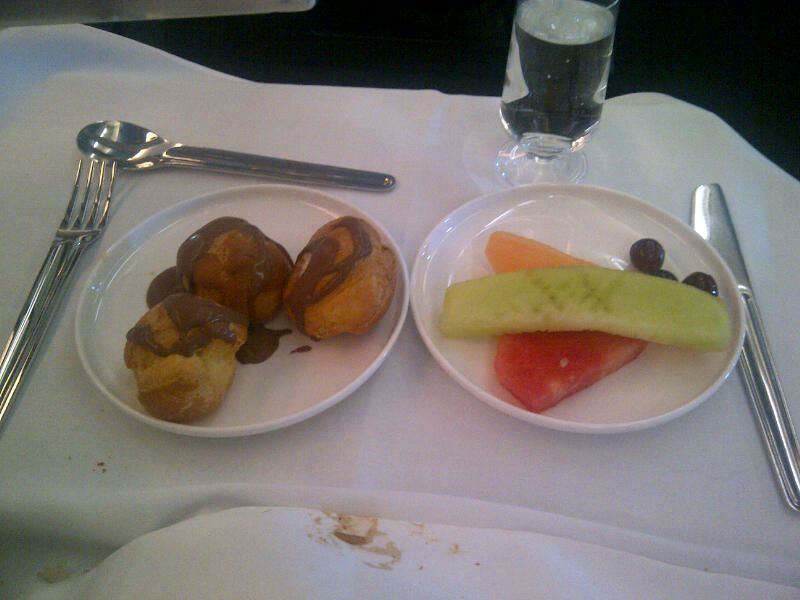 One thing I did try using my blackberry was the Inflight Internet, which cost $12.95 for 9MB. I figured using my BB it would not use that much data, compared to my laptop where one email could take up my entire quota. The connection was largely stable, (got cut off every now and then) and it was great to be in touch with people in the ground, answer emails to the boss and so on.
I went to sleep on the very comfortable skybed after dinner, and woke up 30min before landing.
We landed on time in Singapore at 2220, and I think I was one of very few people in J not connecting on to Europe.
After a great holiday in Australia and New Zealand, I was very happy to be home in Singapore. I had a hectic schedule for work, travelling to RGN, DPS, PEK, SHA, Shenzhen/Hong Kong, SIN then Dubai in the next 10 days after this holiday and I was REALLY not looking forward to that. No two nights in the same hotel, etc etc
Verdict
The QF A380 hard product is not bad. I still find the SQ A380 product with its 1-2-1 configuration in J more private, though to sleep in the Skybed is very comfortable.
IN terms of the soft product, the 3 flights I had using QF mainline aircraft seemed to have staff who were efficient, yet clinical and distant. I can't say there was anything wrong, but Australians are by and large known to be very friendly, and at most good Aussie restaurants, the wait staff know how to be friendly without intruding into your personal space and getting over personal. For some reason, the QF mainline crew on the A380 and 737 flights I had lacked that.
The Jetconnect crew though, gave some of the best service in the air, and would put some SQ cabin crew to shame.
The food is average – for shorthaul SQ is better for flights of a similar length. For the SIN-Australia-SIN sectors, SQ is also better. Where QF does beat SQ is the choice of a light main course. SQ's main courses tend to be very heavy and greasy (Slow cooked lamb, noodles, noodles, more noodles, lamb curry etc etc etc) which may taste delicious but ends up giving you a tummy ache as you sit still on a flight for hours with all that greasy food.
QF also markets itself as an Aussie Airline for Aussies. They should move towards a more international branding if they wish to attract non Australians to fly them (for reasons other than price. I'm not sure if they made money on flying me on 5 sectors for S$1400 all up)
I was happy to have flown the QF A380 in its last days of service to Singapore and if the price is right, I would be happy to consider QF again.
Hope you enjoyed reading this!