On a nice, sunny Sunday in September, I was playing around with United's reservation system and after hearing that the Dreamliner was bookable in September, I went to go play around and see what I could come up with.
Upon further inspection I could do a day trip down to Houston and back for $378 and I thought to myself ok cool let's do it. I noticed that when I clicked search, United gave me a bunch of choices and as I saw the 787 Dreamliner I also saw another thing – BusinessFirst! I decided to go in the shower and get ready for work while thinking about booking this ticket. Do I book? Do I wait for the airfare to go down? About 1000 different things went through my head.
Once I was done, I was in Airliners.net Chat and I asked for their opinion and their answer was simple. You must be that dumb if you haven't decided to book that and that it's a great deal. I chalked it up and thought to myself that they are right so I pulled out the UA debit card which sadly doesn't earn me anymore miles but still looks nostalgic and clicked book and filled in the details and soon out spat a PNR.
I would be doing a daytrip to Houston for 90 minutes and then connect to Nashville for 35 minutes and then fly home on the E145. The whole goal of this ride was now to fly the 787.
The week before, I found out I was scheduled to work on the day of travelling but I was able to switch with a coworker and knew that I was worry free and everything was going to be great on Monday.
I came up with a backup plan just in case anything happened which would be to try and get to Oklahoma City in the event I wouldn't make my flight to Nashville. Why Oklahoma City, well that's a simple answer. I know some friends down there that would easily house me overnight and take me to the airport.
Ok enough intro and sorry for the long ramble and onto the trip report!
PS: All pictures belong to me; the pictures were used using a camera and a telephone.
United 1510 ORD-IAH 787 Dreamliner 3 December 2012
STD: 11.21
ATD: 14.03
STA: 14.06
ATA: 16.23
Registration: N20904
Good Morning everyone! I woke up at 7.30 and was super excited knowing that I would fly the 787 today. I jumped in the shower a few minutes later and when I was done, I went on Airliners.net chat and talked with everyone for a few minutes and then also checked my flight status and it said that it hasn't taken off yet. I figured that this can't be good but hopefully we'll still haven an on time departure.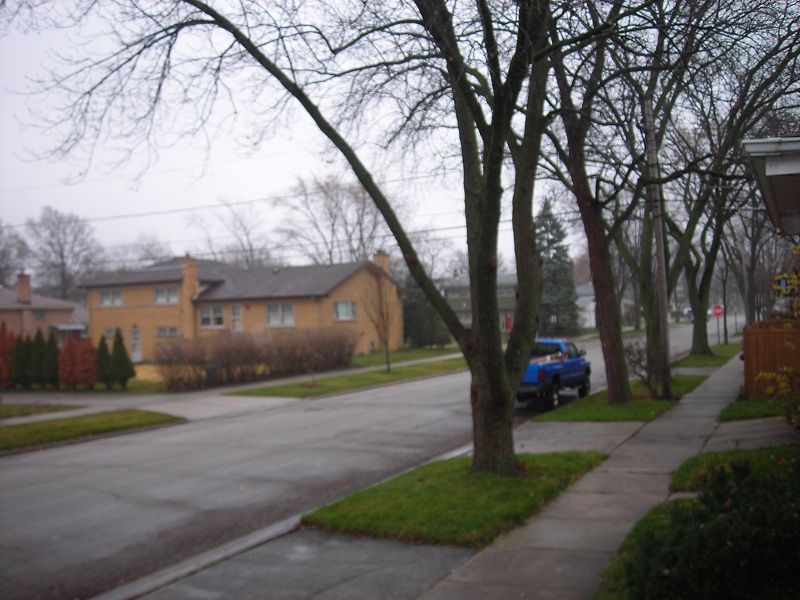 My neighbourhood on a foggy morning
When I left the house at 8.30, it was foggy and very warm 10C /50F and I thought to myself that weather might have been a problem but I shrugged it off. I drove 16km / 10mi to the airport and got there at 9.00 and parked in the economy lot and got on the bus to the airport train. As the bus was moving, I got a phone call from United stating that the flight would be delayed about 1h 15m late and I thought to myself ok well I can still make the connection.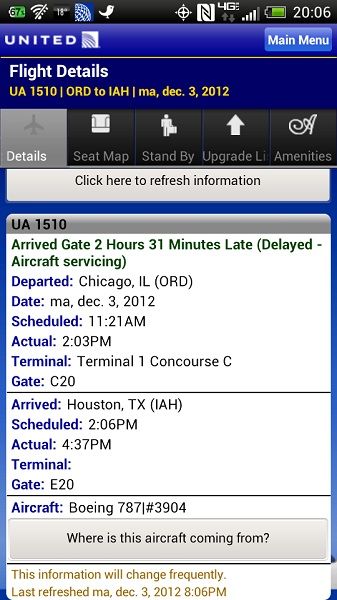 Inbound Flight status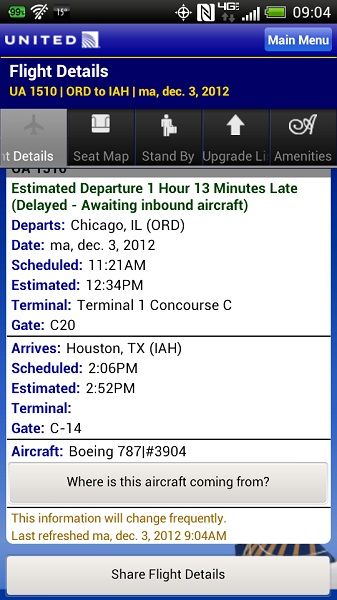 Outbound flight status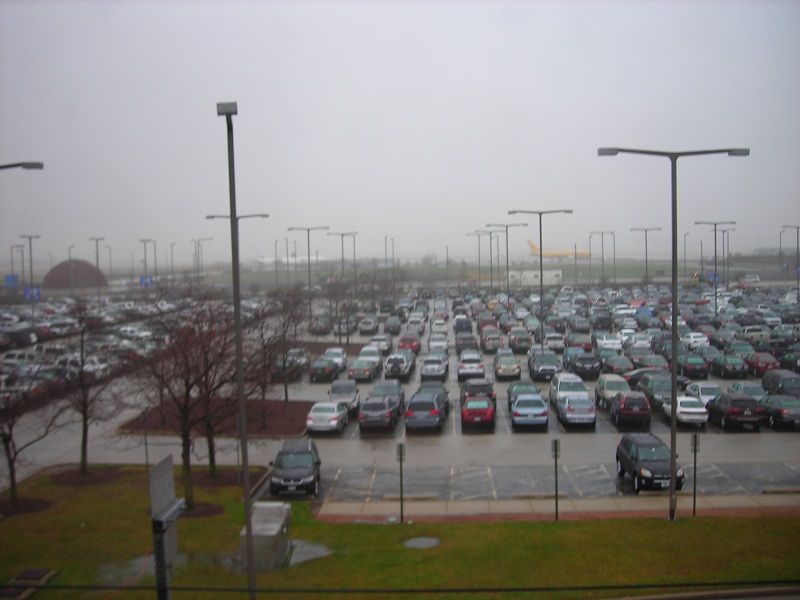 Can you spot the DHL 767 in the fog?
I was dropped off 15 minutes later and saw that we were on the holiday decorated train which I found quite amusing and touching knowing today would be a new day of firsts. I took the train from the E Parking lot to T5 where a bunch of Japanese passengers from ANA came onboard, went to T3, T2 and finally T1.
I walked downstairs and went to the kiosk to go print out my boarding passes even though I was using mobile, I don't like TSA scribbling on my boarding passes. I was asked if I wanted to volunteer for my Nashville flight and I said sure. I thought hm well I wouldn't mind a 200 dollar voucher and I can easily get back to Chicago.
After they were printed, I walked to the First Class security and went put everything on the belt. I beeped somehow and TSA did a hand swab on me for explosives, I passed it of course and then proceeded to C20. It's always nice when I have to go to the C concourse as you get to pass through the tunnel of lights while playing Rhapsody in Blue.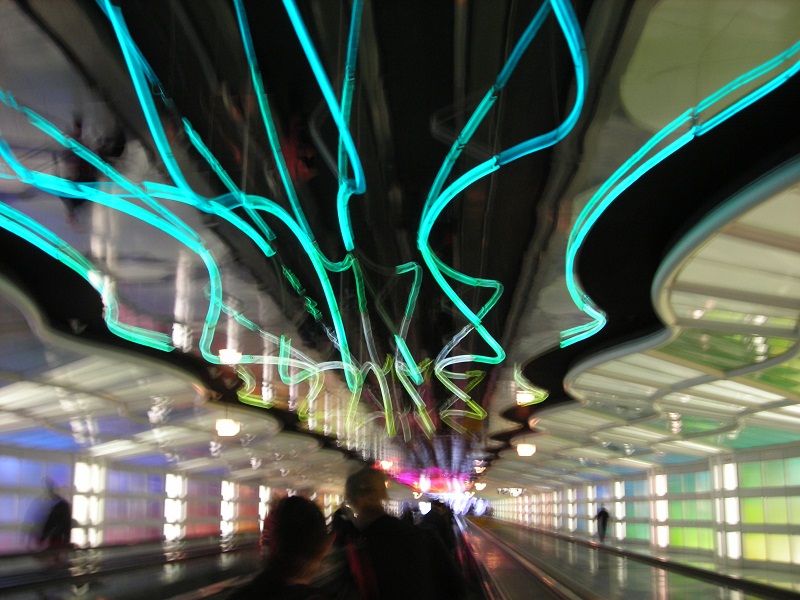 B/C concourse tunnel
At C18, there was a 777 in Star Alliance colours going to Shanghai and at C22, there was an A319 going to Vancouver. There was really nothing special happening around us other than watching planes taxi from the new runway (even though it opened a few years ago we still call it new.) According to the flight monitors, the aircraft should be arriving at 11.43.
I sat around and snapped pictures and was texting friends and a guy walks up to me as the 777 to Shanghai pushed back and he asked me if that was it. I said no that plane is going to Shanghai and a few moments later he told me about the markings on the ground for the 787 and I chuckled and texted some friends some more. Finally our flight was displayed on the monitor with all the details of this flight as an agent came by and worked this flight. On this flight, there were 54 people waiting for an upgrade to BusinessFirst when there was 1 seat available and 27 people are on standby for the flight.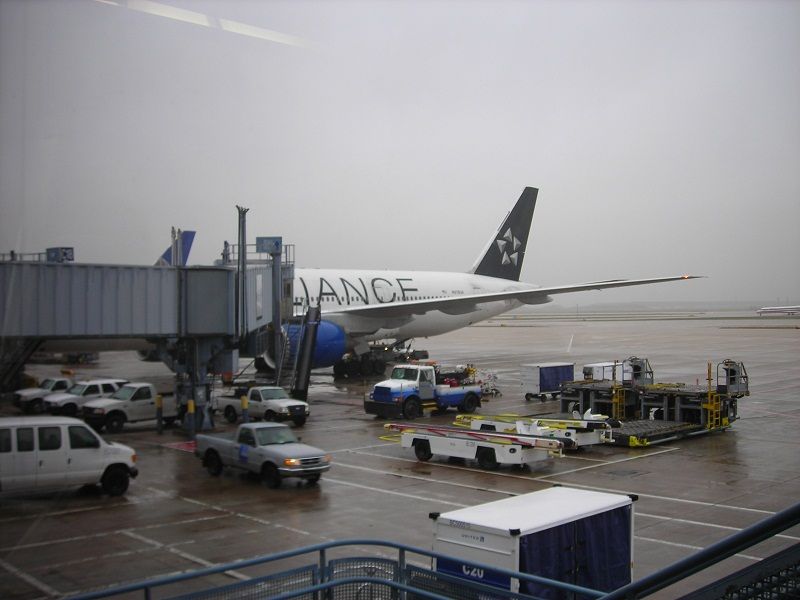 United 777 to Shanghai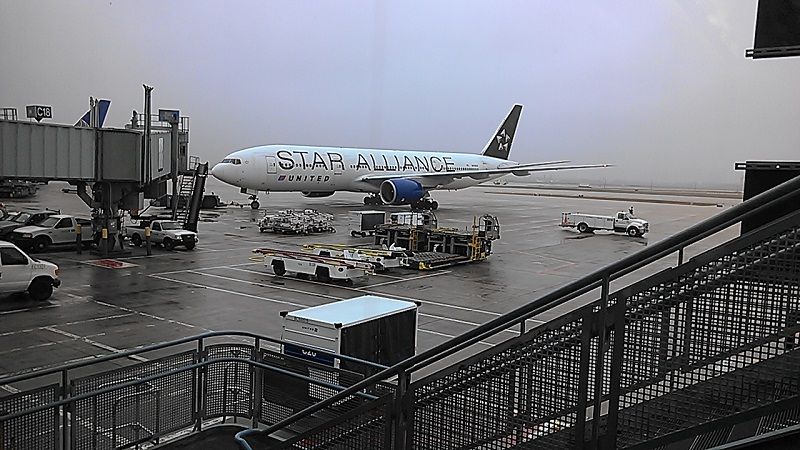 United 777 to Shanghai pushing back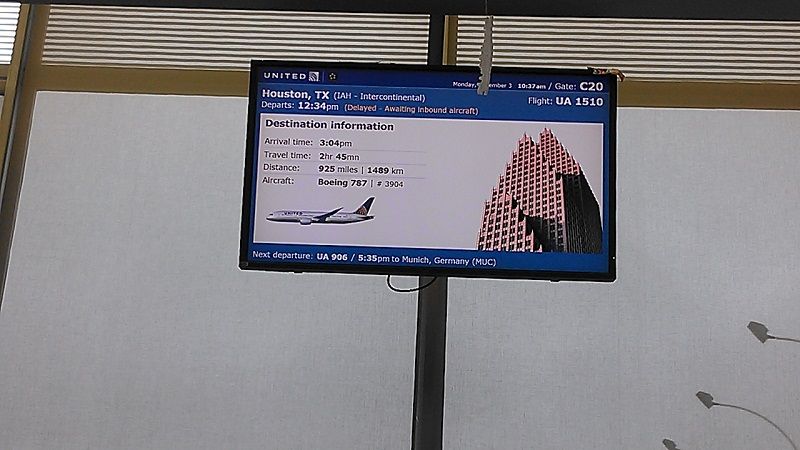 Flight information monitor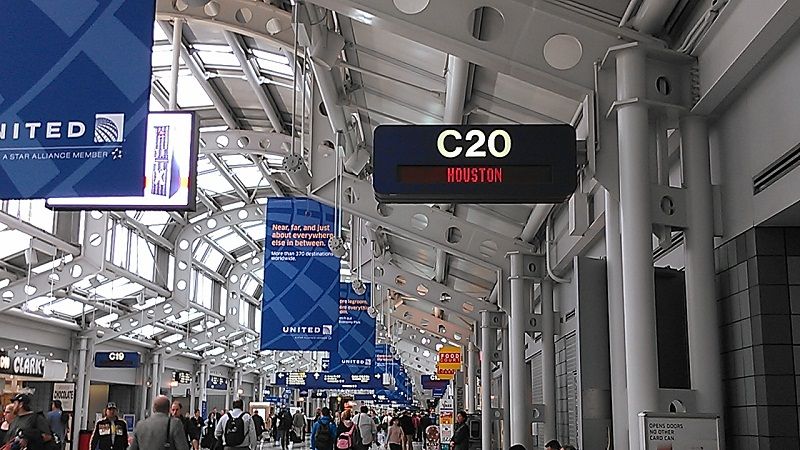 Are we going to Houston? Yes!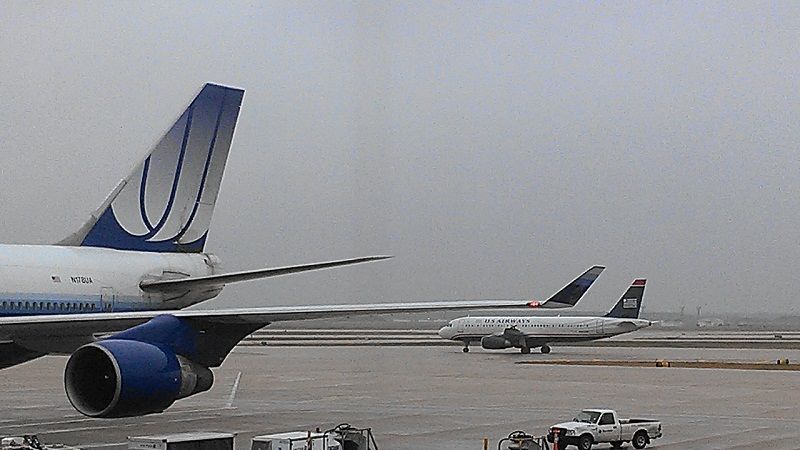 Star Alliance partners
I went up to the agent and asked her If I was still good for my connection to Nashville and she said that I would miss it so I started talking to the agent I probably confused her to death eventually but she said well I can rebook you to Nashville and I said that's not possible as I was coming back to Chicago that day and showed her the boarding pass back. I asked her if it was possible to go to Oklahoma City tonight and fly home in the morning and so she printed boarding passes and I walked away and realised, where's my 787 boarding pass!
I walked back to her and asked her what happened to my Houston boarding pass and she was by now confused as I told her I wanted to go from Houston to Oklahoma City, spend the night and fly home to Chicago. She asked me what was the purpose of going to Houston and I said to fly the 787. After some more typing, and while I made some phone calls to friends in the OKC area she printed out 3 boarding passes, Chicago to Houston on the 787 and then Houston to Oklahoma City and then Oklahoma City Chicago in the morning. I walked away and looked at my boarding pass to Houston and saw my seat 29A with the look on my face, did I just give up my BusinessFirst seat and was it all full and given away? I walked back one more time and asked her where did my BusinessFirst seat go and she apologized and gave me seat 5B. I asked her if I could get my original seat back and she said it wasn't available anymore but I told her I would try and switch with someone.
I said to myself, it is ok you lost a window seat but your still in first class and your spending the night with friends. I definitely had mixed feelings about not having a window seat on this great aircraft but I said maybe I can switch with someone. I heard an agent say that we need to downgrade someone who paid the lowest BusinessFirst fare and I was hoping that it wasn't me considering how much I paid for the ticket. I went to the window and everyone started coming and looking for the aircraft. Someone asked me if an E175 was it and I said no that's United Express. Eventually she came into sight and everyone was taking pictures rampers, gate agents, passengers, cleaning crew. It was great to still see that there was so much excitement for the 787!
Rampers getting ready for the 787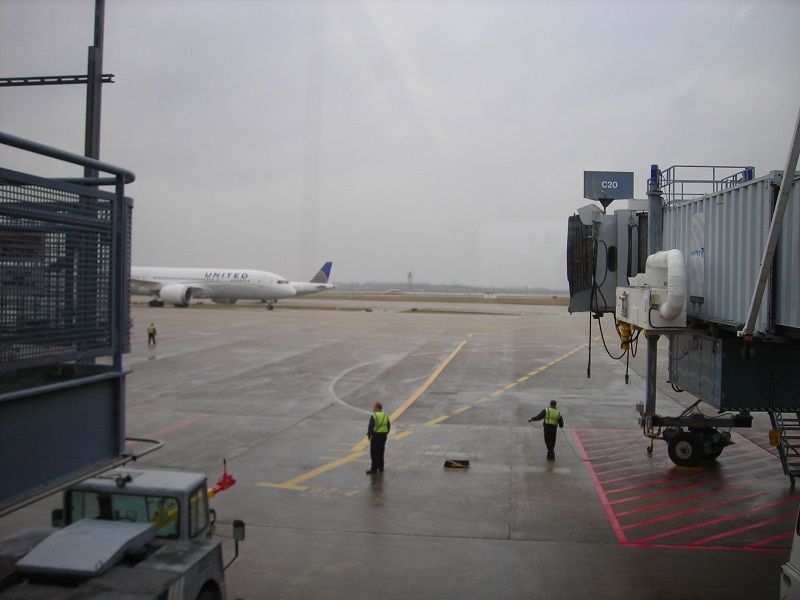 Here she comes!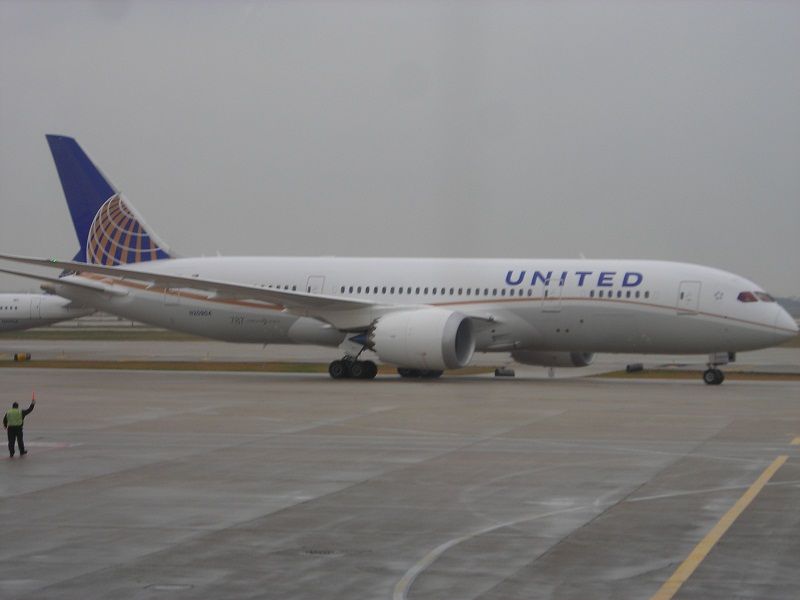 In full sight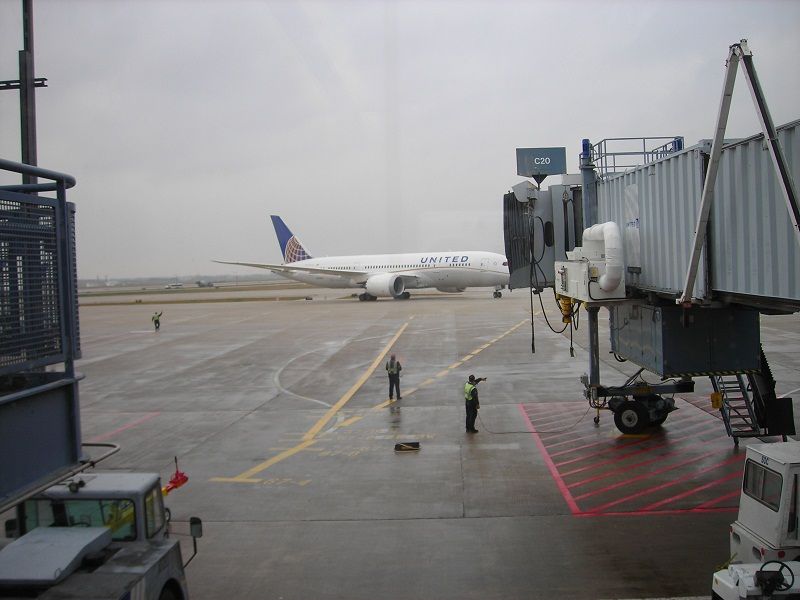 Turning into C20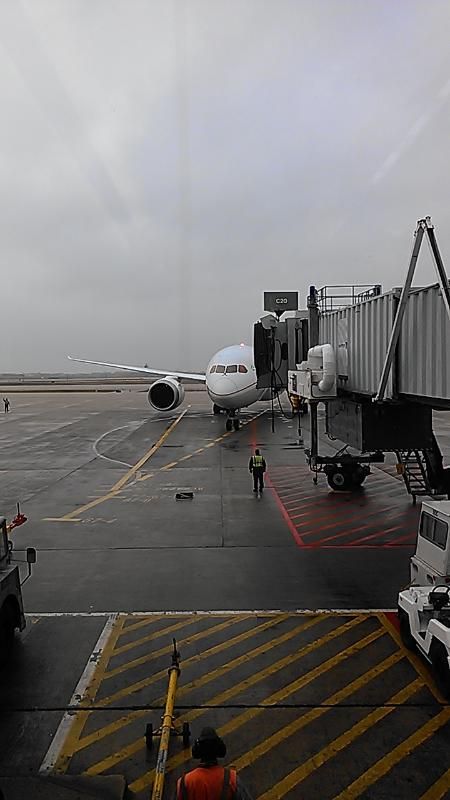 Caught the strobe!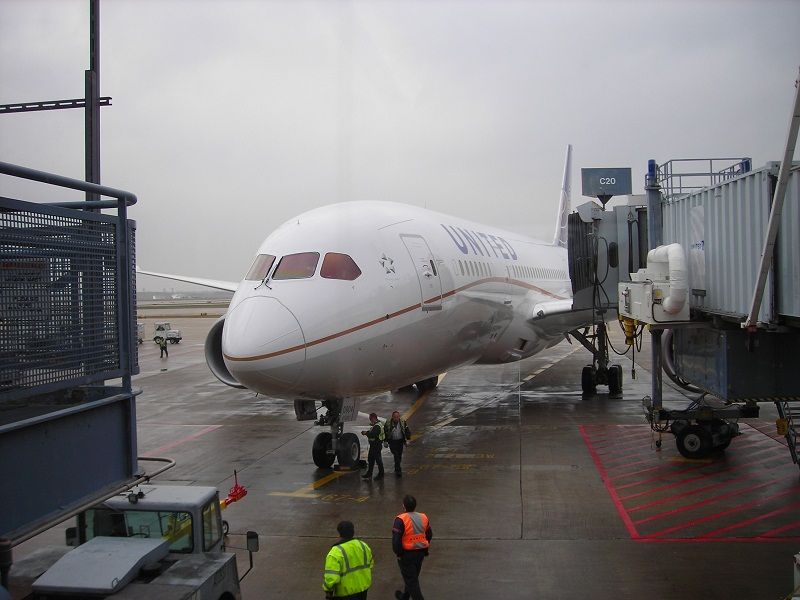 Bridge soon to come on
…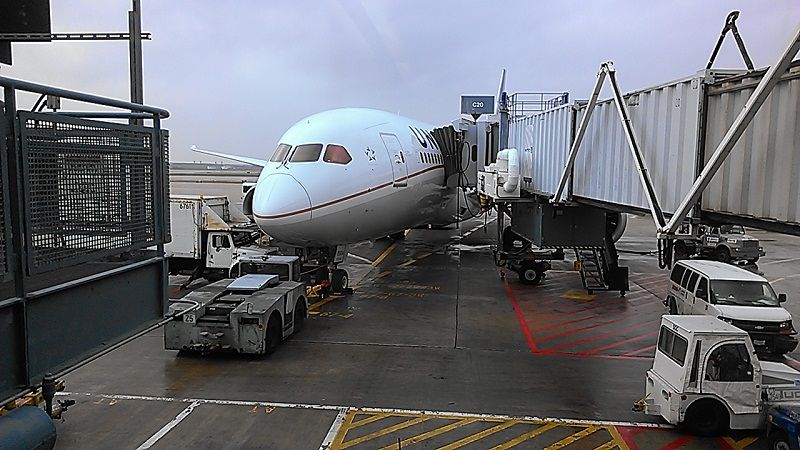 Bridge on, everybody doing their job
Cleaning crew went onboard as passengers deplaned and soon an announcement was made that they were only going to board rows 4, 5 and 6 as maintenance was onboard. I gave the agent my boarding pass and I walked down the jetbridge and saw a familiar newspaper – De Telegraaf! (Dutch newspaper) and if anyone knows me, knows that I love The Netherlands and everything about it – food, culture, language, people, ja heerlijk! I asked the pilot if I can get a copy of it he said good luck reading it. I replied, luckily enough I speak and understand Dutch. The date of the paper had Saturday's date but it was ok because it was filled with all the goodies. It must have looked like they used C20 for the flight to Amsterdam on Saturday and just left the excess papers there. I boarded the aircraft at 12.40 and sat to 5B when I was about to sit down someone walks to 4A and I ask him, "4A was my original seat and would you like to trade a window for an aisle seat"? He said "I overheard your conversation with the agent, I wouldn't mind switching."
Awesome! I got my original seat back, picked up a Dutch newspaper and spending the night in a new city with 2 awesome friends. Can this trip get any better? I sat down and the flight attendant asked me what I would like to drink and I said beer and so I took advantage of a Heineken. Soon I was asked what I wanted for lunch and I chose the chipotle beef wrap. Economy class was boarding while maintenance was looking at a seat in row 3.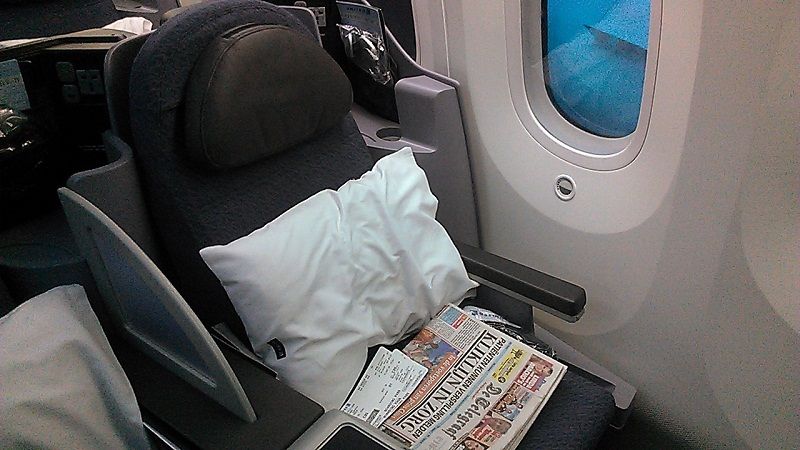 My seat for today's flight!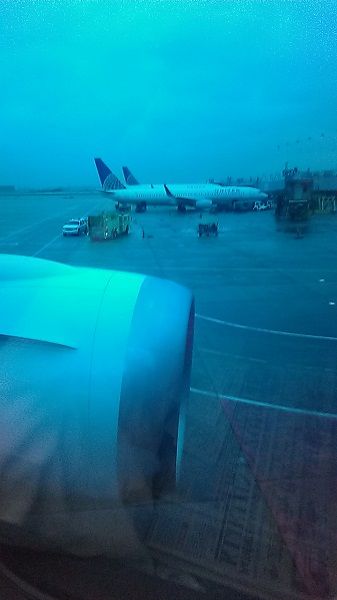 Window shade on.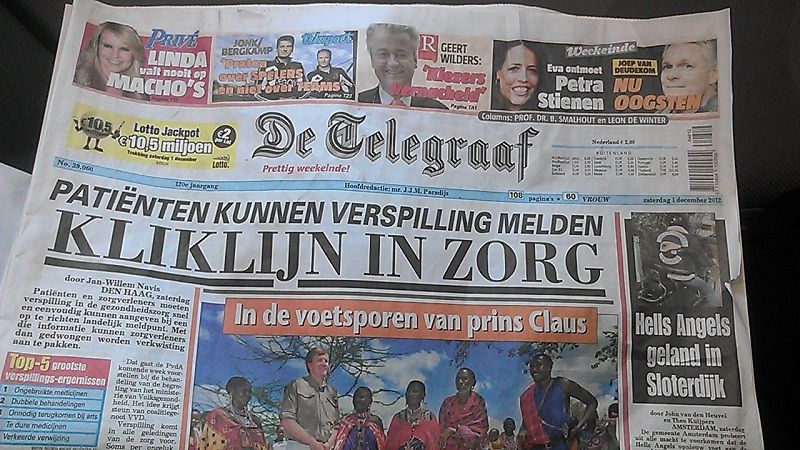 De Telegraaf anyone?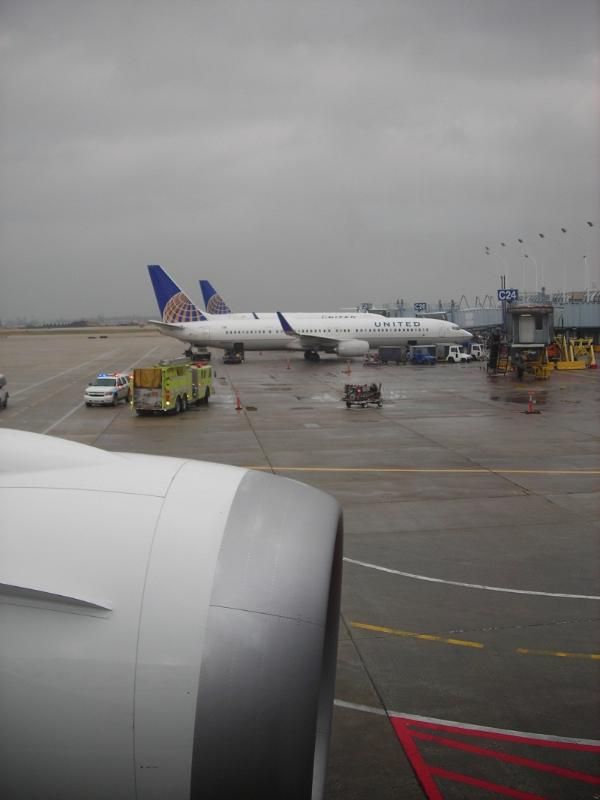 Some medical emergency at C22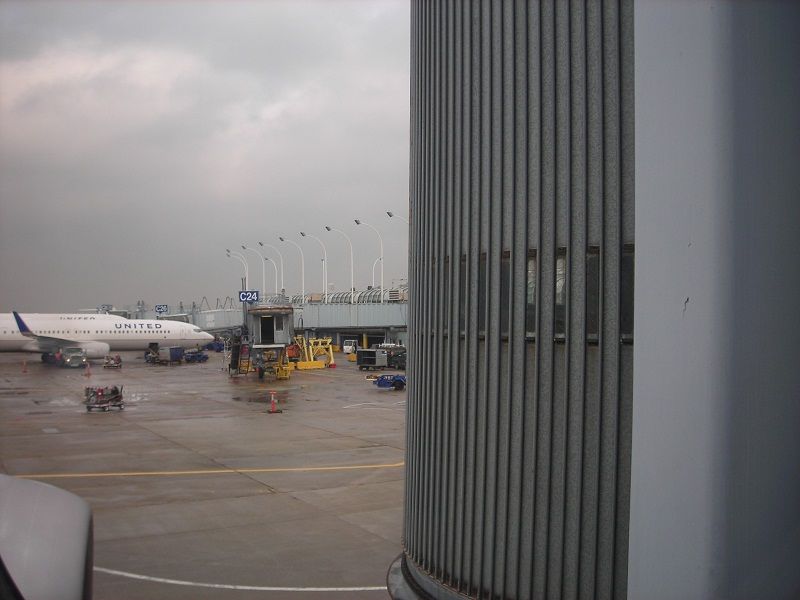 Door still open gate attached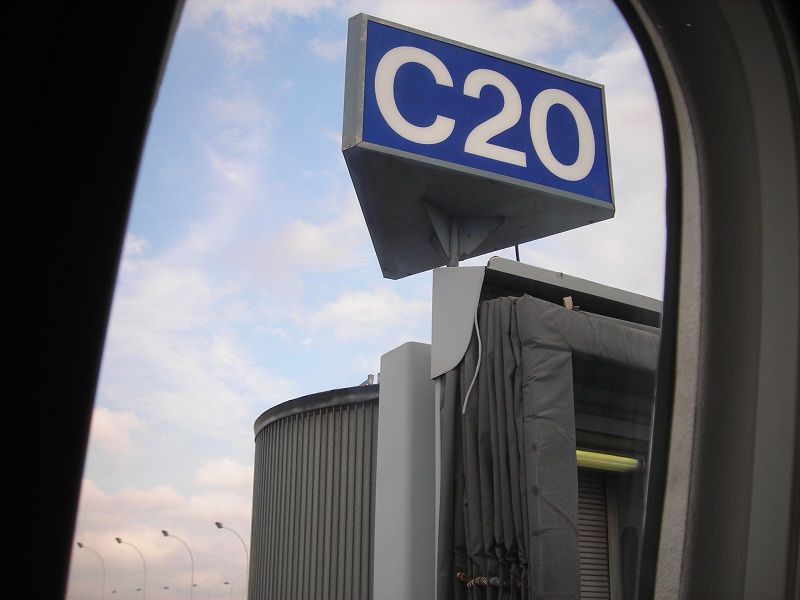 Just in case you didn't know what gate we were departing from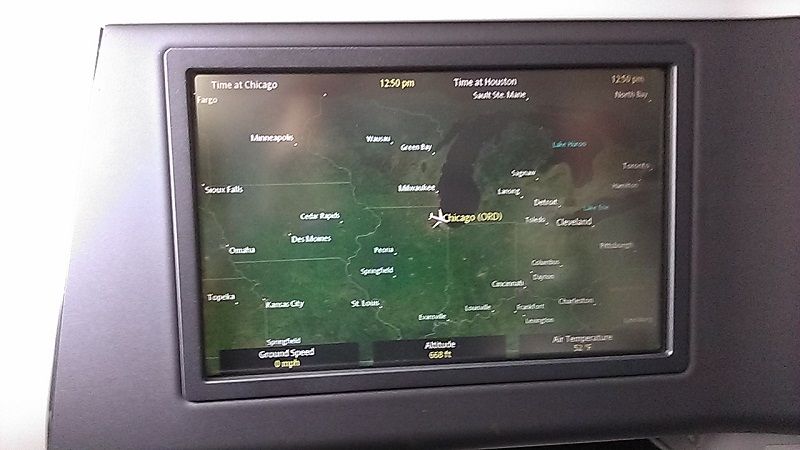 Flight Map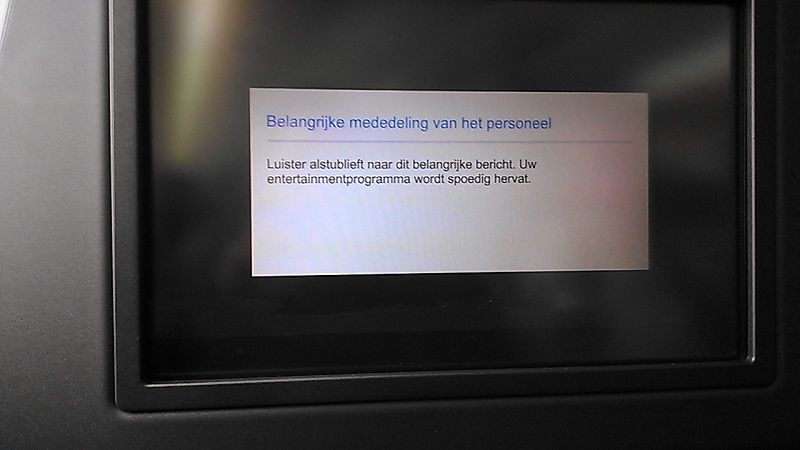 So many languages to choose from, No guesses as to which I chose (That's Dutch for those who don't know)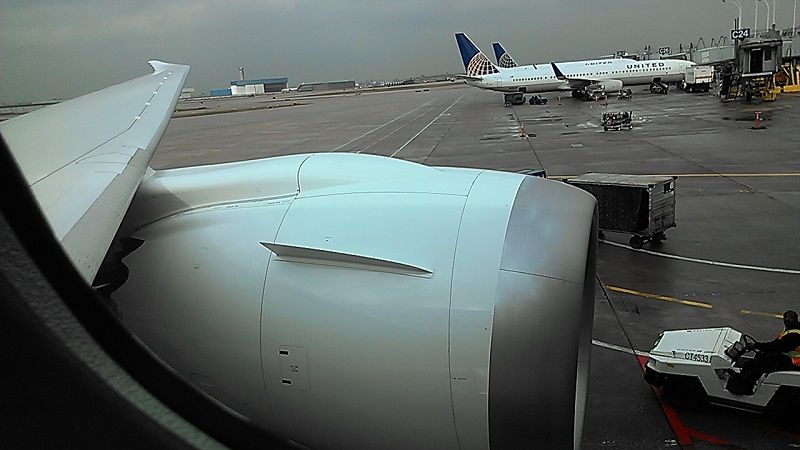 Still sitting at the gate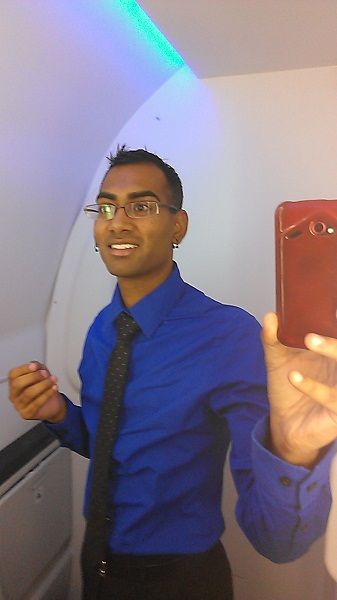 Yours truly in the lavatory!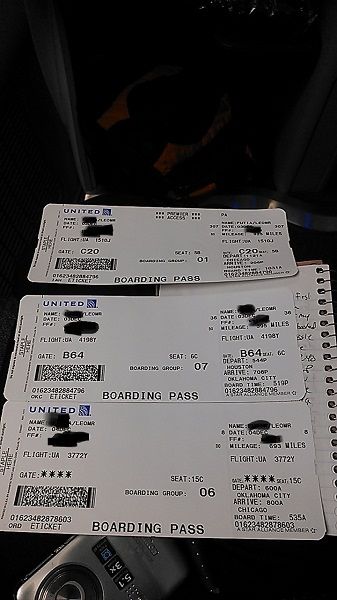 Boarding passes… and yes they are real not super flimsy or super thin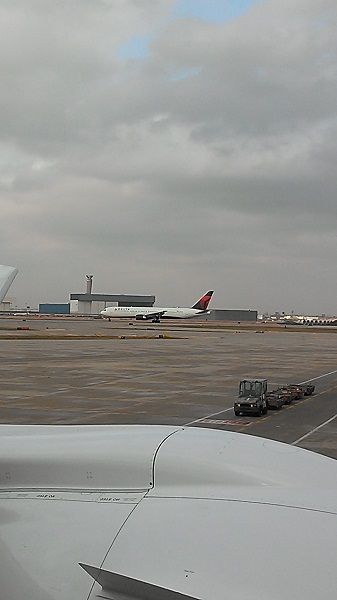 Delta flight from Paris landing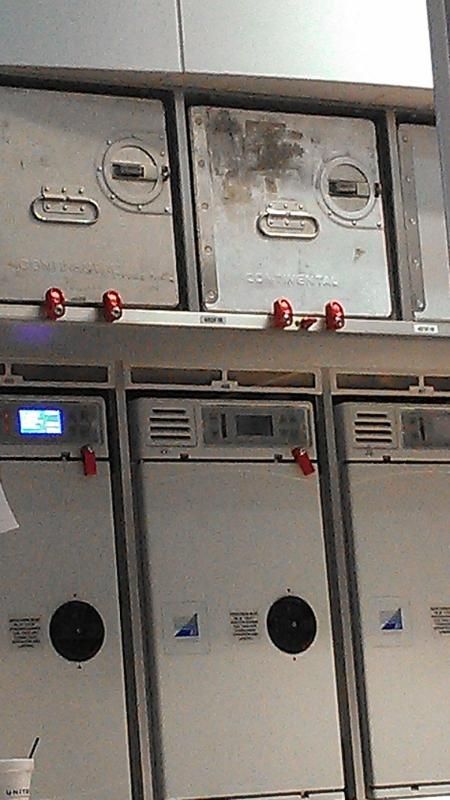 Continental bins – dedicated to all the Continental employees!
The weather has significantly cleared up and soon blue skies were peeking through the clouds. The pilot came on and apologised for the delay and told us that he'd try and fly faster but safe and that he was expecting a 2H 3M flight time to Houston. The weather in Houston was clear skies with the temperature being very nice for December in my opinion which is 25C/75F.
The doors were still open and the gate agent who helped rebooked me was onboard talking to the crew and I walked up to her and apologised for all the confusion and if I sounded rude to her in any way and I thanked her for rebooking me. I told her my goal was to get on the 787 and she understood now. She said it was all good and she understood.
Maintenance came off the aircraft about 13.20 and we were waiting on the logbook. I was still hoping that I would make the connection to Oklahoma City even though I was pretty sure I had enough time, I had no idea how long they were going to take. Finally at 13.52, the gate was pulled from the gate and we pushed back at 14.03 as we were waiting for a United 747 to push and clear. We pushed to the left and taxied via B, D, ZV, and M to Runway 28. We took off at 14.26 with an ETA into Houston at 14.26.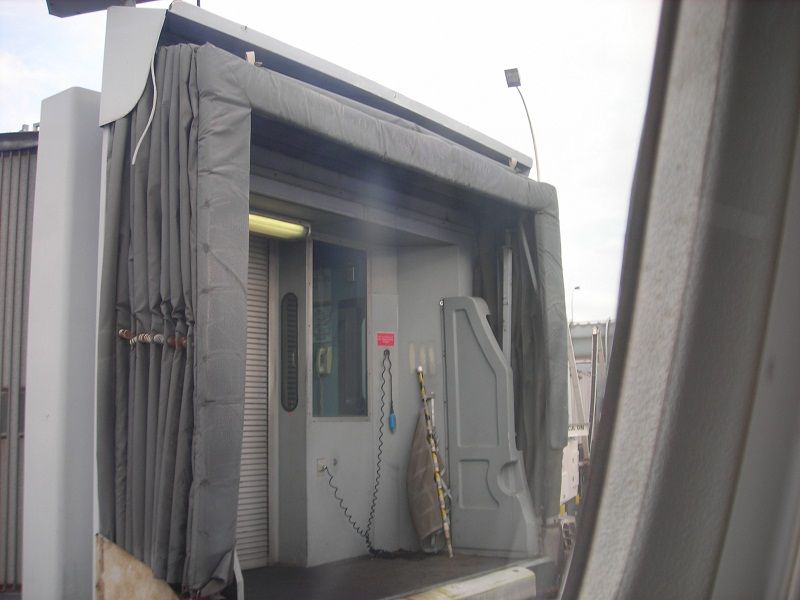 Finally, the gate is off!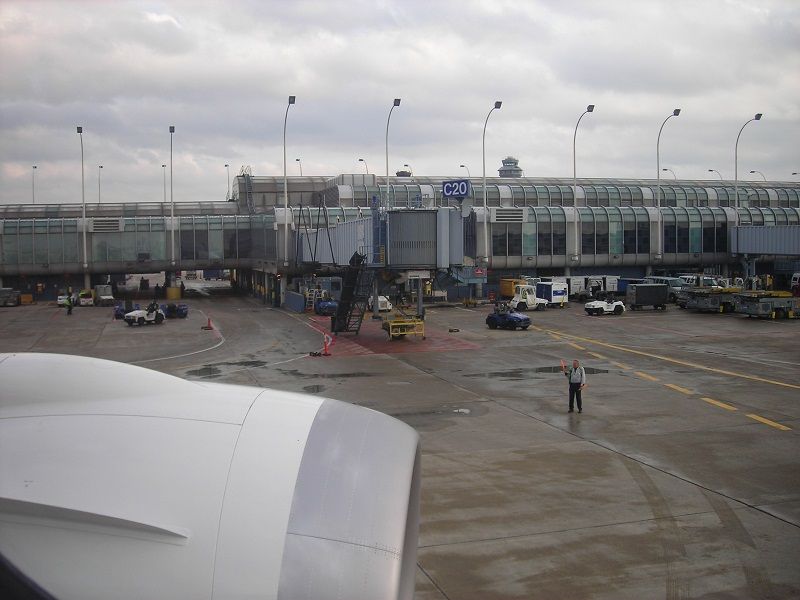 After pushback, before engine start up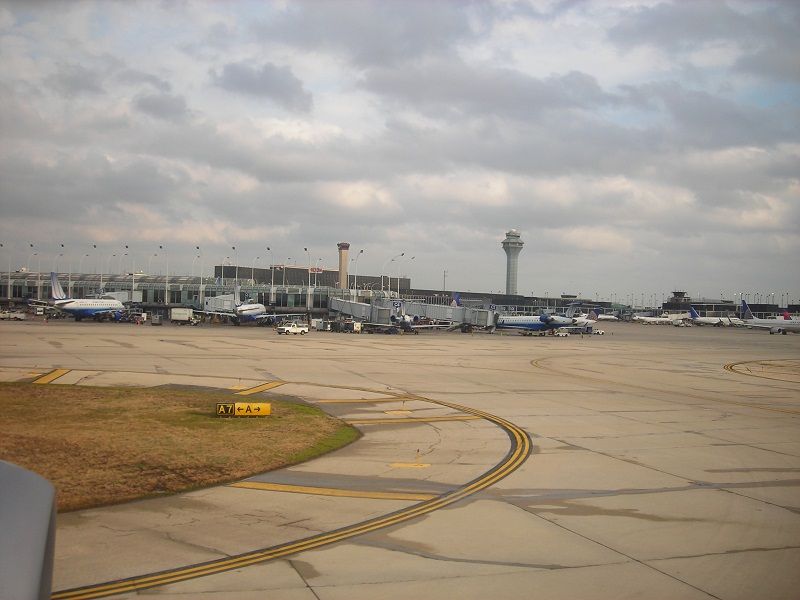 Taxiing past the end of the C gates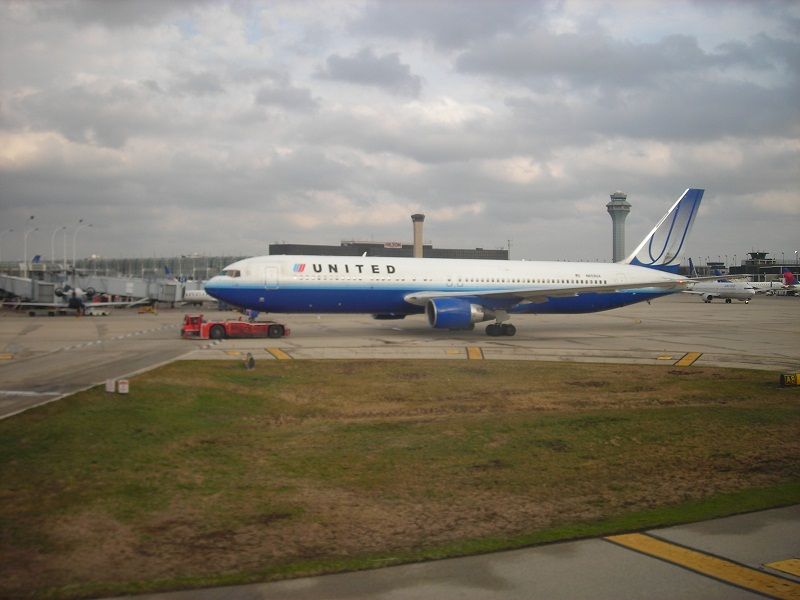 United 767 in Tulip livery – Dedicated to all the United employees!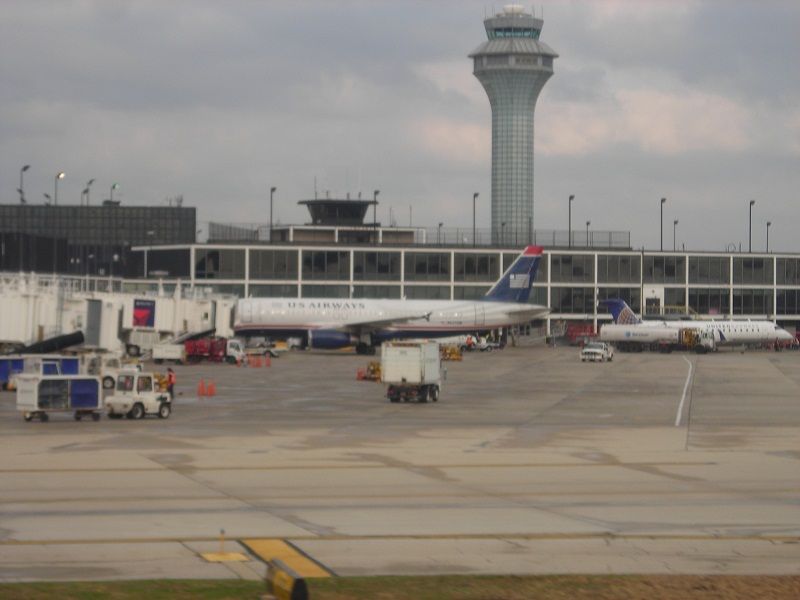 US Airways – Dedicated to Dumbell2424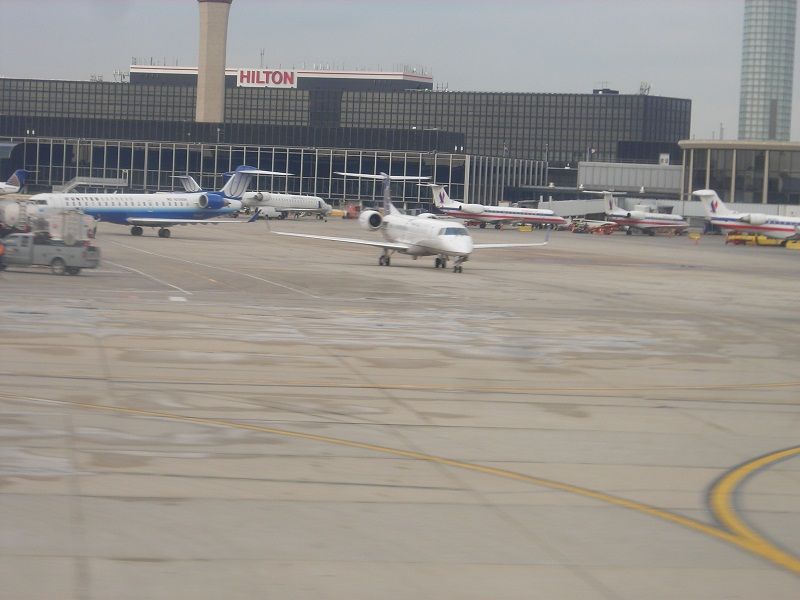 T2/T3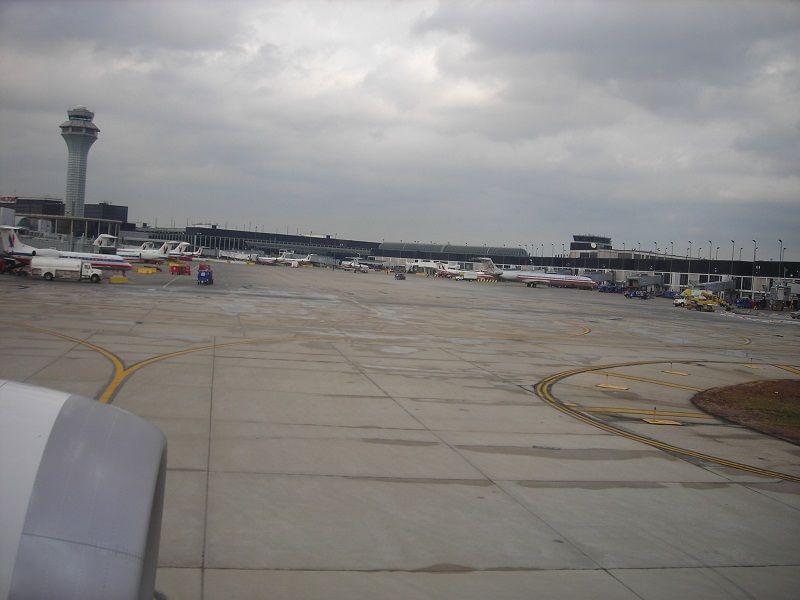 T3 G/H concourse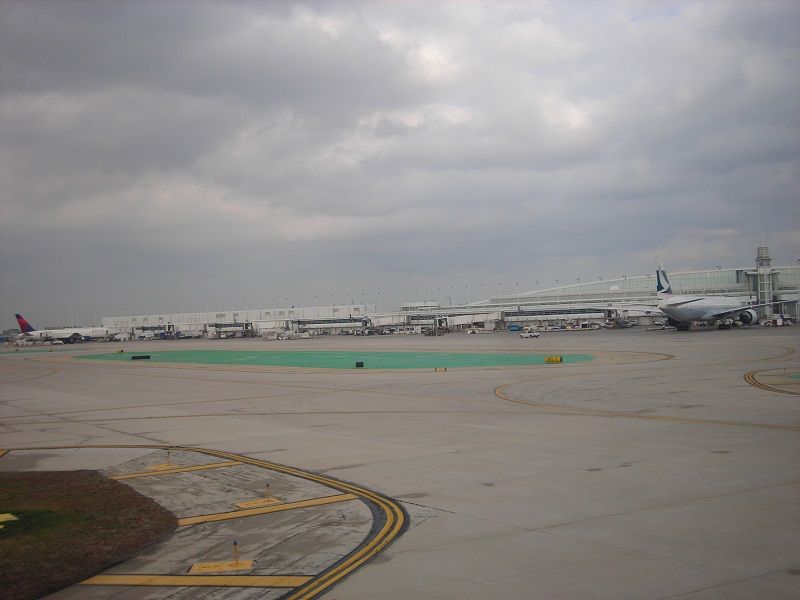 Delta flight from Paris and Cathay Pacific from HKG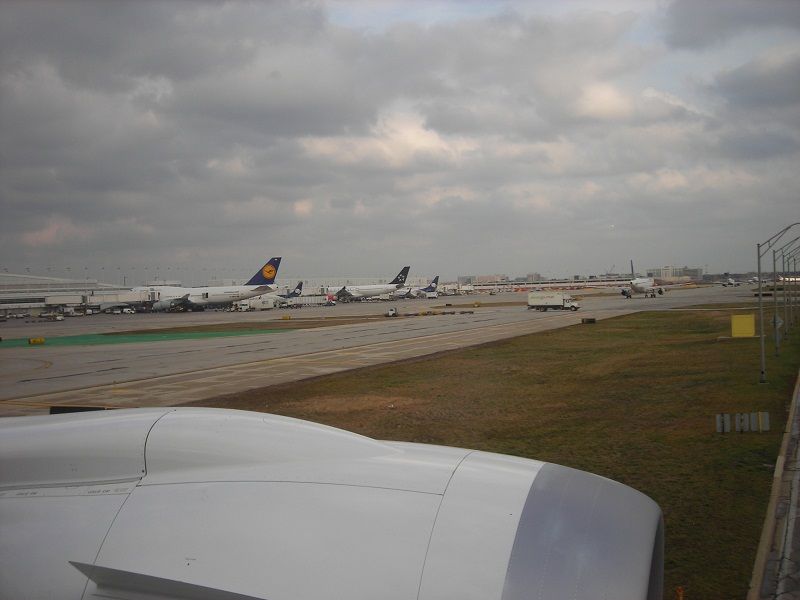 Lovely aircraft at T5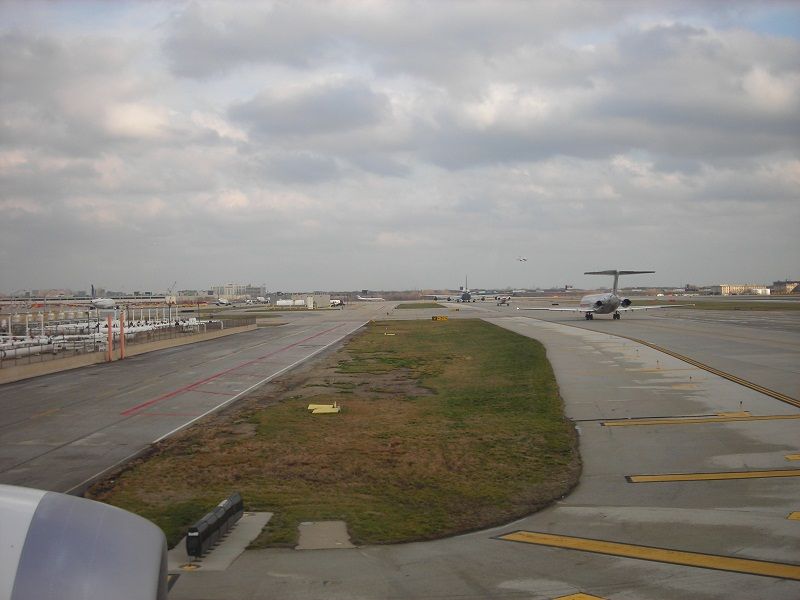 Taxiing to the runway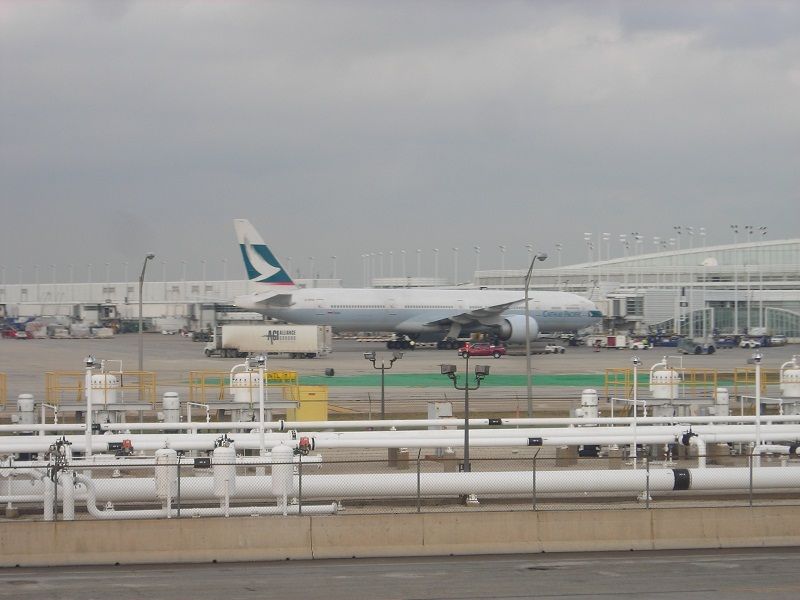 Cathay Pacific soon to Hong Kong – Dedicated to Captain Patroni, future pilot for Cathay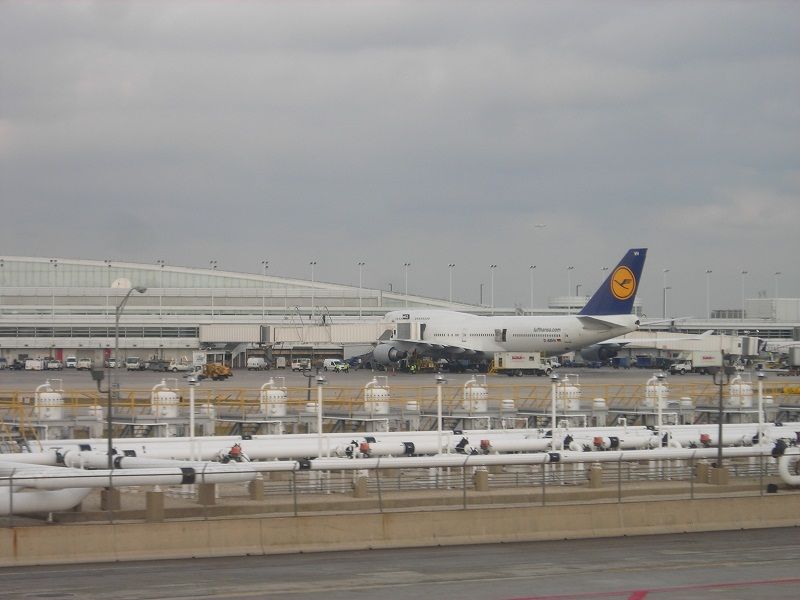 Lufthansa 747 from Frankfurt – Dedicated to Wilco737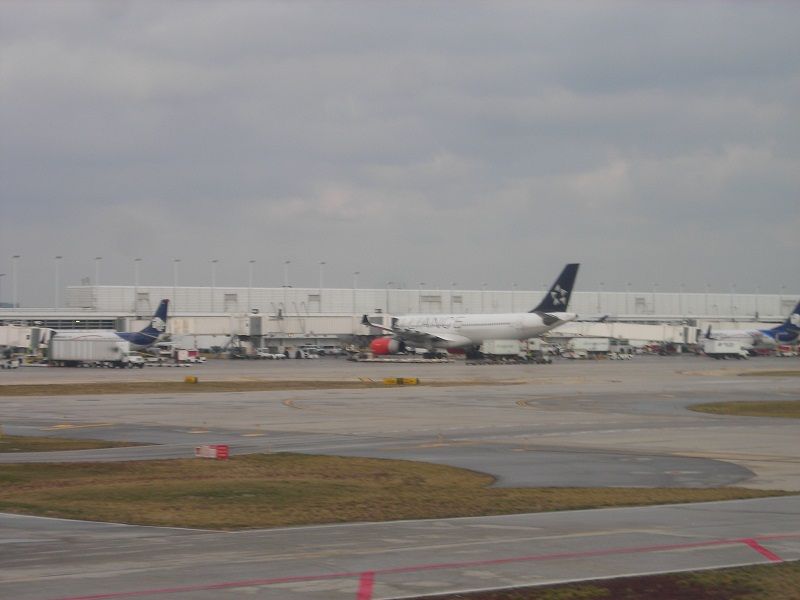 SAS A330 from Copenhagen – Dedicated to CamiloA380
Takeoff video -
http://youtu.be/yz1Nb8AT-BQ
Soon we passed FL100 and it was safe to use portable electronics and with that, I went off to the lavatory. The lavatory is blue and when you lock the door, the light comes on. Nothing extremely special really in terms of amenities just soap and water that's all. Lunch was served and it looked delicious. It came with fruit and an asparagus soup in which I wasn't to wild about but I got proved wrong. I chose red wine with my lunch with a coke that I already had and by the time lunch and a warm cookie was done with we had 43 minutes to go.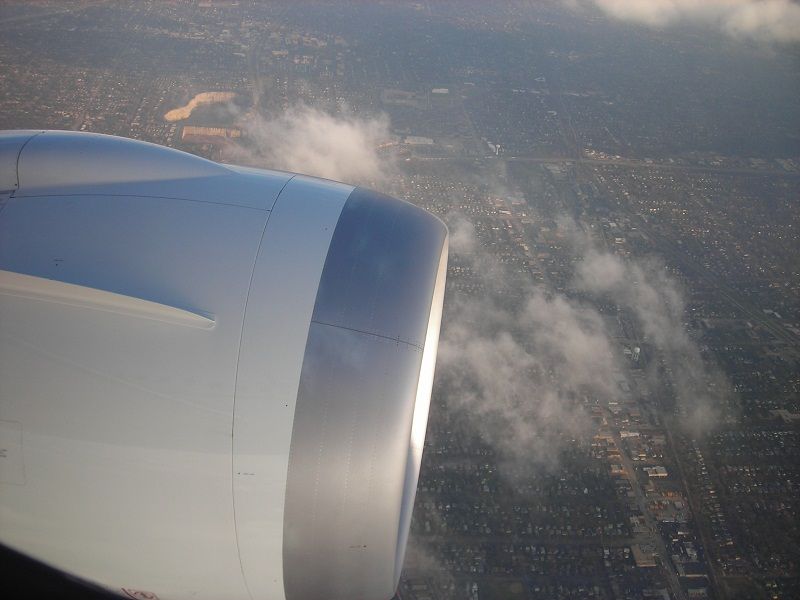 After takeoff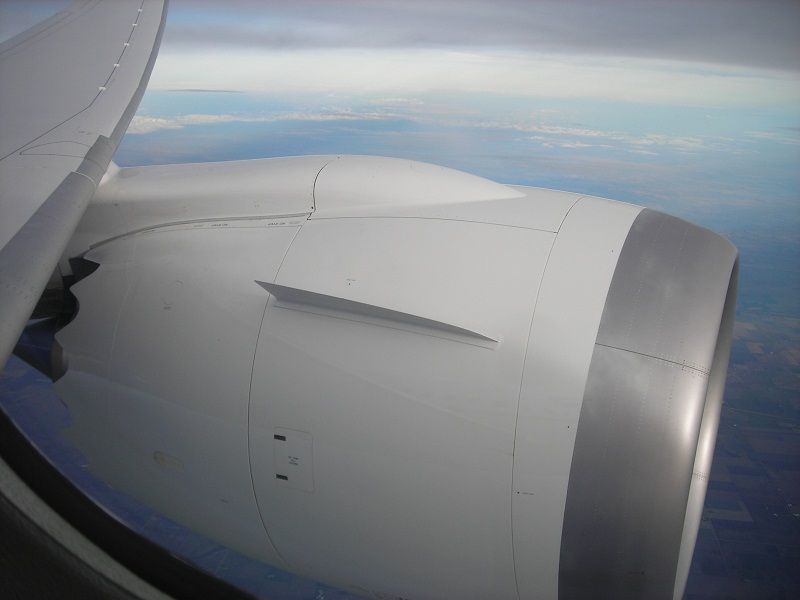 Engine shot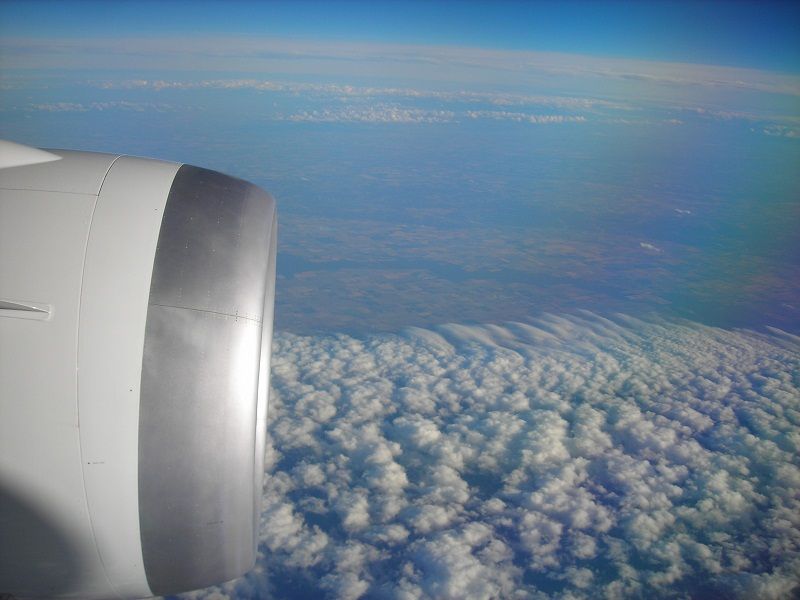 Nice clouds!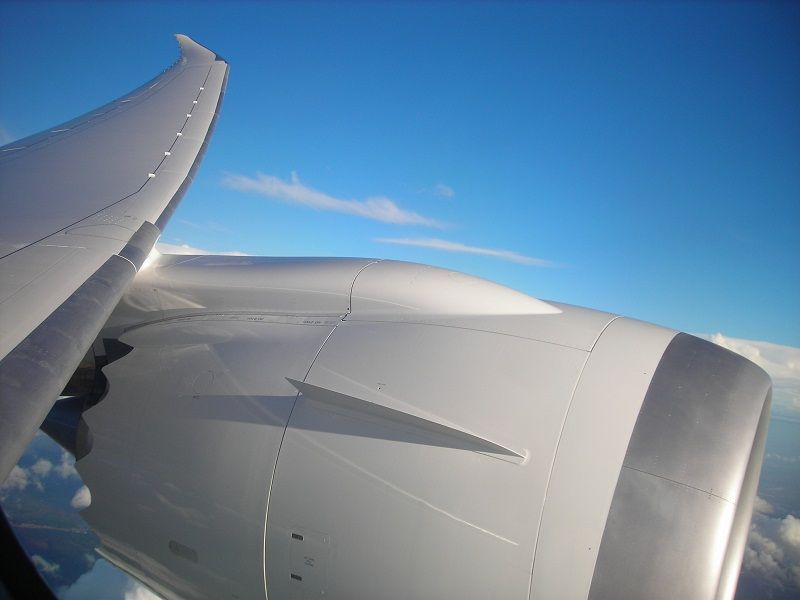 Wing and Engine shot
We flew southwest down towards Missouri, Arkansas, and Louisiana. The fasten seatbelt sign was turned back on at 15.58 and we started our descent. The pilot came on and said that he would have us on the ground in the next 20 minutes (16.28) and that we would be parking at E20 with the weather being nice, scattered clouds and 27C / 80F.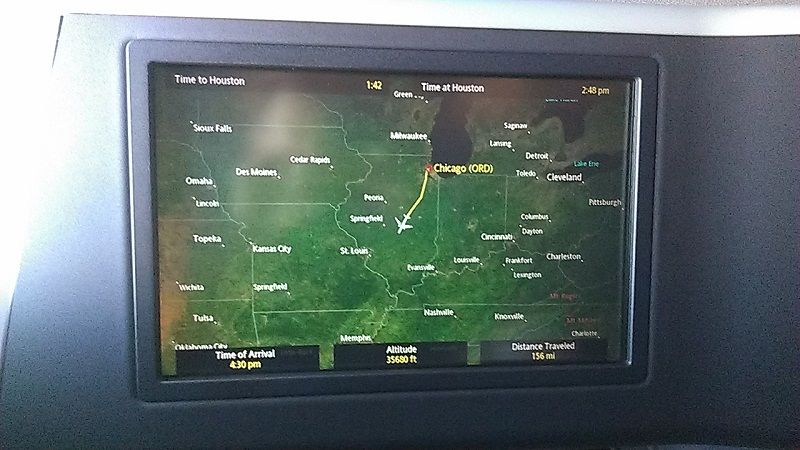 Somewhere over Illinois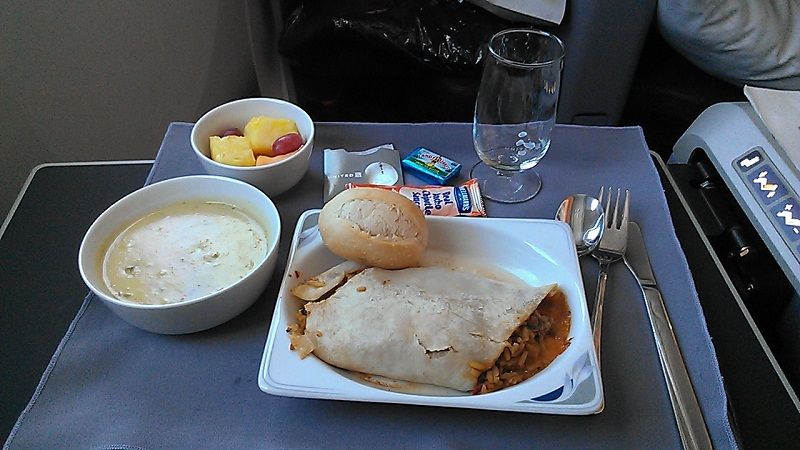 Lunch time!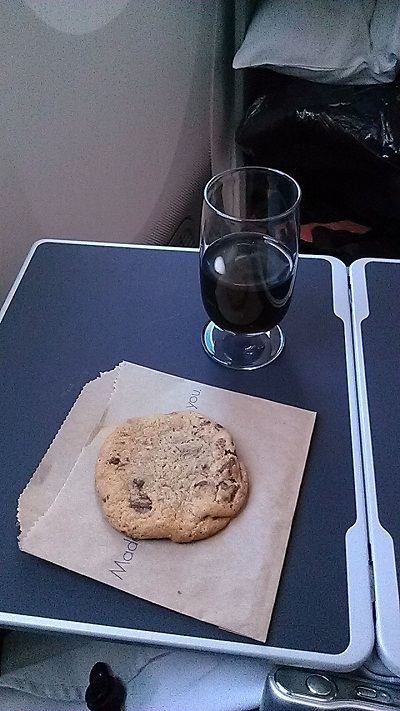 Cookie and wine – interesting pairing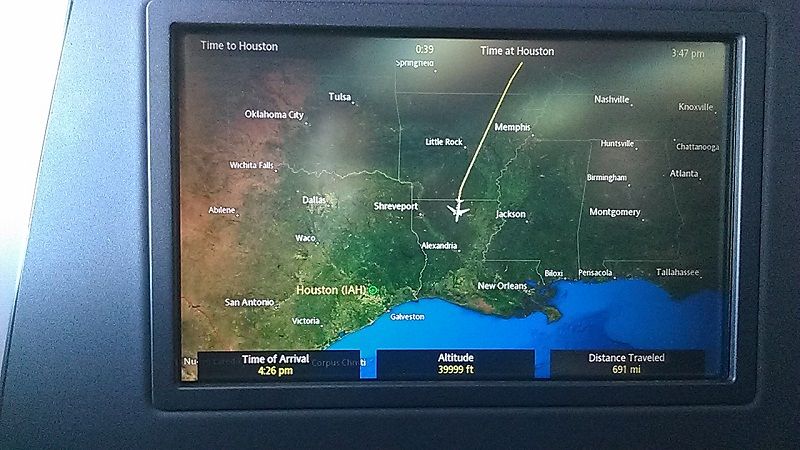 In Louisiana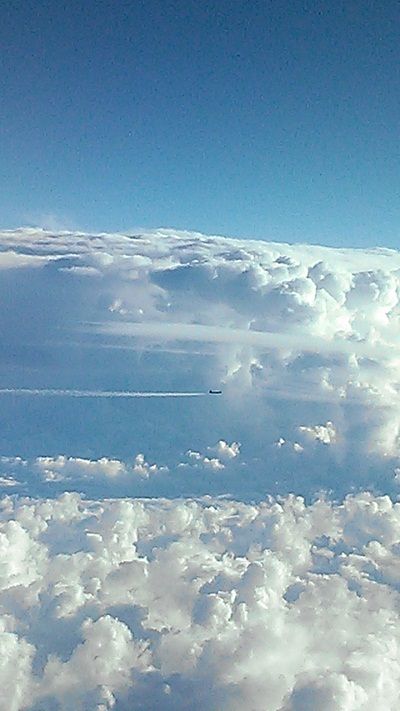 Some plane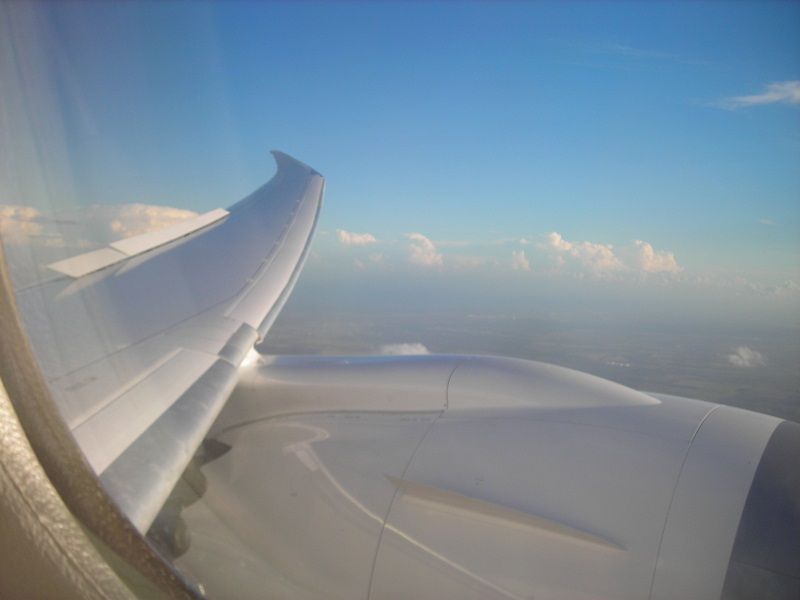 Descending into Houston
We landed on runway 26L at 16.25 and taxied via NF, NA, NN, SF, RB and parked at 16.34 Before the doors opened, the flight attendant said that right before takeoff, a panel fell off inside the aircraft and they had to taxi back to gate and get it fixed.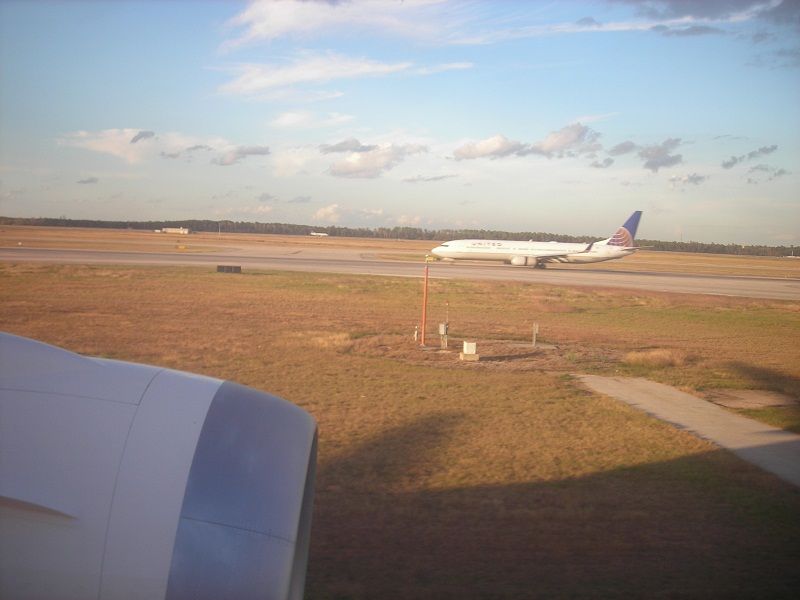 United 737 rolling out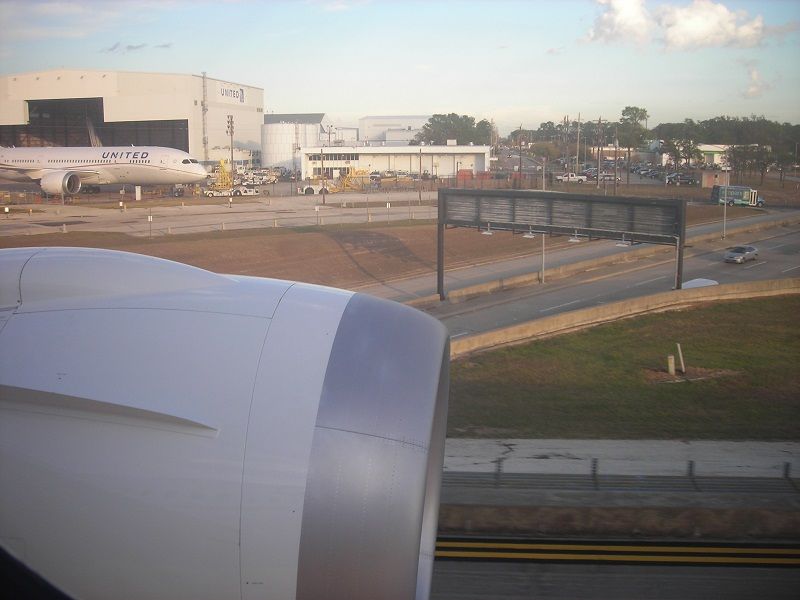 One of United's new 787's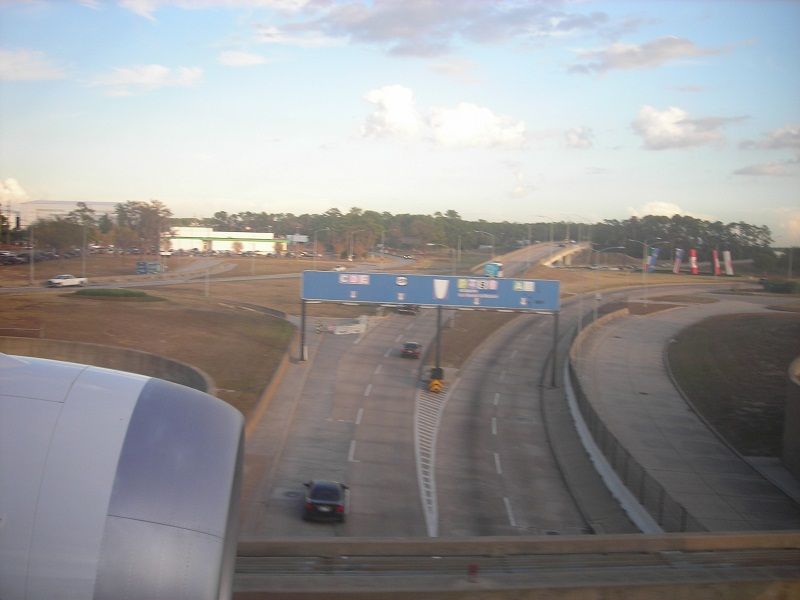 Over the bridge we go!
United 764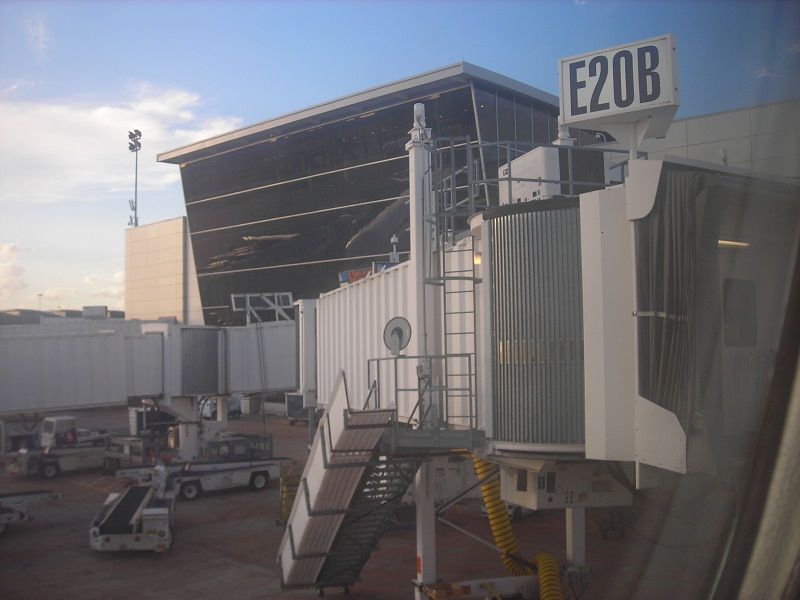 Approaching the gate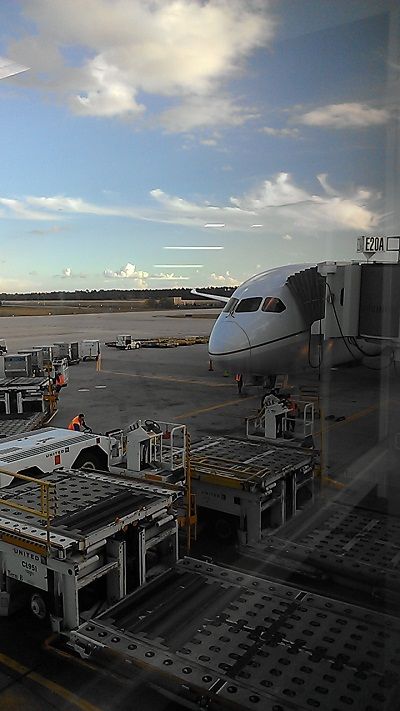 Parked at the gate
Landing video -
http://youtu.be/doWf-DjrTFM
United 4198 IAH-OKC Embraer 145 3 December 2012
STD: 17.44
ATD: 17.41
STA: 19.08
ATA: 18.55
Registration: N14186
I deplaned from the 787 and my phone was being blown up by messages from almost everything, Whatsapp, Facebook, text messages, voicemails. I felt popular for about 5 minutes. I made my way out of the E gates to the B gates and took the train over. Some people on the train were talking about the 787 and I mentioned to them that I just got off of it and it was pretty amazing. I was able to see Qatar and Emirates which are not yet currently serve Chicago.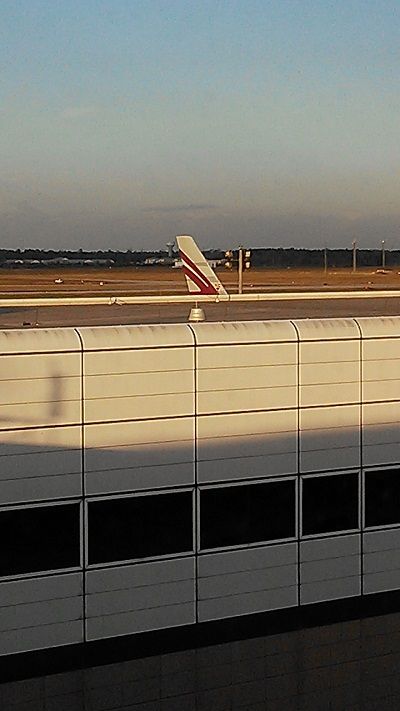 Qatar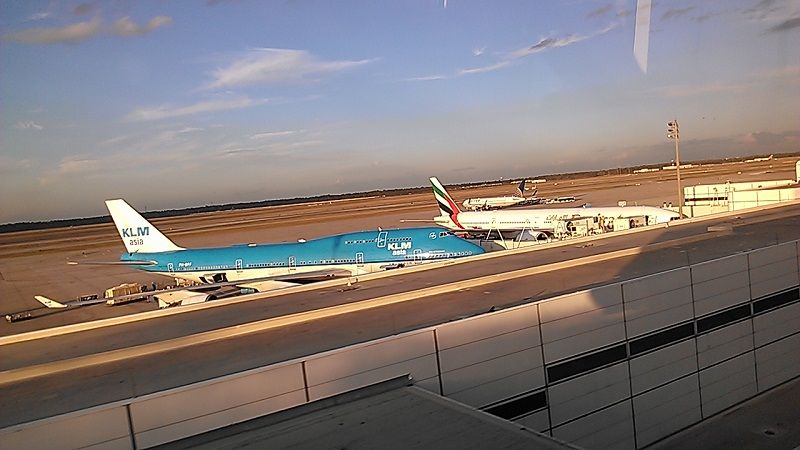 KLM and Emirates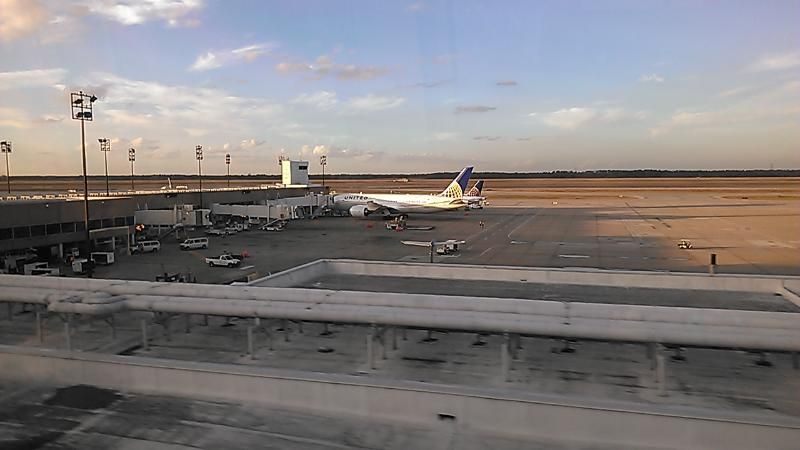 Another United 787!
I used the bathroom in the B concourse and noticed it looked like an absolute dump which should be renovated eventually. I made it to B64 where they use new and old gate display boards. Why is the rest of the airport so much nicer than the B gates? Anyways, boarding started at 17.20 and I was onboard at 17.22. Our flight attendant was very meticulous and walking up and down the aisle several times to make sure seatbelts were on, seatbacks and tray tables were up.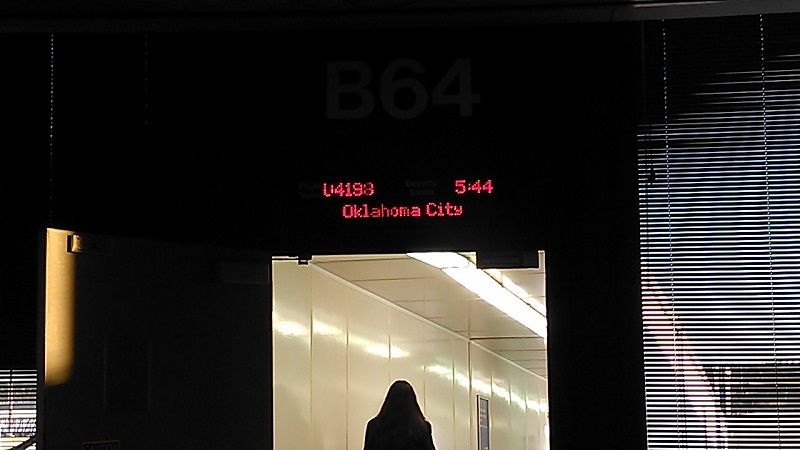 Boarding for Oklahoma City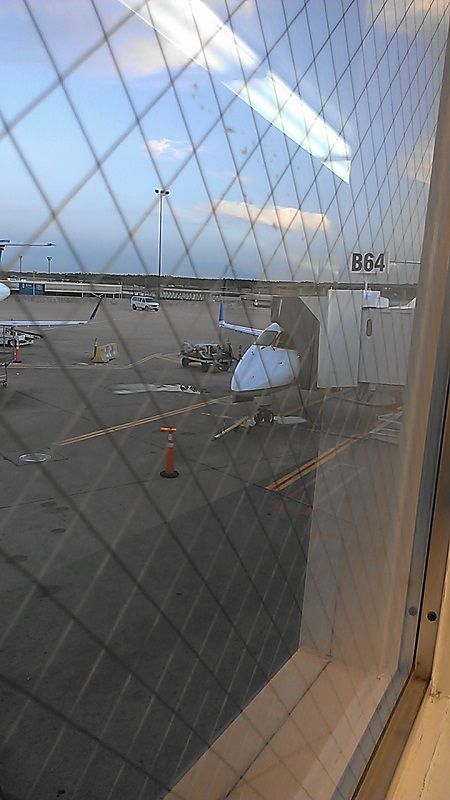 Our aircraft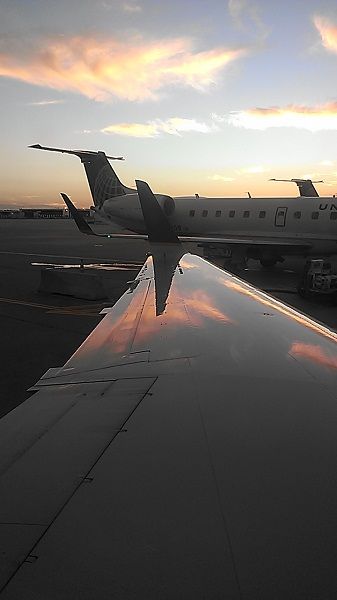 Wingshot / plane going to Albuquerque
We pushed back at 17.42 and taxied via RB, WB, NB, and WC to runway 15R. We took off at 17.52 and turned towards the north as I got a great view of Houston and how beautiful Texas looks at night. We hit some minor turbulence at 18.06 and still we have no information about the pilots so I sat there and read my De Telegraaf and at 18.21, I declined to get something to drink as I think the passenger across from me was probably wondering what I was doing. I was trying hard not to piss him off or something considering I had my phone, camera and notebook out. I saw the city of Dallas. Strange how I recognised it so well, I guess I watch too much 'The First 48 on A &E'.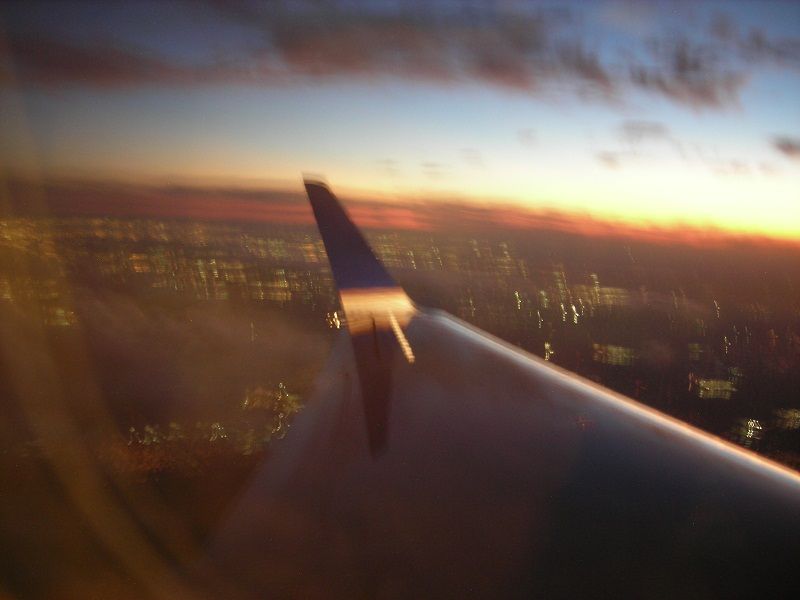 After take off from Houston
Takeoff video -
http://youtu.be/RIDoDYUEIqw
The pilot came on and said that we were at FL220 and we'd be landing in 20 minutes. We turned for Oklahoma City and as we were on final approach, we hit some turbulence, shaking all around and a few bumps and a drop which I found quite exciting! We landed on runway 35R at 18.51 and taxied via E6, E, and E8 and made our way to Gate 10 and parked at 18.54. As we pulled in I saw JetMatt 777 operate the belt loader and get bags off the plane. He saw me and nodded to me.
Landing video -
http://youtu.be/bWaweE4U-0w
I walked off the aircraft and into the airport. It looked nice inside the airport, great stone work; it's a small airport but has a homey feel to it. I went out of security and was shortly picked up by some of you guys know as UAL747. He took me to get food real quick and then back to his house. He has a very nice house so cozy inside and outside but yes anyways, sadly I was only in town overnight.
United 3722 OKC-ORD 4 CRJ-700 December 2012
STD: 06.00
ATD: 05.47
STA: 08.00
ATA: 07.22
Registration: N509MJ
Good morning! I didn't get that much sleep, just about 3 hours or so which I'm wondering why my body decided to wake up at 02.30 but I tried to fall back asleep but I couldn't so I just went on Facebook and Twitter and then finally about 03.45 I decided to get ready as JetMatt 777 would be picking me up and flying up to Chicago with me to try and catch the 787.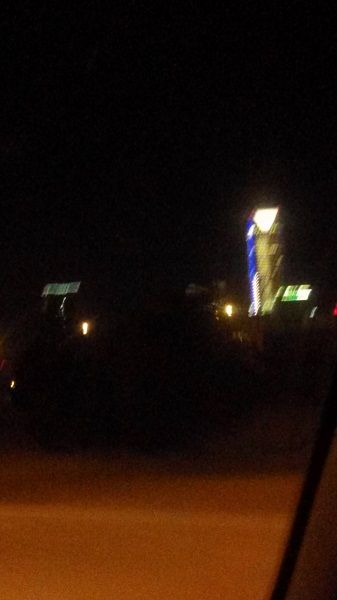 Devon Energy building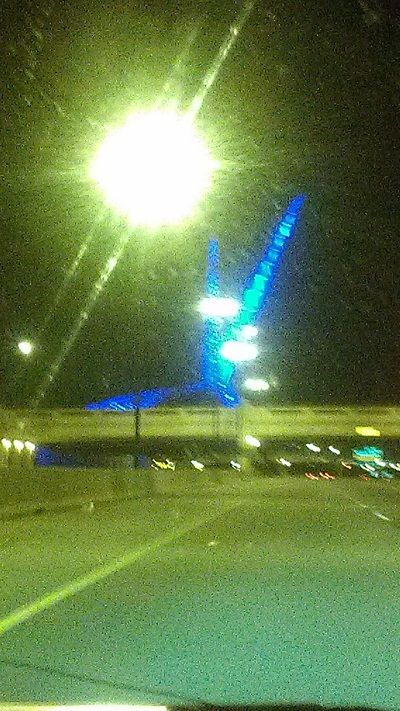 Pretty awesome looking Sky Dance bridge!
He picked me up at about 04.10 and a short while later, we were at the airport. I went to go re-print a boarding pass as I had no idea where my boarding pass went and soon I met up with his friend who was also travelling.
Eventually we all went through security and I had to use the machine where you raise your hands. We walked around the airport, and I saw that our aircraft was in the battleship grey colourscheme. We sat down and talked for a little bit and then walked to the gate. This today was gate 10, the same gate in which I arrived in on Monday. JetMatt777 and his friend got their boarding passes and soon we boarded. My seat today was 15C but I was asked if I wanted to sit in the front and I said sure. I got a seat change to 4D and soon sat down in my seat.
Upon further inspection of the plane, it has definitely seen better days. The seatback was loose, sink was messed up, and my window was scratched. I just wanted to get home by now. Don't get me wrong, I definitely want to visit Oklahoma City in the future. There were 20 people booked for this flight so it was definitely wide open.
The bridge came off at 05.47 and we pushed back at 05.51 and taxied via K, G, and E to 35R. We took off at 05.58 and soon climbed up to FL390 and eventually daylight was seen at 06.12. Somewhere along the way I had the chance to see a nice lightning storm which was really interesting to see from high up. Drink service came around and I ordered some orange juice but didn't get to keep the can and some coffee, 3 sugar no cream. I went to the lavatory and wondered why there were paper towels in the sink and it had something to do with the suction and overall the lavatory just didn't look decent just more decrepit.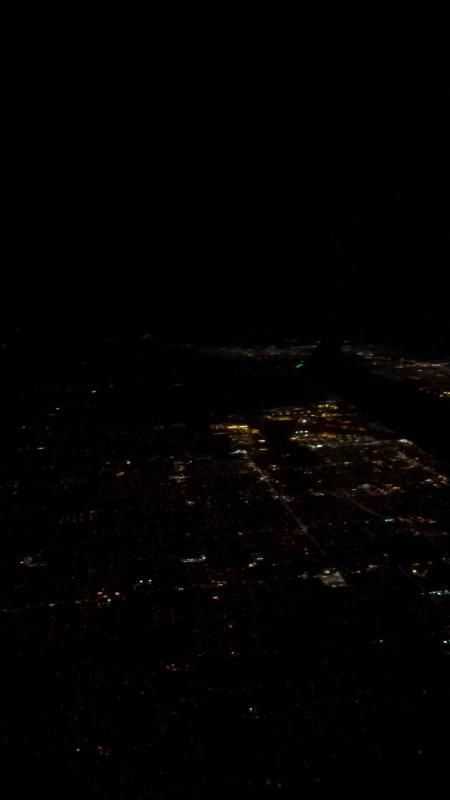 After takeoff from Oklahoma City Lightning storm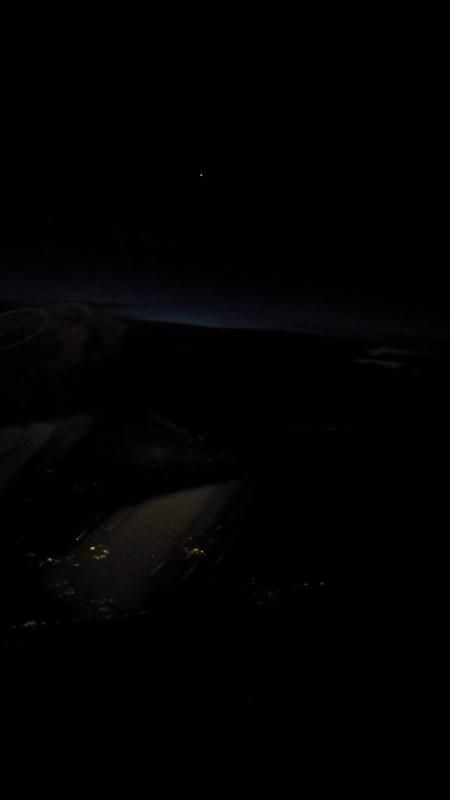 First peek of dawn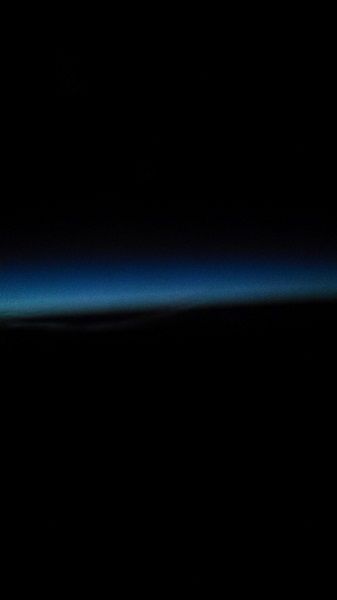 Daylight
Takeoff video -
http://youtu.be/B38Cnh2VZBs
During the cruise, JetMatt777, his friend and I talked about various things and cool places to visit and things to do and see and soon it was time to start our descent into the Chicago area which commenced at about 06.56 and we'd be arriving about 30 minutes early.
We came in from the west and then turned back east somewhere near Midway and downtown and then followed the Kennedy Expressway (Interstate 90) through Jefferson Park, and Rosemont and touched down on runway 28 at 7.22.
We taxied via T, A10, B, A6 and we parked at gate C8 at 0726.
Landing video -
http://youtu.be/36dqtuz1O9U
We deplaned and JetMatt777 and his friend realised that they weren't getting on the 787, and I knew they were disappointed and so they made the decision to go downtown and spend the day in my great city. I suggested that since I'm parked here, why not we all go downtown, get breakfast and do some touristy things before I have to go to work. We had a great breakfast at a place called Yolk and went to Millennium Park and then the Sears Tower where it was just a gorgeous day and you can see everything so clearly – Midway Airport and O'Hare, definitely today was the best $17,50 I've spent to go see my city.
We walked back to where I parked, I said goodbye to the both of them and drove to work. A few hours later, I arrived home and knew my travelling was finally over. I must say it was very nice to get out of the same clothes I travelled in!
In conclusion I had a great time, I honestly cannot complain. I would definitely fly the new United again and I had a great time on the 787. I'd try and fly on it again if I could. I would like to thank the people that persuaded me to book this ticket and my friends in Oklahoma City for being so accommodating on such short notice.
Thanks for reading this and as always all comments are welcome and appreciated!
Leo/ORD