Introduction
Homesickness – the state of missing one's home during a period of absence, says the
Concise Oxford English Dictionary
. As an expatriate Hong Konger who has lived in Australia for the last 22 years, there are times when I yearn to return to HKG, if only for a holiday, and those times have become more and more frequent lately.
I've made the trip from my adopted home town of PER to my former home town of HKG 7 times in 22 years, although the past four times were made in less than four years: twice in 2009, once in 2011 and once, again, in late 2012, which is covered by this trip report.
The day of the flight
I'm a procrastinator. I don't get things done until the very last minute. The result of this nasty habit was that I had to wake up at 0300hrs on the day of departure to pack, for we would be leaving at 0500 to drive to the airport so that we can arrive at around 0530hrs. Luckily (or not, depending on how you look at it), I usually over-pack rather than under-pack, so I'm much more likely to bring the kitchen sink even if there's a 0.01% chance that I might actually want to use it at some stage during the trip, rather than forget something and have to buy it locally. So the chance of me leaving something behind in the mad rush to pack my bags was slim.
At the airport
We arrived at the airport at 0530hrs. Traffic was almost non-existent at that hour. As we had already completed online check-in, dropping off the bags and heading airside was quick and easy. Thankfully we got some proper boarding passes too!
PER isn't really anything to brag about. For a capital city airport, it is somewhat on the small side. I can't wait to see how its refurbishments turn out.
CX136 was going to depart from Gate 2 today, with an SQ 777-212ER at Gate 4 operating the second of four daily flights from PER to SIN, while at Gate 5 a CZ A330-343X was to operate a flight to CAN.
The flight
4 Nov 2012
Flight Number: CX136
Aircraft type: Airbus A330-343X
Registration: B-LAM
C/N 1236, delivered new to CX 29 July 2011
13th flight on Airbus A330
11th flight on Airbus A330-300
View Large
View Medium


Photo © Edward Zhu
Boarding was conducted by row number. As my seat was in the last zone of the aircraft, I was among those who were first to board. This aircraft was equipped with CX's new long haul Business Class, Premium Economy and Economy seats. I was quite a fan of the much maligned previous generation economy seats, and at first, I was somewhat disappointed that CX has gone back from non-reclining shell seats to the normal reclining type, but once I sat down, all that was forgiven. This seat is a significant improvement over the previous generation in terms of comfort. My concern was that the reclining passengers in front of me would take away what little legroom I have left. However, as the seat base slides forward when the seat back is reclined, that effect is minimised. That said, the person in front of me did not use the seat's recline function to the fullest extent. One thing though: the new generation seats lack the previous seats' seatbelt mounted airbag.
Legroom was a comfortable 32 inches and there was but a very small IFE box located under the window seat which doesn't affect the leg room much at all.
Blanket and pillow were already on the seat. I don't usually sleep on flights anyway, even more so as it's a daytime flight between two cities with no time difference! I certainly won't need them today.
Route map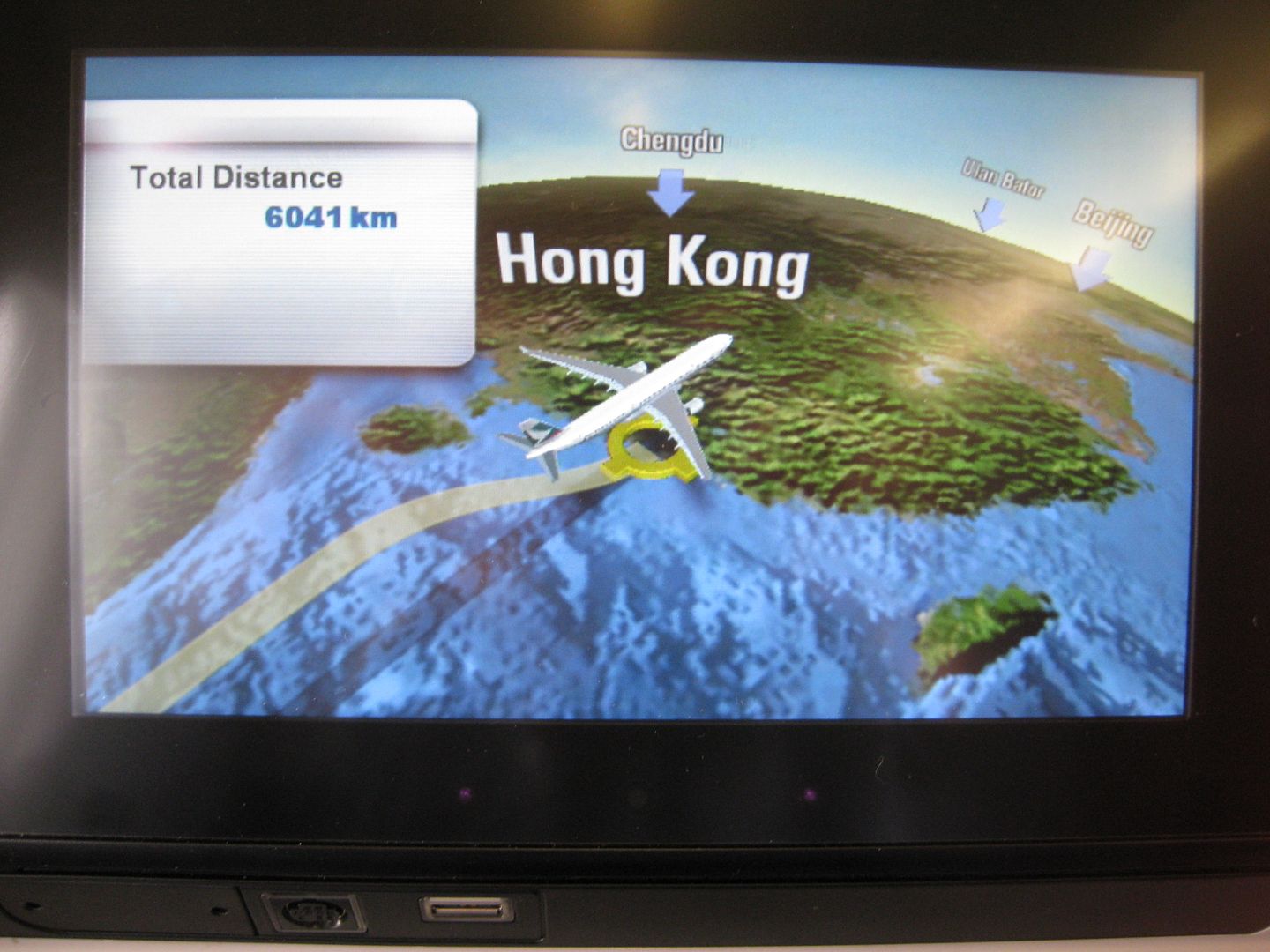 SQ's Boeing 777-212ER 9V-SQM departing as SQ224 to SIN.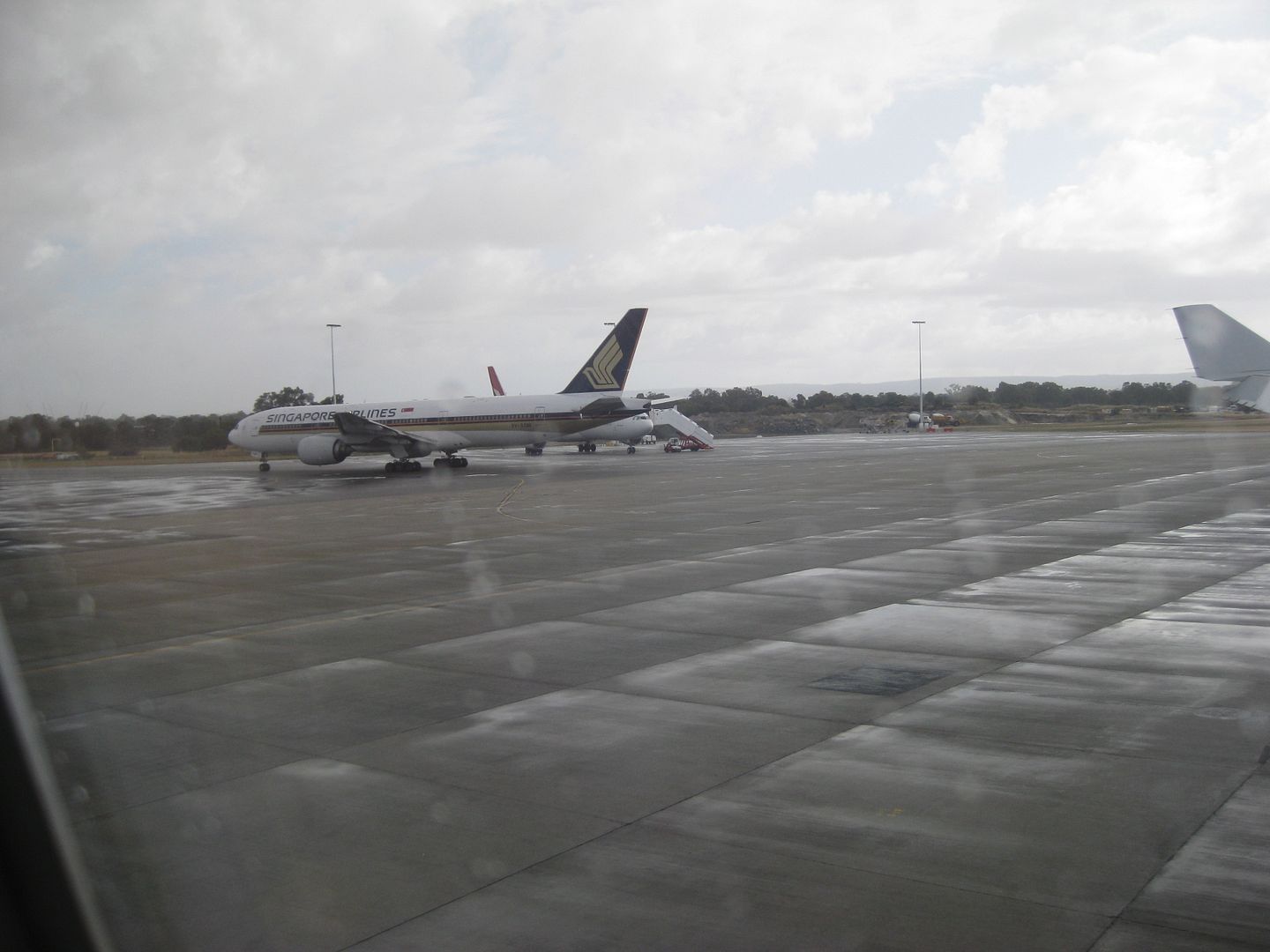 CZ's Airbus A330-343X at Gate 5 operating flight CZ320 to CAN.
Still being refuelled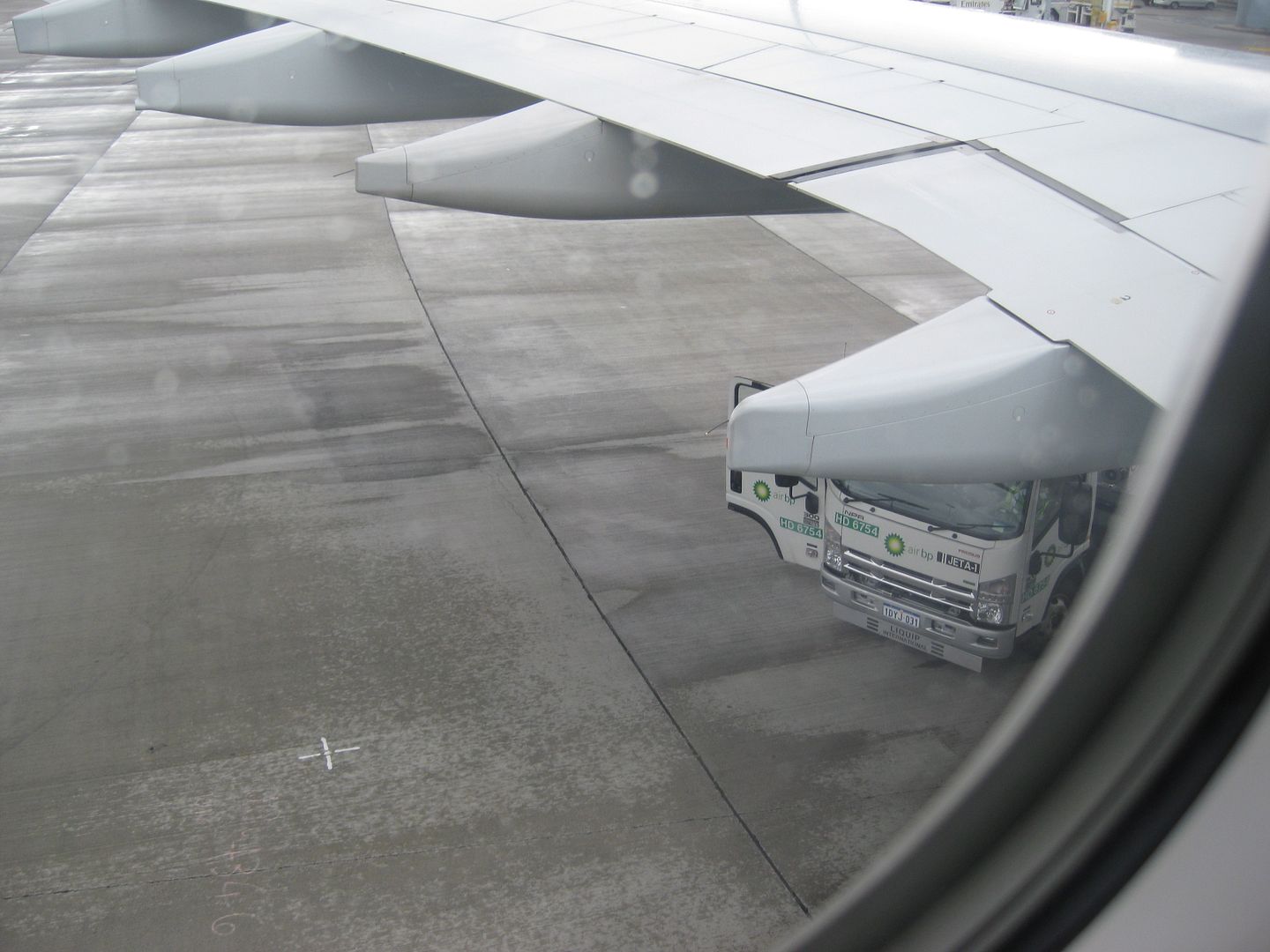 While we're waiting for pushback, I perused the menu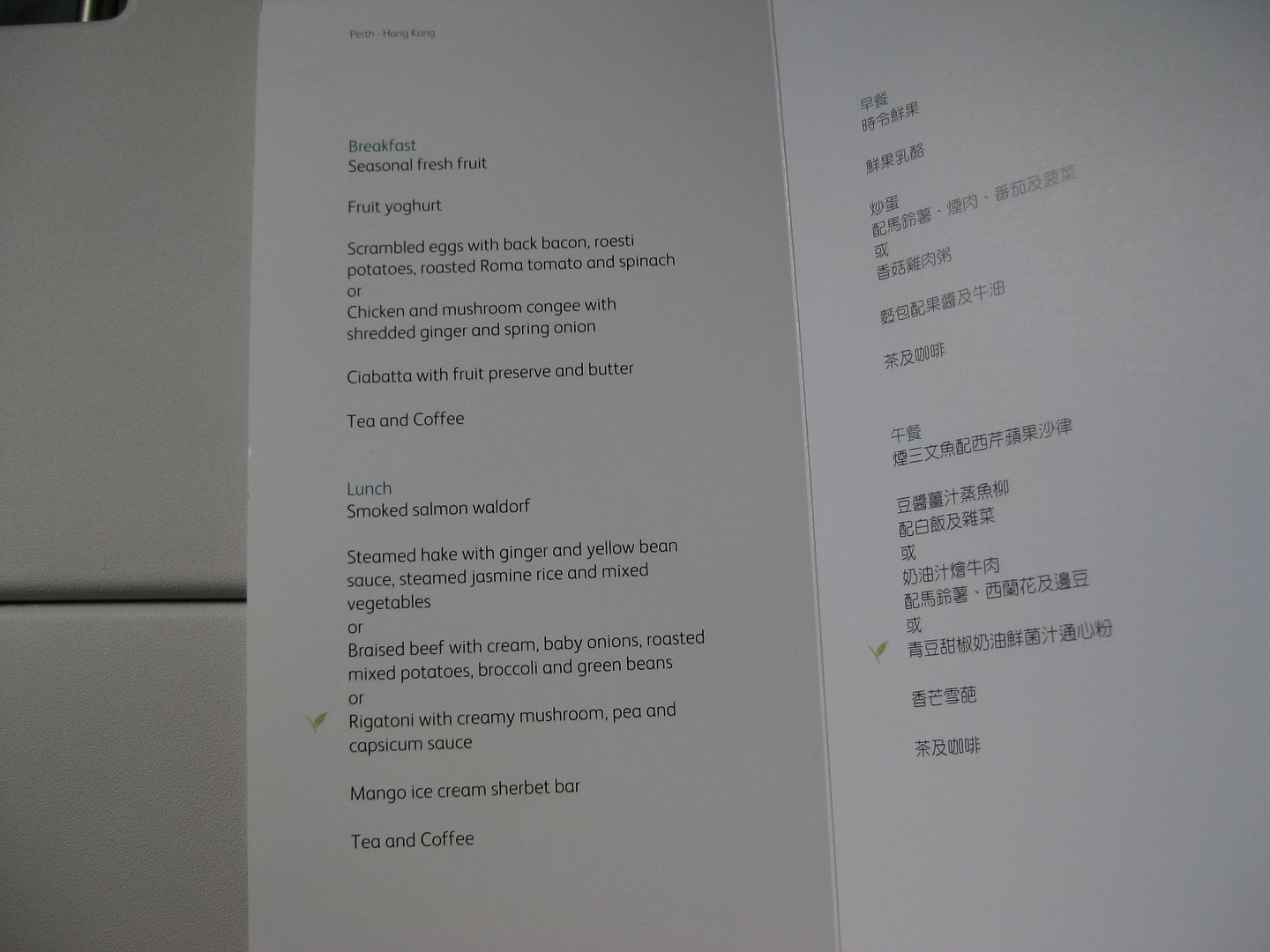 After pushback. I've spent many a free hour on that third floor observation deck.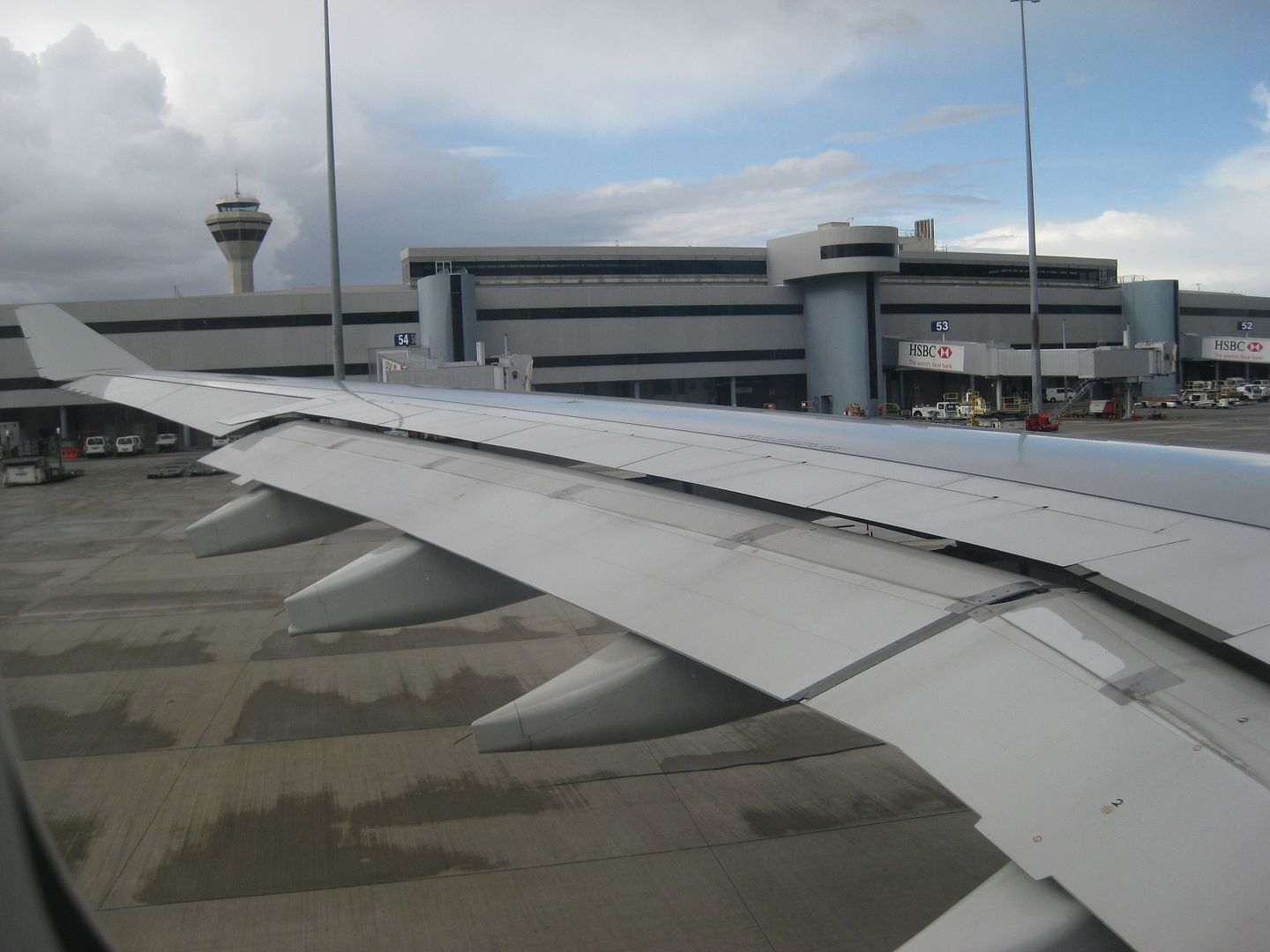 We taxied to runway 21 and took off, heading south initially before turning west, winding its way through Perth's affluent suburbs and then turning northbound to HKG. No wonder residents here are up in arms about aircraft noise!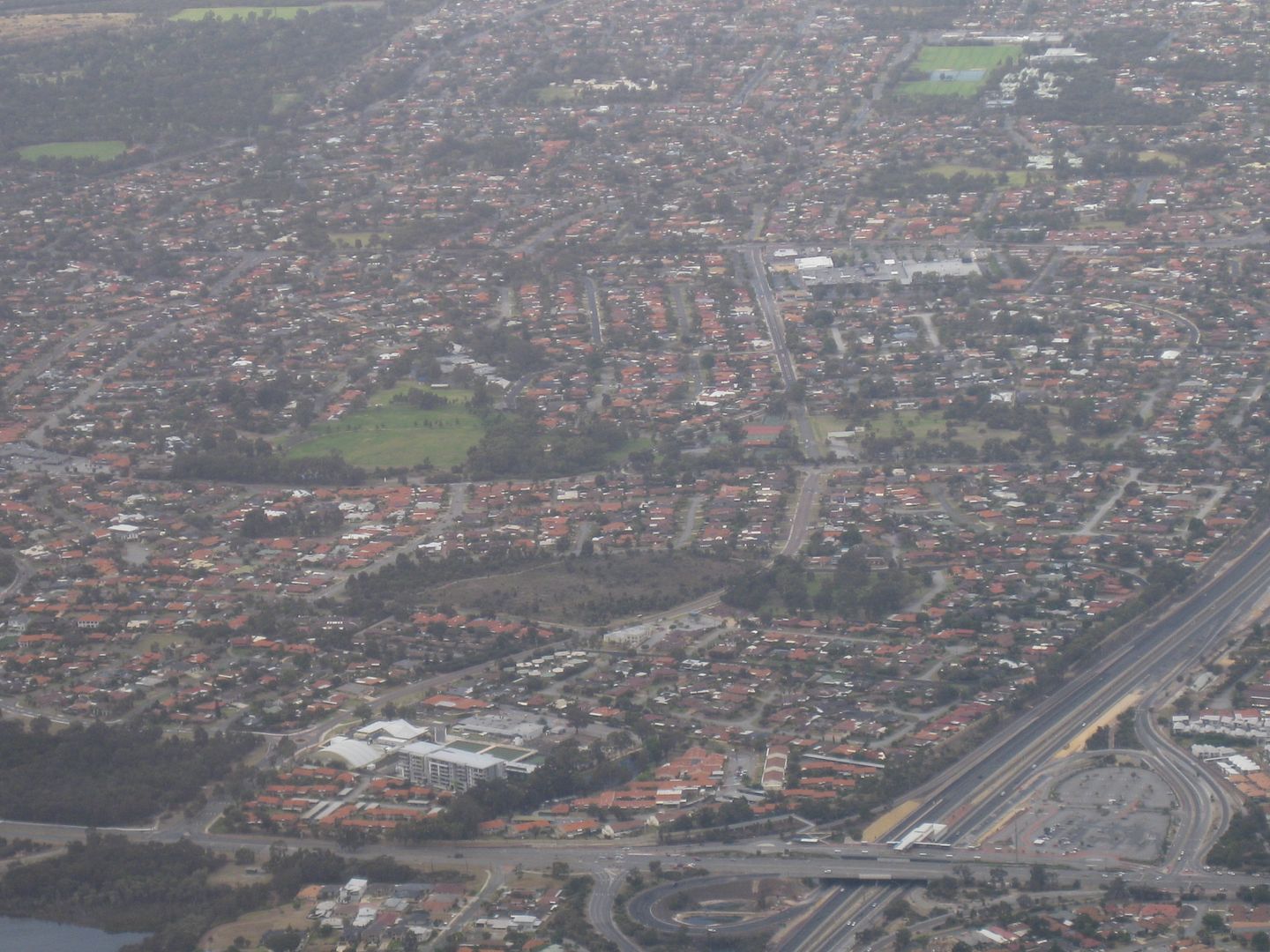 Rottnest Island
The new IFE system is a touchscreen operated system which I found to be very intuitive. There's a multi-function touch sensitive button in the middle of the black border below the screen which activates the menu to control the volume, brightness and contrast, as well as the control for the reading light and the attendant call button. When AVOD content is being played it also contains the pause/stop/play function.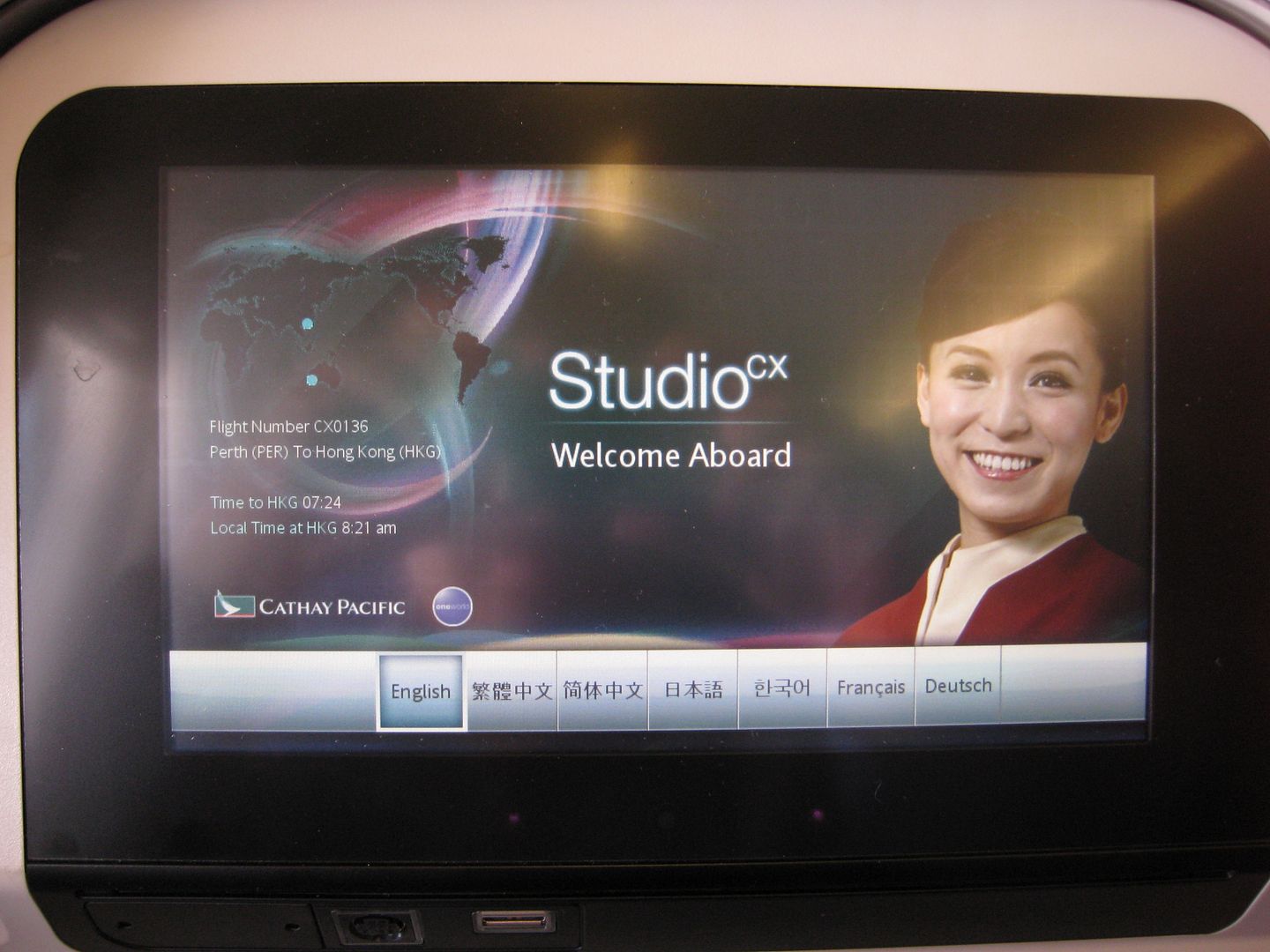 As part of the celebration of the release of
Skyfall
and the 50th anniversary of James Bond films, StudioCX had added six Bond films to its choices during November.
I rarely watch films on planes. There's too much else going on to provide the entertainment, especially on a daytime flight such as this one. When I do get around to watching a film, I find that I can't just sit there for the two hours while the film plays through. I often pause, look at the airshow, then look out the window before returning to the film. It's the same with reading a book. When I'm on a plane, I get distracted quite easily.
Those who know me will tell you how much of a James Bond fan I am. I learnt English as my second language primarily through watching James Bond films. I could recite "Tell me, Miss Trench, do you play any other games? I mean besides
Chemin-de-fer
", before learning the basics of sentence structure and everyday communication. But I digress. As a Bond fan, I couldn't resist the temptation to break with tradition. With six Bond films to choose from, I decided on what I consider to be the third best James Bond film,
Dr No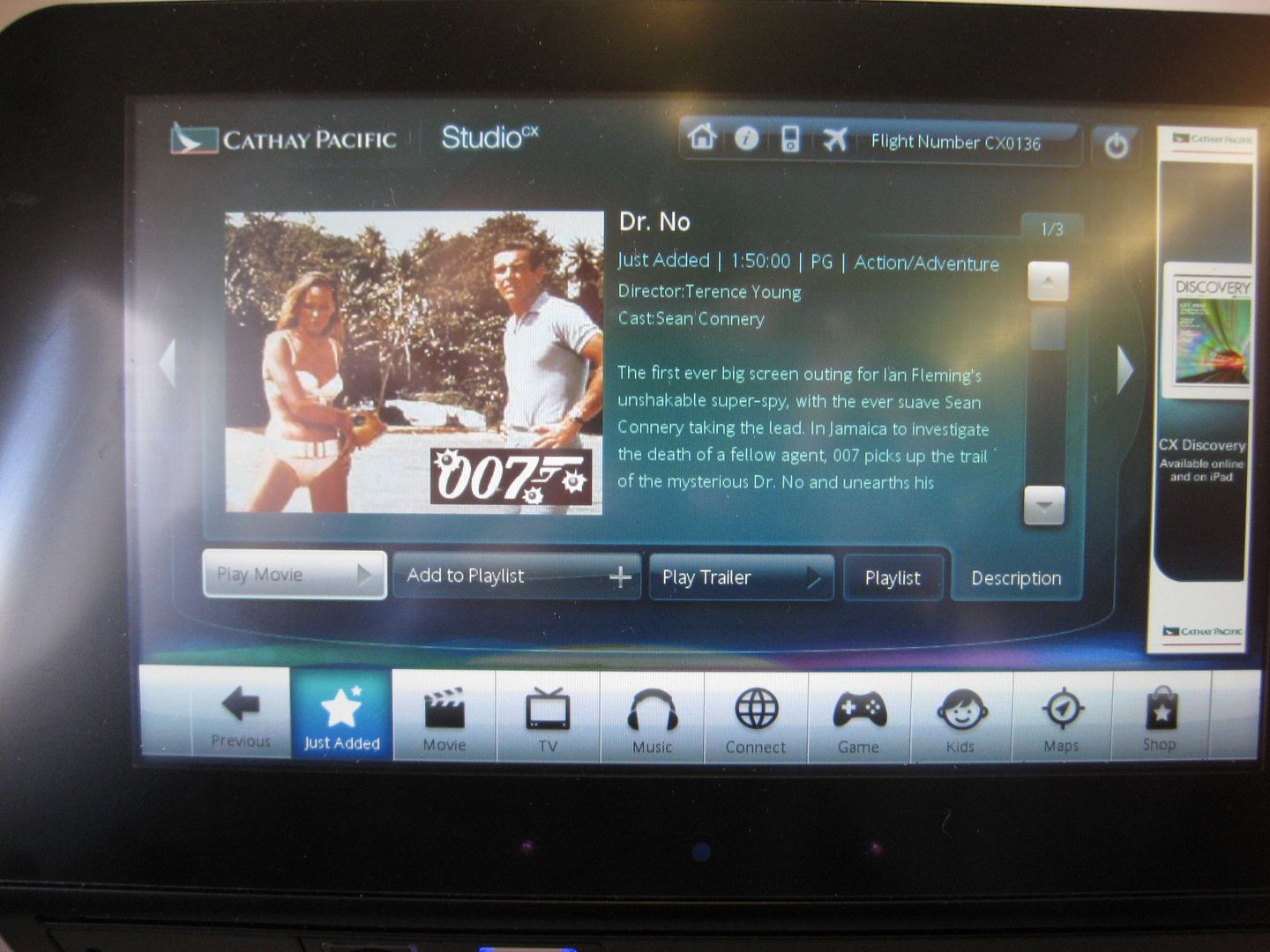 Breakfast was served about one and a half hours into the flight. I chose the chicken and ginger congee.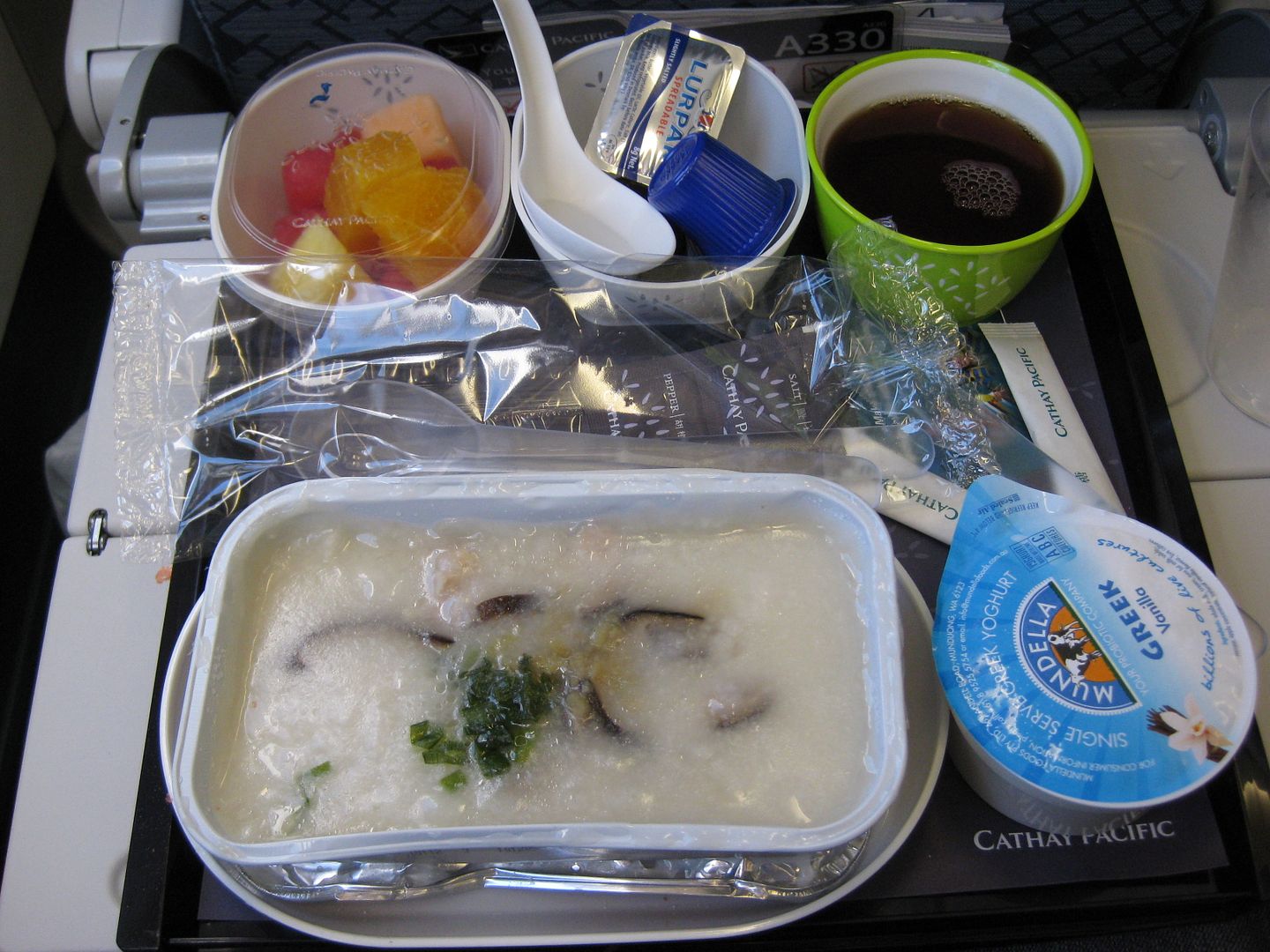 I'm not a big fan of congee, but I chose that dish because it was the lighter option and I wasn't particularly hungry. However, the caterer deserves top marks here – it was superb. The flavour is as good as any I've ever had.
Leaving the north-west coast of Australia
I paused the film for the second time while taking a stroll around the cabin. Here's a picture of the rear economy cabin.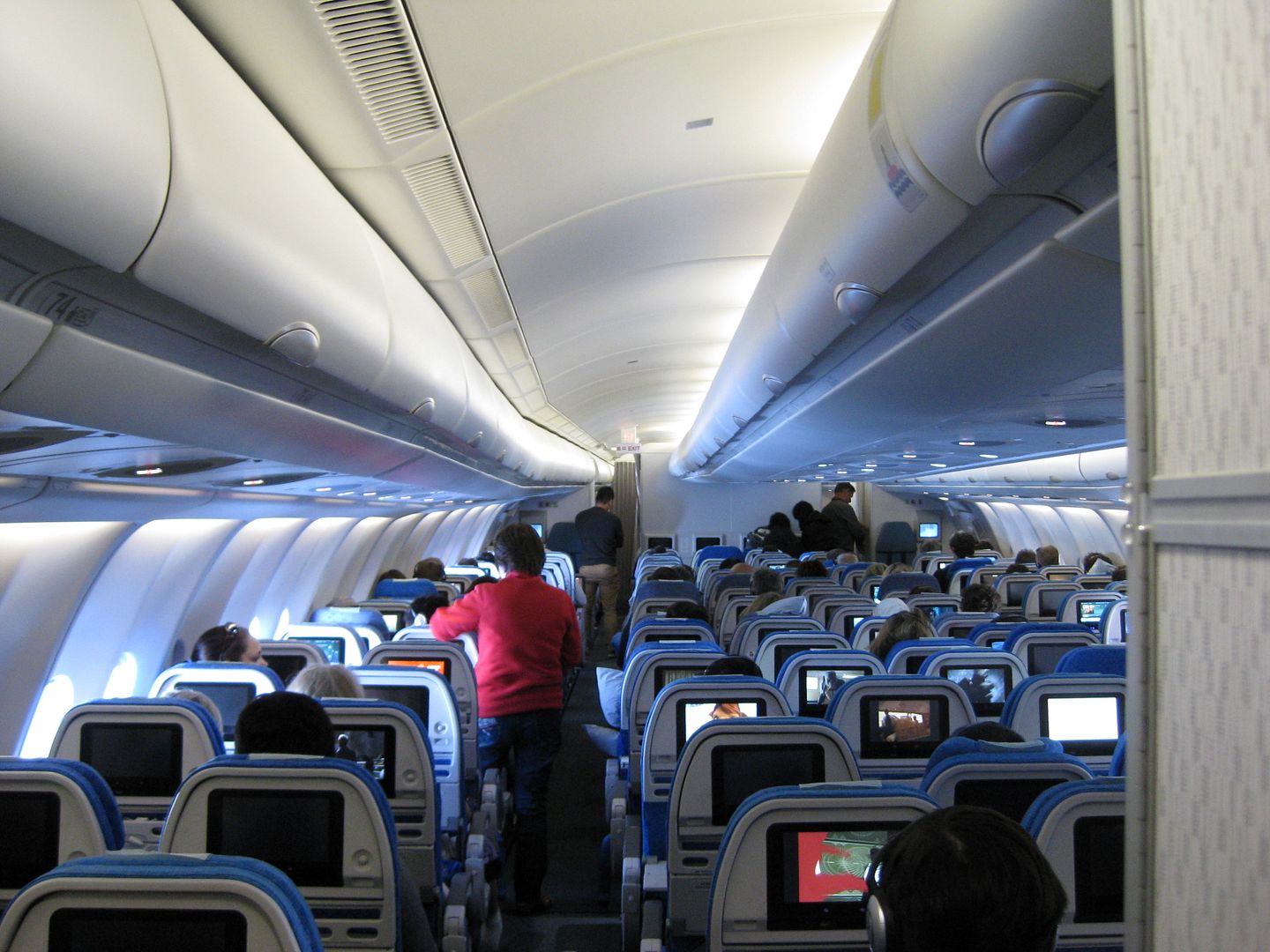 A rather spartan lavatory, albeit with a lovely and modern light green finish
Unfortunately, the airshow only displayed flight information in imperial units. The previous version displayed flight information in both metric and imperial units. Bit of a shame, really. While I have a rough idea in my head how fast 900km/h ground speed is, when I see a measurement in imperial I struggle to convert it to metric before understanding what it really means. I think in metric.
The crew did several drinks rounds throughout the flight. This time, I ordered the
PlaneHunter
special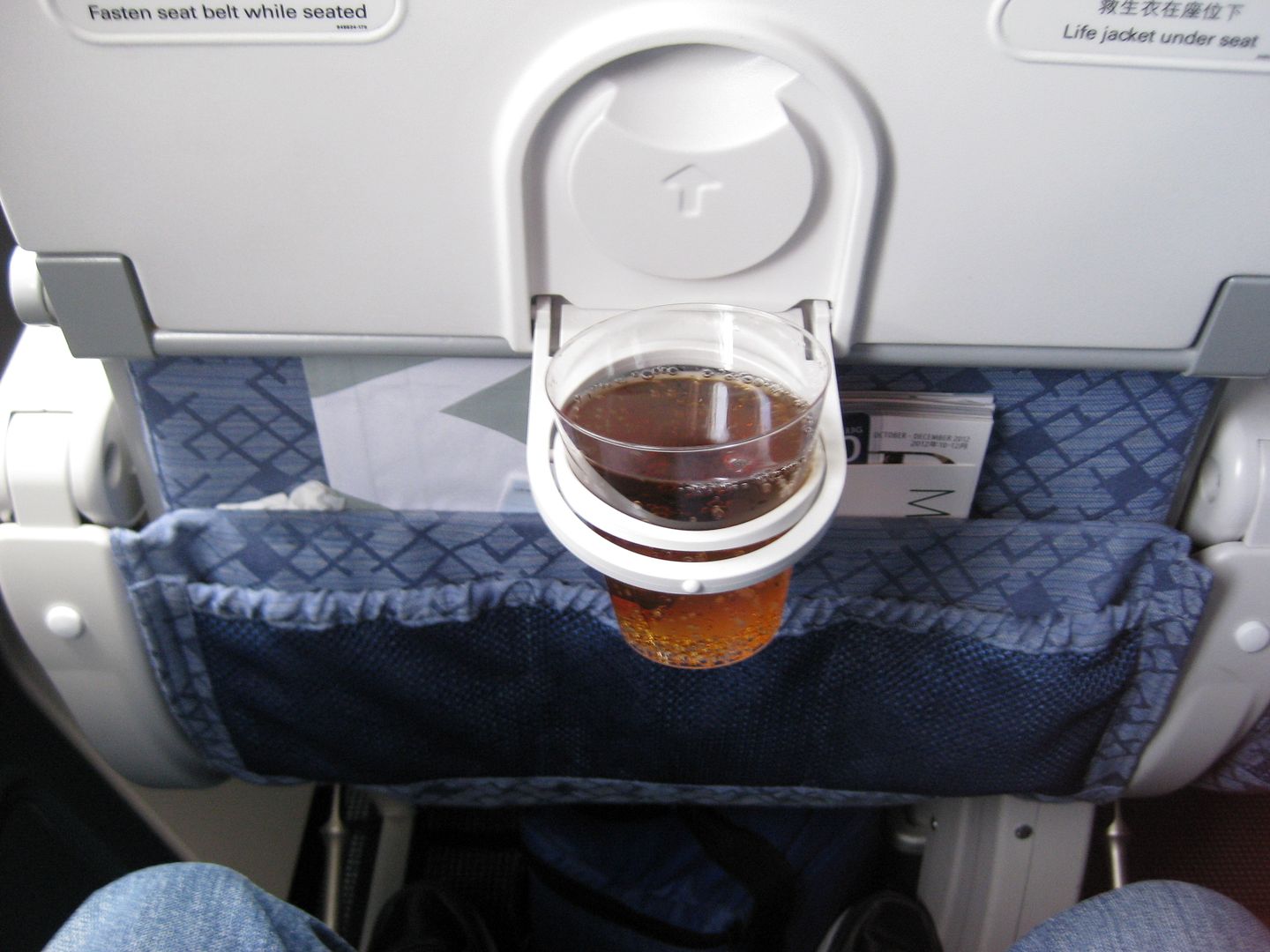 Some cloud formations near the Borneo area. As someone who is rather prone to motion sickness, however, I'm thankful that there was hardly any turbulence to speak of throughout the flight.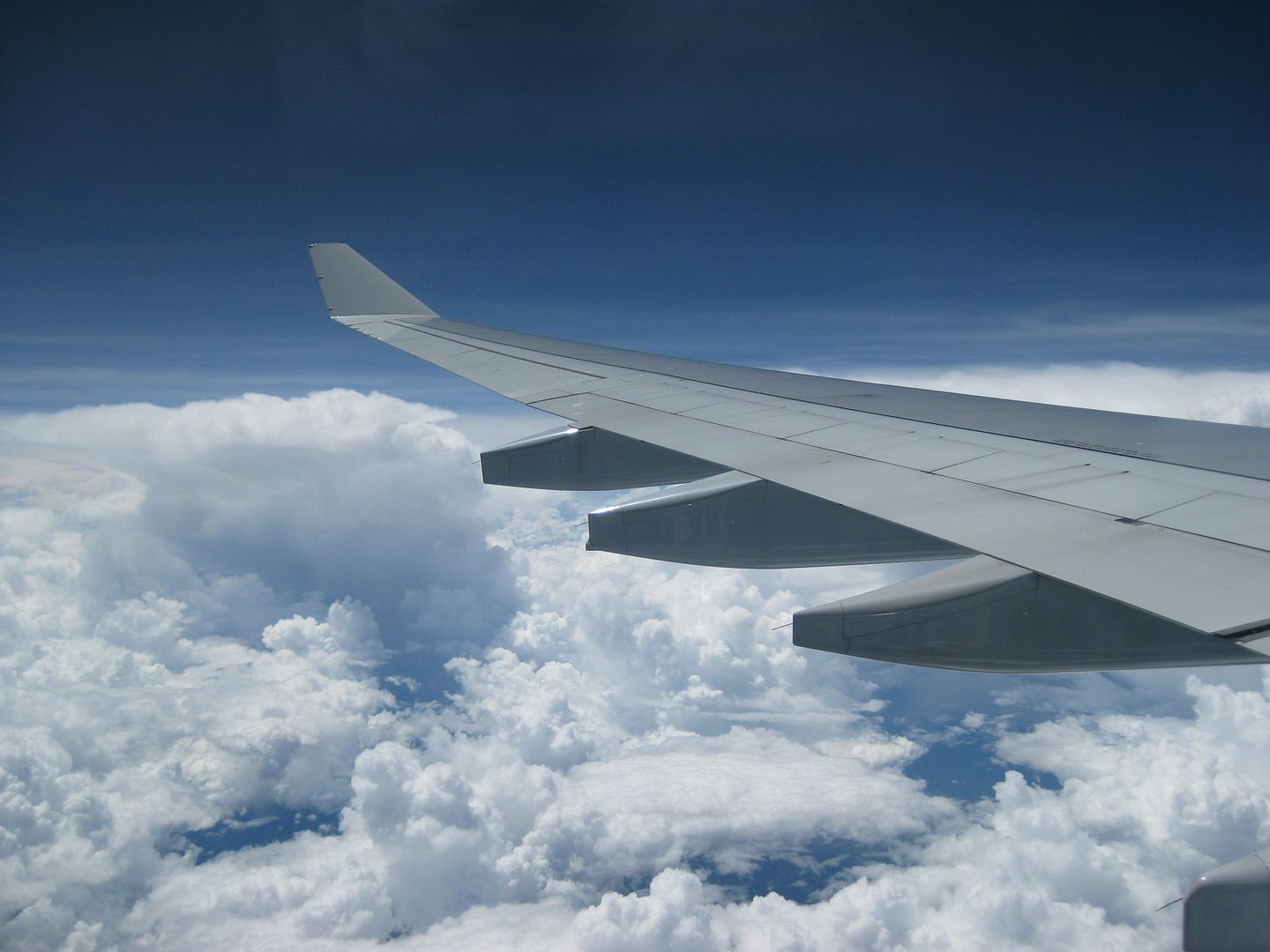 About two hours prior to landing, the smell of food wafted through the cabin yet again: lunch time! I chose the steamed fish, which, disappointingly, was a little overcooked. I should've known better. As a bit of a foodie, I know that fish steamed perfectly is not easy even if it was made fresh, let alone reheated on board an aircraft. I hear that in Michelin starred restaurants in Hong Kong, they have chefs that specialise in making that one dish perfectly: the traditional Cantonese steamed whole fish. If done perfectly, the flesh should be able to be pulled apart by a fork and simply flake off the bone. I should probably stop there in case I get sent the bill for replacement keyboards after people have drooled all over them.
The view from the window. Unlike many other flights I had been on, I was not asked by the crew to close the window shade, so I was able to enjoy the view outside for the entire flight!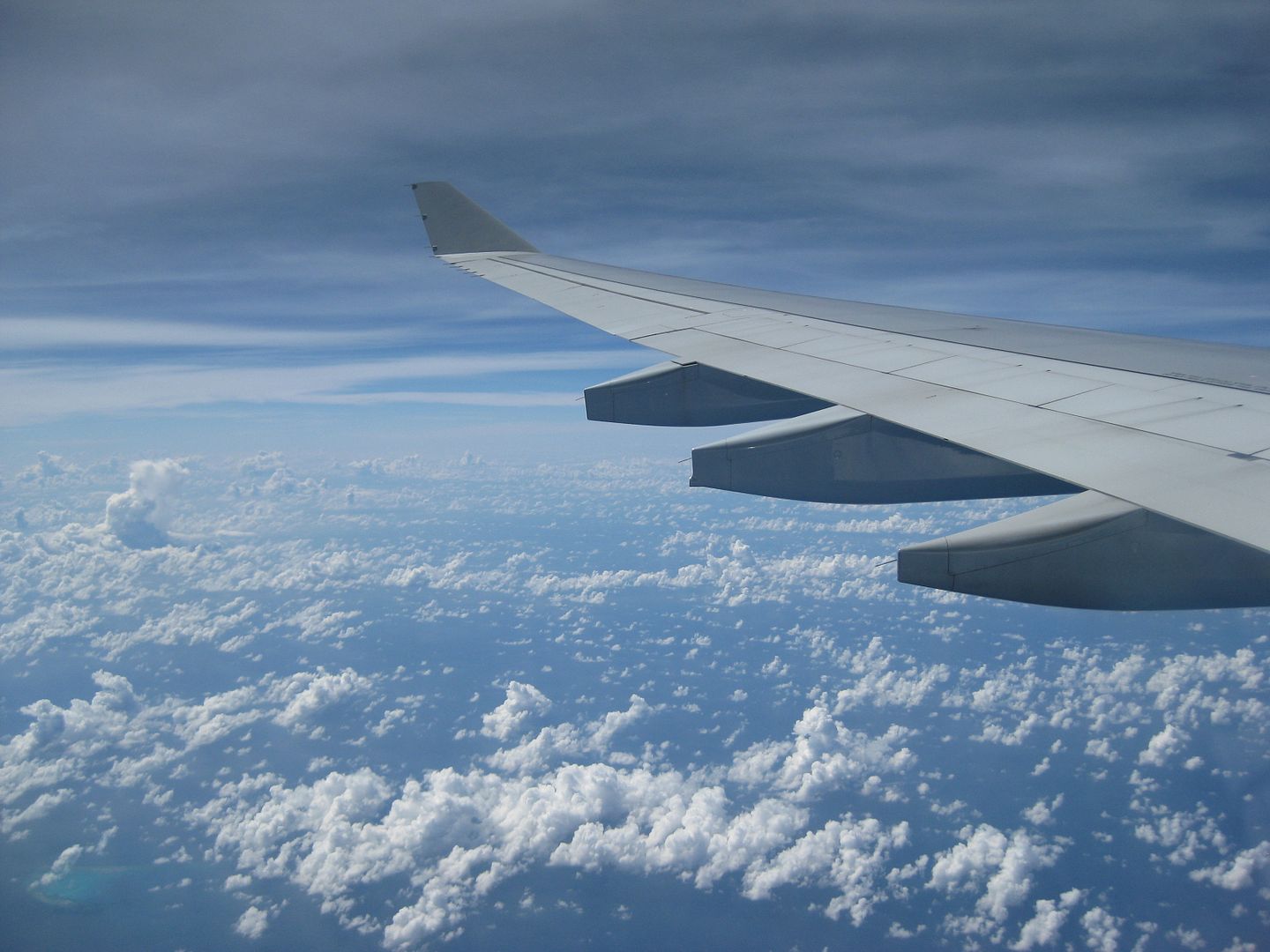 Nearly there
After lunch, I played
Who Wants To Be A Millionaire
for a while. The best I could achieve was to walk away with $64,000 imaginary dollars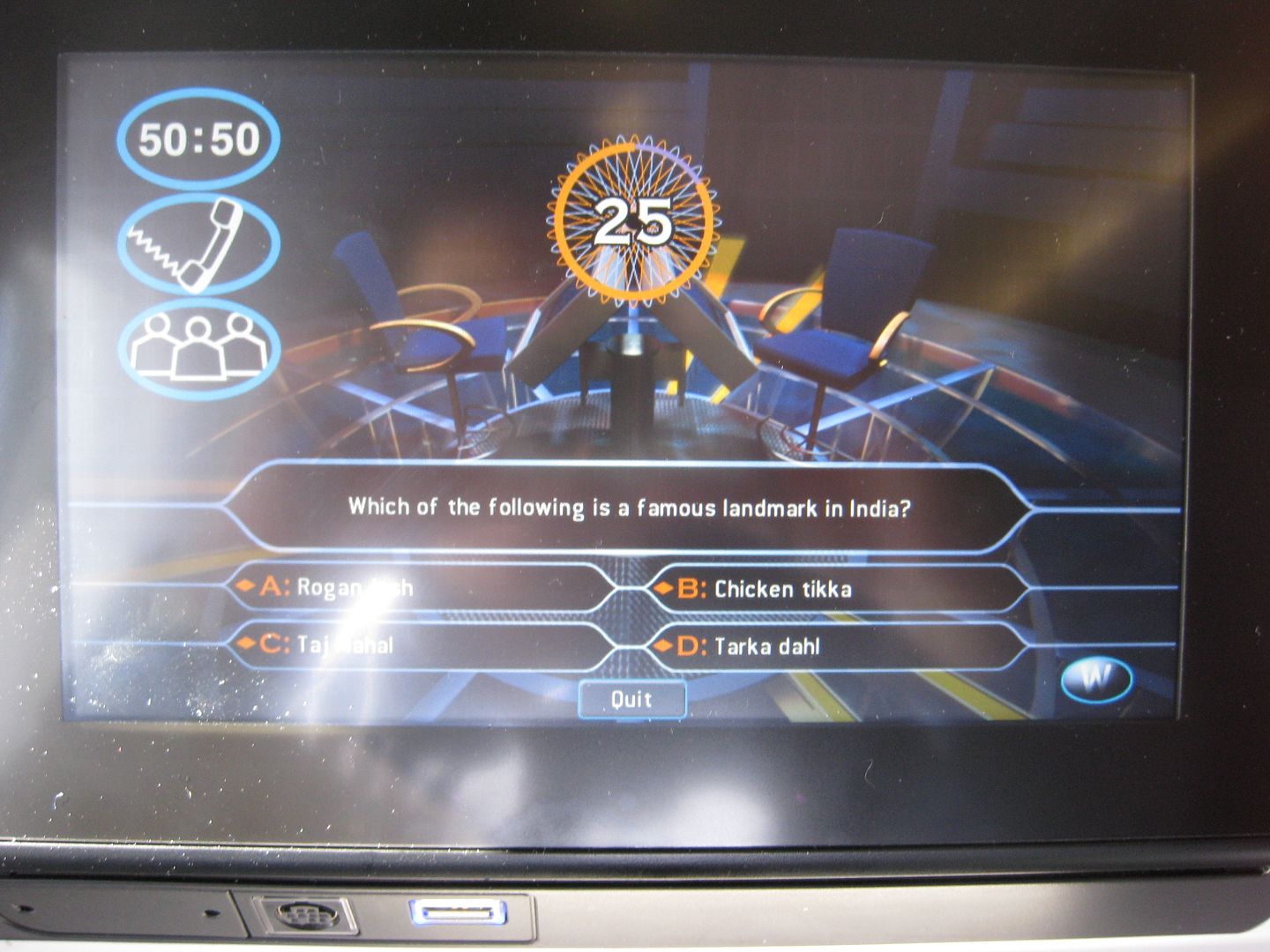 The IFE system switched off when we began our descent into HKG, which was a shame. I did notice, however, that the people who had their IFE set to the airshow channel could still watch the airshow, but as I was playing
Who Wants To Be A Millionaire
at the time, my screen went blank and I was unable to turn it back on.
On the ground in HKG
Immigration was quick and painless, and as always in a super-efficient airport like HKG, our bags were available for collection as we passed immigration.
Overall impressions
CX has been my favourite airline for many years. It may have stemmed from the fact that I grew up in HKG in the 1980s, but I have liked them ever since I saw their green and white striped aircraft at Kai Tak. The aircraft and livery may have changed, as have the people, but the friendly, professional atmosphere remains. While I wouldn't say that this flight was exceptionally good in the sense that nothing stood out as being over and above what I would expect, the crew did everything in a prompt, professional and friendly manner, and more importantly – with a smile. I can't ask for more. CX in its advertising has boldly claimed that their people make the airline. Well, from what I saw, CX makes a fine airline indeed.
JAMES BOND WILL RETURN
Err … I mean, the trip report for the return sector might possibly be posted in due course …
[Edited 2012-12-09 09:49:53]