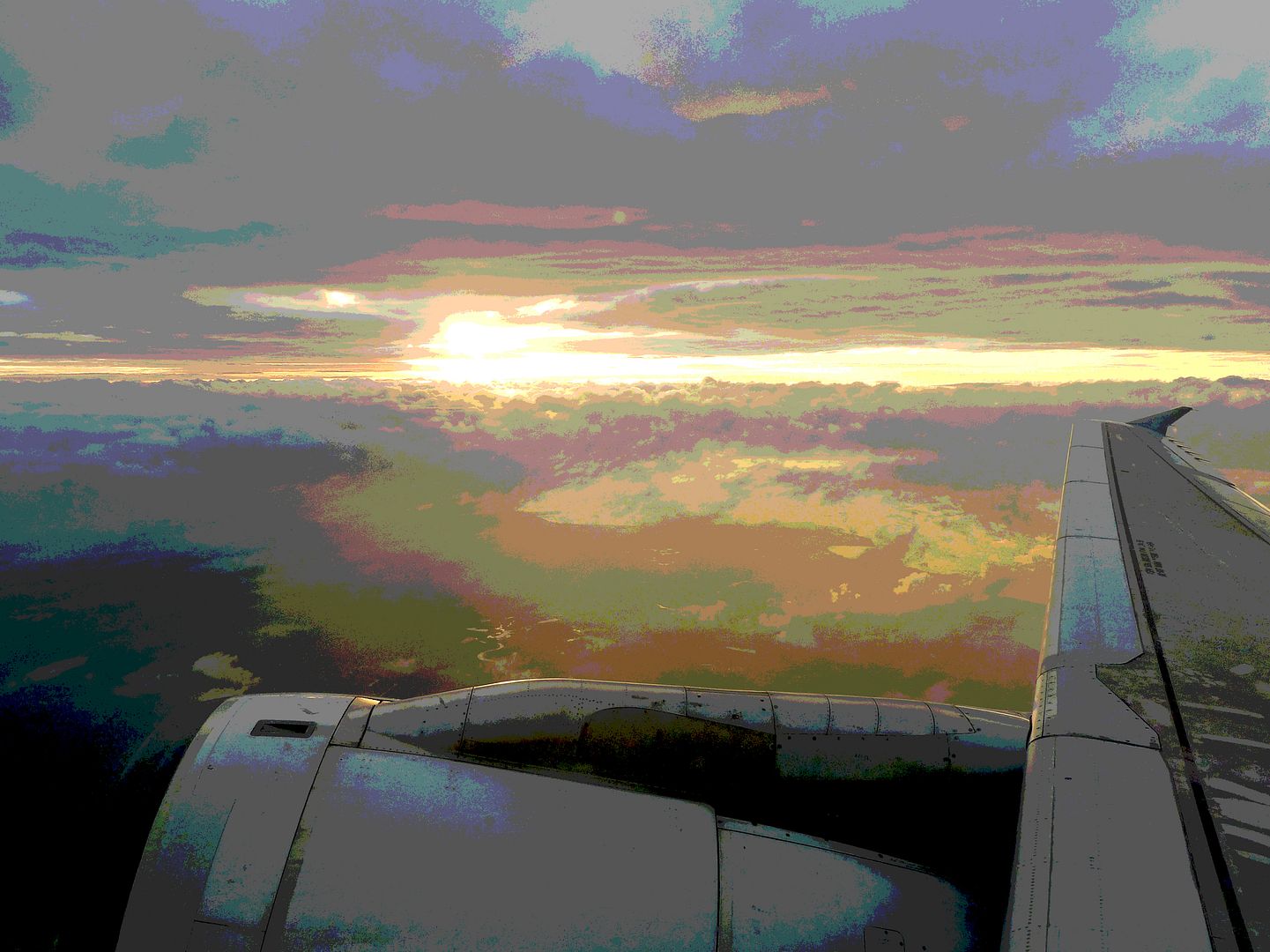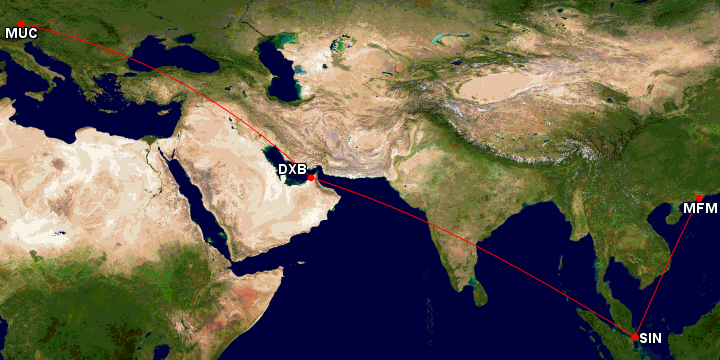 Map generated by the Great Circle Mapper - copyright © Karl L. Swartz
Intro
Qantas' A380
was one of our main targets when my friend
Satchmo
and I went on a spotting tour back in October 2011. However, Qantas grounded its entire fleet on our departure day, so we had to rebook and missed the carrier's A380…the report can be found here:
QF A380 Grounded, Bags Lost - LHR-SIN, TK A330/340
(by
PlaneHunter
Jan 30 2012 in Trip Reports)
Qantas not only paid for all our additional expenses and paid a compensation of €600 (EU regulations), but also sent us vouchers worth €190, valid one year - which I decided to use for a new attempt to get on the carrier's A380. May 2012 seemed to be perfect for a trip to Singapore and I checked countless options in order to include as many new airlines as possible.
My friend and legendary user
The777Man
and I decided to meet in Singapore during that trip - and his main target was the new
Biman Bangladesh 777-300ER
which he was hoping to get on a short hop to/from Dhaka. However, when searching for flights between Singapore and Europe for myself, I noticed that Biman was offering
SIN-DAC-LHR
, operated by 737-800 and 777-300ER, for a decent price. I told him about that and it was just a matter of a few days until we agreed on a travel date and booked that combo on the carrier's website. We were really looking forward to our first mission together. Some time after booking, the 737-800 was replaced by an A310-300 which was an additional treat.
Then I booked
MUC-LHR-SIN
on
British Airways
and the
Qantas A380
on Qantas' website, by using my voucher. At this point of time, I wasn't asked yet to enter my credit card details and was told that Qantas would contact me for that. Two days after booking, the fare fell which I found a bit frustrating. So I called Qantas and asked for a rebooking to get the lower price considering that the ticket hadn't been issued yet - and the friendly agent agreed. Two weeks later, Qantas called me, asked for my credit card details and the ticket was finally issued.
Now it was time to add some more flights. I decided to spend one night in London on the way home and booked
Luton-Gdansk
on
Wizz Air
,
Gdansk-Warsaw
on Eurolot and
Warsaw-Munich
on
LOT
. Finally, I decided to make a day trip from Singapore. I had already earmarked
Singapore-Bangkok
on
MAI - Myanmar International
, but that flight was suddenly gone. Alternatively, I booked
Singapore-Macau-Singapore
on
Air Macau
and
Tiger Airways
.
This is what the final itinerary looked like, including 6 new airlines, 5 new airports and one new type - well, at least that was the plan:
MUC-LHR on
British Airways A320
LHR-SIN on
Qantas A380
SIN-MFM on
Air Macau A319
MFM-SIN on
Tiger Airways A320
SIN-DAC on
Biman Bangladesh A310-300
DAC-LHR on
Biman Bangladesh 777-300ER
LTN-GDN on
Wizz Air A320
GDN-WAW on
Eurolot ATR 72-200
WAW-MUC on
LOT Embraer 175
Map:
Map generated by the Great Circle Mapper - copyright © Karl L. Swartz
The second part of my latest trip report series will focus on the flights on
Air Macau
and
Tiger Airways
and show how an infection screwed up my journey. Part I can be found here:
Delayed By Over 6 Months: LHR-SIN On Qantas A380
(by
PlaneHunter
Nov 29 2012 in Trip Reports)
Monday, May 2012
Singapore (SIN) - Macau (MFM)
Air Macau NX859
Scheduled times: 06:50-10:30
Actual times: 06:48-10:39
Flight duration: 03:32 (hrs)
Distance: 1569 miles
Economy Class, seat 7F
Airbus A319-132
B-MAK (MSN 1758), named "Rio Yangzi"
Delivered in 06/2002
1st flight on B-MAK
22nd A319 flight
81st A32X flight
135th airline
After a short but relaxing night in the transit hotel, I checked out at 04:30 in the morning. The first train to Terminal 2 didn't leave before 05:00, so I decided to have breakfast first. Shortly after the trains had started operating, I arrived in the Terminal 2 transfer desk corner and was a bit shocked about an agent's reaction to my check-in request:
"Air Macau doesn't send staff here, you have to clear immigration to check in."
However, the friendly and helpful agent made some phone calls and soon asked for my passport. Then she explained that she would check me in by phone and that I could pick up my boarding pass at the gate. That's what I call great service!
The security check at the gate was the next hurdle. I told the officers that I didn't have my boarding pass yet and they had to contact the airline agents. After a short wait, I could proceed, but then it took about 20 minutes until the agent was able to print a boarding pass. He asked me all kinds of questions about my journey and the short stay in Macau, most likely due to immigration regulations. In the meantime I asked the agent if there was a problem with my reservation (booked via
CheapTickets
), but he denied. Even though I had requested a window seat in the back, my boarding pass showed seat 7F. I pointed that out and he replied:
"There are less than 60 passengers on the flight, so you can move."
The plane from Macau arrived on time, just too bad it was impossible to take decent pictures through the glass:
Air Macau had sent
B-MAK
, the first of 5 A319s in the fleet. It has been named
"Rio Yangzi"
:
Friendly flight attendants welcomed me on board where a comfortable seat was waiting for me:
Legroom was sufficient for this medium-haul flight:
The cabin was in good overall condition, but I wasn't amused when I discovered lots of dirt on the seat frame: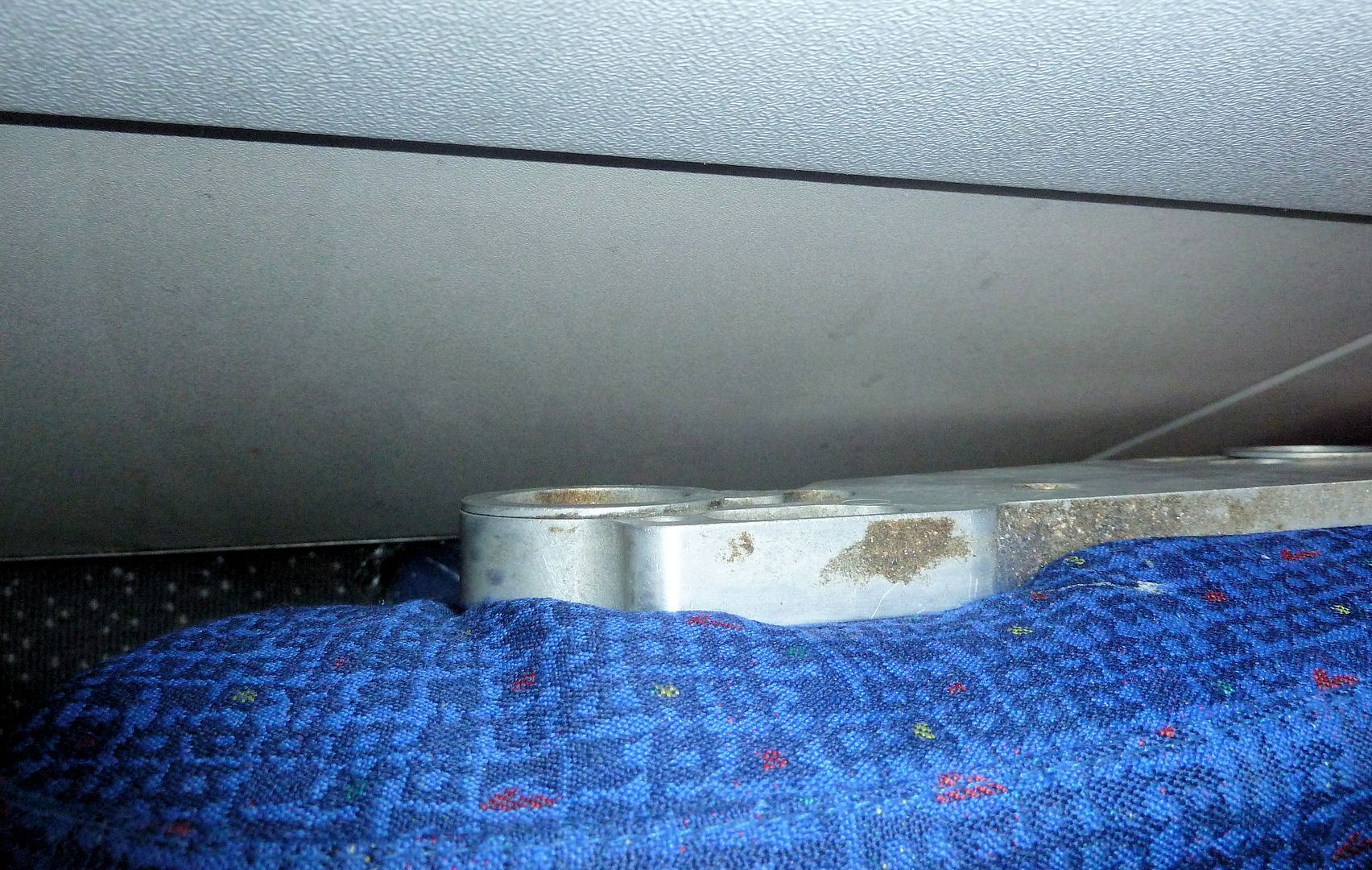 After boarding had been completed, the flight attendants offered headphones, pillows and newspapers. According to a welcome announcement from the flight deck, the flying time would be 3 hours and 35 minutes. As expected, I had the whole row to myself, so I could stretch out. The fold-out screen in front of me didn't work properly, but those were only used for the safety video anyway.
Malaysia Airlines 737-800 9M-MLD was parked next to us: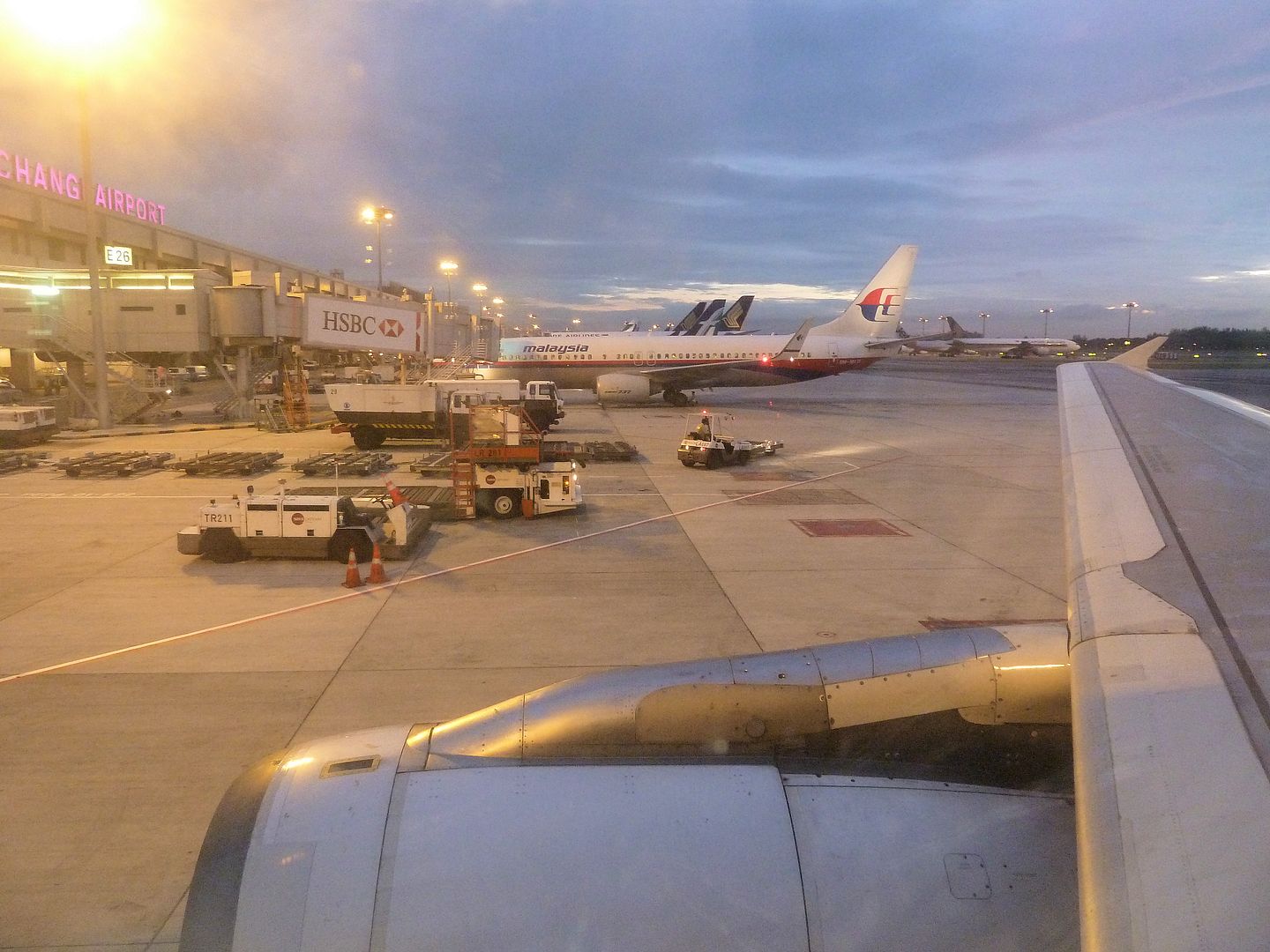 We left the gate two minutes ahead of schedule and passed SIA 777-200ER 9V-SQB (left) which has meanwhile been transferred to Scoot: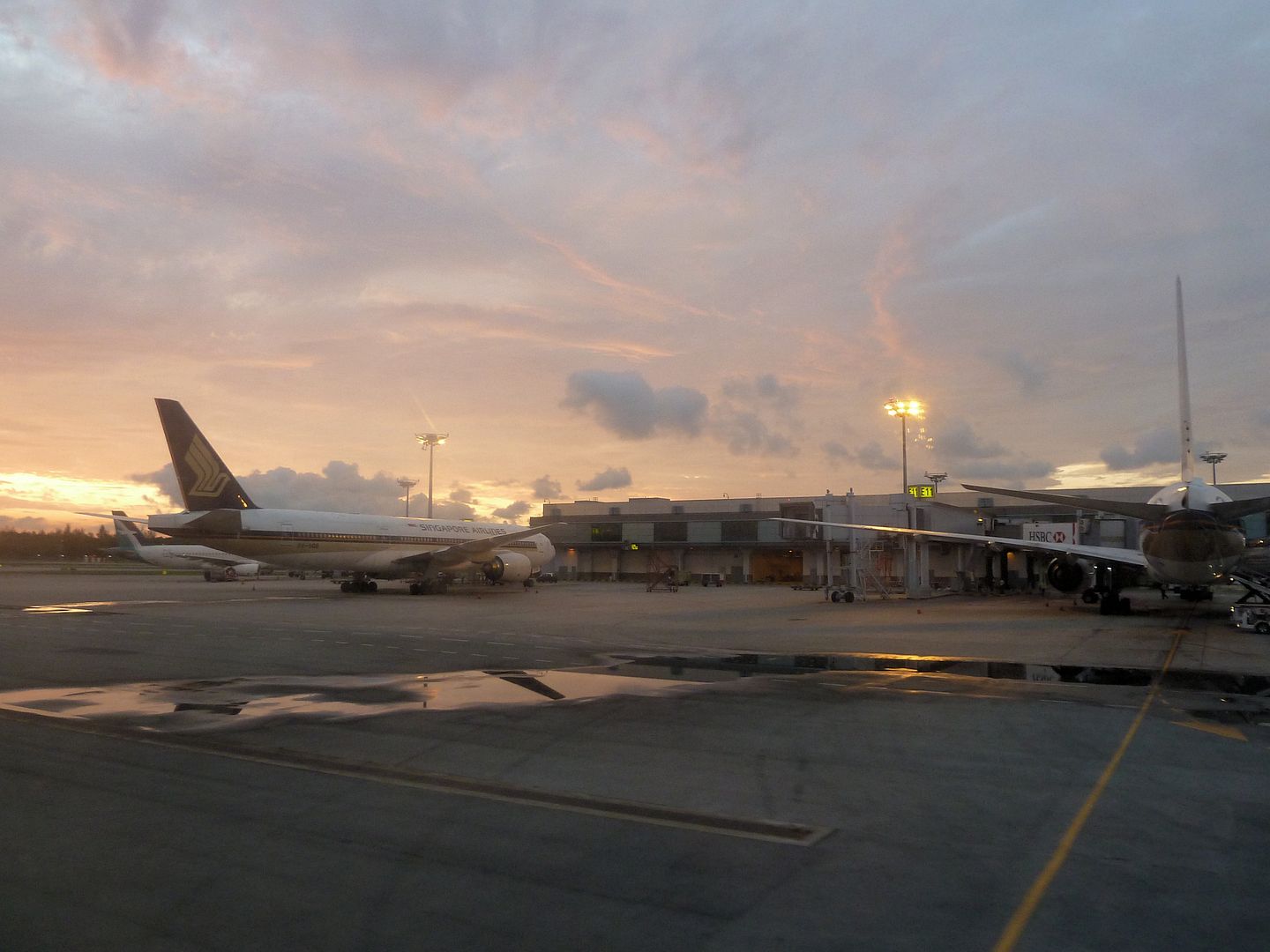 We taxied onto runway 20C without stopping...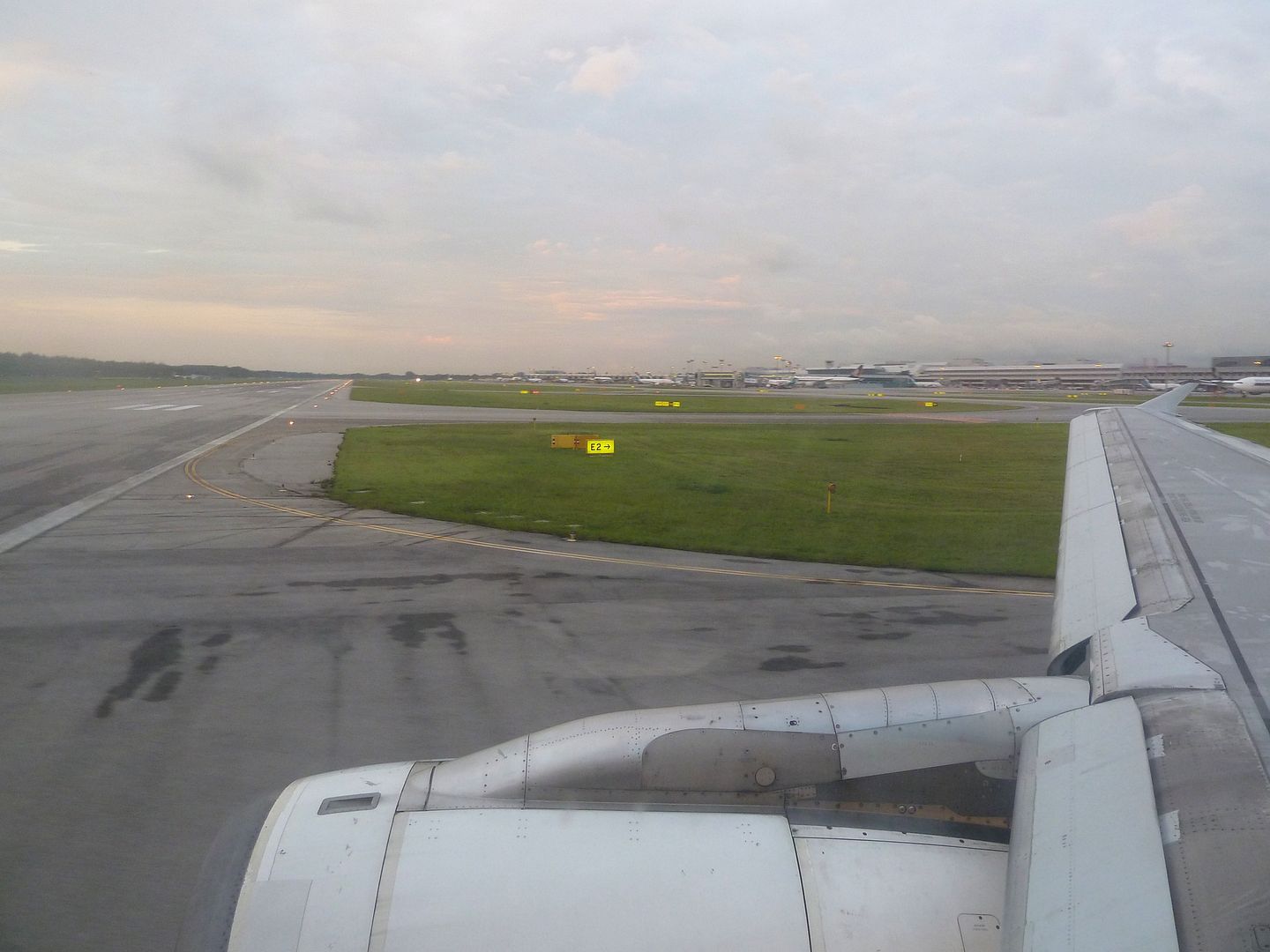 ...and lifted off after a powerful takeoff roll. The former Budget Terminal and a stored Jett8 747-200F on the left:
The
Tanah Merah Country Club's
golf course:
Passing the coastline: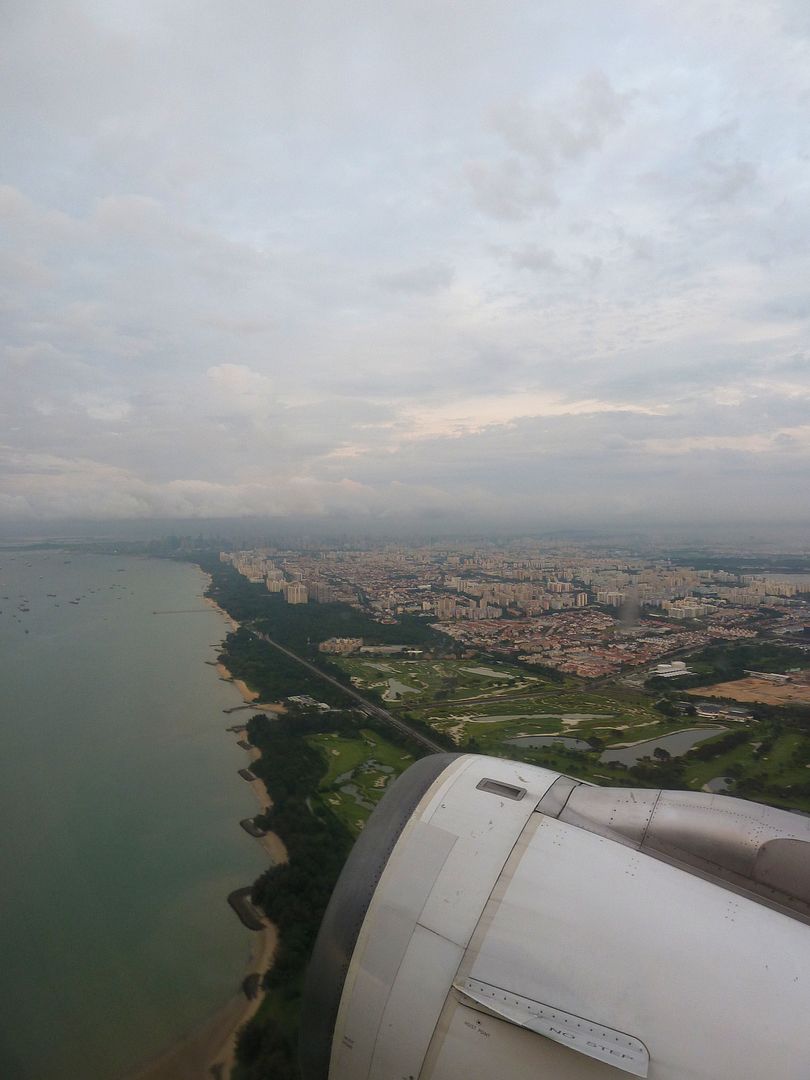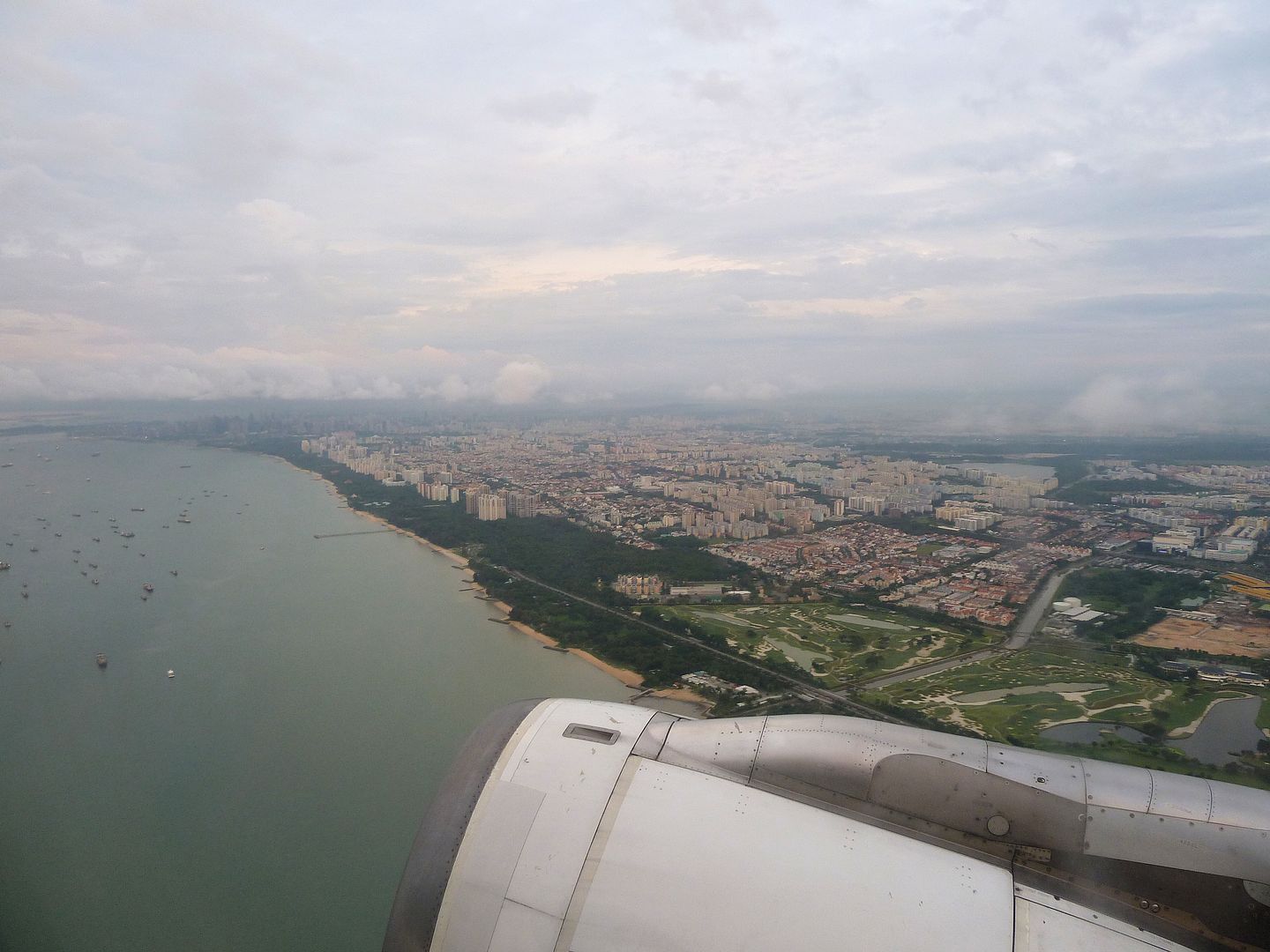 Ships everywhere: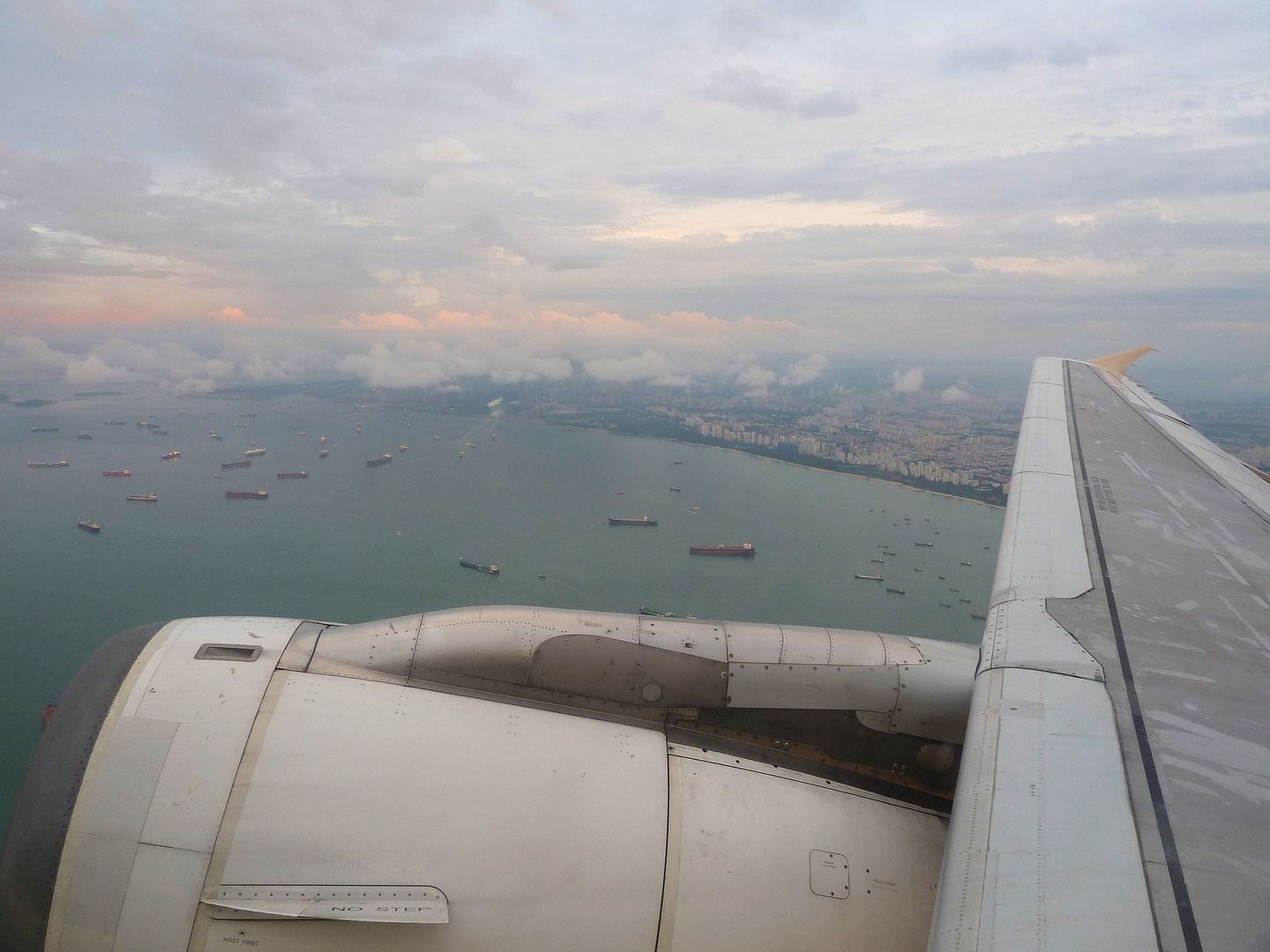 Bright sunlight ahead...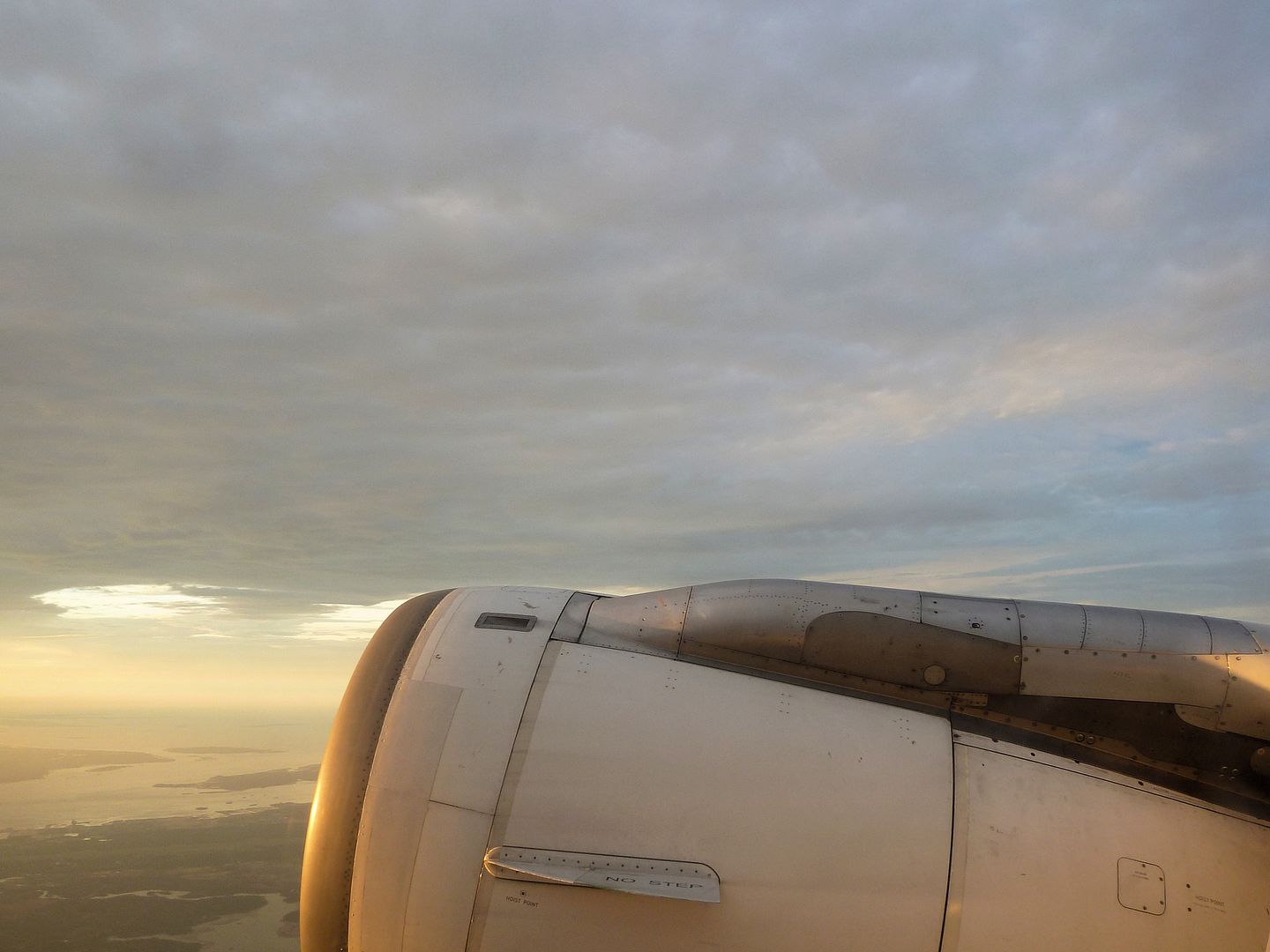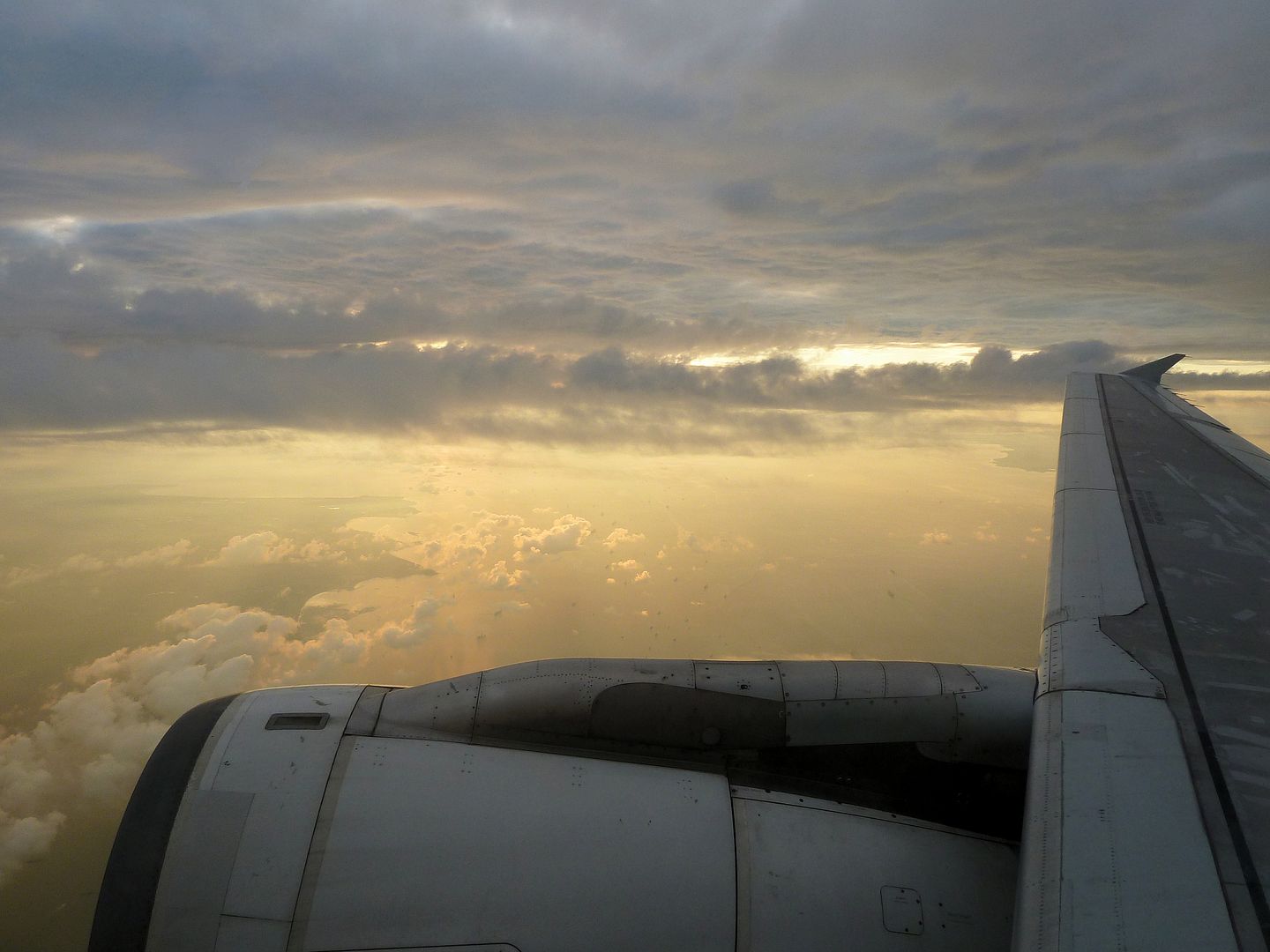 What a beautiful start to the day: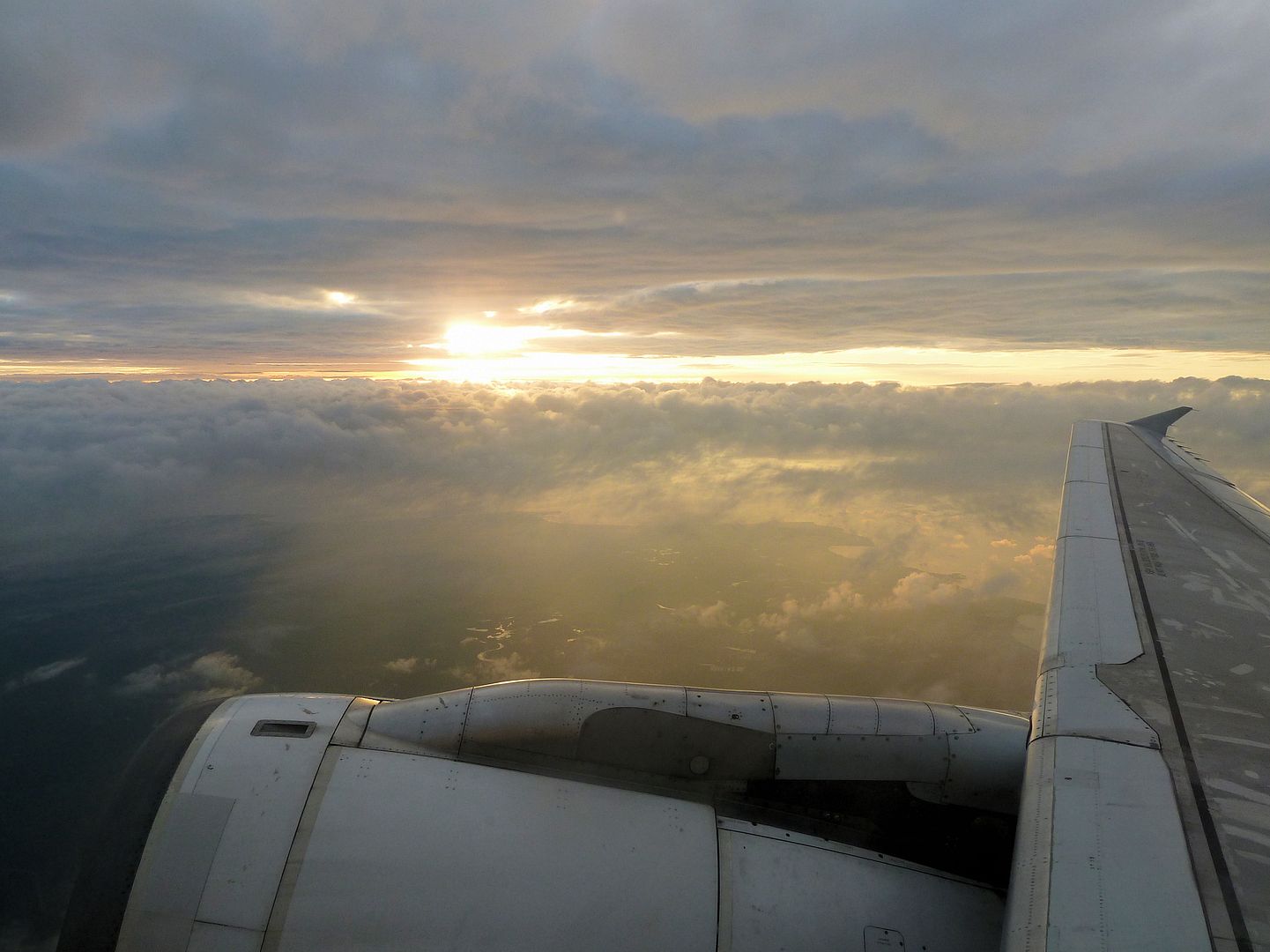 Breakfast was served 30 minutes after takeoff. Omelette or chicken noodles? I opted for the former and got a nice tray: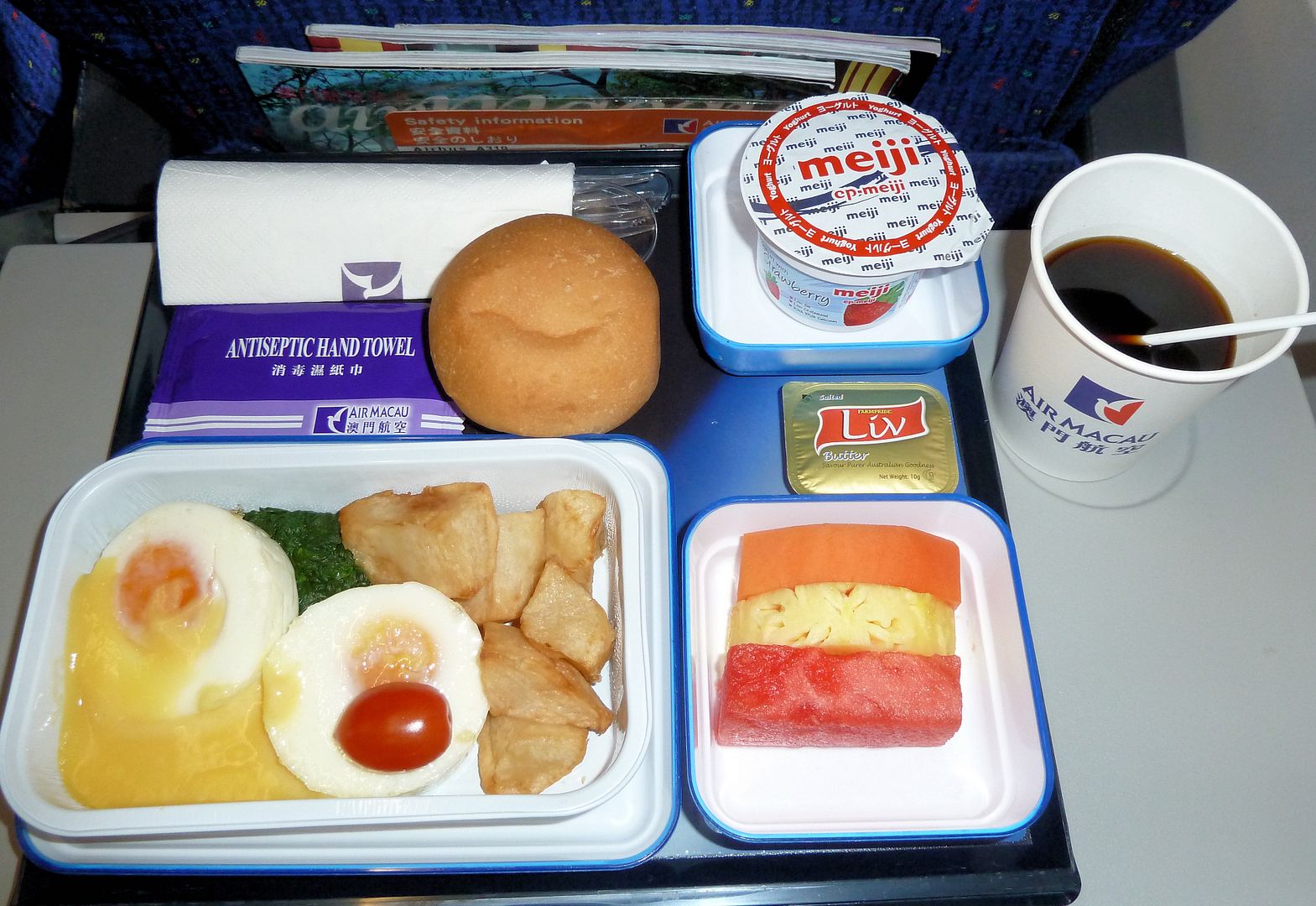 Everything tasted very good and even the coffee was okay - I was really impressed by Air Macau's breakfast service.
After trays had been re-collected, the captain - most likely an American - made a cheerful announcement and gave some flight information.
"I hope you enjoy the service!"
, he said at the end.
Now it was time to have a look at the seat pocket content. Inflight and travel magazine:
A bold, new look - fleetwide cabin refurbishment to be completed in 2014: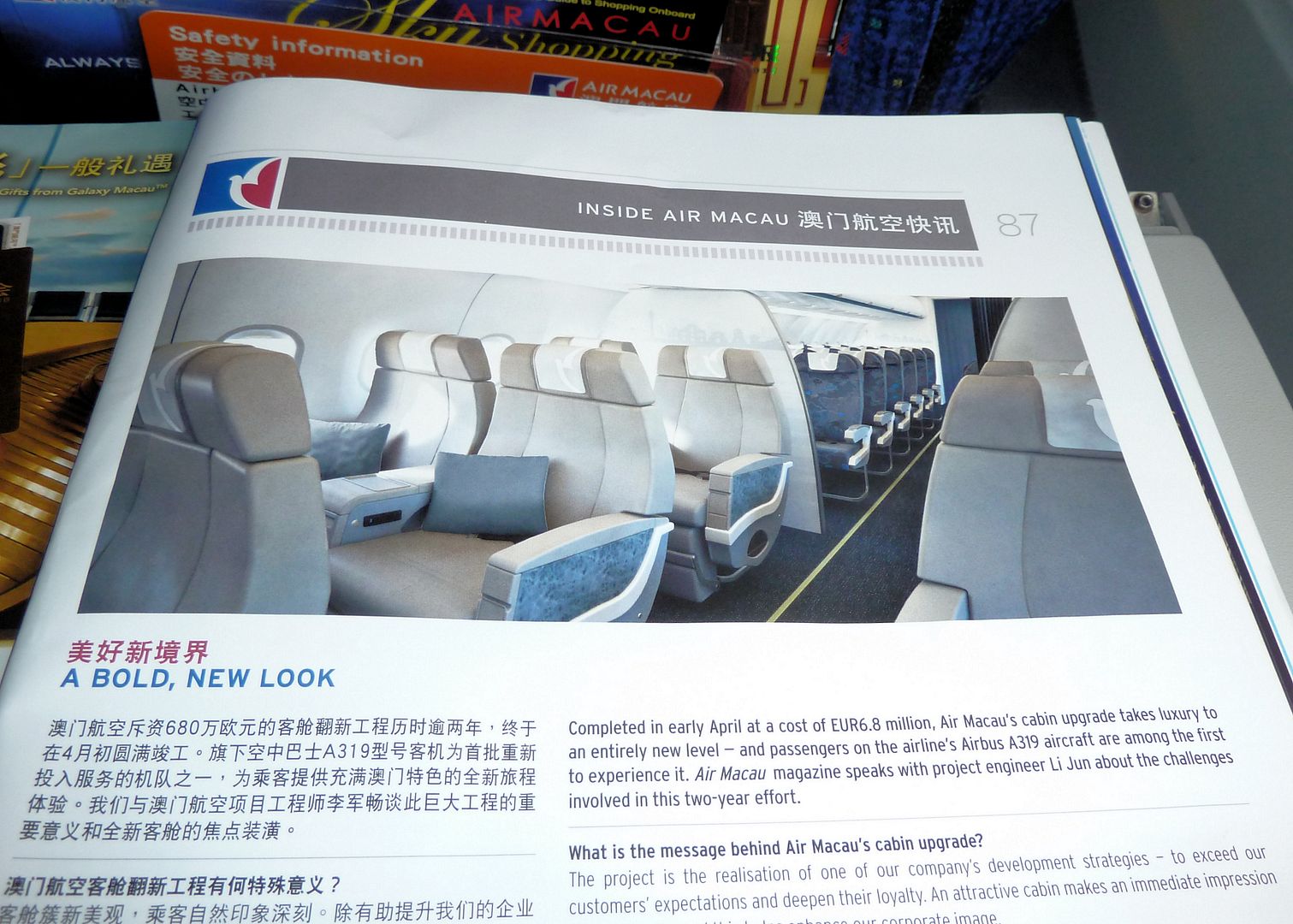 MFM-SIN
is Air Macau's second longest sector:
Shopping guide and safety card: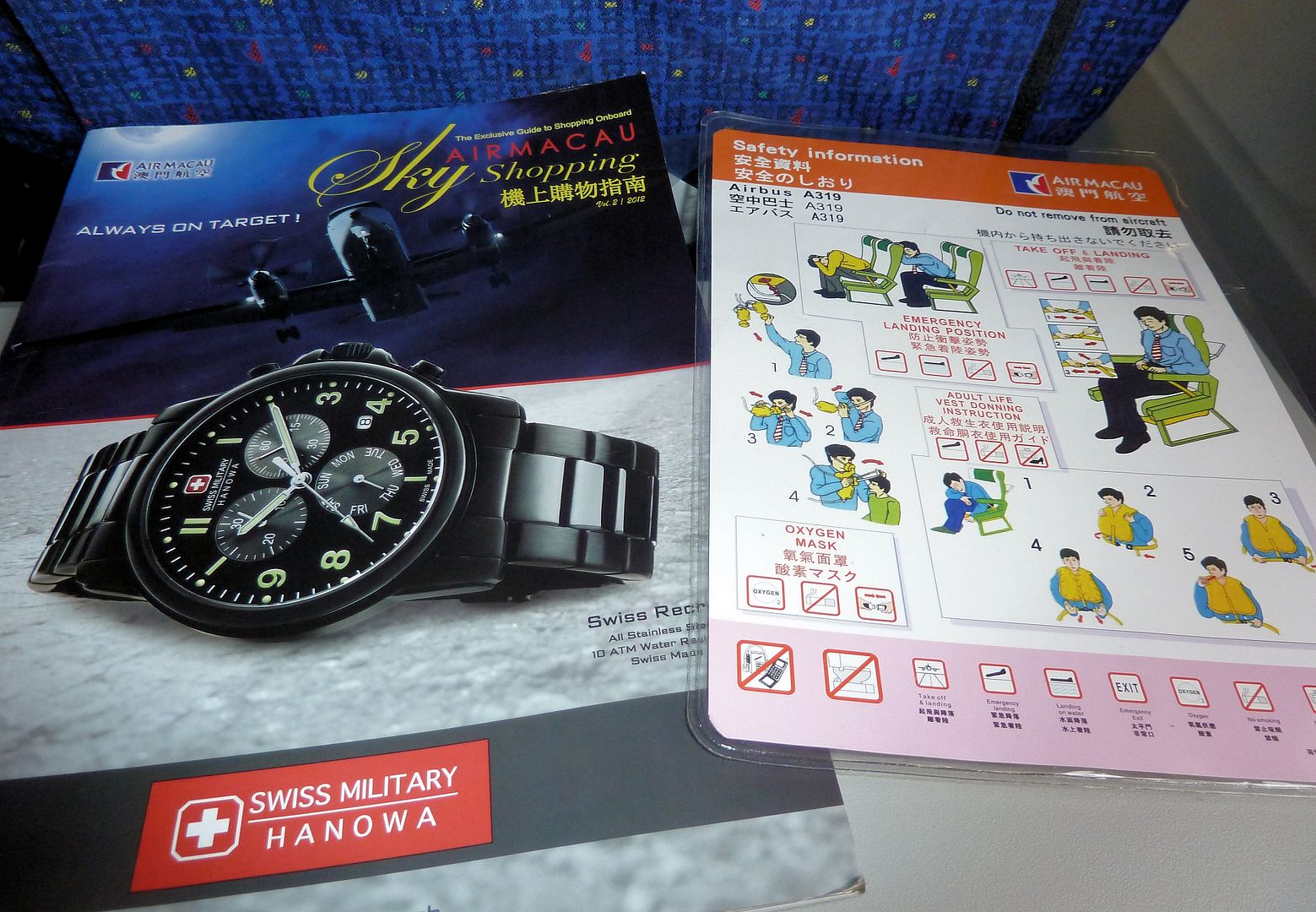 Since Air Macau had positively surprised me (apart from the dirty seat frame and missing soap in a lavatory), I decided to take part in a survey: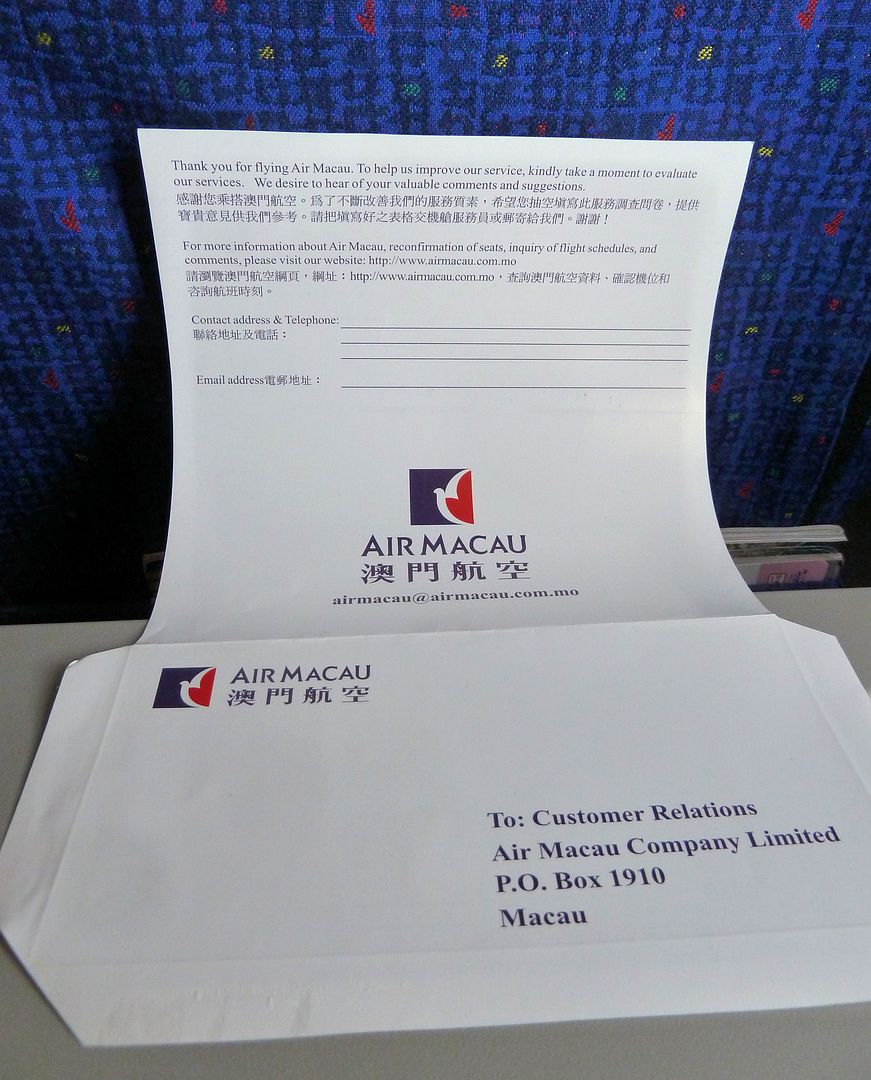 The compulsory cabin shot:
Water was offered again about 30 minutes before landing. What I didn't like at all at that point of time were first signs of a throat infection...
Nice cloud formations during descent:
Small islands...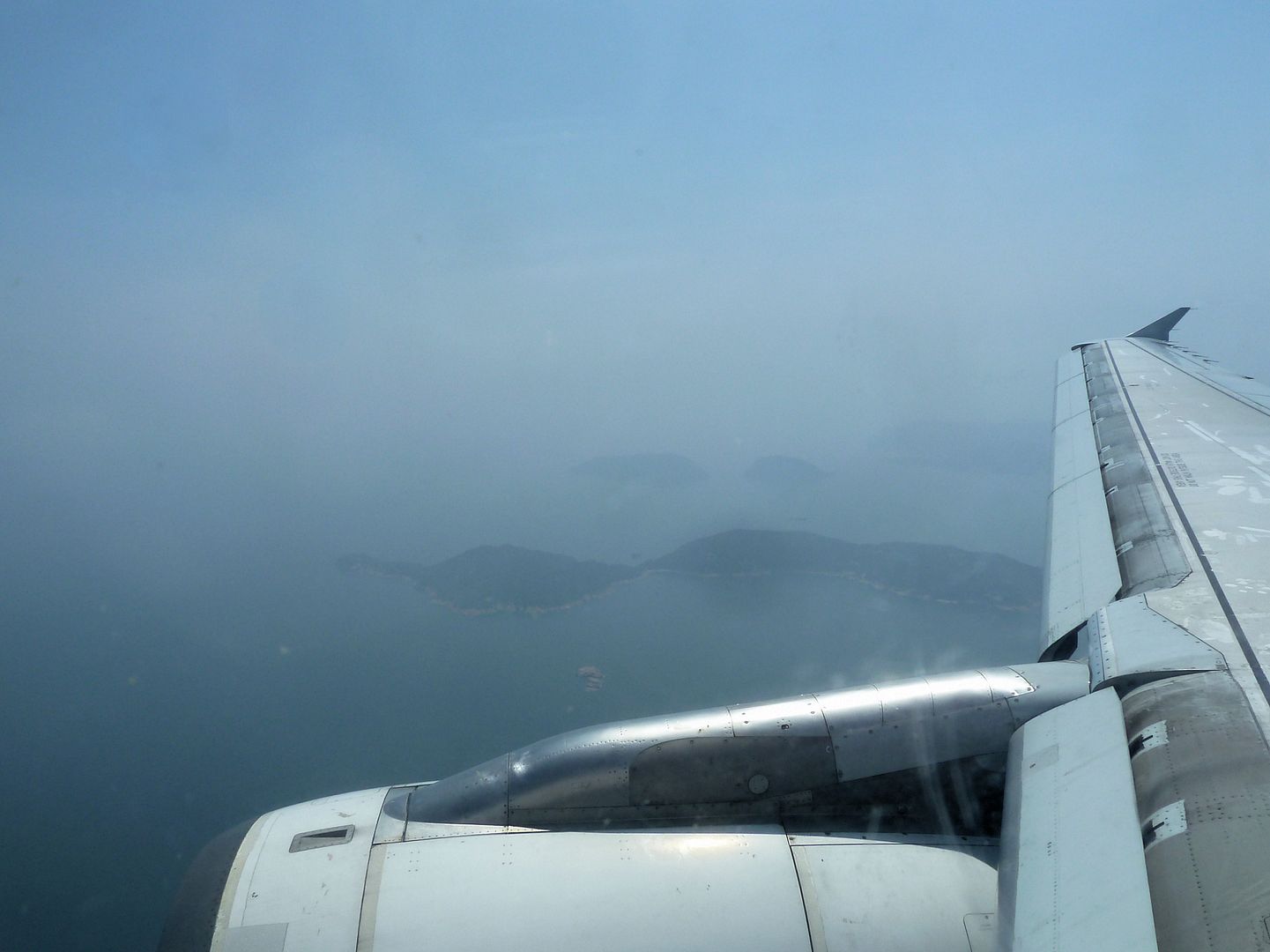 ...ships...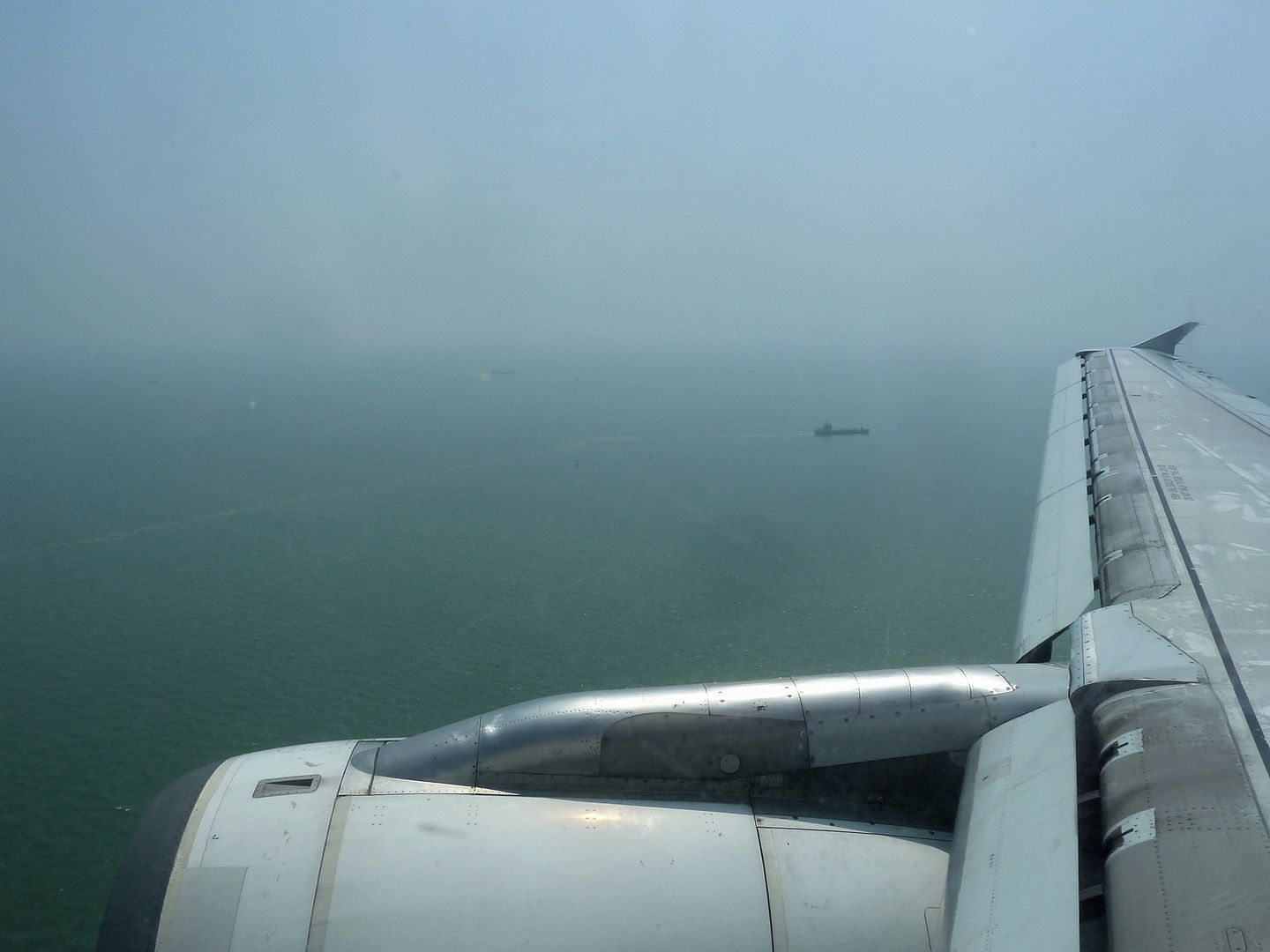 ...and a runway which we touched after flying time of 3 hours and 32 minutes: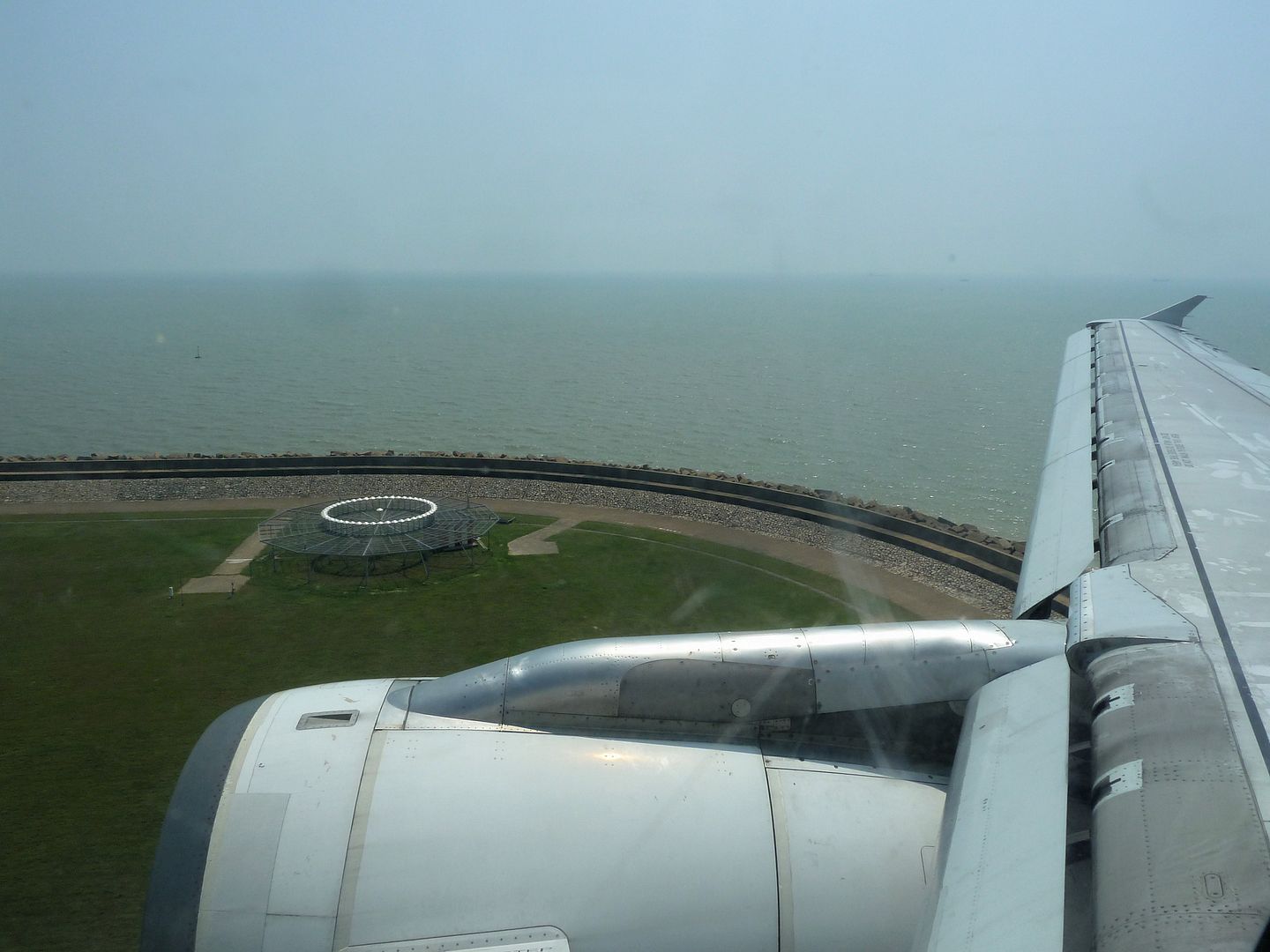 Lots of construction work going on:
Macau Airport gets a new ferry terminal:
EVA Air also sends A330-200s to Macau: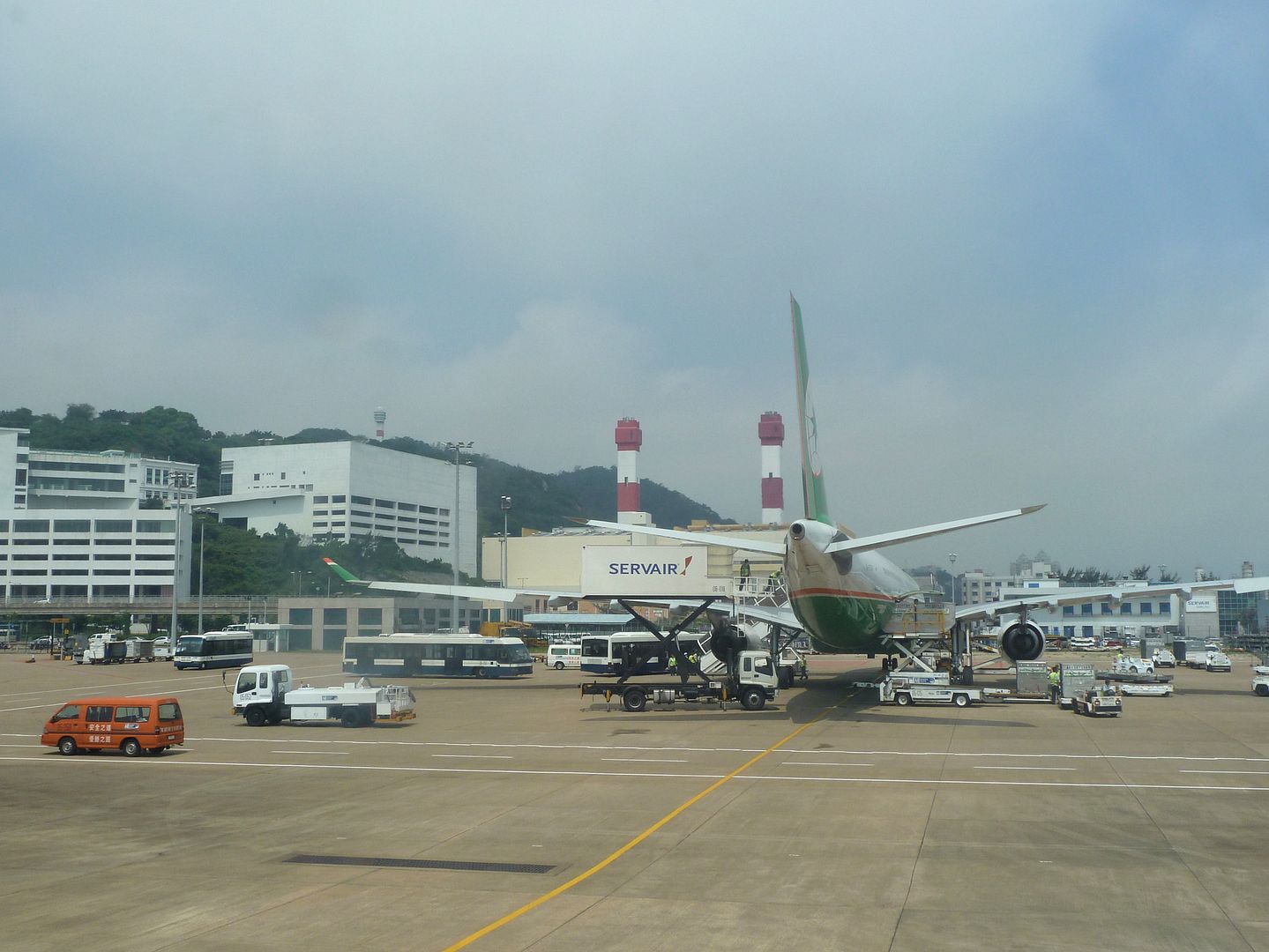 The
Golden Crown China Hotel
on the left, perfect for transit passengers:
AirAsia and TransAsia A320s: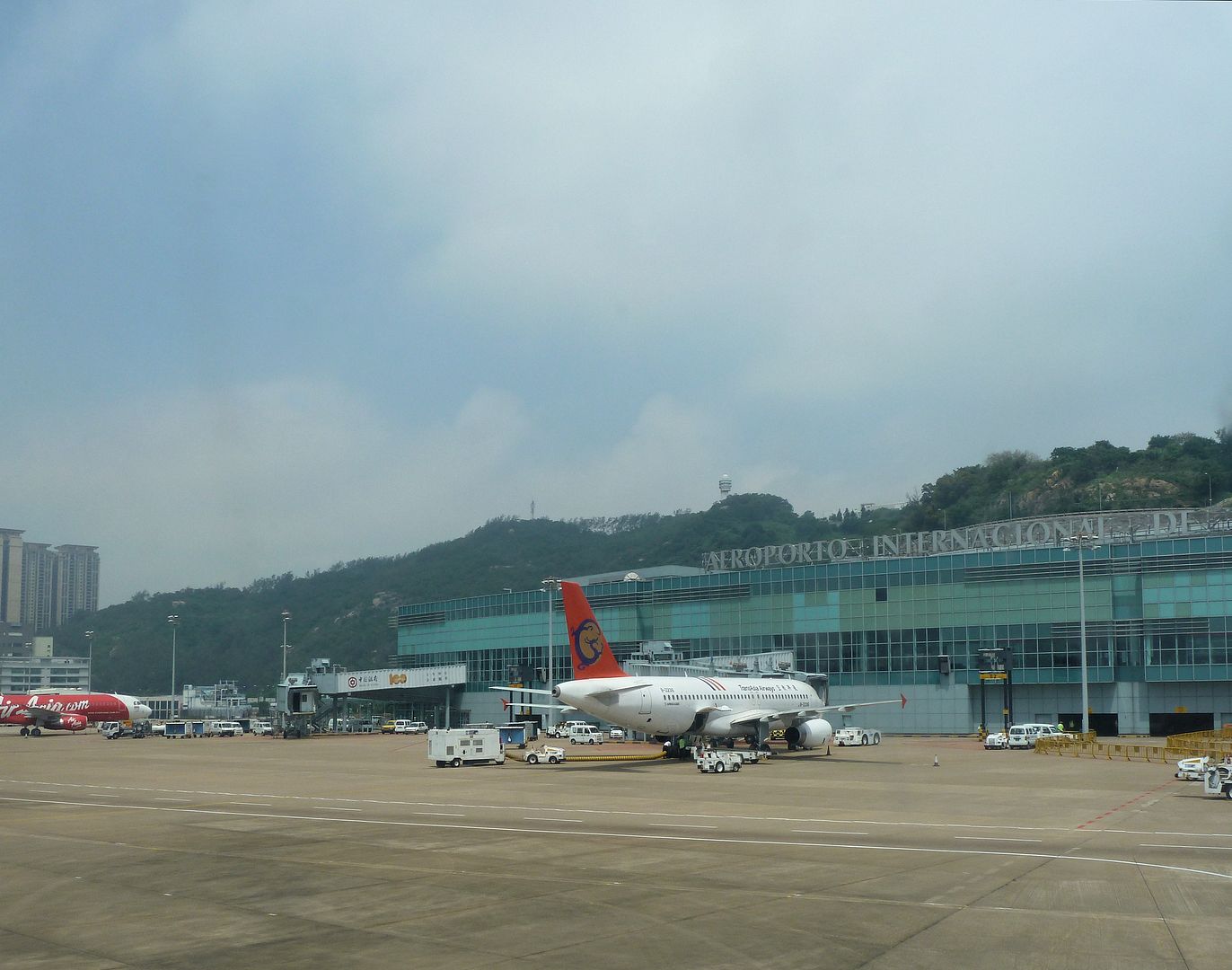 And there's Air Macau A321-200 B-MAJ which still wears the
East Asia Games 2005
paint scheme:
Shortly after the plane had reached its final parking position, I queued up at immigration and it took only a few minutes until I got the Macau passport stamp. I couldn't find a landside spotting spot and wasn't in the mood for a short visit to the city, so I had to kill the remaining time otherwise. Short look outside: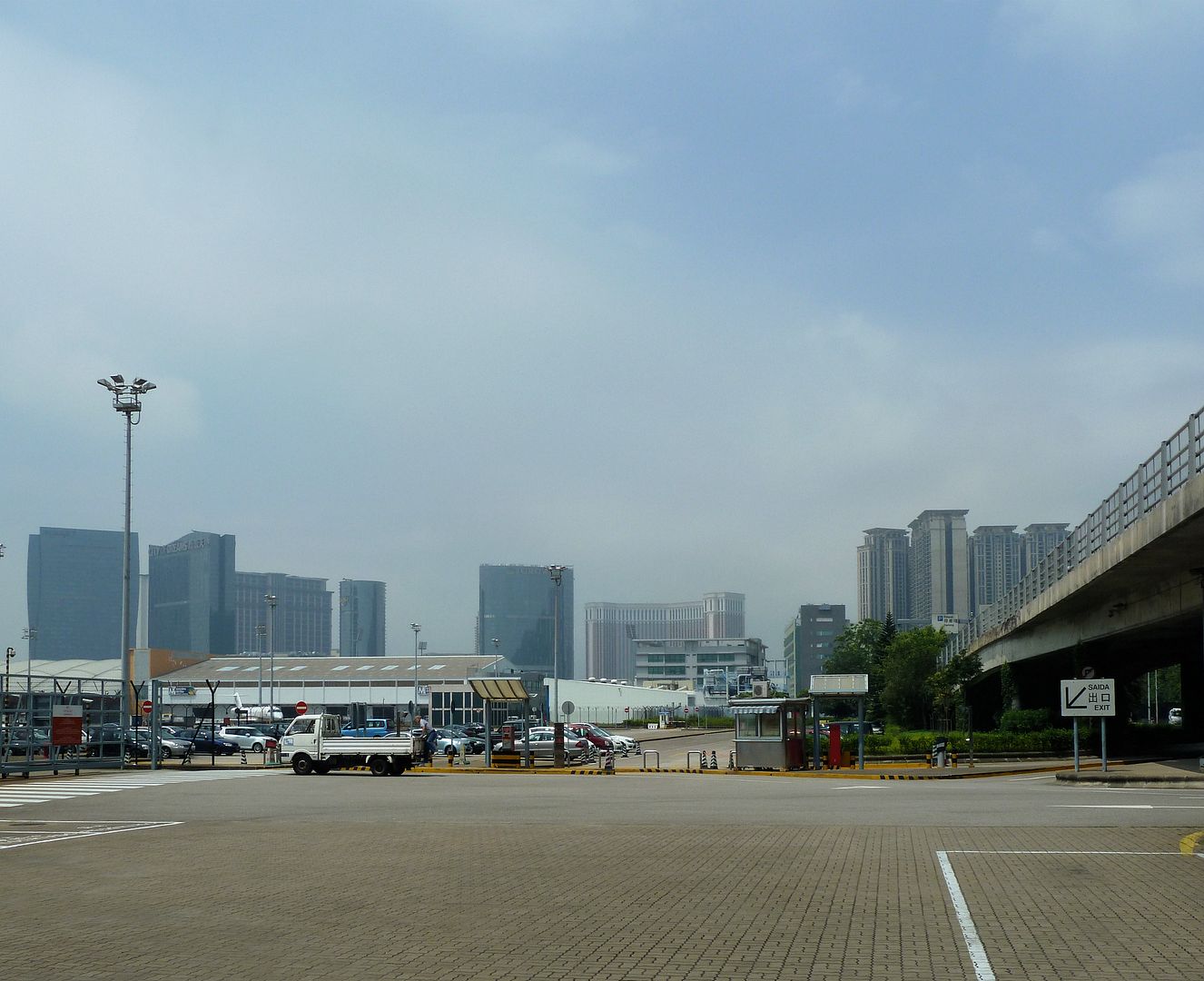 The airport's main hall: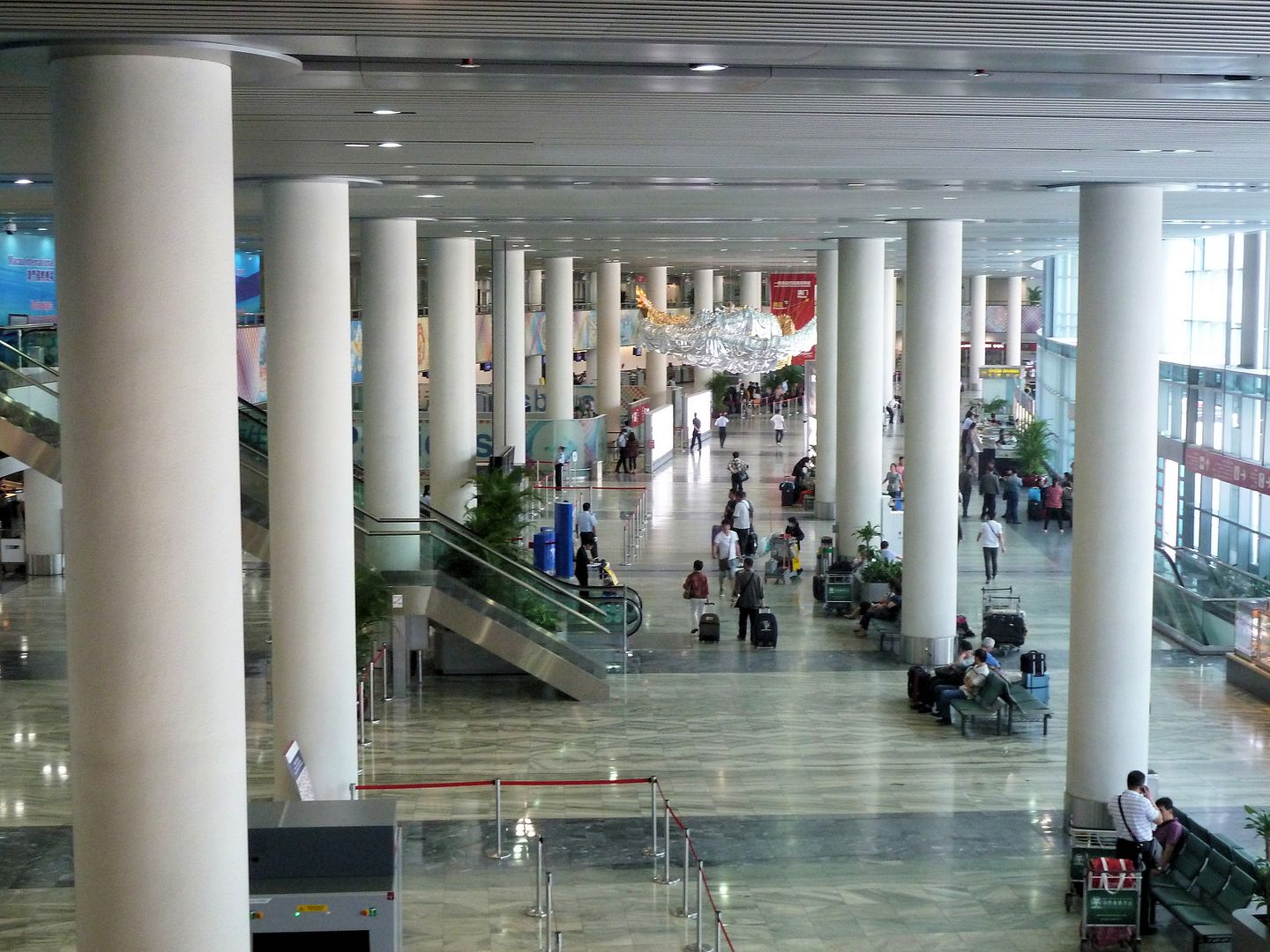 [Edited 2012-12-10 10:53:26]