I have long enjoyed A.net but this is my first trip report. My first couple attempts didn't work so well, but hopefully I've figured out the bugs. I appreciate your patience with my first TR.
After living in beautiful Tallinn for a few years, my job shifted back to the States this August. So it was with a heavy heart that I treated myself to a business class return to the U.S. I chose the TLL-OSL-EWR routing on Estonian Air and SAS primarily for price and timing, but it came with the added bonus of transferring in OSL - one of the few airports in the region I had not visited.
The flights were as follows:
Friday, August 03
TLL-OSL: OV 133, 0750-0830, 1:40 duration, EMB 170, Seat 1A
OSL-EWR: SK 907, 1105-1310, 8:05 duration, A330-300, Seat 3E
Oh, and I had a beautiful travelling companion, although she would not be in the cabin with me: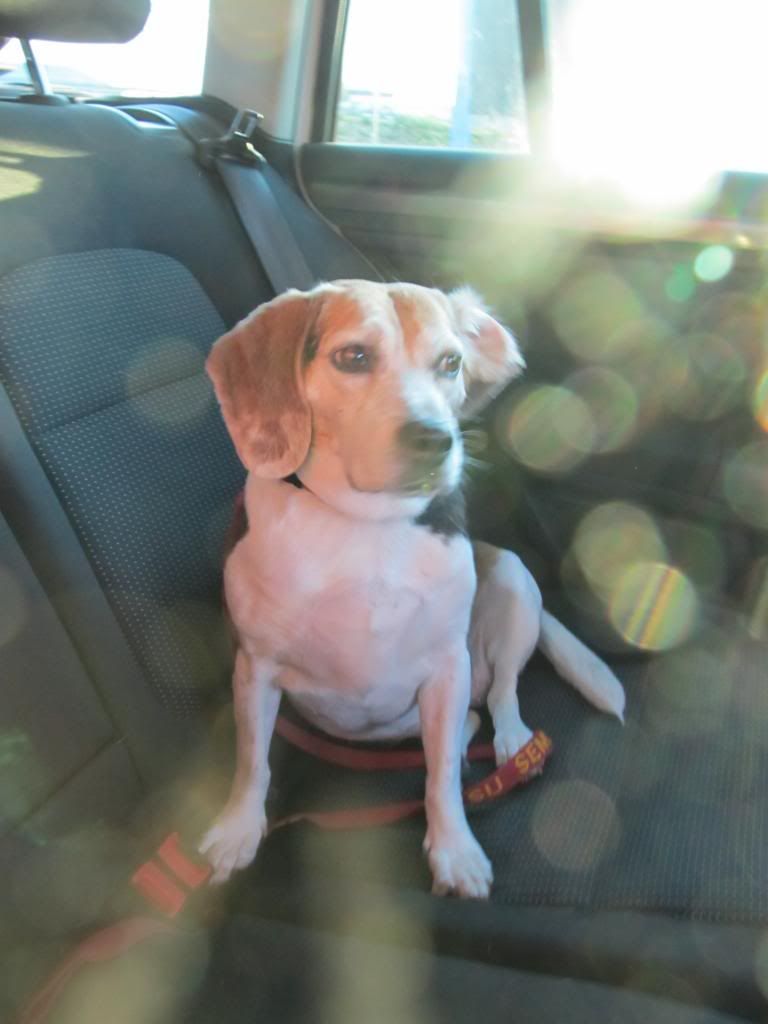 At this time of day Tallinn's tiny airport is only 10 minutes from downtown. The check-in was very smooth and the airport staff were all very sweet with my dog, although we did wait 15-20 minutes for airport security to come inspect her and her crate. After saying "nägemist" to my dog, I quickly made it through security and into Tallinn's tiny, but pretty terminal.
From the terminal I spotted one of Estonian Air's unwanted CRJ900s (ES-ACC). And I caught an OV line-up including a Saab 340 (ES-A5M), CRJ900 (ES-ACB) and B735 (ES-ABL), and a Danish Air Transport ATR42 (LY-ARI).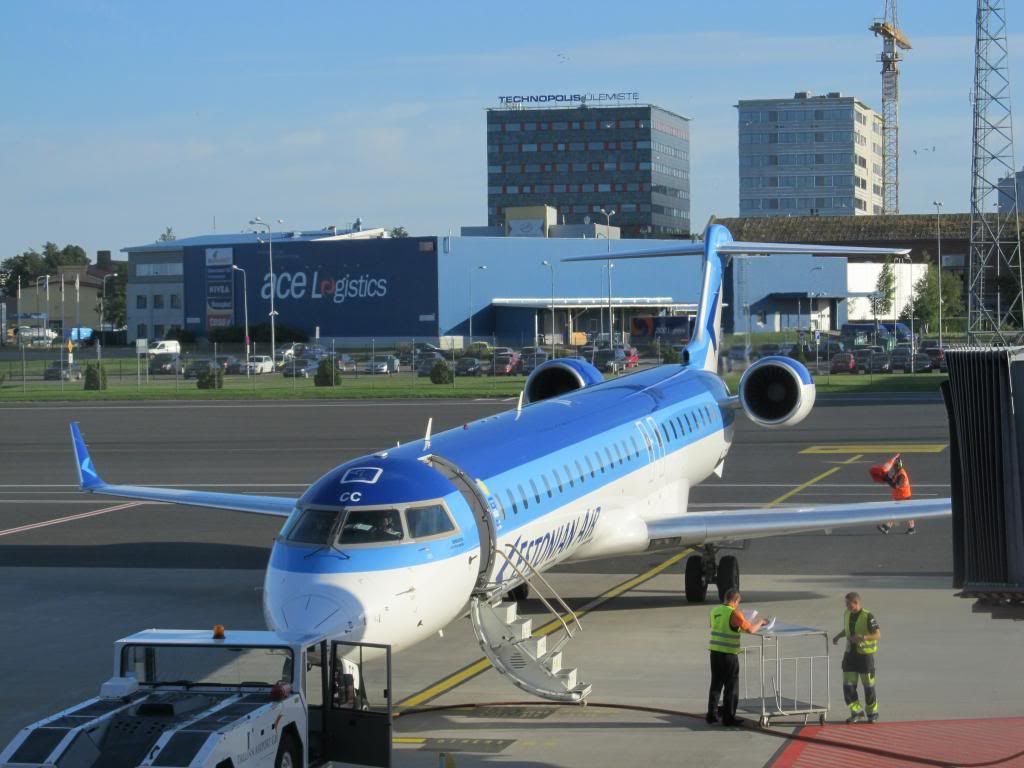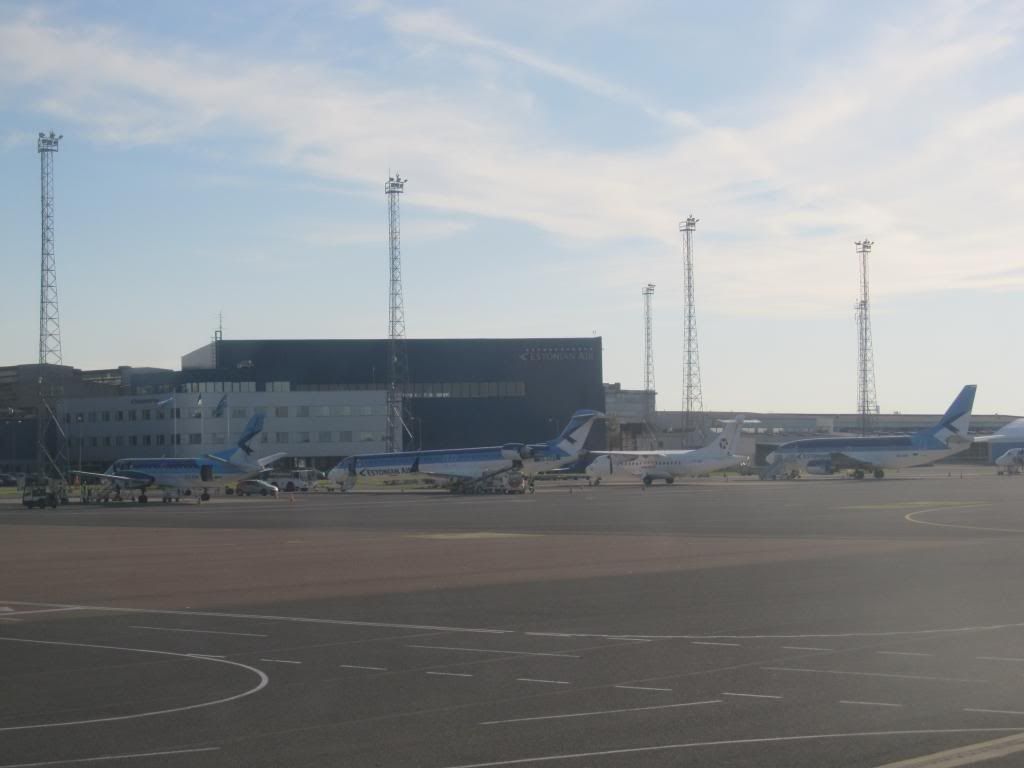 Then I headed for the business class lounge, aka: The Linda Lounge. At this hour it was nearly deserted and its offerings were very basic. However I made myself an eye-opener and grabbed a paper to wait for the flight.
Boarding the EMB170 was quick and painless. Here's the obligatory legroom shot. Not too bad for OV. Note legroom is very important to me since, at 2m/6'7", I am usually pretty cramped on planes. I prefer OV's E-jets over the CRJs (even though they are older and a little worn) largely because I can almost stand up straight in the aisles of the E-jets.
After take-off I got a few final shots of the beautiful city. Hopefully it won't be too long before I return.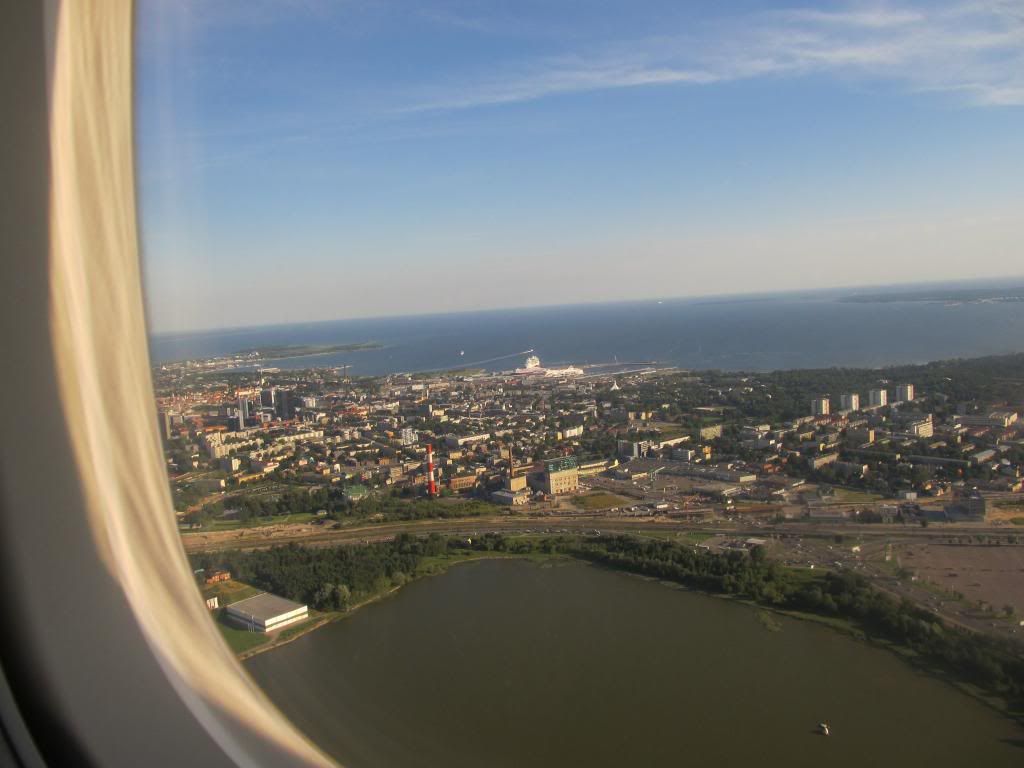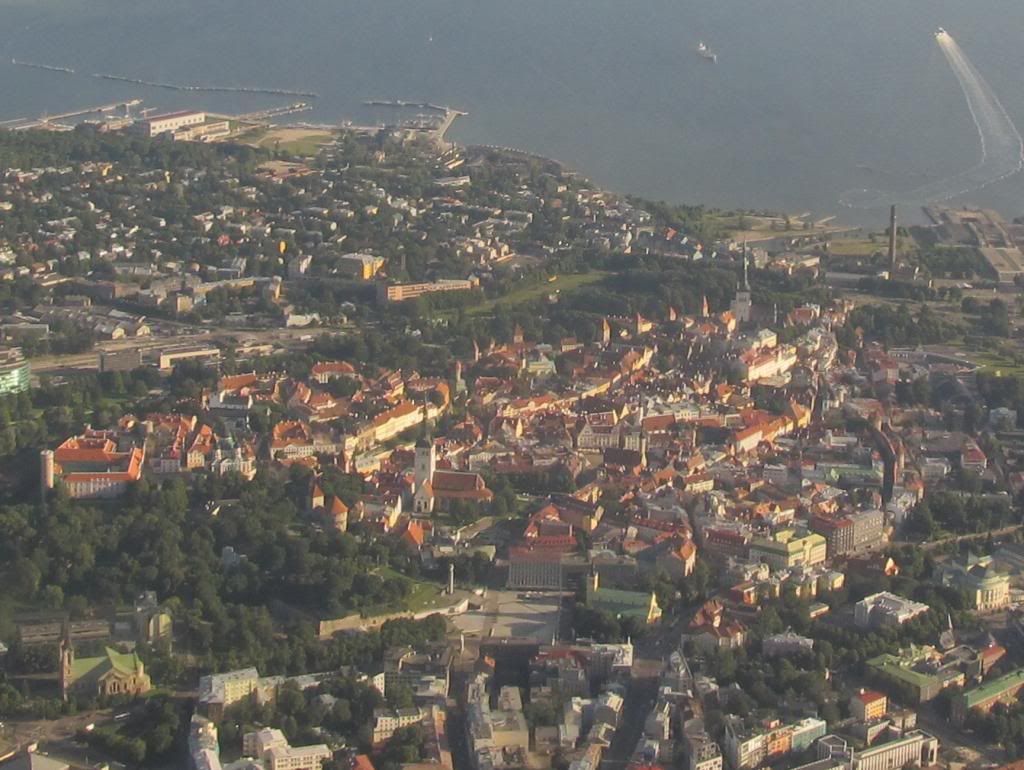 One thing I love about Estonian Air is that they serve warm muffins on their flights. Occasionally they're dry but at least they always make the plane smell nice. Unfortunately, the meals are usually not so good. This one was an attempt at a fancy bruschetta with pickled pears. It was not good and, perhaps I'm picky, but I don't like how they serve premium-class meals with cling wrap still on them. At least the service was friendly – as always.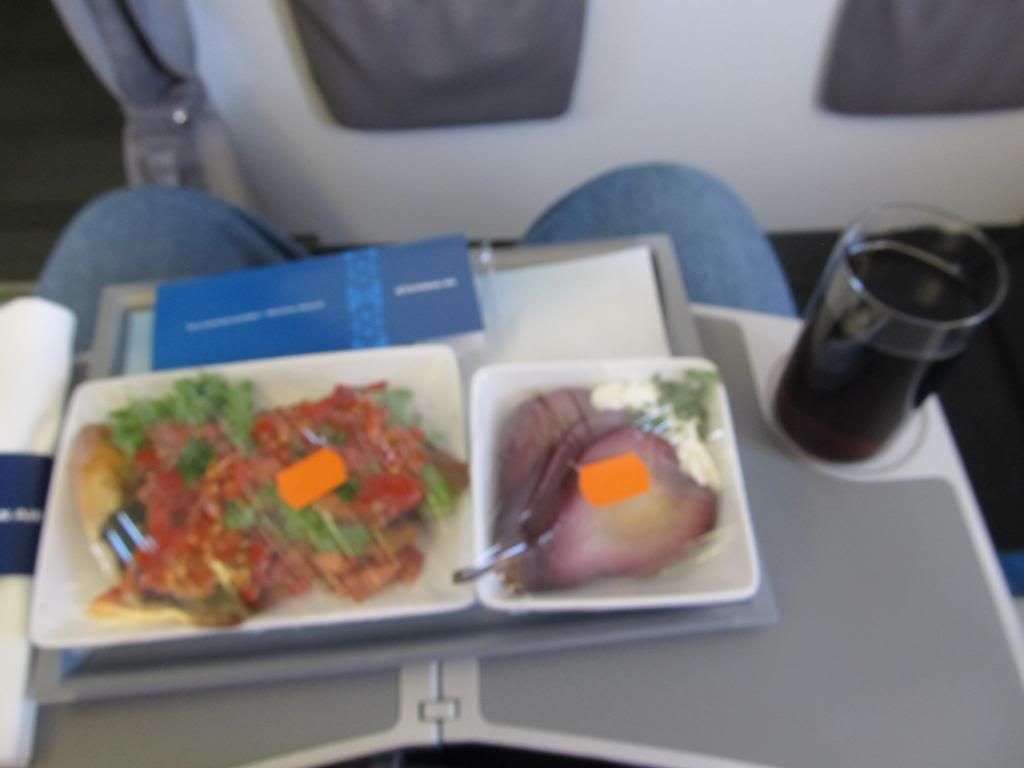 We landed on time in a rainy Oslo so I only got one decent spotting photo while taxiing – a Thai 772:
Goodbye Estonian Air. Thanks for the memories!
I had to check in with the transfer desk to prove I had paid the extra charges for my dog, but everything went smoothly. The helpful agent even placed a call to check in on her and I received an update from the biz lounge staff an hour or so later. The lounge was very comfortable with good wifi but a slim food selection. (Sorry I forgot to take pics.)
The gate set-up for the OSL-EWR flight was bizarre. I headed to the gate a few minutes before scheduled boarding time to find a huge line to get to the gate. There wasn't a premium line and it took about 30 mins to get to the front, where I was asked a couple of bizarre questions and had my boarding pass scanned. The gate area was very small and there were no seats left, but only a couple minutes later an agent opened the door to the jetway and people slowly started to file down to the plane. There wasn't any boarding announcement, at least while I was still in the terminal.
On board I was greeted warmly by a flight attendant. They were kind and helpful throughout the flight, and they replenished my welcome drink a couple times
My seat for the next 8 hours and a look around:
Here are a couple legroom shots. It was pretty good. The seats don't go all the way flat, the length of the bed is a few inches too short for me and the well for your feet is a bit small for my large feet, but I was still able to get a couple hours sleep on this flight and slept pretty well on previous longer flights (CPH-BKK) in the same type of seat.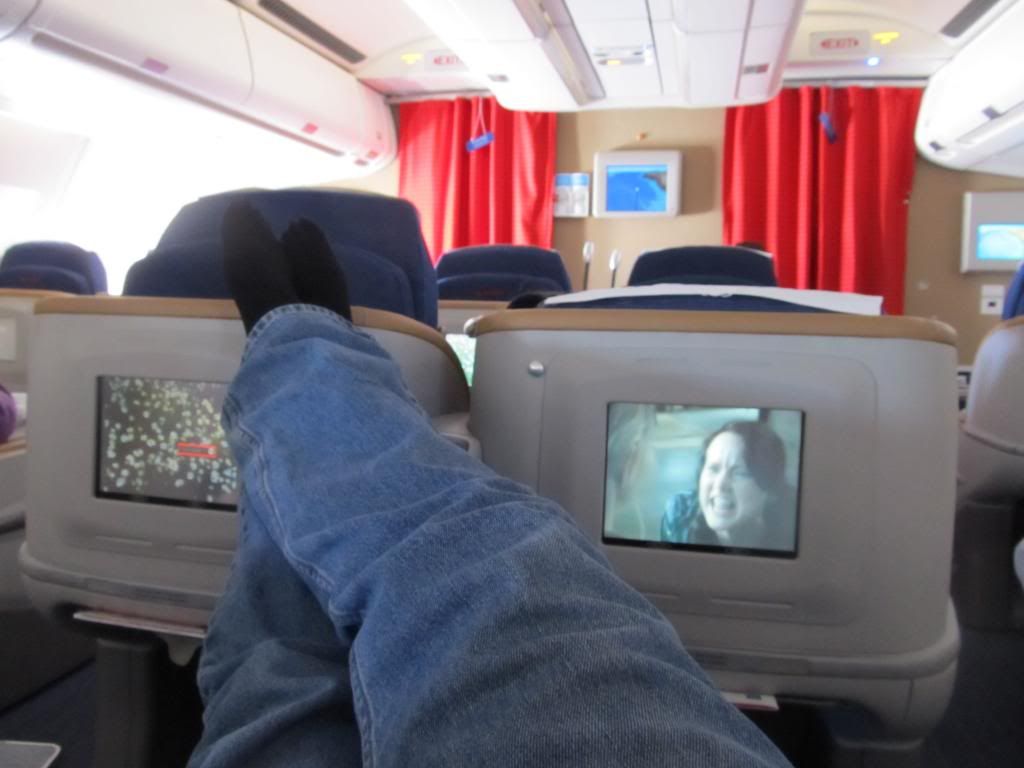 The cocktail & snack, appetizer, meal (roasted turkey) and dessert were all surprisingly good: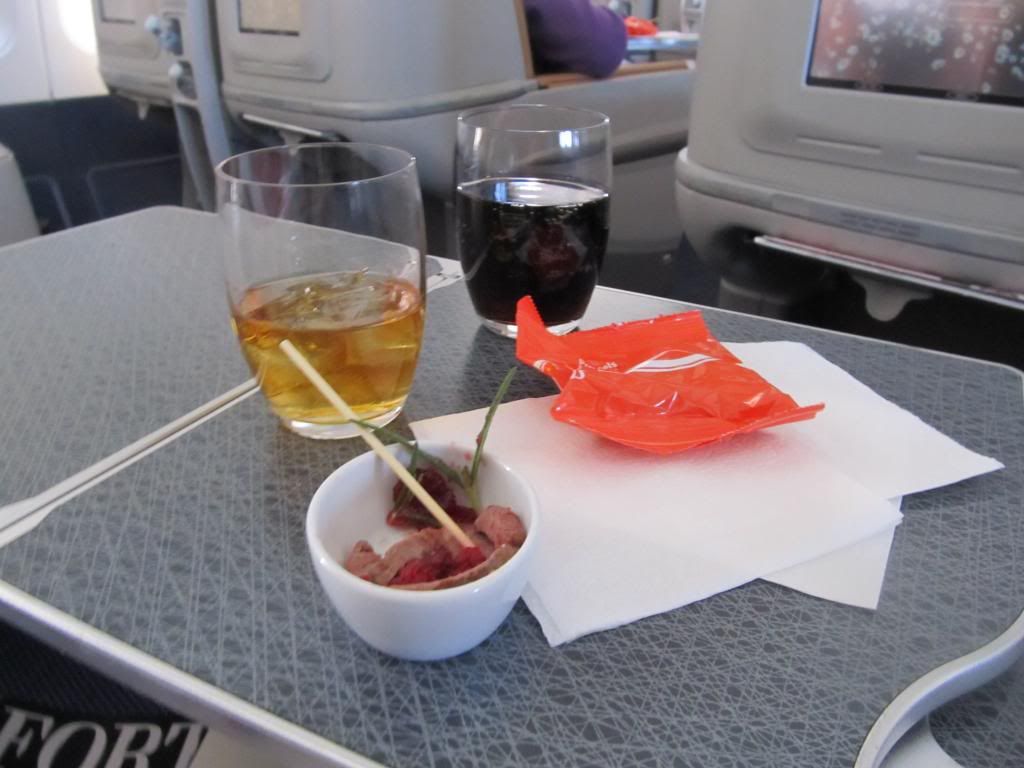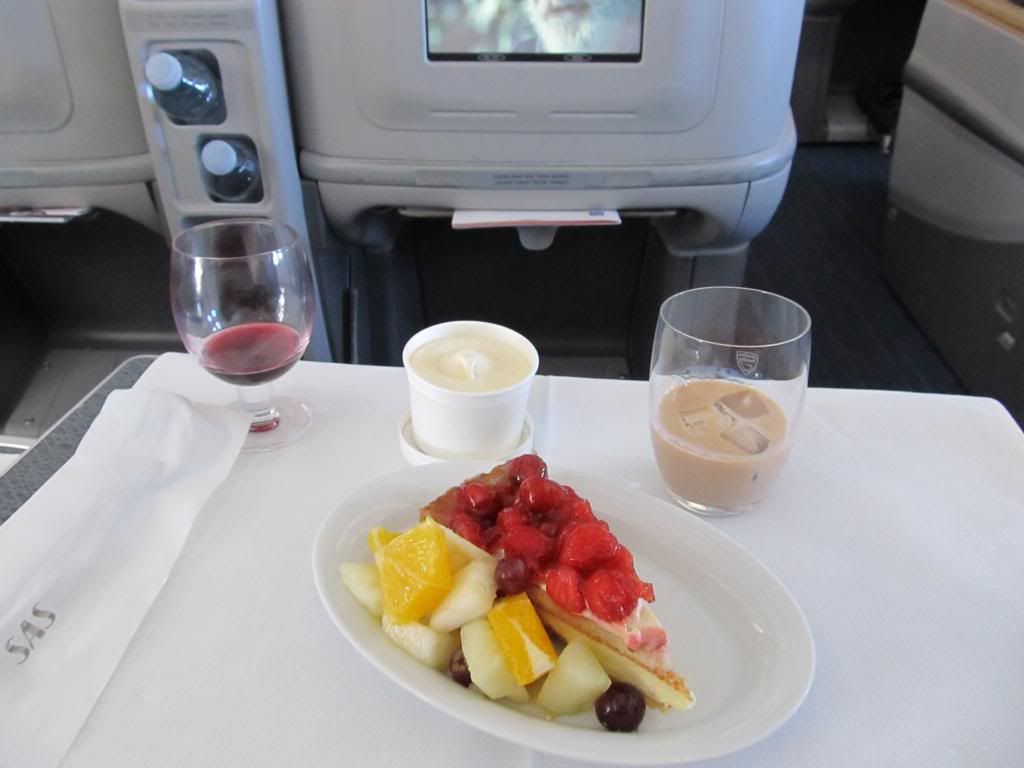 A look around the biz class cabin, small snack bar and lav. All were nice and clean but nothing special.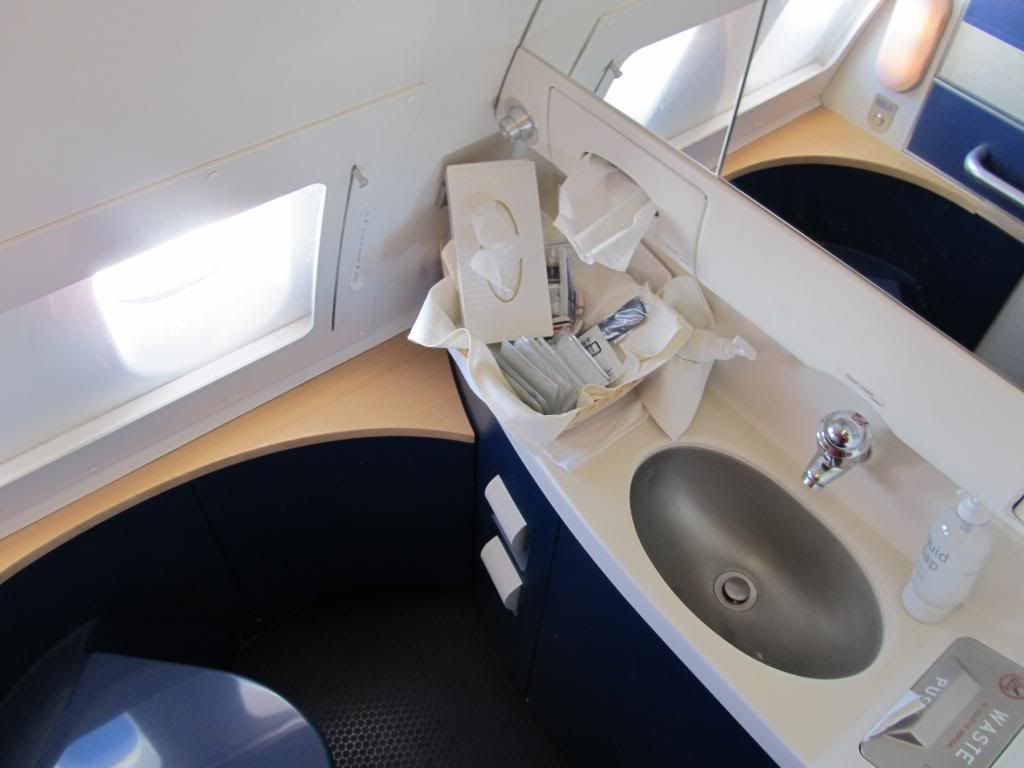 About 90 minutes before landing they served the second meal, an interesting open-faced sandwich that tasted better than it looked:
Since I was seated in the middle I couldn't get any shots on landing, however we quickly deplaned and made it through passport control in only 15 minutes or so. Unfortunately I waited for over 30-45 minutes for them to bring the dog out (she was fine; exhausted, but fine). Then we had to wait for 45 minutes to clear the customs inspectors. Oh well. The only thing that mattered was we made it home safely. All in all it was a good trip.