Frontier Trip Report December 2012:
Just decide to write a mini trip report on Frontier Airlines, an admirable regional airline based in Denver! This trip report fits nicely with American Airlines' recent revamp of its way of selling tickets online, and Frontier Airlines is one of the pioneer of this "bundle" fare product, in which Frontier sells exclusively through its website. What I like about Frontier bundles is that the prices are reasonable and its website clearly describes what you will get if you purchase one of these three fare bundles – Basic, Classic, and Classic Plus. After briefing reading American Airlines' new fare bundles, I have a feeling that Frontier inspires American Airlines' new fare bundles.
So why do I decide to fly Frontier? Well I have already achieved all the elite statues of the programs that I am loyal to, and yes Delta allows me to roll over the leftover elite qualifying miles for 2014. However I need a little bit of flexibility, as I may be able to head off to the city a few days later, which will save me a few nights in accommodation and much needed time to be with my family in California. So I decide to check out Frontier again! I have flown Frontier Airlines years ago and was its Ascent member for one or two years. I also come across this nice "Classic Plus" bundle, which is fully refundable (but you have to pay fare differences if the new date of travel has a higher fare), allows two check-in bags (I am the courier for my family), access to stretch seating at booking (a "must"), free Direct TV, and one premium alcoholic/non-alcoholic beverage. I ended up changing and having to pay only extra thirty dollars and avoid a hefty change fee from the old AA and Delta. I most importantly have the flexibility to cancel this trip.
It has been a while since I have flown Frontier, which has gone through some management and strategic changes. It has gone further LCC in terms of cabin products and finally gets rid of the signature chocolate chip cookies inherited from Midwest Airlines. However, Frontier retains a nice BOB program (and having a warm food option is a plus), and still has a huge array of complimentary non-alcoholic beverages. On the positive side, it has expanded the stretch seating beyond only the bulkhead and exit rows, and allowed more access to comfortable seating. It has also retained the priority check-in/boarding/security access at major airports. The only disappointment is the lack of priority tags for Classic Plus passengers' luggage (but F9 might have cancelled this priority bag service anyway).
December 13, 2012
F9 404 LAX-DEN Lv1101 Arr1417 Airbus A319-100 N943FR "Cloe Deer Fawn"
I arrived at LAX two hours prior to arrival and the counters were rather empty, as the earlier Denver flight was in its final boarding stage and the new passengers had yet to arrive. Despite the empty counter, the flight went out almost completely full. The counters looked pretty typical with mainly kiosks and agents tagging bags. There was a priority check-in line. The agent was not overly friendly but she was efficient and the whole check-in process went well.
Terminal Six was the new home for Alaska Airlines, and handled flights from COPA, Delta, and United. The security area was redesigned but the queue issues remain. It was not terribly busy but TSA chose to only open four of the eight lanes, which resulted in lengthy wait for both priority lane and regular passenger lane. Yes my Classic Plus boarding pass was deemed eligible by the TSA line conductor. However, there was a red coat guy, who was incredibly rude and was barking orders to everyone. Despite red coats usually signify customer service representative, this red coat is an employee of the local security company, but he is definitely having a bad day and seems annoyed working with people. I am not impressed with the new Terminal Six experience.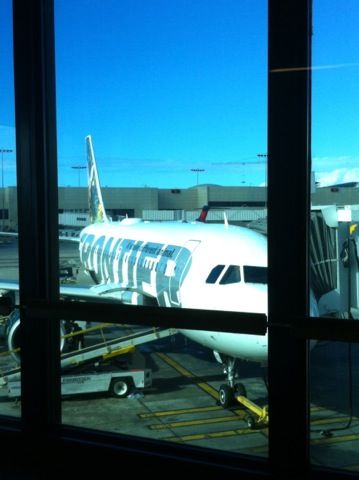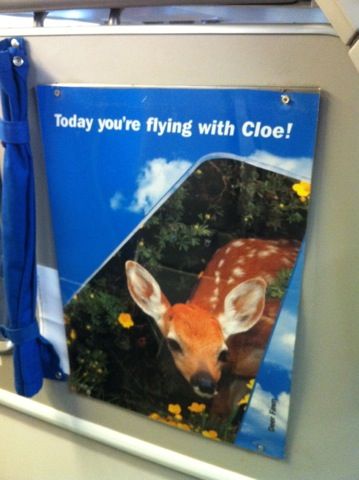 The inbound plane arrived early from Denver, and N943FR featuring Cloe, Deer Frawn, was in charge of this short flight. The turnaround time was quick and boarding began at 10:33am. As a Classic Plus passenger, you are allowed priority boarding/Zone 1. I managed to snap most of the cabin pictures at this time. The cabin looks a bit smarter than before, with green colored leather, instead of cloth seats, but the Personal TV remained the same size as before. The stretch-seating zone definitely features nice legroom, as you can tell from the legroom shot.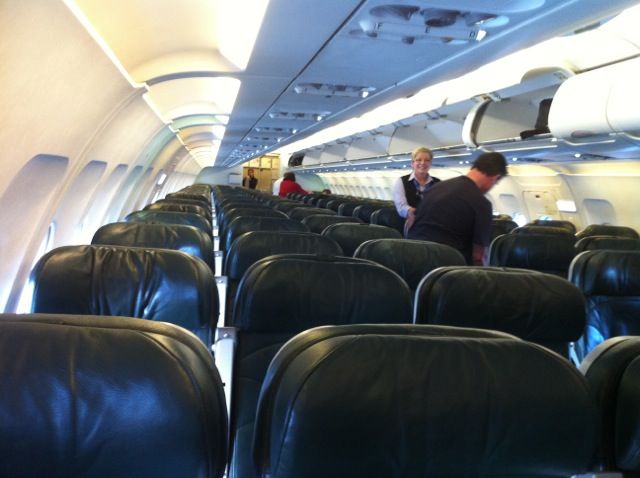 Bulkhead row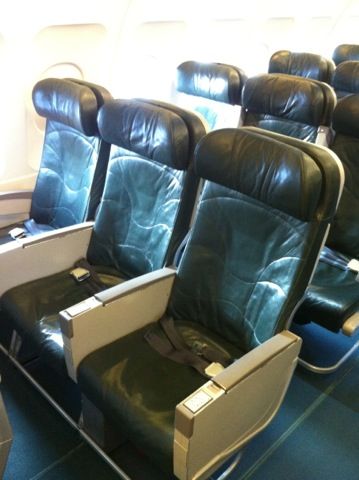 Stretched seating in forward cabin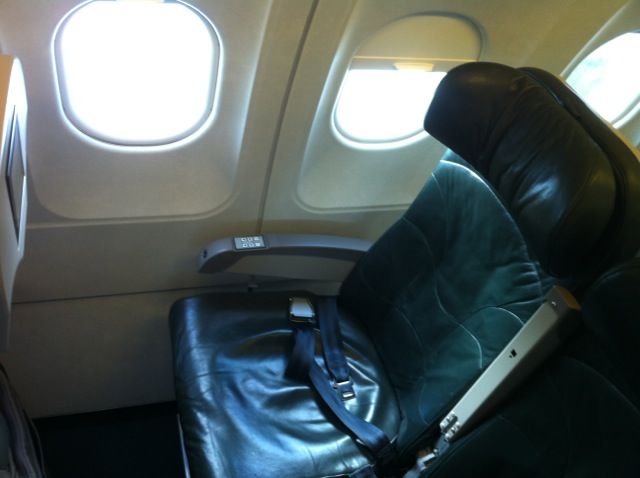 Legroom demonstration for Row 3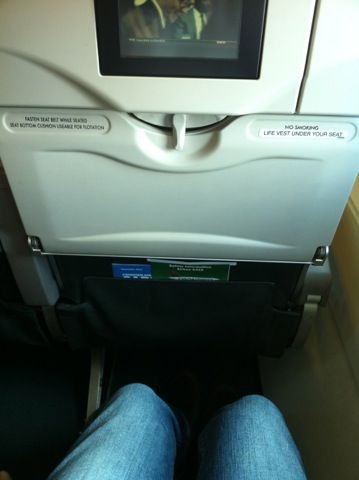 Signature Personal TV – screens a bit smaller than Jetblue's updated planes (They use the same system so I compared them)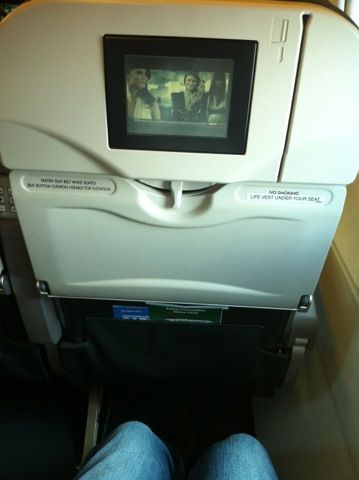 The flight was running a bit late, as there were issues with overhead bins. Door was finally closed at 11:07am and we pushed back seven minutes later, as the alley was quite busy. We taxied towards R/W25R but turned around and waiting at the tarmac for ten minutes before taxing to runway again. I presumed it was either ATC delay or waiting for the load numbers. After the nicely painted Alaska Airlines' Boeing 737-400 "Pulling Together" took off, we taxied towards R/W25R and then lifted off at 11:37am. Flying time was a quick hour and fifty-two minutes with a cruising attitude of 37,000feet.
I have noted that both flights feature many announcements, and many of them were a bit redundant, and I felt that they could simplify them a bit, as they interrupted the live television entertainment programs. The service on the A320s seems to go a bit smoother with four F/As, and the A319s only have three F/As. Most Frontier F/As are very warm and down to earth. They are very friendly but the service is just not as polished as the major airlines, so they tend to be a bit disorganized.