France, Spain or maybe the Basque Country?/BIQ
Salut, dear readers,
there is a new story to tell.
A difficult decision, should I go for France, Spain or maybe also the Basque country?.
Well, we will see!.
It´s just a week ago since I´ve reached the home base from a couple of days in Asia:
Four Props On A Pax Plane?. Yes, It´s The Dash-7!.
(by
FLIEGER67
Dec 8 2012 in Trip Reports)
And now it´s time to board a plane again.
A new departure airport is ready to count
with BIQ as no. 227:
Departure Airports II
auf einer größeren Karte anzeigen
This is today´s routemap:
Thanx to, as usual:
http://www.gcmap.com/
Here are the latest flown routes:
Tripreporters Flüge II
auf einer größeren Karte anzeigen
And the previous 200 departure locations:
Departure airports
auf einer größeren Karte anzeigen
And just by coincidence, there is these nice young woman from Switzerland, or is it England?. With also a couple of flights today on schedule!.
Thursday, 13.09.2012
.
.
.
.
Service Air France AF 5411 operated by
Regional CAE
Scheduled: 06.50 // 07.40
Ah, this looks like a relaxed 02.30 am wake up call!.
Relaxed?. Well, as relaxed as it should be with a day of travel ahead!.
The ticket is fixed by Wideroe to calm the fees down.
The fare per leg with stretch one and two is 65.00 Euro´s.
Not that I really expect OLCI available on this flights out of MLH. But try it, just for fun!.
No fun, no OLCI.
The nightly ride through the black forest is smooth, as smooth as possible with truck after truck on the way.
Take one over and see two more ahead, take one over and see three more ahead. It´s impressive how traffic changes during the last years with all these internet overnight deliveries, strange.
Ok, somewhat earlier than expected at MLH´s F3 to park the car. Hope to see you in the same state in the evening!.
The self service kiosk shows me my seat of choice available for leg one and two and there is also these nice young woman around catching some boarding papers from the machine. Nothing else expected by the way!.
What should go wrong now?. Welcome to a day of travel with nice companion, superb sunny weather and absolutely no turbulences a la francaise.
Just a minute at security with an extra Sky Priority entrance and heading for the gate to spot the scheduled plane type or not?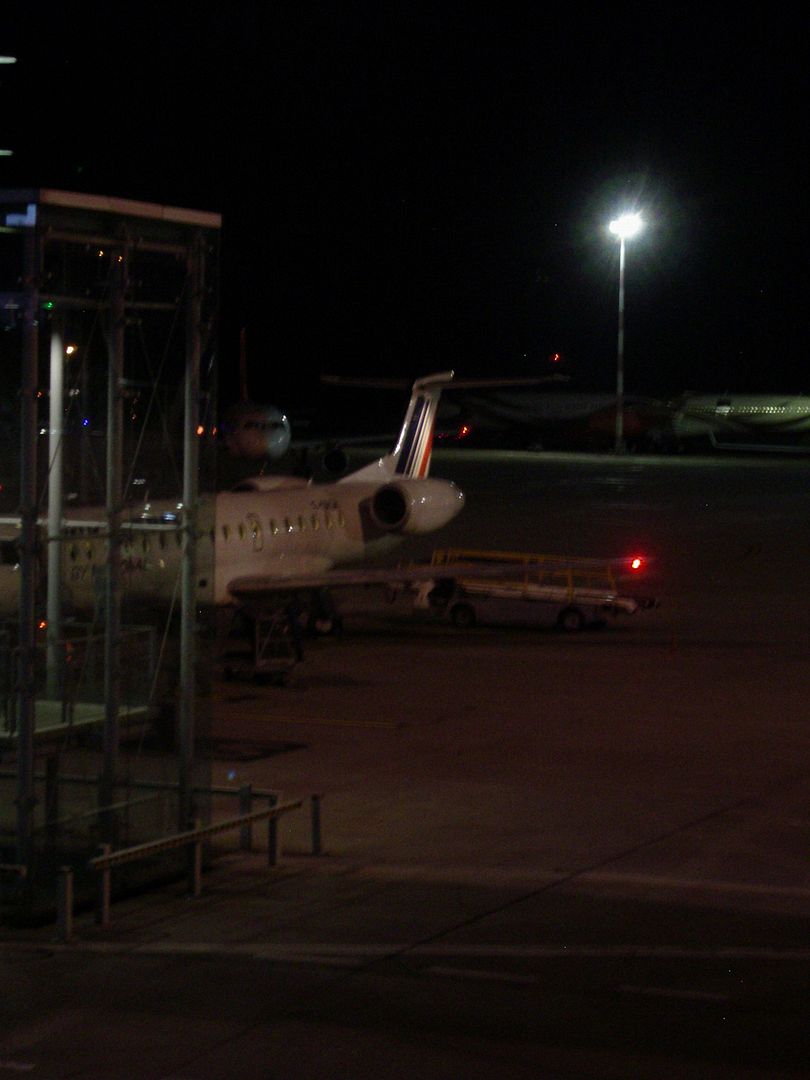 At least the flight is top of the board from gate 21
EZY for Pristina is running late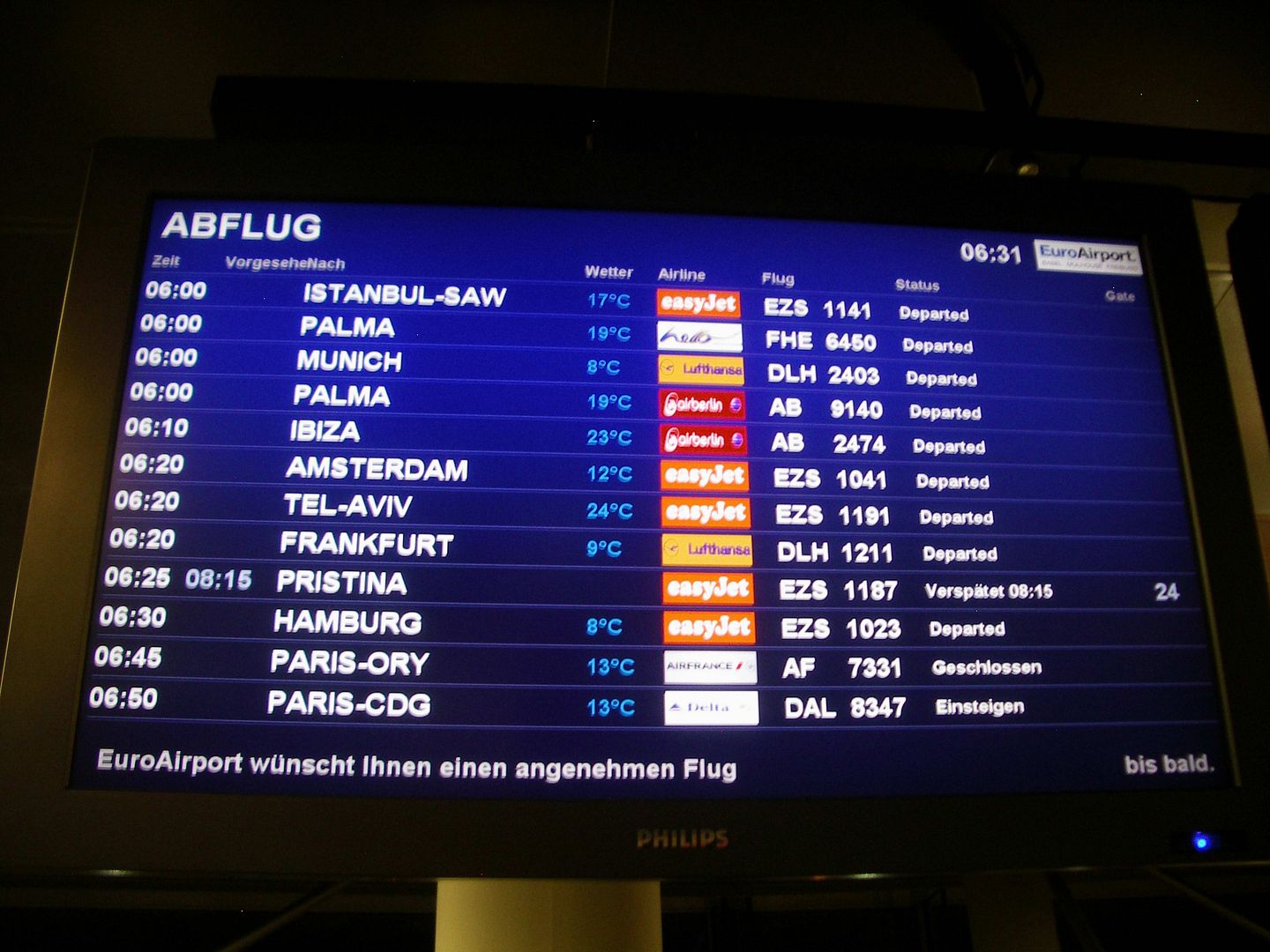 MLH has grown since my last visit, definitely, but no lounge available till now
A nice pre-flight chat and boarding now.
This is the scheduled Embraer 145, F-GRGH.
Leg no. 10 on type and a warm welcomed new entry to the log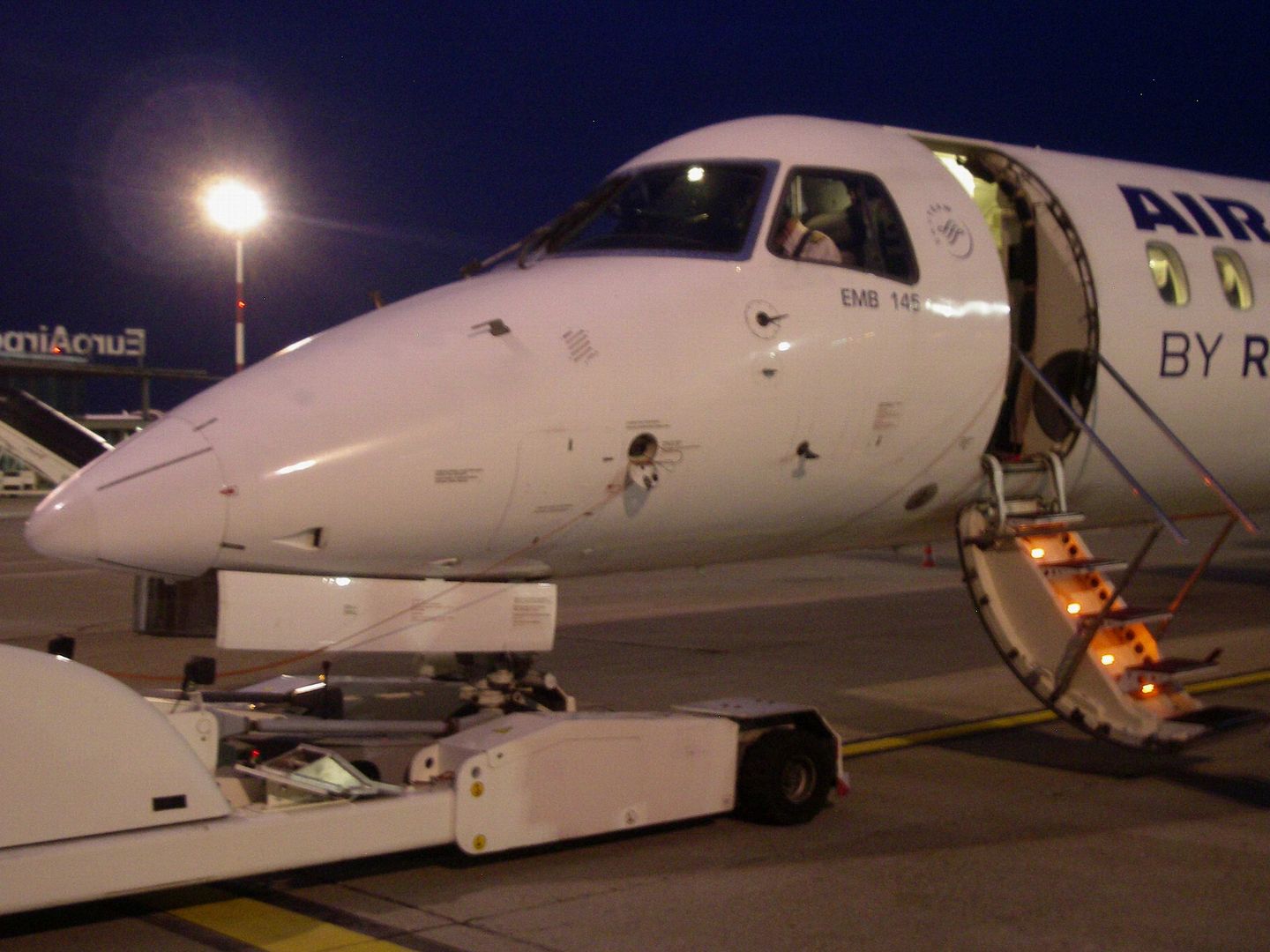 In service with Regional since 22.03.1999.
23 E45´s are in the actual fleet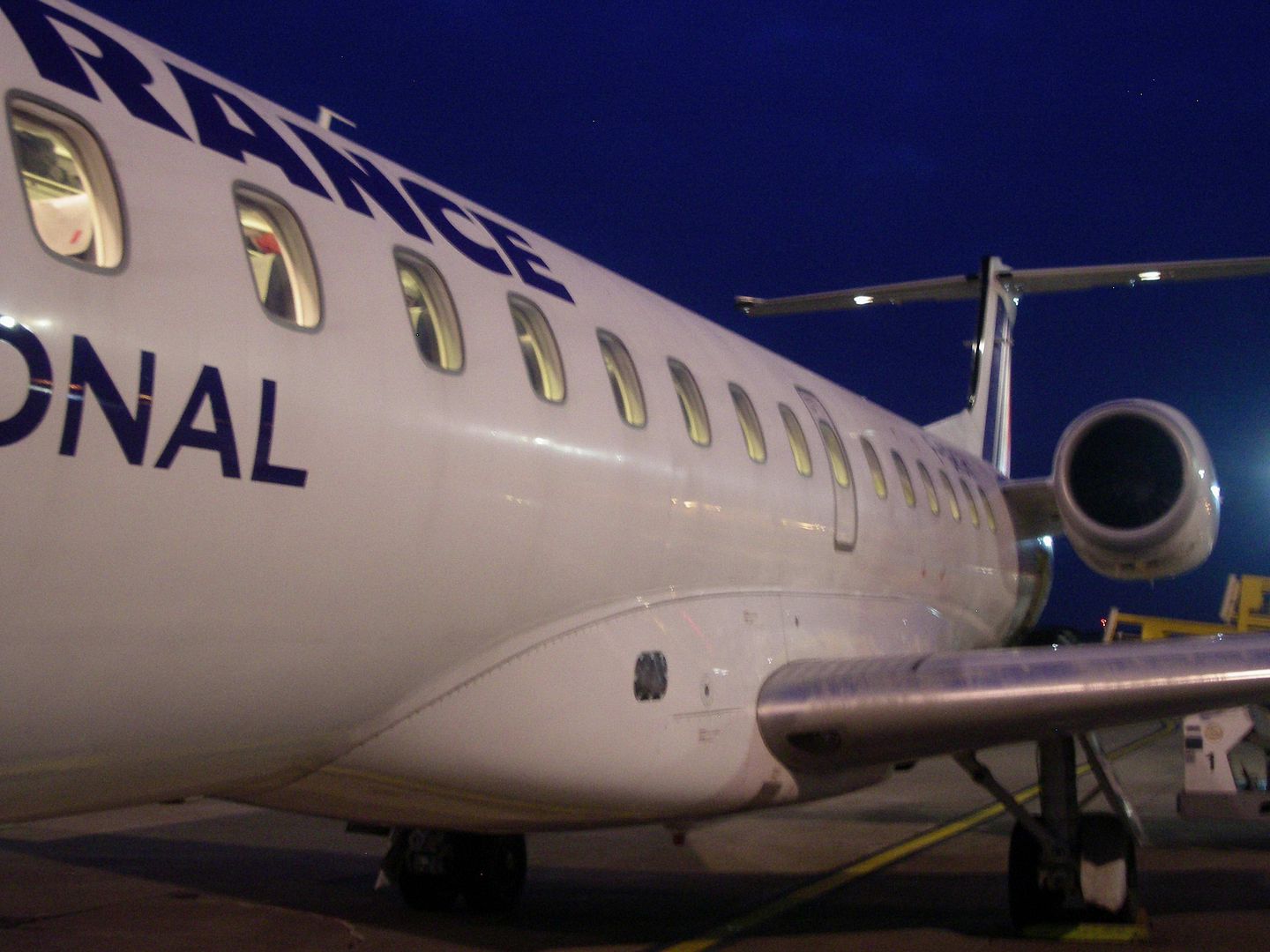 Cockpit crew is from France. The captain with a short welcome during boarding and once more short later on prior to approach.
No route or flightlevel info.
Legroom is good here with me in seat 19F, the last row window and two for me
The load is 60%. Close to biz travellers only today
beside these nice young woman in 19A!.
Departure 06.45 am, short ahead to schedule, 10 cloudy degrees, 40 minutes to go for "Regional Europe" southern side now.
3900 meters or runway "One-Five" send us away.
There is a younger and nice female FA working the cabin today.
Leaving MLH, see you later in the evening, hopefully
"Consignes de securite", take one
Service is a Brioche together with water, coffee and tea.
Why not?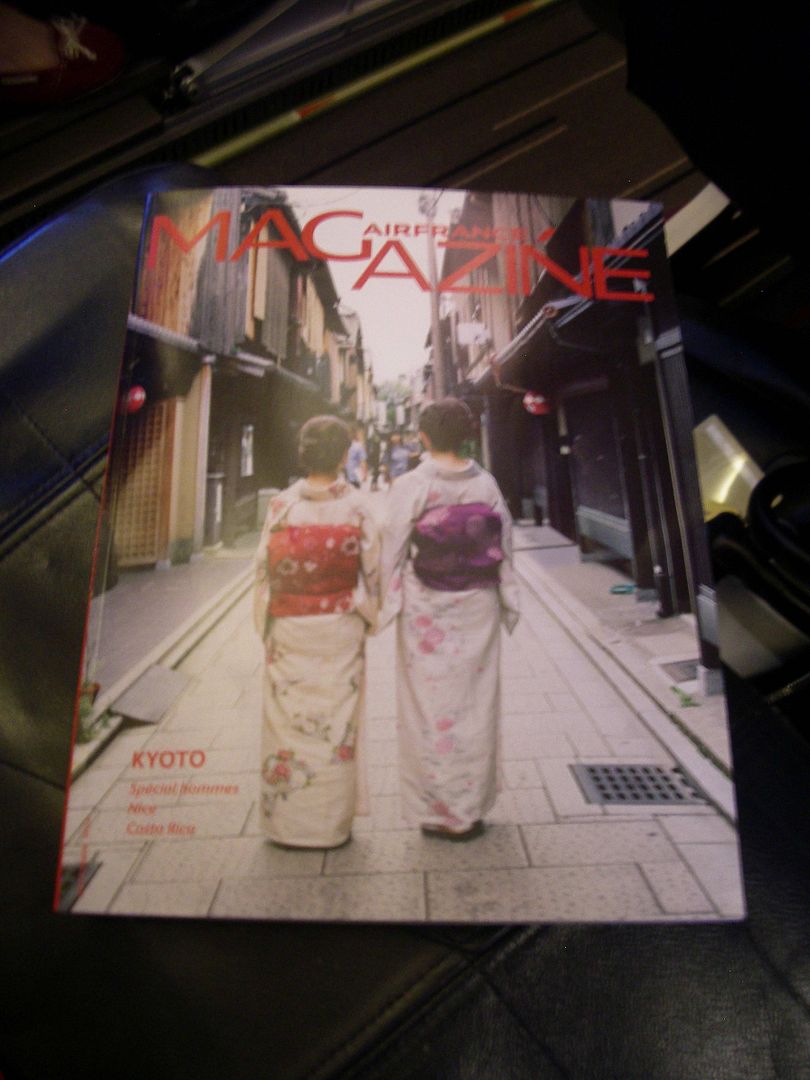 The cabin ceiling and a view for the dark blue clean so far leather seats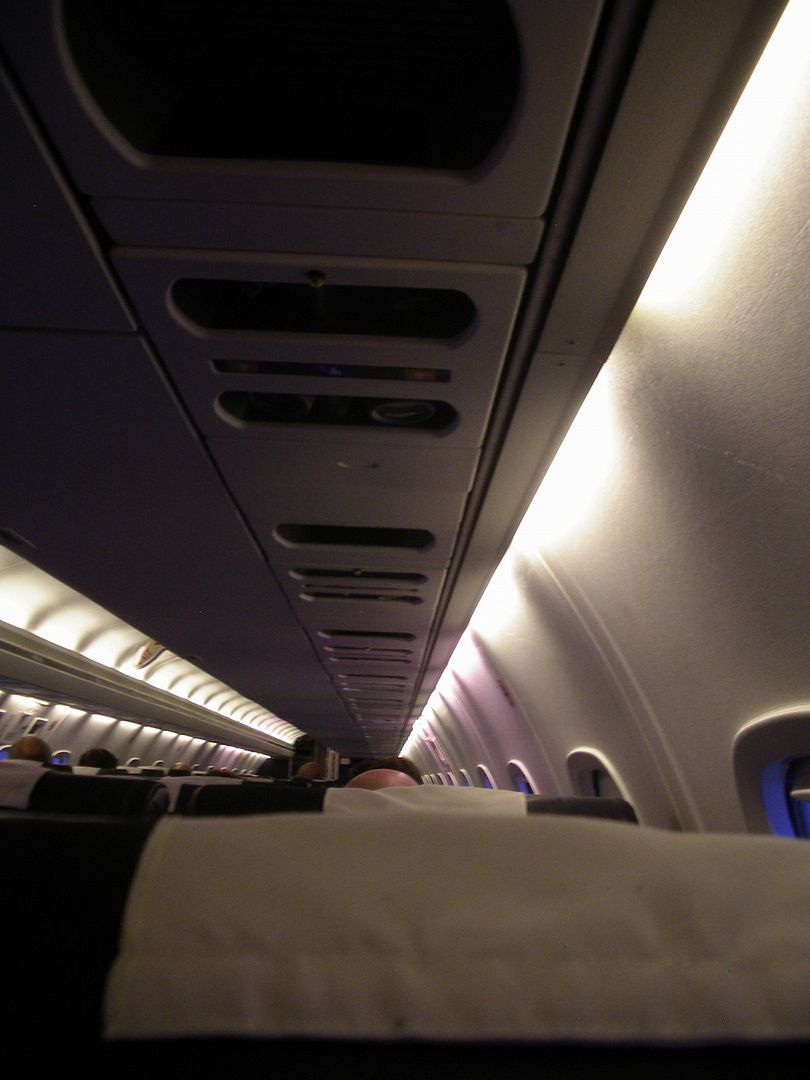 Cloud cruising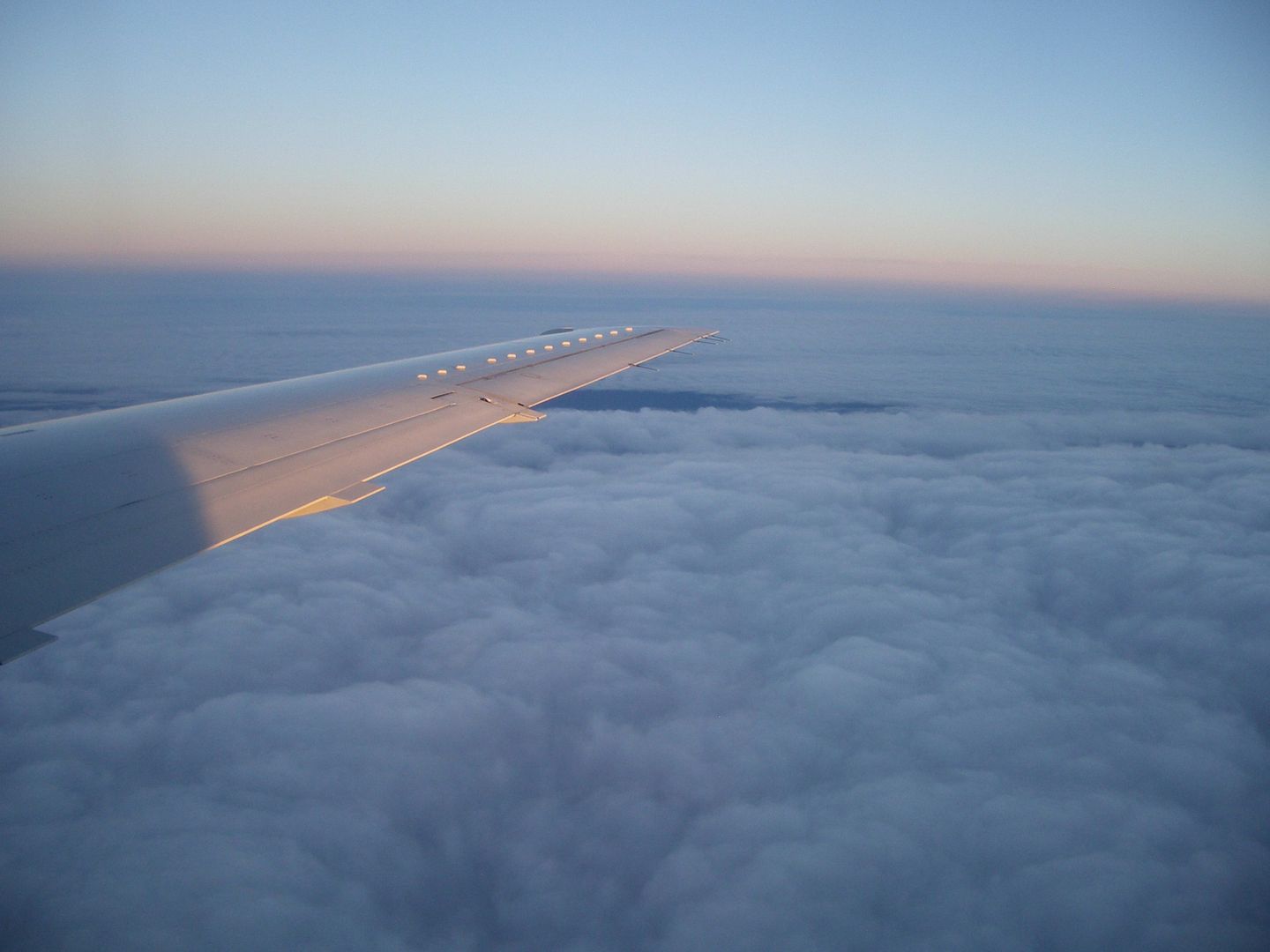 Me and the engine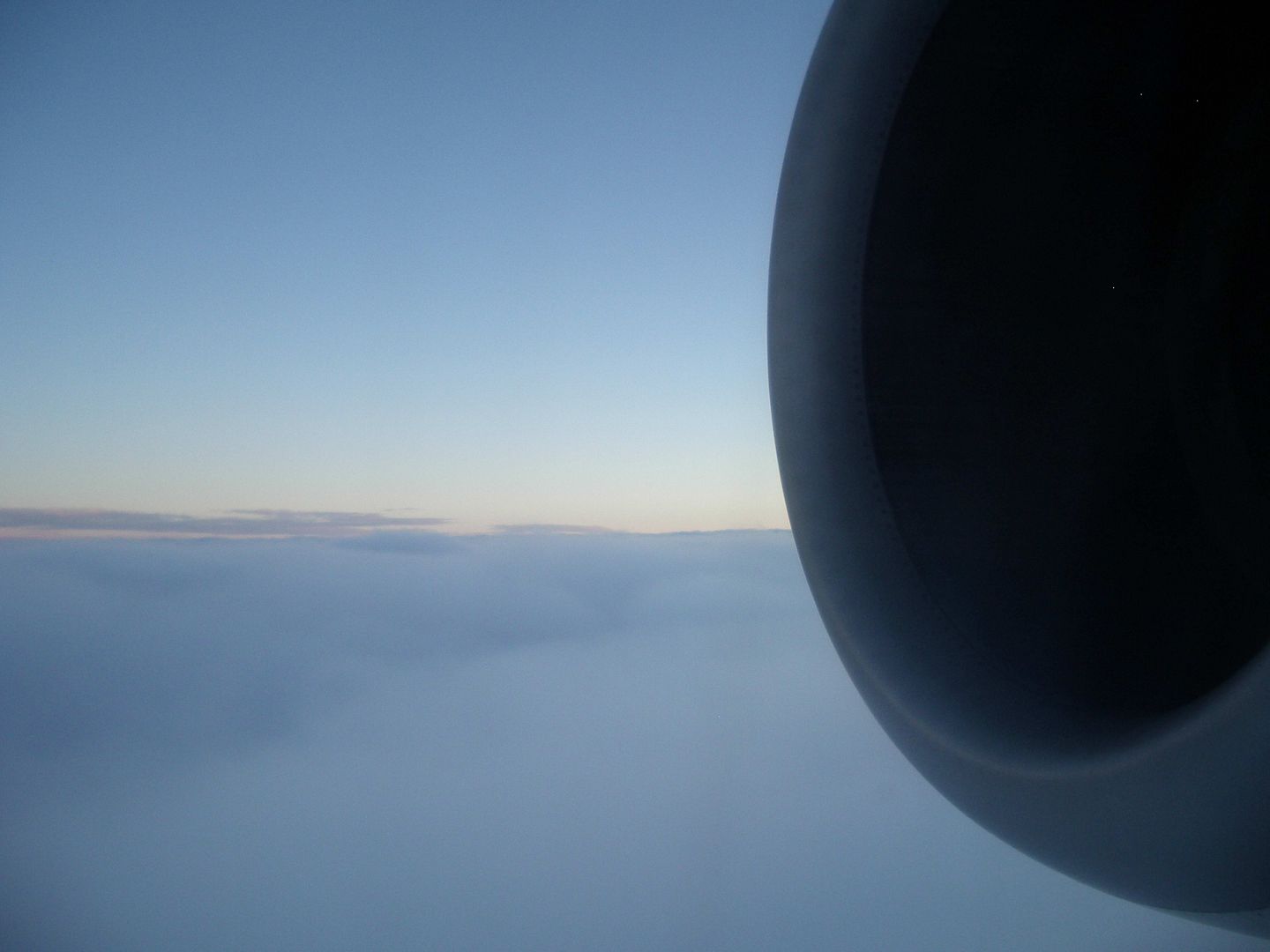 Short to LYS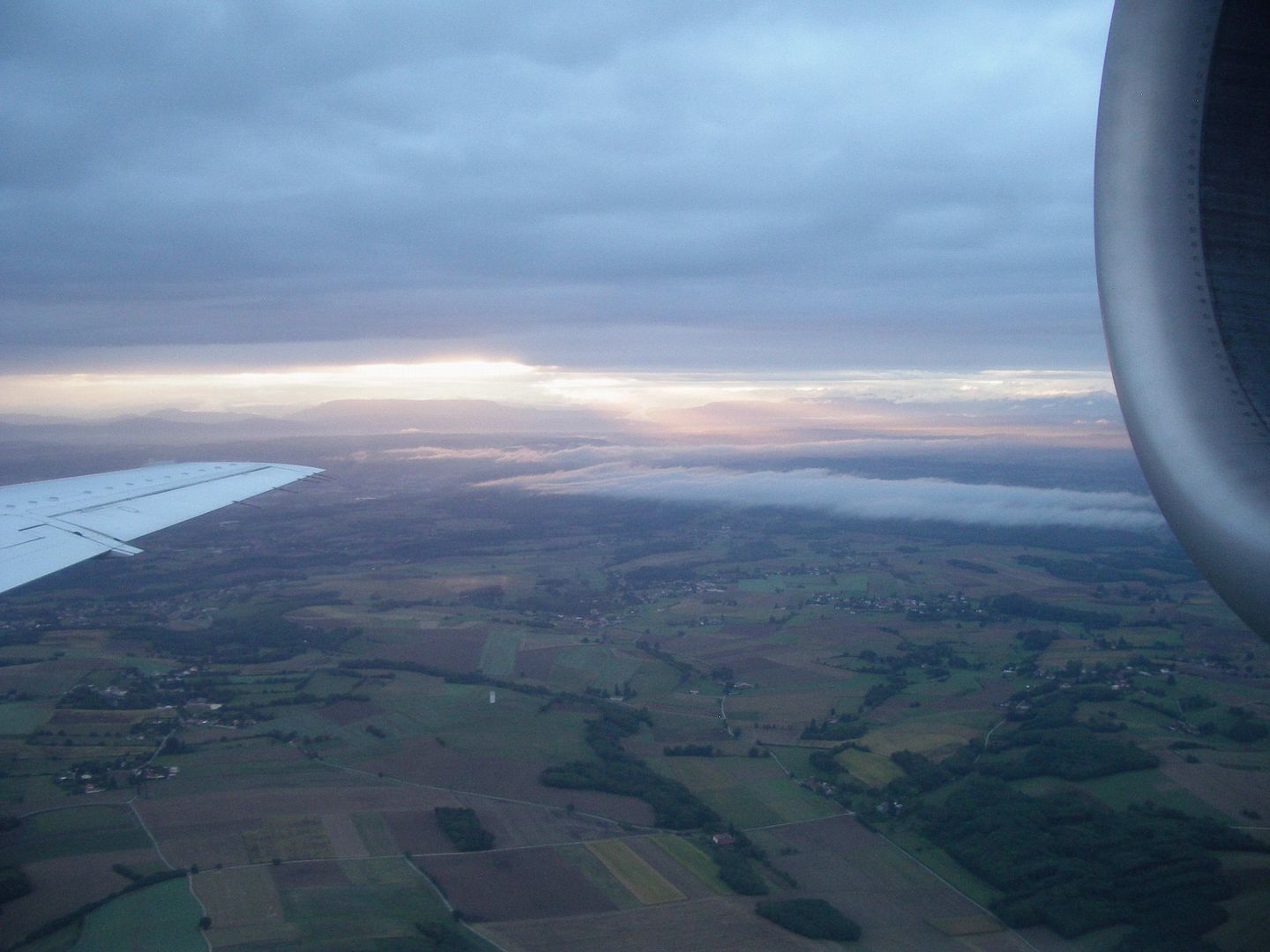 Nice early morning view. It seems the perfect side of the plane for me
Touchdown at the 2670 meters "Three-Six-Right". 7.35 am, short ahead to schedule and 11 cloudy degrees here.
Welcome to AF´s regional hub
And bye now to F-GRGH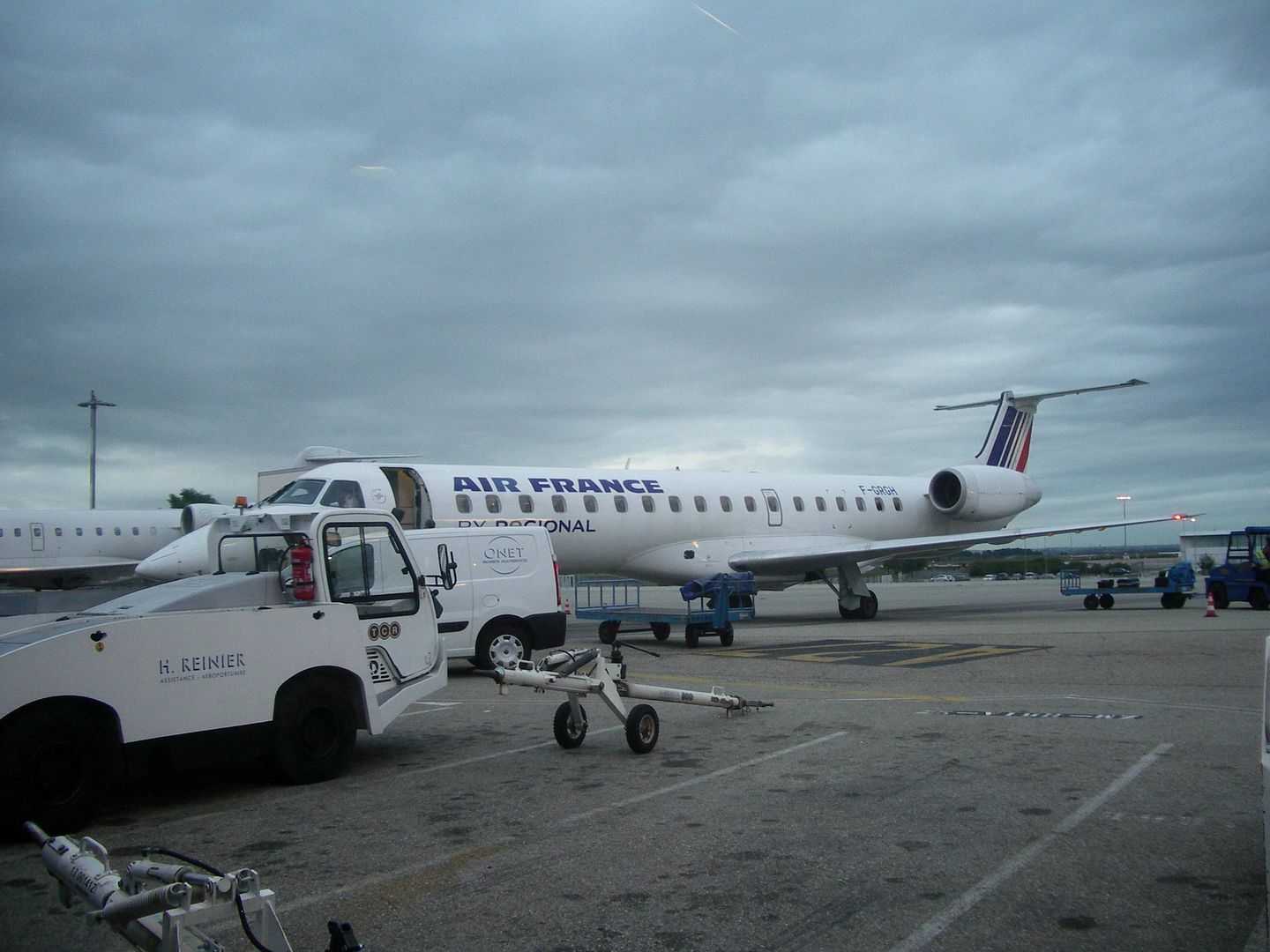 Self service for the terminal and a quick view to the lounge now, or not?.
Thursday, 13.09.2012
.
.
.
.
Service Air France AF 5432 operated by
Regional CAE
Scheduled: 08.45 // 10.00
How to enter a lounge french style?.
Simply knock the code secured door and if no one opens, join the next pax.
And I´am sure, the companion by these nice young woman helps!.
Just to restock my travel bag now and for a view to the screen.
BIQ from gate 21A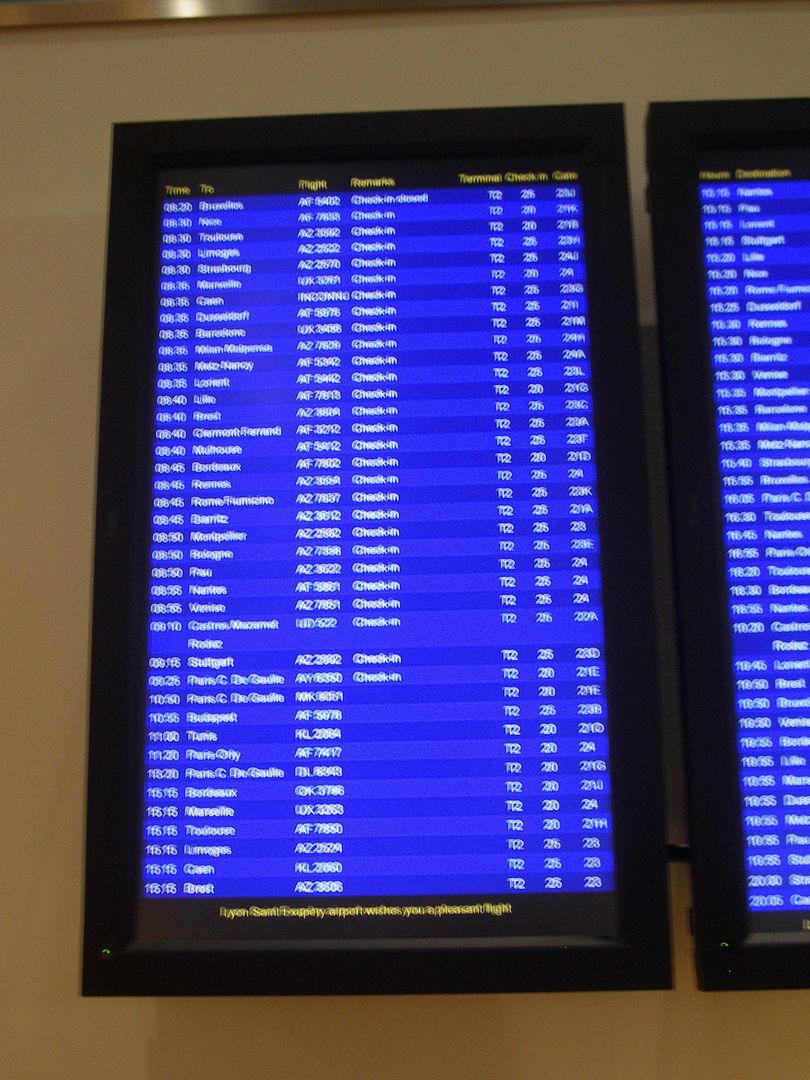 There is an E70 to go here, at least according to schedule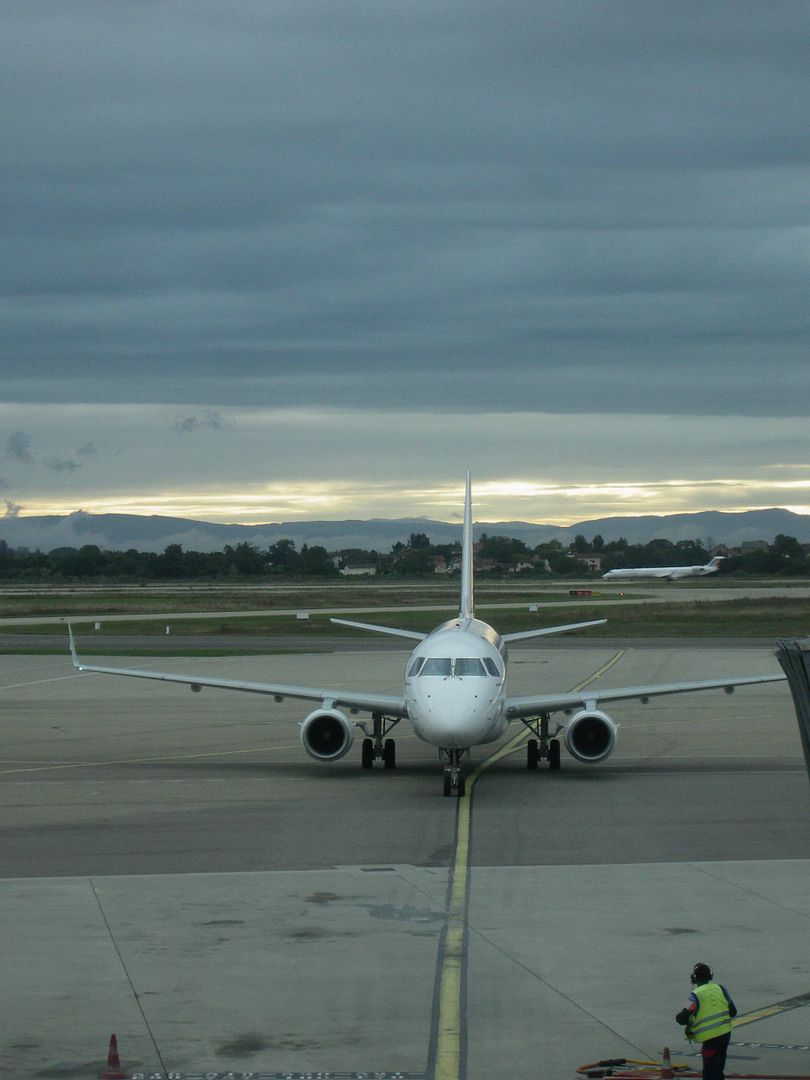 Come on, closer please
Like this one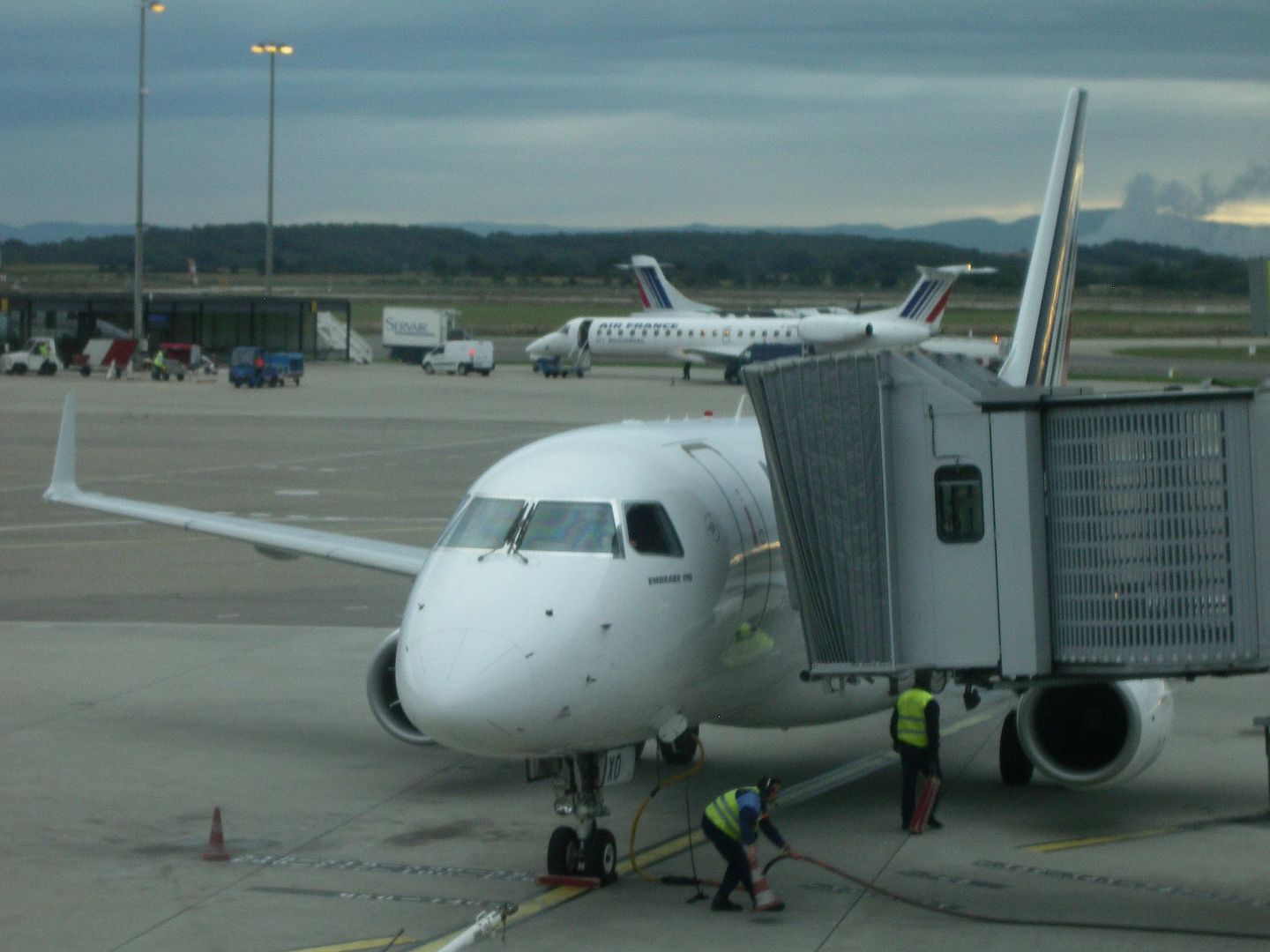 F-HBXO, yes, it´s the E70.
Leg no. 7 on type and one more new entry to the log
First in service since 30.06.2004 with Alitalia Express and now in Regional colours.
16 examples are in the actual fleet.
Boarding now
Cockpit crew is from France, the pilot with a shorty welcome after boarding is completed.
No route or flightlevel info what seems the norm in France these days.
08.50 am, close to schedule, 1 hour, 05 minutes for the Atlantique by "Regional Europe" now.
Departure from the 4000 meters "Three-Six-Left".
The temperature is 11 degrees and the sky is cloudy.
I´am sure, the sun is stopped at our destination.
Legroom is good here in 20F, the last row window with these nice young woman in 19F and two for me again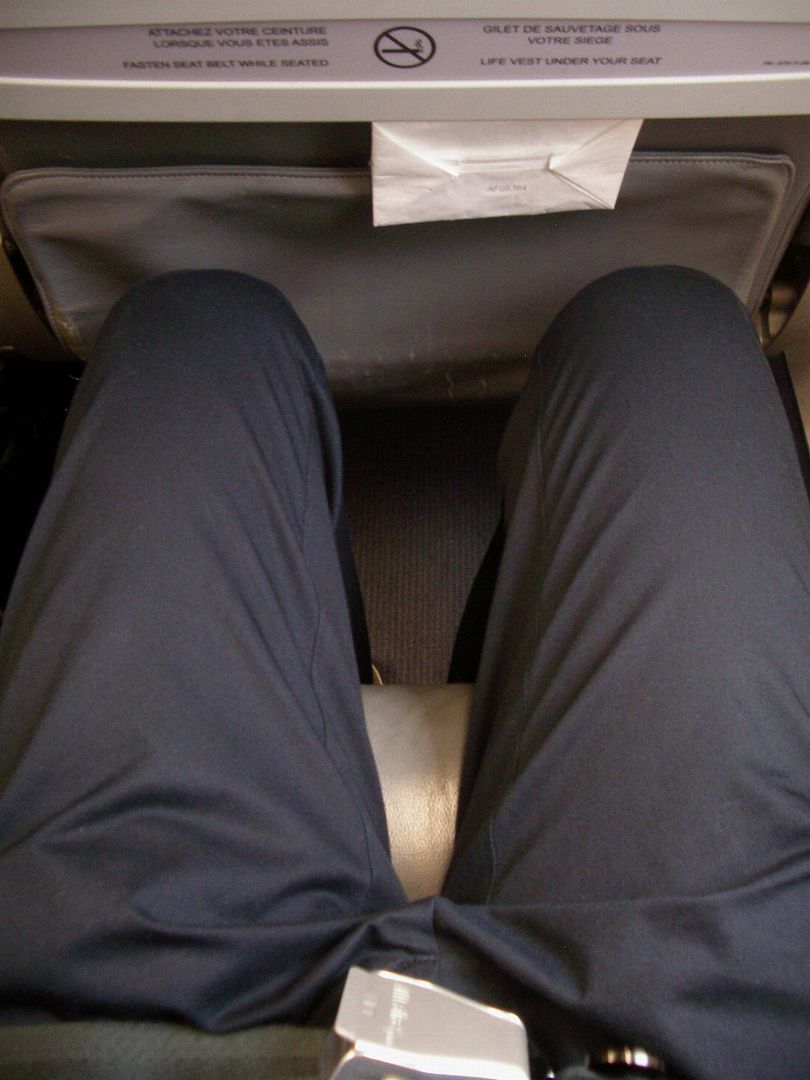 Cabin crew is one young and nice male together with an elder ok style female FA.
"Consignes de securite". Should we really need something like this here?
Cabin view, it´s clean so far till now.
The load is 90% with biz and other travellers like us, well mixed today.
Interesting planes on the apron, Air Austral and Europe Airpost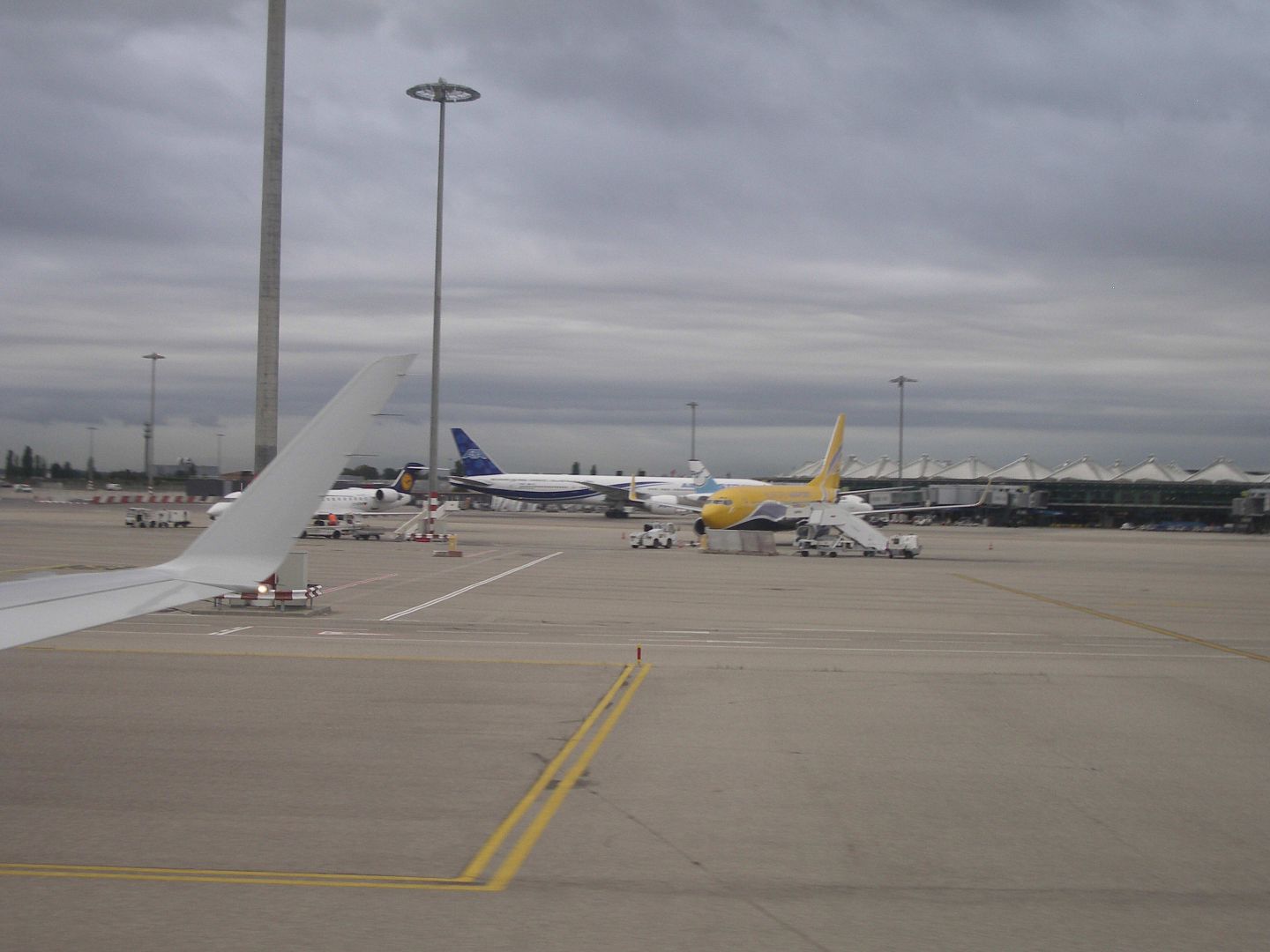 Now that´s something for me
Up for the blue sky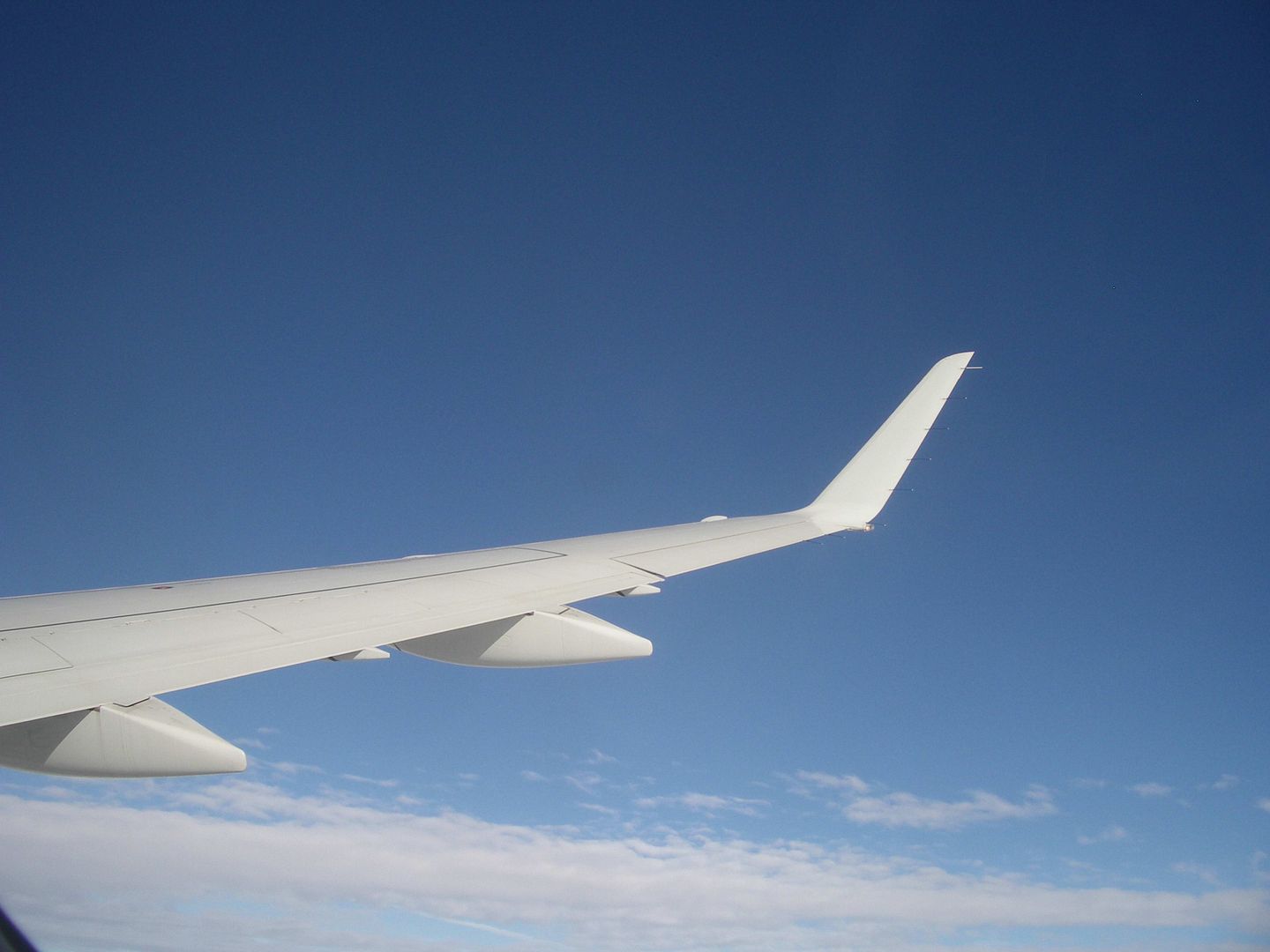 On former AZ metal, thanx for the suggestion!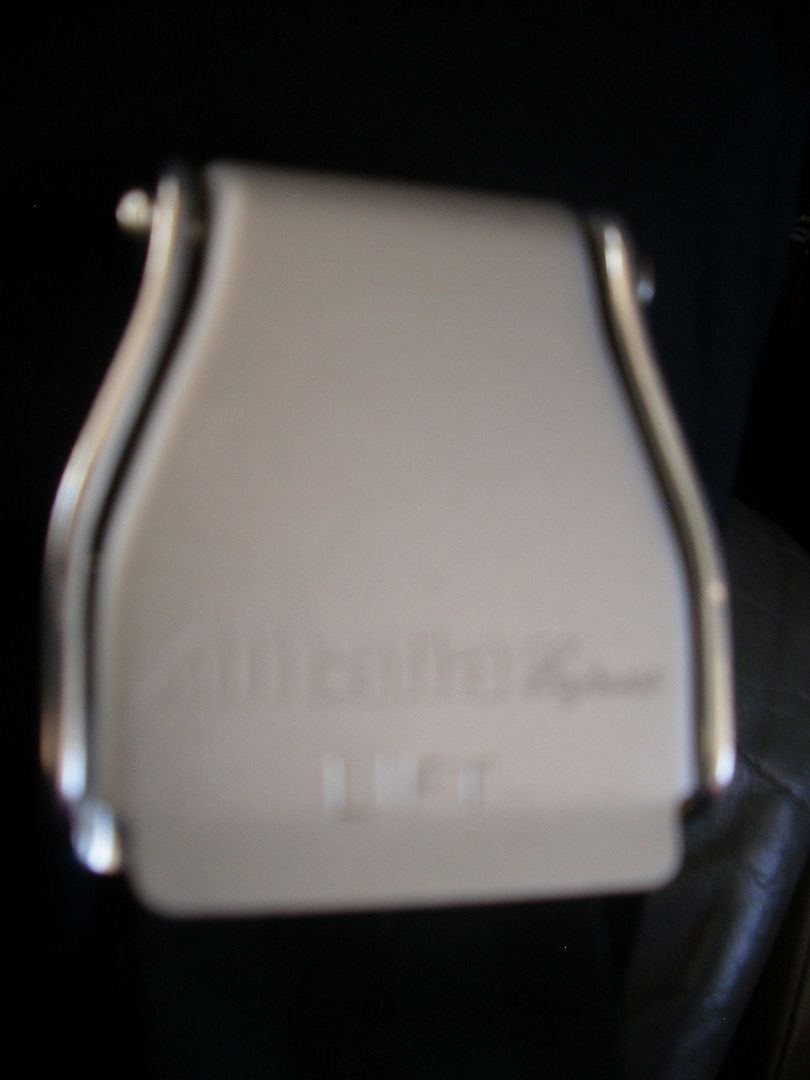 Looks like another nice flight, isn´t it?.
But soon after departure, just from a second to the other we enter rough air, really rough air. Not the best thing when we know that the FA´s started to serve snacks and something to drink just a couple of minutes ago.
Well, I´ve changed for row 19 earlier, the aisle seat and also these nice young woman in 19F is not that really happy with her full cup of tea. Better said with her former full cup of tea, spilt now on the tablet and somewhere else. The woman in 19A takes it not easier with her hot coffee all around.
Some minutes later everything calmed down with the smell of coffee left hand side and lot´s of paper towels to use right hand side. Thanx god we made it this way and nothing more serious happened.
Back now for the approach into BIQ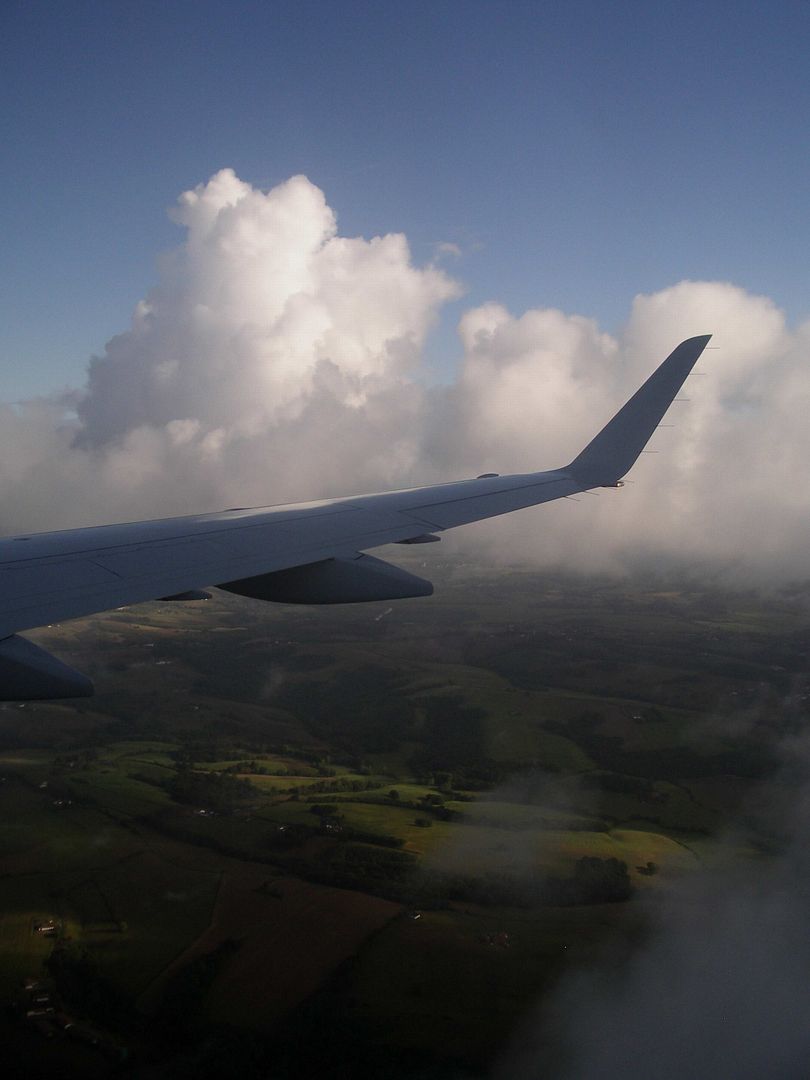 Sun everywhere, no clouds to see, or not?
Above the basque countryside with a shaky crosswind approach
And also an river close to BIQ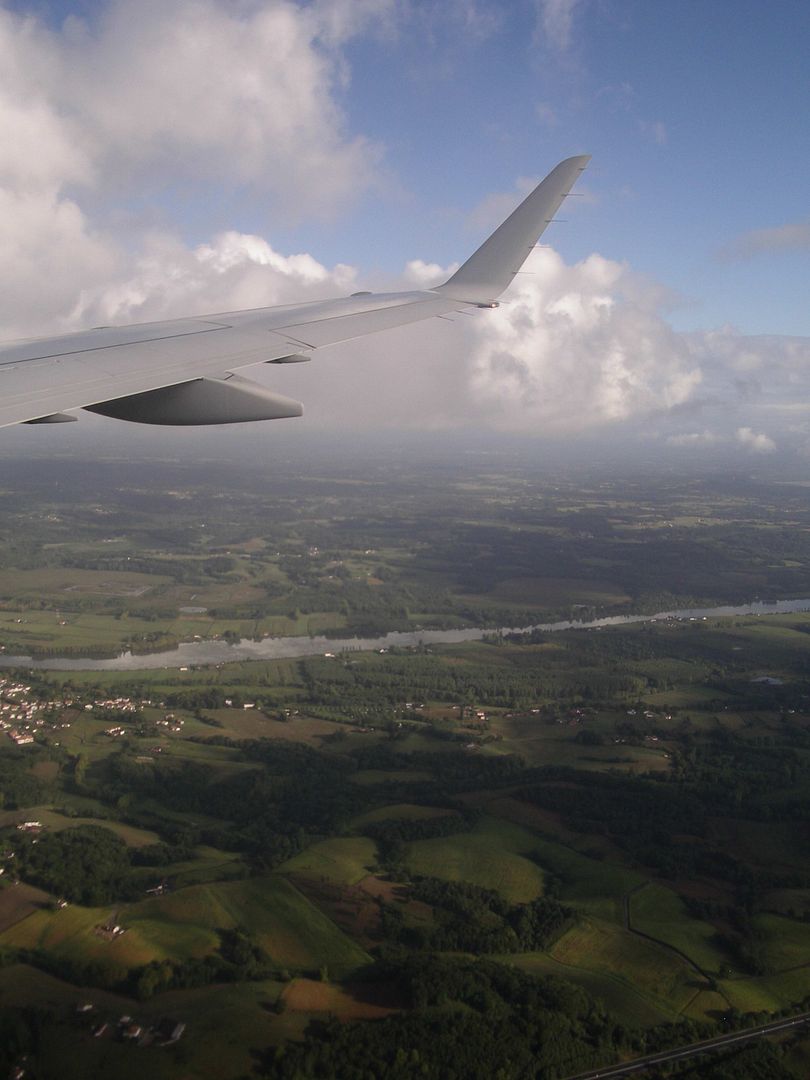 Touchdown on the wet 2250 meters runway "Two-Seven".
09.55 am, short ahead to schedule, 16 partly cloudy degrees here. So far with the sun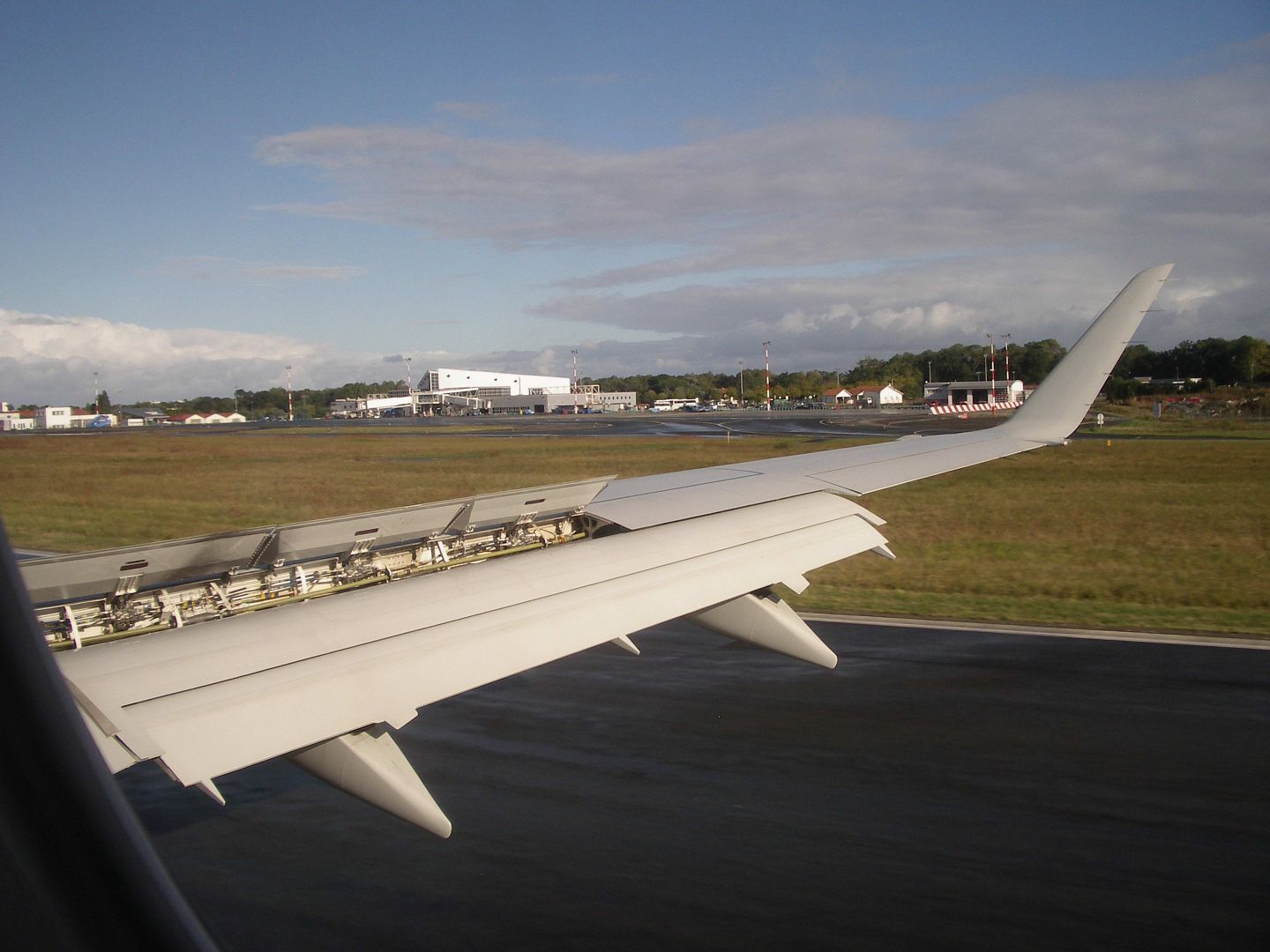 These mixed blue grey stylish leather seats are really comfy
...............................................................................................