Feedback always appreciated.
I > Background:
As many others in their early 30's can attest to, the period between 28 and 36 is filled with wedding invites. For me, it is the perfect excuse to see an old friend in their native country, and take part in their local festivities. I have attended a few weddings in India, and jumped on the chance to visit one of my favorite countries. The wedding was in Bangalore and provided a great opportunity to reconnect with a lot of my former classmates. To head back, I decided to keep it simple (and treat myself). A ticket in First Class on a simple BLR/FRA/CCS itinerary on an airline I know rather well.
Without further adieu, I invite you to my 2nd Lufthansa report in 2 months – shocking huh?; this time in First Class between Bangalore (BLR) and Frankfurt (FRA). While there have been a handful LH FCL reports, this is the first I believe on this sector.
II > Pre-Flight:
a) Before Airport:
Deutsche Lufthansa AG is the flag carrier of Germany and the largest airline in Europe in terms of overall passengers carried and fleet size. Employing around 120,000 employees, the world's fourth-largest airline in terms of overall passengers carried, operates to 18 domestic destinations and 203 international destinations in 78 countries across Africa, Americas, Asia and Europe. Operating out of its hubs at FRA and MUC, Lufthansa is a founding member of Star Alliance, and basically you should not belong to the aviation community if you have not heard of them. Recently, it has been mired in poor profitability and labor unrest as it tries to adapt to the realities of a newer world – of increasing LCC competition, mega-Asian carriers, and an European market in turmoil.
Booking for my flight was done on Lufthansa's excellent website at
www.lufthansa.com.
Probably, one of the best websites by a major airline, online services are a breeze to do there. Within minutes, I had a nice looking e-ticket printed and delivered to my inbox after having spent some time studying the online seat map. One of the things I love about LH's site is the ability to continuously pull up tickets and make several seat selections. It did not have a change booking facility, but that is hard to do given LH's notoriously complicated ticketing fare basis'.
b) At Airport:
Like most of India's new shiny airports, Bangalore has come a long way since the "bus terminal" (http://www.airliners.net/aviation-forums/trip_reports/read.main/117246/) gave away to the current modern facility. It is an overall nice facility – but, like new airports in many parts of the world, lacks a soul which say the new DEL, PEK, and even HYD has to a degree. It was too cookie-cutter Ikea-like for my liking.
Anyways, after the inspection of my e-ticket and passport at the gate, I was let in to the airport. LH works from the furthest left counters and while there was a queue in both the Y and J desks, F was empty and a smart agent checked me in within minutes. I find customer service in India rather excellent and was impressed at how fast and ease the experience was. He gave me my boarding pass and lounge invitation and told me use the fast track at immigration. One thing I noted was the total lack of the "F-experience" on LH at any outstation airports. Most other airlines go out of their way to greet F passengers – like elsewhere in their network, this was not the case for LH.
Immigration and security was rather quick, and I soon made my way to airside. Soon you realize how the airport is over capacity during peak and why the construction for the new terminal was start soon. Skipping the overpriced duty-free items, I made my way to the rather generic Executive Lounge. Now, this is an absolute disaster and I missed even the old Kingfisher Lounge in the old BLR airport. The lounge was extremely crowded and there was basically not any place to sit – guess LH guests should have felt at home because I find most LH lounges to be utterly forgettable. There was no separate place for F class guests and the entire experience did not have anything premium about it. The lack of internet terminals and the hassle of getting WiFi made me feel really annoyed and I wanted to see LH staff to see how I can log in and arrange to have a flight booked. LH staff were nowhere to be seen and even when the lounge attendant rang the LH station manager, he failed to show up. After Asmara, it wasn't a shock that these LH staff members were so aloof to their premium customers. No wonder so many of them keep flocking away to Mid East carriers.
45 minutes prior to departure, I made my way to the gate area. Here, boarding was delayed for no apparent reason and we waited until boarding time had passed without anything being said. Again, poor form. Thankfully, boarding was done based on protocol, and I soon started making my way to still the Queen of the Skies, the 747.
Upon entering the aircraft, the purser greeted me and directed me upstairs. There is something remarkable still about climbing the stairs of a 747. Call me old fashioned, but I still like the feeling of a single bridge and then taking the stairs to go to an upper deck. However, upon reaching the upper-deck, I was disappointed to find that it was the old 744 and not the one featuring the bed
. I was the last one of 4 and was greeted warmly by one of the 2 FA's who would look after us. Interestingly, LH still must have a hold of the Indian origin market as the other 3 people on the flight were Indians. Looking at the manifest, all 3 of them were connecting – to GRU, LAX, and IAD.
After a little while, sparkling wine/OJ/water was offered, and I settled in with some Laurent-Perrier 2004 – which barely is OK as a JCL champagne, and fails terribly as something served in - not being chilled did not help either. Again, small detail overlooked. F load was around 50% given LH gives every F passenger 2 seats and half were taken.
Airport - External:
(Bangalore Airport)
*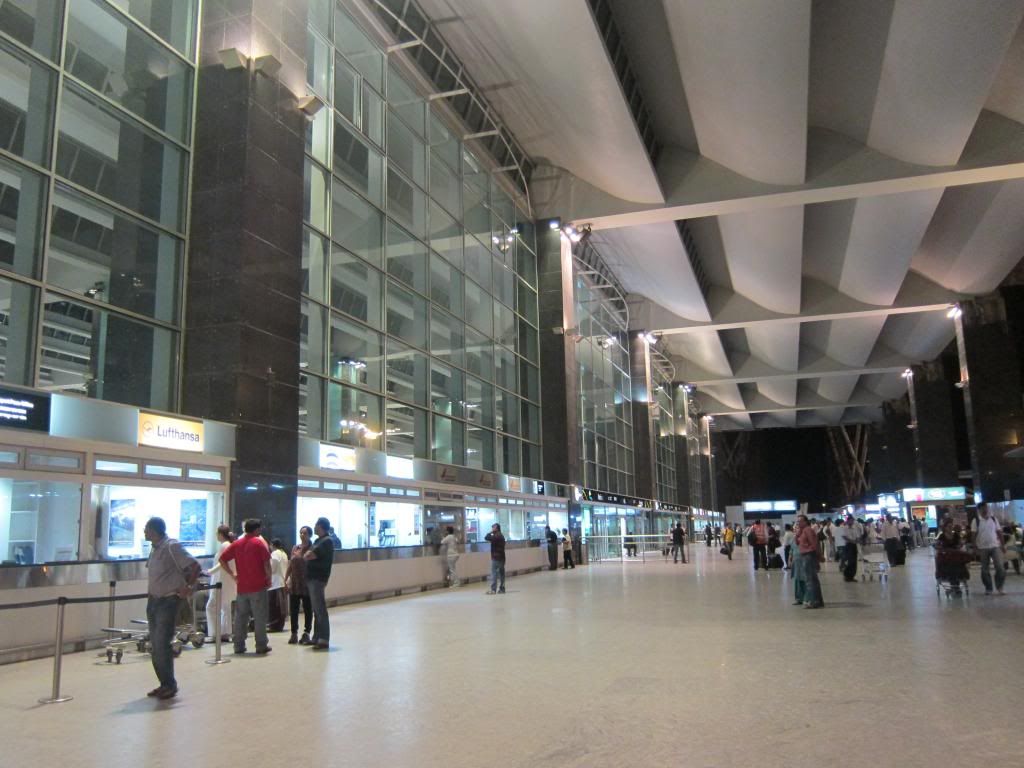 Check-in:
(LH has several check-in counters)
Airport - Internal:
(Pre-Security @ BLR)
(FIDS)
(Post-Security @ BLR)
Scenes of the tarmac:
NONE
Lounge
(Entrance to the brilliantly named "Executive Lounge" …)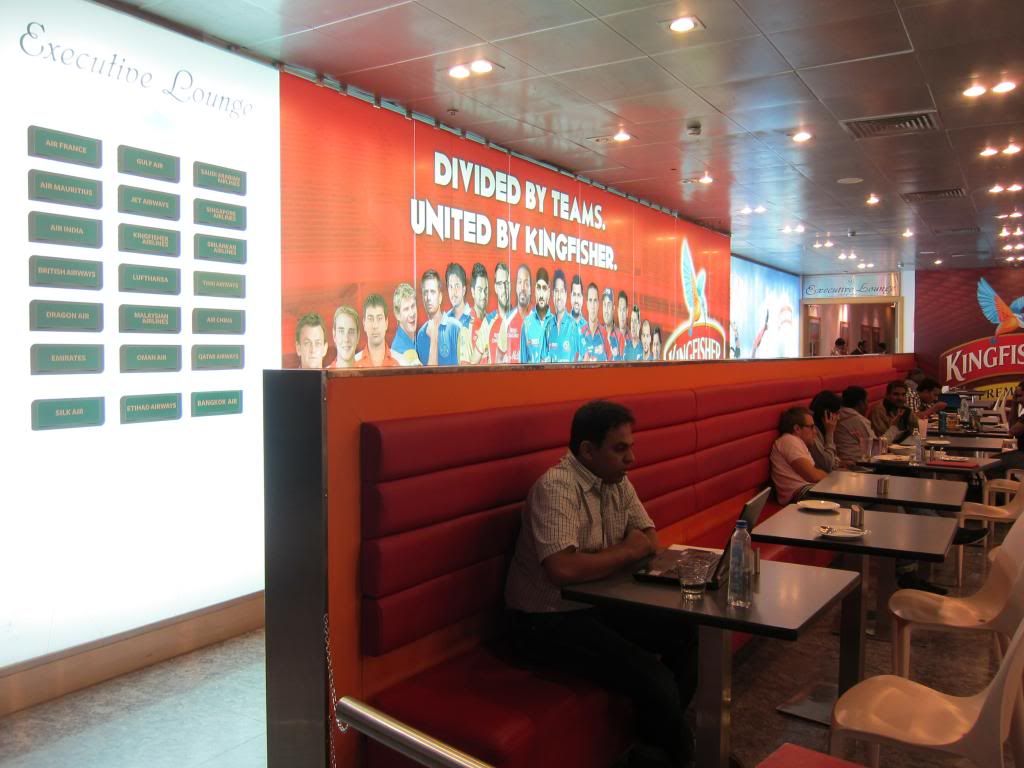 *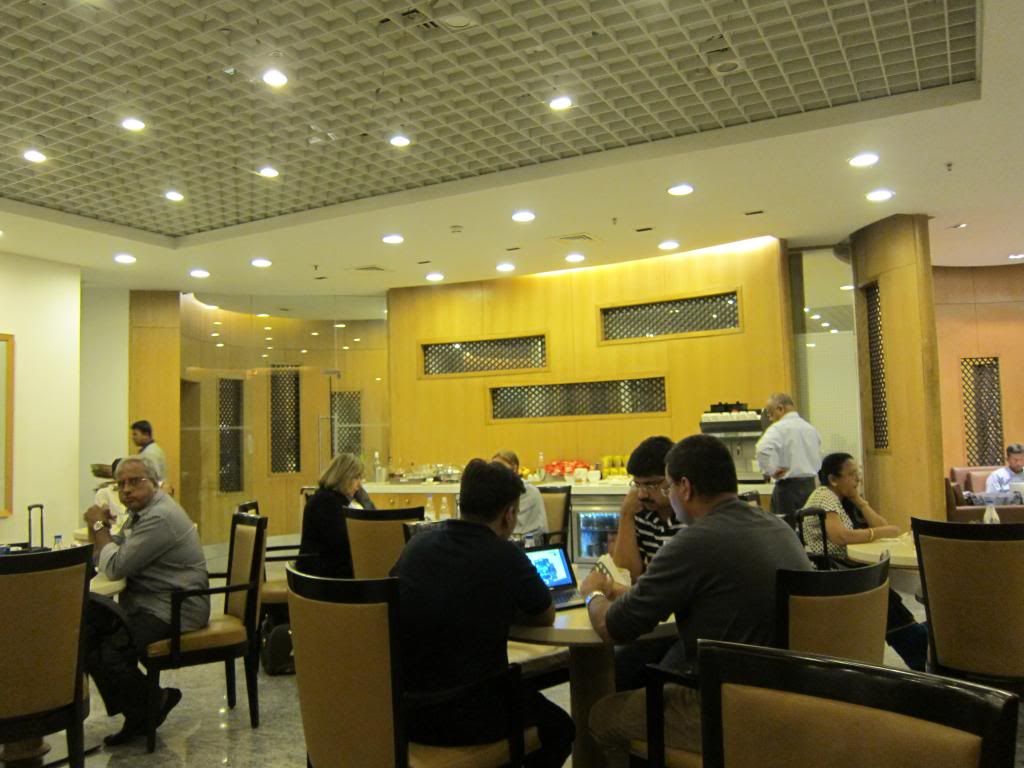 *
Boarding:
(No real "ILBST")
III> In-Flight:
a) Service Schedule + Impressions:
On the ground:
+ Water/OJ/Champagne (Though, disgusting '04 Laurent-Perrier in FCL?)
+ Pajamas distributed
+ Amenity kits distributed
+ Menu and newspapers/magazines distributed
In the air:
+ Hot towels
+ Dinner service
+ Hot towels
+ Breakfast service
b) Aircraft + Seats:
There is always something elegant about a Boeing 747-400 that the Airbus A 380 will never have. These design elements are accentuated in First which have long epitomized the pinnace of commercial aviation – sadly, Lufthansa's F product on this 747 was ancient. It featured last generation seat that while comfortable just did not have the levels of privacy that is standard on global 3 class intercontinental carriers these days. While some airlines, most notably Thai, can get by with their warm and graceful old F cabin at the nose with wood-like finish and soothing use of colors, LH's F seats basically look like a regular J cabin on most airlines. Of course, LH having recognized it themselves, give you two seats with one being used for a turndown service.
The seats themselves were extremely comfortable and made for an awesome full-flat bed … together with a turn down service. The only thing that I *really* missed was the lack of privacy.
The other place where the age of the aircraft shows is in the bathrooms. While they are stocked with average products (though, whatever happened to being a little better than JCL?), the dingy yellow lighting was a reminder of how long this aircraft had been flying.
Aircraft:
(744/Stock)
Views from Aircraft:
(IndiGo continues to impress with their controlled and sustained growth)
General Seat Views + Seat Legroom
(Stock)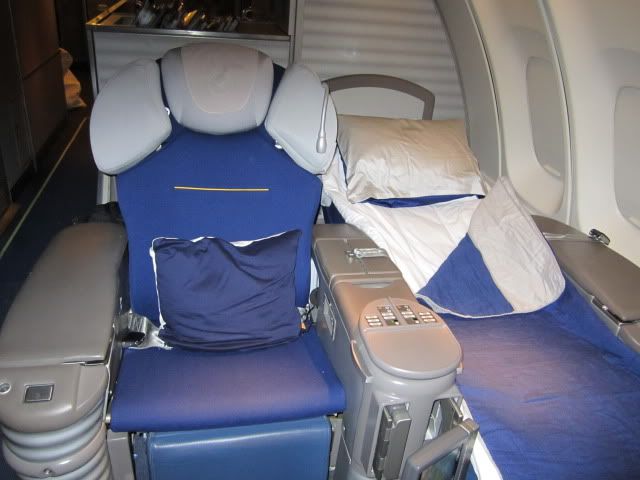 (Legroom)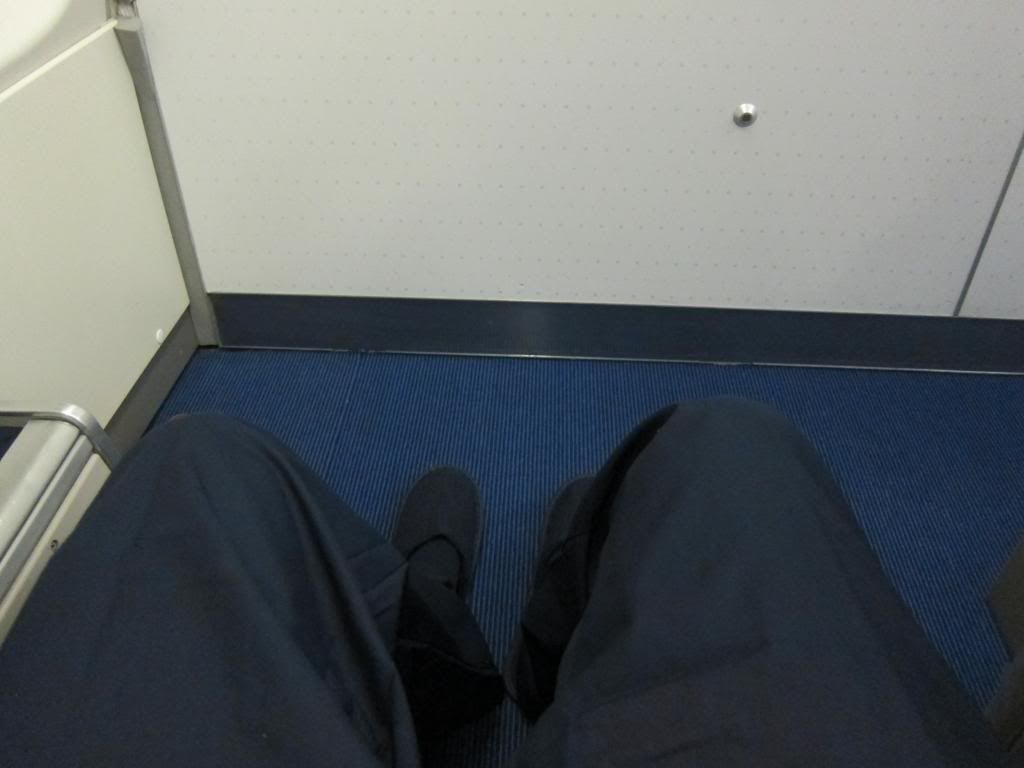 (Around Seat)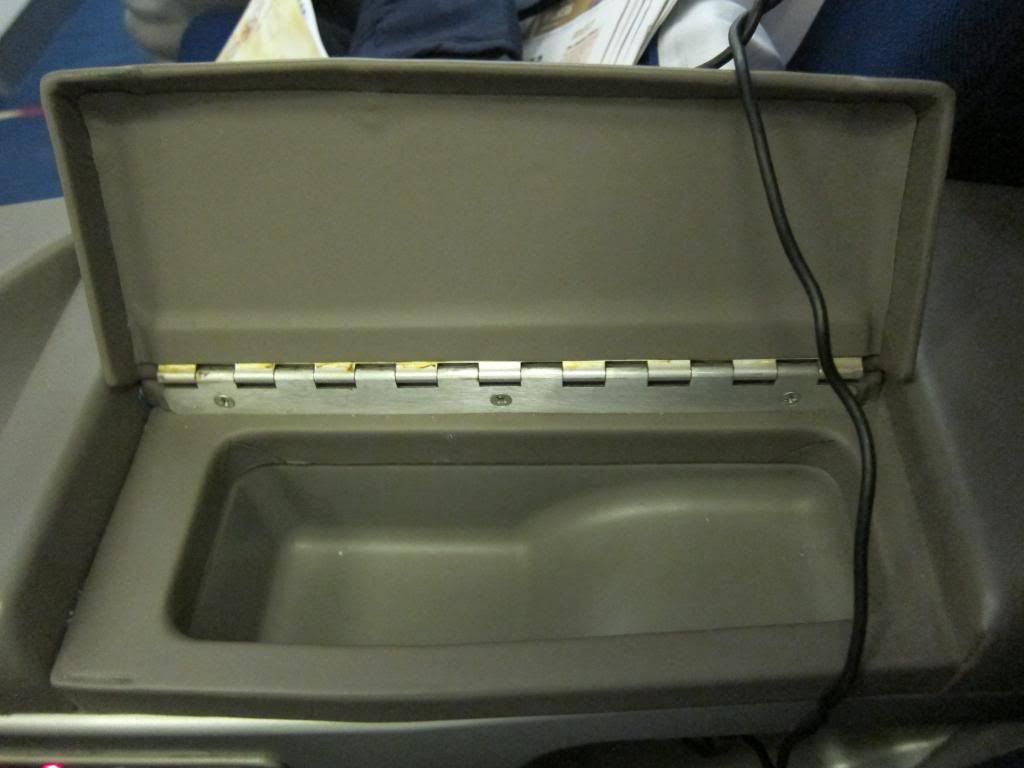 *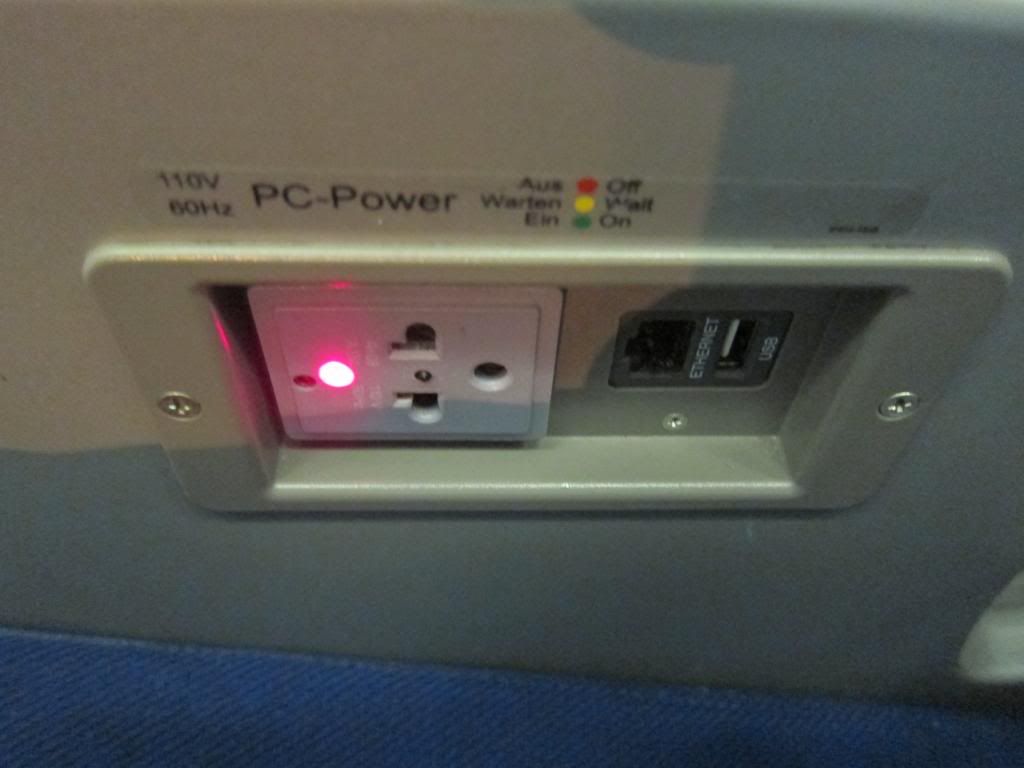 *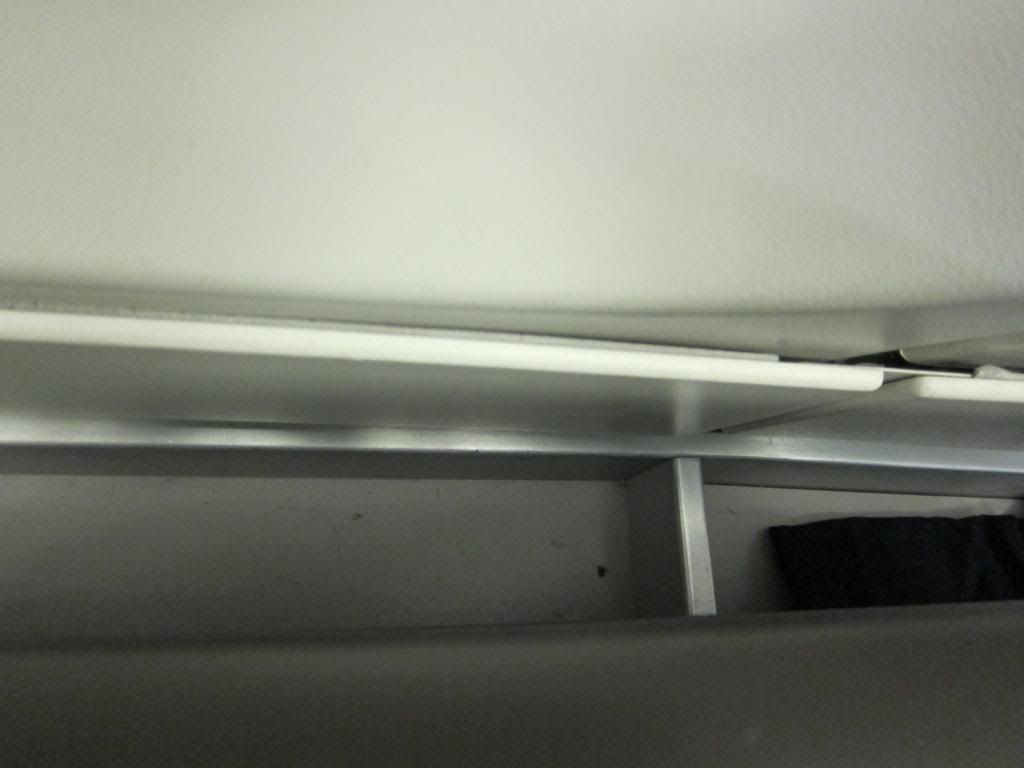 Seat Recline + Angle View:
(Recline w/ Pralines)
(Angle view)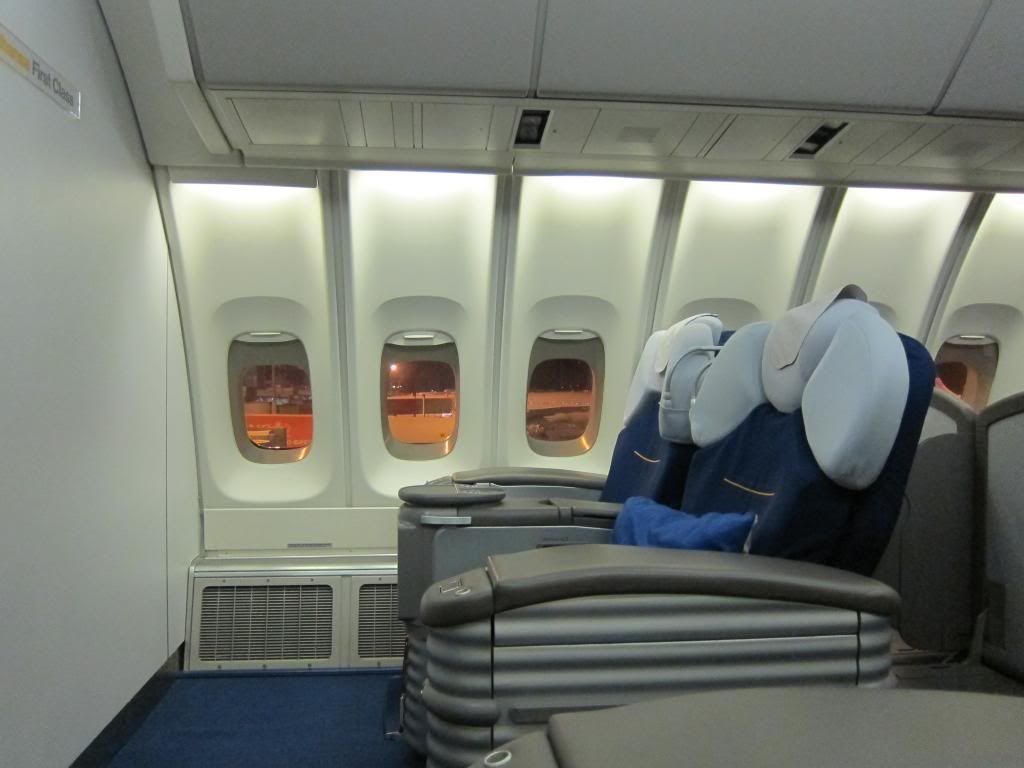 (Awesome night view of light creeping in – quintessential UD experience for me)
Cabin:
*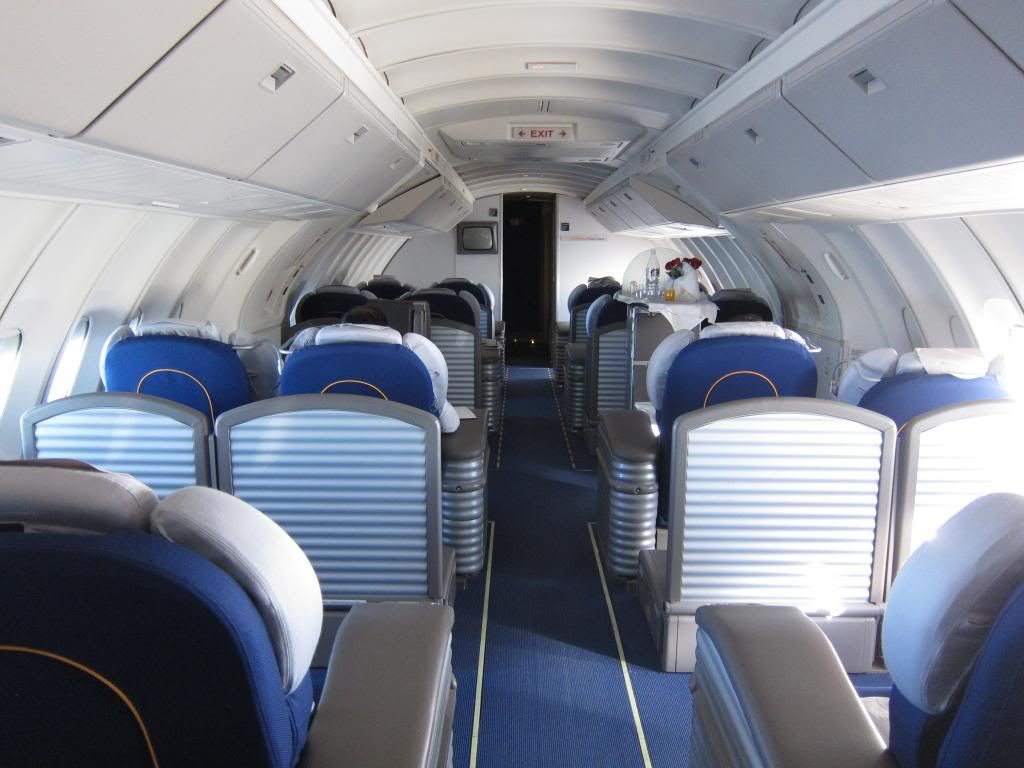 (Bathroom)
*
(Usual LH amenities – dingy lighting)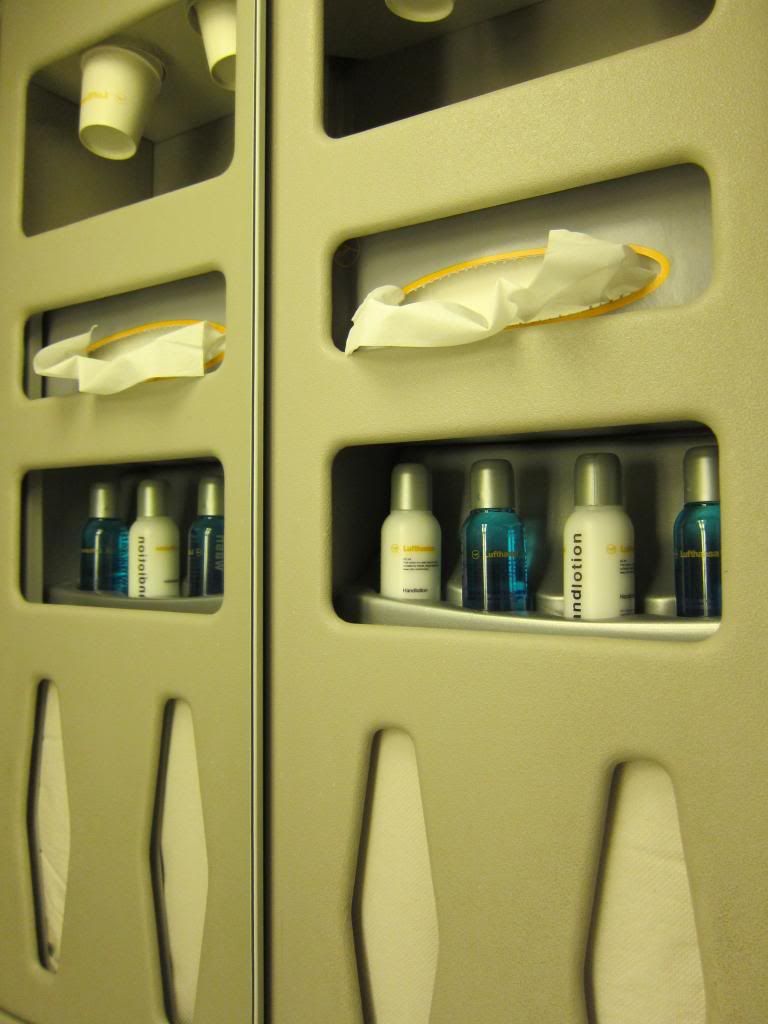 c) Meal + Beverage:
Elegant restaurant like menu cards were distributed while at the gate, and the older FA (let's call her Ms. Sonia) came during initial taxi to take the order. She explained the concept of "dine anytime" and that there was a full dinner and/or a full breakfast. Unlike other LH night flights which left me starving, I quite liked this approach. Perhaps because I had not eaten much, I opted for the dinner option and decided to skip most of breakfast. This is a rare occasion for me as during work trips, I barely eat and all I want to do is sleep.
Soon after take-off, Ms. Sonia came by and offered me a drink of choice – JW Blue as is mandatory in F class for me
… and offered the full range of caviar with the usual garnishes. Now, LH F usually does a really good job at this, but I decided to skip it and focus on the Indian menu, which looked really good. So I began with the fruit chat, which was very good accompanied by warm Indian bread. As I began eating, I begun to realize why LH (despite its vastly inferior products) had made so much inroad into the Indian market – they had customized the experience to India while remaining true to their German roots. The choice of Indian bread was an example of this … and quite contrary to say an Air France flight ex-DEL in FCL where there was no Indian bread accompanying an Indian meal.
After having finished my chat, I began chatting with Ms. Sonia (read more of that later in the "crew" section) and our chat was so long that the other FA, Ms. Ulrike came by to remind us that it was a night flight … haha.
So, for the main course, there was a generous choice of 4 items including 2 Indian dishes – keeping with my Indian theme, I chose the Chicken Chettinad which I have never tasted before. Can one of our Indian A.Netters point out if this is something unique to the Bangalore region? Anyways, the meal was absolutely perfect. The rice just melted in my mouth and the chicken and the dal was befitting a top class restaurant. Moreover, the accompanying spices and sauces were just perfect and accentuated the meal. The best part … generous portions! I could not believe I was having a dining experience on LH and made it a point to compliment one of the VP's @ FRA … hands down, the best meal I have had on a Lufthansa bird. Post the main course, I settled into some Indian ice-cream which was nice along with my regular port wine. All in all, a very memorable experience.
After some further chat with Ms. Sonia, I slept like a baby for 5 or so hours before waking up as all others around me were having breakfast. Here is where the lack of privacy clearly showed as I could hear the clinking of everyone's cutlery throughout the flight. Post waking up, Ms. Sonia was by my side asking if I wanted anything quick. I declined and asked for some fresh fruits … which were indeed super fresh.
(Menu: Classic chic)
*
*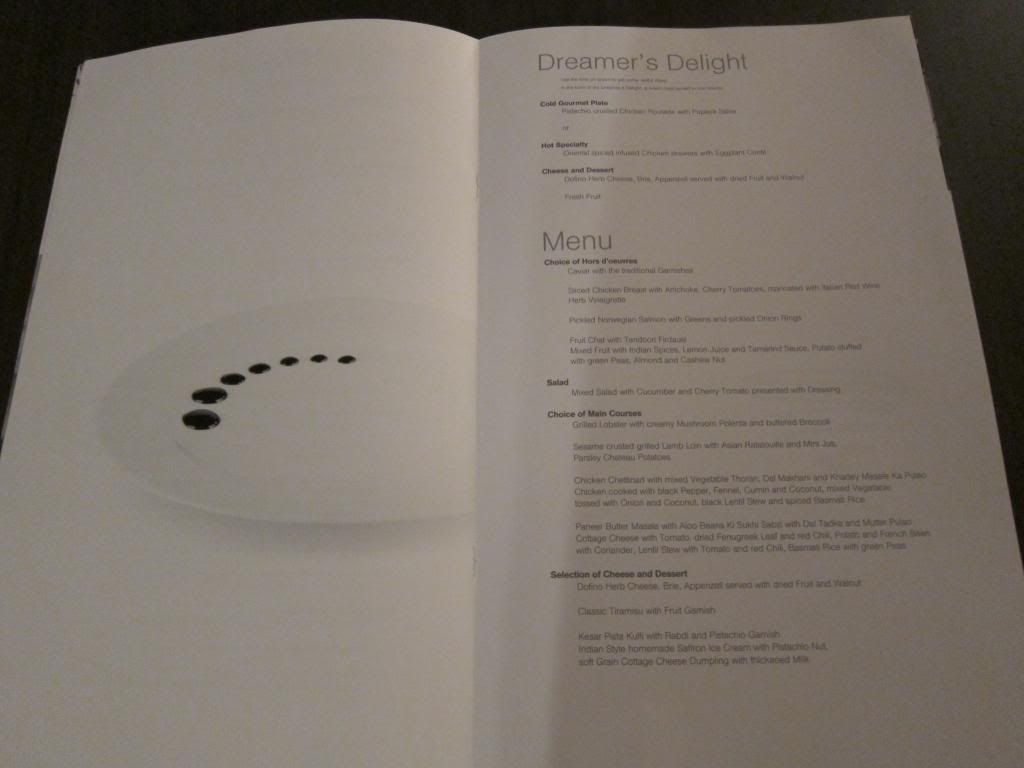 *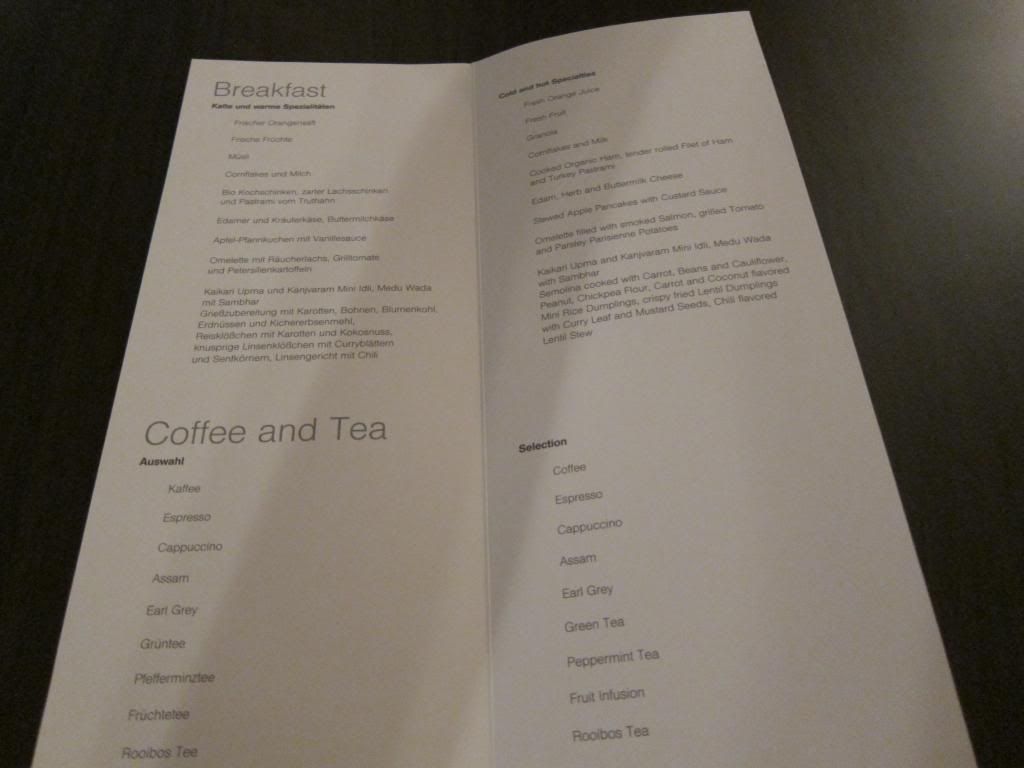 *
*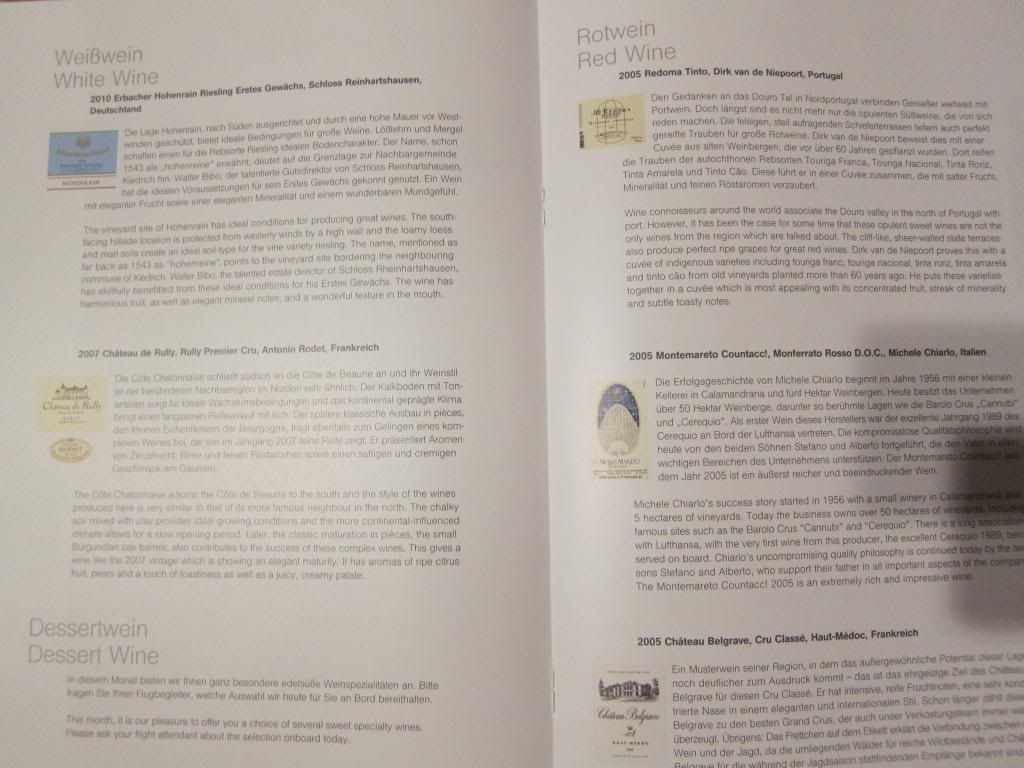 *
*
(Pre-departure: Flat champagne)
(Dinner service)
*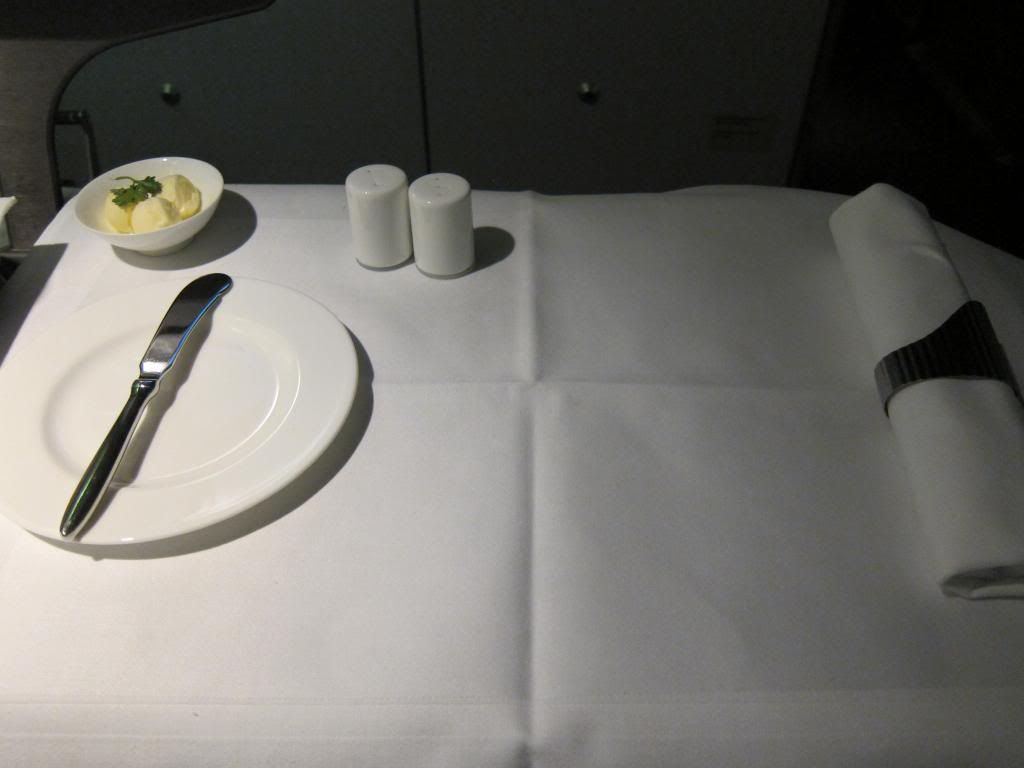 *
*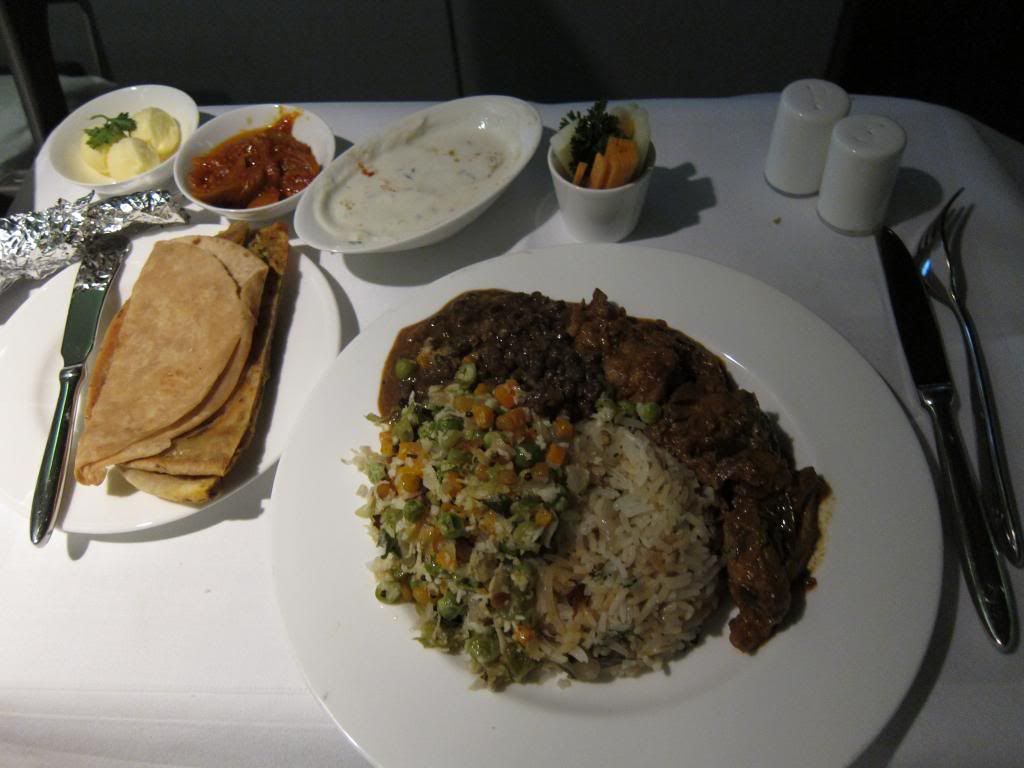 *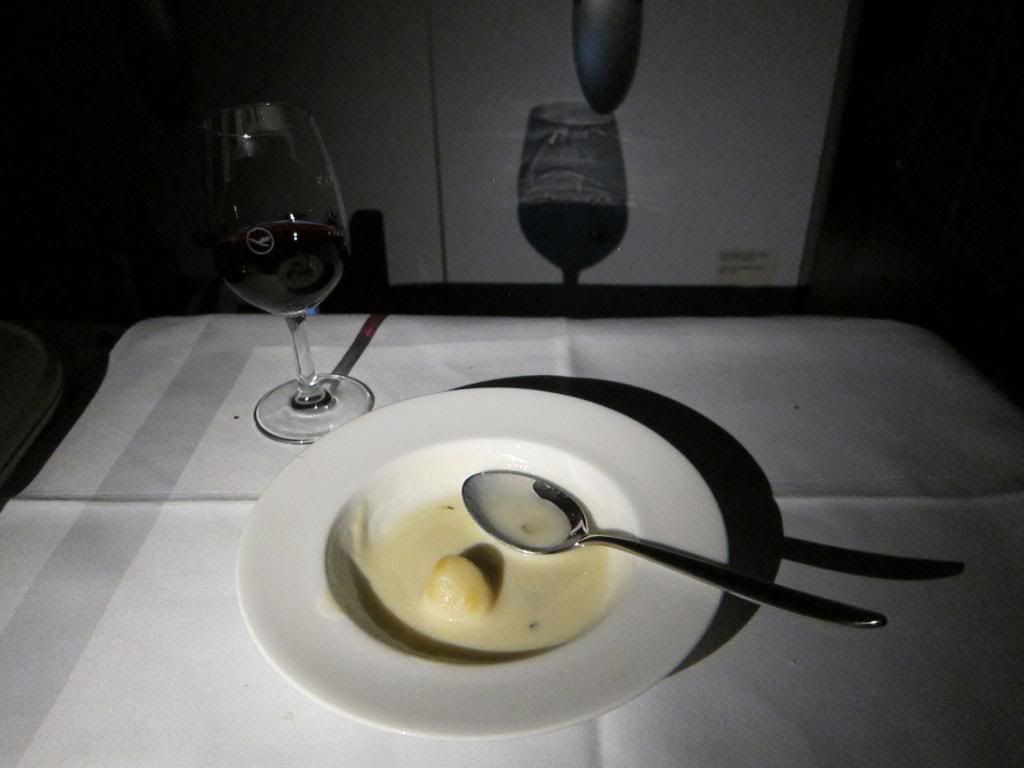 (Fresh fruits @ breakfast)
d) Inflight Entertainment:
Lufthansa's IFE is clearly a generation behind. While their "new" AVOD is better than the past, the limited amount of movies and TV shows get tiresome as do the old controllers. Moreover, it really is time to change those nasty headsets and tiny screens. The entire thing felt so outdated that it was sad. However, the LH inflight magazines continues to be one of the best out there with a section on their fleet that even gets a nod former A.Net resident expert "PH".
(LH IFE – with those terrible headsets)
*
(This is a F class screen in 2012)
*
*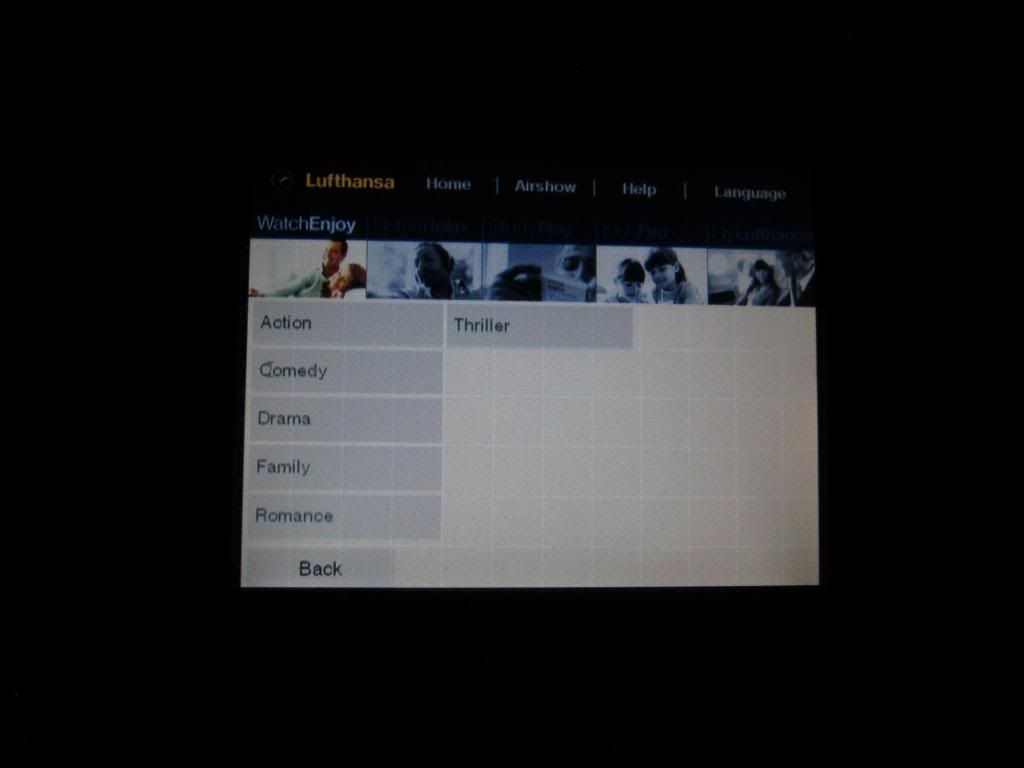 *
*
*
(Connections & Routing)
*
("In-flight magazines", Boarding Passes, etc.)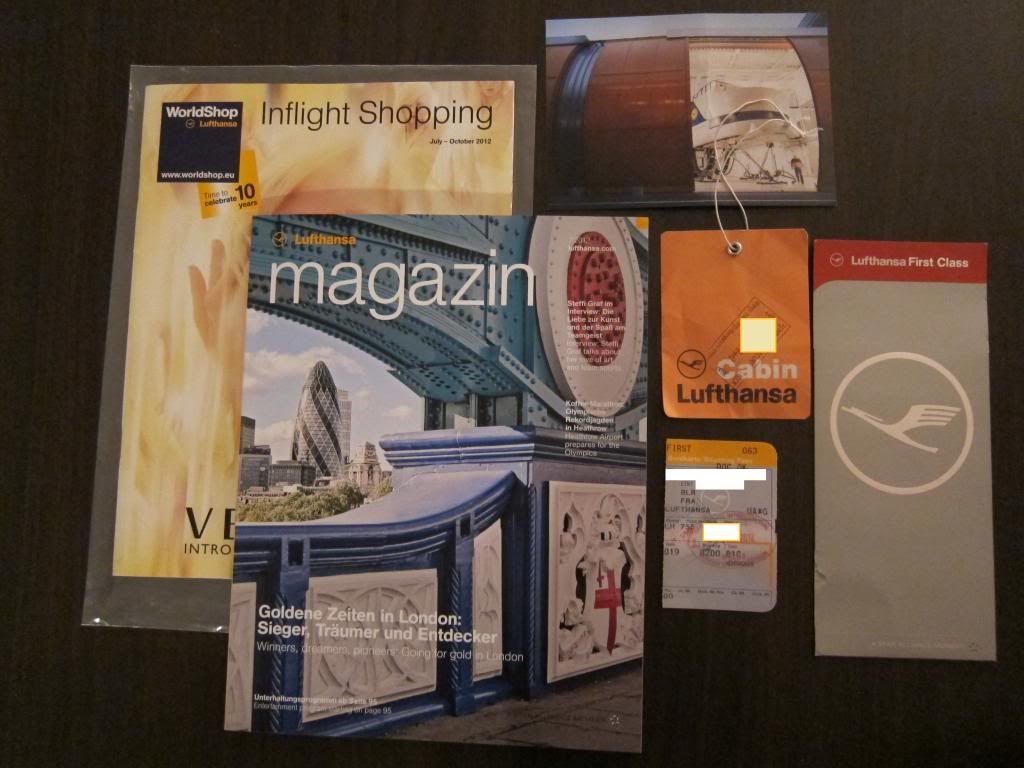 Live, and let live.