Photo credit: 4kq.com.au :
Dear readers,
The end of year holiday season has coming into Jakarta, and my family thought that it would be better that we spend it with a trip somewhere. As a travel and aviation enthusiast, I welcomed the idea and extend my support. We looked into several destinations in Asia, in particular those that we have never been before. In that case, Seoul is the most likely candidate.
Background:
Hence, I started looking for flights from CGK to ICN around three months prior to departure, and found that only two carriers flying between the two cities, which are KE and GA respectively. I was also interested on flying OZ, TG, CX, and SQ with a stopover in between, but at the end of the day, Korean Air was offering the best deal compared to the other carriers. Hence, our choice was obvious, and I was excited because I have never flown KE before.
Korean Air is South Korea's flag carrier and the largest airline in the country. The Skyteam member flown to all six inhabited continents around the world, including daily flights to Indonesia's Jakarta (CGK) and Denpasar Bali (DPS). The daily Jakarta flight is usually operated by a 744, however the route was subbed with a daily 77W during the winter.
Booking can be done easily through Korean Air website, however features such as Online check-in or early seating reservation can only be done by Skypass frequent flyer members only. So as
Korea beginners
, my family begin on our very first trip to South Korea.
Check-in & Lounge:
With scheduled departure of 2205hrs, the trip to CGK Terminal 2E has began since 1830hrs, because of Jakarta's horrible traffic conditions.
With all the banners of "Excellence in Flight", you can never go to wrong check-in counter when flying KE
At CGK, Korean Air uses Terminal 2E, which is in the same location as other Skyteam carriers flying out of CGK, namely CZ, KL, VN, and SV. As a future Skyteam member, GA also has their international flights check-in area in the same location as well.
Korean Air Check-in desks for Economy Class
KE has around six desks to serve passengers flying to ICN that day. One of them was allocated for first class, one for "Morning calm", which confuses me because I always thought their Business Class was called "Prestige class". The rest was to accomodate economy class passengers. Check-in was done very efficiently, and it was finished within 15 minutes.
CGK immigration queues were surprisingly empty that night, and I was able to get my passport stamped without any need to queue. The immigration officer was looking at me and asking me whether I was going to Seoul tonight.
Officer : Sir, are you going to Seoul tonight?
Me : Yes, sir. I am flying there for a holiday.
Officer: Ah I see, are you traveling on your own?
Me: No, my family was in the counter beside.
Officer: Oh, it is really cold in Seoul, up to -13 degrees (celcius), I just returned from ICN a few days ago. Are you sure you're up for that? (chuckles)
*I was wearing a t-shirt and trousers*
Me: Oh, haha, yes, of course, I have all my winter outfit inside the bag.
Officer: Well have a nice holiday in Korea, see you.
After immigration, I headed for the BRI Executive Lounge to wait for boarding time, which was around one more hour. BRI is one of the major banks in Indonesia, and passengers who are part of their Priority Banking program are invited to use the lounge in CGK.
The lounge itself is relatively small, but it had adequate facilities for passengers. Food offerings were tasty and generous in term of amount.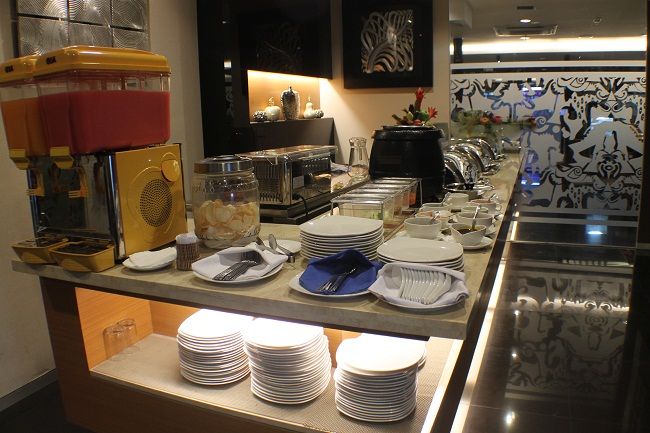 Food offering on the lounge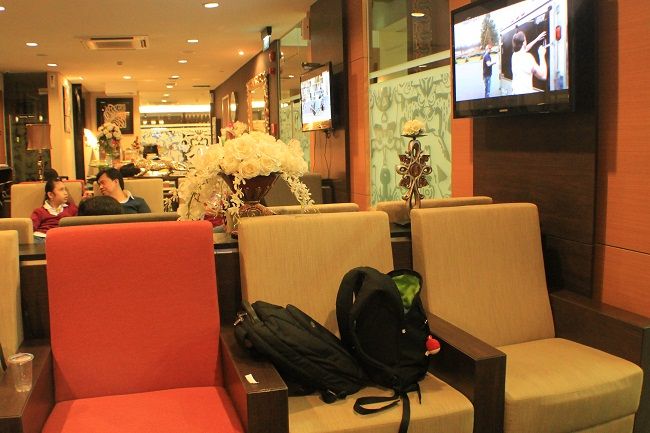 Seating area in the lounge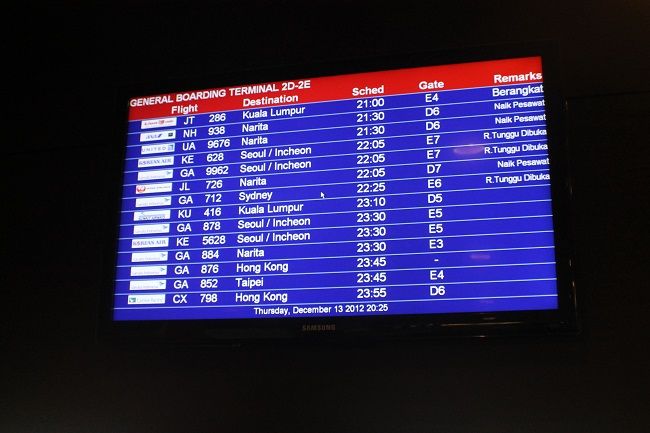 FIDS on the lounge
My passport + boarding pass
Boarding:
Gate E7, with the KE "Excellence in flight" banner.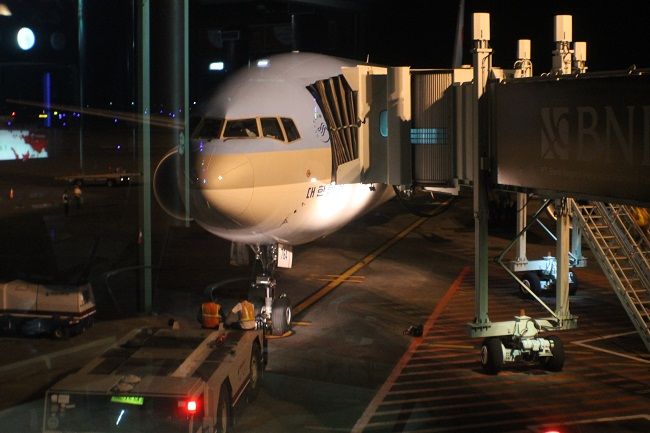 Our Aircraft today, the 3.2 years old HL7784
Flight details:
Flight number = KE 628:
Aircraft = B777-3B5ER:
Registration = HL7784 (delivered 15/10/2009 as Ln 823):
ETD = 2205:
ETA = 0655:
Seat number = 49H:
With another five minutes to scheduled boarding, I started walking towards the assigned gate E7. After a secondary security check just before the gate area, I reached the gate when boarding was already in process, and I was one of the last passengers to board the aircraft.
My seat, with pillow, blanket, and headphones available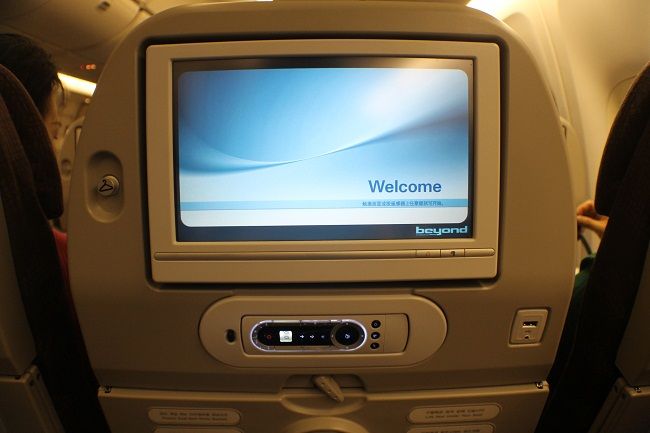 Large IFE screen and controls on seatback
Our future alliance partner flying to SYD tonight
The load for today's flight to Seoul-Incheon is almost full, with J class filled about 80% and full Y class. Most of the passengers are mostly South Koreans residing in Jakarta who returned home for holiday, along with some Indonesian tourists flying to Korea.
Korean Air has crew members
Safety video is playing while on pushback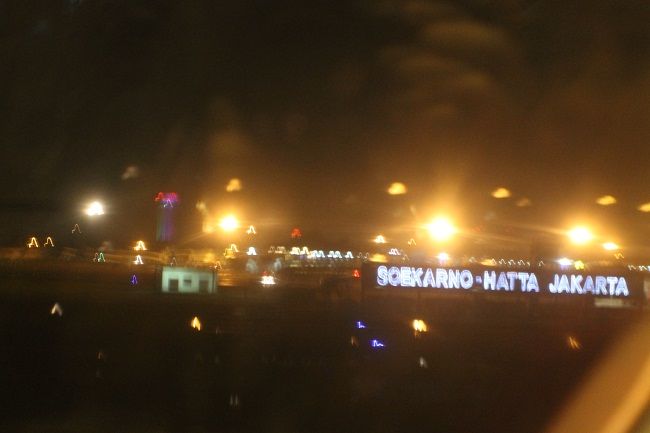 Goodbye Soekarno-Hatta Jakarta, see you in one week.
Take-off as seen in Skycam feature on the IFE, at 2245hrs.
In-flight:
The flight was estimated to take about 6 hours and 35 minutes, with relatively smooth weather en route. There were light turbulence while climbing to our cruising altitude of 36000 feet.
Korean Air In-flight magazine: "Morning Calm", Skyshop catalogue, "Beyond" IFE guide, and Safety card.
And, there's this stickers to ensure cabin crews did not disturb your privacy.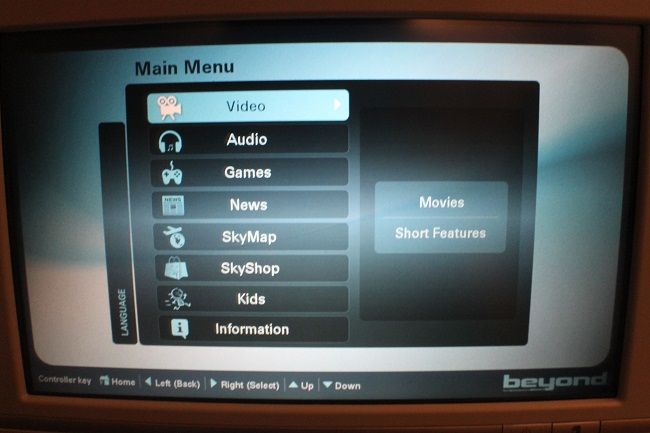 "Beyond" IFE main menu. The "Beyond" IFE system is an advanced inflight entertainment system, however it has a limited choices for English music and films, which is somehow a let down.
But since you are flying KE, why not listen to Korean music?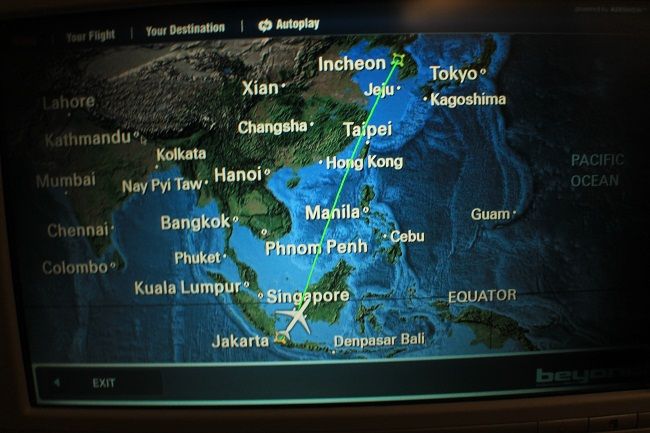 Our flight routing to ICN today. Flying pass above MNL, KHH, and TPE on the way. Strangely, while cruising we could see lights of those cities outside our window.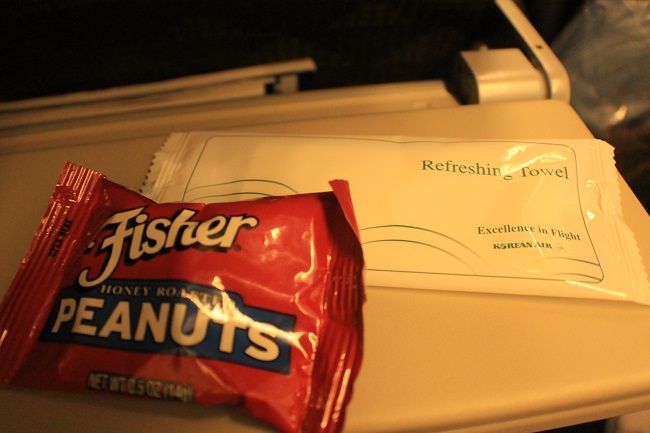 After seat-belt sign is off, crew members offered peanuts and a choice of drinks, along with a wet tissue.
An amenity kit consisting of slippers and toothbrush was offered soon after. Eyeshades were offered separately on another round. I am wondering why can't the eyeshades must be offered separately. Any ideas?
Meal service was commenced around 2 hours after take off. I picked for the chicken option. The other option was the Korean beef Bulgogi.
The Beef Bulgogi option
Following the meal service, the in-flight duty free was announced and the crew members went around the cabin with the duty-free trolley.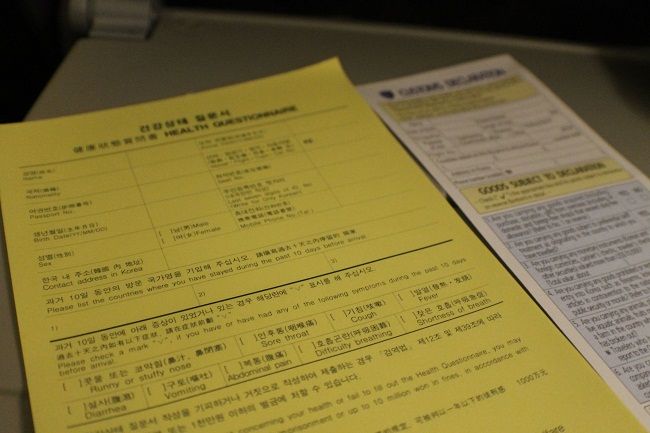 Crew members distributed the forms for passengers disembarking at ICN, which includes health & customs form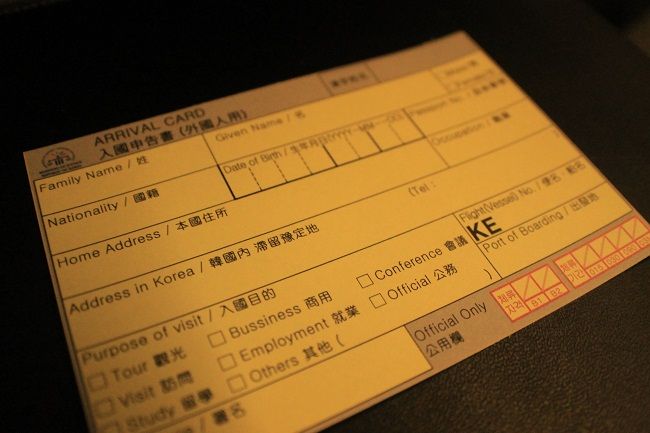 And most importantly, the South Korean arrival card that must be filled by every passenger.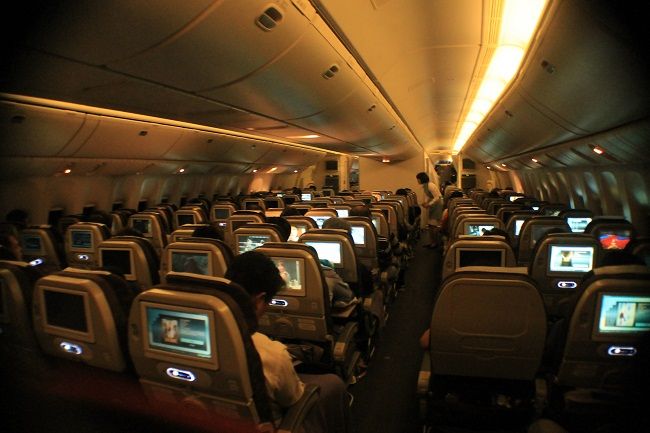 Cabin lights were dimmed and eventually switched off to allow passenger to rest.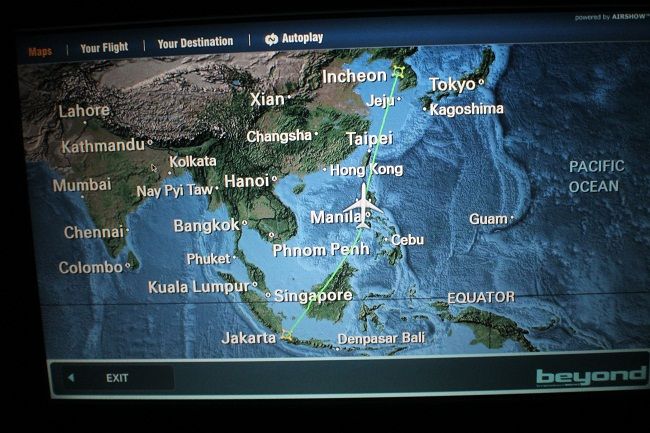 Around halfway to ICN, with around 3.5 hrs to go, I decided to join other passengers for a sleep.
Arrival into Incheon :
I was awaken from my sleep when the cabin lights were switched back on, with announcement of cabin crew collecting headsets and preparation for landing.
Our flight were on descent into Incheon Airport as seen in the moving map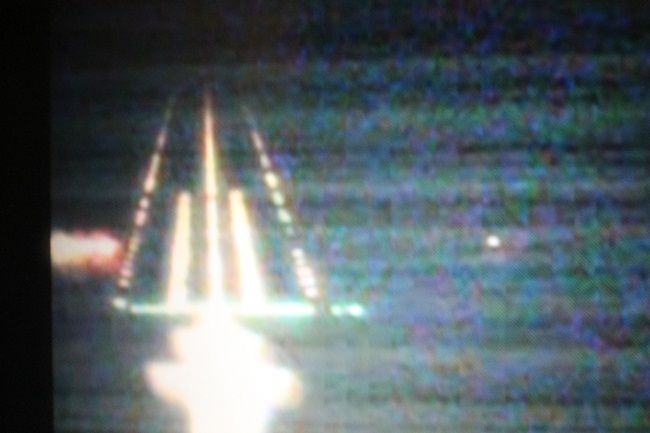 Touchdown : 0652hrs local time (GMT +9, 2 hours ahead of Jakarta)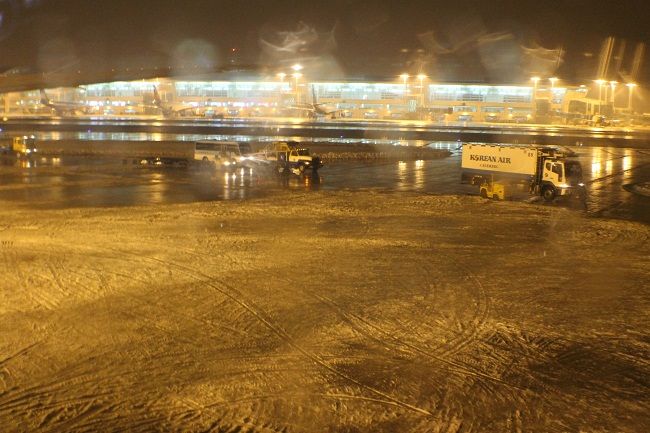 Snow was covering Incheon Airport at the time of arrival.
Disembarkation took around ten minutes before it was turn for the rear economy class passengers to deplane, and we are out at Incheon Airport's arrival area, heading for immigration.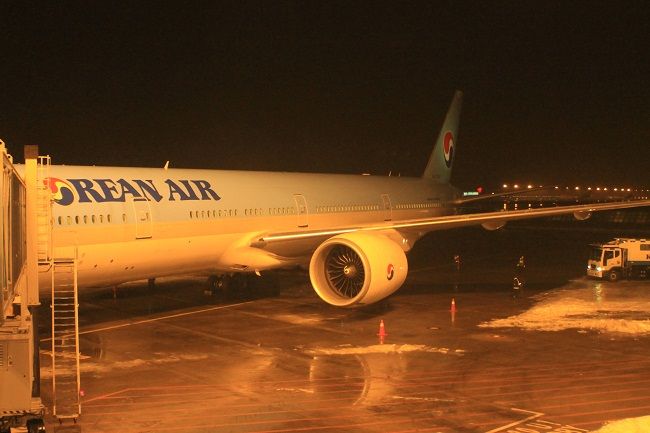 Goodbye HL7784, see you next time!
Moving walkway leading to Immigration and baggage claim.
Passed through another KE 777 aircraft, 5 years old aircraft HL7750.
Prior to passport control, a health screening was done using the automatic thermal check, and at the health control booth, passengers hand their health form. The passport control took around 20 minutes to complete, with moderate queue forming due to heavy arrival traffic, within the standards of a world class airport like ICN. After immigration, we headed for baggage claim area.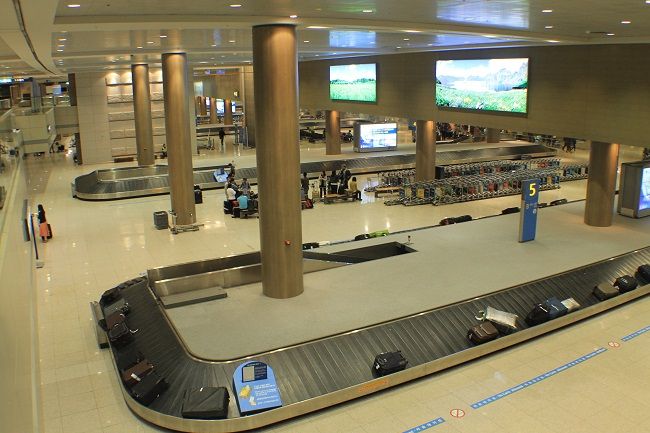 The baggage claim area at ICN. Clean and spacious.
Goodbye ICN. We took an airport limousine bus heading for our hotel in Namdaemun area, downtown Seoul.
Final thoughts on the flight:
On my first ever flight on board Korean Air, I could see that they displayed a high standard of service. Cabin crew were courteous and attentive on passengers' needs. The presence of both Indonesian and Korean crew members on the cabin enhanced the quality and efficiency of their service. Their seats are comfortable and legroom was more than adequate for people like me.
However, they are still areas for improvement, which includes broadening the options (especially English ones) on their state-of-the-art "Beyond" IFE program. Furthermore, they may consider to restructure their meal service on this sector, as it simply surprising that they only had a single meal service for the 7 hours flight, with a few drink run in between.
In my opinion, so far, Korean Air is on the right direction to become "Excellence in flight" and I would not mind to fly them again.
Thanks for reading. Do leave a comments if you have any thoughts or questions, thank you.
Before I end, I would like to wish everyone who are celebrating, a
Merry Christmas and hope everyone is enjoying their Christmas celebration this year
.
Regards,
Dirktraveller.