Hawaii with a Las Vegas Bonus and lots of Delta Segments!
I took this trip from Dayton, Ohio to Honolulu and Las Vegas a few months ago, but have not had time to post it. This past week, we received our first real snow storm in Ohio. I spent an hour yesterday shoveling snow off my driveway and reflected back on the Hawaiian beaches! So…wishing I were back in Hawaii, here's my report…
BACKGROUND
Last spring, my daughter graduated from high school and with some encouragement from me, decided to further her education and attend college. My daughter is not one to go with the flow… a local Ohio university or community college would not suffice for her. Instead, she found a small private college in Hawaii to attend. Now be truthful… if you had a choice to attend a college in Ohio or Hawaii—which would you choose? I couldn't argue her logic for selecting Hawaii either, so I decided to support her in her decision. But-- I wasn't going to let her travel six time zones away by herself, so I decided to travel with her to get settled into school…and get in a trip to Hawaii too!
One complication however… the week after her school was scheduled to start, my company was scheduled to participate in an industry trade show in Las Vegas for which I was responsible for managing. Rather than fly back to Dayton, OH and then turn around and fly back to Las Vegas, I decided to include Las Vegas in my itinerary and fly directly to Las Vegas from my trip to Hawaii. I would have loved the flying and the miles, but timing was too close.
I am a Platinum level on Delta and so in planning the trip I arranged my itinerary to maximize the number of types of aircraft—and number of segments to ensure I took full advantage of the trip and my status (including a stopover in Salt Lake and Los Angeles as I flew from Honolulu to Las Vegas). For "A-netters" it is like having your birthday and Christmas at the same time! All together I had scheduled 7 segments that earned me 20,000 miles (including my Platinum bonus).
So buckle up… and enjoy the trip!...
PLANNING THE ITINERARY
Let me first say… I LOVE planning my trips. I enjoy looking at all the options to maximize my travel experience. Getting to plan a trip to Hawaii with a Las Vegas add-on was like I was a little kid writing my Christmas letter to Santa!
As mentioned, my airline status and miles are with Delta. I used mileage to purchase my daughter's ticket, but I purchased my ticket to earn the miles. Obviously I wasn't going to get a direct flight to Hawaii from Dayton, Ohio. My connection options from Dayton on Delta were Salt Lake (via Minneapolis), Seattle (via Atlanta), Los Angeles (via Atlanta), or Atlanta. My objective on this leg of the trip wasn't to maximize segments—I wanted to get to Hawaii! The flight to Honolulu from Atlanta is around 10 hours which would get me into Hawaii several hours earlier than the other connecting options. Also, I didn't want to risk missing connections or losing bags with the added stops. The deciding factor was that the direct flight from Atlanta was also on an A330 (which came from Northwest as part of the merger) of which I am a huge fan, plus it has personal IFE system so I booked this flight for myself and my daughter.
Since I am a Platinum on Delta, I was able get a seat in the "Economy Comfort" section (Delta does not offer complimentary upgrades on flights to Hawaii). Economy comfort offers more leg space and more recline that other economy seats. I also tried to get my daughter into the Economy Comfort section, but it is only offered to spouses or domestic partners on a complimentary basis. I could have paid another $90.00 to move her, but I thought—she is going to school in Hawaii... I'm going to save the money and I am going to be comfortable. (She sat three rows behind me.)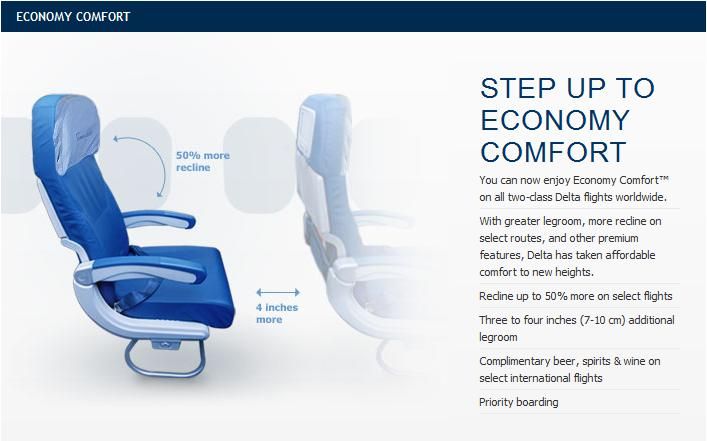 Economy Comfort description from the Delta Website
ITINERARY
Here's what I ended up with for my itinerary…
Wednesday September 5, 2012
DAY – HNL
D: DAY Delta #1985 to ATL, 7:00 AM—Aircraft: MD80—Complimentary Upgrade
D: ATL Delta #837 to HNL, 10:50 AM— Aircraft: A330—Not Upgrade Eligible
Sunday September 9, 2012
HNL – LAS
D: HNL Delta #1104 to SLC, 9:50 PM –Aircraft: B767—Paid Upgrade
D: SLC Delta #716 to LAX, 11:00 AM – Aircraft: CRJ900—First Class Full
D: LAX Delta #4464 – Aircraft: CRJ900—Complimentary Upgrade
Saturday September 15, 2012
LAS – DAY
D: LAS Delta #2316 to DTW, 11:30 AM—Aircraft: B757—Complimentary Upgrade
D: DTW Delta #3713 to DAY, 7:50 PM—Aircraft: CRJ –Single Class Aircraft
DAYTON TO HONOLULU
I'm not going to spend much time on the Dayton to Atlanta segment. That portion of the trip was relatively uneventful. I was offered a complementary upgrade and I ended up sleeping most of the way since I got up at 4:30 to make the flight. We landed in Atlanta on time and without incident. A service that Delta offers at some airports is a connection screen that lists connecting gates and times.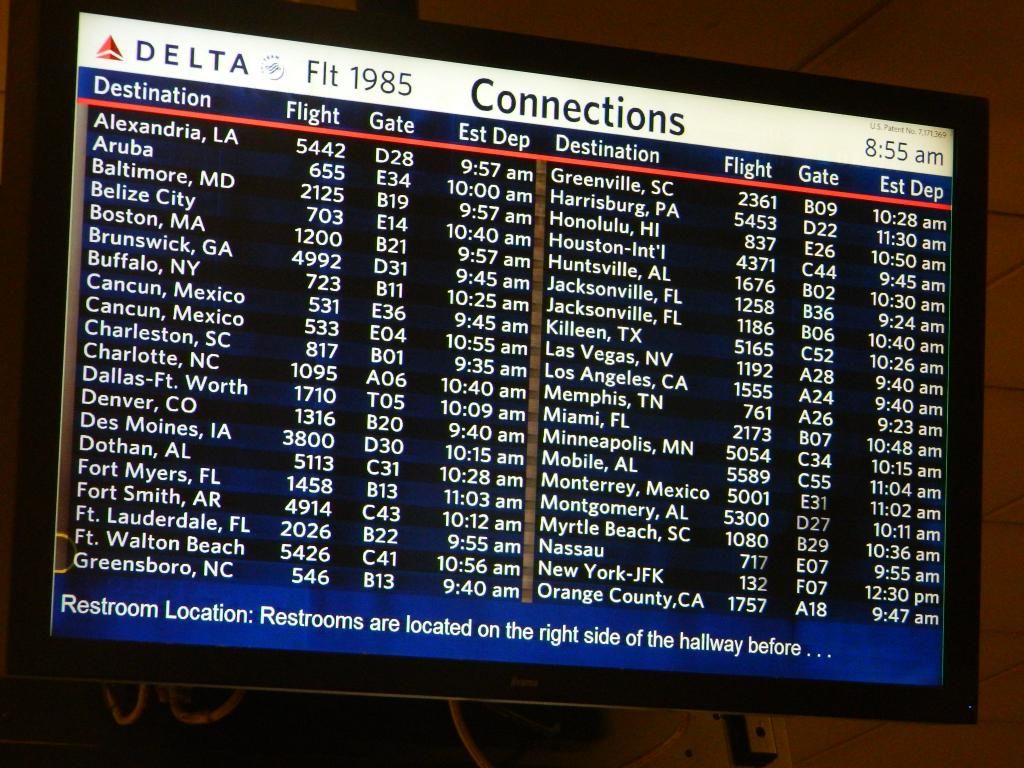 Our flight to Honolulu was on time—and in fact left us some time to make a stop in the newly renovated Delta SkyClub in the E Terminal to grab some breakfast. Here's some pictures from the club...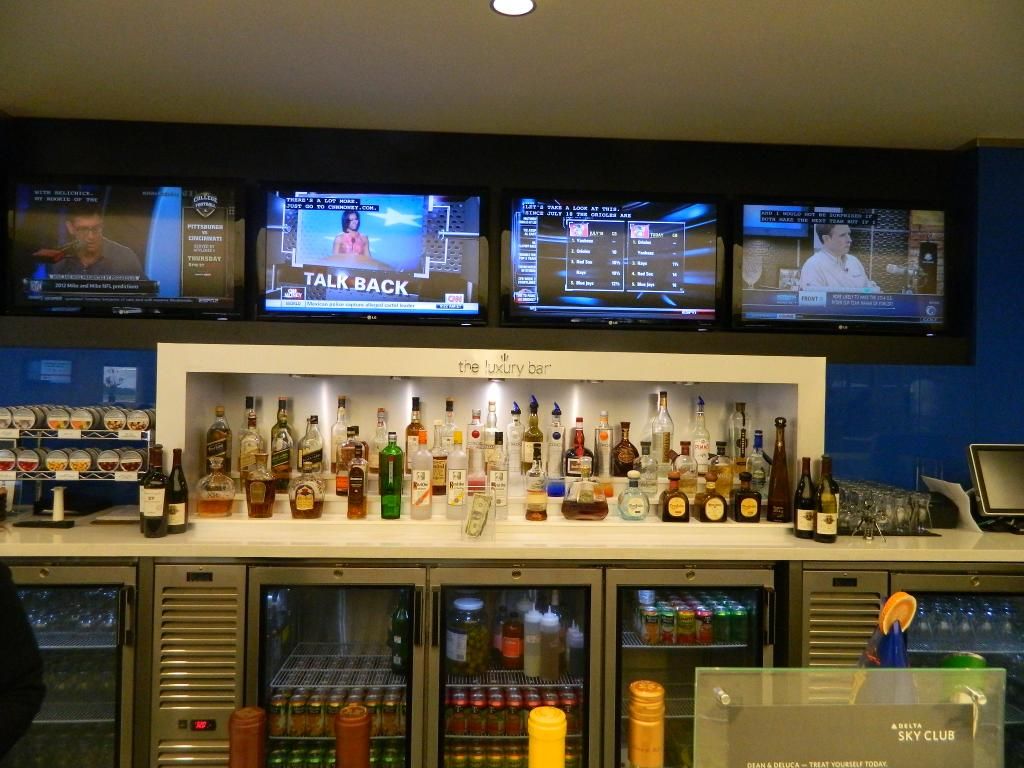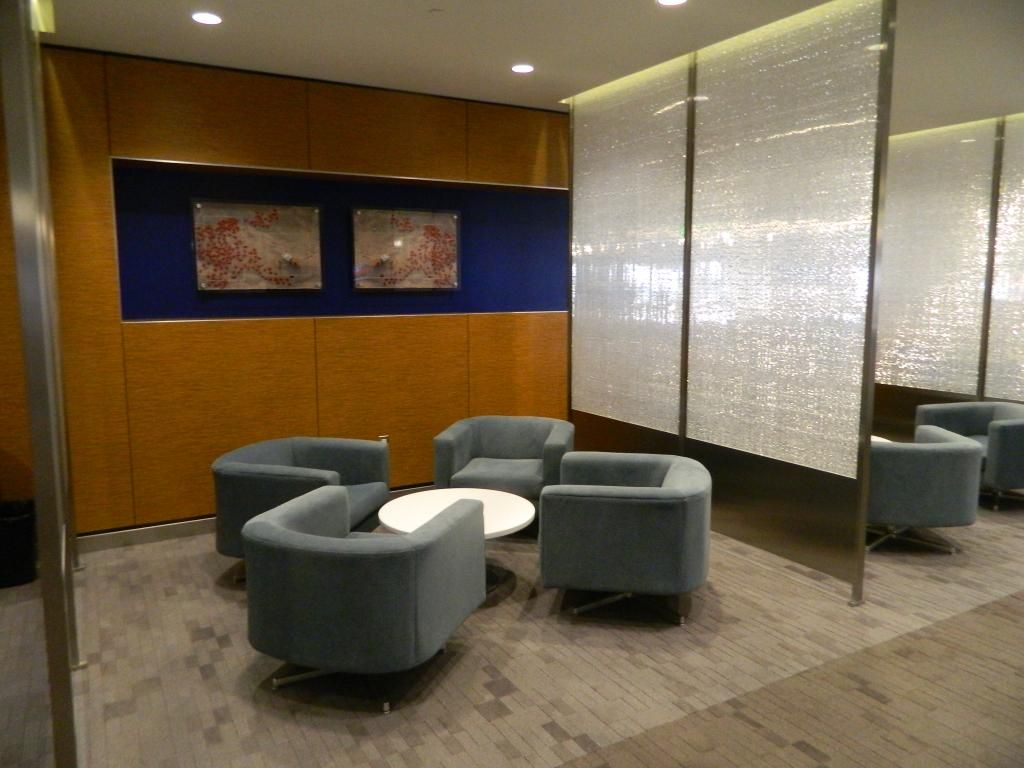 I didn't get a chance or needed to use the showers, but here's some pictures anyway...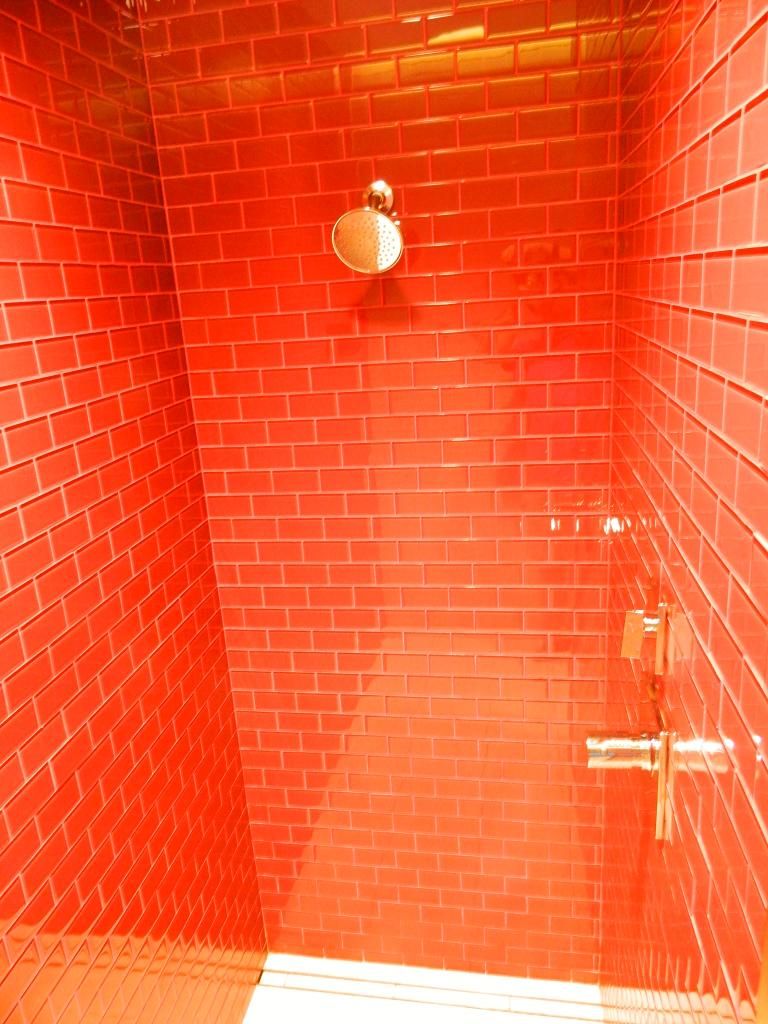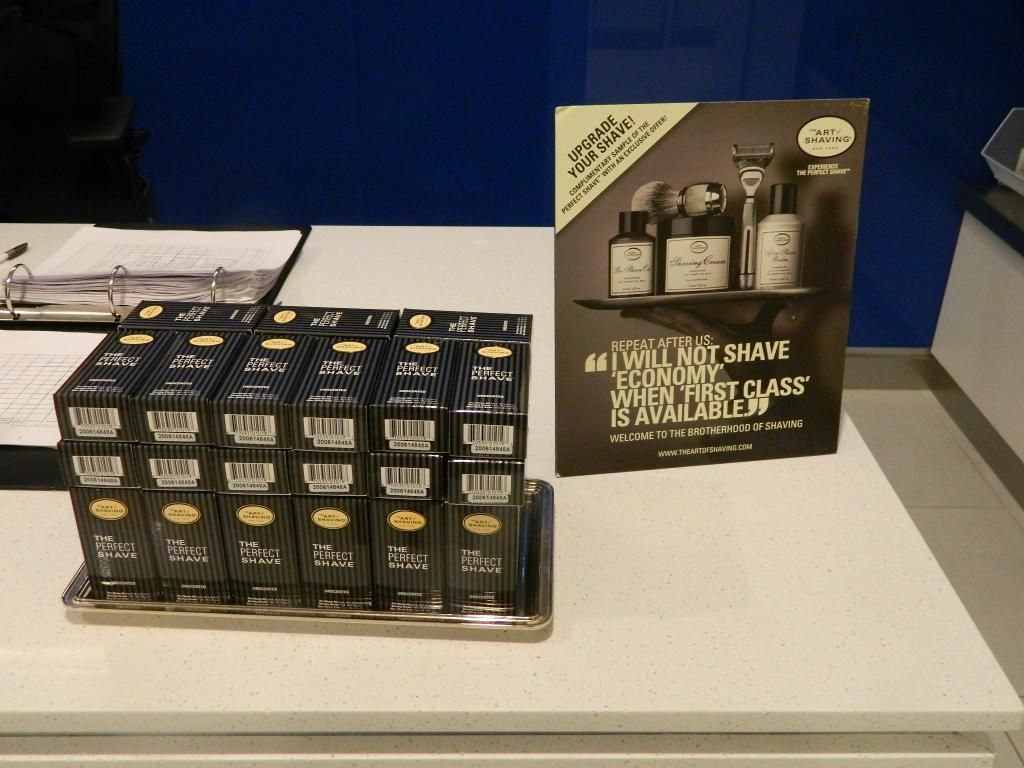 We spent about 20 minutes in the Club and then headed to the gate about 45 minutes early, just as they began boarding. We boarded, found our seats, and settled in for a 10 hour flight to Hawaii. We pushed back on time with a full flight—only two seats were empty according to a flight attendant. Not bad for a Wednesday morning in September.
The Economy Comfort did offer some much welcome additional leg room
The flight included a complimentary meal service and a snack service before landing. In speaking with the flight attendant, she informed me that the following week, Delta would start charging for meals in the coach cabin on Hawaiian flights. Here's some pictures of the lunch... (unfortunately I forgot to take a picture of the snack which was a sandwich with chips)
Before unwrapping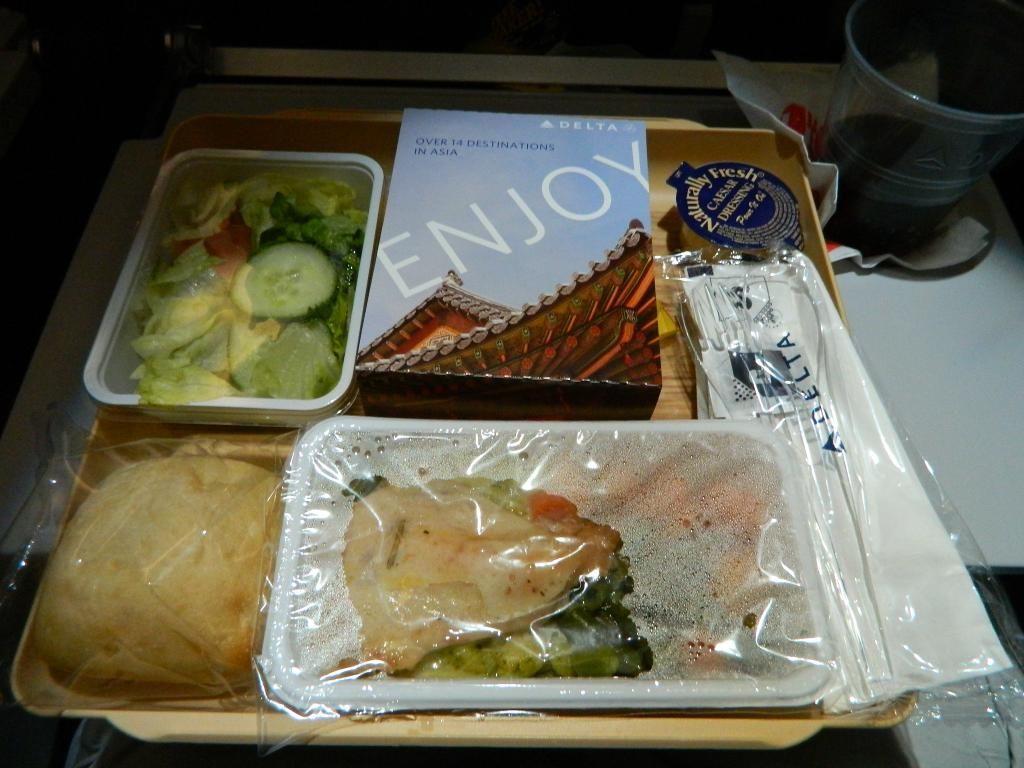 After unwrapping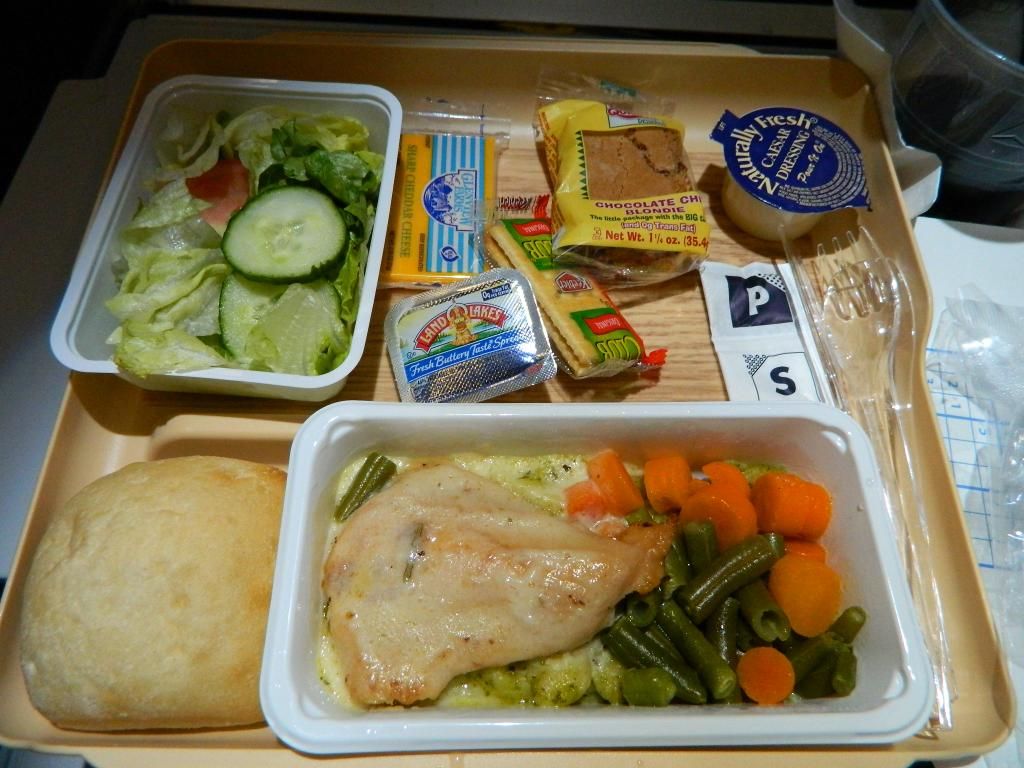 I guess the nuts in First Class are different...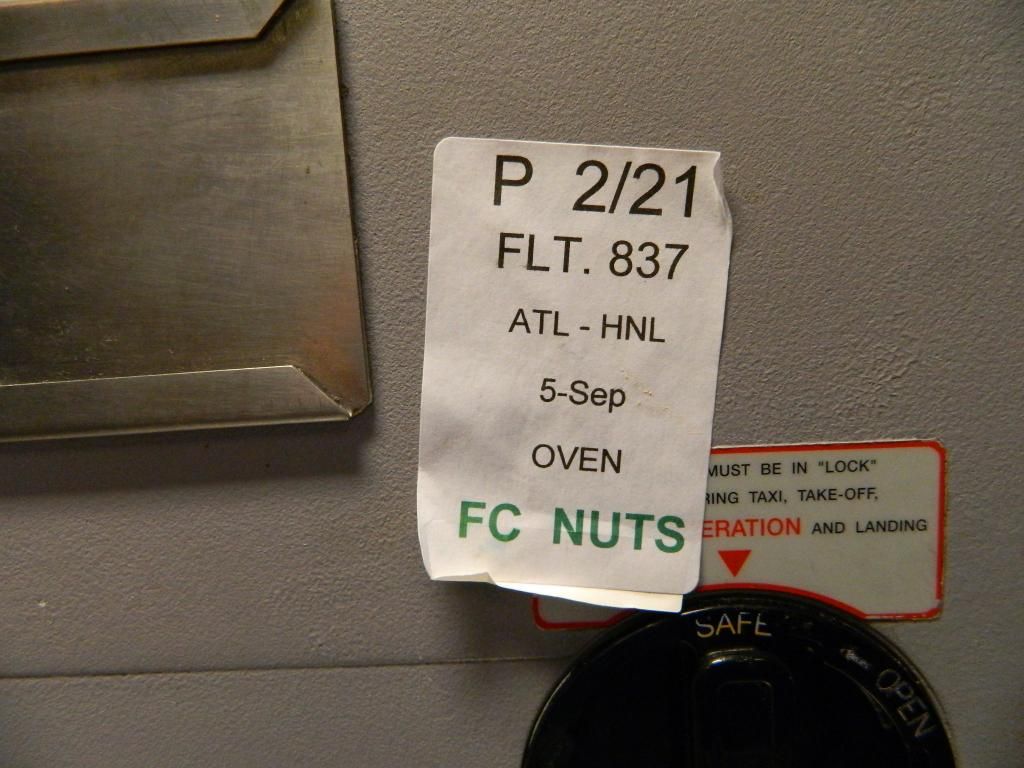 After almost 10 hours, two meals, and four movies, we arrived in Honolulu at about 2:30 in the afternoon. We picked up the rental car and headed to the hotel. Since my main purpose was to get my daughter in school, I didn't splurge on a nice hotel on the beach. Still, the view was nice...
View of Waikiki out my hotel window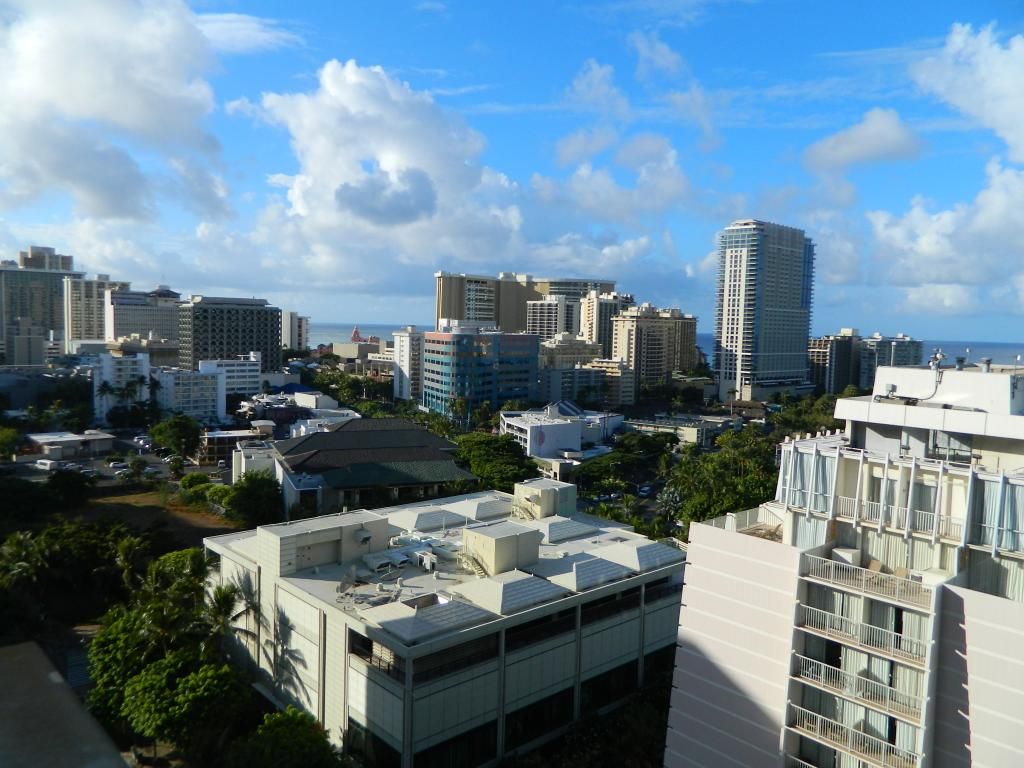 TOURING OAHU
Thursday and Friday were spent getting my daughter settled into her dorm, buying the necessary supplies at Target, and making sure she met with a counselor to get her class schedule. My daughter settled into her dorm room, found some new friends, and my job was done. At that point, she was ready for her new adventure in Hawaii, and I was ready for some sight-seeing.
Here's the beach which is about a half mile from my daughter's dorm room...I don't know if I could get much studying done...
Saturday and Sunday were spent on my own touring around Oahu. I checked out the internet and found some things to do including hiking, going to the beach, and visiting the aviation museum at Pearl Harbor. Here's some pictures from my site seeing...
Saturday morning I took a hike up the Kuli'ou'ou Ridge Trail located east of Honolulu. It is a 2.25 mile trek with stunning views at the top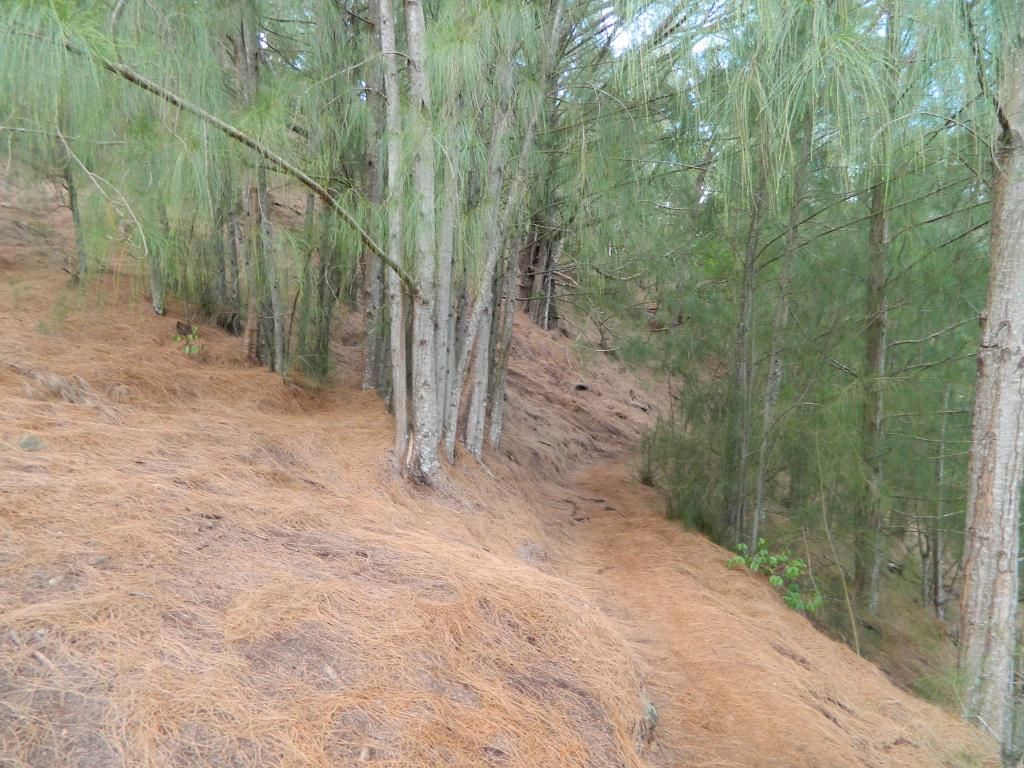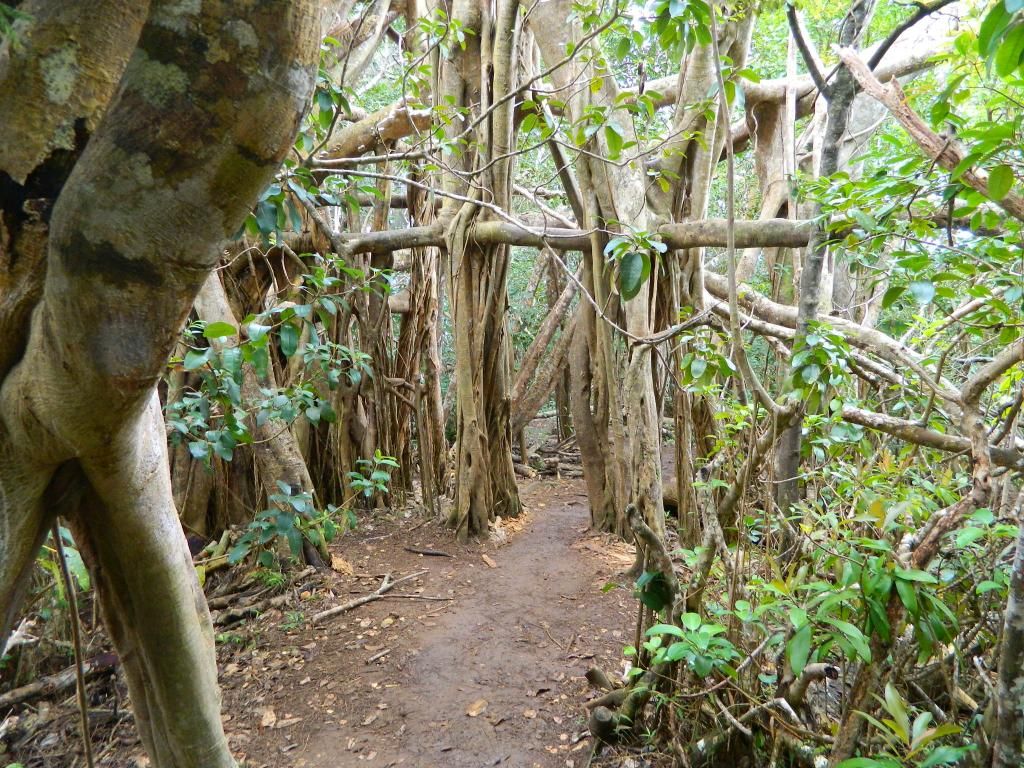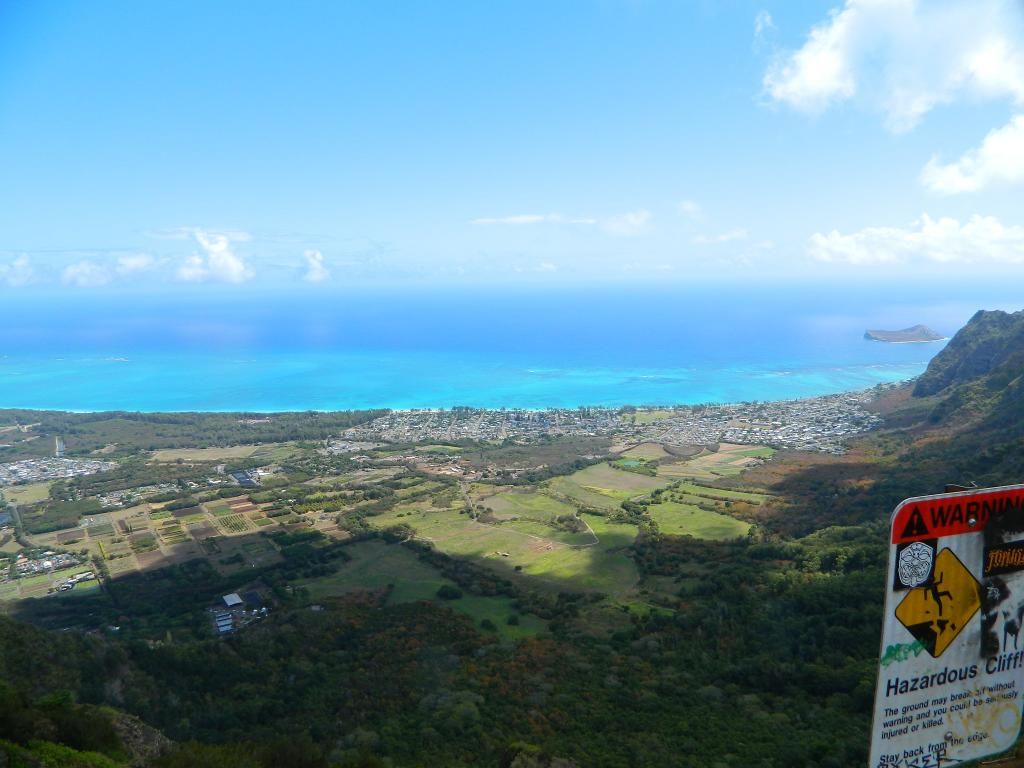 After the hike, I headed to the Sandy Beach which is famous for it's body surfing waves
I also hiked on the Makapu'u Point Lighthouse Trail. It is amazing that earlier I was in a tropical forest, and this trail was very much like a desert. Yes... these are cactus plants in Hawaii!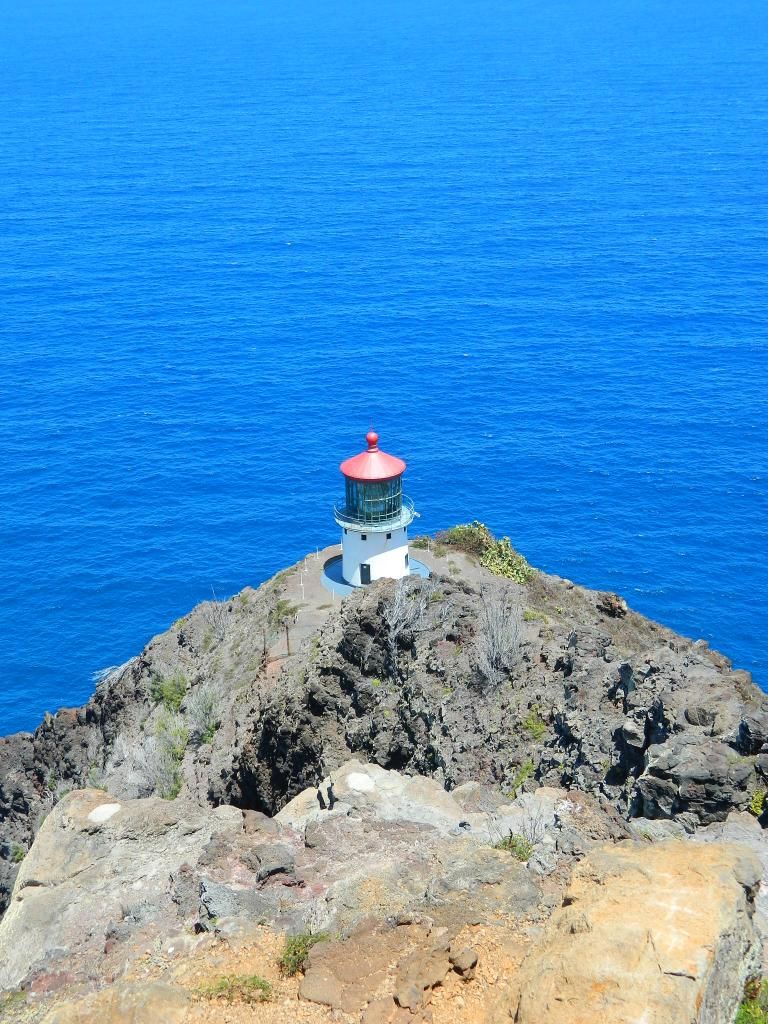 Sunday was spent at Pearl Harbor and the Aviation Museum. Part of the museum includes an exhibit on Pan Am. The exhibit and collection of aircraft is amazing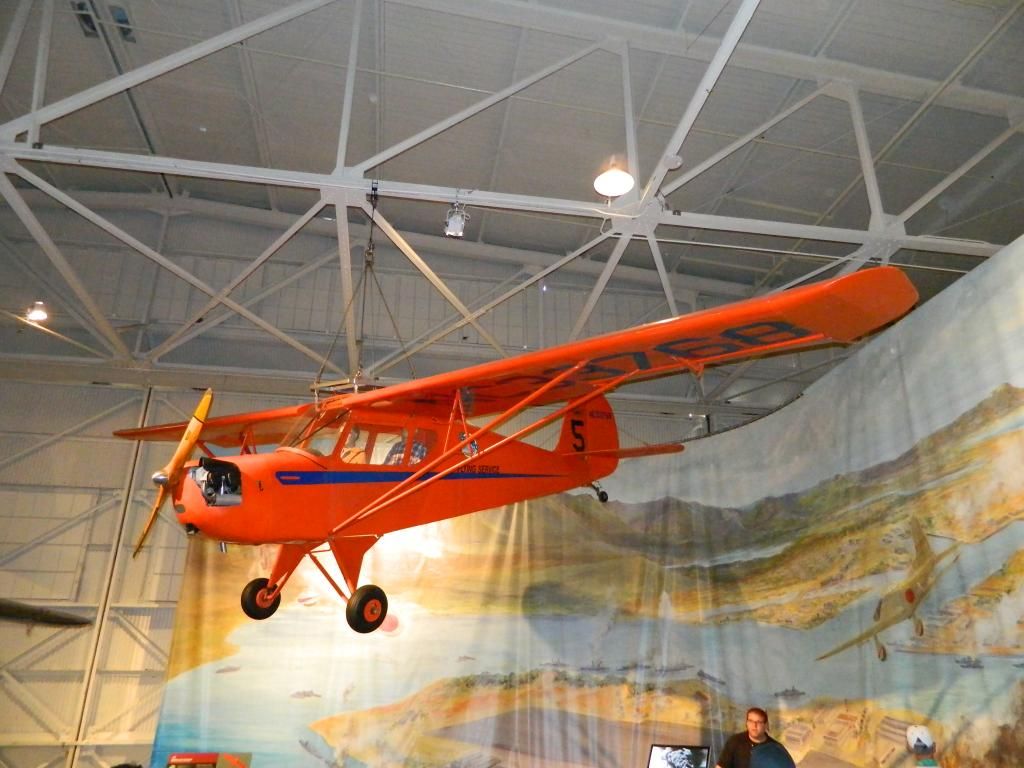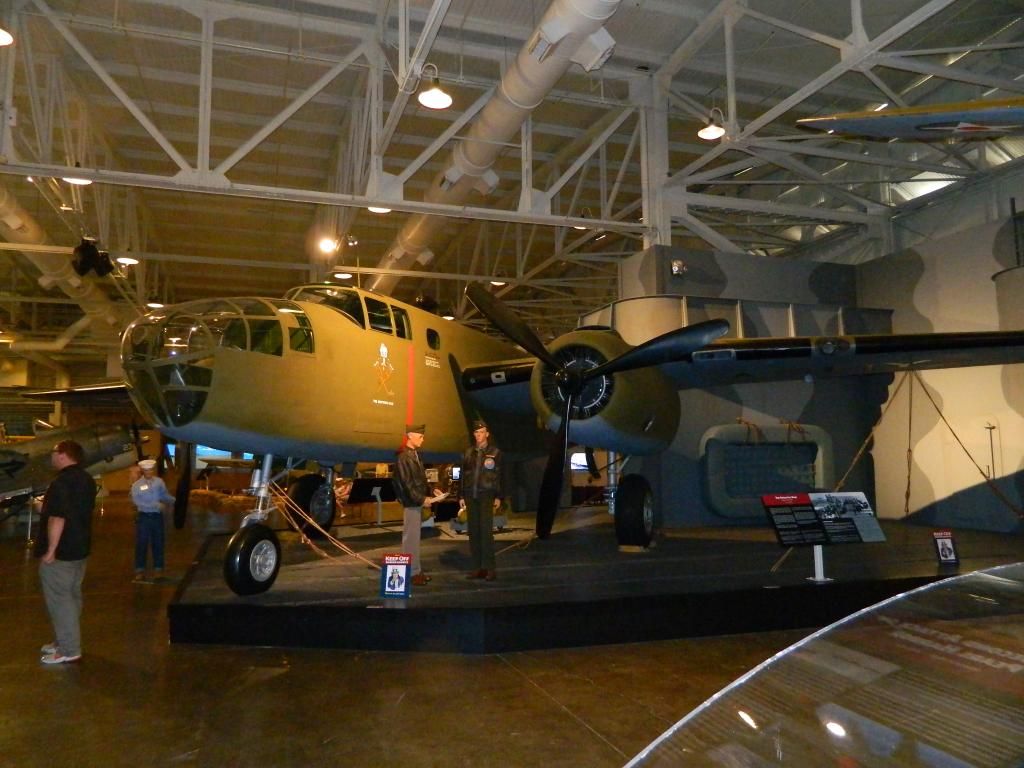 Pan Am Exhibit was part of the tour...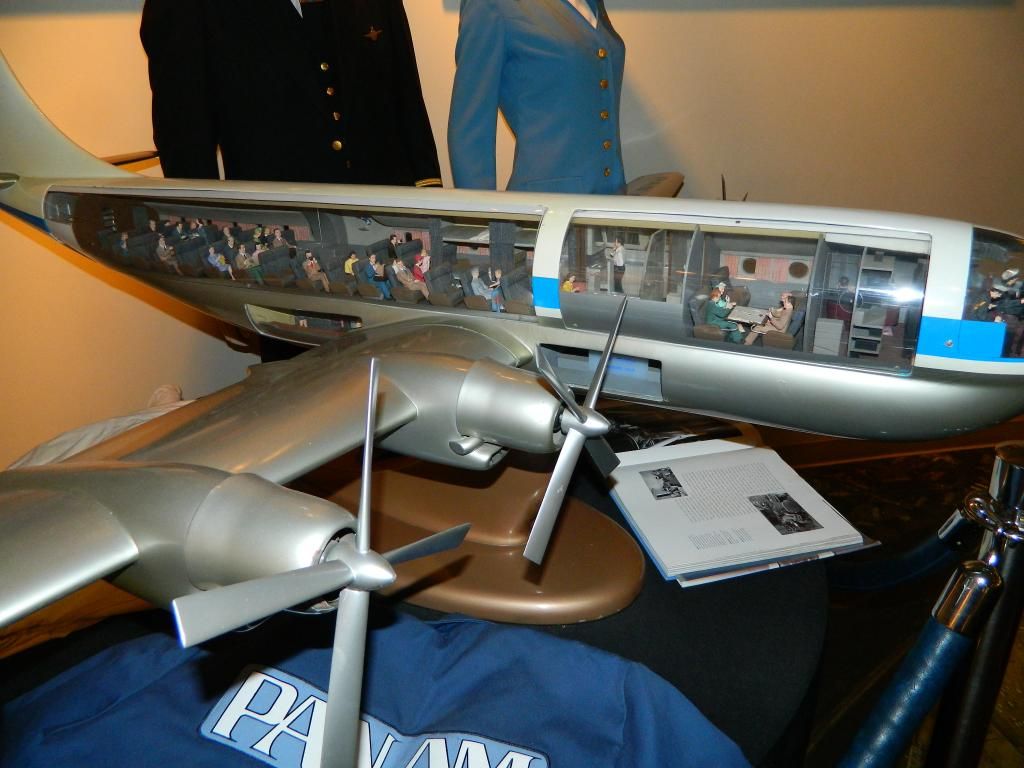 HONOLULU TO LAS VEGAS
My flight back to the mainland left at 9:50 PM, so I had plenty of time after site seeing to get to the airport. I arrived at the airport and checked in for my flight around 6:00 PM. Since I was a few hours early for the evening flights to depart there wasn't a line at the ticket counter. I was booked to fly once again in the Economy Comfort section. When I checked in, the agent mentioned that there were 12 seats in First Class and I could upgrade for $225.00. Since this was a red eye flight, I decided to pay the extra amount for a better seat to sleep in. I checked my bag and headed to the Delta SkyClub to relax until time to board.
The airline clubs are located on the lower level in the garden area. I made my way to the lower level and was amazed at the beautiful gardens. The gardens are available to all passengers and highly recommend it to anyone traveling out of Honolulu.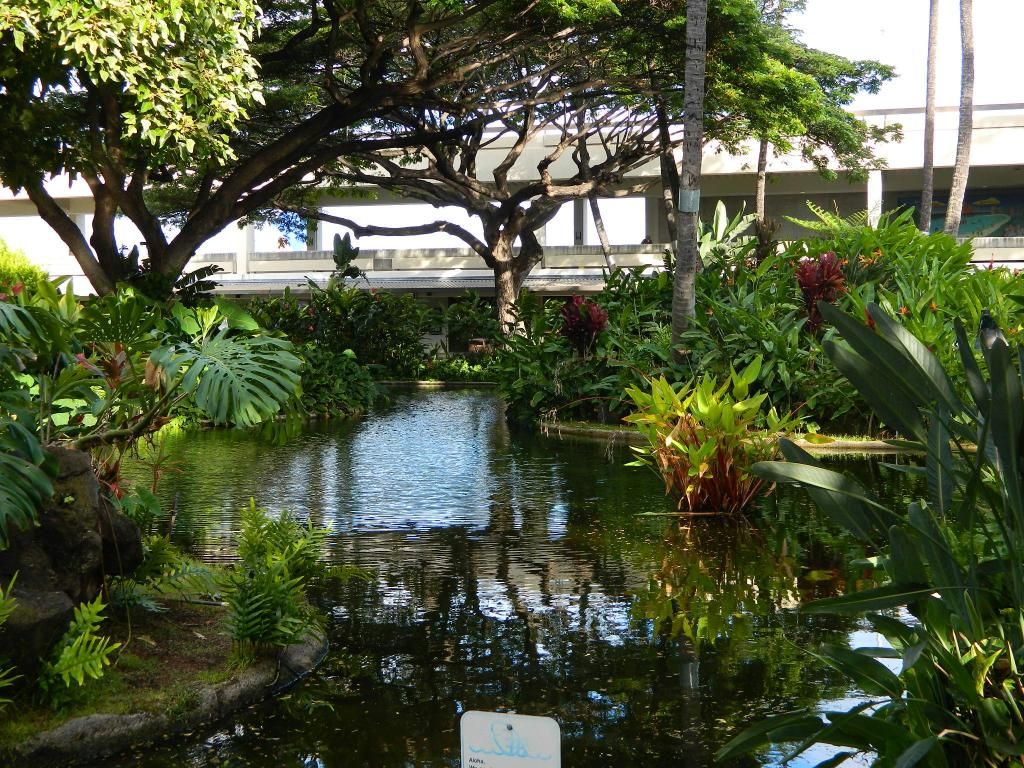 I found my way to the entrance of the Delta SkyClub. The Honolulu SkyClub is fairly small and intimate. The staff there were very accommodating and was the perfect place to rest for the long journey ahead...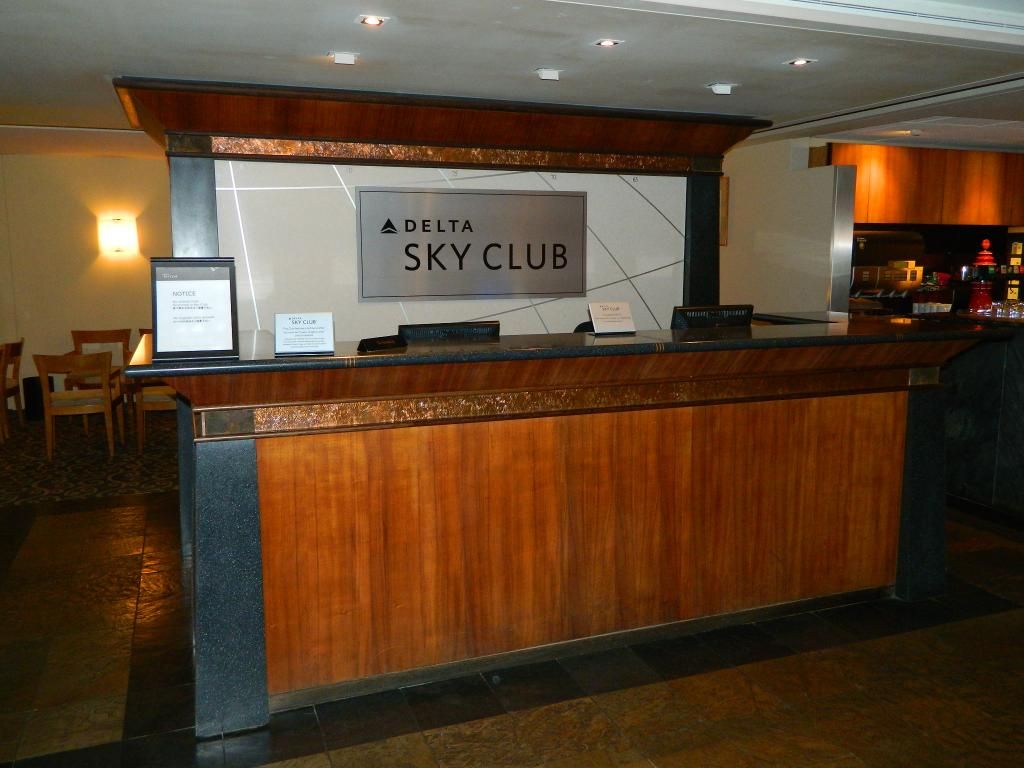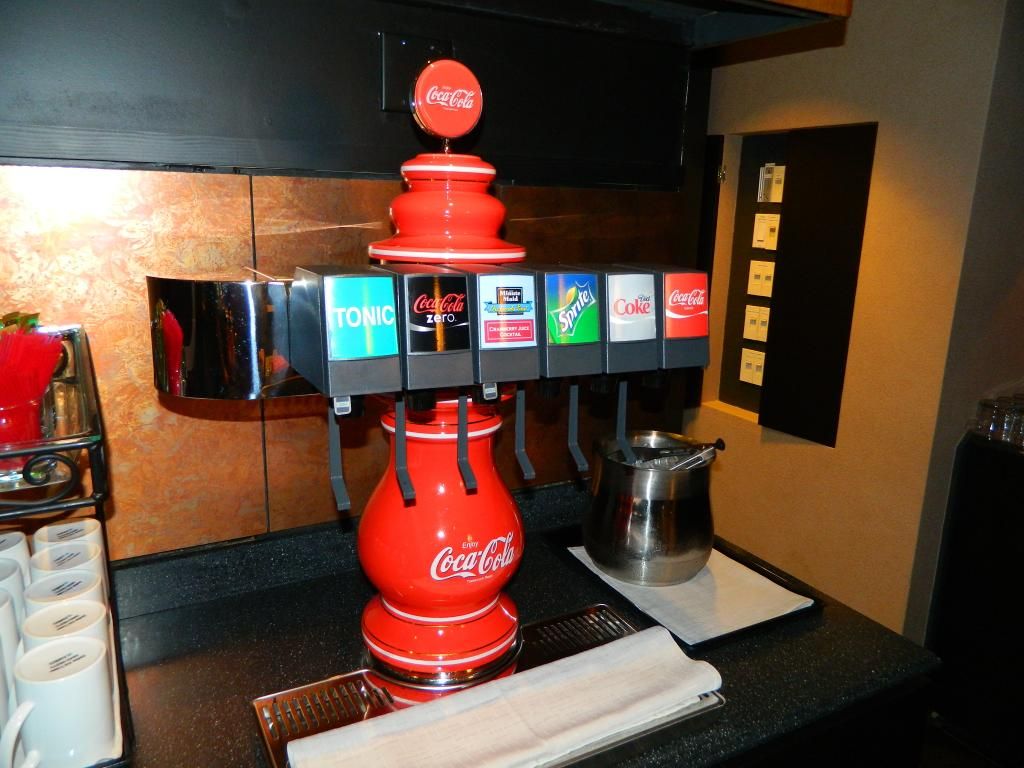 We boarded and departed on time. As I mentioned when I checked in there were 12 First Class seats. After boarding, the entire First Class cabin was full.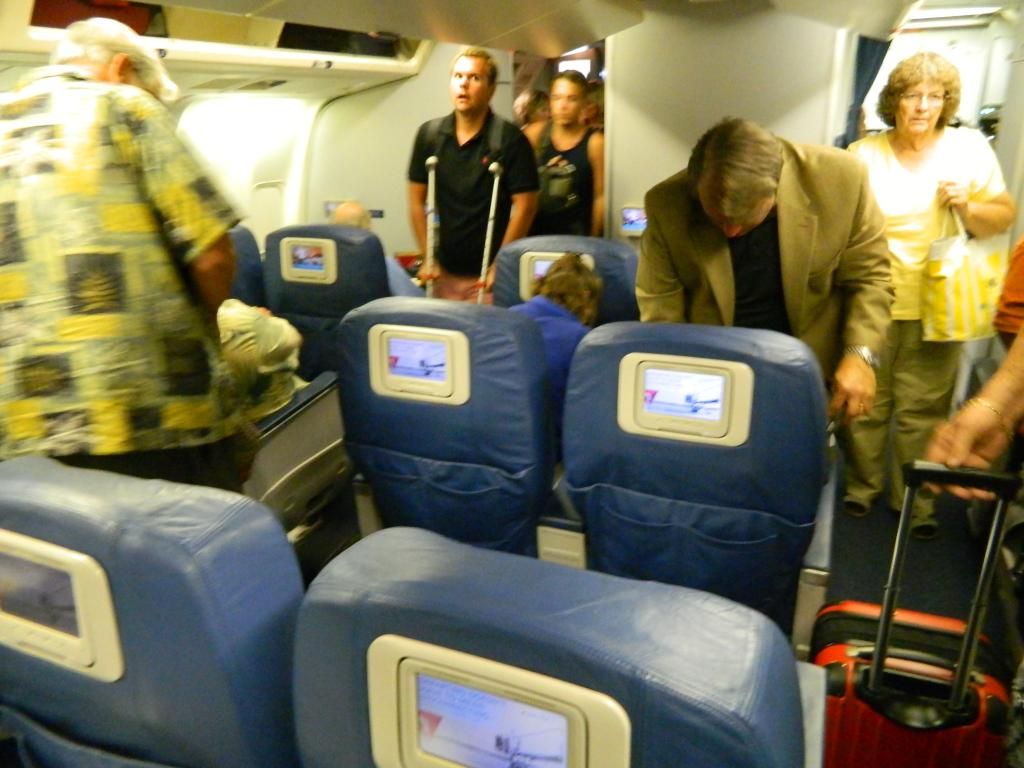 Once in the air, the flight attendant came by and asked if I wanted a snack. For $225.00 extra, I said "yes". The snack consisted of one option… a roast beef sandwich and chips… definitely not worth the $225.00.
As soon as the snack was served and cleaned up, the cabin lights were lowered and I turned on a movie, but lasted only a few minutes before falling asleep. The next think I remember we were descending into Salt Lake.
The connections in Salt Lake and Los Angeles went without any problems. Fortunately I had enough time to grab a shower in the Los Angeles SkyClub before getting on my connecting flight to Las Vegas. Here's some pictures from the Los Angeles SkyClub (they look very similar to Atlanta).
Pictures taxiing at LAX and the flight to Las Vegas. I was hoping to see an A380, but alas none were in LAX at the time.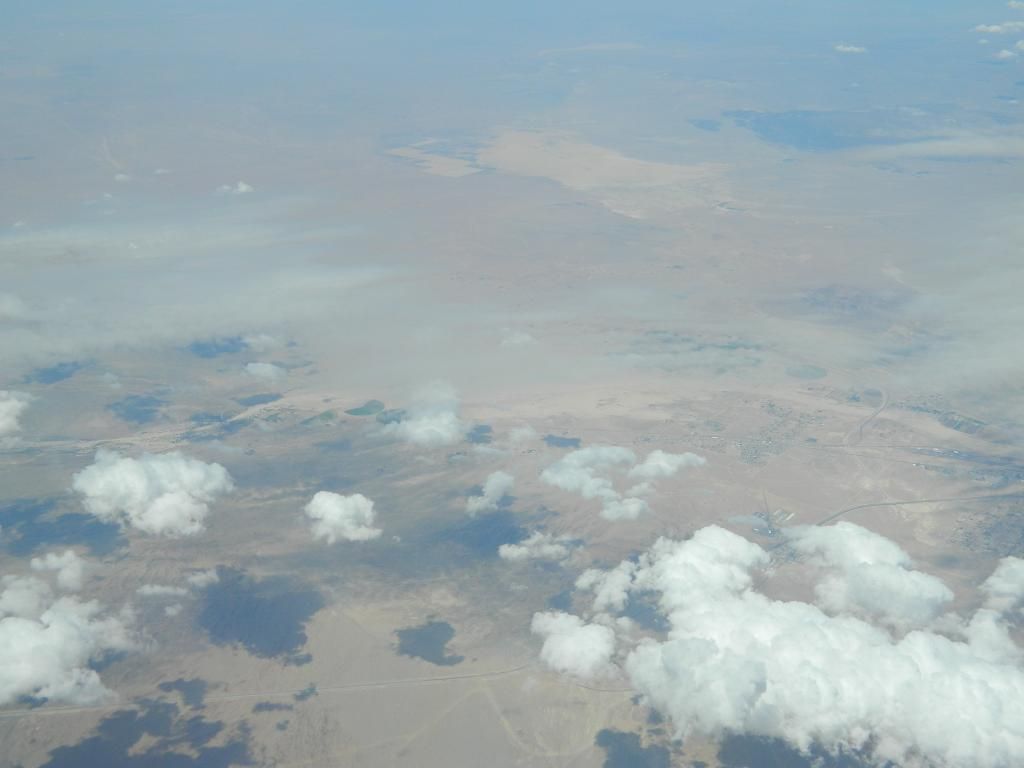 Approaching McCarran airport in Las Vegas
I landed in Las Vegas at 1:00 in the afternoon—13 hours after leaving Honolulu.
LAS VEGAS TO DAYTON
The trade show was a huge success. I spent each day with customers on the trade show floor and the evenings out to dinner and events. I might as well have been in Milwaukee, WI because I didn't get a chance to see any of the sites of Las Vegas—or lose any money in the casinos. This part of the trip was strictly business.
The trade show ended on Friday afternoon and since I was flying East, The options to get back were red-eye flights, or morning flights. At this point, I was tired of red eye flights so I booked a morning flight through Detroit that would get me back into into Dayton at 8:50 PM.
The flight to Detroit was on an older 757 without any entertainment system. Luckily I had my iPad and had downloaded some movies which kept me occupied. It was an older aircraft and was showing its age. I was offered a complementary upgrade—a nice end to a long trip.
Covers where the overhead IFE screen used to be
Showing wear and apparently in need of some repair...
Dinner was served... chicken salad.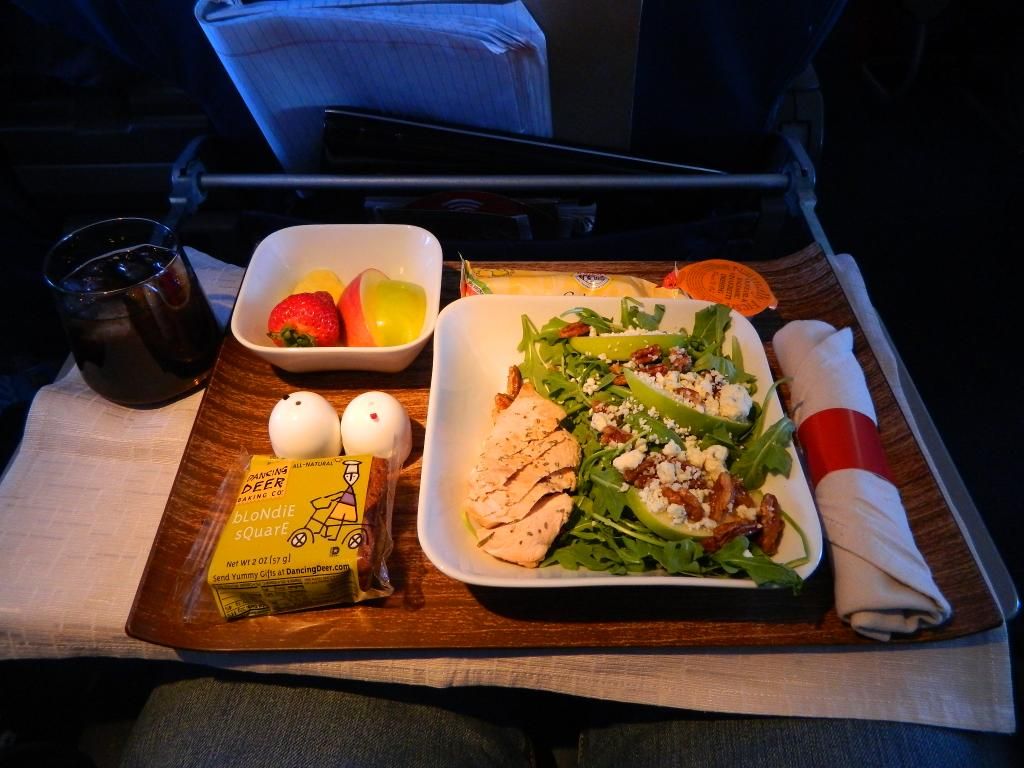 About halfway through the flight there was some commotion in the back of the first class cabin. An elderly woman who was traveling with her daughter collapsed in the galley. A doctor was requested over the intercom and the captain came out to check on the situation. Fortunately, she was OK and we didn't have to make an emergency landing, but an ambulance met the flight and checked her out when we arrived in Detroit. We were instructed to stay in our seats while the paramedics came on board and helped her off the plane.
Ambulance meeting the flight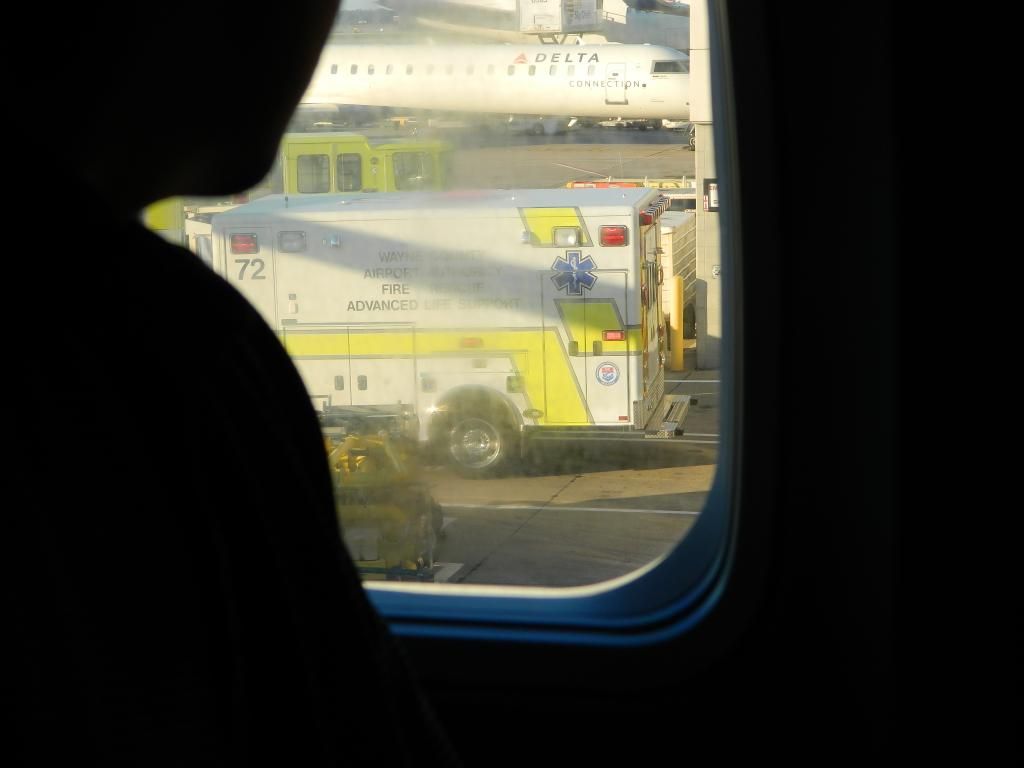 So that's my trip report. My daughter is back home for the Christmas Break. We met her at the airport with a coat. She has a tan, sand in her text books, but she still has good grades! She can't wait to get back… I don't blame her! Here's one last look of paradise...Aloha!