In September I decided to go on a ski trip to Hokkiado, Japan for my December vacation.
Initially I booked Air China (CA) from Singapore to Sapporo via Beijing. The cost was very reasonable at $900 SGD. Due to the Japan-China politics heating up over an island dispute, flights were cut between China and Japan. As such in October, my CA flight was rescheduled that messed my planned dates already made. So, I cancelled the whole CA flight as their revised schedule did not fit mine. As it was CA's changes, I was able to get a full refund. After searching alternative flights TG, CX, NH, JL and SQ, I decided on JAL as the price was quite reasonable, day time departure so that I don't have to suffer any red-eye flights and I get to fly the 787.
SIN-NRT
15 Dec 2012
JL 712
B787 (Reg: 826)
STD: 0820
STA: 1630
Was rather thankful that I cancelled the CA flight as I now get to fly this new a/c
Most tourist group depart on JL's night flight, while this morning 8.20am flight see lots of Japanese businessmen and families. I like this flight as it's a day flight and it arrives in Tokyo just in time for dinner and won't upset my body clock as I don't sleep well on over-night flights (actually I can sleep anywhere, but not when flying as I want to enjoy and experience every minute of the flight).
The CA flight I would have taken.
JL 712 to NRT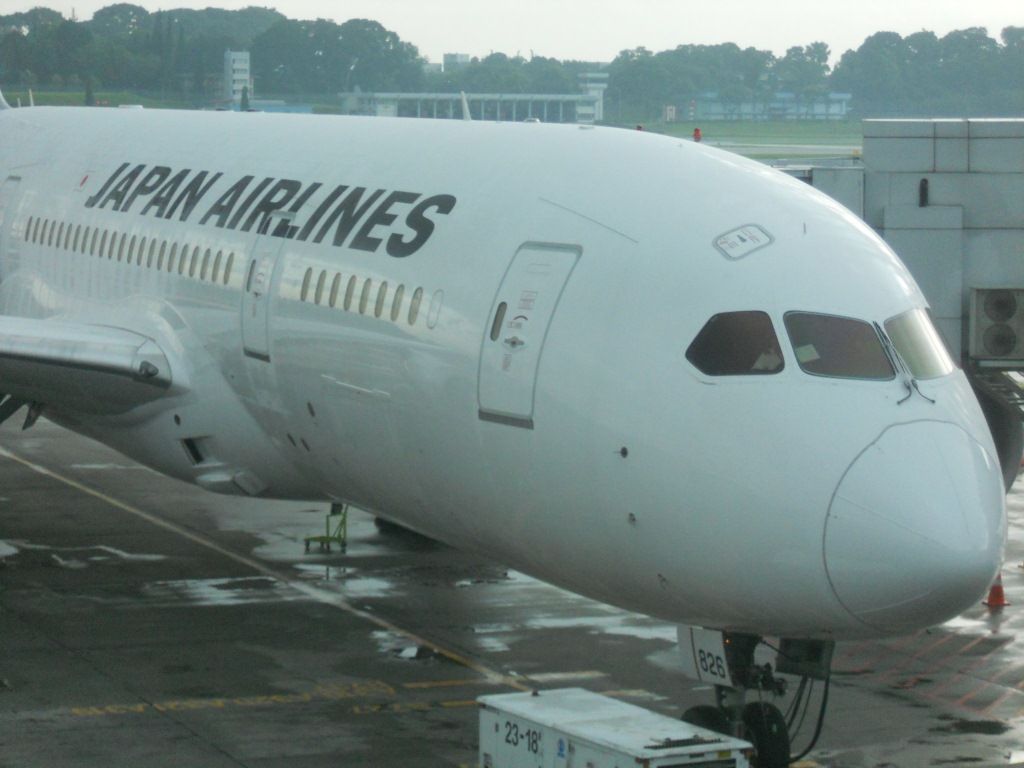 Was very excited boarding the 787.
Yep, the windows were large making the cabin bright.
FAs were very pleasant welcoming pax on board.
FAs were all ladies on this JAL flight. JAL FA's uniform too office like and nothing Japanese about it.
The seat colors and simple pattern project a more Japanese nuance in their design and concept.
Seasons Executive Class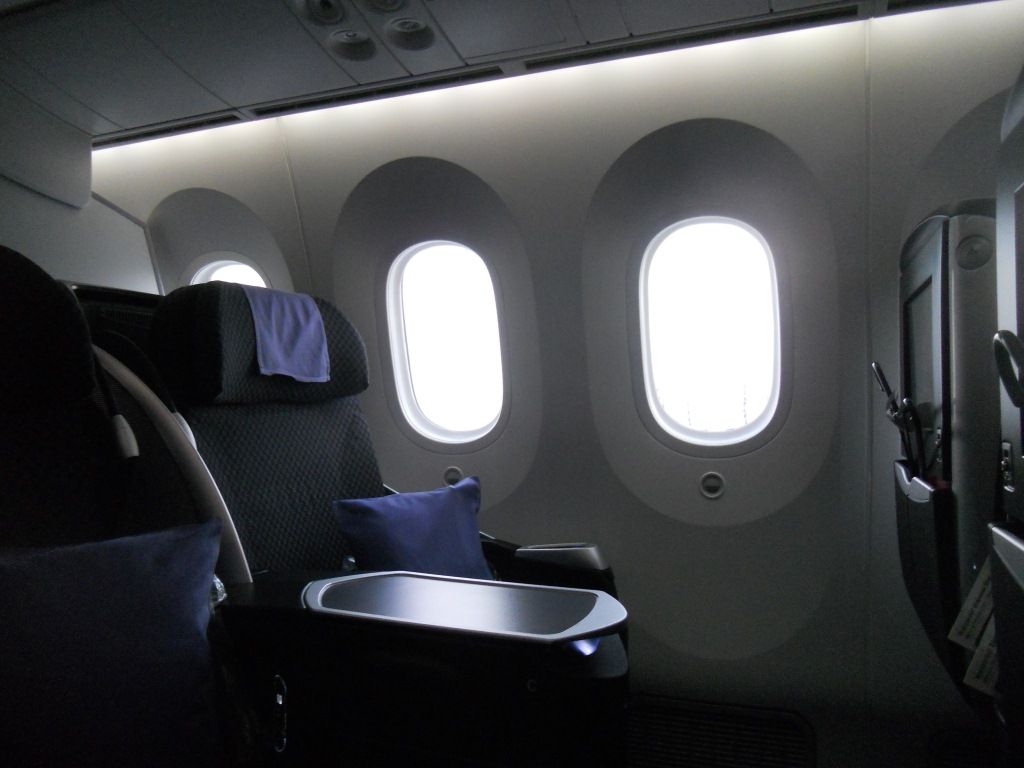 Economy Cabin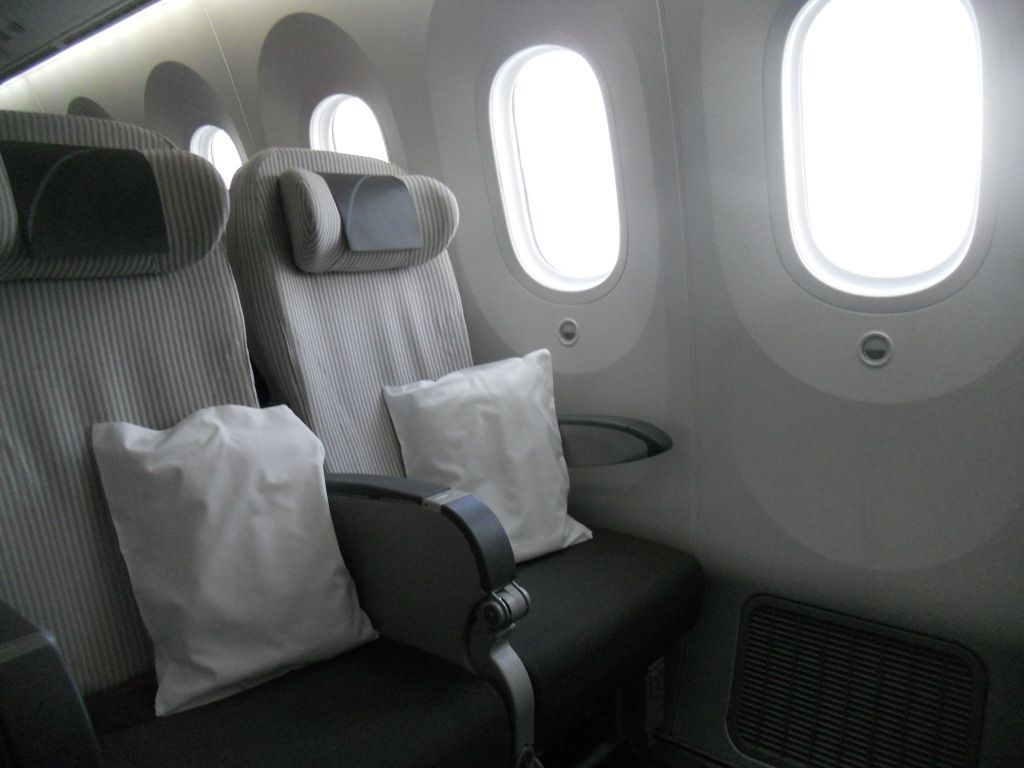 PTV
Load was almost 100% full in business and economy
FA helped pax store their carry-ons in the overhead bins.
FA consisted Japanese and local Singapore crew.
Cabin lights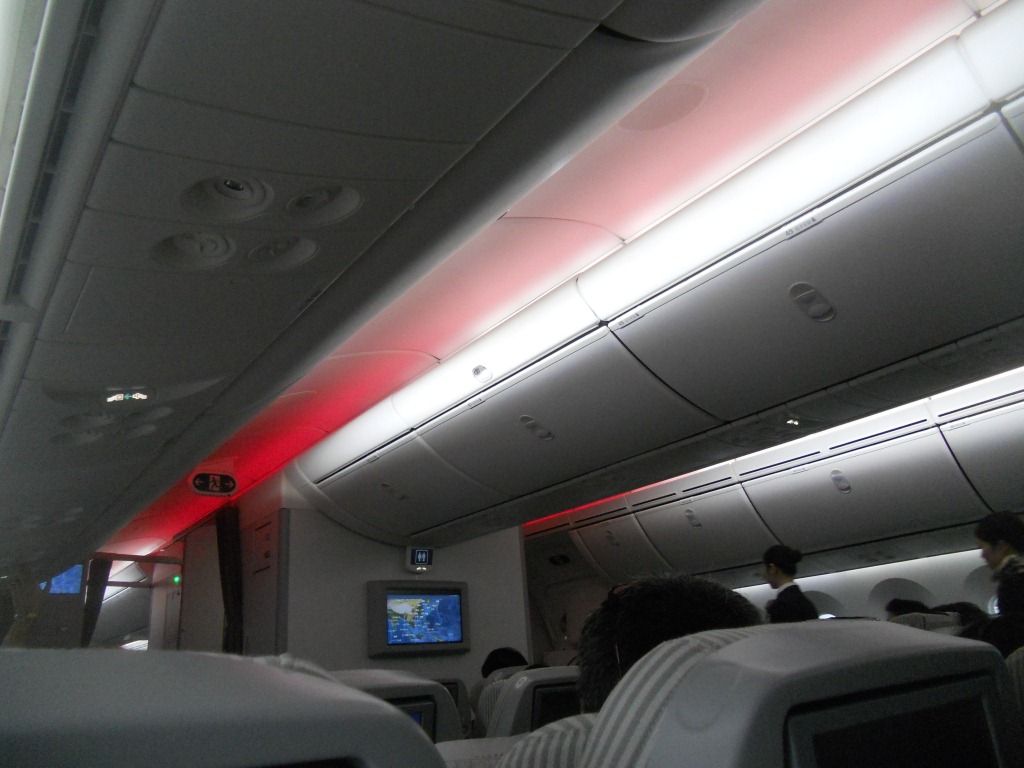 Rainy morning at Changi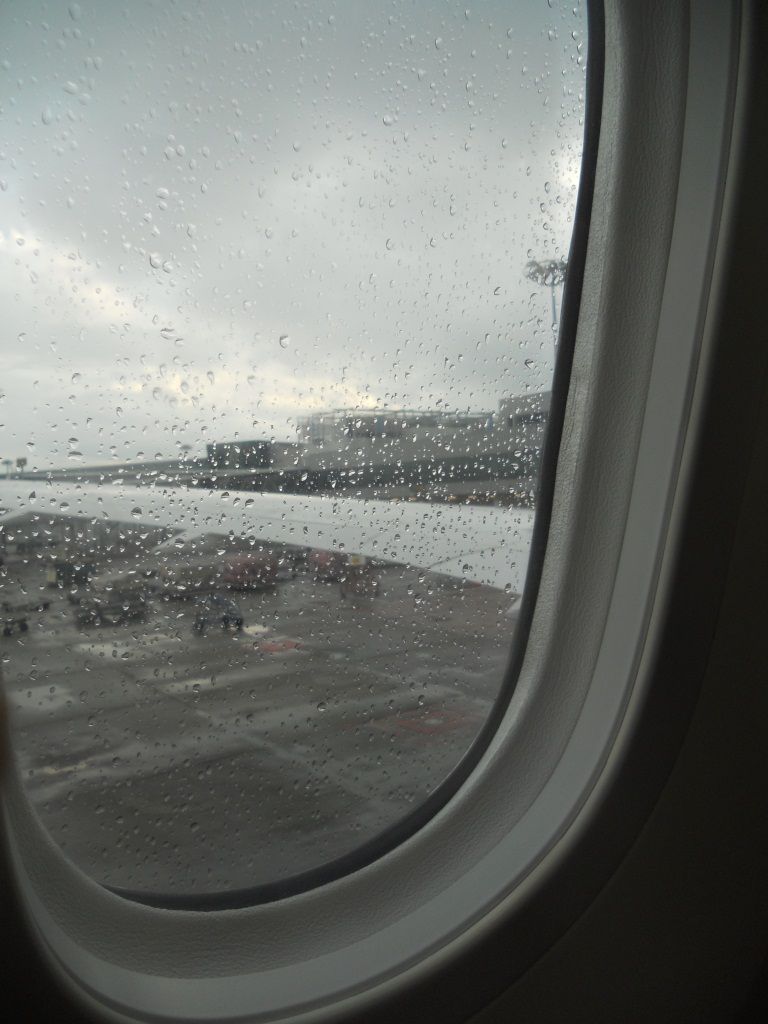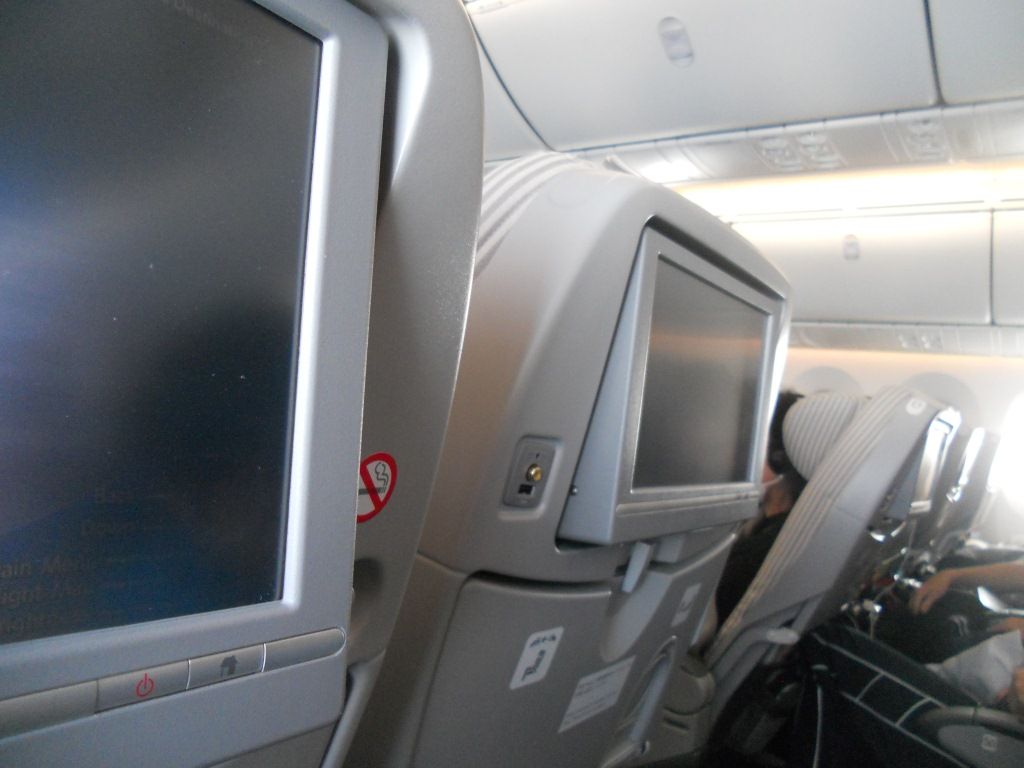 WC
Flying Japanese airlines, the FAs are extremely polite and courteous, but they lack the friendliness like NZ, QF, MH and SQs cabin crew. Very limited friendly conversations can be made with them.
The Japanese FAs are very disciplined. While working in the galley, they do it very quietly. You will never find them chatting in the galley. They are always working on something.
Once all settled, safety-video was played - JAL's cartoon animated version.
JAL's Magic V IFE could be use while the a/c is still on ground.
(SQ IFE only starts when the a/c is airborne stable. This really irks me as other carriers begin their IFE even while boarding).
Comparing to other carriers IFE, JAL's Magic V movies, video and audio progammes is rather limited.
Route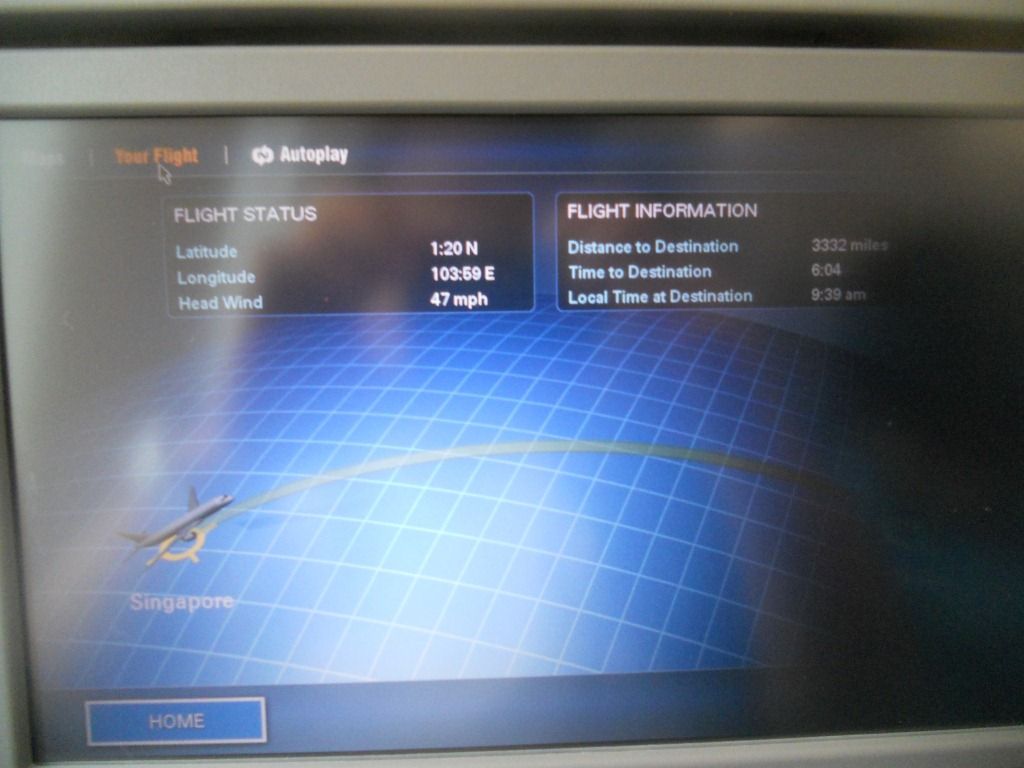 Wing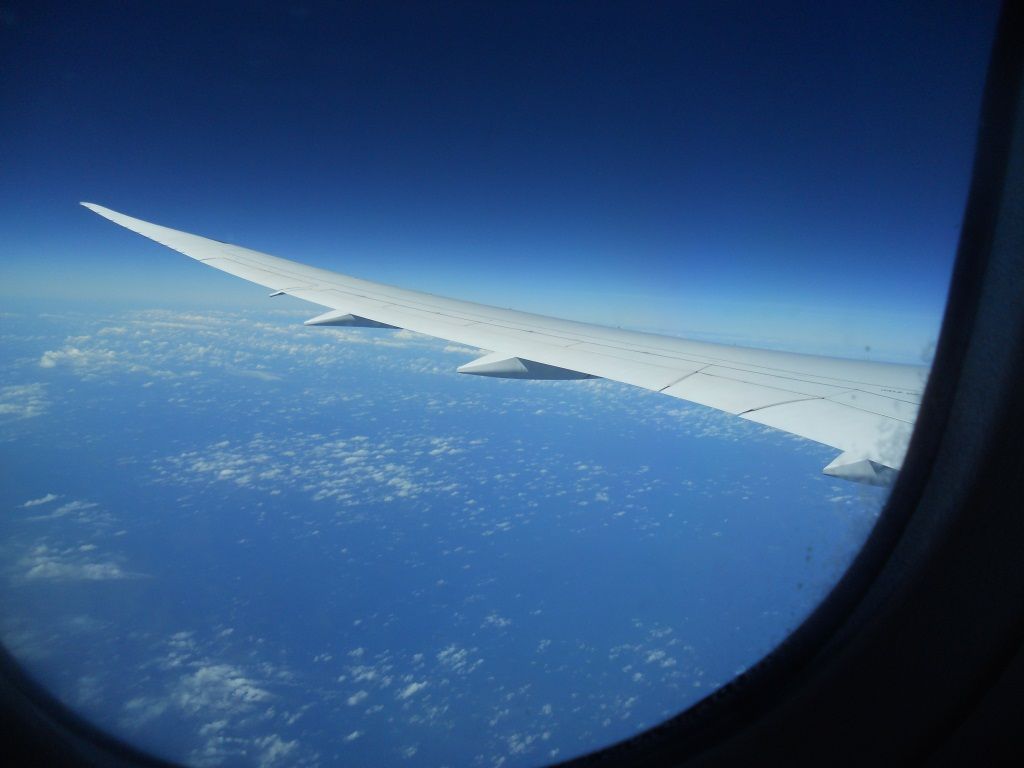 After take-off, hot towels were handed out.
Soon, FAs rolls the drink cart along the aisle from behind the a/c to the front of economy cabin.
Drink menu is found in the seat pocket.
I had JAL's Sky Time fruit drink and cold green tea with the rice crackers.
A JAL paper napkin was given out too. JAL crane logo – it's simple and nice - glad its back.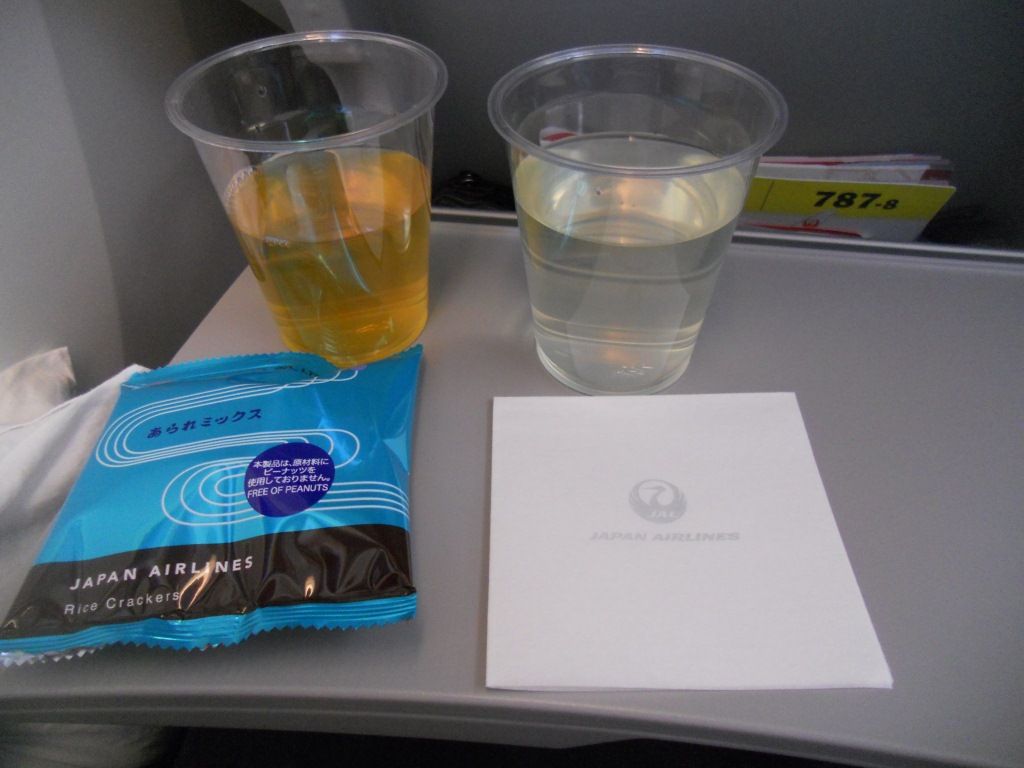 About noon, FA rolled the meal cart.
The two main choices are printed on a A4 size card with pictures.
The FA shows you the menu picture card and you make your choice.
The menu can actually be found in JAL's website.
The English is a bit off as it was translated from Japanese.
Today's meal choice:
Japanese – Salted salmon with rice
Western – Fried chicken with pasta
Thinking that I'll be having all Japanese meals for the next 1 week, I chose the western option.
I usually will take the Japanese option as I know SATS Catering does relatively good Japanese meal.
I should have taken the Japanese. The western option was blah. This is the problem with SATS Catering, it's either a hit or a miss. The problem is that SATS Catering can do good meals, but it disappoints that they don't do it consistently. I don't fault JAL for this below par meal, it's the caterer.
My western choice
Fresh fruits
Pasta Salad
Japanese appetizers - egg, chicken, potato salad
Fried Chicken and pasta in tomato sauce
Hagaan Daz ice-cream (distributed separately)
After meal trays were collected, water bottles were given to each pax.
FA walked down the aisle to check on pax fairly often.
As I was stuck in the window seat with sleeping beauty blocking my access to the aisle, I did not get the chance to walk around the cabin as often as I liked too. Just watch the movies.
Two hours to arrival, the captain came on the PA.
He first spoke in Japanese at great length. I heard him mentioning Haneda a few times. But I didn't understand the entire announcement. Then, he spoke in English – which he practically summarized the Japanese version, so it was rather short – he apologized that we'll be landing at Haneda instead of Narita due to poor visibility. Told us not to worry, JAL Haneda ground services will handle all pax with connecting flights out of Narita.
My next flight to Sapporo was from Narita, but I guess there should be some JL flights out of Haneda to Sapporo. I'll just wait and see what JAL has arranged for me at Haneda.
Hot towels were given out followed by a lemon muffin.
Nice of JAL to offer this very light snack prior to arrival.
At 1600 the a/c landed at Haneda.
JAL ground services staff personally got all connecting pax to USA, Russia and Canada from the a/c and got them on a coach to Narita. Domestic transit passengers were told to go to the domestic counter to get a new flight out of Haneda. Every JAL staff were bowing apologizing for the flight diversion. At the domestic counter I got my connecting flight to Sapporo. This flight diversion was to my advantage as I got into Sapporo an hour earlier. My original flight from Narita leaves at 1830 and will arrive at 2000. This flight from Haneda leaves at 1730 and arrived 1900. Perfect for me to get the train from airport to downtown Sapporo, check-in to my hotel and get dinner.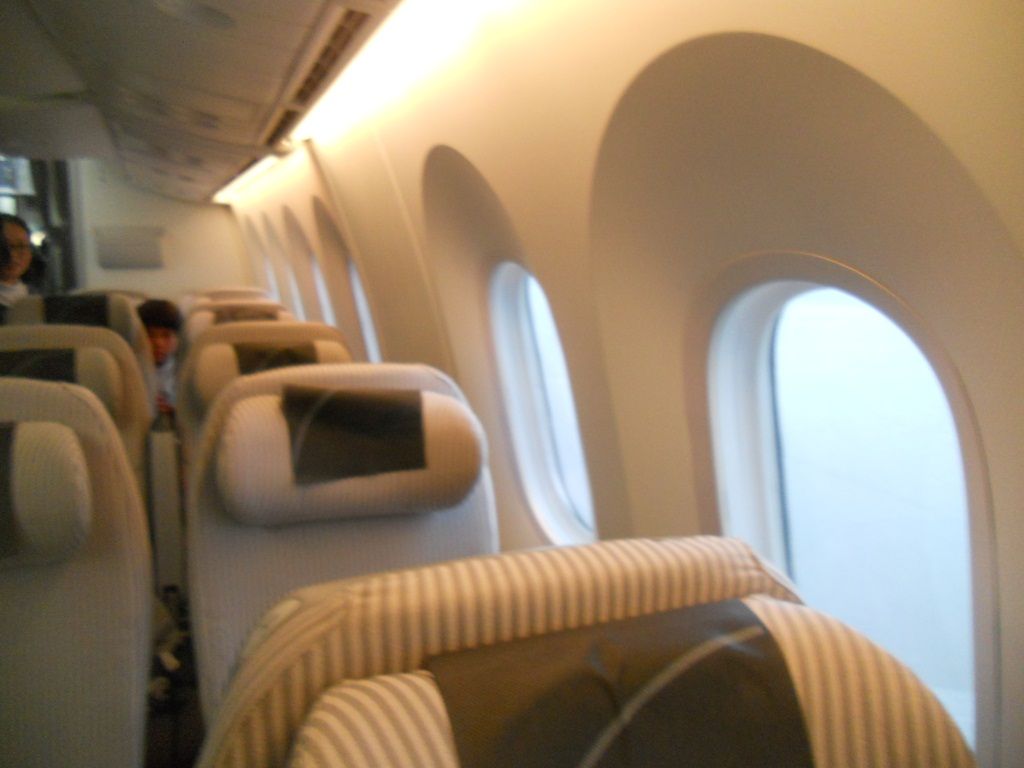 Wet evening at Haneda
Tokyo Handea to Sapporo Chitose
15 Dec 2012
B777 - JL 525
STD 1730
STA 1900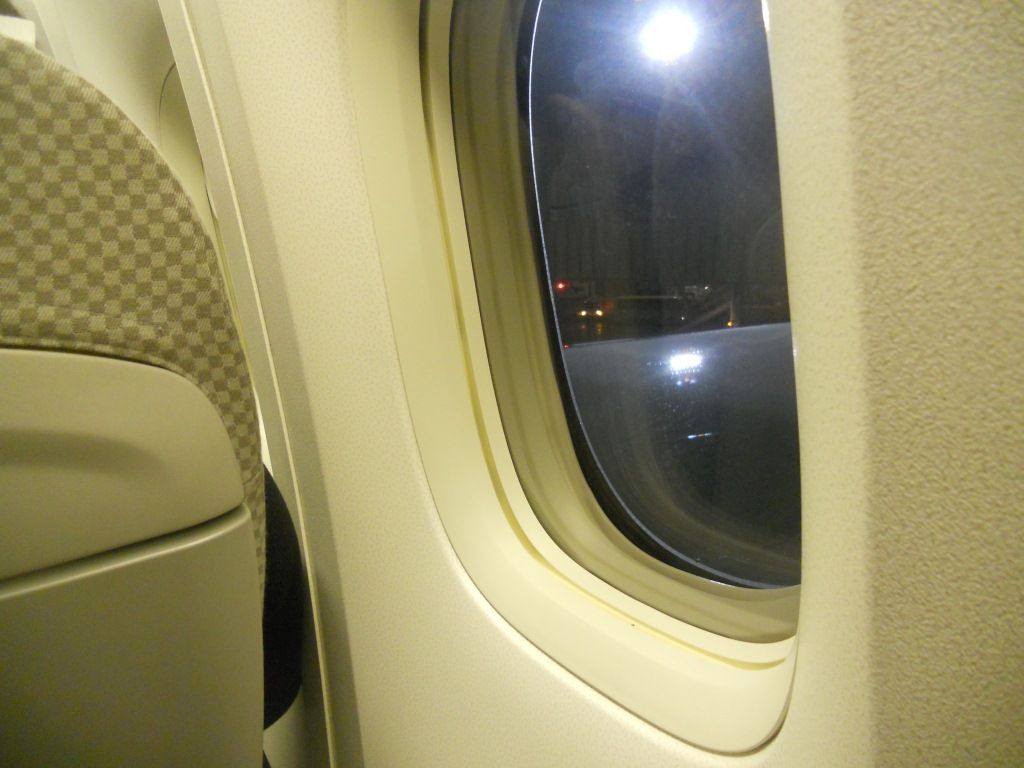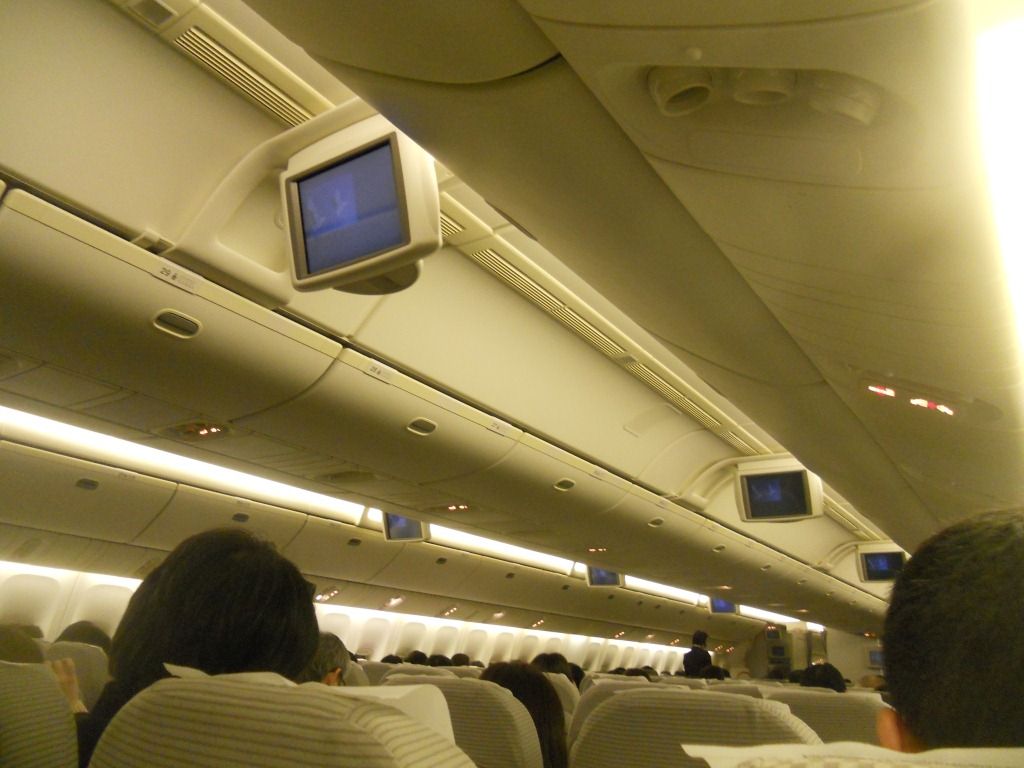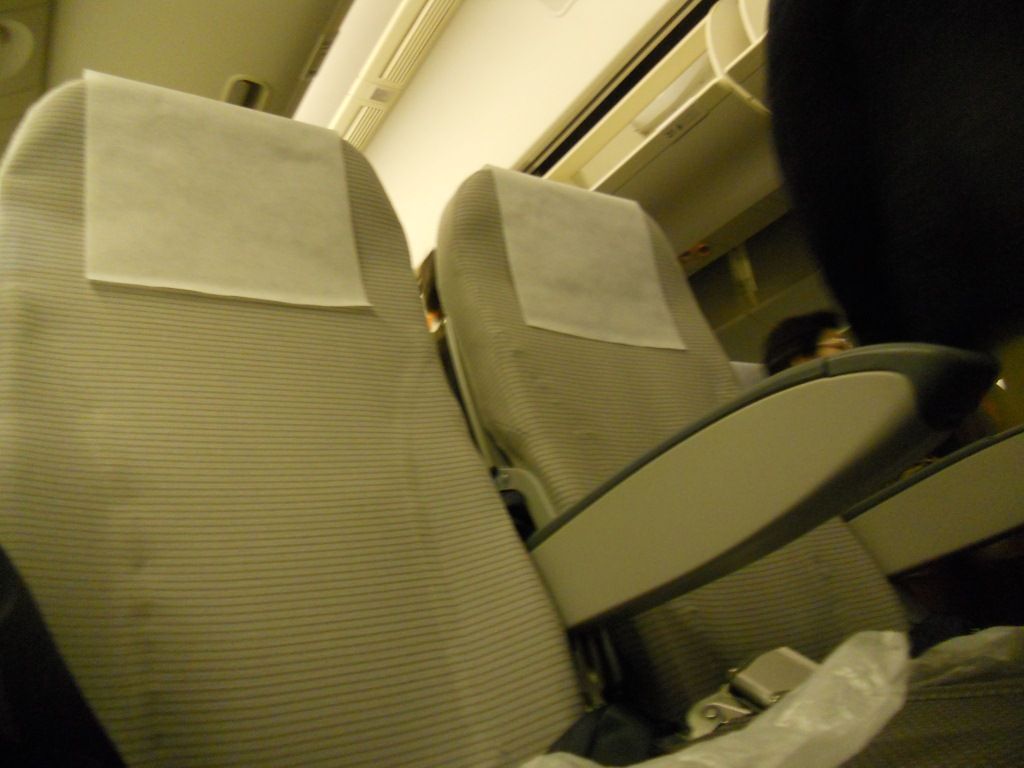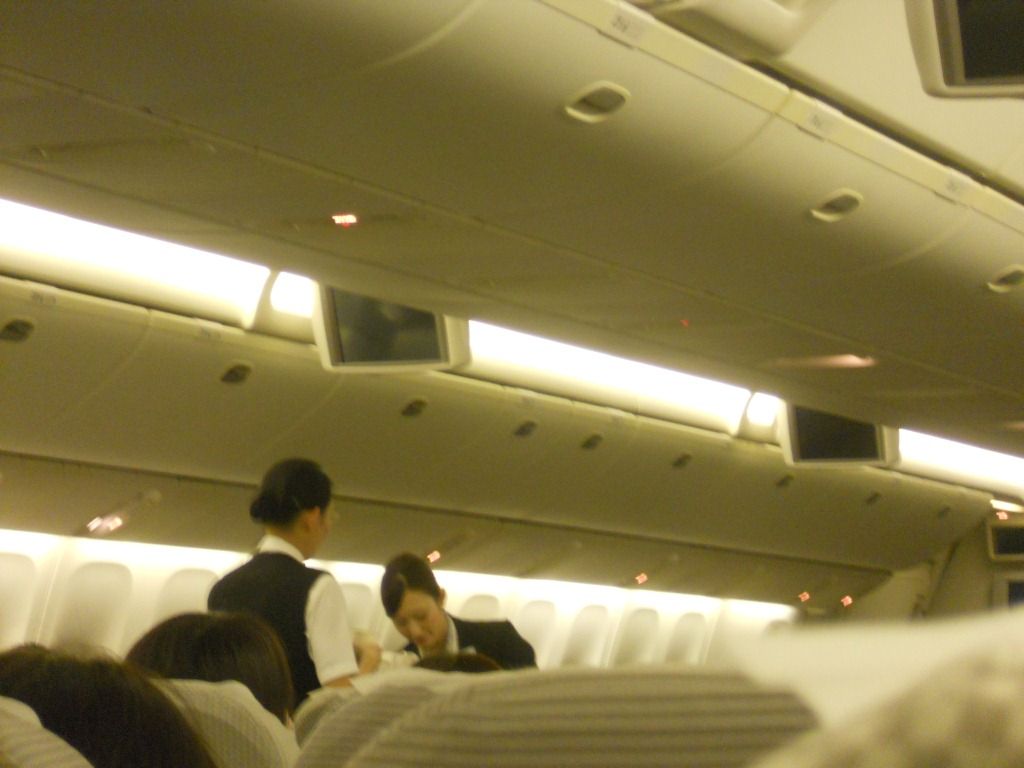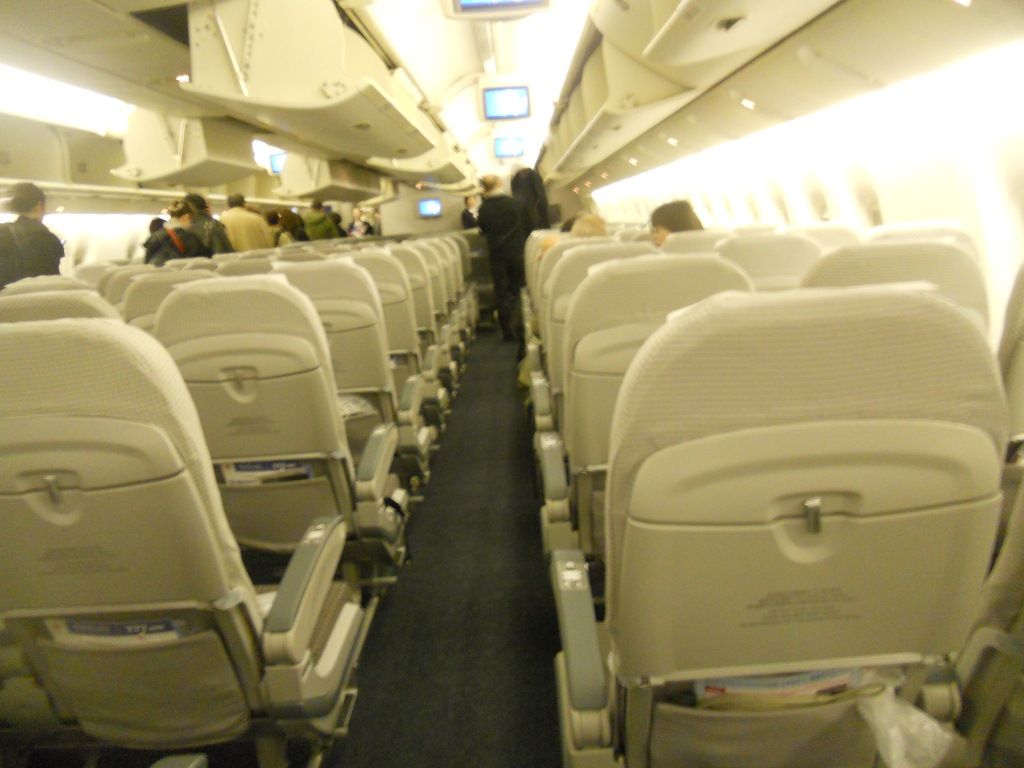 Just drink service on this almost 100% full flight (code share with CX)
Sapporo Chitose – NRT
23 Dec 2012
B737-800 - JL 3040
STD 0800
STA 0945
Very cold morning at Sapporo
De-icing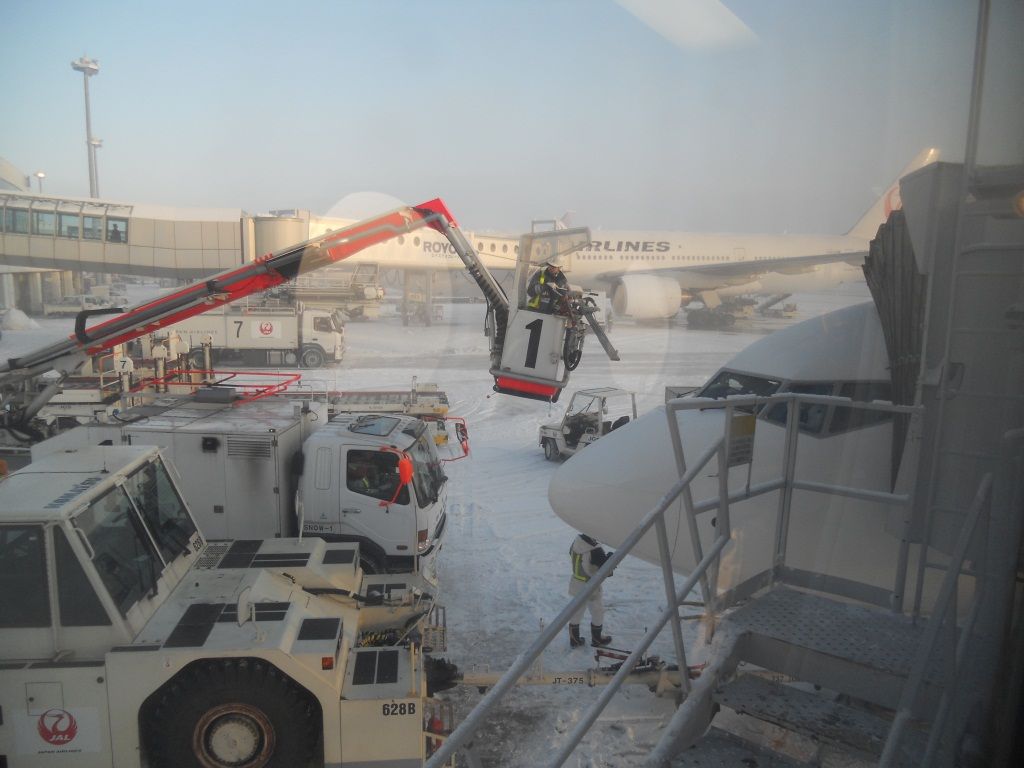 Skytime, hot green tea and katsu sandwich (bought at the airport)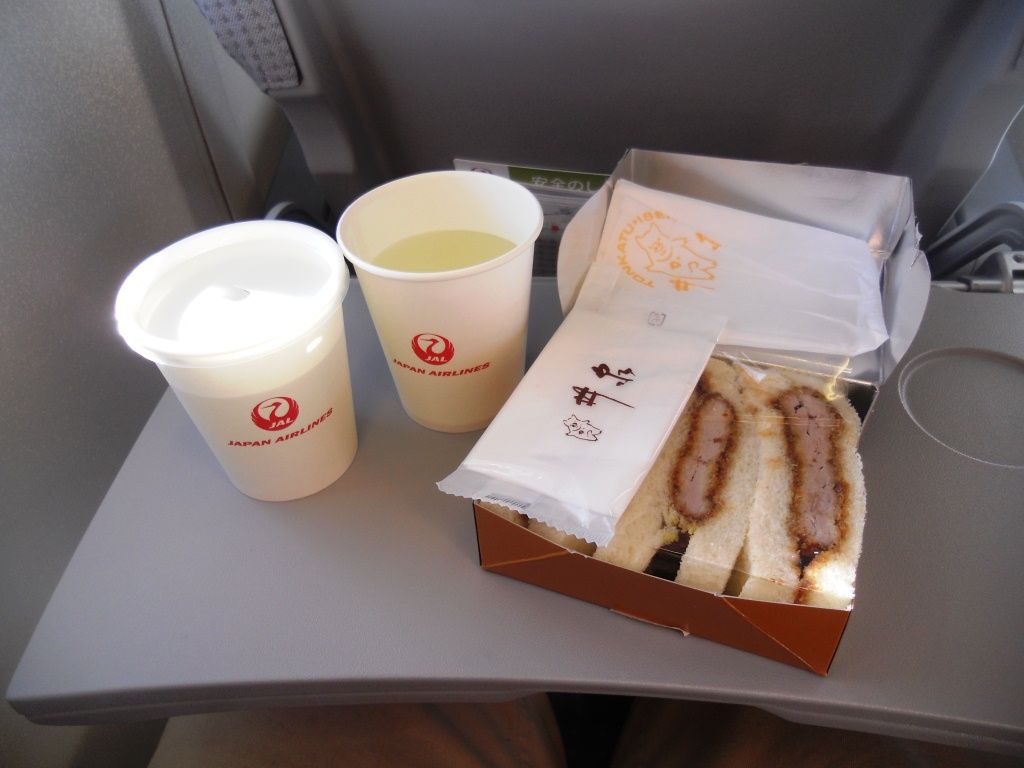 Just a drink service flight on the JAL Express flight.
Load was less about 50%, so most pax got the whole row - nice!
NRT-SIN
23 Dec 2012
JL 719
B787 (Reg: 828)
STD: 1050
STA: 1735
For the return flight, I decided to get the aisle seat. I didn't want to be trapped in again. The 787 windows were large enough for me to still look out. Made the right choice as the girl in the window seat slept almost all the way. I was able to move about freely going to the galley to get more drinks and Japanese rice crackers.
This was a very full flight.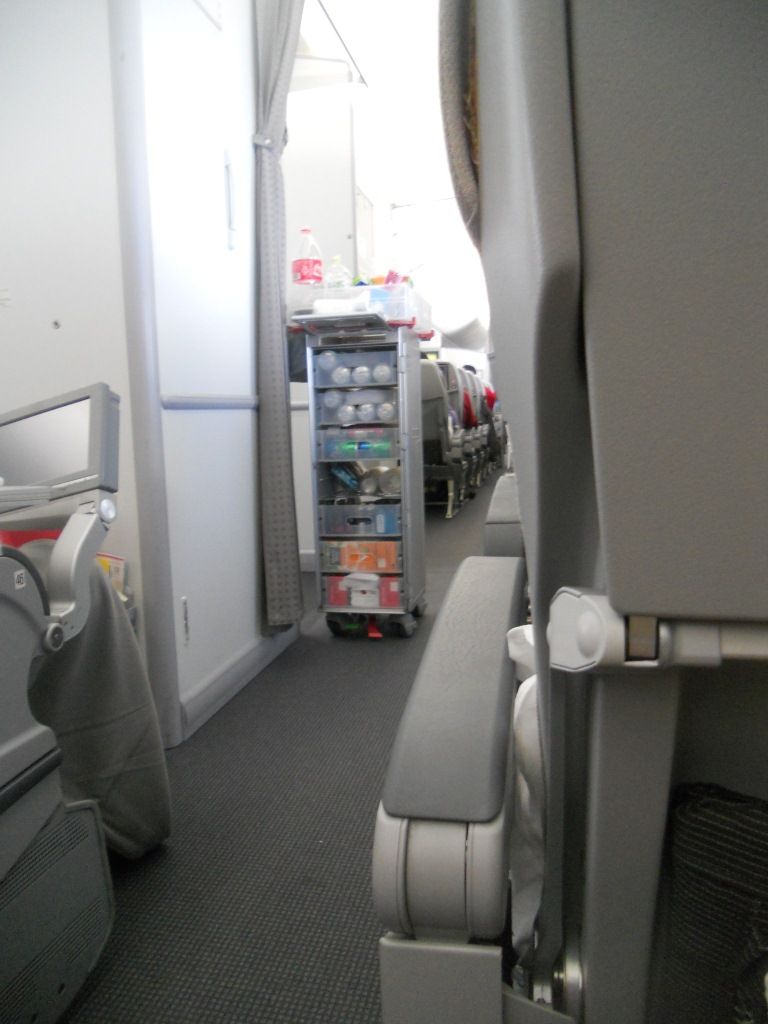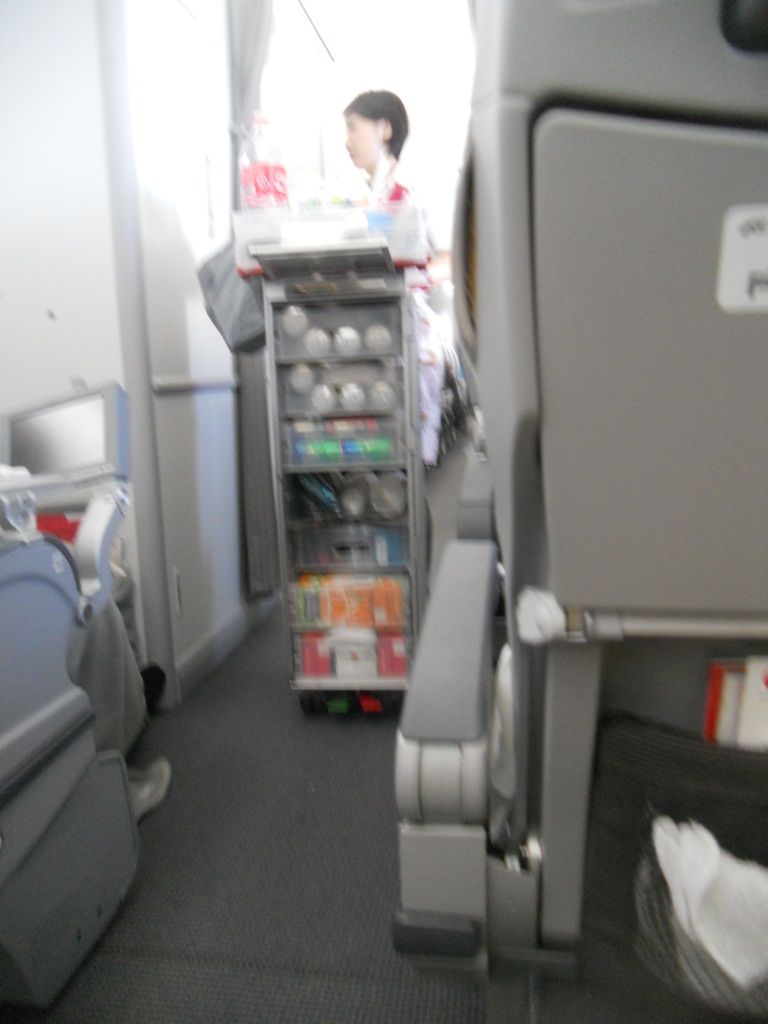 The translation is a bit hilarious.
The meal choice:
Japanese: Chicken and veg stew; smoked fish over rice
Western: Fried shrimp and beef hamburger
Menu on website
This time I took the Japanese choice and it was good.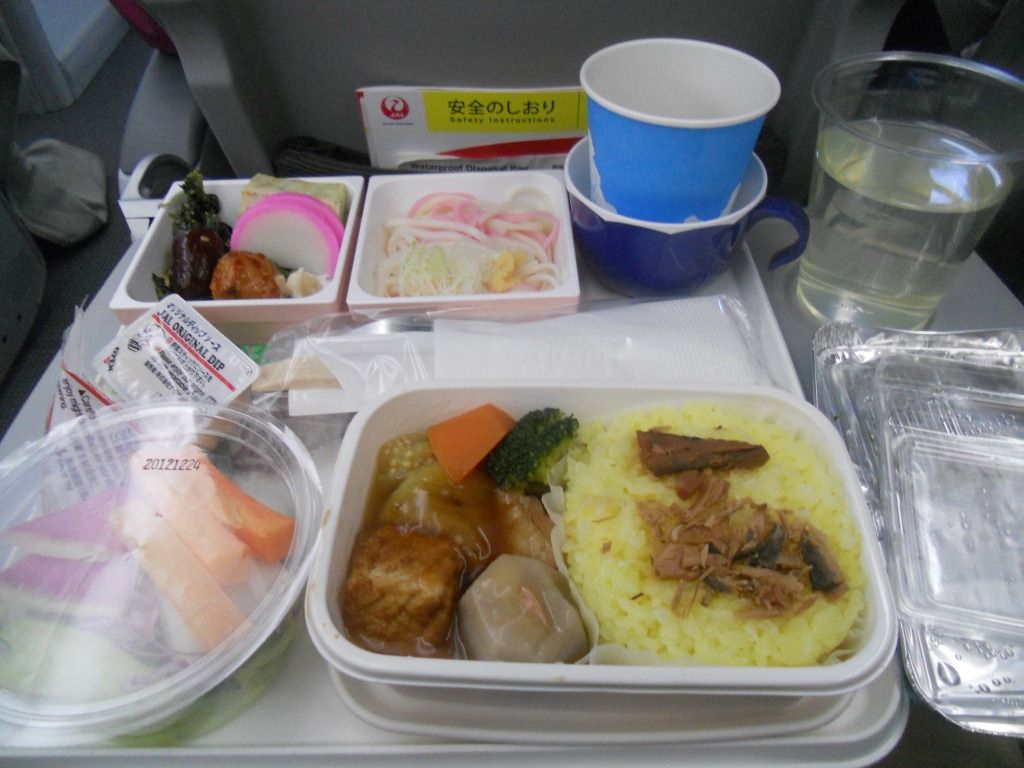 Fresh salad
Somen noodles
Japanese appetizers - egg, chicken ball, spinach, fish cake slice
Chicken and veg stew; yuzu smoked fish over rice
Miso soup
Hagaan Daz ice-cream (distributed separately)
JAL has taken out the roll and butter for main meals which is a good cost saving.
Rather they gave out a light snack than the bread roll for meals.
Two hours to arrival, hot towels were distributed.
Then we were given a very delicious soft butter raisin loaf slices for a light snack.
Japanese bakery/pastries are very good. And this simple bread snack was absolutely fantastic.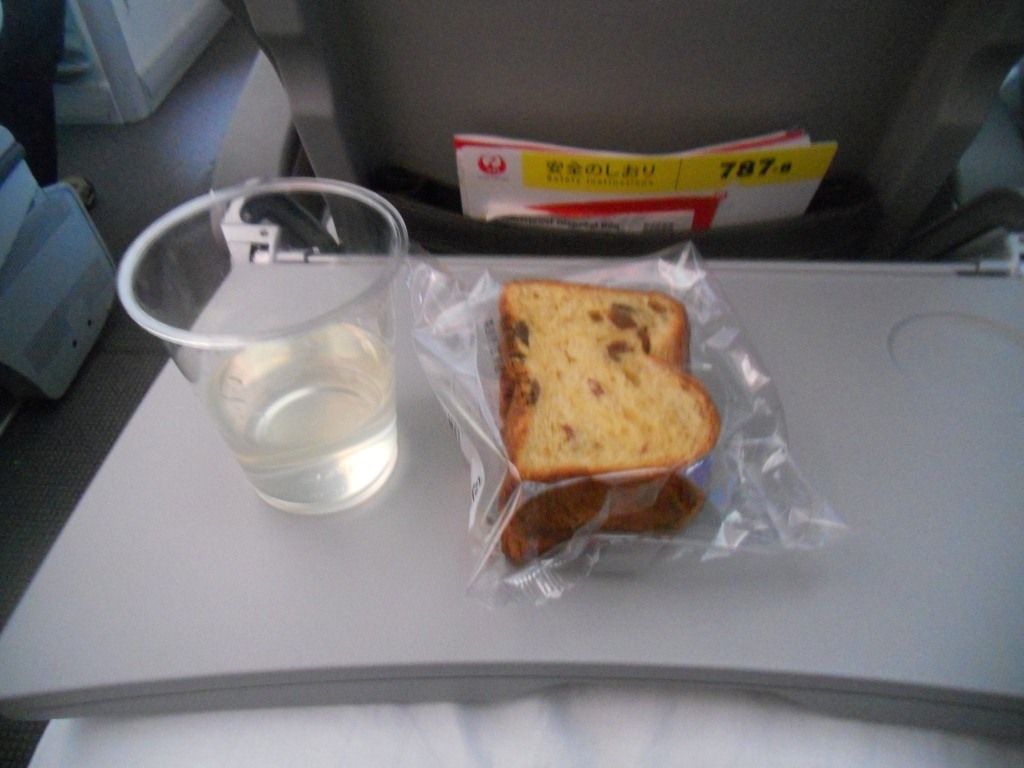 Hope you all enjoy my simple TR.
Wishing all happy holidays and a wonderful 2013.