Intro
Well, well, well. Here I am again. Back on my travels again. Thailand. Again. I need to stop saying again.
I had decided that I would spend my Christmas break away from home, so I thought about a few places. San Francisco, New York, Rome etc. In the end I couldn't resist the lure of Thailand for another few weeks.
I already knew that if I were to go back to Thailand, it had to be Chiang Mai. As some of you will know, there is an Elephant sanctuary called the elephant nature park. A haven for rescued elephants that have been rescued off of the streets from begging etc.
There is Also a dog rescue centre in the park, and I am a big dog lover, so I thought "perfect". I contacted the lady who runs the park and asked if I could come and volunteer over the Christmas period.
She responded with a resounding yes. I was ecstatic. Next thing to do was book flights. I didn't ever want to step foot In AUH again, so EY was out of the question. Emirates was too expensive for Y, and mental money for J. So I thought TG was the best option. I'm actually typing this out at BKK, waiting for my connecting flight onto CNX, but more on that later.
So I looked at the TG website and saw that they had some very good deals on in J. So before the prices changed or the cabin became fully booked, I took the plunge. Flights are as listed:
* TG911 LHR-BKK 5th December 2012 A346 Royal Silk –Seat 11K
* TG112 BKK-CNX 6th December 2012 A300 Economy – Seat 46A
* TG917 CNX-BKK 24th December 2012 B773/2 Economy – Seat 51D
* TG910 BKK-LHR 25th December 2012 A346 Royal Silk – Seat 14A
With the flights booked, it was time to sort out hotels for the 6th-11th (when I start at the dog rescue) and for the night of the 23rd. I chose the Chiang Mai plaza hotel for the first few days and the Airport greenery hotel for the last night.
This report will only detail the LHR-BKK-CNX part of the trip, and not the return. This is because my idiotic camera decided that it would format my sd card on the flight from BKK-LHR. I had swapped out the original SD card which has the images contained in this post for one with more storage. So i now have no photos of the lovely doggies and people i met, or pictures from the flight from CNX-BKK. So yeah, that was annoying.
Right enough babble, let's get on with it.
Note – I am writing and will be writing this as I am doing it, or after I have do it. If that makes sense. So the tenses will be mixed up but bear with me.
Flight 1 – LHR-BKK TG911
I set my alarm for 6:30am. I aimed to leave the house at 9 to arrive at Heathrow Terminal 3 for 9:50, two hours before my departure time. So, I am out with the dogs at 7:00, and it starts bloody snowing. Typical. We all know how bad UK airports are when a little bit of snow arrives, so I have to admit that I was slightly worried that my flight would be delayed. After half an hour the snow started to melt away. Phew.
My granddad arrived at 8:55 to take me and my camera down to T3. Traffic on the M25 was shocking. As usual I suppose. Anyway, It cleared up enough to get dropped off. I said my goodbye and was off yet again. I checked in at the dedicated Royal Silk check-in. Fancy.
I was told that I could use the SAS lounge, so having never visited a dedicated lounge before, I gave it a shot. It was ok, a bit snooty so not really my scene. Some nice views of 27L but direct in the line of the low winter sun, so I was blinded. I left after 20 minutes and proceeded to my assigned gate, number 3.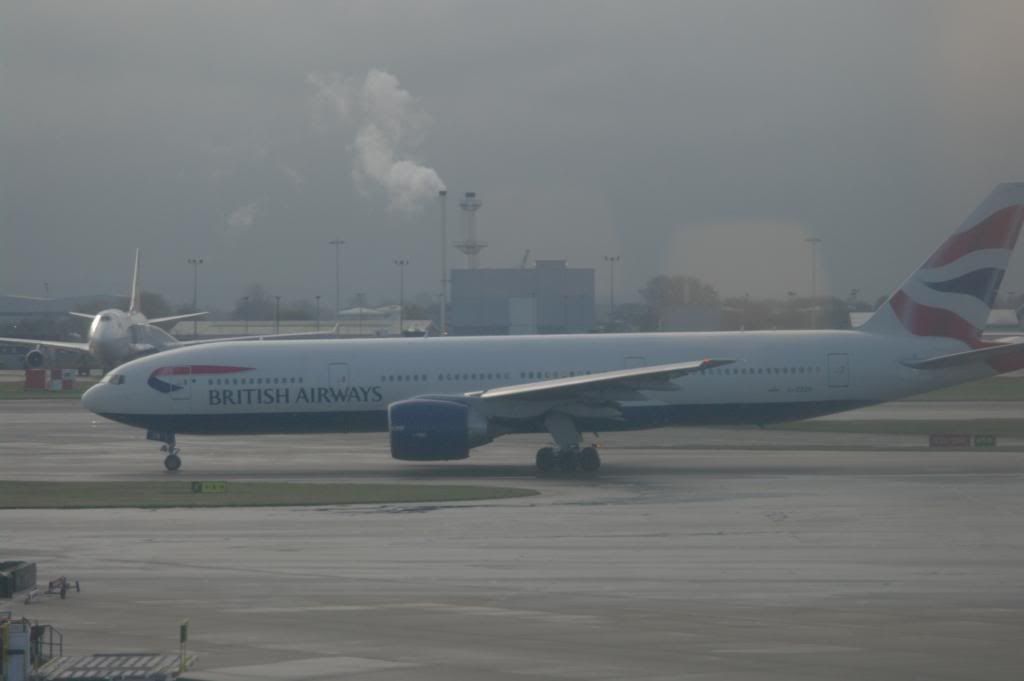 HS-TNA was sat there waiting for me. The oldest A346 in TG's fleet, though still only 6 years old. I could only see her number one engine and her tail, as a ghastly HSBC logo was in the way of the rest of her. Ah well, parked next to her and in clear view was a VS A343 headed for Tokyo.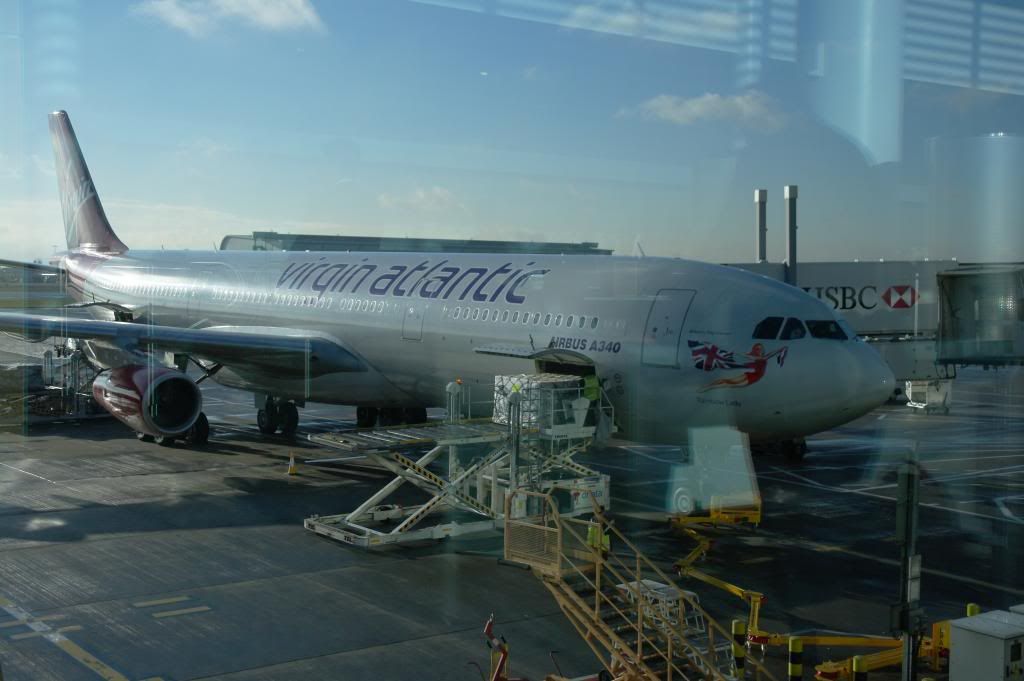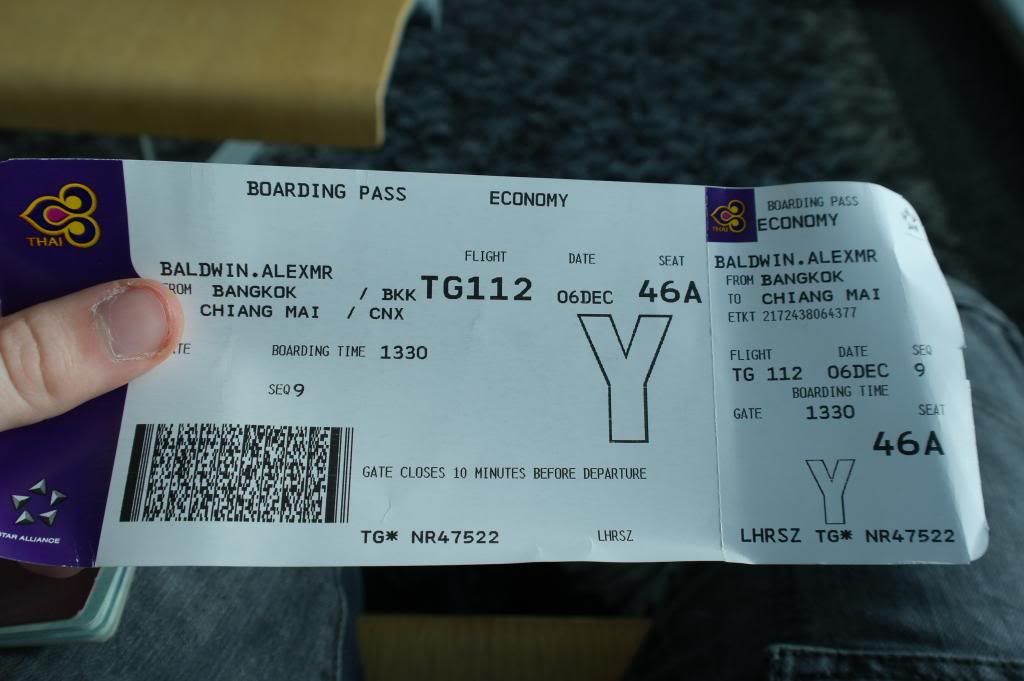 After 20 minutes of waiting, at 11:30 HS-TNA opened it's doors. Being in the front of the J cabin, I boarded using the L1 door. I was greeted by three smiling Thai ladies. Very friendly. I took my seat in 11K and couldn't believe the amount of legroom I had due to the bulkhead. I was offered a glass of champagne or orange juice, so I opted for the orange juice.
The view from my seat, an SQ A388 at the next gate
Incredible legroom!
The seat controls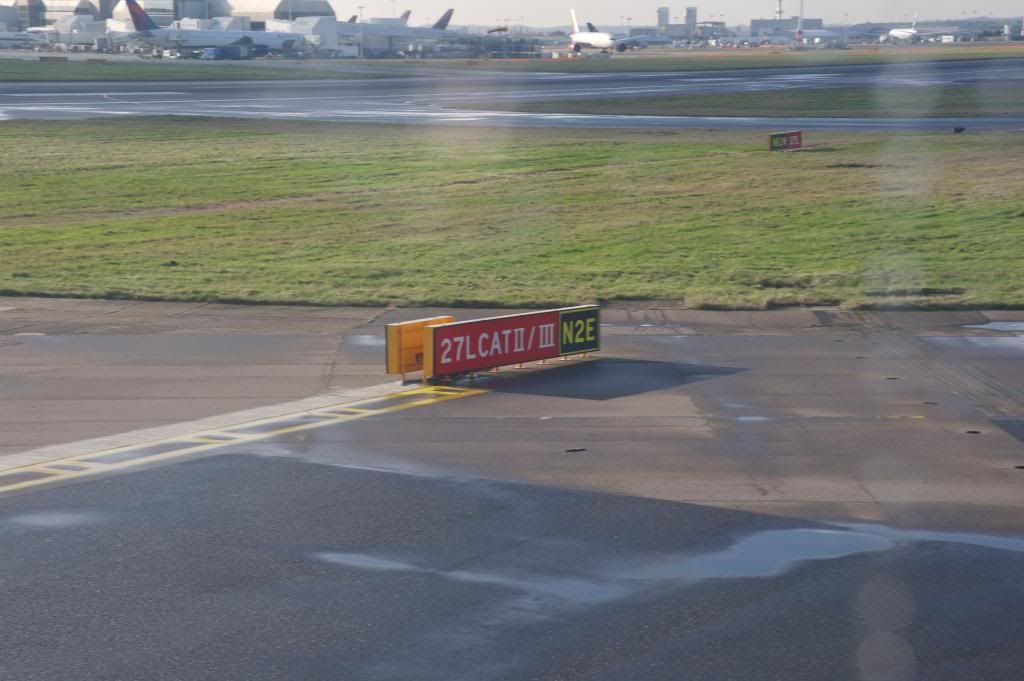 27L for T/O today
After about ten minutes we pushed back. The runway in use for take-off today was 27L. After what felt like ages (Although was only about 20 minutes), I experienced my first A340 Take-off. It certainly wasn't sluggish. We sped down the tarmac and rotated before a quick climb out and left turn 180 to get us facing the right direction. Maybe people mean the A343 when they say it is sluggish, because this A346 was certainly not.
Lining up after a TK A330 departure
Rotate
Climbing out
Breaking through the clouds
Load on the business cabin was about 80%, First was full and Y was about 90%. High yields on this route for TG I would say.
Great views above the clouds
After a short while the seatbelt sign was extinguished, and a drinks and snack service started. I had a glass of diet coke and the only food offered, sour cream and chive pretzels. Not bad.
Tasty
Then came the first hot towel service, so I have my face a good scrub and handed it back. Very hot towels, by the way.
After about an hour and a half, dinner service started. Starter was pate with salad and scallops, bread roll and garlic bread. The bread was lovely, as was the salad, but the pate and scallop left a lot to be desired.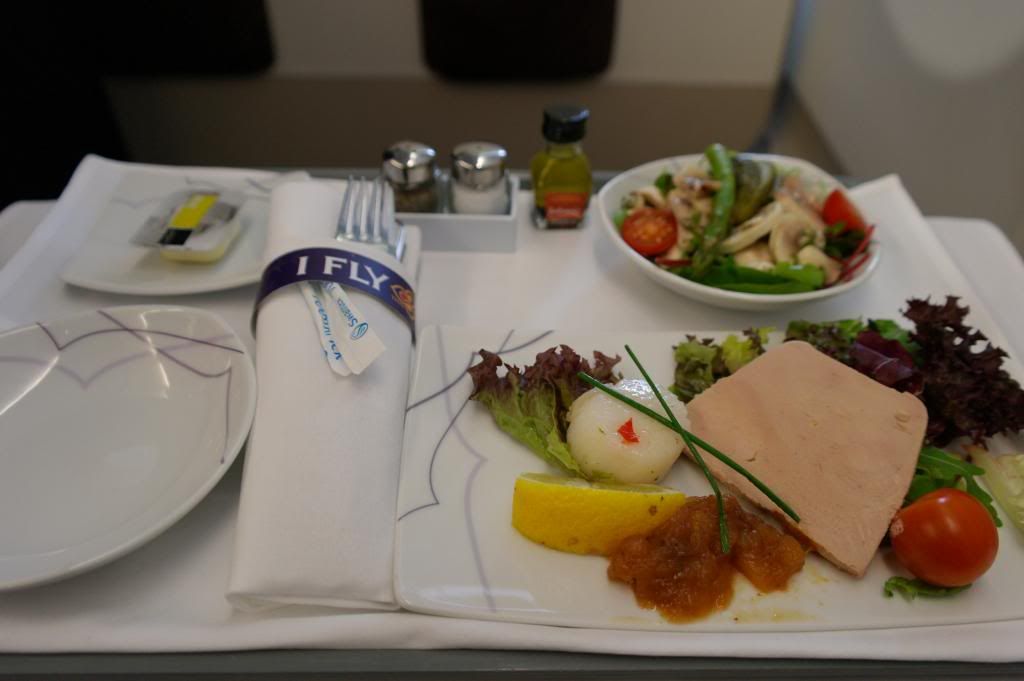 Not to my taste, but not terrible
Another drink service came next, before the main course. I chose the Thai roast chicken meal. It was nice enough, nothing to write home about mind you. The rice was very starchy. Yet more beverages followed.
Fruit and cheese platter next. As someone who doesn't really like cheese, this was only going to go badly. I found that there was only four grapes and a slice of very bitter pineapple for the fruit, which was disappointing.
Not a great selection of fruit
Some views over Poland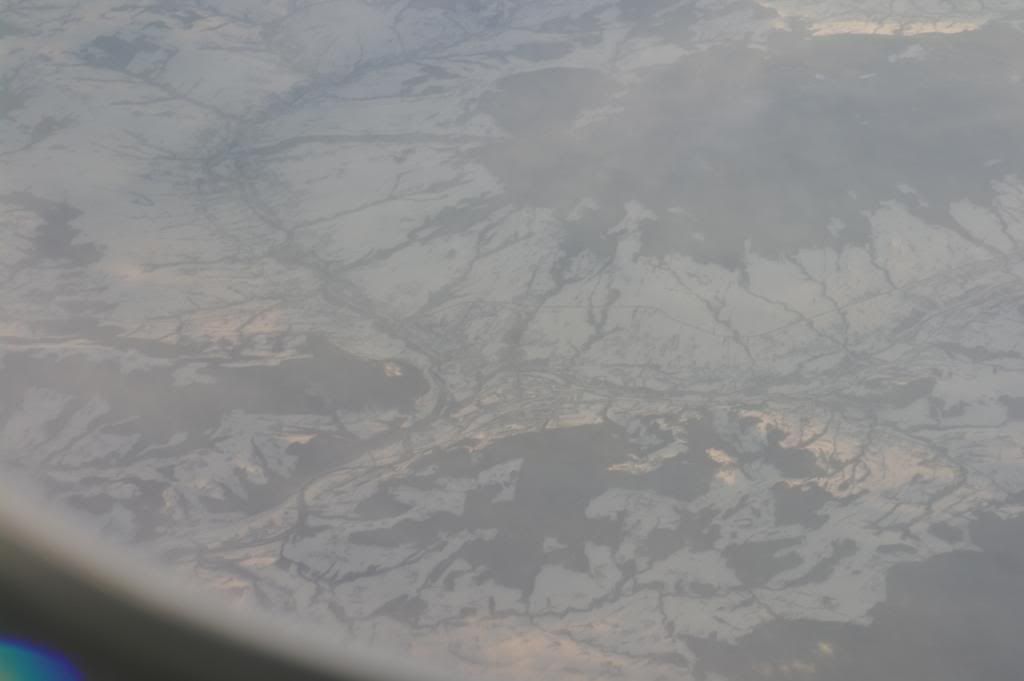 Then came the icing on the cake. A lovely rich chocolate cake with a cup or rosy lee. Creamy cake and tea, perfect.
Delicious!
At this stage of the flight we was flying over northern Poland, and I was absolutely shattered, so I thought I'd try to get some kip. Luckily, just as I started reclining my seat down to 170 degrees, the cabin lights dimmed right down and IFE screens were turned off (not personal, but the ones on the wall by the bulkhead). I managed to get to sleep fairly quickly and awoke 4 hours later over northern India, just before passing Delhi.
There was a fair bit of turbulence over India. Nothing major but slightly uncomfortable at times. I quite liked the seat TG offers in J. It's firm but comfortable nevertheless.
I then decided with three hours left that I would watch a film and check out the IFE offerings. About 11 pages of 6 films, so about 66 altogether. A good selection. I decided on TED, with Seth MacFarlane. Pretty funny film.
Breakfast was served an hour before landing. Another fruit platter, this time with a good selection of fruits. A couple of buns with butter and strawberry jam too, and a strawberry yoghurt. The best meal of the flight by far.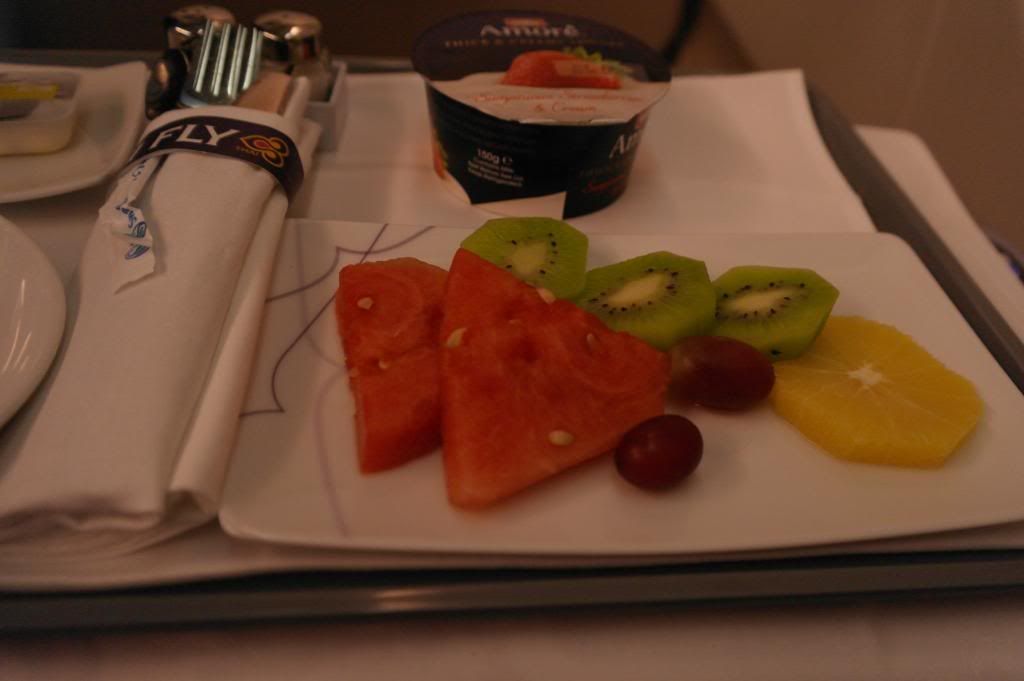 Tasty
The hot breakfast was served after, with a hash brown, sausages, pancakes and beans/mushrooms. Not great in all honesty.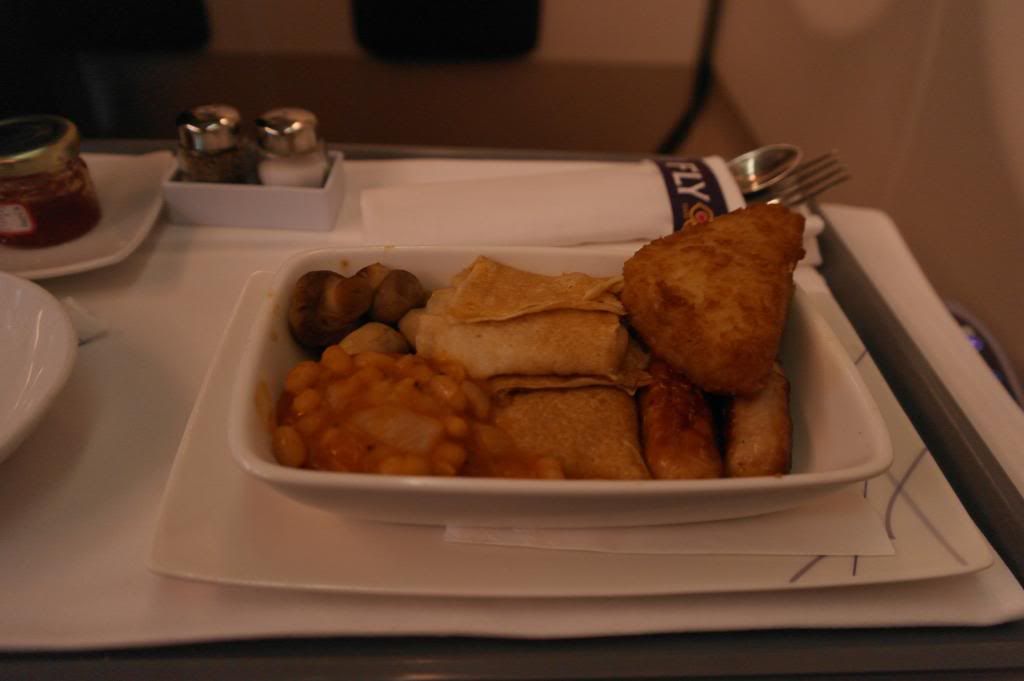 Not the best breakfast I've had on an aircraft]

The sky was starting to brighten as we descended through 5,000ft, and we made our final right turn to line up with runway 19L. Landing was a smooth affair. Certainly not the best landing I've experienced but far from the worst.

[b]Some views on approach (Apologies for poor quality, low light + high speed = not great images
Bangkok seems very foggy today, could hardly see the aircraft we parked next to. Only after disembarking did I realise it was TG's new A380! Looks great in Thai colours.
I headed down to the transfer counter. As I am headed to CNX, I had to go through PPC here in BKK. The problem is, I'm now sat here in Burger king on the terminal waiting for my flight to CNX. I've still got a four hour wait as I write this.
Waiting at B1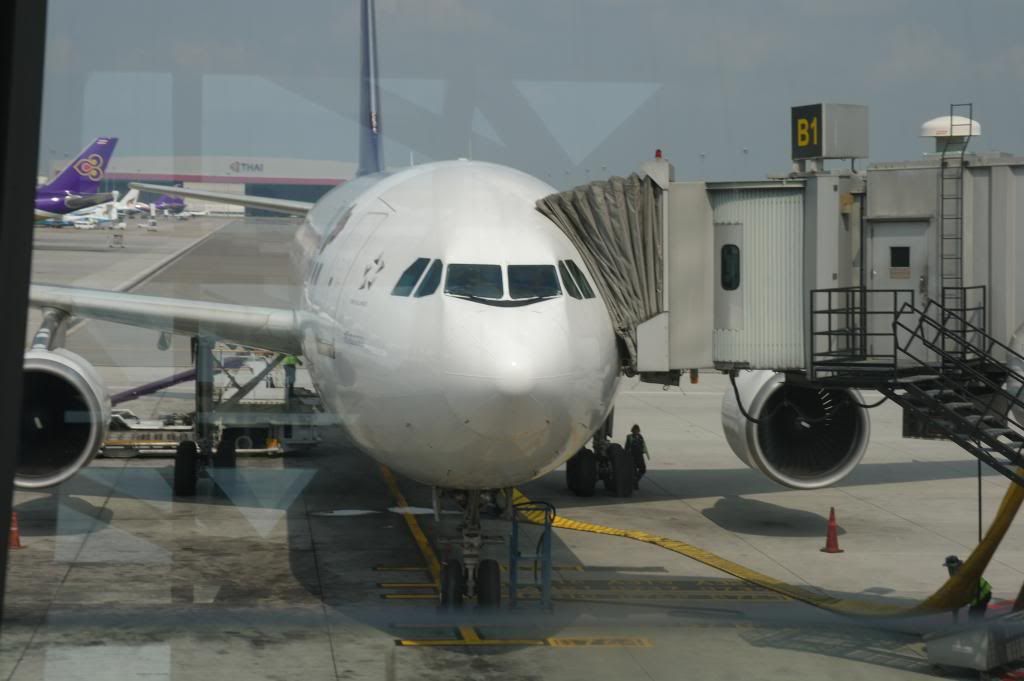 HS-TAZ
Flight 2 BKK-CNX TG112
We boarded the A300-600 (HS-TAZ, the newest A300 in TG's fleet, built in 1998) about 20 minutes late, due to the ground staff changing two wheels form the left main gear. Odd. Anyway I experienced another first on this flight. An A300 take-off. Wow. I've never been pushed back into a seat like that, not even on a 77W. The thrust felt incredible. After 2:30 of flight we were at 10000ft. Incredible. It's safe to say my new favourite short haul plane is the A300.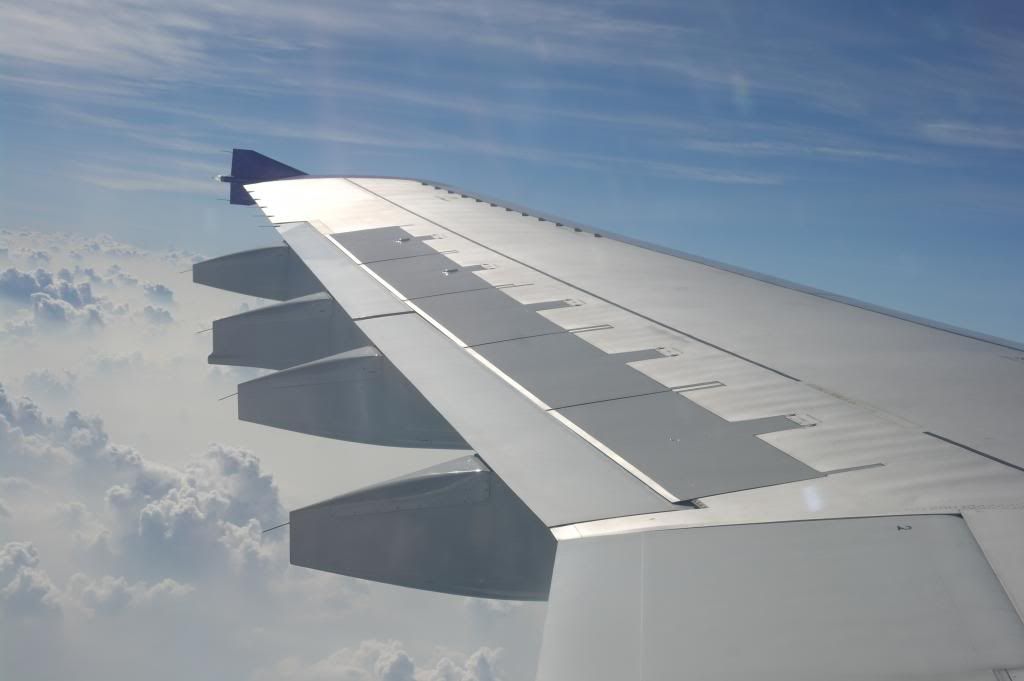 Flight time today was due to be 1 hour. After 15 minutes of flight the snack box was handed out to passengers. It included a small pot of food (no idea what, I didn't try it) and a small carton of guava juice. The juice was nice enough, quite refreshing. Before I knew it we were starting our decent into Chiang Mai International.
Obligatory leg-room shot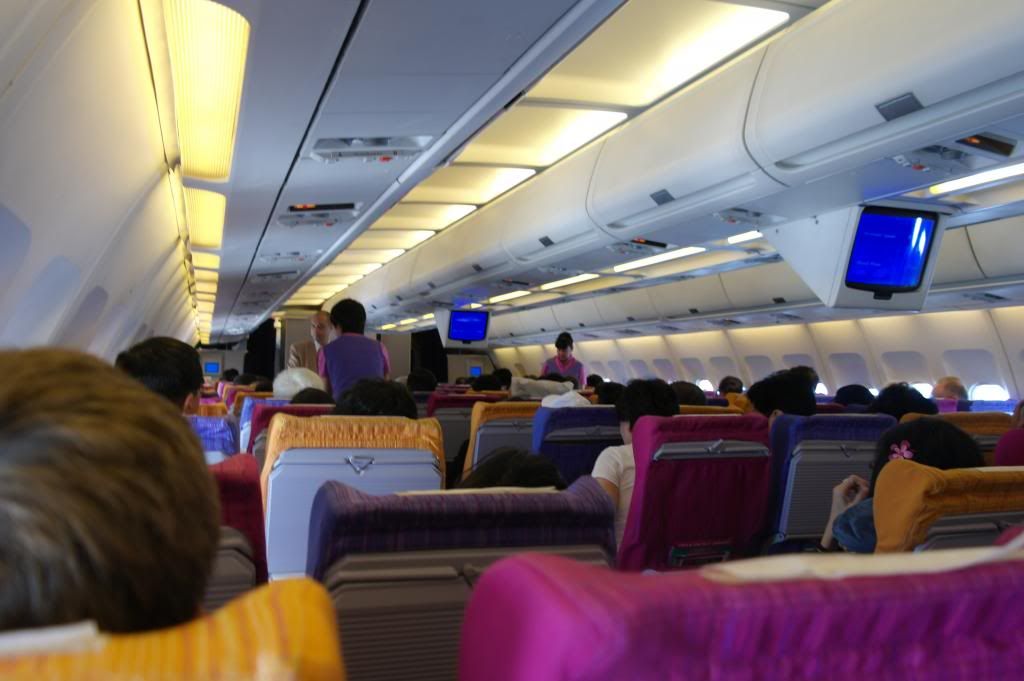 CRT monitors. Old school!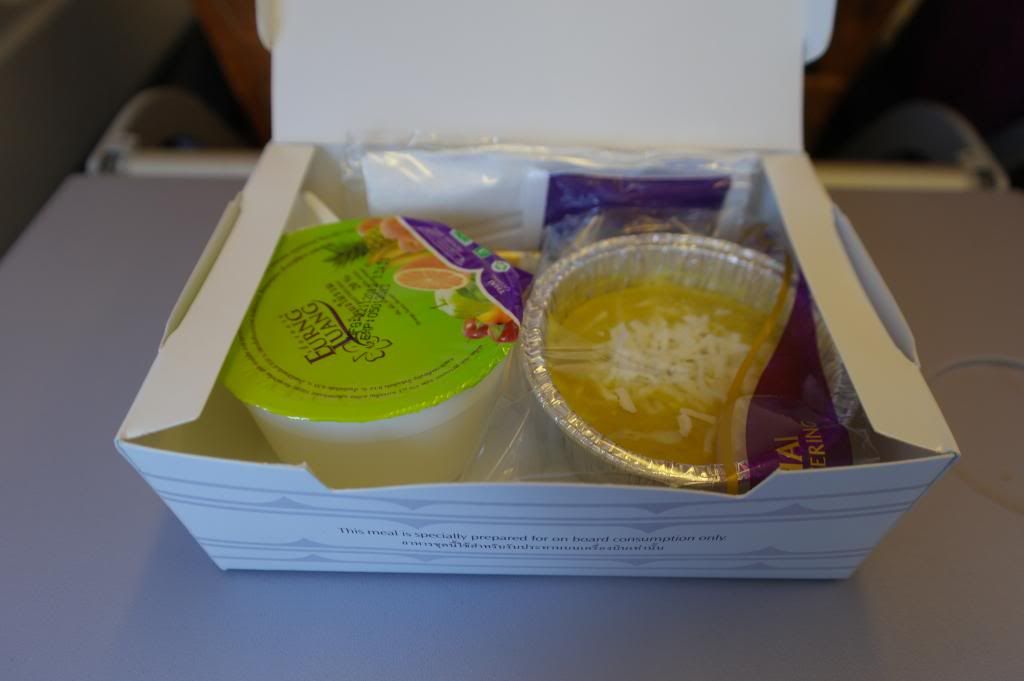 Food glorious food
The captain made a short announcement, thanking passengers for flying TG and telling us the current conditions at CNX. At about 7000ft, the nose of the aircraft was pushed down around 12 degrees as the huge flaps extended. We touched down at 16:10, exactly on time despite the delay.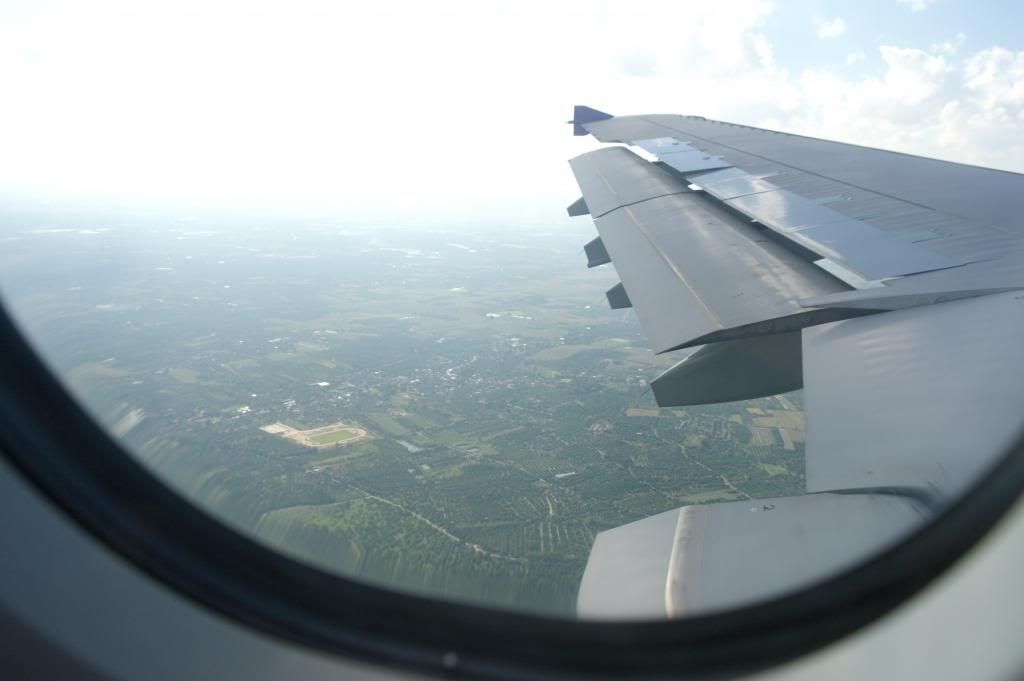 The landing was impressive, especially the combination of brakes and R/T. Really feels awesome. The victorious sounding music on touchdown was new to me. Would've been ironic if the aircraft skidded off the runway after that.
Here is a video of the landing - http://www.youtube.com/watch?v=Ncke3Z5uUh0
Disembarking was a quick affair, even though I waited for everyone to get off first. We parked up next to an Air Asia 320.
After heading down to the international baggage claim, I waited for my backpack. It came out first, after about 60 seconds of waiting, and only 3 minutes after parking. Thai efficiency at its best.
I headed through the scanner and walked out into the main entrance hall and made straight for the taxi counter. I told the lady where I wanted to go and she said wait 20 minutes. I paid 120 Baht which is about £2.40, a great deal as I expected to pay at least 250 Baht.
After around 15 minutes of waiting a big Toyota pulled up and I jumped in. The taxi driver was a miserable sod, the opposite of what I encountered last time in Chiang Mai, maybe he was having a bad day.
Finito
Thanks for reading, hope you enjoyed my second T/R.
Cheers, Alex.