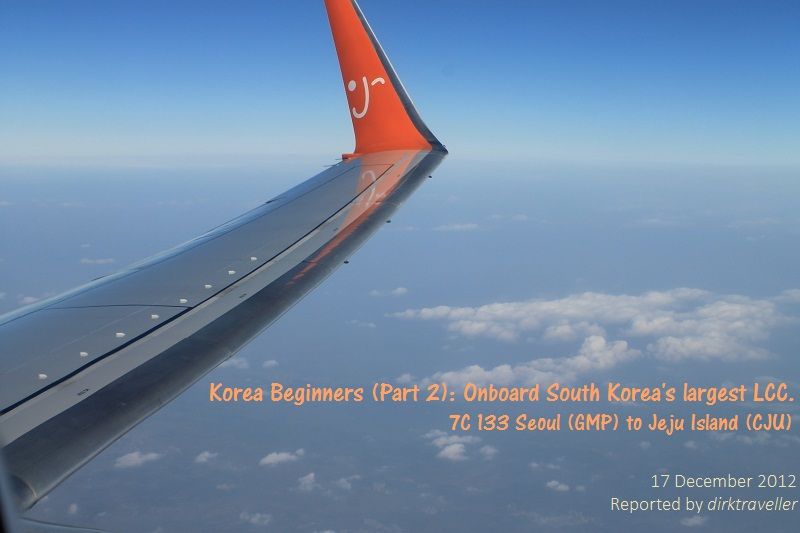 Dear Readers,
I hope you have checked the first part of 'Korea Beginners' trip report series, which is
Korea Beginners (1/3): CGK-ICN On KE 77W
(by
dirktraveller
Dec 24 2012 in Trip Reports).
While we were still on the planning stage of the trip, my family decided that we should add another city in Korea into our itinerary. There were several potential candidates to be added into our itinerary, which are either Busan or Jeju Island.
However, after much thoughts and consultations with our Korean friends in Jakarta, we decided that Jeju Island would be a better add into our itinerary this time round. Therefore, I began the search for flights from Seoul to Jeju.
A handful of local airlines are serving the GMP to CJU route, namely Easter Jet, Jeju Air, Jin Air, and also the country's flag-carrier Korean Air and Asiana Airlines. Initially we were looking into KE flights from GMP, which are operated on their B744 and B738. However, strangely it is unbelievably difficult to access the domestic booking system website from overseas. The local LCC websites gave us other challenges, as their website are only in Korean.
One of the few LCC that has an English language page is Jeju Air. As they gave us a relatively good deal for a GMP-CJU flights return, we decided that Jeju Air would be our choice.
Hence, please join us on our experience as Korea Beginners flying
South Korea's largest LCC, Jeju Air
.
Background
Our trip has started from our hotel in Namdaemun area, downtown Seoul to Gimpo Airport, at around 1000hrs, around three hours prior to departure time. The taxi driver was a friendly Korean man and we had several conversation about Jakarta and Indonesia as a country. However, this conversation apparently made him thought that we were actually on our way back to CGK, and he insisted that it is ICN we should be going to, not GMP.
And yes, for the next 30 minutes we were trying to convince him through limited command of English that we should be going to GMP because we were flying for CJU. Despite our worries that we might be sent to the wrong airport, we reached Gimpo Airport's... International Terminal, where KE and OZ international service out of GMP departs.
At this stage the driver was still thinking we are going home to CGK, until we explained again really slowly this time that we are going to CJU today on Jeju Air. Then, we finally got into GMP Domestic terminal, where there's a Jeju Air sign right outside the entrance.
Jeju Air is South Korea's largest LCC carrier, and it is the third largest airline in the country (after KE and OZ). The airline, which was founded in 2005 have a fleet consisting of 12 B738 aircraft in single class configuration, to domestic and international destinations from their hubs at GMP, ICN, and CJU.
Check-in, Gimpo International Airport - Seoul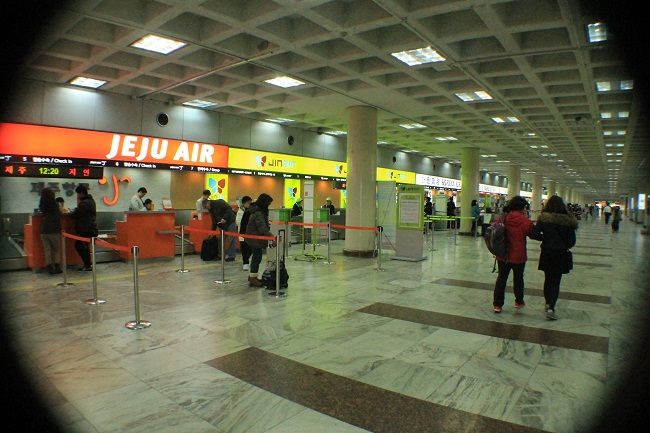 Check-in counters at GMP Domestic Terminal, with LCCs such as Jeju Air, Jin Air, and flag-carrier Korean Air
The designated Check-in Counter for Jeju Air.
Check-in process at Jeju Air counter was simple. Our bags were checked-in and we got our boarding pass within 15 minutes. The staff also had a decent command of English which made things easier. The check-in staff wished us a nice flight and remind us that we must show our passport as an identity proof, along with the boarding pass to the security for the security screening.
From my point of view, Gimpo Airport Domestic terminal look rather old, but I must admit that although the building looks ancient and plain, it is well maintained and clean.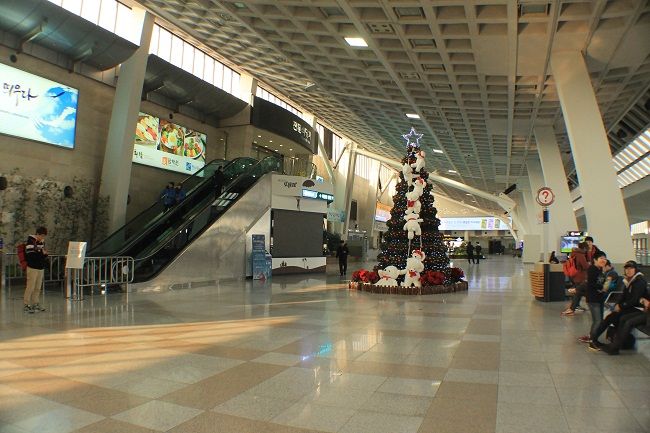 Departure Hall - Gimpo Airport Domestic Terminal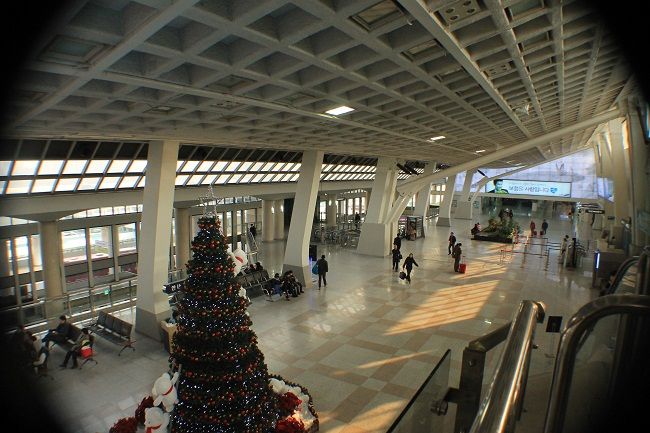 Departure Hall seen from level two.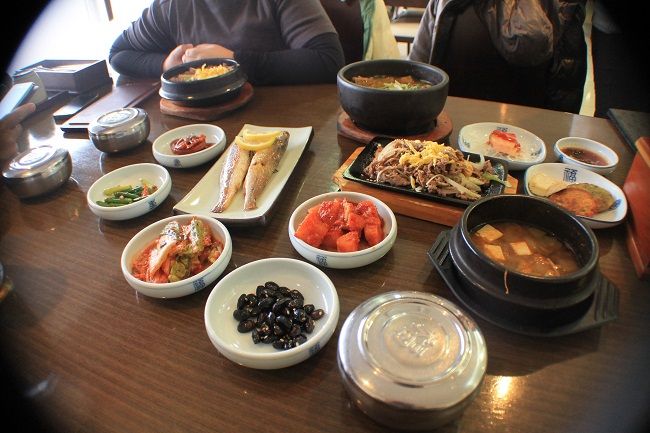 We had Korean dishes for lunch at a restaurant in Level two
Passport + Jeju Air Boarding pass (looks like most LCC Boarding pass)
The Domestic Terminal Exterior with some activities seen behind the building.
A Shopping mall was located nearby the airport, and the International Terminal (The blue-roof building)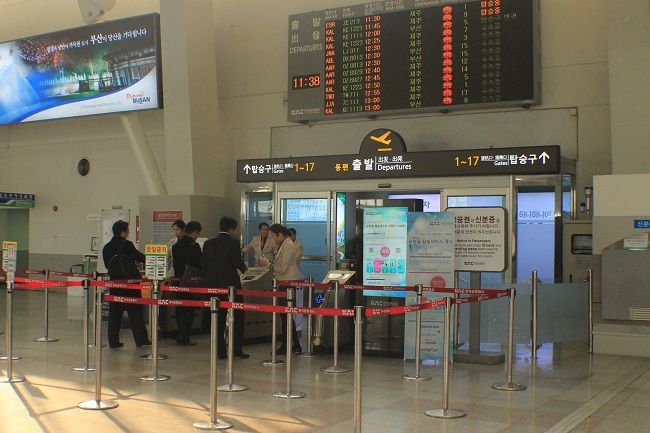 After the lunch, we proceed to the departure gates. This point onwards, only ticket-holder are permitted to enter.
Boarding
Flight Details
Flight Number: 7C 133
Type of Aircraft: Boeing 737-8
Registration: HL8263 (Delivered to Jeju Air 23/11/2012, l/n 1325)
Seat Number: 8B
ETD: 1330
ETA: 1440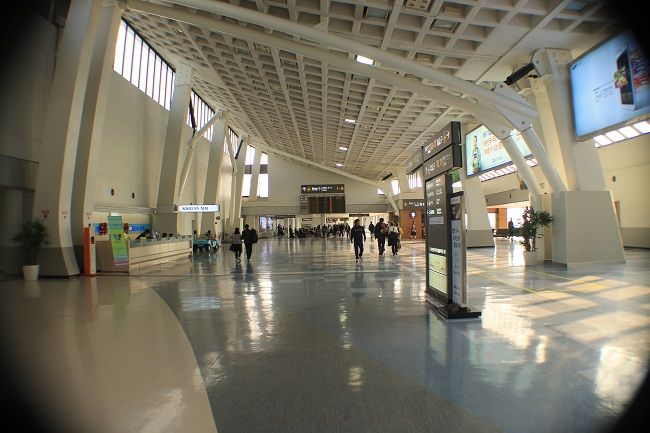 Post - Security at GMP.
Our assigned gate 11.
While I was waiting for boarding to commence, I attempted to take picture of the outside traffic activity at GMP. However, the window was purposely blurred and there were 'No photography' signs on the window. To those familiar with South Korean aviation, I was wondering why is GMP is not plane-spotting friendly?
I am sure that I did not see the same sign at ICN, and while I am sure that they are regulated under the same Civil Aviation Authority, I was puzzled that they could have differing rules on plane-spotting. This sign definitely tell me that I must limit my photo-taking.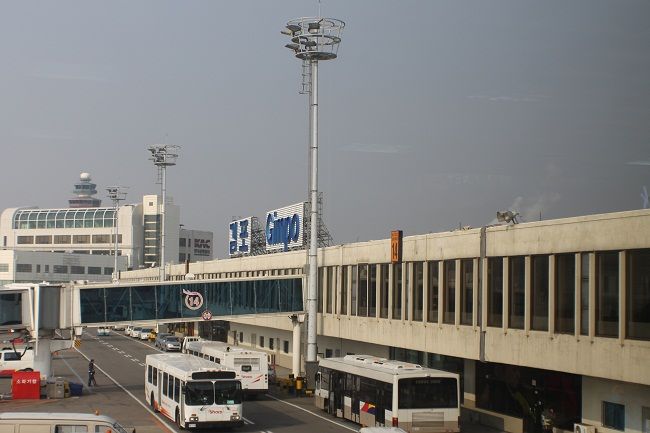 We are at Gimpo Airport, as the large "Gimpo" sign suggests us.
Our boarding call came on time at 1310hrs, where we have took a stair down outside where a bus had been waiting for us, taking us to our aircraft where we boarded through stairs.
An Easter Jet B738 while taken from the moving bus.
Our aircraft, HL8263 (ex Virgin Australia's VH-VOV) would be flying us to Jeju.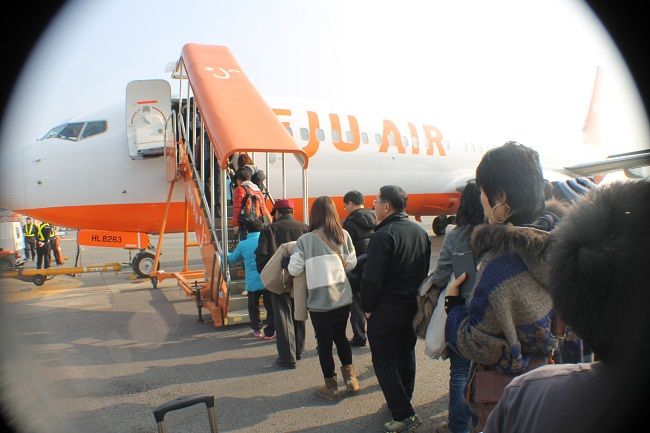 Boarding the Orange Jet through the Orange stairs.
The flight was almost full, with around 80% load of mostly Koreans heading for a short getaway in Jeju Island, along with other Singaporean tourists on board. Crew members welcomed us aboard and a manual safety demonstration was done while we were taxing to the runway.
Seat back on this B738. Leg room are of LCC standard and it is quite cramped for a medium-built person like me.
Taxing through Gimpo. Korean Air B744 and 739s are common view here.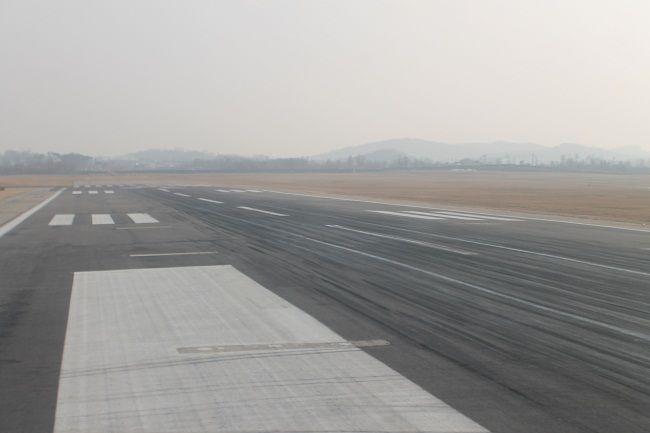 We're entering the runway. 7C 133 is ready for take-off!
In-flight
Views of Seoul after take-off.
Shortly after we reached cruising altitude, cabin crew go through the aisle with a complimentary drink service with the choice of orange juice or water. There is no BOB on this flight.
Complimentary orange juice and water on this one hour flight.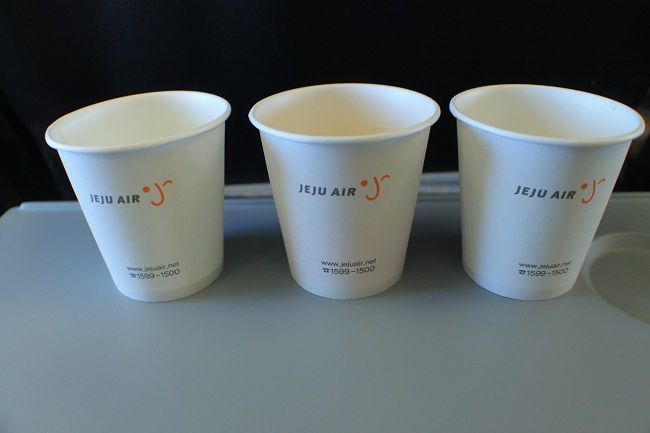 The Jeju Air cups used to serve the drinks.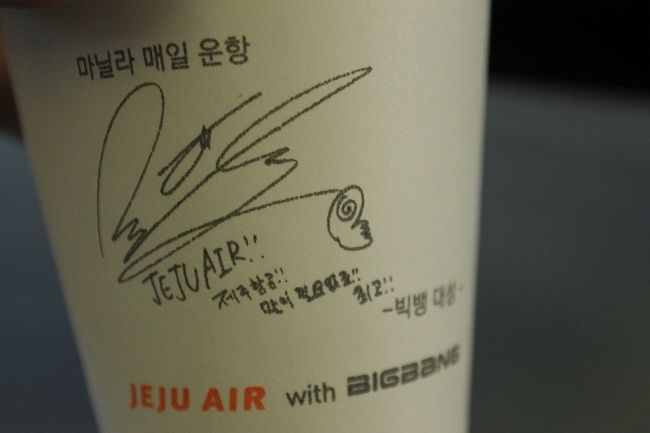 As a marketing strategy, Jeju Air is co-operating with a K-pop group to advertise their brand. Really smart move considering the booming of Korean pop music in Asia.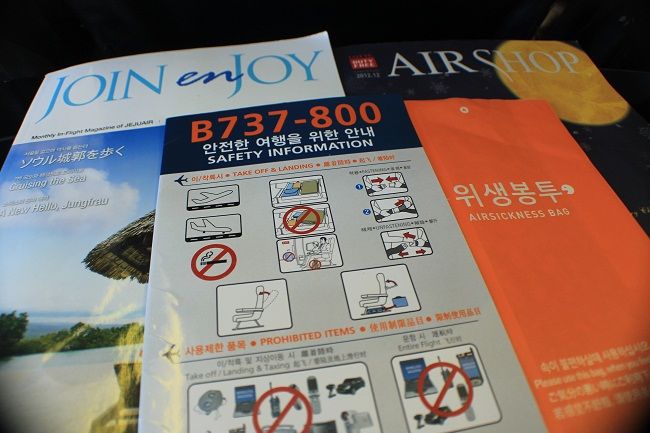 "Join en-joy" In-flight magazine, Duty free catalog (only on International Flights), Safety card, and Airsickness bag.
Cabin view on this 9.7 years old B738.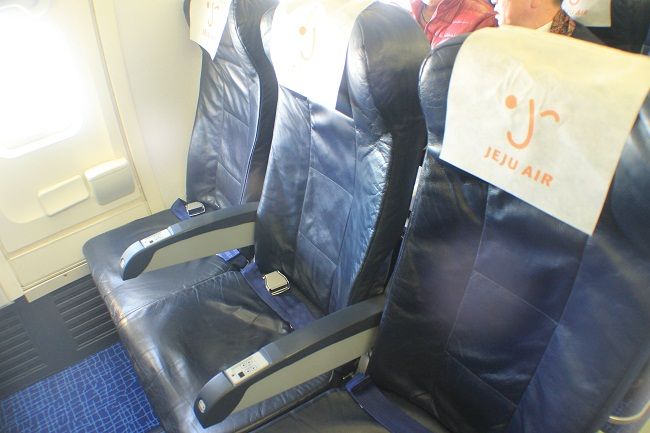 Leather seats on the aircraft, taken on the empty emergency exit seats while cruising.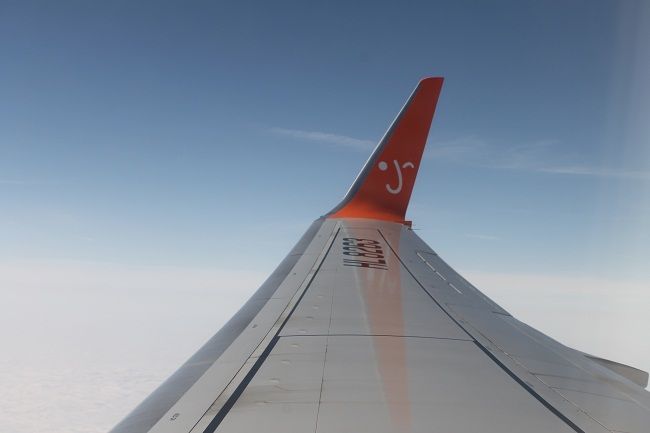 Orange winglets that accompanied me for the rest of the flight.
Arrival into Jeju International Airport
After around 55 minutes of flying time, the Captain announced that we were descending into CJU. Cabin crews came out from the galley to make sure we were ready for landing.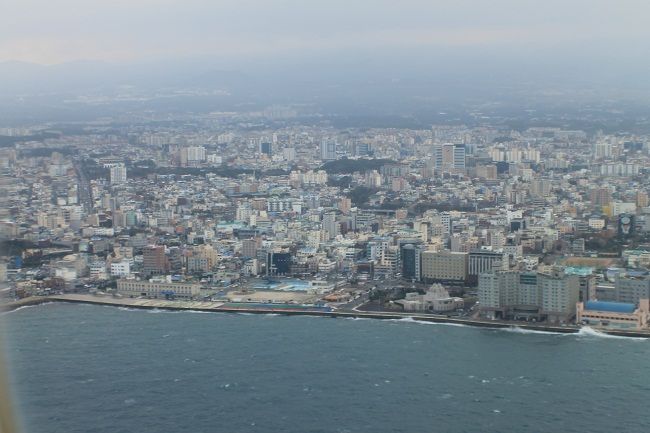 Jeju Island while on approach to CJU.
The island with our hotel visible while on approach.
After touchdown at around 1435hrs, we taxied to our parking stand.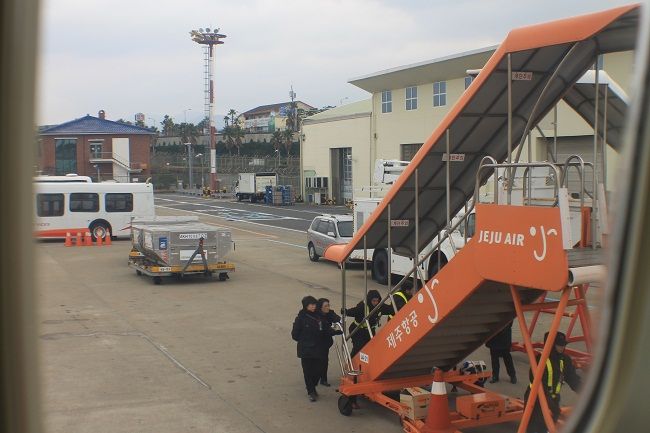 Jeju Air ground crews preparing the stairs for deplaning.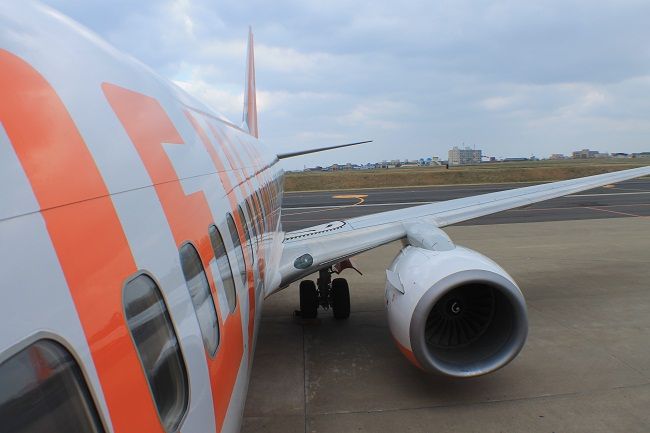 Goodbye HL8263!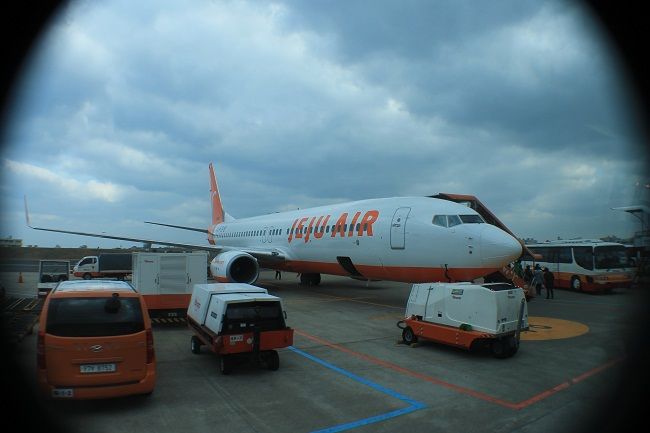 A view of our aircraft while taken from the bus.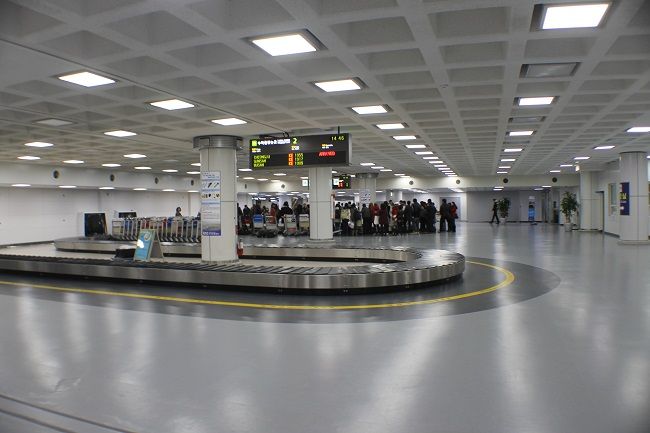 Jeju Airport's baggage claim area.
Taxi stand in CJU arrivals area.
See you in 3 days, Jeju International Airport!
Final thoughts on the flight
Following my first flight on board Jeju Air, I have to admit that my inital expectation on them was a total underestimation. I did not found any issues with their service all the way from booking to our arrival. Although seat comfort and legroom was quite limited, but it was fairly sufficient for the short flight.
On the 1 hour 5 minutes flight from GMP to CJU, the complimentary drink service was a plus and something that is nowadays uncommon on board LCCs, where most of the time only Buy-on board services available.
Overall, I must say that Jeju Air is an outstanding LCC and I would be looking forward for my next flight with them.
Should you have any thoughts or questions, do leave a comment
Thanks for reading this long TR and hope you enjoyed it.
Regards,
Dirktraveller.
[Edited 2012-12-30 03:53:20]