Dear readers,
Welcome to my latest trip report.
When I received my roster for December I had a few more days off than expected so decided see if I could fit in a little daytrip. I looked at LX's one way fares from GVA and saw that their prices were ridiculously low on the NCE route, just 33Euros. There was a mid-morning flight from NCE-GVA available, but could I be in NCE early enough to make it? Yes, I could, thanks to easyJet, and booked a BSL-NCE ticket with seat reservation for 40E. SBB would help get me back to Basel, with a 3 hour train journey from Geneva.
I never intended to write a report about this trip. On paper it looked pretty ordinary: airports, aircraft & airlines all familiar to me. Yet the weather conditions were just perfect and I decided to share my photos with you.
OLCI with easyJet worked just fine, as always, but with Swiss it wasn't so smooth. It was a good 6 hours late opening. Just as I was selecting my seat, the internet connection failed. Yes, our internet provider had performed an update which went horribly wrong and we were left without a connection for 3 days. Thankfully a neighbour helped out and I was able to complete check-in and print out my boarding pass on his computer.
It looked like the weather certainly on my side, a couple of days previously we'd had a lot of snow, thankfully for my day of travel just freezing temperatures were forecast.
Saturday 1st December
I'm really quite desperate for a lie in after a run of early shifts, but no, my alarm wakes me from a deep sleep at 04:30. I'm on the road at 5am and reach Basel without any problems. I can see there's quite a queue at security so decide to join the line of waiting passengers. It's a good decision as I spend over 20 minutes there. The queue moves painfully slowly, there are too few lanes open and more and more passengers keep turning up. Eventually, French style and definitely not Swiss, some more staff turn up, chewing gum and decide to open a third lane, after which things move somewhat faster.
Today's flights
Festive decorations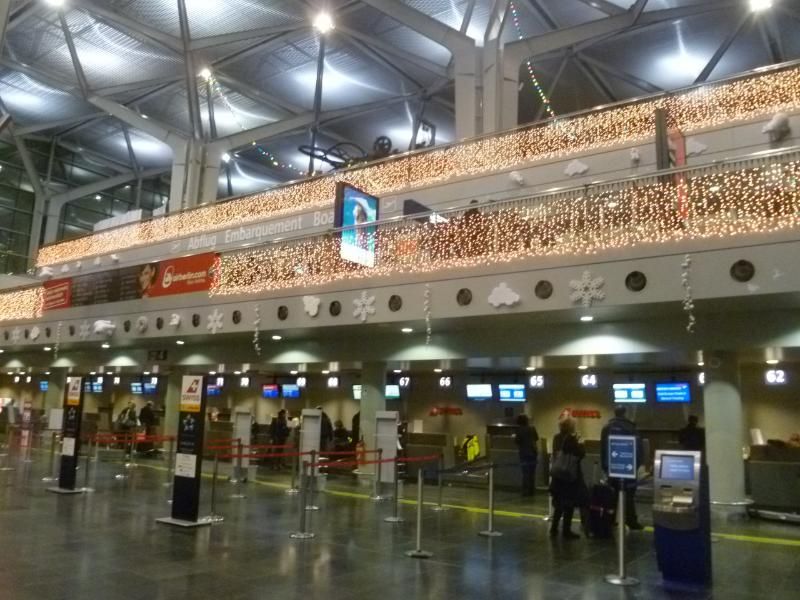 I pick up a free newspaper and wander down to the gate. It's a rather surreal experience, not seeing masses of people pushing and shoving to board, but a very calm and orderly gate area.
There were other flights boarding, AMS & SXF and they were missing a few passengers, no doubt due to the problems at security.
Indeed, once the AMS flight had departed and the gate had been unattended for a good 10 minutes, a couple appeared running like the wind, only to see the gate closed.
BSL-NCE
EZS1001
A319 HB-JZL
STD 0725 / ATD 0737
STA 0840 / ATA 0825
Seat 7F
Load: 60-70%
63rd flight on the A319, 2nd on this aircraft
An orderly queue forms as soon as the gate agents arrive, it's quite amusing to watch knowing that there is no need to hurry. Passengers sitting in row 15 and behind are told to use the rear stairs, and this seems to work. Boarding starts at 06:50 and I have never been so relaxed prior to an easyJet flight. I am one of the last to pass the gate, can take my time on the tarmac, it's just great. As I board I greet the purser in German, she asks to see my boarding pass and takes note of the fact it's in English and proceeds welcomed me on board in English.
My ride down to Nice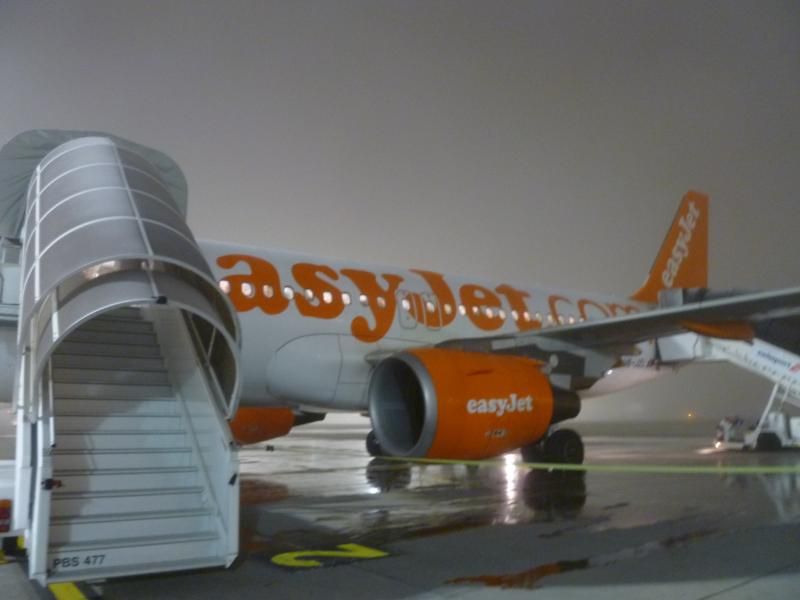 I'd booked row 7 and am pleased to end up with the whole row to myself. There are only 3 passengers in the rows in front, obviously people don't want to pay the higher prices that come with those seats. I notice that a lot of the other rows behind are full and I'm wondering whether the check-in system tries to block off the seats next to someone who's paid for a seat reservation, if the flight isn't full.
There are 4 female FAs on today's flight and we get a brief welcome from the cockpit and are told our journey to Nice will take 1hr5.
Pushback is on time at 07:25 and much to my surprise no deicing takes place. Perhaps it was done before we started boarding, we certainly need it with these subzero temperatures.
We trundle along to runway 15 and at 07:37 take off into the sky.
Sunrise on this cold December morning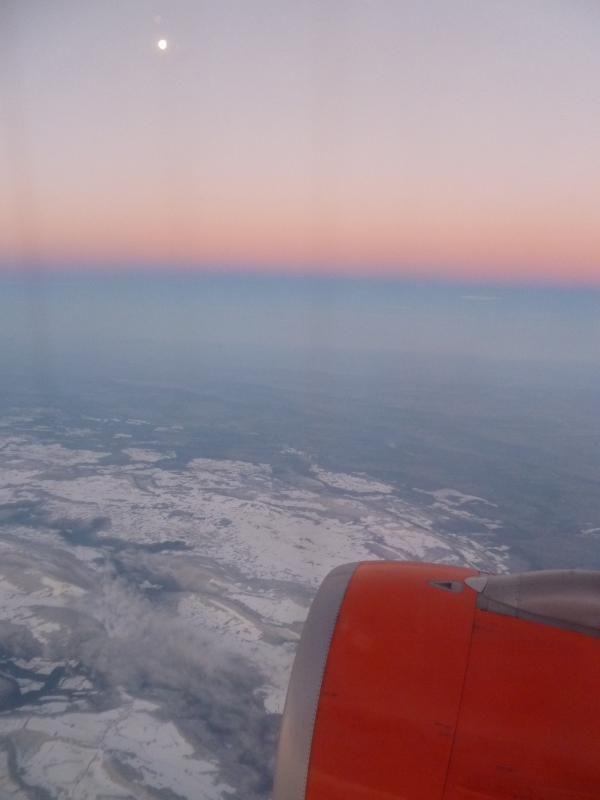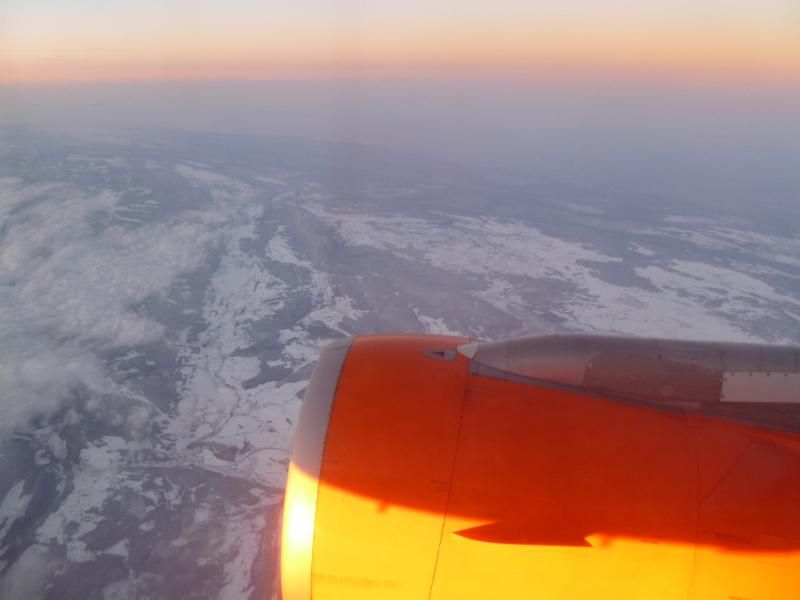 I was hoping for good weather today, as my previous flights in and out of Nice were in bad conditions. It looks like my luck's in. Sure enough, before long, the mountains start to slowly peak out of the cloud.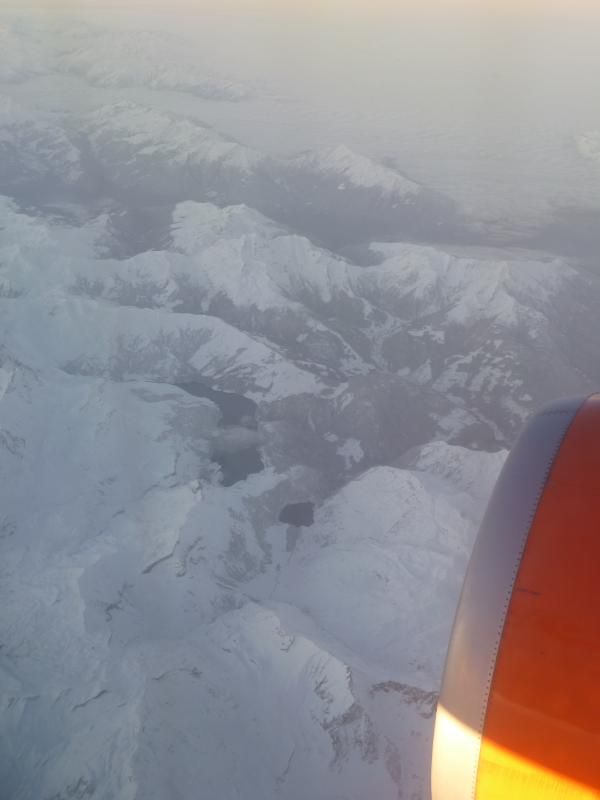 When the BOB trolley comes along, I buy a bottle of water. The crew also pass through collecting money for Unicef.
Legroom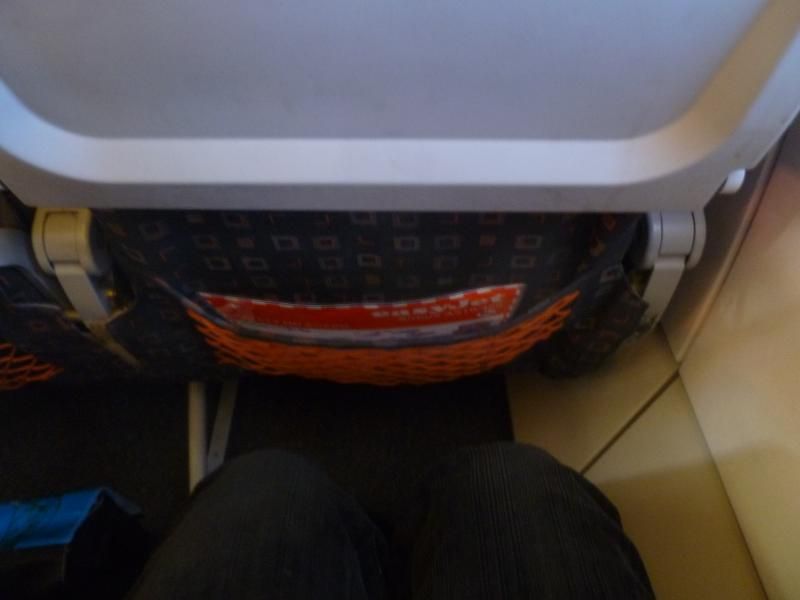 Outside, the best IFE you could wish for continued….
..and the tips of the peaks are bathed in sunlight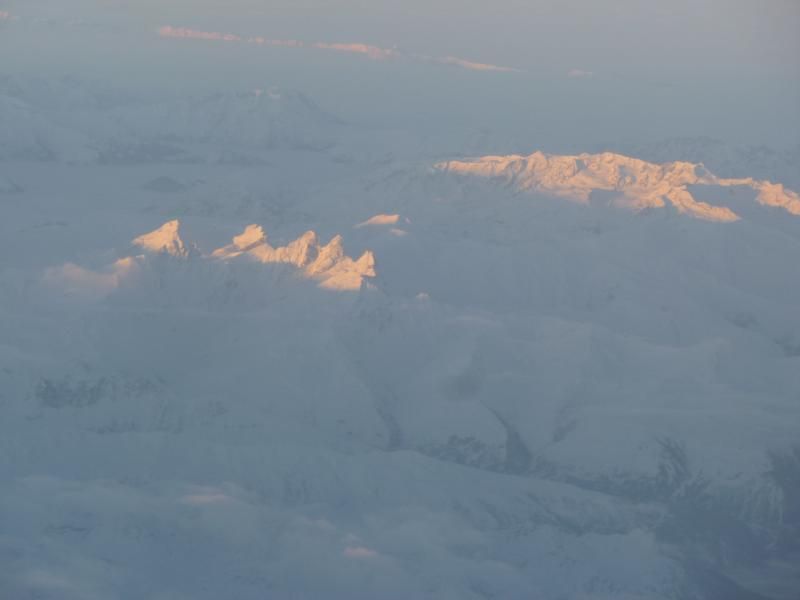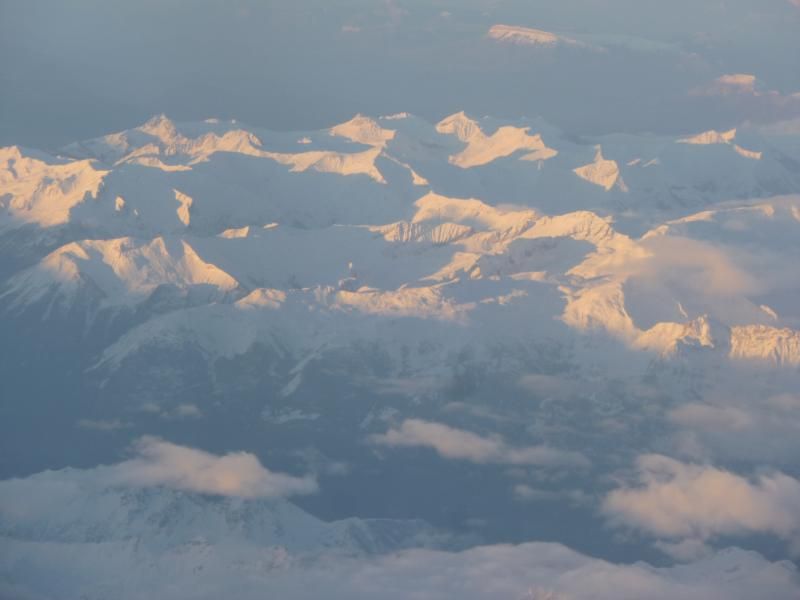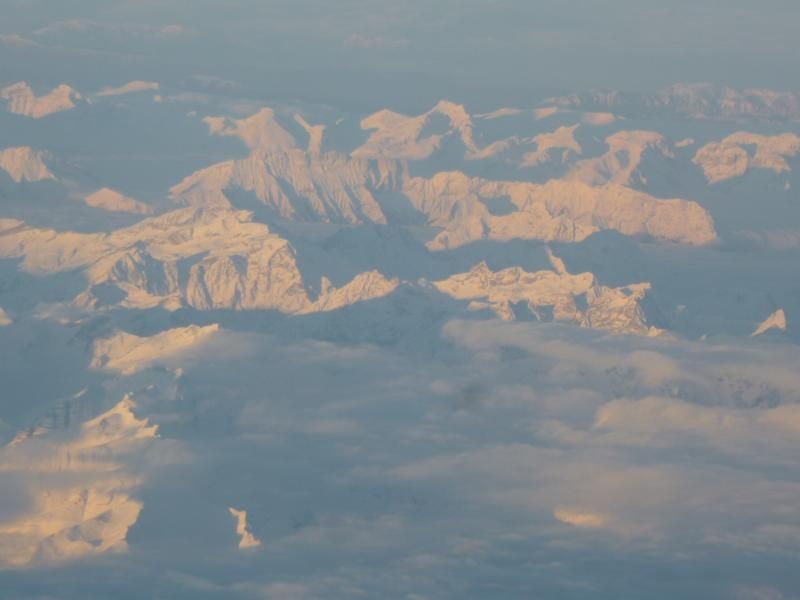 What a day to be flying!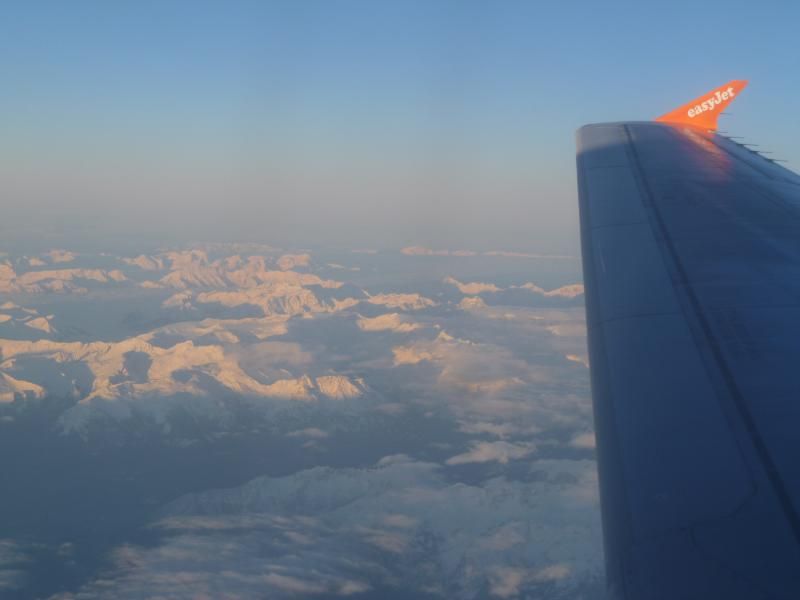 One of my favourite pictures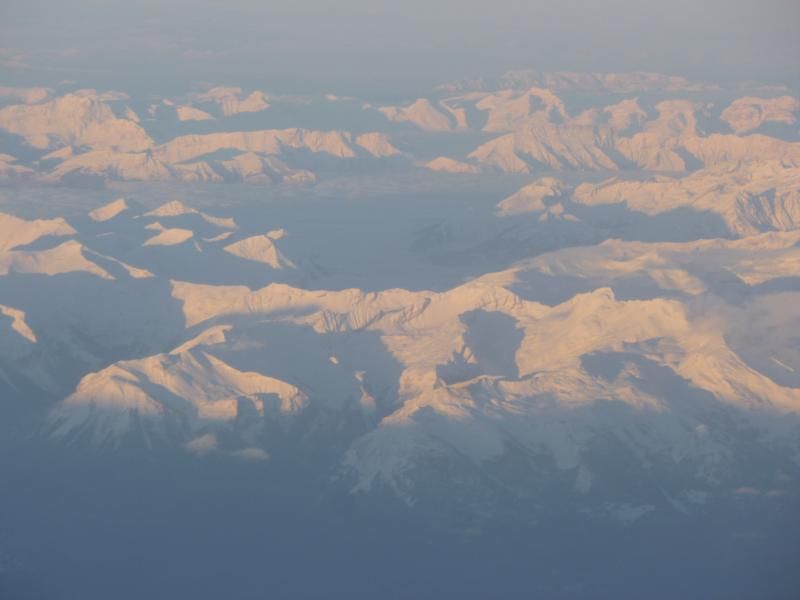 As the sun rises, the pink tinge fades and the white snow glistens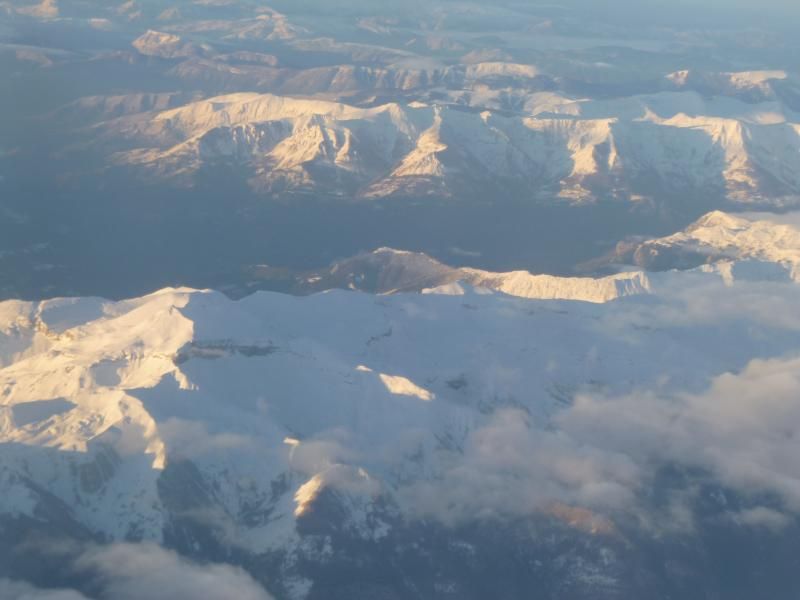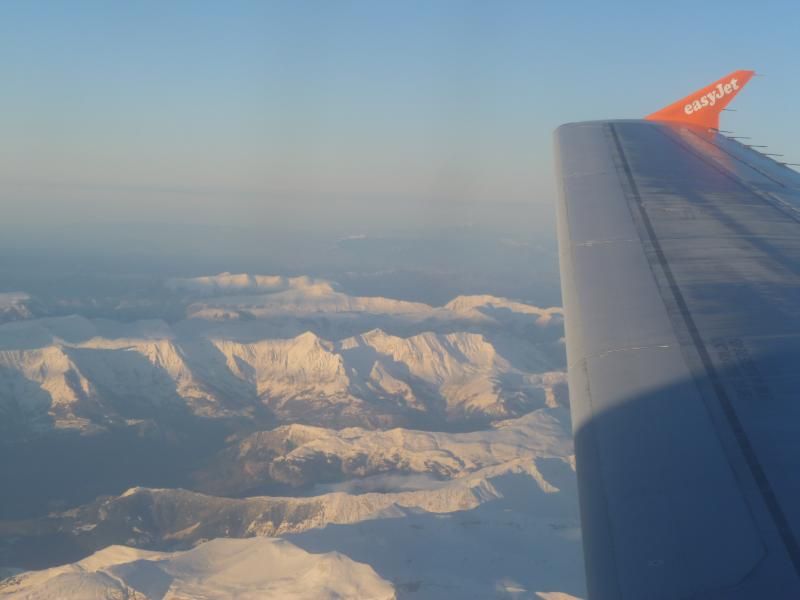 Snow diminishing, must be close to the coast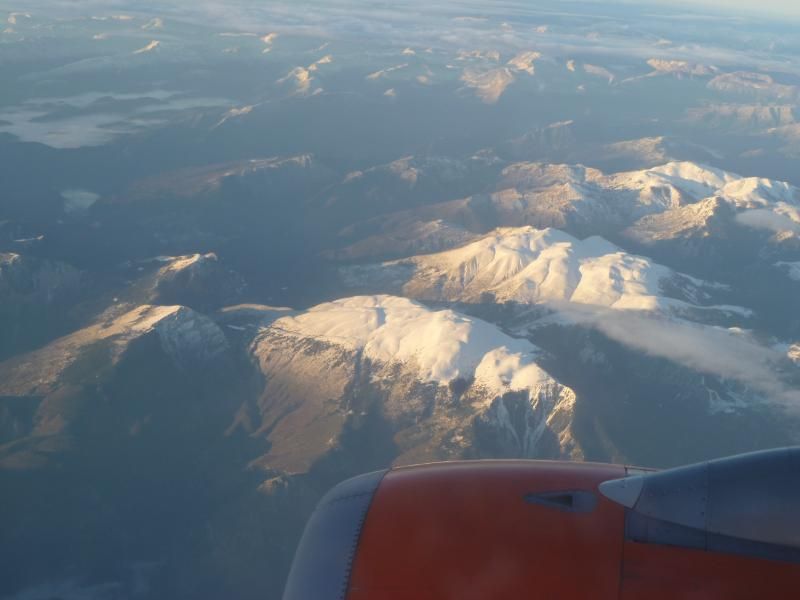 The Med is in sight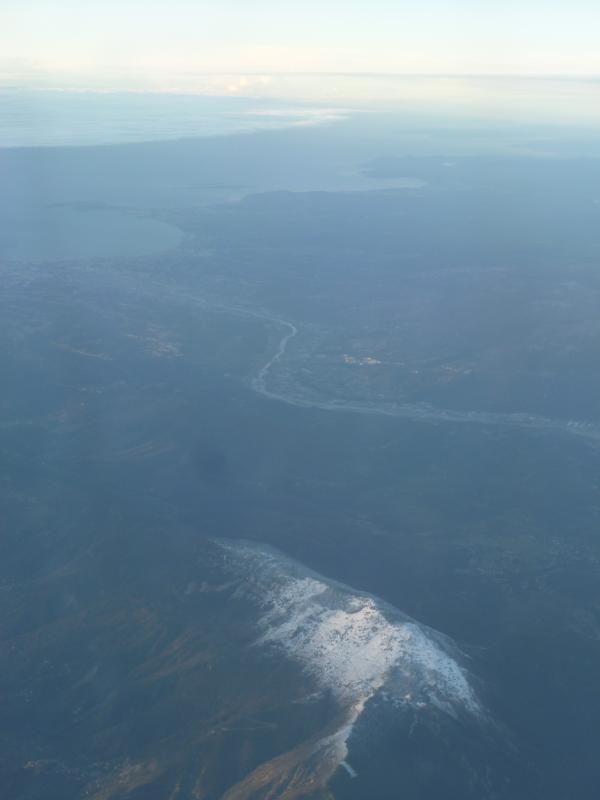 Hello Nice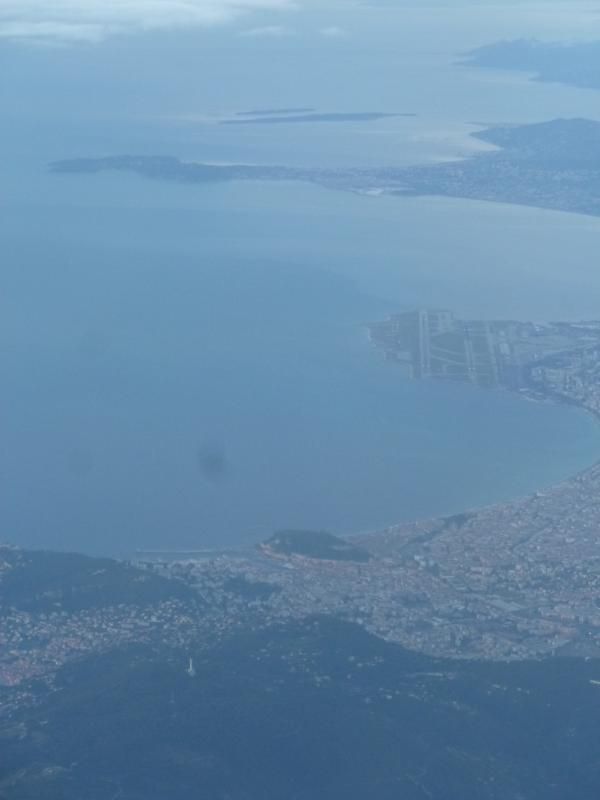 The approach over the sea is equally as stunning and gives me some great photo opportunities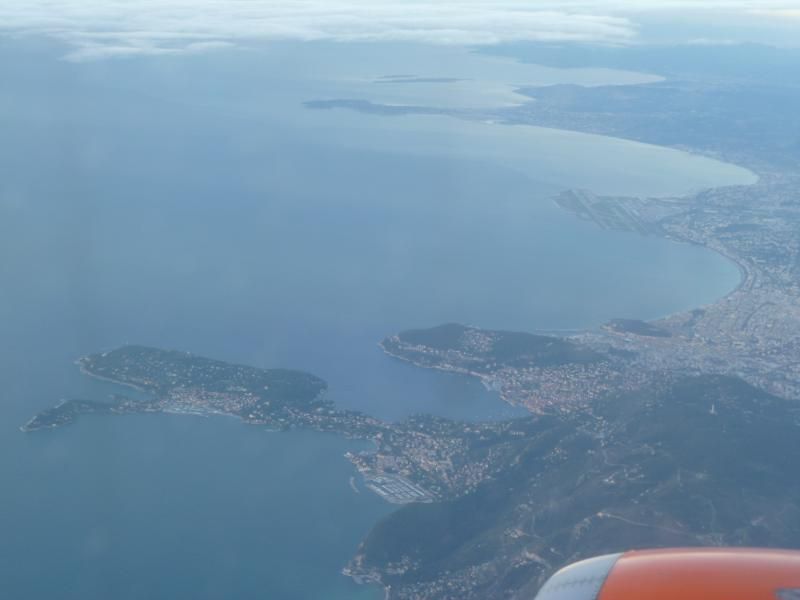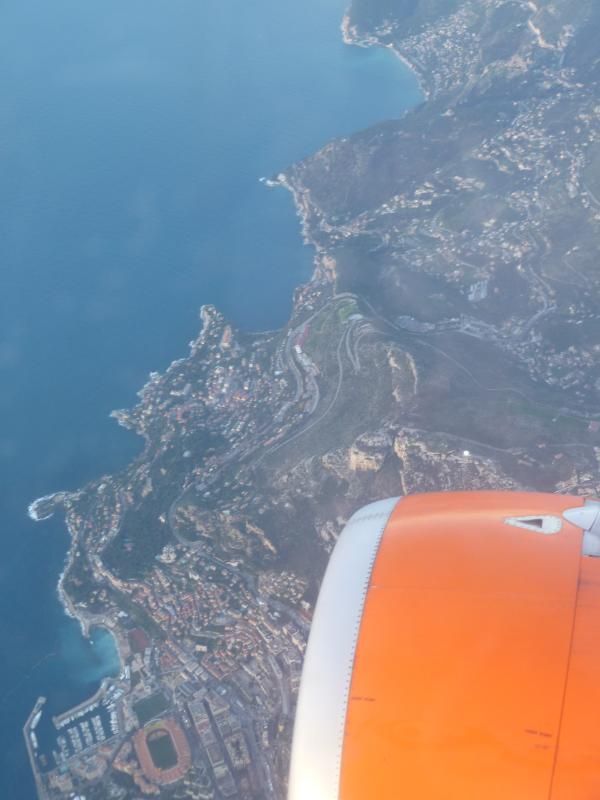 Snow and sea, so close together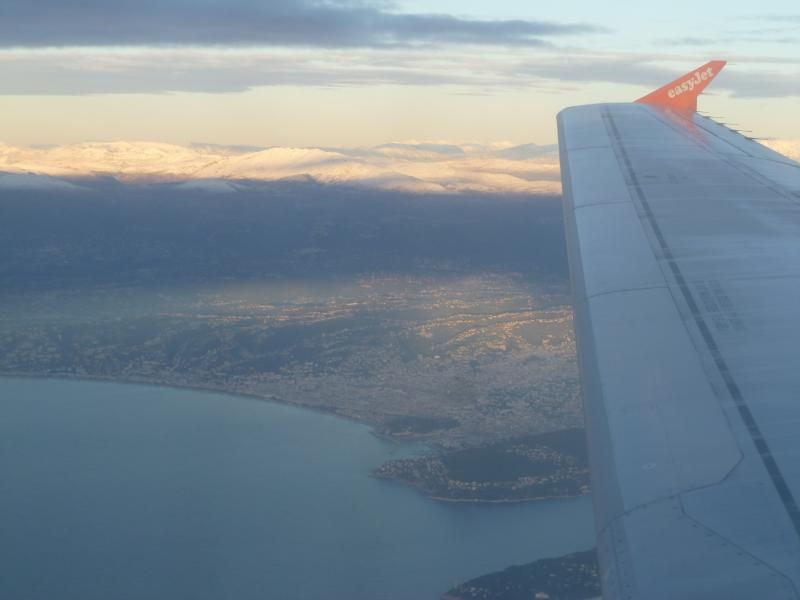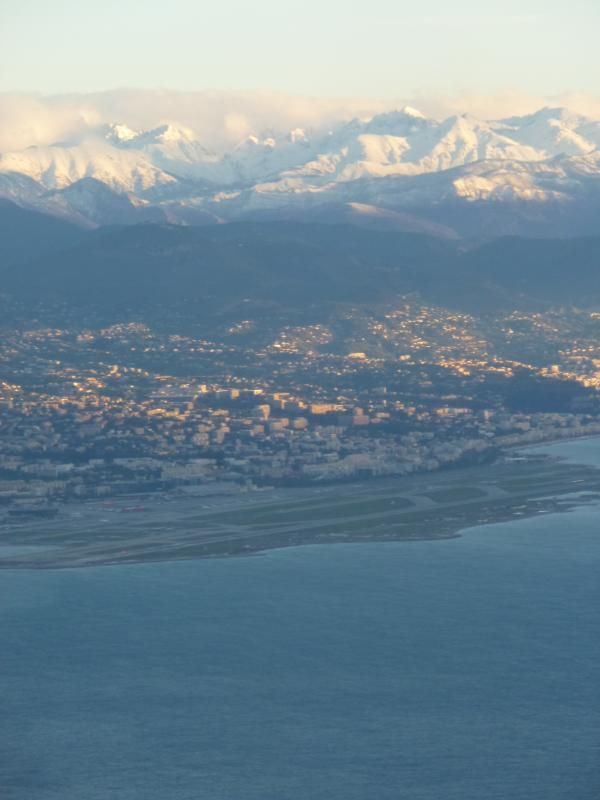 Nearly there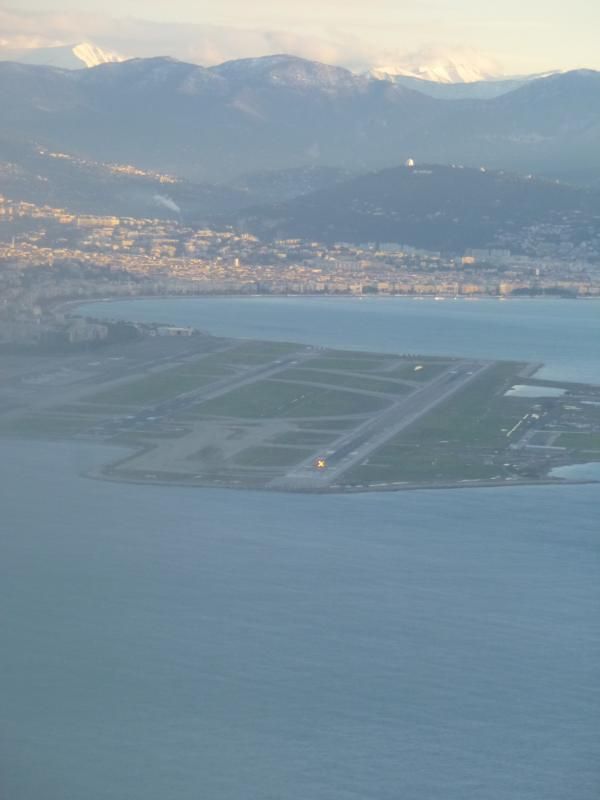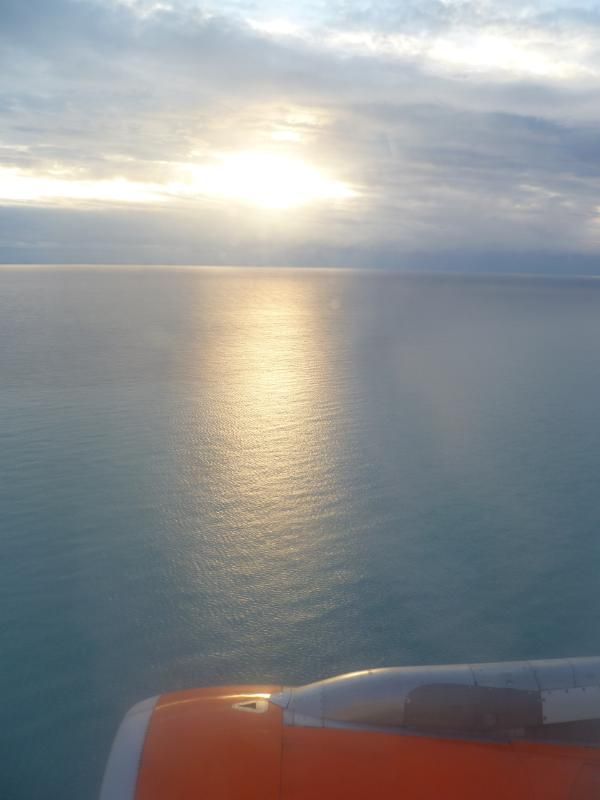 Land in sight
Bienvenue à Nice. We land early at 08:25 after less than 50 minutes of flight on runway 04L.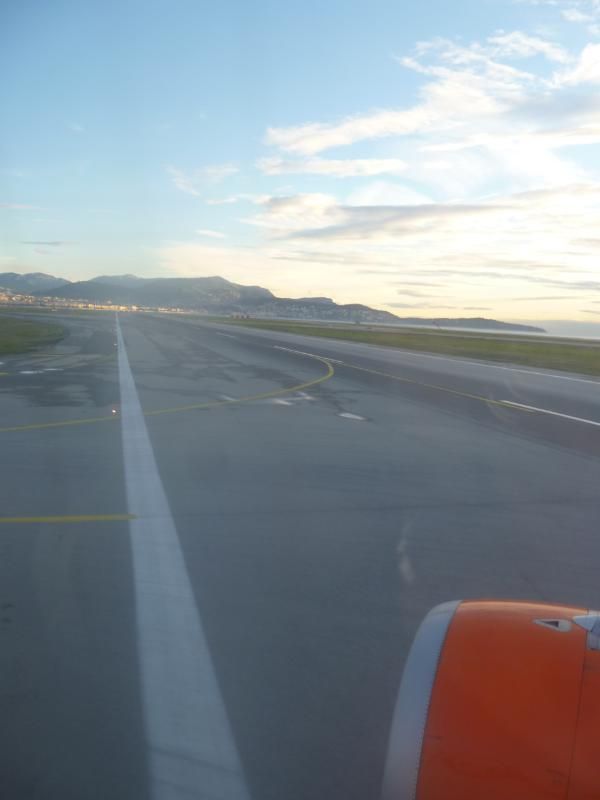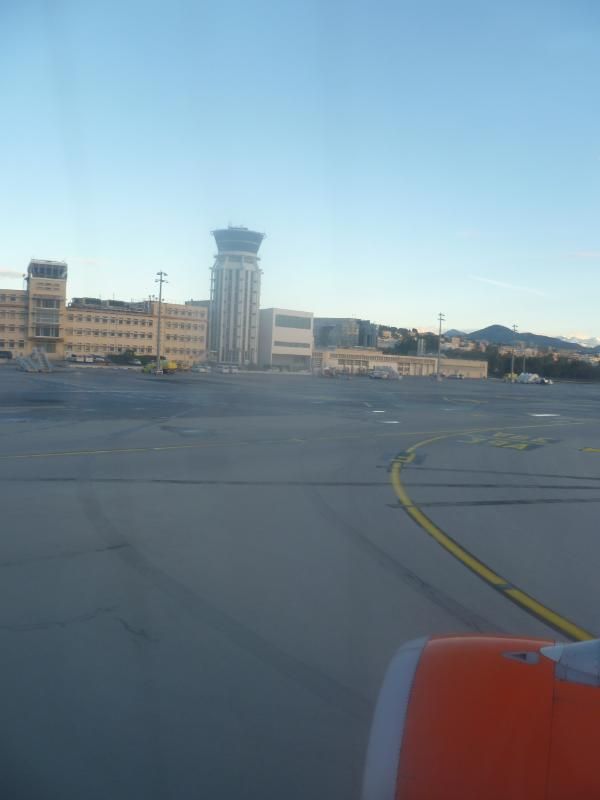 A UK visitor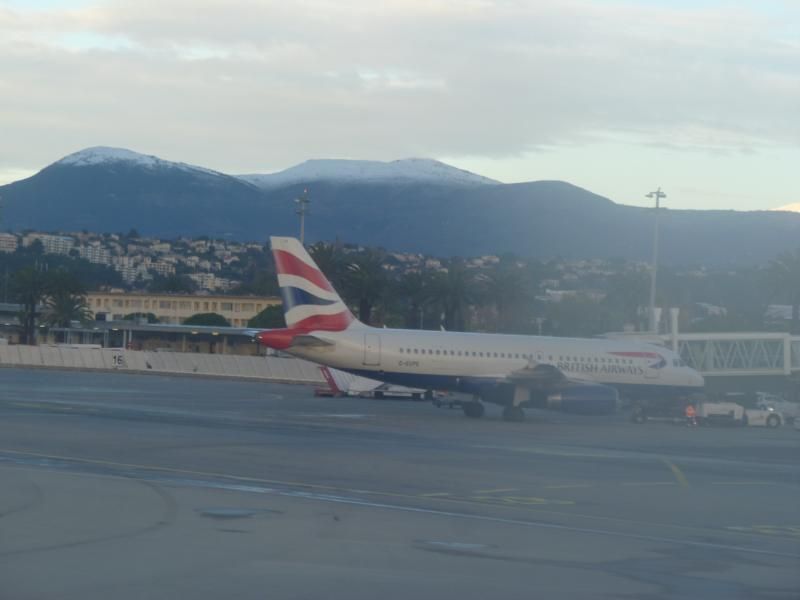 Must be France then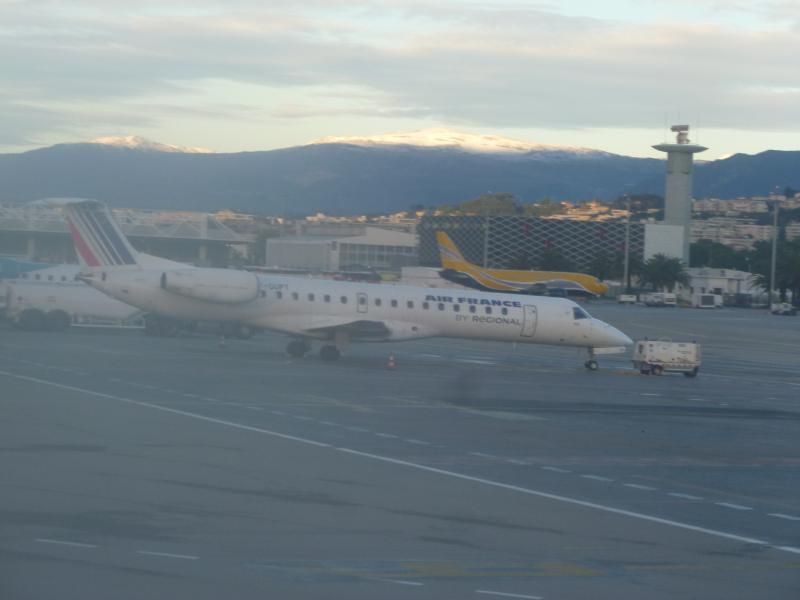 This one seems unusual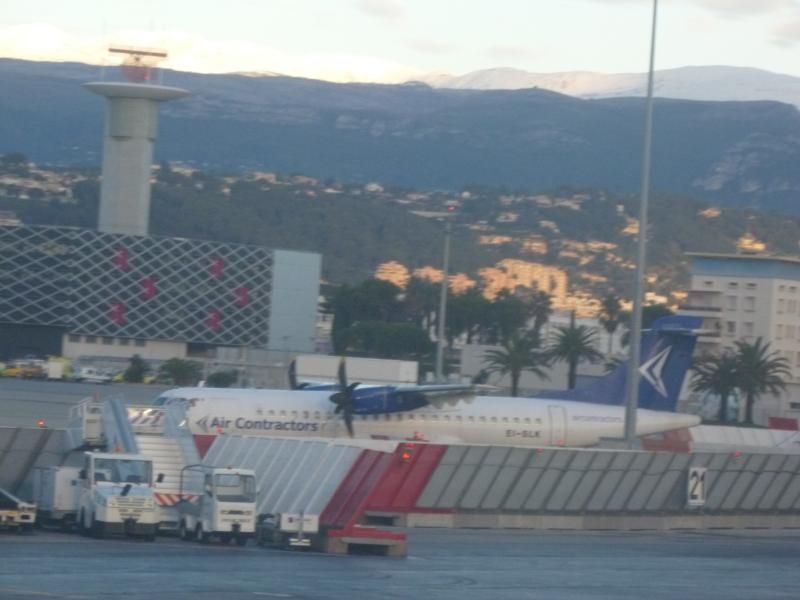 For the rich and maybe famous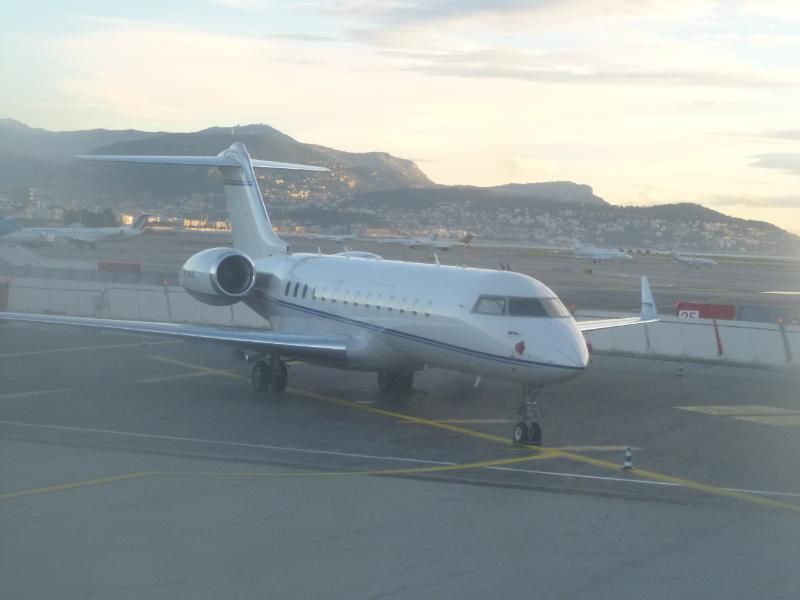 A very orange easyJet
Another local