ANA San Jose Inaugural Trip Report 2013
Here is my first trip report in 2013, which will be an extremely detailed but exciting one, as I am able to fly the ANA inaugural flight from Tokyo Narita to San Jose. Not sure why but San Jose is always on top of my list for inaugural flights, given that I really have no familial tie to this city. One of my first international inaugural flights was the American Airlines' short-lived service from Taipei to San Jose. Back then, San Jose's international facility was a small temporary shack with the most basic facilities. Today San Jose has the brand new terminal A with modern facilities and two jet-bridge equipped gates for international flights (A15 & A16). This ANA flight is significant not only because of being the first scheduled 787 service to San Jose but also marks the resumption of a link between Asia and San Jose/Silicon Valley, which serves a large Asian population, who prefers an alternative airport to SFO. Hopefully 787 and its improved economics will make this route a viable one, and from the gate, I can tell there are many connecting passengers coming from Taiwan, Vietnam and of course the Mainland China, which should come as no surprise to anyone. I am little surprised that Vietnam Airlines has yet to start the SJC service. Of course attending an international inaugural flight out from Japan has always been a dream, as the Japanese took this inaugural flight very seriously and there are many activities and souvenirs available. It is actually an interesting experience for a cultural sociology student and things are similar, but done in a very Japanese ways – efficient, organized, and polite. I just wish I could speak the language so I know what is going on. However for all aviation enthusiasts, it is a lifetime experience and if there is any future Japanese airlines' inaugural, you should take advantage of it. ANA and JAL both spend much effort and time in promote these inaugural flights, and many enthusiasts will join the occasion, and you can see their enthusiasm close up!
For those who want to see my whole album, here it is, but be warn it is a big album.
Full album link:
http://s1213.photobucket.com/albums/...arfield76/ANASJCInaugural01112013/
Here it goes and Congrats to ANA and Norman Mineta San Jose airport authority for this new flight!
January 11, 2013
NH 1076 NRT-SJC Lv1735 Arr1010 Boeing 787-8 JA813A "TOMO DACHI"
Booking
Japan to USA is not a cheap market especially for business class, so I have to be creative with my routing. I basically priced all the entry points from ANA Asian network (and I also want to use the return for my annual family trip back to Hong Kong). I settled into Vietnam, as it allows me an affordable fare of $3000USD plus an interesting return routing with a long stopover in Hong Kong with a reasonable surcharge. My final routing is SGN (Ho Chi Minh City)-NRT-SJC-NRT-HKG-HAN (Hanoi). The price is a few hundred more expensive due to the long stopover in Hong Kong and the use of Hanoi as my return point. I was given both Dragonair and Vietnam Airlines, and settle for the later because of better timing and time to add another new airline to my list. ANA website is actually quite good – not streamlined like the US airlines, but easy enough for me to navigate even those non-NH segments. The purchase process was smooth and I was able to do seat assignments on all the NH flights with the advanced 3D seat maps, and ANA alerted me to a numerous schedule and aircraft changes too. I rated ANA website as above average.
Check-in:
I actually emailed ANA customer service regarding transit at SGN. I finally decided to fly into SGN from HKG and was a bit concerned that there would be no staff to assist with the transit and I will have to wait a few hours in a rather uninspiring transit halls consist of a few chairs, two counters (VN and SATSCO), and a television. ANA wrote me quickly and told me that I could use online check in and then proceeded straight to the Rose Lounge. Of course, in reality, things worked out differently even with my printed boarding pass. First I was not able to check in all the way to San Jose, but no big deal! I could get it at Narita, which was not as easy as I thought. I arrived SGN at 6pm and headed straight to the transit area. I headed to the checkpoint manned with one staff, and he did not accept my homemade boarding pass, but thankfully he spoke enough English and asked the SATSCO girl to check me in. She was friendly enough despite little English speaking ability. She finally reprinted my boarding pass to Narita in real boarding pass stock, and gave me a lounge invitation to the Rose Lounge. No onward boarding pass was given and I presume that it was due to the long connection time. The security process was quick enough and the fellow was very friendly.
SGN to NRT:
I spent five hours at the Rose Lounge, and it was crowded most of the times, until the evening rush with Cathay Pacific, Singapore Airlines, Thai Airways, Malaysia Airlines, and Emirates' flights left, and then there was a thirty to sixty minutes of quiet time, before the late night rush began with influx of passengers from ANA, JAL, Asiana, and Air China. There was a good selection of Vietnamese instant noodle soups, along with some rice and cold noodle dishes. There were Vietnamese spring rolls with the usual array of sandwiches and fruits. Beverage wise – there is a self-service bars with limited wines, bers, and liqueurs. There are soft drinks (but no diet sodas) and fruit juices, along with tea and coffee. I managed to find a good spot, and it had a decent wifi connection (and interestingly, there is no facebook access here, but tweeter is fine)! The flight itself was fine, and the redeye flight was fairly quick due to strong tailwind. Here is the link to the menu and wine list!
Wine List
Champagne
Champagne Jacquart Brut 2005
White
Rully "Clos de Mollepierres" 2010 Domaine Roux Pere et Fils, Cote Chalonnaise, Burgundy, France
Cederberg Sauvignon Blanc 2011, Cederberg, South Africa
Red
Hahn Central Coast Cabernet Sauvingon 2009
Ares Crianza 2008 Dios Ares
Sake
Kozaemon Junmaiginjo Miyamanishiki
Shochu
Kawagoe
Hanamugi Moriya
Umeshu
Nankobai no Kodawari Umeshu
Light Dishes
We have light dishes available for you to enjoy anytime you like upon request.
Tuna salad croissant sandwich
Tuna salad brimming with finely chopped black olives and tomatoes inside a buttery croissant
2 kinds sushi rolls and smoked tuna and squid sushi roll
Lightly salted tuna and squid sushi rolls – a great choice for any appetite
Hot Japanese udon noodles garnished with dried sea lettuce
The seaside flavor adds a comforting aroma to the soothing flavor of Japanese broth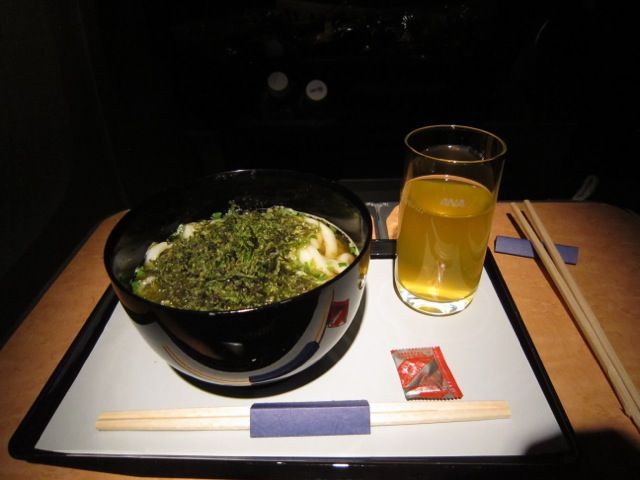 Cup of hot consommé soup
Experience soup that has richness and a refined flavor
Post-nap Comfort
Start your day fresh with a balanced breakfast
Japanese cuisine
Begin the dish with a wide assortment of appetizers followed by delicate, light whitefish grilled to perfection
Kuchidori
Japanese savory omelet
Prawn fishcake sandwiched with tofu
Grilled scallop teriyaki
Simmered chicken rolled with vegetable in soy based sauce
Shusai
Grilled whitefish with soy based sauce
Miso soup
Mizugashi
Fresh seasonal fruit
International cuisine
For early hours dining pleasure, a continental breakfast based on pork ham and Gouda cheese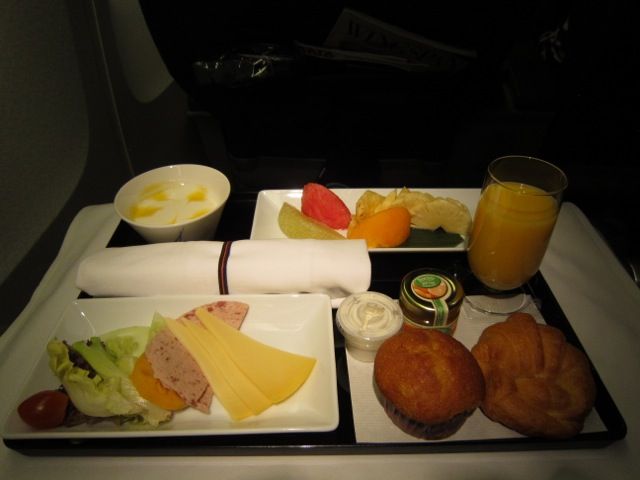 Continental Breakfast
Pork ham and Gouda cheese
Fresh salad with French dressing (Ranch in reality)
Morning roll served with marmalade
Fresh Seasonal Fruit
Yogurt
SGN-NRT
121201-130228
There was no pre-takeoff beverage service on these regional flights, and F/As came around with newspapers, magazines, and asking passengers to fill out the breakfast order sheets. The old generation of Club ANA Asia seat is relatively unimpressive, but good enough on this short flight. It is definitely better than JAL with the five abreast seating. The flight was not full in J, and I got two seats to myself. The entertainment system was awful but I was not interested in anything but the moving map and nose camera.
Food service was also very weak, but at least no one wants to eat. After takeoff, the F/As passed out trays of orange juice, iced green tea and champagne, along with hot towels and bottled waters. Then it came around with snacks including the tuna salad croissant, assorted sushi rolls, mixed nuts and crudités. I had the sushi and also requested the hot bowl of Udon soup with sea lettuce, which was delicious.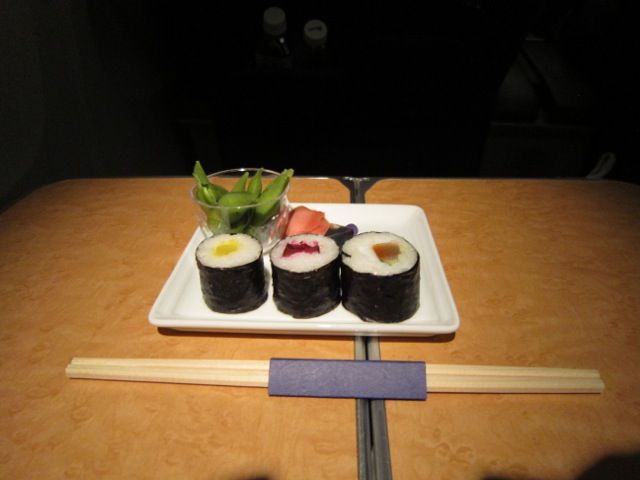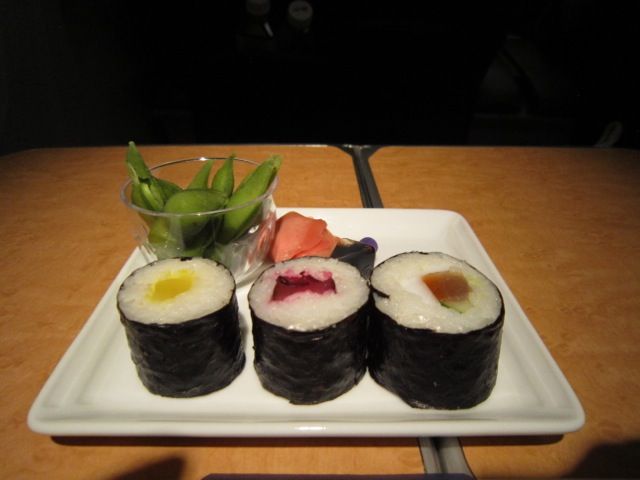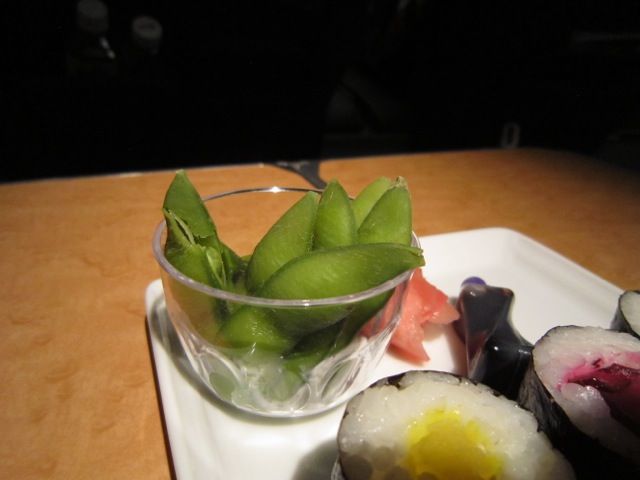 Two hours prior to arrival, breakfast started for those who requested them. I think they could have easily waited for another 30 minutes before beginning the final service. I had the Western option, which was very underwhelming with no hot entrée dish, and the cold cheese and meat platter featured two slices of cheese and two slices of ham. Fresh salad resembled two pieces of Iceberg lettuce with two slices of cucumber, a piece of lotus root, and a few cherry tomatoes. Thankfully I was not hungry at this time, and I guess ANA feels that it can get away for a "light" breakfast. I had the udon a few hours earlier and it was the right decision.
Anyway, we arrived NRT forty-five minutes early and I headed straight to the transit hotel (after discovering the transit desks were closed with no opening times). ANA should have put the hours out or place a self-check-in kiosk.
Empty transit desk in the 50s satellite terminal
I stayed at the transit hotel inside the secured area, which costs 4500 Yen (for a five hours stay). The room was small with a single shower, and bathroom was commonly shared. I nonetheless enjoyed the opportunity to nap for a few hours. I checked out at 12:20pm.