This report is on my recent travel to the small Himalayan kingdom of Bhutan, India's smallest land neighbour. I flew on Druk Air, which enjoys a monopoly on all flights to Paro, Bhutan's only international airport – and for good reason. The approach into Paro is considered one of the most dramatic and scary in the world and only takes place under perfect visual conditions as pilots have to dodge peaks that rise over 5,000 feet above the surrounding countryside.
I might add that Paro airport itself is at an altitude of 7,300 feet. A friend who had flown on a KB BAe 146 earlier told me that Druk Air pilots are 'Gods', and even though those small planes have been replaced by Airbus A319's, the pilots are incredibly skillful to land in an airport like that. While Bhutan has bilateral agreements with several countries that allow those nations such as India, Singapore and Thailand to operate to PBH, no other airline does.
Before I start a bit of a background to this trip.
On the morning of the 31st of December, while I was enjoying a well-deserved break in the hills with some friends to bring in the new year, I just happened to check my email. In that email, a person I know rather well asked me whether I would like to travel to Bhutan on an invitation from His Eminence the Khamtrul Rinpoche, one of the top spiritual leaders of the Drupka Lineage, the school of Buddhism that is practiced in Bhutan. This was ostensibly to attend the Chakrasamvara Blessings being organised jointly by the Government of Bhutan and the Central Monastic Body of Bhutan.
This even which was expected to draw 100,000 people, although eventually an estimated 140,000 attended. While coming from India where such numbers are piddly – over 2.5 million are expected to attend the Kumbh Mela at Prayag later this month, this number represents a fifth of Bhutan's population. That is an amazing percentage and nothing like this has ever happened in Bhutan's history where so many people have collected at the sacred and historic Punakha Dzong (Fort) in Western Bhutan. Kuruthang, the town nearest Punakha Dzong has a regular population of just 15,000.
My wife was quite pissed off with me for going as she has always wanted to go to Bhutan as well, but given that she is not exactly fond of the cold, and Bhutan in January is quite cold, at least for me coming from Delhi; night temperatures in Paro touched -6C while we were there although it only snowed on the high passes and not in Thimpu or Paro.
This trip happened very last minute, and thankfully traveling to Bhutan does not need a visa for Indians. Only Bangladeshis, Indians and Maldivian's do not need visas or work-permits in Bhutan but only photo-identity. Other nationals need a visa and not just that, they need to pay $250 as a basic minimum everyday. This covers government taxes, the costs of a guide and driver and a basic three-star room. Extras including car rentals, food and staying in higher-end resorts such as the mad expensive Aman Kora (over $1500/night) add to the fee.
This is to keep out backpackers and low-end tourists. The fees the government takes are used to provide free healthcare and also restricts the number of tourists who make it to Bhutan. The fees have to be paid in advance as well. A Bhutanese national can invite a foreigner to stay; but even that requires some sort of fee if I'm not mistaken. I later learned that in Bhutan even foreigners enjoy some level of medical coverage for free in case of accidental injuries but evacuation costs are over and above that.
Druk Air is the national carrier of Bhutan with a fleet of three Airbus A319's and one ATR-42 aircraft. Paro Airport (PBH/VQPR) is one of the most challenging airports to operate in the world. Consider the facts, it has a 6500 foot runway situated at a height of 7300 feet ASL, not that bad and airports such as Lhasa (LXA/ZULS) in Tibet, not very far north of Paro are much higher at 11,500 feet. But Paro is in a very narrow valley surrounded by peaks that are over 18,000 feet high.
Planes have to literally zig-zag through the mountains to reach the airport, to land on runway 15. And there are only daylight operations in Paro with pilots following visual rules. Operations take place only between 0800-1400 according to Druk Air's schedule and most A319's operate only one-return flight a day and the flights to Bangkok and Singapore do not return on the same day.
As mentioned earlier as other airlines do not train pilots to fly to Paro, the national carrier has a monopoly. Therefore it can charge expensive fares, my fare, as I notice on the ticket was $626 for a return flight on Economy, quite a bit for a two-hour flight. And while as an Indian I had the choice of flying to IXB and then enduring a not quite comfortable road trip which would cost about half, most other nationals have to do part of the journey by air.
But with limited operations, low utilisation of aircraft for reasons explained by geography, the high-fares are understandable. Competition, possible soon from an Indian low-cost carrier might hurt Druk Air, but the intense pilot training required to operate from Paro have put off airlines until now.
Anyway, enough background, now for the flights.
Flight: KB-205 DEL-PBH
7th January, 2013
Operated by A5-RGI (A319-112 s/n 3950)
Seat: 8A (assigned) and 9A (second-half)
1230 (IST) - 1400 (BST)
Flight Time: 2 hours
View Large
View Medium


Photo © Nikos Fazos
In Olympic service, the s/n 3950 was acquired by Druk Air only in August 2012 to start services to SIN
View Large
View Medium


Photo © JCAM
This aircraft was unique in the sense that it was the only A-319 that was second-hand Airbus in the fleet and a A319-112 as against the other A319-115's in the fleet and had 23,500 pound thrust CFM-56-5B5 engines as against the more powerful 27,000 pound thrust -5B7 engines. It had previously been with Hamburg Air and Olympic which explained the fact that there were language instructions in German and Greek in addition to English and Bhutan's Dzongkha.
I had heard that this flight was one of the most scenic flights in the world, flying almost the entire range of the Eastern Himalayas with eight of the world's ten highest peaks visible, only K2 and Nanda Devi not in sight. Therefore, I arrived at DEL swanky T3 a bit earlier than I should have to ensure I got a mountain facing seat.
It was a murky Delhi morning when I left home around 8.30 in the morning, well in time for the 12.15 departure. I took a radio taxi from Meru, the largest service in Delhi and even though I am a loyal customer, I am disappointed with the way the company maintains it cars and its cranky drivers. I shall try the company's rivals EasyCabs and Mega Cabs more often now. That said, it was a good taxi ride, which took just about half an hour and cost around Rs 500.
Being a complete idiot, I had forgotten my ticket print-outs at home, but the co-ordinator travelling with us from India did have a spare print-out. Check-In was smooth and I got a coveted left-hand side window seat. Immigration was surprisingly easy, although I got a very chatty immigration officer. Seeing the short queues he spoke to me about all sorts of things and since I'm from West Bengal state, called a fellow Bengali to speak to me (?!?!?!?) and then he stamped my passport. Which was a mistake, because Indians who travel to Bhutan do not get their passports stamped.
With time to kill, I went to Duty-Free to pick up something to enjoy the evenings in Bhutan after which I proceeded with my travelling companions to have a quick bite at McDonald's. Not the healthiest breakfast in the world; but what the heck, I was travelling abroad and food sins occur when I do that.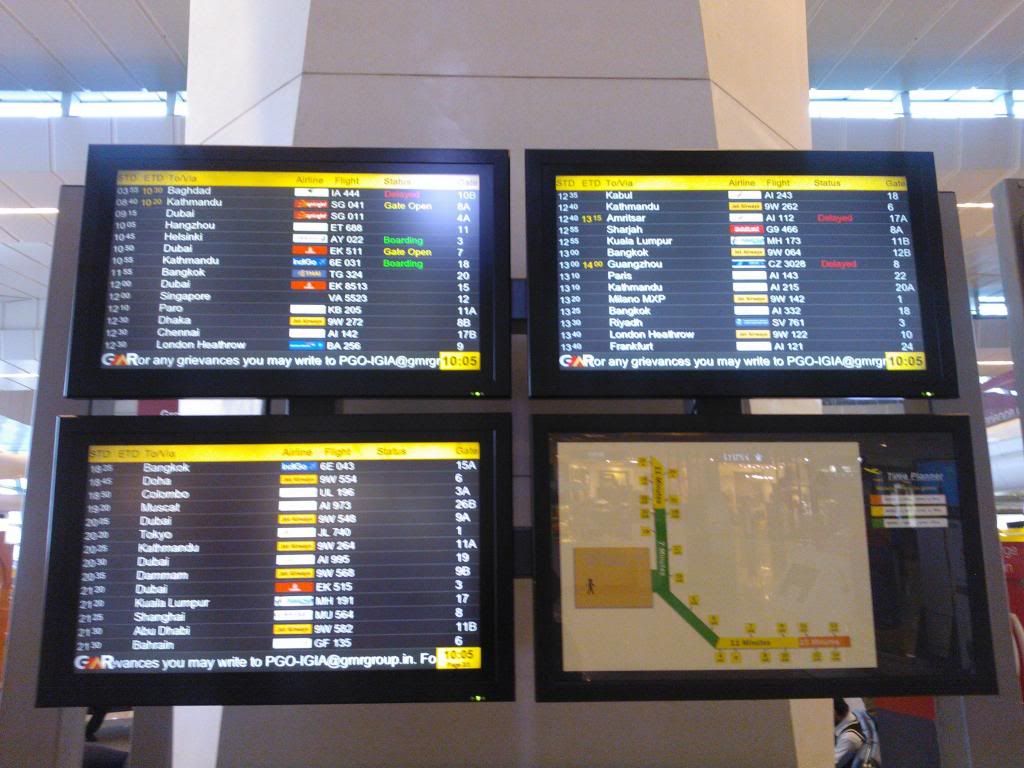 FIDS on the International side of DEL T3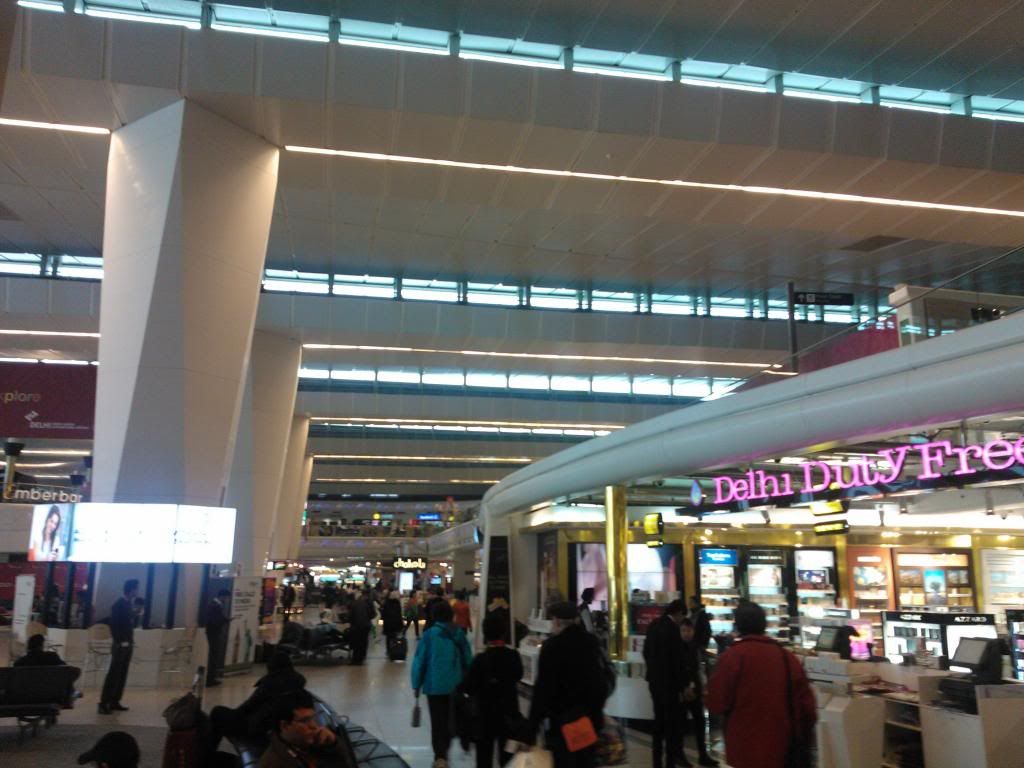 DEL T3 Duty Free
A quick few drags on a cigarette (I was sinning a lot) later, partially because the smoking area between Gates 3 and 5 offers such great views of the northern part of the international tarmac and runway 10/28 operations. DEL is one of those airports alongside HKG satellite terminal and SIN T2 that offer suck nice views; the smoking area in the Domestic side of T3 next to Gate 27 also gives a great view of the tarmac and runway 11/29 operations.
The view from the smoking area between gates 3/5, two EK planes and one 9W plane, which is the home airline?
After a short delay at the gate; boarding commenced and I was one of the first to board the plane. A5-RGI has a different configuration that the other A319's - being a 138-seater, but the first five rows were operated as business-class in the European style with the middle-seat blocked. But usually only 114 seats were sold like the other two A319's.
I was looking forward to the flight and to put it bluntly, I was not disappointed. I had enough entertainment on me, but after we took off and headed for Nepal's airspace the view was, in one word "magnificent". Let the pictures below describe them.
Boarding
As for the other things - food was nice, a chicken biryani with some dal. I was expecting something less predictable (this is South Asia after all), but it was actually nice. Leg-room was nice, but I was in the seat ahead of the exit (this A319 had two exits being the high-density configuration. But after take-off, when I discovered that my window was not as clean as it should be, which drove my lens focus off and when I saw the exit rows had not been assigned, I moved to the row behind me. Although not the non-reclining row it had one of the cleaner windows on the plane. That said, I have to trim and clip the landing video. Load was quite low, and although all the left-hand side windows were occupied, the load factor was 40% at best.
IN-FLIGHT PICS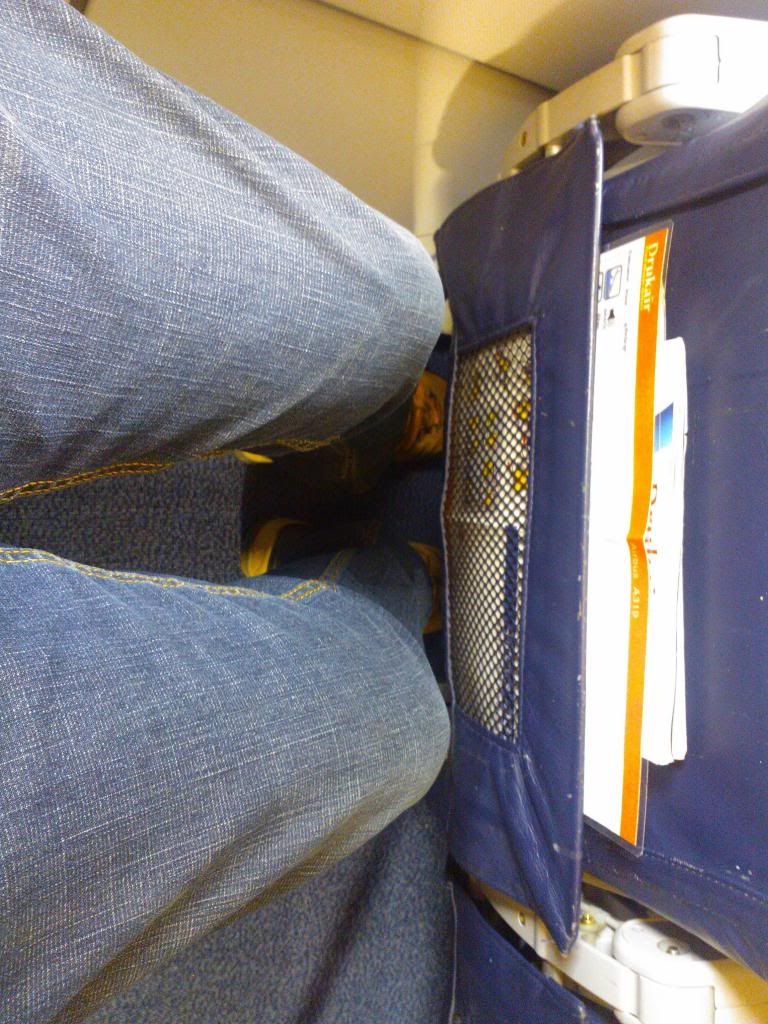 Legroom
Safety Card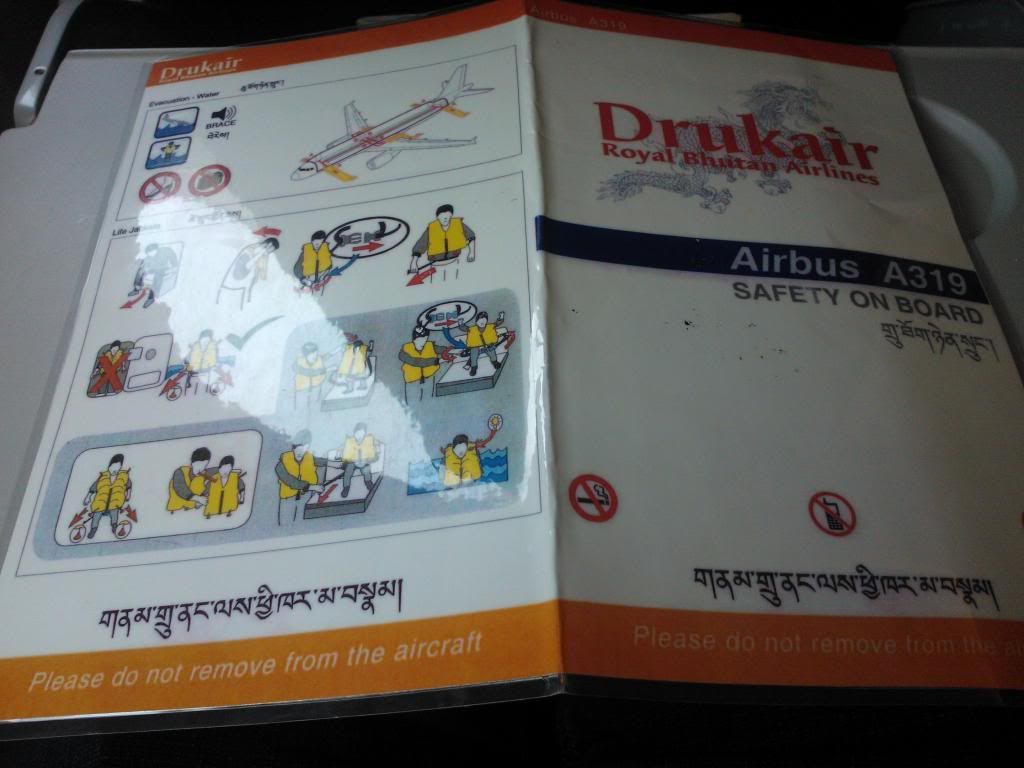 Other side of the safety card
English, Dzongkha and Greek?
In-Flight magazine 'Tashi Dalek' with a lot of info about Bhutan and its culture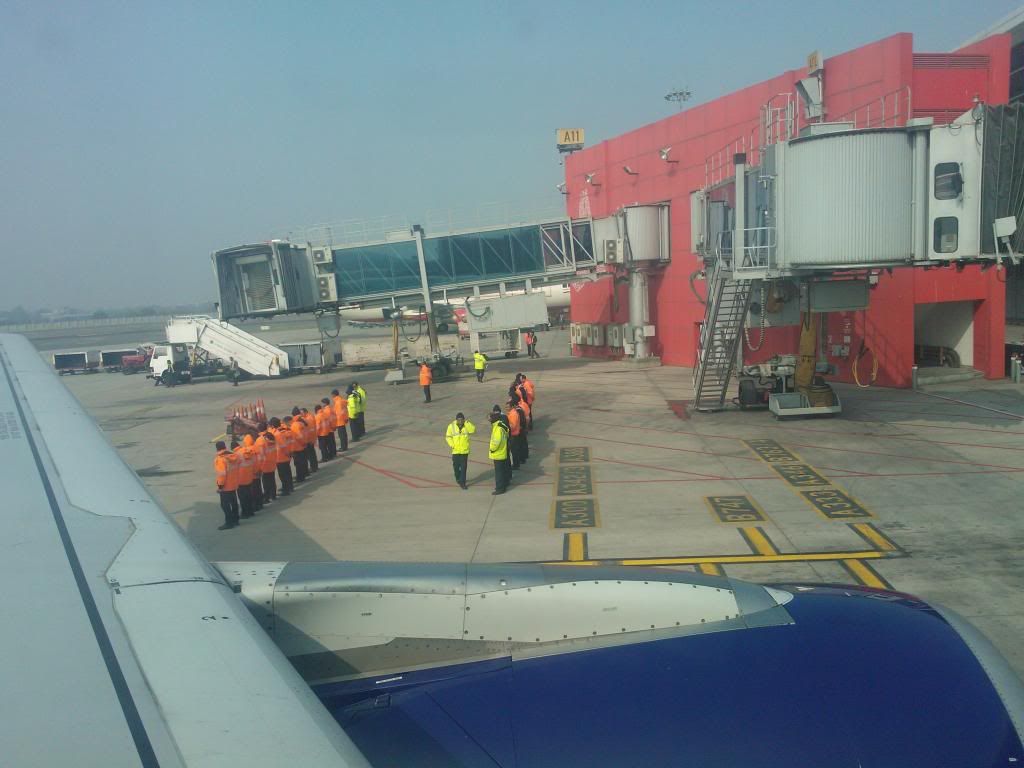 At push-back I noticed these folks outside the next gate, I wonder why?
That is why... a new MH 738 at DEL
DEL T1D the LCC terminal in the distance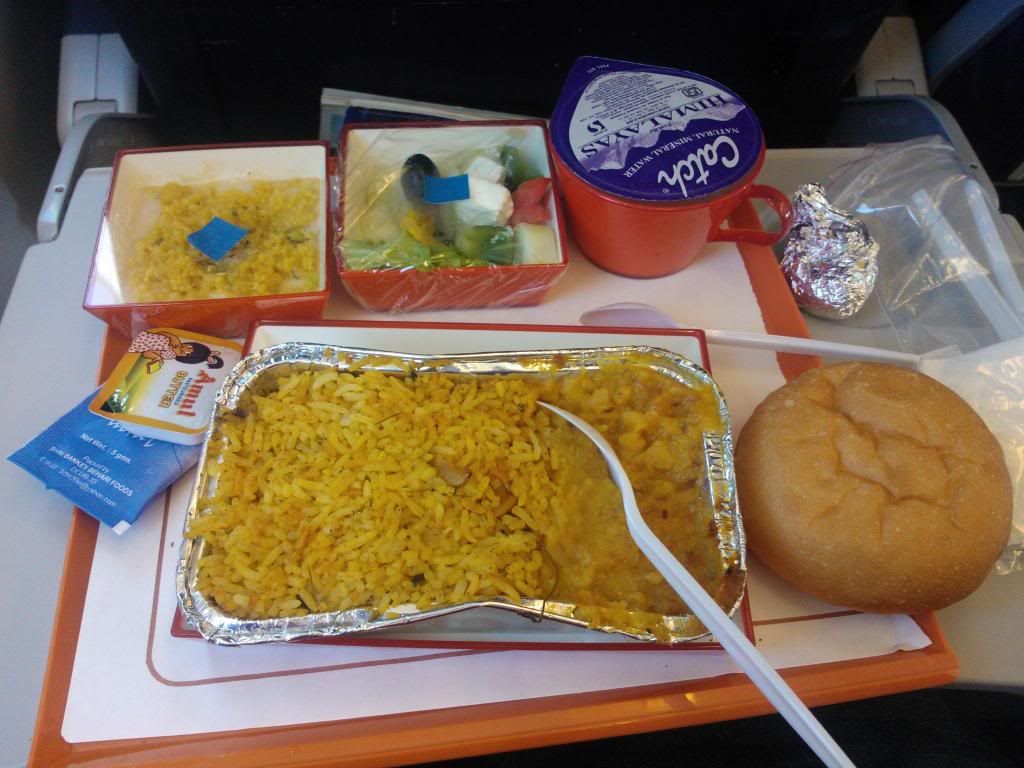 Lunch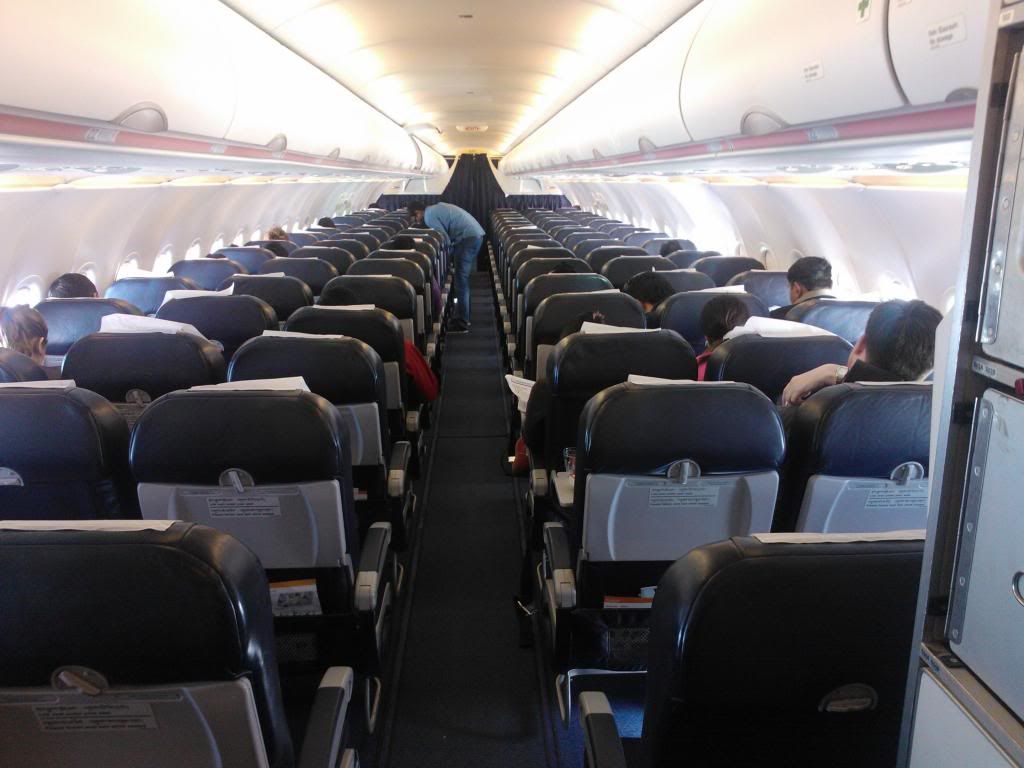 From the back, quite a low load factor
Now German as well...
Wow, the Himalayas come into view
A bit cloudy towards the end
Thanks for bringing us in safely - I have a video of the landing which I have to edit
PBH airport airside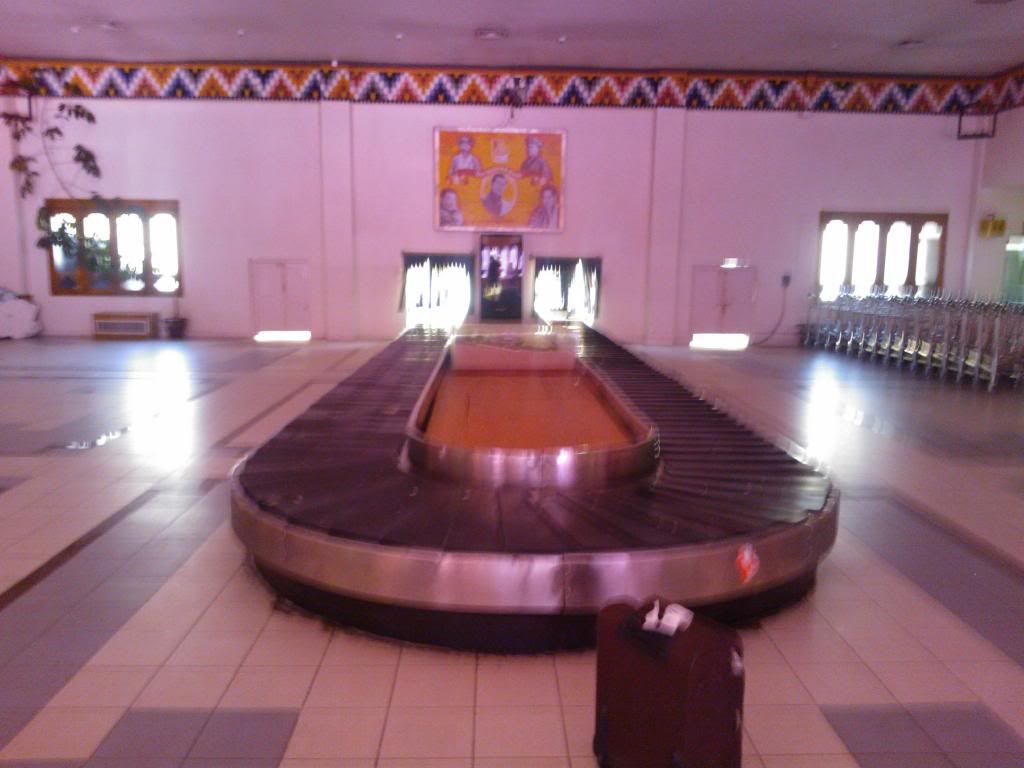 Only one baggage carousel
Immigration in Bhutan took a lot longer than anticipated because our coordinators mobile roaming refused to work and he could not connect with our guide Kezang and we could not give the address of the first resort we would stay in. But, Bhutan's people's friendliness allowed him to go outside the small terminal to fetch our guide who was waiting outside. Where else in the world would they do that? Wow!
Things got sorted out, despite a power-cut then adding to the time we took to get out. I had to pay a duty on the cigarettes I carried as Bhutan is a country, where society and the government frown upon smoking. Then we proceeded through the stark countryside of western Bhutan to travel the 50-odd kilometers between Paro and the capital of Bhutan - Thimpu. At Thimpu we had an audience with His Eminence, the Khamtrul Rinpoche, which was a very satisfying one for me to be very honest.
The room at 'Peaceful Resort'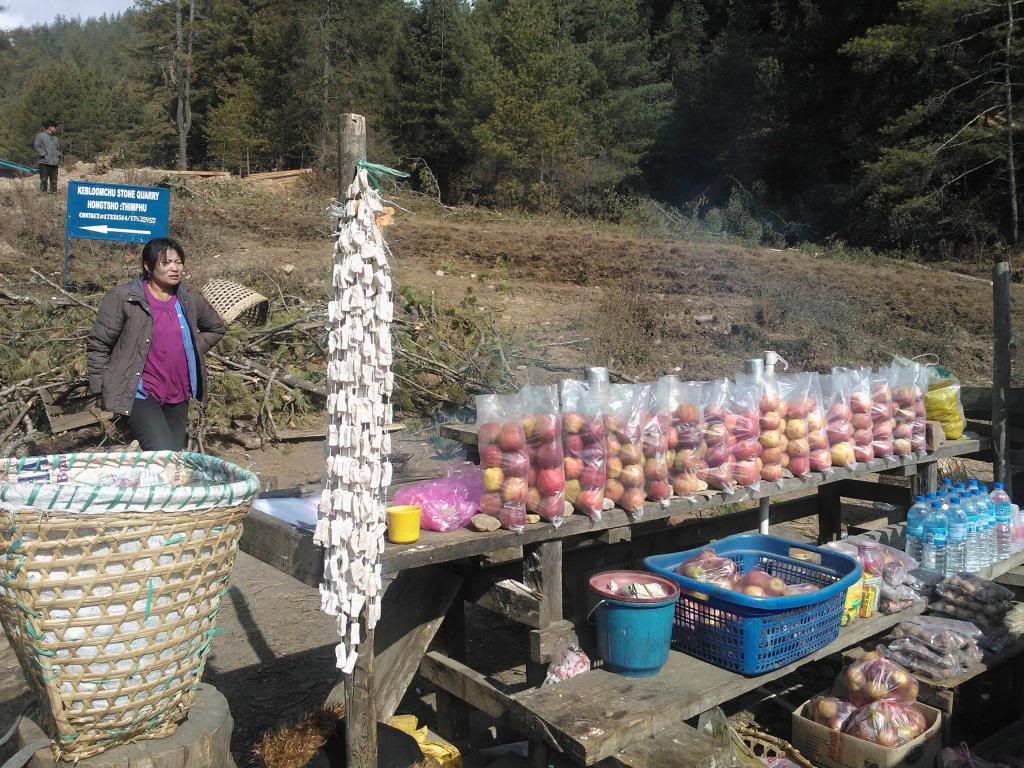 Apples and fermented cheese being sold at the roadside
A memorial built at Dochula pass between Thimpu and Punakha
Prayer flags, seen everywhere in Bhutan
After that we proceeded to Punakha, a small town about 80-odd kilometers north of Thimpu for the function that we had come to attend and one of the most sacred places in Bhutan. The drive there was very scenic and while the weather in Punakha was warmer, that did not take away from a fabulous function and the fact that I ate some really delicious Bhutanese food. A small word of advice, the Bhutanese love, and I mean love, their chillies. A local delicacy Ima-Dati is basically Chilly-Cheese and while it can be made in different ways, usually involving different types of chillies the basic fact is that the Bhutanese use chillies as a vegetable not a condiment.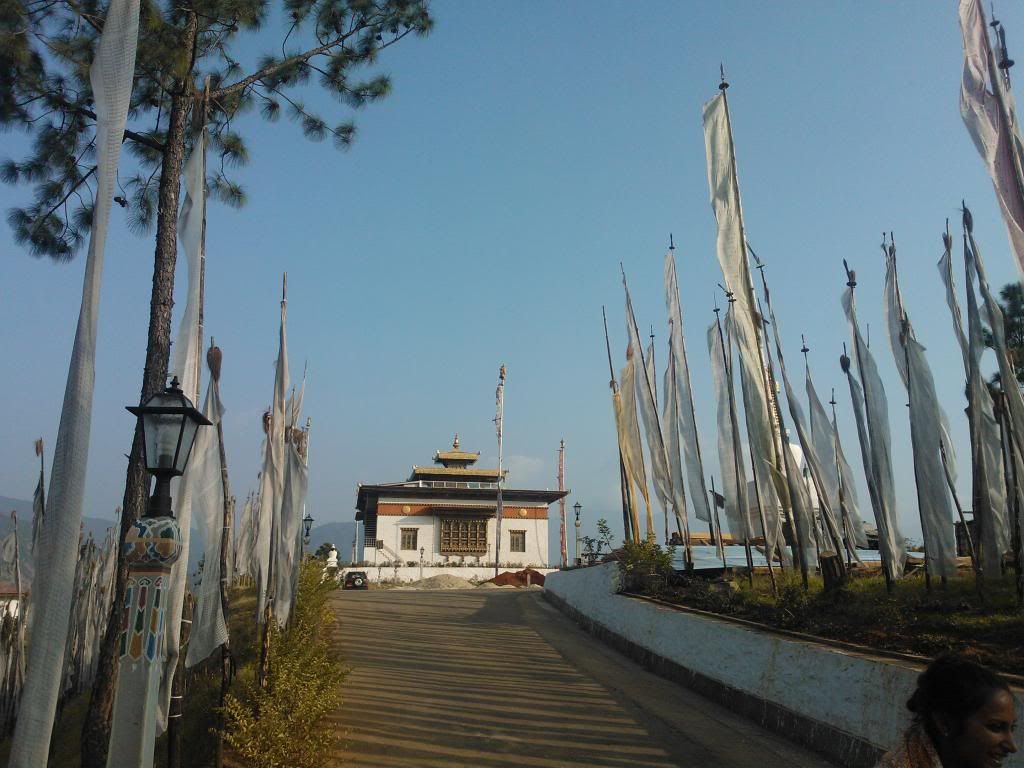 A nunnery we visited at Punakha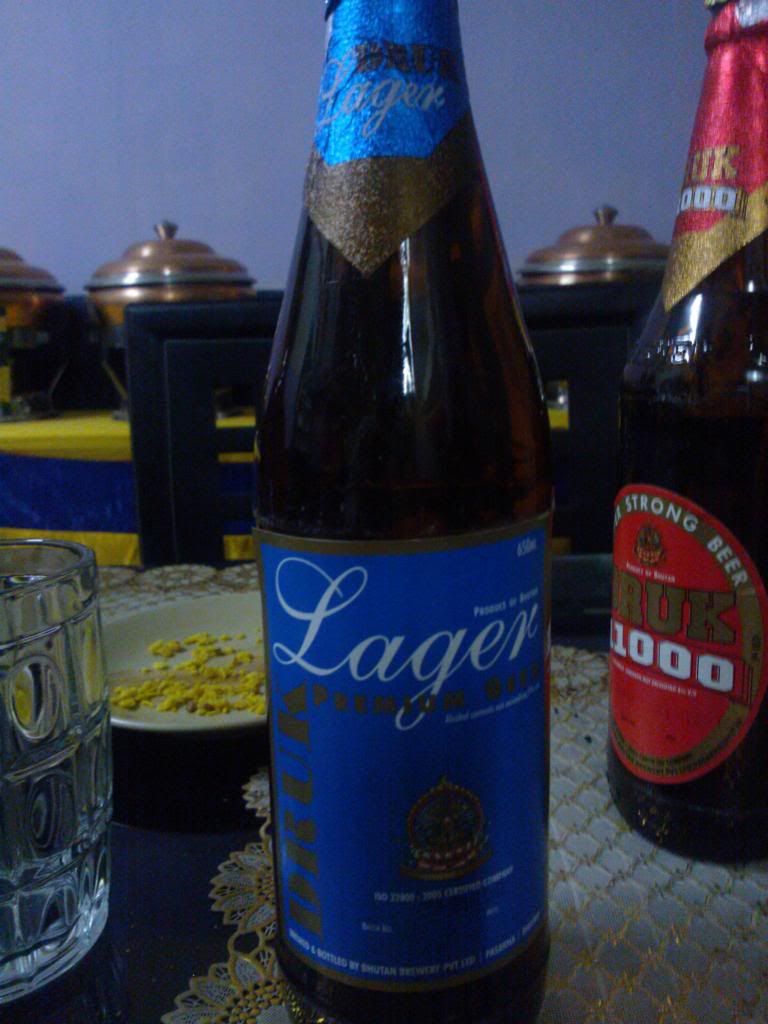 The local beer, not bad at all
Local food - Chilly cheese, Cheese Mushroom, Chilly Cheese Potatoes and Chilly Pork belly (all with brown rice)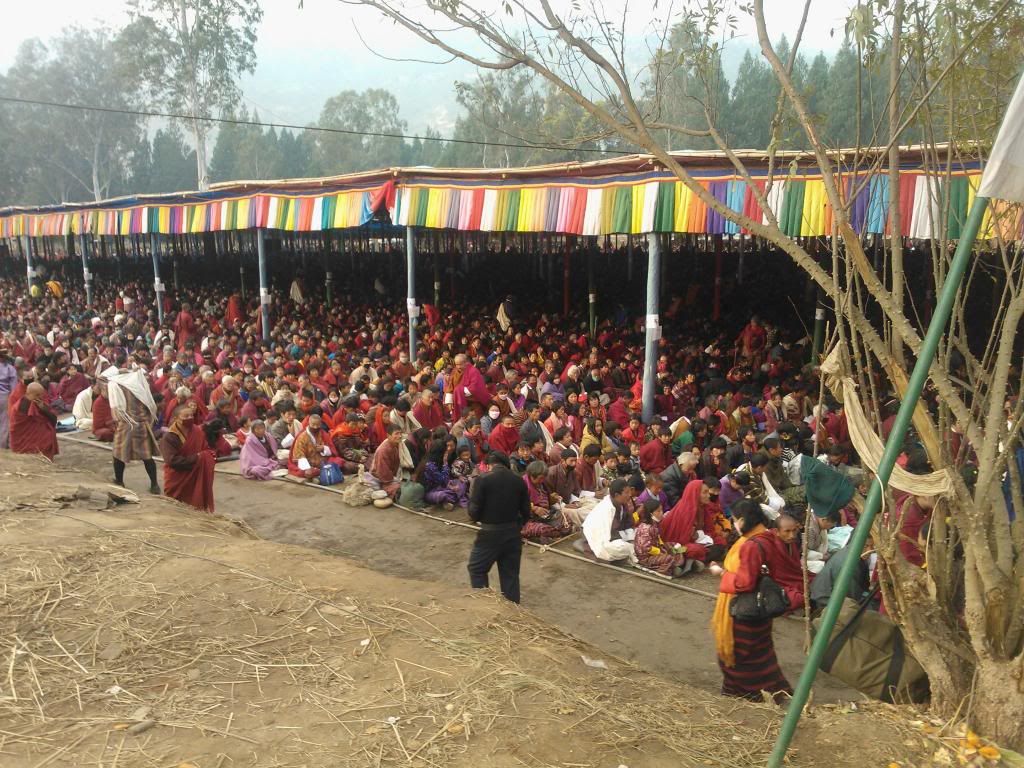 The Chakrasamvara blessings taking place at Punakha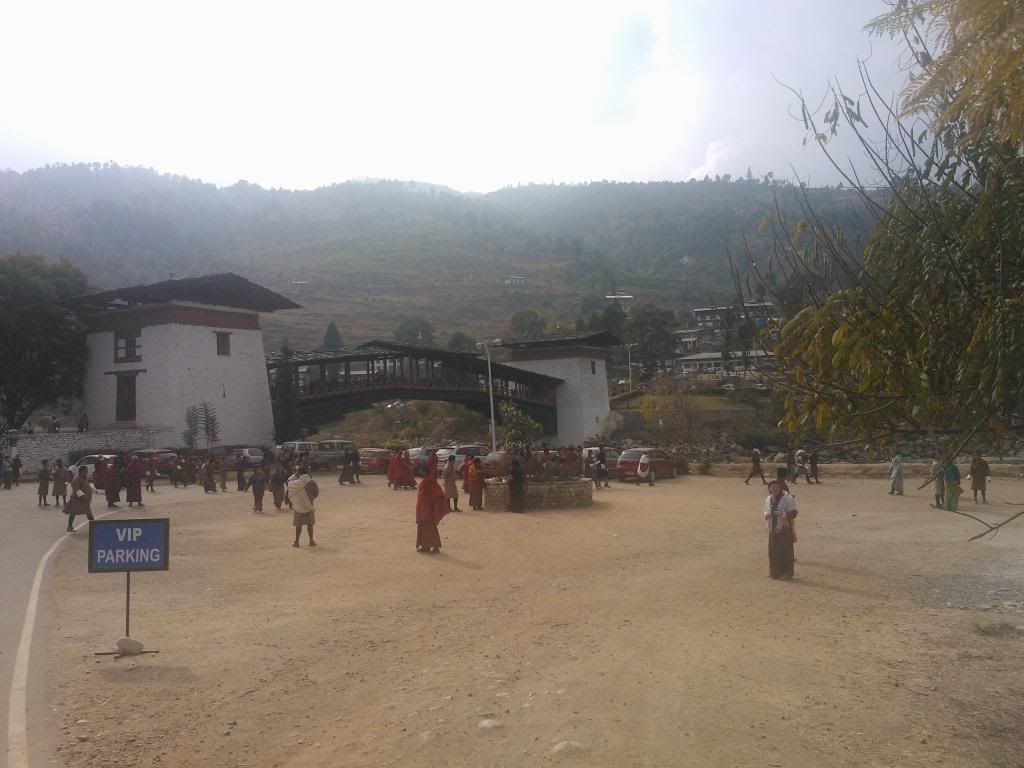 A view of the 400-year old footbridge across the Mo-Chu river to Punakha Dzong (fort)
A few pics of Punakha Dzong
Anyway, don't want this post to cross 2500 words, so I will post my shorter review of my return journey in the next post.