Salam!!
Background:
Usually no sooner have Boyf and I returned from one holiday that we start panning for the next. So it was for 2012.
In November 2011 we went trekking in Nepal to Everest Base Camp. Two highlights of that trip were the emotional and life changing experience of standing on top of a peak above Basecamp called Kala Pattar at 5500metres, having made it there totally under my own steam from the second highlight, which was landing in a Twin Otter at the (in)famous Lukla Tenzing-Hillary airstrip – (Elevation: 2,800m, length: 460M, gradient: 12°). When we got home to Sydney after that trip we started thinking about places to go in November 2012 – November being the only month that both our jobs have periods that allow us to take a decent 3 or 4 week holiday at the same time. Fortunately it's also a relatively low demand - therefore inexpensive - time to fly out of Sydney.
We initially planned to travel to Burma via Bangkok. We checked Qantas business class mileage redemption availability and found some dates that looked suitable and quickly snapped up a couple of well priced business class "any seat awards" at more or less the same rate as the usually much cheaper "classic awards", but with the benefit of point and status earning ability. Meanwhile we started looking at flights to Yangon and things we could do in Burma, but were in no real rush to book so far in advance. Over time however enthusiasm for Burma started to wane.
Iran is a country that we'd both wanted to visit for several years…and it popped back up as an option for this year. Not to get too political, but we decided that a US election year would be a safe time to travel to Iran as US-initiated (or supported) belligerence would be unlikely and unpopular during the election campaign. The matter was therefore settled. We would fulfil our long-held dream of a trip to Persia.
Getting from BKK to IKA presented a plethora of options. Of course being the plane geek that I am, I was keen to do the leg on an Iranian carrier. Unfortunately it proved too difficult to find fare information and to book suitable flights on either Iran Air or Mahan Air without lengthy dealings with a travel agent – something I generally prefer to avoid. I then went to Expedia and put in BKK – IKA to see what would come up: nil. Apparently they don't sell flights to Iran. So basically our options came down to the Gulf carriers – none of which I'd flown before, and none of which I was all that enthusiastic about trying due to an aversion to bling and tales of patchy service. However a return J class fare on QR for about $1700 was too good to pass up. Our trip within Iran, including a couple of domestic flight bookings was arranged with the assistance of the excellent Iran Travelling Centre based in Shiraz.
The schedule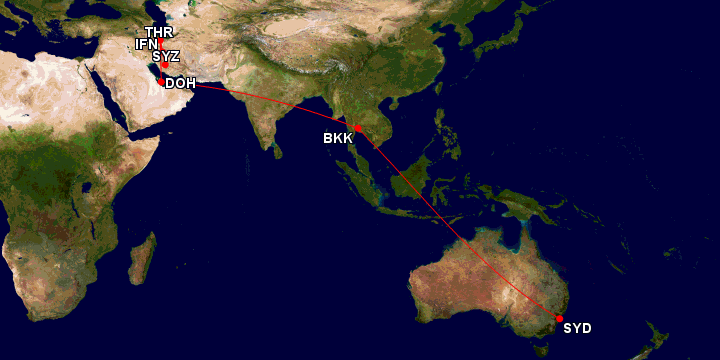 SYD – BKK 18 Nov 2012 QF23 (A332. VH-EBL) Business
BKK – DOH 19 Nov 2012 QR613 (B77L. A7-BBB) Business
DOH – IKA 19 Nov 2012 QR488 (A319. A7-CJA) Business
THR – SYZ 20 Nov 2012 W54589 (A300. ) Economy
IFN – THR 29 Nov 2012 IR255 (A320) Economy
IKA – DOH 30 Nov 2012 QR489 (A321. A7-AID)
DOH – BKK 1 Dec 2012 QR614 (B77W. A7-BAX)
BKK – SYD 3 Dec 2012 QF24 (A332 VH-EBL)
The flights
Sector 1: SYD – BKK
Flight: QF23
Aircraft: A330-200 (VH-EBL)
Class: Business
Seat: 3K
ETD: 14:15 (on time)
ETA: 19:35 (on time)
We arrived at Sydney airport which is only a 10 or 15 minute drive from home.. We made our way into the terminal from the mess of the carpark via ground floor - remarking how small and frankly backwater-ish the Sydney International terminal looks from that angle – and made our way up the escalators to the departure level and the Qantas Business check in counters.
There was no queue so we approached a counter and were checked in quickly, but in a hardly friendly manner by a typically bored-middle-aged,clacky-red-fingernails-on-keyboard QF ground staff agent. This was my first flight on QF's international business product. I was rather looking forward to it. Unfortunately check in set the fairly indifferent tone that was to follow for much of the flight.
We were handed boarding passes and immigration express passes. After entering through the express entrance there was a line of 15 or 20 people in the Express path and much bigger queues for regular pax. Over the other end of the cramped hall. The express line got shortedrafter a customs officer – we shall call her Madam Sergeant Major due to her demeanour – marched up the line demanding to see people's express cards and banishing those without an express path card – including bemused non-English speking elederly tourists ("thanks for visiting Sydney, now bugger off!!") across to the chaotic looking main line.
Immigration and security were straightforward and we emerged into the shopping mall that is SYD T1. After moisturising with the most expensive samples we could find (and batting off seemingly hundreds of over enthusiastic cosmetic sales women-bots with flippant "just looking thanks") we headed up the escalator to the Qantas J lounge.
The Sydney T1 business class lounge isn't too bad. NZ has a much better lounge in SYD IMHO however. I had a bit of salad, a glass of Riesling (the best white grape variety by far) and a scoop of mediocre chocolate gelato from the gelato bar.
Boarding was called at approx. 13:30 and we waited a few minutes before wandering slowly towards the gate which wasn't too far away – again, SYD T1 really isn't very big or grand. Most pax had already boarded. So there was no queue at the podium and no need to deal with the scrum that QF boarding often descends into. My boarding pass was torn and scanned by an even more indifferent QF ground agent than the one who checked us in (if that's possible). No "hello MrCX777Fan". No "Hello Sir". No "Enjoy your flight". No eye contact – just a snippet of a conversation she was having with her colleague. Come on QF, lift your game! Travelling domestically for work or pleasure I'm always greeted by name with a warm smile and often a "welcome back Mr CX777Fan". Utter fail by ground staff for this particular flight I'm afraid.
At the door I was greeted and welcomed by name by the flight CSM (much better!) and directed to the second aisle. Drinks were brought around by a slightly shifty lookig FA – she looked like she was on Valium or something and remained a bit peculiar throughout the flight. Her Japanese colleague on the other hand was the epitome of gracious oriental service meets Qantas laid back friendliness. She was the stand out Qantas representative throughout the entire flight. Attentive, friendly, professional, warm, alert. She even upstaged the CSM who was aloof and had an awful PA manner whenever he got on the tannoy.
Pre take off drink
VH-EBL reflected in the terminal windows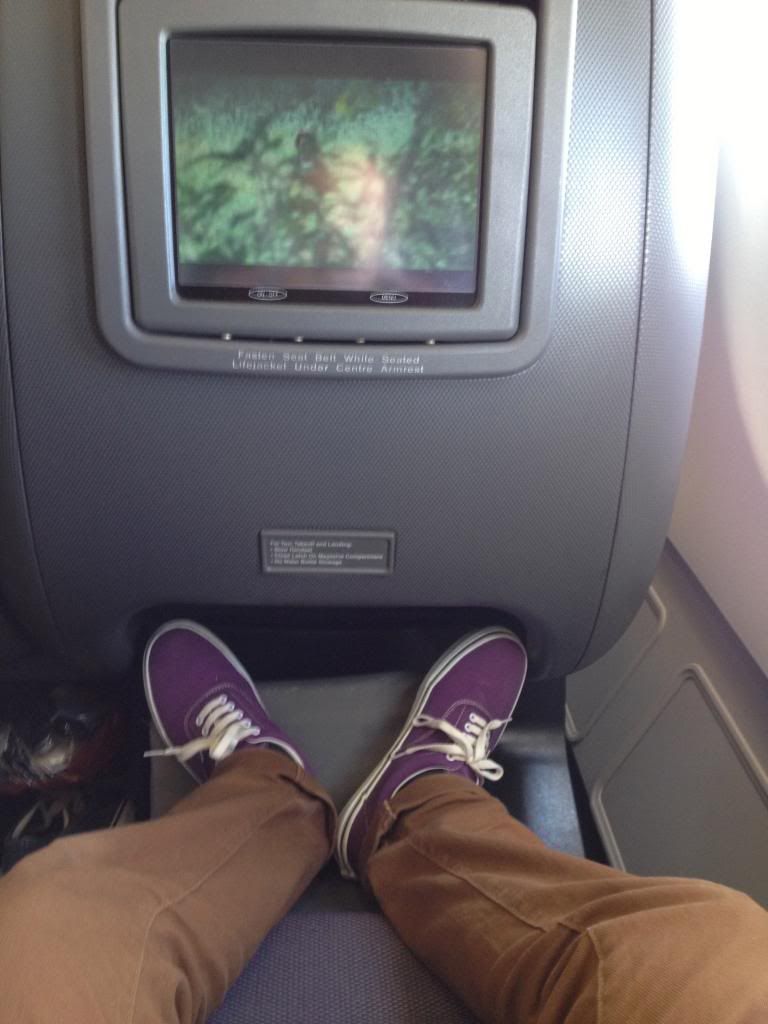 Skybed Mk I legroom
The new QF safety demo starring a couple of inarticulate cricketers was screened.
It's bloody awful!
John Travolta, all is forgiven. Although it was a travesty in its own way, your safety demo intro wasn't so painful after all.
Even the good old patronising "I'm sure you know how to operate a seatbelt but I'm going to remind you anyway" woman from a couple of years ago was better!!
Captain came on to say we'd be taking off to the north, climbing out over the Blue Mountains, crossing the continent, over flying Indonesia, 9 hours something…smooth…seatbelts….in case… turbulence….sit back….relax….service…all the usual stuff. Amenity kits and hot towels found their way into passengers' hands as well.
Shorlty after take off from 34L we flew over the CBD and the harbour – a view that always impresses me – even though I fly over it all the time and live barely 10 minutes away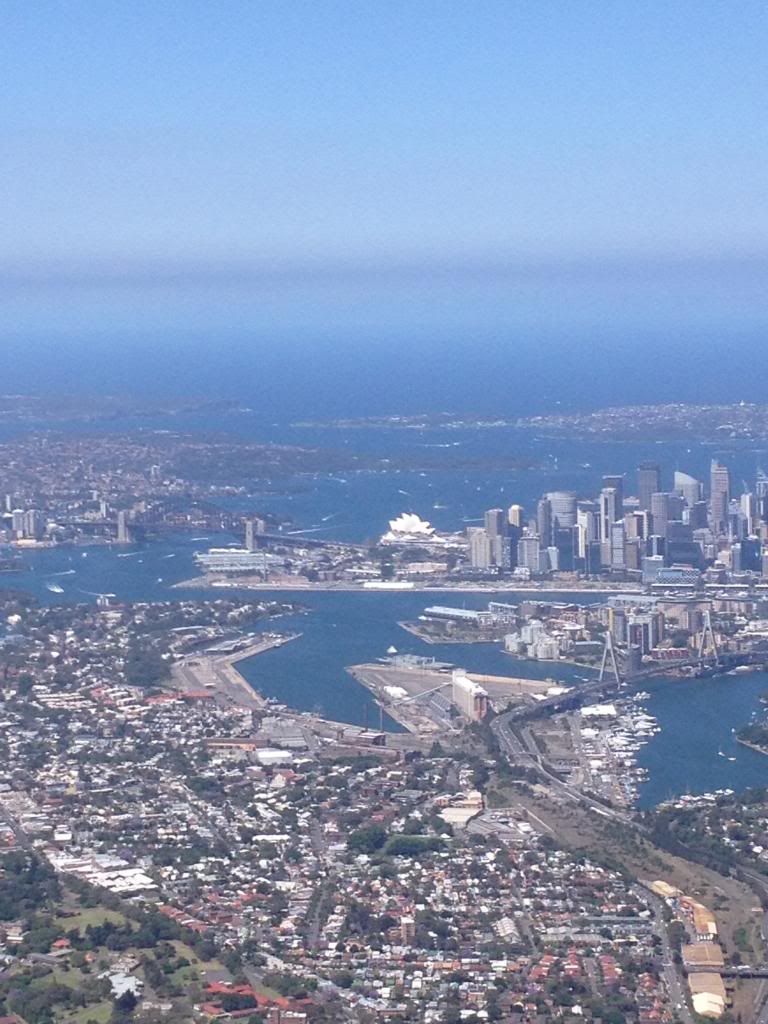 Sydney
After take off the crew started rattling about in the galley. It was quite a while before they emerged to start setting tables for what they actually called dinner even though it was mid-afternoon.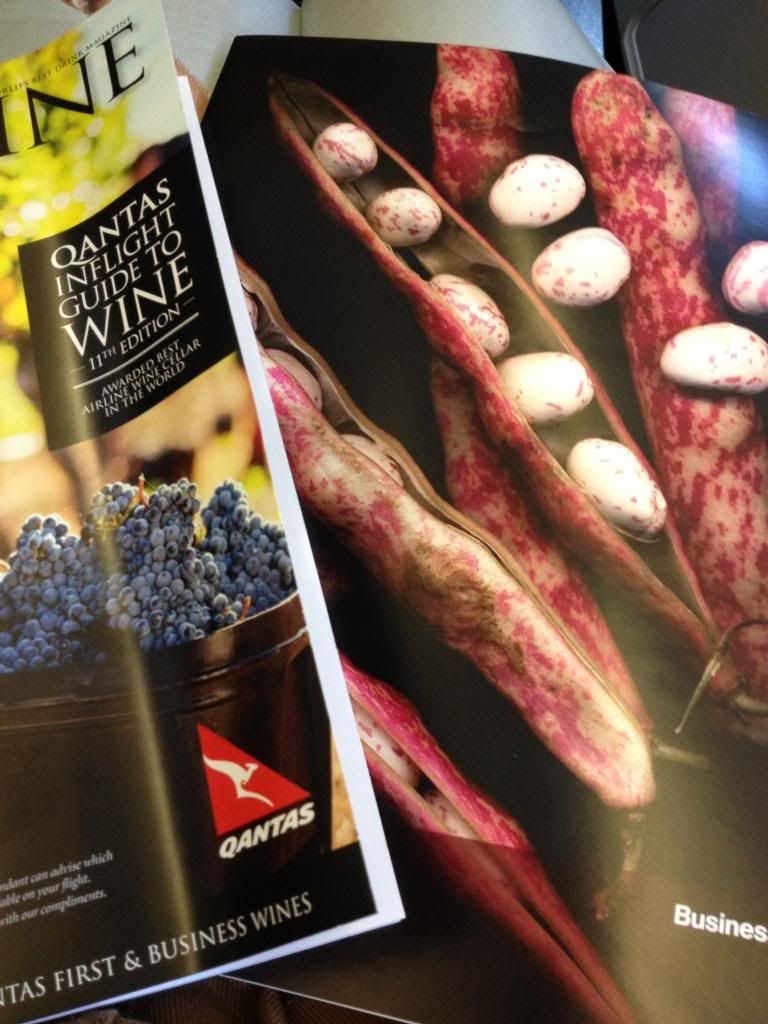 Menu and inflight wine guide
Out of focus "Australia to Asia" menu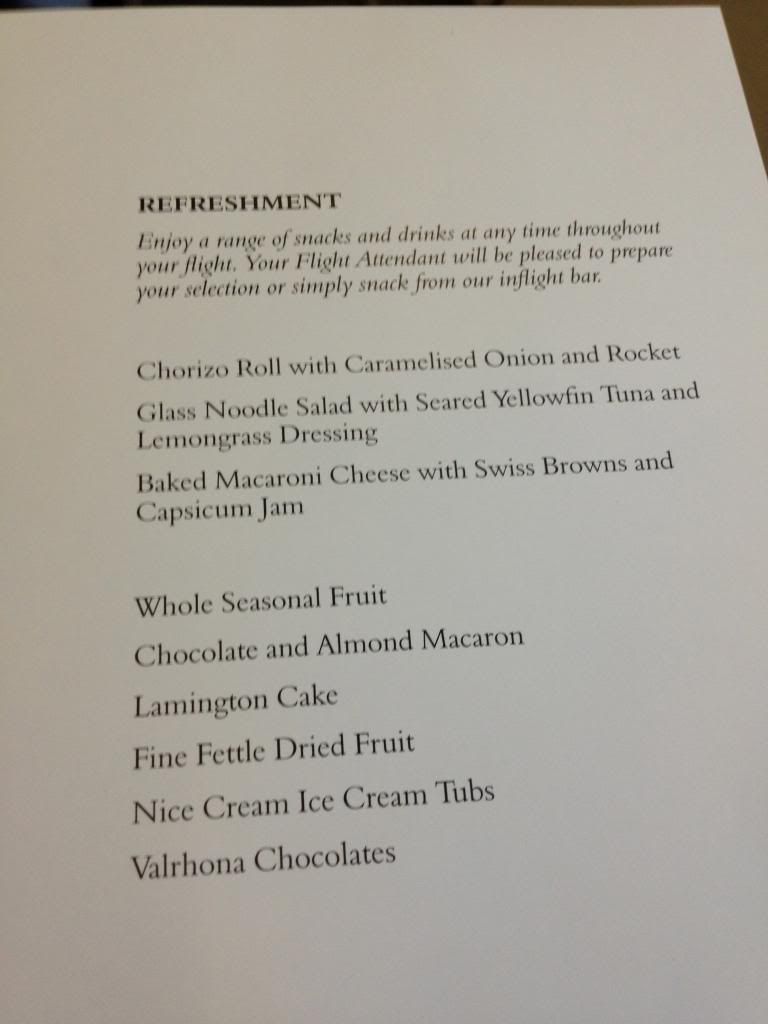 I had the Blue eye which was waaaayyy to salty. The spiced potatoes were coated with a dry, powdery garam masala mix and were soggy. (Sorry no more pics for this sector). Saving grace for this meal was the white wine selection with two of my favourite wineries represented with wines I've tasted and purchased at their Hunter Valley cellar doors: Pepper Tree Venus Block Chardonnay from Orange, NSW (always a few bottles of this in my cellar!) and a Tower Estate Adelaide Hills Sauvignon Blanc. Usually I'm an "ASBB" drinker. (anything! but Sav-bloody-blanc) because so much of the mass produced stuff that is so popular these days tastes and smells like cat piss. In the hands of Tower Estate however the variety takes on a beautiful layered complexity and sophistication. I had a glass of both wines.
After lunch and a bit too much alcohol I was feeling kind of sleepy, so I had a cup of peppermint tea and fiddled about a bit with the IFE but didn't really settle down to watch anything in particular. I dozed off for a good few hours of the flight.
An hour or two out of Bangkok a second light meal service was offered. The glass noodle salad with seared yellowfin was actually quite good.
We landed in BKK more or less on time and parked at a distant gate on the F concourse. Fast track Immigration was nice and quick, though bags took a bit of time to appear.
Apart from one very good FA, this QF business class experience left me a bit cold. Skybed Mk1 is getting pretty dated and the front J cabin on the A332 feels a bit dark, heavy and cramped compared to TG's offering (for example) on this route.
We spent the night at the Suvarnabhumi Best Western Amaranth Hotel. Despite the Best Western brand and the 10 minute drive to and from the airport, it's actually a really good hotel for a transit stay in Bangkok. I've stayed at Amaranth a couple of times and definitely prefer it to the run down, busy, expensive Novotel located adjacent to the terminal. We took the 6:30 am shuttle bus from the hotel to the airport – a couple of our fellow passengers where a Japanese honeymooning couple in matching outfits who had to come running after the bus as it passed by the side exit. They looked rather tired, dishevelled and generally pissed off. Especially her! People watching while travelling is so much fun. Boyf (who is Japanese) and I were making up an amusing back story later on when we were in the lounge. They might end up as characters if I ever get around to writing my first novel…
Sector 2: BKK - DOH
Flight: QR613
Aircraft: B777-200LR (A7-BBB)
Class: Business
Seat: 3K
ETD: 8:35 (0n time)
ETA: 11:50 (11:40)
Speaking of novels, this TR is quickly turning into one. So, now we're pulling up out the front of a busy BKK terminal. We check the monitors and find the row for QR check in. There is no one in line for business class and once again a fine airline's ground staff (or their BBK handling agents??) let them down. Not a word from the check in lad. He tagged our suitcases through to Tehran and handed us two boarding passes each, an express departures card and a TG lounge invitation (without specifying which of the several TG lounges we could/should enter). We got half a smile from one of his colleagues and then we were on our way.
DISCLAIMER: Mr al-Baker – All your staff are wonderful and sing your praises endlessly as they splash rose petals of joy around. You needn't read any more of this report. You can be satisfied now. However Mr al-Baker if you are still reading beyond this point, please don't be the neurotic, control-freak twat you are renowned for being and sack any staff I might point out were less than perfect. I don't want to be responsible for some barely pubescent kid from the four corners of the earth loosing their job – even if working for QR is allegedly tantamount to modern day slavery!! END DISCLAIMER
Fast track immigration and security at BKK is a godsend especially for arrivals, but also for departures. The only problem is that it's so poorly signposted. A friendly AOT woman pointed us in to the right unmarked door and we were screened and stamped in seconds.
We made our way to the little Royal Silk lounge on E concourse which was reasonably full, but still had some vacant seats. Breakfast offerings in TG's BKK J lounges is mediocre at best. A few steamed buns and dim sum, some cling-wrapped egg sandwiches, dry mass produced pastries, bad green-tinged coffee and a smattering of fruit. Still one shouldn't complain I count myself very fortunate to be in an airline premium lounge at all!
There are no boarding calls made in TG lounges which I once found out the hard way a couple of years ago when a lounge angel with a clipboard and a stern look came to fetch me for a connecting flight to Sydney I thought for some reason was boarding at the departure time – oops. So this time I made sure we were on our way to the gate more or less at the stated boarding time on our BP which was well before the ETA. Most passengers had already boarded it seemed. We made our way down the business class jetway and were greeted at 1L by the female purser who was the spitting image of just about every CX purser I've ever met; impeccably presented, red lipstick, and a don't mess with me attitude behind her well rehearsed smile and a deep, slightly posh voice. We made our way to row 3 on the starboard side and took in our surrounds in the beautiful clean, bright, spacious forward business class cabin of A7-BBB (delivered Feb 2009, looked brand new and totally spotless inside – as did each and every QR aircraft we flew on).
Ambiance and space left yesterday's Qantas Skybed Mk I equipped A332 for dead. Fair enough the 777 has a wider and higher cabin, but that only accounted for part of the serene sense of space and light in QR's business class.
Much more legroom than QF!
The cabin was about two-thirds full. Newspapers were proffered then the FA who would be responsible for serving our row came and introduced herself (South American looking, girl-next-door type) and addressed us by name without a cheat sheet. We were offered Lime Juice, water or orange juice.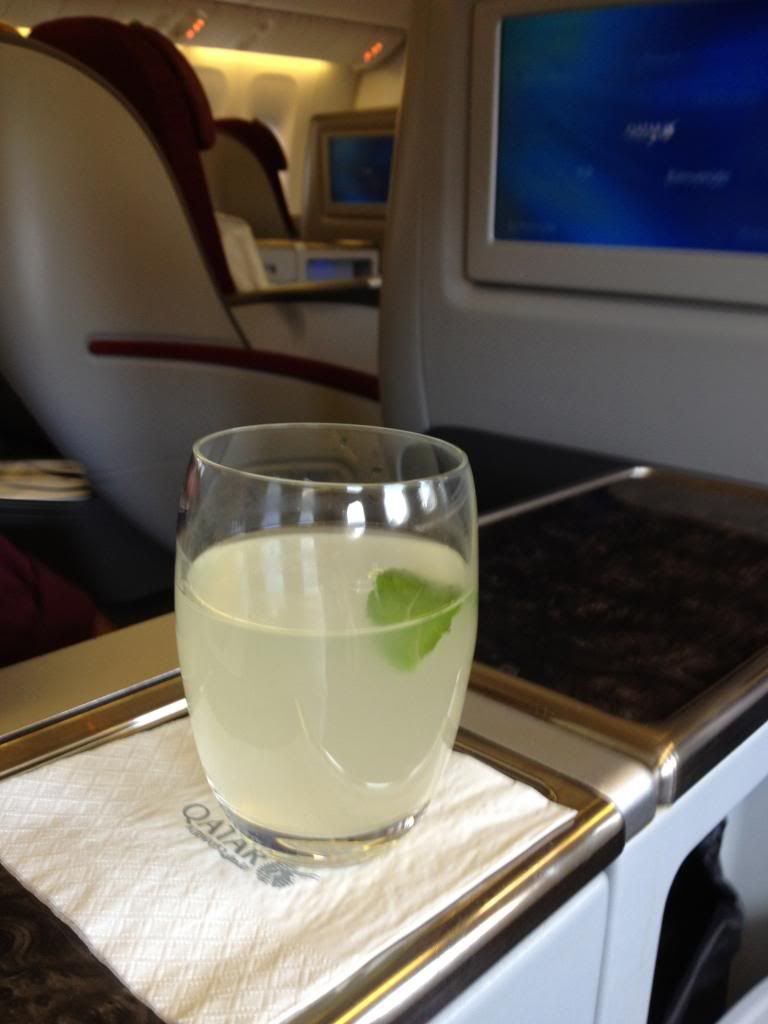 (Sorry for regular TR readers, I can't bring myself to type those slightly imbecilic dialogues that pop up quite regularly in TRs….you know the type:
FA: Mr [insert Airliners user name] can I interest you in a class of Lime Juice, water or orange juice?
Me: I'll have Lime juice please
Her: Here you are Mr [insert username].
Me: Thank you very much
Her: You can find the breakfast menu in the leather compendium Mr [insert user name]
Meanwhile her thoughts are racing behind her crack-proof smile: bloody hell why is this slightly imbecilic dialogue being furiously written down in this weird plane geek's note book….
I digress (unless anyone would like a blow-by-riveting-blow of the dialogue when amenity kits were distributed!)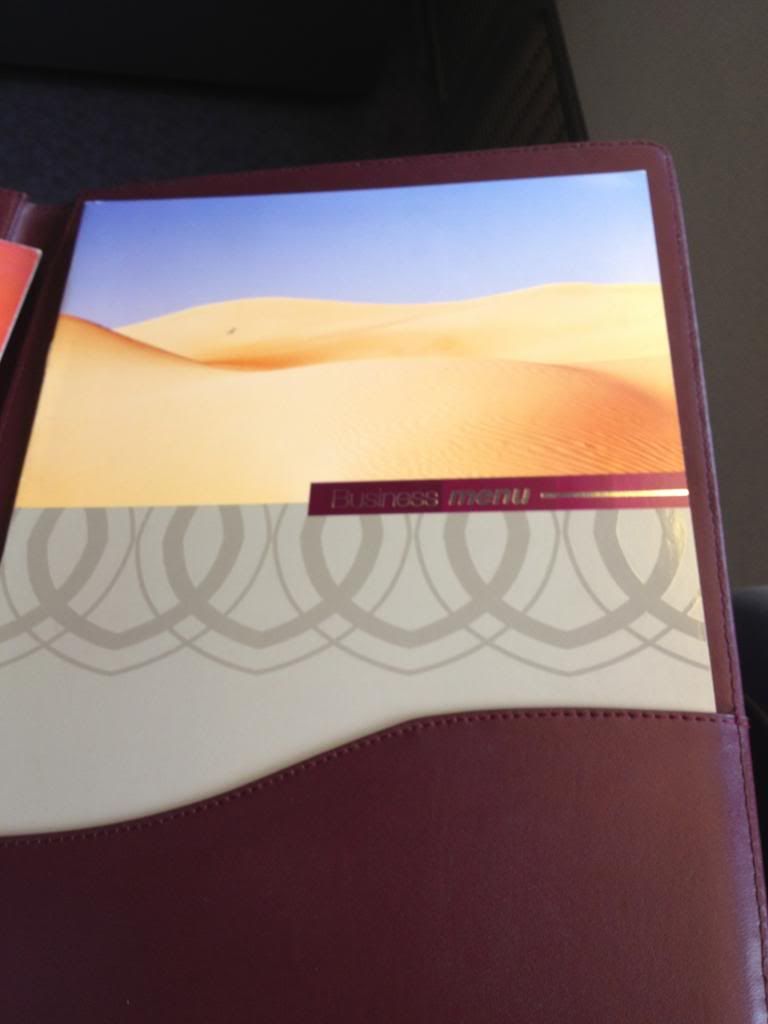 Leather bound menu
Today's breakfast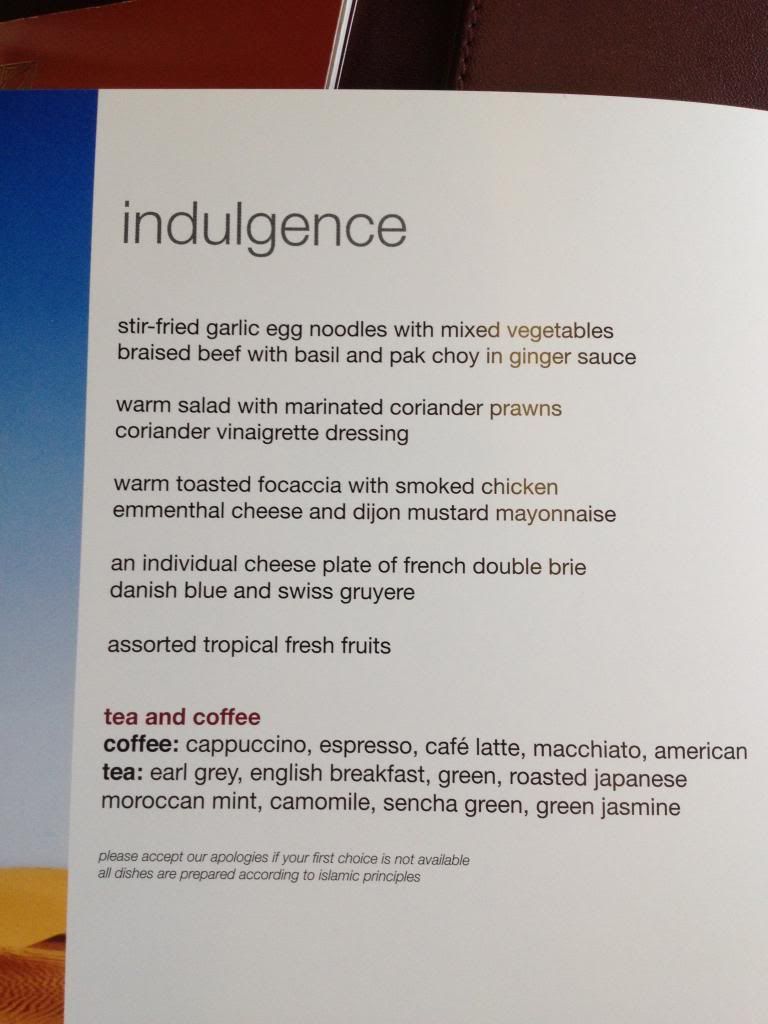 Second meal service for BKK-DOH sector
At some stage the doors were closed and we pushed back pretty well on time. The safety demo was screened. All very inoffensive and non-attention grabbing until it took this turn into the realms of…how can I put this deelicately…
um…
"Mills and Boon euphemisms".
Soft porn in other words…..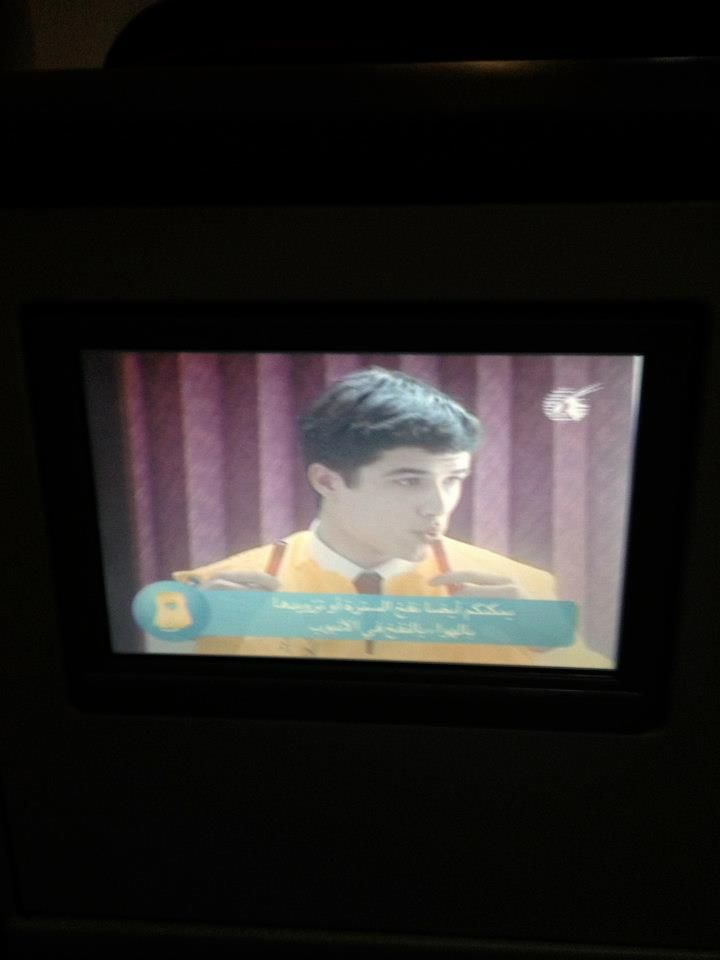 OMG I nearly spat the last gulp of my lime juice all over the ample sized PTV monitor on the seat in front of me. Fortunately, this being a gulf airline, we got the safety demo a second time in Arabic just to be sure that he was most definitely inflating his lifejacket in an extremely, suggestive, saucy manner. Unfortunately there were no strapping male FAs in the J cabin of QR613 this morning blowing provocatively into their inflation tubes for me
777 takeoff was loud, rumbling and powerful. We were leaving the familiarity of Bangkok – a city I've visited on numerous occasions and making our way to the exotic Middle East. I'd done plenty of reading online about Iran and spoken to one or two friends who had travelled there before plus the odd Iranian I'd encountered in Sydney. First though we had a flight to Doha on my first Gulf carrier which was certainly off to a better than expected start. Far less cringe-worthy, nouveau riche bling plus a half decent level of professionalism and consistency from the cabin crew.
South American girl next door seemed to be spending most of her time looking after whoever was sat in 1 J & K so next we were receiving attention from a vaguely Soviet-esque blonde who came to set up for breakfast. They say SQ girls are robotic…..QR must be a close second. No deviation from the script, forced smile but cutlery was laid laser straight on the crisp white linen table cloths and plates were put in front of us facing exactly the right direction – as we all know all these QR-bots loose their job if the table isn't set the right way. I would have liked to ask Soviet-esque-bot where she was from. Could have been Russian, could have been from one of the other CIS states, could have been East or even Central European. But her demeanour certainly didn't invite small talk.
I opted for the traditional Arabic breakfast.
First came a pretty decent smoothie
Followed by three bits of fruit, a dollop of yoghurt and a bowl of bread and pastries (all a bit average unfortunately – the one failing of catering out of most Asian ports is the poor quality of the breads and pastries they serve…)
Then the main course of the Arabic breakfast. Soviet-esque-bot made an almost impulsive, off the script comment to the effect that I was ever so brave opting for the more exotic offering instead of pancakes or usual omelette/sausage/tomato aeroplane breakfast. Coffee followed with nary a ripple as we crossed the notorious Bay of Bengal.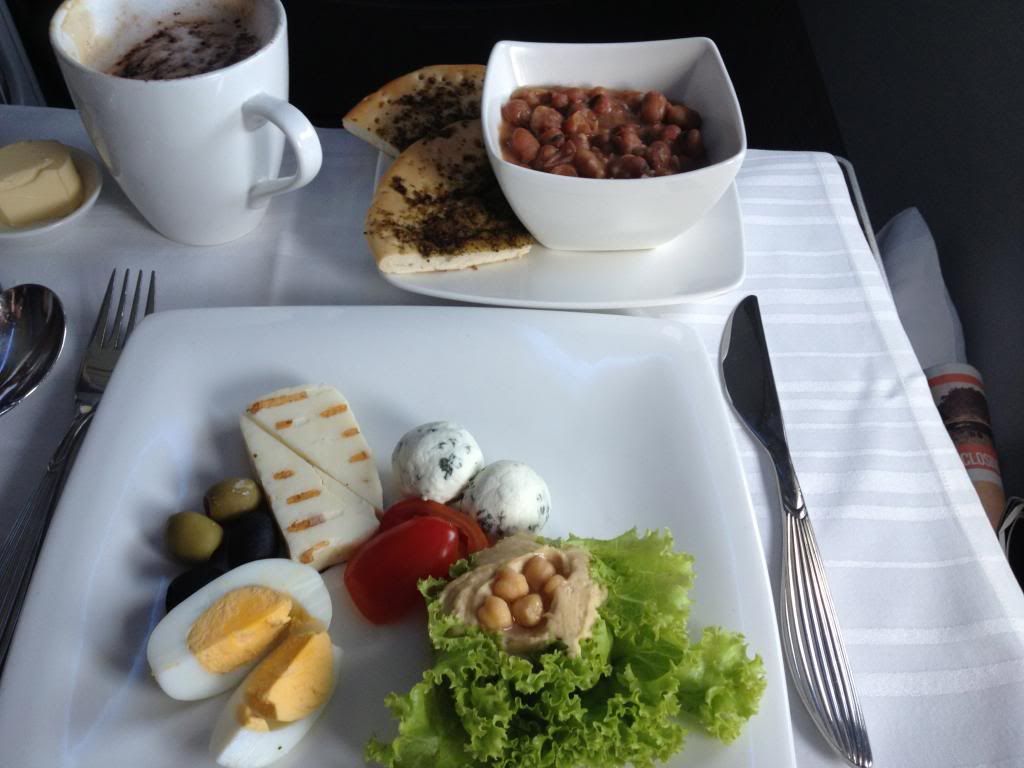 Those beans were a particularly ahem…garlicy, potent mix!!!!
Once breakfast was cleared away I fiddled around with the IFE for a bit. Navigation was a little bit of a pain in the proverbial and the selection on QR was all a bit saccharine and very very American-centric for the English language options. I ended up watching Alien followed by a really interesting documentary that traced the Earth's evolution by visiting various sites in outback Australia where there's evidence of the most primitive fossils, tectonic activity, dinosaurs, all sorts of unique flora and fauna plus the most ancient continuous human civilisation on the planet. I was somewhat interrupted however as we hit land and flew over a couple of gulf cities in the desert and thousands of oil tankers bobbing offshore. I made out the horribly Crass Dubai palm Island thingies and had a little vomit in my mouth at the though that with our eons of evolution that I was watching on screen and all our human intellectual development we are wasting finite resources to build palm shaped islands in the sea off an almost uninhabitable and totally unsustainable coastline….sigh…
Anyway we started to descend, then made a few positioning turns for final approach into Doha. It all looks a bit grim down there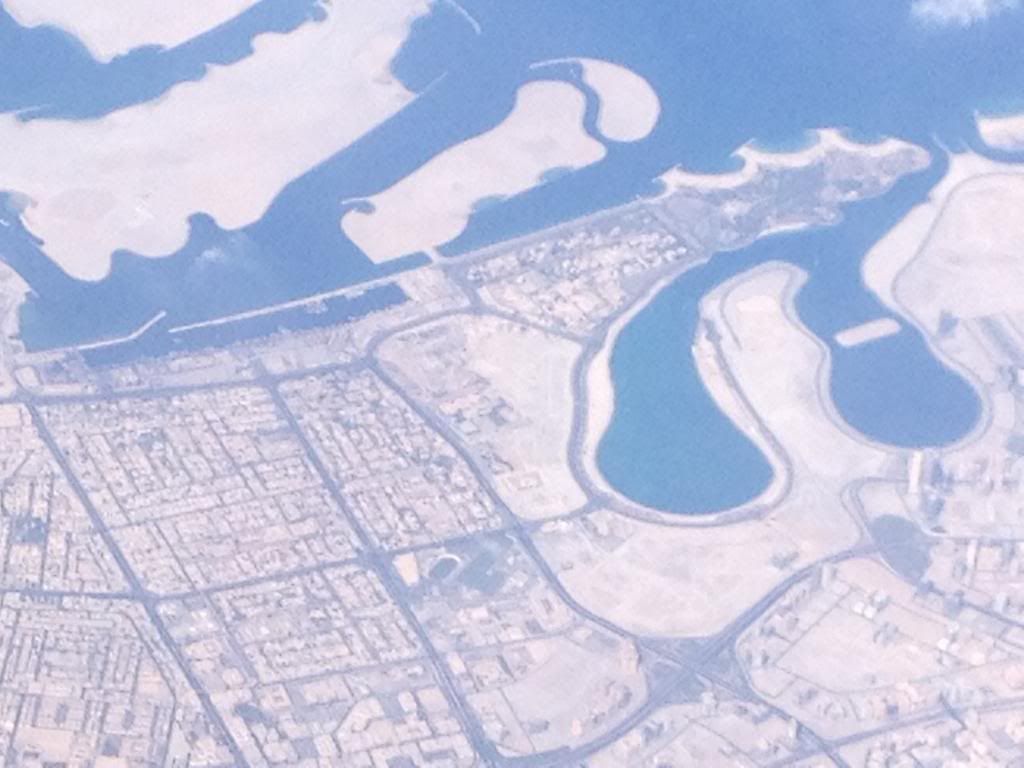 Short final
We landed in Doha on time and had only a very short taxi across a very congested apron to our parking bay where buses were waiting. Others have probably reported before about arrangements at Doha airport – QR passengers are given a colour coded cardboard wallet that indicates which stop one should alight from the bus. We had a 6.5 hour transit which we didn't want to spend just getting pissed in the premium terminal. Instead we planned to head to the arrivals terminal, get a visa on arrival, pick up a rental car and have a whirlwind visit to Doha. That meant making sure our burgundy "premium transit" wallets were well concealed from the eagle eyed bus staff who were barking orders at pax to make sure they get off at the right terminal.
We stayed on the bus at the premium transit terminal and alighted the arrivals hall. The hall was fairly empty for our 12 noon arrival, but I can see that it would be totally inadequate if more than a couple of flights arrived at once. Eventually worked out which queue business class pax were supposed to join and were relieved of USD25 by possibly the world's most inanimate immigration officer, sporting this season's latest burqa in midnight black.
Found the car rental counter and felt extremely self conscious driving a little red sedan when EVERY other vehicle on the road was a sombre black or white. Our whirlwind GPS-guided tour took us to just two landmark Doha destinations: the truly spectacular and well worth visiting Museum of Islamic Art…
...and the truly subfuscous Venice-themed Vellagio shopping mall. No photos required….you can surely imagine how vulgar it was….including the coat in H&M made out of sewn together duvets. The other half who is a far more fashion savvy person than I am tells me that this garment was designed by someone famous, was sold in Europe in very limited quantities and was on sale in Doha for a third of the price it fetched the previous winter in Europe. The fact that a coat was being sold at all in stinking, bloody hot Doha – let alone a coat made out of goose-down filled cotton/polyester fabic really is up there with Dubai's palm islands. The SE Asian sales girl was equally bemused when boyf tried it on…..
We had an expensive, mediocre late lunch at a French chain sandwich and soup shop, served by miserable looking Vietnamese waiters….overlooking an indoor canal with cutesy couples being punted up and down by Nepalese gondoliers.
And that was Doha in a whirlwind. Did we miss anything??
I dropped the car back at the airport and we made our way to the Premium Terminal. Our boarding passes were checked, security cleared and we were pointed up the escalator to the cavernous, almost deserted business class lounge. Unfortunately I don't have any photos of the lounge…I was too focussed on savouring my last couple of G&Ts before 12 dry days in Iran.
We went downstairs at the allotted time and boarded a bus with three other business class passengers.
Flight: QR488
Aircraft: A319 (A7-CJA)
Class: Business
Seat: 2C
ETD: 18:20 (0n time)
ETA: 20:55 (20:40)
I climbed the stairs and entered my first ever A319. Greeted at the door by a Korean Pursor and peered through the open cockpit door at an aged, but friendly looking British Captain in the left hand seat. Unfortunately I didn't take any photos on this leg – I was getting fairly tired after a long day of travelling and transitting. Suffice to say, it was another excellent flight in Qatar business class. Their short haul product and service was right up there with the long hall. I was flabbergasted to learn later that A7-CJA was almost 11 years old. It had obviously just had a cabin re-fit with QR's new shorthaul business seats installed and again spotless walls and carpets.
THAT video was screened again and then we were off. Once again, dinner orders were taken from the leather bound menu. I vaguely remember eating fish…and enjoying it and then watching a few episodes of some sitcom I'd never heard of, but actually rather enjoyed considering the fact I never watch TV at home.
As we stated our descent into Tehran, my mind was racing. What if the western media is right and Iran was a country full of hell-bent terrorists. What if I was hanged for being gay. What if I was kidnapped and held to ransom and my government didn't come and rescue me. (It didn't help that we saw the movie Argo a day or two before leaving Sydney….). Captian pom or his FO greased the landing and someone behind the curtain in Y shouted something about Allah and a couple of people broke into applause. Meanwhile the very urbane looking, young, handsome Iranian business man across the aisle gave me a knowing "you'll be fine" look.
And so here I was. On the ground in the Islamic Republic of Iran. We pulled up at the gate, the jetbridge was attached and for a moment I could have been in any jetbridge at any modern airport anywhere in the world. We were first in line at Immigration (though pointed to the wrong desk by one guy…and before we knew it there were three friendly, helpful Iranians helping us out and telling off the guy who pointed us to the wrong queue. This incredible hospitality was to be repeated, time and time and time again during our 12 days in Iran. I have never felt safer or more utterly, entirely and completely welcome in any other country.
This ends part 1 of my trip report. In short, QF business class in the skybed Mk1 equipped A332 only gets 6 out of 10. Oh I also forgot to mention I felt really grubby and exhausted after that QF flight. The cabin air seemed pretty polluted.
QR on the other hand managed to exceed my ambivalent expectations and gets at least an 8.5 or 9 when hard and soft product are added together.
A few photos of places we visited in Iran follow below.
Part 2 will be a couple of domestic flights in Iran and the trip back home again.
Hope you enjoyed part 1…don't hold your breath for part 2…..it will come eventually, but might take a while to write ☺
Surprisingly I saw very few fat Iranians!!