Welcome to Part 2 of my 2012 Persian Adventure.
Part 1 which covered QF and QR SYD-BKK-DOH-IKA can be found
here
The full schedule looks like this:
SYD – BKK 18 Nov 2012 QF23 (A332. VH-EBL) Business
BKK – DOH 19 Nov 2012 QR613 (B77L. A7-BBB) Business
DOH – IKA 19 Nov 2012 QR488 (A319. A7-CJA) Business
THR – SYZ 20 Nov 2012 W54589 (A300. ) Economy
IFN – THR 29 Nov 2012 IR255 (A320) Economy
IKA – DOH 30 Nov 2012 QR489 (A321. A7-AID)
DOH – BKK 1 Dec 2012 QR614 (B77W. A7-BAX)
BKK – SYD 3 Dec 2012 QF24 (A332 VH-EBL)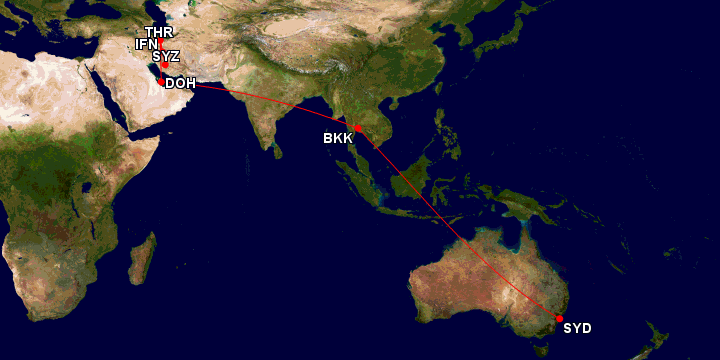 Part 2 picks up from the first of two domestic flights in Iran – Tehran Mehrabad to Shiraz on Mahan Air.
Sector 4: THR-SYZ
Flight: W54589
Aircraft: A300 (missed exact model and tail number)
Class: Economy
Seat: 20E
ETD: 20:50 (21:05)
ETA: 22:00 (22:10)
After a fairly short sleep the night before we'd had a full day of sightseeing in Tehran. What a great city!!! (diabolical traffic though). We were dropped at the old airport at around 19:30 for our 20:50 scheduled departure. I was exhausted by this point and a lot of the details of this flight unfortunately passed me by, so the report on this leg is short and lacks photos. Sorry!
While waiting in the terminal we sat down at a café. A waiter came across with menus and asked where we were from – when we told him Australia, he returned a moment later with a little Australian flag to sit in the middle of the table. How cute!!! This apparently is fairly common in Iran as it happened in a couple of other restaurants too. A young woman at an adjacent table noticed the flag and came over and introduced herself, saying that she'd visited Australia before and had a brother studying at an Australian University. She asked where we were flying to and when we said Shiraz, she told us that she was from Shiraz and that it's Iran's loveliest city…much better than Tehran! She also offered to help us out in Shiraz if we needed any assistance. I explained that we had a guide and driver to meet us on arrival and already had a hotel booking, but let her know that her kindness and hospitality were really moving. Again kind gestures like this would be repeated time and time again in Iran. I can feel my heart warming again now just thinking about some of the kind strangers we met in our 12 days. Truly unlike any other country in the world.
We made our way through security (where I got a bit of a friendly grope) just before boarding time and joined the queue to board the bus to our aircraft. I was kind of hoping for a substitution to an A310 as I've never flown on one before. But seeing as A300s haven't flown in Australia for a very long time, I wasn't too disappointed to pull up alongside one.
View Large
View Medium


Photo © George Canciani
A bit of nostalgia for fellow Australian readers. I did a fair bit of flying on these as a kid.
Stepping on board the aircraft was a bit of a step back in time. Yelowish lights, brown trim, those 80s kind of "chunky" seatbelt and smoking signs and dials in the armrests for IFE. There was a not to modernity though in the form of a big flat panel monitor at the front of the Y cabin for displaying video entertainment.
The pitch on this aircraft was almost criminally tight and of course being in the E seat was pretty uncomfortable too. Flight was 100% full in Y. Didn't see the small J cabin. Boarding took a while as more buses came and delivered pax to the stairs. Fas were doing all the usual rushing about and helping passengers get settled. The door was closed and the usual safety demo and pre takeoff announcements were made. Kids were going off like sirens left right and centre. The squels and running up and down the aisles continued for the whole flight.
Once the seatbelt sign was switched off crew came through the cabin with trolleys of sandwich boxes and juice. Nothing to write home about, but still nice to be flying on an airline that offers something more substantial than a packet of peanuts on a 1 hour domestic flight.
Wile this was going on, the IFE spaang to life. We were treated to a few ads, a bit of a pep talk from a seemingly senior mullah and then half an hour or so of aerobatics performed in military jets. Not the most orthodox IFE, but as a 15 hour GA aspiring pilot who had just had my first solo a couple of weeks before this trip, I was very impressed with some of their formation flying and tricks that they did. I have to concentrate hard to keep my BE77 straight and level!!
We had a few bumps on descent and then the engines picked up in pitch again – not what I would have thought of as TOGA power, but we certainly arrested our descent and performed a few turns before resuming descent into Shiraz. Seeing as I was in a middle seat I couldn't see how high we were.
The landing was a little bit "emphatic". We had short taxi to the apron where we deplaned into the fresh night air of Shiraz. Bags took an absolute eternity to travel the 50 metres from the belly of the plane outside to the rickety, slow old conveyor belt in the decent looking terminal and then our were among the last to eventually come off – some 20 minutes after disembarking.
I know that there are lots of reports of people being offered jump seat rides on Iranian flights or at least cockpit visits, but I was a) too exhausted and b) too shy to ask for those privileges. At the end of the day, this was just another domestic hop full of suits and families like anywhere else in the developed world.
What folloed was one of the richest weeks of my life so far, visiting shiraz, Yazd and Isfahan. There are photos at the end of the report with just a couple of the highlights. So many more fond memories are etched in my mind – mostly the smile and warm passing conversations with dozens of Iranians who stopped for a chat and to say with absolute, heartfelt warmth "welcome to Persia"
Sector 5: IFN - THR
Flight: IR255
Aircraft: A320 EP-IEF
Class: Economy
Seat: 31K
ETD: 13:05 (14:10)
ETA: 14:10 (14:15)
After our driver was late picking us up, we got caught in traffic on the way to the airport and it was looking very touch and go as to whether or not we'd make the flight, despite the fact she was squeezing every bit of life out of her little white Iranian built SABA. At 12:42 we sprang out of the car and dragged out suitcases behind us as we dashed into the terminal. The counter with the THR sign over it still had a couple of bored looking staff waiting for last minute pax. While we were being checked in 3 or 4 more people showed up behind us panting away.
We were asked to carry our checked bags over to another conveyor and wait while they were x-rayed before they were sent of fon their merry way to our waiting A320. Once we had the all clear, the IR bloke pointed us in the direction of security where screening was a breeze (separate gents and ladies queues of course).
Boarding was underway but there was still a bit of a line as we waited for a bus to come and fetch the rest of us.
I wasn't too sure whether tarmac photos would be alright or not, so I just snuck a couple. (all pics in this report are just iPhone photos…I can't claim to be a photographer by any stretch of the imagination).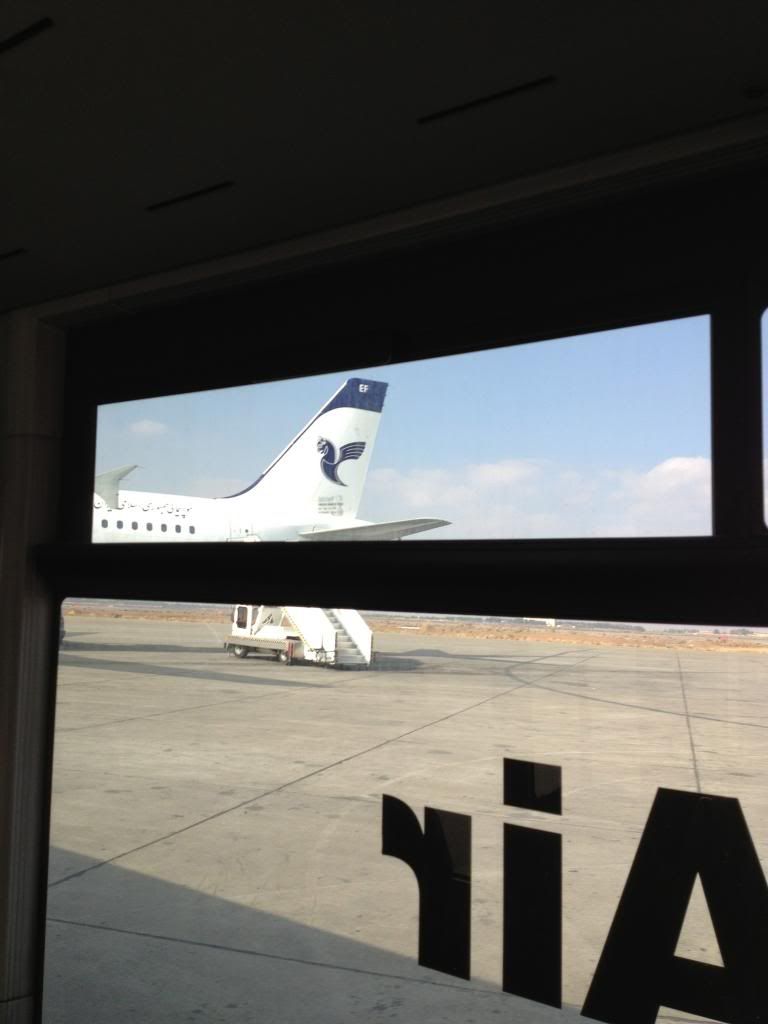 EP-IEF from the bus
..and from the bottom of the stairs
We were greeted at the top of the stairs by a jolly, middle aged balding purser and directed down the back to originally assigned seats in row 30 (second last row). The cabin was clearly oldish but in well maintained condition. The seats were dark blue leather slimline style – very LCC.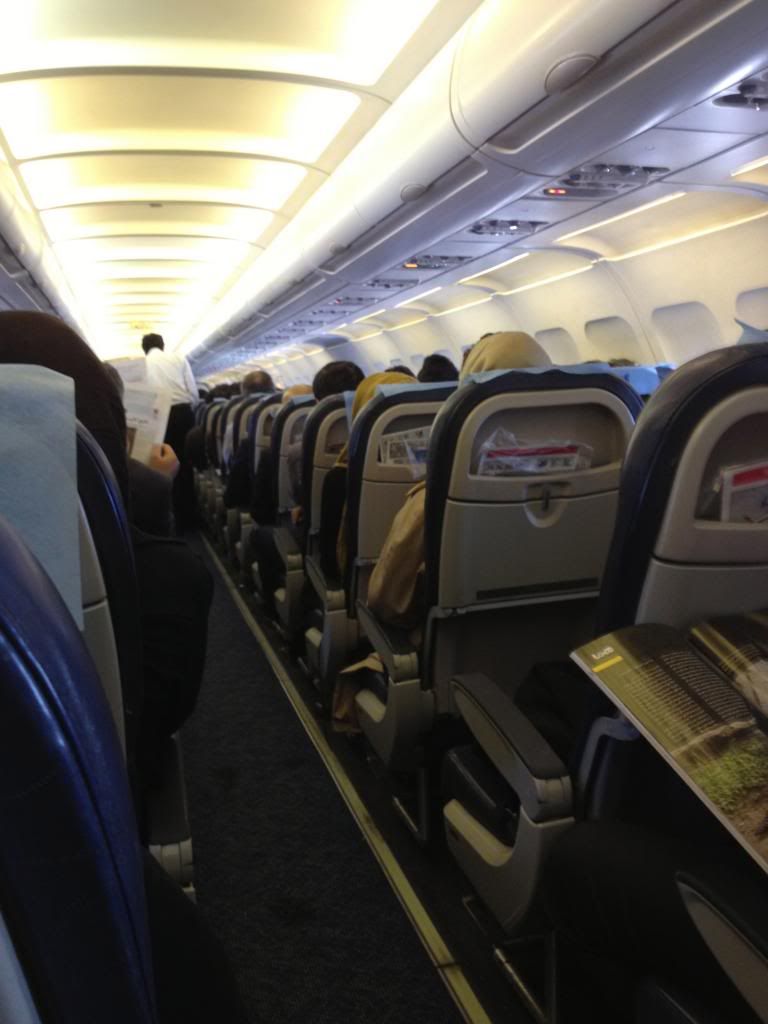 IR A320 interior.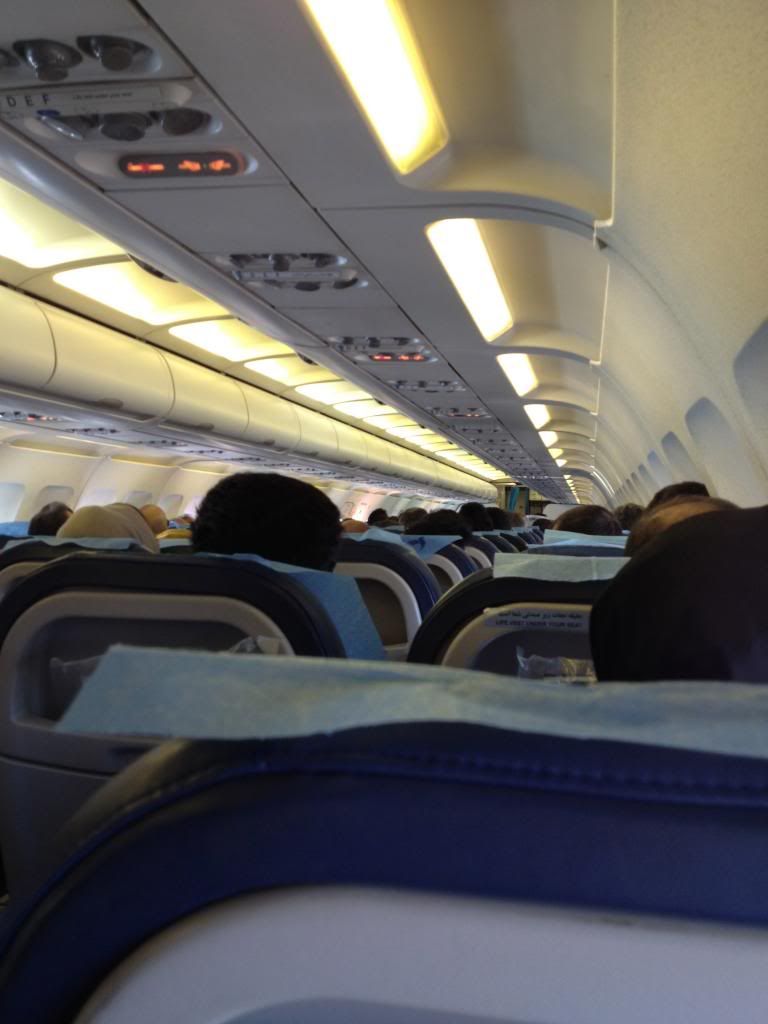 I noticed that all of row 31 was vacant when the door closed, so checked with one of the FAs in the back galley if we could swap so that we could have 31A and 31K instead of the B and C seats we were assigned in row 30. It was no problem.
Also no problem was using the loo which I was busting for seeing as we had no time in the terminal.
Multilingual signage.
I later found out that this aircraft started its life in 1992 (20 years ago) with Iberia, then went to a couple of Spanish LCCs before finding its way to Iran Air's fleet in 2009.
The tight pitch was alleviated somewhat be the Recaro seats which had the magazine pouch shifted up to the top of the seat to provide a tiny bit more knee room. I'm only 175cm, so it wasn't too uncomfortable, plus I had 3 seats to myself PLUS I was flying on Iran Air for the first time ☺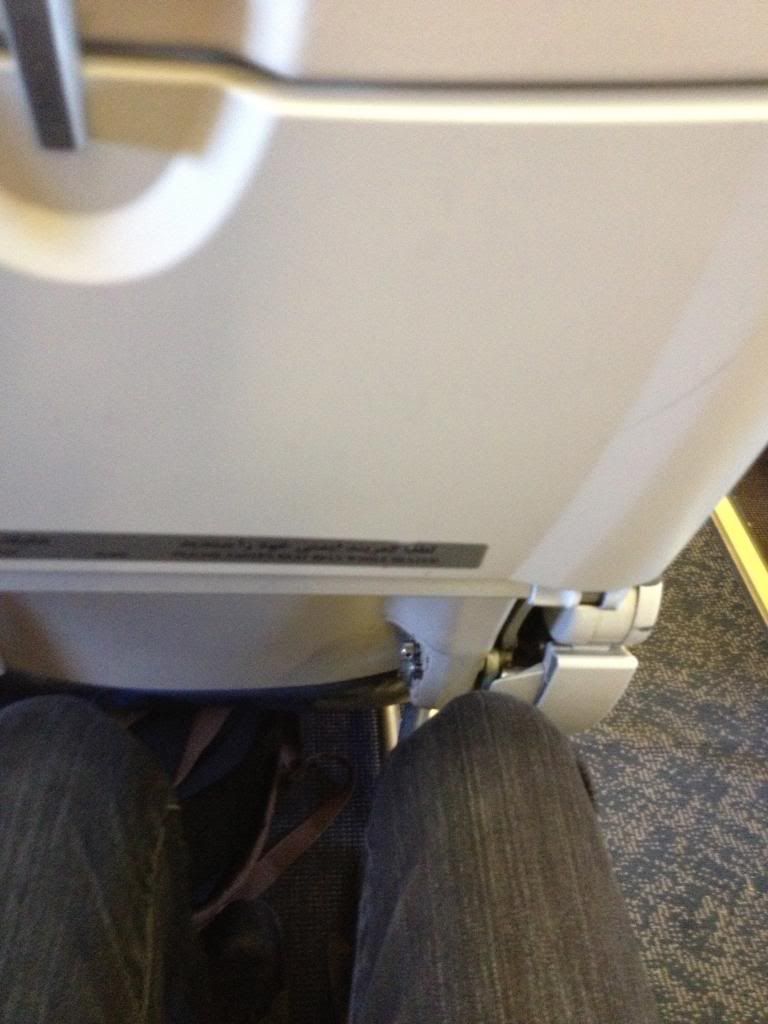 Legroom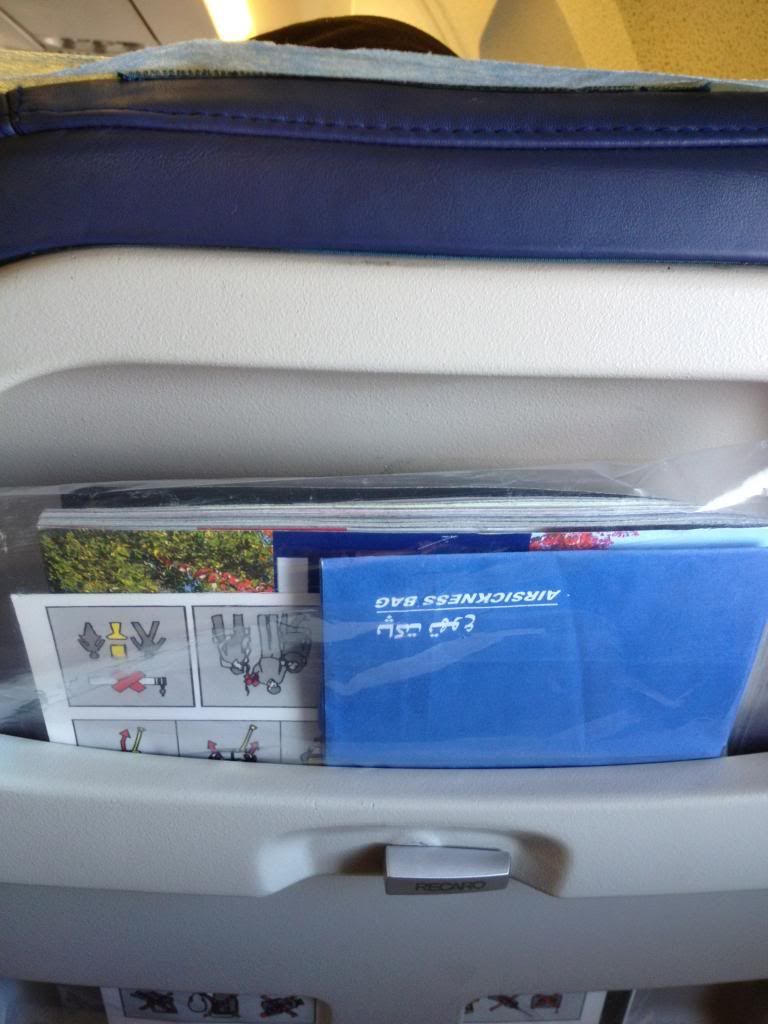 Back of the seat in front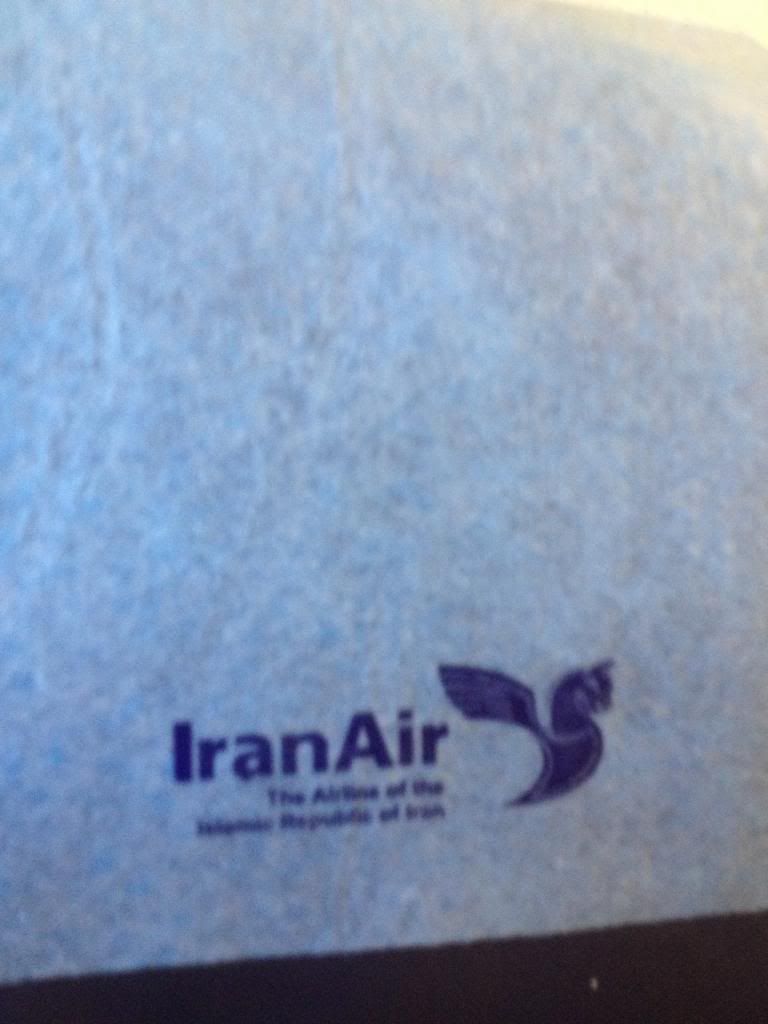 Despite the bad focus, I LOVE this logo so much!!
Take off was a few minutes late, but before long we were hurtling along the runway and up in to the sky in what seemed like a particularly fun, powerful takeoff for an A320.
We were served lunch boxes which again consisted of an ok sandwich, a box of juice and a few other processed bits and pieces. Oh and Ketchup….always ketchup in Iran.
On this short flight to Tehran we were treated to some beautiful scenery out the window…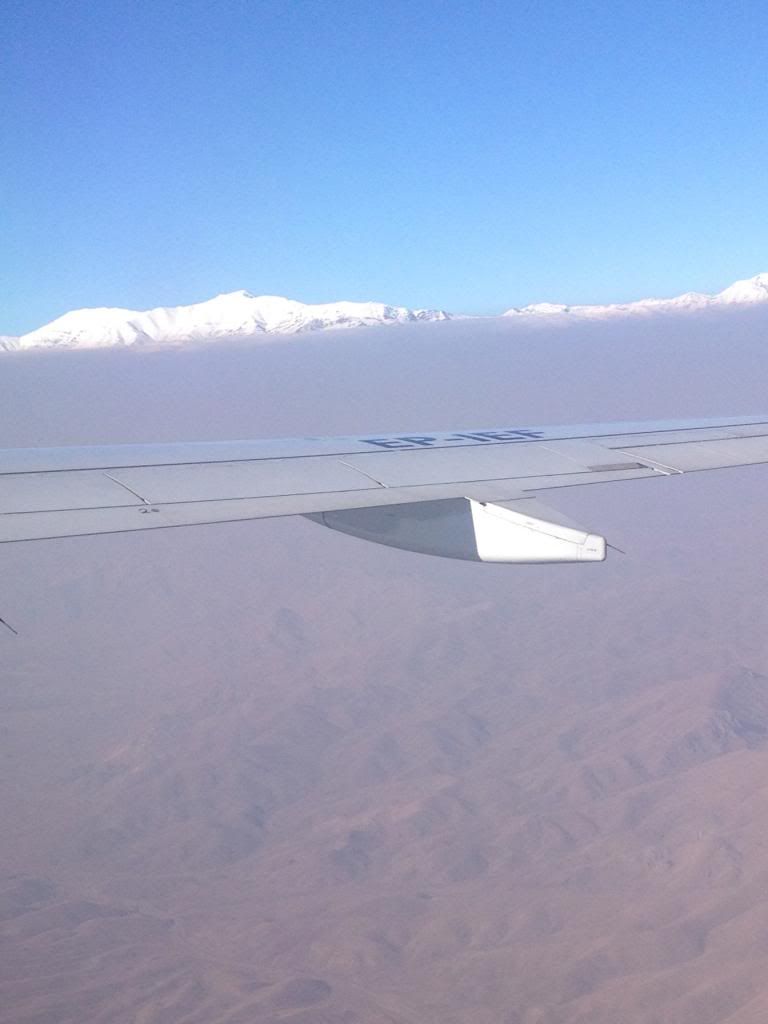 And a sense of the enormity (and pollution) of Tehran:
Landing Video – Pay special attention as we cross the threshold of the beautiful old bird at the holding point….
http://www.youtube.com/watch?v=9ri9cGrjS0M&feature=youtu.be
And there he is taking off – I wonder how many thousand times this old bird has roared up into the sky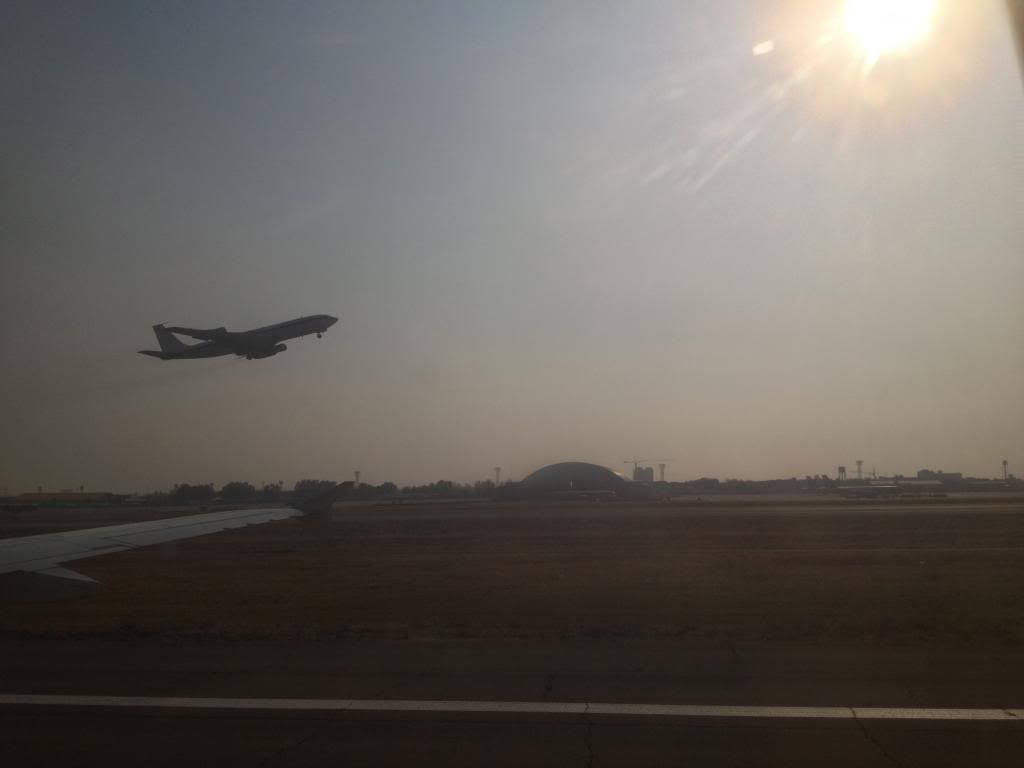 That's it for part two of my Persian adventure. My flight on Mahan air was a bit of a drag to be hhonest – after a long day being squeezed in a middle seat and surrounded by other people's ill-disciplined children on a fairly standard one hour milk run domestic flight was a bit of a chore. The IFE was quirky though!
My flight on IR was more of a pleasure. Older, more smiley cabin crew. Day flight. Window seat in a row to myself.
As with part one, I'll finish with some more random photos of Iran. I hope you enjoyed the report so far. I dedicate it to all the wonderful people I met in Iran. I can't wait to come back and see you all again!! Part 3 will be the flights home on QR and QF in J…..when I get around to writing it!!!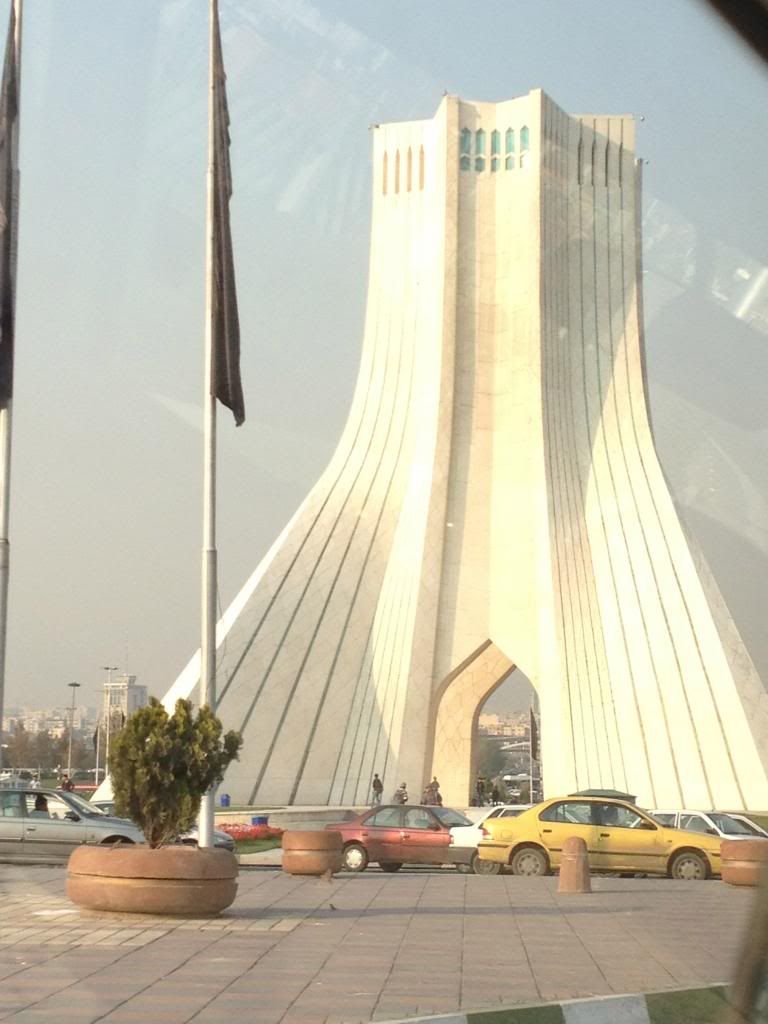 Questionable name?!?!?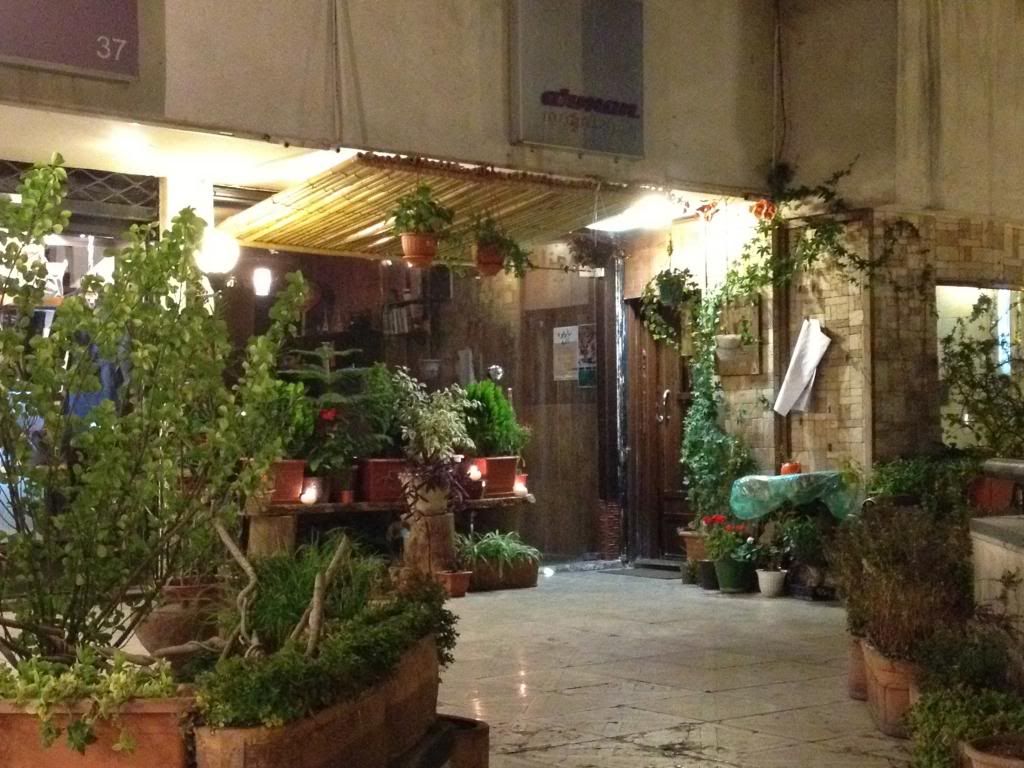 Cool cafes in Tehran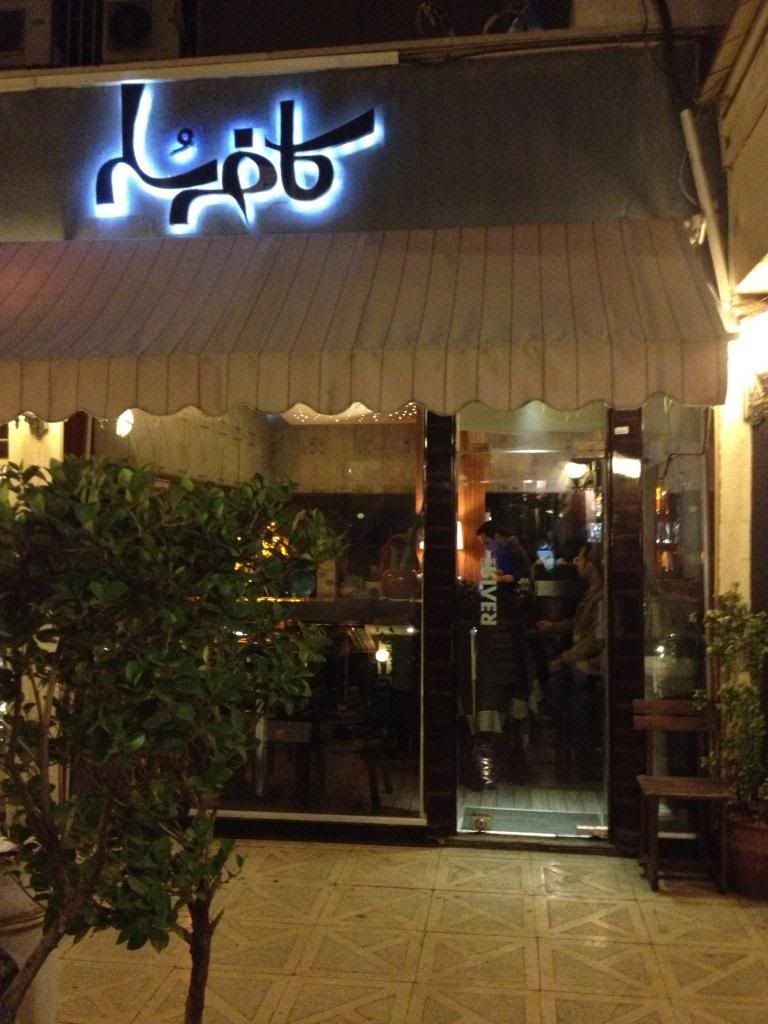 This one was my favourite. Totally hip guys and gals running it and hanging out here!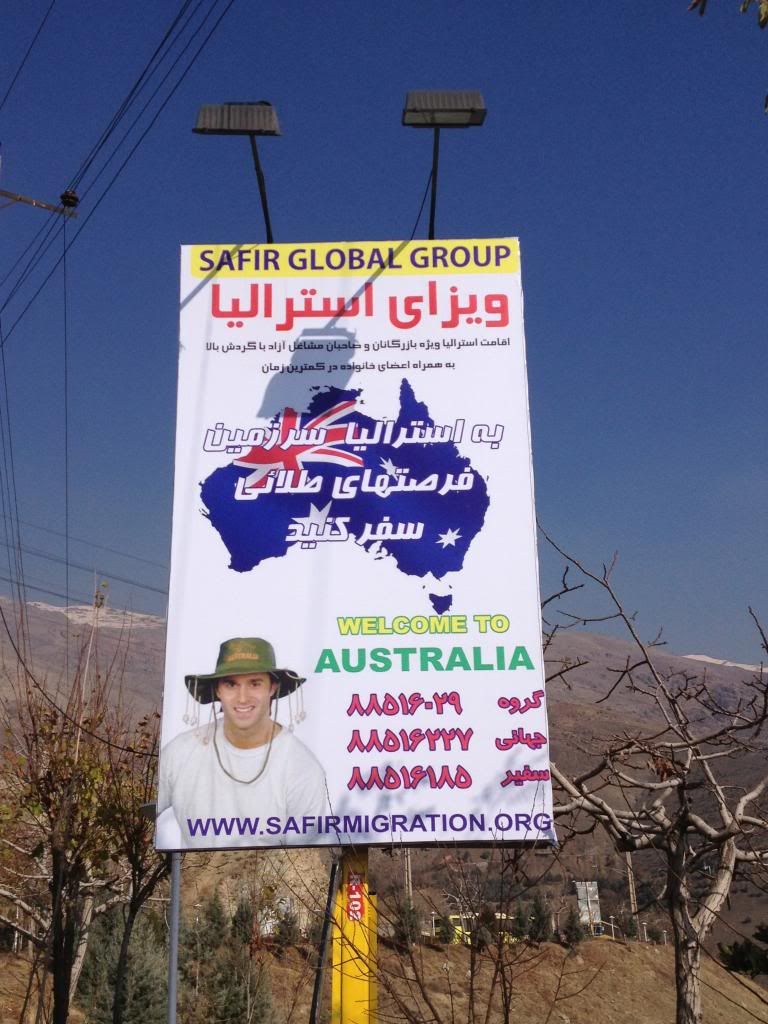 A reminder of home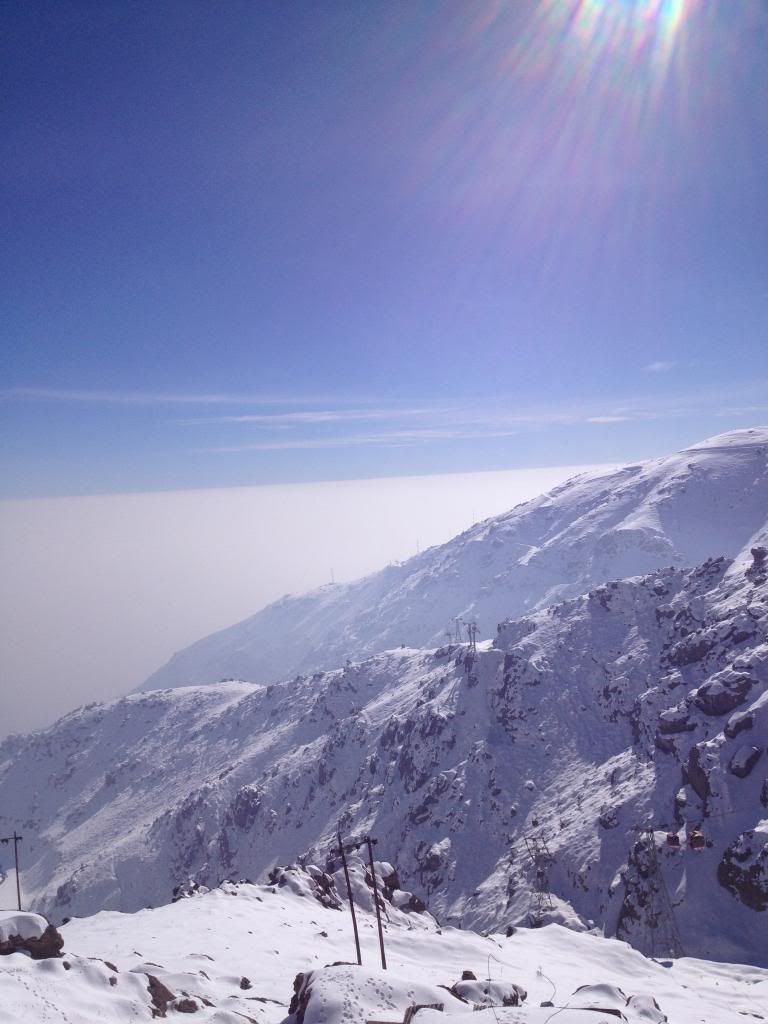 Up the Tochal Telecabin from Tehran
Evening tranquillity just off Isfahan Bazaar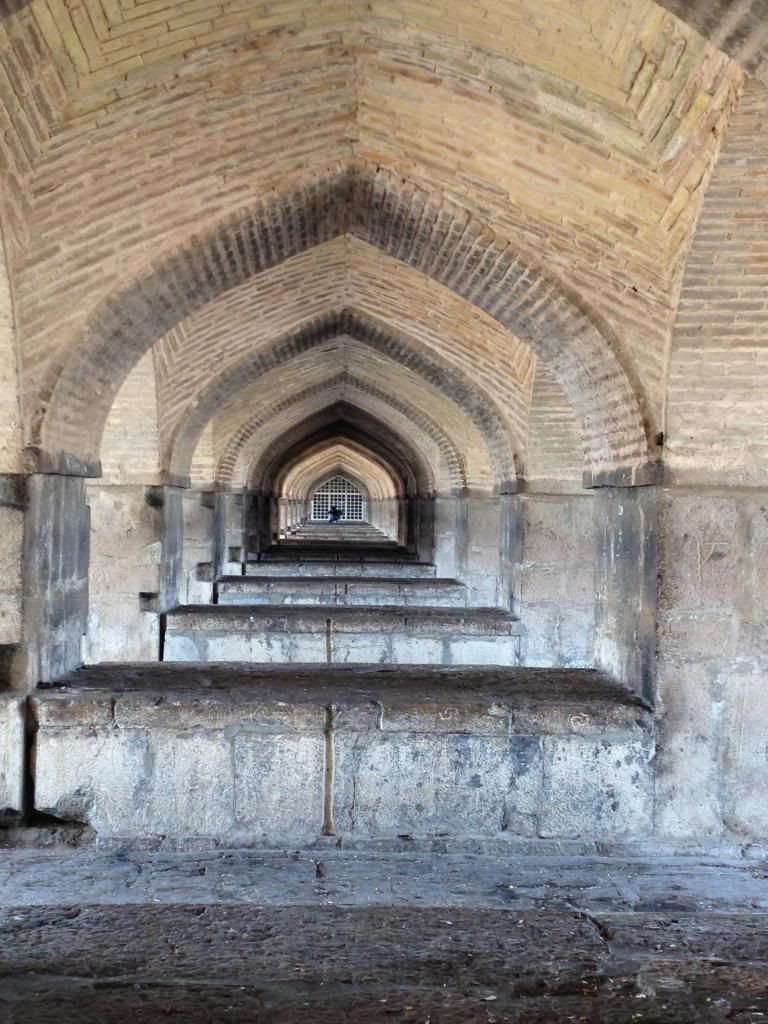 Yep, you can get this poison anywhere in the world! (though not often with an old school ring pull!)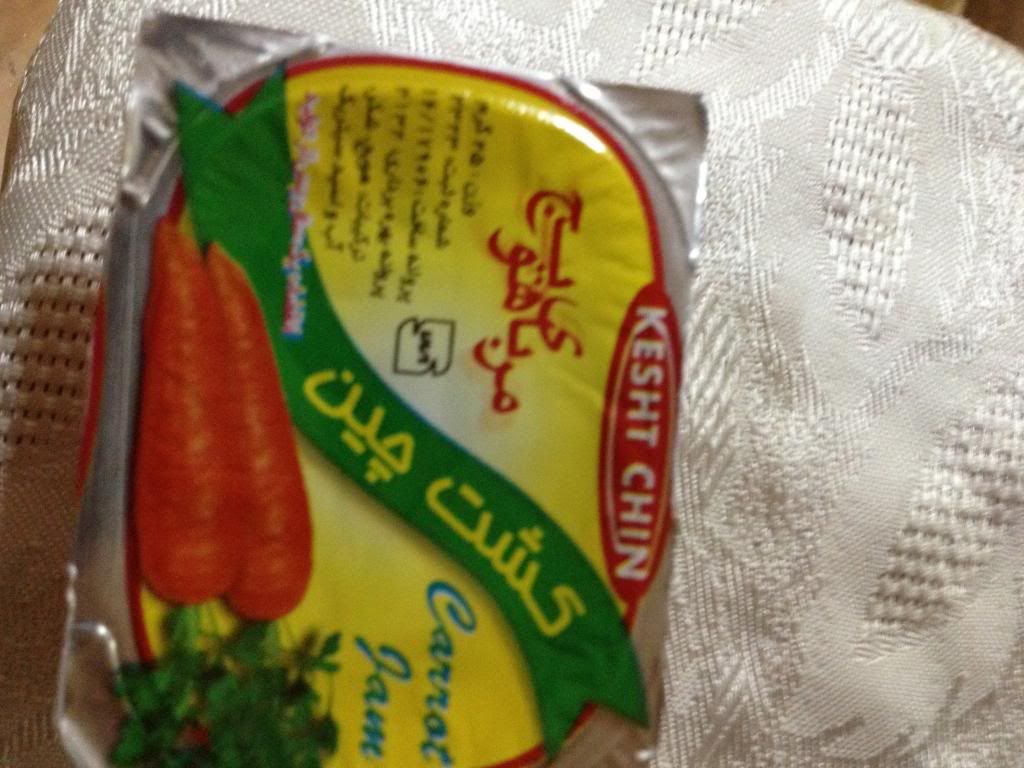 LOVED carrot jam. Have to find a Persian grocer in Sydney to get some.