Dear fellow A.Netters, welcome to my latest batch of trip reports, this being number one of five, which I hope to produce on a more timely manor than some of my last reports.
This trip came about as a result of needing to use up my return ANA 787 flight, the outbound having taken place back in February.
The original point of this trip was to get on the Malaysia Airlines A380, however I wanted to do this once they joined OneWorld, I also planned to fly on the Thai A380 on the same trip, this would be easy as Thai were running it to HKG and SIN prior to entering longhaul services to FRA.
Needing to get to Japan, I discovered I could fly on a Delta 777-200LR from HKG, the -200LR is missing from the flown log, so this was an easy sale, plus it was the cheapest option too!
So, TG A380 and DL 77L booked, NH 787 to FRA already booked, three more flights needed to be booked, one or two to get to BKK and one to get home from FRA.
The latter was easy,
www.ba.com
and a one way seat booked to LHR on BA903.
Getting to BKK was taking a time though, MH showed no signs of giving a joining date for OW and time kept ticking on, in the end I booked a BA return in WTP to HKG, leaving the return in March so I could try again for the MH A380, then booked a TG flight one way to BKK.
All of the new flights were booked directly on the airline websites, no issues occurring during the booking processes and all allowed seats to be allocated at time of booking.
So, all sorted, final trip looks like this, thanks to Karl L. Swartz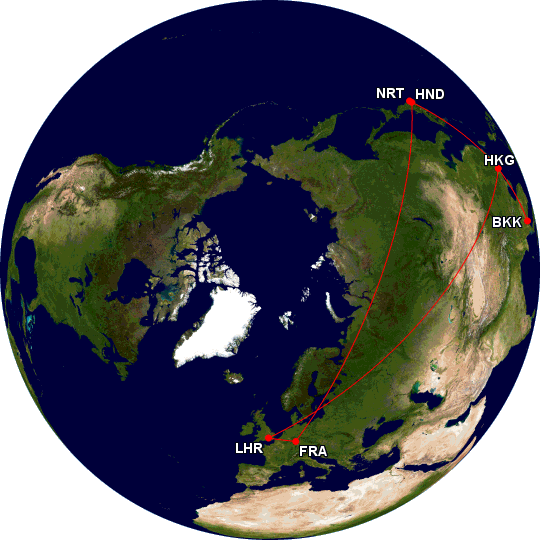 Flying:-
BA LHR-HKG 744
TG HKG-BKK 333
TG BKK-HKG 380
DL HKG-NRT 77L
NH HND-FRA 788
BA FRA-LHR 763
Not a single narrow body in sight, what a refreshing change.
About a week before the flight I check the seat map again, yes I do it daily! - the blocked out good seats have opened up so I grab a good one, despite being a silver member I still have to part with £60 for an emergency exit seat……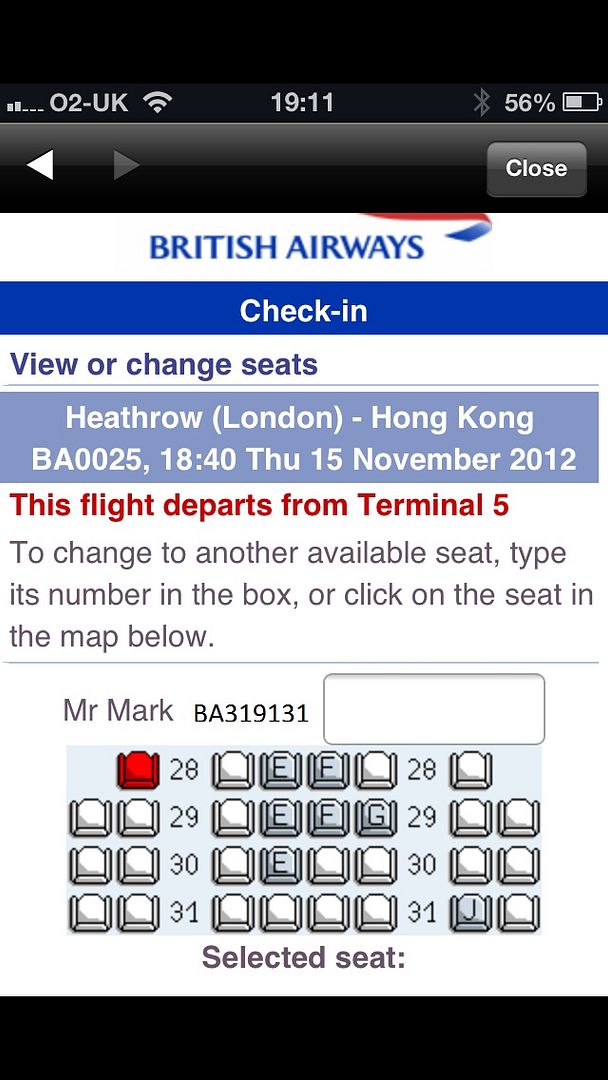 I had already decided not to accept the upgrade offer on my phone………..
Fast forward to departure day, my car and driver arrived some 20 minutes early, I let him wait as I still had work to do and sort the dogs out, I've 2 now, Fred & Dougal, Fred is 4 and Dougal is 15 weeks.
The 'boys' in the local pub with me 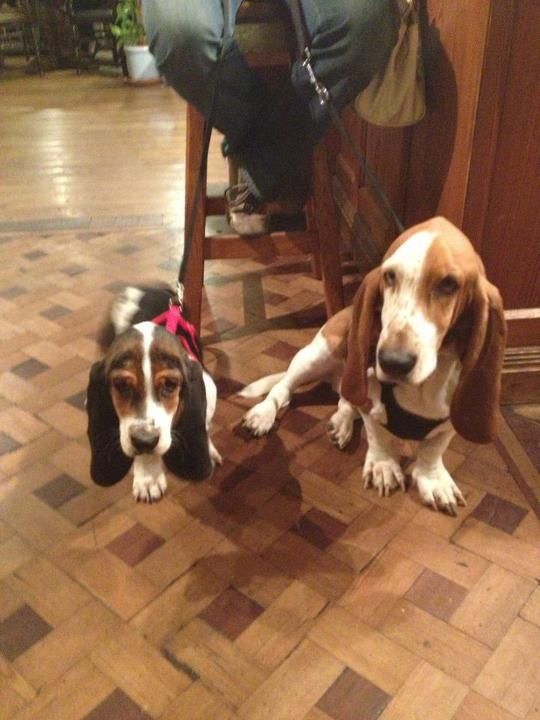 The drive to the airport was quick enough, the M25, AKA a car park, was flowing nicely, I'd hope so at just after 3 in the afternoon, another 30 minutes and it would be a different story.
The car pulled up outside Terminal 5, I do like the drop off area, it's wearing well too.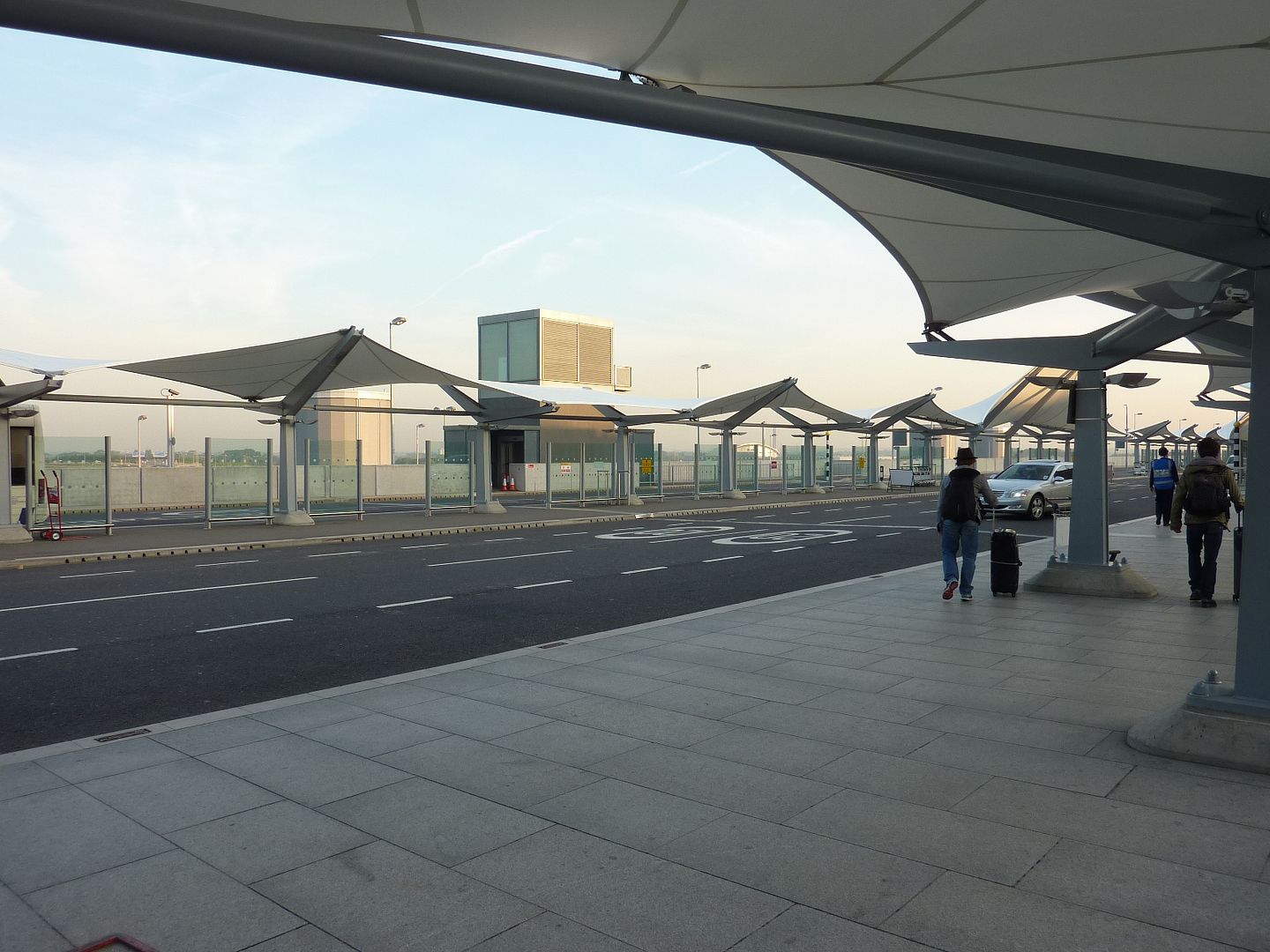 I was soon inside, despite having checked in online and having the boarding pass on my phone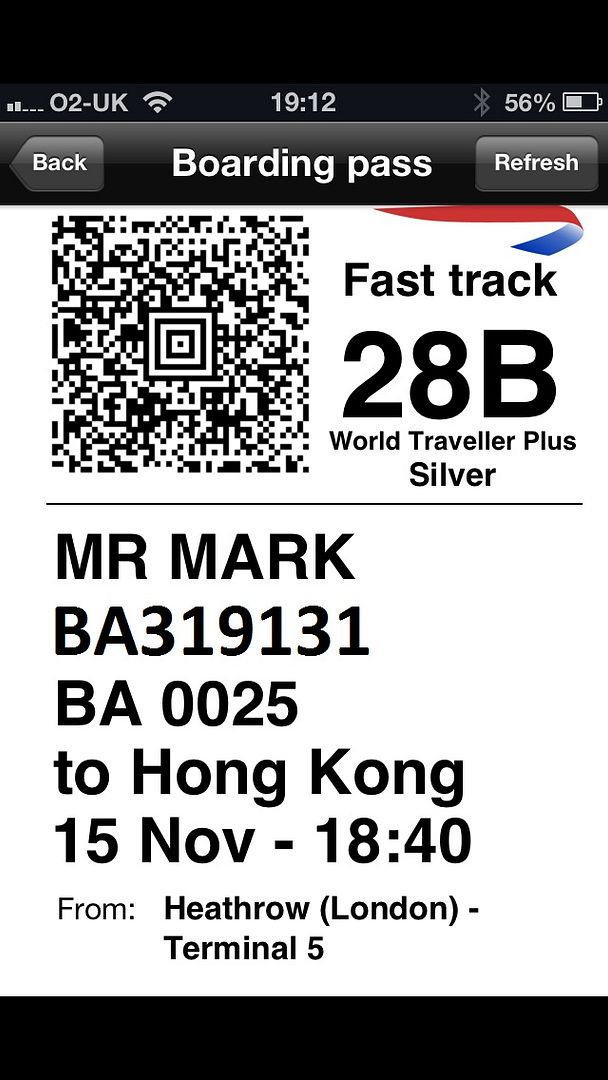 I stopped at a kiosk and printed off a paper copy, not to be used, just another keepsake.
Inside T5 there is a memory tree from the Olympic games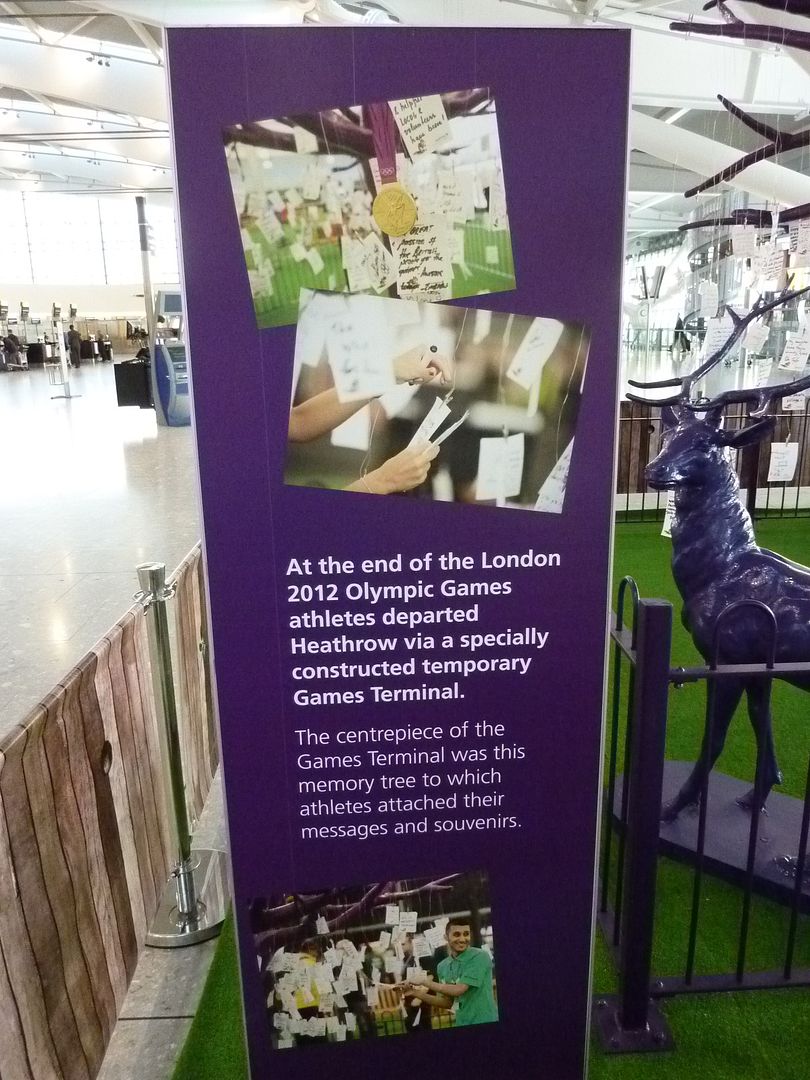 Next stop was American Express to pick us some money. I have to say no matter how many times I use these facilities, they always seem to take forever, changing money, even small sums, is such a chore.
Until today I had never noticed the how busy is security message, I always look now, they always seem to read the same
Next stop is for a passport check before proceeding through Fast Track security.
Though not so fast right now due to people who don't plan for security, ie they are not ready, still wearing coats, fumbling through luggage and pockets to find liquids, laptops and such like, jeepers these people annoy me!
Anyway, my turn, I don't beep but one of my bags is select for secondary screening. I have noted this is happening more and more when I travel through T5, suspect it is because Heathrow keeps failing its security checks, or so I hear, which means more passengers have to have 'random' bag checks, regardless, they find no dodgy substances in my carry on bag, I could have told them that!
So, I find myself airside, a quick trip into a couple of shops for some necessary items, I forget the all important toothpaste, bugger, before heading to the South Galleries Lounge to try and relax before the flight, it's about 16:00 or so now.
Greeted at the desk with a smile, a quick scan of the boarding pass on my phone and I pass through into the oasis that is the T5 South Gallaries lounge.
The lounge is quite full this afternoon, as usual the nice window seats are occupied by people who have no interest in the outside world, so I just dump my stuff at a suitably open seat and grab some drinks.
Cheers, drinks and luggage
Feeling restless I trawl the lounge and find an empty window seat, lovely, though there are no powers sockets, bugger, my i5 needs charging or it will never last to HKG, battery life on these phones is crap.
Trawling again I locate a free window seat with a power socket, I quickly move again to secure this seat and more importantly the power.
So, all is good now, another round of drinks and the some food seems in order.
Just so you now, i took most of the lounge pictures with the iPhone to try and be a bit more discreet, so apologies that they are not up to the usual standard, not that it means much when you look at the great pictures Roni and Nicholas take, you've gotta love those two, proper legends!
Something to read?
How are the flights looking?
I love these old images
Deserted computer area, the age of wifi and tablets, smart phones etc is rendering these areas mostly redundant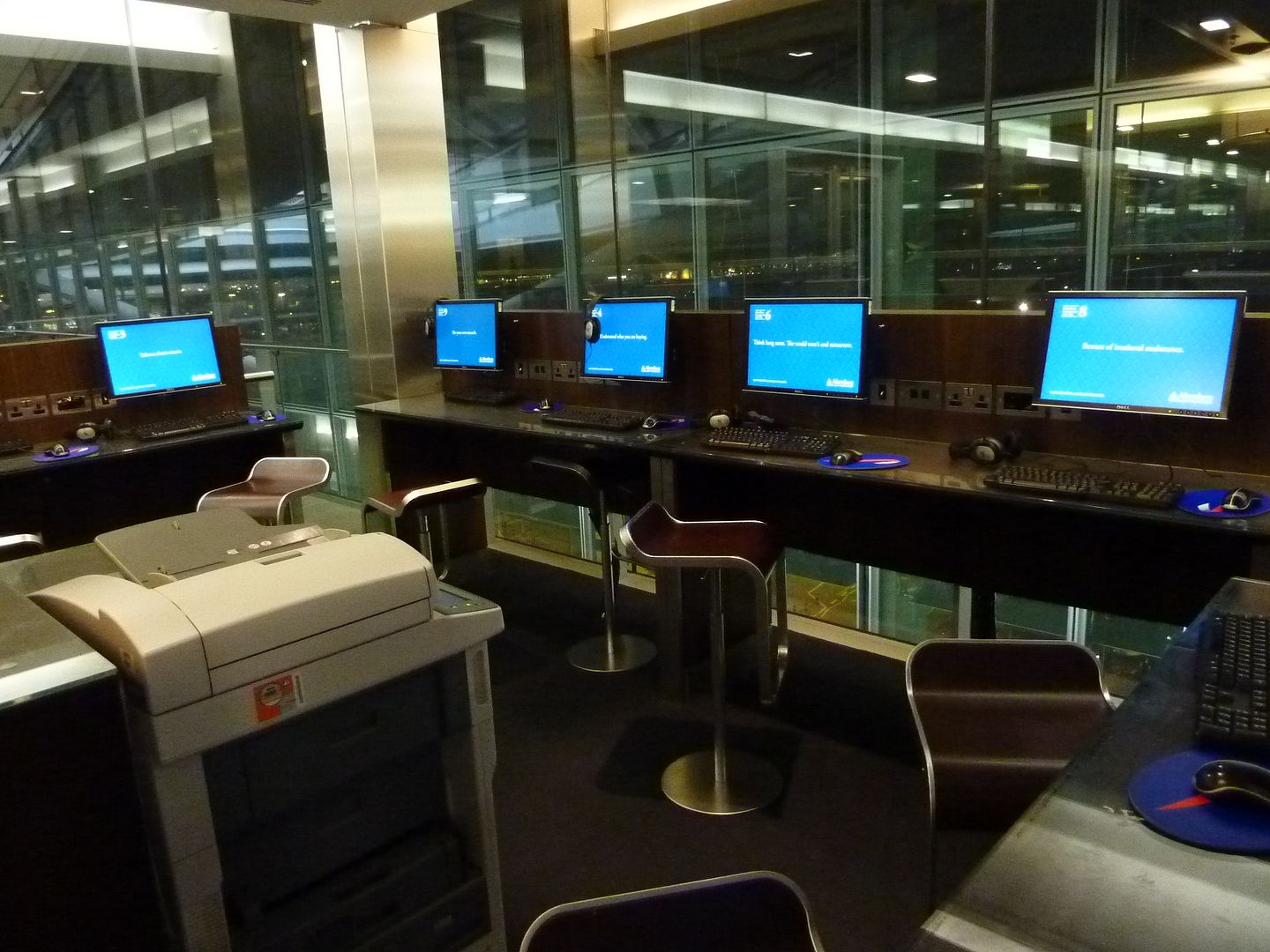 Cake anyone?
Soup perhaps?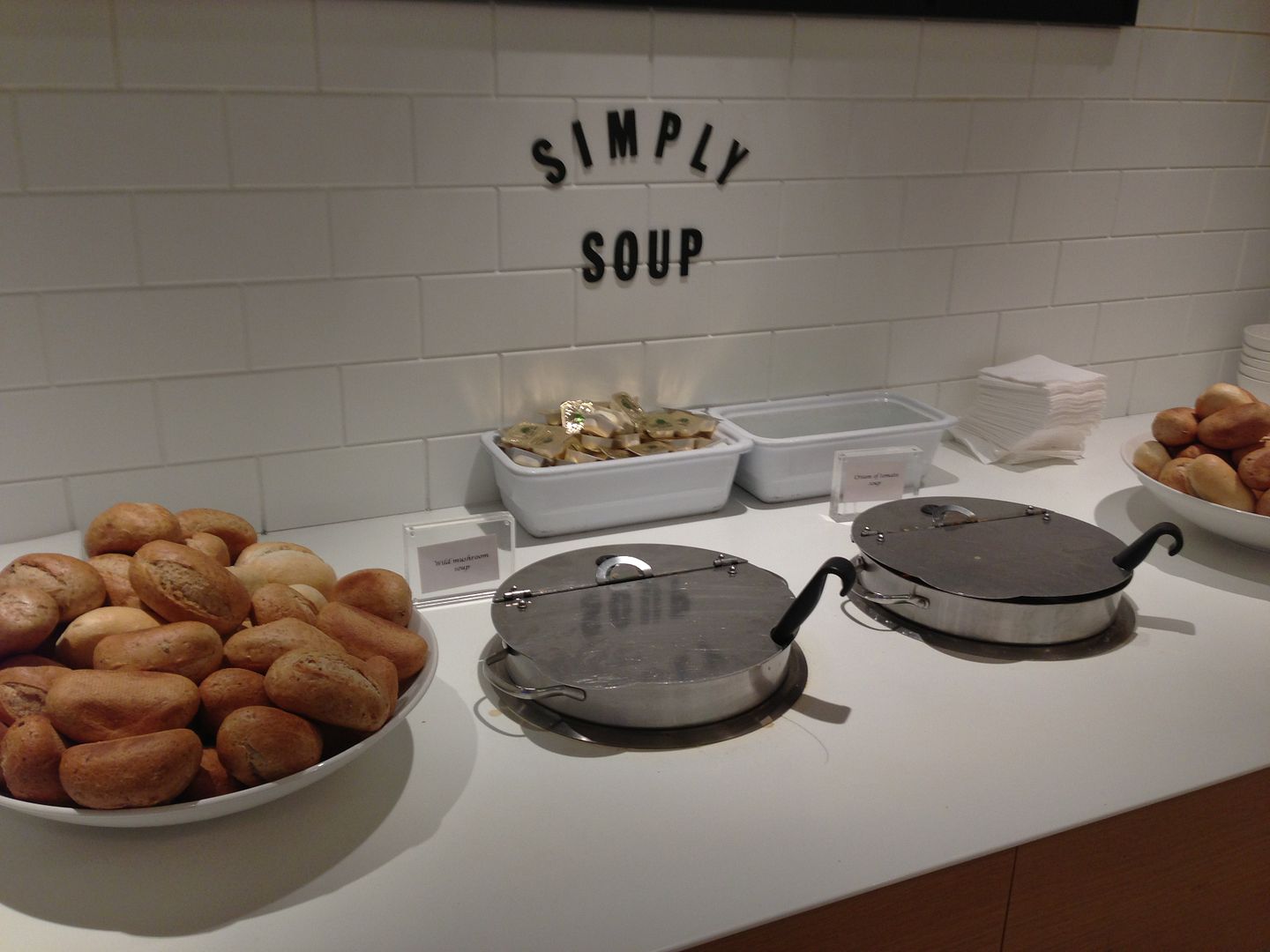 Help yourself!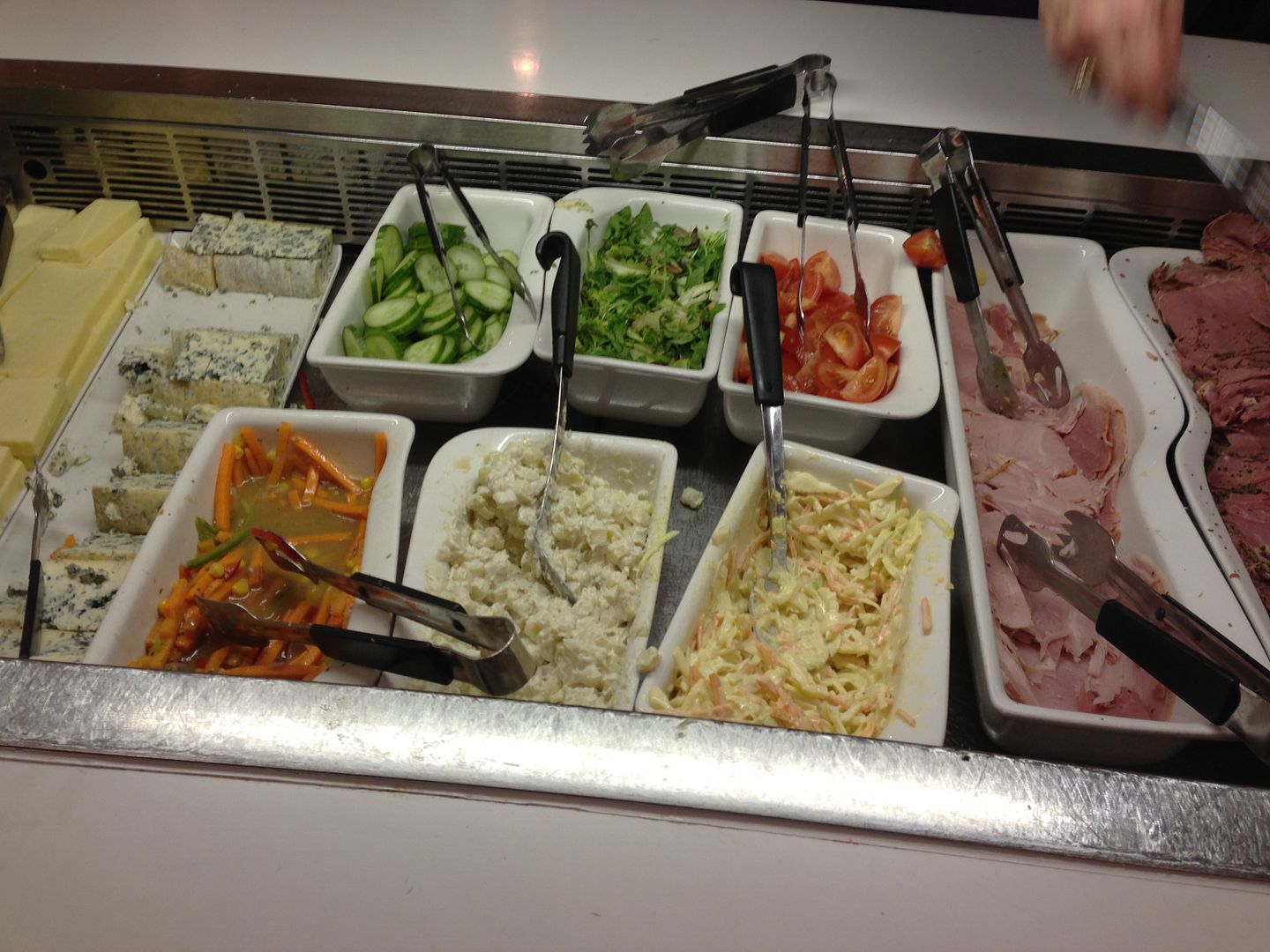 So, food offerings aplenty as we have already seen, however I found these……
Jacket potatoes! Yummy, not seen these on offer before, I have to have one, I'll take chilli beef on top.
So, food eaten, phone charged, e-mails done, work never ends, and another glass of vino drunk, the monitor has flashed up gate B36 for BA25, with just under an hour before departure, I figure this is a good time to head over there.
Images en-route
Great advertising, shame the onboard service fails to deliver
At the gate
Gate B36 is just to the left as you arrive arrive in theT5B departure hall, quite a crowd there already, I head towards the priority boarding area as I figure boarding will start at any moment.
No escaping the fact Christmas is just around the corner
I fall into what I consider to be an obvious queue, however a chap moves past me with his wife in tow, I pass comment, perhaps a tad louder than I should, 'I guess I should have been more obvious where the queue starts', the mans wife mutters to her husband to get in the queue, They both fall back in line behind me, I smirk, though they can't see that.
Little is happening in the gate area, by 18:00 it is evident we are behind schedule, one of the ground staff comes over to the area where my queue is and explains the explains the plane was late on stand and is being cleaned and having its security checks, I thank her for letting us know, a few others follow my lead.
Soon after, pre-board for those with infants and those that need more time is announced, a good sign that we will be on the move soon.
Finally at 18:16, boarding is called for First, Club World, Gold and Silver members, quite a few of us Tonight as we surge forwards,all desperate to get aboard and secure the sacred overhead bins space, I am no exception, stopping only to view the beast taking me to Hong Kong tonight, G-CIVW, I make a note and take a quick picture before heading to the plane.
Continued Below