JAL "Old" First Suite Trip Report – JL 9 ORD-NRT January 2013
I had two interesting trip reports to share with you all, apart from the ANA San Jose inaugural flights. Not going to say much, but let the pictures speak.
In order to get to Asia for the inaugural flights, I used my AA miles to issue a JAL first class flight, which is something that I have wanted to do, as I had not gotten the chance to fly the first suite. I wanted to do it before the new generation of suite seats making its appearance. After a few clicks, I manage to find a first class award seat from ORD to NRT, which was cool. The booking process was relatively smooth and American Airlines was able to assign me a window seat on the JAL segments.
January 8, 2013
JL 9 ORD-NRT Lv1015 Arr1430+1 Boeing 777-300ER JA741J
Ground:
JAL uses American Airlines as its ground agent in Chicago O'Hare now, which is definitely a big plus given how poor the lounge facilities at Terminal Five. There are a few JAL agents, but American Airlines agents also assist in the process. JAL First and Business Class passengers use the American Airlines Flagship Lounge and Admiral Club respectively.
Here is the check-in area at ORD – very organized with separate lines for first, business, premium economy, economy, and online baggage drop line.
First Class line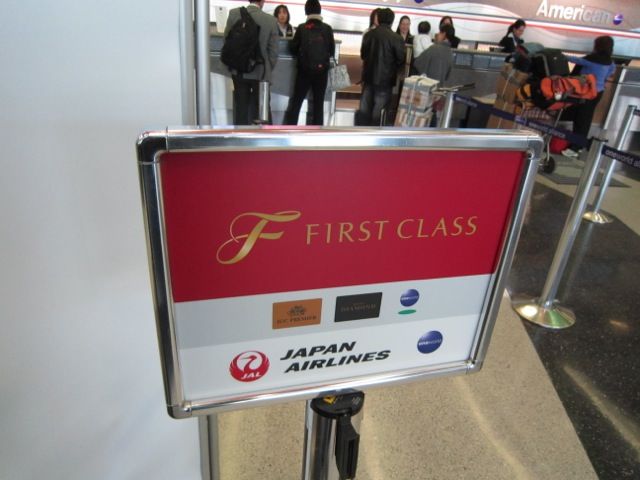 Familiar JAL sign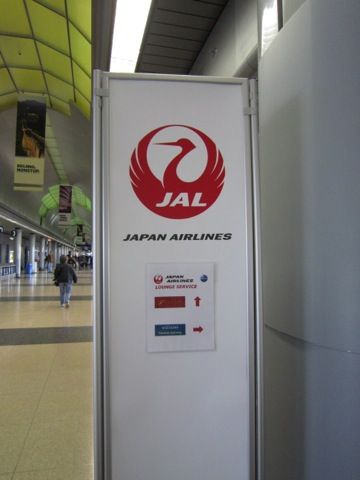 Entrance to Flagship Lounge
I did not take any pictures of the Flagship lounge, as there are two international flights departing within the 10am hours – one to Shanghai and one is our flight to Narita, and AA has its own Narita flight departing in two hours. The lounge was packed and it was pretty plain given today's standard and the JFK Flagship lounge. The food selection has further reduced to just a continental spread with a few sushi for the Asian flights. JFK features some hot dishes and I don't think it is too much to ask for some scrambled eggs, hash brown, and breakfast meats. The most ridiculous part was the lack of orange juice, and they completely ran out of the most basic beverages in any airlines' lounges.
Gate K19 – pretty standard JAL gate everyday
JAL Boeing 777-300ER JA741J being towed to gate from international terminal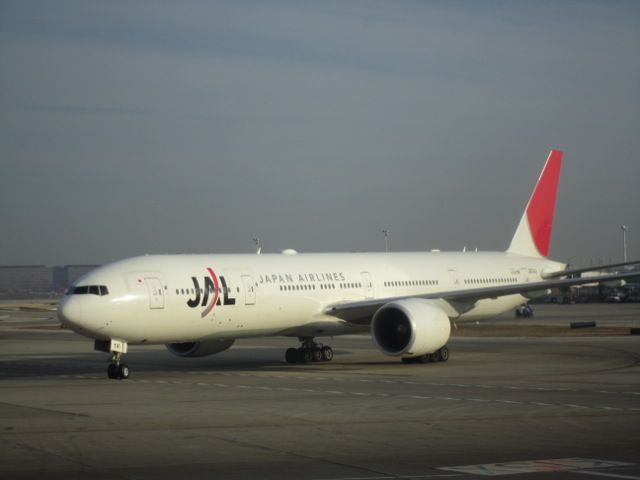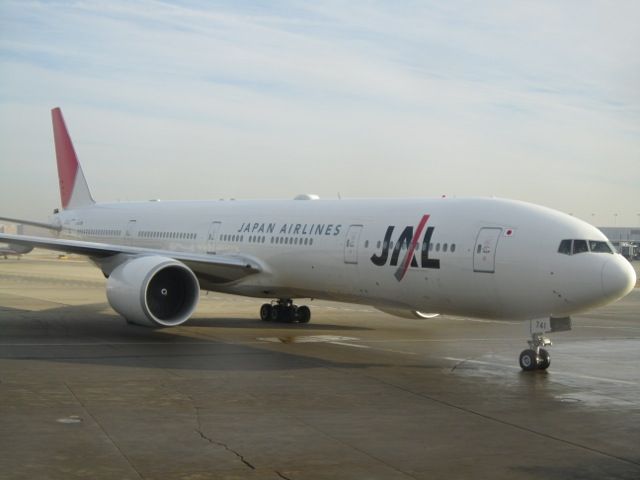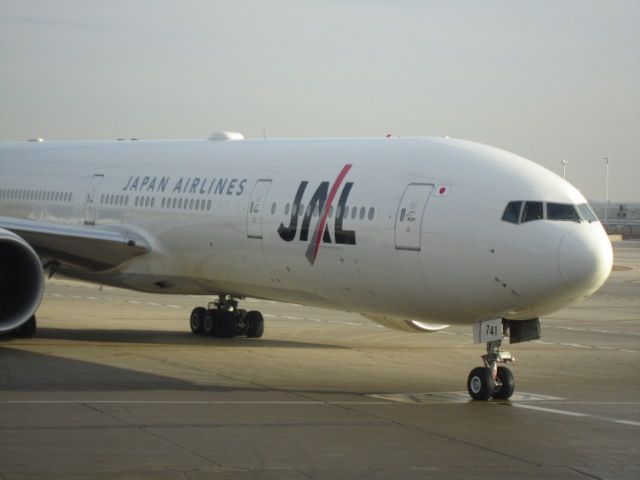 Boarding
Boarding began at 9:38am and priority boarding was strictly enforced. I was immediately escorted to my seat, as soon as the F/A spotted my first class boarding pass. The F/A already knew my name, as I approached my assigned seat 2K. It amazed me how they remembered before I boarded the flight. There were two other first class passengers today, but they were both at 1A and 2A. Unlike ANA, JAL has not reintroduced pre-takeoff beverages (served in plastic glasses though), but the F/A was busy passing out pajamas, newspapers, and amenity kits (I am glad that JAL now passes out the amenity kits before departure rather than after landing). And slippers are already in the seats. The purser also greeted me.
BOSE headset
We pushed back at 10:09am and we took off from R/W10 at 10:29am.
Flying time was twelve hours and thirty-two minutes, and our routing was rather typical, as we headed northwest after taking off. We stayed at 30,000feet and climbed to 32,000feet after passing Chisholm, and then heading towards Alaska. We crossed the Chugach Mountains, and then towards Anchorage, and then climbing further to 34,000feet, and then reached our final cruising attitude of 35,000feet after we enterted the Bering Sea.
Goodbye Chicago
Service began short after takeoff, with hot towel and linen service, followed by a canapé service featuring fried cheese, cheese sandwich with olives, and zucchini wrapped apple.
A glass of Champagne Salon 1999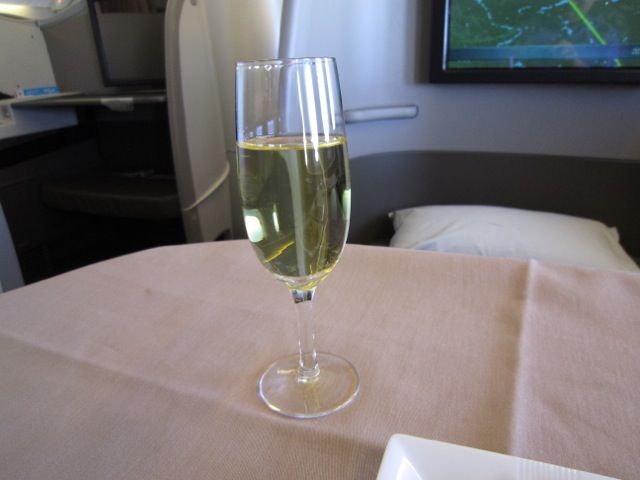 The meals are very nice and the Japanese lunch was impressive. I personally called JAL service very functional and the meal service was not extravagant or carried in multiple courses. They are filling but the efficiency is emphasized throughout the flight.
Here is the wine list and menu:
Wine List
Champagne
Champagne Salon 1999
Champagne Dom Perignon 2003
White Wines
Domaine Latour Girand Meursault 1er Cru Genevrieres 2011, Bourgogne, France
Cloudy Bay Te Koko Sauvignon Blanc 2009, New Zealand
Weingut St. Urbans-Hof Wiltinger Alte Reben Reisling Kabinett Feinherb 2011, Germany
Arvga Branca Vinhal Issehara 2011, Katsunuma, Japan
Red Wines
Chateau Rauzan-Segla Margaux 2007, Bordeaux, France
Domaine Michel Gros Nuits Saint Georges 2007, Bourgogne, France
Kenzo Estate "rindo" 2007, California, USA (Japan-New York/Chicago/Los Angeles/Jakarta routes)
Kusuda Wines Syrah Martinborough 2009, New Zealand (Japan – London/Paris/Frankfurt routes)
Premium Japanese Sake
Junmai-Dain-Ginjyoshu
Jyuyondai
Sekai no Tsubana
Preamium Japanese Shochu
Mori Izo
Kanehachi