Malmo Aviation Trip Report January 2013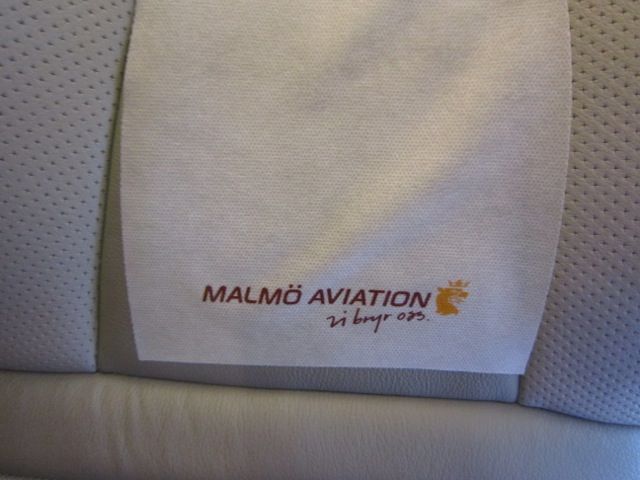 As promised, this is my trip report on an interesting regional airline, Malmo Aviation, based in Sweden. I have read a few reports in airliners.net before and am fascinated with its fleet of Avro RJ-85s and 100s, as well as flying into these two regional airports in Sweden – Stockholm Bromma and Malmo Sturup. I ended up using Stockholm Bromma as my base, as it has a nice airport hotel, Best Western Plus, which was a short five minutes walk from the terminal, and I could fly there on Finnair (well FlyBe Nordic in reality, which is basically a trick to ask you to pay full price for a low cost airline service). Anyway, it is only an hour from Helsinki to Bromma. This trip report will cover this quick roundtrip between Stockholm and Bromma.
January 21, 2013
TF 143 BMA-MMX Lv0730 Arr0835 Avro RJ-85 SE-DJO
Stockholm Bromma Airport – basically a small terminal with a food court, few check-in desks, an airline lounge called Yellow Room (Priority Pass has entry, as well as all the elites of Brussels Airlines, Lufthansa, and Finnair, who fly their flights), two baggage claims, a convenient store, and a few counters. Inside the small secured area, there is a coffee shop and a duty free shop.
Public area of Stockholm Bromma Airport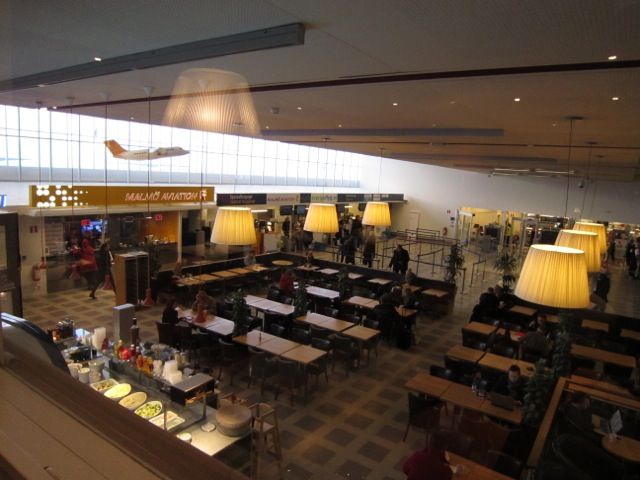 Self-service Check-in Kiosk here at Bromma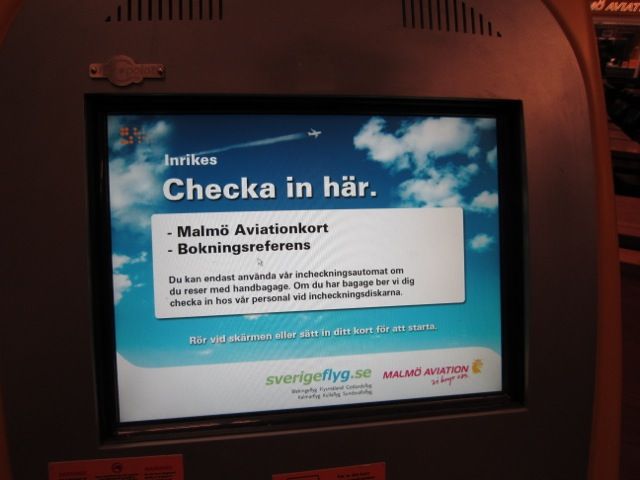 Flight Information Display System
Yellow Room Operated by Malmo Express – a basic lounge with limited self-service beverages, and light snacks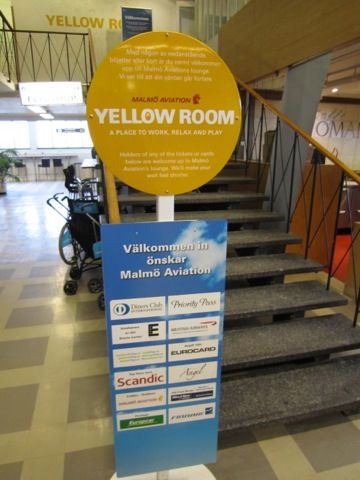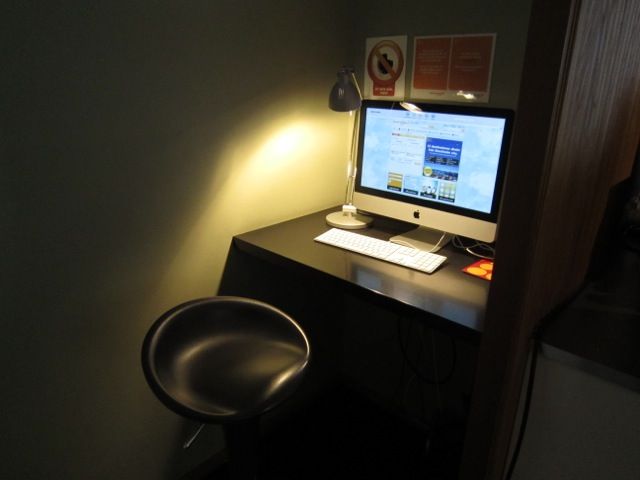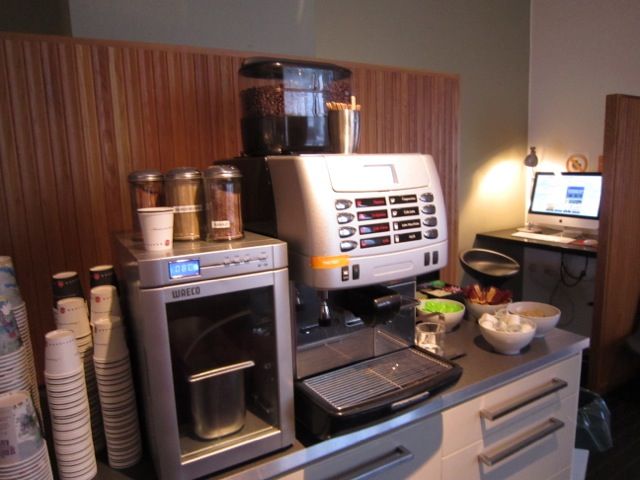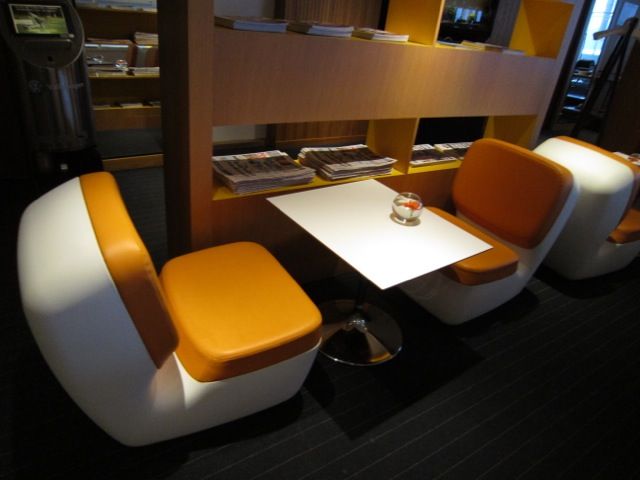 There are basically all bus gates here at Stockholm Bromma and the whole check-in process is almost all automated. However I have a minor complaint, as there are no English announcements. I have no idea on what is going on, especially our flight had a delay boarding till 7:34am.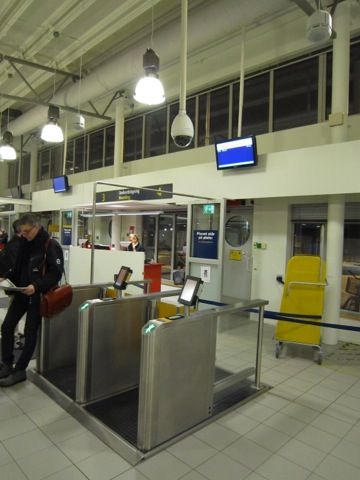 I believe Malmo only has one or two of the smaller RJ-85s, and I am lucky to fly one of them this morning. SS-DJO is a 1993 frame delivered originally to Crossair, and then transferred to Transwede.
The only picture that comes out okay during these daybreak hours…
Malmo Aviations operates a mono cabin with basically six abreast seating with 30 inches of legroom. There is no advanced seat assignment and on both flights, I boarded after from the aft stairs (yes TF uses both front and aft stairs for boarding and deplaning). I managed to get an empty middle seat on both sector. However, both flights are pretty full with few scattered middle seats. The legroom is pretty tight but for 60 minutes, it is okay.
Boarding was completed in nine minutes, as no one is carrying the kitchen sink on the flight. You can one free check-in bag on all TF flights. Plus there are many commuters. One advantage of flying in and out of small airports is the short ground time. We took off at 7:57am, for the short fifty-two minutes flight to Malmo with a cruising attitude of 30,000feet.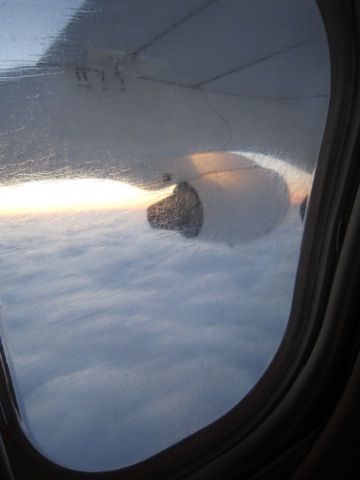 Cabin service was very impressive especially morning flights. Seven minutes after takeoff, two F/As are rolling out the snack carts, which features a very nice continental breakfast box featuring an orange juice cup, an Actimel Yogurt drink, and a cold meat and cheese platter, and the F/As passed out a basket of warmed bread rolls.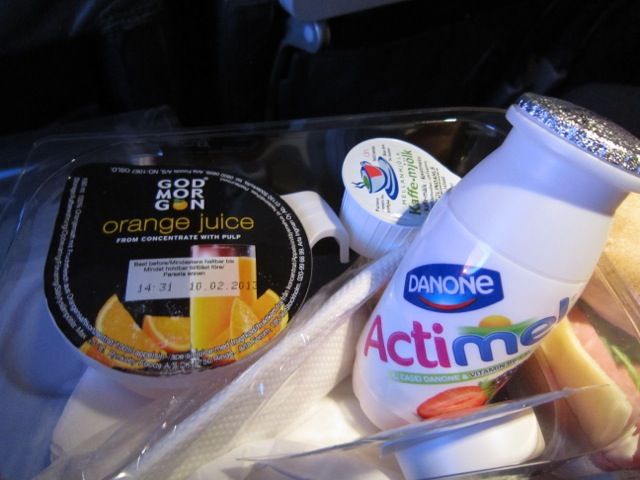 Then there was a round of tea and coffee, followed by another refills in ten minutes.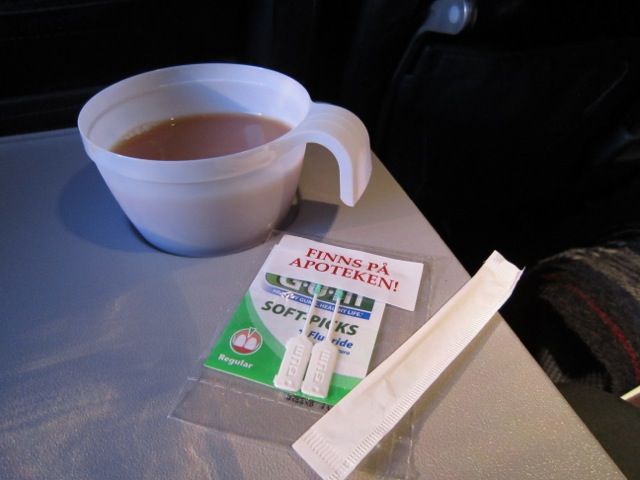 Hot towels (the same used by most US domestic airlines) were offered after trash was picked up.
Cabin mid-flight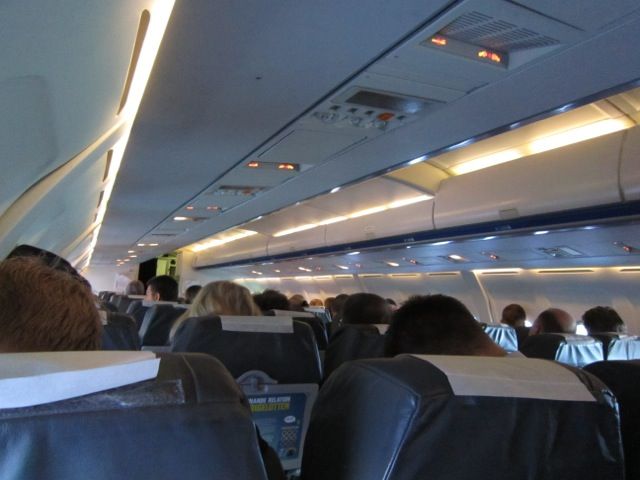 Reading materials in the seat pocket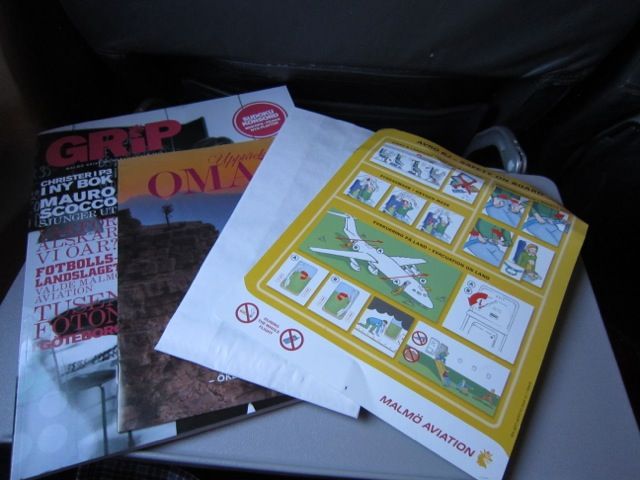 Lots of advertisement in the tray table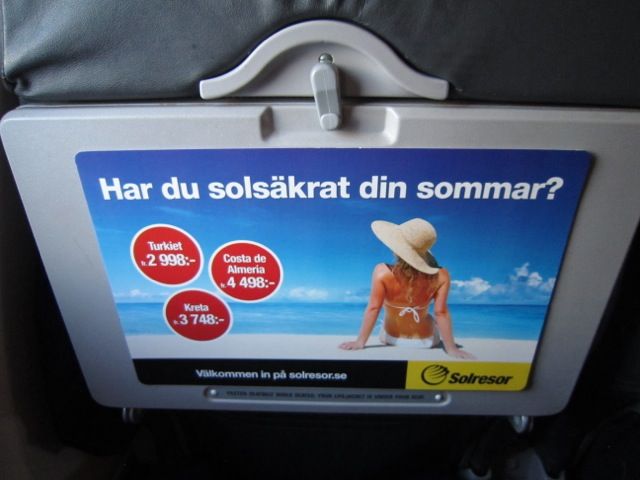 It is pretty amazing for a fifty minutes flight, and there are three F/As servicing the whole cabin. The F/As were very friendly and efficient.
Descent soon began at 8:29am and the sun was finally rising.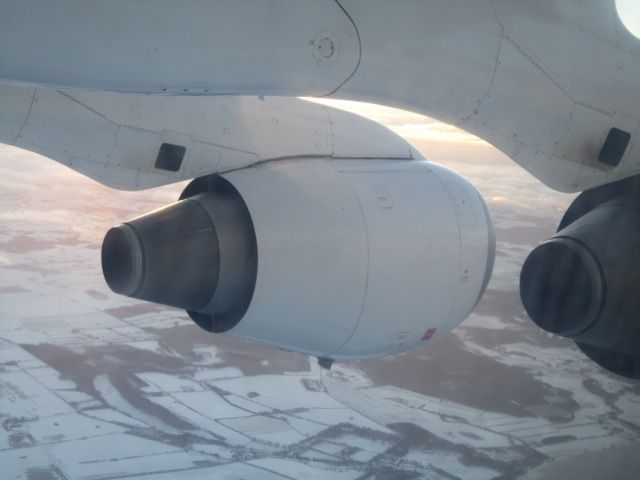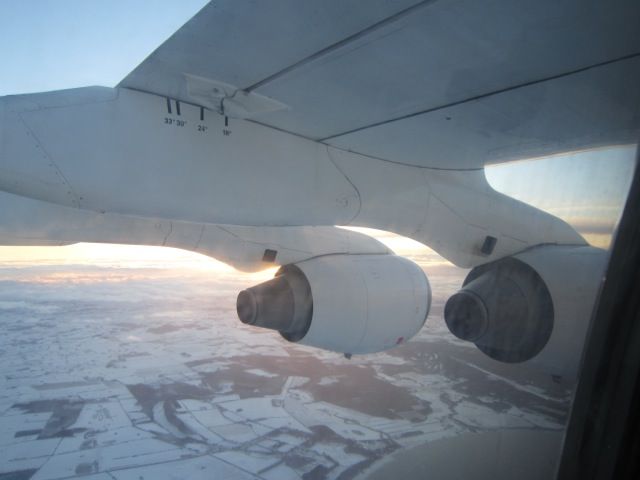 Getting ready to land in Malmo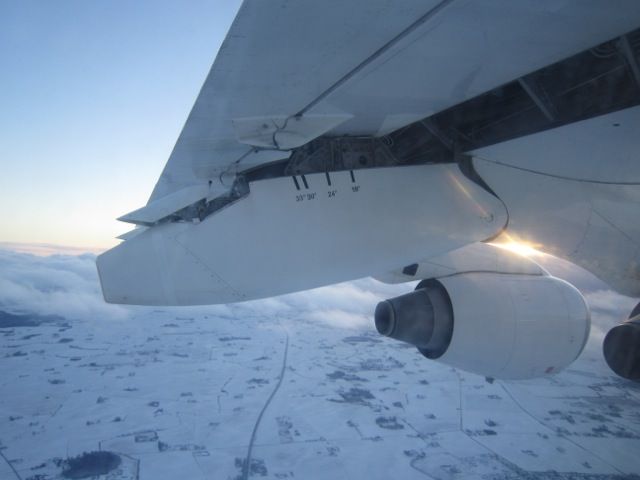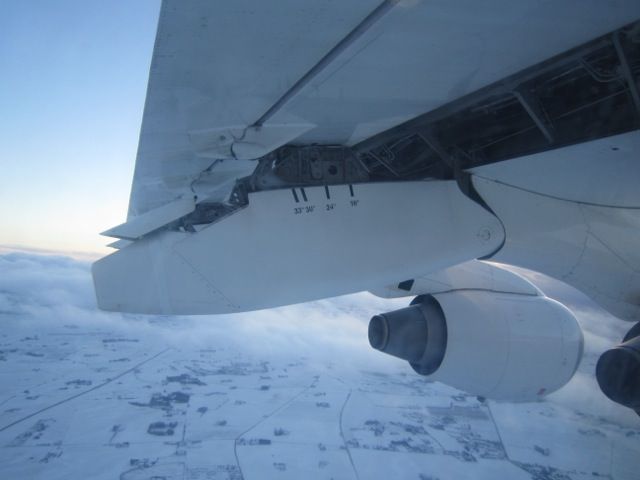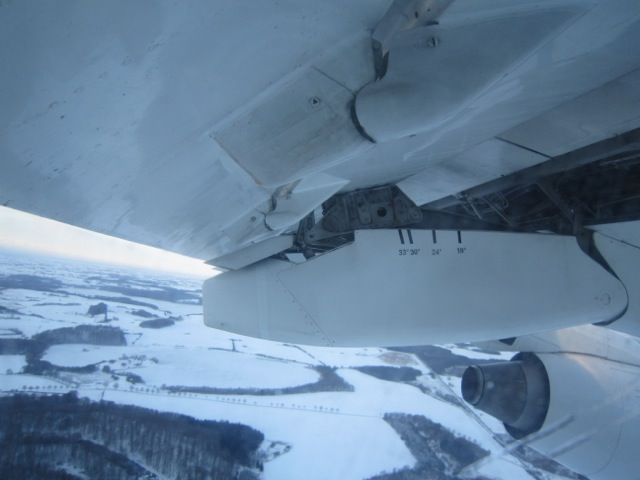 We landed on R/W35 at 8:49am and taxiing time was short, and we were parked at gate 5.