"Oman without Oman Air?. No way!"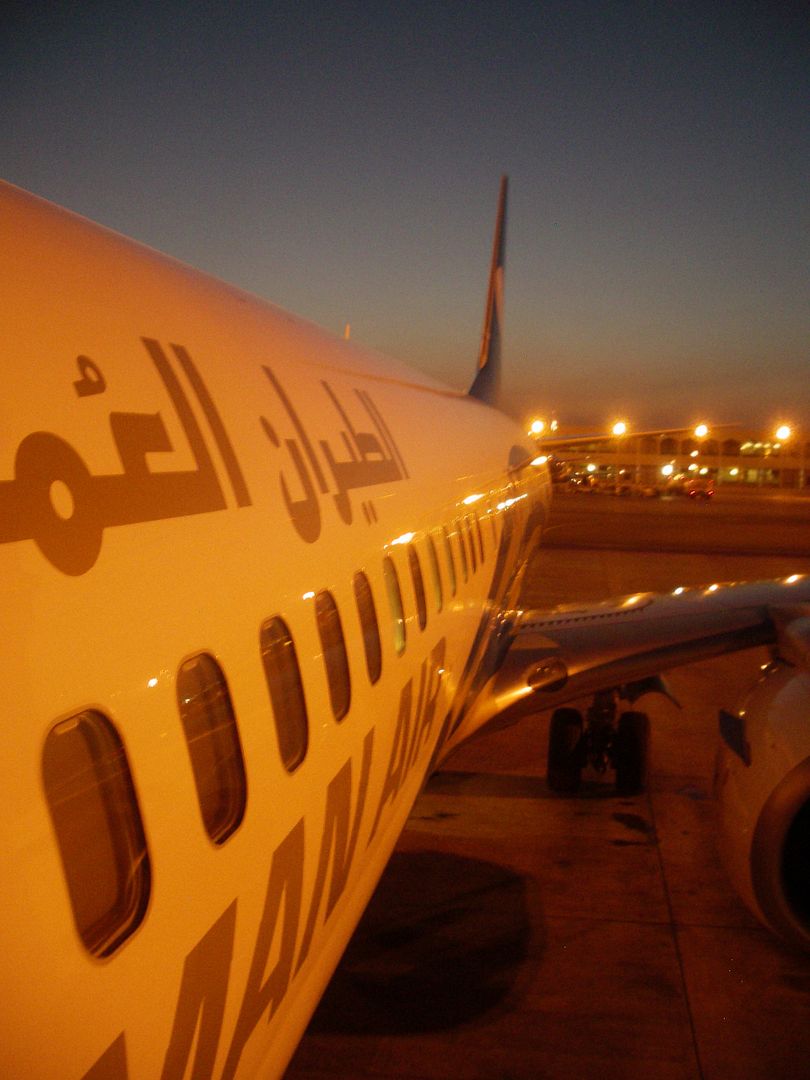 Al salam alaykum, dear readers,
I had promised a few more impressions from Muscat as a continuation of the last story:
Preferential Treatment On The Evening Shift To MCT
(by
FLIEGER67
Jan 20 2013 in Trip Reports)
And there is also something more to fly today or better tonight:
Best thanx, as usual, to:
http://www.gcmap.com/
Here is the final 2012 departure airports map with MCT counted as no. 231:
Departure Airports II
auf einer größeren Karte anzeigen
A couple more places like this:
Departure airports
auf einer größeren Karte anzeigen
And here are the last routes flown:
Tripreporters Flüge II
auf einer größeren Karte anzeigen
Well, I´am in Muscat currently and as promised, here are the pictures.
At the Bait al Zubair museum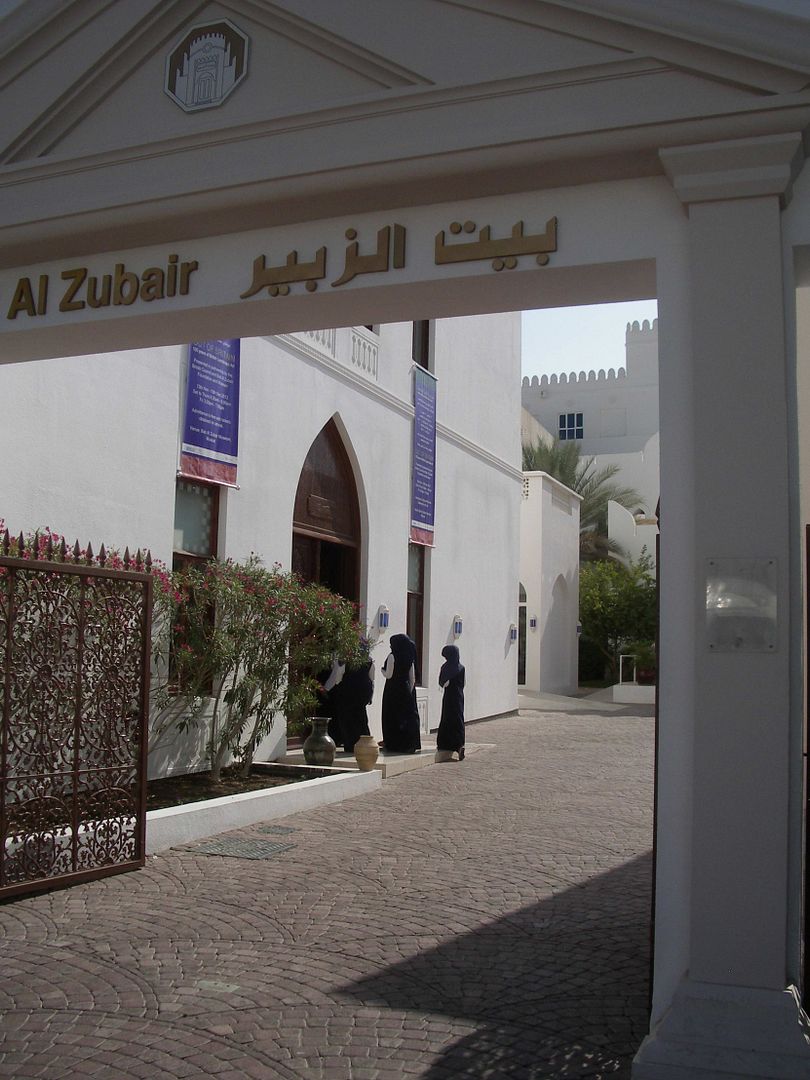 With you´re steps closely pursued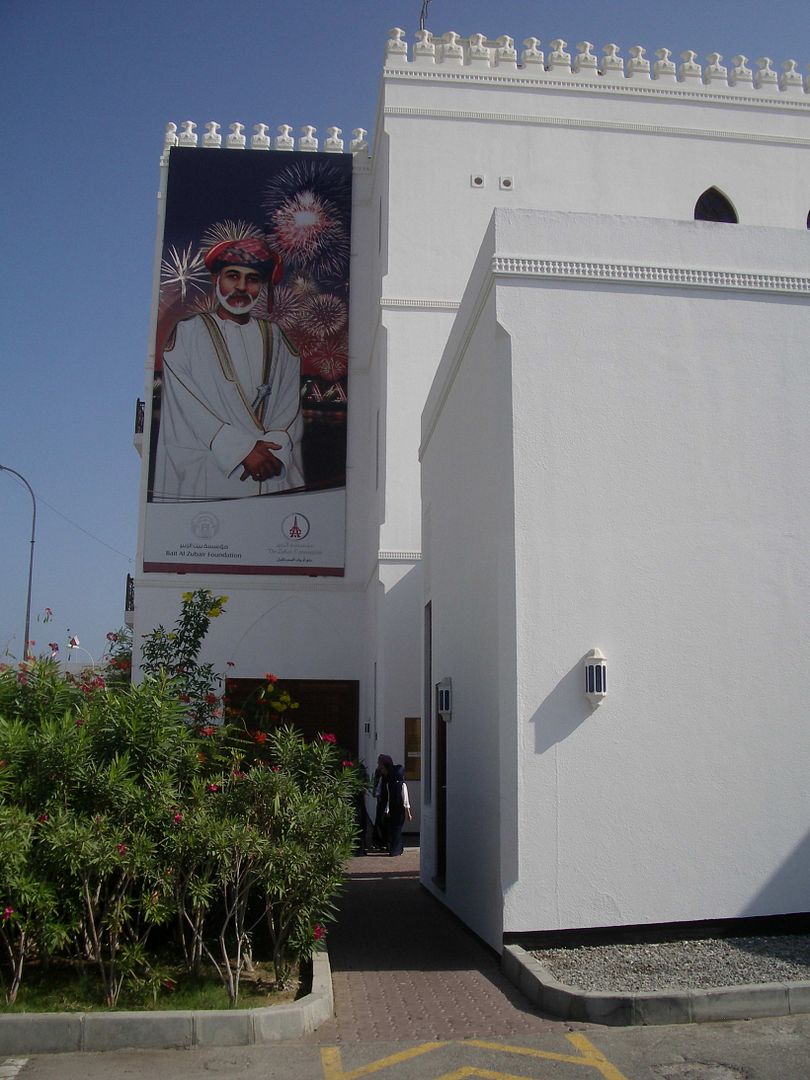 The beautiful garden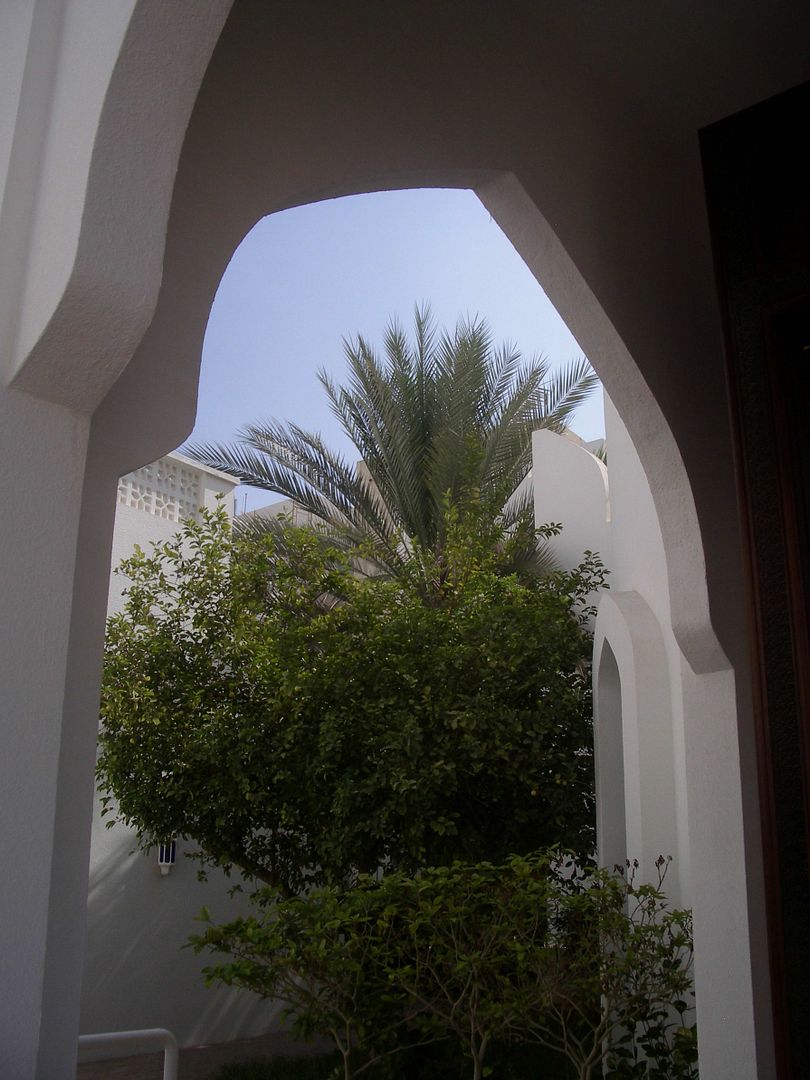 Flowers and palms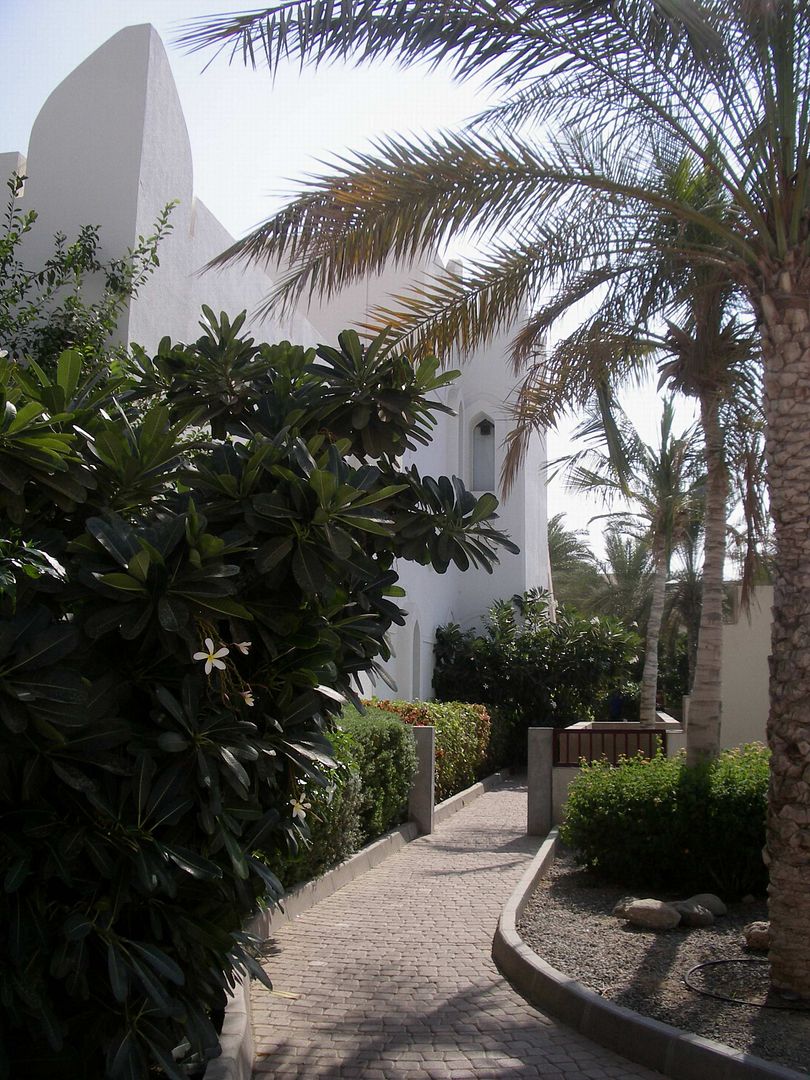 With the blue sky above. Reminder, it´s late November
and I should fly back to Germany tonight. Something to miss soon
Let´s go for a view to Mutrah harbour with the more modern stuff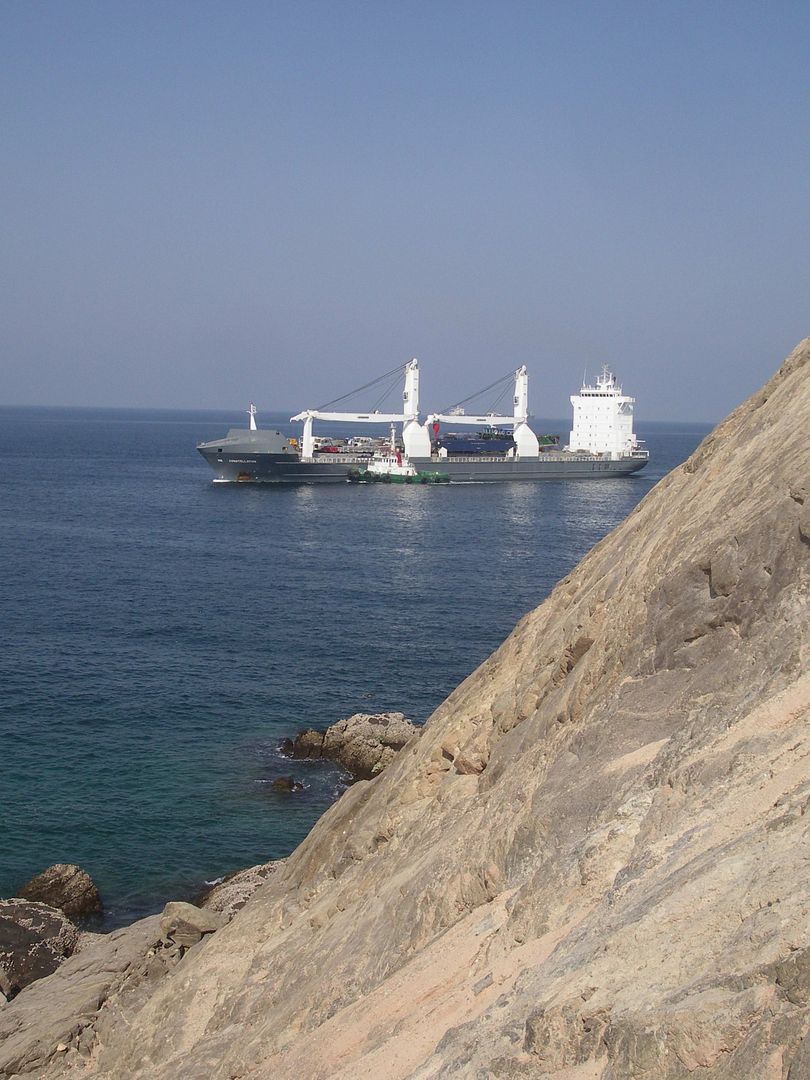 And the Aida tourists are still in town, heavy biz for all the local guides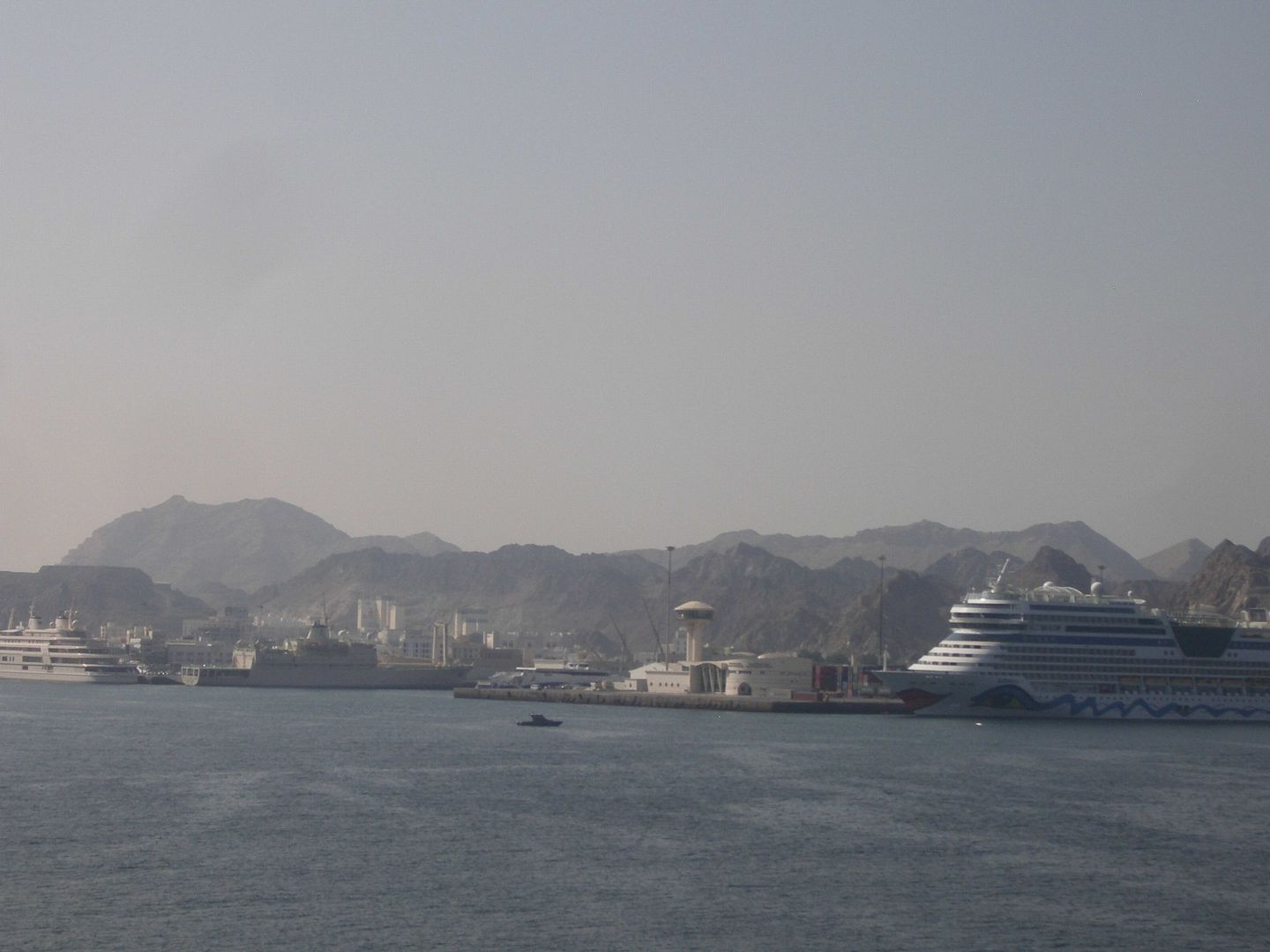 Looks like nice this way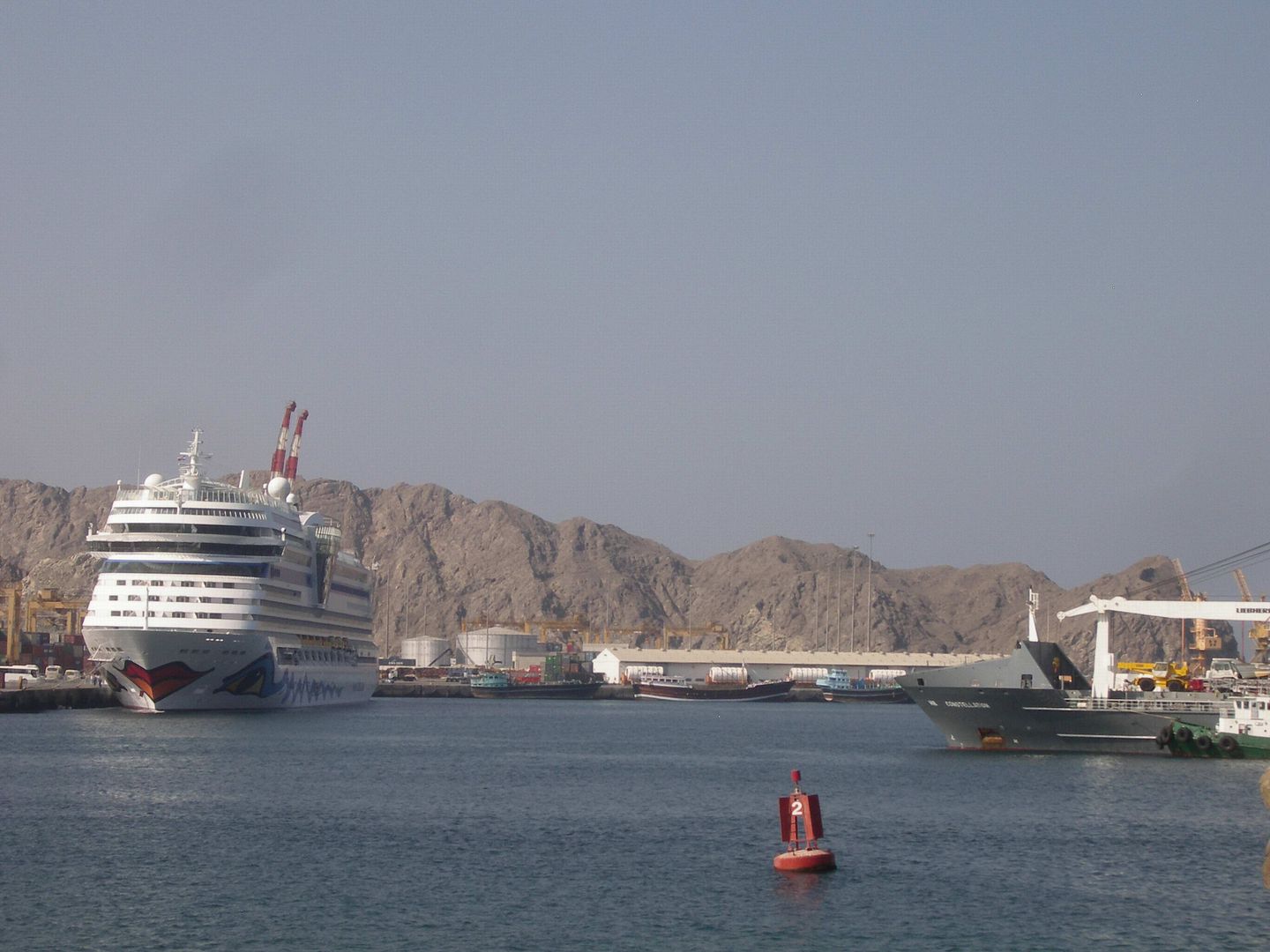 Mutrah harbour front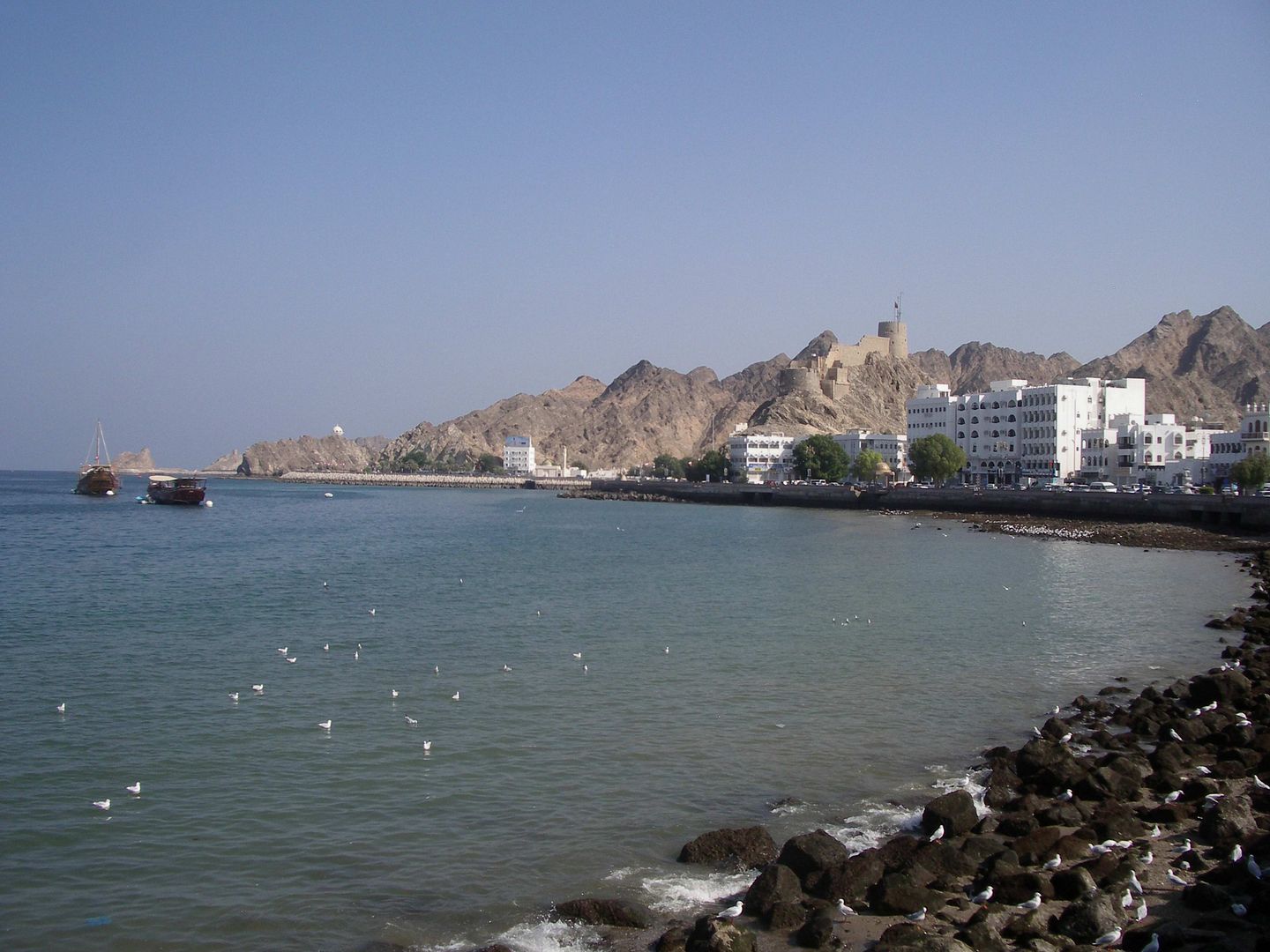 Dhau´s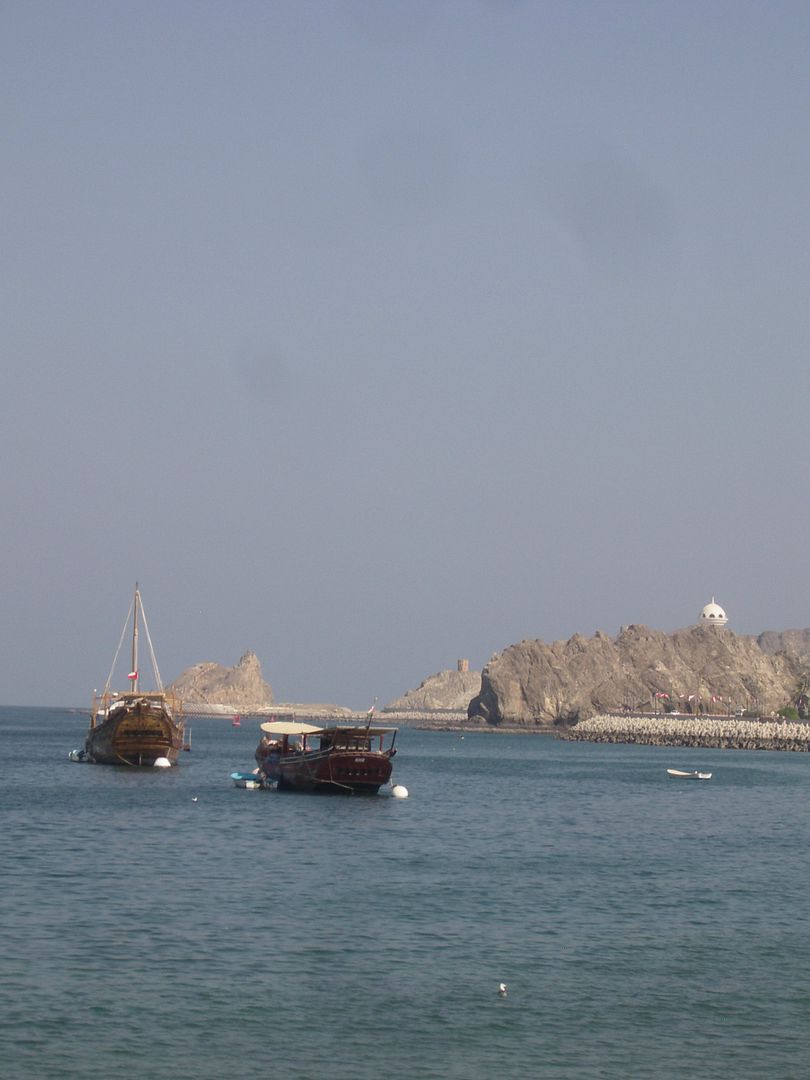 The blue mosque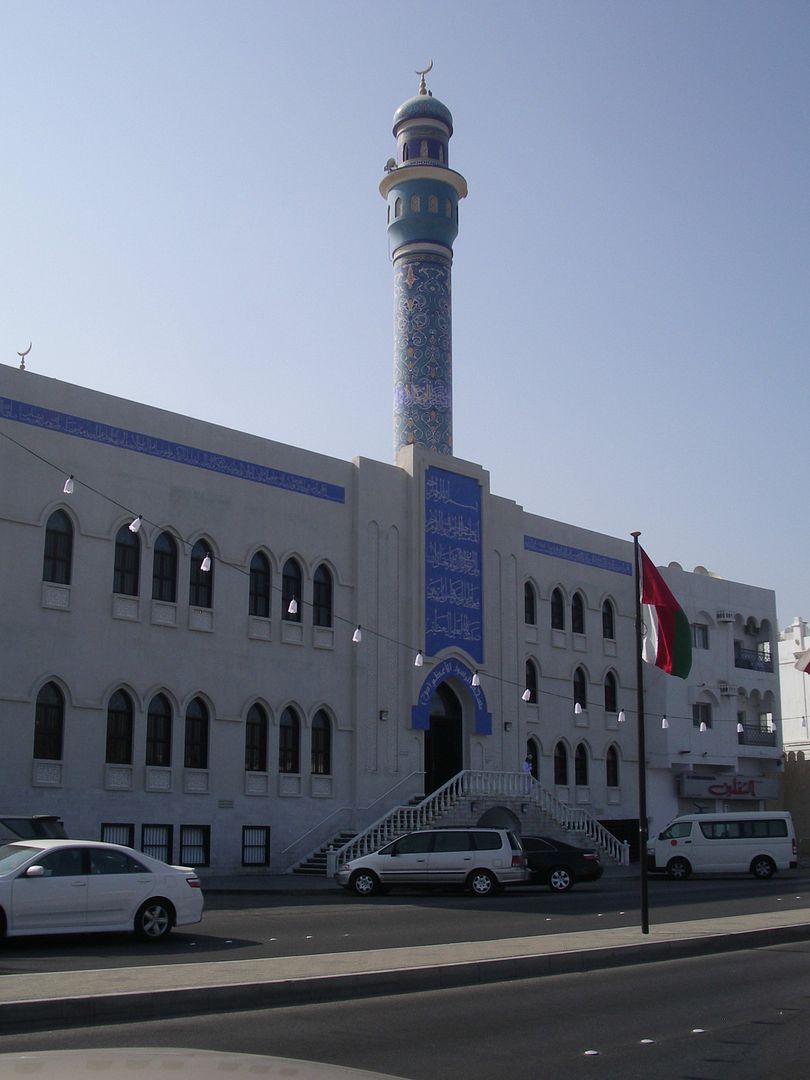 How to spend the day in Oman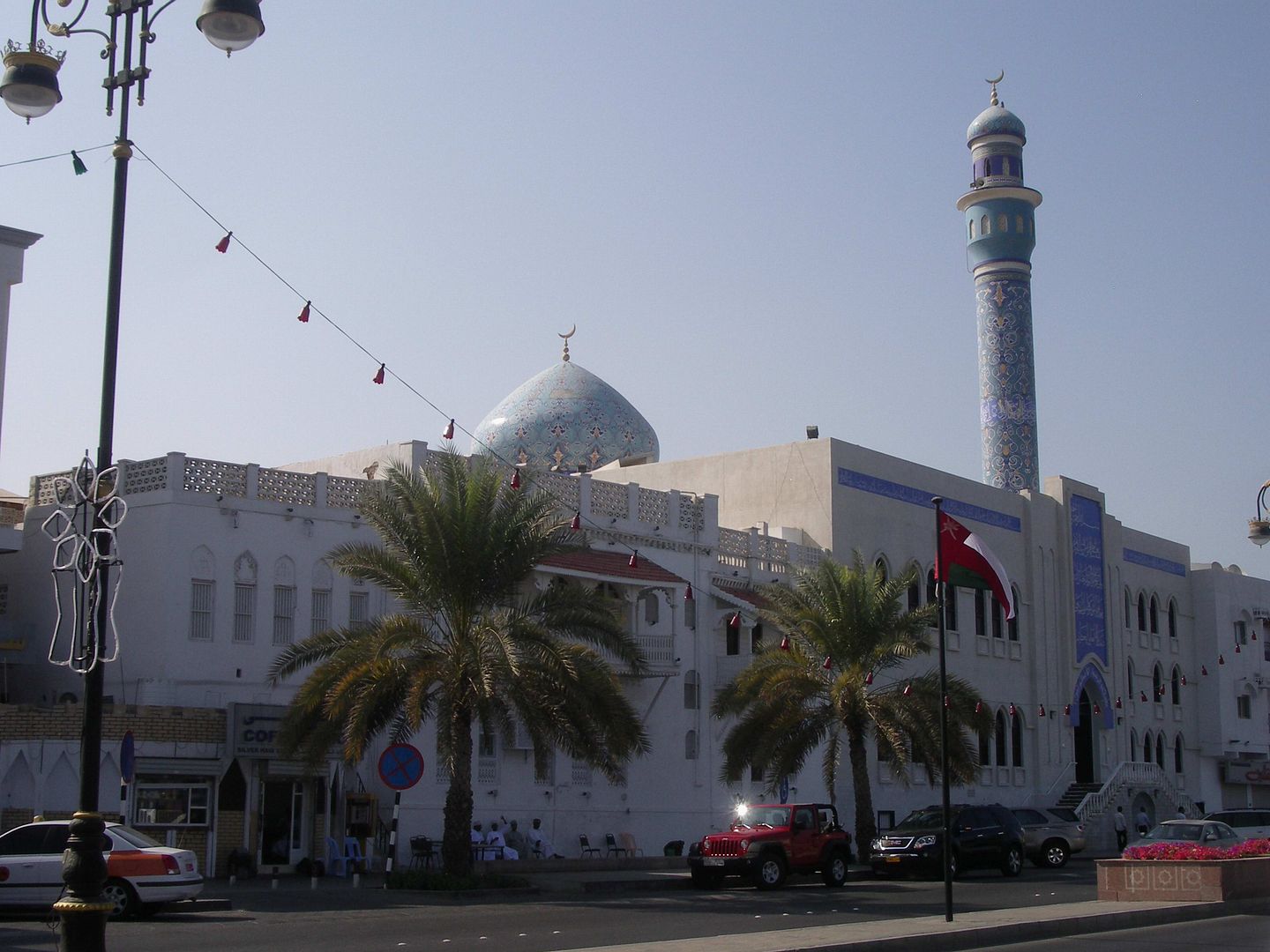 The Sultan Qabus mosque ahead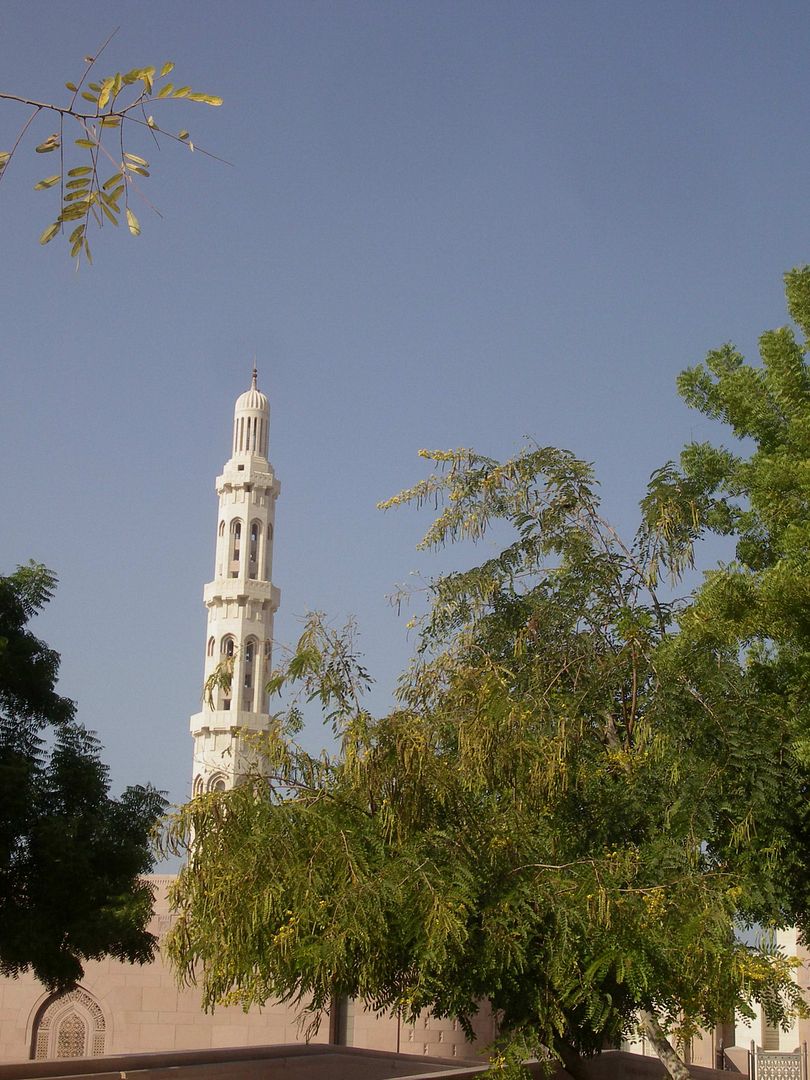 The entrance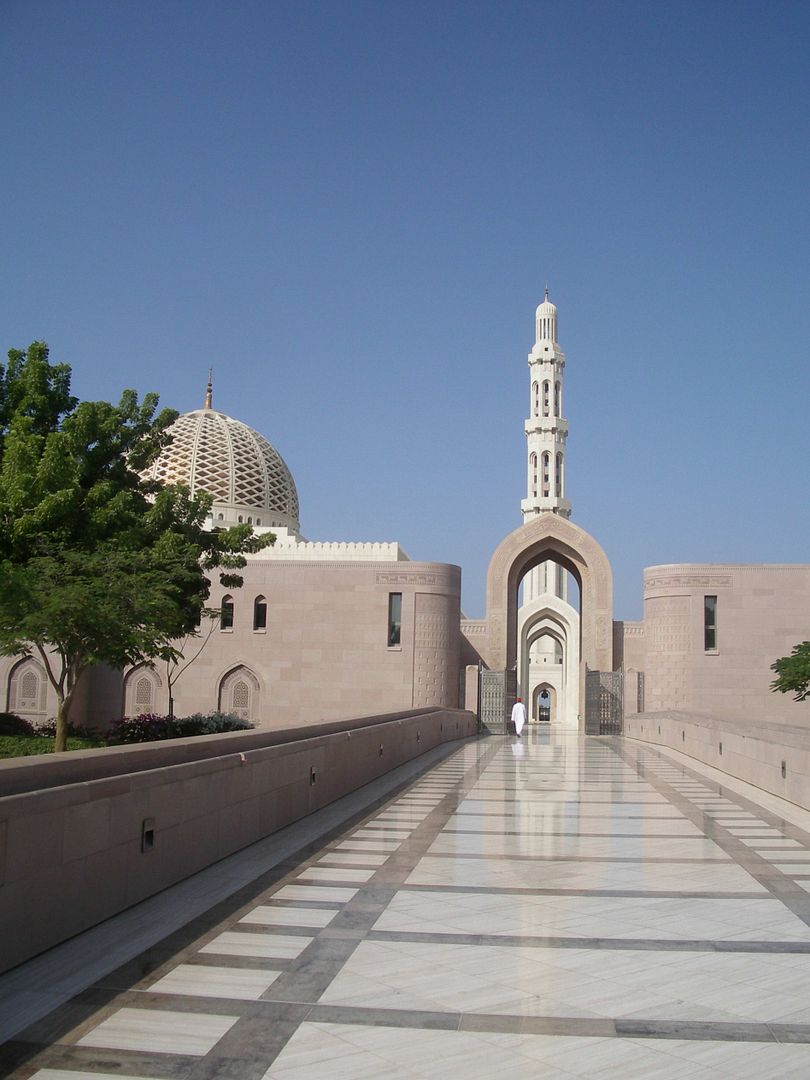 Looks like perfectly well cared for
But no way for me to join now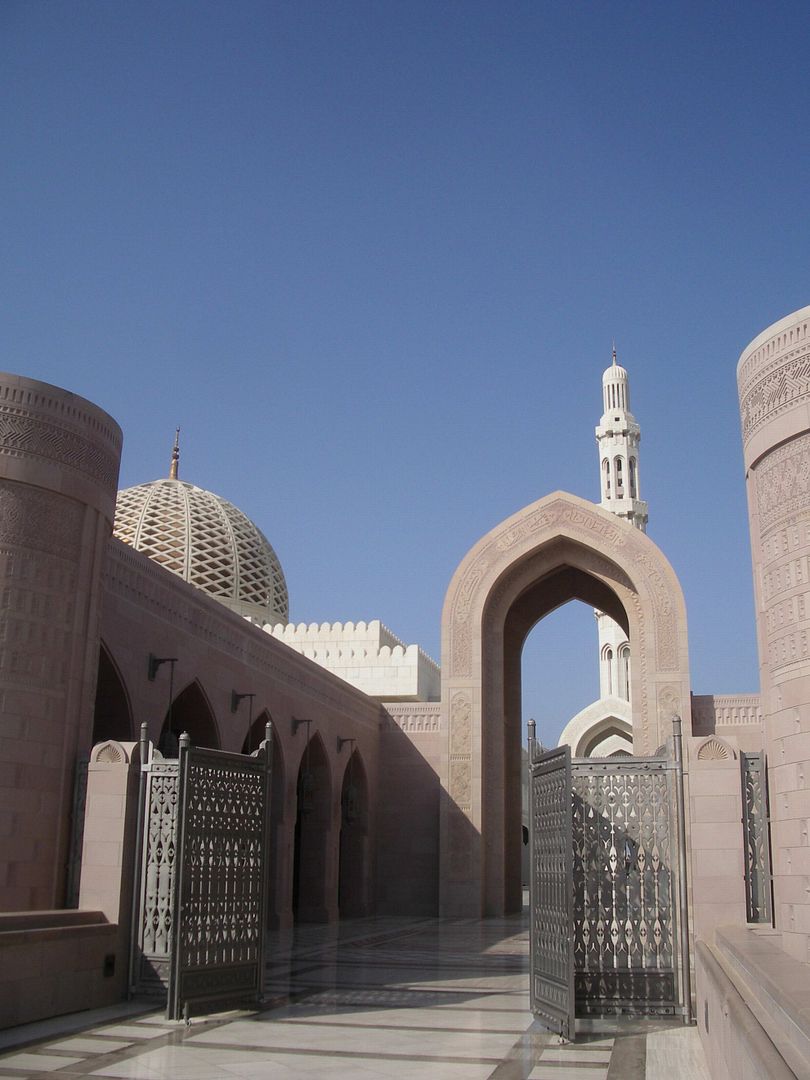 One look at the clock shows me, it´s better now to go for the airport!.
Sunday, 25.11.2012
.
.
Muscat International Airport
.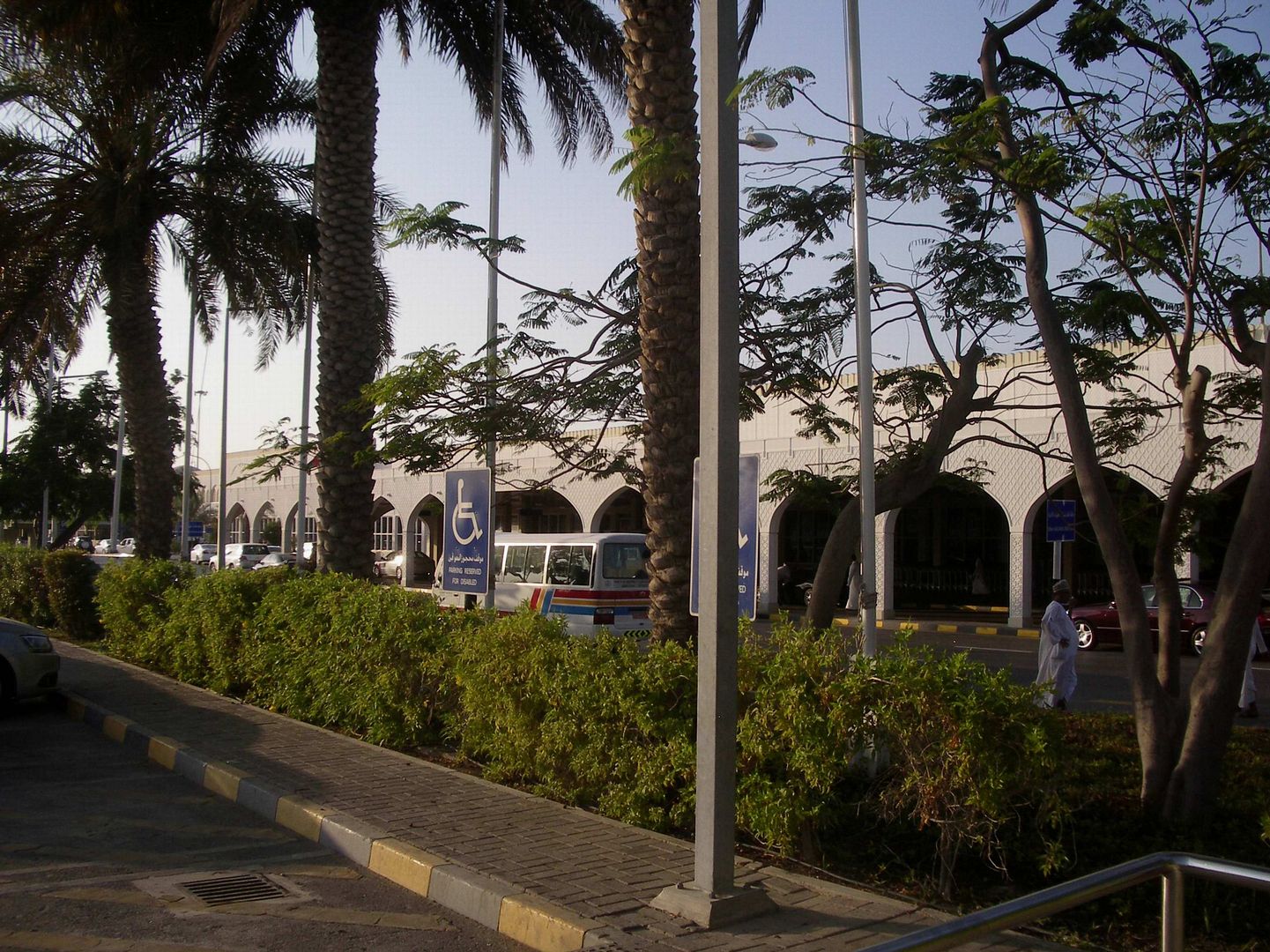 .
.
Service WY 623 operated by Oman Air
Scheduled: 18.10 // 19.15
Returned the car without hassles till now.
Simply stop at the last terminal entrance, check the counter and someone pick it up.
Just for a look around now.
Huge palms opposite the terminal
The main entrance. That´s for sure a small place here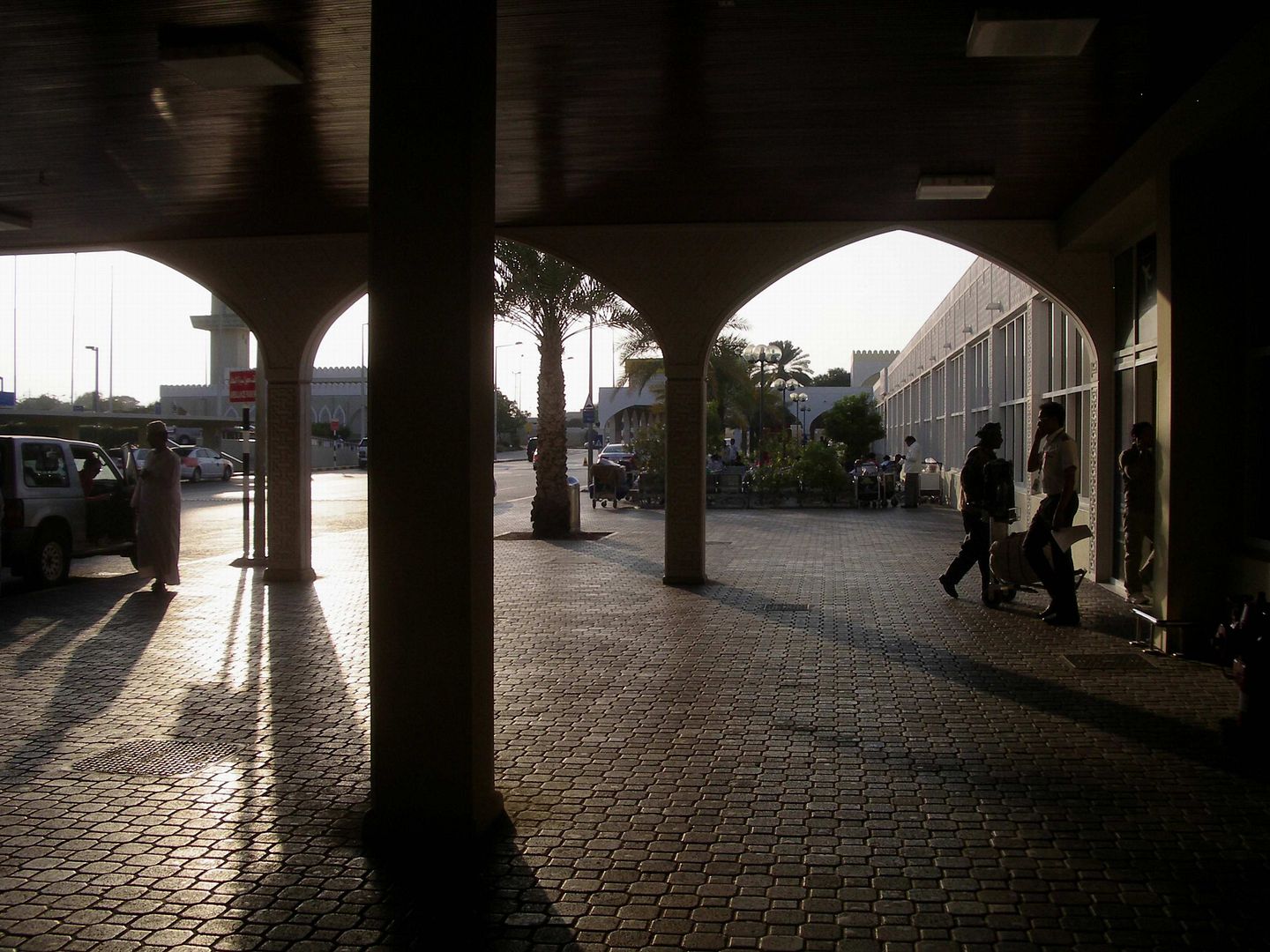 Also this way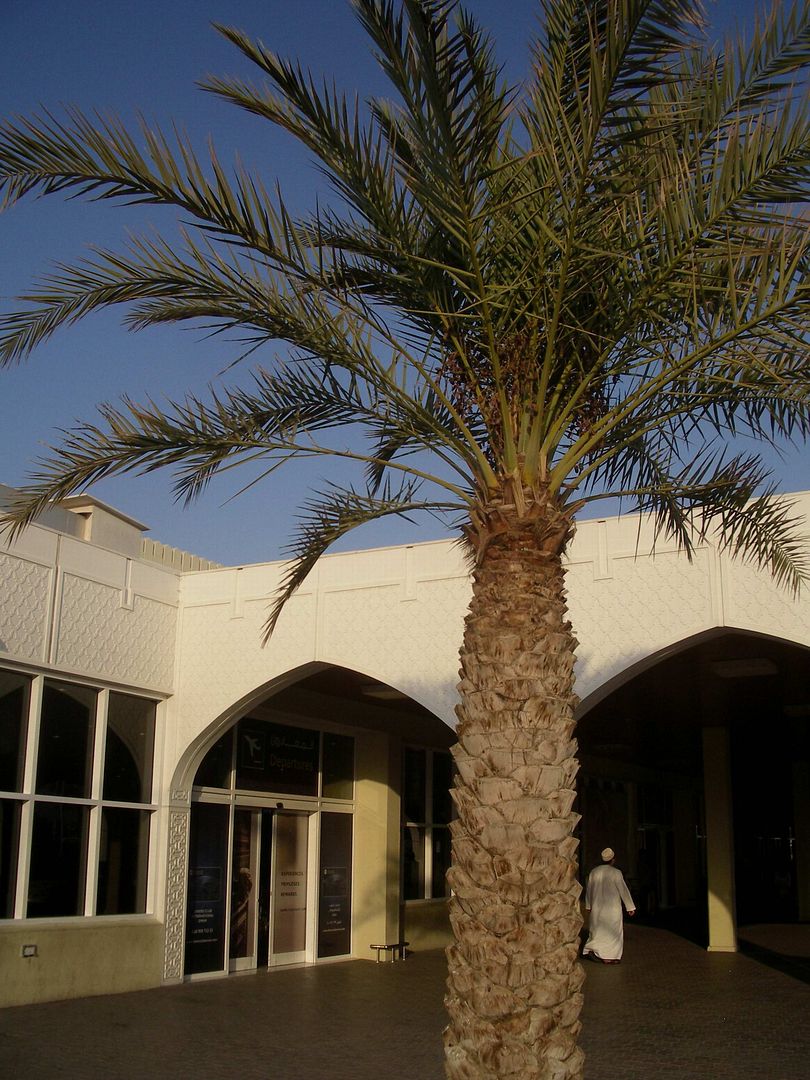 Where to go now?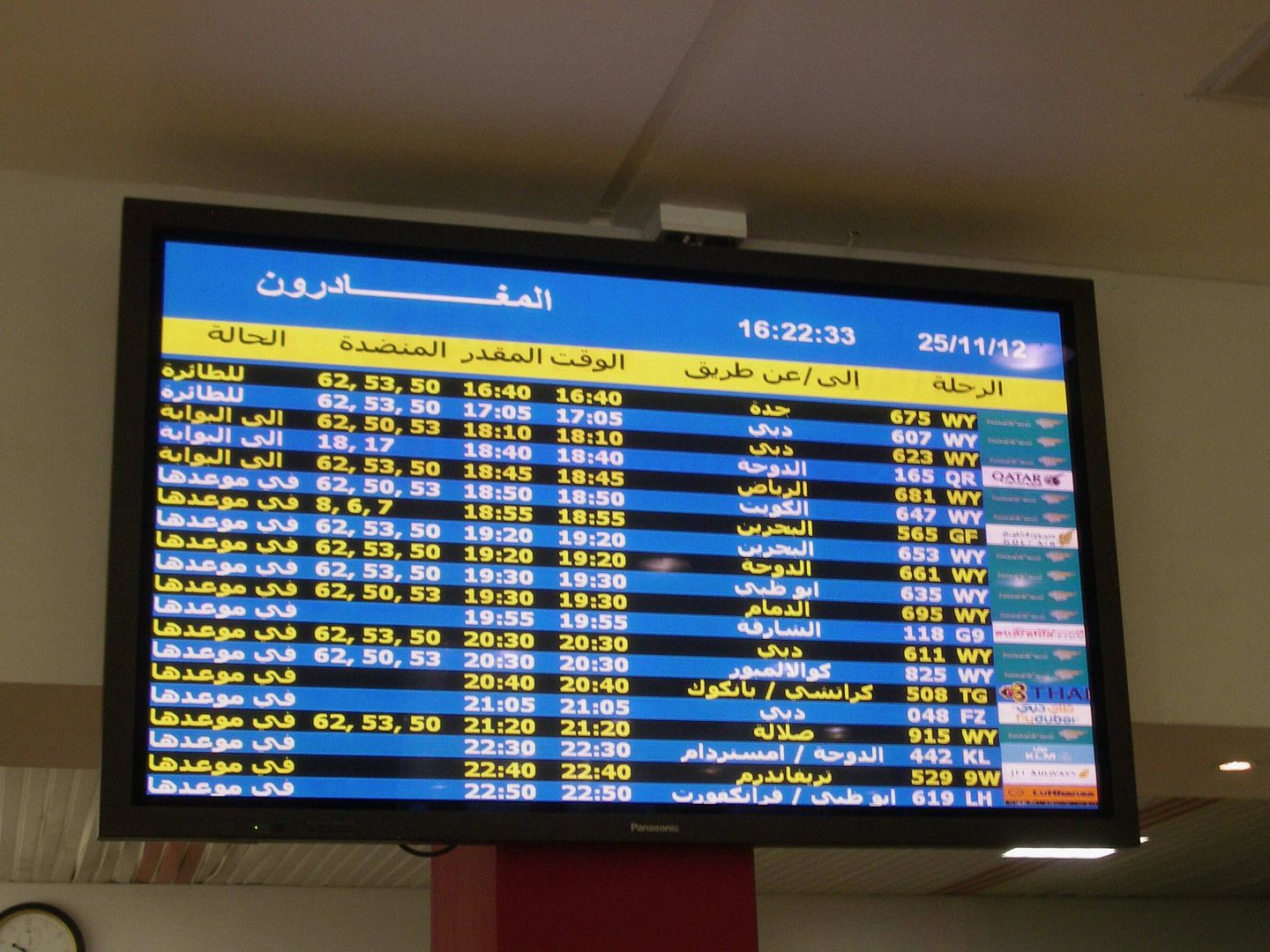 It´s not that small inside. This way for the Omani colours
The ticket is booked directly via the airlines website, the fare is acceptable, oneway, 70.00 Euro´s.
A real good feature is the free seat selection mode during booking.
Simply no time to wait to leave my bag at the counter staffed by a nice young woman.
Close to no time to wait at security also, lucky me and the officer at the next desk decided to give me a stamp without questions.
Ready now for a view like this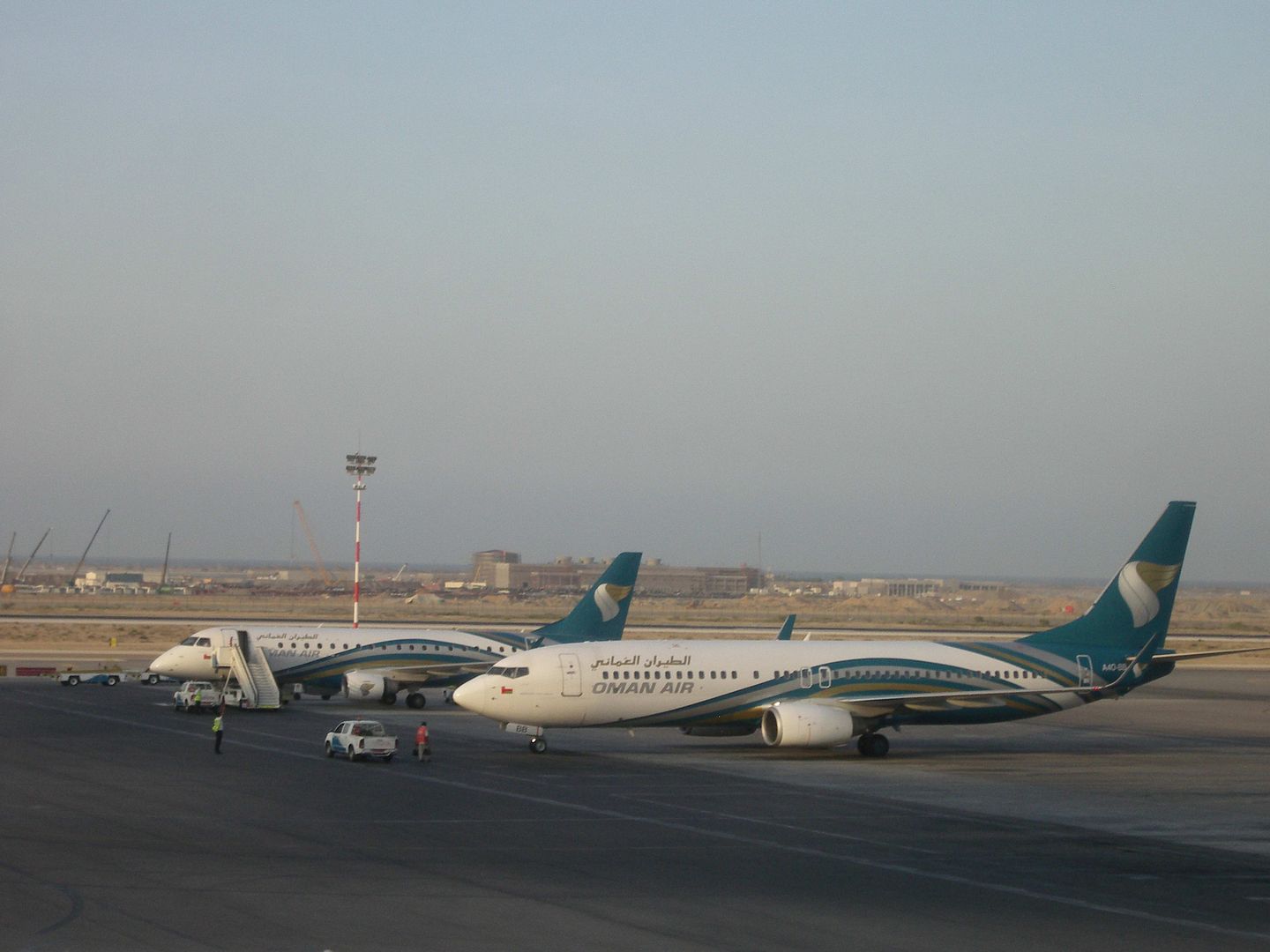 The Plaza Premium Lounge should be also worth a visit.
Courtesy by Diners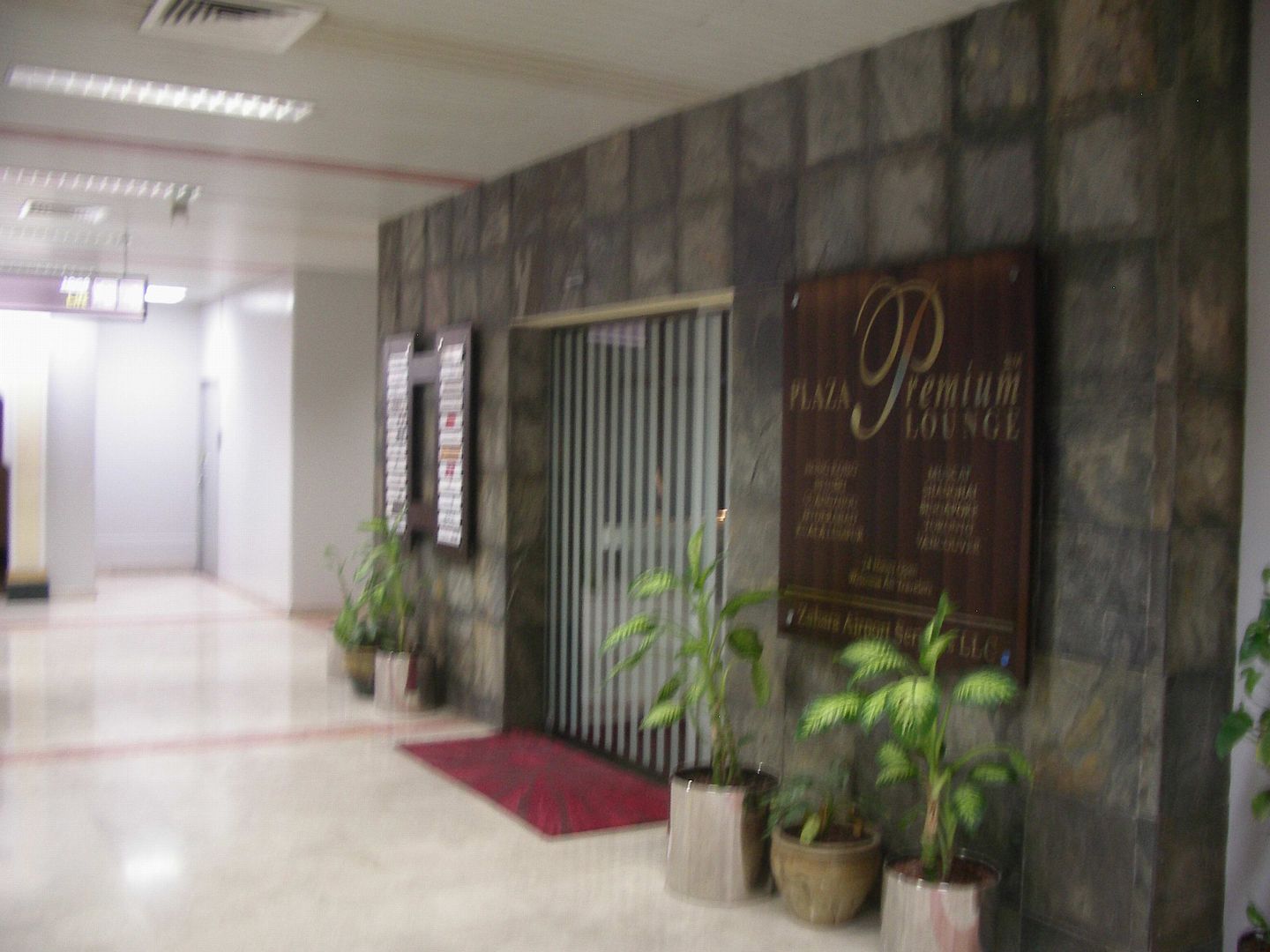 Nice offers
But no apron view
A few customers only here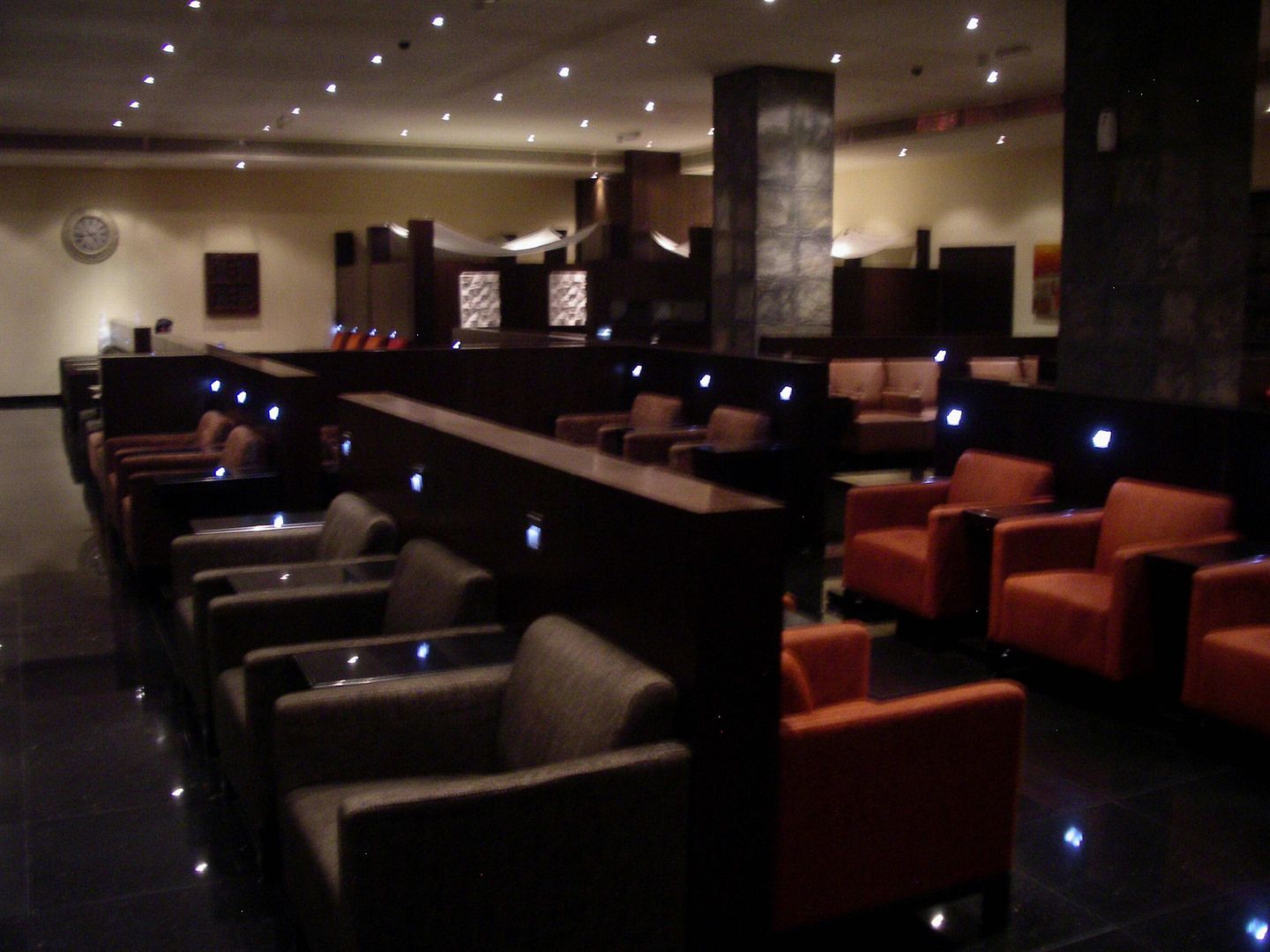 The new terminal under construction opposite the runway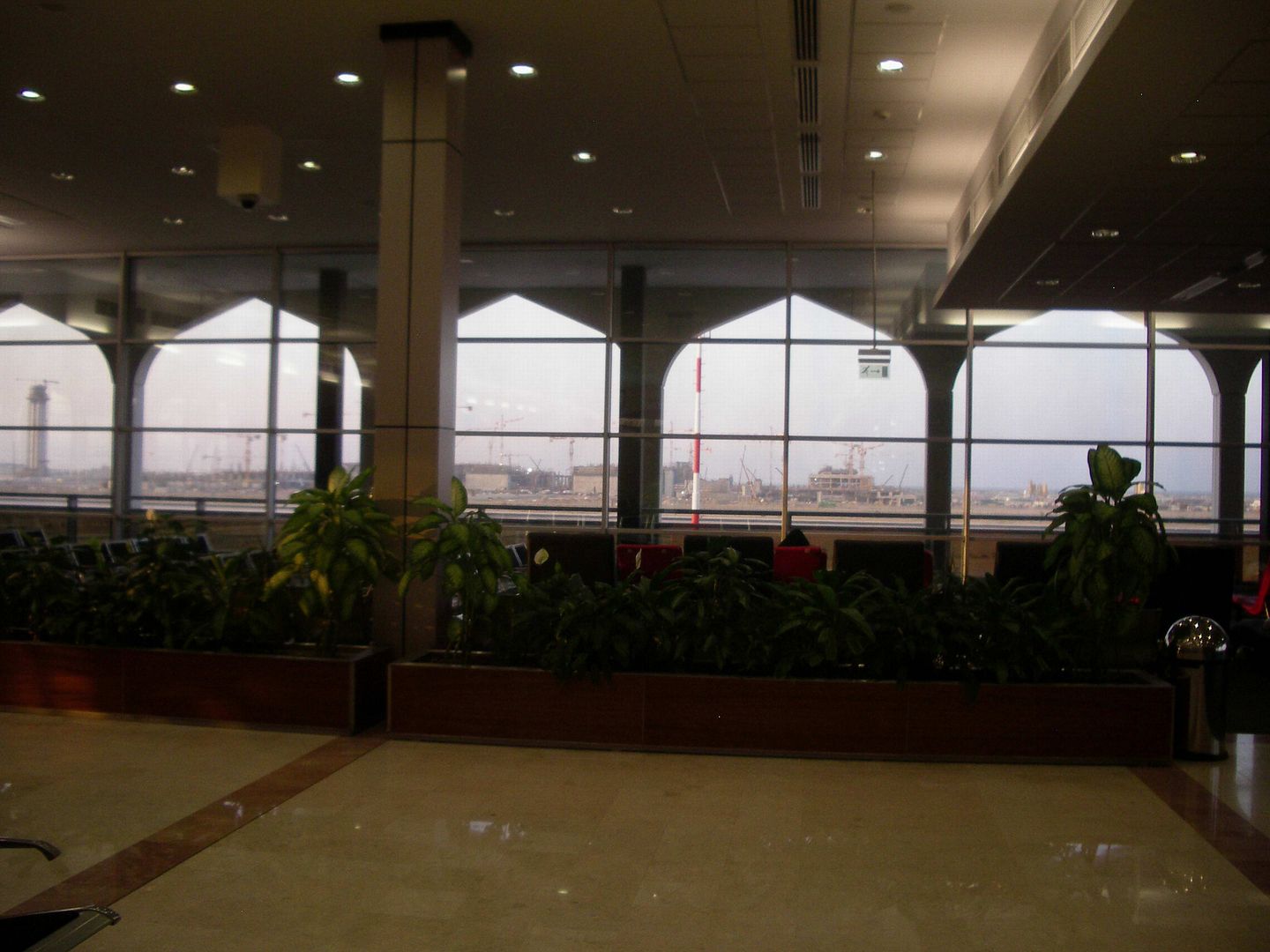 Omani style, sure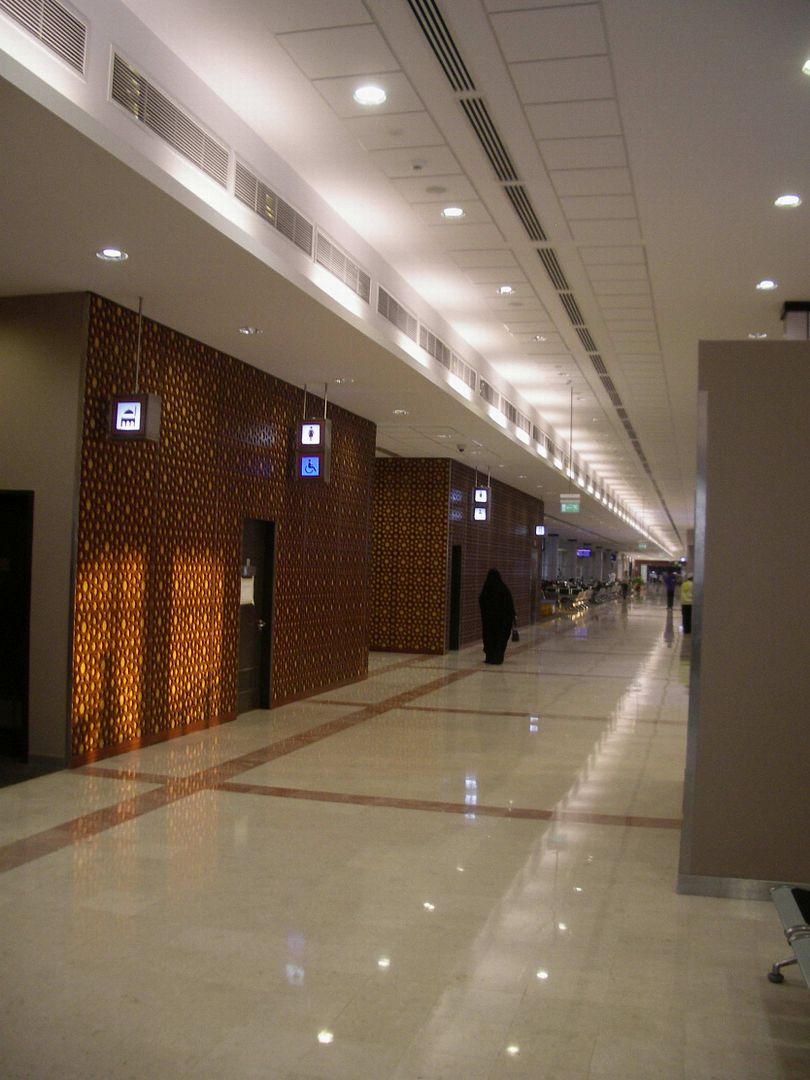 Oman Air´s part of the apron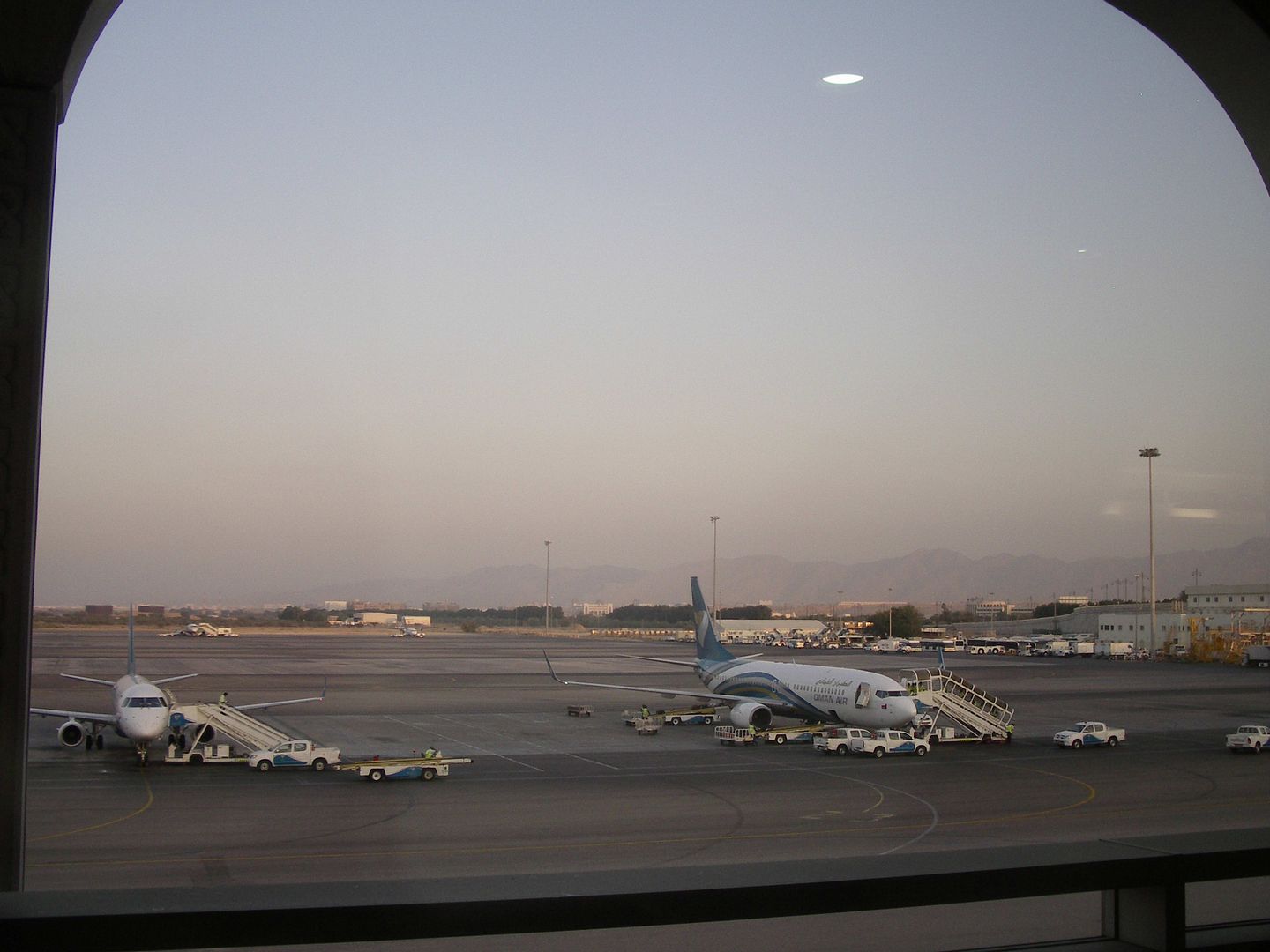 These tail´s are simply to big!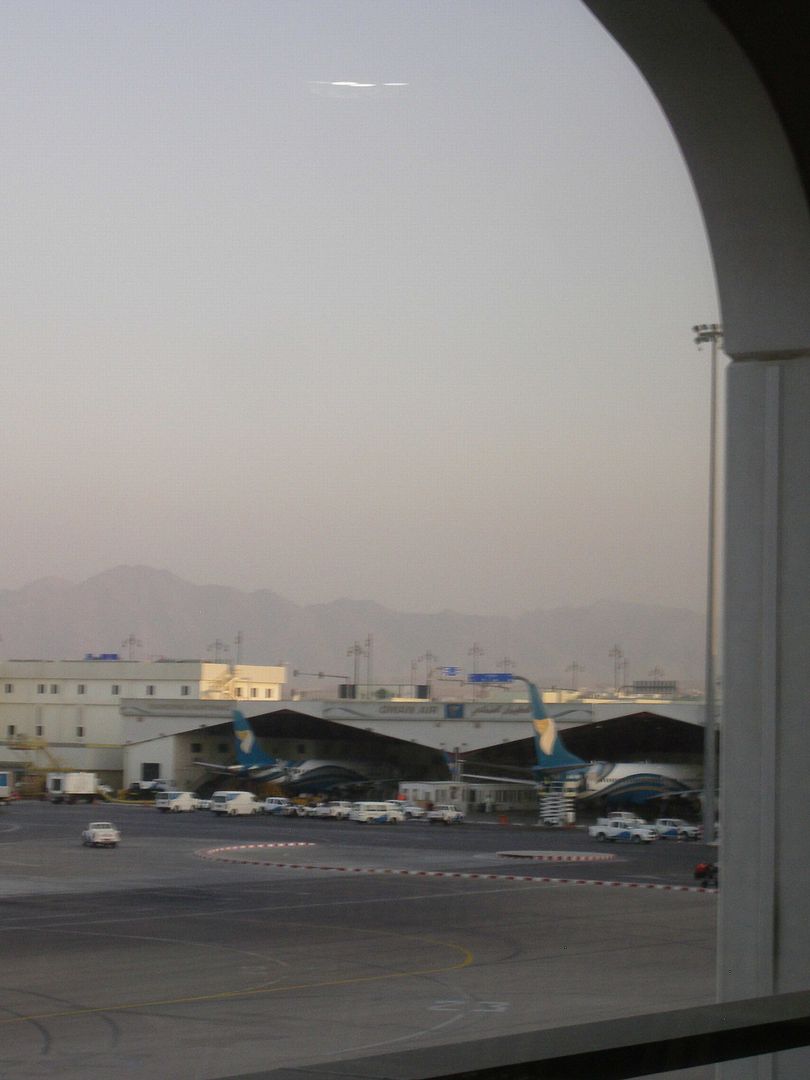 What about this one?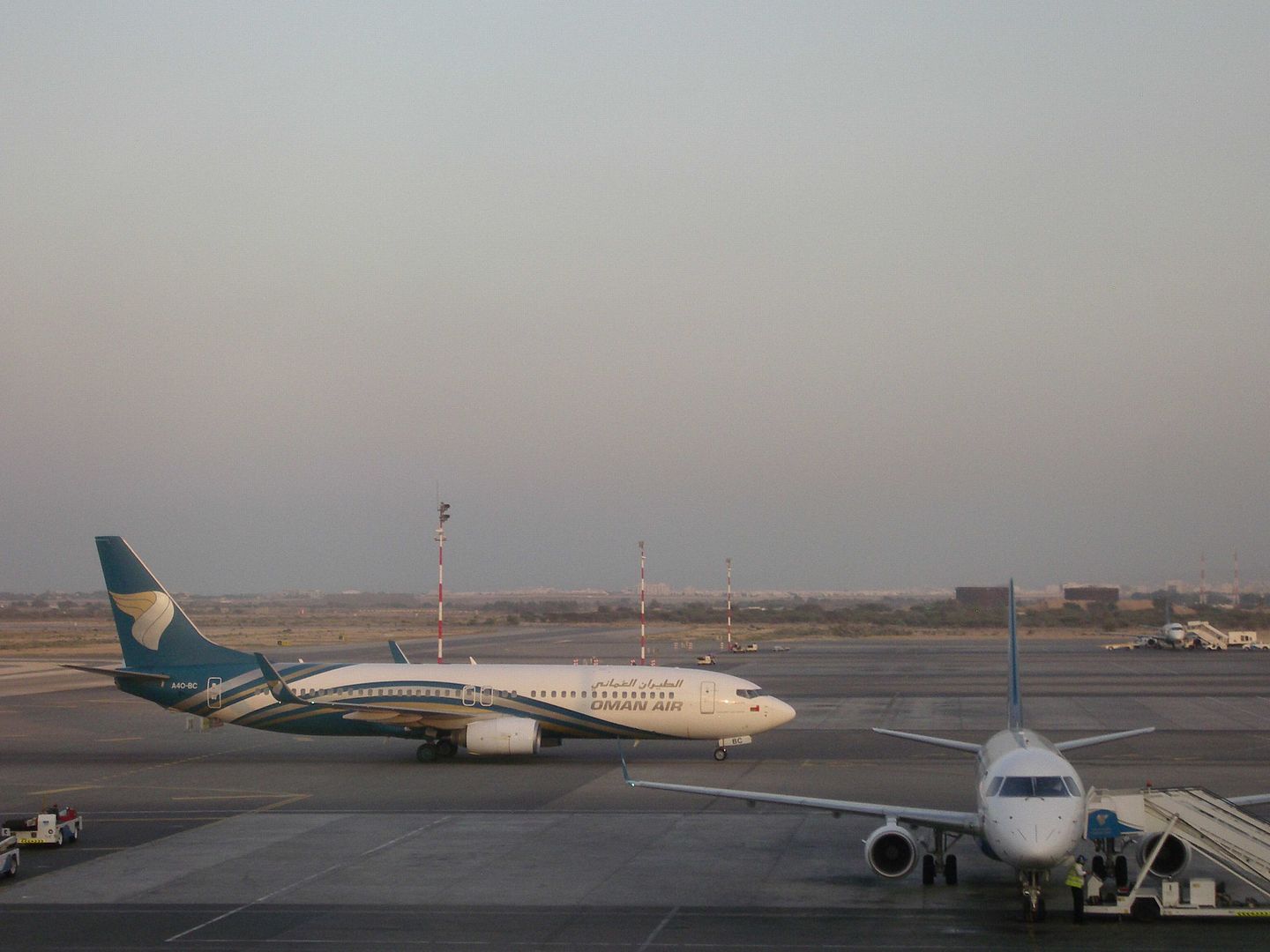 Parked at the apron
No action here
And a lonely non Omani plane this way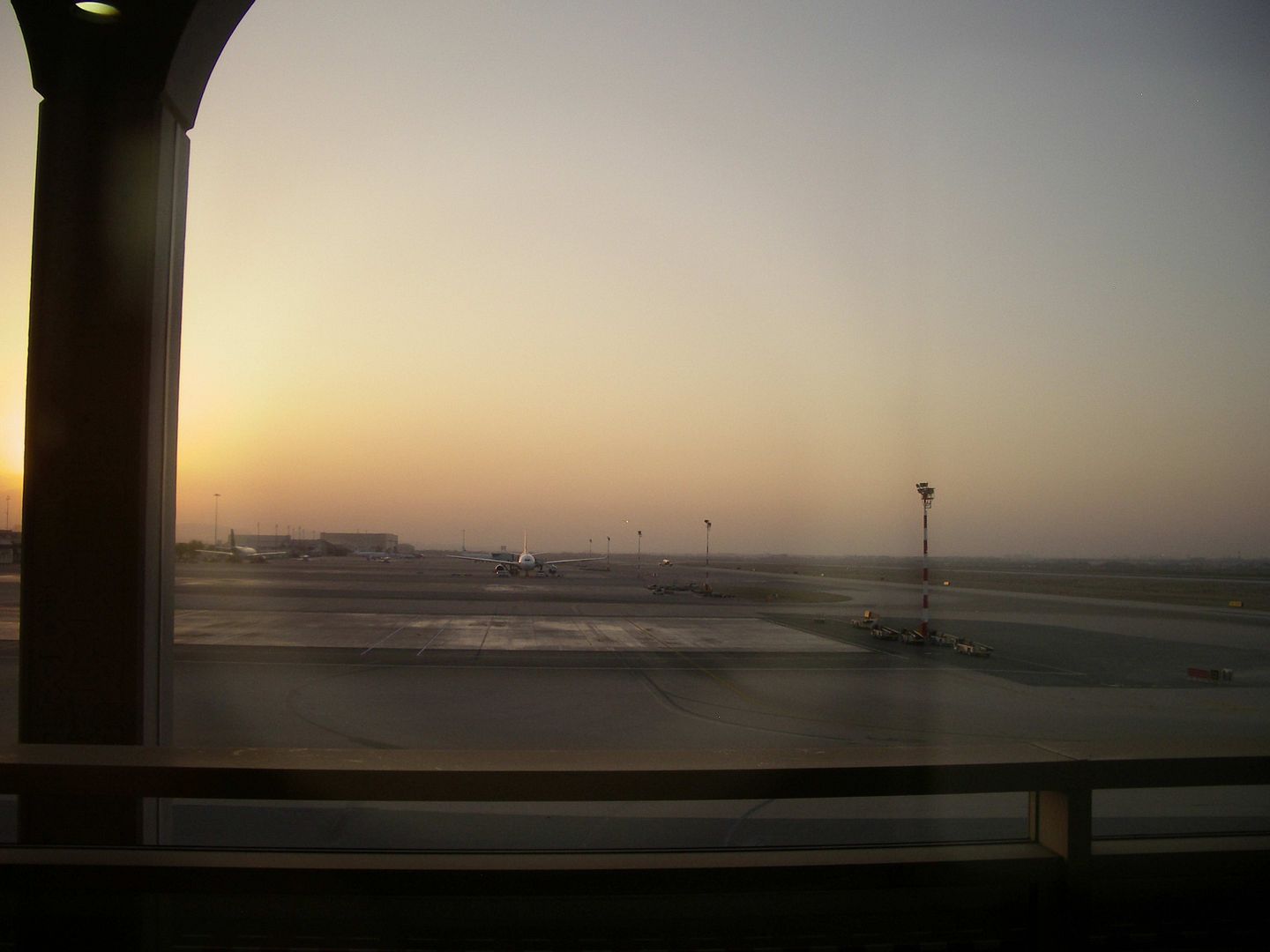 The old terminal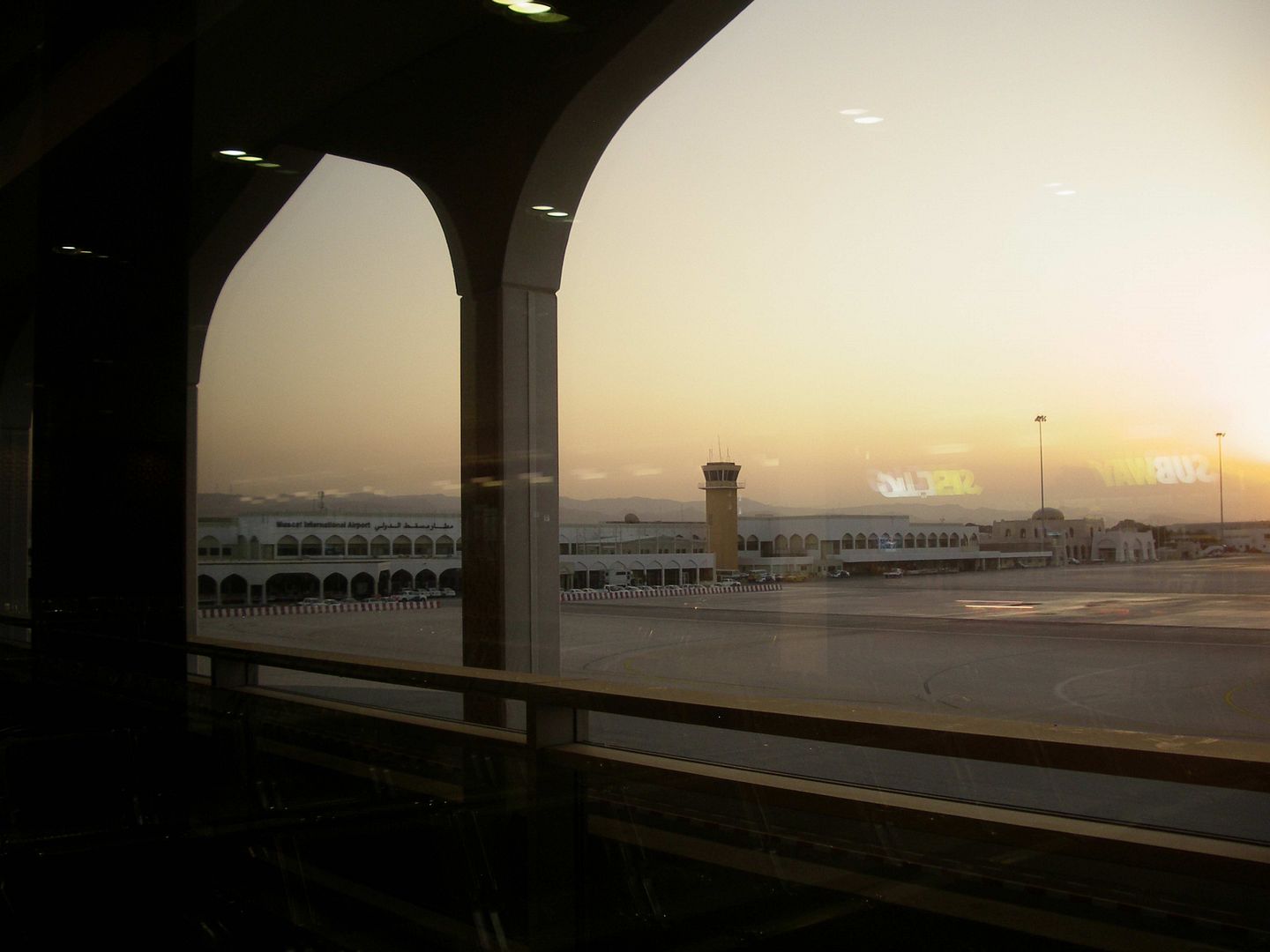 More Oman Air on the way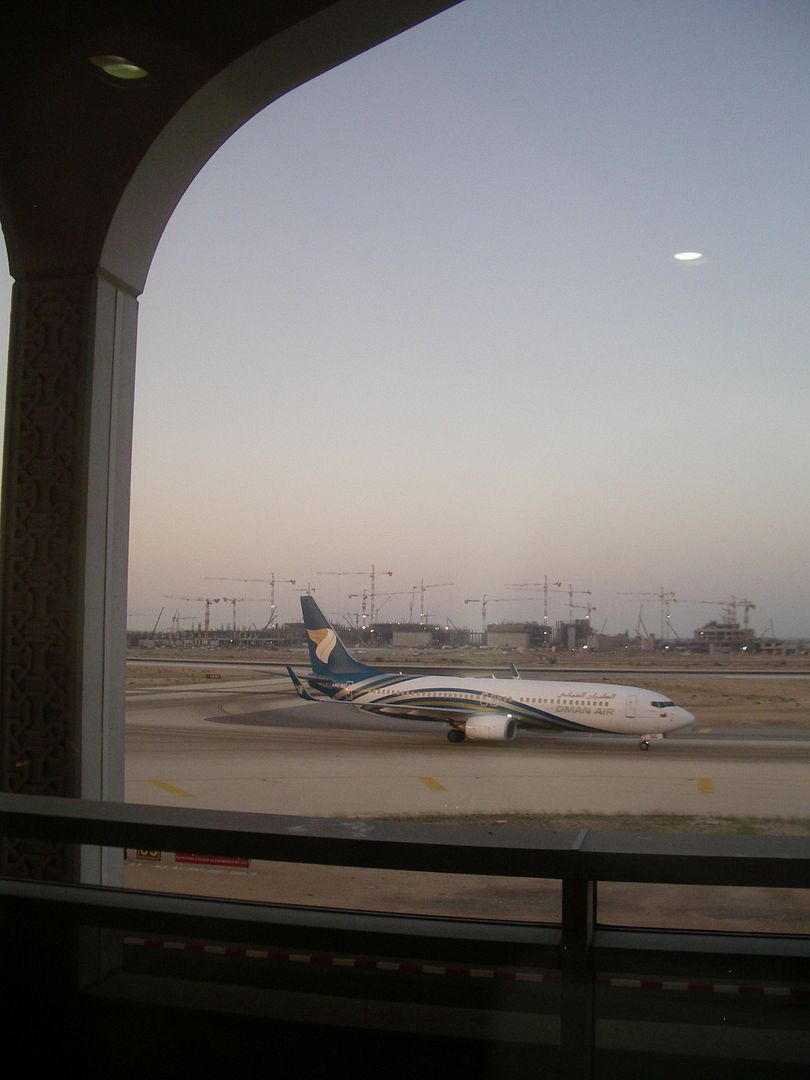 Till bus boarding starts from gate 17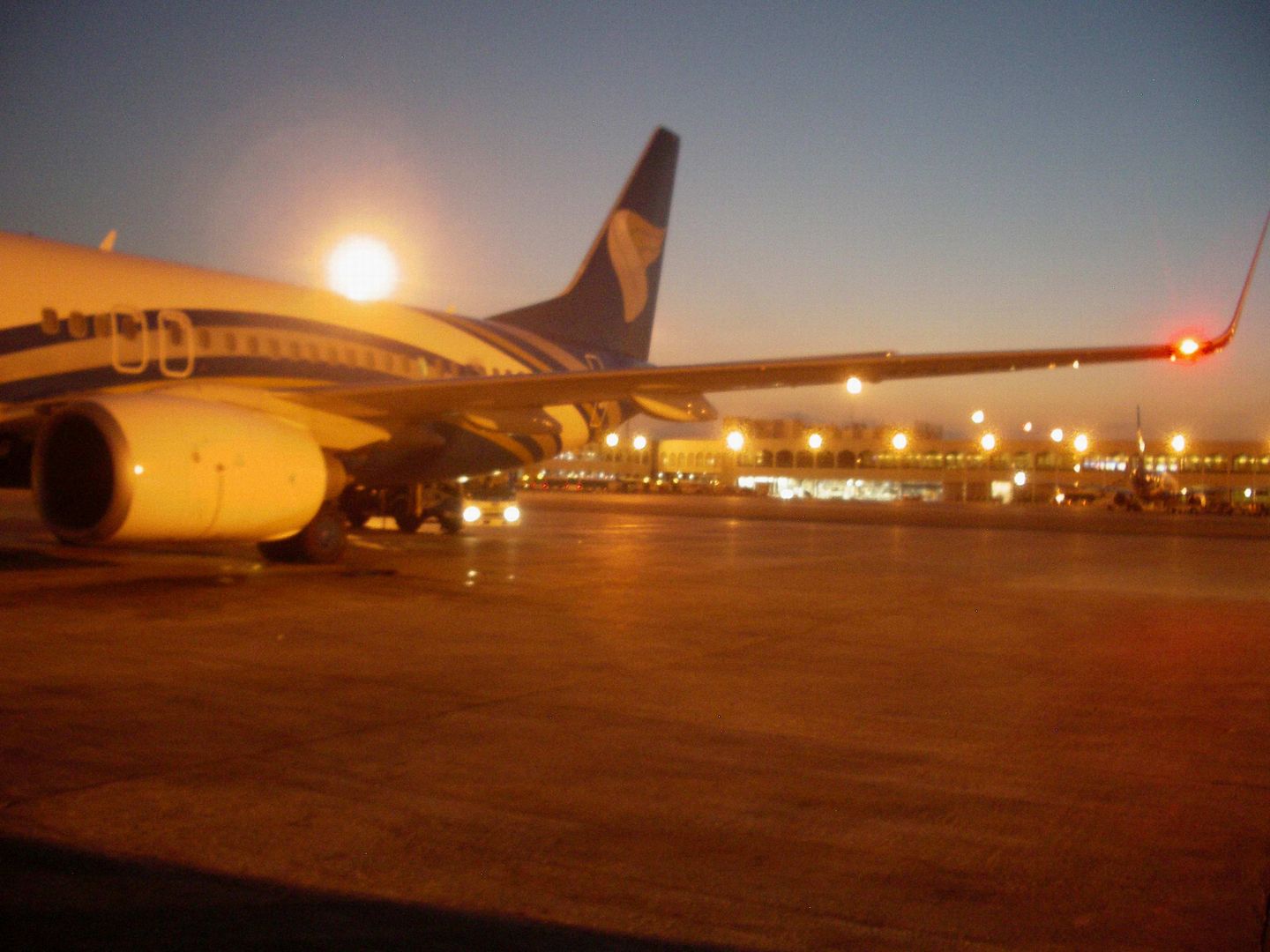 Some pictures on the apron
With the clear sky above
Welcome to Oman Air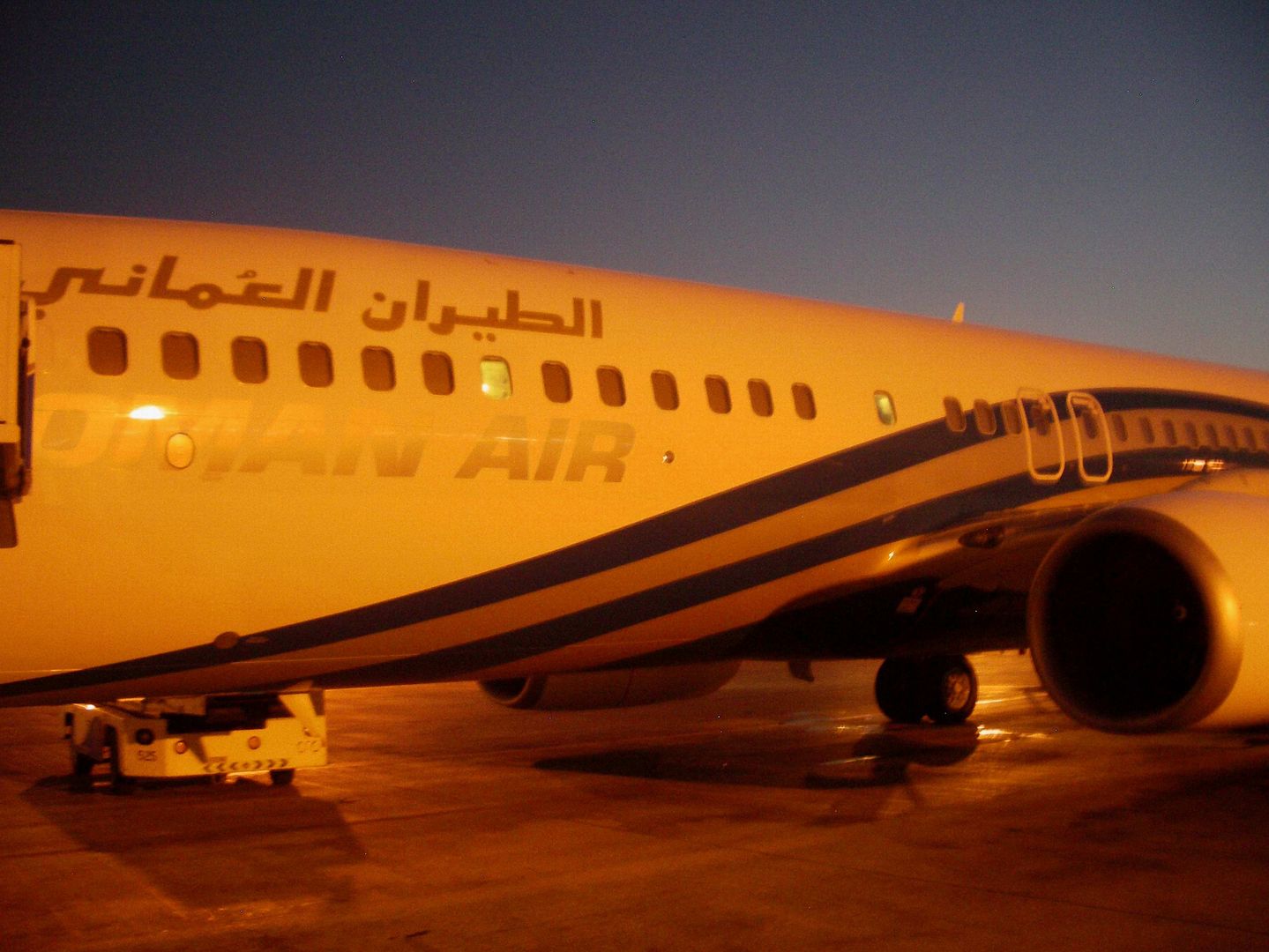 And A4O-BC "Ras al Had", since 19.12.2008 with Oman Air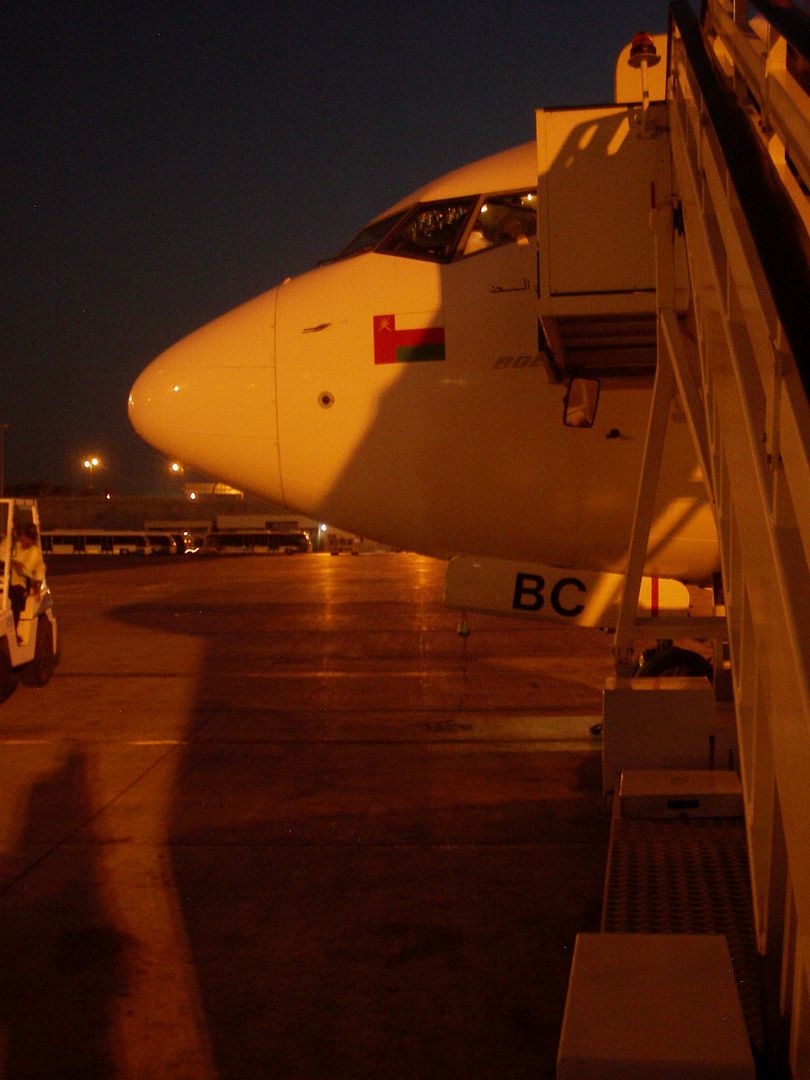 The 737-800 like on schedule.
This is leg no. 66 on type, a new entry to the log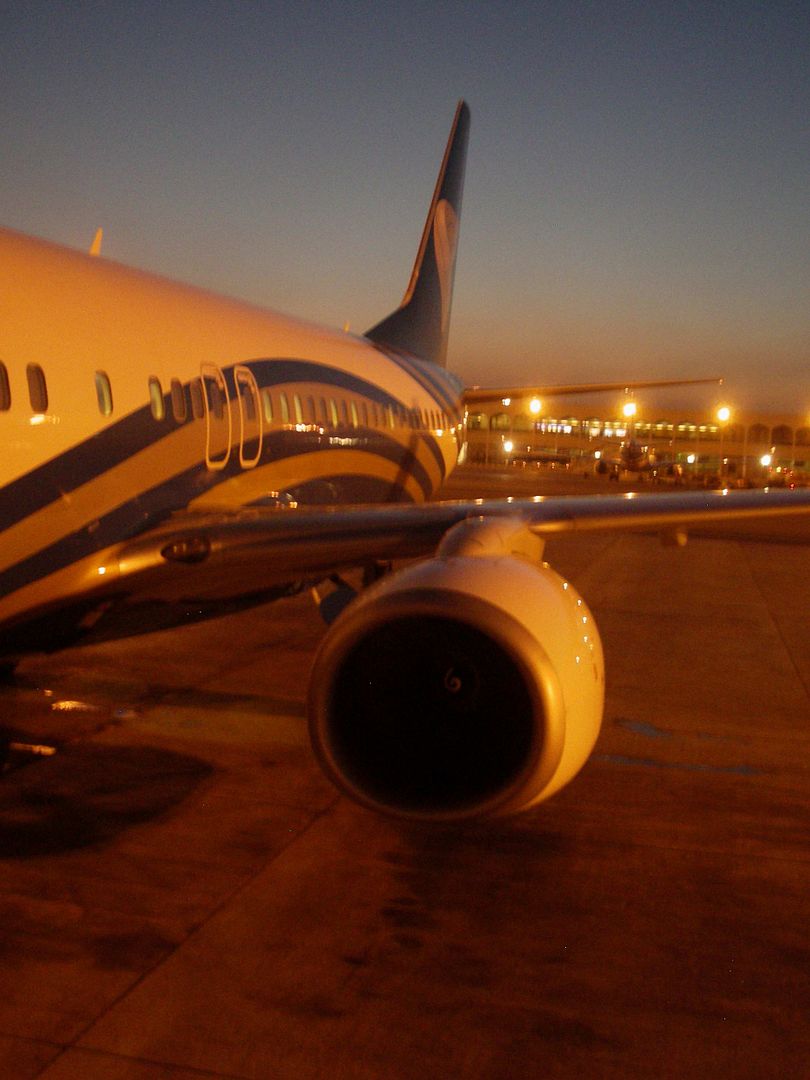 14 examples are in the actual fleet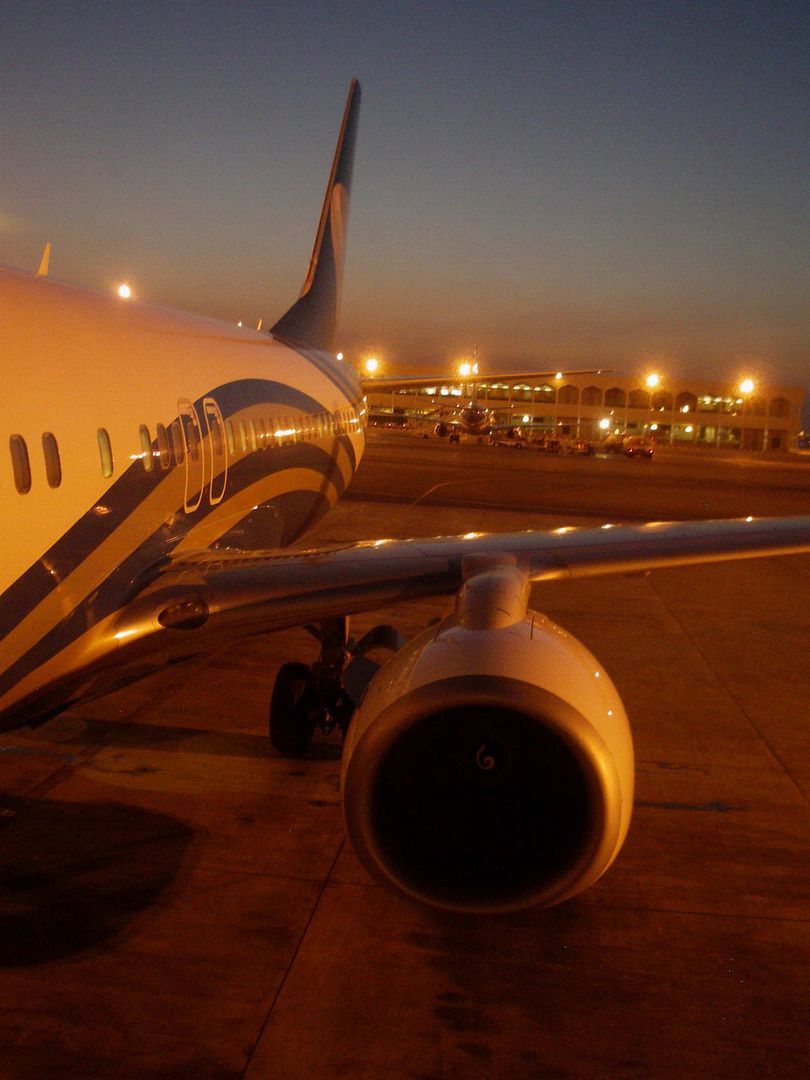 6.10 pm, ontime, "Oman" should spent some 50 minutes now in the air for DXB right away from the 3584 meters runway "Two-Six".
27 degrees and clear sky. Should I really go?.
Oh, well, I should!.
Cockpit crew is according to the names from Oman.
All infos from the purser prior to departure and later on really nice and detailed inflight.
No route info, flight level is 20000 feet.
Comfy oldfashioned mixed bluegreen fabric seats and the cabin is not that really clean here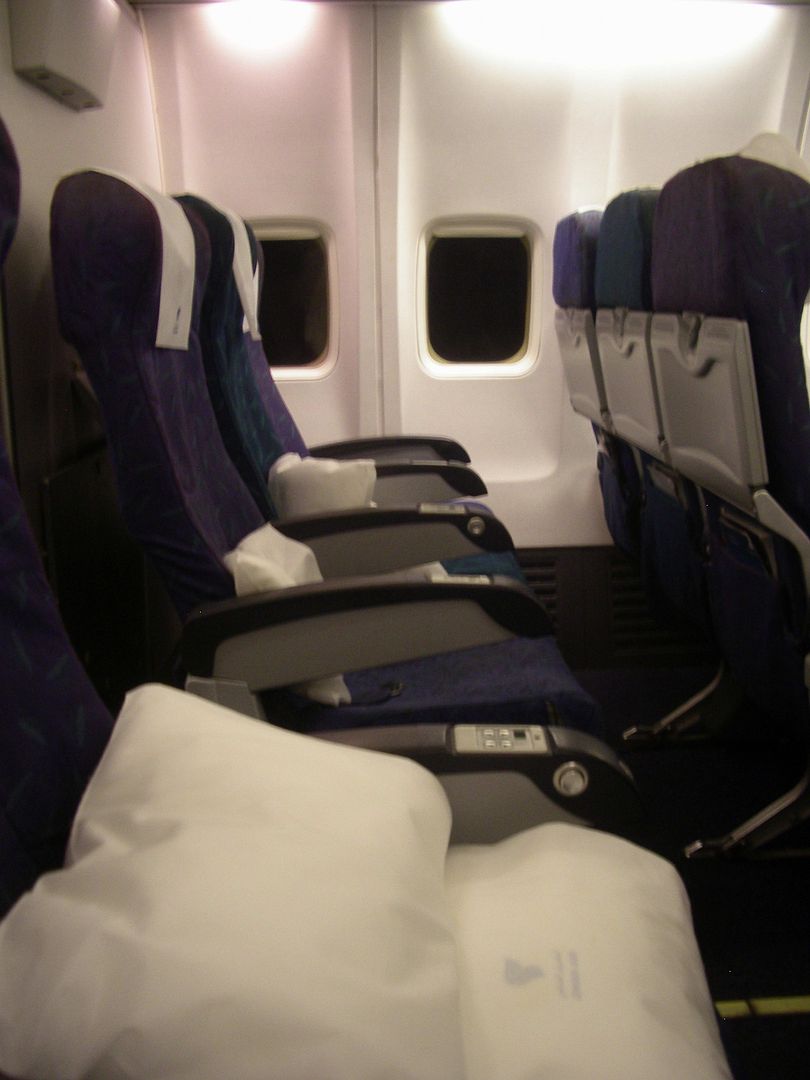 A low loaded rear cabin, lucky me in 34F, the last row and three seats for me.
The load is 80%, a good number of biz style people, also some Europeans on the way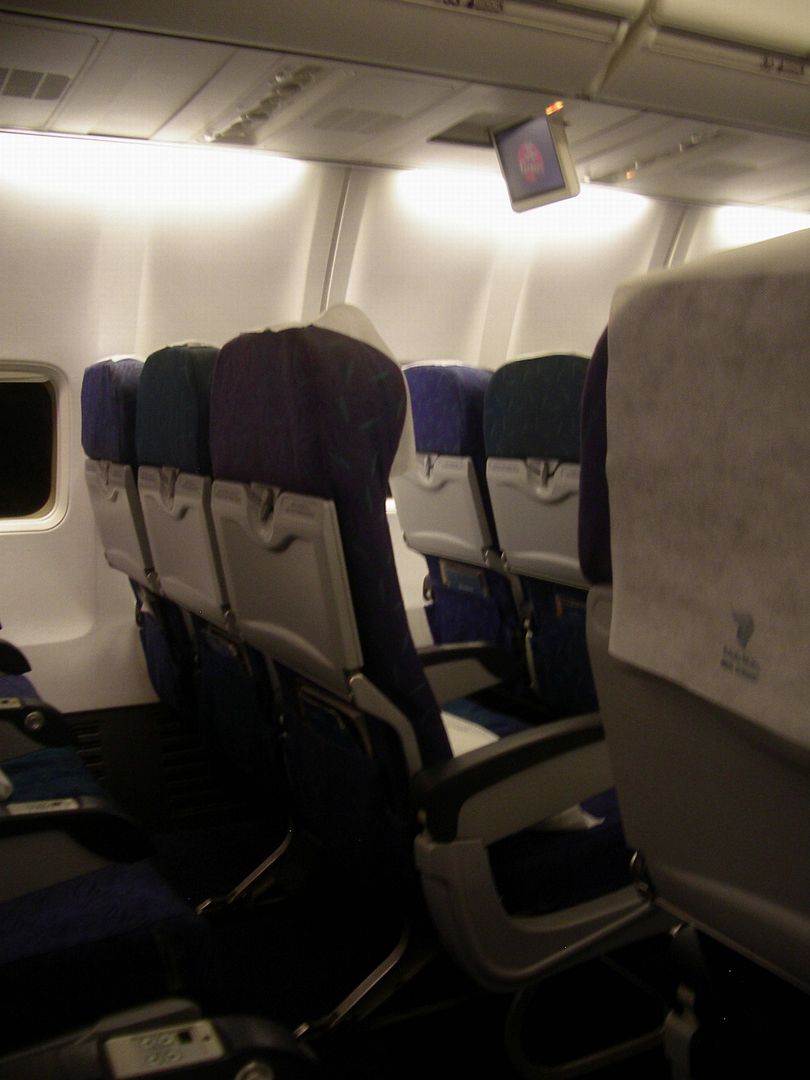 Cabin crew is two male FA´s, one young and nice together with the middle aged and also nice purser. Three female FA´s are also on duty. One middle aged Asian style, biz friendly, one middle aged European, ok
and one young arabic woman, black hair, well built, oh yes, nice, really nice!.
Some locals are also on travel today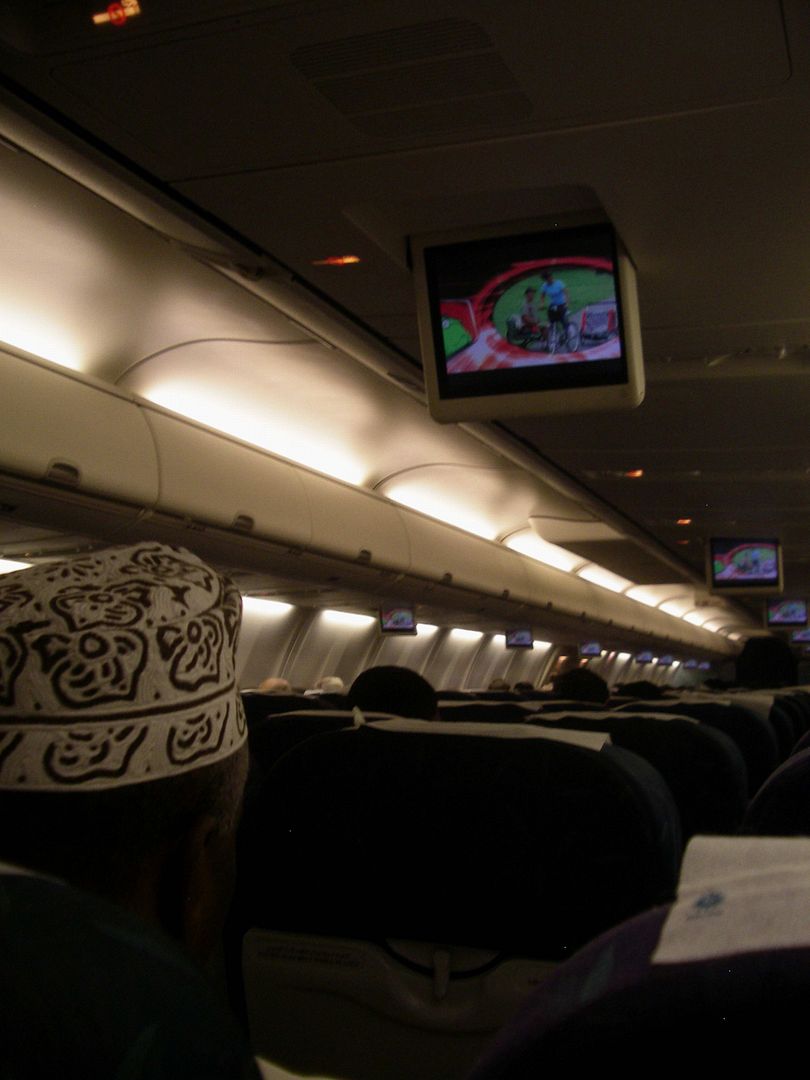 Legroom is acceptable here
Just by surprise, the safety card is also written in german language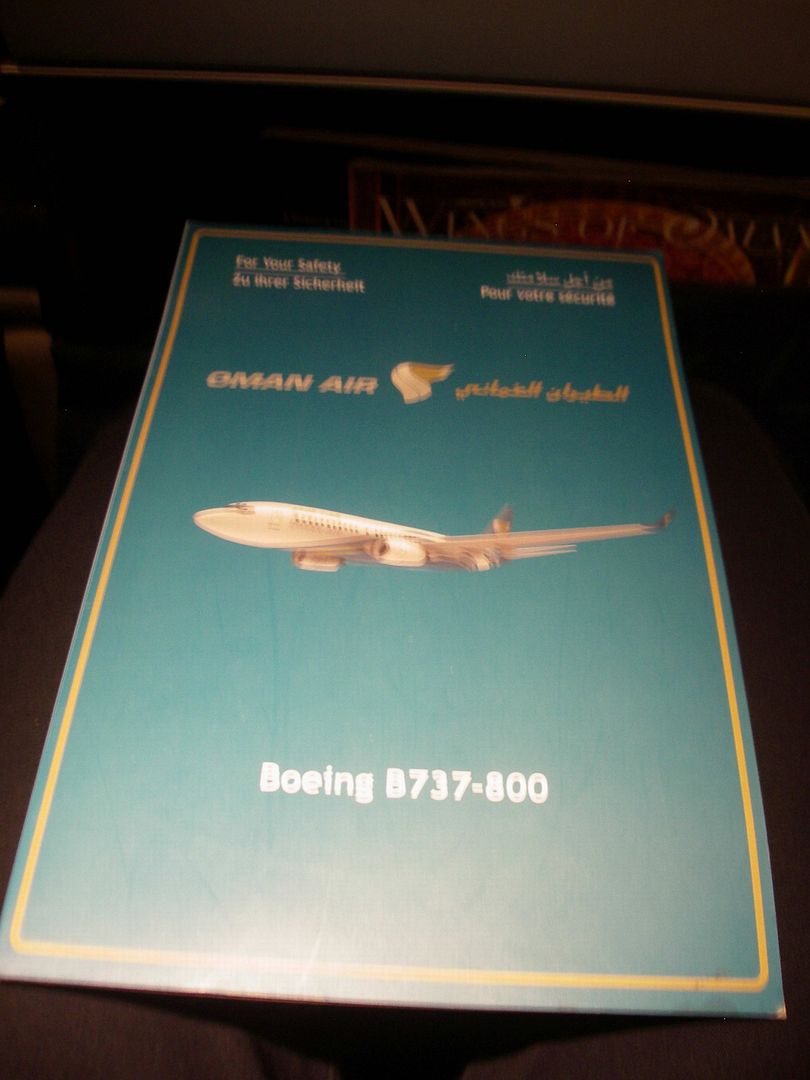 Oman Air´s magazine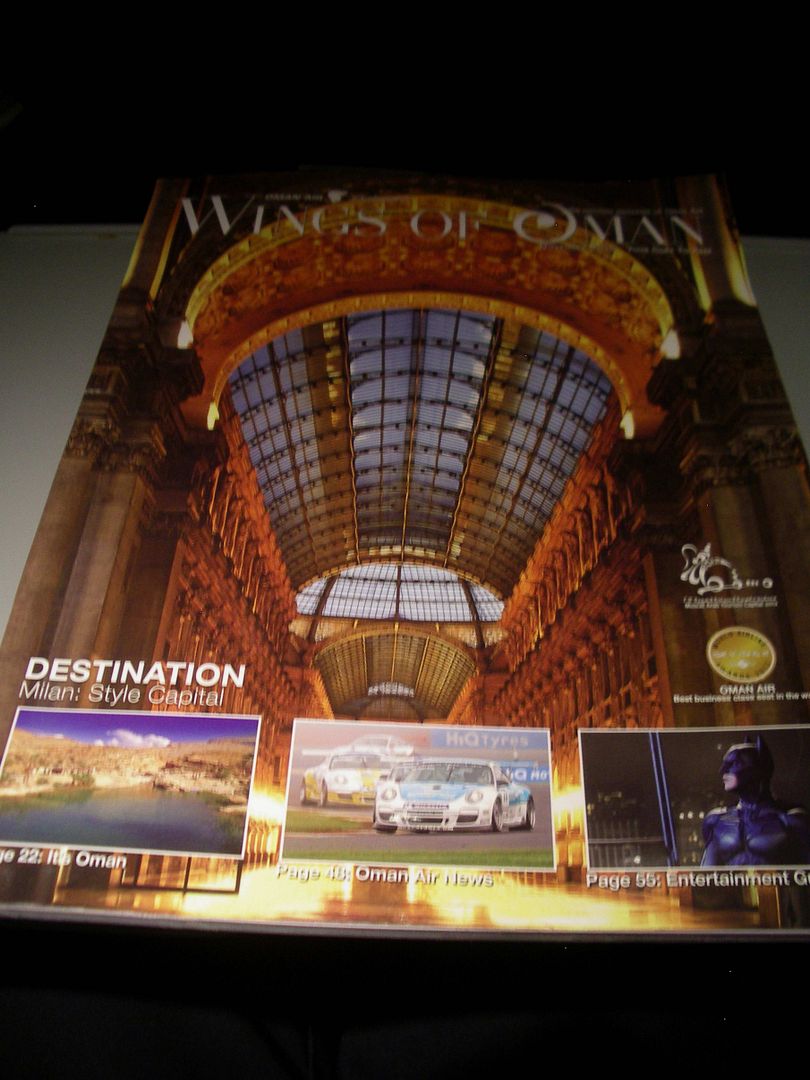 Service also on this short flight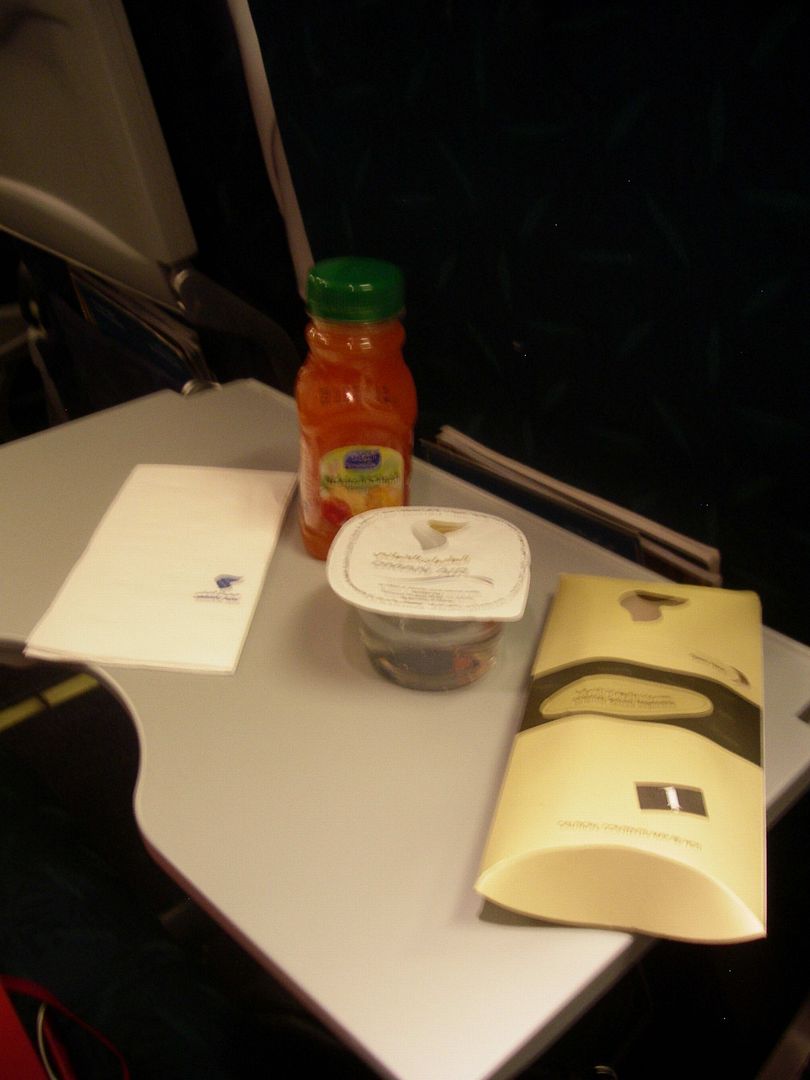 Soon thereafter approach for DXB is announced.
Touchdown at the 4477 meters runway "Three-Zero-Left". Also clear sky here and the temperature is 26 degrees. 7.00 pm is 15 minutes ahead to schedule.
Parked at a finger gate and a long, long walk for immigration now.
It´s recommendable to have a good time buffer to do something like me now.
-Continued below-
..............................................................................................