Part I ->
Feedback always appreciated.
I > Background:
In between consulting engagements, it was time to catch up with a few friends in Switzerland. After several fun nights catching up with them in Zürich, I was supposed to go back ZRH-FRA-CCS to start my consulting engagement in Colombia. However, a last minute delay by the Colombians on getting the contract started (haha) meant I had some additional time and a friend in Montreal beckoned me to visit him. As I have not visited AC for a while, it would be a perfect time to catch up with that as well. To my surprise, LX had surprisingly cheap FCL tickets to YUL, and within minutes, my credit card had processed a charge and my e-ticket was sitting in my email inbox.
There have been a few excellent LX FCL reports, but I believe this will be the first one covering ZRH – YUL. "AndrewE" has written about his experience on the inbound YUL – ZRH and this can be found at
Swiss First | Montréal --> Zurich
(by
AndrewE
Sep 10 2012 in Trip Reports).
II > Pre-Flight:
a) Before Airport:
Swiss International Air Lines AG (short: Swiss) is the flag carrier airline of Switzerland operating scheduled services in Europe and to North America, South America, Africa and Asia. Its main hub is Zürich Airport (ZRH). Formed after the 2002 bankruptcy of Swissair, Swiss is a subsidiary of the German airline Lufthansa. However, it has long been the most profitable part of Lufthansa Group's airline businesses. It has built on the stellar reputation of Swissair to remain a "higher-end" niche carrier with an expanding global network from a better hub than what Lufthansa has been able to provide at Frankfurt.
Booking for my flight was done on Expedia as the same booking class was cheaper by over $1,000 than what Swiss was quoting me on their website. I am not a fan of
www.swiss.com
as basic stuff like viewing itineraries not done on their site cannot be accomplished. Moreover, the only way to get a seat selected was to call their call center. All in all, very poor experience and shocking because LH has an industry leading website.
b) At Airport:
While the outside of Zürich's international airport in Kloten certainly shows its age, LX's dedicated space for FCL passengers is something nice and makes for a good check-in experience. A nice lady gave me my boarding pass after a thoroughly efficient check-in process; she also confirmed if I was comfortable with my seat as it was a full-flight but most were upgrades as YCL was sold out and there was the ensuring cascading upgrade effect. According to her, "YUL is always empty in F." This would be in line with why my last minute flight was so cheap. LX has an interesting "departure-based" revenue management approach so I wonder what they think with this flight.
Interestingly (and disappointingly), LX does not have a dedicated security channel at ZRH for FCL passengers. This meant a rather long queue to be screened due to all the other Star Golds before arriving air-side and to the First Class / Honors Circle Lounge. Now again, why LX has such a dingy space for their FCL guests is beyond me – basically the lounge is cordoned off, and I am convinced that the "worst" space is reserved for LX's most premium passengers. Thankfully, the lounge Maître d offered the usual direct transfer service to the international concourse and I could not resist. He used to be a former FA and we chatted about having a ground position as he walked me through the direct elevators to a private Schengen control, and the waiting group van. Here, the private transfer (instead of the train) took me to the "E gates" where my flight would be boarding from.
Boarding had already commenced so I quickly made my way to the gate and was welcomed by the agent and show to the aircraft. Upon entering the aircraft, the purser greeted me and walked me to my seat. Here, I was greeted by the other FA who introduced himself to me and assisted with my bag and jacket. He asked me to be comfortable and to let him know if I wanted anything.
After a little while, sparkling wine/OJ/water was offered, and I settled in with some Laurent-Perrier – which as I say is barely OK as a JCL champagne. Seems like the Lufthansa Group has a bulk discount on these! F load was around 100% with apparently only 1 other seat was revenue.
Airport - External:
(Zürich Airport)
Check-in:
(Special First Class Area – why no fast-rack to security?)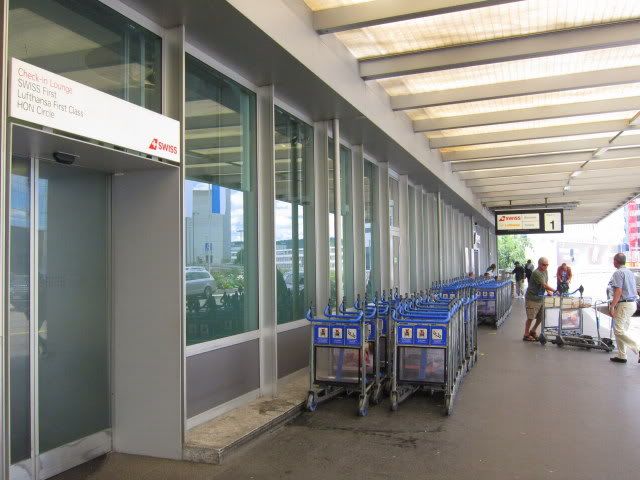 *
Airport - Internal:
(Pre-Security @ ZRH)
(FIDS)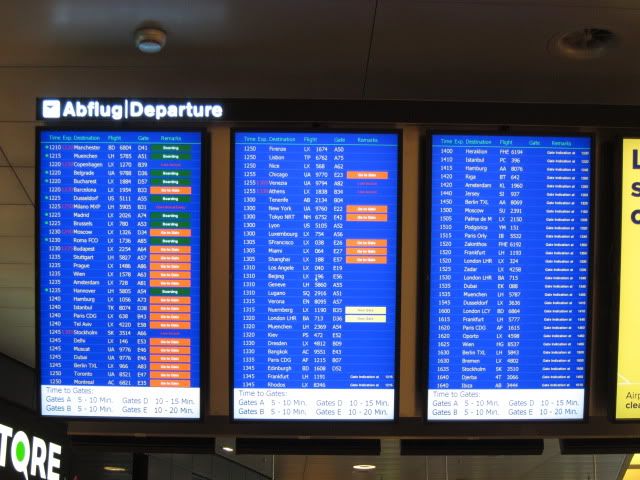 (Post-Security @ ZRH)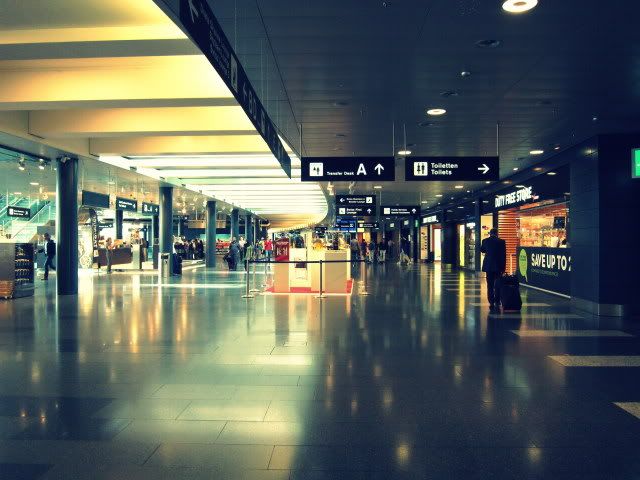 Scenes of the tarmac:
NONE
Lounge
(Swiss Lounge)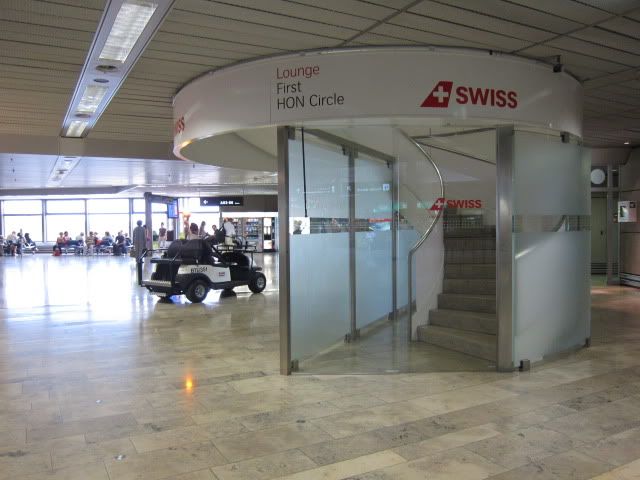 *
(The "exclusive" First section)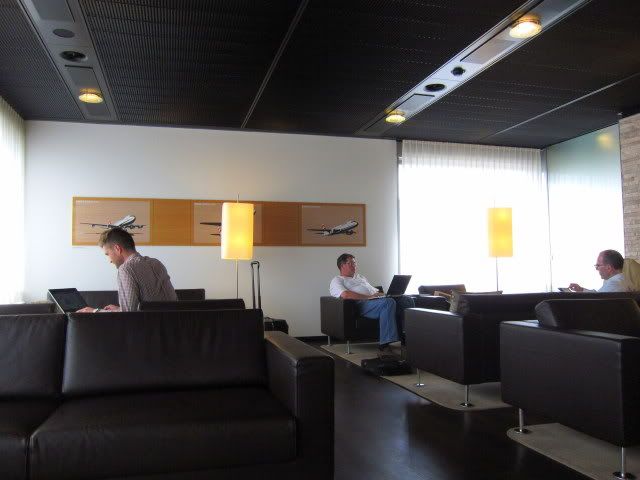 *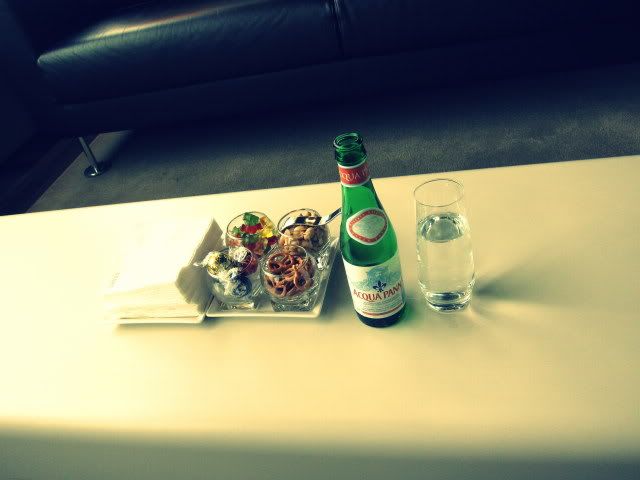 Boarding & Gate Area:
(You get walked through immigration, and then through private/shared limo – not as exclusive as FRA)
*
*
III> In-Flight:
a) Service Schedule + Impressions:
On the ground:
+ Water/OJ/Champagne (Though, disgusting Laurent-Perrier in FCL)
+ Amuse-bouche
+ Pajamas distributed
+ Amenity kits distributed
+ Menu and newspapers/magazines distributed
In the air:
+ Hot towels
+ Lunch service
+ Hot towels
+ Pre-arrival snack service
b) Aircraft + Seats:
The 333 in LX colors airs simple sophistication and this aura continue inside the aircraft. The 8 passenger First Class cabin feels genuinely private and the overall design elements of the cabin embody understated class and elegance. It is very Jet Airways like – though, of course, not as private as Jet. The semi-suite concept takes design cues from the full-suite like 9W and incorporates a hangar area, huge TV screen, ample area for hang bags, enough areas to cram everything in, the separate console to control everything, and the dining for two space. Instead of the doors which given the suite the general privacy, these had a semi-divider. Now I know why LX management gives their spin about customers preferring open spaces, I personally would have liked the door to close myself off from the outside world.
The seat has a myriad of positions that usual FCL seats have, and the "massage" function is particularly nice. In bed position, it makes for a very comfortable sleep without many "folds" and the LX "turn down" service ensures that one gets a very nice sleep.
Aircraft:
(Stunning 333)
Views from Aircraft:
(Compatriots off to far flung places)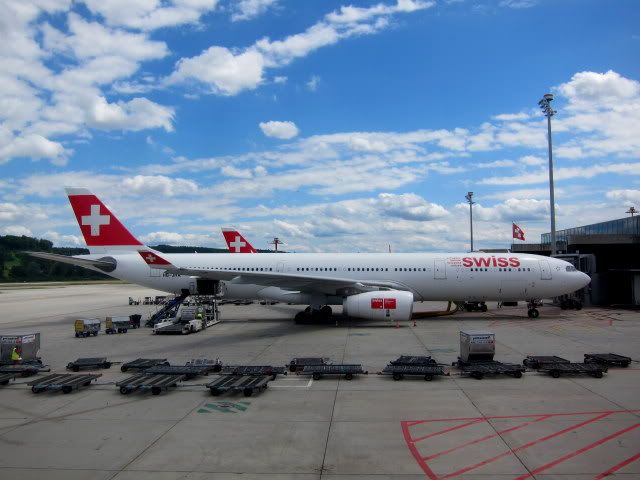 *
(Stars all over)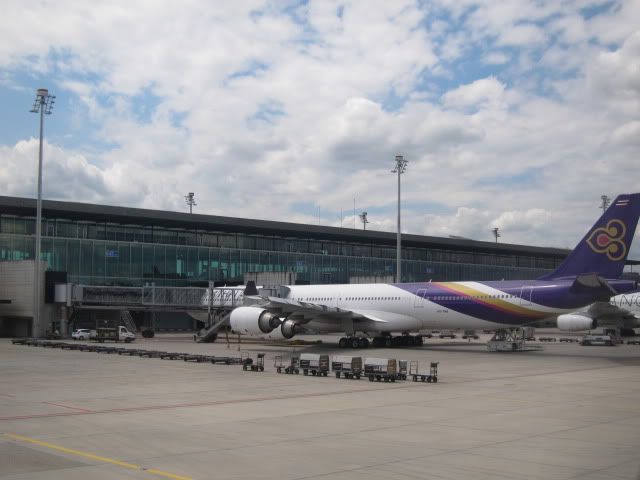 *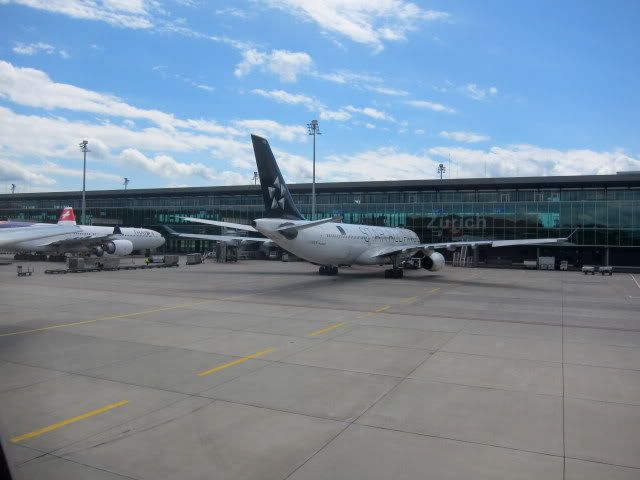 *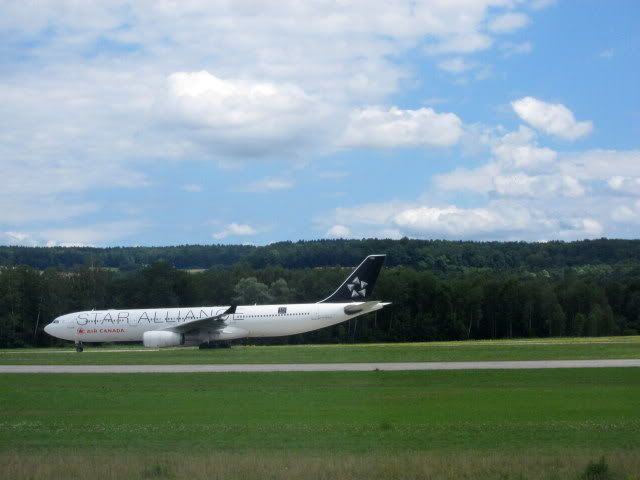 *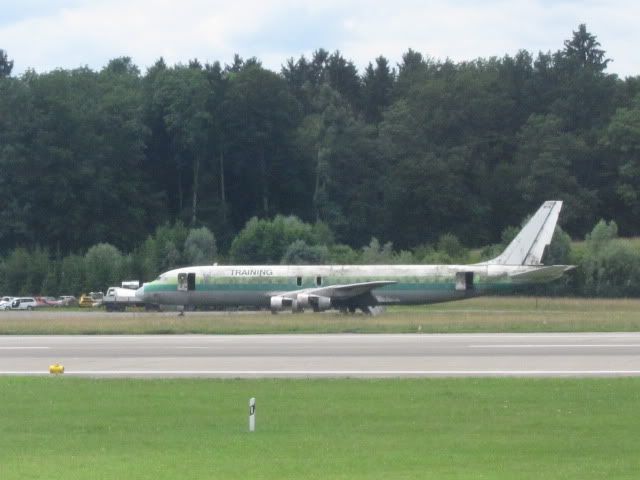 *
(Goodbye ZRH)
General Seat Views + Seat Legroom
*
(Legroom)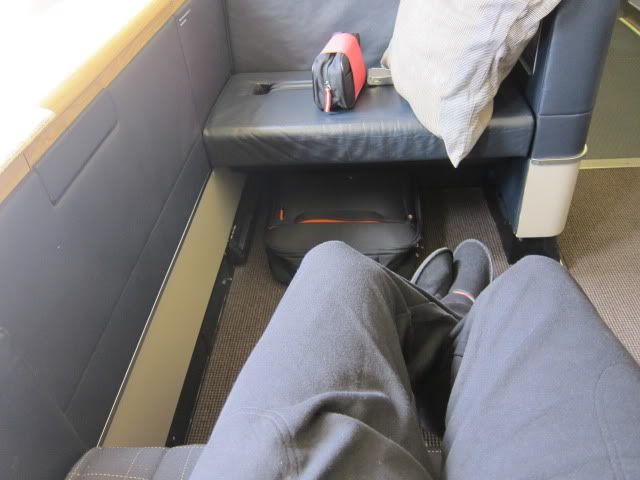 (Around Seat)
*
*
(Divider)
*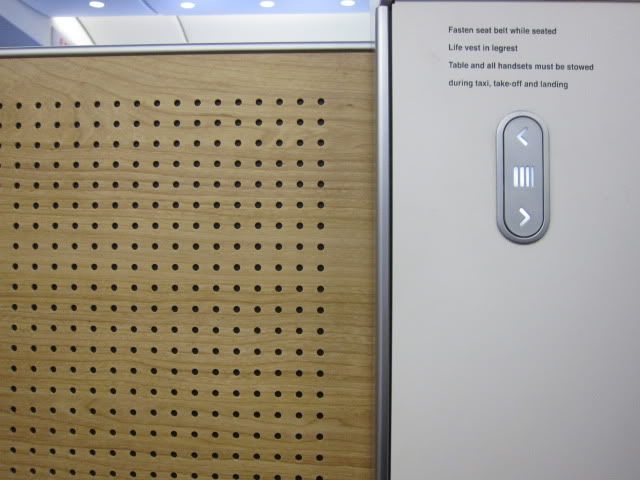 (Controls)
*
*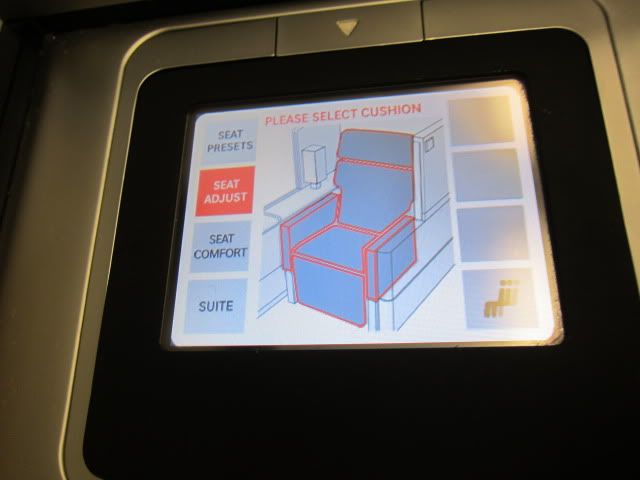 *
Seat Recline + Angle View: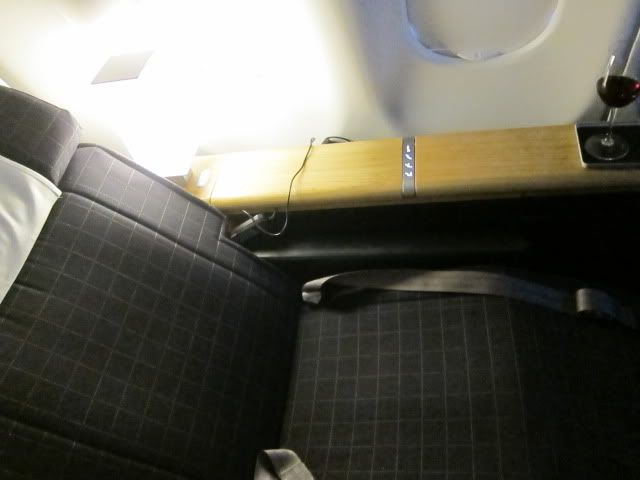 *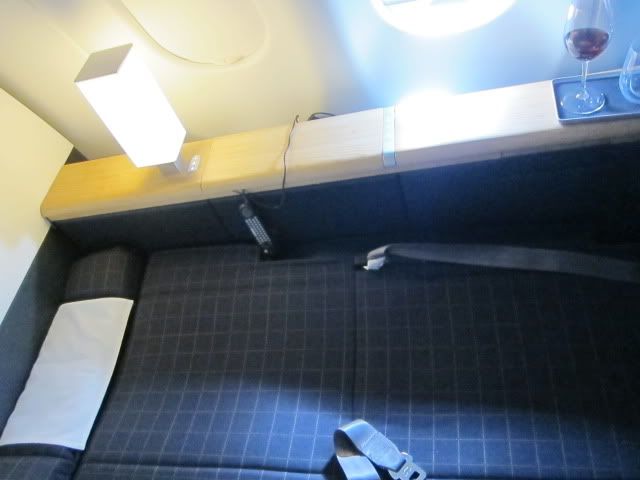 (Angle view)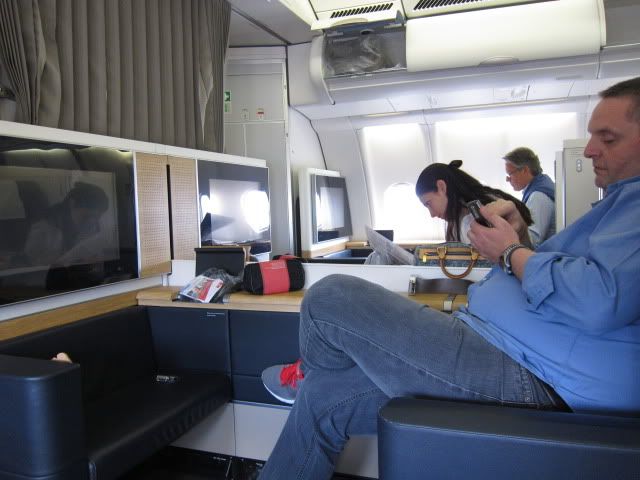 Cabin: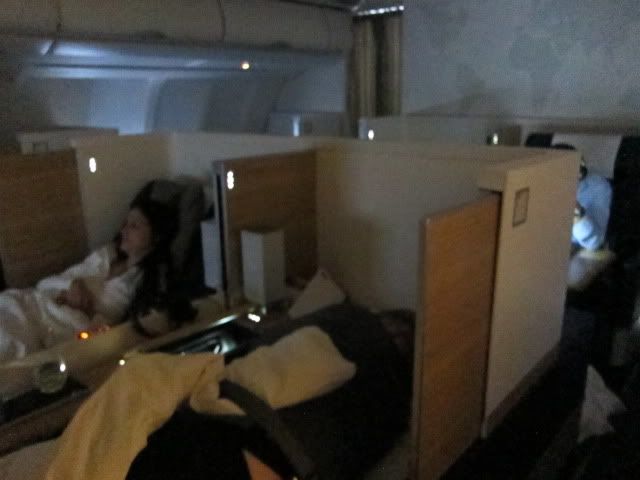 *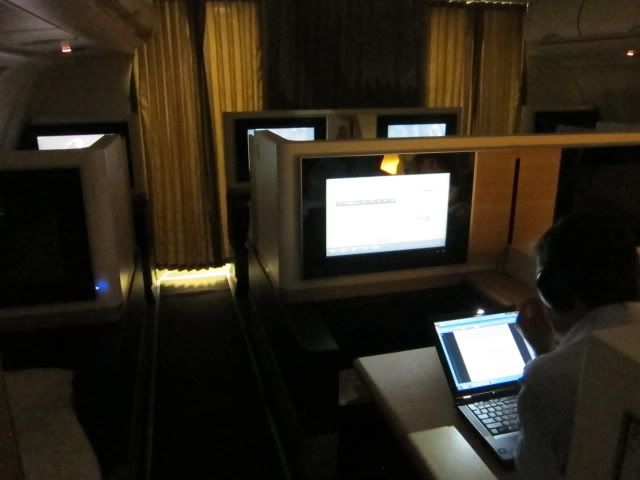 (Bathroom)
c) Meal + Beverage:
Unlike parent LH, LX's menu cards were not as distinctive and were more of what is usually provided in JCL. The inflight service manager (ISM) came by as soon as everyone had settled in to take the order and make some suggestions and recommendations. It was also good to see him being knowledgeable about the wine selections, and agreed with me about the poor choice of champagne.
Of course, the "meal and beverage" service had already commenced on the ground with the champagne and excellent amuse-bouche … though, isn't it time LX changed this a bit? Soon after take-off, the attendant dedicated to my side (let's call him Mr. M) came by and offered me a drink of choice. I was in the mood for a Bloody Mary – which was excellent, but disappointing that it was not accompanied by anything else. Soon thereafter, the full lunch service started with the first course assortment served from the tray – simply excellent Balik salmon, decadent crayfish cocktail, and a nice avocado/melon combination on bread. This was followed by chilled gazpacho, which also hit the right spot. For the main course, I went with the monkfish medallions which was delightfully fresh and just melted in my mouth.
For sure, no decadent meal is complete without great desserts and I went for the chocolate and passion fruit cake – which sadly, disappointed. It just was not fresh and felt lacking in the flavor. Thankfully, I drowned that mess with my usual great port wine and then the pralines from Sprüngli having skipped out on the selection of Swiss artisan cheese.
There was an arrival service which included a-la carte options including fruits, stead and onion focaccia, quiche, salad, and dessert, but I decided to skip as I was feeling fairly bloated and did not want to indulge for the sake of it.
(Menu: Classic chic)
*
*
*
*
*
*
(Pre-departure: Flat champagne)
*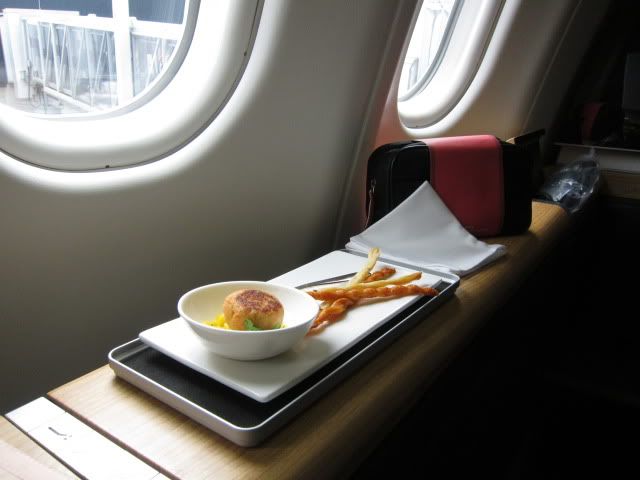 (Lunch service)
*
*
*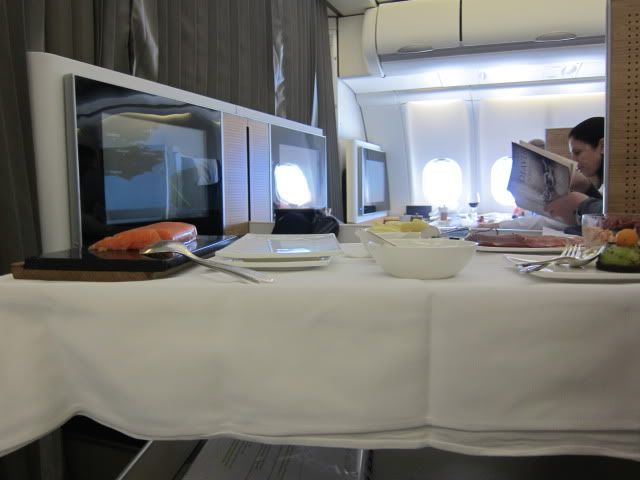 *
*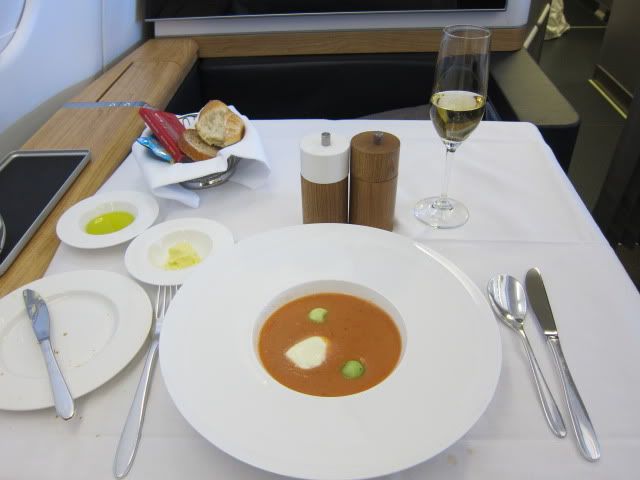 *
*
*
*
*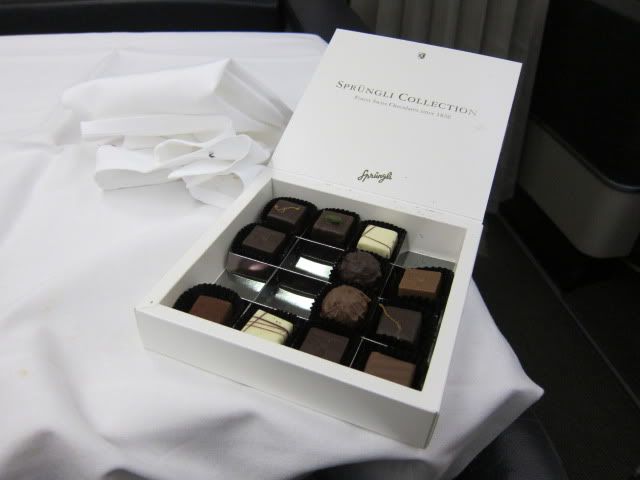 *
(My customary port)
*
*
(During flight)