Aer Lingus
EI528 - DUB-CDG
1 February 2013
Airbus 320 - EI-DVN - St. Caimin
Seat: 3A
Departure: 18:10
Arrival: 20:50
I was heading to Paris for the first time in my life, despite having a lot of friends from there. Happily, it also coincided quite closely with Aer Lingus launching a new meal product. You can pre-order your meal before you fly - and the two new choices looked really good. I decided to try one on the outbound and one on the return, and this is a review of them - and the flight too of course!
As has become common with my flights, I had pre-booked a seat at the booking stage, which meant I wasn't too rushed about online check-in. Rows 1-5 on Aer Lingus cost €10 per seat, and I like to sit in 3A and was able to score that seat on this flight.
During January I noticed that Aer Lingus was launching a new service where you can pre-order your meals. On short haul flights, there are three choices - a Seared Beef Salad, a Chicken Noodle Salad, and the usual Aer Lingus full Irish Breakfast. Of course, I chose the Seared Beef Salad for the outbound, and the Chicken Noodle Salad for the return. You can see the meals here -
http://www.aerlingus.com/inflight-ex...flight-dining/shorthaul/pre-order/
They are all priced at €7.50, which looked quite reasonable. They can be added to a booking from 90 days to 36 hours before your flight. Only the Irish Breakfast is still available on board to purchase before noon - the other two are pre-order only. Once I added them to the booking, I received an updated booking confirmation, and a separate e-mail that I had to print out which was a voucher for each meal. Instructions on the voucher indicated these were to be given to the Cabin Crew during flight.
Anyway, I used the Aer Lingus mobile phone app to check-in for the flight and received my boarding pass during the day of travel. I got the bus to the airport, and as I am a Gold Circle card holder used the Fast-Track Security at Dublin Airport. Unfortunately, Dublin is now enforcing the one liquids bag per person rule, so the super nice guy gave me a new bag and I dumped all my stuff into that unsealed.
From there, I went to the Gold Circle lounge, which was very busy. If you're a fan of ground vehicles, here's a selection of Aer Lingus ones.
I decided to read the Irish Independent, and also picked up an interesting little note about Aer Lingus' Boston Gold Circle lounge.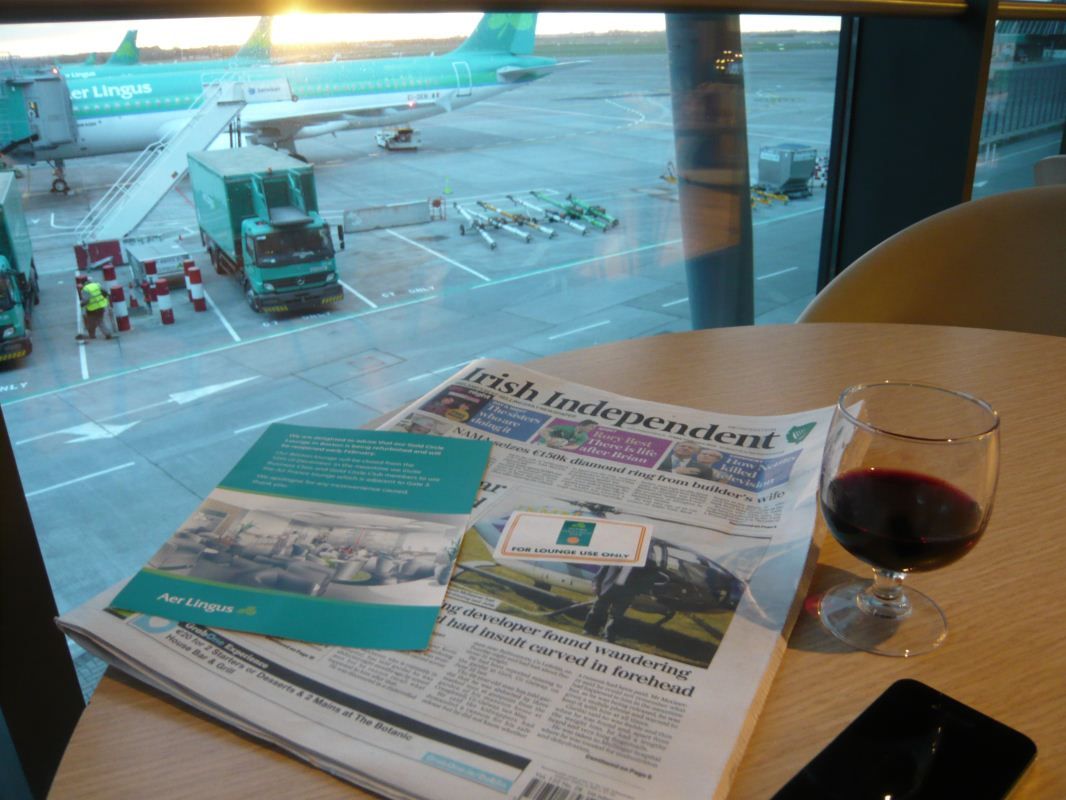 Yes, at long last, the third and final Aer Lingus lounge (after London Heathrow and Dublin) was being refurbished with the new look and was expected to open in February 2013!
Very good news considering the old Boston lounge looked very tired indeed.
When I was entering the lounge, I noticed someone using a Gold British Airways Executive Club card to get in. I asked the lounge agent later and apparently on Aer Lingus flights from Dublin to London Heathrow and Dublin to London Gatwick, you can use your BA Gold or Silver card to get into the Aer Lingus lounge. This is because the flights are all codeshares with BA.
Something to note when my Gold Circle card expires in June - and lucky I have a BA Silver card ready to take up the slack!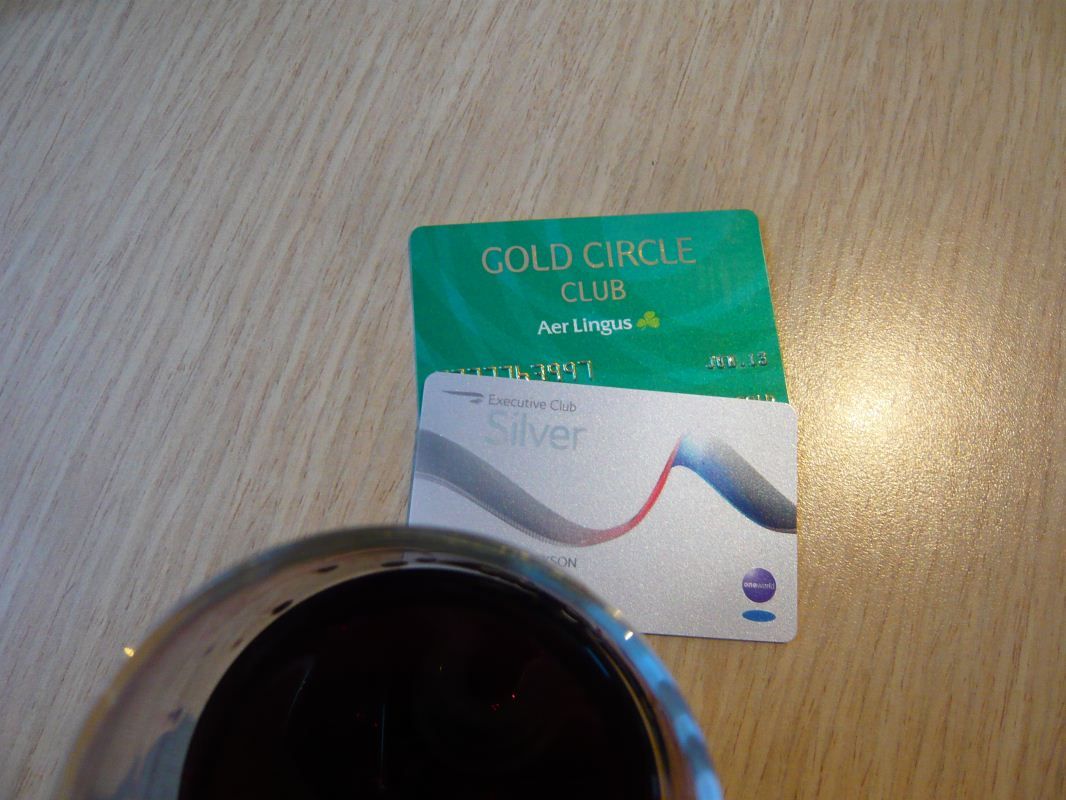 A nice view of the ramp with the lounge reflected in it.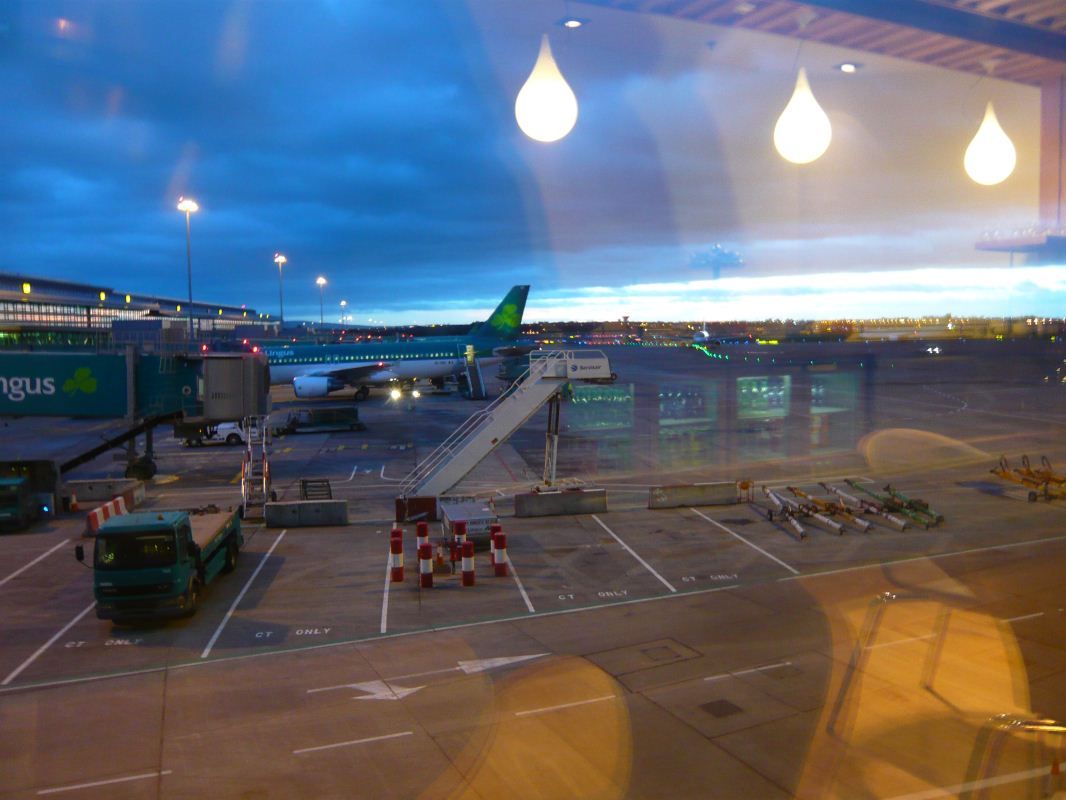 Soon it was time for boarding, and I was invited to scan my phone myself, then proceeded to the aircraft - putting my Passport in my carry-on and getting out my food voucher to put into the seat pocket until needed. The flight was destined to be populated with lots of French people who all completely ignored the boarding by rows concept and boarded when it suited them. I had the dubious pleasure of being sat next to two teenage girls - which annoyed me somewhat as 4DEF and 5DEF were completely empty (until other people moved into them). Here is the back of the seat in front of me.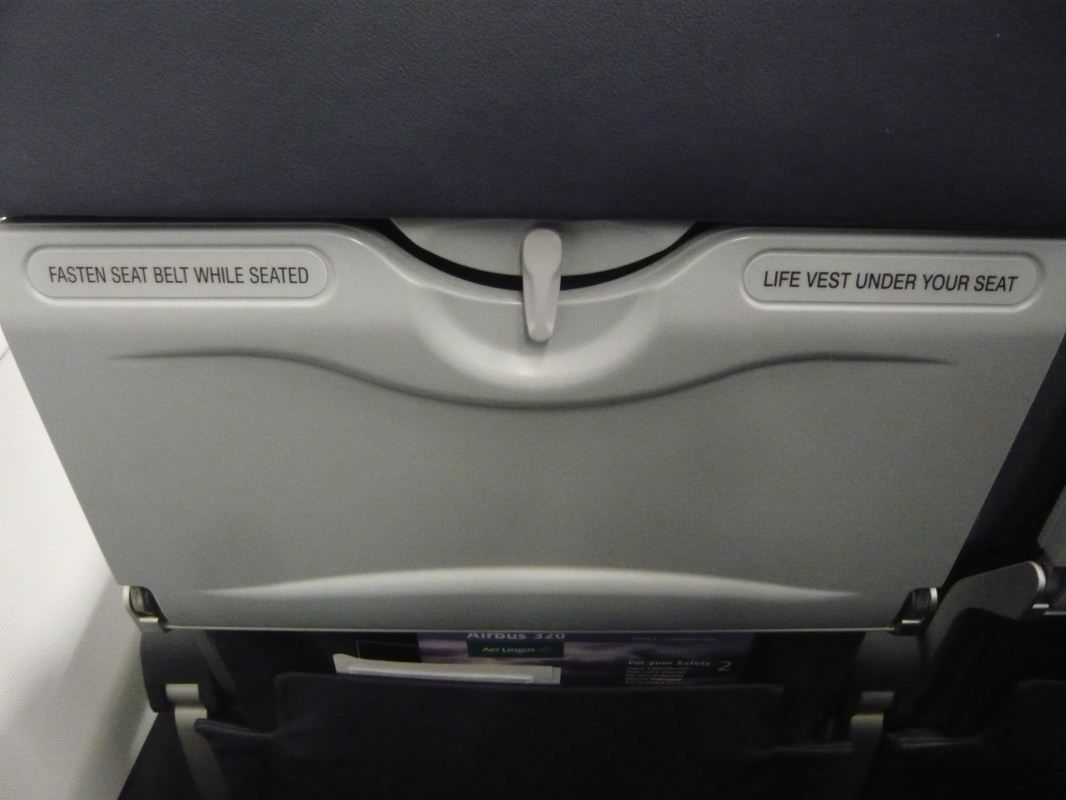 Standard legroom shot - noting that I am 176cm tall or 5'9".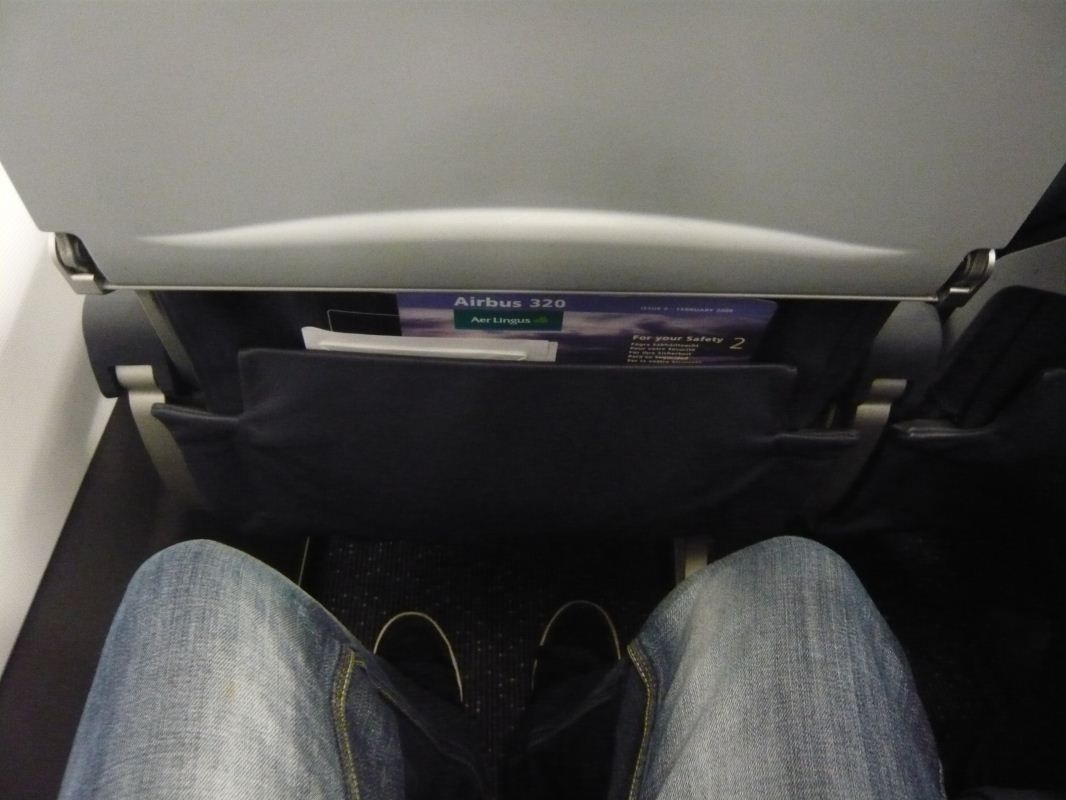 Everyone was on board soon enough and our aerobridge (for the Aussie's) or jetway (for most of the rest of the world) swung back off the aircraft.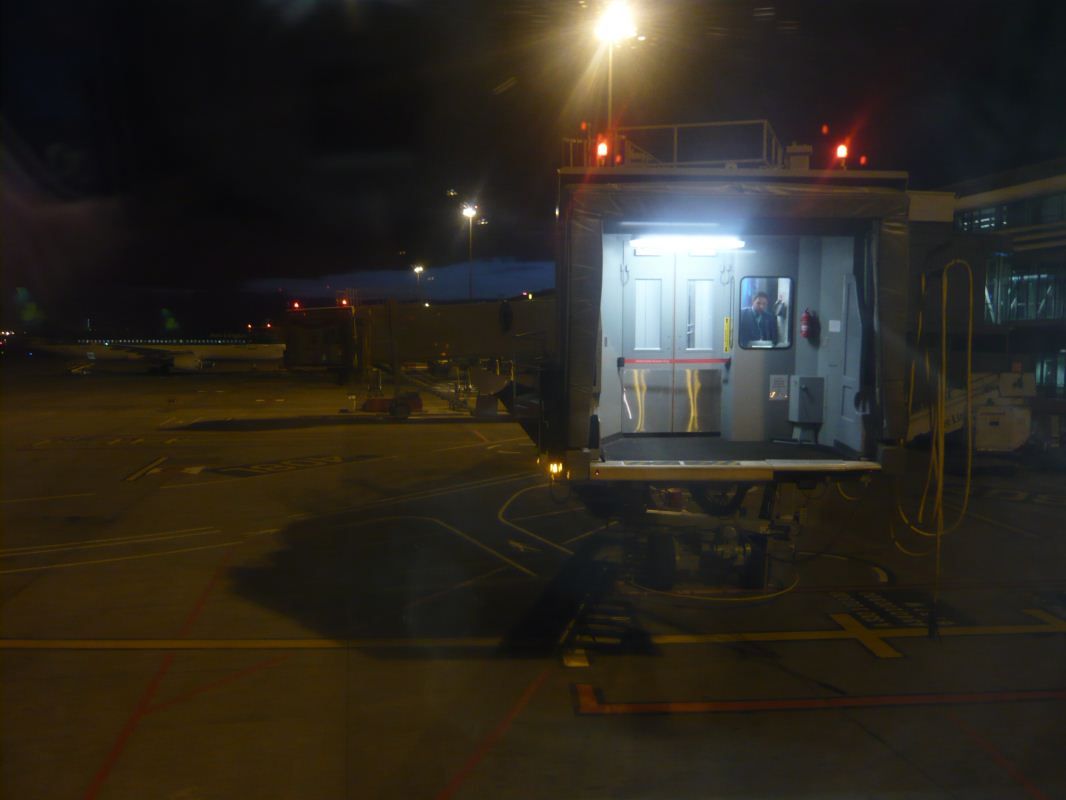 This is the cabin from 3A.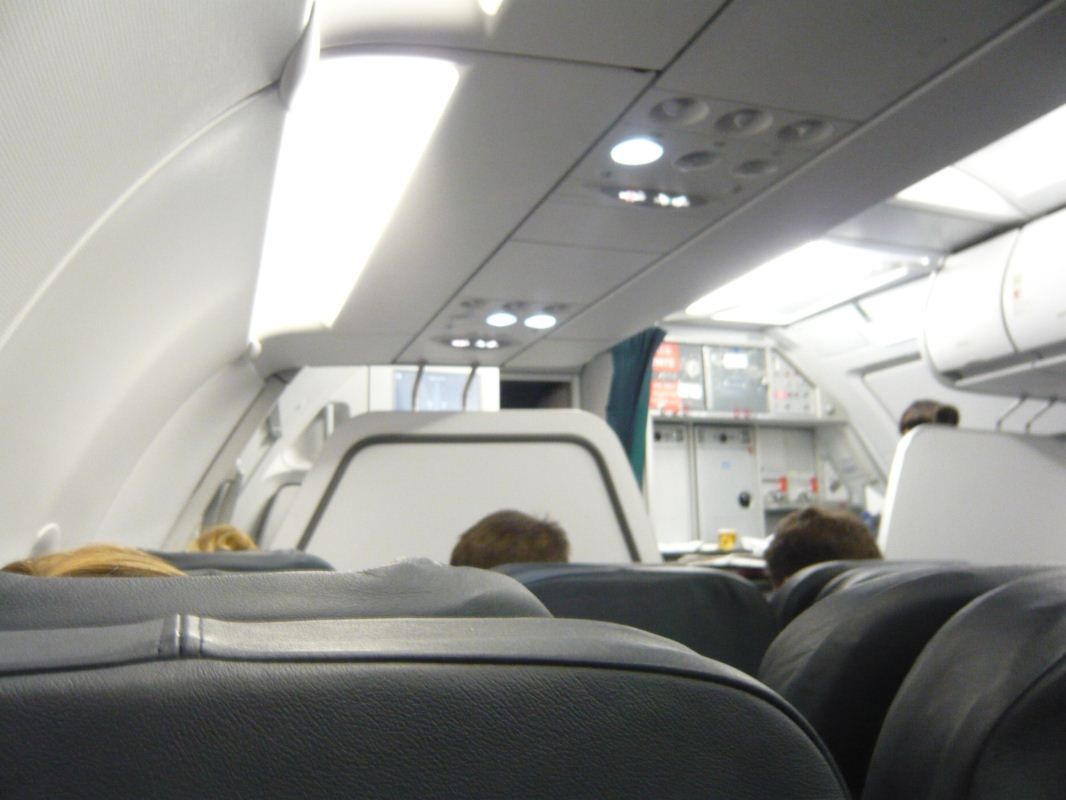 We were into the air after the safety demonstration and very little wait. Luckily, Dublin was looking quite nice during the climb out, thanks to some relatively high cloud cover.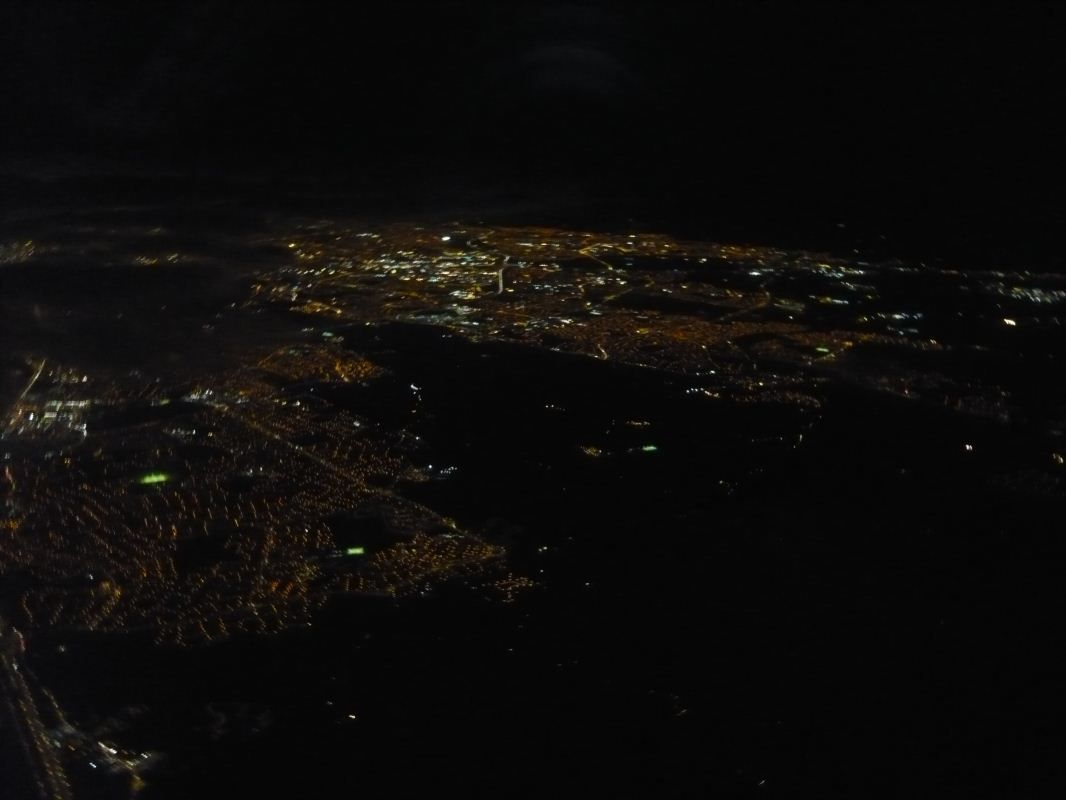 Once in the air, I waited for the main event. I watched as the crew readied the trollies... and then voila! I saw a meal go to the guy in row 1. Not moments later, I was given mine in row 3. I handed the crew member my voucher, I was given a tea (or coffee) to go with my food, and then they started to serve everyone else. Below is how it arrived - I also received an additional cup which was handy for waste.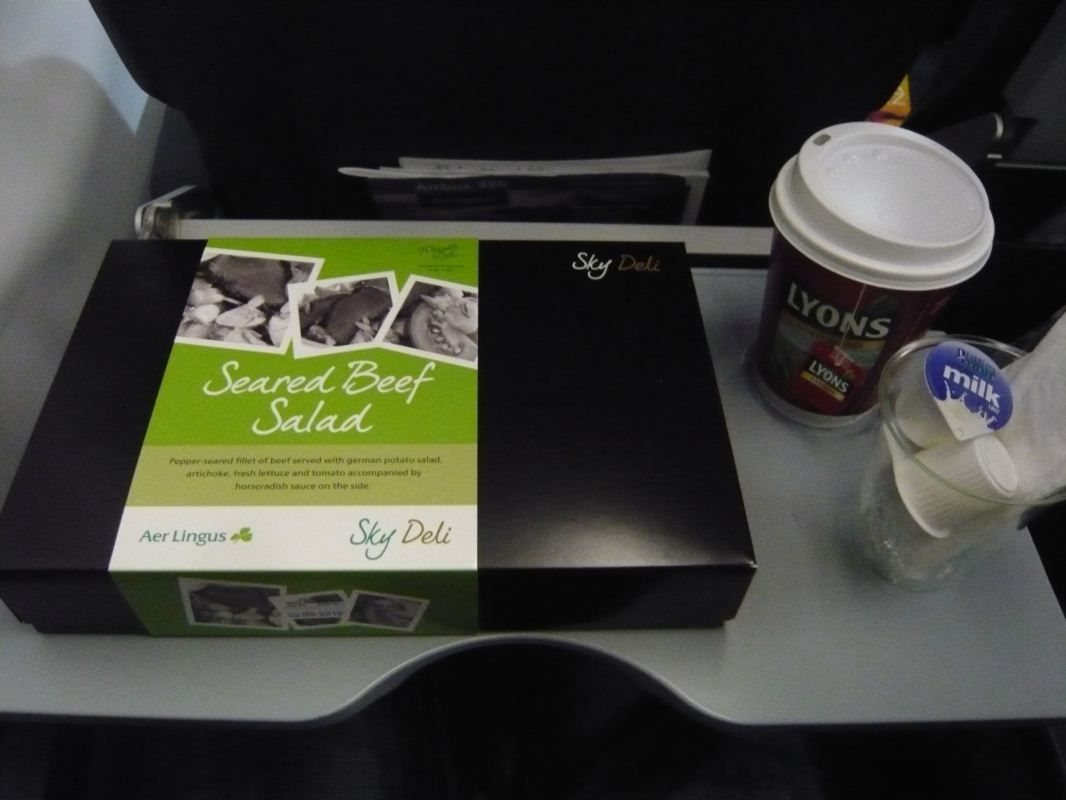 Without the sleeve, the box is glossy and quite nice looking.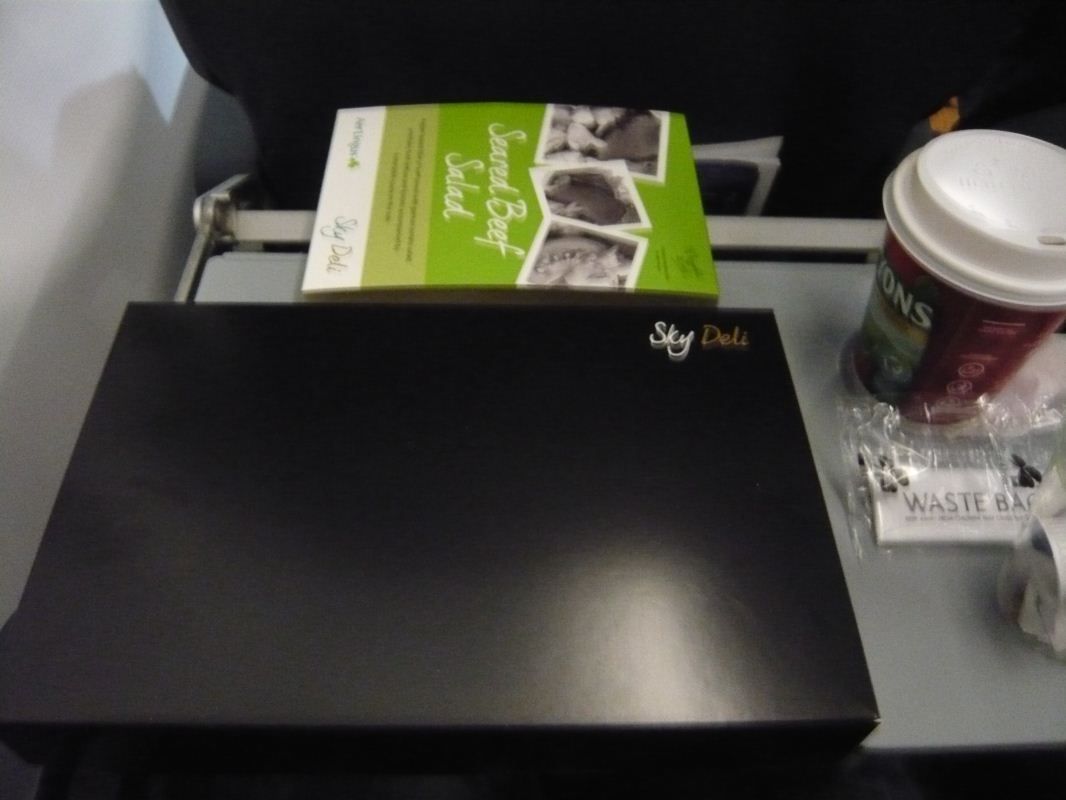 Ta dah! The insides!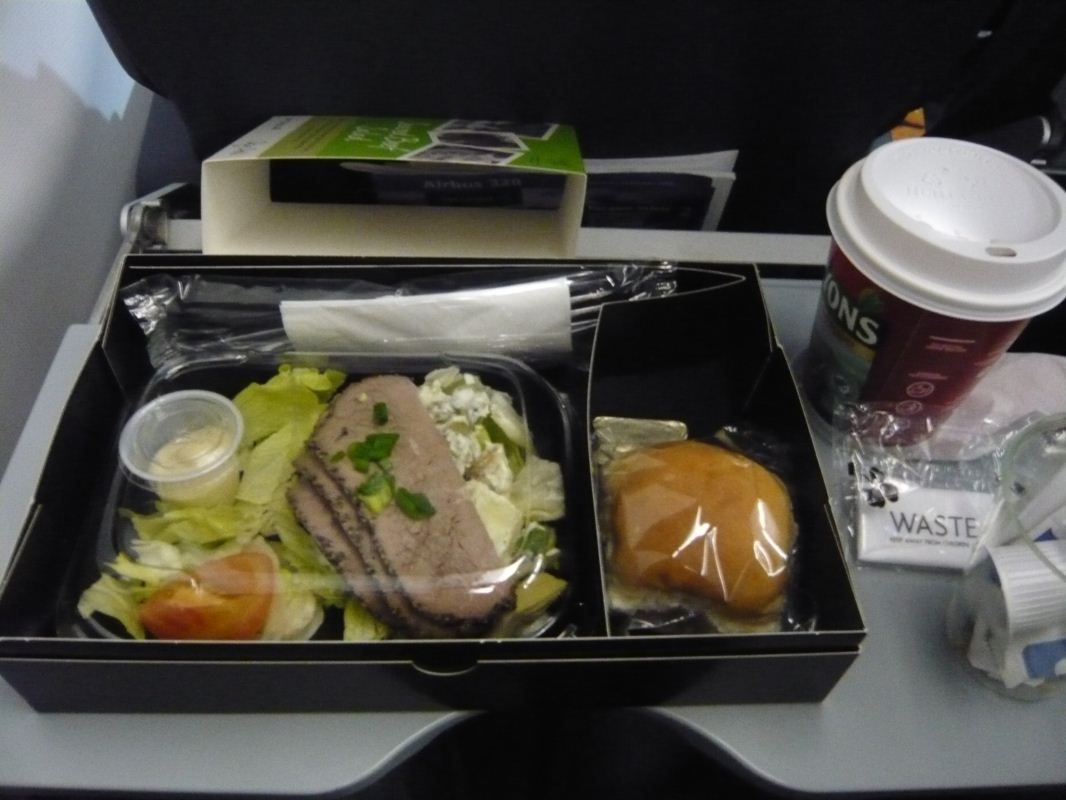 Now, the lids are off and the gorgeousness is displayed for full effect!
I have to say, the meal was nothing short of very, very good. The beef was succulent and tender - no gristle, melt in the mouth quality. I am a big fan of pepper so having a hint of that taste added to the effect for me. Happily it also had a little plastic container of horseradish which I love as well, so it was smeared onto the beef (and some of the salad). It just went very well with the meal indeed.
The german potato salad was also delicious. I could have done with another helping or three of that - but I'm a big fan of potato salad as a general rule. The fresh lettuce, tomato and artichoke were good too. The bun was a white bun. You can't go wrong there really.
Downsides - the plastic knife and fork are a strange shape which makes using them difficult. I also put the tray lid under my food tray and due to size differences, the meal tray bounced around a bit when I was trying to eat it. Nowhere else to put the lids though! The crew came past and handed me a receipt for €7.50 from the POS unit and cleared away later on.
Now some detail shots... this is the back of the sleeve. Apparently it was a 463 calorie meal!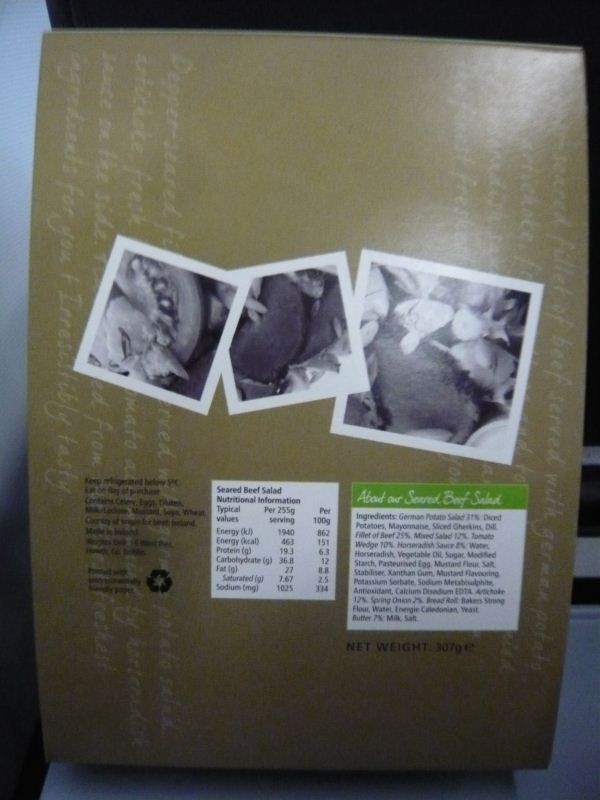 The front of the sleeve - provided by Wrights Deli.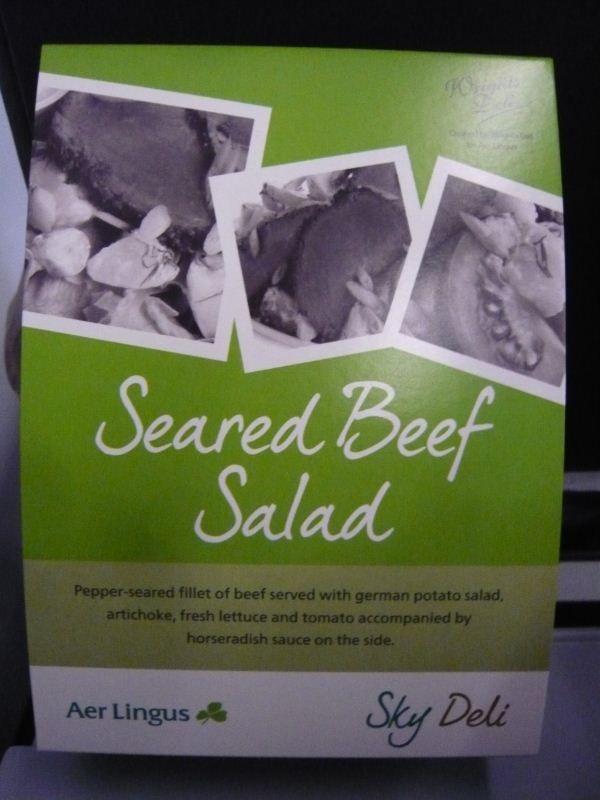 Some little pictures on the side.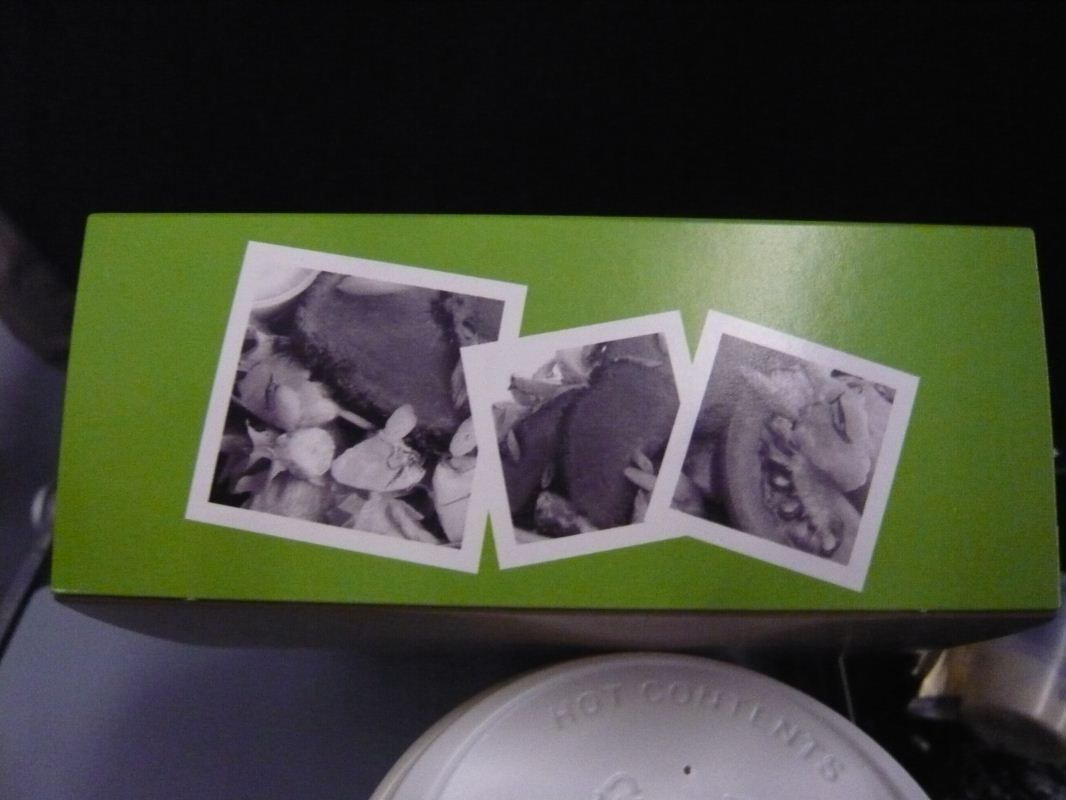 Our flight was very quick thanks to the wind, and we arrived in Paris early, which was good. Happily Aer Lingus use Terminal 1, which I was very pleased about as they had a massive chase scene in this terminal in Airport '79 - The Concorde (or Airport '80 in the UK and Australia) - so I'd always wanted to see it in real life.
I was onto the Les Cars Air France bus to Etoile within about 5 minutes after leaving the aircraft. To my shock and awe, we passed Air France Concorde F-BVFF on the way out of the airport - with ALL its windows lit up - I knew it was mounted, but I didn't know it had all its lights on at night! What a pleasant surprise (and no, I didn't have my camera ready!). I was in Paris an hour later.
All round, good show!
Aer Lingus
EI525 - CDG-DUB
3 February 2013
Airbus 320 - EI-DVF - St. Jarlath
Seat: 3A
Departure: 15:50
Arrival: 16:30
For the return flight, I also checked-in using the Aer Lingus app, received my boarding pass and then it was time to go back to Dublin after a lovely weeekend eating and sightseeing in beautiful Paris.
On the bus, I made certain this time to watch out for Concorde - and only just managed to get this shot as I wasn't really prepared for the angle we approached it at!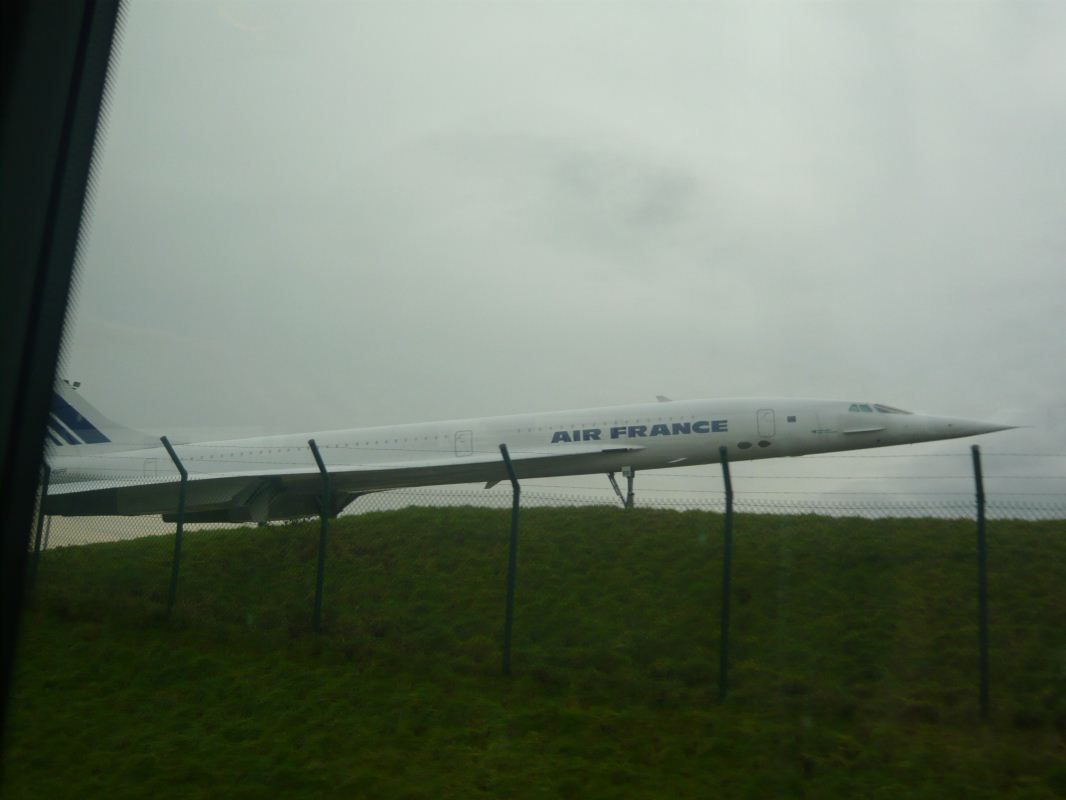 Inside Terminal 1, I went downstairs to the Aer Lingus check-in desk just in case I needed a lounge pass. I told them I was checked in on my phone, and I was told I would be given a proper boarding pass as "it's easier for us". No problem with that! I also received a hand written lounge pass, and was then given directions to the lounge by the very friendly third party agent.
As I was walking about, I saw these (they also come in red) and thought they were AMAZING!
Also, I had time to take photos of the famous escalator tubes that let you go from check-in to departures and so on throughout the terminal. It's a very strange design and the terminal requires some getting used to for the novice, but I was pretty pleased to be there. It's nice to use terminals that aren't made for the eternally stupid from time to time where you have to think. I would have been extremely unhappy had I been rushing for my flight though!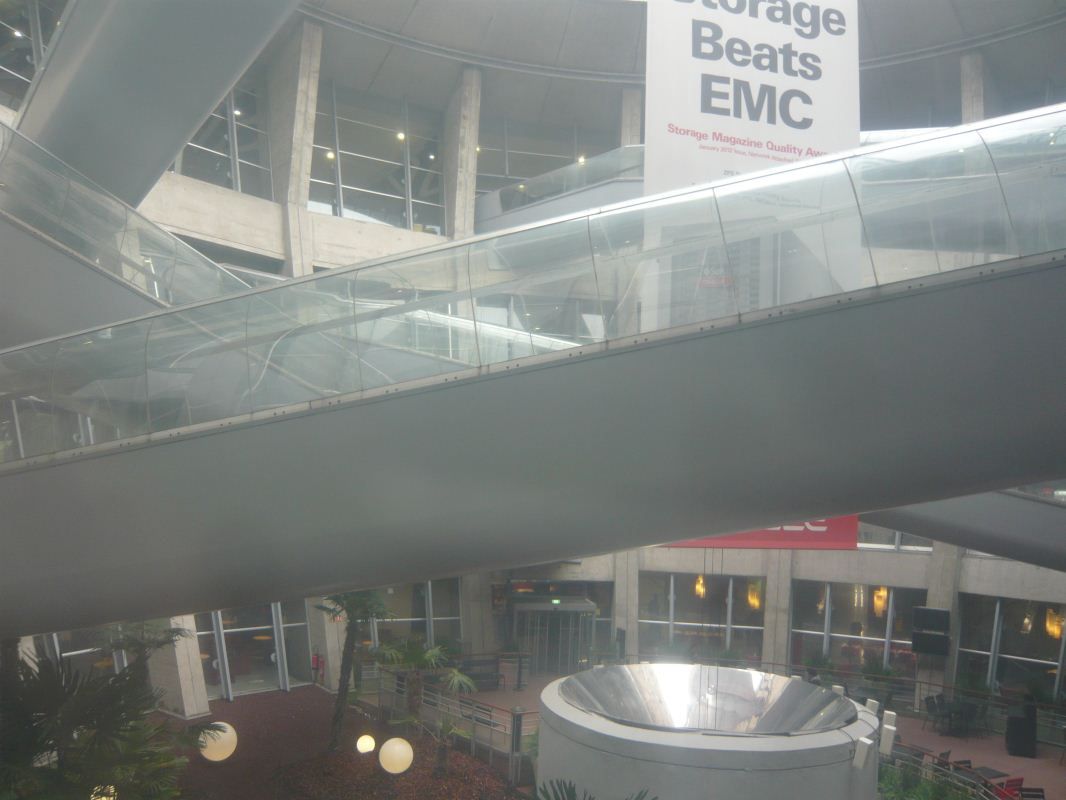 Riding a tube! The travelator floor is bouncy!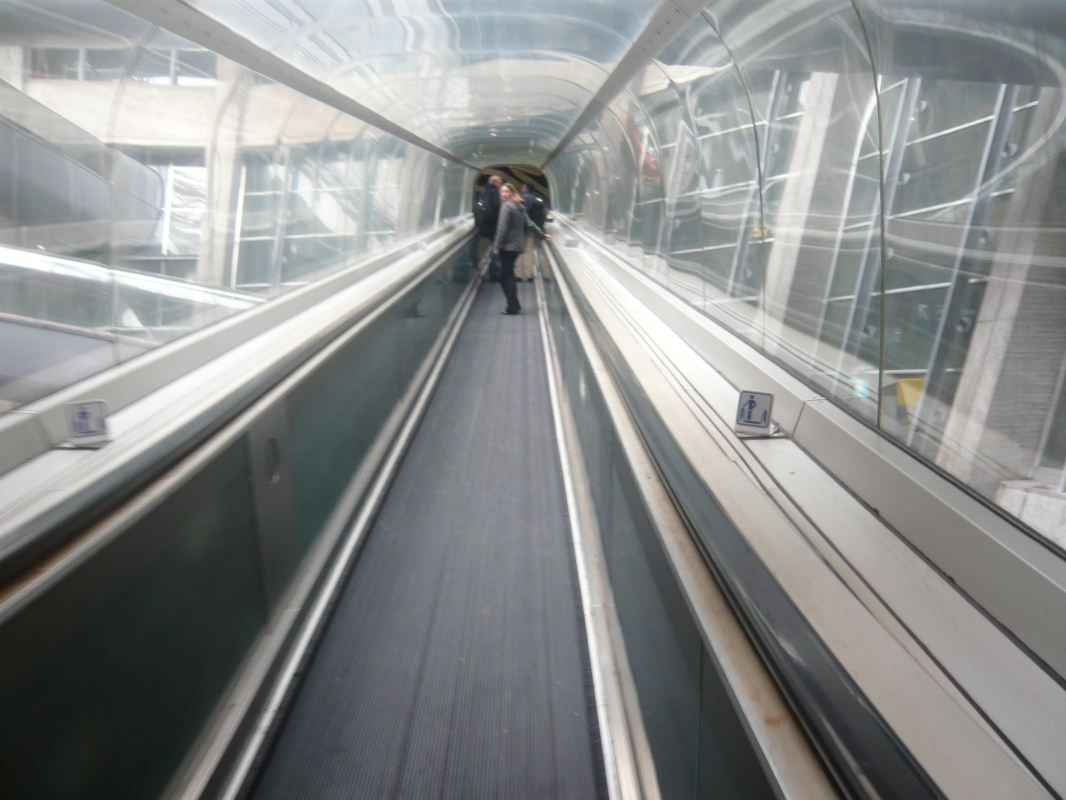 More tubes!
The lounge pass that would allow me into the Salon Icare lounge.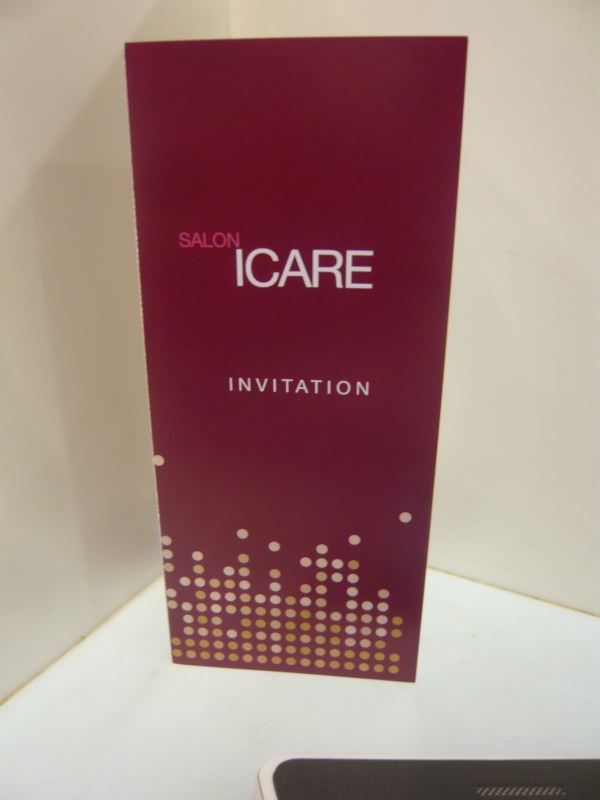 I went up in the lift as I was advised, and it seems they are renovating the whole area around the lounges. I walked along and finally found the lounge. I pressed the doorbell and they buzzed me in. This is the lounge.
It was not very big - but had free wireless so I did some stuff on my phone for a bit. Afterwards, I got a glass of water, noting they had beer and soft drinks as the self-service drinks, plus some crisps and so on to munch on. I'd just had a big brunch and knew I'd be eating on board so I skipped the food. At this point, I noticed that there was an unattended bar, so I walked up, waited for an attendant and asked for wine. As she was asking white or red, I spotted - could it be - "Is that Champagne?". To her nod and my delighted smile, I said, "I'll have that instead!".
It came in a lovely little champagne glass, and I went back for seconds... and thirds. Truly a delicious drop it was too! All free of course! Next it was time to go to the aircraft, so I bid my lovely lounge attendant friends farewell.
From the main terminal, you need to get to the satellite gates which are circular buildings strewn around the main terminal. You need to go underground for this and this is how it looks.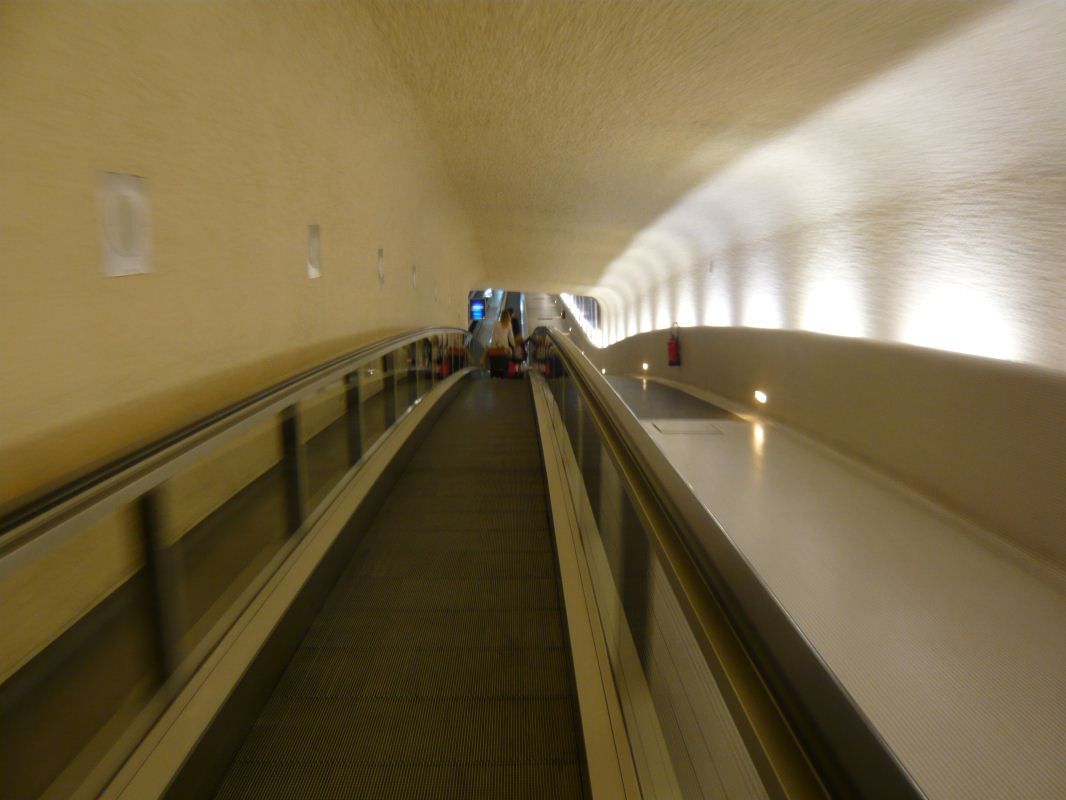 After not much waiting, we boarded... waited in the jetway... were released, and I was on board. 3A again and I had an Irish lady (who had higher Aer Lingus status than me - I saw her Prestige card as she was boarding!) with Louis Vuitton cabin luggage and a Chanel purse sitting in 3C. Happily 3B was free, despite the crew constantly telling people to put cabin luggage at their feet as we had a very busy flight today. Only one person couldn't stow their luggage and it got its own seat in the last row of the aircraft which was empty. Doors closed and thes slightly tired and slightly frazzled crew ran through the safety demonstration.
Here is the view from my window.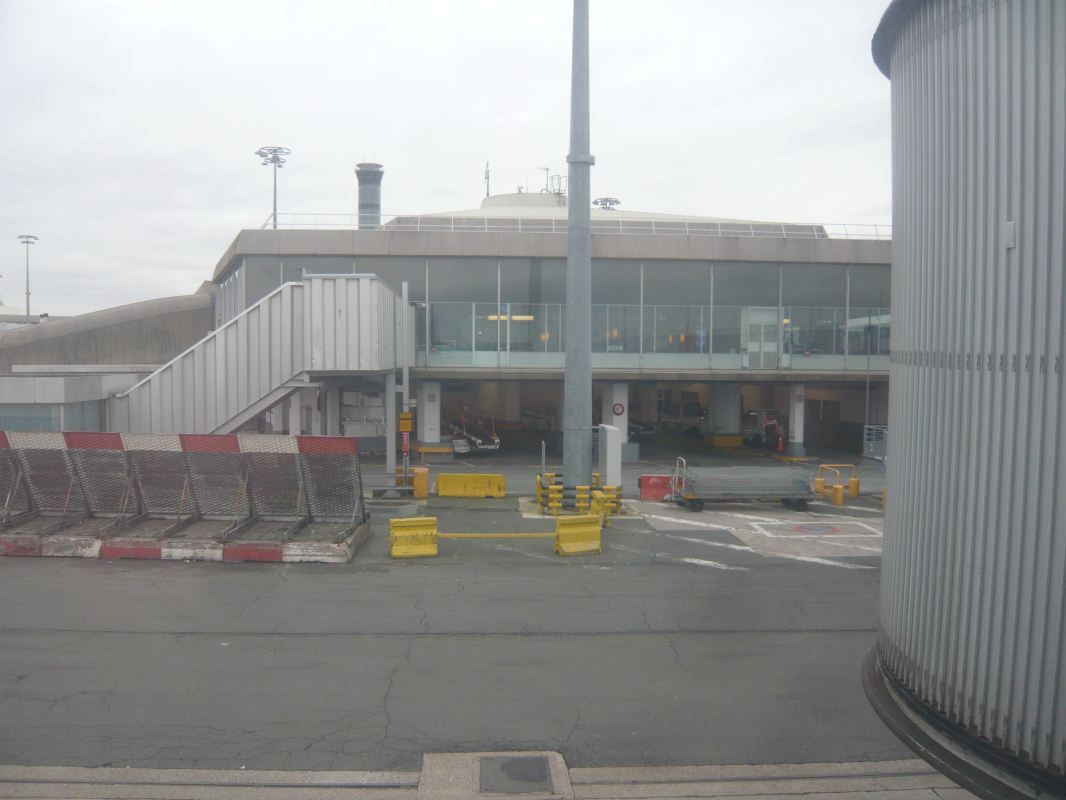 Our friendly dispatcher. At Terminal 1, the jetways are really long - so tugs are not required on departure - it was nice to see it swing away, the engines start, and us to just taxi straight out!
The tower.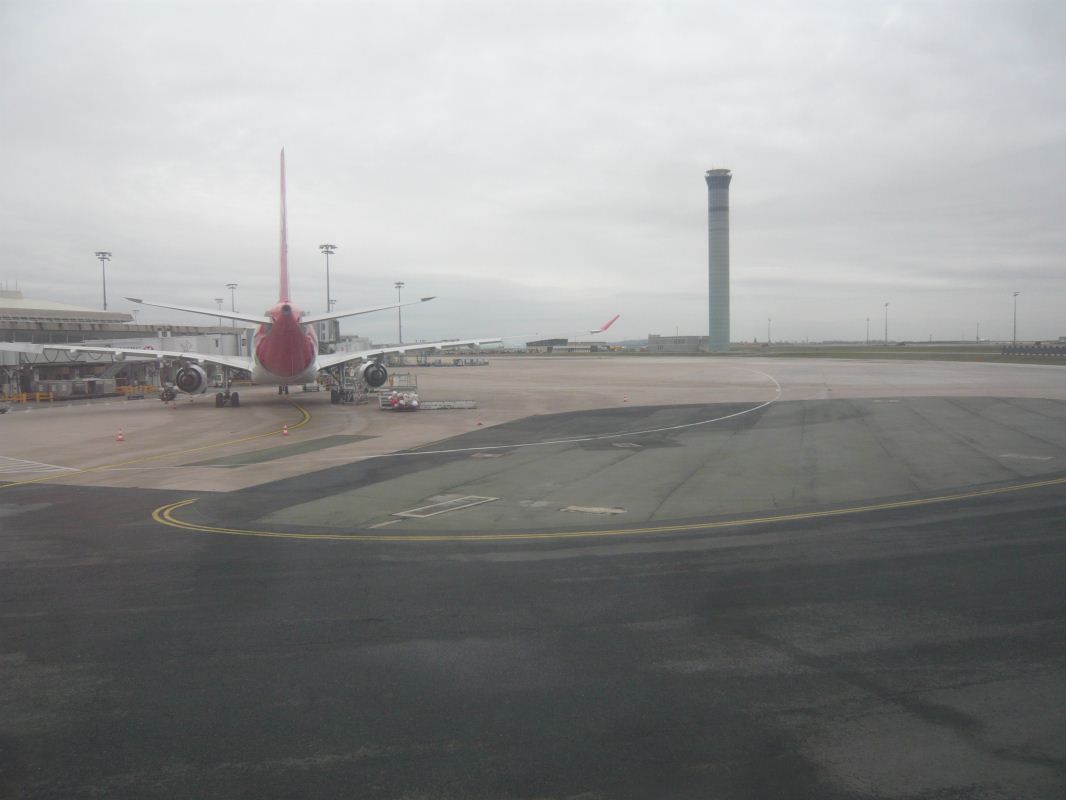 TAM use Terminal 1 as well. We went straight to a runway and did a rolling take-off - absolutely no delay or queue. I didn't see any other aircraft moving at all when we were around, it was almost like having the whole airport just for us.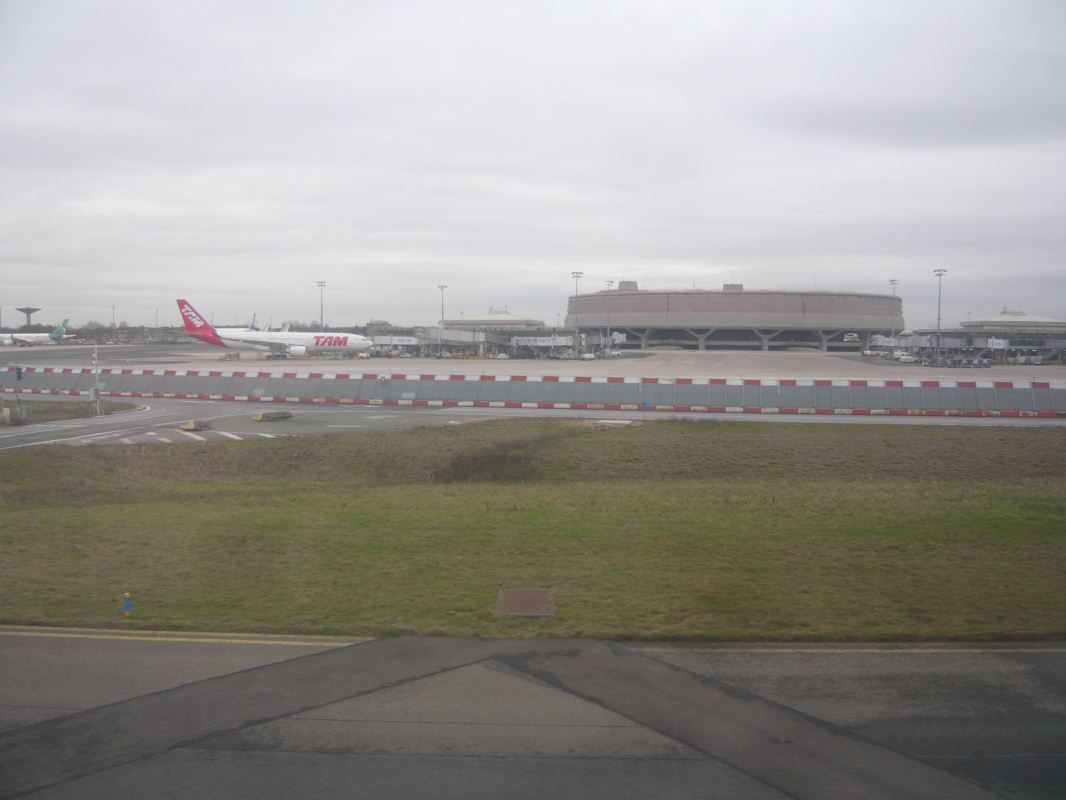 Once in the air, I expected the meal to be handed to each passenger who had pre-purchased just like the outbound - before the trolly service started. No, this time row 1 and 2 were served, then they got to me and I passed her the voucher. She knew what it was, looked at it for ages, then laughed when she found what she was looking for - she was trying to find which type of meal it was! A Chicken Noodle Salad it was and the other crew member retrieved it and then I did too.
The crew member wondered why I was still looking at her after she had asked the lady in 3C what she wanted. I said that it should have a tea or coffee and she then gave me a tea, apologising as "these are new to us!".
Anyway, here it is...
Without the lid, it looks like this...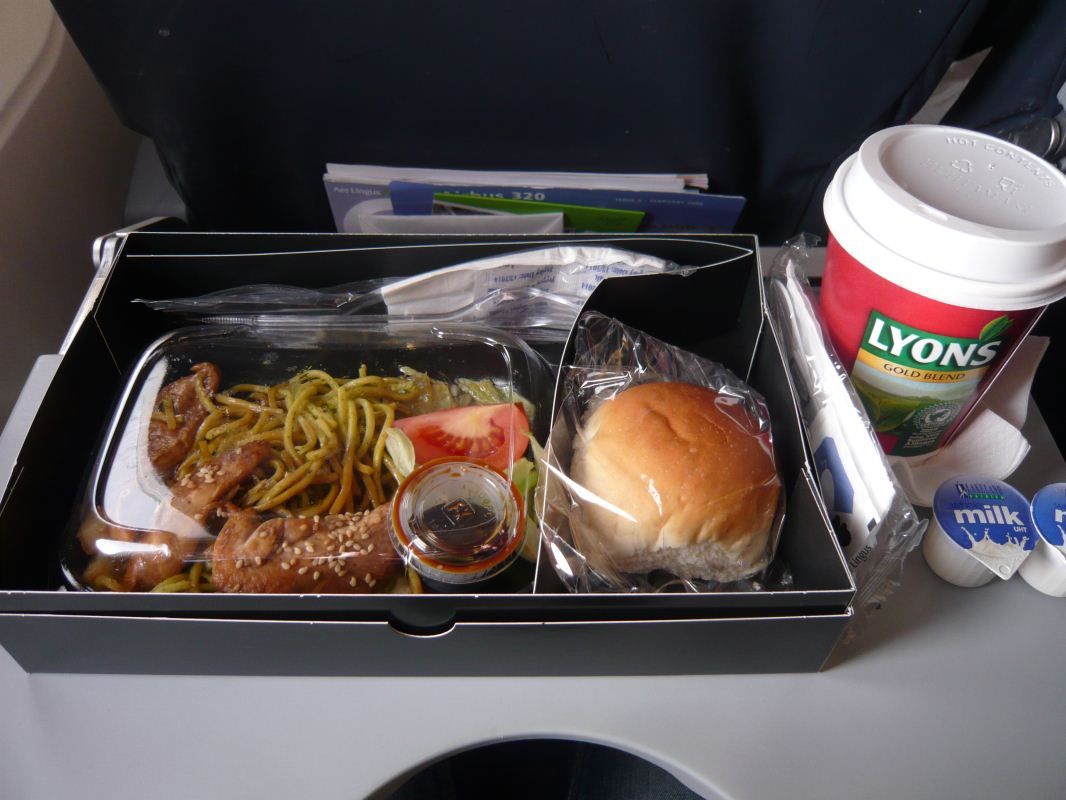 Of course, you then take all the other lids off and get the bun out of its plastic wrap and it looks like this.
For some reason the lids were hard to take off, and some of the sauce came out so my hands were quite sticky with soy sauce before I'd even started. I then added "ponzu dressing" (it looks like soy sauce) from the little container. Now it was time to try it. I think perhaps it had been chilled to much as the chicken was a bit dry and fairly hard, with just a hint of gristle. Still, it was edible, just not as great as the beef on the previous sector. The noodles were harder than I would have expected too, and overall I thought the meal wasn't all that great.
It says the noodles are "green pesto infused" but I didn't really taste that. The lettuce was fine - the pineapple! The three smallest slivers of pineapple I have ever seen in my life were on the left hand side of the meal, which I noticed after a while. Tiny, tiny, tiny!
The butter was rock solid so that was hard to spread, and my overall thought was, "Oh - now I know what meal to get on my Dublin to Gran Canaria flight in March - the Beef!"
The knife and fork were of the same design and you can see them below. I thought they were hard to hold, and not the easiest to use due to the curved design. They look nice, but they don't sit well in the hand.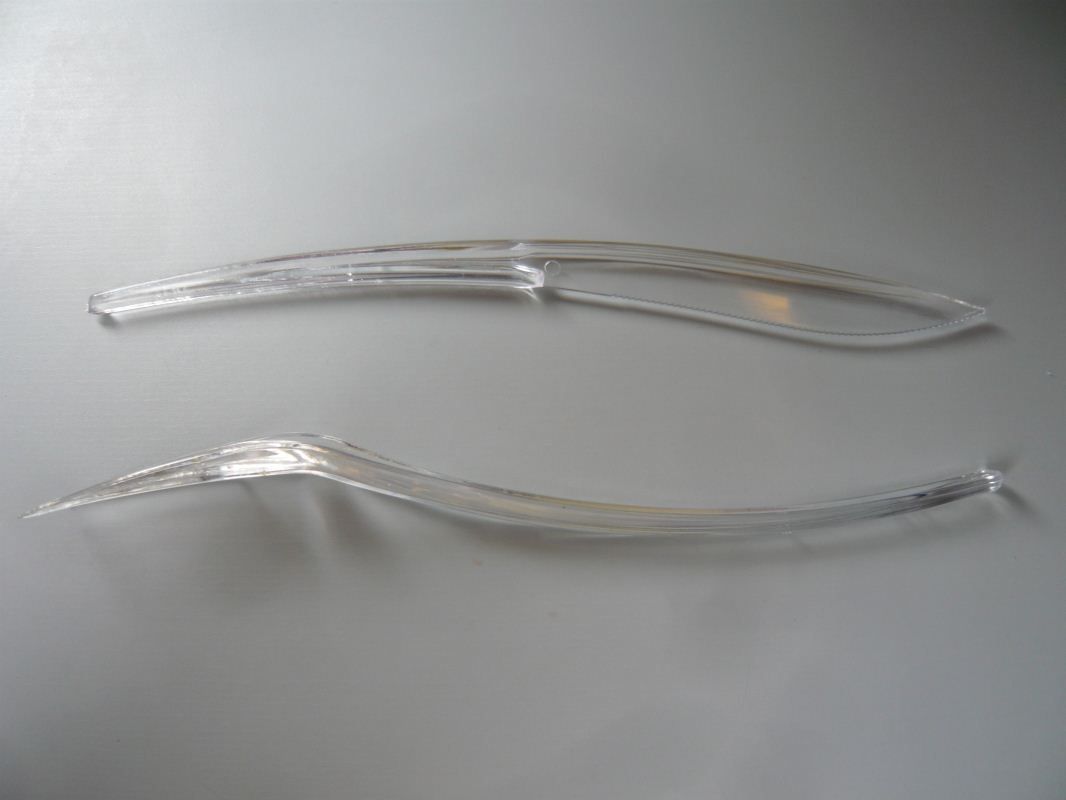 The view looking backwards from 3A.
Some interesting clouds...
Flying at dusk is actually my favourite time to fly, as the sky looks so beautiful.
We landed, and I was off the flight and through Passport control very very quickly, and onto a bus home soon enough too.
The verdict?
Well, even though the two meals are variations of the old "Chicken or Beef?" (because they are actually a chicken meal and a beef meal!), they are a good effort from Aer Lingus to try to do something different. I'd eat the beef again and would thoroughly recommend it. I'd try the chicken meal again on a flight originating from Dublin, as I am guessing that the flights it had been on beforehand had contributed to it not being so great. If it was similar again, I wouldn't be choosing it. The beef though was superb!
I thought the service of handing them out before the trollies go through the aisles was the better method of service, and getting a receipt was good too. It's like I had two opposite flights entirely really, but since the meals have only recently become available, there are clearly some teething problems.
What makes my mouth water though are the pre-purchase meals for €17.50 on the Aer Lingus transatlantic flights! Check these babies out -
http://www.aerlingus.com/inflight-ex...-dining/longhaul-economy/sky-dine/
It's almost worth booking a flight to New York, Boston, Orlando or Chicago just to try those bad boys!
Anyway, I hope you enjoyed my report and keep an eye out for the next ones!