La Dolce Vita with Alitalia, Pt 2: MXP-NRT-FCO-BRI
Hi!
Thanks for clicking on the next instalment of my Alitalia Extravaganza! The flights:
AZ 303 London LHR – Rome FCO, A321
AZ 1391 Rome FCO – Genoa GOA, A320
AZ 786 Milan MXP – Tokyo NRT, B772
AZ 785 Tokyo NRT – Rome FCO, B772
AZ 1603 Rome FCO – Bari BRI, A320
AZ 7108 Brindisi BDS – Milan LIN, A319
AZ 230 Milan LIN – London LHR, A320
My route with all seven flights, courtesy of GC Mapper, of these reports: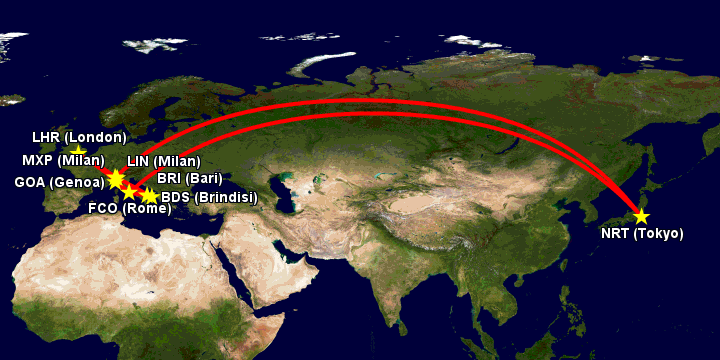 And the European detail:
I'll be splitting the report into 3 parts:
Part 1, LHR-FCO-GOA
Part 2, MXP-NRT-FCO-BRI
Part 3, BDS-LIN-LHR
Part 1 can be found here:
La Dolce Vita With Alitalia, Pt 1: LHR-FCO-GOA
(by
gabrielchew
Jan 25 2013 in Trip Reports)
Mr. Sultanils has also published his Part 1:
3h In Tokyo, A Joint A.net Odyssey: BRU-MXP-NRT
(by
sultanils
Jan 21 2013 in Trip Reports)
You can also see my previous AZ flight to NRT from September here:
Asia 1: Limoncello With Alitalia. BA/AZ LHR-NRT
(by
gabrielchew
Oct 3 2012 in Trip Reports)
And another A.netter whom previously flew the "NRT Special", dc9northwest's report can be found here:
Going To Tokyo... Alitalia 777-200ER, MXP-NRT
(by
dc9northwest
Jan 13 2013 in Trip Reports)
The map of Part 2:
Picking up from part 1, I took the train from Genoa to Milano Centrale.
I'd met an old friend the previous night who used to commute on this line and guaranteed me a delay….and true to his word we were delayed. I had a 25 minute transfer window in Centrale to make the Malpensa train…in the end I made it with about 1 minute to spare.
**Money saving tip! Rather than buy a direct ticket from Milan to Malpensa (EUR 11), buy two tickets, one Milan to Ferno (4.55 EUR) and then one Ferno to Malpensa (2 EUR)….same train, but much cheaper. They like to gouge the airport travellers!**
Thankfully, the next train was more or less on time. I made my way up to the check in level, printed my boarding pass from a SSCI machine, then headed into the basement to join the long and slow security queue.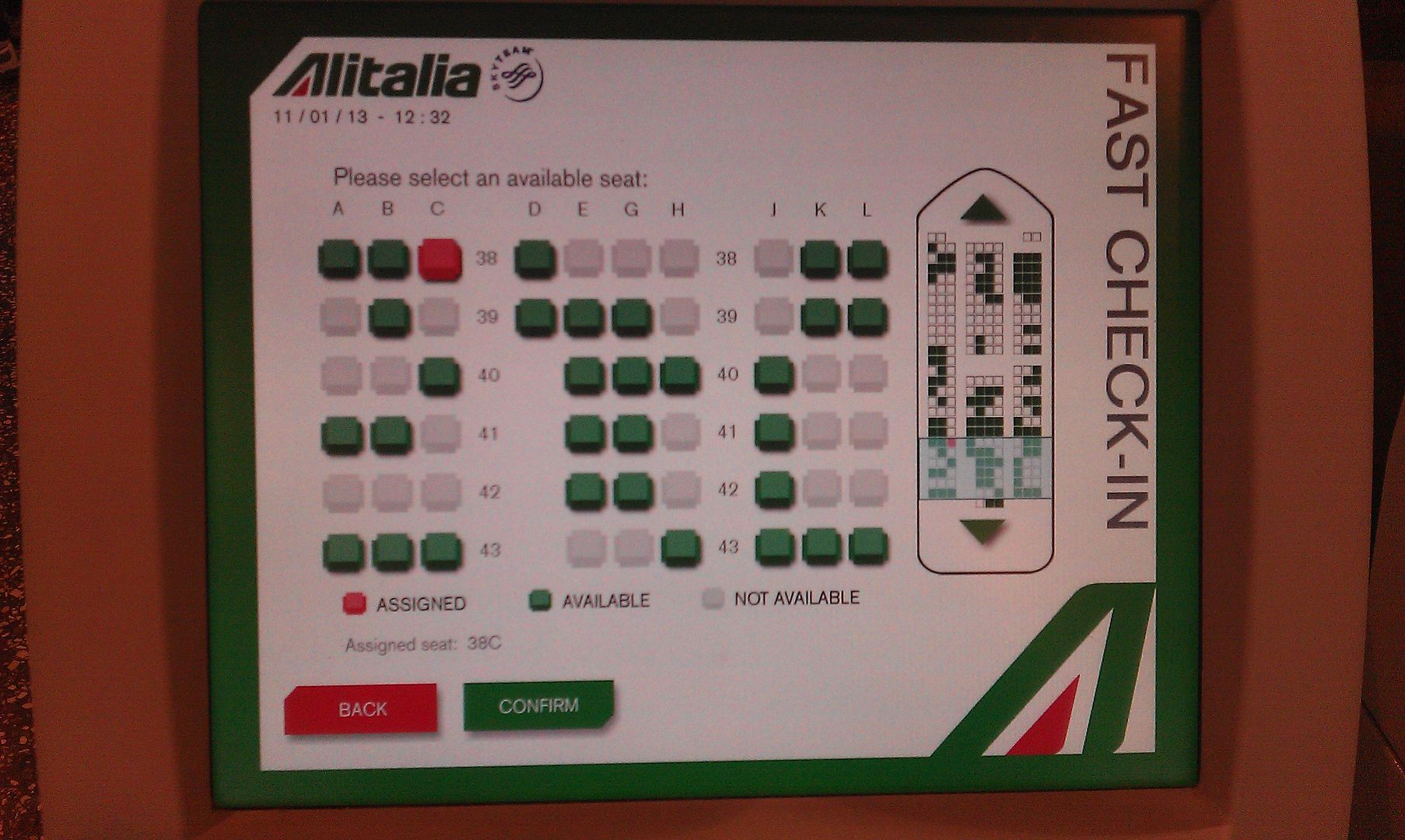 Interestingly, when I first booked, the 777 was in the old 3x3x3 configuration. I reserved seat 19L, supposedly a good seat. However, before long, AZ finished updating all their aircraft into the 3x4x3 configuration. 19L doesn't exist on the new config, but my reservation stayed. I was also unable to move away from the phantom seat online. Thankfully, the flight wasn't full so I could get a decent seat at OLCI.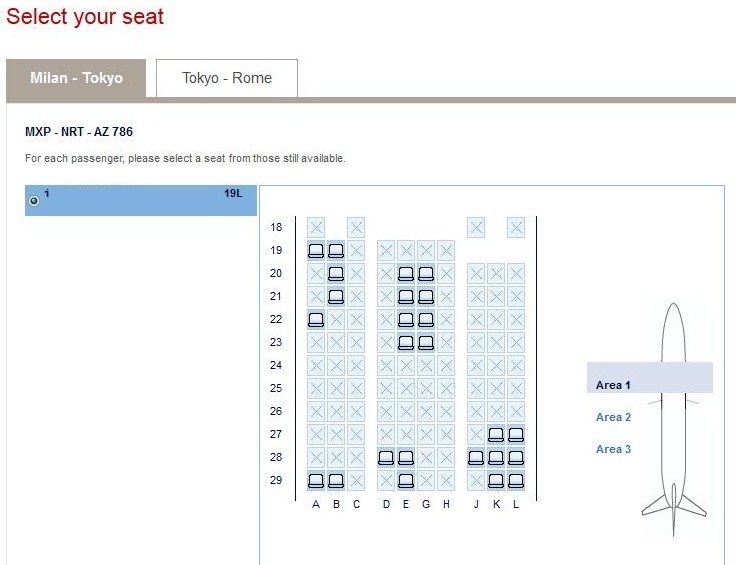 Today was foggy. Very foggy. This is our chariot to Tokyo.
FIDS. Prize for most interesting movement is the Neos flight to DXB via Catania. Who knew there was a direct flight from Sicily to the Middle East?!
Today's Tokyo flight would be full of a.netters. I was scheduled to meet FlyingFinn76, Sultanils, Tobry and airbuseric in the Sala Clementi, one of the two Priority Pass lounges in the Schengen area.
I was the last to arrive, and everyone else was well into a bottle of Rose prosecco. Still, the lounge was well stocked, so I joined the others for a few glasses.
With about 20 minutes to go before boarding, I headed down to the other Piroirty Pass lounge with The Finn, just to check it out. It was a lot busier, and lacked any views. Time for a quite G&T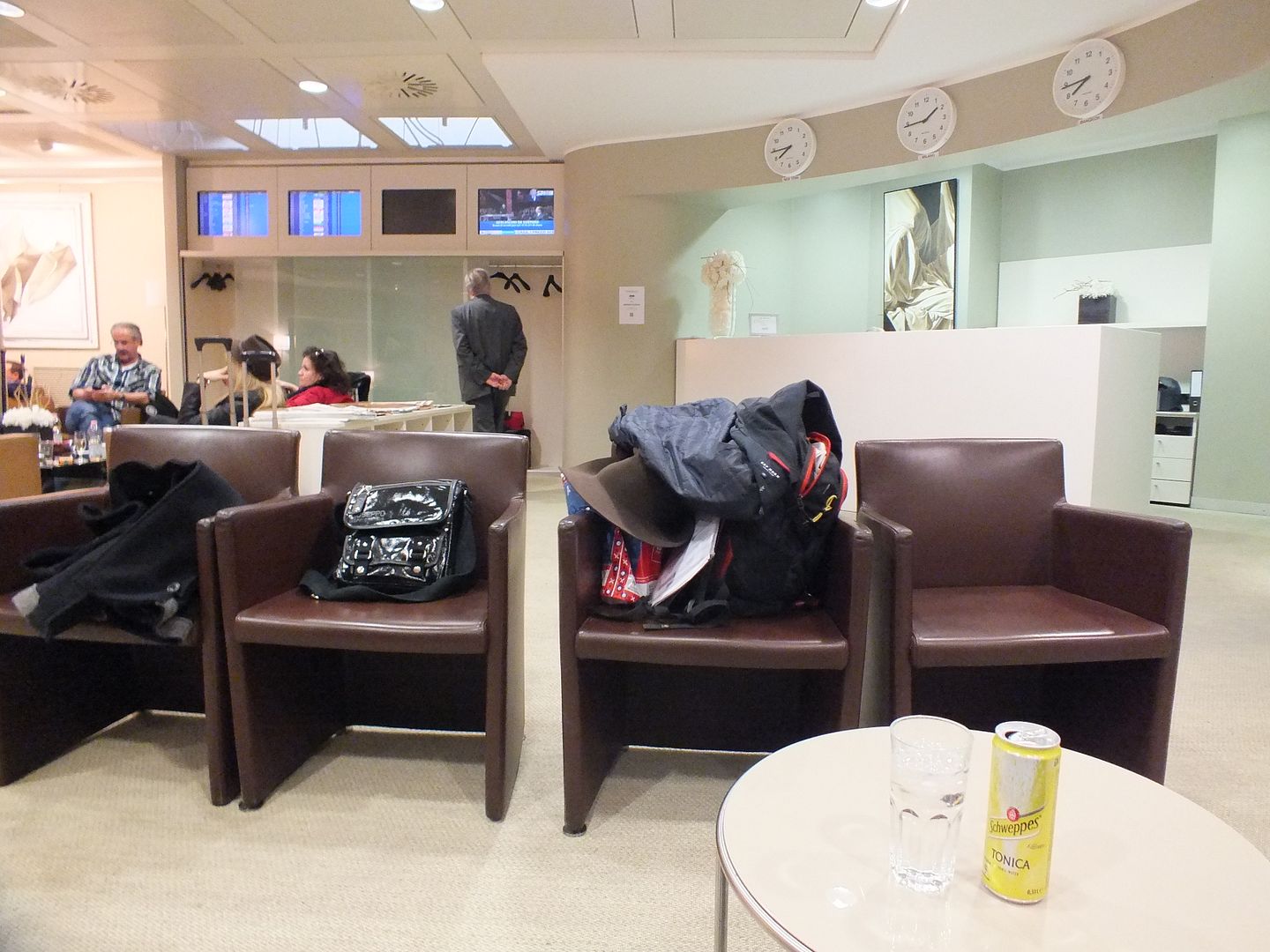 Before long it was time to head down to the gate, where we were joined by LXM83. Of course, with the majority of passengers being Japanese, boarding was quick and efficient…very un-Italian.
January 2013
Milan Malpensa (MXP) – Tokyo Narita (NRT)
Alitalia AZ 786
Scheduled: 1435-1040 (12h05m)
Actual: 1445-1029 (11h44m)
Boeing 777-243 ER, EI-DBM "Argentario"
Economy
Thankfully, the load was light enough for most people to end up with at least two seats to themselves – I got a row of three.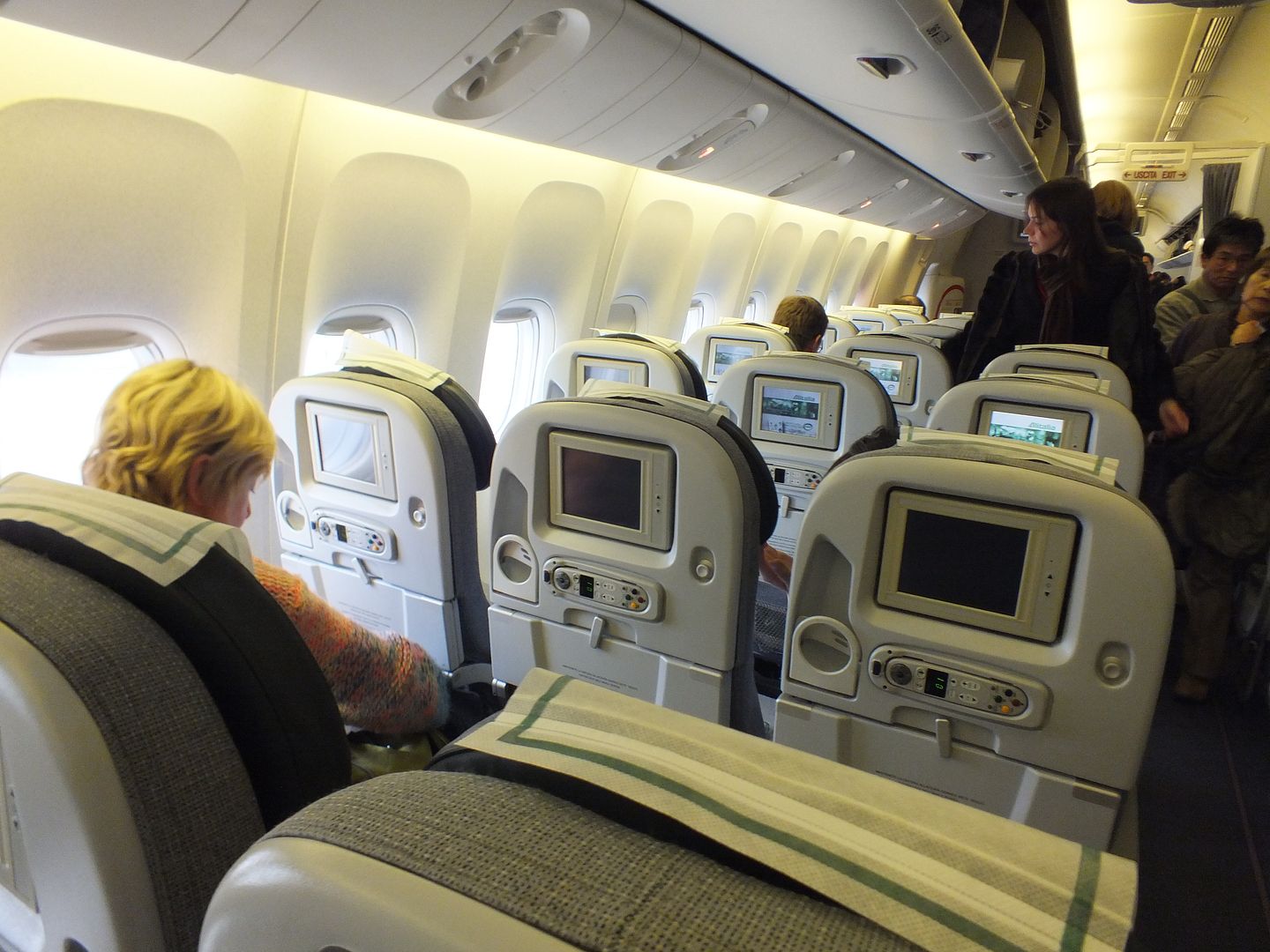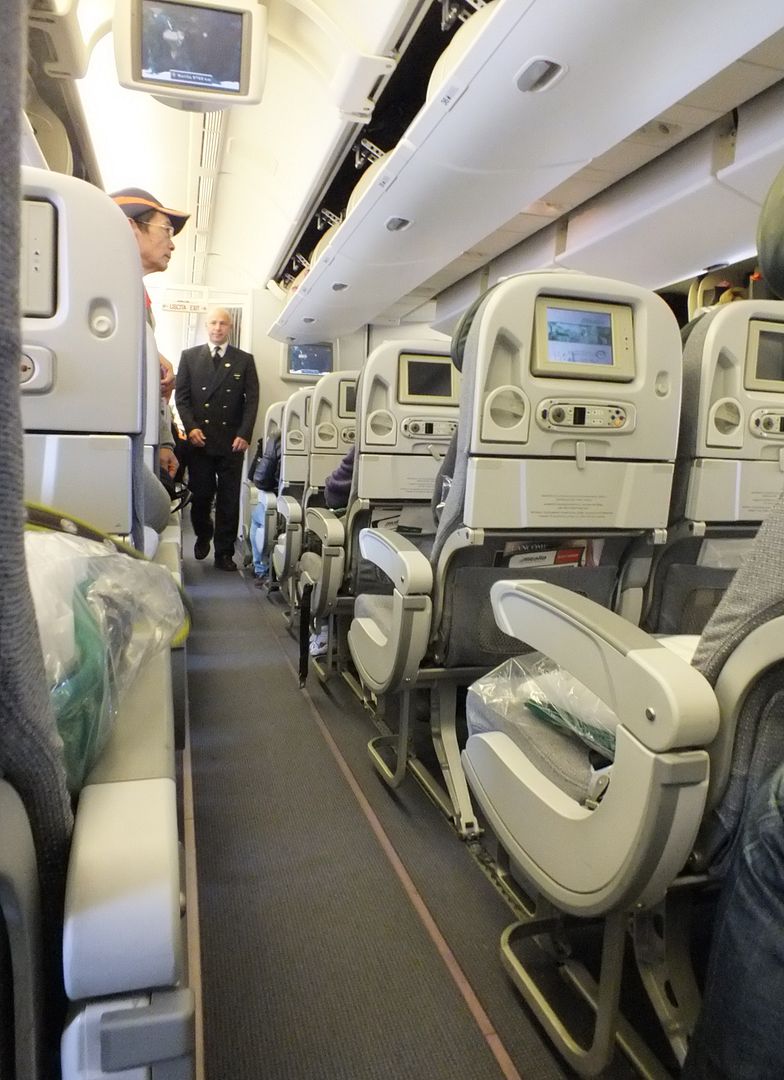 Our route today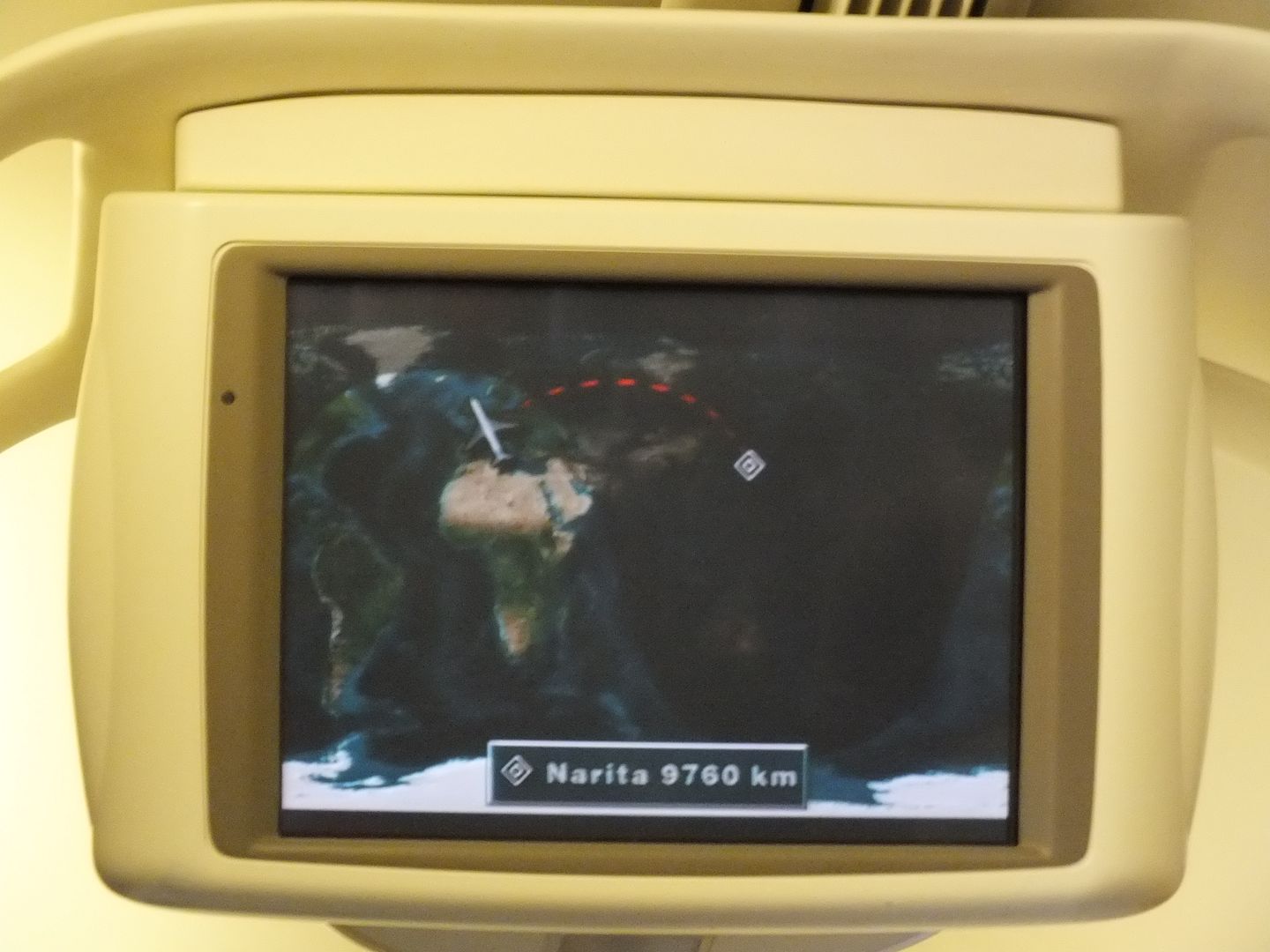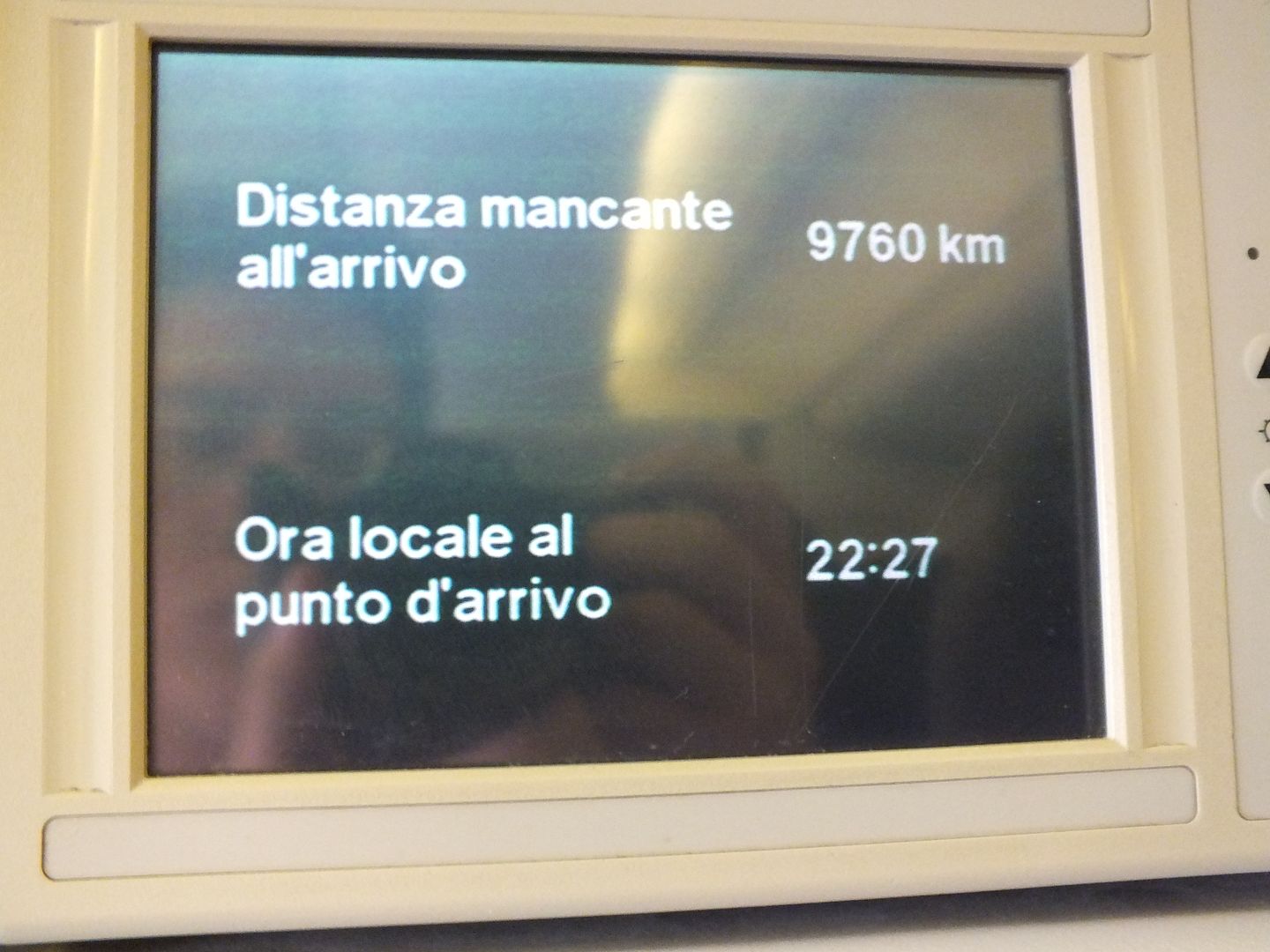 IFE interface
Safety demo
Russian and Algerian neighbours on one side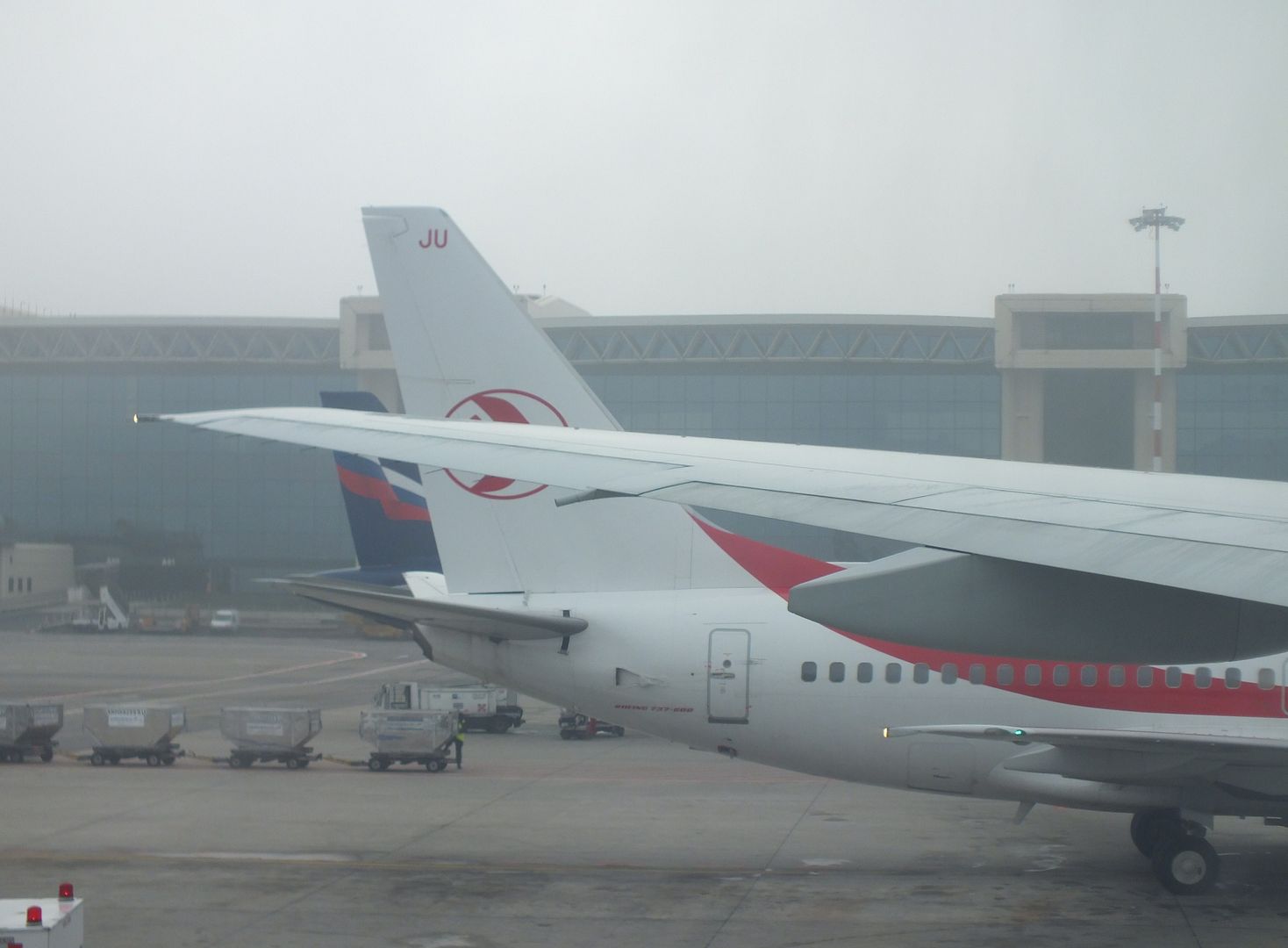 Turkish and Emirati on the other
A Swiss Jumbolino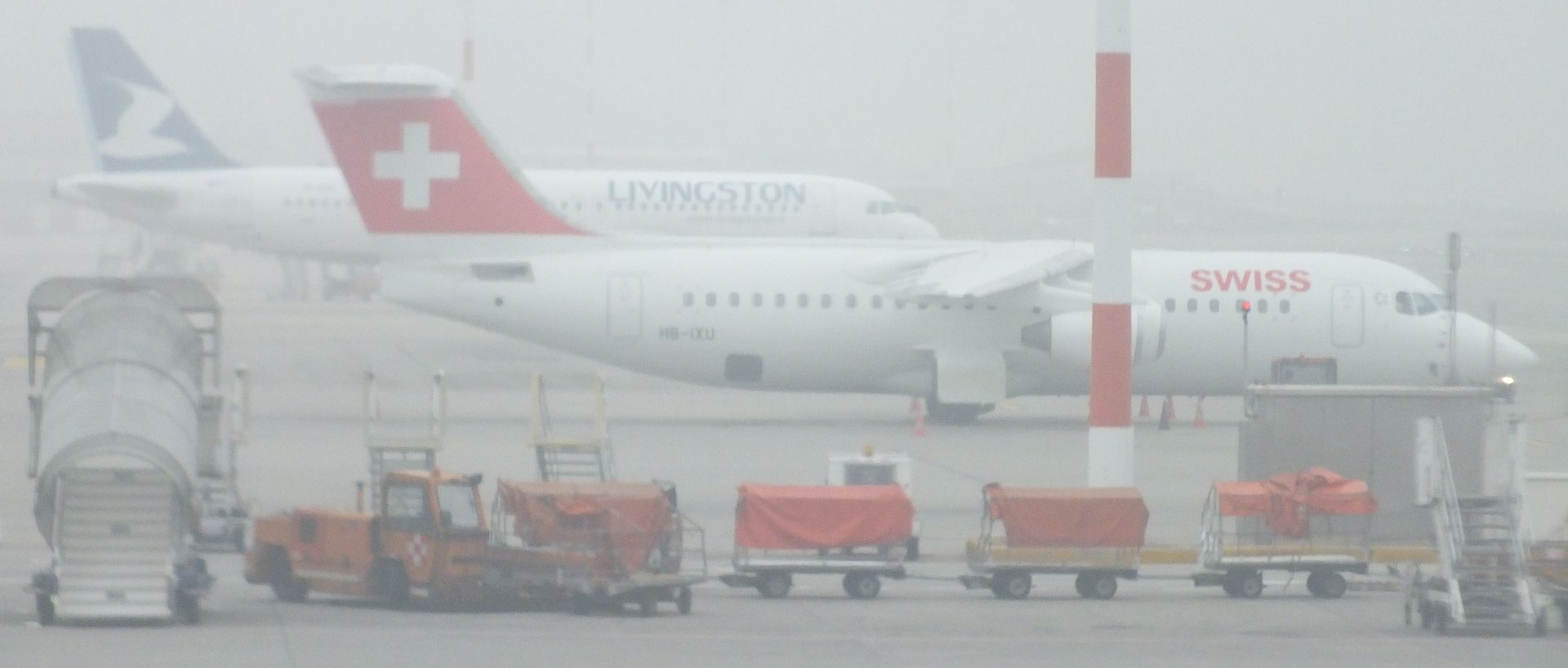 Er, lovely day for flying?
We take off into the murk, and a shortly (about 15 seconds after take-off) we are above the thick cloud line.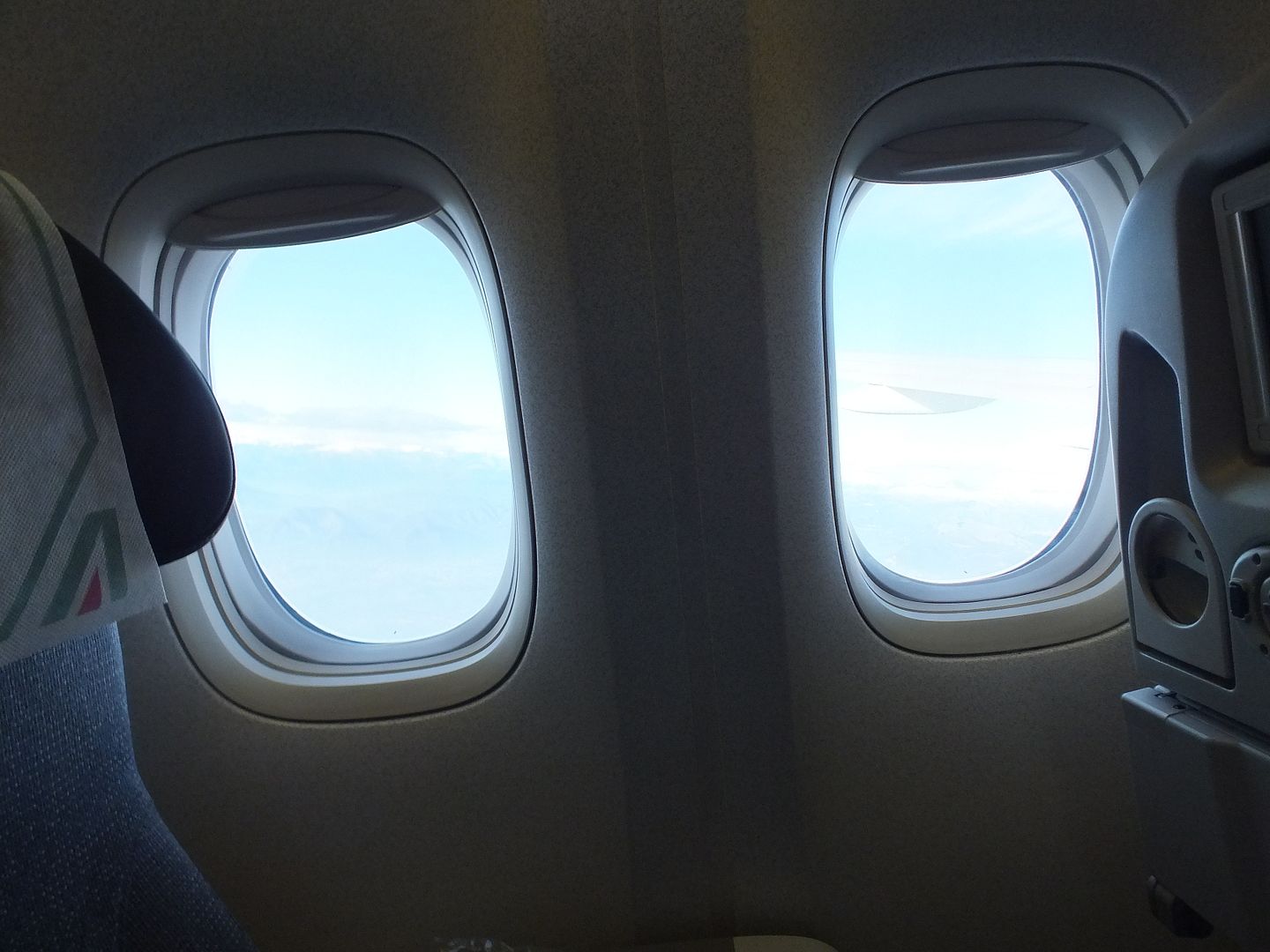 My windows are a bit scratched, so it's hard to get a good photos of the Alps….quite gorgeous. It also interesting to see how localised the fog is.
Off to Japan!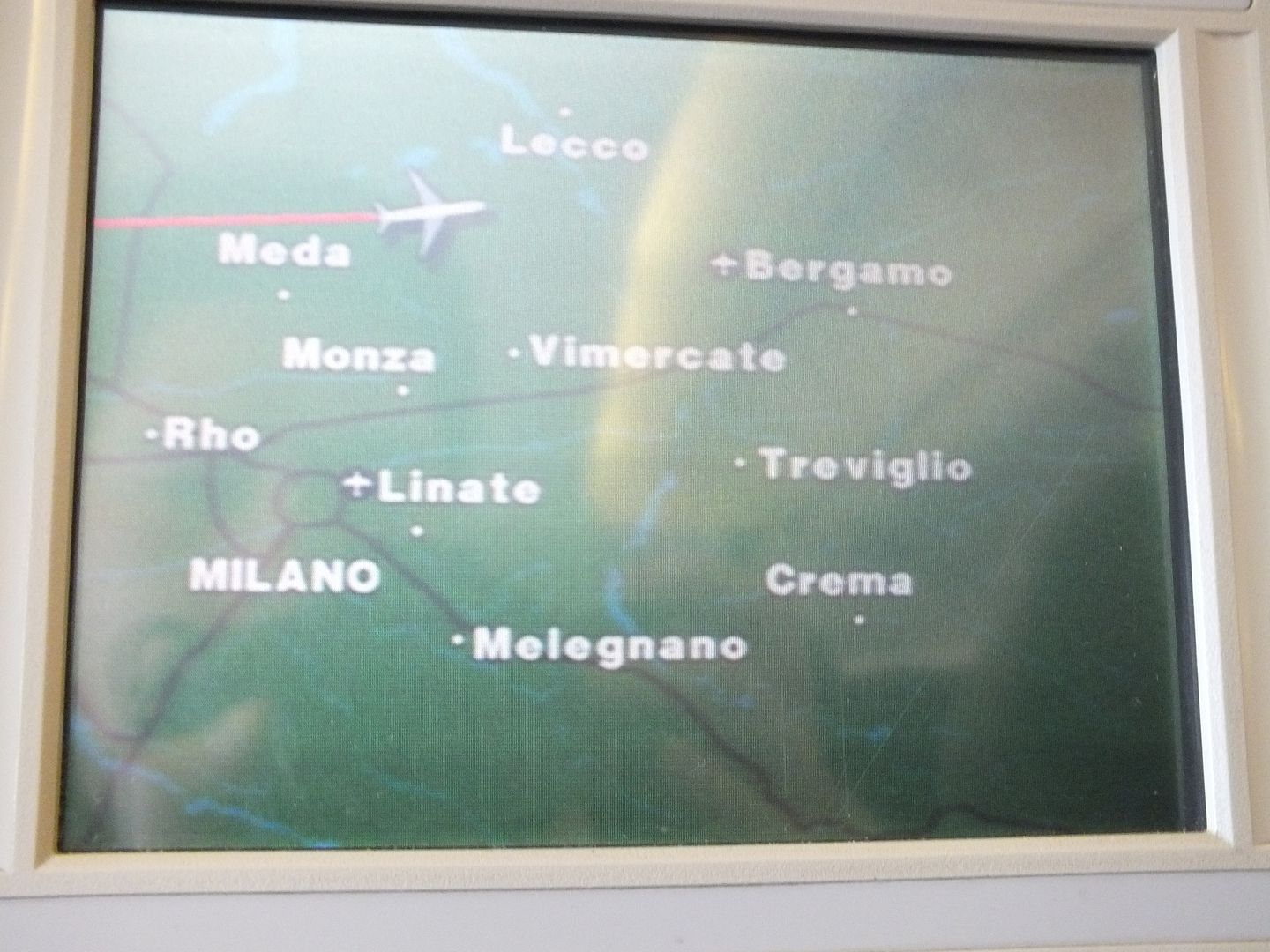 It doesn't take long for everyone to drift to the back few rows, where the chat is mostly aviation, and the service from the great FAs is excellent. We're offered beers and snacks before anyone else.
In winter, dusk comes early.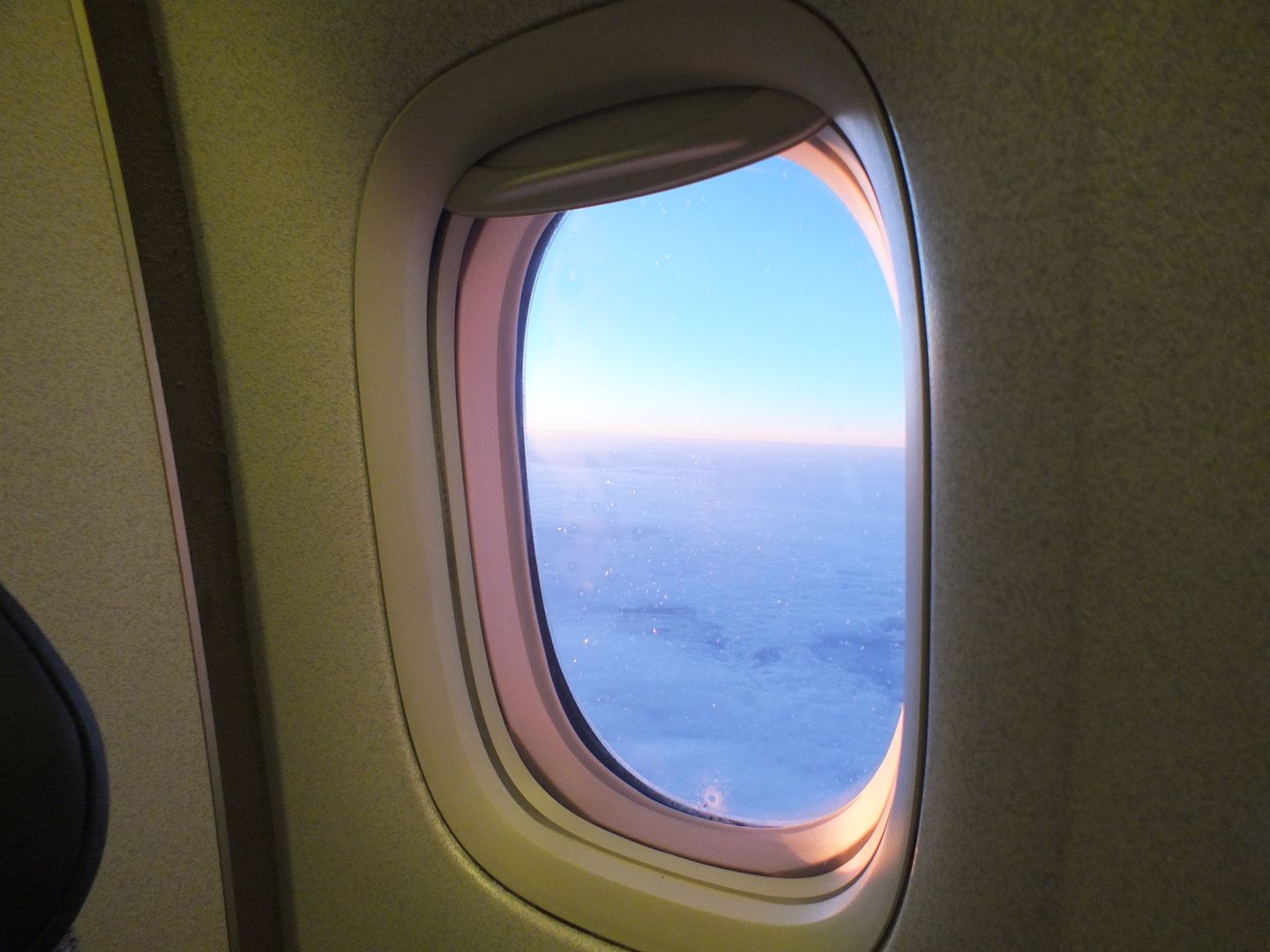 About 90 minutes after take off, dinner is served. I go with the Japanese option. I can't remember if it's pork or chicken. Either way, it wasn't great. The rice was burnt and dry.
The crew warmed up to us very quickly. I'm delighted to see some post-dinner limoncello handed out.
As the cabin is now dark and quiet, I drift back to my seat. Not a lot going on, so I watch a few films.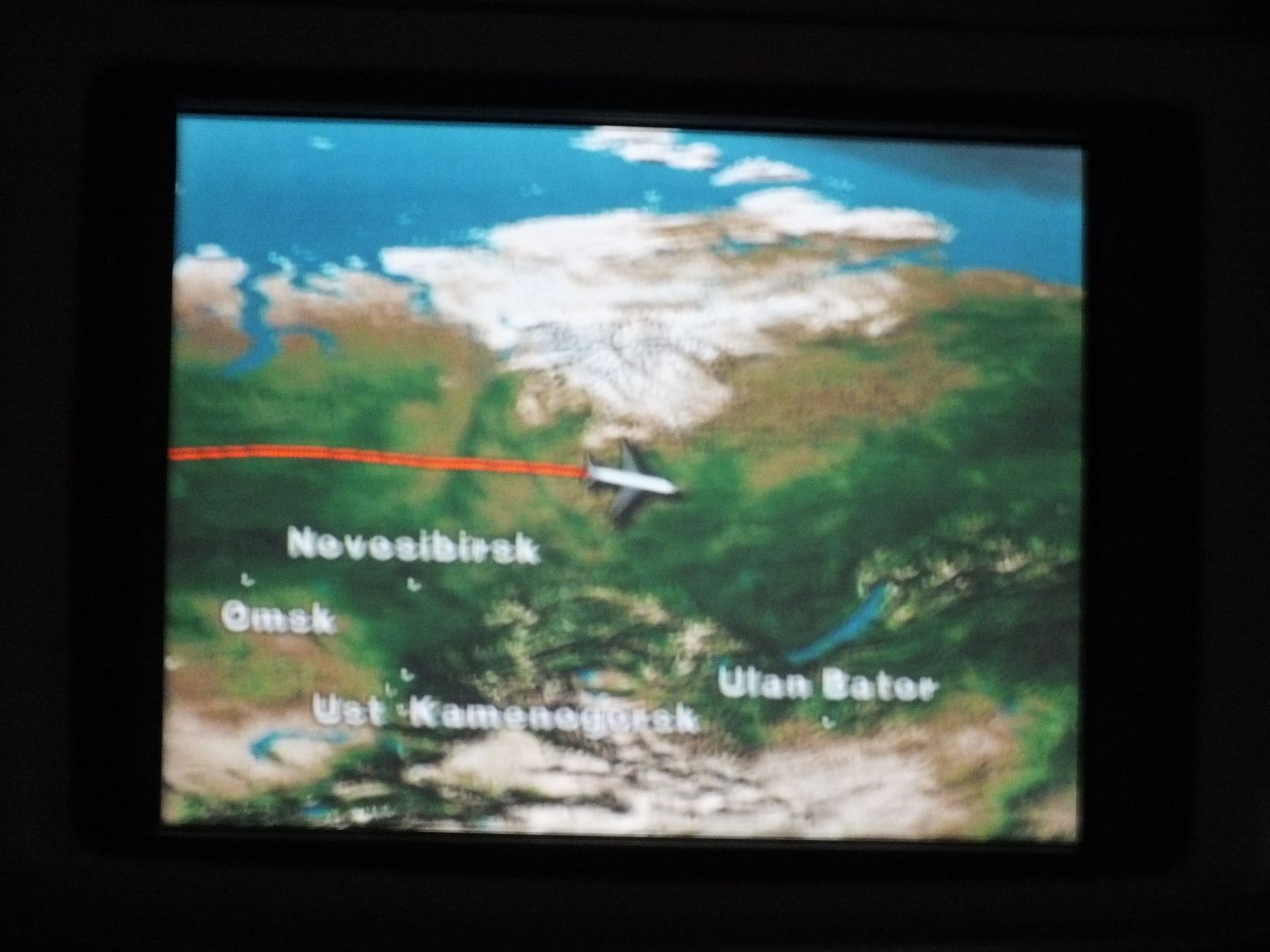 Day dawning
Airbuseric takes a walk over to my row mid flight, complete with the Italian option from dinner. Thanks Eric! The lasagne is welcome at that time of the flight, but isn't really a marvel either.
A few shots of a frozen pre-dawn Siberia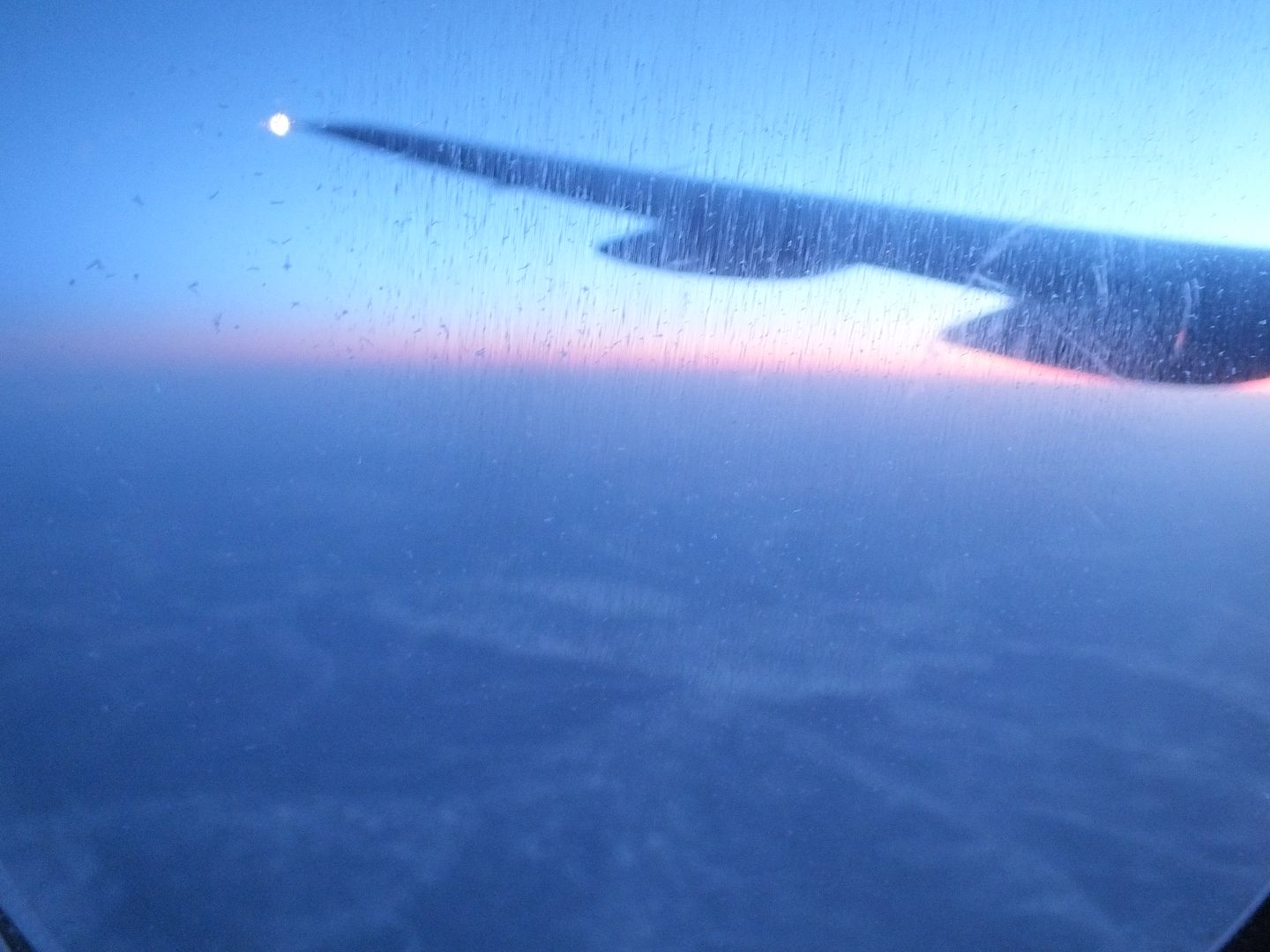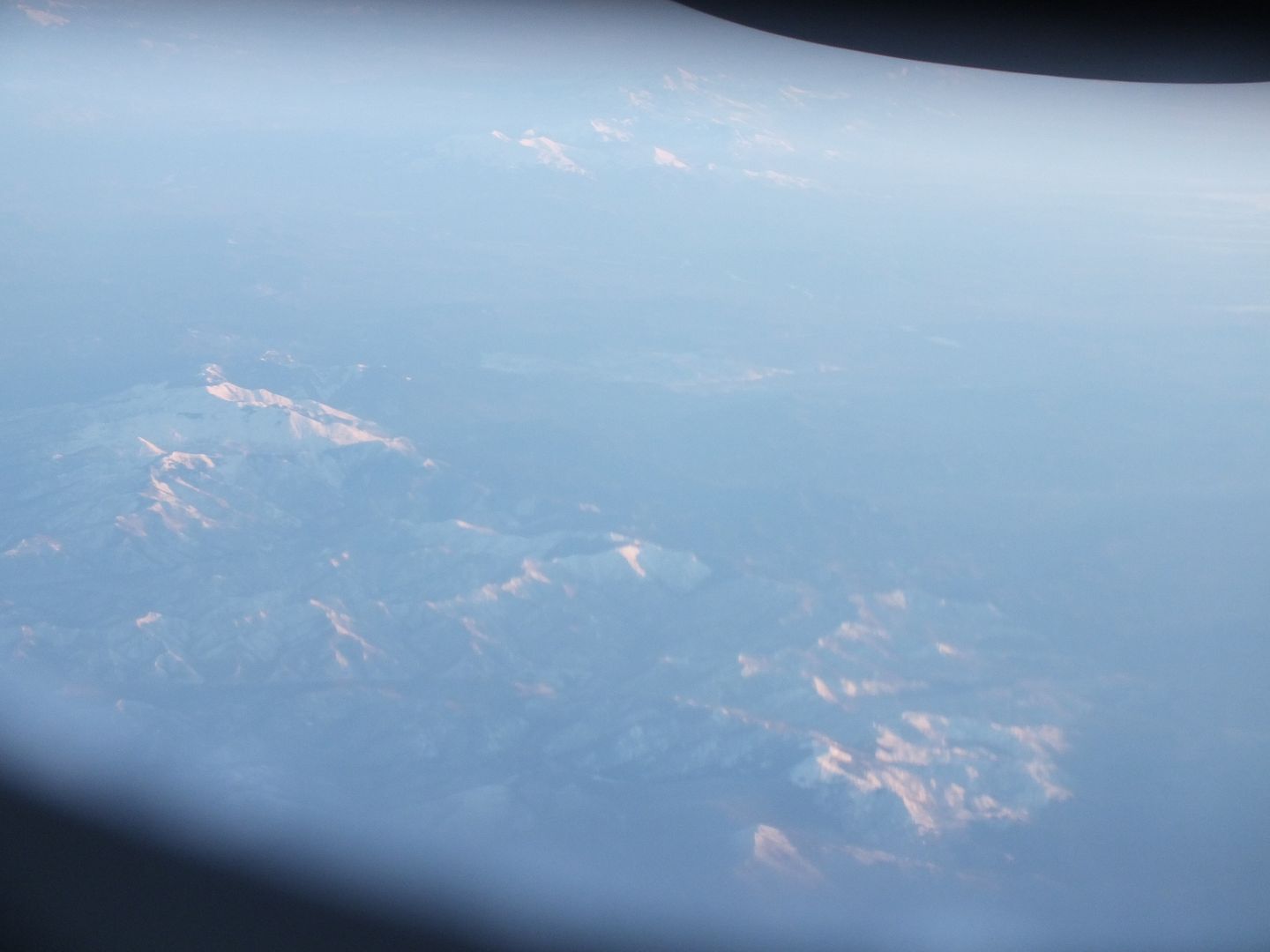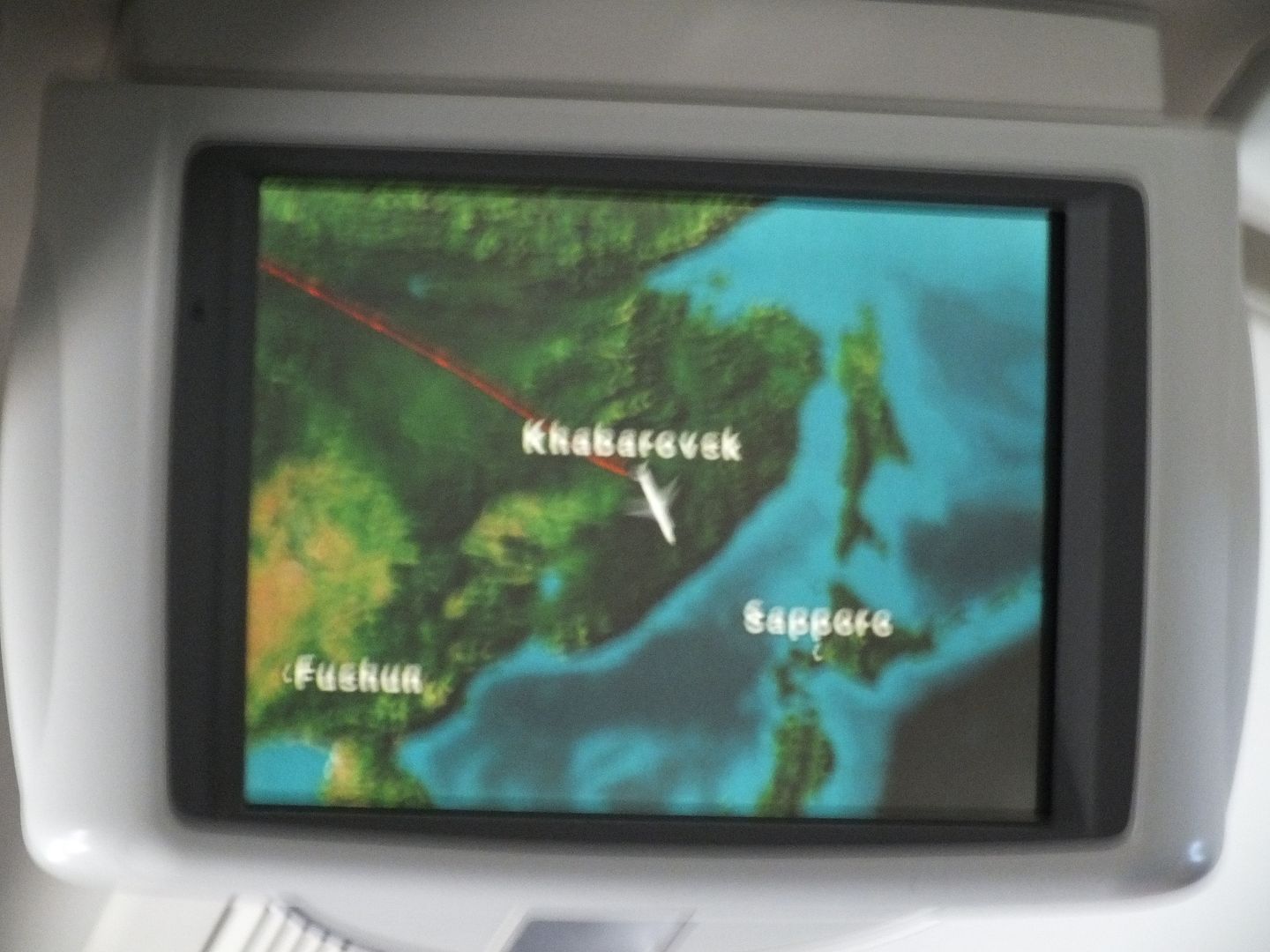 With about 90 minutes left to run, breakfast is handed out. I'm not really in the mood for this, so don't eat much. I'm planning on filling myself up in the NRT lounges.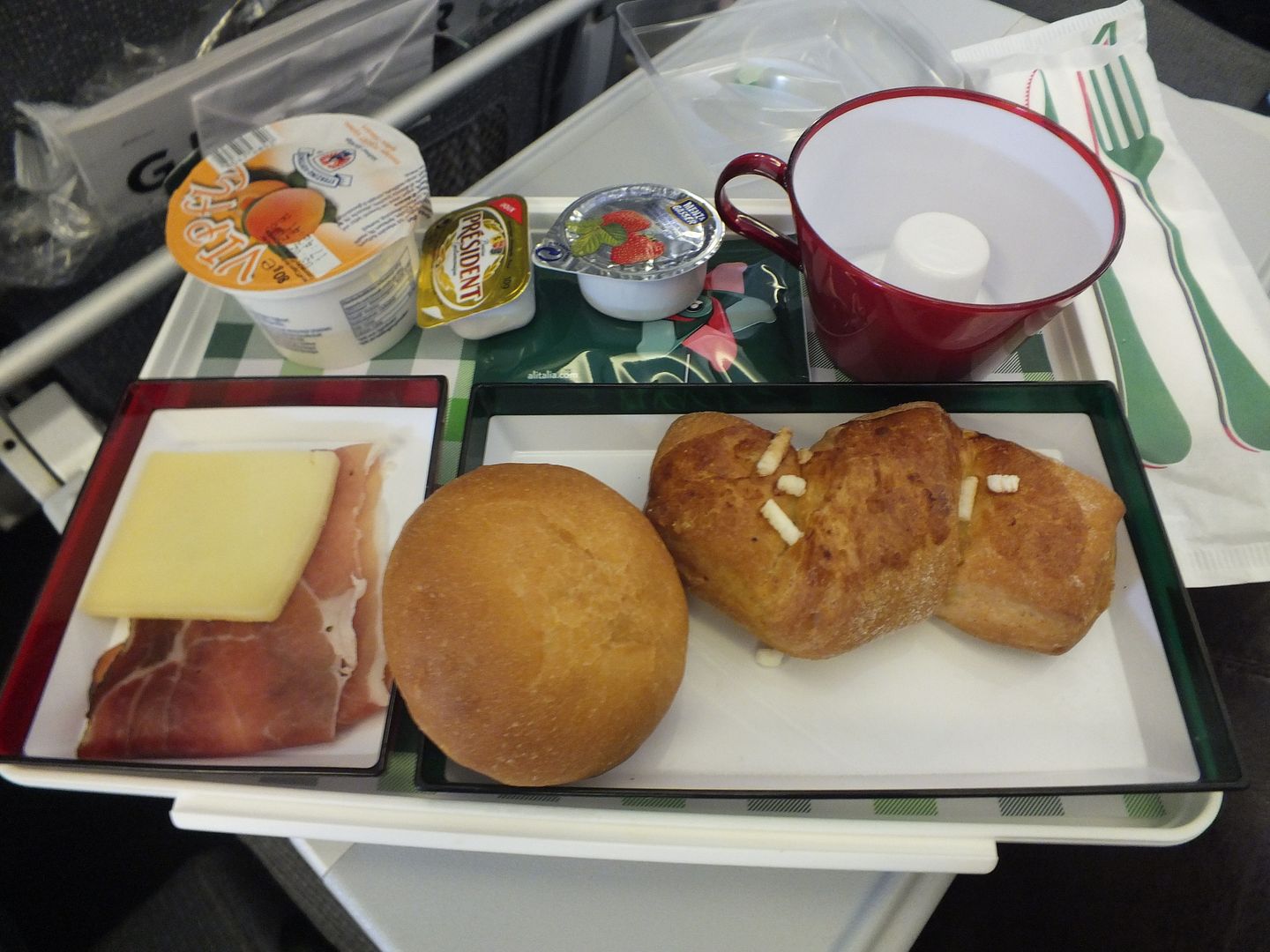 Nearly over Japan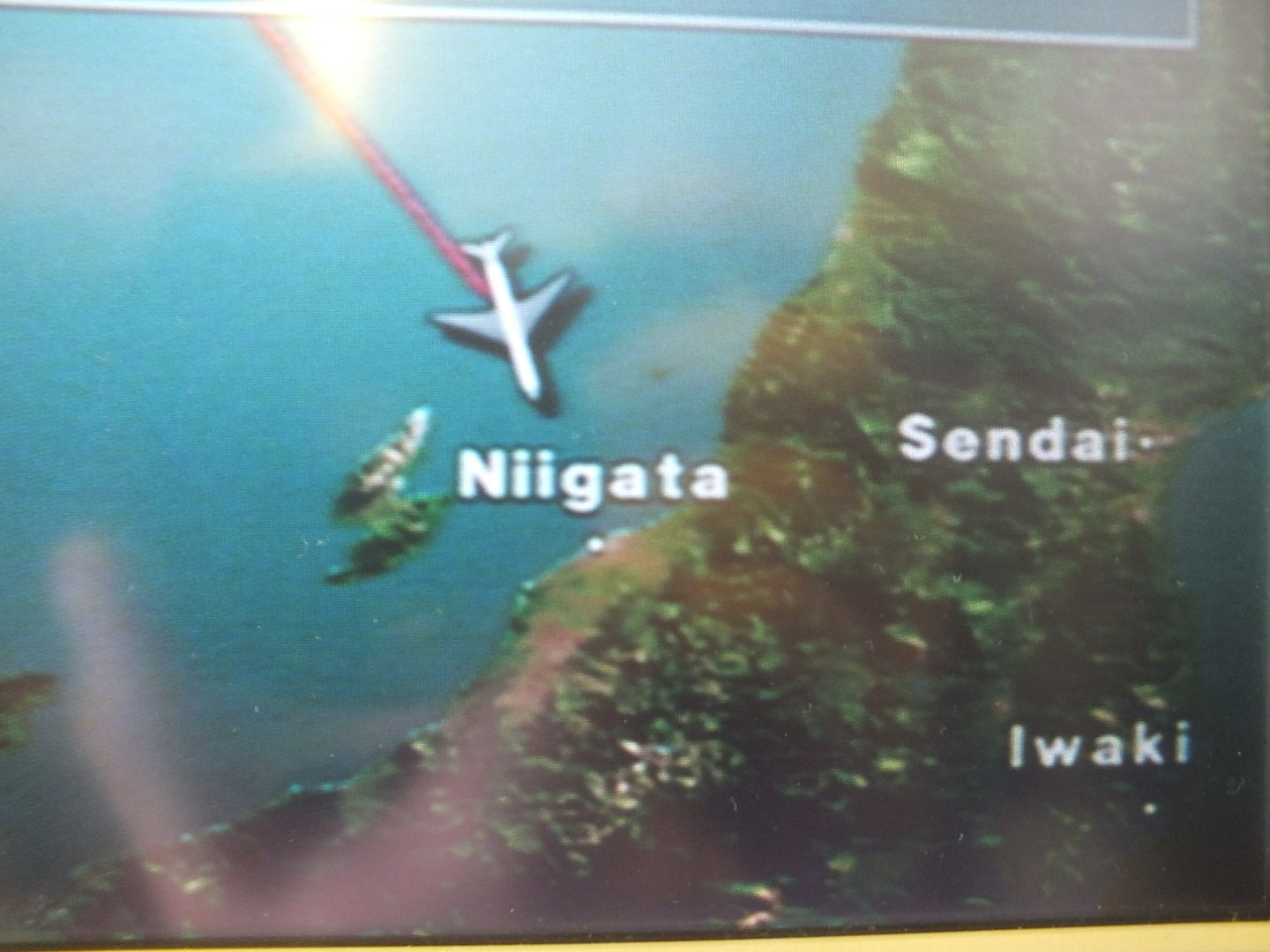 Stunning views of the Japanese Alps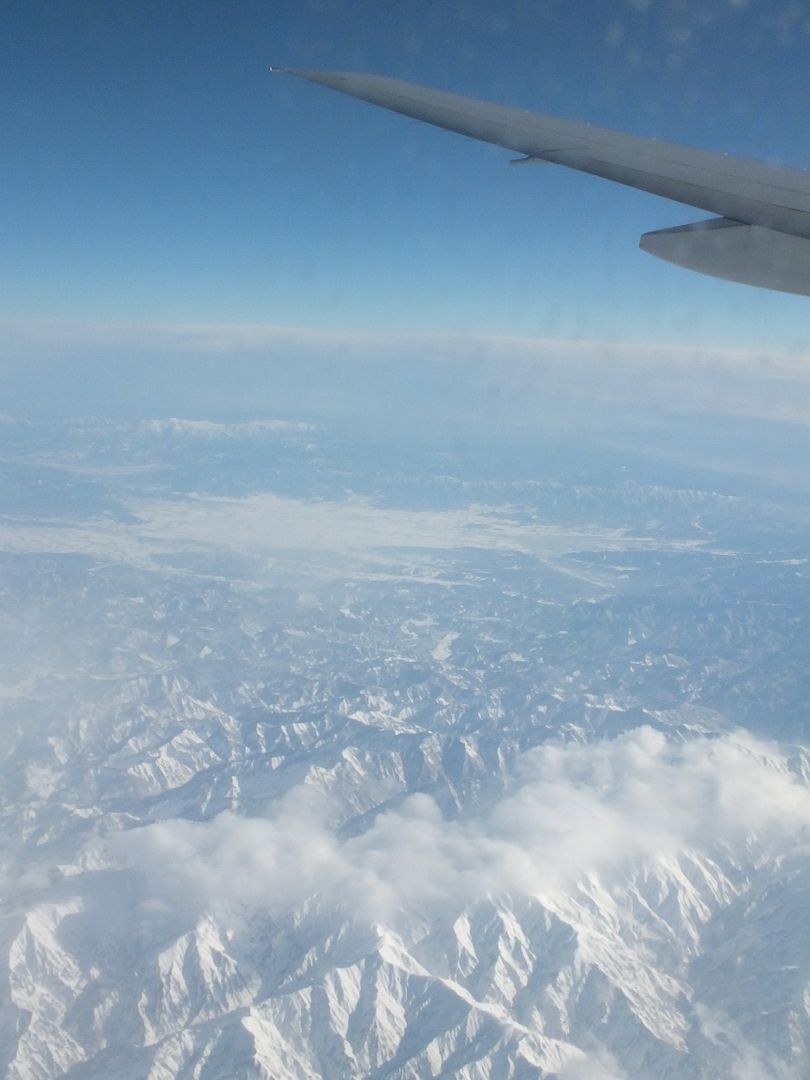 And Mount Fuji in the distance. Sadly, this was the best picture I could get.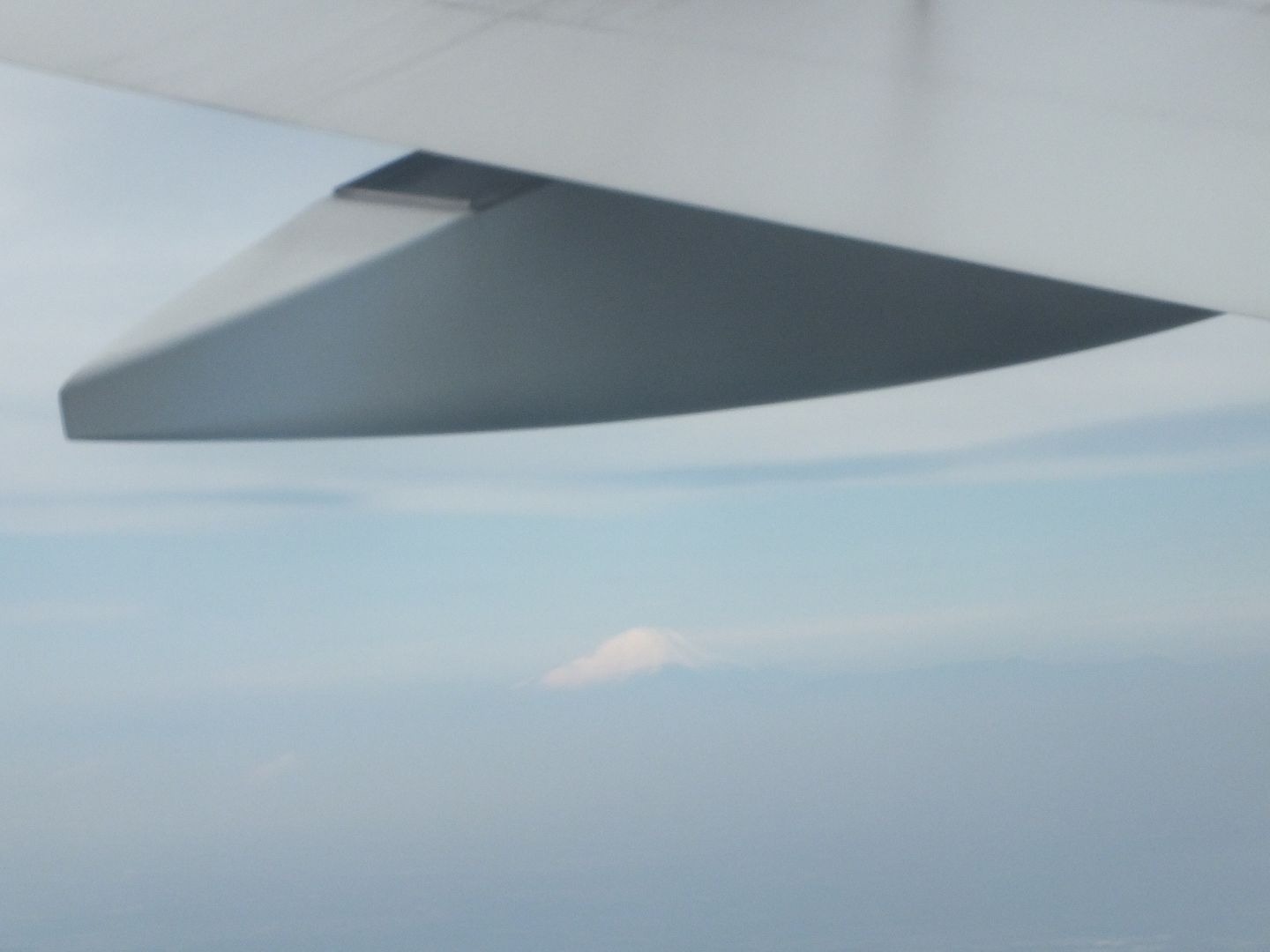 Slightly ahead of schedule, we land are the not overly busy Narita Airport.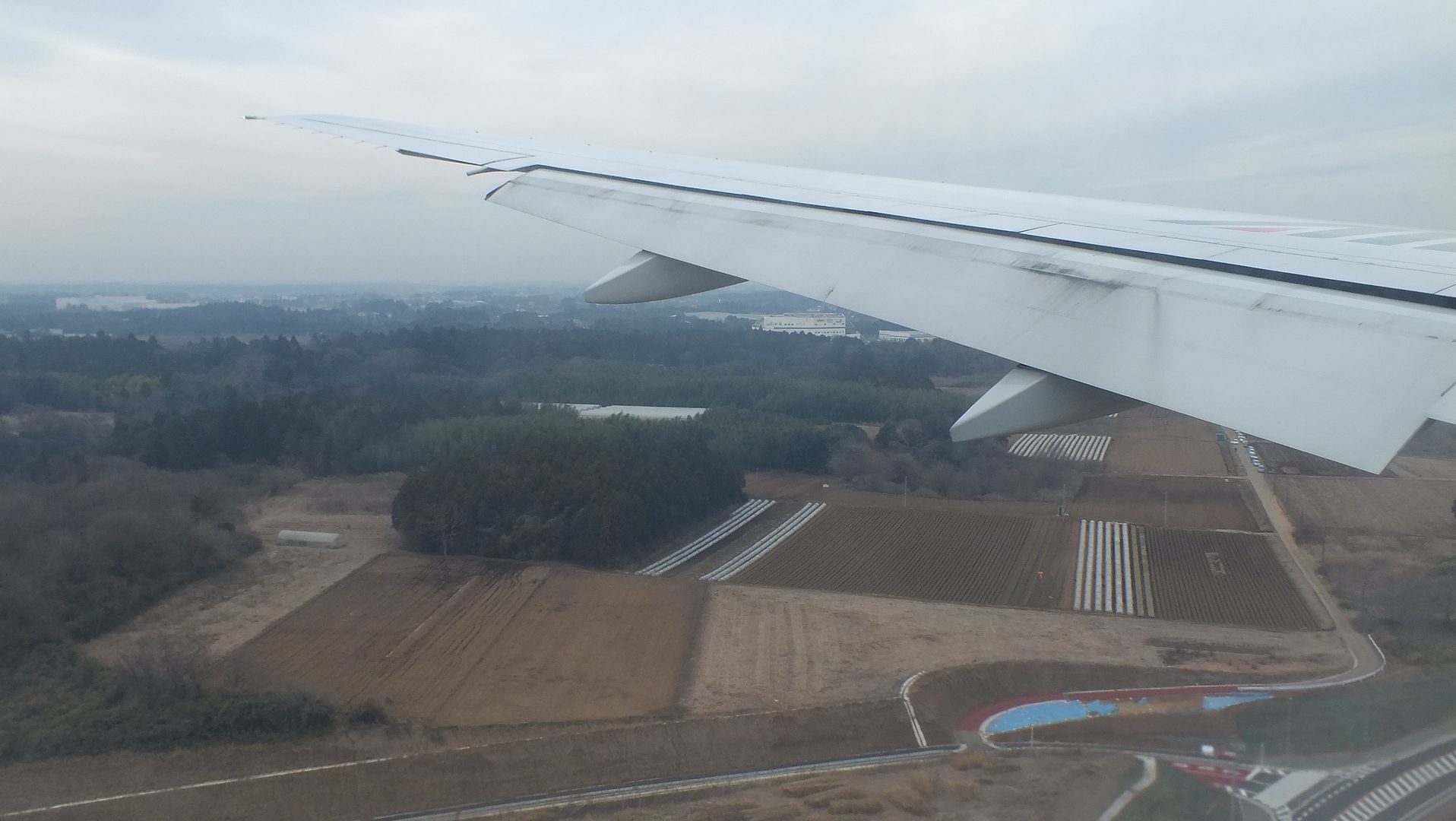 Welcome to Japan! 日本!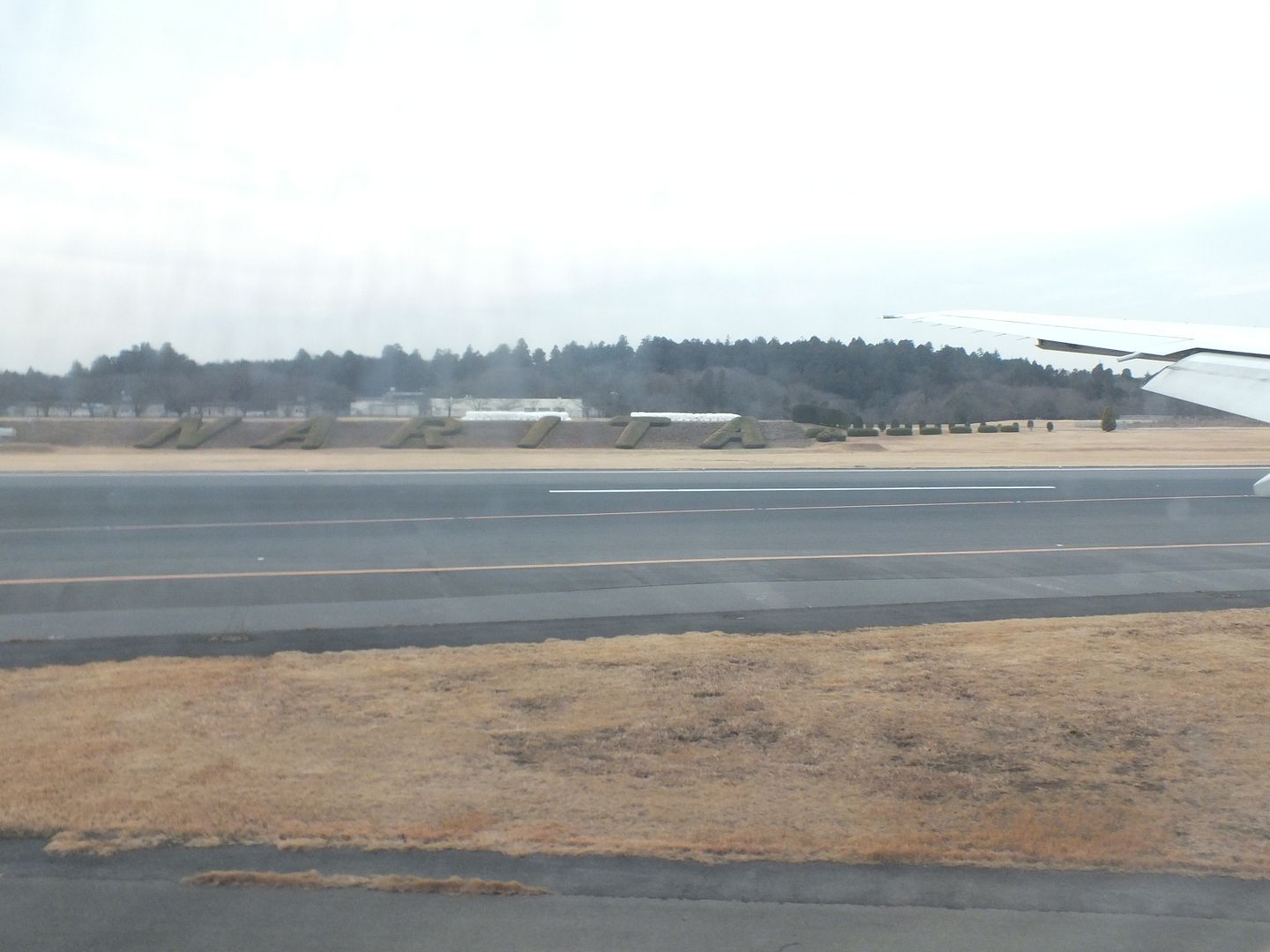 A MEX-TIJ-NRT flight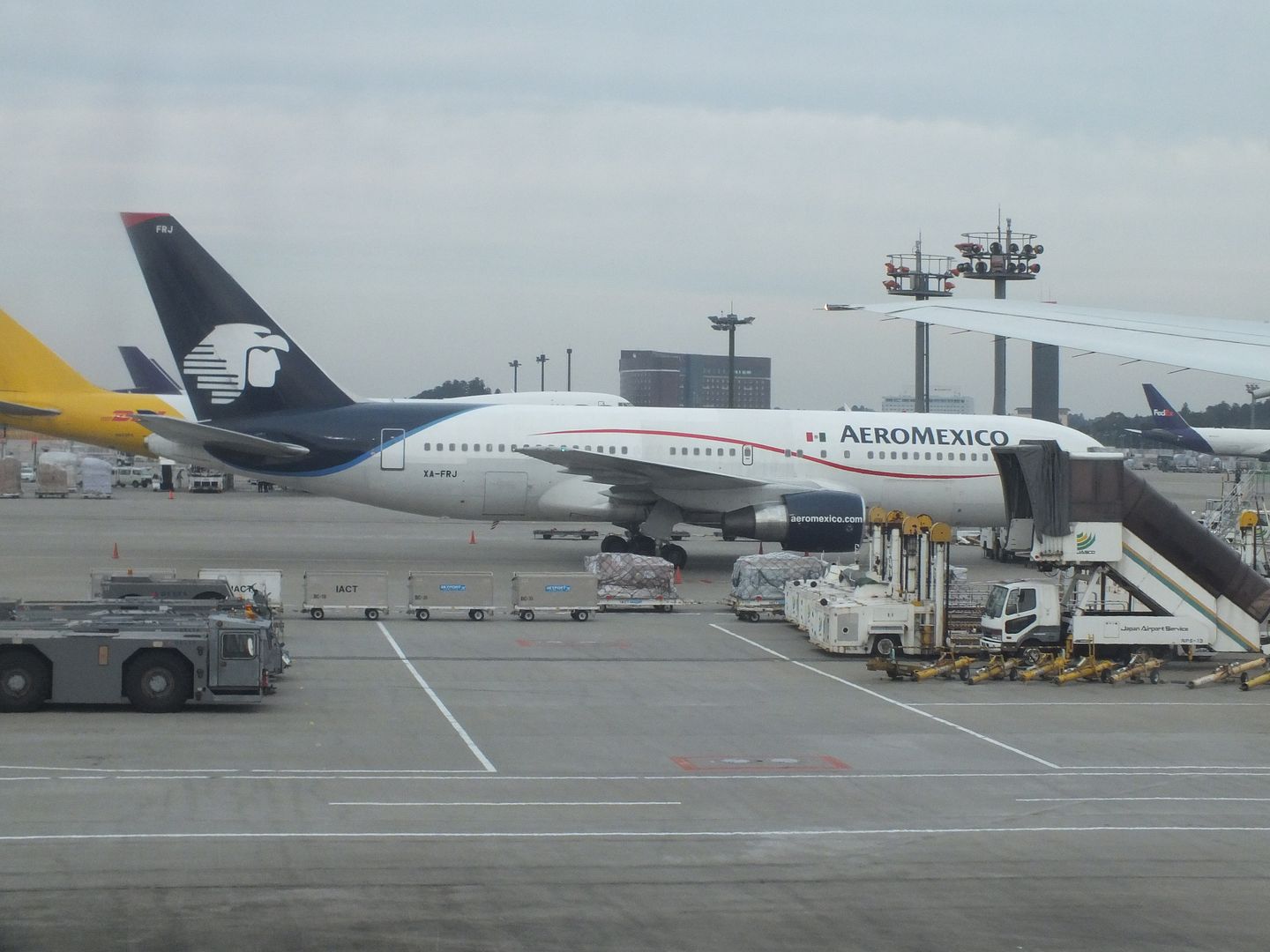 And a DL
AF Whalejet
VS
Disembarkation was swift. Bye Argentario!
GA next door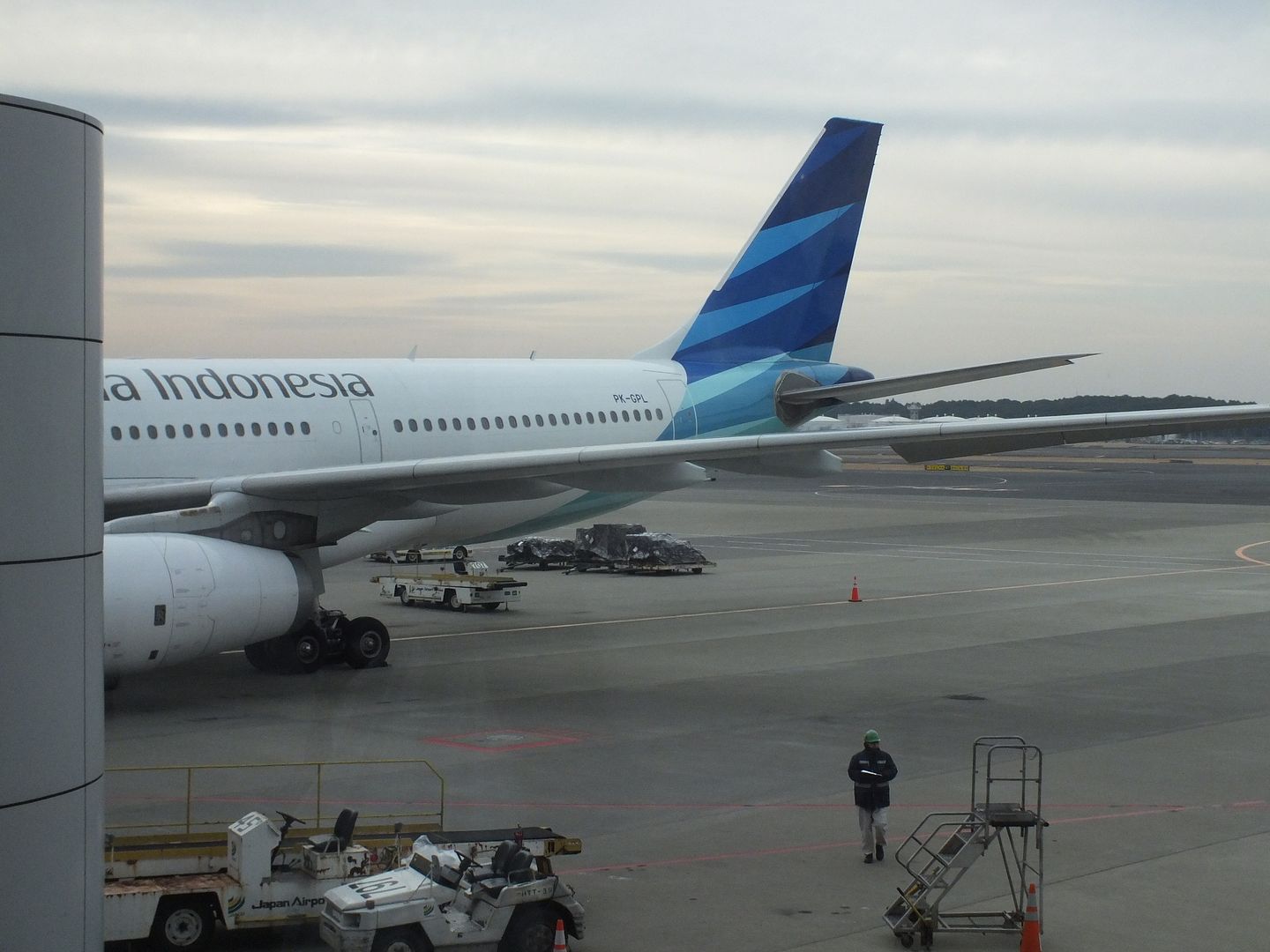 Our plane
The flight from FCO is being moved somewhere. Hopefully this will be our plane home.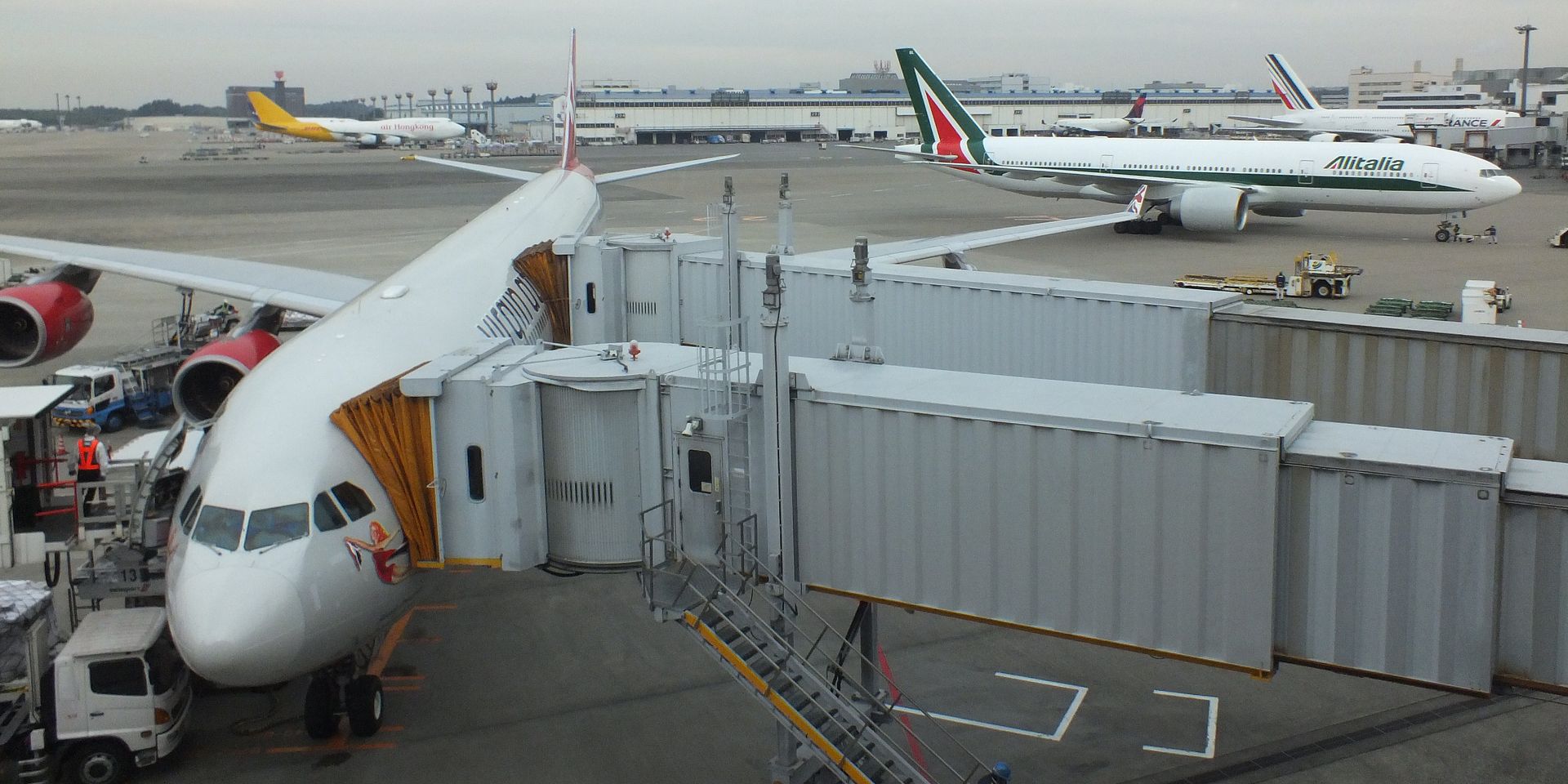 With just a few hours between flights, The Finn elected to stay airside, whilst the rest of us cleared immigration, and headed to the viewing deck and shopping area.
Thankfully, it wasn't too cold outside, so we hung out on the free deck for half an hour or so.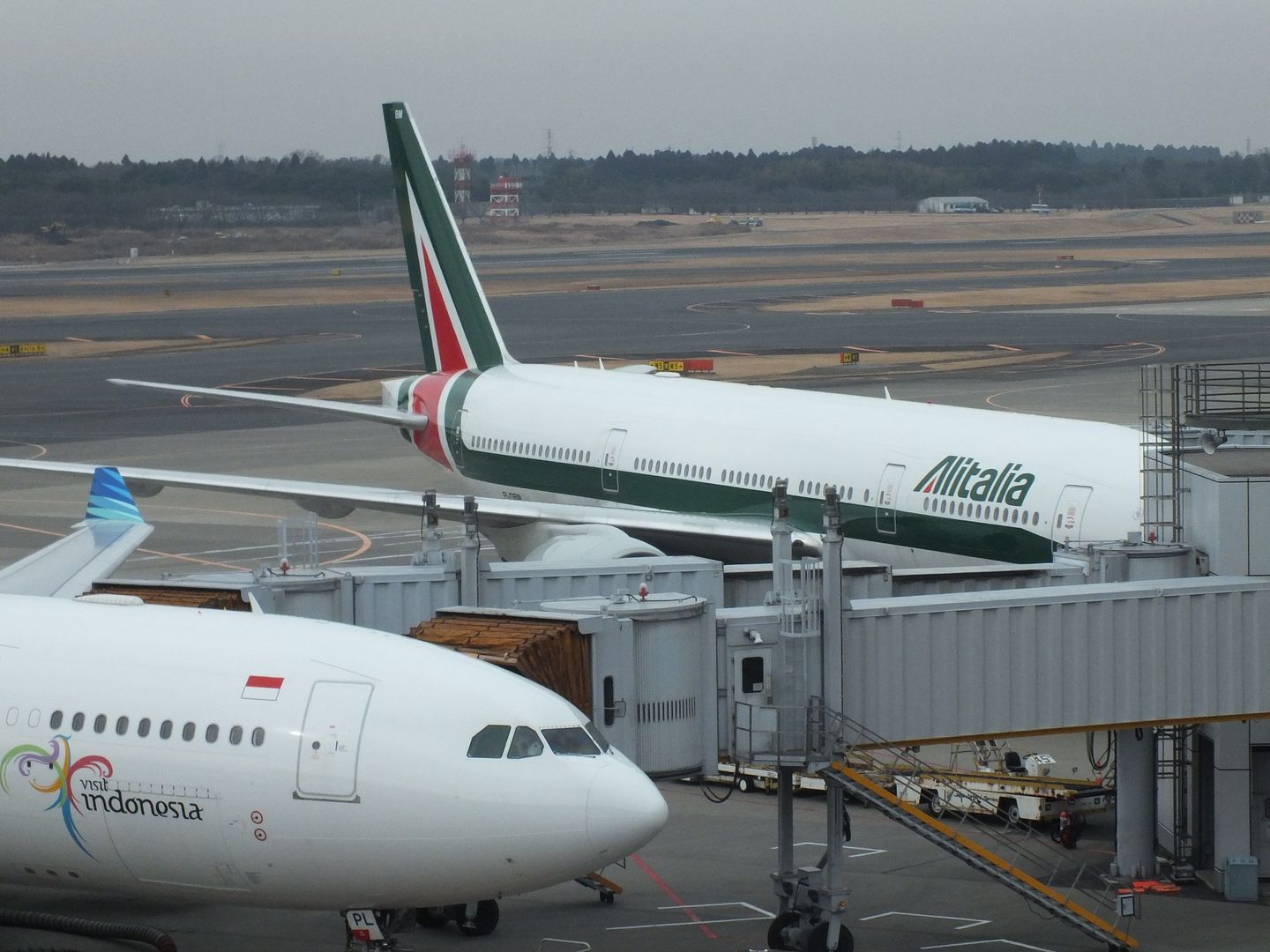 The Korean Queen of the Skies
JAL

NH
MU
LX, ZRH bound
JL
LH, inbound from MUC

I'm always amazed these things can get into the air