Hello boys & girls & welcome to my first LX & SK trip report!
Grab a cuppa/snack & settle down for this…she´s a long ´un…but I reckon it´s worth it! Four countries in four days!
My friend had taken a career break & moved to Lille. As she had visited me when I was quartered in GRO last year, I decided to repay her the favour. Options included EI to BRU or FR to CRL but screw that! As I have of late grown bored of EI (even with their pleasant on board atmosphere) & FR , I decided to play around & look for something a little more interesting….& so for €198 I scooped up LX DUB-ZRH-BRU & SK BRU-CPH-DUB. Woohoo!!! To get to Lille I figured I would just take a bus or train from BRU. If there were buses from tiny CRL to Lille, then surely BRU would have amazing connections….or so I thought….
Cut to me a week before going away, in cold sweats after realising that were no suitable buses to Lille, that me LX flight into BRU left me with only 35 minutes to catch the train to Brussels Midi; & then onwards to Lille…oh lord…you may have seen me thread asking if such a feat was possible, & thanks to the members 330lover, Viscount724, & BrusselsSouth for the advice! On the upside of things, I had an 8hr layover in Copenhagen! A city I have never visited.
So on the 25th Jan I got the Urbus & bumped merrily all the way to DUB, left me hat on board (they got it back to me –cheers lads!) & headed into T1 to check in. As I had booked on gohop.ie (not a bad site) I wasn´t able to check in online to procure a seat at the front of economy; for the speedy departure from me BRU aircraft. I babbled all this out to the kind girl who put me in 7F for ZRH-BRU. I was ecstatic! She had the air of seeing it all before, ha. I then got the idea into me head that I´d be sitting in a Business Class seat-even though it still said Y on me ticket. A few frantic phone calls from me mam looking on seatguru.com said it was a Biz seat…..but the expert MIAspotter assured me it wasn´t. Seatguru fix this mistake!! I hoovered up me customary going away Sausage Egg McMuffin & then headed off through security. It seemed every woman in the world (including me) was wearing boots & had to deboot going through. Thankfully I had just bought loads of lovely new socks…
I sauntered through the small, low ceilinged duty free into Pier B for the first time since an EI flight to LHR in 2004. Weird to be in Terminal 1 & not be in Pier D!
TK waiting for some stragglers while BA heads off in an old BD a/c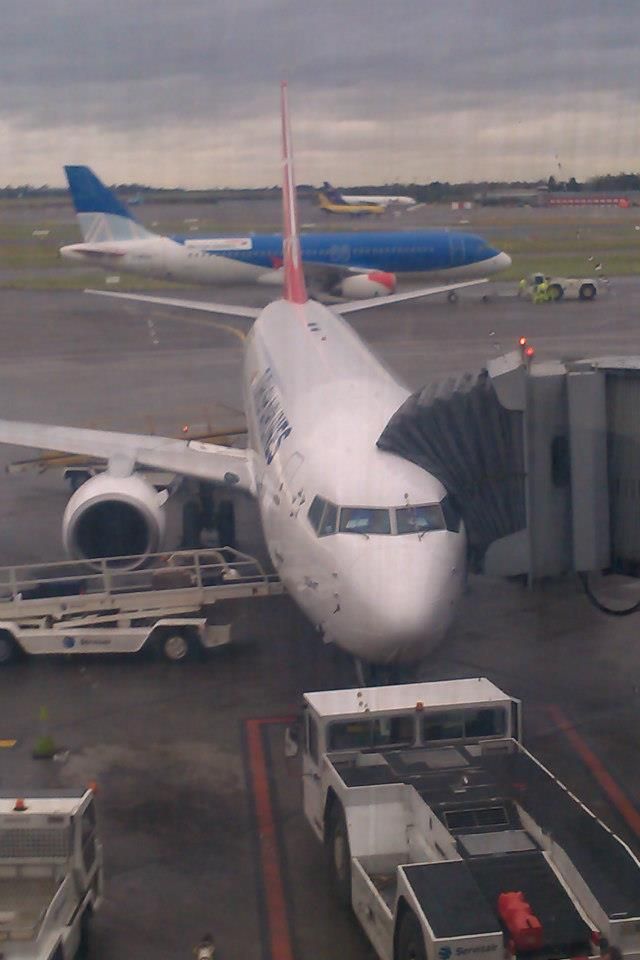 After setting meself up nicely at the window, watching an EY A330 take off, this A320 landed…
View Large
View Medium


Photo © Rotate
LX 401 DUB - ZRH
A320-200 HB-IJR (15.7 yrs)
And as always guys, in another guise:
SR "Aire-la-Ville" (pity they didn´t keep the names)
View Large
View Medium


Photo © Charles Falk
Boarding had two lanes, Business & Economy. Of course everyone was standing in the wrong queue (meself included, couldn´t see the sign as I was at the back) but soon I was in the old musty Jetway. It conjured up images of an old EI 747 possibly waiting at the other end in the old days…but it was onto an LX 320 I walked! The flight was very full. I had been given 30C. I didn´t mind, me main focus being on the ZRH-BRU sector, but of course I did try to scope out a few free seats; but to no avail! I was warmly welcomed on board by a huge blonde male f/a & further on down by a lovely lady, but I wasn´t that impressed by the cabin; I thought it looked a bit dull & worn. I completely forgot what airline I was on, & walked to the back, thinking I was on EI (I know, they only have 29 rows!) & then got a shock when I saw 3 more rows! I now realise that LX skip seat numbers from 17-25. I was wondering how they could possibly squeeze so many rows in! Announcements were in German & English. I´m ashamed to say I didn´t realise how much German was actually spoken in Switzerland, I was always led to believe it was also French, Italian & a language called Romany? We were fuelling & boarding so I left me seatbelt unfastened, actually me seatmate was sitting on it & he kindly gave it to me. Aw, cheers buddy!
TELLIES! MAGICAL SCREENS FROM THE SKY!!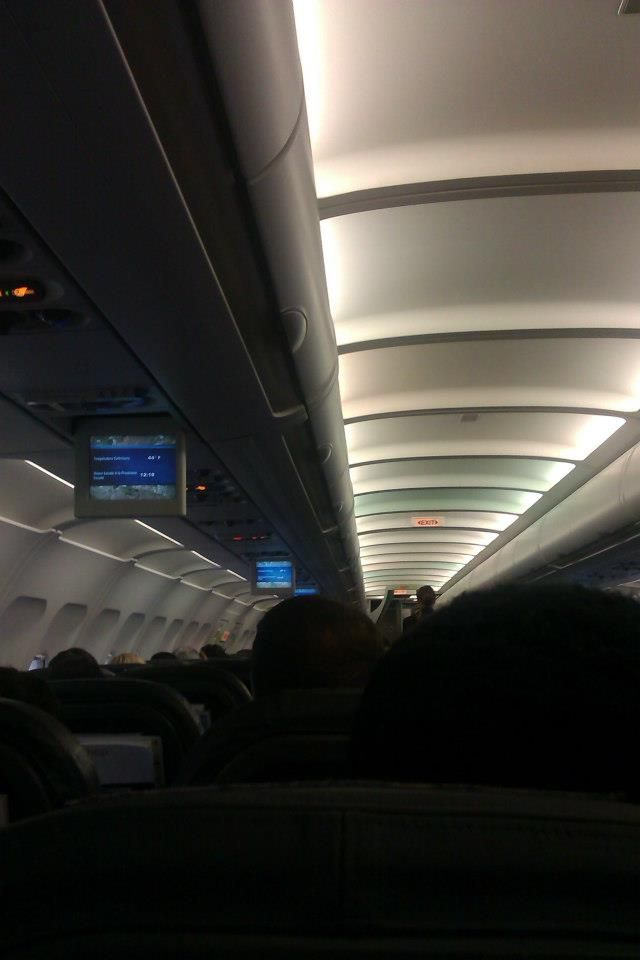 I watched the safety instructions on the screen, & soon we were up & into the rain & clouds! After take-off the service started & I was real excited. MIAspotter has exalted LX to me over the past 2.5 years as the best thing ever so I was curious…& I was not disappointed: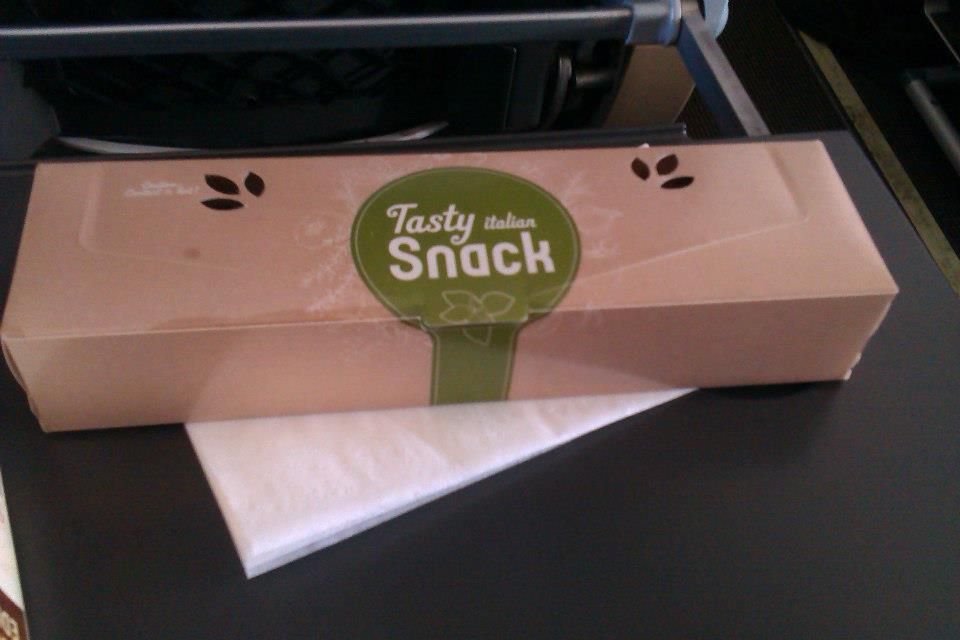 I thought the chocolate thing was really sweet (hurhur) but me seatmate thought it was the rubbish "No sir, it is the dessert!" hahahah!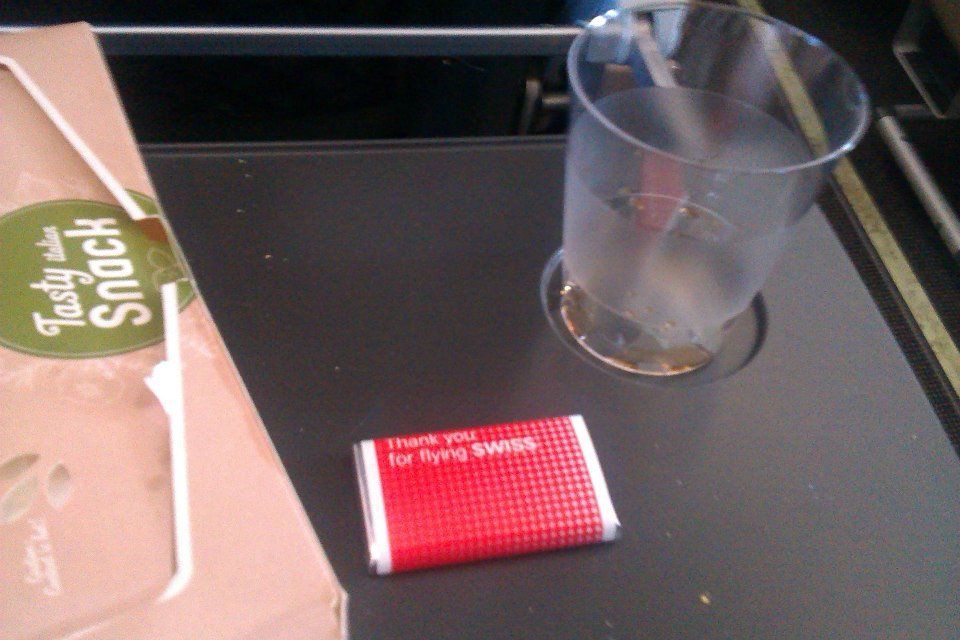 The crew seemed in good spirits & were chatty, immediately doing away with any stern Swiss preconceptions I had had. One actually asked me where I got me jumper "it was just beautiful" so I duly wrote down the website for her. Happy to oblige, sister. I spent the rest of the flight flicking through Swiss magazine (disappointed that there was no a/c models here to add to me collection!!), sleeping & looking at the info on the screens. They had stuff on transiting pax in ZRH, which I thought was a great touch. After roughly 1hr 40 we were descending. I wasn´t too upset about sitting in the aisle, as the Alps were hidden under cloud. After a smooth landing, we taxied past a lot of interesting a/c (IT A330s, FV IL96) & then stopped at a bus gate. Really?! It´s -3C out there!!!
Cheers Juliet Romeo (loving the Shakespeare ref)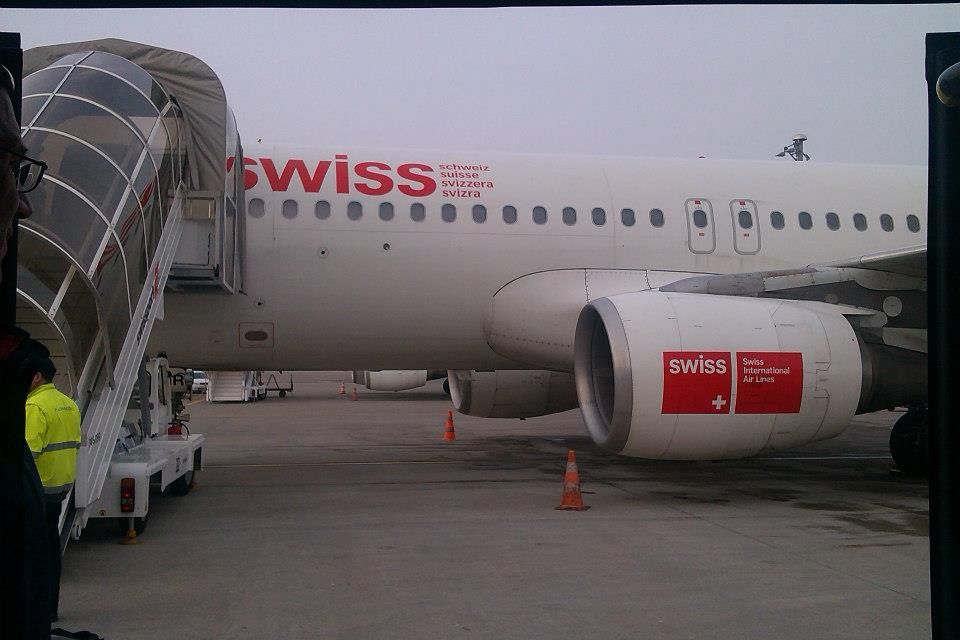 I got the "massage" going back through security for transit. I mean really, where do you look when another lady is face to face with your crotch & feeling you up? It was all I could do to not laugh….I heard a guy asking (politely) why his case was being searched when he had just gotten off the plane. He actually sounded like what I imagine the generic a.net member to sound like heheh. I got meself together & headed for the transit area. Zone A? ZRH first glimpse was impressive…all marble & swooshy Star Trek doors for the jacks. But the bing bong for announcements is a really evil scary one! Ominous!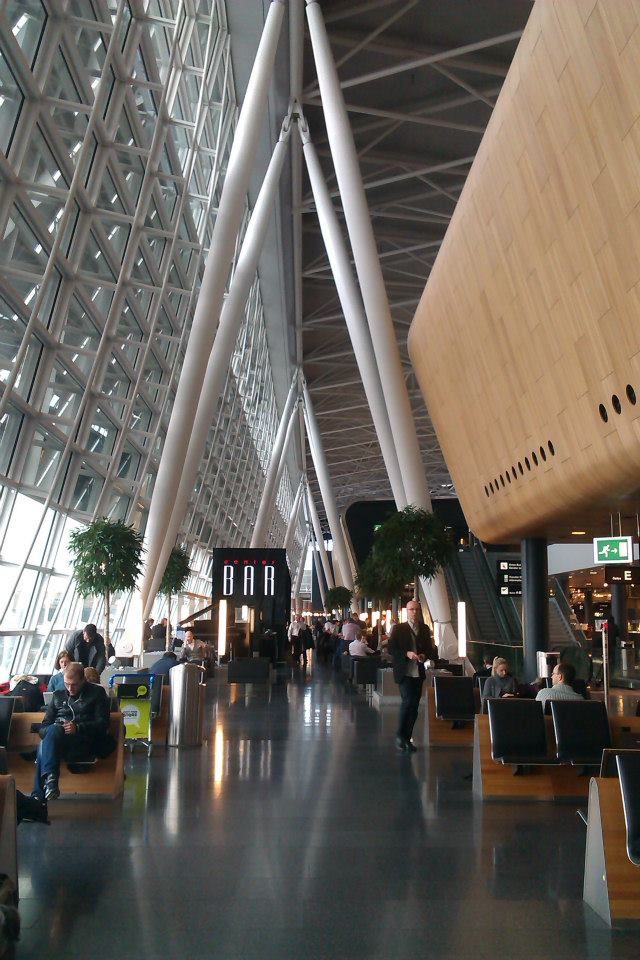 I arsed around, bought MIAspotter a Dark Toblerone (he still doesn´t know it´s only a small one), saw some AMAZING food in Marche, but willed meself not to imbibe as LX already fed me a pizza; I´m on a fecking diet. There were great big windows & I saw the quickest & twirliest pushback of an RJ I´ve ever seen-the pax must´ve already used their sick bags! I headed up & down & up again on some travelators to me gate. I sat at the wrong gate for a few mins, then went to the right one. Shouldn´t have moved, as bad news was coming me way…..yep….a lovely 20 minute delay to BRU. WHYYYYYYYYYY?!!!!! I already had a headache from travelling but this just really made me die on the inside. I had train tickets booked…so I called SNCB & was talking to a lovely lady about me delay, who advised me that I could still use me ticket to Lille.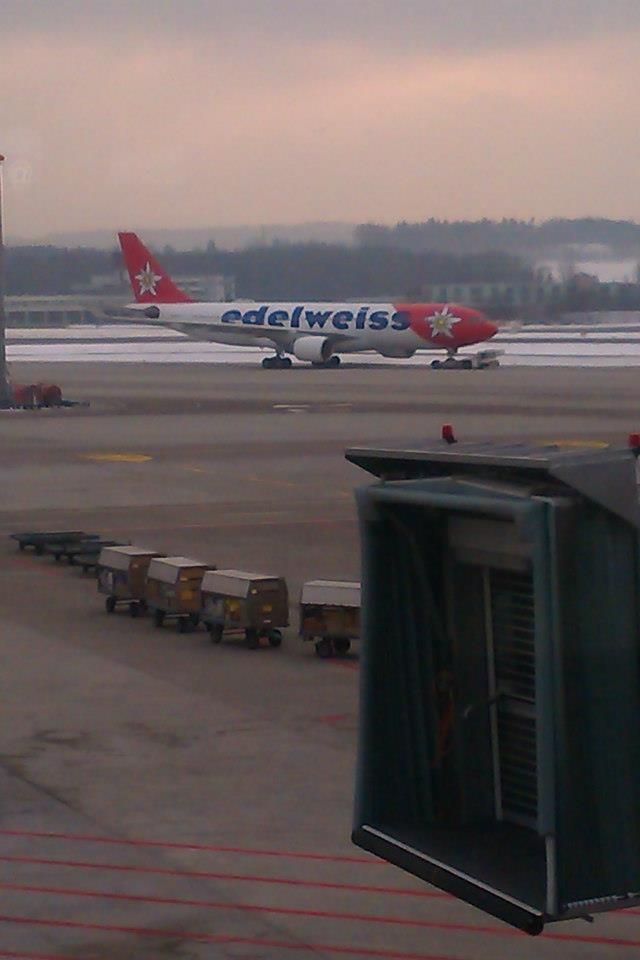 While I was yapping away to SNCB, they started boarding! Feck´s sake! So I hurried through the self-boarding machines…
View Large
View Medium


Photo © Bernd Leuze
LX 782 ZRH-BRU
A319-100 HB-IPX (16.5yrs) First Babybus for me!!
And in the SR days – Steinmaur
View Large
View Medium


Photo © AirNikon Collection-Pima Air and Space Museum
As I was late boarding, I discovered there was no room in the hat bins around me seat. Well I wasn´t going to the back, when me seat was 7F, kinda goes against the whole principle. Honestly, if I hadn´t been in such a rush, I wouldn´t have been bothered. I got stuck in row 10, looking for space, & trying to get back to me seat; letting people go past: when some guy (who I noticed put his luggage in the Business cabin like it was no-one´s business-lol) came right up, putting his jacket up, so it was swinging in me face; & then motioned that he needed to get in. For some reason, this turned me right into (notice, not On) bitch mode so I said "OH. You need to get in? Well I need to go THIS way" almost falling over this idiots bag. I hoisted me case over me shoulder, & in true cabin crew mode (it was actually like I was in work, only carrying me own luggage this time), smiled, sorried & stormed me way past all the now cranky harrumphing people (who I was letting through before I had to move), & dumped it into a Business over head locker. Not proud of all this action, but some people irritate me with their rudeness. Me cheeks were burning red with embarrassment at this stage, but I still had to ask the (nicer) man in 7D to let me in...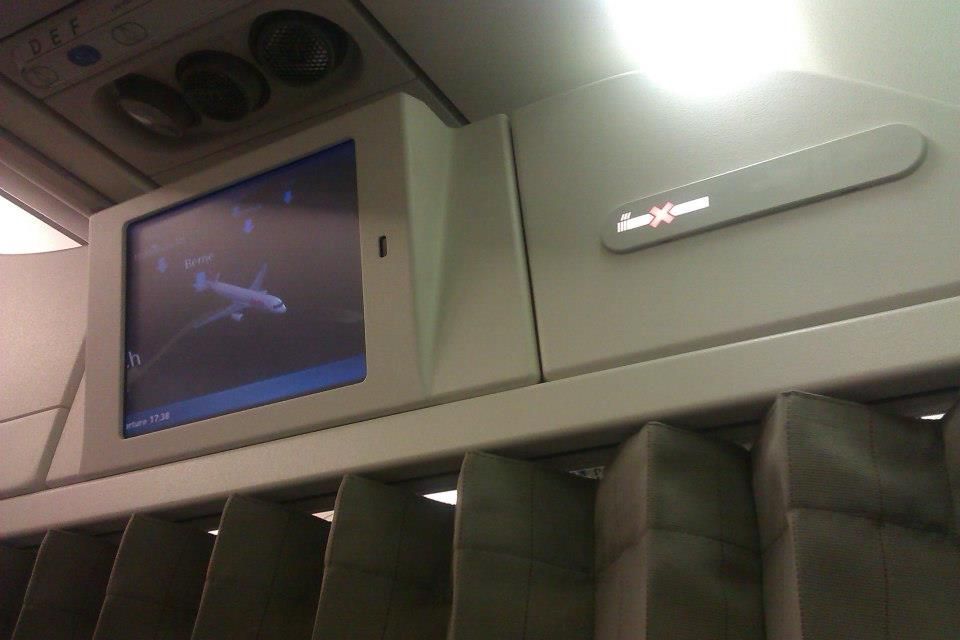 To me delight I then noticed that me case would´ve easily fit right under the seat in front…was it just (international) Murphy´s Law Day or what?! I slumped into me seat, moodily watching the de-icer do his thing. IAfter take-off, I was curious to see what the offering to BRU was. The head purser (who welcomed me on board) gave me an apricot tart & tea. This particular purser again was the complete opposite of what I thought LX would be: friendly, neat but pretty rock n roll, with an earring! You´d never get away with that at any of the Irish airlines. He looked like the dude from The Simpsons who owned the 50s diner. Ow-woooooooooo!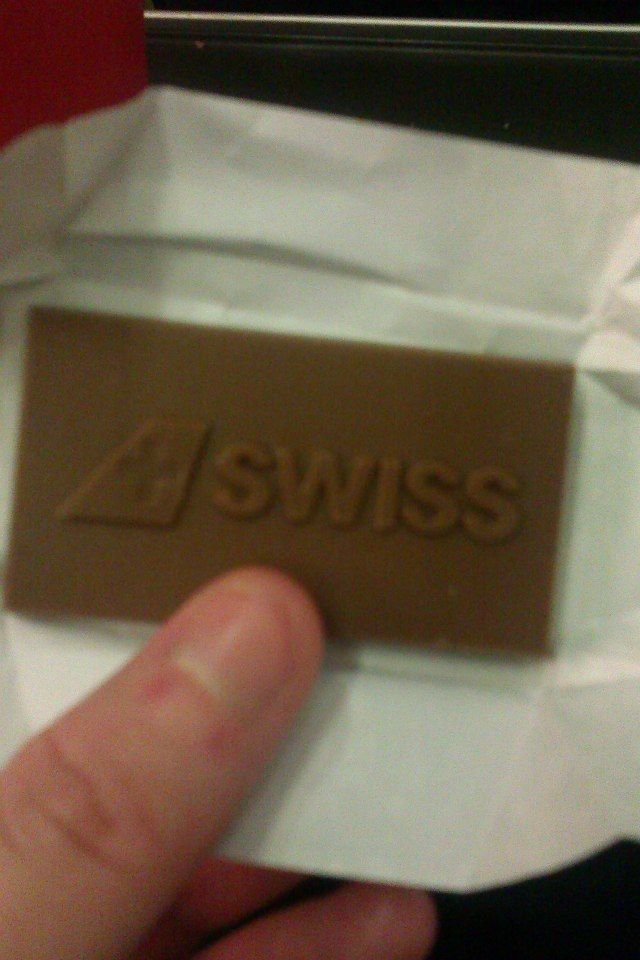 Mr. Bean on the screens gave me some much needed comic relief, & not long after, we landed hard into BRU. Did the pilot grease it because it was very snowy? I´ll never know because I was soon running all the way from arrivals to the train station. I made it, wheezing, the guy gave me the ticket, I nearly got me credit card stuck on the tray, then…I only had MINUTES to catch this train…the guy must´ve known…but he was explaining to me how to get it cheaper…yeah I appreciate it, I really do BUT I HAVE TO RUNNNNNNNNNNN!!! So I made that train to Brussels Midi….then missed me connection to Lille (also nearly got on a train to Nivelle)…oh joys! I wandered into the International SNCB office where they felt sorry for me, refunded me & gave me a cheaper ticket to Lille, with a change at Tournai. Ok, so some turn up for the books! But men kept saying "bonsoir" to me. Don´t toy with me in this state…..it´s not worth you losing a limb…
Long train story short, I made it to Lille & had a great few days!!
Frst impressions of Lille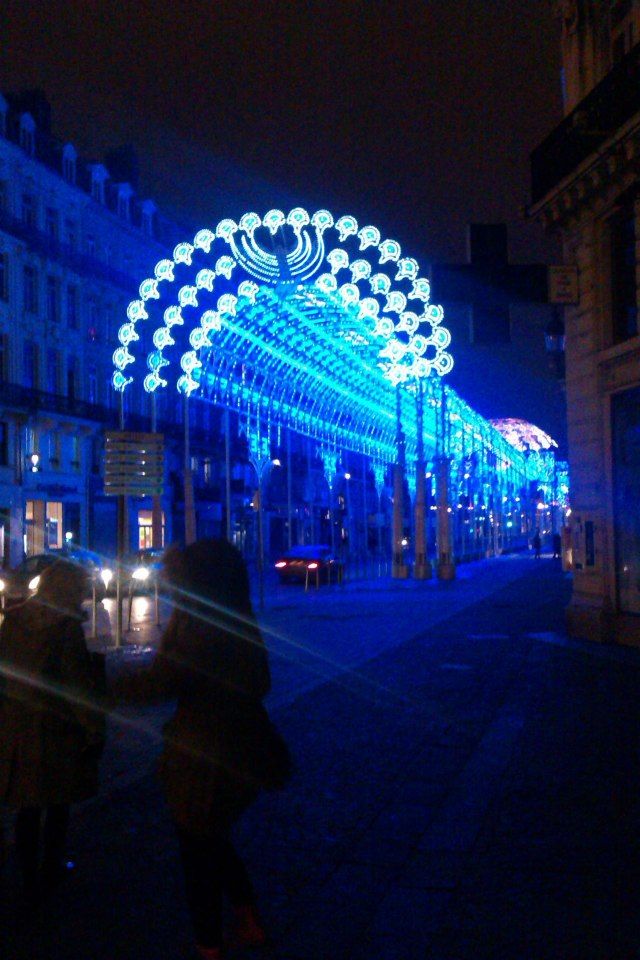 After seeing only a fraction of this beautiful city, getting drunk & puppysitting in a nightclub (true story), it was time to leave again for BRU on the 27th. I had booked a room at the Ibis Budget Hotel for the night (€61) as me flight the next morning was very early. So me friends dropped me off at the Eurostar from Lille Europe, which, guess what? WAS 40 MINUTES DELAYED. What else on this trip?! Ah well, no bother, we´re Irish, we can easily put in a session at the Irish bar, one of which Lille Europe strangely has. I thought being on the Eurostar was pretty cool & I was chuffed at crossing another little thing off me list.
Ibis room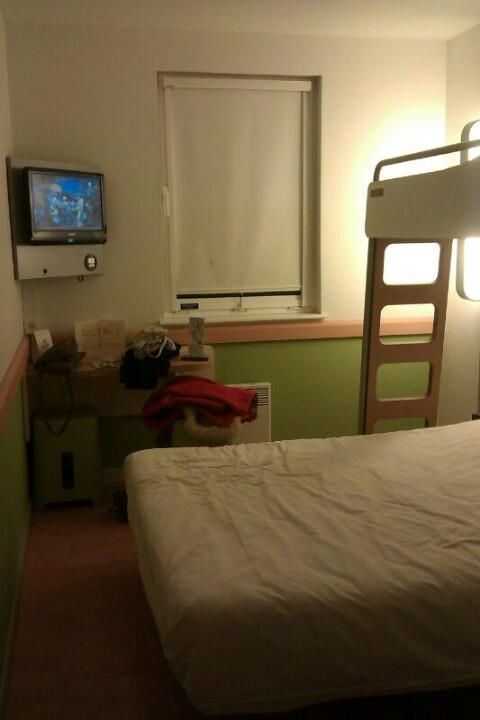 I was again, dropped into the behemoth that is Brussels Midi…got lost again…tried to buy a ticket to the Luchthaven…wouldn´t work…meanwhile (as usual) time was ticking away…only a few more minutes before I missed the LAST train…..ran (now laden down with two suitcases) to the helpdesk ….the nice man directed me to a surly man who sold me my ticket…then onto the train & breeeeeeeeeeeathe. An English lady asked me if it was going to Machelen…she must´ve been surprised with an Irish person on a Belgian train saying "Ehh…I tink so" I finally collapsed into me hotel room around 23.00, after being the ONLY person on the hotel shuttle. Creepy. Bullitt was on the tv, bang on the 727 scene. After a shower & repack, I went asleep but got no sleep; & was back downstairs at 4am to get a taxi to BRU. I hadn´t reserved one, but the nice taxi man waiting to pick someone else up quickly dropped me there for €21.
Manneken Pis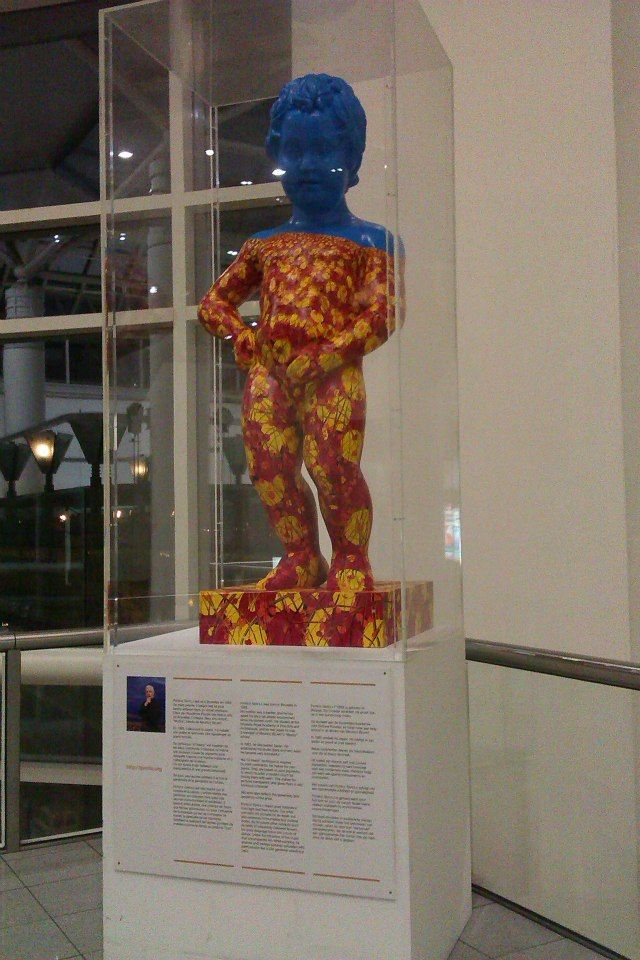 Tintin in BRU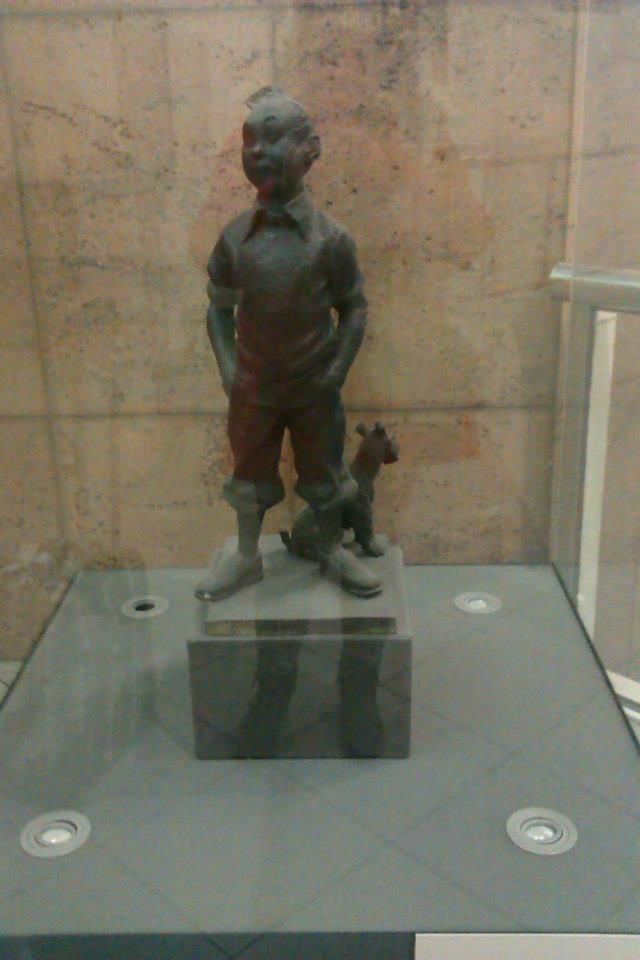 I went to the SK desk, checked the free (love that) case to DUB & got me ticket with both flights on it. Never seen that before. Also apparently I didn´t realise, but I had already checked in online. I crawled down to security...Jesus BRU is lonnnnnnnnng. There was nowhere really open yet but I had this whole departure lounge dark & empty, so I sat there sipping me Diet Coke & looking out at all the SN RJs still snoozing. One of the nice surreal moments in life…I then headed to me gate, procuring a breakfast sandwich from Starbucks on the way, egg falling all over me at the gate with each bite.
Charging ports, you provide the power!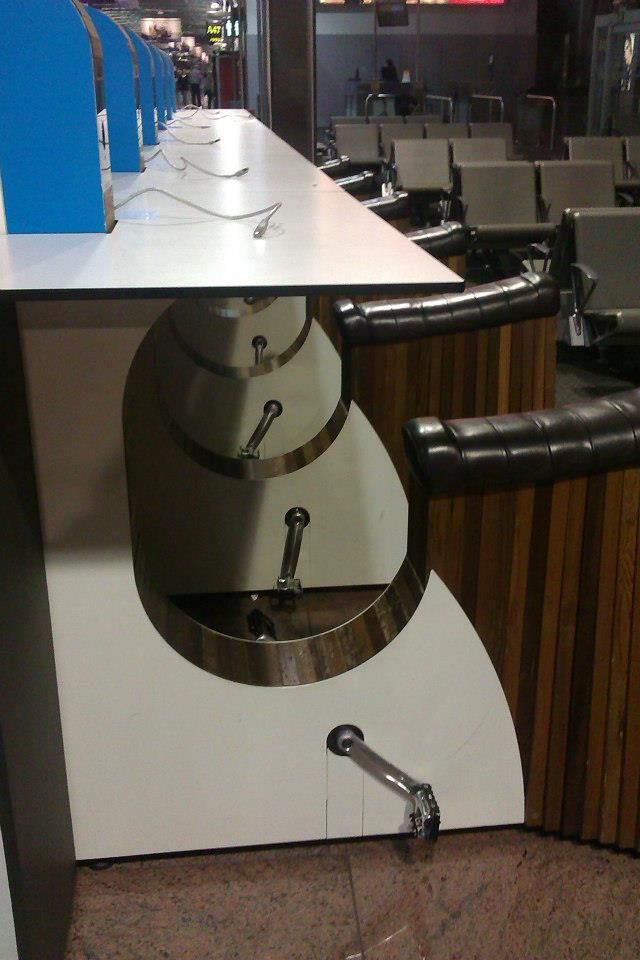 Meanwhile this old girl was waiting outside for me…
View Large
View Medium


Photo © Danijel Jovanovic - AirTeamImages
SK2594 BRU - CPH
LN-ROT MD-82 (26.9 yrs) Ingjald Viking (me first Maddog! ARF!!)
In the old colours
View Large
View Medium


Photo © Pekka Lehtinen
I can´t remember who welcomed me on board, it was 5.40am, but I know it was nice. Me first impression of the MD82 was that it looked a little cramped. I wonder if the galley at the front is hell to work in. I saw a rack of newspapers, which I thought was very cool but wasn´t sure if I was allowed take one…LCC flying is screwing with people's minds! I passed through the Business cabin & took me seat in 33A.
Me first foray into legroom shots..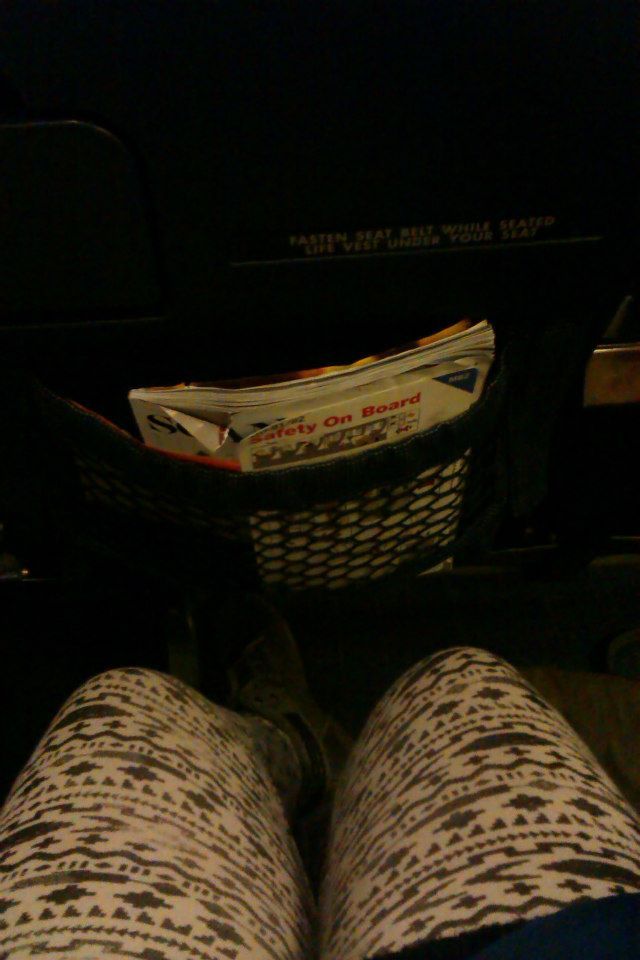 I instantly loved me seat. It´s the last of two rows behind a galley, so it´s kind of private & cosy. I really wanted the full Maddog experience too, hence practically sitting IN the engine. Announcements were done in…Danish? & English. I actually couldn´t see the safety demo from where I was sitting. I should´ve moved out but I just listened intently & looked at (read: stole) the safety card. The JTDs were my morning birdsong, & I soon passed out. I barely even remember taking off, hahaha.Once again I was curious what this new airline would bring….free tea yay!! Exactly what I needed. The crew were very polite & attentive, even on this short flight. I had had me tea already, but the male f/a came back to check & make sure; & he smiled when he saw I had been watered. ´Tis the simple things that people do.
Unfortunately the pyramid shaped milk doesn´t seem to do well with pressurisation & ejaculated all over me on both flights. Oh well. Back to sleep. Yes. I managed to sleep in between the P&W divas. It was kind of comforting actually! Like a mechanical lullaby. The 3.5 hrs sleep in the Ibis was also probably a contributing factor…soon we were approaching CPH but it was too cloudy to see anything. Would I have seen that famous bridge? I was eagerly anticipating me first landing in the back of an MD80, & was pleased with the smoothness. As we pulled in I could see lots of SK stuff, but also a beautiful KF 717. I thanked the crew & headed into CPH. At the information desk in T3, I asked about where I could put me luggage away while I explored the city. The nice lady pointed me towards the luggage lockers in the car park in T2. I took out me first 100DK, not having a clue how much it was, bought a return ticket to town for 76DK then had to get more change (ugh!) for the lockers. Of course, I headed to the wrong car park & soon found meself wandering underground. That didn´t feel right! So after buying a pizza (@ 9am) from an ignorant girl in 7-11, I finally had change for the lockers! I was free!! I was very impressed with the Metro service; it has free Wi-Fi! Nice, clean, modern trains too. Although ye think I´d have been sick of trains at this point! SNCB, SNCF, now DSB! I got off at Copenhagen Central, headed to the Tourist Information Centre, found a map with a self-guided walk, & was on me way! I had the place to meself. Beautiful city, with friendly people. But with barely any food, & lack of sleep it was more like a self-guided zombie walk. I had just 48DK for a hot chocolate in Baresso, & then headed straight back on the train to CPH. So easy! And the train conductor was the most polite man in the world; his enthusiastic announcements would bring a tear to the eye. Lovely smiley man!
Back in T3, I stole some SK luggage labels for me & MIAspotter. Security was fine, with friendly staff. I was hungry again, but had no more DKs pouring forth from the ATM. I wandered towards me general gate area, but it was closed off; however I found a great comfy spot with ramp & landing action! I also joined the CPH club to avail of the free Wi-Fi. Apparently me membership card is waiting in reception…eh might be a while before I pick it up lads…
This EK 777 starting up reverberated though the floor!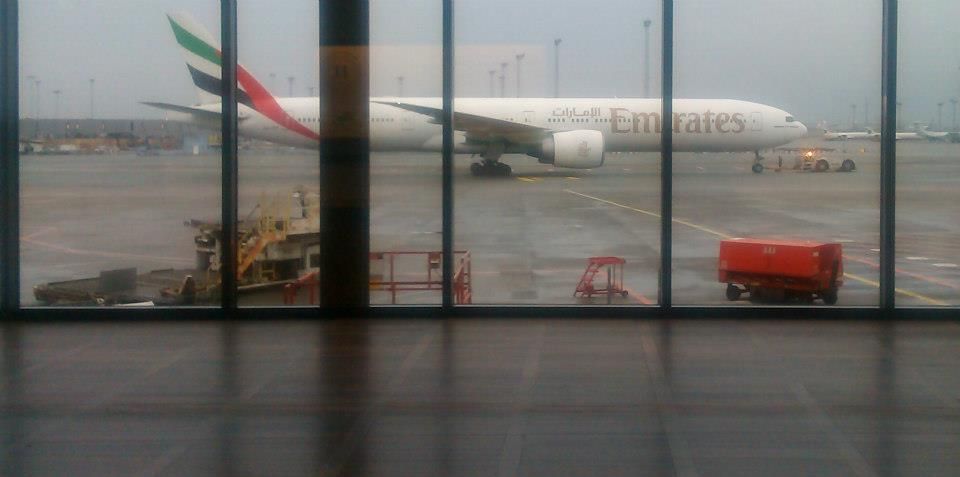 Finally the gate opened. I supplied the pax entertainment by trying me Laser card & MasterCard in a vending machine to get food. Kind of depressing when your cards are declined by a vending machine…
And who was outside but good old Rotty!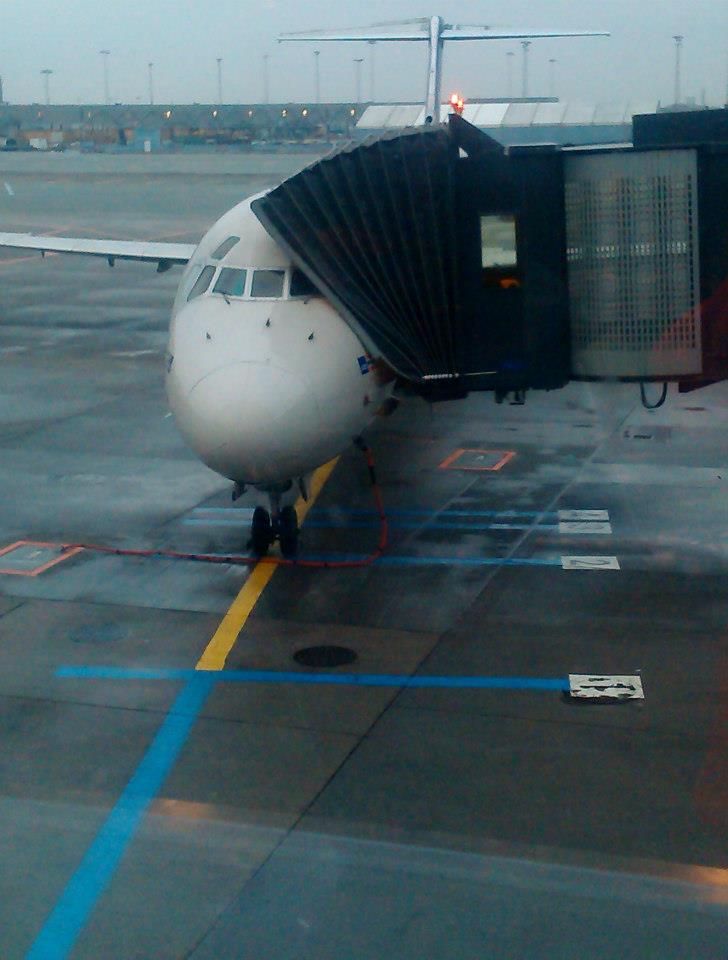 View Large
View Medium


Photo © Steve Dreier
SK 2537 CPH – DUB
MD82 LN-ROT Ingjald Viking (She had been to SVG but came back for me!)
As SE-DFR
View Large
View Medium


Photo © Frank Schaefer
I had 33F this time but ugh! Disappointing - much tighter pitch than 33A. I hawked around, trying to see any free seats. A woman was in MY seat (33A) but when boarding was completed she asked to move towards the front. I then asked the kind f/a could I move, "Yes, you can actually move to the front section" thanks love, but I´ll take me fave seat!
33F from 33A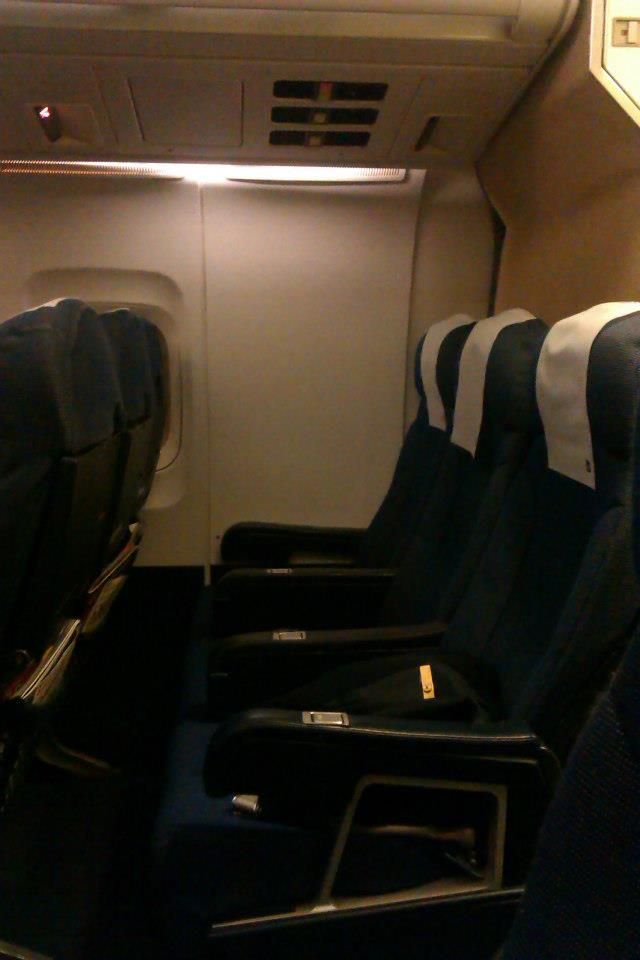 As I was (marginally) more awake this time I could fully appreciate the soulful sound of the engines as we taxied around CPH, but I fell asleep again for take-off! Damnit! I was half asleep during the service but again a nice lady checked on me, asking if I wanted tea or coffee. Tea please, to make things cosy. Straight after we got some crazy turbulence! We had been warned about this by the flight deck, & we actually had a dodgy headwind that would make the flight just over 2hrs. I looked at the inflight magazine, Scanorama (cool name) and again….no options to add to me collection! Ironically, years ago a friend had bought me one on an SK flight, but gave it to another friend to pass on to me….alas it was left in a pub…if anyone finds it I´d be much obliged….I´ll trade you for a CO Lego 777 that me da found (in another pub).
The engine, just where I left it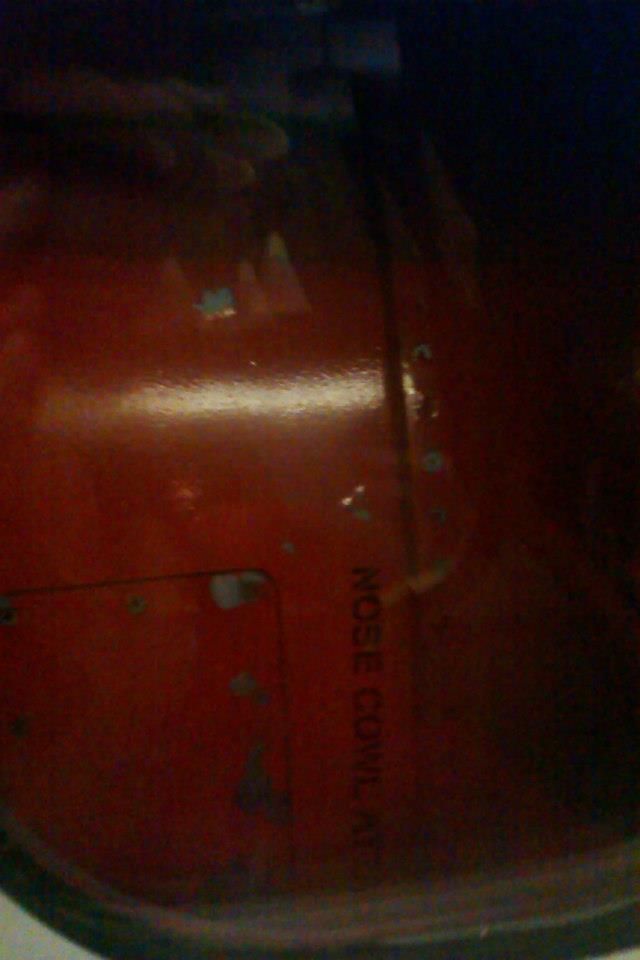 The bathroom was (another thing ticked off the list)…nice, blue & big…how the hell do they fit 3 jacks on such a skinny plane!! I nestled in to get a bit more sleep, but some people were talking to the cabin crew at the back & this kind of bugged me. Oh well, I´m guilty of this me self. Learned a lesson! The turbulence lasted all the way to DUB, but it was bloody fantastic! On approach to rwy 28 I will admit that I had the white grip of death on the armrest but also a huge grin plastered on me face! The MD82 feels solid in bad weather. We dropped & rose in the wind, but finally with one last wail from the banshee engines (& an OOOH! from me) Ingjald Viking settled down so smoothly! I was bracing meself but turned out it was for nothing! We taxied in, engines still making music, & the pilot explained about the weather, & that it was well within the aircraft´s limits. Cool bro, I was left thinking, the MD82 is so BADASS! While waiting to disembark (FR style) myself & the f/a chatted about the wind. Ingjald was shaking from side to side on the ground! I was blown into T1 Arrivals, picked up that second case quick enough & was picked up by me parents.
Well…if you´ve made it this far..thanks very much!
All the paperwork for this crazy trip...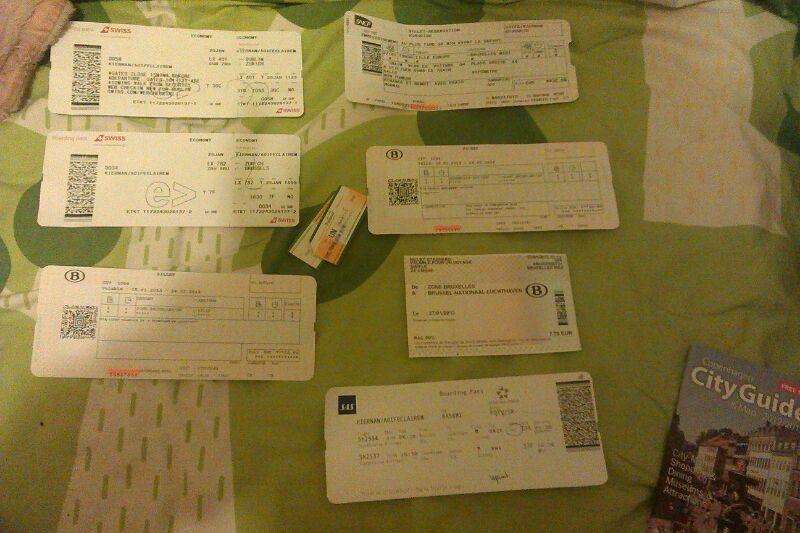 General consensus…next time it´ll just be FR to CRL! But it was still a good experience.
LX: Great on the DUB-ZRH sector, crap delay on the ZRH-BRU annoyed me…I know it wasn´t huge but it really put me in a tight spot! Still good cabin service, & on the ground everyone was friendly. 8/10
ZRH: Very impressive, huge windows, lots of signs & easy to get around 9.5/10
BRU: Awful if you´re in a rush, otherwise a nice place! 9/10
SK: Really enjoyed the MD82 & the 2-3 layout, great crew & nice groundstaff 9.5/10
CPH: Expensive, but a lot of things to do, lots of lounges etc. Big windows to see lots of action. Nice staff. Luggage lockers a bit hard to find! Great Metro service to city centre. 9/10
Vielen danke…merci…dank…tak!
Past trs:
A Prop-er Good Trip! DUB-BOH-LGW-DUB
(by
aerdingus
Jan 4 2013 in Trip Reports)
Vueling Up The Atlantic Coast BCN-NTE-BCN
(by
aerdingus
Sep 13 2012 in Trip Reports)
MAD, A Maddog & Mhaolmaodhog DUB - MAD - DUB
(by
aerdingus
Jan 3 2012 in Trip Reports)
FR To FRance DUB - NTE - DUB
(by
aerdingus
Jan 2 2012 in Trip Reports)
A VenEIzuelan Christmas In Barcelona
(by
aerdingus
Jan 1 2012 in Trip Reports)
A Few Hours In Milano EI DUB – LIN- MXP –DUB
(by
aerdingus
Dec 15 2011 in Trip Reports)
The Classic Codeshare:EI BA JQ DUB LHR HKG SIN
(by
aerdingus
Dec 10 2011 in Trip Reports)
DUB-HEL-DUB With EI
(kinda Long-ish W/pics)
(by
aerdingus
Apr 19 2011 in Trip Reports)