La Dolce Vita with Alitalia, Pt 3: BDS-LIN-LHR
Hi!
Thanks for clicking on the next instalment of my Alitalia Extravaganza, following hot on the heels of
Part 2
! This is actually the first time I've posted two trips in the same day.
The flights:
AZ 303 London LHR – Rome FCO, A321
AZ 1391 Rome FCO – Genoa GOA, A320
AZ 786 Milan MXP – Tokyo NRT, B772
AZ 785 Tokyo NRT – Rome FCO, B772
AZ 1603 Rome FCO – Bari BRI, A320
AZ 7108 Brindisi BDS – Milan LIN, A319
AZ 230 Milan LIN – London LHR, A320
My route with all seven flights, courtesy of GC Mapper, of these reports: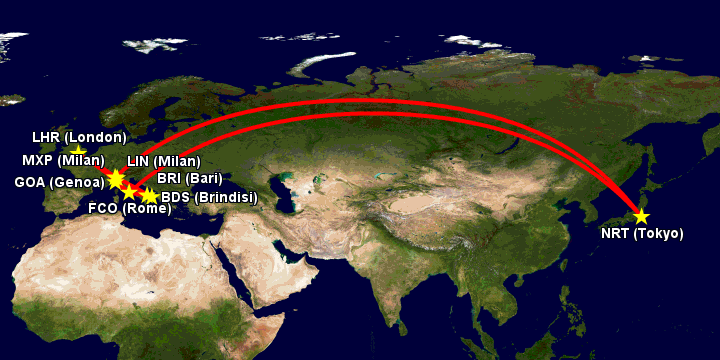 And the European detail:
I'll be splitting the report into 3 parts:
Part 1, LHR-FCO-GOA
Part 2, MXP-NRT-FCO-BRI
Part 3, BDS-LIN-LHR
Part 1 can be found here:
La Dolce Vita With Alitalia, Pt 1: LHR-FCO-GOA
(by
gabrielchew
Jan 25 2013 in Trip Reports)
Part 2 can be found here:
La Dolce Vita With Alitalia, Pt 2: MXP-NRT-FCO-BRI
(by
gabrielchew
Feb 7 2013 in Trip Reports)
The map of Part 3:
Picking up from part 2, after a late night pizza with Eric in Bari, we parted ways the next morning, Eric and The Finn back to the airport, me for this bus into town. A few photos from Bari:
Bari Castle
I only had a few hours before I had to get my noon train down the coast to Brindisi. If you book early enough (at least 2 weeks before?) for short distances, you pay the first in 1st and 2nd class (in this case EUR 9 one way). They had the same deal on the Genoa-Milan train, but I dithered too long to get the cheap first ticket in the end.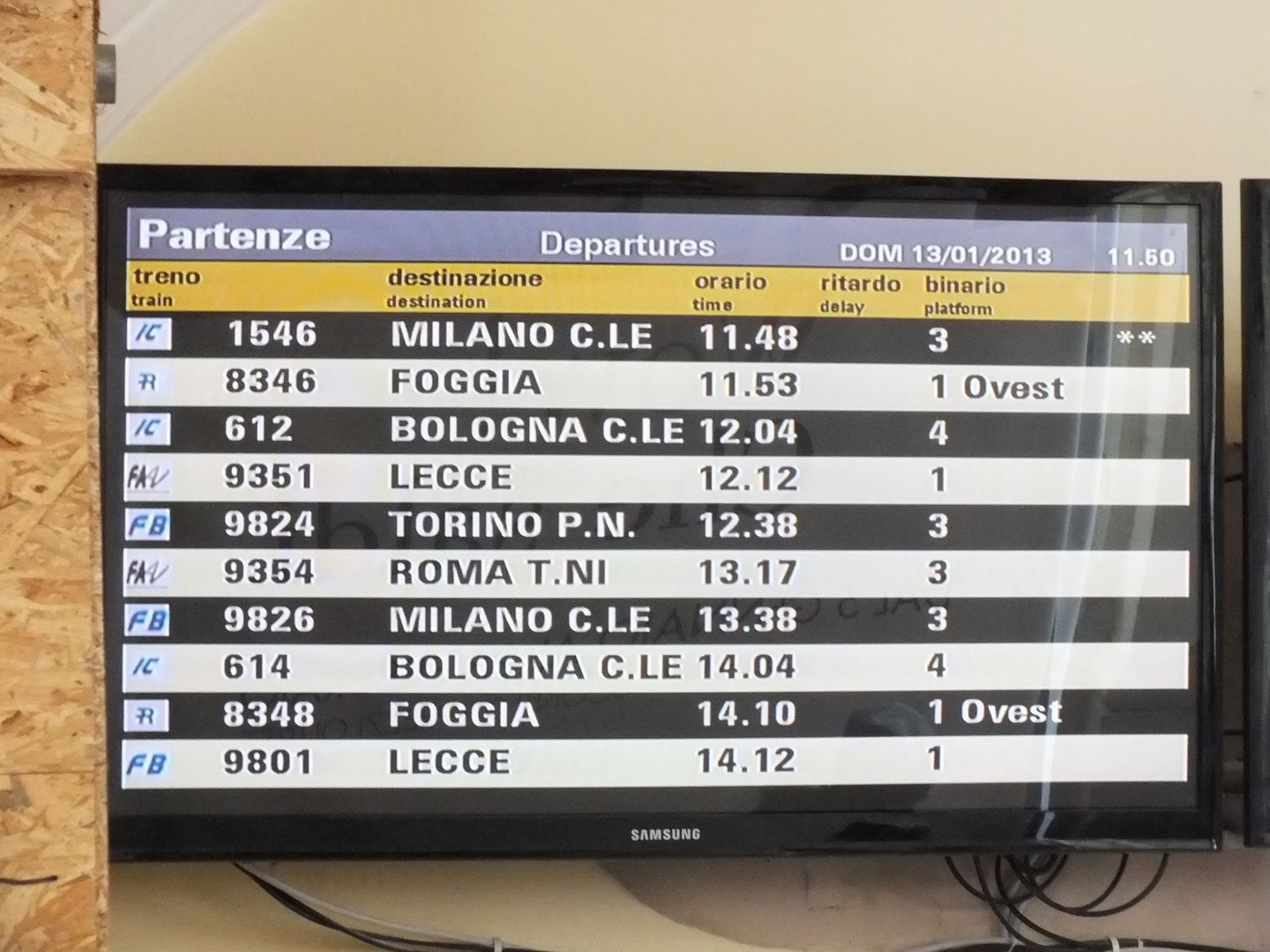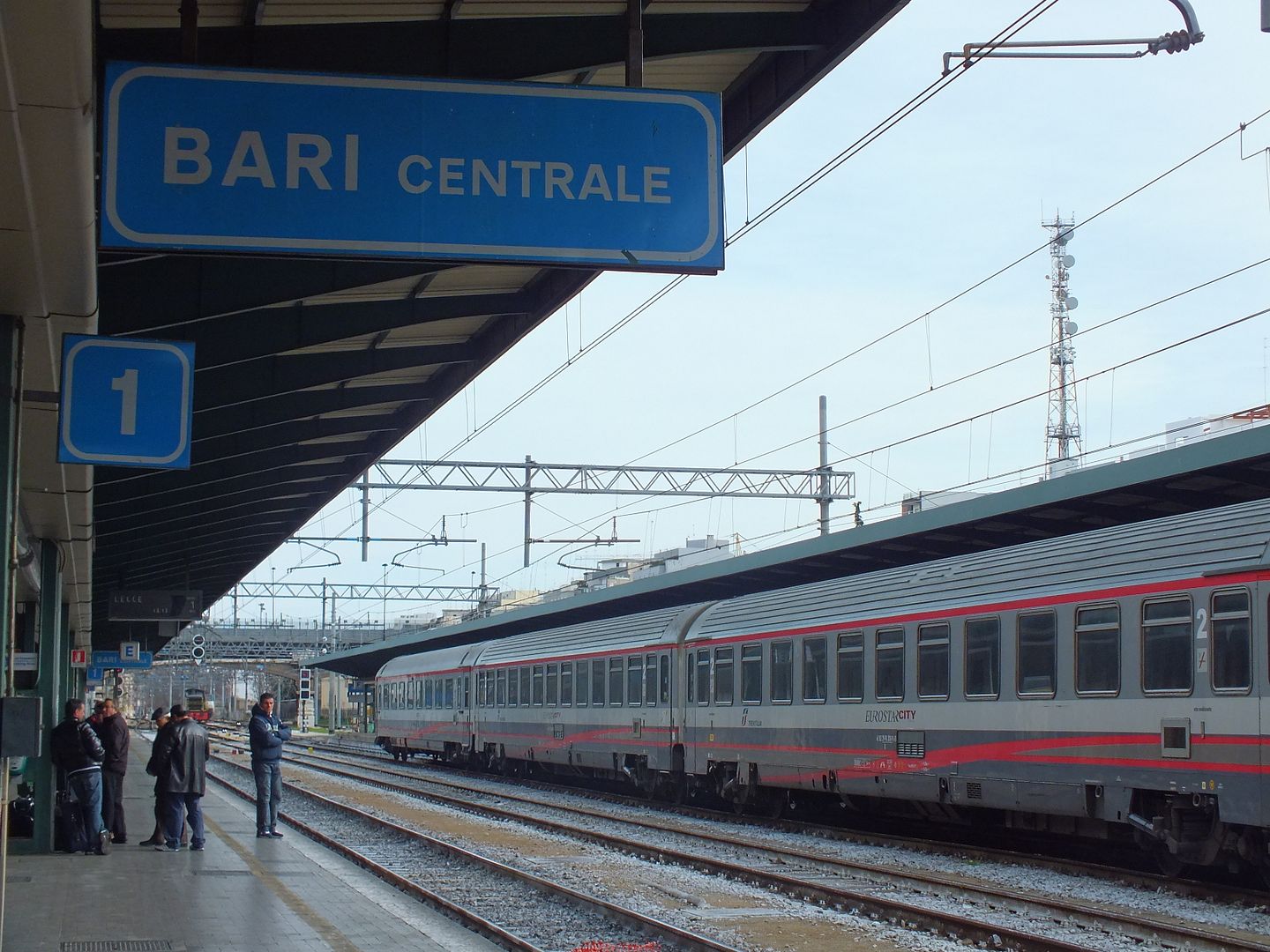 The train soon arrived…early for a change
Fairly comfy seats. Sadly, the wifi wasn't working.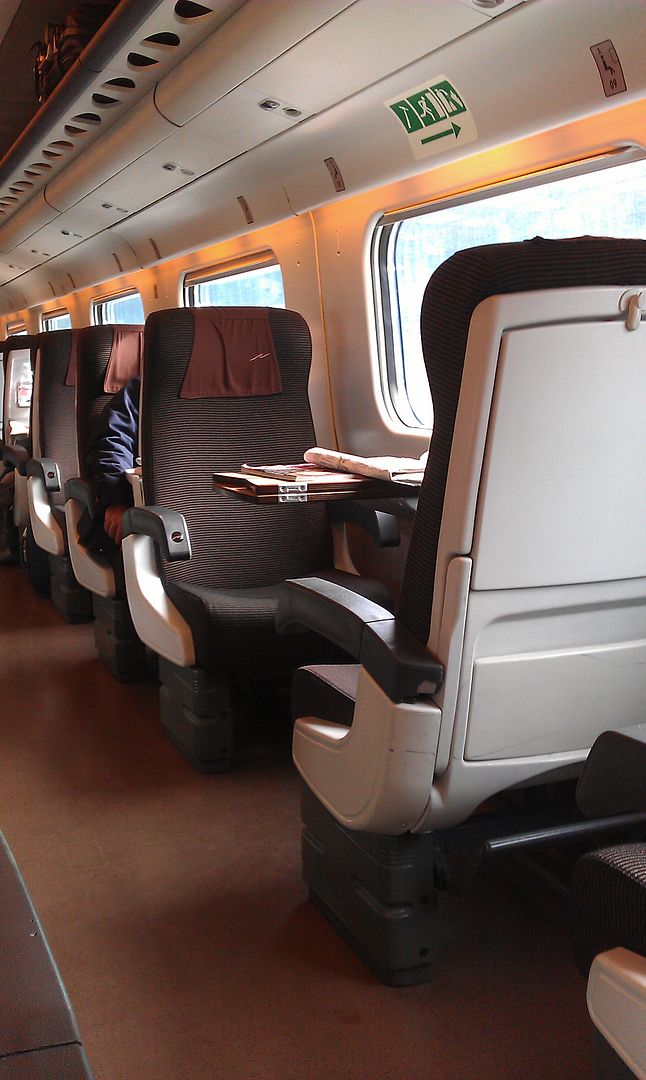 Seat map
There was a reasonable at seat service…espresso, water and a snack
An hour later, we arrived in Brindisi. Here I would be picking up my hire car for the next two days. Pick up was at the airport though…onto the bus.
Before long I was at Brindisi Airport. With the car formalities done (I was upgraded to a rather hideous looking but reasonably powerful Skoda) I was on my way. First stop was the nice seaside town of Gallipoli.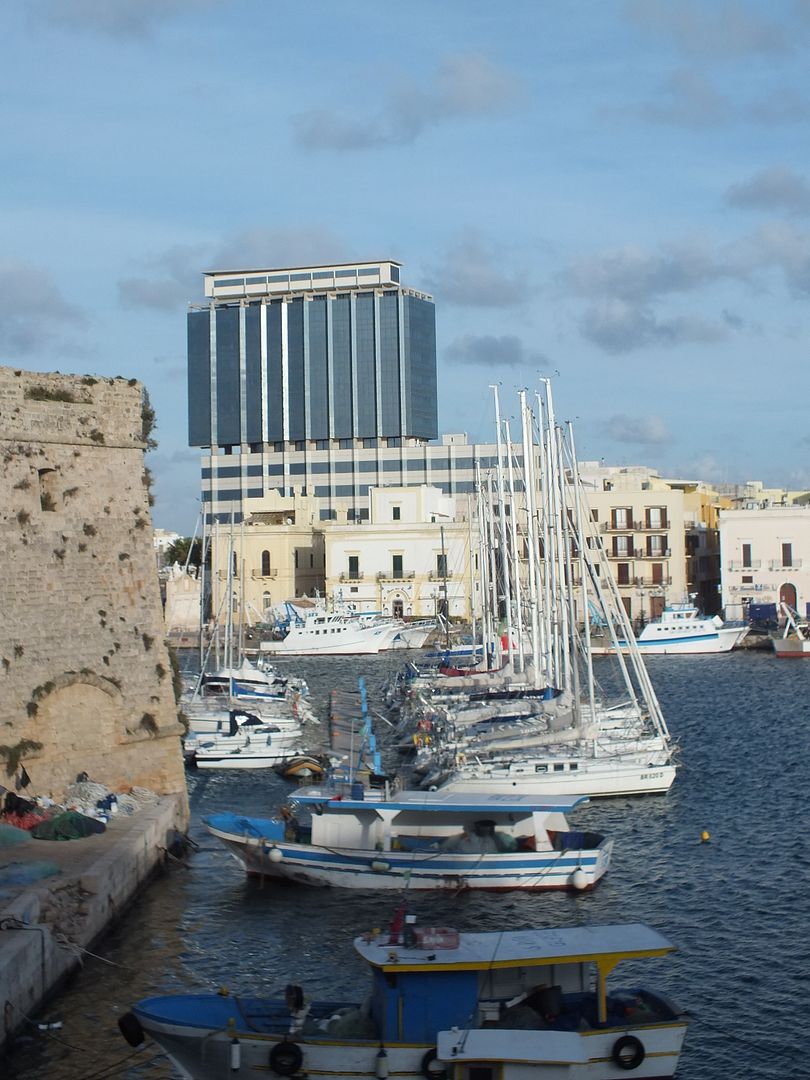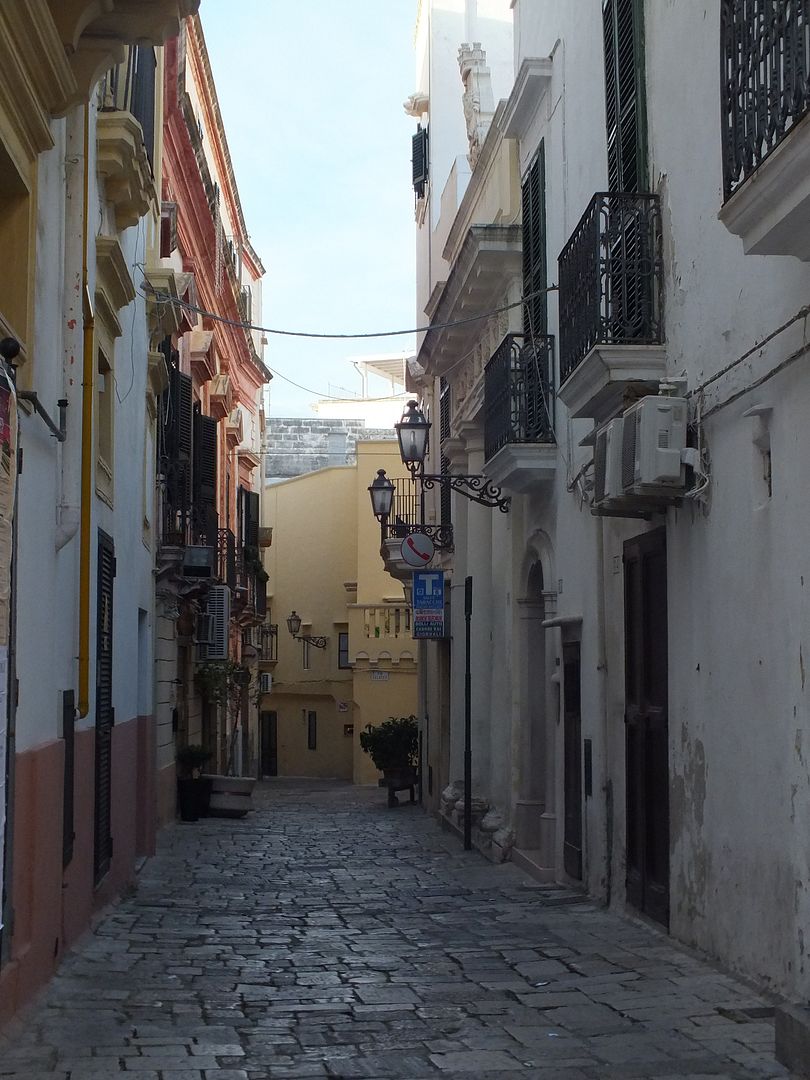 Shame I'm on my own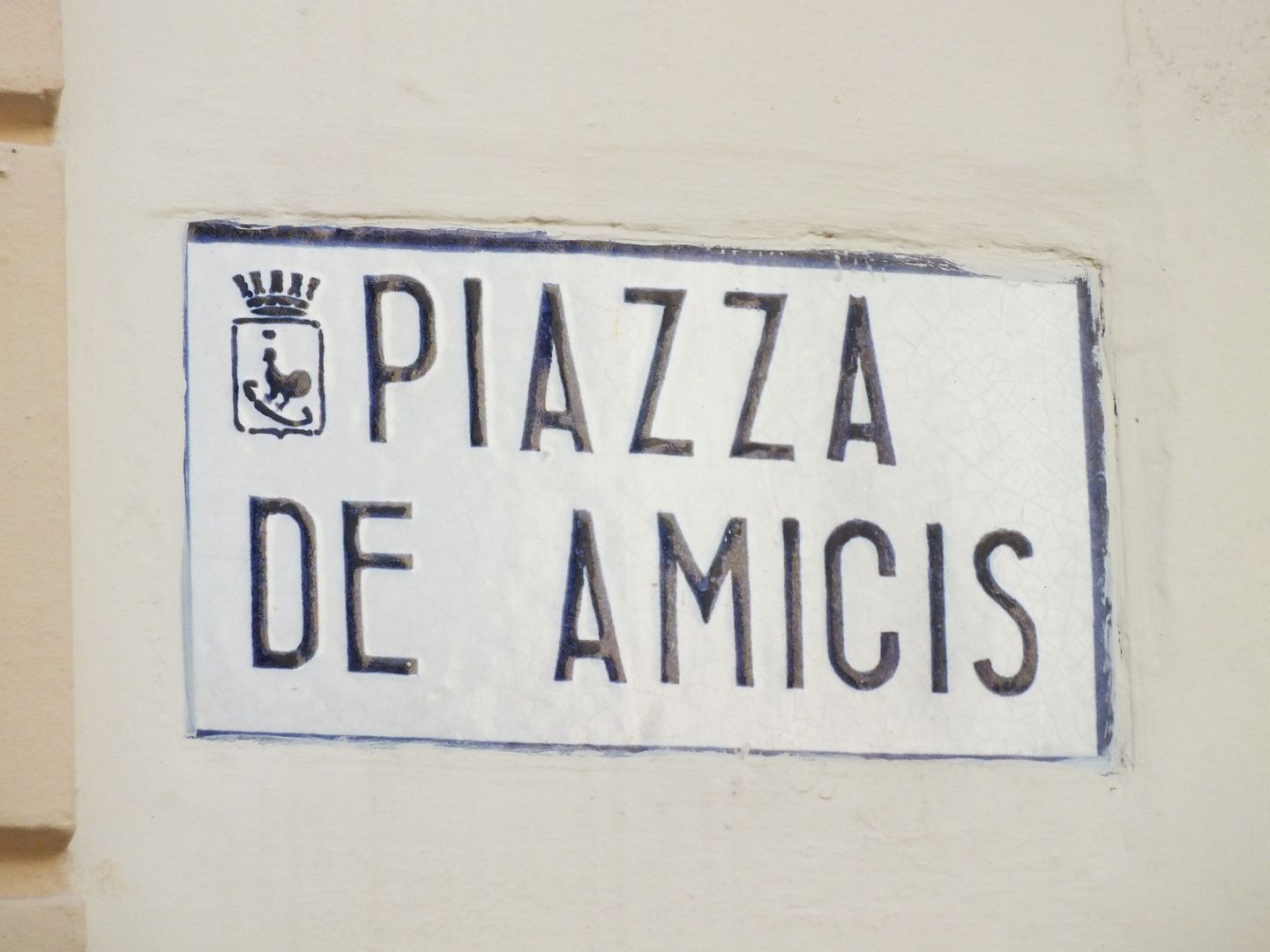 With Gallipoli seen, I headed on to my hotel, the rather interesting Masseria Grande in Taurisano. I was the only guest, and none of the staff spoke any English. Still, I was welcomed warmly, and fed very well.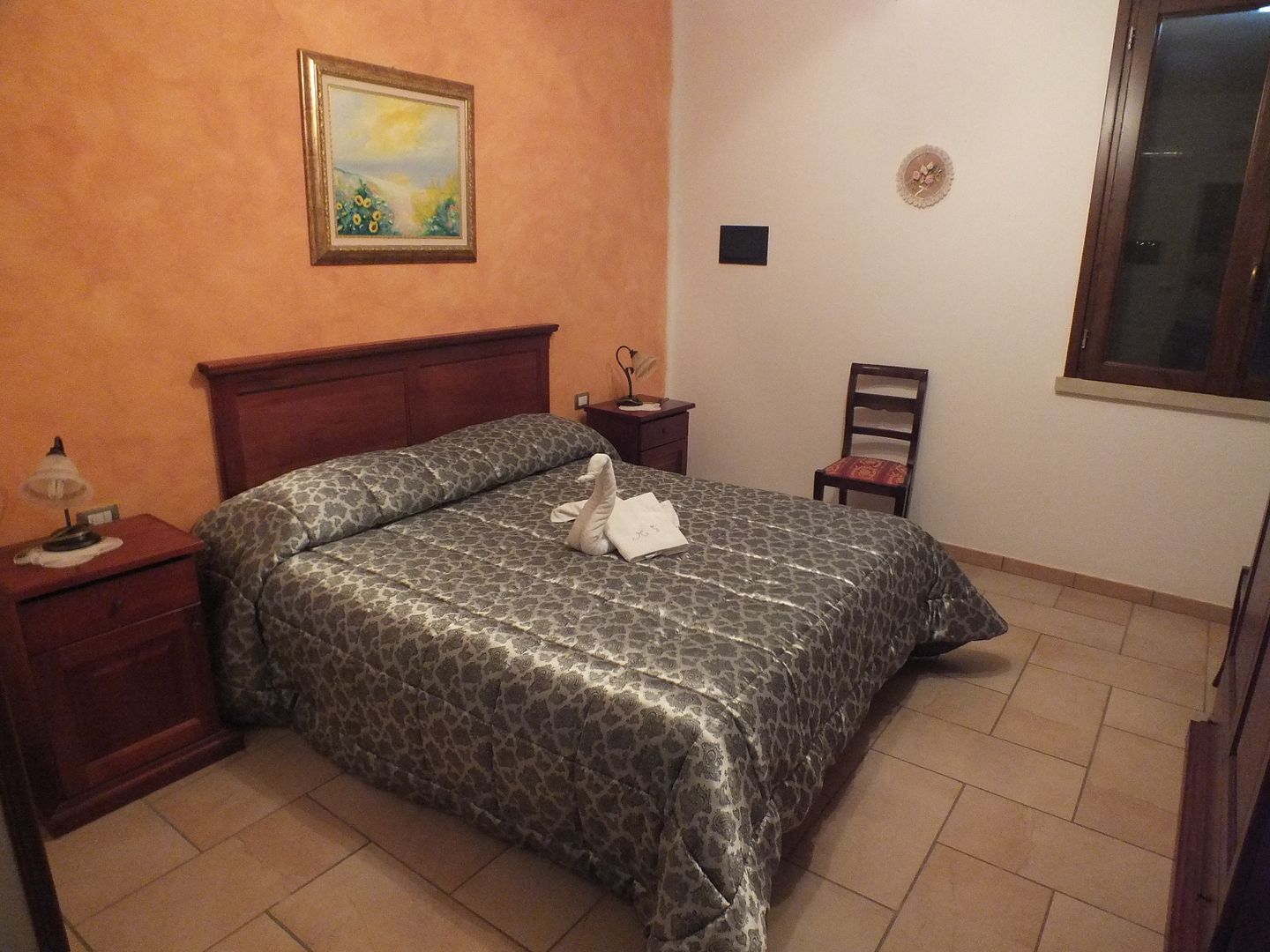 Some of their tasty food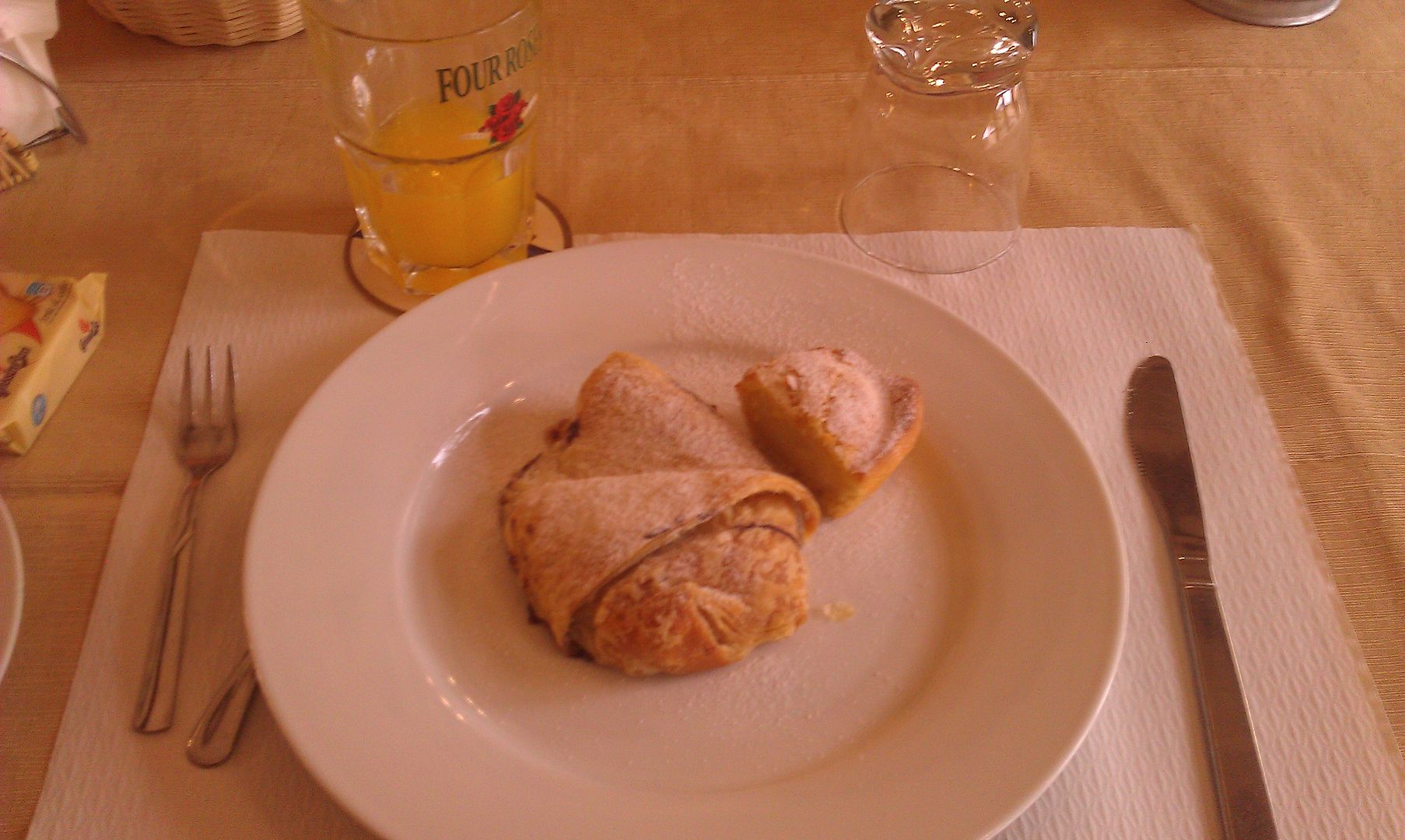 Next morning I started on my quest to visit the very tip of the heel of Italy. Sadly, the weather was quite awful. High winds, heavy rain, poor visibility.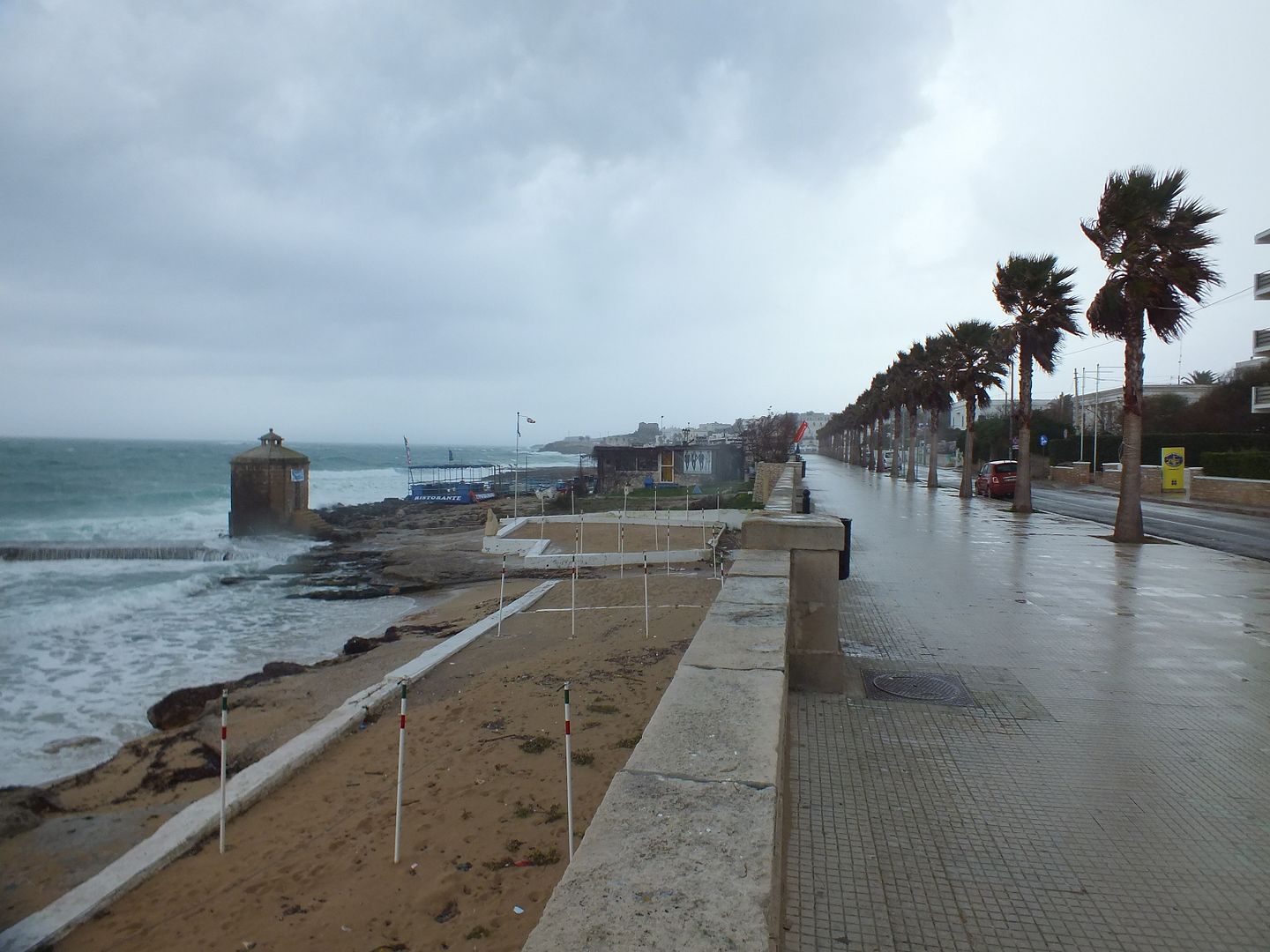 The lighthouse at the convent at land's end.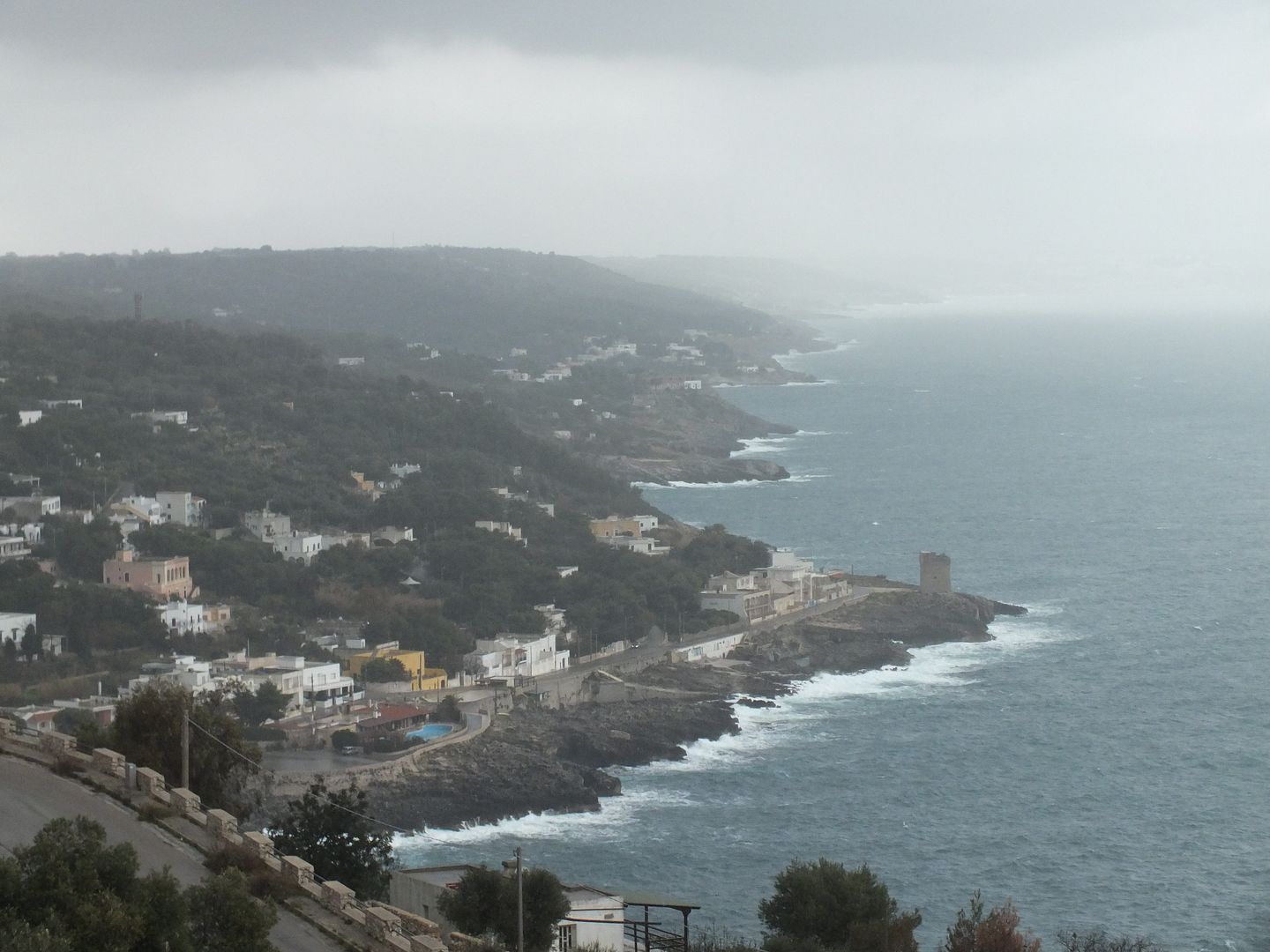 Fancy a swim?
Some interesting architecture down here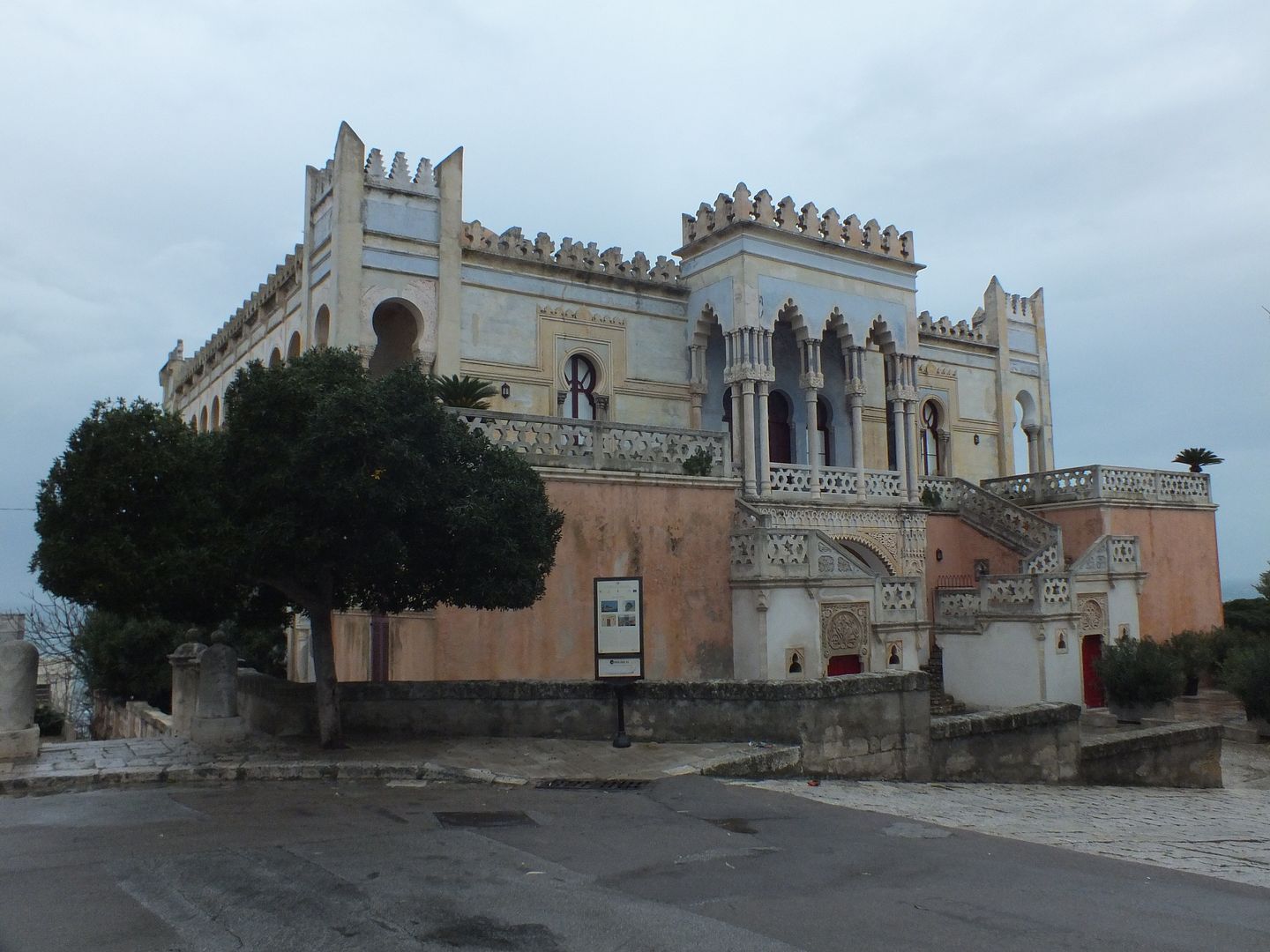 My car
My home for tonight was in Lecce, a gorgeous town inland from the swirling seas. There is a beautiful old town, and some great Roman ruins.
The next morning dawned even wetter than the previous day. Added to the rain this time was a heady dose of thunder and lightning…how exciting. There were quite a few very flooded roads around the airport, and I saw a few ground strikes. Great weather for flying!
The night before I had tried to OLCI, but the website kept on crashing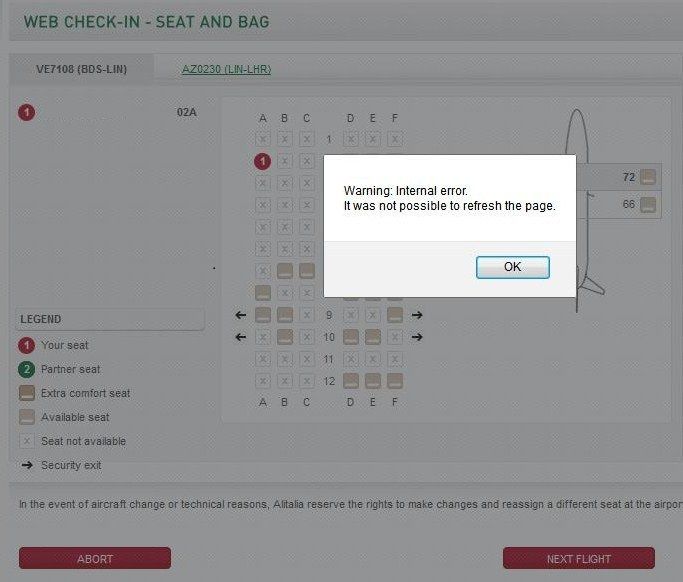 I managed to get the car to the airport without issues, then proceeded to the terminal. There weren't many people around the check in areas, so I was able to print my boarding pass quickly.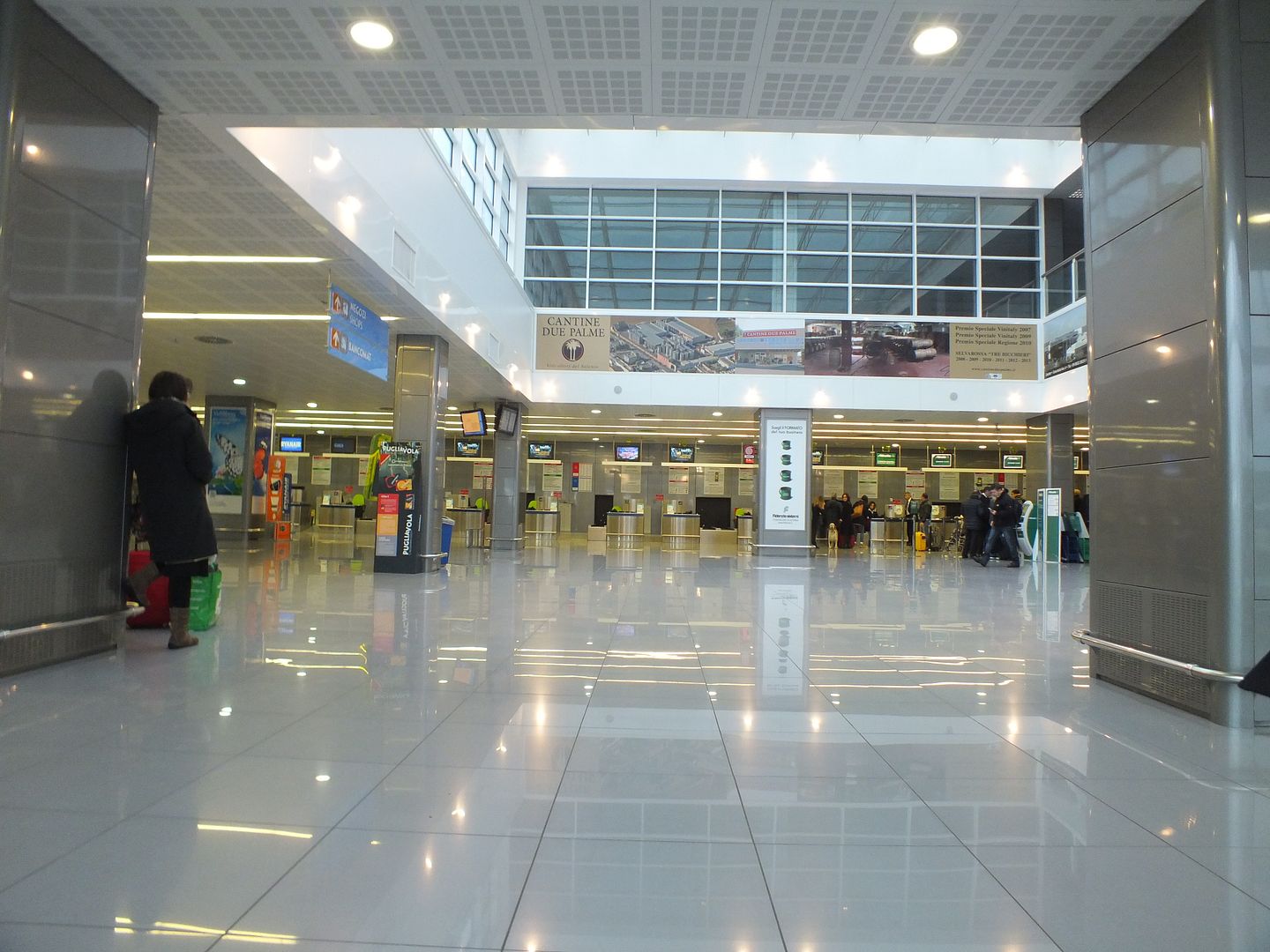 FIDS
The line at security wasn't too long, and I was shortly in the rather plain departures lounge. The AZ flight to FCO was just boarding.
Meanwhile outside, the last of the inbound LIN passengers were disembarking through the rain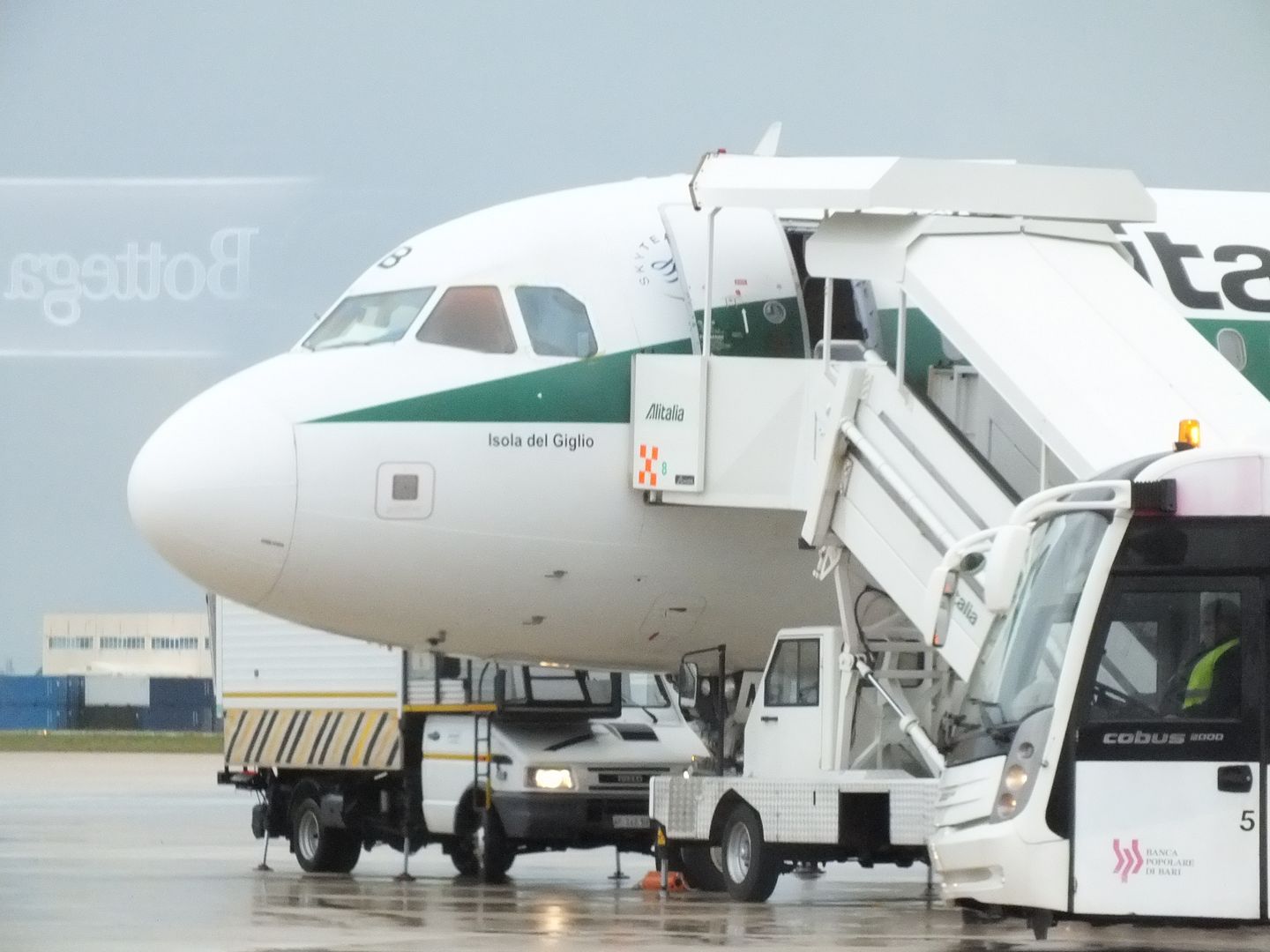 Oh no! Isola del Giglio…I logged this one last summer
on my way back from Palermo
. Never mind. Isola del Giglio is where the Costa Concordia ran aground a few years ago.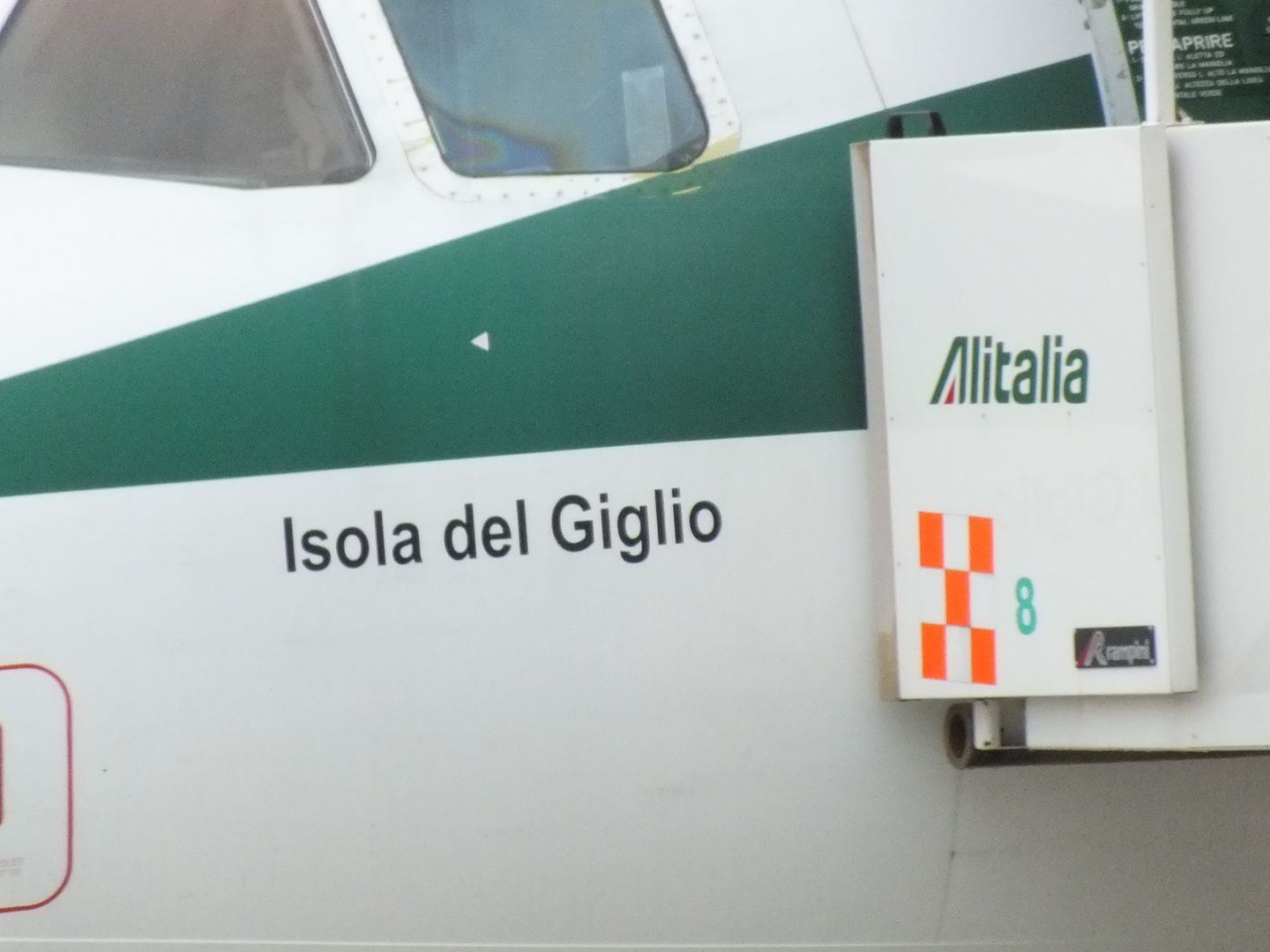 It wasn't long before we too were called for boarding. All onto the bus.
January 2013
Brindisi (BDS) – Milan Linate (LIN)
Alitalia AZ 7108
Scheduled: 1140-1315 (1h35m)
Actual: 1149-1307 (1h18m)
Airbus A319-112, EI-IMB "Isola del Giglio"
Economy
It was still bucketing down, so everyone had to run to the appropriate door. I was sat near the back, where thankfully the queue was short.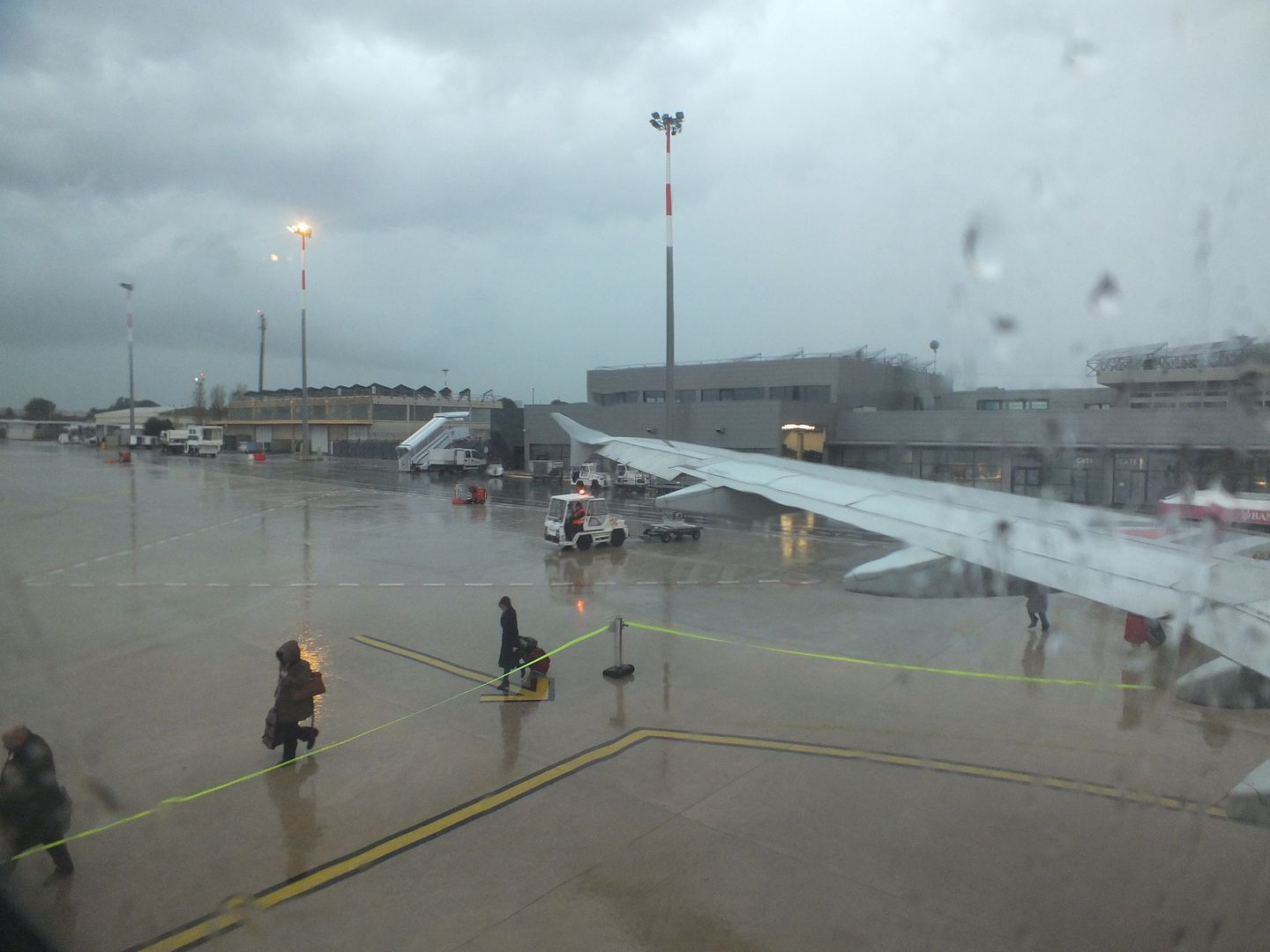 Despite the high load, there was no one sat in the middle seat. It was whilst I was looking out of the window that I became aware of one of the FAs addressing the vicinity in Italian. I turned around to see her pointing at my backpack which was about to fall out of the overhead. This is not where I had left it. Someone boarding later with a big roll aboard had obviously moved my bag out of the way so theirs could fit. Very nice of them. The FA quickly switched to English and explained at as the flight was full, I'd have to put this under my seat. Well, luckily there's an empty middle seat. I fail to see why I should put it in my leg space, rather than having it in the late boarder's leg space. What if I was a Gold pax on a full fare…why should I lose my legroom just because someone else got on late and had a massive bag? This only encourages people to bring a big bag so they get priority space in the overheads.
All aboard, the stairs are removed, and we taxi out through the storm.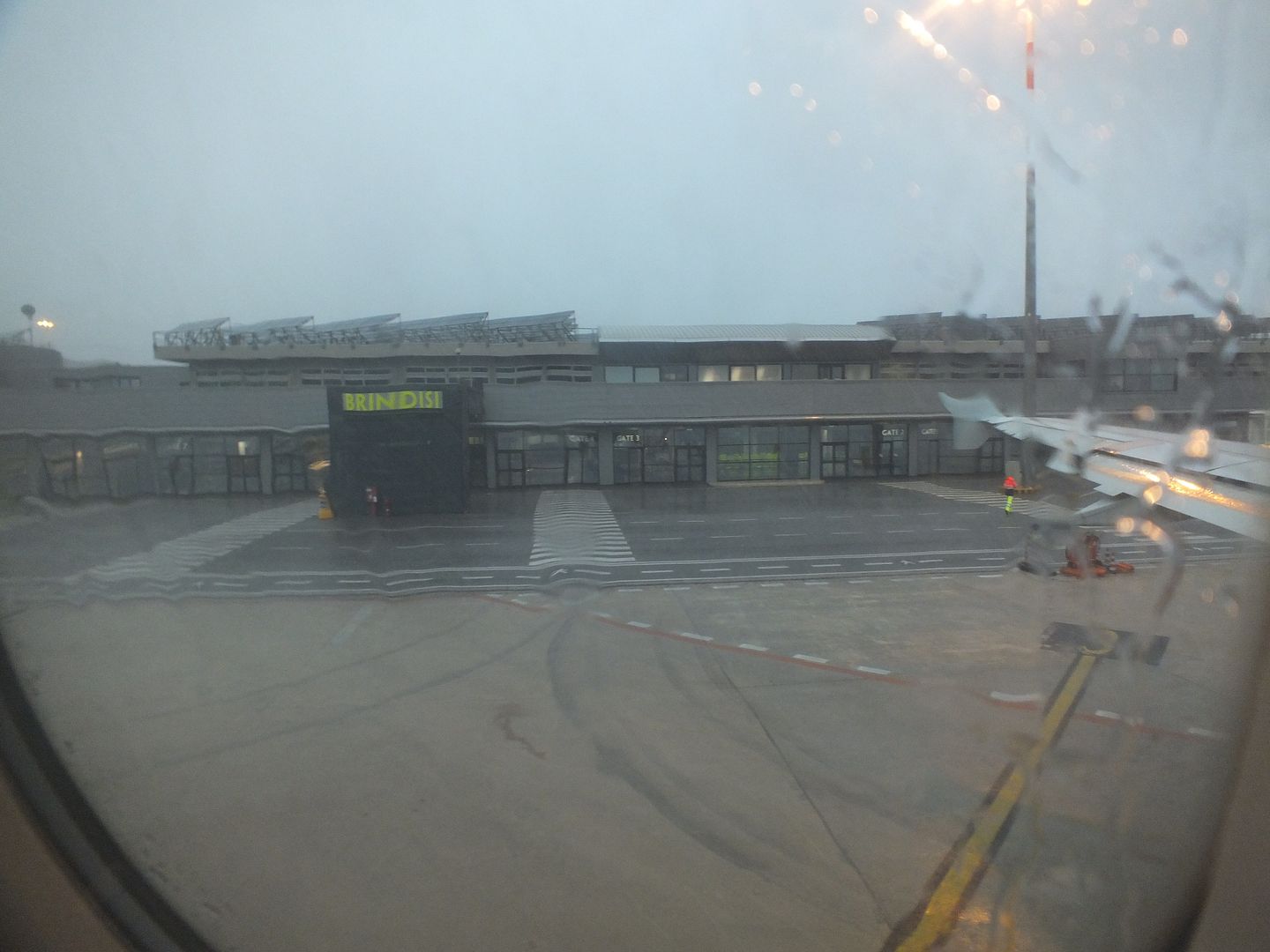 Safety card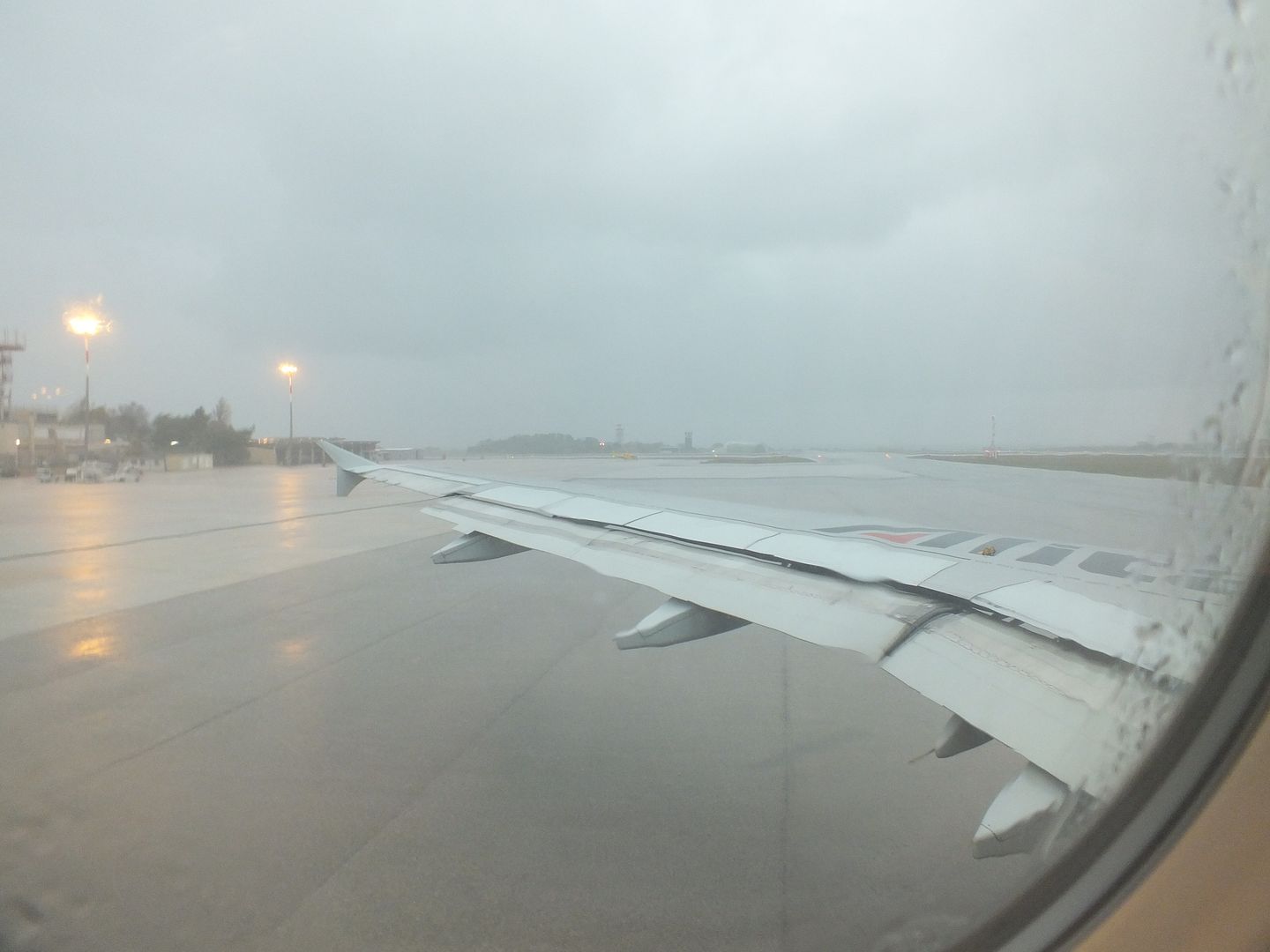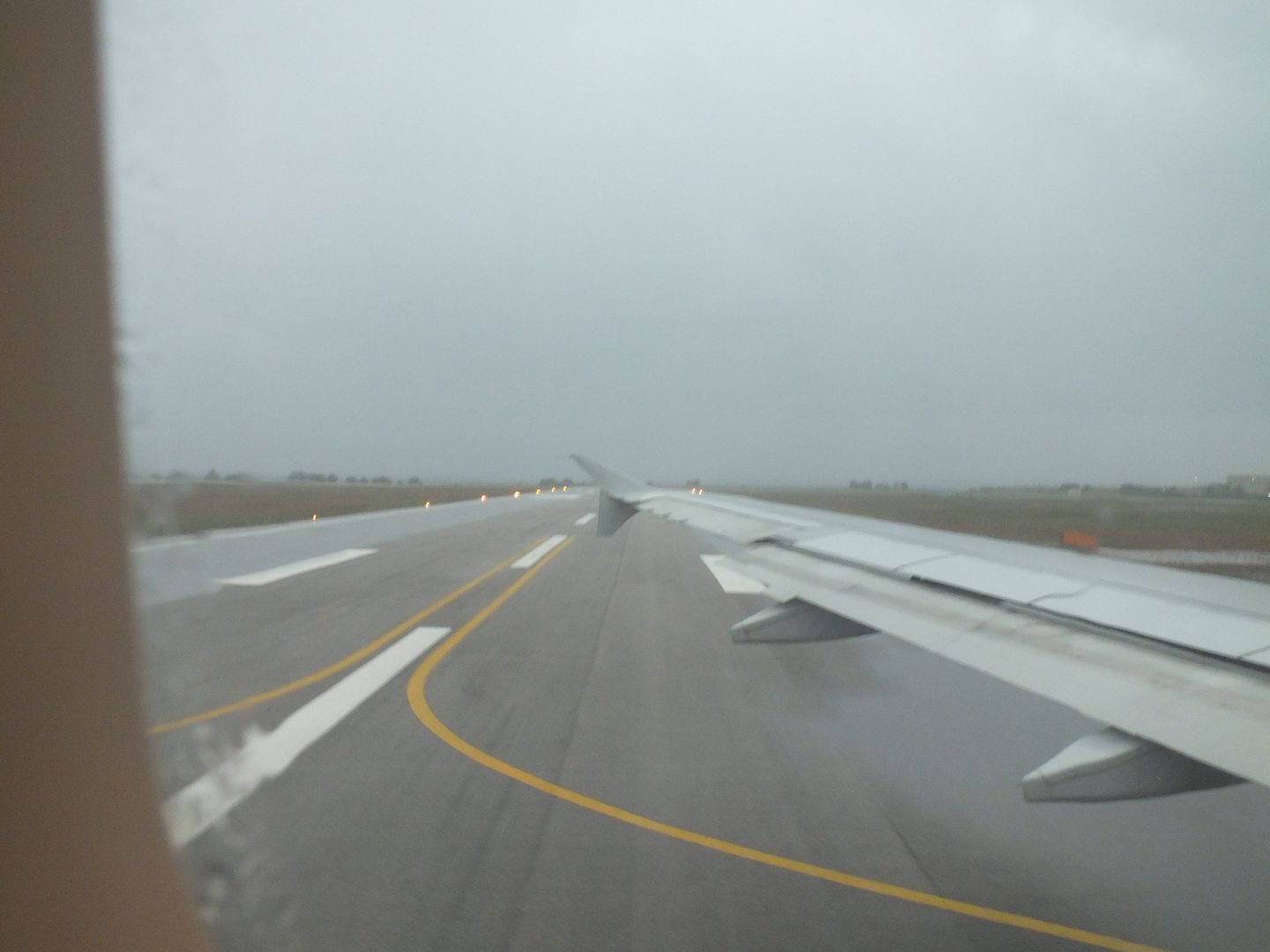 Literally a second after I took this photo the ship got struck (or at least it looked like it) by lightning…very cool! I was wondering whether it was safe to take off…clearly the pilot thought it was, so off we went.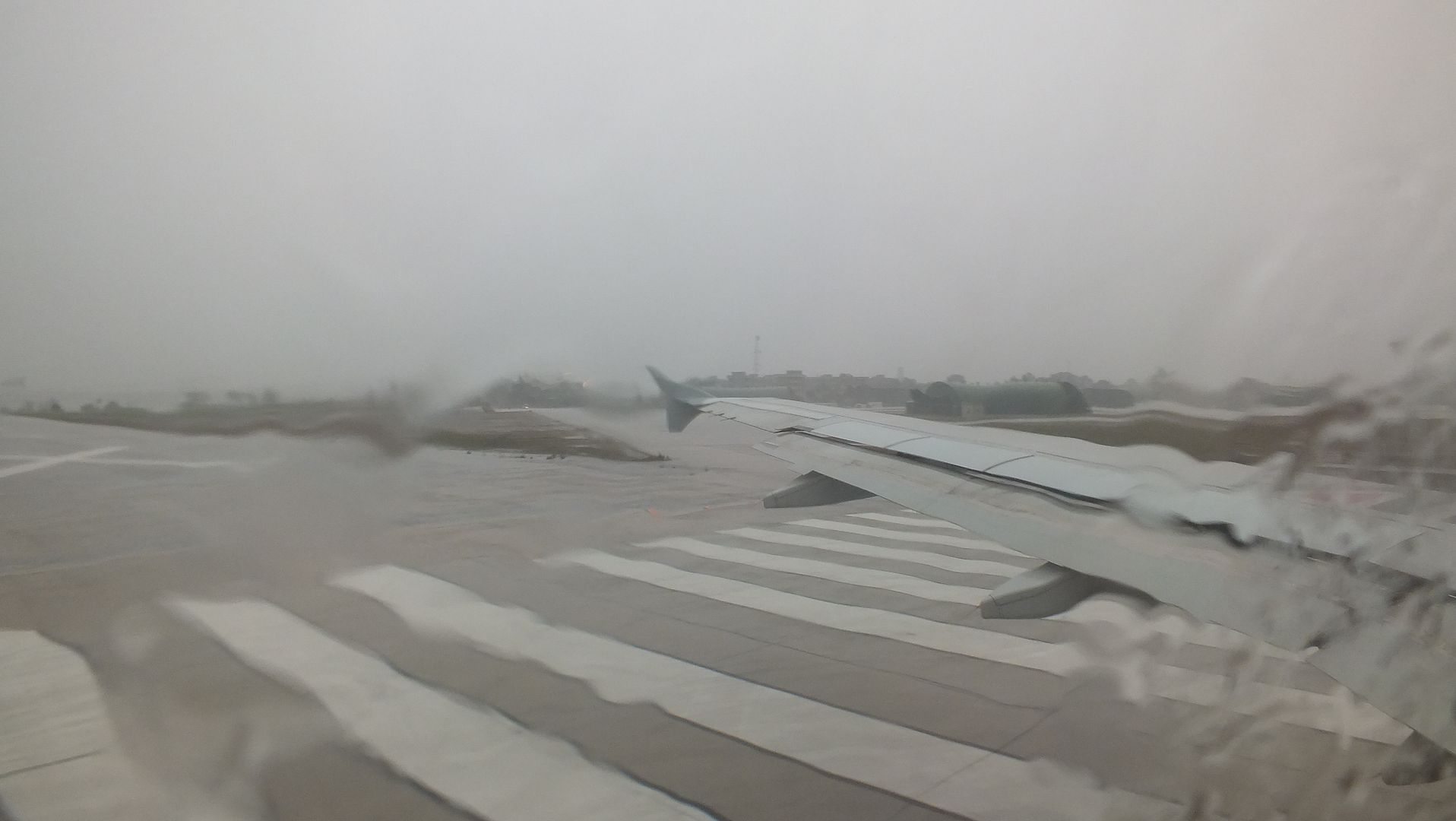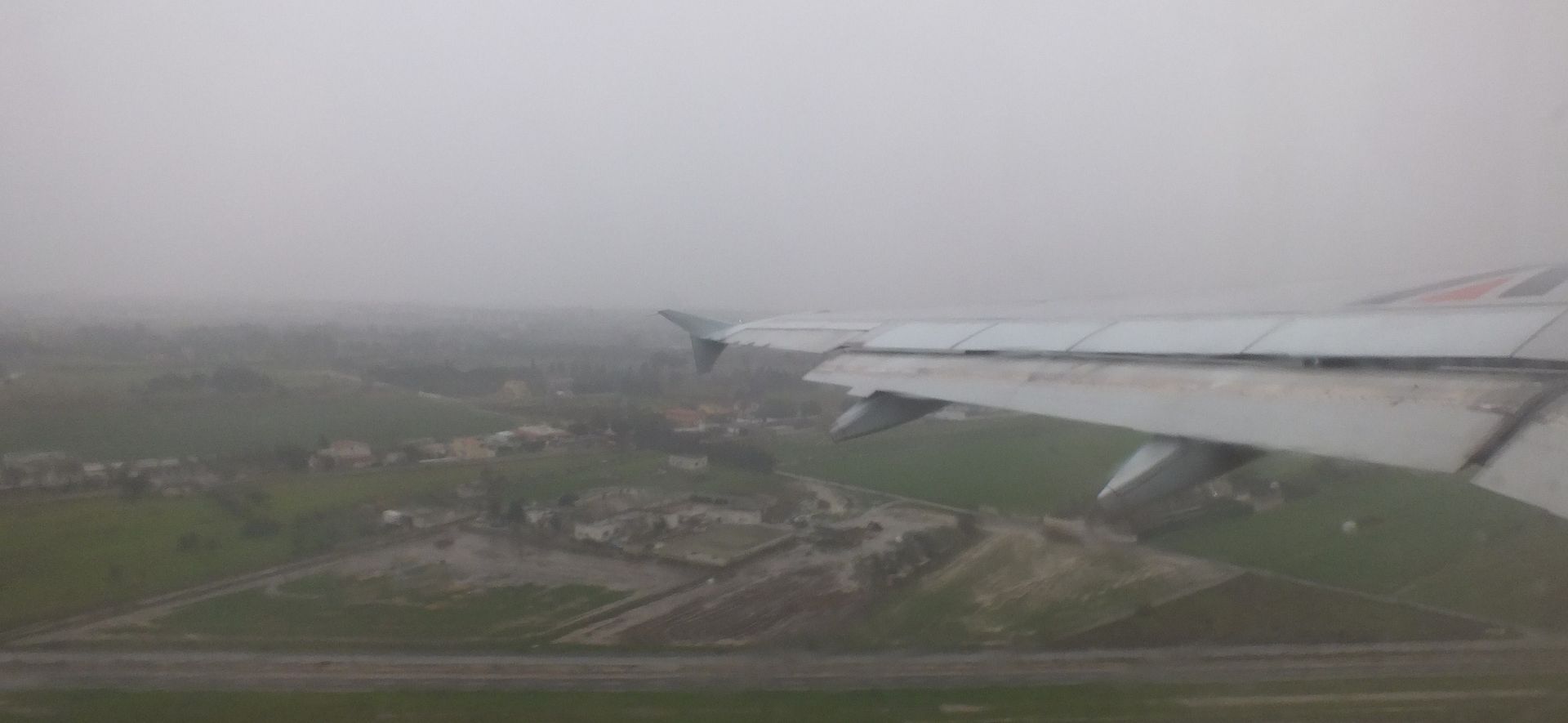 You can vaguely see the coast through the murk
And into the sun
The woman in front promptly reclined her seat…some people.
Standard AZ catering. Some tasty red OJ and a tea with lemon, and a snack.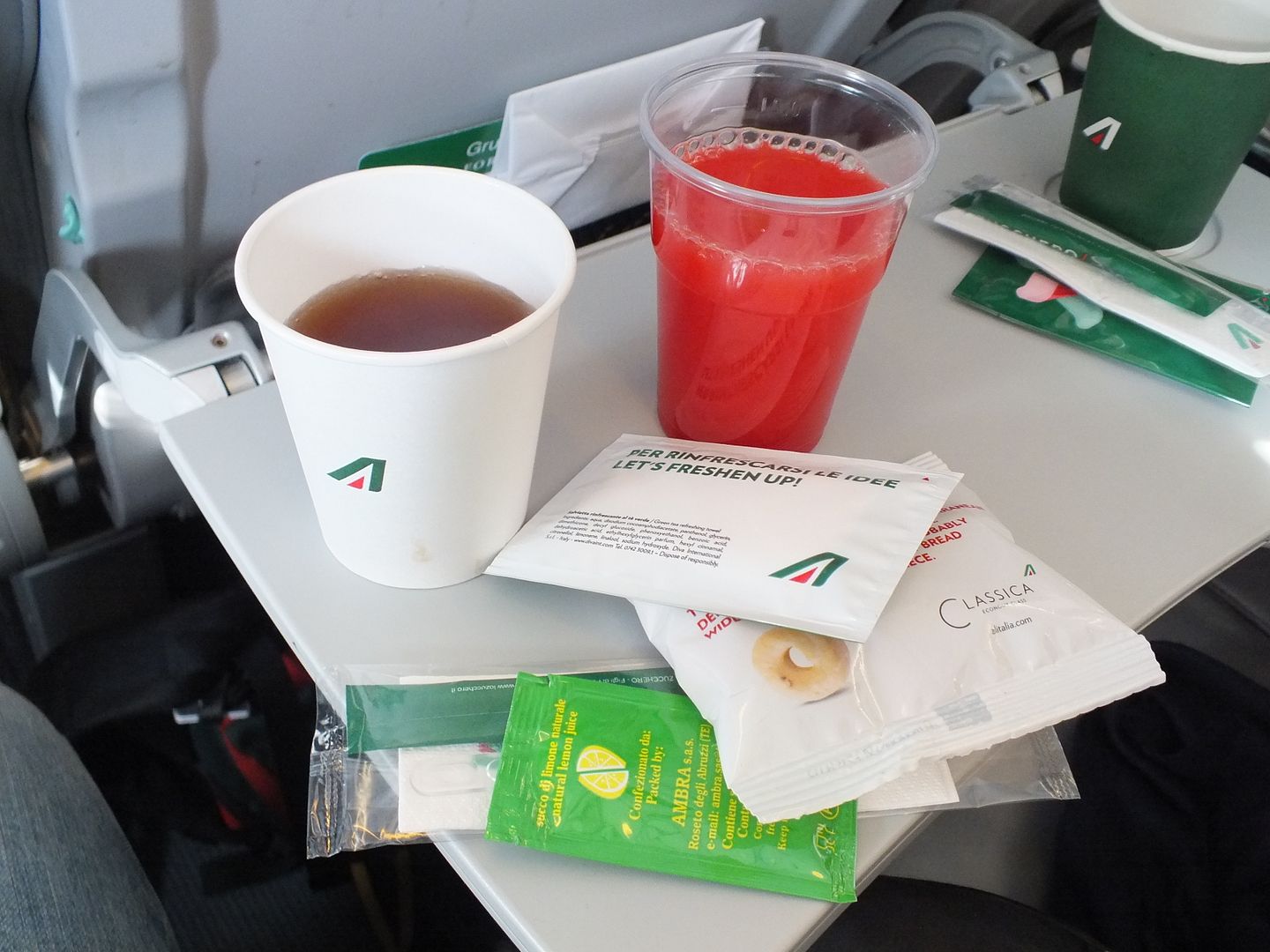 Some nice snowy peaks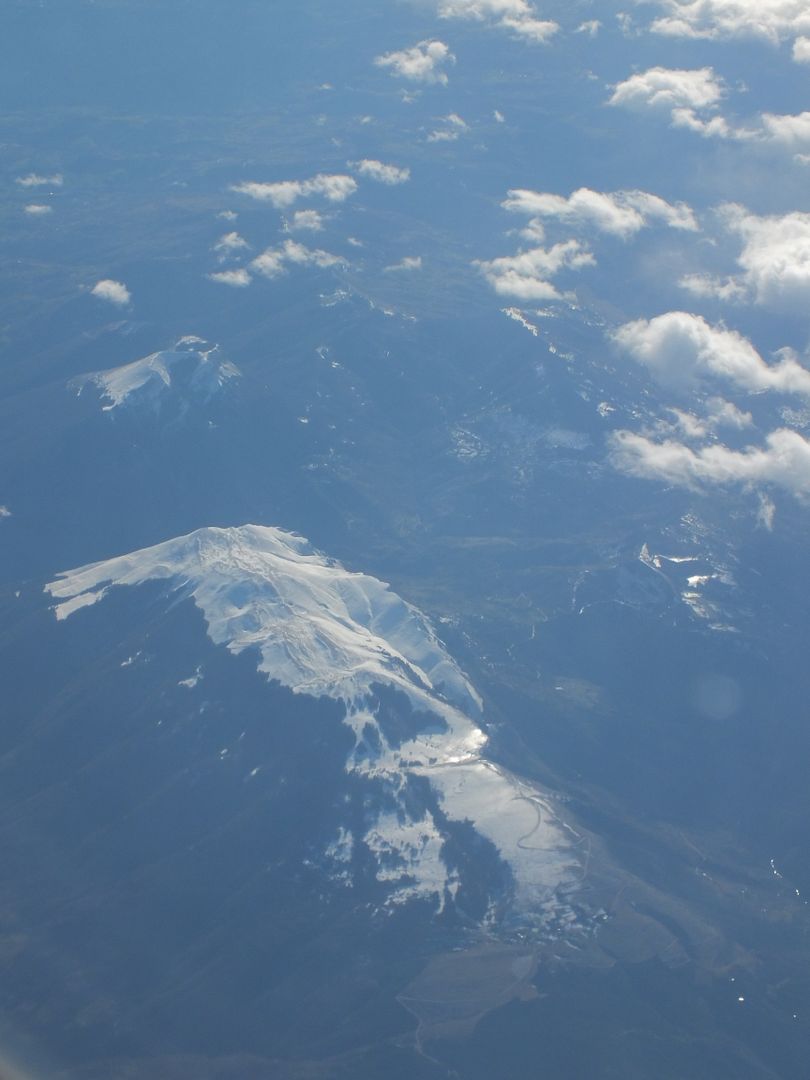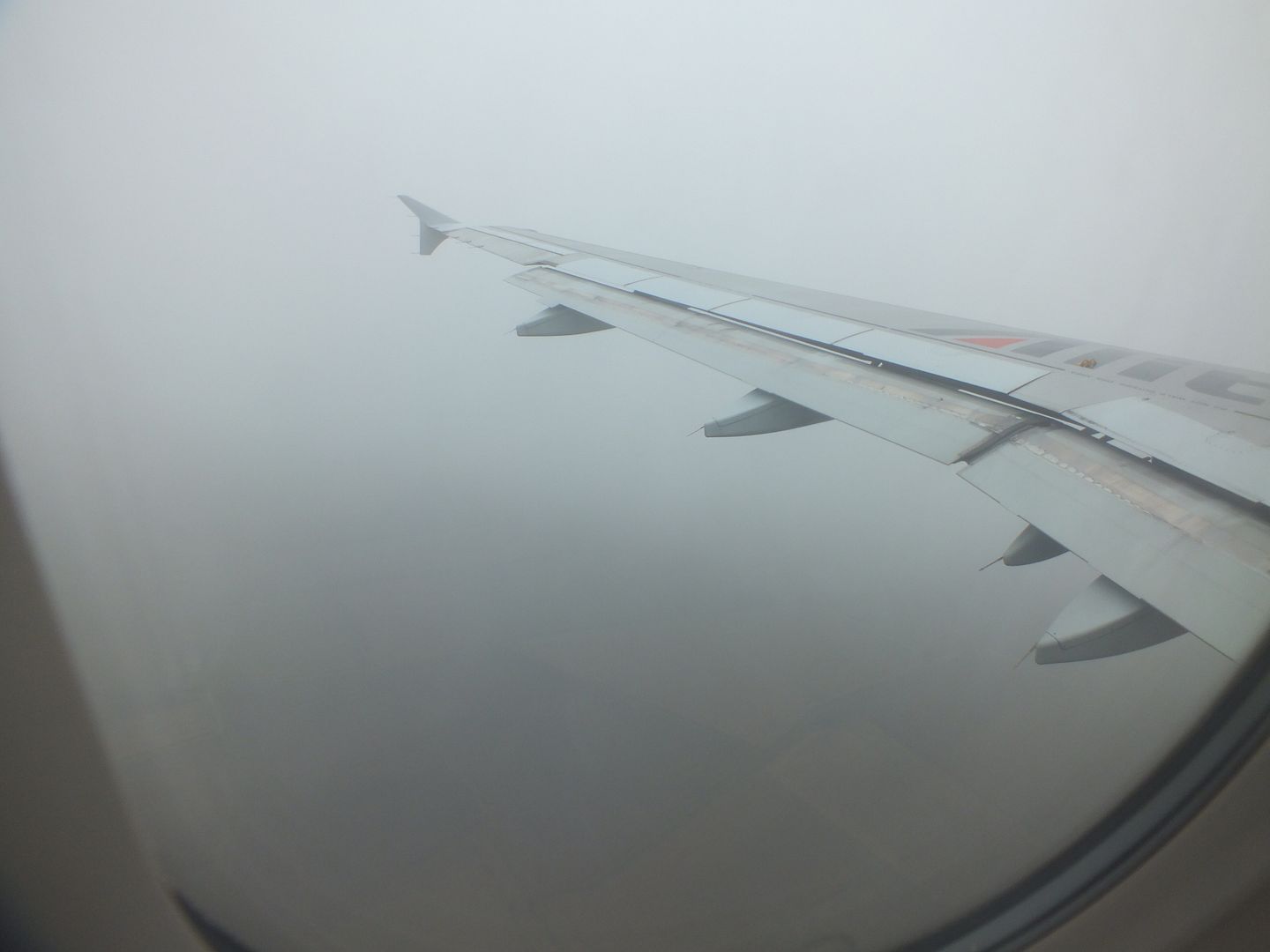 Despite leaving a bit late, we landed early into a, surprise surprise, foggy Milan Linate.
A Star Alliance LH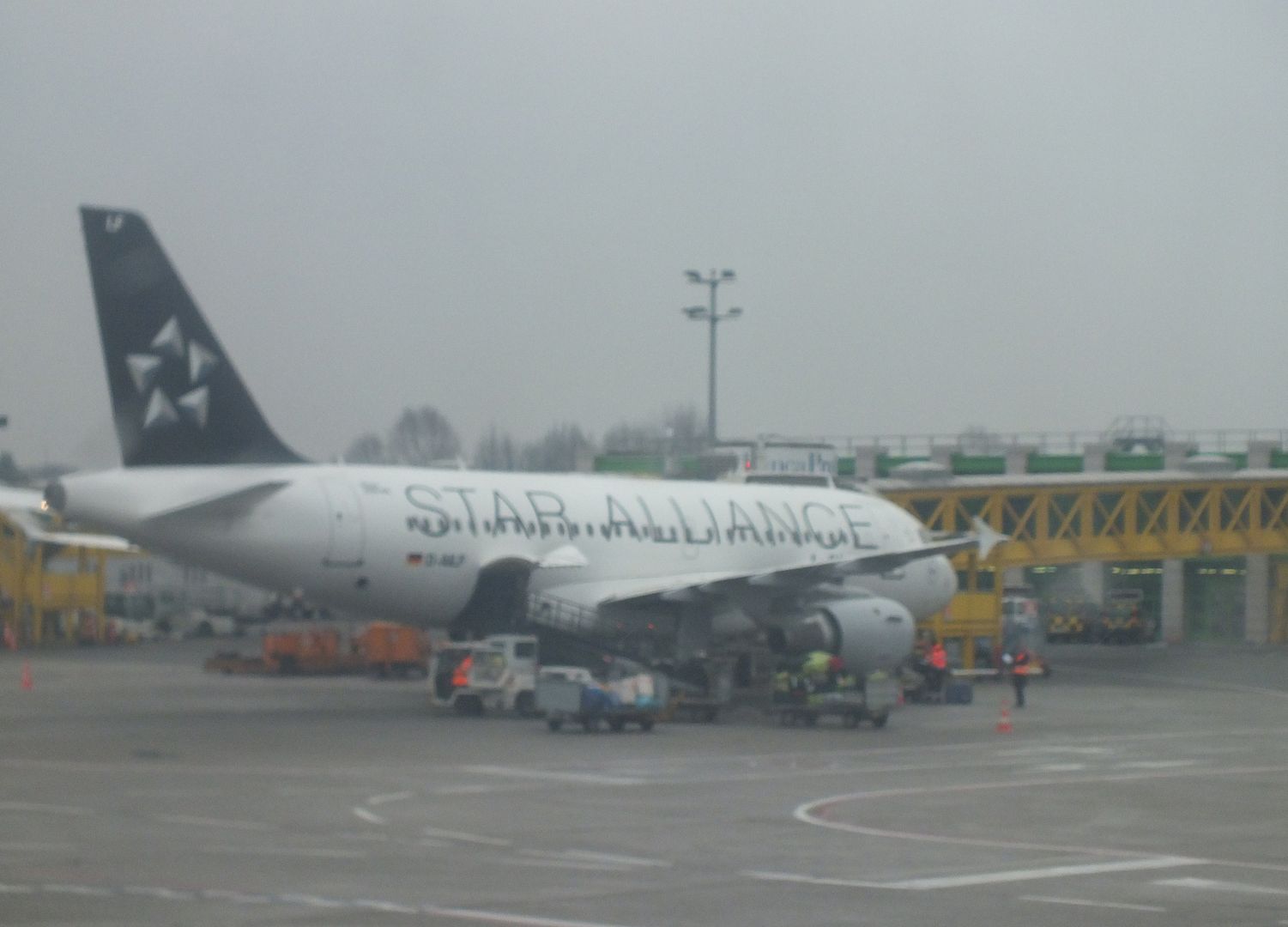 A very fashionable hanger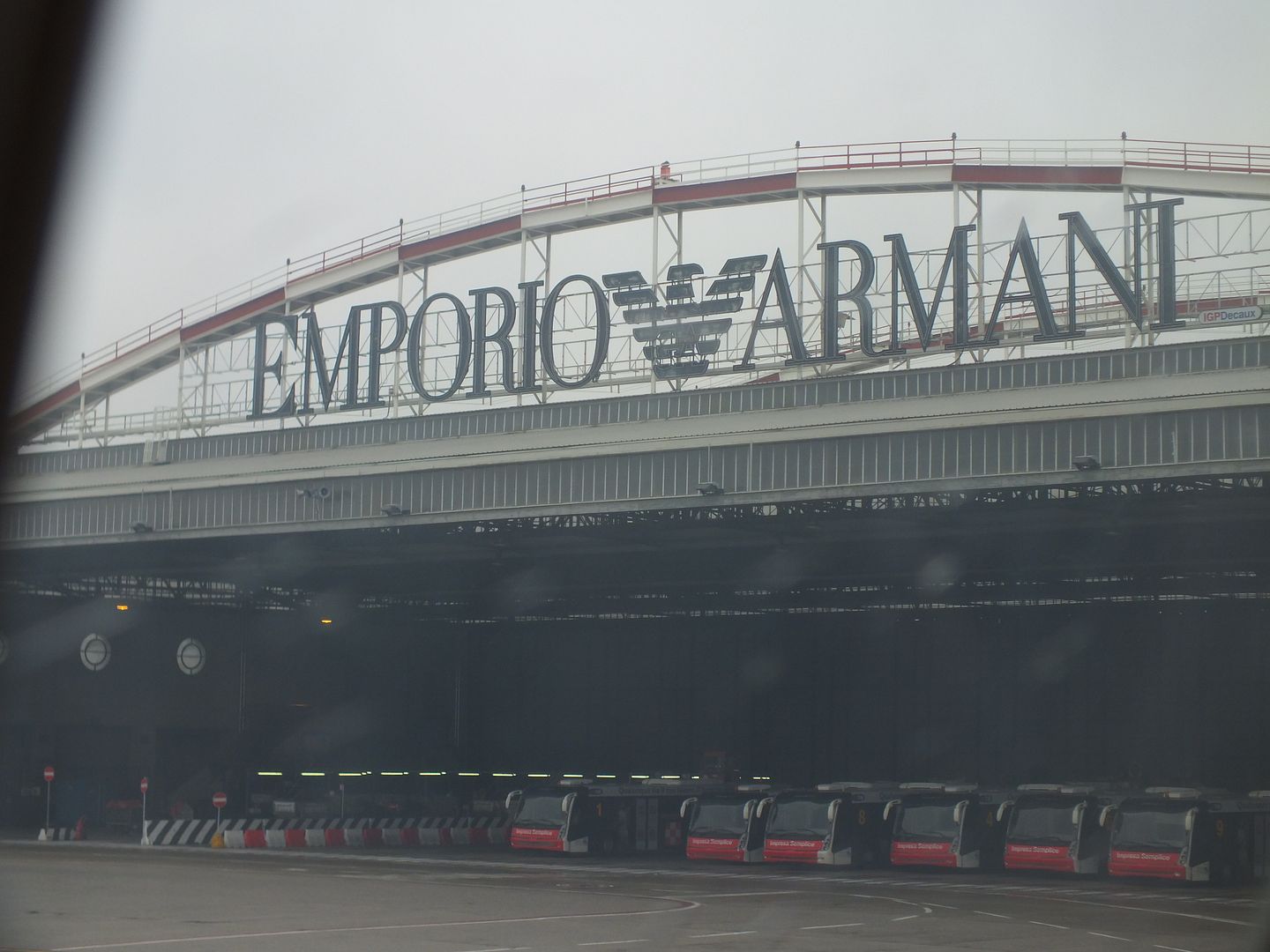 I was quite surprised to see that we were given one of the few air bridge gates….great as it was still raining.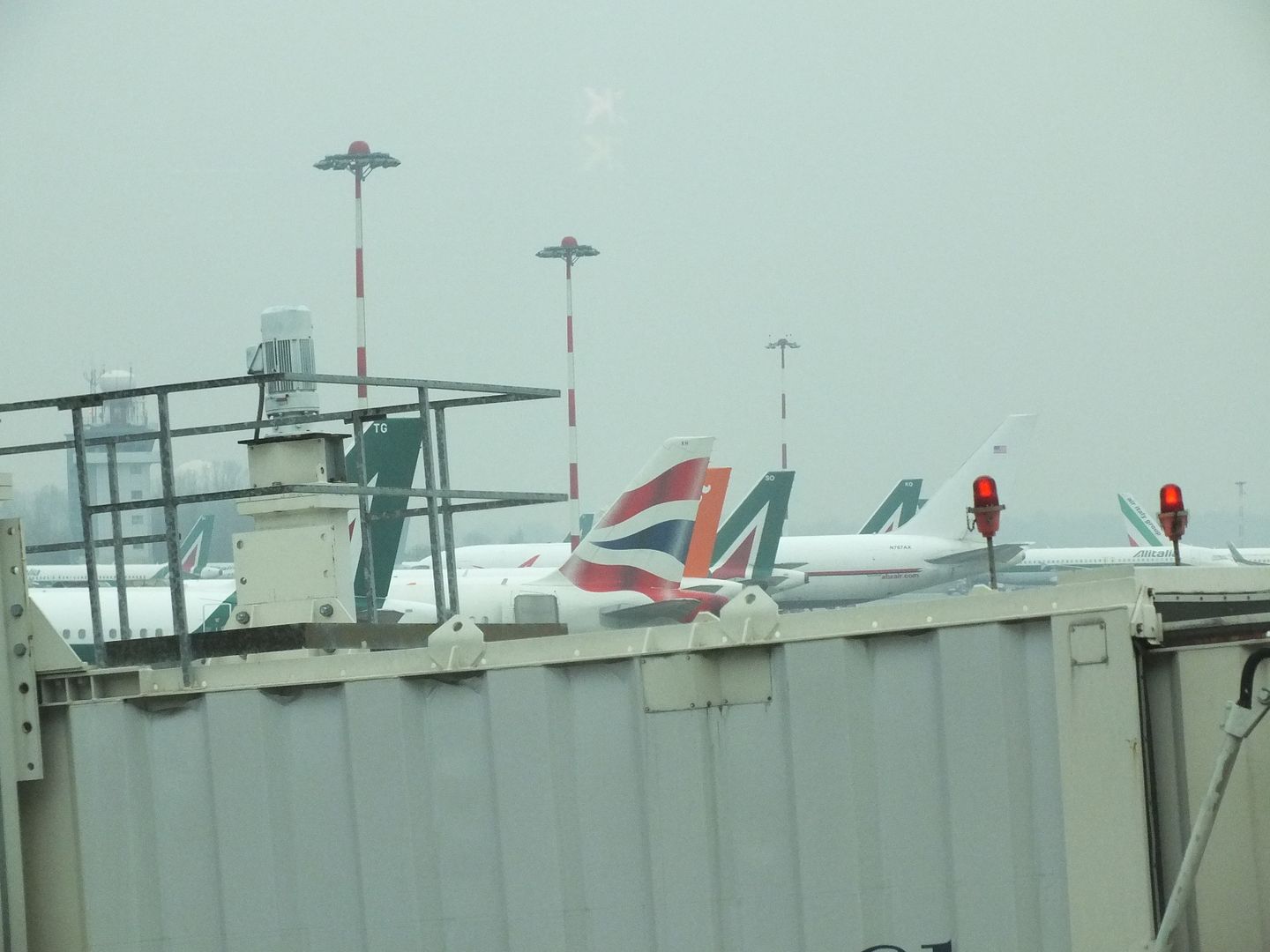 When connecting last time from PMO to LHR through LIN, we were bussed to arrivals, where there was no option but to exit and reclear security. This time, I was almost angry to see that it wasn't necessary to go landside when using the airbridge….why? Well, LIN has two Priority Pass lounges, one of which is landside. Hmm, two lounge + security, or just one lounge? As I had plenty of time, I decided to go with the former.